Smartwool Intraknit Thermal Merino Crew
Price: $130
Materials: 53% merino wool, 45% polyester, 2% elastane
Category: Midweight
Weight: 6.4 oz. (women's)
What we like: Great balance of warmth and breathability; more durable than all-wool designs.
What we don't: Expensive; slim fit is best for performance use and may feel restrictive to some.
See the Women's Intraknit Thermal Crew  See the Men's Intraknit Thermal Crew
Smartwool is an irrefutable leader in the baselayer market, and their Intraknit line is purpose-built for keeping you comfortable during high-output activities like ski touring. We tested the women's Intraknit Thermal Merino Base Layer Crew over two ski seasons and came away highly impressed by its performance: It's both warm and exceptionally breathable, resists odor to an impressive degree, and is far more durable than most merino designs thanks to the healthy dose of polyester. The snug fit and techy appearance put the Intraknit squarely in the performance category, but it's become a quick favorite for heart-pumping activities in cool to cold weather. Below we outline our experiences with the Intraknit Thermal Merino Base Layer Crew. To see how it stacks up to the competition, see our articles on the best baselayers and best women's baselayers.
 
---
Table of Contents
---

Performance
Warmth
Put simply, the Smartwool Intraknit Thermal Merino Crew offers a really versatile amount of warmth for a wide variety of cold-weather activities. The material mix—53% merino wool, 45% polyester, and 2% elastane—is highly effective at balancing heat retention in sub-freezing temps and breathability (more on the latter below). Smartwool also utilized body-mapped venting with mesh panels in moisture-prone areas like the back of the shoulders, crisscrossing the core, and inside the elbows. The design is intended to maximize temperature regulation and moisture wicking during high-output activities like touring, and I feel that Smartwool pulled it off quite well. Even when I've broken a sweat while skinning, I've never gotten the post-sweat chills that typically come from wearing a damp baselayer.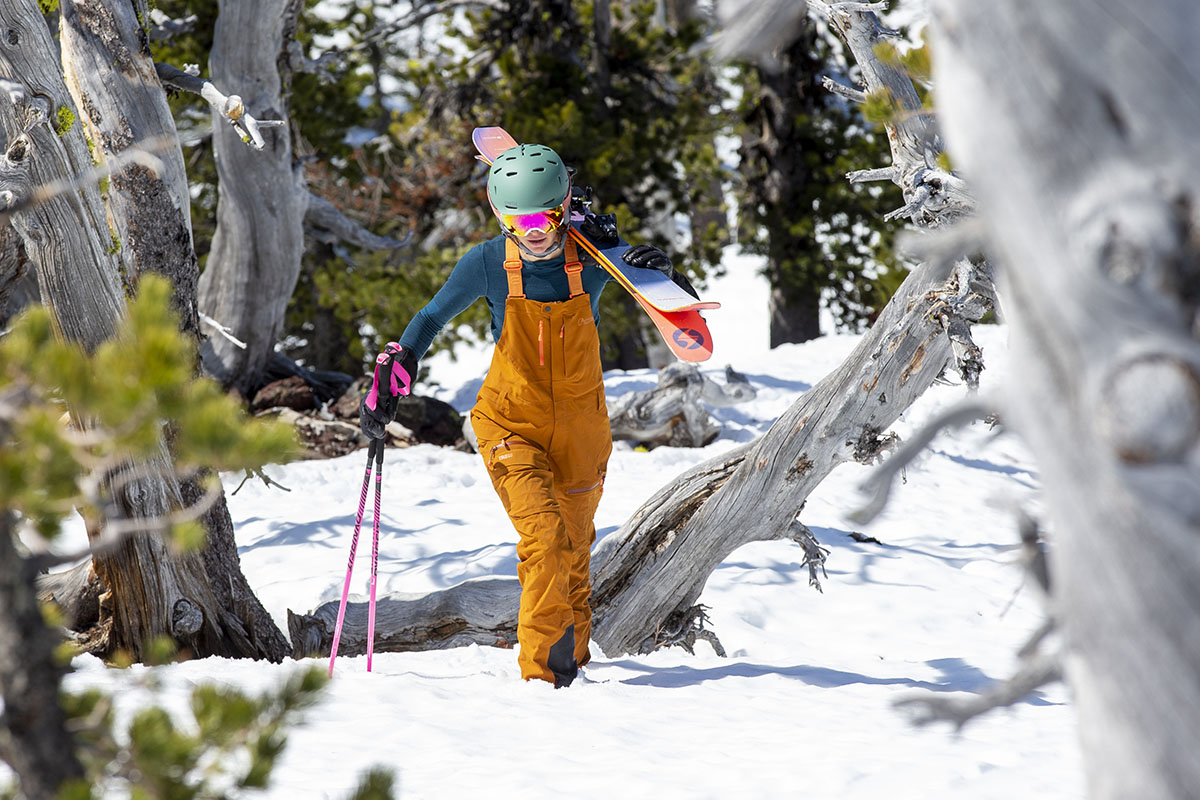 To be clear, the Intraknit is intended for high-effort activities like touring, Nordic skiing, and winter running, and can't match the outright warmth of a traditional midweight baselayer. If you'll be sticking to lift-assisted riding and want a warm setup, Smartwool's standard 100% merino wool Classic Thermal Merino Crew is a better choice. But the do-everything nature of the Intraknit design is what makes it a special piece in our eyes. It's perfectly capable on stormy lift days—you may just need a little extra warmth from your midlayer than with a thicker merino top—and the impressive thermoregulation really shines while you're working up a sweat. And for even milder, above-freezing conditions, Smartwool offers the thinner Intraknit Active.

Breathability
Despite its midweight designation, the Smartwool Intraknit Thermal Merino baselayer is an excellent breather. A big contributor is the body-mapped construction mentioned above, which focuses mesh zones in high-heat (read: sweat-prone) areas. The healthy dose (45%) of polyester also helps—compared to wool, polyester is much more breathable and quicker to dry, which is a boon when working hard in moderate conditions. And importantly, the Intraknit still resists stink to an impressive degree. For reference, I'm usually able to get multiple wears out of the shirt between washes, which I can't say for many of my baselayers. Finally, the slim fit helps maximize moisture wicking and breathability. Over two seasons of breaking trail on deep powder days, shoveling snow pits, and touring up high on sunny spring corn days, I've never once sweat out of the Intraknit.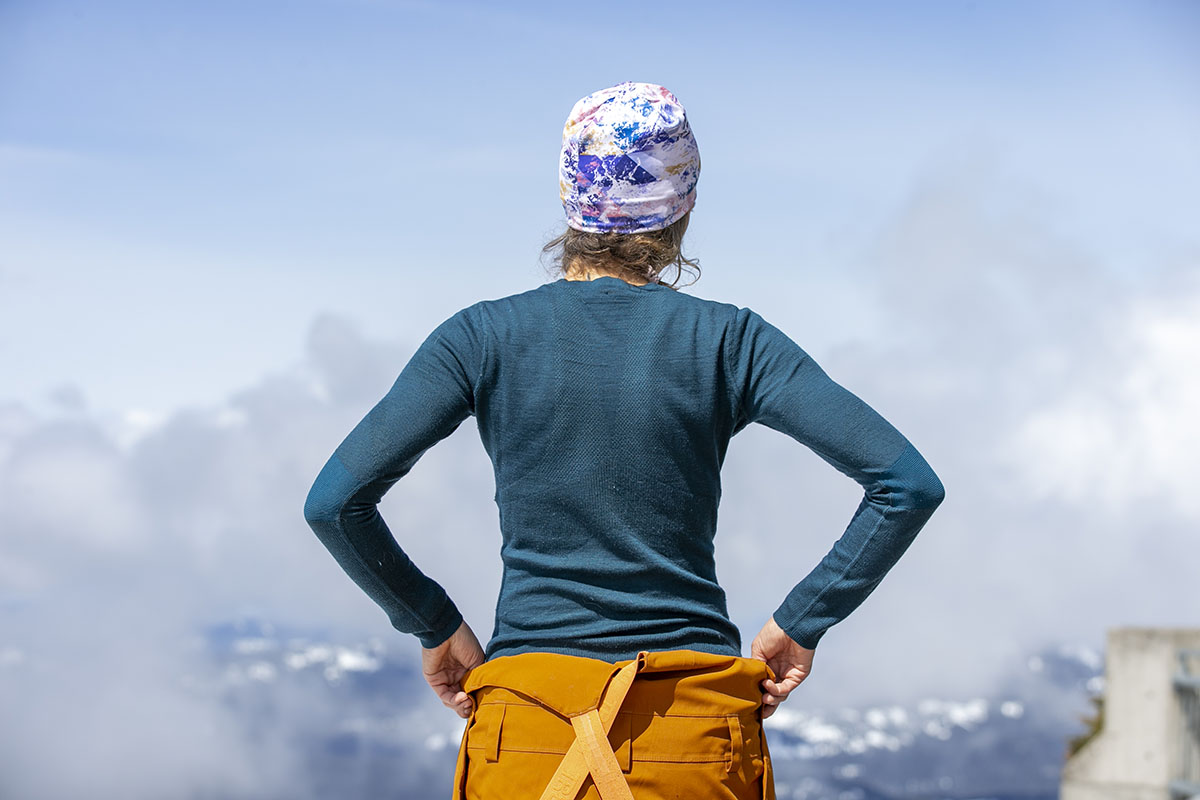 Comfort and Mobility
In short, the Intraknit Thermal Merino Crew is a far cry from the scratchy wool clothing of old. The mostly merino build has a noticeably soft next-to-skin feel, and the addition of polyester and a small amount of elastane boost stretch and overall mobility. In fact, I often forget that I'm wearing the Intraknit once I start moving, which is a testament to its impressively cozy and comfortable feel.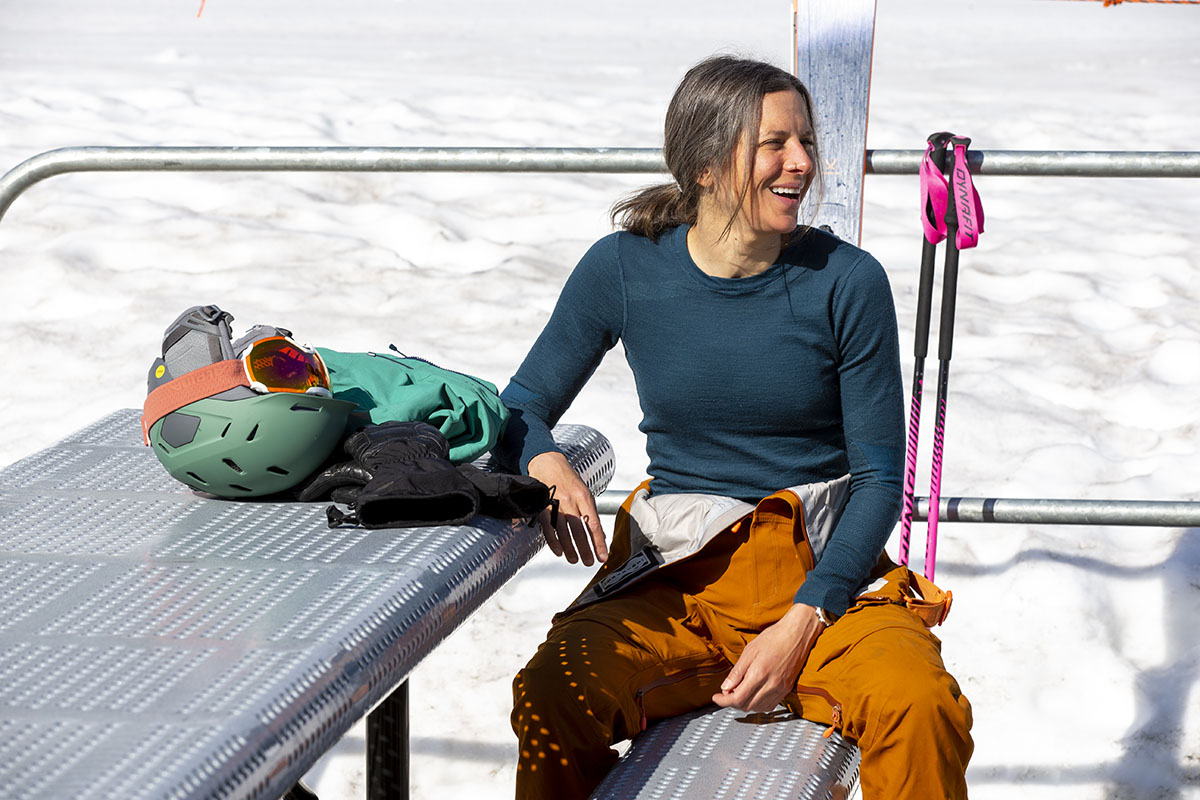 That said, the Intraknit has a decidedly slim and performance-oriented fit, which some won't love. I personally don't mind the trim fit—it's effective at trapping warmth, wicks moisture well, and makes it easy to layer overtop—although freedom of movement is a step down from looser-fitting designs. To be fair, I've worn the Intraknit for all types of winter activities, from loading and unloading snowmobiles to breaking trail in waist-deep powder, digging snow pits, building snow anchors, and riding chairlifts at the resort with no mobility issues to report. But for wearing casually, I'd recommend opting for a design with a roomier fit (REI's 185 Merino collection is a good place to start).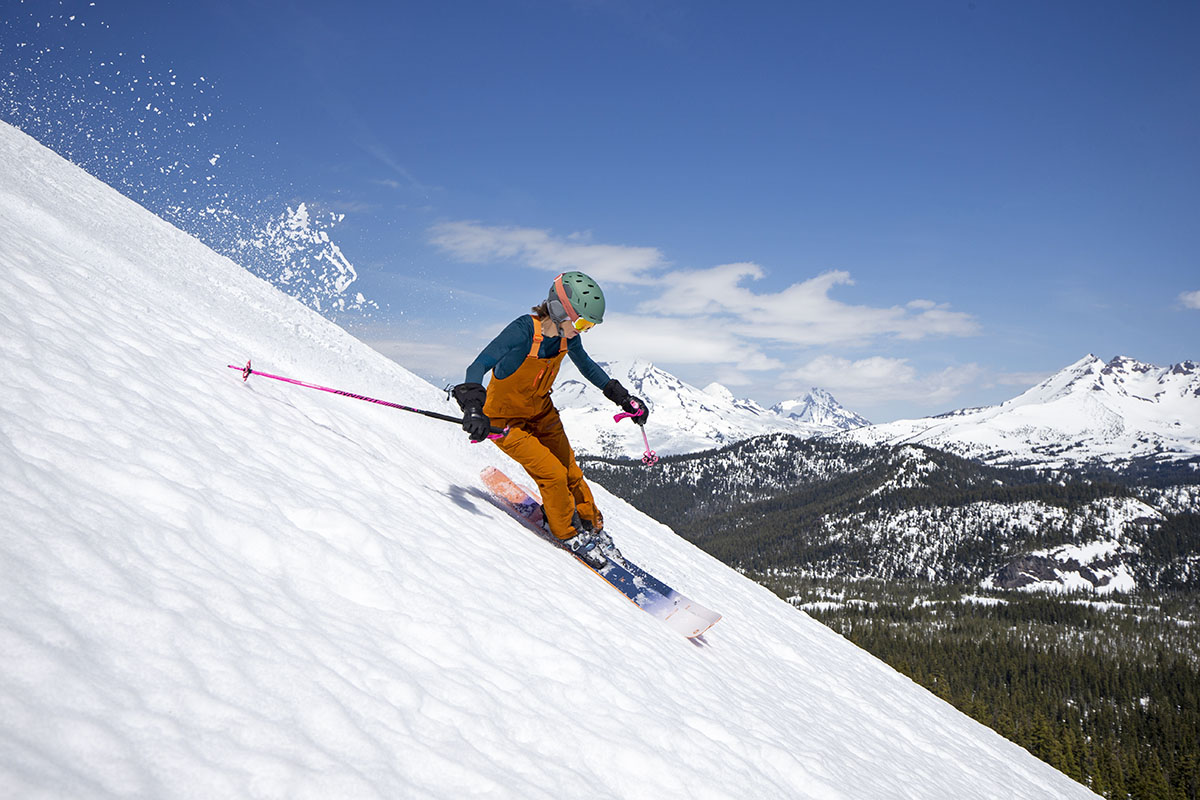 Build Quality and Durability
Merino wool's main weakness is durability, and I've had to say goodbye to plenty of beloved wool layers over the years that have suddenly shown irreparable holes or sustained a rip down the arm as I was pulling it on. Thankfully, the Intraknit Thermal Merino Base Layer Crew has held up impressively well to testing thus far. This is largely due to the high percentage (45%) of polyester, which adds a sizable boost in tear resistance.
There's also a small amount (2%) of elastane mixed in, which allows the fabric to stretch and "give" rather than snag under pressure, as well as reinforced elbows and ribbed cuffs to protect against premature wear and abrasion. I've torn wool baselayers in both of those spots in the past, but the Intraknit seems to be a noticeable step up in overall build quality. As long as you adhere to the care instructions—Smartwool recommends washing in cold water on a gentle cycle and line-drying—the Intraknit should have a reasonably long and healthy lifespan.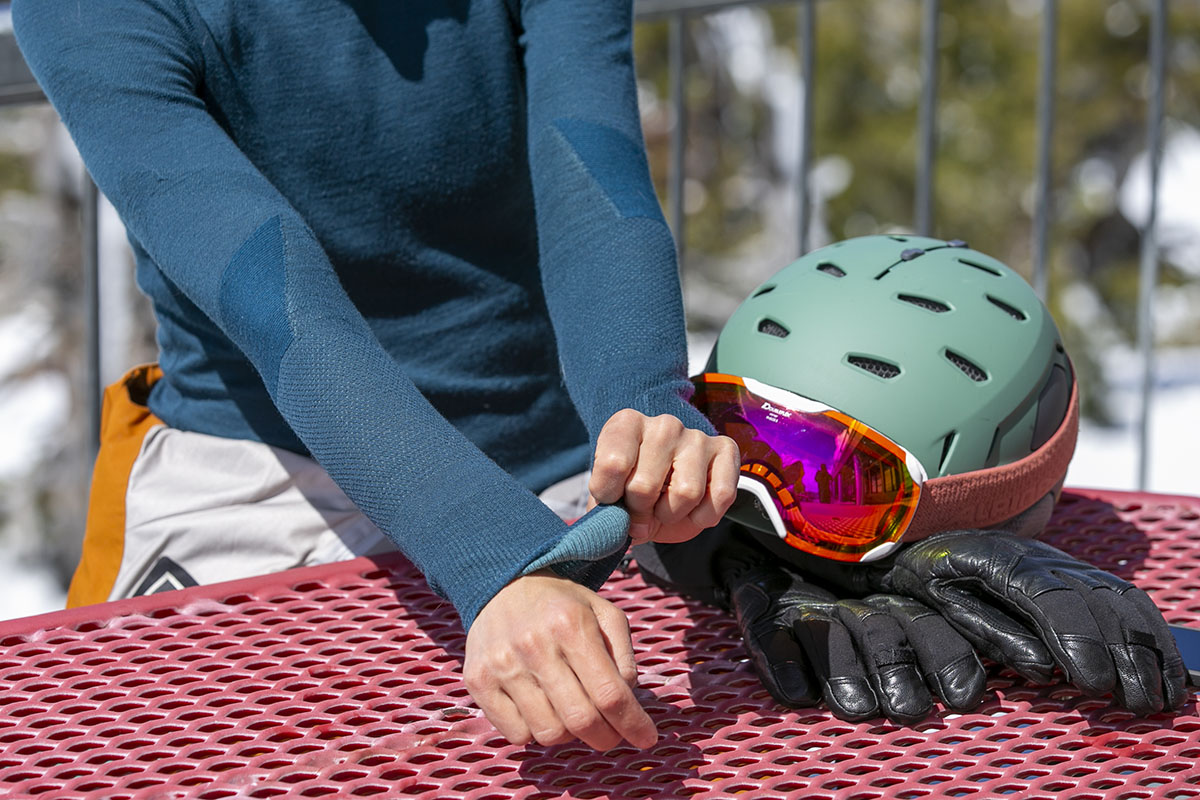 Fit and Sizing
As I mentioned above, the Intraknit Thermal Merino Crew has a decidedly snug fit that maximizes performance and makes it easy to layer overtop. For reference, I have a 32-inch chest and 27-inch arm length, which would be a size extra small according to Smartwool's sizing chart. However, I'm almost always more comfortable in a size small, and that held true with the Intraknit: The shirt hugs my body with minimal extra room but enough stretch to move around comfortably, and the sleeve and hem lengths are spot-on for my 5'7" frame. Based on my experience, I'd recommend sticking with your normal size if you don't mind a trim fit. If you're between sizes or simply prefer a looser feel, it's best to size up.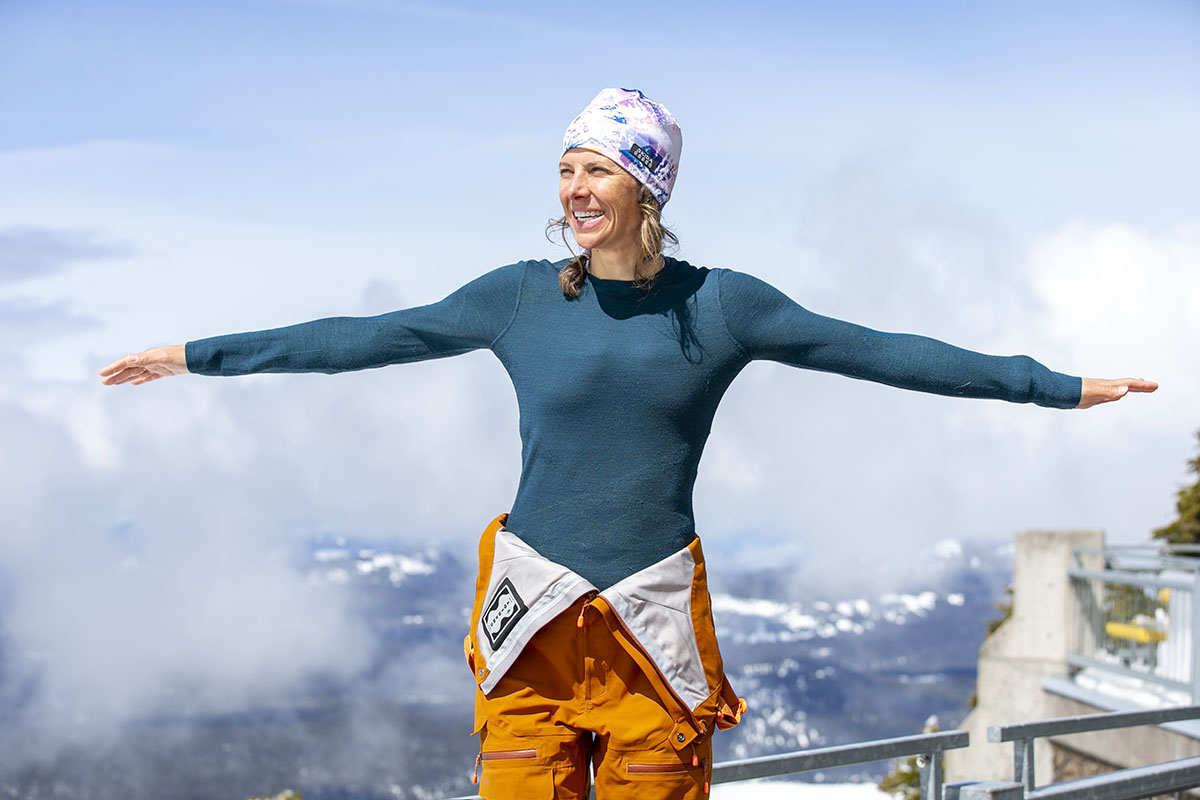 Other Versions of the Intraknit Thermal Merino
I tested the women's Intraknit Thermal Merino Base Layer Crew for this review, and the design is also sold in a men's version for the same price. The men's Intraknit Thermal is a little heavier at 7.3 ounces, offered in different colorways, and focuses the mesh zones in different areas (including across the back and chest) but is otherwise largely identical to the women's model. If you prefer to match your baselayer top and bottoms, Smartwool sells the Intraknit Thermal Merino Base Layer Bottom ($130), which uses a similar material mix and body-mapped design for regulating temperature. Other options in the collection include a quarter-zip top, 3/4-length bottoms, women's-specific leggings, and accessories like a neck gaiter and balaclava. And for those who prefer more or less warmth, Smartwool also offers the Intraknit Thermal Max and Intraknit Active collections, both of which share the same high-output focus as the midweight Intraknit Thermal models.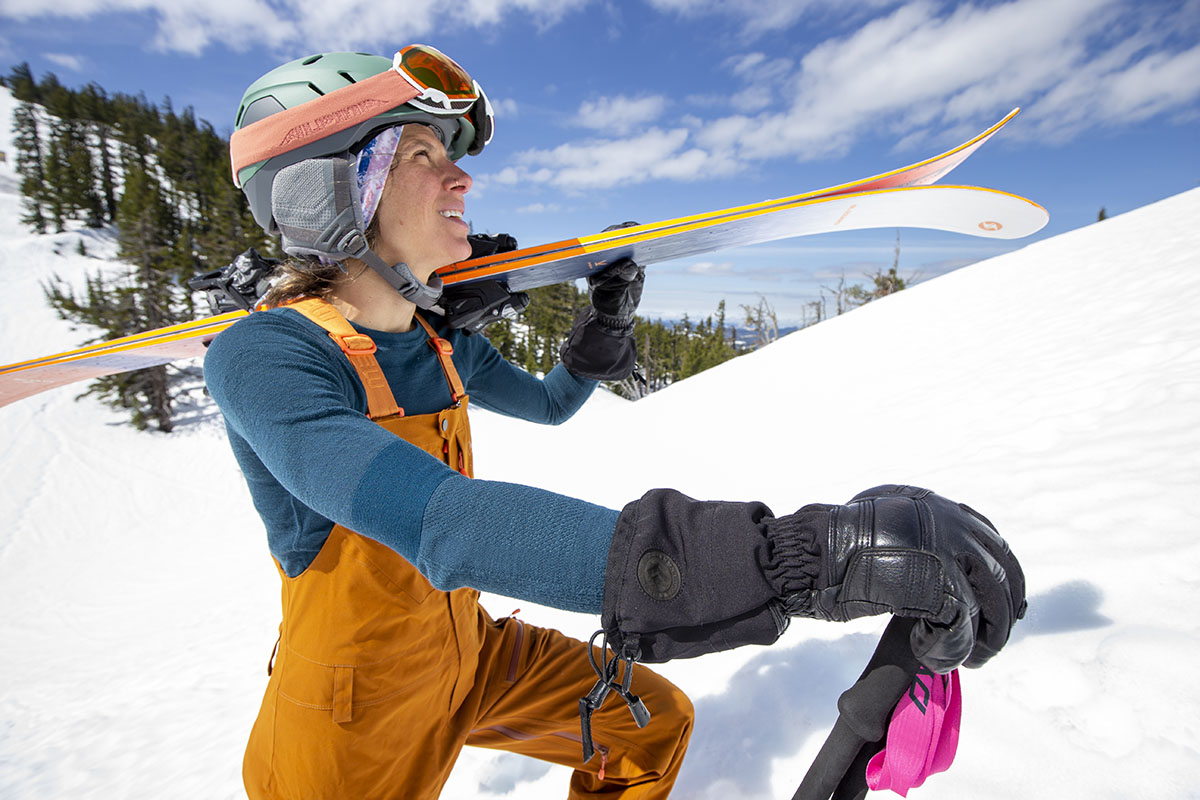 What We Like
The Intraknit Thermal offers ample warmth for everything from touring to downhill skiing and snowshoeing in cool to cold conditions.
Body-mapped design with mesh panels in sweat-prone areas is highly effective at promoting airflow during high-intensity activities.
Healthy dose of polyester results in a noticeable boost in breathability and durability compared to most merino baselayers. 
Impressively odor-resistant and quick to dry.
Soft next-to-skin feel and enough stretch to move around comfortably.

What We Don't
Snug fit and techy appearance put the Intraknit squarely in the performance category—for around-town wear, we'd go with a looser-fitting design.
Very expensive at $130.
Those looking to maximize warmth for more casual activities may want to consider an all-merino option (at the sacrifice of breathability and durability).
We'd love to see Smartwool incorporate sustainability measures like responsibly sourced wool and/or recycled polyester in a future update.


Comparison Table

The Competition
The Intraknit Thermal Merino is a purpose-built design for those who demand a lot of performance out of their baselayers, but its trim fit and techy looks don't cross over well for wearing casually. Enter Smartwool's own Classic Thermal Merino Crew, which boasts a roomier fit and more around-town-friendly appearance for $15 less than the Intraknit. The 100% merino build isn't as breathable or durable as Intraknit's wool/polyester/elastane blend, but there are still plenty of benefits: It's warm, super soft against the skin, resists moisture, and doesn't hold onto stink. The thinner and snugger-fitting Intraknit is a more ideal next-to-skin layer for activities like winter running, Nordic skiing, and ski touring when you'll be working up a sweat, but the Classic is the warmer and more versatile option for more casual uses like downhill skiing and wearing après.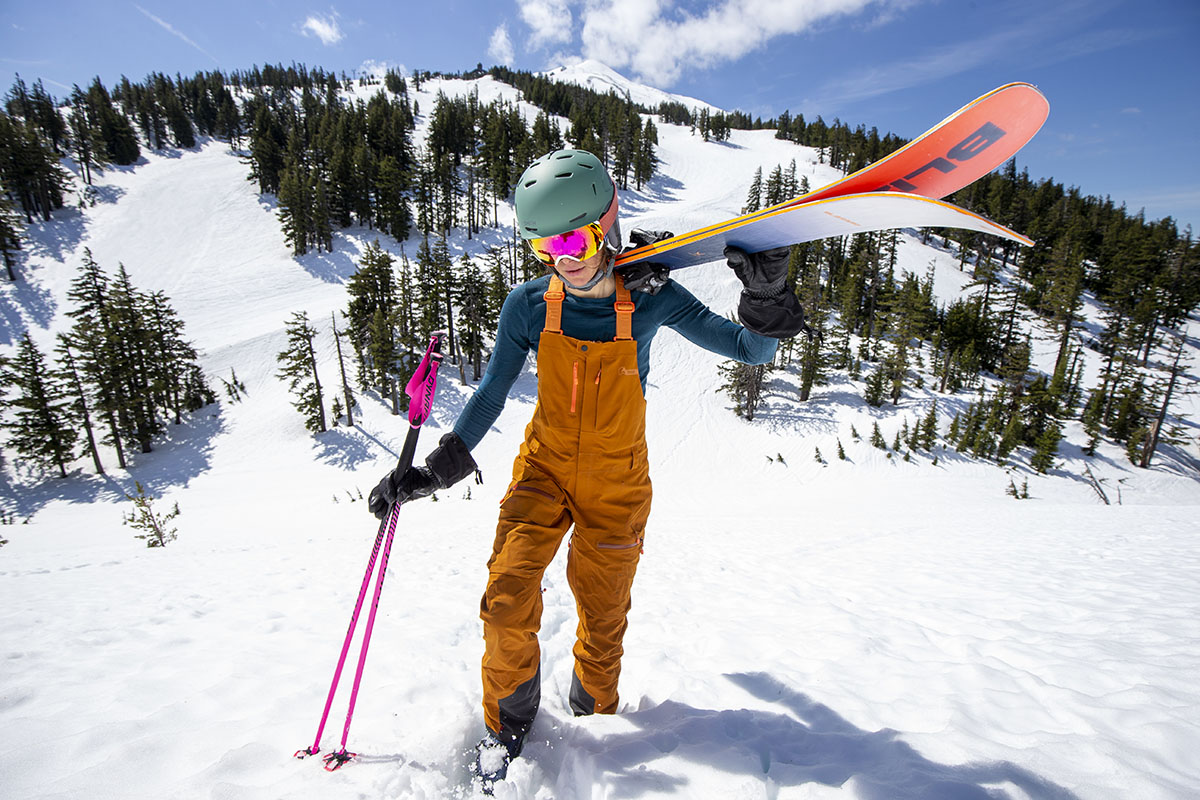 Next up is another all-merino option to consider: Ortovox's 185 Rock'N'Wool Long Sleeve. Like the Classic Thermal covered above, the Ortovox excels in odor resistance, temperature regulation, and comfort, although its thinner construction (185g/m² compared to 250g/m² for the Classic) means it's more suitable for high-output activities. The Intraknit Thermal wins out in durability thanks to the addition of polyester and elastane—our Rock'N'Wool has accumulated multiple snags after two seasons of use—although it costs $20 more and has a noticeably snugger fit that doesn't wear as well around town. Finally, we love the Ortovox's fun and colorful styling, which gives it some flair compared to the Intraknit and many other popular baselayers. In the end, the lack of durability is enough for us to prefer the Intraknit, but the Rock'N'Wool isn't far behind in most other metrics.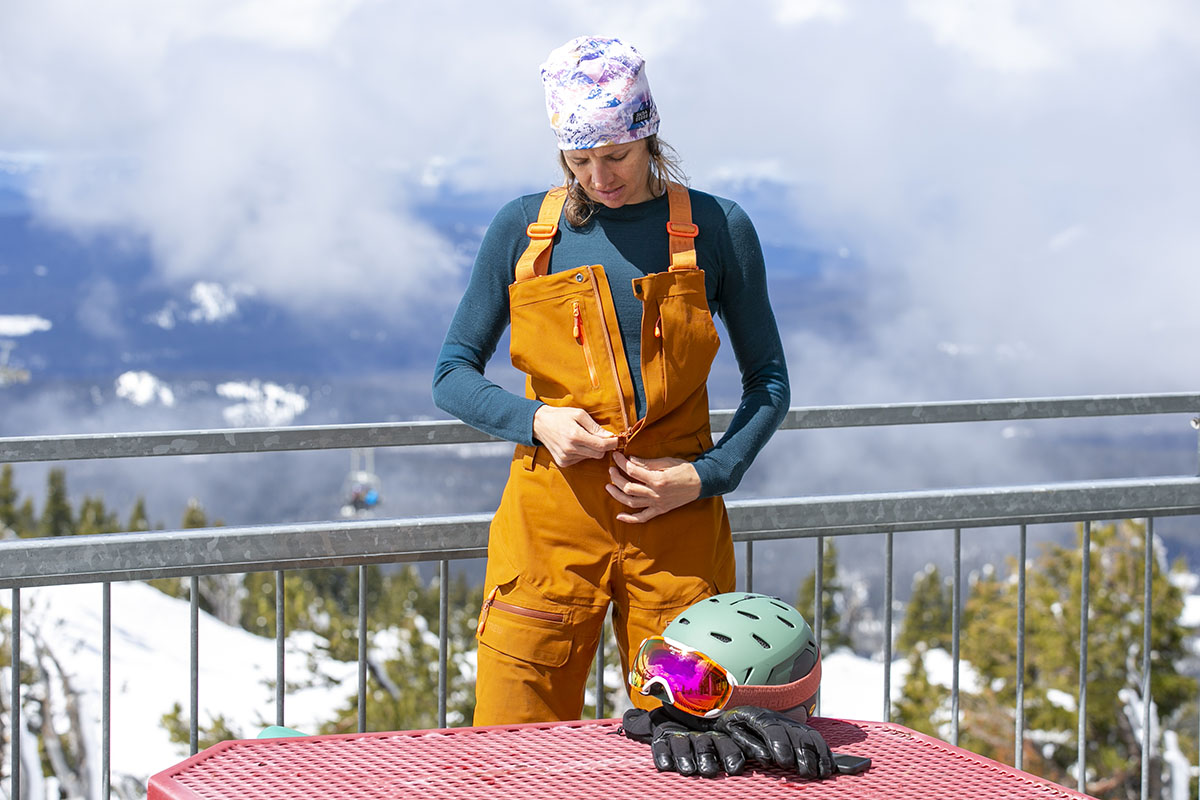 For an even more similar alternative to the Intraknit Thermal, Odlo's Performance Wool Warm Long Sleeve is another one of our go-to baselayers for ski touring. Similar to the Intraknit, the Odlo uses a blend of materials—in this case, it's 52% wool, 29% polyester, 13% polyamide, and 6% elastane—for an effective mix of warmth and breathability during heart-pumping activities. Odlo also included mapped ventilation zones (again, just like the Smartwool), and we've found moisture wicking to be top-notch. Both baselayers fit on the snug end, although the Performance Wool Warm boasts a little more stretch for added mobility. It will also save you $30 over the Smartwool, although the Intraknit is a bit warmer and available in more colorways (eight compared to just two for the Odlo). In the end, both are capable and intentionally built designs for high-output use, and a final decision may come down to preferences on fit and styling.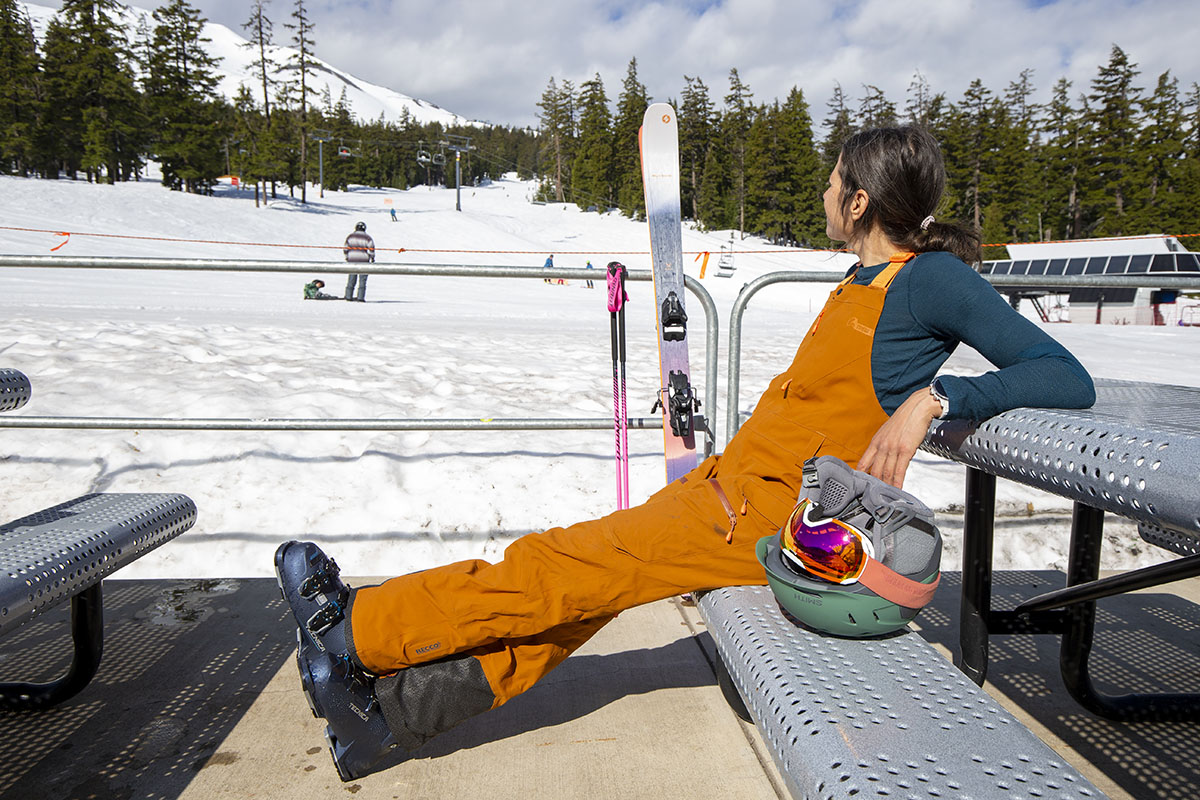 A final alternative to consider is Black Diamond's Solution 150 Merino Base Crew. For $5 more than the Intraknit Thermal, the Solution 150 uses a more merino-heavy blend (78% wool and 22% polyester) and boasts Black Diamond's NuYarn technology, which wraps a nylon core with merino fibers for added durability and moisture-wicking ability. You also get thumb loops that make it easier to layer overtop, flatlock seams to minimize chafing underneath backpack straps, and a slim—but not restrictive—fit that's well suited for performance use. For reference, we wore the Solution for six days straight while hiking in Patagonia and were impressed with how well it held its shape and resisted odor. The Smartwool offers similar performance, a slight bump in warmth, and more colorway options for $5 less, but both are solid all-around performers that will last longer than most merino baselayers.
If you're thinking about buying gear that we've reviewed on Switchback Travel, you can help support us in the process. Just click on any of the seller links above, and if you make a purchase, we receive a small percentage of the transaction. The cost of the product is the same to you but this helps us continue to test and write about outdoor gear. Thanks and we appreciate your support!
Depending on the seller, most products ship free in the United States on orders of $50 or more. International shipping availability and rates vary by seller. The pricing information on this page is updated hourly but we are not responsible for inaccuracies.
Read More From Switchback Travel