As your main line of defense against snow and wind, a quality snowboard jacket is a key piece of your kit. Designs fall into three basic categories: versatile and light shells, insulated models for a boost in warmth, and 3-in-1 jackets that include a zip-out midlayer. Prices also vary, ranging from budget-oriented models that sneak in around $200 to Gore-Tex-equipped technical pieces that cost $700 or more. Below we break down the best snowboard jackets for the 2023-2024 season, which cover everything from resort and park favorites from popular brands like Burton and Quiksilver to uncompromising, premium designs for serious riders. For more background information, see our comparison table and buying advice below the picks. Of note: This article includes picks for both men and women, but we've also written a dedicated round-up on the best women's snowboard jackets.
 
---
Our Team's Snowboard Jacket Picks
---

Best Overall Snowboard Jacket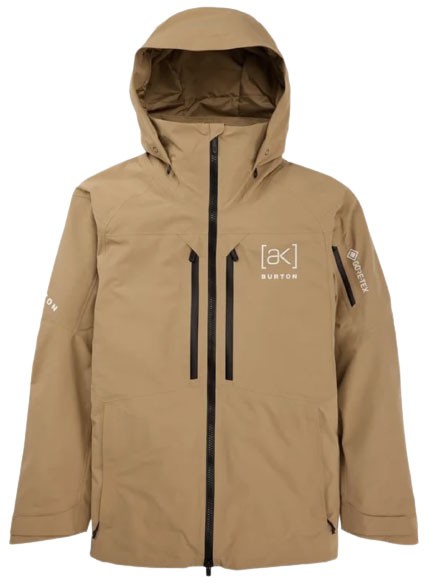 Category: Insulated
Insulation: 60g PrimaLoft Silver
Waterproofing: 2L Gore-Tex
What we like: Sturdy protection, premium features, and high-quality build.
What we don't: Not a standout in breathability or weight.
Burton's AK line has a well-earned reputation for quality builds, and their men's Swash and women's Embark hit a nice balance of protection, comfort, and features. The lightly insulated jackets (the Swash has 60g PrimaLoft Silver only in the torso, while the Embark has 60g throughout) are built around a sturdy 2-layer Gore-Tex construction that shrugs off high winds and heavy precipitation, but the interior has a surprisingly plush and soft feel thanks to the mixed mesh and stretchy taffeta lining. Tack on premium extras like a dedicated phone pocket that's insulated to keep your battery fresh, pit zips, and large, mitten-friendly zippers, and you get our top snowboard jacket pick for the 2023-2024 season.
As with the full AK collection, the Swash and Embark have high price tags, and they'll likely be overkill for occasional riders and those just getting into the sport. Designs like the Quiksilver Mission and Volcom Bolt below are better options for beginners or fair-weather boarders. At the other end of the spectrum, Arc'teryx's Sabre/Sentinel series gets you improved breathability at a lighter weight, but with a serious jump in price. This brings us back to the Burton, which hits a great combination of proven Gore-Tex protection for deep days, comfort and mobility for sidecountry hikes, and practical features for discerning riders.
See the Men's Burton AK 2L GTX Swash  See the Women's Burton AK 2L GTX Embark
Best Men's Budget Snowboard Jacket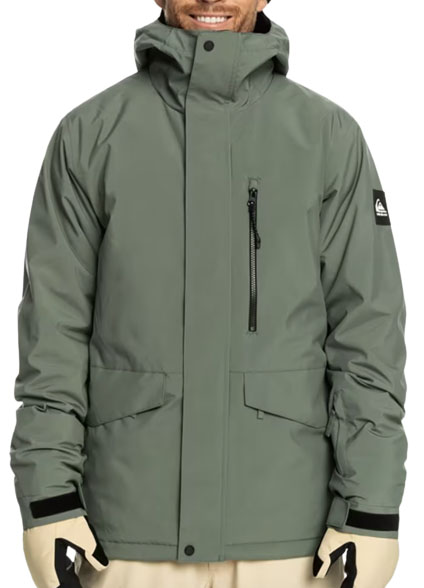 Category: Insulated
Insulation: 100g (body); 80g (sleeves); 60g (hood)
Waterproofing: 2L DryFlight
What we like: Good combination of price and performance for beginners and occasional riders.
What we don't: Not well-equipped for wet snow conditions.
It's difficult to find a quality snowboard jacket for $200 or less—particularly one that's insulated—but Quiksilver's Mission is just that. This men's-specific design (our top women's pick is below) includes the essentials for getting you on the slopes: a wind- and snow-blocking shell, powder skirt, and five total pockets (including a dedicated spot for your pass on the sleeve). For warmth, Quiksilver uses a basic WarmFlight synthetic (an in-house design), but it delivers sufficient insulation with 120-gram fill in the body and lighter 80-gram in the sleeves. Priced at $200, the Mission is a solid all-around value.
At less than half the price of our top-rated Burton above, there are some inevitable compromises with the budget-oriented Quiksilver. Everything from the simplistic hood design to the interior lining is a step down in material quality. Further, the shell fabric, while surprisingly soft, is prone to absorbing moisture throughout the day. Combined with seam taping that only covers critical areas, and the jacket won't hold up as well during extended periods of rough and rowdy weather. Riders who get out a lot will be better off spending up for a more weatherproof and longer-lasting design, but the Mission lines up well for beginners and those sticking to a budget.
See the Men's Quiksilver Mission Insulated
Best Women's Budget Snowboard Jacket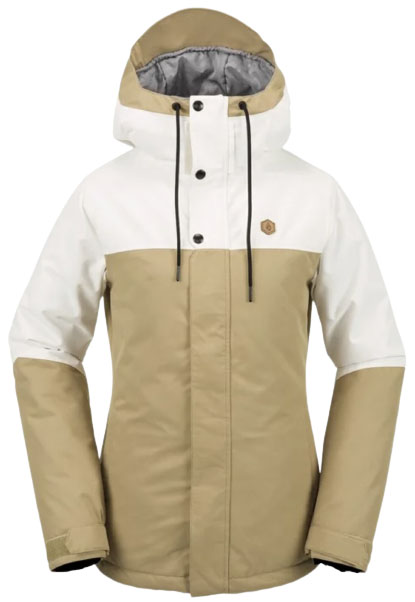 Category: Insulated
Insulation: 80g (body); 60g (sleeves)
Waterproofing: 2L V-Science
What we like: A warm and affordable design from a well-respected brand.
What we don't: Not fully seam taped and no pit zips.
California-based Volcom has a strong foothold in the snowboard jacket market, with a wide range of options for park, resort, and backcountry use. At the budget end is their women's-specific Bolt, which offers clean styling, a cozy interior, and a basic but well-rounded feature set, all for an affordable $200. Starting with warmth, the jacket is moderately insulated with 80-gram Polyfill in the body and less bulky 60-gram in the arms. Another nice touch is the jacket's compatibility with Volcom's Zip Tech system: if you have a pair of Volcom pants, you can connect the two for an integrated set-up that does a great job sealing out drafts and moisture.
Like our men's budget pick above, Volcom had to cut a few corners to keep the Bolt's costs down. In this case, you compromise full seam taping—it's only partially taped—which means the jacket isn't as well-suited for sustained and heavy snowfall, and particularly in warm and wet conditions. Further, you don't get pit zips, so the jacket will run warm on milder days and for sidecountry hikes. But if you only get out a few times a year, the Bolt is a more-than-capable snowboarding jacket and looks good to boot. For a full list of women's-specific options, check out our article on the best women's snowboard jackets.
See the Women's Volcom Bolt Insulated
Best Technical Shell for Snowboarding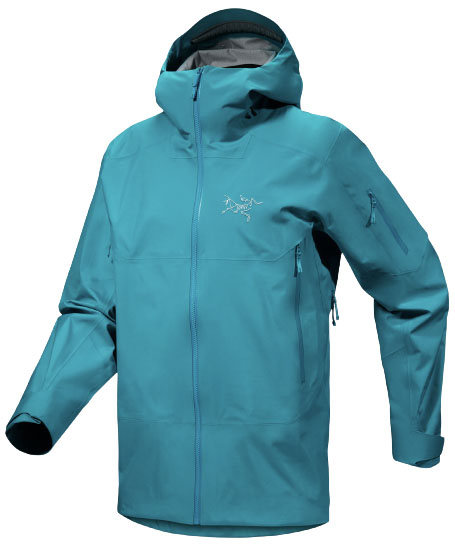 Category: Shell
Insulation: None (light flannel backer)
Waterproofing: 3L Gore-Tex
What we like: Great fit and mobility, fantastic protection, and premium look and feel.
What we don't: Very pricey.
For a technical snow jacket that puts it all together—protection, mobility, comfort, and features—we turn to Arc'teryx and their legendary men's Sabre and women's Sentinel line. Everything about the design has a premium look and feel: The 3-layer Gore-Tex is light but bombproof, its large hood offers standout coverage while remaining easy to adjust, and the sturdy face fabric holds up well to extended use. Best of all, the excellent fit and mobility mean you barely notice the jacket throughout the day. For everything from battening down the hatches in stormy conditions to sidecountry hikes and even the occasional backcountry tour, this Arc'teryx is our all-time favorite shell.
The Sabre was lightly updated for the 2023-2024 season, with a second internal dump pocket and a more refined fit. Price is the biggest obstacle with this jacket—at $250 more than the Burton Swash above, it's hard to justify the added expense for most resort boarders. That's not a knock on the jacket's performance, however, and the attention to detail is the best on the market. Everything from the minimalist seam taping to the soft flannel backer has been well executed. In the end, many people will prefer one of the more affordable options on our list, but for those who want the best of the best, we think the Sabre and Sentinel live up to the hype... Read in-depth review
See the Men's Arc'teryx Sabre  See the Women's Arc'teryx Sentinel
Best 3-in-1 Snowboard Jacket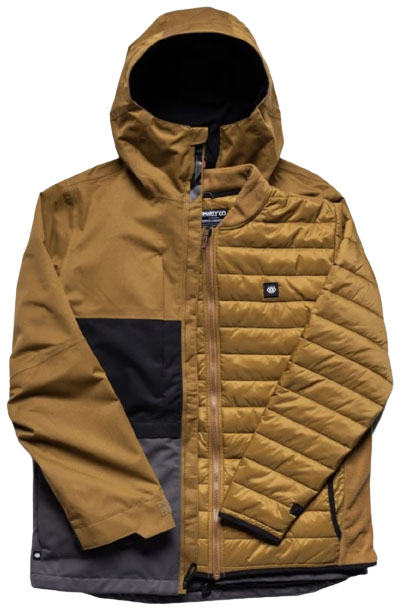 Category: 3-in-1
Insulation: 160g Polyfill
Waterproofing: 2L infiniDRY
What we like: 3-in-1 versatility and a great value.
What we don't: Heavy, bulky, and prone to feeling drafty.
For those looking to maximize bang for buck, the 3-in-1 style has a lot of appeal. A single purchase gets you both your insulated midlayer—with the option to remove it on warm days—as well as your waterproof shell. Nearly every major outerwear manufacturer offers a 3-in-1, but 686's Smarty is our favorite. It's properly outfitted with a burly outer layer that sheds moisture and blocks wind, and we found its exterior storage to be generously sized and easy to access on the lift. Further, the zip-out insulated jacket is quite warm thanks to its 160-gram synthetic fill. At a reasonable $290, the 686 also manages to undercut popular competitors like The North Face Clement Triclimate ($365) and Patagonia's Powder Town 3-in-1 ($499).
If you're set on a 3-in-1, the 686 is a solid choice, but it's important to understand the compromises with this style of jacket. For starters, they're consistently the heaviest and bulkiest options due to the extra zippers and snaps required to connect the mid and outer layers. In addition, the two-piece system can be drafty and doesn't keep you as warm and cozy as a dedicated insulated snowboard jacket. Finally, it's far from a high-performance piece: we ran warm quickly on a sidecountry hike and opening the pit zips only partially helped in dumping heat. But for those wanting to maximize versatility and value for lift-assisted or terrain park days, the 686 Smarty is a well-built 3-in-1 design.
See the Men's 686 Smarty 3-in-1 Form  See the Women's 686 Smarty Spellbound
Best of the Rest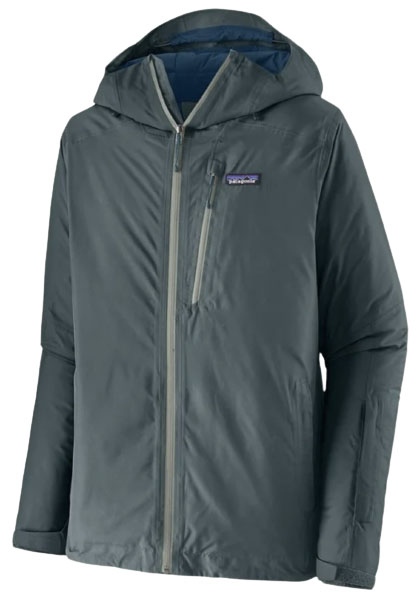 Category: Insulated
Insulation: 80g (body); 40g (sleeves)
Waterproofing: 2L H2No
What we like: Great mix of comfort and warmth for resort riders.
What we don't: Not an ideal choice for active use.
Patagonia doesn't offer any true entry-level ski jackets, but their new Powder Town collection covers all the basics for resort riders at a reasonable price. The insulated version here uses quality Thermogreen synthetic fill with a just-right mix (80g in the body and 40g in the sleeves) for keeping you comfortable on most resort days, and comfort is high thanks to the soft and smooth polyester taffeta lining. We've also been impressed by Patagonia's in-house H2No waterproofing, and the adjustable hood and powder skirt do a nice job sealing out the cold and wet. For days lapping the resort, the Insulated Powder Town is a cozy and well-built option.
The Powder Town highlights Patagonia's strong commitment to the environment, with a postconsumer recycled polyester shell, 100% recycled insulation, and PFC-free DWR. But although there's a lot of tech built into this jacket, it's still limited to resort use: The 2-layer construction is lacking in breathability compared to more premium 3-layer competitors, and the insulation means you'll quickly work up a sweat on sidecountry trudges, riding in the trees, or when hitting the park. The uninsulated variation of the Powder Town is the better choice in these situations, although its mesh liner is a step down in comfort from the soft taffeta of the synthetic-filled model. Patagonia also offers the men's Powder Town in a 3-in-1 variation, but it's a sizable bump in price at $499... Read in-depth review
See the Men's Patagonia Powder Town  See the Women's Patagonia Powder Town
Category: Shell
Insulation: None
Waterproofing: 3L
What we like: A versatile and premium design from a core snowboard brand.
What we don't: Not ideal for wet climates; expensive for a non-Gore-Tex jacket.
Built from the ground up by legendary freerider Jeremy Jones, Jones Snowboards makes some of the best boards in the business. Last year, the Truckee, Calif.-based brand expanded their lineup to include outerwear, and the Shralpinist Stretch Recycled here is their versatile jacket offering for both resort and backcountry riding. We wore the Shralpinist Stretch kit all of last winter, logging countless days in everything from mid-winter squalls to fog, light rain, and bluebird conditions. And the shell delivered, with exceptional breathability and mobility by way of the stretchy shell, generous storage (the chest pockets measure 15.5 x 10 in.), a useful collar vent, and a technical-meets-freeride aesthetic that feels just as premium as offerings from brands like Arc'teryx and Burton [ak].
Jones lightly updated the Shralpinist Stretch for 2023-2024, swapping out the 40-denier polyester for thicker 70-denier. This is a big improvement from the outgoing version, which soaked up water more quickly than our friends' Gore-Tex shells and was noticeably permeable to wind (we had to swap in a warmer baselayer on particularly cold days). Despite the upgrade, we still recommend stepping up to a Gore-Tex design like Jones' own Shralpinist Gore-Tex Pro Jacket ($800) for heavy use or particularly wet conditions. But for primarily dry climates or those who dip in and out of bounds, we really like the Stretch's breathability measures—in fact, it's one of the only jackets we've used that we'd consider wearing when starting up the skin track. The large avalanche awareness patches on the sleeve do seem a bit over the top (and the price is high for a non-GTX jacket), but cult followers will love repping Jones on the slopes.
See the Men's Jones Shralpinist Stretch  See the Women's Jones Shralpinist Stretch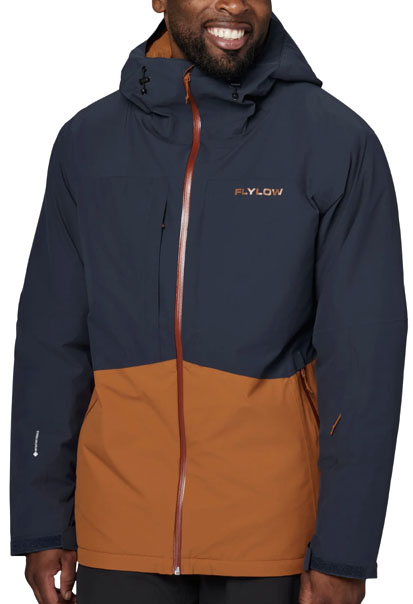 Category: Insulated
Insulation: 60g Greenloft
Waterproofing: 2L Lux
What we like: Stretchy and breathable with quality materials throughout.
What we don't: Can't match the all-out protection of Gore-Tex.
Pairing a breathable and stretchy shell with just a touch of lightweight warmth is Flylow's innovative Albert Jacket. This model is packed with comfort-related features: its face fabric has some extra "give" for improved mobility for the terrain park, the baffled interior has a puffy jacket-like feel, and the recycled Greenloft insulation keeps bulk to a minimum. Styling is also a high point, particularly in the two-tone colorway options (Flylow consistently executes these well). And to top it off, the 60-gram synthetic insulation is just warm enough to take the sting out of a cold day without making yourself prone to overheating.
Who is the Flylow Albert best for? Active riders who spend most of their time away from groomers will appreciate its excellent range of motion and breathability. On the other hand, the Albert is not as well-suited for very wet snow (the somewhat thin and stretchy face fabric can't match Gore-Tex in all-out protection), and resort riders who prioritize warmth will be disappointed by the modest insulation. It's worth noting that the women's variation of the jacket, the Avery, differs slightly in design with 100-gram Greenloft (rather than 60g) and an additional exterior pocket on the sleeve. And for a non-insulated all-rounder from Flylow, check out the men's Malone and women's Lucy (both $400).
See the Men's Flylow Albert  See the Women's Flylow Avery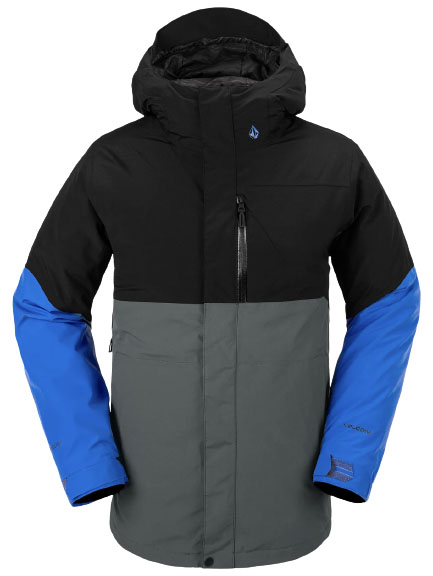 Category: Shell
Insulation: None
Waterproofing: 2L Gore-Tex
What we like: Gore-Tex protection, clean looks, and a great price.
What we don't: Fairly bland styling.
One of the more popular snowboard jackets on the hill, Volcom's L combines quality Gore-Tex waterproofing at an excellent price. For $340, you get Gore's proven 2-layer build, a versatile non-insulated design that leaves plenty of room for layering, and a solid storm hood that impressed us with its adjustability and protection on a deep day at British Columbia's Red Mountain. And like the Bolt above, we were smitten with the performance of the Zip Tech system, which connected to our Volcom pant for bib-like protection.
From a styling perspective, the Volcom is on the bland end of the spectrum with generic colors and a simple overall design. In addition, the mesh lining has a fairly cheap look and feel—our tester mentioned it was reminiscent of gym shorts. And the partial elastic wrist closure is also noticeably flimsier than more secure, premium alternatives. But the mesh does an admirable job wicking moisture, and the drop in comfort wasn't too noticeable even on sidecountry hikes. If you don't mind its simple looks, the Volcom L is a well-rounded uninsulated option (it's also offered in an insulated version for just $10 more).
See the Men's Volcom L Gore-Tex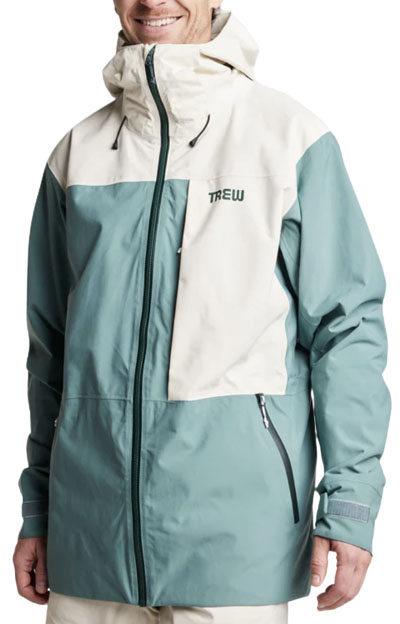 Category: Shell
Insulation: None
Waterproofing: 2L PNW
What we like: Great coverage, durable, and functional feature set.
What we don't: Pretty heavy for an uninsulated shell.
For those who haven't been introduced, Trew Gear is an Oregon-based company that excels in the mid-range and high end of the resort and backcountry markets. Their designs are super well made and have clean styling—the look and feel often reminds us of Gore-Tex—and durability and weatherproofing are performance hallmarks. The men's Jefferson and women's Astoria are their core, uninsulated 2-layer jackets that hit a very desirable combination of price, toughness, and coverage. With long cuts and burly shells (the 200 x 320D nylon is easily the thickest here), the jackets excel in the kind of conditions you learn to accept in the Pacific Northwest: wet, rowdy, and—at times—deep.
Like Flylow above, Trew Gear's jackets are available in tri-color layouts, although the Jefferson and Astoria also come in a couple classy solid colorways as well. Comfort is another strong suit with an impressively smooth lining and relaxed fit, and they've managed to check the right boxes with features like pit zips and a nice assortment of interior and exterior pockets. One downside of the build is that it's pretty heavy for a jacket that lacks insulation—we wouldn't recommend hauling it on any significant splitboard adventures—but the latest version does offer a bump in breathability for sidecountry hikes. Added up, for a well-sorted, long-lasting, and stylish shell, the Jefferson deserves your attention.
See the Men's Trew Gear Jefferson  See the Women's Trew Gear Astoria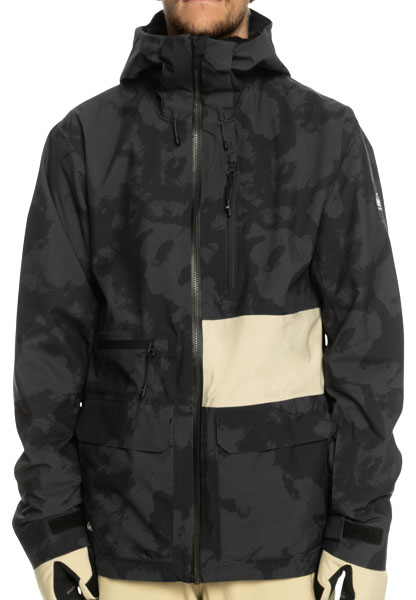 Category: Shell
Insulation: None
Waterproofing: 2L DryFlight
What we like: Classic snowboarder style in a well-priced, technically savvy jacket.
What we don't: Lacks breathability and hood is not super secure.
Quiksilver is known for their fun snow meets surf vibe, and the Sammy Carlson Stretch Quest is a nice option for resort riders looking for that perfect combination of value, performance, and style. The uninsulated shell features an aesthetically pleasing modern fit, and stretchy polyester offers great mobility and comfort for all-day ripping. For lift-served riding, we love the large exterior chest pockets (although an insulated device pocket would be nice), well-designed wrist gaiters, and versatile jacket-to-pant button loops, which are useful if you're wearing Quiksilver bottoms. And while DryFlight doesn't offer the same level of weather protection as Gore-Tex, it'll cost you a lot less—and so far it's proven capable for dry and cold days inside the ropes.
Keep in mind that breathability suffers with a 2-layer design like the Quiksilver, and the small, mesh-lined pit zips are unlikely to be too effective at dumping heat. We've also been disappointed with the hood, which is a little on the small side and doesn't offer the kind of secure cinch you'll get with a Burton [ak], Patagonia, or Arc'teryx design. But for casual resort riding, the Sammy Carlson Stretch Quest is a durable and comfortable option for far less than the competition, and it's hard to knock the dedicated snowboard style. Finally, we appreciate Quiksilver's efforts toward sustainability: The jacket is crafted with a recycled shell, bluesign approved fabrics, and a PFC-free DWR.
See the Quiksilver Sammy Carlson Stretch Quest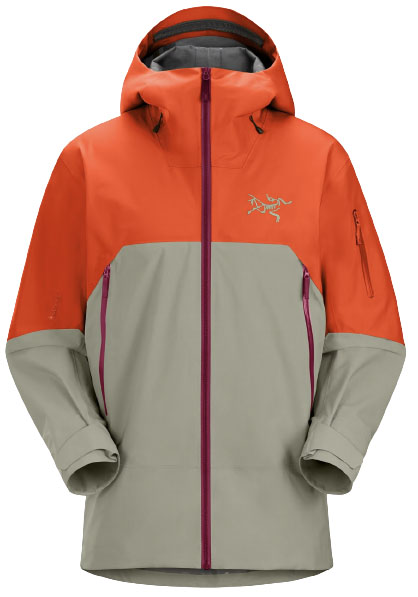 Category: Shell
Insulation: None
Waterproofing: 3L Gore-Tex Pro
What we like: Uncompromising backcountry design: light, mobile, and highly protective.
What we don't: It's one of the priciest shells on the market.
The Arc'teryx Sabre above is ideal for serious resort and occasional backcountry use, but dedicated splitboarders will be better off with the brand's Rush Jacket. Most notably, this uninsulated shell swaps the Sabre's standard 3-layer Gore-Tex and flannel backer for a top-end Gore-Tex Pro build. Combined with a burly face fabric and lightweight liner, the Rush manages to be both more breathable and durable than the Sabre. And the backcountry focus continues with a moderately trim fit that moves nicely on the skin track. It's undeniably expensive at $749, but the Rush is as good as it gets for situations when you really need to trust your gear.
Why did we rank the Sabre above the Rush? The primary reason is the Sabre's do-everything nature: its roomier fit is more accommodating for a range of midlayers, the aforementioned flannel backer gives it the clear edge in comfort (it's less stiff and noisy than the Rush), and you don't give up anything in terms of organization and features between the two. The Rush's backcountry performance and longevity are hard to knock, but if you dabble in a little of everything and want a one-jacket quiver, the Sabre is the shell to get... Read in-depth review
See the Men's Arc'teryx Rush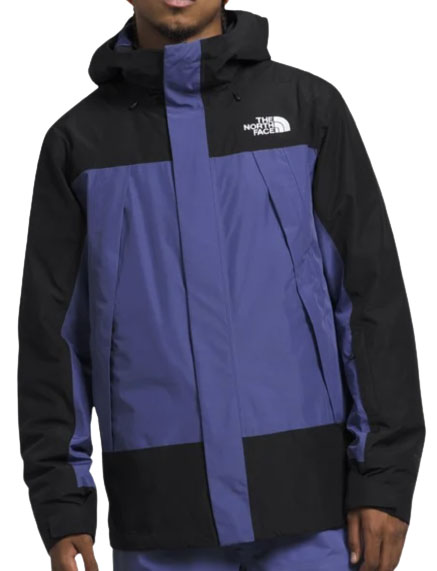 Category: 3-in-1
Insulation: 100g (body); 80g (sleeves)
Waterproofing: 2L DryVent
What we like: A well-rounded and good-looking 3-in-1 jacket.
What we don't: Only moderately warm; you pay a premium for the brand.
The North Face isn't a big-time player in the snowboard jacket market, but they do offer a solid range of 3-in-1 designs (TNF calls them "Triclimate"). Our current favorite is the Clement, which hits a good mix of price, features, and styling for season-long use. There are plenty of exterior pockets for storing items you want close at hand—we especially appreciate the RFID-friendly pass pocket on the sleeve—and the large hood is helmet-compatible and fairly easy to adjust. The zip-in midlayer uses The North Face's budget-oriented Heatseeker insulation, but there's enough of it for staying warm in moderate temperatures. Like all 3-in-1s, there are compromises—the jacket is undeniably bulky and we'd prefer an adjustable hem on the midlayer—but the Clement is a thoughtfully put together, quality design nevertheless.
How does the Triclimate stack up to the 686 Smarty above? Both cover the basics thanks to snow- and wind-shedding exteriors with full seam taping and DWR coatings. Plus, their hoods are easy to adjust and fit reasonably well over a helmet. Neither will be confused with performance pieces—they're prone to feeling swampy on sidecountry hikes—although the two designs feature pit zips for regulating heat. It's a close call, but the clincher for us is price: the 686 is a little warmer and doesn't give up much in features or material quality while coming in $75 less.
See the Men's North Face Clement  See the Women's North Face Clementine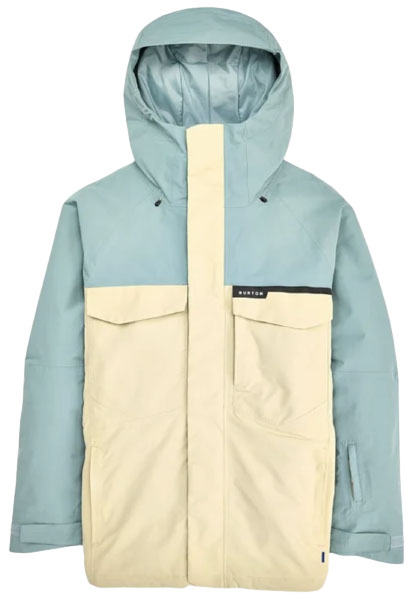 Category: Insulated
Insulation: 80g ThermacoreEco
Waterproofing: 2L Dryride
What we like: Burton brand cachet in an affordable and insulated jacket.
What we don't: Middling weather protection and durability.
Burton's AK jacket above covers the bases for serious riders who get out a lot, while their budget-oriented men's Covert and women's Jet Set check the right boxes for occasional resort and park use. This jacket features a tough and durable face fabric, a nice array of pockets to keep your essentials secure, and a moderate amount of synthetic insulation (80g ThermacoreEco). Highlighted in the recently updated 2.0, you also get some nice touches that you don't often find on cheaper jackets, including Burton's smooth and moisture-wicking interior, pit zips, fleece-lined pockets, a removable powder skirt, and one of the widest size ranges on the market (from XXS to XXXL).
The Covert nails the traditional street-style look that many snowboarders are going for—with the brand cachet of Burton to boot—but it doesn't offer the same performance and durability of the more premium jackets here. Heavy, wet snow will make its way through the cheaper membrane and partially taped seams, and the insulation will pack out over time. It's true the touch points are an upgrade from an alternative like the Quiksilver Mission above ($200), but the extra cost doesn't net you a big change in weatherproofing. But if you like the styling and boost in comfort—we certainly do—it may be worth the added cost.
See the Men's Burton Covert 2.0 Insulated  See the Women's Burton Jet Set
Category: Shell
Insulation: None (fleece liner)
Waterproofing: 2L Gore-Tex
What we like: Industry-leading sustainability, burly construction, and decent breathability for both resort and sidecountry use.
What we don't: Pricey for a 2-layer Gore-Tex jacket.
The second Patagonia design to make our list is their Storm Shift, which offers a step up from the Powder Town above in just about every department. You get upgrades in durability with a hardwearing 150-denier shell (the Powder Town is 75D) and waterproofing via a more premium Gore-Tex membrane, which has kept us bone dry in wet PNW conditions (the Powder Town uses in-house H2No). The Storm Shift is also a better breather thanks to the upgraded membrane, wicking fleece liner (reminiscent of Patagonia's R1 Air material), and pit zips that will keep you reasonably cool and comfortable on uphill jaunts into the sidecountry. Finally, we've found the Storm Shift to be surprisingly supple and mobile despite the thick fabric. It all adds up to a high-end jacket for serious resort riders who put a lot of mileage on their gear.
The headlining story with the new Storm Shift is its fully PFC-free Gore-Tex design—the first of its kind from Patagonia (most of their products use a PFC-free DWR, but the harmful chemical is still present in most Gore-Tex membranes). This will help justify the investment for some, but $499 is still undeniably pricey for a 2-layer Gore-Tex build (the Volcom L GTX above is $159 less), and we've found that the eco-friendly DWR unfortunately soaks through faster than most. What's more, we'd expect a jacket of this price to have water-resistant zippers rather than fabric flaps over the pass pocket, chest pocket, and pit zips. But compared to the Volcom, the Patagonia does include a nicer and more durable face fabric, softer liner, and more thoughtful organization (although we wish the internal and external chest pockets were on different sizes). Nitpicks aside, if you're willing to pay the price, the Storm Shift is one of the most premium resort shells here... Read in-depth review
See the Men's Patagonia Storm Shift  See the Women's Patagonia Storm Shift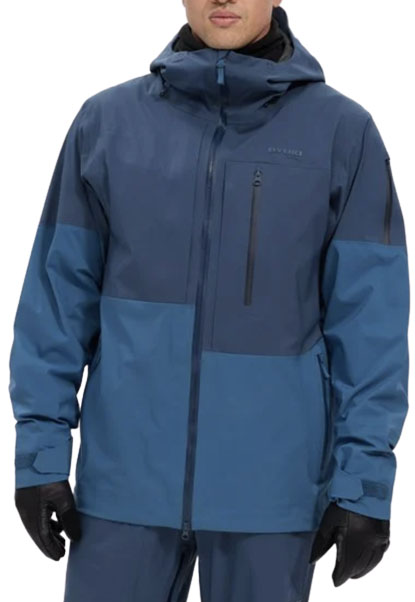 Category: Shell
Insulation: None
Waterproofing: 3L YamaPro
What we like: A premium and stylish 3-layer design for just $500.
What we don't: Pit zips are on the small side; the jury is still out on the YamaPro membrane.
Based in Japan's powder capital, Oyuki has a growing lineup of outerwear designed for skiers and snowboarders. Their jackets combine fun freeride styling with real-deal performance, and the Goshiki (and women's Nimi) sits at the top of the food chain. Featuring Oyuki's in-house YamaPro waterproof/breathable membrane in a 3-layer design, the Goshiki is competitive with the likes of the Arc'teryx Sabre and Jones Shralpinist above (but for $100 to $250 less). We've found the fit to be excellent—roomy but still flattering—and the finishes, including the quiet material, high collar, and artsy seam taping, have a very premium feel.
The Goshiki is Oyuki's first attempt at a snow jacket, so it does have a few features that need improvement. We've found the pit zips to be on the small side—not a big deal for resort riders, but something to keep in mind if you spend a lot of time on the skin track. Second, on pow days, we've found that snow has a tendency to get stuck in small crevices that form at the bottom of the pit zips. Finally, we haven't had a chance to test the YamaPro membrane in truly wet conditions (we'll be sure to update this review when we do), but its look and feel is not far off from Gore-Tex. All in all, these are fairly small gripes for most, and the Oyuki Goshiki is a very strong first effort. For more savings, check out Oyuki's 2-layer Miharashi (and women's Hara), which have an $350 MSRP and will get the job done for most resort riders.
See the Men's Oyuki Goshiki YamaPro  See the Women's Oyuki Nimi YamaPro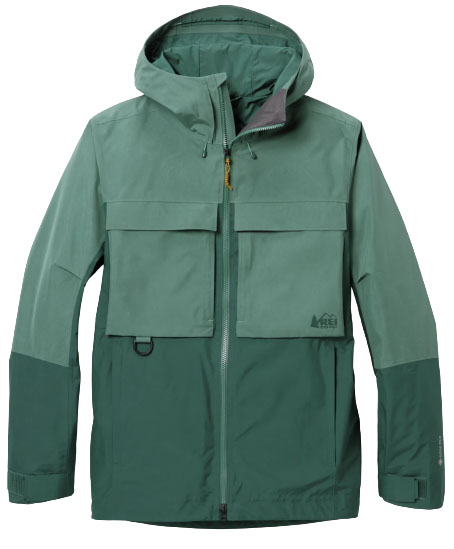 Category: Shell
Insulation: None
Waterproofing: 2L Gore-Tex
What we like: Reliable Gore-Tex waterproofing at a good price; tall and extended sizes offered. 
What we don't: Trew's Jefferson above costs the same and has a more comfortable and refined build.
REI jumped into the ski outerwear market a few seasons ago with a small collection of resort-focused pieces, and their current top-flight jacket is the First Chair GTX. As expected from the Seattle-based brand, this non-insulated shell is high on value: For $319, you get Gore-Tex waterproofing, a smooth interior, and valuable features like a powder skirt, pit zips, and seven well-distributed pockets. Another nice touch is the emphasis on sustainability, with a recycled polyester shell and lining, bluesign-approved materials, and Fair Trade certification. Available in a nice range of colors and sizes—including tall for men and up to 3X for women—the First Chair is a solid all-around option and particularly for resort riders.
As expected for the price, the First Chair isn't as well suited for active use. Gore's 2-layer construction isn't a standout in terms of breathability, and the extra lining covering the interior adds both weight and bulk. In addition, they've incorporated cheaper fabric flaps over the zippers on the pockets and pit zips for waterproof protection (the center zipper is coated, however). Compared to the equally priced Trew Gear Jefferson above, the REI is lighter but has a more generic fit, lacks the quality feel on touch points like the zipper pulls and hood cinches, and isn't as soft along the interior. But if you prioritize Gore-Tex waterproofing, storage, and value—an admittedly great combo—the First Chair is well worth checking out.
See the Men's REI First Chair GTX  See the Women's REI First Chair GTX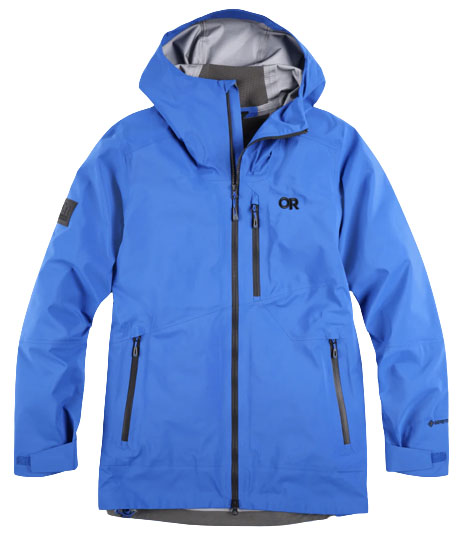 Category: Shell
Insulation: None
Waterproofing: 3L Gore-Tex; 2L Gore-Tex w/ Stretch
What we like: Excellent mix of mobility, ventilation, and weather protection.
What we don't: Expensive and purpose-built for the backcountry.
Outdoor Research may not be on the radar of many snowboarders, but their products offer a compelling mix of price and performance. At the top of their lineup is the impressive Hemispheres II jacket, which is designed for the backcountry and combines premium 3-layer Gore-Tex with stretchy panels (also from Gore) for top-notch comfort and mobility. It's also a leader in ventilation thanks to its unique TorsoFlo side vents that extend from the underarms all the way to the hem. And with a recent update, the II now uses bluesign-approved materials and tacks on internal mesh drop pockets for storing skins. For anything from splitboarding adventures to active use at the resort, the Hemispheres is a great premium choice.
At $649, the Hemispheres is undeniably pricey, and you'll want to be spending a good amount of time in the backcountry to justify the investment. Frontcountry riders should also consider OR's own Kulshan Storm (previously known as the Mt. Baker Storm), which tacks on resort-specific features like a pass pocket and burly 150-denier nylon at the hood, shoulders, and forearms to keep you protected on particularly stormy days. But for backcountry exploration, it's hard to knock the capabilities and comfort of the Hemispheres II, making it a viable alternative to jackets like the Arc'teryx Sabre and Jones Shralpinist above. 
See the Men's OR Hemispheres II  See the Women's OR Hemispheres II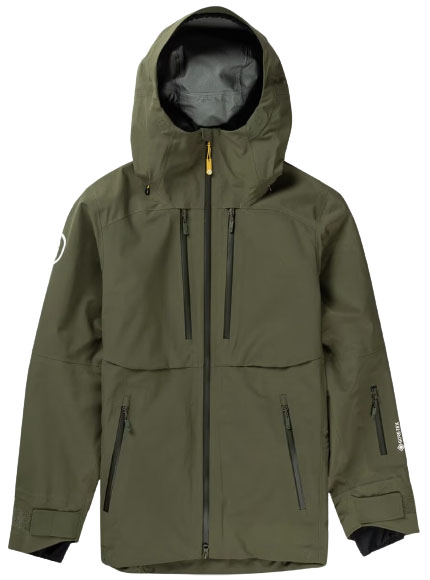 Category: Shell
Insulation: None
Waterproofing: 3L Gore-Tex
What we like: Super tough and feature-rich hardshell.
What we don't: Stiff enough to be a letdown for active use.
Popular outdoor retailer Backcountry has jumped into the apparel world with a surprisingly complete line of outwear, insulation, and more. Their Cottonwoods Jacket (it's also offered in a matching bib) is their hardwearing and premium resort shell. It's uninsulated but includes a tough and highly weatherproof face fabric, 3-layer Gore-Tex construction, and well-sorted organization. There are a grand total of seven pockets—five along the exterior and two inside—that make is easy to distribute gear and snacks, and Backcountry nailed the basics with easy adjustments at the hood, cuffs, and hem, as well as soft hand gaiters for an extra dose of comfort. It's even priced well at $449, which is $200 less than any other 3-layer Gore-Tex jacket here.
The Cottonwoods is one of the most burly jackets we've tested—its 2-pound-1-ounce weight gives a little window into its robust nature—and is set to withstand season after season of serious use. But the flipside of the Backcountry's construction is that the jacket is among the stiffest and least comfortable on our list. Not only is it fairly noisy, but the Cottonwoods lacks the supple and mobile feel of alternatives like Arc'teryx's Sabre and Patagonia's Storm Shift. For deep days at the resort or if you spend a lot of time in the trees, the bombproof design is a fair tradeoff, but we think many riders will be happier with better freedom of movement from their snowboard shell. It's also worth noting Backcountry's NST Freeride 3L Shell Jacket, which offers great mobility by way of a stretch-infused face fabric.
See the Men's Backcountry Cottonwoods  See the Women's Backcountry Cottonwoods
Snowboard Jacket Comparison Table
Snowboard Jacket Buying Advice
Snowboard Jacket Categories
Shell
The snowboard jacket market can be separated into three general categories: non-insulated shells, warmer models filled with synthetic or down insulation, and 3-in-1 designs. Starting with shells, these are the most versatile option for season-long use. Their lack of insulation means you can tune your layers underneath based on conditions and where you'll be riding—go light for mild-weather days or throw on a thick midlayer to stay warm in cold temperatures. Premium shells also are the preferred option for sidecountry and splitboarding uses because they're more breathable and less apt to overheat. The main downside is cost: since they don't provide much warmth, you'll need to purchase a separate insulating layer. Top shells from our list include the Patagonia Storm Shift, Arc'teryx Sabre, and Volcom's L Gore-Tex.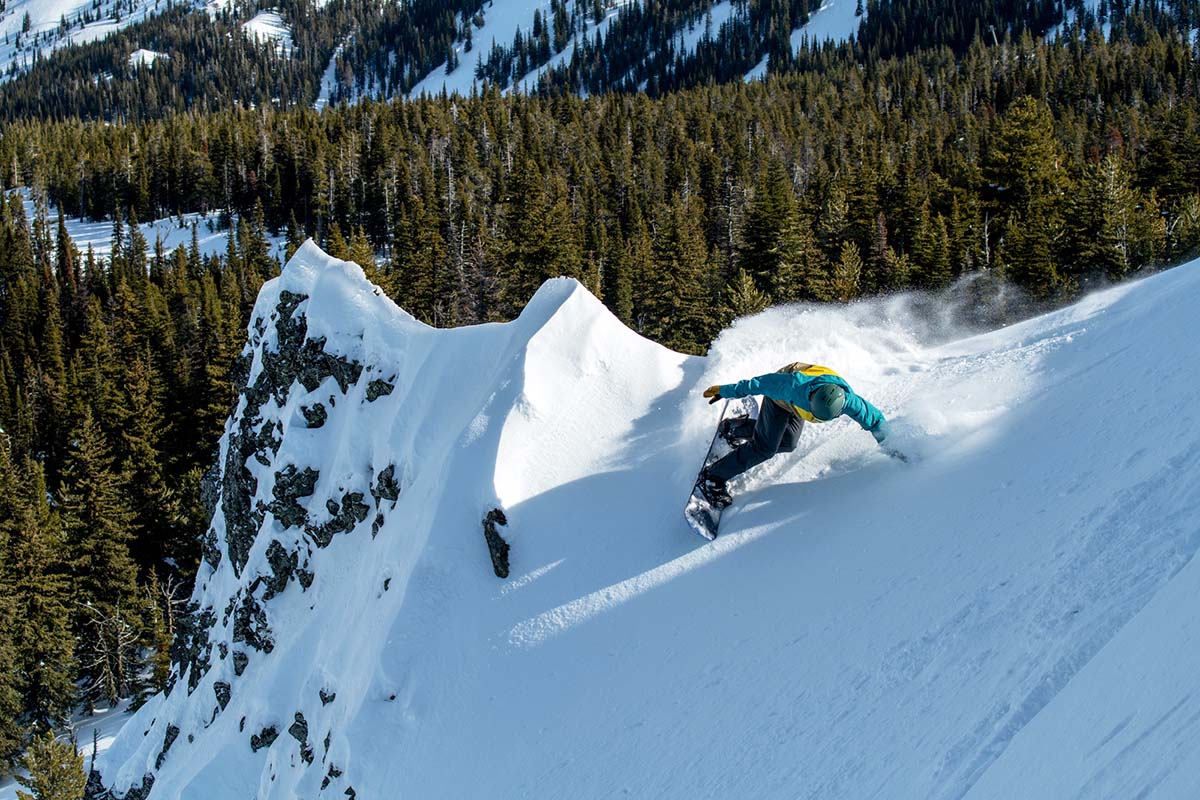 Insulated
As the name implies, jackets in this category have insulation stuffed in between their outer shell and inner lining to keep you warm on the hill. The vast majority of models use synthetic fill thanks to its affordable nature and ability to continue insulating even when wet (unlike goose or duck down). This style of jacket is particularly valuable for those that run cold or live in frigid regions like the Northeast of the United States or in high elevations in the Rocky Mountains. That said, on mild days or for those that like to hike, overheating can be an issue (a shell jacket is best for these circumstances). Some of our favorite insulated snowboard models include Burton's AK 2L Gore-Tex Swash and women's Embark, Patagonia's Insulated Powder Town, Flylow Gear's Albert, and Burton's Covert/Jet Set.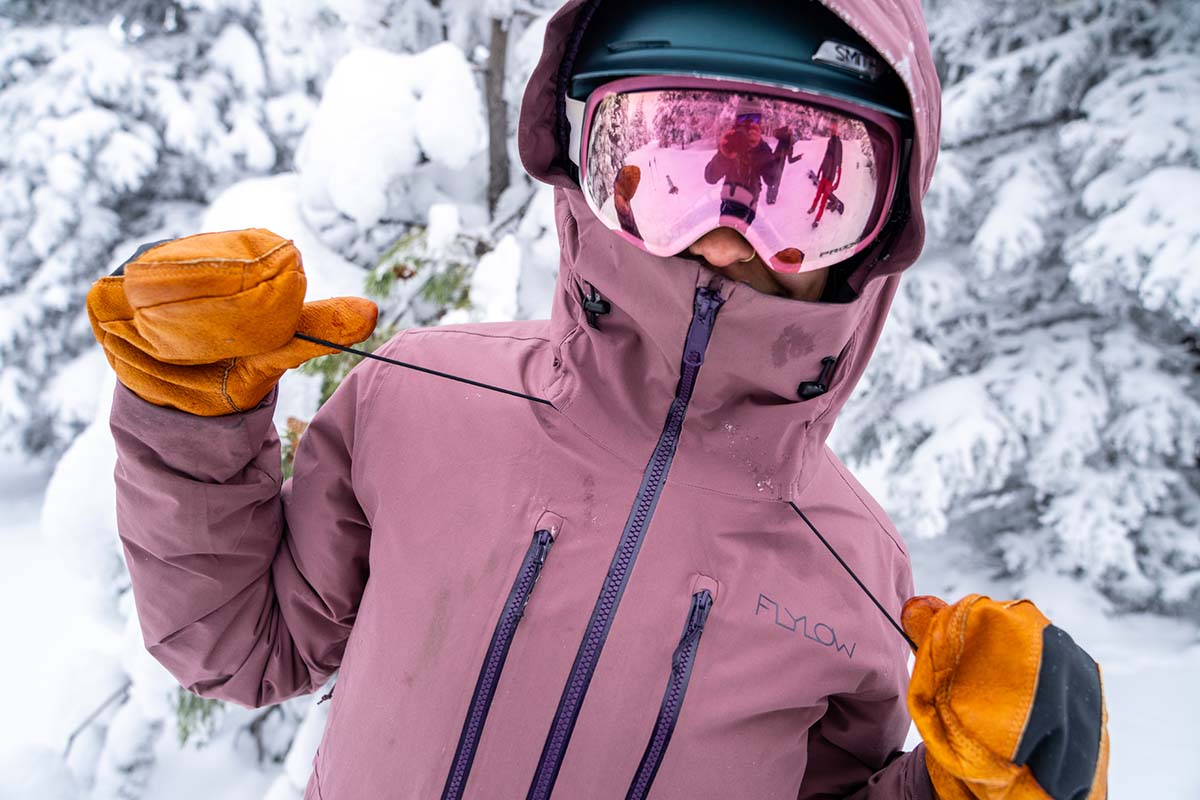 3-in-1
The final category is the 3-in-1 jacket, which includes two pieces: a waterproof hardshell and an insulating layer that can be zipped in or out depending on conditions (or worn on its own around town). 3-in-1s fall consistently on the budget end of the spectrum—most designs cost between $200 and $400—and their strong value proposition (at least on paper) make them a popular choice among beginners and casual resort riders. 
In use, however, 3-in-1 jackets come with their fair share of compromises. First off, the extra zippers and buttons required to attach the layers add a fair amount of weight, making 3-in-1s consistently the heaviest and bulkiest options. Second, they're not efficient insulators and we've found them prone to being drafty on foul-weather days. And finally, their zip-out layers are rarely high-quality pieces. Most don't have an adjustable hem, so they often fit awkwardly when worn on their own (hurting their appeal for everyday use). To be fair, 3-in-1s have their place for those looking to save (including the 686 Smarty Form, which retails for $290), but it's good to be aware of the pitfalls.
Warmth and Insulation
Given the stop and start nature of snowboarding—sitting on the lift, strapping in and out of bindings, and hanging out in the park—many resort riders opt for a jacket with some form of insulation. The amount of warmth can vary widely between models, so it's important to think through how much fill you realistically need. Are you always cold on the mountain? Are winters at your local hill consistently frigid? You'll likely want a more heavily insulated design. But if you run warm or temperatures are variable (such as in regions of the Pacific Northwest), going with light insulation (or none at all) is best. Either way, we highly recommend not over-insulating, as it's far easier to add layers underneath than roasting in a too-warm jacket (which can lead to other issues like your snow goggles fogging up).
As we touched on above, the vast majority of designs use synthetic fill, which is measured in grams per square meter (typically shortened to "g"). The quality of the material plays a role in how well they insulate, but you can make generalizations based on the listed fill weight. Jackets with 40- to 60-gram synthetic are on the light end and most riders will still need a midlayer in average winter conditions. The upside is this amount of fill keeps you from overheating on mild days or if you'll be mixing in a sidecountry hike. Stepping up to 80- to 100-gram (or more) is best for riders that want to ditch their insulated midlayer on all but the coldest days. And a final note here: you'll often see jackets include more fill around your core than the sleeves, which helps keep your body warm while reducing bulk and improving mobility.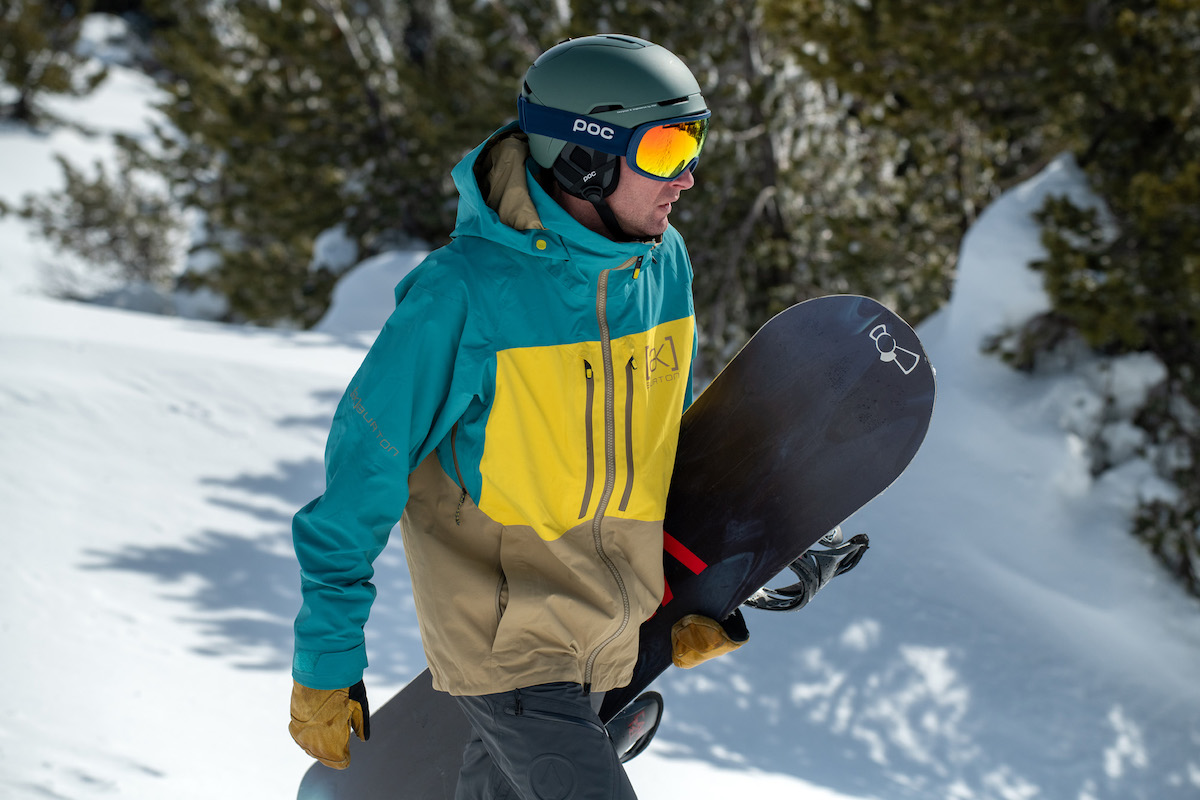 Waterproofing: Construction, DWR, and Seam Taping
Construction 
All of the jackets that made our list above are designed to protect you from snow and wind, although their performance will vary. Three important factors come into play: the quality of the waterproof construction, DWR coating, and seam taping along the interior. Starting with waterproofing, for the best in terms of protection and longevity, it's hard to beat Gore-Tex. In both their mid-range 2-layer and lighter and more breathable 3-layer varieties, we've found them to be reliably wind and waterproof even in harsh and wet conditions. To save money, many manufacturers utilize an in-house design, and proven options here include Patagonia's H2No and Flylow Gear's Intuitive. That said, stepping down to budget-oriented models in the $200 to $270 price range gets you a noticeable drop in quality. They'll provide sufficient protection in moderate and dry conditions, but the lower-end builds aren't as reliable on particularly wet days or long-lasting.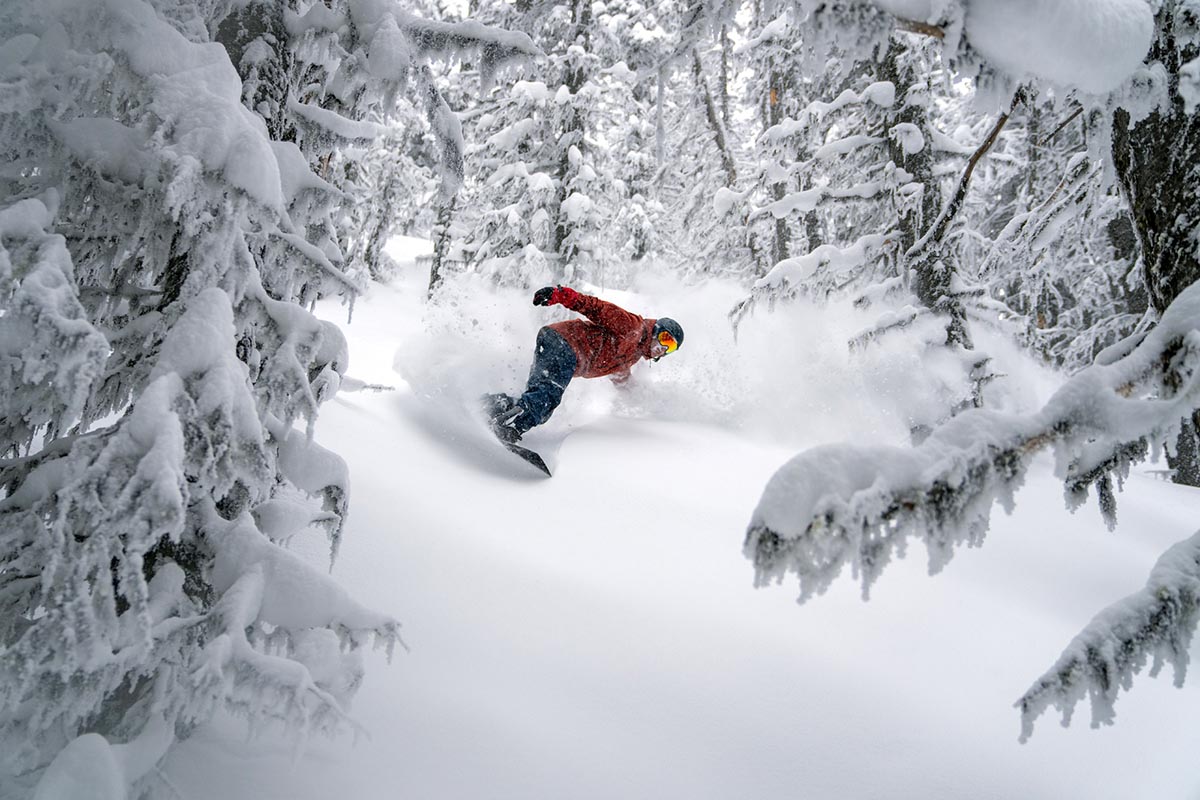 Durable Water Repellant (DWR)
Durable water repellant coatings (referred to as DWRs) are added to the face fabric to keep the nylon or polyester material from wetting out. This in turn helps prevent the internal waterproof membrane from being overwhelmed by moisture, which can cause issues with breathability and even leakage. A properly functioning DWR is easy to spot: snow and water will mostly stay on the surface of your jacket and be easy to shake or brush off with your gloves. It's worth noting that many snowboard jackets priced $200 and under do not include a DWR coating, which is why we often recommend serious riders spend up for a higher-performing piece (particularly those in areas with wet snow like the Pacific Northwest).
Seam Taping
Seam taping is just as it sounds: assembling a jacket requires connecting multiple pieces of fabric, which leaves potential vulnerabilities for moisture to seep through. By applying tape to the interior lining, you can provide an effective and mostly watertight seal. Jackets in the mid- and high-end of the market will feature full seam taping, while budget-oriented models like the Volcom Bolt Insulated or Quiksilver's Mission only protect the "critical" seams. This typically refers to areas subjected to the most moisture, including the shoulders and front zipper. Finally, the quality of the taping can vary—Arc'teryx is a market leader with taping that's minimalist and keeps bulk down while having a very long lifespan. Cheaper seam taping can peel back or even partially disintegrate over time.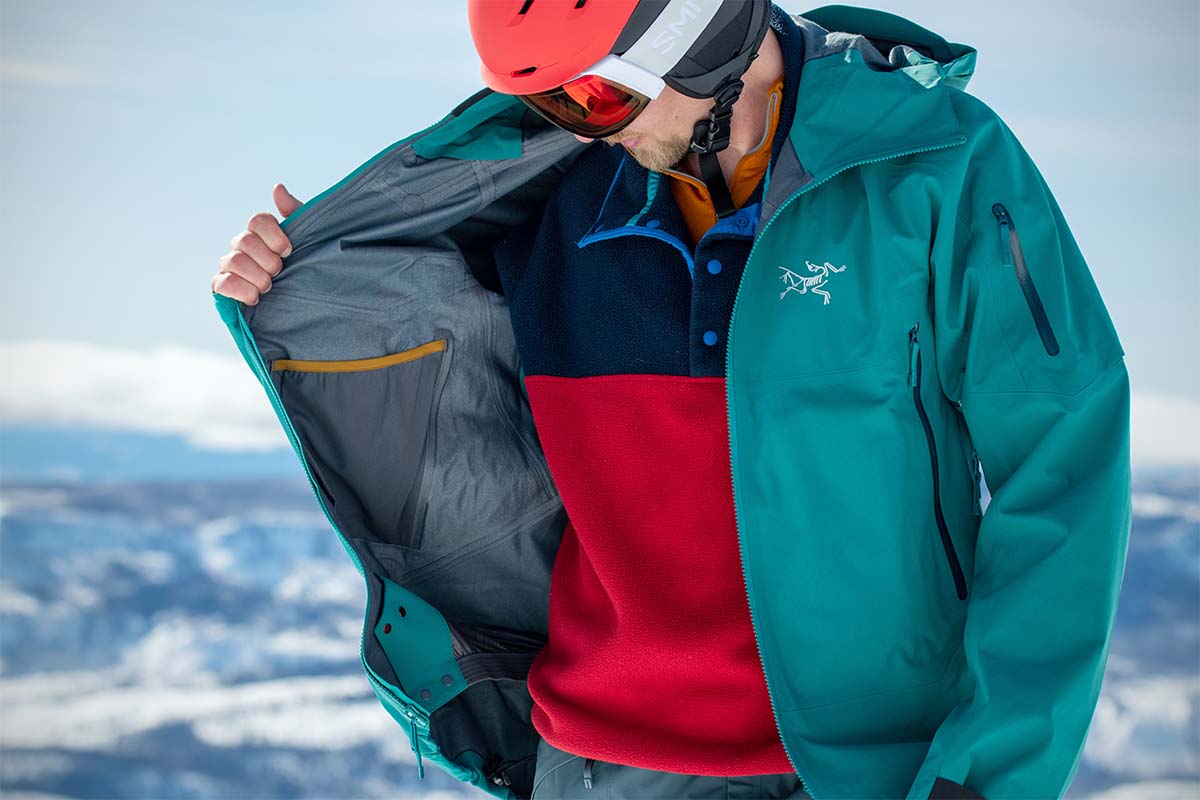 Breathability
For most lift-assisted snowboarding, breathability isn't a top consideration. As long as you're not overdoing it with insulation and sticking to groomers or shorter runs in the trees, most jackets are breathable enough to keep you comfortable. But for active riders, those that like to hike into the sidecountry, or for splitboarding, breathability jumps up the priority list. 
Overall, among waterproof designs, the best ventilators are non-insulated and feature premium 3-layer constructions (an outer layer, internal membrane, and liner all bonded together). Designs like Outdoor Research's Hemispheres II and Arc'teryx's Sabre have 3-layer Gore-Tex builds that do a great job wicking moisture and drawing hot air out of the shell. Finally, if breathability is a top consideration—such as for springtime splitboarding—you may want to consider a non-waterproof softshell, which is more air permeable and does a better job keeping you cool. That said, softshells come with clear compromises in protection from snow, so they're not as capable for resort or season-long use (they're a better secondary jacket).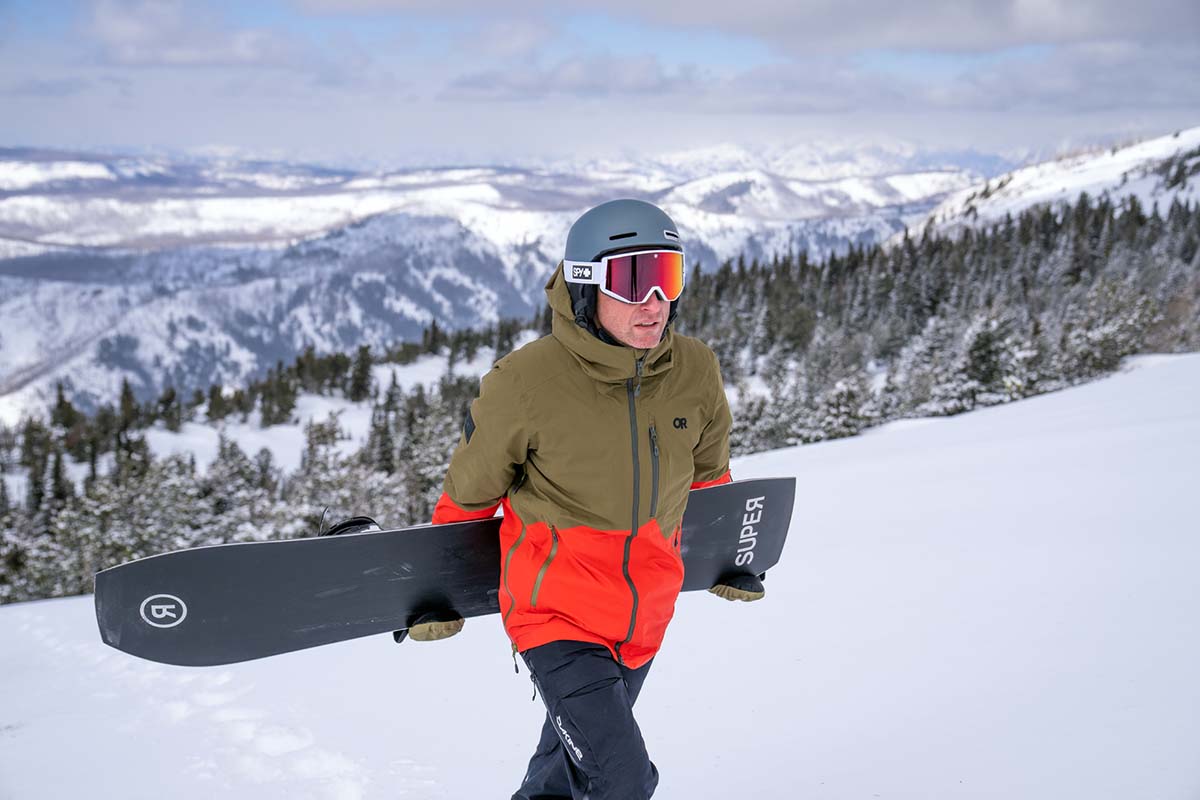 What do Waterproof and Breathability Ratings Mean?
In researching snowboarding jackets, you'll consistently find two numbers being marketed heavily: a waterproof rating (usually listed in millimeters) and a breathability rating (provided in grams). For waterproofing, many manufacturers use what's commonly referred to as a static-column test: a piece of the jacket's shell fabric is set below a 1-inch diameter tube, which is then filled with water until the fabric begins to leak. The height of the water at that point of failure is its rating. The breathability test is more convoluted and less standardized, but it measures how much water vapor travels from the inside to the outside of the fabric over a 24-hour stretch. 
What should be immediately clear from both of these tests is that they don't perfectly simulate winter conditions, and we don't recommend relying on them heavily in selecting a jacket. In particular, we wouldn't put much weight on the breathability rating: there isn't an established procedure to compare products and the test is done in a controlled lab environment (in other words, not out in snow). There is some value in the static-column rating—a higher number will typically lead to better waterproofing—but plenty of other factors come into play, including DWR coating, fabric denier, and seam taping. Rather than focusing on the numbers, we think it's best to look at it this way: spending up gets you better waterproofing (Gore-Tex is a safe bet), and if you prioritize breathability, opt for a high-end, uninsulated shell.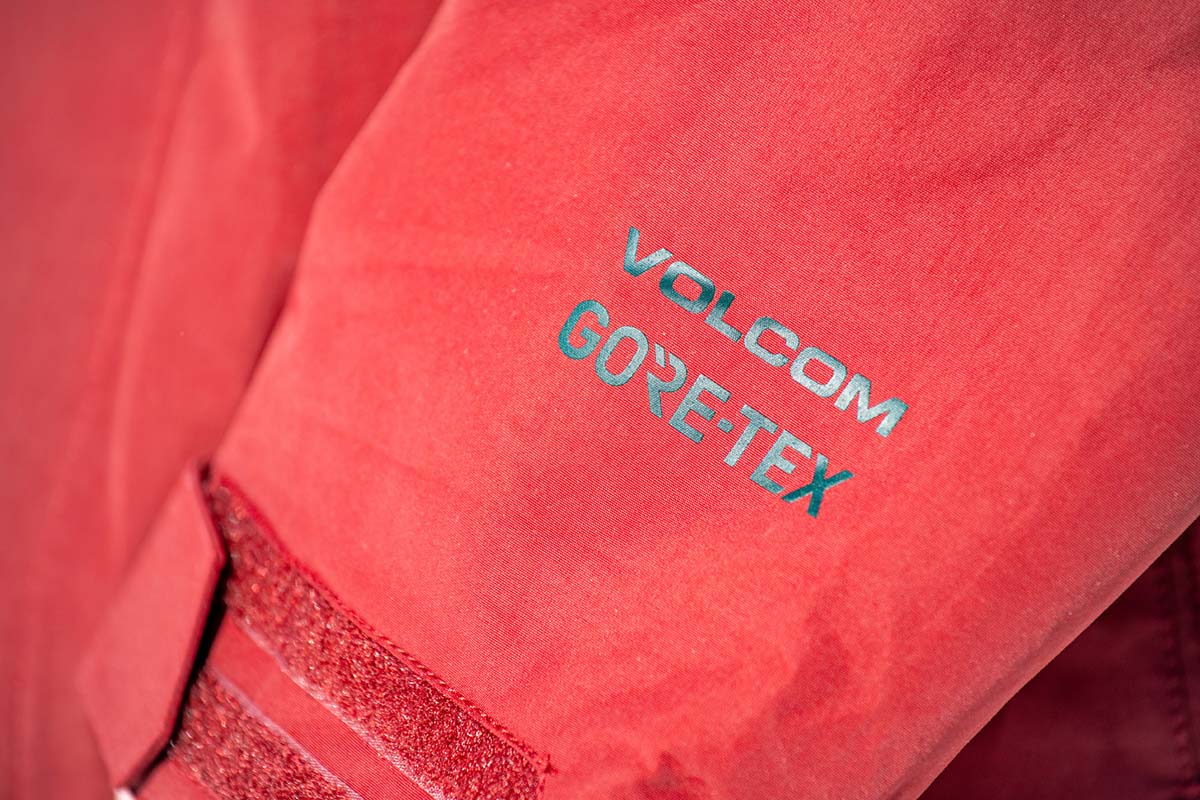 Snowboard Jacket Durability
Snowboard jackets are a durable bunch, relying on substantial face fabrics to fend off harsh weather and withstand rough use around chairlifts, park features, and sharp gear. Unlike rain and hardshell jackets, most manufacturers don't provide a fabric denier (a measurement of density and thickness), so it can be hard to compare models without seeing them in person. That said, designs fall in basic categories: cheap jackets are often quite tear-resistant and tough, using thick materials to provide weatherproofing. And it's a similar story for mid-range builds like Volcom's L Gore-Tex, which have higher-end materials that are lighter but still durable. Backcountry designs and technical shells sacrifice a little durability for less weight and improved range of motion and breathability, but we've found even models like the Outdoor Research Hemispheres II or Arc'teryx's Sabre are reliably tough.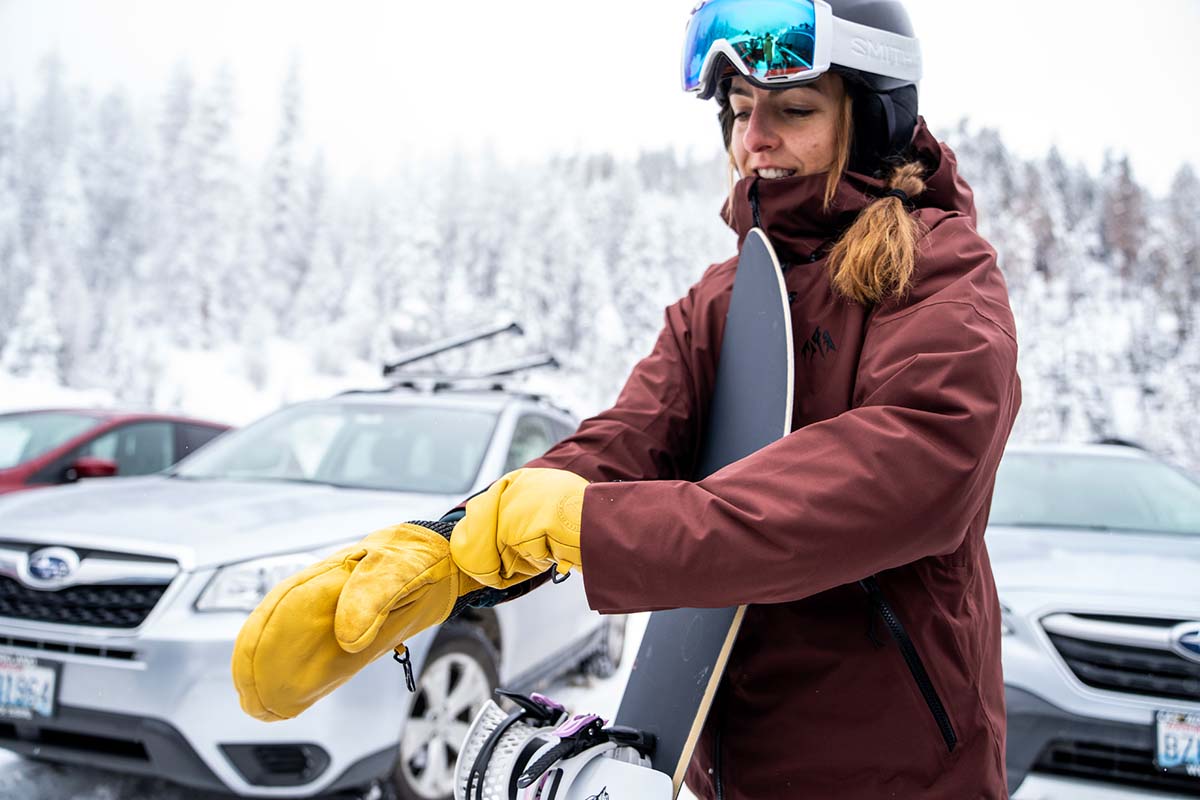 Weight
Closely tied to durability is weight: a thicker and very tough snowboard jacket will logically weigh more. In addition, weight correlates with the categories we've listed above: shells are the thinnest and lightest, while insulated models typically undercut 3-in-1s. For most resort uses, weight is only a mid-level consideration. While it's nice to reduce bulk (a common complaint of ours with 3-in-1s), many resort riders are perfectly content with a moderately heavy design. In fact, most snowboard manufacturers don't provide a weight listing as it's not a popular point of comparison. But if you'll be hitting the backcountry or even spending a fair amount of time off-trail, a lighter shell will provide a nice boost in mobility and all-around comfort. It's one of the standout features of Arc'teryx's Sabre, which provides bombproof protection while going largely unnoticed throughout the day.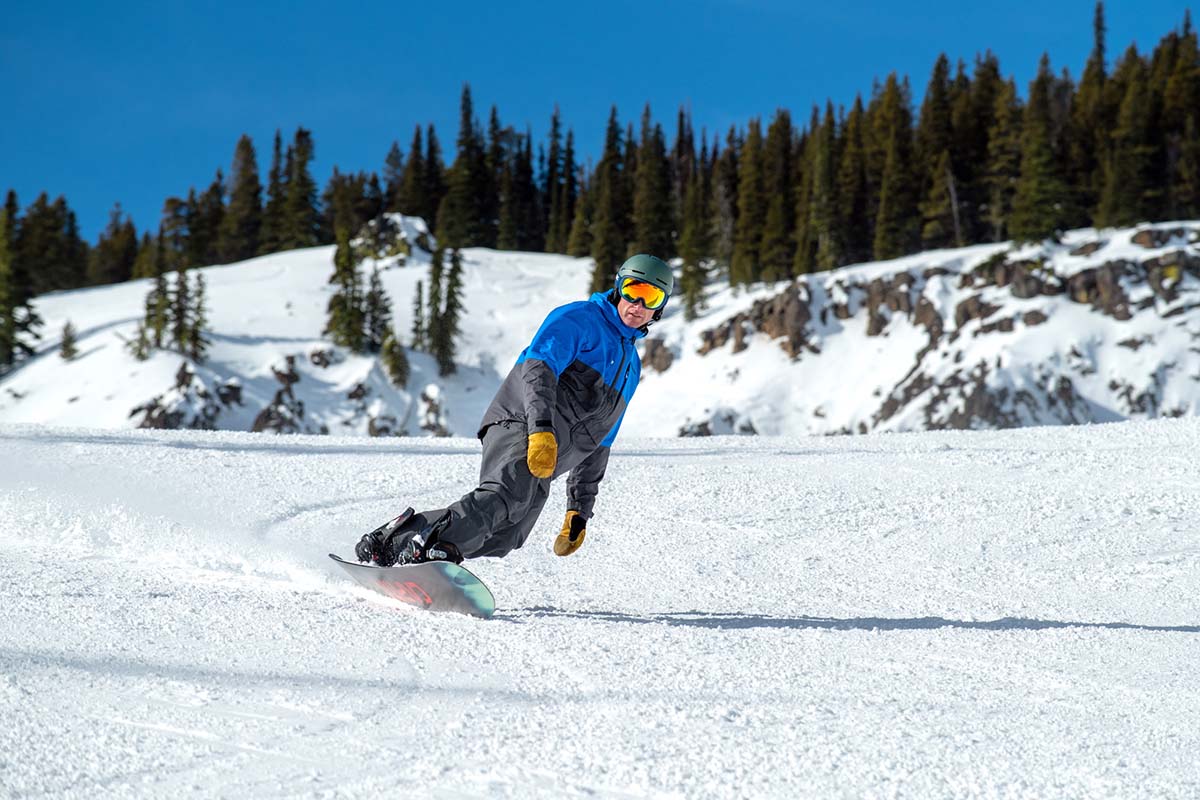 Fit and Sizing
Snowboard jackets are known for having fairly large and baggy fits—and this holds true for a lot of market—although there are a growing number of designs with trimmer cuts that reduce bulk. Most park rats prefer extra space to maximize range of motion and limit pinch points (and style undeniably plays a role), while riders that seek out sidecountry lines typically like a pared-down shape (often referred to as a "standard" or "regular" fit). When choosing a jacket, it's important to also think through the thickness of your layers underneath to avoid any binding and comfort-related problems. Finally, consider the back length: while most snowboard jackets provide plenty of coverage for sitting on a lift or in the snow, some park designs are excessively long for active use. And on the other end, dedicated backcountry models may be too short for resort riding.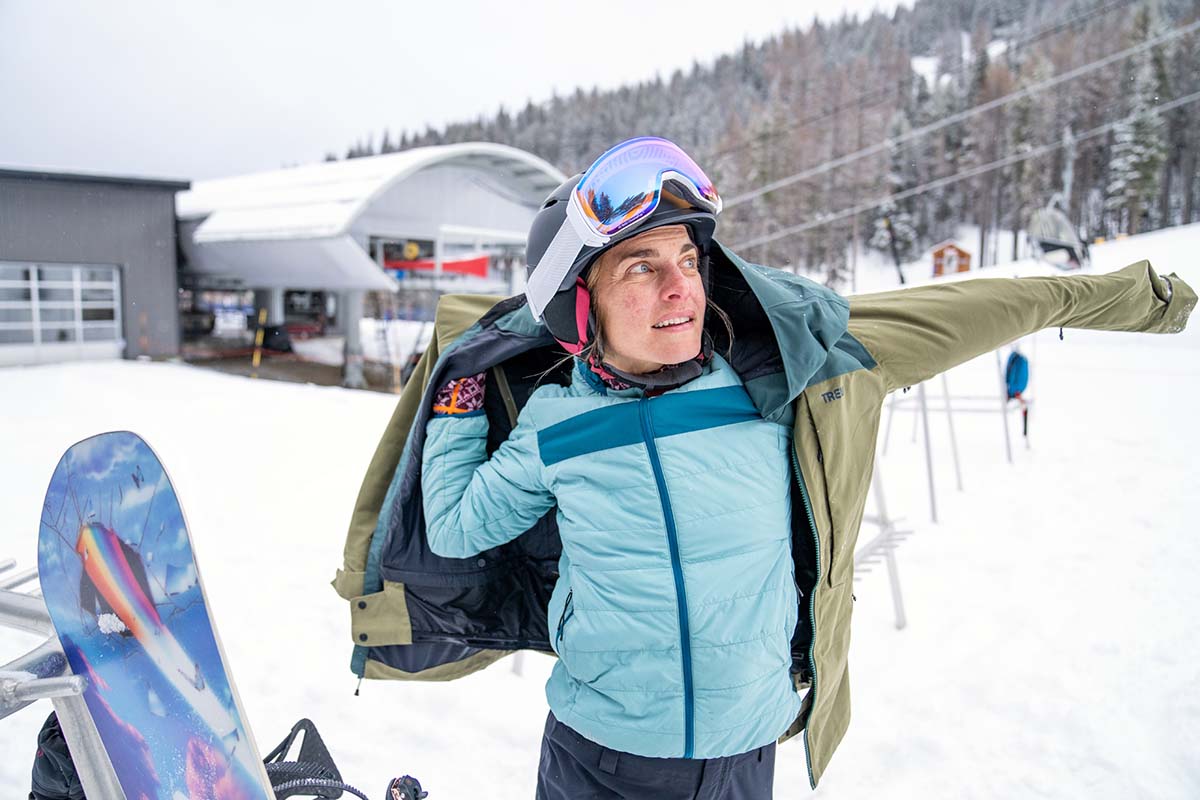 Common Features
Hood
For high winds and serious snowfall, a snow helmet-compatible hood (meaning it's large enough to fit over your helmet) is a key element of a jacket's overall protection. For the most part, the quality of the design goes up with price: cheap models will offer less adjustability to get an even and secure fit. Spending up to a higher-end piece will get you improved coverage with less skin exposed, often a solid bill that helps reduce the amount of snow hitting your goggles, and multiple points of adjustability to hone in fit. Standout hood designs include Burton's AK models, Arc'teryx's well-respected StormHood, and the mid-range offerings from Patagonia (on their Powder Town and Storm Shift) and Volcom's L Gore-Tex.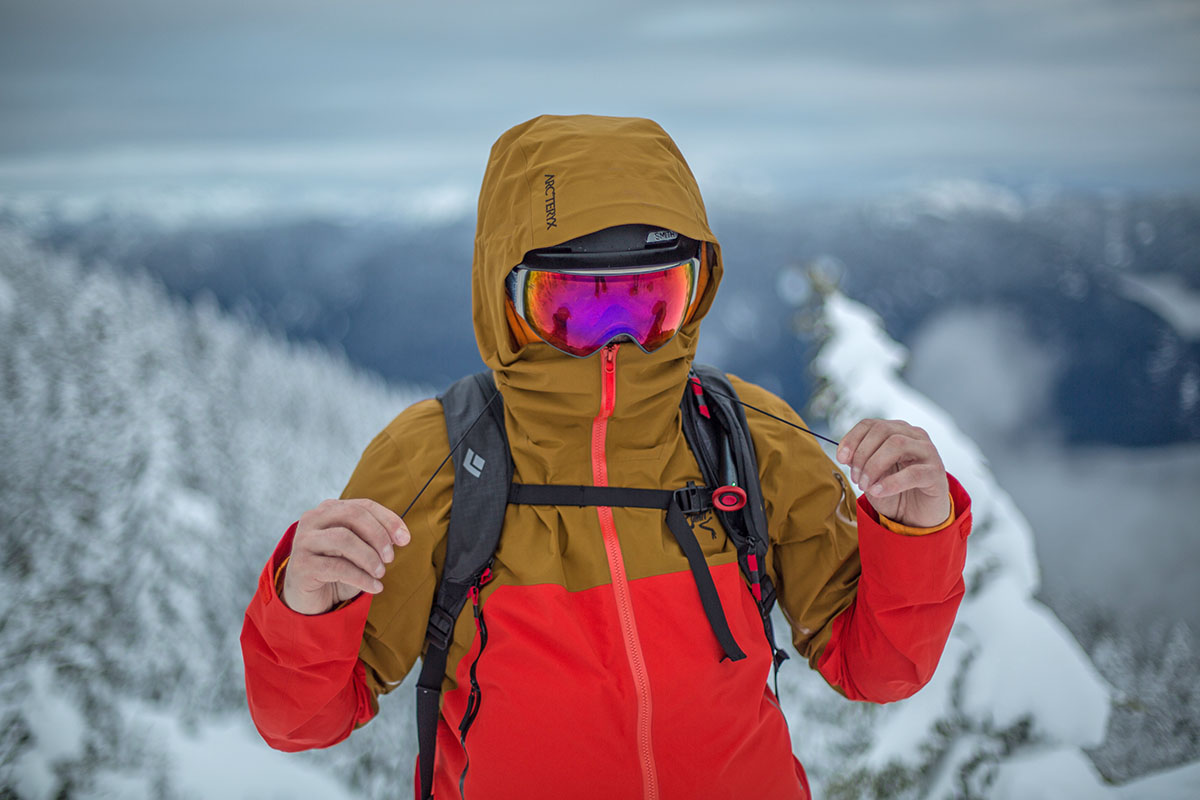 Pockets and Organization
Just about all snowboard jackets include pockets, although some designs are more feature-rich than others. For carrying the basics like a phone and wallet, it's nice to have dedicated storage at chest-height for easy access. Taking this to another level is Burton's Therma-Pocket, which surrounds the media pocket with insulation to keep the battery from draining in the cold. Handwarmer pockets are also useful for stuffing gloved hands, and for those with an RFID pass, look for exterior storage on the left side arm or sleeve. Finally, if you plan to store your snow goggles, gloves or mittens, or gear like splitboard climbing skins along the interior, large, mesh drop-in pockets (like what's included with Outdoor Research's Hemispheres II) are extremely useful.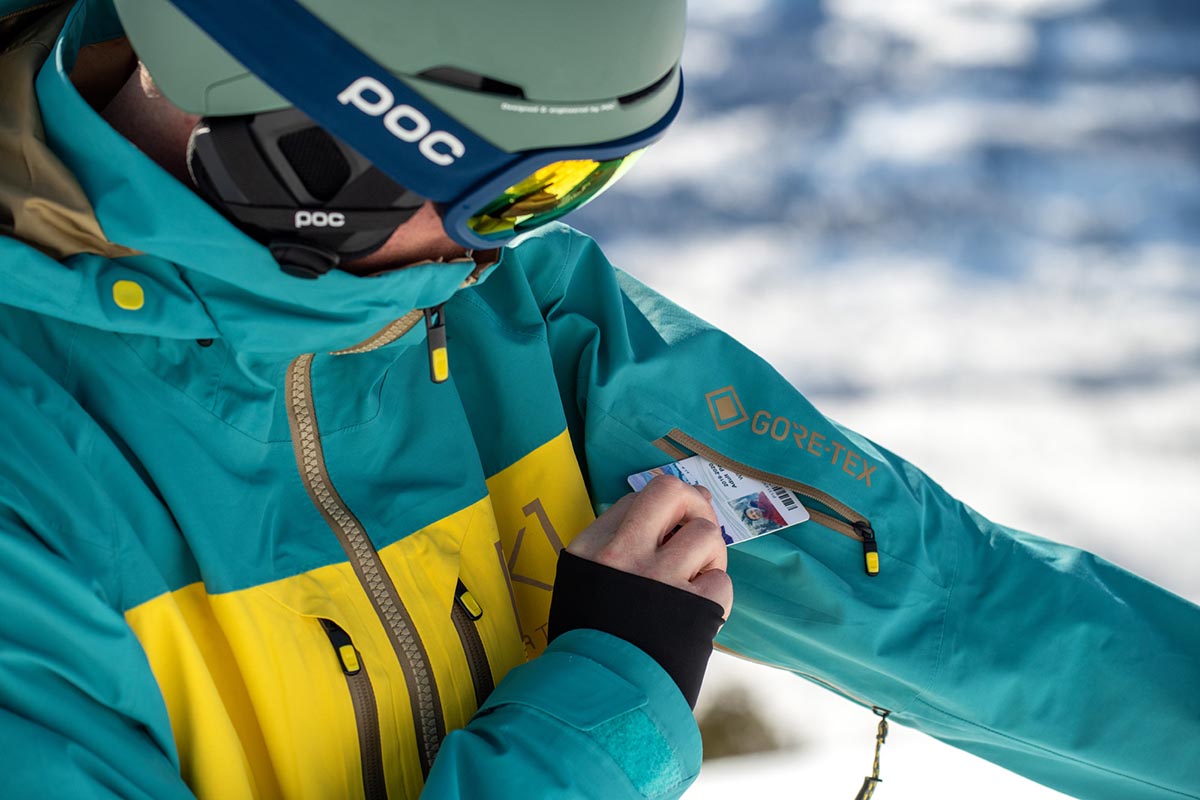 Pit Zips (Underarm Vents)
Pit zips are one of those sneaky-valuable features. You may go multiple days without touching them, but then if you decide to hit the sidecountry, the temperature jumps up mid-day, or you've overdone it a little with the layering, opening those underarm vents is a welcome relief. Designs vary a little, with the biggest differentiator being whether or not the openings are mesh-lined. We find the added material useful for keeping blowing snow out—a plus if you'll be riding in inclement weather or in powder—but it does come at a small sacrifice in heat-dumping abilities. No matter your preferences on the lining, we advise putting pit zips on your must-have list (and the good news is that nearly all of our picks above include them).
Powder Skirt
To improve protection from boarding in deep conditions or in a crash, many riders utilize a powder skirt (also referred to as a waist gaiter). These secure with buttons at the front of the jacket and are positioned above the hem. We consider them a valuable but not essential feature for most conditions—a solid hem cinch and an extended back length will do the trick on the majority of resort days. But they do add a degree of security and reduce the risk of drafts and moisture seeping through. Leaving them unbuttoned can be an annoyance for some people—they hang somewhat loosely and add bulk—so those folks may prefer a model with a zip-out powder skirt that can be left behind on mild-weather days.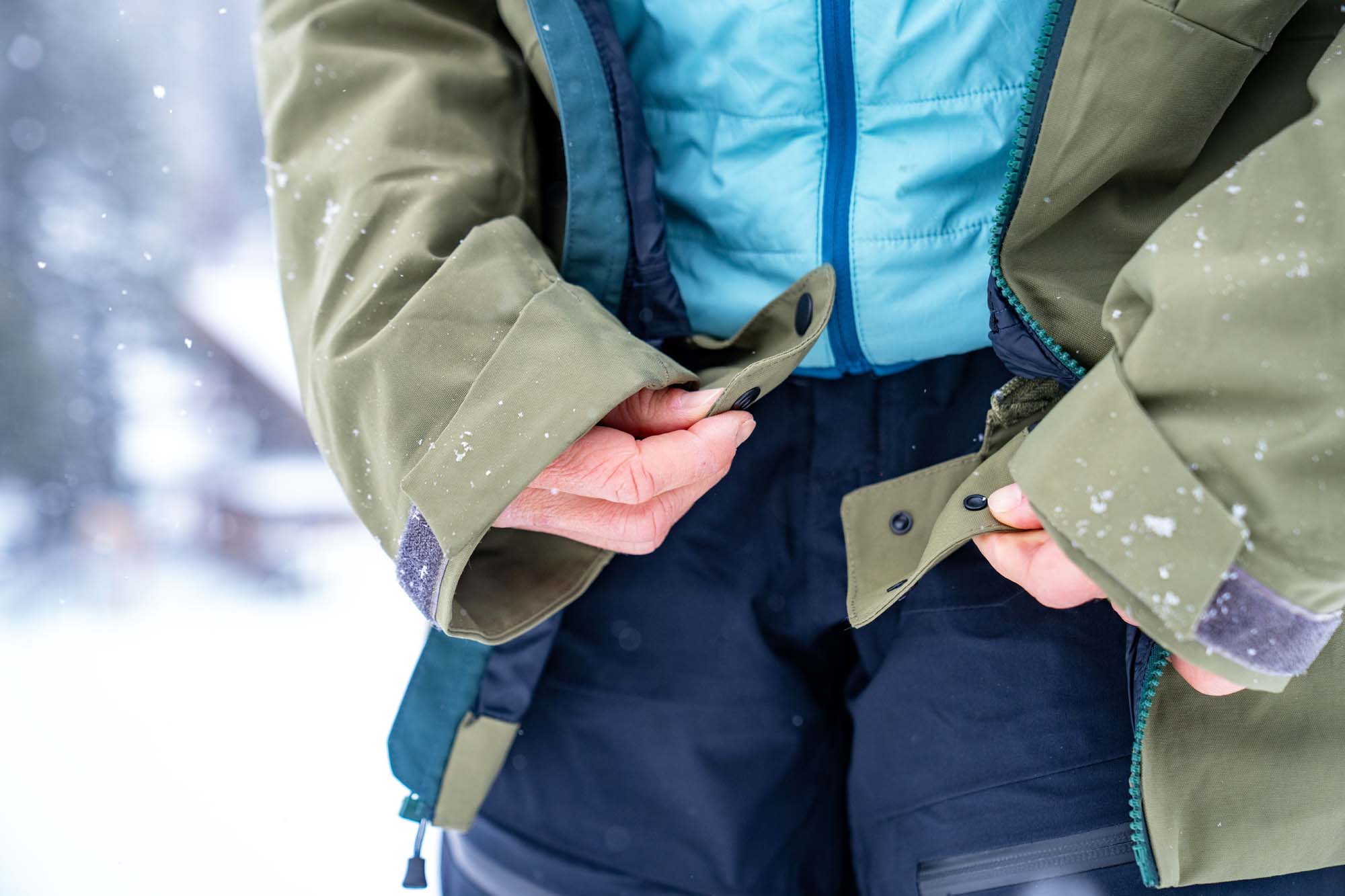 Jacket-to-Pant Attachment System
Like the powder skirt, jacket-to-pant attachment systems are all about maximizing protection and warmth. Designs vary from a simple button built into the powder skirt that secures to a loop on the pant (Patagonia) to a zippered system that mimics a one-piece snowsuit in its effectiveness (Volcom's Zip Tech). The upside with the system is a very effective way to seal out the wet and cold, but they're not a required feature (although some riders swear by them, especially those that wipe out a lot). It's worth noting that in nearly all cases you'll need to purchase a snowboard pant from the same brand for the interface system to work.

RECCO
On some mid-range to high-end snowboard jackets, you may see "RECCO" listed as an included feature. These reflectors are for boarders that make their way out of bounds or into areas where they may experience avalanche dangers. The RECCO reflector built into your snowboard jacket or pant is a passive unit that doesn't require batteries and can be picked up by RECCO detectors often carried by resort search and rescue. They lack the technology and strong signal of a dedicated avalanche beacon, but they do provide an additional safety measure should you venture off-trail. For more information about the tech, we've found the RECCO System website to be a good resource.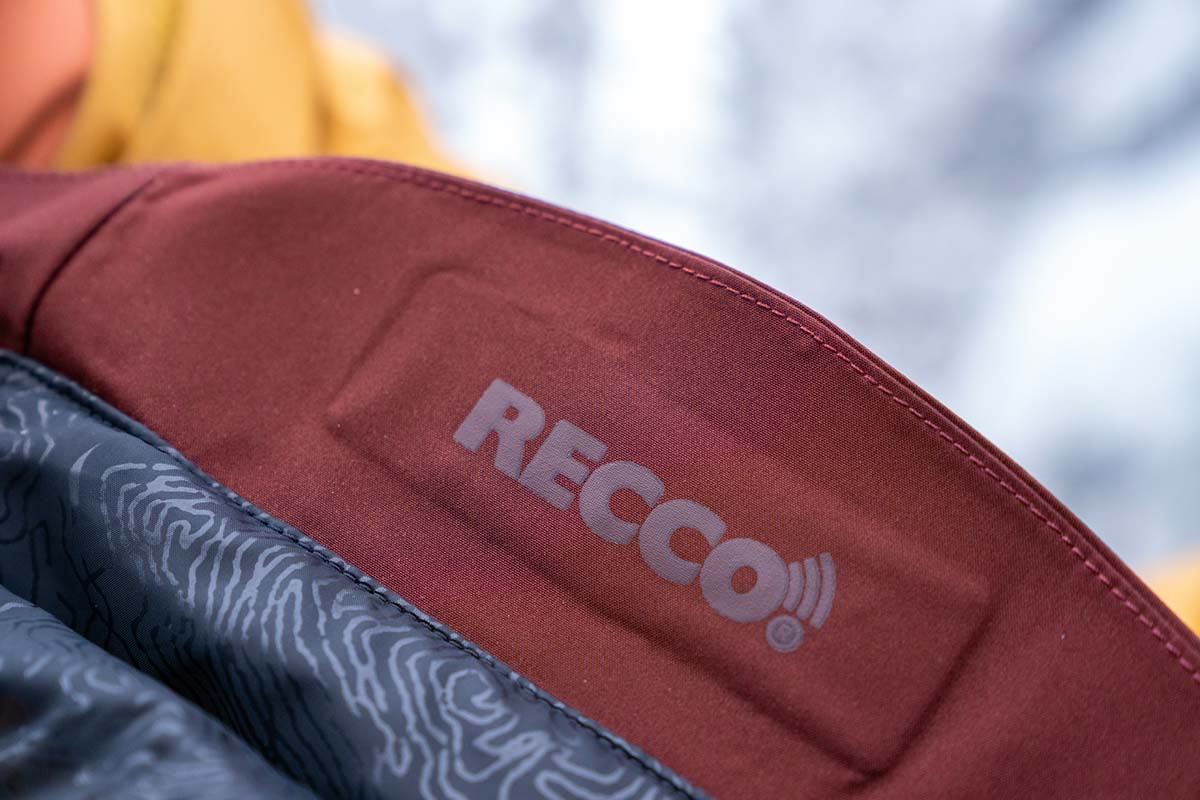 Sustainability: Recycled Fabrics, PFC-Free DWR, and More
The outdoor apparel world has seen a sizable uptick in the use of sustainable practices in recent years, and snowboard jackets are no exception. Two key measures include recycled materials and PFC-free DWR coatings (traditional coatings use perfluorocarbons—a chemical known to be harmful to the environment). Bluesign-approved fabrics are also becoming more common, indicating that the materials have been sourced and produced to minimize their overall impact on the environment. Finally, many companies tack on a Fair Trade certification, which helps ensure the fair and ethical treatment of workers.
The good news is that most sustainability-conscious brands are transparent about these practices and clearly indicate which (if any) measures each product uses. Patagonia is a clear leader in this realm: Their new Storm Shift jacket, for example, is Fair Trade Certified and uses 100% recycled and PFC-free Gore-Tex, as well as a partially recycled lining and PFC-free DWR finish. Several other brands have followed suit, including Burton, Picture Organic, Jones, and more. There's still a long way to go in the industry, but the current trajectory and momentum from many of the key players are encouraging. And of course, a final way to shop sustainably is to purchase quality products that will last and repair old gear rather than buy cheap items that will need to be replaced in a season or two.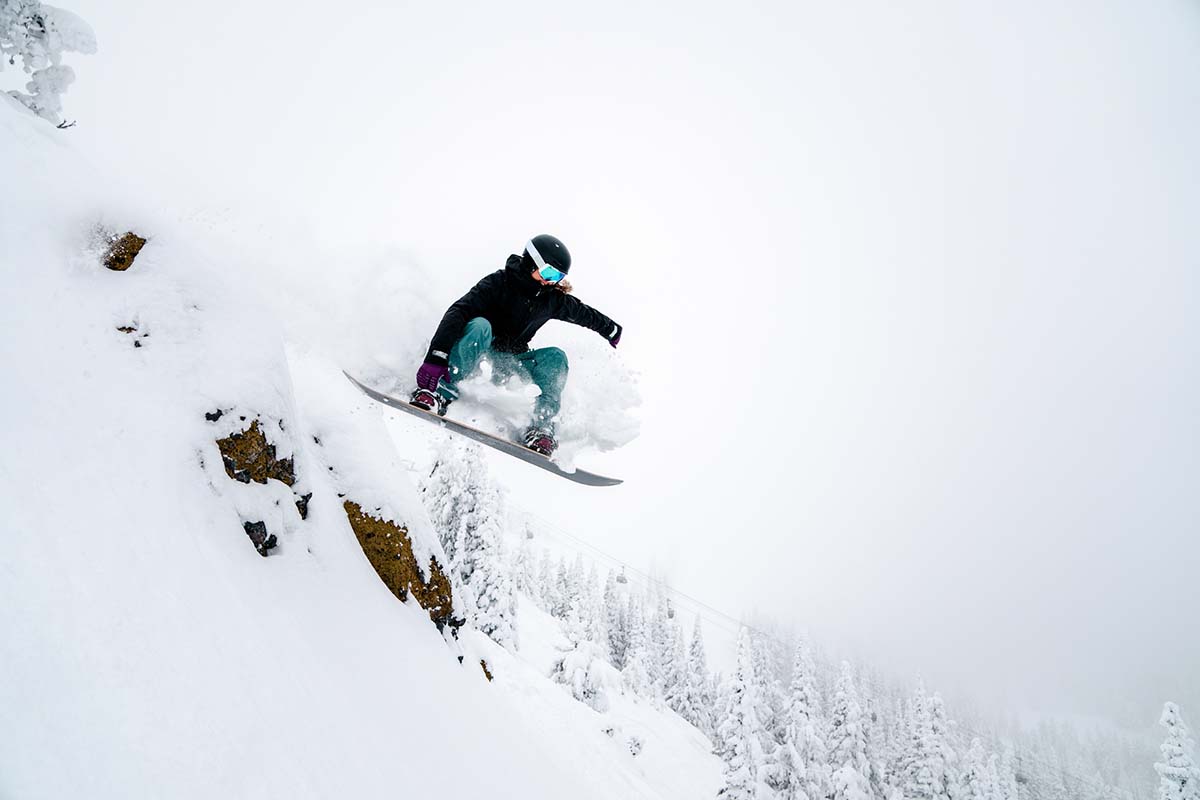 Snowboard Jackets vs. Ski Jackets
Given the similarities between the two sports, it's not surprising that many ski jackets are perfectly capable for both snowboarding and vice versa. In fact, you'll see a lot of crossover in products when searching on a manufacturer or retailer site, and brands like Patagonia and Arc'teryx specifically state their jackets are intended for both activities. That said, fit is one area where snowboarding jackets differ slightly. In general, snowboarders prefer a looser cut for less possible restrictions in movement. They also like a longer back length for more coverage and protection when sitting down on snow. And given the popularity with mittens among snowboarders—it's harder for skiers to grip a pole with mittens, so they mostly stick to gloves—zipper pulls on the jackets are typically larger and easier to grab. For many riders, the differences are small enough to not be deal-breakers, and to see our favorite ski-ready designs, check out our article on the best ski jackets.
Back to Our Snowboard Jacket Picks  Back to Our Jacket Comparison Table
More from Switchback Travel