We're all suckers for a massage, whether it's to relax, work out a few kinks, warm up the body pre-workout, or speed up recovery after a big effort. And there's no shortage of at-home methods, including everything from foam rollers to massage canes. Among the options, no tool is quite as power-packed as a massage gun, which combines the elements of speed, force, and depth to deliver a form of therapy known as percussive massage. Our round-up of the best massage guns of 2023 includes premium designs from Theragun and Hypervolt, compact travel-ready devices, high-quality budget offerings, and more. For a complete breakdown, see our comparison table and buying advice below the picks.
 
---
Our Team's Massage Gun Picks
---

Best Overall Massage Gun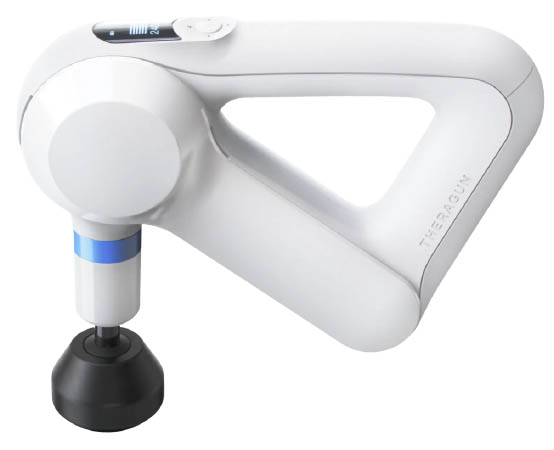 Weight: 2 lb. 3.2 oz.
Amplitude: 16mm
Attachments: 5 (dampener, ball, thumb, cone, wedge)
What we like: A best-in-class combination of power, features, and handling with a high-quality finish. 
What we don't: Expensive, loud, and not the most powerful device here.
With a name that's practically synonymous with massage guns, it's hard to deny the brand cachet of Theragun. And for good reason: Theragun offerings feature unparalleled quality and attention to detail, along with a patented shape that provides the best handling and ergonomics in the industry. Another reason to opt for a Theragun is the Bluetooth-connected Therabody app, which is invaluable for getting the most out of your massage gun. And among their four available models, we think the mid-range Elite here is the best combination of power and features for most users. You get effective deep tissue massage with the impressive 16-millimeter amplitude and 40-pound stall force, alongside a premium OLED screen with force meter, padded travel case, five head attachments, and the option for wireless charging. 
When selecting our top pick for 2023, we spent a lot of time debating between the Theragun Pro and the Elite here. The Pro ($599) is the clear winner in terms of power and features, with a 60-pound stall force, adjustable arm, visually guided routines by way of an OLED screen, and removable battery. But in practice, we just don't think it's worth the extra investment for most users, especially when the Elite offers all of our favorite features for $200 (and 9 oz.) less. On the other hand, you can save even more with powerful devices like the Ekrin B37 ($230) below, with the primary compromise being the ease of handling—we much prefer the Theragun's more ergonomic handle for long massage sessions or difficult-to-reach areas. Finally, for Theragun lovers on a budget, it's worth considering the entry-level Relief ($149): The amplitude is lower (10mm) and the Relief lacks a padded case, but you still get Theragun-level quality—including the patented triangular handle—at a more approachable price point.
See the Therabody Theragun Elite
Best Combination of Price and Performance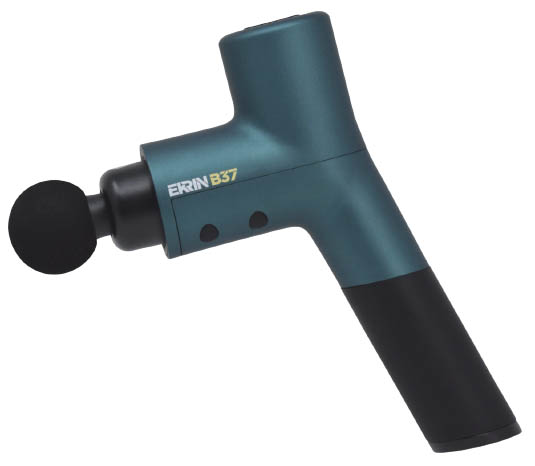 Weight: 2 lb. 3.2 oz.
Amplitude: 12mm
Attachments: 4 (flat, bullet, round, fork)
What we like: A considerably better value than entry-level offerings from Theragun and Hypervolt.
What we don't: Only comes with four head attachments.
Ekrin may not be a household name like Theragun and Hypervolt, but the small company (founded in 2019 by two former collegiate athletes) offers a power-packed lineup of percussion massage guns that hold their own in the premium market. The B37 here has some impressive specs for its $230 MSRP, including a 56-pound stall force on the highest speed, 8-hour battery life, and decent 12-millimeter stroke length (anything above about 10mm meets our standards for percussive massage). To top it off, Ekrin offers industry-leading customer service (they responded in mere hours to our queries), and all of their products come with a lifetime warranty. By contrast, Theragun and Hypervolt's offerings are guaranteed for just 1 year (or 2 years for the Pro).
So how does the B37 measure up to a popular model like the Theragun Elite? For $169 less, you suffer a slight drop in performance with a 12-millimeter stroke length and 56-pound stall force, but most users won't notice much of a difference (these two components work together, so the B37's higher stall force helps to balance out its shorter amplitude). The Ekrin also has a much longer battery life and operates at a higher speed. And compared to a name-brand design like the Hypervolt 2 below, the B37 is considerably more impressive, with greater power, better handling (we love the angled handle and grip extension above the motor), and additions like a padded carrying case and lifetime warranty. We give the edge to the Elite for its best-in-class handling, but the B37 is an obvious value pick and should be at the top of the list for those looking for a more affordable alternative. Ekrin also offers the souped-up B37S ($330), which includes a variable-speed setting (to keep the muscles guessing) and the ability to add increased force at lower speeds for true deep tissue massage.
See the Ekrin Athletics B37
Best Budget Massage Gun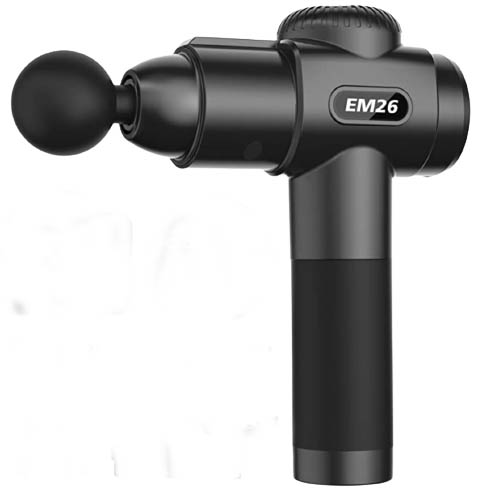 Weight: 2 lb. 1.6 oz.
Amplitude: 12mm
Attachments: 10
What we like: Solid power and features for just $50.
What we don't: Lacks the precision of pricier options; no Bluetooth connectivity.
The online marketplace is flush with massage guns, most of which check in for less than half the price of top-end models from Theragun and Hypervolt. At the time of publishing, the Toloco EM26 is the best-selling massage gun on Amazon: For just $50 at the time of publishing, it offers competitive power alongside a full suite of features. Curious to see how it stacked up, we tested the EM26 with the majority of other devices here and came away surprisingly impressed by its performance, features (you get a detailed LED display and a total of 10 different massage heads), and relatively quiet operation. Along with other Amazon favorites like the LifePro Sonic below, the Toloco gets our wholehearted recommendation for recreational users looking for a serviceable budget offering.
If saving is your top priority, a budget percussion massager can be very enticing. However, it's important to recognize the tradeoffs inherent in such designs. You don't get features like Bluetooth connectivity or a force meter, and the Toloco's power can't hold court with slightly more expensive offerings like the Ekrin above (we tested it side by side with the B37, and it felt significantly less precise). Further, Ekrin Athletics offers much better customer service and a lifetime warranty (compared to the Toloco's 1-year guarantee), and their finishes are noticeably more premium—our EM26 has large gaps where the various pieces of plastic casing meet. Finally, the Toloco's motor is bound to give out faster than that of more premium designs. But for those looking to keep costs low, it's nevertheless a serviceable massage gun with impressive power.
See the Toloco EM26
Best Compact/Portable Massage Gun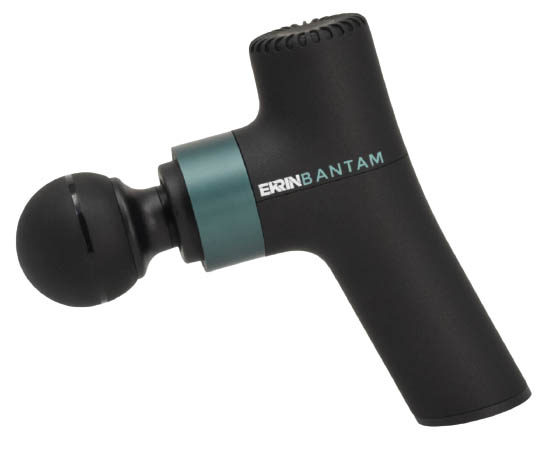 Weight: 1 lb. 1.6 oz.
Amplitude: 10mm
Attachments: 4 (flat, bullet, round, fork)
What we like: Noticeably better performance than the compact competition.
What we don't: Not as powerful as most full-sized percussion massagers.
Whether you're living on the road, headed into the backcountry, or routinely taking your massage guns to the gym, there's a lot of merit to a compact design. But with a streamlined weight and bulk, these offerings are generally less powerful than the full-sized competition, and the majority lower their standards of quality along with their size and price. For these reasons, Ekrin Athletic's Bantam stands out as one of the least compromised compact massage guns on the market. You get a 10-millimeter stroke length and 35-pound stall force wrapped in a premium package with an angled handle, 6-hour battery life, and convenient USB-C charging. Ekrin consistently offers a lot of bang for your buck, and the Bantam is no exception.
Theragun's Mini and Hypervolt's Go 2 are the two most obvious competitors to the Bantam, but both fall well short. First off, the Mini and GO have middling stall forces (20 lb. and 10-15 lb. respectively), which undermine their competitive stroke lengths (12 and 10mm). By comparison, in our testing, we've found that the Ekrin maintains its power under a lot of force—at least matching its stated 35-pound spec. Further, both the Theragun and Hypervolt omit a padded travel case and offer a short 1-year warranty (vs. Ekrin's lifetime guarantee). To make matters worse, the Mini retails for a full $49 more, and the Go lacks convenient USB-C charging and only comes with two attachment heads (the Ekrin has four). Added up, it's a pretty clear win for the Ekrin Bantam, which has quickly become one of our go-to massage guns thanks to its convenient size and fairly uncompromised performance. For another pocket-sized massage gun, check out Bob and Brad's Q2 Mini ($70) below.
See the Ekrin Athletics Bantam
Best Massager for Hard-to-Reach Areas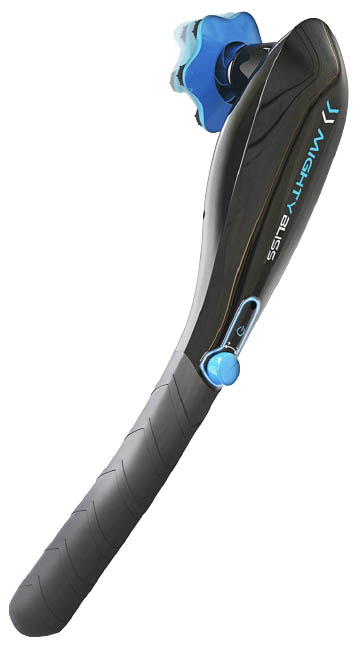 Weight: 1 lb. 4 oz.
Amplitude: Unavailable
Attachments: 6
What we like: A great solution for hard-to-reach areas.
What we don't: Does not deliver a true percussion massage.
Massage guns are all the rage right now, but for the millions of Americans dealing with back and neck pain, they're not the perfect solution. Not only are these areas of the body out of reach for most standard power drill-style percussion massagers, but they're also fairly tender and bony—in other words, not prime candidates for 16 millimeters of raucous percussive force. For these tight muscles in the back and neck, a long-handled massager like the Mighty Bliss is a nice option to consider. With a speed of up to 3,700 rotations per minute, it delivers a vigorous massage that belies its more casual appearance, and it keeps pace with the more performance-oriented massage guns in a number of other metrics too, including a decent battery life, quiet operation, and six different head attachments.
But while the Mighty Bliss is a percussion massager in the sense that it sends force up and down rather than side to side, don't expect the same deep-muscle penetration that you might get with one of the more powerful machines here. The manufacturer does not list the amplitude, but based on our experience, it's far less than the 10 millimeters you need for percussive massage. Further, the stall force is disappointingly low (well under 20 lb. by our estimation) and wasn't enough to dig deep into the knots in our shoulders. Finally, the head attachments are geared more towards relaxation than punching your muscles, with soft rubber coverings and little nubbins for extra indulgence. But for a quiet and incredibly affordable machine that will bring some relief to hard-to-reach areas, the Mighty Bliss is nevertheless a nice choice with a lifetime warranty.
See the Mighty Bliss Massager
Best of the Rest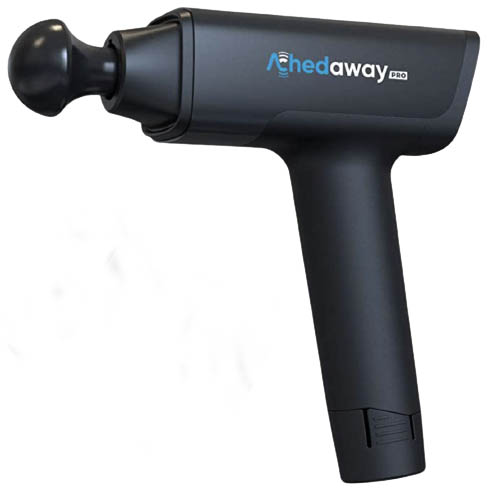 Weight: 2 lb. 9.6 oz.
Amplitude: 16mm
Attachments: 4 (round, flat, bullet, fork)
What we like: An affordable alternative to Theragun and Hypervolt's high-powered massagers.
What we don't: Simplistic handle design and no Bluetooth connectivity.
A lot of brands seek to mimic Hypervolt's massage guns, and Achedaway pulled it off quite nicely with their Pro, which is significantly more powerful than the Hypervolt 2 below. For $299, the Achedaway Pro can tackle even the most serious of muscle ailments, with 16 millimeters of amplitude coupled with an 80-pound stall force (by contrast, Hypervolt lists 12mm of depth and an optimistically high 50-lb. stall force for their "2"). With those specs, the Achedaway is on par with Theragun's top-of-the-line Pro Plus below, but will cost you a considerable $300 less. For athletes, bodybuilders, therapists, and everyday folk, it's a powerful massage gun and well worth a close look.
What do you give up with such an affordable design? Unlike the more premium offerings, the Achedaway Pro does not feature Bluetooth connectivity or app support, which is nice to have but certainly not necessary for most. Further, the fairly simple shape can't match the versatility and user experience of a Theragun model. But you do get an LED screen that displays battery life and speed, and can add an extra removable battery to your order ($70) for non-stop massaging. Further, the Pro comes with a padded case, and Achedaway offers a 2-year warranty for both the motor and the device. If you're willing to forgo the brand recognition of Hypervolt or Theragun and want a step up in power (with quieter operation) than the Ekrin B37 above, the Achedaway Pro is a solid option for budget-conscious athletes and health professionals alike.
See the Achedaway Pro
Weight: 1 lb. 11.2 oz.
Amplitude: 12mm
Attachments: 4 (flat, cone, round, fork)
What we like: Significantly more affordable than entry-level models from Theragun and Hypervolt.
What we don't: You can save even more with an Amazon special like the Toloco above.
At this point, you might be wondering wondering: "Why so many Ekrin models in the top picks, and why so few from Theragun and Hypervolt?" Trust us: we're surprised too. But after countless hours of testing and researching, we wouldn't have it any other way. Put simply, no other name brand provides a better combination of performance, features, and price, especially for the everyday user (that's probably you). The 365 is their true entry-level design, competitive with the likes of the Toloco above and Hypervolt 2 below. The specs align well with what most recreational athletes need: 12 millimeters of stroke length, a 40 pound stall force, and four speeds up to 3,200 rpm. Sure, it's not the most powerful device here, but for just $180 (and a lifetime warranty), it gets the job done for most.
To let you in on our thought process, let's take a look at the 365 compared to the Theragun's entry-level Prime ($299, but often found on sale for less). With the Prime, you get more amplitude (16mm), but the stall force maxes out around 30 pounds, which keeps you from reaping the full benefits of the gun's depth (plus, the 365's 12mm amplitude is plenty for most). Further, the Theragun is a half-pound heavier, doesn't come with a padded case or convenient USB-C charging like the 365, and has a middling 1-year warranty. We do understand the appeal of the Theragun's ergonomic shape, and those who want to get the most out of their device will appreciate the ability to connect the Prime to Therabody's app. But if value is at the top of your list, you'll be hard-pressed to find a better entry-level massage gun than the Ekrin Athletics 365.
See the Ekrin Athletics 365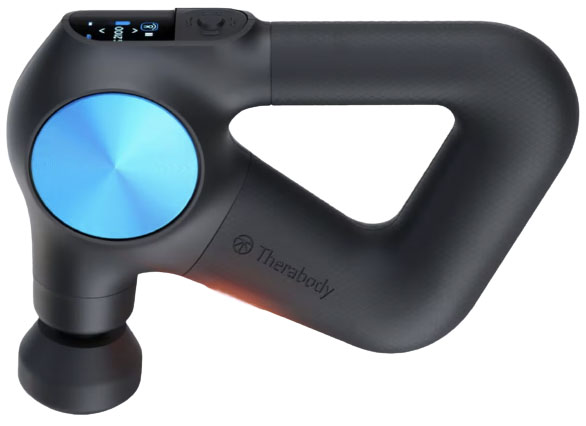 Weight: 3 lb. 10.2 oz.
Amplitude: 16mm
Attachments: 5 (dampener, ball, thumb, micro-point, wedge)
What we like: The undisputed giant of massage guns.
What we don't: Expensive, heavy, and most users won't need this much power.
If you're in the market for the best percussion massage gun money can buy, look no further than Therabody's Theragun Pro Plus. One of the newest additions to Theragun's lineup and a step up from their marquee "Pro," the Plus is the runaway leader of the industry, touting a hard-to-beat combination of performance, high-end features, and premium finishes. Theragun's unique triangular shape offers hands-down the best ergonomics with multiple grip options, and the 16-millimeter stroke length results in one of the deepest massages here. Finally, the Plus includes a full suite of top-shelf additions, including vibration therapy, near-infrared-light therapy, and heat therapy (and the option of a cold therapy attachment for $89), along with heart-rate monitoring, guided breathwork and massage routines, and an LCD screen that displays speed, force, battery life, and more.
It doesn't get much better than the Theragun Pro Plus for athletes and healthcare professionals, but this machine is truly overkill for the recreational user. The most glaring reason is the price—even when found at a discount, the Pro Plus is quite literally hundreds of dollars more than most models here. And while we haven't tested the Plus, we found even the Pro (which is lighter at 2 lb. 12.2 oz.) to be burdensome during sustained self massages, and the 60 pounds of force is unnecessary—not to mention painful—for most. Finally, as with most of Theragun products, the Pro Plus is relatively loud, and certainly not our first choice for massaging while watching TV or holding a conversation. But for the best in power and features, it has no equal. It's worth noting that Therabody still offers the standard Theragun Pro ($499), which offers the same amount of power and force at a lighter weight (and with the added bonuses of a removable battery and adjustable arm).
See the Therabody Theragun Pro Plus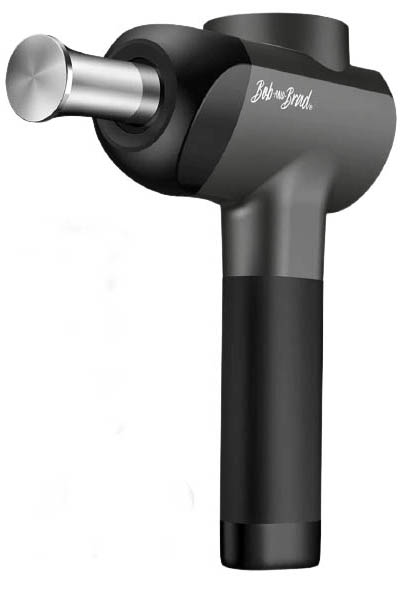 Weight: 1 lb. 14.4 oz.
Amplitude: 10.5mm
Attachments: 5 (metal flat, ball, bullet, fork, air cushion)
What we like: Great build quality and a metal head for hot/cold therapy.
What we don't: Underpowered.
The self-proclaimed "two most famous physical therapists on the internet," Bob and Brad—a pair of midwest-based PTs—have amassed a YouTube following of 4 million for their personable and knowledgeable videos that tackle everything from how to treat knee pain to whether a stand-up desk is the right solution for you. Not only that, but they also offer a growing lineup of rehab products, including neck and foot massagers and massage guns (four at the time of publishing). The X6 Pro is their most high-end device, with a premium build, decent power, and five different massage heads—including a metal tip that can be heated or cooled for extra amounts of relief.
The X6 has been one of our favorite designs throughout our testing: We've especially appreciated the great hand feel and relatively quiet operation (really noticeable when used side by side with the Hypervolt 2). But if you're looking for a high-powered percussive massage, Bob and Brad's offerings won't be at the top of your list. The stroke length of only 10.5 millimeters lacks the penetration of devices like the Ekrin 365 above and LifePro Sonic below (both 12mm), and is just a smidge more than the lighter and longer lasting Ekrin Bantam above. But the X6 does stand out for those who want to add hot or cold therapy to their massage (keep in mind, the metal tip does not hold temperature for very long), and we've found its stall force to be far more impressive than the 44-pound designation would suggest.
See the Bob and Brad X6 Pro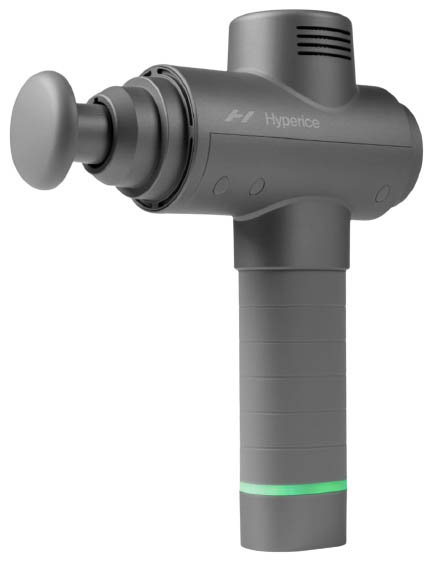 Weight: 1 lb. 12.8 oz.
Amplitude: 12mm
Attachments: 5 (fork, ball, cushion, flat, bullet)
What we like: A well-built device and all the power most users need.
What we don't: No carrying case and stall force is worse than advertised.
Along with Theragun, Hyperice's Hypervolt is one of the biggest names in percussion massage, made particularly illustrious by their association with professional sports leagues like the NBA, MLB, and NFL. The "2" is their full-size entry-level design and competitive with the Ekrin B37 above. You get a fairly standard power-drill shape, premium-feeling rubberized oval grip, Bluetooth connectivity to Hyperice's smartphone app, and easy one-button operation with LED lights that display speed, pressure, and battery life. For recreational users looking for a reliable brand-name device to work out some serious (and not-so-serious) kinks, the Hypervolt 2 is a serviceable choice. 
But while Hypervolt products are undeniably popular, they've fallen short in our testing. In particular, the 2's stall force is worse than almost any other model we've used (including the compact Ekrin Bantam above) and nowhere near the 50-pound spec we received from Hyperice's customer service. What's more, it lacks a carrying case (a major omission and not great for longevity), is louder than most, and the whole device shakes when in use. In short, it feels cheap. By contrast, the Ekrin Athletics B37 boasts an accurate-feeling 56-pound stall force, padded case, and lifetime warranty for just $30 more. But the Hypervolt's Bluetooth connectivity is a really nice addition for those in need of a little guidance, and the 2 is reasonably lightweight at under 2 pounds. For a bit more power, check out Hypervolt's 2 Pro, which ups the ante with 14mm of amplitude, a 60-pound stall force, and a removable battery.
See the Hyperice Hypervolt 2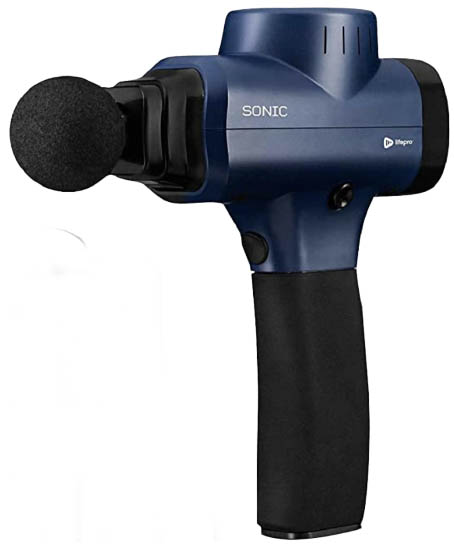 Weight: 2 lb. 8 oz.
Amplitude: 12mm
Attachments: 8
What we like: Good quality and a lifetime warranty for just $80.
What we don't: Lacks advanced features like Bluetooth app control and a force meter.
If you've spent any time looking at massage guns on Amazon, chances are you've come across the LifePro Sonic. Like the Toloco EM26 above, the Sonic manages to pack a whole lot of performance into a bargain-basement price, giving you a nice alternative to the $300+ massage guns here. The Sonic's power is competitive with the likes of the Ekrin B37 and Theragun Elite above, and it also features a nice curved handle, LED display, and padded travel case (we think this is a really important addition that many budget devices omit). And unlike most percussion massagers, the LifePro has a removable battery, which goes a long way towards increasing the longevity of your device (both in between charges and overall).
For everyone from recreational users to those looking for a powerful recovery tool, the Sonic is a worthy alternative to the name brands. But as with most of the budget offerings here, there are a few tradeoffs. Most importantly, the LifePro does not come with advanced features like Bluetooth app control or a force meter, and its handling doesn't measure up to the class-leading ergonomics of Theragun. But you get all the other ingredients of a really nice massage gun, and LifePro joins the ranks of Ekrin as one of the only manufacturers to offer a lifetime guarantee. And keep in mind that the company offers a range of other massage guns, including the portable Dyna Mini, more powerful Sonic Pro, and the Sonic Flex, which features an adjustable head for hard-to-reach areas.
See the LifePro Sonic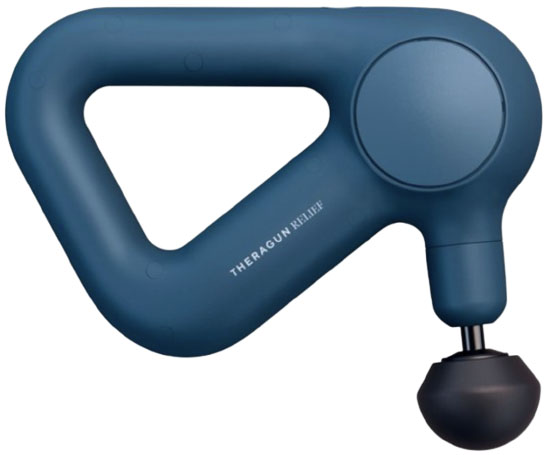 Weight: 1 lb. 4.8 oz.
Amplitude: 10mm
Attachments: 3 (ball, dampener, thumb)
What we like: Theragun's triangular handle and reliable build quality for just $149.
What we don't: With a 10-millimeter amplitude, the Relief does not deliver a particularly deep massage.
Joining the Theragun Pro Plus and Sense (which we touch on below), the Relief is the third in a trio of recent releases from massage-gun specialist Therabody. This is Theragun's most affordable design yet: For just $149 ($50 less than the Theragun Mini), the Relief combines the patented triangular shape with a lightweight build (almost a full pound lighter than the Elite above), three attachments, and 10 millimeters of amplitude. You don't get many of the add-ons we're used to seeing from Theragun (which can include bluetooth connectivity, a travel case, LCD screen, and more) and the Relief is decidedly powered down compared to their higher-end offerings (we'd qualify it more as a "vibrational" than "percussive" device), but it's nevertheless a reliable alternative to the off-brand massage guns perennially flooding the market.
We think the Theragun Relief is one of the best massage guns for the majority of users, and here's why. Most of the people we know who use percussion massagers do so fairly recreationally; in other words, they appreciate the device's ability to provide relaxation and gentle recovery, but aren't maxing out its power or working closely with a healthcare professional to guide their practice. If this sounds like you, the Relief is everything you need and nothing you don't. It's also hard to overstate how much we prefer the triangular handle to the more common drill-like design—it's easier to hold for long periods of time and far more ergonomic for difficult-to-reach areas. A comparable device like the Ekrin Bantam gets the edge with a longer battery life, travel case, and lifetime warranty, but the Relief is nevertheless a nice alternative for the elderly, kids, or entry-level users who love the Theragun aesthetic.
See the Therabody Theragun Relief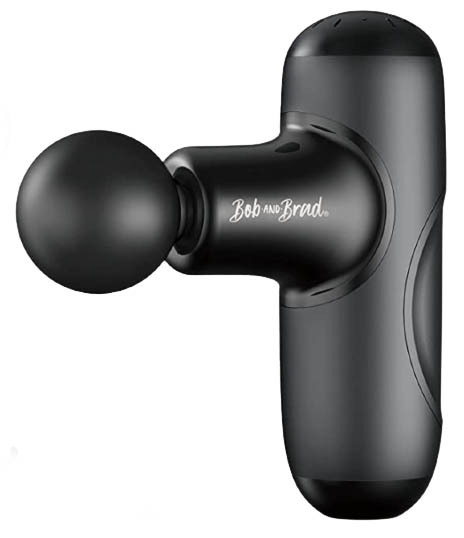 Weight: 15.2 oz.
Amplitude: 7mm
Attachments: 5 (flat, ball, bullet, fork, air cushion)
What we like: A decent massage gun for just $70.
What we don't: Low on power compared to most devices here.
There's no shortage of sub-$100 massage guns to choose from, but we'd hesitate to recommend the majority of these devices to our readers. It makes sense that power decreases alongside price, but it's important to recognize that durability can also take a real hit—a massage gun might work well out of the gate, but many budget designs won't last. That said, there are a few true bargain-basement products that provide decent performance for the cost, including Bob and Brad's Q2 Mini here. For just $70, the Q2 Mini is a well-built massage gun from a trusted brand, with a streamlined shape that might even fit in your pocket. Don't expect massive amounts of power with the 7-millimeter stroke length and 32-pound stall force, but for casual users or those who don't want to wield a 3-pound power tool during their daily massage session, it's a really nice choice.
The Bob and Brad Q2 Mini is in a class of its own on this list, both in terms of price and power. Compared to the Ekrin Bantam above, you'll save a sizable $80 and drop a few ounces, but performance doesn't measure up with the very short stroke length. Keep in mind that this won't be a shortcoming for everyone, especially those in the market more for relaxation than deep tissue work—in fact, the Q2 Mini proved to be one of our favorite massage guns during our testing. Quite simply, it's easy to hold, portable enough to bring to work or over to a friend's house, and offers enough power for most uses. And like many portable massage guns, it comes with convenient USB-C charging, although many users report issues powering the device with anything but a USB-C to USB-A cable (for example, a USB-C to USB-C cable does not work). But all told, for a complete massage gun setup—including a padded travel case and five interchangeable massage heads—for well under $100, the Q2 Mini earns a spot on our list.
See the Bob and Brad Q2 Mini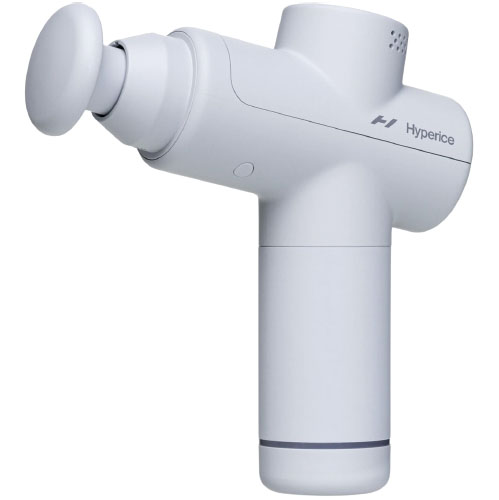 Weight: 1 lb. 8 oz.
Amplitude: 10mm
Attachments: 2 (flat, bullet)
What we like: A portable alternative to the Hypervolt 2 and 2 Pro.
What we don't: Falls short of the Ekrin Bantam above in most metrics.
The Ekrin Bantam is our favorite compact massage gun of the year, but we'd be remiss not to mention the popular Hypervolt Go 2 here. The smallest Hypervolt in Hyperice's lineup, the Go weighs in at just a pound and a half, making it a nice option for travel, life on the go, or smaller users who don't want the burden of a full-size device (it's even TSA-approved as a carry-on). We appreciate the angled handle—in fact, the Go is the most innovative Hypervolt yet in terms of shape—and ergonomics are fairly uncompromised with a grip that comes in at the same diameter as the "2" above. But with a stroke length of 10 millimeters and stall force around 10 to 15 pounds (according to Hyperice's customer service), it's important to recognize that the Go 2 provides considerably less power than most massage guns here.
For some users, this won't be a huge issue: We know a lot of people who love their massage gun for relaxation and working out the odd muscle kink. But aside from power, there are a number of other reasons we're not huge fans of the Go. Compared to the Bantam above, it's heavier, pricier, and lacks nice features like USB-C charging, a padded travel case, and a variety of massage heads (you get a flat head and a bullet, while the Ekrin comes with four options). And while Hyperice promises quieter operation with the updated model's QuietGlide technology, it's still louder than the Bantam. Finally, compared to the larger Hypervolts, the Go does not have Bluetooth connectivity, which is one of the main selling points of Hyperice's devices. In the end, we give the clear edge to the Ekrin Bantam for our favorite portable massage gun, but the Go 2 nevertheless provides a nice vibrational massage for Hypervolt fans.
See the Hyperice Hypervolt Go 2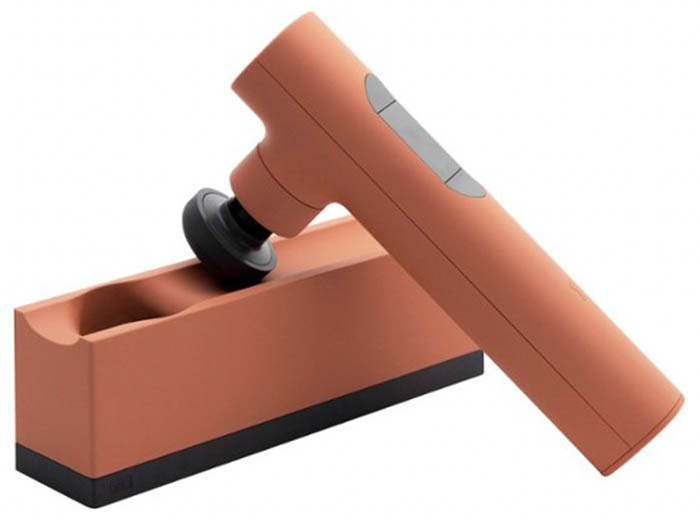 Weight: 1 lb. 14.4 oz.
Amplitude: Unavailable
Attachments: 4 (flat, bullet, cone, fork)
What we like: Great user interface and a relaxing massage delivered in a wavelike rhythm.
What we don't: Lacks the amplitude and stall force of the percussive devices here.
And now for something a little different: the Lyric therapeutic massager. While most of the devices here are focused on delivering powerful percussions to your deep tissue, the Lyric is all about relaxation. By applying rhythmic vibrational frequencies to the body, the Lyric works out muscle tension, soothes the parasympathetic nervous system, and improves blood circulation. Lyric calls the wavelike rhythm "Mozart for your muscles," a phrase that truly sets the massager apart from percussive instruments like the Theragun Pro and Achedaway Pro above.
With sleek lines, a stylish dock, and WiFi-connected touchscreen that allows you to use pre-programmed massages without fiddling with your phone, the Lyric is all about providing a fine-tuned, relaxing user experience. You also get four different massage heads and the option for adding an extension handle for hard-to-reach areas. Importantly, Lyric advertises that their therapeutic massager has a lower amplitude than most massage guns, and they fail to specify stall force and speed specs. In the end, the Lyric is a really attractive device for older folks and those looking for a relaxation tool, as long as you understand that you're not getting a true percussion massage gun. For more on the differences between these methods, see our buying advice below the picks. In the end, it's a really attractive device for older folks and those looking for a relaxation tool, as long as you understand that you're not getting a true percussion massage gun. For a more well-rounded option with many similar features (and 12mm of amplitude), check out Theragun's new Sense ($299).
See the Lyric Therapeutic Massager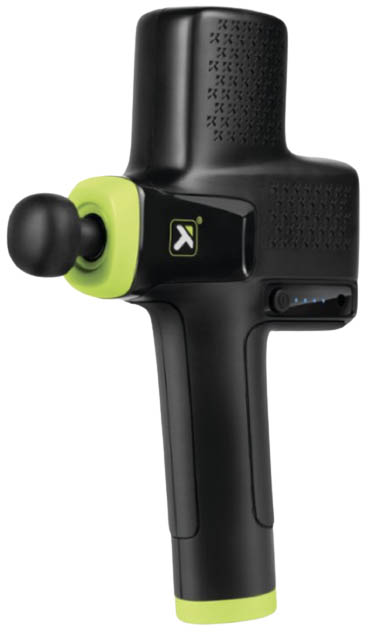 Weight: 2 lb. 7.2 oz.
Amplitude: Unavailable
Attachment: 1
What we like: A simple device from a well-respected name in recovery-focused massage.
What we don't: Falls short of most of the competition.
TriggerPoint is one of the biggest names in rehab and recovery tools—if you've used a high-end hollow-core foam roller, it's likely it's been from this US-based company. To round out their massage-focused lineup, they released the Impact massage gun back in 2019. This is a simple device with relatively quiet operation, capable of providing a relaxing massage with some true muscle work. But while the market has boomed in the last few years, the Impact has stayed the same, with fairly average power alongside a disappointing feature set and finish. 
At $200, the TriggerPoint Impact joins a fairly competitive market, including offerings like the Ekrin B37 and Bob and Brad X6 Pro above. While these devices feature powerful motors, multiple massage heads, premium finishes, additions like padded travel cases, and (in the case of the Ekrin) lifetime warranties, the Impact comes with just one massage head, a disappointingly unrefined plastic build, and no carrying case to speak of. If you're not looking for anything special, the Impact is perfectly serviceable—it's also sold through REI Co-op, so you might be able to try it out before buying. But it's no match for the more specialized competition, pushing it to the bottom of our rankings for 2023.
See the TriggerPoint Impact
Massage Gun Comparison Table
| Massage Gun | Price | Weight | Depth | Stall Force | Max Speed (Levels) | Battery Life | Warranty | Travel Case |
| --- | --- | --- | --- | --- | --- | --- | --- | --- |
| Theragun Elite | $399 | 2 lb. 3 oz. | 16mm | 40 lb. | 2,400 rpm (5) | 2 hours | 1 year | Yes |
| | $230 | 2 lb. 3 oz. | 12mm | 56 lb. | 3,200 rpm (5) | 8 hours | Lifetime | Yes |
| | $50 | 2 lb. 2 oz. | 12mm | Unavail. | 3,200 rpm (20) | 4 hours | 1 year | Yes |
| | $150 | 1 lb. 2 oz. | 10mm | 35 lb. | 3,200 rpm (3) | 6 hours | Lifetime | Yes |
| | $57 | 1 lb. 4 oz. | Unavail. | Unavail. | 3,700 rpm (1) | 2 hours | Lifetime | No |
| | $299 | 2 lb. 10 oz. | 16mm | 80 lb. | 2,800 rpm (5) | 3 hours | 2 years | Yes |
| Ekrin Athletics 365 | $180 | 1 lb. 11 oz. | 12mm | 40 lb. | 3,200 rpm (4) | 5 hours | Lifetime | Yes |
| Theragun Pro Plus | $599 | 3 lb. 10 oz. | 16mm | Unavail. | 2,400 rpm (5) | 2.5 hrs | 1 year | Yes |
| | $140 | 1 lb. 14 oz. | 10.5mm | 44 lb. | 3,200 rpm (5) | 4 hours | 1 year | Yes |
| | $199 | 1 lb. 13 oz. | 12mm | 50 lb. | 2,700 rpm (3) | 3 hours | 1 year | No |
| | $80 | 2 lb. 8 oz. | 12mm | 70 lb. | 3,000 rpm (5) | 6 hours | Lifetime | Yes |
| Theragun Relief | $149 | 1 lb. 5 oz. | 10mm | Unavail. | 2,400 rpm (3) | 2 hours | 1 year | No |
| Bob and Brad Q2 Mini | $70 | 15.2 oz. | 7mm | 32 lb. | 3,000 rpm (5) | 4 hours | 1 year | Yes |
| Hypervolt Go 2 | $129 | 1 lb. 8 oz. | 10mm | 15 lb. | 3,200 rpm (3) | 2.5 hrs | 1 year | No |
| Lyric Massager | $200 | 1 lb. 14 oz. | Unavail. | Unavail. | 1 | 4 hours | 1 year | No |
| | $100 | 2 lb. 7 oz. | Unavail. | Unavail. | 3,300 rpm (4) | 2+ hrs | 1 year | No |
Massage Gun Buying Advice

Editor's Note: Our Take on the Massage Gun Market
Generally speaking, we (the editors of Switchback Travel) like to present information in a straightforward way, letting our experience with the products speak for itself. But when it comes to percussion massage guns—especially given the current hype around these little machines and the wide price range between base and elite models—we feel it's important to voice our opinion. We tested 11 of the devices above, all at once: a perfect opportunity for side-by-side comparison. We judged sound using decibel meters, used two devices at the same time, tried each massage gun on one specific kink in our shoulder. Heck, we even threw massage gun parties with friends. In short, it's safe to say that by the time we wrote this article, we were percussion massage experts.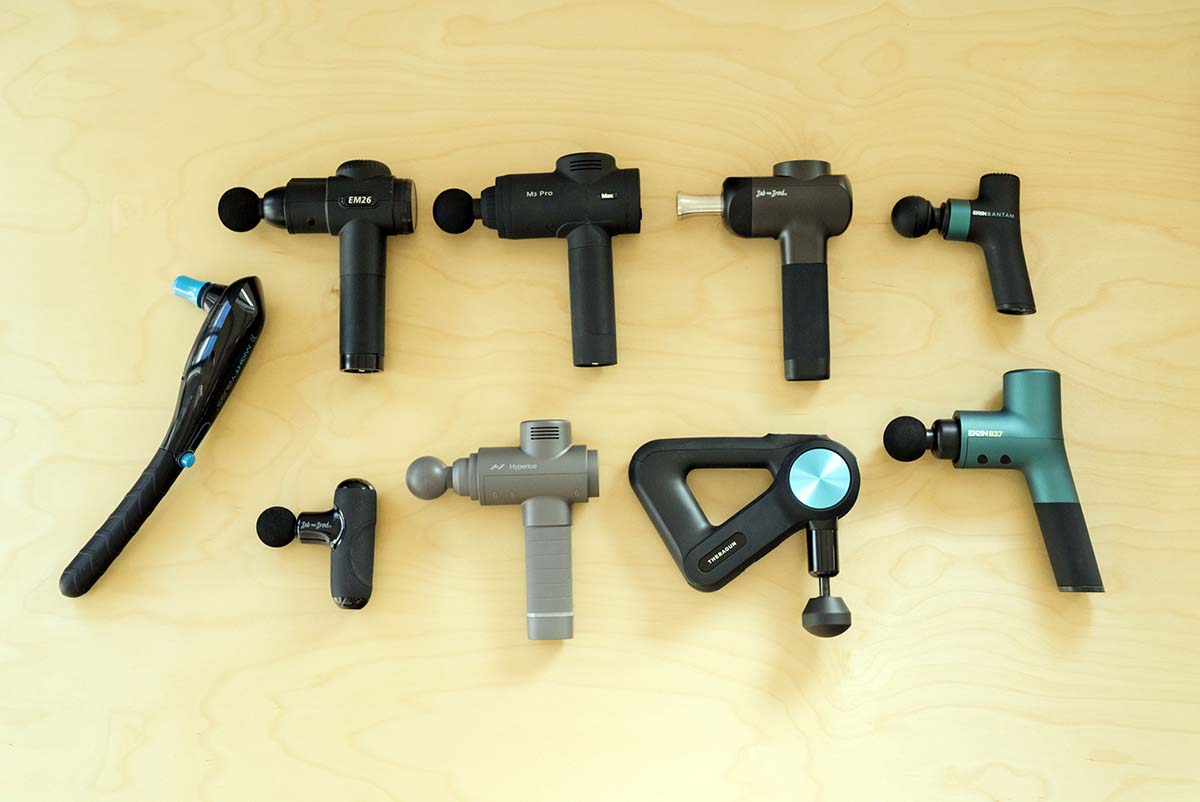 Our honest take? They all get the job done. Unless you're a true professional (athlete, bodybuilder, massage therapist, chiropractor) or really serious about percussion massage, you can save a lot of money by opting for one of the more affordable models here. In fact, the smaller Ekrin Bantam and Bob and Brad Q2 Mini ($150 and $70, respectively) have been consistent favorites among us and our testers—they're easy to operate and offer enough power for most uses. And if you want to spend up, we recommend doing so for features rather than power, including better ergonomics (for example, the Theragun series), premium build qualities (Ekrin Athletics, Bob and Brad, and Theragun are our favorites), Bluetooth or WiFi integration, and add-ons like padded travel cases and lifetime warranties.

What is a Massage Gun?
There are a lot of ways to work on deep tissue, whether you're massaging out some knots, warming up for a workout, or trying to speed up muscle recovery after a big effort. Foam rollers, massage balls, and massage therapists are all great tools, but perhaps no method has become more popular than the massage gun. And for good reason: by emitting forceful and deep hits to muscle at high frequency, massage guns provide an advanced level of therapy compared to the analog competition. To round out their distinctions, the percussion massagers we feature here are battery-powered, handheld devices, designed for both self massage and delivering therapy to others.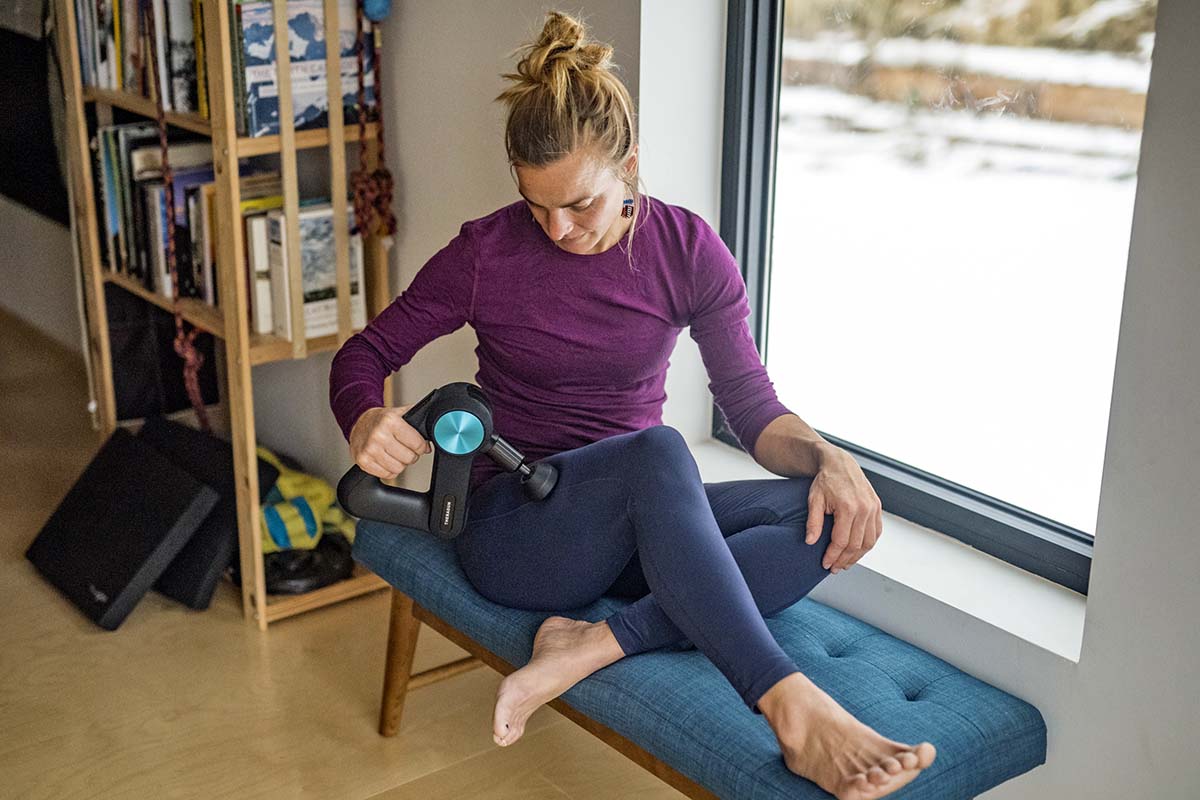 Percussive vs. Vibrational Massage
There is an important distinction to be made between percussive and vibrational massage. These two styles of body work alleviate tension and increase blood flow—and both can feel very relaxing—but percussive massage offers even more benefits by probing deeper into the muscle. To best illustrate the difference, think about the action of a car buffer versus a jigsaw. While a car buffer covers a greater surface area and moves about the horizontal plane, a jigsaw's action is more concentrated, moving back and forth vertically. By performing deep tissue work (along with the elements of speed and force), percussive massage can provide therapy to a targeted area in a way that vibrational massage cannot. The benefits are many, including the breakdown of adhesions, enhanced lymphatic circulation, reduced lactic acid buildup, increased stimulation to nerve receptors, and more.
Virtually all premium massage guns offer percussive therapy, which is primarily indicated by their amplitude: you'll want to look for a stroke length of 10 millimeters or higher for a true percussive massage. Anything less, and you'll get the more simple benefits of a vibrational massage. And while most massage gun users are looking for percussive therapy, it's important to recognize that it's not the solution for every body ailment. Sometimes, gentler vibrational massage is a better bet, as is the case if you're recovering from a bone fracture, trying to soothe pain from tendonitis, have sensitive muscles or chronic pain, or want to do work on bony areas like the neck or joints. The good news is that in most cases, you can modify the intensity of a percussion massage gun by changing the speed or applying less force.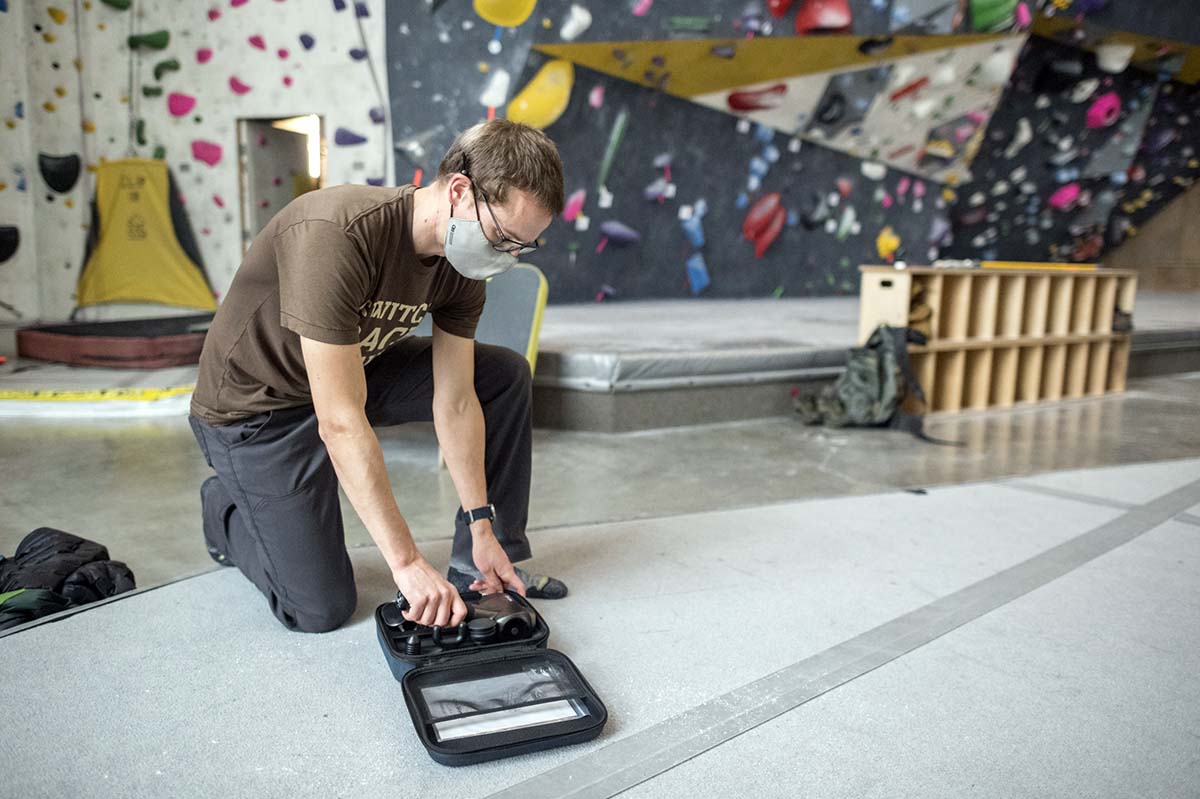 Percussion Massage Gun Mechanics
Depth (Amplitude)
Also referred to as amplitude, depth is one of the most important considerations in choosing a massage gun. The depth to which a massage gun can probe is determined by its stroke length, a term borrowed from engine mechanics that describes how far pistons travel in a cylinder. Applied to a massage gun, it's the distance that the head travels from compressed (closest to the device) to extended (closest to your muscle).
The massage guns on our list have depths ranging from 7 millimeters for designs like Bob and Brad's Q2 Mini to 16 millimeters for the Theragun designs. As we mentioned above, consensus states that true percussive massage takes place with a stroke length of around 10 millimeters or higher, so if you're sold on the benefits of percussive therapy, you'll want to spend up for high-quality massage gun with a functional stroke length. For most users, we recommend sticking between 12 and 16 millimeters of amplitude.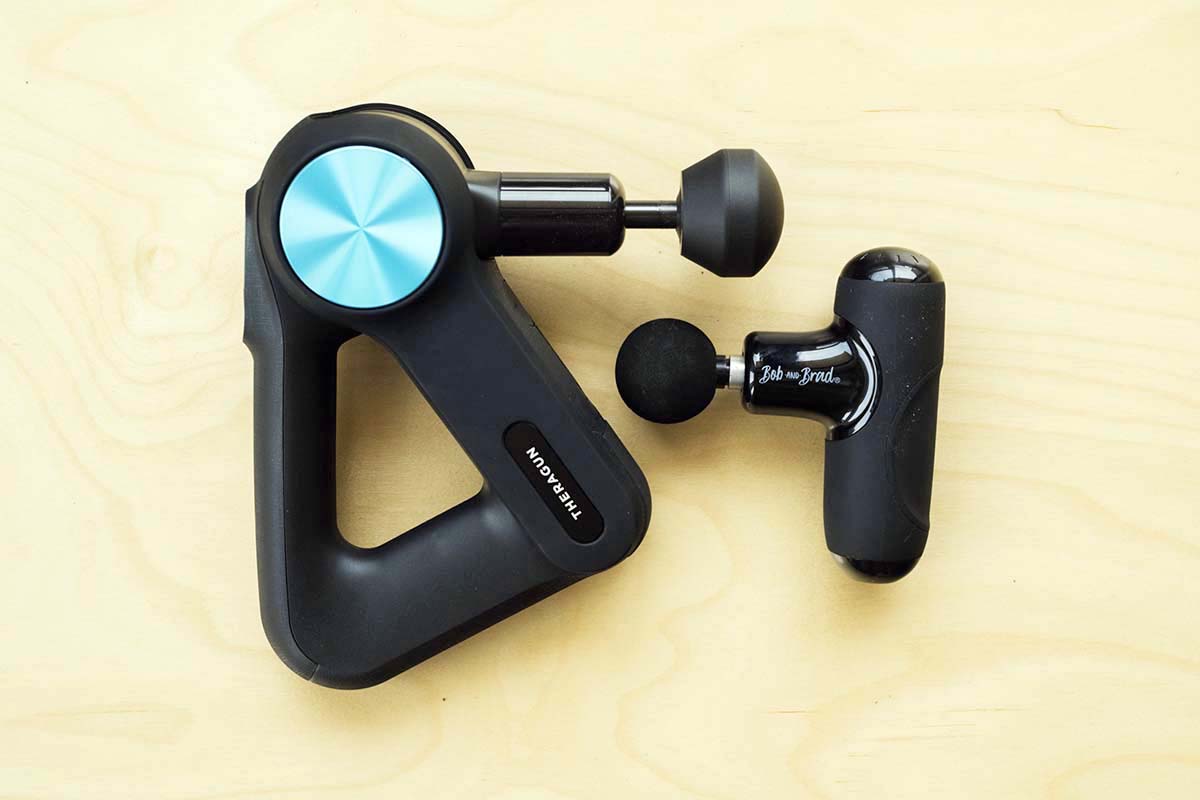 Stall Force 
Stall force indicates the amount of pressure that can be applied to the gun before the motor stalls and is measured in pounds. At the extreme end, a stall force of 0 means that no matter how impressive the depth, your massage gun will stop working when simply held against your skin. On the other hand, a percussion massager with a stall force of 70 pounds means you can add a generous dose of pressure to the percussive action, resulting in more pronounced deep-tissue work.
In general, most people won't need a stall force much higher than 40 pounds (greater force equals greater pain), although athletes and physical therapists might want to bump to a higher number (the Achedaway Pro has a stall force of 80 lb., which we've found nearly impossible to max out). It's also common to see stall force go down with weight and bulk. Finally, we'd advise you to be wary of any model that does not list a stall force. Along with depth, this is a very important number to consider.

Speed
Measured in terms of percussions per minute (ppm) or rotations per minute (rpm), the frequency (or speed) of a massage gun ranges from about 700 ppm on the low end to 3,300 on the high end. Most devices have around three to five settings, which allows you to speed up or slow down the frequency of the percussions to deliver a more relaxed or higher-intensity massage. Scientifically speaking, speed is an important factor in percussive massage: at high frequencies, the massage gun moves on and off the muscle so quickly that the brain cannot adapt, resulting in less pain and more stimulation overall. But don't be too won over by these numbers, as faster speeds do not necessarily indicate more power (and manufacturers love to market impressive speed specs to their audience). For example, the Theragun Pro Plus is one of the most powerful percussive devices on our list, and it offers five speeds that max out at just 2,400 ppm.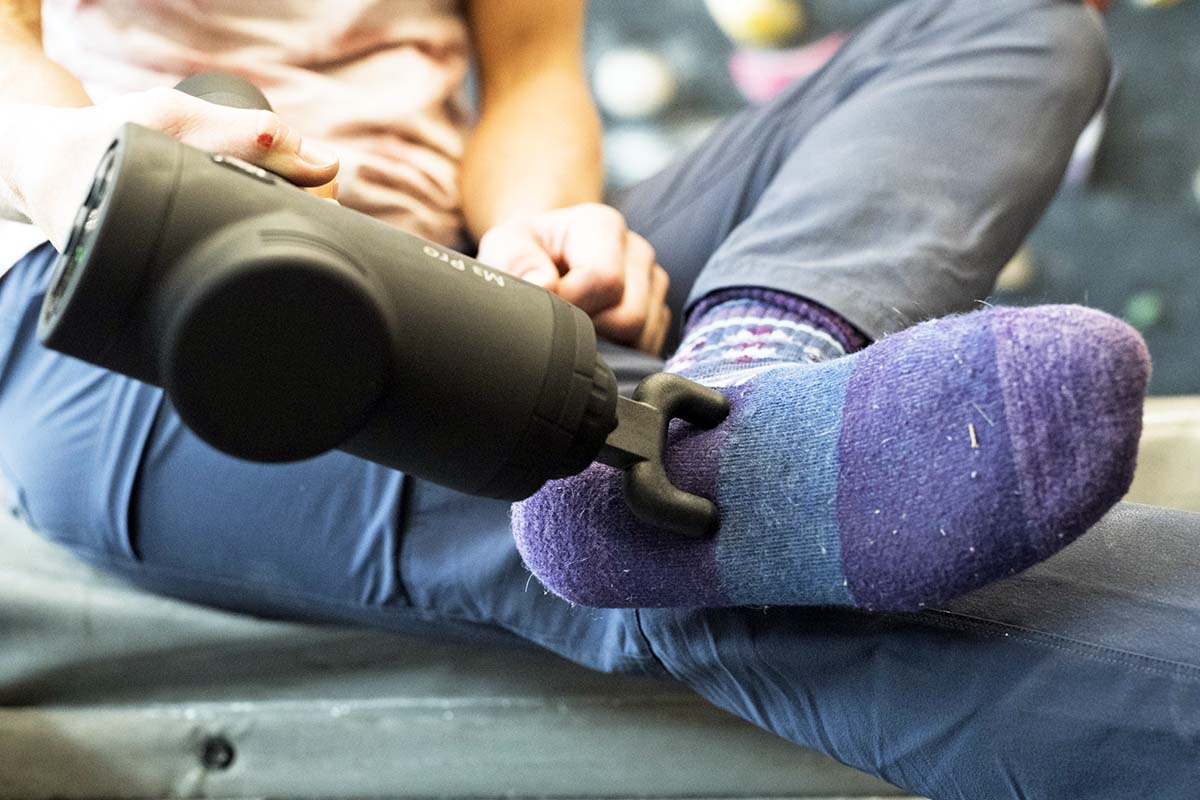 Batteries and Battery Life
The massage guns here feature cordless operation via lithium ion batteries, which last from about 2 hours on the low end to 8 hours on the high end. Do the math, and if you use your massage gun for about 15 minutes a day, you'll have to recharge it somewhere between once per week and once per month. Our main takeaway here is that battery life is not a super important consideration when weighing the pros and cons of varying devices, unless you're consistently on the go or want to bring your massage gun into the backcountry.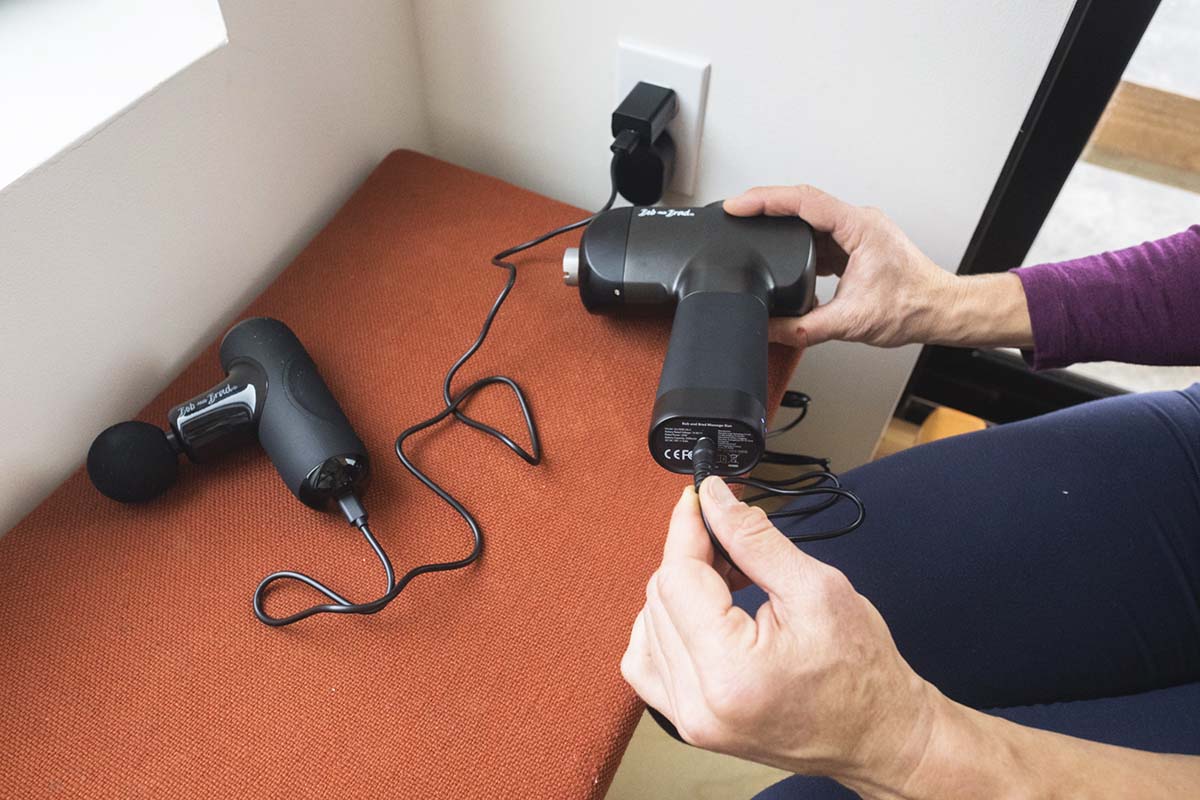 When it's time to put more juice in your massage gun, most batteries will charge back to full capacity in 2 to 4 hours via a wall plug and cord or charging dock (for the more premium Theragun designs). Some of the most compact massage guns (like the Bob and Brad Q2 Mini and Ekrin Bantam) even charge via USB-C, plugging into your computer or a simple square adapter (as you would a smartphone). Finally, many massage guns have an auto shut-off feature that preserves the battery if accidentally left on.
If you plan to get many years of use out of your massage gun, you might want to consider a model with a replaceable battery. Most massage guns here have internal batteries, meaning they cannot be easily swapped out, although with a little DIY and the proper replacement part, it can usually be done. On the other hand, some of the more premium percussion massagers (including high-end models from Hypervolt and Theragun) have external batteries that come off with a simple flip of a toggle, allowing you to swap in a fresh one when you're low on power. While this is a nice feature that certainly lends a premium feel, we don't think it's particularly necessary for most users.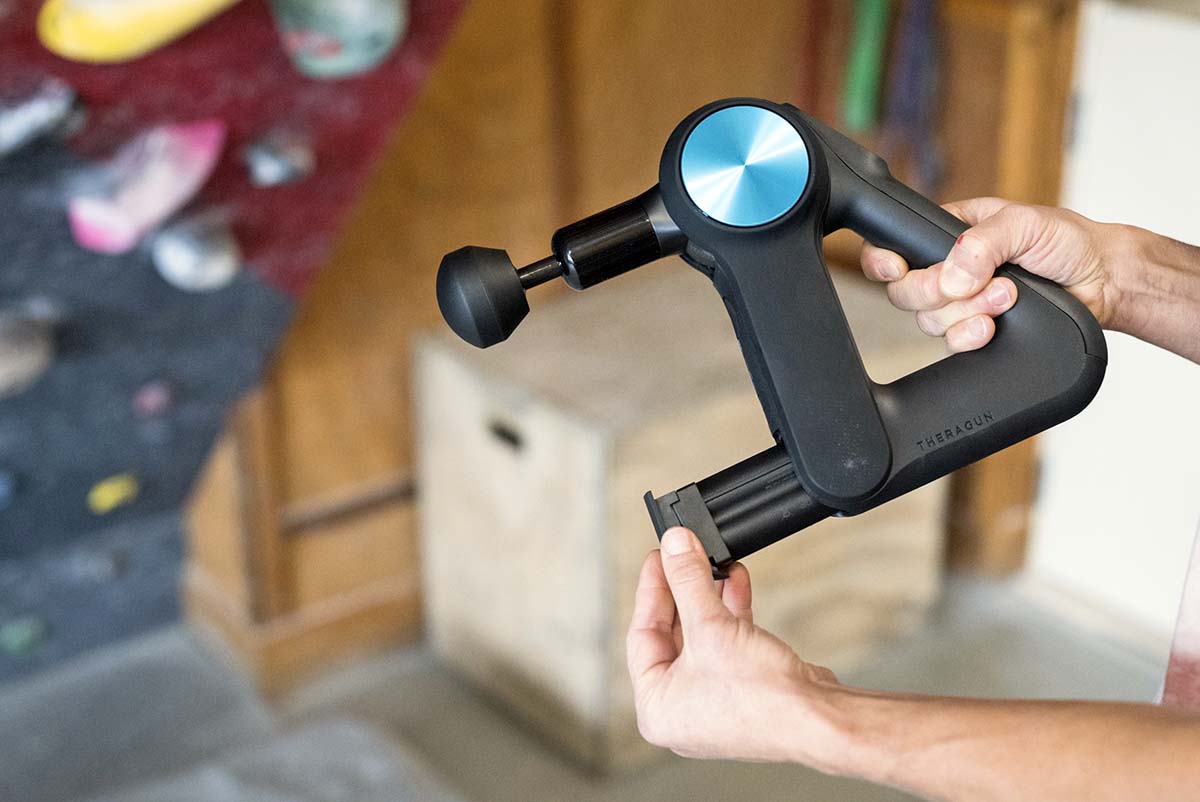 Volume (Decibels)
With a design akin to a power tool, it should come as no surprise that massage guns can be quite noisy. They're so raucous, in fact, that it can be difficult to watch TV or maintain a conversation while doing deep tissue work. For this reason, quieter massage guns certainly stand out among the bunch, and low decibels can be a big selling point when deciding which design is best for you.
But while pitches, tones, and motor noises can vary, decibels are fairly consistent between models: running on high speed, the percussion massagers we tested ranged from 55 to 68 decibels when held at arm's length from our decibel meter (the Bob and Brad X6 was the quietest, while the Ekrin Bantam the loudest). As a general rule, expect Theragun, Hypervolt, and Ekrin massagers to be on the louder end of the spectrum, while we've been impressed with the quiet operation of Bob and Brad's offerings and the Toloco EM26. And as technology continues to improve, we can expect subsequent models to be even quieter—as proof, the current Theragun Elite claims to be 75% quieter than the prior-generation model.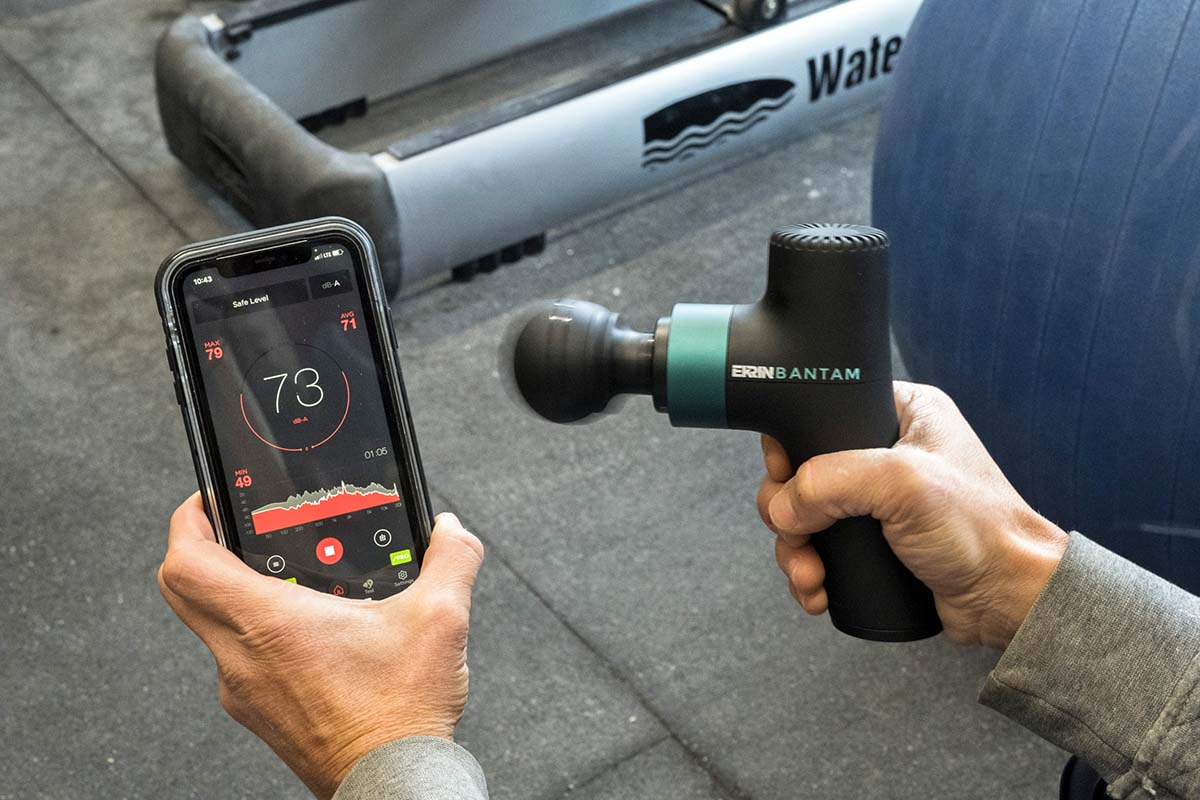 Weight and Dimensions
Massage guns come in a variety of shapes and sizes, ranging from compact designs like the pocket-sized Bob and Brad Q2 Mini (15.2 oz. and 5.7 x 3.4 in.) to no-holds-barred machines like the Theragun Pro Plus (3 lb. 10.2 oz. and 9.2 x 6.3 in.). In most cases, you can expect stroke length and stall force to increase with weight and bulk, and ergonomics often improve as well. For example, the Pro's large handle is easy to hold and can adjust to four different arm positions, while the Q2 Mini features a slimmer handle and no adjustment.
That said, we're big fans of compact massage guns for ease of transport—it's no sweat to throw them in our work backpack or gym bag—while we'll definitely feel the added burden of a bulkier design. What's more, they're easier to use (think about operating a 1-lb. device vs. a 3-lb. device) and get the job done in most cases. Finally, keep in mind that the listed weights above are for the massagers alone, but you'll also want to consider the additional heft of the head attachments, carrying case, and battery charger.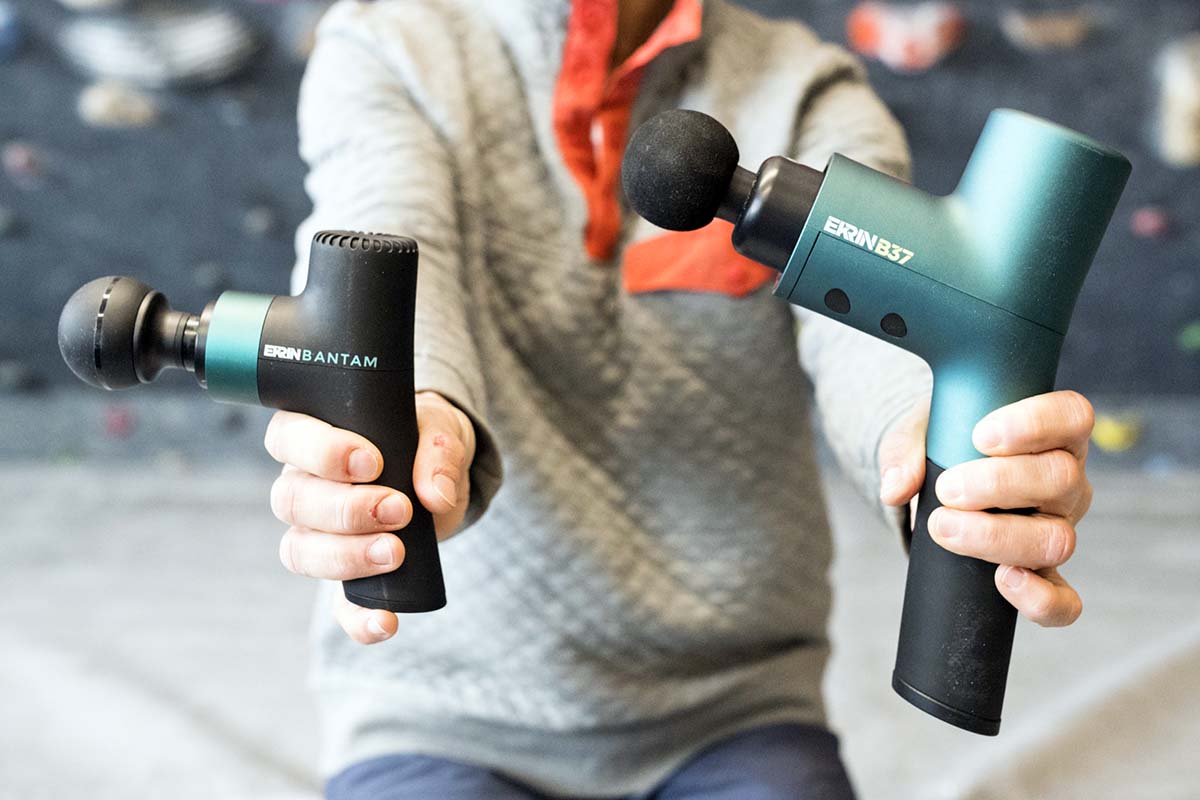 Massage Head Attachments
Most massage guns come with a few different attachments, which is important to getting the most out of your device. These can range from balls or flat heads meant for large muscle groups like the glutes and quads to cones for pinpointing pressure points or wedges for scraping and flushing the IT bands. Most of these attachments are made with semi-soft closed-cell foam, while others are made from aluminum or plastic (particularly common in the "fork" attachment) or feature soft open-cell foam tips (for beginner massagers or particularly sensitive areas). Ideally, we prefer about five different massage heads to tailor our workout—be wary of massage guns that are sold with just one or two attachments.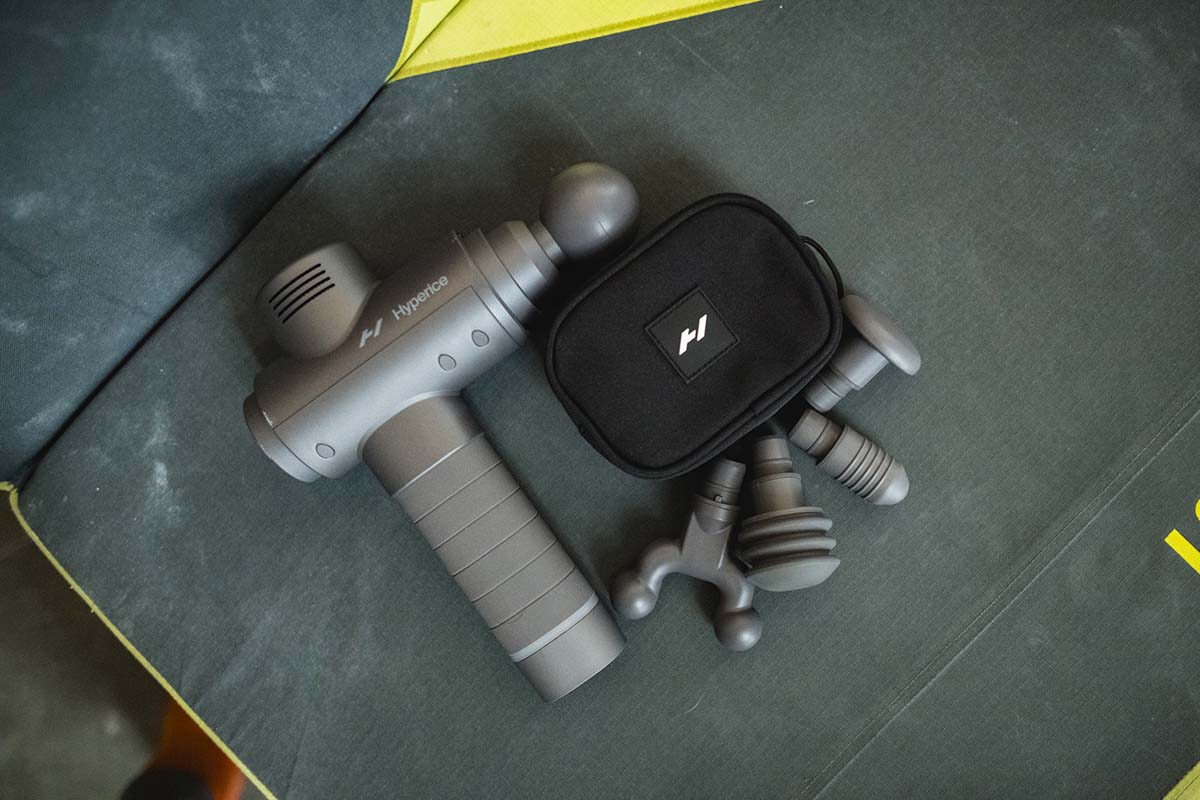 Before using your massage gun, we recommend getting well-acquainted with the various heads and their uses. The amount of force that these devices apply to your body is significant, and you'll want to be sure that you're using them correctly. This is one of the main reasons we appreciate massage guns that come with Bluetooth app support, which can be really helpful as you're getting started. If you see a physical therapist, it's not a bad idea to bring your device to an appointment to chat about which head attachments are best for your particular ailment. Finally, some of these materials (including both closed- and open-cell foam) wear out faster than others, so you'll also want to consider the durability of the attachments. The good news is that most of the big names here (including Theragun and Hypervolt) offer replacement heads for a small charge.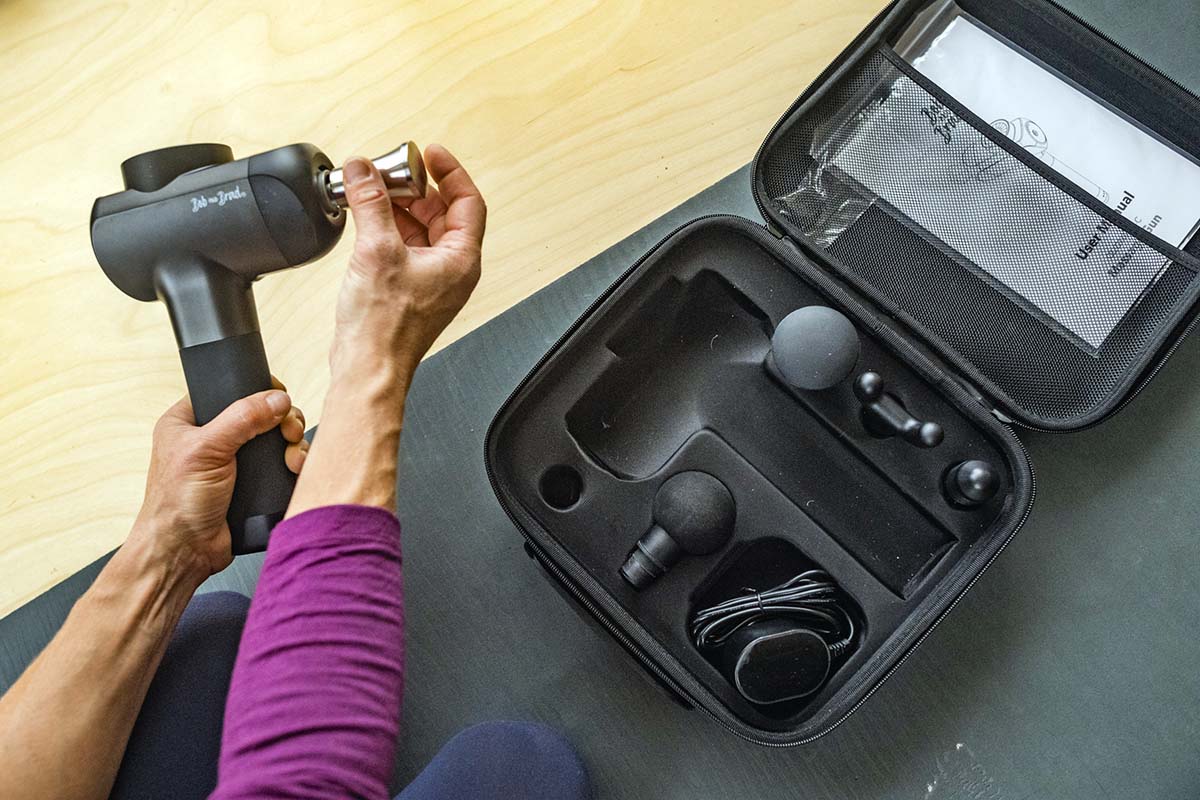 Ergonomics and Reach
Most percussion massage guns follow one of two formulas: they're either shaped like a power drill or have a triangular build made famous by Theragun (there are a few exceptions to this rule, including the Theragun Mini). In general, we find standard power drill-shaped guns to be serviceable for most uses, including deep tissue work on your legs, arms, or glutes. And more premium designs (like the Ekrin Athletics B37) tend to set the handle at an angle, which takes some pressure off the wrist (a welcome respite during a 15-minute massage).
However, if you're trying to massage hard-to-reach areas or hidden muscle groups, you might want to opt for a more purpose-built shape. A design like what Theragun uses for their Pro is the obvious answer, which features multiple grips on the triangular handle along with a four-way adjustable arm. The Bob and Brad D6 Pro is a viable budget alternative ($250) with a multi-grip handle and adjustable arm. Finally, if you're looking for a dedicated back massager, it's worth checking out a design like the Mighty Bliss, which features an extra-long handle for better reach to the back, neck, and shoulders.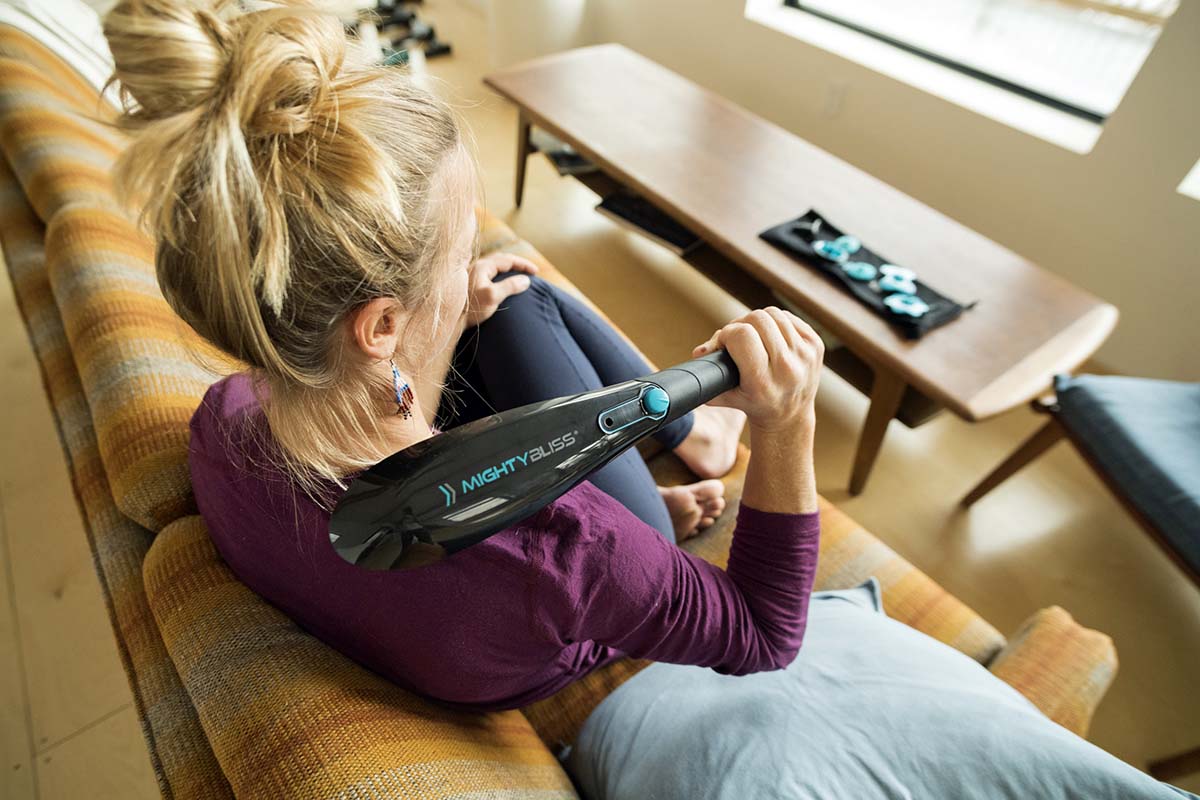 Materials and Durability
Most massage guns are made with high-grade plastic, including premium designs like the Hypervolt 2 Pro and Theragun Pro. You'll often get a nice rubberized grip at the handle, and attachment heads are generally designed with closed-cell foam or plastic. Finally, it's common to see a lot of the motorized parts made with metal—for example, the Bob and Brad X6 Pro uses titanium alloy under the hood to provide longevity alongside a light weight.
Surprisingly, the majority of massage guns are decently durable despite being made mostly of plastic, although build quality almost always suffers when you dip into the budget-oriented market. For example, many massage guns on Amazon tout impressive power specs for $50 to $100, but what you don't see on the screen is a cheap plastic device that won't stand the test of time (just read through their reviews for proof). In most cases, we recommend sticking with the name brands or the higher-quality Amazon-popular products we've called out here. And to help extend the life of your percussion massager, it's a good idea to opt for a design that comes with a padded carrying case. We also like to look for extended warranties—brands like LifePro and Ekrin offer lifetime guarantees, which is a really nice assurance to have when purchasing an expensive product.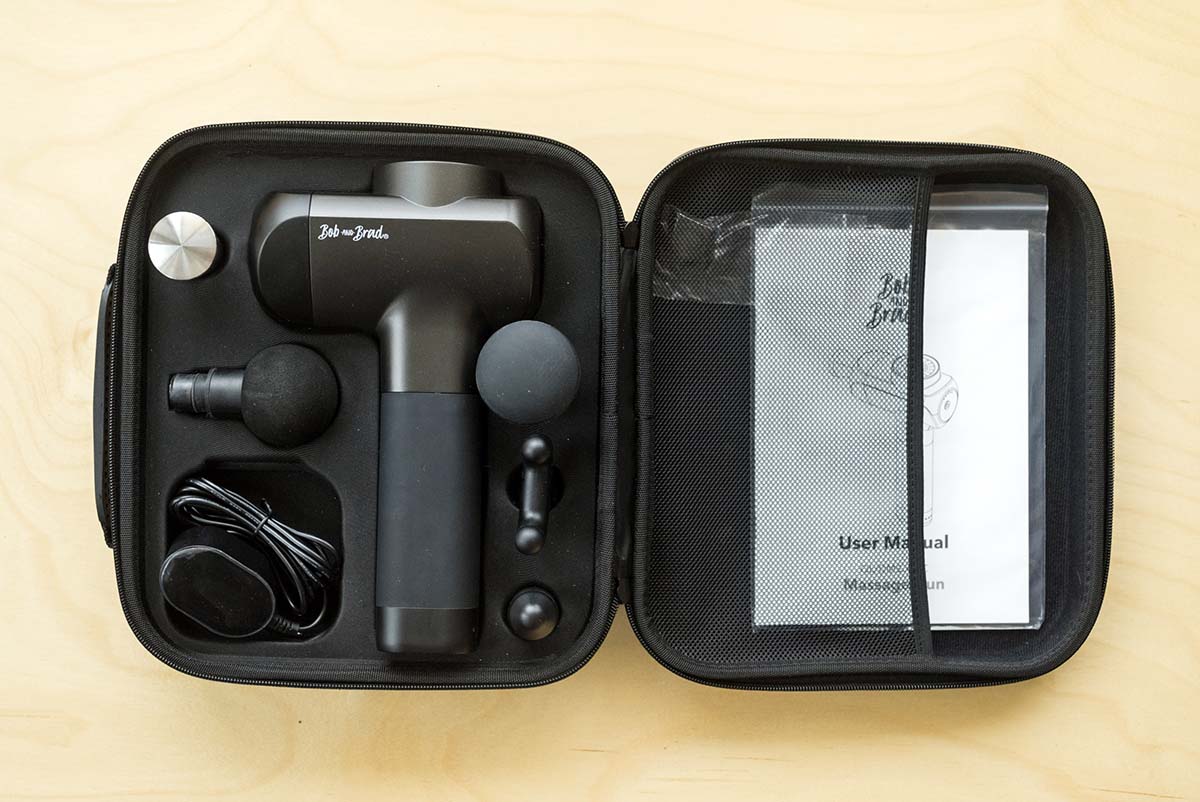 Bluetooth App Integration
Some of the more premium massage guns offer Bluetooth connectivity to their own dedicated smartphone applications. Many of these apps link to your Strava, Garmin, or Apple health stats to provide tailored massage and recovery plans, offering information on what head attachment to use, how long to massage and what speed, how much pressure to apply, and more. They even go so far as to control your massage gun while providing on-screen guidance with a preset massage routine. If you're new to percussion massage or appreciate the extra assistance, this can be a really nice feature to look for. Unfortunately, Bluetooth app integration is not yet the standard for most massage guns—the devices we know of that offer this feature include the Theragun Pro, Elite, and Prime, and the Hypervolt 2 Pro and 2.
And we'd be remiss to not mention the Lyric Therapeutic Massager here. Instead of pairing with your smartphone via Bluetooth, the Lyric uses a WiFi connection and large touchscreen to offer custom, guided workouts. It's a very modern, sleek user interface that simplifies your workout down to just one device, which we appreciate. The Lyric is the only WiFi-connected device here, but it's well-executed and a hint as to where the market is headed.
Displays
Many massage guns come with some sort of display, either designed with LED lights or an LCD or OLED screen. The majority of these displays tell you what power level you're operating the device at and how much battery life remains. Some of the more premium massage guns also incorporate a force meter into their screen, which gives you information on how much force you're applying to the device as you massage (especially helpful if you're giving a massage to someone else). Although the more premium massagers use LCD/OLED screens, there aren't a ton of benefits to the added tech, so we don't recommend making a decision based on the display. The exceptions to this are the Lyric Therapeutic Massager, which features a large touchscreen and offers guided, on-screen workouts via WiFi, and the 5th-gen Theragun Pro, which includes built-in routines via a visual guide.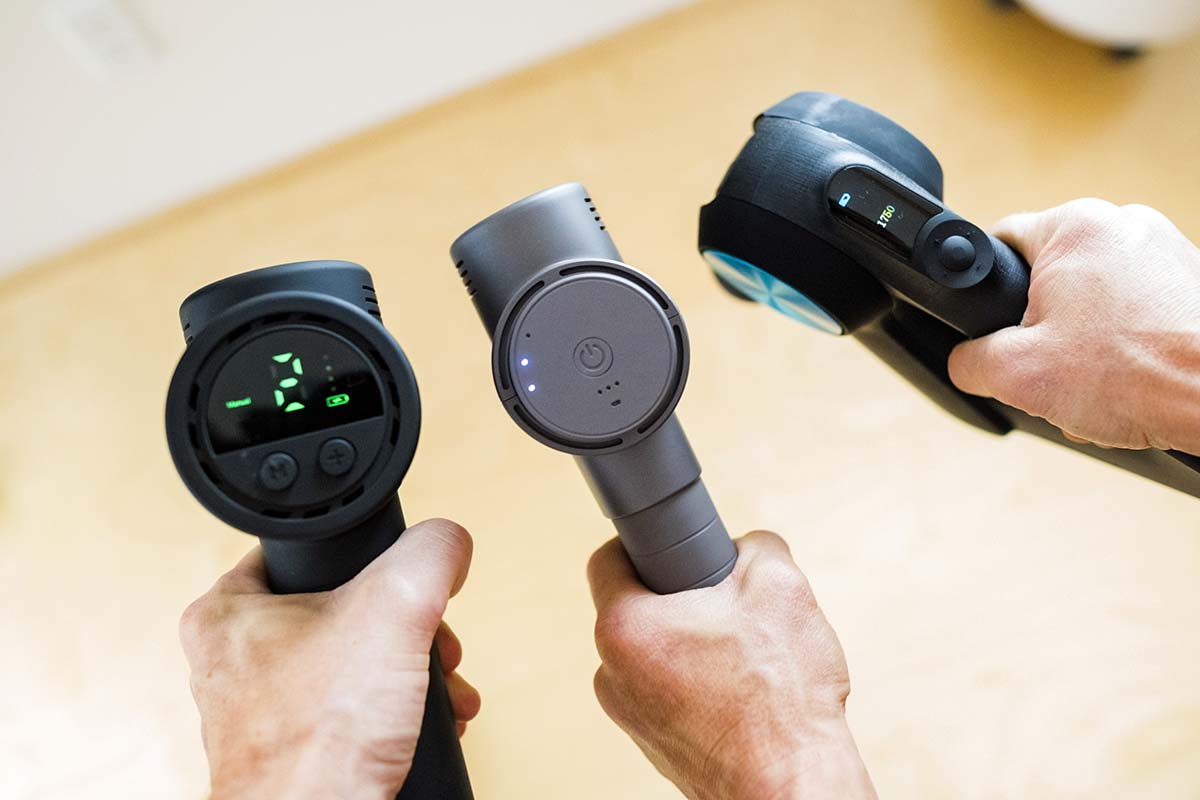 Amazon's Massage Gun Market
As is the case with a lot of simple electronics, the Amazon market is absolutely flooded with percussion massage guns. Most of these designs are priced at $100 or below, sell only via Amazon (or similar sites like Alibaba), and a good number of them receive rave customer reviews. It can be very tempting to purchase one of these models rather than spending upwards of four times the price on a percussion massage gun from Theragun or Hypervolt. However, before doing so, it's important to understand the tradeoffs inherent with these designs.
First off, Amazon-only massage guns simply lack the fit and finish of more premium brand-name designs. The unboxing certainly won't be as exciting, and you rarely get features like charging docks, Bluetooth app connectivity, and removable batteries. In most cases, performance doesn't measure up either: importantly, these models love to highlight their power in terms of motor speed but lag behind on specs like amplitude and stall force (both of which are far more vital to the actual performance of a percussion massager). You'll also get middling build quality, which is fine for every-so-often use but won't hold up well over time. Finally, it's prudent to keep customer service on your radar: some of these brands give you access to a real person behind the screen, while others do not. If you decide to go the Amazon route, it can help to read reviews, seek out the brand's website, or reach out to them directly to determine their credibility.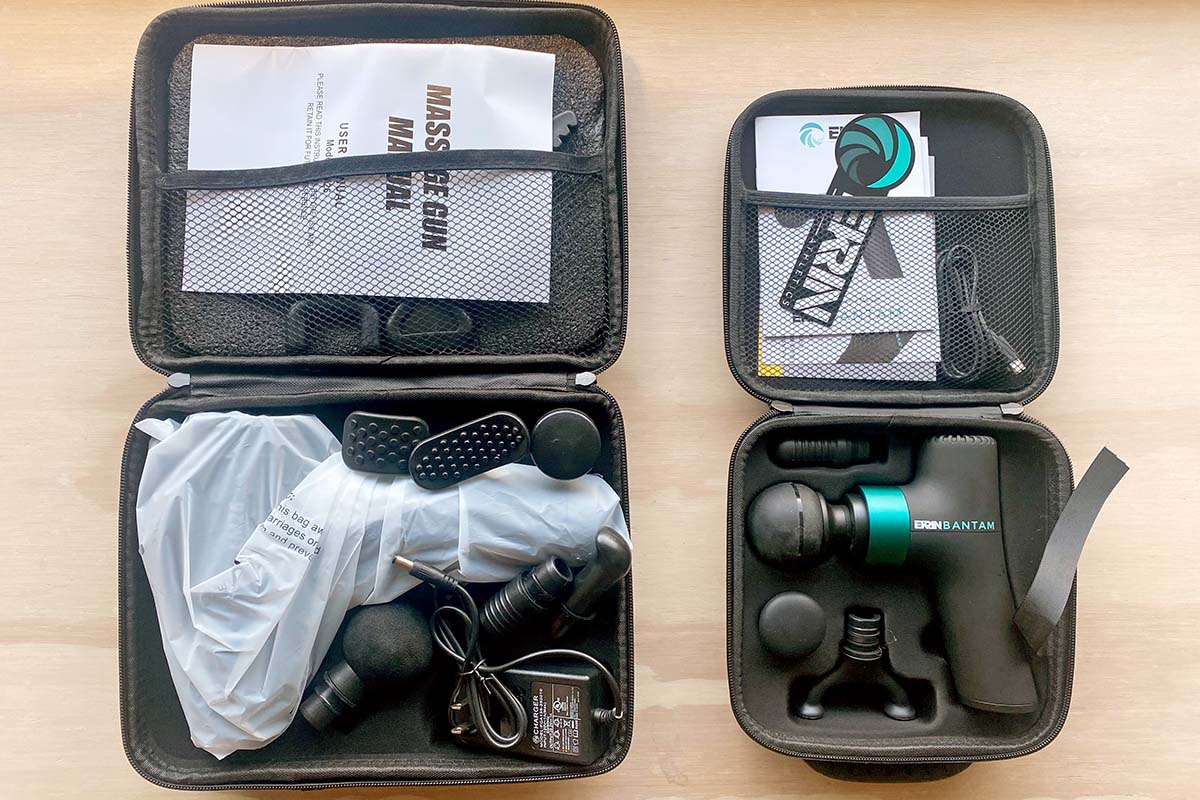 Alternatives to Massage Guns
Percussion massage guns are an incredible tool for athletes or those recovering from injury, but it's important to recognize that they're not the relief and relaxation that everyone is looking for. In fact, percussion massage puts the "work" into deep tissue work far more than other forms of massage—many users might prefer a lighter vibrational or kneading tool for greater amounts of comfort. Further, given their ergonomics, the devices here aren't particularly practical for working out tight areas in your neck or back. A quick internet search will reveal a host of other options, but we particularly like products like the InovSpa Shiatsu Back Shoulder and Neck Massager and the Renpho Foot Massager.
Finally, if you don't mind a little DIY and already have a jigsaw, you can save a lot of money and turn your power tool into a percussion massage gun. Plug-n-play adapters and bits are easy to find online and simple to use. We don't recommend this for those who plan to massage on a daily basis—jigsaws are heavy and not as ergonomic as massage guns—but it's a nice way to get started or rehab from a specific injury without breaking the bank.
Back to Our Top Massage Gun Picks  Back to Our Massage Gun Comparison Table
Read More From Switchback Travel