Whether you're headed to the beach, tailgating before your favorite sporting event, or camping in the wild, keeping your food and drinks cold is absolutely key. Thankfully, the market is packed with high-quality coolers that excel at everything from solo day trips to week-long adventures. Below we break down our favorite coolers and ice chests for 2019, which include everything from budget-friendly Coleman models to range-topping Yetis. Our picks also reflect the growing number of styles available, with small and compressible soft-sided and backpack designs as well as burly wheeled options represented. For more background information, see our cooler comparison table and buying advice below the picks.

Best Overall Cooler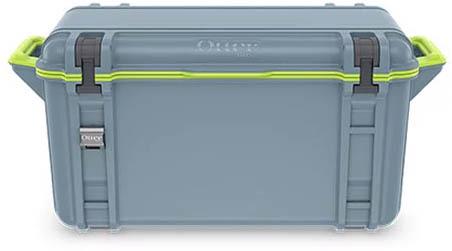 Type: Hard-sided
Capacity: 65 qts.
Weight: 33 lbs.
Claimed ice retention: 16 days
Other sizes: 25, 45
What we like: Superb ice retention, sleek design, and thoughtful features.
What we don't: Rigid handles add some bulk.
OtterBox might be best known for their rugged phone cases, but they've taken that manufacturing expertise and created some fantastic hard-sided coolers. The Venture 65, in particular, was quick to win us over: it keeps food and drinks frosty for days on end, has a stout build that will withstand just about any outing, sports helpful features like class-leading, easy-to-use latches, and looks nice to boot. We also love the Venture's functional, built-in mounting locations for accessories including cup holders, side tables, and cutting boards. Added together, we think the Venture is the best-performing and most well-designed ice chest currently on the market.
If we had to nitpick, the Venture 65's handles are rigid (rather than rope) and don't fold down like much of the competition. This adds some bulk and can make the cooler a bit tougher for one person to carry. Further, the massive 65-quart carrying capacity and 33-pound weight might seem like overkill for most occasions, but we've found it to be the ideal size for weekend trips with groups of two to four. If you don't anticipate needing all that space, OtterBox also makes this cooler in 25- and 45-quart versions that share the same overall design and features.
See the OtterBox Venture 65
A Close Second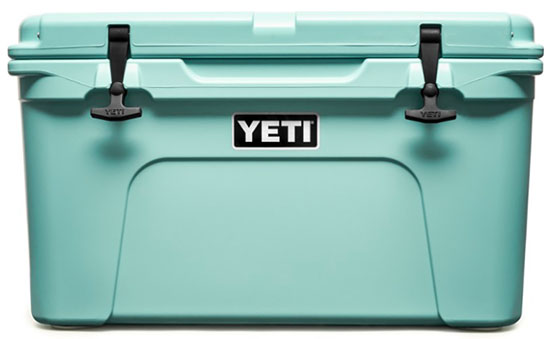 Type: Hard-sided
Capacity: 37 qts.
Weight: 23 lbs.
Claimed ice retention: Not listed
Other sizes: 35, 65, 75, 105, 110, 125, 160, 210, 250, 350
What we like: Yeti's proven performance and durability.
What we don't: Expensive for the capacity.
When most people think of high-end coolers, Yeti's signature Tundra comes to mind. The line dates back to 2008 and has become nearly synonymous with summertime adventuring. Some of that popularity can be attributed to being one of the first to hit the market—and an impressive advertising campaign—but the Tundra also checks all the right boxes: it's made in a wide range of sizes, has a highly durable rotomolded and bear-resistant build, and multiple tie-down slots easily secure it on a boat, trailer, or truck bed. You certainly pay a premium for the brand, but the Tundra has earned that right with an excellent track record of reliable, long-lasting performance.
Yeti's Tundra competed with the OtterBox Venture above for our top spot, but ultimately fell just short. In the end, it came down to minor criticisms: the Venture kept our food and drinks colder for a little longer, is more fully featured with mounting points for accessories, and its cam-style latches proved easier to operate than Yeti's rubber T-handles. Finally, the "45" in the Tundra's name is a bit of a misnomer: with its 2-inch-thick walls, the capacity ends up being closer to 37 quarts (the same is true for the other Tundra sizes). But if you're set on a Yeti, we understand. People rave about them and for good reason.
See the Yeti Tundra 45
Best Budget Cooler for Camping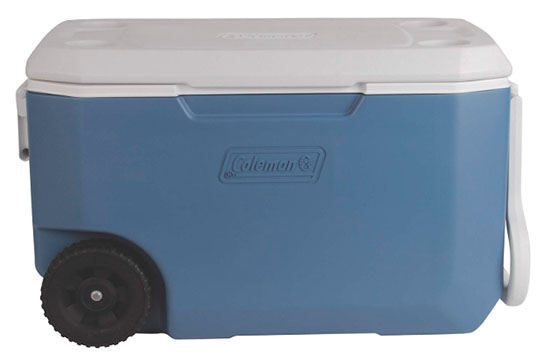 Type: Hard-sided (wheeled)
Capacity: 62 qts.
Weight: 13 lbs. 8 oz.
Claimed ice retention: 5 days
Other sizes: 50, 82, 100, 120, 150
What we like: A budget-friendly, hard-sided cooler that meets the needs of most recreationalists.
What we don't: Cheap build won't stand up to regular abuse.
Founded over a century ago, Coleman was a pioneer in the portable cooler market and remains one of the most recognizable names in camping to this day. While a far cry from the high-end models above, their Xtreme 5 Wheeled Cooler is a standout in the low-cost category. The generously sized wheels and tow handle make transporting easy, the hard-sided build provides modest insulation for day or overnight getaways, and the integrated cup holders atop the lid are convenient for storing drinks in progress. All told, the $49 Xtreme 5 should meet the needs of most recreational campers, boaters, concert-goers, and tailgaters alike.
As with any budget product, the Xtreme 5 makes notable sacrifices to cut costs. First and foremost, the cooler is far less durable than premium hard-sided models—when testing them together, the Coleman's cheap and lightweight materials were immediately noticeable. We also had trouble keeping the lid open while loading and unloading the cooler, which made the process fairly painstaking. Finally, the five-day ice retention claim seems a bit generous (it's more like two in good conditions). Weekenders should have few complaints, but serious outdoors-goers will likely be better served by spending up for the picks above or the ORCA below.
See the Coleman 62 Quart Xtreme 5
Best Lightweight Soft-Sided Cooler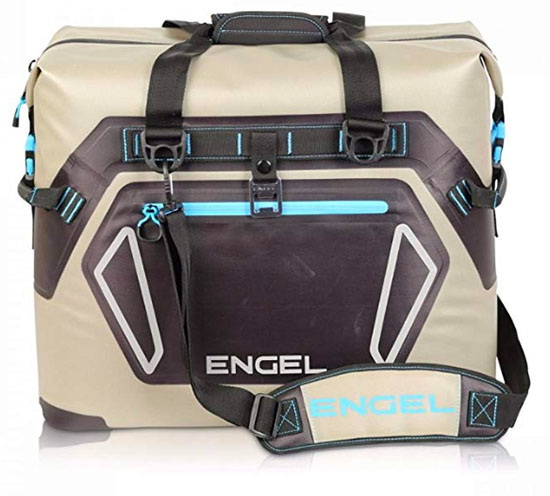 Type: Soft-sided
Capacity: 32 qts.
Weight: 5 lbs. 4 oz.
Claimed ice retention: 4.5 days
Other sizes: None
What we like: Best ice retention of any soft-sided cooler on the list.
What we don't: Not the easiest to carry.
For those limited on space or who don't want to schlep a heavyweight cooler to their beach spot, a soft-sided model makes a lot of sense. And we think Florida-based Engel has done a particularly nice job with their HD30. For a reasonable $200, you get a generous 32-quarts' (or 48 cans') worth of storage, tote handles and an adjustable, padded shoulder strap, and welded seams that help keep ice cold for up to 4.5 days—longer than any other soft-sided model on our list. All in all, the HD30 harnesses a lot of what we love about hard-sided coolers in a much more lightweight, low-profile package.
What do you sacrifice by going with a soft-sided cooler? Apart from less insulation, the most obvious downside is durability: while the Engel HD30 has a respectable 840-denier shell that should withstand most outdoor use, it's no match for the bombproof hard-sided coolers above (and the Yeti Hopper Two 30 below is also slightly more robust). Additionally, the HD30's square shape and large size make it a bit awkward to carry, even when using the shoulder strap. Nevertheless, soft-sided coolers provide a lot of value for day adventures, and the HD30 is our favorite in its class.
See the Engel HD30 Cooler
Best Backpack Cooler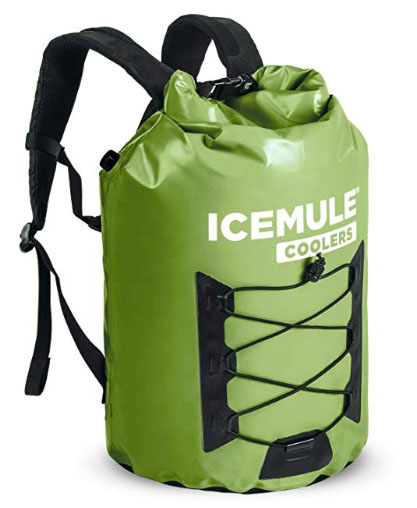 Type: Backpack
Capacity: 24 qts.
Weight: 3 lbs. 3 oz.
Claimed ice retention: 1 day
Other sizes: 33 (XL), 40 (XXL)
What we like: Durable, waterproof, and relatively inexpensive.
What we don't: Fairly bereft of features, including a waist strap.
For the ultimate in hands-free portability, backpack-style coolers are the clear winners. In fact, many of these bags, including IceMule's Pro series, share a lot in common with regular daypacks. The Pro's padded shoulder straps keep it comfortable even when loaded down with ice, food, and beverages, and the ventilated backpanel does a nice job of promoting airflow between the bag and your body. With a 1,000-denier, waterproof build, the drybag-like IceMule should withstand all the scratches, scrapes, and tussles that crop up along the trail or in the water.
In order to shave weight and bulk, some backpack coolers like the IceMule Pro lack structure. Even compared to soft-sided models, the Pro can feel sloppy if loaded improperly. This also translates to less insulating power, although the Pro's 24 hours of ice retention is actually fairly good in this category. In comparing the Pro with other backpack options below, you can go colder with the Yeti Hopper BackFlip or more modern with the Hydro Flask Unbound. However, where the IceMule Pro stands apart is value: it undercuts most of the competition significantly while still checking most of the boxes.
See the IceMule Pro Large
Best of the Rest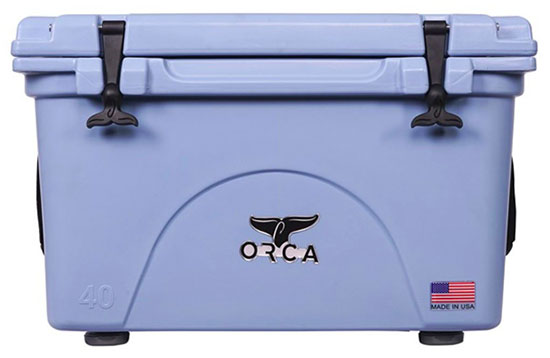 Type: Hard-sided
Capacity: 40 qts.
Weight: 30 lbs.
Claimed ice retention: 10 days
Other sizes: 20, 26, 58, 75, 140
What we like: Nice balance of price, capacity, and portability; comes in a wide selection of sizes.
What we don't: Not always available online; stiff T-handle latch.
ORCA (Outdoor Recreation Company of America) isn't a household name like Yeti or OtterBox, but the Tennessee-based brand has gained a rather dedicated following of committed adventurers. In competing for the top spot on our list, their 40-quart hard-sided cooler gave the Venture a real run for its money. Its flexible side handles make carrying a breeze, and we found the exterior organizer pocket to be a nice addition for storing small items like keys and a bottle opener. Starting at 20 quarts and going all the way up to 140, there's an ORCA cooler for just about any activity.
What bumps the ORCA 40 down to our #6 slot? For starters, the Venture gets the slight edge in ice retention (although ORCA's advertised 10 days is nothing to scoff at). Further, the ORCA's traditional rubber T-handle is a bit stiff and harder to latch than the Venture's plastic system (even the Tundra's T-handle is easier to use). And finally, the brand isn't as widely available both online and in brick-and-mortar stores as OtterBox and Yeti. But if you can track one down, the ORCA is a truly impressive all-rounder.
See the ORCA 40 Cooler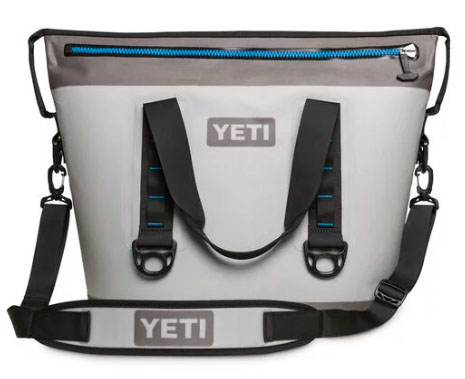 Type: Soft-sided
Capacity: 28.5 qts.
Weight: 5 lbs. 8 oz.
Claimed ice retention: Not listed
Other sizes: 8, 12, 18
What we like: Ultra-durable and three carry options.
What we don't: Most expensive soft-sided model on the list.
Following the meteoric rise of the Tundra, Yeti then shifted its focus to the soft-sided Hopper series in 2014. Out of the box, we were immediately struck by the Hopper Two 30's thick and burly feel—it'd take some serious effort to even make a scratch—which is high praise for a flexible bag. And thanks to its detachable shoulder strap and three separate sets of handles, the Hopper is the easiest-to-carry soft-sided cooler on our list. We also love the exterior daisy chain, which is great for attaching accessories like a small dry bag or tying the cooler down in a raft or kayak.
It's worth pointing out that Yeti is one of the few companies that doesn't advertise ice retention times for its coolers. While the Hopper Two 30 has proven to hold up well even in extreme heat, we still wish we had a better idea of what to expect before heading out. And perhaps most importantly, the Yeti is the priciest soft-sided model on our list, coming in $40 more than the Engel HD30 above (which insulates slightly better than the Hopper) and over $100 more than the AO 24 Pack and REI Co-op Cool Haul below. But for those that are hard on their gear, the extra investment may be worth it.
See the Yeti Hopper Two 30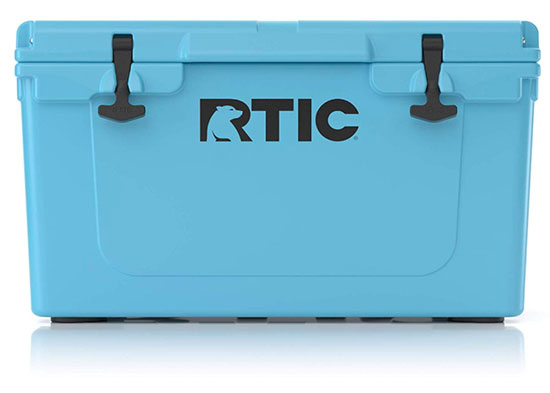 Type: Hard-sided
Capacity: 45 qts.
Weight: 25 lbs.
Claimed ice retention: 10 days
Other sizes: 20, 65, 110, 145
What we like: A quality all-purpose cooler at a reasonable price.
What we don't: Only sold online.
Texas-based RTIC does things a little differently. This direct-to-consumer brand pushes out top-performing coolers across all categories, and by taking out the middle man (retailers), they undercut the competition significantly. The hard-sided 45 is a great case in point: its rotomolded construction resembles designs from Yeti and ORCA but beats them in price by $80 to $100 (plus, we often see RTIC coolers on sale even in the middle of summer). And in saving money, you don't have to compromise premium and familiar features like non-slip feet, week-long ice retention, and rubber T-latches.
What are the downsides of buying from a consumer-direct company? The most obvious is lack of convenience: while you can check out and pick up a Yeti or Coleman at your local REI, you don't get the same luxury with RTIC. We've also read reports of poor customer service, especially on warranty claims (and again, you can't walk into a shop to handle a return). That said, there are plenty of happy RTIC owners, and their coolers are an enticing alternative for campers, beach-goers, and tailgaters who prioritize value over name-brand cachet.
See the RTIC 45 Cooler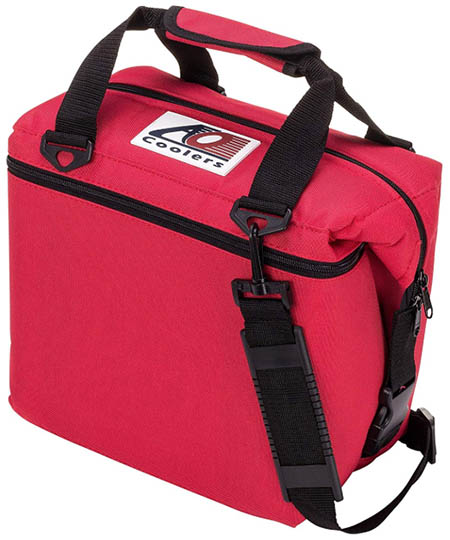 Type: Soft-sided
Capacity: 24 cans
Weight: 2 lbs. 11 oz.
Claimed ice retention: 1 day
Other sizes: 12, 36, 48
What we like: Compact, simple design that performs well for day trips.
What we don't: Not as robust as options from Yeti or Engel.
If you're on a budget and simply need a no-frills, no-nonsense cooler for day trips, the AO Coolers 24 Pack Canvas fits the bill. For $70, the AO packs in a compact and easy-to-shoulder build, functional zipper closure that runs the length of the cooler, and generous exterior pocket to stow an extra layer or valuables. You don't get multi-day ice retention (AO advertises a 24-hour maximum) or huge capacity (up to 24 cans) as many alternatives. But for short solo adventures to the lake, beach, or trailhead, the AO is likely all you'll need. 
Put simply, the 24 Pack Canvas looks and feels a lot different than the other soft-sided coolers on our list. How so? The canvas build—while plenty capable for most uses—falls short of the waterproof and tear-resistant Yeti Hopper Two 30 and Engel HD30 above. The shoulder strap is also very basic, lacking padding and comfort for longer distances. Nevertheless, it's important to set realistic expectations in this price range, and the 24 Pack performs as intended. And for a small boost in storage, the $10-pricier 24 Pack Deluxe adds a second outer gear pocket.
See the AO Coolers 24 Pack Canvas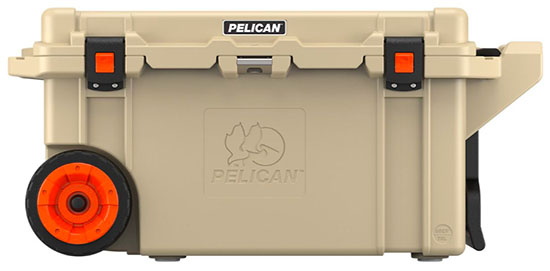 Type: Hard-sided (wheeled)
Capacity: 80 qts.
Weight: 49 lbs. 8 oz.
Claimed ice retention: 10 days
Other sizes: 45
What we like: A bombproof wheeled cooler from a brand that knows a lot about rugged gear. 
What we don't: Very heavy and bulky.
Founded in 1976, Pelican is an industry leader in rugged, dependable cases for storing and protecting everything from camera gear and laptops to guns and drones. Therefore, the jump to hard-sided coolers in 2012 was a logical progression. From their current lineup, the premium 80QT Elite Wheeled Cooler has a lot to offer: an extendable handle and wheels for easy hauling, a freezer-grade seal, and 2 inches of foam insulation to keep your food and beer chilled for days. Tack on a lifetime warranty—for reference, Yeti's warranty ranges from three to five years—and there's a lot to like with the burly 80QT.
Pelican designs many of its products for agencies like the military and law enforcement, and this tactical styling is readily apparent in its cooler line. In other words, if you're looking for a svelte and streamlined unit, this isn't it. The handles are bulky and rigid, the color options are relatively subdued, and the cooler itself is hefty at over 49 pounds before food, drinks, and ice. However, if easy portability and bombproof durability are top considerations, the 80QT Elite should be on your short list.
See the Pelican 80QT Elite Wheeled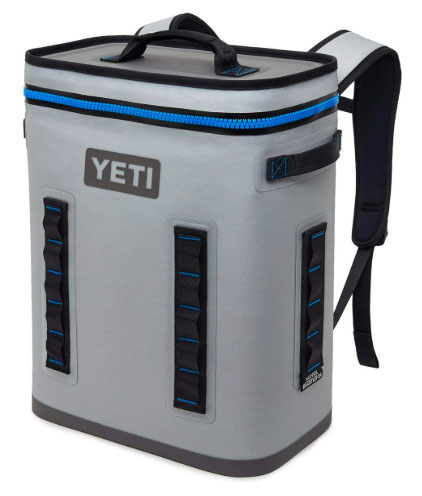 Type: Backpack
Capacity: 25 qts.
Weight: 5 lbs. 5 oz.
Claimed ice retention: Not listed
Other sizes: None
What we like: Lightweight and offers easy access to the interior.
What we don't: Expensive and lacks external pockets.
By adding backpack straps and a wide, rectangular opening, Yeti took their popular soft-sided Hopper series and made it easier to carry with the BackFlip 24. Compared to our top-rated backpack choice above, the IceMule Pro, the BackFlip allows more convenient access with its zippered top, is a better insulator with Yeti's signature closed-cell foam, includes a waist strap, and has a more rigid design that doesn't feel as unwieldy when ill-packed. As with the rest of the Hopper line, you also get a waterproof HydroLok zipper, ultra-tough outer shell, and ample attachment loops along the outside of the bag. 
What pushes the Yeti BackFlip down to a mid-pack finish? The most glaring concern is cost. The aforementioned IceMule Pro is a whopping $185 cheaper, and you don't sacrifice much in the way of performance. In fact, if compressibility is a top consideration, the IceMule gets the clear edge with its flexible design that can fold up and stuff away into a duffel or suitcase. Overall, if you're set on a backpack-style cooler and prioritize maximum ice retention, the BackFlip has its appeals. But in most cases, we think it's worth saving with the IceMule Pro.
See the Yeti Hopper BackFlip 24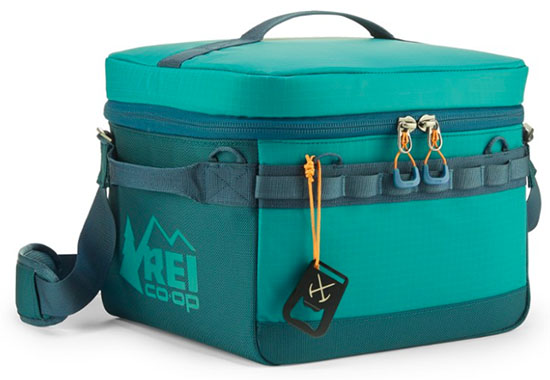 Type: Soft-sided
Capacity: 14.8 qts.
Weight: 3 lbs. 2 oz.
Claimed ice retention: 2.75 days
Other sizes: 18, 24
What we like: Affordable; insert makes cleaning a breeze.
What we don't: Not much else to write home about.
REI's in-house gear often hits the sweet spot between performance and affordability, and the Cool Haul 12 is no exception. At just over 3 pounds, the soft-sided Cool Haul is one of the lightest on the list, and its low-profile design takes up minimal space in a trunk or backseat. Like much of its soft-sided competition, the REI bag also includes daisy-chain webbing and an adjustable shoulder strap. And because the Cool Haul's inner insulated box can be separated from the outer shell, cleaning is a non-issue.
Where does the Cool Haul 12 fall short? In such a competitive market, it's simply hard to stand out. For instance, the AO Coolers 24 Pack Canvas above is larger and cheaper at $70, although you do get longer ice retention with the REI. And on the premium end of the spectrum, both Engel and Yeti have better-insulating and more durable offerings (for a major bump in price). In the end, it's hard to fault the REI as a solid, affordable pick for solo outings. For those on an even tighter budget, REI also makes a $35 soft-sided cooler called the Pack-Away 12 that foregoes the two-part design.
See the REI Co-op Cool Haul 12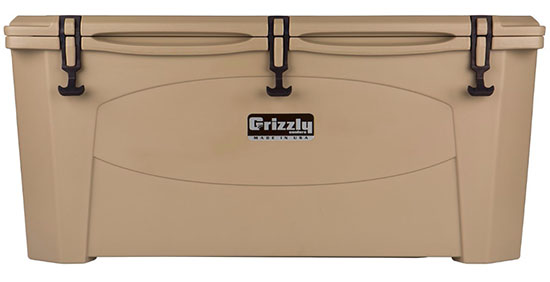 Type: Hard-sided
Capacity: 165 qts.
Weight: 62 lbs. 
Claimed ice retention: Not listed
Other sizes: 15, 20, 40, 60, 75, 100, 400
What we like: A massive, portable ice chest that undercuts much of the competition.
What we don't: Overkill for most casual outdoor-goers.
We'll start off with the obvious: this 165-quart behemoth from Grizzly has limited appeal for the average outdoor enthusiast. However, for situations like group camping, rafting trips, hunting, and fishing, the size is actually pretty ideal. The hard-sided Grizzly 165 has everything you'd expect at this $500 price point: a durable rotomolded and bear-resistant construction, multiple tie-down points, and an effective draining system for emptying melted ice. Overall ice retention falls a little short of OtterBox, ORCA, and Yeti, but the Grizzly isn't far behind thanks to its secure three-latch design.
If the extra-large capacity is overkill for your needs, the good news is that Grizzly also sells their USA-built cooler in smaller 40-, 60-, 75-, and 100-quart sizes. No matter the model, their products consistently undercut high-end competitors like the Tundra and Venture above by $50 to $100 (again, however, you are giving up a little in performance). And one final trump card Grizzly holds is their massive 400-quart option, which is purpose-built for campers headed off the grid for long periods or hunters who plan to cart home large game.
See the Grizzly 165 Cooler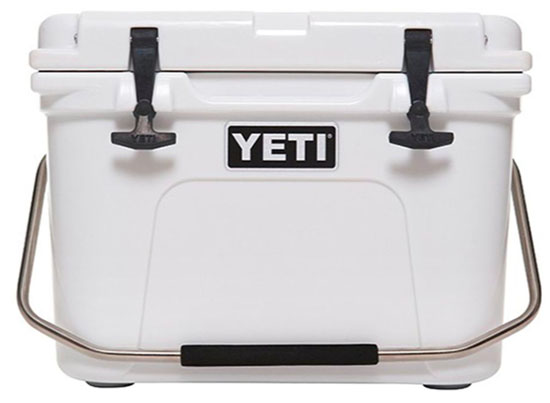 Type: Hard-sided
Capacity: 20.8 qts.
Weight: 15 lbs.
Claimed ice retention: Not listed
Other sizes: None
What we like: Burly construction in a relatively portable package.
What we don't: Expensive for its size.
Coolers like the REI Co-op Cool Haul 12 and AO 24 Pack Canvas above work well for solo day trips, but ice stays cold much longer in a hard-sided unit like the Yeti Roadie 20. With the Roadie, Yeti packed its typical build quality and features into a pint-sized package: a stout rotomolded construction, thick rubber latches, and an easy-to-use screw-on draining system. If the Tundra 35 is simply too much cooler for your intended use, the Roadie 20 could be a viable alternative.
By now, it's probably obvious that Yeti coolers don't come cheap, and the Roadie 20 is very expensive at $200. While it's hard to argue with the ruggedness, ice retention, and portability, we can't help but think your money is better spent elsewhere. For example, the RTIC 45 above is similarly priced (at the time of publishing, it's on sale for $195), and more than doubles your capacity (RTIC's similar 20-quart option goes for $135). To be sure, the Yeti has a lot of daily appeal—throw it in the back of a truck for fishing trips or use it to bring your favorite dish to a backyard barbeque. But from a pure value perspective, the Roadie falls short.
See the Yeti Roadie 20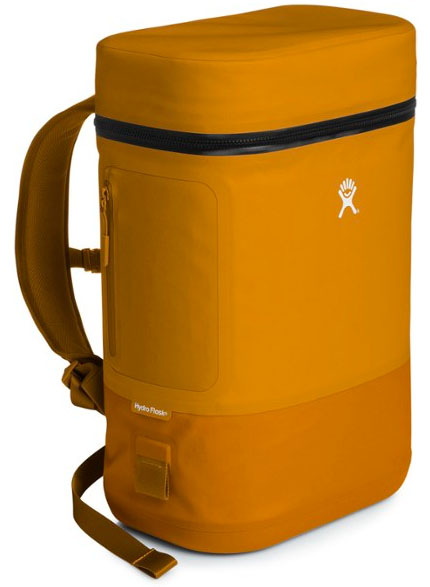 Type: Backpack
Capacity: 23.25 qts.
Weight: 3 lbs.
Claimed ice retention: 2 days
Other sizes: 15
What we like: Streamlined design with ample exterior storage.
What we don't: Odd-fitting shoulder straps and no waist strap.
Upon first glance, Hydro Flask's Unbound 22 L and Yeti's Hopper BackFlip 24 above might appear strikingly similar. Both are backpack-style coolers with padded shoulder straps, good insulation that should keep food and drinks frosty for one or two days, wide tops for easy access, and rigid exteriors that don't lose their shape when only half full. However, the Hydro Flask addresses one of our main complaints about the BackFlip with the addition of three exterior pockets: two zippered pockets for valuables and a side mesh pocket that can stow a standard-sized water bottle. Put simply, the Hydro Flask delivers a major boost in convenience.
Despite these additions, we still think the $25-pricier Yeti is a better choice. Why is this? For starters, Yeti's proven long-term performance and durability are hard to match (Hydro Flask only recently entered the market). The Unbound also lacks a waist strap, making it cumbersome to haul for more than a mile or two when weighted down with food and beverages. Finally, the Hydro Flask's shoulder straps proved a bit ungainly and odd-fitting on our tester's fairly average 5'9" frame. If you don't like the backpack style, the Unbound line also includes soft-sided coolers (18 and 24 liters) that share many of the same features.
See the Hydro Flask Unbound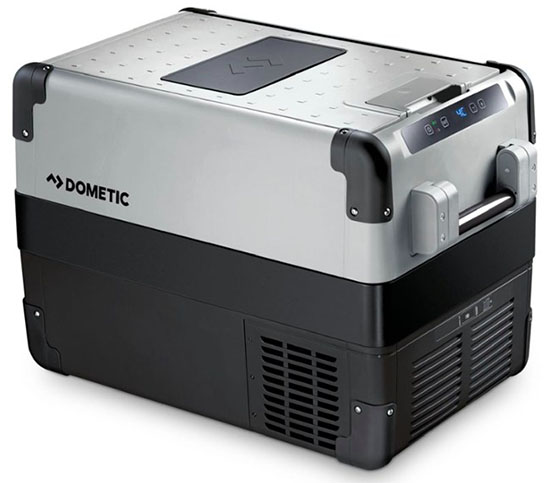 Type: Electric
Capacity: 40 qts.
Weight: 40 lbs. 12.6 oz.
Claimed ice retention: Unlimited (with power supply)
Other sizes: 28, 35, 50, 65, 75, 95, 100
What we like: No ice required, meaning you can maximize the full interior.
What we don't: Very expensive and needs a near-constant power source.
Dometic's CFX 40W is the only electric cooler to make our list, and that's simply because most of us don't have access to a regular power source on our adventures. But for vanlifers, overlanders, and other digital nomads, the Dometic is worth a serious look. Unlike all other types of coolers, electric units don't require ice, meaning you get full use of the interior for perishables (for reference, ice usually takes up half the space or more). Additional features include temperature monitoring via a smartphone app and USB ports for charging your devices. From beer to ice cream, the Dometic CFX 40W can chill or freeze just like your fridge at home.
There are a good number of sacrifices you make by going with an electric cooler. Aside from needing a near-constant source of electricity, the Dometic CFX 40W and similar units are incredibly pricey, starting at around $900. Further, if you plan to do any exploring outside of your vehicle, you'll likely need an additional soft- or hard-sided cooler to bring along. In the end, the Dometic has very limited appeal for most outdoor enthusiasts. But as more and more jobs become remote, we can't help but think that RV and van living will continue to build momentum.
See the Dometic CFX 40W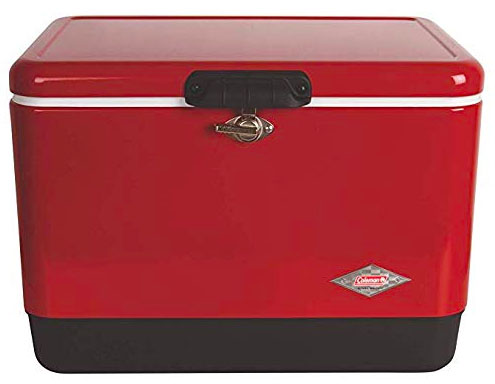 Type: Hard-sided
Capacity: 54 qts.
Weight: 19 lbs.
Claimed ice retention: 4 days
Other sizes: None
What we like: Classic retro look with real metal in the construction.
What we don't: Dated features and technology.
We'd be remiss not to include Coleman's iconic Steel Belted Cooler on this list. After all, this classic design has been around for a full 65 years and remains a common sight at campgrounds and barbecues. Rather than plastic, Coleman kept it old-school with a tough steel build and metal components, and the $120 price tag is fairly easy to swallow compared to other hard-sided coolers above. This isn't a high-performing, rotomolded ice chest from Yeti, but it also isn't trying to be.
The Coleman Steel Belted Cooler falls towards the bottom of our rankings because it simply can't hold a candle to the more modern designs above. The single-latch lid doesn't seal easily, the thin metal handles are uncomfortable to grab, and many customers report broken or poorly made parts. All told, the Coleman should suffice for casual outings like backyard parties, picnics, or beach trips. However, for those who get outside often and need a cooler that will withstand activities like rafting, boating, or ATVing, we recommend upping the budget for a more advanced build.
See the Coleman Steel Belted Cooler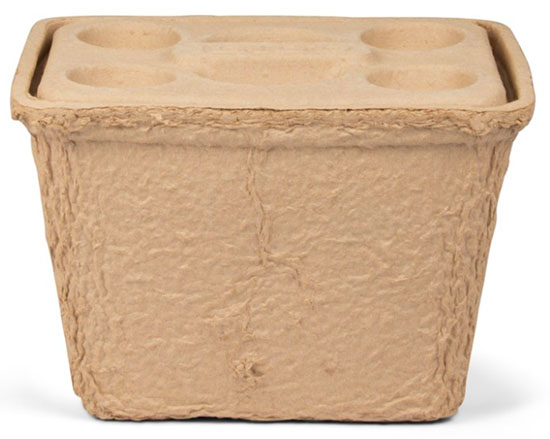 Type: Hard-sided
Capacity: 15.8 qts.
Weight: 1 lb. 10 oz.
Claimed ice retention: 0.5 days
Other sizes: None
What we like: Well-thought-out design that effectively replaces disposable white foam coolers.
What we don't: Very small capacity and limited durability. 
Igloo has set out to modernize the classic white foam ice chest with their new Recool. Swapping brittle and wasteful expanded polystyrene (EPS) for recycled paper, the Igloo not only gets a boost in durability but remains completely affordable at $10. Tack on surprisingly good ice retention (12 hours), built-in handles and four cupholders, and the ability to reuse (after drying it out), and the Igloo amounts to an excellent secondary or back-up cooler for day trips. 
Unsurprisingly, there is a laundry list of potential nitpicks with such a budget-friendly design. To start, the Recool is currently only offered in a single 15-liter size, which greatly limits its usefulness. You can squeeze ice, a few drinks, and a modest meal inside, but that's about it. Further, the wax finish on the paper pulp construction offers a fair amount of waterproofing, but it will eventually break down and need to be disposed. The good news is that Igloo is in the process of getting the Recool certified for composting, although at the time of publishing, they haven't completed that step just yet.
See the Igloo Recool Cooler

Cooler Comparison Table

Cooler Buying Advice

Cooler Categories
Hard-Sided Coolers
The majority of cooler shoppers are best off with a hard-sided model, which offers the highest levels of durability and insulation of any portable unit. Prices vary widely from budget-oriented designs like the $49 Coleman Xtreme 5 to $300 or more for a Yeti Tundra, but common features include a drain plug at the bottom to dump melted ice, top lid with a good seal (pricier models include latches), and handles for carrying. Hard-sided coolers are heavy (often 20+ pounds for a 45-quart cooler) and bulky, but the good news is that they should last for years to come. And their insulating performance is pretty remarkable—in favorable conditions, high-end units can keep food and drinks cold for five or more days, and even cheaper options can work well for weekend adventures.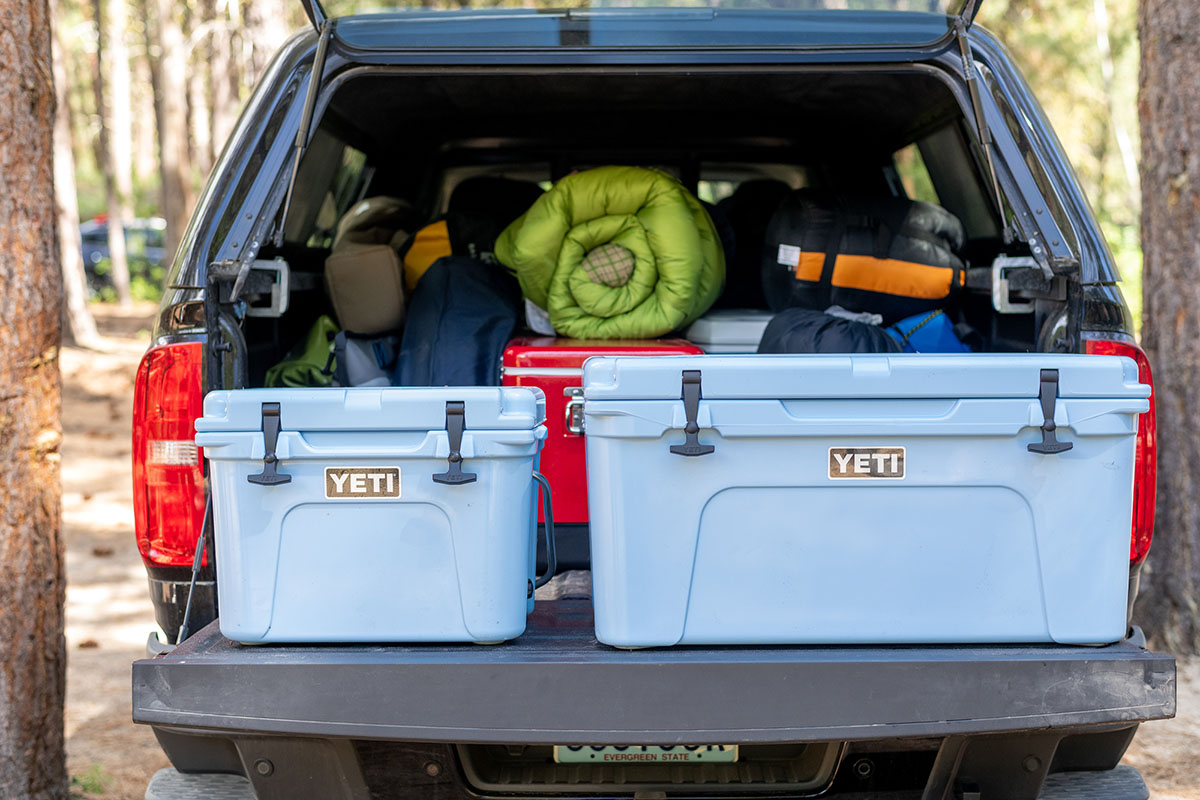 Soft-Sided Coolers
If you don't plan on needing a week's worth of cold food and drinks, a soft-sided cooler can be a viable alternative. Soft-sided models don't boast the same ice retention as hard-sided coolers—often ranging from two to four days—but they typically weigh around 5 pounds or less, are more portable, and come in much cheaper. Additionally, some soft-sided coolers, like the AO Coolers 24 Pack above, collapse down for easy storage when not in use. However, in addition to less ice retention, soft-sided coolers are inherently less durable than hard-sided options and often are only offered in smaller capacities. Some of our favorite designs include the Engel HD30, Yeti Hopper Two 30, and aforementioned AO 24.

Backpack Coolers
For the ultimate in portability, backpack-style coolers are the way to go. The designs borrow heavily from hiking daypacks, sharing features like shoulder straps, padded backpanels, and exterior pockets for added gear storage. Like soft-sided coolers, backpack models are lightweight, easy to carry, and pack down when not in use, but they lack the insulating power of hard-sided coolers—the best ice retention on our list goes to the Hydro Flask Unbound 22 L at 48 hours. Overall, backpack coolers are fairly expensive considering their modest storage capacity and all-around performance (the Hydro Flask will set you back $275). But if the approach to your favorite picnic spot or fishing hole involves walking more than a mile or two, it may be worth the investment.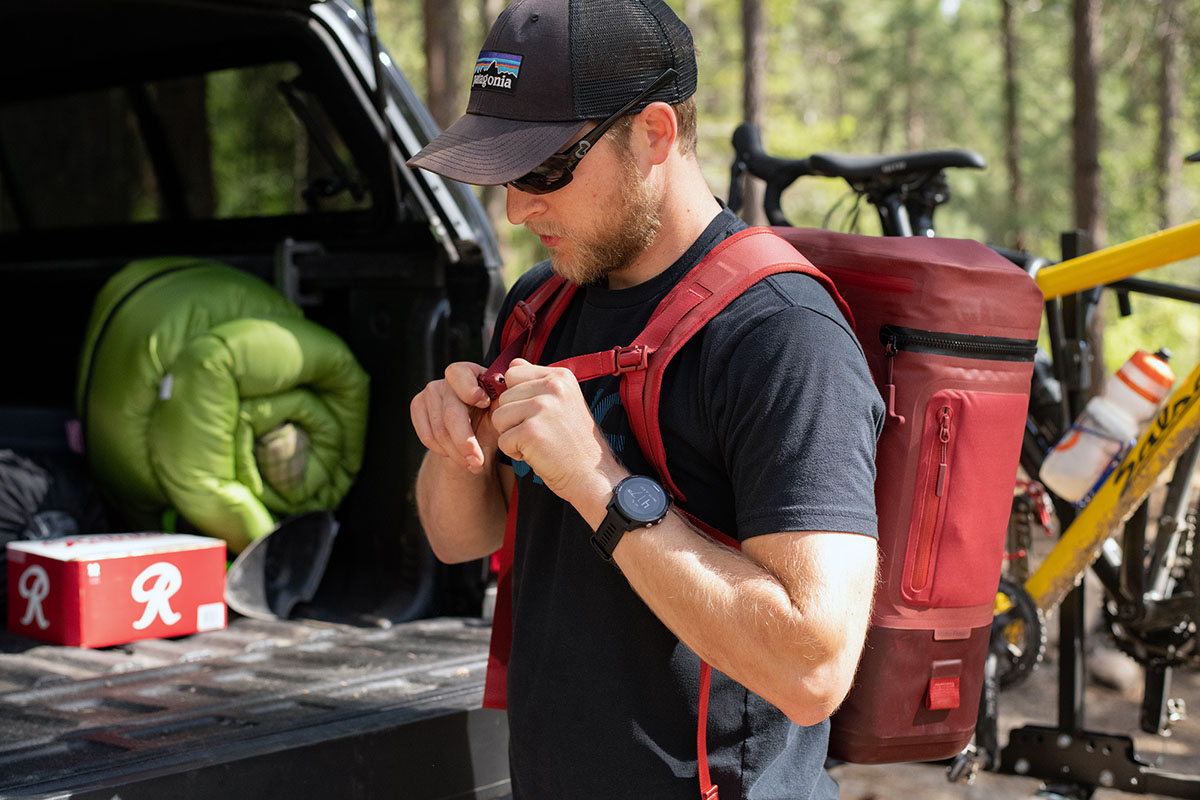 Electric Coolers
Electric coolers are a small but growing niche market that directly targets folks living out of a van or overlanding. Right off the bat, the most glaring downside is the need for a semi-regular power source, but others include price (they generally run $900 or more) and lack of versatility (you can't schlep an electric cooler into your campsite and expect your food to stay cold for long). However, for those who plan to use an e-cooler as their primary refrigeration in a vehicle, we think it makes a lot of sense. Electric coolers don't need ice—they use power to keep contents cold—which allows you to utilize the full capacity. And some models, like the Dometic CFX 40W, also connect to an app that lets you control the temperature remotely.

Styrofoam (Polystyrene Foam) Coolers
Transitioning from the most complex to the most basic, the final category is the classic white Styrofoam cooler. These have become ubiquitous for events like cookouts and concerts, and for good reason: you can find them in every major big-box store, they do a reasonable job at keeping food and drinks cold (usually about a day), and they cost around $25 or less. That said, foam coolers often lack features entirely—there's no latch system to secure the lid or easy-to-use handle—and can break easily (sometimes after a single use). Finally, like plastic, Styrofoam takes a very long time to biodegrade and is only recyclable in certain parts of the country. As such, no foam coolers made our list. Instead, we've included the Igloo Recool Cooler, which aims to replace disposable foam designs with its recycled paper construction.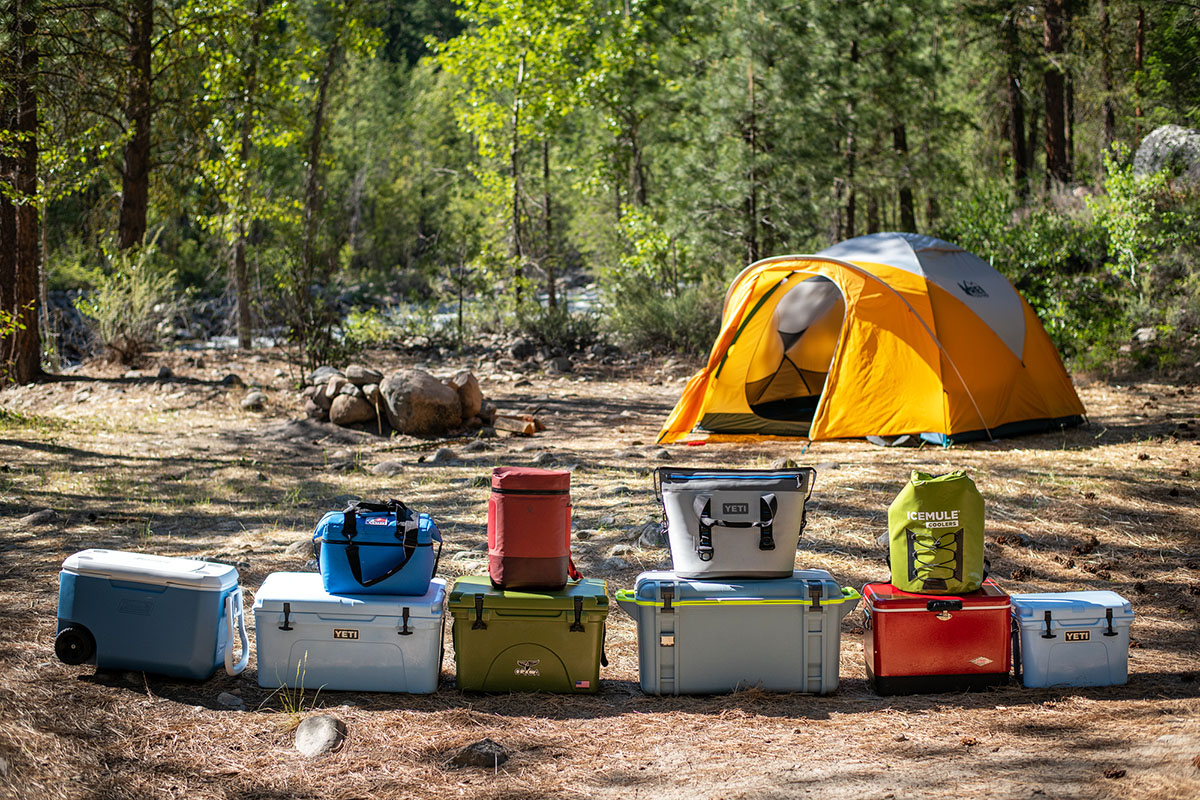 Cooler Sizes (Capacities)
Before we jump in, there are a few considerations to note regarding sizing. Most importantly, not all coolers measure interior capacity in the same way. Some use cans as a unit of measure, while others use liters, quarts, or gallons. That said, quarts are what the majority of manufacturers list, and we've utilized that form of measurement throughout this article (when available). And a final note: don't be misled by the number in a product's name. The Yeti Tundra 65, for example, only boasts a 57-quart capacity.

Small: 10-35 Quarts
If you most often travel solo or prioritize portability, a small cooler could be a good match. At the low end of the capacity range, expect to fit a small amount of ice, a few drinks, and a meal, while 35-quart coolers should hold enough for one or two days. It's worth pointing out that even a 30-plus-quart design will be stretching it for multiple people over a weekend once you properly fill it with ice, so these coolers lack the versatility of the sizes below. Among our favorites in this category, the REI Co-op Cool Haul 12, AO Coolers 24 Pack Canvas, and Engel HD30 win out among soft-sided models. And the rotomolded Yeti Roadie 20 balances a burly yet compact build (19.2 in. long and 14.25 in. tall) that is sized right for throwing on a backseat or strapping to an ATV.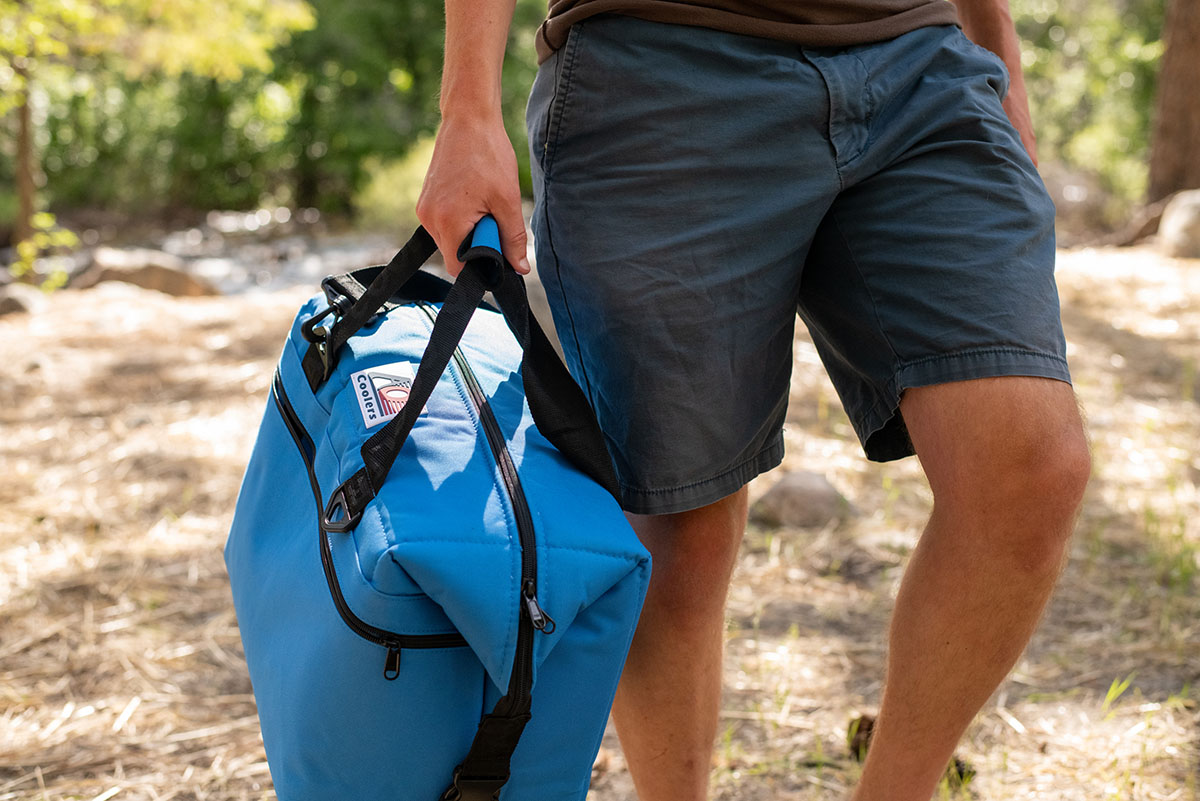 Medium: 35-55 Quarts
Stepping up to the 35- to 55-quart range gets you an all-purpose model: these coolers are compact enough to squeeze into a loaded car trunk or truck bed, can typically be carried by one person, and don't take up too much space on a boat or raft. In our testing, we found that 35-, 40-, or 45-quart coolers sufficed for groups of one to two for a couple days. If your party exceeds that, it's worth bumping the capacity up to 55 quarts or higher for the same time frame. And if you plan to go on an extended outing or are traveling with a large group, you'll want to check out the larger sizes below.

Large: 55-75 Quarts
As we touched on above, if you're headed out with two or more people over multiple days, it's worth packing a large cooler. It's true that you'll likely need a second person to help transport it to and from the car, but the upside is enough space to utilize a proper 2:1 ice-to-food ratio to maximize performance (we cover this in more detail below). In the 55- to 75-quart range, we like OtterBox's Venture 65 best: it has a great mix of storage capacity, ice retention, and features that should meet the needs of most small groups on extended weekends or larger families on overnight trips. But at 40 inches long and nearly 19 inches high, it does take up a fair amount of space in a trunk or pickup bed.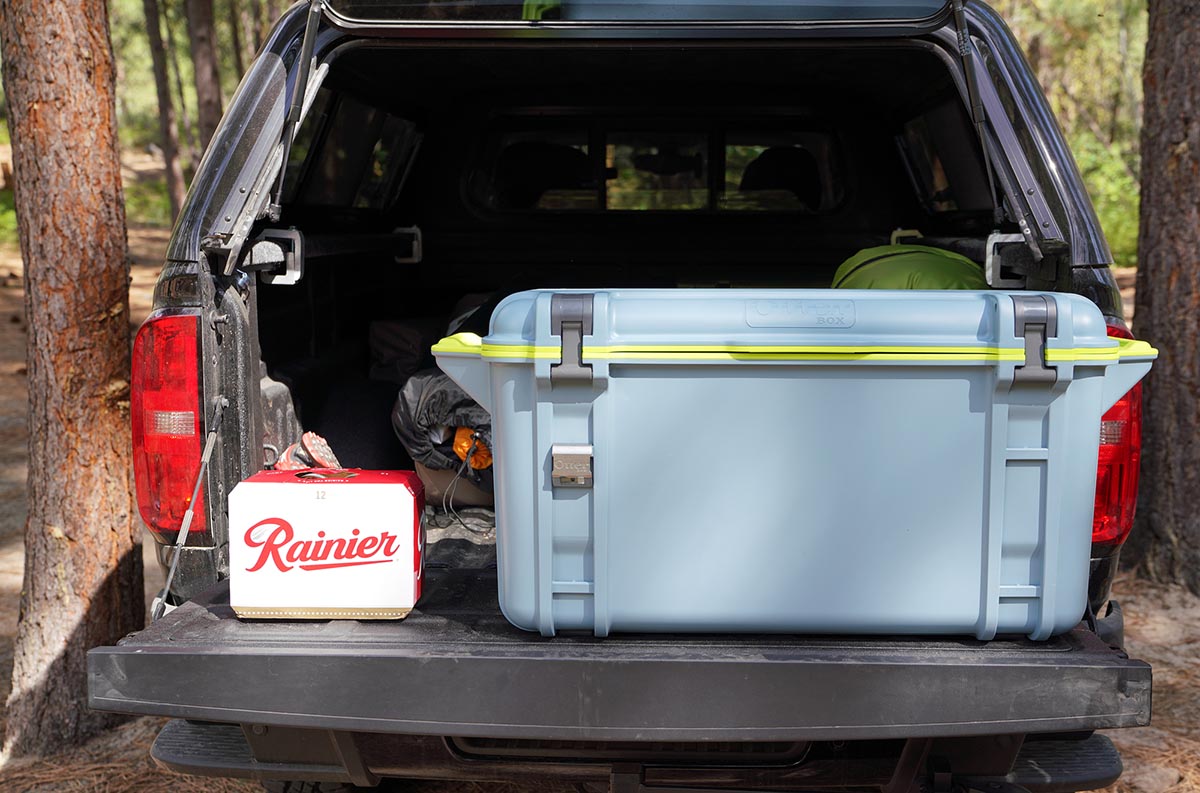 Extra-Large: 75+ Quarts
Coolers in the 75-quart-and-larger range are typically reserved for the committed outdoorsperson. While undoubtedly expensive, extremely bulky, and heavy (expect to be hauling 50+ pounds when empty), these extra-large models have their place for big groups and certain activities. On the smaller end of the spectrum, 75- to 85-quart hard-sided coolers are ideal for weekend adventures for groups of around four or five (or longer trips with fewer people). And jumping to a model like the 62-pound, 47.75-inch long Grizzly 165 makes the most sense for fishermen or hunters who need to keep their day's catch or game on ice.

Weight and Portability
For those who plan to carry or move their cooler with any regularity, weight should be an important consideration. Even when empty, hard-sided options weigh anywhere from 10-15 pounds for low-capacity models to 50+ pounds for premium designs with 75+ quarts of storage. Once loaded down with ice, food, and beverages, that number skyrockets. And despite including carry handles (many are rope while others like the OtterBox Venture are molded plastic), they're simply too hefty to travel with for long distances. If portability is a priority, we recommend looking at soft-sided or backpack coolers instead. Designs like the Engel HD30 (5 lbs. 4 oz.) and IceMule Pro (3 lbs. 3 oz.) easily undercut hard-sided options and feature reasonably comfortable shoulder straps and/or grab handles.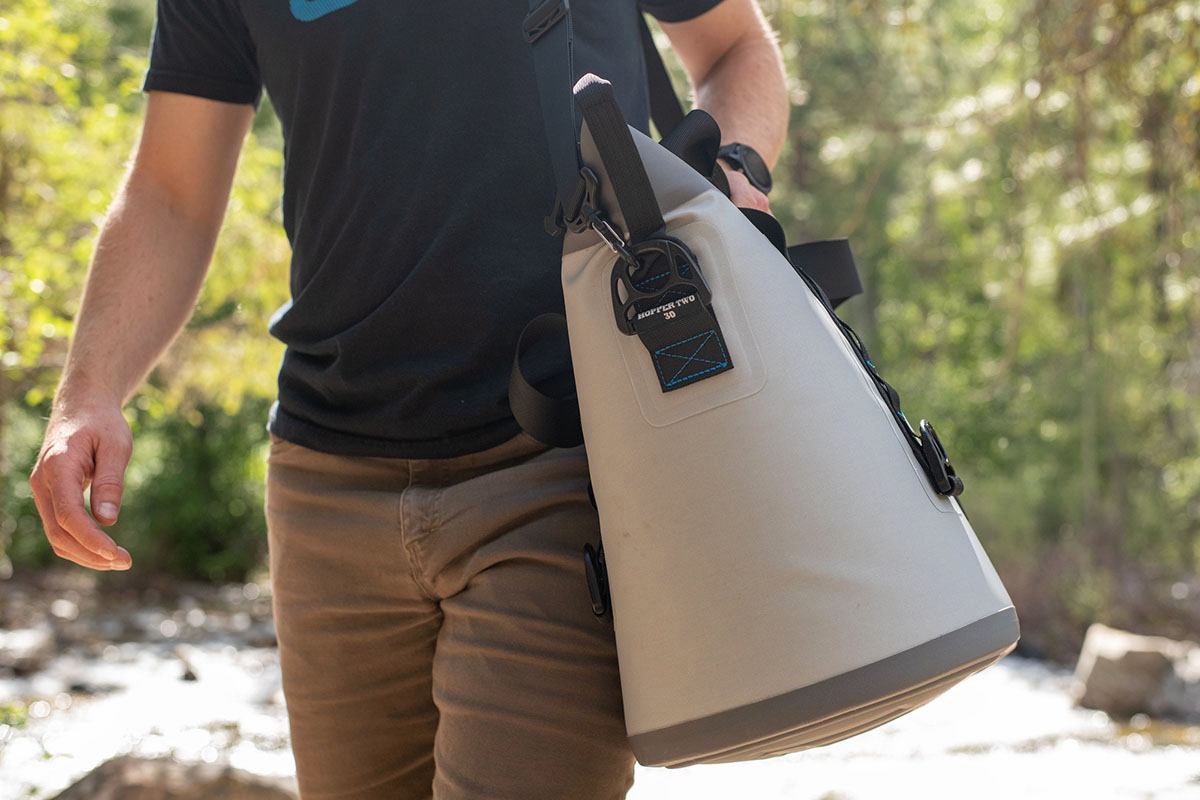 Wheeled (Rolling) Coolers
If your cooler must-haves include easy mobility, large capacity, and maximum ice retention, a soft-sided design just won't cut it. Instead, it's best to consider a rolling hard-sided model. From our picks above, the Coleman Xtreme and Pelican Elite have rear wheels and tow handles, and Yeti's Tundra series also includes the wheel-equipped Haul. Downsides are even more weight (the Pelican is nearly 50 lbs.), bulk, and cost. Additionally, these wheeled beasts still struggle over rough terrain and may require carrying if you don't have a defined path to follow. But for camping, days at the beach, or even tailgating, a rolling cooler can be a solid choice.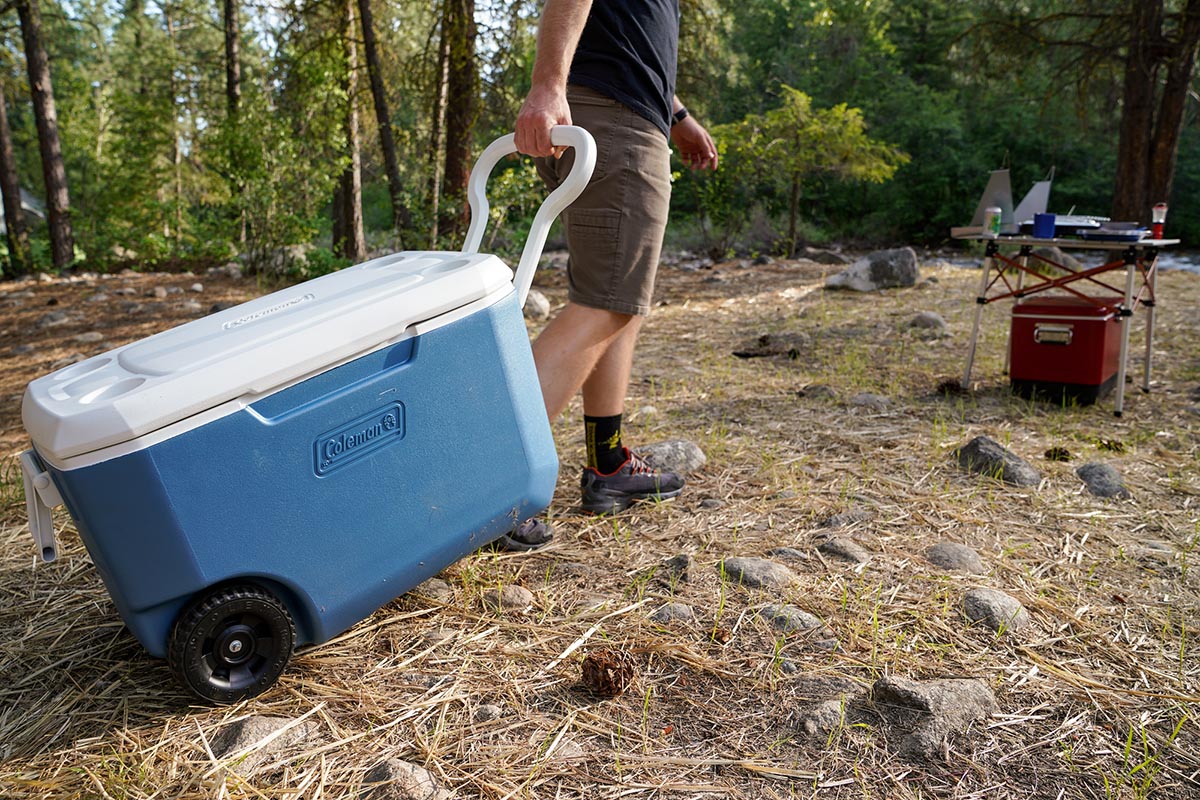 Ice Retention
One of the trickiest specifications to nail down in researching coolers is expected, real-world ice retention. To start, not every manufacturer provides an estimate, including a major player like Yeti. But many companies do, and a quick look at the table above shows that the times range from 12 hours for the basic Igloo Recool to a whopping 16 days for the OtterBox Venture. To be clear, these numbers should be looked at with a fair degree of skepticism. There isn't an established, standardized test and most of the times are inflated due to extremely favorable conditions (storing the cooler inside with the lid closed in mild temperatures). But in general, premium hard-sided coolers like the Yeti Tundra, OtterBox Venture, ORCA, and Pelican are the clear leaders in keeping food cold, followed by cheap hard-sided coolers and soft-sided designs. 
How do you maximize ice retention? First and foremost, temperature can have a drastic impact. Keeping your cooler out of the heat and direct sun will greatly increase longevity. The amount of ice you use is another important factor: most brands recommend a 2:1 ice-to-food ratio. And finally, you can pre-chill the cooler prior to loading it up. This involves filling the interior with ice for at least a few hours to bring its interior temperature down. When you're ready to hit the road, swap in some fresh ice at that optimal ratio along with your food and drinks.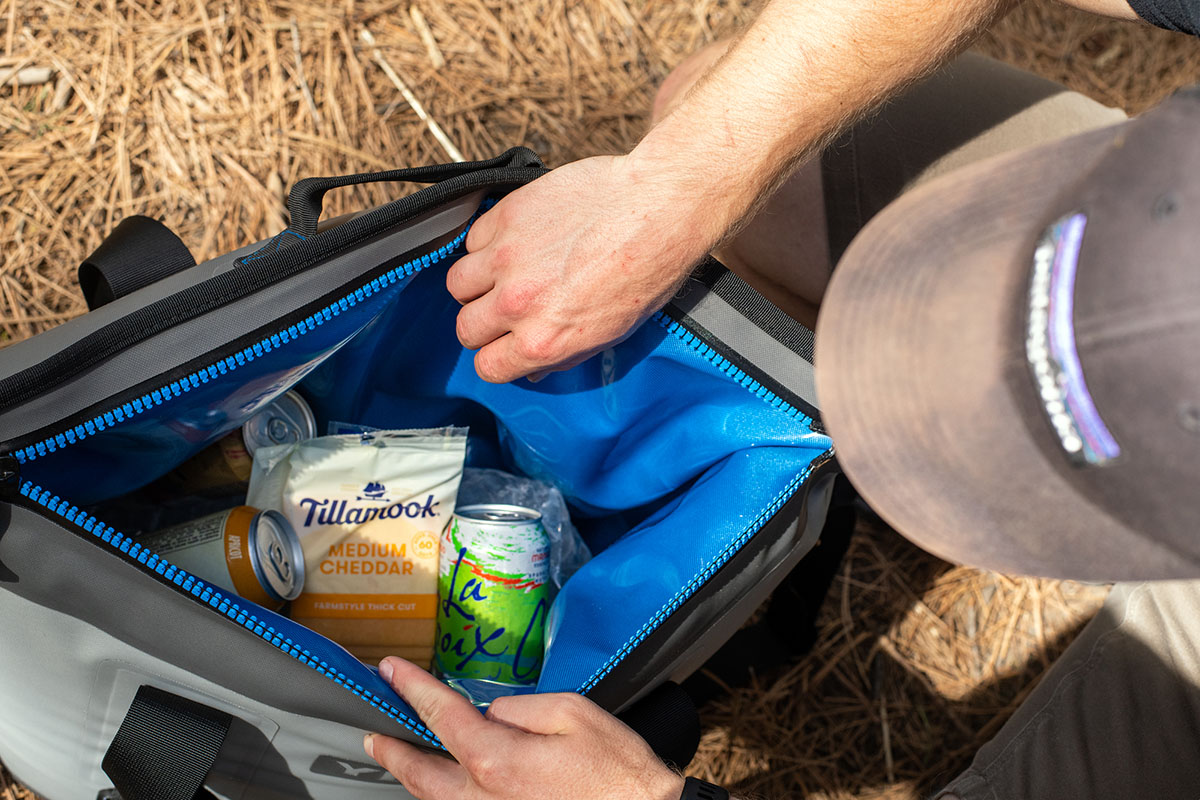 Are Expensive Coolers Worth It?
Over half of the coolers on our list cost $200 or more, which goes to show how pricey these units can be. But in our opinion, the cost is fairly easy to justify. Hard-sided coolers from Yeti, OtterBox, ORCA, and others are able to keep ice frozen for significantly longer than budget options from companies like Coleman or Igloo. And while bags of ice come relatively cheap, it can be a real pain to have to drain your cooler and replace the ice on a daily basis (not to mention having to travel and purchase more of it). Another benefit of high-end hard-sided units is durability—the difference in quality is immediately apparent and some of the best out there are truly meant to last a lifetime. All that said, if you just need a reliable cooler for days at the beach or packing a lunch on the road, it's probably a good idea to save your cash. But if you consistently head outside for days at a time, the investment is well worth it.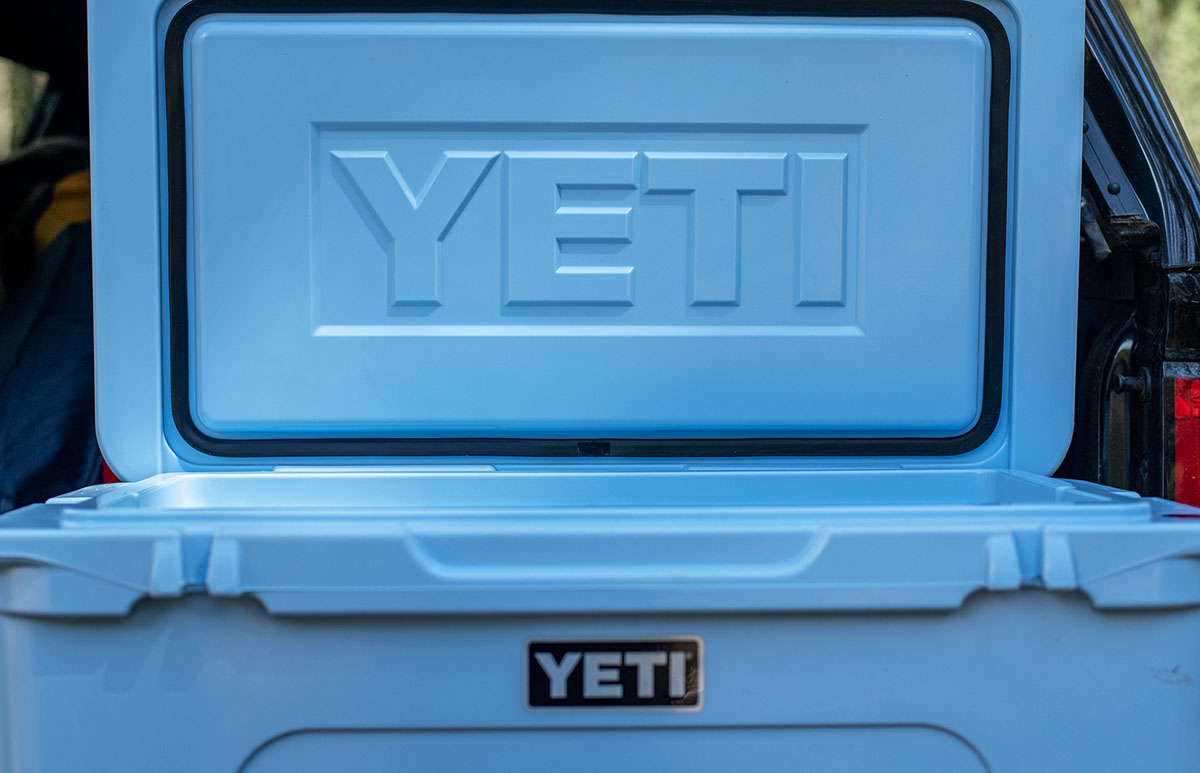 Rotomolding vs. Injection Molding
Construction techniques for premium hard-sided coolers fall into two types: rotational molding (rotomolding) and injection molding. Starting with rotomolding, this process was popularized by Yeti (although they technically weren't the first to make a cooler in this way) and currently dominates the high end of the market. These types of coolers are made out of a single piece of continuous plastic that is rotated until it forms the desired shape. The advantages are fewer stress points and a consistently thick outer shell, which translates to exceptional durability. Primary disadvantages are cost and weight. 
What about injection molding? These coolers are simply made by inserting hot plastic into a defined mold, given time to cool, and then removed. The process is simpler and cheaper than rotomolding and allows for greater precision because of the molded shapes. But they're made with multiple pieces—unlike the single, uninterrupted form with rotomolding—which can lead to a drop in durability. That being said, a high-end build like OtterBox's Venture stacks up favorably to top rotomolded coolers in overall toughness, and its injection-molded build allows for various mounting locations for accessories like tables, fishing rod holders, and dryboxes (something you can't get with rotomolding).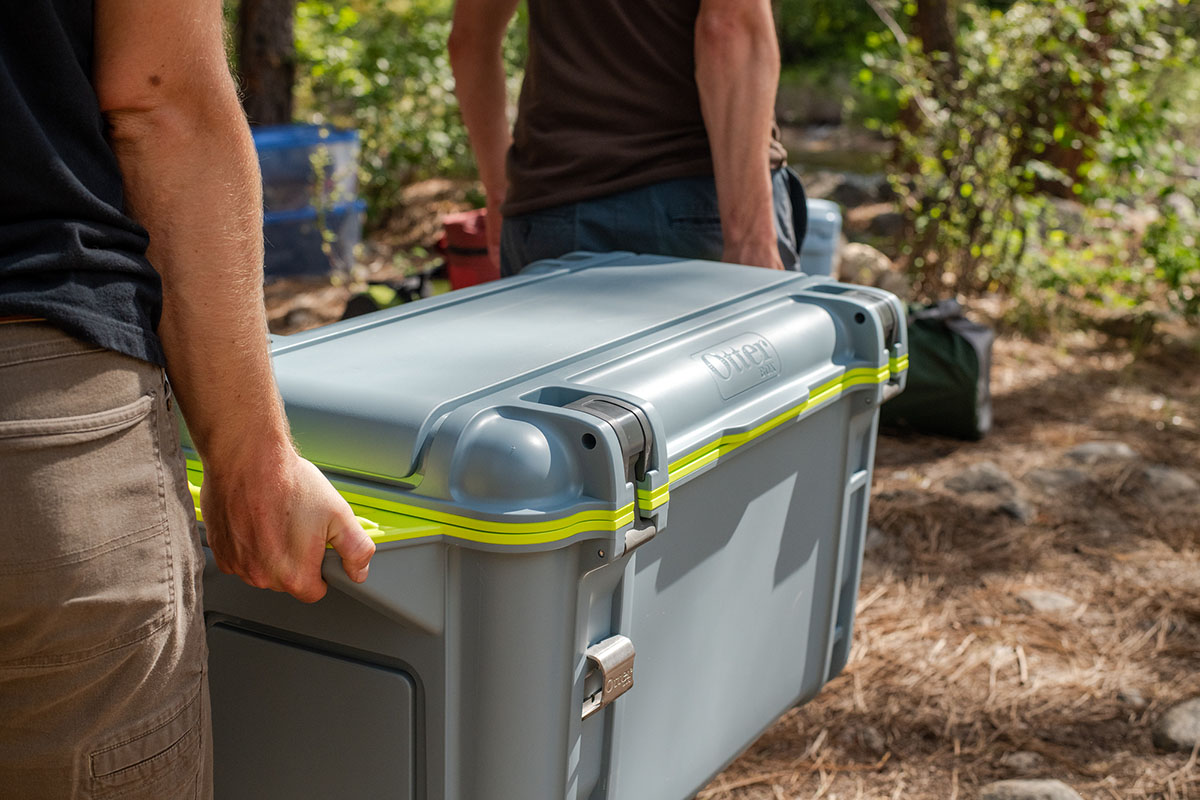 Ice Types: Crushed, Blocks, Packs, or Dry
As committed cooler enthusiasts know, the type of ice you use heavily impacts how much you're able to store and how long it stays cold. Crushed ice is the most readily available—you can find it at most gas stations and supermarkets for fairly cheap. The major draw is that it easily fills the gaps between your food and beverages, cooling them quickly and efficiently. However, crushed ice is also the fastest to melt and you'll likely need to replace it fairly frequently. Blocks of ice, on the other hand, take much longer to melt than crushed ice. However, blocks are bulky and take up a lot of space in the cooler since they don't conform around your food and cans. If we have enough space, our preferred method is to use both block and crushed ice together.
If you're worried about re-stocking, ice packs are a viable alternative. Most major brands have their own designs that work well in their coolers, and the best part is that you can use them repeatedly without ever having to drain melted ice. That said, ice packs are fairly expensive (Yeti's range from $14 to $30 depending on size) and require refreezing once they lose their coldness, which limits practicality for longer trips.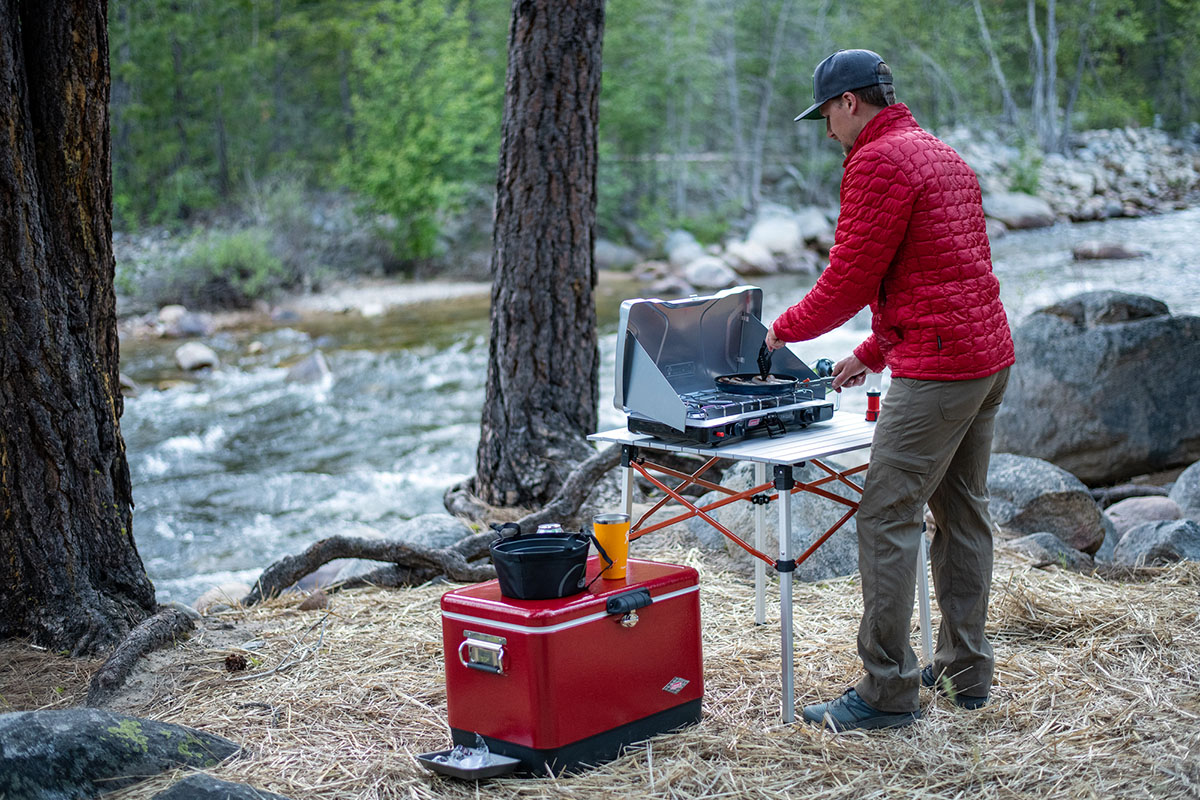 A final option to consider is dry ice. Since dry ice is frozen carbon dioxide, it passes directly from a solid to a gaseous state, meaning no water to deal with as it melts. However, dry ice can be dangerous to touch (you have to wear heavy gloves to prevent frostbite), doesn't last long, and many coolers aren't even rated to handle it. All told, it might take some finessing to perfect your ice strategy, but we think a combination of crushed and blocks is the best (and safest) method.
 
Drain Systems
All of the hard-sided coolers on our list have drainage systems to help you empty out water once your ice has melted. Typically, this comes in the form of a screw-on or pop-off cap at the base of the cooler—simply take it off and let the water pour out. OtterBox's Venture 65 even has a slanted interior that does most of the work for you. Many others include similar drainage channels that funnel water through the opening. If you're instead looking at a soft-sided or backpack-style cooler, a number of designs have separate cooler units that can be removed for easy draining and cleaning. Others require you to tilt and dump the water, but the process is nevertheless fairly easy thanks to their compact size and light weight.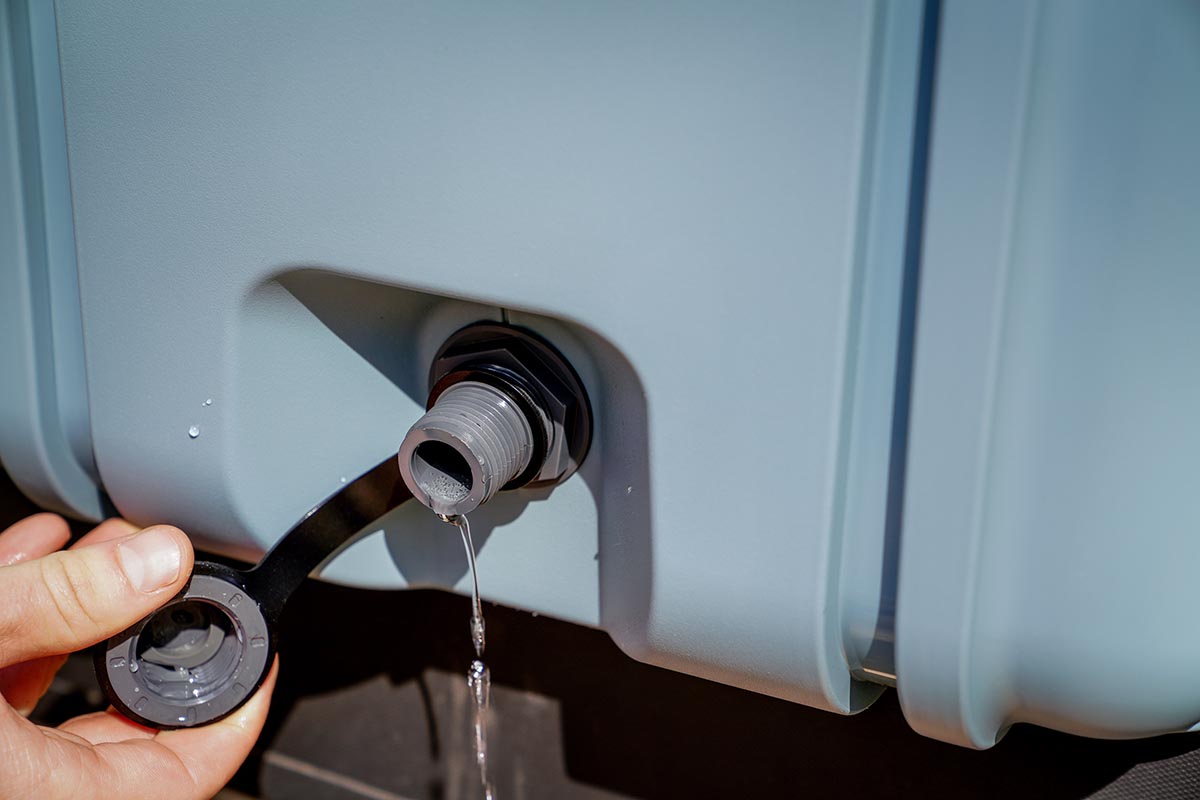 Cooler Latch and Closure Systems
A cooler's latch or closure system is one of the defining characteristics of a premium model and plays a significant role in overall cooling performance. Among high-end hard-sided coolers, you'll commonly find two rubber T-handles along the front that keep the lid locked securely in place. These handles are fairly user-friendly, extremely strong, and minimize any openings for cold air to escape. We also like the OtterBox Venture's cam-style latches for their ease of use while also providing an excellent seal. Budget-oriented models like the Coleman Xtreme or Igloo Recool forgo latches completely and rely on a good fit between the lid and cooler body. This results in reduced insulating performance and means you need to keep a close eye on the lid to make sure it doesn't pop loose or fall off in transport.
Closure systems for soft-sided and backpack coolers most often use burly, reinforced zippers. Options like the Engel HD30, Yeti Hopper Two, or Hydro Flask Unbound have long zippers towards the top that provide easy access to food and drinks. They're also leakproof to ensure water or ice won't accidently fall out if the cooler tips over. In addition to the zippered builds, IceMule Pro's roll-top closure is a solid alternative. Admittedly, it does take a little longer to secure, but it's a pretty foolproof and reliable performer (and you don't need to worry about a zipper failing). A final benefit of a roll-top closure is that you can adapt to smaller or larger loads by rolling the top more or less times before buckling.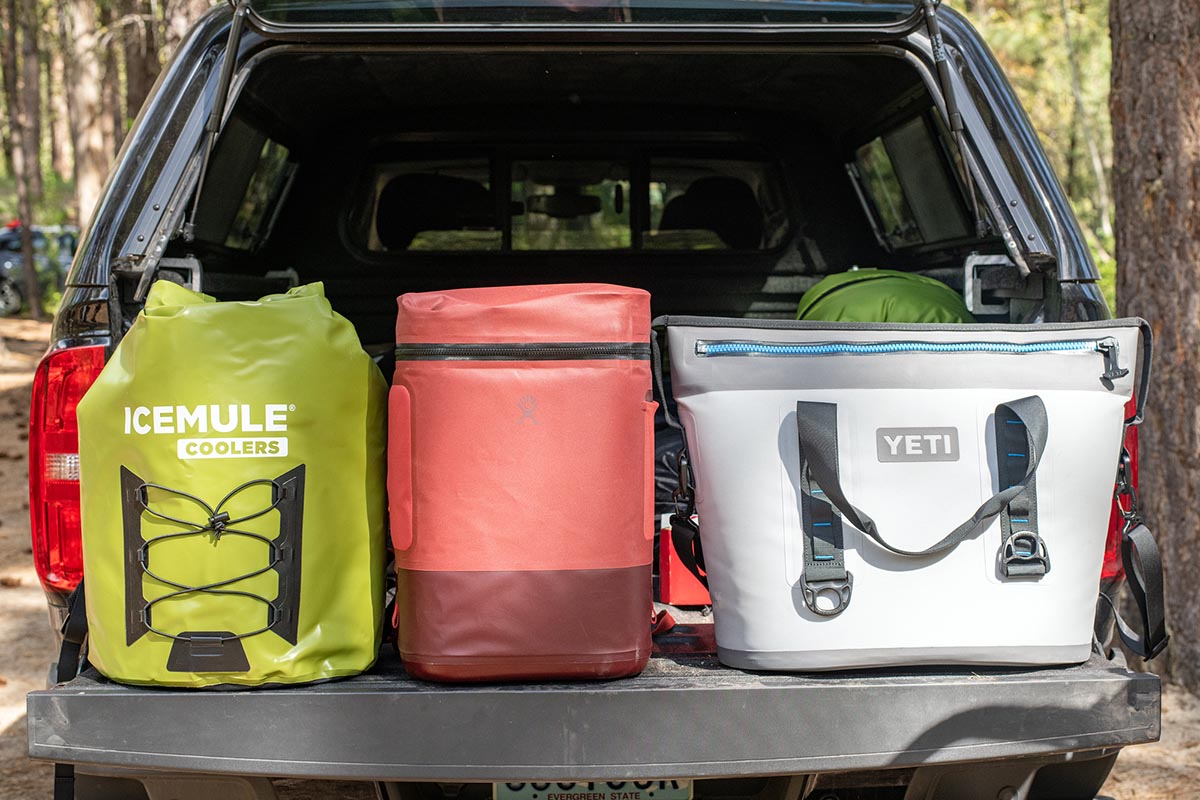 Bear-Resistant Ratings
Many of the top hard-sided coolers are listed as bear-resistant, which is a worthwhile consideration should you be camping in bear country. Specifically, you should look for an IGBC (Interagency Grizzly Bear Committee) rating, which designates that a certain cooler has gone through the appropriate testing and been deemed compliant with the organization's regulations. However, not all coolers listed as bear-resistant carry this certification—you can see a full list of certified coolers here. If you frequent the backcountry or will be traveling where bear-proof gear is required, make sure your cooler is on the list.

Cooler Accessories and Add-Ons
There are a number of useful add-ons and aftermarket accessories available for most coolers. For example, food baskets can be a great way to store fruit and other fragile items, dividers are handy for cordoning off various meals, and external attachments like cup holders and side tables can significantly increase storage and prep space. Most well-known brands sell these accessories directly on their website, although they can substantially increase overall cost. Two of our favorite unique add-ons were OtterBox's fishing rod attachment that doubles as an umbrella holder and Pelican's cushions that convert the cooler into a comfy camp seat.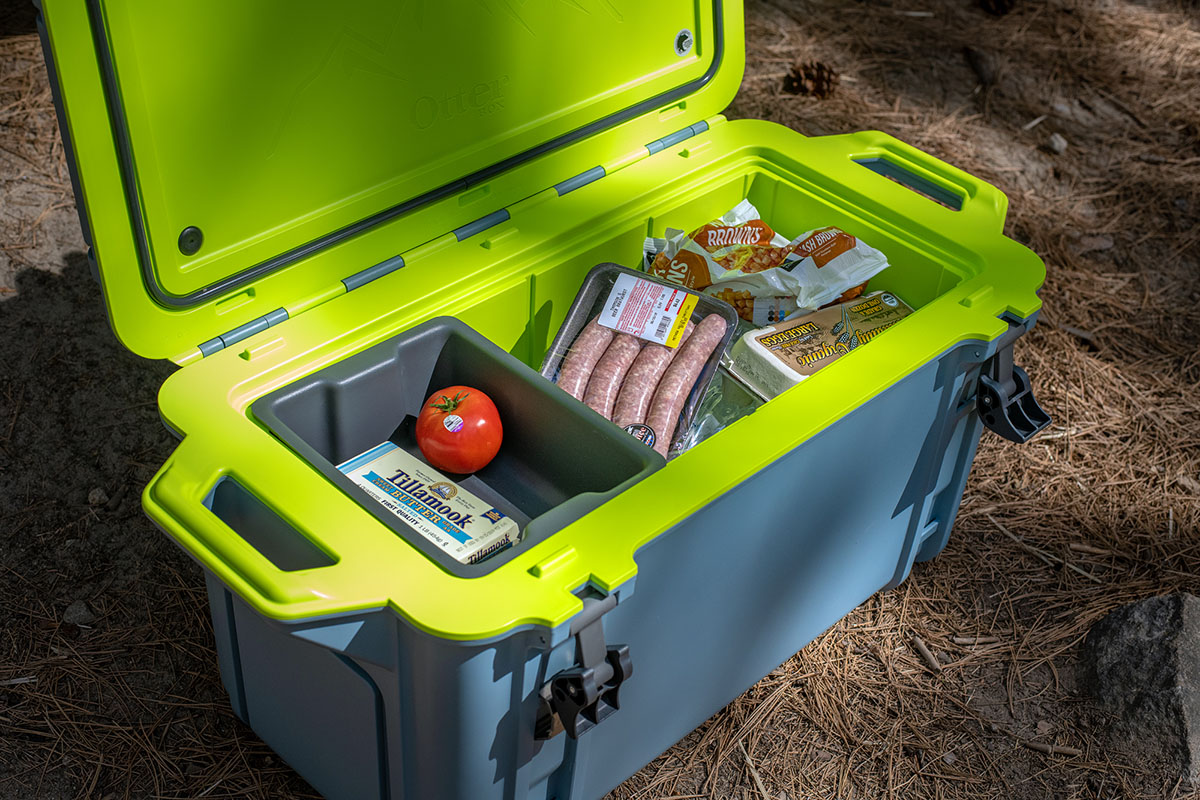 Cooler Warranties
Coolers are undoubtedly expensive but having a generous warranty can help ease some of the buying anxiety. And a look at the market reveals a surprisingly wide range of available manufacturer guarantees. At the top end are ORCA and Pelican, which offer lifetime warranties that cover defects, while most others range from one to 10 years. It's also important to point out that some companies provide different warranties for their hard-sided vs. soft-sided offerings. For example, Yeti covers its Tundra series with a five-year warranty, while their soft-sided Hopper is only covered for three.
Back to Our Top Cooler Picks  Back to Our Cooler Comparison Table
Read More From Switchback Travel