Whether you're headed to the beach, tailgating before your favorite sporting event, or camping in the wild, there's a good chance you'll want to keep your food and drinks cold. Thankfully, the market is packed with high-quality coolers that excel at everything from short day trips to week-long adventures. Below we break down our favorite hard-sided designs of 2023, including budget-friendly Coleman models, ultra-premium Yetis, and popular offerings from brands like RTIC, Orca, Pelican, and more. For more background information, see our cooler comparison table and buying advice below the picks.
 
---
Our Team's Cooler Picks
---

Best Overall Hard-Sided Cooler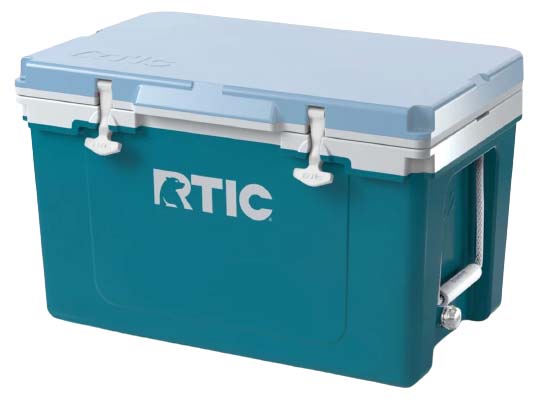 Construction: Injection-molded
Capacity: 52 qts. (49.2L)
Weight: 21 lb.
Other size: 32 qts.
What we like: Great price, versatile size, competitive ice retention, and easy to transport.
What we don't: Only sold online; injection-molded construction is less premium than rotomolded designs.
The best hard-sided coolers nicely balance capacity, ice retention, portability, and price, and RTIC's 52 QT Ultra-Light checks all those boxes emphatically. Starting with capacity, you get a versatile 52 quarts of storage, which easily squeezes into a trunk but still offers sufficient space for two campers headed out on a long weekend (for reference, most alternatives are either 45 or 65 qts.). As the name suggests, the 21-pound RTIC is well made yet notably lightweight, making it easier to carry than most similarly sized options, including Yeti's smaller Tundra 45 (23 lb.). Last but not least is cost: By selling direct to consumer (and consistently discounting their coolers on their own site), RTIC's prices are significantly lower than much of the competition, with the 52 QT Ultra-Light checking in a considerable $125 less than the aforementioned Tundra 45.
What are the downsides of buying an RTIC cooler? First is the lack of convenience: While you can see and pick up a Yeti and many other brands at your local outdoor shop, you don't get the same luxury with online-only RTIC. Additionally, the Ultra-Light's injection-molded construction means it comes up a bit short in terms of all-out durability compared to the Tundra and other premium rotomolded options—including RTIC's own 45 QT Hard Cooler below—although the tradeoffs are a more manageable weight and reduced cost (for more on this, see our buying advice below). The RTIC also falls a little behind in ice retention, although the differences aren't as stark as the price gap would suggest. Realistically, the Ultra-Light is all most of us need for beach days, summer camping, and boating trips, and the combination of value and performance earns it our top billing for 2023.
See the RTIC 52 QT Ultra-Light
Best Premium Cooler with Excellent Ice Retention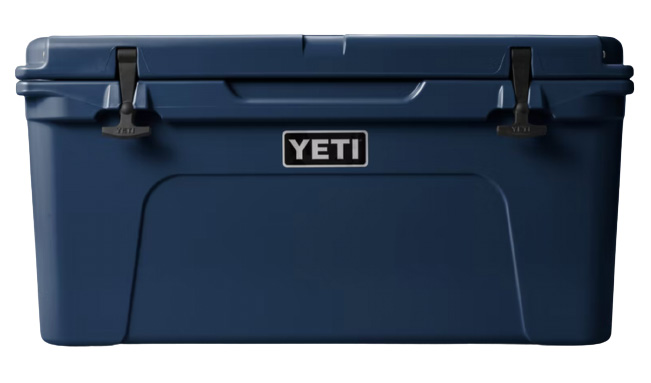 Construction: Rotomolded
Capacity: 60.9 qts. (57.6L)
Weight: 29 lb.
Other sizes: 35 to 350 qts.
What we like: A premium cooler in every way that should last for years and years.
What we don't: Expensive for the capacity and heavy; overkill for short trips.
In the world of coolers, Yeti pioneered the high-end concept, and the Tundra is its best-selling and most versatile model. This popular line features premium cooling and ice-retention capabilities with a thick, rotomolded build that's more durable and less prone to cracking than injection-molded options like the RTIC above. Further, you get a handy basket for dry goods, secure closures, and multiple tie-down slots to easily secure it on a boat or truck bed. What's more, the Tundra is certified as bear-resistant (locks are sold separately for $30), which is great for those who plan to spend time in bear country. Throw in Yeti's clean styling and a nice selection of classy colorways from simple white to dark olive, and the Tundra 65 is an exceptionally well built and good-looking option for everything for car camping to road tripping and long days on the water (provided you have a generously sized boat or raft).
The biggest downside of buying a Yeti is price. At $375 MSRP (a Yeti is a great item to get on sale), this cooler is more expensive than comparable models from brands like RTIC and Orca. In addition, the "65" in the Tundra's name is a bit of a misnomer: With its 2-inch-thick walls, the capacity ends up being closer to 60 quarts (the other Tundra sizes are also a bit smaller than the product titles would insinuate). And finally, the Tundra's rotomolded build means it lacks integrated add-ons like cup holders or a bottle opener. But if you're set on a Yeti, we understand. You do pay a premium for the brand, but it's hard to beat the durability of a rotomolded cooler (ours has been going strong for over 10 years) and the Tundra has an excellent track record of performance.
See the Yeti Tundra 65
Best Budget Cooler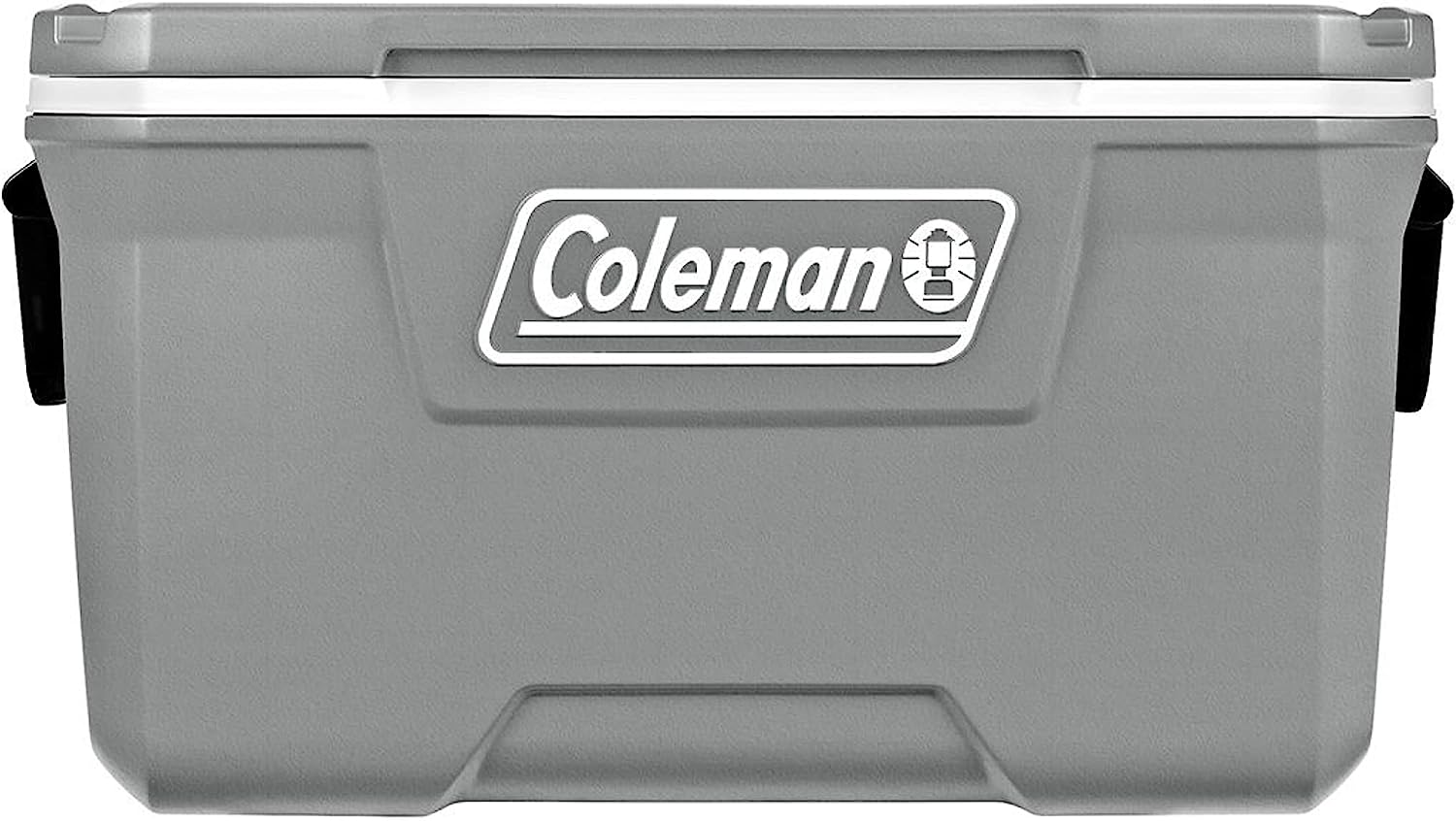 Construction: Plastic
Capacity: 70 qts (66.2L)
Weight: 14 lb.
Other sizes: 52, 120, 150 qts. 
What we like: Cheap, lightweight, generously sized, and doubles as extra seating.
What we don't: You get what you pay for in terms of build quality and ice retention.
Coleman is nearly synonymous with car camping and offers a wide range of products at very reasonable price points. In the budget cooler category, we like their 70-quart 316 Series model best. For around $75 on Amazon at the time of publishing, you get a generous amount of interior space, Coleman's Have-a-Seat lid that supports up to 250 pounds (we frequently use our coolers as added seating, so this is a nice touch), and four handy cup holders on top. It's certainly not a Yeti, but this inexpensive cooler is reasonably durable for the price and will far outperform Styrofoam and other cheaper models.
There are almost always notable sacrifices when going this cheap, and the Coleman's biggest downfall is its inability to keep ice frozen for long. Ice retention is listed at five days, but in our experience, it's closer to two or three days in good conditions (the lack of lid latches certainly doesn't help). We recommend pre-chilling the cooler prior to loading it up (which we detail in our buying advice below) and keeping it in the shade to help maximize performance. But considering the Coleman undercuts most of the high-end rotomolded competition by $175 or more, it's hard to be overly critical. In other words, for casual outings and shorter ones in particular, the Coleman is all many campers need and nothing they don't.
See the Coleman 316 Series 70-Quart
Best Small Cooler for Day Trips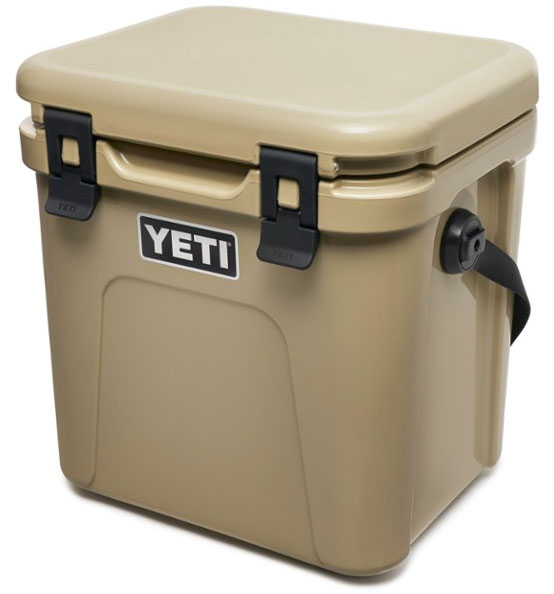 Construction: Rotomolded
Capacity: 23.6 qts. (22.3L)
Weight: 12 lb. 13 oz.
Other sizes: None
What we like: Best-in-class ice retention in an easy-to-carry package.
What we don't: Very pricey for its diminutive size.
If the Tundra above is too much cooler for your intended use, Yeti's Roadie is far more convenient and manageable. Ideal for day trip uses like paddling, picnics, or outdoor concerts, the 24-quart Roadie offers the build quality and impressive ice retention that Yeti is known for in a small and reasonably light (12 lb. 8 oz.) package. Importantly, despite its diminutive size, Yeti didn't skimp on features: You get a stout rotomolded construction, thick rubber latches that can be opened and closed with one hand, and compatibility with the brand's Tie-Down Kit to secure on a boat or in a truck bed or trailer. All told, if most of your adventures are of the done-in-a-day variety, the Yeti Roadie is a great option.
However, despite its competitive feature set, the Yeti Roadie is decidedly undersized for most. For reference, RTIC's 52 QT Ultra-Light above offers around double the capacity for $50 less, giving it the clear edge in value. On the flip side, the Roadie is considerably lighter, takes up far less space in a trunk, and retains the same impressive cooling capabilities that we love about the brand's Tundra series. But while it's hard to argue with the premium quality and rugged nature of a Yeti rotomolded build, the Roadie 24 realistically is a niche cooler with a steep price tag. If you're not ready to make the investment, check out Pelican's 20QT Elite and Igloo's BMX 25 below, which cost less while offering similar benefits to the Roadie but with a step down in overall quality and performance... Read in-depth review
See the Yeti Roadie 24
Best Cooler with Wheels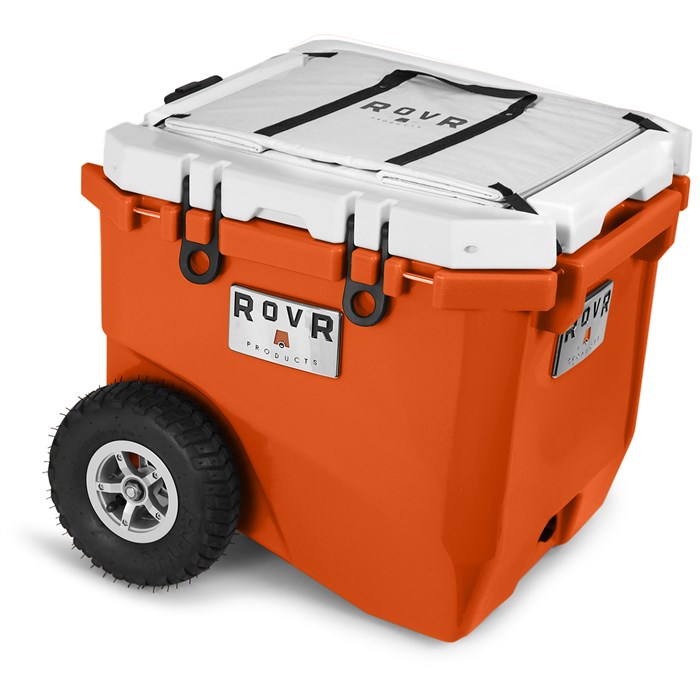 Construction: Rotomolded
Capacity: 45 qts. (42.6L)
Weight: 37 lb. 3.2 oz.
Other sizes: 60, 80, 85 qts.
What we like: The wheels are second to none and this cooler can even attach to your bike.
What we don't: Expensive and very heavy.
If you plan on covering any kind of distance from your vehicle—whether it be to your campsite, a spot along the river, or the beach—wheels can make transport a whole lot easier. And no cooler is better equipped for the job than the RovR Products RollR 45. This Boulder-based wheeled-cooler specialist offers its signature RollR in four capacities ranging from 45 to 85 quarts. On all models, you get big and burly wheels that truly work over a variety of terrain, a long pull handle, and you can even attach this cooler to the back of a bike (BikR Kit attachment sold separately for $70). Throw in a premium rotomolded build with excellent ice retention and a variety of fun features like optional cup holders and a side prepping board, and this cooler is as fun and functional as anything on the market.
As you might expect from a cooler with this many bells and whistles, the RovR RollR 45 is quite expensive at $400 (a considerable $75 more than the similarly sized Yeti Tundra 45). In addition, while we like the wheeled concept for certain people and uses, the added functionality does tack on a noticeable amount of heft and bulk. In terms of competitors, Yeti offers its popular Tundra in a 50-quart wheeled version for $50 more, but it can't match the all-terrain functionality of the RovR and certainly can't be attached to a bike. And cheaper coolers like the Coleman Xtreme below technically have wheels, but the RollR is in a class of its own.
See the RovR Products RollR 45
Best of the Rest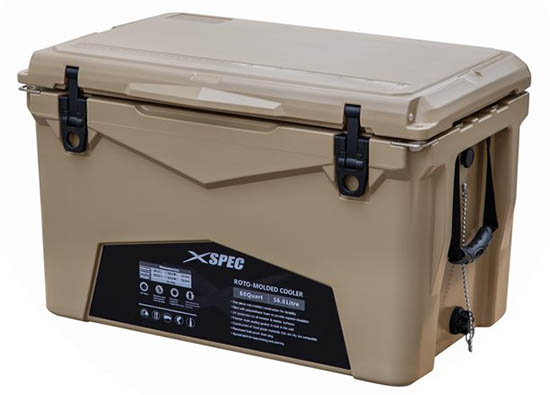 Construction: Rotomolded
Capacity: 60 qts. (56.8L)
Weight: 31 lb.
Other sizes: None
What we like: Fun features in a burly, rotomolded build. 
What we don't: Not bear-certified and doesn't come with a basket for dry goods.
Rotomolded coolers like Yeti's Tundra above are made out of a single piece of continuous plastic, which is great for durability but means they typically lack built-in features and mounting locations. Xspec's 60 Quart is a notable exception, with a tough rotomolded build but a functional assortment of extras, including integrated bottle openers and a compass, an air release valve (in addition to the standard drain plug, which is common on most designs), and even a ruler for measuring the size of a fish. Tack on a price that undercuts the similarly sized Tundra 65 above by a considerable $135, and the Xspec stands out as a very well-rounded design at a great value.
In addition to the drop in price, there are a couple other noteworthy differences between the Xspec Pro and Yeti Tundra. Specifically, the Xspec isn't certified as bear-resistant—a downside for those who frequently camp in areas where bear-proof gear is required—and also lacks a dry goods basket, which can be helpful for keeping produce fresh for longer. If these are must-haves for you, Arctic Zone's Titan 55Q is a little smaller, costs $35 more, and lacks the Xspec's full feature set but is certified as bear-resistant and comes with a wire basket for separating perishables. Finally, some users have noted that ice melts a bit quicker in the Xspec than in a Yeti, but again, it's hard to argue with the combination of price, features, and overall build quality.
See the Xspec Pro 60 Quart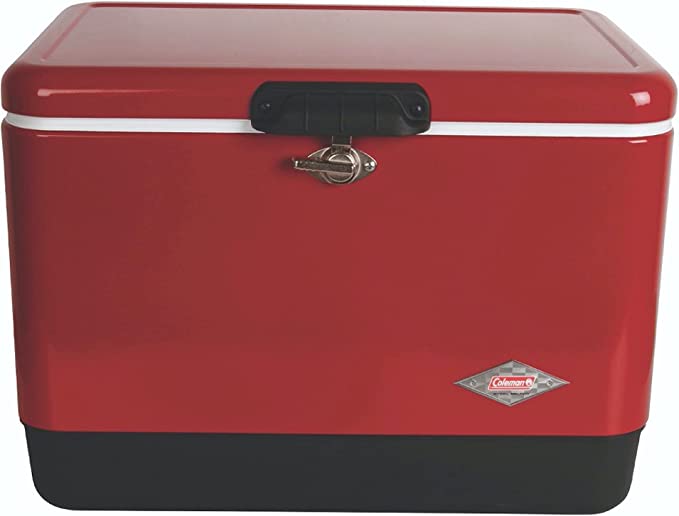 Construction: Metal
Capacity: 54 qts. (51.1L)
Weight: 19 lb.
Other sizes: None
What we like: Good durability in a classy and time-tested design.
What we don't: Ice retention still isn't great.
For many people and uses, Yetis and other high-end coolers on this list are overkill. And if you want a step up from a budget model but don't need premium cooling or a bear-proof design, the Coleman Steel Belted is a nice middle ground. At $200 full MSRP (colorways vary on Amazon), you get a tough build with metal components along with a classic look that's been a mainstay at campgrounds and backyard cookouts for decades. The claimed four days of ice retention may be a little optimistic in the real world, but this cooler is more than enough for road tripping, campouts, and day use. And we like the 54-quart capacity, which beats out the Yeti's popular Tundra 45 while managing to weigh 4 pounds less.
In terms of build quality, the Steel Belted is a noticeable improvement from Coleman's plastic 316 Series model above but falls well short of high-end rotomolded designs. In addition, the single-latch lid doesn't seal as easily or effectively, and the thin metal handles are uncomfortable to grab and hold for extended periods, especially when loaded down. All told, the Coleman is great for casual outings like camping, backyard parties, or beach trips, but it's less at home in a boat or scenarios where you need maximum ice retention, portability, or toughness. Coleman also recently released a Reunion variation with a matte finish and built-in bottle opener for $240.
See the Coleman Steel Belted Cooler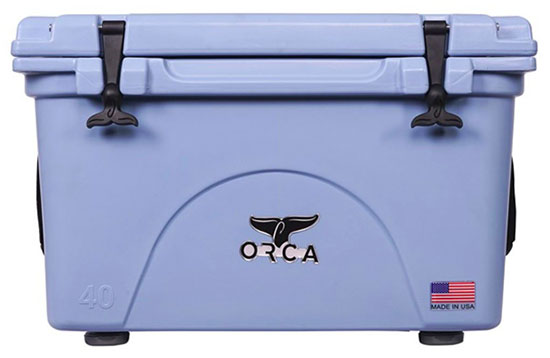 Construction: Rotomolded
Capacity: 40 qts. (37.9L)
Weight: 30 lb.
Other sizes: 20, 26, 58, 75, 80, 140 qts.
What we like: Nice balance of capacity, features, and portability; comes in a wide selection of sizes.
What we don't: Not a standout value; stiff T-handle latch.
Orca (Outdoor Recreation Company of America) isn't a household name like Yeti, but the Tennessee brand has gained a dedicated following of committed outdoorspeople. Their 40-quart cooler gives premium rotomolded models here a real run for their money. Its flexible side handles make carrying a breeze, and we found the exterior organizer pocket to be a nice addition for storing small items like koozies, kitchen utensils, and a bottle opener. Starting at 20 quarts and going all the way up to 140, there's an Orca cooler for just about any activity.
What bumps the Orca 40 down our list? The first knock is value: At $325 for the 40-quart model, the Orca costs the same as Yeti's similarly sized Tundra 45 and a considerable $125 more than our top-ranked (and larger) RTIC 52 QT Ultra-Light. To be fair, the Orca is rotomolded, which translates to better long-term durability than the injection-molded RTIC, and the aforementioned cargo net at the back is a very functional solution for stashing small items. A final complaint is that the Orca's traditional rubber T-handle is a bit stiff and harder to latch than some of its competitors, including the Yeti Tundra above. Finally, Orca coolers aren't as widely available online or in brick-and-mortar stores as Yeti. But if you can track one down, the Orca is a solid all-rounder.
See the Orca 40 Cooler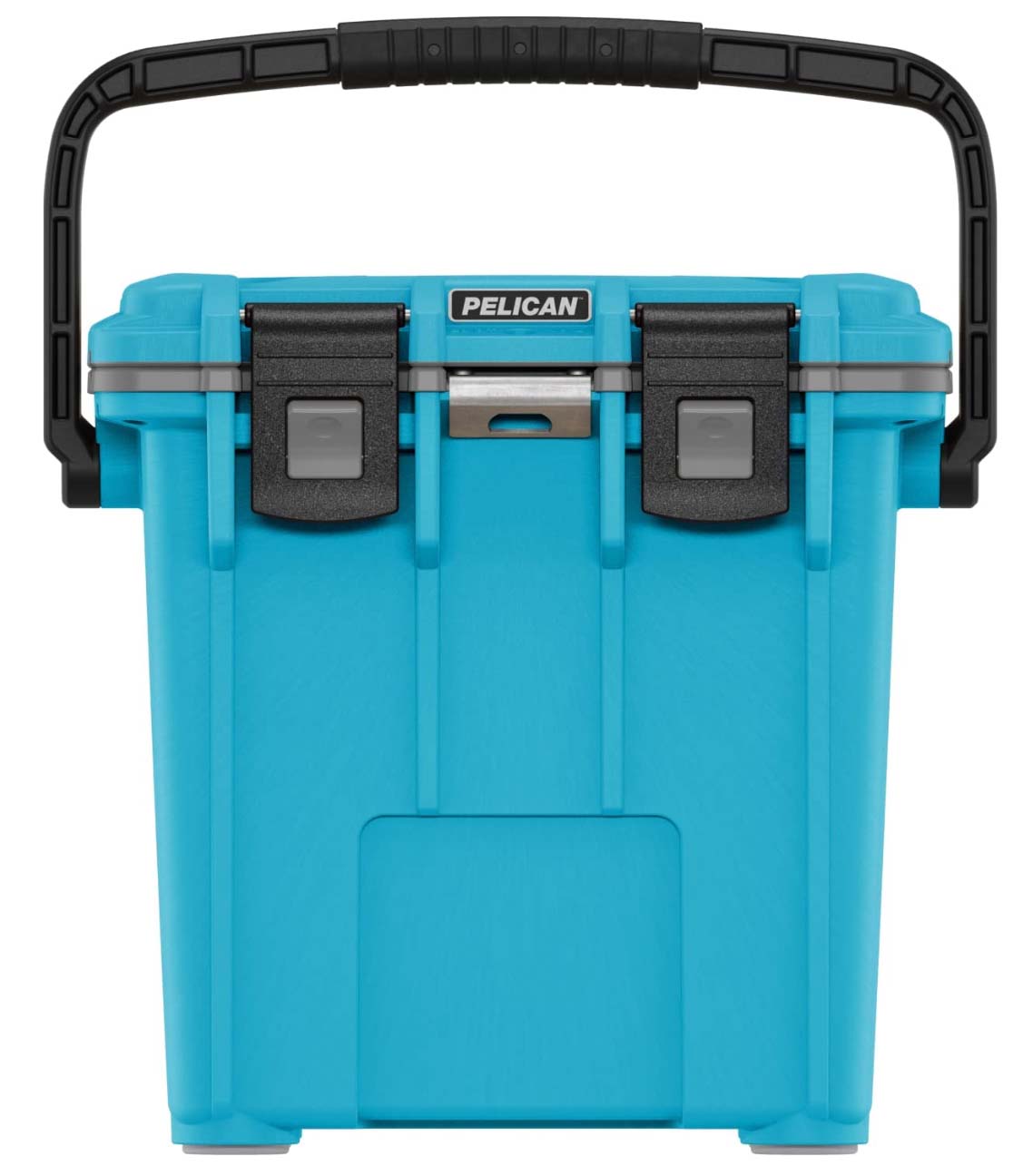 Construction: Injection-molded
Capacity: 20 qts. (18.9L)
Weight: 12 lb. 8 oz.
Other sizes: 14, 30, 50, 70, 95, 150 qts.
What we like: Lighter and cheaper than the Yeti Roadie above.
What we don't: Also a step down in quality and performance.
For those who don't know, Pelican is an industry leader in tough, dependable cases for storing and protecting everything from camera equipment and laptops to guns and drones. Therefore, the jump to hard-sided coolers was a logical progression. Like the venerable Yeti Roadie above, Pelican's 20QT Elite here is a lower-capacity option for day trips on the water, strapping to the back of an ATV, and other short outings away from home. Stacked up against the Roadie, the Pelican is $50 cheaper (albeit with slightly less storage) but comes with functional extras like integrated cup holders, easier-to-use latches, and a more robust carry handle. We also like the unique assortment of multi-toned colorways that add a nice dose of flair.
Why do we rank the Roadie above the Pelican? The biggest compromises are quality and performance: While the rotomolded Roadie is lauded for its impressive ice retention and undeniably top-shelf build, the injection-molded Pelican is a step down in all-out durability and cooling capabilities (ice retention is listed at an unimpressive two days, although that should be plenty given the small size). And it's worth noting that neither the Roadie nor the Pelican has a drain plug, which can make dumping melted ice a bit of an involved process. That said, if you're looking for a portable option for day trips, the Pelican's compact design and reasonable price make it a competitive Yeti alternative. For personal use and those who work outside all day—including rescue personnel and construction workers—Pelican sells a smaller and lighter 14QT Elite for $120.
See the Pelican 20QT Elite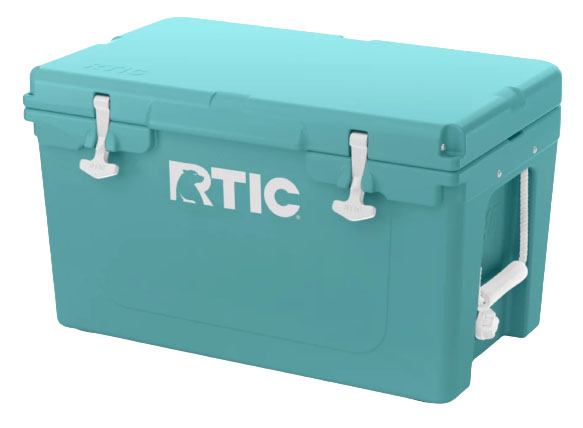 Construction: Rotomolded
Capacity: 45 qts. (42.6L)
Weight: 29 lb.
Other sizes: 20, 65, 110, 145 qts.
What we like: Tougher than the Ultra-Light 52 and bear-certified for just $20 more.
What we don't: Also heavier and offers less interior capacity.
RTIC's 52 QT Ultra-Light above offers a hard-to-beat combination of weight, capacity, and price, but its injection-molded design falls a little short of rotomolded options in all-out durability. Enter RTIC's tougher 45 QT Hard Cooler, which represents another strong value from the brand at just $20 more than the Ultra-Light. In fact, at $220, it's the cheapest rotomolded design on our list—even undercutting the diminutive Yeti Roadie 24 ($250). And like the Ultra-Light, the Hard Cooler comes nicely appointed with two ports for quickly draining excess water, durable T-handles that keep the lid locked securely in place, grippy rubber feet, and rope handles with comfortable grips for easy hauling. 
You do pay a penalty in capacity by 7 quarts with the 45 QT Hard Cooler, which makes it less appealing for longer camping trips than the Ultra-Light 52 (stepping up to the 65 QT Hard Cooler increases price to $250). And weight jumps by 8 pounds, so it's harder to carry solo (although 29 lb. is fairly standard for a rotomolded design of this size). In the end, the Hard Cooler's advantages over the Ultra-Light aren't enough for us to rank it higher, but it's another well-made cooler at a very competitive price. Of note: RTIC also offers the design in a smaller 20-quart version for $150, as well as larger options that range from 65 all the way up to 145 quarts.
See the RTIC 45 QT Hard Cooler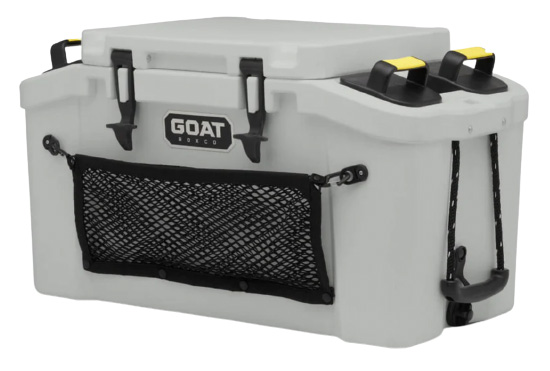 Capacity: 38 qts. (36L)
Weight: 25 lb.
Other size: 62 qts.
What we like: Built-in storage and seemingly endless customization options.
What we don't: Pricey for the capacity and overkill for most casual campers.
There aren't a ton of innovative ideas cropping up in the hard-sided cooler market, but Texas-based Goat did a great job thinking outside the box with their inventive Hub. The design is highlighted by a creative built-in storage system: Deep slots along the sides pair with the brand's container-like Cans (four are included with purchase), which are great for stashing small camp and kitchen accessories. You also get a handy cargo net at the front for securing lighter items like snacks, a thin jacket, or a collapsible dog bowl. And for those who like to geek out on their gear, Goat offers the option to build your own Hub system with customizations for capacity, color, and Can kits that come pre-loaded with essentials like first aid supplies, hygiene basics, and more (there are currently 20 kits to choose from). Added up, the Hub is one of the most thoughtfully built and practical designs on the market.
That said, while we love the Hub's creative solution for gear storage, it does eat into the amount of usable space in the main cooler compartment. For reference, the Hub 50 here has a capacity of just 38 quarts for ice, food, and beverages, while most similarly sized competitors offer around 45 to 50 quarts. Goat does sell a larger 62-quart Hub 70, but it's even pricier at $600 and noticeably hefty at over 42 pounds (the Hub 50 is pretty manageable at 25 lb.). That said, the built-in storage does help offset the drop in capacity, and overall build quality is top-notch. From overlanding and hunting to casual days at the lake or beach, the Hub is a real standout and makes organization a breeze.
See the Goat Hub 50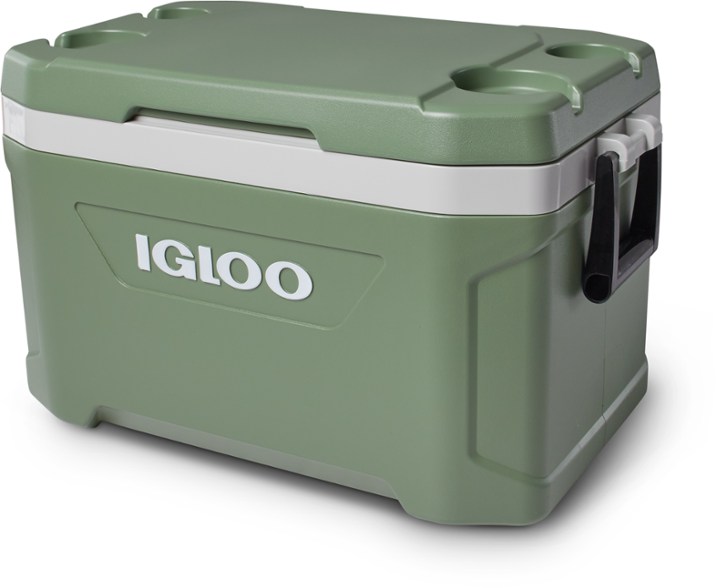 Construction: Injection-molded
Capacity: 51.7 qts. (49L)
Weight: 10 lb. 3.2 oz.
Other sizes: 7, 30, 60, 90 qts.
What we like: Functional feature set and decent ice retention for the price.
What we don't: No drain plug or latches and questionable long-term durability.
We tend to steer clear of most bargain-basement coolers—they may work well for a day or two but often lack the impressive ice retention of premium models and won't stand up as well to regular outdoor use. Igloo's Ecocool 52 isn't totally exempt from these drawbacks, but it's more well rounded and functional than much of the budget competition. For just $60, the Igloo boasts a generous 52-quart capacity, and the proprietary foam insulation does a good job keeping food and drinks chilled for up to three days (in the right conditions, of course). The feature set is also pretty well sorted for the price, including four self-draining cup holders and functional lifts at the bottom that slightly elevate the cooler off the ground or truck bed. Igloo also added holes in the swing-up handles, allowing you to string a bungee between them to make carrying heavier loads easier.
In terms of overall build quality, the Igloo Ecocool is a slight step up from many of Coleman's budget designs but still can't hold a candle to most of the pricier competition. The recycled plastic used for the body and lid is decidedly cheaper-feeling and less confidence-inspiring than rotomolded designs from Yeti, Xspec, Orca, and others (again, we've had Yetis withstand over a decade of use with almost no wear to show for it). Further, we're disappointed that Igloo omitted a drain plug—you'll have to manually drain any water once the ice starts to melt—and lid latches, meaning the cooler lacks a secure seal and isn't an efficient insulator. But if you're not quite ready to invest in a $200+ cooler and are willing to set reasonable expectations, the Igloo is a perfectly serviceable entry-level pick for weekend getaways and day outings like picnics or trips to the farmers' market.
See the Igloo Ecocool 52
Construction: Rotomolded
Capacity: 45 qts. (42.6L)
Weight: 29 lb.
Other sizes: 10, 15, 20, qts.
What we like: Very rugged and fully featured. 
What we don't: A little more utilitarian than a Yeti and less proven than the competition.
Roam is primarily a rooftop tent manufacturer and well regarded among serious outdoor-goers like overlanders and those who like to get off the grid. But their foray into coolers hasn't gone unnoticed, combining the ruggedness and utility that Roam is known for with a myriad of functional features. The 45QT model here is their most popular size and comes fully appointed with a handy storage basket, removable cup holder, internal divider that doubles as a cutting board, integrated bottle opener, and multiple carry options and tie-down points. And importantly, all these features are integrated nicely and have the same solid and confidence-inspiring feel as the rest of the aptly named Rugged.
All told, the 45QT Rugged Cooler has a lot going for it: It insulates well (ice retention is listed at eight days), will stand up to rough use with a tough rotomolded build, and is one of the most well-equipped options here. However, Roam still is a relative newcomer to the cooler market, and competitors like Yeti, RTIC, and others above offer similarly priced alternatives with long track records to back them up. Another small (albeit entirely subjective) complaint is that the Rugged Cooler has a pretty utilitarian look, which lines up with Roam's overlanding focus but detracts from the cooler's all-around appeal. But this may be enough to sway some: Roam backs their Rugged Cooler collection with a lifetime warranty against manufacturer defects, which speaks volumes to their overall craftsmanship.
See the Roam 45QT Rugged Cooler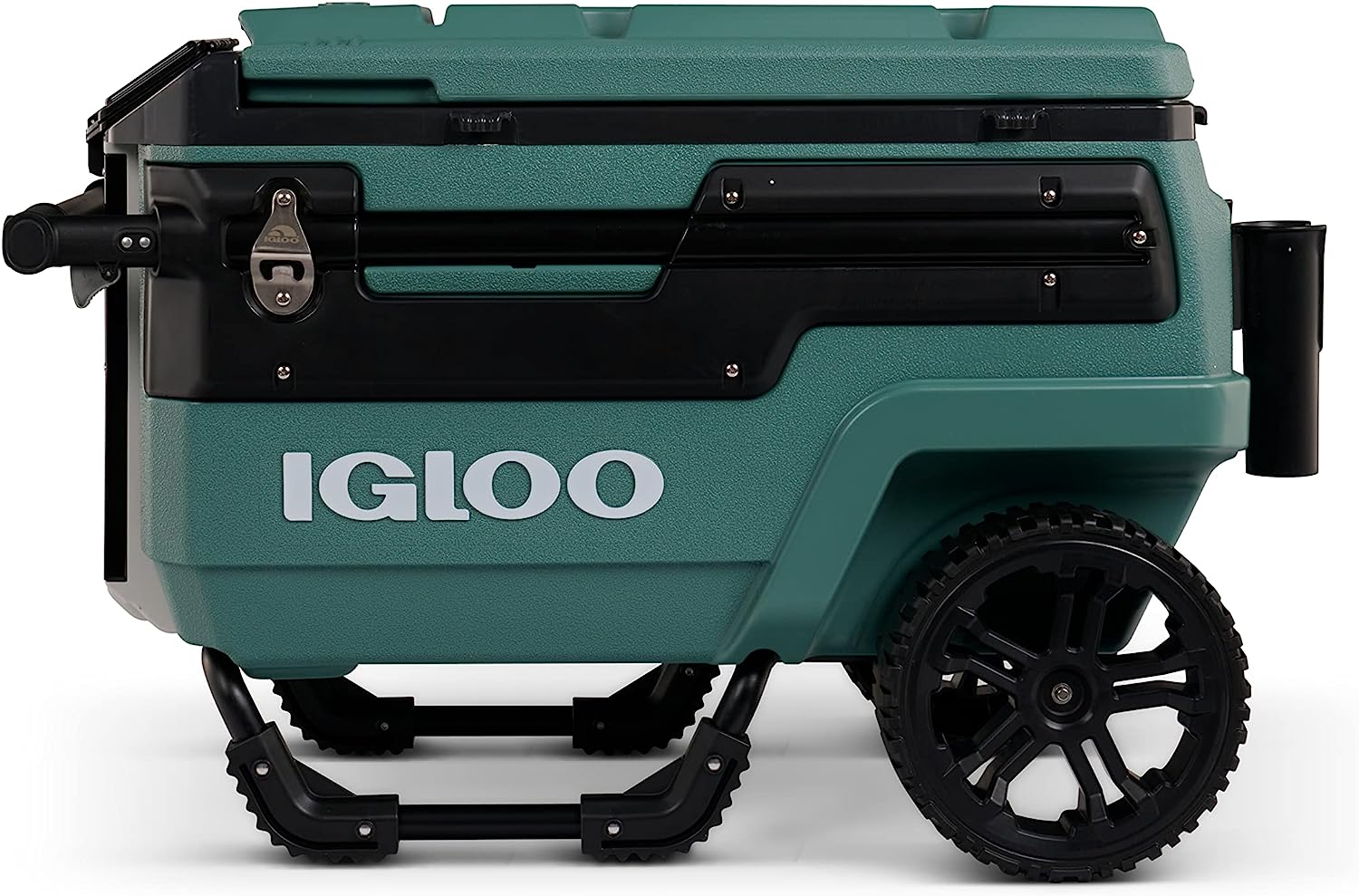 Construction: Injection-molded
Capacity: 70 qts. (66.2L)
Weight: 34 lb. 11 oz.
Other sizes: None
What we like: The most fully featured cooler on our list.
What we don't: Middling ice retention and less premium than the RovR RollR above.
Igloo's Trailmate Journey is the cooler equivalent of an all-terrain vehicle: the oversized (10 in.) wheels have deep tread to plow through sand, grass, and other soft surfaces, and the burly plastic and metal construction is built to withstand the rigors of regular outdoor use. Throw in a host of fun and well-executed extras including four cup holders, a mesh storage pocket, integrated bottle openers, a "butler" tray for storage and food prep, and even a built-in phone stand, and you get the most fully featured cooler on our list. We also love the legs and telescoping handle, which make toting easy and keep the bottom of the cooler protected and clean.
No cooler is perfect, however, and we do have some sizable concerns with the Igloo Trailmate. First is the fairly middling four-day ice retention (remember, coolers rarely live up to these claims), which falls well short of the RovR RollR above (10 days). Additionally, the substantial build and sheer number of features add a decent amount of bulk and weight. And not everyone will like the utilitarian looks and styling, which are a far cry from streamlined, sleek models from Yeti, RTIC, and other brands above. Finally, a number of users have reported premature durability issues, including stuck glide handles, broken hinges, and subpar components. But at $280 for a massive 70 quarts of capacity, the Igloo is a good value and backed by a 1-year warranty should you encounter any problems with workmanship.
See the Igloo Trailmate Journey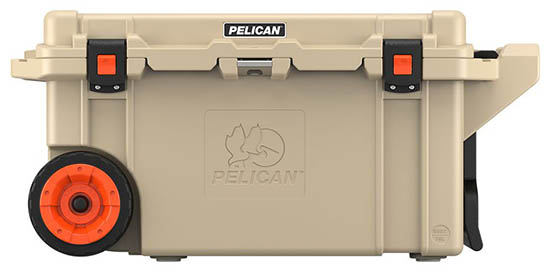 Construction: Injection-molded
Capacity: 80 qts. (75.7L)
Weight: 52 lb.
Other sizes: 45, 65 qts.
What we like: A bombproof wheeled cooler from a brand that knows a lot about rugged gear. 
What we don't: Very heavy, bulky, and expensive.
On the heels of the Igloo Trailmate Journey above is the crème de la crème of wheeled coolers: Pelican's 80QT Elite. Right off the bat, we'll address the astronomical price: At $570, this cooler is the most expensive unit here by a sizable margin and has limited appeal for the average outdoors-goer. That said, for targeted uses like hunting, fishing, and other activities that warrant the massive capacity, it's a true standout. The Pelican boasts heavy-duty wheels, glove-friendly latches, and an extendable handle for easy hauling and handling, as well as a freezer-grade seal and two inches of foam insulation to maximize freshness. You even get an integrated fish scale and garden hose-compatible drain plug to make cleaning a breeze. Tack on a lifetime warranty (for reference, Yeti's warranty for their Tundra series is five years), and there's a lot to like with the burly 80QT.
Pelican designs many of its products for agencies like the military and law enforcement, and this tactical styling is readily apparent in its cooler line. In other words, if you're looking for a sleek and streamlined unit, this isn't it. The handles are bulky and rigid, the color options are relatively subdued, and the cooler itself is undeniably hefty at 52 pounds before food, drinks, and ice. But again, most people who buy this cooler aren't overly concerned with looks and simply want a large, beefy, and functional option for safely transporting game or fish. If that's your end use, the 80QT Elite should be on your short list.
See the Pelican 80QT Elite Wheeled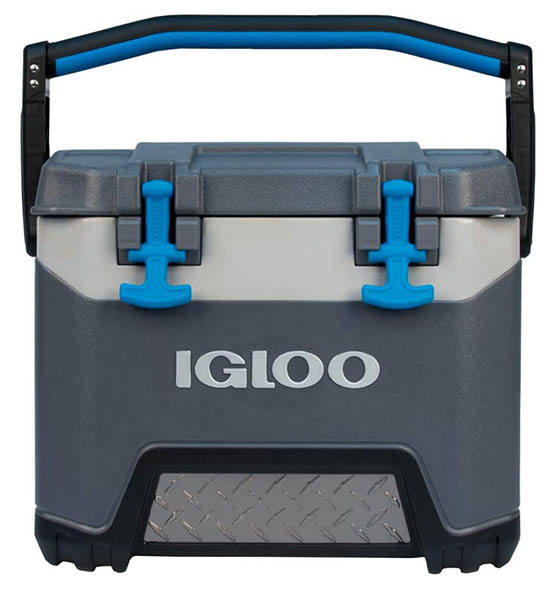 Construction: Blow-molded
Capacity: 25 qts. (23.7L)
Weight: 10 lb. 5.4 oz.
Other sizes: 52, 72 qts.
What we like: Significantly cheaper than the Roadie 24 and built to last.
What we don't: Middling ice retention.
Joining the ranks of Yeti's Roadie 24 and Pelican's 20QT Elite above, Igloo's BMX 25 is another lower-capacity option for day trips. The biggest selling point here is price: At just $100, the BMX undercuts the Roadie by a whopping $150 and the Pelican by $100, which is excellent news for those on a budget. Igloo didn't skimp on features either, with a triple-point grab handle that boasts rubber on the bottom for easy gripping, a stainless steel kick plate to boost protection, and—similar to the Xspec 60 Pro above—a molded ruler on the lid for measuring the size of a fish. All in all, the Igloo is well appointed, built to last, and an enticing value. 
That said, it's still important to set reasonable expectations at this price point. As we saw with budget models like the Coleman 316 Series and Igloo's own Ecocool above, the BMX's ice retention is a considerable step down from high-end options from Yeti, RTIC, Orca, and others (Igloo lists it at four days, which seems like a stretch). Some users also report leaking around the lid due to the lack of rubber seal, which likely has an impact on those cooling capabilities. To be fair, the BMX is a sizable improvement performance-wise from many ultra-cheap plastic models on the market, but if you want more than a day or two of ice retention, we recommend spending up for the Pelican 20QT Elite or Yeti Roadie 24 above.
See the Igloo BMX 25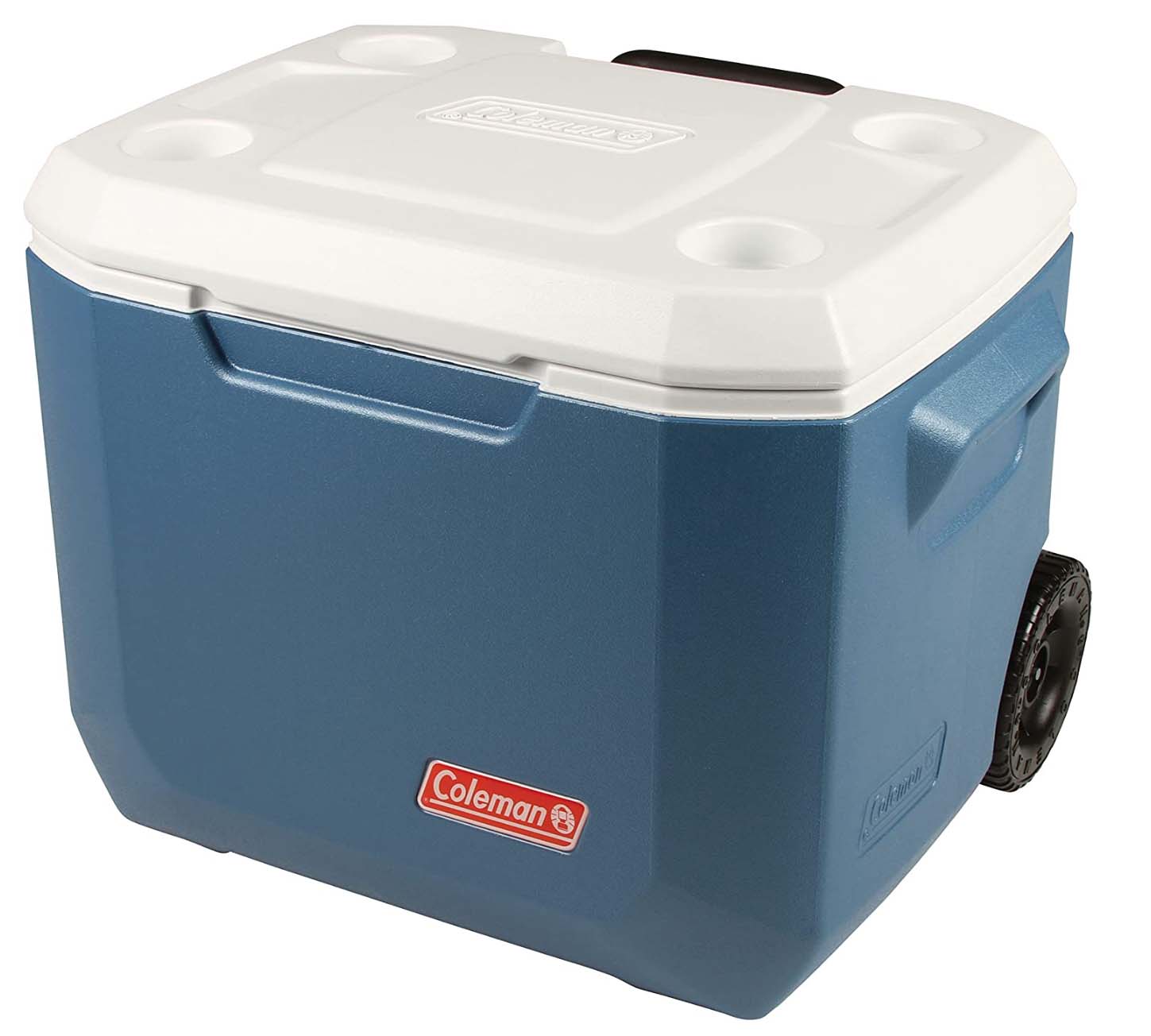 Construction: Plastic
Capacity: 50 qts. (47.3L)
Weight: 12 lb. 11.2 oz.
Other size: 62 qts.
What we like: A wallet-friendly, hard-sided cooler with wheels.
What we don't: Limited ice retention and cheap build won't stand up to regular abuse.
For $65, the 50-quart Coleman Xtreme is another standout in the value category, and this time with wheels. With a similar overall construction as our top budget pick, this basic cooler certainly is a far cry from the RovR RollR, Igloo Trailmate, and Pelican 80QT Elite above, but the functionality is decent for the price. The simple plastic wheels and tow handle make transporting the cooler over smooth surfaces relatively easy, the hard-sided build provides modest insulation for day or short overnight getaways, and the integrated cup holders atop the lid are convenient for storing drinks. All told, like the non-wheeled 316 Series model above, this Coleman cooler should meet the needs of many recreational campers, concert-goers, and tailgaters without breaking the bank. 
That said, as with any budget product, the Xtreme wheeled cooler makes a number of sacrifices to cut costs. First, the cooler is far less durable than premium roto- and injection-molded models (when testing them together, the cheap and lightweight materials were very noticeable). We also had trouble keeping the lid open while loading and unloading the cooler, which made the process fairly painstaking, and the plastic wheels struggle even on marginally bumpy paths. Finally, as we touched on above, we've found Coleman's five-day ice retention claim to be overly optimistic (in practice, it's been much shorter for us). But again, it's hard to knock the bargain-basement price of the Xtreme wheeled cooler, which represents another strong value from Coleman.
See the Coleman 50-Quart Xtreme w/ Wheels
Cooler Comparison Table
*Editor's note: This number represents claimed ice retention. In real-world use and depending on the specific circumstances, we've found these times to be quite a bit lower. More in our "Ice Retention and Cooling Capabilities" below. 
 
Cooler Buying Advice
Cooler Construction: Rotomolding vs. Injection Molding
Construction techniques for premium hard-sided coolers fall into two types: rotational molding (rotomolding) and injection molding. Starting with rotomolding, this process was popularized by Yeti (although they technically weren't the first to make a cooler in this way) and currently dominates the high end of the market. These types of coolers are made out of a single piece of continuous plastic that is rotated until it forms the desired shape. The advantages are fewer stress points (these coolers are less likely to crack under pressure) and a consistently thick outer shell, which translates to exceptional durability. Primary disadvantages are cost and weight.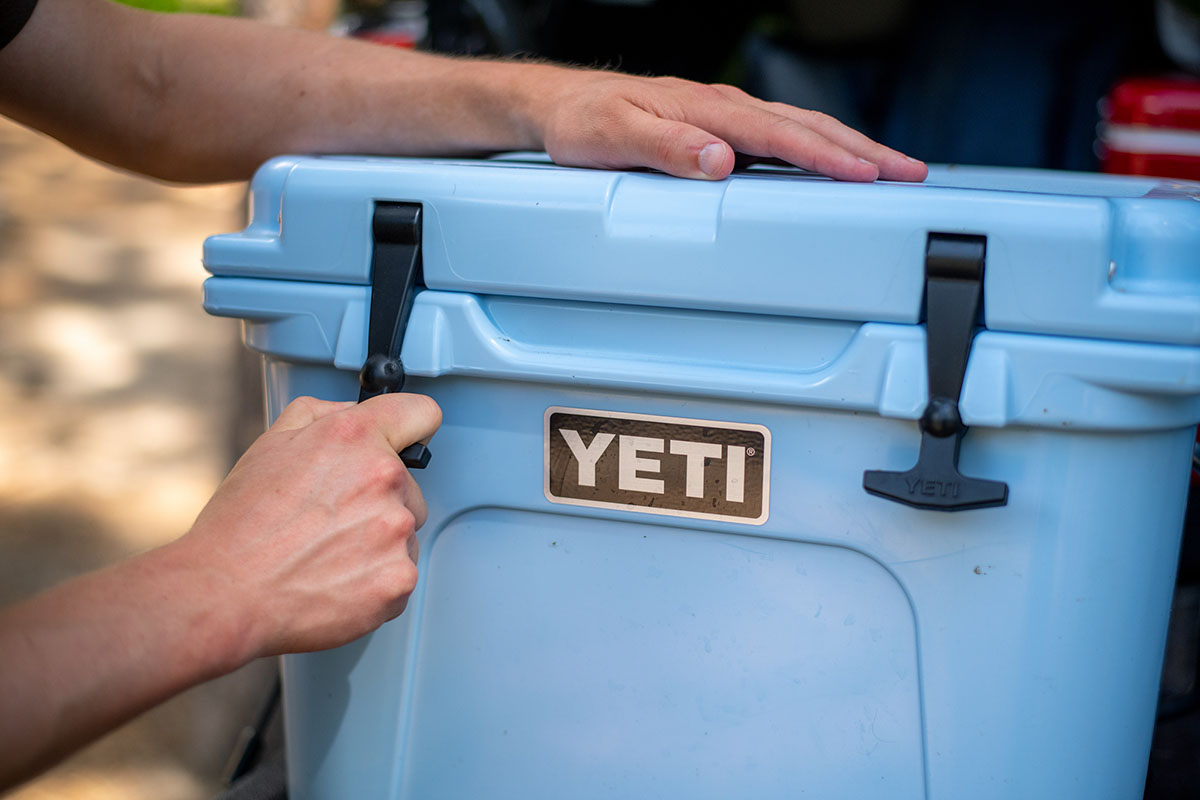 What about injection molding? These coolers are simply made by inserting hot plastic into a defined mold, given time to cool, and then removed. The process is simpler and cheaper than rotomolding and allows for greater precision because of the molded shapes. But they're made with multiple pieces—unlike the single, uninterrupted form with rotomolding—which can lead to a drop in durability and added susceptibility to cracking. That being said, a high-end build like RTIC's 52 QT Ultra-Light stacks up favorably to top rotomolded coolers in overall toughness. Many injection-molded designs also allow for various mounting locations for accessories like tables, cup holders, and cutting boards—something you don't typically get with rotomolding.
If you're researching this, you may be wondering how the two designs differ in terms of overall cooling performance. All else being equal, a cooler's construction does not inherently affect ice retention. In other words, a premium injection-molded cooler should stack up favorably in terms of insulating abilities to a comparable rotomolded design. That said, because most high-end coolers utilize rotomolded builds, the two tend to correlate more often than not—a quick check of our list reveals that most rotomolded designs retain ice for about 10 days (based on manufacturer claims), while many injection-molded offerings come up well short at just 2 to 4. But again, there are exceptions to this rule: The aforementioned injection-molded RTIC 52 QT Ultra-Light, for instance, is rated to keep ice frozen for up to eight days, while their rotomolded 45 QT Hard Cooler is listed at just four days.  

Cooler Sizes (Capacities)
Before we jump in, there are a few considerations to note regarding sizing. Most importantly, not all coolers measure interior capacity in the same way. Some use cans as a unit of measure, while others use liters, quarts, or gallons. That said, quarts are what the majority of manufacturers list, and we've utilized that form of measurement throughout this article (when available). And a final note: Don't be misled by the number in a product's name. The Yeti Tundra 65, for example, only boasts around a 60-quart capacity once you account for its thick walls.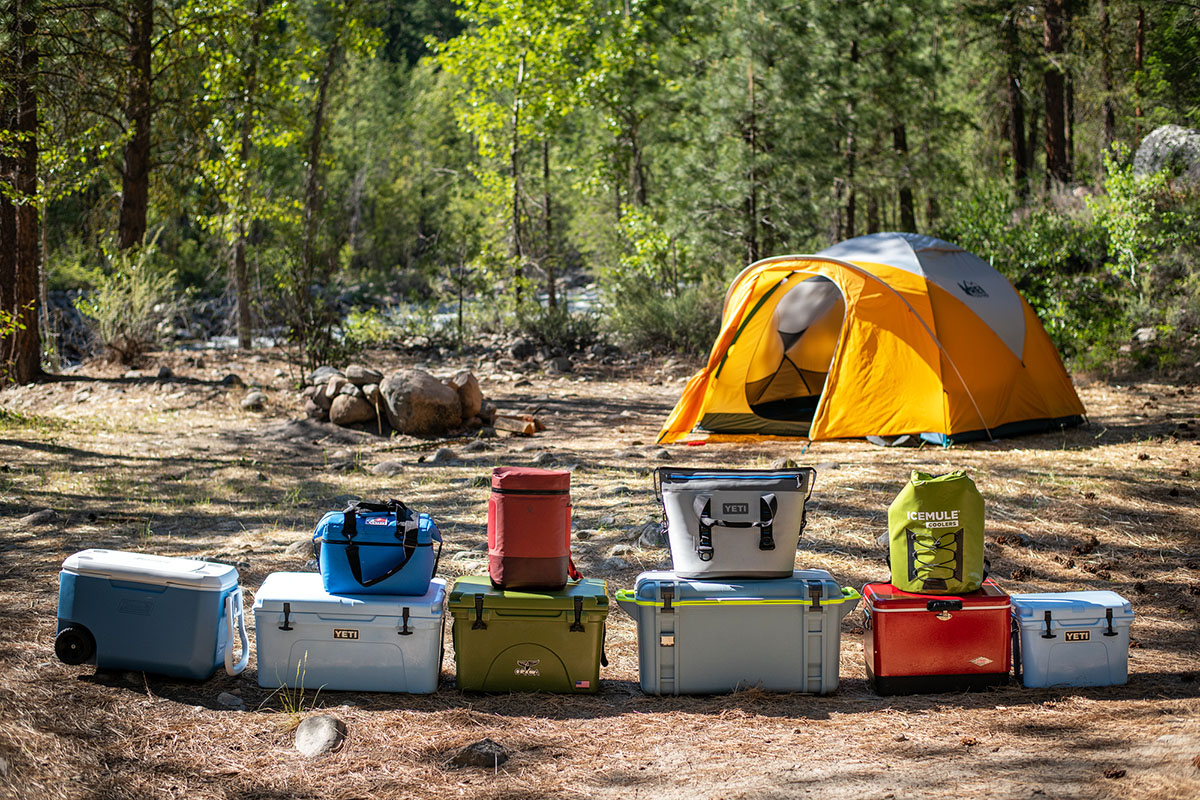 Small: 10-35 Quarts
If you most often travel solo or prioritize portability, a small cooler could be a good match. At the low end of the capacity range, expect to fit a small amount of ice, a few drinks, and a meal, while 35-quart coolers should hold enough for one or two days. It's worth pointing out that even a 30-plus-quart design will be stretching it for multiple people over a weekend once you properly fill it with ice, so these coolers lack the versatility of the sizes below. Among our favorites in this category, the Yeti Roadie 24 balances a burly yet compact build (16.5 in. long and 17.5 in. tall) that is sized right for throwing on a backseat or strapping to an ATV or stand up paddle board.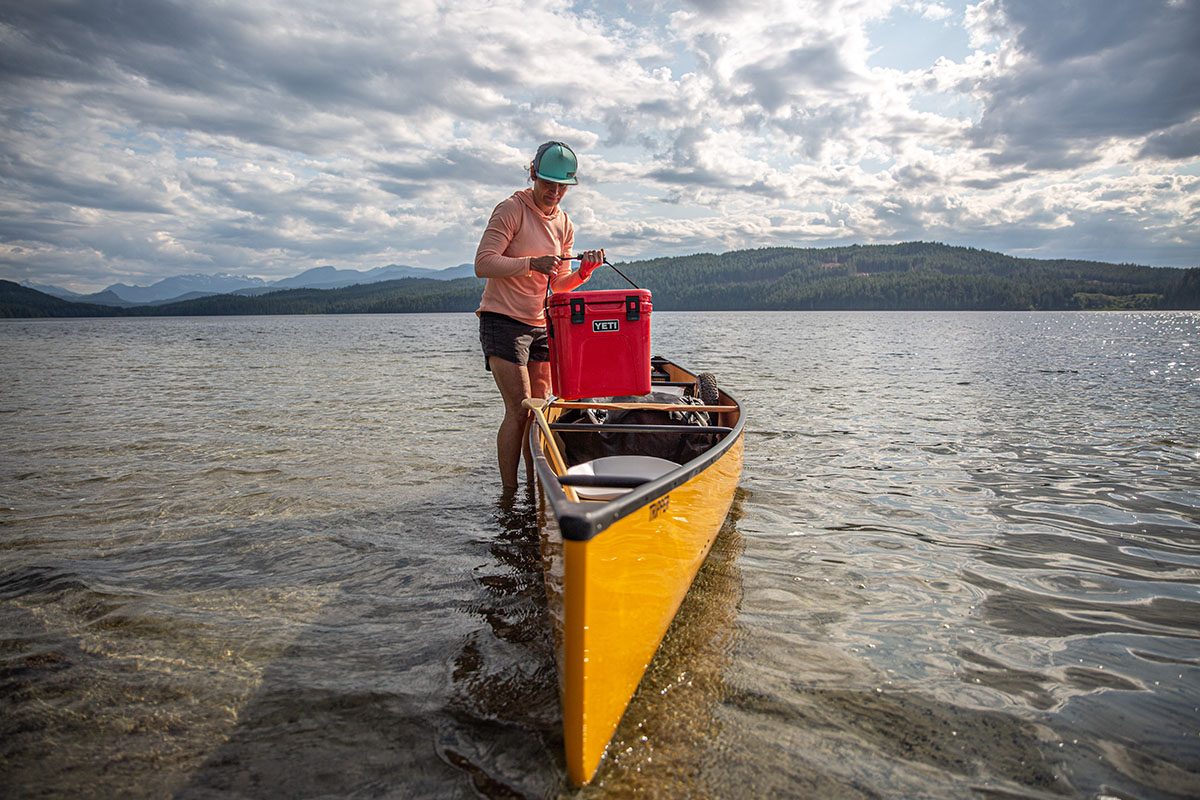 Medium: 35-55 Quarts
Stepping up to the 35- to 55-quart range gets you an all-purpose model: These coolers are compact enough to squeeze into a loaded car trunk or truck bed, can typically be carried by one person, and don't take up too much space on a boat or raft. In our testing, we found that 35-, 40-, or 45-quart coolers sufficed for groups of one to two for a couple days. If your party exceeds that, it's worth bumping the capacity up to 55 quarts or higher for the same time frame. And if you plan to go on an extended outing or are traveling with a large group, you'll want to check out the larger sizes below.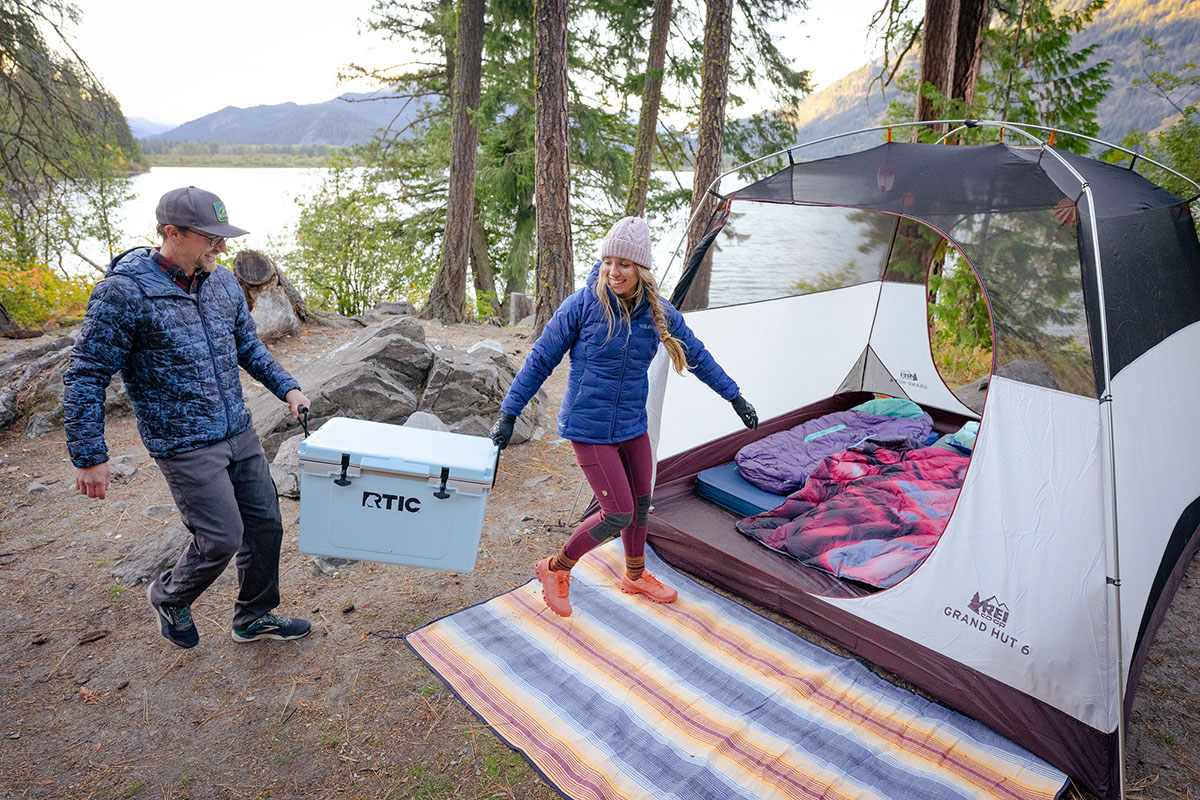 Large: 55-75 Quarts
As we touched on above, if you're headed out with two or more people over multiple days, it's worth packing a large cooler. It's true that you'll likely need a second person to help transport it to and from the car, but the upside is enough space to utilize a proper 2:1 ice-to-food ratio to maximize performance (we cover this in more detail below). In the 55- to 75-quart range, we like Yeti's Tundra 65 best: It has a great mix of storage capacity, ice retention, and features that should meet the needs of most small groups on extended weekends or larger families on overnight trips. But at more than 30 inches long and 16 inches high, it does take up a fair amount of space in a trunk or pickup bed.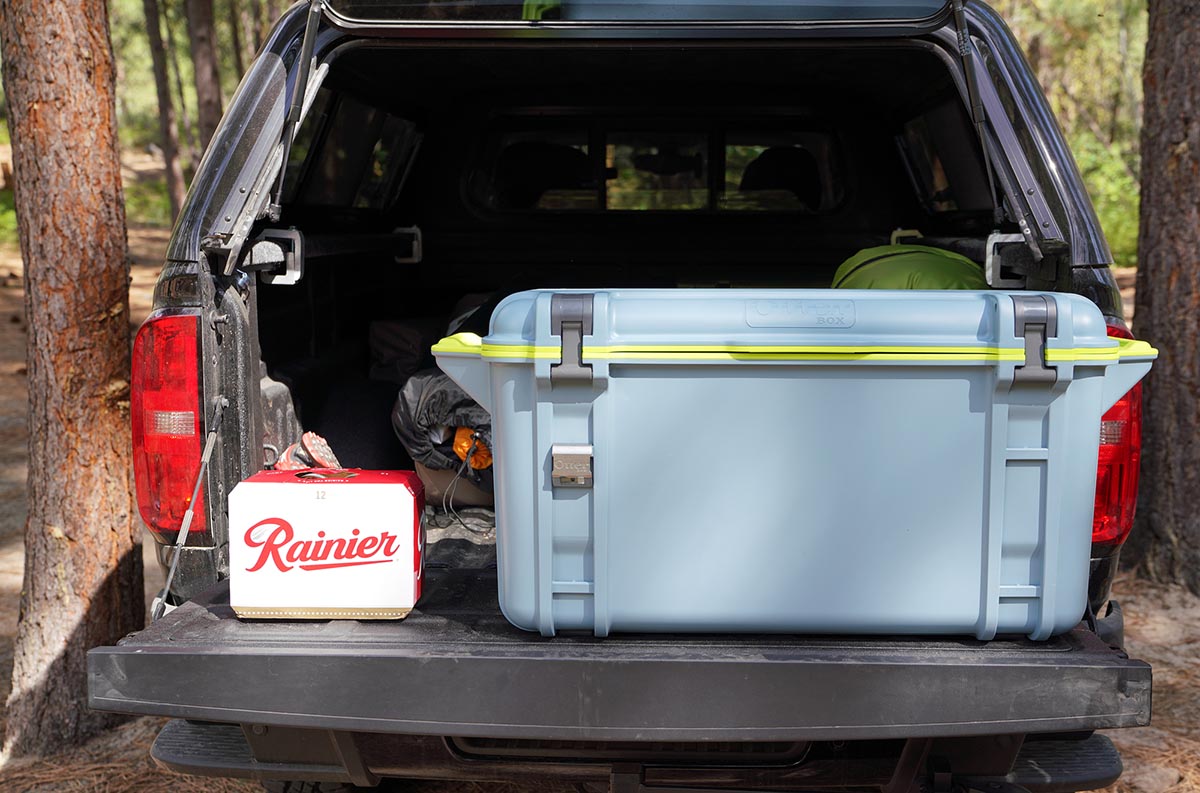 Extra-Large: 75+ Quarts
Coolers in the 75-quart-and-larger range are typically reserved for the committed outdoorsperson. While undoubtedly expensive, extremely bulky, and heavy (the Pelican 80QT Elite is over 50 lb. and a whopping $570), these extra-large models have their place for big groups and certain activities, such as fishing and hunting. On the smaller end of the spectrum, 75- to 85-quart hard-sided coolers are ideal for weekend adventures for groups of around four or five, or longer trips with fewer people.
 


Ice Retention and Cooling Capabilities
One of the trickiest things to nail down in researching coolers is ice retention. First and foremost, external factors play a huge role here. Air temperature has a big impact, as does direct sun, and the amount of ice you use is another important factor (most brands recommend a 2:1 ice-to-food ratio). It also matters how often you open the lid, thereby allowing cold air out and warm air in. For maximum performance, you can pre-chill your cooler prior to loading it up. This involves filling the interior with ice for at least a few hours to bring its interior temperature down. When you're ready to hit the road, swap in some fresh ice at that optimal ratio along with your drinks and food. On the flip side, if you leave your cooler sitting out in the sun before loading it up, you can expect it to be pre-warmed like an oven and not nearly as effective.
Most cooler manufacturers provide a "claimed ice retention" spec in their product listings (Yeti is one major brand who does not). A quick look at the table above shows that the times range from 10 days at the high end for premium designs like the RovR Products RollR 45, Orca 40, Goat Hub 50, and Pelican 80QT Elite to just two days for Pelican's 20QT Elite. That said, we always take manufacturer-provided specs with a grain of salt, and there isn't an established, standardized test here. In practice, most of the claimed ice retention times feel quite inflated to us, perhaps due to extremely favorable testing conditions (storing the cooler inside with the lid closed in cool temperatures, for example). If we had to generalize it, we would say that you should expect to get approximately half of the claimed ice retention time in real-world use, give or take depending on your specific circumstances.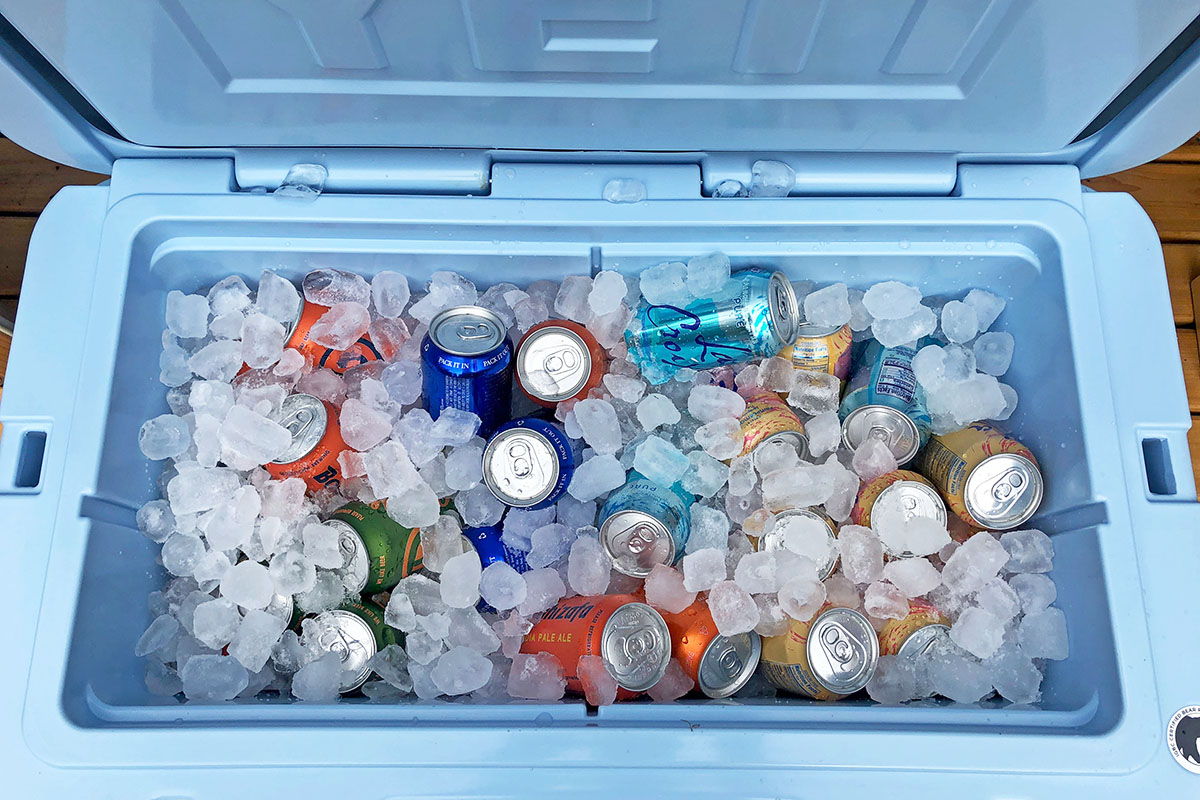 If you are looking for maximum cooling power, premium rotomolded coolers from brands like Yeti, RTIC, and Orca are the clear leaders in keeping ice cold for long stretches. You definitely pay for the privilege, but you can expect multiple days of cold temperatures and solid ice in your cooler with these high-end offerings, and that time goes down as you move toward cheaper hard-sided coolers and soft-sided designs (we cover the latter in more detail below). If you need ice for extended periods (we're thinking of you, rafters and multi-day campers), the cost is worth it. But for those on day trips or shorter overnight outings with access to new ice, an inexpensive cooler like the Coleman 316 Series or Igloo Ecocool is a fine option.

Weight and Portability
For those who plan to carry or move their cooler with any regularity, weight should be an important consideration. Even when empty, hard-sided options weigh anywhere from 10-15 pounds for low-capacity models up to 50+ pounds for premium designs with 75+ quarts of storage. Once loaded down with ice, food, and beverages, that number skyrockets. And despite including carry handles, they're simply too hefty to travel with for long distances. If portability is a priority, we recommend looking at options with wheels, such as RovR's RollR 45 or Igloo's Trailmate Journey. Although these units still are decidedly hefty (the RovR is around 37 lb. while the Igloo is just under 35), the wheels make them much easier and less cumbersome to transport for extended periods, even just for one person.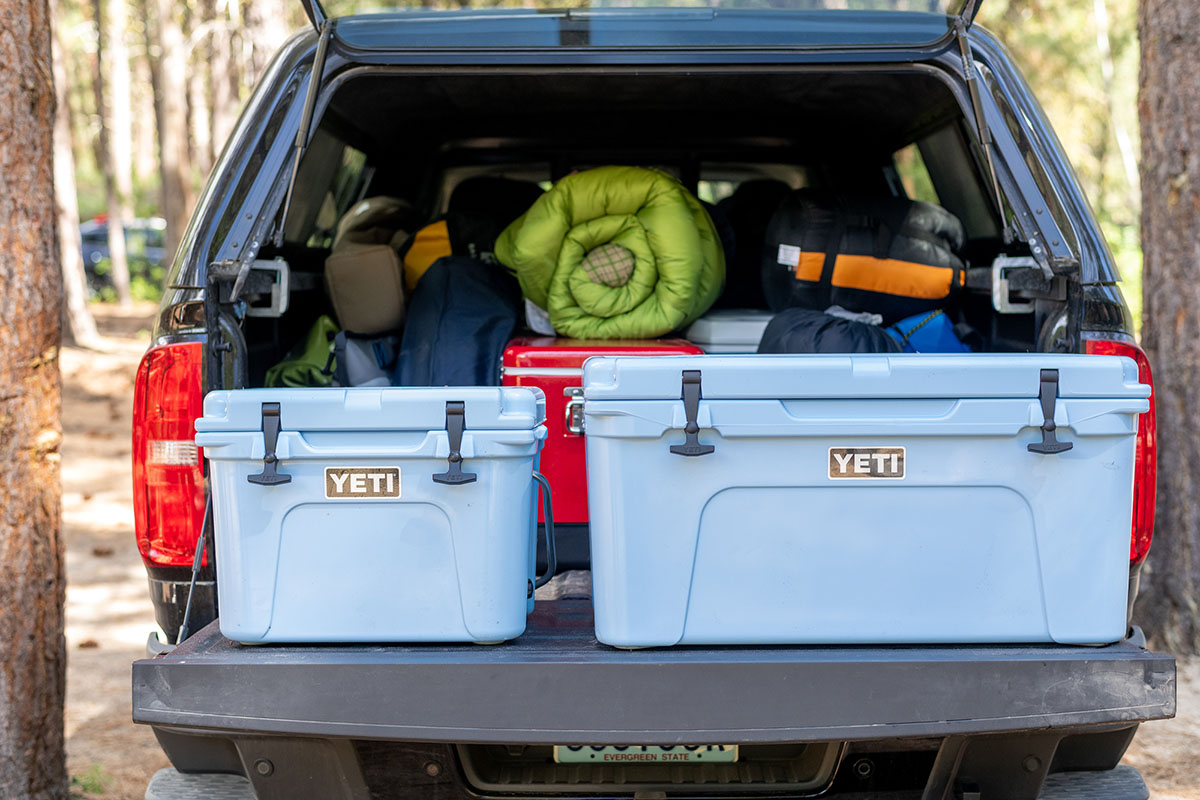 Wheeled (Rolling) Coolers
As we prefaced above, if your cooler must-haves include easy mobility, large capacity, and maximum ice retention, it's best to consider a rolling hard-sided model. From our picks above, the RovR Products RollR 45, Igloo Trailmate Journey, Pelican 80QT Elite, and Coleman Xtreme have rear wheels and tow handles, and Yeti's Tundra series also includes the wheel-equipped Haul. Downsides are even more weight (the RovR and Igloo weigh around 35 lb.), bulk, and cost. Additionally, these wheeled beasts still struggle over rough terrain and may require carrying if you don't have a defined path to follow. But for camping, days at the beach, or even tailgating, a rolling cooler can be a solid choice.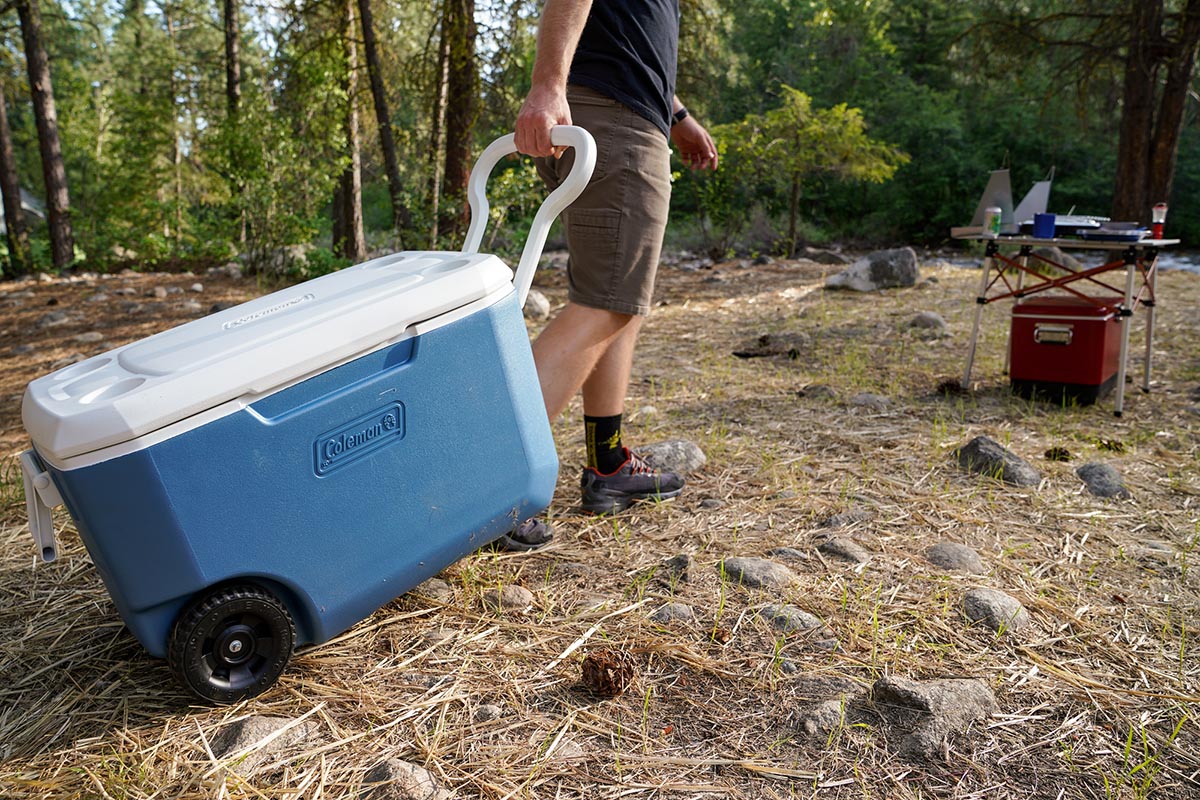 Are Expensive Coolers Worth It?
Well over half of the coolers on our list cost $200 or more, which goes to show how pricey these units can be. But in our opinion, the cost is fairly easy to justify. Hard-sided coolers from Yeti, RTIC, Orca, and others are able to keep ice frozen for significantly longer than budget options from companies like Coleman or Igloo. And while bags of ice come relatively cheap, it can be a real pain to have to drain your cooler and replace the ice on a daily basis (not to mention having to travel and purchase more of it). Another benefit of high-end hard-sided units is durability—the difference in quality is immediately apparent and some of the best out there are truly meant to last a lifetime. All that said, if you just need a reliable cooler for days at the beach or packing a lunch on the road, it's probably a good idea to save your cash. But if you consistently head outside for days at a time, the investment is well worth it.
A final factor when considering a high-end cooler is longevity. Simply put, coolers are unlike most other categories of outdoor gear that may last for just for a couple seasons before needing to be replaced. We have a family member who purchased an original Yeti Tundra back when the line first hit the market in 2008, and the cooler is basically like new today (he had to replace one rubber latch after more than 10 years of use, but that's it). This means that when you're making the calculation of whether spending $300 or $400 on a cooler is worth it, you are getting a product that literally should last for decades. That said, if you don't need multi-day ice retention, even a cheaper hard-sided cooler should be around for many years as well.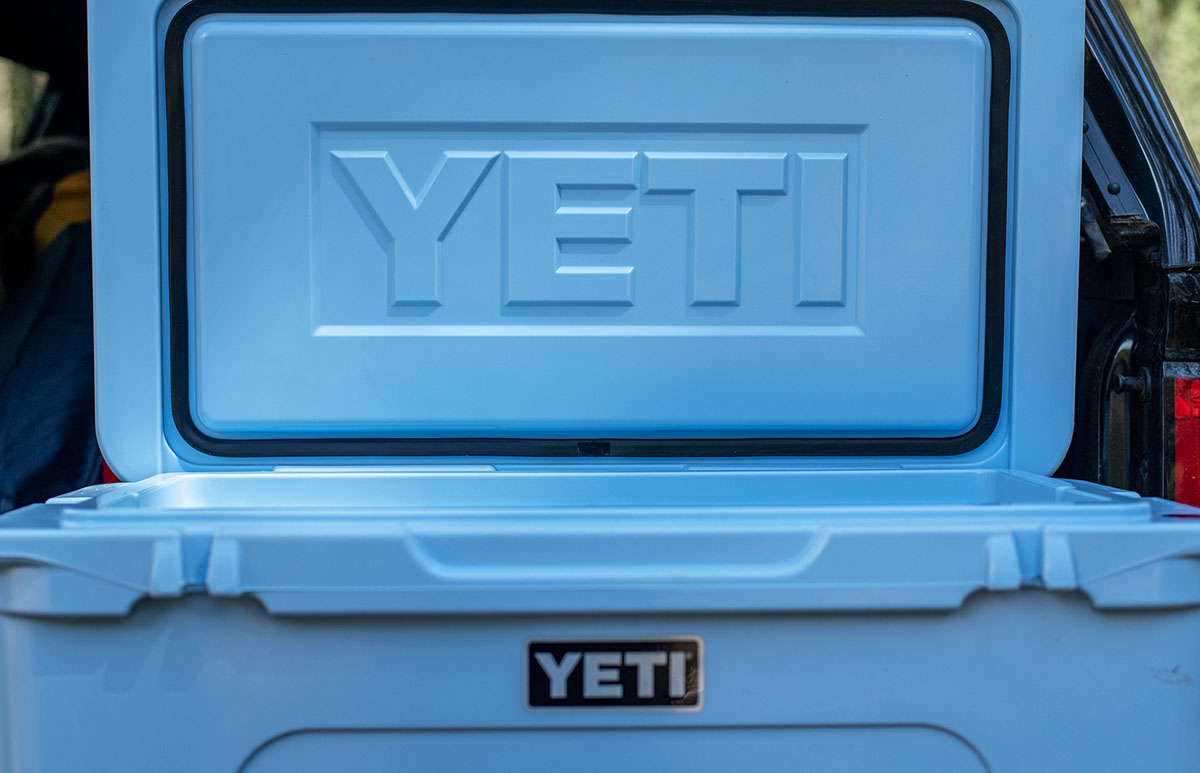 Cooler Latch and Closure Systems
A cooler's latch or closure system is one of the defining characteristics of a premium model and plays a significant role in overall cooling performance. Among high-end hard-sided coolers, you'll commonly find two rubber T-handles along the front that keep the lid locked securely in place. These handles are fairly user-friendly, extremely strong, and minimize any openings for cold air to escape. At the other end of the spectrum, budget-oriented models like the Coleman 316 Series and Igloo Ecocool forgo latches completely and rely on a good fit between the lid and cooler body. This results in reduced insulating performance and means you need to keep a close eye on the lid to make sure it doesn't pop loose or fall off in transport.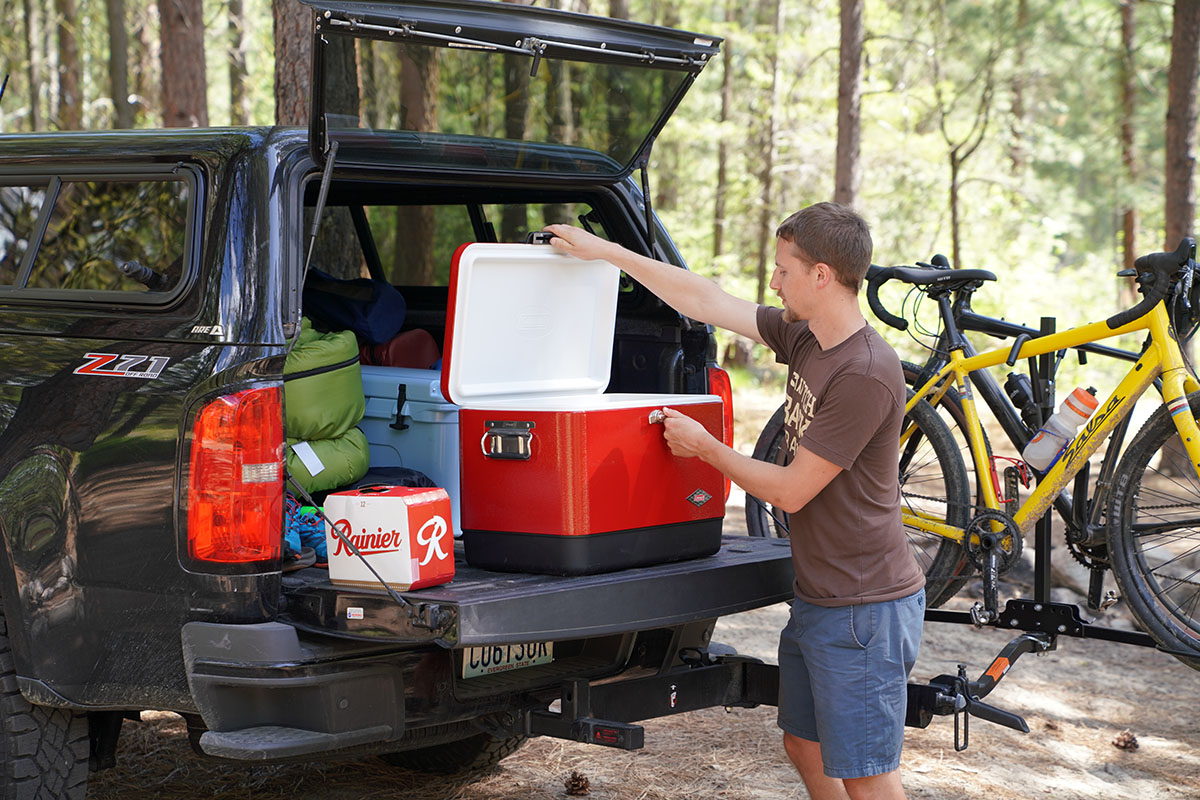 Bear-Resistant Ratings
Many of the top hard-sided coolers are listed as bear-resistant, which is a worthwhile consideration should you be camping in bear country. Specifically, you should look for an IGBC (Interagency Grizzly Bear Committee) rating, which designates that a certain cooler has gone through the appropriate testing and been deemed compliant with the organization's regulations. However, not all coolers listed as bear-resistant carry this certification—you can see a full list of certified coolers here. If you frequent the backcountry or will be traveling where bear-proof gear is required, make sure your cooler is on the list.

Cooler Drain Systems
Most of the hard-sided coolers on our list have drainage systems to help you empty out water once your ice has melted. Typically, this comes in the form of a screw-on or pop-off cap at the base of the cooler—simply take it off and let the water pour out. Some also boast drainage channels that funnel water through the opening, which is a nice touch for helping with the clean-up process. Yeti's Roadie 24 and Pelican's 20QT Elite are two notable exceptions that don't come with drain plugs, which can make dumping out extra water a bit of a hassle. However, given these coolers' smaller capacities, most users will be restocking the contents frequently anyway.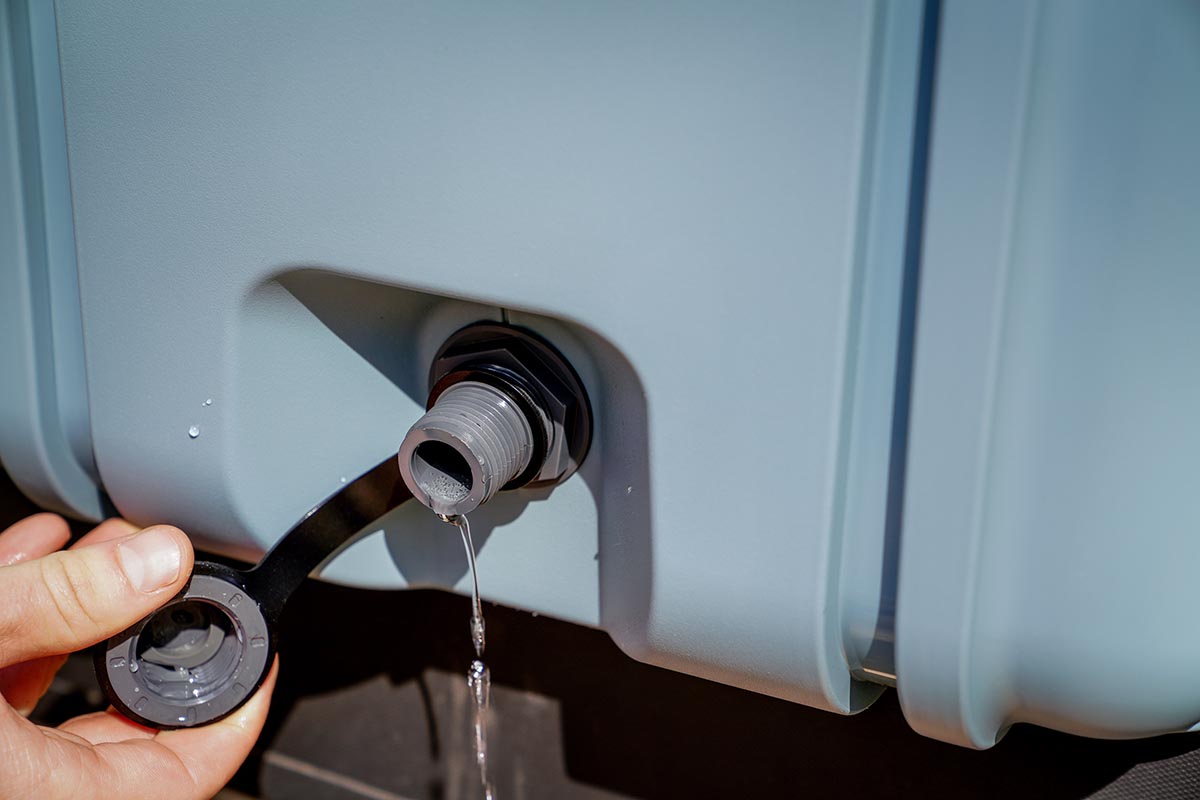 Accessories and Add-Ons
There are a number of useful add-ons and aftermarket accessories available for many coolers. For example, food baskets can be a great way to store fruit and other fragile items, dividers are handy for cordoning off various meals, and external attachments like cup holders and side tables can significantly increase storage and prep space. Most well-known brands sell these accessories directly on their website, although they can substantially increase overall cost. Three of our favorite unique add-ons are RTIC's Ultra-Light Cooler Cushion (they also make cushions for their Hard Cooler series), Yeti's fishing rod attachment, and RovR's Prep Board that doubles as a side table for beverages. A final design worth calling out here is Goat's innovative Hub cooler: It comes with built-in slots along the sides that fit their Cans, which are great for stashing smaller camp and kitchen accessories like headlamps, snacks, and more.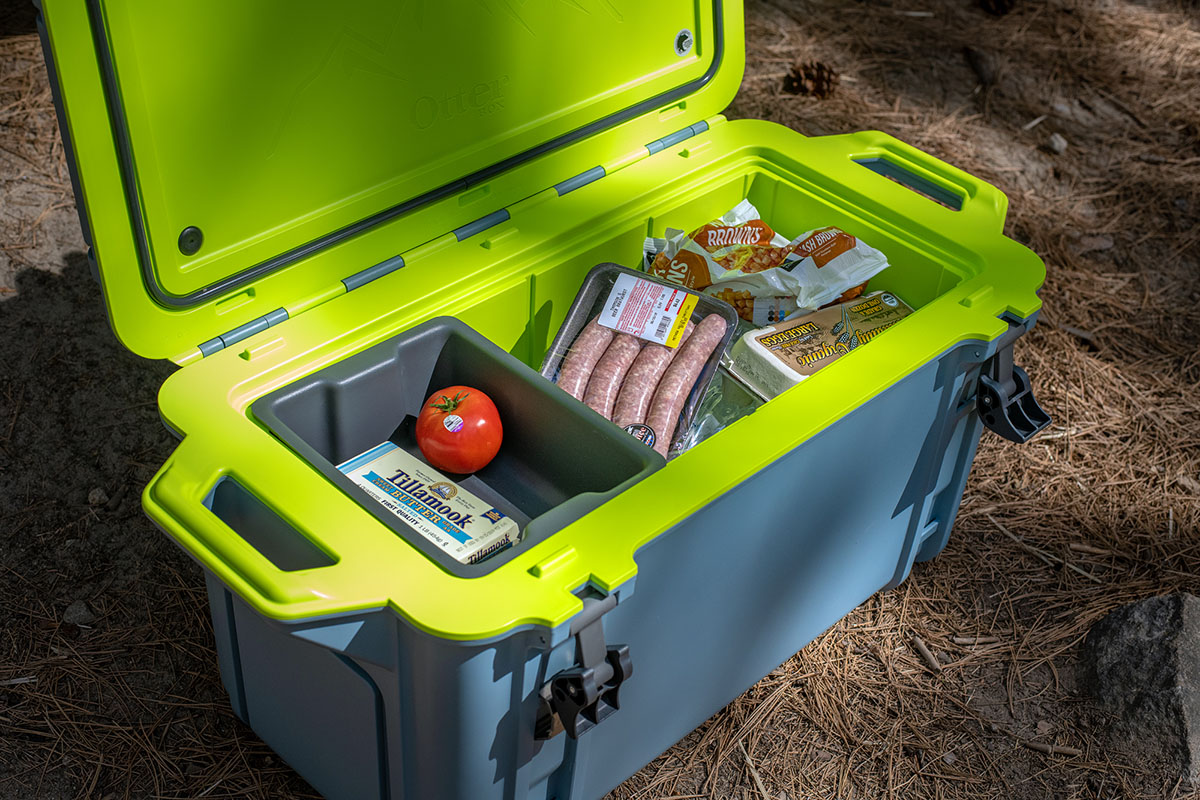 Ice Types: Crushed, Blocks, Packs, or Dry
As committed cooler enthusiasts know, the type of ice you use heavily impacts how much you're able to store and how long it stays cold. Crushed ice is the most readily available—you can find it at most gas stations and supermarkets for fairly cheap. The major draw is that it easily fills the gaps between your food and beverages, cooling them quickly and efficiently. However, crushed ice is also the fastest to melt and you'll likely need to replace it fairly frequently. Blocks of ice, on the other hand, take much longer to melt than crushed ice. However, blocks are bulky and take up a lot of space in the cooler since they don't conform around your food and cans. If we have enough space, our preferred method is to use both block and crushed ice together, and Yeti has more great tips here.
If you're worried about re-stocking, ice packs are a viable alternative. Most major brands have their own designs that work well in their coolers, and the best part is that you can use them repeatedly without ever having to drain melted ice. That said, ice packs are fairly expensive (Yeti's range from $15 to $30 depending on size) and require refreezing once they lose their coldness, which limits practicality for longer trips.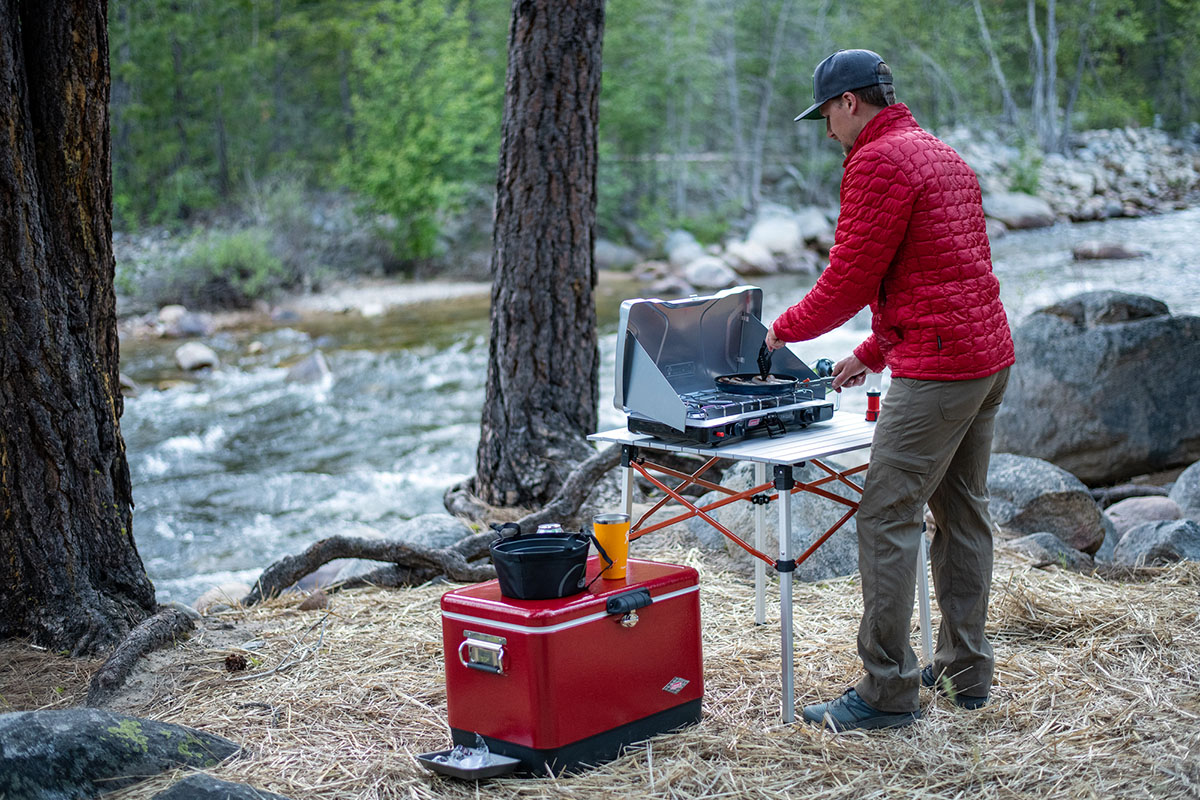 A final option to consider is dry ice. Since dry ice is frozen carbon dioxide, it passes directly from a solid to a gaseous state, meaning no water to deal with as it melts. However, dry ice can be dangerous to touch (you have to wear heavy gloves to prevent frostbite), doesn't last long, and many coolers aren't even rated to handle it. All told, it might take some finessing to perfect your ice strategy, but we think a combination of crushed and blocks is the best (and safest) method.

Cooler Warranties
Coolers are undoubtedly expensive, but having a generous warranty can help ease some of the buying anxiety. And a look at the market reveals a surprisingly wide range of available manufacturer guarantees. At the top end are Orca and Roam, which offer lifetime warranties that cover defects, while most others range from one to 10 years. It's also important to point out that some companies provide different warranties for their hard-sided versus soft-sided offerings. For example, Yeti covers its Tundra and Roadie collections with a five-year warranty, while their soft-sided Hopper is only covered for three.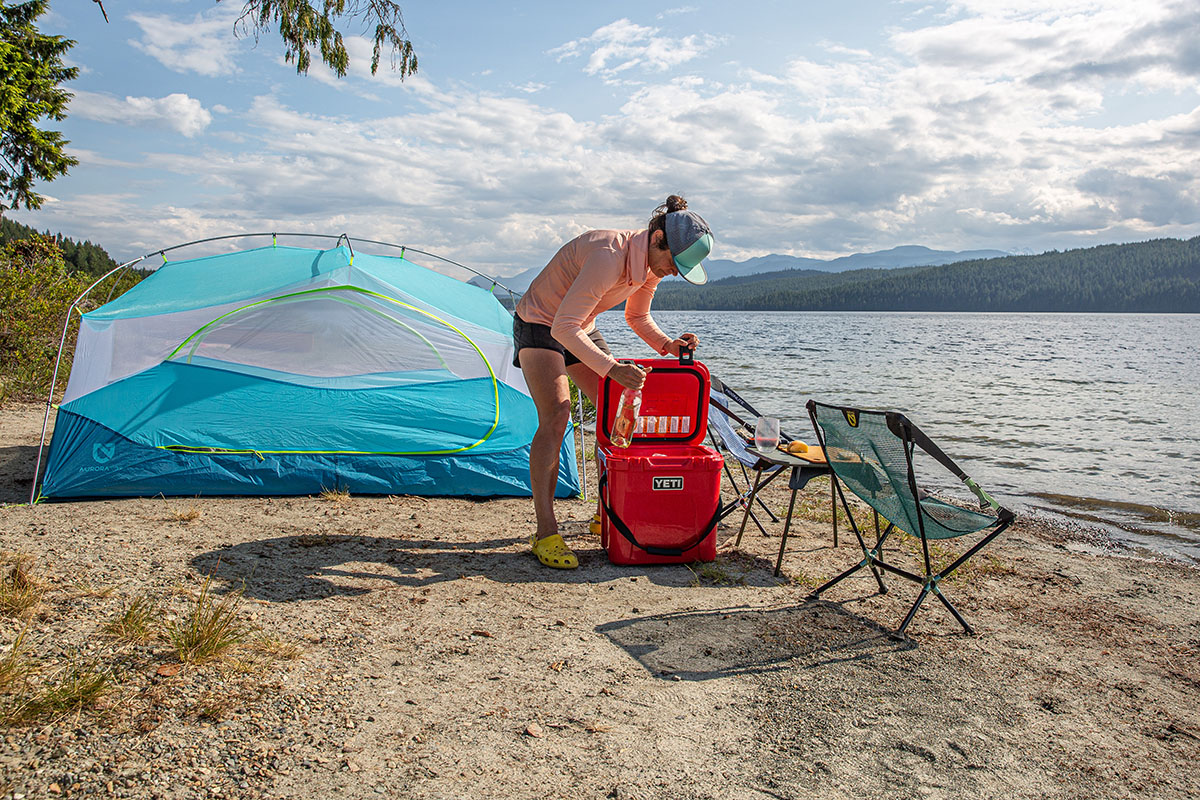 Hard-Sided vs. Soft-Sided Coolers
Speaking of soft-sided coolers: We exclusively cover hard-sided units above, but if need a simple and portable option for road trips or day use, a soft-sided design can be a viable alternative. Soft-sided models don't offer the same ice retention as hard-sided coolers—typically ranging from one to three days—but typically weigh around 5 pounds or less, are more portable and often collapsible, and come in much cheaper. Some also boast padded, backpack-style straps and exterior storage for easily shuttling longer distances. However, in addition to less ice retention, soft-sided coolers are inherently less durable than hard-sided options and often are only offered in smaller capacities. Some of our favorite designs include the RTIC Soft Pack series, REI Co-op Cool Haul 18, AO Coolers 24 Pack Canvas, and Hydro Flask Day Escape. For a full breakdown on the topic, see our articles on the best soft coolers and best backpack coolers.
Back to Our Top Cooler Picks  Back to Our Cooler Comparison Table
Read More From Switchback Travel