Exped MegaMat Duo 10
Price: $389
Dimensions: 77.6 x 52 x 3.9 in. (double)
Weight: 9 lbs. 14.7 oz.
R-value: 9.5
What we like: Extremely comfortable and warm for two campers; premium build quality.
What we don't: Heavy, very expensive, and pretty slow to inflate/deflate.
See the Exped MegaMat Duo 10
Sitting at the top of the premium camping pad market is Exped's MegaMat Duo 10. This double-wide, luxurious pad easily sleeps two, and its generous cushioning and high R-value make it a great companion for year-round adventures. After spending many nights on the MegaMat Duo, I've come away with high praise: it's incredibly plush and comfortable, is made with high-quality materials that can withstand outdoor use and abuse, and its self-inflating design is very user-friendly. Below we break down the MegaMat Duo 10's sleeping comfort, warmth and insulation, durability and build quality, weight and packed size, inflation and deflation, and more. To see how it stacks up, see our article on the best camping mattresses and pads.

Performance
Sleeping Comfort
Comfort is a top priority for many campers, so we'll cut straight to the chase: the Exped MegaMat Duo 10 is a true standout. The 3.9-inch-thick pad nicely balanced softness and support, provided ample space between my body and the ground, and the 77.6-inch length was more than sufficient for my 5'9" frame. I never once felt rocks or roots beneath me while sleeping, and my pillow didn't slide off the end in the middle of the night—a common occurrence with shorter mattresses. I've spent a lot of nights on REI Co-op's popular Camp Bed (including the old 3.5-inch-thick model), and the Exped handily outperformed it in the comfort department. And perhaps most telling: I even opted to sleep on the Exped over my couch when guests came to town, since it's larger and delivers a better night's sleep.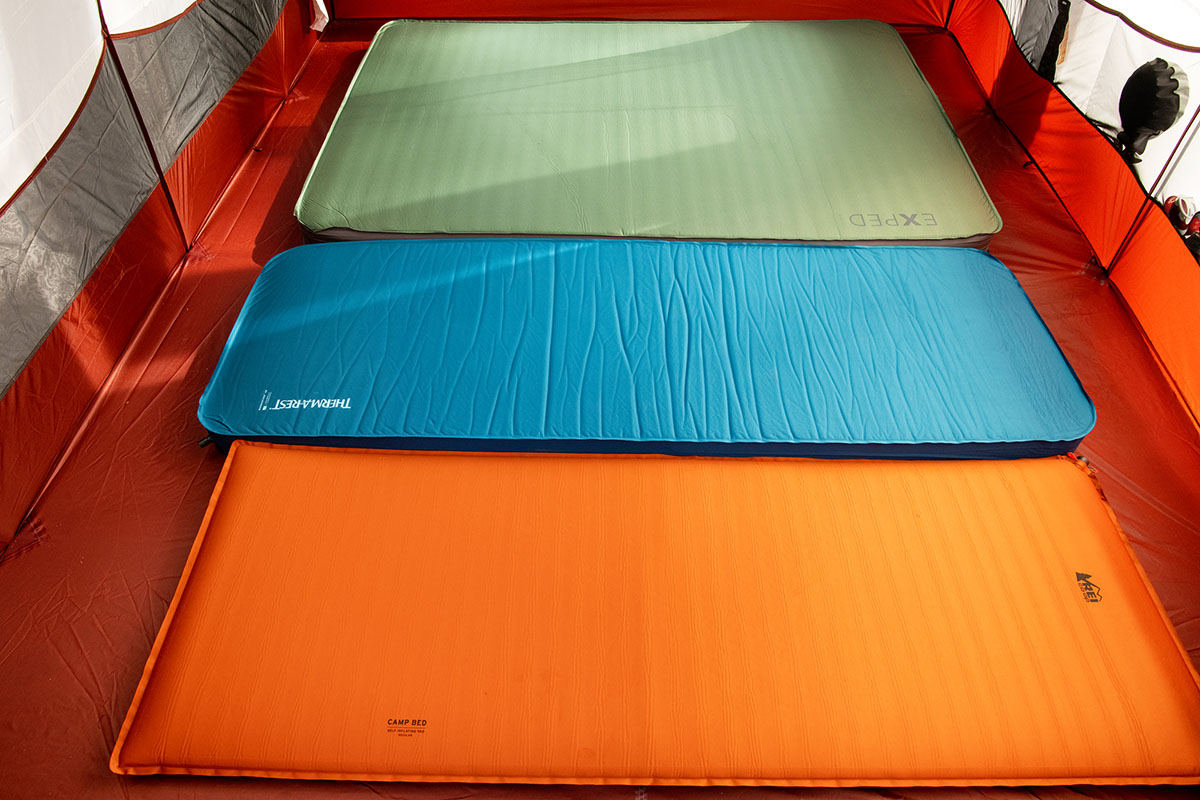 The Exped MegaMat Duo was similarly comfortable with two campers involved. The generous 52-inch width and vertical side walls proved to be more than enough for my wife and me to sleep without encroaching on each other's space. My only complaint is that it was easy to feel her roll over and move during the night, but that problem is still far worse on a standard air mattress. Put simply, the MegaMat Duo unquestionably is a luxurious place to be.

Warmth and Insulation
Packing high-end, open-cell foam, the MegaMat Duo is about as warm as it gets for a self-inflating mat. To preface, a mattress' ability to insulate you from the ground is measured in R-value, and a higher number indicates more warmth and better protection. In this case, the MegaMat Duo has an R-value of 9.5, which is at the very high end of the spectrum. It easily beats competitors like the Sea to Summit Comfort Deluxe S.I. Double (R-value 5.2) and REI's Camp Dreamer Double (5.5). Therm-a-Rest's MondoKing 3D is a standout with an R-value of 11.5, although it doesn't come in a double option. Having tested the MegaMat Duo 10 down into the low 40s Fahrenheit, I can confidently say that it's a great companion for all seasons.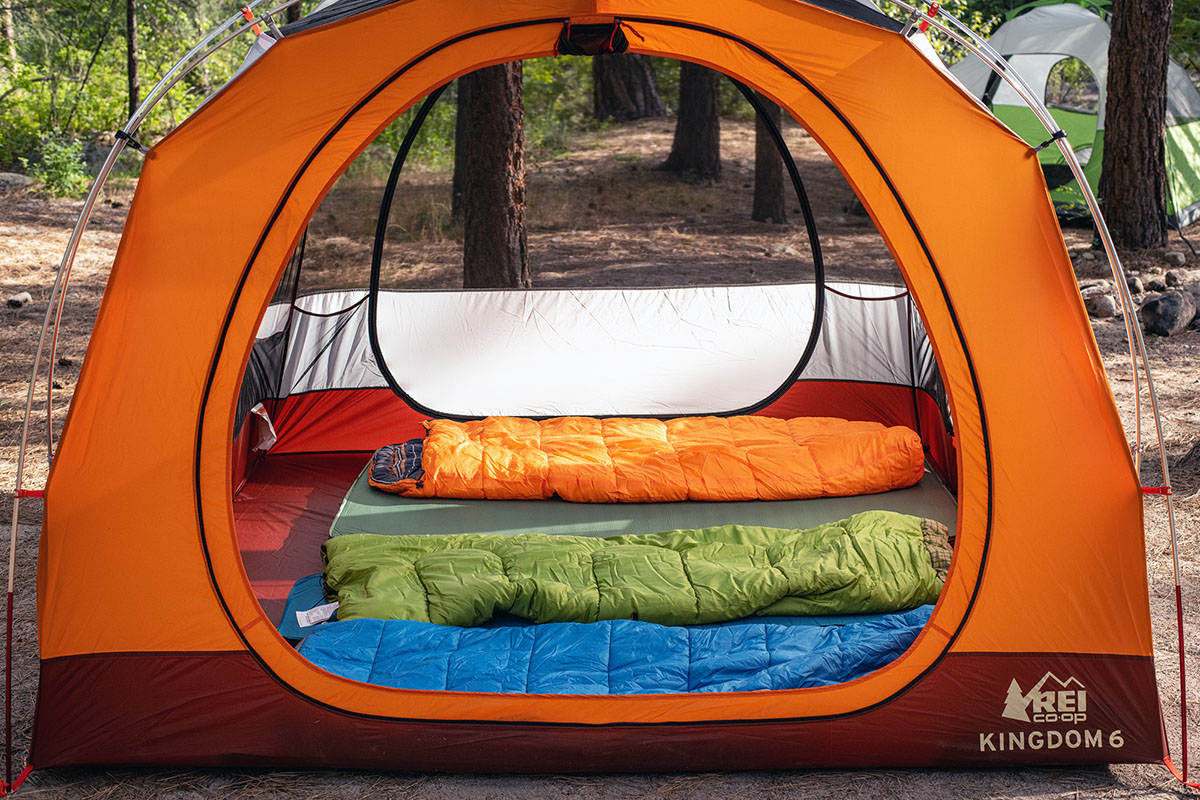 Durability and Build Quality
Priced at $389, the Exped MegaMat is undeniably expensive but has been built to last. The pad's top is made with 50-denier (D) polyester which is soft to the touch yet reasonably tough. In fact, it's no worse for wear after fending off my 50-pound Labrador's sharp nails. Similarly, the 75D polyester bottom is confidence-inspiring even on rocky terrain (although it's always best to use the pad inside a tent or on top of a less abrasive surface). Finally, the pad's sealed seams are free from defects and irregularities, and the valves still look and function like new with no leaking.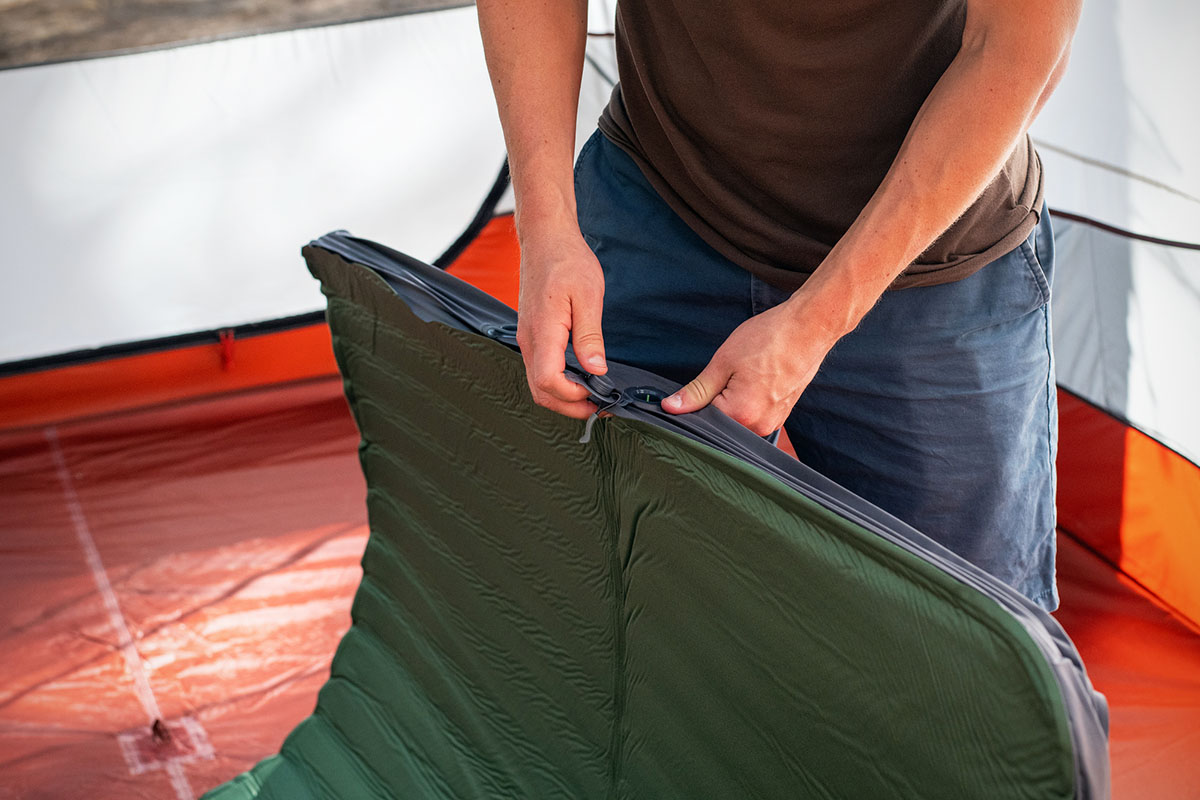 Weight and Packed Size
At 9 pounds 14.7 ounces and 27.6 x 11.8 inches when packed, the MegaMat Duo is unapologetically huge. This shouldn't have a major impact for car-camping use, but it's worth noting that most other popular two-person options come in lighter. For example, REI's Camp Dreamer Double slightly undercuts the MegaMat Duo at 9 pounds 5 ounces, while Therma-Rest's NeoAir Camper Duo weighs significantly less at 4 pounds 2 ounces (although the NeoAir offers far less warmth with an R-value of 2.2). However, the good news is that Exped included a large carrying bag for the MegaMat. The pad fits even when haphazardly rolled up, and the bag has an internal storage pocket for the included pump and repair kit. The long handbag-style shape is a little unique and the shoulder strap is fairly thin, but it gets the job done.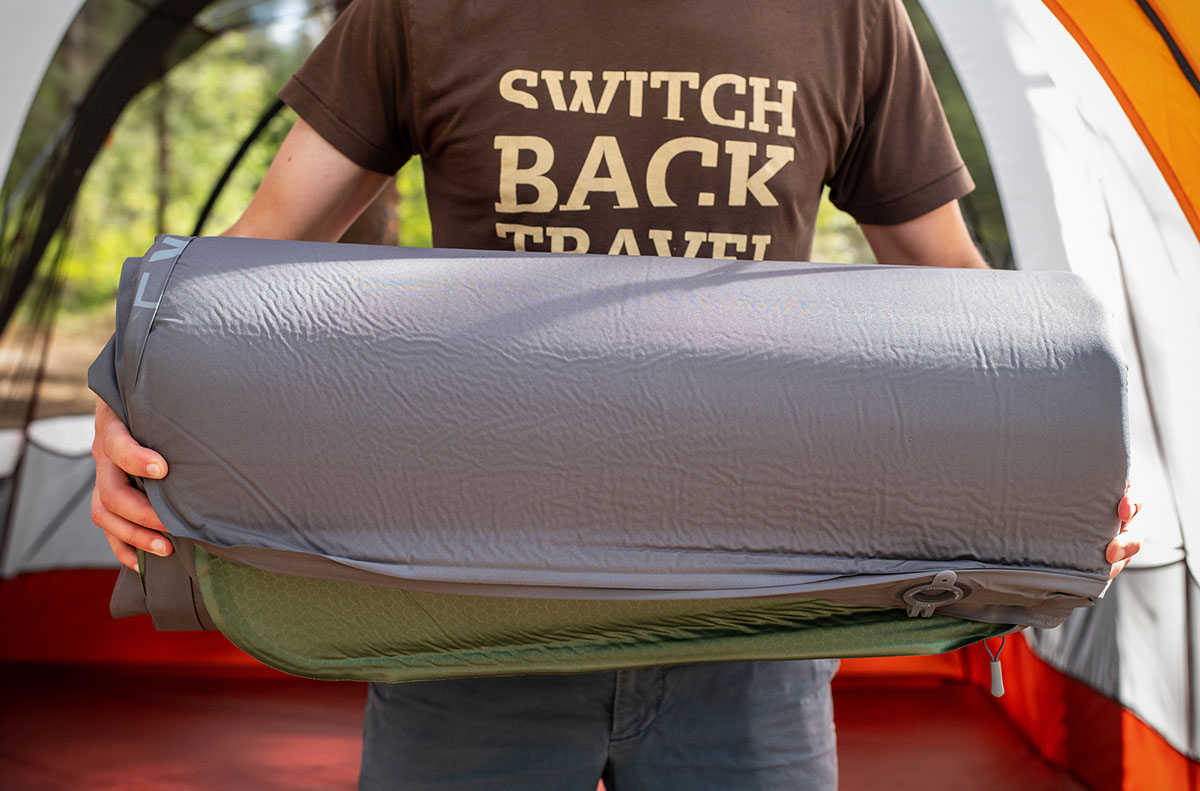 Inflation and Deflation
Given its self-inflating design, setting up the Exped MegaMat Duo 10 is very straightforward, although the process does take time. Once removed from the bag, simply unroll the pad, open the inflate valve and insert the attached plastic toggle to speed up the process, and wait while it fills with air. It took about an hour for the foam to recover fully during its first use, but Exped advertises that inflating should happen in around 15 minutes (I found it was closer to 30 after the first time). Once inflated, you can then use the small hand pump to top it off to your desired firmness (note that the pump is comically small for filling it up from flat). While not speedy by any means, if you plan to unroll the pad while finishing up camp chores, you shouldn't have any problems with the set-up process. It's also important to note that you should never use your mouth to blow up the mat—this will cause condensation buildup and could ultimately lead to mold inside.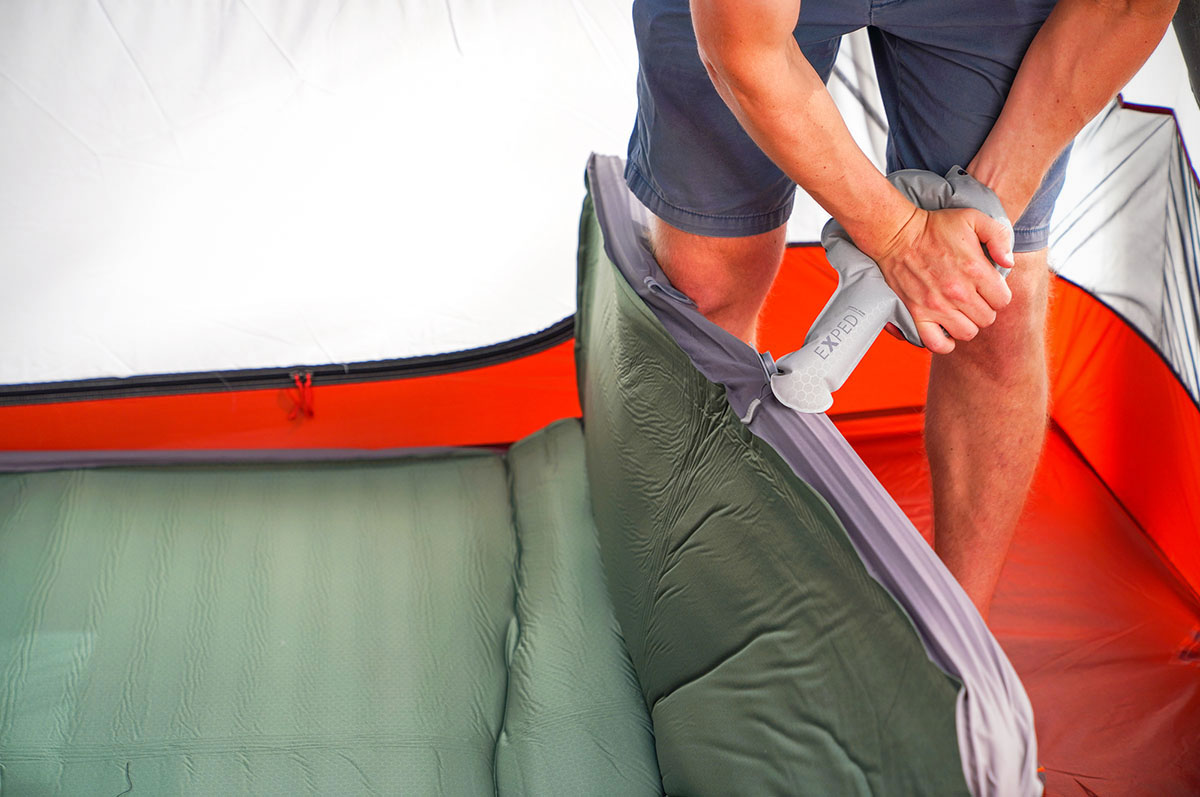 Deflating the MegaMat Duo 10 is also fairly intuitive, although it does require some patience. After opening the one-way deflation valve, I found the best way to start the process was to lie on the pad until air stopped flowing out. Next, I rolled the mat from the foot toward the head area two times, which removed most of the remaining air. And finally, I folded the Exped in half and rolled it for a third time, eventually stuffing it into its included carrying sack. All told, the process took about five minutes from start to finish, which in my opinion is a worthwhile tradeoff for the incredible comfort and warmth you get.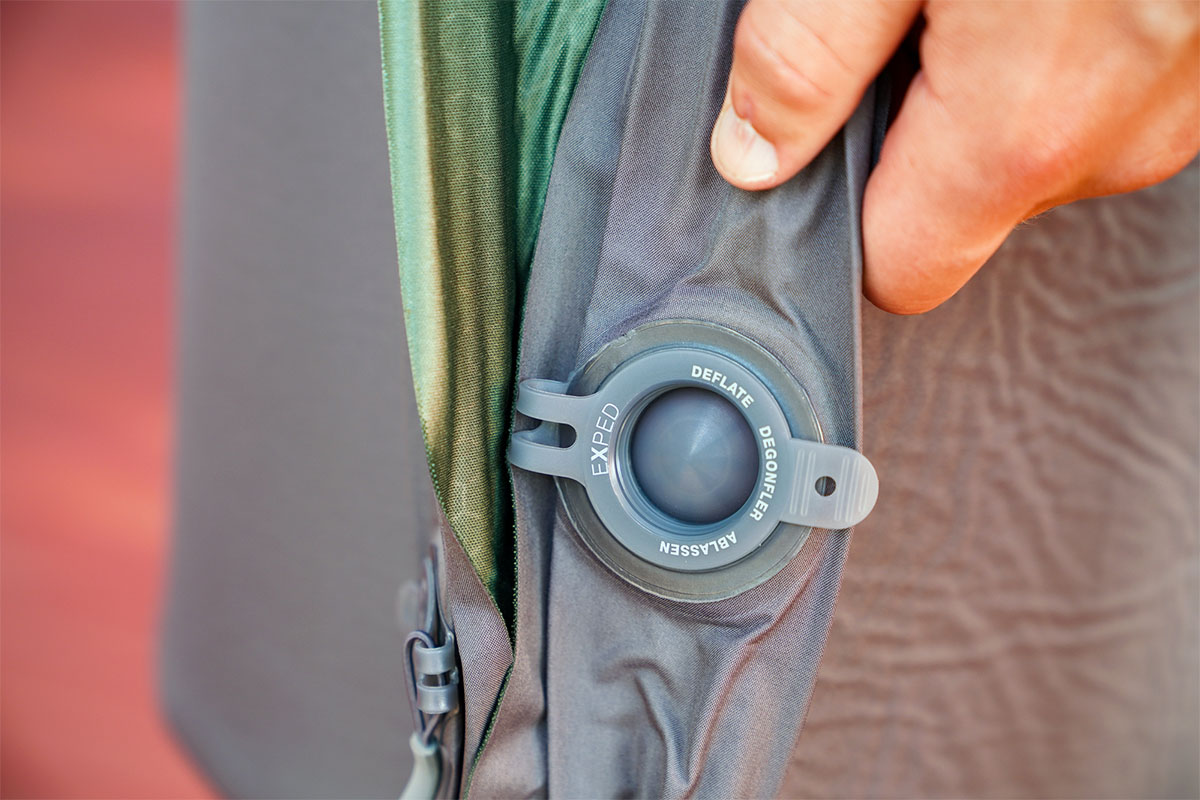 Other Sizes of the Exped MegaMat
For this review, I tested the MegaMat Duo 10 LW+, which is Exped's largest model that measures 77.6 inches long, 52 inches wide, and 3.9 inches thick. It easily and comfortably sleeps two average-sized adults and fits in most large car-camping tents. In addition, Exped offers the Duo 10 M, which is also 3.9 inches thick but comes in at a smaller 72 inches long and 40.9 inches wide. At $369, the "M" is $20 cheaper than the larger pad I tested, but the smaller footprint will likely be tight for two people. Rounding out the MegaMat lineup are three one-person models of varying lengths and widths (M, MW, and LW). They feature the same comfortable build, burly construction, and easy-to-use design as the Duo, but in a more compact package for those who prefer a solo mat.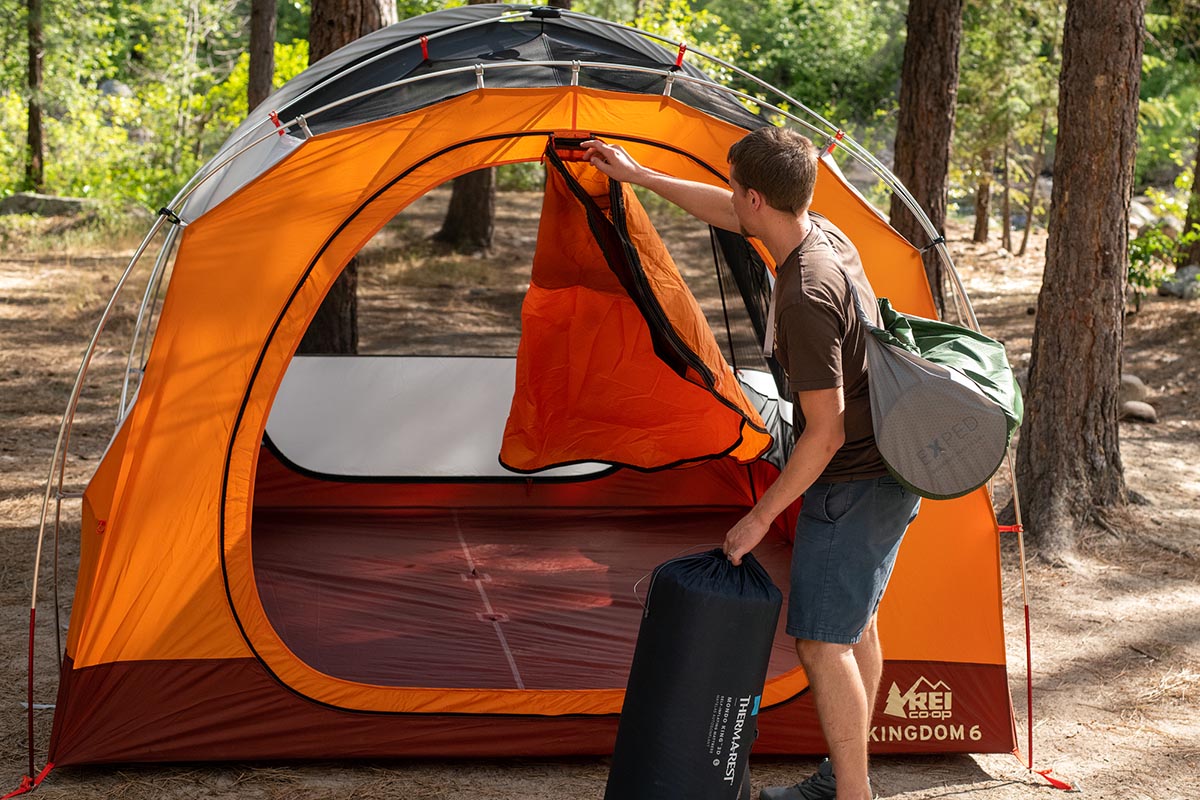 What We Like
Large, comfortable, and warm—the perfect combination for a great night's sleep.
Heavy-duty materials and high-quality construction should hold up to years of use and abuse.
Easy to inflate and deflate with the intuitive valve system.
Included carrying sack is simple to use and big enough for less-than-perfect packing.

What We Don't
At $389 and almost 10 pounds, the MegaMat Duo 10 is very expensive and heavy.
Even when rolled up tight, the big and bulky pad takes up a lot of storage space.
Inflation process is lengthy at about 30 minutes.


Comparison Table

The Competition
The Exped MegaMat Duo 10 is one of the most comfortable two-person camping sleeping pads we've spent time on, but it's not without its fair share of competitors. Similar to the MegaMat, the REI Co-op Camp Dreamer Double has a self-inflating design, thick 4 inches of foam, and comparable overall dimensions. However, the Camp Dreamer differs in two key areas: warmth and price. With an R-value of 5.5, the REI pad provides sufficient insulation for most 3-season camping, but the MegaMat's premium foam (R-value 9.5) makes it a better choice in especially cold conditions (the foam should also hold up better over the long haul). That said, the Camp Dreamer also costs significantly less at $269 compared to the Exped's $389 price tag. In the end, it comes down to your camping preferences: if you plan to get outside in cold temperatures, the Exped is a good bet; if you're looking for the best value, we give the edge to the Camp Dreamer Double.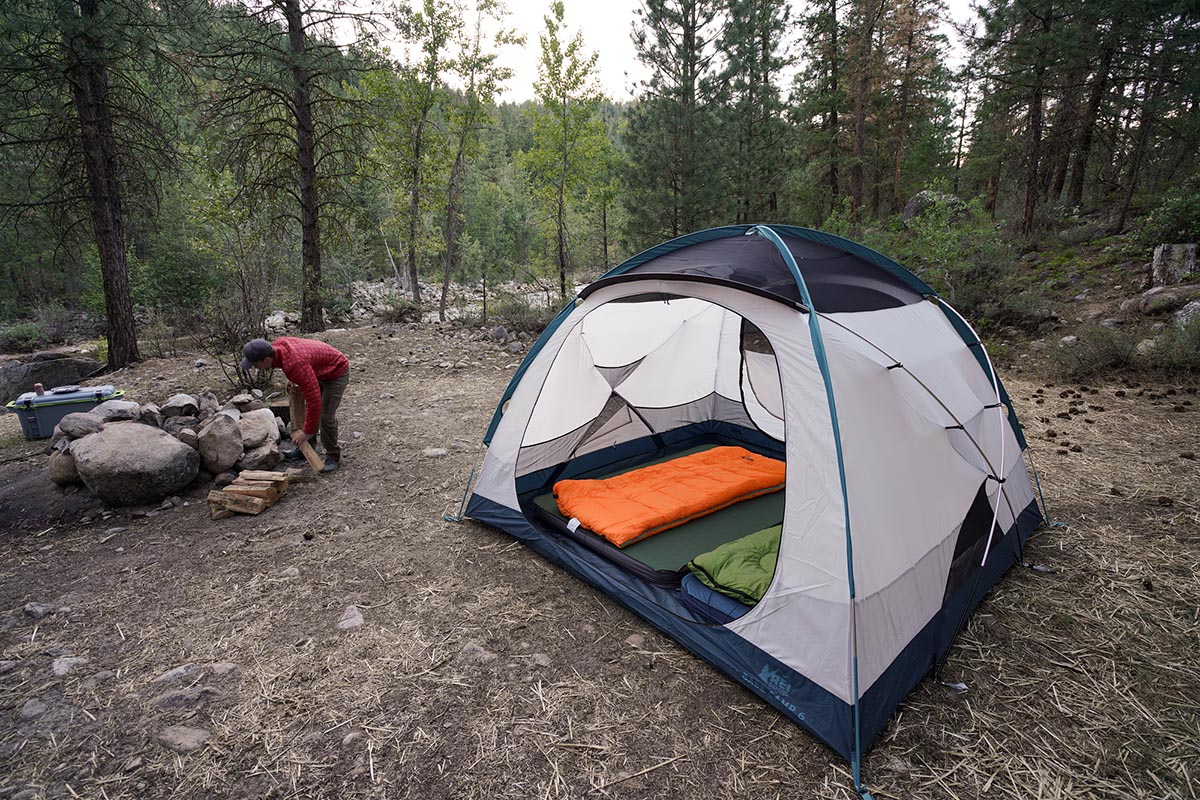 For a slightly more compact two-person option, the Therm-A-Rest NeoAir Camper Duo is a popular choice. While the Exped MegaMat Duo 10 wins out in both comfort and warmth, the NeoAir's low weight (4 pounds 2 ounces) and small packed size (6.5 x 16 in.) make it much easier to transport and store when not in use. The pad also features a generous 3 inches of padding and independent air chambers that allow campers to find-tune how soft or firm their side is without affecting their partner. However, the 2.2 R-value limits the NeoAir's appeal to strictly warm-weather use. For those who camp in areas where the temperature drops at night, we recommend spending up for the Exped.
A final option to consider is the Sea to Summit Comfort Deluxe S.I. Double. Like the MegaMat Duo, the Comfort Deluxe is a self-inflating pad that's 4 inches thick (the MegaMat is 3.9) and offers ample room for two adults. However, the Sea to Summit undercuts the MegaMat by about 2 pounds and also pulls ahead in portability. Further, at $300, it undercuts the $389 Mega Duo. But the bump in price comes with increased durability (the Comfort Deluxe uses 30D fabric compared to the Exped's 50 x 75D) and better warmth (5.2 compared to the MegaMat's 9.5 R-value). All told, while both pads put a major focus on comfort, we prefer the Exped for the notable boosts in both durability and insulation.
If you're thinking about buying gear that we've reviewed on Switchback Travel, you can help support us in the process. Just click on any of the seller links above, and if you make a purchase, we receive a small percentage of the transaction. The cost of the product is the same to you but this helps us continue to test and write about outdoor gear. Thanks and we appreciate your support!
Depending on the seller, most products ship free in the United States on orders of $50 or more. International shipping availability and rates vary by seller. The pricing information on this page is updated hourly but we are not responsible for inaccuracies.