No matter the length or location of your hike, hydration is one of the keys to staying happy and healthy on the trail. There are a number of ways to ensure that you drink enough water throughout the day, but by far the most convenient is a hydration pack. An all-in-one system that includes a sleekly paired daypack and hydration reservoir, a hydration pack makes loading, carrying, and accessing water a breeze. Below we break down our favorite hiking hydration packs of 2023, from minimalist vest-inspired models to feature-rich designs that can even accommodate an overnight load. For more information, see our buying advice and comparison table below the picks.
 
---
Our Team's Hydration Pack Picks
---

Best Overall Hydration Pack for Hiking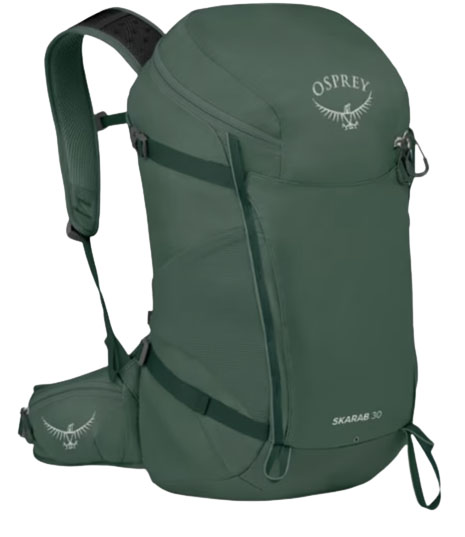 Weight: 2 lb. 0.2 oz.
Capacities: 18, 22, 30L
Included hydration: 2.5L reservoir
What we like: An ideal combination of storage, convenience, and comfort.
What we don't: Hipbelt pockets are too small; only comes in one size.
There's no shortage of hydration packs to choose from, but most hikers will benefit from a simple yet functional design that offers ample gear and water storage, a nicely cushioned yet low-profile suspension system, and convenient organization. Our favorite goldilocks model is the Osprey Skarab 30 (and women's Skimmer 28): In addition to the spacious main compartment with large bucket-style opening, you get a premium 2.5-liter reservoir, a generously sized accessory pocket, hipbelt pockets, and a front dump pocket for stashing extra layers. The 30-liter version can easily accommodate a down jacket and shell, snacks for the day, and other essentials, and organization and on-the-go access is well thought-out and convenient. We've tested a lot of hydration packs, and in our opinion the Skarab is the most well-rounded design for day hikers.
You can go a lot of directions with a hydration pack: Our picks below run the gamut from uber-featured and supportive rigs to stripped-down vests for fast and light endeavors. For the standard day hike, many of these packs are too big or too small, too overbuilt or too streamlined; on the other hand, when we put on the Skarab, it was just right. We do have a few small gripes: The hipbelt pockets (one zippered, one stretch mesh) don't accommodate our standard-sized smartphone, and both the Skarab and Skimmer only come in one torso size. But this is a pack that makes hydration (and everything else) easy—just fill up the premium Osprey Hydraulics LT reservoir, slide it into its pouch behind the backpanel, and hook up the quick-disconnect hose, which routes cleanly through a port and secures via a magnet onto the sternum strap. For an all-in-one solution that's reasonably priced at $150, it doesn't get much better—and Osprey offers the pack in three capacities to accommodate all your trail needs.
See the Men's Osprey Skarab 30  See the Women's Osprey Skimmer 28
Best Budget/Ultralight Hydration Pack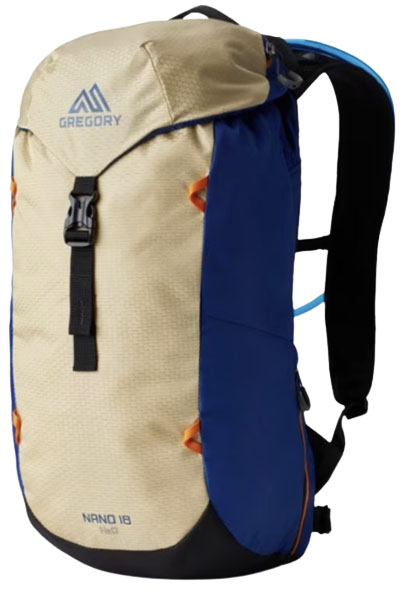 Weight: 1 lb. 2.4 oz.
Capacities: 18, 22L
Included hydration: 3L reservoir
What we like: A versatile and affordable pack with 3 liters of water storage.
What we don't: Minimal support, capacity, and organization.
For short day hikes, multi-pitch rock climbing, or everyday travel, the Gregory Nano 18 H2O is a high-quality yet affordable offering from a company that knows how to make a solid pack. Value is excellent: For just $80, you get a 3-liter quick-drying 3D Hydro reservoir (a $45 value), along with a lightweight 18-liter pack (available in both regular and plus sizes) that comes with a range of storage and features. Unlike designs with bulkier suspension systems, the Nano is streamlined enough to fit inside a larger pack and pull out for quick summit missions, and it's versatile too: You can remove the hydration reservoir and fit a 13-inch computer in the rear stash instead. All told, for a minimalist hydration pack that can pull double duty for everyday use, the Nano 18 H2O is our favorite budget offering of 2023.
Keep in mind that for most day hikes we recommend a bit more capacity, better support, and more organizational features, but the Nano will get the job done for short hikes or adventures that don't require too much gear. That said, if you're going out for a full day or would rather prioritize a sleek user experience over cost- and weight-savings, we'd stick with a pack like the Skarab above. On the other hand, penny pinchers might be inclined to Frankenstein their kit together—if you already have a reservoir, you can purchase a pack like the REI Co-op Flash 18 ($40), which is fairly similar to the Nano here. But it's hard to beat the value of the Nano H2O (which also comes in a 22L version), and the all-in-one design certainly adds an extra level of convenience. Two other light and affordable options to consider are CamelBak's Hydroback Light (below) and Arete 14, which feature even more stripped-down builds (including no hipbelt) but will appeal to the weight- and price-conscious crowd. 
See the Gregory Nano 18 H2O
Most Comfortable Hydration Pack For Heavy Loads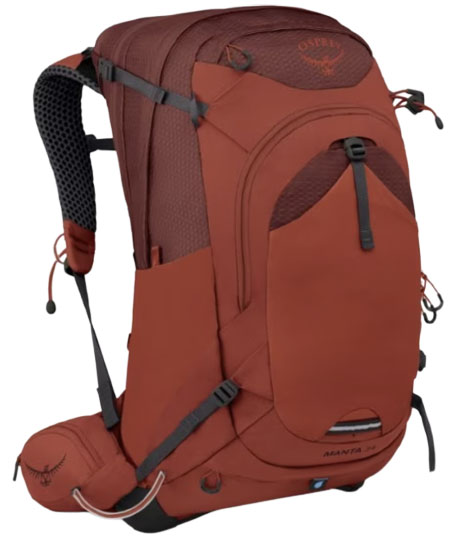 Weight: 3 lb. 7.8 oz.
Capacities: 24, 34L
Included hydration: 2.5L reservoir
What we like: Metal frame and suspended mesh backpanel offer great support and ventilation.
What we don't: Overbuilt in terms of both support and features.
Most of the hydration packs here feature fairly stripped-down suspension systems, more reminiscent of bare-bones daypacks than backpacking packs. But for those who need the extra support, Osprey's Manta 34 (and women's Mira 32) is a great option. Designed with a metal frame, suspended mesh backpanel (great for ventilation), and generously padded mesh hipbelt and shoulder straps, the Osprey doesn't hold anything back in terms of comfort and load distribution. Further, while most designs have fixed shoulder straps and offer minimal customization, the Manta's harness can be adjusted to fit a range of torso lengths. Tack on a full set of features (including a rain cover, trekking pole attachment, gear loops, and two large main compartments) and a 2.5-liter HydraPak reservoir, and it's the full package for modern hikers who prefer all the bells and whistles.
We tested the 22-liter version of the Mira (the women's equivalent to the Manta 24), and have mixed reviews: While we can certainly see the appeal of this pack for those who need the extra support, it's overbuilt in most ways. Even the 22-liter version felt larger than the Osprey Skarab 30 above (you do get compression straps to cinch down a half-full load), and the design is busy and complex, with almost too many compartments to misplace your gear. As a result, unlike the Skarab or Nano above, the bulky Manta is tricky to pack inside another backpack or suitcase while traveling, and most hikers simply don't need this much structure for 34 liters of capacity. But you won't find a more comfortable, supportive, and ventilated hydration pack, and Osprey's reservoirs are well-executed and fairly easy to clean.
See the Men's Osprey Manta 34  See the Women's Osprey Mira 32
Best Hydration Pack With On-the-Go Storage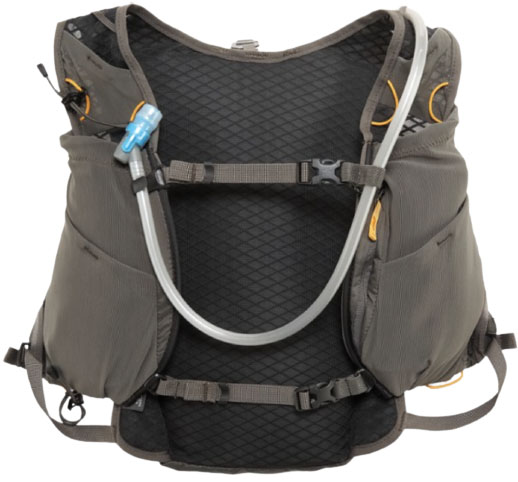 Weight: 14 oz.
Capacity: 15L
Included hydration: 1.75L reservoir
What we like: A running-vest inspired design with hiking-ready features and capacity.
What we don't: Minimal storage and uncomfortable when overloaded.
Being able to hydrate without stopping is great for efficiency on the trail, but having access to snacks and other essentials can bring your speed to the next level. Combining the on-the-go storage of a running vest with a hiking-inspired design, the REI Co-op Flash 15 is a great tool for the job. At the back, you get a streamlined main compartment (including a sleeve and hanger for the 1.75L HydraPak reservoir) and two dump pockets, while the vest-style front features multiple stretch pockets on each side and one large zippered pocket for essentials (it fits our large smartphone). Like most vests, the Flash rides high on the torso and forgoes a hipbelt, but underarm adjustments and two sternum straps effectively cinch the load close to your body. All told, if you like the style of a running hydration vest but prefer a bit more features and durability for hiking (we especially love the removable backpanel that doubles as a sit pad), the Flash 15 is a solid pick.
Despite the Flash 15's streamlined design, it's still reasonably customizable, including an ice axe strap and four bungees that can be attached in various configurations for compression, trekking pole carry, and more. Of course, keep in mind that the 15-liter capacity will be limiting for short day hikes, and with no hipbelt you'll want to keep your load fairly light. Finally, the Flash's front pockets can also accommodate two 500-milliliter (or smaller) bottles, although you'll have to purchase them separately (note: REI's Swiftland TT running hydration vest comes with two soft flasks and is a viable option for hikers). Within this category, it's also worth considering the Osprey Duro 15 ($175) and Nathan TrailMix 12L ($150), but we think the Flash 15 is the most ideal pick for hikers in particular, and its $120 price point is hard to beat. Finally, unlike most packs here, the REI comes in two sizes to accommodate a range of body sizes, and the aforementioned Swiftland comes in three.
See the REI Co-op Flash 15 Hydration Vest
Best of the Rest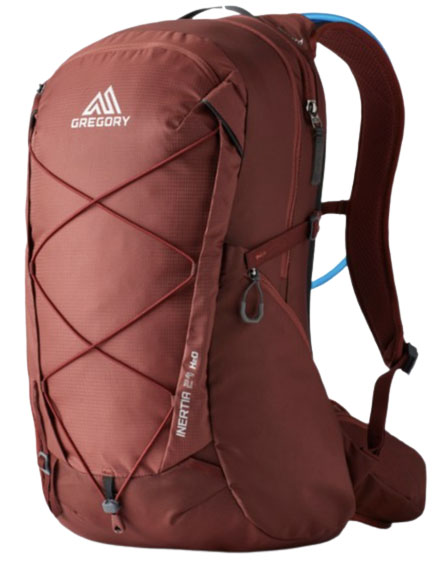 Weight: 1 lb. 11.7 oz.
Capacities: 18, 24L
Included hydration: 2L reservoir
What we like: Great storage and a hydration pocket that doubles as a laptop sleeve.
What we don't: We prefer the 30-liter capacity of the Skarab above.
The Osprey Skarab 30 is our favorite all-around hydration pack for day hikers, but Gregory's Inertia 24 H2O (and women's Swift 22 H2O) isn't far behind. A similarly minded design, the Inertia balances comfort and organization with a relatively streamlined suspension system and feature set. Water is easy to load with a dedicated reservoir pocket (which doubles as a laptop sleeve), convenient hanging clip, and easy-to-access quick-disconnect. And like the Osprey, the Gregory Inertia features a padded mesh backpanel, shoulder straps, and hipbelt. Storage is also on par, too, including a zippered accessory pocket, side pockets (we appreciate that Gregory included one dump pocket—the Osprey's side pockets are both zippered), hipbelt pockets, and a front bungee. Added up, the Inertia is a user-friendly hydration pack that will suit the needs of most casual day hikers.
The Inertia gives the Skarab a run for its money as our favorite hydration pack of the year, but we rank it below for a few reasons. First, while the 24-liter design gets the job done for mild-weather hiking with minimal gear, we prefer the Skarab's 30-liter capacity for year-round use or if we want to carry a little extra (like a full-frame camera or camping blanket). Second, we have a slight preference for the Osprey's hydration reservoir, which has a wide opening for easy cleaning and drying (Gregory's 3D Hydro's small opening can make cleaning more difficult, although the integrated hanger and shape-holding design does help with drying). And finally, while the Skarab's bucket-style opening offers great access to the main compartment, the Interia's traditional U-shaped zipper is a bit more limited. But for an attractive hydration pack that falls between the Skarab 30 and 22 ($130) in terms of capacity, the Inertia 24 is a nice option for both hiking and everyday use.
See the Men's Gregory Inertia 24 H2O  See the Women's Gregory Swift 22 H2O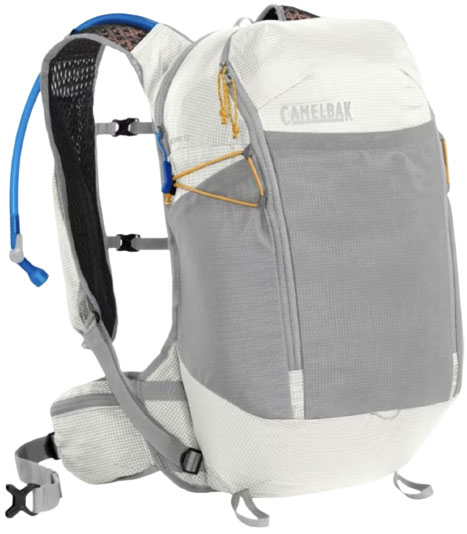 Weight: 1 lb. 15 oz.
Capacities: 12, 16, 22L
Included hydration: 2L reservoir
What we like: On-the-go storage combined with the added support of a cushioned hipbelt.
What we don't: Only comes in one size. 
The REI Co-op Flash 15 hydration vest above is a great option for short jaunts or carrying minimal gear, but for high-mileage days or cold weather (when you might need a lot of layers), it's nice to have a bit more capacity. CamelBak's Octane 22 combines the on-the-go storage of the Flash with a 22-liter design, adding on a large zippered entry to the main compartment and a cushioned hipbelt (with pockets) to help distribute the weight of larger loads. The hybrid pack comes complete with a 2-liter Fusion reservoir, a zippered chest pocket (similar to the Flash, it's large enough to fit most modern smartphones), and an integrated rain cover. It all adds up to a well-rounded yet minimalist design for hikers who like to move quickly or mix in the odd bit of running.
Our biggest gripe with the Octane 22 is that it only comes in one size. This is a major shortcoming of hydration packs in general, but vest-style designs in particular can really benefit from a more tailored fit (the Flash above comes in two sizes, while many running vests come in five). It's also important to note that, despite the brand's prominence in the world of on-the-go hydration, CamelBak's packs don't often match the quality and fit of models from specialists like Osprey and Gregory. But the Octane (which also comes in 12L and 16L versions) is nevertheless a thoughtfully designed vest/pack that offers much better gear access than most of the competition. 
See the CamelBak Octane 22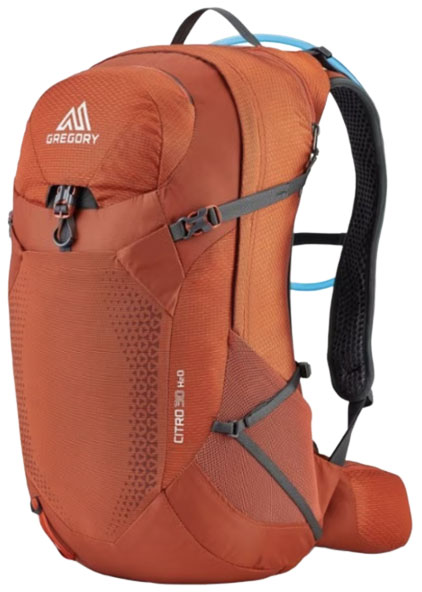 Weight: 2 lb. 1.4 oz.
Capacities: 24, 30L
Included hydration: 3L reservoir
What we like: A toned-down alternative to the Manta above.
What we don't: Non-adjustable backpanel; hipbelt pockets are too small for an average-sized smartphone.
Osprey and Gregory often go head-to-head in the pack market, and Gregory's answer to the Manta above is the Citro 30 (and women's Juno 30). With an alloy frame, generous padding, and an airy mesh backpanel, the Citro does a great job distributing a heavy load and eliminates the sagging or pressure points you might get from less structured designs like the Skarab or Inertia above. But unlike the Manta, its layout is featured without verging on overkill: For over a pound less, the Citro still has a range of storage, including a main compartment, generous accessory pocket with scratch-free liner, front and side dump pockets, hipbelt pockets (too small for our smartphone, unfortunately), and a dedicated zippered pocket for the included 3-liter reservoir. For a nice middle ground between the Osprey Skarab and Manta packs above, we really like the Citro.
Compared to the Skarab, the Citro is heavier and $30 pricier but offers slightly more organizational options, along with significantly more structure and support. We prefer the more streamlined backpanel of the Osprey, but if you tend to pack bulky items or carry a lot of gear, the Gregory certainly has its place. On the other hand, it doesn't quite measure up to the Manta in terms of support, nor do its fixed shoulder straps adjust to accommodate different torso lengths (note: the Citro and Juno 30 do come in plus size options). But for $40 less, the Citro is a well-rounded pack that offers more than enough carrying comfort for most hikers without feeling too over the top. And as with Gregory's Nano and Inertia above, we appreciate the 3D Hydro reservoir, which is easy to load, routes cleanly through a hose clip and magnetic buckle, and features a quick-drying design.
See the Men's Gregory Citro 30 H2O  See the Women's Gregory Juno 30 H2O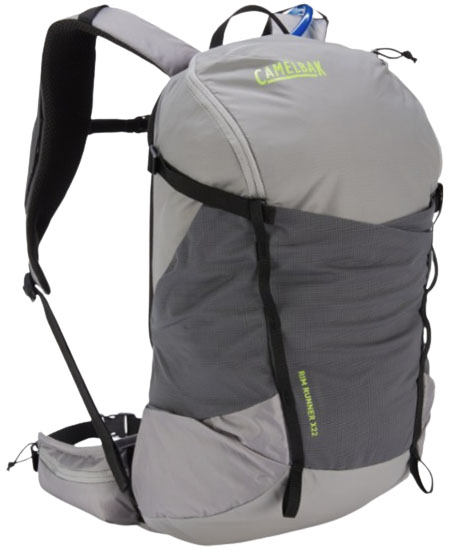 Weight: 1 lb. 12.2 oz.
Capacities: 22L
Included hydration: 2L reservoir
What we like: Comfortable carry and a lot of organizational options.
What we don't: Middling quality; some pockets are too small to be very useful.
For short day hikes or minimalist outings with a light load, CamelBak's Rim Runner X is a functional and lightweight offering for just $100. Along with a 2-liter Crux reservoir, you get a generous amount of organization, including hipbelt pockets, a small zippered pocket on the left shoulder strap, three large external dump pockets (we've found these to be very useful for stashing items on the go), and a couple zippered accessory pockets both inside and out. Like the Osprey Skarab above, the Rim Runner features a bucket-style opening to the main compartment, making it easy to see and access items at the bottom of your pack. Finally, the cushioned hip belt is a nice step up from a webbing design, and the padding on the shoulder straps and backpanel provides a nice boost of plushness for days on the trail. 
All told, the RimRunner is certainly a step up from a daypack like the Gregory Nano 18 above in terms of organization and comfort, but it falls short of more all-around offerings like the Osprey Skarab and Gregory Inertia. We're also a bit mixed on the organization: On one hand, you get a lot of it; on the other, it's not all particularly useful. The vertical shoulder strap pocket can't fit much more than chapstick, and—like many of the packs here—the hipbelt pockets aren't large enough for a standard-sized smartphone. Finally, it's worth mentioning that for $30 more, you can bump up to the 22-liter version of the aforementioned Skarab, which features a larger reservoir (2.5L), along with a higher-quality design—but you do give up the Rim Runner's front dump and hipbelt pockets, which might be a deal breaker for some.
See the Men's CamelBak Rim Runner X 22  See the Women's CamelBak Rim Runner X 20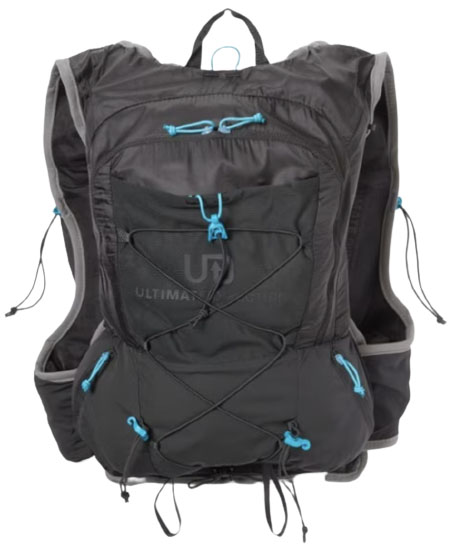 Weight: 8.1 oz.
Capacity: 13.4L
Included hydration: 500mL soft flasks (2)
What we like: A great combination of running vest and hiking pack.
What we don't: Technical appearance and feature set; doesn't include a hydration reservoir.
Specializing in running gear and apparel, Ultimate Direction knows a thing or two about moving quickly down the trail. Most of their offerings are low-capacity vests designed for running, but the Mountain Vest 6.0 here is a nice hybrid design, built for speed-minded hikers carrying more of a load. Like the Octane and Flash above, you get a good balance of vest and pack storage, which allows you to carry bulky gear (like a down jacket, water filter, or even a light bivy kit) on your back while keeping essential items in easy-to-reach pockets on the front. And compared to both of those alternatives, the Mountain Vest is the most performance-ready of the bunch with dedicated trekking pole attachments for hands-free scrambles, an intuitive cinch system for snugging down your load, and convenient pockets at the front that easily swallow a smartphone. 
The Mountain Vest is the only pack here that comes with soft flasks rather than a reservoir, which has its pros and cons. On one hand, soft flasks are easy to fill on the go, convenient for keeping tabs on your water supply, and allow you to vary which liquids you pack (e.g., one for water and one for an electrolyte mix). It's worth noting that the pack is compatible with a 2-liter reservoir, although it will take up most of the main compartment and limit room for gear and other necessities. But if you prefer to carry minimal water and fill up routinely (after all, 1L of water adds 2.2 lb. to your pack), the Mountain Vest is a well-designed hydration pack with better storage and carrying comfort than the competition. It's also worth checking out Ultimate Direction's Fastpack line, which is offered in larger capacities (20 or 30L) and carries more like a pack but doesn't come with soft flasks or a reservoir.
See the Ultimate Direction Mountain Vest 6.0  See the Women's UD Mountain Vesta 6.0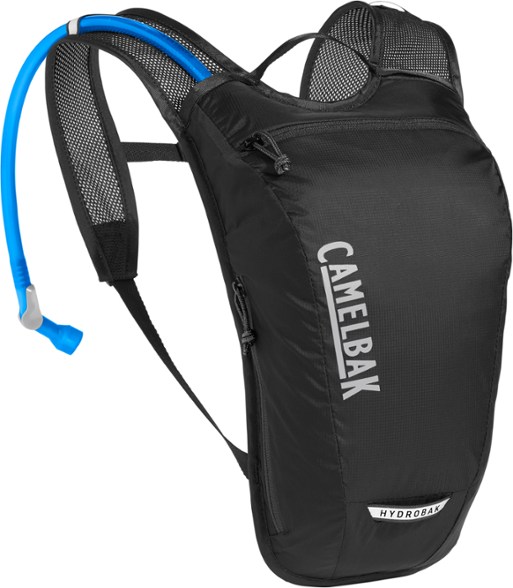 Weight: 6 oz.
Capacity: 1L
Included hydration: 1.5L reservoir
What we like: The cheapest and lightest option on our list.
What we don't: Decidedly minimalist capacity, feature set, and build.
Gregory's Nano 18 H2O above is our favorite budget/ultralight design of the year, but CamelBak makes another surprisingly affordable and lightweight option in their Hydrobak Light. At just $65 and a scant 6 ounces, the Hydrobak is both the cheapest and lightest option on our list, undercutting the Gregory by $15 and over 12 ounces. As we've come to expect from CamelBak, the pack is also well built with good padding along the backpanel and plenty of mesh along the shoulder straps to keep you cool when working hard. Finally, like REI's Flash 15 and Ultimate Direction's Mountain Vest 6.0 above, the Hydropack has a low-profile feel and body-hugging fit that make it easy to move quickly whether you're running, biking, or tackling a steep section of trail.      
The most glaring downside to the Hydrobak Light is its meager 1-liter gear capacity, which is the smallest on our list and decidedly limited for long day hikes that require packing plenty of water and layers. The included 1.5-liter reservoir is also on the smaller end, and you forgo comfort-related features like a hipbelt and padded shoulder straps (the Hydrobak's are made of thin mesh to keep weight low). Finally, the Hydrobak is more biking-focused than many options here, including dedicated tool storage, a loop for securing a light (sold separately), and an external helmet carry system. But this may be an upside for some: The CamelBak makes a great mountain biking companion but crosses over nicely for running and hiking (the low-profile fit even makes it viable as a kids' pack), offering an all-in-one solution for those who like to do it all. For a more hiking-specific option, CamelBak's own Arete 14 costs the same as the Hydrobak but with 12.5 liters of capacity in a heavier (8.8-oz.) package.
See the CamelBak Hydrobak Light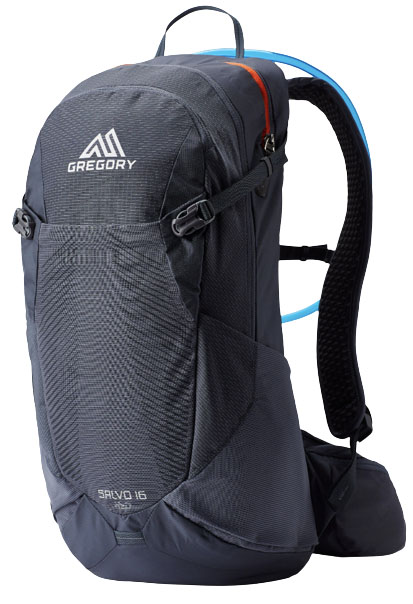 Weight: 1 lb. 13.1 oz.
Capacities: 8, 16L
Included hydration: 3L reservoir
What we like: A small-capacity pack with a big-deal feature set.
What we don't: Expensive for the capacity.
Smaller-capacity hydration packs often correlate with bare-bones builds, as seen in designs like the Gregory Nano above. But Gregory's Salvo (and women's Sula) offers a different take for hikers who want all the bells and whistles without the added storage space. With just 16 liters of capacity (the pack is also available in an 8L version), the Salvo accommodates only the essentials, but with the same levels of ventilation, support, and organization we see in much larger packs. A suspended mesh backpanel and 3-liter reservoir headline the long list of features, making the Salvo a great choice for staying breezy and hydrated in hot conditions.
The Salvo and aforementioned Nano are both ideal for summer hikes where you don't need much more than water, snacks, and an extra layer, but what sets them apart from each other? Along with the ventilated backpanel, the most notable difference is the Salvo's hipbelt, which offers significant support (especially compared to the Nano's simple webbing belt), along with two smartphone-sized pockets (rejoice!). The Salvo also features a handy stretch-mesh dump pocket at the front, along with a soft internal pocket for safe-keeping of fragile items. You'll pay a premium for the additional features—the Salvo is $70 more than the Nano and the same price as our top-ranked 30-liter Skarab—but the combination of minimum capacity and maximum performance will be a match made in heaven for some. 
See the Men's Gregory Salvo 16 H2O  See the Women's Gregory Sula 16 H2O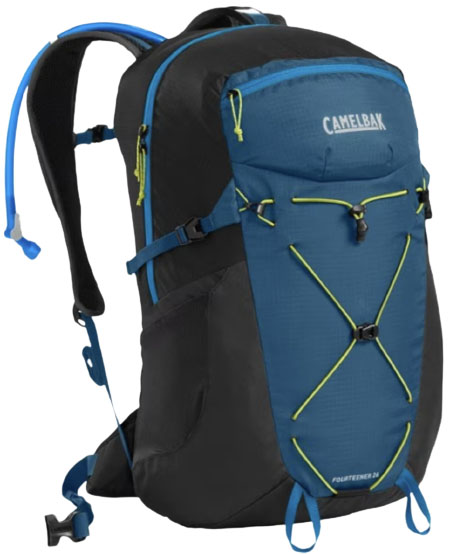 Weight: 2 lb. 2 oz.
Capacity: 26L
Included hydration: 3L reservoir
What we like: Great carrying comfort and ventilation.
What we don't: Cheap materials; no dedicated hydration reservoir compartment.
CamelBak spearheaded the on-the-go hydration category decades ago, and despite a surge of designs from pack specialists like Osprey and Gregory, their products are still decently competitive. Joining the running-vest-inspired Octane and minimalist RimRunner on our list is the Fourteener 26 (and women's Fourteener 24). Consider the Fourteener CamelBak's response to packs like the Osprey Skarab and Gregory Inertia above, with a well-rounded suspension system that maximizes both ventilation and carrying comfort. We appreciate the addition of a small mesh shoulder-strap pocket (great for keeping our phone handy), along with generous water capacity via the 3-liter Crux reservoir.
But while we have very few gripes about CamelBak's reservoirs, their packs just can't compete with the specialists in terms of build quality. The Fourteener's materials feel (and look) particularly cheap, and the pack's structure is a lot floppier than the aforementioned models. What's more, the CamelBak does not include hipbelt pockets, and you'll have to rifle through your gear to access the reservoir (both the Skarab and Interia have dedicated hydration reservoir pockets). Finally, its one size offering won't work for everyone. Added up, the Fourteener is good but not great—unless you can find it on sale, we'd point you instead towards the higher-quality packs above.
See the Men's CamelBak Fourteener 26  See the Women's CamelBak Fourteener 24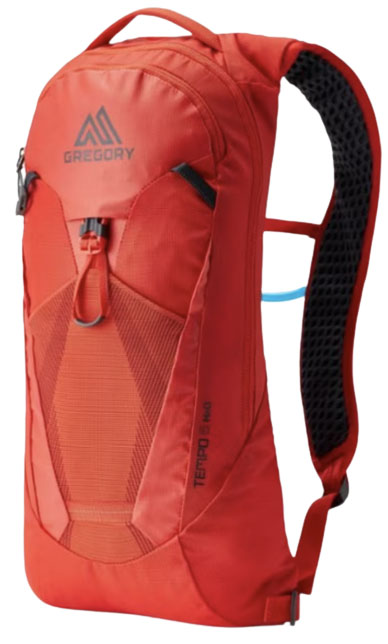 Weight: 1 lb. 5.4 oz.
Capacities: 3L, 6L
Included hydration: 2L reservoir
What we like: Keeps your water cold for up to four hours.
What we don't: Not much in the way of organization.
If you're hiking in extreme temperatures, it's worth thinking about insulating your water against the elements. There are a few ways to do this: You can purchase an insulated hydration reservoir (the HydraPak HydraSleeve is one example), or opt for an insulated hydration pack like the Gregory Tempo here. The Tempo is built for heat (Gregory claims it will keep your water cool for four hours), with an insulated hydration compartment and breathable 3D mesh backpanel and shoulder harness. The rest of the design is kept very minimalist, with a thin webbing hipbelt, small zippered accessory pocket, and stretch-mesh dump pocket on the rear.
But aside from being able to keep your water cold for a short time—great, for example, if you're going on a half-day hike straight from home—the Tempo doesn't have too much going for it. The 6-liter design is oversimplified for most day hikes, with enough space for just a wallet, keys, and small snack (we couldn't even fit a lightweight down jacket inside). Further, the drinking hose is not insulated, which slightly compromises the insulating concept. But the Tempo (and women's Pace) is nevertheless a nice option for particularly hot climates, and its sleek design also has great crossover appeal for biking.
See the Gregory Tempo 6 H2O  See the Gregory Pace 6 H2O
Weight: 12.8 oz.
Capacities: 7, 12L
Included hydration: 2L reservoir
What we like: A versatile hydration pack/vest for running, hiking, biking, and more.
What we don't: Pricey, limited capacity, and strange hydration tube routing.
Last but not least is the Nathan TrailMix 12L, a popular hydration pack ideal for multi-sport use. On one hand, the TrailMix can be thought of as a toned-down running vest (Nathan bills it as a "race vest"), featuring on-the-go storage via the front pockets (which can also accommodate soft flasks) and adjustable side straps to cinch close to the body for a relatively bounce-free ride. On the other hand, the TrailMix is more pack-like than most of its brethren, with a large main compartment at the rear that secures with a roll top and easily accommodates extra layers and essentials for a variety of activities, including hiking, running, and biking. If packs like the REI Co-op Flash 15 and CamelBak Octane 22 above have caught your eye, the Nathan TrailMix 12L is another one to consider.
But at $150, we're not sure the TrailMix has enough going for it to merit the price jump over the aforementioned packs. It's the lowest capacity offering of the bunch, and will only pair well with minimalist days on the trail. Further, we're a bit miffed by the hydration tube routing, which goes through the top zipper rather than having a dedicated port—not only does this feel like a shortcut, but it also puts added stress on the zipper over time. But all gripes aside, the Nathan is nevertheless a very versatile piece for those looking for a quiver-of-one hydration pack, and its snazzy colorways are well suited toward the modern adventurer.
See the Nathan TrailMix 12L
Hydration Pack Comparison Table
| Hydration Pack | Price | Weight | Capacities | Hydration | Hipbelt |
| --- | --- | --- | --- | --- | --- |
| Osprey Skarab 30 | $150 | 2 lb. 0.2 oz. | 18, 22, 30L | 2.5L reservoir | Cushioned |
| Gregory Nano 18 H2O | $80 | 1 lb. 2.4 oz. | 18, 22L | 3L reservoir | Webbing |
| Osprey Manta 34 | $220 | 3 lb. 7.8 oz. | 24, 34L | 2.5L reservoir | Cushioned |
| REI Co-op Flash 15 | $120 | 14 oz. | 15L | 1.75L reservoir | None |
| Gregory Inertia 24 H2O | $130 | 1 lb. 11.7 oz. | 18, 24L | 2L reservoir | Cushioned |
| CamelBak Octane 22 | $170 | 1 lb. 15 oz. | 12, 16, 22L | 2L reservoir | Cushioned |
| Gregory Citro 30 H2O | $180 | 2 lb. 1.4 oz. | 24, 30L | 3L reservoir | Cushioned |
| CamelBak Rim Runner X 22 | $100 | 1 lb. 12.2 oz. | 22L | 2L reservoir | Cushioned |
| Ultimate Direction Mountain Vest 6.0 | $170 | 8.1 oz. | 13.4L | 500mL soft flasks | None |
| CamelBak Hydrobak Light | $65 | 6 oz. | 1L | 1.5L reservoir | None |
| Gregory Salvo 16 H2O | $150 | 1 lb. 13.1 oz. | 8, 16L | 3L reservoir | Cushioned |
| CamelBak Fourteener 26 | $140 | 2 lb. 2 oz. | 26L | 3L reservoir | Cushioned |
| Gregory Tempo 6 H2O | $120 | 1 lb. 5.4 oz. | 3, 6L | 2L reservoir | Webbing |
| Nathan TrailMix 12L | $150 | 12.8 oz. | 7, 12L | 2L reservoir | None |

Hydration Pack Buying Advice

What is a Hydration Pack?
Staying hydrated is essential to being alert and limber on the trail, and nothing makes the process easier than a hydration pack. These relatively inexpensive pieces of gear come ready to go, including a daypack and integrated hydration bladder—all you need to do is add water. There are a vast array of hydration packs to choose from for a variety of activities—including biking, running, snow sports, and more—but here we focus on designs specifically built for hiking. Below we break down the category, including the various backpack features, hydration reservoirs and compatibility, and more. 
Hydration Packs vs. Hydration-Compatible Backpacks
In this article, we focus on backpacks that come complete with an integrated hydration reservoir (and in one case, a soft flask). These are the most purpose-built setups for on-trail hydration and the most convenient for those just getting started—the reservoir fits seamlessly (sometimes in its own dedicated pocket), the tube routes cleanly, and many use magnetic attachments to keep the bite valve in place on the sternum strap. If you don't yet own a daypack or hydration bladder and are in need of an all-in-one solution, there's no better option.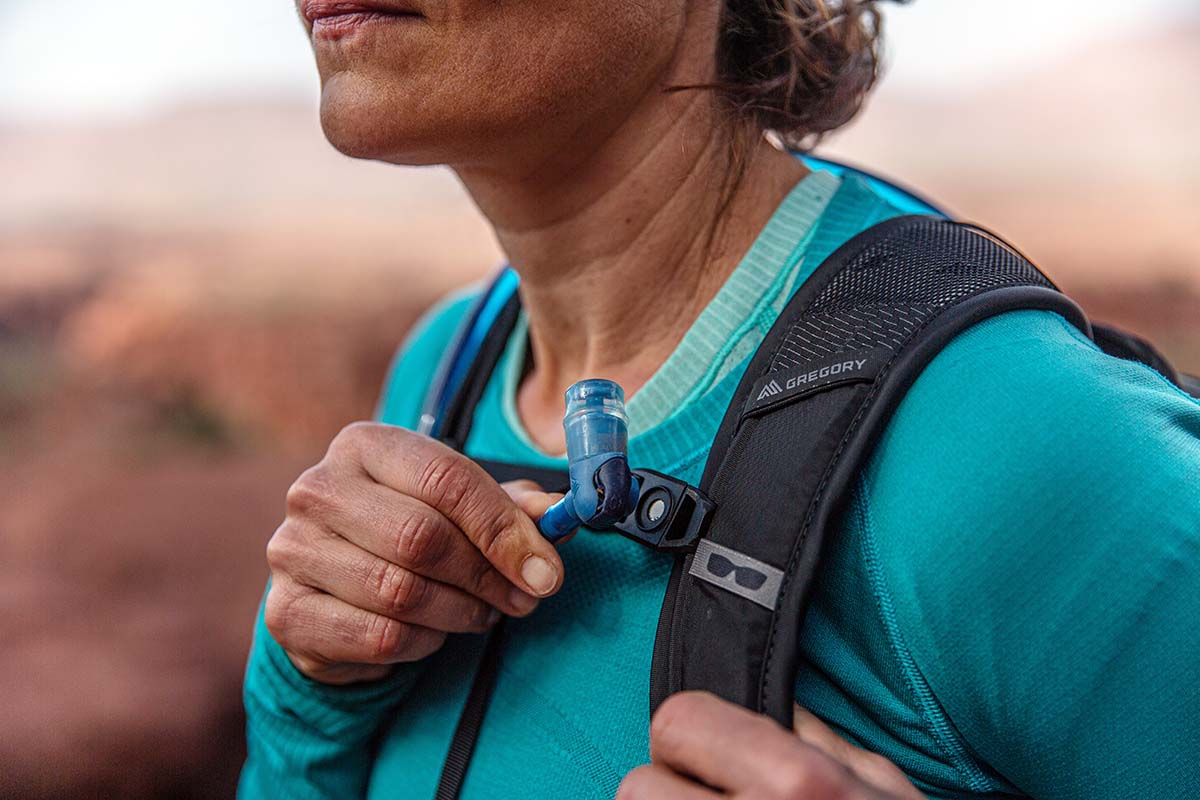 However, there are other ways to achieve the same end result. In 2023, most daypacks (like the popular Osprey Talon 22) are hydration-compatible, featuring dedicated reservoir sleeves, ports, and routing clips. Some hydration reservoirs even come complete with tube magnets to attach to your pack. It's generally a bit cheaper to purchase an all-in-one setup, but if you already own a daypack or reservoir, it might be worth considering buying the accompanying piece separately—just bear in mind that you might have to purchase a few accessories to achieve the same sleek design of an all-in-one hydration pack.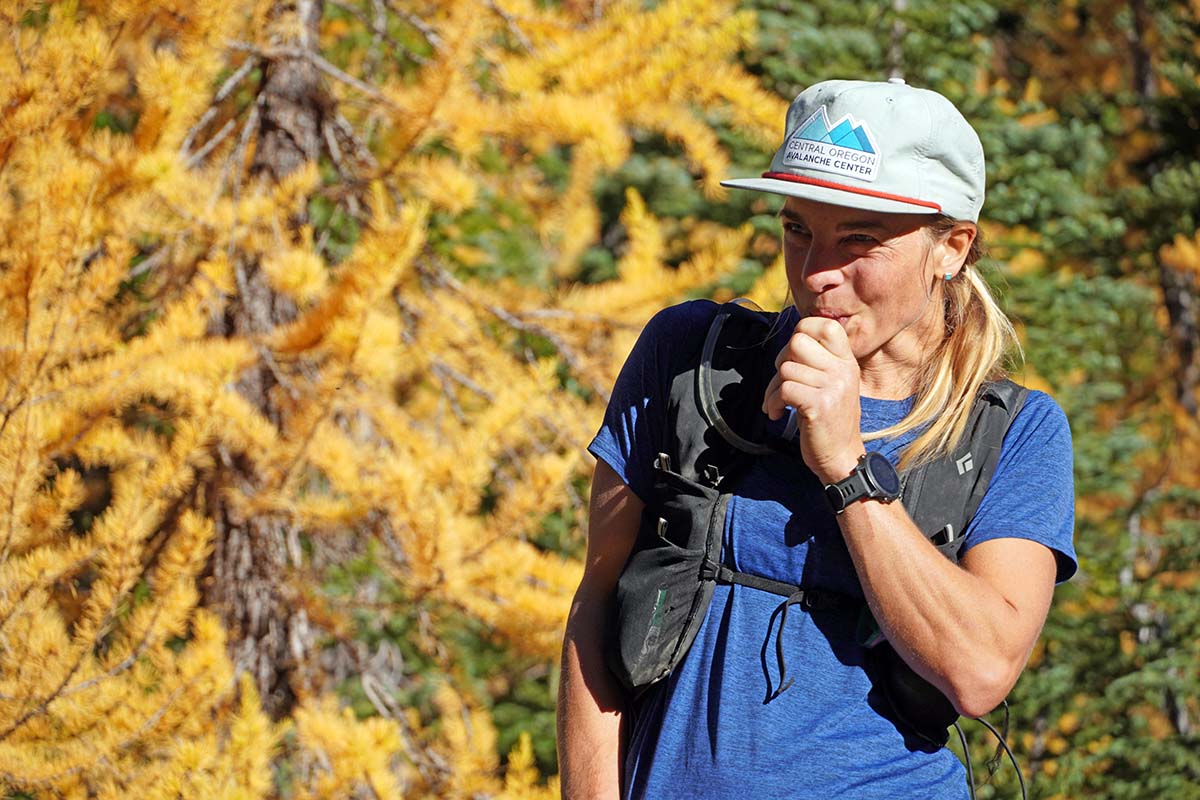 Hydration Reservoirs
Capacities
Most hydration reservoirs range in capacity from 1.5 to 3 liters, including 2- and 2.5-liter options. Your water needs will depend on a wide range of factors, including your personal makeup (do you sweat a lot or a little, how much water does your body tend to need, etc.?), the conditions you encounter while hiking (hot and sunny or cold and shady?), the length of your trip, the presence of water on-route, and whether or not you're traveling with a water filter. It doesn't hurt to err on the side of more capacity than less—the weight difference between a 1.5 and 3-liter reservoir is negligible, and you can always fill it halfway.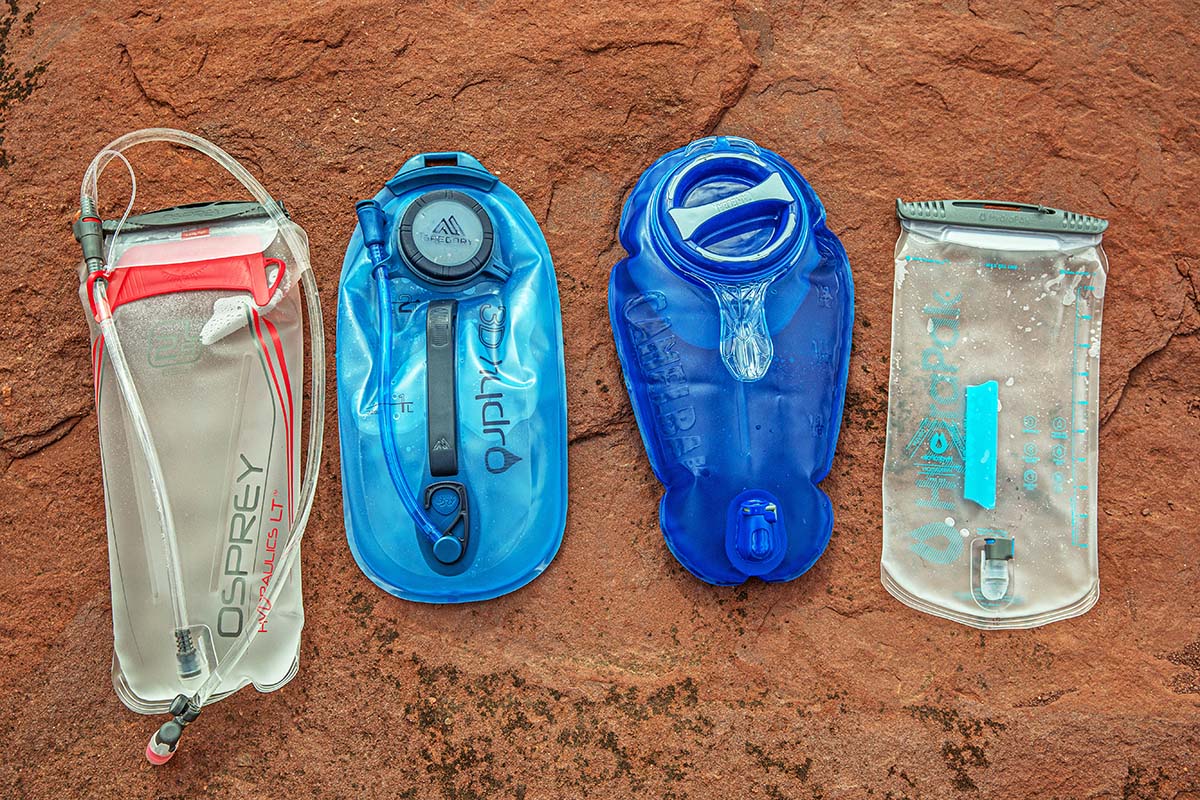 Openings and Handles
In general, there are two main styles of hydration reservoirs—those that feature a top opening that folds over and seals with a slider (Osprey, HydraPak, and Platypus), and those with a circular screw-top port on the front (CamelBak and Gregory). Both are time-tested designs, but differ slightly in terms of functionality. In general, we find top-opening reservoirs to be easier to clean and dry—the mouths are wide enough to fit your hand in, and some offerings from HydraPak can even be turned inside out. On the other hand, with a screw-top like Gregory's 3D Hydro Reservoir, you likely won't even be able to get your hand inside (CamelBak's mouths are a lot wider). There are a lot of ways to clean a hydration reservoir (including cleaning tabs, scrub brushes, drying racks, etc.), but the larger opening and invertible design certainly makes things easier.
On the other hand, screw-top reservoirs can be a lot easier to fill. For example, we were able to replenish our Gregory 6 Pace H2O without removing the reservoir from the pack, but had to take the Osprey Skimmer's HydraPak out of its sleeve to fill. Of course, this all depends on your water source—if you're scooping from a lake or river, you'll want to remove your reservoir regardless, in order to keep your pack from getting wet. Further, most reservoirs (including both screw-top and slider varieties) now feature handles on the top to leverage the opening and make the filling process even easier. In the end, most openings are well executed—no matter the style—but your preferences in terms of filling and cleaning/drying might help inform your purchase.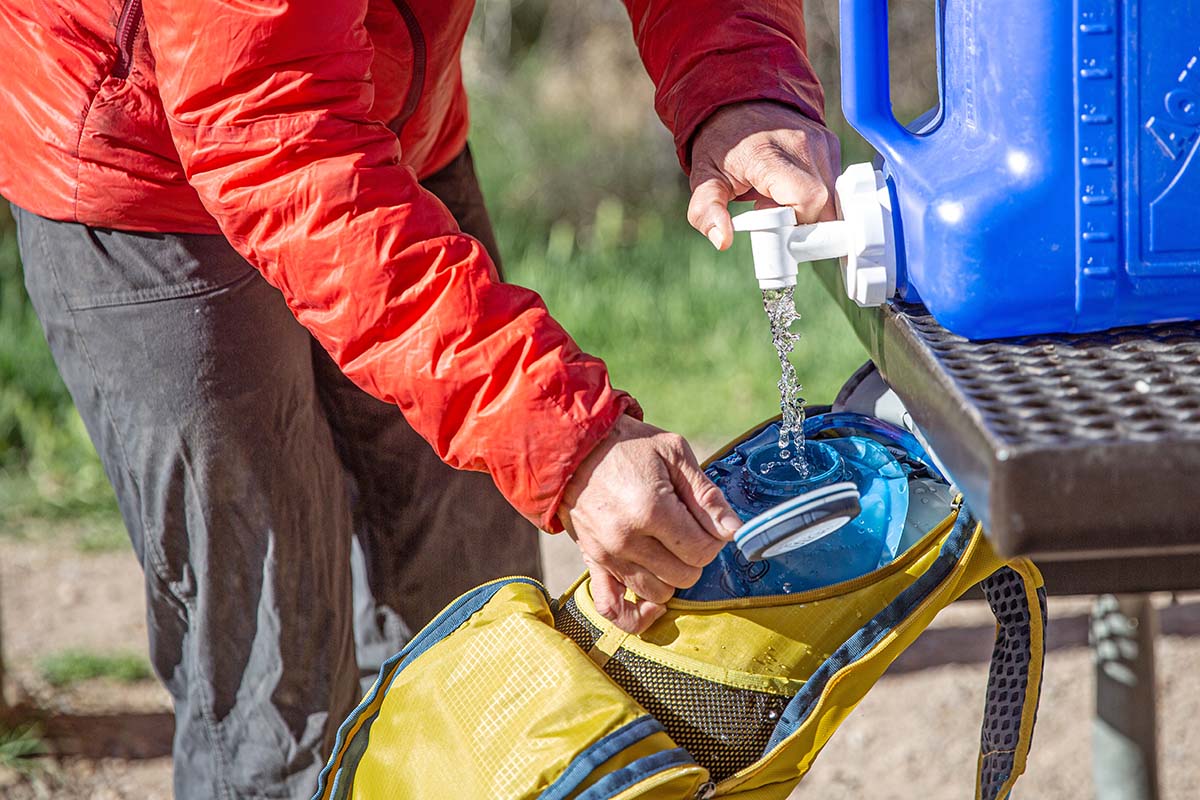 Quick-Disconnect Tubing
When it comes to hydration reservoirs, one of the features we can't live without is a quick-disconnect coupling on the tube. Placed either where the tube meets the reservoir (as in the case of CamelBak's designs) or in-line near the top of the reservoir (as with Gregory and Osprey's offerings), the quick-disconnect removes the tube with the simple push of a toggle. This allows for easy filling or cleaning of the reservoir without a long tube in the way, and eliminates the headache of rerouting the tube through the backpack port and shoulder harness. Virtually all of the designs above feature quick-disconnect tubing, and we have a slight preference for those with a higher placement (i.e. those from Osprey and Gregory), as they're easier to reconnect once back in your pack (you don't have to go digging around at the reservoir's base).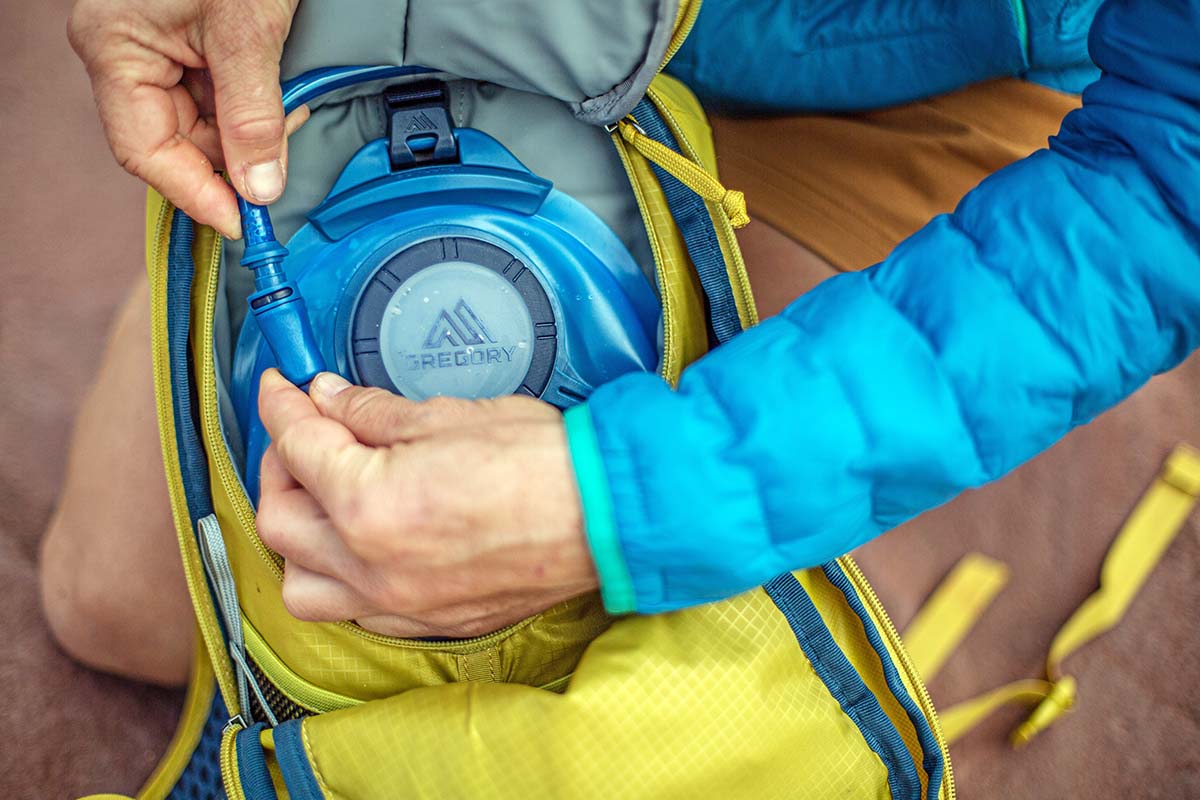 Bite Valves
Each brand of hydration reservoir has its own style of bite valve, including unique on/off mechanisms. Most bite valves are very easy to use—gently compress and water will flow—and can be easily removed and replaced. The largest variation comes in terms of on/off mechanisms: Gregory uses a push button, CamelBak's offerings feature a large lever, and Osprey's and REI's HydraPak designs twist open and closed. We've found all of these bite valves to be fairly easy to use and leak-free, although CamelBak's seem to require the least amount of suction, which is certainly a bonus (they claim their new Crux reservoirs offer 20% more water per sip, which lines up with our experience). On the other hand, the valves found on Gregory's hydration reservoirs are functional and secure, but their smaller "button" is a bit more difficult to operate.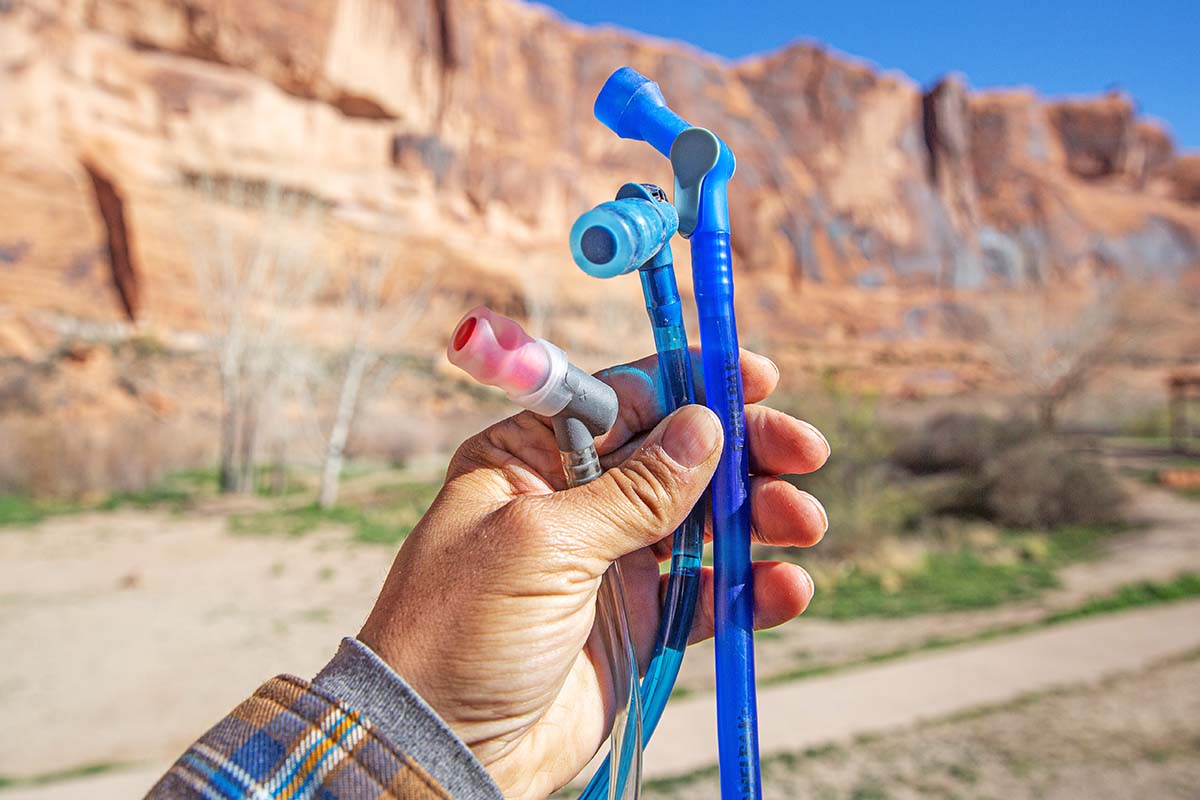 Cleaning a Hydration Reservoir
Let's be honest: cleaning a hydration reservoir isn't our idea of a good time. That said, proper cleaning—and drying—is fairly important to extending the lifespan of your bladder and tube, especially if you're using sticky electrolyte tabs or powder. The good news is that most designs now come with a range of features to help. Gregory's 3D Hydro reservoirs, for example, have an integrated hanger and open design when resting (i.e. they don't lie completely flat), both of which assist in drying. As we mentioned above, CamelBak's Crux reservoirs have a wide, circular opening that's large enough to fit a hand inside. And finally, some HydraPak reservoirs can be turned inside out for quick cleaning and drying. And manufacturers offer a range of other products to help with the process: The Osprey Hydraulics Cleaning Kit, for example, includes a reservoir brush, hose brush, and drying rack, and cleaning tabs (like those from Bottle Bright) are a great way to easily remove build-up.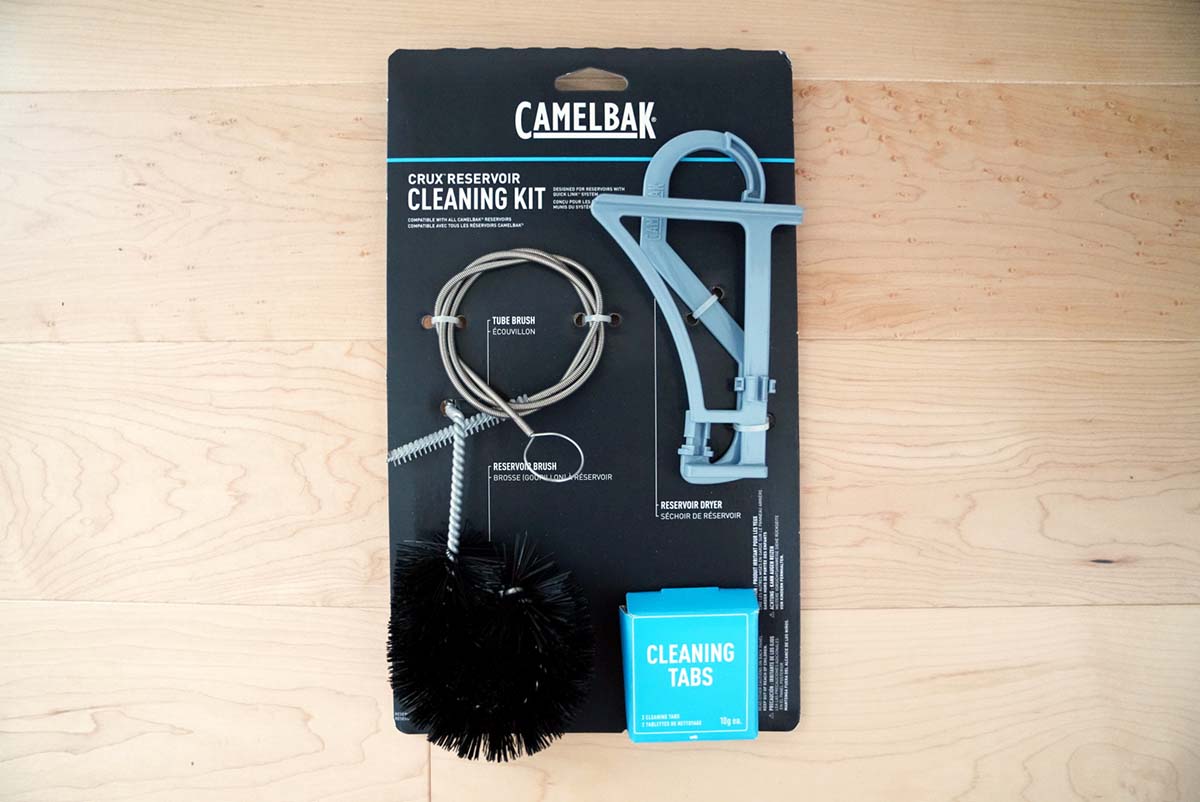 Hydration Pack Capacities
The hydration packs above range in capacity from the 1-liter CamelBak Hydrobak Light to the 34-liter Osprey Manta. What's more, many designs are available in multiple capacities: The Osprey Skarab, for example, comes in 18, 22, and 30-liter models. We've found that anywhere in the 20- to 30-liter range is a sweet spot for an all-around daypack that can handle anything from local summits to full-day hikes. These packs generally feature well-rounded organizational systems (including a variety of zippered pockets), and ample suspension systems, but aren't overbuilt or bulky.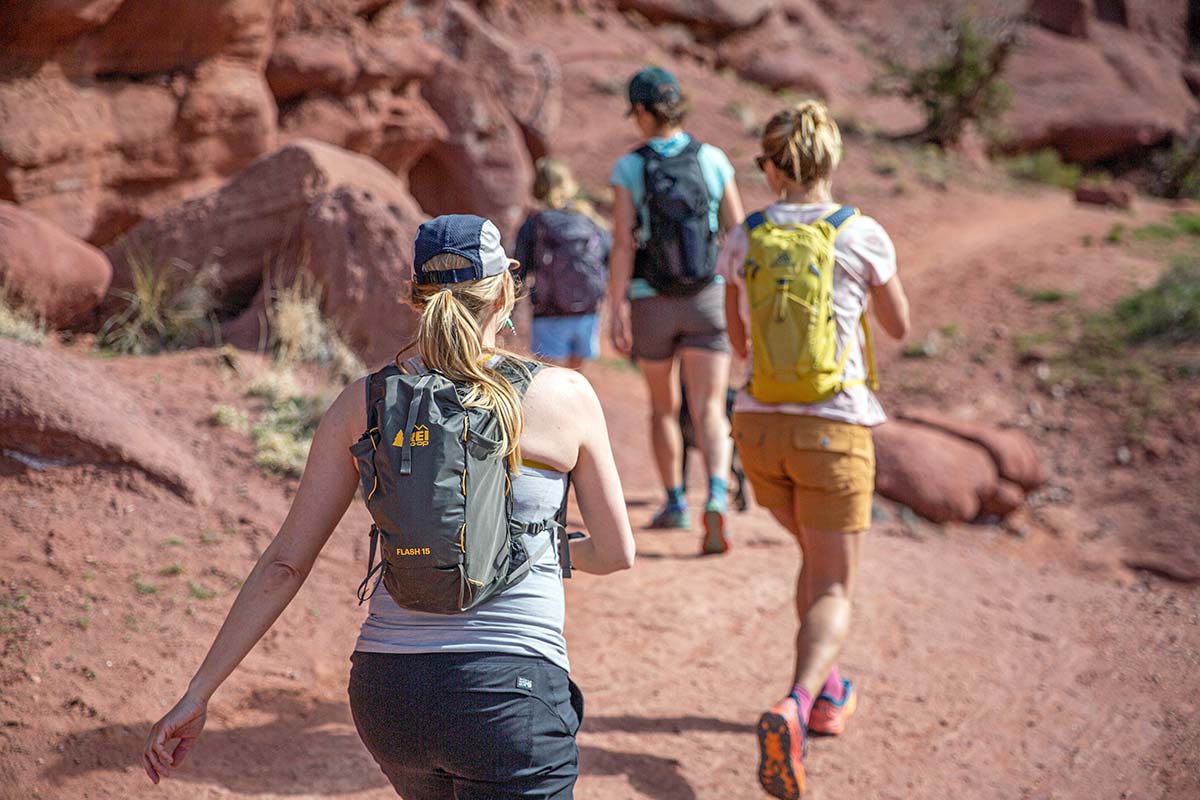 If you only need to pack an emergency rain jacket and a few snacks, you might be able to get away with one of the smaller packs above. These designs—like the Gregory Nano 18 H2O or REI Co-op Flash 15—are easy to pack away in a larger pack or suitcase, and some crossover nicely to activities like mountain biking or mixed hiking and trail running, due to their streamlined nature and on-the-go storage. However, they're not usually great all-rounder designs: On a recent day hike, we took Gregory's Pace 6 H2O and had to store our sandwich and down jacket in our friend's pack. On the other end of the spectrum, for gear-heavy adventures like winter hikes, a design like the Osprey Manta 34L features an impressive amount of storage, along with an adjustable and comfort-oriented suspension system. Below are some basic guidelines for capacity:
Short day hikes/multi-sport adventures: 5 to 18 liters
Average day hikes and everyday use: 18 to 30 liters
Long or gear-heavy day hikes: 30 to 40 liters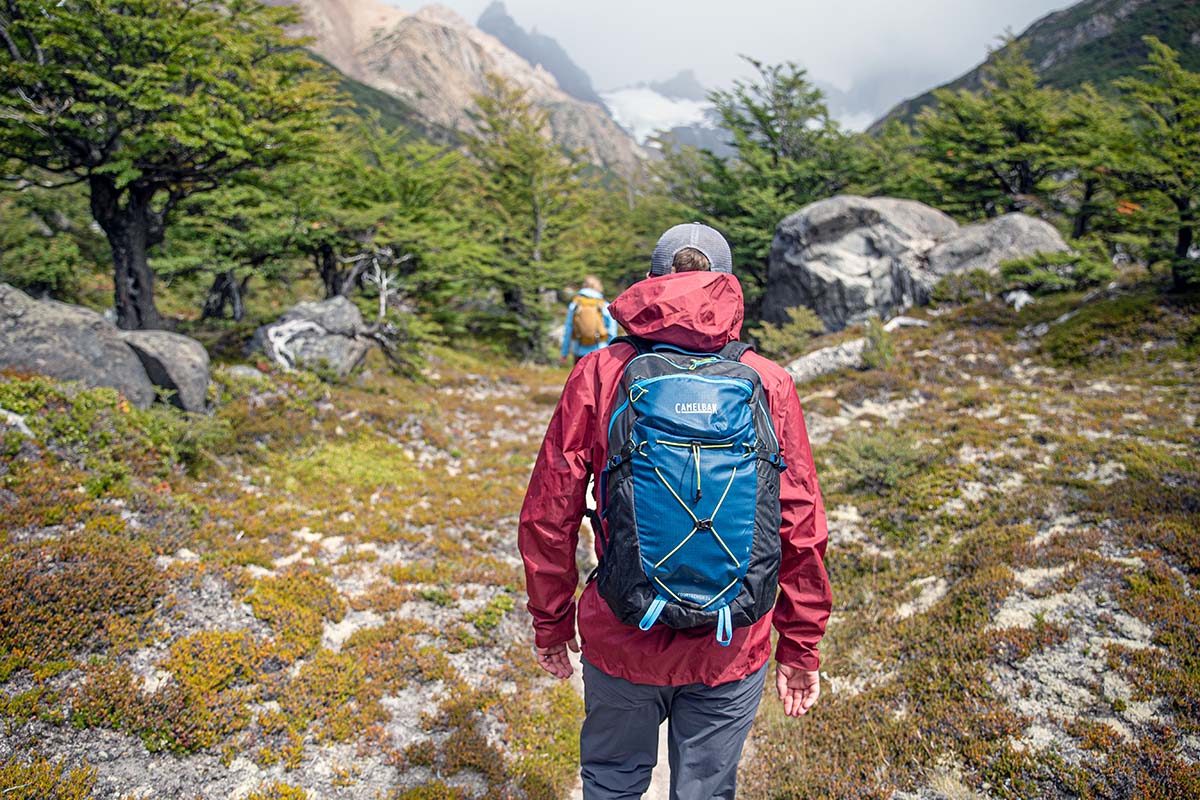 Weight: Fully Featured vs. Minimalist
A quick look at our comparison table above reveals a wide range of pack weight from a scant 6 ounces to over 3 pounds (keep in mind, this does not include water weight). On the heavy end is the fully featured Osprey Manta 34, which comes with an almost ridiculous amount of pockets and external attachment points, along with a suspension system that rivals a backpacking pack. At the other end of the spectrum, packs like the Ultimate Direction Mountain Vest 6.0, CamelBak Hydrobak Light, and REI Co-op Flash 15 are minimalist designs with much less in the way of structure and capacity.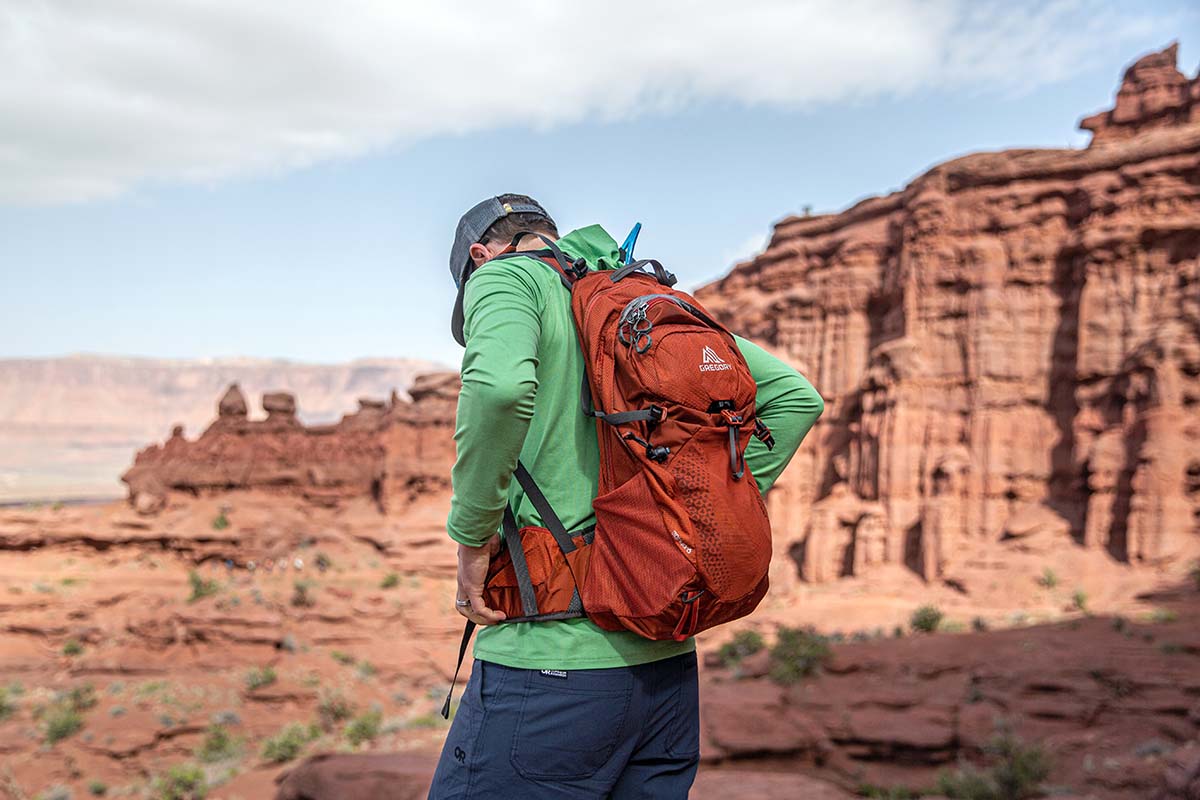 When evaluating pack weight, keep comfort and storage in mind. A fully featured pack will include padding on your back and real straps on your shoulders and waist to help distribute weight. If you'll be carrying a heavy load, this will be your most comfortable option. But if you don't mind feeling some of your gear on your back and keep your load relatively light (it is only a daypack, after all), the minimalist options on this list are more appropriate options (they're also cheaper and far more compressible). In the end, most hikers and travelers will want something that lands in the middle and balances cushioning and weight, including the popular Osprey Skarab 30 (2 lb. 0.2 oz.) and Gregory Inertia 24 H2O (1 lb. 11.7 oz.).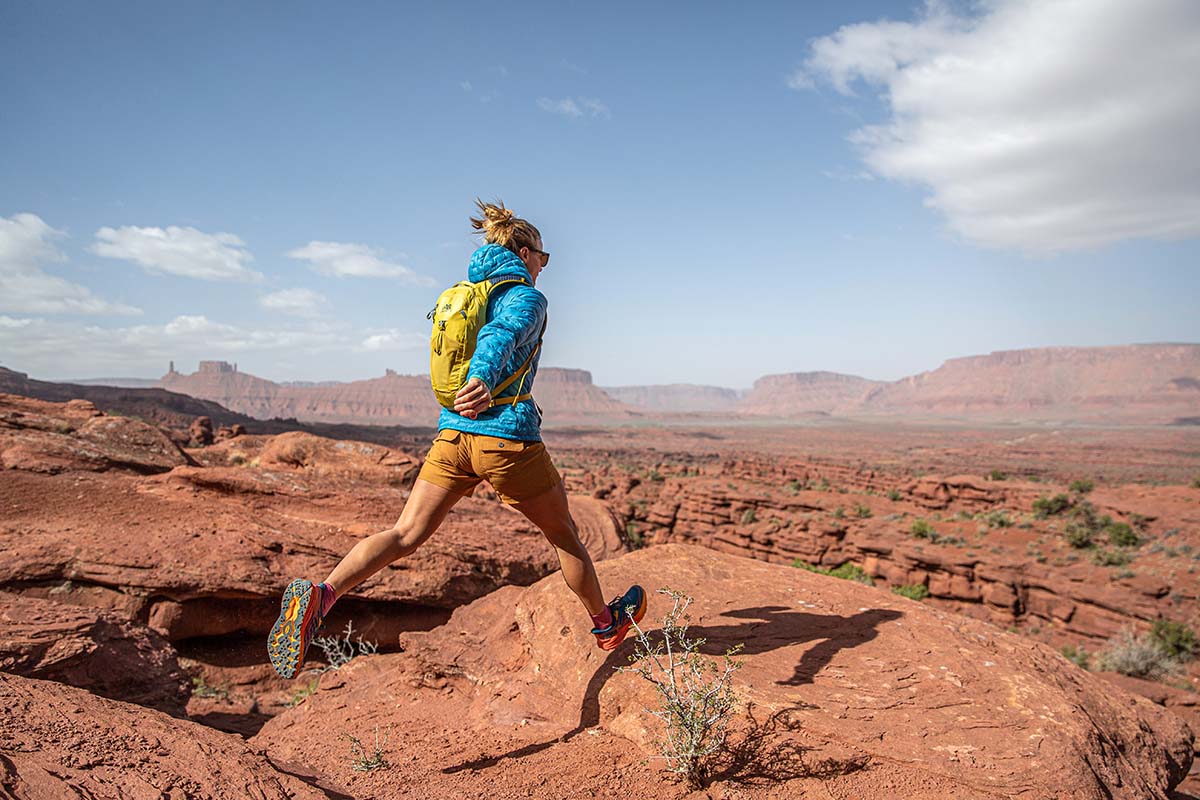 Hydration Pack Features
Reservoir Compatibility
Hydration packs include a range of features that make them more compatible with a hydration reservoir than a standard daypack, including tube ports, routing tabs, and magnets, easy-loading sleeves or dedicated pockets with hangers, and, every so often, insulated compartments for your water. These features lend a considerable amount of convenience and smooth operation, and are a key reason we might opt for a hydration pack over a daypack-hydration reservoir pairing. What's more, it's generally a bit cheaper to buy an all-in-one system rather than piecing your setup together, which is a nice bonus. Keep in mind that a more featured system generally translates to more weight and bulk, but the easy access to hydration can be well worth it.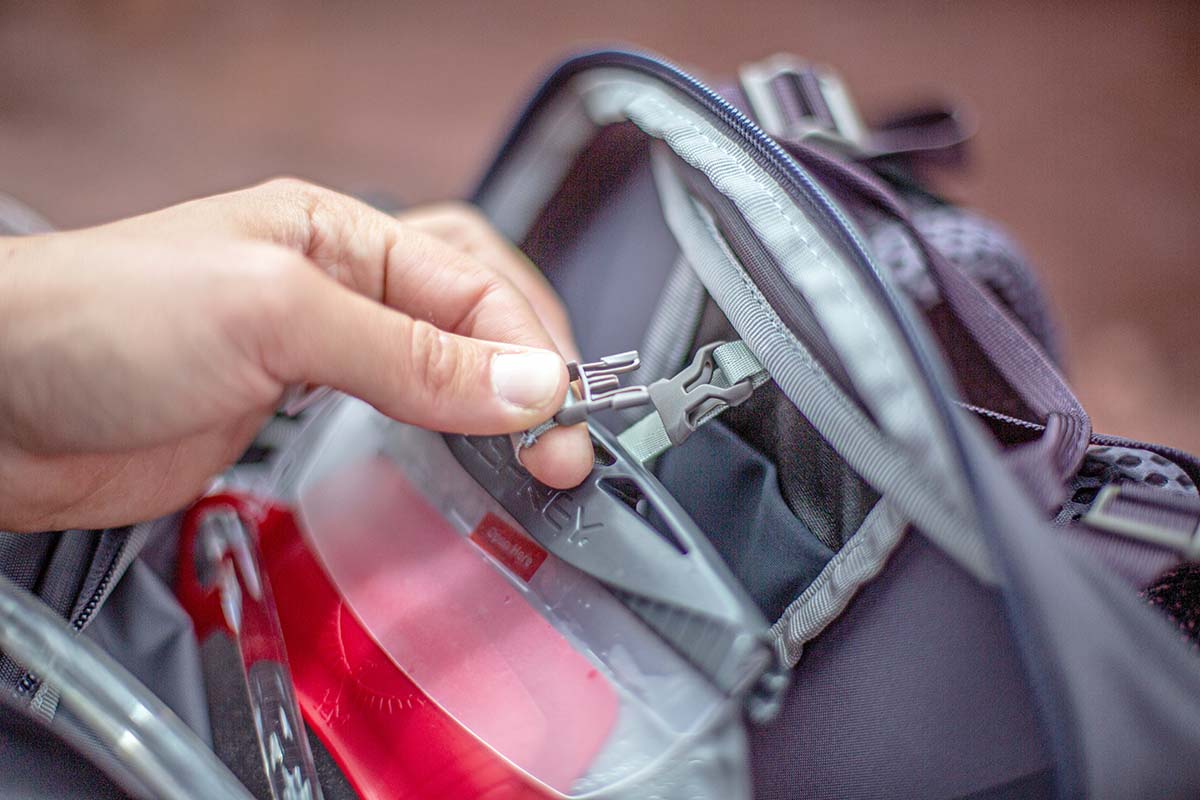 Backpanel and Ventilation
Like standard daypacks, hydration packs feature a range of backpanel designs for structure, load-bearing support, and ventilation. With the most minimalist packs, the backpanel is made up of simple foam or padded mesh: you get little in the way of structure and protection, but these designs are sufficient for light loads and allow the pack to compress for stowing in a travel bag or backpacking pack. On the other hand, more robust suspensions feature rigid frame sheets, metal stays, or even suspended mesh backpanels for class-leading ventilation (as seen in the Gregory Citro 30). Ventilated designs do eat into the size and dimensions of the main compartment and are more expensive, but it's worth it for some. In the end, we recommend that most hikers stick with a middle ground design like the Osprey Skarab 30, which features a rigid framesheet covered in a plush layer of EVA foam and open mesh for ventilation.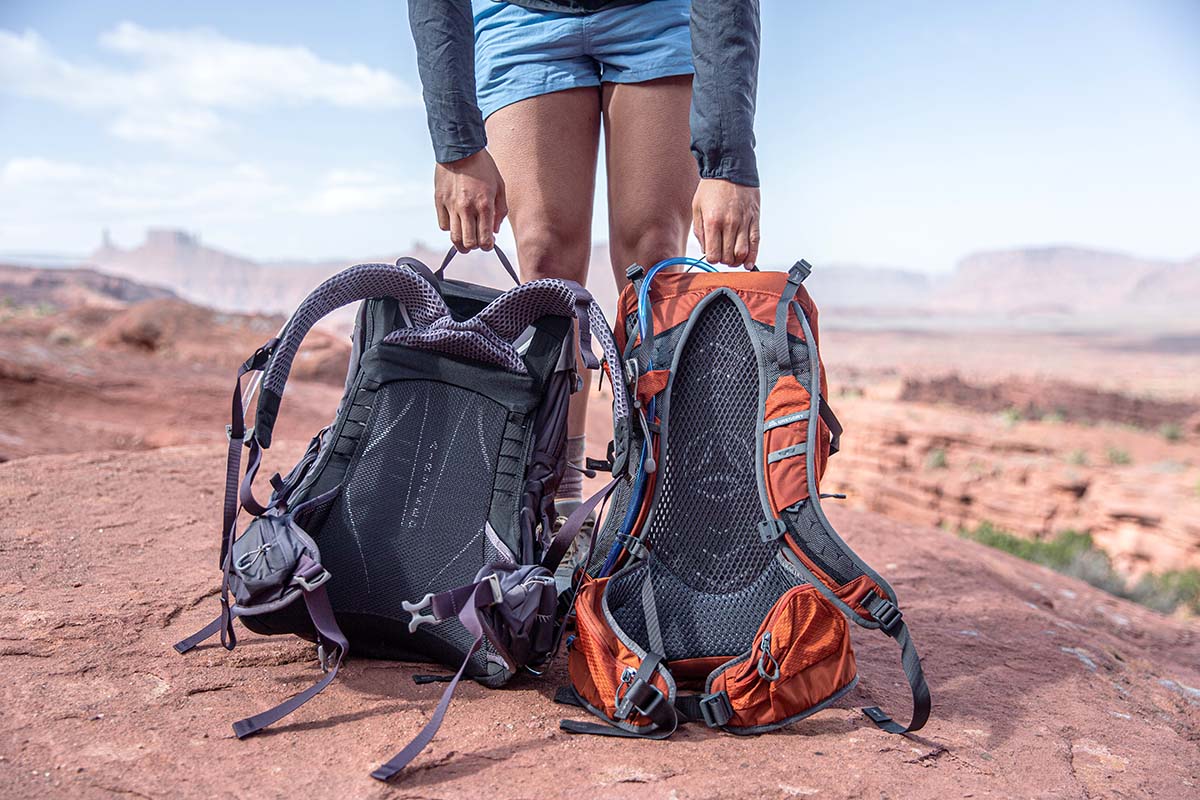 Pockets and Organization
If you like to have a defined space for (and easy access to) smaller items, look for a pack with a number of interior and exterior pockets. We like hipbelt pockets for things you want close at hand (beware, in most cases these don't accommodate larger smartphones), an exterior pocket along the top lid for small items like a headlamp or energy bar, and a large, open main compartment for bulkier gear. Some of the running-inspired designs above (like the REI Co-op Flash 15 and CamelBak Octane 22) even feature storage on the front of the shoulder straps, which allows you to access food and essentials without removing your pack.
One of our favorite pack features is a large exterior mesh pocket along the front or sides of the pack, known as a "shove-it" pocket. This expandable space is great for items you may need quick access to (or want to dump quickly) like a rain jacket or snack. In addition, you can throw wet gear into this outer pocket to avoid soiling the contents of your main compartment. Minimalist designs omit many organization features—sometimes including the shove-it pocket—so keep an eye out for the number of internal and external pockets if those are important to you.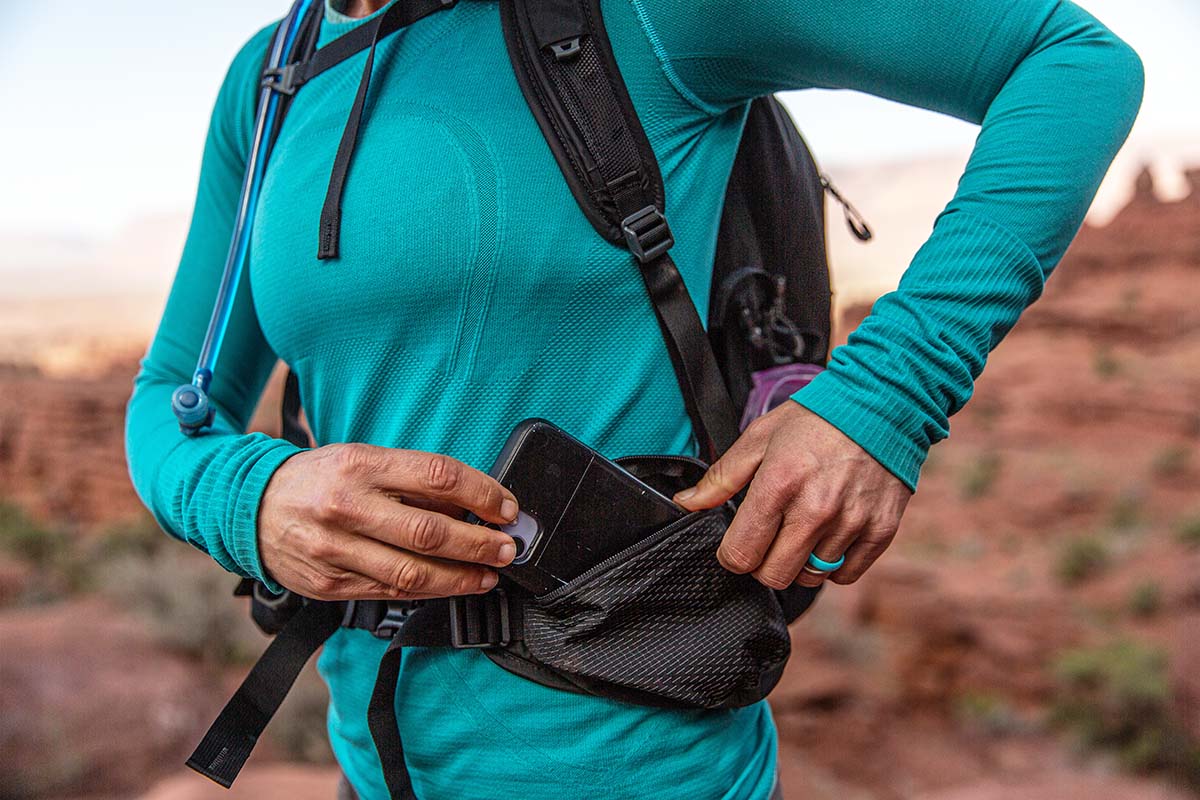 Closure Systems and Access
All of the hydration packs that made our list have access to the main compartment through the top of the pack, but the closure systems vary. Drawcord systems are popular on minimalist packs, while fully featured bags typically use zippers. We love bucket-style zippers like the Osprey Skarab's, which create a large opening and allow you to easily see the contents at the bottom of your pack. Finally, some models, including the Nathan TrailMix 12L, use roll-top lids, which excel in versatility and allow you to adjust the volume of your pack to a changing load. In general, we prefer hydration packs that fully separate the main compartment from the reservoir storage, allowing you to organize your gear without a bulky bladder getting in the way.
Carrying Comfort: Hipbelt and Shoulder Straps
The amount of padding on the hipbelt and shoulder straps is a great indicator of a pack's maximum comfort levels. Nearly all hydration packs have a hipbelt, but they vary from thin webbing (like the Gregory Nano 18 H2O) to cushioned and supportive (the Osprey Manta 34). If all you need is a pack for short day hikes and don't plan on carrying more than 10 or so pounds, the thinner webbing is sufficient. If, however, comfort reigns supreme or you plan to haul a lot of weight, we highly recommend a pack with a real hipbelt. Keep in mind, the thicker designs don't compress very well and do add some extra weight.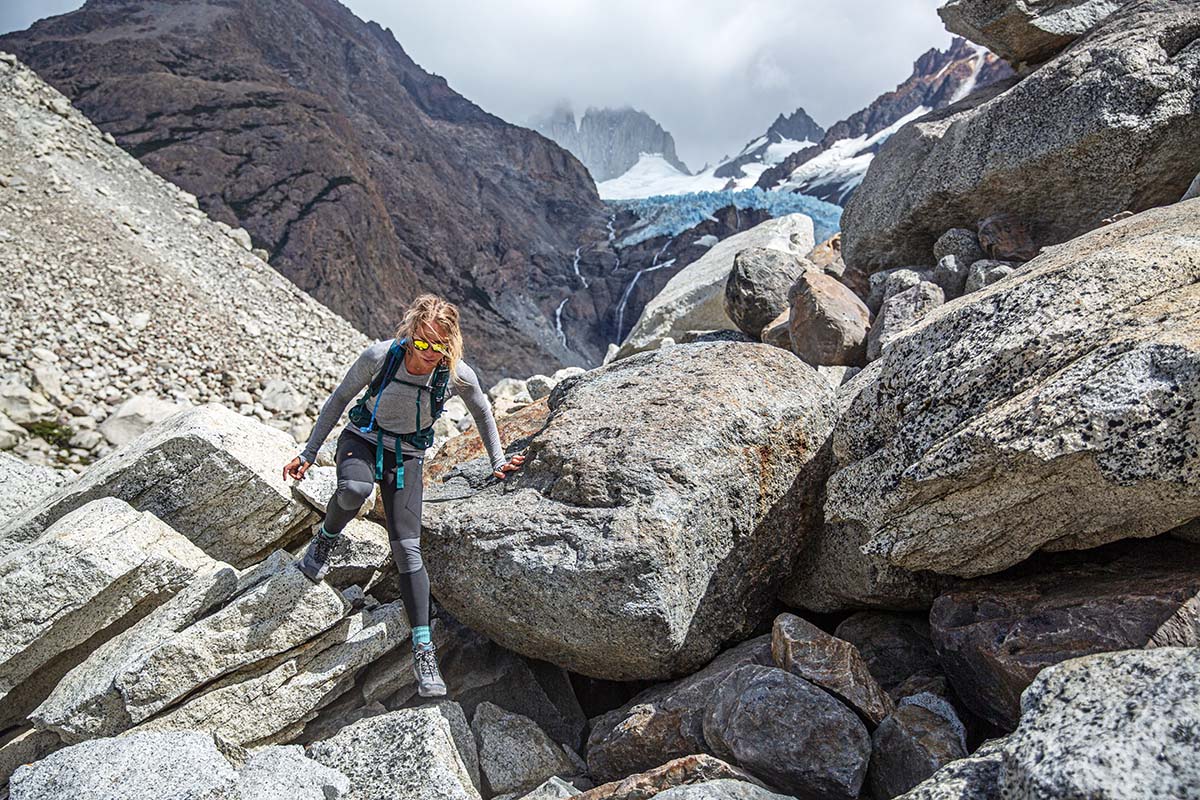 We should also note that there are a few running-inspired designs on our list above that forgo the hipbelt completely. These hydration packs—the REI Co-op Flash 15 and Ultimate Direction Mountain Vest 6.0 are two of our favorites—feature a vest-style sternum strap system, ride high on the back and close to the body, and are great for minimal loads and those going particularly fast and light. However, these are specialized designs, and we don't recommend them for the average day hiker in the market for a hydration pack.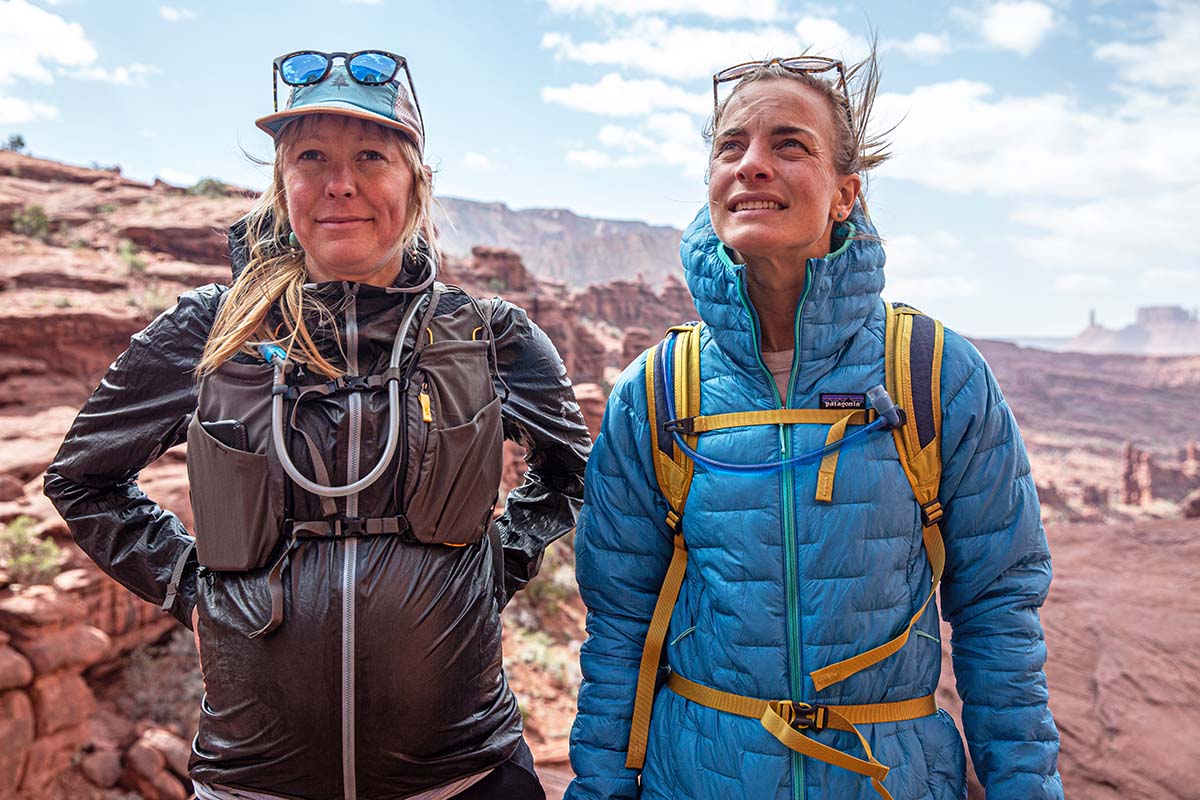 Fit and Sizing
In addition to the amount of padding along the shoulder straps and hipbelt, fit plays a large role in overall comfort on the trail. Most importantly, you'll want to ensure that your pack is the appropriate size for your torso length and that the hipbelt can be tightened to secure snugly around your hips. This can be a bit of a challenge with hydration packs: Most of the models above are only offered in a one-size-fits-all option. You do get the choice between men's and women's versions (the latter of which generally accommodate shorter torso lengths), but fit can nevertheless be a key reason that hikers might opt for a standard daypack (most are available in at least two sizes) over a hydration pack. 
There are a few outliers that are worth mentioning here. First, REI's Flash 15 comes in two sizes—a S/M and L/XL—and the Gregory Citro 30 and Juno 30 are both available in a plus size. And then there's the Osprey Manta (and women's Mira), which features an adjustable harness that can be raised or lowered up to 4 inches. If you need a pack size that's on the smaller or larger end of the spectrum, these are great options to consider.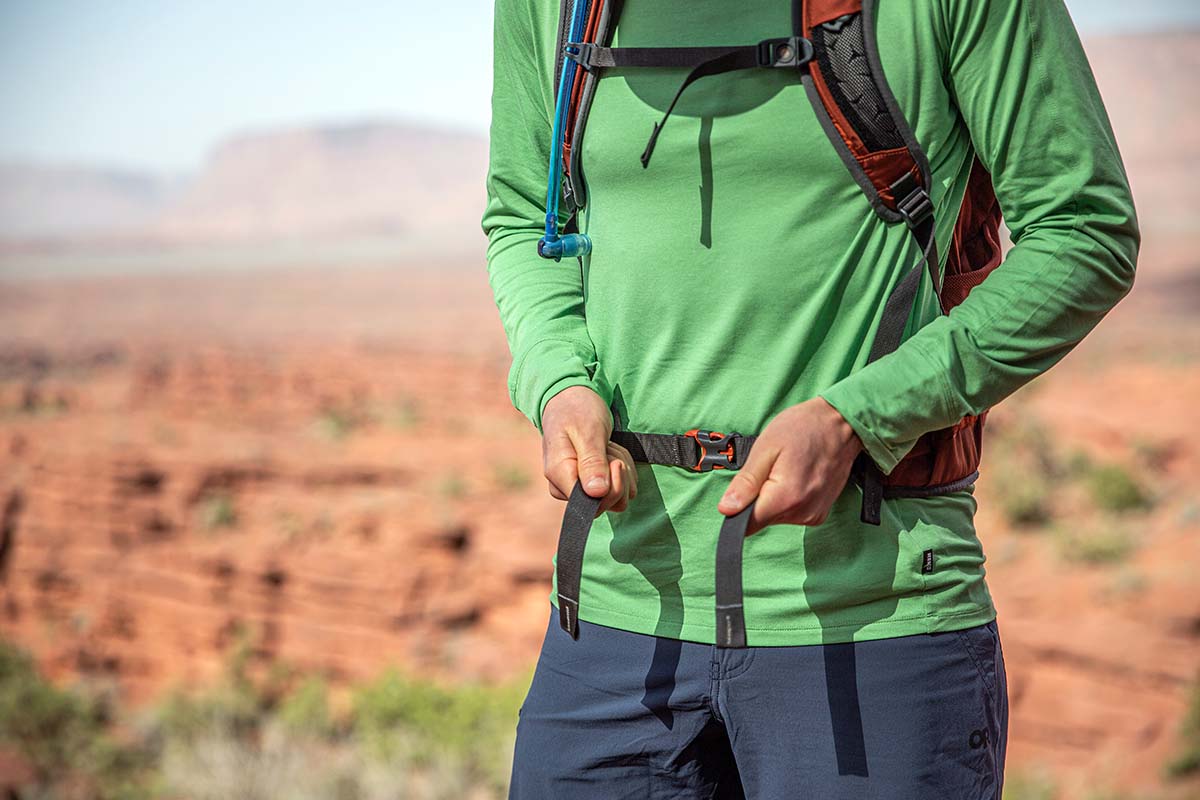 Hydration Packs for Other Activities
This article focuses on hydration packs specifically built for hiking, but there are a wide variety of designs for everything from mountain biking to trail running and resort skiing. Running hydration packs and vests generally range from 1.5 to 12 liters, prioritize a streamlined design that sits high on the torso and rides as an extension of the body, and feature accessible storage both on the front and the back of the pack. Mountain bike hydration packs, on the other hand, are similar to hiking designs but tend to be lower-profile and smaller in capacity, with a range of bike-specific features, including helmet and bike light attachments and reflective patches. Finally, snow-specific hydration packs use insulated reservoir sleeves and tubes and bite valve covers to keep your water from turning into ice. 
If you participate in more than one sport, chances are that you own more than one hydration pack. The differences can feel rather minor—after all, all of these designs are built to carry gear and offer convenient hydration—but we've found that the purpose-built models can go a long way in terms of comfort and convenience. That said, there are a few multi-sport models to be aware of, including the CamelBak Octane 16 and the Nathan TrailMix 12L. Both of these packs feature fairly lightweight builds and on-the-go storage without being too polarizing in any direction. If you're looking for a quiver-of-one hydration pack for casual hiking, mountain biking, and trail running, they're certainly worth a second look.
Back to Our Top Hydration Pack Picks  Back to Our Hydration Pack Comparison Table
Read More From Switchback Travel