Salomon X Ultra 4 GTX
Price: $160
Weight: 1 lb. 10 oz. (men's size 9)
Waterproof: Yes (non-GTX available)
What we like: A near-ideal balance of weight, comfort, and on-trail performance. 
What we don't: Quicklace system means it's harder to customize the fit.
See the Men's Salomon X Ultra 4  See the Women's Salomon X Ultra 4
Every few years, Salomon revamps their best-selling X Ultra line, and they launched the latest "4" in spring 2021. Building on the success of the prior generation, the retooled shoe features a modernized and sleeker upper, updates to the lacing system and chassis, and a slightly higher-volume fit in the toe box. After testing the low-top Gore-Tex variation, I've concluded that the latest model is another winner: It's tougher, more protective, and provides better support than a trail runner yet has an athletic feel that makes it easy to put on serious miles. Below we outline our experiences with the X Ultra 4. To see how it stacks up to the competition, see our article on the best hiking shoes.
 
---
Table of Contents
---

Performance
Comfort
Like its predecessors, Salomon's latest X Ultra 4 GTX offers excellent comfort for high mileage and ambitious day hikes and backpacking trips at a very reasonable weight. In many ways, it feels and performs like a reinforced trail runner: The construction is moderately flexible and comfortable straight out of the box, there's soft cushioning around the collar and on the tongue, and it feels very nimble on the trail. Further, there's ample padding underfoot for hauling an overnight pack and when traveling over more technical terrain, and the fairly firm EVA foam does a nice job with absorbing impacts.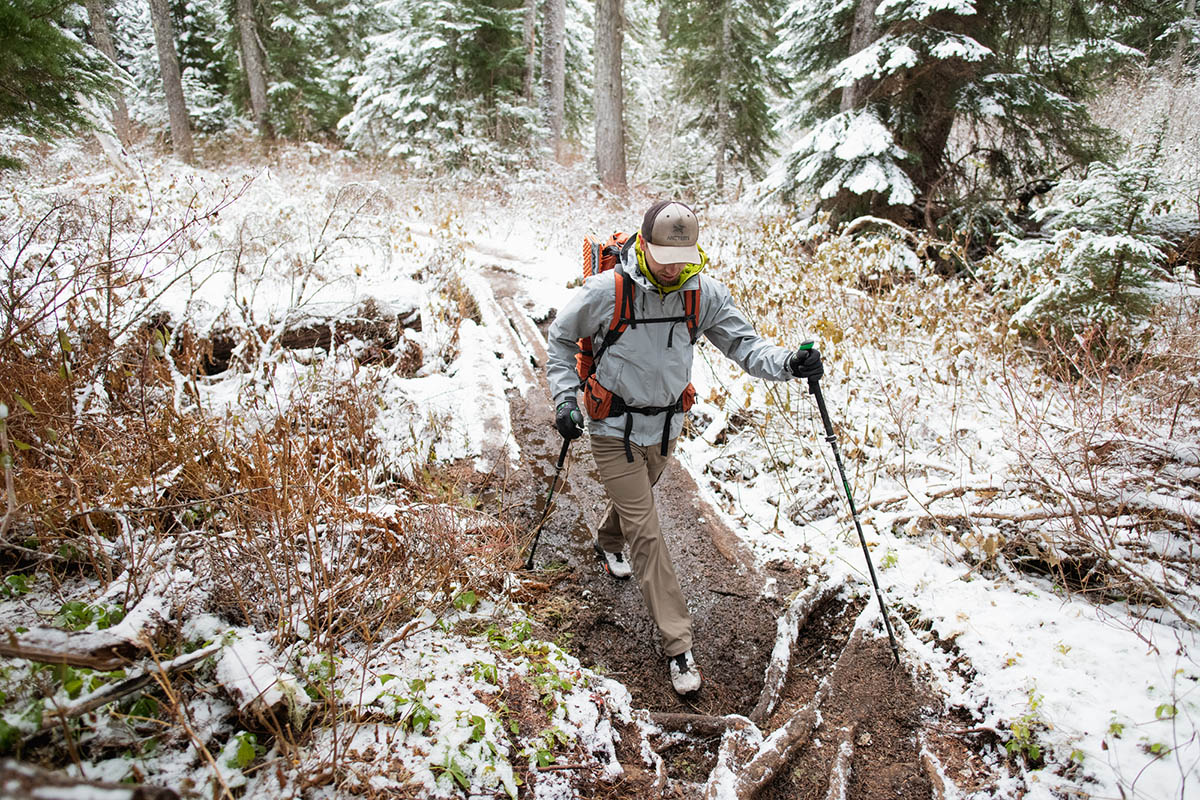 To be clear, the X Ultra 4 isn't soft and squishy like a true trail runner, but its long-distance comfort nevertheless is very good (as with prior models, it should be on the radar among thru-hikers). And as a bonus, protection is a notable step up: Reinforcements around the toes and heels give the X Ultra 4 the clear edge over running designs while scrambling and for accidental kicks to rocks and roots. Plus, a new strip of stretchy material along the top of the shoe below the laces keeps dirt and trail debris out while offering a nice amount of "give." Combined with the single-pull Quicklace system (described below), I found it provided an even and very secure all-around fit.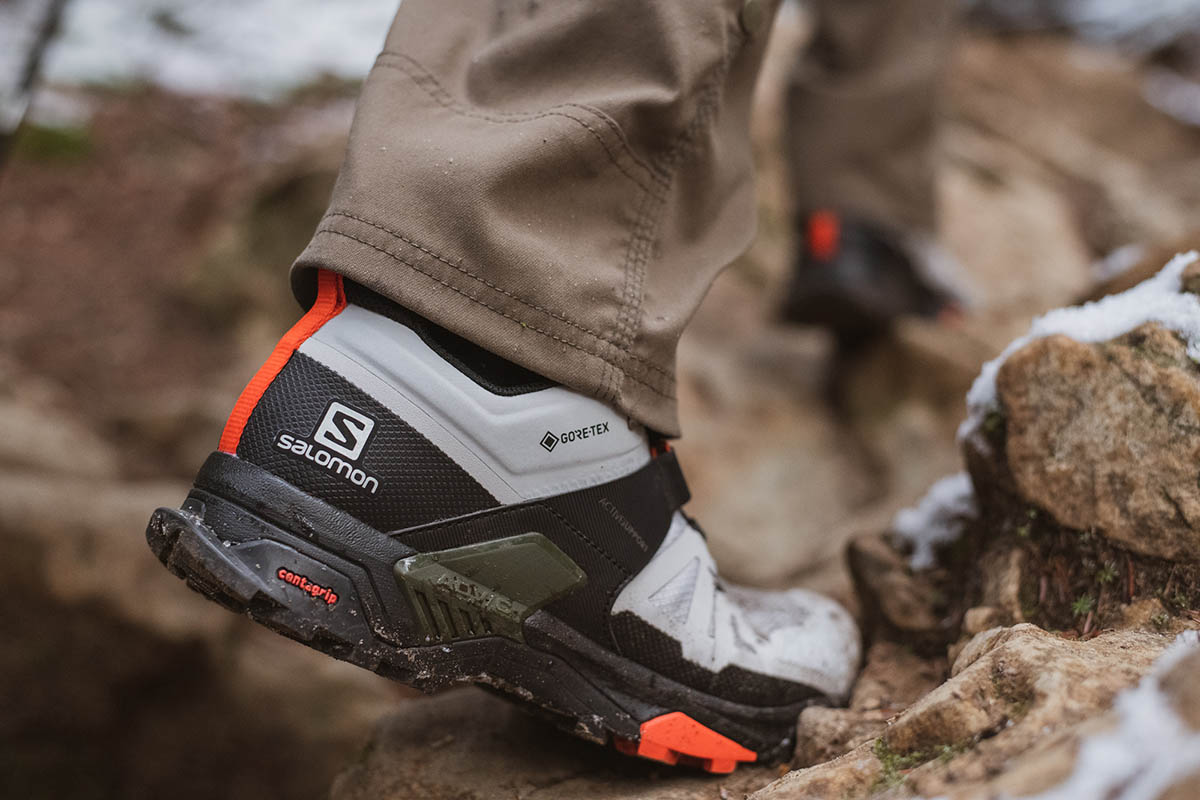 However, it's worth noting that a number of X Ultra 4 users have reported issues with the raised collar. In comparing my X Ultra 4 and 3, the difference in height is noticeable—the 3 sits lower around the ankle in general. I personally didn't have any issues with the extra material, but many claim it has led to considerable discomfort. When trying on the shoe, it's probably a good idea to be aware of this to see if any friction and rubbing will occur around the ankle. And as with all hiking shoes, make sure to pair them with a quality set of socks to maximize comfort.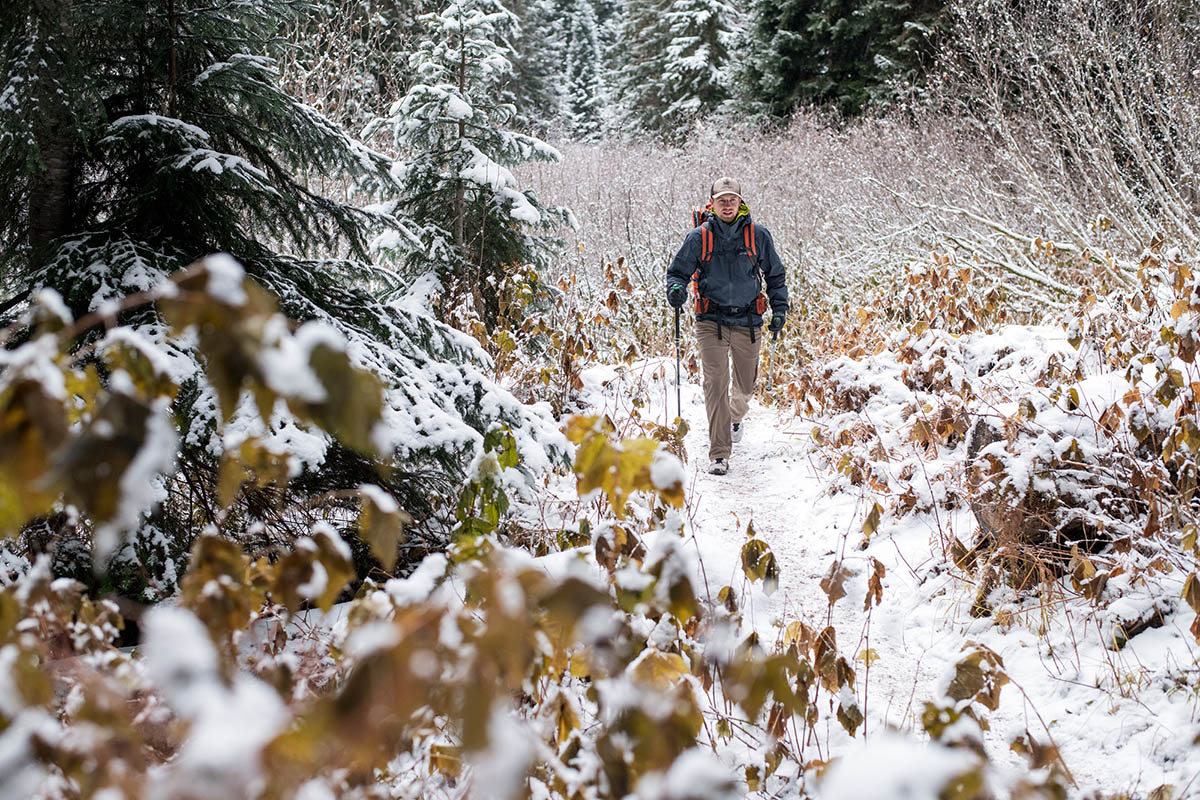 Weight
The low-top, Gore-Tex variation of the X Ultra 4 weighs in at 1 pound 10 ounces for a men's size 9 (it's listed at 1 lb. 11.5 oz.), which is the same as my well-worn pair of X Ultra 3s. For comparison, that undercuts many popular models on the market, including the Merrell Moab 3 WP (1 lb. 15.9 oz.), Oboz Sawtooth X Low WP (2 lbs. 1.8 oz.), and La Sportiva Spire GTX (1 lb. 15 oz.), which feel notably heavier by comparison. There have been a growing number of ultralight trail shoes released recently, including Salomon's own Outpulse GTX (1 lb. 8.8 oz.) and Merrell's Moab Speed GTX (1 lb. 7 oz.), but those come with compromises in stability and toughness. All in all, considering the well-rounded performance and nimble feel of the X Ultra 4 on everything from multi-day backpacking trips to weekend day hikes, its low weight makes it a real standout.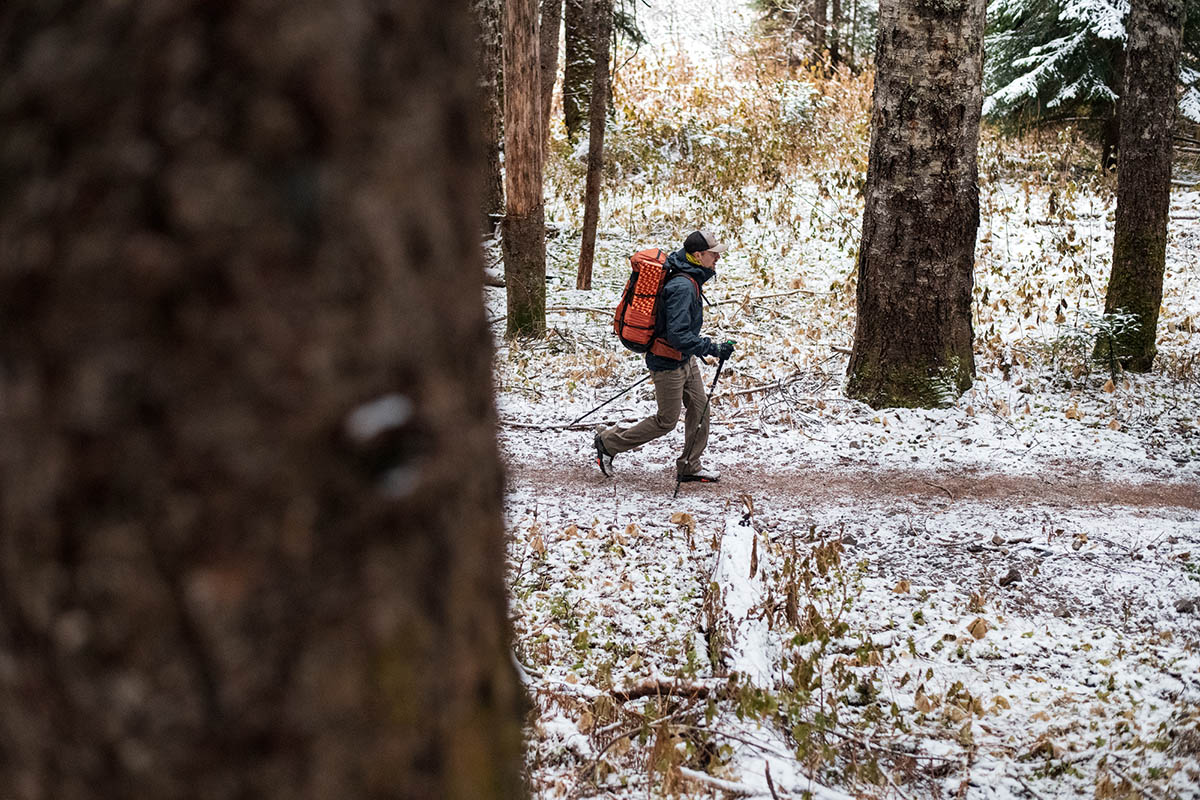 Traction
For the outsole, Salomon continues to use their in-house Contagrip design with the X Ultra 4 GTX, although they tweaked the compound slightly this time around. That said, the performance of the "All Terrain" rubber has been very similar to past versions, which is a good thing. The chevron-shaped lugs do a great job biting into softer surfaces while not being overly flexible or prone to premature wear. And the grip on rock—even in the wet conditions I experienced throughout the winter—has been strong and consistent. Additionally, the lug shape and depth have made the shoe very easy to trust even when breaking into a run on some steep and fairly loose descents. Those hiking on very muddy trails may want an outsole with a little more spacing, but otherwise I see little to nitpick with the X Ultra's design.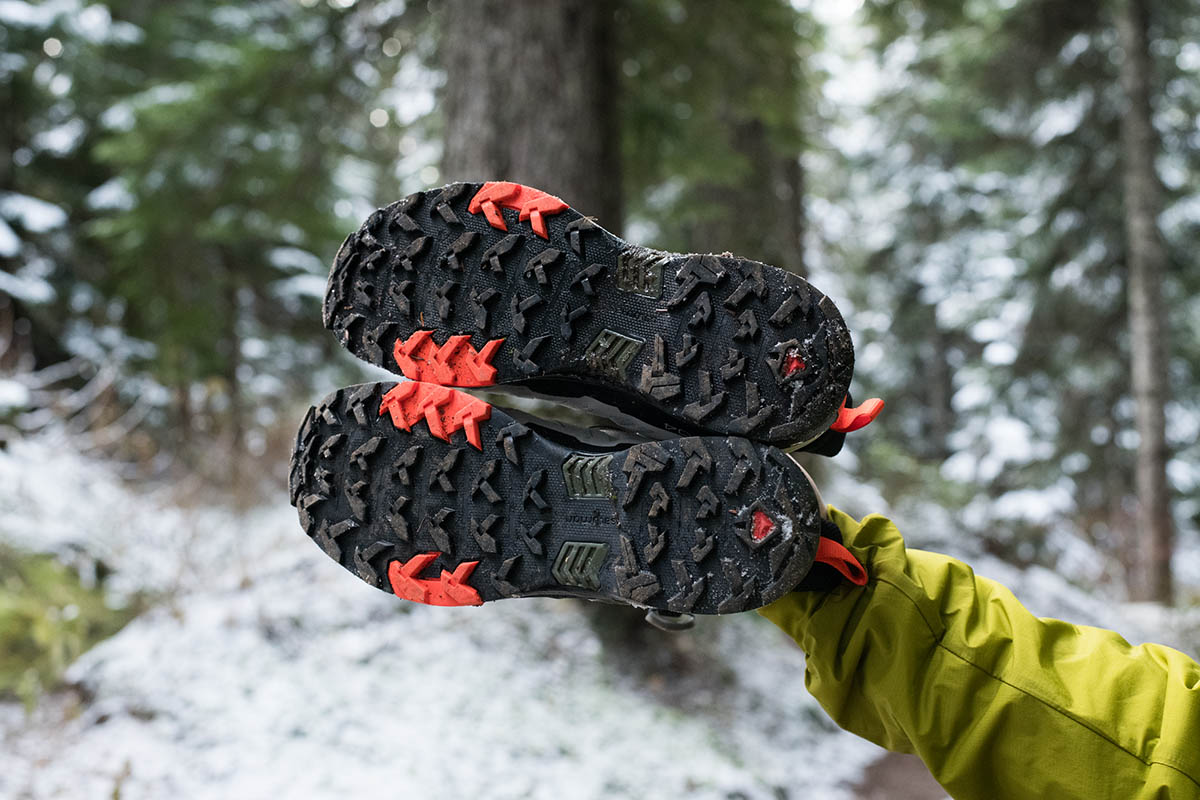 Stability and Support
One notable change with the X Ultra 4 is its revamped chassis, which aims to cut weight while retaining the good all-around stability and support of the outgoing model. In use, I think Salomon pulled it off quite well: The shoe has a slightly wider base, which gives it a planted and solid feel, and I was confident hiking with a loaded backpacking pack (my since-discontinued Granite Gear Crown2 38) through rocky creek crossings and up and down steep and heavily rooted trails. But there's still plenty of flex towards the front of the shoe, which makes it smooth and athletic-feeling when hiking quickly on flat ground.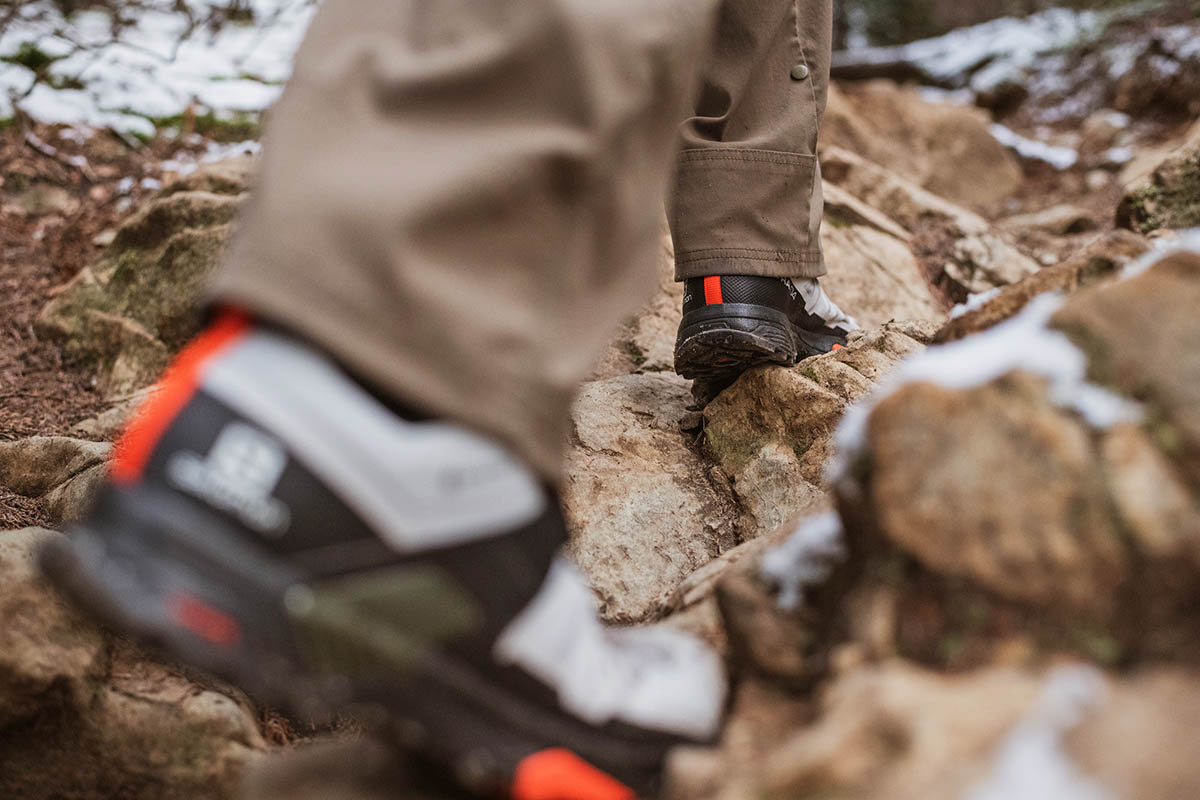 A contributor to this stable yet agile feel is a winged eyelet that connects the lacing system with the center of the midsole. Pulling the laces tight provides extra reinforcement at this area to help with rolled ankles, and while it's hard to pinpoint exactly how effective it is, I found overall stability to be very good considering the low-top build. Among similar models, you can get added stiffness with a shoe like the La Sportiva Spire, which is almost boot-like in its construction, but I think most day hikers and backpackers will be really happy with the X Ultra 4.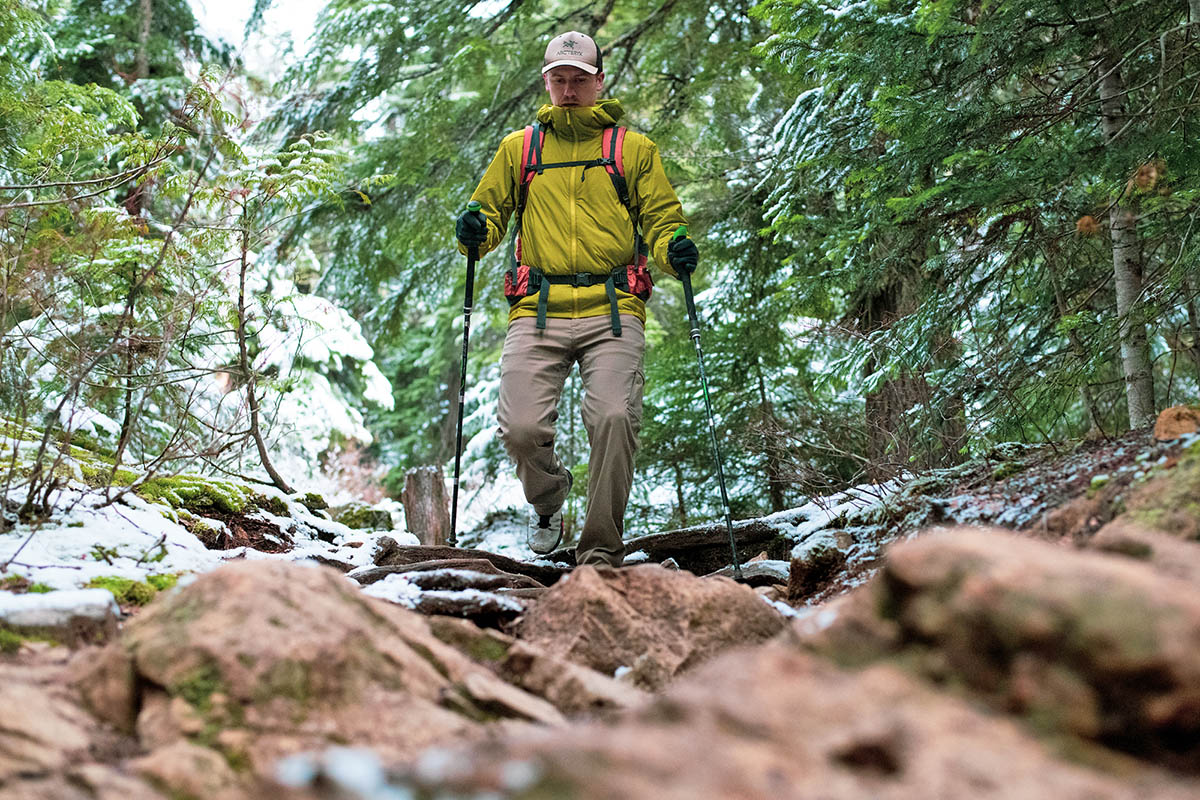 Waterproofing
The majority of the X Ultra 4's testing was done during late fall and into the heart of winter, meaning I had ample opportunities to test the shoe's water-resistant upper and Gore-Tex liner. And as expected, it's been a solid overall performer: The synthetic material has a durable water repellent (DWR) coating that does a nice job shedding light moisture and helping seal out light rain and snow, while the Gore-Tex liner hasn't failed at any point and has kept my feet dry. As with all waterproof low-top shoes, you still need to be mindful in creek crossings to prevent water from coming in over the top—Gore-Tex models are far slower to dry than non-waterproof or mesh-heavy builds—but I thankfully haven't dealt with that yet (for more on this topic, see our article: Do You Need Waterproof Hiking Shoes?).

Breathability
The flipside of the extensive wintertime testing is that I haven't worn the shoes in temperatures above about 60 degrees Fahrenheit, so it's hard to speak to their level of breathability just yet. That said, Gore-Tex shoes as a whole run on the warm side—including the prior-generation X Ultra 3 GTX—so I expect similar performance with the 4. It does help that the synthetic upper material is fairly thin, and the low-top cut doesn't trap as much heat as a boot, but it'll likely be prone to growing warm in the middle of summer. If you prioritize breathability or a quick drying time, consider opting for the non-waterproof variation of the X Ultra 4 ($140).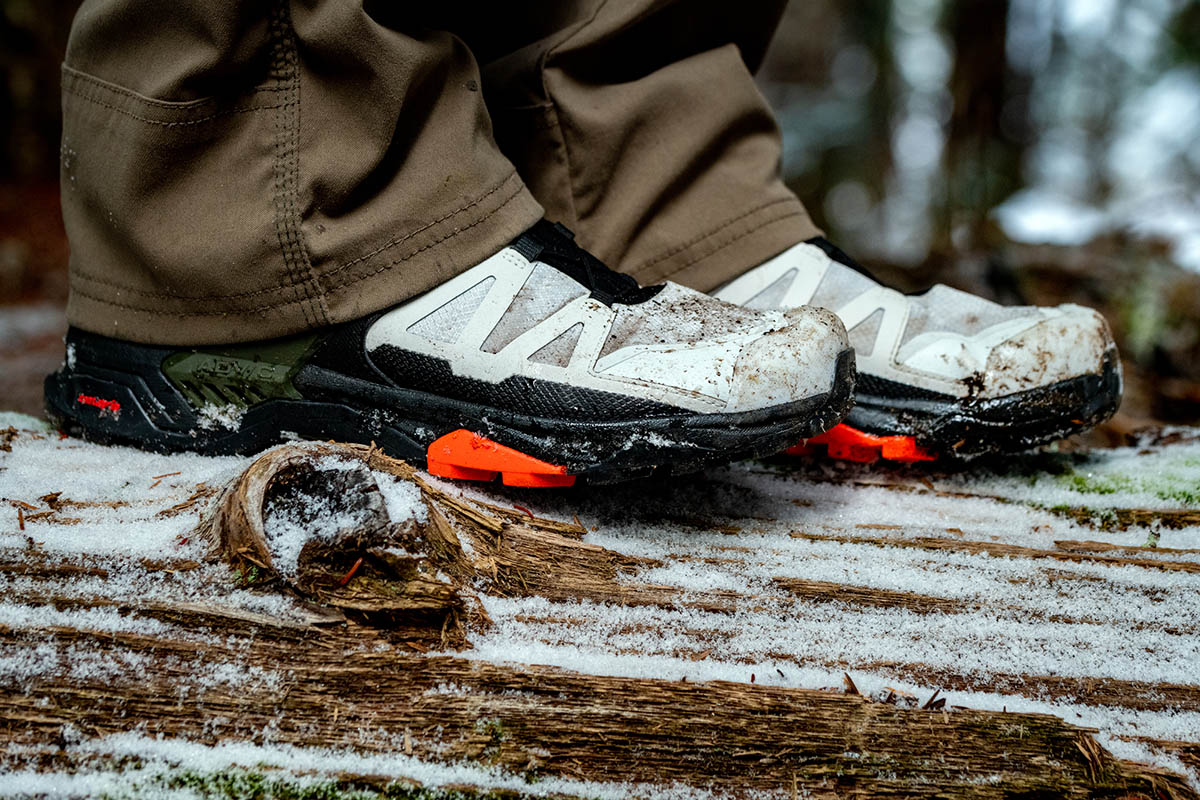 Build Quality and Durability
With only a couple exceptions—including their since-discontinued OUTline shoe that broke down prematurely—we've had good success with Salomon's build quality and longevity. The X Ultra 4 carries the torch with a hardwearing build that's held up well throughout testing so far. The outsole is wearing down evenly and at a reasonable rate despite frequent use on harder surfaces and rock, and the multi-piece upper still looks good. It's far less white than when I first took the shoes out of the box, but I wasn't a big fan of the bright styling to begin with, so I don't see that as much of a downside.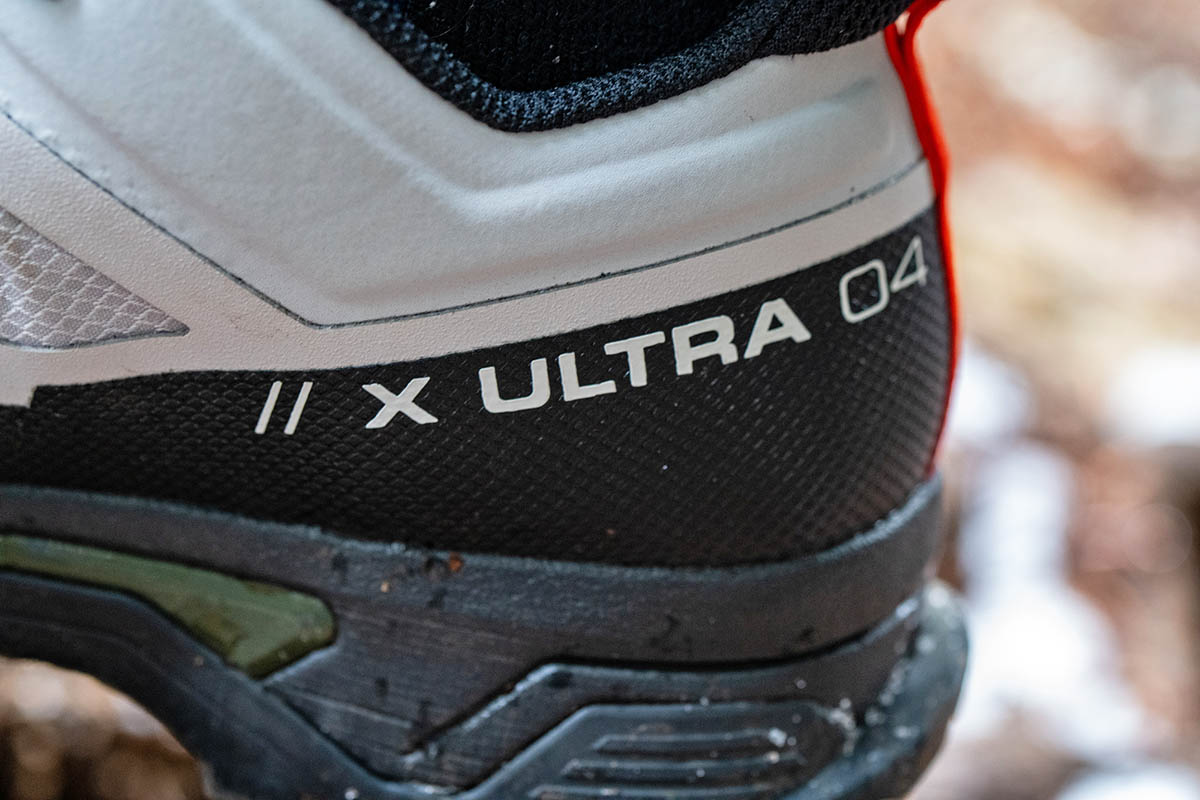 Salomon's Quicklaces
The X Ultra 4 GTX utilizes Salomon's signature Quicklace system, which is featured in a number of their hiking and trail running collections. The main advantage is convenience: It's very easy to get an even cinch with a single pull of the cord, and it all tucks away quickly and neatly into a stretchy pocket in the tongue. And unlike with my X Ultra 3s, I haven't found myself needing to retighten the shoes any more frequently than I do with traditional laces, which has been a welcome improvement. Finally, as I touched on above, the new wing that connects to the outside of the middle eyelet does a nice job locking everything in place and giving the shoe a secure and solid fit.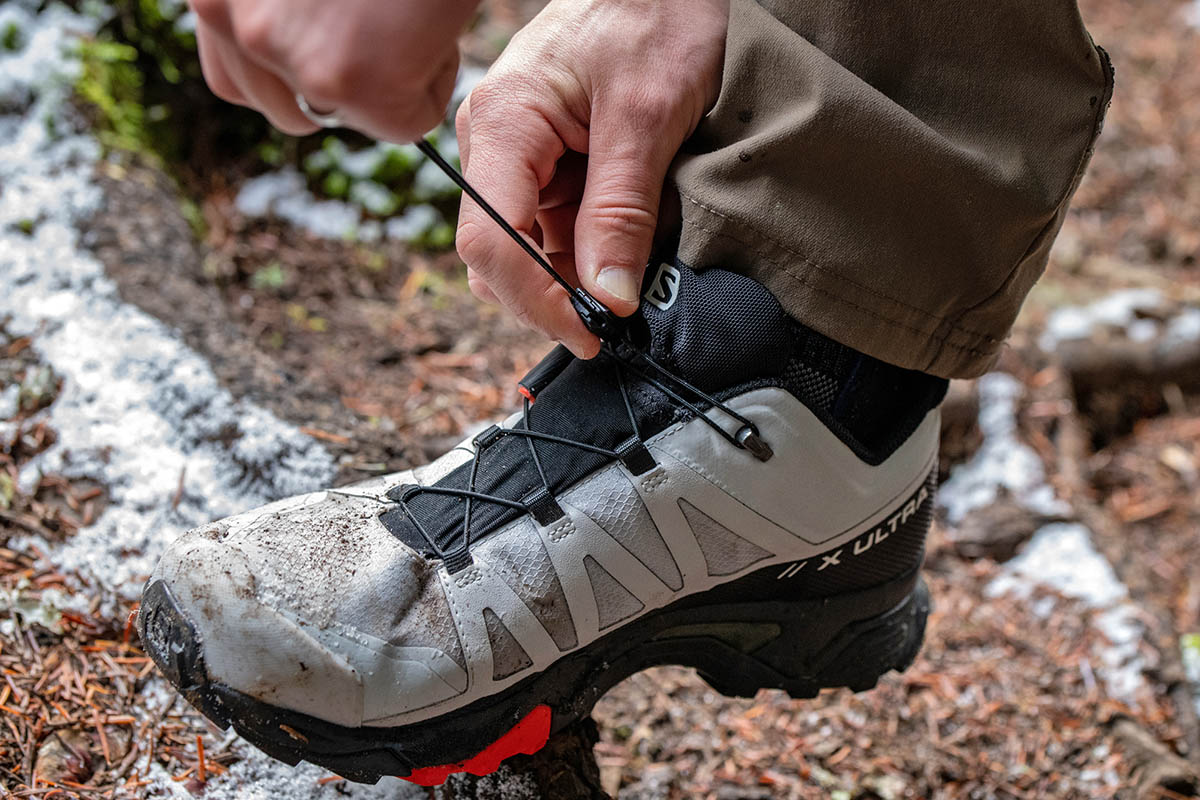 All that said, the Quicklace system certainly isn't for everyone. Most notably, you can't customize the tightness in any particular area, which can be an issue for those that like to tweak the fit at certain parts of the foot. Plus, while it's well made and we haven't had any failures despite extensive use, a broken Quicklace is harder to fix in the field, which is a downside for extended backpacking. In the end, I personally prefer traditional laces for the ability to customize and ease of use in general, but it's not a deal-breaker by any means, and many hikers will be happy with the quicker on/off process.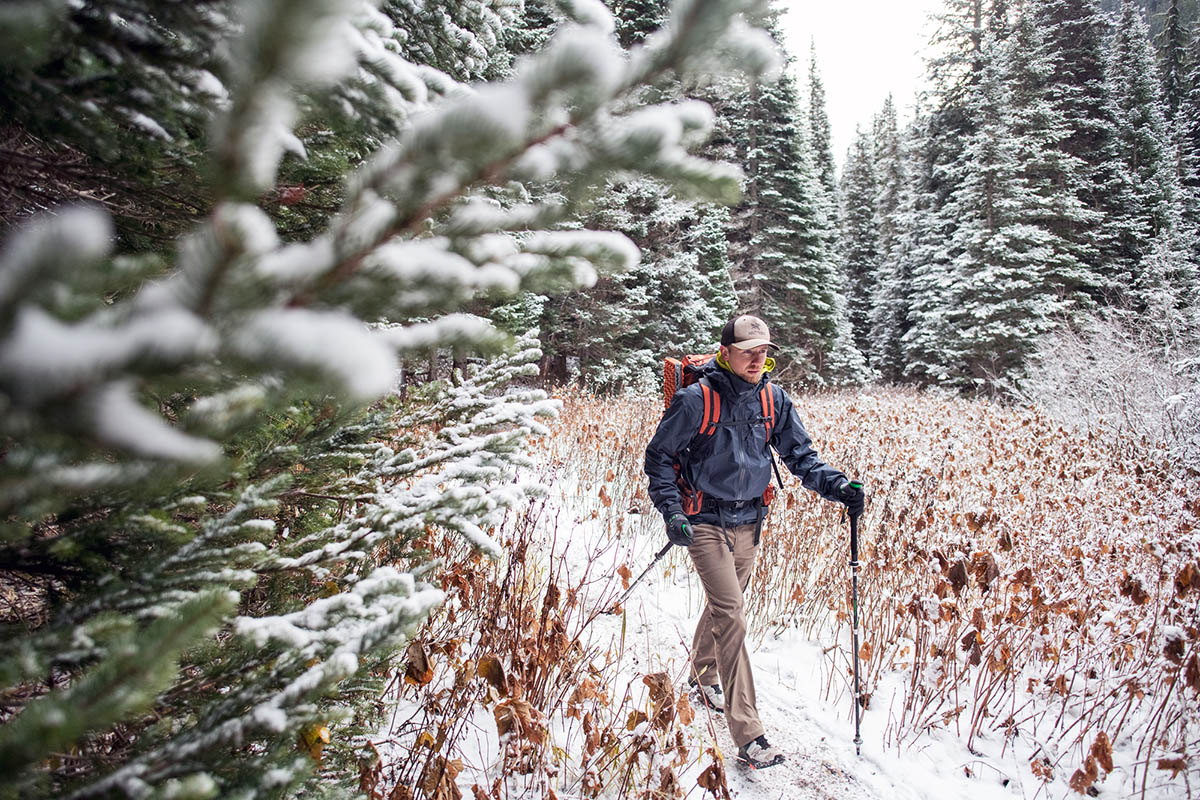 Fit and Sizing
Comparing the fit of the Salomon X Ultra 4 to my prior-generation X Ultra 3, it's clear the toe box has a roomier and higher-volume shape than the outgoing model. For many hikers, this will be a positive, as the previous version was pretty narrow and could lead to pressure points and discomfort. On the other hand, those with narrow feet or who liked the old model's fit may be let down at first. But the good news is that the shoe still felt locked in around the heel on extended climbs, and it wasn't too wide for me to feel sloppy over technical terrain. And for hikers who need extra width, Salomon offers both the shoe and boot variations in dedicated wide sizes, which is relatively uncommon in the market.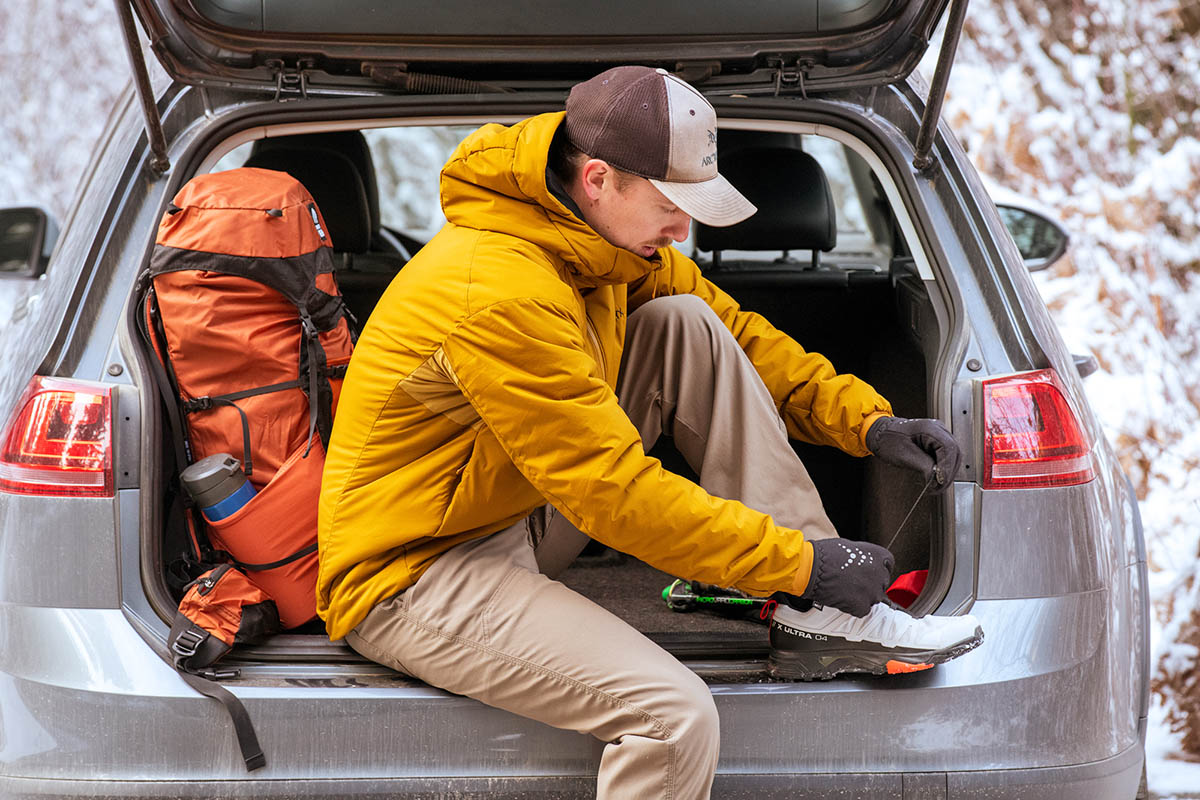 Other Versions of the Salomon X Ultra 4
We put the men's low-top, Gore-Tex variation of the X Ultra 4 through its paces for this review, and that style is also offered in a women's equivalent that costs the same and has a nearly identical construction (other than being sold in different colorways). However, despite similar overall performance, our female tester experienced some fit issues and rubbing from the plastic Quicklace toggle, although not everyone will have the same experience (for more, see our women's X Ultra 4 review). If you hike mostly in mild weather or prioritize breathability, opting for the non-waterproof X Ultra 4 will save you $20 and 2.1 ounces. Salomon also offers a mid-height Gore-Tex version that provides additional protection and coverage at a higher weight (1 lb. 14 oz.) and cost ($175). For a breakdown of that boot, see our in-depth X Ultra 4 Mid review. Finally, there's a cold-weather-ready model called the X Ultra 4 Mid Winter that boasts 200-gram Thinsulate insulation, a gaiter hook, and a retooled outsole for colder temperatures.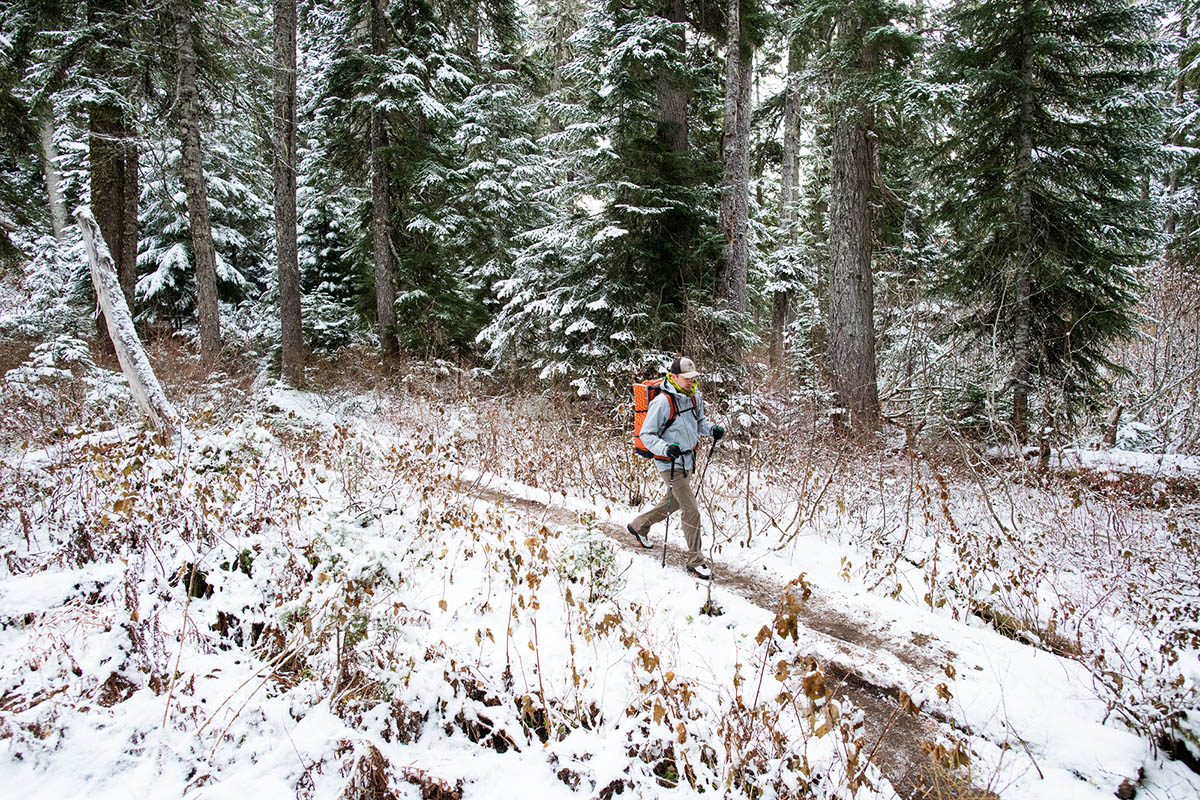 What We Like
A true standout in lightweight performance: The X Ultra 4 is comfortable over long distances, grippy on most surfaces, and supportive considering its low-top construction.
Despite the fairly aggressive and stable build, the X Ultra feels light and athletic on the trail.
Planted feel and solid protection for rough terrain.
The new winged eyelet that connects the lacing system with the midsole does a nice job locking everything in place and gives the shoe a secure fit.
Like most Salomon footwear, the X Ultra 4 is well built and standing up great to long-term use.

What We Don't
Not everyone will love the single-pull Quicklace system, as it doesn't allow you to customize fit as well as traditional lacing designs.
Gore-Tex construction runs pretty warm. Those in dry climates or who prefer a quick drying time should opt for the non-waterproof model.
Toe box has a roomier shape than the previous X Ultra 3, which is a downside for those with narrow feet or who prefer a snug, performance fit.
Some users have reported issues with the raised collar rubbing uncomfortably against their ankle, although we did not experience this problem in our testing.


Comparison Table
The Competition
Salomon's X Ultra 4 certainly is a standout in the hiking shoe market, but there are a number of other lightweight competitors to choose from. Within Salomon's own lineup, their Outpulse GTX is another nimble low-top hiker to consider. Compared to the X Ultra, the Outpulse is lighter at 1 pound 8.8 ounces, costs $10 less, and has a noticeably responsive and sprightly personality—it feels a lot like a trail runner but with a tangible boost in support and stability. However, the X Ultra wins out in most other key areas, including grip, protection, and stiffness for covering technical and rocky terrain. We also had a few durability concerns when testing the mid-height version of the Outpulse, including a thin knit-like upper that feels susceptible to tears and snags and noticeable gaps where the toe cap connects to the rest of the shoe. In the end, the Outpulse is a nice match for those traveling fast and light over well-trodden trails, but the X Ultra is the more capable option if you plan to mix in off-trail hiking or shuttling a heavier load.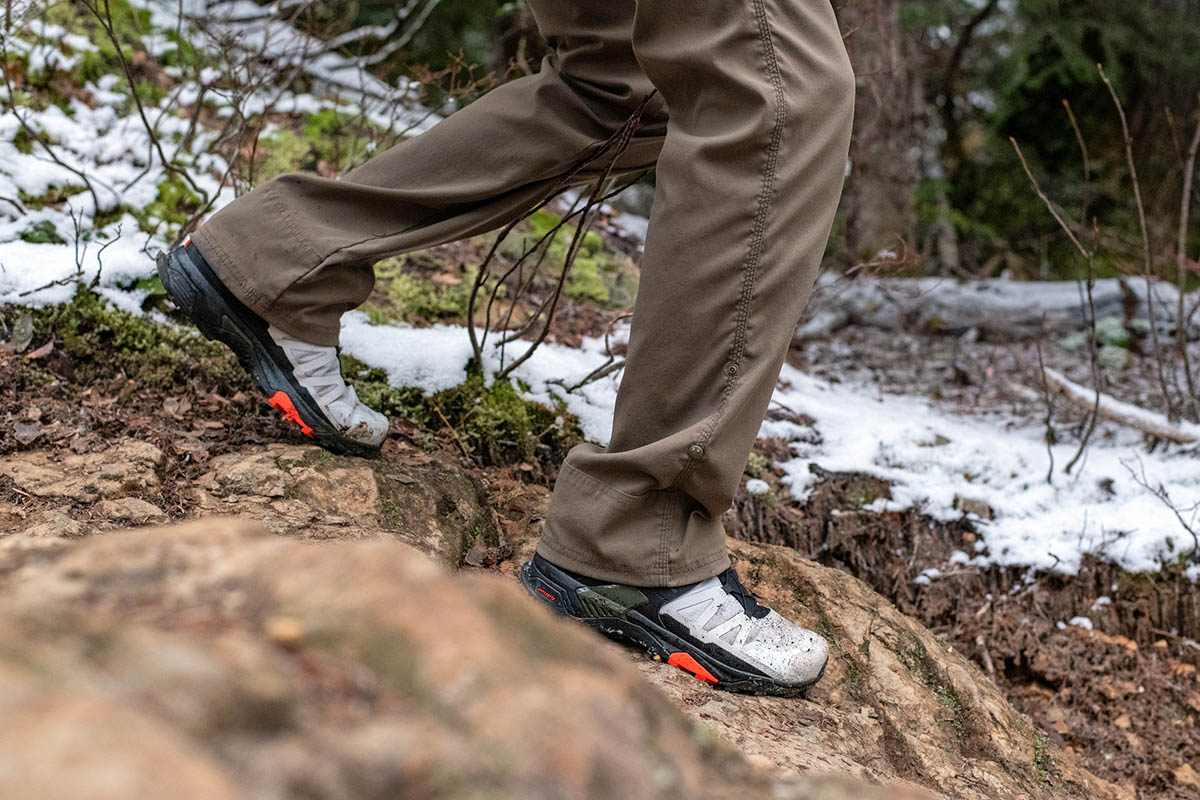 Moving away from Salomon's lineup, Adidas' Terrex Swift R3 GTX stacks up similarly to the X Ultra 4. Both shoes cost $160, weigh around the same (the Adidas is 0.4 ounces heavier), and offer impressive protection, traction, and long-term durability. The Terrex Swift wins out slightly in overall stability, although the downside is that it has a noticeably stiffer and more rigid feel. If you're looking for more of a flexible and trail runner-like experience where you can feel the ground beneath you, the X Ultra 4 is the better pick. However, if support, protection, and toughness are at the top of your priority list, the Terrex Swift is a very capable alternative.
Danner's Trail 2650 GTX is a more around town-friendly alternative to the X Ultra 4, but it's still a pretty impressive performer on the trail. Like the Outpulse mentioned above, the Danner is softer, more flexible, and lighter (1 lb. 5 oz.) than the X Ultra 4. However, it still offers excellent protection at the toe and heel and proved to be surprisingly capable while off-trail scrambling and hiking over rough ground in Patagonia. The downsides are price and support: The X Ultra 4 is notably more stable than the Trail 2650 while coming in at $30 less. All in all, the Danner is a very comfortable option for lighter loads and well-maintained trails, but the Salomon is the more versatile all-rounder.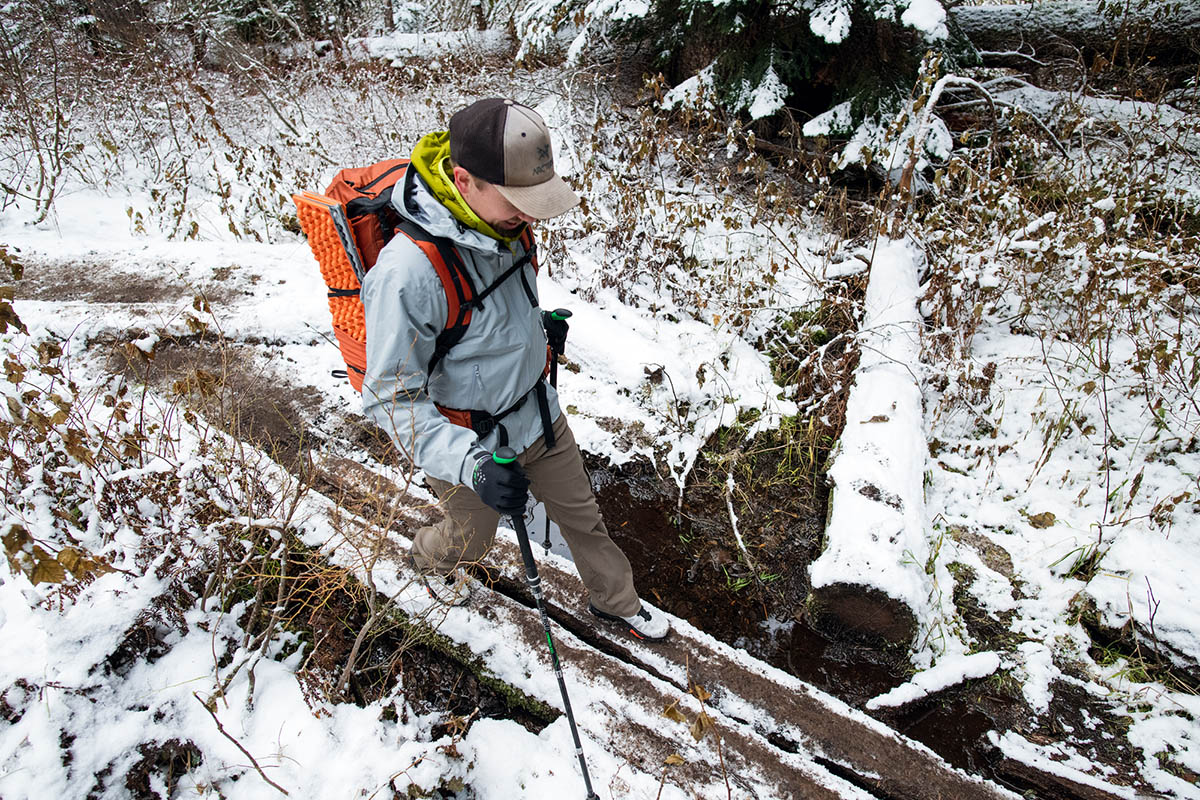 For a more traditional hiking design, Merrell's Moab 3 WP is one of the most popular options on the market. However, we'll note right off the bat that the two shoes have very different personalities: The Merrell boasts a comfort-first build with excellent cushioning for day hikes, but it feels slow and clunky compared to the X Ultra 4 on rougher terrain (weight is listed at 1 lb. 15.9 oz.), and you're not getting any upgrades in stiffness, either. For those putting on serious miles, the X Ultra is far and away the better choice, but the Merrell will save you $25 and is perfectly serviceable for easier, on-trail adventures (for more, see our in-depth Moab 3 review here).
Joining Merrell's Moab 3 above is another model from the venerable collection: the Moab Speed GTX. Despite sharing a similar name, the two Moabs fall on opposite ends of the market, and the Speed is a thoroughly modern design that lines up more closely with the X Ultra 4. For the same price as the Salomon, the Moab Speed boasts a healthy amount of protection and support, a capable Vibram outsole, and a proven Gore-Tex membrane for around 4.5 ounces less (Of note: Listed weight on Merrell's website is 1 lb. 3.3 oz., but we used REI's spec because it feels more accurate given the weights of the other Moab Speed models). However, support and durability are two clear compromises—if you're headed out on technical terrain or with a heavy pack, the X Ultra 4 is the better pick with noticeably more underfoot stability and isolation from the trail.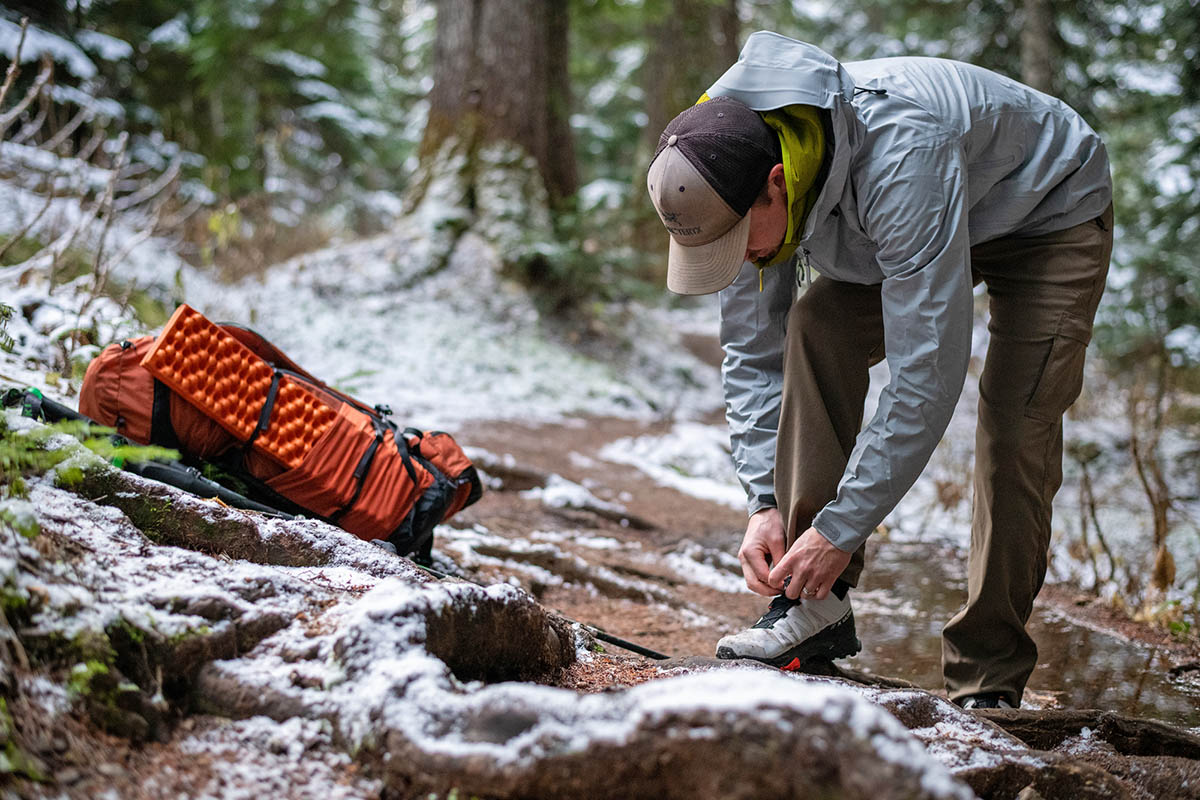 Given its light and nimble feel, it's worth comparing the X Ultra 4 to a true trail running design: Altra's Lone Peak 7. Popular among thru-hikers and minimalist backpackers, the Lone Peak is light at 1 pound 6 ounces, has a wider fit that's comfortable over long distances, and offers good ground feel with the low-profile setup. That said, it can't match the toughness, support, or protection of a proper hiking design like the Salomon, although Altra does offer a waterproof version called the Lone Peak ALL-WTHR Low 2 for $180. In the end, the two are considerably different, and a final decision will come down to your objectives and preferences on stability versus weight and padding.
If you're thinking about buying gear that we've reviewed on Switchback Travel, you can help support us in the process. Just click on any of the seller links above, and if you make a purchase, we receive a small percentage of the transaction. The cost of the product is the same to you but this helps us continue to test and write about outdoor gear. Thanks and we appreciate your support!
Depending on the seller, most products ship free in the United States on orders of $50 or more. International shipping availability and rates vary by seller. The pricing information on this page is updated hourly but we are not responsible for inaccuracies.
Read More From Switchback Travel