A good night's sleep on a backpacking trip used to be a rarity, but today's sleeping pads are much improved over their predecessors. Comfort is better than ever with advanced baffling and cell designs, weight and packed size continue to drop, and you can get all the insulation and warmth you need for cold weather. Below we break down the top sleeping pads for backpacking of 2023, including leading air, self-inflating, and foam models. With any pad you choose, make sure to take proper care to avoid holes. For more background information, see our comparison table and buying advice below the picks.
 
---
Our Team's Backpacking Sleeping Pad Picks
---

Best Overall Backpacking Sleeping Pad

Category: Air pad
Weight: 12.5 oz.
Thickness: 3 in.
R-value: 4.5
What we like: Great warmth-to-weight ratio for 3-season backpacking; new, quieter design.
What we don't: Pricey; not as easy to fill as the Tensor below.
Therm-a-Rest is synonymous with quality backpacking pads, and the NeoAir XLite NXT is their leading lightweight model. For many people and uses, it's the whole package: The XLite is comfortable with 3-inch thick baffling, features relatively durable 30-denier fabric, and has a decently high R-value of 4.5. The pad also weighs just 12.5 ounces and stuffs down impressively small, making it a premium choice for weight-conscious hikers, climbers, and more. And with a recent update, the "NXT" version uses new technology to deliver a quieter sleep, which addresses one of our main complaints with the outgoing version. All told, the NeoAir XLite NXT is Therm-a-Rest's most uncompromised offering yet.
The Therm-a-Rest NeoAir XLite NXT is undeniably expensive, but you'd be hard pressed to find another pad that offers the same amount of warmth and comfort at such a low weight. If you're serious about backpacking, often find yourself out in the shoulder seasons, and want the best 3-season pad money can buy—this is it. On the other hand, if your backpacking trips are characterized by warm, summery conditions, a lower-R-value pad can save you some money (that said, very few can compete with the Therm-a-Rest in terms of weight). And when choosing your Therm-a-Rest, keep size in mind: The mummy-shaped XLite NXT is offered in three separate lengths, along with the XLite NXT MAX, a 25-inch-wide, rectangular pad that's available in two lengths.
See the Therm-a-Rest NeoAir XLite NXT
A Close Second

Category: Air pad
Weight: 14.5 oz.
Thickness: 3 in.
R-value: 4.2
What we like: $10 cheaper than the XLite above; best pump sack design on the market.
What we don't: Thinner fabric yet heavier overall weight than the XLite.
Nemo is perhaps best known for their backpacking tents, but they've assembled a solid lineup of quality sleeping pads. The Tensor Insulated is a case in point, combining a lightweight and packable build with a comfortable sleeping platform and generous 3 inches of cushion that nicely isolate you from the ground below. We're also big fans of Nemo's intuitive Vortex pump sack that requires very little effort: Simply snap it onto the flat, micro-adjustable valve, blow lightly into the opening, and roll the collar down to force air into the mat. All in all, the Tensor's blend of comfort, build quality, and ease of use make it a standout on the market.
It's worth noting that we had the Tensor Insulated in the top spot until recently, but the XLite NXT has overtaken it for a few key reasons. For starters, a recent update to the Therm-a-Rest makes it equally as thick as the Nemo (3 in.), slightly warmer (R-value: 4.5), and quieter, which was one of our primary gripes with the outgoing model. And as before, the XLite checks in 2 ounces lighter and is a bit more durable than the Tensor Insulated (30D vs. 20D), which can go a long way for those who sleep outside the tent or without a foam pad beneath their air pad. But for $10 less, the Nemo Tensor Insulated is nevertheless a premium backpacking sleeping pad that's well deserving of a spot at the top of our list. Finally, Nemo also makes the Tensor Alpine Insulated ($250), which is slightly warmer with an R-value of 4.8 but heavier at 1 pound 1 ounce.
See the Nemo Tensor Insulated
Most Comfortable Pad for Side Sleepers

Category: Air pad
Weight: 1 lb. 1.3 oz.
Thickness: 4 in.
R-value: 3.2
What we like: Excellent comfort and isolation from the ground with a super-thick build.
What we don't: Expensive and only moderately insulated. 
For side sleepers and those who move around a lot during the night, Sea to Summit's Ether Light XT Insulated is the ticket. With a whopping 4 inches of cushioning off the ground, the Ether is the thickest sleeping pad on this list while weighing in at a respectable 1 pound 1.3 ounces. Other notable features include Sea to Summit's distinctive Air Sprung Cells, a 3.2 R-value that should suffice for most summer and shoulder-season backpacking trips (it worked for us on nights in the mid 20s Fahrenheit), and a dual pump/stuff sack for quick and painless inflation. Taken together, the Ether is one of the most luxurious pads on the market.
Admittedly, such a thick pad is unnecessary for many backpackers, including those who tend to sleep on their back and smaller humans in general (we've found that the 2.5-in. Therm-a-Rest NeoAirs are sufficient in most instances). In addition, the extra cushioning that the Sea to Summit offers comes with a bump in weight—the Ether Light XT Insulated is over 5 ounces heavier than the XLite above. Further, if weight isn't a major concern, it's also worth checking out Nemo's premium Quasar 3D below, which features a soft-touch top, rectangular shape, and slightly higher R-value of 3.5. But all in all, for side sleepers looking to put as much space as possible between their body and the ground, the Ether is hard to beat. Sea to Summit also offers the Ether Light XT Extreme ($219, 1 lb. 9.4 oz.), which adds Thermolite insulation to achieve an R-value of 6.2, as well as the lighter, summer-focused Ether Light XT Air ($199, 13.8 oz.).
See the Sea to Summit Ether Light XT Insulated
Best Budget Air Pad for Backpacking

Category: Air pad
Weight: 1 lb. 6 oz.
Thickness: 3.25 in.
R-value: 4.0
What we like: Impressive warmth and plush padding for just $120.
What we don't: Relatively heavy; vertical baffles are not the most comfortable design.
You can spend $200 (or more) on a sleeping pad, but for budget-minded backpackers or those who only get out a few times a year, the Big Agnes Divide Insulated gets the job done for about half the cost. Aside from the price, there's not a whole lot that screams "budget" about the Divide: You get a generous 3.25 inches of padding (including taller 3.5-in. outer chambers to keep you from drifting off the side), a competitive R-value of 4.0, and a 4 x 7.5-inch packed size (for reference, the Nemo Tensor above compresses to 3.5 x 9.5 in.). Along with a two-way valve with dedicated openings for inflation and deflation and easy micro-adjustment, Big Agnes also includes a pump sack for easy setup.
For non-picky sleepers, recreational backpackers, or new campers with few points of comparison, the Divide Insulated is fully capable in most 3-season conditions. But at 1 pound 6 ounces, it's not particularly light, and consensus is pretty clear that vertical baffles are not as comfortable as horizontal or boxed baffles like those found on the NeoAir XLite and Ether Light above. That said, side sleepers will like the Divide's plush 3.25-inch thickness, and it's nevertheless an impressive pad for just $120. For warm-weather backpacking, Big Agnes also makes the standard Divide (non-insulated), which has an R-value of 1.5 and is priced at just $90. 
See the Big Agnes Divide Insulated
Best Crossover Pad for Backpacking and Camping

Category: Air pad
Weight: 1 lb. 9 oz. 
Thickness: 3.5 in.
R-value: 3.3
What we like: A comfort-first pad for backpacking, camping, and more.
What we don't: Heavier than most air pads here.
It might be called a "backpacking" sleeping pad, but let's face it: A lot of us use our mats for more than just nights on the trail, whether it's bedding down in a vehicle, at a frontcountry campground, or on a friend's living room floor. For a pad that can do it all, check out Nemo's Quasar 3D. Marketed as a "quiver killer," the Quasar combines a decently lightweight build with a roomy rectangular shape (no mummy option) and impressive comfort. Soft contours hug your body and keep you centered on the pad, and you get 3.5 inches of cushioning (great for side sleepers) and an elevated baffle at one end to prop up your head or keep your pillow in place. Added up, the Quasar toes the line between a camping mattress and a backpacking pad better than most.
But as with the majority of gear that seeks to be the jack of all trades, the Quasar 3D is master of none. At 1 pound 9 ounces for the insulated design (3.3 R-value), it has one of the poorest warmth-to-weight ratios of any air pad here. And while $160 is a fairly competitive price point, you can save $40 with the Big Agnes Divide Insulated, which is both lighter and warmer. But if comfort is the main factor in your equation, it's true that the Quasar 3D is a cut above most backpacking pads. Finally, Nemo also offers a non-insulated version (R-value: 1.8) for $140, and it doesn't hurt that both models are bluesign-certified and made with 100%-recycled materials.
See the Nemo Quasar 3D Insulated
Best Self-Inflating Sleeping Pad

Category: Self-inflating
Weight: 1 lb. 7 oz.
Thickness: 1.5 in.
R-value: 3.2
What we like: Self-inflating convenience at a great price.
What we don't: Thickness, weight, and packed size can't compete with an air pad.
Air pads dominate the backpacking market, but self-inflating models still have a place due to their convenient setup, greater durability, and cushy foam padding. Our favorite self-inflating design is Therm-a-Rest's ProLite Plus, which hits a nice balance of warmth, toughness, and price. The pad is super easy to use—just unroll it and open the valve to inflate—and its 3.2 R-value and 1.5-inch thickness offer enough warmth and protection for most spring, summer, and fall trips. In terms of durability, the robust 50-denier fabric resists abrasion better than most pads here, and the additional foam (standard in all self-inflating designs) means you still have a small layer of insulation even if your pad does deflate. 
What are the downsides of the Therm-a-Rest ProLite Plus? First off, the pad's packed size (11 in. by 6.8 in) and weight (1 lb. 7 oz.) make it significantly larger and heavier than a design like the Therm-a-Rest XLite above—in the end, this is the main reason most weight- and space-conscious backpackers opt for an air pad over a self-inflating design. Further, the ProLite Plus is relatively thin at just 1.5 inches, which is not particularly ideal for side sleepers. And if durability is your aim, there are other options: For example, Exped's Dura 3R combines 75x170-denier face fabric with a 3-inch-thick air-pad design ($150; 1 lb. 9 oz). But many will appreciate the ProLite's soft surface and the added security of the foam padding—and the price is hard to beat at just $125. It's also worth checking out Therm-a-Rest's ProLite Apex ($135), a hybrid pad that adds air chambers to the foam design for a boost in R-value (3.8) and thickness (2 in.).
See the Therm-a-Rest ProLite Plus  See the Women's Therm-a-Rest ProLite Plus
Best Sleeping Pad for Cold Weather

Category: Air pad
Weight: 1 lb.
Thickness: 3 in.
R-value: 7.3
What we like: High R-value for below-freezing conditions; new, quieter design.
What we don't: Pricey and overkill for most backpackers.
For high-altitude climbers, winter campers, or those who experience sub-freezing temps on their backpacking trips, Therm-a-Rest's NeoAir XTherm NXT is worth a serious look. This pad has a similar design to the brand's popular XLite above but adds more layers of ThermaCapture, which mimics a built-in emergency blanket by reflecting back your body heat. The result is a winter-ready R-value of 7.3 for just 1 pound, which is truly an impressive feat. And like the XLite above, the XTherm NXT features new technology that delivers a quieter sleep than the outgoing version. If you're on the hunt for a premium 4-season pad, your search can stop here.
Price is the biggest hurdle for most backpackers, with the Therm-a-Rest XTherm starting at a steep $240 for the regular size (the large is even more at $270). Further, the high R-value is overkill for most 3-season trips, which constitutes the majority of backpackers. But on the other hand, the XTherm is still lighter and more packable than the vast majority of sleeping pads here, and significantly more hardwearing with its thick 70-denier bottom. If you need the extra warmth or durability and can afford it, the XTherm NXT is an exceptional cold-weather standout for serious adventurers. 
See the Therm-a-Rest NeoAir XTherm NXT
Best Foam Sleeping Pad

Category: Closed-cell foam
Weight: 14.5 oz.
Thickness: 0.9 in.
R-value: 2.0
What we like: Cheap and will never pop; thicker than the Therm-a-Rest Z Lite.
What we don't: Not nearly as comfortable as inflatable sleeping pads.
We'll start by saying that the Switchback from Nemo is not the right choice for those looking for a cushy and comfortable sleeping pad. You get a little less than an inch of closed-cell foam, along with a reflective coating designed to capture radiant heat. But we love this pad for two very important reasons: it's cheap at just $55 for the regular version, and it will never pop. Despite the very thin and simplistic nature of foam, we'll take the Switchback over a $150+ air pad with a hole any day. Plus, it's incredibly versatile: use it as a seat around camp, sub it in for your pack's foam backpanel to save weight, or slide it under your air or self-inflating pad for additional warmth or protection. Heck, we even use our foam pad to keep dinner or water warm (wrapping it around the pot) in our camp kitchen.
Compared to the uber-popular and long-standing Therm-a-Rest Z Lite SOL below, the Switchback wins out in most ways. For the same price, the Nemo is thicker (0.9 in. compared to 0.75 in.) yet packs down to the same size. We also think it's a touch more comfortable, although it's a close call between the two. All that said, you'll still feel rocks and roots beneath you much more than with the pricier air options above and below, and with an R-value of just 2 it won't keep you insulated from the cold ground outside of the summer months. But as a versatile add-on or a dedicated UL pad that won't pop, the Switchback is a great piece of gear to add to your kit. For a cheaper solution, Exped now offers their FlexMat ($40), but it doesn't pack up as small as the Switchback and Z Lite, and its thinner construction (0.7 in.) means less insulation overall (the Exped's R-value is 1.5).
See the Nemo Switchback
Best of the Rest

Category: Air pad
Weight: 1 lb. 5.9 oz.
Thickness: 2.5 in.
R-value: 3.7
What we like: Warmer and plusher than the Ether Light XT above. 
What we don't: Heavier than the leading Therm-a-Rest pads.
Sea to Summit's Ether Light XT Insulated above is our favorite pick for side sleepers, but for a solid all-rounder it's worth checking out their Comfort Light Insulated here. In contrast to the horizontal or vertical baffles of most air pads, both Sea to Summit models have an innovative cell design (dubbed Air Sprung Cell technology) that maximizes surface area connecting the pad to your body, resulting in better support and weight distribution throughout. Importantly, the Comfort Light Insulated tacks on a second layer of cells at the torso, increasing warmth and comfort where you need it while minimizing weight and bulk everywhere else. And like the Ether Light XT, the Comfort Light features a wider shape than most designs (21.5 vs. the standard 20 in.) and relatively durable face fabric (30 & 40D). 
When deciding between the Comfort Light and the Ether Light XT above, there are a few things to keep in mind. As we mentioned, the Ether Light XT's 4-inch loft is ideal for keeping side sleepers off the ground, and the pad is lighter by over 4.5 ounces (which also translates to less bulk). On the other hand, the Comfort Light here is a bit warmer despite its thinner design—particularly from the hips up—and offers a plusher feel than the slightly more rigid Ether (especially for back sleepers). Neither pad can match the warmth-to-weight ratio of the Therm-a-Rest or Nemo above, but the added comfort of the Air Sprung Cells will be well worth it for some. Finally, you can bump up to the celebrated Comfort Plus Insulated Air for a warmer design (R-value: 4), but in our opinion it's not worth the extra 7 ounces and $40.
See the Comfort Light Insulated  See the Women's Comfort Light Insulated

Category: Air pad
Weight: 1 lb. 9 oz.
Thickness: 3.5 in.
R-value: 4.3
What we like: Thick construction and soft-touch fabric offers impressive comfort and warmth.
What we don't: Raised outer chambers result in a narrow-feeling pad.
Steamboat Springs, Colo.-based Big Agnes makes some of our favorite lightweight backpacking gear, and the Boundary Deluxe Insulated stands out as one of their most premium sleeping pad designs. Featuring PrimaLoft Silver synthetic insulation and a very thick 3.5-inch construction (its sides are even taller at 4.25 in.), the Boundary Deluxe Insulated is a strong option for side and active sleepers and in chilly conditions. And with a quilted, soft-touch sleeping surface, it gets incredibly high marks for comfort. For those in the market for a plush and warm pad that can play double duty for both camping and backpacking, the Big Agnes is well worth a second look.
In terms of comfort-focused sleeping pads, the Boundary Deluxe Insulated goes head-to-head with the Nemo Quasar 3D above. Both pads check in at a relatively heavy 1 pound 9 ounces (overkill for most backpackers), but feature soft fabrics and thick cushion. The main difference between the two comes in terms of insulation and design: The Boundary Deluxe is warmer with an R-value of 4.3 (vs. the Nemo's 3.3) and features Big Agnes' I-Beam construction rather than the Nemo's horizontal baffles. After testing both pads, we prefer the slightly plusher and roomier Quasar 3D (the Boundary Deluxe's raised outer chambers result in a rather narrow feel), but the Big Agnes is nevertheless a premium pick for campers and casual backpackers. For similar warmth in a more streamlined package, check out Big Agnes' Rapide SL ($150; 1 lb. 3 oz.), which features the same construction but drops the Boundary Deluxe's plush and stretchy face fabric.
See the Big Agnes Boundary Deluxe Insulated

Category: Air pad
Weight: 1 lb. 8.5 oz.
Thickness: 3.1 in.
R-value: 3.8
What we like: A durable pad for a great price.
What we don't: Heavy; cheap and unreliable valve design.
Rab Equipment is known for their alpine-ready outerwear, which offers no-frills performance at a reasonable price. The U.K.-based brand only recently dipped into the world of sleeping pads, and their collection includes the self-inflating Exosphere, high-tech Ionosphere, and mid-range Stratosphere here. We tested the Ionosphere 5 and the Stratosphere 4 on a recent trip to Patagonia; we were disappointed with the slippery, overly streamlined nature of the former, and came away with slightly more promising impressions of the latter. For both pads, the highlight was the large, elasticized opening on the stuff sack, which is the best design we've seen yet.
The Stratosphere's main selling point is its 75-denier material, which makes the pad significantly more hardwearing than most. If you're hard on your gear or like to sleep outside of a tent, finding a thicker design like the Rab here is a great idea. We also appreciated the Stratosphere's roomy rectangular shape and oversized outer baffles, which kept us centered on the pad (this was especially relieving after sleeping on the Ionosphere 5 the night before, which seemed to want to spit us off with each movement). But we were very disappointed with the Stratosphere's valve, which easily popped out of the pad when we removed the pump sack, and the warmth-to-weight ratio is nothing to write home about. Added up, we see a lot of room for improvement in Rab's offerings, but if you want a pad to use and abuse and don't mind schlepping the added ounces, the Stratosphere 4 will get the job done.
See the Rab Stratosphere 4

Category: Closed-cell foam
Weight: 14 oz.
Thickness: 0.75 in.
R-value: 2.0
What we like: Durable and lightweight.
What we don't: Nemo Switchback above is thicker and more comfortable.
Therm-a-Rest's Z Lite SOL is a backpacking classic. This basic 3/4-inch pad features tough closed-cell foam, a reflective coating for a boost in warmth, and a budget-friendly price of $58. Further, the pad folds up accordion-style into a reasonably compact package for storing on the top, side, or bottom of a pack. As with the Nemo Switchback above, the Z Lite is not a leader in terms of comfort, but it's hard to argue with the dependability of a cheap foam mat. 
You'll see the Therm-a-Rest Z Lite SOL strapped to a surprisingly high number of packs. Ultralighters love the low weight and dependability, budget backpackers love the price, and winter campers use it as a second mat for a boost in warmth. In the end, the Switchback above beats it in comfort with its thicker, more plush design, but the Z Lite is the proven choice that still gets the slight edge in weight (14 oz. vs. 14.5 for the Nemo).
See the Therm-a-Rest Z Lite SOL

Category: Self-inflating/air pad
Weight: 1 lb. 7 oz.
Thickness: 2 in.
R-value: 3.3
What we like: The thickness of an air pad and reliability of a self-inflating model.
What we don't: Thin 20-denier shell; large packed size.
Nemo's Flyer is in a category of its own as a hybrid air/self-inflating pad that brings together the best features of both styles. To create the Flyer, Nemo took the design of a self-inflating pad, trimmed down the amount of open-cell foam by 60%, and added insulation and comfort via air-filled baffles. The net result is a mat that's reasonably light at 1 pound 7 ounces, easy to set up (it's self-inflating), and decently compressible with a stuffed size of 6.5 x 10 inches. And importantly, the Flyer retains the supportive, plush cushioning of a self-inflating pad, which keeps you insulated from the ground even in the event of a leak.
Nemo recently updated the Flyer with bluesign-approved materials (the fabrics are now 100% recycled), but the design remains the same. With a 20-denier shell, the pad is similarly vulnerable to punctures as the brand's much lighter Tensor, although (as we mentioned above) you'll at least have a little foam cushioning with the Flyer to keep you protected if the pad gets a hole. It's also a bit more expensive and no warmer than the Therm-a-Rest ProLite Plus above, but the Nemo wins out in thickness (2 in. vs. 1.5 in.) and packed size (6.5 x 10 in. vs. 6.8 x 11 in. for the Therm-a-Rest). If you prefer a self-inflating build but want to keep things light and compact, we think the Flyer is well worth checking out. 
See the Nemo Flyer

Category: Air pad
Weight: 14 oz.
Thickness: 3.25 in.
R-value: 4.3
What we like: More affordable and comfortable than the NeoAir XLite NXT and Tensor above.
What we don't: Warmth is still up for debate—we'll report back after testing.
New to the scene is the Big Agnes Zoom UL, the lightest pad in their lineup and worthy competition to the likes of the Therm-a-Rest NeoAir XLite NXT and Nemo Tensor above. The Zoom UL slots in between the two headlining pads in terms of weight and R-value, but goes above and beyond with a rectangular build, 3.25 inches of cushion (including 3.5-in. side rails), and supportive O-beam construction that's similar to that of our top comfort pick, the Sea to Summit Ether Light XT Insulated. And at just $180, it undercuts the aforementioned pads by a significant $20 to $30. All told, the Big Agnes Zoom UL is an exciting new addition to the UL sleeping pad market, and well worth a closer look for weight-conscious backpackers, bikepackers, and climbers.
We haven't yet had the chance to test the Zoom UL (we plan to take it on a week-long backpacking trip in the late summer), but have a few initial thoughts. First off, in contrast to the I-beam construction used in pads like the Big Agnes Rapide SL and Boundary Deluxe above, its O-beam construction leaves larger patches of the pad without air or insulation (a weight-saving tactic, to be sure). Second, while Big Agnes advertises a 4.3 R-value, we've seen 3.7 in a few press releases, which admittedly gives us pause. And finally, the Zoom UL features a simplified two-way valve, which means it'll take some time to deflate. But the pad's construction is undeniably comfortable, and it's hard to argue with the price. We're not ready to unseat our longtime favorites, but if the Zoom UL is all it's cracked up to be, it certainly gives Nemo and Therm-a-Rest's premium UL pads a run for their money in terms of comfort and value.
See the Big Agnes Zoom UL

Category: Air pad
Weight: 1 lb. 6 oz.
Thickness: 3.5 in.
R-value: 7.1
What we like: One of the highest R-value backpacking pads on the market.
What we don't: Significantly tapered, relatively fragile, and overkill for most conditions.
Most of the sleeping pads on the list are built for 3-season conditions with varying levels of insulation. But for the highest R-value of any backpacking pad here, the new Exped Ultra 7R takes the cake at 7.1. With a unique design that uses 700-fill goose down as insulation, the Ultra 7R also is a substantial 3.5 inches thick and quite comfortable to sleep on. You can't inflate this pad manually, as the moisture from your breath can damage the down fill, but the included waterproof compression sack doubles as a fully functional pump bag. For 4-season backpacking, basecamping, and as an expedition mat, the Exped wins out in warmth. 
The new Ultra 7R improves upon Exped's old DownMat XP 9, with a much lower weight and only small concessions in terms of warmth. However, the Ultra 7R's 20-denier recycled ripstop polyester is noticeably more fragile (the DownMat used 75D), and the mummy-version of the pad also features a significant taper from the shoulders to the toes. Compared to the uber-popular Therm-a-Rest XTherm above, the Ultra 7R is slightly warmer and a full inch thicker, but the tradeoff comes in terms of weight and durability: The XTherm is 6 ounces lighter and has a 70-denier base. In the end, the Therm-a-Rest is a more well-rounded and time-tested offering, but the Exped isn't far behind and is certainly deserving of a spot on our list.
See the Exped Ultra 7R

Category: Air pad
Weight: 1 lb. 5 oz.
Thickness: 3 in.
R-value: 4.9
What we like: Comfort-first design and inclusive pricing/sizing.
What we don't: More expensive than the similarly spec'd Big Agnes Divide Insulated above.
REI's $100 Flash used to be one of our favorite budget pads, but their new Helix takes aim at a different market with a warmer, more insulated design (R-value: 4.9). Like the old Flash, the Helix's gridded baffle pattern mimics designs from Sea to Summit, providing arguably better weight distribution and comfort compared to pads with horizontal or vertical baffles. It also features a thoughtful shape that maximizes the 20-inch width throughout, narrow just above the foot to slot nicely into tapered tents. And the rest of the pad is competitive with most modern offerings, including layers of reflective insulation that provide warmth without bulk and easy-to-use inflation and deflation valves.
What stands out to us most about REI's new Helix Insulated is the standardized price tag—for $159, you can get a regular, regular wide, or long wide size. This is part of REI's push towards inclusive sizing, and we appreciate the effort (with most pads, you'll spend up for longer or wider models). At this price point, it slides into a nice middle ground on our list, offering more comfort than a budget pad like the Big Agnes Divide Insulated ($120) and more warmth for the weight than a pricier offering like the Sea to Summit Comfort Light Insulated. We've used REI's air pads in the past with varying results (initial designs suffered in terms of durability, but their quality has improved over time), but all signs point to the Helix Insulated being one of their best efforts yet. 
See the REI Co-op Helix Insulated

Category: Air pad
Weight: 8.8 oz.
Thickness: 2.5 in.
R-value: 2.3
What we like: Crazy light and surprisingly comfortable.
What we don't: Provides little insulation and is prone to popping.
Based off the popular NeoAir series, the aptly named NeoAir UberLite is Therm-a-Rest's lightest creation yet, shaving an impressive 3.7 ounces off the XLite above. The rest of the design is fairly similar: the familiar horizontal baffling makes the UberLite just as comfortable as other NeoAir offerings, dimensions are identical to the XLite for all four sizes, and the pad now features a WingLock valve for easy inflation and deflation. All that goodness, and the UberLite stuffs down smaller than a 1-liter Nalgene (Therm-a-Rest graciously made the stuff sack a bit bigger in a recent update), allowing it to hide away in the crevasses of your backpack.
The NeoAir UberLite has a lot of appeal for those looking to trim their base weight, but, unsurprisingly, it comes with a fair number of compromises. With an R-value of 2.3, the pad was just warm enough for us when temperatures dipped into the mid 40s Fahrenheit, but it likely will be too cold for the shoulder seasons or even summer trips high into the alpine. Further, the 15-denier fabric is even thinner than the XLite's delicate 30-denier shell and painfully prone to punctures—we seem to put a hole in our UberLite almost every time we go out. For $20 less, we prefer the XLite's greater versatility, but for warm-weather adventures when weight is your primary consideration, the UberLite is the pad to get. 
See the Therm-a-Rest NeoAir UberLite

Category: Air pad
Weight: 1 lb. 3.6 oz.
Thickness: 2.5 in.
R-value: 4.4
What we like: Wide sleeping platform and great price.
What we don't: Not a standout in any specific category.
Klymit's radical X Frame pad may have put the company on the map, but their follow-up Insulated Static V Lite is their best offering. Whereas the X Frame cuts away excess materials and resembles a skeleton (and offers no insulation from the ground), the Static V Lite is a little more traditional and comfortable. We particularly like the 23-inch width (most regular pads are 20 in. wide). Combined with raised baffles along the sides, the Klymit is a stable and roomy sleeping platform that is great for active sleepers.
Outside of the extra space and very competitive price, however, the Insulated Static V Lite doesn't really stand out. Using 30-denier fabric, we'd expect it to weigh less than 1 pound 3.6 ounces (the warmer 1-lb. XTherm has 70D material on its bottom), so you sacrifice durability without the typical reward of weight. Its V-like baffles also can't match the sleeping comfort of the premium options above from Sea to Summit, Therm-a-Rest, Big Agnes, and Nemo, which drops the Klymit to the very bottom of our list. For an even cheaper pad, check out the uninsulated Static V (R-value: 1.3).
See the Klymit Insulated Static V Lite
Backpacking Sleeping Pad Comparison Table
Backpacking Sleeping Pad Buying Advice
Sleeping Pad Categories: Air, Self-Inflating, and Foam
Air Pads
Backpacking sleeping pads fall into three general categories: air, self-inflating, and closed-cell foam. Air pads offer unmatched compactness, often rolling down to the same size as a Nalgene bottle. They're also the lightest option, while at the same time providing unmatched thickness. Bonded insulation or baffling techniques can bring impressive warmth, highlighted by the Therm-a-Rest XTherm NXT (R-value: 7.3). The primary downside is a greater puncture risk, and it's a big consideration. Middle of the night deflations can ruin a trip really fast. Bringing along a patch kit should alleviate most concerns, but it's still the biggest reason to not buy an air pad.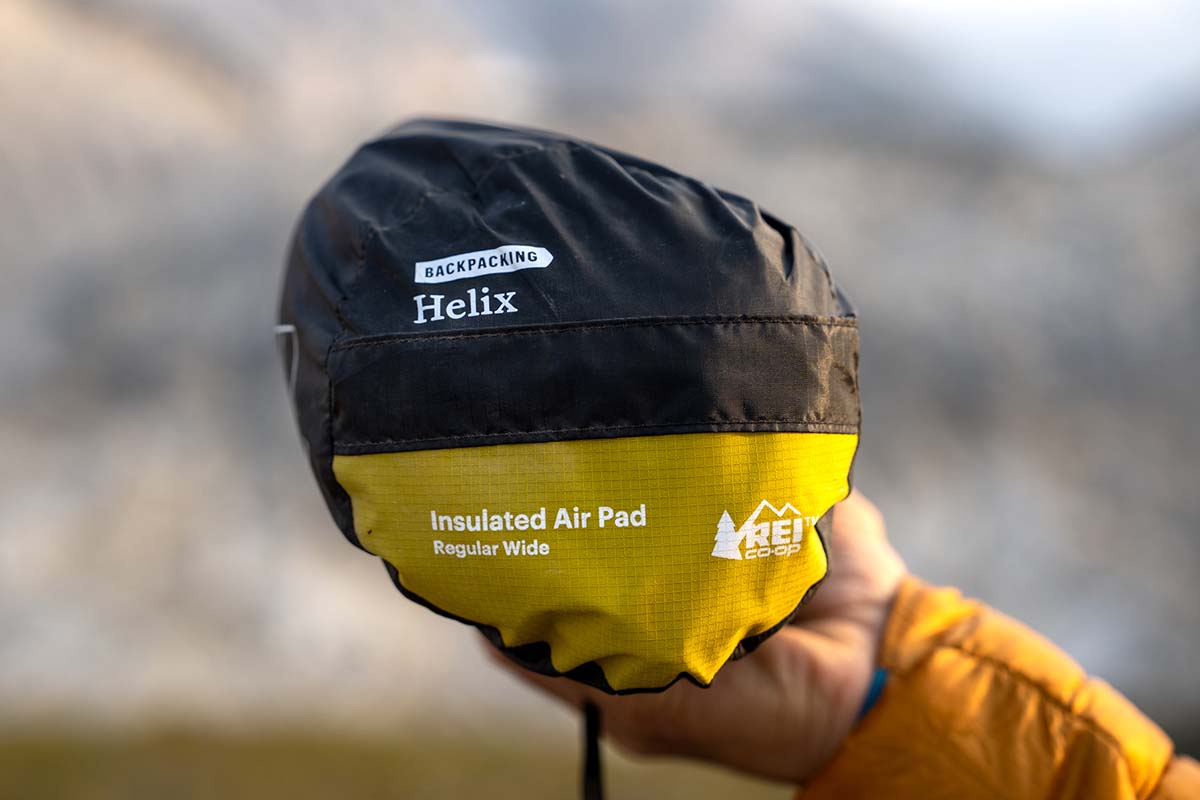 Self-Inflating Mats
The self-inflating mattress was a revolutionary idea when the Therm-a-Rest was invented in 1972. By combining open-cell foam and a space for the pad to expand and fill with air, it brought convenience, decent durability, and comfort. It's a testament to that technology that most of today's self-inflating pads haven't deviated much. Compared with air pads, self-inflating options are more puncture resistant, and you still have some semblance of padding if it deflates in the middle of the night. Negatives are that the foam brings extra poundage and they don't pack down as small as an equivalent air pad. Backpacking options are also often not as thick (exceptions include Sea to Summit's SI line), leading to complaints from side sleepers.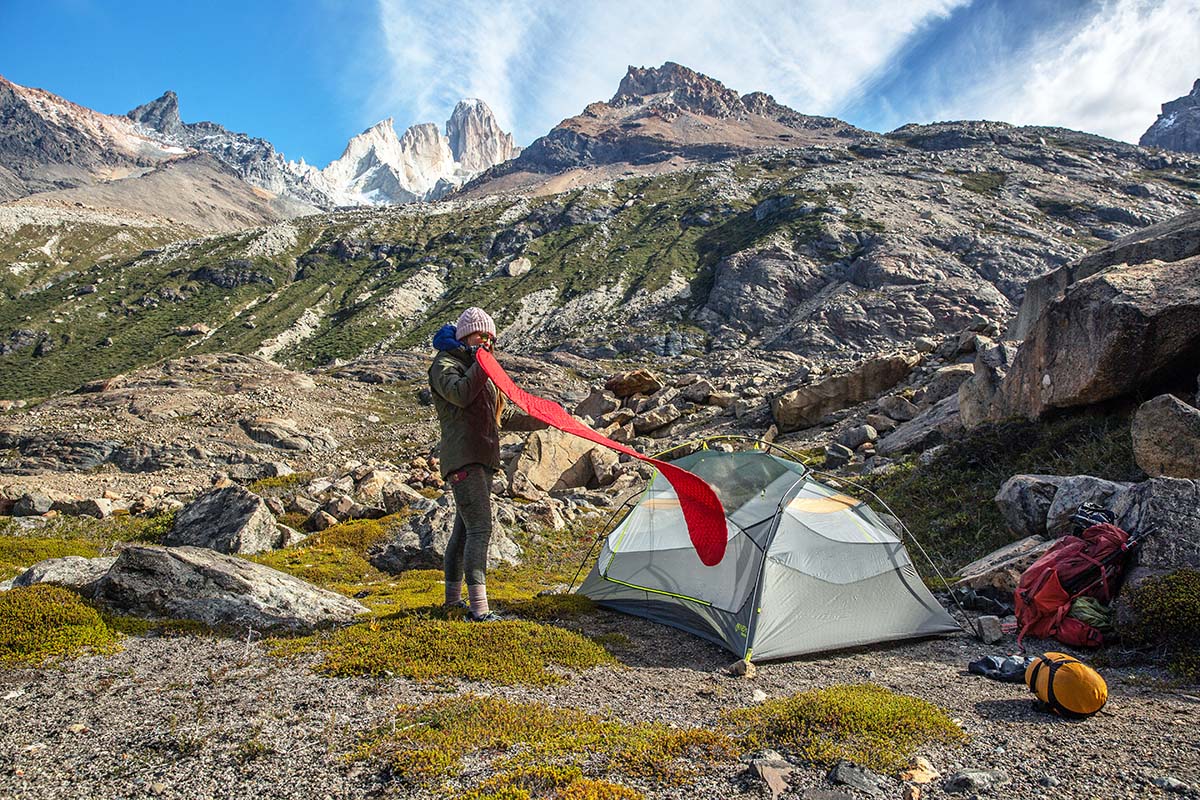 Foam Pads
The old closed-cell foam pads still have a place on this list as a dependable, tried-and-true option. Yes, they're the least comfortable option, don't pack as small, and don't have the highest R-values, but they also have exactly a zero percent chance of deflating in the middle of the night. And they're the perfect secondary pads to bring along for winter camping. Designs like the Therm-a-Rest Z Lite SOL and Nemo Switchback are staples for long-distance trekkers and thru-hikers due to their versatile and lightweight constructions.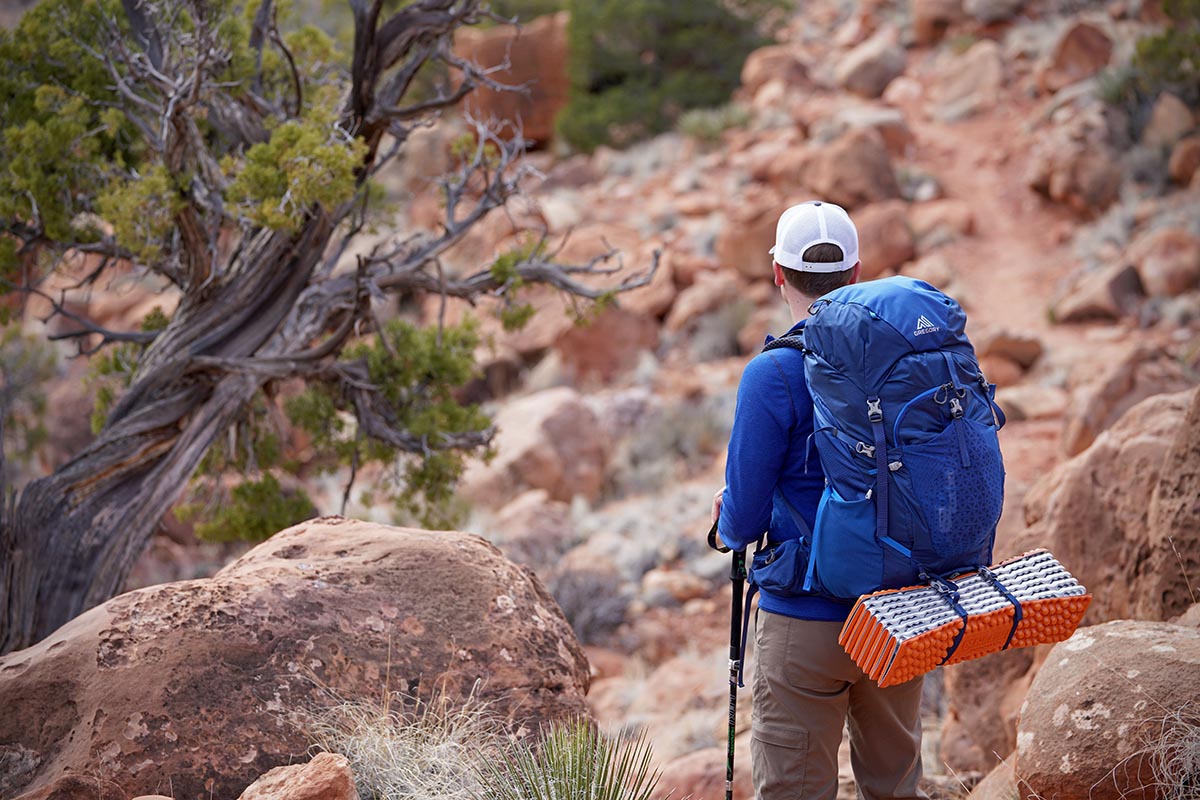 Weight
Weight is a primary consideration for many backpackers—just look at the quick rise of the ultralight backpacking movement. On this list, you'll find everything from the 8.8-ounce Therm-a-Rest NeoAir UberLite to the 1-pound-9-ounce Nemo Quasar 3D Insulated and Big Agnes Boundary Deluxe. We think that the best backpacking pad options are in the 12- to 18-ounce range, offering cutting-edge materials along with respectable levels of comfort and warmth. And our top pick, the Therm-a-Rest NeoAir XLite NXT, does just that as a fantastic and lightweight 3-season pad at just 12.5 ounces.
As with any piece of outdoor gear, the less it weighs the more fragile it will be. It doesn't make a ton of sense to buy a $200 ultralight sleeping pad if you only plan on using it on a couple of easy weekend trips each summer. And regardless of its weight, make sure to take reasonable care when setting up camp and stowing your pad (more on this in "Sleeping Pad Care" below).
Thickness and Comfort
Comfort is relative when sleeping on the ground, and most people who can't handle a night under the stars don't backpack or camp at all. Backpacking pads are thinner and less plush than camping mattresses and pads, but the latest outdoor gear technology has made advances in this department. We think Sea to Summit's Air Sprung Cells (2 in. thick on their Ultralight Insulated, 2.5 in. on their Comfort Light, and 4 in. on their Ether Light XT Insulated) make for some of the most comfortable sleeping pads around, although they can't quite compete with Therm-a-Rest in terms of weight and R-value per ounce.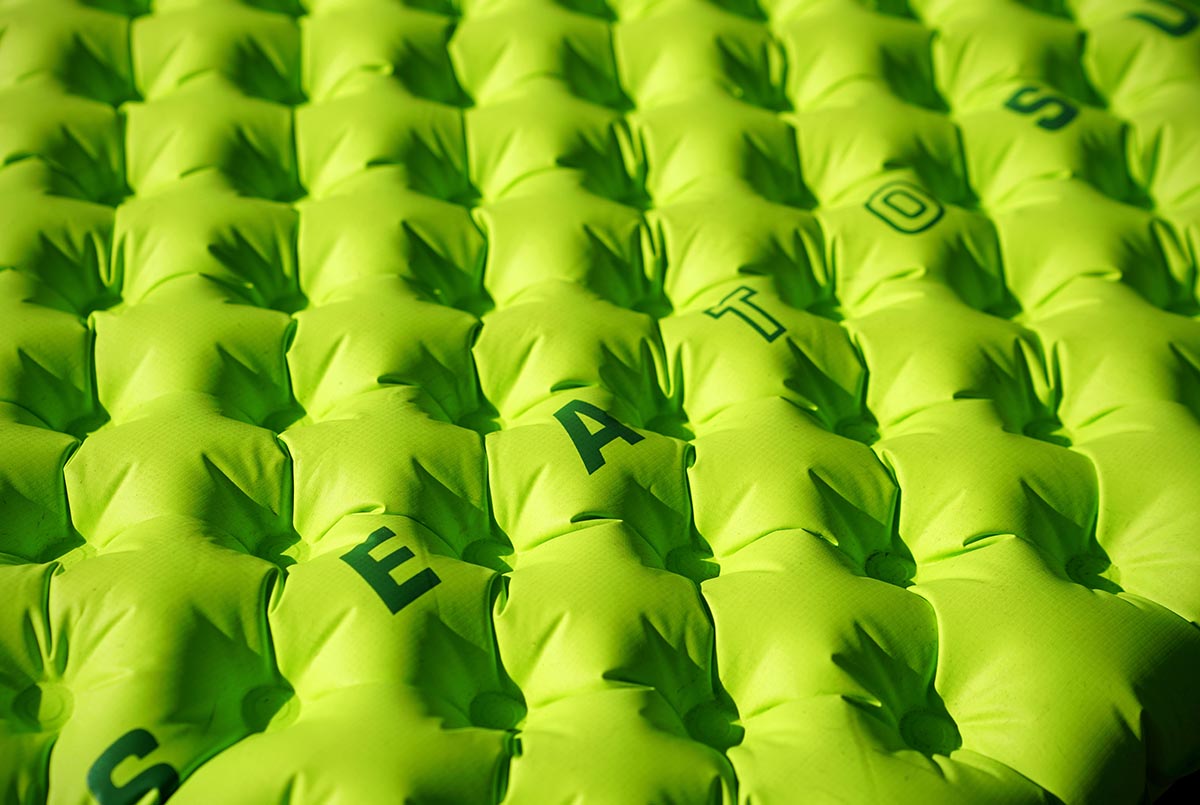 You may notice a lot of chatter in product comments about being a back sleeper or a side sleeper. Back sleeping more evenly distributes your weight, whereas side sleeping puts a higher percentage of weight around the hips and shoulders. If you are a side sleeper or don't sleep particularly well in the outdoors, check out a substantial pad like the Big Agnes Boundary Deluxe Insulated (3.5 in. thick in the middle and 4.25 along the sides) or Sea to Summit Ether Light XT Insulated (4 in. thick). If you need serious cushion, consider one of the lighter options on our list of the best camping mattresses and pads.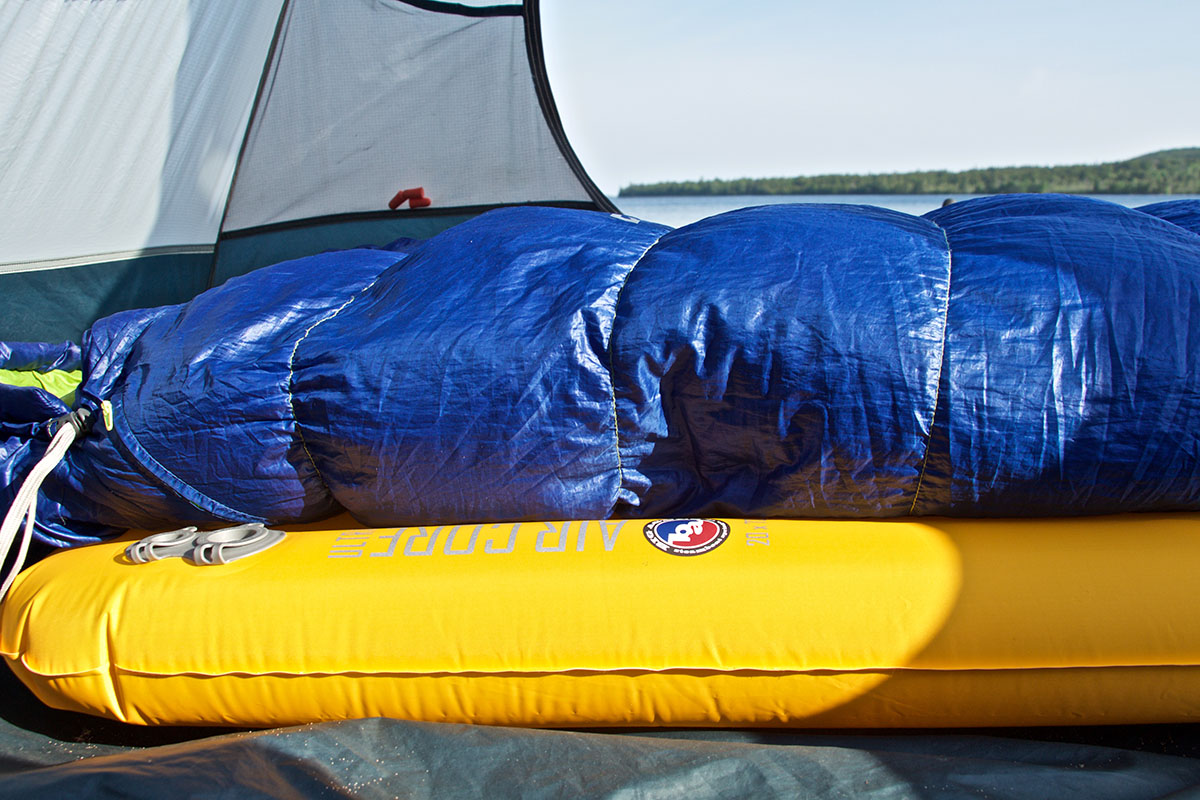 Baffle Design
While on the topic of comfort, it's important to note that baffle design can have a pretty considerable impact too. In general, we've found that vertical baffles—like those found on Big Agnes' Divide Insulated—tend to be less supportive and comfortable than horizontal or boxed. On the flip side, we really like Sea to Summit's Air Sprung Cells found on their Ether Light XT and Comfort Light pads above, which have a decidedly plush and nicely padded feel. Another standout is Nemo's Quasar 3D, which boasts a raised baffle at the head end for keeping your head and/or pillow elevated. To be fair, baffle shape and layout are largely a matter of personal preference, and there are certainly some quality vertical designs on the market. But on the whole, we've found they feel a little less natural and fall short in both comfort and stability.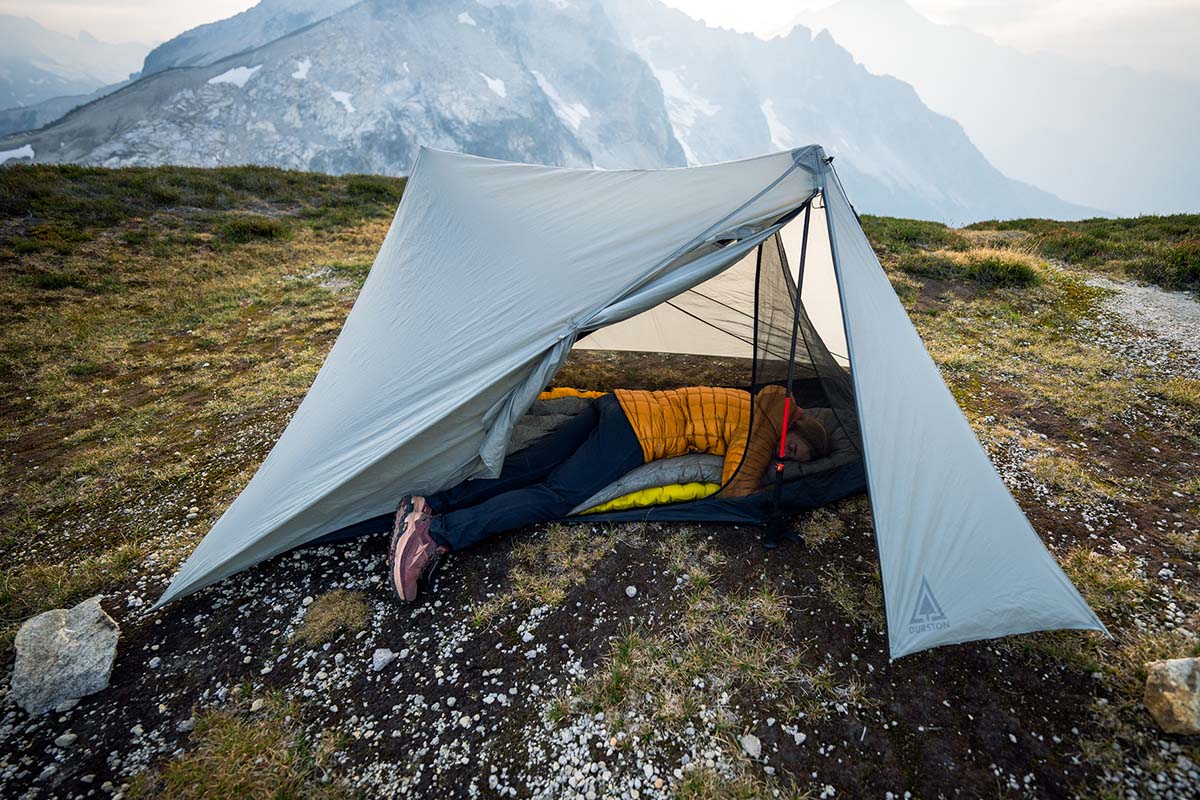 Sleeping Pad R-Value: How Much Do You Need?
A critical spec in comparing sleeping pads is R-value, or how much insulation a pad provides from the ground. Don't underestimate R-value: using an uninsulated or too lightly insulated pad even in cool temperatures can make you quite cold throughout the night. And even a warm and thick sleeping bag won't save you because your body compresses the insulation along the bottom of the bag, thereby letting cold air up and compromising its ability to keep you warm. To combat this from happening, you'll need a sleeping pad that offers an appropriate level of protection from the cold ground.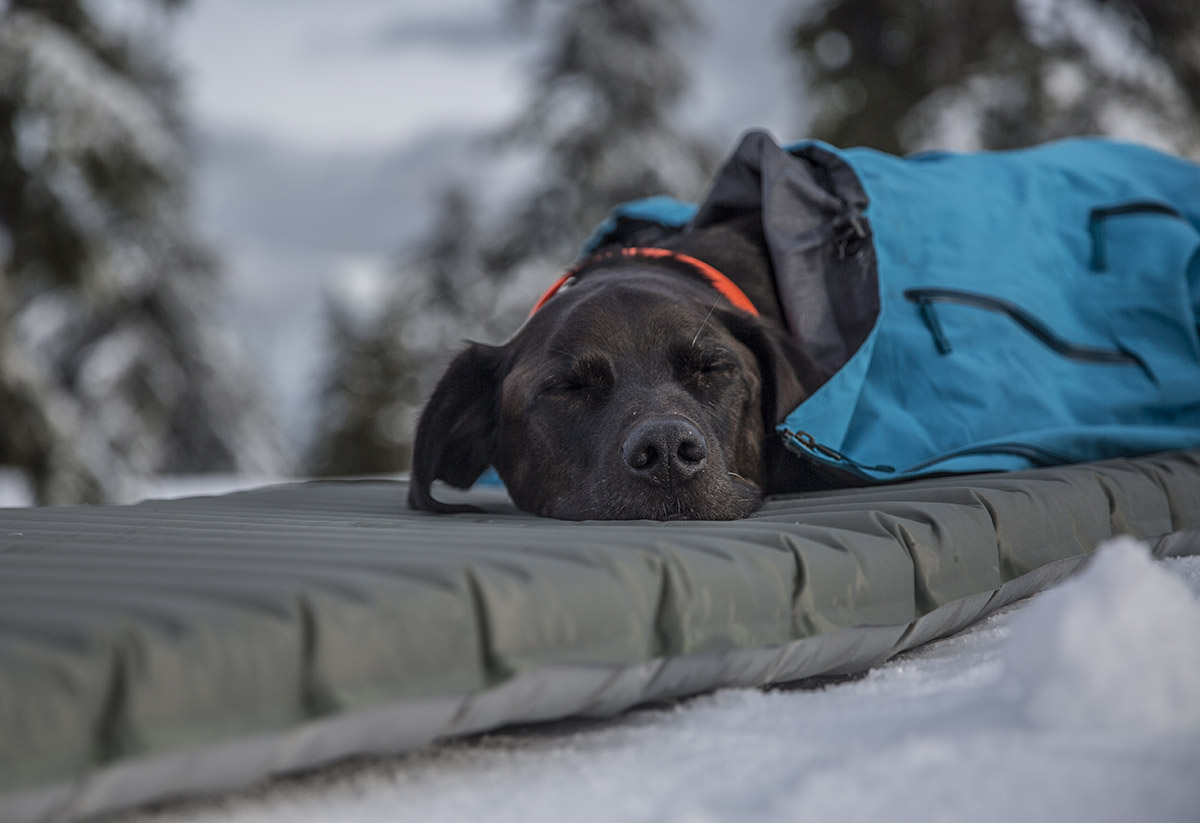 In terms of recommended ranges, summer-only backpackers who stick to warm conditions can get away with an R-value of 3 or less. Most 3-season backpackers should get a sleeping pad with an R-value in the range of 3 to 5, and this where a majority of our picks above are rated. Last but not least, winter camping requires an R-value that exceeds 5, with the most popular model being the Therm-a-Rest NeoAir XTherm and its R-value of 7.3. If you will be camping on snow, it's a good idea to bring a combination of pads, especially if one is of the inflatable variety (imagine waking up in the middle of the night on top of snow on essentially a deflated balloon). For this reason, many winter campers bring along a closed-cell foam model like the Nemo Switchback or Z Lite SOL to be safe. For a deeper dive into this topic in general, see our article on Sleeping Pad R-Value Explained.
Recommended sleeping pad R-values:
Summer-only backpacking: 1 to 3
3-season backpacking: 3 to 5
Winter camping on snow: 5+

The ASTM Standard
All current sleeping pads above are now rated based on a standardized ASTM International test. In this process, pads are sandwiched between a hot plate (35˚ Celsius) on top, which mimics the body, and a cold plate (5˚ Celsius) underneath, mimicking the ground. Over the course of four hours, testers measure how much energy the top plate uses in order to stay at a consistent 35 degrees Celsius. The less energy it takes, the more insulative the pad. The more energy it takes, the less insulative the pad. The net result is more accurate and dependable ratings across the board.
Packed Size
Packed size is a function of the pad type, amount of insulation, and fabric thickness. Uninsulated or lightly insulated air pads are far and away the most compact. Some even compress to the size of a can of soda, which is a far cry from the foam and self-inflating pads that dominated the market only a decade ago. A quick scan of our comparison table above shows that most air pads, even warm options like the Therm-a-Rest XTherm NXT, pack down small enough to easily fit inside a backpacking pack. Designs like the XLite NXT pack down impressively small and can be gripped in one hand.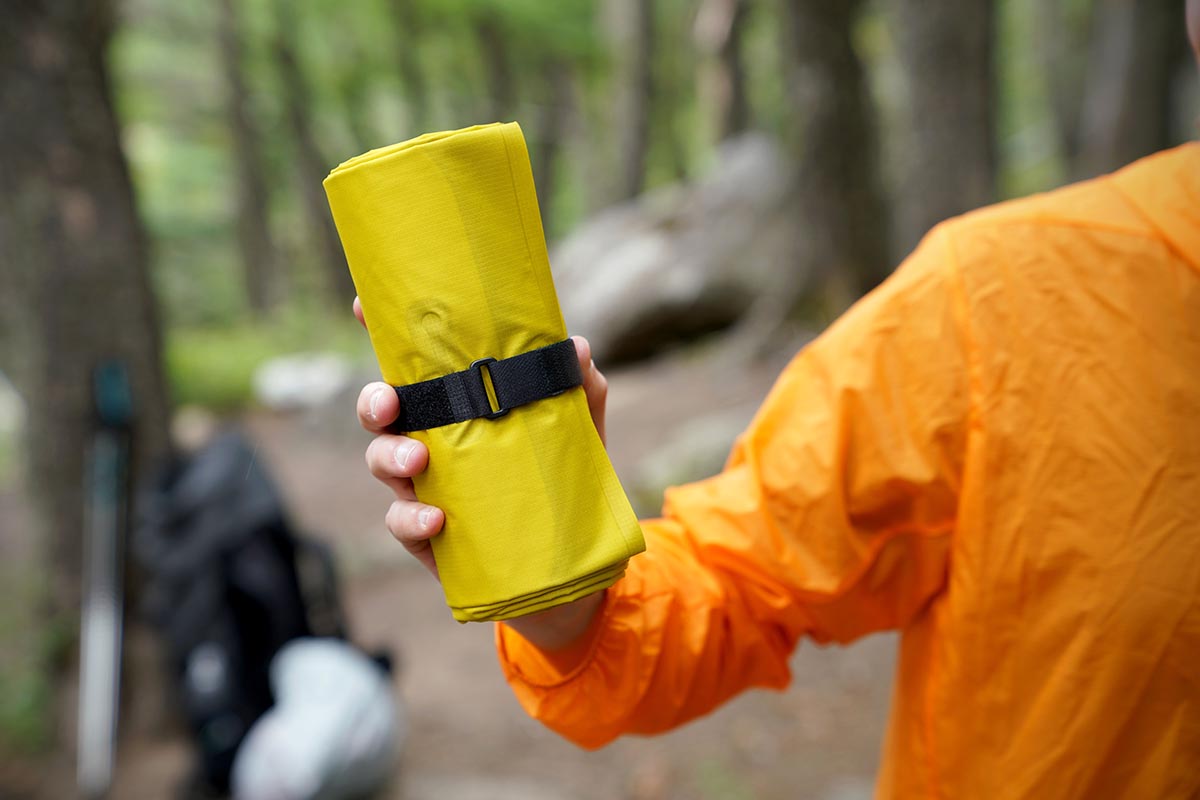 If you are considering a self-inflating or closed-cell foam pad, packed size can present a problem. A foam option like Therm-a-Rest Z Lite is 20 inches long (most air pads are about 7 to 10 inches), which means you'll need to strap it to the outside of your pack. Self-inflating pads can have similar issues, although modern designs like the Nemo Flyer (6.5 x 10 in.) are reasonably small and should be workable for storing inside most bags. For some, packed size may not be an issue at all, but it's one of a number of reasons why air pads have become so popular.
Sleeping Pad Dimensions and Shape
Most sleeping pads are unisex and come in two or three sizes that allow you to choose based on your height and comfort preferences. A "regular" pad often is right around 72 inches long and 20 inches wide (at its widest point), and the "large" often is between 77 and 80 inches long and 25 inches wide. In terms of shape, they fall into two basic categories: mummy pads that taper towards the feet to cut weight, and rectangular pads that are more spacious and accommodating for comfort-minded or active sleepers.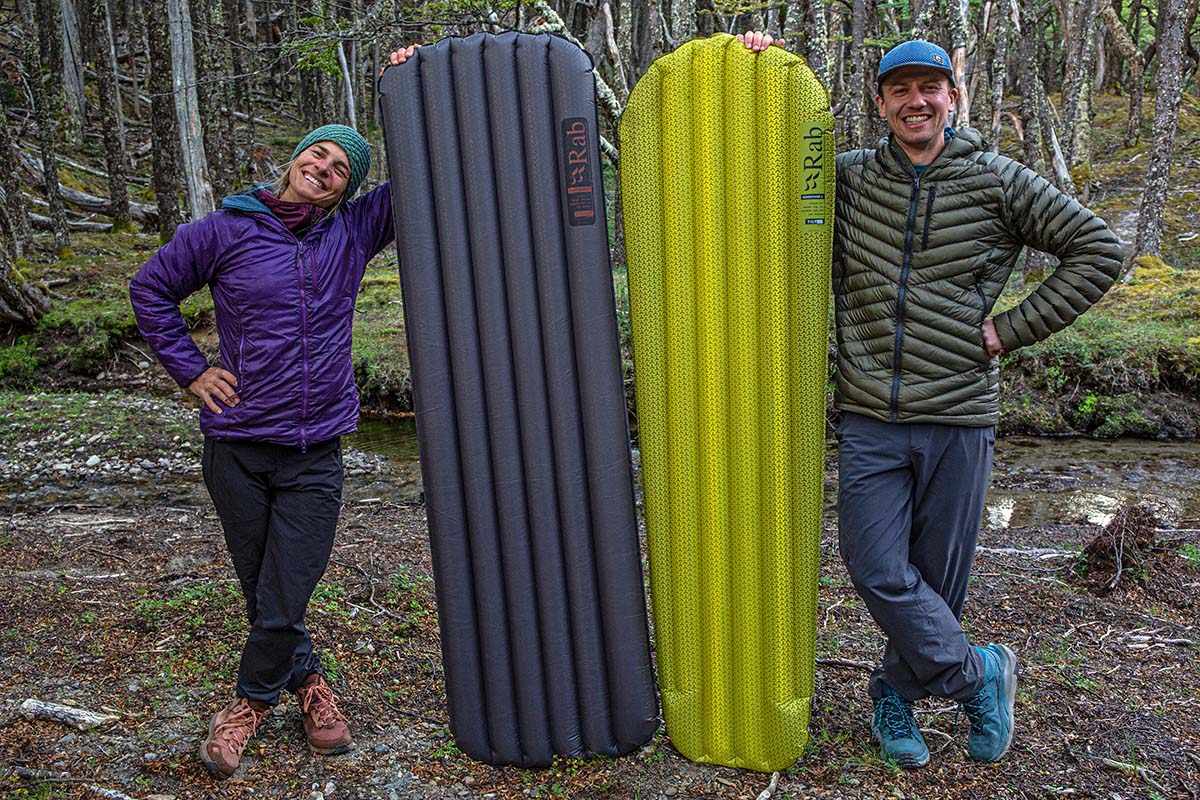 Occasionally you'll find a "small" size, and some brands even offer torso pads that are only about 2/3 the length of a regular pad. These aren't the most comfortable models, but they do allow you to cut significant weight. Because your legs have fewer contact points with the ground, some people don't mind the short length (and they sometimes throw an extra piece of gear under their feet for cushioning and warmth). On the other end of the spectrum are double pads like the Exped Ultra 3R Duo. Measuring 51.2 inches wide at the top (40.6 in. at the feet), it takes up nearly the entire tent floor to eliminate any possible gaps. Realistically, a double pad is fairly impractical as it's heavy and bulky to pack, but it can be a fun option for couples and small families.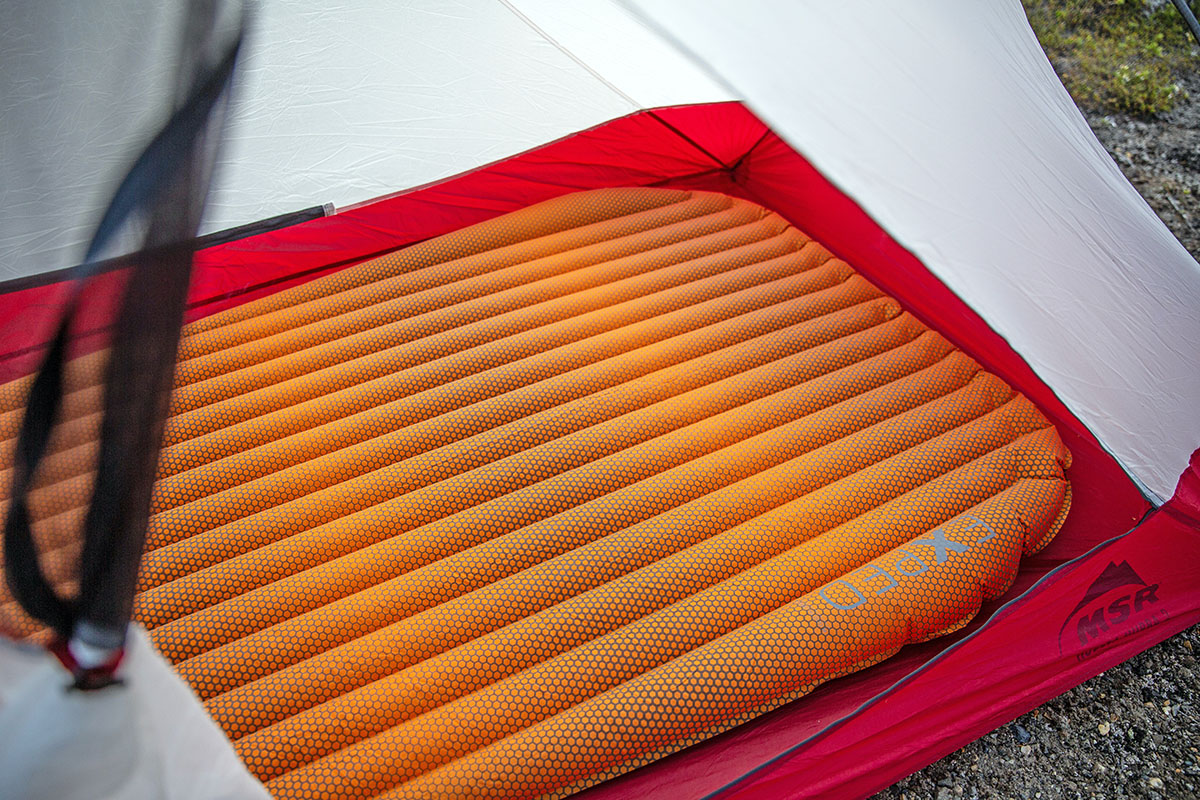 Women's-Specific Sleeping Pads
Some sleeping pads also come in a women's version that looks nearly identical to its unisex counterpart, so what's the difference? To start, they'll be shorter than the unisex pad—for comparison's sake, the size-regular Therm-a-Rest ProLite Plus is 72 inches long for the unisex version versus 66 inches for the women's model. They also may offer a little more insulation (the women's ProLite Plus has an R-value of 3.9 vs. 3.2 for the unisex pad), making them a great choice for all shorter adults who sleep cold. And finally, some models tweak the dimensions and concentration of foam around the hips for greater room and comfort.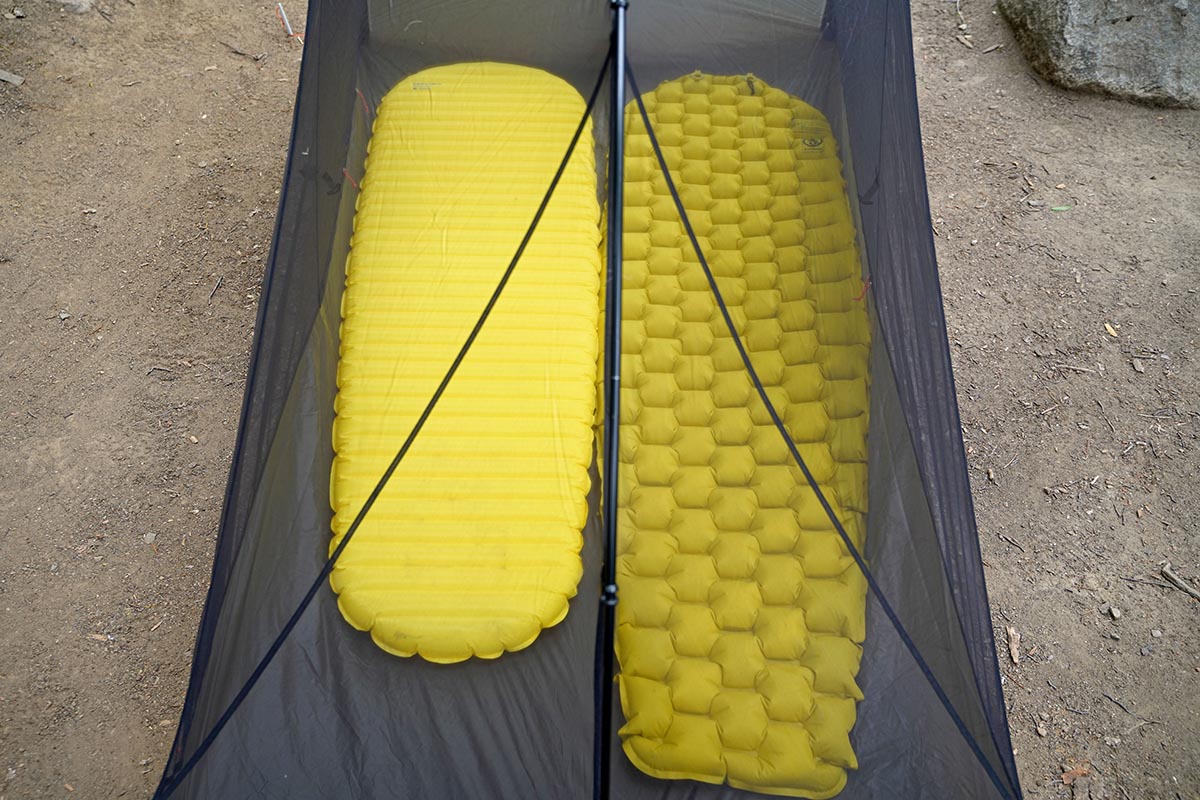 Durability (Denier)
The most common measure of durability in the outdoor gear world is denier (D), which measures the thickness of a fabric. The higher the denier, the tougher the material will be. Let us be clear: denier matters and you can feel the difference. So does weight, however, so it's important to find the right balance for your backpacking style. Ultralight backpackers cut every possible ounce and usually know how to take care of their gear (otherwise it would be an extremely expensive hobby, if it isn't already). The downside is that lower-denier fabrics have shorter lifespans and a higher propensity for durability issues in the backcountry. On our list above, thickness ranges from the 15-denier, 8.8-ounce Therm-a-Rest NeoAir UberLite to the 75-denier (and much heavier) Rab Stratosphere 4.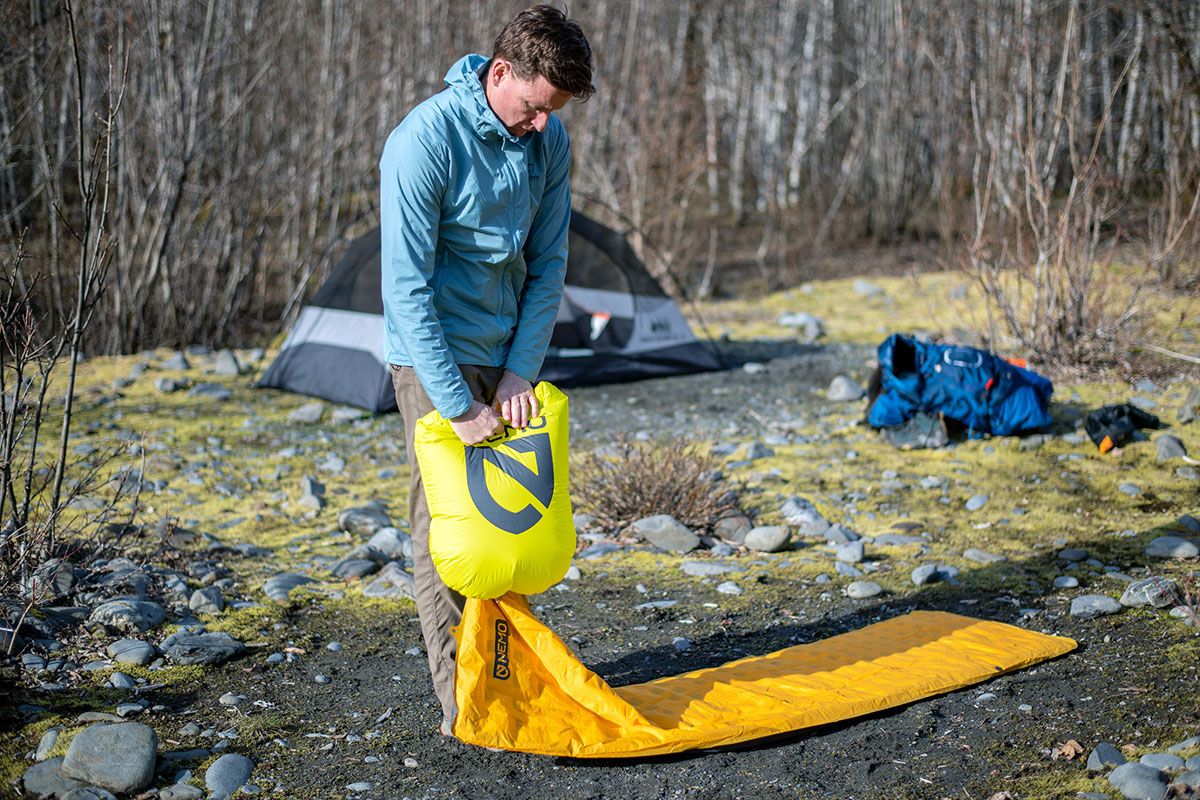 Inflation and Deflation: Valve Types
Both air and self-inflating sleeping pads utilize a valve to inflate/deflate, and there have been a fair number of changes in the designs over the past few years. Traditional sleeping pads open and close by twisting and pushing or pulling a round plastic valve connected to the side of the mat. These work pretty well in general, and they're still used on some old and budget-oriented designs, but there are downsides. For one, the valve works inefficiently because it's completely open while inflating, which allows some air to escape in between breaths. Further, their upright profile takes up space when rolled up, and they are slow to deflate.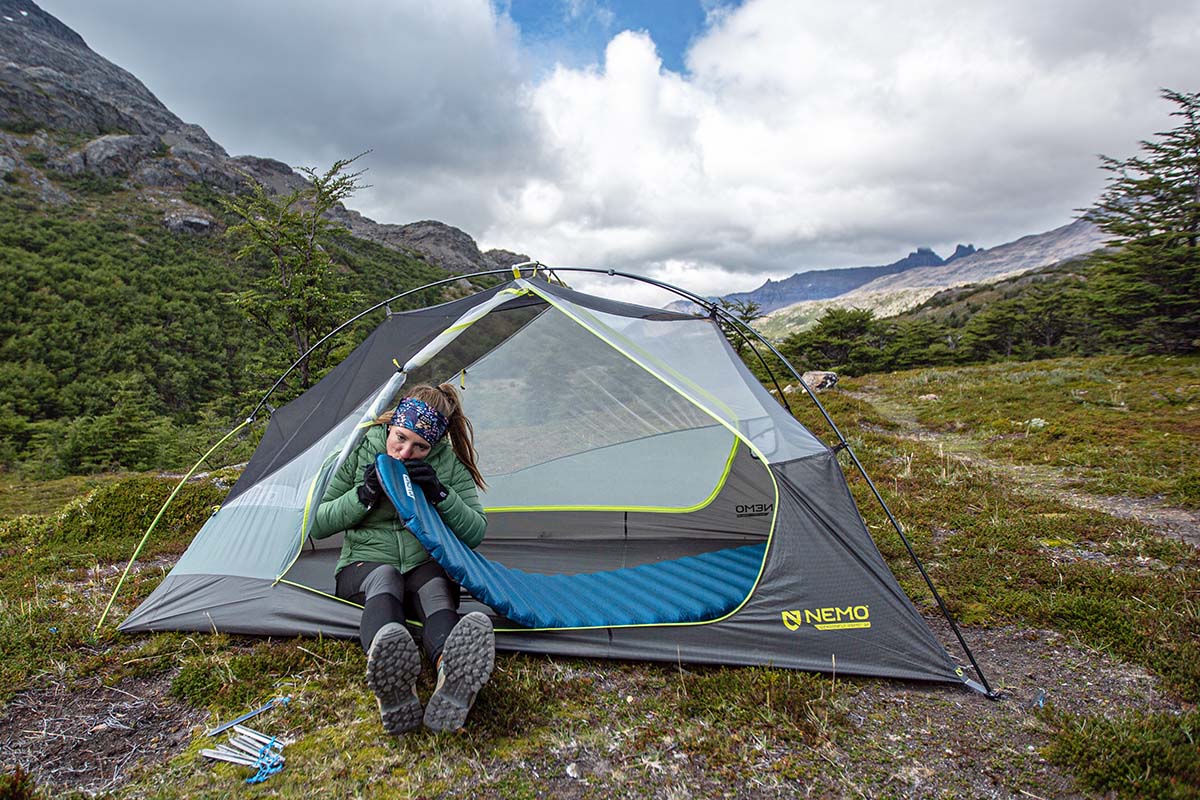 To address these issues, a number of manufacturers including Sea to Summit, Nemo, and Big Agnes have turned to flat valves. Beyond the slim profile, they often have dedicated openings for inflating and deflating, and importantly, a flap that keeps air from escaping while blowing into the opening. We've found these pads with two separate valves for inflating and deflating to be reliable, efficient (it takes about 10 breaths total to inflate and deflation is almost instantaneous), and add essentially no weight—all excellent characteristics.
Moreover, most of Therm-a-Rest's new offerings feature their WingLock valve, which is a twist on a more traditional design. Their new build allows for one-way inflation—with no air loss between breaths—and twisting the side "wings" quickly release air. In use, we've found it's not as fast as the flat valve competition, but its sturdy build and replaceability (something that's not typically possible with a flat valve) make it worth the tradeoff in efficiency for high-volume users like thru-hikers.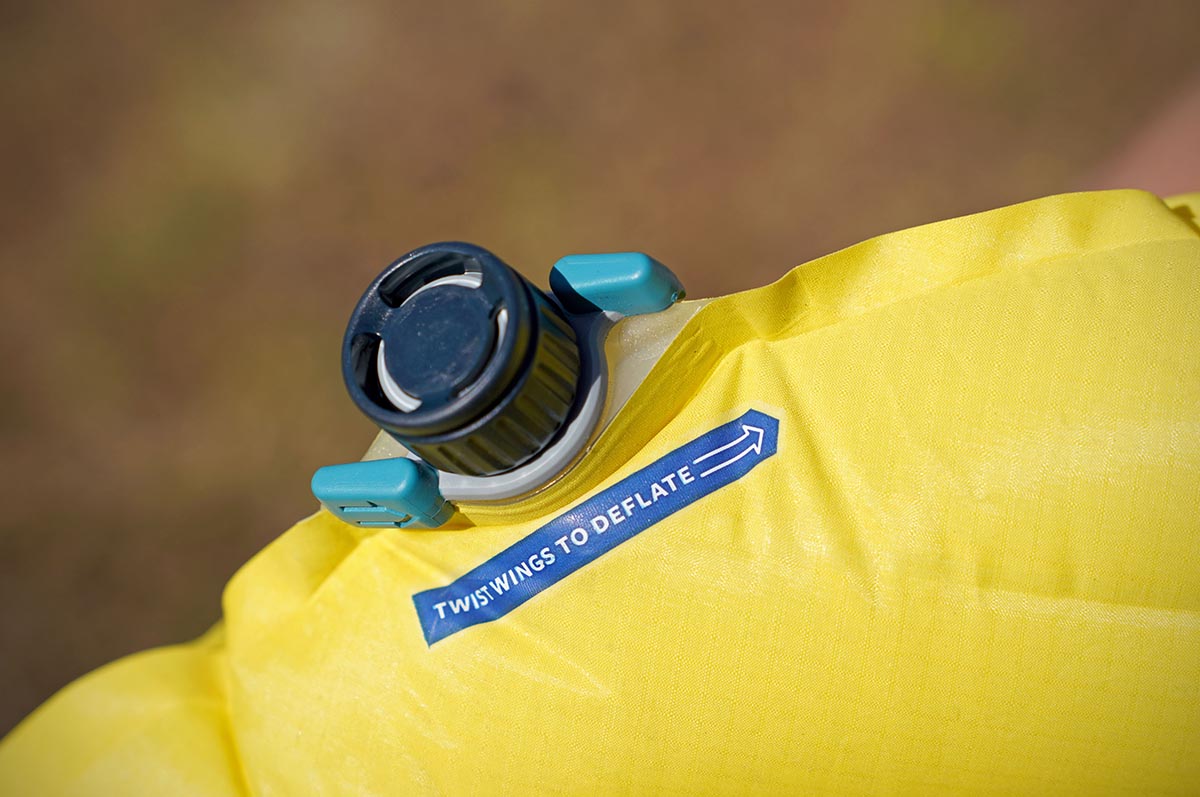 Pump Sacks
A number of air pads on our list come with dedicated pump bags, which offer a host of benefits over a standard inflation valve. Most notably, pump sacks allow you to save your breath, cut down on inflation time, and prevent moisture from getting inside your pad (which can lead to mold if not dried out properly or even freeze on particularly cold nights). And in many cases, the pump bag doubles as the pad's stuff sack, which means you're not adding any weight by gaining this convenience.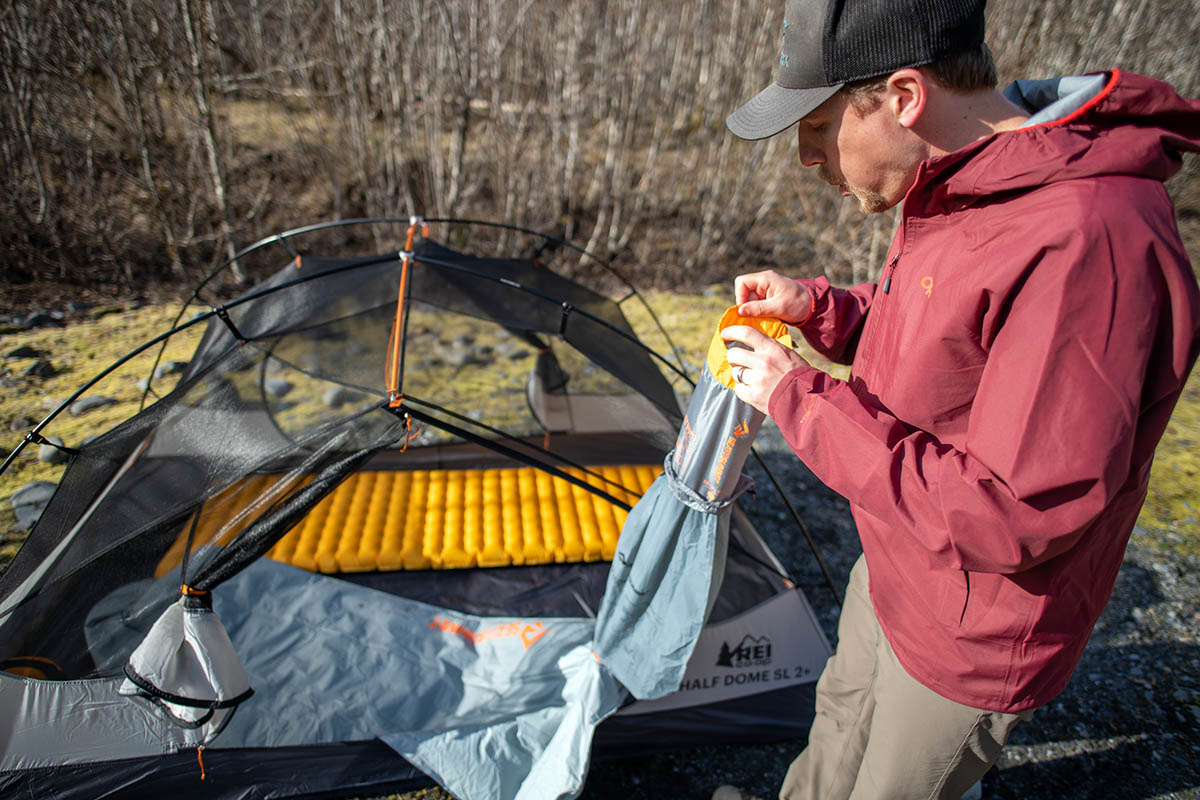 That said, not all pump sacks are created equally, and some designs are much more functional and convenient to use than others. For example, we've found that the Nemo Tensor's Vortex pump sack is incredibly efficient and user-friendly: simply snap the Vortex onto the pad's flat inflation valve, blow lightly into the open bag, then roll the collar down and push the trapped air into the mat. Sea to Summit includes a similar system with models like their Ether Light XT and Comfort Light Insulated, and we've found it takes only around three or four full bags to inflate the pads. On the flip side, Therm-a-Rest's pump sack is a little less intuitive and takes longer to fill their NeoAir models. To be fair, the differences are fairly minimal, and we always appreciate saving time and breath after a long day on the trail.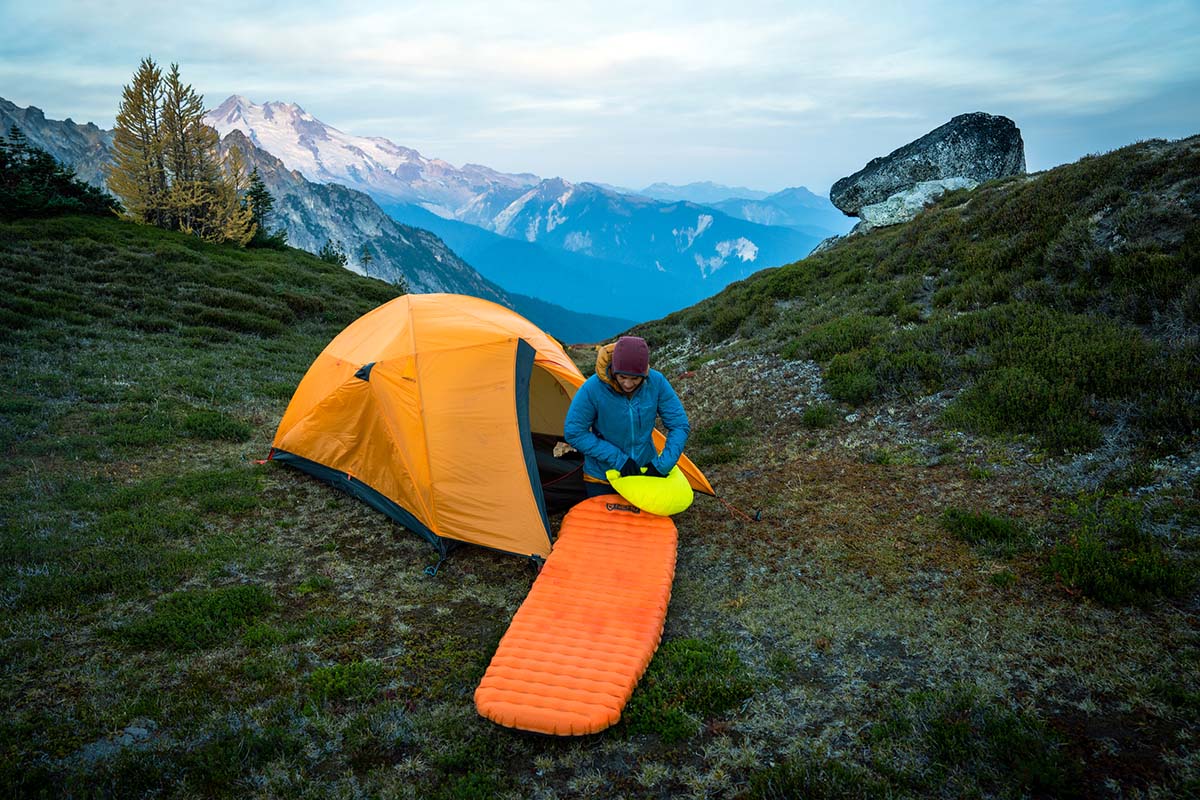 Sleeping Pad Care
If you are like most backpackers, you don't head out year-round. To store a self-inflating pad in the offseason, make sure to leave it unrolled and the valve(s) open. By doing this you'll keep the foam in good shape. If it's stored compressed, the pad will lose its self-inflating nature because the foam will become overly compacted. Having a hard time finding a spot to store the pad? Under a bed or behind a couch are popular options.
Air pad storage and care is a little simpler. Remove all the air from the pad and keep it rolled up in its storage bag to protect it from punctures. As for caring for a closed-cell foam pad: Hmmm. Try to not let your dog eat it, how about that? Okay, there are a few other tips. Don't leave heavy objects on top of it to avoid undue compressing of the foam, and, if it's a rollable type, store it unrolled so it doesn't lose its shape.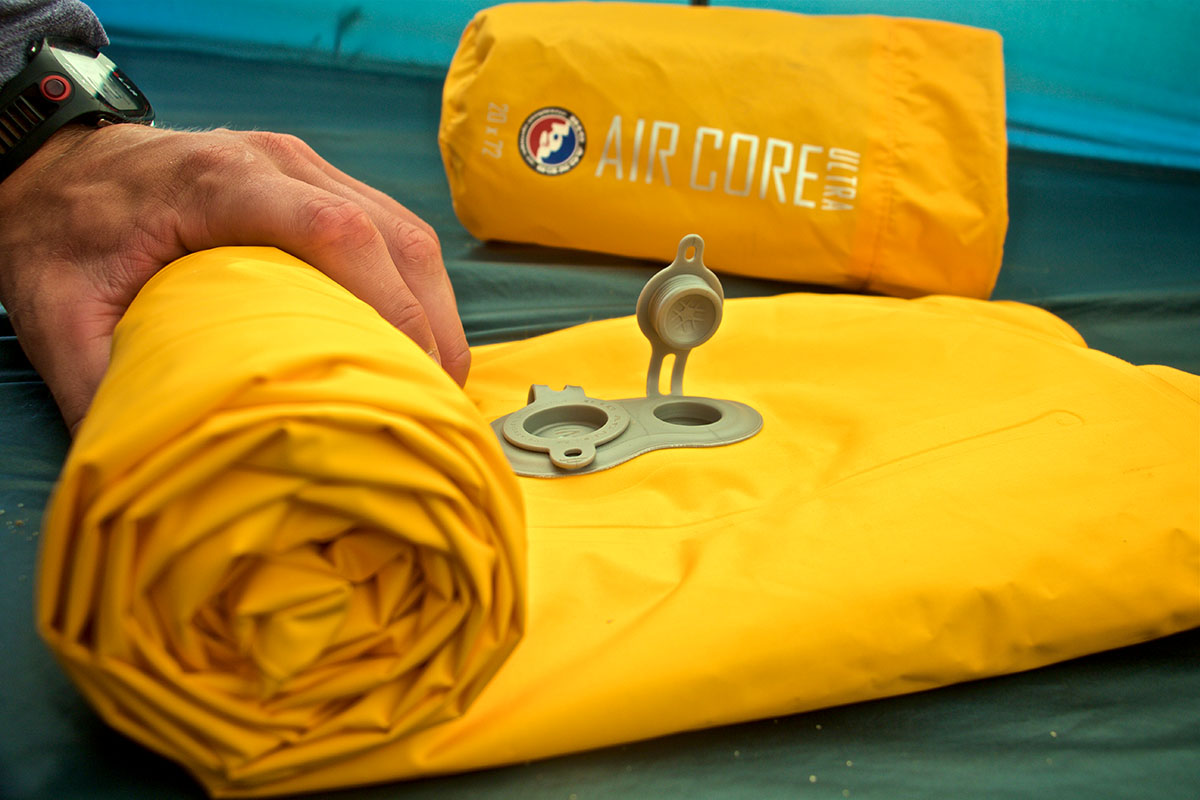 Sleeping Mattresses for Camping
Sleeping pads for backpacking are light, pack down small, and are reasonably comfortable. But if you don't plan on venturing far from the car, we recommend a thicker and more luxurious camping mattress instead. These mats are plush and warm, often layered with extra foam padding. They're also a whole lot more durable because the manufacturers don't have to use thin materials as a means to keep weight down. To see our full list of favorites and a breakdown of important features, check out our article on the best camping mattresses and pads.
Back to Our Top Sleeping Pad Picks  Back to Our Sleeping Pad Comparison Table
Learn More About Outdoor Gear