Everyone exploring the backcountry needs water, but staying hydrated is not as simple as drinking straight from streams and lakes. To protect against protozoa, bacteria, and even viruses, there is a wide range of water filtration and purification systems built specifically for backpacking (many options on this list are great for day hiking, trail running, and travel too). Our top picks for 2021 below include everything from ultralight bottle filters and chemical drops to pumps and large-quantity gravity filters. For more background information, see our backpacking water filter comparison table and buying advice below the picks.
 
---
Our Team's Backpacking Water Filter Picks
---

Best Gravity Water Filter for Groups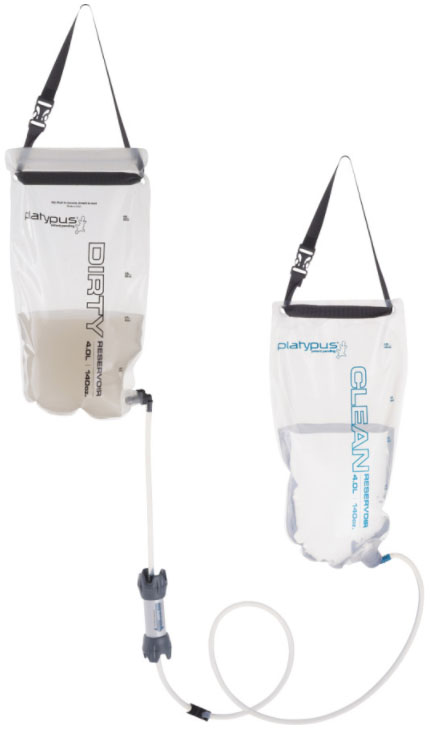 Type: Gravity filter
Weight: 11.5 oz.
Filter life: 1,500 liters
What we like: Filters and stores a high quantity of water effortlessly and quickly; great for groups.
What we don't: Bulky; you need a decent water source to fill the bag.
Without a doubt, the Platypus GravityWorks is one of the most convenient water filters on the market, and it's become a backpacking staple. Instead of pumping, this system requires minimal effort, can filter up to four liters of water at once, and boasts a speedy flow rate of 1.75 liters per minute. Gravity does all the work: simply fill up the 4-liter "dirty" reservoir, hang it from a tree branch or boulder, and in just a few minutes you'll have four liters of clean water to drink. This filter is great for large groups, but we've enjoyed it on smaller outings too when we could quickly retrieve our day's water and escape back to our camp to fill individual bottles (the clean bag also functions as water storage).
But compared to some of the more minimalist options below, the Platypus GravityWorks is not a small apparatus, with two bags, a filter, and a bundle of tubing. Furthermore, water retrieval can be a pain if you don't have a reasonably deep or moving water source (similar to any system that relies on a bag to collect water). And at $110, the GravityWorks is on the more expensive end of the water filtration spectrum. But we love the convenience, especially for groups of backpackers or basecamp-type situations, and feel it's worth the cost and bulk then. Keep in mind that you can also save a little with the GravityWorks Bottle Kit, a 2-liter system that filters water directly into your bottle or reservoir ($90, 9.5 oz.)... Read in-depth review
See the Platypus GravityWorks 4L
Best Ultralight Filter for Solo Backpackers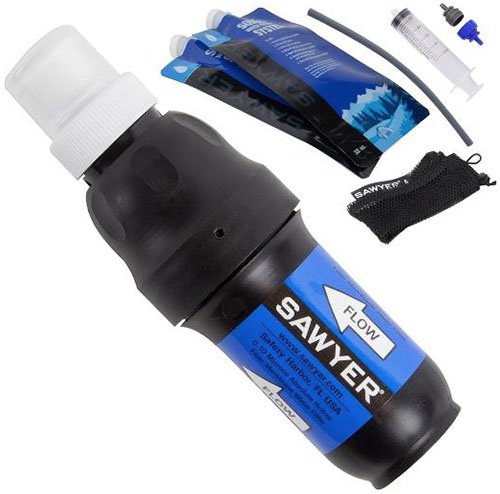 Type: Bottle/inline filter 
Weight: 3 oz.
Filter life: Lifetime
What we like: Super lightweight, fast flow rate, long-lasting.
What we don't: You'll have to buy extra gear to optimize your setup.
The Sawyer Squeeze epitomizes ultralight water treatment and has been a mainstay on the thru-hiking scene for years. It has a number of things going for it, including a streamlined 3-ounce build, lifetime warranty (Sawyer doesn't even make replacement cartridges), and a very reasonable price tag. In its simplest application, you fill one of the two included 32-ounce pouches with dirty water and squeeze into a clean bottle or reservoir, a pot for cooking, or straight into your mouth. And Sawyer also includes adapters so you can use the Squeeze as an inline filter on your hydration bladder or in a gravity setup (great for groups and basecamping) with additional bottles or reservoirs. 
But for all its benefits, this versatile water filtration system does have its downsides. Our biggest gripe is with the pouches: not only do their small openings make water collection challenging in shallow or non-moving sources, but they suffer from serious durability issues. In the end, you're better off pairing the Sawyer with a smartwater bottle or more durable Evernew or CNOC reservoir. Because tweaking your setup will cost you both time and money (and require some additional research), beginner backpackers might want to opt for a more user-friendly system like the Katadyn BeFree below. And for those who want to go even lighter, Sawyer does offer "Mini" and "Micro" versions, but both have painfully slow flow rates that aren't worth the 1-ounce (or less) weight savings.
See the Sawyer Squeeze Water Filter
 

Best Bottle Filter for Trail Running

Type: Bottle filter
Weight: 2.3 oz.
Filter life: 1,000 liters
What we like: Extremely light and great for on-the-go hydration.
What we don't: Less versatile than the Sawyer Squeeze.
The Katadyn BeFree is our favorite dedicated bottle filter, with an extremely light weight, easy operation, and nice, streamlined build. With its included HydraPak bottle, the BeFree allows you to drink as you would from any standard water bottle, with the water passing directly through the filter on its way to your mouth. The design excels on long trail runs when water is readily available: the compact filter sits inside the bottle (unlike the protruding Sawyer Squeeze), its wide mouth makes refilling easy, and the whole setup is a feather light 2.3 ounces. Plus, the bottle has a nice soft touch (albeit cold when full of stream water), and when empty, the BeFree system can fit in the palm of your hand. 
All that said, the Katadyn BeFree isn't without its drawbacks. First, it has a relatively short lifespan compared to a filter like the Squeeze (1,000 liters vs. the Sawyer's lifetime warranty), and it's known to clog much more quickly in dirty water (we experienced this firsthand in the Grand Canyon). Second, the filter is only compatible with bottles with a 42-millimeter mouth, so it's not as versatile as the Sawyer, which fits a variety of standard (28mm) water bottles. Third, the Katadyn is $10 more, and it lacks the versatility of the Sawyer's gravity/inline adapter. But the flow rate is undeniably faster, and cleaning is as easy as squishing the filter in clean water (you have to backflush the Sawyer, which requires extra equipment). As a dedicated bottle filter, the BeFree wins out for its ease of use and streamlined design.
See the Katadyn BeFree Collapsible Bottle 1L
Best Combination Water Filter/Purifier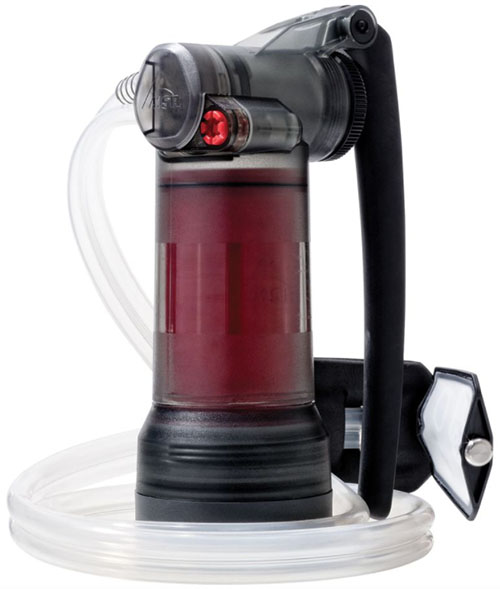 Type: Pump filter/purifier
Weight: 1 lb. 1.3 oz.
Filter life: 10,000 liters
What we like: The most advanced portable water purifier on the market.
What we don't: At $350, the Guardian is the priciest option on this list.
The MSR Guardian is ten times the price of many popular bottle filters here, but this pump is the real deal. Most importantly, it's both a water filter and purifier, which means you get the highest level of protection against protozoa, bacteria, and viruses, along with a filter that removes debris. Further, the Guardian uses advanced self-cleaning technology (about 10 percent of water from each pump cycle is used to clean the filter) and is far less likely to break down than cheaper models. The result is ultimate peace of mind when backpacking and traveling in less-developed regions of the world or other high-use areas (viruses are most commonly carried in human waste). In fact, the Guardian is such a reliable and convenient system that it's also used in the military and as an emergency water purifier after natural disasters.
But for all its strong suits, the MSR Guardian is overkill for many. Aside from cost, it's noticeably bulkier than most pump filters at just over a pound and packing down roughly to the size of a 1-liter water bottle. Further, while the purifying capabilities are smart for traveling and backpacking in certain regions of the world, they're not necessary in most wilderness areas in the United States and Canada. Nevertheless, the Guardian truly is the ultimate backpacking purifier and worth the cost for those who need it. And MSR also makes the Guardian Gravity Purifier, which features the same advanced technology of the Guardian but in a gravity setup... Read in-depth review
See the MSR Guardian Purifier System
Best Chemical Water Treatment for Backpacking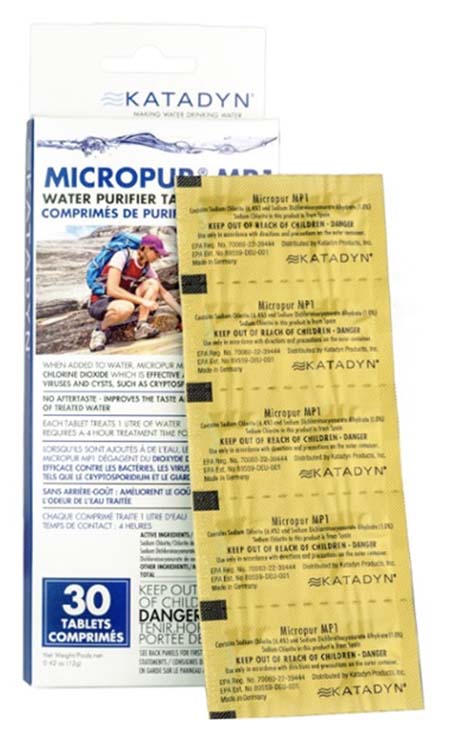 Type: Chemical purifier
Weight: 0.9 oz.
Treatment ratio: 1L per tablet
What we like: Simple and light. 
What we don't: More expensive than Aquamira and you're drinking unfiltered water straight from the source.
Similar to Aquamira drops below, Katadyn Micropur tablets are a simple and effective chemical treatment using chlorine dioxide. For backpackers, there is a strong argument for going this route: the tablets weigh less than 1 ounce for 30, making them by far the lightest water purification option on this list. In addition, each tablet is individually wrapped and therefore can be modified for the specifics of your trip (with Aquamira you have to carry both bottles no matter the length of your trip). In order to use the Katadyn, just add one tablet to a liter of water, wait 15 minutes for protection from viruses and bacteria, 30 minutes for Giardia, and four hours for Cryptosporidium.
The biggest downside of any chemical treatment is that despite the water being clean, it's still unfiltered (in the Utah desert, for example, that may mean brown water with lots of critters). But in alpine areas with relatively clear mountain water like the Rockies, High Sierra, or Pacific Northwest, chemical treatments are a great ultralight option. And in comparing chemical treatments, it's worth noting that despite being more difficult to use, Aquamira drops are considerably cheaper. We ran the numbers and you're paying roughly $0.49 per liter of clean water with Katadyn whereas Aquamira is more like $0.13 per liter. Plus, the Katadyn tablets are difficult to cut in half and don't work with 500mL bottles (it's one tab per liter), which is a bummer especially for trail runners with smaller soft flasks.
See the Katadyn Micropur MP1
Best Inline Filter for a Hydration Reservoir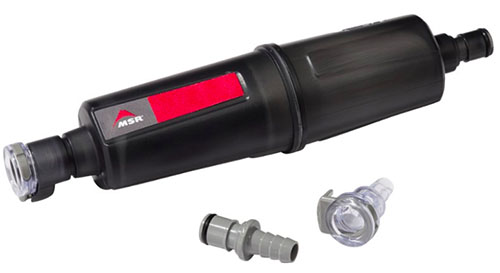 Type: Inline filter
Weight: 2.5 oz.
Filter life: 1,000 liters
What we like: For those who hike with a water reservoir, the convenience is unmatched. 
What we don't: Does not come with compatible vessels. 
There was a lot of press surrounding the release of MSR's Thru-Link, and for good reason. Rather than manually filtering into a bottle or a separate reservoir, the Thru-Link attaches directly to the hose of your bladder and filters as you drink. As an inline filter, it also works as a gravity setup—simply hang your bladder, open the valve of your drinking hose, and let gravity do the work. All told, with a scant 2.5-ounce weight, affordable $40 price tag, and impressive flow rate of 1.5 liters per minute, the Thru-Link is a lightweight and convenient way of hydrating on the go. What's more, it includes a carbon filter for better-tasting water when drawing from dirty sources.
The biggest downside to the Thru-Link is that you'll have to purchase additional gear to go along with it—unlike the GravityWorks or BeFree above, it doesn't come with a compatible vessel. And while most newer bladders support the connection system on the MSR (any bladder with Quick-Connect fittings will work), others require you to modify by cutting the reservoir tube and utilizing the two included fittings. The Sawyer Squeeze (which also includes inline adapters) will do the same job for less and has a longer lifespan, but keep in mind that the connection points aren't quite as secure. In the end, if your standard on-trail setup uses a hydration reservoir—and you don't mind converting that water reservoir into a "dirty" bag—it's really hard to beat the convenience of the Thru-Link.
See the MSR Thru-Link Inline Water Filter
Best of the Rest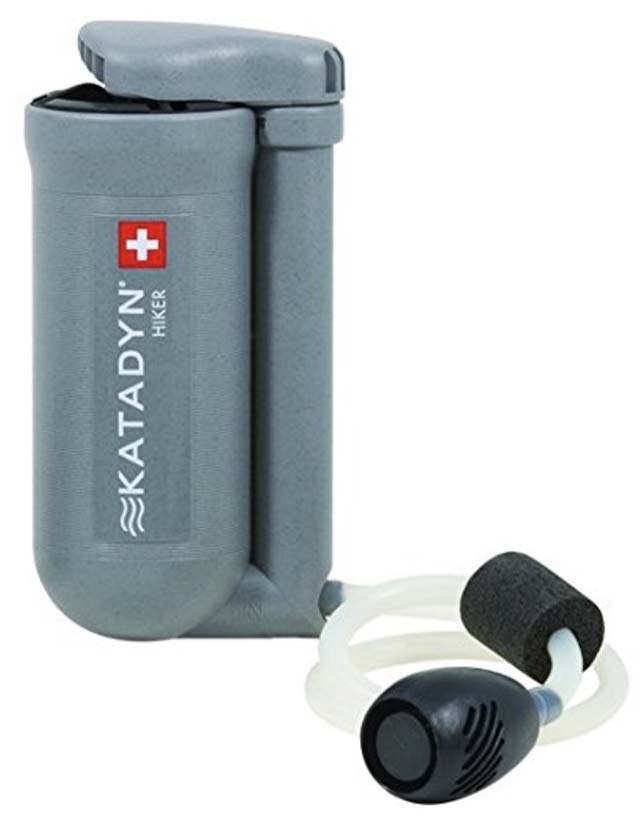 Type: Pump filter
Weight: 11 oz.
Filter life: 750 liters
What we like: A versatile and reliable filter that can make clean water from puddles.
What we don't: Relatively short filter life and pricey to replace.
Pumping water has its downsides, but we've found that the Katadyn Hiker is one of the most reliable filter options across a wide range of backpacking scenarios. Simply put, you break out your Hiker, place the hose end in the water, screw the other end onto your Nalgene (or hold it over top if you have a different type of bottle or reservoir), and pump. You get roughly one liter of clean water per minute if you're pumping at a good clip, and we've found that the Hiker Microfilter works faster and is easier to use than the MSR MiniWorks below. Unlike the MSR Guardian, however, the Hiker is a filter but not a purifier, so you don't get virus protection.
In terms of construction, the Katadyn Hiker is well-built for a pump, but these systems are not infallible. The device is made of ABS plastic and has a number of hoses and small parts, and we've had pieces snap off of other pumps in the past (not with the Katadyn yet, but it certainly can happen). Another downside is the rather pricey replacement filter: after approximately 750 liters, you'll need to spend $50 for a new one (the MSR MiniWorks recommends a replacement filter after 2,000 liters and that costs $40). But we still prefer the Katadyn, which despite the shorter filter life, has faster and smoother pumping action.
See the Katadyn Hiker Microfilter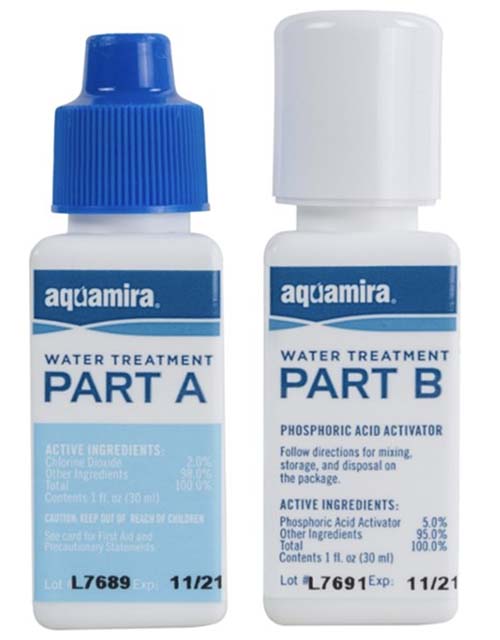 Type: Chemical purifier
Weight: 3 oz. (total for both bottles)
Treatment ratio: 30 gallons per 1 oz. set
What we like: Light, cheap, effective, and won't break.
What we don't: The mixing process is annoying, and the drops leave a faint chemical taste. 
There are a number of chemical water treatment options for backpackers, and each has its own set of pros and cons. At just 3 ounces and $15, Aquamira is a liquid chlorine dioxide solution that effectively kills protozoa, bacteria, and viruses. To purify your water, mix 7 drops each of Part A and Part B in the included cap, let it sit for five minutes, and add the mixture to 1 liter of water. Then wait 15 minutes before drinking for protection from Giardia, bacteria, and viruses, or four hours to kill Cryptosporidium (that takes a lot of advanced planning). Without a doubt, this system is inexpensive, lightweight, and won't malfunction like some of the more complicated filters and purifiers on this list. 
Our biggest issue with Aquamira drops is the mixing process. It slows you down on the trail, takes some concentration in terms of measuring out the drops, and can bleach your clothing if you're not careful. Compared to the Katadyn Micropur above, Aquamira is much more of a process, but the good news is that it's cheaper and can treat a variety of different volumes (the Katadyn is a strict 1 tablet per liter and is difficult to halve), which makes it great for group use. Finally, keep in mind that with any chemical purification system, you get no filtration and therefore will be drinking all of the particles that make their way into your bottle. This generally is fine for clear mountain runoff but is not optimal for those acquiring water from smaller or more stagnant sources. 
See the Aquamira Water Treatment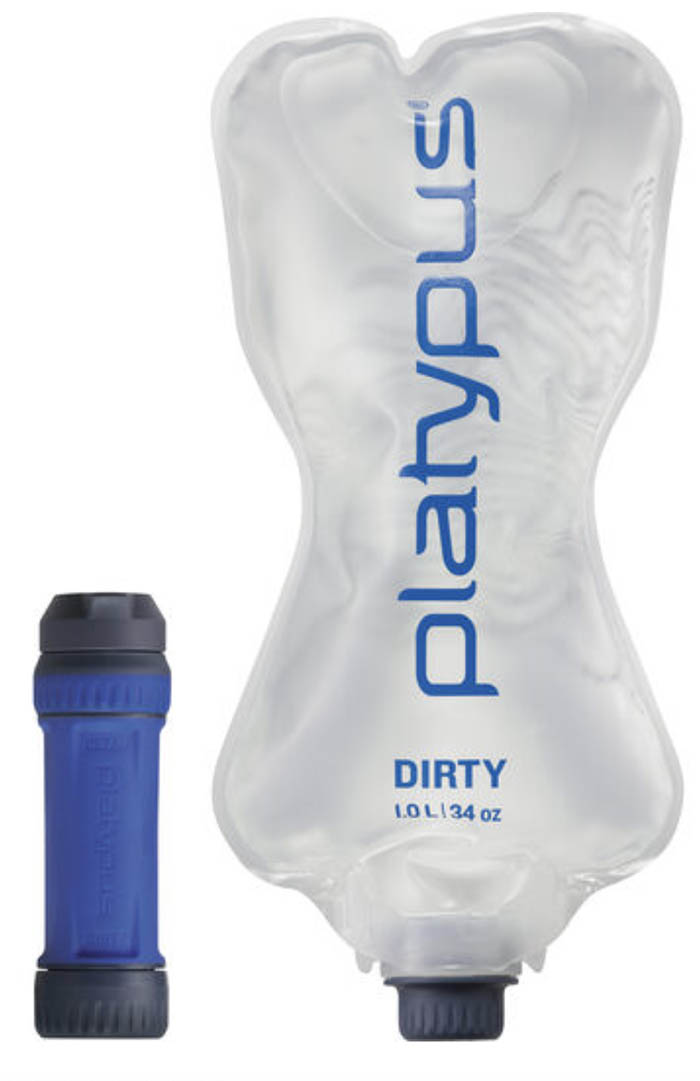 Type: Bottle filter
Weight: 3.3 oz.
Filter life: 1,000 liters
What we like: Fast flow rate, easy to clean, and high-quality Platypus reservoir.
What we don't: Cannot be used as an inline filter.
Platypus' GravityWorks is one of our favorite water filters for groups, and their new-for-2021 QuickDraw offers a nice solution for individuals. The QuickDraw is similar to designs like the Sawyer Squeeze above and LifeStraw Flex below, threading onto a bottle or soft flask with standard-size opening (28mm) to filter clean water into your mouth or separate vessel. But a number of improvements make us think this is one of the most evolved bottle filters yet: the flow rate is impressive at 3 liters per minute (compared to the Squeeze's 1.7 L/min.) and the QuickDraw is easy to clean without the need for any extra tools. Importantly, the included Platypus bag is much more durable than those from Sawyer and LifeStraw, and even features a convenient handle for easy water retrieval.
At 2.2 ounces for the filter, the QuickDraw is competitive with the LifeStraw and Squeeze above. What's more, it features a grippy, soft-touch exterior with durable caps on both ends, giving it an extra dose of toughness and reducing the chances of contamination. But where the Platypus falls short is in its simplicity—it cannot be used as an inline filter, which really cuts down on versatility. And with a filter life of just 1,000 liters, it certainly can't match the longevity of the Sawyer Squeeze. But for a dedicated bottle filter, the new QuickDraw gives the Katadyn BeFree above a run for its money, with an even faster flow rate and compatibility with most standard bottles (at 2.3 oz. all-in, the BeFree is still the more lightweight choice). It's also available without the soft flask for $30, which is a competitive price for those who use smartwater bottles or already own a compatible reservoir.
See the Platypus QuickDraw Microfilter System
Type: Gravity/pump filter
Weight: 16 oz.
Filter life: 1,500 liters
What we like: Effortlessness of a gravity system combined with the convenience of a hand pump.
What we don't: Heavier than the Platypus GravityWorks and slower to filter. 
You won't find a more versatile water filtration system than the MSR Trail Base. Combining a gravity filter system with their popular TrailShot hand pump, MSR created a unique combination that works well whether you're at basecamp or on the trail. Like the Platypus GravityWorks, our top pick, the Trail Base comes with two reservoirs—a dirty and a clean—which hang and cycle water to the clean reservoir by way of gravity. Unlike the Platypus, the filter on the Trail Base easily disconnects and doubles as a fully functional hand pump (the TrailShot) for water on the go. Furthermore, the clean reservoir works great for carrying water, eliminating the need for bulky water bottles. This multi-function design makes the Trail Base an attractive option for basecampers and backpackers who want easy access to water during the day.
However, all this versatility comes with a cost. First, the Trail Base is a bit cumbersome as a gravity filter, cycling only 1 liter of water per minute (the GravityWorks filters 1.75 liters per minute). Second, the system weighs a hefty 16 ounces, significantly more than the 11.5-ounce Platypus (which notably is a 4-liter system). Keep in mind that for the weight, you do get a gravity filter, squeeze hand pump, and drinking reservoir in one, which is quite impressive. Sawyer offers similar versatility with their 8.8-ounce Gravity System that incorporates the Squeeze, but it's a less convenient design with just one reservoir. And for a simpler gravity setup, check out MSR's 10-liter AutoFlow XL.
See the MSR Trail Base Gravity Filter System 2L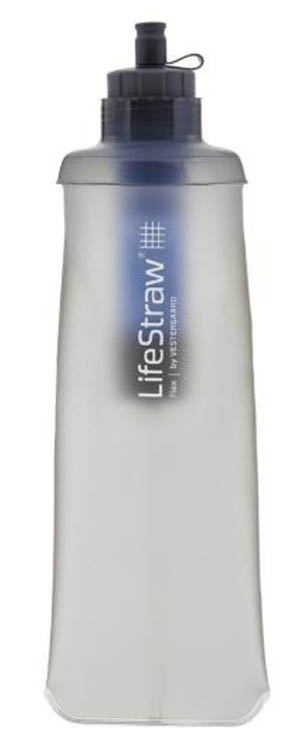 Type: Bottle/inline filter
Weight: 3.2 oz. 
Filter life: 2,000 liters
What we like: Versatility of an inline filter in an all-in-one bottle design.
What we don't: Short filter lifespan and slow flow rate.
If the Sawyer Squeeze and Katadyn BeFree filters above have caught your eye, it might be worth considering the LifeStraw Flex. In many ways the Flex is a combination of the two: like the BeFree, it comes with its own soft flask and filters water as you drink, which is a great setup for shorter pursuits like trail running and day hiking. But—similar to the Sawyer Squeeze—the Flex threads onto bottles with standard-size mouths and features a two-way design that can pull double duty as an inline filter. In the end, the LifeStraw Flex offers the all-in-one convenience of the BeFree alongside the versatility of the Sawyer Squeeze (with a much more durable included flask). Plus, it also tacks on a carbon filter that removes unpleasant tastes from your water.
But for all of its design strengths, the LifeStraw Flex doesn't quite measure up in the details. For one, while the 2,000-liter lifespan is double that of the BeFree, it pales in comparison to the Squeeze's lifetime warranty. Second, the soft flask isn't as durable as the HydraPak included with the purchase of the Katadyn, and it's only available in a small 0.7-liter size (although unlike the BeFree you can pair the Flex with most disposable water bottles). And finally, in practice the Flex is noticeably slower than the competition, and the flow rate is difficult to revive through simple maintenance. It is worth noting that for $20 more, you can get the Flex filter and a 3.7-liter bag for a convenient gravity system (below).
See the LifeStraw Flex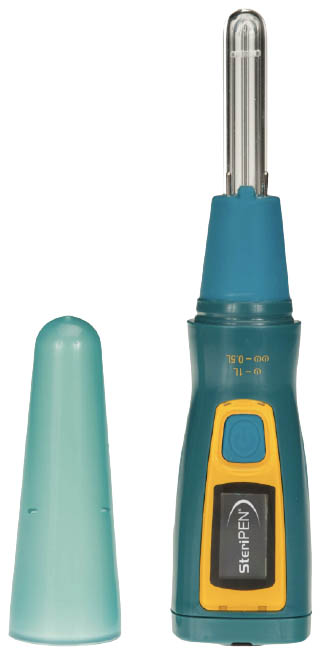 Type: UV purifier
Weight: 4.9 oz.
Lamp life: 8,000 liters
What we like: Lightweight purification without the chemical aftertaste. 
What we don't: Relies on USB charge.
For well over a decade, SteriPen has held a unique place in the water purification market. Instead of the various gravity filters, pumps, and chemical drops on this list, SteriPen's technology uses UV rays to destroy bacteria, protozoa, and viruses. You simply place the SteriPen in your water bottle or reservoir and swirl until the device indicates you're finished—it takes about 90 seconds to purify 1 liter. And the Ultra here is our favorite model, with a durable 2.9-ounce build, helpful LED display, and convenient USB-rechargeable Lithium-Ion battery. 
We love the concept of the SteriPen but have mixed feelings after extended use. The lack of filtration certainly is a downside and means that unless you don't mind drinking silt or other particles, you're limited to moving water sources of a decent depth. Second, the SteriPen uses a USB-rechargeable lithium-ion battery, and if that runs out and you don't have a portable charger, you're stuck in the wilderness with no purification (SteriPen also offers a few AA-compatible models). Finally, when using the SteriPen, it's hard to feel totally confident that it worked—rational or not. Did I submerge the device too little or too much? Is the process really complete? But we've never been sick after using a SteriPen, so those concerns haven't yet been realized. 
See the SteriPen Ultra UV Water Purifier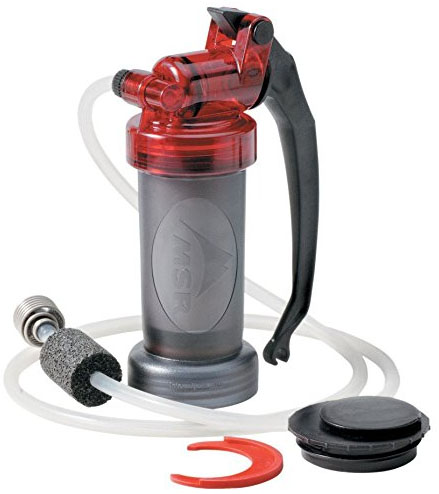 Type: Pump filter
Weight: 16 oz.
Filter life: 2,000 liters
What we like: One of the few pump designs with a ceramic filter.
What we don't: Heavier and slower than the Katadyn Hiker.
Despite all of the recent innovations, the MSR MiniWorks remains one of the most popular pumps on the market. Compared to the Katadyn Hiker above, both are similar in price (the Katadyn is $20 cheaper), have the same filter pore size (.2 microns), and protect against the same things including Giardia and Cryptosporidium. The Katadyn is lighter at 11 ounces, but the MSR has a significantly longer filter life at 2,000 liters (the MSR is carbon/ceramic while the Katadyn is carbon). And both allow you to filter water without the inconveniences of straws or droplets.
We have the MSR MiniWorks ranked here because of our personal experience with it. We found the pump to be slow from the outset (it has a listed flow rate of 1 liter per minute, but we didn't experience that). Further, our version became almost unworkable midway through a Utah backpacking trip. The water was rather murky, but that's no excuse for pump failure just a few days out of the box. User reviews generally are positive and we are looking forward to getting another MiniWorks out for more testing, but regardless, we'll take the lower weight and initial cost of the Katadyn.
See the MSR MiniWorks EX Microfilter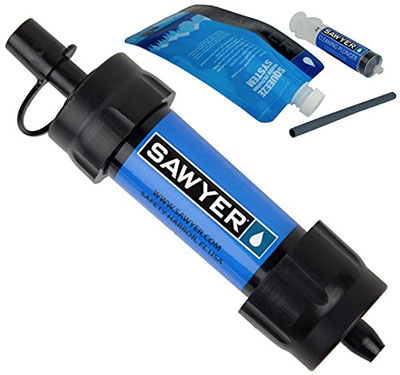 Type: Bottle filter (inline adaptors available)
Weight: 2 oz.
Filter life: 100,000 gallons
What we like: Feathery light.
What we don't: We'll stick with the better-performing and longer-lasting Sawyer Squeeze.
One ounce lighter and $20 cheaper than the Sawyer Squeeze above, the Sawyer Mini is one of the lightest and most compact water filters on the market. Like the Squeeze, the Mini attaches to its included bag or other compatible water bottle to squeeze filtered water into your mouth or drinking vessel. You'll have to purchase inline adapters separately for use with a gravity system or hydration reservoir, but the Mini is nevertheless a decent option for those who don't mind a simple bottle filter. And while its 100,000-gallon filter life pales in comparison to the standard Squeeze's lifetime guarantee, it's still incredibly impressive compared to most options here.
It shouldn't come as a surprise that the smaller and less expensive Mini is slower to filter and more prone to clogging. We brought the Mini along on a 4-day trek in Patagonia (with clear water sources), and it required so much suction when paired with a smartwater bottle that we resorted to our group's gravity filter instead. Additionally, the small 16-ounce pouch isn't ideal for filling up standard water bottles, and we've had bad luck with delamination and leaks on all of our Sawyer bags. In the end, we don't recommend the Mini for anything other than emergency use, especially given that the Squeeze is a fully functional alternative for just 1 ounce and 20 bucks more. And if you want to keep weight down, it's also worth checking out the Hydroblu Versa Flow filter, which is still lightweight at 2.6 ounces but has a faster flow rate than the Mini.
See the Sawyer Mini Filter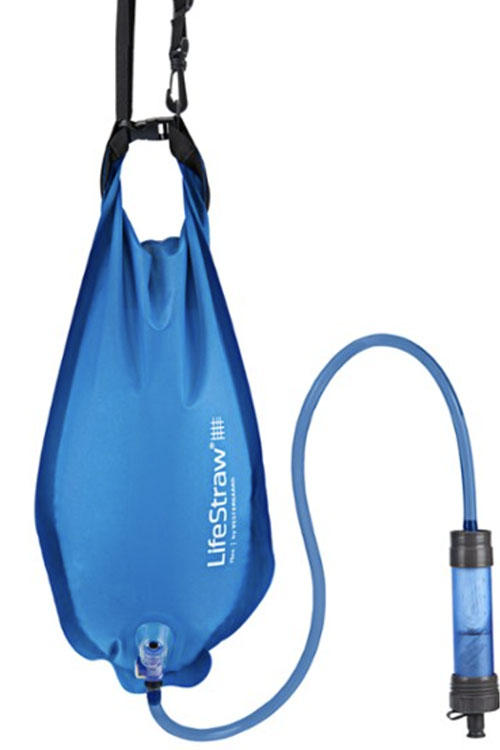 Type: Gravity/inline filter
Weight: 5.7 oz.
Filter life: 2,000 liters
What we like: A lightweight and affordable gravity system.
What we don't: Prone to leaking and slow flow rate.
As much as we love the convenience of a gravity filter, it's certainly not the lightest or most cost effective filtration solution. But the LifeStraw Flex with Gravity Bag finds a better middle ground than most, checking in for less than half the weight and price of the other gravity filters here. How does it accomplish this feat? The system combines a really lightweight inline filter (also used in the LifeStraw Flex bottle above) with one bag, rather than the two-bag designs above. You don't get a holding reservoir for clean water, but the Flex filter uses a cap to shut down flow when not in use and pairs well with a hydration reservoir too.
The LifeStraw Flex makes a lot of sense for smaller groups and those who like to hike with hydration reservoirs, but it slots in toward the bottom of our list for a few reasons. For one, users cite a lot of issues with leaking, and our experience with LifeStraw products is that they lack the premium quality of high-end brands like MSR and Platypus. Second, with a flow rate of 0.5 liters per minute, the Flex filters water much more slowly than the GravityWorks (1.75 L/min) and Trail Base Gravity (1L/min) above. And finally, there's just a lot of ease in having a "clean bag" as part of your gravity system, especially for larger groups. But we love the simplicity of the LifeStraw, and it's a solid solution for budget seekers looking for a convenient basecamp filter.
See the LifeStraw Flex with Gravity Bag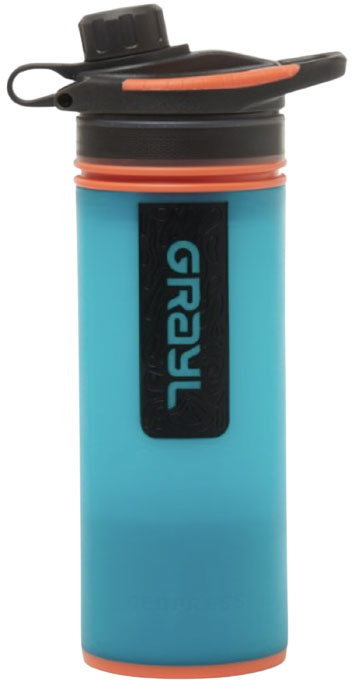 Type: Bottle filter/purifier
Weight: 15.9 oz.
Filter life: 65 gallons
What we like: An innovative and easy-to-use purification system.
What we don't: Not super practical for extended backcountry trips.
The Grayl GeoPress Water Filter and Purifier is designed with travel and light adventuring in mind. We like the concept: similar to the LifeStraw Universal below, the Grayl replaces the myriad awkward devices on this list—requiring some level of squeezing, pumping, batteries, hoses, or even chemicals—with a simple and sleek 24-ounce bottle. Plus, it's available in a variety of colors, notably offers purification on top of filtration, features a nice drinking spout and cap, and has a nifty French-press-style plunger to get the job done. Keep in mind that Grayl also makes the 16.9-ounce UltraPress, which features the same technology in a more streamlined (12.5 oz.) setup. 
Though eye-catching and certainly useful for a wide range of scenarios (think traveling in lesser-developed countries or hydrating in camp), the Grayl has limitations. Purifying just 24 ounces (0.7L) at a time, it's an inefficient system for anything but on-the-go drinking when water sources are consistently available. Additionally, the purifier cartridge has a lifespan of only 65 gallons, which pales in comparison even to the LifeStraw Universal's 4,000 liters. But no other bottle filter beats the Grayl purifier for traveling abroad, and it's a great replacement for buying water in disposable plastic bottles. For backpacking, the practicality is limited.
See the Grayl 24oz GeoPress Purifier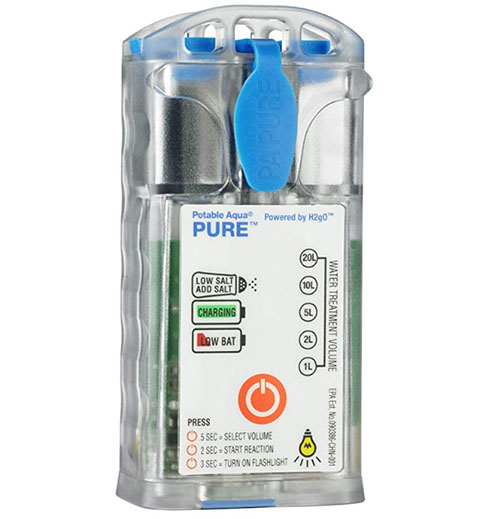 Type: Chemical purifier
Weight: 3.8 oz.
Filter life: 60,000L+
What we like: Can filter 60,000 liters with little upkeep.
What we don't: Less convenient than other chemical purification options. 
Now for something a little different: Potable Aqua's Pure Electrolytic Water Purifier. Unlike most chemical purifiers that use chlorine dioxide or iodine, the Pure combines salt water and an electric charge to remove contaminants from water. This technology is more common in military and municipal applications than the outdoor world, although we've even seen it before with MSR's now-discontinued Miox. In general, it's a simple, lightweight set up that can purify 1-20 liters at a time, boasts a lifespan of 60,000 liters, and charges (slowly) using the attached solar panel.
The Pure Electrolytic comes with the same downsides of nearly all chemical treatment options. It adds an unfortunate taste, takes a half hour to do its job (or four hours if you're worried about Cryptosporidium), and does not remove floaties like a filter would. And as with every form of water treatment that uses power, we recommend bringing a backup option into the field in case the Pure malfunctions. All told, the Pure is intriguing, but it isn't our favorite chemical purification option—we'll stick with the more reliable chlorine dioxide for most applications.
See the Potable Aqua Pure Electrolytic Purifier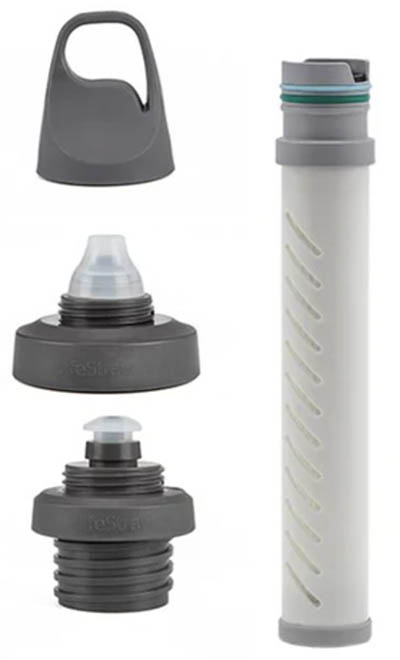 Type: Straw filter
Weight: 3.6 oz. (without bottle)
Filter life: 4,000 liters
What we like: Makes water filtration as easy as drinking from your favorite bottle.
What we don't: Heavier and bulkier than the Katadyn BeFree
For those wanting a dedicated water bottle filter, the LifeStraw Universal has a lot of appeal. Like the Katadyn BeFree above, it makes water treatment as simple as taking a sip, but it goes the next mile with a universal adaptor (hence the name) that can attach to your water bottle of choice (including narrow and wide mouth models from Hydroflask, Klean Kanteen, CambelBak, Nalgene, and more). Additionally, LifeStraw Universal boasts four times the filter life of the Katadyn and doesn't require any squeezing (read: no cold hands). All in all, it's an ideal and long-lasting set-up for casual day hiking, when weight and bulk aren't always a top consideration.
But for all of its adaptability, the LifeStraw Universal isn't incredibly versatile. You get a bottle of filtered water, and that's about it. And because it's a straw filter, you can't even use it to squeeze water into an empty bottle or a pot for cooking (like you might with the BeFree or Sawyer Squeeze). Further, 3.6 ounces is the weight of the filter alone, which is more than double the more backcountry-focused Flex above. And take note that the Universal's straw is bulky, so it reduces the total amount of water storage. But for short adventures and compatibility with your favorite water bottle, the LifeStraw Universal is one of the most convenient and user-friendly options here.
See the LifeStraw Universal Bottle Adapter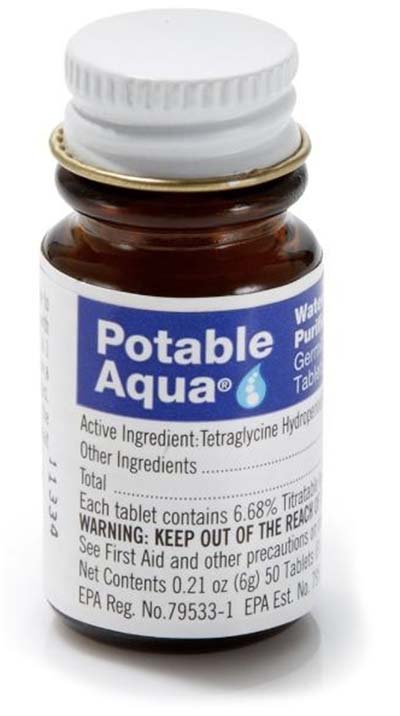 Type: Chemical purifier
Weight: 3 oz.
Treatment ratio: 1/2 liter per tablet
What we like: Lightweight and cheap.
What we don't: Tastes funky and takes 30 minutes to activate.
Potable Aqua tabs are a classic and a method that we've used as a filter backup for years. The system couldn't be simpler: put two iodine tablets in a liter of water, wait 30 minutes, and drink. Most importantly, they kill bacteria, protozoa, and viruses, thereby purifying water for drinking. Similar to the Aquamira drops, Katadyn tablets, and SteriPen above, keep in mind that you will be drinking unfiltered water, so Portable Aqua is best used with relatively clean mountain water. 
The big downside of Potable Aqua is taste. Neutralizer tablets are available and do a decent job of masking the chemical flavor, and many people add a drink mix to make a tastier concoction. If you're wondering about the differences between iodine (Potable Aqua) and chlorine dioxide (the Katadyn and Aquamira above), the former is not effective in killing Cryptosporidium, while the latter is categorized by the CDC as having low to moderate effectiveness. Further, the Katadyn and Aquamira don't have as many issues with taste, which is why they land higher spots on our list.
See the Potable Aqua Tablets
Water Filter and Purifier Comparison Table
| Filter/Purifier | Price | Type | Weight | Flow Rate | Life | Capacities |
| --- | --- | --- | --- | --- | --- | --- |
| Platypus GravityWorks 4L | $110 | Gravity filter | 11.5 oz. | 1.75 L/min | 1,500 liters | 2L, 4L |
| Sawyer Squeeze | $37 | Bottle/inline filter | 3 oz. | 1.7 L/min | Lifetime | 32 oz. |
| Katadyn BeFree Bottle 1L | $45 | Bottle filter | 2.3 oz. | 2 L/min | 1,000 liters | 20 oz, 1L, 3L |
| MSR Guardian | $350 | Pump filter/purifier | 17.3 oz. | 2.5 L/min | 10,000 liters | Unlimited |
| Katadyn Micropur MP1 | $14 | Chemical purifier | 0.9 oz. | 1 L/30 min | 1 liter/tab | Various |
| MSR Thru-Link | $40 | Inline filter | 2.5 oz. | 1.5L/min | 1,000 liters | Unlimited |
| Katadyn Hiker | $70 | Pump filter | 11 oz. | 1 L/min | 750 liters | Unlimited |
| Aquamira Water Treatment | $15 | Chemical purifier | 3 oz. | 1 L/20 min | 30 gallons/1 oz. | Various |
| Katadyn QuickDraw | $40 | Bottle filter | 3.3 oz. | 3 L/min | 1,000 liters | 1L |
| MSR Trail Base Gravity 2L | $140 | Gravity/pump filter | 16 oz. | 1 L/min | 1,500 liters | 2L, 4L |
| LifeStraw Flex | $35 | Bottle/inline filter | 3.2 oz. | 0.5 L/min | 2,000 liters | 0.7L |
| SteriPen Ultra UV | $120 | UV purifier | 4.9 oz. | 1 L/90 sec | 8,000 liters | 0.5L, 1L |
| MSR MiniWorks EX | $100 | Pump filter | 16 oz. | 1 L/min | 2,000 liters | Unlimited |
| Sawyer Mini Filter | $22 | Bottle filter | 2 oz. | Unavailable | 100,000 gallons | 16 oz. |
| LifeStraw Flex Gravity | $55 | Gravity/inline filter | 5.7 oz. | 0.5 L/min | 2,000 liters | 1 gallon |
| Grayl 24oz GeoPress | $90 | Bottle filter/purifier | 15.9 oz. | 5 L/min | 65 gallons | 24 oz. |
| Potable Aqua Pure | $100 | Chemical purifier | 3.8 oz. | 20 L/30 min | 60,000 liters  | Various |
| LifeStraw Universal | $35 | Straw filter | 3.6 oz. | Unavailable | 4,000 liters | Various |
| Potable Aqua Tablets | $8 | Chemical purifier | 3 oz. | 1 L/30 min | 1/2 liter/tab | Various |
Water Filter and Purifier Buying Advice
Water Filtration vs. Purification
The words "filter" and "purifier" often are used interchangeably, but knowing the differences between the two is a key step in choosing the best water treatment for your needs. The most important distinction comes in the level of protection each method provides. Water filters use microscopic pores to strain out protozoa (such as Giardia) and bacteria (E. Coli and Salmonella, for example). Water purifiers also remove protozoa and bacteria, but they eliminate viruses as well (like Hepatitis A and the Norovirus). Viruses are rarely found in natural sources, which is why most backcountry goers find filters to be fully sufficient. However, if you're traveling in less-developed regions of the world or just want to be extra cautious (especially in high-traffic areas), a purifier is a great option to have.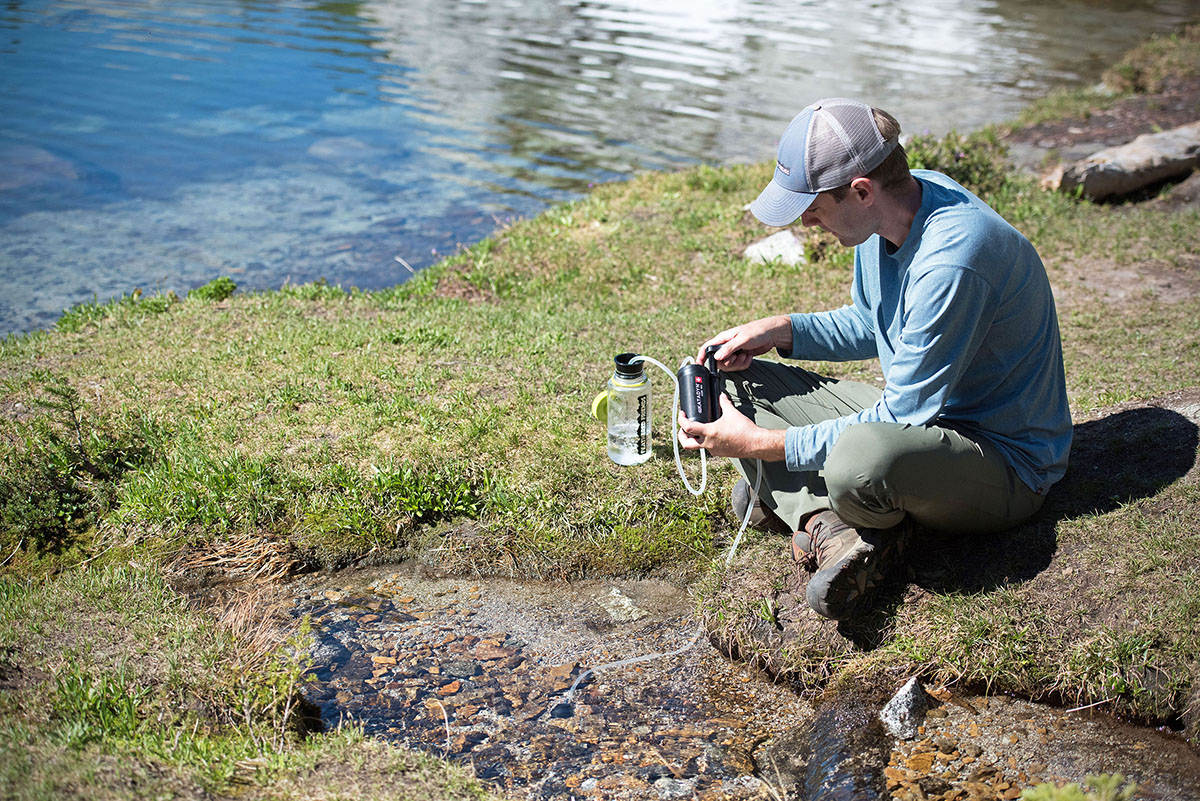 Second, by definition, a filter routes water through an actual sieve, which physically removes debris such as dirt, algae, leaves, and tiny critters. By contrast, most purifiers use chemicals or ultraviolet light to treat water straight from the source (i.e. unfiltered water). This is important to keep in mind if you're drawing from unclear water sources such as a silty river, murky pond, or muddy desert pool. We'll usually opt for a filter in these scenarios, but if you're using a purifier it's a good idea to pre-filter your water (more on this below). Finally, some premium treatment options both filter and purify water, such as the MSR Guardian and Guardian Gravity.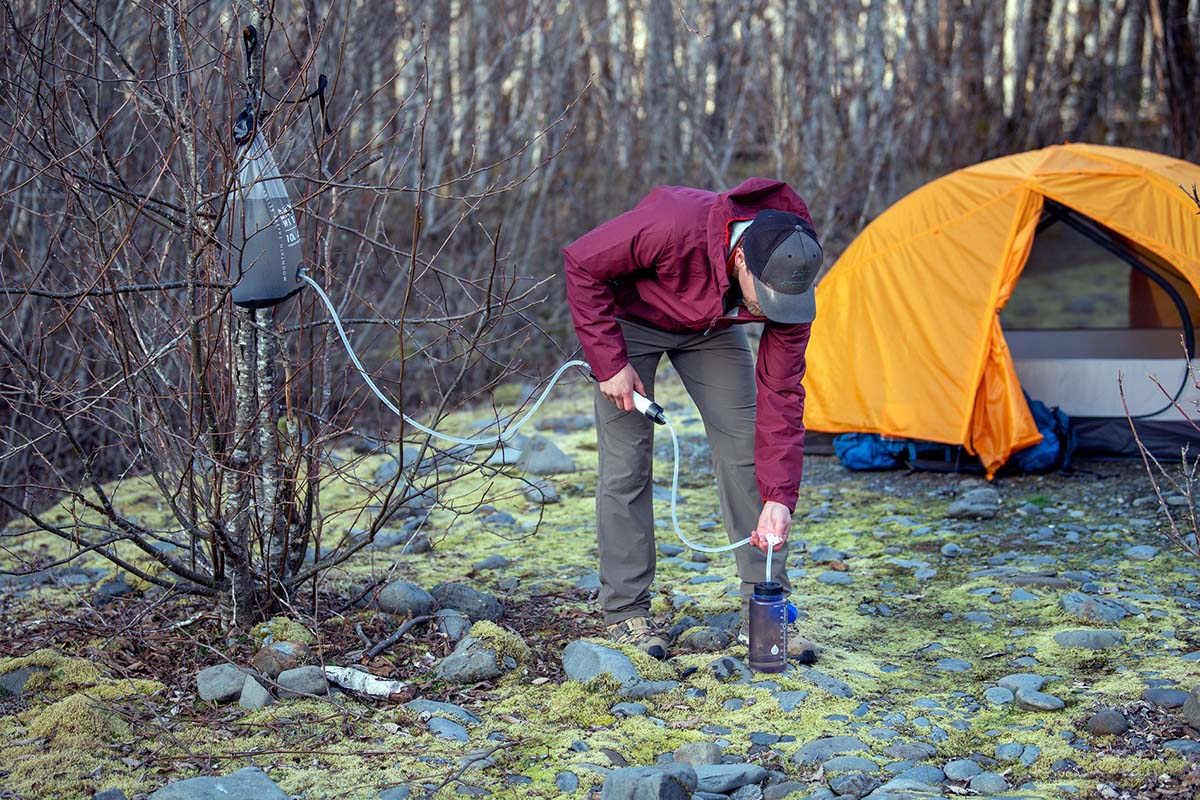 Types of Water Filters and Purifiers
Gravity/Inline Filters
Gravity systems—which use an inline filter—are best for groups, basecamping, or anytime you want to filter large quantities of water with minimal hands-on effort. Simply fill the dirty water bag, hook up the filter to the port or hose, and let gravity do the work. Some gravity systems have a separate "clean" reservoir to collect the water, while others dispense it straight into your vessel (or mouth) via a hose with an on/off valve. Gravity filters aren't for everyone, however: they're bulkier and heavier than most alternatives, and you'll need a fairly good water supply to fill up your reservoir (pumps are better for shallow sources). Finally, gravity filters aren't our first choice for on-the-go water treatment, as setting up the system can take some time (and you'll need somewhere to hang it).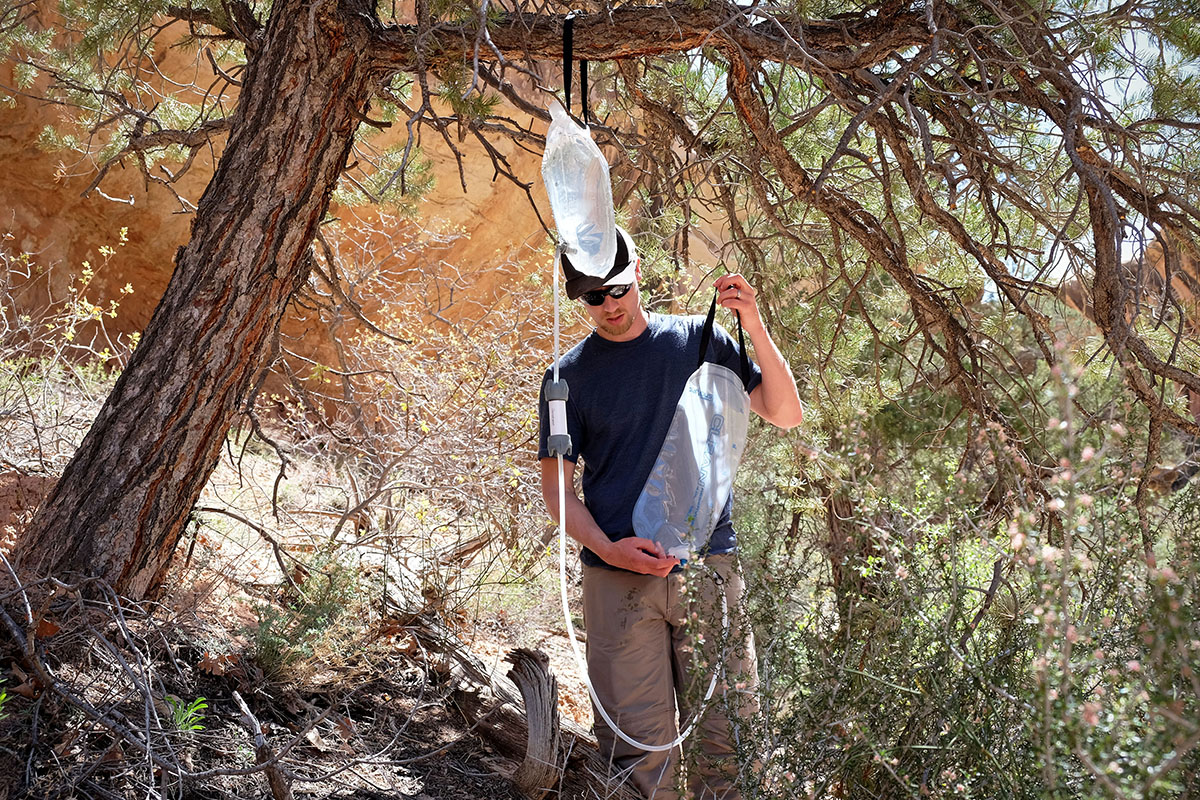 Although they're most commonly used in gravity setups, inline filters also can be paired with a hydration reservoir (purchased separately) to provide on-the-go filtration for solo travelers. Instead of gravity doing the work, suction brings the water from the "dirty" bag, through the filter, and into the hydration hose to the mouth. Used in this way, an inline filter will only add about 3 ounces to your kit (assuming you're already bringing a reservoir) and is one of the easiest and most efficient ways for individuals to stay hydrated. MSR makes their Thru-Link for this very application, and models like the Sawyer Squeeze quickly convert into an inline filter with included adapters.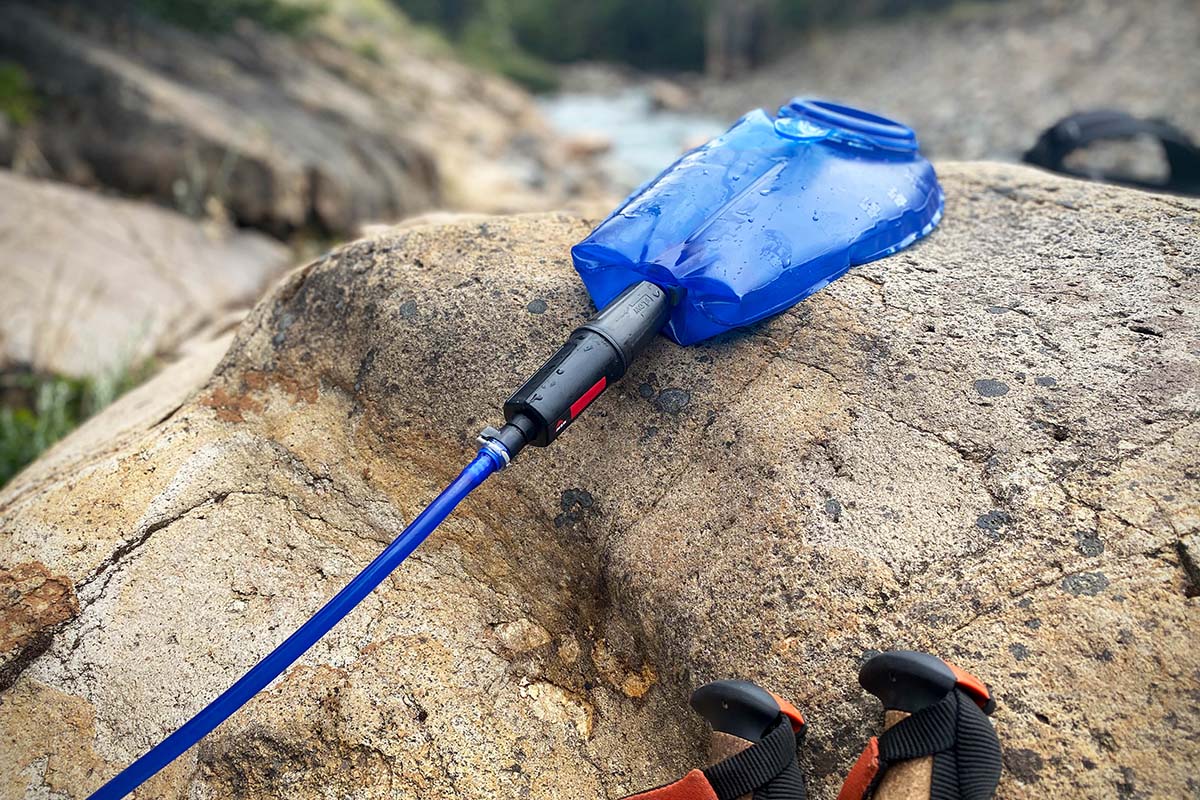 Pump Filters/Purifiers
Pump filters are a great option for small groups (1-4 people), and especially when you need to pull water from shallow pools. Using simple mechanics (and some elbow grease), a pump siphons water from the source, through a hose and filter, and out another hose into a clean receptacle. But while they have long been a popular option for backcountry filtration, pump filters recently have been outpaced by other styles. They're among the heaviest systems, take more time and effort than most methods, and cleaning the cartridges isn't as easy as a simple backflush (as with straw and inline filters). That said, for those who enjoy the process of camp chores and don't mind a little gear maintenance, we certainly understand the appeal.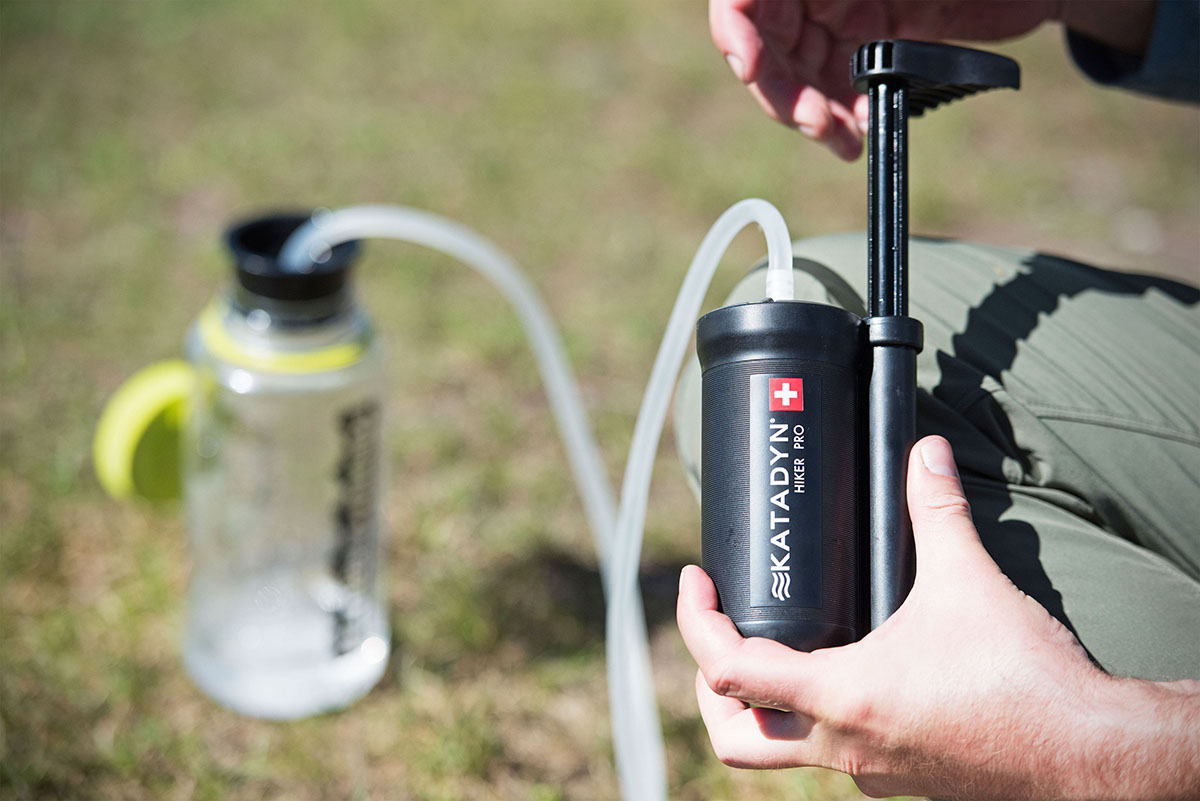 Bottle Filters
Bottle filters—also known as squeeze filters—attach to the spout of a soft-sided bottle or pouch and filter water as you drink. Their lightweight and easy-to-use design makes them a great option for weight-conscious trips and solo backpackers, day hikers, trail runners, cyclists, and more. We love these filters for their versatility—in addition to drinking from the bottle or pouch, you can also squeeze water into a separate receptacle for storage. Further, many bottle filters (like the Sawyer Squeeze or LifeStraw Flex) also can perform as inline or gravity filters (with the help of adaptors), or used as straws to suction water directly from the source. Keep in mind that bottle filters are often slower at filtering than a high-performing pump design and require quite a bit more effort than a gravity model. And with particularly cold water, your hands can get pretty chilly, too.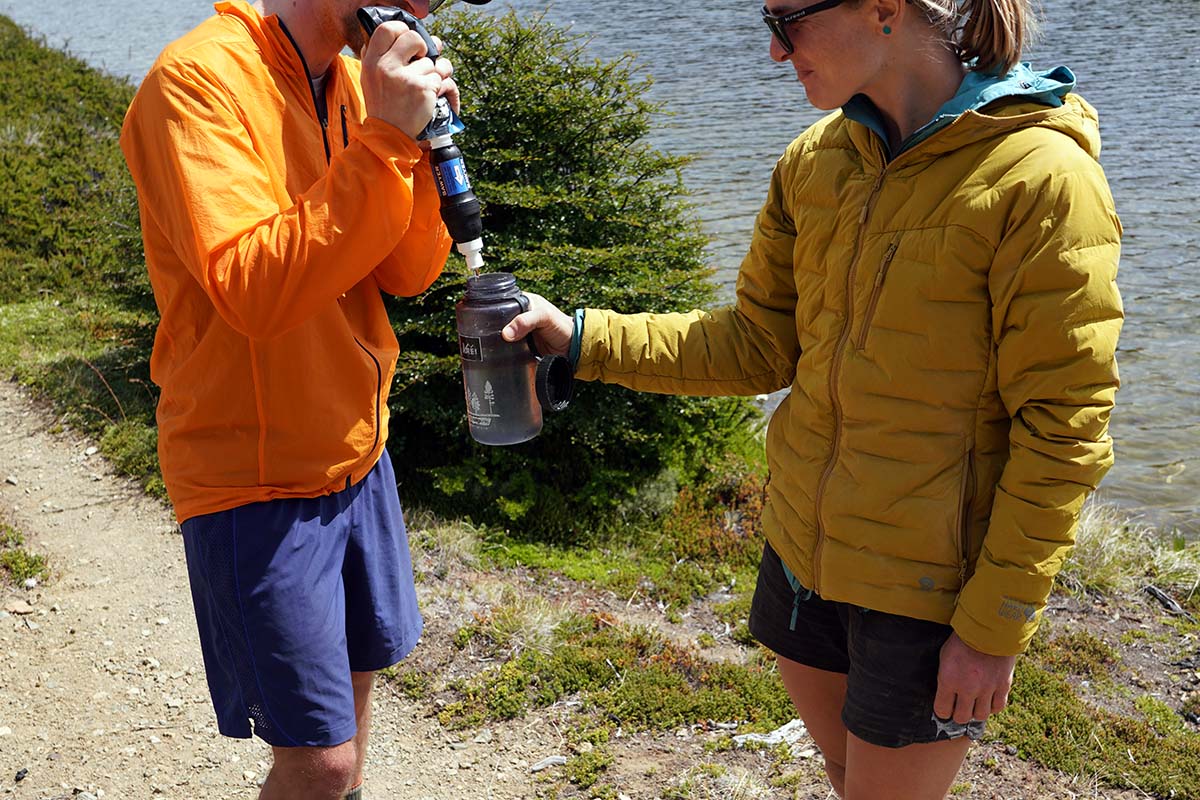 Straw Filters
Used by day hikers, trail runners, and mountain bikers who prefer not to carry water as they move, a straw filter allows you to drink directly from the source, as though sipping through a straw (some setups also include a bottle, like the LifeStraw Universal). Straw filters have their place for simple applications and day trips, but are not a very versatile setup as they offer no way to produce or store clean water for cooking or drinking later. Further, many bottle and inline filters also can be used as a straw (such as the Sawyer Squeeze Mini), and are by far the more well-rounded choice. In general, we don't recommend simple straw filters for high-performance backcountry use, but we include the LifeStraw Universal on our list as a nice recreational option.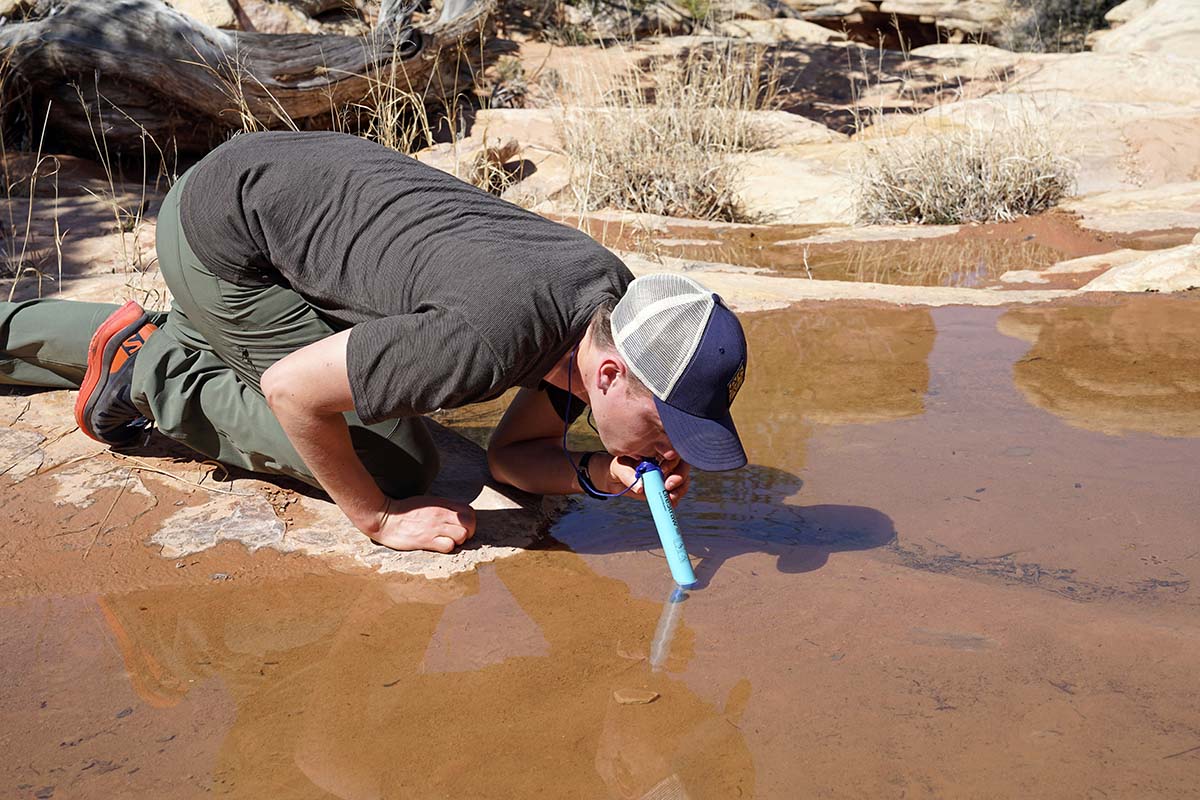 Chemical/UV Purifiers
Available in both liquid and tablet forms, chemical purifiers use iodine or chlorine dioxide to remove protozoa, bacteria, and viruses from water. UV purifiers like the SteriPen use ultraviolet rays to achieve the same effect. The upsides to both methods are clear: they're relatively lightweight, don't require the arduous task of pumping or squeezing, and you get protection against viruses, too (filters only remove bacteria and protozoa). But keep in mind that both chemical and UV purifiers forgo filtering, making them good options only when you have access to clear water sources like glacial streams. In addition, chemical purifiers can add an undesirable taste to your water, and UV purifiers require batteries and electronics, which aren't great to rely on in the backcountry. That said, these purifiers offer a nice alternative to bulkier filters, and we especially like chemical options like Aquamira and Potable Aqua for large groups, weight-conscious outings, or as a backup to a filter.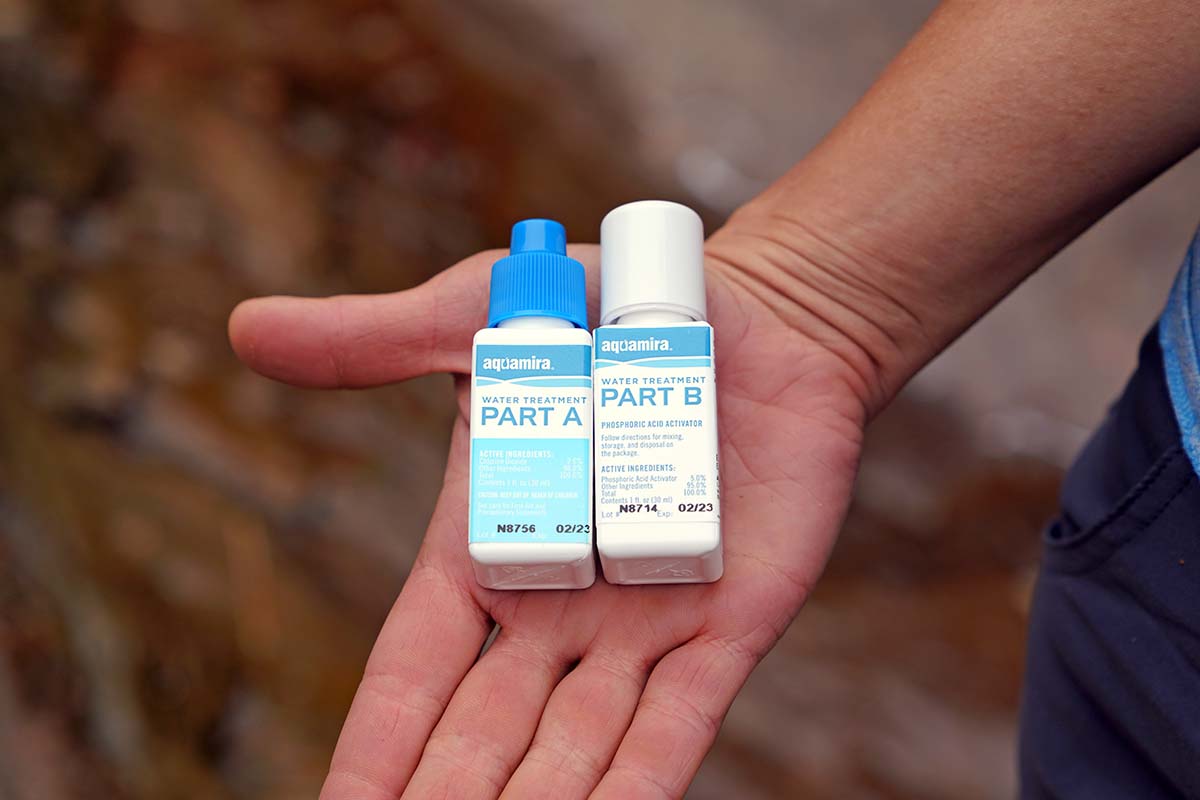 Weight and Bulk
Water filters and purifiers range in weight and bulk, from super lightweight tablets that are just a fraction of an ounce, to the 1-pound 1-ounce MSR Guardian. Most of today's most popular options for individuals settle in the 2 to 5-ounce range. As with all backpacking gear, you'll want to go as light as possible without sacrificing too much in the way of functionality. In general, chemical purifiers are the most minimalist option (and great for groups), with squeeze filters like the 2-ounce Sawyer Squeeze Mini not too far behind (although they're slightly larger in size). Pumps and gravity systems are the heaviest and bulkiest, and include multiple components like storage bags and hoses. Finally, keep in mind that when calculating the weight of your setup, that you'll also want to factor in your water storage (bottle, reservoir, etc.).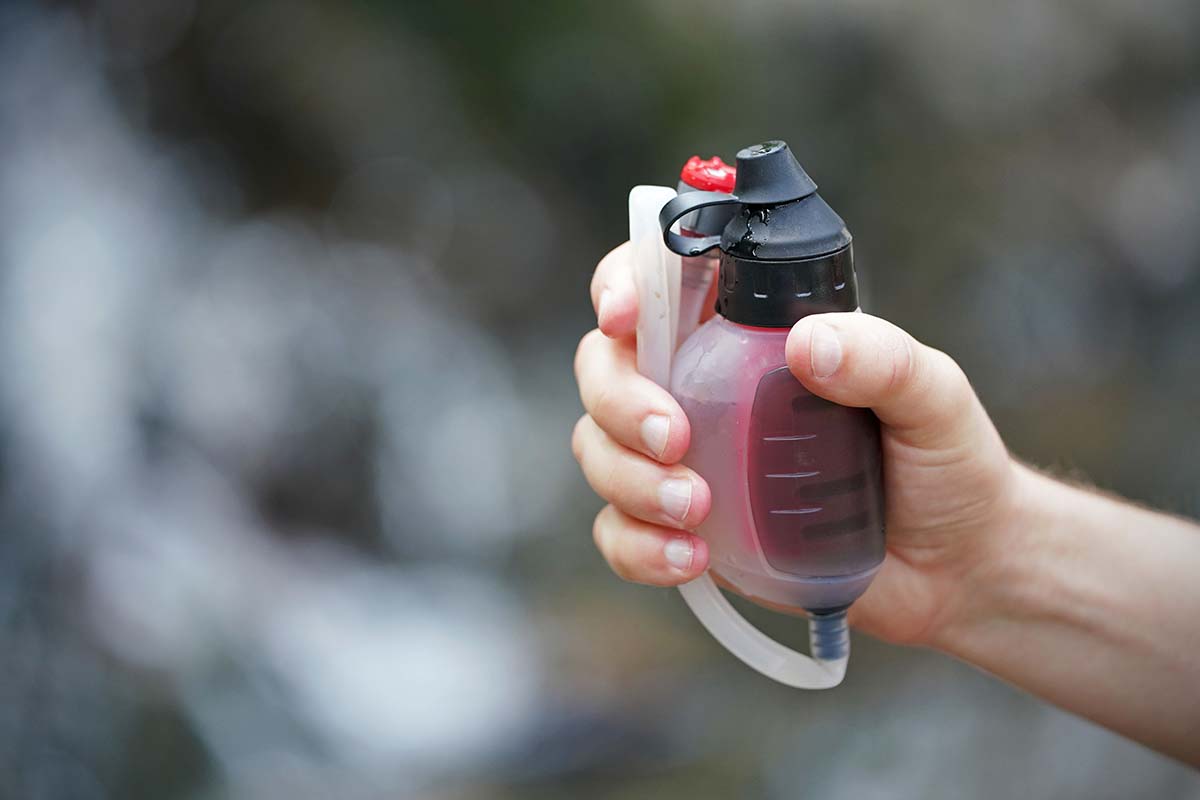 Pore Size
Pore size refers to the size of the tiny openings in the filter, and is measured in terms of microns. The smaller the pore, the more particles the filter can block. According to the CDC guide on water treatment, a pore size of 1 micron (or less) is needed to filter out protozoa, while you'll need a pore size as small as 0.3 micron to filter out bacteria. Viruses, on the other hand, can be as small as 0.02 micron. Most backpacking filters on this list have a pore size of 0.1 or 0.2 micron, which is why they sift out protozoa and bacteria, but not viruses. Because they are so small, the best way to combat viruses is through chemical or ultraviolet purification. Alternatively, the MSR Guardian pump purifier uses 0.02-mircon hollow fibers to filter viruses.
 
 

Flow Rate
The flow rate indicates the speed at which a filter treats water, and is most often measured in terms of liters per minute. In general, gravity filters have the fastest flow rates: the Platypus GravityWorks filters 1.75 liters per minute, which means it only takes a few minutes to fill a 4-liter bladder with clean water. Leading pump filters are listed at about 1 liter per minute, although that seems fairly optimistic to us (the exception is the pricey MSR Guardian, which is speedy at 2.5 L/min.). Finally, squeeze and straw filters can only move as fast as you can drink, and some will require more suction than others (the Sawyer Squeeze Mini takes a ridiculous amount of effort). Keep in mind that the flow rates listed by the manufacturers are going to be realized in optimal circumstances and are likely to be slower in the field, and most filters come with recommendations for backflushing or light maintenance to keep things moving properly (more on this below).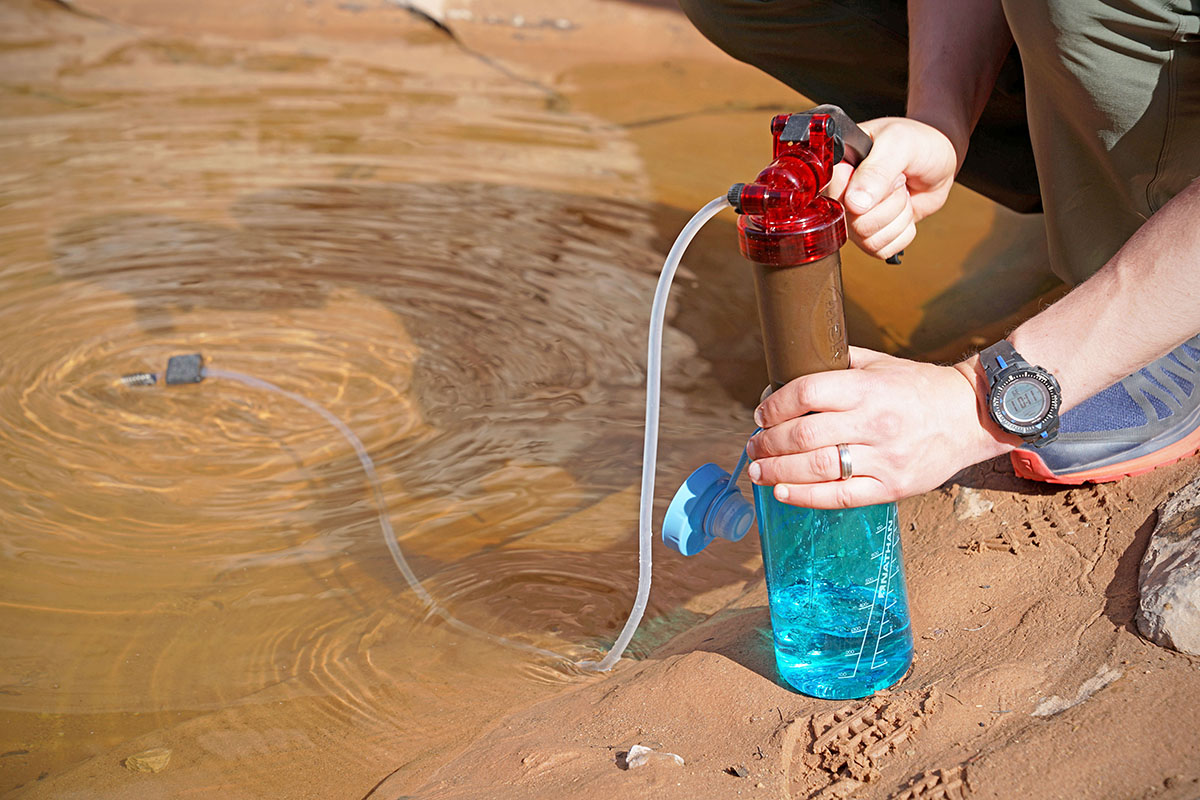 Because chemical and ultraviolet purifiers do not filter water, they don't have a flow rate. However, they do have a wait time that must lapse before water is safe to drink, usually between 15 and 30 minutes (and sometimes a full 4 hours for Cryptosporidium) for chemical purifiers, and 90 seconds per liter for a SteriPen. The good news about chemical purifiers is that you can sit back and let them do their work, rather than pumping or squeezing as in the case of some filters. All told, flow rate will be an important consideration for groups and time-conscious endeavors, but less of an issue for more casual hikers and backpackers.
 
Filter Life
A key product specification that we reference in this article is filter life, or how quickly your filter will need to be replaced. The primary consideration here is cost: you have the initial purchase price of the item, but after a certain number of liters of water have been filtered, you'll need to buy a replacement cartridge. For example, two of our favorite pump filters are the Katadyn Hiker and MSR MiniWorks. The purchase price of the Katadyn is $20 less than the MSR, but it has a shorter filter life of 750 liters vs. 2,000 liters, which is a big difference. Given that the Katadyn replacement filter costs $50 vs. $40 for the MSR, this brings the cost of the system up over a period of years. On the extreme ends of the spectrum, the Grayl GeoPress has a cartridge life of only 65 gallons, while the Sawyer Squeeze has a lifetime warranty, and they don't even make replacement cartridges for it.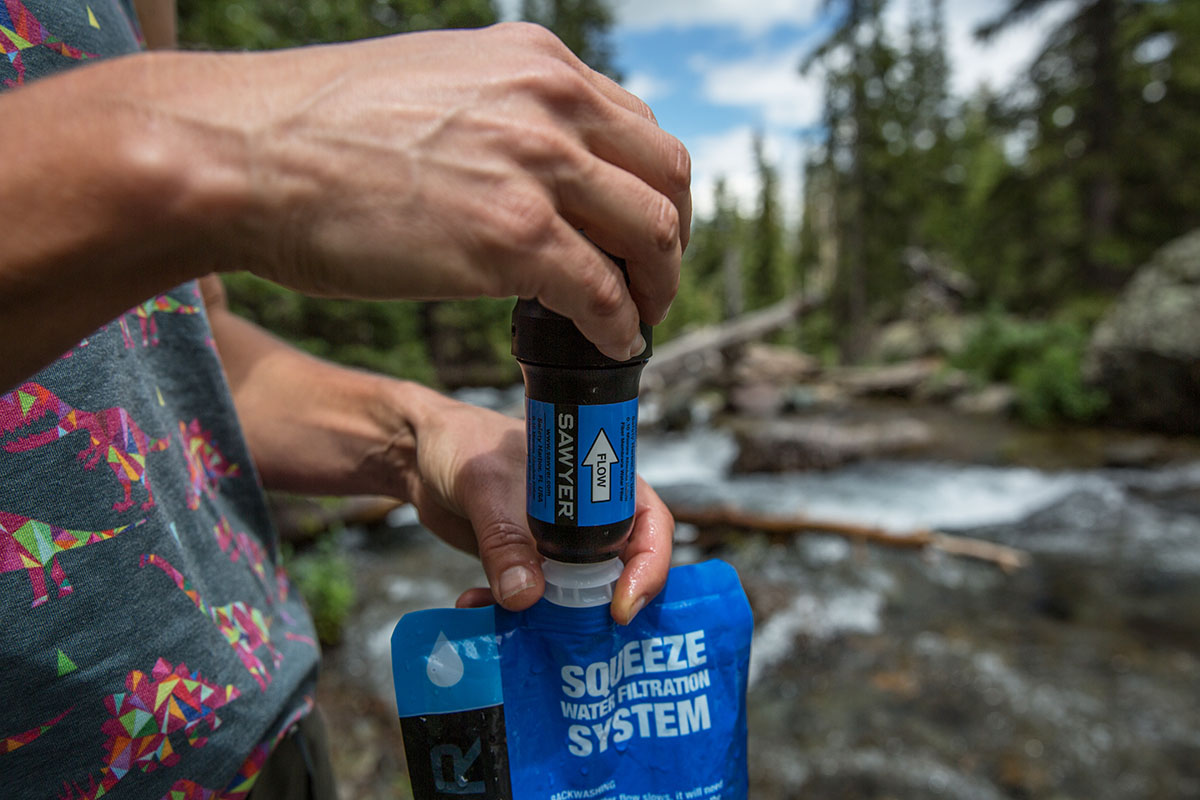 As with any manufacturer-provided spec, the listed filter life is optimistic and probably should be thought of as a maximum. Furthermore, many of these filters and purifiers are made with a great deal of plastic and it's fairly likely that you'll break another component of the device before the filter expires. Finally, keep in mind that the 750 liters referenced above for the Katadyn is actually a lot for most casual backpackers that get out a few times a year. If your filter lasts that long and you're ready for a new cartridge, then you've gotten a lot of use and clean water out of it, making it a solid investment.
 
 

Filter Maintenance/Replacement
Given that their task is to remove contaminants from water, it should come as no surprise that many water filters need to be cleaned of this buildup. Most gravity and straw filters are maintained by backflushing clean water or air through the filter. With a product like the LifeStraw Universal, this is as easy as blowing out after each drink. Others require a separate piece of equipment, including the syringe that comes with the Sawyer Squeeze. In general, it's important to read about and practice maintaining your filter at home before taking it out into the field.
Cleaning pump filters is a slightly more intensive process, as you'll need to unscrew the apparatus and either remove the filter or extend a brush down the interior. Instructional videos are available online for almost every product on our list, and you should expect basic maintenance to be part of owning and using a water filter. If you're not keen on keeping up your equipment, you can always opt for more carefree models like the SteriPen or chemical treatments like Aquamira or Potable Aqua.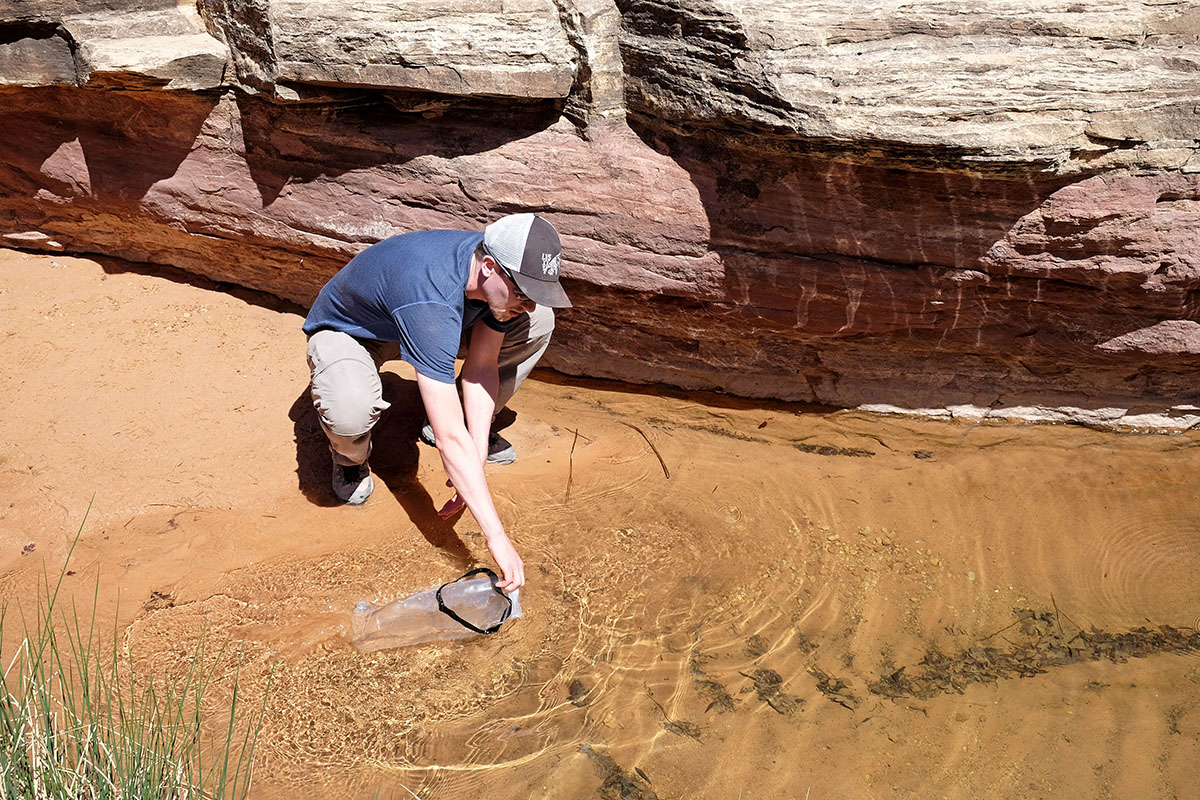 Pre-Filtering
As we touched on above, if you're not using a dedicated filter to separate out sediment and other particulates, finding a clean and moving water source is the best way to ensure your water tastes good. But should you find yourself with no other option, we've found a bandana (or other piece of clothing) to be the most effective pre-filtering method for straining out leaves, sand, and other bits before purification. Another option is to scoop the dirty water into a Ziploc bag, let the sediment settle, and transfer the clear water from the top into a bottle for treatment. With especially dirty water sources, pre-filtering can be a great idea even if you're using a filter to treat your water, as it will mitigate potential clogging.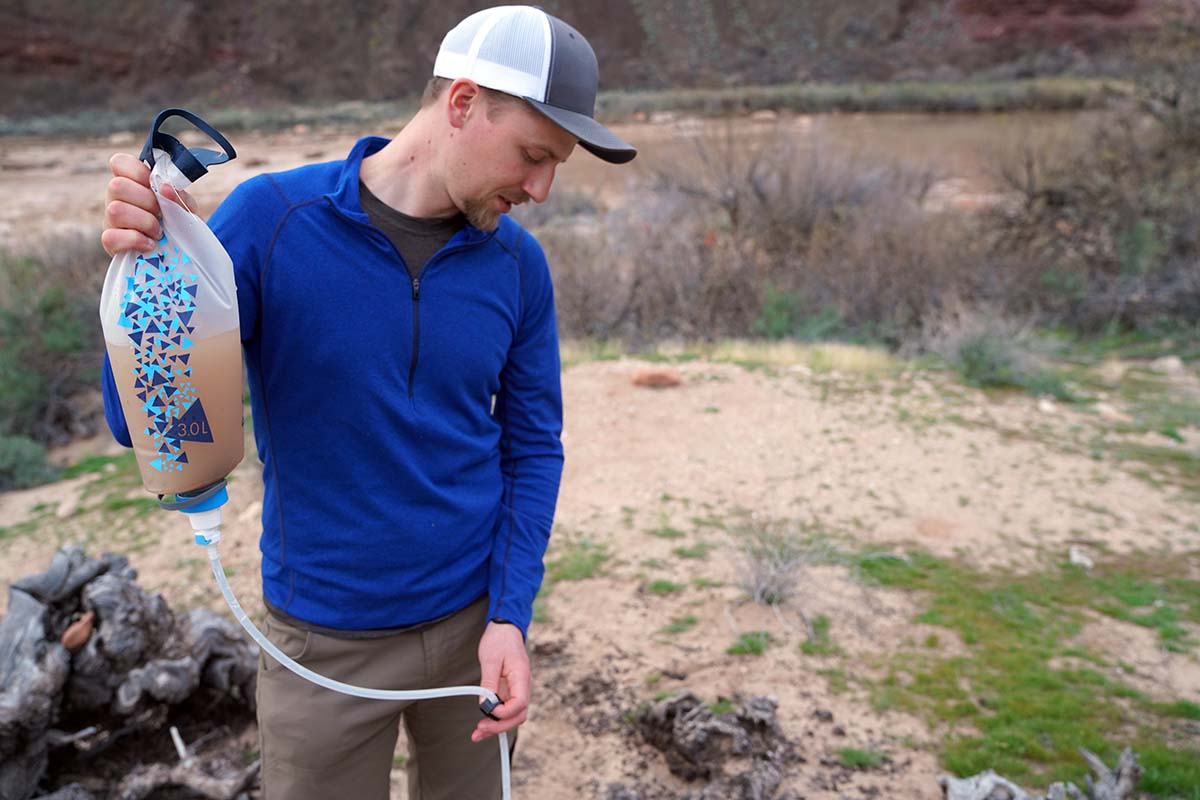 Compatibility with Bottles and Reservoirs
Almost all water treatment systems have some way of connecting to either a water bottle or hydration reservoir, if not both. This often takes the form of a simple hose or cap that fits onto commonly sized water bottle openings. The MSR Thru-Link, for example, attaches directly to your water reservoir hose, and pump filters like the Katadyn Hiker and the MSR MiniWorks have adapters that fit the mouth of a standard Nalgene bottle. Sawyer has played into the fast-and-light community of hikers who use disposable plastic water bottles on the trail, making their Squeeze and Mini versions able to screw into the mouth of a standard plastic water bottle (great for weight savings, less great for the environment). All in all, be mindful of the compatibility for a water filter or purifier to make sure it works with your drinking vessels.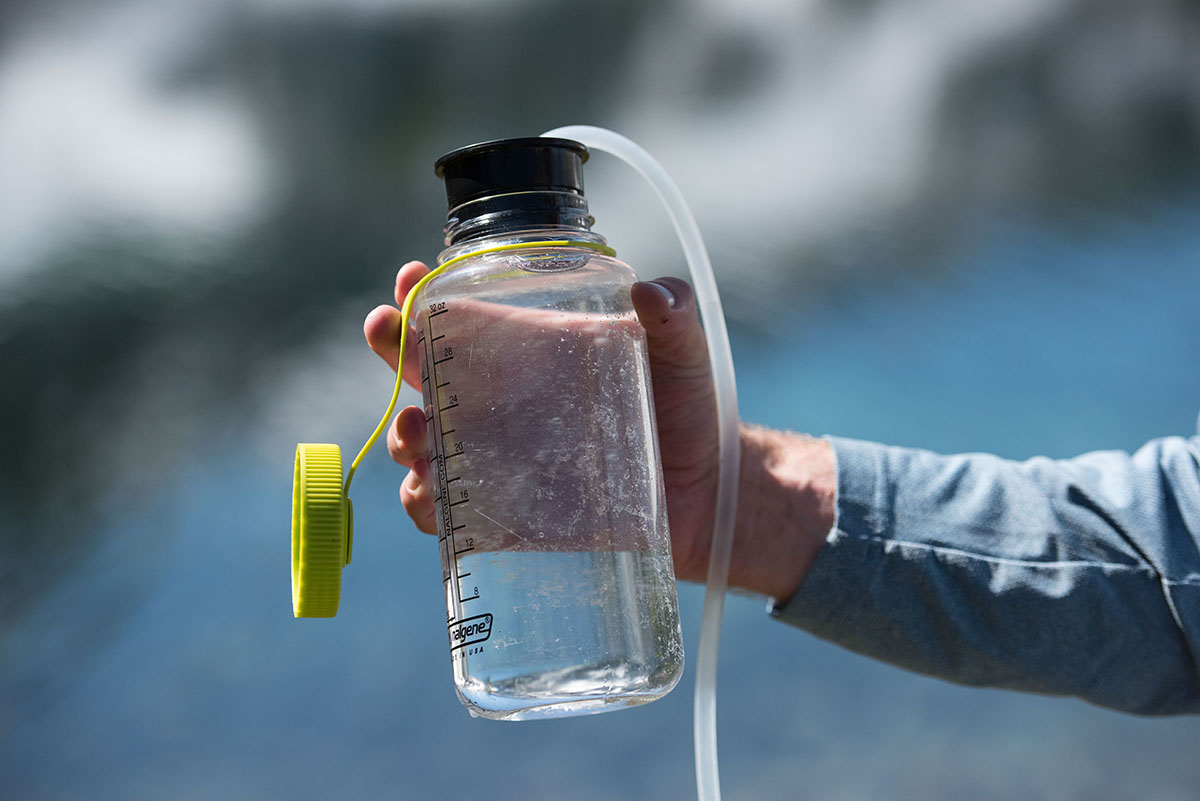 Water Taste: Chemicals and Carbon
Many water filters and purifiers are able to remove bacteria, protozoa, and sometimes even viruses, but they won't necessarily change the taste of the water. This isn't a huge issue when you're drinking straight from cold mountain streams, but it definitely can be as the quality of your water source deteriorates. If you're using chemicals to purify your water or drinking from questionable sources—perhaps water with floating leaves or plants growing underneath the surface—taste can come into play in a big way. Remember, this doesn't mean your water isn't safe to drink—you've filtered or purified it—but you can always add an electrolyte-enhanced drink mix like Nuun Sport hydration tablets to make it more palatable (or in the case of Potable Aqua, use the accompanying neutralizing tablets).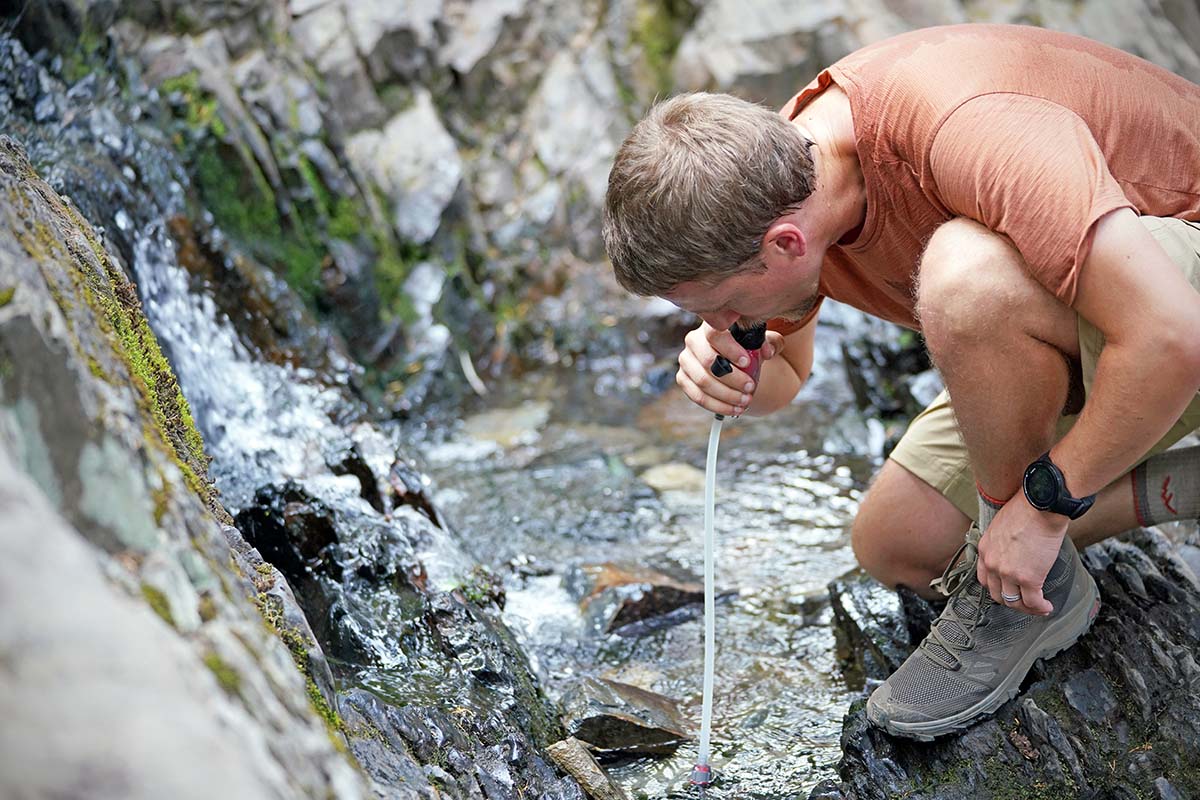 Another way to combat foul-tasting water is to use a carbon filter. Used in the popular Brita kitchen filters, carbon removes chlorine, organic compounds, and other bad odor and taste-inducing materials. Not all portable backcountry filters use carbon, but many on our list do including the MSR MiniWorks and Grayl GeoPress. Additionally, some models offer carbon filters as add-ons: the Platypus GravityWorks, for example, sells a carbon element separately that can be added to the existing filter, and the LifeStraw Steel edition uses carbon instead of a hollow-fiber membrane. It's important to note that carbon becomes ineffective before the filter (after approximately six months or 200 liters), so if this is a feature you want to maintain, choose a filter that allows you to purchase the carbon element separately from the complete cartridge.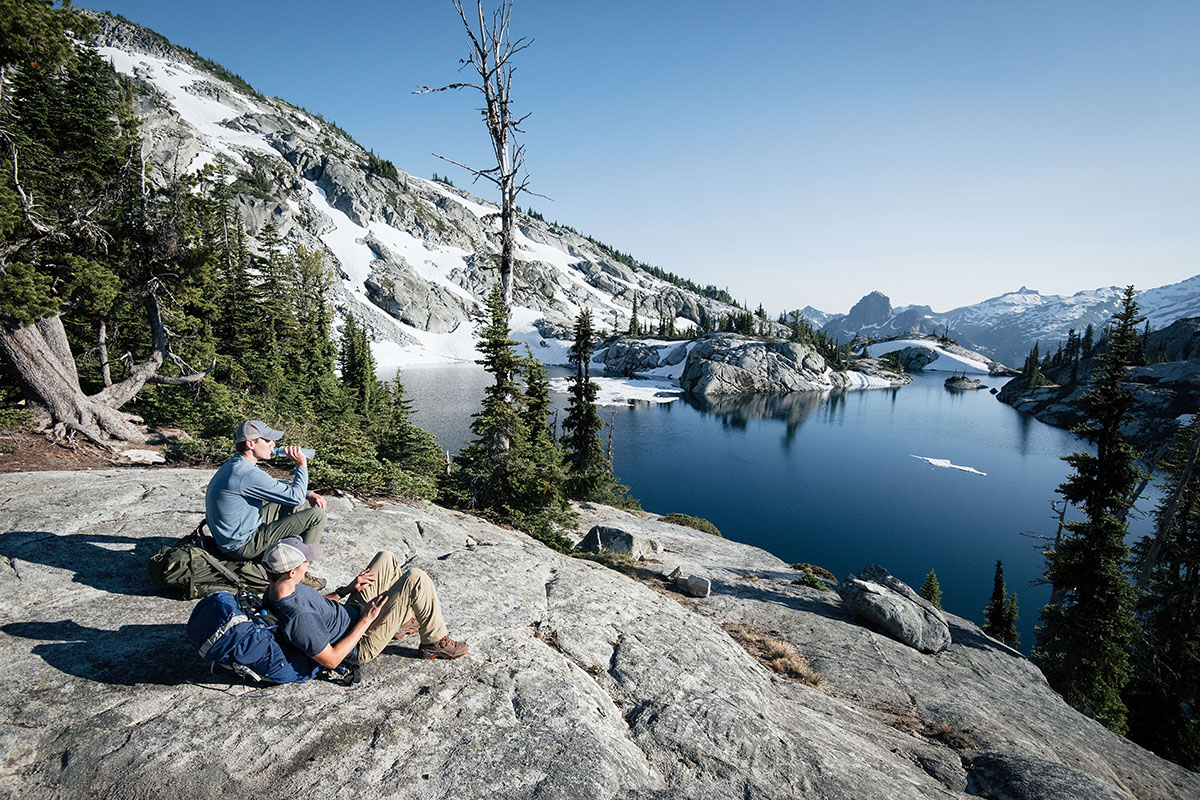 Emergency Backups
Last but not least, we should mention that just about every water filter and purifier can malfunction, which may leave you without clean water in the backcountry. In this scenario, you can boil your drinking water provided you have a backpacking stove and extra fuel, but this a time and labor-intensive method. For this reason, we think it's a good idea to carry a lightweight chemical treatment or basic LifeStraw as an emergency backup. The LifeStraw weighs only 2 ounces and costs $20, and Aquamira drops are just $15 for enough solution to treat 30 gallons of water (and a mere 3 extra ounces in your backpack). Getting sick in the backcountry can be a serious medical concern, so we think having a backup is a smart way to go.
Back to Our Top Water Filter Picks  Back to Our Water Filter Comparison Table
Learn More About Outdoor Gear