MSR Guardian Purifier
Type: Pump filter and purifier
Weight: 1 lb. 1.3 oz.
Filter life: 10,000 liters
What we like: The most advanced backcountry water treatment system on the market and a great option for travel. 
What we don't: At $350, the Guardian is very pricey and overkill for many backpacking scenarios. 
See the MSR Guardian Purifier
MSR has been a longtime leader in backcountry water purification, so it's no surprise that their Guardian has become our go-to pump for big trips abroad. We took this unique hybrid filter and purifier along to Peru's Cordillera Blanca and Mongolia's central mountains, and came away extremely impressed with its ease of use, lack of required maintenance, reasonable weight, and superb durability. While definitely not the cheapest or lightest option on the market, we think the added cost and ounces are worth it in the right situations. Below, we break down the Guardian's setup and functionality, maintenance, weight and packability, build quality and durability, and more. To see how it stacks up, see our article on the best backpacking water filters and purifiers.
 
Performance
Setup and Functionality
The MSR Guardian was extremely easy to set up and use, even on the first go. All we had to do was unscrew the cap and attach a Nalgene (or hold it overtop of a different size bottle or reservoir), drop the intake hose into a water source, and start pumping. Once water began moving up the hose, we were immediately impressed by how fast the Guardian worked. We typically filtered four liters at a time, which took about three or four minutes (the Guardian claims it can output about 2.5 liters per minute, but we always find manufacturer claims to be a bit ambitious or require perfect circumstances). Because it was so simple, we ended up using filtered water for everything we did on our trip, including washing dishes. We did have some issues keeping the intake hose under the water—it tended to flip and float to the top when left in both flowing and still sources—but with a little fussing, we learned that lodging it against a rock was an easy solution.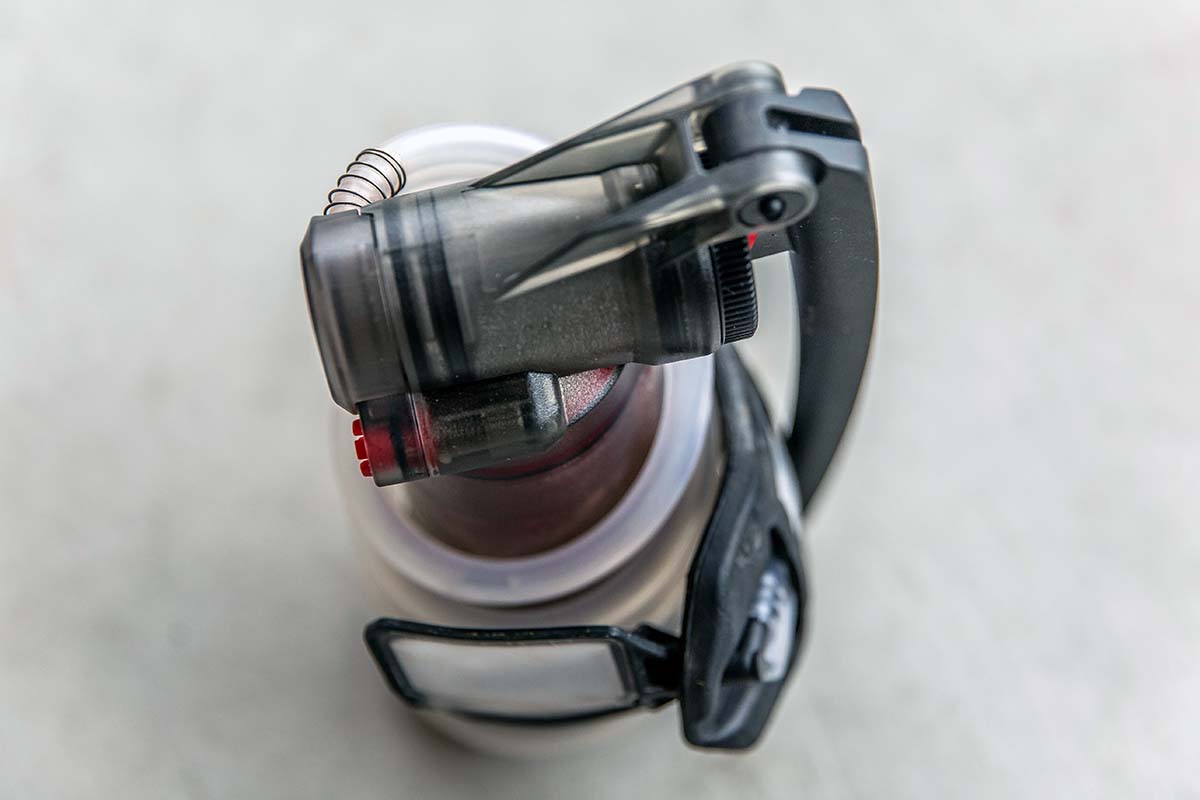 While the Guardian is extremely easy to use, its true claim to fame is in its hybrid filtration and purification functionality. A quick overview here: water filters do not remove viruses (pumps from brands like Katadyn and MSR only protect against protozoa and bacteria), while water purifiers (like Aquamira drops) do not filter sediments or particles from water. But the MSR Guardian offers the best of both worlds by allowing you to both filter and purify water simultaneously—the ultimate peace of mind when backpacking in high-use areas (viruses are most commonly carried in human waste). As a true test, on our first night bikepacking in Peru's Cordillera Blanca range, we pumped and drank from a creek where a full cow skeleton had come to rest and did not get sick. In fact, the Guardian is such a reliable and convenient system that it's now being used as an emergency water purifier after natural disasters and in less-developed countries around the world.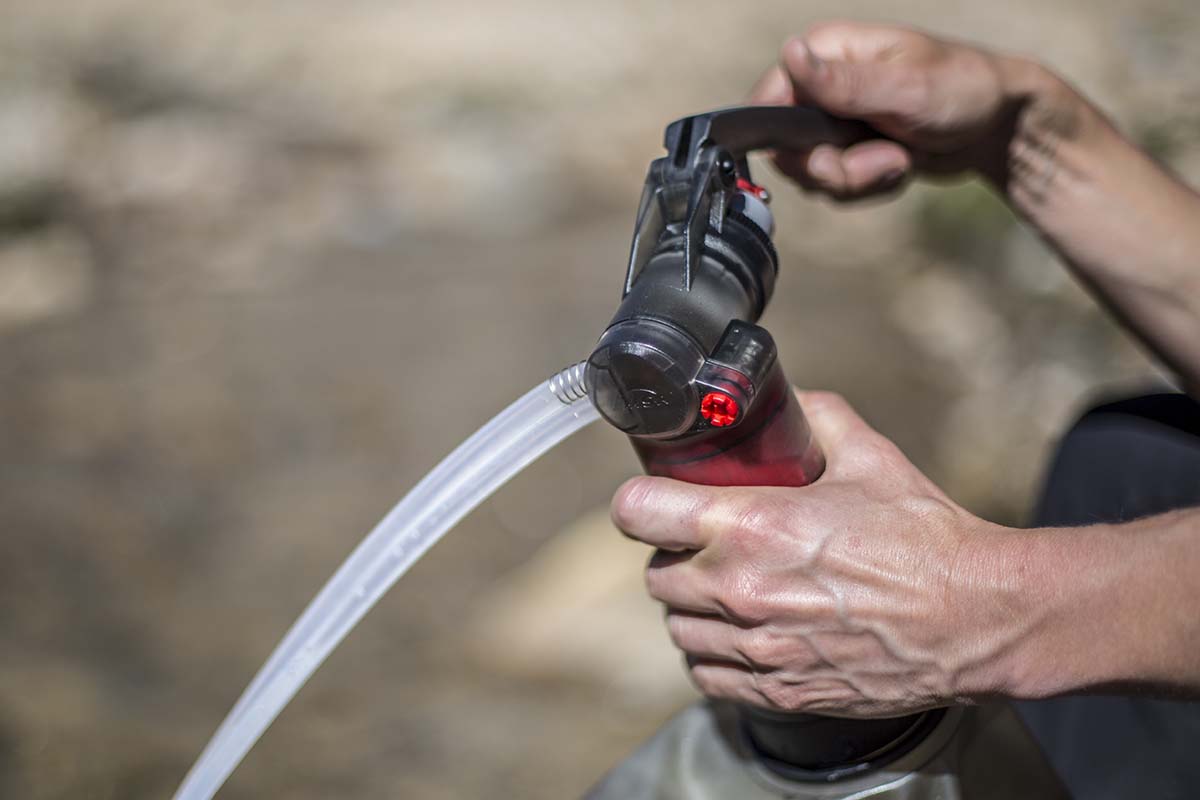 Maintenance
Aside from easy setup and filtering, another selling point of the MSR Guardian is the lack of maintenance. Even when our only choice was murky water, it never got blocked with silt or slowed in flow. How does it accomplish this? On each stroke, the Guardian self-cleans by using 10 percent of its water to flush out contaminants in the filter, meaning you don't need to hassle with constantly cleaning the cartridge to maintain flow. In addition to our Peru trip, we used the Guardian on a bikepacking adventure in Mongolia's Khangai range and a hiking trip in the Tavan Bogd massif. In both cases, water sources were spread out and cloudy at best, but the Guardian maintained its fast flow and produced clear water each and every time. At the end of three weeks of heavy and daily use, our purifier required no cleaning whatsoever.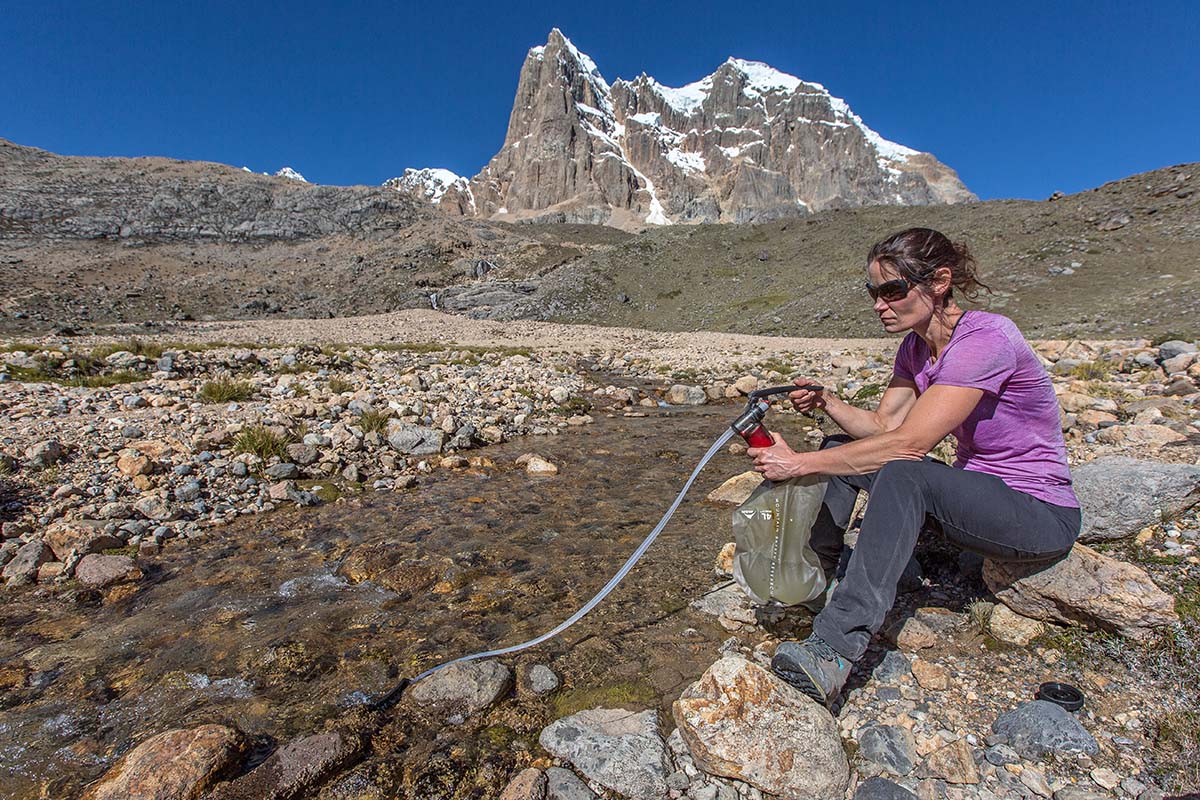 Further, the Guardian's filter can treat up to 10,000 liters before needing to be replaced. By MSR's claim, this means four people could treat water with the Guardian for about 60 days per year for 10 years before it needed a new filter. Even as seasoned gear testers who often put their equipment through the wringer, that definitely will take us some time. For comparison, another pump system like the Katadyn Hiker Pro Microfilter will need replacement every 750 liters. That said, while the Guardian wins out in the least amount of maintenance required for a pump system, other options like straw filters often require even less work—the Sawyer Squeeze has a filter life of 1 million gallons, and the Sawyer Mini can handle 100,000 liters.

Weight and Packability
At 1 pound 1.3 ounces, the Guardian is one of the heaviest options on the market. We loved the MSR while traveling abroad in less-developed areas for its purifying capabilities, but it may be overkill if you're staying within the United States. For example, a pump filter (that doesn't purify) like the Katadyn Hiker Microfilter undercuts the Guardian by more than 6 ounces, which adds up quickly on the trail. That said, we think the Guardian's added heft is worth it if you're looking for a do-it-all system that you can take anywhere. We were pleased with the peace of mind and ability to filter any water source we encountered in Peru and Mongolia—regardless of clarity, depth, or animal carcasses.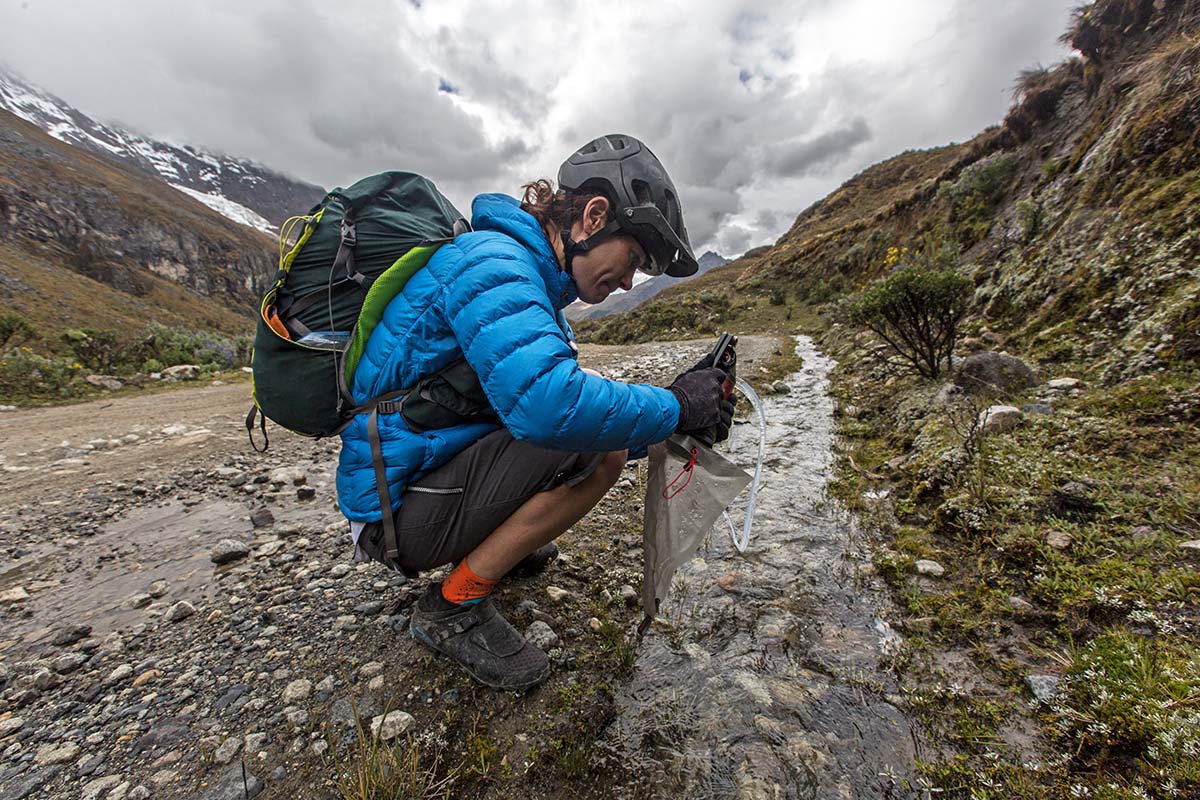 Storage size and weight are reasonable for the Guardian's large capacity and output. The tubes wrap neatly around the filter and it's easy to fit everything into the included storage bag (which also admirably dried any remaining water off the pump whenever we put it away). Once packed, the Guardian is about the size of a 1-liter water bottle. It's definitely bulkier than other pump systems, but significantly more durable as well (more on this in the section below).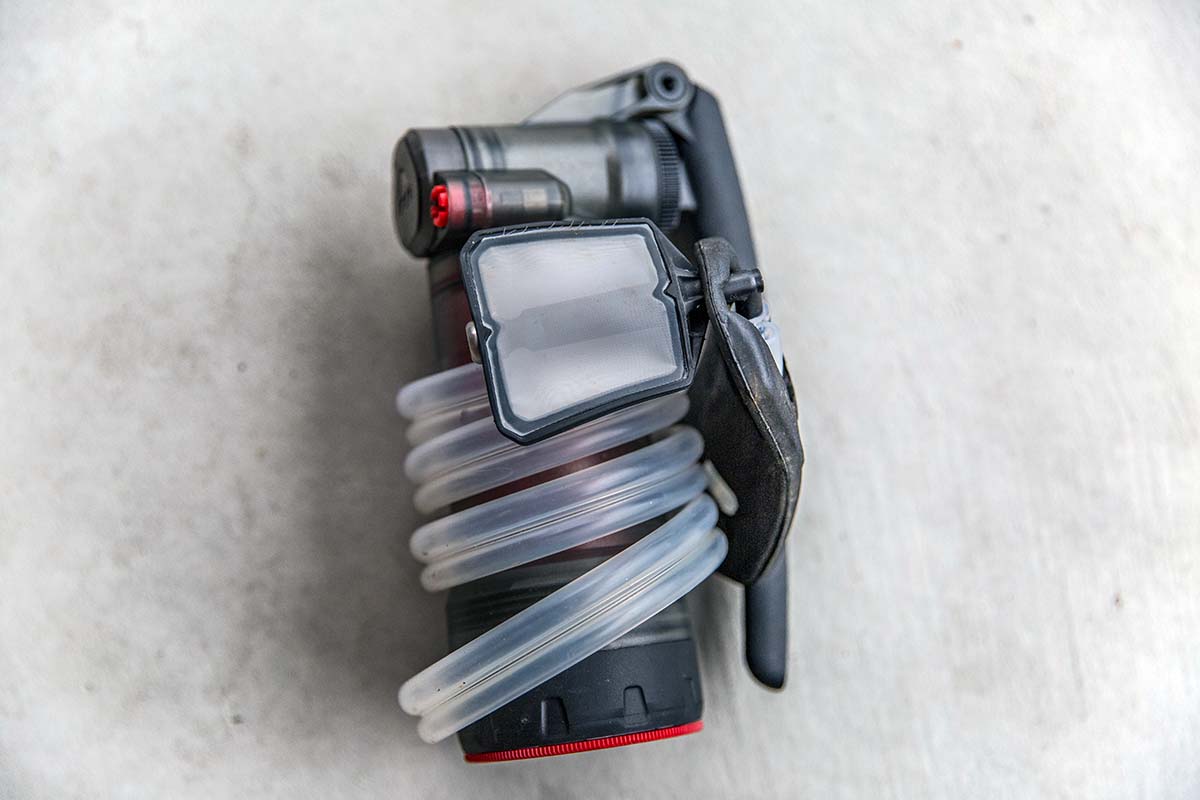 Build Quality and Durability
The MSR Guardian is head and shoulders above the competition in terms of build quality. We've faced many durability issues with other pumps—namely hoses and other small plastic parts snapping off—but we found the Guardian to be noticeably more rugged. As far as the filter part of the system goes, MSR uses hollow fiber, which is fairly common among pump filtration models. However, the pores in this material are unfathomably small—0.02 microns, to be exact (1 micron is equal to 1 millionth of a meter)—which is how the Guardian manages to block the tiniest of waterborne threats: viruses. That's no small feat, given that most other pumps cannot say the same (either ultraviolet or chemical treatment is required to filter viruses). For comparison, the Katadyn Hiker and MSR MiniWorks EX pump filters both have pore sizes of 0.2 microns, or ten times the size of the Guardian.
Similarly, the polyurethane housing of the Guardian handled our rigorous testing with ease. MSR claims it can withstand a 6-foot drop onto concrete, and although we didn't replicate that exact test, we did inadvertently kick it around after filtering and it has shown nothing more than slight cosmetic wear. We also left the filter in the vestibule of our backpacking tent at night, where it faced temperatures that dipped well below freezing, and it came out unscathed and in full working order.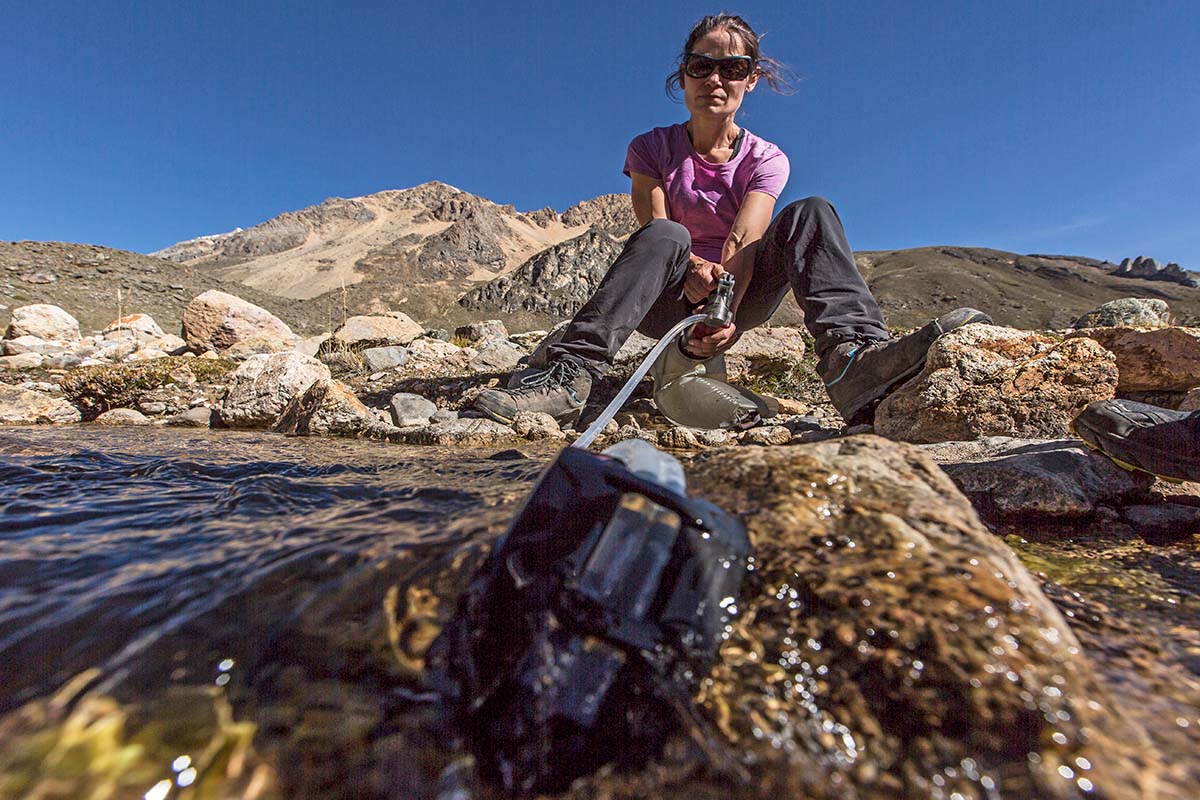 What We Like
The Guardian is in a class of its own as a hybrid pump filter and purifier, making it a great option for travel.
The self-cleaning system keeps the filter from clogging while allowing the flow to remain constant, which is far cry from cheaper filters that require constant attention.
Extremely easy to set up and use.
The Guardian has an impressive 10,000-liter filter life, meaning it requires very little maintenance over time.
 
What We Don't
At a whopping $350 and more than one pound, it's one of the most expensive and heaviest water filtration options on the market.
The added purifying capabilities may be overkill unless you're traveling in high-use areas or less-developed regions of the world.
The intake hose flipped around and came out of the water unintentionally on multiple occasions, requiring us to lodge it against a rock to filter properly.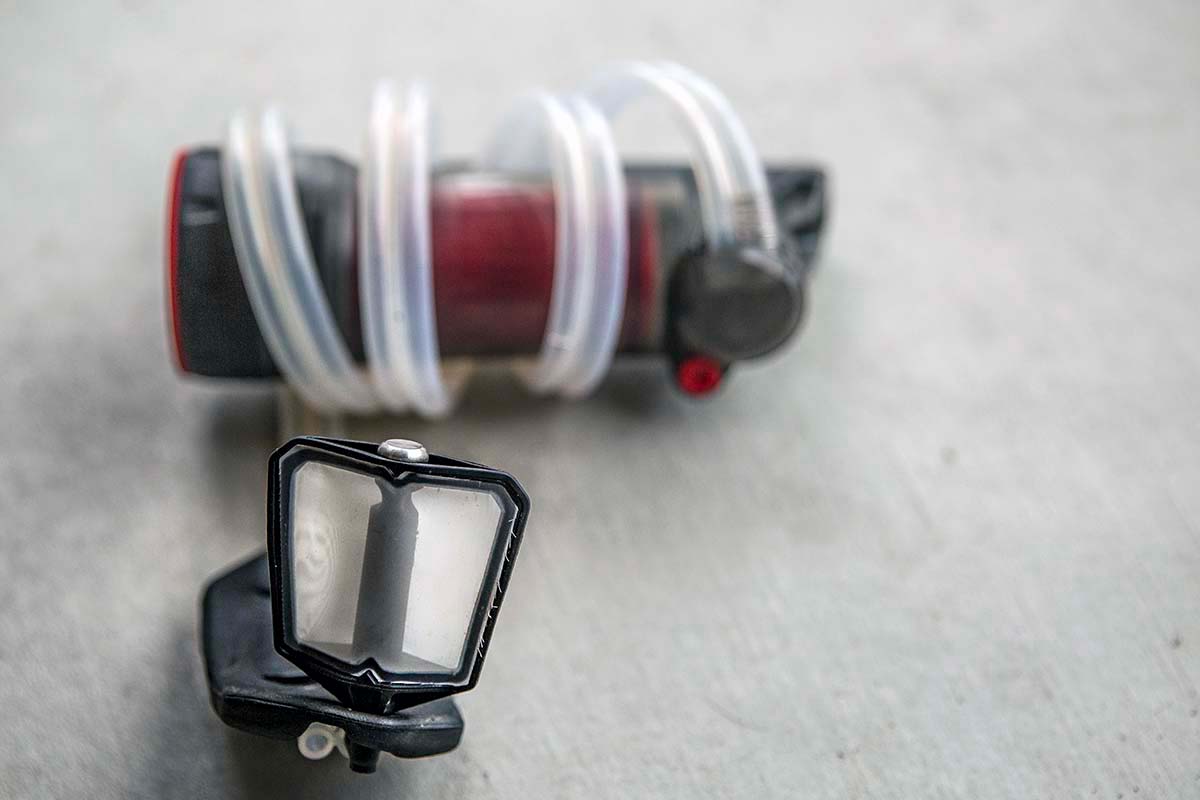 Comparison Table
| Filter/Purifier | Price | Type | Weight | Life | Flow Rate | Capacities |
| --- | --- | --- | --- | --- | --- | --- |
| MSR Guardian | $350 | Pump filter/purifier | 17.3 oz. | 10,000 liters | 2.5 L/min | Unlimited |
| Katadyn Hiker | $70 | Pump filter | 11 oz. | 750 liters | 1 L/min | Unlimited |
| MSR MiniWorks EX | $90 | Pump filter | 16 oz. | 2,000 liters | 1 L/min | Unlimited |
| Platypus GravityWorks 4L | $110 | Gravity filter | 11.5 oz. | 1,500 liters | 1.75 L/min | 2L, 4L |
| Aquamira Drops | $15 | Chemical purifier | 3 oz. | 30 gallons/1 oz. | 1L/20 min | 32 oz. |

The Competition
The MSR Guardian is in a class of its own when it comes to a pump that can both purify and filter water—no other system does both. However, there are many other pump filters on the market that should work well for most backpacking outings, and will shave significant weight and cost in the process. The Katadyn Hiker Microfilter, for example, clocks in at 11 ounces (6 ounces lighter than the MSR) and costs just $70. That said, its relatively short filter life (750 liters) and pricey replacement filter ($50) make it a less appealing long-term option, especially for those who plan to travel abroad and want the purification. But for weekend backpackers looking for a reliable and easy-to-use pump filter—for $270 less than the MSR—the Katadyn is a fine choice. 
If you're considering the Katadyn but want a longer filter life, MSR's MiniWorks EX might fit the bill. Both filters have the same pore size (0.2 microns) and protect against Giardia and cryptosporidium, but not viruses. The Katadyn is lighter at 11 ounces, but the MSR has a significantly longer filter life at 2,000 liters (the MSR is carbon/ceramic while the Katadyn is just carbon). Further, both pumps allow you to filter water without the inconveniences of straws or droplets. That said, we found the MiniWorks EX to be slow from the outset (it has a listed flow rate of 1 liter per minute, but we experienced a much slower rate in real life), and had a much smoother and more reliable experience with the MSR Guardian.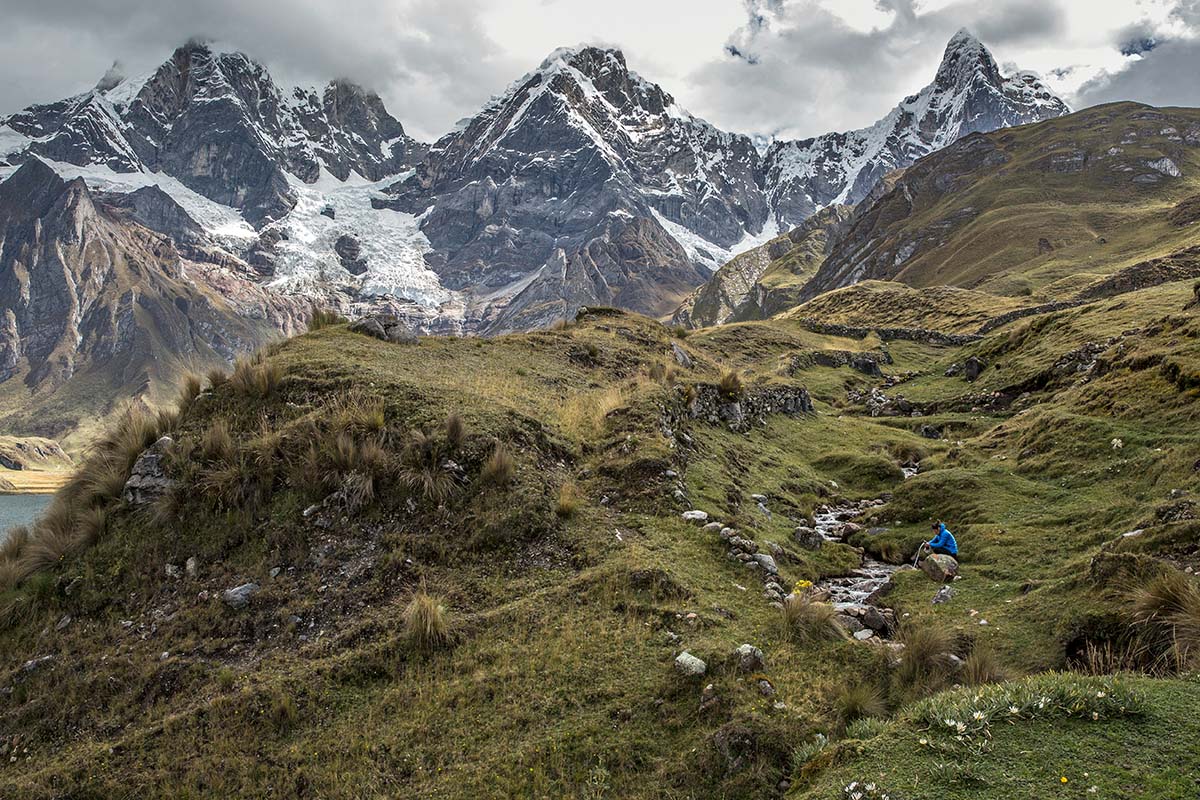 Pump systems aside, we're huge fans of gravity filters for backpacking, which is why Platypus' GravityWorks 4L tops our list of backpacking water filters and purifiers. This 11.5-ounce model can filter up to 1,500 liters before needing to be replaced and requires almost no effort. Instead of pumping, you simply fill up the reservoir, hang it from a tree branch or boulder, and wait a few minutes for it to filter into the clean reservoir. But despite its ease of use, water retrieval can be a pain if you don't have a reasonably deep or moving source (similar to any system that relies on a bag to collect water). While we love the convenience and cheaper price tag, a pump is better for low water sources, and the MSR wins again in terms of virus protection.
Last but not least, if water purification is what you are after, simple Aquamira chemical drops can do the trick. This system costs just $15 and weighs only 3 ounces, and the liquid chlorine dioxide solution effectively kills protozoa, bacteria, and viruses. To purify water, you mix 7 drops each of Part A and Part B in the including cap, let it sit for 5 minutes, and add the mixture to 1 liter of water. Then wait 15 minutes before drinking for protection from Giardia, bacteria, and viruses (4 hours for Cryptosporidium). Or, Katadyn's Micropur tablets are easier to use (no mixing required) but require 30 minutes total to kill Giardia, plus they leave slightly more of a chemical taste. And crafty backpackers who want filtration and purification in certain scenarios can use a cheaper pump filter like the Katydyn Microfilter mentioned above and add chemical drops when desired.
If you're thinking about buying gear that we've reviewed on Switchback Travel, you can help support us in the process. Just click on any of the seller links above, and if you make a purchase, we receive a small percentage of the transaction. The cost of the product is the same to you but this helps us continue to test and write about outdoor gear. Thanks and we appreciate your support!
Depending on the seller, most products ship free in the United States on orders of $50 or more. International shipping availability and rates vary by seller. The pricing information on this page is updated hourly but we are not responsible for inaccuracies.
Read More From Switchback Travel