MSR Hubba Hubba
Price: $550
Packaged weight: 3 lbs. 4 oz.
Floor area: 29 sq. ft.
Capacities: 1P, 2P, 3P
What we like: One of the most competitive balances of weight, protection, and livability.
What we don't: Fairly small vestibule space, expensive, and limited mesh for ventilation. 
See the MSR Hubba Hubba
Discerning backpackers look for a high-quality, lightweight, and durable tent, and MSR's Hubba Hubba checks all of those boxes emphatically. Despite dropping a considerable 10 ounces from the past version, the latest model (updated in 2022) held up incredibly well during our test in Patagonia, where it was pummeled by violent winds. Its high-end build undoubtedly is expensive at $530 (for the 2P), and it may not be worth it for the casual backpacker, but the extra money gets you a highly competitive weight, decently roomy interior, and pole structure that delivers solid performance in most three-season conditions. Below we outline our experiences with the Hubba Hubba. To see how it stacks up to the competition, see our article on the best backpacking tents.
 
---
Table of Contents
---

Performance
Weight and Packed Size
The MSR Hubba Hubba has always been about balance, and the latest model follows suit with a thoughtful design that hides its weight-saving measures very well. Its listed packaged weight of 3 pounds 4 ounces (a remarkable 10 oz. lighter than the past generation) puts it squarely in the lightweight category, which includes models like the Big Agnes Copper Spur HV UL2 and Nemo's Dragonfly Osmo 2P (both 3 lb. 2 oz.). You can go lighter with Big Agnes' Tiger Wall UL2 (2 lb. 8 oz.), Fly Creek HV UL2 (2 lb. 4 oz.), or Nemo's Hornet Osmo 2P (2 lb. 8 oz.), but those tents use thinner fabrics and compromise interior space at the foot end.
Perhaps the closest competitor in terms of intentions and livable space is Nemo's Dagger Osmo 2P, which clocks in much heavier at 4 pounds 2 ounces all in. All things considered, MSR has done a great job combining interior space and long-lasting materials at a reasonable weight, and the recent updates seem to have had very little impact on features or durability.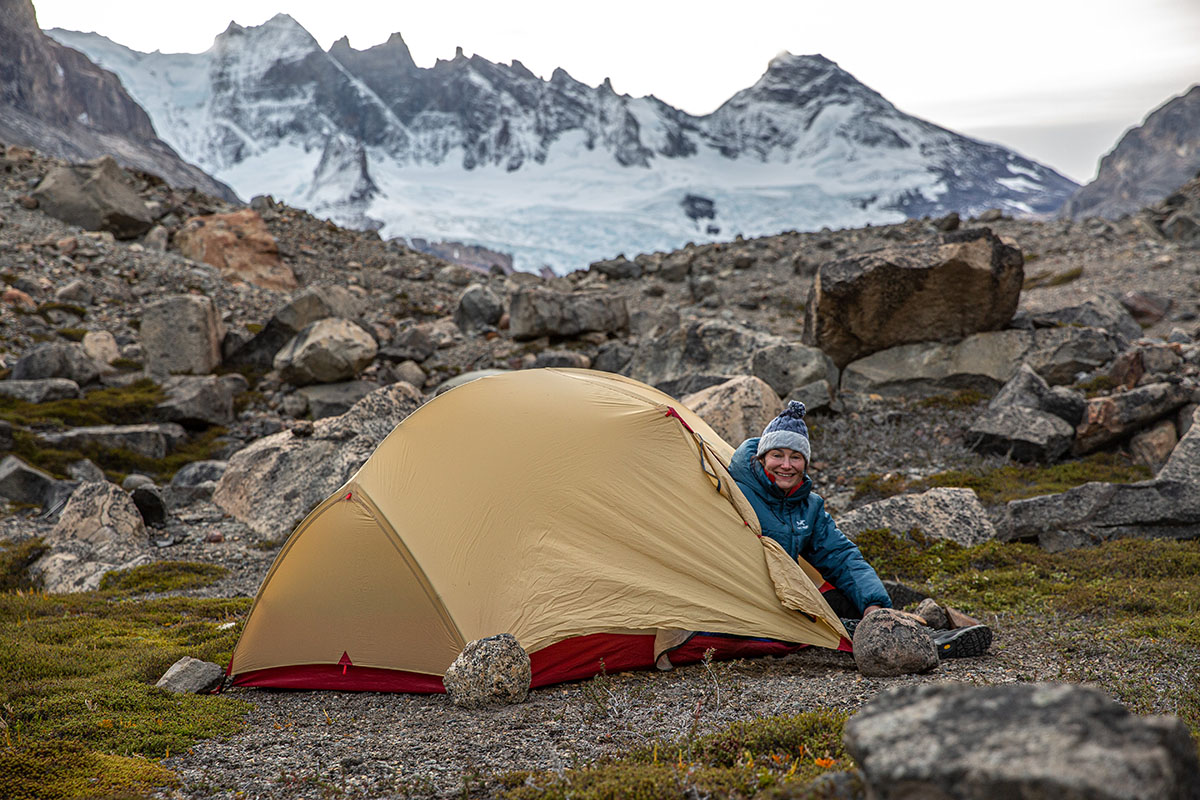 MSR tweaked the stuff sack for the latest Hubba Hubba, but it's still very easy to compress the tent down for storage. For reference, the previous design had a wide opening running lengthwise with two horizontal compression straps for snugging things down, while the newer one is fairly standard with a top opening and single drawcord to cinch it closed. That said, the opening is decently sized and still allows for less-than-precise packing (not always the case with lightweight designs), and the tent measures a compact 19 x 4.5 inches when compressed (the previous version was 18 x 6 in.). For reference, Nemo's Dagger Osmo is much larger at 6.5 x 19.5 inches, while Big Agnes' Copper Spur HV UL2 measures 19.5 x 6 inches. Importantly, the Hubba Hubba's components can easily be separated between two people to reduce carrying weight, but I never found the 3-pound-4-ounce build to be overly heavy or taxing.

Livability and Interior Space
I expected that the Hubba Hubba's weight reduction would result in less livable space, but that's thankfully not the case. In fact, the latest model has the same amount of floor space at 29 square feet with an additional inch at the peak (from 39 to 40 in.), making it very easy for two people to sit up and move around. The symmetrical floor and dual-hubbed pole design are a big help here: Whereas some lightweight models like the Hornet and Tiger Wall cut weight with slanted walls that taper at the feet, MSR kept the interior open and spacious with near-vertical walls and doors. This leaves the option for two backpackers to sleep head to foot to maximize shoulder room and comfort and easily accommodated our double sleeping pad. Among tents in its weight and all-around quality class, we've only found one model that can beat it: Nemo's Dagger Osmo. The Nemo has a 2-inch-taller ceiling, longer floor (giving it 2 more sq. ft. of area), and poles that stretch the walls to boost livability (although it comes with a 14-oz. weight penalty).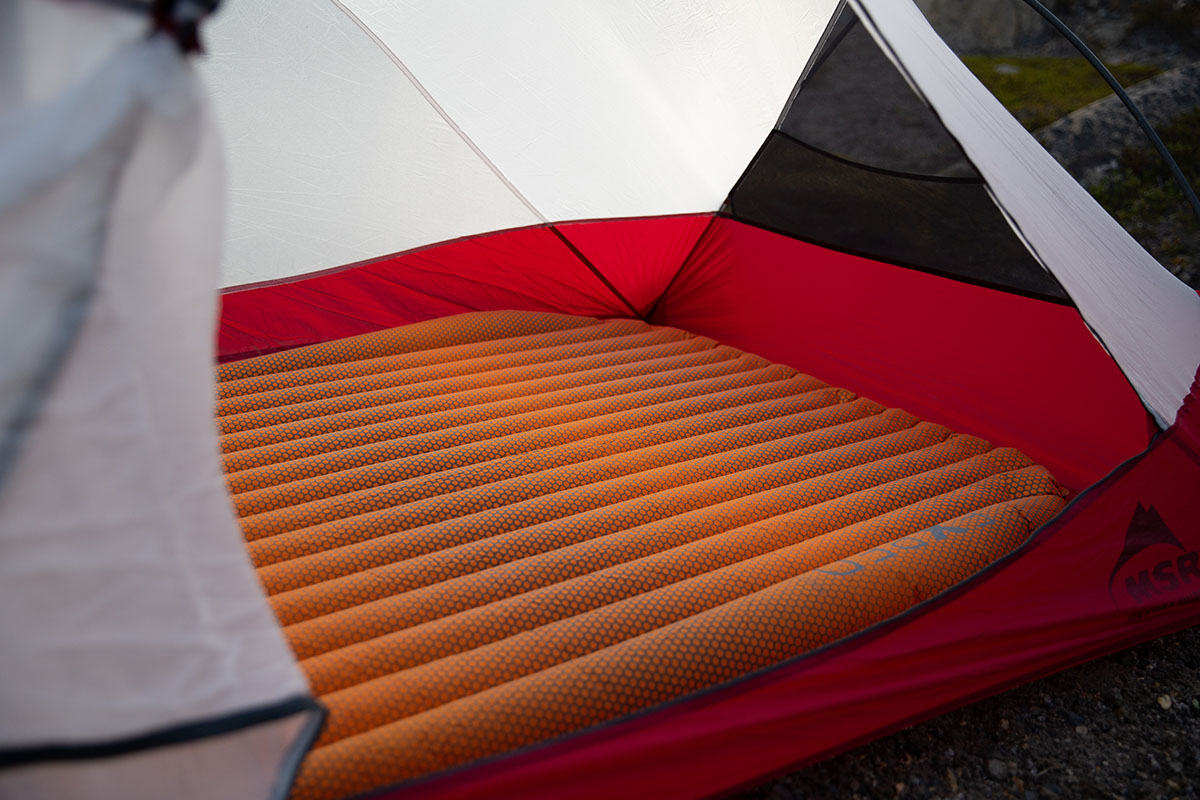 Weather Protection
With composite poles borrowed from their winter collection, a sturdy freestanding shape, and full-coverage rainfly, the MSR Hubba Hubba is a solid performer in wet and windy conditions. Like the prior-generation model, the latest version comes with their Easton Syclone poles, which are designed to flex and return to their original shape—even in very strong gusts—rather than permanently bend or snap like an aluminum or carbon design. Even in the notoriously violent Patagonian winds, the tent held strong with no signs of letting up throughout the night. It's also worth noting that MSR swapped some of the mesh with the latest model for more ripstop fabric, which reduced ventilation slightly but translates to even better protection in wet and rowdy conditions.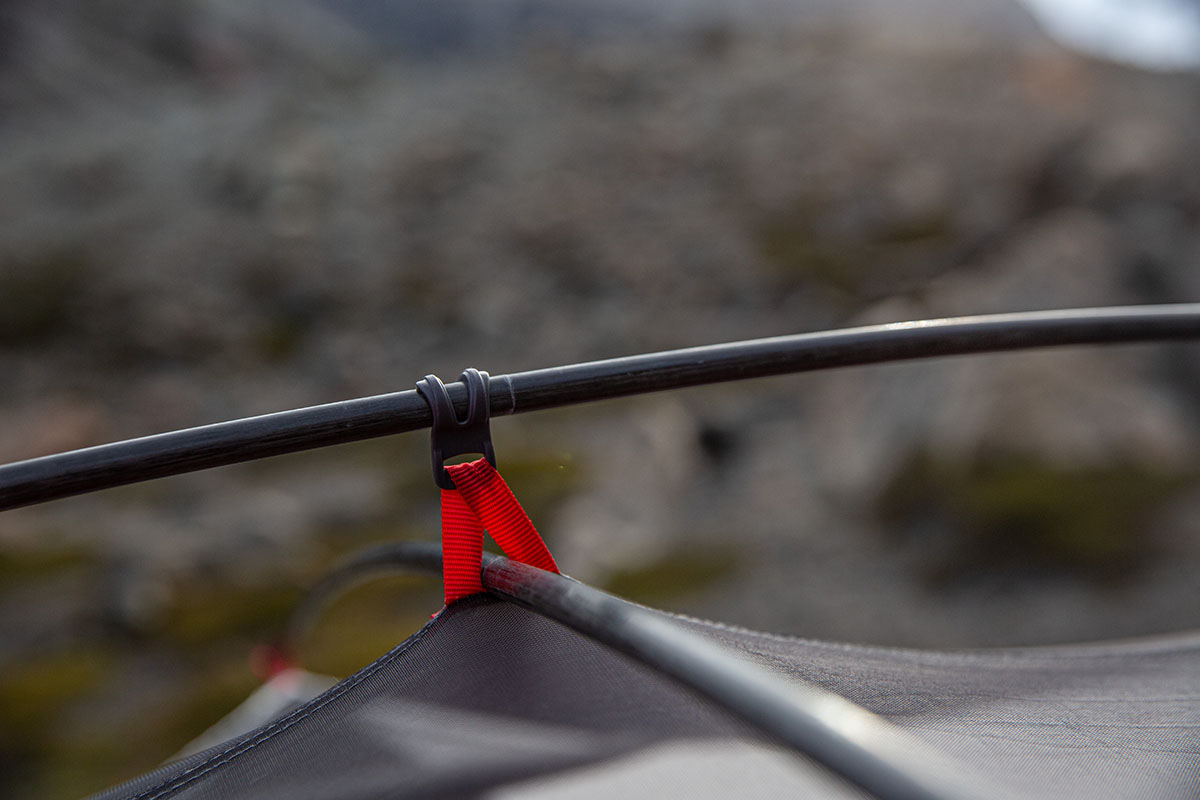 Other quality weatherproofing measures include a raised bathtub floor to prevent leaking, as well as a waterproof DuraShield coating and taped seams on the fly to shed excess moisture. For reference, we also brought Nemo's Dagger Osmo 2P along to Patagonia, which has a scalloped rainfly that arcs upward between the corners and leaves portions of the single-wall fabric exposed to the elements. To be fair, the Dagger's interior remained dry and moisture-free even in sustained precipitation, but the Hubba Hubba is slightly more confidence-inspiring in blowing rain.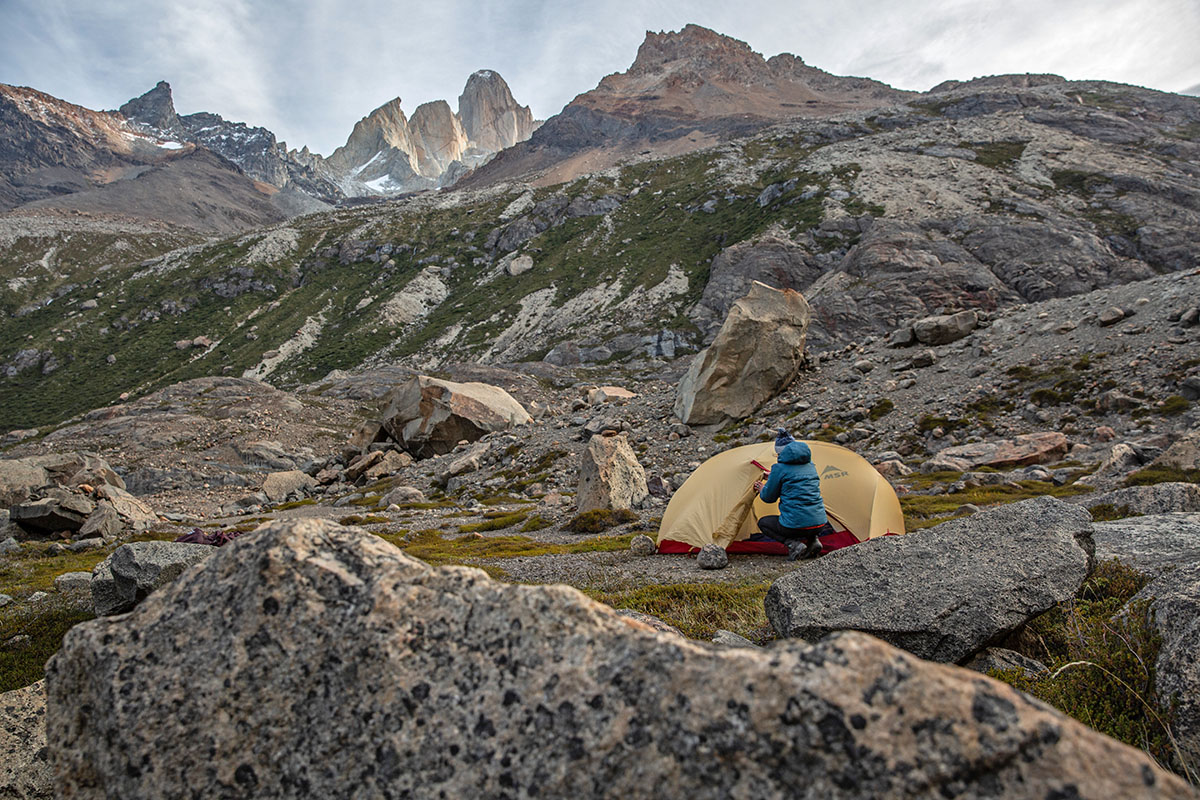 In addition to its excellent weather resistance, the MSR's rainfly and vestibule design is among our favorites on the market. With the recent update, the doors are now straight rather than curved, but they still zip from the side (rather than the center), requiring far less gymnastics than a typical backpacking model and making them easier to open (the zipper doesn't catch on the fabric and isn't under as much tension). Further, a built-in gutter system—comprised of fabric garages covering the fly zippers—means that water will run down the side of the rainfly when unzipped and not onto your head. The fly can also be folded into several configurations, including being rolled back halfway for stargazing or from the sides to make for great vistas out either door. Should rain move in, it's a simple process to get it back and ready to hunker down. Our only complaint in this department is that the total vestibule space is on the small side at 15 square feet (the Dagger Osmo's is significantly larger at 22.8 sq. ft. total).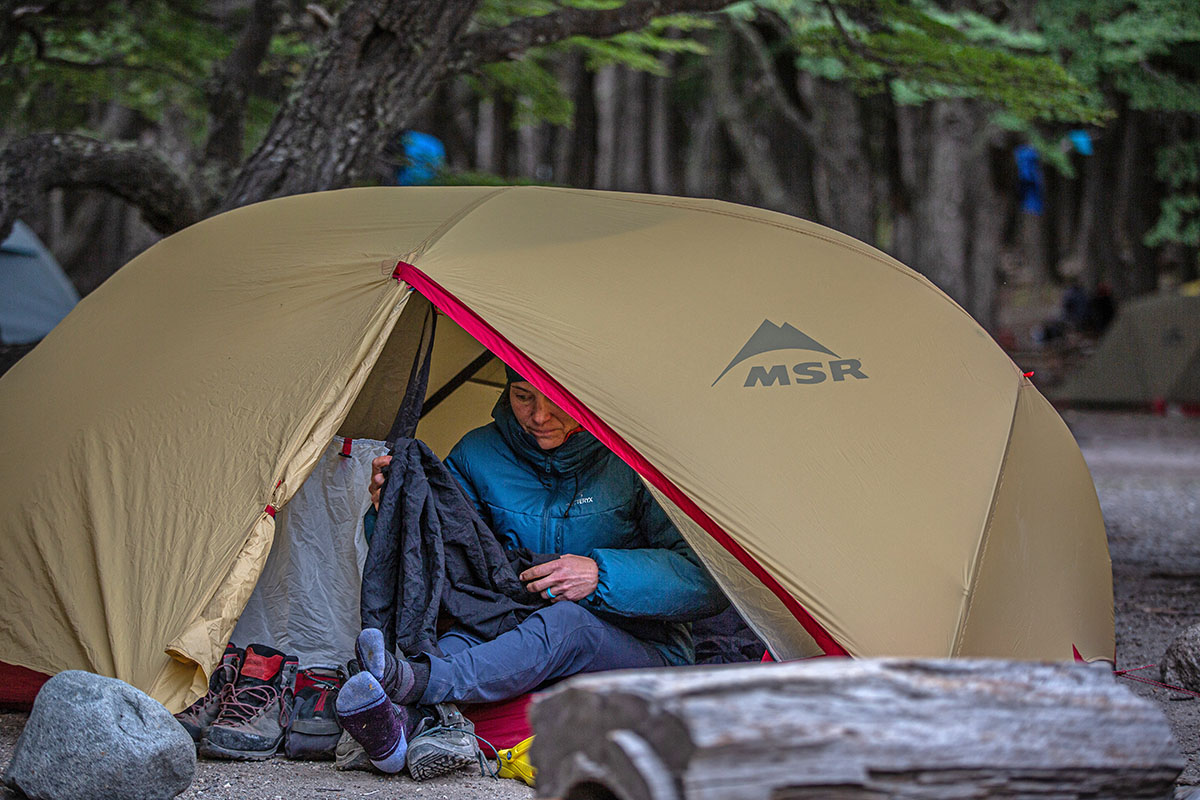 Ventilation
As I touched on above, the latest Hubba Hubba has considerably less mesh than the prior version, but it didn't detract too much from overall ventilation. To be fair, there's still a good amount of mesh along the head and foot ends and at the top of the doors, as well as a smaller patch on the ceiling. To further aid airflow, there are Velcro-equipped deployable vents at either end of the rainfly, which we've found effective for drawing out humid air in both cool and warm conditions. Their location lower down on the sides also means that you can open them in light rainfall without compromising the tent's waterproofing. You can also roll the rainfly back for stargazing on clear nights, although opting for a more mesh-heavy design like the Nemo Dagger Osmo or Big Agnes Fly Creek HV UL2 will certainly increase visibility.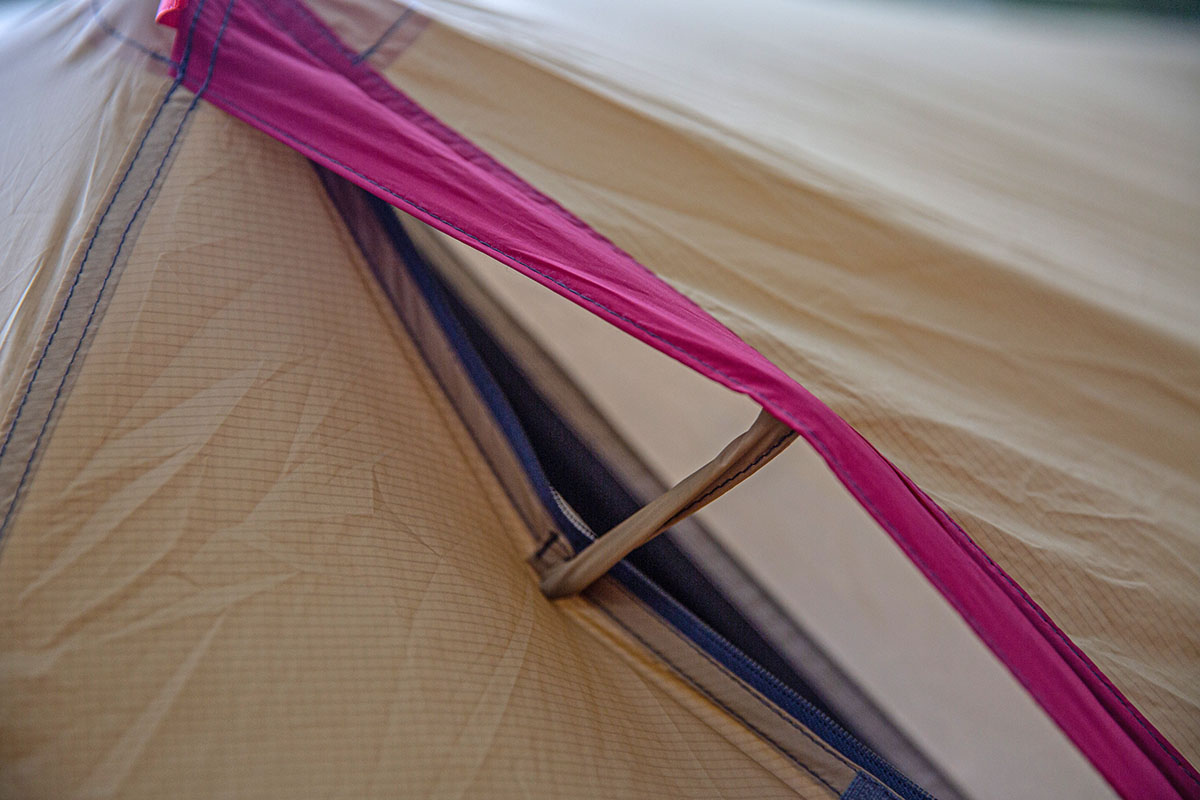 Storage
With two large doors and two vestibules, the MSR Hubba Hubba makes it very easy for two backpackers to move around and organize gear. We've found that two doors are pretty much essential when backpacking with a partner—there's no need to crawl over your tentmate when entering or exiting, and each person can have their own separate vestibule for storage. Vestibule space is decidedly on the smaller side at 15 square feet total, but I found there was ample space for stashing a large backpacking pack, hiking boots, cooking equipment, and more. Interior storage is good too, including pockets at the head and foot end, as well as overhead storage for smaller items like headlamps. If you anticipate needing more vestibule space, MSR also sells a compatible Gear Shed for $220, which adds 26.5 square feet of covered storage. Alternatively, if you prefer to keep your equipment inside while sleeping, you can bump up to the three-person variation, which offers 10.5 additional square feet of floor area.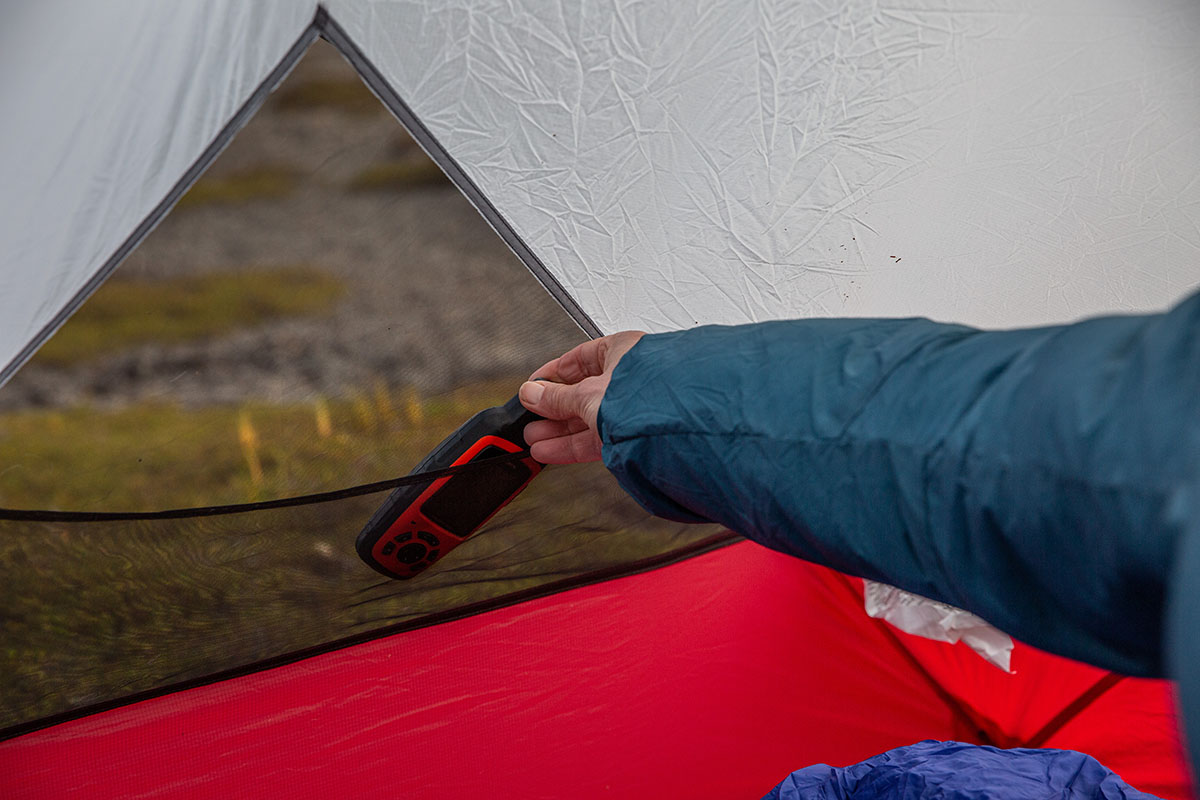 Durability
For those unfamiliar with lightweight gear, the MSR Hubba Hubba's fabrics may be concerning at first. The coated 20-denier (D) floor and 20D rainfly undoubtedly are thin (the prior-generation model had a thicker 30D floor), but in the ultralight world, they're reasonably tough. The floor is thicker and more substantial than the 15 x 20-denier nylon that you get with the popular Big Agnes Copper Spur HV UL2, for example, and we've had zero issues with tears or excessive wear during testing (the addition of more ripstop nylon certainly helps). That said, some will want to add a footprint—and we'll consider it when camping with our dog in the future—which costs an additional $57 and tacks on 8 ounces in weight. But considering the rough use we've put it through thus far, the Hubba Hubba strikes me as a very hardwearing and high-quality design overall, even without the footprint.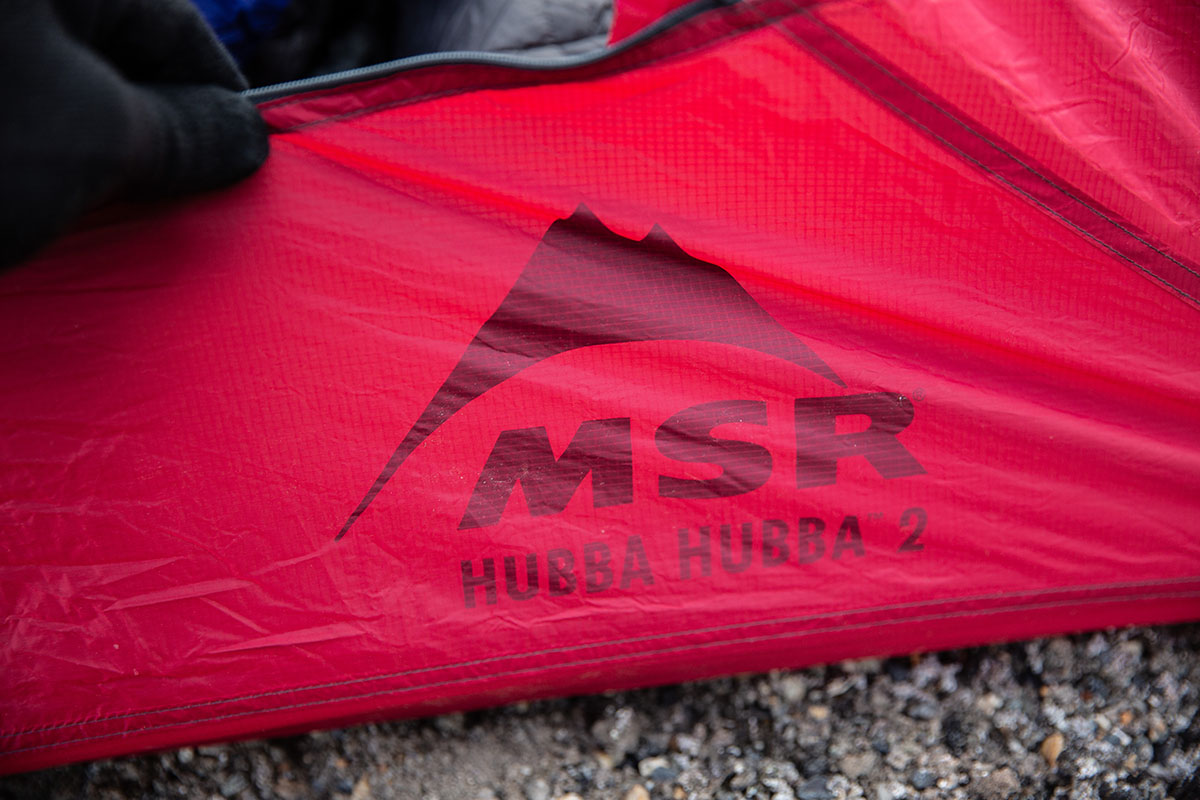 Setup and Take Down
The freestanding structure, symmetrical design, and dual-hubbed pole system make setting up the MSR Hubba Hubba completely painless. It's even easy for one person to do it: Just lay out the tent, put together the pole sections, place the poles into the corners, and clip everything into place. We did have to secure the tent corners with stakes first in the violent winds we experienced in Patagonia and use guylines to create a taut pitch to combat the gusts, but setup was still a breeze. The stakes did bend pretty easily when hammered into hard ground, but they were still serviceable after. The only real downside (and it's a small one) is that the mesh panel at the top of the tent requires a quick pitch in rainstorms to keep it from getting too wet inside. That's when it's nice to have a tent that has the rainfly and tent body connected, like Hilleberg's Niak. Alternatively, you can purchase the separate footprint and pitch the Hubba Hubba with the rainfly already attached.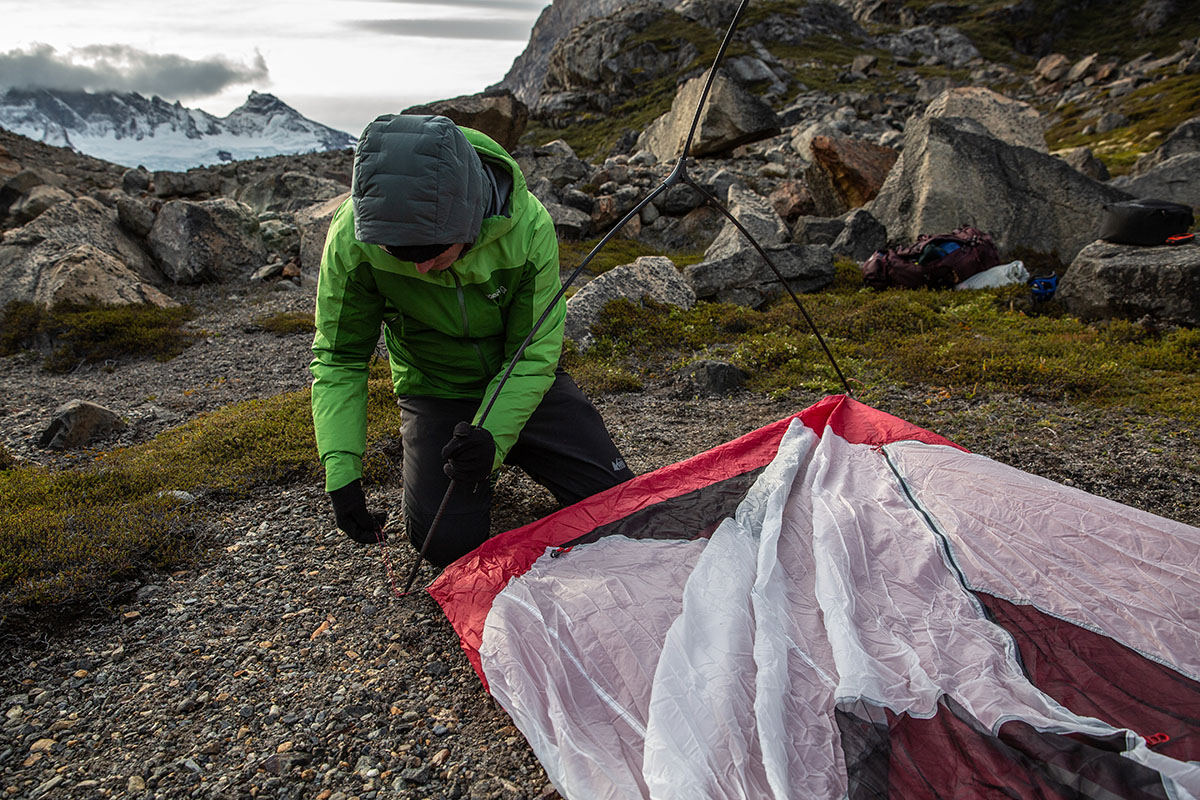 Other Versions of the MSR Hubba Hubba
We brought the two-person Hubba Hubba to Patagonia for testing, and MSR also offers it in one- and three-person capacities (there's no longer a 4P variation). All three are top-quality options and include the Easton Syclone poles and an excellent balance of weight, space, durability, and weather protection. Compared to the 2P model, the 1P costs $80 less at $470 and checks in at 2 pounds 7 ounces with 18 square feet of floor space, while the three-person Hubba Hubba retails for $630, weighs 3 pounds 13 ounces, and boasts 39.5 square feet of floor area. We often recommend upgrading to the three-person model if you anticipate backpacking with a partner regularly, but given the two-person Hubba Hubba's generous interior, it's certainly not necessary in this case.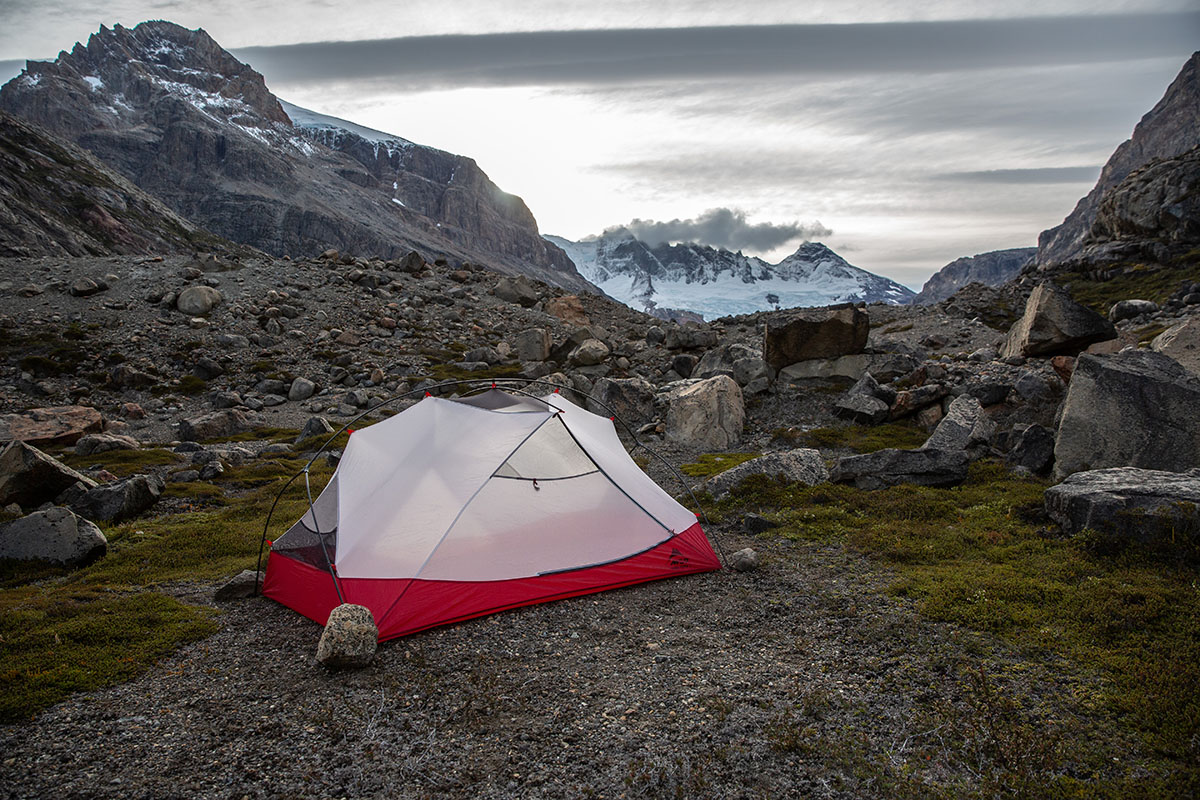 What We Like
At 3 pounds 4 ounces all in, the latest Hubba Hubba is considerably lighter than the past-generation model without compromising on livability or features.
Composite pole structure and waterproof rainfly coating make it one of the most weather-resistant tents in its weight class. 
Rainfly and vestibule design works well: There's good ventilation, and water doesn't drip down when you zip open the vestibule.
Freestanding structure, symmetrical design, and dual-hubbed pole layout make setup a breeze.

What We Don't
Vestibule space is on the smaller side at 15 square feet total.
20-denier floor is undoubtedly thin, and many will want to add a footprint to protect against tears and snags (especially when camping on rocky surfaces).
The latest version has far less mesh than prior generations, which helps with durability but translates to a drop in ventilation and visibility for stargazing.
Pretty expensive at $550, and the super-strong pole design may be overkill for many summer backpackers.


Comparison Table
| Tent | Price | Weight | Floor | Area | Height | Door(s) | Capacities |
| --- | --- | --- | --- | --- | --- | --- | --- |
| MSR Hubba Hubba | $550 | 3 lb. 4 oz. | 20D | 29 sq. ft. | 40 in. | 2 | 1P, 2P, 3P |
| Nemo Dagger Osmo 2P | $530 | 4 lb. 2 oz. | Unavail. | 31.3 sq. ft. | 42 in. | 2 | 2P, 3P |
| Big Agnes Copper Spur HV UL2 | $550 | 3 lb. 2 oz. | 15x20D | 29 sq. ft. | 40 in. | 2 | 1P, 2P, 3P, 4P |
| Nemo Dragonfly Osmo 2P | $500 | 3 lb. 2 oz. | Unavail. | 29 sq. ft. | 41 in. | 2 | 1P, 2P, 3P |
| Sea to Summit Telos TR2 | $599 | 3 lb. 10.7 oz. | 20D | 28 sq. ft. | 43.5 in. | 2 | 2P, 3P |
| REI Co-op Flash 2 | $399 | 3 lb. 4.2 oz. | 20D | 28.7 sq. ft. | 40 in. | 2 | 2P, 3P |

The Competition
As one of the first backpacking tents to bridge a lightweight design and good interior space, the Hubba Hubba has a strong contingent of loyalists, and the latest revamp makes it more competitive than ever. Nemo's Dagger has been one of the MSR's closest competitors for years, but recent changes to both models have widened the gap: The latest Dagger Osmo 2P is now 14 ounces heavier than the Hubba Hubba while only saving you $20. The Nemo's interior is a little more spacious with 2 additional square feet of floor area, 2-inch-taller peak height, and a similar pole design, but the MSR is the more weather-ready option with a full-coverage rainfly, and its ventilation system moves more air through the tent. In the end, unless the slight drop in space is a deal-breaker for you, we give the nod to the lighter and more protective Hubba Hubba. For more on the Dagger, see our in-depth review.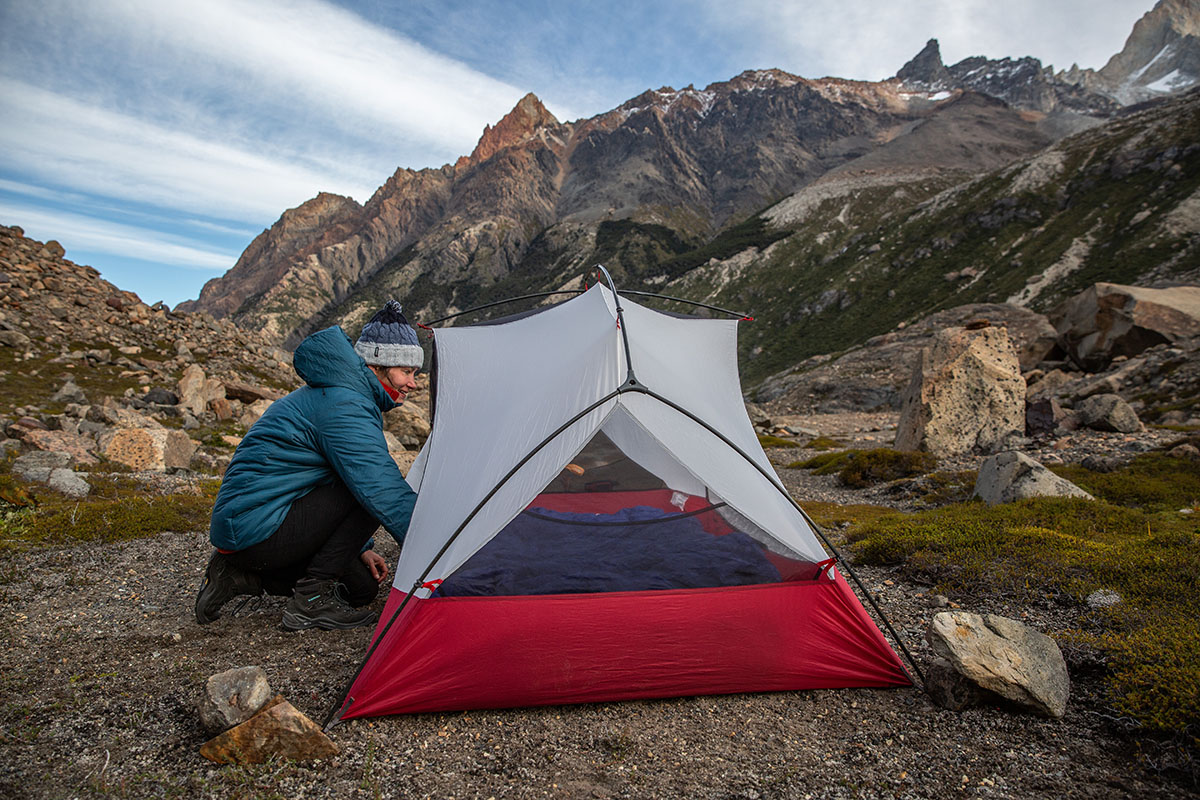 If weight is a primary consideration, two solid options are the Big Agnes Copper Spur HV UL2 and Nemo Dragonfly Osmo 2P. We consider these tents to be the next step in going ultralight, but the tradeoff is that they're slightly more compromised than the Hubba Hubba. Starting with the Copper Spur, you get the same amount of floor area (29 sq. ft.) and identical headroom (40 in.) in a 2-ounce-lighter package. But these numbers don't tell the whole story: The Copper Spur is a bit less durable with a thinner 15 x 20D floor, and the zippers and mesh need to be treated carefully to avoid tears. For the same price and only a minor weight penalty, we think the Hubba Hubba balances its priorities a little better, but both are excellent and well-rounded lightweight options.
Next up is the Nemo Dragonfly Osmo 2P. Like the Copper Spur, the Nemo offers the same floor area as the MSR at 29 square feet and checks in at an identical weight (3 lb. 2 oz.) but boasts an additional inch of headroom. That said, the interior is noticeably more cramped with a slanted wall that tapers at the feet, making it far less livable for two people. Further, the Dragonfly wasn't a strong performer in heavy winds, features a scalloped rainfly design similar to the Dagger, and has a slightly less durable and confidence-inspiring feel overall. The 2-ounce weight savings may be enough to sway committed ultralight enthusiasts (and the $50-cheaper price tag doesn't hurt), but the Dragonfly loses some of the balance that makes the Hubba Hubba one of our favorite overall backpacking tents.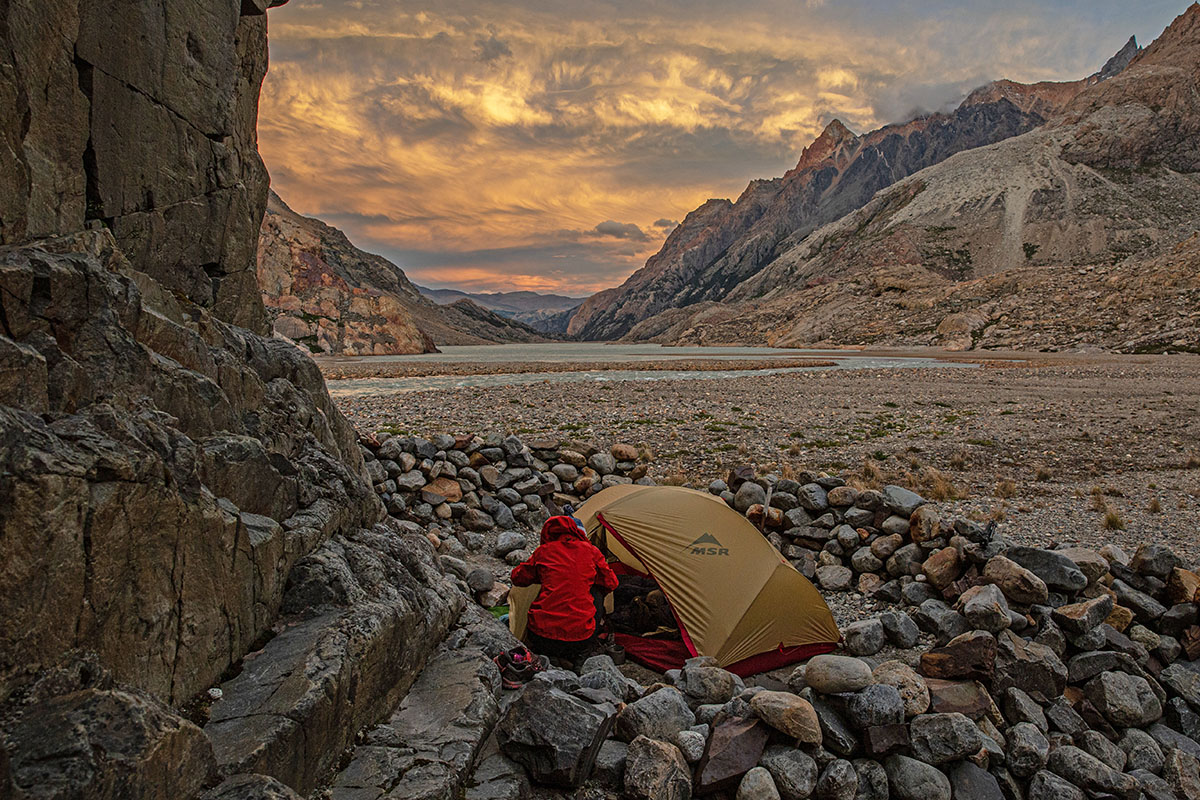 Backpacking giant Sea to Summit also recently threw their hat into the ring with their Telos TR2. The highlight here is the unique Tension Ridge, which gently bends the ridge pole upward at each end to create taller doors, increase livable space (including a generous 43.5-in. peak height), and boost airflow (the vent remains agape at the apex). Like the Hubba Hubba, the Telos also has a generous floorplan with 28 square feet of floor area, is fully freestanding and easy to pitch, and boasts two doors and vestibules to maximize convenience and comfort when camping with a partner. The biggest concessions are weight and price: The Telos checks in around 7 ounces heavier than the MSR and costs an additional $49. And it's important to note that we experienced rain pooling in the concavities of the fly during testing, resulting in water dripping into the tent through the vent opening. Unless the taller peak height is appealing to you, we think the cheaper and lighter MSR is the better option for most.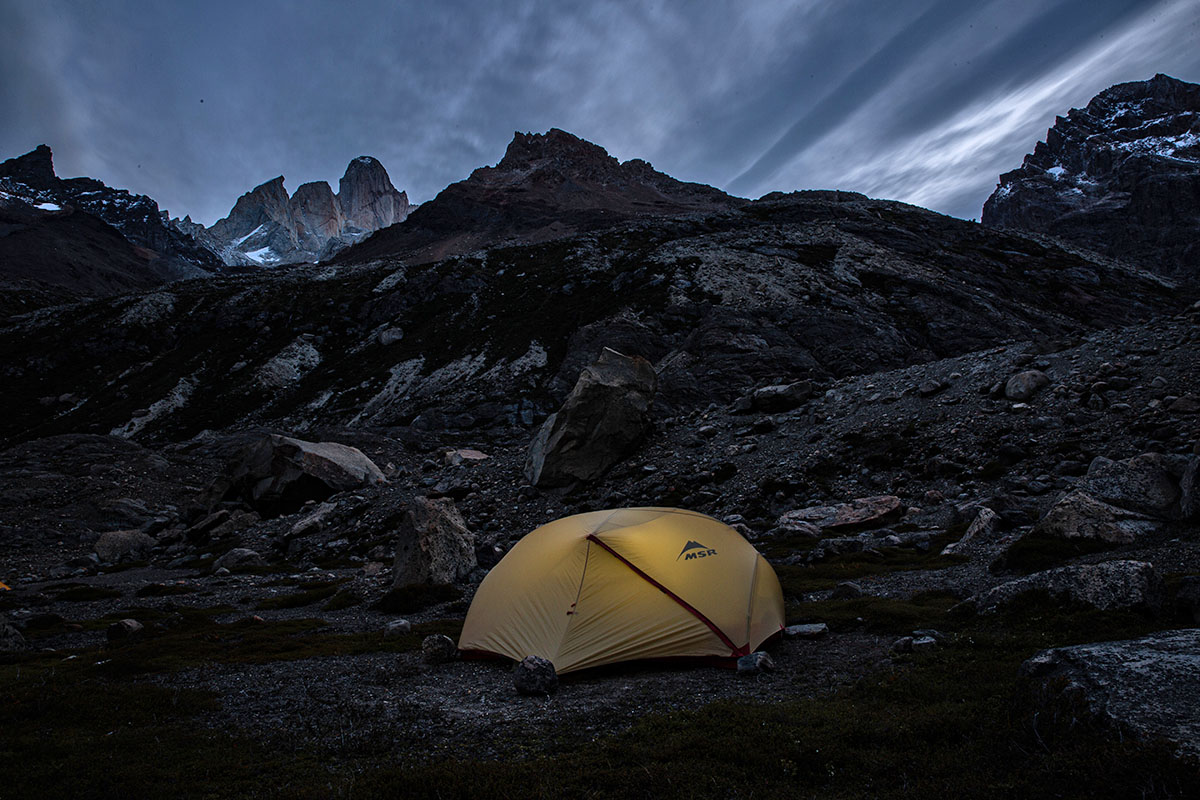 For most backpackers, price is the biggest obstacle in getting their hands on the Hubba Hubba. If that's the case, consider an option like REI Co-op's $399 Flash 2 Tent. For virtually the same weight as the Hubba Hubba, the Flash stacks up decently well on paper with a two-door-and-vestibule layout and fairly generous dimensions. But looking a little deeper, the REI tapers fairly aggressively at the feet (from 52 in. at the head end down to 42 in.), has less vestibule space, and slopes unevenly from the peak, which makes the interior feel noticeably more cramped. Like the Nemo Dagger covered above, the Flash 2 also has a scalloped rainfly that leaves some of the single-wall sections exposed to driving rain. All in all, it's a highly competitive design for the price, but we think the cost jump is worth the added livability and protection you get with the Hubba Hubba.
If you're thinking about buying gear that we've reviewed on Switchback Travel, you can help support us in the process. Just click on any of the seller links above, and if you make a purchase, we receive a small percentage of the transaction. The cost of the product is the same to you but this helps us continue to test and write about outdoor gear. Thanks and we appreciate your support!
Depending on the seller, most products ship free in the United States on orders of $50 or more. International shipping availability and rates vary by seller. The pricing information on this page is updated hourly but we are not responsible for inaccuracies.
Learn More About Outdoor Gear