Cozying into your sleeping bag at the end of a long day on the trail is one of the great pleasures of backpacking. And today's bags offer exceptional warmth for the weight along with a range of technologies that help them stay dry and perform in a variety of conditions. The majority of the bags on this list are filled with down, which is warmer, lighter, and more compressible than synthetic insulation. Below are the top backpacking sleeping bags of 2023. For more background information, see our sleeping bag comparison table and buying advice below the picks.
 
---
Our Team's Backpacking Sleeping Bag Picks
---

Best Overall Sleeping Bag

Temperature rating: 20°F
Weight: 1 lb. 11 oz.
Fill: 16.8 oz. of 950-fill down
What we like: Excellent warmth-to-weight ratio and build quality for serious backpackers.
What we don't: Pricey and lacks some modern features.
For the best combination of premium down, high-quality construction, and warmth-to-weight ratio, it's hard to beat a Feathered Friends sleeping bag. This boutique Seattle-based brand specializes in down products and hand-makes just about all their products in the Pacific Northwest. Climbers stop in religiously before heading to Mt. Rainier, Alaska, and far-off places like the Himalaya, and it's well worth a visit if you're in Seattle (their store is right across from the REI flagship). And with a direct-to-consumer model, Feathered Friends sleeping bags and other down products are exceptionally well made and competitively priced for what you get.
For serious 3-season use, the Swallow's balance of comfort and warmth for the weight is hard to beat. It's stuffed with over a pound of 950-fill goose down, has a durable and water-resistant Pertex Endurance UL shell, and comes in at a reasonable 1 pound 11 ounces for the 20-degree model. It's also built to last: After almost a decade of use, our Feathered Friends bag shows little sign of wear and is as warm as the day we bought it. But the Swallow is indeed pricey at $629 and lacks some of the modern touches you get with other bags, including a draft collar (the passive collar is a bit less effective at trapping heat), pillow pocket, and toe box vent. For a slightly more affordable and lighter option with trimmer dimensions, check out the Feathered Friends Hummingbird UL 20.
See the Feathered Friends Swallow UL 20
Most Comfortable Sleeping Bag for Side Sleepers

Temperature rating: 25°F ISO Comfort, 14°F Lower Limit
Weight: 2 lb. 11 oz.
Fill: 22 oz. of 650-fill down
What we like: A roomy and comfortable sleeping bag for those who toss and turn.
What we don't: Heavier and bulkier than slimmer-cut bags with similar temperature ratings.
Nemo does things a little differently with their sleeping bags, and they are a big hit among comfort seekers and side sleepers. Unlike slender mummy designs that trim dimensions to shave weight, Nemo utilizes a "spoon"-shaped concept on the Disco. The focus is on comfort: the bag is wider than a typical mummy, particularly in the elbows and knees, so side sleepers and others can roll around without feeling constrained. The Disco uses 650-fill, PFC-free hydrophobic down, a waterproof panel around the toe box for added protection, and a built-in sleeve for a pillow. For ventilation, you get two zippered "gills" running lengthwise at the top of the bag, and unzipping them creates intentional cold spots to release hot air in warm conditions. In use, we have found the system to be very helpful on mild nights.
The biggest downsides of the Nemo Disco are weight and bulk. First, the spacious design that results in the extra roominess means more fabric and down fill are required. At 2 pounds 11 ounces for the regular size, the Disco 15 is far from ultralight. Second, it doesn't help that Nemo uses 650-fill down for this bag, which is decidedly mid-range (check out the 800-fill Riff 15 for a lighter but pricier alternative). That said, if the roomy fit and unique feature set appeal to you, the Disco 15 is a great option. And keep an eye out for Nemo's new ultralight, mummy-style Coda bag in spring 2024, which maintains the brand's comfort focus in a more minimalist design.
See the Men's Nemo Disco 15  See the Women's Nemo Disco 15
Best Budget Down Sleeping Bag

Temperature rating: 32°F ISO Comfort, 21°F Lower Limit
Weight: 2 lb. 10 oz.
Fill: 16.4 oz. of 550-fill down
What we like: Inexpensive for a warm and well-made down sleeping bag.
What we don't: Decently heavy and not nearly as packable as more premium models.
For new backpackers and those on a budget, Kelty makes inexpensive gear that may pleasantly surprise you with its quality. The Cosmic 20 is one of the cheaper down sleeping bags on the market—definitely from a major manufacturer—but the ISO Comfort rating of 32 degrees Fahrenheit should keep you cozy in most 3-season conditions. It's worth noting that Kelty updated the Cosmic line recently, with the major change being slightly lower-fill-power down (550 instead of 600), along with a cheaper price tag at $165. At under 3 pounds for the regular version, it's our favorite budget down bag for 2023.
Keep in mind that due to the lower fill-power down, the Kelty Cosmic is not nearly as light or packable as the more premium options on this list. By spending up, the Feathered Friends Swallow UL 20 above offers significantly more warmth for almost a full pound less, although it also happens to be almost four times the price (and a bit more fragile). For those keeping an eye on their wallet and not counting ounces, it's hard to beat the value of this Kelty line, which also is offered in 40- and 0-degree versions. 
See the Men's Kelty Cosmic 20  See the Women's Kelty Cosmic 20
Best Ultralight Sleeping Bag for Warm Weather

Temperature rating: 44°F EN Comfort, 40°F Lower Limit
Weight: 12 oz.
Fill: 6.3 oz. of 850-fill down
What we like: Crazy light; wet-weather assurance of hydrophobic down.
What we don't: The ⅓-length zipper limits ventilation; only warm enough for mid-summer use. 
Most of the sleeping bags here check in between 1 and 2 pounds and have temperature ratings that extend as low as 20 degrees Fahrenheit. While these are great all-around designs for a range of conditions and backpacking trips, they verge on overkill—both in terms of weight and warmth—for minimalist missions in warm summer weather. For these conditions, we love the Sea to Summit Spark, a 12-ounce, 40-degree bag that packs down to the size of a 1-liter Nalgene bottle. The Spark is surprisingly well-rounded for its weight: Unlike the Feathered Friends Tanager and Enlightened Equipment Enigma below, it comes complete with a hood and zipper, and its hydrophobic down offers great wet-weather assurance. All told, you'd be hard pressed to find a lighter, more functional design without bumping up to the 50-degree category.
But versatility is limited with such a minimalist bag. To put it in perspective, our top-ranked Swallow UL 20 contains well over twice as much down as the Spark, which is a welcome addition on summer nights spent up high. On top of that, the Spark has a short, 1/3-length zipper, which gives you a lot less wiggle room and limits ventilation (the 40°F version of the aforementioned Enigma checks in at 14.7 oz. and offers a lot more versatility with its quilt design). Finally, the Sea to Summit's 10-denier shell isn't the thinnest here (the Tanager's is 7 x 5D), but it will require considerable care when packing or sleeping outside on rough ground. But these shortcomings aside, the ultralight and ultra-compressible Spark will disappear into your pack or bike pannier better than just about any other sleeping bag, making it a solid choice for mid-summer outings at low elevations.
See the Sea to Summit Spark 40  See the Sea to Summit Flame 35
Best Winter/High-Altitude Sleeping Bag 

Temperature rating: 13°F EN Comfort, 0°F Lower Limit
Weight: 2 lb. 10.6 oz.
Fill: 30 oz. of 850-fill down
What we like: Cozy loft and warmth-trapping features for cold-weather missions.
What we don't: Shell is not water resistant.
Cold environments call for a warm sleeping bag, and Mountain Hardwear's Phantom 0F has long been a go-to choice for winter camping and high-altitude expeditions. Filled with almost 2 pounds of 850-fill down and featuring a lofty draft collar, 3D contoured hood, and draft-eliminating face gasket, the Phantom is a warm haven from sub-freezing temperatures. Its 2-pound-10.6-ounce build is undeniably heavy compared to the 3-season competition, but impressive considering the bag's warmth: Mountain Hardwear keeps weight and bulk low with a thin 10-denier shell, lightweight zipper, and streamlined (yet still comfortable) profile. It all adds up to our favorite down sleeping bag for human-powered endeavors in the cold, including backcountry hut trips, snow camping, and expeditions up the world's tallest peaks.
We'd be remiss not to also mention Feathered Friends' Snowbunting EX 0 here. Designed for serious adventures, the Snowbunting offers more protection from drips and condensation with water-resistant Pertex Shield EX fabric. The shell is also slightly thicker at 15-denier, and 40-denier ripstop reinforcements offer peace of mind when you're sleeping beside your climbing gear. Feathered Friends' winter bag also adds a few inches at the shoulder and hip compared to the Phantom, for a roomier night's sleep. The Snowbunting's water-resistant shell does slightly compromise breathability—and adds a few ounces to the total weight—but the tradeoff will be worth the added assurance for some. All told, the Snowbunting ($719 for the regular length) is the better bag if you anticipate needing to fend off moisture, but for dry conditions and shorter trips, the Phantom offers a more competitive combination of price and warmth-to-weight.
See the Mountain Hardwear Phantom 0F
Best Sleeping Quilt for Backpacking

Temperature rating: 30°F (also available in 0, 10, 20, 40, and 50° versions)
Weight: 1 lb. 1.9 oz.
Fill: 12.4 oz. of 850-fill down
What we like: Super customizable, versatile, and great warmth for weight.
What we don't: Not everyone will love the hoodless, backless design.
Sleeping quilts are popular among ultralight enthusiasts: With an open-back design that wraps around a pad, they're able to provide sleeping-bag-like warmth for noticeably less weight and bulk. Quilts are the bread and butter of Minnesota-based Enlightened Equipment, so it's no surprise to see their Enigma at the top of our list for 2023. The Enigma 30 packs a serious punch with a whopping 12.4 ounces of 850-fill down. Priced at just $310, it's a great value, too. And because ULers love customization, Enlightened Equipment quilts are available in a wide variety of sizes (16 combinations of length and circumference), along with the option of 850- or 950-fill down, various nylon shells (7, 10, or 20D), and a whole range of temperature ratings (0 to 50°F). 
We're big fans of sleeping quilts for their versatility and warmth-to-weight, and have been known to take them into fairly inclement conditions (in fact, we've shared the Enigma 20 with a partner deep in the North Cascades and high up in Patagonia's alpine). It's true that the backless design makes it hard to fully batten down the hatches, and with no hood you'll want to be sure to pack additional coverage for your head (a beanie or hooded down jacket will do). But if you're willing to try something different, quilts offer truly impressive warmth (remember that all their insulation is concentrated along the front and side of the body) alongside great ventilation for hot sleepers. It's also worth checking out Hyperlite's new Unbound 20 and 40 ($499 and $399, respectively), which use premium 1000-fill goose down along with a thin 7-denier shell.
See the Enlightened Equipment Enigma Quilt
Best of the Rest

Temperature rating: 26°F ISO Comfort, 15°F Lower Limit
Weight: 2 lb. 5.4 oz.
Fill: 21 oz. of 650-fill down
What we like: A bit warmer and lighter than the Marmot Sawtooth below.
What we don't: Tapered cut is not ideal for those who toss and turn.
There are a lot of very expensive sleeping bags on the market that use 800-fill-power down or even higher, and there are a number of budget-oriented synthetic options, but the mid-range down offerings are surprisingly limited. In this category, we like the Mountain Hardwear Bishop Pass, which does a nice job putting it all together at a reasonable price. You get a cozy 26-degree Fahrenheit ISO Comfort rating at 2 pounds 5.4 ounces total—a half-pound lighter than the similarly priced Marmot Sawtooth below. And this bag is both well built and comfortable, with premium touches like a generous draft collar to seal out cold and noticeably soft liner that feels supple and cozy against the skin. At a fraction of the cost of a high-end model like the Feathered Friends Swallow UL, we like the value of the Bishop Pass.
Keep in mind that the Mountain Hardwear Bishop Pass manages to keep weight low by tailoring the cut of the bag. The regular size is 53 inches at the hip, whereas the Marmot Sawtooth and Kelty Cosmic are roomier at 59 and 58 inches, respectively. If you are a side sleeper who tosses and turns throughout the night, we recommend choosing one of the aforementioned options (or Nemo makes the roomiest bags out there). And for about the same price, the Sawtooth adds a few ounces of down and extra features for comfort, including an expandable footbox and dual-side zips at the collar. But for those who don't mind a trimmer mummy cut, the Bishop Pass is a quality mid-range bag that will save you some weight.
See the Men's Mountain Hardwear Bishop Pass 15  See the Women's MH Bishop Pass 15

Temperature rating: 32°F EN Comfort, 20°F Lower Limit
Weight: 1 lb. 12 oz.
Fill: 16 oz. of 800-fill down
What we like: Fully featured and warm at a relatively low weight.
What we don't: Falls short of premium bags like the Swallow above and UltraLite below.
Therm-a-Rest offers a wide selection of sleeping bags for everything from ultralight backpacking to car camping, and the Parsec builds on their well-rounded expertise. Delivering frontcountry comfort in a lightweight (1 lb. 12 oz.) and packable design, the Parsec 20 (also available in 0 and 32° versions) features 16 ounces of 800-fill down along with a host of noteworthy features. You get a smooth no-snag zipper (it wasn't 100% foolproof in our testing but definitely cut down on hang-ups) with a draft tube, a down-stuffed foot pocket for added warmth, a draft collar, and a handy external pocket for essentials. We've used the Parsec all winter in both backpacking and van-camping scenarios and have been impressed with how plush and warm it feels for such a streamlined design.
The Parsec 20 goes head-to-head with the premium Western Mountaineering UltraLite below with a similar weight, temperature rating, and fill weight. One of the largest differences between the two bags comes in terms of dimensions: The Parsec is significantly roomier with 62 inches at the collar and 57 at the hips (the UltraLite is 59 and 51 in. respectively). It's also more modern-feeling compared to the Western Mountaineering's rather barebones design, including softer fabrics and the aforementioned features. The Parsec can't quite match the warmth of the UltraLite,and its shell felt significantly less durable in our testing, but these are minor shortcomings considering the $150 savings. All told, it's a high-quality and well-equipped bag for a little less than the competition, which is a winning recipe for many.
See the Therm-a-Rest Parsec 20

Temperature rating: 20°F
Weight: 1 lb. 13 oz.
Fill: 16 oz. of 850-fill down
What we like: Lightweight, super comfortable, and well-built.
What we don't: Lower-quality down and trimmer dimensions than the Feathered Friends Swallow UL 20.
Feathered Friends sets the gold standard for premium down products, but Western Mountaineering is hot on their heels. Specializing in down sleeping bags, this San Jose-based company has a complete collection for every sort of adventurer, ranging from durable and waterproof expedition bags to featherweight quilts. The UltraLite here is their fully featured 20-degree offering, with a very healthy 16 ounces of 850-fill down (5 in. of down loft), wrap-around draft collar, and full-length #5 YKK zipper. All in all, the longstanding UltraLite is Western Mountaineering's most popular 3-season backpacking bag for shoulder season adventures and lower-48 alpine conditions, and for good reason.
Compared to the Feathered Friends Swallow UL 20 above, the UltraLite has trimmer dimensions (a noticeable 5 in. less at the hip), uses lower-quality down (850- vs. 950-fill), and weighs 2 ounces more. The bag does feature a slightly thicker shell fabric (12 vs. 10D) and a lower price tag (by $9), but these strengths aren't enough to justify the Western Mountaineering over the Feathered Friends. Comparisons aside, the UltraLite is a premium bag that's high on comfort and attention to detail. For more room, check out the AlpinLite ($695), which gives you an extra 5 inches of girth in the shoulders and 4 inches more in hips while only adding 2 ounces of total weight.
See the Western Mountaineering UltraLite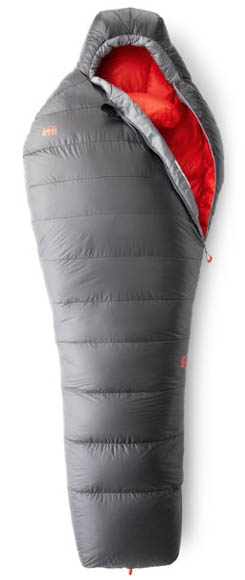 Temperature rating: 28°F ISO Comfort, 16°F Lower Limit
Weight: 1 lb. 12.2 oz.
Fill: 15.9 oz. of 850-fill down
What we like: A lightweight sleeping bag for less than the competition.
What we don't: From our experience, the Magma line doesn't run quite as warm as suggested.
REI Co-op's in-house offerings have been impressive of late, with a strong lineup of quality backpacking gear at competitive price points. The latest Magma 15 is case in point: for $399, you get a premium and warm backpacking bag that is loaded with 15.9 ounces of 850-fill down (REI also makes a 30° variation for $349). On paper, it's right in line with top-tier brands but with less damage to your wallet (competing models from Feathered Friends and Western Mountaineering cost $629 and $620, respectively). The Magma isn't cheap by any means—down is the most expensive insulator and for good reason—but it's a solid value nevertheless, and especially with a member coupon.
But in practice, the REI Magma 15 has some shortcomings. Despite the impressive temperature rating, we've found that the bag doesn't run quite as warm as suggested (that's one of the reasons we included the 15° version here instead of the 30). It's difficult to pinpoint exactly why, but the variable baffle spacing could have something to do with it—the baffles on the lower half of the body are noticeably wider than the upper half, which may be what left our legs and feet feeling a tad chilly. In addition, the shell can't match the ultra-high-end feel of bags from Feathered Friends and Western Mountaineering. But you'd be hard-pressed to find a better value for the weight and warmth, earning the Magma a spot toward the top of our list.
See the Men's REI Co-op Magma 15  See the Women's REI Co-op Magma 15

Temperature rating: 30°F
Weight: 1 lb. 13 oz.
Fill: 800-fill down
What we like: Premium, sustainable materials and a unique front zipper.
What we don't: Not competitively lightweight and packable.
The Fitz Roy Parka is one of our all-time favorite heavyweight down jackets from Patagonia, which we love for its sleeping bag-like warmth and loft. So when the Ventura-based company released their sleeping bag lineup under the same name, we had an idea of what to expect: plush, lofty down plumage, a soft and supple fabric, and excellent build quality. The Fitz Roy takes further design hints from Patagonia's jacket collection, with a center front zip, internal pocket at the chest, and deep hood that's modeled after their warmest winter parkas. And as we've come to expect, it's sustainably designed through and through, including Advanced Global Traceable down, a PFC-free DWR finish, and recycled, solution-dyed nylon (solution dying conserves both energy and water). 
But despite Patagonia's penchant for fast-and-light alpinism, the Fitz Roy is not particularly lightweight or packable, especially compared to bags like the Feathered Friends Swallow UL and Sea to Summit Spark above. As a result, it's not our first choice for ultralight backpacking trips or multi-day climbs. But the Fitz Roy nevertheless lands in a competitive field of solid all-rounders, joining similarly spec'd bags like the REI Co-op Magma 15 and Therm-a-Rest Parsec 20 (Patagonia doesn't specify a fill weight, but in our experience the Fitz Roy's 30° designation feels like its lower limit), and the front zip (complete with three zipper heads for venting at the top, bottom, and middle) offers a nice change of pace from more standard designs. Added up, the Fitz Roy is a solid offering from a brand we trust—and it also comes in a 20-degree version (2 lb. 4 oz.) for $529.
See the Patagonia Fitz Roy 30°F

Temperature rating: 32.2°F EN Comfort, 21.6°F Lower Limit
Weight: 2 lb. 6 oz.
Fill: 25 oz. of synthetic (HL-ElixR Eco Micro)
What we like: Practical warmth and better wet-weather assurance than down bags.
What we don't: At this price point, we prefer the down-filled Kelty Cosmic above.
For backpacking, we almost always favor down sleeping bags over synthetics—they pack down smaller and provide more warmth for the weight. But there's still a time and place for synthetic fill, especially if you're looking to save cash or planning to spend a lot of time in wet weather. Marmot has been a mainstay in the world of synthetic sleeping bags for years with its varied Trestles line. For an affordable $169, the Elite Eco 20 offers a very practical 32.2-degree Fahrenheit EN Comfort rating, which should work well for most 3-season conditions, along with a respectable weight of 2 pounds 6 ounces. And the Trestles Elite Eco 20 is surprisingly well featured for the price, including recycled materials, multiple zippers for venting, an internal stash pocket, and a draft tube.
In the end, we have the Marmot Trestles Elite Eco ranked here because we think there are far better options for backpacking. For those who don't need the added warmth, Marmot's standard Trestles (30°F) is significantly cheaper at $109, and the Nemo Forte Endless Promise 20 is a far more comfortable option—although many will find it to be prohibitively heavy at 3 pounds 7 ounces. Alternatively, the similarly priced, down-filled Kelty Cosmic above checks in 4 ounces heavier but will stuff down smaller and last significantly longer (synthetic fill has a tendency to pack out over time). Unless water resistance is particularly important to you, we recommend going with the Kelty.
See the Men's Marmot Trestles Elite Eco 20  See the Women's Trestles Elite Eco 20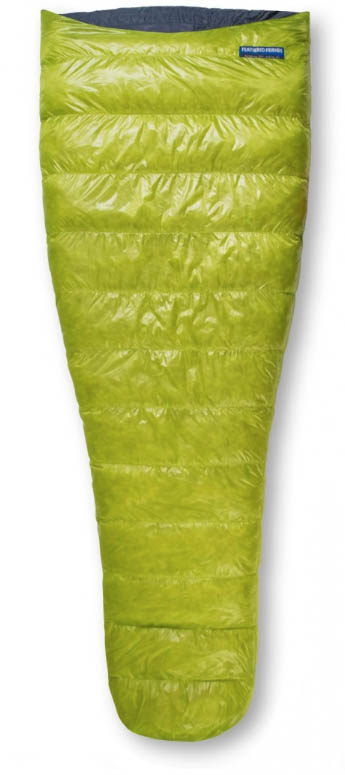 Temperature rating: 20°F
Weight: 1 lb. 2.6 oz.
Fill: 12.6 oz. of 950-fill down
What we like: Hoodless design hits the sweet spot of weight and performance.
What we don't: No zipper and very thin fabrics.
The ultralight sleeping bag world is chock full of models that trim weight with premium down, ultra-thin shell materials, streamlined feature sets, and narrow dimensions. The Sea to Summit Spark gets our top pick for its fairly uncompromised design, but the hoodless Feathered Friends Tanager is an intriguing alternative. With no zipper or hood, this dedicated ultralight build saves weight on features but doesn't sacrifice on insulation with premium 950-fill down. The result is impressive to say the least: the 20-degree Tanager weighs just 1 pound 2.6 ounces total but contains a whopping 12.6 ounces of insulation. Do the math—you get 6.3 ounces more down (of a higher quality) in a 6.6-ounce heavier build—and it's even warmer for the weight than the Spark above.
There are a few reasons the Tanager doesn't get our top UL pick, including the zipperless design, lack of hood, and ultra-thin fabric (you can literally see through the 7 x 5D Pertex Quantum shell). What's more, the majority of thru-hikers and fastpackers won't be venturing into sub-freezing temperatures, making the Tanager's warmth a bit overkill for most conditions (it doesn't help that you can't zip open the bag for ventilation). But 3-season alpine climbers will find a lot to like from this purpose-built bag, and these compromises are well worth it for the weight savings. And for a full mummy design from Feathered Friends with a zipper, check out the Hummingbird UL ($609), which features 14 ounces of down in a 1-pound-8-ounce build... Read in-depth review
See the Feathered Friends Tanager 20 CFL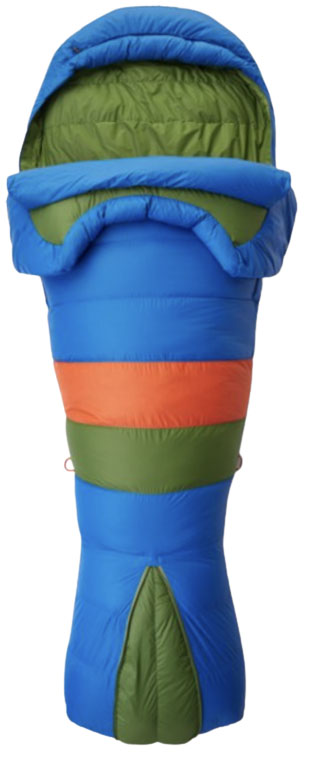 Temperature rating: 27°F EN Comfort, 15°F Lower Limit
Weight: 2 lb. 14.2 oz.
Fill: 24.7 oz. of 650-fill down
What we like: Dual side-zips and footbox zipper add comfort and ventilation.
What we don't: Heavy and bulky for a backpacking bag.
Falling on the spectrum between business and casual, Marmot's Sawtooth is a high-value and uniquely featured sleeping bag for the recreational backpacker. The first thing that stands out about the Sawtooth is its extra zippers: At the collar you get dual side zips for ventilation and easy in and out; at the foot, a zipper opens for extra space and shuts to seal in warmth. To top it off, the freshly revamped Sawtooth features a generous 24.7 ounces of 650-fill hydrophobic down, which is considerably more than most bags here. For those who run cold or want a little extra warmth for shoulder seasons (without breaking the bank), the Marmot Sawtooth is cozy, warm, and high on comfort. 
Keep in mind that the Sawtooth's 27-degree Fahrenheit EN Comfort rating is ample for most backpacking jaunts into the mountains and won't have you checking the forecast incessantly before the trip, but it may be overkill for warm summer conditions. And while the ventilating zippers can help broaden the bag's temperature range, they do add a considerable amount of weight: Compared to the similarly priced Bishop Pass above, the Sawtooth is over a half-pound heavier, considerably bulkier, and contains just a few ounces more down. But the added features and space (the Marmot is 59 in. at the hip vs. the Mountain Hardwear's 53 in.) could be well worth it for some. For a higher-fill-power option from Marmot, check out their more premium Hydrogen.
See the Men's Marmot Sawtooth 15  See the Women's Marmot Teton 15

Temperature rating: 20°F
Weight: 2 lb. 4 oz.
Fill: 19 oz. of 650-fill down / Fireline ECO synthetic
What we like: Another option for side sleepers that is lighter than the Nemo Disco above.
What we don't: Not as roomy as the Nemo.
For years, Nemo has dominated the market in sleeping bags built for side sleepers, but Big Agnes stepped up to the plate recently with the Sidewinder. There is a lot going on with this bag: it's decently spacious, has a unique zipper designed to stay out of your way when you turn over, a large hood with excellent coverage no matter your sleeping position, and extra padding (via synthetic insulation) at the hip and foot, which are major ground contact points for those who sleep on their side. If you toss and turn at night, the design is much more functional than a traditional mummy bag and a viable competitor to the Nemo Disco above.
How does the Sidewinder differ from the Nemo Disco? Most notable is shape: the Big Agnes is slimmer in terms of dimensions at 61 inches in the shoulders and 55 inches at the hip (the Nemo is 64 and 59 in., respectively). It's hard to argue with the extra space, but the Sidewinder does clock in at 7 ounces less (with identical 650-fill down and 30D shell). And like the Nemo, it also features a custom pillow pocket, which keeps your camp pillow (or stuffed down jacket) in place throughout the night. With a good number of comfort-related differences, finicky sleepers may prefer to try both bags out before buying, but the Sidewinder is undeniably a great addition to the side-sleeper market and priced right at just $300. 
See the Men's Big Agnes Sidewinder SL 20  See the Women's Sidewinder SL 20

Temperature rating: 39°F ISO Comfort, 30°F Lower Limit
Weight: 1 lb. 2.7 oz.
Fill: 800-fill down
What we like: Baffle-free exterior and internal diagonal baffles nicely balance weight and comfort.
What we don't: Shell is thin and fragile.
Like Western Mountaineering and Feathered Friends, Japan-based Montbell is a leading down specialist, and their Seamless Down Hugger collection is among the most unique on the market. In lieu of baffles, the Down Hugger utilizes a web of polyester threads (dubbed the "Spider Baffle System") to keep the insulation in place, translating to more warmth with less down (read: less weight) compared to traditional designs. On the inside, the liner features a spiraled elastic thread that expands with your movements and constricts to hug your body, effectively trapping warmth. Added up, the Seamless Down Hugger is an incredibly efficient sleeping bag that works with a range of body sizes and will make side sleepers happy, too.
The biggest downside to cutting weight is a lack of durability: The Down Hugger's shell is made with Montbell's Ballistic Airtight nylon, which is tightly woven to increase tear resistance, but it's undeniably thin (10D) and requires added care to avoid snags and punctures. But as a result, the 800 #3 is among the lighter bags on this list at 1 pound 2.7 ounces, topping the Hyperion below in both weight and price. That said, while Montbell specifies the Down Hugger 800 #3 as a 30-degree bag, keep in mind that this is its Lower Limit rating. If you're looking for something a bit different, Montbell offers the Seamless Down Hugger in a variety of fill weights (900, 800, and 650-fill) and temperature ratings (15, 25, 30, 40°F), including "WR" models with windproof Gore-Tex Infinium shell fabrics and water-resistant zippers for added assurance in inclement weather.
See the Montbell Seamless Down Hugger 800 #3  See the Women's Seamless Down Hugger 800 #3

Temperature rating: 35°F ISO Comfort, 25°F Lower Limit
Weight: 2 lb. 7 oz.
Fill: 16.6 oz. of 600-fill down
What we like: A quality budget bag that is a bit lighter than the Kelty Cosmic above.
What we don't: You can go cheaper for the same level of warmth.
The Magma above has been REI's premium sleeping bag for years, but the Co-op offers another nice value in the mid-range Down Time 25. Made with 600-fill-power down and a relatively hardwearing 30-denier shell, it's a great option for weekend backpacking trips and those who don't require the absolute lightest and most packable gear. Perhaps most importantly, the Down Time comes in at a very reasonable $229, which is a good price for a quality down bag that is environmentally friendly to boot.
The main competitor to the REI Down Time is the Kelty Cosmic above, which is our top budget pick. In the end, the Kelty is $64 cheaper and slightly warmer with a 32-degree Fahrenheit ISO Comfort rating, but it's also 3 ounces heavier and has a thinner 20-denier shell. Given that a sleeping bag is one item where we aren't particularly worried about denier (it's only used on the inside of your tent), we give the slight nod to the cheaper Kelty. But for those who backpack with their dog, are hard on their gear, or prefer REI products in general, the Down Time is a nice option. 
See the Men's REI Co-op Down Time 25  See the Women's REI Co-op Down Time 25

Temperature rating: 32°F EN Comfort, 20°F Lower Limit
Weight: 1 lb. 4 oz.
Fill: 13 oz. of 900-fill down
What we like: An ultralight mummy bag with an incredibly small packed size.
What we don't: Expensive; narrow cut with little insulation on the bottom.
Therm-a-Rest knows a thing or two about sleeping in the backcountry, and the ultralight Hyperion is case in point. The specs on this sleeping bag are staggering: a 20-degree Fahrenheit Lower Limit rating, 900-fill goose down, and a total weight of just 1 pound 4 ounces (that's not a misprint). That's on par with the hoodless Feathered Friends Tanager (1 lb. 2.6 oz.) above, which is quite impressive given the Hyperion's hood and zipper. And did we mention the incredibly small packed size? See the photo in our buying advice below for proof.
How is Therm-a-Rest able to achieve this all with the Hyperion? The answer is a very aggressive design that is heavily tapered (read: not super roomy), along with patterning 70% of the down fill on top of the body. This means that you should bring along a sleeping pad with a decent R-value to insulate you from the ground, and if you happen to turn over on your side and bring the bag with you, you'll likely get cold. What's more, the Hyperion features a half-length zipper, which is great for saving weight but offers little option for venting on warm nights (that said, it's a step up from the zipperless Tanager). It's a fairly compromised design and expensive at $550, but the Therm-a-Rest is nevertheless a premium bag for ounce-counters who venture out in the shoulder seasons.
See the Therm-a-Rest Hyperion 20
Backpacking Sleeping Bag Comparison Table
*Editor's Note: For the purposes of this table, we have included the EN or ISO Comfort rating, which we feel is the most accurate point of comparison. When available, we've listed both the Comfort and Lower Limit in the product specs above. For more on the differences, see our buying advice below.
 
Backpacking Sleeping Bag Buying Advice
Sleeping Bag Temperature Ratings
The single most important decision you'll make when choosing a sleeping bag is the temperature rating. Simply put, few things are worse than a long, sleepless night shivering inside your tent, and we always believe that it's best to err on the side of caution when choosing your bag. Below we break down what you need to know about temperature ratings, including the EN/ISO standard, non-standardized models from cottage brands, and how to choose the right rating.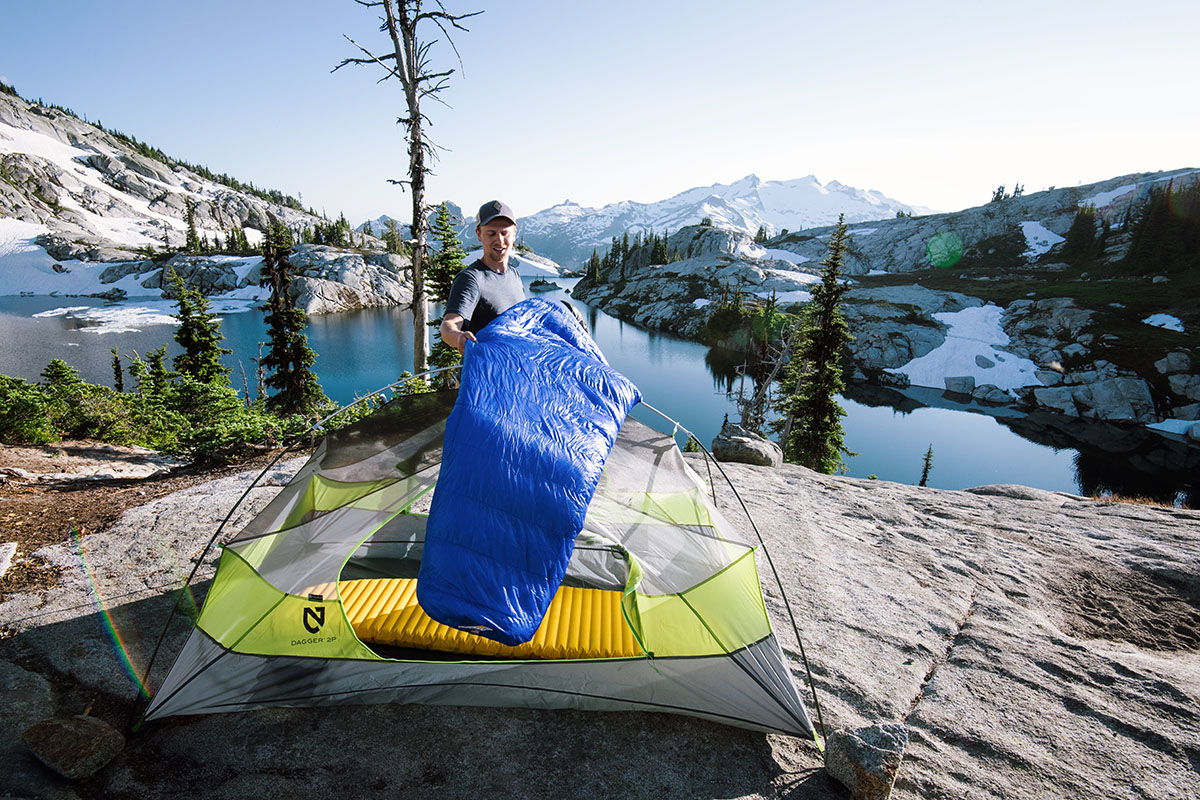 The EN/ISO Rating System Explained
Instead of depending on the manufacturer and their marketing whims for a temperature rating, the sleeping bag industry has attempted to standardize the system with the help of the EN (European Norm) and, more recently, the ISO (International Organization for Standardization). This criterion (formerly known as EN 13537 and now known as ISO 23537) lays out guidelines for how to test the warmth of a bag and enables consumers to make accurate comparisons between products. Both standards give us four numbers—upper limit, comfort, lower limit, and extreme. The middle two ratings have the most significance for the majority of backpackers:
Comfort Rating: The temperature at which an average woman can sleep comfortably. Generally, women sleep colder than men, hence the importance of the comfort rating.
Lower Limit: The temperature at which an average man can sleep for eight hours without waking. We rarely sleep for eight hours without waking on a backpacking trip, but you get the idea.
Of course, all of the EN/ISO ratings are based on averages and in general we've found them to be rather optimistic. As such, we've found that the higher EN/ISO Comfort rating is a better basis for across-the-board comparison than the EN/ISO Lower Limit, and therefore have listed it in the comparison table above (both ratings are included in the product specs when applicable).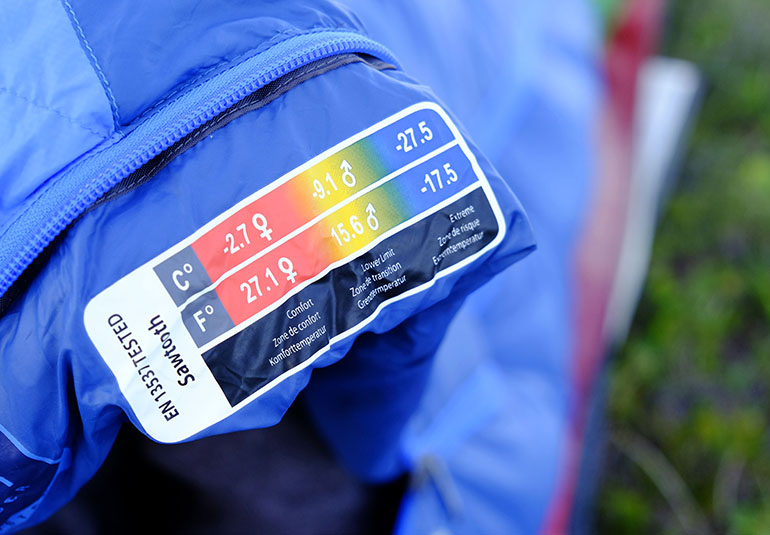 Sleeping Bags Without an EN/ISO Rating
Some manufacturers—typically smaller companies like Western Mountaineering, Feathered Friends, and Enlightened Equipment—do not submit their bags for EN/ISO testing. From our experiences, these brands actually are on the conservative side and take pride in offering very realistic temperature ratings. For example, the Feathered Friends Swallow UL 20 is a very warm bag that has kept our tester (an average male) comfortable into the 20s, whereas the Kelty Cosmic 20—with a 21-degree Fahrenheit ISO Lower Limit—will be cold if temperatures dip below freezing. As a result, we've found that in most cases the EN/ISO Comfort rating (the Cosmic's is 32°F) offers the best point of comparison to unrated designs.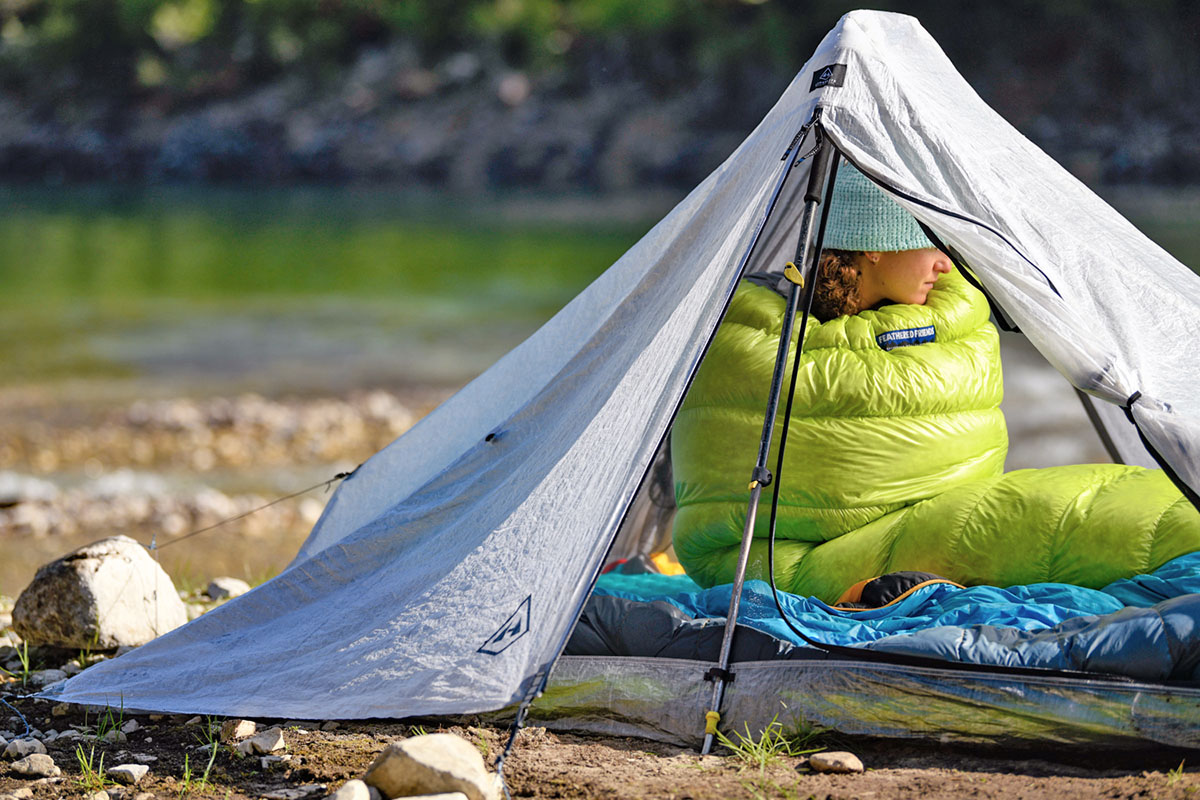 Choosing the Right Temperature Rating
In choosing your bag's temperature rating, you'll want to look specifically at the EN/ISO numbers (when applicable), not just the temperature included in the name of the bag. As we touched on above, we recommend using the Comfort rating as the more realistic of the two numbers. And for non-EN/ISO-rated bags from high-end manufacturer's like Feathered Friends and Western Mountaineering, you can just utilize their listed rating. In both cases, it's also a good idea to leave a reasonable buffer (10°F or more) to be safe. For example, if you anticipate nighttime lows around freezing (32°F), you'll want to aim for a bag that's rated at 20 to 25 degrees Fahrenheit. Other factors to consider are your age (people typically don't sleep as warm the older they get), whether you are a cold or warm sleeper (gender can factor in here too), and whether you'll be sleeping in a tent or open-air.
The majority of backpacking sleeping bags (including most of the models on the list above) are of the 3-season variety, with ratings from around 20 to 30 degrees Fahrenheit. We love the versatility of these designs: in the summer, you can unzip the bag and stay reasonably cool, but they also allow for spring, fall, and alpine backpacking when the temperature drops to freezing or below. Summer bags have lower limits around 40 degrees and offer the least room for error, but keep weight low for warm-weather use at low elevations. Finally, winter or expedition bags are the warmest of all and overkill for most recreational backpackers (we don't include any here). Within this category, a model like the Mountain Hardwear Phantom 0F is a good choice, and there are a number of options from climbing-centric companies like Western Mountaineering and Montbell that are rated down to -10 degrees Fahrenheit and lower.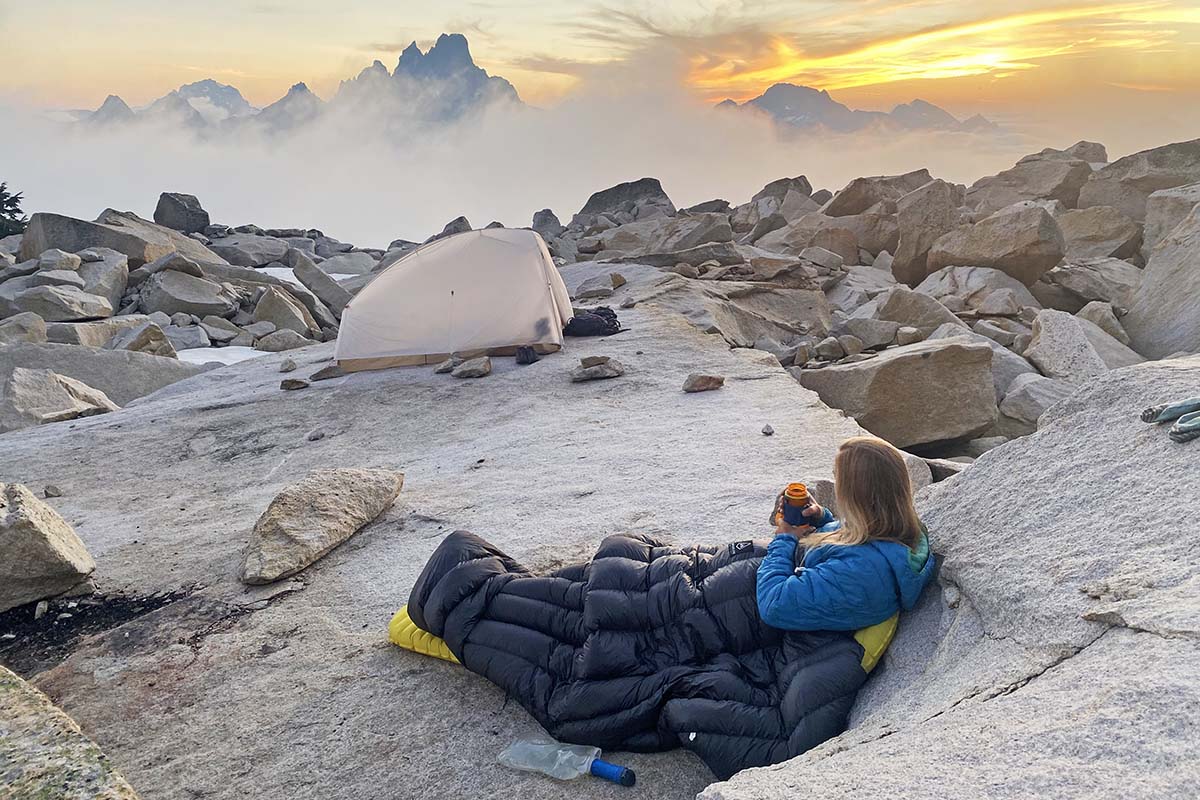 Sleeping Bag Insulation
Down vs. Synthetic Insulation
The down vs. synthetic debate is not unique to backpacking sleeping bags. Midlayers, camping bags, and even sleeping pads are all insulated with these fill types. For a certain piece of gear or apparel, one has the leg up on the other, and for backpacking sleeping bags, we still give the clear edge to down fill. There are a few major reasons for that, including the best warmth-to-weight ratio, far better packability (i.e., a smaller compressed size), and a more premium warmth. The last one is a bit subjective, but it's a clear consensus from us that down's lofty warmth feels more luxurious. Down does vary in quality, which is measured in fill power (covered below), but even a mid-grade down fill is the superior insulator.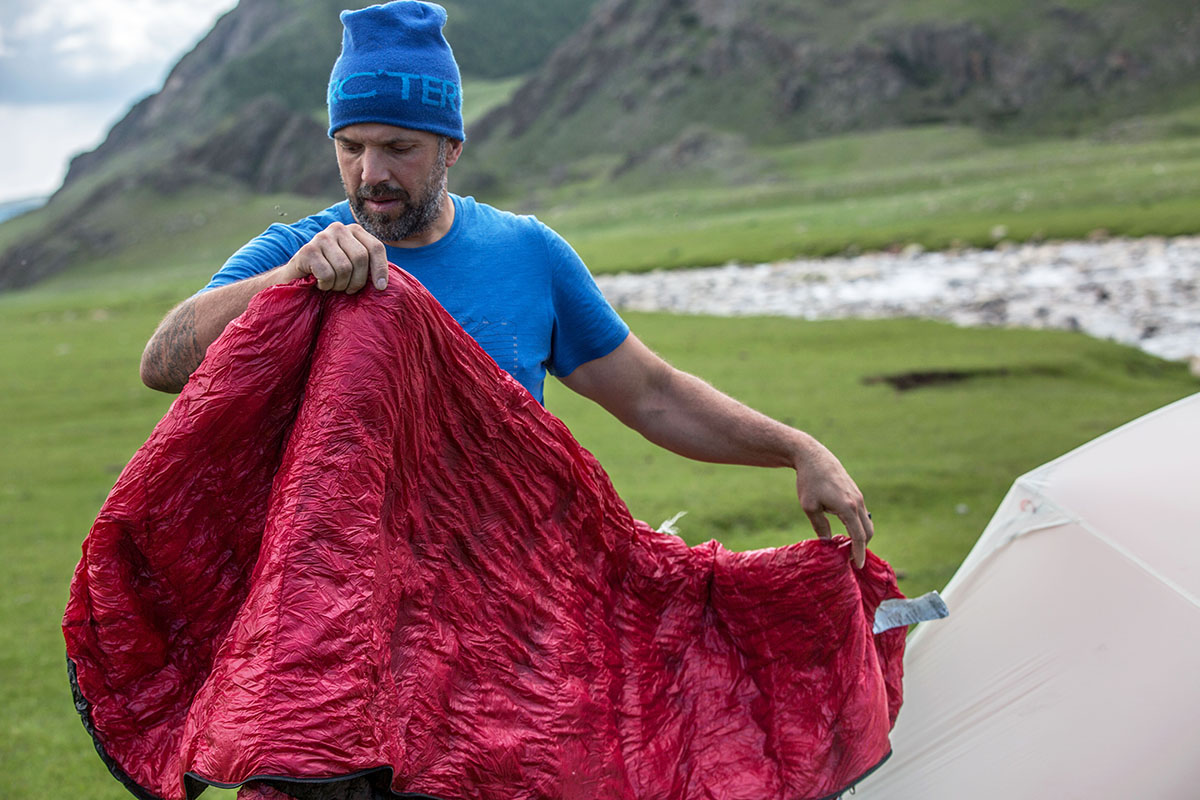 So why consider synthetic? The most common reason for most is price. Even a premium synthetic bag like the Nemo Forte 20 (not listed above due to its weight) slides in around $220, while a nice down bag doubles that (and more). In addition, synthetic performs far better than down in wet weather. While there have been improvements in down's performance in the wet thanks to the application of hydrophobic coatings on the feathers, synthetic will insulate far better if moisture enters the bag. So, for starting out, if you're looking for a budget option, or you backpack in really wet conditions, synthetic bags remain a great choice. For an even more in-depth explanation of this topic, see our article on down vs. synthetic insulation.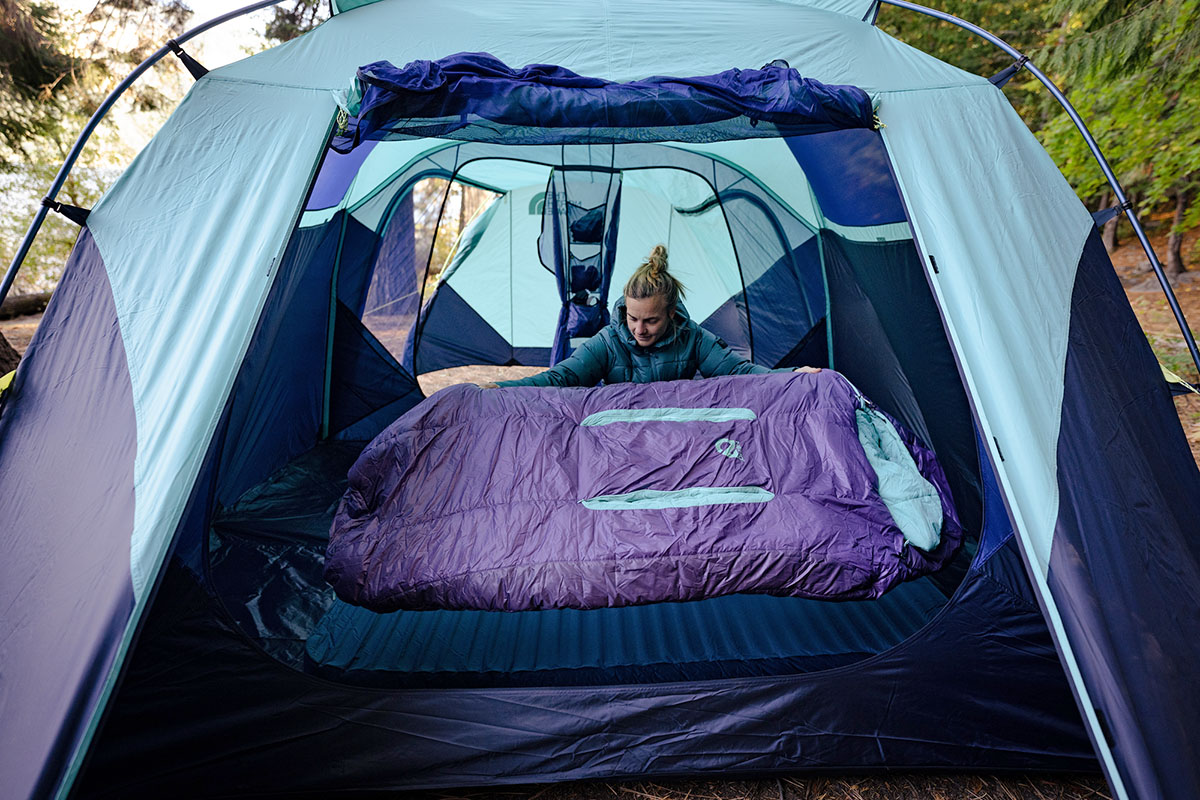 Down Quality: Fill Power
If you decide down is going to be your insulation of choice, one of the first specs to look at is the quality of a specific down, known as its fill power. Specifically, it's a measure of how much loft or fluffiness the down clusters have, and this correlates with warmth (note: both duck and goose down are measured in the same way). The highest down fill power is 1,000, and you'll see cheaper sleeping bags closer to 500. Generally, the higher the fill power, the more expensive the sleeping bag. The lower the fill power, the more it must weigh to provide similar levels of warmth. High fill powers in the 800 and 900s are great, but don't necessarily be turned off by 550- or 600-fill—it's a great way to save money on an otherwise excellent bag.

Down and Synthetic Fill Weight
Fill weight is the actual amount of insulation stuffed into a sleeping bag. If it's a close call between two bags with the same types of insulation (down or synthetic) and one or both don't have EN or ISO ratings, you can compare fill weight to get a better idea of which one will be warmer. Cut does matter here: a bag with a slender cut may have less insulation than a bag with a roomy cut despite providing similar or even more warmth. Fill weight is more helpful for a category like down jackets, which don't have EN/ISO ratings, but it's good to know here too. And it's a good visual for how much more insulation is required for a synthetic bag to compete with down. For comparison, the aforementioned Nemo Forte requires 12 additional ounces to achieve approximately the same temperature rating as the down-filled Disco.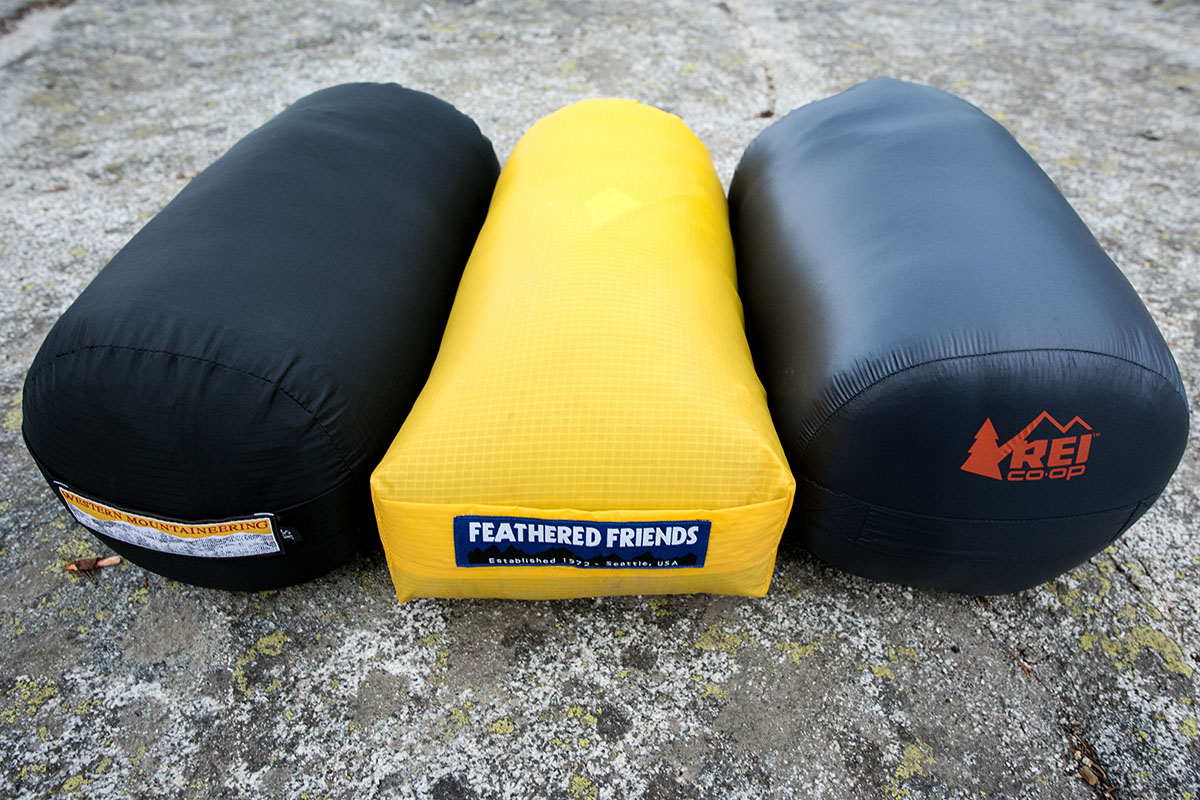 Hydrophobic Down and Water-Resistant Fabrics
Down feathers lose much of their ability to insulate when wet, so manufacturers have taken strides to provide built-in protection in the form of hydrophobic down and water-resistant shell fabrics. In the case of hydrophobic down, the feathers are coated with a polymer that protects them from moisture and keeps them from clumping. In use, this means you don't have to worry as much about brushes with water inside or outside of your backpacking tent—although you still don't want to fully soak your bag. Hydrophobic down adds a little weight but we're big fans overall, especially for those headed out in wet areas like the Pacific Northwest or New Zealand.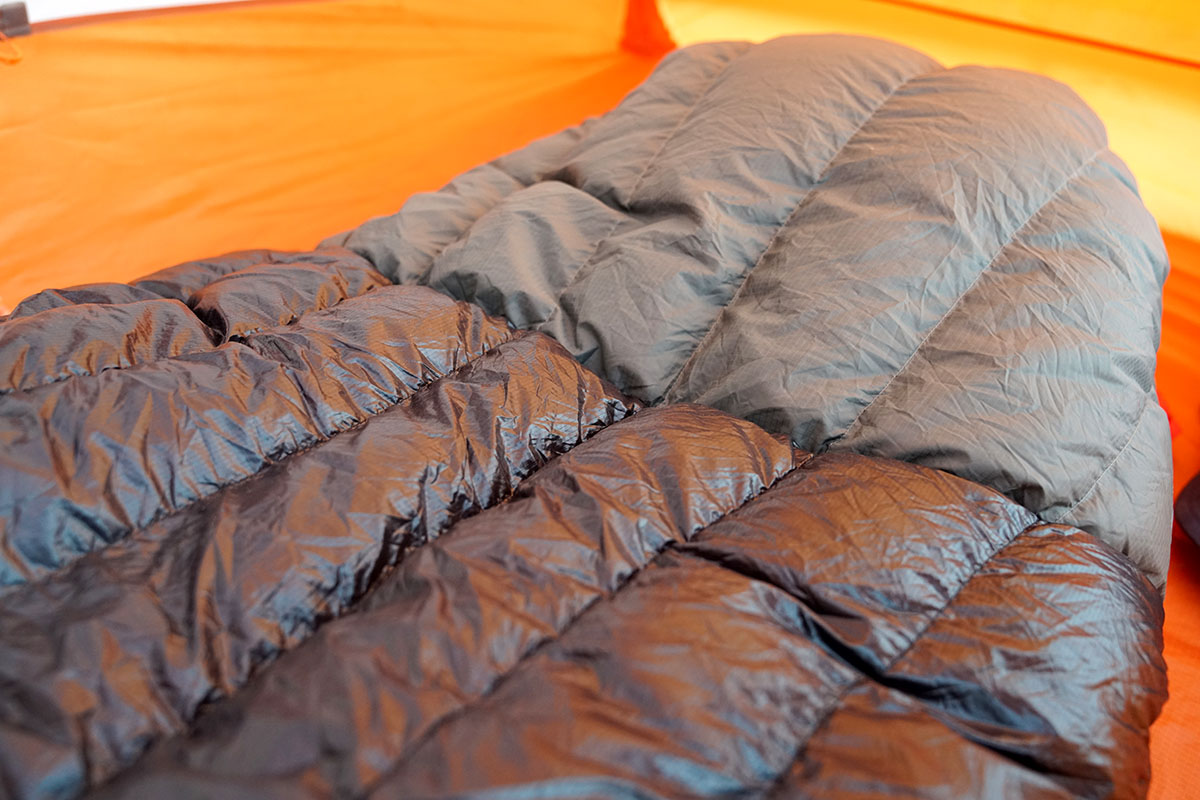 Some sleeping bags also employ water-resistant shell fabrics in order to keep moisture at bay. We see this in bags like the Feathered Friends Hummingbird YF, which features a Pertex Quantum shell with YFuse technology and a durable water repellent (DWR) finish. The goal of this combination is to bead up moisture and roll it off rather than allowing it to soak through to the down feathers beneath. Whether you're opting for a bag with hydrophobic feathers, water-resistant fabrics, or both, it's important to remember that these technologies protect against light—think condensation in a tent or dew during an open-air bivy—and will do little to keep you dry and warm in sustained or heavy rain.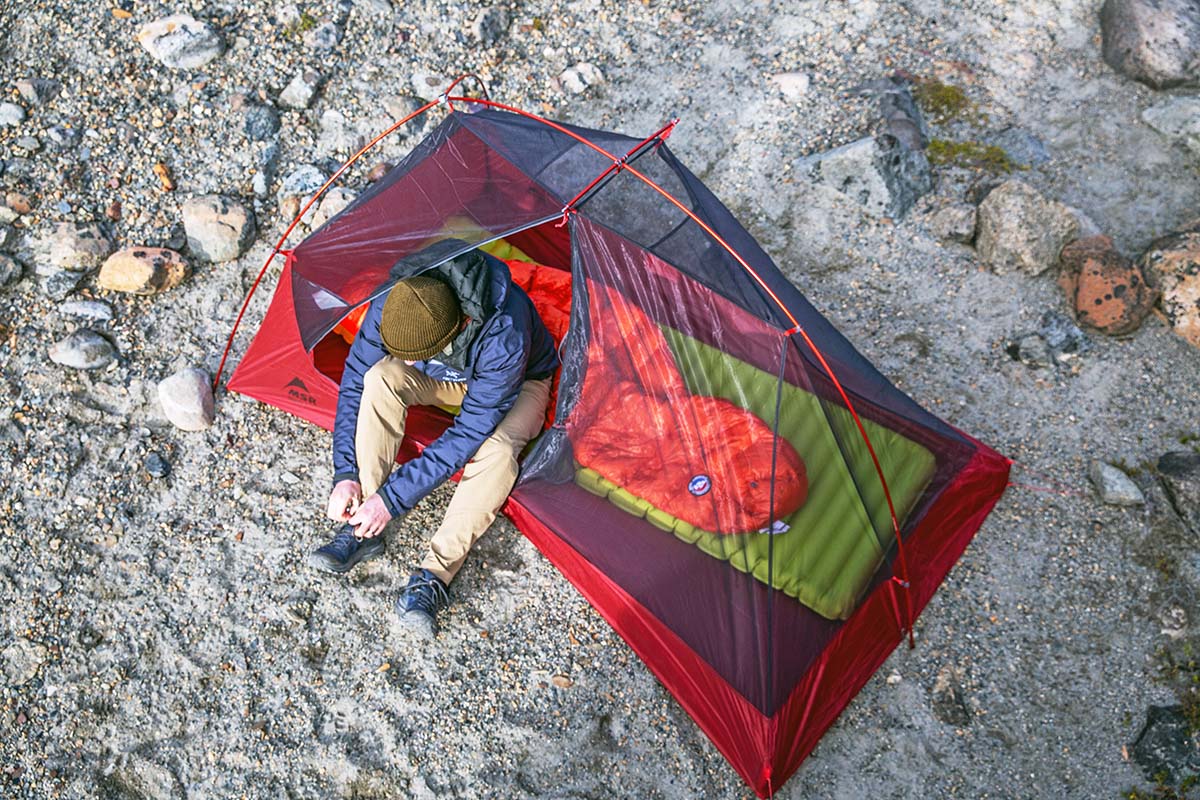 Weight and Packability
Along with your backpacking tent, your sleeping bag is one the heaviest and bulkiest items in your pack. The models here run the gamut from just 12 ounces for the ultralight Sea to Summit Spark 40 to 2 pounds 14 ounces for the roomy and warm Marmot Sawtooth 15. In general, weight is saved by using premium fill-power down (800+), thin shell fabrics and zippers (often half-length), and trimmer profiles. As is the case with virtually all categories of outdoor gear, ultralight products tend to be among the priciest on the market. To better evaluate and compare weights, we've included this key spec in each product write-up and our sleeping bag comparison table above.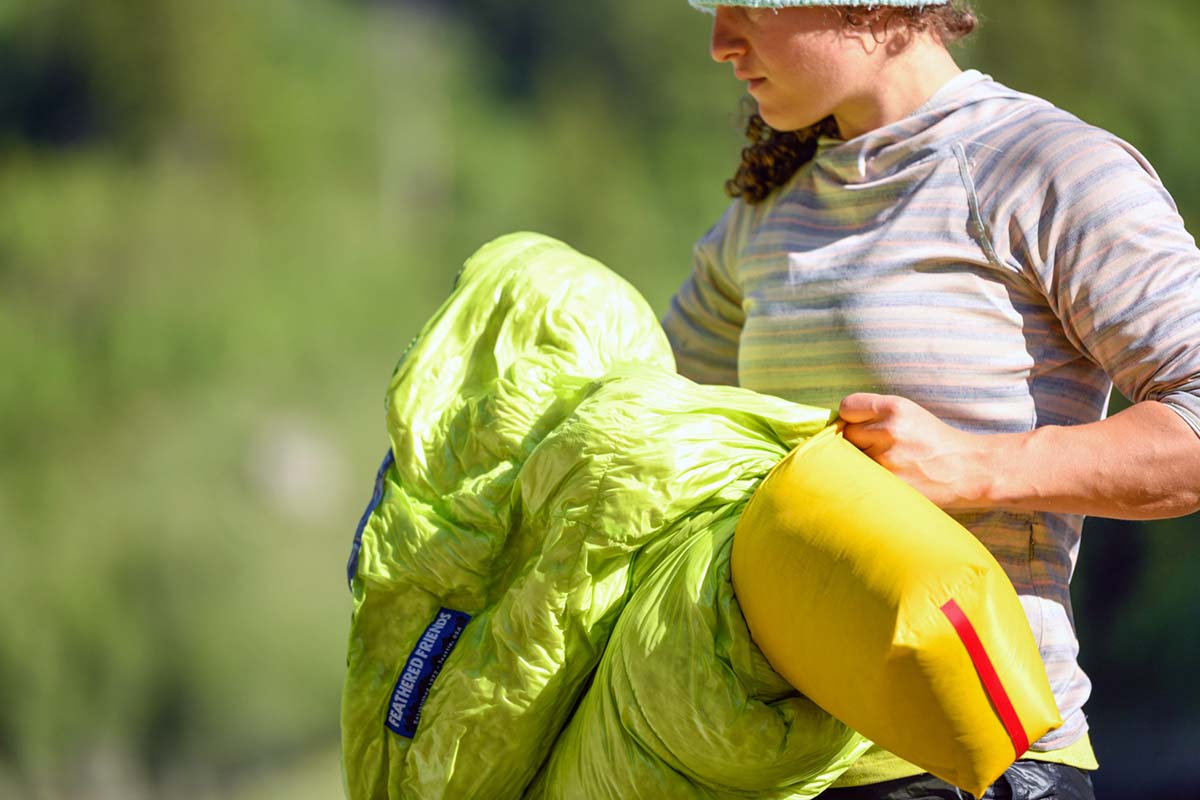 In terms of packability, it's another big selling point of premium down. Natural goose and duck down compresses in a way unmatched by any synthetic, and it's not even close. In general, higher-end down bags like the Feathered Friends Tanager will be the most compressible due to the loft of the down and use of thinner shell fabrics. Lower fill-power down and synthetic bags will be the least compressible options. Other indicators include the cut of the bag—a tapered cut will trim fabric and stuffed size—as well as the temperature rating (warmer bags have more insulation). Summer bags can get away with using less insulation and will be highly compressible as a result. 
To take full advantage of the small stuffed size potential of your sleeping bag, consider picking up a compression sack (one of our favorites due to its waterproof construction is the Sea to Summit Ultra-Sil Compression Sack). Most sleeping bags only include a non-compressible stuff sack, but this won't do your sleeping bag justice in terms of how small it can get. Do take care when using a compression sack—try to lightly compress the bag so that it fits easily into your pack without overdoing it, and don't store your sleeping bag in a compression sack for extended periods as that can permanently damage the down.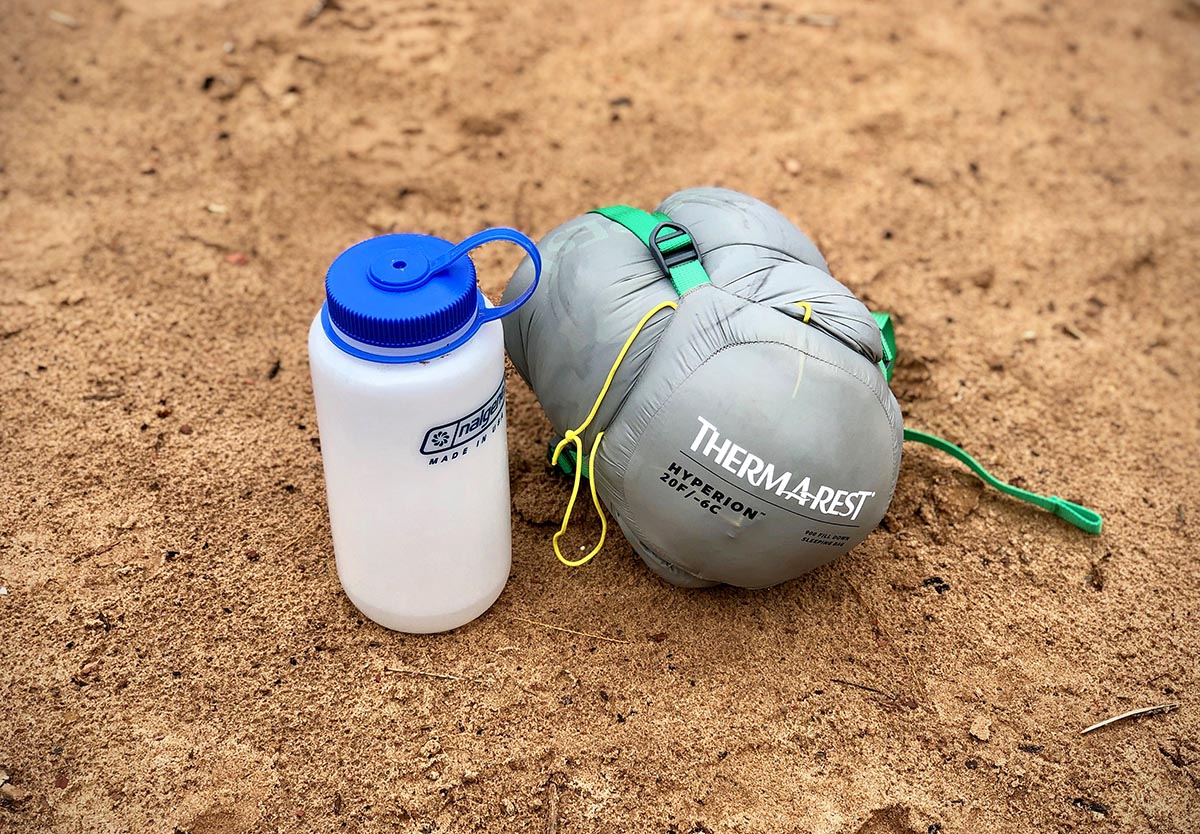 Durability and Shell Denier (D)
For sleeping bags, durability is commonly measured by the denier (D) of the shell fabric, which represents its thickness, and the higher the number the thicker the thread. At the ultralight end of the spectrum, the Feathered Friends Tanager 20 uses an incredibly thin 7D x 5D fabric, which you literally can see the feathers through. On the other hand, most 3-season sleeping bags fall somewhere in the 10D to 30D range. In general, sleeping bags are one type of outdoor gear that we don't worry much about in terms of denier. Your bag goes from storage, to the bottom of your pack, directly into your tent. Unless you bring your dog inside your tent or haul the bag out by the campfire for extra warmth, we've seldom punctured our sleeping bag. That said, given their high cost, it's unfortunate if you do (we always pack repair tape in case), so take care with the surrounding gear inside your pack and tent.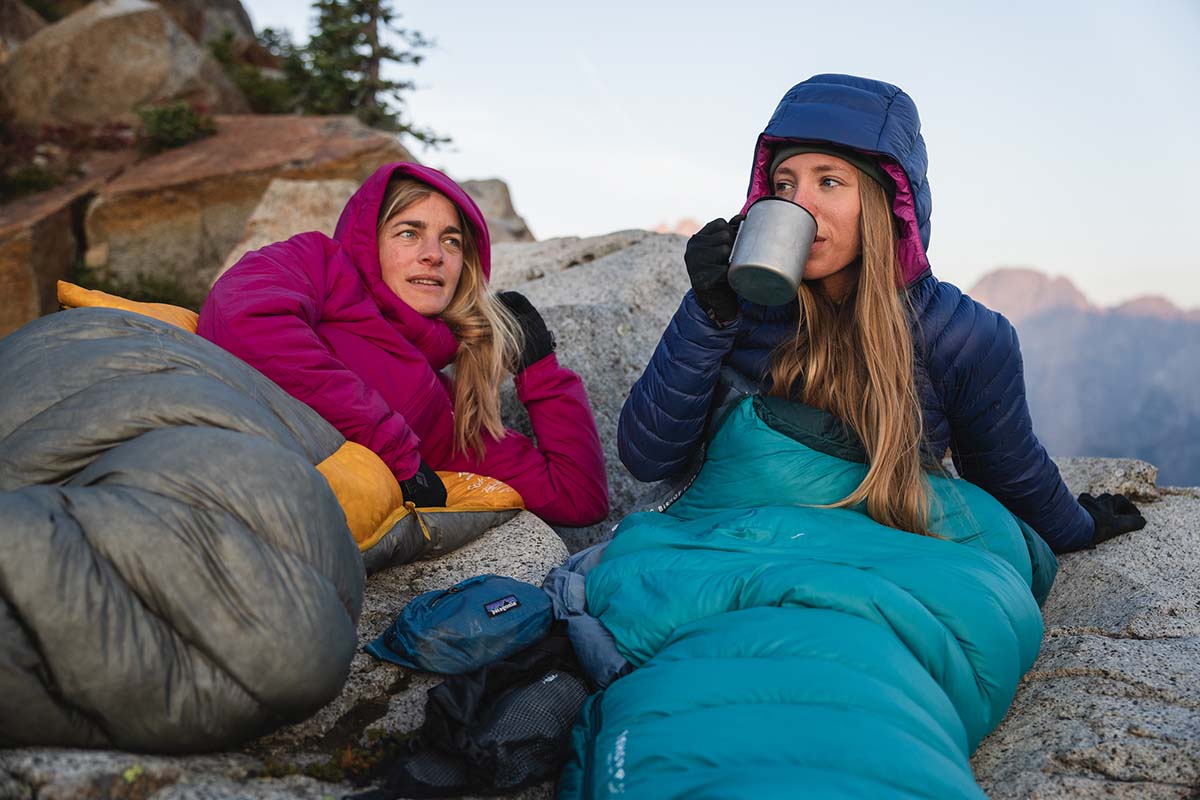 Sleeping Bag Dimensions: Profile and Length
In addition to considerations like warmth and down fill, the cut of a sleeping bag is a very important piece to analyze. The three most common points of measurement for sleeping bags are the girth (i.e. circumference) at the shoulders, hips, and feet (59"/51"/38", for example), which give you an idea as to how roomy or tapered the bag is. The shoulder and hip measurements are the most significant in terms of comfort, which is why we've included them in the comparison table above.
Many ultralight sleeping bags save weight by tapering the cut for less fabric and down. If you toss and turn at night or just prefer more space, make sure to consider a roomier bag (the spoon-shaped Nemo Disco 15 is a great example). The downsides are that these bags can feel draftier and may not retain heat quite as well, and often weigh more because more fabric and insulation are required to fill the larger surface area. The good news is that many manufacturers make the same bag in varying widths. The Western Mountaineering AlpinLite is the wider version of the UltraLite, for example, and the Feathered Friends Hummingbird and Swift are largely similar to our top-ranked Swallow but with trimmer and roomier dimensions, respectively.
In terms of length, most sleeping bags come in two or three lengths that are meant to fit men and women of varying heights. For men's bags, the regular size often is 72 inches long and the tall is 78 inches long. If the bag doesn't have a women's-specific version, you'll often see a short 66-inch option. If you are on the border and want the hood to extend over your head, it's a good idea to size up. Keep in mind that larger sizes do cost and weigh more and have a larger packed size.
 
Women's-Specific Sleeping Bags
Some backpacking bags have a women's-specific version with a different name, and others simply have a "short" version of the same bag. What can you expect with a women's-specific bag? They usually have a slightly different cut than men's or unisex models that is narrower at the shoulders and roomier around the hips. Further, the bags will have a little more insulation (often in targeted areas) and are often advertised with their comfort rating rather than their lower limit. For example, the men's REI Co-op Magma 15 has a comfort rating of 28 degrees Fahrenheit, while the women's version is 17 degrees Fahrenheit (their lower limits are 16°F and 3°F, respectively). All in all, we know women that buy women's bags and others that buy men's or unisex bags when they fit. The differences are small and it's mostly a matter a taste.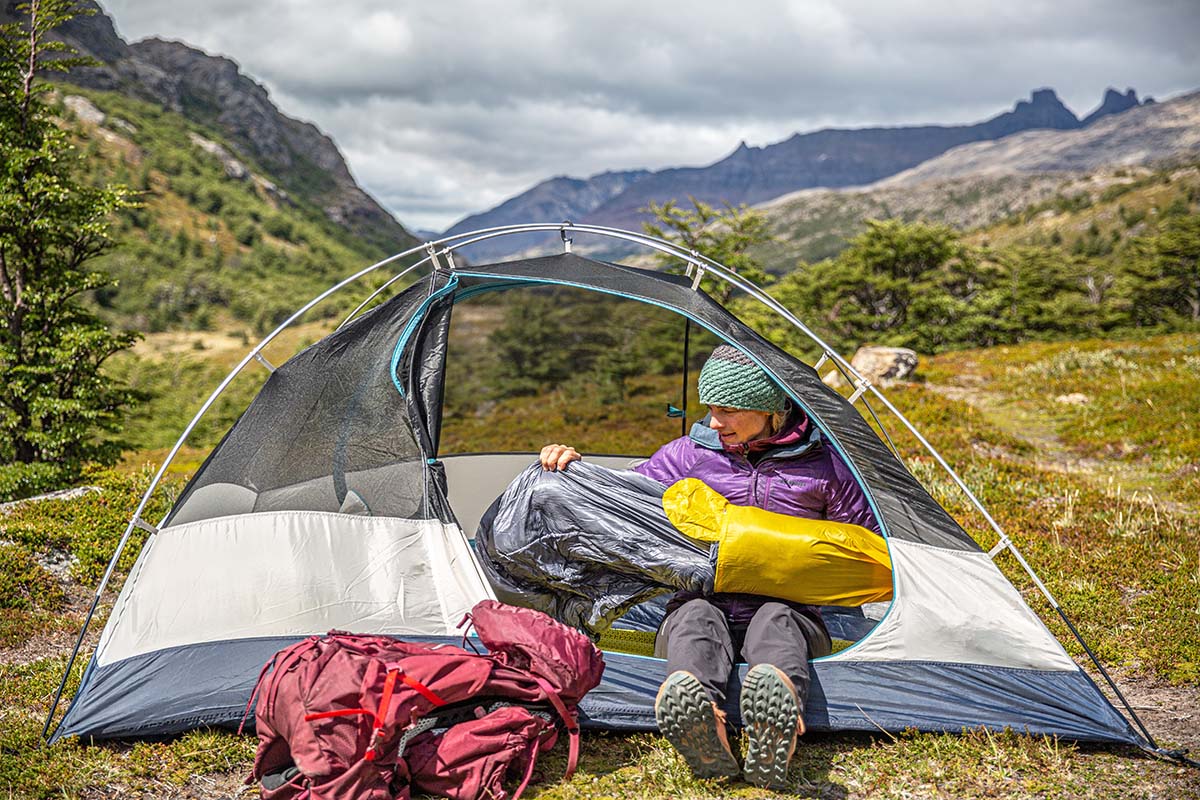 Maximizing Your Bag's Warmth
Once you purchase your bag, there are a few things to keep in mind in order to maximize warmth. Perhaps the most important consideration is your sleeping pad's R-value, which offers a measurement of how well the pad insulates you from the ground. R-values range from 1.0 (almost no insulation) to about 9.5 (winter-ready warmth), and the average 3-season backpacker should look for something in the 3 to 4 range or more. Next up, eliminating drafts can go a long way—on a cold night, make sure your zipper is closed all the way and cinch the draft collar and hood close to your neck and face. It's also a good idea to have some extra clothing in case you need it: a warm hat can help keep a lot of heat in, and some wool baselayers will help add some warmth as well (we advise against cotton). Finally, you'll want to be sure to get the right sized bag, which we address in the "Dimensions" section above.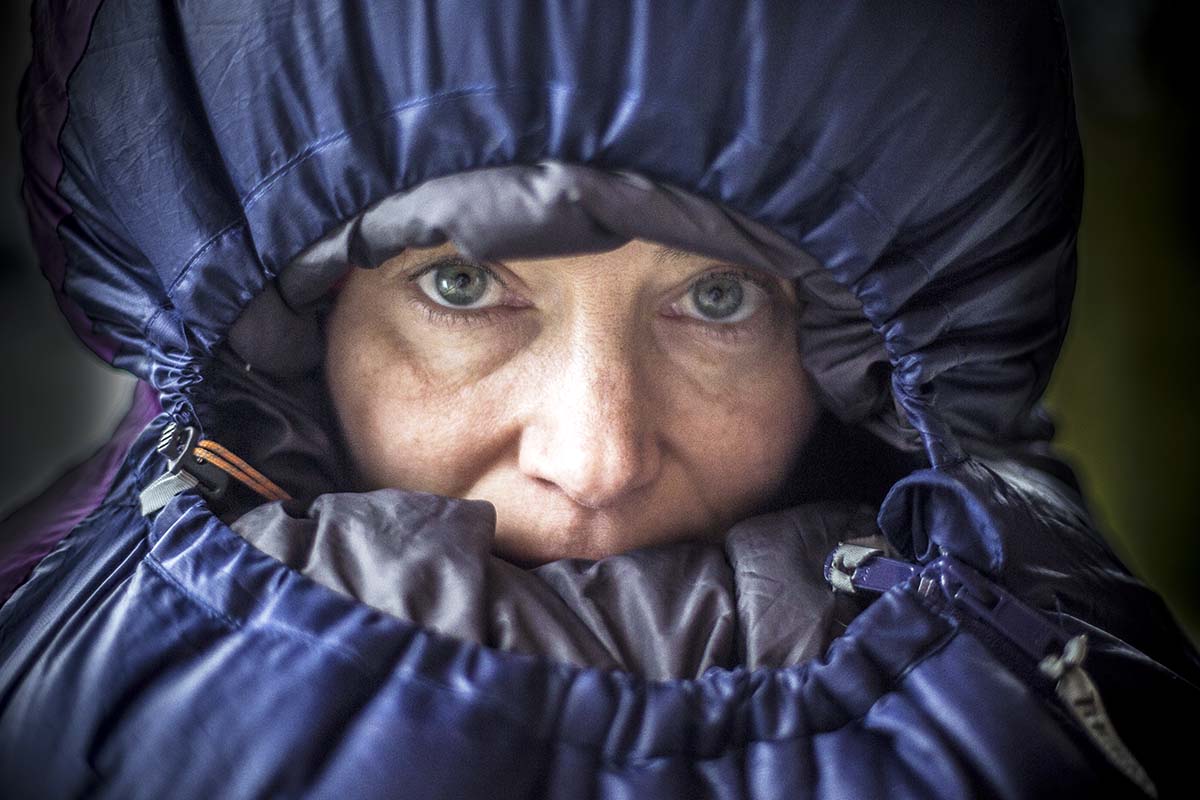 Sustainability: RDS-Certified Down, Recycled Fabrics, and PFC-Free DWR
Our impact on the environment has never been of greater concern, and it's nice to see gear companies step it up with more sustainable practices. In the world of sleeping bags, common features include responsibly sourced down, recycled materials, and PFC-free durable water repellent (DWR) finishes. When shopping for sleeping bags with responsibly sourced down, look for an RDS certification or (in the case of Patagonia) Advanced Global Traceable Down. All of these buzzwords translate to greater transparency in down sourcing and ensure the birds were treated humanely and not subjected to unnecessary harm, such as force-feeding or live-plucking. 
Many companies now also make their sleeping bags with recycled fabrics, including Patagonia, REI Co-op, and Mountain Hardwear. Nemo recently threw their hat into the ring with the Endless Promise collection, which includes fully recyclable gear (the synthetic Forte sleeping bag is one example) that can be repurposed at the end of its lifespan. Finally, we've started to see PFC-free DWR finishes from almost all companies, which eliminate the use of perfluorinated compounds (PFCs)—chemicals that have been linked to a range of environmental and health issues.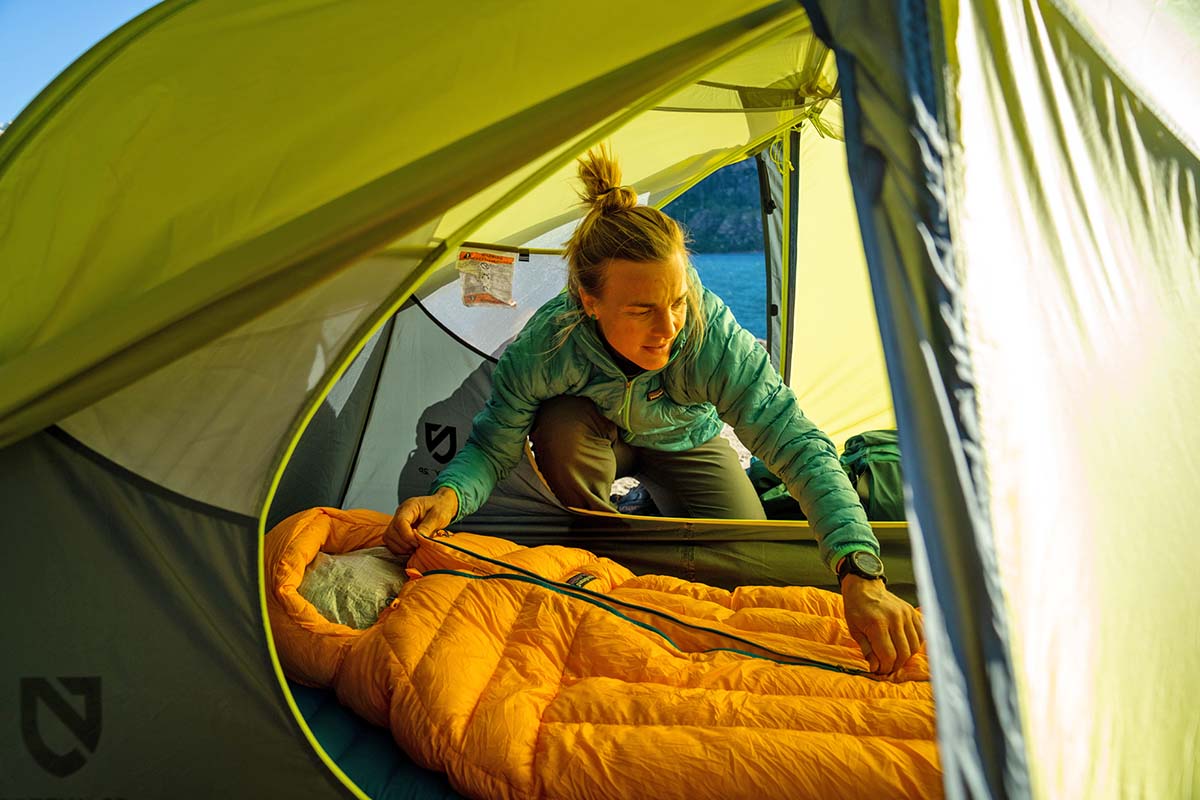 Backpacking Sleeping Quilts
Sleeping quilts fall into a different category than sleeping bags, but they're worth mentioning for those who run particularly warm or want a lighter option. A sleeping quilt (we include the Enlightened Equipment Enigma above, but you can find all of our recommendations in our buyer's guide to the best ultralight sleeping bags and quilts) is a minimalist backcountry sleep system popular among ultralighters and thru-hikers, characterized by an open back (read: no zipper) and emphasis on weight savings. Quilts feature enclosed or cinchable footboxes, connect to your sleeping pad via included straps, and cinch around the neck to provide wrap-around and (hopefully) draft-free protection.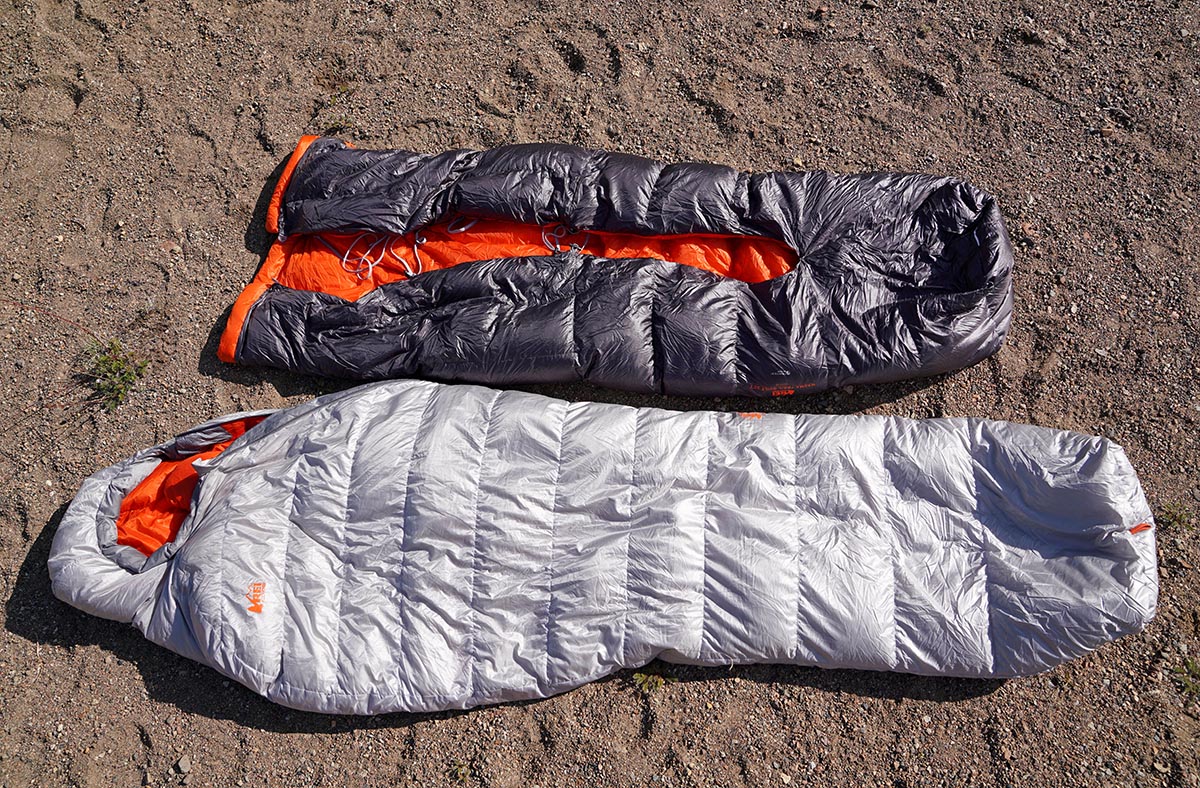 The sleeping bag vs. quilt debate comes down to personal preference. Some backpackers (including one of our editors) swear by quilts and love that they're lightweight, focus the insulation on top of the body (your sleeping pad should take care of the underside), and ventilate well on warm nights. But not everyone is keen on the compromises: You have to bring proper head coverage (a beanie will do), the quilt/sleeping pad system isn't always perfect and can let in drafts, and you might feel particularly vulnerable on cold nights. All in all, most recreational backpackers will prefer the coziness and simplicity of a lightweight mummy bag, but quilts are a viable option and especially great for warm nights.
Back to Our Top Sleeping Bag Picks  Back to Our Sleeping Bag Comparison Table
Learn More About Outdoor Gear