For thru-hikers, bikepackers, or anyone looking to travel light and fast, an ultralight sleeping bag or quilt is a no-brainer purchase that can shave noticeable weight and bulk from an overnight kit. But the choice between the two styles can be tricky, as both have unique sets of advantages and disadvantages. Below, we outline ultralight sleeping bags and quilts and detail their main distinctions, including warmth, weight, temperature regulation, setup, and more. For a list of our top picks and more buying advice, see our article on the best ultralight sleeping bags and quilts.

Ultralight Sleep Systems
Sleeping Bags
Most outdoorspeople are familiar with traditional mummy bags, but ultralight sleeping bags need a bit more explanation. These lightweight pieces take on the design of a mummy bag (narrow at the feet, wider at the shoulders, a hood around the head) and streamline it even more with thinner shell materials, higher-fill-power down, half-length (or shorter) zippers, and smaller dimensions. Some ultralight bags even drop the hood and zipper altogether for a tube-style design that offers exceptional warmth for weight (but at the expense of temperature regulation). And it's important to note here that sleeping bags are such effective insulators in large part due to their draft-free design that fully encloses the body (including the head), keeping warm air in and cold air out.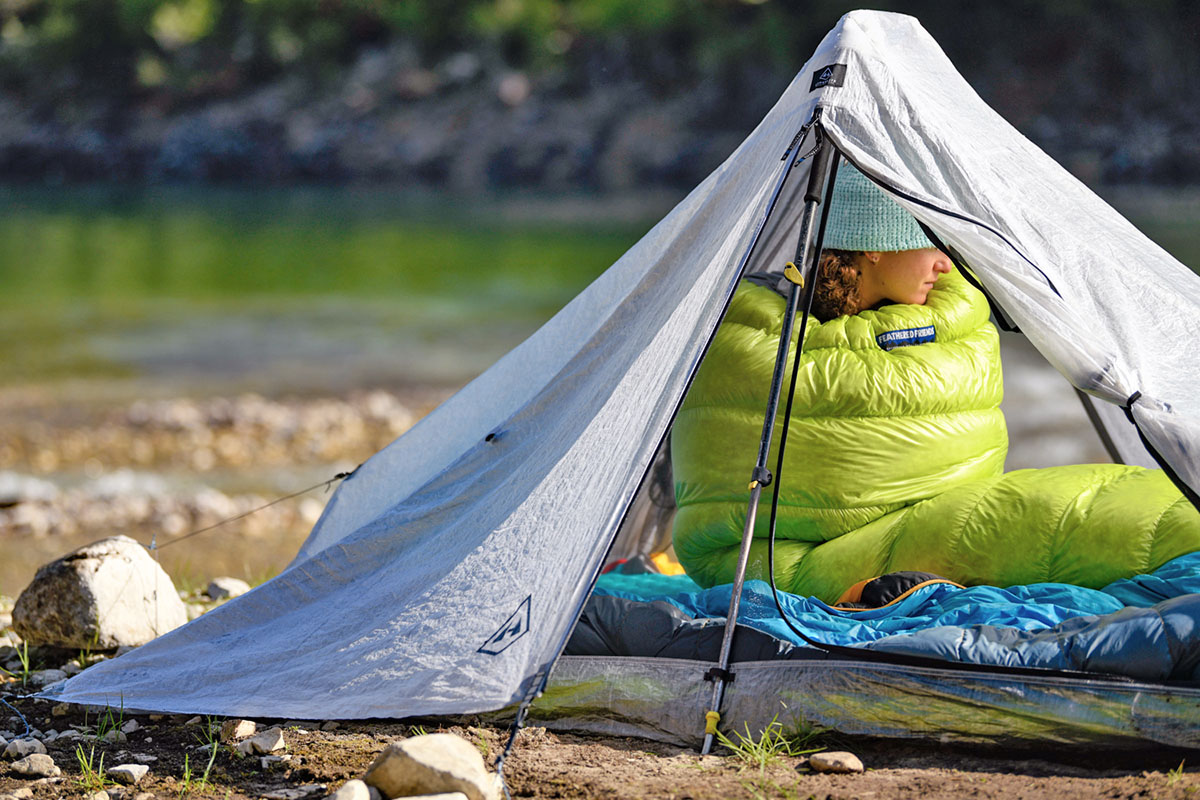 Backpacking Quilts
Backpacking quilts are more of a niche piece for ultralight backpackers and those sleeping in hammocks, but they deserve a close look from anyone hoping to streamline their overnight kit. The design of a quilt builds off the idea that the feathers on the underside of your bag don't offer much in the way of insulation—they're mostly compressed by the weight of your body. Thus, a quilt removes the hood and back (but not the foot box) from a traditional mummy bag, offering insulation only on the front and sides of your body. Quilts known as "top quilts" simply drape over the body, whereas the majority of designs come with pad attachments to create a closed system with your sleeping pad.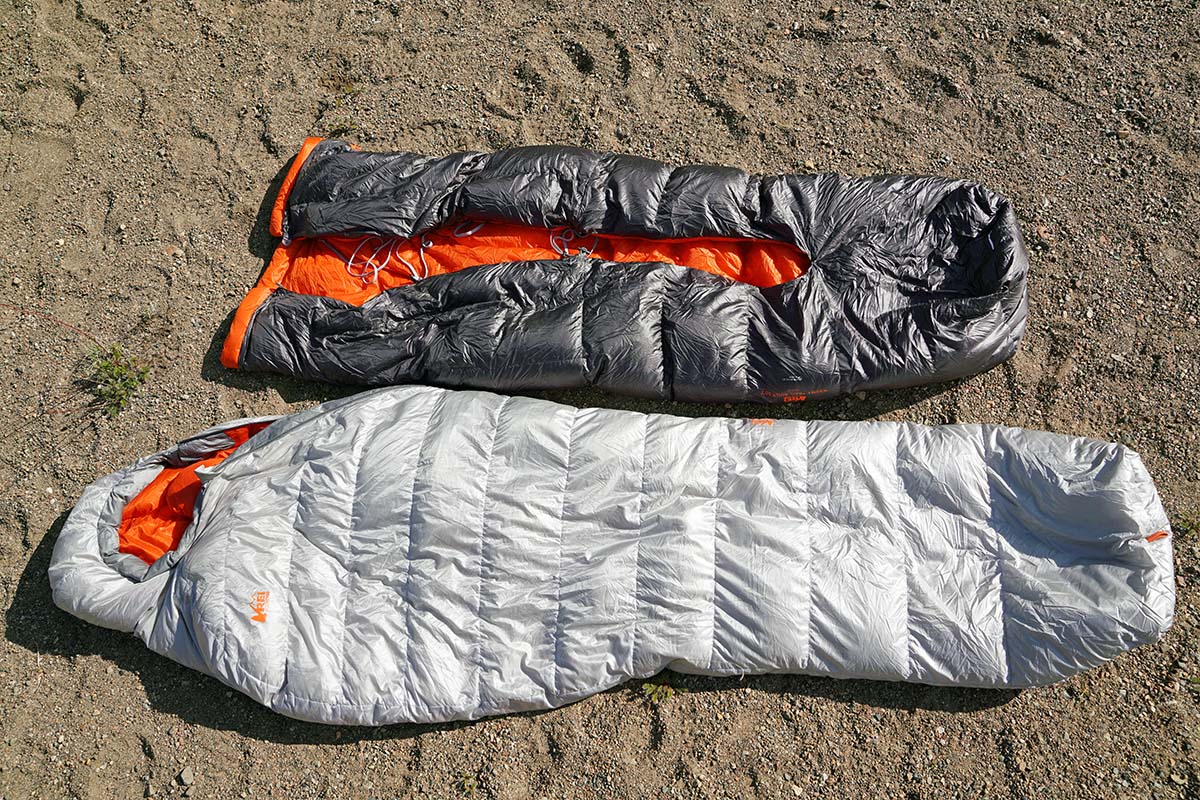 Many—although not all—quilts have rear closures that allow you to secure them around you like a sleeping bag (especially useful if you're not pairing your quilt with a pad). In the name of weight savings, these closures are generally limited to 1 to 3 buckles or clips across the back opening. Further, some quilts have foot boxes that close shut with a zipper or snaps and a bottom drawstring (this gives you the versatility of using the quilt as a blanket). These closures ensure that the quilt stays around you while you sleep but ultimately do little in terms of draft protection. In the end, quilts often are lighter than sleeping bags but draftier, too.

Sleeping Bag/Quilt Hybrids
It's worth mentioning that there is a tiny subgroup of sleeping bag/quilt hybrids that retains many characteristics of both. For example, the Feathered Friends Flicker UL essentially is a hoodless sleeping bag with a full-length zipper, and the dimensions are such that you are able to completely enclose yourself. Yet on warmer nights, it unzips all the way down through the foot box and has a cinch closure there, so it functions like a quilt in terms of being able to open up like a blanket. Another hybrid option is the Therm-a-Rest Ohm, which has a similar design in a slightly lighter package. Both are super versatile ultralight sleep systems that cross over from cold to warm better than most and can even be used as a blanket for two in a pinch.

Performance Considerations
1. Warmth: Sleeping Bags
All else being equal, sleeping bags are the clear winner when it comes to warmth. During a cold night, it's hard to beat the heat retention of a tightly cinched bag and hood. Conversely, even when snugly secured to a sleeping pad, quilts cannot guarantee a draft-free sleep, nor do they extend over the head for a full cocoon.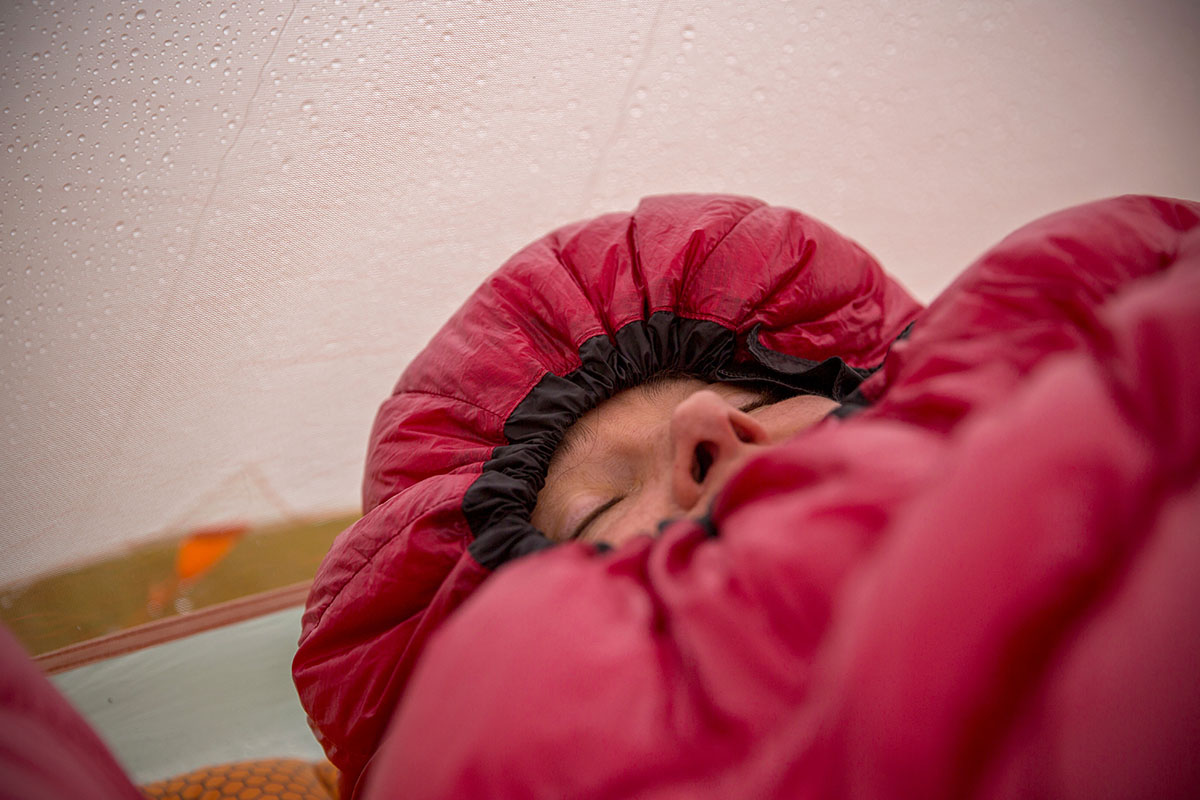 However, it's not as cut-and-dry as we'd like. In fact, in comparing a bag and quilt with the same temperature rating (the 30-degree REI Co-op Magma and Magma Trail, for example), it's common to see more down fill in the quilt (in this case, 2 oz. more), which equates to more warmth (specifically on the top and sides of the body). Further, many sleeping bags will sacrifice features like a hood or draft collar in the name of weight savings. This stripped-down design (seen in bags like the Feathered Friends Tanager) removes much of the heat-trapping ability of a mummy bag, bringing it closer in line with the protection of a quilt. And to challenge the comparison even more, quilts do not undergo the same EN/ISO standardized temperature testing that many sleeping bags do (for more on this, see our article on sleeping bag temperature ratings). All told, you can expect a fully featured sleeping bag with similar loft to be warmer than a quilt—but it's important to dig deeper for true comparisons.
Last but not least, your sleeping pad is a very important component of your sleep system (whether you're in a sleeping bag or a quilt) and should not be overlooked. Most sleeping pads are given a warmth rating listed in R-value (ranging from about 1 to 8), which is a good place to start when determining how well it will insulate you from the ground. In general, most 3-season backpackers can stick with an R-value around 3 or 4, while winter campers will want to bump up to an insulated model with R-value of 6 or 7. The Therm-a-Rest NeoAir XLite NXT hits a nice balance of weight and insulation, with an ultralight build (13 oz.) and 3-season-ready R-value of 4.5.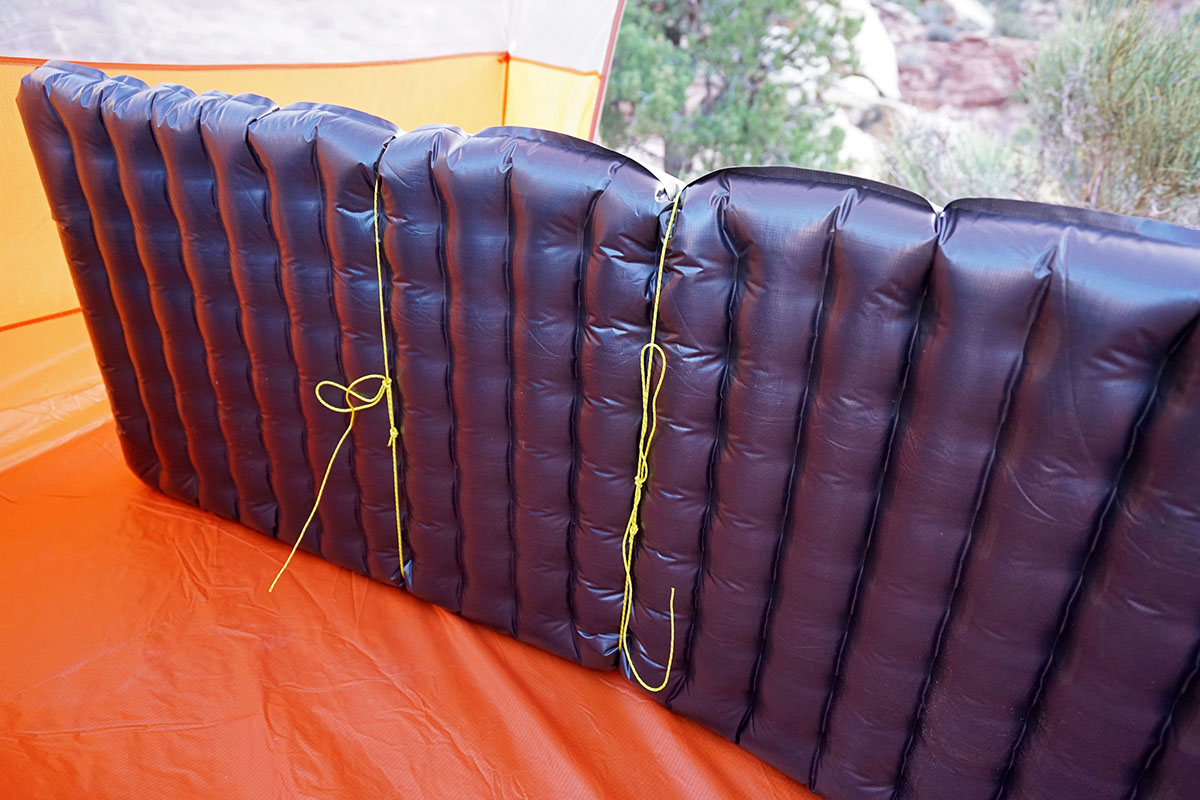 2. Weight and Packability: Quilts
Ultralight enthusiasts always are looking for ways to shave weight and bulk from their packs, and the back of a sleeping bag is an obvious target. With less material and neither a hood nor zipper, quilts cut all superfluous features from a bag in the hopes of dropping a few ounces as well. And in general, they are the lighter and more packable pieces of gear (although as we mentioned above, it can be challenging to make true apples-to-apples comparisons). For example, consider the Western Mountaineering UltraLite sleeping bag and Zpacks Solo Quilt, both of which are rated to 20 degrees. The two have relatively similar amounts of down (16 oz. of 850-fill and 13.7 oz. of 900-fill respectively), but the UltraLite weighs 1 pound 13 ounces versus the Solo's 1 pound 2.7 ounces. But the difference isn't always so stark—the 30-degree REI Magma quilt weighs only 0.8 ounces less than the 30-degree sleeping bag.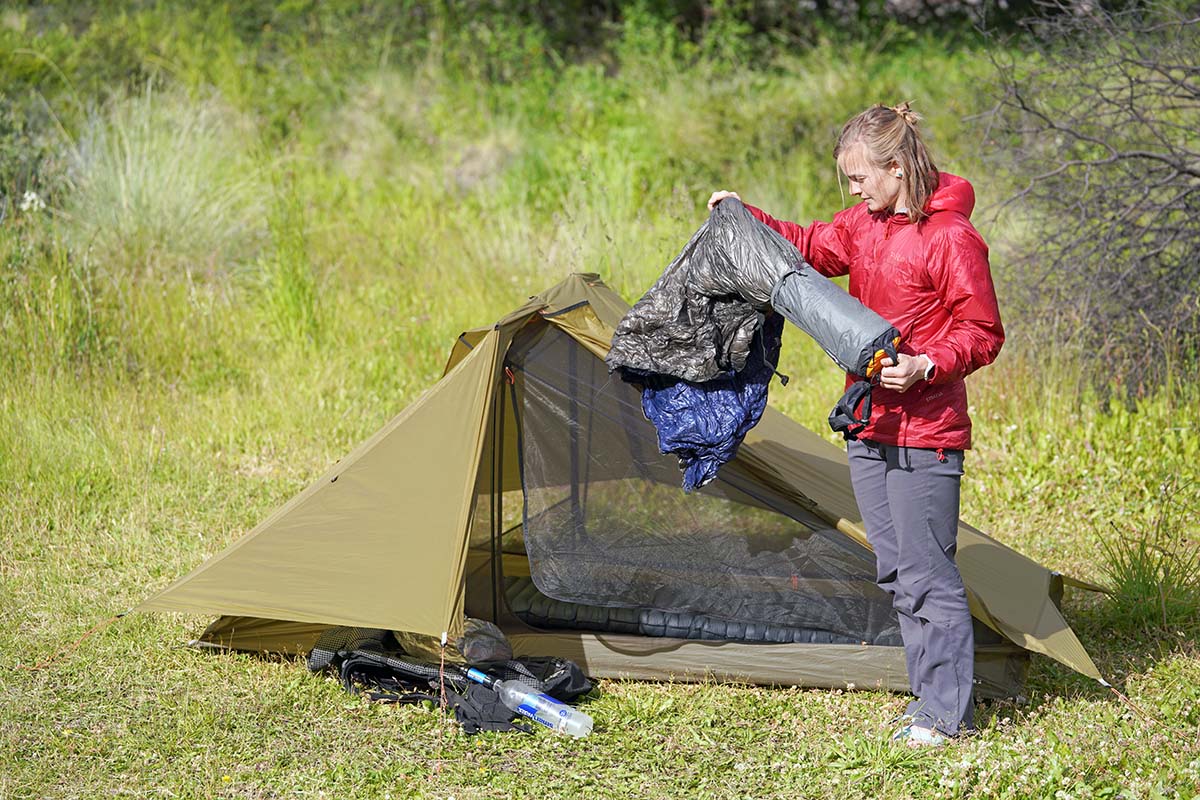 3. Warmth-to-Weight: Tie
We put it all together here with the warmth-to-weight ratio, which is the best way to measure the efficiency of a sleeping bag or quilt. As we've mentioned above, this can be a tough comparison to make, as measuring warmth is not an exact science. To get the most accurate comparison, we'll look at Zpacks' Solo Quilt and Full Zip Sleeping Bag, both of which are rated to 20 degrees. Both contain 13.7 ounces of down and have the same dimensions, but the quilt has an all-in weight of 1 pound 2.7 ounces, while the sleeping bag comes in at 1 pound 5 ounces. Looking at the numbers alone, the quilt is the clear winner in terms of warmth for the weight (it has the same amount of down for over 2 oz. less), but remember that the zipperless design can be drafty. If drafts weren't an issue (and for many they might not be), the quilt would get the clear edge, but unfortunately the formula is not entirely black and white.
In the end, you'll want to check the individual specs of each bag or quilt to determine if it has a competitive warmth-to-weight ratio. Some bags will be more efficient than quilts and vice versa. But if you remember anything from this article, let it be this: Weight is not the only determining factor that will help you choose between a sleeping bag and quilt—nor should it necessarily be the first. Below are other important distinctions that are worth considering.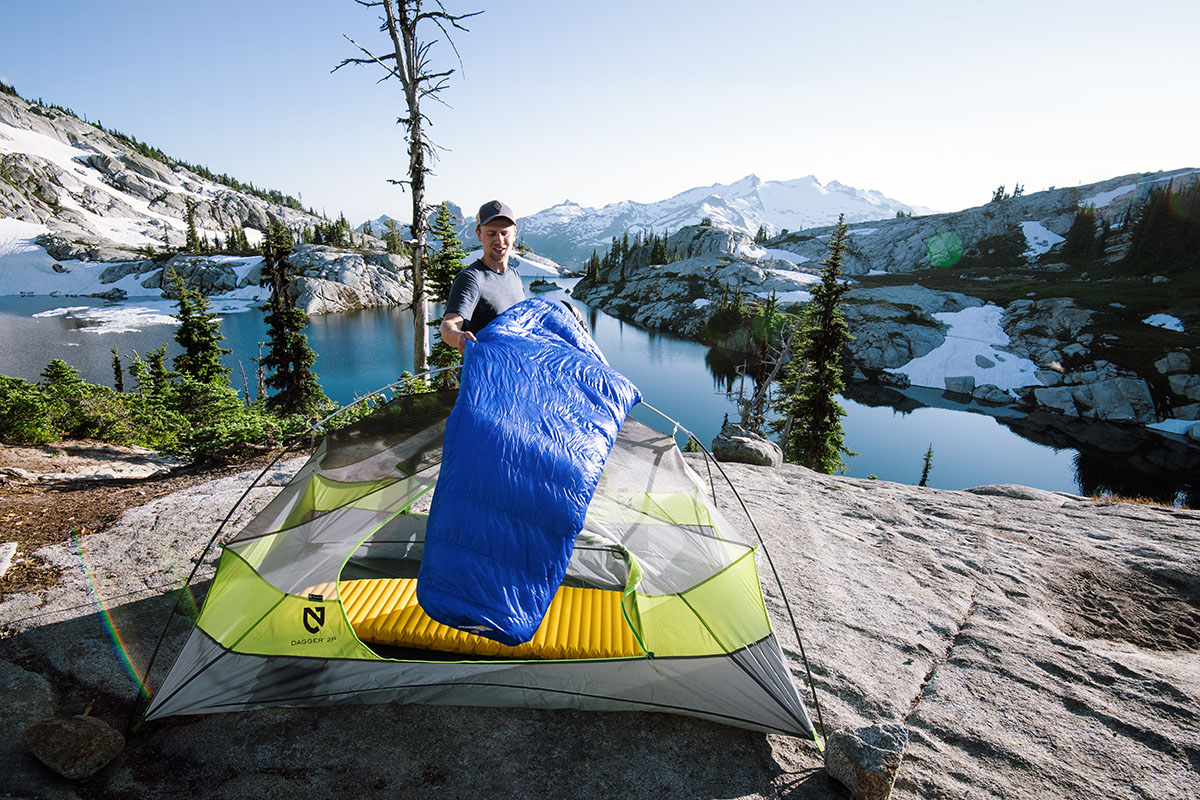 4. Temperature Regulation: Depends on the Model
In terms of temperature regulation, both sleeping bags and quilts have their strengths and weaknesses. On a cold night, we love the ability to zip our sleeping bag past our neck, cinch the baffled collar close, and snug the hood around our face. And on a warm night, a bag with a full zip can turn into a pseudo-quilt by undoing the zipper all the way and draping it over our body. However, not all sleeping bags are created equal—especially ultralight bags—and with a zipperless or partial-zip model, you're at risk for overheating on a warm night. In fact, we've spent many a night in the 1/2-zip Therm-a-Rest Hyperion 20 alternating between too warm (inside the bag) and too cold (bag draped overtop). To sum it up, full-zip bags offer class-leading temperature regulation (on both cold and warm nights) for a considerable weight penalty, whereas partial-zip or zipperless bags offer lower weights for a considerable temperature-regulation penalty. 
On the other hand, a quilt can be a fantastic, lightweight choice for temperature regulation on all but the coldest nights. In balmy weather, simply drape the quilt on top of your body, which offers ventilation on par with a cozy down blanket. And when the mercury drops, a quilt with sleeping pad attachments will allow you to cinch your bag close to your body (a là a sleeping bag). Keep in mind that you don't get this level of temperature regulation with an uber-lightweight "top quilt" (no pad attachment or rear closure). And as we've mentioned above, when you really want to batten down the hatches, a quilt can't truly compete with the draft protection of a sleeping bag.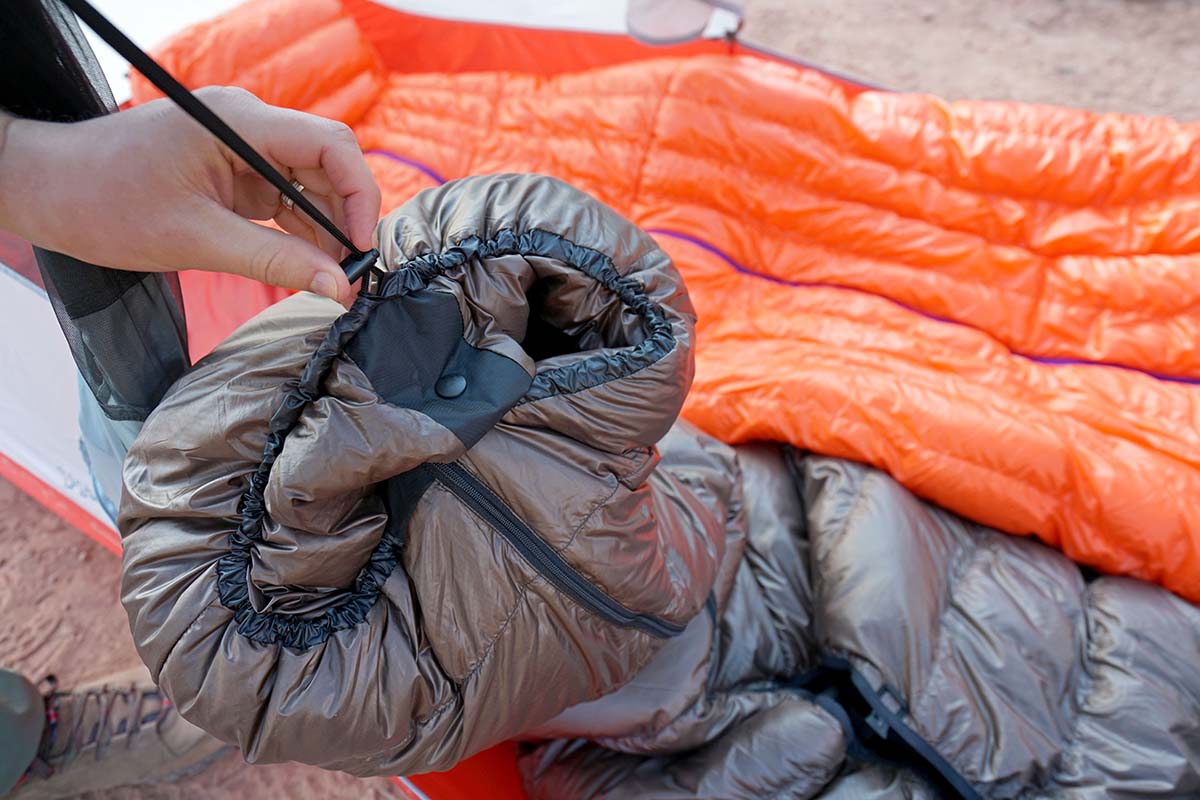 5. Ease of Setup: Sleeping Bags
When it comes to setting up your sleep system, sleeping bags have the clear advantage. In fact, there's virtually no setup required—simply unstuff your bag, lay it on your sleeping pad, and hop in. Dialing in your quilt, on the other hand, takes a bit more time, specifically if you'll be attaching it to your sleeping pad or securing it shut via the rear closures. Further, you can adjust the fit on these attachments to achieve the desired amount of comfort, temperature regulation, or draft protection. As is common with ultralight gear, it pays to "geek out" on your gear, customizing it for your specific use.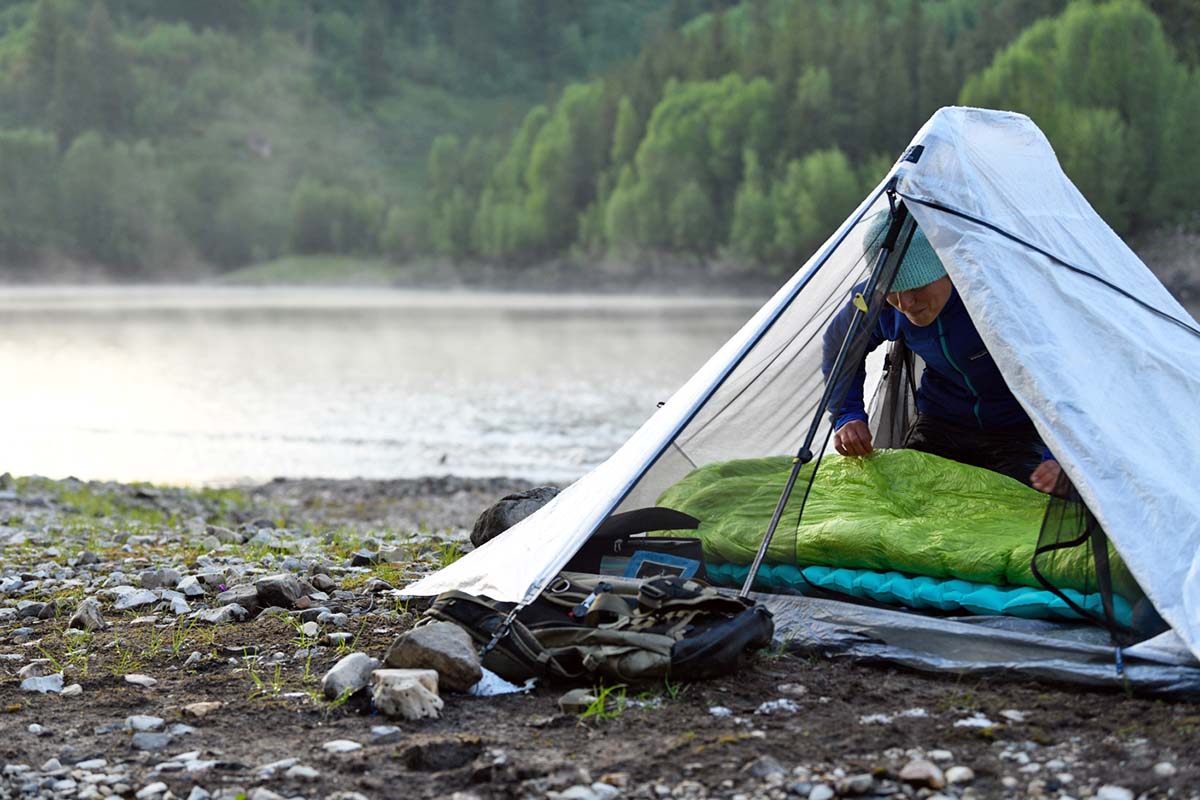 6. Purchasing Process: Tie
It might seem strange to mention the buying process here, but we felt it was prudent given the differences between acquiring a sleeping bag or quilt. Many quilts are made by cottage brands, meaning that they're custom-built to order and only available online. And the "custom-built" here is significant: Brands like Loco Libre, Katabatic, Hammock Gear, Enlightened Equipment, and Zpacks allow you to choose between up to 16 sizes (including varying lengths and widths) and add or subtract features such as pad attachments, foot-box zippers, extra down fill, more durable face fabric, and more. This ability to customize is a huge advantage, especially for those with particularly small or large frames or ounce-counters looking to get exactly what they need (and nothing more).
However, given their made-to-order nature, most cottage-brand quilts will take longer to arrive at your doorstep, with often a month or more of wait time. Further, you won't see them on the shelves of your local outdoor shop, meaning there's no opportunity to "try on" before you buy. On top of that, most quilts don't come with an ISO-assigned temperature rating, which makes comparisons a bit trickier. Conversely, most sleeping bags are made by mainstream brands, meaning they're easy to find and acquire immediately. All that said, quilts are becoming more commonplace, with companies like REI, Western Mountaineering, and Therm-a-Rest trying their hand at the ultralight game. You won't get the same customization that cottage brands offer, but you do get the convenience of buying quickly and from a major retailer.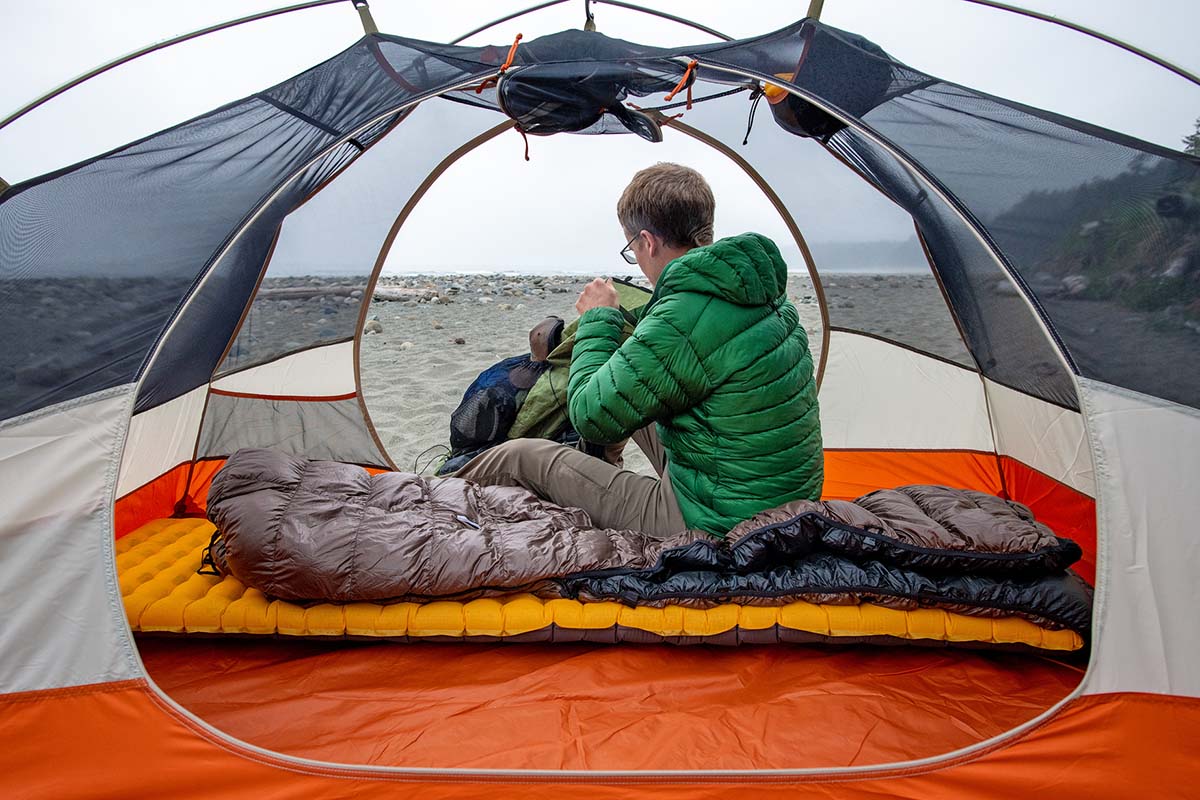 7. Price: Quilts
Given that they're made with fewer materials (including fabric, hoods, and zippers), you'd expect quilts to be slightly cheaper than sleeping bags—and in general, they are. In fact, the average sleeping bag on our list of top ultralight picks is $422, whereas the average quilt is $404. Keep in mind that there are some outliers (the Marmot Micron sleeping bag, for example, is $179, and the Katabatic Gear Palisade quilt starts at $385). But despite the generally lower cost of quilts, remember that buying from a large-scale retailer like REI (read: sleeping bags) often means you have access to a better (or at least more convenient) return policy and warranty.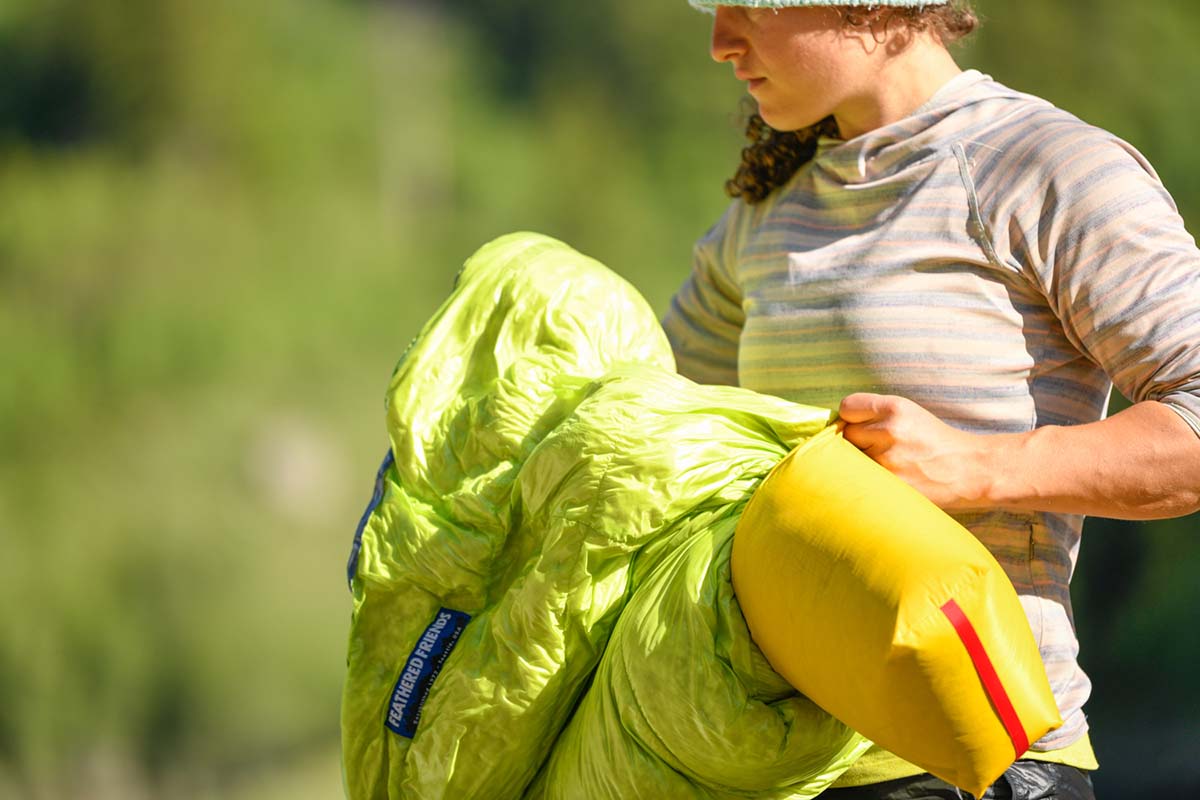 Should You Buy a Quilt?
Still wondering if a quilt is right for you? Simply put, for the right sleeper and the right time and place, they can provide a combination of weight savings and temperature regulation that is superior to ultralight sleeping bags. And for what it's worth, we used to be huge skeptics but now opt for a quilt in most cases. Below are our final criteria to help you decide on the right setup for your needs—if you answer yes to any or all of our questions, a quilt might be right for you.
Are you open-minded?
Do you prioritize lightweight gear above all else?
Do you generally sleep in mild (above-freezing) temperatures?
Are you willing to take a few minutes to tweak your sleep setup each night?
Do you tend to run warm in your sleep?
Do you ever wish for the option of a blanket instead of an enclosed sleeping bag?
Do you have a broad frame that feels too confined in a trim, ultralight sleeping bag, or do you like to spread out when you sleep?
Are you looking for the most bang for your buck?
 
Our Sleeping Bag and Quilt Picks
Whether you think a sleeping bag or a quilt is the best bet for your needs, below are our top selections of each. For even more picks and detailed information, see our full article on the Best Ultralight Sleeping Bags and Quilts.
Sleeping Bags
Best Overall Ultralight Sleeping Bag: Feathered Friends Hummingbird UL 30
Best Budget Ultralight Sleeping Bag: REI Co-op Magma 30
Best Hoodless Ultralight Sleeping Bag: Feathered Friends Tanager 20 CFL
Best UL Sleeping Bag for Warm Weather: Sea to Summit Spark
Quilts
Best Overall Backpacking Quilt: Enlightened Equipment Enigma
Best Budget Backpacking Quilt: Hammock Gear Economy Burrow
Best Hybrid Sleeping Bag/Quilt: Feathered Friends Flicker UL
Best Backpacking Quilt for Warm Weather: Western Mountaineering NanoLite
Learn More About Backpacking Gear