Specialized Recon 2.0
Price: $170
Pedal compatibility: Clipless
Weight: 1 lb. 9.2 oz.
What we like: Comfortable with well-rounded performance on and off the bike.
What we don't: Wide toe box detracts from pedaling efficiency; ineffective Velcro strap.
See the Specialized Recon 2.0
Specialized's S-Works Recon is a highly technical mountain bike shoe that's purpose-built for dedicated racers, but the minimal cushioning and snug fit limit its comfort and overall appeal. Enter the Recon 2.0, which maintains a good amount of the S-Works' on-trail performance but in a much more approachable design. In testing the Recon, I was especially impressed by its effective balance of comfort (both on and off the bike), stiffness, and power transfer, earning it the title of my favorite new cycling shoe. Below we break down our experiences with the Recon 2.0. To see how it stacks up to the competition, see our article on the best mountain bike shoes.
 
---
Table of Contents
---

Performance
Comfort
Comfort can be fairly subjective, but I feel that Specialized knocked it out of the park with the Recon 2.0. In fact, I'd go so far as to say it's the most comfortable mountain bike shoe I've worn to date. Out of the box, the Recon felt great with no rubbing or pressure points (the upper is welded rather than stitched to reduce potential problem areas), including where the BOA dial is situated at the ankle. Additionally, the toe box is wide enough to accommodate foot swelling without feeling sloppy, and the footbed offers enough support and cushion to comfortably stand on the pedals during lengthy descents. I should note that I put a very high priority on comfort since I've had past issues with numbness in my toes while riding (regardless of temperature), but the Recon 2.0 has been an excellent match for my finicky feet.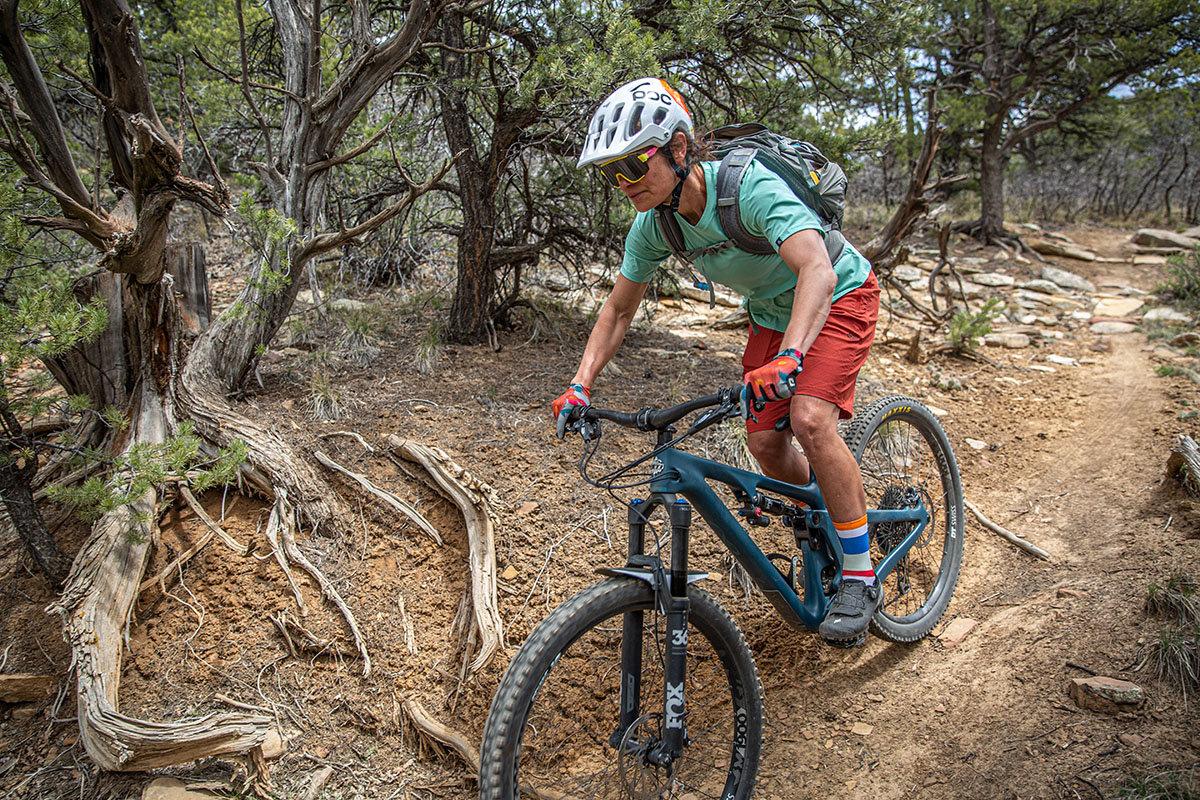 Off-the-bike comfort is a similar story: The Recon 2.0 is surprisingly flexible, especially at the forefoot, which is great for hike-a-biking or post-ride trips into town. This is largely thanks to the shoes' STRIDE toe-flex technology, which combines malleable nylon with stiffer TPU at the front for a nice mix of comfort and stiffness (more on the latter below). Given these experiences, I expect the Recon will be a great companion while bikepacking too, although I've only worn the shoes on single-day rides so far.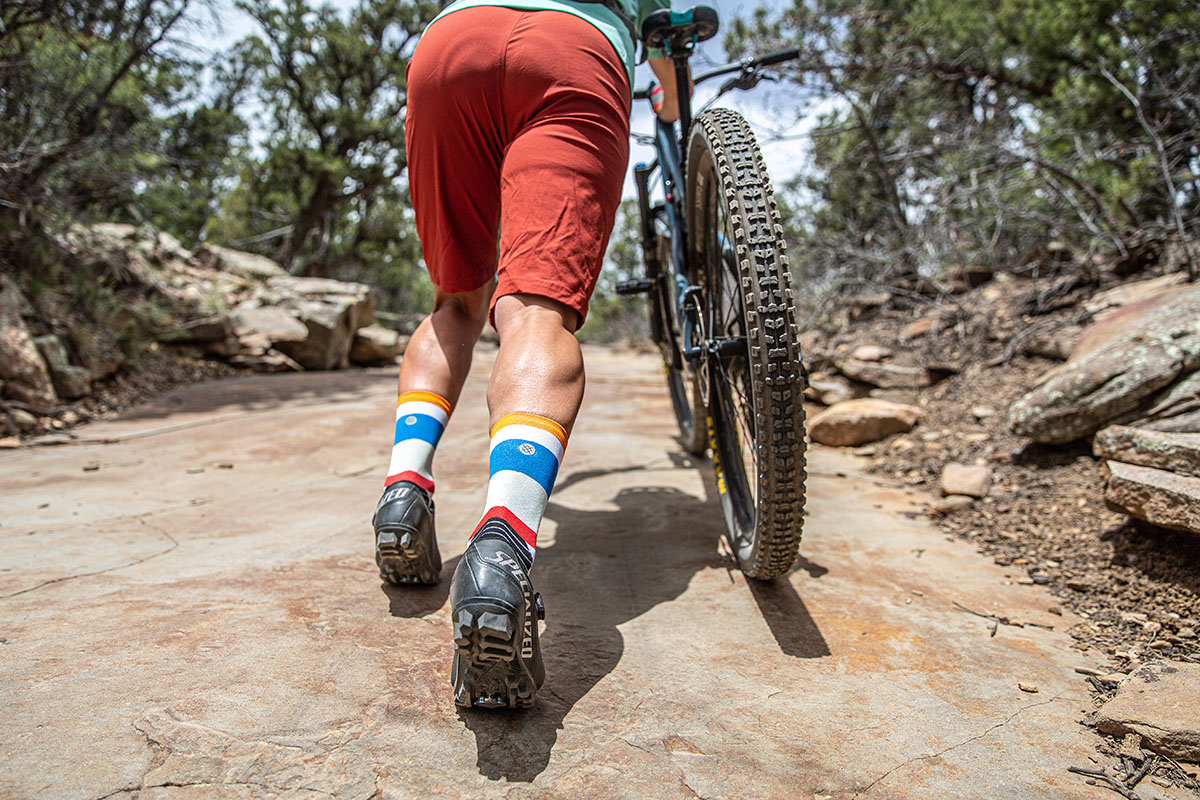 Clipping In and On-Bike Performance
I was initially concerned that the Recon 2.0's flexible sole would detract from the shoe's on-bike performance, but it's proven to be much more capable than expected. First and foremost, the Recon's two-bolt cleat pattern fits all major mountain bike models, and I found it very easy and intuitive to clip in and out of my Shimano SPD pedals. The next component is stiffness, which Specialized rates as a 6.0 on their scale (the aforementioned S-Works model gets a 13 rating). This translates to excellent power transfer and stability while riding, and the shoes even felt stable enough to inspire confidence when standing on my pedals during long descents (there was no unwanted flex underfoot).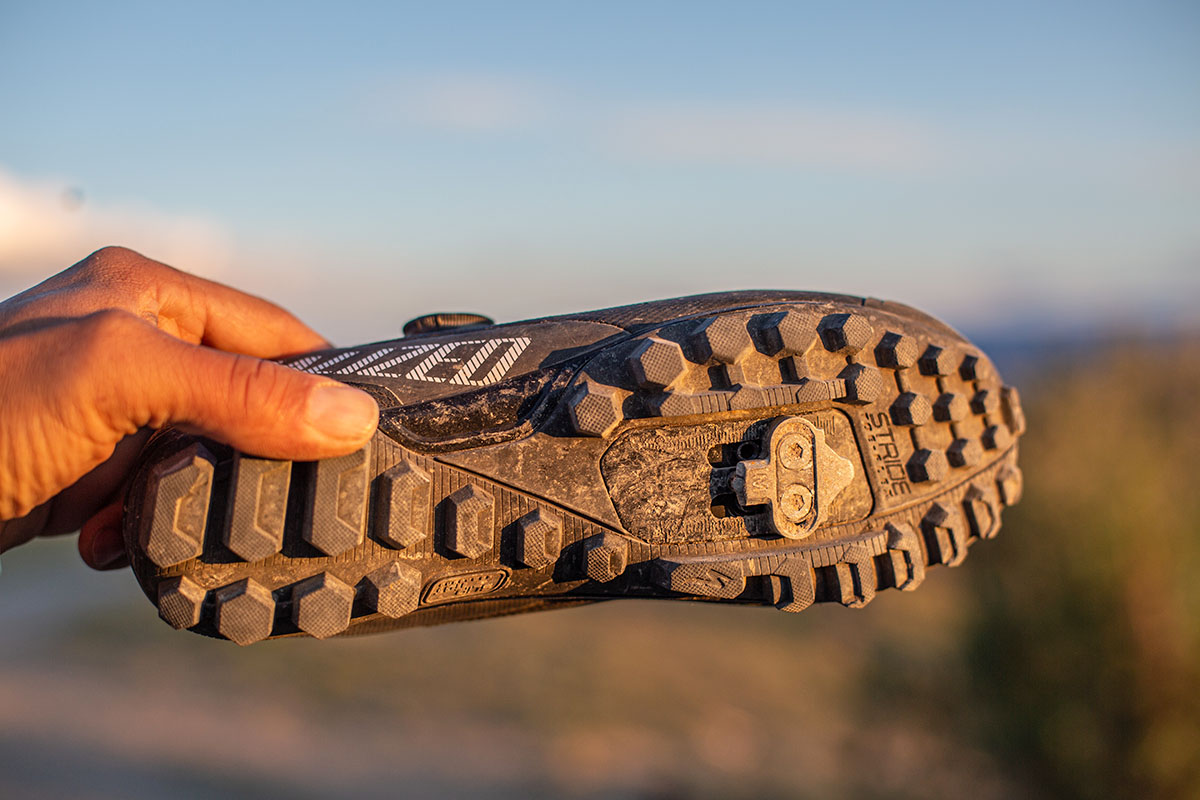 My only performance-related issue has to do with the toe box, which is on the wider side and therefore sacrifices some efficiency when hammering away on steep climbs. To make matters worse, the Velcro strap over the forefoot is placed too high to effectively tighten things down over the toes. That said, I love the accommodating shape of the Recon and wouldn't trade the excellent all-day comfort for the minor upgrade in performance I would get from a snugger fit. It's entirely a matter of personal preference, but more committed riders will probably want to try the Recon on before buying to ensure it will work for them. Alternatively, the $230 Recon 3.0 could be a viable alternative with two BOA dials for achieving a more precise fit.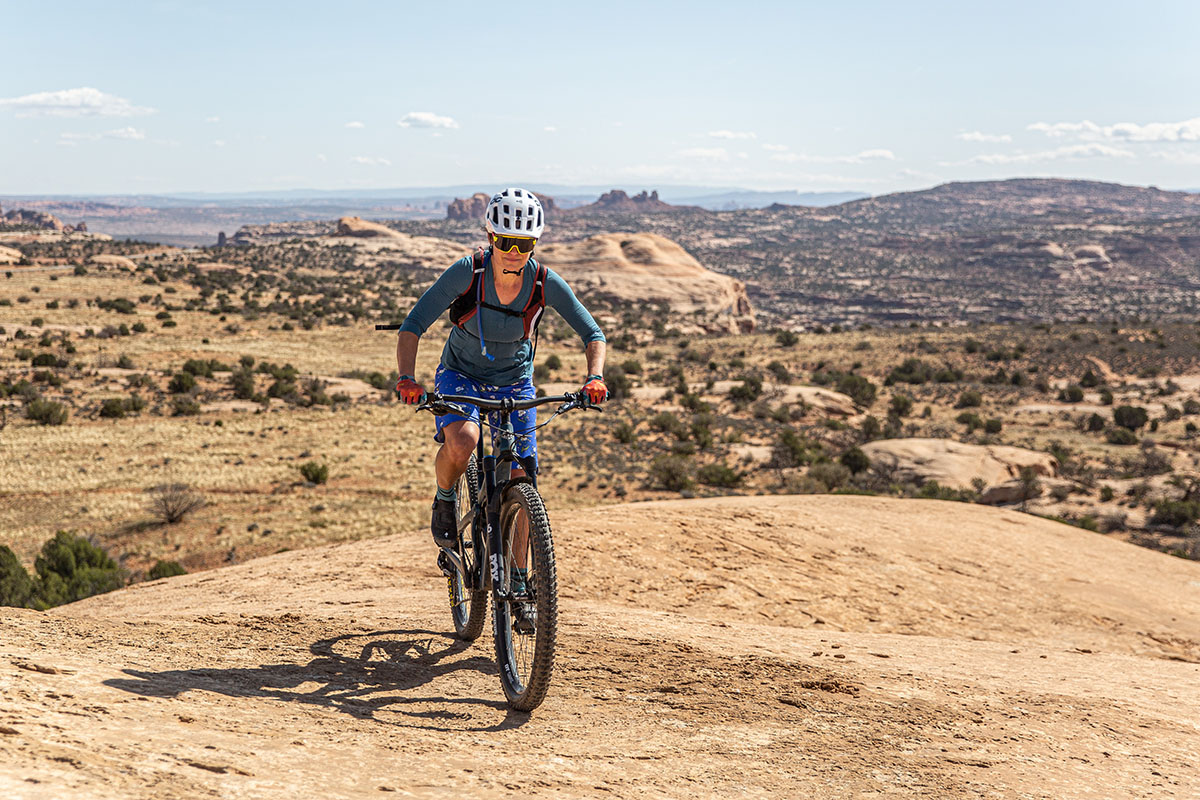 Traction
During my first outing with the Recon 2.0, it was immediately clear that Specialized put a lot of thought into the traction part of the equation. I'd love to say that I've been able to ride every obstacle and climb every punchy ascent without stopping, but that would be a lie. In reality, I've spent a good amount of time quickly jumping off my bike to shove it over steps, lug it over fallen trees and rocks, and push it up exhausting hills, and the Recon's aptly named SlipNot rubber hasn't faltered once. In addition to having excellent pedal grip, the outsoles are incredibly tacky on rock, and the deep lugs also bite into softer terrain like mud and dirt with ease. In fact, I've experienced no slippage to date, from muddy and gravel-heavy rides in the Pacific Northwest to slick sandstone in Utah; pine needle-laden trails in Durango, Colorado; and packed clay in nearby Fruita.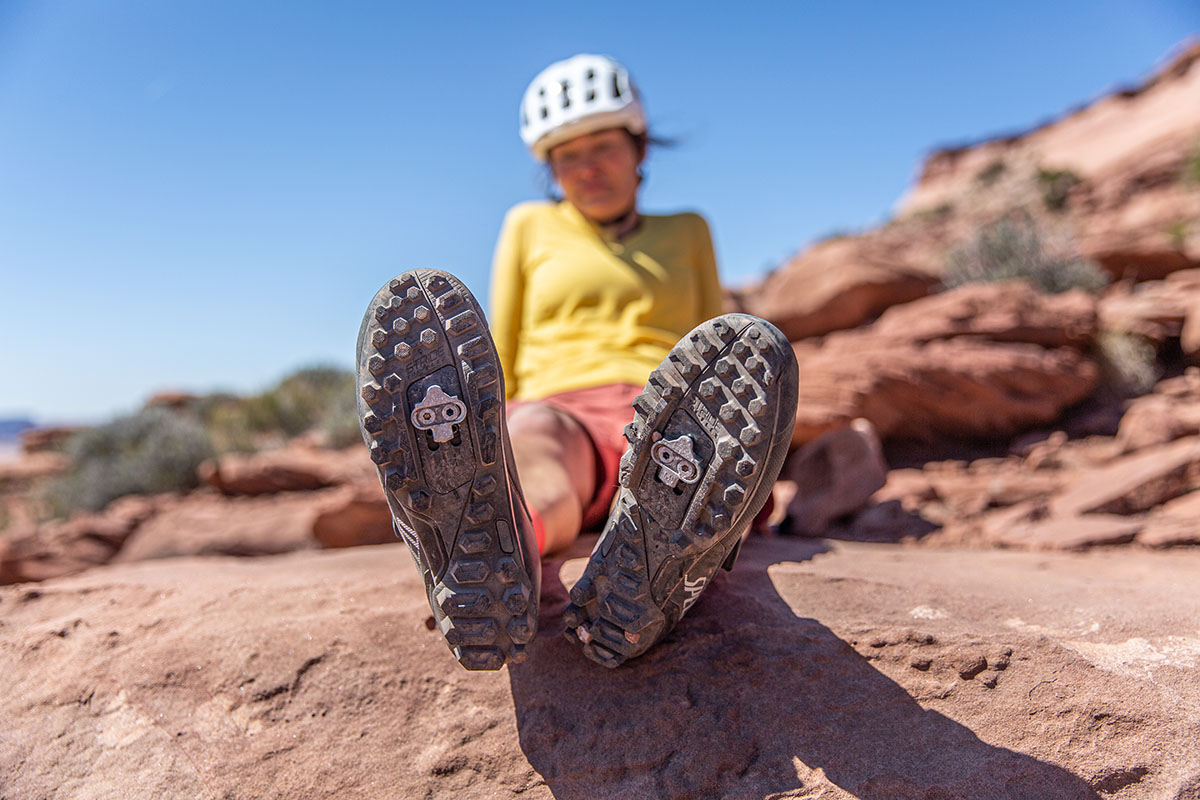 Breathability and Weather Resistance
I wouldn't categorize the Specialized Recon 2.0 as particularly breathable or airy-feeling, but it's perfectly serviceable even for hot and exposed summertime rides. The XPEL hydrophobic mesh, perforations in the upper, and mesh-heavy tongue combine to create an effective balance of airflow and moisture resistance, and my feet have never grown overly hot or sweaty in the shoes, even on an all-day ride in 80-degree heat in Moab. Additionally, the tightly woven upper does a great job at sealing out dust and sand (more mesh would mean more places for debris to enter) and dries very quickly when exposed to water. All told, I'm happy with the choices Specialized made here: While the Recon isn't a standout in the breathability department, the benefits in durability and weather resistance are worth that tradeoff for me.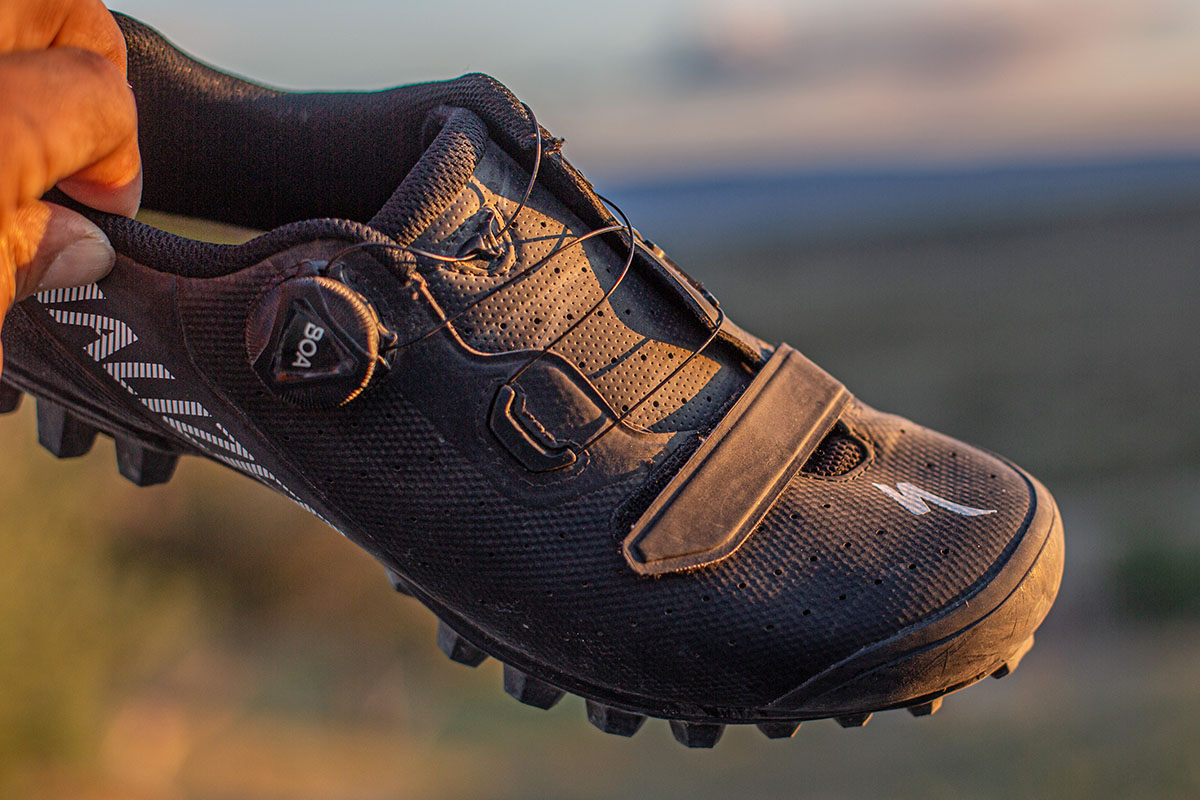 Weight
At 1 pound 9.2 ounces per pair, the Specialized Recon 2.0 falls on the lighter end of the mountain bike shoe spectrum (note: The Recon is a unisex design, and all of the following specs are for the men's models). For comparison, Pearl Izumi's similarly built X-Alp Summit checks in slightly lighter 1 pound 7 ounces, while Shimano's SH-ME5 is essentially the same weight at 1 pound 8.8 ounces. Many competitors are heavier and hover around the 2-pound mark, including Giro's Ventana (1 lb. 13.4 oz.) and Five Ten's Trailcross Clip-In (1 lb. 14.6 oz.). And arguably the most telling feedback I have is that the shoes have gone largely unnoticed while riding, which speaks volumes to their overall comfort and lack of heft.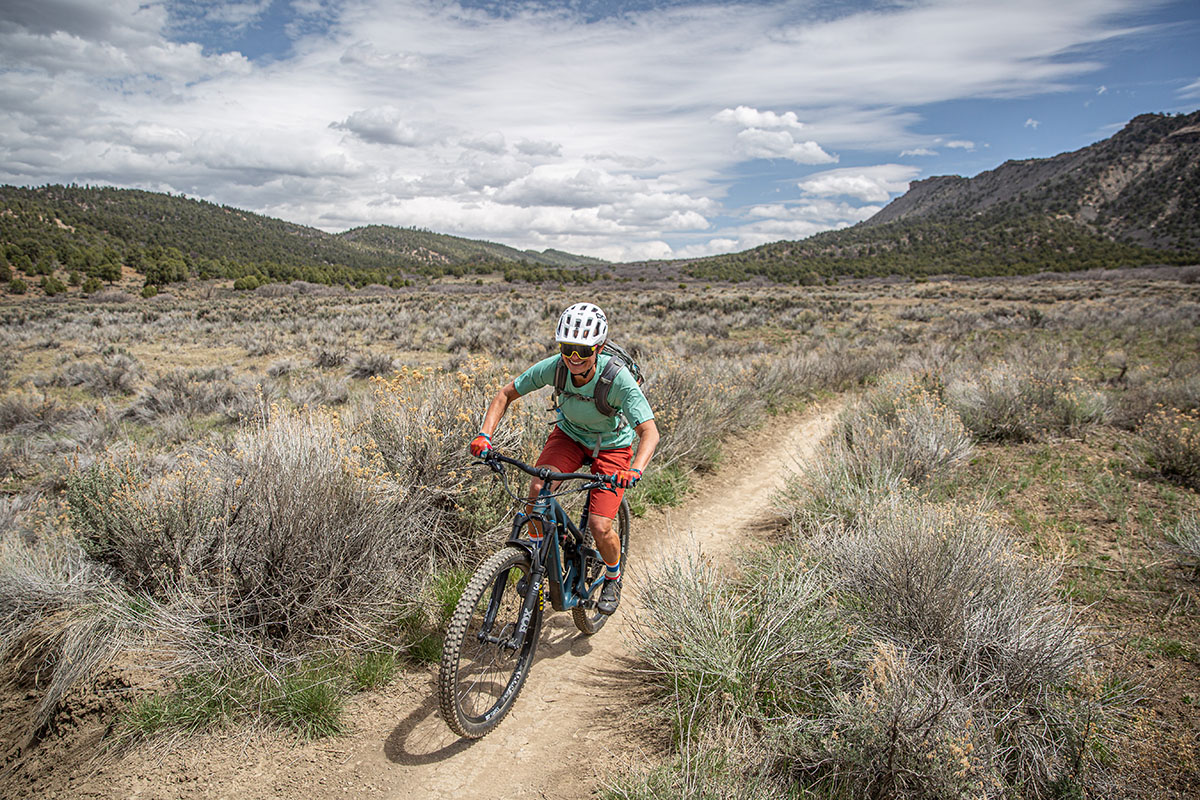 Build Quality and Durability
Specialized is one of the most well-known brands in the mountain biking world, and the Recon 2.0 is a nice reflection of their expertise. So far, the shoes have held up incredibly well despite the abuse I've put them through, including being subjected to unforgiving sandstone and grit in Moab and relentless mud back home in the Pacific Northwest. Other than accumulating some tiny gravel pellets in the seams, the Recon is showing almost no signs of wear. Importantly, the BOA adjustment system is still operating smoothly, and the outsole is in great shape with no deterioration along the lugs. It's still too early to make a definitive call on long-term durability, but all signs are positive that the Recon 2.0 will have a very healthy lifespan.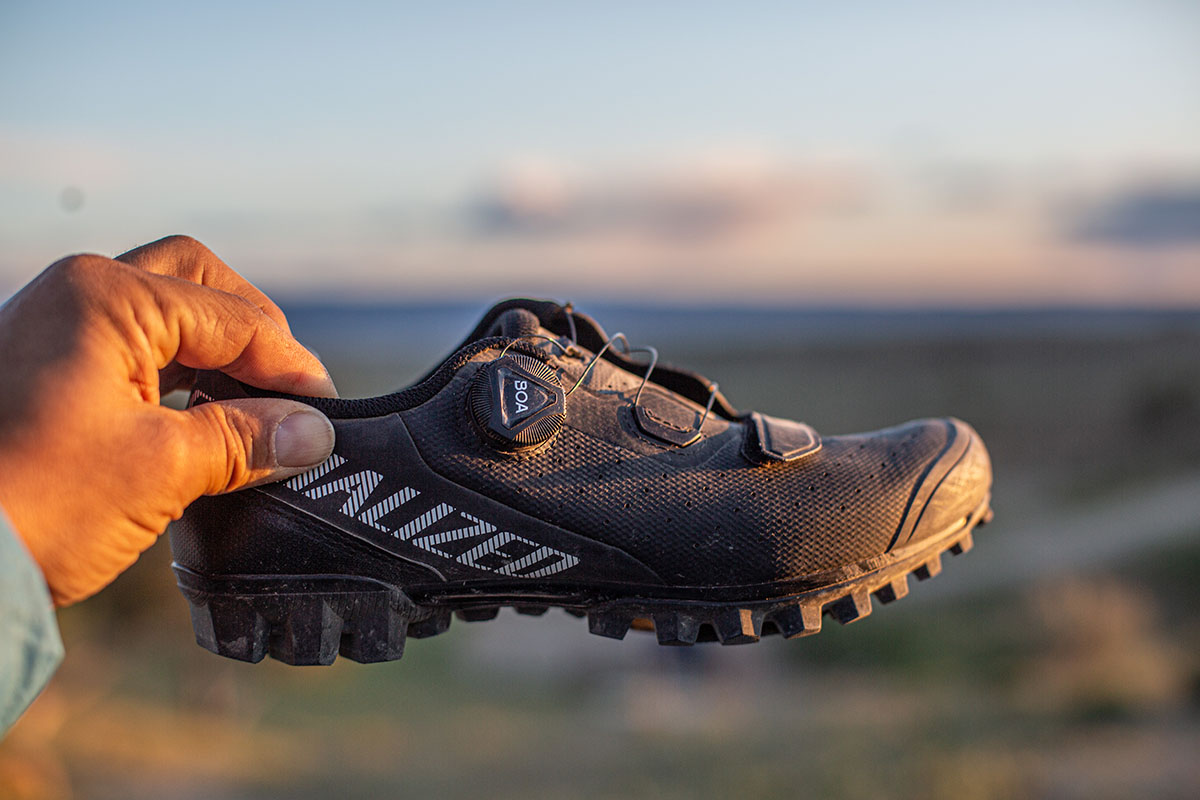 Fit and Sizing
In my standard size 40 (which Specialized equates to a U.S. women's size 9 and men's 7.5), I found the Recon 2.0 to be fairly roomy, which I like. Serious riders and dedicated racers may prefer a snugger and more performance-focused fit, but the accommodating shape of the Recon 2.0 has been pretty ideal for my uses. And importantly, the BOA L6 dial at the ankle is easy to use and effectively cinches things down in small (1mm) increments to achieve a very fine-tuned fit around the instep and ankle. The dial can't be loosened partially if you overtighten it—you'll have to release it and start the tightening process again—but it's a small issue and takes very little time to fix. My only real complaint is that the Velcro strap over the forefoot doesn't do a good job at snugging things down, and I'm unable to feel the difference between the strap being loose or pulled tight. If you're looking for more of a precise fit, I'd advise spending up for the Recon 3.0, which trades the strap for another BOA dial.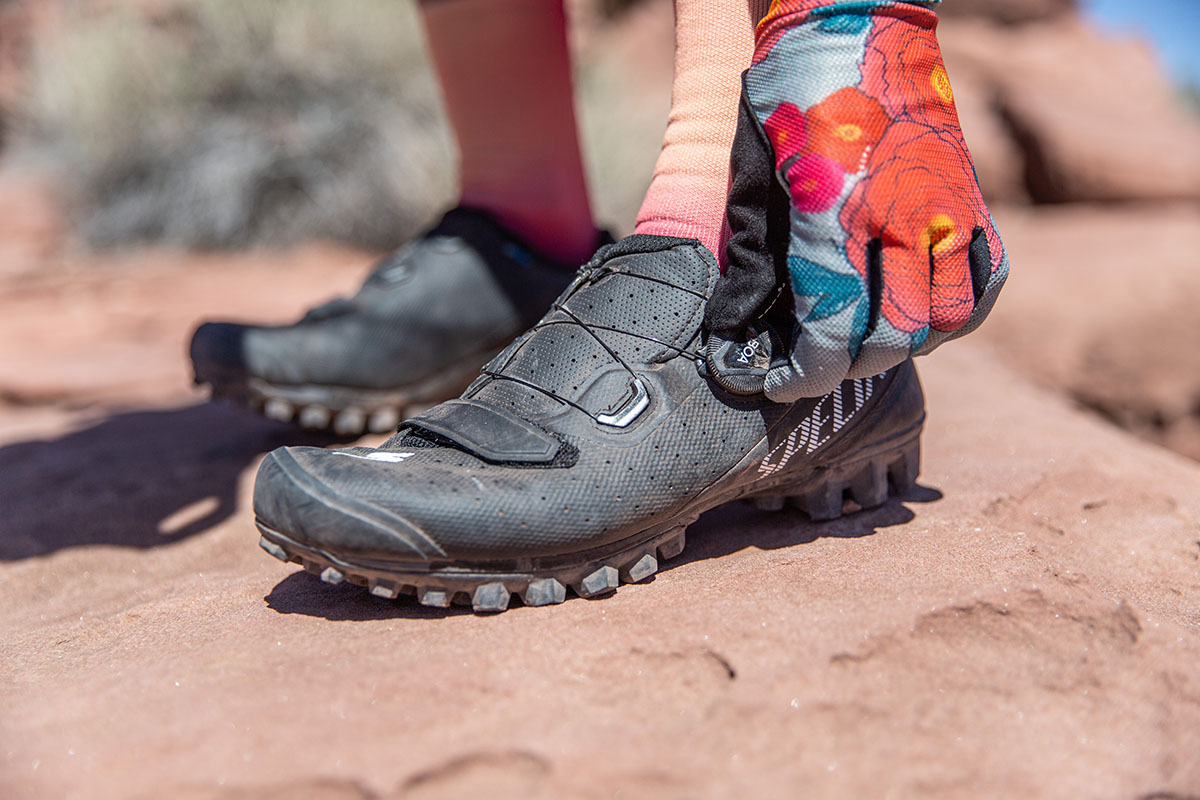 Other Versions of the Specialized Recon
I tested the mid-range Recon 2.0 for this review, and Specialized also makes the shoe in a cheaper 1.0 model and pricier 3.0 variation. The biggest difference among the three versions is the design of the closure system: The $110 Recon 1.0 utilizes three Velcro straps for dialing in fit, the $170 2.0 here has a Velcro strap at the forefoot and BOA dial at the ankle, and the $230 Recon 3.0 features two BOA dials. As I mentioned above, I didn't feel that the 2.0's Velcro strap was all that effective at snugging things down, so riders who like to have a precise fit will likely want to spend up for the 3.0. Rounding out the collection is the more technical S-Works Recon, which is a targeted option for cross-country racers and comes in both lace-up ($325) and Boa-equipped ($425) variations.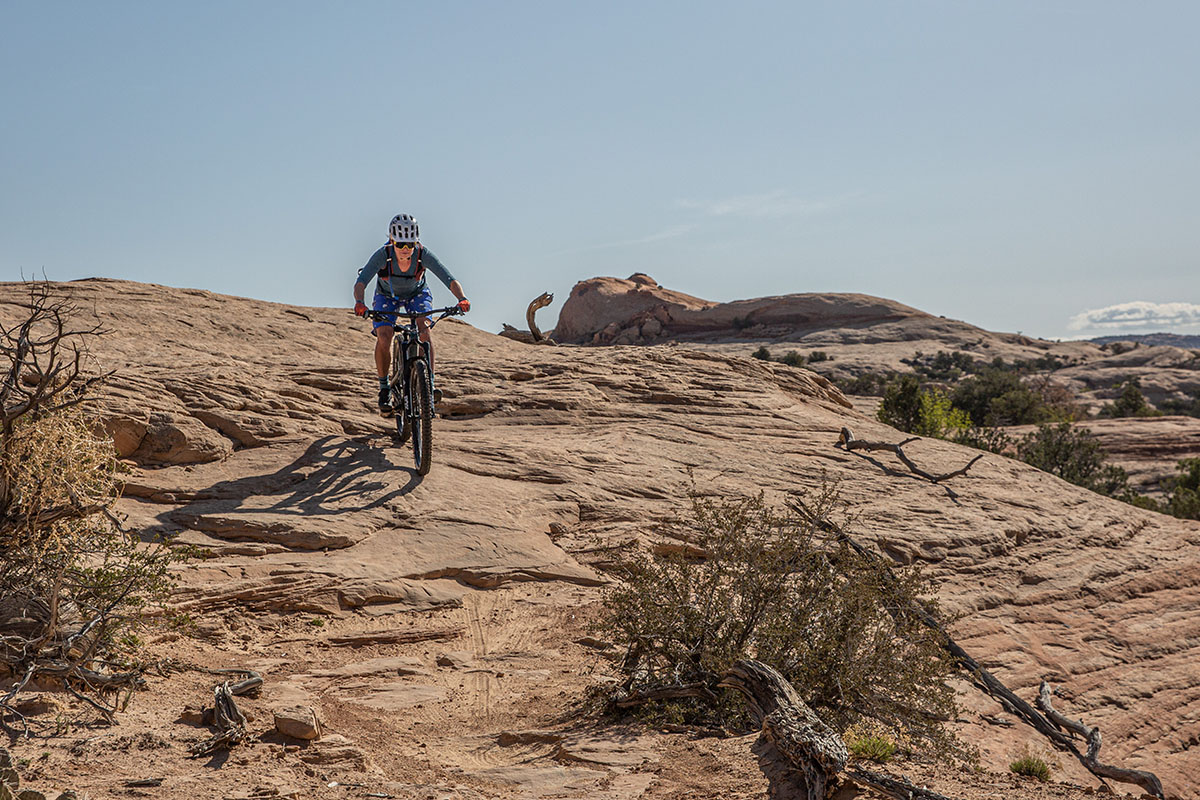 What We Like
Excellent comfort both on and off the bike with no pressure points, good flexibility at the forefoot, and enough support and padding to stand on the pedals during long descents.
SlipNot outsole is easy to trust on a wide variety of surfaces, from loose gravel to slick sandstone and even mud.
XPEL hydrophobic mesh, perforations in the upper, and mesh-heavy tongue don't retain a lot of moisture when wet and dry very quickly.
Build quality is excellent, and the shoes are showing very little wear after an aggressive testing period on unforgiving terrain.
Reasonably light with a barely-there feel while riding.

What We Don't
Velcro strap isn't effective at snugging things down over the forefoot and toes—I'm unable to notice whether it's completely loose or cinched tight.
Serious gravel or XC riders will likely prefer a stiffer and more powerful shoe.
Breathability is average at best, although my feet have never grown overly hot or sweaty in the shoes.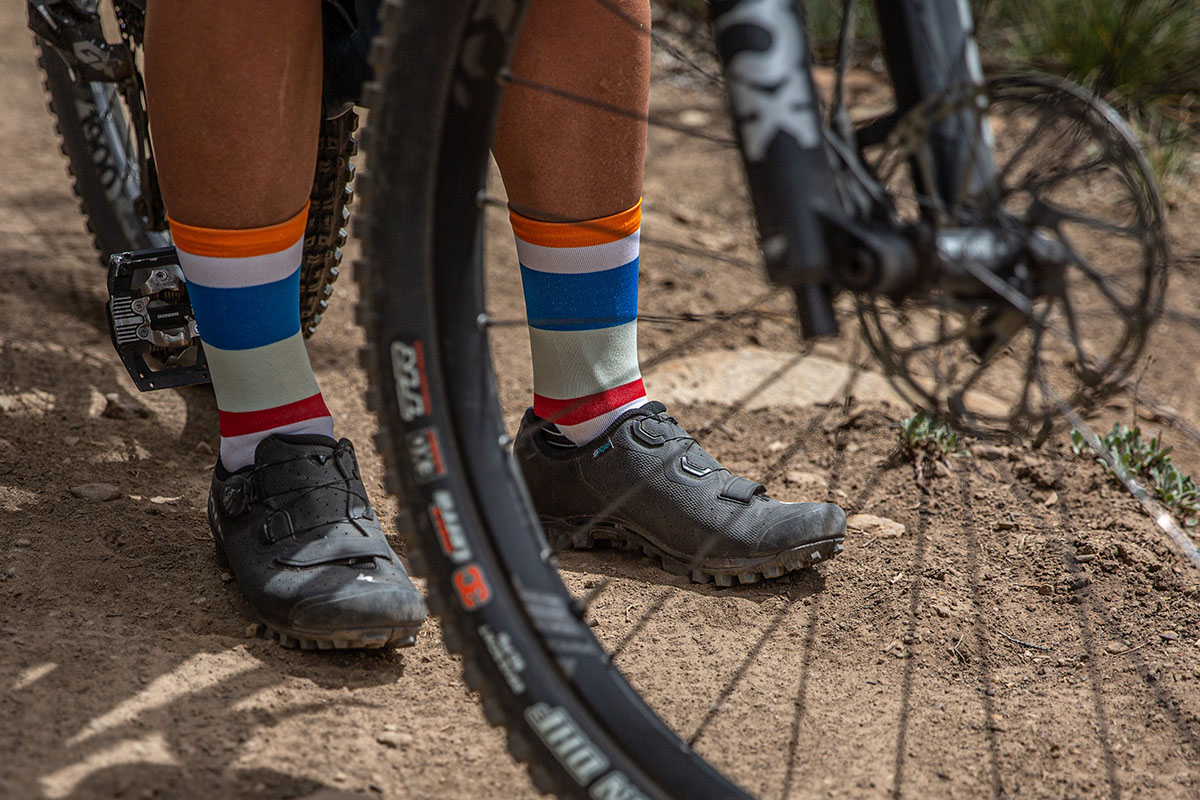 Comparison Table

The Competition
Specialized's Recon 2.0 slides into a competitive space in the MTB market, with a nice balance of on- and off-bike performance. One of our favorites in this category is Shimano's ME5, which is currently our top-rated mountain bike shoe. Compared to the Specialized, the Shimano has a similar single Boa and Velcro strap layout, weighs roughly the same, and has a moderately stiff construction. On the bike, the Shimano is more trail-ready with a step up in protection, while the Recon gets the hiking edge with its grippier outsole and more flexible instep. Both are quality options, and a final decision will likely come down to fit (we think the Shimano will work for more folks) and intended use (the Specialized is a better adventure/bikepacking choice, while the Shimano is superior for MTB riders).
Bontrager's Foray is another option that toes the line between XC and trail mountain bike uses. And like the Specialized and Shimano above, you get some familiar features: single Boa closure, moderate stiffness (Bontrager rates it a 6 out of 14), and perforations in the upper to help with breathability. But whereas the Specialized has some standout features—like its excellent traction and good walking comfort—the Bontrager comes across as pretty run of the mill. It's decent at a lot of things, including gravel riding and less serious trail days, but it's not as comfortable off the bike nor does it excel at power transfer. As a result, the Recon gets the advantage for us.
Stepping up in both stiffness and protection is Giro's Ventana. This popular design is tailored to more aggressive trail riders with solid power transfer from its nylon shank and burly toe cap. Weight goes up as a result, which makes it less appealing for bikepacking or high-mileage days (although it's still reasonably light in the wider MTB category). We also found the Recon is easier to hike in thanks to the added flexibility in the toe and its grippier outsole compound. And finally, we thought Giro missed on a couple details with the Ventana: its cleat pocket is awkwardly small and a protective piece of plastic on the Boa dial makes it harder to make micro adjustments. Unless you want its stiffer build, we think the Recon wins out.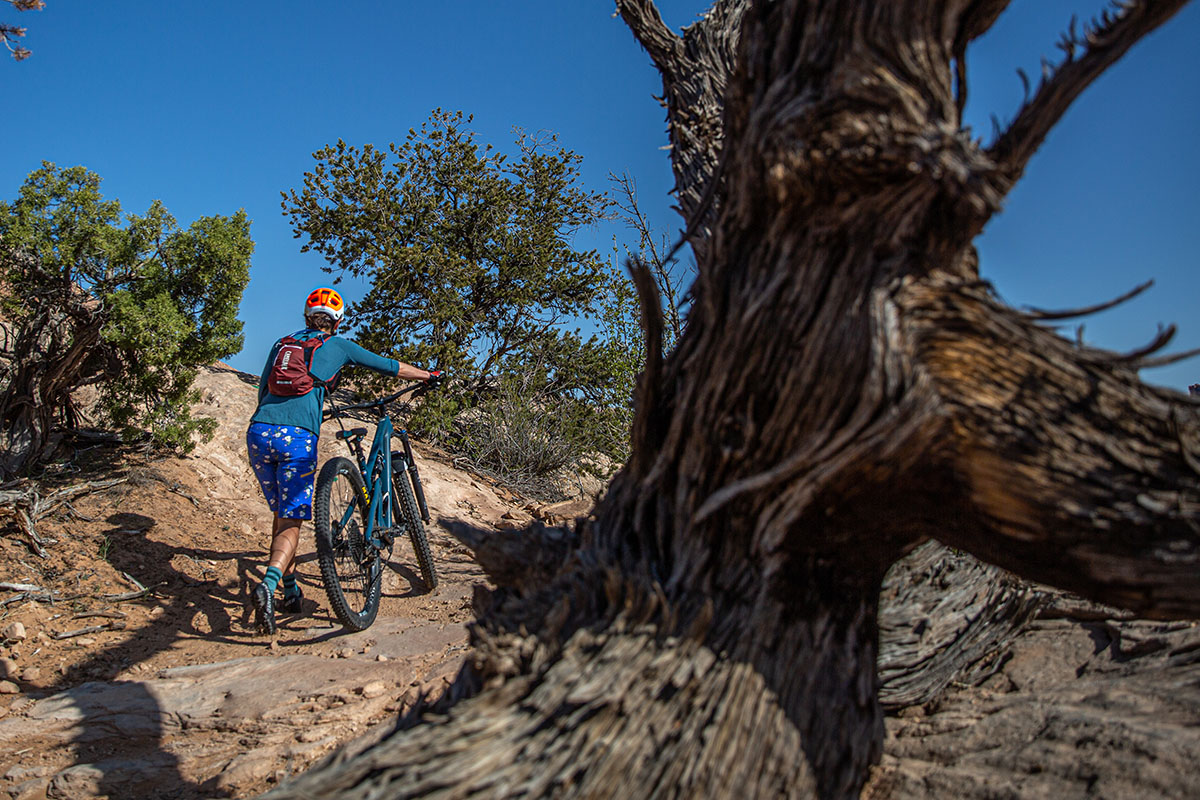 A final competitor comes from within Specialized own lineup: their 2FO DH Clip. As the name indicates, the 2FO plays more to trail and downhill mountain bikers with a beefed-up construction and extra padding in key areas like the inside of the ankle. Off the bike, however, it's far less comfortable than the Recon due to the stiff construction. And its traditional lacing system feels pretty archaic when used back-to-back with the super-fast and convenient Boa. In the end, the 2FO has its place for mountain bikers that tackle technical and challenging terrain (for more, see our 2FO DH Clip review), while the Recon is the more versatile option for those who dabble in XC, gravel, and light trail work.
Read More From Switchback Travel