Yakima HangTight 4
Price: $849
Number of bikes: 4 (available in 6-bike version)
Weight: 73 lbs.
What we like: Compatible with a wide range of wheel and tire sizes, well-executed and secure cradle system, and relatively easy to use.
What we don't: Insufficient padding on wheels and bars led to scuffing; relatively low max weight capacity per bike.
See the Yakima HangTight 4
Vertical hanging racks are a popular way to transport a whole lot of bikes on the back of your vehicle. Yakima has recently waded into this market, and we found their HangTight 4 is a well-rounded design: The four-bike model is well built with sturdy materials, pretty easy to load and unload, and features a functional foot-operated tilt mechanism. It's also compatible with a wide range of wheel and tire sizes and handlebar types, and we're big fans of the cradle and ratcheting system that's intuitive and effectively keeps bikes in place. That said, it's not the lightest or most secure-feeling design (we experienced wobbling on rough roads), and we had to reinforce the padding to limit scuffing on our wheels and bars. Below we outline our experiences with the HangTight 4. To see how it stacks up to the competition, check out our article on the best hitch bike racks.
 
---
Table of Contents
---

Performance
We have mixed reviews about the Yakima HangTight 4's overall performance, but we'll start with the positives: It's relatively easy to use, keeps bikes securely in place with a well-executed cradle and ratcheting system, and can accommodate a wide range of wheel and tire sizes without add-ons (including bikes with drop bars). Further, compared to most hanging racks that suspend bikes horizontally by the frame and often require top tube adapters as a result, the vertical HangTight is much more versatile with great compatibility out of the box (including the irregularly shaped top tubes on many modern full-suspension rigs). This also limits frame scuffs, keeps bikes closer to the vehicle, and helps maximize ground clearance—unlike our tray-style Kuat NV 2.0, the HangTight doesn't bottom out in large ruts or dips in the road. We did have to purchase Yakima's pricey BackSwing adapter to maintain access to our van's rear doors and storage area, but this shouldn't be an issue for most standard hatchback-equipped vehicles and pickups.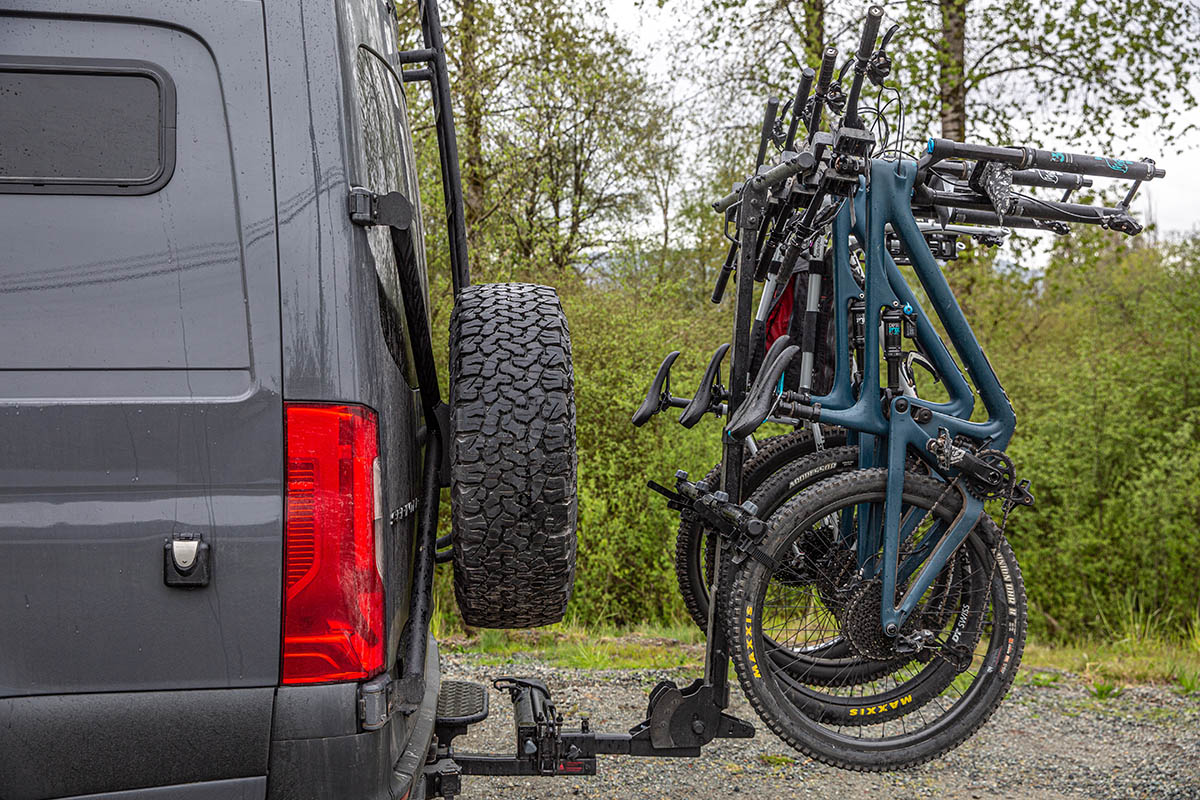 That said, we have run into some notable issues while testing the HangTight 4. First, while Yakima states the cradles are fully padded, I've already noticed significant wear along my bike's handlebars and carbon wheels due to rubbing from the ratcheting straps. I've since added foam spacers between the rack and points of contact on our bikes to prevent further damage. Second, the HangTight lacks a tensioning method to limit movement on rough roads—it's loud and noticeably bouncy on anything but pavement, and I'll likely add a shim or U-bolt to reduce the wobble in the future. The final issue is that the HangTight's four-bike designation comes with a caveat: The rack can only fit four bikes if they all have flat handlebars (most mountain bikes do). If even one has drop bars (typical of most road and gravel bikes), it blocks the adjacent cradle and renders it useless. With some rearranging, it's possible to carry three drop bar bikes at a time—which is better than most of the competition—but it's still a limitation of the design.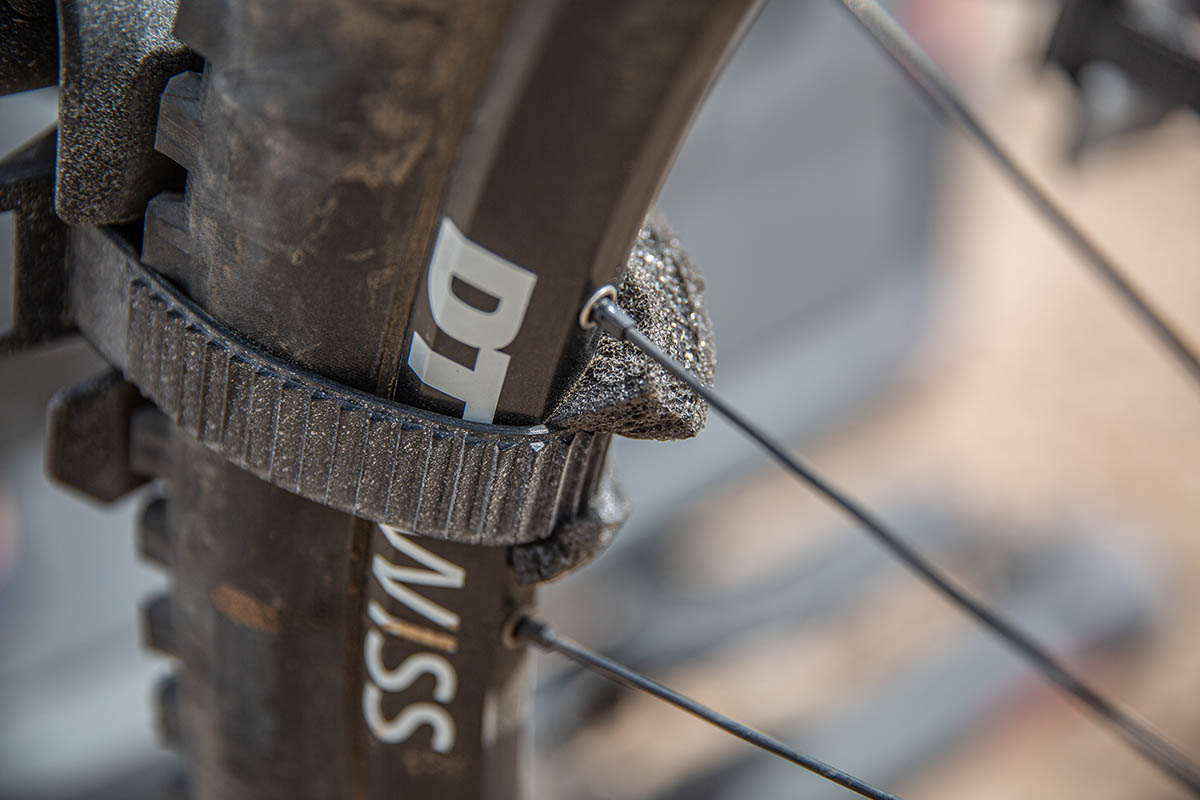 Setup and Ease of Use
The HangTight 4 comes with instructions and all the required tools for assembly, but it still took some work to put together, including attaching the horizontal bars to the cradles and securing the tire attachments. We should mention that we picked up the rack on our way to Moab, Utah, and were fortunate enough to have the crew at Rack Attack do most of the work securing the HangTight—and accompanying BackSwing adapter—to our van. In addition to allowing us to swing the rack to the side (rather than just tilt it back), this add-on also increased the amount of space between the rack and the back of our van. It's a steep investment at $399, but without it, the HangTight's foot-operated tilt mechanism wouldn't have provided enough room for us to access the rear cargo area of our vehicle (again, this shouldn't be an issue for most hatchbacks).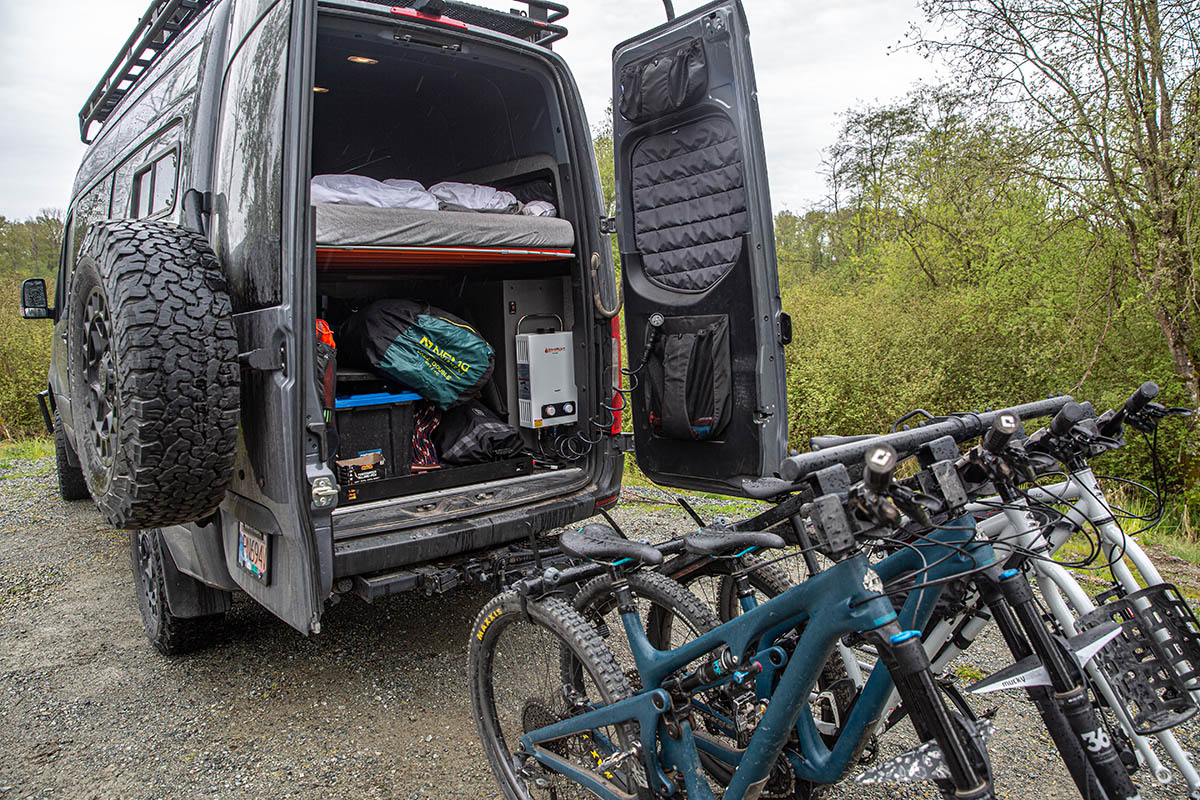 The only setup-related setback we encountered while assembling the HangTight 4 was related to the threading on the hitch bolt: The default configuration calls for inserting the pin from the passenger side, which required removing our hitch plug. This wasn't an issue since we don't use the plug frequently and planned to keep the rack on the van for a while, but we learned afterward that it's possible to thread the bolt from the other side by removing a screw and repositioning the nut plate behind it. We've since transitioned to this orientation and have been able to use the rack with the plug in place, but most standard 2-inch receivers should work with the default position.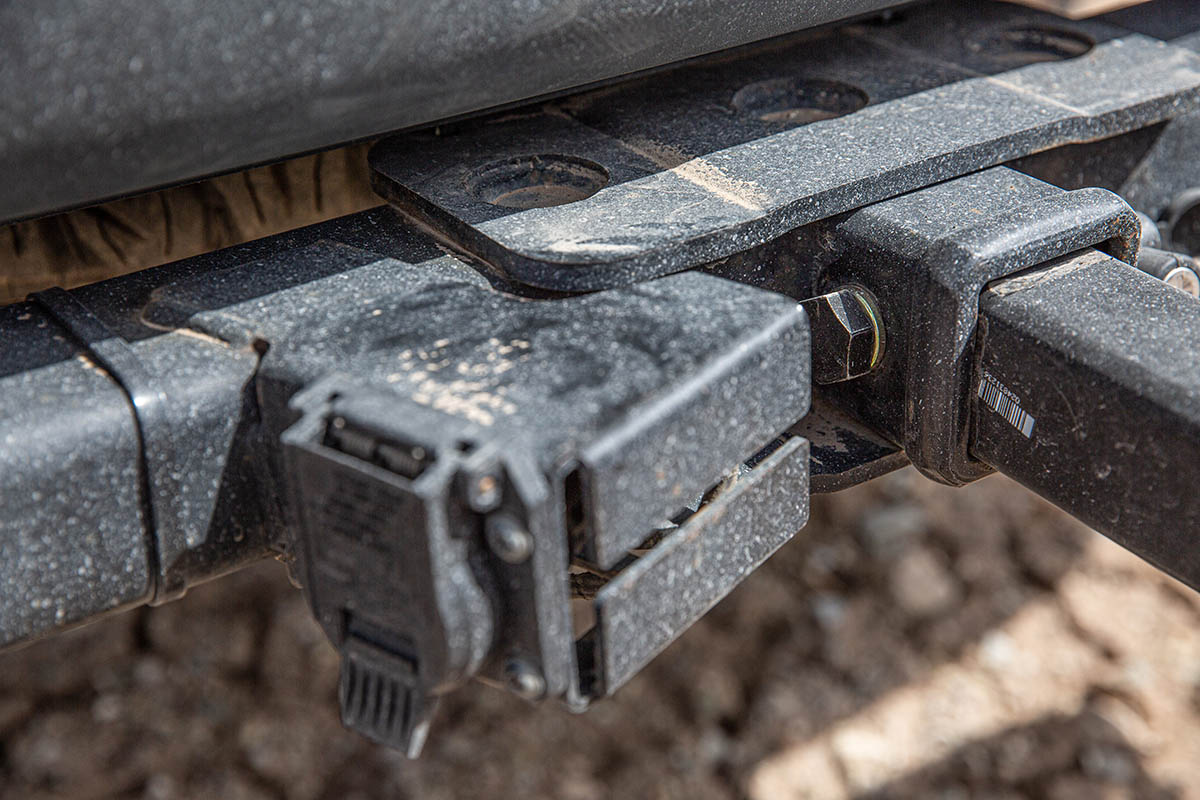 Loading bikes is a similar story: It's not the most intuitive process but it does get easier with practice. We struggled initially with lifting our full-suspension bikes and aligning the handlebars perfectly with the cradles, but we quickly learned that tilting the rack back required far less effort—just press the pedal with your foot, support the rack as you tilt it back and away from your vehicle, and start loading (of note: Most other hanging racks can only be tilted when empty). There was still a slight learning curve with properly positioning the handlebars in the cradles (and you'll want to undo the ratcheting straps so they don't get in the way), but it's gotten much quicker and easier with time. When aligned correctly, the handlebar and stem of the bike slot nicely in the cradle with the stem secured between two rubber stoppers, which limit side-to-side movement and ensure everything stays put while driving. To wrap things up, route the ratcheting straps through the buckles over the handlebars and rear wheel and tighten them down.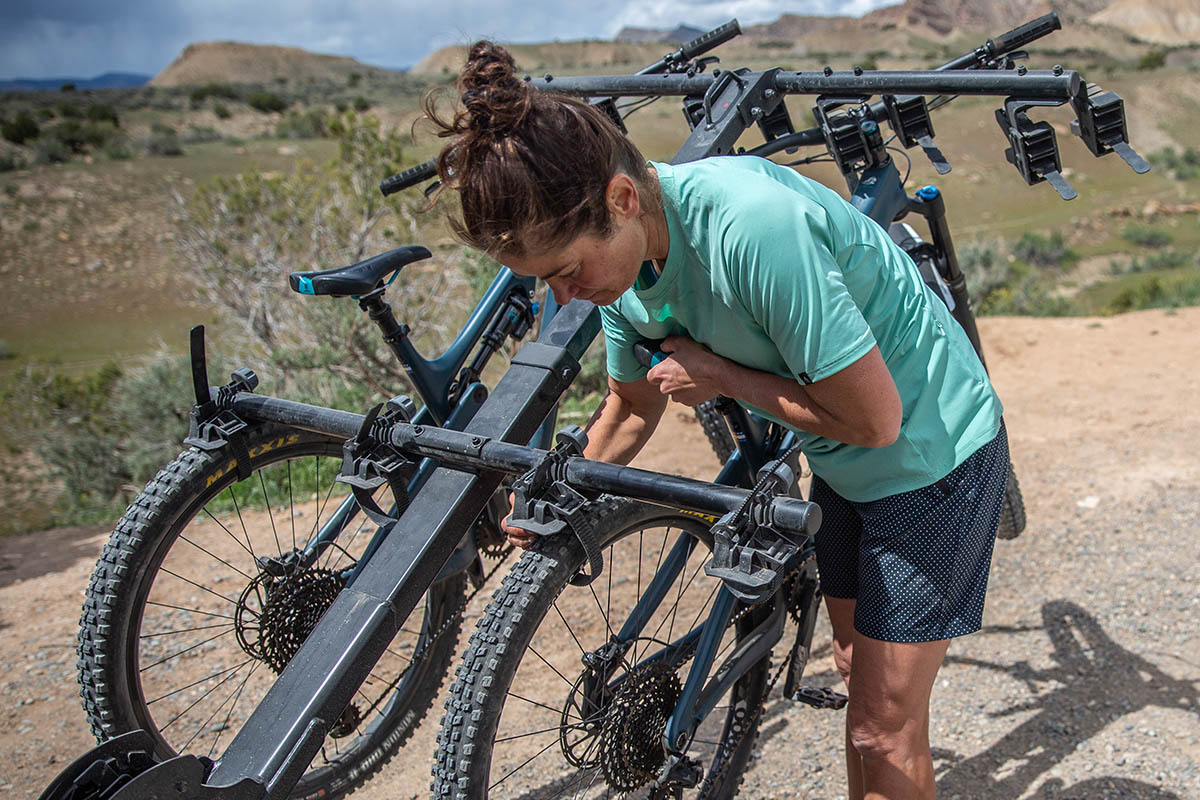 When it comes time to unload, it's important to factor in the combined weight of your bikes and the upper section of the rack that you'll be supporting as you tilt it back. Even with only two mountain bikes attached, the HangTight was fairly cumbersome for me to tilt due to the overall heft, and you'll want to be sure you've got a secure handle on it before engaging the tilt mechanism with your foot. Re-securing the rack in its locked position can also take some serious muscle—especially if you're maxing out the four-bike capacity. And a final nitpick is that the ratcheting straps require some pushing and force to loosen, although they're easy to tension and hold the bikes securely during travel.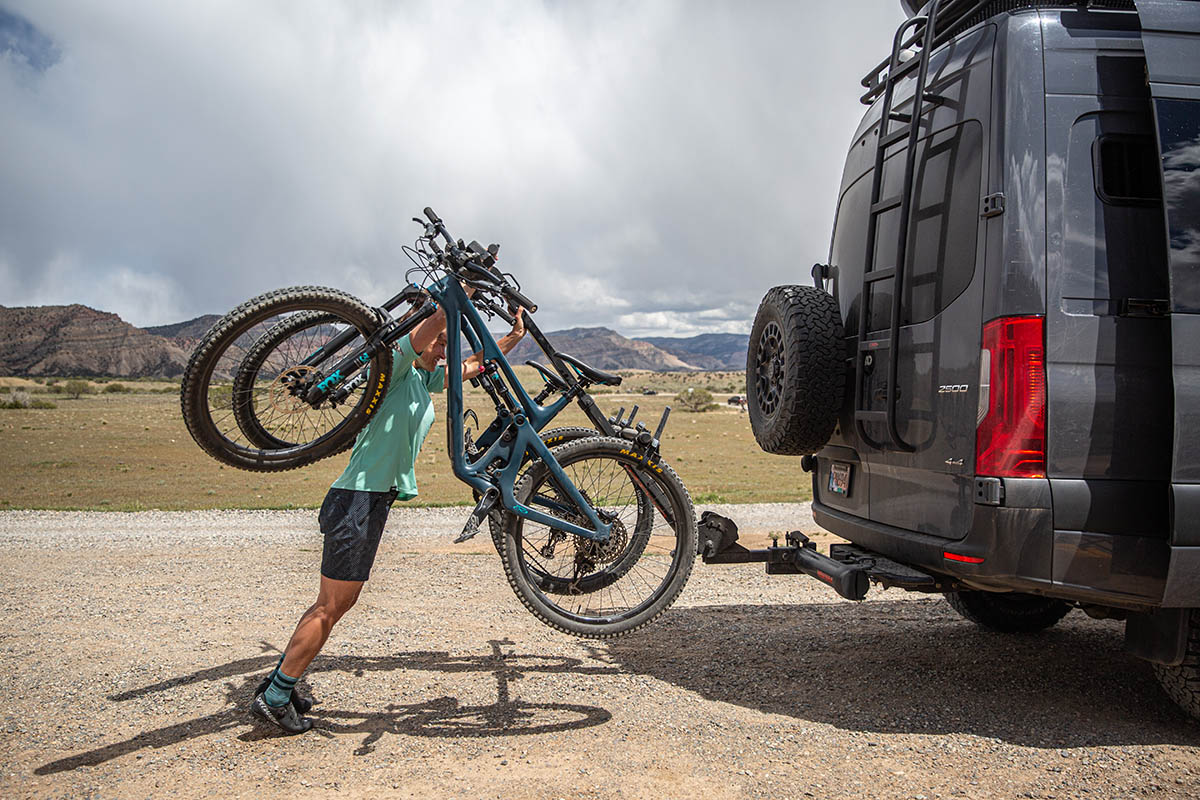 Bike Capacity and Wheel Sizes
Many people choose hanging hitch racks for their ability to carry more than a couple bikes, and the HangTight 4 is a great option for group and family outings with a maximum capacity of four bikes. In terms of bike compatibility, the rack works with tires between 20 and 29 inches with a max width of 5 inches, which means that you can carry fat bikes, mountain bikes, road bikes, and even many kids' bikes without having to purchase separate add-ons.
By comparison, the majority of vertical hanging racks can only carry standard mountain bikes (including North Shore Racks and 1Up USA's Recon Racks). And traditional hanging racks like Yakima's own RidgeBack require top tube adapters for many full-suspension mountain bikes, step-through setups, and smaller kids' models. Wheelbase compatibility is good too: The HangTight works with wheelbases up to 50 inches and boasts pivoting rear tire mounts to accommodate rigs of different lengths (it easily accommodates both my large Yeti SB130 and extra-large Surly Krampus).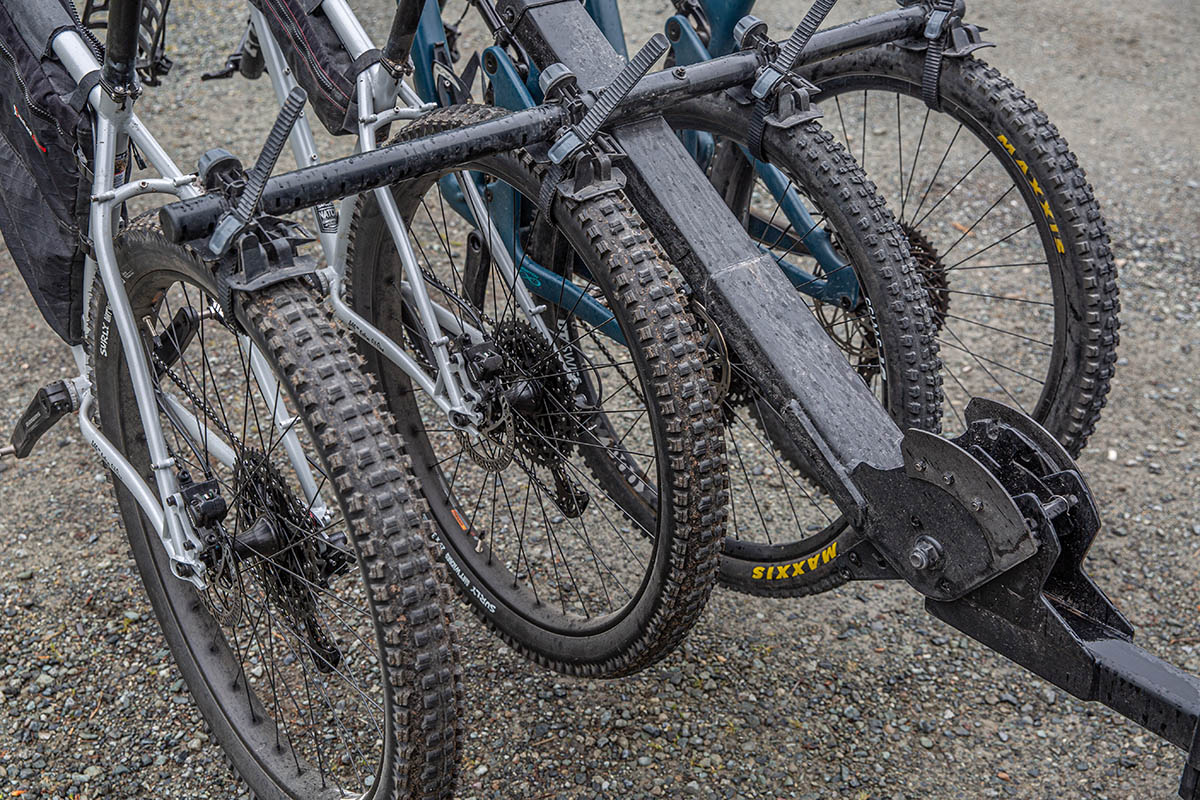 However, there are some compatibility-related limitations to be aware of, especially if you're primarily a road or gravel rider. For reference, my wife and I own four bikes each to match our various objectives (including mountain, road, gravel, and bikepacking rigs), and we were very thankful that the HangTight could accommodate the different types of forks and handlebar styles. That said, any time we're carrying a setup with drop bars, it blocks the neighboring cradle and prevents us from utilizing that space (rearranging the cradles allows for a maximum of three drop bar bikes at a time). Those hauling only flat-bar bikes won't have an issue and will be able to use all the slots, but it's a noteworthy consideration for more those who own multiple setups. Triathletes should also be aware that the HangTight isn't compatible with aero or clip-on aero handlebars, nor will it work with those larger than 35 millimeters in diameter. Finally, riders with dual-crown forks will need to purchase the separate HangTight DH cradle for an additional $65.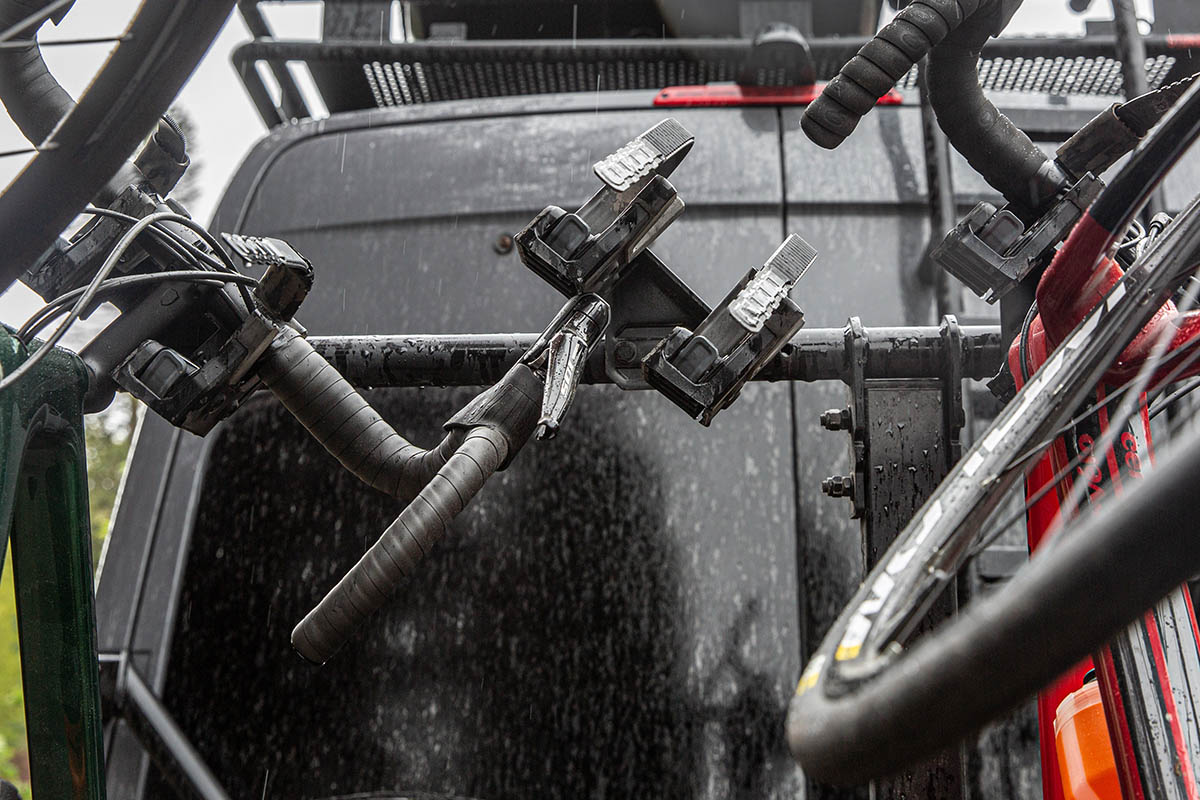 Weight Capacity
In terms of weight capacity, the Yakima HangTight 4 can handle four 37.5-pound bikes (150 lbs. total), which is on the lower end in the hitch rack market but should still work for most setups. For reference, North Shore Racks' NSR 4 can carry four 60-pound rigs with a max weight capacity of 200 pounds total, although it's only built for shuttling mountain bikes. Yakima's own RidgeBack 4 (a horizontal-style hanging rack) also has a slightly higher weight capacity of 40 pounds per bike, while popular tray-style alternatives like the Thule T2 Pro XTR and Kuat's NV 2.0 are rated to carry bikes up to 60 pounds. In the end, this is an inherent downside to most hanging racks, and those with larger downhill models or electric bikes may need to look elsewhere (removing batteries can also shave considerable weight). But for most mountain, road, and gravel riders, the HangTight 4's weight capacity likely won't be a deal breaker (although the aforementioned drop-bar compatibility might).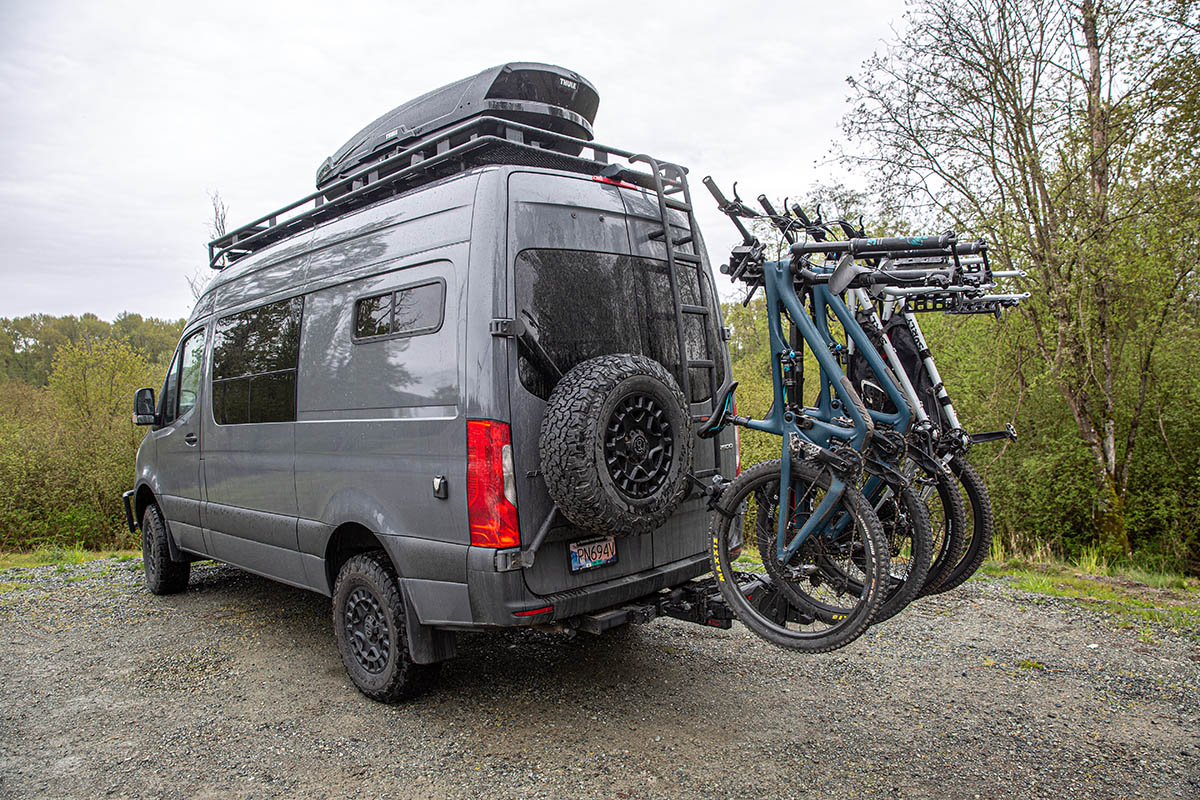 Build Quality and Durability
Yakima is a leader in the hitch bike rack market, and the HangTight 4 is a good reflection of their overall quality and expertise. Although heavy at 73 pounds and expensive at nearly $850, it has a very robust and high-end feel with a mostly metal construction and heavy-duty materials throughout. And after extensive use, our rack is showing almost no signs of wear: All of the straps are working well, the tilt lever is operating smoothly, and even the springs and tiny pieces in the tilt mechanism are well designed and protected from falling out. We did notice some play where the hitch and receiver meet, but it hasn't led to any issues other than scraped paint that can only be seen when the rack is removed from the hitch. The red Yakima logo sticker has also peeled back slightly, but again, this is purely cosmetic and has no impact on overall performance.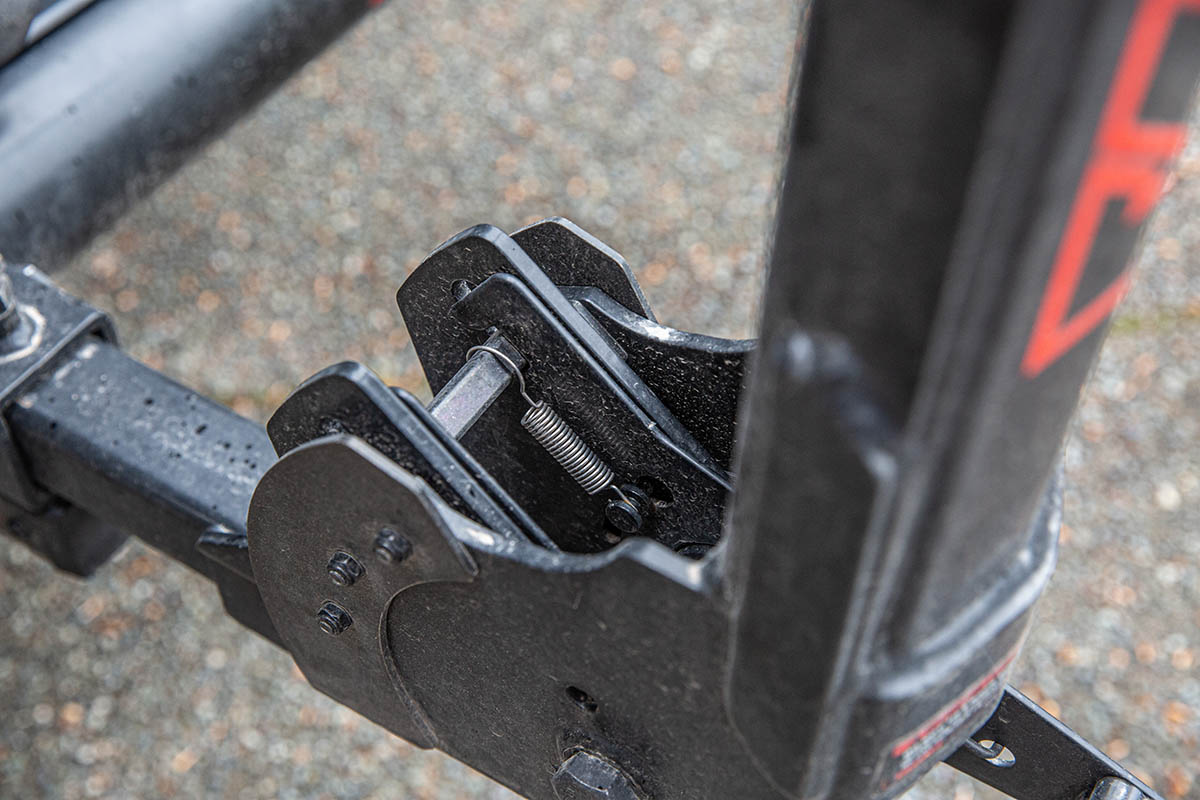 That said, I do have some long-term concerns about the placement of the rubber padding on the retention straps for the handlebar cradles. For reference, these pads sit up against the ridges of the strap and are exposed to constant vibrating and rubbing between the bar and strap, which is a particular concern on bumpy forest service and backcountry roads. To be fair, I haven't noticed any problems or deterioration yet, but the positioning in such a high-wear area doesn't inspire a lot of confidence. On a related note, it's also worth mentioning that the rack is prone to bouncing when driving on uneven roads or over speed bumps, especially when fully loaded. But while it can be a little alarming at first (the slight play in the hitch will make it feel worse than it is), this is relatively standard among hanging models and hasn't caused any damage to our rack or bikes.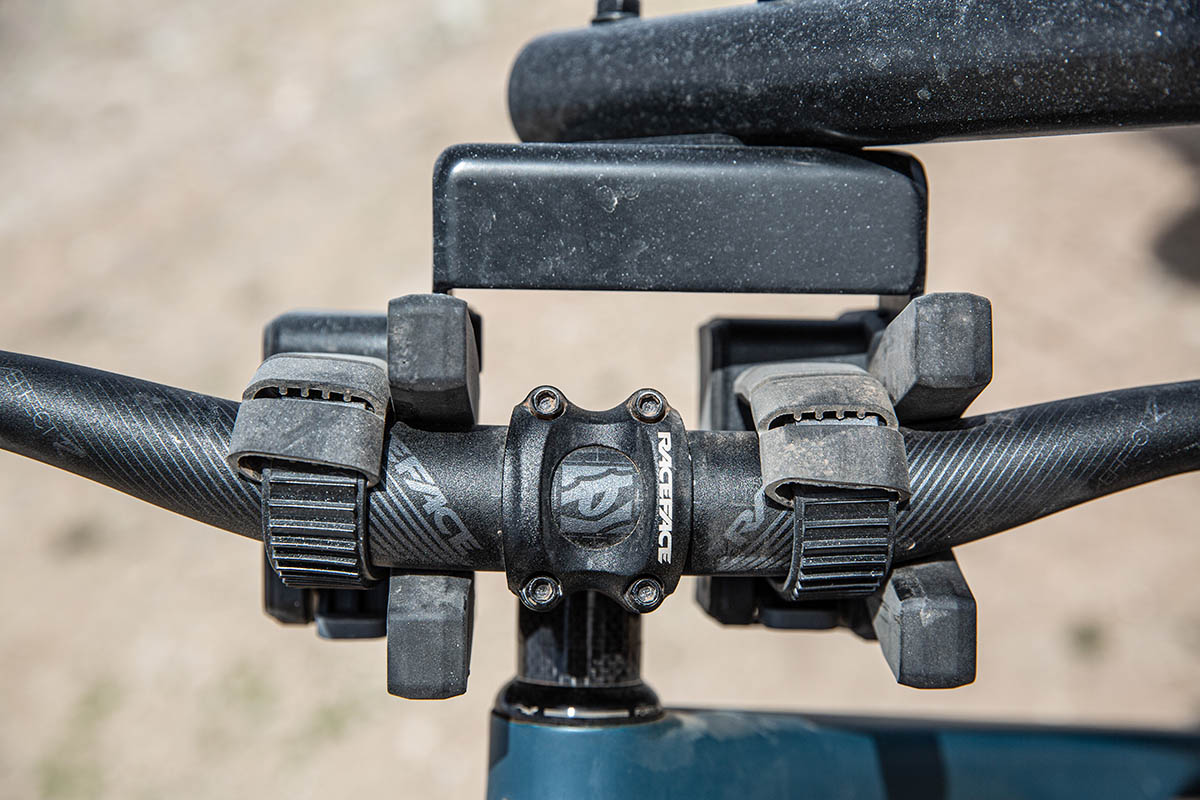 Weight
The Yakima HangTight 4 is decidedly hefty at 73 pounds and very difficult and cumbersome to attach and remove on your own (it's safest with two people). As a result, we've chosen to leave the rack on our vehicle for extended stretches, even when we're not using it consistently. If you prefer to remove your rack with any regularity, you'll likely want to opt for a lighter setup like North Shore Racks' 50-pound NSR 4 (although again, that rack can only carry mountain bikes and is far less versatile than the HangTight). Yakima's own RidgeBack 4 and FullSwing 4 also check in lighter at 35 and 56 pounds respectively, although the HangTight is the most premium of the grouping and compatible with more bike sizes and styles. Alternatively, Kuat's tray-style NV 2.0 with the two-bike add-on clocks in significantly heavier at 100 pounds total but feels much easier to manage because of its two-part design (56 lbs. for the rack and 44 lbs. for the additional tray).

Key Features
Attachment System
The cradle and ratcheting system on the Yakima HangTight 4 is a clear highlight of the design and does a great job at keeping bikes securely in place during travel. As we covered above, aligning your bike's handlebars perfectly with the cradles can be a little tricky, but it does get easier over time. Once aligned properly, the cradles nicely support the handlebars and stem of the bike with rubber stoppers at either side to maximize security and prevent side-to-side movement. At the bottom, the rotating wheel cup secures the rear wheel and can be moved back and forth along the bar with a twist-style knob. When you're ready to hit the road, the ratcheting straps effectively cinch things down and promote a very confidence-inspiring feel, keeping the bikes close to the vehicle and minimizing any unwanted movement.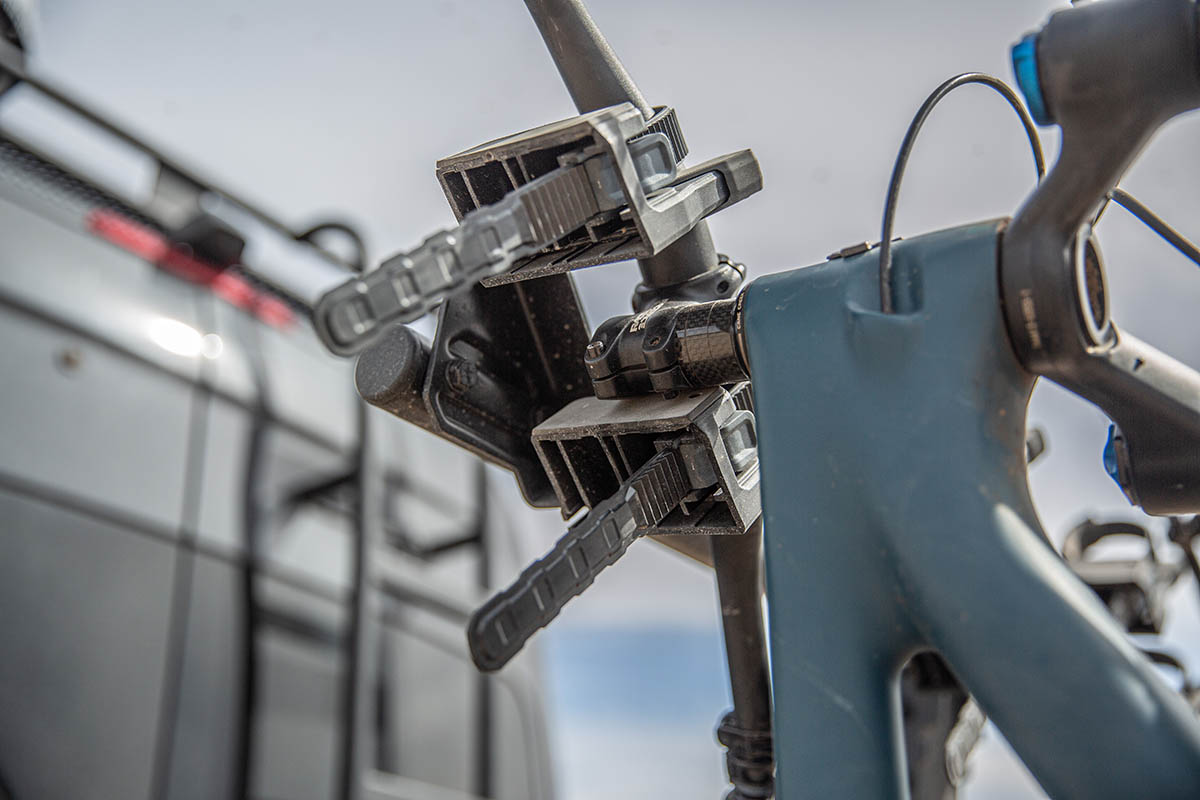 Tilt Lever
Another helpful feature on the Yakima HangTight 4 is its foot-operated tilt lever located at the base of the rack. By pressing down with your foot, the rack lowers from 90 degrees to around 120, making it much easier to load and unload bikes. It also allows access to the rear of most vehicles, although we had to purchase Yakima's BackSwing adapter in order to open our Sprinter van's rear doors fully. But again, this likely won't be an issue for most hatchbacks and pickup trucks.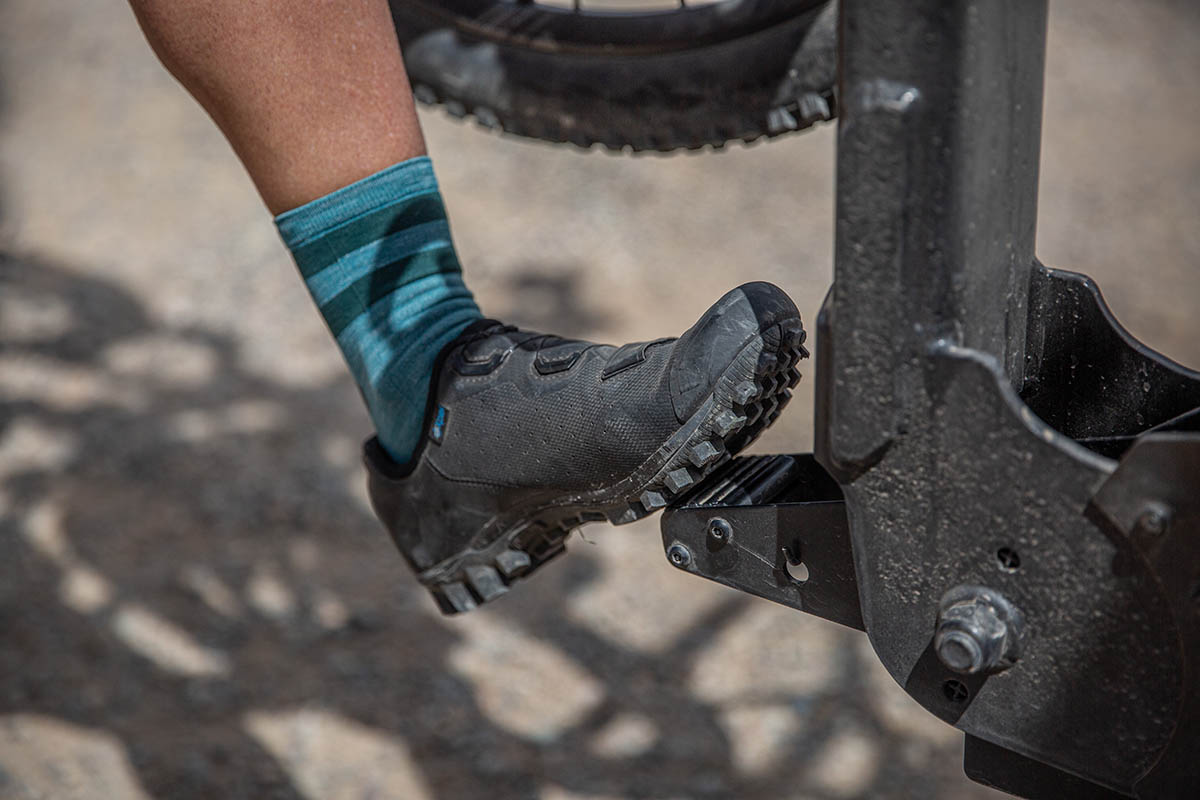 Other Features
Like many premium hitch-mounted bike racks, the HangTight 4 comes with a lock for securing the rack to your vehicle's hitch. Yakima also included an integrated lock loop for adding cable or chain locks, although you'll need to purchase those separately. Rounding out the feature set is a built-in bottle opener just below the handlebar mount, which certainly isn't necessary but has been nice to have, especially after long, hot rides.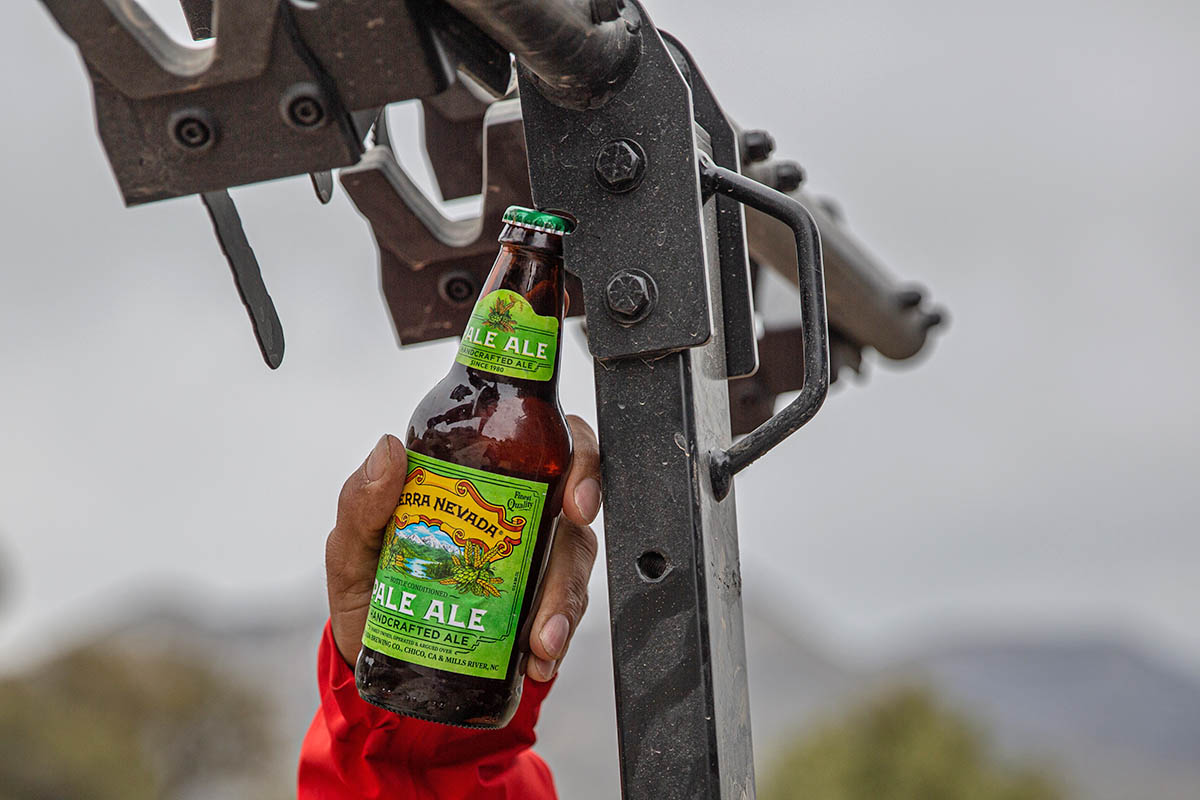 Other Version: Yakima HangTight 6
We put the four-bike version of the HangTight to the test for this review, and Yakima also offers a six-bike variation for $1,049. Apart from the $200 difference in price and ability to carry two additional bikes, the six-bike HangTight also weighs around 11 pounds more at 84 pounds 11.2 ounces but retains an otherwise identical feature set and overall construction. Like the rack we tested, the HangTight 6 can accommodate 20- to 29-inch tires that are up to 5 inches wide, has a weight capacity of 37.5 pounds per bike, and boasts the same foot-operated tilt mechanism and functional cradle retention system. One final note here: Unlike the HangTight 4, the HangTight 6 is not compatible with the BackSwing Extension that we used on our van.

What We Like
Compatible with a wide range of tire sizes and bike styles, including mountain bikes, road bikes, fat bikes, and even kids' bikes.
Vertical hanging position eliminates the need for top tube adapters, limits frame scuffs, keeps bikes close to the vehicle, and helps maximize ground clearance.
Cradle and ratcheting system is well executed, easy to use, and keeps bikes securely in place.
Unlike most hanging racks, the HangTight can be tilted back with bikes loaded, which adds a sizable boost in convenience and ease of use.
Overall build quality is excellent: The rack has a burly and confidence-inspiring feel and is showing virtually no signs of wear after extensive use.

What We Don't
Heavy at 73 pounds and very difficult and cumbersome to attach and remove on your own. Loading and unloading can be a little tricky too.
Insufficient padding led to scuff marks on our handlebars and rear wheels (we've since added foam spacers, which resolved this issue).
Slight play where the rack connects to the hitch causes it to bounce on rough and uneven roads.
Weight capacity is relatively low at just 37.5 pounds per bike—larger downhill setups and e-bikes will likely exceed that limit.
Can only fit four bikes if they all have flat handlebars (max capacity with drop bars is three), which is a potential issue for road and gravel riders.


Comparison Table

The Competition
North Shore Racks was an early leader in the vertical hanging rack space, so they're a natural reference point for the new Yakima HangTight. Comparing four-bike models, the NSR 4 comes in quite a bit more affordable at $650 and is a staple among MTB guide services for its longevity and ease of use. That said, the design comes with notable downsides, including only being able to carry mountain bikes (drop bars are incompatible with the setup), lacking a tilt mechanism to allow for access into the rear of your vehicle, and featuring a lower quality construction overall. Unless you need the extra carrying capacity (at 60 lbs. per bike, it's a better match for heavier downhill models), we think the Yakima is the more versatile of the two.
Stepping up rapidly in price is Recon Racks, which were recently acquired by the well-respected 1UP USA brand. Offered in five and six bike capacities, these expensive yet exquisitely built hanging racks are our current favorite on the market for hauling mountain bikes. Their cradles at the top hold your tires in place securely (and with no wheel contact), and their securing system is a class leader for keeping everything in place on a bumpy forest service road. Compared with the Yakima, the Recon gets the edge in build quality and bike security, but the Yakima is the only one that can carry road or gravel bikes, which could be a dealbreaker for some.
For riders who mix disciplines between mountain and road or gravel, Lolo Racks should be on your radar. Their 4-bike vertical hanging rack undercuts the Yakima slightly at $810 and is compatible with a wide range of bike types and wheel sizes (without adapters). Its handlebar and wheel holds aren't as confidence-inspiring as the Yakima's, nor is its tilt mechanism as user-friendly. One final knock is that you can only carry two drop bar bikes at a time, while the Yakima's max is three. It's admittedly a pretty close call between the two designs—and both have their flaws—but we give the slight edge to the Yakima.
A final rack to consider is Yakima's own HangOver 4. Coming in $100 less than the HangTight, you get a more focused design that's only intended to work with suspension-fork mountain bikes. This immediately limits its appeal for some riders, but the good news with the HangOver is that it shares some of the HangTight's best traits, including the foot-operated tilt lever, integrated bike-lock loop, and sturdy build quality. We prefer the more versatile HangTight, but mountain-only riders have a nice option to save with the HangOver.
If you're thinking about buying gear that we've reviewed on Switchback Travel, you can help support us in the process. Just click on any of the seller links above, and if you make a purchase, we receive a small percentage of the transaction. The cost of the product is the same to you but this helps us continue to test and write about outdoor gear. Thanks and we appreciate your support!
Depending on the seller, most products ship free in the United States on orders of $50 or more. International shipping availability and rates vary by seller. The pricing information on this page is updated hourly but we are not responsible for inaccuracies.
Read More From Switchback Travel