We're all for big adventures that take us off the grid, but it's never a bad idea to have a way of getting in touch. For organizing a pick up, initiating a rescue, or just checking in, a satellite messenger has become our go-to means of staying connected in areas without cell service. In addition to their ability to send (and—most of the time—receive) messages, these devices tack on a range of other functions, including location sharing, GPS navigation, weather reporting, and more. Our picks below represent a complete view of the market, ranging from high-powered hotspots that pair with your smartphone to simple one-way messengers. For more information, see our comparison table and buying advice below the picks.
 
Best Overall Satellite Messenger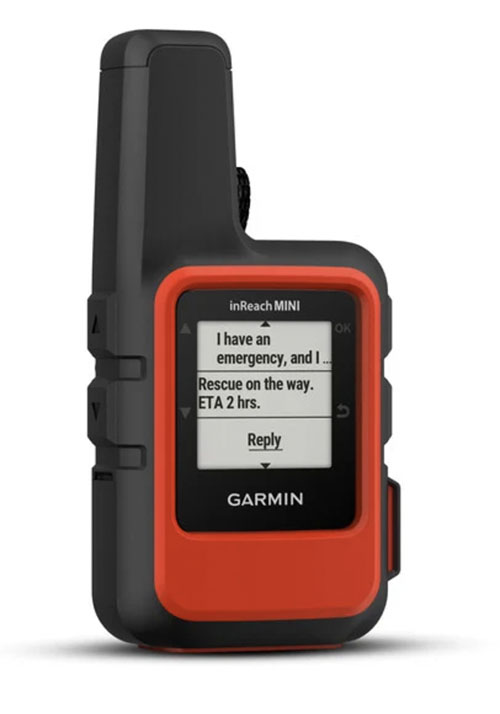 Category: Two-way
Weight: 3.5 oz.
Satellite network: Iridium
What we like: Lightweight, great battery life, and fully functional as a standalone device.
What we don't: Garmin's subscription service is pricey.
Most backcountry enthusiasts are looking for a streamlined, long-lasting satellite messenger that enables them to communicate from the comfort of their smartphone, and the Garmin inReach Mini puts it all together better than most. At just 3.5 ounces, the Mini ties for the lightest device here (along with the Bivy Stick below), but it's also one of the most capable. You get connection to the Iridium satellite network (widely accepted as the most reliable coverage), an impressive battery life, and a small display and relatively easy-to-learn interface that keep the Mini fully functional even if your smartphone bites the dust. Tack on features like weather forecasting, location tracking and sharing, and maps and navigation via the Garmin Earthmate app, and the Mini is the full package for most backcountry-goers. 
It speaks volumes that we see the inReach Mini being used in the field more than any other device, but there are a few downsides to the design. First off, Garmin's subscription plans are pricey, especially for those who only want to use their messenger a few times a year. For example, a month on the most basic Freedom plan will run you almost $50 (a $34.95 annual program fee plus a $14.95 monthly fee), whereas 20 credits on the Bivy Stick cost just $18. Further, while the Mini's battery life is more than enough for most, stepping up to the inReach Explorer+ will get you notably more power (for a weight and price penalty). Finally, if you like to consistently go sans smartphone, the expanded interfaces of the SPOT X and Explorer+ will make life easier (the latter offers nice glove-friendly buttons too). But gripes aside, the inReach Mini is the complete package for trail runners, weight-conscious climbers, thru-hikers, and more, and the price is reasonable at $350. 
See the Garmin inReach Mini
Best Budget Satellite Messenger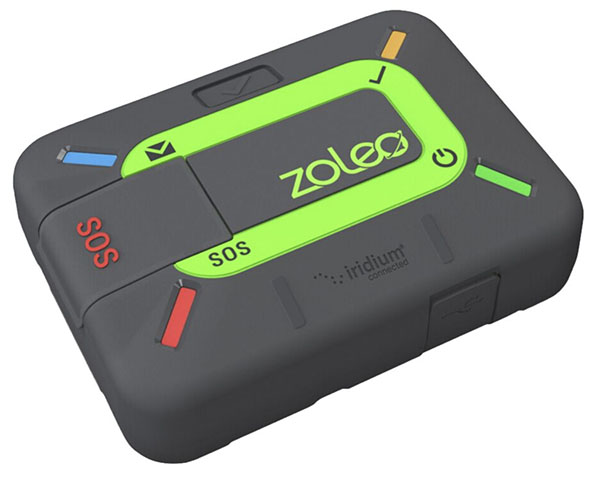 Category: Two-way
Weight: 5.3 oz.
Satellite network: Iridium
What we like: A two-way messenger for just $199; connects to cellular and WiFi networks.
What we don't: Heavy and bulky.
Garmin and SPOT used to be the only noteworthy names in satellite messengers, but a number of newcomers have landed on the scene over the past few years. Within this grouping, ZOLEO's satellite communicator is an appealing budget pick that manages to pack in a functional array of capabilities that belie its sub-$200 price tag. Like the inReach Mini above, you get two-way messaging via a smartphone app, as well as unlimited location tracking and sharing, weather forecasts via Dark Sky, connection to the Iridium satellite network, and SOS support from GEOS (the standard bearer for search and rescue coordination). And unlike Garmin products, the ZOLEO app also allows messaging over cellular and WiFi networks—a great feature that provides seamless communication for those who frequently move in and out of service, including thru-hikers, international travelers, and those who live in rural areas.
There are some tradeoffs to opting for such a budget-oriented model, and the most notable is the ZOLEO's fairly bulky build—at 5.3 ounces, it's considerably heavier and less sleek than the inReach Mini above and Bivy Stick below. What's more, ZOLEO omits maps and navigation, although we prefer to use an app like Gaia regardless. But for just $199, it's a pretty impressive value, and the two-way platform gives you a lot more options than a one-way device like the SPOT Gen4 below ($150). Penny pinchers will also appreciate that ZOLEO allows you to pack 950 characters into one message (compared to Garmin's 160), and their fee structure is a bit more affordable than Garmin and SPOT's for seasonal use (although you can save even more with the Bivy Stick and SatPaq below). All told, for adventurers on a budget—and especially those who want the ability to communicate seamlessly over cellular and WiFi networks—the ZOLEO gets the job done for less than the competition.
See the ZOLEO Satellite Communicator
Best Payment Plan for Occasional Use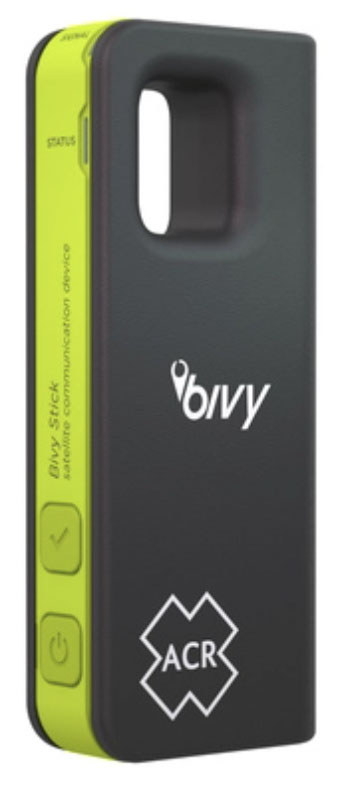 Category: Two-way
Weight: 3.5 oz.
Satellite network: Iridium
What we like: Credit-based plan is a great value for infrequent users.
What we don't: Must be paired with a smartphone.
If you go off the grid a lot with your satellite messenger, it's likely worth it to keep your device activated year-round with an annual plan. But for those who get out only a few times a year, the fees associated with subscriptions can add up quickly. It's for this reason that we really like the Bivy Stick: you pay per credit (one credit is equal to one transmission, such as one message sent or received, one weather forecast, one location share, one hour of tracking, etc.) on a monthly basis, with no activation fees, flex plan fees, or multi-month commitments. Compared to the nearly $50 charge associated with starting up a very basic Garmin plan for a month, the Bivy Stick's $18 for 20 credits (or $50 for unlimited credits) is very refreshing and a much easier pill to swallow for many. 
The Bivy Stick holds up in other metrics too: it's identical in weight to the inReach Mini above and offers the same basic features, including two-way messaging, weather forecasts, and location sharing and tracking. And like the Garmin, the Bivy Stick uses the very reliable Iridium network, and we've noticed no discernible difference in the quality or speed between the two devices' connections. The only downside is that you can't access most of the Bivy Stick's features without a smartphone—the device itself has just check-in and SOS buttons—and the app could definitely use some refinement. But these tradeoffs are minor for most, and the Bivy Stick is an excellent value whether you're a dedicated explorer or just get out every so often.
See the Bivy Stick Satellite Communicator
Best of the Rest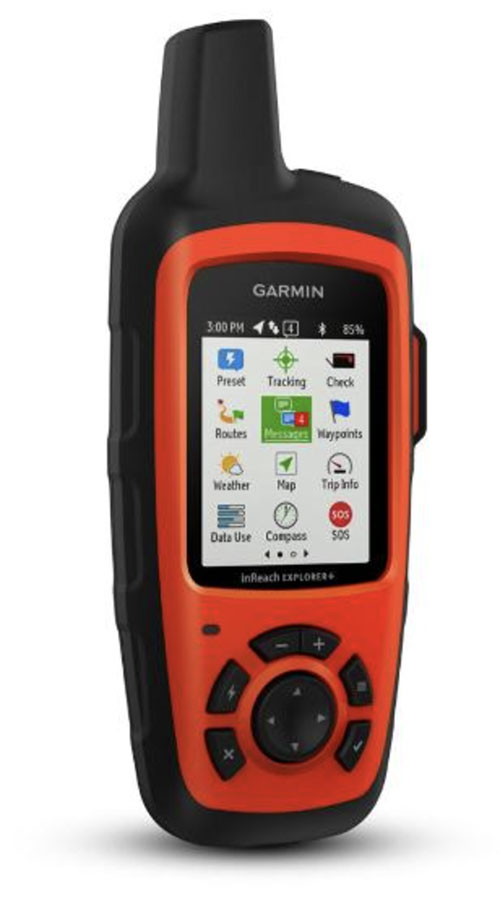 Category: Two-way
Weight: 7.5 oz.
Satellite network: Iridium
What we like: An all-in-one GPS device and satellite messenger.
What we don't: Expensive, heavy, and not everyone will need the mapping and navigational features.
Before the chart-topping inReach Mini, there was the inReach Explorer+. Combining two-way messaging with a modern GPS handheld, the Explorer+ is the full package, especially for those who want to leave their phone behind. Not only can you compose messages and get weather forecasts via the large, glove-friendly buttons and colorful display, but the Explorer+ is the only messenger here to include detailed preloaded topographic maps on the device itself. And Garmin didn't stop there: the granddaddy of the inReach collection also includes a built-in barometric altimeter, compass, and accelerometer (in addition to GPS), which gives you far greater accuracy for navigating tricky terrain.
But with a $450 price tag and hefty build, you'll need to have a pretty good reason to spring for the Explorer+ over the Mini, especially if you came here looking for a simple two-way messenger. One of the most compelling arguments is battery life: while the Mini lasts 24 days in power save mode, the Explorer+ stays powered for 30. Second, with large push buttons, it's a much better option in cold weather when you're consistently wearing gloves. And finally, if you're not attached to your smartphone, 7.5 ounces for the one device is actually lighter than the 3.5-ounce Mini plus your phone (the iPhone 11, for reference, is 6.8 oz. without a case). The Explorer+ has gotten a bit long in the tooth since the advent of the Mini, but for those looking for the functionality of a GPS device alongside a two-way satellite messenger, it's a really nice option. And it's also worth taking a look at Garmin's other inReach-equipped GPS devices, including the touchscreen Montana 700i and the all-around GPSMAP 66i.
See the Garmin inReach Explorer+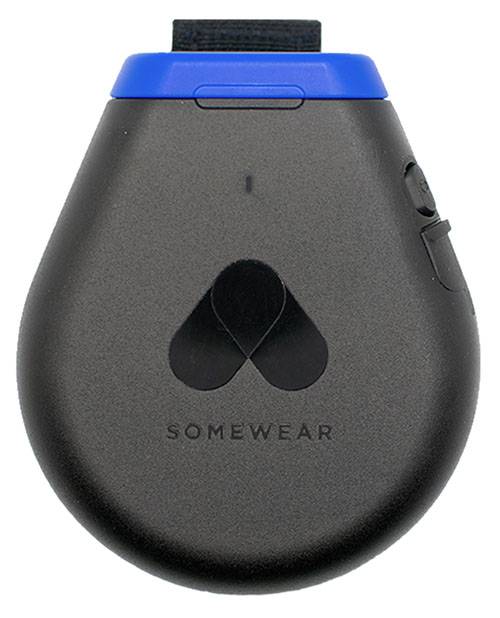 Category: Two-way
Weight: 4 oz.
Satellite network: Iridium
What we like: Inexpensive subscription plan and cellular/WiFi support.
What we don't: No preset messages or check-ins.
Somewear doesn't have the name recognition of brands like Garmin or SPOT, but their Global Hotspot is another capable satellite messenger and a great value at just $280. With a relatively light 4-ounce build and compact form factor, the Somewear is streamlined yet still entirely backcountry-ready with good weather resistance and stress certifications for shock and vibrations (it has an IP68 rating). You also get helpful tools like location tracking and weather reporting, and, similar to the ZOLEO, its sleek smartphone app with cell/WiFi compatibility makes it easy to dip in and out of the wilderness with minimal gaps in communication. 
The Somewear Global Hotspot has one of the most affordable subscription services here, with a simple $25 activation fee (for the base-level plans) and the option of an "ultralight" annual subscription of just $8.33 per month. Bumping up to a slightly more expensive plan will get you the flexibility to put your contract on hold without the suspension fees or flex plan fees we see from the likes of Garmin and SPOT. The biggest downside to the Global Hotspot's design is the lack of unlimited preset messages or check-ins, which we find helpful for keeping in touch while keeping costs low (you do get 75 location shares per month in the ultralight plan). But the thoughtfully designed Somewear is another reliable, Iridium-connected messenger, and it offers a lighter (and arguably cheaper, depending on your subscription) alternative to the ZOLEO for those who want seamless connection over multiple networks.
See the Somewear Global Hotspot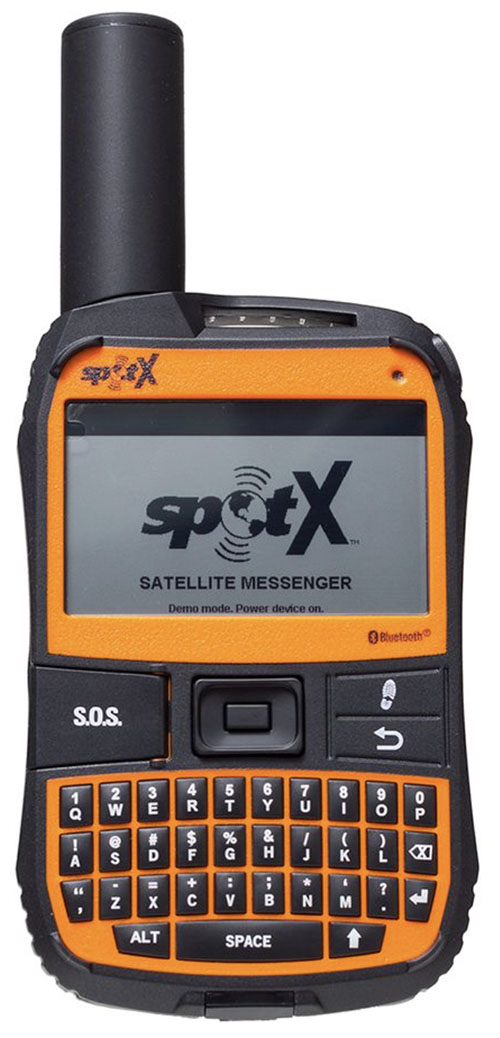 Category: Two-way
Weight: 7 oz.
Satellite network: Globalstar
What we like: An easy to use standalone device with a full QWERTY keyboard.
What we don't: Heavy and Globalstar's coverage isn't as comprehensive as Iridium's.
Our list wouldn't be complete without including messengers from SPOT. Made famous (or infamous) early on for their implication in accidental SOS calls and non-emergent rescue initiations, SPOT has come a long way since their beginnings in 2007. Their X here is a two-way messenger most similar to the Garmin inReach Mini above in terms of design and features. Unlike the Mini, however, the X boasts a full QWERTY keyboard, which makes it a breeze to type messages, navigate between waypoints with the built-in compass, and scroll through text chains without the need for a smartphone. And along with the SOS button, you also get the option of SPOT's S.O.V. ("Save Our Vehicle") feature, which sends your alert out to Nation Safe Drivers for timely vehicle assistance (additional subscription required). What's more, the X is $100 cheaper than the Mini at just $250.
The SPOT X's user interface is one of the most fully featured here and a good setup for those who prefer not to bring their phone into the field (at 7 oz., it's lighter than the combination of the inReach Mini and a smartphone). However, we found functionality to be a bit disappointing, including sticky keys and slow typing, and the app is fairly basic with no messaging capabilities. But perhaps the most significant deciding factor is that SPOT uses the Globalstar satellite network rather than Iridium, which offers decent service in the Lower 48 but has notably less global coverage (you can see a service map here). Finally, SPOT's subscription plan is one of the more expensive, similar to the likes of Garmin with activation fees, flex plan fees, and more. But you do get unlimited check-ins, preset texts, and tracking, which is great news for those who want to stay in near-constant communication.
See the SPOT X 2-Way Satellite Messenger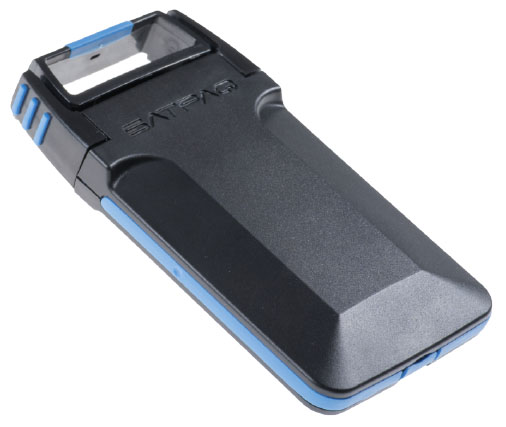 Category: Two-way
Weight: 4 oz.
Satellite network: Intelsat
What we like: Cheap messaging and stable connection in the United States.
What we don't: Expensive up front, can be hard to obtain a connection, and no location tracking.
Higher Ground's SatPaq is a unique two-way messenger that uses slightly different technology than the other devices here. Instead of connecting to low-Earth orbit satellite networks like Iridium and Globalstar, the SatPaq uses a series of geostationary satellites from Intelsat. In practice, this means a few things: First and foremost, you only get service in the United States. Second, geostationary satellites provide a more consistent connection than LEO satellites, although initiating the connection can be a challenge (you actually have to aim the SatPaq's antenna). Finally, Intelsat offers a more affordable service, which directly translates to Higher Ground's bargain-basement fees. Compared to the Bivy Stick above (our favorite plan for sporadic use), the SatPaq is notably cheaper, costing anywhere from $0.18 to $0.37 per message versus the Bivy's $1 (bonus: the message bundles don't expire for a year).
Similar to messengers like the ZOLEO, Bivy Stick, and Somewear, the Higher Ground SatPaq pairs with a smartphone app for two-way texting, check-in messages, weather forecasting, and SOS. Importantly, you don't get tracking, although you can share your location in the moment with your contacts or via Twitter. And like the ZOLEO and Somewear, the Higher Ground app also works on cellular or WiFi networks to offer seamless messaging with no fees. In most cases, we prefer to stick with the more reliable and widespread Iridium network, but the SatPaq offers an intriguing alternative for those who don't plan to leave the States (it works in Alaska and Hawaii too). 
See the Higher Ground SatPaq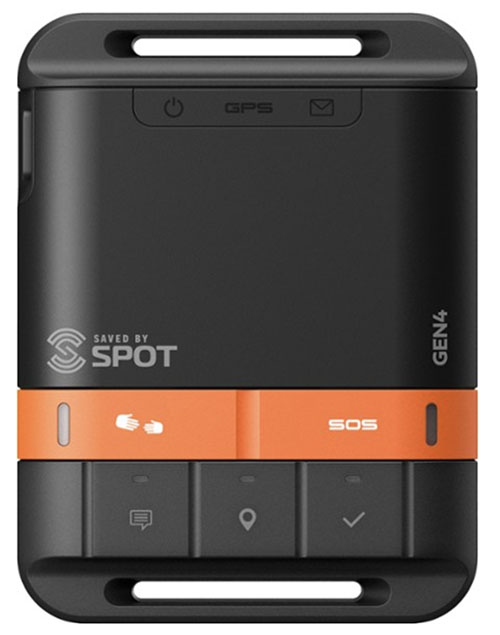 Category: One-way
Weight: 5 oz.
Satellite network: Globalstar
What we like: Simple, inexpensive, and enough options to communicate fairly nuanced information.
What we don't: Only one-way messenger on our list.
The majority of satellite messengers are two-way communicators that offer convenient smartphone pairing, but the SPOT Gen4 does neither. With a simple five-button, display-free interface that operates only as a standalone device, the Gen4's functionality is limited to simple check-in messages, location tracking, SOS, Help (this option alerts friends and family rather than SAR), and SPOT's Save Our Vehicle feature. In essence, this is SPOT's modern take on a personal locator beacon (PLB). But despite its simplicity, we think it's a great emergency backup for a lot of people. Not to mention, the Gen4 costs only $150, making it the most affordable satellite messenger here.
A one-way messenger is undeniably limited, but SPOT has built in a lot of potential for nuanced communication with the Gen4, including three distinct help options and two separate preset messages. For example, one could say, "I'm doing great and all is going according to plan," while the other reads, "My itinerary has changed, but no need to worry." The Gen4 is also a great tool for tracking, with the choice between 2.5, 10, 20, and 60-minute intervals and a long battery life aided by the simple design. But it's hard to go back once you experience the convenience of a two-way messenger, and with no screen, you'll have to decipher the SPOT's blinking lights to determine if your message has been sent. Finally, keep in mind that many of the same gripes we have with the SPOT X above are also applicable to the Gen4, including an expensive subscription plan and Globalstar's sparser coverage.
See the SPOT Gen4 Satellite GPS Messenger
Satellite Messenger Comparison Table
Satellite Messenger Buying Advice

What is a Satellite Messenger?
A satellite messenger is a small but powerful tool that allows you to stay connected in areas without cellular reception. Instead of using cell towers, satellite messengers rely on satellites, which means you can connect in the majority of places on Earth as long as you have a clear line of sight to the sky. Specifically designed for outdoor adventurers, these compact and lightweight devices work alone or pair with your smartphone to send and receive messages, dispatch SOS alerts and location coordinates, transmit live tracks, get the latest weather forecast, and more. Unlike standard GPS devices, each messenger here uses a private system of satellites and thereby requires a subscription in order to operate (similar to a cell plan). The technology continues to improve, and in 2021, there's an option for nearly everyone, whether you're a serious adventurer headed out on a big expedition, a resident of a rural area looking to stay connected, or a weekend warrior wanting an extra measure of safety.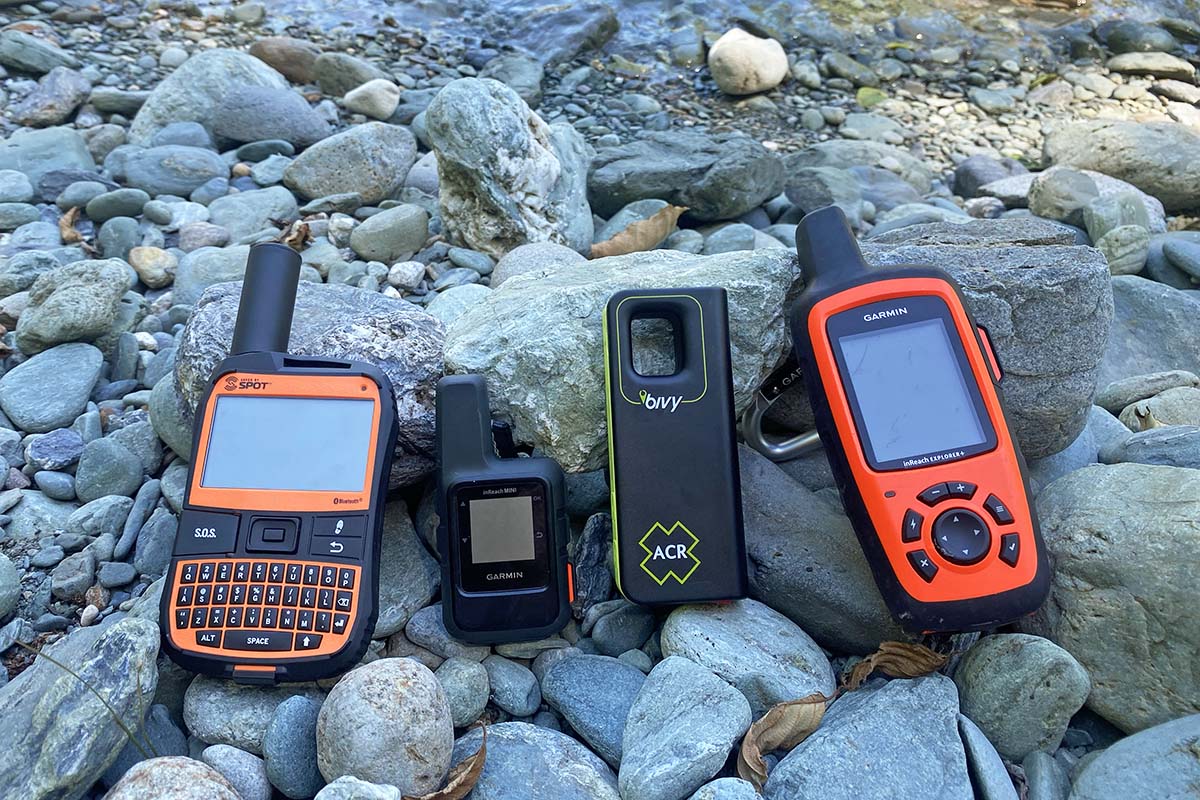 One-Way vs. Two-Way Messengers
Whereas personal locator beacons (PLBs) can only transmit SOS signals (more on this below), a defining feature of all of the satellite messengers here is the ability to communicate more nuanced information. This can be very helpful for getting in touch in non-emergent situations, sending out live tracks or requesting weather forecasts, transmitting updates to SAR teams during rescue attempts, and more. These more capable devices can be further broken down into two main categories: one-way and two-way messengers.

One-Way Messengers
One-way satellite messengers are the more basic option, epitomized by the SPOT Gen4. These devices have limited functionality, including an SOS button and the ability to send a few separate preset messages and your GPS coordinates to a list of predetermined phone numbers or email addresses. Importantly, one-way devices do not allow you to type out a unique message and cannot receive any input. A one-way device is a clear step up from a "no news is good news" PLB, but your ability to communicate is still very limited.

Two-Way Messengers
On the other hand, two-way devices (which comprise the majority of our list) can both send and receive nuanced information, akin to the texting capabilities of a cell phone. You get a convenient user interface too: most of these messengers have large screens or pair with your smartphone, which is a big step up from a standalone device with just a few buttons. The benefits of two-way satellite messengers are seemingly endless: you can source weather reports, communicate detailed logistics information, say hi to friends and family, navigate using built-in mapping tools, and much more.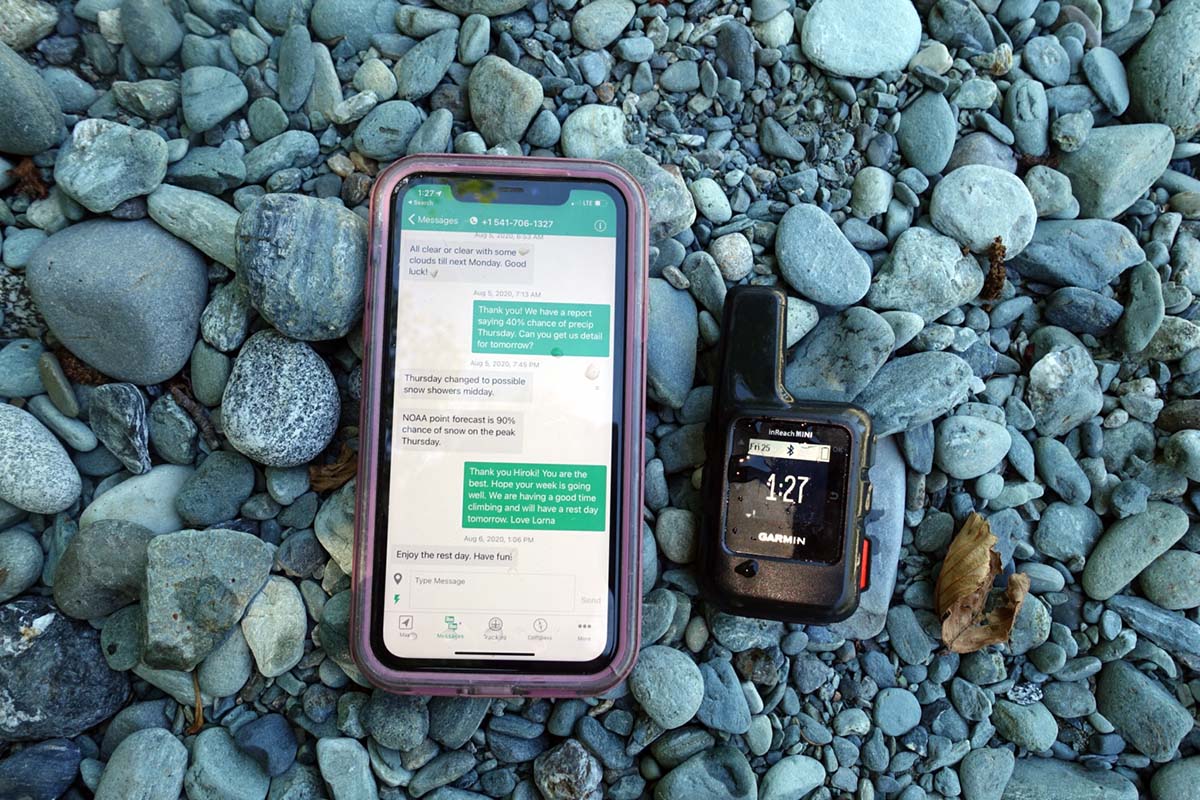 Satellite Messenger Features
SOS
One of the primary reasons for bringing a satellite messenger into the field is the extra measure of safety that it provides. All of the devices here include an SOS button—when pressed, the device sends your location to a private search and rescue service (the standard bearers are GEOS and Global Rescue), alerting them that help is needed. These services are staffed 24/7 by trained responders who relay your request to local search and rescue teams, in addition to continuing to track your device and respond to messages (in the case of two-way messengers). In short, if you press the SOS button on your device, help will come, whether via helicopter, by vehicle, or on foot.
While it's comforting to know that you can call for help, there are some clear disadvantages to the SOS feature. In recent years, we've heard story after story of individuals using this service in non-emergent situations or pressing the button accidentally. An SOS call is worth taking extremely seriously—once you make it, many people will start to rally on your behalf (and in many cases, your rescue bill will start to rack up). For this reason, most modern satellite messengers have made accidental SOS requests difficult—on the Garmin inReach Mini, for example, you must first lift a protective cover and then press and hold the SOS button. Notably, the one-way SPOT Gen4 has added Help and S.O.V. (Save Our Vehicle) buttons in addition to the SOS button, which are a step down from SOS by alerting friends and family or pinging a road assistance service, respectively.

Messaging
There are a variety of ways to communicate using a satellite messenger, including check-ins, preset messages, custom messages, and social media updates. Knowing the difference between these formats is important for getting the most out of your subscription—most plans have limited custom messaging, including social media updates—with overage fees for each additional message, while check-ins and preset messages are usually unlimited. 
A check-in message is one of the best ways to share your location with friends and family. In most cases, the accompanying text can be pre-programmed online (e.g., "All is well. No need for help!") and includes your GPS coordinates with each dispatch. Preset messages (SPOT calls them predefined messages) are also customized before you leave home, and many devices allow you to program more than one (Garmin permits up to three at a time). We like to use preset messages to say something totally distinct from the check-in message—it could be a request for a weather forecast, a note that conveys a non-specific itinerary change, or a simple "I love you." Finally, all two-way messengers allow you to send completely custom messages to any phone number, email address, or even a social media account, which are usually limited in length (for example, Garmin's character limit is 160 and Higher Ground's is 480). Unless you have an unlimited plan, custom messages (including incoming messages) will be counted against your message allotment.
Location Tracking and Sharing
With built-in GPS connectivity, most satellite messengers can track your location at various intervals, allowing you to share your progress with friends and family or via social media and view your track on a map after your trip. Both tracking and sharing are included in the majority of subscriptions, and spending up will often give you the ability to track at shorter intervals. For example, SPOT's basic plan offers tracking at 10, 30, and 60-minute intervals, while their unlimited plan allows you to choose among 2.5, 5, 10, 30, and 60 minutes. And with interfaces like Garmin's MapShare, followers can actually ping your device to request your real-time location, which can be helpful if you're too busy moving to share.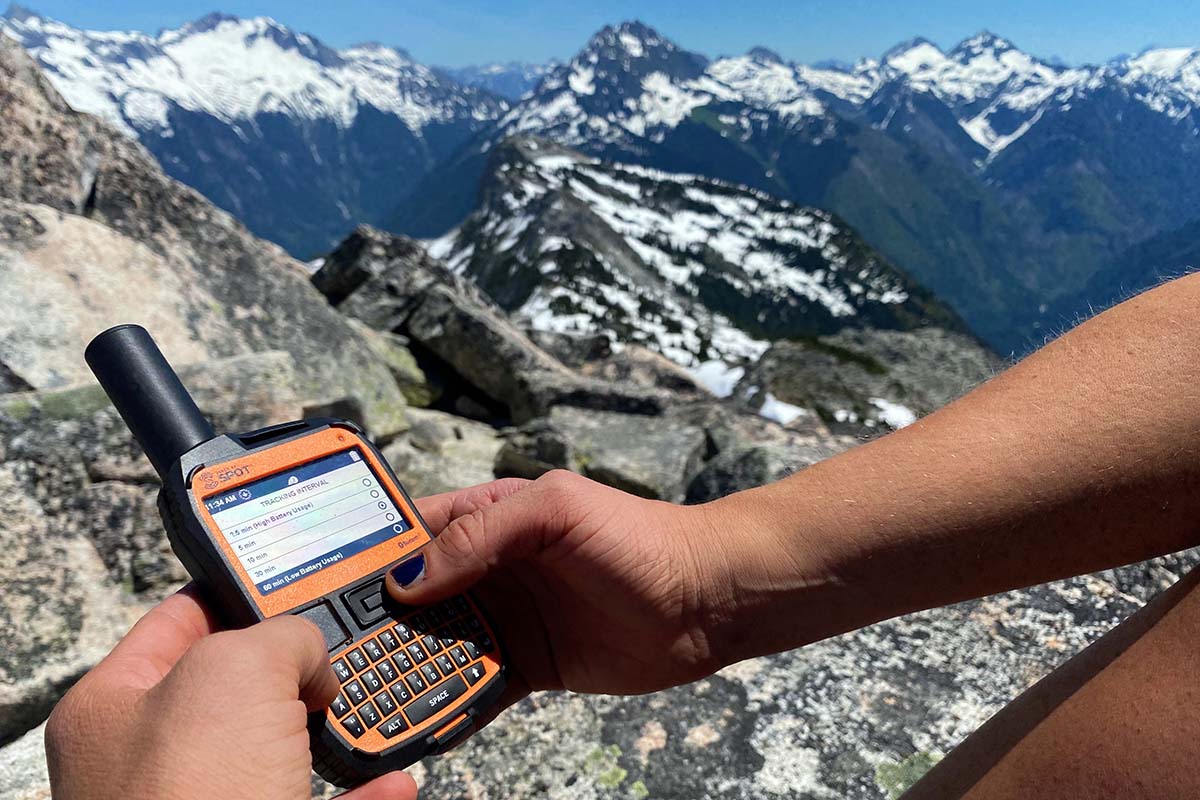 While tracking is a cool feature, it's important to keep in mind that it does take its toll on battery life (especially if you're using the shorter intervals). In the end, we prefer to conserve our satellite messenger for important communications and use a GPS watch to log our route instead (the downside here is that many watches don't allow you to share your track in real-time). But location sharing nevertheless is a cool feature, especially if you have friends, family, or other devoted fans that want to follow along on your adventure. And remember: you don't have to keep your device on at all times or share your entire track in order to keep folks at home updated. As we mentioned above, the majority of subscriptions allow unlimited check-in messages, which come with your location coordinates attached. This means you can turn on your satellite messenger, send a check-in message to an individual or group, and turn off your device to preserve battery life.
Weather Forecasting
Getting up-to-date weather forecasts can make or break an expedition, so most satellite messengers do a great job prioritizing this feature. Garmin's inReach products are our favorite in this respect, with basic, premium, and even marine forecasts for any waypoint you request (including your current location), displayed either on the device or your smartphone. We've used this tool both in the Alaska Range and remote areas of the North Cascades and found it to be impressively reliable. Messengers like the Somewear, Bivy Stick, and ZOLEO also include weather forecasting (like the Garmins above, most of these are powered by Dark Sky), but the SPOT X and Gen4 notably do not. Keep in mind that weather forecasts are not free and will generally apply toward your message count—or cost you $1 per request in the case of Garmin's premium and marine forecasts. While undertaking serious objectives in high-alpine environments, we've also found it prudent to have a point person back home who knows our whereabouts and is able to answer any weather-related questions.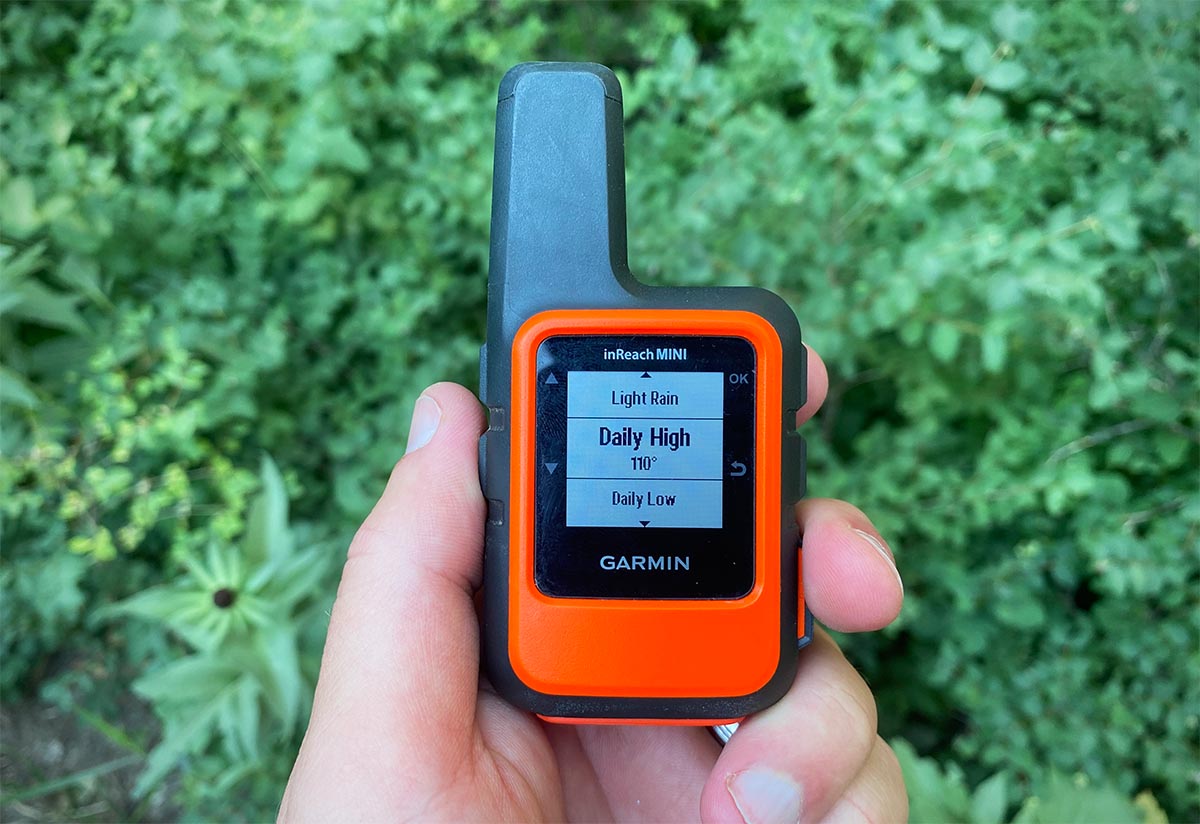 Maps and Navigation
Many of the satellite messengers above include navigational features, including preloaded maps or app-based mapping, the ability to create routes and navigate to waypoints, and more. In this category, the Garmin inReach Explorer+ sits head and shoulders above the rest, with all the capabilities we look for in a standard GPS handheld: a large color display, preloaded topographic maps, and built-in sensors including a barometric altimeter, compass, and accelerometer. 
However, maps and navigation are not features that we think of as particularly necessary in a satellite messenger. First and foremost, using your satellite messenger to navigate will be a huge drain on the battery, and we prefer to conserve our device's power for emergent situations and necessary communications instead. Second, most satellite messengers are simply no match for modern smartphones, which outpace every messenger above in terms of navigation with large and colorful screens, detailed and capable mapping apps (Gaia is our favorite), and integrated GPS technology. They're even easier to use than the inReach Explorer+, although you don't get the additional sensors. To summarize: navigational tools aren't something we tend to look for or rely on in a satellite messenger, although they can be helpful if you leave your smartphone behind.

Standalone vs. Smartphone-Compatible Devices
Depending on the make and model, you'll either use your satellite messenger alongside your smartphone, as a standalone piece, or choose between the two. As expected, these capabilities correspond to price: the one-way SPOT Gen4 ($150) is a simple standalone device with an interface limited to just a few buttons (i.e., no screen). Moving up the list, you get barebones two-way messengers like the Bivy Stick and Somewear, which can send SOS signals on their own but must be paired with a smartphone for most other functions. Finally, splurging for a high-end satellite messenger with a screen and push-button interface (like the Garmin inReach Explorer+ and inReach Mini) gives you the best of both worlds: you can carry out most functions from either the device or your smartphone. 
There are a number of pros and cons to consider when it comes to user interface. Devices that pair with a smartphone are undeniably easy to use, but with this capability, your chances of encountering technological difficulties increase—instead of just one battery to preserve and one device to keep safe from the elements, you now have two. On the bright side, most messengers are designed to send check-ins and SOS alerts without a smartphone, which is a nice backup (you just won't be able to access the more complex feature set without a display). Cost aside, we prefer the versatility of messengers that can be used both standalone or paired with a smartphone, such as the aforementioned Garmins.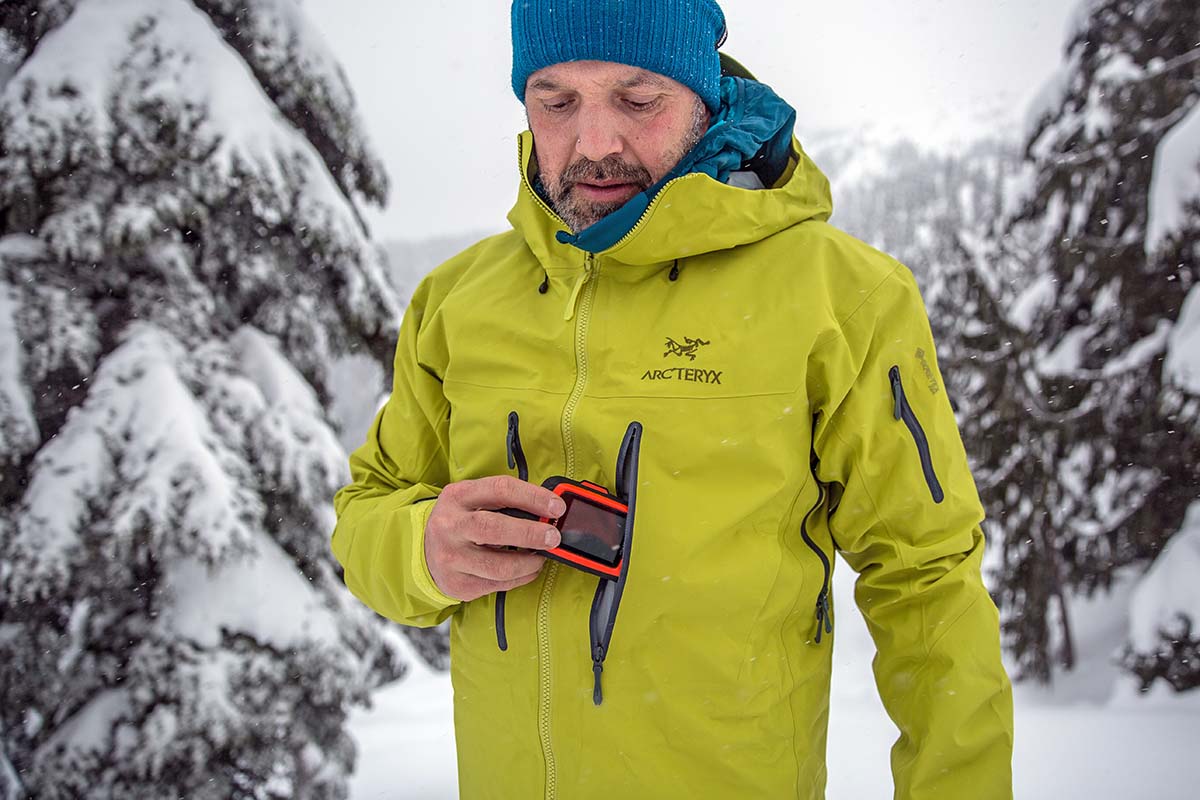 Subscriptions and Credits
Unlike PLBs, which use a public (read: free) satellite system to initiate rescues, the advanced tech of satellite messengers requires a subscription to a private network. It can be a challenge to parse out the differences between the various fee structures, but in general, we see three main styles: flexible monthly subscriptions, annual contracts, and credit-based plans. With monthly and annual subscriptions, you'll pay a set-up fee and choose among a range of plans that offer a limited (or unlimited) number of messages, location tracking intervals, and more. Monthly flex plans typically are more expensive than annual plans, involve an extra fee (Garmin's is $34.95 and SPOT's is $24.95 on top of a $19.95 activation fee), and can be suspended at any time. Credit-based plans (seen with the Bivy Stick and SatPaq) are much simpler and don't involve a contract: you get a set amount of credits (in general, one credit equals one transmission) that you can use for a month period. 
Your end use will determine what sort of payment plan is the best for you, but there are a few generalizations we can make here. If you don't want to bother with conserving messages, getting an unlimited plan for the duration of your time in the backcountry (whether it's a month or a year) is probably your best bet. For year-round emergency use for everything from backcountry skiing to backpacking, a basic annual plan or a credit-based service like Bivy Stick's make more sense. And if you only need your messenger for a few trips a year, a flex plan (Garmin has nicknamed theirs "freedom plans") can be a good idea, although you'll want to pay attention to the hidden fees (we love the Bivy Stick for those activating their device just one month out of the year). All told, the style of subscription or credits included with each device is worth considering and should be a factor in which model you choose.
 
Weight and Size
As with all gear we take on human-powered adventures, many will also want to take into account in a satellite messenger's weight and size. The devices above range from 3.5 ounces for the Garmin inReach Mini and Bivy Stick to the 7.5-ounce Garmin inReach Explorer+. Keep in mind that if your messenger requires pairing with a smartphone, you'll want to factor in that weight too—for example, our iPhone 11 weighs 8.4 ounces with its case. And size generally correlates with weight: the inReach Mini and Bivy Stick are slightly larger than a snickers bar, while the Explorer+ feels like a bulky walkie talkie. For activities like trail running, backpacking, and backcountry skiing, you'll want to prioritize a streamlined device, which is why the Mini (which doesn't necessarily need to be paired with a smartphone) gets our top pick.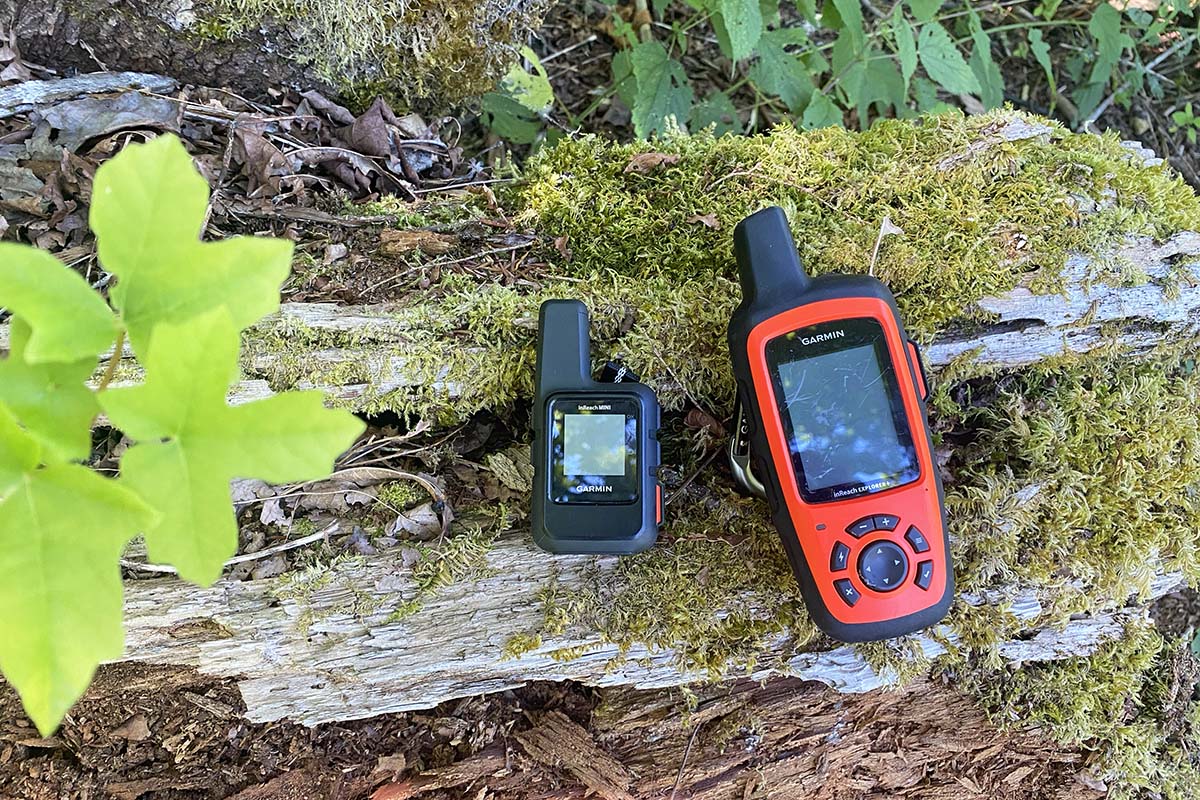 Satellite Networks
Satellite messengers connect to private networks of satellite systems, which are designed for communication and data transfer (unlike the GPS network, which specializes in location pinpointing). The two main services are Globalstar and Iridium: Globalstar supports the SPOT devices here, while Iridium is more widely used by Garmin, Bivy Stick, ZOLEO, Somewear, and more. Both networks use low-Earth orbit satellites, but Iridium's network has greater coverage with 66 operational satellites in orbit versus Globalstar's 48. The outlier here is the Higher Ground SatPaq, which uses Intelsat's geostationary Galaxy satellites (GEO), which have a more fixed orbit higher above the Earth's surface. As a result, the Higher Ground is more consistent when it latches onto a signal, but has less coverage overall and can only be used in the United States. 
The general takeaway is that all of the messengers above are capable in most areas of the US, as long as you have a clear view of the sky. Importantly, we have noticed no distinction in the speed at which devices like the inReach Mini, Bivy Stick, and SPOT X establish connection—they are all fairly equal in this respect. However, if you hope to venture out (especially to the oceans or the poles), Iridium is by far the most reliable service. And if you plan on getting a SPOT device, it's worth checking out their coverage map first.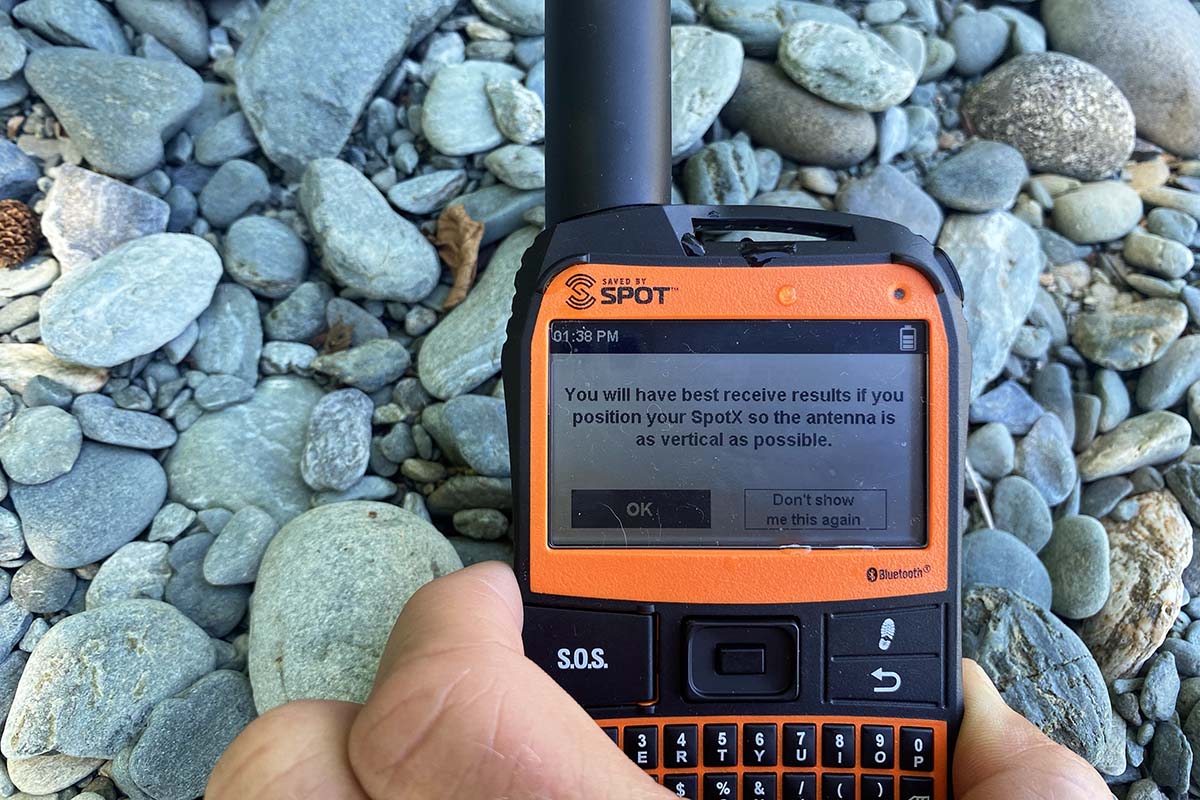 Smartphone Apps
For the uninitiated, the first thing we'll note here is that a satellite messenger is not a hotspot that allows you to simply use your smartphone apps (like messages, Instagram, Facebook, etc.) as you would with a cellular signal. What a satellite messenger does do is give you access to the greater world via its corresponding app—if you're going to pair your device with your phone, all functions (including messaging, mapping, obtaining weather forecasts, and more) must be done through the app. Each manufacturer has their own app, all of which are fairly basic and generally disappointing in terms of UI, but they get the job done on an interface you're extremely familiar with (i.e., your own phone). 
It's worth noting that a few apps—including those from ZOLEO, Higher Ground, and Somewear—function on a cellular or WiFi network as well, making messaging seamless for those dipping in and out of service. This isn't a necessity for most users, but for those consistently moving around the frontcountry and backcountry and wanting to keep their messaging in one easy-to-read chain (instead of moving back and forth from your standard messages app to your Garmin Earthmate app, for example), it can be a nice feature.

Battery Life
Battery life is a very important consideration in choosing a satellite messenger, as it will be your lifeline in the case of an emergency. Battery life can be a mixed bag depending on how often your device is powered on and what you're using it for, so most manufacturers will give a few different specs, including how long the device lasts when powered off, how many messages it can send, and the lifespan while tracking. In general, you can expect the more basic, screenless messengers to have longer lifespans, while colorful screens and a greater range of functions will be a quicker drain on battery life. Activities like location tracking and navigation can really drain the battery quickly, so we recommend these uses only if you have a way to repower your device, such as a portable power bank (like Goal Zero's Flip 24) or solar panel. And remember that in the case of the non-standalone devices here, you'll also want to keep your smartphone powered (with a much shorter battery life, this will be the true limiting factor).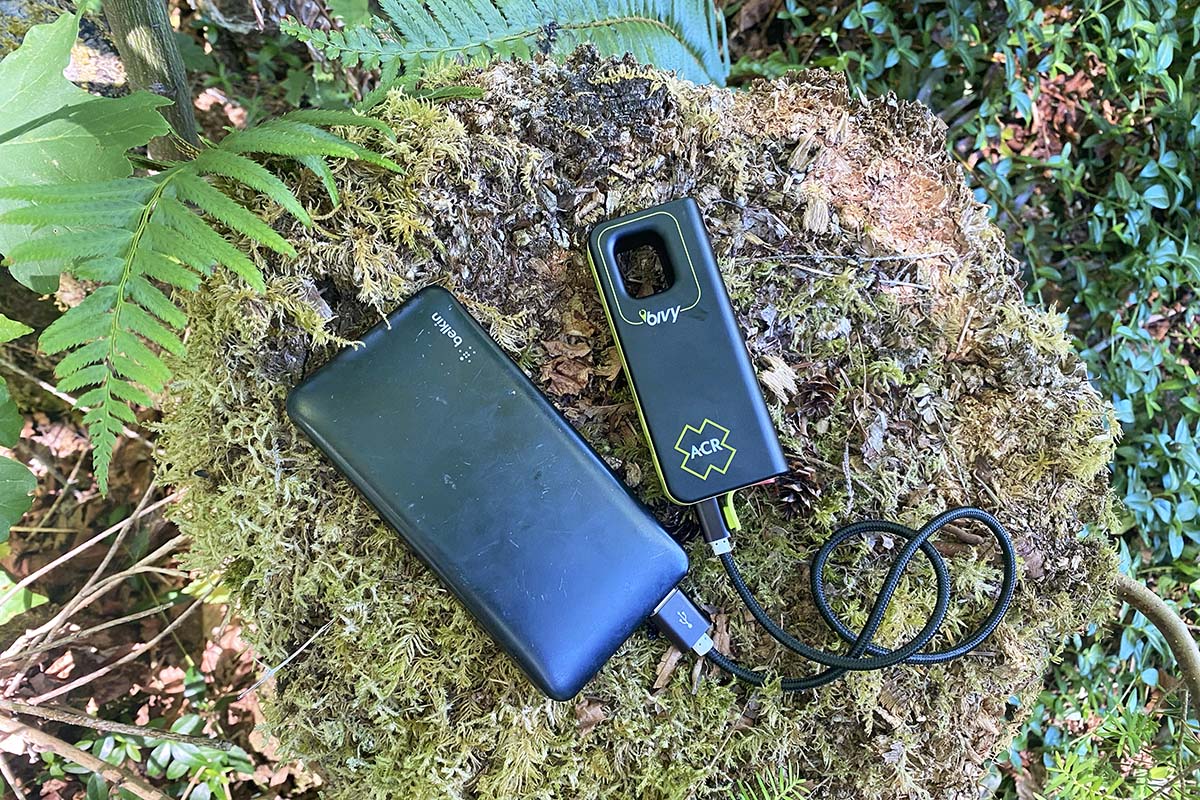 Other Remote Communication Options 
For those headed into the backcountry on human-powered adventures, satellite messengers are our favorite means of communication. They're small and lightweight yet offer powerful and timely connectivity in an easy-to-use format. But depending on your needs, it could be worth looking into a few other options as well, including personal locator beacons (PLBs) and mobile mesh networking devices. 
PLBs are extremely limited one-way devices capable of communicating one thing and one thing only: SOS. As a result, they can be misused in a variety of ways (such as calling for emergency assistance in non-emergent situations) and don't allow you to communicate with your rescuer in the case of a true emergency. However, thanks to their affordability (no subscription needed), simplicity, and years-long battery life, PLBs can serve as great backup devices. The ACR ResQLink 400 and rescueMe are popular models amongst outdoor adventurers.
Mobile mesh networking devices (Beartooth and the goTenna Mesh are the two most popular) are a relatively new technology that allow you to create a network between yourself and other individuals carrying similar devices. Paired with your smartphone, a mesh networking device allows you to talk, text, and share locations with other users up to 10 miles away, without the need for cell service or WiFi (they also work great in congested areas, such as a festival or sporting event). We really like the idea of mobile mesh networking for basecamp operations and when adventuring in the same areas as friends, but in most situations, they're no substitute for a satellite messenger. 
Back to Our Top Satellite Messenger Picks  Back to Our Satellite Messenger Comparison Table
Learn More About Outdoor Gear