As impressively warm and cozy insulators, down jackets are one of our favorite pieces of outdoor gear. Whether you're looking for an uber-light alpine piece for the mountains, a casual fur-brimmed parka for around-town use, or something in between, there's a down jacket that fits the bill. Switchback Travel's female editorial staff hit the slopes, trails, and city streets to compile this list, which ranges from technical, performance-oriented jackets to casual everyday designs. For more information, see our women's down jacket comparison table and buying advice below the picks.

Best Overall Women's Down Jacket 
Category: Lightweight
Weight: 12.2 oz.
Fill: 3.4 oz. of 800-fill down
What we like: Impressive versatility, good looks, and ethically sourced down. 
What we don't: A bit heavy and streamlined for true performance use.
Some down jackets are unmistakably casual, while others are designed specifically for the backcountry. But if you're looking for one jacket that can do it all, the Patagonia Down Sweater is perhaps the most versatile option on the market in 2020. Like some of the more specialized picks below, the Down Sweater is light enough to pack on your next hiking trip yet warm and streamlined enough to layer under a shell for skiing. And with that premium Patagonia build quality and finish, the Down Sweater doesn't look overly technical for walking around town or grabbing a drink after a long day in the mountains.
Even though the Down Sweater is a jack of all trades, it does have some limitations. It's far from the lightest option on this list (ounce counters should see the more performance-focused Arc'teryx Cerium LT and Mountain Hardwear Ghost Whisperer/2 below), and the fit is shorter and a bit boxier than more performance-oriented models. But all in all, it's tough to go wrong with Patagonia, and it doesn't hurt that the Down Sweater is now made with 100-percent-recycled polyester and ethically sourced down. For those who want added head coverage, the Down Sweater also is made in a hooded version for $50 more. And for true winter warmth, see the ultra-cozy Fitz Roy below.
See the Women's Patagonia Down Sweater
Best Performance Women's Down Jacket
Category: Lightweight
Weight: 9.9 oz. 
Fill: 3.35 oz. 850-fill down & 80/100g Coreloft
What we like: Great warmth and weather protection in a sub-10-ounce package.
What we don't: Expensive and not super durable. 
Simply put, Arc'teryx jackets are in a league of their own. They generally cost the most, look the best (Patagonia is a close competitor), and perform well enough for serious mountain athletes to put them through the wringer on a consistent basis. The Cerium LT Hoody is the company's leading lightweight down jacket and one sleek piece of gear. With a total weight of 9.9 ounces, a nearly complete feature set, and a silky interior and exterior, the Cerium LT plays and looks the part. The most direct competitor is the Feathered Friends Eos below, which has similar specs and quality but lacks the everyday appeal of the Arc'teryx here. 
An interesting feature of the Cerium LT is the use of Down Composite Mapping. Arc'teryx added a limited amount of Coreloft synthetic insulation in the areas most prone to getting wet: the shoulders, underarms, cuffs, and collar. The rest of the jacket is premium down in places that need maximum heating efficiency: the core, hood, and upper arms. While most of the other jackets on this list are strictly down, Arc'teryx has strayed from the norm to create a nice balance of lightweight warmth and functionality. All in all, for the rigors of backpacking, climbing, and backcountry skiing, the Cerium LT is hard to beat. And for a popular alternative that's slightly warmer and more durable (for a considerable weight penalty), check out the Thorium AR Hoody below.
See the Women's Arc'teryx Cerium LT Hoody
Best Budget Women's Down Jacket 
Category: Lightweight
Weight: 10.8 oz. 
Fill: 3.3 oz. of 650-fill down
What we like: Considerably cheaper than any other jacket on this list, yet surprisingly well built. 
What we don't: Not warm enough for true winter use.
The majority of down jackets on this list hover between $2o0 and $400, but REI's 650 2.0 costs of fraction of that at just $100 (and often less on sale). And despite the low price point, it's still a well-rounded piece with 3.3 ounces of 650-fill down and a reasonably light weight. We also like the stylish box-like baffling, thoughtful colorways, roomy/casual cut, and more technical features like interior dump pockets and a hem cinch. All told, it's a great budget choice for everything from daily use to hiking and resort skiing.
Keep in mind that although the REI 650 Down Jacket 2.0 stuffs into its hand pocket, the 650-fill-power isn't as lofty or compressible as more premium models on this list that hit 800-fill power or higher. Because of this, the REI suffers in the warmth-to-weight department compared to the pricier options here (for example, the Arc'teryx Cerium LT above is much warmer at a lower weight). Further, REI doesn't offer the jacket in a hooded version for women. But like the Patagonia above, the 650 uses recycled nylon in the shell and RDS-certified down, which adds to overall appeal. For a functional down jacket at a great price, the REI 650 Down Jacket 2.0 is tough to beat.
See the Women's REI 650 Down Jacket 2.0
Best Down Parka 
Category: Midweight
Weight: 37.8 oz. 
Fill: 8.3 oz. of 600-fill down
What we like: Great styling and a major boost in warmth over shorter down jackets.
What we don't: Not everyone will like the length.
Down is the best insulator for weight-conscious mountain activities, but it's also an ideal way to stay warm around town. For a high-quality option that doesn't skimp on style, the Patagonia Down With It is our favorite women's down parka of 2020. You get a healthy 8.3 ounces of 600-fill down, a DWR finish for repelling light moisture, and cozy features like a fleece-lined collar and pockets. Further, the Down With It earns major style points with its chevron baffles and princess seams, and a pair of snaps along each side ensure you can wear it while seated without pesky bunching (most parkas don't have this feature, and it's a good one).
The big difference between the Down With It Parka and the options above is the length, and not everyone will want the knee-length coverage and bulk. Some parkas, like Marmot's Montreal below, are classified as thigh-length rather than knee-length, but the added inches here are especially nice in cold climates like the Midwest or Northeast. And while the Down With It doesn't compress well for travel, it's got one big thing going for it: warmth. 600-fill isn't as light and compressible as higher-fill-power down, but this is less of a concern for casual use and 8.3 ounces is a generous supply. And for warmer conditions, the Down With It is available in a hip-length version, which packs in 7.1 ounces of 600-fill down and is affordably priced at $199... Read in-depth review
See the Patagonia Down With It Parka
Best Ultralight Women's Down Jacket 
Category: Ultralight
Weight: 7.8 oz. 
Fill: 2.5 oz. of 800-fill down
What we like: The best warmth-to-weight ratio on this list.
What we don't: Superlight build isn't all that warm or durable.
For backcountry missions when every ounce counts, you'll need a jacket that offers big warmth for a low weight. Enter the 7.8-ounce Mountain Hardwear Ghost Whisperer/2, one of the most impressive jackets in its class. You get 2.5 ounces of premium 800-fill hydrophobic down in a package that stuffs down smaller than a 1-liter Nalgene (complete with a carabiner clip loop). Impressively, despite the low weight and small packed size, the Ghost Whisperer/2 doesn't compromise much on functionality or features with zippered hand pockets, a hem adjustment, and decent wind and water resistance.
However, while the Ghost Whisperer/2 is built to resist a light chill at the belay or during a summer evening at camp, it's notably less insulated than most other options here (when you factor in the difference in fill power, it's approximately as warm as the REI 650 2.0 above). And although the Ghost Whisperer/2 did get a slight durability boost in the latest update from a 7-denier shell to 10-denier, but it still feels paper-thin and should be treated with great care (read: we don't recommend this jacket as your daily driver). Finally, some might find themselves wishing for a helmet-compatible hood or a tighter seal at the wrists, but these are the sacrifices many are willing to make in the name of saving weight.
See the Women's Mountain Hardwear Ghost Whisperer/2 Hoody
Best of the Rest
Category: Heavyweight
Weight: 18.7 oz. 
Fill: 7 oz. of 800-fill down
What we like: Loaded with premium down. 
What we don't: Heavy and the left-hand zip can take some getting used to.
U.K.-based Rab is among our favorite outdoor clothing brands, and the Neutrino Pro is their beloved down jacket for cold-weather climbing and mountaineering. Updated last year, the jacket now sports a water-resistant Pertex Quantum Pro shell but retains everything else that made it a classic. Most importantly, it packs in a ton of down—7 ounces of 800-fill hydrophobic down, to be exact—at roughly the same price as less-insulative options from Arc'teryx, Patagonia, and Mountain Hardwear. Further, the 20-denier shell has a quality feel and offers surprisingly good abrasion resistance. Even at $375, that's a lot of bang for your buck.
What are the downsides of the Neutrino Pro? The first is the total weight at over 18.7 ounces, which is reasonable for serious winter use but too heavy and shoulder season conditions. Second, Americans may have problems with the European-style left-hand zipper, which can take a while to get used to. Finally, the Neutrino Pro is overkill for all but the coldest days and therefore isn't as versatile as a midweight option like the Arc'teryx Thorium AR below. These issues aside, the Rab is an exceptionally warm and comfortable winter piece at a good price. 
See the Women's Rab Neutrino Pro
Category: Midweight
Weight: 22.3 oz. 
Fill: 550-fill down & 160g Heatseeker
What we like: Good warmth and durability in a streamlined package.
What we don't: Decidedly casual.
If you speak the language of fur-brimmed hoods and attractive colorways more than warmth-to-weight ratios and fill power, The North Face's Gotham II jacket is worth a look. Stuffed with 550-fill down and tipping the scales at a hefty 22.3 ounces, the Gotham doesn't hold a candle to many of the lighter, more performance-focused jackets here, but it's not trying to either. Instead, the Gotham fills a nice niche for women who want the warmth and comfort of a down puffy without the techy appearance or specialized features.
The Gotham II has a lot going for it when it comes to day-in, day-out use. First is the 50-denier fabric, which is considerably more robust than much of the competition. Second, the jacket incorporates both down and synthetic insulation, which keeps the cost low and adds extra protection against light rain and snow. Finally, the Gotham II comes with thoughtful features like an internal media pocket and adjustable hood with a removable faux-fir brim. As an everyday down jacket that will hold up throughout multiple winters of use, the Gotham II is a well-loved option at an affordable price point, and past-season models can often be found on sale.
See the Women's The North Face Gotham II
Category: Lightweight
Weight: 15 oz. 
Fill: 3.5 oz. of 700-fill down 
What we like: Attractive styling; shell fabric is stretchy and durable.
What we don't: Heavier than the competition.
On first glance, it's easy to see that the Super/DS Stretchdown from Mountain Hardwear looks a little different than your standard down jacket. Instead of the typical shiny fabric and horizontal baffles, Mountain Hardwear used welded seams and a stretchy material (hence the name) that's almost softshell-like in nature. The result is comfortable down insulation that moves with you, is remarkably durable, and doesn't leave you looking like the Michelin Man. Overall, we've been very impressed by the Stretchdown series.
Taking a look at the specs, you'll quickly see the downside to Mountain Hardwear's unique stretch fabric: it's not light. At almost a pound, the Super/DS Stretchdown Hooded simply isn't competitive with the likes of Patagonia or Feathered Friends options in this regard. Further, while Mountain Hardwear designed the jacket to be worn during activity, we strongly prefer the breathability and weather resistance of synthetic insulation over down for truly active pursuits. All that said, the Super/DS Stretchdown has become our go-to jacket this winter for everyday use around town, which is a testament to its comfort, durability, and good looks... Read in-depth review
See the Women's Mountain Hardwear Super/DS Stretchdown Hooded
Category: Light/ultralight
Weight: 9 oz. 
Fill: 2.8 oz. of 900-fill down
What we like: Premium build quality and superb warmth-to-weight ratio.
What we don't: Technical appearance and occasional issues with availability.
Most of the brands here design and produce full lineups of outerwear, ranging from hardshells to hiking pants and more. But not Feathered Friends. As their name implies, just about every product made by this Seattle-based company is stuffed with high-quality down, from sleeping bags and insulated pants to jackets and bedding. As true down specialists, Feathered Friends' jackets stand out from the rest for their quality craftsmanship, ethically sourced materials, and high performance for serious outdoors people.
With that in mind, it comes as little surprise that the Feathered Friends Eos is one of the leading technical down jackets for women on the market. The Eos packs 2.8 ounces of 900-fill goose down (one of the most premium fill powers here) into a sub 10-ounce package—a very impressive amount of warmth for the weight. Further, it comes in at a competitive $339, which is a reasonable price for such a premium product. It certainly doesn't have as much daily appeal as the Down Sweater or Cerium LT above, with a non-adjustable hood, limited color options, and overall technical appearance. But for lightweight warmth in a premium package, the Eos is a great match for serious adventurers… Read in-depth review
See the Women's Feathered Friends Eos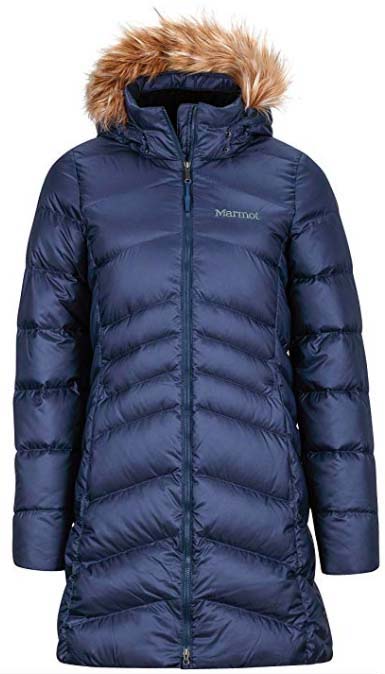 Category: Lightweight
Weight: 34 oz.
Fill: 700-fill down
What we like: Mid-thigh length and soft liner.
What we don't: Fits small and some might prefer a longer cut.
Casual down jackets come in all shapes and sizes, but we love the extra warmth and coverage that a parka provides. Marmot's Montreal checks all of the important boxes with 700-fill down, good freedom of movement, and a super cozy hood with a removable faux fur liner. The inside of the jacket has a fleece liner that is noticeably soft to the touch, and the outside has a DWR treatment to help with light precipitation. Add in clean lines and some classy colorways, and the Montreal is a great all-around parka for the cold at a reasonable price point.
Keep in mind that the Marmot Montreal's thigh-length cut is a little shorter than competitors like the Patagonia Down With It Parka, which translates to less protection and warmth (but a more playful style). And while Marmot does not specify the fill weight, in our experience the Montreal is fairly lightweight and not suited for temperatures much below freezing without layers underneath. In terms of the all-important fit factor, we found that the jacket runs slightly small and would recommend sizing up if you're in between sizes or plan on layering. But if you can get the fit dialed, the Montreal is a winner... Read in-depth review
See the Women's Marmot Montreal Down Coat
Category: Ultralight
Weight: 10.4 oz. 
Fill: 2.4 oz. of 850-fill down
What we like: A sleek-looking, versatile puffy at a good price.
What we don't: Limited warmth. 
L.L. Bean jackets are pretty much ubiquitous around the Northeast and for good reason. Their jackets are affordably priced, look good, and fit well. And the Ultralight 850 Down Sweater is case in point. In terms of warmth, the Ultralight is certainly on the lower end of the spectrum (on par with the Ghost Whisperer/2 above), but it functions well for shoulder seasons and crisp summer nights. Additionally, a Pertex Quantum shell and hydrophobic down make the Ultralight 850 particularly protective in wind and rain, although we would still pair it with a shell in anything more than a light drizzle just to be safe.
Similar to the Patagonia Down Sweater above, the L.L. Bean is a nice quiver-of-one jacket. And while the Patagonia offers considerably more loft and insulation, the Ultralight 850 is a sleeker-looking piece that saves you $29. L.L. Bean also sells the Ultralight 850 Down Jacket, which is on par with the Patagonia in terms of both price ($239) and warmth. Keep in mind that L.L. Bean products must be purchased online unless you have a store near you (East Coasters, rejoice), but shipping is free on orders over $50.
See the Women's L.L. Bean Ultralight 850 Down Sweater
Category: Light/ultralight
Weight: 11.3 oz. 
Fill: 2.9 oz. of 800-fill down
What we like: Great fit and good looks.
What we don't: Pricier and less weather-ready than the competition.
Outdoor Research has a healthy lineup of quality down jackets and parkas for women, and the Illuminate is our favorite—and lightest—of the bunch. We won't lie: the jacket's appearance is what really won us over. The chevron baffles are stylish and slimming, and OR offers more colorways (with more flair) than most. In a stacked field of performance down pieces, the Illuminate isn't the lightest or the warmest, but it's one of the best-looking and well-fitting of the bunch. We also like that the Illuminate can pull double duty as both standalone jacket and midlayer for skiing. 
The Illuminate competes with the Patagonia and L.L. Bean down sweaters above, offering similar warmth for the weight and the choice between hooded or non-hooded versions. However, unlike L.L Bean's Ultralight 850, the Illuminate doesn't use a DWR coating or hydrophobic down, which limits its appeal to dry shoulder-season or summertime use (alternatively, you can add a shell overtop when the weather turns). The Illuminate also is the most expensive jacket in the trio, which is surprising given that OR products are usually priced lower than the competition. The jacket's good looks and overall versatility still earn it a spot on our list, but value-wise, Patagonia and L.L. Bean get the edge.
See the Women's Outdoor Research Illuminate Hoody
Category: Heavyweight
Weight: 18.9 oz.
Fill: 6.4 oz. of 800-fill down
What we like: Sleeping bag-like comfort.
What we don't: More expensive and less durable than the Rab Neutrino Pro.
For a serious step up in warmth from the Patagonia Down Sweater, the Fitz Roy Down Parka is built for more frigid winter conditions. In this case, you get 6.4 ounces of 800-fill down (the Down sweater has 3.5 ounces), along with a Pertex Quantum shell for moisture protection. Like the Rab Neutrino Pro above, the Fitz Roy also features a longer cut for more coverage during the winter months, as well as performance-oriented features like a helmet-compatible hood and two-way main zipper for belaying. With soft fabrics and Patagonia's fashionable fit and finish, the Fitz Roy is the kind of jacket you'll put on and never want to take off.
Why do we rank the Neutrino Pro above the Fitz Roy? The main reason is that the Rab wins out in both weather protection and durability. The Patagonia doesn't use hydrophobic down and its standard Pertex Quantum shell is less hardwearing and water-resistant than the Neutrino's Quantum Pro. In fact, our Fitz Roy's shell has developed numerous stains and rips after a year of use, and it clearly isn't meant for heavy-duty wear. As a result, we've learned to reach for more durable jackets for most outings—despite the Fitz Roy's tempting sleeping bag-like feel—and grab the Patagonia only when weight and packability matter most… Read in-depth review
See the Women's Patagonia Fitz Roy Down Parka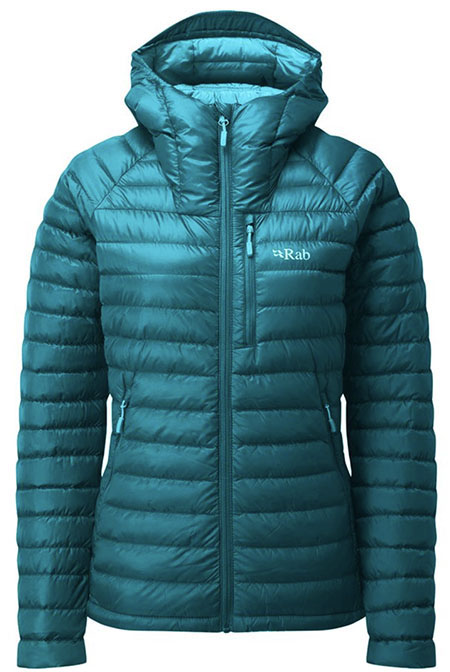 Category: Midweight
Weight: 15 oz.
Fill: 4.7 oz. of 750-fill down
What we like: Warm for the price; water-resistant build.
What we don't: Not as much daily appeal as the Patagonia Down Sweater.
Like the heavyweight Neutrino Pro above, Rab's popular Microlight Alpine Jacket pays tribute to the brand's climbing heritage. To start, it's built to handle wind and light moisture thanks to a tough Pertex Quantum shell, DWR coating, and hydrophobic down. Further, the rigid structure of the jacket's wire-brimmed hood has a hardshell-like feel, offering great all-around coverage and protection. You'll still want to don a waterproof layer if the skies open up, but the Microlight Alpine stands out as one of the more weather-ready midweight down jackets we've tested. 
Packing 4.7 ounces of 750-fill-power down in a women's medium, the Rab is warmer than competitors like Patagonia's Down Sweater Hoody (3.5 ounces of 800-fill down) and Feathered Friends' Eos (2.8 ounces of 900-fill down). But like the Eos, it can't match the Patagonia in terms of everyday appeal. The jacket's slim fit means you can't layer much underneath, and the European-style left-hand zipper takes some getting used to. Finally, it's on the heavy side for hauling in a pack at 15 ounces, but that extra weight does come with a boost in insulation. Overall, we think the Rab's combination of warmth, weather resistance, and reasonable $280 price make it a well-rounded backcountry piece.
See the Women's Rab Microlight Alpine
Category: Midweight
Weight: 16.6 oz.
Fill: 4.2 oz. of 800-fill down
What we like: Great styling and premium materials.
What we don't: Expensive for a casual piece.
Fjallraven's Keb Touring bucks the typical down jacket standard with its cool Scandinavian styling and tough construction. You get a fashionable drop tail hem in the back to keep you covered, an attractive leather zipper pull, and panels of double fabric that provide nice contrast and extra reinforcement where it counts: along the shoulders, lower back, and lower sleeves. And with 4.2 ounces of 800-fill down, the Keb Touring's midweight build will keep you warm and cozy on chilly days in town without the bulky loft and look of a heavyweight piece.
As with most products from Fjallraven, the Keb Touring sports a quality build but will cost you a pretty penny. Additionally, it's decidedly more casual than performance-focused: sure, you get premium down, an adjustable hood, and DWR for extra assurance in light rain or snow, but the Keb weighs over a pound for a women's small and doesn't pack down as small as competing models. Simply put, for the price, you can get a much warmer and more technical jacket. All that said, if you like Fjallraven's styling (we do), the Keb is a premium-feeling and incredibly cozy piece that will turn heads on the city streets.
See the Women's Fjallraven Keb Touring Down
Category: Ultralight 
Weight: 7.9 oz.
Fill: 3.4 oz. of 1,000-fill down
What we like: Ultra-premium down in a superlight package.
What we don't: Lacking in everyday appeal and durability. 
Among hardcore alpinists, you won't find a brand with more street cred than Montbell. This Japan-based company makes gear for people who truly use it and doesn't spend much effort on paid athletes or splashy marketing campaigns. But the proof is in the pudding: Montbell makes some of the best ultralight insulation on the market, and because it's mostly direct-to-consumer, the costs are reasonable for what you get. Our favorite ultralight down jacket in their lineup is the Plasma 1000 Alpine Down Parka. With 1,000-fill-power down (no, that's not a misprint) along with an ultra-thin 7-denier shell, it offers by far the best warmth-to-weight ratio on this list. It's not the absolute lightest option out there, but it's a well-balanced UL piece that weighs next to nothing.
The Montbell falls toward the bottom of our list for a few reasons. First and foremost, the 7-denier shell is concerningly thin, and we found the fit to be quite unshapely (despite the 25.6-inch center back length, the small was too short while the medium was notably baggy). It's worth noting that Montbell also makes a Plasma 1000 Down Jacket that forgoes the hood and comes in at 4.1 ounces total, but we don't feature that version here because the 1.3 ounces of down fill is pretty meager. It may work for warm-weather summer backpacking on a route like the Appalachian Trail, but will not provide enough insulation on its own even for summer in the mountains. Whichever version of the Plasma you are considering, remember that this jacket is not built for everyday use but for those who love the backcountry.
See the Women's Montbell Plasma 1000 Alpine Down Parka
Category: Heavyweight
Weight: 22 oz.
Fill: 850-fill down
What we like: Fully waterproof and very warm.
What we don't: Fairly heavy and bulky.
REI isn't known for pushing the boundaries of jacket design, but we really like what they've come up with in the Stormhenge 850. It features premium 850-fill down, a fully waterproof 2-layer shell (a rarity in the down jacket world), and nice touches like pit zips and a two-way front zipper to regulate heat. Unfortunately, REI does not provide the fill weight, but the Stormhenge nevertheless is one of the warmest options on this list. In fact, we've been comfortable wearing it over just a thin baselayer in temperatures as low as 20 degrees Fahrenheit.
The Stormhenge's unique waterproof construction helps it stand out among other winter-ready down jackets like the Rab Neutrino Pro and Patagonia Fitz Roy. Both of those models have DWR treatments but fall well short of the REI in terms of true weatherproofing. However, the Stormhenge is the heaviest performance-focused jacket on the list at 22 ounces and doesn't pack down very small. As a result, it lacks in versatility for uses like backpacking or climbing, but the waterproof, warm build are still a great match for everything from cold winter walks to downhill skiing.
See the Women's REI Stormhenge 850
Category: Lightweight
Weight: 14.8 oz. 
Fill: 3.7 oz. of 750-fill down
What we like: Do-everything personality.
What we don't: Heavier and more expensive than most of its competition.
While Arc'teryx's Cerium series shaves weight and features for technical pursuits, their Thorium collection places a bigger premium on everyday functionality. With the Thorium AR, you get more warmth than the Cerium LT above, along with a considerable boost in durability (30D vs. 10D)—all at a savings of $54. Further, the regular fit (vs. the Cerium's trim fit) gives you more room to layer underneath while still remaining streamlined enough to wear as a standalone jacket. All in all, we came away impressed by the Thorium's do-everything personality.
Despite its "all round" designation (hence the AR), the Thorium is no slouch in the performance department. You get 3.7 ounces of 750-fill down (it's not ultra-premium, but 750 is still pretty good) in a sub-1-pound package, along with synthetic insulation in areas most prone to getting wet: along the hood, cuffs, and under the arms. We rank it here because the Patagonia Down Sweater and OR Illuminate above win out in both price and warmth for the weight, but the Thorium is yet another winter-ready option to have on your radar. As always, we appreciate the sleek look and impressive quality of Arc'teryx products, which is why two of their down jackets made our list… Read in-depth review
See the Women's Arc'teryx Thorium AR Hoody
Category: Midweight
Fill: 750-fill down
What we like: High-end look and feel; great urban appeal.
What we don't: Very pricey.
It's important to know two things about Canada Goose. First, their jackets are about fashion more than performance. Second, they don't come cheap. In the end, you're much more likely to spot the Camp Hoodie listed here on the streets of New York or Toronto than in the backcountry. That said, the specs are nothing to scoff at: you get a healthy amount of 750-fill down, a premium nylon shell with impressive wind and water resistance, and a high-quality feel that rivals that of Arc'teryx and Patagonia. For commuting, urban use, and après-ski activities, the Camp Hoodie is an enticing option. 
Canada Goose doesn't provide the fill weight for the Camp Hoodie, but it gets their TEI 2 designation with a listed temperature range of 32 to 5 degrees Fahrenheit. Based on this rating and fill power, the Camp Hoodie falls into our midweight category, meaning that it provides more warmth than the lightweight jackets on the list but won't stand up on its own in the depths of winter. But we do like the versatility and packability of the Camp Hoodie—it's less bulky than the majority of Canada Goose's offerings and light enough for activities like downhill skiing and snowshoeing.
See the Women's Canada Goose Camp Hoodie
Category: Heavyweight
Weight: 41.6 oz.
Fill: 7 oz. of 550-fill down
What we like: Accommodating fit.
What we don't: Very heavy; lower-quality down. 
Priced at $230 and often found on sale, Columbia Sportswear's Lay D Down II checks all the boxes for a casual, winter-ready companion. You get features like a removeable hood with detachable fur brim, interior cuffs with thumb holes, and even a waterproof shell fabric and adjustable powder skirt to seal moisture out and trap warmth in. Unlike the more performance-oriented options here, the Lay D Down II has a generous cut that allows for layering over bulky sweaters, and the long hem means you get full coverage whether you're sitting at the cafe, running to catch the bus, or taking the dog on a walk.
We love gear that can serve multiple purposes, but the Lay D Down II simply isn't a great all-rounder. Even compared to the equally casual TNF Gotham II above, it's a full 19.3 ounces heavier, which translates to increased bulk (read: reduced packability for stowing in a suitcase or duffel). In short, we wouldn't recommend the Lay D Down II for anything more than short hikes or around-town use. That said, you do get an impressive amount of insulation (and much more than the Gotham II), making the Columbia a nice choice for cold winters in places like the Midwest or Northeast.
See the Columbia Lay D Down II
Women's Down Jacket Comparison Table
Women's Down Jacket Buying Advice 
Performance vs. Casual Down Jackets
The first step in finding the best women's down jacket is determining what your end use will be. Although many down jackets are ideal for mountain environments and outdoor activities given their lightweight and packable nature, down jackets are also our first choice for everyday warmth in the cold winter months. In our picks above, we often call out a jacket's intentions. If you're in the market for a technical piece for skiing, hiking, climbing, and other human-powered activities, look for high fill power, low weight, and features like a helmet-compatible hood and two-way zipper. These jackets will likely have thinner fabrics (read: less durability), trimmed-down feature sets, and slim fits (the Arc'teryx Cerium LT and Mountain Hardwear Ghost Whisperer/2 are prime examples). For everyday use, jackets will have thicker shell fabrics (the Gotham II's shell is 50D), regular fits that are great for layering, and features like knee-length hems and fur-brimmed hoods. Casual jackets will generally use lower-quality down and weigh more, too.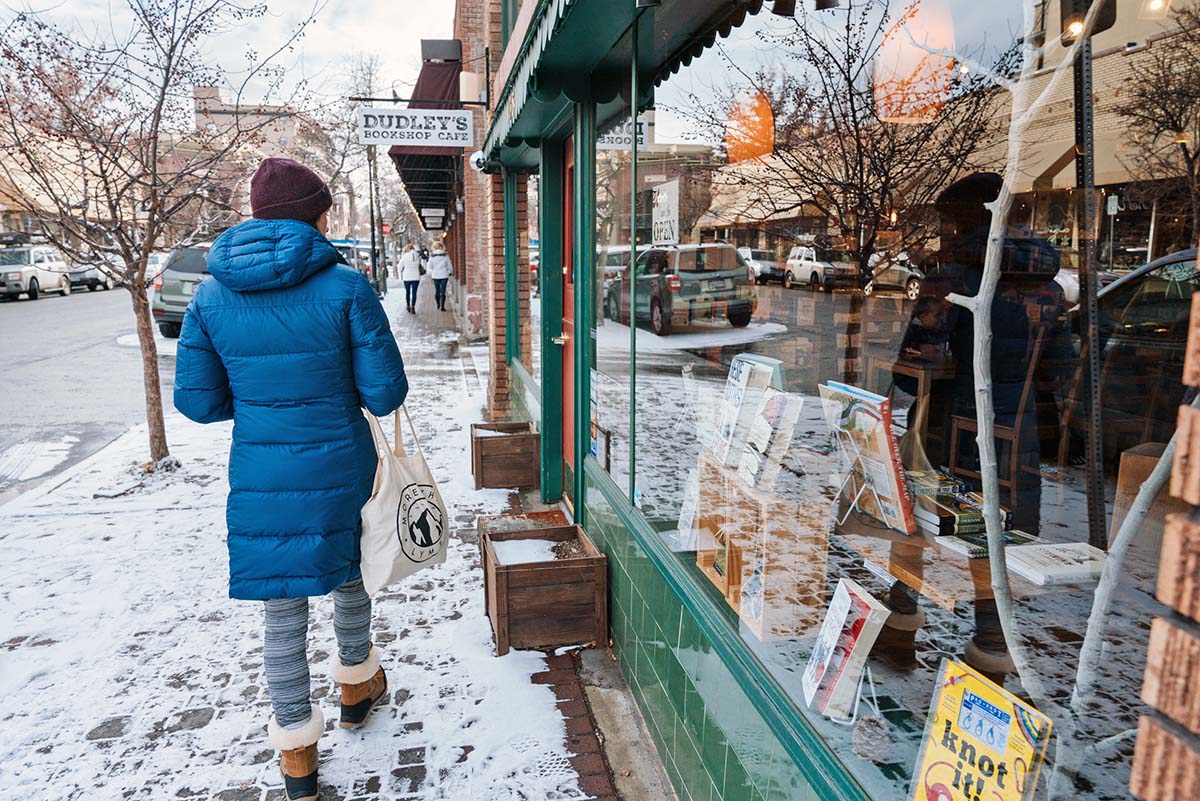 Some jackets do a great job at splitting the difference, with competitive warmth-to-weight ratios but fits and finishes that transition nicely for around-town use. The entire down sweater category fits this bill, a designation that describes a traditional-looking puffy jacket with fewer performance-focused features than the technical pieces mentioned above. For example, the Patagonia Down Sweater and L.L. Bean Ultralight Down Sweater are both great for casual wear but lightweight enough to pack for active pursuits. If you're in the market for a single down jacket that works well in almost every environment, down sweaters are a great place to start.
 
Down Jacket Categories
Lightweight
The lightweight down jacket category is the industry's most popular and our top choice for daily wear, travel, light adventuring, and layering for winter sports. Lightweight jackets (this category includes most down sweaters) are remarkably versatile too, and they can pull double duty as both midlayers and standalone pieces. Further, they're typically more fully featured and durable than ultralight options and are less bulky (and offer greater mobility) than their mid and heavyweight counterparts. The temperature range for lightweight jackets depends on factors like layering and exertion, but we find that they are typically suitable for approximately 35 to 50 degrees Fahrenheit (more on this in "Our Estimated Temperature Scale" below). Leading models include the Patagonia Down Sweater, REI Co-op 650 Down Jacket 2.0, and Mountain Hardwear Super/DS Stretchdown Hooded.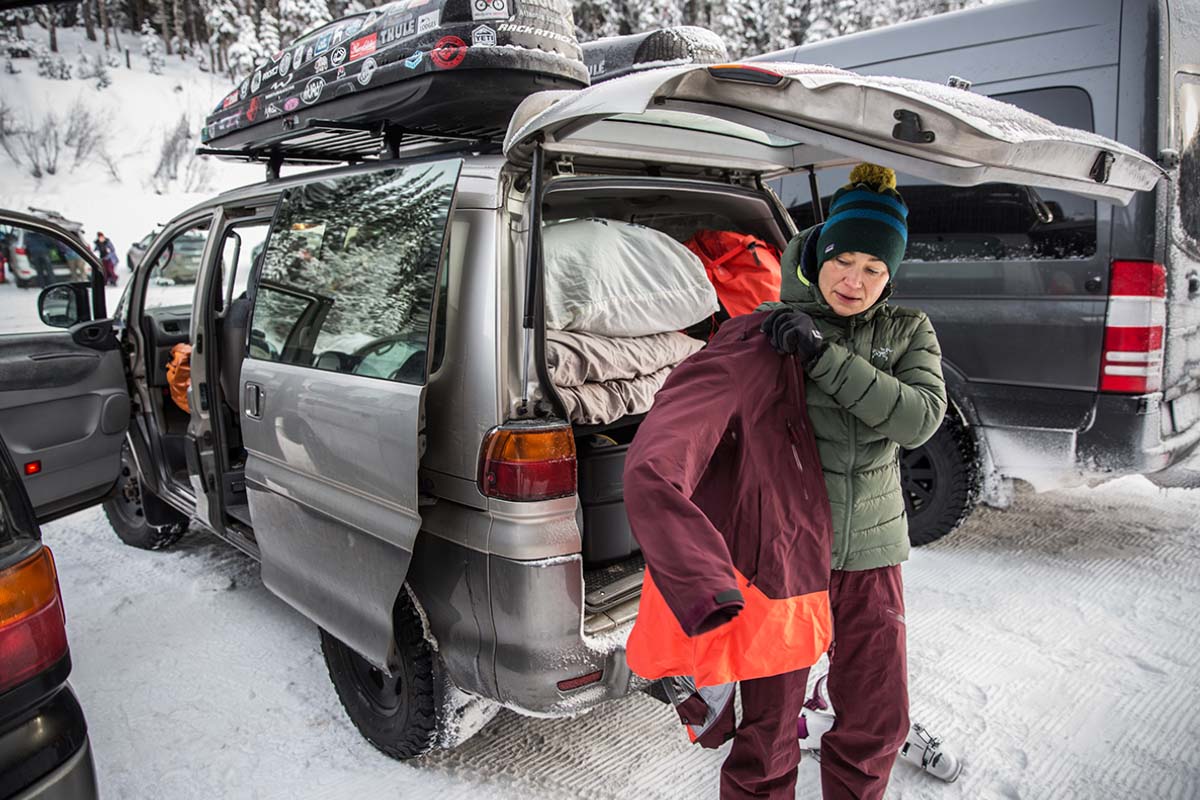 Ultralight
Ultralight down jackets are specialized pieces designed for backpacking, climbing, backcountry skiing, and other outdoor pursuits where every ounce counts. These down jackets might have similar fill weights as those in the lightweight category but are ultralight due to their use of premium down (fill power), thin shell fabrics (denier), and minimalist zippers and pockets. Interestingly, we frequently see this category of down jacket worn as daily layers around cities, including the Mountain Hardwear Ghost Whisperer/2 and Feathered Friends Eos. However, despite their high quality, we find most ultralight jackets fragile and minimalist (not to mention expensive), and thus impractical for everyday use. But for the right environment (fast-and-light pursuits), they're indispensable.

Midweight and Heavyweight
Down jackets in mid and heavyweight categories represent a significant step up in warmth from lightweight and ultralight models and are intended for serious winter conditions (regardless of if you're in the mountains or the city). Most notably, you'll see fill weight go up to 6-7 ounces or more (for instance, the Rab Neutrino Pro has 7 oz. of down). Jackets in this weight class also are far puffier than the other categories, and as a result take up quite a bit more space when stuffed down. We've included a number of our favorite mid and heavyweight options in this article, but for a more in-depth look at the market, see our article on the best winter jackets.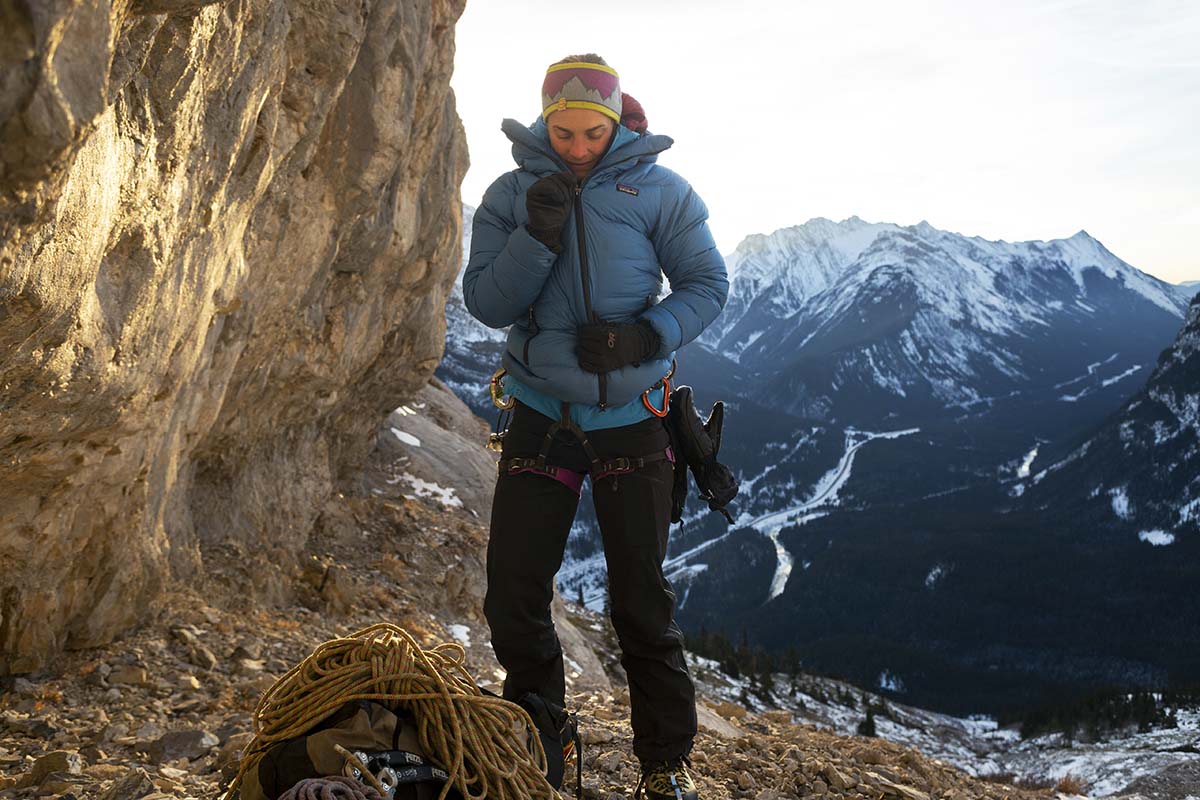 Warmth
Simply put, nothing beats the lofty and premium warmth that down provides. Down insulation functions so effectively because the loose clusters of feathers are great at trapping body heat. We'd love to have a temperature rating system to measure this warmth, but unlike sleeping bags (which are given an official EN rating), down jackets are more like the Wild West. Below is information that should help you fill in the gaps.

Fill Power
Fill power (600-fill, 700-fill, 800-fill, etc.) is how the quality of down is measured, and the higher the fill the better the down. The number is calculated based on how much space one ounce of down clusters takes up in a cylindrical tube. This is known as the amount of loft, and the more loft a jacket has, the more body heat it traps and the warmer you will be. Put another way, achieving the same amount of warmth with a lower fill power requires more down, adding weight and bulk to accomplish the same comfort goals.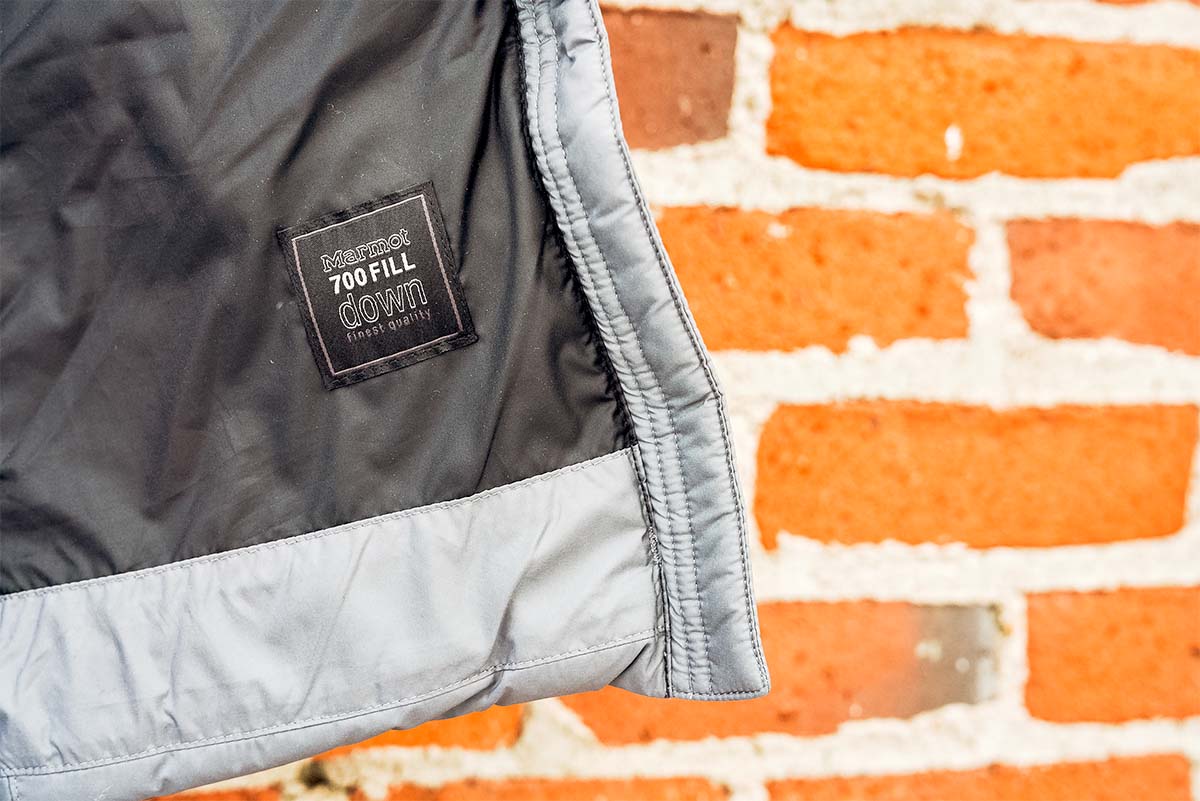 For jackets, 550- to 650-fill down is what you'll find in most entry- and mid-level models, which is perfectly respectable for daily wear but falls short for performance use. Premium down is 800-fill and above and what Arc'teryx, Patagonia, and Mountain Hardwear use for their high-end down jackets. At this level of quality, you reap the highly touted benefits of down insulation: lightweight and ultra-compressible warmth. Some high-end climbing brands like Feathered Friends and Montbell even use 900-fill down (or higher), but that high of a number is a rarity and 800-fill is considered premium. 

Fill Weight
Fill power gets the most press, but fill weight is equally (if not more) important in determining a down jacket's warmth. Fill weight is the actual amount of down stuffed into a jacket, measured in ounces. For example, if Jacket A has 6 ounces of 800-fill down and Jacket B has 3 ounces of 800-fill down, you can expect that Jacket A will be significantly warmer (we estimate that it would increase comfort levels in low-output activities by approximately 10-20 degrees). Lower-fill-power down offers less warmth per ounce, so in order to make an apples-to-apples comparison between jackets, it's important that they have identical (or similar) fill powers.
We find it interesting that fill weight is much less publicized than fill power, which leads to a lot of confusion for shoppers who associate higher fill power as always meaning more warmth. As a result, we sometimes have to call the manufacturers to track down fill weight as it's not always listed (for more information, see our article: Down Fill and Insulation Explained). On our list above, we've noted both the fill power and weight whenever possible so that you can make an accurate and informed choice when shopping around.

Our Estimated Temperature Scale
It's tough to pinpoint an exact temperature range in which you will feel comfortable wearing a down jacket (there's a reason no one has attempted to create a standardized rating system). Factors like fit, layering, your level of exertion and circulation, and wind all play a role. But generally, we think of ultralight and lightweight jackets (including down sweaters)—which usually have between 2 and 4 ounces of down—as providing solid warmth in conditions ranging from around 35 to 60 degrees Fahrenheit. A cozy baselayer can buy you an extra 5 to 15 degrees depending on its thickness and quality. These types of jackets are very popular for 3-season alpine use and in most U.S. cities for all but the coldest of winter days.
When the mercury drops below freezing, we recommend stepping up to a midweight or heavyweight down jacket. The fill weight of these jackets should be 4 ounces at minimum and often is in the range of 5 to 6 ounces or more. For example, the Rab Neutrino Pro and Patagonia Fitz Roy are packed with 7 and 6.4 ounces of down respectively. For bitter cold and climbing higher peaks, an even heavier down parka may be in order.
 
Weight
For uses like backpacking, climbing, mountaineering, ski touring—or whenever you have to lug around your own gear—the total weight of your down jacket should play a significant role in your buying decision. Jackets like the Mountain Hardwear Ghost Whisperer/2 (7.8 oz.) and Feathered Friends Eos (9.3 oz.) weigh very little for the warmth they provide and compress down extremely small in your pack. However, they also cost considerably more than your typical and more casual down sweater. On the other hand, if you need a layer for around-town and occasional outdoor uses like downhill skiing, you'll be completely fine with a somewhat heavier and more affordable build like the 14.8-ounce Arc'teryx Thorium AR. Finally, winter-ready jackets will obviously be the heaviest options, including the 22-ounce REI Co-op Stormhenge 850.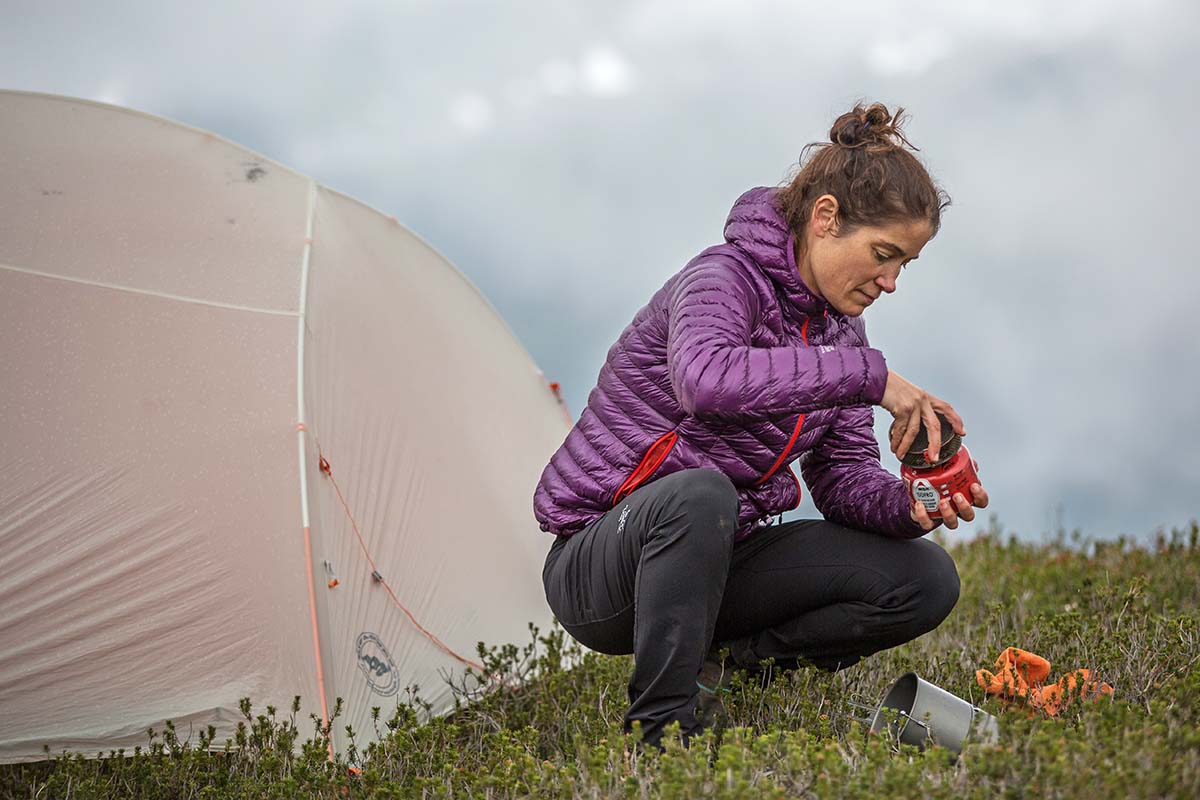 "Ultralight" is a buzzword of sorts that you will inevitably run into when shopping for a down jacket, and it's worth noting there aren't hard-and-fast rules as to what qualifies. We keep a close eye on the ratio of fill weight to total weight to see what lengths the manufacturer went to trim weight (the shell denier is a good hint too, and more on that below). At the extreme end of the spectrum is Montbell's Plasma 1000 Alpine, which packs 3.4 ounces of down inside a superlight 7.9-ounce package. When gear companies really prioritize cutting weight, you'll see changes to zippers, a trim fit, and a lack of pockets. Some even opt for a pullover style to cut out half of the zipper. No matter what the manufacturer names a jacket, keep a close eye on fill weight and total weight to make your own determination.

Compressibility and Packed Size
Down enthusiasts love its compressibility and for good reason. An ultralight jacket like the Mountain Hardwear Ghost Whisperer/2 can be stuffed into its own pocket and end up much smaller than a Nalgene bottle. The tiny packed size means you have little reason to leave it behind and can fit it easily into either a daypack or overnight backpacking pack.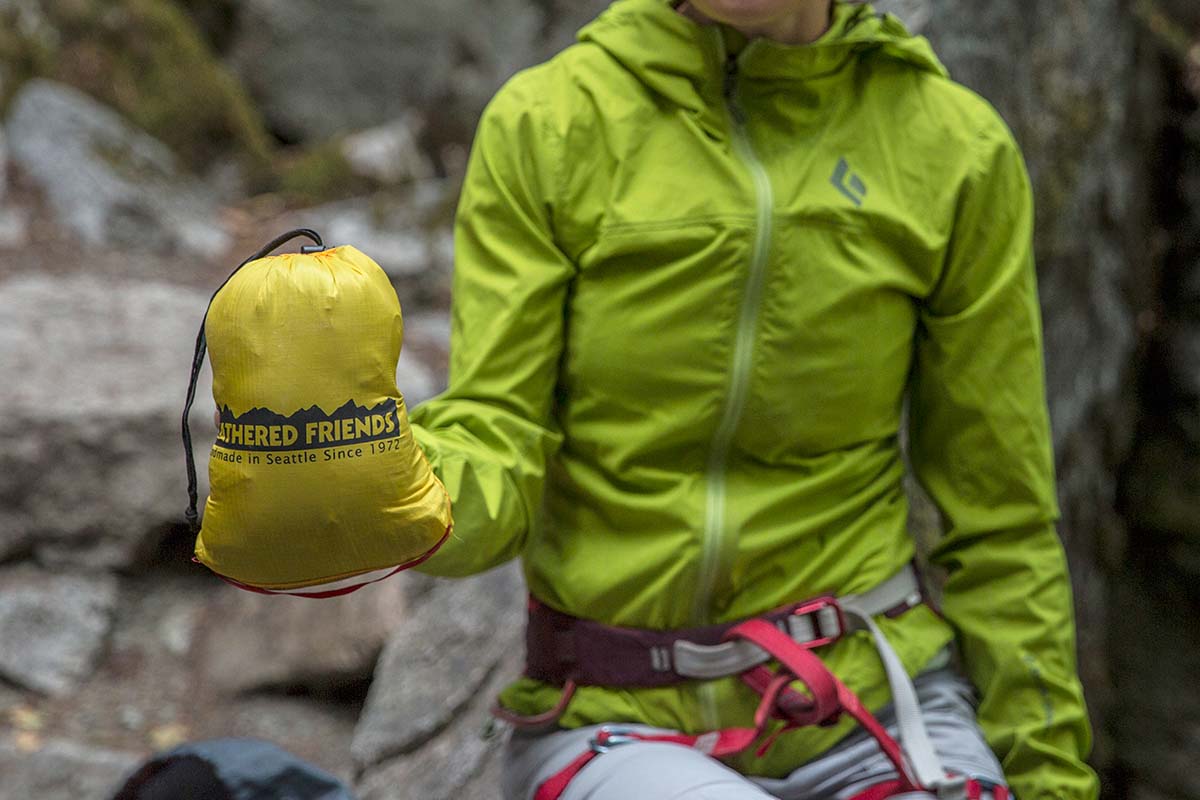 Keep in mind that the higher the fill power, the more easily your jacket will compress. This is noticeable when you get into premium levels of down (800-fill and above), which pack down to seemingly impossible sizes yet bounce back after only a few minutes out of the bag (as long as you don't store it compressed too long). Fabric thickness also plays an important role, and thinner-denier fabrics logically pack down smaller. Along with warmth for the weight, compressibility is an area where down dominates the vast majority of synthetic-insulated jackets.

Shell Fabric and Durability
As the casing that holds the all-important down, a jacket's shell fabric is a crucial component to consider. The thickness of a jacket's outer fabric is listed in denier (D), which is a measurement of the weight of a thread. The lower the denier, the thinner the fabric. Thin shells are less durable and more susceptible to tears or punctures, but they're also lighter-weight. That said, almost all of the jackets on this list are made with reasonably lightweight shell fabrics. The thinnest is the Montbell Plasma 1000 Alpine, which has a very fragile 7-denier shell, and the thickest (at least among those that report this spec) is The North Face's Gotham II, which has a robust 50-denier shell. 10 denier is fairly standard for ultralight pieces, and a more substantial 20 denier is what you'll find most often in an average down sweater. Don't underestimate the impact of denier: even the difference from 10 to 20 denier can play a significant role in the total weight and potential lifespan of your jacket.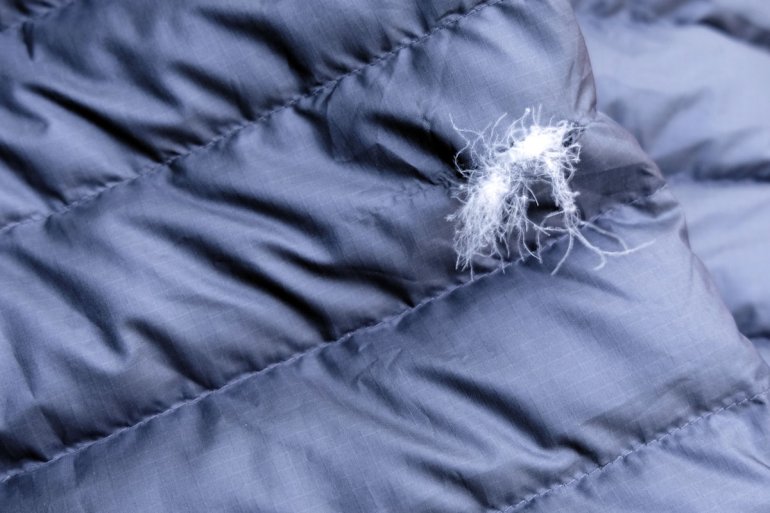 Other than denier, there are a few other factors that impact the overall durability of your jacket's shell. First, a fabric with stretch (like Mountain Hardwear's Super/DS Stretchdown) will have a lot more give to it, meaning it will stretch under pressure rather than rip. Very few down jackets are made with stretchy shell fabrics, but we like Mountain Hardwear's innovation here. The material used is another consideration. For example, we find the difference between the Rab Neutrino Pro's Pertex Quantum Pro and the Patagonia Fitz Roy's Pertex Quantum (both 20D) to be palpable (the former is much more durable). Finally, some jackets will use higher-denier fabrics in high-use areas such as the sleeves and shoulders, which can make a huge difference. To summarize: if durability is one of your top priorities, you'll want to dig a little deeper than the initial denier spec.
 
Hydrophobic Down and DWR Treatment
Down feathers unfortunately lose much of their ability to insulate when wet, turning into a clumpy and soggy mess. This makes them a serious liability in wet conditions or if you're sweating heavily, which is why some prefer synthetic jackets, which continue to insulate when wet. However, gear manufacturers have found a way to treat down to make it more water-resistant. They do this by adding a polymer to the down before filling the jacket, and the result is that it resists water better and you don't have to worry as much about light precipitation. Even though hydrophobic down still doesn't match the wet-weather performance of synthetics, it can be an extra line of defense. If you're headed out in a wet area like the Pacific Northwest or New Zealand, a jacket with hydrophobic down like the Rab Microlight Alpine (along with a waterproof shell) is a smart choice.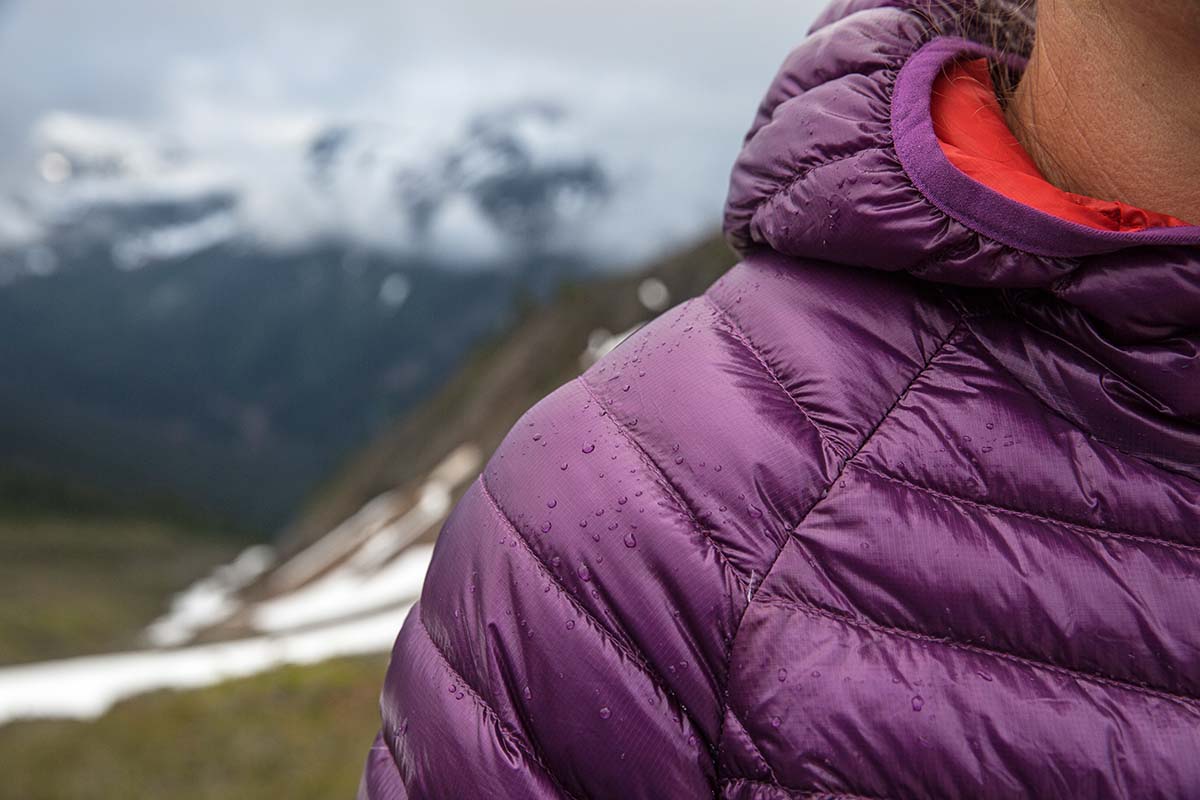 Another way that gear manufacturers fight moisture is a DWR (durable water repellant) treatment on the outside on the jacket (which we mentioned above in the sustainability section). This coating helps prevent water droplets from forming and entering your jacket—essentially the water has a harder time staying on the fabric and beads up and rolls off instead. Neither a DWR finish nor hydrophobic down will keep your down completely dry, but they make nice lines of defense against light to moderate precipitation. 

Down Jacket Fit and Length
Fit is jacket-specific, but there are two main considerations here. First, casual jackets and down sweaters generally have a more casual fit than ultralight or performance jackets, including boxier torsos, arms, and hoods (when available). Second, fit varies significantly by brand. From our experience, Arc'teryx jackets like the Cerium LT Hoody fit the slimmest of all and are a good match for athletic folks who demand mobility from their jackets (this can also be good for layering under a shell). Mountain Equipment and Rab also err on the trimmer side, while brands like Patagonia, Outdoor Research, and Mountain Hardwear often have more accommodating shapes that balance everyday comfort with performance. And finally, we've found that REI Co-op and Columbia fall on the roomier end of the spectrum, and we occasionally need to size down (including with the REI 650 Down Jacket 2.0).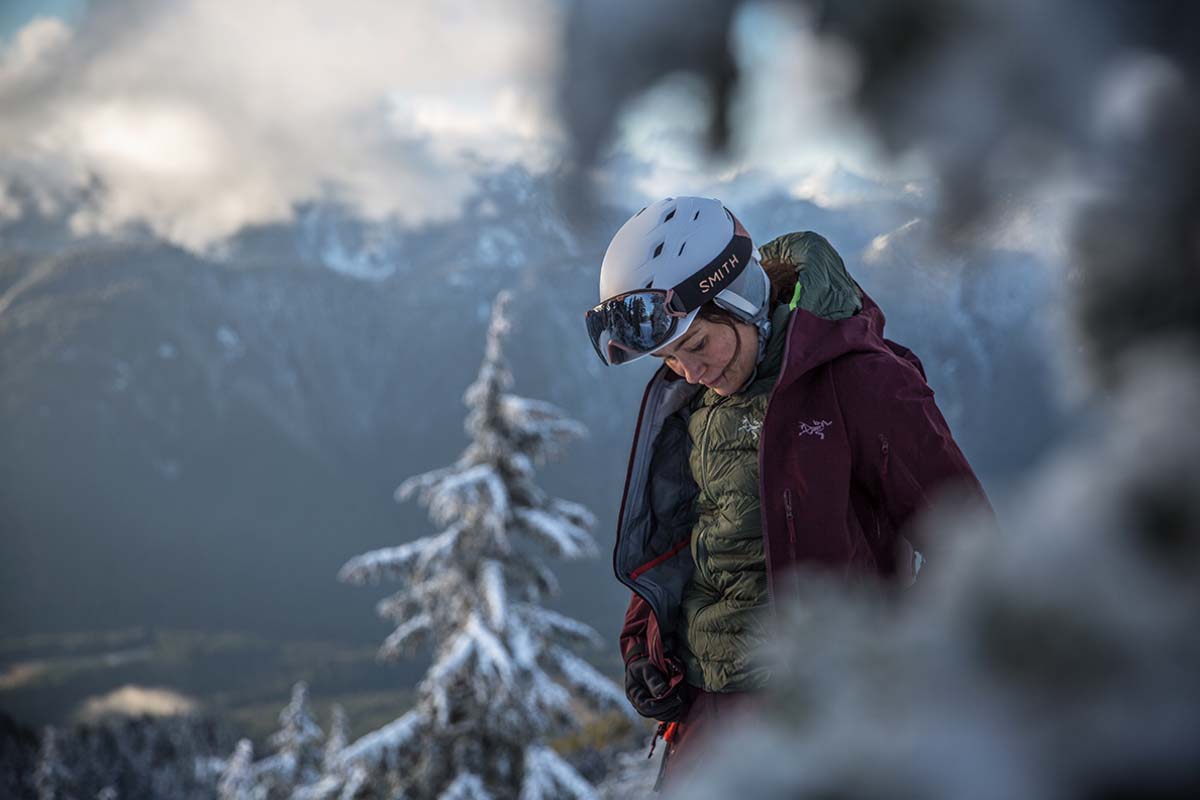 You'll also want to take length into account with your down jacket purchase. Simply put, a longer cut equates to more coverage and warmth, although it does have some impact on mobility. On the shorter end of the spectrum, many down sweaters and other lightweight pieces end right around the waist or hips. This is great for movement, but your legs remain uninsulated. A number of down parkas like the Marmot Montreal offer thigh-length coverage, which offers a nice boost in warmth compared to the down sweater counterparts. And models like the Patagonia Down With It Parka go all the way to the knees, which is excellent for staying cozy but can make it difficult to sit down or cover long distances walking. 

Hood or No Hood?
Most down jackets on this list are offered in hooded and non-hooded versions. The non-hooded version is slightly cheaper and weighs less, but you don't get the advantage of the extra warmth, coverage, or comfort. For casual use or as a midlayer for skiing, many go without the hood and carry a separate beanie instead. For uses like backpacking and climbing, the opposite is the case: most pay extra for a hood and don't regret it. In our picks above, we listed down sweaters in the non-hooded versions and ultralight down jackets in hooded form, which are how most people purchase them. But in the end, it all comes down to intended use and how you plan to layer for your preferred activities. For a deeper dive into the topic, see our article: Does Your Down Jacket Need a Hood?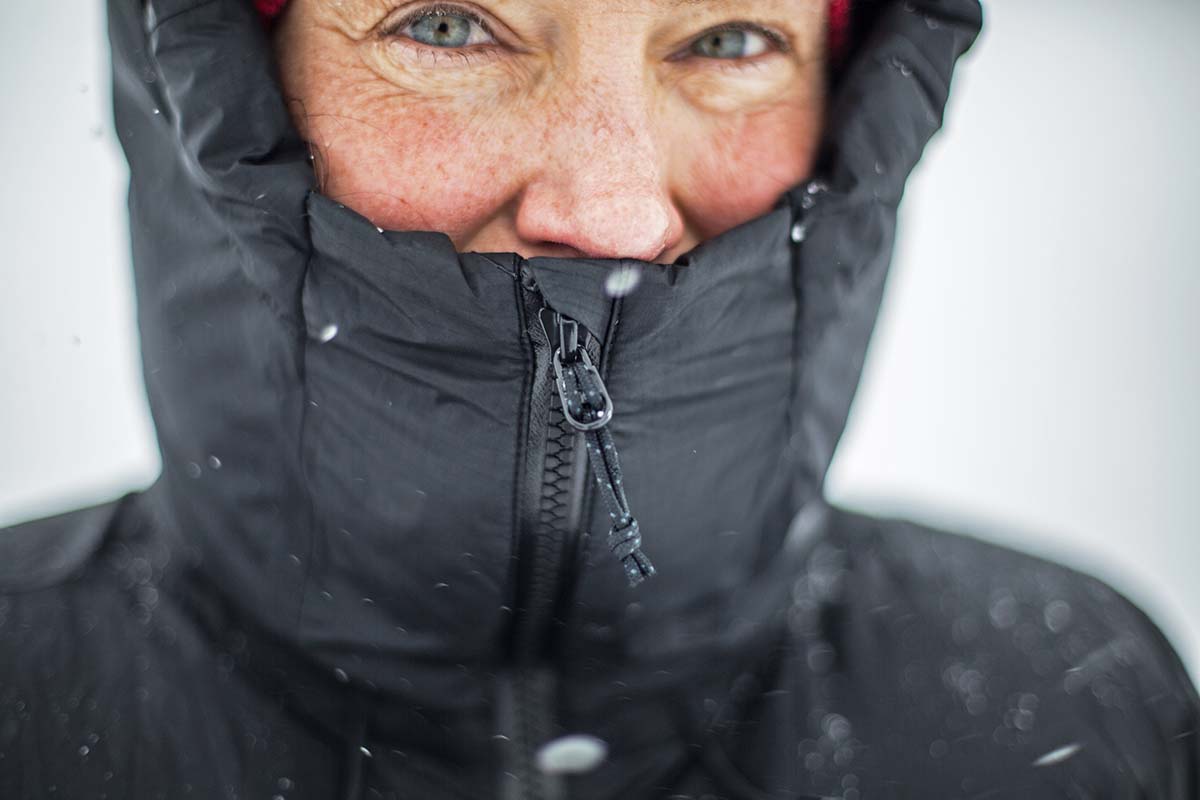 Sustainability: RDS-Certified Down, Recycled Fabrics, and PFC-Free DWR
Our impact on the environment has never been of greater concern, and it's nice to see gear companies step it up with more sustainable practices. One measure we're seeing more and more of is the use of responsibly sourced down (look for an RDS certification or, in the case of Patagonia, Advanced Global Traceable Down). In short, this translates to greater transparency in where the down comes from and ensures the birds were treated humanely and not subjected to unnecessary harm, such as force-feeding or live-plucking. In addition, the use of recycled fabrics has grown substantially in the past few years, with companies like Patagonia, REI Co-op, Mountain Hardwear, and L.L. Bean prioritizing these materials.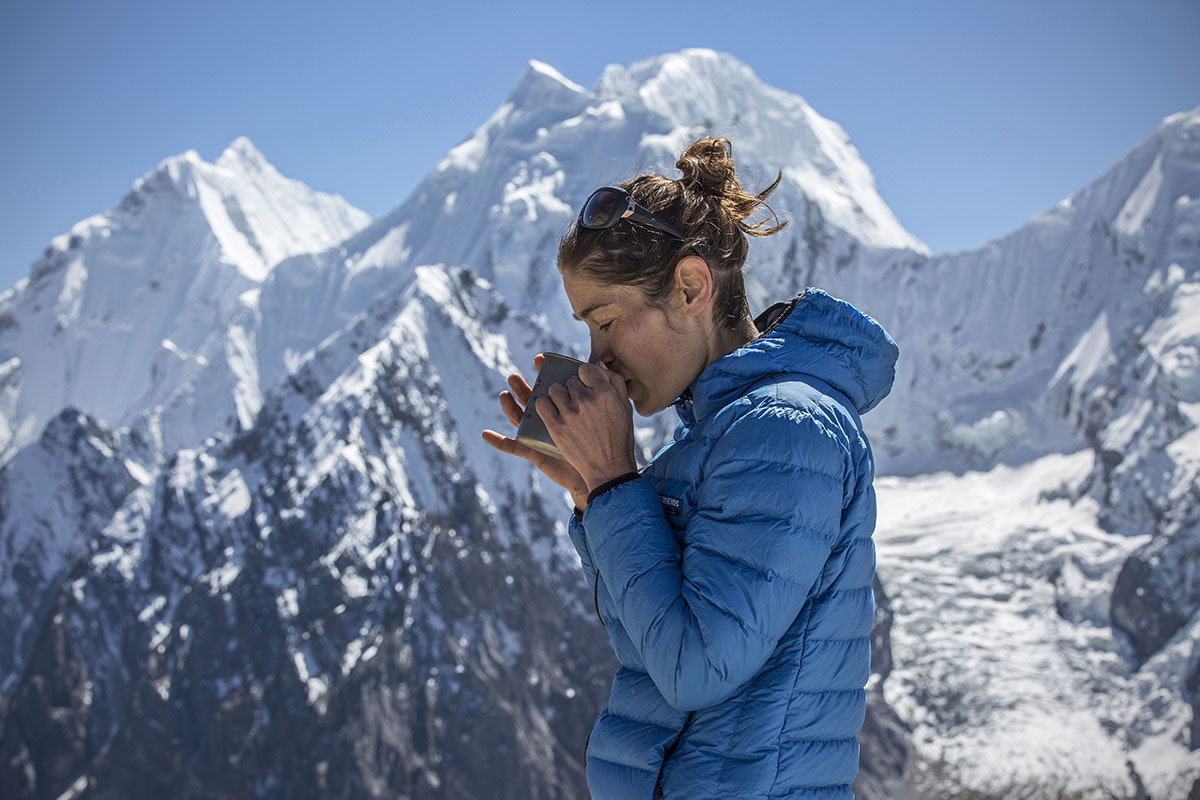 A final trend to touch on is the use of PFC-free durable water repellent (DWR) finishes. We detail the benefits of DWR in the section below, but pertaining to sustainability, traditional DWRs utilize perfluorinated compounds (PFCs), which is a chemical that's been linked to a range of environmental and health issues. The good news is that some brands have started shifting to PFC-free DWR recently, but it's mostly been limited to the rain jacket and hardshell markets (Marmot and Mountain Hardwear are leaders here). That said, given the current landscape, we fully expect this to be incorporated into the down jacket world in the next few years.
 
What About Synthetic Jackets?
There is a lot to be said for synthetic insulated jackets, which insulate better than down when wet, are more breathable, and generally cost considerably less. For insulation that we wear during activity (such as while climbing or backcountry skiing), we'll reach for synthetic over down nine times out of 10. However, when it comes to particularly cold weather or weight- and space-conscious pursuits (when you're carrying your jacket in your pack), down has no replacement (at least for now). 
We've tested a number of synthetic jackets like the Arc'teryx Atom LT and Patagonia Micro Puff (see our in-depth review), both of which are very comfortable and reasonably light. However, the warmth-to-weight and packability just aren't the same as down options, and there's simply no substitute for the comfort that lofty plumage brings. Optimally, you would have both, but if you're only in the market for a single jacket, there's simply no better insulator than down. For a more detailed explanation of this topic, see our article on down vs. synthetic insulation.
Back to Women's Down Jacket Picks  Back to Women's Down Jacket Comparison Table
Read More From Switchback Travel