Now in its second generation, the REI Co-op 650 Down Jacket 2.0 is one of the best budget-oriented down jackets on the market. The combination of cozy materials, responsibly sourced 650-fill down, and a streamlined look makes it a great match for everything from around-town use to downhill skiing and shoulder-season backcountry trips. Performance and durability do fall short of more premium models, but at this price point, you'd be hard-pressed to find a more well-rounded piece. Below we break down our full experience with the 650 Down Jacket. To see how it stacks up to the competition, see our articles on the best down jackets and best midlayers.
 
---
Table of Contents
---

Performance
Warmth
If you're searching for a cozy down jacket at a low price point, the REI Co-op 650 2.0 is a great candidate. The jacket's lining is soft against the skin, and the 4.2 ounces of 650-fill down kept me warm into the 40s Fahrenheit with just a t-shirt on underneath. When paired with a midlayer, I was able to remain comfortable into the low 30s on shorter outings. All in all, the 650 Down Jacket 2.0 makes a great companion for everyday wear, shoulder-season hiking and backpacking trips, and use as a midlayer for resort skiing.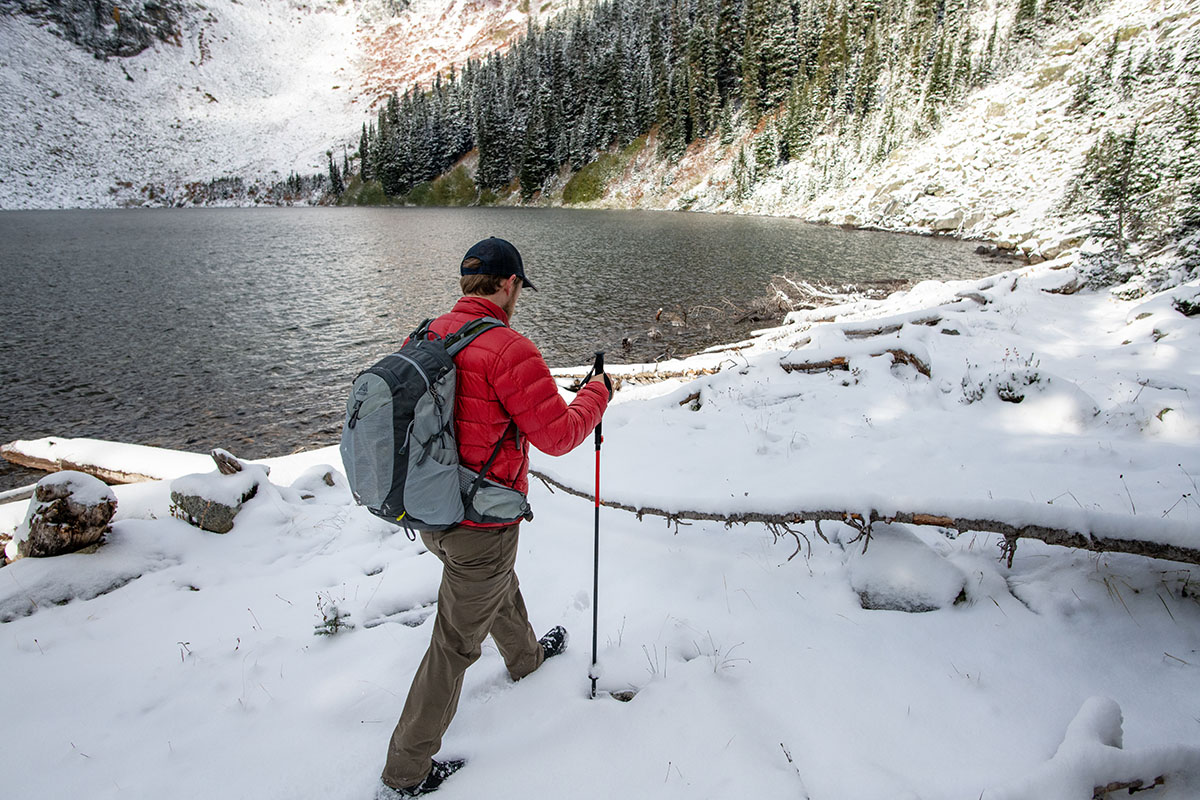 However, when pitted against more expensive alternatives, the REI 650 Down Jacket 2.0 does fall short in terms of performance. For example, Patagonia's popular Down Sweater packs in 3.4 ounces of 800-fill down (higher fill power delivers more warmth) and has a more robust-feeling shell at 20 x 30-denier (the REI's is thinner at 20D and more fragile). And backcountry-ready designs like Arc'teryx's Cerium LT and Mountain Hardwear's Ghost Whisperer/2 also use higher-quality down that offers more efficient warmth. That said, all of these jackets will start to suffer when temperatures dip down toward freezing. For true winter conditions, a jacket like the Rab Neutrino Pro is much warmer and more weather-resistant.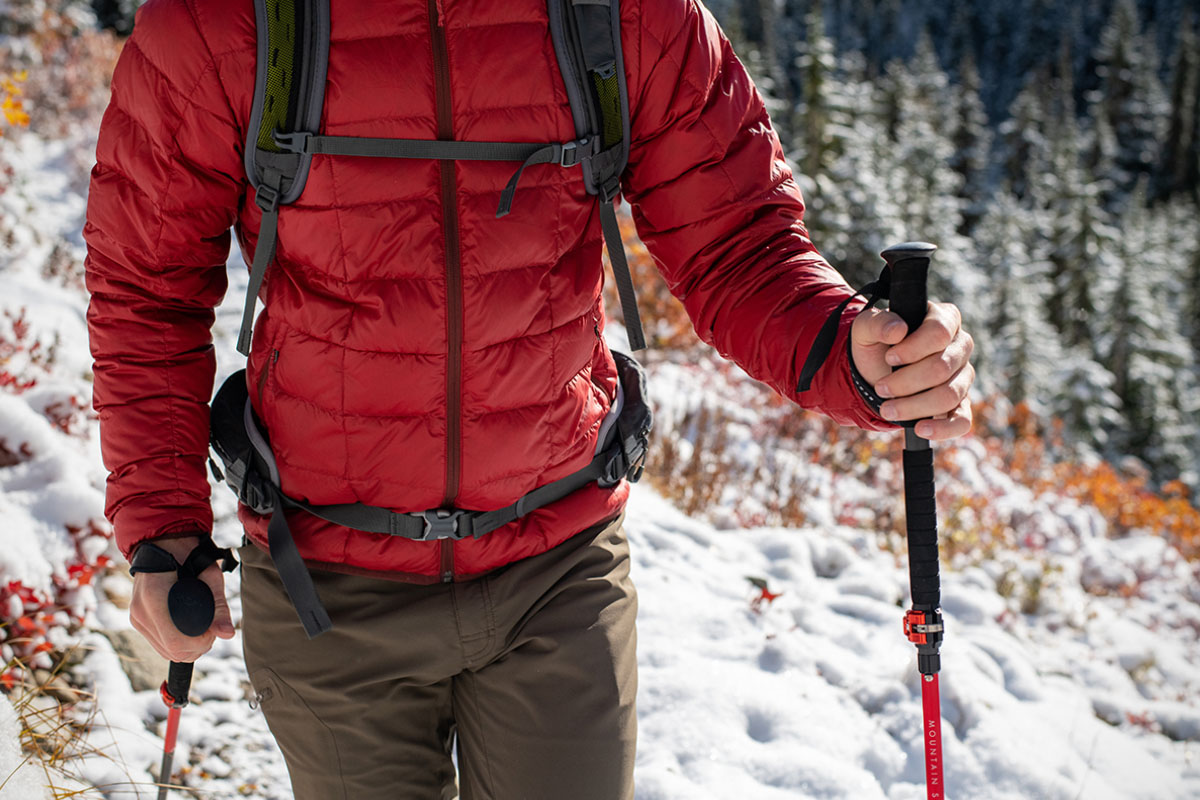 Weather Resistance
Considering its casual slant, the REI Co-op 650 Down Jacket 2.0 offers decent protection against the elements. The durable water repellent (DWR) coating effectively beads water on the surface for short periods of time, and wet snowfall easily slides off the shell. And although the jacket lacks adjustments at the hem and cuffs, the elastic does an adequate job of sealing out chilly gusts. In the end, the 650 Down Jacket 2.0 certainly wouldn't be my first pick for anything more than light rain or snowfall—and we always recommend bringing a shell into the backcountry—but it provides a small dose of weather protection in mild conditions.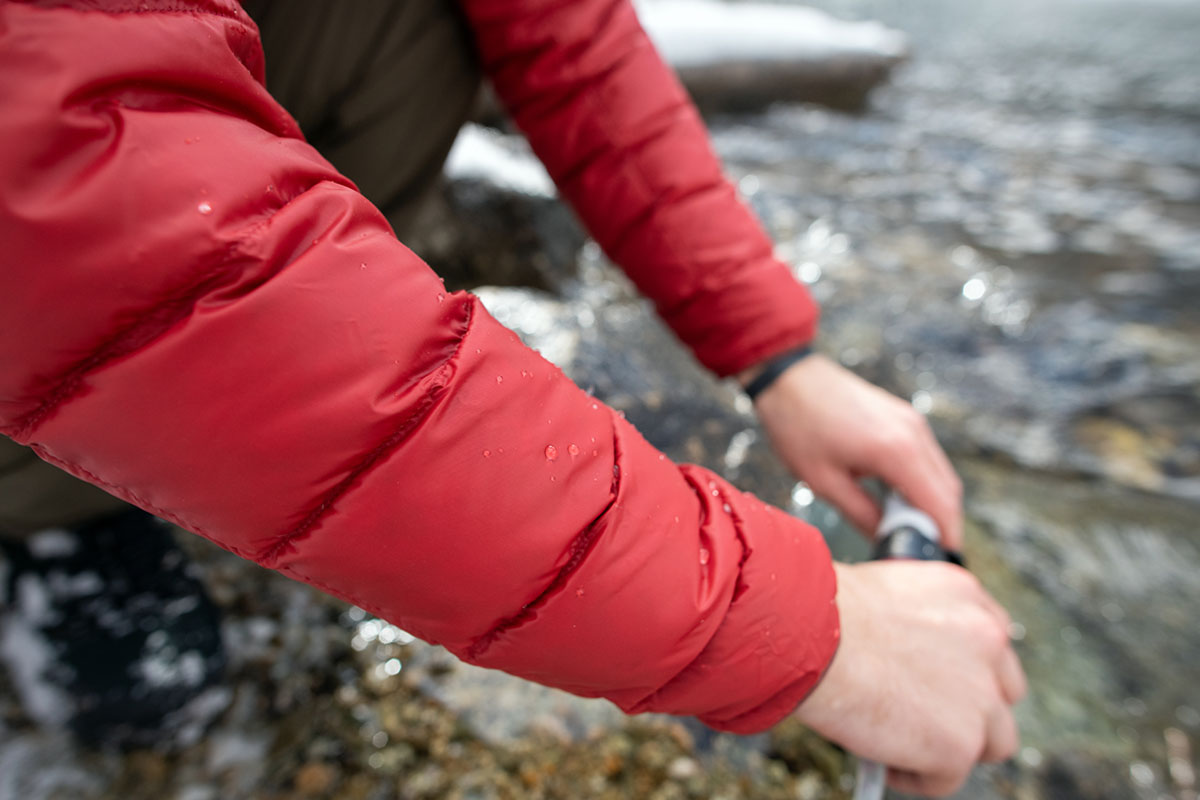 Like the warmth section above, however, the REI's weather resistance doesn't stack up as favorably when you compare it to the premium down jacket competition. For example, the Mountain Hardwear Ghost Whisperer/2 uses hydrophobic down as an added layer of defense in wet weather, while the Patagonia Down Sweater has a thicker shell fabric and blocks wind better. That said, the vast majority of down jackets are far from impervious to the elements and will eventually succumb to sustained rain or snow. If you're looking for a piece to withstand these conditions, a synthetic jacket is a much better bet and will continue to insulate when wet.

Weight and Packability
Despite its affordable price and casual design, the REI Co-op 650 Down Jacket 2.0 feels remarkably light in hand. Weighing in at 9.2 ounces on our scale in a men's size small (the listed weight is 11 oz.), it easily undercuts other popular options like the Patagonia Down Sweater (13.1 oz.) and Outdoor Research Transcendent (13.7 oz.). To be sure, the lack of features like a chest pocket and hem cinch help keep that number down, but the weight is impressive nevertheless. The 650 Down Jacket 2.0 can't match the feathery feel or performance of pricier models like the Mountain Hardwear Ghost Whisperer/2 (8.3 oz.) or Arc'teryx Cerium SL (7.1 oz.), but these jackets cost more than three times as much as the REI.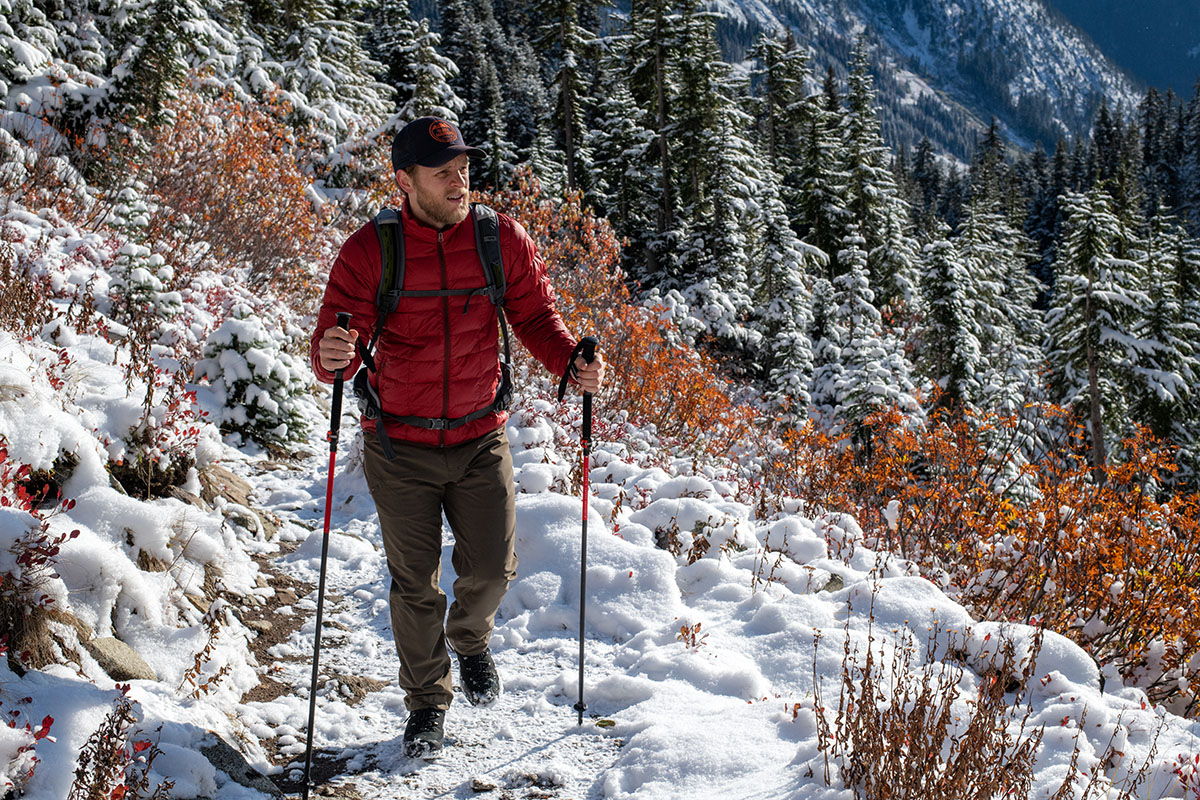 In terms of packability, the REI Co-op 650 Down Jacket 2.0 easily stuffs into its left-hand pocket. That said, the packed size is rather large and unwieldy. Although convenient for traveling and stuffing into a hiking backpack, I found myself reaching for a smaller stuff sack whenever I was headed into the backcountry. By doing this, I was able to cut the jacket's stuffed size in half. This isn't a deal-breaker by any means, but if you plan to take the jacket on hiking and backpacking trips where space is limited, I'd recommend purchasing a separate stuff sack that compresses it down a bit more.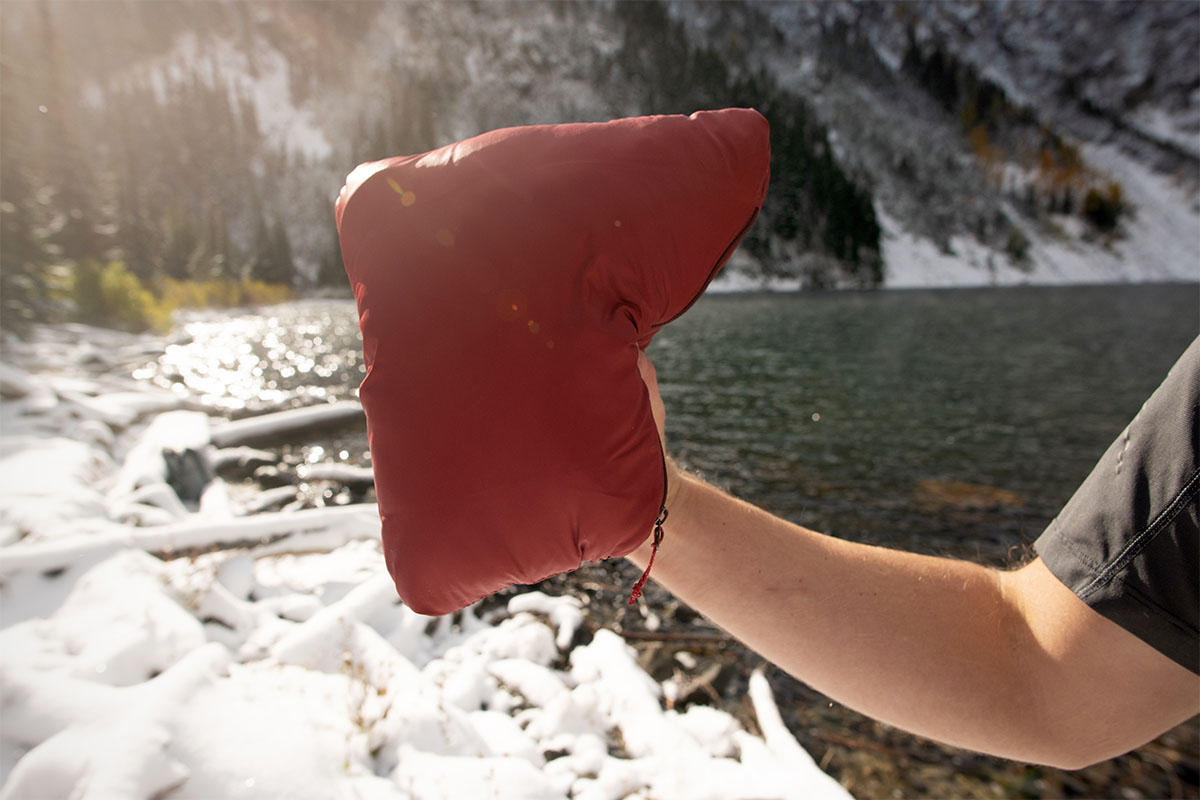 Construction and Durability
Throwing on the 650 Down Jacket 2.0 for the first time, you'd never know that it's a budget piece. The lining feels soft against the skin (one of the coziest in our testing), the stitching and zippers look clean and neat, and the jacket has an overall premium feel, which is not something I expected at this price point. And in terms of durability, the jacket is holding up quite well. After wearing it casually around town and bringing it on a handful of hikes, the jacket is no worse for wear. All zippers are functioning smoothly, the face fabric has no tears or rips, and no stitch is out of place. It's worth noting that the standard 20-denier nylon shell isn't as durable as the ripstop you'll find on more expensive alternatives, but I've had no issues thus far.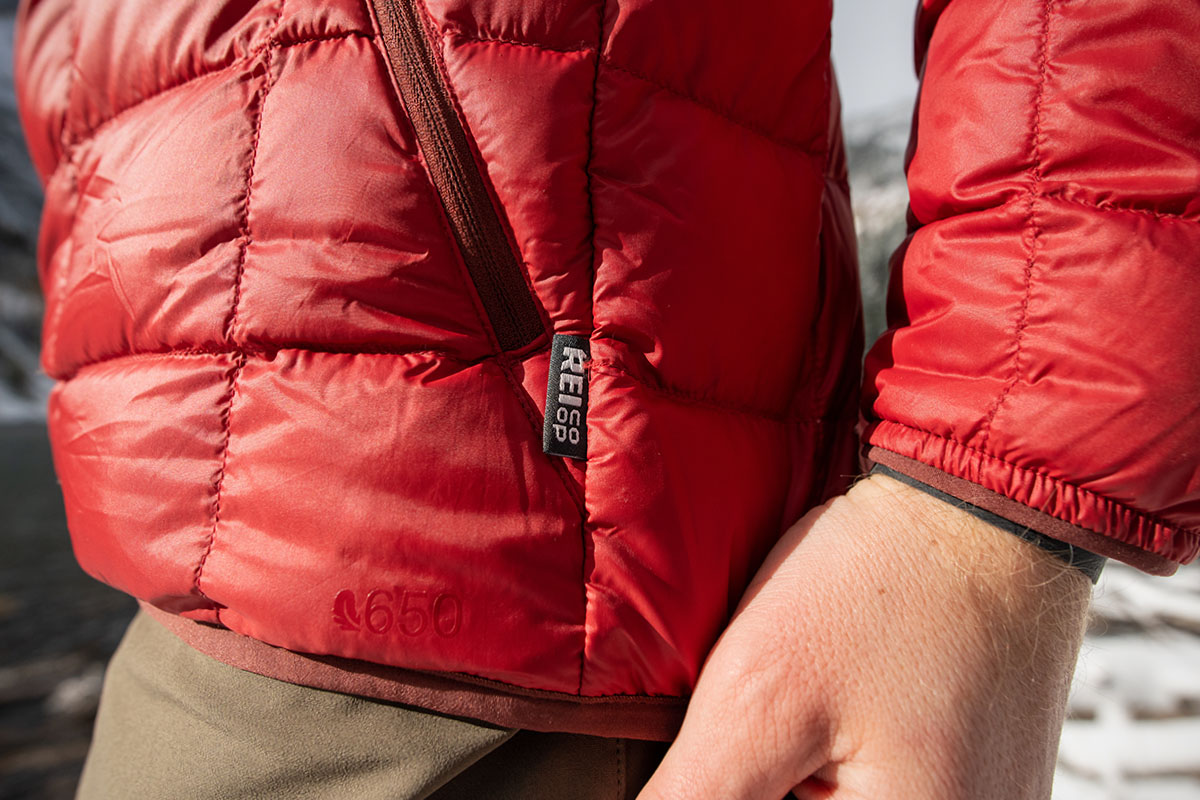 Features: Pockets, Hem, and Cuffs
In an effort to keep cost and weight down, REI designed the 650 Down Jacket 2.0 with a minimalist feature set. For storage, the jacket comes equipped with two zippered handwarmer pockets, which are nicely sized. Both the hem and cuffs forego adjustment systems for simple elastic, but I didn't find this too limiting. In the end, some might want a few more bells and whistles, but I felt that the jacket was adequately appointed for most outings. In fact, I appreciated the streamlined look, which wears better around town than past-generation REI down jackets.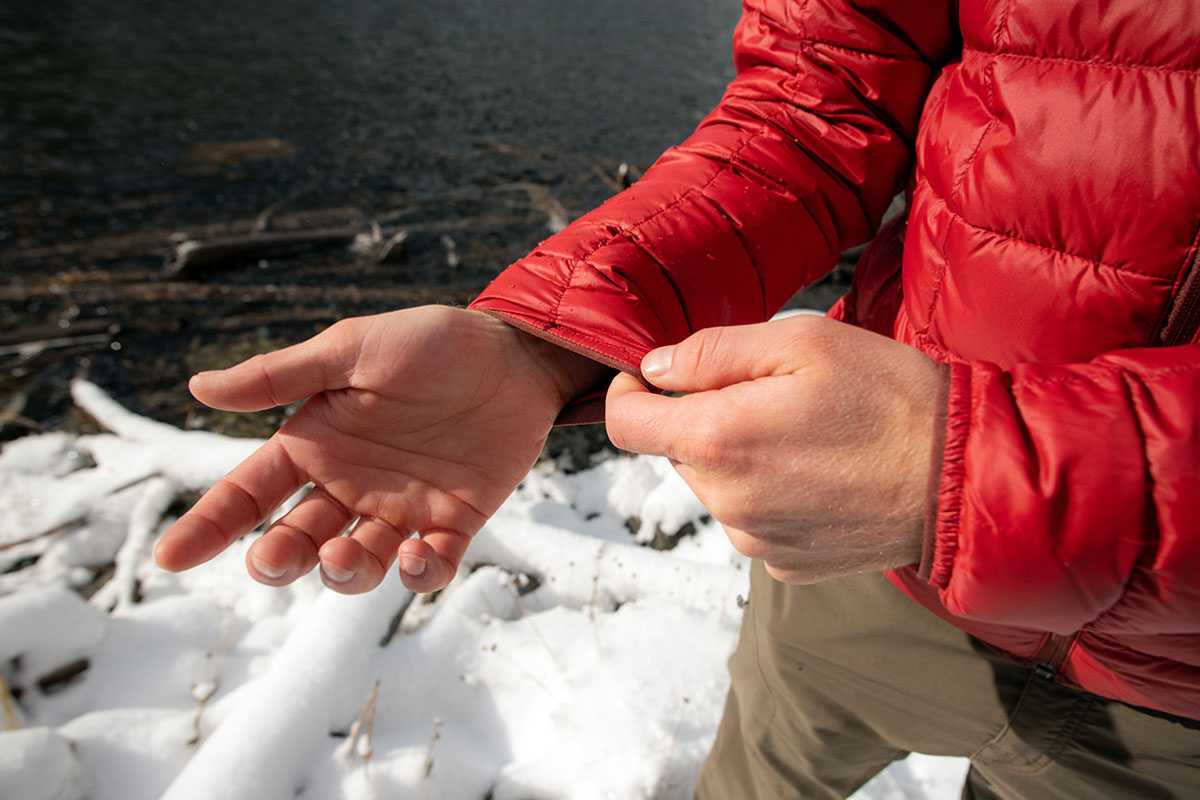 Fit and Sizing
As I've found with most other REI jackets I've worn, the 650 Down Jacket 2.0 falls on the larger side of the spectrum. I'm around 5'9" and 160 pounds, and in my standard men's medium, the midsection was baggy and the arms came down to my fingertips. For use as an outer layer, the medium would have worked, but a small afforded me a better fit overall and a more streamlined look for casual outings. Further, I still was able to fit a layer underneath or add a rain or hardshell jacket overtop of the men's small. For those on the fence, I recommend sizing down in the REI 650.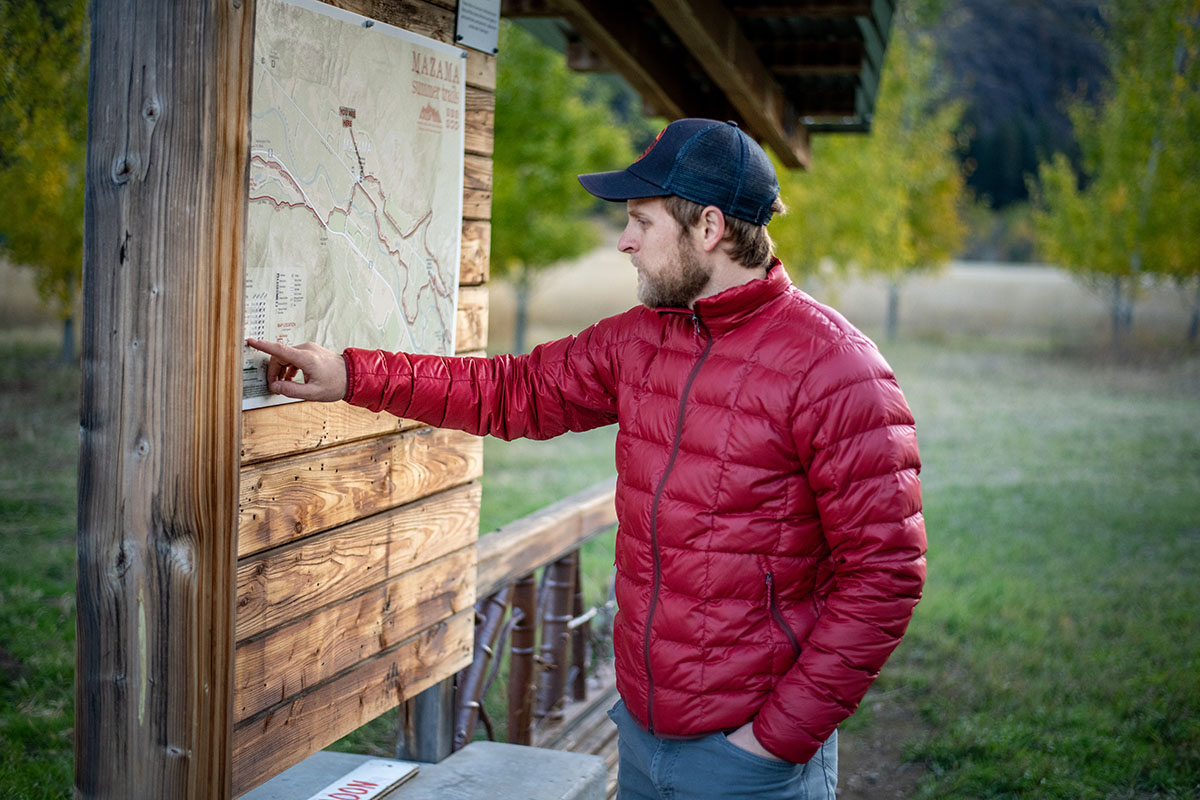 Other Versions of the REI Co-op 650 Down
We put the men's 650 Down Jacket 2.0 to the test for this review, and REI also makes the jacket in a women's version. The women's 650 Down Jacket 2.0 costs the same at $100 and has a nearly identical feature set (you do get a hem adjustment with the women's model) but runs a bit shorter (26.5 inches vs. 28.5) and is offered in different colorways. To round out the collection, REI sells vest versions for men and women ($80), dedicated tall and plus sizes of the standard jacket, and cheaper models for toddlers and kids. Unfortunately, REI no longer makes a hooded version of the 650 Down, which some might prefer for use as an outer layer, but we appreciate the non-hooded style for layering under a shell.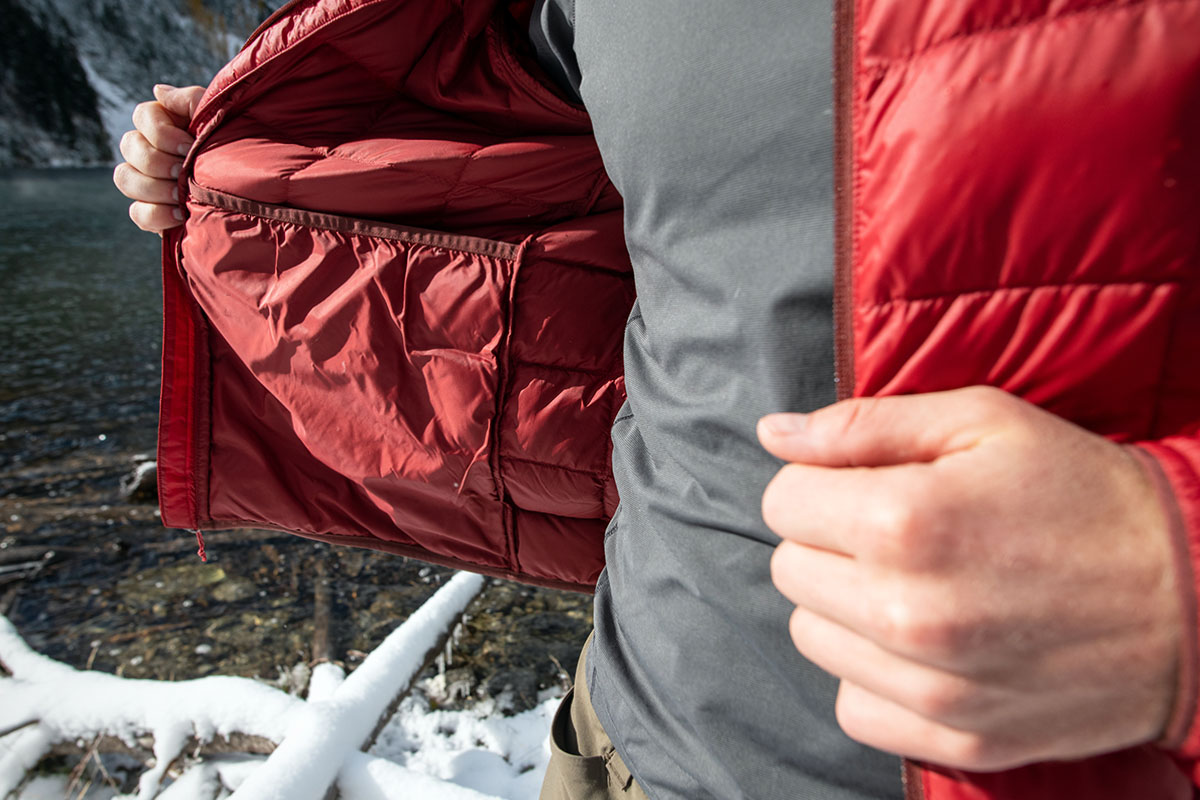 Sustainability
Over the past several years, companies like REI, Patagonia, and many others have become increasingly more focused on sustainably sourcing their down and other materials. The 650 Down Jacket 2.0 is a great example. The jacket's down is certified by the Responsible Down Standard (RDS), which means that the animals were not force-fed or live-plucked. In addition, all materials are bluesign-approved, which indicates that REI took steps during production to minimize overall impacts on the environment, workers, and consumers. Finally, the 650 Down Jacket 2.0's shell fabric is recycled nylon. All together, we really appreciate the transparency and overall intentional way that REI reworked this jacket.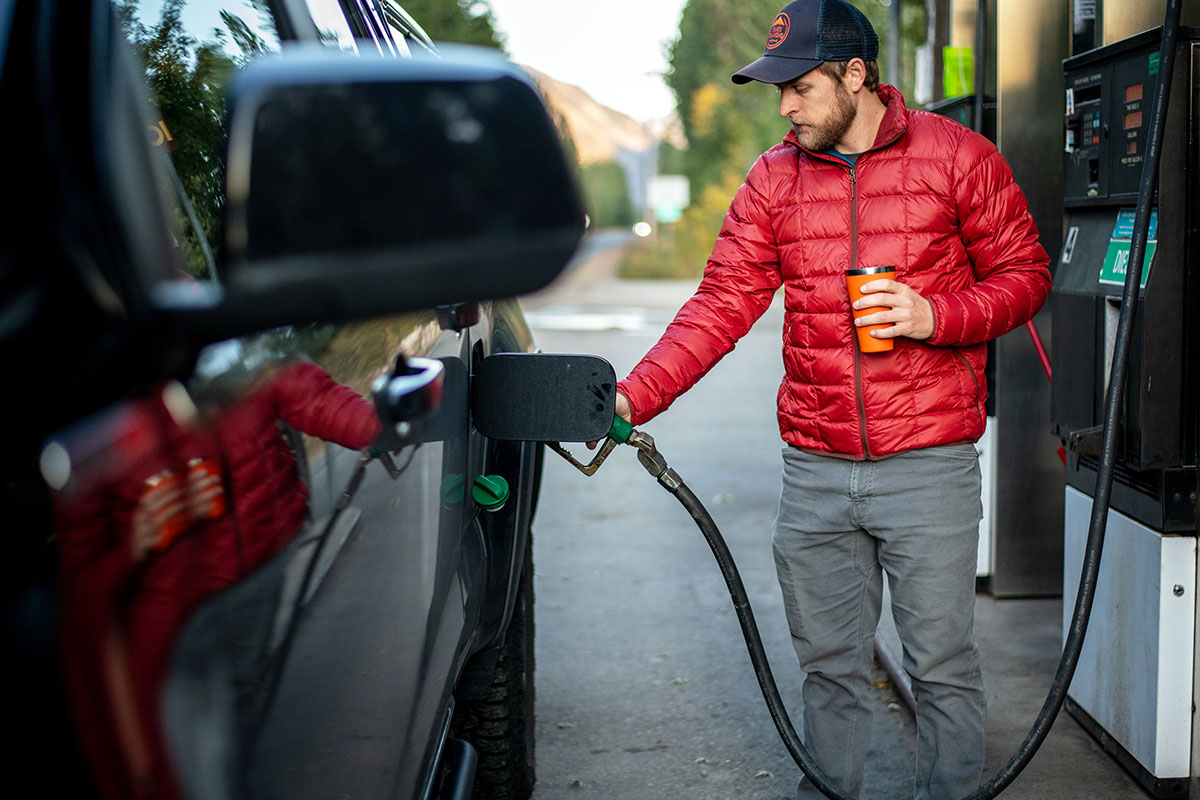 What We Like
One of the best values on the down jacket market. You'd be hard-pressed to find a more well-rounded option from a reputable outdoor brand for less. 
Despite its casual slant, the Down Jacket 2.0 is surprisingly light and well-built. 
The soft fabric is very comfortable and does an adequate job of blocking light wind and precipitation.

What We Don't
Not quite as warm as options like the Patagonia Down Sweater and REI Magma 850 2.0, although those jackets cost significantly more. 
REI chose to use standard nylon (rather than more robust ripstop), which impacts long-term durability.
Large and boxy fit isn't ideal for performance use, and we ended up sizing down. 


Comparison Table

The Competition
Thanks to its cozy feel, streamlined build, and $100 price tag, we think the REI Co-op 650 Down Jacket 2.0 is the best inexpensive down jacket on the market. Another model that transitions nicely from around-town use to backcountry adventures is the Outdoor Research Transcendent. Similar to the 650 Down Jacket 2.0, the Transcendent has a soft feel and is filled with the same 650-fill down, although less of it. On the flip side, the OR gets you a hem adjustment for sealing out cold gusts, an exterior chest pocket, and more robust ripstop polyester fabric. But these additions come with increases in cost ($199), weight (13.7 oz.), and packed size. If you need the extra features, the Transcendent is a solid choice, but we think the 650 Down Jacket 2.0 is the better value.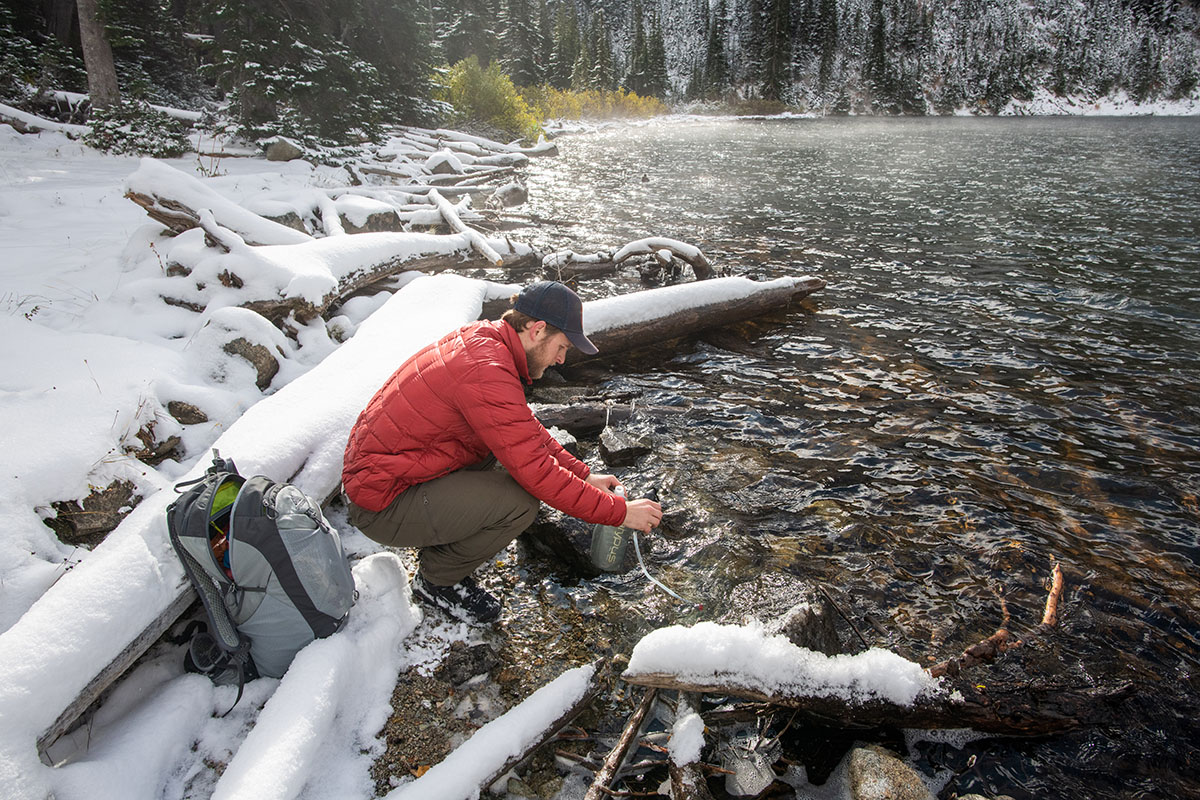 Another popular down jacket option, albeit at a higher price point, is the Patagonia Down Sweater. Both jackets are super versatile for casual outings and light backcountry use. Compared to the REI, the Patagonia uses 3.4 ounces of higher-quality 800-fill down and feels more durable with a 20 x 30-denier face fabric. Additionally, the Down Sweater has a hem cinch that's great for sealing out drafts and dialing in fit (it also fits better in general with a regular cut), and the interior chest pocket adds additional storage space. If your budget allows, the Down Sweater is tough to beat in terms of its premium feel, sleek look, and range of potential uses. But for less than half the price, the 650 Down Jacket 2.0 is an attractive budget alternative. 
In the $100 price range, the REI Co-op Down Jacket 2.0 is almost in a league of its own, but Marmot's Ares gets decently close at $175. With the Marmot, you get 600-fill hydrophobic down, a DWR-coated ripstop polyester shell, hem adjustments, and three pockets (two handwarmer and one chest, which is one more than the REI). Additionally, the retro look and fun colorways are a great match for those who don't like the more muted styling on the REI. All told, we think the Marmot Ares gives the 650 Down Jacket 2.0 a run for its money, but it's hard to ignore the $75 price savings and similar performance you get with the REI.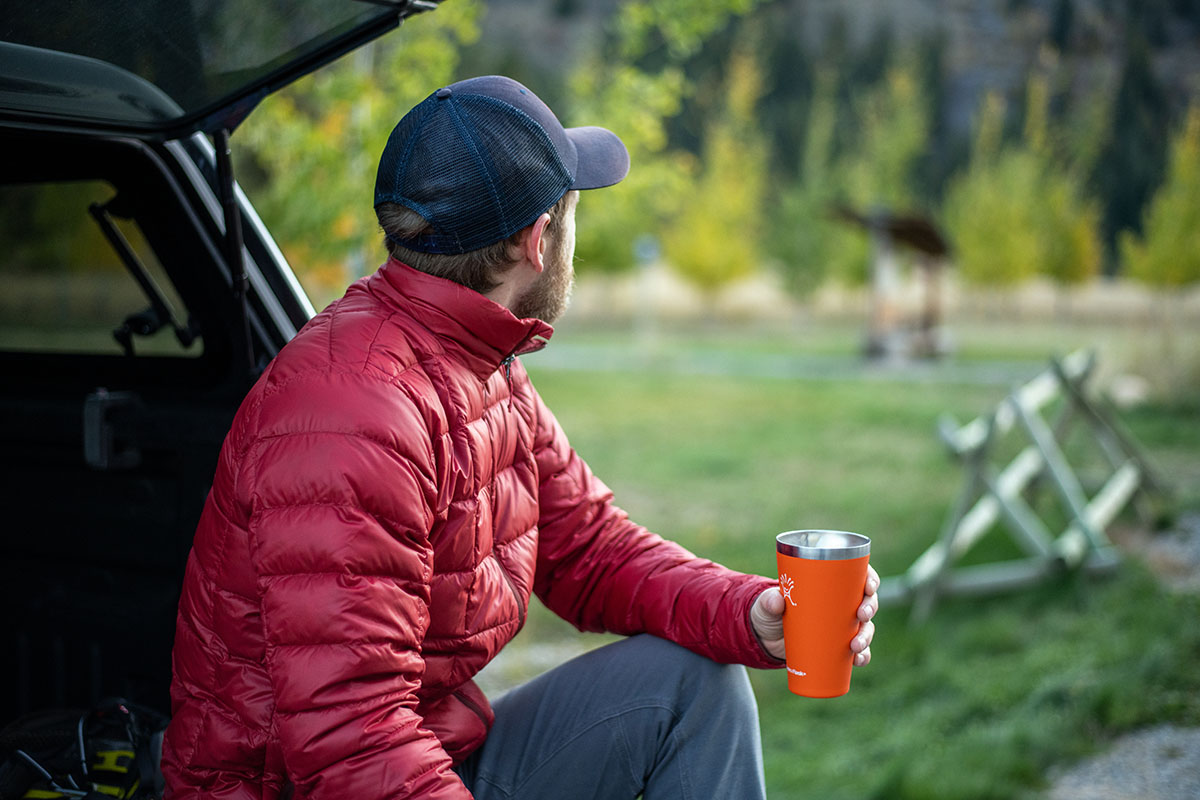 Another option to consider is The North Face Aconcagua 2. This jacket uses a combination of RDS-certified 550-fill down and The North Face's own Heatseeker Eco synthetic insulation (200g), which, unlike down, continues to insulate when wet. Similar to the REI, the Aconcagua has a relatively simple build that includes two handwarmer pockets and non-adjustable elastic hem and cuffs. The Aconcagua is the more durable jacket of the two—it uses a tougher 50-denier shell—but also weighs significantly more at 1 pound 3.8 ounces and doesn't pack down nearly as small. In the end, we prefer the REI for its cozier feel, lower weight, and $69-cheaper price tag.
Last but not least, budget leader Columbia offers an intriguing alternative to the REI 650 Down Jacket in their Voodoo Falls 590 TurboDown Jacket. Like The North Face Aconcagua above, the Voodoo Falls uses a mix of lower-quality 550-fill down (2.8 oz.) and synthetic insulation (40g) to boost wet-weather assurance. You also get a hem adjustment for dialing in fit, as well as an interior zippered pocket. That said, the Columbia clocks in heavier than the REI at 1 pound 1.3 ounces, doesn't pack into any of its pockets or a stuff sack, and has a noticeably less premium feel. And the final clincher for us is cost: at $50 more than the REI, the Columbia isn't a standout value, especially considering how little warmth you get for the price.  
Editor's note: We usually provide a live price comparison table below our outdoor gear reviews, but the 650 Down Jacket is sold exclusively by REI Co-op. You can see the 650 Down Jacket 2.0 page here and support us in the process. Thanks!
Read More from Switchback Travel