Here at Switchback Travel, we're passionate about our down jackets. We've tested a huge range of models over the years, from entry-level options from Outdoor Research and Columbia to premium alternatives from Patagonia, Arc'teryx, and Montbell. While it's easy to get hung up on performance pieces from boutique brands, those jackets often are overkill and too expensive for the vast majority of users. Enter the REI Co-op 650 Down Jacket 2.0, which deftly balances a clean design and an impressive warmth-to-weight ratio with a sub-$100 price tag. If you're looking for the best cheap down jacket on the market, we think this is it.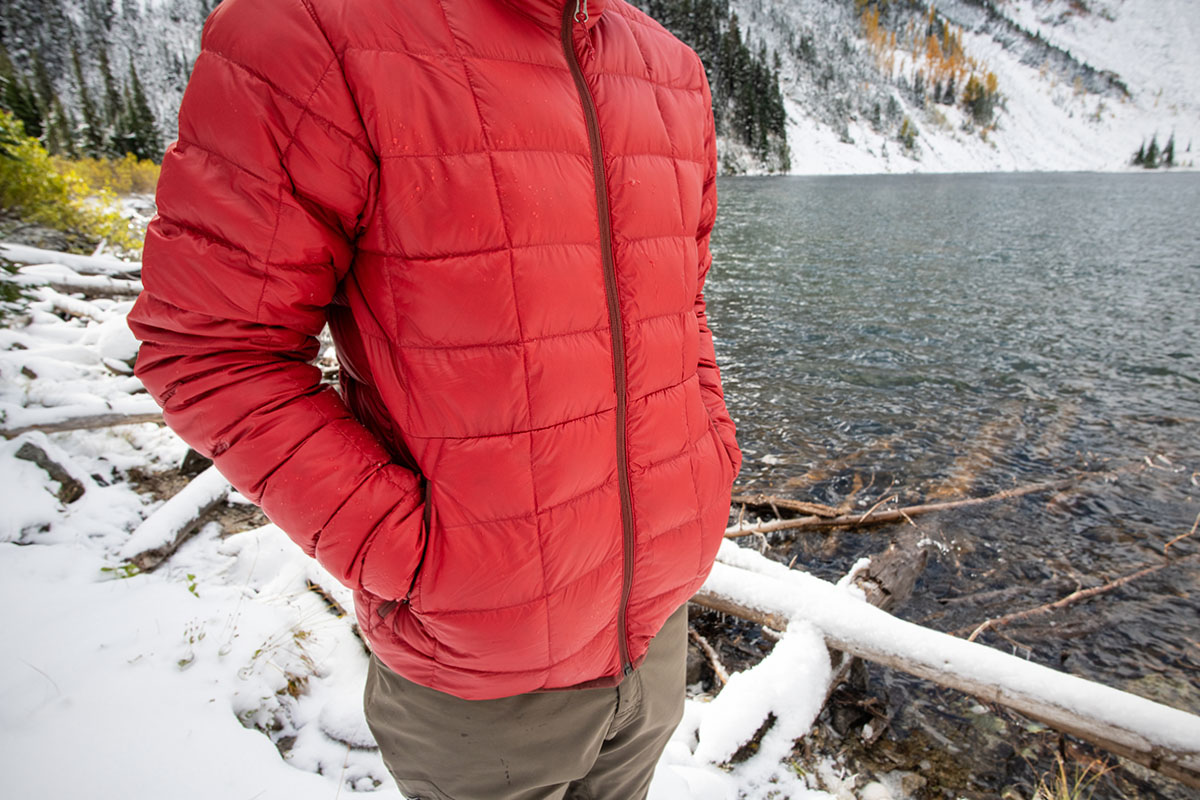 Updated last year with a new baffle design and additional colors, the REI Co-op 650 Down Jacket 2.0 is a heck of a deal. Its MSRP is $99.95 to be exact, which is unheard of in this product category from a major brand (many "affordable" down jackets are more like $150 to $200). The jacket offers a nice combination of quality down—and enough of it to be sufficiently warm—along with a surprisingly high-quality construction and soft feel. All in all, it's a no-nonsense jacket that gets the basics right. This may not be your performance piece for the backcountry, but we've concluded that the REI Co-op 650 Down Jacket 2.0 is far and away the best budget down jacket on the market today.
For comparison sake, we pitted the REI Co-op against the Outdoor Research Transcendent, our second choice for a cheaper down jacket that often can be found on sale in the $120 to $150 price range (it's $199 at full price), the Columbia Voodoo Falls 590 TurboDown ($150 MSRP), and the Patagonia Down Sweater, which is more expensive at $229 but one of the top-selling lightweight down jackets on the market. If you'd like to see how the Co-op stacks up with the rest of our favorites, check out our article on the best down jackets.
Down Jacket Comparison Table
*Editor's note: We reached out to both REI and Columbia and they weren't able to provide a denier specification for these jackets.

Is the REI Co-op Warm Enough?
You purchase a lightweight down jacket for its warmth-to-weight ratio, and the REI Co-op 650 Down Jacket 2.0 fits the bill. At 9.2 ounces on our scale in a men's small (REI lists the weight at 11 ounces), it's feathery light and only a couple ounces off some high-end performance pieces. In terms of the warmth a down jacket provides, that's a combination of a few factors: the quality of the down (fill power), the amount of down (fill weight), as well as the lining and shell fabric. Essentially, loftier down is able to trap more warmth against your body at a lower weight.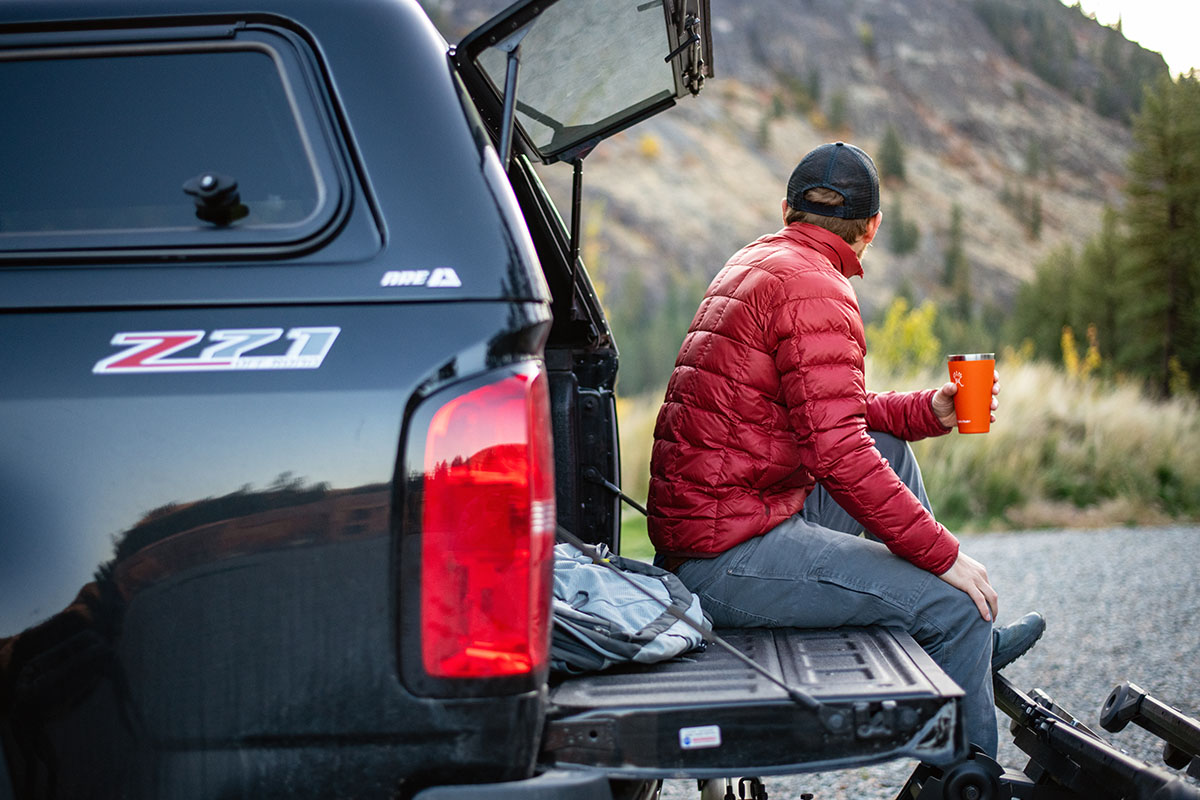 For the Co-op 650 Down Jacket 2.0, REI uses responsibly sourced 650-fill-power down, which is mid-range in terms of quality. Some high-end jackets use 800-fill-power down or higher, but they can cost upward of $300 or more. And fill weight is where some brands cut costs in making a budget down jacket, touting the quality of the down but avoiding the fact that there just isn't that much of it stuffed inside the jacket. Thankfully, REI didn't really skimp here as the jacket has 4.23 ounces (120 grams) of total down fill, which is impressive for the price.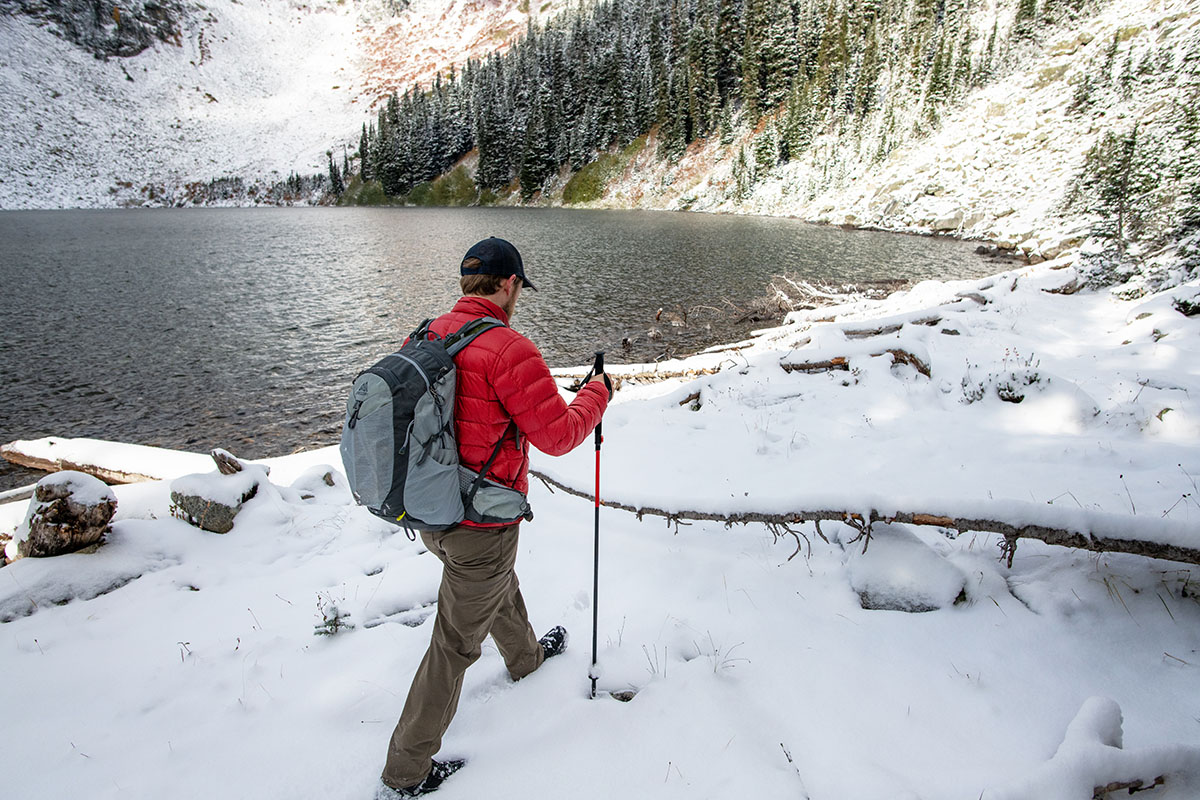 Taken together, the REI Co-op 650 Down Jacket 2.0 has slightly more down fill than the Patagonia Down Sweater (4.23 oz. vs. 3.4 oz.) but a lower fill power (650 vs. 800). This means that the REI does feel marginally less warm, but the Patagonia costs more than twice as much at a whopping $229. Compared to the OR Transcendent at $199, the REI uses the same quality of down but slightly more of it (the OR has a fill weight of 3.5 oz.), making the 650 Down Jacket feel slightly warmer. And the Columbia Voodoo Falls uses the lowest-quality down of the bunch (550-fill) and little of it at 2.8 ounces, although you get the addition of synthetic insulation for better wet-weather assurance. But again, keep in mind that all of these jackets retail for considerably more than the REI, and we've been comfortable wearing it as our outer layer in temperatures down to 40 degrees Fahrenheit with only a thin baselayer underneath. It's plenty of jacket to wear as a midlayer for resort skiing as well—just make sure to keep it dry.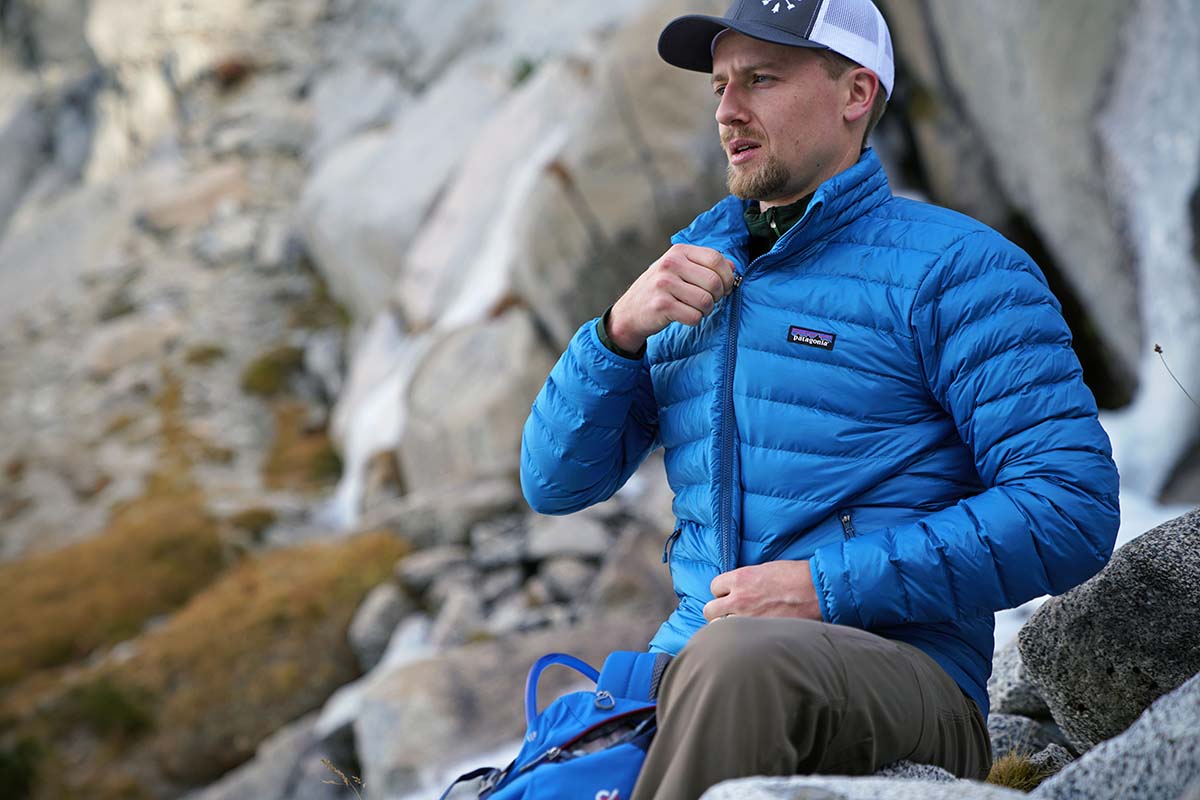 How Well is the Jacket Built?
Our initial impressions of the jacket were strong: no excess thread that needed to be clipped and all of the stitching appears straight and consistent. The YKK zippers are a standard coil design and completely functional. Their lightweight build doesn't have the confidence-inspiring feel of a zipper with larger teeth, but the slim design is not out-of-place in this category, and we've experienced no performance issues.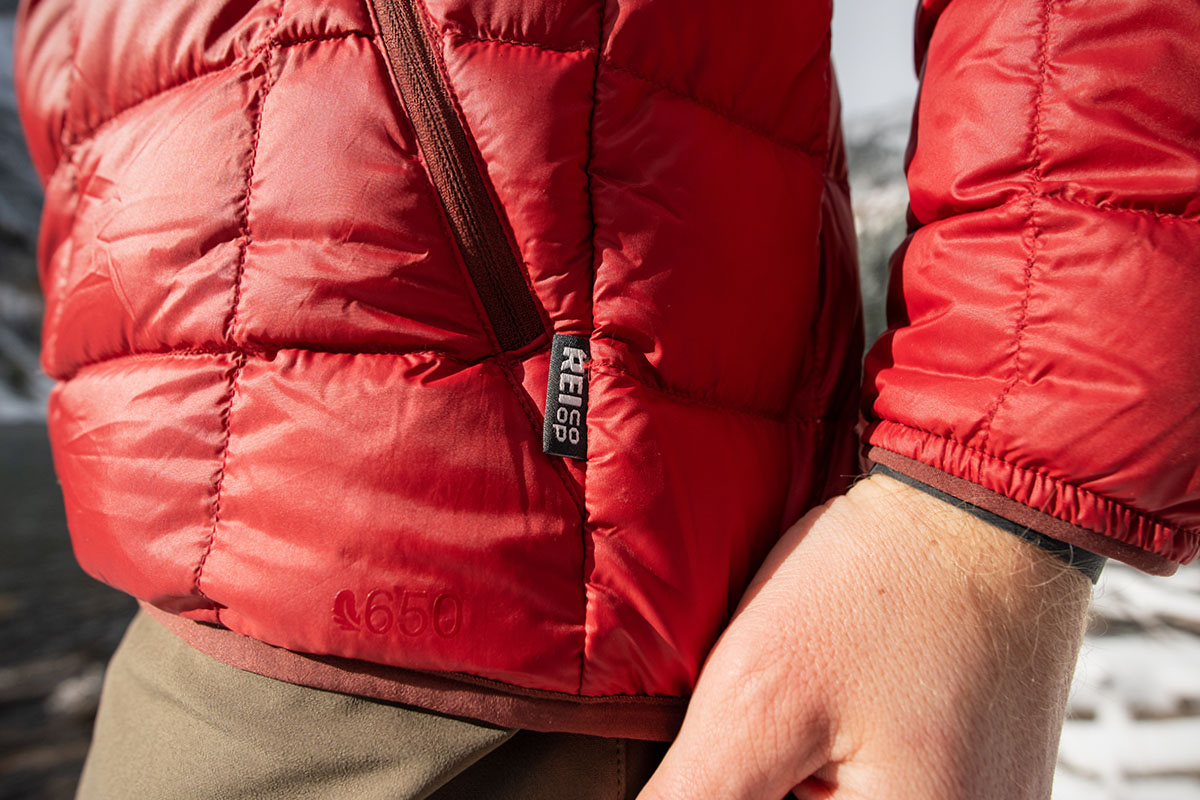 Hand feel is another strong suit of the REI Co-op 650 Down Jacket 2.0, and during a blind test of the shell and lining, there wasn't a discernible difference between the Co-op and the Patagonia Down Sweater. In fact, we'd go so far as to say that some may prefer the updated 650 Down Jacket 2.0's fabric over the Down Sweater (other than the liner of the pockets, which isn't as smooth-feeling in the Co-op). In our opinion, the jacket feels of higher quality than many options in the $200 price range, and it's a step up in overall build quality compared to Columbia's aforementioned $150 Voodoo Falls.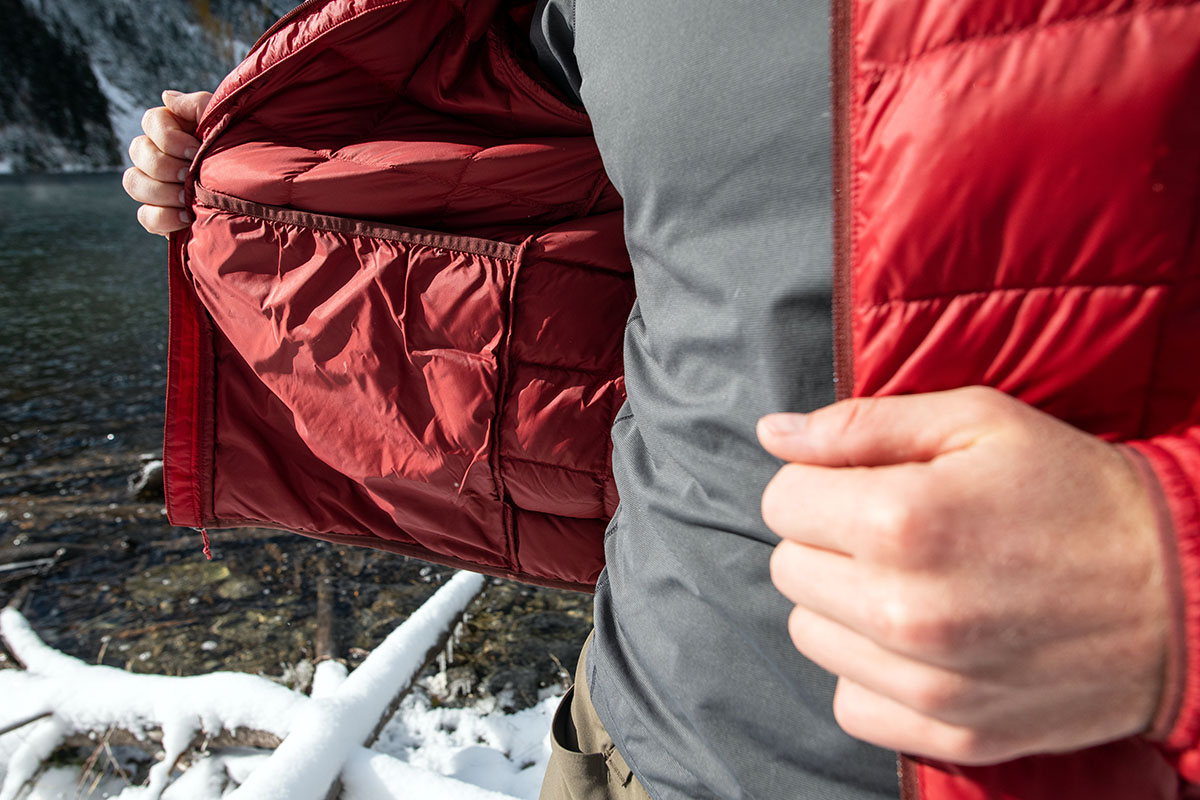 One place where the jacket might fall short is tear resistance. The thin recycled nylon shell material (REI doesn't provide the denier rating) doesn't appear to have the ripstop construction of many performance shells (the lining does have a ripstop fabric, however), and it doesn't benefit from higher-end tech like Pertex fabrics that are super strong for the weight. Once again, we haven't ripped a hole in it (something we have done in a Down Sweater while backpacking), but the shell feels thin and we consistently find ourselves checking to see if we've sliced a hole in it from branches or rocks.
 
Features: What Are You Giving Up By Only Spending $100?
The Co-op brand aims for a no-frills strategy, and their 650 Down Jacket lives out that promise. You get a simple design that has two hand pockets and a full-length center zip and that's it. Those that prefer a napoleon chest pocket will have to look elsewhere, but if you're like us, it's not a big loss. The hem adjustment—or lack thereof—is one place of contention for some, and we cover that below in our fit section.
The jacket has a DWR coating, which is pretty standard fare for a down jacket but notable on a $100 model. In our use, the 650 Down Jacket 2.0 easily shed light rainfall with the water beading up and rolling off, and the experience should be the same in snow. We definitely do not recommend wearing the Co-op Down in sustained heavy rain, but this same recommendation goes for nearly every down jacket out there (synthetic jackets have the clear edge in wet conditions). With prolonged exposure, moisture will soak through and compress the feathers into mush, and we definitely recommend bringing a rain jacket to layer over top if needed.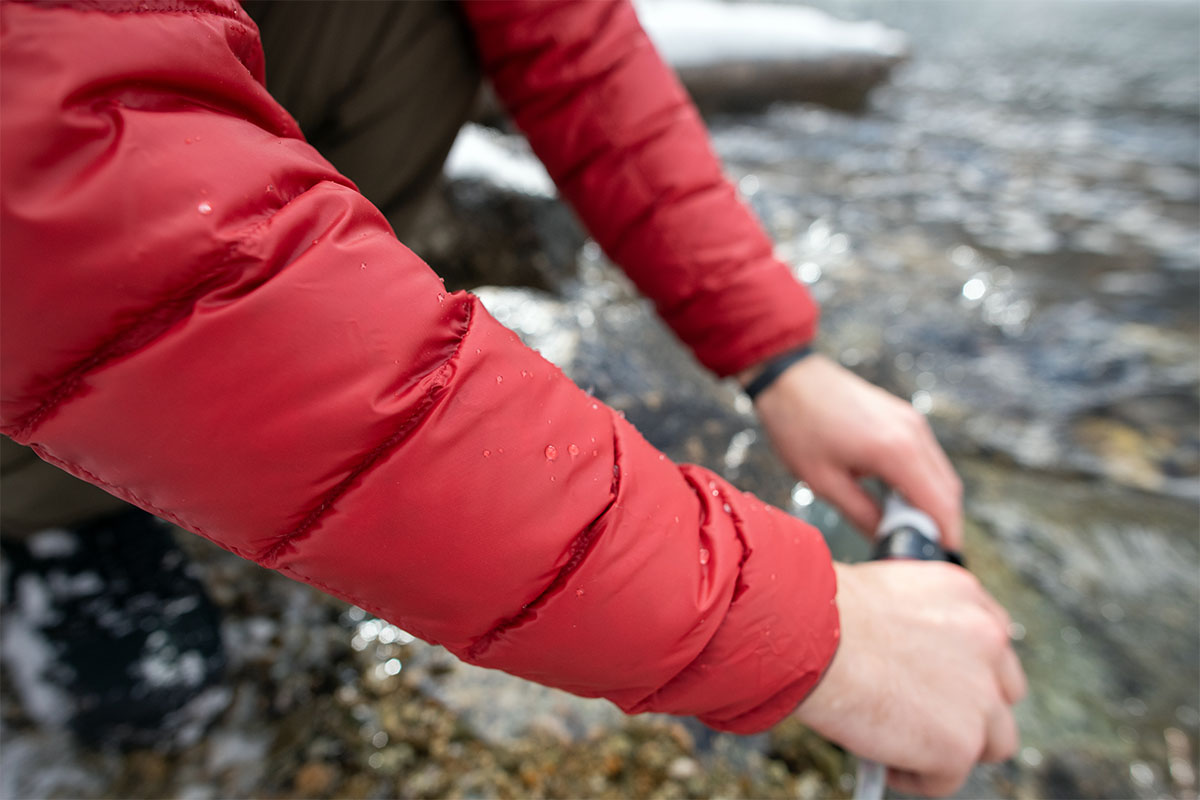 Lightweight down jackets are compressible and easy to slide into a backpack, suitcase, or bag, and the Co-op is a winner in this case. And we commend REI for deciding to make the left hand pocket a stuff pocket. We've found separate stuff sacks to be annoying because you almost always lose them over time. Turning the pocket inside out and stuffing it in is a quick and easy process that also helps protect the shell from tears while in a pack.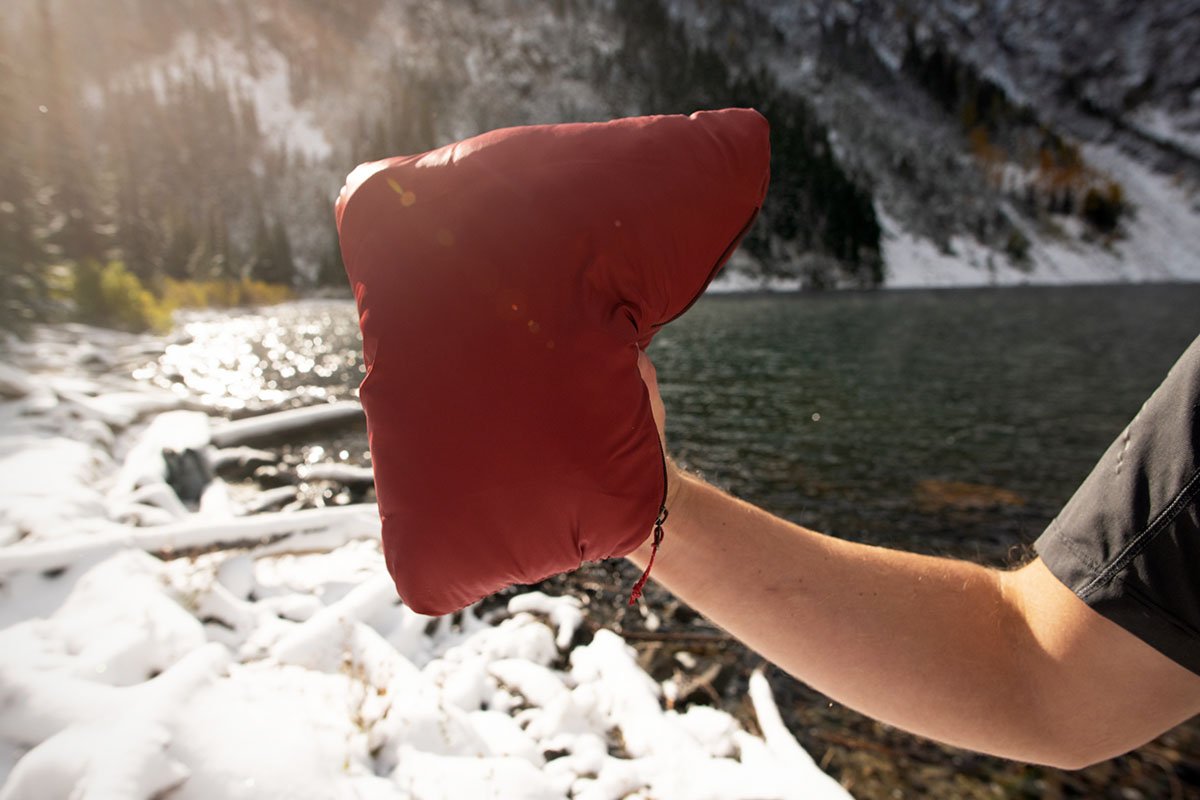 Fit and Sizing
We've had our fair share of sizing issues with REI jackets in the past—we typically find them quite large and long in the arms and torso—and the Down Jacket 650 2.0 follows suit. In our tester's standard men's size medium, the jacket was far too big (he's about 160 pounds and 5'9", for reference). The arms came down to his fingertips, the midsection felt very boxy, and the fit in general was off. If layering multiple pieces underneath was the goal, the medium would have been a fine option, but downsizing to a small offered the better fit overall. In this size, he was easily able to slip a warm layer underneath—the Patagonia Capilene Thermal Weight baselayer is a great option—and it looked far more streamlined for casual outings. It also allowed for easy layering under a shell, which should be a great pairing for cold-weather ski days at the resort. Finally, the lack of a hem adjustment may cause issues for some, but our tester never found himself wishing for one.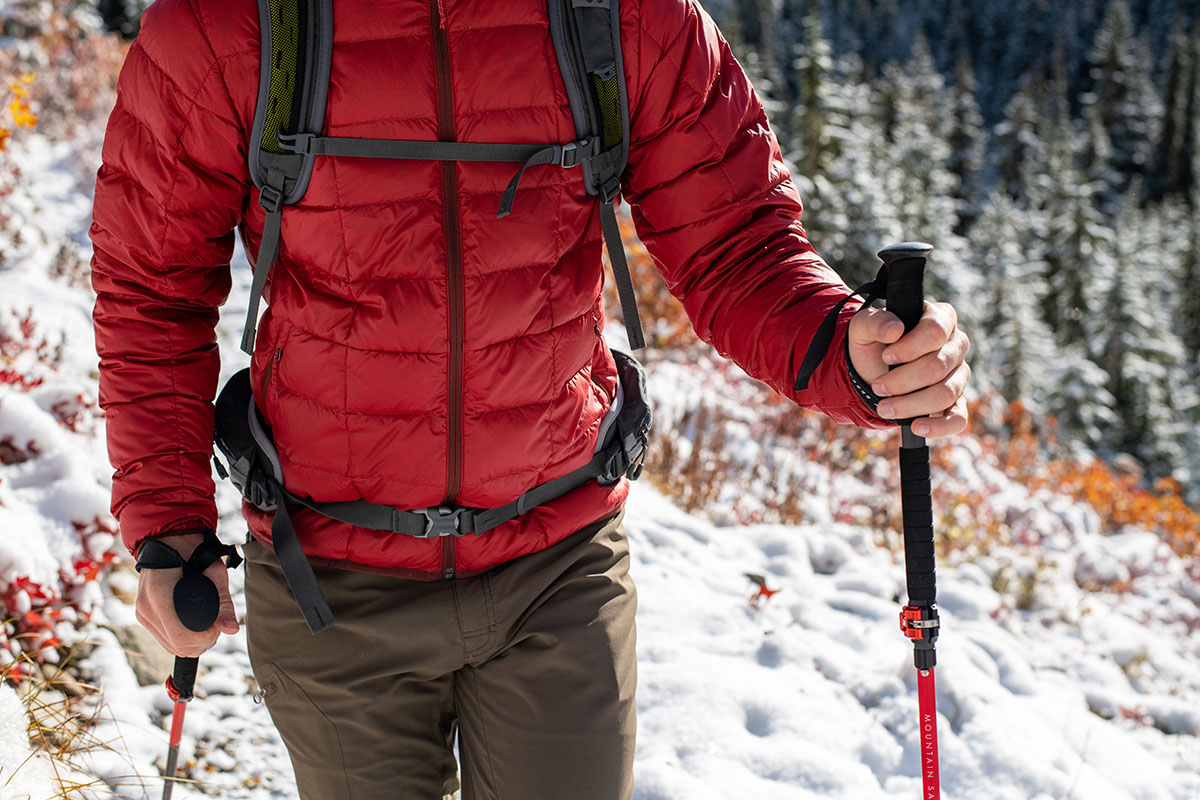 Recommended Uses
We haven't yet found any real limitations for the REI Co-op Down Jacket 2.0. It works great for daily use and light adventuring, and especially in the shoulder seasons when the conditions aren't freezing (you'll likely want to step up to a warmer down jacket for the dead of winter). It makes for a nice midlayer for resort skiing, particularly given that wearing an outer shell will help to avoid any tearing. And the jacket also is offered as a Down Hoodie for backpackers and climbers looking for more warmth. The hooded version shares the feature set and size options with the standard jacket and is a solid value at $119.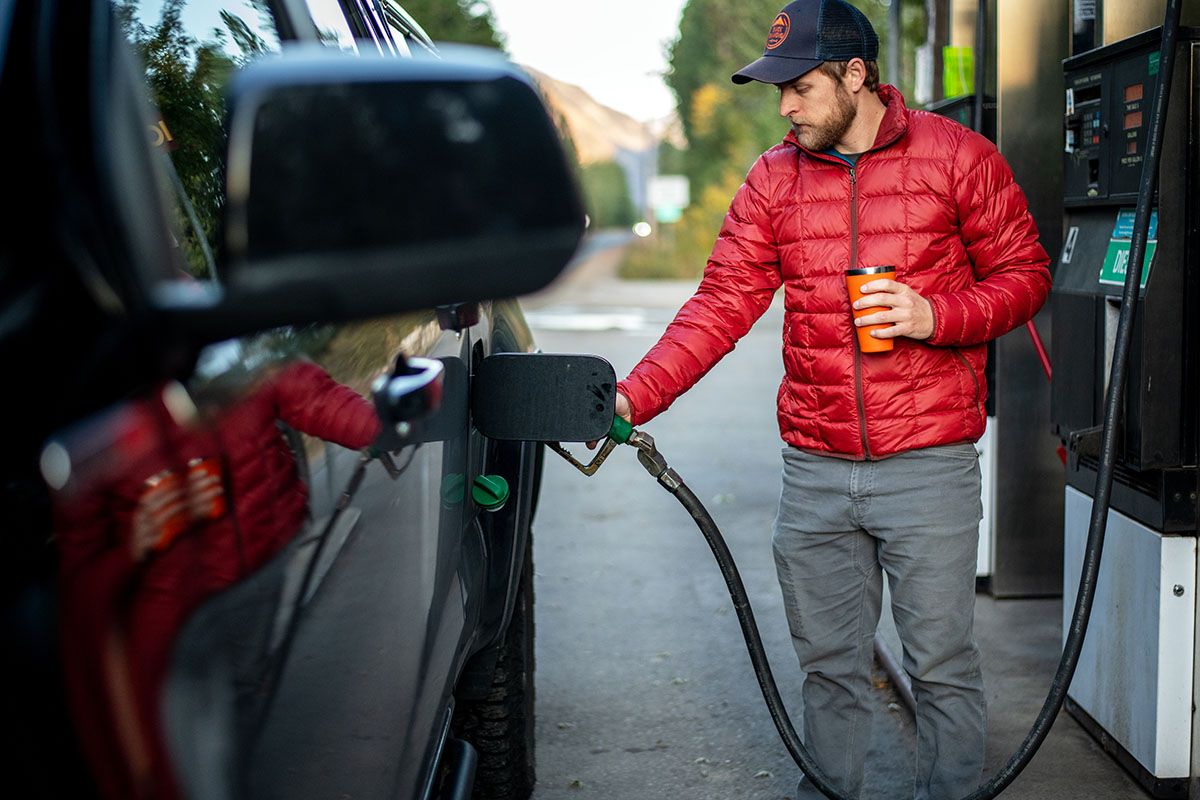 Conclusion
REI is one of the leading outdoor gear brands in terms of value, and their Co-op 650 Down Jacket 2.0 is a prime representation of that. You get great quality for the price and all the performance the average hiker or skier needs. And at the end of the day, we really like the look of the jacket too. It doesn't have a blaring logo stuck to the chest—instead, there's a small REI Co-op tab along the bottom hem. In addition, the jacket is offered in a variety of colorways (six for both men and women at the time of publishing). All said, this sub-$100 jacket beats out a number of more expensive competitors, making it our top budget pick for 2020-2021.
See the Men's REI Co-op 650 Down Jacket 2.0  See the Women's REI Co-op 650 Down Jacket 2.0
Learn More About Outdoor Gear