Skis, bindings, and boots get a lot of attention in the touring world, but don't overlook your humble climbing skins. Most importantly, you want to match the design and materials with your local terrain and snow conditions to optimize performance. Some models utilize nylon to offer better friction for climbs, while others prioritize gliding quickly with mohair. Finally, speed-focused explorers will want an ultralight and packable build.  We've included all varieties in our picks for the best climbing skins of 2020 below. For further guidance, see our comparison table and buying advice below the picks.
 
Best Overall Climbing Skins
Weight: 1 lb. 8 oz.
Materials: 65% mohair, 35% nylon
Widths: 110, 125, 140mm
What we like: Compact package, superb grip, and excellent glide.
What we don't: Durability falls short of all-nylon models.
Black Diamond is one of the biggest and most respected names in climbing and skiing, and their backcountry skins live up to that reputation. The GlideLite Mix STS is currently our favorite model in their lineup. Using a mix of mohair and nylon, the GlideLite balances smooth and fast forward glide with secure uphill travel—an ideal combination for extended and variable backcountry missions. Further, the soft and flexible materials are easily stowable (BD states the GlideLite is 20 percent more packable than their Ascension skins below), and the metal tail and tip allow easy in-the-field adjustments. If you're not comfortable cutting your own skins, Black Diamond also sells the GlideLite Mix Custom STS ($195) that comes pre-cut in a variety of sizes.
All that said, the GlideLite is not without its downsides. For starters, the pre-applied glue is quite aggressive—it can take a lot of effort to transition when you're ready to start climbing. On the bright side, you don't have to deal with loose skins, and the adhesive can last for years if properly cared for. Second, the GlideLite isn't the lightest option available—skimo racers and weight-conscious mountaineers should check out the Pomoca models below. Finally, we don't love the skin cutters that come with BD skins (and much prefer the straightforward nature of G3 skins cutters which can be purchased online for only $7). But these gripes aside, we think the GlideLite balances performance, price, and durability better than any other skin on the market, making it our top pick for 2020 ski season.
See the Black Diamond GlideLite Mix STS Skins
Best Climbing Skins for Beginners
Weight: 1 lb. 9.2 oz.
Material: 100% nylon
Widths: 100, 115, 130, 145mm
What we like: Proven build that's easy to set up and use day-to-day.
What we don't: Pricier than the BD Ascension below; lacks base coverage.
Rapid growth in backcountry skiing means there are a lot of beginners looking for their first pair of skins. For these folks, we recommend G3's Alpinist+. Building on their proven Alpinist line, this skin offers an extremely user-friendly set-up, quality tip and tail connectors that simplify the on/off process and transitions, and solid all-around performance and durability from the nylon build. Selecting the right size is as simple as matching your length and width, and you don't need to fuss with cutting the ends or inserting screws through the skins (an intimidating step that's required with many of BD's designs). Along with a self-aligning tip that fits on virtually any ski shape, the G3 Alpinist+ truly stands out from an ease of use perspective.
One thing to keep in mind is that nylon skins offer reliable grip and typically are long-lasting, but they are not the best gliders and tend to weigh more than their mohair counterparts. To offset these issues, G3 designed the skins with plastic tips and heavily tapered the tails, leaving a chunk of your skis' bases exposed. For heavily rockered skis, this isn't a major downside since the tails don't have much direct contact with the snow below. However, for designs with a flatter or more cambered profile, more skin coverage is crucial for a steady and secure climb—for these skis, we recommend the BD Ascension STS below.
See the G3 Alpinist+ Universal Skins
Best Ultralight Climbing Skins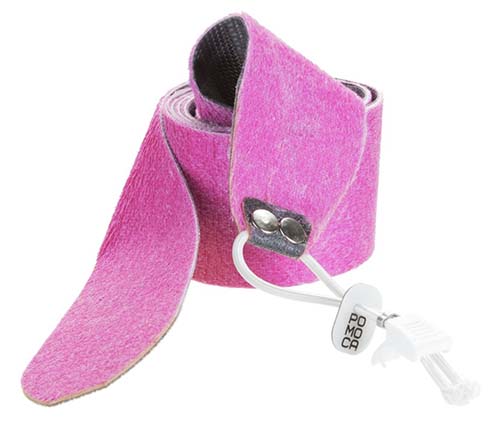 Weight: 6.9 oz.
Material: 100% mohair
Widths: 59, 62, 65mm
What we like: Simple ultralight design with excellent glide.
What we don't: Purpose-built for ski racers—for wider-width backcountry skins, look elsewhere. 
Half a pound for a pair of skins? No, that's not a misprint. Purpose-built for skimo and randonnée racers, the Pomoca Race Pro 2.0 skins glide faster and farther than the nylon and mixed-nylon competition, and you'll barely notice they're on your skis or in your pack. Additionally, unlike the GlideLite above, Pomoca's glue is easy to work with and comes apart with minimal effort. This is especially important during a race when saving energy and time could mean the difference between a win and finishing DFL (dead freakin' last).
There are often notable sacrifices that come with shaving considerable weight, and the Race Pro 2.0 is no exception. In this case, Pomoca designed the skins without tail clips. Instead, they rely solely on adhesive and their tapered shape near the tail to secure in place. This is good news for speed-focused skiers—there's one less step when stripping skins for the descent. However, the Race Pro is much more likely than traditional backcountry skins to come undone from your skis, especially in variable temperatures when the glue begins to warm and freeze repeatedly. For dedicated racers, however, these tradeoffs are just par for the course.
See the Pomoca Race Pro 2.0 Skins
Best of the Rest
Weight: 1 lb. 10 oz.
Material: 100% nylon
Widths: 110, 125, 140mm
What we like: Long-lasting and affordable.
What we don't: Harder to set up than the G3s above; fairly heavy and bulky.
Black Diamond's Ascension STS is one of the most ubiquitous designs on the market, and for good reason. Rather than the nylon-and-mohair blend of our top pick, the GlideLite Mix STS, the Ascension STS uses 100-percent-nylon plush that's ideal for those who want a more secure feel on steep skin tracks. In addition, the Ascension shares the metal tip and tail clips with the GlideLite, which are reasonably easy to adjust and very durable. At $165-$175 depending on size, the Ascension is a solid value considering the long-lasting construction that should see you through many seasons of frequent use.
The G3 Alpinist+ Universal above is the Ascension's closest competitor, and their nylon builds both run notably heavier and bulkier than mohair. The BD gets the slight edge in price and grip with its superior coverage, but the G3 is far easier to set up with its customizable length and superior trimming tool. This makes it our preferred option for the beginner crowd—or for anyone that will value the G3's convenience—but the BD isn't far behind. Finally, like the GlideLite, the Ascension is also available in splitboard and minimalist STD models with no tail clip.
See the Black Diamond Ascension STS Skins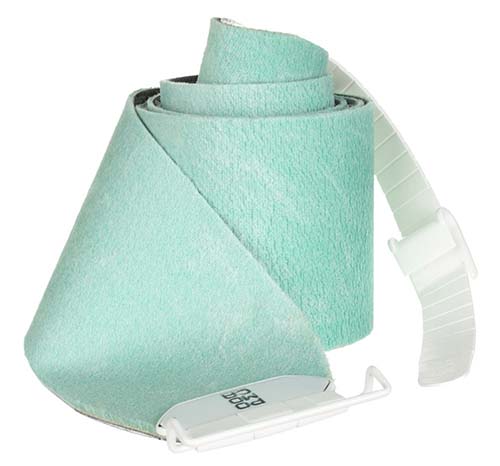 Weight: 1 lb. 1.8 oz.
Materials: 70% mohair, 30% nylon
Widths: 100, 110, 120, 130, 140mm
What we like: Very lightweight and packable.
What we don't: Pricey and plastic tail clips require additional care.
Swiss-bred Pomoca might not have the name recognition of Black Diamond, but they've been producing high-quality skins since the 1930s. In fact, many major brands today—including backcountry powerhouses Voile and Dynafit—incorporate Pomoca's technology into their own designs. Their Climb Pro S-Glide is a great example of their expertise: it's very light at 1 pound 1.8 ounces per pair, and the glue is sticky enough to stay attached all day while releasing a bit more readily than the GlideLite above. And true to its name, the Climb Pro S-Glide is especially adept at gliding: in long, flat meadows, the 70-percent mohair build maintains speed (while great for the uphill, all-nylon skins don't glide easily).
Seasoned backcountry-goers rave about Pomoca skins, but we don't recommend them for first-timers. Why not? First and foremost, the tiny mohair fibers don't grip as well as longer nylon, which can make uphill travel more challenging if you're new to touring. Additionally, the skins' tail clips are plastic and tend to break relatively easily if you're not meticulous when putting them on and taking them off. But for the right skier and with a little extra diligence, the Climb Pro S-Glide is one of our favorite lightweight models on the market and should last for many seasons to come.
See the Pomoca Climb Pro S-Guide Skins
Material: 100% mohair
Widths: 115, 135mm
What we like: Lightweight and easily customizable.
What we don't: Performance falls short in icy conditions.
Contour is a mountaineering-focused brand revered among hardcore backcountry enthusiasts. Within their lineup, we think the Guide Pure is one of their strongest designs. Like the Pomoca Race Pro 2.0 above, the Guide Pure's plush is all-mohair, making it a great match for regular backcountry-goers headed out on long tours. The skins do require you to attach the tip clip, but the process is relatively straightforward and requires only a single snip once you've dialed in fit (cutting Black Diamond skins, on the other hand, is considerably more involved). And when you need to make adjustments in the field, it's as easy as pulling the tab along the tail attachment to tighten.
The biggest question mark with the Guide Pure is long-term durability. As we mentioned above, mohair tends to break down quicker than nylon. Further, the Guide Pure's tail clips are made of plastic, which gives us slight pause when shoving the skins into our pack. And in terms of performance, the skins' mohair plush is ideal for deep, soft snow like you'll find in the Mountain West or the Alps, but on hard, icy skin tracks, it lacks overall grip and traction. For a bump in climbing ability, Contour also makes the nylon-and-mohair Guide Mix.
See the Contour Guide Pure Skins
Material: 100% nylon
Widths: 115, 130, 145mm
What we like: Excellent uphill performance.
What we don't: Not ideal for warm conditions.
Perhaps no other skin on the market is as revered as the Backcountry Access Magic Carpet. Named after the conveyor belts that transport resort-goers up the ski hill or (an airborne form of transportation—you pick), the Magic Carpet is built to climb with a 100-percent-nylon construction. Compared to the competition, the BCA is made to accommodate extra-wide and rockered freeride skis—the tip and tail clips work especially well on rounded twin tips. And BCA's glue is designed specifically to handle frigid winter temperatures, so when the mercury drops and other skins refuse to stick, the Magic Carpet holds fast. At $150-$180 depending on width, the BCA is a great value considering its overall performance on the skin track.
Similar to the other all-nylon designs above, the Magic Carpet isn't a top performer in weight or glide. This means that on longer, flat sections, you'll have to work harder to maintain momentum than you would with an all-mohair skin or nylon-and-mohair blend. Further, although BCA's specially made glue holds exceptionally well in cold conditions, it can be a pain to work with on warmer spring outings—it's so sticky that it's often difficult to unfold the skins after storage. This issue diminishes after multiple seasons of use, but we nevertheless prefer the more workable adhesive on the Pomoca Climb Pro S-Glide above.
See the Backcountry Access Magic Carpet Skins
Materials: 65% mohair, 35% nylon
Widths: 110, 120, 130, 145mm
What we like: No-glue bottoms stay clean and are much easier to work with than traditional adhesives.
What we don't: U.S. availability is very limited.
All of the picks above use glue to stick to the bottom of your skis, but Kohla's Vacuum Base 2.0 bucks that trend by taking an innovative suction-based approach. In short, Kohla created a unique adhesive technology that vacuum seals to the bottoms of skis without sticking to each other. This means that when stored in your closet or garage, the adhesives won't collect dog fur or dust the way all of the skins above will, nor will they take superhuman strength to pull apart in the field. All in all, we really like the out-of-the-box thinking.
To be sure, we're excited to put these skins through multiple seasons of use to see how the glueless design holds up. That said, availability in the U.S is incredibly limited, with far fewer retailers selling Kohla than competitors like Black Diamond, G3, and even Pomoca. Further, these particular skins are often sold out online, and unfortunately purchasing directly from Kohla isn't an option. All told, if you can track them down, these skins are the real deal. But the lack of stock is enough to push the Vacuum Base 2.0 to a bottom-of-the-pack finish on our list.
See the Kohla Vacuum Base 2.0 Skins
Climbing Skin Comparison Table
| Skin | Price | Materials | Weight | Widths |
| --- | --- | --- | --- | --- |
| Black Diamond GlideLite Mix STS | $185 | 65% mohair, 35% nylon | 1 lb. 8 oz. | 110, 125, 140mm |
| G3 Alpinist+ Universal | $189 | 100% nylon | 1 lb. 9.2 oz. | 100, 115, 130, 145mm |
| Pomoca Race Pro 2.0 | $155 | 100% mohair | 6.9 oz. | 59, 62, 65mm |
| Black Diamond Ascension STS | $175 | 100% nylon | 1 lb. 10 oz. | 110, 125, 140mm |
| Pomoca Climb Pro S-Glide | $210 | 70% mohair, 30% nylon | 1 lb. 1.8 oz. | 100, 110, 120, 130, 140mm |
| Contour Guide Pure | $180 | 100% mohair | Unavailable | 115, 135mm |
| Backcountry Access Magic Carpet | $165 | 100% nylon | Unavailable | 115, 130, 145mm |
| Kohla Vacuum Base 2.0 | $180 | 65% mohair, 35% nylon | Unavailable | 110, 120, 130, 145mm |
Climbing Skin Buying Advice

What are Climbing Skins?
For traveling in the backcountry, skins are an essential piece of equipment. In short, they are strips of fabric—most often nylon or mohair—that attach to the bottom of touring skis and allow you to climb uphill. The opposite side is an adhesive that sticks to the base of your ski, with attachment points at the tip and tail. To best illustrate how skins work, imagine petting a dog. When you move your hand in one direction, the fur feels soft and smooth. When you go against the grain, you likely feel some resistance. This resistance is what allows skiers to walk uphill without sliding backward. Alternatively, when you're on flatter ground, the skins allow you to glide forward easily.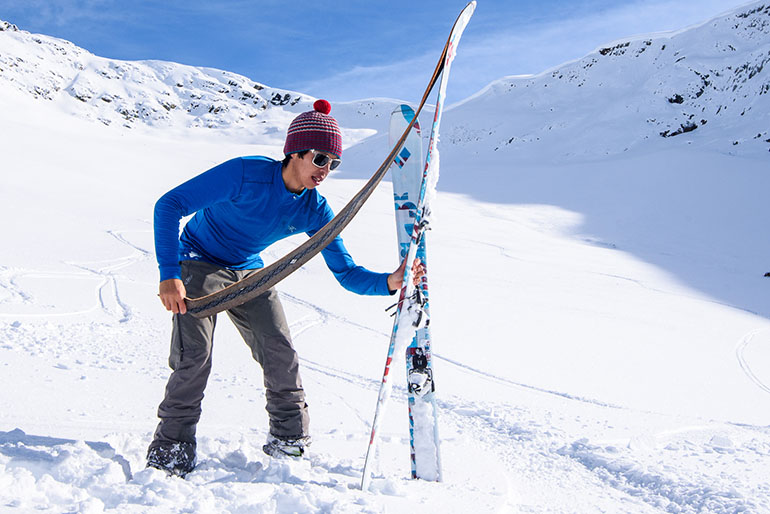 Skin Components
Skins have four important components worth breaking down: tip clip, tail clip, adhesive, and plush (fur). The tip and tail clips function just as their names imply: the tip clip keeps the front of the skin attached to the front of the ski, while the tail clip does the same at the back. The adhesive is what firmly sticks the skins to ski bases. And the plush—usually nylon or mohair—is what allows skis to travel both uphill and downhill on snow.

Tip and Tail Clips
Tip and tail clips vary in design depending on the manufacturer and model, and certain clips work best for certain ski shapes. The BCA Magic Carpet's tail clips, for instance, are a good match for twin-tip skis (skis whose tips and tails are symmetrical, round, and upturned). Meanwhile, Black Diamond and G3's tail clips are usually more effective on skis with flat tails, although G3 sells twin-tip connectors for $18. The Pomoca Race Pro 2.0 skins forego tail clips entirely to shave weight for racing (we don't recommend this style for everyday backcountry skiing, however, as it's much less secure). Similarly, we prefer G3 tip clips for skis with wider shovels (tips), while Black Diamond tip clips typically work better for skis with narrower shovels. Although certain skins are preferable for certain skis, all of the picks above—with the exception of the Race Pro 2.0—are universal and will work well with most backcountry skis.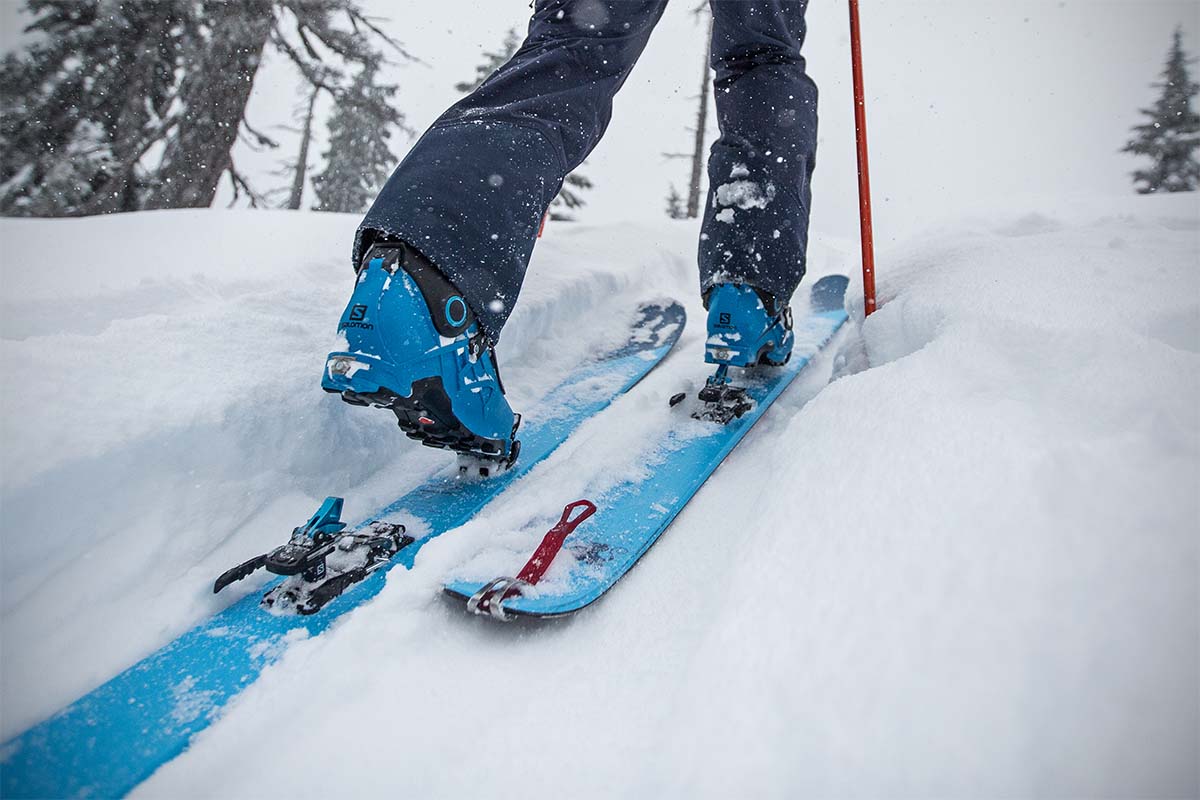 Adhesive
The adhesive on skins is what helps them stick to your ski bases. It's typically made with a tacky glue, but the downside is that this glue can stick to other objects as well—such as dog fur, down feathers, or dust. Additionally, although it releases from ski bases relatively easily, when skins are stuck together (the appropriate storage method), it can often take a great deal of effort to pull them apart. A new solution is a non-glue adhesive that still sticks to ski bases yet doesn't require superhuman strength to release. Kohla is one of the few manufacturers that uses this technology, but you can expect to pay a bit more and get a shorter lifespan out of this type of adhesive.

Plush (Fur)
Finally, and arguably most importantly, is the plush side of your skins (also referred to as "fur"). Typically made of nylon, mohair, or a blend of the two materials, the plush is what gives your skis the ability to climb up the skin track yet still glide on flat areas and slide down any downhill sections. Given the notable differences between the two materials, we break them down in-depth below.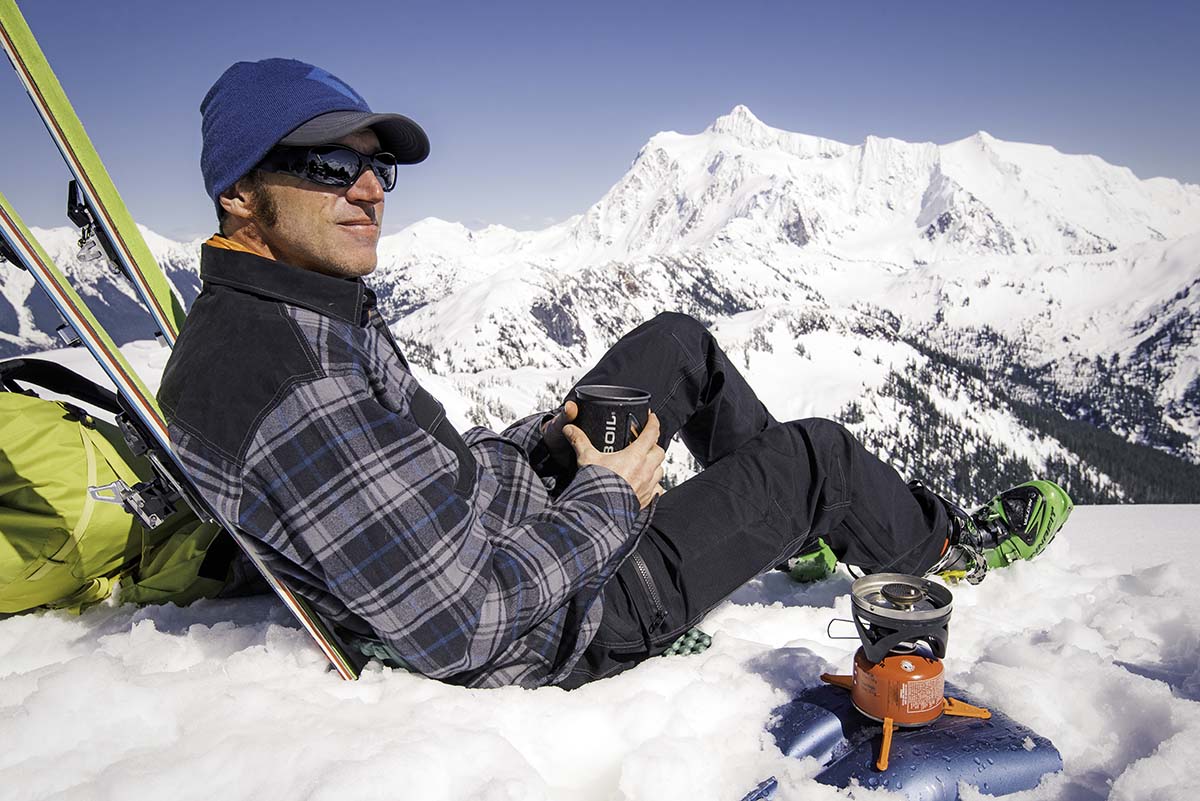 Choosing the Right Skins for Your Skis
Nylon vs. Mohair
Nylon and mohair skins work the same way, but the materials differ considerably in overall performance. A 100-percent-nylon skin like the BCA Magic Carpet will typically have excellent climbing abilities, sticking to steep slopes with ease. However, nylon is heavier, bulkier, and doesn't glide as well as mohair. An all-mohair skin (made from the hair of Angora goats), on the other hand, is generally lightweight, packable, and able to maintain speed on flat sections. That said, mohair doesn't have the same sticking power as nylon, especially on steep skin tracks, and tends to be pricier and less durable in the long run. In the end, our favorite skins use a blend—the Black Diamond GlideLite Mix STS, for example, uses 65 percent mohair and 35 percent nylon to harness the performance benefits of both.
A final decision on skin material should come down to your skiing goals. Skimo and randonnée racers, as well as ski mountaineers and dedicated backcountry enthusiasts aimed at traveling fast and light, should consider all-mohair skins. For skiers new to touring, we recommend choosing an all-nylon or mostly nylon skin for the lower price, better durability, and more secure feeling on the skin track. For seasoned backcountry-goers with good technique, mixed-material skins provide great overall performance both in straightaways and while traveling uphill.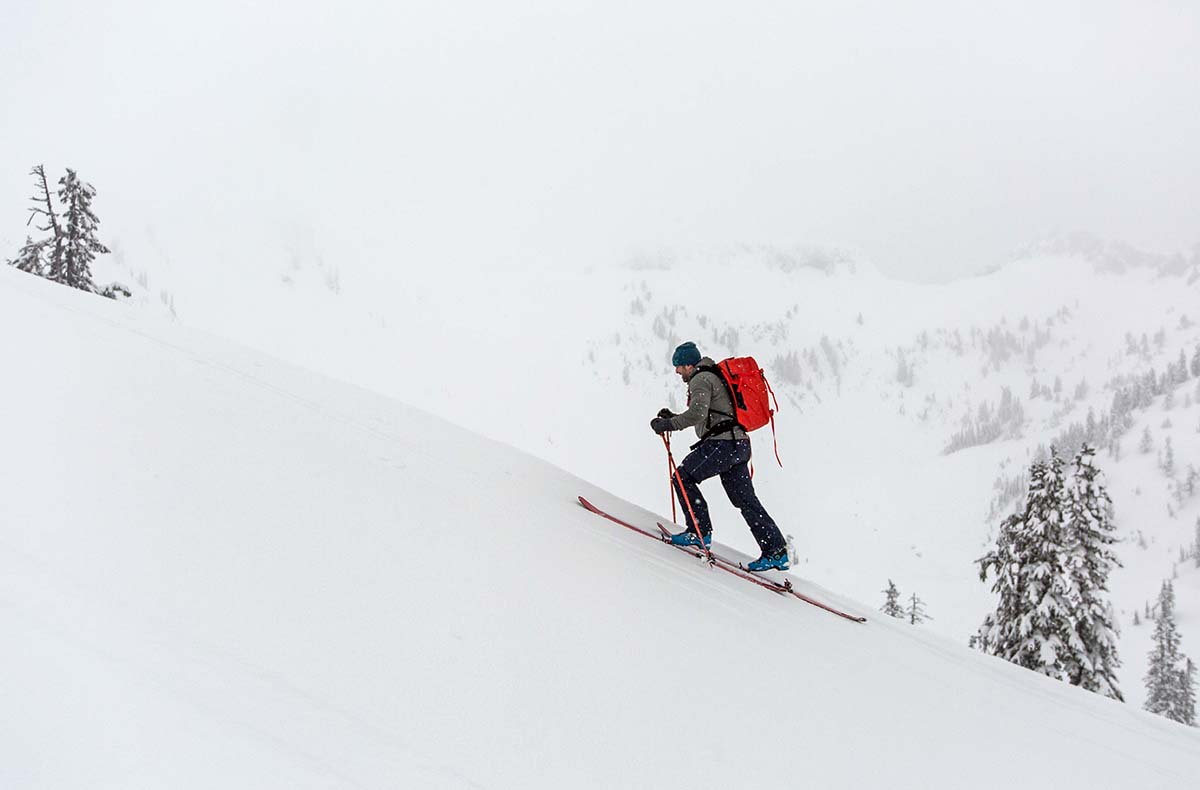 Skin Width
It's important to choose skins in the correct width to cover the right amount of your ski bases. To start, it's worth noting that the majority of skins are sold in 10- to 15-millimeter increments. To maximize base coverage, take the width of your ski tip (typically the widest part of the ski) and subtract around 5 to 7 millimeters. For example, if your ski's dimensions are 141/116/131mm, you should buy skins that are 135mm to cover most of the base and give you the best possible grip. Some weight-conscious backcountry-goers prefer to use skinnier skins, in which case the skin width should instead be based off of the waist dimension of your ski. In the previous example, this would mean going with a 110-millimeter skin. The biggest downside here is less traction (and it can be a fair amount), and whether that's worth the tradeoff in weight is up to you.

Skin Length
After determining skin width, it's also important to nail the length. Climbing skins are often sold in different length ranges, but some are only offered in a single length (usually around 200cm) that must then be cut to fit your skis. For those that are sold in various ranges, you should buy the range that includes your skis' length. For example, if your skis are 165cm long, you should purchase the 162-172cm version of the skins.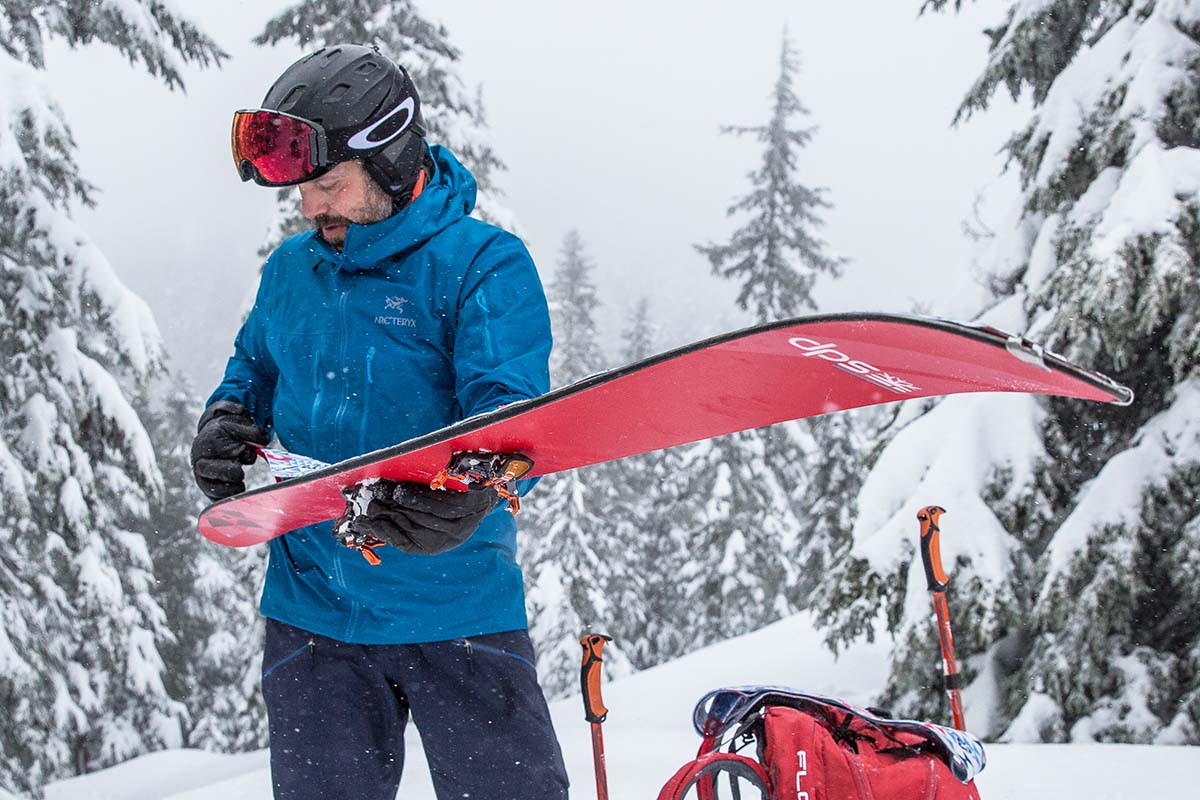 Fitting Skins to Your Skis
Cutting skins to the right size has become less intimidating over the past several years thanks to the handy skin cutters that most major brands include with their skins. If the skins already match your ski length (like what you get with G3's Alpinist+), first stick the skin to the base of your ski so that the tip clip is attached and the tail clip snaps firmly onto the tail. Once the skins are in this position, it is easiest to cut the skin by tracing the cutter along each edge—it's ideal to have only the metal edges of your ski showing, with as little of the bases visible as possible. This is particularly important directly underneath the ski bindings, which is where most of your weight will be. Before starting the process, we recommend reading the manufacturer's instructions and watching their videos online, since all skin cutters work differently. You will also likely need basic tools like pliers, a marker, and a ruler or straight edge.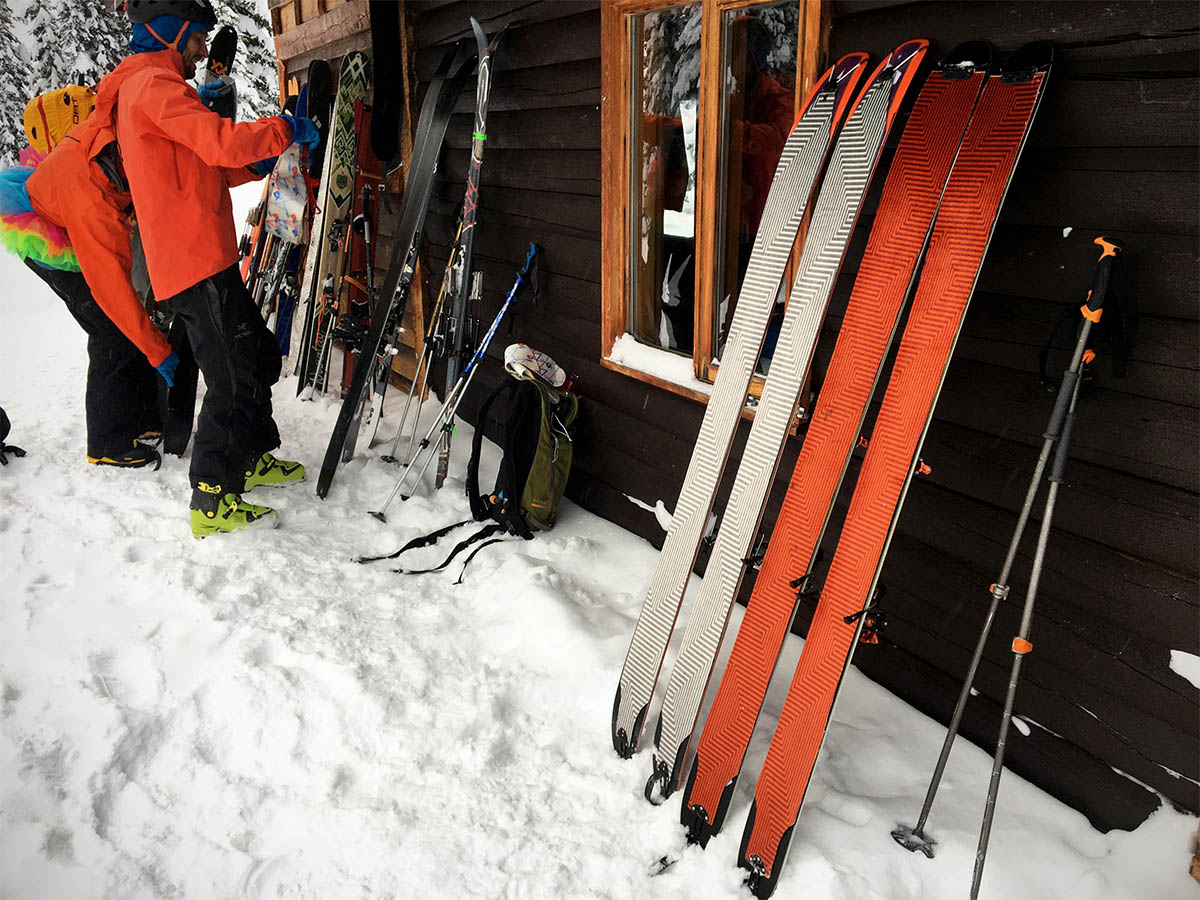 It's also important to note that while many skins come at custom lengths with the tip and tail clips already attached, some must be cut length-wise to fit your skis, which also involves attaching the tip clip. This process is usually fairly straightforward after reading instructions (one exception is the tedious step of inserting the screws into the BD Ascension skins), but custom-length skins do eliminate these steps altogether. The Black Diamond Mix GlideLite STS and Ascension STS and BCA Magic Carpet, for example, must be cut to the appropriate length. If you're uncomfortable cutting your own skins, most ski shops are able to do it for a small fee.
 
Attaching Skins to Your Skis
The process of attaching skins to your skis is fairly simple. First, attach the tip connector to the front of your ski, then lay the skin onto your ski's base, pressing it down along the length of your ski from tip to tail. Here, it's important to ensure that the skin is properly lined up with your ski's edges and that there are no air pockets. If you run into either issue, peel the skin back and begin re-applying it until it's properly lined up and flush with the base. When you reach the end of your ski, attach the tail clip and you're ready to climb.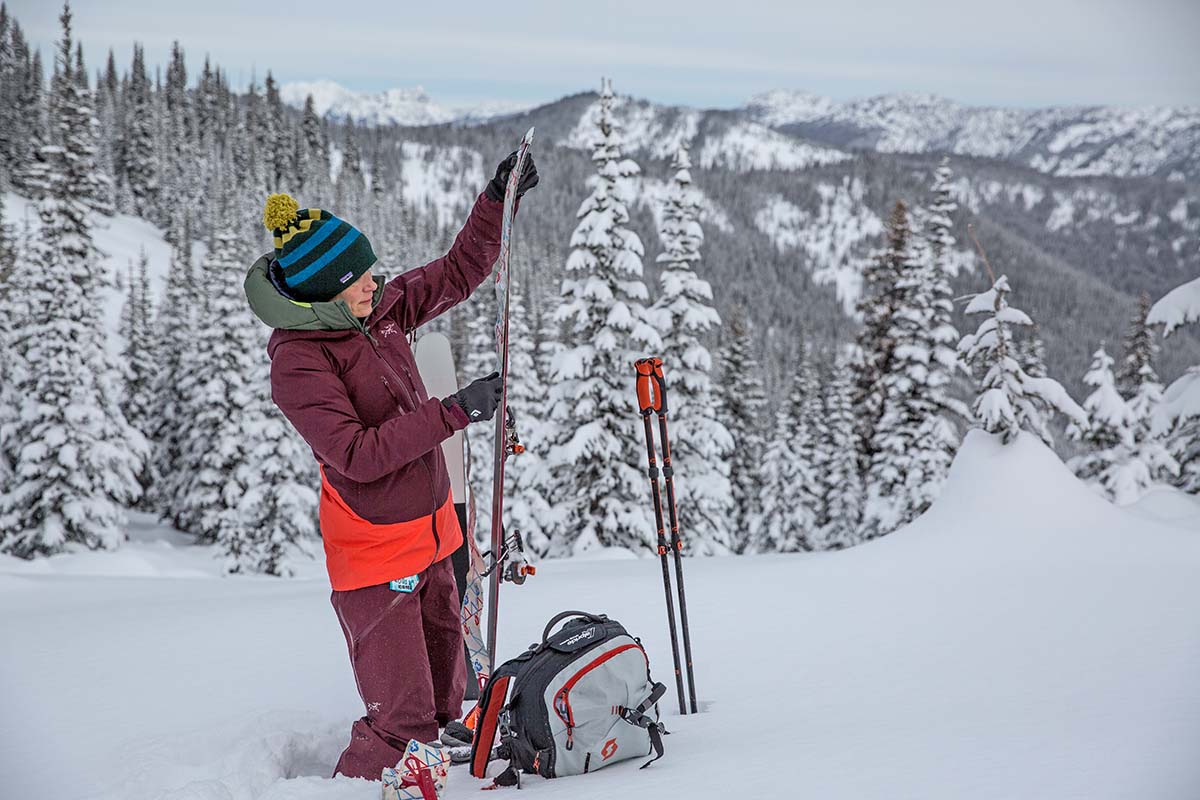 How to Store Skins
In order to maximize lifespan, it's important to care for your skins properly. Most come with climbing-skin savers, or strips of mesh-like plastic that stick to the adhesive sides of your skins and are designed to protect and preserve the glue. During the summer, when your skins will likely be sitting in your closet or garage, smooth the mesh strips onto the skin adhesives and keep them either loosely folded in a bag or hanging in a dry space. During the winter, when you're heading into the backcountry consistently, it's important to dry out your skins at night so that they perform like new the next day. The best way to do this is to hang your skins indoors in a room that gets some airflow—just make sure the glue is not touching anything that might make it dirty. It's easy to forget about your skins sitting in your ski pack, but if they stay wet, they won't perform well the next time you venture into the backcountry.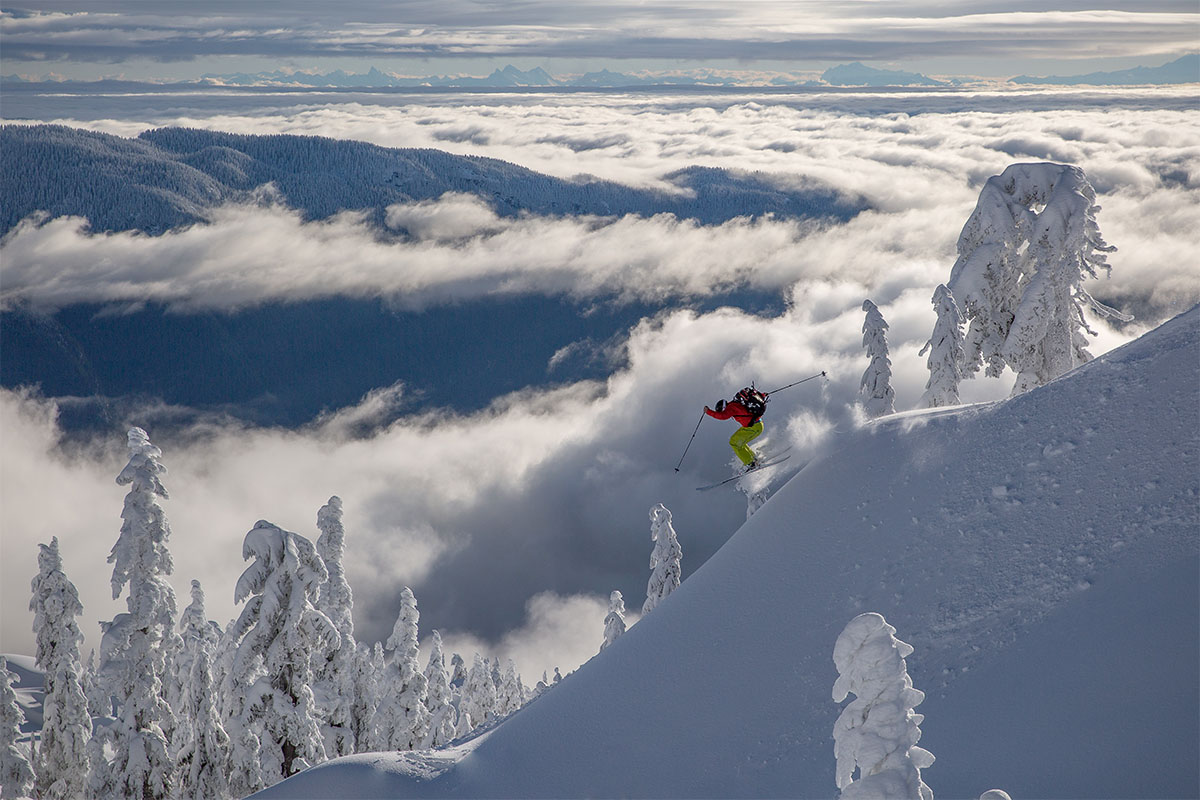 It's also crucial to store your skins properly during your ski run, so that they continue to stick when you need to transition. To do this, fold the skins in half with the adhesives facing inward so that the tails and tips come together, then smooth them down so that no glue is exposed. You can continue folding or rolling them until they're compact enough to stow in your pack. If the weather is mild, it's fine to keep your skins in your backpack for the descent. However, if temperatures are particularly cold, it's best to store them inside your ski jacket and close to your body. This will keep the glue as sticky as possible for your next ascent. Alternatively, you can also use the skin-saver mesh, although many backcountry skiers prefer to save weight by leaving the mesh at home. In the end, the main goals are to keep the skins dry and warm and to keep the adhesives clean.

Common Issues with Skins
Adhesive Won't Stick
The two most common reasons that the adhesive isn't sticking to your touring skis are that it's too cold or has a buildup of snow or ice. The best solution is to remove the skins from your skis and firmly rub the adhesive on your thigh or hip. This friction should warm up the glue and knock off any lingering ice chunks. If the skins are still having trouble sticking, you can attach a ski strap around your ski and skin to give them a little more security. To prevent this from happening in the future, make sure to store your skins in your jacket while you're skiing and dry them out overnight.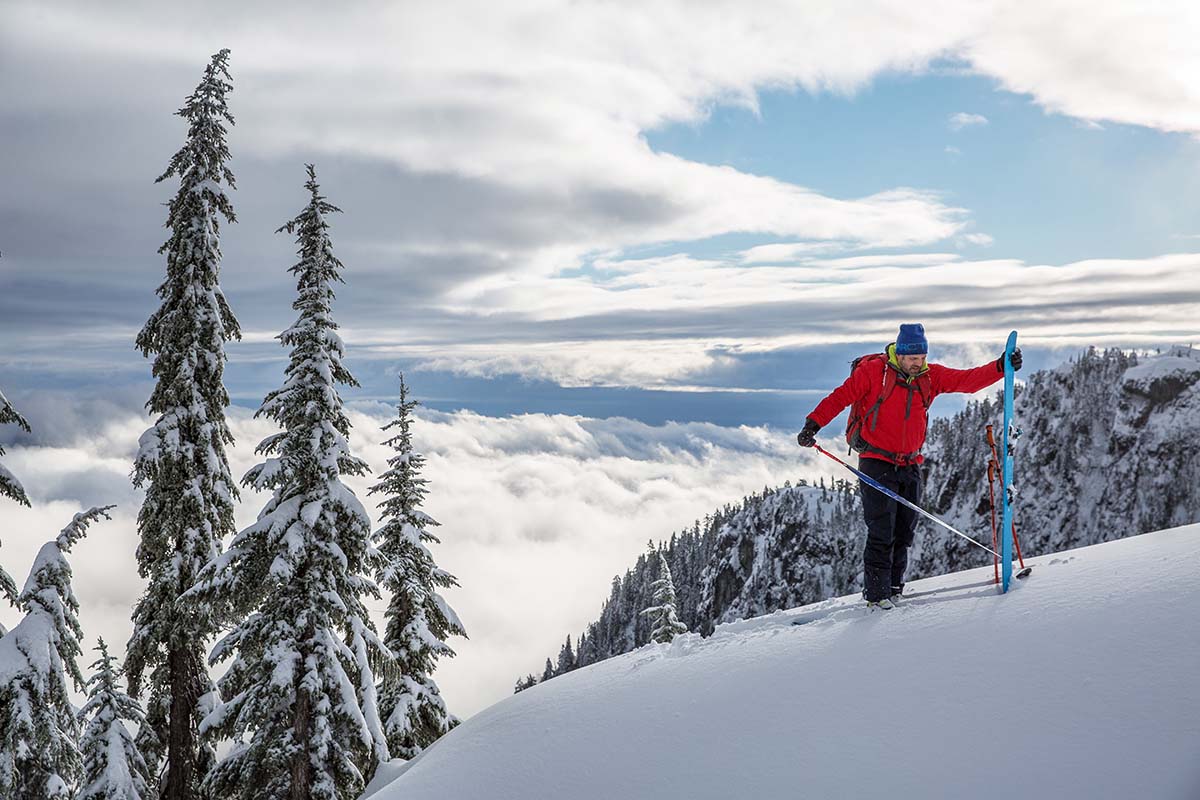 Skins Won't Glide
Skins can often feel extremely sticky on snow and won't glide the way they should. This usually happens during warm spring days. In short, warm, wet snow can melt and re-freeze onto the skin plush, making it nearly impossible to glide and even harder to climb uphill. The best way to solve this problem is to shave off all snow and ice using the edge of your ski, then apply a special skin wax (like Black Diamond Glob Stopper) to the plush to help prevent further buildup. You can also apply this wax to your skins before heading out if you know temperatures will be near or above freezing.

Tail or Tip Clip Breaks
Some tail and tip clips seem to last forever while others are a bit more susceptible to breaking. For example, Pomoca tail clips are made of plastic, which isn't as robust as metal clips on G3 and Black Diamond skins. That said, no clips are invincible to snapping or tearing. Should one break, the easiest backcountry fix is to use a ski strap to keep the tip joined to your ski bases until you're done climbing for the day (a broken tail is usually less of a concern). And the good news is that many brands sell replacements relatively cheaply.
Back to Our Top Climbing Skin Picks  Back to Our Climbing Skin Comparison Table
Learn More About Ski Gear