Skis, bindings, and boots get a lot of attention in the touring world, but don't overlook your humble climbing skins. Most importantly, you want to match the design and materials with your local terrain and snow conditions to optimize performance. Some models utilize nylon to offer better friction for climbs, while others prioritize gliding quickly with mohair. Finally, speed-focused explorers will want an ultralight and packable build. Below we've included all varieties in our picks for the best climbing skins for the 2021 season. For further guidance, see our comparison table and buying advice below the picks.
 
Best Overall Climbing Skins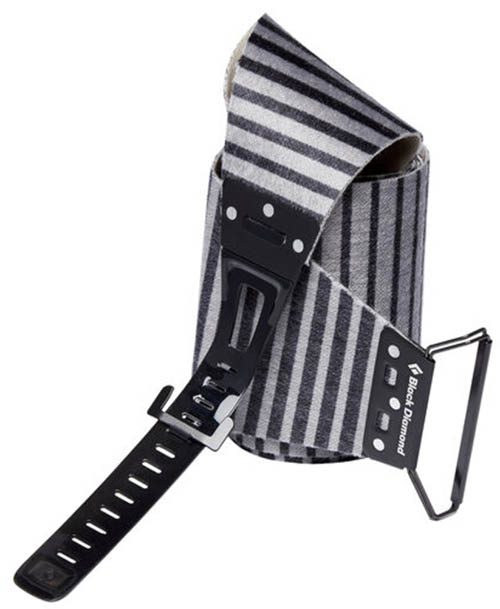 Weight: 1 lb. 8 oz. (133mm x 180cm)
Materials: 65% mohair, 35% nylon
Widths: 133mm
What we like: Best mix of performance, convenience, and price.
What we don't: Durability falls short of all-nylon models.
Black Diamond is one of the biggest and most respected names in climbing and skiing, and their backcountry skins live up to that reputation. The GlideLite Mohair Mix is currently our favorite model in their lineup. Using a mix of mohair and nylon, the GlideLite balances smooth and fast forward glide with secure uphill travel—an ideal combination for extended and variable backcountry missions. Further, the soft and flexible materials are easily stowable (BD states the GlideLite is 20 percent more packable than their Ascension skins below), and the metal tail and tip allow easy in-the-field adjustments. And with this winter's update, the GlideLite Mohair Mix is now available in one width (133mm) and five fixed lengths with preinstalled hardware, minimizing cutting errors or extra waste.
All that said, the GlideLite is not without its downsides. For starters, the pre-applied glue is quite aggressive—it can take a lot of effort to transition when you're ready to start climbing. On the bright side, you don't have to deal with loose skins, and the adhesive can last for years if properly cared for. Second, the GlideLite isn't the lightest option available—G3's comparable nylon/mohair Minimist Glide weighs over 7 ounces less (depending on the size), and skimo racers and weight-conscious mountaineers might opt for a fully mohair skin like the Pomoca Race Pro 2.0 (6.9 oz.) below. Finally, we don't love the skin cutters that come with BD skins (and much prefer the straightforward nature of G3 skins cutters which can be purchased online for only $7). But these gripes aside, we think the GlideLite balances performance, price, and durability better than any other skin on the market, making it our top pick for the 2021 ski season.
See the Black Diamond GlideLite Mohair Mix Skins
Best Budget Climbing Skins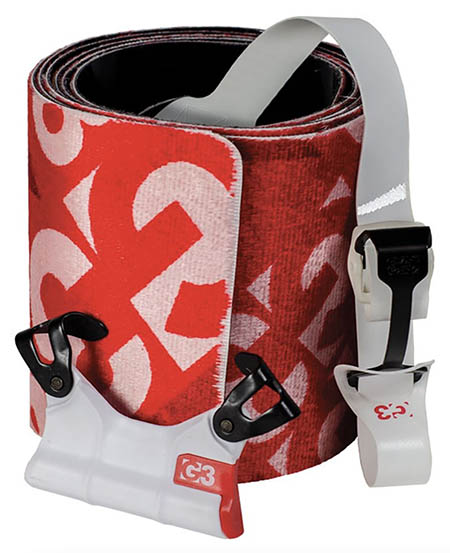 Weight: 1 lb. 7.6 oz. (120mm x 175cm)
Material: 100% nylon
Widths: 70, 100, 120, 140mm
What we like: A well-made, affordable option from one of the industry's top skin manufacturers.
What we don't: Not a huge savings for large skis; you'll have to install the tip hardware yourself.
High-quality skins can run you upwards of $200 (or more), but G3's Escapist Universal is a nice way to save without making big compromises in performance. For $139 to $164 (depending on your ski length and width), you get a 100-percent nylon skin—including well-designed tip and tail attachments—from one of the industry's best manufacturers. An all-nylon skin delivers long-lasting grip for traversing steep slopes and icy terrain, making the Escapist a secure and durable choice for those still gaining experience on the skin track (G3 also offers the Escapist Glide, an entry-level mohair/nylon skin). 
What do you sacrifice with a budget design like the Escapist? Most notably, you'll have to install the tip hardware yourself. Just a few years ago this was routine when purchasing a new set of skins, but with more and more custom lengths on the market (including updated offerings from Black Diamond), it's now an extra step you certainly don't want to mess up. Thankfully, G3 makes it rather straightforward, and the rest of the process is quite simple (including using their excellent trim tool for the edges). But take note: if your skis are on the larger end—over 175cm long and 120mm wide—the savings you get with G3 is negligible compared to the Ascension below. But for shorter skiers and narrow- to average-width skis, the Escapist Universal is $30 less than other options and will stand the test of time. 
See the G3 Escapist Universal Skins
Best Ultralight/Packable Climbing Skins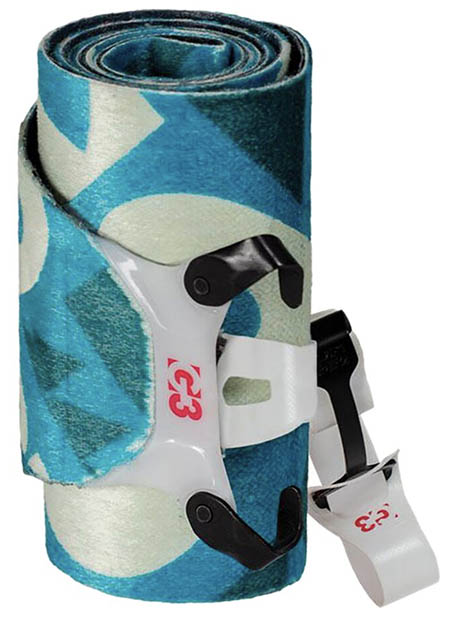 Weight: 1 lb. 0.3 oz. (115mm x 177cm)
Materials: 70% mohair, 30% nylon
Widths: 100, 115, 130mm
What we like: Lighter than the Black Diamond GlideLite; great skin cutter and tip/tail attachments.
What we don't: Expensive and you can go even lighter with an all-mohair skin.
The Alpinist+ Escapist Universal above is G3's budget offering, but for ounce-counters and ski mountaineers, 1 pound 7.6 ounces for the pair—not to mention a bulky nylon build—is just too much skin. Enter the Minimist Glide, the brand's lightest and most packable nylon/mohair (also known as momix) option that offers an exceptional combination of traction and speed. Like the top-ranked Black Diamond GlideLite above, the Minimist comes in a range of lengths with the tip and tail preinstalled, cutting out a step in your set-up process (G3 also offers multiple widths, which is great for eliminating waste). It all adds up to our favorite skin for backcountry skiers with fast-and-light intentions.
Compared to the BD GlideLite, the Minimist Glide is slightly more expensive ($193-$209 at the time of publishing), has 5 percent more mohair, and clocks in at around 7 ounces lighter for the pair thanks to premium materials and lightweight hardware. It also tacks on a carbon fiber insert at the tip to prevent snow from getting between skin and ski, which is a nice feature for gloppy snow. The GlideLite above is a bit more durable and we have a slight preference for BD's glue over G3's, but if you're looking to save weight the Minimist Glide is an easy choice. And you can go even lighter with the 100-percent mohair Minimist Speed (although the weight difference is almost imperceptible), but most skiers will prefer a balanced momix blend over straight mohair.
See the G3 Minimist Glide Skins
Best of the Rest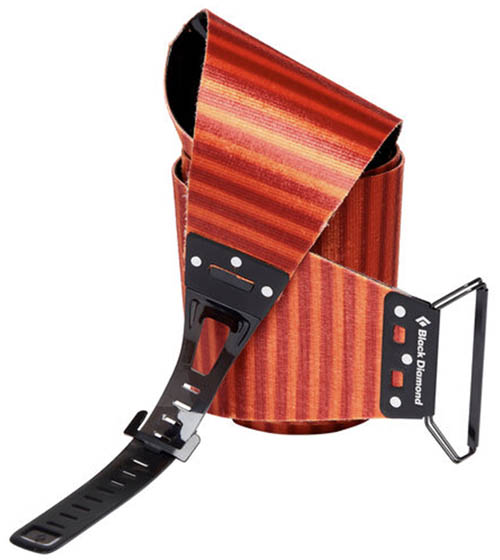 Weight: 1 lb. 10 oz. (133mm x 180cm)
Material: 100% nylon
Widths: 133mm
What we like: Long-lasting and affordable.
What we don't: Only comes in one width; fairly heavy and bulky.
Black Diamond's Ascension is one of the most ubiquitous designs on the market, and for good reason. Rather than the nylon-and-mohair blend of our top pick, the GlideLite Mohair Mix, the Ascension uses 100-percent-nylon plush that's ideal for those who want a more secure feel on steep skin tracks. In addition, the Ascension shares the metal tip and tail clips with the GlideLite, which come preinstalled in the latest version (2021), are reasonably easy to adjust, and very durable. At $170, the Ascension is a solid value considering the long-lasting construction that should see you through many seasons of frequent use.
The Ascension is a direct competitor to the all-nylon G3 Escapist above, and both skins run notably heavier and bulkier than momix alternatives. Unlike the G3, the Ascension now comes with tip and tail hardware preinstalled, which could be worth the extra money if DIY isn't your thing. But BD's trim tool isn't nearly as easy to use as G3's, and we wish the Ascension came in multiple widths to eliminate waste (most skis are much narrower than 135mm). And finally, it's worth mentioning that some skiers prefer BD's cable toe loop over G3's hook system, although this will ultimately come down to a matter of preference and familiarity (both are high quality). 
See the Black Diamond Ascension Skins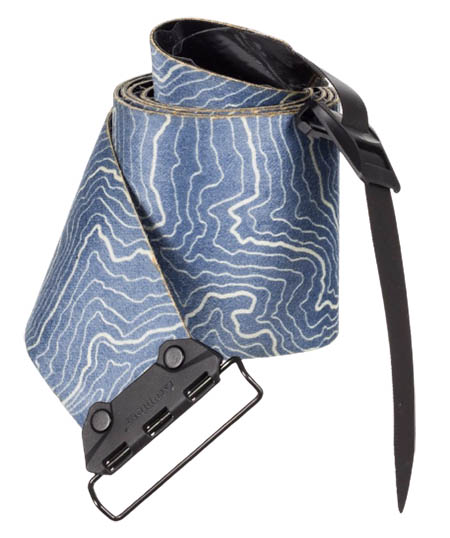 Weight: 1 lb. 6 oz. (115mm)
Materials: 65% mohair, 35% nylon
Widths: 115, 135mm
What we like: A high-quality momix skin with a unique hybrid adhesive.
What we don't: Plastic tail clips aren't as durable as metal.
Based in Austria and distributed in the U.S. by Camp USA, Contour has over 45 years of experience when it comes to climbing skins, and it shows in their Hybrid Mix here. Like the GlideLite above, the Hybrid Mix features both mohair and nylon for the most popular combination of glide and grip. The main distinction here is Contour's hybrid glue, a unique technology that merges features from both standard ("hot melt") and glueless skins. Contour's Hybrid skins adhere securely to your skis (even at low temperatures), rip off easily when it's time for the downhill, and—here's the true kicker—are easy to revive with a simple wash (most skins require regluing).  
Like most modern skins, the Hybrid Mix comes in six different sizes (four are available on Backcountry at the time of publishing) with hardware preinstalled. The tail clips make it easy to adjust length with a simple pull tab, although it is worth noting that their plastic build gives us slight pause when shoving the skins into our pack. But minor nitpicks aside, this is a well-made skin from a company that's done their research, and is an especially great option for those who want to try something a little different. Of note: Backcountry Access has collaborated with Contour to deliver the Hybrid Mix to their customers this season, which they're advertising as the BCA Contour Hybrid. 
See the Contour Hybrid Mix Skins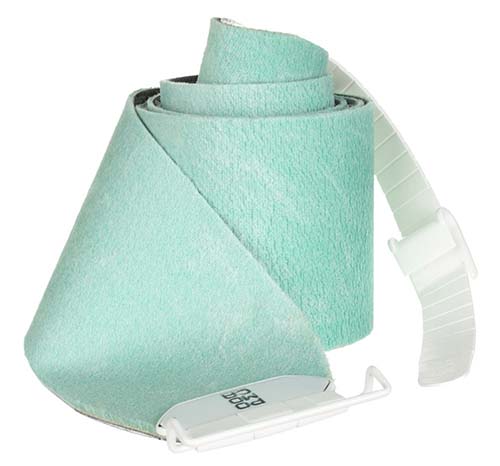 Weight: 1 lb. 1.8 oz. (110mm x 170cm)
Materials: 70% mohair, 30% nylon
Widths: 100, 110, 120, 130, 140mm
What we like: Very lightweight and packable.
What we don't: Pricey and plastic tail clips require additional care.
Swiss-bred Pomoca might not have the name recognition of Black Diamond, but they've been producing high-quality skins since the 1930s. In fact, many major brands today—including backcountry powerhouses Voile and Dynafit—incorporate Pomoca's technology into their own designs. Their Climb Pro S-Glide is a great example of their expertise: it's very light at 1 pound 1.8 ounces per pair, and the glue is sticky enough to stay attached all day while releasing a bit more readily than the GlideLite above. And true to its name, the Climb Pro S-Glide is especially adept at gliding: in long, flat meadows, the 70-percent mohair build maintains speed (while great for the uphill, all-nylon skins don't glide easily).
Seasoned backcountry-goers rave about Pomoca skins, but we don't recommend them for first-timers. Why not? First and foremost, the tiny mohair fibers don't grip as well as longer nylon, which can make uphill travel more challenging if you're new to touring. Additionally, the skins' tail clips are plastic and tend to break relatively easily if you're not meticulous when putting them on and taking them off. But for the right skier and with a little extra diligence, the Climb Pro S-Glide is one of our favorite lightweight models on the market and should last for many seasons to come.
See the Pomoca Climb Pro S-Guide Skins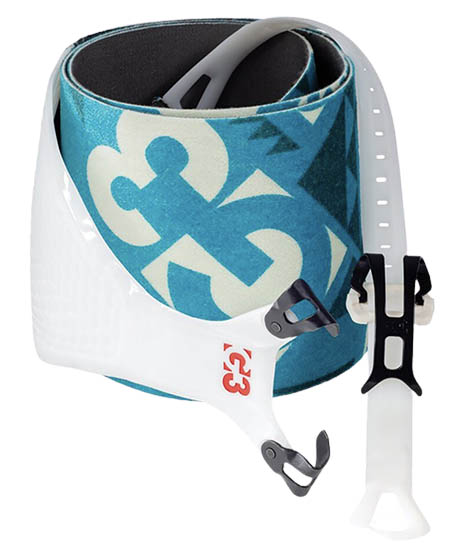 Weight: 1 lb. 3.3 oz. (115mm x 177cm)
Materials: 65% mohair, 35% nylon 
Widths: 100, 115, 130, 145mm
What we like: Skiers can find everything they need from G3's all-around Alpinist+ collection.
What we don't: Not particularly cheap nor lightweight.
Our list above already features two G3 skins, but we'd be remiss not to also include the Alpinist+ Glide here. And don't be put off by the Alpinist+ Glide's bottom-of-the-pack finish—this is actually one of G3's most popular models, and competitive with the BD GlideLite above. Both skins feature a 65/35 combination of mohair and nylon, preinstalled tip and tail clips, and a similar sub-$200 price point. But we do appreciate G3's thoughtful additions, including a tip clip that minimizes snow creep and their unique rip strip which allows you to access fresh adhesive if your glue loses its stick during a long trip.
If you're considering a G3 skin, it helps to have an understanding of their lineup. They categorize their offerings into three main categories: the Escapist and Minimist above and the Alpinist+ here. Within the Alpinist+ collection are five different offerings: the Pow (a 100% nylon skin for rockered skis), Universal (100% nylon), Grip (even more high-traction than the Universal), Speed (100% mohair), and momix Glide here. Depending on your needs and skill level, it might be worth considering one of their all-nylon alternatives, or even the max-glide speed. Finally, it's worth noting that G3's skins are consistently cheaper when purchased off their own website.
See the G3 Alpinist+ Glide Skins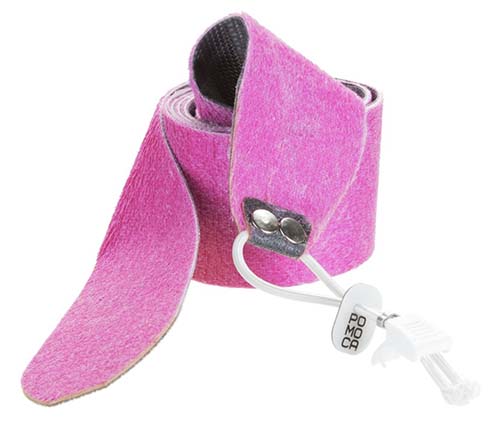 Weight: 6.9 oz. (59mm)
Material: 100% mohair
Widths: 59, 62, 65mm
What we like: Simple ultralight design with excellent glide.
What we don't: Purpose-built for ski racers—for wider-width backcountry skins, look elsewhere. 
Half a pound for a pair of skins? No, that's not a misprint. Purpose-built for skimo and randonnée racers, the Pomoca Race Pro 2.0 skins glide faster and farther than the nylon and mixed-nylon competition, and you'll barely notice they're on your skis or in your pack. Additionally, unlike the GlideLite above, Pomoca's glue is easy to work with and comes apart with minimal effort. This is especially important during a race when saving energy and time could mean the difference between a win and finishing DFL (dead freakin' last).
There are often notable sacrifices that come with shaving considerable weight, and the Race Pro 2.0 is no exception. In this case, Pomoca designed the skins without tail clips. Instead, they rely solely on adhesive and their tapered shape near the tail to secure in place. This is good news for speed-focused skiers—there's one less step when stripping skins for the descent. However, the Race Pro is much more likely than traditional backcountry skins to come undone from your skis, especially in variable temperatures when the glue begins to warm and freeze repeatedly. For dedicated racers, however, these tradeoffs are just par for the course.
See the Pomoca Race Pro 2.0 Skins
Climbing Skin Comparison Table
| Skin | Price | Materials | Weight | Widths |
| --- | --- | --- | --- | --- |
| BD GlideLite Mohair Mix | $190 | 65% mohair, 35% nylon | 1 lb. 8 oz. | 133mm |
| G3 Escapist Universal | $139-164 | 100% nylon | 1 lb. 7.6 oz.  | 70, 100, 120, 140mm |
| G3 Minimist Glide | $193-209 | 70% mohair, 30% nylon | 1 lb. 0.3 oz.  | 100, 115, 130mm |
| Black Diamond Ascension | $170 | 100% nylon | 1 lb. 10 oz. | 133mm |
| Contour Hybrid Mix | $180 | 65% mohair, 35% nylon | 1 lb. 6 oz.  | 115, 135mm |
| Pomoca Climb Pro S-Glide | $200-210 | 70% mohair, 30% nylon | 1 lb. 1.8 oz. | 100, 110, 120, 130, 140mm |
| G3 Alpinist+ Glide | $184-199 | 65% mohair, 35% nylon | 1 lb. 3.3 oz. | 100, 115, 130, 145mm |
| Pomoca Race Pro 2.0 | $145-155 | 100% mohair | 6.9 oz. | 59, 62, 65mm |
Climbing Skin Buying Advice

What are Climbing Skins?
For traveling in the backcountry, skins are an essential piece of equipment. In short, they are strips of fabric—most often nylon or mohair—that attach to the bottom of touring skis and allow you to climb uphill. The opposite side is an adhesive that sticks to the base of your ski, with attachment points at the tip and tail. To best illustrate how skins work, imagine petting a dog. When you move your hand in one direction, the fur feels soft and smooth. When you go against the grain, you likely feel some resistance. This resistance is what allows skiers to walk uphill without sliding backward. Alternatively, when you're on flatter ground, the skins allow you to glide forward easily.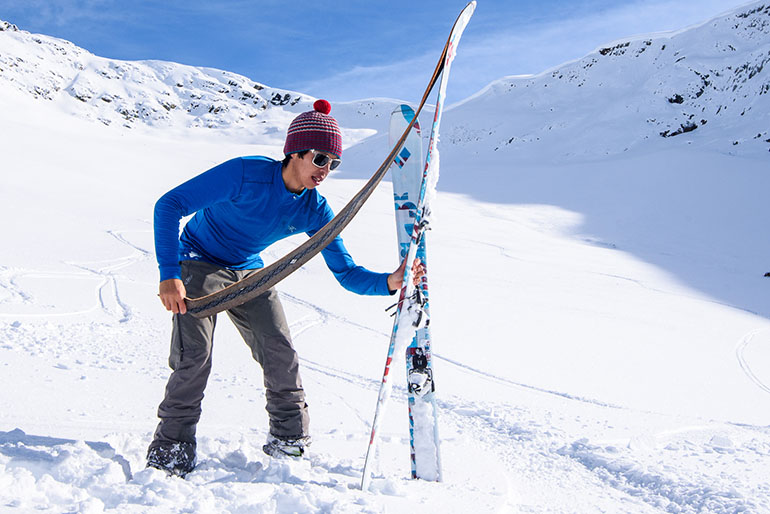 Skin Components
Skins have four important components worth breaking down: tip clip, tail clip, adhesive, and plush (fur). The tip and tail clips function just as their names imply: the tip clip keeps the front of the skin attached to the front of the ski, while the tail clip does the same at the back. The adhesive is what firmly sticks the skins to ski bases. And the plush—usually nylon or mohair—is what allows skis to travel both uphill and downhill on snow.

Tip and Tail Clips
Tip and tail clips vary in design depending on the manufacturer and model, and certain clips work best for certain ski shapes. Black Diamond and G3's tail clips, for example, are most effective on skis with flat tails, although G3 sells twin-tip connectors for $18. The Pomoca Race Pro 2.0 skins forego tail clips entirely to shave weight for racing (we don't recommend this style for everyday backcountry skiing, however, as it's much less secure). Similarly, we prefer G3 tip clips for skis with wider shovels (tips), while Black Diamond tip clips typically work better for skis with narrower shovels. Although certain skins are preferable for certain skis, all of the picks above—with the exception of the Race Pro 2.0—are universal and will work well with most backcountry skis.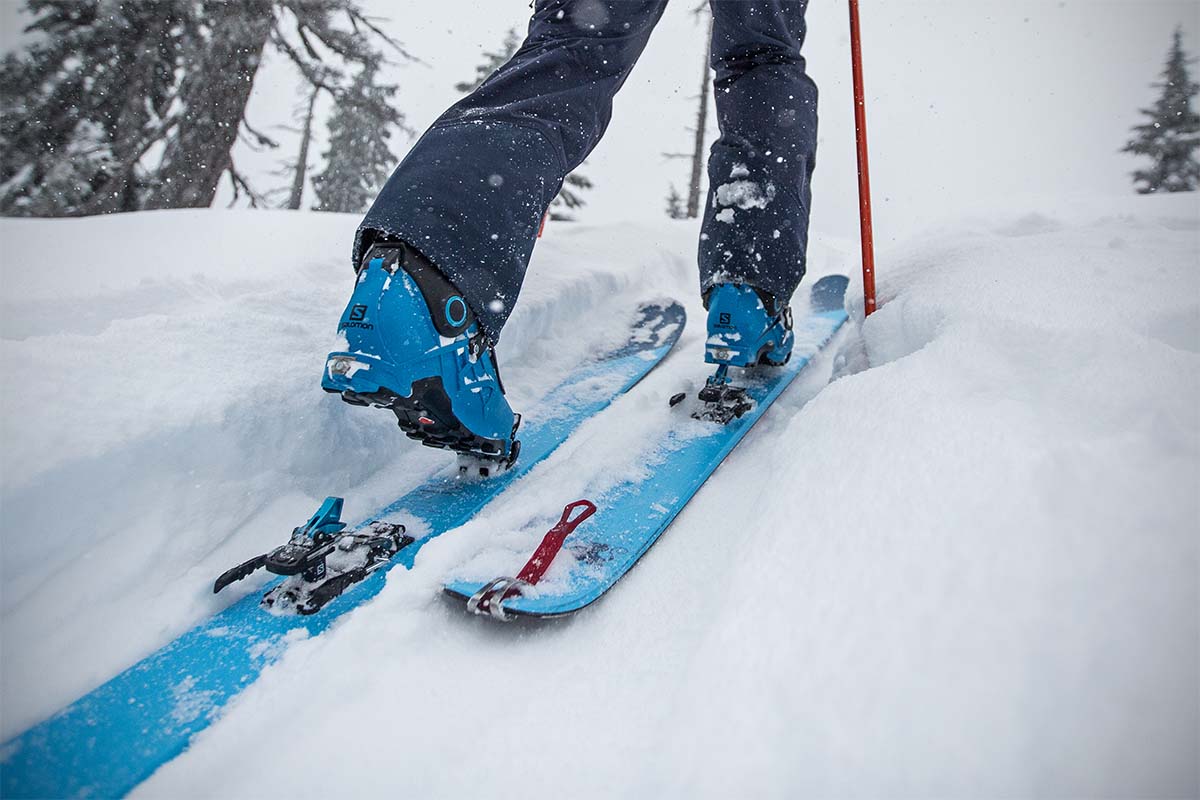 Adhesive
The adhesive on skins is what helps them stick to your ski bases. It's typically made with a tacky glue, but the downside is that this glue can stick to other objects as well—such as dog fur, down feathers, or pine needles. Additionally, although it releases from ski bases relatively easily, when skins are stuck together (the appropriate storage method), it can often take a great deal of effort to pull them apart. In the end, dealing with stickiness is unavoidable (it's certainly better than not enough adhesion), although some companies have invented small workarounds. G3's skins have a non-sticky "Rip Strip," for example, and Contour's Hybrid features a combination of standard glue and a glueless technology made famous by Austria-based Kohla. Kohla's "Vacuum Base" skins use suction rather than glue, but this design has yet to take the skin world by storm and Kohla skins are not widely available in the U.S.

Plush (Fur)
Finally, and arguably most importantly, is the plush side of your skins (also referred to as "fur"). Typically made of nylon, mohair, or a blend of the two materials (often referred to as "momix"), the plush is what gives your skis the ability to climb up the skin track yet still glide on flat areas and slide down any downhill sections. Given the notable differences between the two materials, we break them down in-depth below.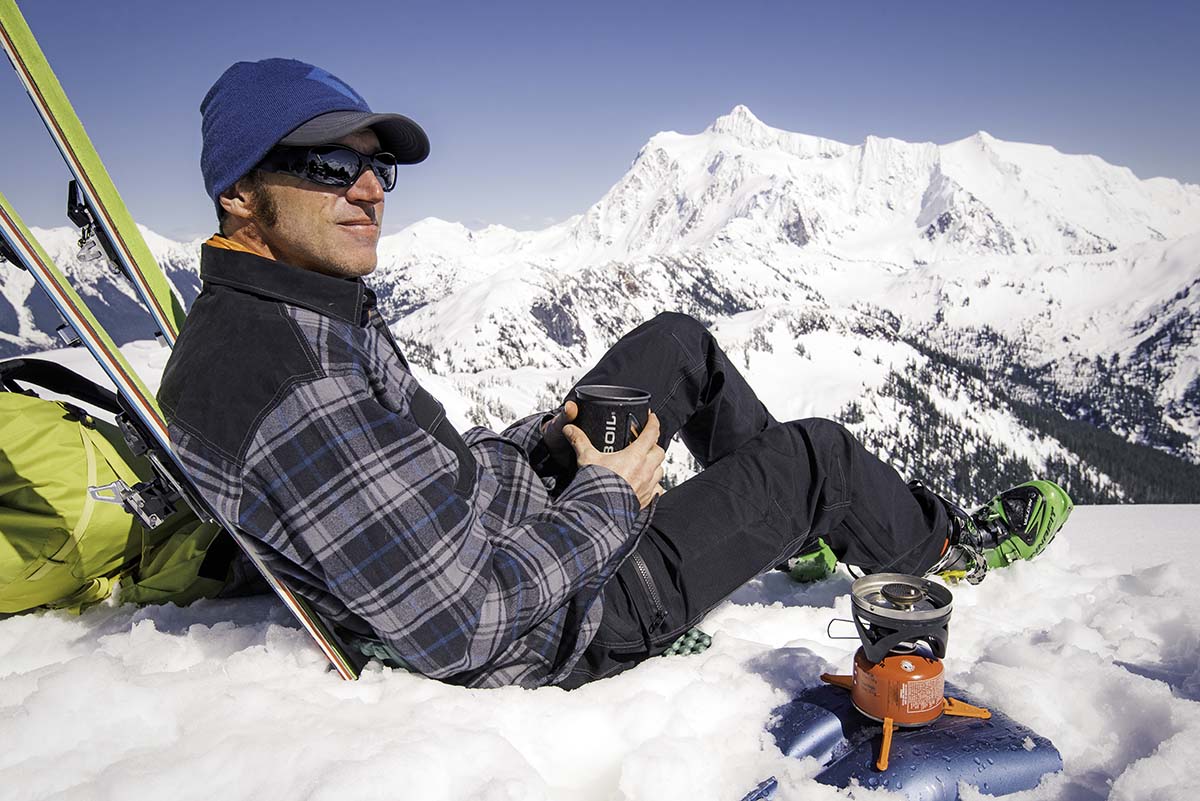 Nylon vs. Mohair
Nylon and mohair skins work the same way, but the materials differ considerably in overall performance. A 100-percent-nylon skin like the Black Diamond Ascension will typically have excellent climbing abilities and provide grip in a variety of conditions. However, nylon is heavier, bulkier, and doesn't glide as well as mohair. An all-mohair skin (made from the hair of Angora goats), on the other hand, is generally lightweight, packable, and able to maintain speed on flat sections. That said, mohair doesn't have the same sticking power as nylon—especially on steep skin tracks—suffers in wet snow, and tends to be pricier and less durable in the long run. In the end, our favorite skins use a blend—the Black Diamond GlideLite Mohair Mix, for example, uses 65 percent mohair and 35 percent nylon to harness the performance benefits of both.
A final decision on skin material should come down to your skiing goals. Skimo and randonnée racers, as well as ski mountaineers and dedicated backcountry enthusiasts aimed at traveling fast and light, should consider all-mohair skins. For skiers new to touring, we recommend choosing an all-nylon or mostly nylon skin for the lower price, better durability, and more secure feeling on the skin track. For seasoned backcountry-goers with good technique, mixed-material skins provide great overall performance both in straightaways and while traveling uphill.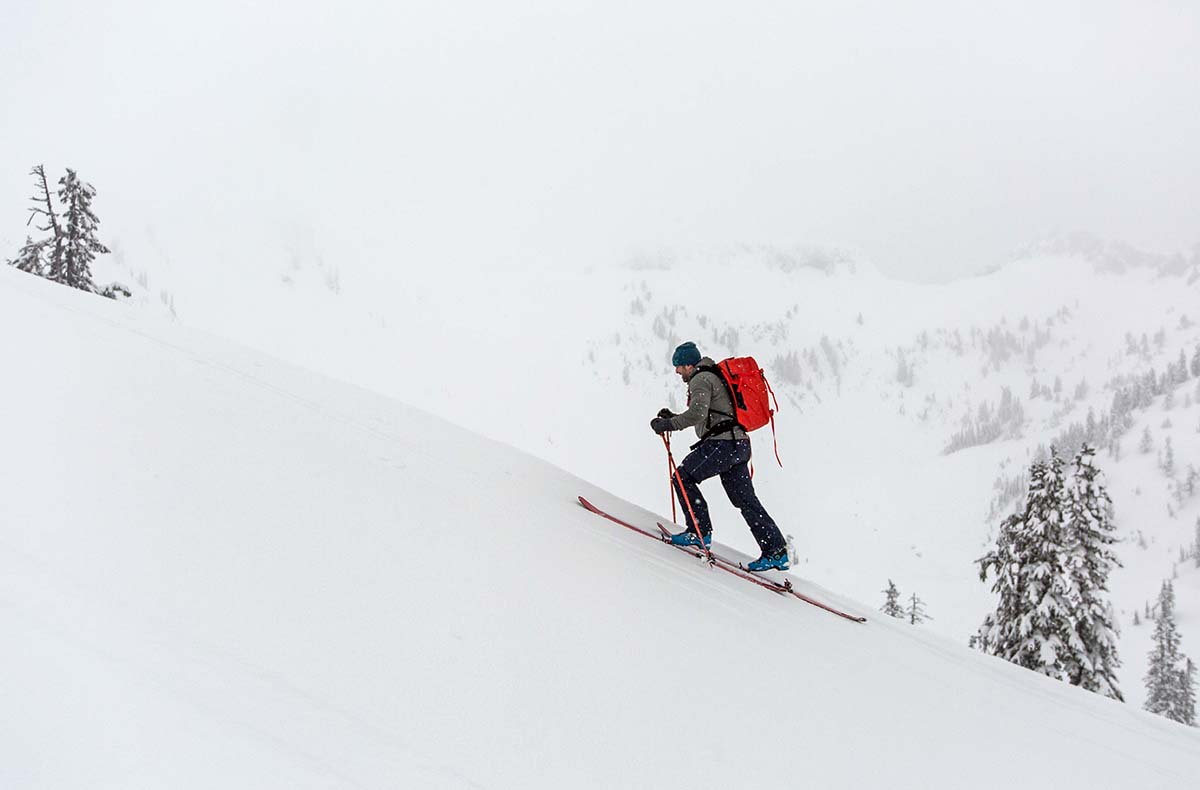 Skin Sizing and Fit
Skin Width
Some skins come in varying widths (often in 10 to 15mm increments), while others are available in just one size (like the 133mm Black Diamond GlideLite). When selecting your skin, the goal is to cover as much of the base as possible (just shy of the edges) for maximum grip. You'll want to take into account the width of the widest part of your ski that touches the ground, not the underfoot width. For example, if your ski's dimensions are 133/105/119mm, you should purchase a skin that's at least 133mm wide. Some weight-conscious backcountry-goers prefer to use skinnier skins, but you'll always want to cover the entire width underfoot (in the example above, this would mean going with a skin no smaller than 105mm). The biggest downside here is less traction (and it can be a fair amount), and whether that's worth the tradeoff in weight is up to you.
In addition, some brands like La Sportiva and Dynafit offer skins (made by Pomoca) that specifically pair with skis in their lineups (for example, the Dynafit Beast 98 Speedskin comes in four lengths and fits their Beast 98 ski). In the case of these skins, no cutting is required.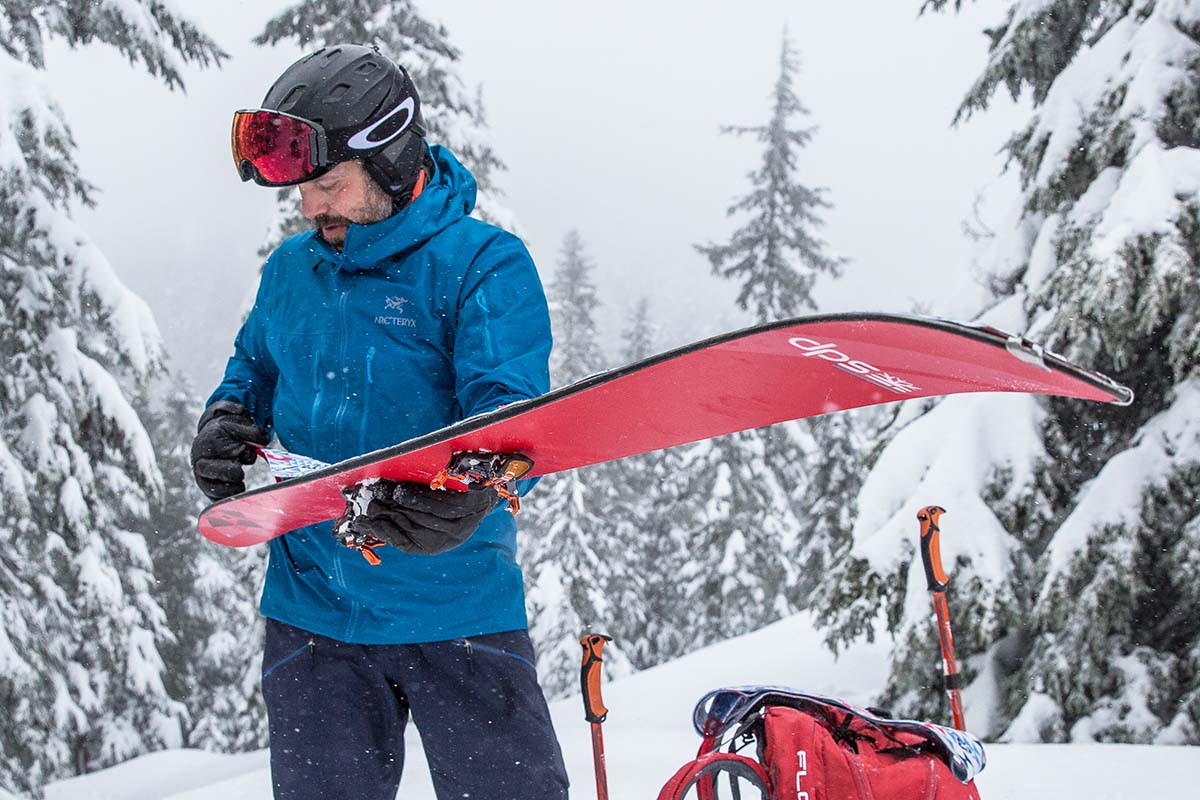 Skin Length
After determining skin width, it's also important to nail the length. Most climbing skins are sold in different length ranges (with tip and tail attachments already installed), and you customize the fit via the varying adjustments on the tail clip. In this case, select the range that includes your skis' length (if your skis are 165cm long, purchase the 162-172cm version of the skins). On the other hand, some models (like the G3 Escapist Universal) have limited length offerings (175 and 200cm for the G3), which means they'll need to be cut to fit your skis. The process of cutting and attaching the tip clip is fairly straightforward, but if you're uncomfortable with DIY, most ski shops will do it for a small fee.

Fitting Skins to Your Skis
Once you purchase the right length and width of skin for your ski, a few steps remain before you're ready to hit the skin track. The most time-consuming portion is trimming the width, which must be done for all skins except for those custom-cut to specific skis (like the Dynafit Beast 98 mentioned above). Included with your skin is a trim tool and instructions for cutting your skins—keep in mind that you can't un-cut a skin, so we recommend reading the manufacturer's instructions and watching their videos online before trimming (and it's important to note here that G3's trim tool makes this a much easier process than BD's). In terms of the length, most modern skins come with preinstalled hardware, meaning no trimming is involved—just use the adjustable tail clip to fit the skin snuggly on your ski.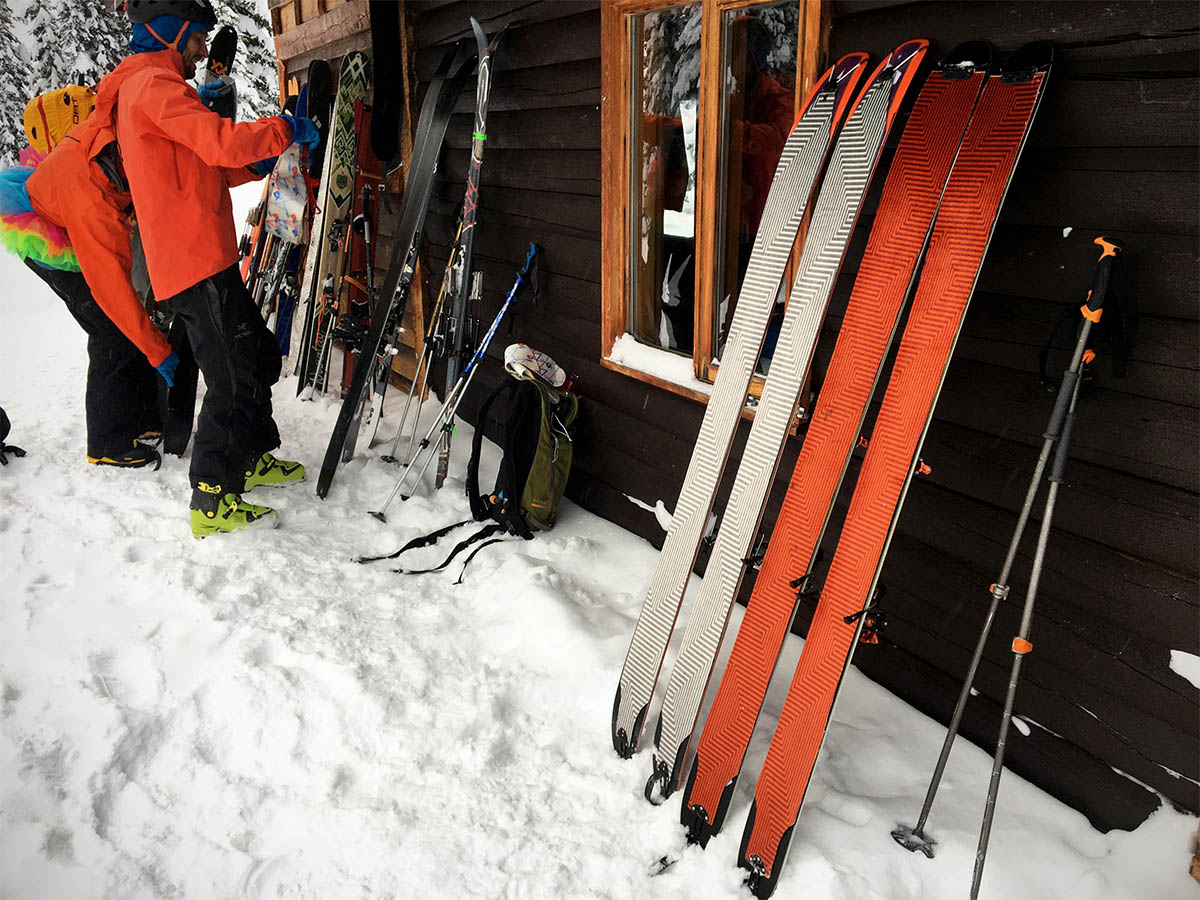 Attaching Skins to Your Skis
The process of attaching skins to your skis is fairly simple. First, attach the tip connector to the front of your ski, then lay the skin onto your ski's base, pressing it down along the length of your ski from tip to tail. Here, it's important to ensure that the skin is properly lined up with your ski's edges and that there are no air pockets. If you run into either issue, peel the skin back and begin re-applying it until it's properly lined up and flush with the base. When you reach the end of your ski, attach the tail clip and you're ready to climb.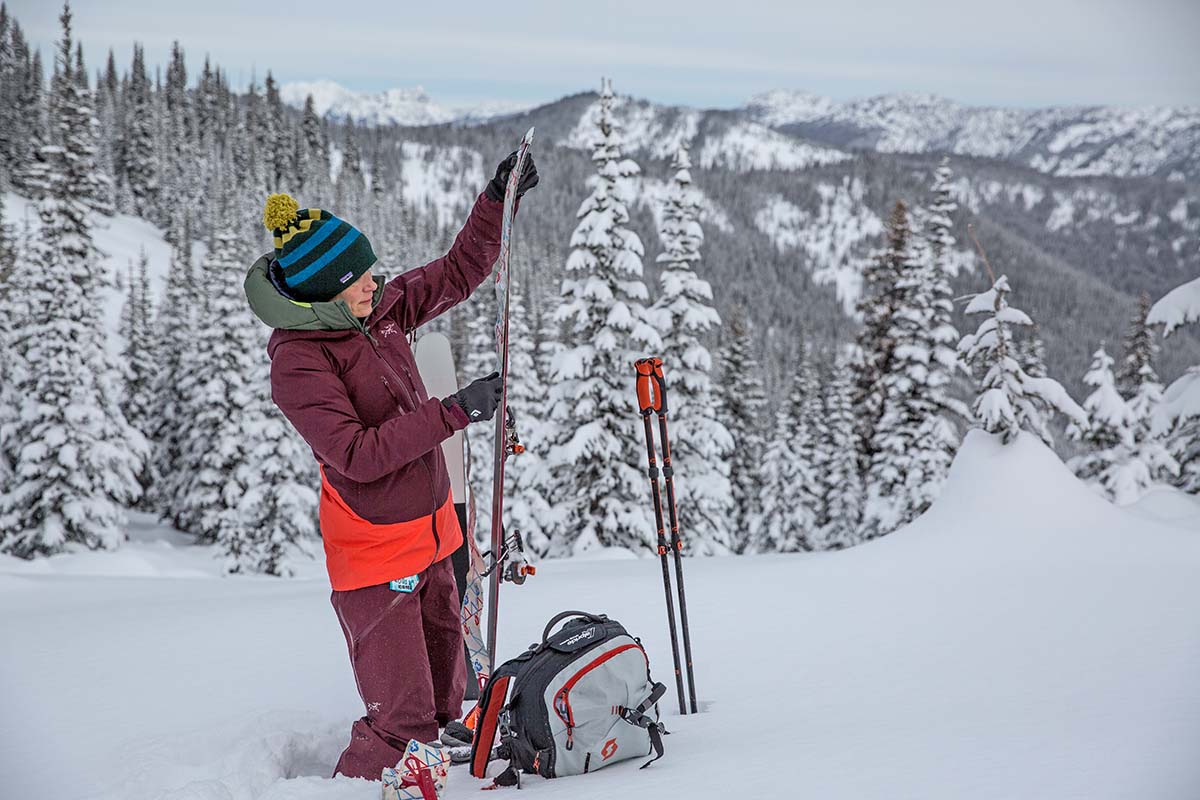 How to Store Skins
In order to maximize lifespan, it's important to care for your skins properly. Most come with climbing-skin savers, or strips of mesh-like plastic that stick to the adhesive sides of your skins and are designed to protect and preserve the glue. During the summer, when your skins will likely be sitting in your closet or garage, smooth the mesh strips onto the skin adhesives and keep them either loosely folded in a bag or hanging in a dry space. During the winter, when you're heading into the backcountry consistently, it's important to dry out your skins at night so that they perform like new the next day. The best way to do this is to hang your skins indoors in a room that gets some airflow—just make sure the glue is not touching anything that might make it dirty. It's easy to forget about your skins sitting in your ski pack, but if they stay wet, they won't perform well the next time you venture into the backcountry.
It's also crucial to store your skins properly during your ski run, so that they continue to stick when you need to transition. To do this, fold the skins in half with the adhesives facing inward so that the tails and tips come together, then smooth them down so that no glue is exposed. You can continue folding or rolling them until they're compact enough to stow in your pack. If the weather is mild, it's fine to keep your skins in your backpack for the descent. However, if temperatures are particularly cold, it's best to store them inside your ski jacket and close to your body. This will keep the glue as sticky as possible for your next ascent. Alternatively, you can also use the skin-saver mesh, although many backcountry skiers prefer to save weight by leaving the mesh at home. In the end, the main goals are to keep the skins dry and warm and to keep the adhesives clean.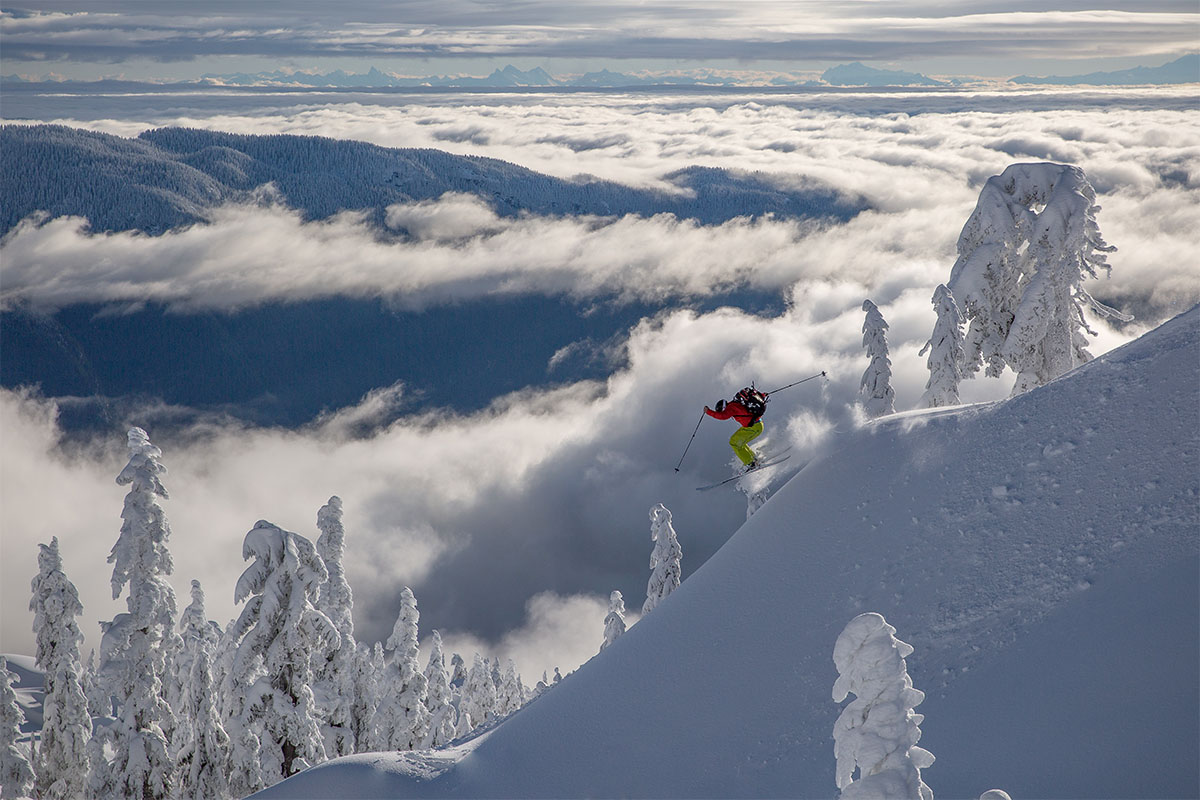 Common Issues with Skins
Adhesive Won't Stick
The two most common reasons that the adhesive isn't sticking to your touring skis are that it's too cold or has a buildup of snow or ice. The best solution is to remove the skins from your skis and firmly rub the adhesive on your thigh or hip. This friction should warm up the glue and knock off any lingering ice chunks. If the skins are still having trouble sticking, you can attach a ski strap around your ski and skin to give them a little more security. To prevent this from happening in the future, make sure to store your skins in your jacket while you're skiing and dry them out overnight.

Skins Won't Glide
Skins can often feel extremely sticky on snow and won't glide the way they should. This usually happens during warm spring days. In short, warm, wet snow can melt and re-freeze onto the skin plush, making it nearly impossible to glide and even harder to climb uphill. The best way to solve this problem is to shave off all snow and ice using the edge of your ski, then apply a special skin wax (like Black Diamond Glob Stopper) to the plush to help prevent further buildup. You can also apply this wax to your skins before heading out if you know temperatures will be near or above freezing.

Tail or Tip Clip Breaks
Some tail and tip clips seem to last forever while others are a bit more susceptible to breaking. For example, Pomoca tail clips are made of plastic, which isn't as robust as metal clips on G3 and Black Diamond skins. That said, no clips are invincible to snapping or tearing. Should one break, the easiest backcountry fix is to use a ski strap to keep the tip joined to your ski bases until you're done climbing for the day (a broken tail is usually less of a concern). And the good news is that many brands sell replacements relatively cheaply.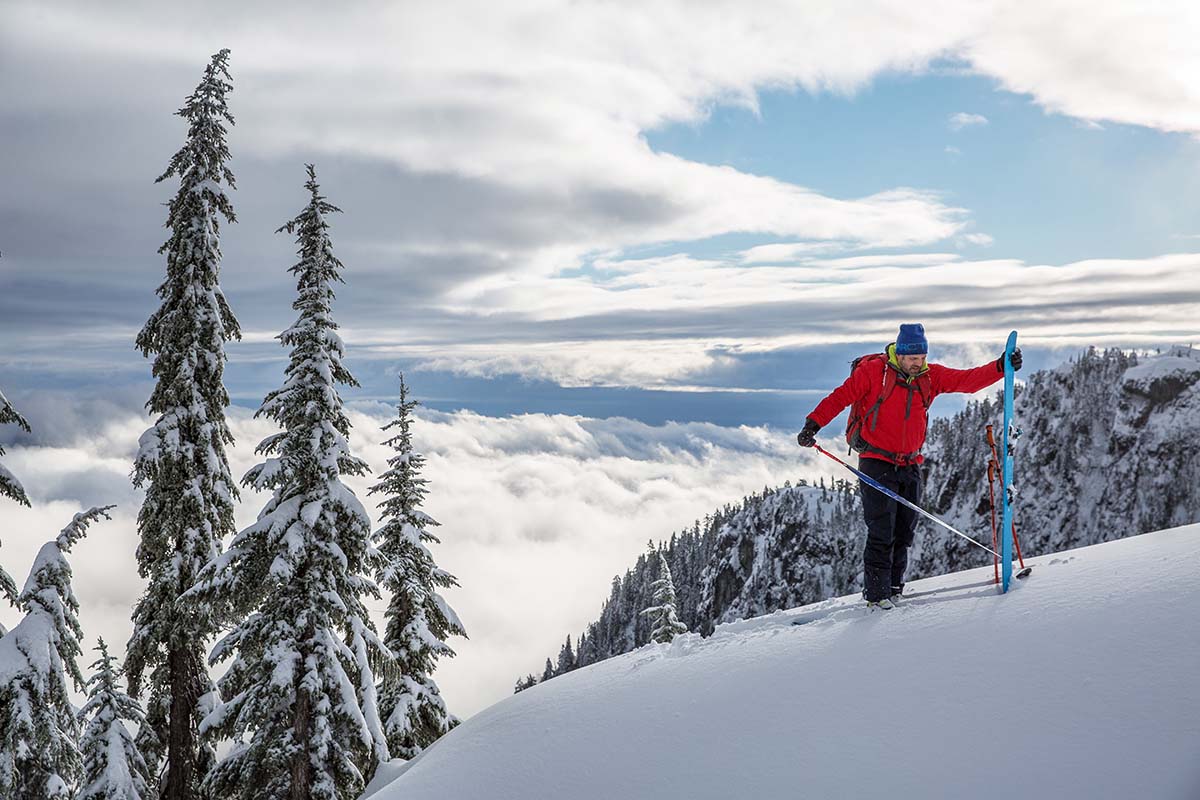 Completing Your Backcountry Ski Kit
Finding a good pair of climbing skins to pair with your backcountry skis is a great start to venturing past the ski lifts. In addition, you'll want to be sure to have a complete avalanche rescue toolkit, which includes an avalanche beacon, shovel, and probe (and proper training on how to use them—we recommend a Level 1 course from AIARE or the American Avalanche Institute). A ski backpack will also be essential for carrying your supplies. In terms of other clothing and equipment, we've compiled in-depth lists—many of which include backcountry-specific picks—for everything from ski helmets, goggles, and gloves to ski jackets and pants. Our backcountry skiing checklist is a great place to start, or you can check out all of our ski gear reviews here.
Back to Our Top Climbing Skin Picks  Back to Our Climbing Skin Comparison Table
Learn More About Ski Gear