Whether you're hitting the trail for a half-day hike, climbing a fourteener, or seeing the sights in a foreign city, a daypack offers just-right carrying capacity alongside load-bearing support and convenient organization. And the options vary just as much as your uses, from simple and inexpensive models for casual outings to supportive and feature-rich haulers for all-day hikes. Below we break down the best women's hiking daypacks of 2023. For more information, check out our detailed buying advice and comparison table after the picks.
 
---
Our Team's Women's Daypack Picks
---

Best Overall Women's Daypack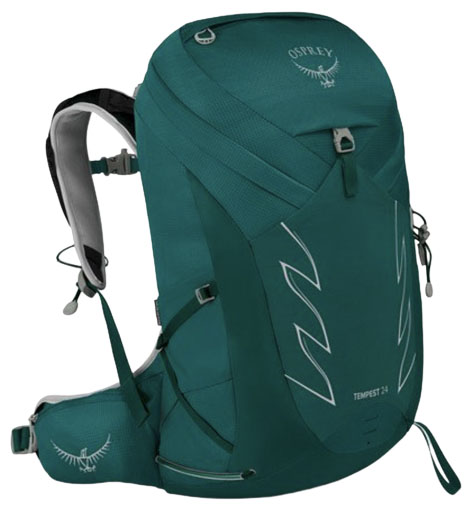 Weight: 1 lb. 15.2 oz.
Capacities: 9, 20, 24, 30, 34, 40L
Hipbelt: Cushioned
What we like: Just-right support and features; offers a more custom fit than most.
What we don't: The hipbelt and shoulder-strap pockets are too small for larger smartphones.
A pack specialist through and through, Osprey offers a large assortment of day and overnight haulers that excel in terms of comfort, support, and organization. The Tempest 24 is their goldilocks daypack: The harness and airy foam backpanel are exactly what we look for in an all-rounder—enough support and ventilation without being too overbuilt—and there's no shortage of storage, including a cavernous main compartment with a bucket-style opening, internal and external accessory pockets, hipbelt pockets, and stretch-mesh stashes on the front and side. Importantly, while most daypacks are one-size-fits-all, the Tempest 24 features an adjustable torso length and comes in two sizes, which is a fairly big deal for serious hikers who log a lot of miles. 
With 24 liters of capacity, the Tempest is ideal for most recreational hikers packing a day's worth of supplies, including snacks, multiple layers, a water filter, book, camera, and more. It also includes an external hydration sleeve, which is a really convenient feature if you use a hydration bladder (but otherwise superfluous). We do have a few small gripes with the design—the hipbelt and shoulder-strap pockets are too small for larger smartphones, and the Stow-on-the-Go trekking-pole attachment is far from our favorite way to store our poles—but the rest of the pack hits a just-right balance for day hiking as well as travel and everyday use. It's also worth checking out the rest of Osprey's Tempest series, which includes capacities from 20 to 40 liters, an ultralight "Pro" collection, and extended-fit and kid's sizing.
See the Osprey Tempest 24
A Close Second (With Better On-the-Go Storage)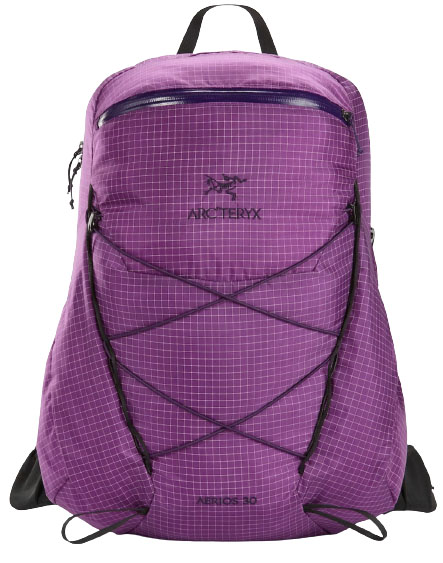 Weight: 1 lb. 13.6 oz.
Capacities: 15, 30, 45L
Hipbelt: Cushioned
What we like: The capacity and comfort of a daypack with the on-the-go storage of a running vest.
What we don't: Rigid frame isn't ideal for running or scrambling.
Osprey's Tempest above is a classic daypack for recreational hikers, but if you like to move quickly and cover ground, there's a lot to be said about a design like the Arc'teryx Aerios 30. Merging the capacity and support of a backpack with the on-the-go storage of a running vest, the 30-liter Aerios can accommodate a streamlined overnight kit but still moves as an extension of your body and keeps the essentials at the ready—no more stopping to dig out snacks, water, sunscreen, or sunglasses. It also features multiple bungees and cinches to expand and contract with your load, mitigating bouncing when you're moving fast. All told, the Aerios 30 is a highly versatile pack and our runaway favorite for serious hikers and fastpackers who prioritize speed, distance, and comfort.
As with most of Arc'teryx's offerings, the Aerios 30 is exceptionally well made with a close attention to detail. The liquid crystal ripstop nylon is ready for encounters with rock, branches, or cacti (pick your poison), and there's no end to the thoughtful organization, including five zippered accessory pockets and side stashes that are accessible from both the top and rear. The rigid framesheet is perhaps the only limitation we've found: It provides ideal structure for a full load, but isn't form-fitting like the Distance 15 below (less ideal for scrambling or running) and means the Aerios can't roll up into a small package for transport. But for speedy hiking with a 30-liter load, it doesn't get much better. Within this category, it's also worth checking out the new-for-2023 Black Diamond Pursuit (below), which comes in 15- and 30-liter versions.
See the Arc'teryx Aerios 30
Best Budget/Lightweight Daypack for Women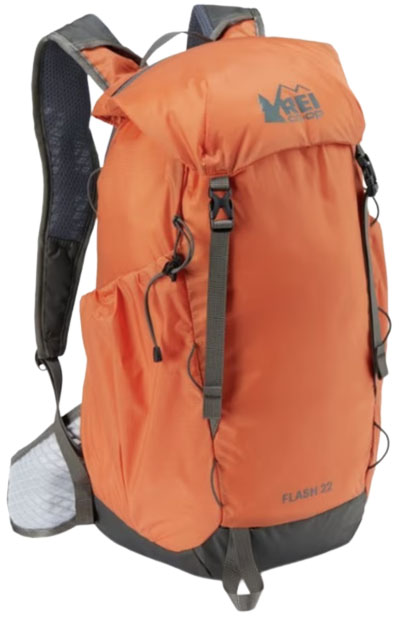 Weight: 14 oz.
Capacities: 18, 22L
Hipbelt: Webbing
What we like: Affordable; packable design is great for travel, quick jaunts, or everyday use.
What we don't: Not ideal for heavy loads; less durable than the competition.
REI's in-house collection of gear is a great one-stop shop for casual hikers in search of value, and their Flash 22 pack is no exception. First and foremost, the Flash is noticeably simple, with a frameless suspension that lacks the rigidity of other daypacks, thin webbing hipbelt, and basic organization that includes just two external dump pockets and a few zippered accessory stashes. Certainly nothing about the pack screams "cushy," but the foam backpanel insert, mesh hipbelt "wings," and padding along the back and shoulders are a nice compromise and offer sufficient comfort for light loads. And perhaps most importantly, the Flash costs just $60, which is about a third of the cost of the options above. 
The Flash's design isn't ideal for serious hikers or gear-heavy outings, and the thin nylon build is far from the most durable here. What's more, it's only offered in one size (although we have been surprised at how well it seems to fit a range of bodies). On the flipside, there are a lot of added benefits to a compressible, sub-1-pound pack—especially for travel, quick jaunts, or even bringing along on a backpacking trip—and we're big fans of the Flash's thoughtful details, including a fun selection of colorways and a hidden zippered pocket next to the backpanel (a great storage spot for small valuables like a phone or wallet). In the end, if you're looking to go light (both on the trail and your budget), the Flash 22 has a lot to offer. For an even more streamlined version, check out REI's $20-cheaper Flash 18… Read in-depth review
See the REI Co-op Flash 22
Best High-Capacity Daypack for Women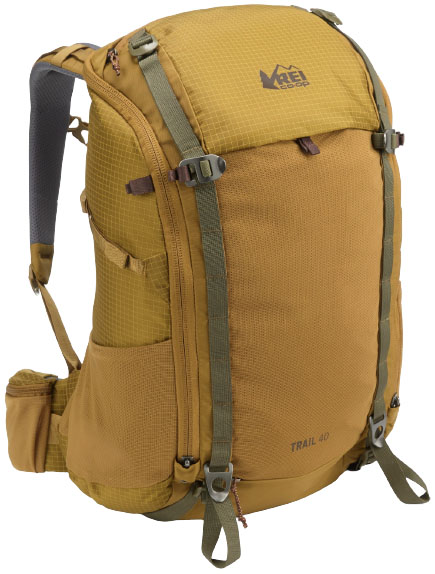 Weight: 2 lb. 13 oz.
Capacities: 25, 40L
Hipbelt: Cushioned
What we like: Affordable, convenient organization, and versatile for both travel and trail.
What we don't: Not everyone will love the U-shaped panel opening.
One of the joys of day hiking is carrying a lightweight load, but unfortunately not everyone has this luxury. Whether you're schlepping snacks and supplies for young kids, hauling extra camera gear, or just like to bring all the essentials (and more), a higher-capacity pack like the REI Co-op Trail 40 is a great tool for the job. In our testing, the Trail 40 felt like a backpacking pack—we mean that in the best of ways—with great cushioning and support, seemingly endless storage, and more bells and whistles than the average daypack. And unlike most designs, it features a zippered U-shaped panel opening to the main compartment, which opens like a suitcase for easy access to your gear. Top it off with a sleek appearance that belies the pack's capacity, and the Trail 40 a great option for travel (it fits size requirements for a carry-on) in addition to trails.
The Trail 40's unique front opening is a double-edged sword: While we love the organization and ease of access it provides, the pack lacks structure to support the feature, and can be especially floppy if you have items in the front accessory pocket. Further, the padded mesh harness, hipbelt, and backpanel are fairly basic and bulky compared to higher-end designs, and won't ventilate particularly well on hot days. But we found the Trail 40 to be very comfortable with a 15-pound load, and there's a lot to like about its organization, which includes external stash pockets, lash points, hipbelt pockets (albeit not large enough for our plus-sized phone), and a number of internal compartments. And at just $129, you'd be hard pressed to find a better value. For a more performance-oriented option, check out REI's Traverse 32 or the Osprey Sirrus 36 below.
See the REI Co-op Trail 40
Best Women's Hydration Pack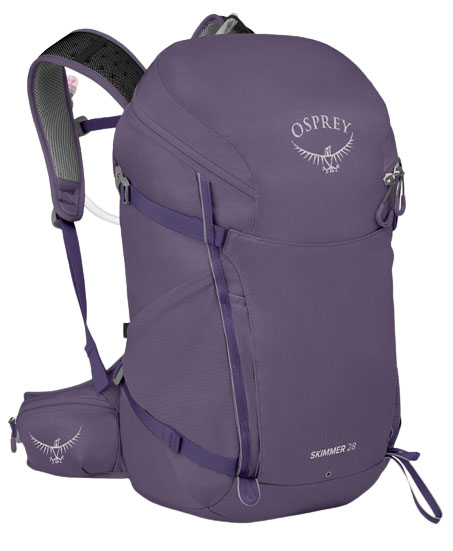 Weight: 1 lb. 14.6 oz.
Capacities: 16, 20, 28L
Hipbelt: Cushioned
What we like: An integrated daypack and hydration bladder for considerably less than our top pick.
What we don't: Only comes in one size with minimal adjustments; no external accessory pocket.
Most daypacks feature a sleeve or compartment for stashing your water reservoir, but the Skimmer 28 is the only model here that also includes a bladder with purchase. The design is nicely integrated with a hydration sleeve behind the backpanel (similar to the Tempest above), reservoir hanging clip, hose port and routing, and magnetic bite valve attachment on the sternum strap. And as we've come to expect from Osprey, the pack itself deftly balances comfort and features with a low-profile build. If you're starting from scratch and want to purchase your daypack and hydration bladder together, the Skimmer 28 is a no-brainer choice from one of the best pack manufacturers around.
So why opt for the $170 Tempest 24 above when you can purchase the Skimmer 28—complete with hydration bladder (for reference, the included 2.5-liter Hydraulics LT is a $33 investment on its own)—for just $150? For us, the most obvious answer is that the Tempest is the better overall backpack. The Skimmer only comes in one size with no torso-length adjustment (unlike the Tempest), and lacks load lifters, too. It also forgoes the body-hugging fit of the Tempest's continuous-wrap harness, and you'll have to open the main compartment to access the zippered accessory pocket. But as a dedicated hydration pack, the Skimmer does a slightly better job integrating the water reservoir (we appreciate the magnetic bite valve attachment), and it's a considerable $53 savings all-in. If the fit works for you (it was comfortable for our 5'5", 140 lb. tester), the Skimmer 28 is a great package deal.
See the Osprey Skimmer 28
Best Pack for Fast-and-Light Mountain Missions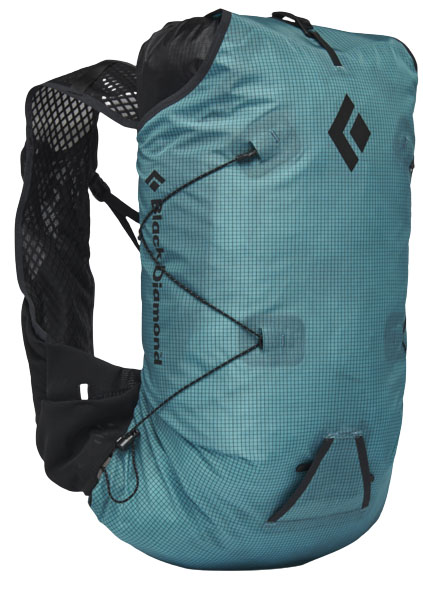 Weight: 12.5 oz.
Capacities: 8, 15, 22L
Hipbelt: None
What we like: The body-hugging feel of a running vest—but enough capacity for a full day out.
What we don't: Limited organization and load support.
The Arc'teryx Aerios 30 is our top pick for hikers balancing a full day's worth of gear with the need for on-the-go storage, but you can streamline things a lot more with the Black Diamond Distance 15. The Distance 15 has become our go-to pack for what we refer to as "hiking on steroids"—missions that include everything from running and scrambling to glacier travel and even climbing. We love the relatively bounce-free fit: The 12.5-ounce frameless pack rides high on the back, conforms well to the body, and cinches tight with two sternum straps. And for easy access, the vest pockets expand to accommodate a healthy amount of snacks and supplies. Finally, despite the Distance's limited 15-liter capacity, it's amazing what we've been able to fit inside, including a 30-meter glacier rope, harness, crampons, helmet, layers, water, and more.
The Black Diamond Distance 15 is our preferred pack for particularly high-intensity or weight-conscious days, but it's not for everyone. With no hipbelt, it can start to feel uncomfortably burdensome at the end of a long day—you'll want to be careful to avoid overpacking for this reason. It also has a very streamlined feature set, with no external dump pockets (you do get trekking pole sleeves on each side, which we love), accessory zip stashes, or hipbelt pockets. Tack on a $180 price tag, and you're spending up for less pack (especially considering the Aerios 15 is $130), which can always take some time to wrap your head around. But for fast-and-light missions, the Distance 15 checks all our boxes, and the newest version now comes in three sizes for both men and women—a huge improvement over the outgoing unisex pack. 
See the Black Diamond Distance 15
Best of the Rest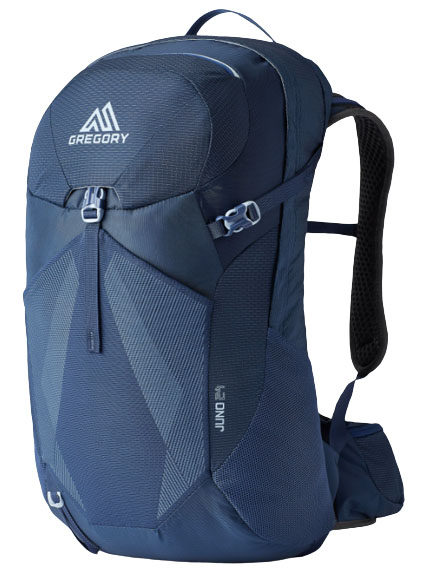 Weight: 1 lb. 14.9 oz.
Capacities: 24, 30L
Hipbelt: Cushioned
What we like: Great ventilation and support via a tensioned mesh backpanel.
What we don't: Only comes in one size with no torso adjustment; some might prefer a simpler design.
Taking aim at our top-ranked Tempest is the Gregory Juno 24, another stellar all-around daypack that will appeal to many. But the two packs differ at a foundational level: The Juno features an alloy-steel frame (the Tempest is frameless) and a tensioned mesh backpanel that cradles the back while pulling the pack away from the body. The result is better ventilation and more structure, support, and weight capacity—although it's worth noting that both packs have an advertised 20-pound load limit. And like the Osprey, the Gregory offers a range of storage, including a main compartment, generous accessory pocket, front and side dump pockets, hipbelt pockets, and a hydration bladder sleeve and hanging clip.
We're big fans of tensioned-mesh backpanels on high-capacity backpacking packs (including models like the Osprey Aura 65 and Gregory Facet 55), but often gravitate toward simpler daypack designs. Most hikers won't need (or want) so much structure for 10- to 15-pound loads, and the added rigidity and components can feel bulky and onerous when traveling or commuting. On a different note, the Juno 24 only comes in one size with no adjustable torso length, while the Tempest 24 features a lot more versatility in terms of fit (note: the Juno 30 H2O hydration pack is available in standard and plus sizes). The edge certainly goes to the Osprey, but if you're looking for a boost in support and ventilation, the Juno 24 has a lot to offer. And for an adjustable design from Gregory (also with a tensioned backpanel), check out their Jade 28 ($170).
See the Gregory Juno 24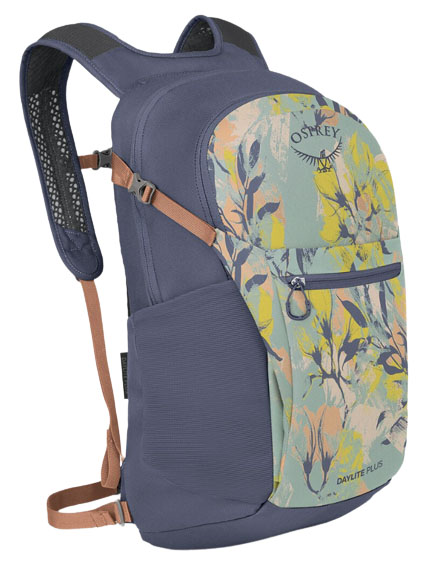 Weight: 1 lb. 4.6 oz.
Capacities: 13, 20L
Hipbelt: Webbing
What we like: Osprey quality; 20 liters of capacity at a good price.
What we don't: Limited support; only sold in one size.
In terms of Osprey packs, the Tempest (above) and Sirrus (below) get the lion's share of attention, but the Daylite Plus is another viable option that comes in significantly cheaper. This simple daypack weighs just 1 pound 4.6 ounces, has a respectable 20-liter capacity with good padding for carrying lighter loads, and boasts the kind of quality build that Osprey is known for. In terms of best uses, we've found that the Daylite Plus is great for short to moderate days on the trail or as a companion pack for travel—it's designed to attach to the outside of a number of Osprey's larger travel bags, including the popular women's Fairview series.
The most obvious drawbacks to the Osprey Daylite Plus are the lack of support and sizing options (the one-size-fits-all design can accommodate 15- to 22-in. torso lengths and 25- to 50-in. waists). As we noted above, the shoulder straps are thinly cushioned and will get the job done for minimalists, but those planning to stuff in a full day's worth of gear—including a shell, insulation, food, water, and other necessities—will quickly notice the drop in comfort. Further, the waistbelt is made of simple webbing, which again is serviceable for brief outings but falls short as the miles add up. However, as a streamlined grab-and-go option that can also be worn for travel and around-town use, the Daylite Plus (and smaller 13L Daylite) is a great value from one of the most reputable pack manufacturers in the business.
See the Osprey Daylite Plus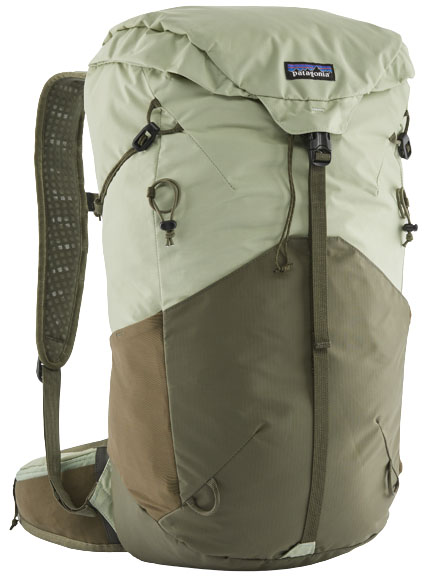 Weight: 1 lb. 12 oz.
Capacities: 14, 22, 28, 36L
Hipbelt: Cushioned
What we like: Bullet-like shape with lid offers a more technical take on the daypack design.
What we don't: Fairly thin padding along the hipbelt and shoulder straps; hipbelt pockets do not fit most phones.
Osprey, REI, and Gregory have so far dominated our picks, but Patagonia has a little something different to offer in their Altvia collection, which ranges in capacity from 14 to 36 liters. The 28-liter model strikes us as the most versatile, with a ventilated mesh backpanel for airflow, lightly padded shoulder straps and hipbelt (the latter of which has pockets), included rain cover, and enough capacity to pull double duty for ultralight overnights—all at under 2 pounds. We also like the streamlined lid design—rare on a pack of this capacity—which opens wide for easy access to gear but can be cinched securely via a drawcord and buckle system.
As we've come to expect from Patagonia, the Altvia is well built with durable materials, reasonably water-resistant with a PU coating and PFC-free DWR (plus the aforementioned rain cover), and looks good to boot. Climbers in particular will like the tall and narrow shape that sits close to the back, which makes it a viable option for approaches or following multi-pitch routes. All that said, Patagonia did minimize the cushioning along the waistbelt and shoulder straps to shave weight, which means comfort will suffer under heavy loads and over longer distances. In addition, the hipbelt pockets are not large enough to accommodate a smartphone, which for us is a major oversight. But if you're intentional about packing and don't mind keeping your phone tucked away, the Altvia 28L is another thoughtfully made and versatile choice.
See the Patagonia Altvia 28L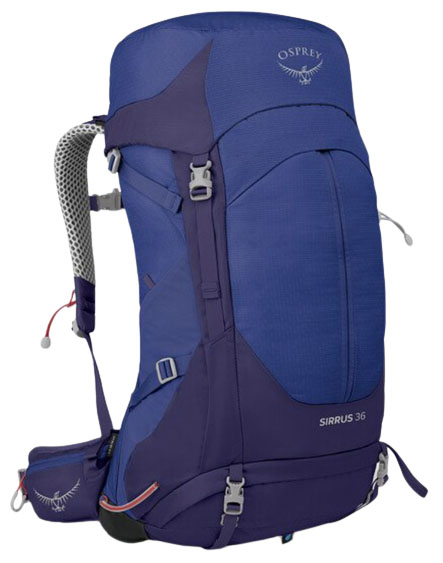 Weight: 3 lb. 2.5 oz.
Capacities: 24, 34, 36, 44L
Hipbelt: Cushioned
What we like: Extremely comfortable and loaded with features; can pull double duty for light overnights.
What we don't: Overkill for most day use; heavy and expensive.
If you prioritize comfort or plan on hauling a heavy load, the Osprey Sirrus 36 is one of the most feature-rich daypacks on this list. Its full metal frame and substantial hipbelt do a great job distributing weight, and a tensioned mesh panel ventilates extremely well and conforms nicely to your back. In addition, organization is excellent—we particularly like the two large hipbelt pockets and zippered side panel access to the main compartment, and there's even a sleeping bag compartment and pad straps for embarking on minimalist overnights. Add a built-in rain cover and an adjustable torso, and the Sirrus checks off everything you'll need in a daypack—and more.
As we mentioned in the Gregory Juno write-up above, this level of structure and carrying capacity can be overkill in a daypack, especially for lightweight loads. The Sirrus is also relatively hefty at over 3 pounds (heavier than many backpacking packs), expensive at $220, and doesn't compress for easy transport. In the end, those wanting a premium, luxurious pack will appreciate the Sirrus' support and build quality—especially when schlepping an overnight load—but most hikers can get away with a simpler design like the Tempest above. And if you're looking to save, check out the Traverse 32 ($139), REI's take on the high-capacity, feature-rich daypack.
See the Osprey Sirrus 36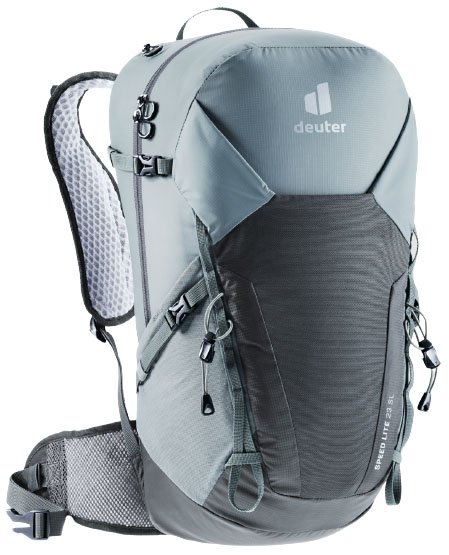 Weight: 1 lb. 8 oz.
Capacities: 13, 17, 21, 23, 28L
Hipbelt: Cushioned
What we like: An affordable and streamlined alternative to more traditional daypacks.
What we don't: Shoulder-strap pockets are fairly impractical; minimal hipbelt padding.
Deuter's Speed Lite has been a mainstay in the daypack market for years and underwent a big overhaul recently. Thankfully, Deuter retained a lot of what we loved about the previous versions: The 23-liter pack here is an ideal size for most day hikes, is both comfortable and well ventilated, and comes with a ton of features including trekking pole holders, daisy chains, side compression straps, and hydration reservoir compatibility. And despite being roughly the same capacity as the Tempest 24 above, the Speed Lite is around 7 ounces lighter and $50 cheaper, which adds a lot to its overall appeal. 
Our main complaints with the Speed Lite have to do with the new vest-like pockets on the shoulder straps, which are too small to fit more than a couple snacks and are even a tight squeeze for kids' sunglasses. We love when packs prioritize on-the-go-access, but the Speed Lite's overly streamlined design falls noticeably short of competitors like the Arc'teryx Aerios and Black Diamond Pursuit. The single hipbelt pocket is also on the small side, and both the belt and shoulder straps are minimally padded and lack the cushy, premium feel of more traditional designs. All in all, we wish the details were better sorted, but the Speed Lite remains a comfortable and nicely appointed day hiking design at a good price. And a final note: Deuter also makes the stripped-down Speed Lite CV 23 SL, which comes without pockets on the shoulder straps.
See the Deuter Speed Lite 23 SL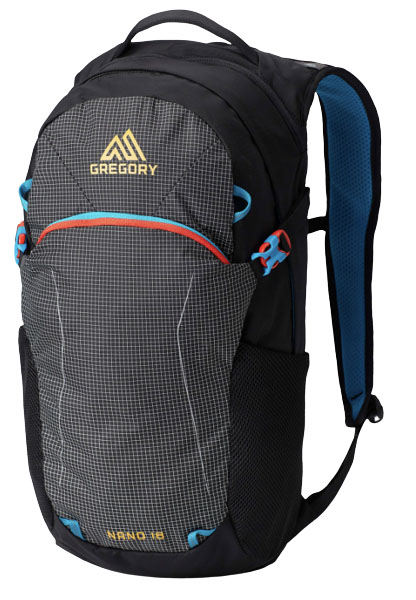 Weight: 1 lb.
Capacities: 14, 16, 18, 20, 24, 30L
Hipbelt: Webbing
What we like: A step up from the REI Flash in terms of durability, features, and comfort.
What we don't: The Osprey Daylite Plus above better fits the part for urban use.
Sometimes simple is better, and that's where a design like the Gregory Nano 18 comes in. WIthout sacrificing too much in the way of features and durability, the Nano 18 offers everything you need for casual day hiking—and nothing you don't. Like many of the high-end packs here, it uses hardwearing materials (210D & 420D nylon), features padded shoulder straps and an airy foam backpanel, and offers a range of storage including a large zippered access to the main compartment, dedicated hydration/laptop compartment, and an external accessory pocket. But conversely, the Nano checks in at a scant 1 pound and boasts just 18 liters of carrying capacity. If you're in the market for a small daypack but want a step up from uber-streamlined design like REI's Flash, put the Gregory Nano high on your list.
The Nano 18 is a viable competitor to the Osprey Daylite Plus above. Many users will like that the Gregory comes with a dedicated laptop/hydration pocket, complete with zipper (the Osprey features just a simple sleeve inside the main compartment). What's more, the Nano is available in a large range of capacities, while the Daylite comes in just 13- and 20-liter options. But we give the edge to the Daylite Plus for its more durable materials (300D & 600D polyester) and eye-catching design that will appeal more to the casual crowd. What's more, if you bump up to the 20-liter size ($80 for the Nano 20), the Osprey ($75) is a slightly better value. We're admittedly splitting hairs, and both are versatile and well-built daypacks that get the job done for short day hikes, commuting, travel, summer festivals, and more.
See the Gregory Nano 18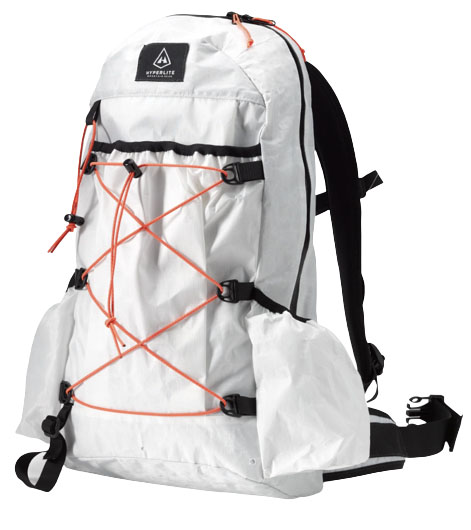 Weight: 1 lb. 5 oz.
Capacity: 17L
Hipbelt: Cushioned
What we like: Waterproof and lightweight; Dyneema offers a high-end look.
What we don't: Expensive; relatively small capacity in the main compartment.
Maine-based Hyperlite Mountain Gear makes some of our favorite ultralight backpacking packs. Their top daypack, the Daybreak, shares the same core ingredients as their higher-capacity offerings: Dyneema Composite Fabric that's waterproof and incredibly strong for its weight, simple yet functional organization, and a clean and technical-looking design. On paper, the 17-liter capacity in the main compartment seems small, but the large front pocket and two side pockets add a significant amount of functional storage (6L in total). For serious day hikes in rough conditions, the Daybreak is hard to beat.
Cost is the biggest obstacle in choosing the Daybreak. In fact, it's the most expensive bag on our list despite only having a modest capacity. But the extra money gets you excellent waterproofing (no need for a rain cover here) and a premium build that is handmade in the U.S. It's worth noting that many people also use the Daybreak for daily use, and we've found ourselves doing the same for travel and carrying a computer or camera. If you plan on capitalizing on the pack's versatility, it's easier to swallow the high price. And for another competitive ultralight option, check out Matador's Beast daypacks (offered in 18- and 28-liter variations), which are similarly feature-rich and weather-ready for considerably less (we outline the larger model below)... Read in-depth review
See the Hyperlite Mountain Gear Daybreak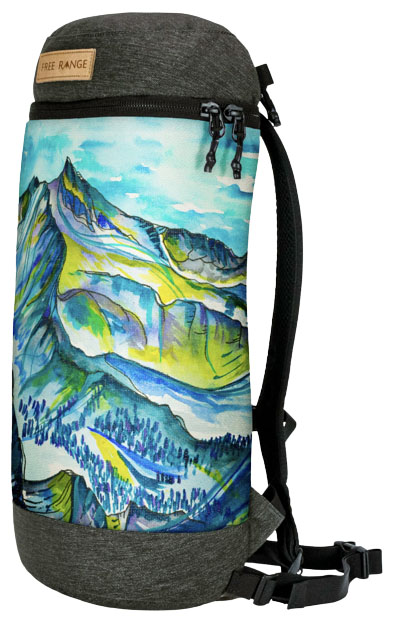 Weight: 1 lb. 3 oz.
Capacity: 25L
Hipbelt: Webbing
What we like: A durable canvas pack with your pick of mountain artwork.
What we don't: Pricey and not ideal for performance use.
Most of the packs here are fairly technical in nature, but Free Range Equipment (FRE) offers something a little different. A small company based in Bend, Ore., FRE works with artists to create each of their classic Canvas Series packs. Their list of collaborators is ever-growing, and at the time of publishing, you can choose from 10 different designs, including everything from the Tetons and Mt. Hood to an idyllic cabin scene. The Canvas pack is basic—you get 25 liters of space, a small internal stash pocket, and two zippered pockets on the lid—but it gets the job done for day hikes or your daily commute (a laptop easily fits inside). 
Free Range Equipment's Canvas packs aren't trying to match the performance chops of the Ospreys, Gregorys, and Deuters above, but their rugged fabric will hold up to years of use and abuse (we've used ours almost daily for over six years with no durability concerns). Keep in mind that you don't get features like a padded hipbelt, reservoir sleeve, or numerous storage options, and the Canvas pack only comes in one size. But let's be honest: The aesthetics and versatility are the biggest selling points of this rig, and it wins out in both departments. We should note that FRE also makes Canvas fanny packs (or as they call them, Phanny packs), which feature their own unique artwork and are less of an investment at $59.
See the Free Range Equipment Canvas
Weight: 1 lb. 8.2 oz.
Capacities: 15, 30L
Hipbelt: Cushioned
What we like: More comfort and support than the Black Diamond Distance.
What we don't: No accessory zip pocket; build quality isn't on par with the Arc'teryx Aerios.
We're big fans of the Black Diamond Distance 15 (above) for mountain running objectives, but it's an undeniably minimalist design that doesn't offer much support for heavy loads. So when BD released the Pursuit series earlier this year, it caught our immediate attention. Available in 15- and 30-liter capacities for both men and women, the Pursuit merges the on-the-go storage and body-hugging fit of the Distance with traditional daypack features, including a padded hipbelt, U-zip access to the main compartment, and stretch woven front pocket. Added up, it's a modern vest/pack option that offers convenient access to the essentials without compromising carrying comfort and support.
The Pursuit falls into the same category as the Arc'teryx Aerios above, but the two packs are distinct in a few key ways. First off, both the Pursuit 15 and 30 are frameless designs with a decently rigid foam backpanel, while all three capacities of the Aerios feature an actual framesheet that offers more structure and load distribution. To compensate, the Pursuit 15 uses a padded, continuous-wrap hipbelt; on the other hand, the 15-liter Aerios ($130) uses a thin webbing strap reminiscent of a pared-down daypack. The packs also vary in terms of storage—notably, the BD has hipbelt stashes and tacks on a few more pockets on the chest. It's hard to beat Arc'teryx's build quality and support (especially at a lower cost), but the Pursuit will appeal to those looking for more on-the-go storage and a body-hugging, bounce-free fit. 
See the Black Diamond Pursuit 15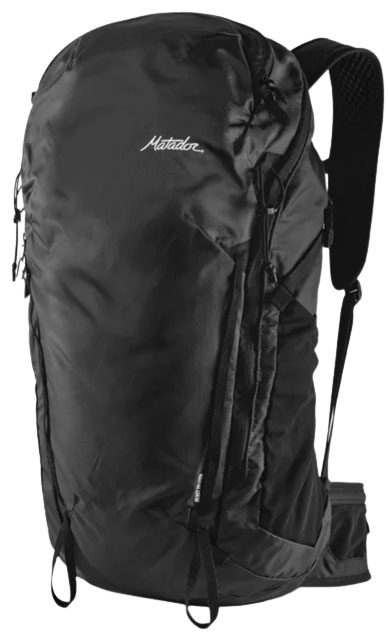 Weight: 1 lb. 8 oz.
Capacities: 18, 28L
Hipbelt: Cushioned
What we like: Impressively tough and light for the capacity.
What we don't: Overly technical for some.
Boulder-based Matador is an upstart on the rise and has quickly made a name for themselves in the travel market with a nice selection of light but dependable packs and duffels. Their daypack lineup follows suit, including the popular Beast28 here. What immediately stands out is the Beast's competitive 1.5-pound weight, which is impressively light for the capacity and undercuts more traditional (and smaller) models like the Osprey Tempest (1 lb. 15.2 oz.) and Gregory Juno 24 (1 lb. 14.9 oz.) above. It also packs down remarkably small for stashing in a duffel—the steel frame is flexible and Matador even includes a handy compression sack for storage—and both the hipbelt and sternum strap can be removed to streamline your kit even further. Finally, while many ultralight packs compromise on durability, the Beast is noticeably well built with a tough (210D) Robic nylon build, water-resistant YKK zippers, and a UTS coating for waterproofing and tear resistance. 
In addition to being impressively light and durable for the size, the Matador Beast28 is also surprisingly comfortable for a UL design. The backpanel, shoulder straps, and hipbelt are all nicely cushioned with EVA foam, and the steel frame adds a good dose of support while keeping weight in check. That said, the Beast has a fairly technical appearance that doesn't wear particularly well around town, and is only offered in a single black colorway. Exterior storage is also a little lacking, including just three pockets on the outside. But if you don't mind stuffing most of your gear in the main compartment, the Beast28 stands out as a high-quality option for fast-moving day hikes and short mountain missions. For an even lighter option from Matador, their $125 Freerain28 checks in at just 12.3 ounces and boasts a waterproof main compartment with a roll-top closure but has less padding overall. 
See the Matador Beast28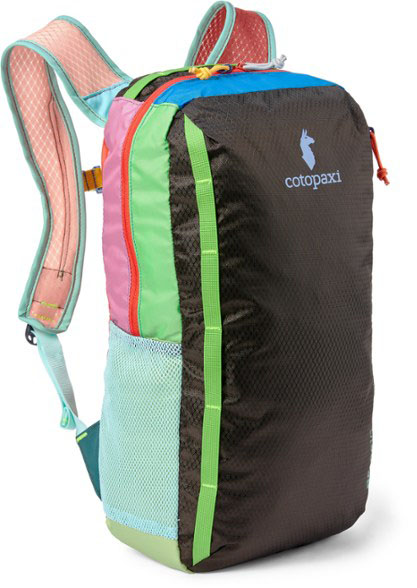 Weight: 12 oz.
Capacities: 16, 24L
Hipbelt: None
What we like: Lightweight; eye-catching design with a strong focus on sustainability.
What we don't: Lacking in comfort and features; $25 more than the REI Co-op Flash 18.
Salt Lake City-based Cotopaxi is a brand on the rise, combining sustainable production practices with fun, vibrant designs for casual outdoor-goers. Their Batac 16L daypack slots in as a feathery and budget-friendly option for minimalists and short day-hiking objectives. For reference, it's the lightest option on our list at a scant 12 ounces (undercutting the Distance 15 above by 0.5 oz.) and has a streamlined, body-hugging shape that keeps the pack close to your back. Storage is also surprisingly good, including a vertical front zippered pocket, two mesh water bottle pockets, exterior attachment loops, and an internal sleeve for a hydration reservoir or laptop. Added up, the Batac is a sleek, good-looking option at a very affordable price point and can easily pull double duty for commuting and travel. 
That said, the performance drawbacks are enough to push the Batac toward the end of our rankings. Despite the functional storage layout, the design still is decidedly basic with a frameless build, no hipbelt, and minimal padding along the shoulder straps. For reference, REI's similarly sized Flash 18 costs $25 less, weighs 9.5 ounces, and boasts a basic webbing hipbelt for a little added support, while their $60 Flash 22 above is noticeably more comfortable and feature-rich. On the flip side, the Cotopaxi wins out in styling with its bright, multi-colored design and is made from 100% repurposed fabrics—two of the brand's hallmarks. The lack of support and cushioning are undeniably limiting, but the Batac is nevertheless a thoughtfully built daypack for shorter adventures and summit scrambles. For an even simpler option from Cotopaxi (with drawcord closure), check out their popular Luzon 18L. 
See the Cotopaxi Batac 16L
Women's Daypack Comparison Table
| Daypack | Price | Weight | Capacities | Hipbelt | Frame | Pockets |
| --- | --- | --- | --- | --- | --- | --- |
| Osprey Tempest 24 | $170 | 1 lb. 15.2 oz. | 9, 20, 24, 30, 34, 40L | Cushioned | No | 7 exterior |
| Arc'teryx Aerios 30 | $190 | 1 lb. 13.6 oz. | 15, 30, 45L | Cushioned | Yes | 8 exterior |
| REI Co-op Flash 22 | $60 | 14 oz. | 18, 22L | Webbing | No | 3 exterior |
| REI Co-op Trail 40 | $129 | 2 lb. 13 oz. | 25, 40L | Cushioned | Yes | 6 exterior |
| Osprey Skimmer 28 | $150 | 1 lb. 14.6 oz. | 16, 20, 28L | Cushioned | No | 5 exterior |
| Black Diamond Distance 15 | $180 | 12.5 oz. | 8, 15, 22L | None | No | 7 exterior |
| Gregory Juno 24 | $140 | 1 lb. 14.9 oz. | 24, 30L | Cushioned | Yes | 6 exterior |
| Osprey Daylite Plus | $75 | 1 lb. 4.6 oz. | 13, 20L | Webbing | No | 5 exterior |
| Patagonia Altvia 28L | $149 | 1 lb. 12 oz. | 14, 22, 28, 36L | Cushioned | No | 5 exterior |
| Osprey Sirrus 36 | $220 | 3 lb. 2.5 oz. | 24, 34, 36, 44L | Cushioned | Yes | 7 exterior |
| Deuter Speed Lite 23 SL | $120 | 1 lb. 8 oz. | 13, 17, 21, 23, 28L | Cushioned | Yes | 6 exterior |
| Gregory Nano 18 | $65 | 1 lb. | 14, 16, 18, 20, 24, 30L | Webbing | No | 4 exterior |
| Hyperlite Daybreak | $229 | 1 lb. 5 oz. | 17L | Cushioned | No | 3 exterior |
| Free Range Canvas | $139 | 1 lb. 3 oz. | 25L | Webbing | No | 1 exterior |
| Black Diamond Pursuit 15 | $150 | 1 lb. 8.2 oz. | 15, 30L | Cushioned | No | 7 exterior |
| Matador Beast28 | $150 | 1 lb. 8 oz. | 18, 28L | Cushioned | Yes | 3 exterior |
| Cotopaxi Batac 16L | $65 | 12 oz. | 16, 24L | None | No | 3 exterior |

Women's Daypack Buying Advice

Benefits of Choosing a Women's-Specific Daypack
Many of the daypacks above are dedicated women's versions, while others are unisex designs. While most women can get away with a unisex daypack, women's daypacks are not—as they may appear—just a different-colored version of a men's or unisex pack. There are real design differences with tangible benefits that deserve mentioning. These advantages include a shorter torso length, and shoulder straps and hipbelts that have been designed specifically for the contours of a women's body. Of course every body is different, and women's daypacks will generally work best for those with shorter statures (under 5'9" or so), developed hips, and narrower shoulders.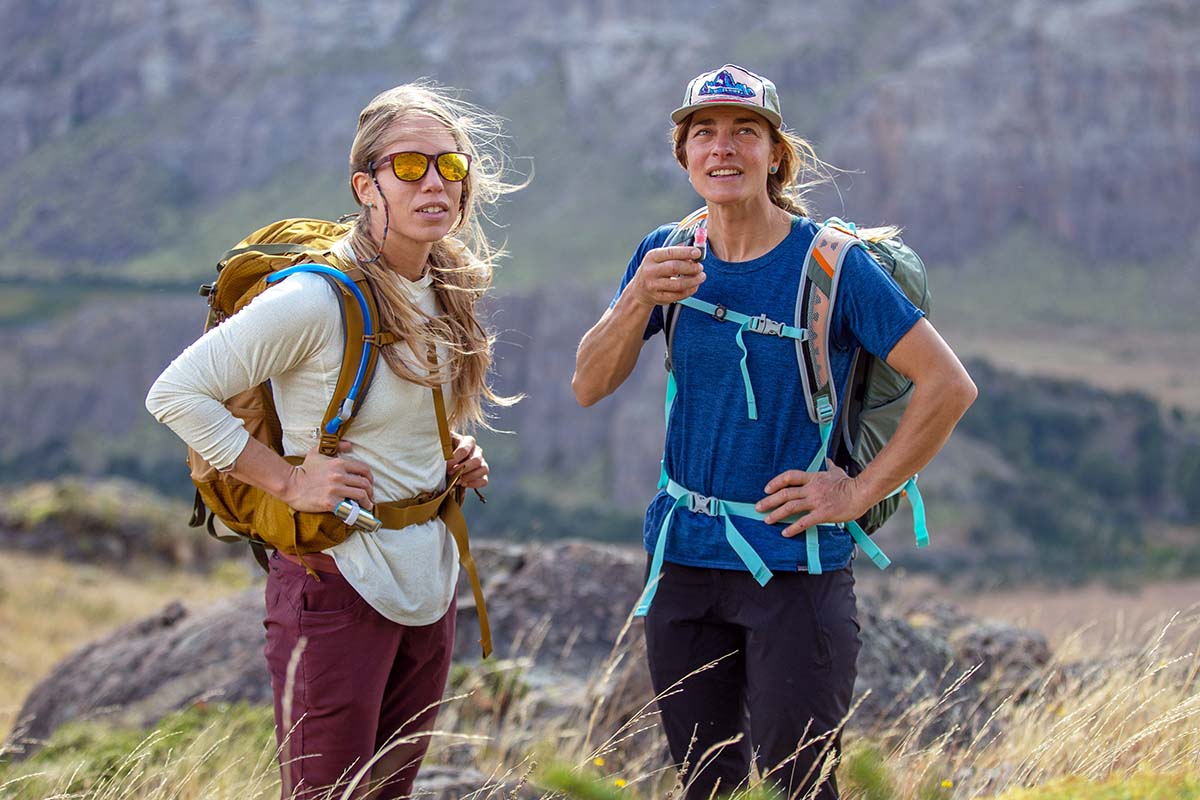 If you tend toward women's sizing and will be using the pack for pretty serious day hikes, it's well worth opting for a high-end women's model like Gregory's Juno 24, Deuter's Speed Lite 23 SL, or Osprey's Sirrus 36, Tempest 20, and Skimmer 28 we've listed above. For most women, the specifically tuned fit makes for a more comfortable and hot-spot-free carrying experience. On the other hand, for casual use such as travel, commuting, or short day hikes, you can get away with a unisex design. For these applications, a daypack like the REI Flash 22 or Osprey Daylite Plus should work just fine.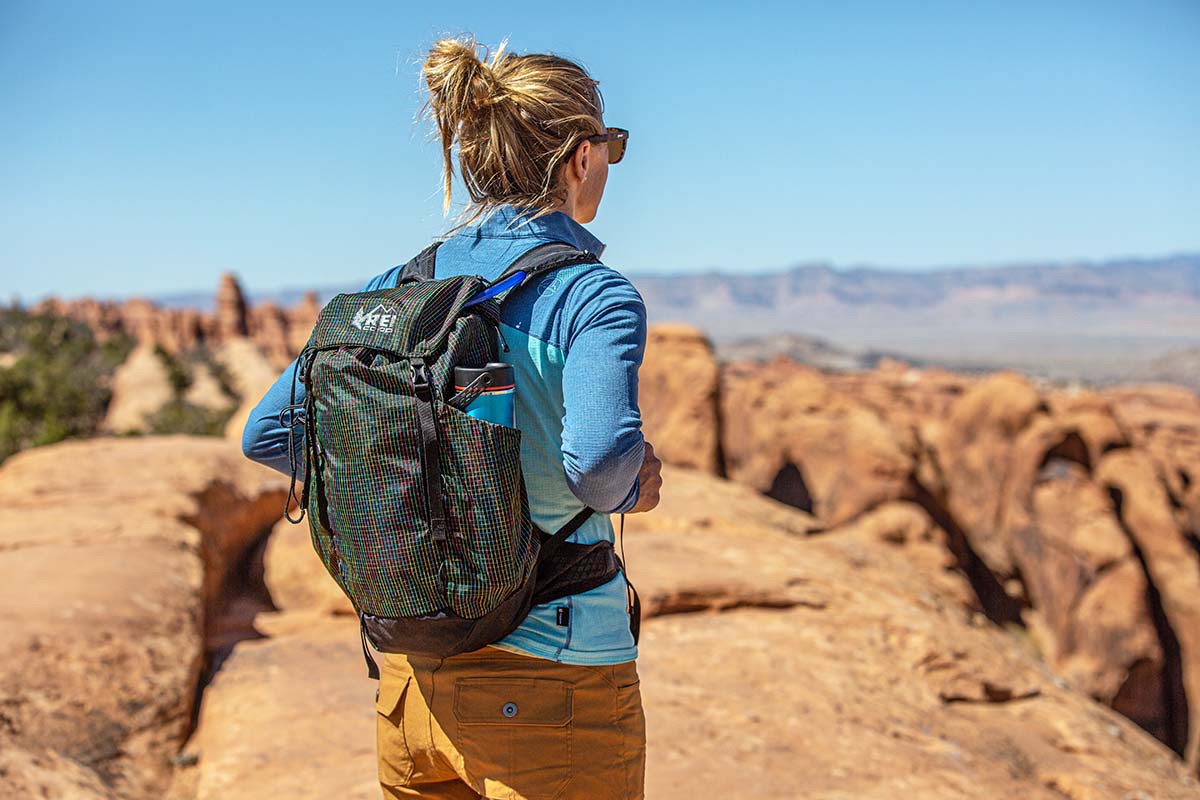 Types of Daypacks
With hundreds of daypacks on the market, choosing the right one is largely dependent on your intended uses. Do you plan to tackle 20-mile hikes with a day's worth of supplies, or just need enough capacity for a short summit push? Is there a chance you'll want to use your daypack for weight-conscious overnight trips? Or, will your hiking daypack play double duty for urban exploration, travel, or commuting?
For the casual user who doesn't need much support for hauling a heavy load, the more affordable options on this list will do just fine. Budget-friendly packs like the $60 REI Co-op Flash 22 have a more basic suspension design (or none at all) and a less customizable fit, but do great for heading to class or a quick hike in the woods. If you're planning on putting on some serious miles or need to carry a decent load, you'll appreciate the added structure and padded backpanel, hipbelt, and shoulder straps found in the options starting around $100 (we cover this in more detail in the "Carrying Comfort" section below). And the good news is, many of today's top daypacks can pull double duty for everyday use, making it easy to purchase a do-all pack to meet a full range of needs.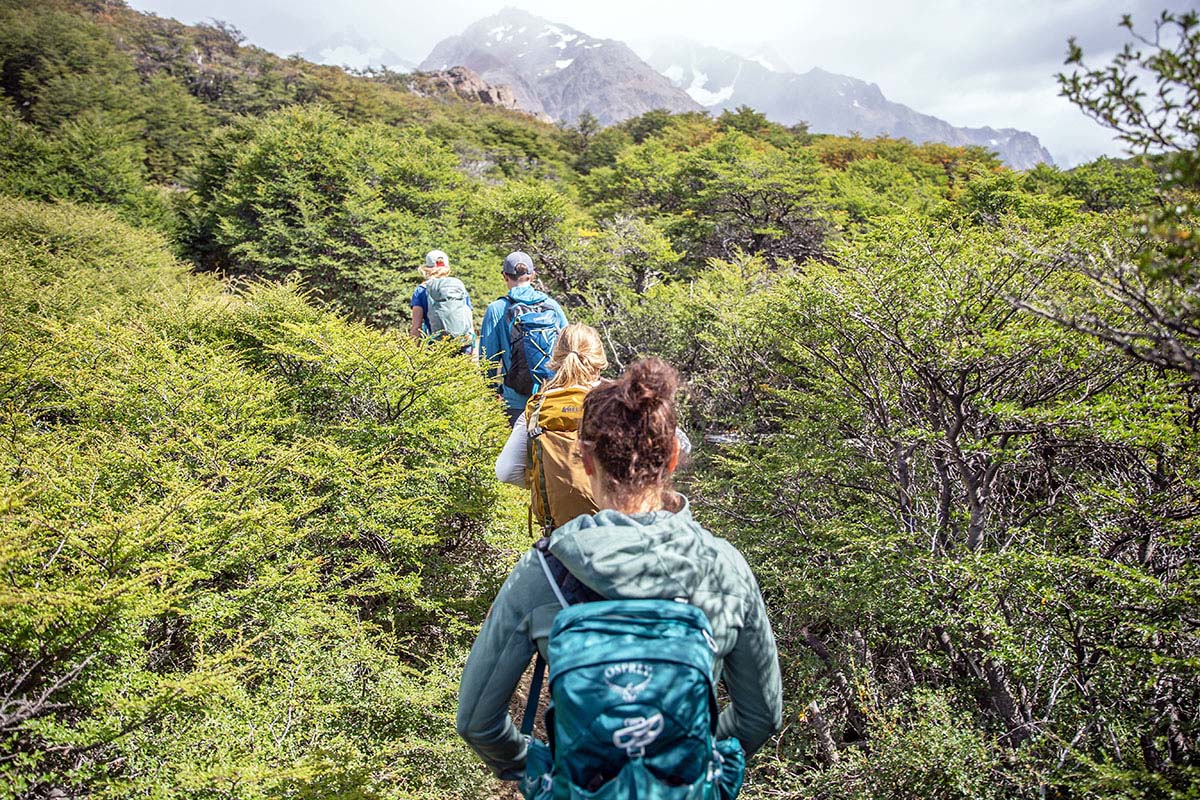 Daypack Capacities
Capacities for daypacks vary widely. You'll see them offered anywhere from as small as 5 liters all the way up to 40 or more. Those who only need to fit a compressible rain jacket and a lunch can get away with a pack on the smaller end of the spectrum. But most of us will require more space for other essentials including layers, a water filter, hydration bladder, and more. The options above range from 15 to 40 liters, with the largest ones being better suited for gear-heavy adventures (like winter hikes) or ultralight overnights. We've found that approximately 25 liters is a sweet spot for an all-around daypack that can handle anything from local summits to full-day hikes. At that size, organization also improves from more basic models, with a variety of zippered pockets to divvy up your gear. Below are some basic guidelines for capacity:
Short day hikes: 10-20 liters
Summit packs: 18-24 liters
Average day hikes and everyday use: 20-30 liters
Long day hikes and ultralight overnights: 30-40 liters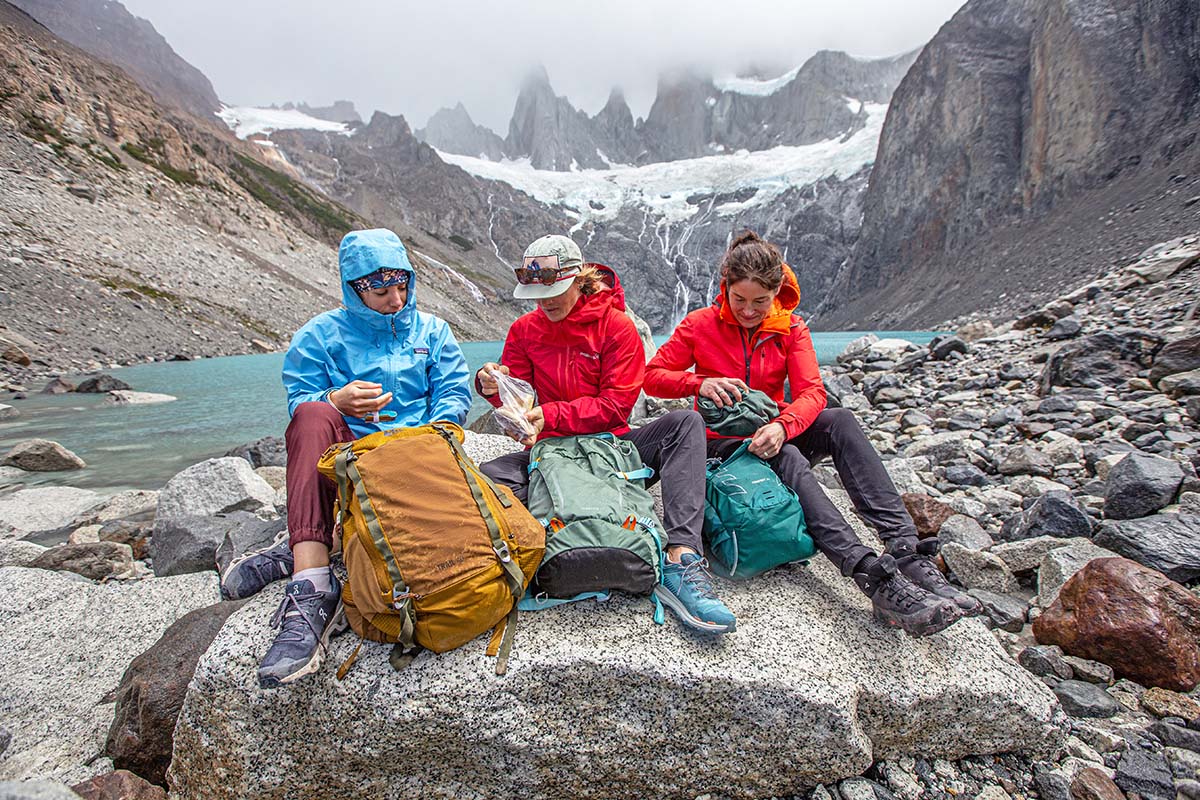 Daypack Weight
A quick look at our comparison table above reveals a wide range of pack weights from a scant 12 ounces to over 3 pounds. On the heavy end is the fully featured Osprey Sirrus 36, which comes with a fixed lid, sleeping bag compartment, myriad pockets, and suspension and harness that rival a backpacking pack. At the other end of the spectrum, the REI Flash 22, Gregory Nano 18, and Cotopaxi Batac check in around 1 pound or lighter and offer much less in the way of features and support. Black Diamond's Distance 15 is another impressively light option at just 12.5 ounces, but it's a much more specialized design with a streamlined storage layout and no hipbelt.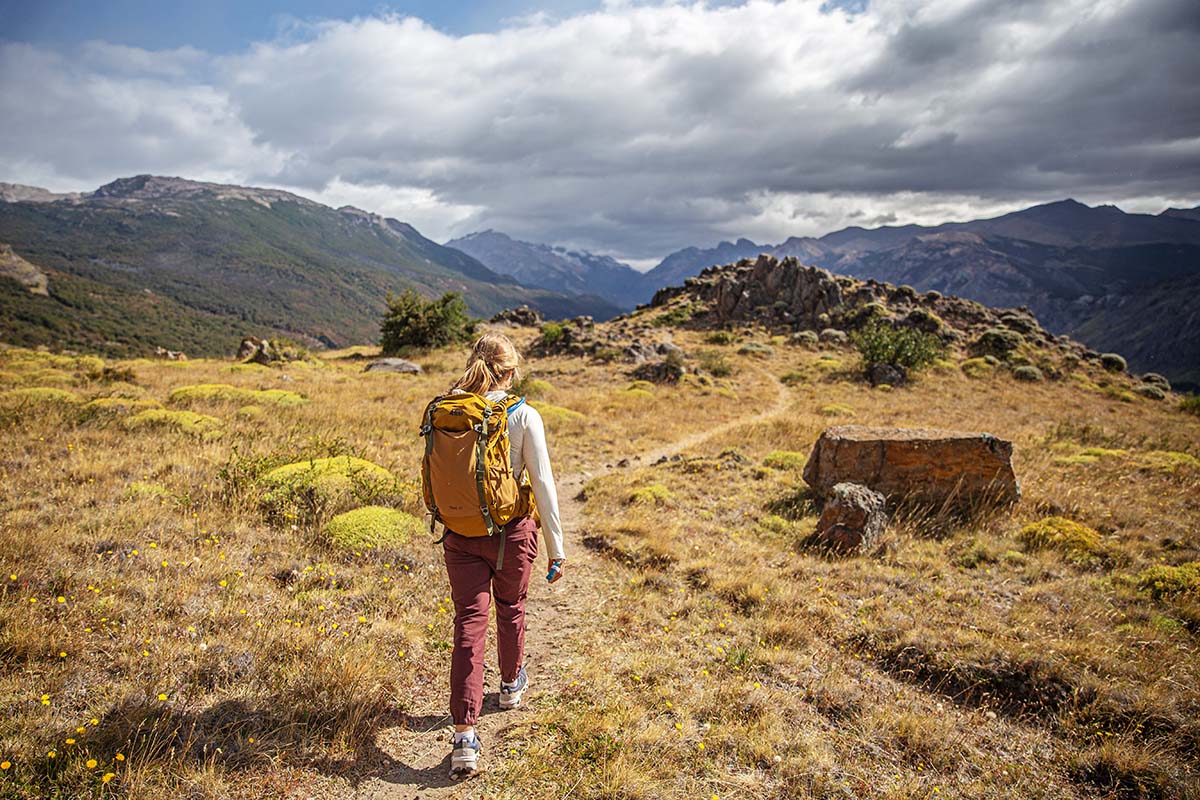 When evaluating pack weight, keep comfort and storage in mind. A fully featured pack will include a metal or rigid plastic frame, padding at the back (or a suspended mesh backpanel), and a cushioned hipbelt to help distribute weight. If you'll be carrying a lot, this will be your most comfortable option. But if you don't mind feeling some of your gear on your back and don't plan on hauling a heavy load (it is only a daypack, after all), the minimalist options on this list usually are cheaper and far more compressible (useful for throwing in a suitcase). In the end, most hikers and travelers will want something that lands in the middle and balances cushioning and weight, including the popular Osprey Tempest 24 (1 lb. 15.2 oz.) and Patagonia's Altvia 28L (1 lb. 12 oz.).

Carrying Comfort: Hipbelt and Shoulder Straps
The amount of padding on the hipbelt and shoulder straps is a great indicator of a pack's maximum comfort levels. Nearly all daypacks for hiking have a hipbelt, but they vary from thin webbing (like the REI Co-op Flash 18 and 22) to cushioned and supportive (reference the Osprey Sirrus 36). If all you need is a pack for short day hikes and you don't plan on carrying more than 10 or so pounds, the thinner webbing is sufficient. If, however, comfort reigns supreme or you plan to haul a lot of weight, we highly recommend a pack with a real hipbelt.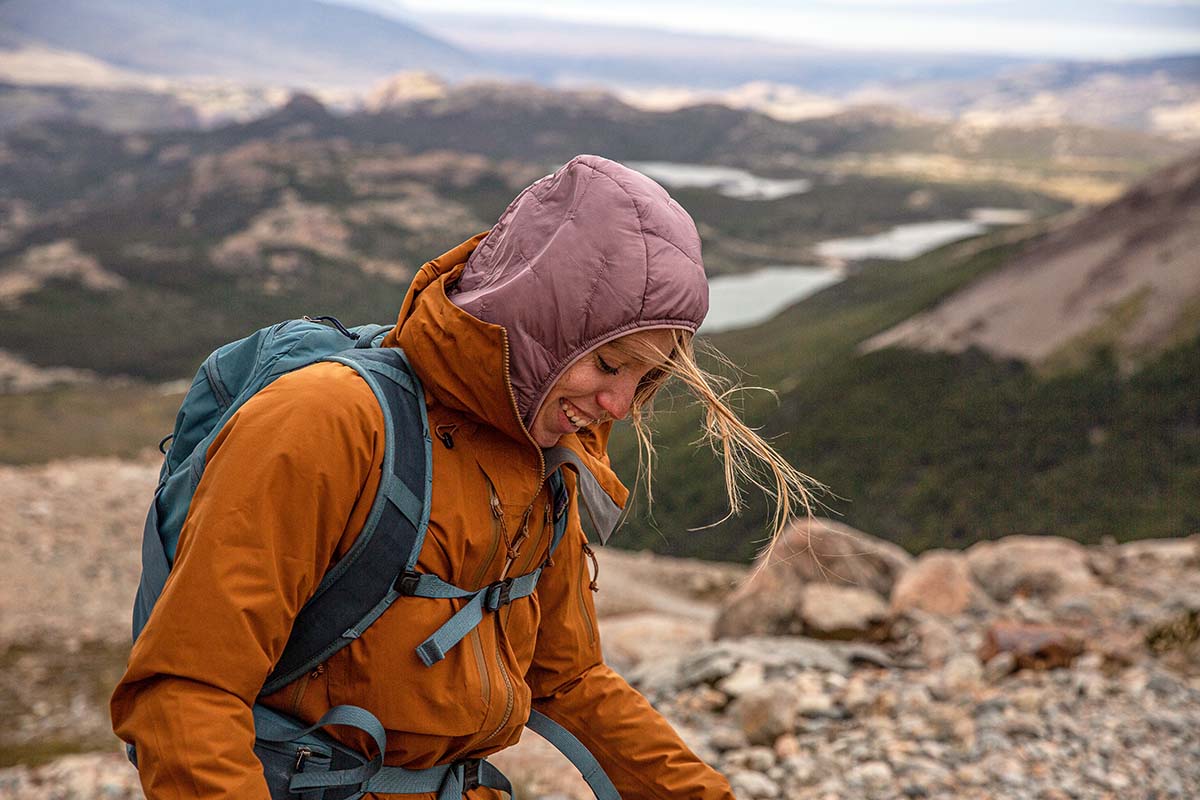 Keep in mind, however, that the thicker designs don't compress very well and do add some extra weight. What's more, for those planning to use their pack for both the backcountry and casually, it may be beneficial to have a removable hipbelt. For example, we keep ours on for hiking but leave it behind when heading to town or carrying on a flight. Most webbing hipbelts are removable, including those on packs like the Osprey Daylite Plus, Gregory Nano, and REI Co-op Flash 22. Even some packs with cushioned hipbelts include this versatility, including the Matador Beast28 and Hyperlite Daybreak (which has a stash pocket to stuff its hipbelt into when not in use).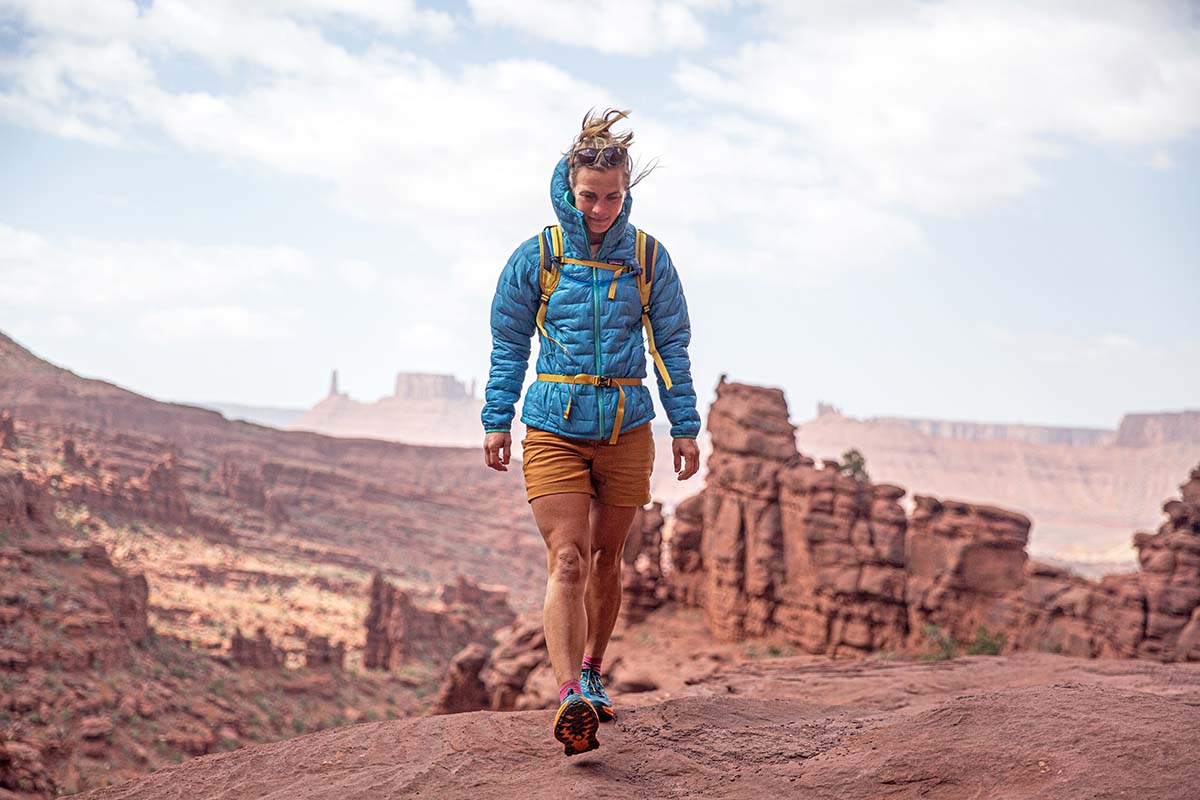 Backpanel and Ventilation
Typical daypacks will have some form of foam padding built into the backpanel (the area of the pack that comes into contact with your back), which serves to add comfort, separate your back from the contents of the pack, and help with ventilation. For example, the Osprey Tempest 24's Airscape backpanel features mesh-covered foam with cutouts to encourage airflow. On the other hand, high-end (and often high-capacity) designs, including the Osprey Sirrus 36 and Gregory Juno 24, use a tensioned mesh backpanel instead, which cradles the back and holds the pack away from your back for best-in-class airflow. If you're planning on hiking in hot weather or tend to sweat a lot, this design has its advantages, but in general we think it's a bit overbuilt for day hiking use.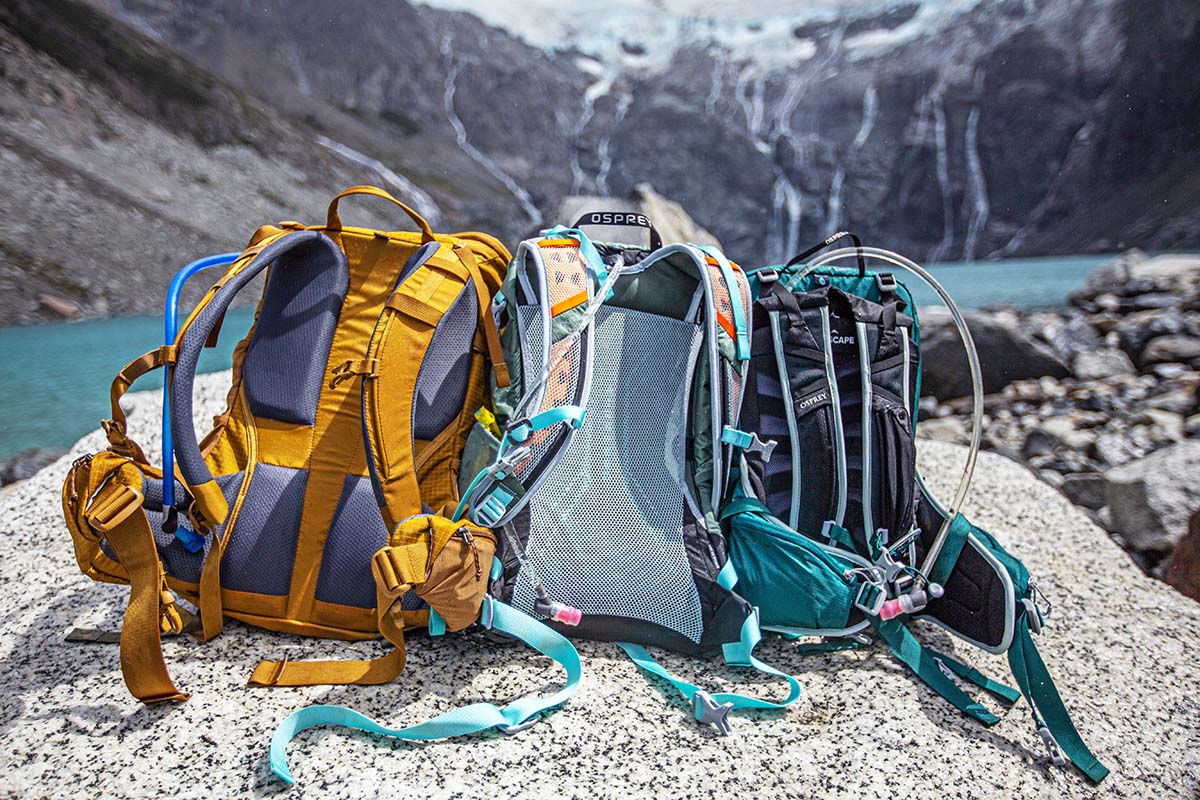 Finally, ultralight packs will often forgo external padding completely, using a simple fabric backpanel lined with a thin sheet of foam padding (packs with this construction include the REI Co-op Flash 18, Hyperlite Mountain Gear Daybreak, and Cotopaxi Batac). These designs often have very little structure, don't offer great load distribution, and don't protect you as well from bulky or angular items in your pack. Importantly, they also lend no help in terms of ventilation and can grow quite swampy in warm weather. But as a benefit, these packs compress quite small and can be easily stowed in a travel pack or backpacking pack for day use.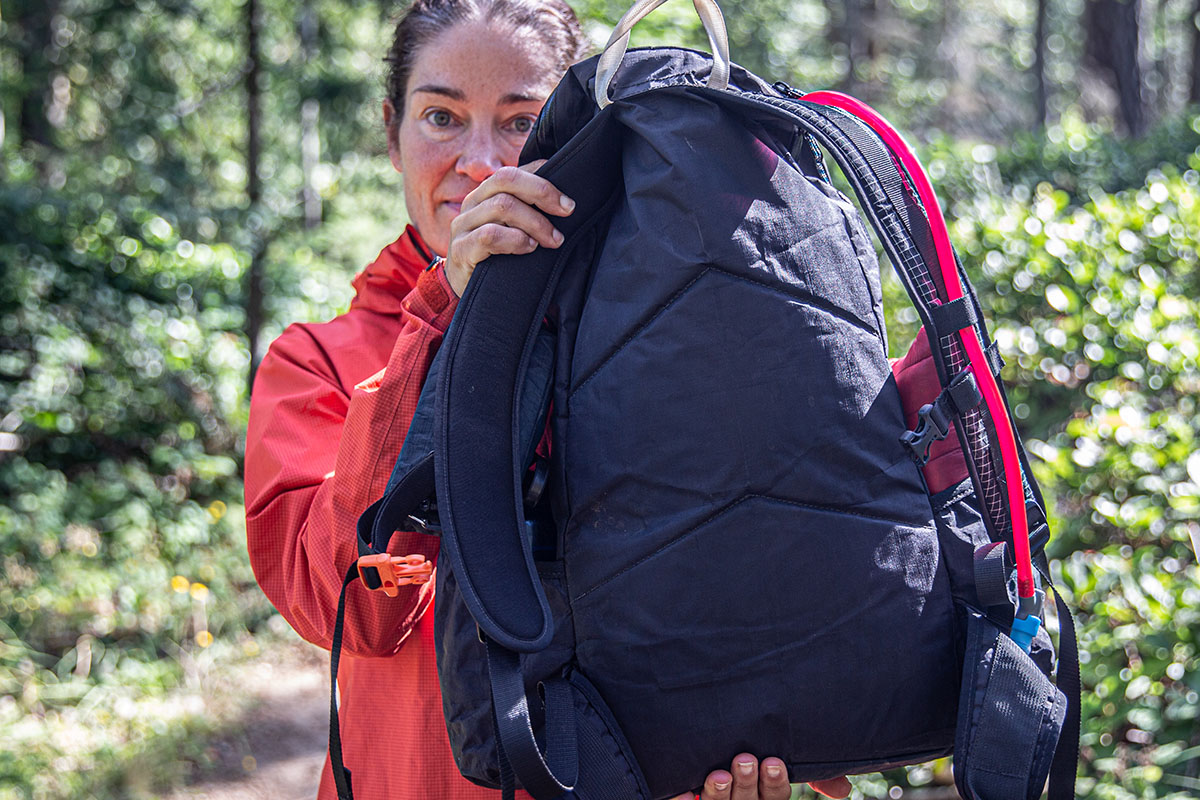 Frame vs. Frameless Designs
Like all backpacks, daypacks can differ in their suspension systems: Frame packs feature a stiff plastic framesheet or metal frame (usually aluminum, alloy, or steel), while frameless designs generally use foam for structure, either by way of an external foam backpanel or a thin foam insert. The structure of a frame helps distribute the weight of the pack's contents and keeps it from sagging, which is great for those who carry extra gear on their all-day excursions. On the other hand, frameless packs offer a lot less support for heavy loads. The vast majority of overnight backpacking packs feature a frame, while many higher-capacity daypacks do as well.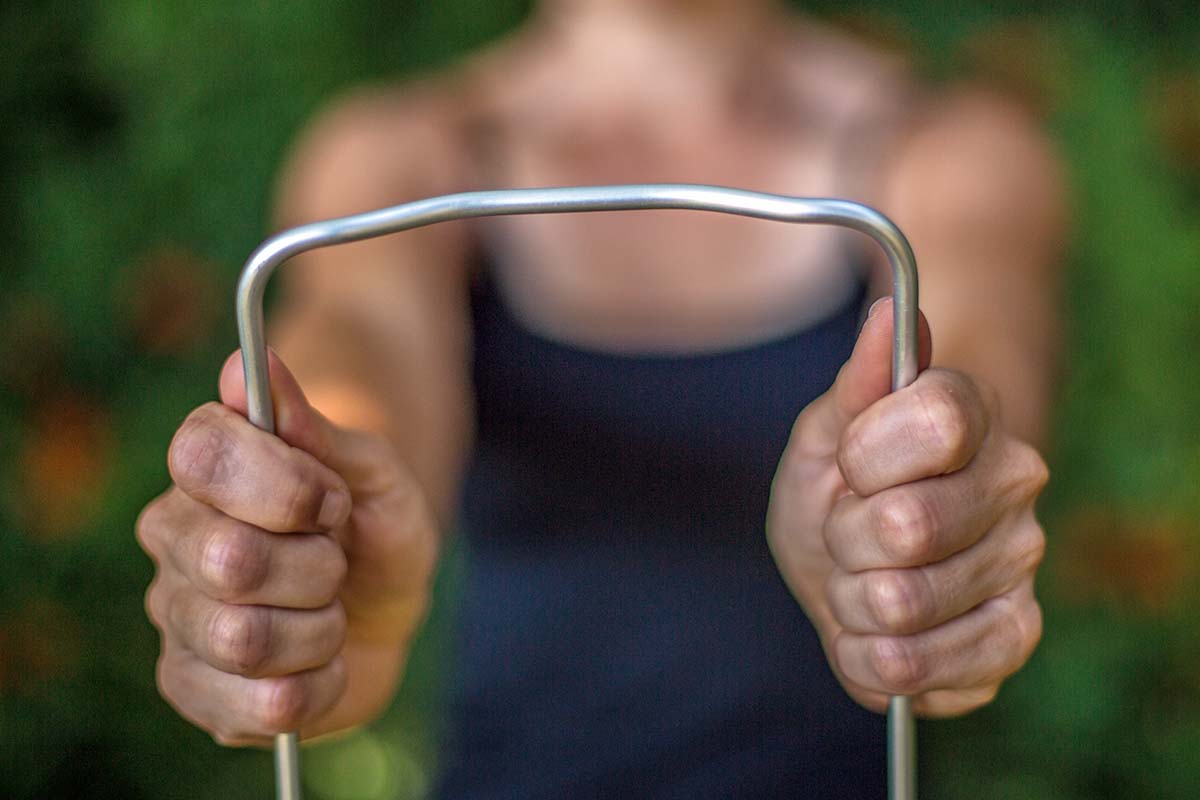 But having a frame isn't always necessary, and lightweight or small-capacity backpacks like the Osprey Tempest 24 and REI Co-op Flash 22 often go without. For the right person, this isn't a sacrifice at all. A frame adds weight and complexity, and when you're not hauling anything more than 10 to 15 pounds, it doesn't benefit you very much. In addition, a padded backpanel can accomplish a similar goal, isolating you from the contents you're carrying and giving the pack a more defined shape. What's more, frameless packs are more form-fitting (a key feature of the Black Diamond Distance 15), pack down better for travel, and can be less cumbersome for daily use and commuting. We recommend getting a pack with a frame if you need the extra support or like the defined shape, but again, there are plenty of reasons to avoid one altogether.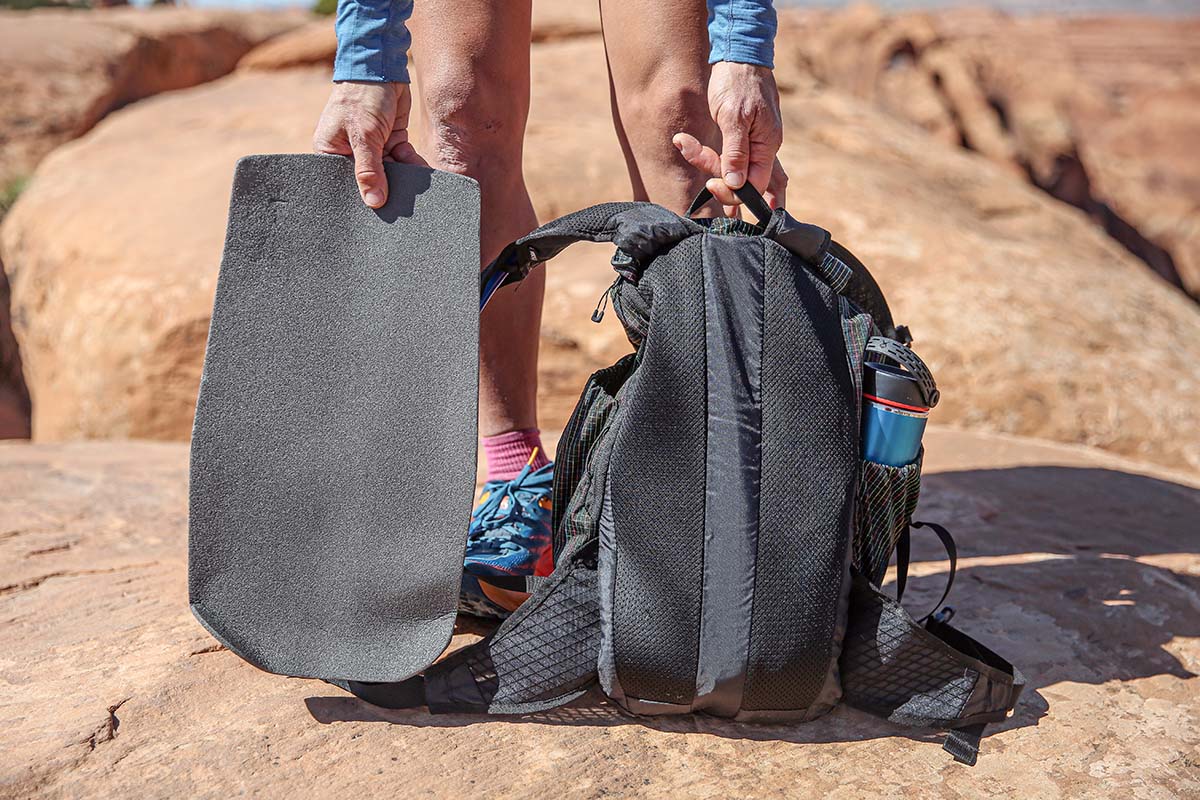 Women's Daypack Fit and Sizing
In addition to a pack's padding, suspension, and backpanel construction, fit plays a large role in overall comfort on the trail. Most importantly, you'll want to ensure that your pack is the appropriate size for your torso length and that the hipbelt can be tightened to secure snugly around your hips. This is easier to achieve when a pack is offered in multiple sizes, which is one of the reasons we rank the Osprey Tempest 24 at the top of our list (it's available in XS/S and M/L sizes). Another option is opting for a pack with an adjustable torso length, like the one-size-fits-most Osprey Sirrus 36 (the Tempest also has a torso adjustment). Your personal torso length is a simple number to obtain: Measure the distance between your C7 vertebrae and the midpoint of your iliac crest (we outline the process here).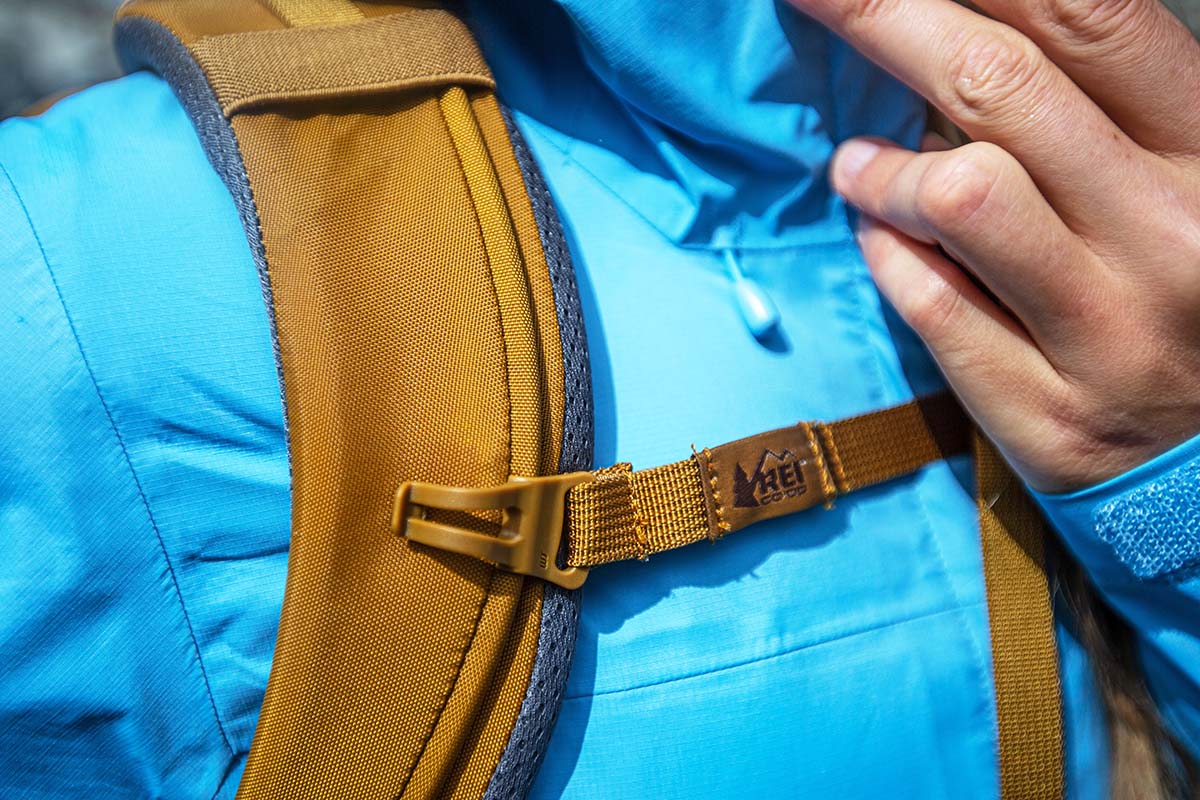 That said, the majority of daypacks only come in one size, including the Gregory Juno 24, REI Flash 22, Hyperlite Mountain Gear Daybreak, Free Range Equipment Canvas, and more from our picks above. It won't be a deal-breaker for a lot of hikers, but the one-size-fits-most approach does mean you get less of a customized, close fit. You still need to know your torso length for these designs, as manufacturers typically provide length ranges (and some one-size models have smaller ranges than others).
We've also started to notice a trend toward more manufacturers offering packs in plus sizes, which we're happy to see. Gregory and Osprey are leading the charge, with plus-sized versions of some of their most popular designs (Osprey refers to them as "Extended Fit") including the Gregory Nano 20, Maya 20, and Arrio 24 Plus Size, and Osprey Tempest 20 EF and Sportlite 25 EF. These packs feature longer hipbelt padding, repositioned hipbelt pockets, extended shoulder harness length, and more adjustments overall.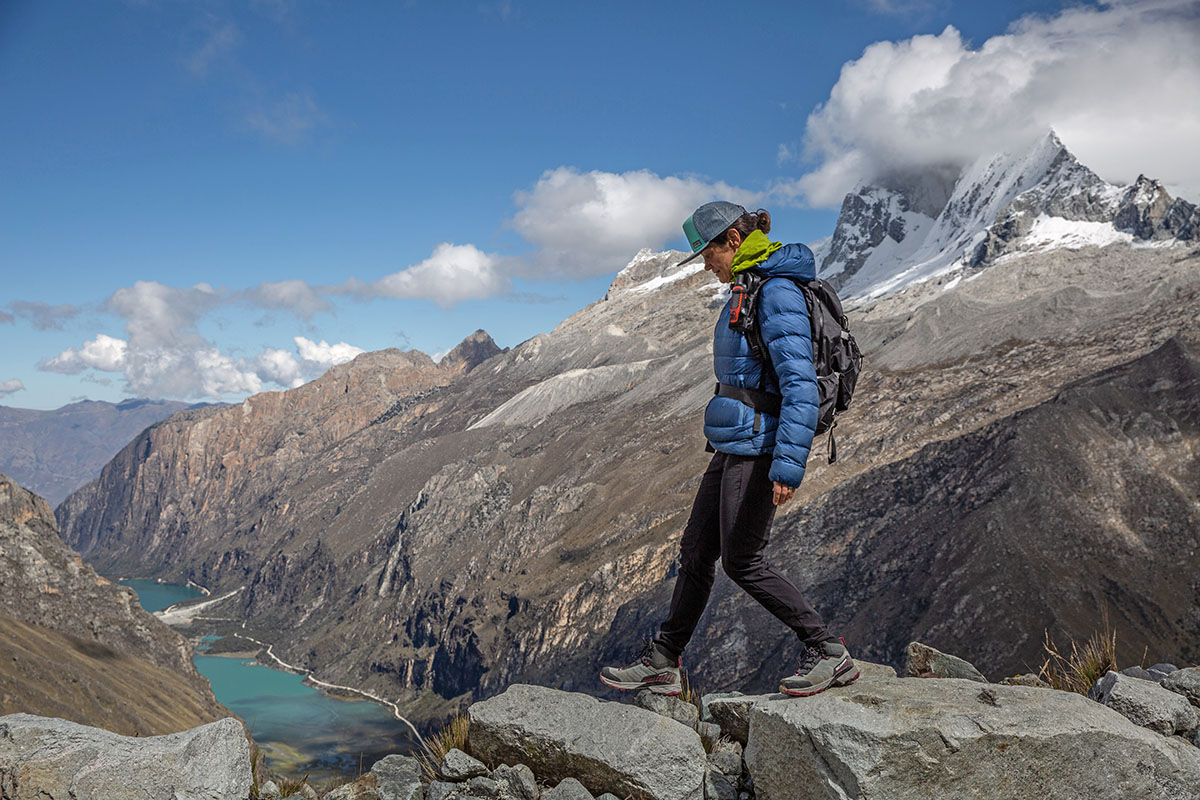 Pockets and Organization
Closure Systems and Access
All daypacks that made our list have access to the main compartment through the top of the pack, but the closure systems vary. Drawcord systems, and sometimes even roll-tops, are popular on minimalist packs, while fully featured bags (including most of the options above) typically use zippers. Roll-top lids and zippers are the most secure for protecting what's inside your pack, but a well-made drawcord system like we see on the REI Co-op Flash 22 is simple, lightweight, and very easy to use. In general, packs with drawcord closures also feature floating lids; while some lid designs are nicely streamlined, we often consider them to be overbuilt for most day hiking loads.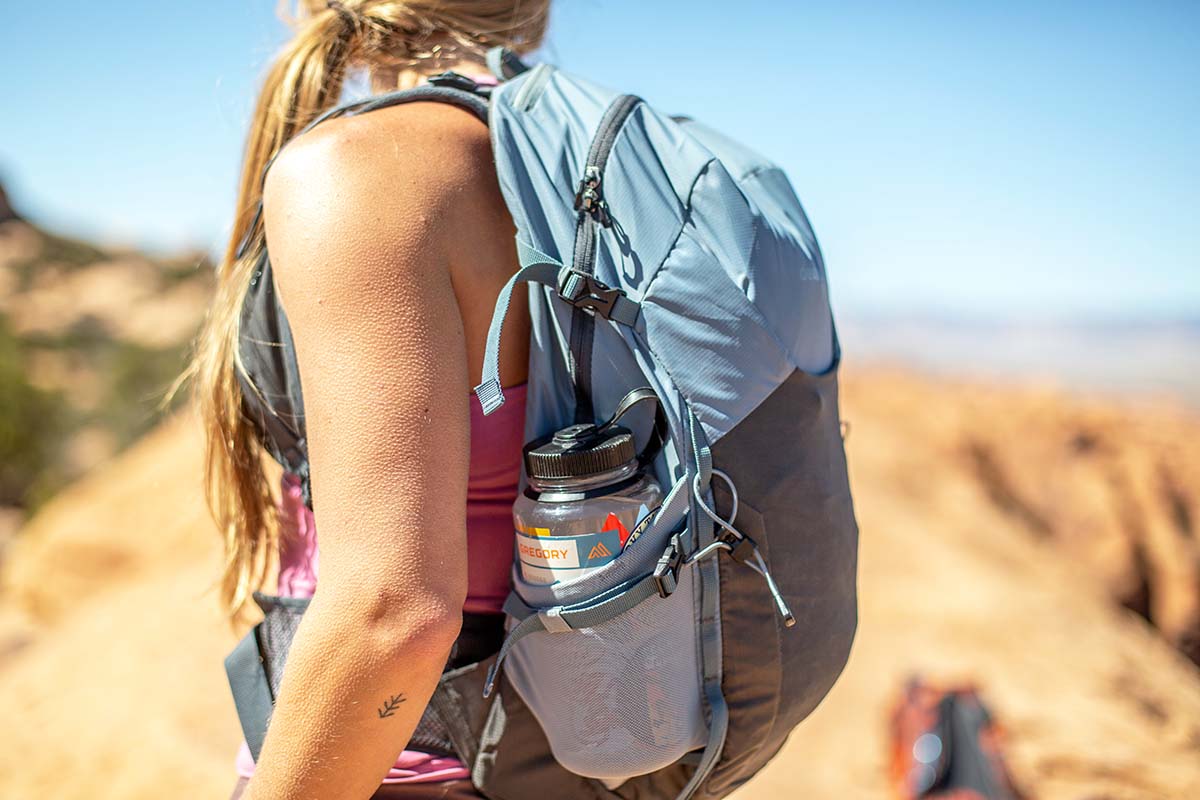 All three closure systems are associated with a top-loading pack, which as the name would indicate, opens at the top of the bag. In addition, there are a few packs that are considered panel loaders, such as the REI Co-op Trail 40 and 34-liter Osprey Sirrus. With these designs, the main compartment can be zipped open and pulled back like a suitcase, which allows for easy access to contents at both the top and bottom of the bag. The downside is extra weight and expense (and not everyone will want such a polarizing feature), but a number of our favorite medium- to large-capacity packs have this design.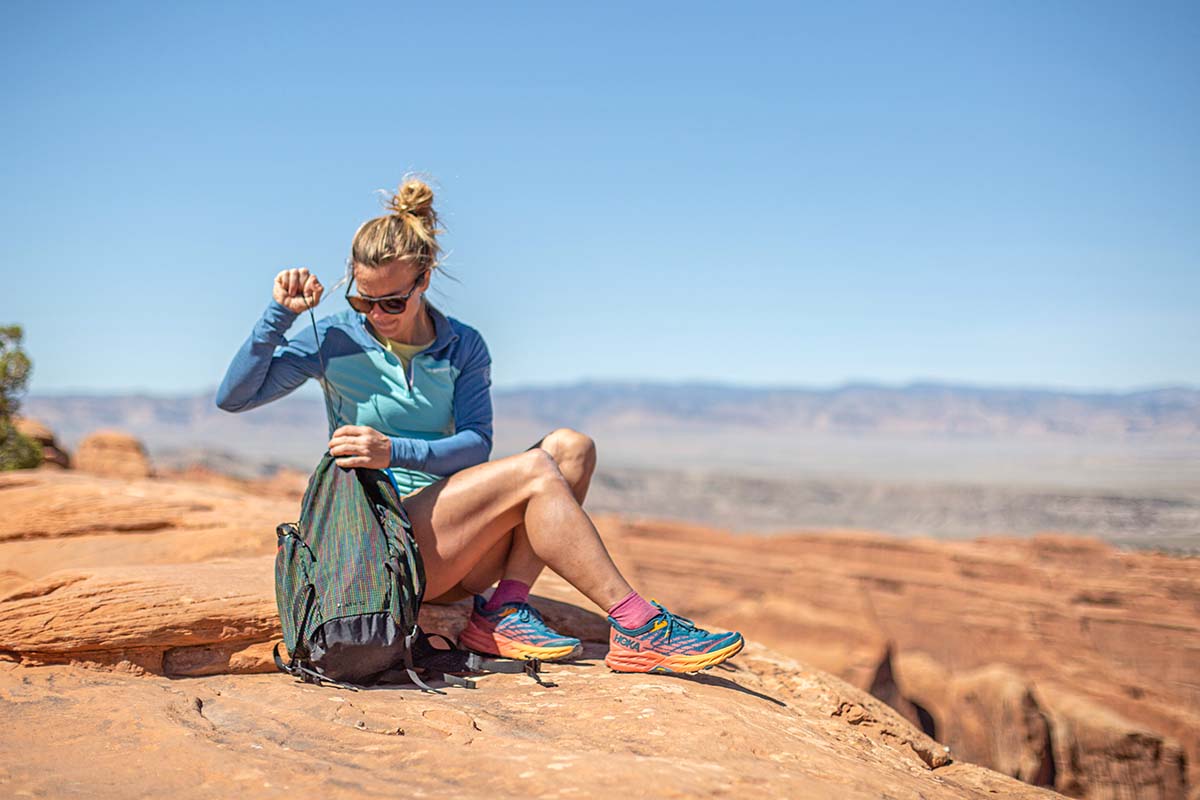 Pockets
Daypacks offer a range of organizational features, from cavernous main compartments to stretch-mesh dump pockets, accessory pockets, hipbelt pockets, and more. If you like to have a defined space for and easy access to smaller items, look for a pack with at least one external zip pocket, which is a great spot to store sunglasses, a headlamp, sunscreen, etc. We like to use hipbelt pockets for items we want to access on-the-go, and the external dump pockets (often called "shove-it pockets") for wet gear like sandals, a swimsuit, or rain shell, or a water bottle or filter. Keep in mind that minimalist designs omit many organization features—sometimes including the shove-it pocket—so keep an eye out for the number of internal and external pockets if those are important to you.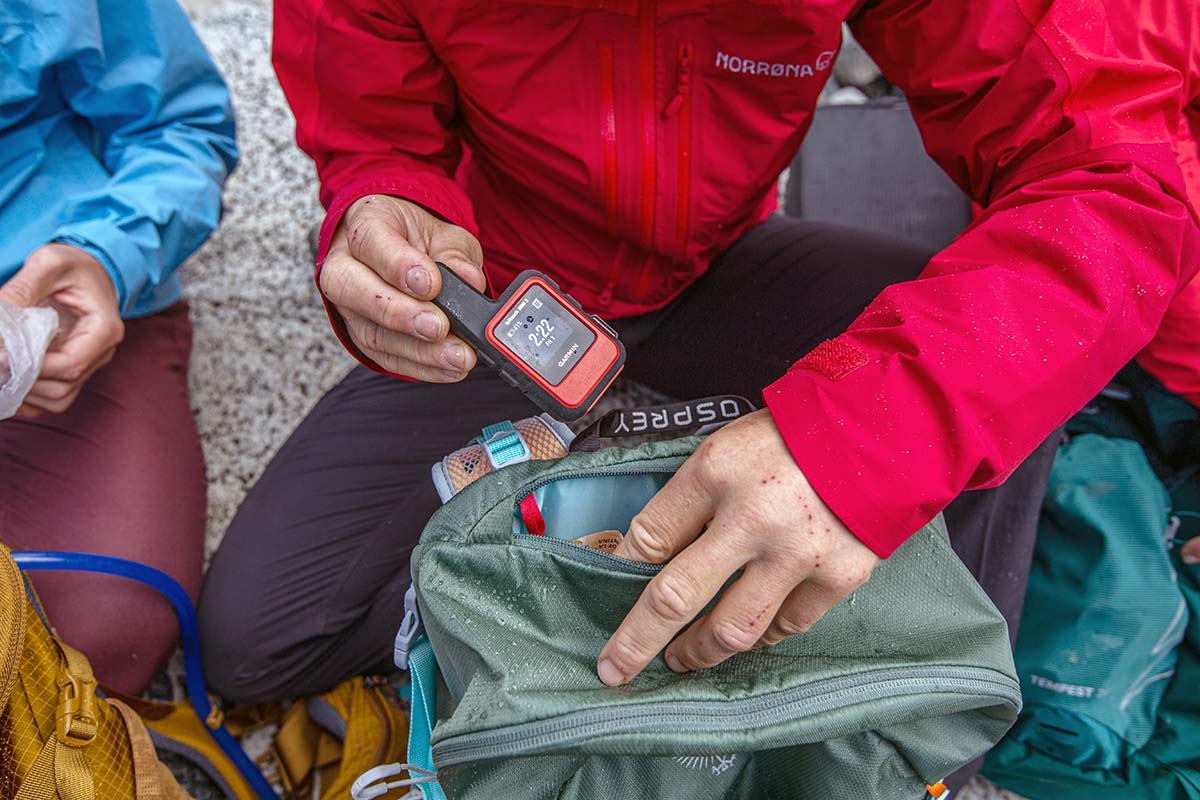 Running Vest-Inspired Pockets
We'd be remiss not to touch on running vest-inspired storage, which is a rapidly growing trend among daypacks. From our list above, the Arc'teryx Aerios 30, Deuter Speed Lite 25, Black Diamond Distance 15, and Black Diamond Pursuit 15 all boast front pockets on the shoulder straps that allow for easy on-the-go access to snacks and other small necessities. We're generally big fans of this type of storage, although some designs are better executed than others. For example, the Speed Lite's pockets are prohibitively small and narrow and can't accommodate anything more than a couple snacks, while the Aerios, Pursuit, and Distance's pockets can swallow a smartphone. Regardless of which option you choose, the front pockets do add a bit of a technical slant (these packs aren't the best for crossing over for casual use), but serious day hikers will likely find the added convenience worth that tradeoff.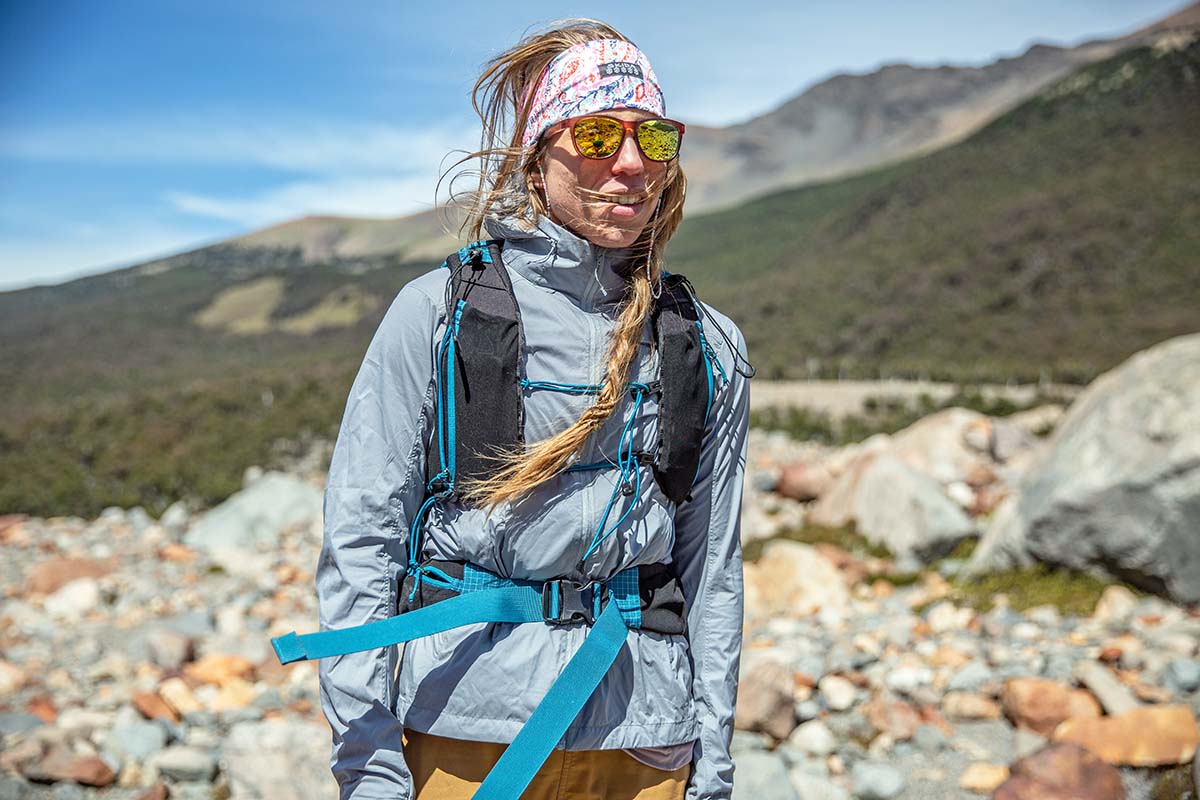 Hydration Compatibility
A hydration-compatible pack is defined as having some way to store a hydration bladder (popular bladders include the Osprey Hydraulics 3L or Platypus Big Zip EVO). Most traditional daypacks, like the Osprey Sirrus 36, have an internal sleeve to hold the reservoir along the back of the main compartment, along with a clip to hang it from. Other designs, like the Tempest 24, feature an external stash between the backpanel and main compartment, while a pack like the Gregory Nano 18 has a dedicated zippered pocket. In addition to storage, most daypacks feature hydration ports and routing on the shoulder straps to keep the tube in line.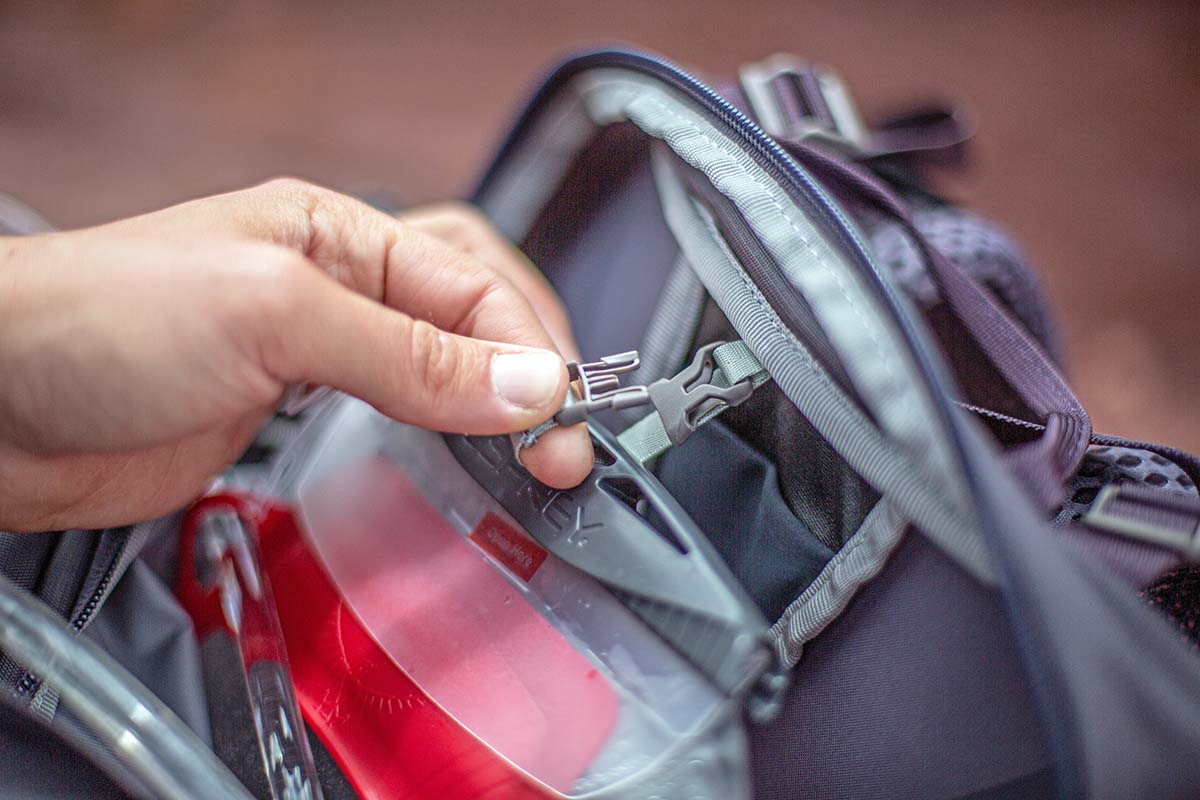 When choosing a reservoir, keep the capacity of your pack in mind. Smaller packs like the Cotopaxi Batac 16L are best suited for a 1- to 2-liter reservoir, not only for space reasons but also total weight. Stepping up to a frame pack with a capacity over 25 liters or so will give you more space for a 3-liter reservoir. Importantly, reservoir shape also matters: We were able to fit a narrow Osprey Hydraulics reservoir into the Tempest's rear compartment, while the Camelbak Fusion 2L was too wide for the opening. And if you're looking to purchase both a daypack and a hydration bladder at the same time, it's worth looking at all-inclusive hydration packs like the Osprey Skimmer 28 above. These purpose-built designs get you a solid pack and a reputable reservoir, often for less than the sum of both parts. For a full breakdown, see our article on the best hydration packs.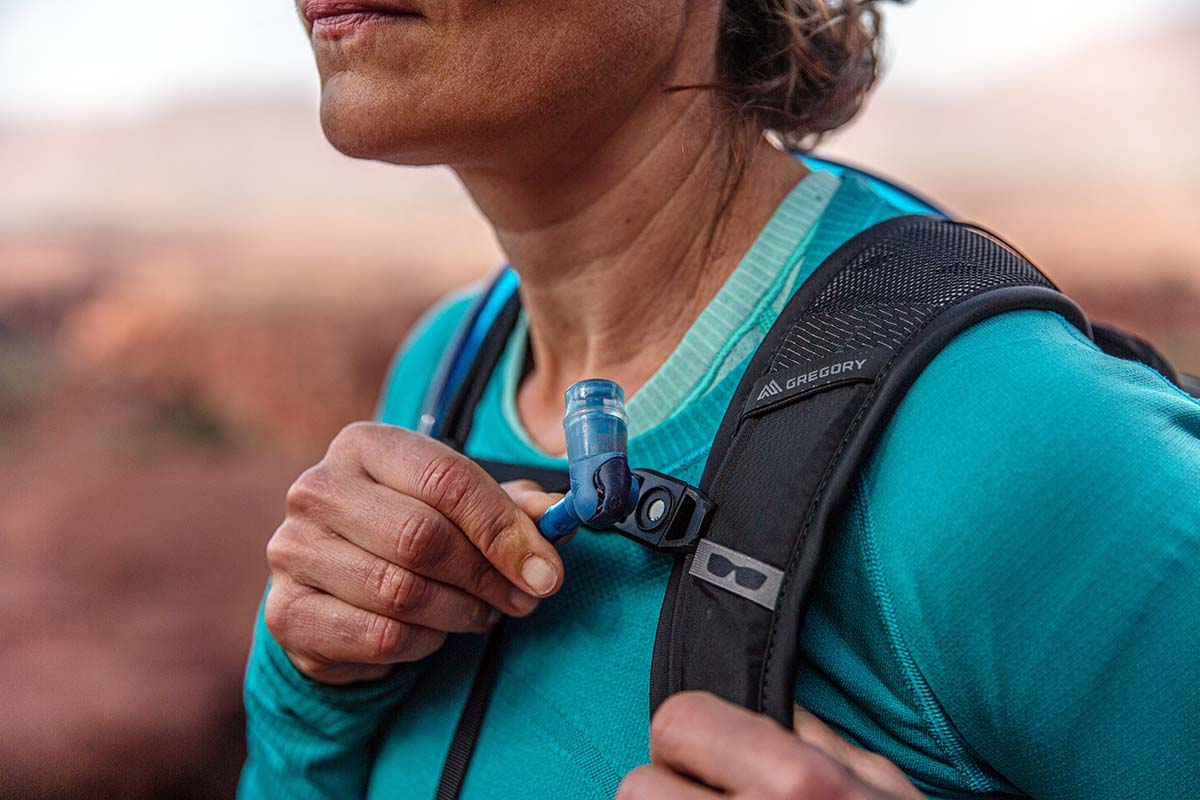 Daypack Durability
Daypacks are built to hold up to a whole lot of abuse, but not all packs are created equal. For example, a design like the Osprey Daylite Plus uses much thicker fabric than the streamlined REI Co-op Flash 22. We look to a fabric's denier to provide a measure of its thickness—on our list, the packs range from 100-denier to 600-denier and generally use nylon, polyester, or a mix of the two. Packs are also generally reinforced at their base, in addition to common wear points like the front, lid, and hipbelt pockets.
Some packs will opt to save weight (and often, cost) by using relatively thin fabrics. But while it's worth being aware of a pack's fabric weight and composition, thin fabrics shouldn't be a deterrent for most day hikers, unless you get a lot of use out of your gear, love to bushwhack, or wear a backpack daily for work (as in the case of guides or trail crew). As an example, we've used both the Arc'teryx Aerios 30 (100D & 210D nylon) and Osprey Daylite Plus (300D & 600D), and have been pleasantly surprised with both packs' durability.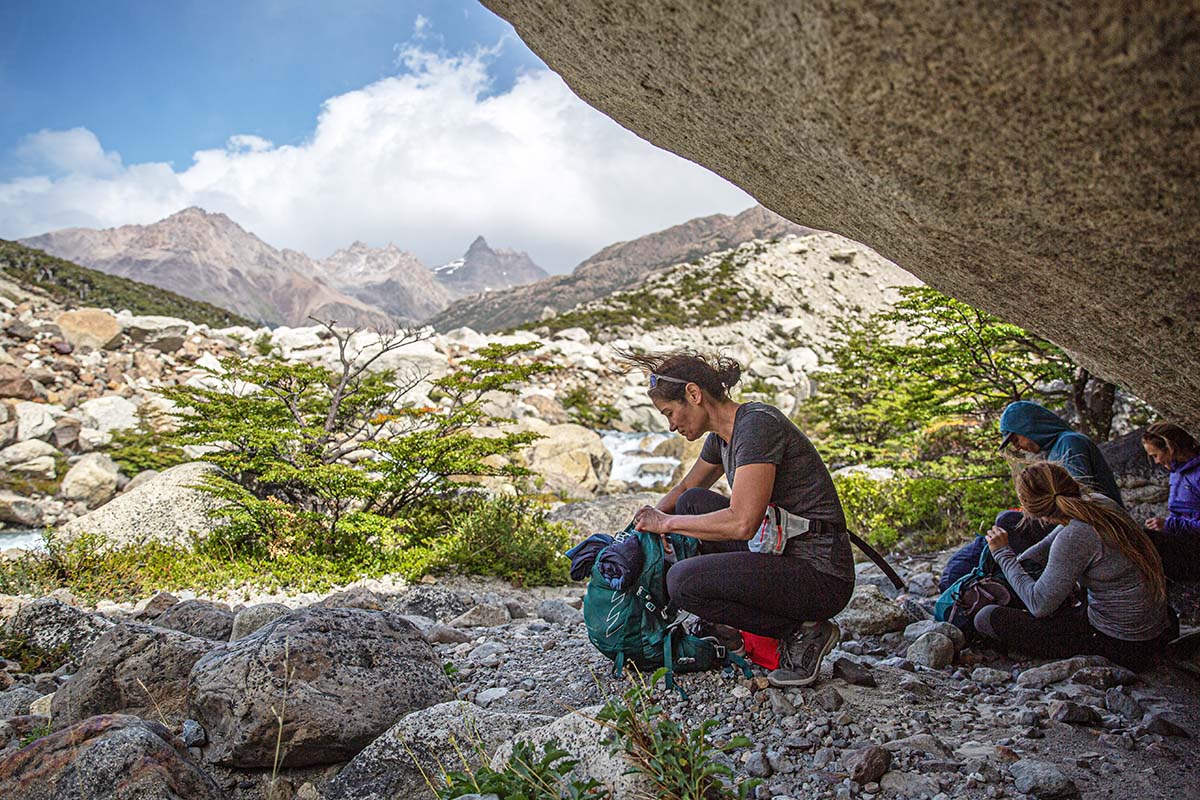 Water Resistance
It's common for our daypacks to be filled with items like a phone, camera, or down jacket that won't do well in rain, so we put a high priority on water protection. The good news is that most daypacks are relatively water-resistant and can shed light to moderate moisture, thanks to seam sealing and durable water repellent (DWR) finishes. Some packs come with a built-in rain cover that stows inside the bag (from our list, the REI Co-op Trail 40, Patagonia Altvia, and Osprey Sirrus have this feature). Alternatively, you can purchase a waterproof cover separately, such as REI Co-op's Duck's Back Rain Cover, which comes in an XS version ($27) for 18- to 30-liter packs. All that said, we generally prefer to forgo a rain cover completely and pack vulnerable items inside waterproof stuff sacks or ziploc bags.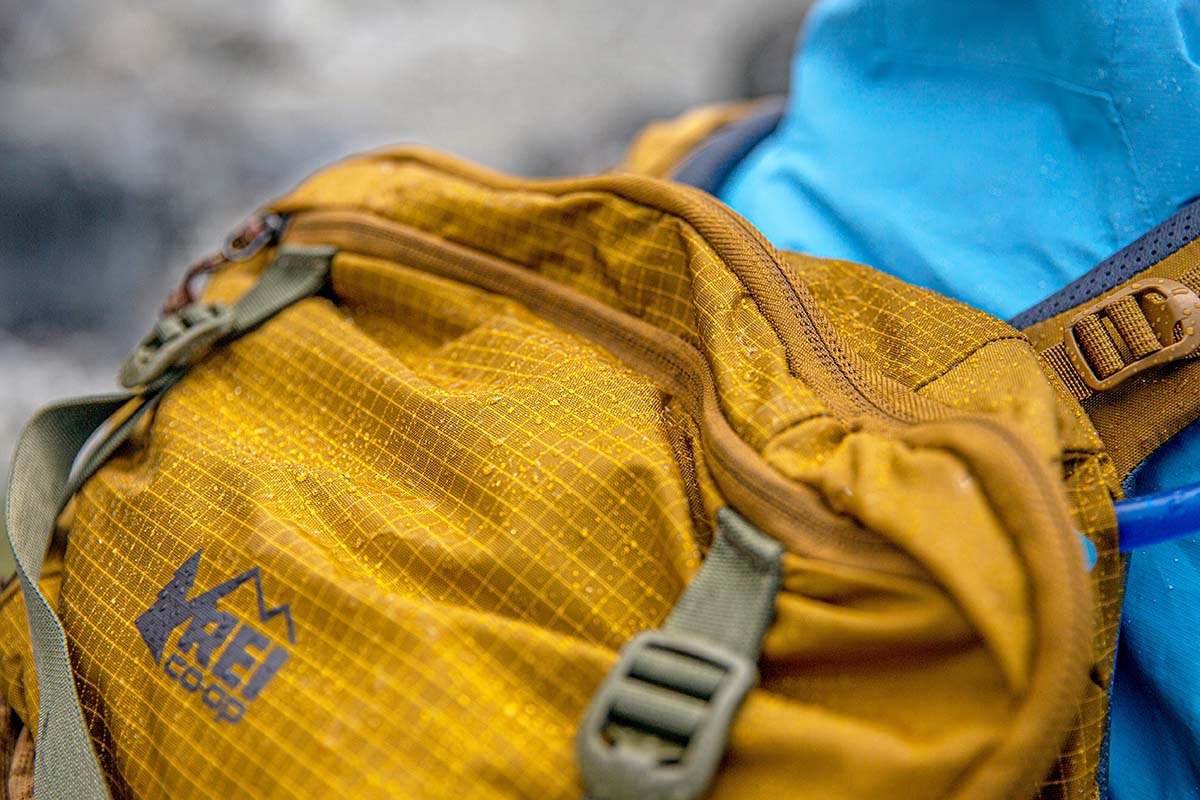 There are a small number of daypacks made with waterproof materials, including the Hyperlite Mountain Gear Daybreak. The Daybreak uses Dyneema Composite Fabrics, which are inherently waterproof. However, what most Dyneema daypacks have in common is a price in excess of $200. This high cost of entry keeps waterproof packs in limited numbers, but it may be worth it if you routinely get out in the rain and want something more reliable than a rain cover.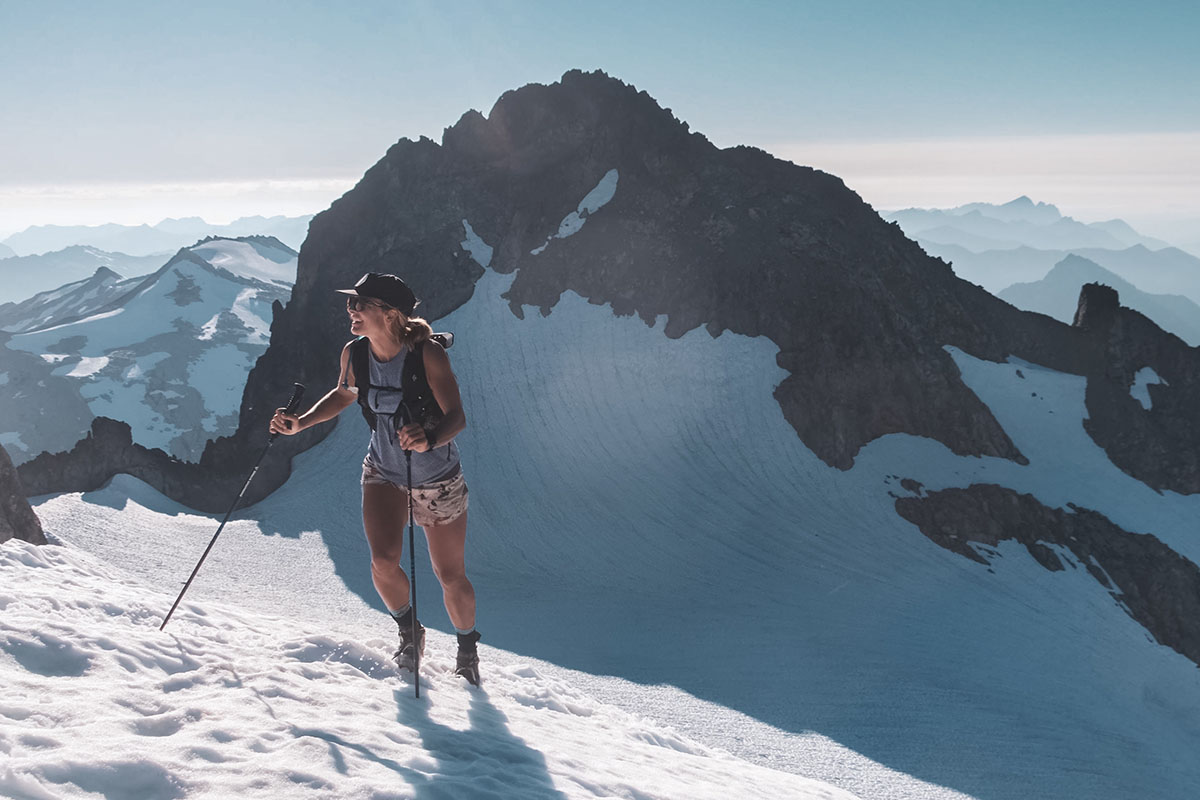 Sustainability: Recycled Fabrics and PFC-Free DWR
Our impact on the environment has never been of greater concern, and it's nice to see gear companies step it up with more sustainable practices. The use of recycled fabrics has grown substantially in the past few years, with companies like Osprey, Gregory, and Deuter prioritizing these materials. We're also seeing a lot more PFC-free durable water repellent (DWR) finishes on daypacks, which eliminate the use of perfluorinated compounds (a chemical that's been linked to a range of environmental and health issues). If you're shopping with an eye toward sustainability, look for codewords like "recycled," "PFC-free DWR," and "bluesign," which indicates materials that have been certified safe for the environment, workers, and consumers.
Back to Our Top Women's Daypack Picks  Back to Our Daypack Comparison Table
Read More From Switchback Travel