I wake at the crack of dawn. Only the faint outline of Aoraki/Mount Cook is visible from my bunk, but its sheer volume is enough to pull me from my sleeping bag. I eagerly nudge Brian awake and we tiptoe outside into the brisk air. Larger than life, the towering peak glows with morning light and the angular Mount Tasman takes on a red tinge behind. Rays of sun begin their journey into the Tasman and Murchison valleys below, where glacier-fed streams form an intricate web from our bird's-eye view. The word "magic" lingers on the tip of my tongue. I've heard that the Māori consider Aoraki to be a link to their sacred ancestors—a bridge between the natural and supernatural worlds. I'm beginning to understand why.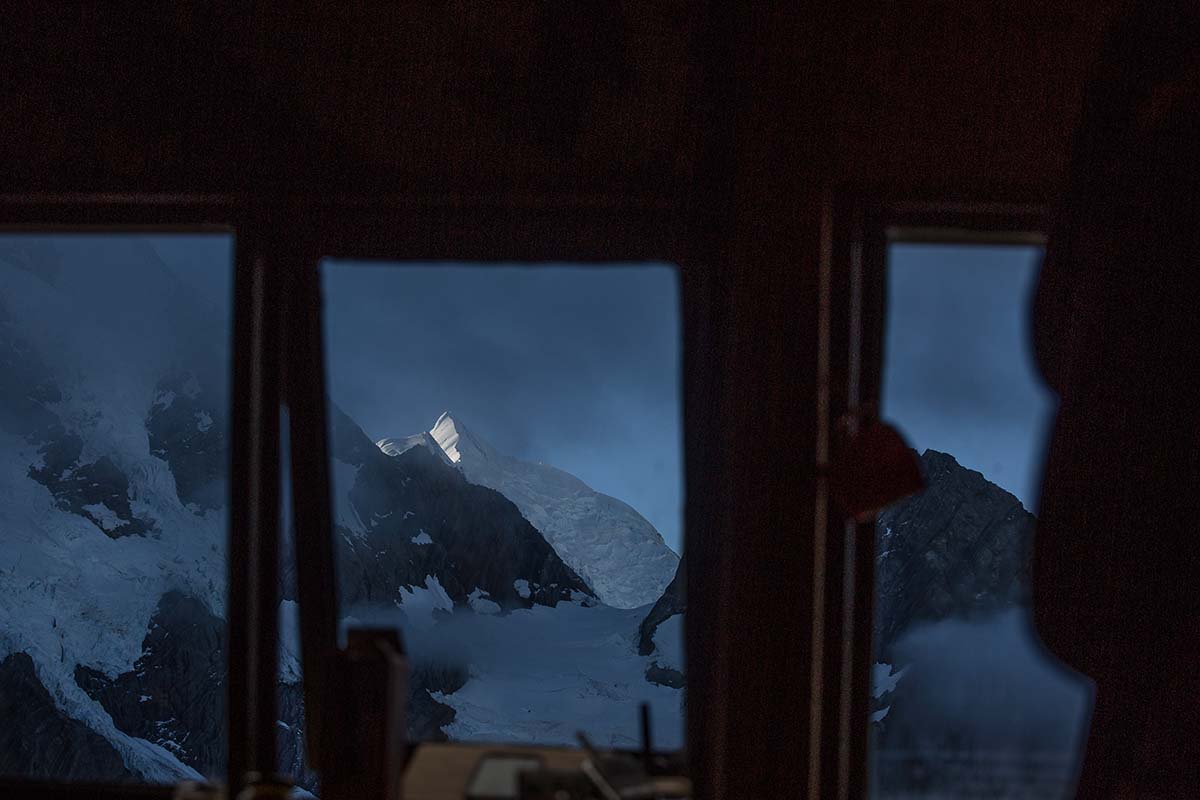 The Journey
Across the length of New Zealand's South Island run the Southern Alps, a 300-mile long mountain range and the highest in Australasia. At the heart of this massif lies the 279-square-mile Aoraki/Mount Cook National Park; at the park's apex looms its namesake peak, the 3,754-meter (12,316-foot) Aoraki/Mount Cook. The mountain's name is conspicuous, yes—the verbose compromise of a 1998 settlement between New Zealand's Crown and the Māori people. Aoraki/Mount Cook combines the peak's historic Māori title with the name it was given in 1851, commemorating the British captain that first circumnavigated New Zealand almost a century prior.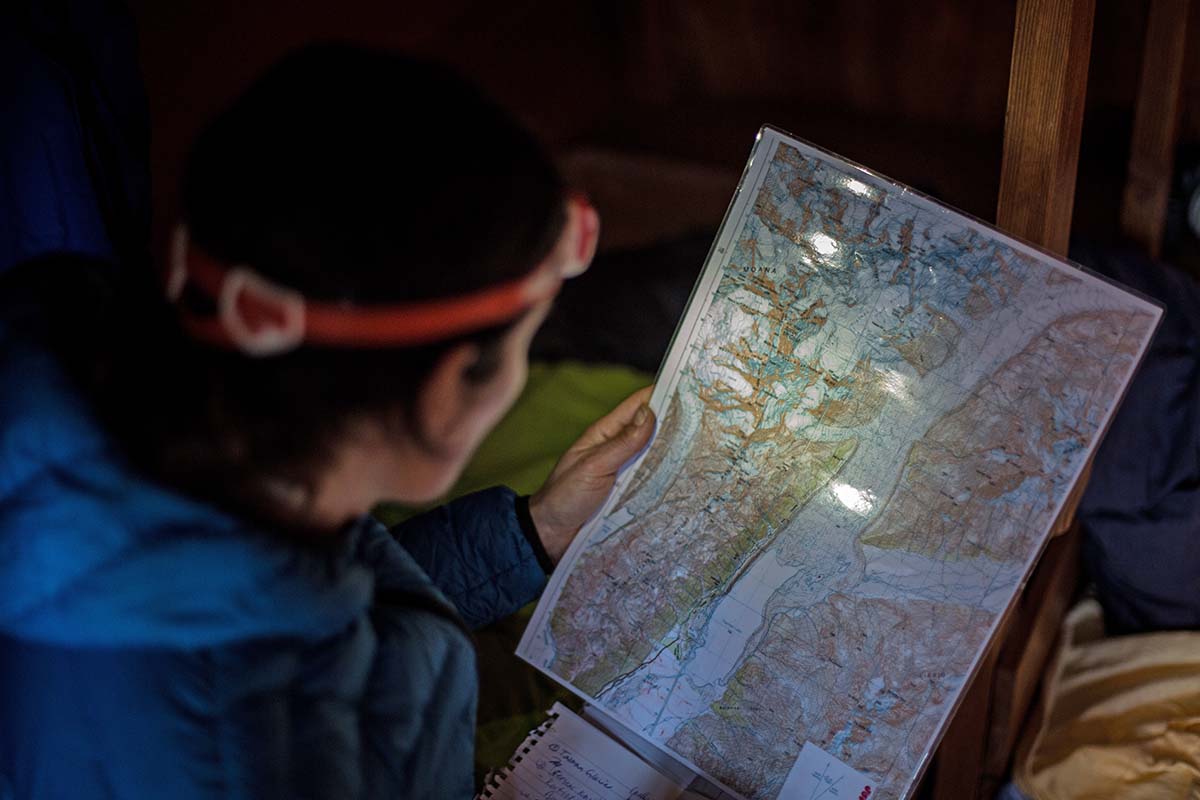 To the south of Aoraki/Mount Cook, the mountain's rippling flank flows into the valley below. This ridgeline—Ball Ridge—rises above the Hooker and Tasman glaciers on either side. Halfway down Ball Ridge sits Ball Pass, a breathtakingly beautiful passage between the adjacent valleys. And it is in this mountain amphitheater, under New Zealand's tallest peak and beside its longest glacier, where we would attempt the demanding three-day traverse known as Ball Pass Crossing.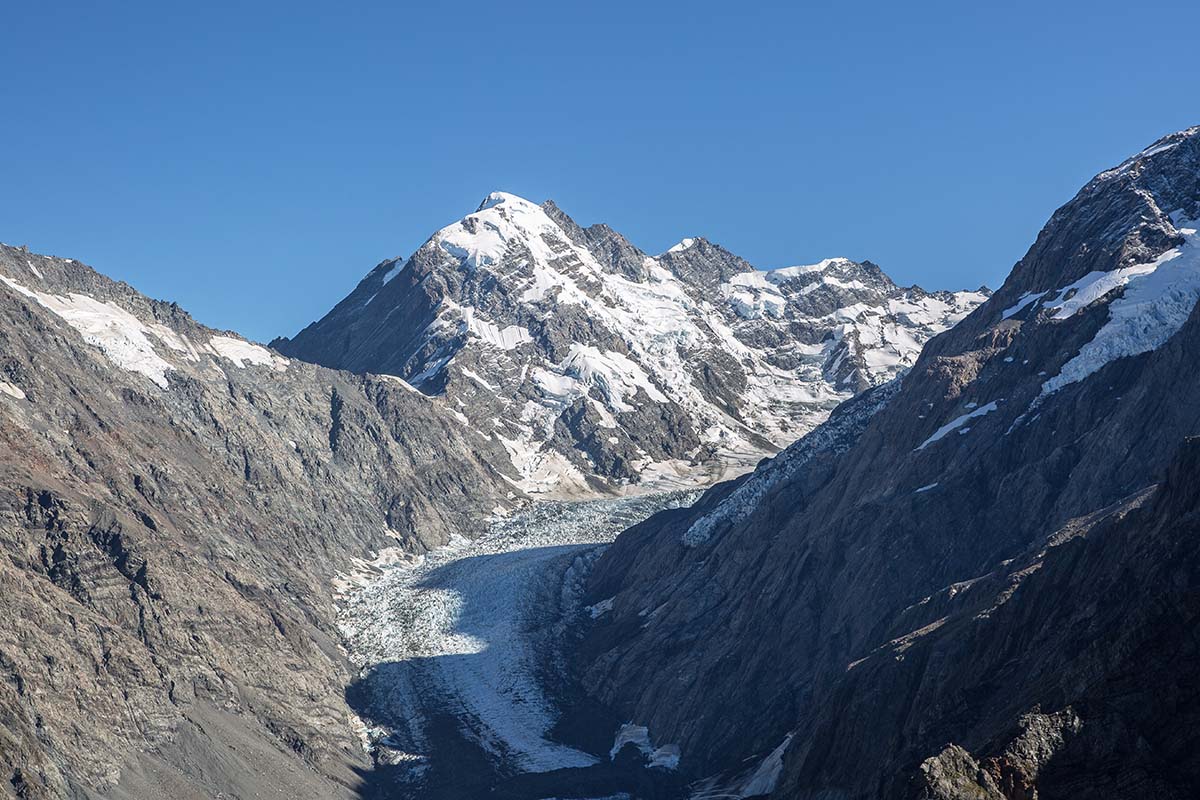 Day 1: Aoraki/Mount Cook Village to Caroline Hut
Blurry-eyed and still jet-lagged, Brian and I pull ourselves from our hotel bed, wake our friends Kim and Steve, and drive 30 minutes to the tiny lakeside community of Lake Tekapo. A gateway to Aoraki/Mount Cook and beautiful destination in its own right, Lake Tekapo is the home of Alpine Recreation, the guide service we've hired for our trek of Ball Pass Crossing. In a cluttered garage set off a quiet street, we rendezvous with Jono, our guide for the next three days. After days of travel from Canada to this remote parcel of New Zealand, our journey is finally beginning.
We go through our belongings piece by piece with Jono, ensuring we have the appropriate gear for the trek. Brian and I brought our own helmets and boots, but here at the office we borrow harnesses, ice axes, and crampons from the guide service. Once food is sorted and bags are packed, the five of us eagerly jump in a van and drive toward Aoraki/Mount Cook Village, further into the mountains and closer to the beginning of our journey. We drop the van at the Hooker Valley trailhead—our exit point—and are shuttled by a 4x4 vehicle and an ambitious driver to the Tasman Valley. Here, we will start our three-day trek across Ball Pass.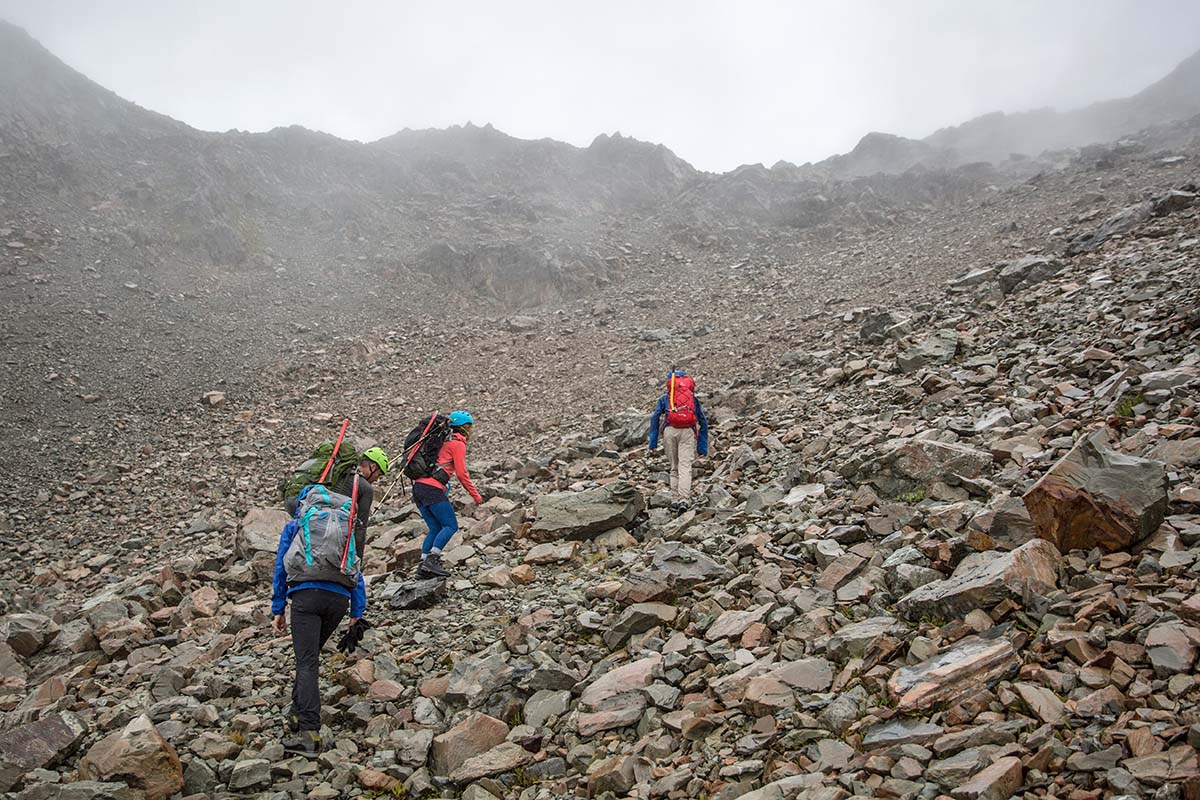 The day is overcast, the clouds are ominously dark, and rain looms in the forecast. In hopes of avoiding "tramping" in the rain (as Jono would say in his Kiwi accent), we begin our hike with a shortcut to the Caroline Hut.* This will be our home for the next two nights, and we decide we'd rather arrive sooner than later. That said, it's not without difficulty: this direct route consists of a very steep 3,000-foot climb over two short miles, and our first taste of the scree and boulders that we'll grow increasingly familiar with over the next three days. 
Upon arriving at the Caroline Hut—a privately owned, rustic lodge available only to clients of Alpine Recreation—we immediately become aware of the looming presence of the Caroline Face of Aoraki/Mount Cook. This backdrop will dominate our every move for the next two days, but for now, the glaciated flanks only occasionally peek through swirling clouds. Frequent roars of icefall stand in during their absence. 
Our makeshift family clusters together at the small table in the center of the hut, where we settle into the comfort of drinking tea and hot chocolate, relaxing, reading, and telling stories. Over a warm meal of chicken stir-fry and mashed potatoes, we discuss our objectives for our second day. Weariness sets in before darkness falls, and the five of us retire to our beds early for a long (and jet-lag-induced) sleep. Coincidentally, the first night of our journey happened to overlap with New Zealand's 2018 census, and we dutifully filled out the form before leaving town. And so, it will forever be immortalized that in the year of 2018, three Canadians, a Brit, and their Kiwi guide were the only humans sleeping with a view of Aoraki/Mount Cook's Caroline face.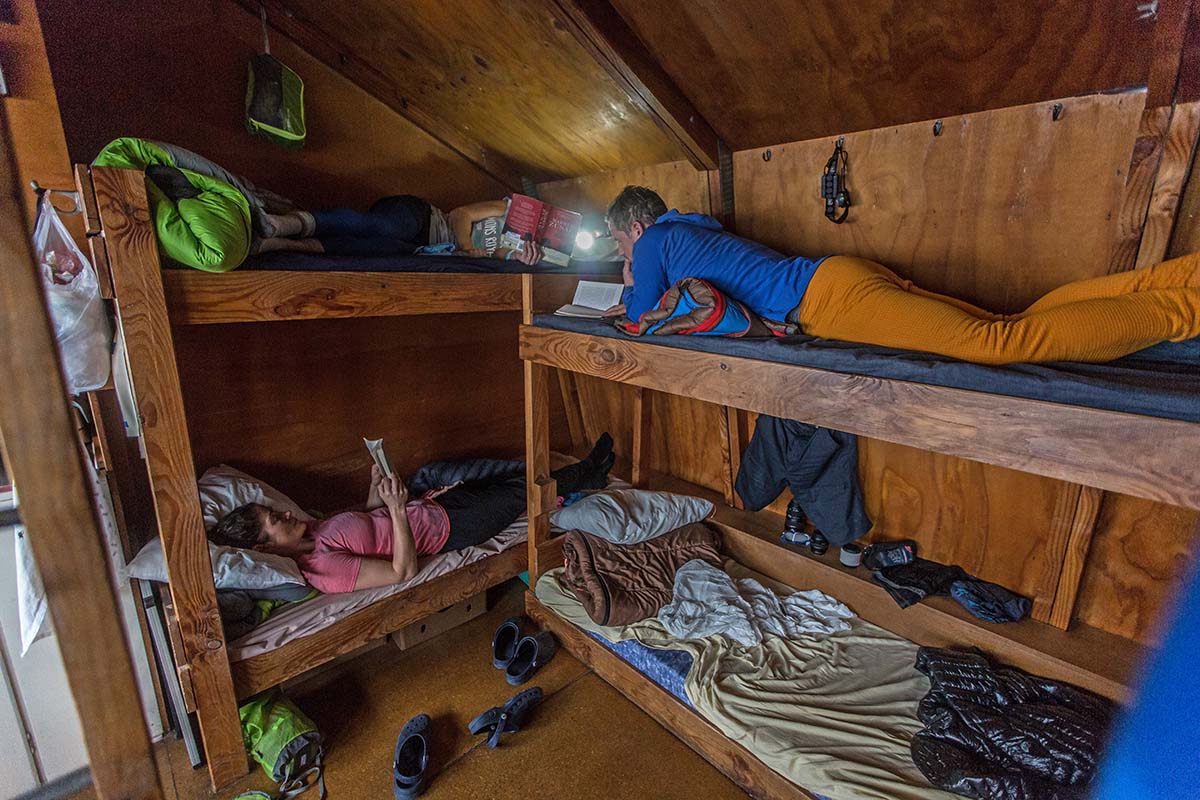 *Alternatively, trekkers can opt for the more typical route via Ball Hut, which supposedly offers stunning views of the Tasman Glacier and Aoraki/Mount Cook. A third option, when inclement weather strikes, is to delay the trip by a day and complete the traverse in two days. However, in doing so, you will miss out on exploring the area around the Caroline Hut. In the end, we feel that we chose wisely—though we were disappointed to miss the views around Ball Hut, we were thankful to have the middle day to explore. Perhaps the missed vistas on day one will provide reason to return.
 
Day 2: Day Trip to Kaitiaki Peak
The clouds disappear with the passing of the night. As predicted, we wake to clear skies. From our bunks, we can peek through a window for a view of Aoraki/Mount Cook, but Brian and I can't help but tiptoe outside to gleefully watch the sunrise. After our trip to the Huayhuash Circuit in Peru, we were seriously concerned that we'd irrevocably been spoiled, no longer capable of being impressed by other mountains. Our concern melts away at the first sight of Aoraki/Mount Cook and the towering Southern Alps around us. A young tahr nibbles on a morning meal of alpine grasses on the ridge just below us, unaware of—or unconcerned about—our presence.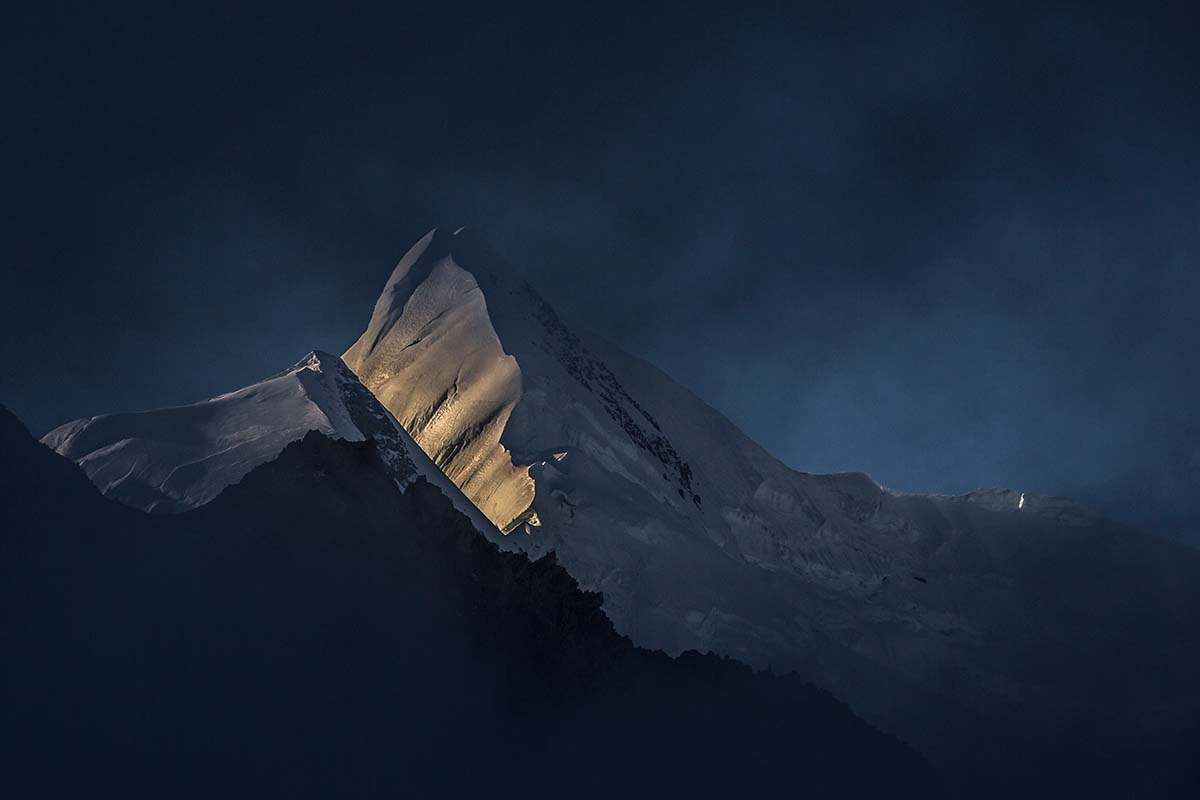 Following a hearty breakfast, the five of us prepare sack lunches, don helmets and harnesses, strap crampons and ice axes to our packs, and set out for a day trip. Our objective is Kaitiaki Peak, a 2,222-meter tower just south of Ball Pass. The approach traverses Ball Ridge, bringing us directly above the Caroline Hut to Fergins Knob. Ribbons of cloud hang in the Tasman and Murchison Valleys to our left, offering peak-a-boo views of intricate networks of brilliant turquoise streams fed by their respective glaciers. Tasman Glacier actively calves, creating waves in the otherwise calm Tasman Lake. In the distance floats the picturesque Lake Pukaki, calm and serene. To our right, a cacophony of falling ice emanates from the imposing countenances of Ball Glacier and Aoraki/Mount Cook. It is impossible to pick a favorite view from this vantage point, so we don't even try.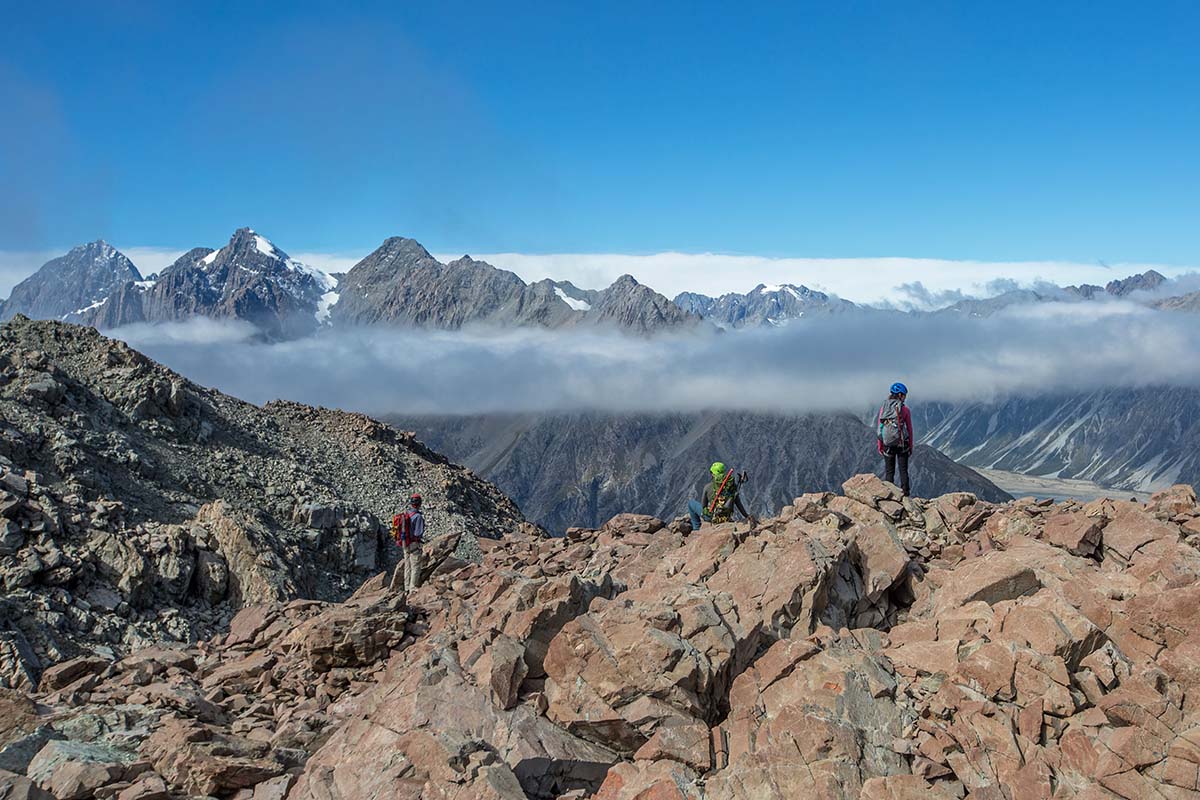 With Jono deftly belaying each of us, we make our way up a beautiful granite slab on Kaitiaki's exposed flank. On the summit, we enjoy lunch and our first views of Mount Sefton and the Hooker Valley—the route for our third and final day. After a short siesta, we scramble from our perch down the other side of Kaitiaki, plunge-stepping through scree to Ball Glacier. Here, we rope up and continue to descend on snow and ice, stopping to peer into the impressive blue crevasses near our feet. 
Finally reunited with Ball Ridge, our fearsome five make our way back over Fergins Knob to our hut home, almost nine hours after leaving. We are joined this second night by four other hikers and their two guides. The small mountain hut threatens to burst at the seams with spirited chatting and laughter. Our jovial group shares dinner, followed by a lively post-meal round of "spoons." By nightfall, energy drops. Everyone is exhausted, and we are again early to bed.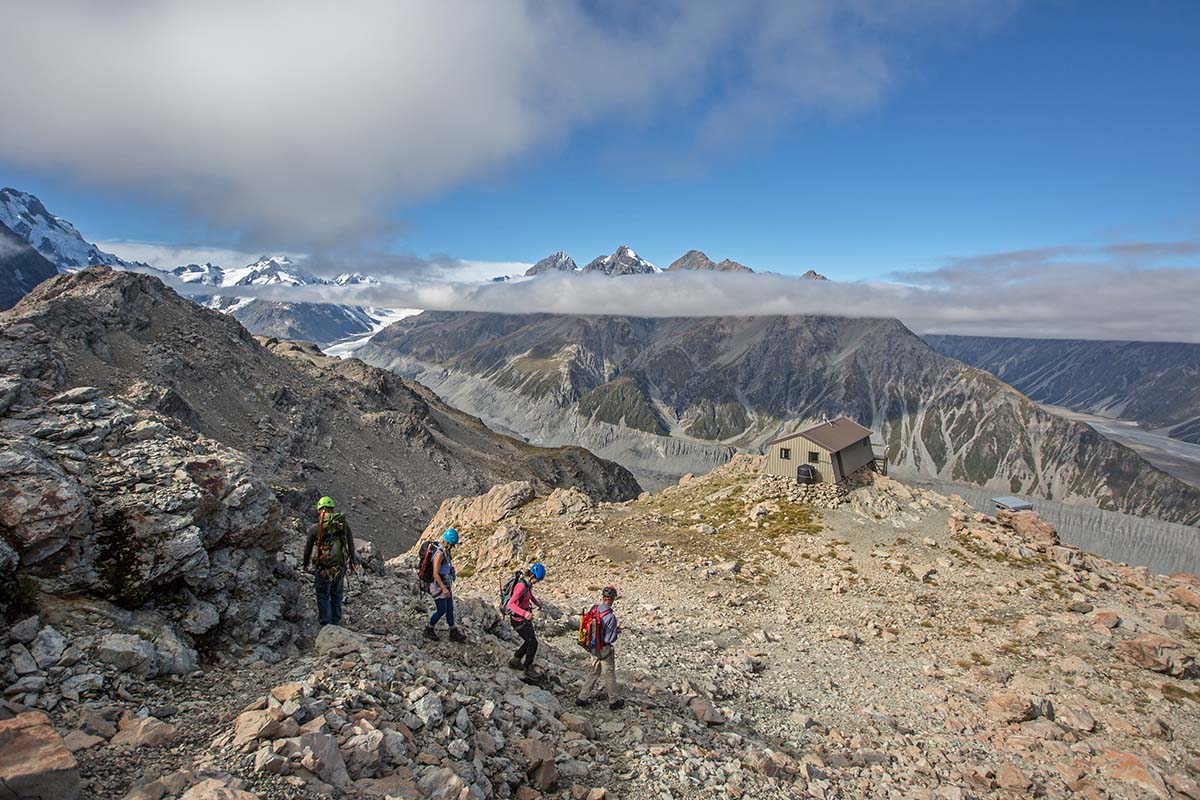 Day 3: Caroline Hut to Hooker Valley Trailhead
Jono creeps into the kitchen at 5am, which, incidentally, is in the same room as our bunkbeds. Soon, water is boiling and the smell of coffee rouses us from our slumber. We rise and quietly kick back muesli, canned fruit, and homemade ("hut-made") yogurt as our hut mates toss and turn nearby. By 5:30, the five of us sneak out the door into the dark, clear air. We don our helmets and harnesses and begin our final day's journey by the light of headlamps. A long day looms ahead—14 hours, we'd been warned—but an early start gives us hope that we'll arrive at the trailhead before nightfall.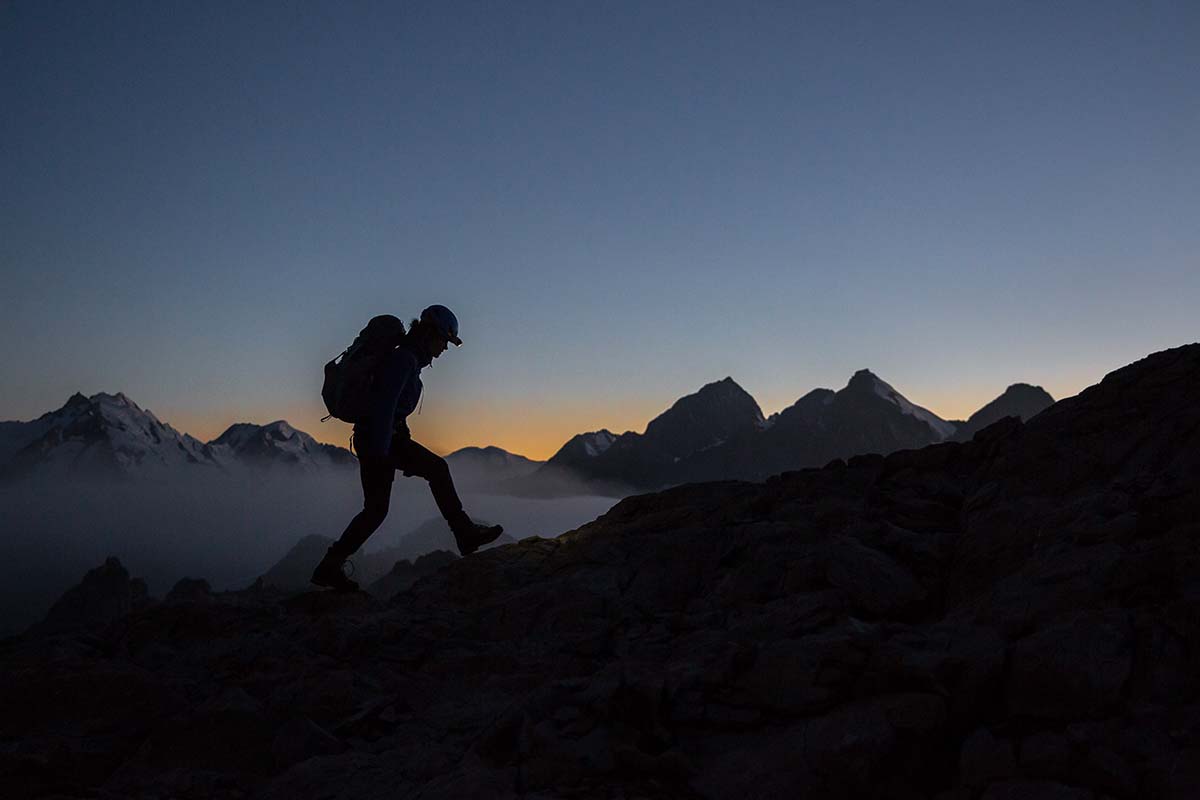 As the sun silently rises behind Lake Pukaki, we follow our previous day's route up Fergins Knob and along Ball Ridge. Aoraki/Mount Cook is illuminated with a morning glow. Ribbons of mist and clouds swirl in the valley. My skin warms inside layers of clothing. We dawdle as long as we can in the dawn hues, yet our awareness of the journey ahead urges us back to movement. Scrambling along the ridge with the growing light, we chat about an array of topics: life plans, ski lines on Aoraki/Mount Cook, the history of ascents, and Canadian and Kiwi movies worth watching (as an aside, Boy made the list of NZ movies—I later watched it on a flight and would highly recommend it). 
We manage to skirt Ball Glacier, saving ourselves precious minutes by not roping up or putting on crampons. While this provides more time for photos and general gawking at the view, it is a sad reminder of the glacier's recession. Our crossing marks the first time that Jono has been able to complete the traverse without navigating the glacier.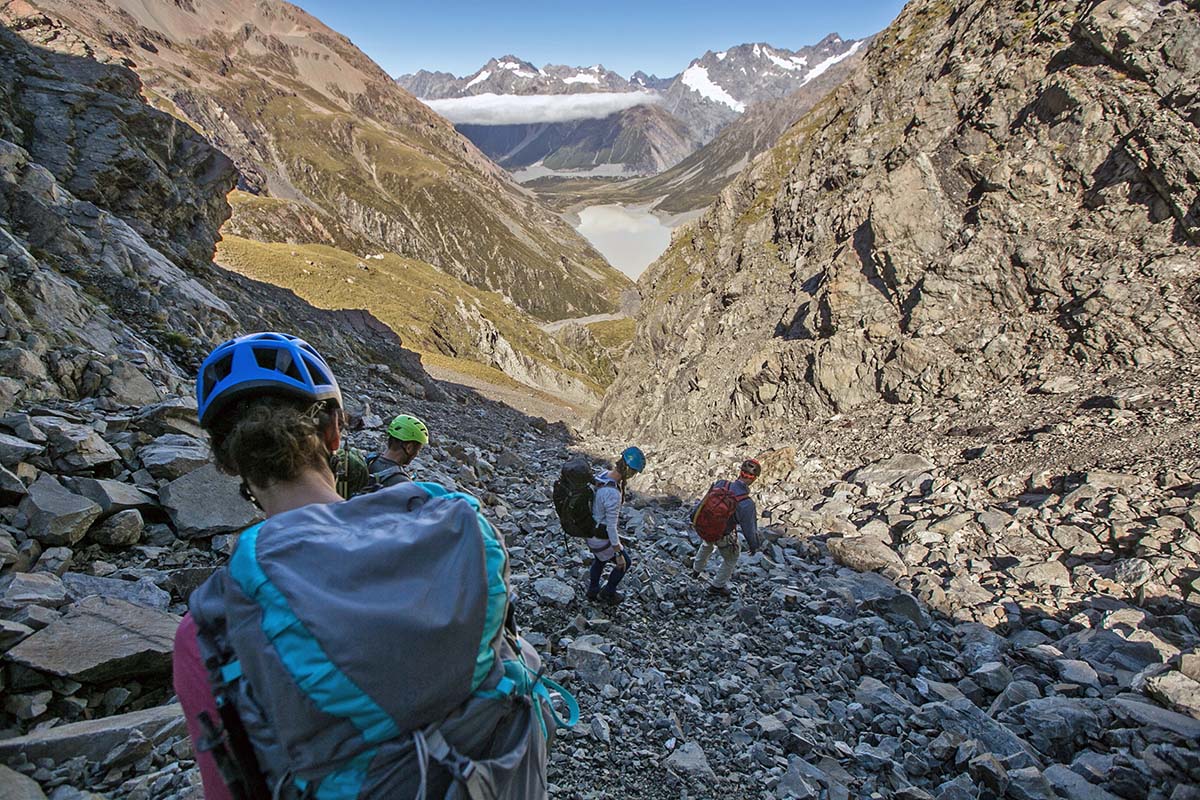 We crest Ball Pass and peer down the steep slopes to the Hooker Valley floor. Here, we become privy to the distance and magnitude of the descent ahead. Hooker and Mueller glaciers emerge, and the very "mountain-shaped" Mount Sefton appears across the valley. We continue, angling down and across talus fields along the side of Mount Rosa. We climb back up to a small shoulder of Mount Mabel in order to access the precipitous gullies that provide passage through the bluffs. This section lasts hours—hours in which we are constantly aware of the potential for significant rock fall. A glacial stream gives us reason to pause, and we eagerly take the opportunity to remove our mountaineering boots while replenishing our water supply. Finally, we arrive at an enchanted alpine meadow below Mount Mabel, referred to as the "playing field." At 1,500 meters now, we have not yet descended even halfway to our final destination. We muse about pitching a tent here for the night, the fantasy of a relaxing afternoon overlooking the Hooker Valley much more attractive than the imminent reality of hiking to its depths.
Yet we continue onward. We carefully scramble down a chute fondly called the "gut," grateful that we are descending the precipitous slope rather than ascending it. More scrambling and hiking bring us to the valley floor above Hooker Glacier and Lake. Though I'm exhausted, this becomes one of my favorite sections of the trek. The terrain is fairly level and simple; the fauna tropical yet rugged. We are accompanied by a kea, the only alpine parrot in the world. With the exception of a few scrambles up and around debris chutes where the slope has eroded, the hiking is easy and pleasant. Eventually, we merge with the popular Hooker Valley Track.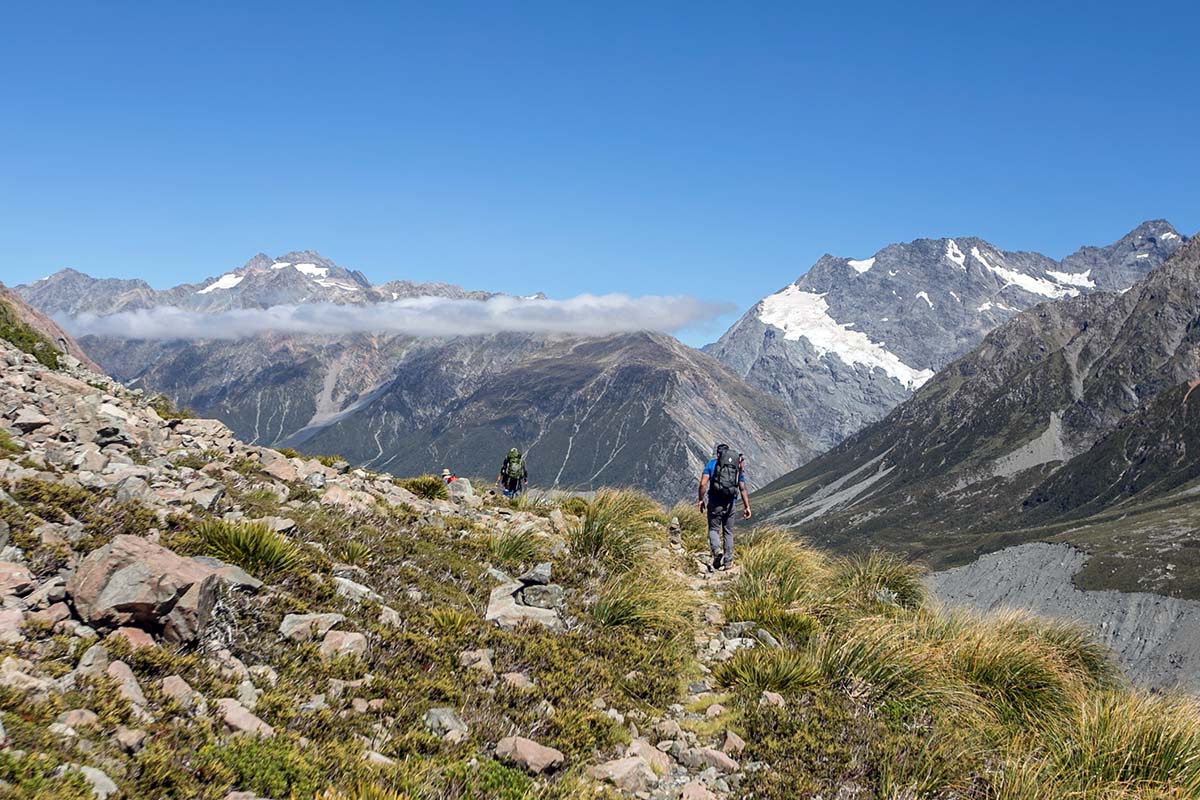 We have been totally alone throughout the three-day trek, save for our bunkmates at the Caroline Hut. Now, suddenly, we're surrounded by hundreds of casually dressed, fresh-smelling tourists. What a shock! Crowds aside, the track is beautiful—but the three-mile walk along flat, crushed gravel is by far the most mentally difficult part of our day. I stop occasionally to gaze back at the pass from which we've come, hoping to catalogue away each glimpse for perpetuity. Brian walks briskly ahead, on a mission to remove his now-overkill mountaineering boots as quickly as possible. I leave him to his thoughts rather than pester him for a parting photo. Those final views will have to be kept in the bunkers of my memory, for my eyes only. 
 
The Planning
Difficulty
Ball Pass Crossing is no walk in the woods—in fact, most of the traverse is off-trail, requiring glacier travel and scrambling over tricky mountain terrain. For this reason, it is not recommended that inexperienced parties attempt the trek. Furthermore, the route requires a fair share of technical gear, including a helmet, harness, crampons, and ice axe. On top of food, clothing, and standard overnight camping fare, this can all add up to a heavy load. Finally, the third day is notoriously long and challenging—not to be underestimated. Although we completed the hike from Caroline Hut to the Hooker Valley in just over 10 hours with very generous breaks and photo stops, it is not uncommon for groups to take 14 hours or more.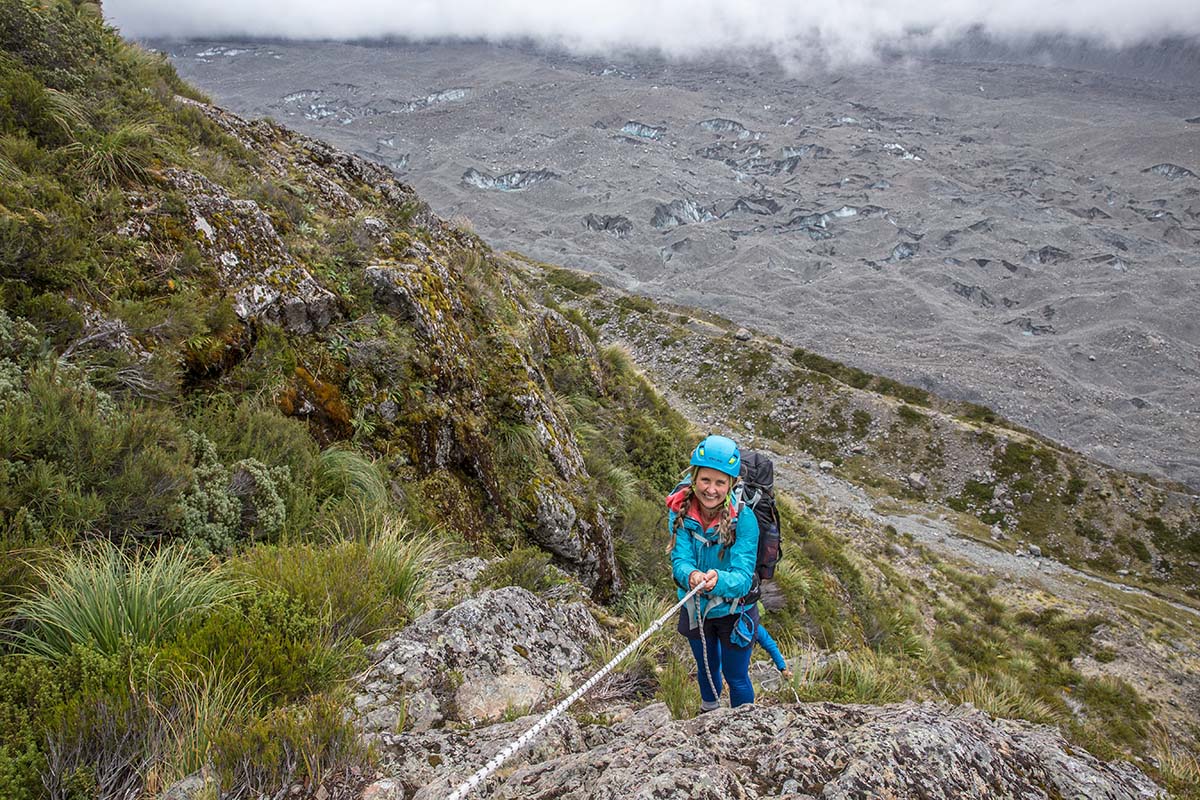 Guided or Independent
The route over Ball Pass is mostly off-trail, requiring both cross-country and glacier travel. Finding the correct route involves navigational skills and mountain sense, fourth-class scrambling, and dealing with significant exposure, potential ice/snow travel, and a glacier crossing. There are a few sections of the route that require very precise navigating to stay on track to avoid a plethora of hazards (rock fall, exposure, crevasses, etc.). Knowledge of the area is a significant asset, as making a route-finding blunder can be dangerous.
We hiked the Ball Pass Crossing with our Auckland-based friends, Kim and Steve. Though fit and eager, they have limited mountaineering experience, so a guide seemed to be the obvious choice for our combined parties. In the end, although Brian and I prefer to trek independently most of the time, we were very pleased with this choice. With a guide, we were able to simply enjoy the three-day hike without the stress of trip-planning, route-finding, or the inevitable second-guessing of decisions along the way. Beyond that, the Caroline Hut is privately owned by Alpine Recreation and available only to clients. The thought of having "real" food and sleeping in a comfy bed each night certainly did not hurt our decision to hire a guide. 
That said, experienced and competent mountaineers with the appropriate gear can easily tackle the crossing independently in two or three days. Due to tricky route-finding, those going on their own are encouraged to start in the Hooker Valley and end in the Tasman Valley, traveling in the opposite direction from the journey described above. The shoulder of Mount Mabel must be traversed in a very specific spot in order to navigate through the bluffs, and it is easier to find this feature when ascending. Unguided parties will find New Zealand's Department of Conservation's route descriptions and map essential (Map 260-H36, Mt Cook), and more helpful information is available here.
 
Weather 
Situated in the Southern Hemisphere, the summer trekking season in Aoraki/Mount Cook National Park is between the months of November and April. In early season (November to December), the ground may still be covered in deep snow, and snowshoes might be necessary to complete the traverse. The prime of the season (January and February) will offer the easiest travel, with minimal snow covering the route, yet still enough coverage on the glaciers. In late-season (late February through April), glaciers will likely be riddled with crevasses, making crossings tricky. Similar to most mountain environments, weather can quickly shift from blazing sun to summertime blizzards. Furthermore, temperatures begin to cool in the late-summer months, and chances of snowfall increase. Prudent hikers should come prepared with an assortment of layers and an appropriately warm sleeping bag (for more, see the What We Brought/Wore sections below).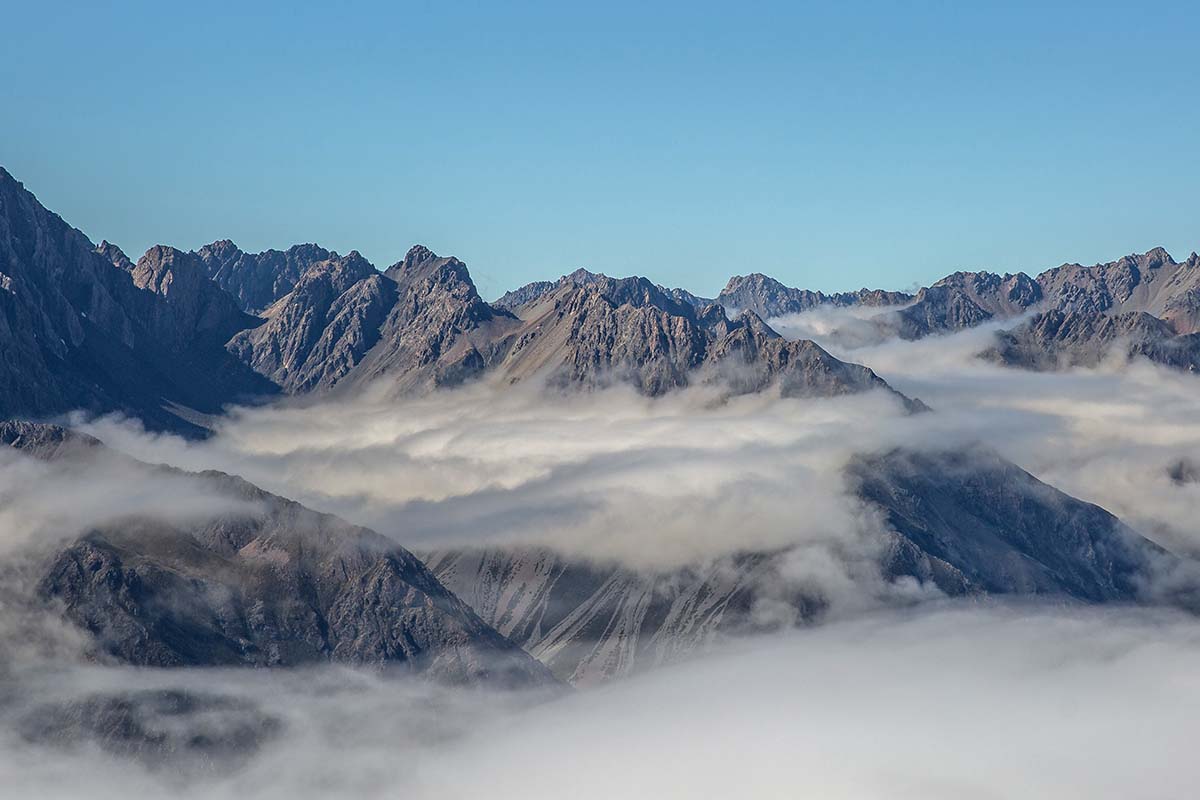 Getting There
Aoraki/Mount Cook Village is located between Christchurch and Queenstown, on the South Island of New Zealand. Travelers can conveniently fly into either major city, although Queenstown is about an hour closer by car. Queenstown is a stunning city and the drive to Mount Cook Village from here is arguably much more scenic than that from Christchurch. Having said that, anyone prone to motion sickness will prefer the route from Christchurch. And of course, arriving by ferry from the more populated North Island is also an option.
Most travelers will find a rental car useful for getting to and from the trailheads. If you opt for a guided trip with Alpine Recreation, however, you will simply need to get to their office in Tekapo (equidistant from Christchurch and Queenstown on State Highway 8), and the rest of your transportation will be provided. Buses are available from both Christchurch and Queenstown to Aoraki/Mount Cook Village and Tekapo. Be aware that these buses leave in the morning and get to their destinations mid-day, so you'll likely need to spend a night in town and begin your trek the following day.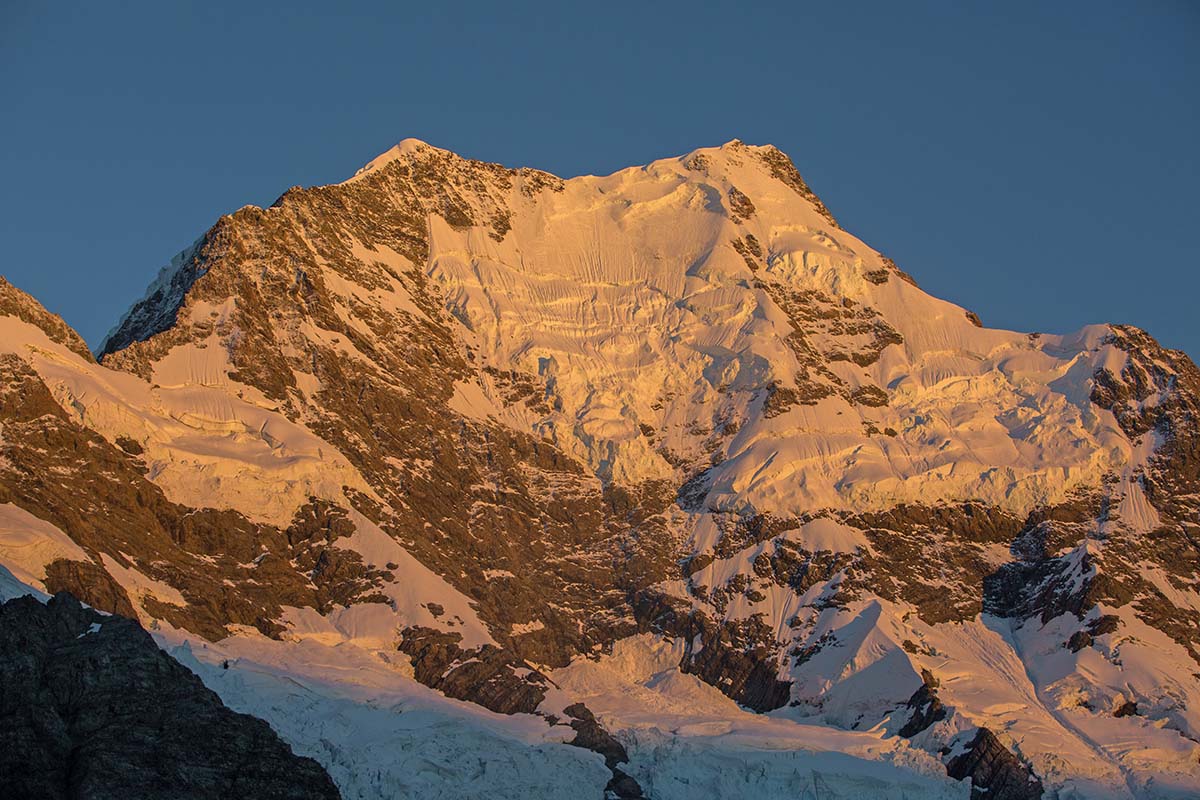 The Ball Pass Crossing is a horseshoe route between the Whitehorse Hill carpark and the Blue Lakes carpark. If you're planning on an unguided trek, you'll need to arrange for a shuttle or car-drop, or hitchhike or walk the five miles back to your vehicle. Of course, if you opt for a guided trip, these details will be taken care of for you.  
 
Where We Stayed
During the three-day, two-night trek, we stayed at Alpine Recreation's Caroline Hut at the foot of Aoraki/Mount Cook on stunning Ball Ridge. This small and rustic hut is a single room with bunks for eight people, a functional kitchen, wood stove, solar lighting, satellite phone, Department of Conservation radio, sleeping bags, and nonperishable food. The outhouse is located outside, about 10 meters away. We carried fresh food to liven up the meals, and enjoyed the luxury of otherwise light packs.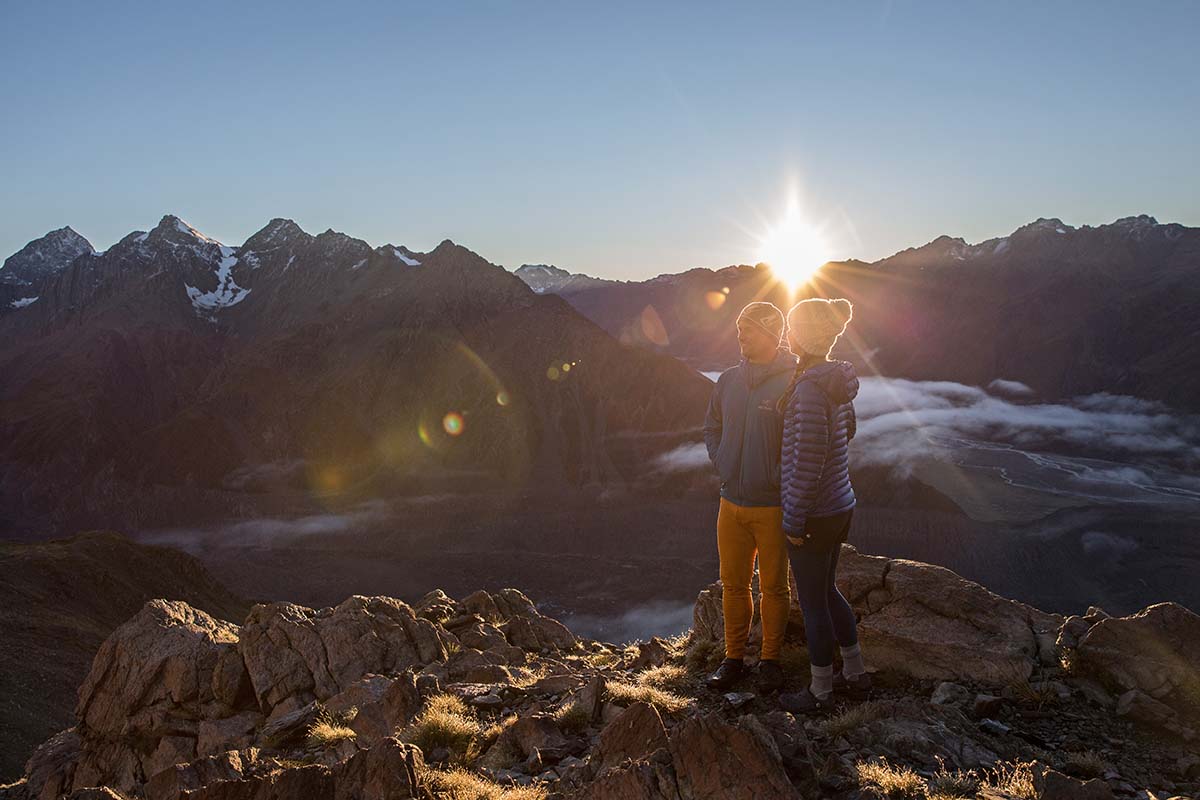 For those planning to camp on the route instead, there are a variety of options that offer flat tent sites and flowing water. While there are no established campgrounds, many parties stay at the shingle fan in the East Hooker Valley, the "playing field" slightly higher, at Ball Pass, or in the Tasman valley by Ball Hut. Ball Hut even offers the luxuries of a toilet and running water.
When planning accommodations in town, beware that the Tekapo and Aoraki/Mount Cook area is extremely busy during the summer season. Although we made our reservations well in advance, vacancies were difficult to come by. In the end, we managed to book a room in Fairlee, which was perfectly adequate and only a half-hour drive from Tekapo. As a bonus, the bakery in Fairlee opens at 6am, has great coffee, and bakes an amazingly delicious and filling bacon/cheese bun that we referred to as the "breakfast brick."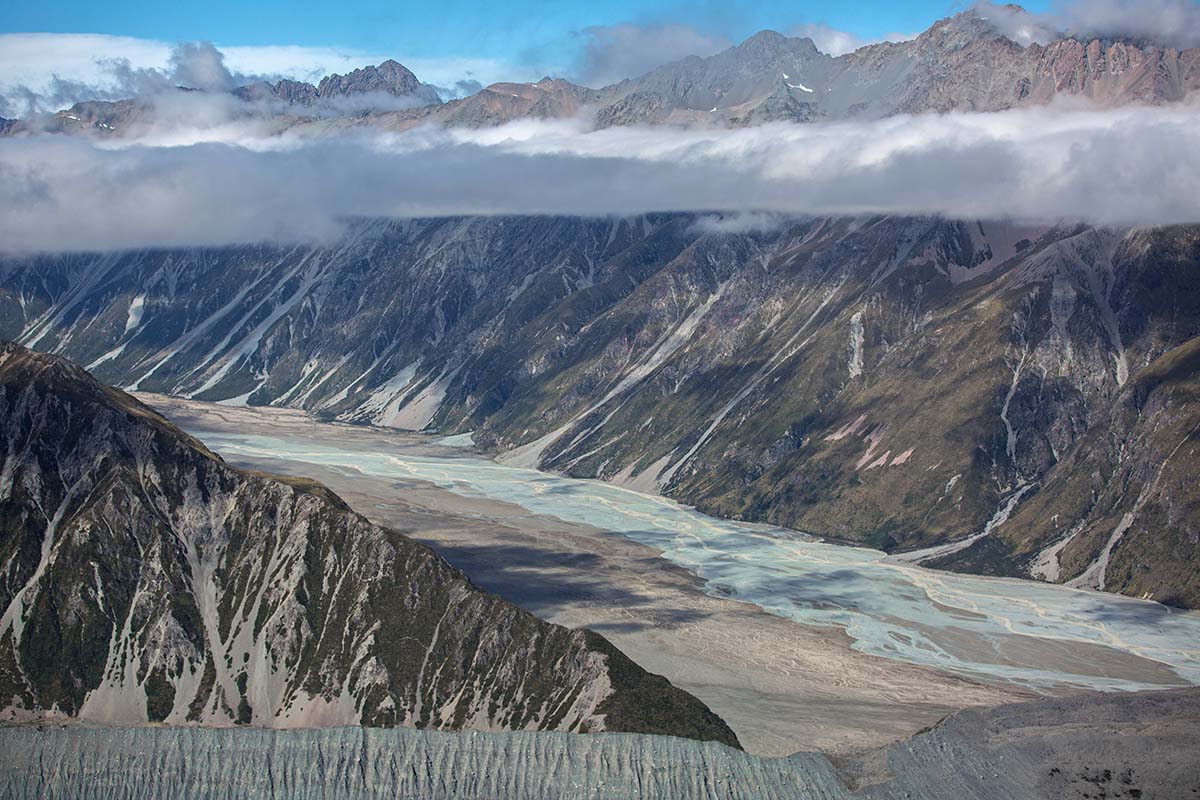 Now that we've visited the area, we highly recommend staying at the YHA Aoraki Mount Cook hostel inside the national park. These accommodations feel more along the lines of mountain lodge than hostel, and the communal environment is a wonderful place to meet like-minded travelers. Alternatively, there are a number of places to stay in Aoraki/Mount Cook Village that are equally as convenient. There is also camping at the White Horse Hill Campground at the Hooker Valley Track trailhead. 
 
What We Brought
As mentioned above, technical gear is required to safely travel on the varied terrain of Ball Pass Crossing. We decided to borrow harnesses, crampons, ice axes, and ropes from Alpine Recreation rather than carry them from Canada. We brought our own boots and helmets, though both are also available from Alpine Recreation.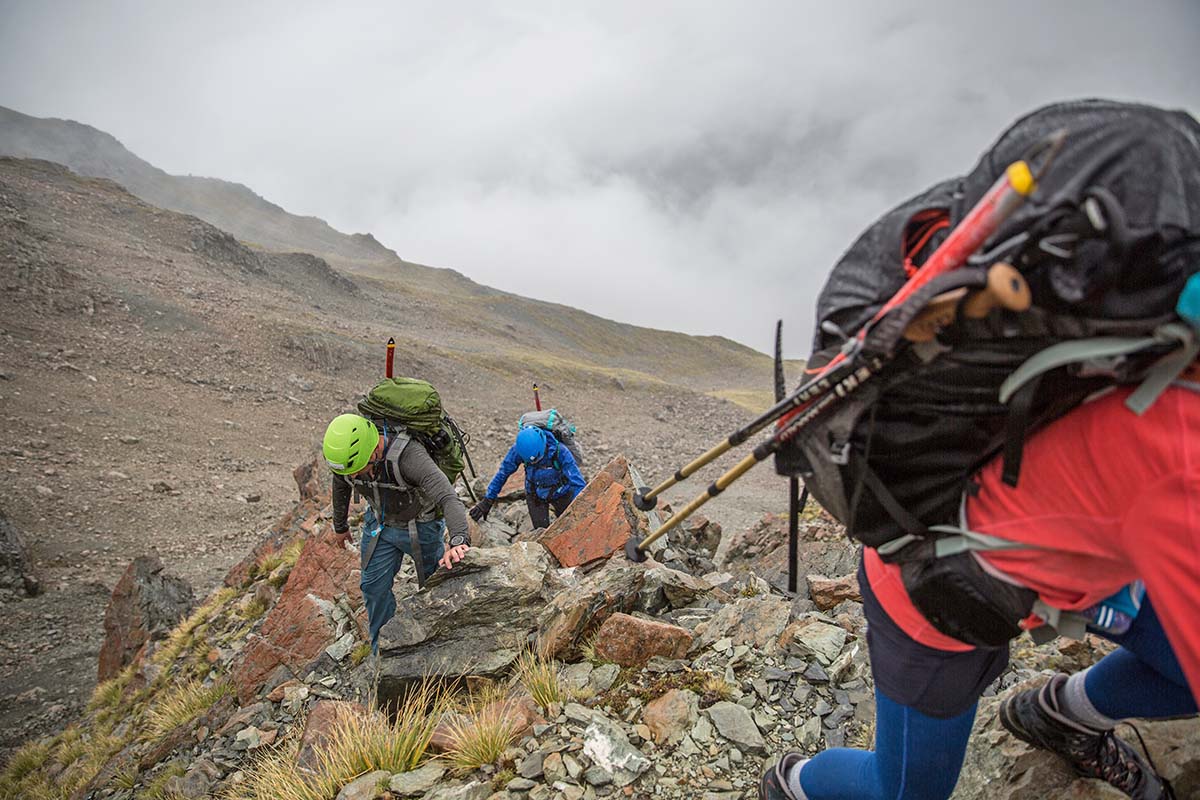 As an additional perk of hiring a guide from Alpine Recreation, we were able to ditch our heavy camping gear for the luxury of staying in the Caroline Hut. Independent trekkers, however, will need a sturdy 3-season tent, 3-season sleeping bag (or warmer, depending on the time of year), and sleeping pad. For boiling water and preparing food, we prefer a lightweight, wind-resistant stove such as the MSR Reactor (isobutene/propane canisters are readily available in Tekapo and Aoraki/Mount Cook). And although the water is stunningly clear, we recommend you take along a water filter or purification tablets such as those made by Potable Aqua. 
Depending on whether or not you stay in the hut, you'll want to carry a 40-60 liter pack on the Ball Pass Crossing. I wore the Osprey Eja 48 and Brian opted for the Black Diamond Speed 40—both packs provided the perfect capacity and support for the trek. Additionally, take care not to forget your headlamp (we recommend the Petzl Reaktik) and a high-quality pair of sunglasses. 
Topo maps are available at the national park visitor center in Aoraki/Mount Cook (Map 260-H36, Mt Cook). We recommend bringing a map along whether or not you're traveling with a guide, and be sure to pair it with either a compass or your preferred GPS device. We'll put in a plug here as well for the maps.me app—a great substitute for a stand-alone GPS that allows you to preload maps to your smartphone and navigate seamlessly while in airplane mode. 
 
What We Wore
Brian and I didn't know what to expect during our time in the Southern Alps, so we packed for variable weather conditions. In the end, we experienced a mix of both wintery and summery conditions throughout the short three-day trek. Here's a breakdown of our layers:
Hardshell: Arc'teryx Alpha FL / Arc'teyrx Norvan 
Wind layer: Black Diamond Alpine Start Hoody
Down jacket: Mountain Hardwear Ghost Whisperer / Feathered Friends Eos
Baselayer: Icebreaker merino t-shirt and long-sleeve layers
Trekking pants: Montane Terra Pack / Arc'teryx Gamma LT
Insulated pants: Patagonia Nano-Air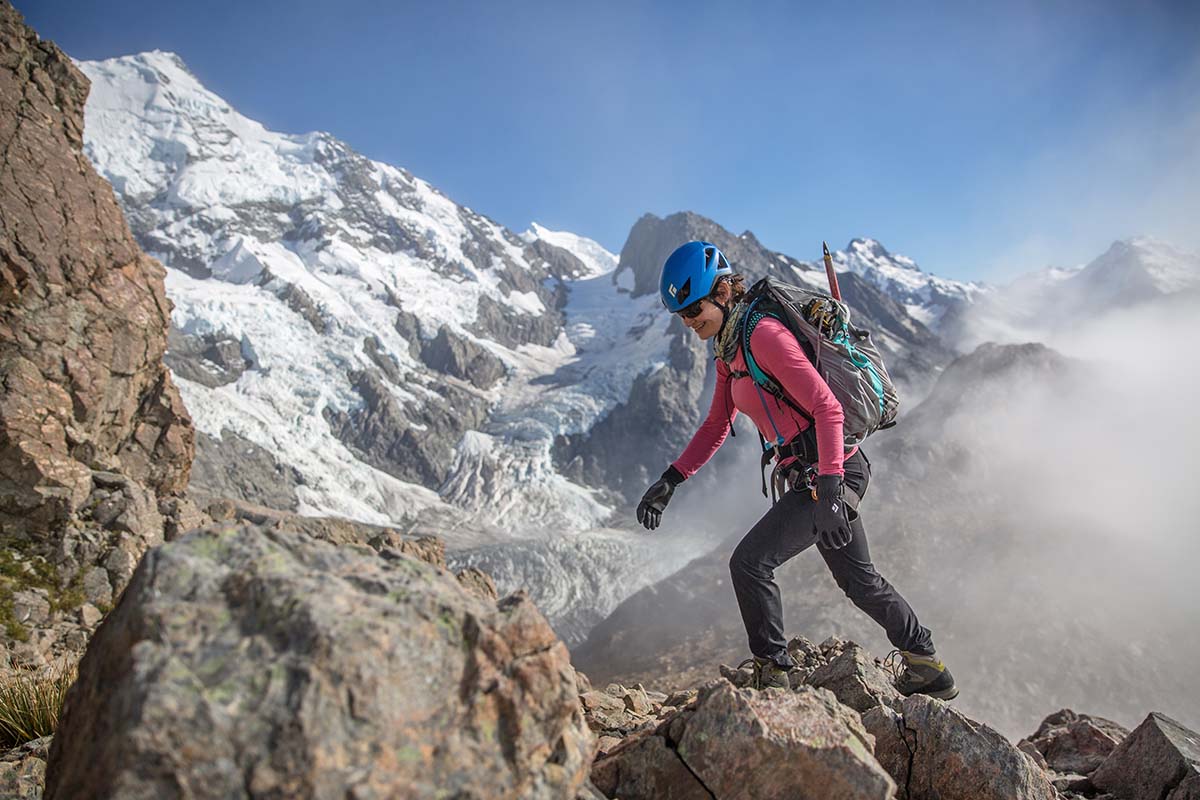 Because you'll need boots stiff enough to accommodate crampons, we highly recommend you purchase a pair at home and break them in on a few day or overnight hikes before the Ball Pass Crossing. We brought our trusty lightweight mountaineering boots: the Scarpa Triolet Pro GTX and the La Sportiva Pamir.
Read More From Switchback Travel