Gloves may not get quite as much attention as your other winter clothing, but they offer invaluable warmth and protection when the temperature drops. Our picks for the best winter gloves of the 2023 season span the spectrum from high-performance models for extreme conditions to functional pieces for everyday use and work (many of our favorites blur these category lines). In general, these gloves are unisex and come in a range of sizes, but we've also included a link to the women's-specific version when available. For more background information, see our winter glove comparison table and buying advice below the picks. To complete your cold-weather kit, see our articles about the best winter boots and winter jackets.
 
---
Our Team's Winter Glove Picks
---

Best All-Around Winter Glove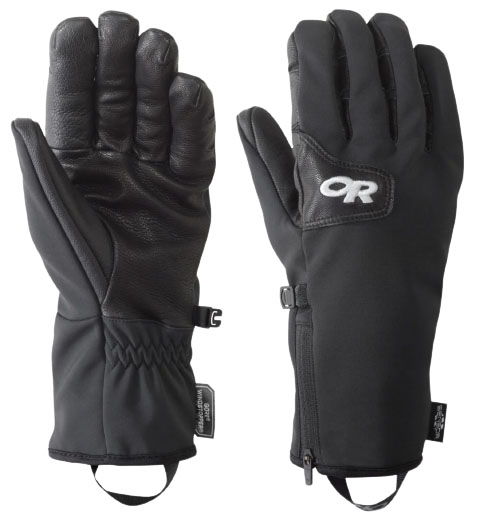 Category: Performance/casual
Shell: Softshell/leather
Waterproof: No (water-resistant)
What we like: Ideal warmth for most activities; easy on/off via a pull tab and zippered gauntlet.
What we don't: Not fully waterproof; not as durable as an all-leather design (although still very durable).
Outdoor Research is widely known for their glove collection, so it should come as no surprise to see their name in our top spot. For over four winters, the Stormtracker has been our go-to choice for everything from winter walks and snow shoveling to belay duty, bike commuting, and mild days on the skin track. We've simply yet to meet a better all-around glove: It's the perfect warmth and weight for most activities, easy to get on and off with a zippered gauntlet and large pull tab, incredibly dextrous once broken in (yes, the touchscreen-compatible tips actually work), and relatively weather protective with Gore-Tex Infinium softshell fabric. Finally, durability is excellent: We've put our pair through the wringer for years and they're still operating like a well-oiled machine. For $75, that's a whole lotta value.
The Stormtracker is an excellent part of any glove quiver, and is likely to be the one that gets used the most. That said, you'll probably get a bit longer lifespan out of a full-leather workhorse like the Kinco or Flylow options below, but at the cost of some dexterity, breathability, and convenience. On the other hand, resort skiers or those frequenting high-mountain environments will want a lot more insulation. Lastly, while Gore's Infinium is water-resistant, it's important to note that the Stormtracker is not fully waterproof. But for a glove that puts it all together for high-output performance use, winter chores, and around-town use, it simply doesn't get any better.
See the Men's Outdoor Research Stormtracker  See the Women's OR Stormtracker
Best Winter Mitten for Extreme Cold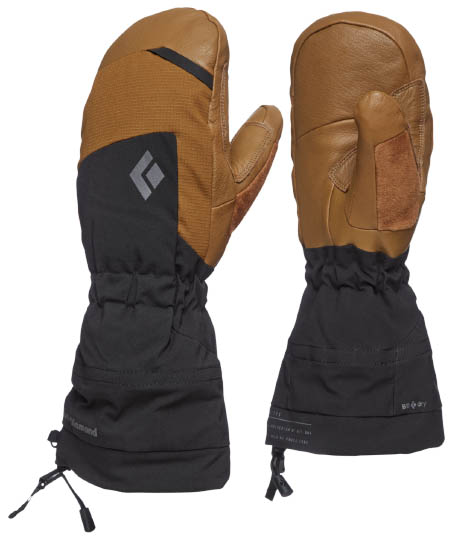 Category: Performance
Shell: Polyester/leather
Waterproof: Yes
What we like: Super warm and well priced.
What we don't: Overkill for all but the coldest winter conditions. 
For the ultimate in winter warmth, check out the Mercury Mitts from Black Diamond. Simply put, this mitten is designed to keep your hands toasty in some of the coldest places on earth and does a darn good job at it. You get thick PrimaLoft Gold insulation throughout along with a handy removable liner that makes them more tolerable in less-than-Arctic conditions. And we like the split-finger design on the inside, which allows your index finger to roam free for better movement. We first tested the Mercury Mitts on an ice climbing trip in the frigid Canadian Rockies, and they provided all-day warmth in sub-zero (Fahrenheit) conditions.
If you're looking to go even one step warmer, Black Diamond also makes the pricey Absolute Mitts ($270), which have a temperature range of -40 to -20 degrees Fahrenheit (the Mercury Mitts are rated at -25 to 10˚F). Both models feature a removable liner for faster drying, a fingertip carabiner loop, and reinforced leather palms, and are made with alpinists in mind. But at less than half the price, the Mercury Mitts offer ample warmth for most winter conditions and is a great everyday/commuting mitten in frigid places like Chicago, Minneapolis, and the East Coast of the United States. For those interested in warm winter gloves (rather than mitts), the Black Diamond Guide below has roughly the same temperature rating as the Mercury Mitt and has been a mainstay in the ski and winter sports world for years.
See the Men's Black Diamond Mercury Mitts  See the Women's Black Diamond Mercury Mitts
Best Casual Glove with Touchscreen Compatibility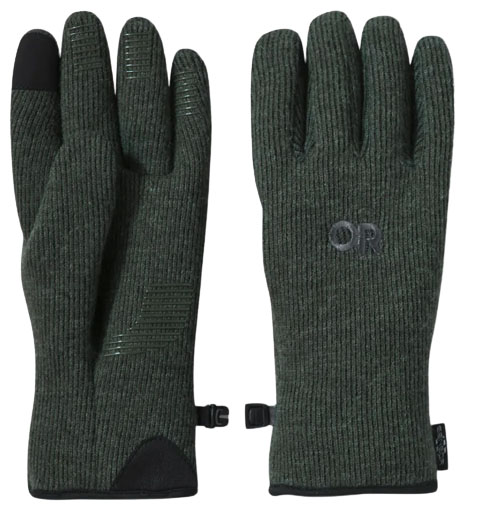 Category: Casual
Shell: Wool/nylon
Waterproof: No
What we like: Effective touchscreen performance alongside decent warmth.
What we don't: Not particularly durable and middling wind resistance.
If you live in a wintery climate where gloves are a daily wardrobe staple, a touchscreen-compatible design is invaluable. Whether you're texting a friend, making a selection at the gas station, or trying to sign your name after a credit card swipe, it's really nice to be able to do so without exposing your digits to the elements. Among the myriad options, the Outdoor Research Flurry is one of our favorite tools for the job, with reliable and precise touchscreen performance thanks to the synthetic suede patches on both the index finger and thumb. And the rest of the design is equally well-thought-out and executed, including the dextrous wool/nylon shell with soft fleece interior, pull tabs at the wrists, and grippy silicone patches at the palm and fingertips.
A lot of thin gloves feature touchscreen-ready fingertips, but the Flurry offers a step up in warmth from a standard liner without compromising on function. On the other hand, they keep a low enough profile to be worn underneath most waterproof shell gloves—think of them as the midlayer of the glove world. But while we love the OR for casual daily tasks and consider it to be impressively warm compared to most touchscreen-compatible gloves, keep in mind that it's not a super wind resistant design, and the wool/nylon shell will show wear with use. Finally, the Flurry tends to run a bit large, so you might want to consider sizing down for a close fit and maximum touchscreen performance. For a lighter-weight option from OR, check out their relatively new Trail Mix Glove ($35). 
See the Men's Outdoor Research Flurry  See the Women's Outdoor Research Flurry
Best Budget Waterproof Glove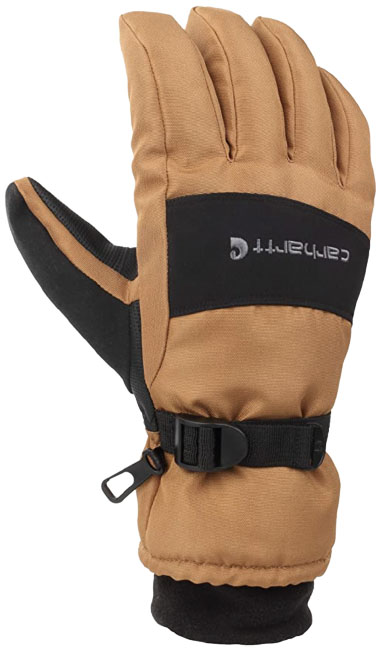 Category: Performance/work
Shell: Polyester
Waterproof: Yes
What we like: Solid performance at a low price.
What we don't: Bulkier and stiffer than more expensive options.
Carhartt's large lineup of gloves ranges from thin liners to burly camouflaged hunting models, and their popular W.P. glove lands right in the middle. It's reasonably soft and moves well enough for casual activities, but with features like a waterproof membrane, nose wipe, and reinforced palm, the W.P. is a serviceable option for outdoor chores and mild days on the slopes. Plus, priced at $30 (and often found on sale for less), the W.P. offers a lot of bang for your buck.
The main pitfall of going with such a budget glove is that in temperatures below freezing, you'll likely find that the W.P.'s thin layer of cheap synthetic insulation isn't enough to keep your hands super warm. Furthermore, the Carhartt lacks the versatility and good looks of pricier all-rounders like the OR Stormtracker above, and the polyurethane palm doesn't move as well as leather. But as a simple and affordable option, the W.P. is one of our favorites. It's worth noting that Carhartt also makes a W.B. glove (and mitten) for $39, which tacks on leather thumb reinforcements and a hook-and-loop closure on the cuff.
See the Carhartt W.P. Glove
Best Ski Glove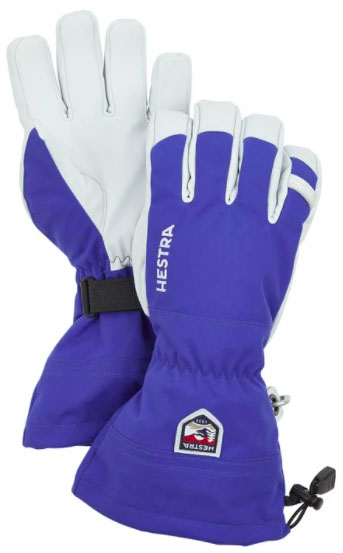 Category: Performance
Shell: Polyamide/leather
Waterproof: No
What we like: A beautifully made glove with ski-specific features.
What we don't: Requires some maintenance to stay waterproof.
A lot of winter-ready gloves will keep your hands warm and dry on the slopes, but there's a number of reasons to opt for a ski-specific model. Ski gloves come with a full suite of features for a day at the mountain, including wrist leashes, nose wipes, touchscreen compatibility, and dextrous leather palms for gripping your ski pole. Durability and protection is also a focus, and we'll often see ski gloves with thick insulation and padding on the back of the hand and extra reinforcements to guard against the wear and tear of repeated use. Within this category, the Hestra Heli is our top pick: This premium glove features a hybrid leather and synthetic construction, generous gauntlet, and unparalleled comfort and dexterity. We've learned to trust Hestra for top-notch build quality, and the Heli delivers in spades.
As with nearly all Hestra products, the Heli has liberal amounts of leather. The benefit is that the glove flexes easily and is very durable, but you will occasionally need to reapply a leather conditioner to the palm and fingers to keep moisture at bay (a small sample of Hestra's Leather Balm is included). Some skiers will prefer a glove with a nylon shell and waterproof liner for better wet-weather protection (like the Dakine Titan below), but we find the simple maintenance to be well worth the effort—even for skiing in the wet snow of the Pacific Northwest. As the most popular glove in Hestra's lineup, the Heli has spawned a couple variations, including a mitten for maximum warmth and a 3-finger glove that splits the difference. And for a truly waterproof version without removable liners, check out the Hestra Army Leather Gore-Tex ($190).
See the Men's Hestra Heli Glove  See the Women's Hestra Heli Glove
Best Winter Work Glove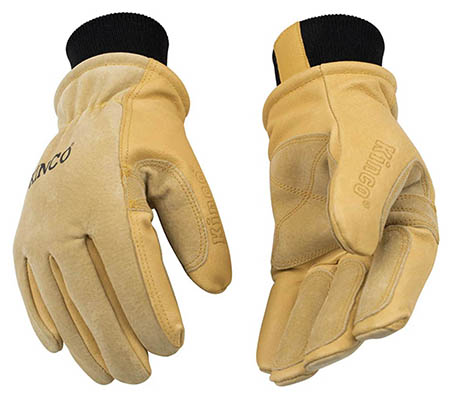 Category: Work
Shell: Leather
Waterproof: No (water-resistant)
What we like: Tough, dexterous, and cheap.
What we don't: Limited warmth and you'll have to apply waterproofing wax yourself.
Hard-working hands don't stop for cold weather, and a solid winter work glove needs to be durable, dexterous, and warm. Glove-specialist Kinco has a full lineup of options for everything from ranching and fishing to construction and equipment operation, and their Heavy-Duty Pigskin Driver (#901) is one of our favorite designs. This winter work glove features a reinforced pigskin leather shell and a thermal liner for insulation, topped with a high-quality knit wrist to seal heat in. The cherry on top is the price: for just $43 you get a workhorse glove that's waterproof, moves well (once you break it in), and is as tough as the much pricier options on this list.
If you plan to be out a lot in wet conditions, we highly recommend applying a waterproofing wax to the leather and seams to make the gloves fully winter ready (if you're lucky, Kinco might include a few Nikwax packages with purchase). And while Kincos are warmer than an unlined work glove, you'll want to stay fairly active to stave off cold hands, which is not an issue for most people working outside. All in all, thanks to their bargain prices and proven performance, Kinco gloves have reached legendary status in the work world, and they've even won over the ski community and lifties in particular. For another great option from a well known brand, check out the Wells Lamont HydraHyde Full Leather Winter Work Gloves (model 1202).
See the Kinco 901 Heavy-Duty Pigskin Driver
Best Heated Winter Glove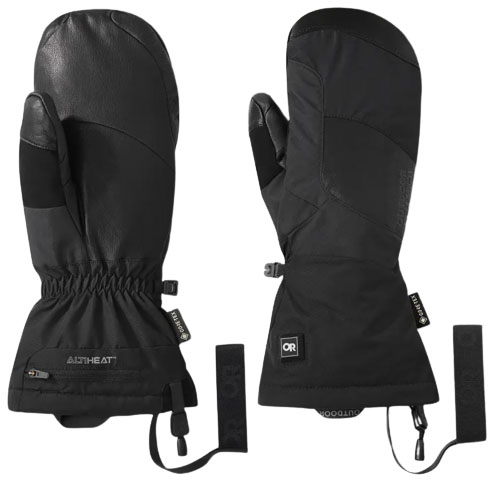 Category: Performance
Shell: Nylon/leather
Waterproof: Yes
What we like: Battery-powered heater delivers serious warmth. 
What we don't: Extremely expensive.
If you struggle with persistently cold hands or simply want to maximize warmth, a heated glove or mitten can make a world of difference. Outdoor Research has been a leader in this field for years, and their Prevail Heated GTX Mitts (also available in a glove style) are a top-notch performer. Built around their ALTIHeat system, a button on the gauntlet triggers the battery-powered heating element to deliver a rush of warmth throughout your hand and fingers. You can cycle through three heat settings (low, medium, and high) depending on conditions and personal needs. And in between uses, it's easy to replenish the OR's lithium-ion battery with the included wall charger (extra sets are also available for $50).
The biggest impediment of a heated glove is cost, and at $329, the Prevail is far and away the most expensive design to make our list. Another important consideration is battery life: Running on the highest setting will only get you a claimed 2.5 hours of use ("low" stretches battery life to 8 hours, although that number can diminish throughout the lifespan of the battery). Finally, the heating components add a fair amount of bulk and weight, which can impact dexterity and comfort for everyday activities. But if you're sick of constantly churning through disposable handwarmers, the Prevail is a proven heated design from a reputable brand. For a step down, it's also worth checking out OR's more dexterous and affordable Sureshot Heated Softshell Gloves ($259).
See the Outdoor Research Prevail Heated GTX
Best of the Rest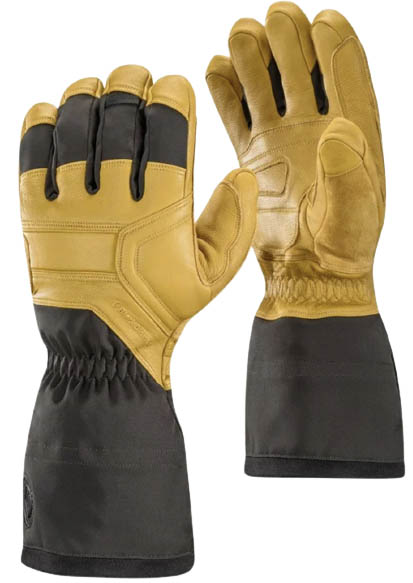 Category: Performance/work
Shell: Leather/nylon
Waterproof: Yes
What we like: A premium glove that's versatile for both skiing and everyday use.
What we don't: Takes some time to break in; below-average dexterity.
Black Diamond's Guide Gloves are legendary among hardcore skiers for their impressive warmth and durability, but their appeal extends far beyond the slopes.This primo winter glove features a completely waterproof design with a proven Gore-Tex insert, removable liner complete with PrimaLoft synthetic and thick boiled wool, and robust nylon shell with leather reinforcements. What's more, the generous over-the-cuff gauntlet extends well below the wrist, giving you extra coverage and protection whether you're hitting big lines, putting on tire chains, or building a snowman with the kids.
The downside to all this material is that the Guide Gloves can take some time to break in. Even after a few years of consistent use, our pair still lacks the flexibility that you get right out of the box with a thinner design like the Kinco or Outdoor Research Stormtracker above (the extra knuckle padding doesn't help). But it's a compromise many are willing to make for the added warmth, and we love that the Guide pulls it off while still looking great for casual use. All told, if you're willing to deal with the slight sacrifice in dexterity, the Black Diamond offers a hard-to-beat combination of protection, durability, and versatility.
See the Men's Black Diamond Guide Gloves  See the Women's BD Guide Gloves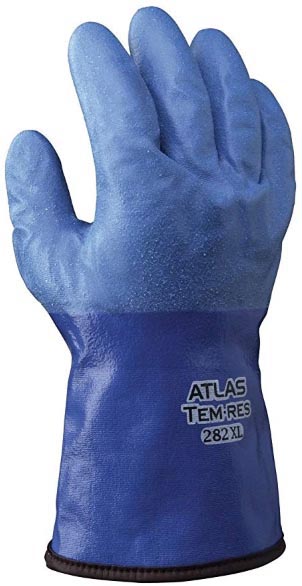 Category: Performance/work
Shell: Polyurethane 
Waterproof: Yes
What we like: The glove that does it all, for only $22.
What we don't: Far from the most fashion-forward glove on our list.
The majority of outdoor enthusiasts have probably never heard of Showa, and their Atlas 282 TemRes glove certainly isn't filling the racks at your local gear shop. But don't let appearances deceive you: for years, the Atlas 282 TemRes has been a top choice for everything from ice climbing and backcountry skiing to shoveling the driveway. Combining a polyurethane exterior with a soft, fleecy liner, this glove is—no joke—both waterproof and breathable. And that's not all: it's warm, dexterous, and incredibly grippy too.
In many ways, the Atlas 282 TemRes is a miracle of a glove. For only $22, you get performance on par with models over five times the price. Sure, the TemRes look funny, they're not as durable as leather, and they don't have technical features such as cuffs, gauntlet cinches, or carabiner attachment points (check out the 282-02 for more climbing-specific features). But we're almost certain you won't be disappointed. And we do recommend going up one size, as they're known to fit small.
See the Showa Atlas 282 TemRes Glove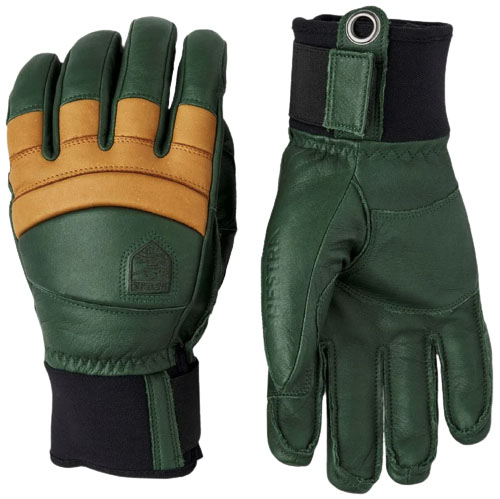 Category: Performance/casual
Shell: Leather
Waterproof: No (water-resistant)
What we like: Premium build quality and dexterity. 
What we don't: Expensive and not waterproof.
Hestra gloves are kind of like a work of art. The Swedish company has a long track record of craftsmanship, and their Fall Line is a versatile design that's equal parts ski glove and everyday workhorse. This all-leather glove nails the essentials: it's comfortable, well built, and tough. Importantly, the Fall Line also is highly versatile: it offers sufficient insulation and cushioning on the back of the hand for most winter sports (it earned a spot in our article on the best ski gloves), but is dexterous enough to use while driving, shoveling, and simply walking around town. And the glove is made to last—our well-worn pair has softened and conformed to our hand, giving it a custom feel that still performs like new (consistent maintenance has helped here).
The biggest downside of the Fall Line is its steep $165 price. You're paying for quality and the feel is phenomenal, but this is a hearty investment for a glove you won't wear on the coldest days (if we're inactive, we've found that it's only warm enough down to about 20°F). Also, the Fall Line is not fully waterproof, although occasionally treating the leather will keep it from soaking up too much moisture. All in all, designs like the Flylow Gear Ridge and Oyuki Sencho below are the better values, but the Hestra's premium look is something we appreciate each and every time we slip them on.
See the Men's Hestra Fall Line  See the Women's Hestra Fall Line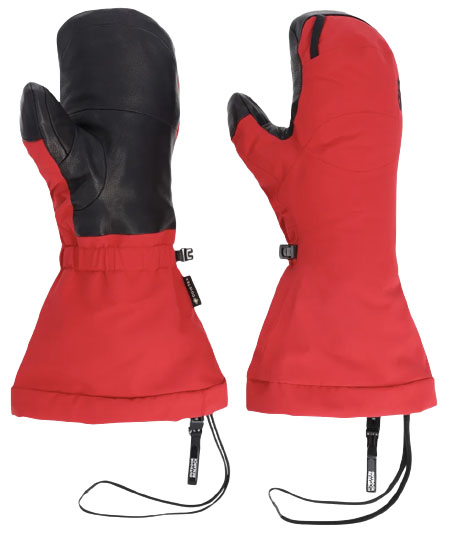 Category: Performance
Shell: Nylon/leather
Waterproof: Yes
What we like: Premium warmth and waterproofing for the world's worst weather.
What we don't: Expensive; heavy insulation results in limited range of movement. 
Outdoor Research's popular Alti II, touted as an expedition mitten for high mountain environments, is a performance design through and through. Simply put, this mitt is very warm, very waterproof, and very protective. Combining a burly nylon shell and Gore-Tex membrane with thick PrimaLoft insulation, it's an exceptional and reliable choice for all-day warmth in bitterly cold and wet conditions. And the Alti comes with a number of features ideal for technical endeavors, including a removable leash, durable leather palm, and extended gauntlet design.
We wore the glove version of the Alti through a season of ice climbing and backcountry skiing, and our only real complaint was regarding dexterity. We were still able to clip ice screws and get a solid hold on our ski poles, but the heavy insulation and removable liner do have a noticeable impact on fine motor movements. In addition, the Alti II is overkill for high-output activities on all but the most frigid days. And at $199, it's a solid investment—you can save $80 with the Black Diamond Mercury Mitt above, which features a less premium in-house BD.dry membrane. But for a top-shelf design for skiers and other outdoor adventurers who are prone to running very cold, the Alti II is a strong choice. For a step down in warmth in a very waterproof design, check out OR's Mt. Baker II Gore-Tex Mitts ($165).
See the Men's OR Alti II GTX Mitts  See the Women's OR Alti II GTX Mitts
Category: Work/performance
Shell: Leather
Waterproof: No (water-resistant)
What we like: Classic looks and performance; pre-treated with snow seal.
What we don't: Not as long lasting as the Kincos and $7 more.
Flylow's Ridge glove is a classic. Used (and abused) by lifties and backcountry skiers or stuffed under the seat of a car for emergency use, it has a loyal following that few can match. And for good reason: the combination of pigskin leather, elastic cuff, and Sno-Seal waterproofing is comfortable and offers no-nonsense performance. It's not the warmest leather glove available, but at $50, the Ridge is a better value than options like Hestra's Fall Line below.
The Flylow Ridge goes head-to-head with the Kinco above: Both are durable leather gloves that can withstand a lot of abuse and just get better with time. The Ridge is a bit quicker to break in, but alternately features slightly less insulation and is more likely to pack out over the course of a season. But the Flylow does come pre-treated with snow seal, which is a big selling point and well worth the $7 price increase for many. If you want an even more budget-friendly option from Flylow, check out their Tough Guy, which is less waterproof with canvas along the back of the hand but costs $10 less. Finally, Black Diamond makes a very popular glove in their Dirtbag (also $50), which features a cozier fleece lining.
See the Flylow Gear Ridge Glove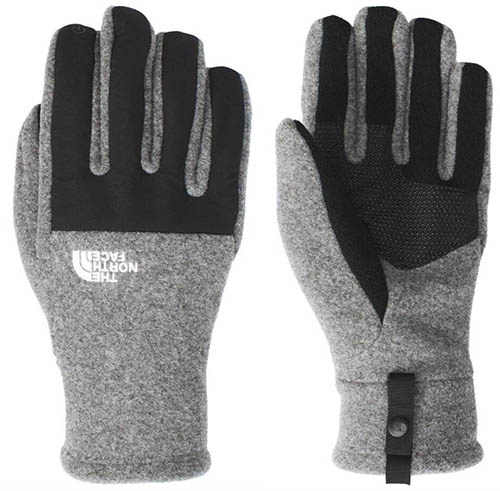 Category: Casual
Shell: Fleece
Waterproof: No
What we like: A well-appointed fleece glove at a good price.
What we don't: Fleece isn't great in wind, rain, or snow.
The North Face's Denali Etip is your typical fleece glove—cozy, dexterous, and moisture-wicking—but with a few extra features. It includes touchscreen compatibility on all five fingers (although we can't think of the last time we used our pinky on our phone's screen), along with a reinforced panel of nylon along the back of the hand for toughness and light weather protection. Along with its comfortable, articulated shape and high-grip palm, the Denali Etip checks the boxes for a simple, everyday fleece glove.
Despite its thoughtful feature set, the Denali Etip has limitations. Most importantly, you don't get the water or wind resistance like that of a synthetic glove like the Outdoor Research Stormtracker above (for a TNF softshell model, check out the Apex+ glove). But for what it is—a comfy $49 design for around town use—the Etip is pretty darn good, and it even has a tab at the cuff to make it easy to take on and off. Keep in mind that the Denali is made with middle-of-the-road 300-weight fleece, but The North Face's extensive lineup also includes a lighter Etip Recycled Glove (great for running) as well as a Hardface model for better wind resistance.
See The North Face Denali Etip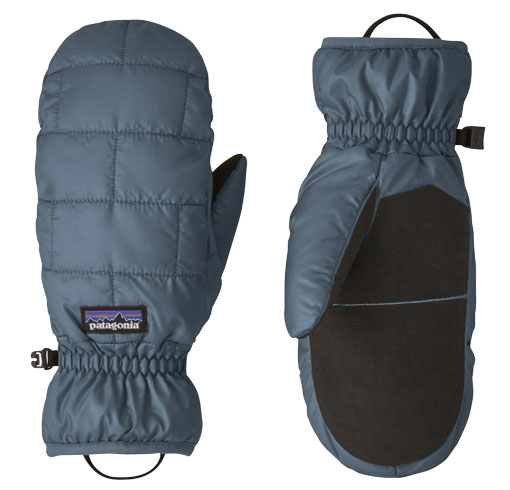 Category: Casual/performance
Shell: Polyester
Waterproof: No
What we like: Surprisingly warm for such a lightweight and packable mitt.
What we don't: Not particularly durable or water resistant.
Patagonia's Nano Puff Mitts might look fairly unassuming, but don't be fooled: These mittens pack a serious punch. Filled with PrimaLoft Gold Eco insulation and featuring a cozy tricot liner, the Nano Puff Mitts are like a warm puffy jacket for your hands. And we mean warm—one of our testers has worn these mittens to the summits of Denali, Mt. Vinson, and Aconcagua, which is a high bar for such a lightweight design. In addition, water-resistant fill and a PFC-free DWR finish keep light moisture at bay, and the mittens are easy to get on with large pull loops at the cuffs. 
The Nano Puff Mitts can't hold a candle to designs like the Black Diamond Mercury and Outdoor Research Alti, which are waterproof, far more durable with partial-leather builds, and feature a large gauntlet. But what they do have going for them is weight-savings. We never regret taking the Nano Puff Mitts along (they're always at the bottom of our pack—just in case—for technical routes and ski tours), and they're easy to throw in an overnight kit for casual weekends, too. They're also relatively inexpensive at $79. For everything from daily warmth to a lightweight and packable backcountry savior, the Nano Puff gloves are well worth a closer look.
See the Patagonia Nano Puff Mitts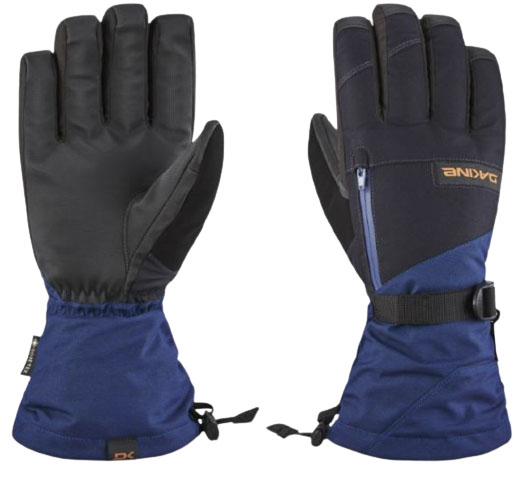 Category: Performance
Shell: Polyester
Waterproof: Yes
What we like: A ski/snowboarding glove that can pull double duty around town.
What we don't: Bulky construction impacts dexterity.
Dakine's Titan has built a solid reputation among skiers and snowboarders alike, but we've included it here thanks to its well-rounded nature. With a Gore-Tex insert, the glove provides reliable wet-weather protection, and a grippy palm does well with everything from shoveling the driveway to hauling sleds. Plus, unlike many snowsport-specific gloves, the Titan's styling translates rather nicely for wearing around town. To top it off, you get removable fleece liners that are touchscreen-friendly and a good weight for wearing on their own while running in the cold.
Where the Titan feels more like a ski glove is the thick insulation and bulk that hurts dexterity. The removable liner plays a role here too, and it can be difficult to do things that require fine motor skills like zipping up jackets or handling car keys. The upside is that you get a lot of warmth at a fair price, and we especially love the zippered pocket (great for stashing a hand warmer) and generous gauntlet for resort skiing.
See the Men's Dakine Titan GTX  See the Women's Dakine Sequoia GTX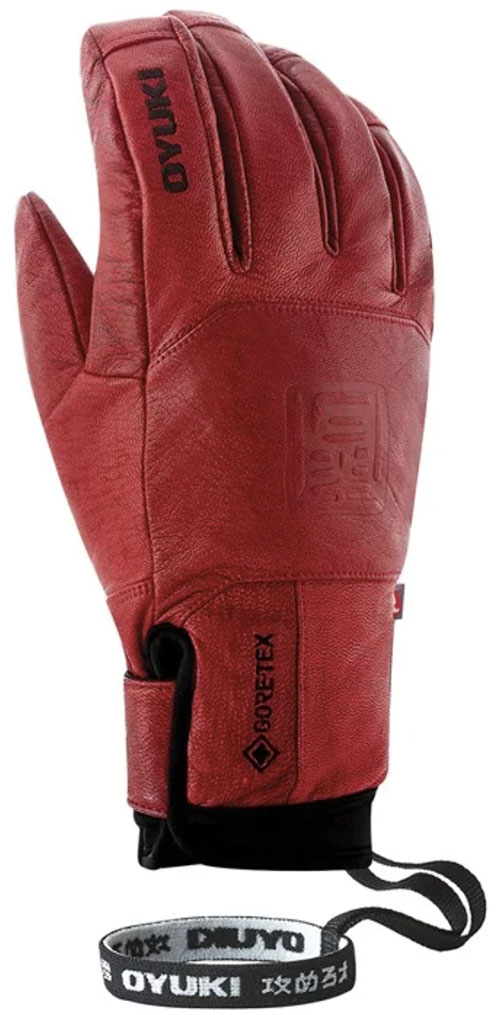 Category: Performance
Shell: Leather
Waterproof: Yes
What we like: A premium leather glove for less than the Hestra competition.
What we don't: A bit stiffer than gloves without a waterproof membrane.
With a name that translates to "big snow," Japan-based Oyuki is a one-stop shop for premium gloves, headwear, and baselayers built for powder-heavy days on the slopes. The Sencho here is a crash course in refinement, with clean styling, top-shelf materials, and an incredible fit and finish. The glove is built with a durable goatskin leather shell and waterproof Gore-Tex membrane, stuffed full of premium 200g PrimaLoft Gold insulation (133g PrimaLoft Grip in the palm), and topped off with a soft tricot liner for comfort. Finally, the cuff is a piece of art in and of itself, with a double layer neoprene design that forms a nice seal at your wrist while keeping bulk low.
We've worn a pair of Oyuki gloves for the past few seasons of resort skiing, and have been very impressed by their performance. The leather shell softens over time and conforms to the hand, resulting in exceptional comfort and a nice amount of dexterity. It's true that a non-Gore-Tex design like the Hestra Fall Line above will be even more pliable, but the tradeoff might be worth it for the Oyuki's full-on waterproofing. And while they're priced a bit lower than the aforementioned Hestras, the Senchos feel just as premium and have the brand-name credentials to back it up. Whether you're looking for your next ski glove or are in the market for a premium leather workhorse, the Oyuki Sencho is worth a close look.
See the Oyuki Sencho Gore-Tex Glove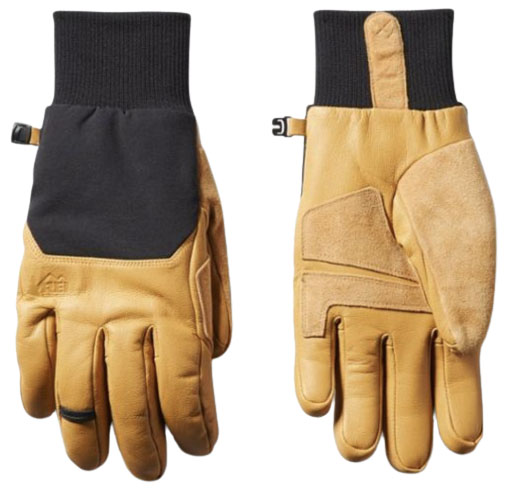 Category: Performance/work
Shell: Leather/softshell
Waterproof: No (water-resistant)
What we like: Work glove looks with useful performance touches.
What we don't: Not waterproof or very warm.
REI's in-house line is a great one-stop shop for value, and we like what they've come up with in the Guide Insulated. Available in both a glove and a mitten, you get a mostly leather design that mixes traditional work glove looks with techy details like a softshell material on the back of the hand. The unisex model is offered in a range of sizes (from XS to XXL), provides moderate insulation with a combination of synthetic fill and a fleece lining, and includes nice touches like a suede nose wipe on the thumb. For a very reasonable $50, the Guide Insulated packs a serious punch.
How does the REI Co-op Guide Insulated stack up to the Flylow Ridge above? Both have durable leather palms and good dexterity for anything from chopping wood to backcountry skiing, although the Flylow is a bit tougher and more protective with its full leather build. On the other hand, the softshell material on the REI helps keep you comfortable when working up a sweat. We give the edge to the more proven Flylow for now, but the Co-op's Guide Insulated is nevertheless a worthy addition to any glove quiver.
See the REI Co-op Guide Insulated Glove
Winter Glove Comparison Table
Winter Glove Buying Advice
Winter Glove Categories
Performance
Performance gloves are designed for sustained use in demanding winter conditions. For mountaineering, skiing, or winter bike commuting, these are the top performers. Obviously, a glove made for high-output activities such as cross-country skiing will have vastly different traits than an arctic expedition glove, so this is a wide category. But consistent features include wind and waterproof materials, quality insulation, good dexterity, grippy palms, snug-fitting cuffs, and often expensive price tags. Leading options include the Black Diamond Mercury Mitts, Outdoor Research Alti II, and Outdoor Research Stormtracker.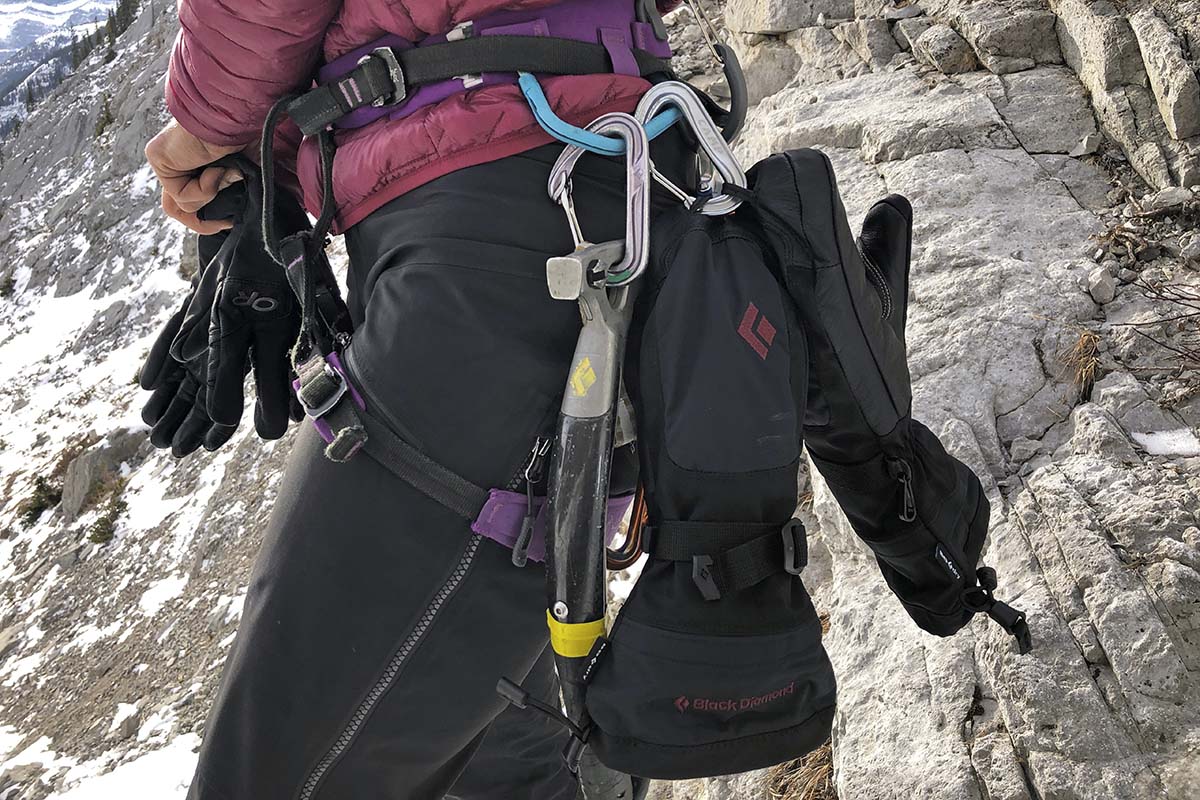 Casual
Casual gloves are our top picks for day-to-day activities such as walking around town, driving to work, or short winter hikes. Some of these gloves are designed with full functionality in mind, while others prioritize styling and warmth. All casual gloves are made to keep your hands protected for brief periods of time in the cold, but many won't stand up well to precipitation. In this category, look for features like touchscreen-compatible fingertips, reinforced palms, the use of wool, and mitten designs. And because they're not intended for high-end performance, casual gloves are typically among the most affordable.

Work
Gloves in our work category put a premium on durability. For uses like chopping wood or operating a ski lift, a tough leather glove is hard to beat (it's no coincidence all our work gloves above are made primarily with leather). Also, look for simple feature sets, dexterous styles, reinforced palms, and short, undercuff designs. Most winter-ready work gloves are fleece-lined or synthetically insulated for added warmth, but you can always double up with a liner (at the cost of some dexterity). 
In general, work gloves are not made for extreme conditions like true winter sports options, although there are some notable exceptions. The Flylow Ridge and REI Co-op Guide Insulated gloves, for example, cross over into the performance category with designs that balance weather protection, durability, and warmth. We know many winter enthusiasts who routinely wear models such as these for skiing, snowboarding, or ice climbing rather than gloves specifically made for those activities. But take note: although work gloves often come with a lower price tag, they do not offer the full weather protection of a nylon glove with a long, sealable gauntlet.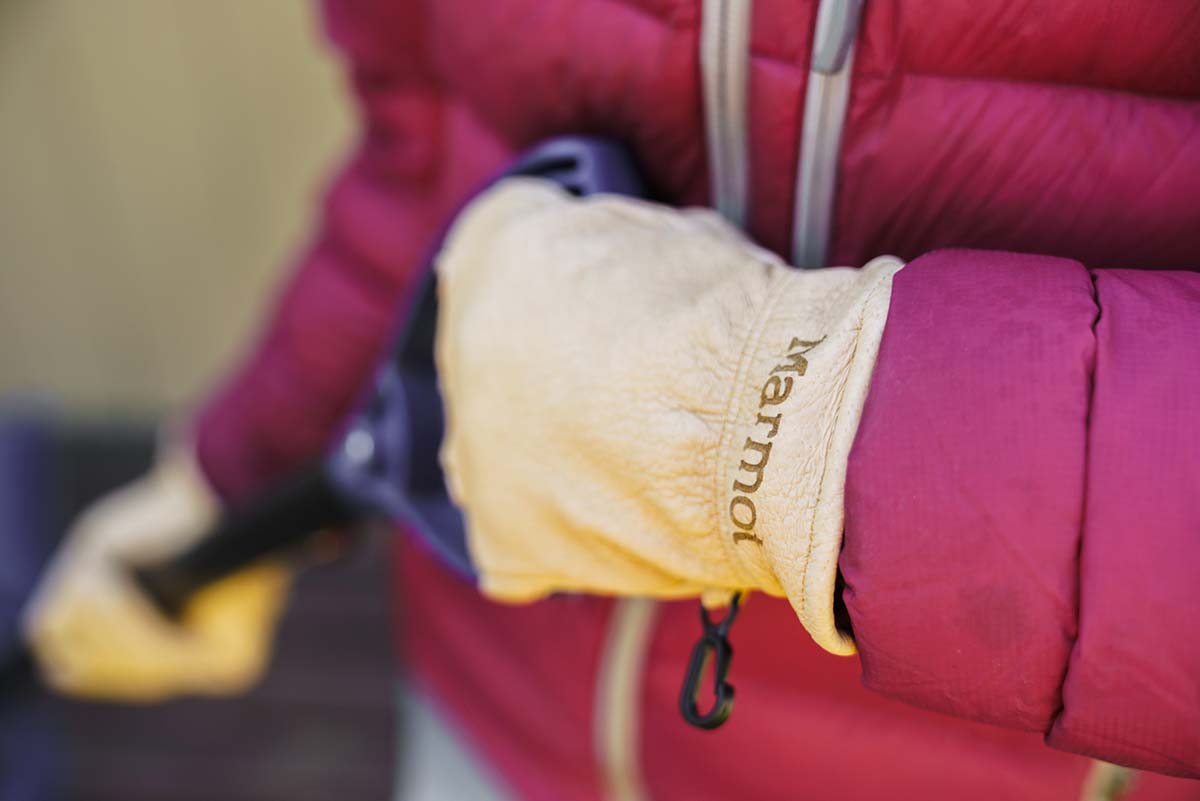 Warmth 
Warmth is a defining feature of a winter-ready glove, and the amount of insulation provided varies widely between styles. On the very warm end of the spectrum are the Outdoor Research Alti II and Black Diamond Mercury Mitts, which have thick synthetic fill, windproof shells, and waterproof inserts for keeping you protected in extreme conditions. On the other end is a lightweight fleece glove like The North Face Denali Etip that is only useful for short stints outside in freezing temperatures. And many designs fall in between, like Flylow Gear's Ridge Glove. The premium leather build is dexterous for day-to-day activities, while the moderate level of foam insulation has kept us comfortable on mild-weather ski days and while shoveling snow. The good news is that there is a suitable glove for just about every possible use. Your ideal level of warmth will depend on the expected low temperatures, what activities you'll be doing, and if you are prone to running hot or cold.
 
Insulation Types
Synthetic
For a seriously warm glove, synthetic fill is our preferred form of insulation. It has all the right properties: synthetic insulates when wet, is an efficient insulator relative to its weight, is reasonably durable and resists packing out, and is cheaper than down. Many of the top performance gloves on our list use this type of fill, including the Oyuki Sencho GTX. It's worth noting that the quality of the synthetic fibers is important—gloves that use PrimaLoft and Thinsulate are warmer for their weight and longer lasting than cheaper options that uses generic polyester fill.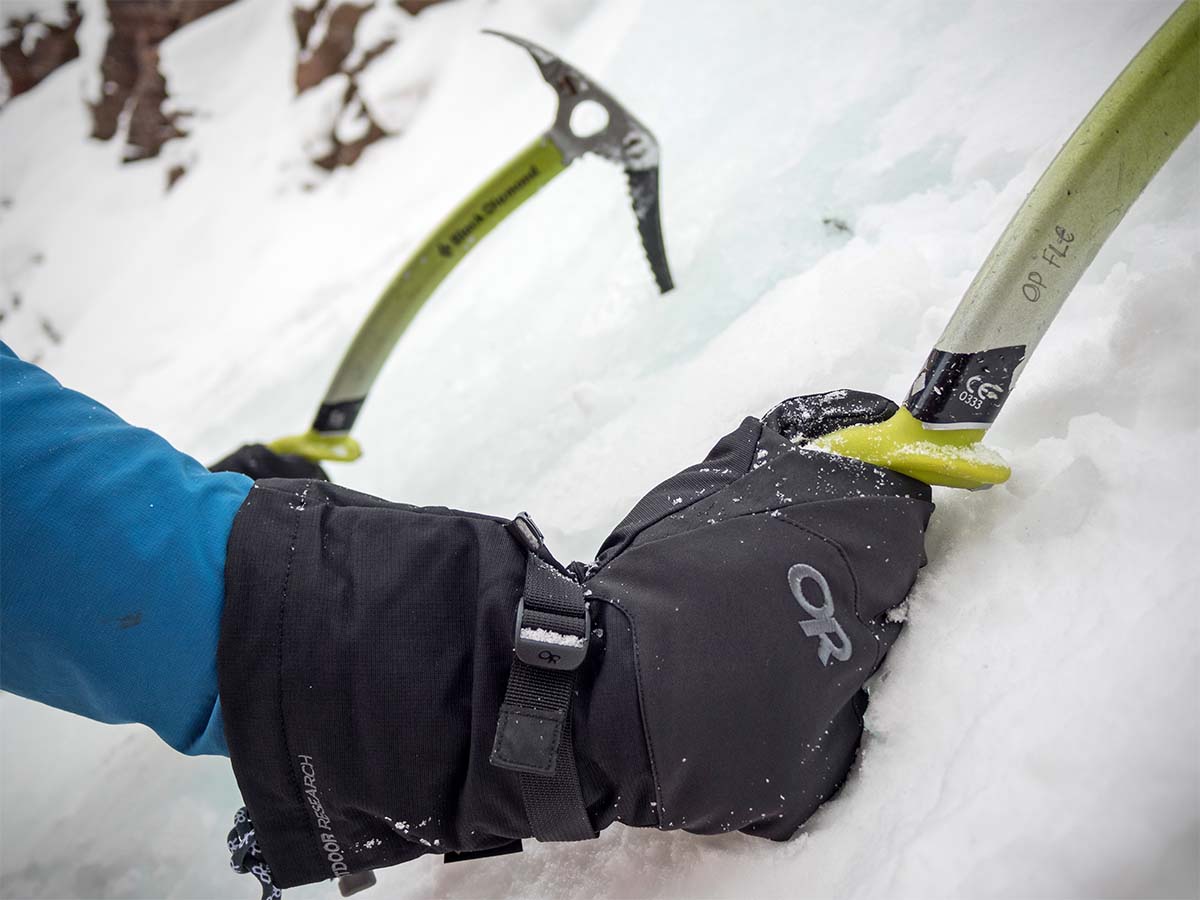 Fleece
Synthetic gloves may dominate the performance category, but fleece is a popular insulator among casual and lightweight designs. A fleece glove like The North Face Denali Etip is cozy, warm enough for short walks outside, and affordable at $35. Downsides of fleece gloves are that they don't provide much wind and weather protection (on the other hand, they often breathe well), and aren't as warm as a synthetic glove. But for a cheap and comfortable option to wear around town, fleece is a good way to go.

Wool
Wool, and the merino variety in particular, is our favorite material for next-to-skin baselayers and socks, but it isn't as popular among winter gloves. It's true that some of the gloves above use wool—the OR Flurry is insulted with wool terry—but it has its fair share of drawbacks. Wool generally has a shorter lifespan than fleece, and is heavier, bulkier, and significantly less durable than synthetic. But there's no denying its warmth—we like wool for a lightweight liner (worn under a shell) or for casual use in dry conditions.
Down
Among insulation options, down is the one you'll see the least. The main reason is that down must be lofty in order to insulate (read: less dexterity), and natural goose or duck plumage loses its ability to insulate when wet. You can mitigate this issue with a burly, waterproof shell, but even the sweat from your hands can compromise the down fill. As such, you'll run across the occasional casual down piece like the Outdoor Research Coldfront Down Mittens, but synthetic gloves are far more practical (and affordable) for wet and snowy conditions.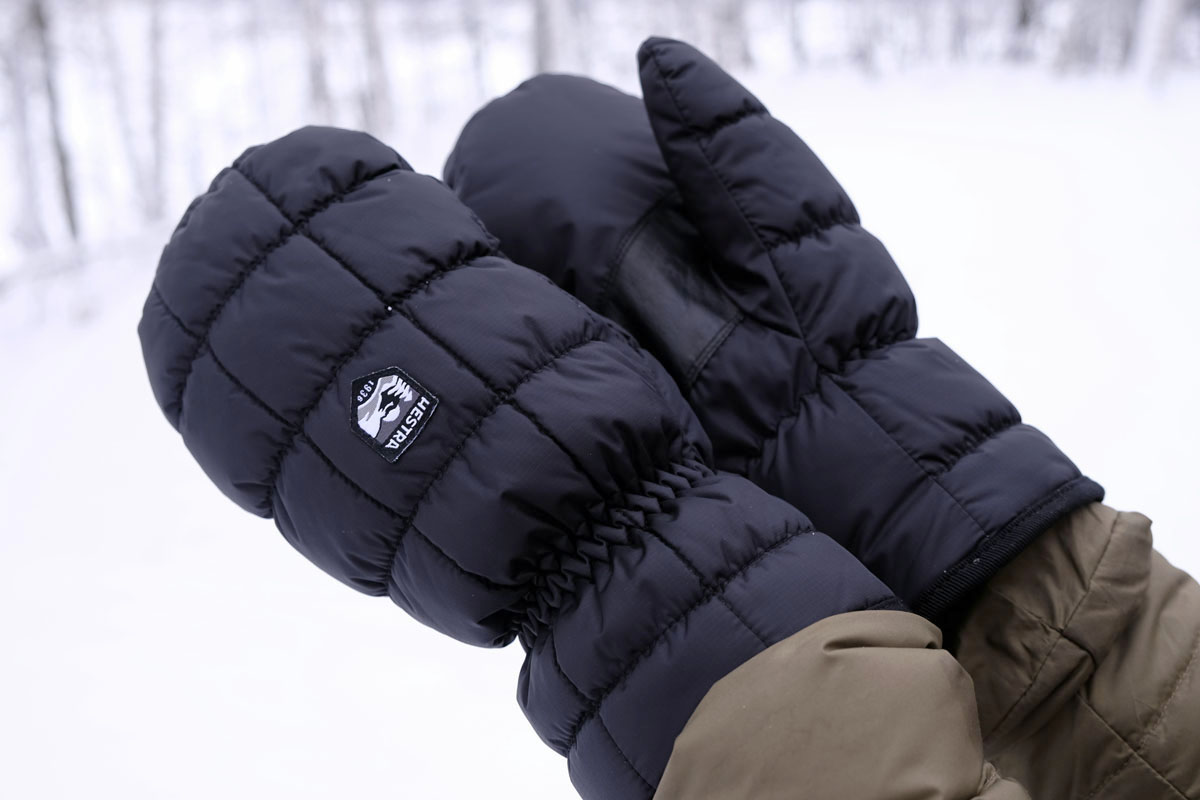 Waterproof vs. Water-Resistant Gloves
Many winter gloves are not fully waterproof, but those that are fall into two basic styles: an outer shell that blocks out moisture, or a waterproof membrane sandwiched between the shell and liner. Starting with the waterproof shell design, these gloves are typically made with leather, which resists wind but is naturally prone to absorbing moisture. As such, they require a treatment of Sno-Seal or equivalent product to create a water-blocking barrier. It's important to note that these gloves also need routine maintenance (washing or reapplication of treatment) to stay in working order (more on this below).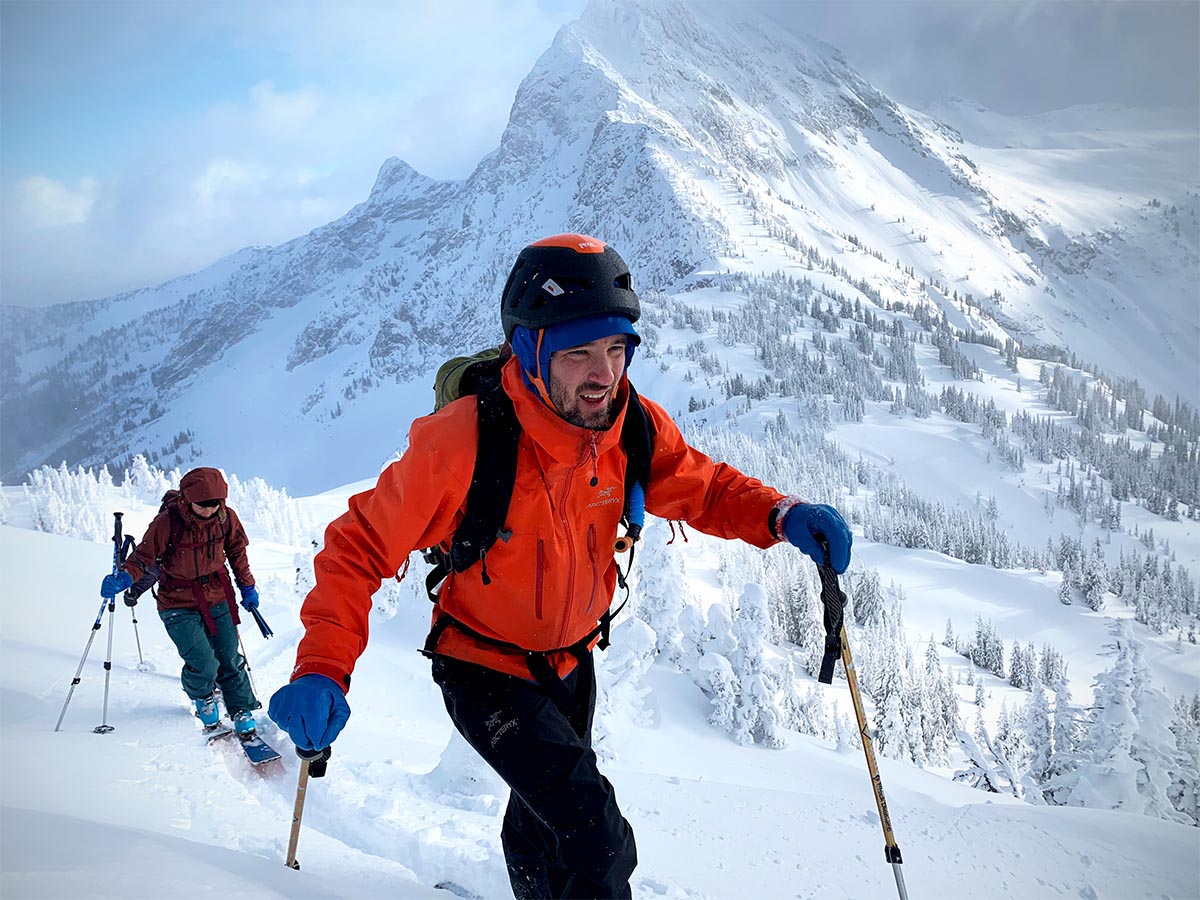 A waterproof shell does the trick in dry snow or if you stay on top of the maintenance, but it can't compete in terms of all-out water resistance with an internal membrane. The highest quality waterproof layer on the market is Gore-Tex, known for its combination of long-lasting moisture resistance and breathability. Most high-level gloves are made with Gore-Tex, while more budget-oriented gloves feature various off-brand designs, such as BD.dry, DryVent, etc. You can expect varying levels of performance from these fabrics, but in general, a lower price point will mean compromised waterproofing, breathability, or both. Again, cheaper gloves will be fine for most purposes—including mild-weather resort skiing and outdoor work—but if you really want a glove to hold up in wet and miserable conditions, expect to pay a bit more.
For casual use or if you're not outside for extended periods of time, a non-waterproof glove often will be sufficient. Fleece and wool models offer the least amount of protection, while some, like the leather Hestra Fall Line, are highly wind and water resistant. In general, we recommend a waterproof glove if you'll be out in the elements for long stretches and will run the risk of wet hands. But more air-permeable designs are a fine choice for wearing around town, while shoveling snow, or even on the occasional snowshoe adventure.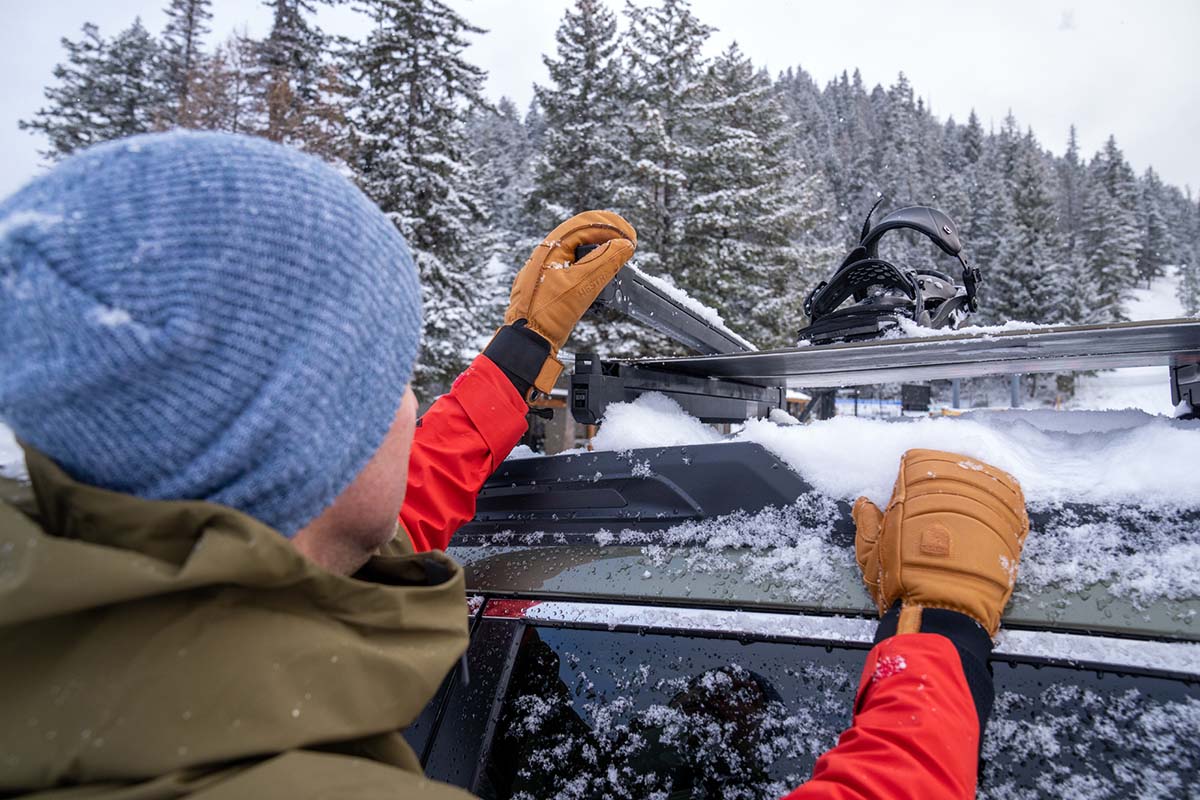 Treating Your Leather Gloves
As we touched on in the waterproofing section above, leather gloves require occasional treatment to avoid absorbing moisture. Some models come pre-treated, including Flylow's Ridge glove, while others like the Kinco Pigskin glove are just plain leather. The most common and effective coating is Sno-Seal. This beeswax-based solution requires a fair amount of effort—including baking the glove in the oven—but it's a proven formula that's extremely popular among skiers in wet climates. Simpler and less-involved options that still provide a good level of protection include Nikwax's Waterproofing Wax and Hestra's Leather Balm, which can be applied quickly by rubbing in the treatment with a cloth and drying overnight. Depending on how often you wear your gloves and in what kind of conditions, you may need to re-treat the leather one or more times a winter (it'll be clear when you need to reapply because the gloves will stop shedding moisture).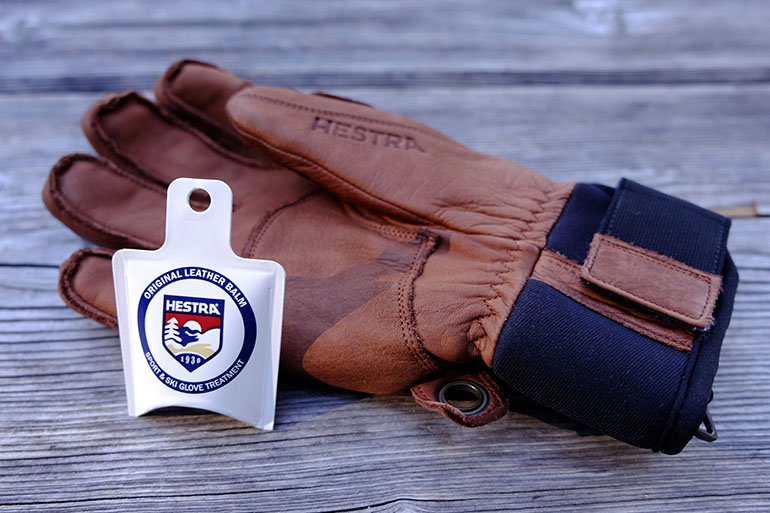 Shell Materials and Durability
Durability should not be overlooked when it comes to choosing the right glove. After all, what gets more use than our hands? The most long-lasting gloves fall into the work category and are made of ultra-tough leather. An additional waterproofing treatment—such as Nikwax, Sno-Seal, or similar product—provides a barrier from moisture but also serves to extend the glove's lifespan. Nylon shells are another long-lasting option, particularly well-made performance designs like the Outdoor Research Alti II Mitts. Simple wool and fleece models are the most prone to developing holes and tears and should be limited to casual activities. It's worth noting that some nylon, wool, and fleece gloves are reinforced with leather in high-use areas (such as the palms and fingertips).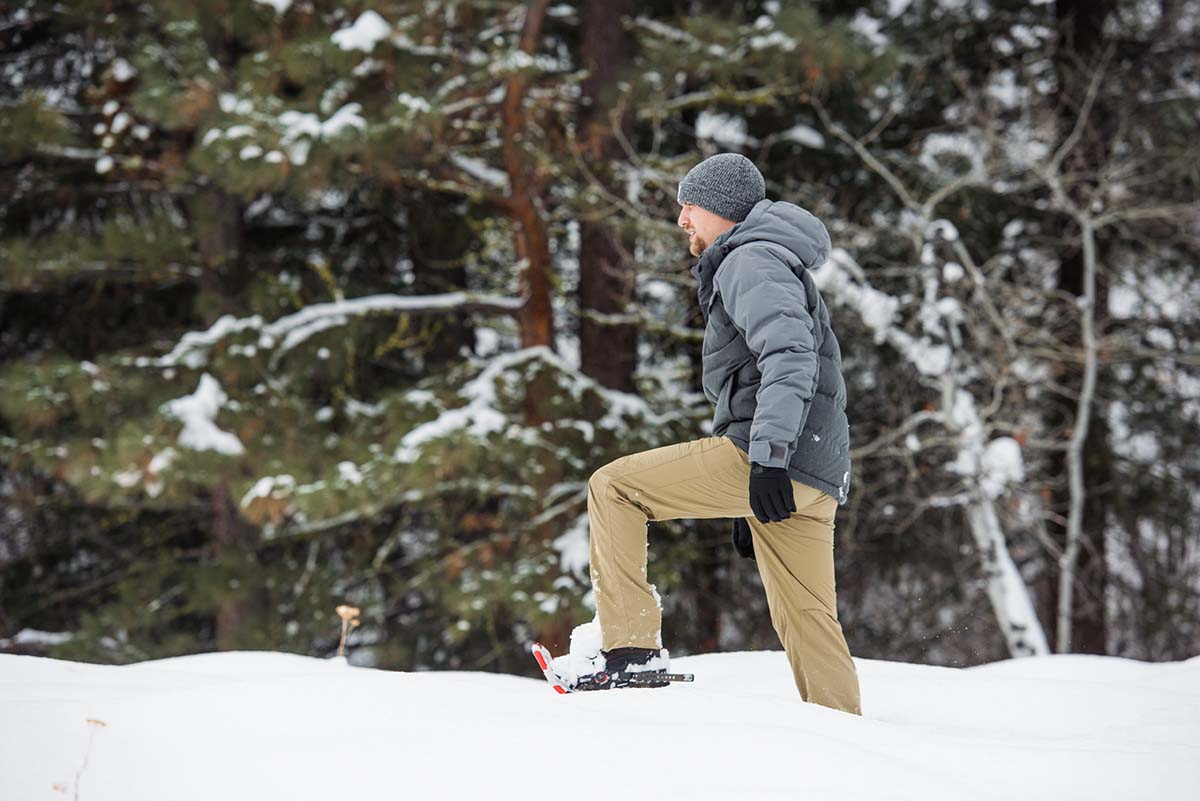 Dexterity
For many wintertime uses, from putting chains on your car in a snowstorm to texting on your smartphone, it's important to have a pair of highly dexterous gloves. If this is a priority for you, the supple and stretchy nature of leather (even lined leather) makes it a popular choice. Another factor is the level of insulation: in general, thinner and less warm gloves are more dexterous. Finally, the construction plays a role—Hestra's Fall Line has external seams along the fingers that make it surprisingly easy to perform fine motor movements despite the glove's warm foam insulation. Keep in mind that dexterity doesn't need to be the top consideration for everyone—thick or bulky gloves can still be useful in many situations, including shoveling snow, skiing, or just walking in extreme cold.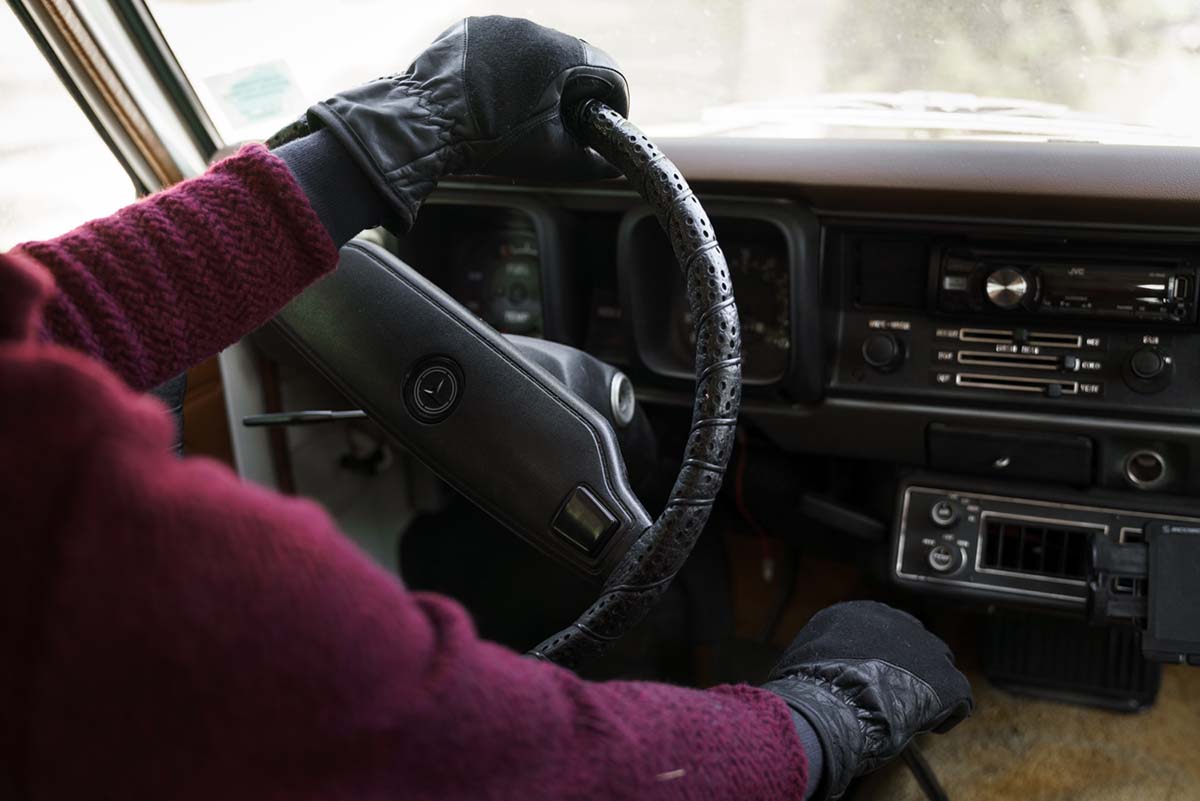 Cuffs
Gauntlet Style
Gauntlet gloves, like the Black Diamond Guide, extend over the cuff of a jacket (rather than under), providing excellent weather protection and warmth. When done right, a gauntlet effectively seals out cold air and virtually eliminates the possibility for snow to enter. Gauntlet gloves are easy to get on and off, with large openings and one-handed drawcords that tighten and release. They are often heavier, bulkier, less agile, and less ventilated than other styles, but worth it if you really want to batten down the hatches. We like the gauntlet style best as high-performance gloves for winter sports and expeditions. 

Undercuff
Undercuff gloves—usually incorporating a cuff made with stretchy wool or synthetic material—sit under the winter jacket and hold the glove close to the wrist. The cuff provides both a barrier from the elements and keeps the glove from slipping off the hand. While an undercuff glove is less bulky, lighter weight, and better at ventilating than a gauntlet style, it can't compete in terms of weather protection. Even if you tighten your jacket sleeves snugly over the top, there's a chance your sleeves will ride up during activity. But for outdoor work or everyday use, the simplicity of an undercuff design is very appealing.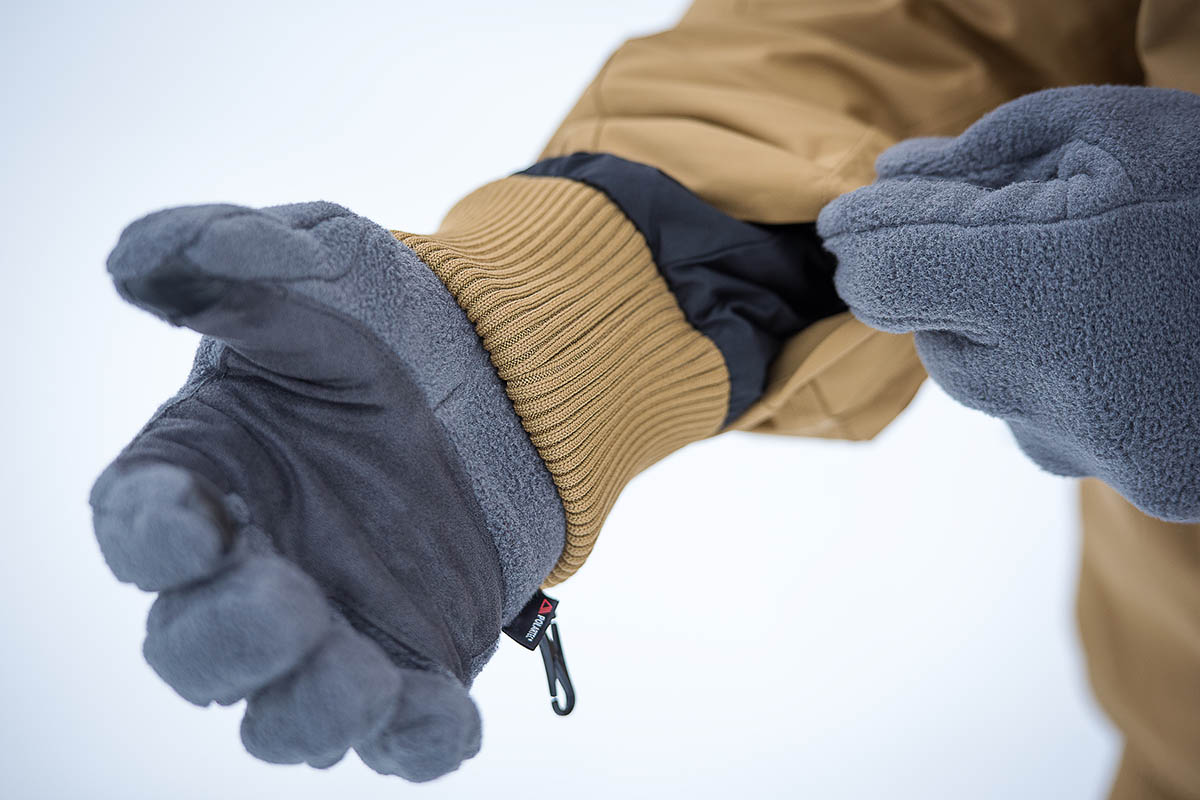 Removable Liners
Many gloves come with either a built-in or removable liner (the latter often are referred to as 3-in-1 gloves). Made from synthetic or wool, a liner wicks moisture away from the skin and adds an element of warmth, even when wet. A liner that can separate from the glove provides added versatility—you can wear the liner or shell separately, or combine them for maximum warmth. Furthermore, separating the layers allows for faster drying and the ability to swap liners in the middle of a particularly wet day. 3-in-1 gloves are bulkier, heavier, and less dexterous, but certainly have their merits. And keep in mind that even if a glove is not sold with a liner, you can always layer it with a thinner set for added warmth.
 
Touchscreen Compatibility
We're on our phones more now than ever, and in 2023 we see this reflected in glove design. Over half of the gloves on this list feature touchscreen-compatible pointer fingers and thumbs, and the number of available designs are increasing each year. In short, the technology uses conductive fabrics in the fingertips so that your body's electric current—what the screen must recognize to be responsive—is transferred through the glove (interestingly, you can make this modification yourself with a simple needle and conductive thread). As expected, thin gloves work better on a touchscreen than thick gloves (a simple matter of accuracy). This makes a glove with a touchscreen-compatible removable liner appealing: you get the warmth of a heavy winter glove but the ability to use your phone without fully exposing your hand to the elements.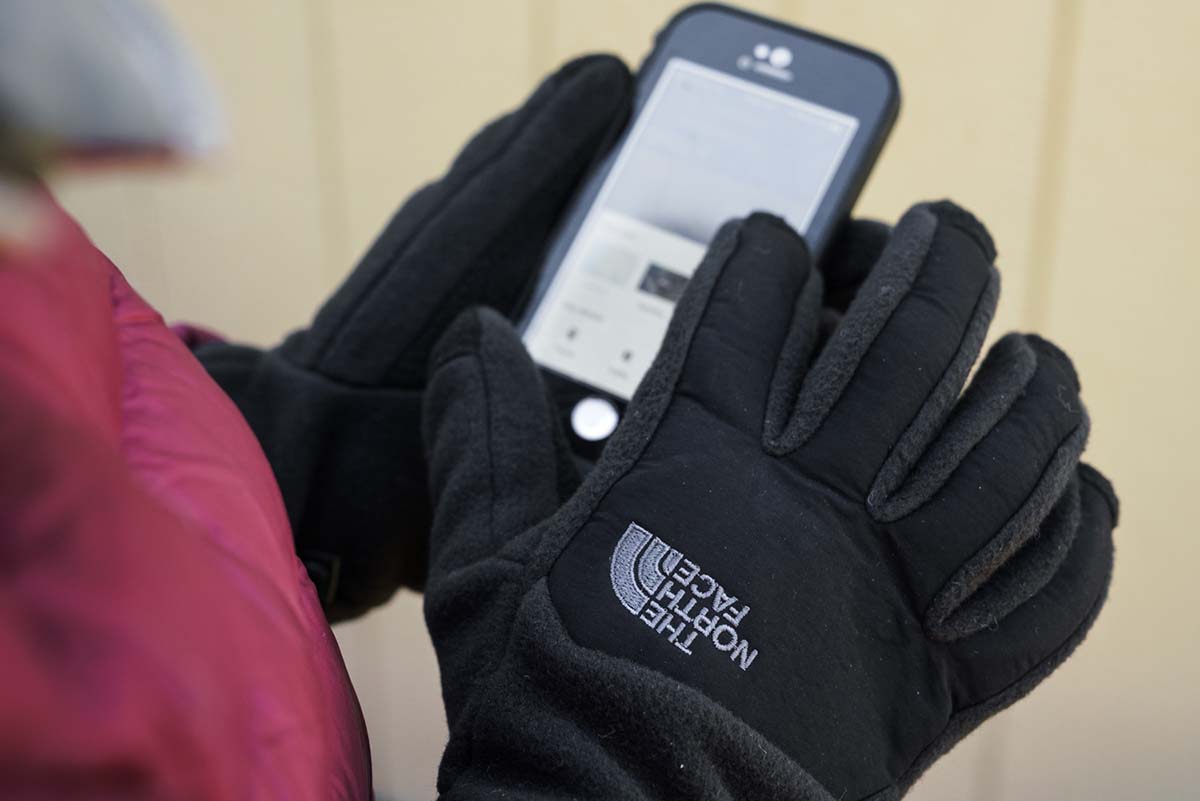 Additional Winter Glove Features
Winter gloves can range from simple leather designs like the Kinco Pigskin to fully featured models with wrist cinches, nose wipes, zippered pockets, and carabiner loops for carrying on a harness. These features generally increase with performance—everyday and work gloves are usually the simplest (sometimes with touchscreen compatibility as the only noteworthy addition), whereas winter sports gloves often include all the bells and whistles. Some gloves even come with a battery-powered heat pack for particularly cold environments—or particularly cold hands (the Outdoor Research Prevail Heated GTX Mitten being our favorite).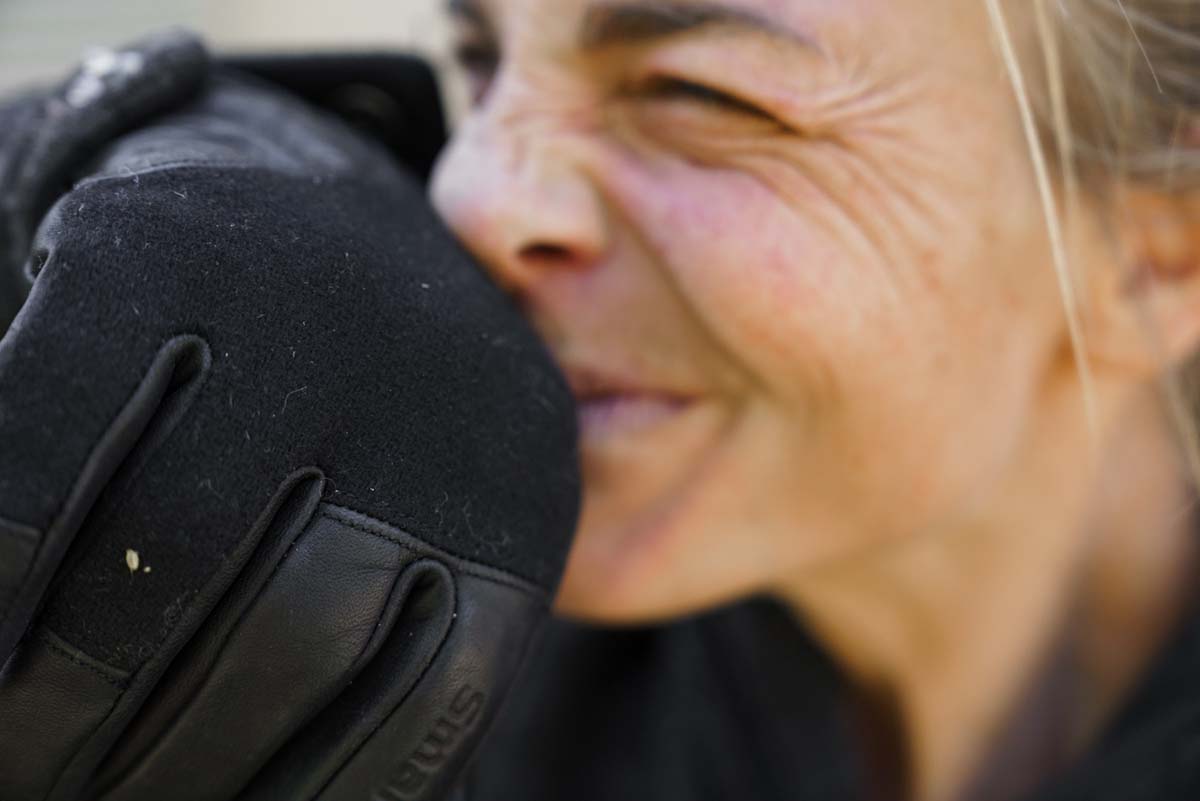 Gloves vs. Mittens
For the chilliest of conditions or those that suffer from habitually cold hands, mittens are a great choice. By keeping your fingers together rather than isolating them as gloves do, mittens offer a notable increase in protection and warmth. The largest downside of mittens is the lack of dexterity. Even for simple tasks like tying your shoes, unzipping your pockets, or grabbing a small item, mittens are bound to make you feel clumsy. Depending on the activity, you may end up removing them enough times that your hands would have stayed warmer with gloves on. But for the occasions when you don't need nimble hands, nothing beats the warmth of mittens.
Some gloves—like the Smartwool Merino Sport Fleece Wind Mittens—are designed with mitten flaps that extend over the top of gloved fingers. For casual use, this can be a best-of-both-worlds scenario—convenience, dexterity, and warmth all in one. But take note that the partial flap will not suffice to keep your hands dry in snow or rain. A third option for mittens is the 3-finger design, which is also known as the split finger or lobster glove. Here, the thumb and pointer finger have their own slots while the other three fingers remain together as in a mitten. We don't love this style in most cases—dexterity still is largely compromised and the increase in warmth is minimal.
Back to Our Top Winter Glove Picks  Back to Our Winter Glove Comparison Table
Read More From Switchback Travel