Inflatable stand up paddle boards (SUPs, for short) are taking the boating scene by storm, and it's easy to see why. These compact vessels are easy to transport (no car rack required), surprisingly durable, stable and efficient on the water, and versatile for activities like river expeditions, fishing, surfing, and just plain cruising. Below we break down the top paddle boards of 2023 (inflatable designs only), from recreational models perfect for beginners and casual outings to premium touring boards and activity-specific designs. For more information, see our buying advice and comparison table below the picks.
 
---
Our Team's Stand Up Paddle Board Picks
---

Best All-Around Stand Up Paddle Board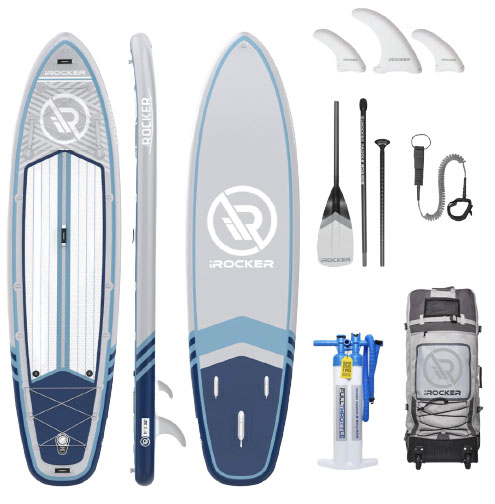 Category: Recreational
Lengths: 10', 11'
Fins: Tri
What we like: Great value for a very versatile and well-made board. 
What we don't: Multi-use intentions mean it's not the fastest or most stable board on this list.
For the best combination of quality, affordability, and convenience, the iRocker All-Around tops our list of inflatable stand up paddle boards for 2023. In short, the All-Around is the full package for those just getting started: You get a premium board from one of the top brands in the industry, in addition to a leash, dual-chamber pump, removable fins, wheeled bag, and lightweight carbon fiber paddle. On-deck storage is fully functional for most uses, including an assortment of D-rings and cargo bungees, and the generous pad can even play double duty as a yoga mat. It all adds up to a great starter kit that's plenty durable to last you well into your paddling career, whether you're out on the lake, down by the bay, or even catching a bit of whitewater.
The All-Around finds a nice middle ground between budget models and premium boards, which is also reflected in the $750 price tag (at the time of publishing, iRocker is including a complementary electric pump and cleaning kit with purchase). It's admittedly not the most high-performance SUP here—the Red Paddle Co Sport below is decidedly faster and the Hala Rado is more stable in whitewater—but the iRocker is everything you'll need for flatwater paddling, and its build quality far exceeds that of more affordable designs. We also love the All-Around's option for a single, twin, or tri-fin set-up (allowing you to tailor stability and speed depending on your needs), and it helps that smaller paddlers (under 5'10") can opt for the more svelte 10' model. Finally, owned and operated by paddlers, iRocker is known for their great customer service, shipping is free within the U.S. and Canada, and they even offer a two-year warranty on their boards (and three years for seam failure).
See the iRocker All-Around 11'
Best Budget Stand Up Paddle Board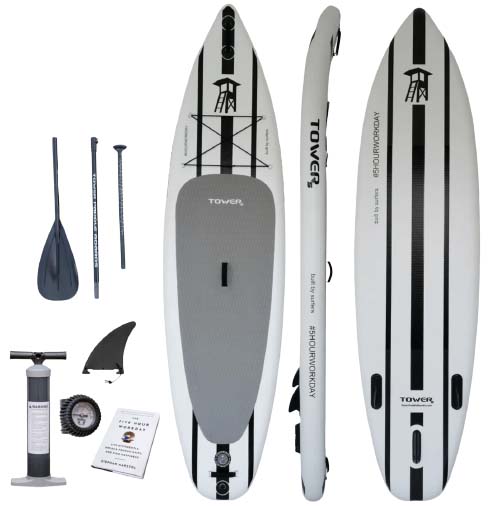 Category: Recreational
Length: 10'4"
Fins: Tri (fixed side fins)
What we like: More durable than most SUPs at this price point.
What we don't: No included travel bag.
Budget paddle boards can run you as little as $200, but most are plagued with thin, single-layer construction that can result in durability and rigidity issues over time. While this can be serviceable for new paddlers who haven't experienced the joy of a rigid, skookum board, we don't recommend it for heavy use. If you're looking to pinch pennies but don't want to compromise on quality, the Tower All Around is a great place to start. With fusion construction that's twice as thick as a single-layer board, the All Around offers similar durability and rigidity to most premium models here, including those from iRocker, Red Paddle Co., Isle, and more. For just $400, that's worth talkin' about.
The Tower All Around is one of the least compromised budget boards on the market, but it is a little pricier than the competition (especially compared to the $230 Roc Explorer below). And while it does come with all the necessary trimmings for the water—including a detachable fin, three-piece paddle, and hand pump—Tower noticeably omitted a travel backpack, which we've certainly missed when schlepping the board from our shed to the put-in (you can purchase one separately for $59). But this is a relatively small gripe in the grand scheme of things, and worth it to us for the All Around's quality of construction and reliability. 
See the Tower All Around S-Class
Best Touring Stand Up Paddle Board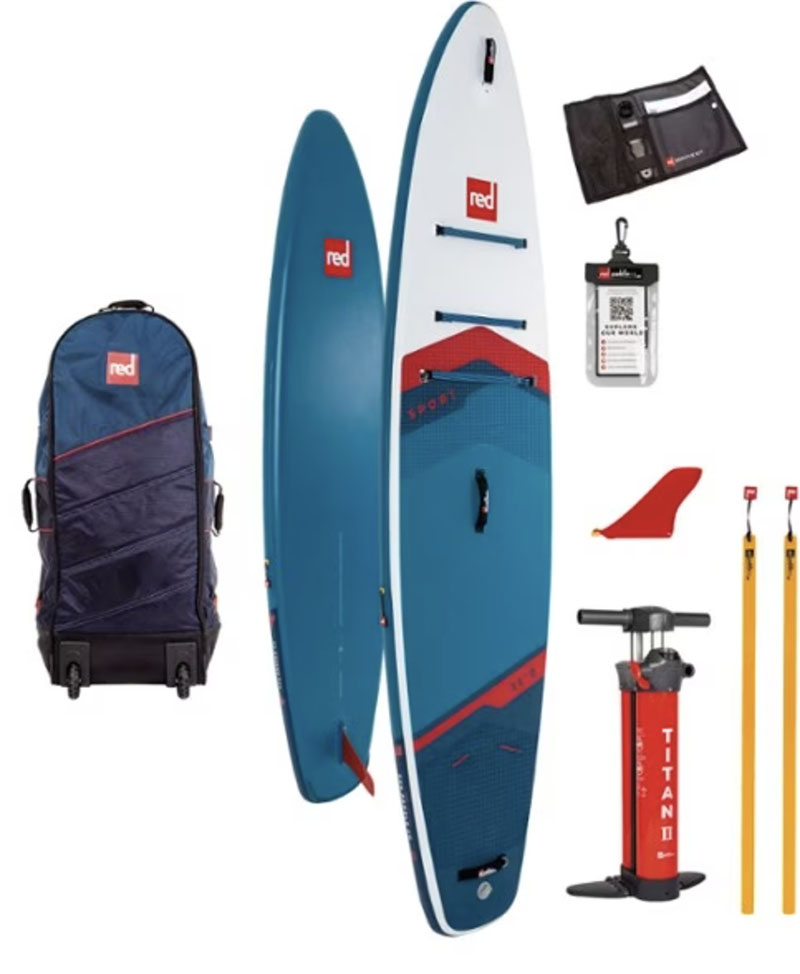 Category: Touring
Lengths: 11', 11'3", 12'6"
Fin: Single 
What we like: High-quality touring design that's rigid yet lightweight.
What we don't: Expensive and needs more attachment points for long trips.
U.K.-based Red Paddle Co (RPC) is an industry leader in paddle board innovation and design, with a top-notch selection of inflatable paddle boards for everything from whitewater and windsurfing to yoga and racing. Their Ride ($1,299) is one of the most premium all-rounders, but the longer Sport is our top pick for paddlers looking to travel greater distances or at faster speeds. At $1,599 the Sport is undeniably expensive, but the result is a premium touring design that has few rivals. You get a relatively narrow, 32-inch width for cutting efficiently through the water, a single fin for tracking (traveling in a straight line), 4.7 inches of platform that keep you svelte and close to the water, and a Speed Tail for both efficiency and maneuverability. Finally, with multiple sizes—11'0", 11'3", and 12'6"—you can customize length depending on your weight (remember to factor in your gear as well).
It doesn't get much more premium than a Red board, but given the Sport's price point, you'll have to ask yourself if you really need this level of performance. After all, touring models like the Thurso Surf Expedition and NRS Thrive below can get the job done for most paddlers at about half the price. But it's hard to beat the durability of a Red board (they put them through extensive testing, including running over a board with a 22.5-ton tractor), and are all backed by a generous five-year warranty. Further, the Sport comes with add-on stiffening battens for each side rail, which give it more rigidity while still maintaining a fairly low weight (however, these are so difficult to slide in and out that we often don't bother). All in all, the Sport is an ideal companion for fitness paddling or multi-day excursions, if you can stomach the cost. And for a larger deck to shuttle more overnight gear, the 12-foot 6-inch Voyager is a step up in size (it also comes in 13'2" and 15'0" lengths).
See the Red Paddle Co Sport 11'3"
Best Ultralight/Packable Paddle Board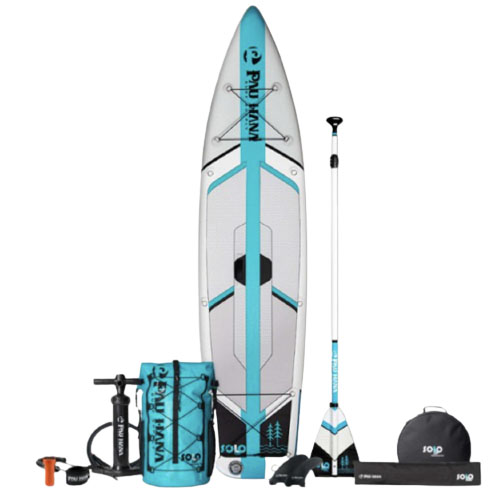 Category: Specialty
Length: 10'10"
Fins: Twin
What we like: Ultralight and compact build makes it easy to tote far distances.
What we don't: No center fin box and thinner materials than most.
Oh, the places you'll go on a stand up paddle board. And when your board packs down into an easily totable dry-bag backpack, the adventure list grows even longer. Pau Hana's Solo Backcountry is a Houdini among SUPs: with a length of 10 feet 10 inches, 30-inch width, and 6-inch thickness, it looks like a standard-sized board but tips the scales at just 14.8 pounds (most are at least 20 lb.) and is malleable enough to roll into a tight bundle. The paddle is another feat of engineering, with a rollable blade and three-piece shaft that disappears into a corner of your pack. Tack on the aforementioned dry bag, repair kit, leash, and compact pump, and the whole package weighs just 23 pounds. With this streamlined build, hiking your board a few miles (or more) into your favorite lake or river just got a whole lot easier.
That said, there are a few inherent downsides to going with such a light and compressible design. First, the Solo Backcountry's ultralight materials can't match the durability of fusion or double-layer construction, so you'll want to treat the board with added care—and expect it to lose its smooth ride over time. Second, in order for the board to fold in half, Pau Hana removed the center fin box and opted for twin fins, which gives you a little more speed than a three-fin setup (less drag) but noticeably less stability. And third, the Solo Backcountry is undeniably pricey at $899. But we think Pau Hana nailed the compact design better than most—setups like the Red Paddle Co Compact and Nixy Huntington G4 are both shorter at 9'6" and not as light or packable—making the Solo Backcountry our top choice for intrepid paddlers wanting to hit the trail with their SUP. 
See the Pau Hana Solo Backcountry
Best Stand Up Paddle Board/Kayak Hybrid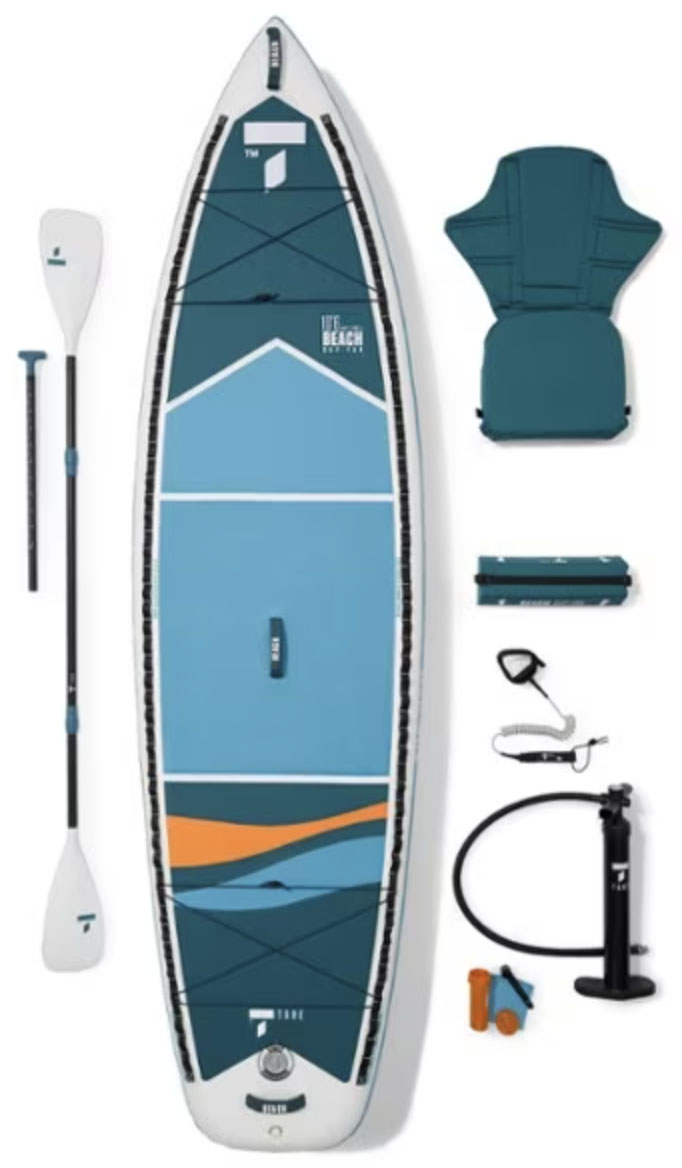 Category: Recreational/specialty
Lengths: 10'6", 11'6"
Fins: Tri (fixed)
What we like: Includes a kayak seat, footrest, and adjustable paddle; built-in daisy chain offers great customization.
What we don't: If you already have a paddle board, you might be able to purchase a kayak seat to fit it.
If you're the kind of paddle boarder who likes to sit down from time to time, it's worth looking into a hybrid SUP/kayak design. Tahe's Beach SUP-Yak is our current favorite—for $700, you essentially get two activities in one. Without the included Kayak Kit, you get a standard-sized SUP with an extra-wide, 34-inch deck. Add the Kayak Kit, which includes a raised seat, footrest, and adjustable paddle, and you get a comfortable sit-on-top kayak. Rated for up to 300 pounds, the 10'6" Beach SUP-Yak is sturdy enough to handle you and your smaller loved ones (be it furry friend or child) with ease.
A lot of paddle board brands give you the option of adding a kayak seat to your order, including iRocker, Blackfin, Isle, and Thurso. But what we love about the Tahe is its daisy chain attachment system, which runs the length of each side and allows you to situate the seat exactly how you want it. The plush footrest is also a welcome feature for both comfort and performance—with something to push your feet against, you can move a lot of water with each stroke. Added up, there's a lot to like about the Beach SUP-Yak, which also comes in an 11'6" version for larger paddlers. If you're willing to spend a little more, the Isle Switch ($995) offers the same features and versatility in a more premium package.
See the Tahe 10'6" Beach SUP-Yak 
Best Multi-Person Paddle Board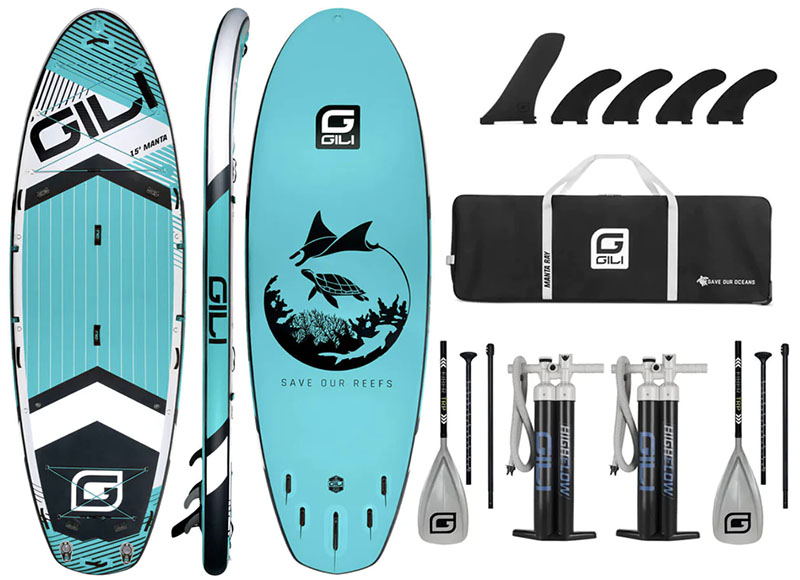 Category: Recreational
Lengths: 12', 15'
Fins: Five
What we like: Did someone say party float?
What we don't: Heavy and not super maneuverable.
The vast majority of paddle boards are designed to suit one rider, and if you're ambitious you might be able to sneak on a dog or small child, too. But for those who like to travel with a crew, a flotilla isn't the only option. Gili's 15' Manta Ray is built to handle a whopping five (or more) passengers, with a 56-inch wide and 8-inch thick platform that can accommodate up to 1150 pounds. And it's not just the size that matters: The Manta Ray's thoughtful design includes two inflation valves (along with two pumps), two paddles, two large bungees, and five mounts for everything from cup holders to fishing rods or GoPros.
Nothing spells "party boat" quite like the Gili, which can also be employed as an improvised dock or roomy fishing platform. Of course the oversized board does have its compromises: At 52 pounds it's a lot to move around, and you'll need a pretty dialed rowing team to get it anywhere fast. For smaller groups, Gili also makes the 12' Manta Ray, which can accommodate up to 725 pounds. And while Gili's offering is a class act, it's also worth checking out other multi-person paddle boards, including the Tower Xplorer 14' (800-lb. capacity) and 15' Isle Megalodon 2.0, which has a similar capacity as the Manta Ray but lacks the Gili's travel bag, second pump, and rear bungee.
See the Gili 15' Manta Ray
Best of the Rest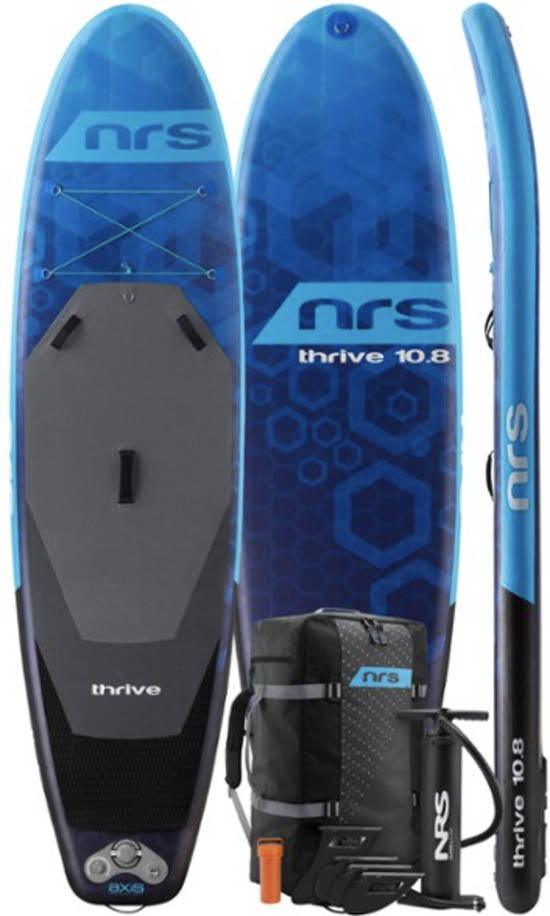 Category: Recreational
Lengths: 9'10", 10'3", 10'8", 11'
Fins: Tri 
What we like: Exceptional build quality and comes in four sizes to accommodate a wide range of paddlers.
What we don't: There are better options for moving quickly or hauling expedition loads.
The iRocker All-Around above will get the job done for most recreational paddlers, but for the cream of the crop, look no further than the NRS Thrive. This is a primo stand up paddle board made by one of the top names in boating, with a highly durable construction and good assortment of features for everything from river running to multi-day tours. Unlike most boards here that inflate to 12-15 psi, the Thrive pumps up to a very solid 20 (higher psi = more rigidity), and a pressure release on the inflation/deflation valve guards against over-filling. And with two sets of fins—including a 3-piece thruster set and a single touring skeg—you can tailor stability and speed depending on your needs, which adds a lot of versatility for new and experienced paddlers alike.
The Thrive used to be priced over $1,000, but with a recent drop to $695 it makes a lot more sense for new and seasoned paddlers alike. The lack of included paddle or leash takes it out of the running for our top spot, but the Thrive's premium construction still exceeds that of most (if not all) boards on our list. If you're willing to spend up, a board like the Red Paddle Co Sport is a better (read: faster) choice for touring, and the Hala Rado below is a burlier option for serious river expeditions, with a full-coverage deckpad and 325-pound weight capacity (compared to the NRS's 250-lb. limit). But as a do-everything board the Thrive is impressively well built and versatile, and availability in four lengths means you can get a good fit no matter your body or load size. NRS is a crowd favorite among boaters of all types, and all of their inflatable boards come with a three-year warranty. 
See the NRS Thrive 10'8"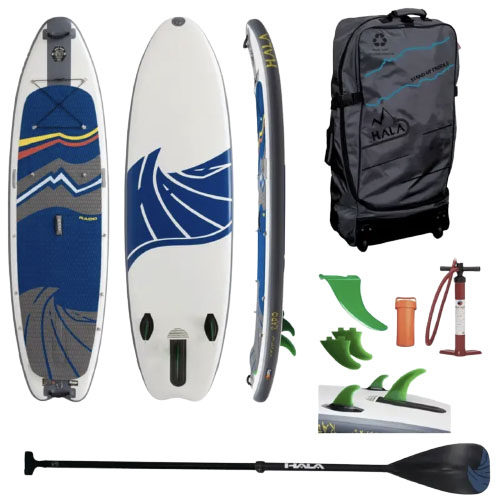 Category: Specialty
Lengths: 10', 10'10"
Fins: Tri
What we like: A high-quality, versatile board for serious paddlers.
What we don't: Expensive and heavy.
Designed and tested on the Yampa River near Steamboat Springs, Colo., Hala Gear's paddle boards are some of the most finely crafted vessels on the market. The Rado is a premium all-rounder for expedition use, combining a rockered shape and retractable 9-inch fin (both great for tackling rapids) with a base that tracks well in flat water. Tack on a full-length diamond groove deck pad, accessories like an adjustable carbon paddle and removable fins, and a five-year warranty, and you have yourself one serious board. The Hala Gear is admittedly overkill for recreational users, but it's exactly what you want for remote multi-day trips. 
At 10 feet 10 inches and 35 inches across, the Rado is ideal for larger paddlers or those who like to travel with a small companion or overnight gear. Hala also offers the 10-foot Radito (also $1,349), which features the same design but slightly smaller dimensions (the Radito is 34 in. in width). Compared to cheaper models here, Hala's construction is particularly tough—most notably, they add a third, welded seam to the standard two glued seams, which increases puncture resistance and helps the Rado maintain pressure despite fluctuations in temperature. As a result, the Rado isn't a lightweight SUP at 28.5 pounds, but for a quiver-of-one vessel that can tackle serious river trips and long-distance flatwater paddles with ease, look no further.
See the Hala Rado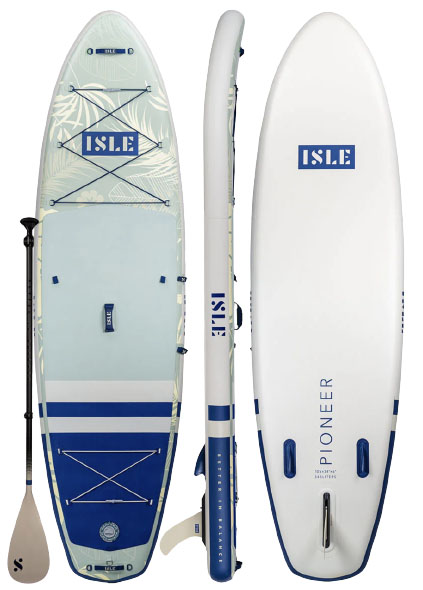 Category: Recreational
Length: 10'6"
Fins: Tri (fixed side fins)
What we like: A great recreational board from one of the most trustworthy SUP brands.
What we don't: Lacks the weight capacity and dual-chamber pump of the iRocker All-Around.
Built from the ground up by a pair of San Diego surfers, Isle has a strong reputation for quality, customer service, and thoughtfully designed products. They're a great one-stop shop for mid-range to premium paddle boards, and their lineup is particularly easy to decipher thanks to a well-organized website with short yet descriptive blurbs, well-laid-out specs, and really helpful videos. The Pioneer 2.0 is their top all-rounder: It's noticeably stable with a 6-inch thickness and extra-wide (34-in.) deck, and comes with everything you need to get out on the water, including a 3-piece carbon hybrid paddle, removable fin, 8-foot leash, hand pump, and travel bag. 
The Isle Pioneer 2.0 goes head to head with the iRocker All-Around above as our favorite board for new and recreational paddlers. We give the iRocker the edge for its larger weight limit (400 vs. 285 lb.), dual-chamber pump (which makes for much faster inflation), two size options (the Pioneer only comes in a 10'6" length), and removable side fins (the Pioneer's are fixed). But the Isle certainly won't disappoint for recreational paddlers, and we're also big fans of the modernized deck and side-rail aesthetic. It's also worth mentioning Isle's new Pro series (including the Pioneer Pro), which uses proprietary AirTech Prolite construction to offer over twice the rigidity of a standard SUP without compromising on weight or packability.
See the Isle Pioneer 2.0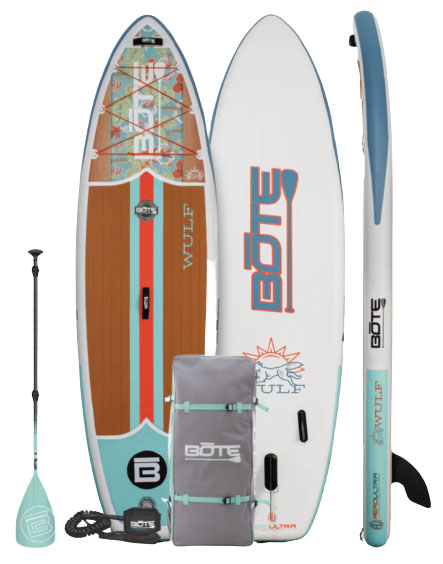 Category: Recreational
Length: 10'4"
Fins: Tri (fixed side fins)
What we like: A great-looking, capable all-rounder and often available through REI.
What we don't: The Tower All Around S-Class above is a more affordable and durable option for beginners.
For recreational paddlers who want the ability to do it all, including fitness paddling, yoga, and casual flatwater cruising, a SUP like the Bote Wulf Aero is another quality choice. The Wulf has a fun deck design that consistently gets compliments and comes in a versatile size (10'4") that's ideal for paddlers up to 200 pounds—or a small adult paddler with a child or furry friend. You get the full suite of bells and whistles—multiple grab handles and D-rings, a front bungee, and a generous deck pad that we've found to be super grippy yet nicely cushioned for bare feet—and the fin attachment system is intuitive and secure. Finally, Bote is carried by REI Co-op, which means you can pop by your local store (depending on stock) and get a feel for the board before you buy.
Our main gripe with the Bote is its single-layer design, which has a relatively low max PSI and can flex a bit under weight (similar to the construction of the $230 Roc below). By contrast, the Tower All Around S-Class above ($400) features a more durable and stable fusion construction (also termed "double-layer" by some companies) that should hold up better over time. And for inflation, we consistently ditch Bote's single-chamber pump for our more premium (and double-chamber) iRocker pump, which gets the job done faster and more easily achieves a higher PSI. But gripes aside, we've been so pleased with our Wulf for everything from river floating to lake flotillas with the kids, and it's on sale at the time of publishing for $425. For a more premium pick from Bote, their HD Aero is built with two layers of PVC for added durability and rigidity and tacks on features like a paddle sheath, accessory attachments, and a rear bungee.
See the Bote Wulf Aero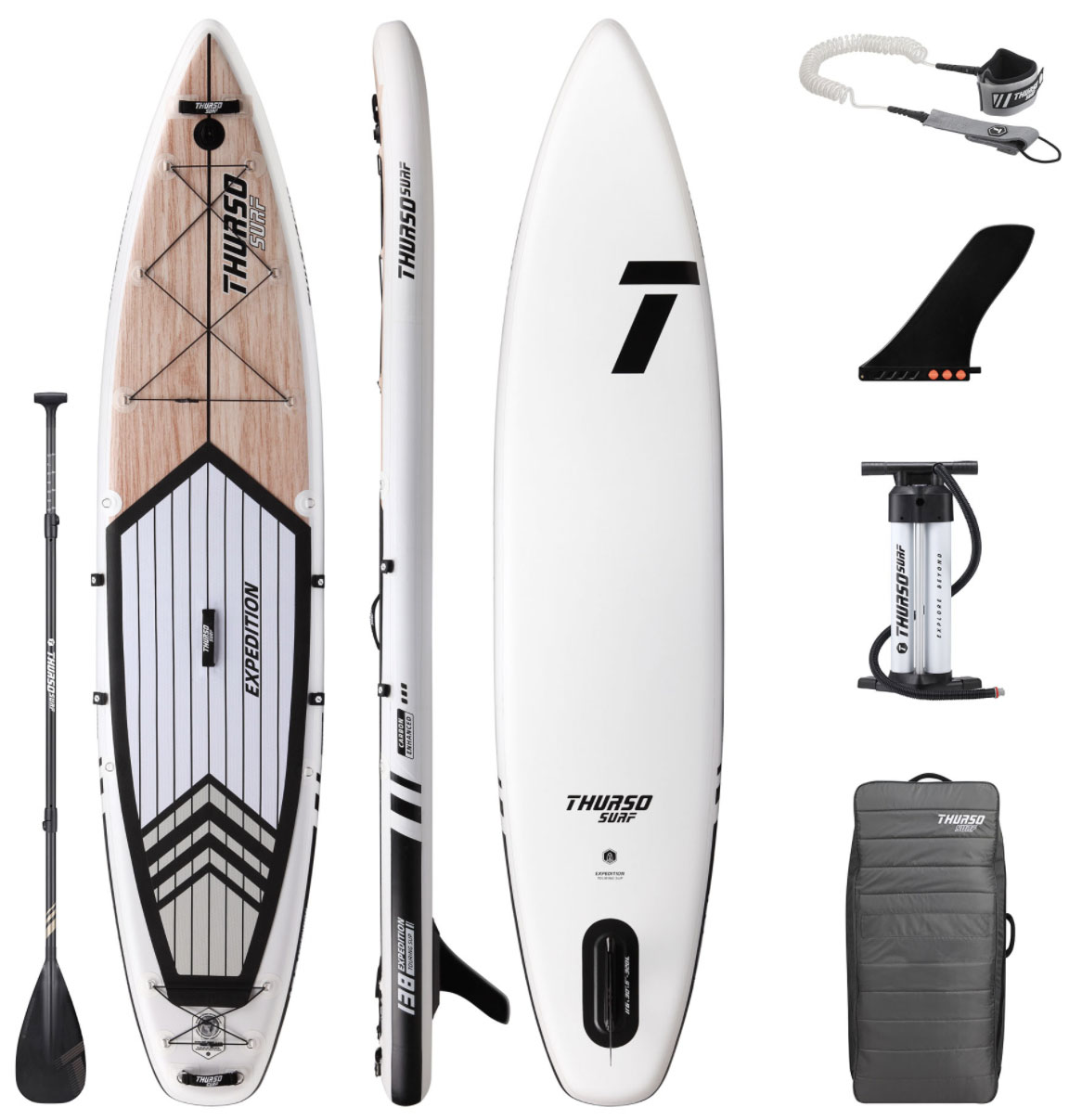 Category: Touring/speciality
Lengths: 11'6", 12'6"
Fin: Single 
What we like: A high-quality touring rig at an affordable price.
What we don't: Less stable than the all-rounders and budget designs above.
Paddlers that hit the water for long distances or multi-day trips need an expedition-ready feature set and proven performance, and the Thurso Surf Expedition 138 (which also comes in a 12'6" version called the Expedition 150) fits that bill nicely. The Expedition is impressively hardwearing with triple- and quadruple-layer PVC reinforcing the deck and sides (most boards have 1 to 2 layers throughout), which gives it rigidity on par with a hardboard. The Expedition also comes with functional and thoughtful features like a paddle holder, kayak seat attachment points, and an included carbon paddle. And the real draw for us is price: At $649, the Expedition is one of the most affordable high-performance designs on our list and will get you out onto the water for less than much of the competition.
It's important to keep in mind that with a touring/expedition board like the Expedition 138, you do lose some versatility for recreational cruising and activities like yoga (the board's dimensions result in less stability overall). And unlike many all-rounders here, the Expedition also has a half-size traction pad, which makes it harder to paddle with your dog or kids on board. But within its class, the Thurso is an impressively versatile design, with speed when you need it and plenty of tie-downs when you've got expedition gear on board. For a less performance-focused model, check out the Thurso Surf Waterwalker, which is offered in three different lengths from 10 to 11 feet.
See the Thurso Surf Expedition 138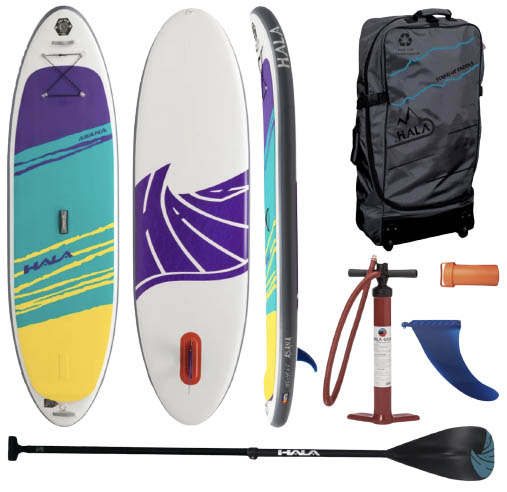 Category: Speciality
Length: 10'6"
Fin: Single
What we like: Great set of yoga-specific features.
What we don't: Does not travel fast or track well.
SUP yoga is all the rage, and while you could get away with doing sun salutations on most boards here, it certainly helps to have a tool purpose-built for the job. Yoga-specific boards typically have generous widths, spacious deck pads, and center handles that lay flat, so you don't have an annoying bulge in the middle of your "mat." The Hala Asana takes it a step further by including a front bungee for stashing your paddle and a D-ring under the nose for anchoring the board while practicing. And with your purchase, you also get an adjustable paddle with a lightweight carbon shaft (one of the best included paddles we've tested) and a spacious roller bag for easy transport to and from your vehicle.
The specialty build does come with some notable downsides. With a 34-inch deck and no side fins, the Asana will feel slightly boat-like while paddling, and you won't be tracking anywhere fast. For reference, we've taken the Asana on Oregon's lazy Upper Deschutes and had to paddle hard to keep up with our friend's Boardworks SHUBU. But for board-based activities, the Asana offers great stability, and we've loved the feel of the generous and plush deck pad.
See the Hala Asana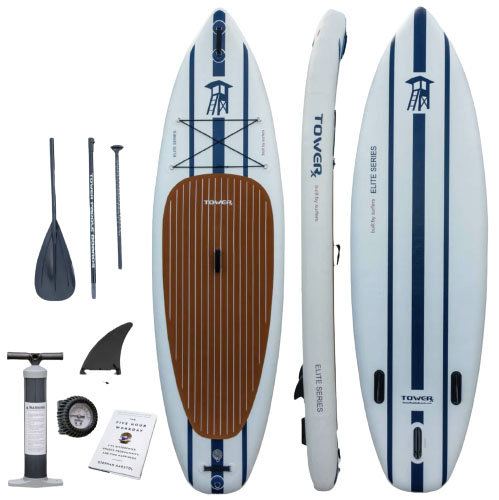 Category: Recreational
Length: 10'4"
Fins: Tri (fixed side fins)
What we like: Great stability and flotation thanks to the 8-inch-thick platform.
What we don't: Heavy and does not include a travel backpack.
Tower's All Around is our top-ranked budget board, but if we had to choose, we'd take out the Xtreme 8" X-Class nine times out of ten. The reason for this is the Xtreme's generous dimensions, which give you a really nice and stable platform that can easily handle two paddlers, a dog, or some extra cargo. Most noticeably, the board is 8 inches thick, which adds a ton of flotation and stability compared to the majority of boards (which are 6 in. or thinner). You wouldn't guess that you needed it, but after paddling the Xtreme, we're fairly sold on the extra beefy design.
Importantly, the Xtreme is also a lot more durable than most boards here, due to its double-layer, hand glued construction. Technically this also means that the Xtreme can be inflated to a very high pressure (up to 20 psi), although we haven't been able to get it past 12 psi with the included pump. Weight is one of the biggest knocks of the Xtreme's construction (it's 29 lb.)—and the lack of a travel backpack really doesn't help—but once the boat is on the water this is a non-issue. All told, for larger paddlers or those who like the sounds of a stable ride, Tower's Xtreme is well worth a look.
See the Tower Xtreme 8" X-Class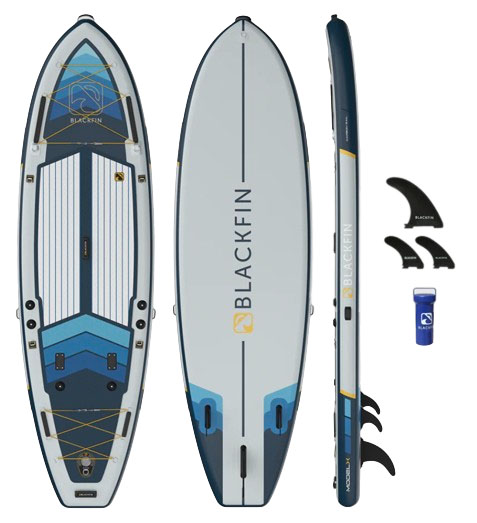 Category: Speciality
Length: 10'6"
Fins: Tri
What we like: Reliable construction and tons of attachment points for iRocker accessories.
What we don't: Accessories (paddle, backpack, etc.) are not included; wide and slow moving.
For those wanting to take to the open waters with a fishing pole, a stand up paddle board is a relatively light, easy-to-transport vessel that allows the option to sit or stand. Any stand up paddle board here would technically get the job done, but dedicated anglers will benefit from the added stability and array of attachment points that specialty models offer. Sporting a three-fin set-up, 450-pound weight capacity, a whopping 20 D-rings, and carbon paddle and rail for added stiffness, the iRocker Blackfin Model X fits the bill nicely and is a true utility vehicle of a SUP. iRocker also makes it easy to tack on an assortment of compatible accessories, including a cooler deck bag, fishing rod holder, fishing rack, anchor, and even a kayak seat.
Our main gripe with the Blackfin is the lack of accessories included with purchase—$750 only gets the board and fins, and tacking on a paddle, backpack, pump, and leash can put you north of $1,000. And with a generous 35-inch width and 6 inches between you and the water, the Blackfin Model X isn't going anywhere super fast. If you need to travel a long distance to your fishing hole, it might be worth considering the Blackfin Model V instead, which is longer at 12'6" and features a narrower profile for more efficiency and speed. But for reeling in the day's catch or paddling with a dog or child, the Model X's spacious and stable deck certainly is a plus. Other dedicated fishing SUPs worth checking out include the Badfish Badfisher and NRS Heron, which adds 8-inch side bumpers to further boost stability.
See the iRocker Blackfin Model X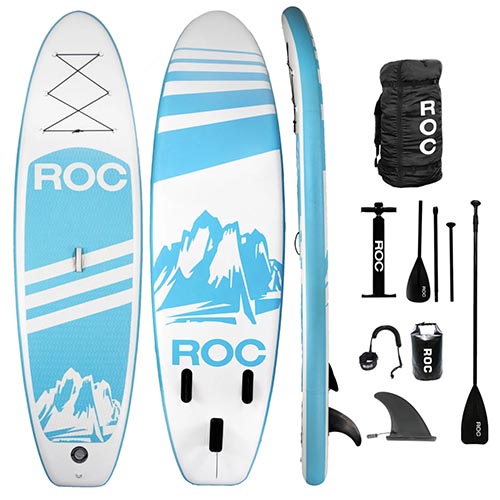 Category: Recreational
Length: 10'
Fins: Tri (fixed side fins)
What we like: A complete SUP package on sale for $230 at the time of publishing.
What we don't: Only comes in one size and features are limited.
You won't find us writing home about many "budget" boards, but the Roc earns a spot on our list for its surprisingly good combination of quality and affordability. This paddle board is lightweight at 18 pounds, stable for a wide range of paddlers (it has a weight capacity of 350 lb.), and is on sale for only $230 at the time of publishing. And like most other designs here, the Explorer comes ready to hit the water with an aluminum paddle, hand pump, leash, backpack, and even a small waterproof bag to keep your valuables dry. You can find SUPs on Amazon for even less, but the Explorer is a great balance of quality and value, and Roc offers the added assurance of a dedicated customer service team and one-year warranty.
It's true that the Roc Explorer is just a fraction of the cost of many of our top picks, but such a budget design does come with its fair share of tradeoffs. Notably, you only get a few D-rings, one grab handle, and a relatively short, 10-foot length. The Explorer also uses single-layer construction, which isn't particularly durable and will lose its shape over time. But the Explorer is another great package deal for penny pinchers just getting started, and it's for good reason that we frequently see it out on the water.
See the Roc SUP Co. 10' Explorer
Stand Up Paddle Board Comparison Table
| Stand Up Paddle Board | Price | Category | Length(s) | Thick | Weight | Fins | Paddle |
| --- | --- | --- | --- | --- | --- | --- | --- |
| iRocker All-Around 11' | $750 | Recreational | 10', 11' | 6 in. | 26 lb. | Tri | Yes |
| Tower All Around S-Class | $400 | Recreational | 10'4" | 6 in. | 20 lb. | Tri | Yes |
| Red Paddle Co Sport 11'3" | $1,599 | Touring | 11, 11'3", 12'6" | 4.7 in. | 22 lb. | Single | Yes |
| Pau Hana Solo Backcountry | $899 | Specialty | 10'10" | 6 in. | 14.8 lb. | Twin | Yes |
| Tahe 10'6" Beach SUP-Yak | $700 | Recreational | 10'6", 11'6" | 6 in. | 23 lb. | Tri | Yes |
| Gili 15' Manta Ray | $1,185 | Recreational | 12', 15' | 8 in. | 52 lb. | Five | Yes (2) |
| NRS Thrive 10'8" | $695 | Recreational | 9'10", 10'3", 10'8", 11' | 6 in. | 29 lb. | Tri | No |
| Hala Rado | $1,349 | Specialty | 10', 10'10" | 6 in. | 28.5 lb. | Tri | Yes |
| Isle Pioneer 2.0 | $695 | Recreational | 10'6" | 6 in. | 24 lb. | Tri | Yes |
| Bote Wulf Aero | $499 | Recreational | 10'4" | 6 in. | 20 lb. | Tri | Yes |
| Thurso Surf Expedition 138 | $649 | Touring | 11'6", 12'6" | 6 in. | 24 lb. | Single | Yes |
| Hala Asana | $799 | Speciality | 10'6" | 6 in. | 24 lb. | Single | Yes |
| Tower Xtreme 8" X-Class | $899 | Recreational | 10'4" | 8 in. | 29 lb. | Tri | Yes |
| iRocker Blackfin Model X | $750 | Speciality | 10'6" | 6 in. | 27 lb. | Tri | No |
| Roc SUP Co. 10' Explorer | $230 | Recreational | 10' | 6 in. | 18 lb. | Tri | Yes |

Stand Up Paddle Board Buying Advice

Stand Up Paddle Board Categories
Stand up paddle boards (SUPs) run the gamut from entry-level cruisers ideal for flatwater floating to sleek 14-foot models built to slice efficiently through the water. To narrow down which style is best for you, you'll want to identify what kind of water you'll be paddling—flatwater, whitewater, ocean waves, etc.—and what type(s) of activities you'll be doing while on your board—fishing, yoga, cruising, or multi-day tours, for example. To help, we've broken down our picks into three main categories: recreational, speciality, and touring.

Recreational
By far, the most popular style of paddle board is the recreational board, built for casual use, flatwater cruising, and mellow whitewater use. Recreational boards have a rounded, planing-style hull (for more, see our section on "Hull Shape" below), are between around 9.5 and 11 feet long, have widths of 30 to 34 inches, and generally come with three fins for added stability. If you're going to own just one SUP, boards in this category are far and away the most versatile. And there's no shortage of options available, from premium models like the iRocker All-Around 11' to budget boards like the Tower All Around S-Class.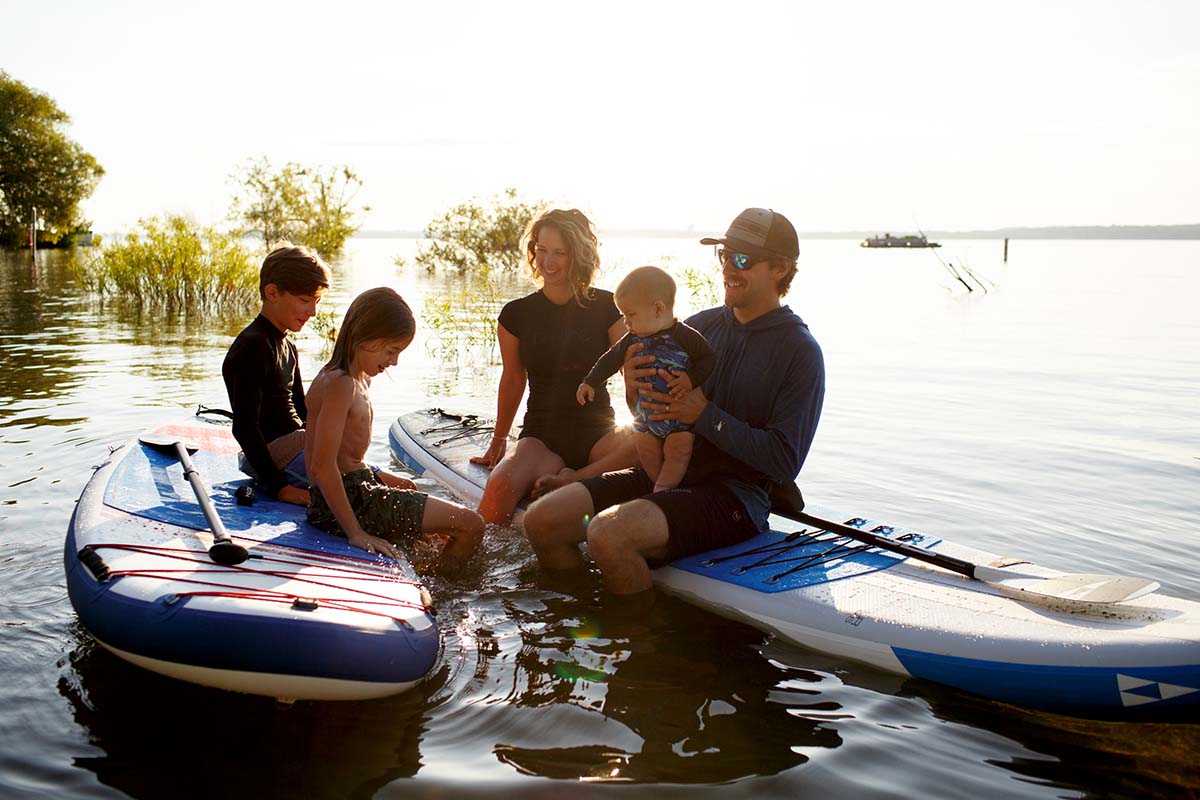 Speciality
Our speciality category is a catch-all for boards designed for activities like yoga, fishing, surfing, and whitewater. For many of these activities, you can get away with using a recreational board, but committed yogis, anglers, surfers, and expedition-goers will value the sport-specific deck styles, attachment points, and extra features of a dedicated model.
More specifically, if you plan to do yoga on your board, you'll want to look for a generous deck pad with a relatively flat surface (deep grooves will be uncomfortable against your skin), a center handle that lies flat (some come with handles along the edges instead), and a bungee system at one end to keep belongings safe. Anglers will want a board like the iRocker Blackfin Model X that features fishing rack attachment points, multiple bungee systems and an assortment of D-rings, and perhaps the option for a kayak seat. Finally, those tackling whitewater or heading out on long expeditions will be best matched with models like the Hala Rado, which features a single fin, durable construction, and no shortage of deck tie-down points. 

Touring
Whether you use your SUP for daily fitness or multi-day camping trips, if you're logging miles on the water, you'll likely want a touring-focused design. In general, these boards are longer than recreational SUPs (usually in the 11-14-ft. range), narrower (less than 32 in. wide), and use a single fin for excellent speed and tracking. Some also feature a high weight capacity (for example, the Thurso Expedition can handle 330 lb.) and lots of bungees and tie-down points, which helps to accommodate extra gear for those who like to go far and fast. Most of these designs also have a tapered nose that still maintains a bit of a rocker, but the speediest feature displacement hulls like that of the Thurso Surf Expedition 138.
Inflatable SUP Dimensions and Volume
Length
Most recreational paddle boards are between 9 and 11 feet long, while touring- and racing-focused designs can be as long as 14 feet. A basic rule of thumb is as follows: the shorter the board, the less surface area it will have and the more maneuverable it will be. Other dimensions like width and thickness matter too, but generally speaking, shorter boards excel on flat water where you don't need the extra stability (a super long board can be overkill for casual paddling), while longer models travel straighter and faster and are favored for open water and touring.
In addition to the category of board and intended use, choosing the right length of your SUP depends on the weight of the person riding it. Many manufacturers provide a recommended weight range: the NRS Thrive, for example, recommends the 9'10" version for paddlers up to 180 pounds, the 10'3" version for paddlers up to 200 pounds, the 11' version for paddlers up to 275 pounds, etc. Simply put, a shorter board is lighter and has less surface area, so heavier paddlers will push it further down into the water, making it less stable and more difficult to ride. Once you've settled on your desired style of board and even the specific model, you can choose a final length based on the paddler. And keep in mind that not all boards are offered in multiple lengths, but we certainly appreciate the option when they are.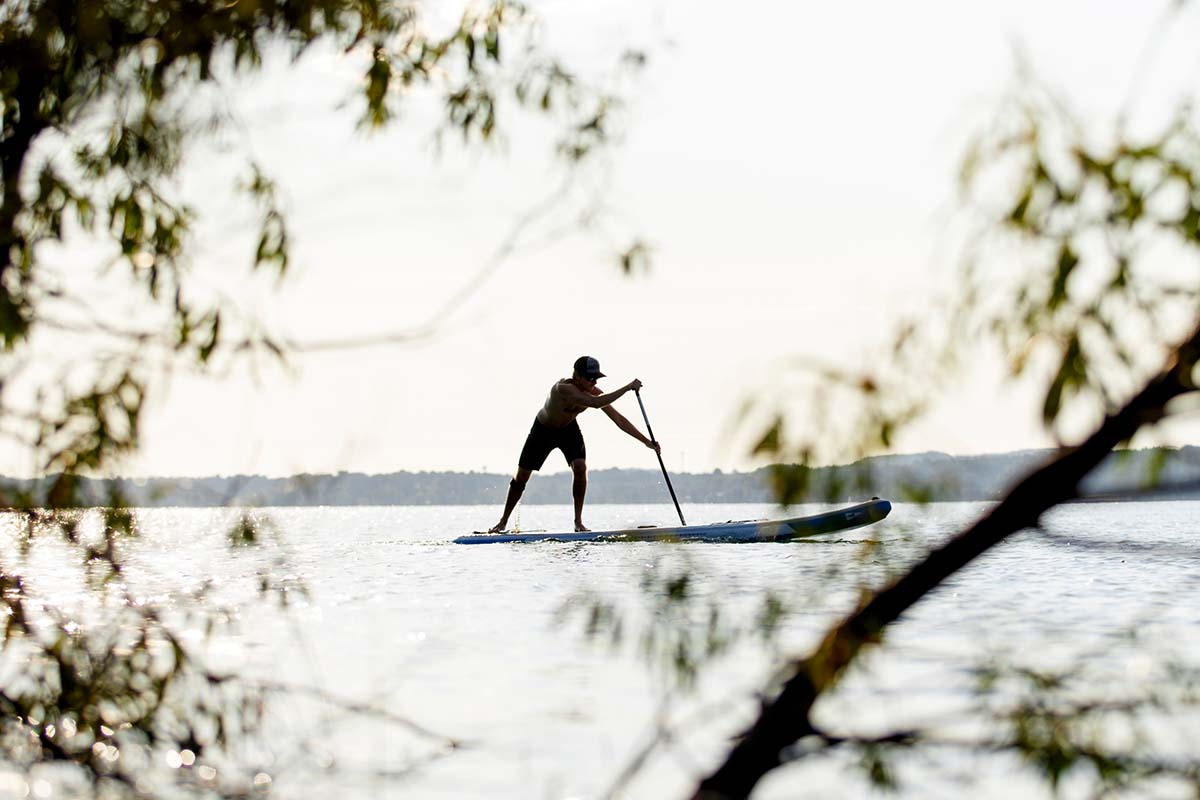 Width
Most recreational and speciality SUPs are between 32 and 35 inches wide, while touring designs are as narrow as 25 inches. Again, generally speaking, a narrower board will be faster while a wider board will be more stable. If you're just starting out, we recommend sticking with a board with a width around 32 inches, such as the iRocker All-Around 11', which will provide ample maneuverability without making you feel unbalanced.

Thickness
Most inflatable stand up paddle boards are 6 inches thick, but our list spans from 4.7 to 8 inches. It's important to find the sweet spot here: you'll know a board isn't right for you if you feel like you're sinking (too thin) or like your center of gravity is too high off the water (too thick). In general, smaller paddlers will want to opt for a thinner board, while heavier paddlers will want to bump up to a thicker (6 to 8-in.) board. And finally, it's important to keep in mind that many budget boards will create stability by increasing thickness rather than using higher-quality materials. It's a shortcut, and certainly has its downsides—if a board is too thick, it can feel unwieldy and boat-like on the water.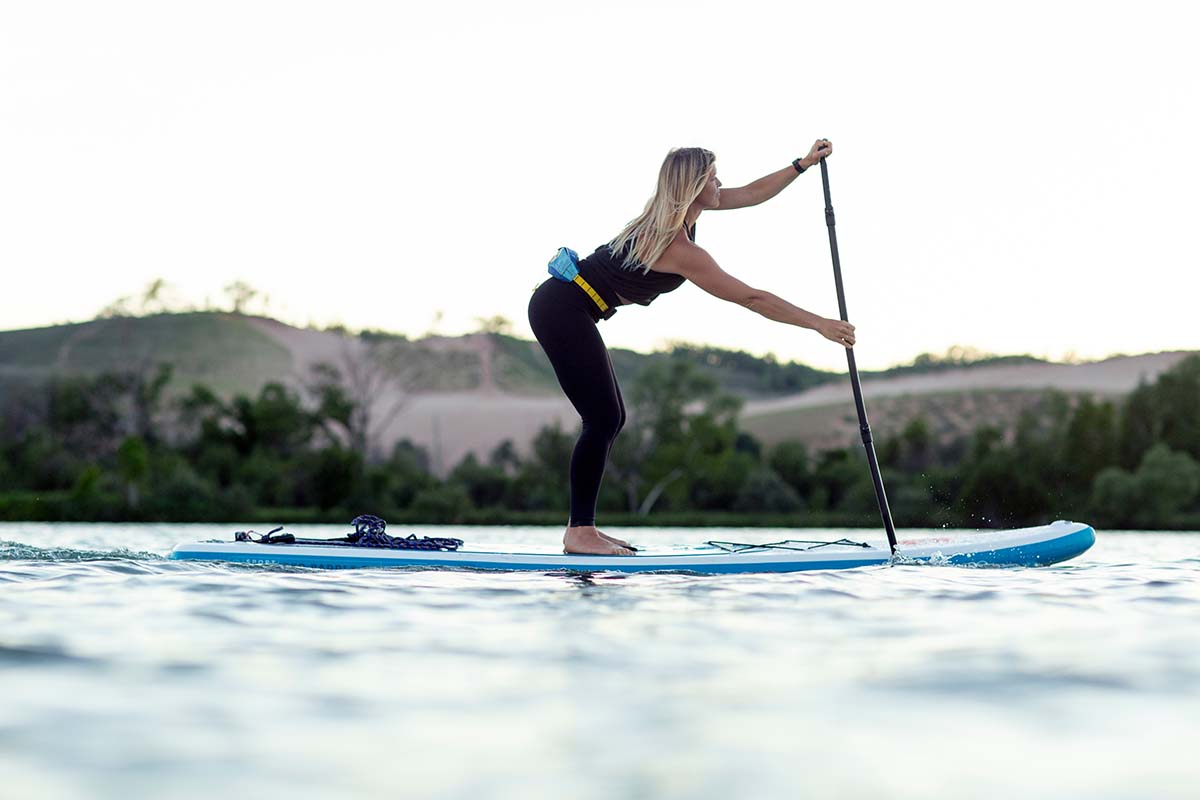 Volume
An inflatable paddle board's volume is a measurement of its buoyancy and ranges from about 160 to 380 liters for inflatable models (keep in mind that this number varies for hardboards). A board with too little volume (especially one with a displacement hull) will drag and move inefficiently through the water, while one with too much will feel noticeably unstable, imbalanced, and difficult to control. As a general rule, most paddlers can multiply their weight plus the weight of their gear in pounds by 1.4 in order to determine their maximum volume. For example, a 180-pound paddler with 10 pounds of gear should look for board with a volume of 266 liters or less (190 x 1.4 = 266). And thankfully, most manufacturers specify a board's weight capacity alongside its volume, which minimizes the guesswork.
 
Hull Shape: Planing vs. Displacement
Stand up paddle boards have one of two main hull shapes: planing or displacement. The lion's share of stand up paddle boards fall into the planing category, which means their nose is wider, flatter, and has a round, rockered tip to float on top of the water. This shape is great for stability and maneuverability and does a nice job keeping the board afloat on choppy water. SUPs with planing hulls are typically designed for recreational cruising as well as sports like yoga, fishing, and surfing.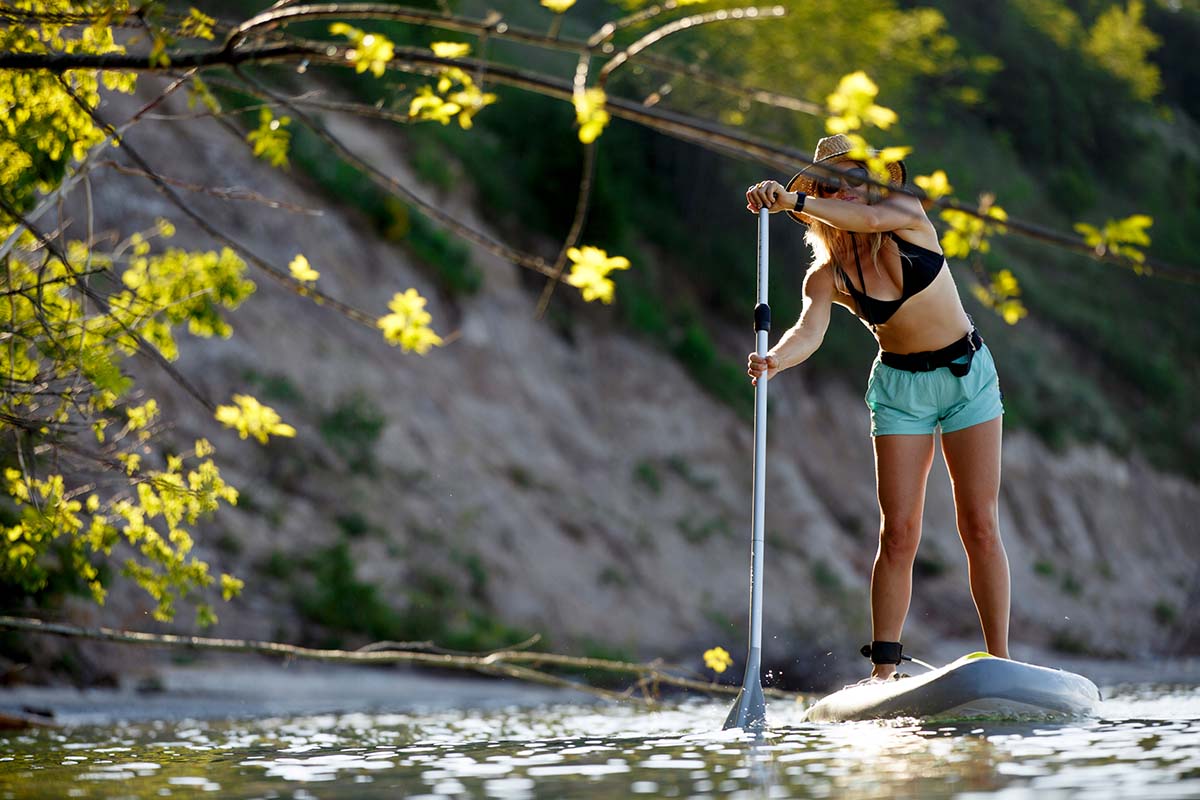 Displacement hulls, on the other hand, are pointed (similar to a kayak) and built to cut through the water with their aerodynamic shape. These are designed to go in a straight line and are a great match for those concerned with speed, with the major downside being less stability. For activities like touring, racing, or even logging fitness miles on your local waterway, a paddle board with a displacement hull is without a doubt the best match. Finally, some of the most versatile boards (the Red Paddle Co Sport 11'3", for example) merge the two hull styles for a combination of both speed and stability.
 
Weight and Packability
Inflatable paddle boards range in weight from around 15 pounds (the Pau Hana Solo Backcountry tips the scales at 14 lb. 12.8 oz.) to 30-plus pounds. You can tell a lot about a board from it's weight—in general, those with beefier (read: more durable) construction will weigh significantly more than those with single-layer builds. In terms of packability, the most compact boards fit into a carry-on-sized pack, while others are so large that they need a roller bag to transport. Weight and packed size won't be top considerations for everyone, but they are critical for travelers, paddlers who plan to tote their paddle board long distances before putting in, or those limited on storage space in their vehicle.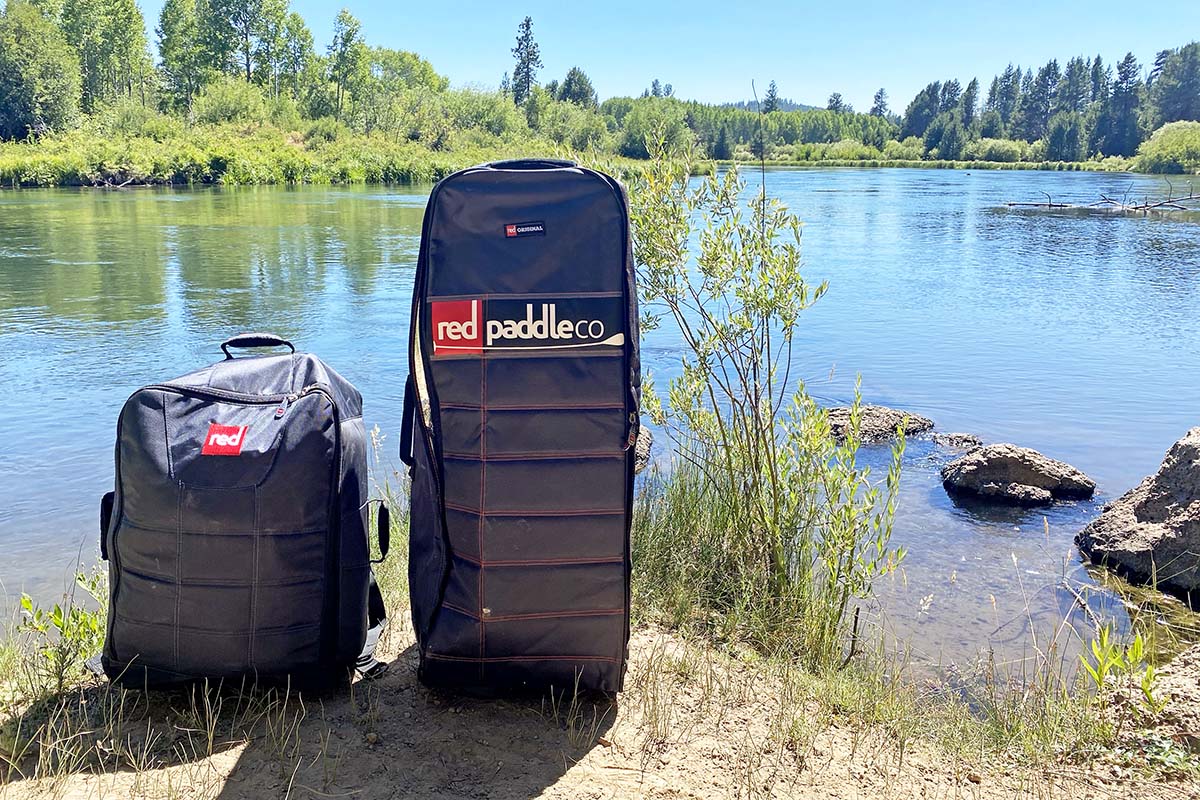 Construction and Durability
Despite their inflatable nature, stand up paddle boards are not your standard blow-up pool toy. In order to achieve rigidity on par with hardboards, inflatable models use an innovative technology called "drop-stitch" construction. Here, two sheets of fabric (the top and bottom) are connected by thousands of threads, which give the board its structure. The edges of these sheets of fabric are then joined by a narrow strip of material on each side ("rails") and coated with liquid PVC. Higher-quality boards are most often made with two layers of PVC (dubbed "double-layer"), which increases durability and stiffness. At the premium end of the market, some manufacturers add a third or fourth layer or a hybrid layer (such as Red Paddle Co's MSL Fusion, Hala's carbon stringer, or Isle's Airtech Prolite) to their construction, and some paddle boards even feature stiffening strips to add onto the rails for increased rigidity.
This might come as a surprise to many, but inflatable paddle boards are actually incredibly durable pieces of gear. In fact, there's a big argument that they're more robust than hardboards, as they're able to give upon impact and can be transported and stored away from the elements. Even budget-friendly, single-layer boards are reasonably hardwearing and long-lasting, and it's rare to see inflatable SUPs form a leak from standard wear and tear. That said, it's always important to keep a repair kit on hand (as we outline below), since one small leak can have major implications.
Fins
Every paddle board on our list comes with at least one fin, and many will have two or three. A single fin is great for flatwater paddling, moving in a straight path (also known as tracking), and keeping speed up (fewer fins means less drag). For this reason, most touring and racing models will have just a single fin, including the Hala Asana. Boards with three fins can be divided into a couple different categories—"thruster" set-ups have three equally sized fins, while 2+1 configurations have a large center fin and two small fins on each side—but for the purposes of this article, we've lumped them together into the tri-fin category. Tri-fin set-ups offer great stability and maneuverability but aren't great at tracking and are often found on recreational and speciality boards. Finally, a twin-fin layout has a fin on each side but none in the middle, resulting in a highly maneuverable board and often great clearance in shallow water (side fins are usually smaller than a center fin).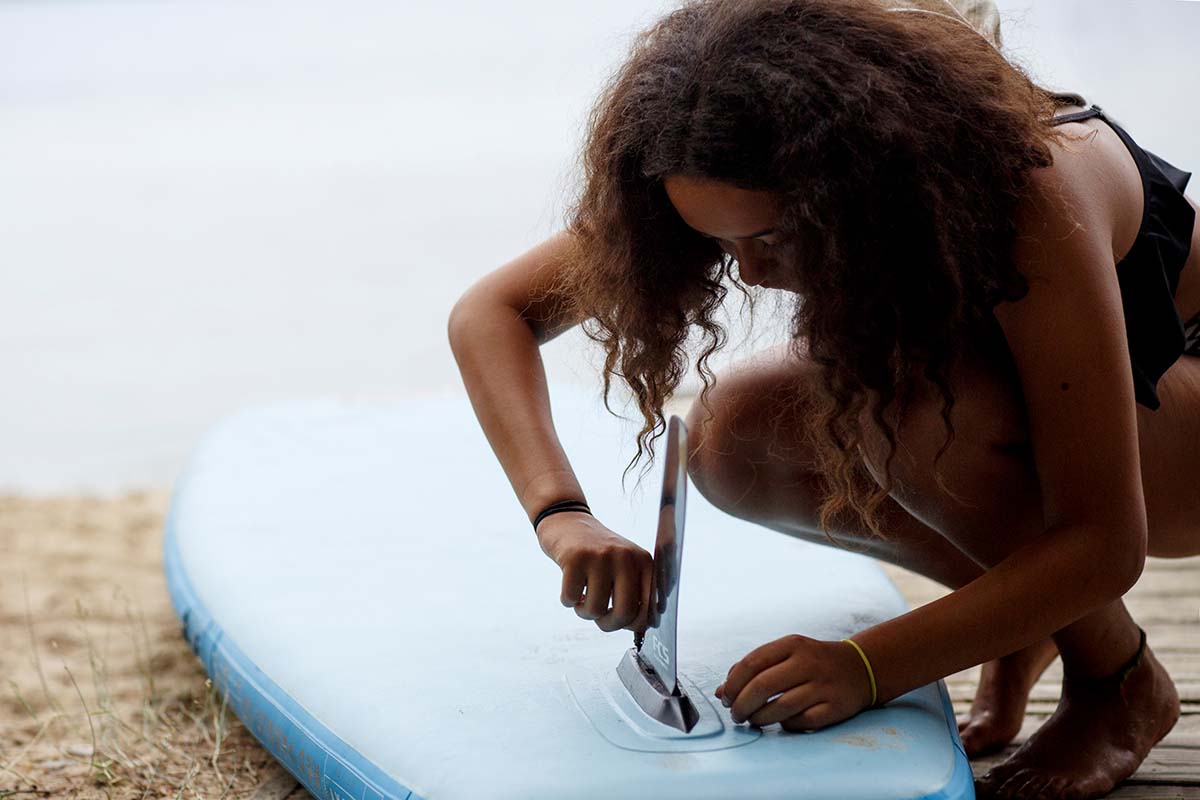 If you're just starting out, it's likely that you'll opt for a board with a tri-fin set-up, whether it's a thruster or a 2+1. Some boards come with fixed side fins, while others have the option to remove or swap them out with those of different sizes (unless we specifically call out fins as fixed, you can assume they are removable). Removable fins are great for customizing your ride and recommended for intermediate to advanced paddlers: our favorite configuration is a removable tri-fin design—with this set-up, you can run your board with a single fin, twin fins, or all three depending on your paddling needs and the water conditions. For the maximum amount of customization, it's worth looking for a board with standard U.S. Fin Boxes so you can easily swap out a wide range of fins. 
 
 

PSI (Pounds Per Square Inch)
It's easy to get lost in the technical jargon regarding an inflatable paddle board's construction, but the good news is that every board comes with a simple clue that points to its overall level of quality: psi. Psi, or pounds per square inch, is a measure of air pressure: the higher the psi, the stiffer the board will be when fully inflated (with inflatable paddle boards, stiffer is better). Premium boards are often made with multiple layers and well-constructed seams and will be able to inflate to a higher psi, while budget boards typically have a lower air capacity. For reference, the maximum psi of a single-layer SUP will be around 12 to 15, while double-layer designs can have a psi of over 20.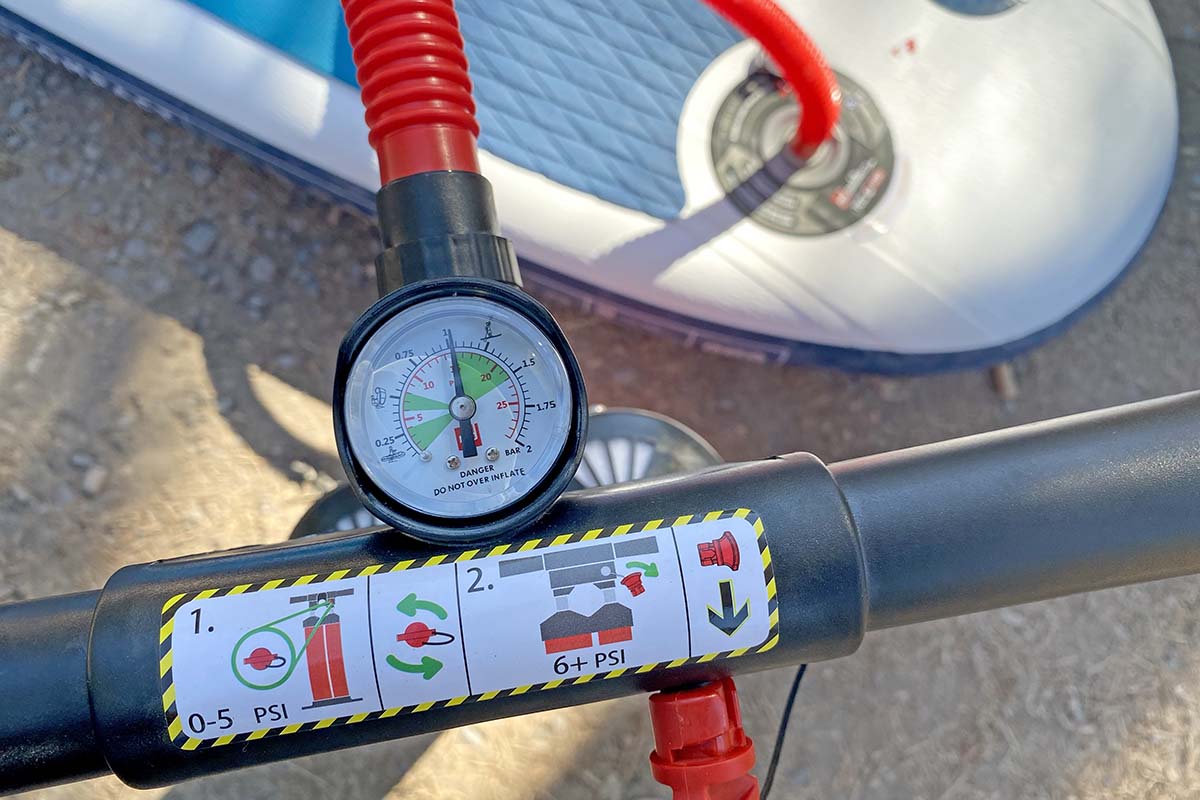 Pumps and Inflation
The vast majority of inflatable paddle boards come with a manual pump, which have one or two cylinders and are generally dual action, meaning you're sending air into the board on both the down and up strokes. Most pumps have a built-in pressure gauge, and some even have two modes—high-volume and high-pressure—to help you inflate your board to the manufacturer-recommended psi. We vastly prefer dual-chamber pumps to the single-chamber variety, and in our experience, twice the cylinders is truly twice the performance. For example, we struggle to to inflate our Hala Asana to 10 psi with the included single-chamber pump, but with Red Paddle Co's Titan pump, we can get our Sport 11'3" to 18 psi without too much time or effort. Finally, those taking their board on longer expeditions will likely want a travel-sized design (like the K-Pump K-100) for maintenance and in case of leaks.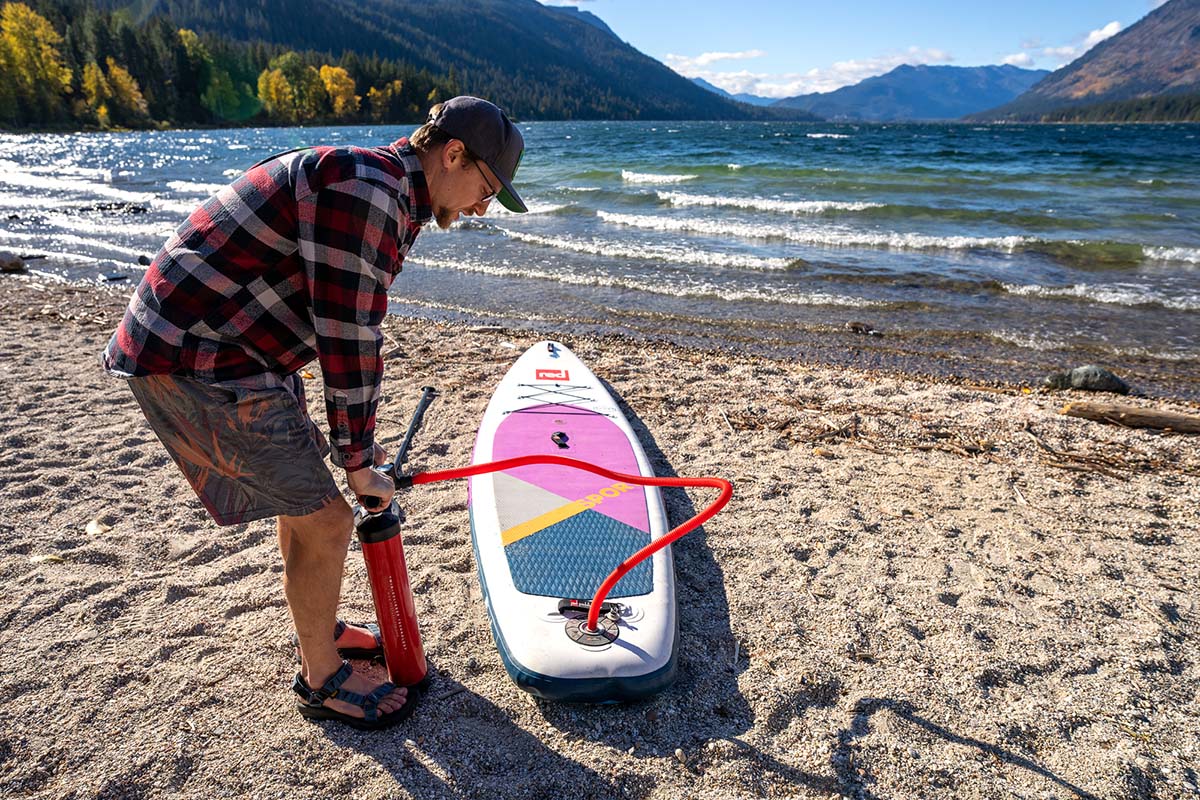 Some paddlers might find it worthwhile to invest in an electric pump, especially those who get out often or want to inflate their board to the maximum psi. Look at it this way: if you're going to spend over $1,000 on a paddle board that's valued for its rigidity, you might as well go the extra mile to make sure you're getting the most out of your investment. Electric pumps are purchased separately and run the gamut from budget-friendly models like the $37 Advanced Elements 12 Volt Electric Pump to premium options like the Outdoor Master Shark II Electric SUP Pump (around $130).
In terms of functionality, most electric pumps plug into power during inflation (a standard wall plug-in, your car battery, or your vehicle's cigarette lighter), although some have a built-in battery so that they can be charged at home and used without a power source in the field. Most electric pumps take a little less than 10 minutes for a standard-sized paddle board, and their hands-free nature means you can walk away and come back to a fully inflated board. And while electric pumps are certainly the more efficient option, you'll want to read the specs before buying—some can inflate boards up to 20 psi, while others max out at 15 psi.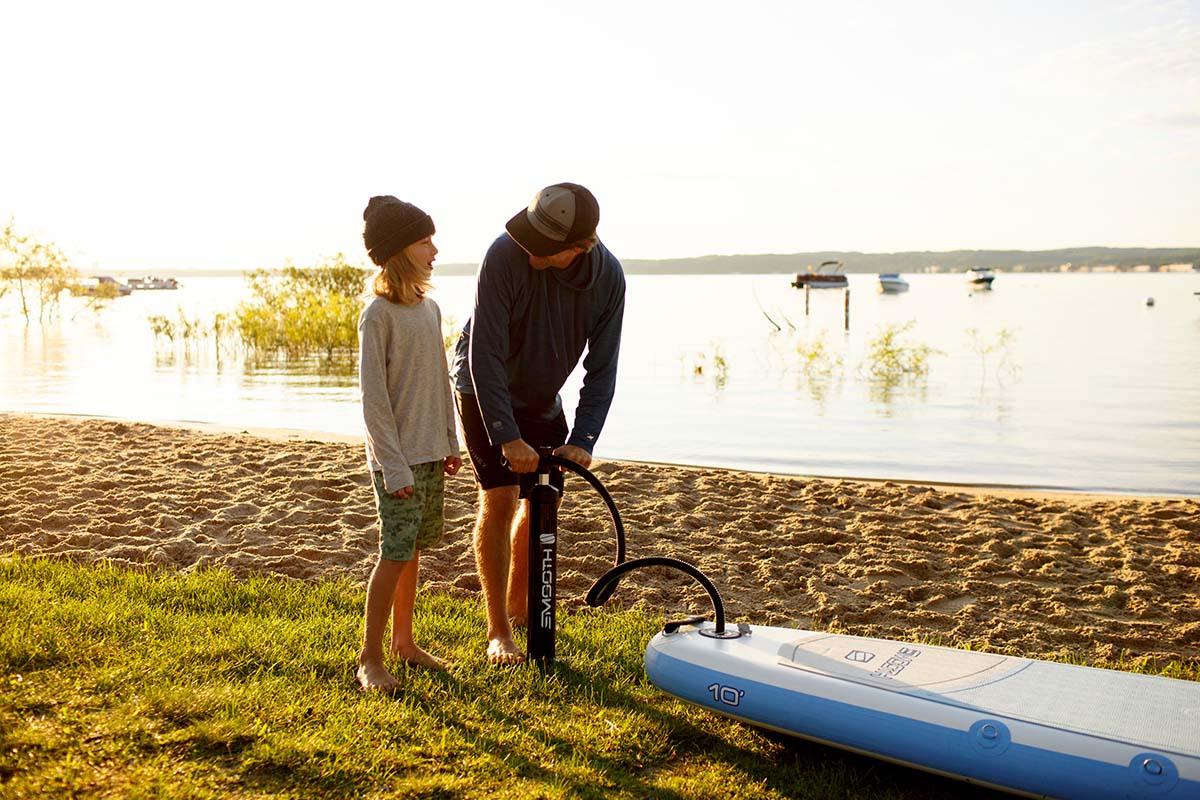 Inflatable SUP Accessories
When shopping for a paddle board, it's a good idea to take a close look at what's included in your purchase. Most inflatable SUPs come with a backpack or roller bag for storage and transport along with a hand pump and fins, and many will also include a paddle, pump, leash, repair kit, and more. It's important to keep in mind that all of these are essential pieces of gear, and if they don't come with your board, you'll almost certainly want to purchase them separately.

Backpack/Roller Bag
Nearly all inflatable paddle boards come with a backpack or roller bag for easy storage and transportation. We've found that the quality of these products varies significantly, and if you think you'll be putting yours to good use by carrying your board for long distances or over rougher terrain, it's a good idea to make sure it's up to the task. In general, most included backpacks lack the adjustability and load-bearing suspension we're used to seeing in backpacking packs and are typically only serviceable for short schleps from the car to the water. If you anticipate hiking before putting in, it's worth considering an ultralight SUP like the Pau Hana Solo Backcountry, which comes in a streamlined, well-designed pack that's adjustable and supportive.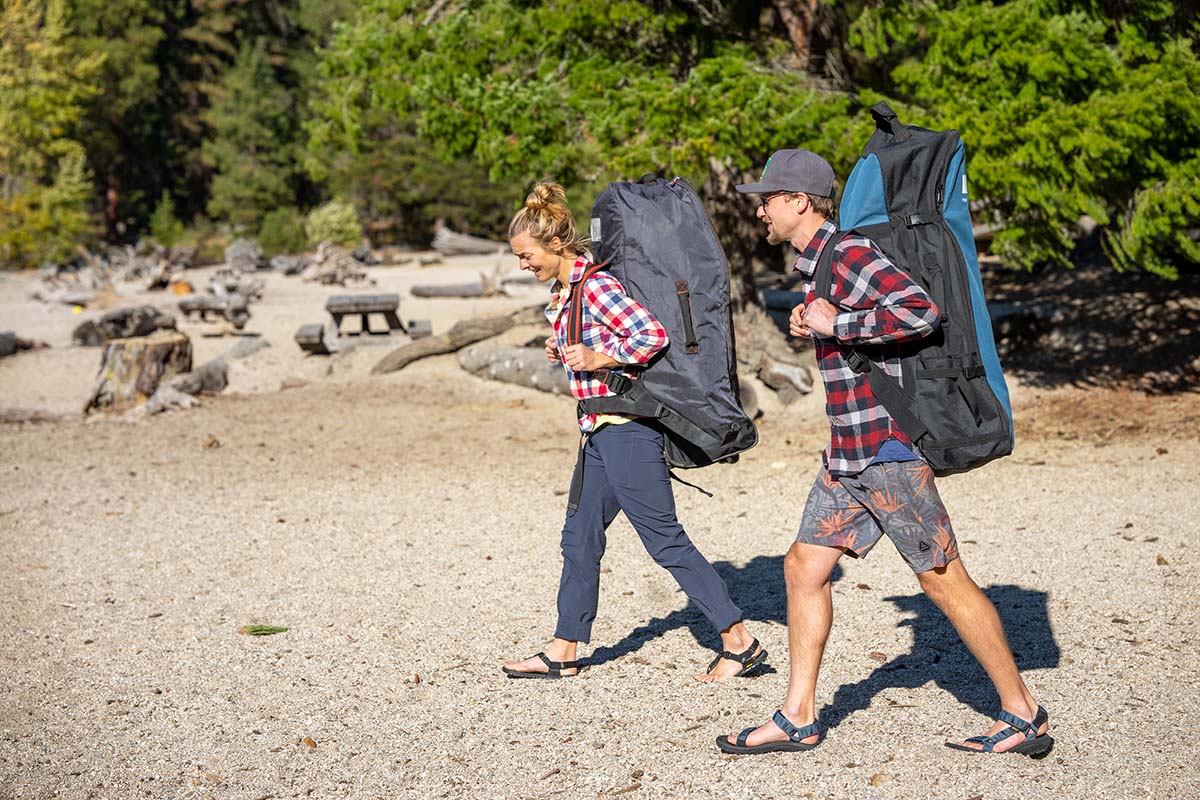 Paddle
Most—but not all—stand up paddle boards on the list above come with a paddle, and these are typically two or three-piece designs and adjustable. Depending on the price of the board, paddles range from heavier plastic or aluminum to lightweight fiberglass or carbon. Most recreational paddlers choose to keep the paddle that comes with their board, but performance-focused SUPers headed out on longer or more intensive missions often upgrade to a lighter or more powerful model. Lightweight paddles are usually made with carbon shafts or blades (or both) to shave weight without compromising strength.
In selecting the ideal blade, you'll want to consider the size, shape, and offset (the angle of the blade with respect to the shaft). In general, larger paddlers will want a larger blade (more power in the water), while smaller paddlers will be more efficient with a smaller blade. And as for fit: a good rule of thumb for recreational paddlers is to add 8-12 inches onto your height, or measure from the ground to the crook of your wrist when your arm is raised in the air.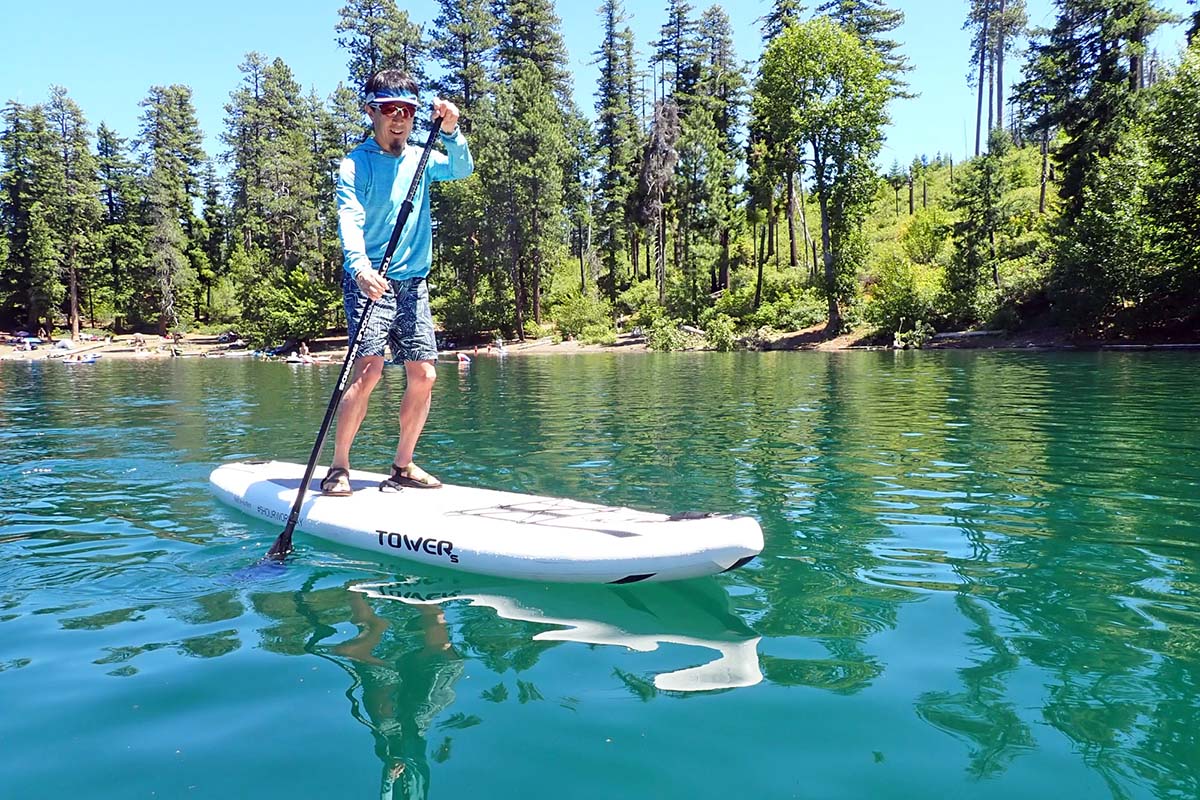 Leash
The primary function of a leash is to keep your board attached to you in the event of a fall. These are less important in flatwater, but can be a matter of safety in the ocean or in fast-moving sections of river. Some boards will come with a leash, while others will require you to purchase separately. When shopping for a leash, we recommend looking for a model in the 8- to 10-foot range with a coiled cord that will drag less in the water. High-quality leashes will also include a swivel between the cuff and the cord, which keeps the cord from tangling.
Repair Kit
Most inflatable SUPs also come with a small repair kit, which often includes items like PVC patches, a brush or cleaning solution (such as an alcohol swab), and sometimes even a valve tool to adjust your inflation/deflation valve(s). Interestingly, glue must be purchased separately due to shipping regulations, but you can find a product like Clifton's Urethane Adhesive at your local hardware store or on Amazon for relatively cheap. Getting a hole in your inflatable board isn't the end of the world, but you'll want to be well-versed in repair should you spring a leak on the water (NRS has a great how-to video here).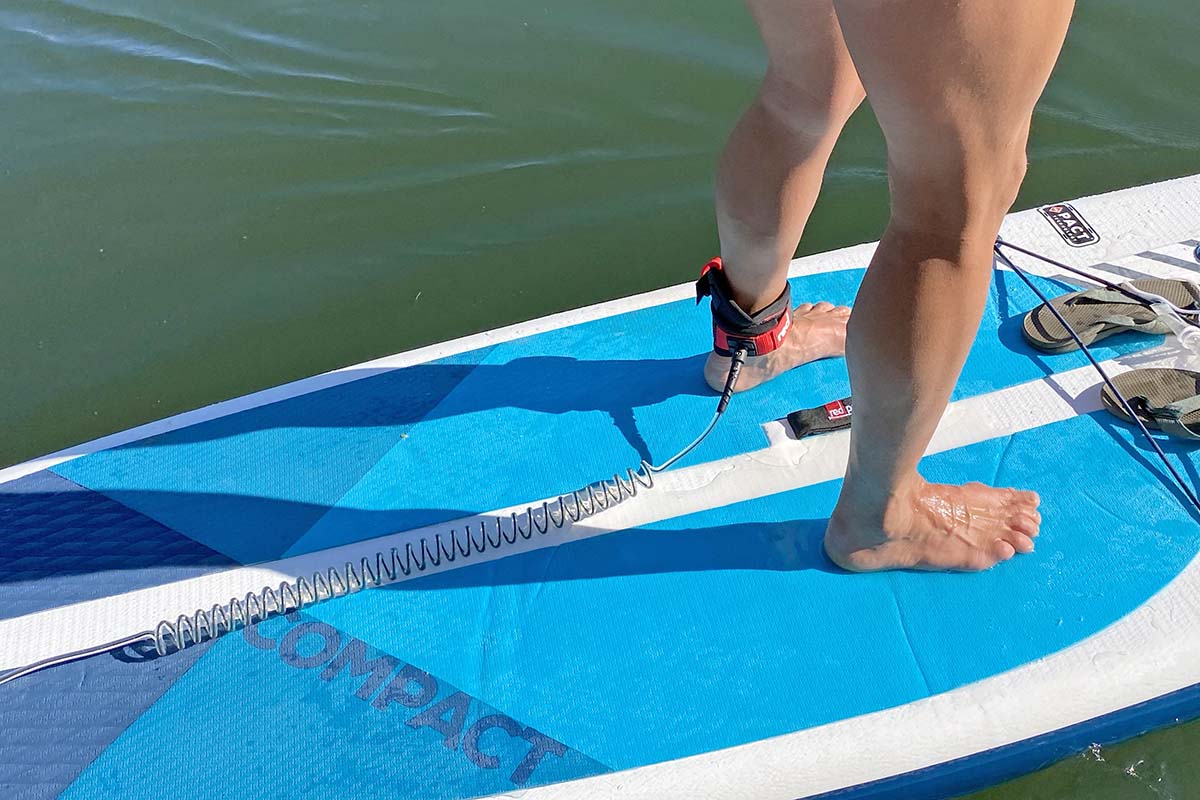 Additional Features
All stand up paddle boards are designed with features like a deck pad, carry handle, and leash attachment point, but there are a lot more bells and whistles worth considering. For instance, even casual cruisers will appreciate having extra rigging points, whether it's a bungee tie-down or D-rings (or both) for stashing gear on deck. These are often located on the front or back of the board and great for securing your water bottle, sandals, or waterproof stuff sack full of valuables. Second, some boards feature mounts specifically designed to be compatible with fishing rod holders, GoPro cameras, coolers, kayak seats, and more, and these add-ons can often be purchased separately through the same manufacturer. For example, our favorite fishing SUP, the iRocker Blackfin Model X, has 20 attachment points and a fishing rack attachment that stores items like rods, a bucket, and a cooler.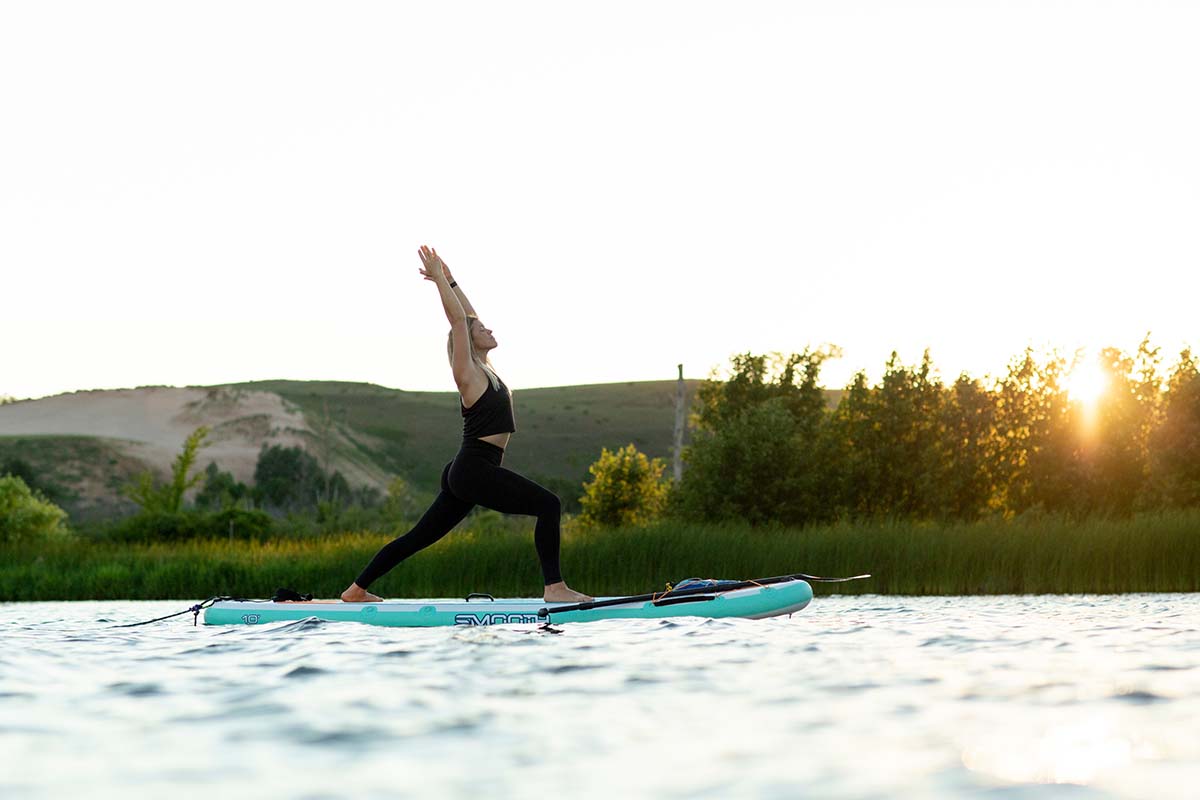 PFDs (Personal Floatation Devices)
Many paddlers wear a PFD (or personal floatation device) for safety—in fact, a good number of lakes and reservoirs require them. Because standard PFDs can be uncomfortable and restrictive, many paddlers opt for belt-style or inflatable vest designs that are low-profile. When shopping, you'll want to look for a belt or vest with a Type III or Type V U.S. Coast Guard rating, like the Mustang Survival Fluid 2.0 Inflatable Belt Pack (Type III) or the NRS Otto Matik Inflatable PFD (Type V).

Budget SUPs
On our list above, we've included a number of entry-level SUPs that are great for those on a budget, including the Tower All Around S-Class and Roc Explorer. These set-ups retail for right around $400 (and are often found on sale for less), which is a great deal when you consider that some high-end boards clock in at well over $1,500. Budget boards almost always feature single-layer constructions (the Tower stands out with its fusion construction), generally have fixed fins, and are usually accompanied by a heavy plastic or aluminum paddle. But while these boards make inherent sacrifices in durability and rigidity, most recreational paddlers really don't need anything more for casual floats. That said, if you're looking for top-notch performance for activities like touring, yoga, or surfing, we recommend spending up for one of the more premium (read: pricier) models.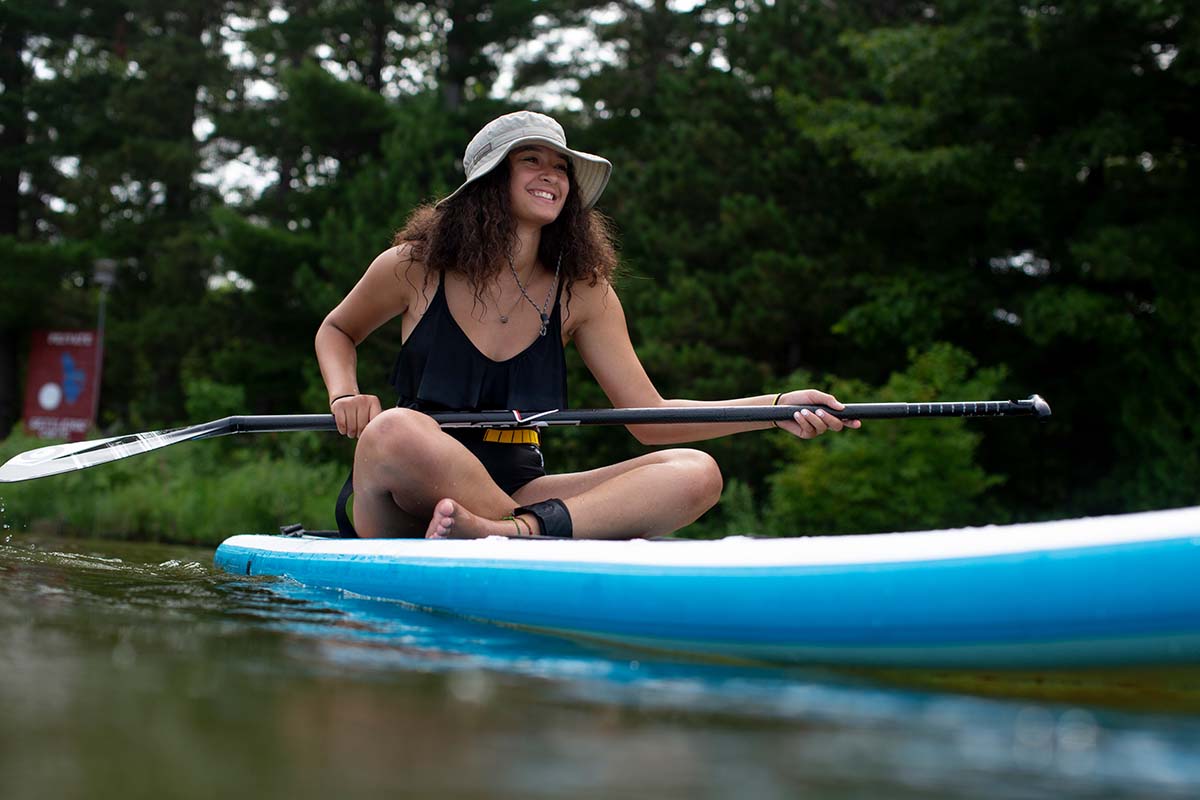 If you've already started your research, you've probably come across a variety of budget boards available through retailers like Amazon, Costco, and other big box stores. Our best advice is to make sure you understand the potential pitfalls before investing in one of these. While they might seem like a great deal at around $300, our biggest concern is the customer service (or lack thereof) should an issue arise. With the "budget" models above, you get some added assurance including multi-year warranties, replacement and repair services, and helpful customer service reps that can guide you through any problems you have with your board—all for around $100 more. In the end, purchasing from a reputable brand certainly has its perks, and it might very well end up saving you money in the long run.
 
Stand Up Paddle Boards for Kids
Stand up paddle boarding is an excellent activity to do with your family, but most smaller paddlers will find it challenging to maneuver standard 10- to 11-foot vessels. Thankfully, manufacturers now make paddle boards specifically for kids. Most kids-specific boards prioritize stability above speed, and are 8 to 9 feet in length, around 4 inches in depth, and weigh under 20 pounds. Unless you're a particularly intrepid family, kids boards are a great place to focus on affordability over serious build quality. Keeping price in mind, a few of our favorite models include the Retrospec Weekender Nano ($300) and the Thurso Surf Prodigy Junior ($350). If cost is your most important factor, it's also worth considering the Roc SUP Co. Explorer, a stable, 10-foot board that's only $230 at the time of publishing.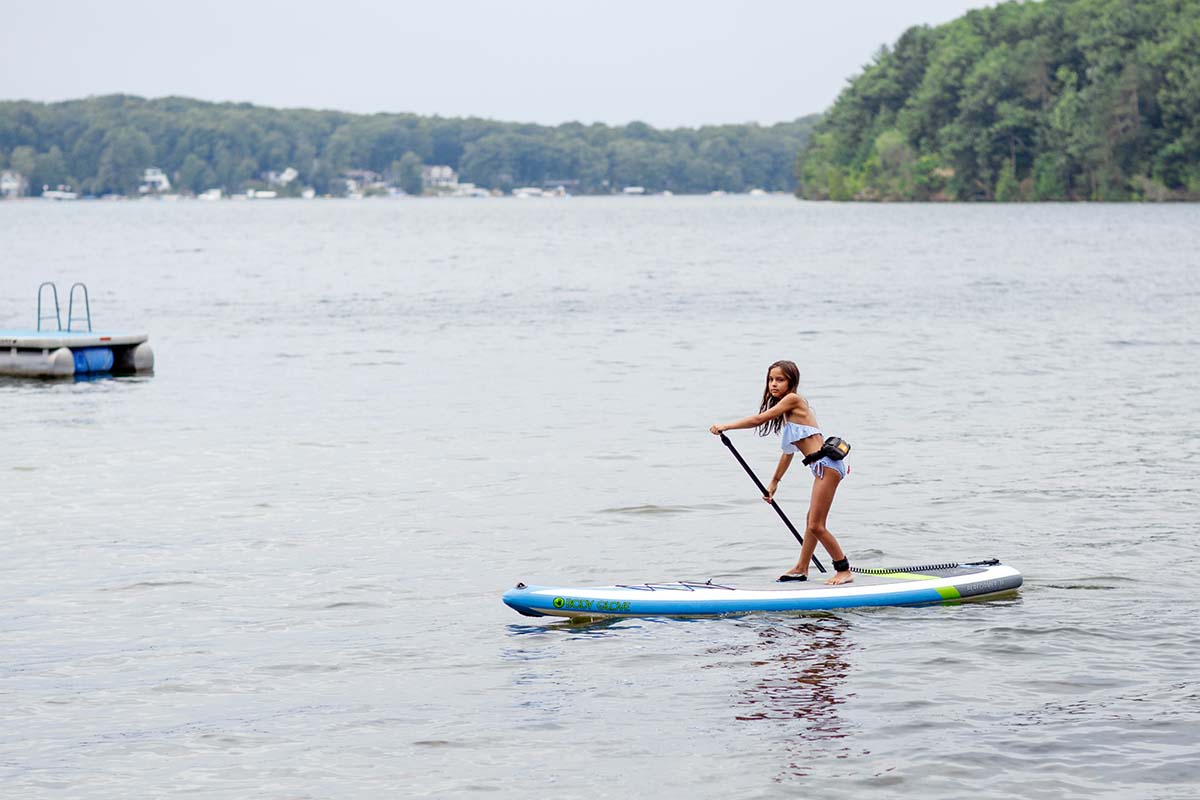 Solid vs. Inflatable SUPs
A major debate you'll likely have when shopping for a stand up paddle board is whether you want a solid or inflatable construction. Solid boards (like the Pau Hana Malibu Classic 10'6") are usually made with an EPS foam core wrapped in fiberglass and epoxy (like a surfboard). Less common materials include carbon fiber, plastic, and wood. The benefits to solid boards are clear: they have little to no give, are more efficient in the water (less drag), don't require any set-up, and won't pop. However, the obvious drawback is that hardboards don't pack down, meaning you'll need a roof rack or large truck bed for transport and ample storage space at home. In general, they're slightly more expensive than inflatable models too, although costs are fairly comparable across the board.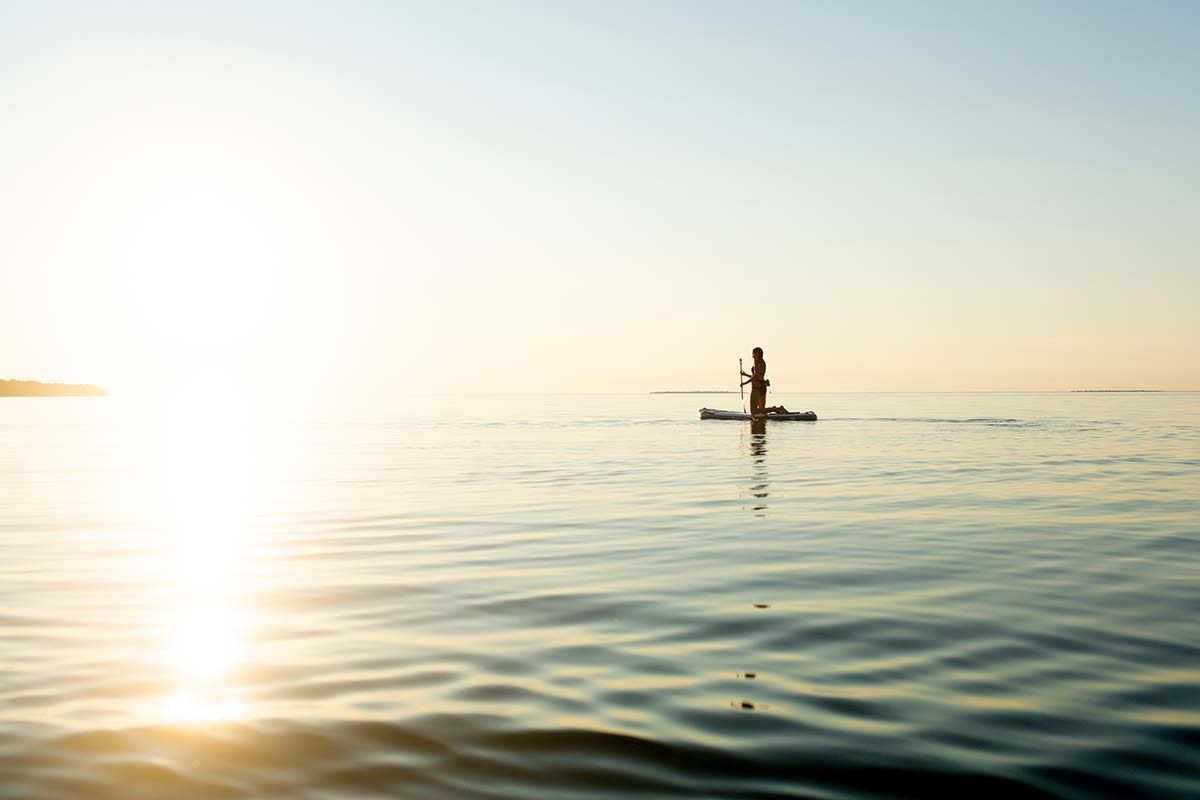 While hardboards certainly have their place, inflatable designs have taken the market by storm for a few main reasons. Most obviously, they pack down into a reasonable size and fit into an accompanying backpack or roller bag, which frees up valuable storage space and makes them much easier to transport. Second, due to their construction, inflatable paddle boards provide a bit more stability on both flatwater and whitewater, and their soft feel and flat surface (unlike the tapered top of a solid board) make them ideal for recreational cruising and activities like yoga. Finally, inflatable SUPs are generally both more affordable and longer lasting than solid paddle boards.
This article, including photos 1, 3-5, 8, 11, and 14-18 in the buying advice, was done in collaboration with Beth Price of Beth Price Photography. Visit Beth's website to check out her beautiful work documenting outdoor life in Northern Michigan.
Back to Our Stand Up Paddle Board Picks  Back to Our SUP Comparison Table
Read More From Switchback Travel