Here in the Pacific Northwest, we know a thing or two about rain. From months of daily drizzle to heavy downpour in the mountains, we're acutely aware of the benefits of a quality waterproof and breathable shell. Below we break down the best rain jackets of 2021, from entry-level models for hiking and daily use to ultralight pieces for backpacking, climbing, and trail running. For more background information, see our rain jacket comparison table and buying advice below the picks.

Best Overall Rain Jacket
Weight: 13.9 oz.
Category: Daily use/hiking
Waterproofing: 3L H2No Performance Standard
What we like: 3-layer performance and good looks at an excellent price.
What we don't: Crinkly and a little stiffer than the previous version.
Patagonia shook up the rain jacket market with the release of its Torrentshell 3L last year. In a big shift from prior generations, the jacket has gone from a 2.5-layer design to a hardshell-like 3-layer construction, giving it a big boost in performance. The latest version is more protective and durable, breathes better, and its interior is more comfortable and less prone to feeling clammy thanks to a thicker lining. Add in sleek Patagonia styling, a wide variety of available colorways, and a price tag that is only $20 more than the outgoing model, and the versatile Torrentshell 3L currently is our favorite rain jacket on the market.
For years, the Marmot Minimalist held the top spot on this list, which has a softer-feeling shell that wears extremely well around town. A notable downside of the Torrentshell 3L is that it's stiffer and more crinkly than the older version and competitors like the aforementioned Minimalist and Black Diamond StormLine. In addition, weight and packed size have gone up a fair amount with the new build (it still stuffs into a hand pocket, however), although we consider these fair tradeoffs as the Torrentshell has improved in just about every other way. For its reasonable $149 MSRP, you'll be hard-pressed to find a better-made, better-looking, or more protective shell... Read in-depth review
See the Men's Patagonia Torrentshell 3L  See the Women's Patagonia Torrentshell 3L
Best Performance Rain Jacket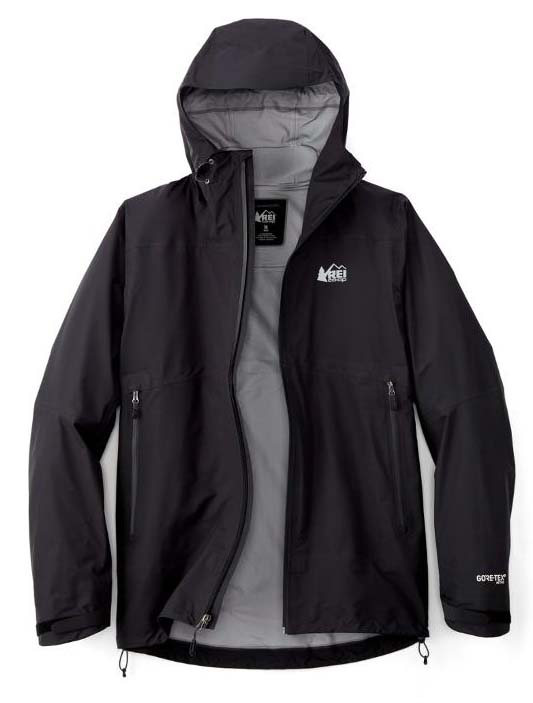 Weight: 10.5 oz.
Category: Performance/daily use
​Waterproofing: 3L Gore-Tex Active
What we like: Premium feel and feature set.
What we don't: No pit zips (and the core vents don't work as well).
REI's in-house line of rain shells continues to impress us when it comes to bang for your buck, and the Drypoint GTX is no exception. Featuring a high-quality 3-layer Gore-Tex Active construction, this hiking-focused jacket has a premium look and feel along with a supple interior that isn't prone to getting clammy. In addition, you get ample features including core zips integrated into the mesh-lined hand pockets and easy-to-use hood and cuff adjustments (it forgoes pit zips, however, which are more adept at dumping heat quickly). All in all, you'd be hard-pressed to find similar performance for the price.
How does the REI Drypoint GTX stack up to competitors like the Arc'teryx Zeta SL and Outdoor Research Interstellar below? Starting with the Zeta, both are hybrid hiking/around-town rain jackets that perform well and look the part, but the Zeta is more expensive and lacks a venting system. The Interstellar is another viable alternative that comes in at a similar weight (11.8 oz.), but its alpine-centric design lacks the balanced, everyday appeal you get from the REI. Any way you slice it, the Drypoint GTX delivers a standout mix of protection, weight, and price. Unfortunately, the women's version of the Drypoint was discontinued recently, but we're hopeful it will return in the future... Read in-depth review
See the Men's REI Co-op Drypoint
Best Budget Rain Jacket
Weight: 10.6 oz.
Category: Hiking/daily use
Waterproofing: 2.5L NanoPro
What we like: Proven performance and excellent value.
What we don't: No chest pocket and basic interior lining feels clammy when working hard.
In the world of rain jackets, Marmot just seems to get it, delivering good fit and performance at reasonable price points. The PreCip is their leading entry-level offering that's reached iconic status among hikers, backpackers, and everyday wearers. For years, the formula has stayed largely the same: proven 2.5-layer waterproof construction, seam taping, sturdy materials, and reasonable weight. You get useful backcountry features like pit zips and a stuff pocket, and its adjustable hood provides full coverage in a rain storm. But what sets the Marmot apart is it delivers this combination of build quality and protection at a budget-friendly $100 price. There's a reason we recommend the PreCip to friends and family more than any other rain shell.
Marmot gave the PreCip a light revamp recently. What changed? Most notably, it now has "Eco" in its name thanks a recycled face fabric and a PFC-free DWR coating. There's also an updated fit, although the jacket still has a regular cut that's roomy enough for wearing a lightweight puffy underneath. All told, those wanting a high-end performance piece that's stretchy and breathable should look elsewhere, but the PreCip remains top of the class in terms of crossover hiking and around-town use... Read in-depth review
See the Men's Marmot PreCip Eco  See the Women's Marmot PreCip Eco
Best Ultralight/Emergency Rain Jacket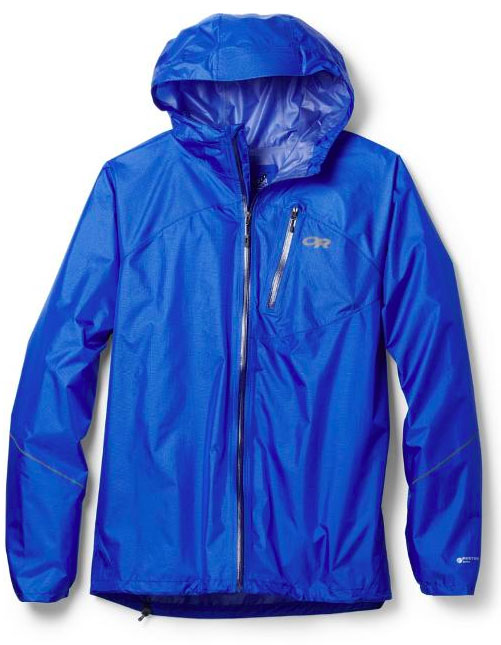 Weight: 6.3 oz.
Category: Ultralight
Waterproofing: 2.5L Pertex Shield Diamond Fuse
What we like: Ultralight yet reasonably tough.
What we don't: Too streamlined for around-town use; doesn't breathe very well.
A long-time ultralight favorite, Outdoor Research's Helium Rain Jacket, was overhauled last year. The most notable update is their inclusion of Pertex's new Diamond Fuse fabric, which boosts durability and tear resistance without a weight penalty (in fact, weight has gone down by 0.1 oz.). Moreover, Outdoor Research updated the fit to a trimmer cut, and the jacket now stuffs into its exterior chest pocket. In testing the Helium, we found it remains a solid ultralight/emergency piece: the 2.5-layer build and DWR coating can handle light to moderate rainfall, the adjustable hood offers good all-around coverage, and its small packed size is ideal for activities ranging from hiking and backpacking to climbing.
What are the compromises in choosing the Helium? Heavy downpours can overwhelm the thin build, causing the fabric to absorb moisture and feel wet against your skin. Further, you miss out on hand pockets, which means the only storage option is the single chest pocket. Finally, it doesn't excel for true performance use—the lining is prone to getting slippery and clammy and there are no pit zips to dump heat. But these complaints are to be expected in a sub-7-ounce shell, and the Helium's low weight and impressive packability, reasonable price, and surprisingly good toughness make it our top ultralight pick... Read in-depth review
See the Men's Outdoor Research Helium  See the Women's Outdoor Research Helium
Best Stretchy Rain Jacket for Movement
Weight: 9.9 oz.
Category: Hiking/daily use
Waterproofing: 2.5L BD.dry
What we like: Stretchy, loaded with features, and affordable.
What we don't: Large fit doesn't match its performance intent.
Black Diamond took the plunge into the rain shell market with their StormLine. The big news is the stretchy 2.5-layer construction, which offers greater comfort than a standard rain jacket like the PreCip Eco above. The interior is soft to the touch and doesn't have the plasticky feel that you get with the Marmot, and there's a noticeable amount of "give" in the shell fabric. The jacket also is well-equipped and competitively lightweight with two hand pockets, a coated front zipper, and an all-in weight of 10 ounces (for our men's medium). To top it off, the StormLine is aggressively priced at $149.
Features like a helmet-compatible hood, stuff pocket, and pit zips give the StormLine a clear performance slant, but the large fit isn't ideal for the backcountry. It's easy to layer a puffy underneath, but the jacket was much too long and roomy for us when wearing it over a thin baselayer. We found that BD's 2-ounce-lighter FineLine jacket has a more athletic cut, but that model gives up valuable features like hand pockets, adjustable cuffs, and pit zips... Read in-depth review
See the Men's BD StormLine  See the Women's BD StormLine
Best High-End Rain Jacket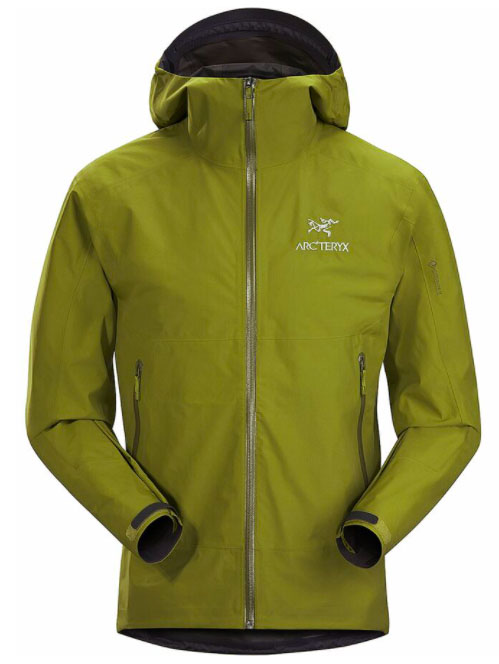 Weight: 10.9 oz.
Category: Hiking/daily use
Waterproofing: 2L Gore-Tex with Paclite Plus
What we like: Premium look and feel; excellent feature set.
What we don't: High price and 2-layer build.
Arc'teryx is known for top-of-line quality and prices to match, and we were excited to see the Zeta SL join their lineup (for reference, the older Zeta LT at $475 was out of reach for many people). The SL is the whole package: it's reasonably light at 10.9 ounces, packs down small, is super comfortable against the skin, and has a tough 40-denier shell that can stand up to a lot of use and abuse. In addition, it looks great and can be worn for everything from hiking to commuting in the city. We've worn this jacket throughout many a rainstorm in the Pacific Northwest and while winter backpacking in the Grand Canyon and have come away impressed.
What are the downsides of the Arc'teryx Zeta SL? The 2-layer design means that it doesn't breathe quite as well as many of the more performance-oriented jackets on this list, although Gore's Paclite Plus has been good in our testing. And at this price, you can get the 3-layer REI Drypoint above and save $50 in the process, although you do sacrifice durability (the REI is 20D). But for hiking and everyday use, you'll be hard-pressed to find a better-looking or more comfortable rain jacket. And for those looking for a more backcountry-specific piece, Arc'teryx also offers the Zeta FL, which is lighter at 7.2 ounces, thinner at 20D, and costs $349... Read in-depth review
See the Men's Arc'teryx Zeta SL  See the Women's Arc'teryx Zeta SL
Best of the Rest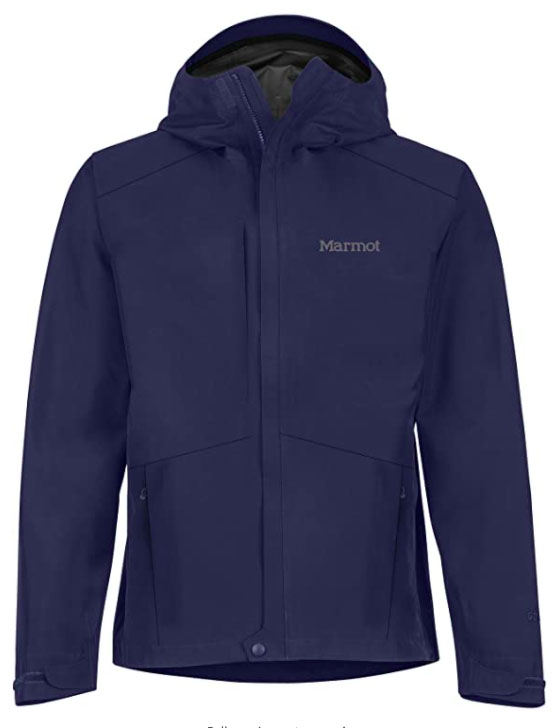 Weight: 14.9 oz.
Category: Hiking/daily use
​Waterproofing: 2.5L Gore-Tex Paclite
What we like: High-quality feel, great design.
What we don't: No stuff sack/pocket, heavy.
For a versatile rain jacket at a great price, it's hard to beat the Marmot Minimalist. The shell has a premium look and feel that immediately sets it apart from entry-level designs. Its lining is less plasticky and doesn't feel as clammy if you start to get warm while walking or hiking. The hood is nice and thick and comes with a substantial bill that can withstand heavy rain and wind. And just about all of the features are reliable and trustworthy, from the burly and confidence-inspiring zippers to the thick cinch cord and easy-to-use toggles at the hem and hood. It's worth noting that Gore-Tex's Paclite waterproof laminate, a proven winner for jackets in this category, has been recently updated to include a 100-percent-recycled face fabric.
It's true that the Minimalist isn't perfect as an all-around piece. The thicker fabrics and lack of a stuff pocket make it less desirable to bring when a rainstorm isn't a guarantee, such as on a summer backpacking trip. For those, we'd rather pack a lighter option like the PreCip or Zeta SL above. And we would prefer a water-resistant main zipper at this price, like what's included with the Outdoor Research Foray, but these are pretty minor complaints. What you get with the Minimalist is a tough, outdoor-ready jacket that wears well every day of the week... Read in-depth review
See the Men's Marmot Minimalist  See the Women's Marmot Minimalist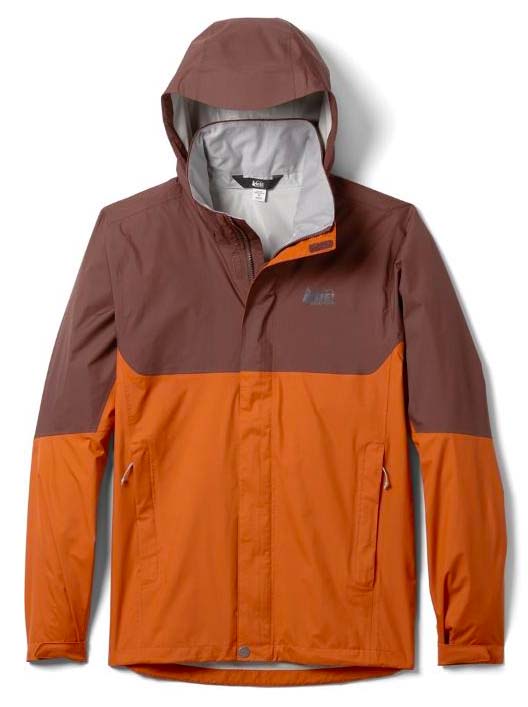 Weight: 12.5 oz.
Category: Hiking/daily use
Waterproofing: 2.5L Peak
What we like: Similar design as the Marmot PreCip Eco for $10 less.
What we don't: Fits very big, so we ended up sizing down.
REI's Drypoint above is their high-performance rain jacket offering, while the sub-$100 Rainier competes in the popular budget category. Overall, we think they've put together a solid product: the in-house 2.5-layer construction holds up well in all-day drizzle, pit zips help keep cool you on the go, and the clean styling wears well just about anywhere. Tack on REI's excellent warranty and wide range of colorways, and you get a quality rain shell for anything from city commutes to hiking and backpacking trips.
In testing the Rainier, we were struck with how many features it shares with Marmot's PreCip Eco above. Everything from the REI's hood design to pocket layout and even smaller touches like mesh pockets and the Velcro covering the center zipper reminded us of the Marmot shell. How do they differ? Most importantly, we found the fit of the Rainier to be very large (for many people, it's probably best to go down a full size). In addition, the REI has a slightly more substantial face fabric, smaller hand pockets, and weighs about 2 ounces more. Shortcomings like the odd sizing and added weight keep it from overtaking the PreCip—despite costing $10 less—but if you nail the fit, there's a lot to like about REI's Rainier.
See the Men's REI Co-op Rainier  See the Women's REI Co-op Rainier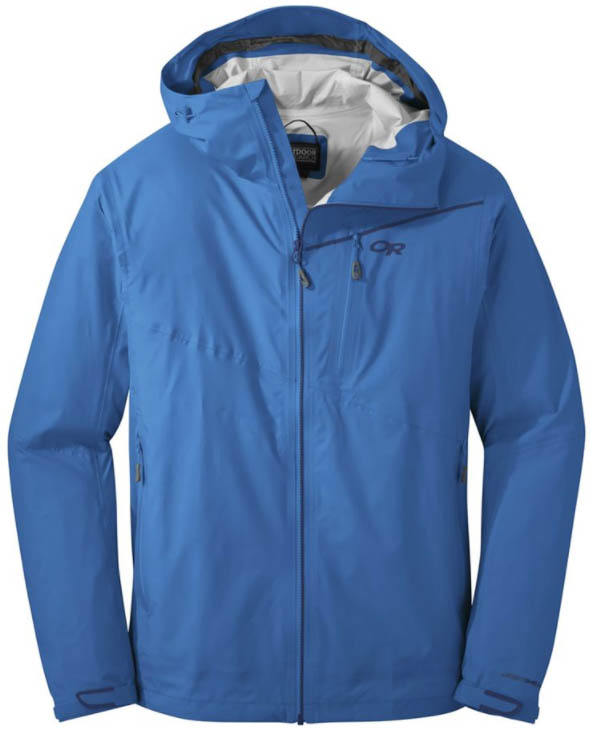 Weight: 11.8 oz.
Category: Performance/hiking
Waterproofing: 3L AscentShell
What we like: A bomber multi-sport shell at under 12 ounces.
What we don't: Not everyone will appreciate the technical design, including the helmet-compatible hood.
In the performance rain shell category, Outdoor Research's Interstellar puts it all together better than most. For starters, you get OR's proprietary AscentShell membrane, which is stretchy, breathable, and highly waterproof. The 20-denier face fabric is lightweight and packable, and the jacket has multi-sport features like a helmet-compatible hood and harness-friendly pockets. For everything from backpacking and mountain biking to backcountry skiing, the Interstellar is a great option.
Outdoor Research worked to make the Interstellar more everyday-friendly by adding hand pockets, but keep in mind that this still is a performance-oriented piece. For casual wear or hiking, the helmet-compatible hood is large and unnecessary, and the jacket has a more technical look than the REI Drypoint above. That said, the Interstellar is one of our favorite rain jackets for seriously rough conditions. Of note: The Interstellar is currently discounted and available stock is dwindling. For a similar build that shares the AscentShell membrane and backcountry-ready design (albeit with a thicker and heavier build), check out OR's MicroGravity... Read in-depth review
See the Men's OR Interstellar  See the Women's OR Interstellar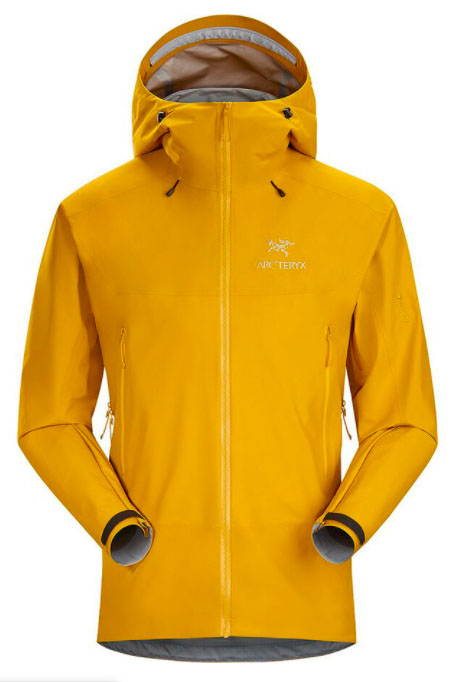 Weight: 12.7 oz.
Category: Performance/hiking
Waterproofing: 2L Gore-Tex with Paclite Plus & 3-layer Gore-Tex with C-Knit
What we like: Light, very weather-protective, and feature-rich.
What we don't: The priciest rain jacket on our list at $425.
Arc'teryx's Beta SL Hybrid blurs the lines between rain jacket and hardshell categories with its unique two-part build. Like the Zeta SL above, the jacket utilizes Gore-Tex's thin 2-layer Paclite Plus along the arms, back, and hood, but they've also mixed in thicker panels of 3-layer Gore-Tex in the front and shoulders to increase weather protection and durability. Moreover, those 3-layer sections have Gore's soft C-Knit backer, which makes the Beta SL noticeably more comfortable and a better breather than the Zeta. Tack on features like pit zips, a very competitive weight of 12.7 ounces, and a fantastic trim fit, and you get an extremely well-rounded hiking and backcountry-capable shell.
What's not to like with the Beta SL Hybrid? Most significant is its price: at over $400, it's the most expensive rain jacket on our list and arguably overkill for many summer backpacking scenarios. By opting for the Zeta SL instead, you save nearly 2 ounces and gain a little more daily appeal (the Beta SL does have a slightly technical look, especially in the two-tone color options). But the Beta does undeniably offer a number of performance-related benefits and useful extras like a helmet-compatible hood. For those that get out a lot and aren't wanting to spring for a full-on hardshell, the Beta SL is a great middle ground... Read in-depth review
See the Men's Arc'teryx Beta SL Hybrid  See the Women's Arc'teryx Beta SL Hybrid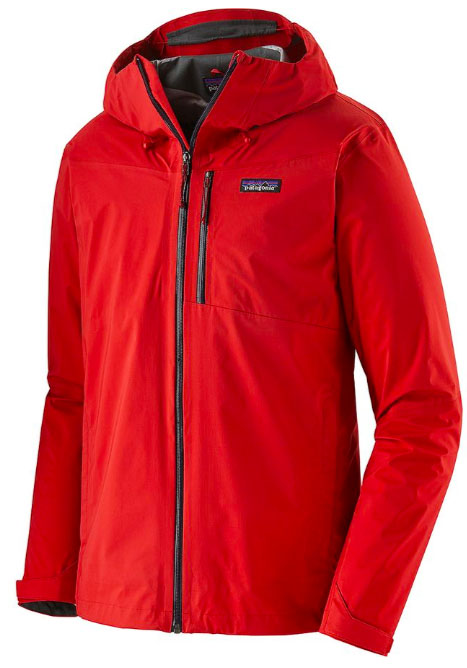 Weight: 14 oz.
Category: Hiking/daily use
Waterproofing: 3L H2No Performance Standard
What we like: Protective and comfortable with a stretchy, 3-layer build.
What we don't: Patagonia's own Torrentshell above offers similar performance and costs $50 less.
Like the Torrentshell above, Patagonia recently upgraded their mid-range Rainshadow to a 3-layer construction (the prior model was 2.5L). This improves the jacket's protection and durability, although it's lost some of its backcountry appeal with a jump in weight of over 3 ounces. In addition, Patagonia shrunk down the size of the hood (it's no longer helmet-compatible) and replaced the coated zippers on the hand pockets and pit zips with nylon flaps. The net result is a clean look that plays better around town at the sacrifice of some technical prowess.
This new casual slant leads to our biggest complaint: the Rainshadow now is too similar to the $50-cheaper Torrentshell 3L. Both jackets have the same in-house waterproofing, include features like pit zips and two-way adjustable hoods, and weigh only 0.1 ounces apart. It's true the Rainshadow has a lighter face fabric with some built-in stretch that's less crinkly and stiff (we'd go as far as calling it relatively supple), but otherwise it very closely resembles the Torrentshell. In a future update, we'd love to see them trim down the build to shave weight or bring back some of the performance touches. For now, the Rainshadow lands midway down our list... Read in-depth review
See the Men's Patagonia Rainshadow  See the Women's Patagonia Rainshadow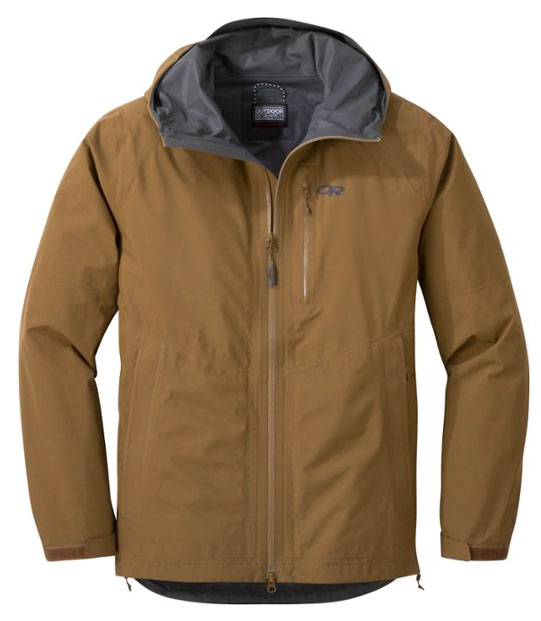 Weight: 16.3 oz.
​Category: Hiking/daily use
Waterproofing: 2L Gore-Tex Paclite
What we like: Multi-sport functionality, nice fit and feel.
What we don't: Annoying toggles and pricier than the Marmot Minimalist.
We love what Outdoor Research has done with the Foray: a do-it-all rain jacket that can even work as a lightweight shell for spring skiing. Like the Marmot Minimalist above, it has a Gore-Tex Paclite waterproof laminate and smooth interior, but the Foray ditches the center flap in lieu of a water-resistant zipper. The jacket's truly unique feature is its full-length side zips that extend the standard pit zips all the way to the bottom hem. When fully unzipped, this creates a poncho-like opening for awesome venting on the trail—a great way to dump excess heat while still retaining a mostly waterproof coverage. We like the large hood and how well it cinches down, but aren't crazy about the single drawcord toggle on the back of the hood. It's difficult to pinch, making loosening the hood a pain.
Our overall impressions of the Foray were very positive. Its venting system makes it desirable in a number of outdoor activities, and while only weighing a little more than the Marmot Minimalist, it feels a bit more nimble and multi-sport-ready. Newer additions also include a PFC-free fabric and DWR coating, along with a few two-tone color options. All things considered it's an excellent quiver of one rain jacket for the backpacker, spring skier, and daily wearer... Read in-depth review
See the Men's Outdoor Research Foray  See the Women's OR Aspire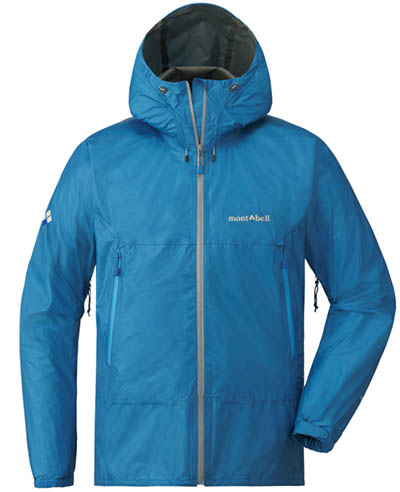 Weight: 6.4 oz.
Category: Ultralight
Waterproofing: 2L Gore Infinium
What we like: Great combination of weight and breathability.
What we don't: Compromises in protection and durability, and it's not an around-town piece.
The climbing community loves Montbell and for good reason: the company offers well-thought-out technical pieces that come in cheaper than brands like Arc'teryx and Patagonia. Weighing just 6.4 ounces, their recently updated Versalite rain jacket is a prime example: you get impressive breathability, good comfort, and features like pit zips and hand pockets for under $200. It's worth noting that the Gore Infinium construction alone technically isn't waterproof, but Montbell added a nylon ripstop face fabric, minimal seams plus seam taping, and a DWR coating, making this jaket well-equipped for fending off moderate rainfall. And the upside to Gore Infinium is excellent breathability for the weight, which makes the Versatile a great option for long days of hiking (it's no coincidence that it's a part of Montbell's thru-hiking collection).
As with many Montbell products, where the Versalite comes up short is everyday wear. The jacket's extremely thin 10-denier face fabric (for reference, the ultralight Outdoor Research Helium above uses far tougher 30D) will require extra care to avoid tears and punctures. Moreover, the tall hand pockets and exposed zippers lack the refinement and sleek styling that you get from an Arc'teryx product. That said, the Versalite checks a lot of boxes from a performance standpoint and deserves consideration from ultralight backpackers and minimalist summer-time adventurers.
See the Men's Montbell Versalite  See the Women's Montbell Versalite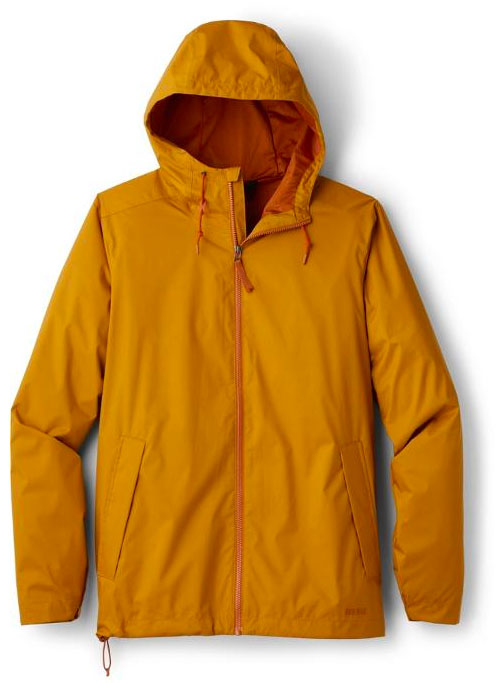 Weight: 13.8 oz.
Category: Daily use
Waterproofing: 2L laminate
What we like: Surprisingly well-made given the budget-friendly price.
What we don't: Very large fit and not fully seam-sealed.
The third REI Co-op rain jacket to make our list is their cheapest offering: the Groundbreaker. Priced at $50, we had pretty low expectations when we first picked it up, but the shell managed to win us over. The entry-level category is well-known for its plasticky, uncomfortable materials—this includes the Columbia Watertight II below—but the REI's polyester face fabric and interior mesh lining are soft to the touch and have a surprisingly quality feel. We also appreciate the jacket's clean styling with minimal branding and wide range of available colorways. All in all, the Groundbreaker is a solid emergency rain shell that excels for around-town use in mild conditions.
We think REI did a pretty good job balancing price and features with the Groundbreaker, but there are a few notable downsides. First off, the hand pockets are open and do not have any zippers, which limits their usefulness for storing valuables like keys or a phone. In addition, the jacket is only partially seam-sealed, so moisture will make its way through in an extended downpour. However, we can attest that its simple 2-layer construction and DWR coating do effectively shed light rainfall. In terms of fit, the Groundbreaker runs rather large and we ended up sizing down from our standard medium to a men's small.
See the Men's REI Groundbreaker  See the Women's REI Groundbreaker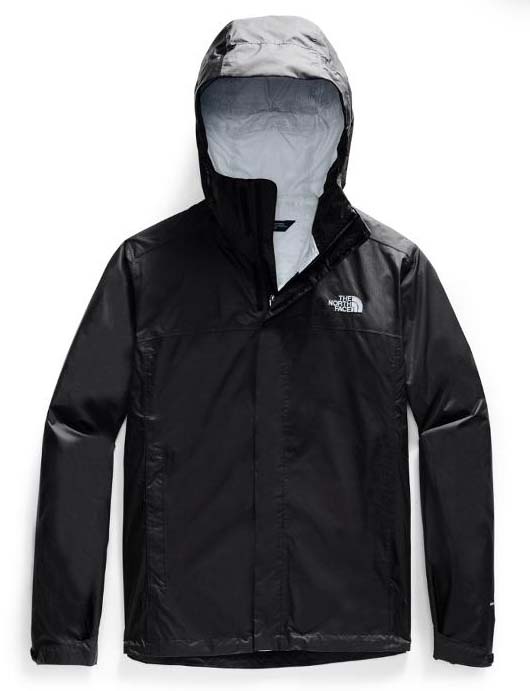 Weight: 11.6 oz.
Category: Daily use/hiking
​Waterproofing: 2.5L DryVent
What we like: Another versatile rain jacket for under $100.
What we don't: Falls a little short in hood design and zipper quality.
Just about every major outdoor brand offers a budget-oriented rain shell for about $100, and The North Face's entry is the popular Venture. Like the Marmot PreCip Eco and REI Co-op Rainier above, the TNF features a 2.5-layer construction (in this case, their in-house DryVent design), pit zips for ventilation, and an adjustable hood. In addition, they've covered the basics for mixed daily wear and hiking uses with a reasonable 11.6-ounce weight, stuff pocket, and layering-friendly fit. Offered in a wide range of colors and backed by the brand's impressive warranty, the Venture 2 is worth having on your radar.
Why do we have The North Face Venture 2 ranked here? To start, it has our least favorite hood design among its competitors with less coverage at the top of the head due to its flimsy bill. Second, the main zipper has a coil design that lacks the smooth, confidence-inspiring action of the Marmot and REI. Finally, we've had consistent issues with the jacket wetting out fairly quickly in heavy rainfall (it's also slow to dry). Despite our complaints, the Venture 2 is still a serviceable emergency shell and a step in the right direction from the old Venture, which we found to be very cheaply made. For a similar concept but with a more durable, around-town-friendly build, check out TNF's Resolve 2... Read in-depth review
See the Men's The North Face Venture 2  See the Women's The North Face Venture 2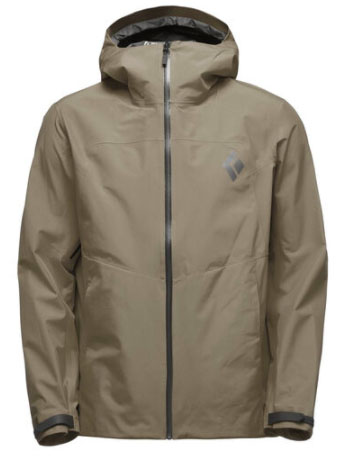 Weight: 13.9 oz.
Category: Performance/hiking
Waterproofing: 2.5L Gore-Tex Paclite
What we like: Great fit and proven Gore-Tex performance.
What we don't: Pricey and the helmet-compatible hood isn't ideal for hiking and everyday use.
Black Diamond has come on strong lately with an impressive lineup of outdoor apparel. The Liquid Point is their leading performance rain jacket, and what we love about this Gore-Tex Paclite shell is its athletic fit: it's roomy enough for layering but avoids the boxy feel of many standard rain jackets. As such, it's one of the best options for those that want a shell for foul weather climbing, hiking, and skiing. An added bonus: the clean design of the Liquid Point looks great both on the trail and around town.
Among the three rain jackets on this list made with standard Gore-Tex Paclite (the Marmot Minimalist and Outdoor Research Foray above), the Liquid Point falls to the bottom because of its climbing focus and steep price. The very large hood that fits nicely over a climbing helmet can be cumbersome for everyday use and hiking, and the overall design is a little more streamlined than the Foray or Minimalist with only two hand pockets (the other jackets come with a total of three pockets). The upside is that the Liquid Point undercuts the Foray and Minimalist in weight. This is great for stuffing into a pack, and if the price weren't such a big jump from the other Paclite jackets above, we would be inclined to give it a boost in our rankings... Read in-depth review
See the Men's BD Liquid Point  See the Women's BD Liquid Point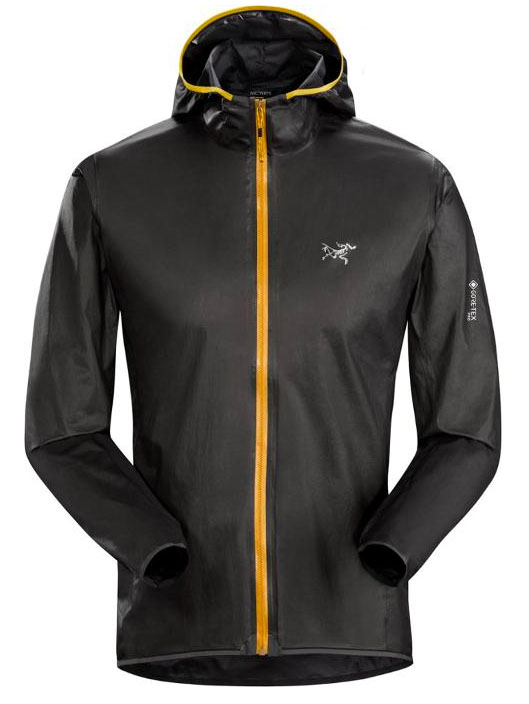 Weight: 4.2 oz.
Category: Trail running
Waterproofing: 2L Gore-Tex with Shakedry
What we like: The premier rain jacket for trail running.
What we don't: Limited durability—the fabric is too thin for any kind of abuse.
Arc'teryx's Norvan SL is billed as the lightest and most breathable waterproof shell available. This minimalist piece weighs around 4 ounces depending on the size, packs down to almost nothing, and is designed with trail running squarely in mind. Upon testing it in the wet conditions of British Columbia, we were surprised at just how waterproof this tiny jacket is (we literally stood under a waterfall and can confirm that the jacket truly is waterproof). In addition, it does not absorb water and therefore will not get heavier when wet, a rarity in the rain jacket world.
The shortcomings of the Norvan are its price and fragility. $325 is a lot to spend for a rain jacket, particularly if the materials are so light that wearing a backpack may shorten its lifespan. We were even concerned about wearing a hydra-pack for lengthy runs for fear of it causing premature abrasion, but that may be the price to pay for such a phenomenal ultralight piece. Given its feature set, the Norvan SL isn't for the mainstream, but is best-in-class for serious trail running... Read in-depth review
See the Men's Arc'teryx Norvan SL  See the Women's Arc'teryx Norvan SL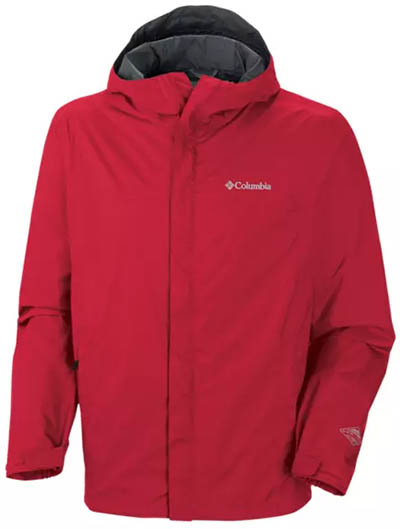 Weight: 13 oz.
Category: Hiking/daily use
Waterproofing: 2L Omni-Tech
What we like: Great value, lots of color options.
What we don't: Cheap construction has a plasticky feel.
Priced at around $60, and often available for a discount at Amazon, the Columbia Watertight II is a leading budget rain jacket. And while it doesn't stack up as well in performance testing, good seam sealing and a reliable build make it a solid option for daily use or as a just-in-case shell when bad weather isn't in the forecast. The Portland-based brand does value-oriented gear better than most, and the Watertight and women's-specific Arcadia include a number of features you don't often find at this price point: zippered hand pockets, Velcro wrist cinches, and an adjustable hood.
How does the Watertight II compare with the REI Groundbreaker above? Both use 2-layer constructions, have large fits (sizing down is recommended unless you want room for layering), and weigh about the same. The Columbia gets the slight edge in waterproofing with a flap over the center zipper and full seam sealing (the REI is only partially seam-sealed), although neither are designed for rough conditions. But what sets the Groundbreaker apart for us is its higher-quality construction: its shell and interior are noticeably softer to the touch and the REI's hood provides better coverage and is more comfortable. Unless you prioritize the Watertight's small upgrades in waterproofing and features, we think the REI is the better buy... Read in-depth review
See the Men's Columbia Watertight II  See the Women's Columbia Arcadia II
Rain Jacket Comparison Table
Editor's Note: "Packable" indicates the jacket has a stuff pocket.
 
Rain Jacket Buying Advice

Rain Jacket Categories
Daily Use
If you live in a wet climate like the Pacific Northwest or New England, a rain jacket is an indispensable part of your everyday wardrobe. For daily uses like commuting, running errands, or walking the dog, you'll likely prioritize a casual fit (which will accommodate a wide variety of layers underneath) and useful features like handwarmer pockets and Velcro wrist cinches. You won't often see add-ons like helmet-compatible hoods or exposed, water-resistant zippers in this category, and daily use jackets don't prioritize weight-savings or packability (in fact, they're often quite thick and durable). As a result, daily use jackets are either budget-oriented or designed with style in mind, and some of our favorites include the Patagonia Torrentshell 3L (which crosses over nicely into the hiking category below) and Marmot Minimalist.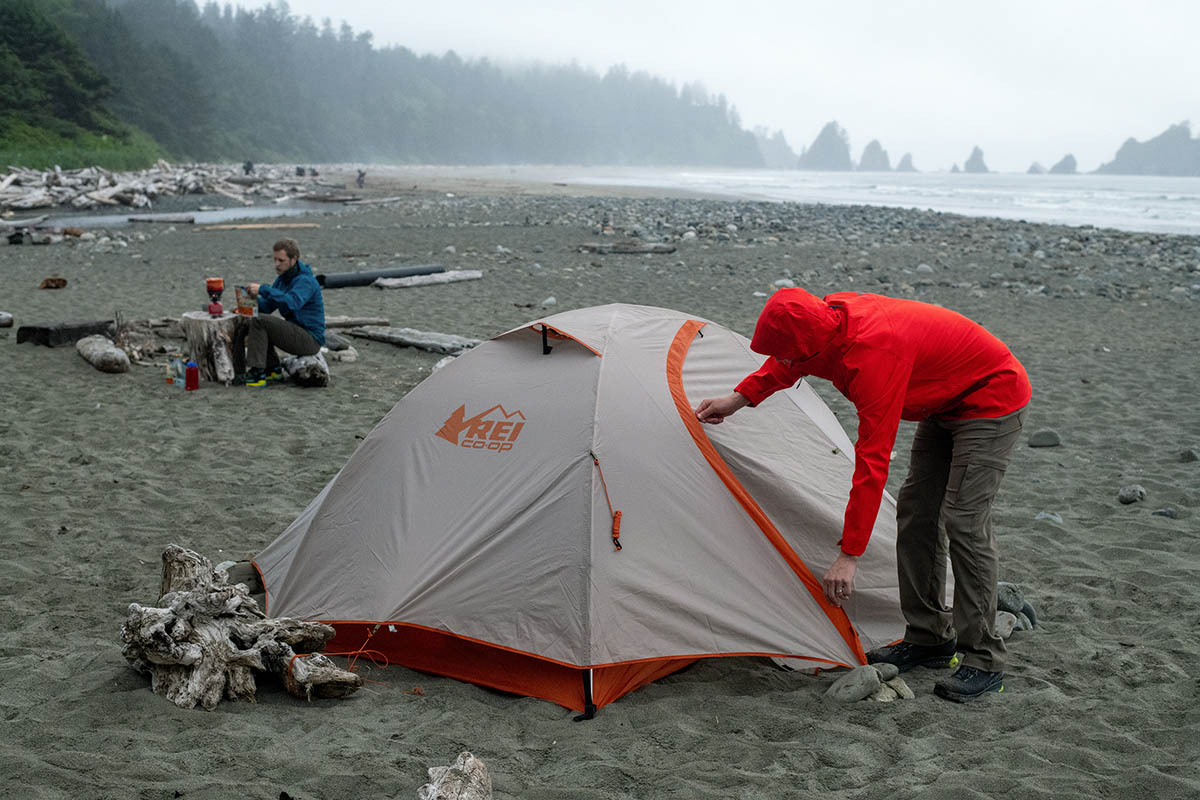 Hiking
Hiking-focused shells vie with those in our daily use category for the most common type of lightweight rain jacket. This designation includes big sellers like the entry-level Marmot PreCip Eco all the way up to the $299 Arc'teryx Zeta SL. Hiking jackets are built to be light and packable to bring along on a backcountry trip, and their performance in heavy rain and wind is admirable—particularly the more substantial Gore-Tex Paclite models (including the Marmot Minimalist, Arc'teryx Zeta SL, and Outdoor Research Foray). Breathability does suffer compared with the performance shells below and the cheaper jackets won't last as long, but hiking shells are a nice middle ground of price, weight, and protection.

Performance Shells
Performance-oriented rain jackets are your focused outdoor pieces. One step down from a full-on hardshell jacket, they're made to withstand extreme conditions: the shell fabrics are tougher, the waterproof membranes are better breathers, and the hoods are more substantial. As a result, the interior fabrics are also much less prone to clamming up, and often have a premium, soft feel. Price does increase with these upgrades, although daily usability is nearly on par with the hiking/daily use category above. The primary compromise is pocket placement as some hand pockets sit high to accommodate a climbing harness or backpack hipbelt. Jackets in this category include the REI Co-op Drypoint GTX, which blew us away with its performance in brutal conditions in Patagonia.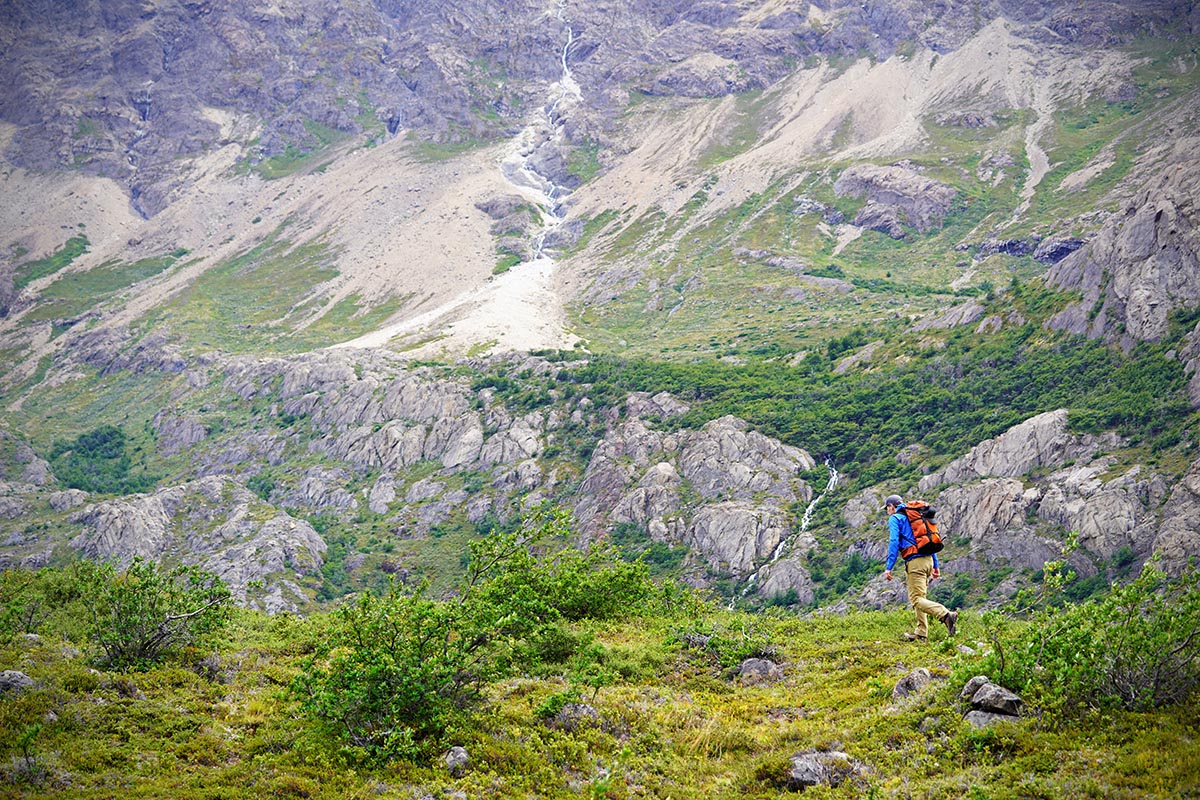 Ultralight
Pared down, thin, and very focused, ultralight rain jackets are not for everyone. Their performance is often similar to or a little below the weekend hiker category above. On the surface, that may not seem impressive, but given the substantial drop in weight, there's a whole lot of technology packed into these 6-ounce (or less) wonders. The designs do require a few sacrifices, most notably the thinner fabrics being more prone to tearing and sagging and pressing against your skin under heavy rain. You also miss out on a number of features like hand pockets and as many adjustment options for the waist, hood, and wrists. All those sacrifices are well worth it for the ultralight backpacker or climber who needs an emergency shell. The rest may be better suited to look elsewhere.

Trail Running
Thanks to advances in fabric and membrane technologies, there is a growing market of trail-running jackets that push weights even lower than the ultralight category above. Through some extensive testing, we've found these shells to be completely waterproof with seam taping and 3-layer membranes, and breathability performance exceeds their 2.5-layer counterparts. Clearly, there are compromises in such a feathery structure and the most significant is durability. The class-leading Arc'teryx Norvan SL may weigh 4 ounces but its construction is so delicate that you can't wear a pack without potentially damaging the waterproof system. Cost is another consideration as these jackets run about $300. For the trail runner that heads out in any and all conditions, however, the performance for the weight is simply unmatched.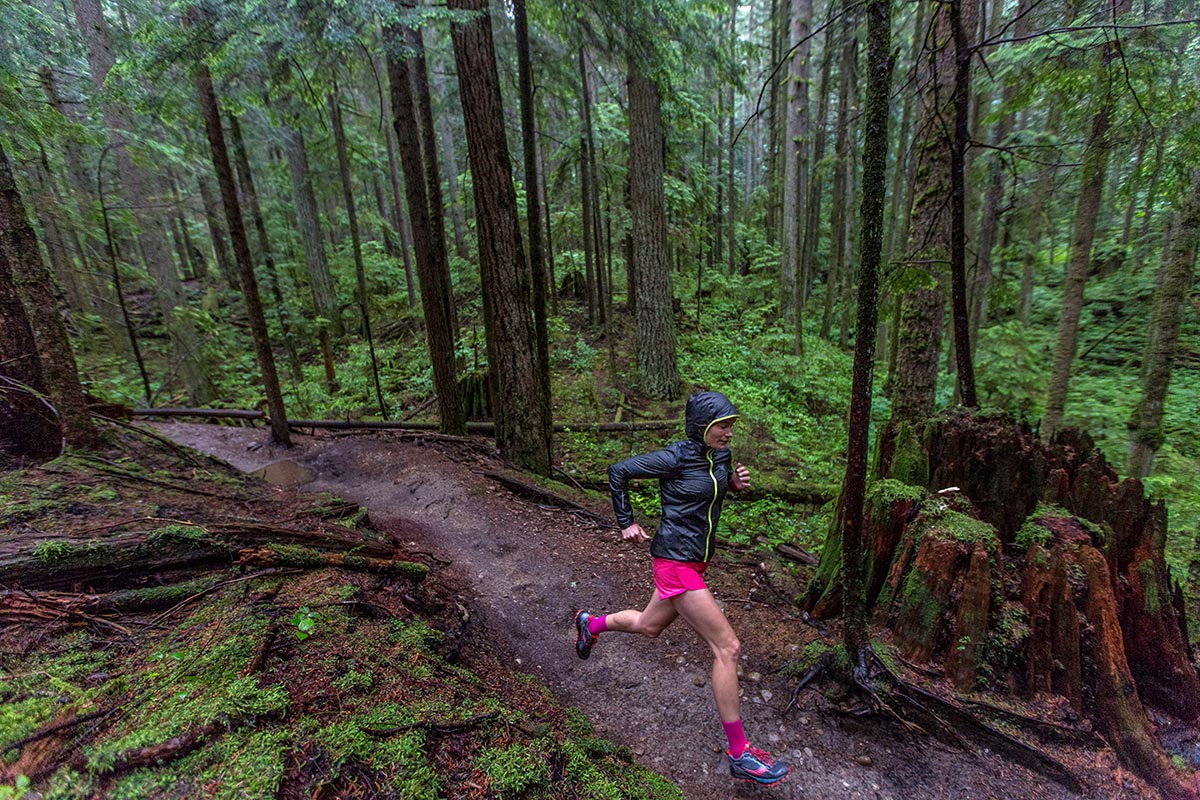 Waterproof vs. Water-Resistant
No piece of outdoor gear offers total protection from outside moisture, but most of today's rain jackets are listed as being either "water-resistant" or "waterproof." Many light rain jackets, windbreakers, and softshells are water-resistant, meaning that they shed water in light to modest precipitation but aren't completely waterproof under extended exposure. Waterproof jackets have a built-in laminate layer like Gore-Tex or a coating that essentially blocks outside moisture from entering under most conditions. Additionally, they have waterproof taping along the seams on the interior of the jacket.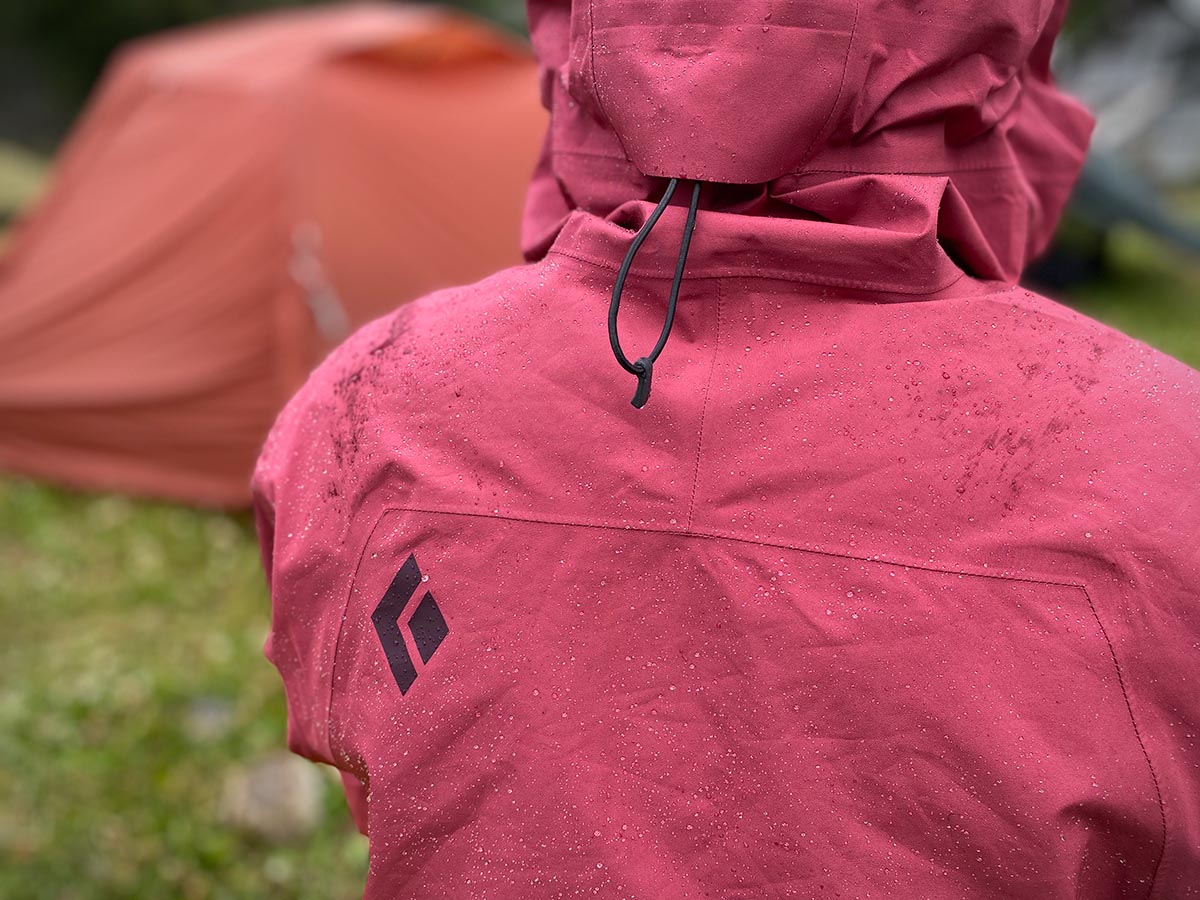 You may notice a waterproof rating listed on some outdoor gear websites, represented by a number from 0 to 20,000mm or more. This is the amount of water in a 1-inch-diameter vertical tube that the material can withstand without leaking. The test is a strange one: it doesn't mimic real-world conditions and many manufacturers choose not to list it at all. Other factors like seam taping play a major role in waterproofness, so the number doesn't truly determine how dry you will stay in a downpour. We at Switchback Travel don't feel the waterproof ratings are very helpful in the buying process and have chosen not to list them with our specs. You can take note of the number when it's available, as it will often correlate with other characteristics like fabric thickness and durability, but don't base your buying decision on that alone.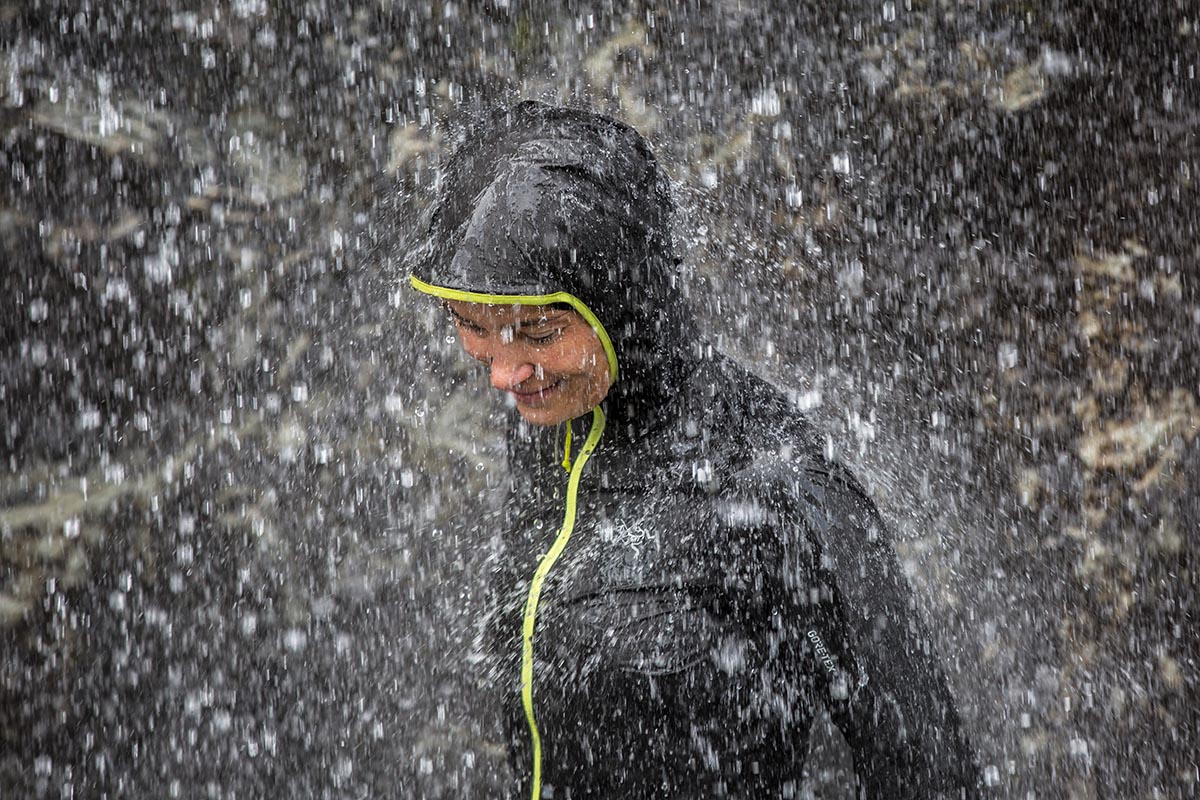 Fabric Layers
To create a waterproof rain jacket that resists moisture from entering yet also lets sweat and hot air vent out requires a combination of fabric layers. You'll see this referenced in every performance-oriented rain jacket on the market, typically seen as: 2L, 2.5L or 3L. We break down the pros and cons of each below:

2-Layer
These jackets are the most basic, and typically require a mesh liner to protect the jacket's inner coating (hence the 2-layer name). They're not very breathable and the mesh adds bulk, making 2-layer jackets best for casual use. You'll often find them in entry-level styles, such as the $60 Columbia Watertight II and $50 REI Co-op Groundbreaker above. One notable exception is a jacket like the Arc'teryx Zeta SL that uses Gore-Tex's new Paclite Plus, which has a minimalist, protective treatment on the interior in place of a hanging liner to minimize weight and bulk. The treatment is thinner than the sprayed-on coating of a 2.5-layer jacket (more on this below), so we consider the Zeta a 2-layer piece.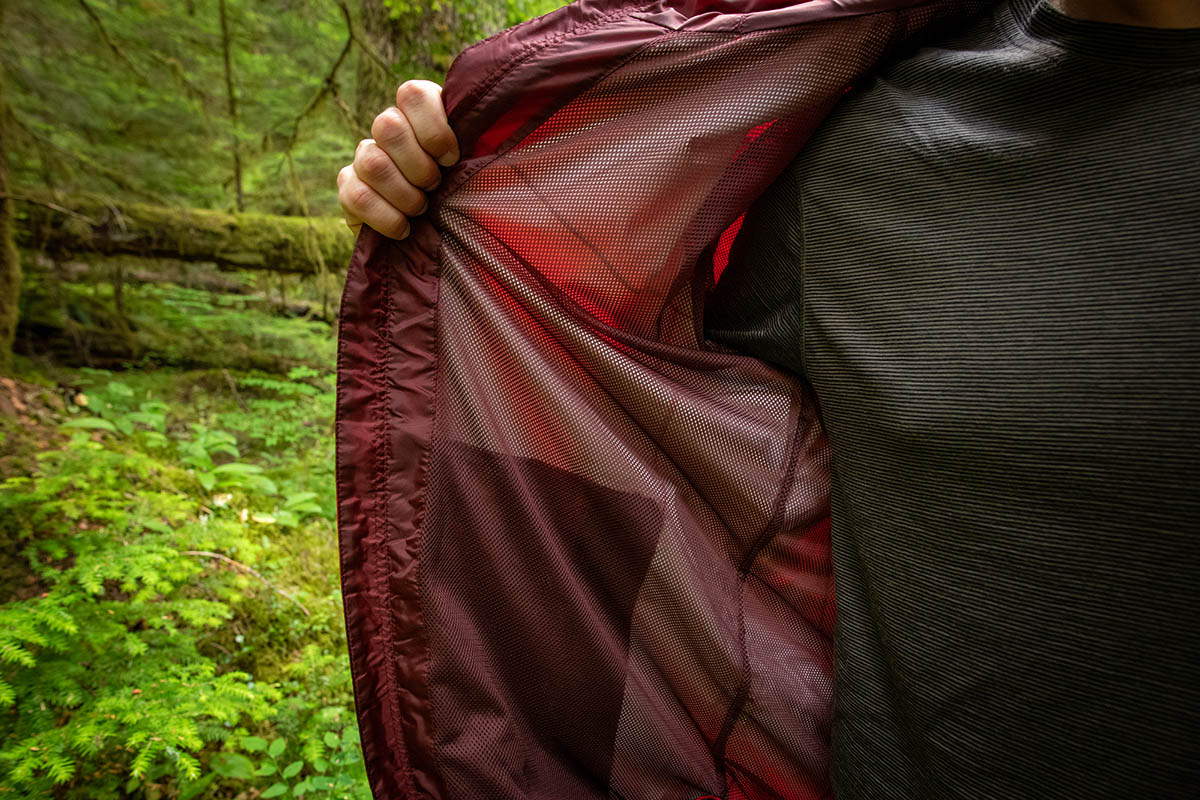 2.5-Layer
A 2.5-layer jacket attaches a very thin interior fabric to the waterproof/breathable laminate or coating. The benefit of this interior finish is that the mesh found in 2-layer jackets is no longer necessary. Breathability as well as compressibility increases and weight decreases with the design, making this the most popular option for hikers, backpackers, and climbers. One downside is that the interior fabric isn't as soft to the touch as a true 3-layer (some consider it slippery or plasticky), but we've seen improvements with recent models.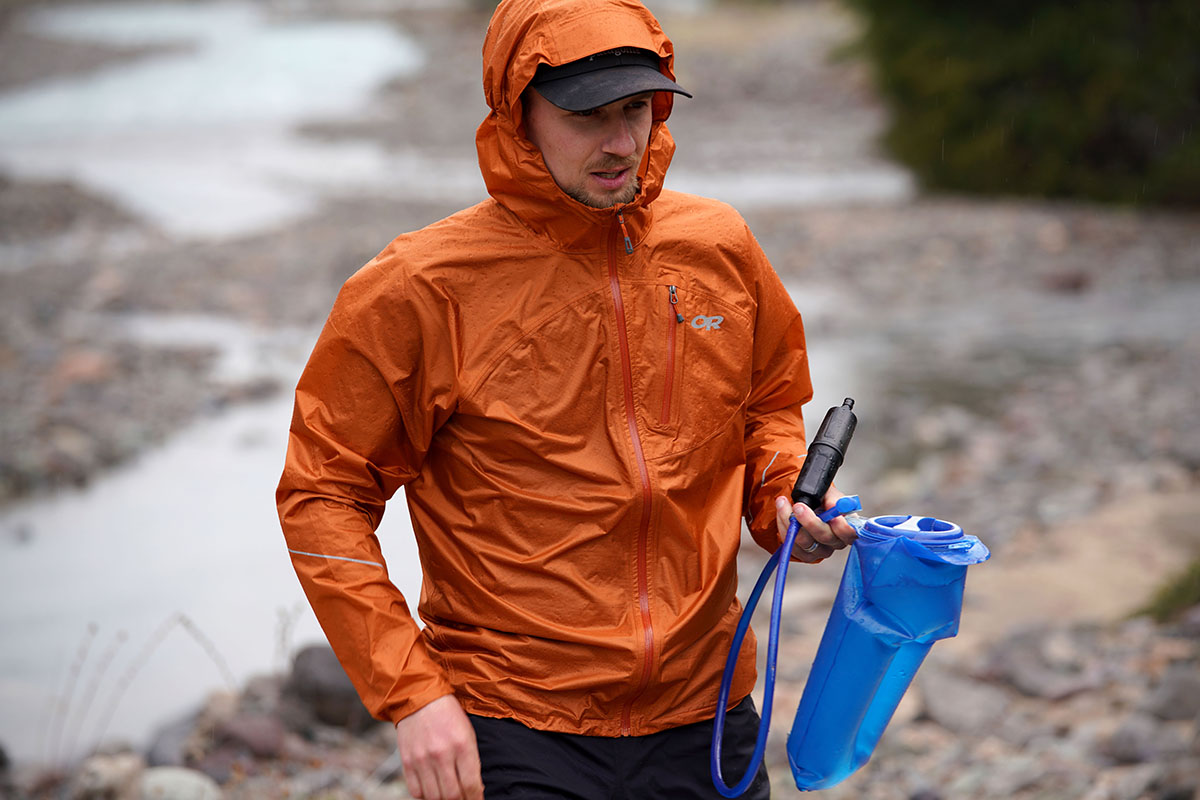 3-Layer
A true 3-layer construction incorporates three separate pieces of fabric, with the actual waterproof and breathable membrane in the middle and a more substantial fabric on the interior. This adds a bit of bulk than a comparable 2.5 layer, but increases durability and further improves moisture wicking and next-to-skin feel. Jumping to a 3-layer jacket also involves a significant increase in price (one exception is Patagonia's $149 Torrentshell 3L), and most often these are big name designs, like Gore-Tex or eVent. It's worth noting that nearly all premium performance jackets to make our list have a 3-layer construction.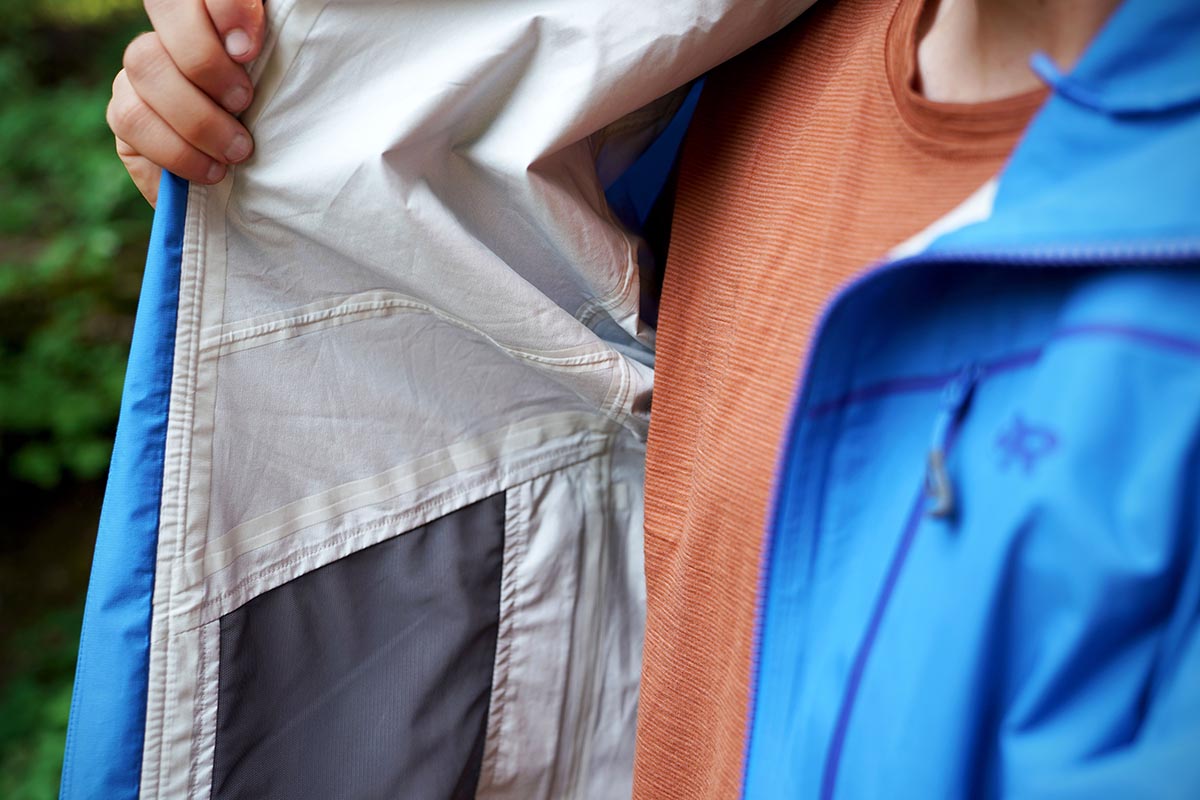 Durable Water Repellent Finish (DWR)
In addition to the waterproof membrane, another key piece of a rain jacket's protection is its durable water repellent finish (commonly referred to as DWR). This coating is applied to the exterior of most rain jackets to prevent moisture from absorbing into the face fabric by beading up the droplets. A fresh DWR is an impressive thing and can offer excellent protection in light to moderate conditions, although heavy and sustained rainfall will eventually overwhelm the coating (that's where the waterproof membrane comes into play). Over time, the DWR finish will wear down, although you can keep it fresh by staying on top of maintenance (more on this in our "Care" section below). 
A final note related to DWR is that there has been a recent push to move away from traditional coatings that use perfluorocarbons, which is a chemical that has been linked to environmental and health issues. It's still a developing technology and key brands like Patagonia haven't made the full switch yet (for more, here's Patagonia's breakdown of the process), but PFC-free options are becoming more prevalent on the market.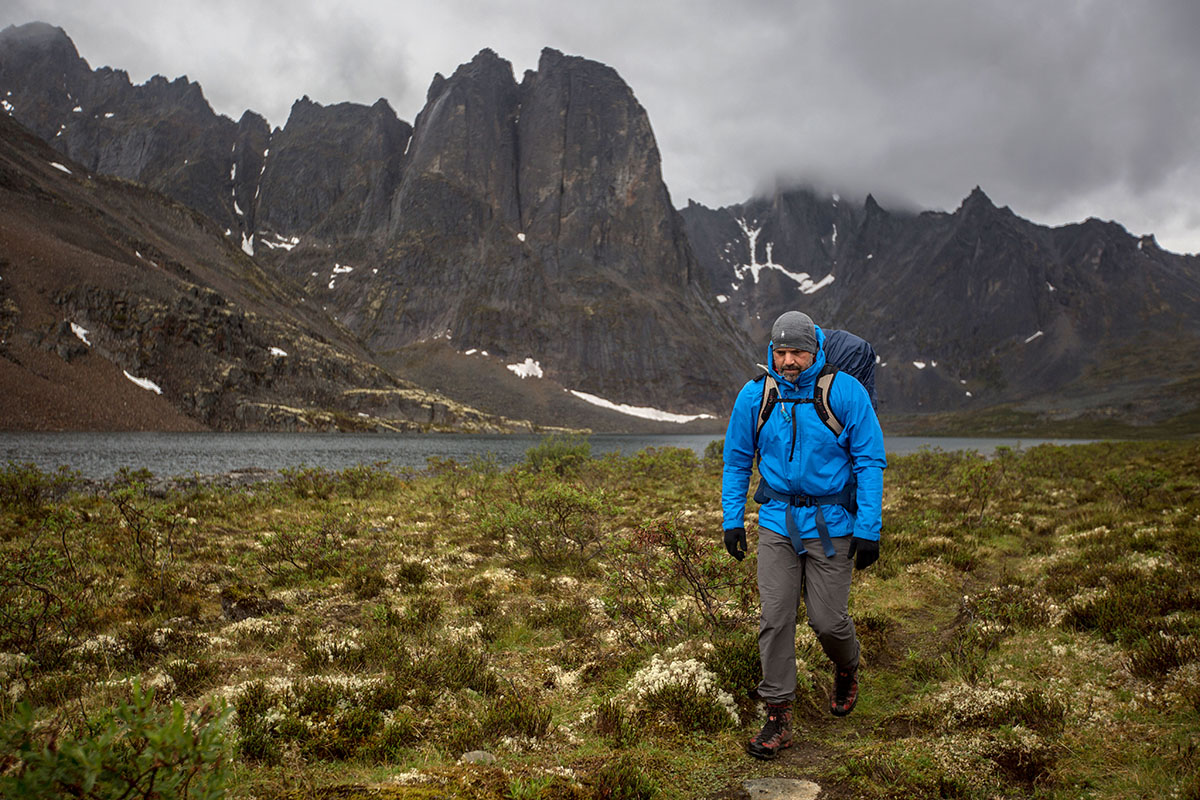 Weight
A quick look at our comparison table above reveals that rain jacket weights correlate closely with their intended use(s). On the lightweight end of the spectrum are hiking-ready shells like the REI Co-op Drypoint GTX (10.5 oz.) and Arc'teryx Zeta SL (10.9 oz.), while designs that are more feature-rich and durable for crossing over for daily wear often add a bit of weight (including the 14.9-oz. Marmot Minimalist). For those that want a well-rounded option, we've found the 9- to 16-ounce range is typically the sweet spot.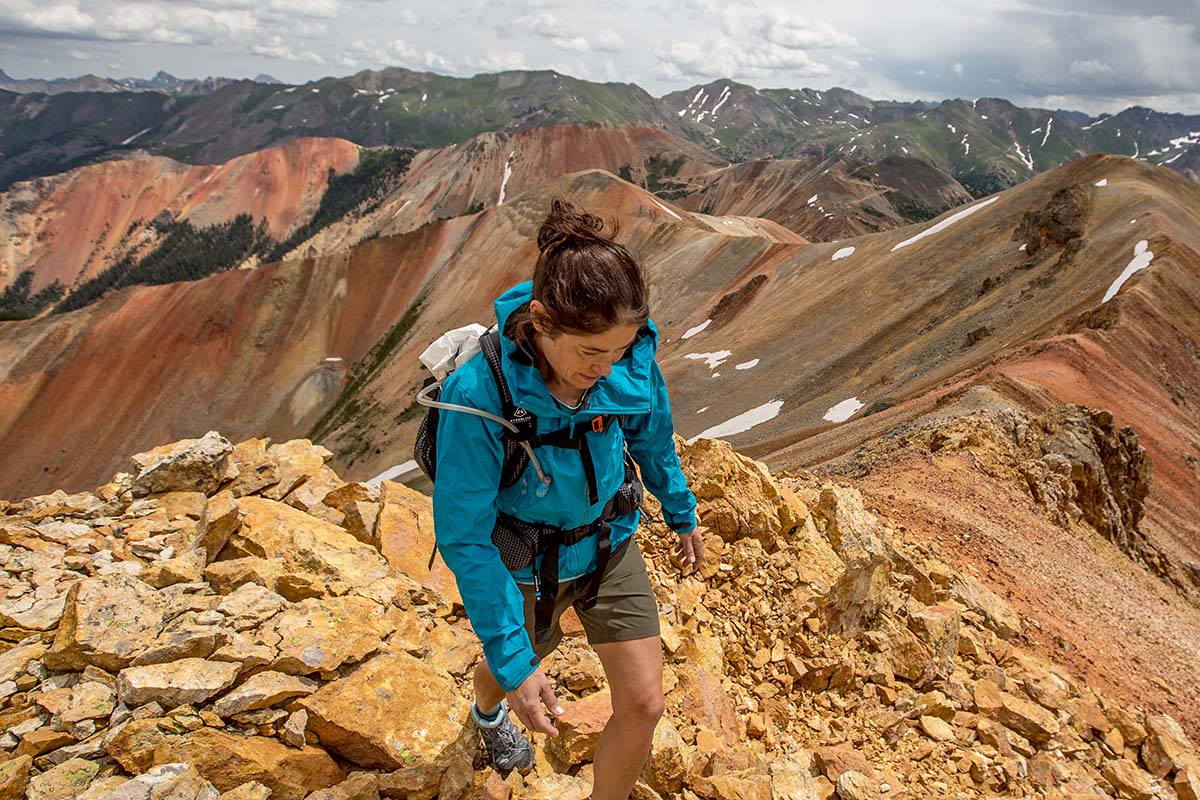 Breathability
One of the most sought-after features in a waterproof rain jacket is breathability: the ability for perspiration and other moisture to exit the jacket without outside water coming in. Some cheaper rain jackets are barely breathable at all, but almost all of the fabrics used in today's models are at least somewhat breathable and promoted as such. The market leader has long been Gore-Tex, particularly in their high-end "Active" and "Pro" offerings, but a number of fabrics are now challenging the paradigm including eVent, NeoShell by Polartec, and AscentShell by Outdoor Research. Generally speaking, the more you spend the more breathable the jacket will be. One exception is ultralight jackets, which cost more than cheap lightweight models but ventilate approximately the same in most cases. A jacket's ability to keep you cool is greatly enhanced with the inclusion of pit zips, which we discuss further below.
 
Packability
A jacket's packability can be looked at and measured in a couple ways. First, there are the jackets that can stuff into their own pockets. Just turn the pocket inside out, smoosh the jacket in, and zip it shut. While this is great, it's doesn't necessarily mean the jacket is that packable. The packed sizes can vary widely for these "packable" shells, with the ultralights resembling a small envelope and others, like the cheaper Columbia Watertight, measuring about 3x the size. The other way of looking at packable rain shells is how compressible they truly are. In that respect, the lightweight Arc'teryx Zeta SL would still be considered quite "packable", despite lacking a stuff pocket. You can just roll it up into its own hood to protect the thinner fabric in your pack. Look to weight as a great indicator of how packable a jacket truly is.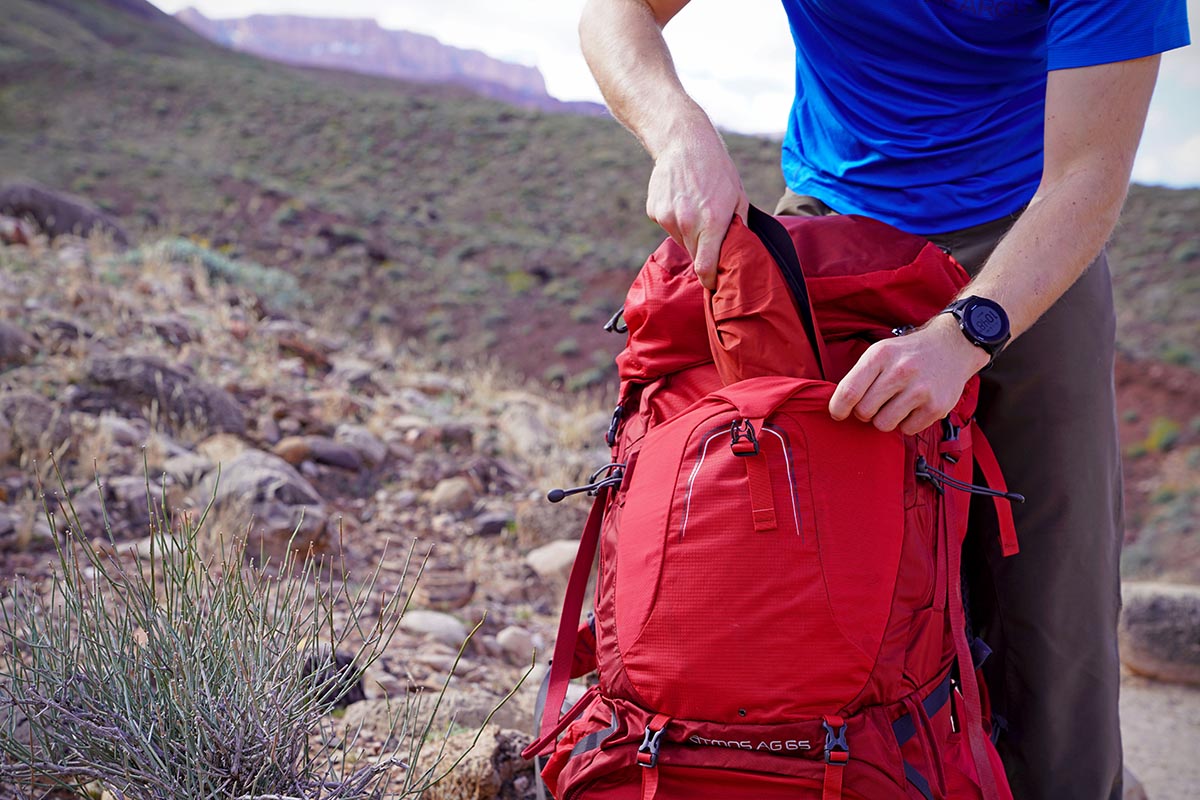 Features
Rain jackets don't offer as much variation in features as some other types of outdoor gear, but there are notable differences between models. Many ultralight and trail-running jackets forego pockets to cut down on weight, while other models sport them in abundance. Some rain jackets offer pit zips and/or full side vents, while basic models do not (as well as taped seams on more expensive rain jackets for extra protection from the elements). Almost all rain jackets have hoods included, but some are cut big enough to fit over a helmet and the style of the cinch varies significantly. Keep a close eye on features and try to match them to your intended use and budget.

Pockets
Casual users appreciate a couple of hand pockets, and that's one of the most notable omissions in using an ultralight shell for daily use. Most ultralight shells go without hand pockets, instead opting for a chest pocket for storage. On the other hand, more feature-rich shells, such as our hiking/daily use options, hit a better sweet spot for the everyday user. You often get two hand pockets and a chest pocket (either on the inside or outside of the shell), all the better for the little things you need to carry around on a daily basis like a phone or wallet.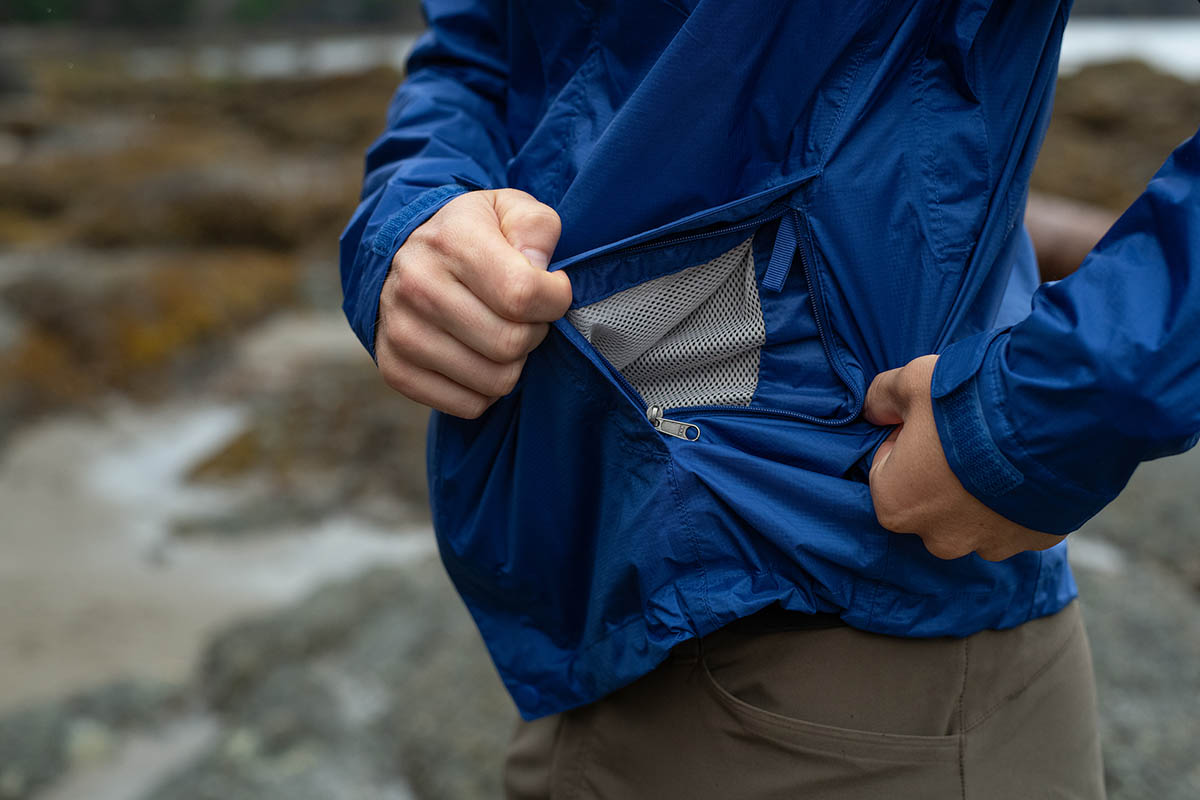 Pocket placement is another consideration. Serious shells, such as those offered by Arc'teryx, often place the hand pockets higher up on the torso to avoid interfering with your pack's hipbelt. What you gain in convenience with the hipbelt (or climbing harness), you then lose in daily usability. It's just not as natural a landing spot for your hands.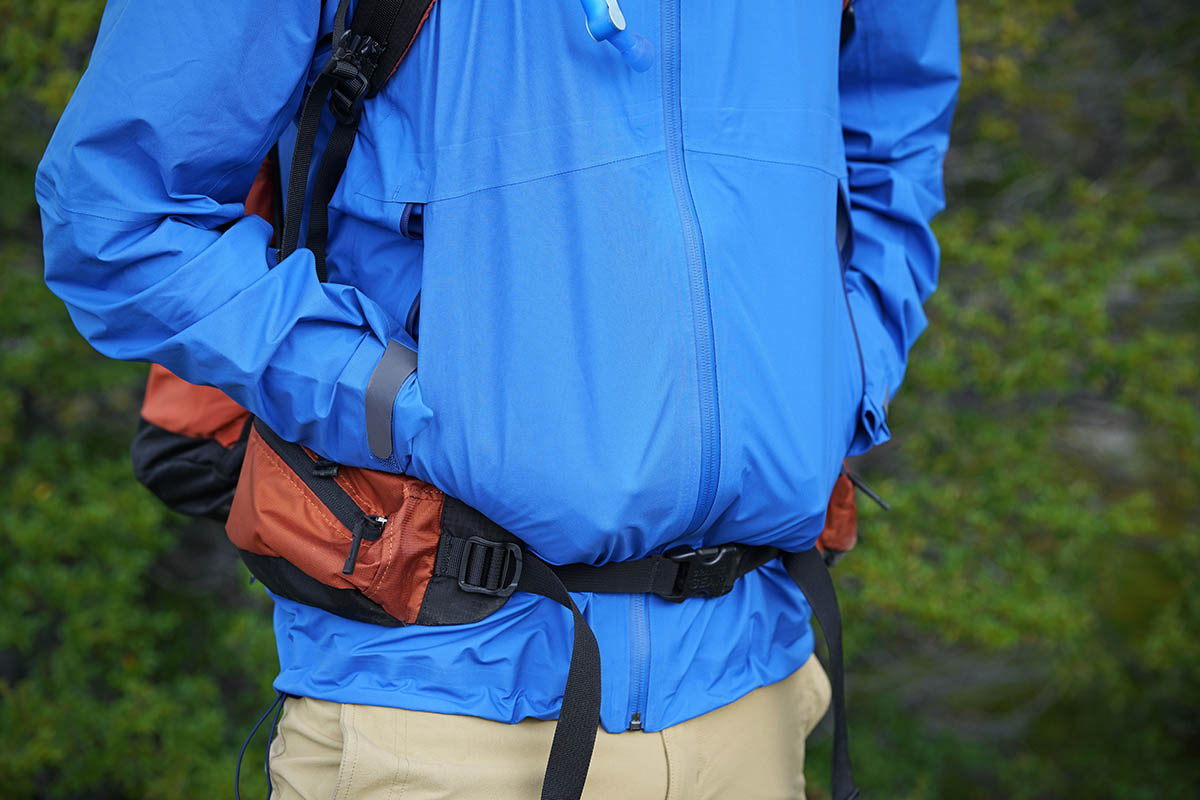 Hood
Hood size can be a big consideration when rain jacket shopping. If you plan to climb in your rain jacket, look for one with a helmet-compatible hood. These can reach over the top of most climbing helmets for added weather protection. But for normal hiking and backpacking, it's often prudent to avoid this feature as the large hood will require a lot of cinching down, causing the fabrics to bunch up.
Adjustability of the hood also is key. When the wind is blowing, you want a hood that conforms to your head, while retaining enough structure around the sides and the bill that you can still see out. Some manufacturers succeed better than others at this concept. One standout is Arc'teryx's StormHood: with a single pull at the back of the hood, you adjust evenly around the sides and back of the head. Of the more budget-friendly options, we like the hood design of the Patagonia Torrentshell 3L, which has toggles at the back and front for quick and easy adjustments. We prefer the toggle style for adjusting the back of the hood over a rip-and-stick Velcro tab for its improved performance. The cord wraps around the sides of your head and pins the fabric down in a uniform way when cinched, which keeps the hood on your head even in really windy conditions. The benefits of the Velcro style are simplicity and weight: they don't require a cord or toggle, both of which add a bit of bulk.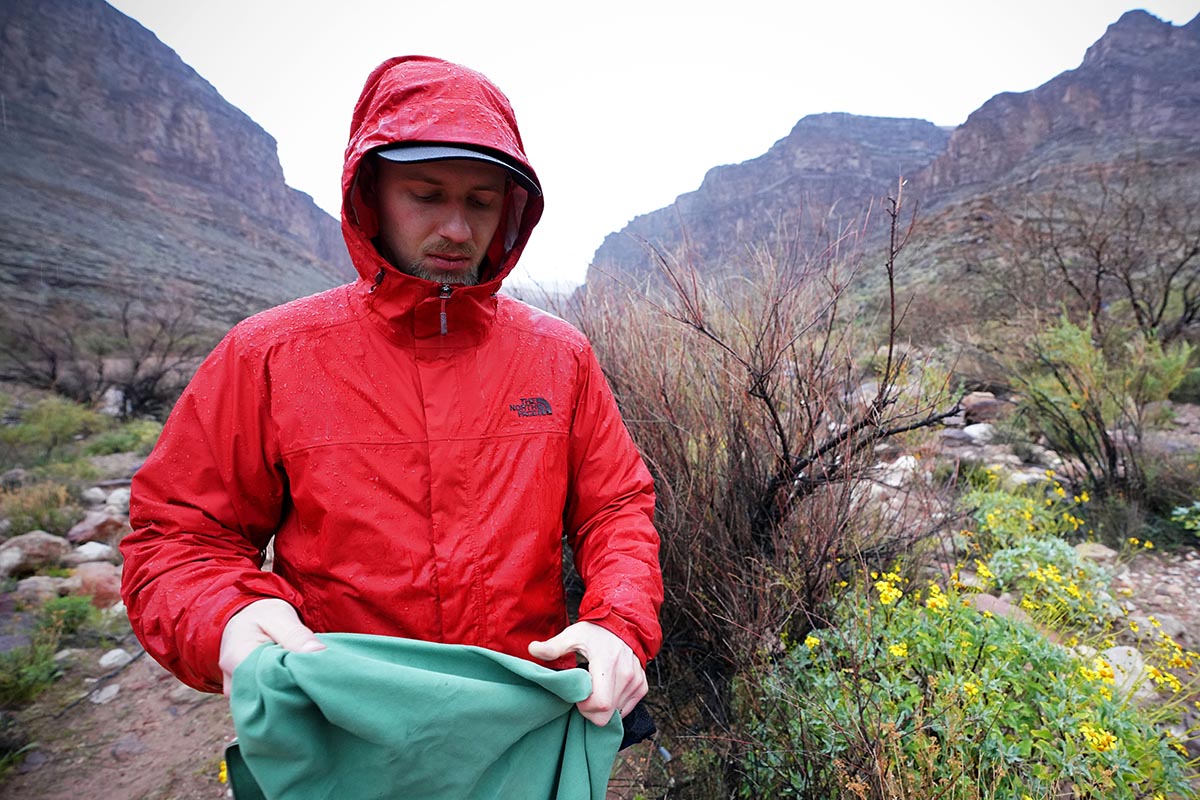 Pit Zips, Side Zips, and Core Vents
In creating a waterproof jacket specifically designed to keep moisture out, there are natural restrictions on the air being held inside. And when you're working hard, it can quickly become a necessity to dump some of that hot air rather quickly. Enter the pit zip. By opening up the jacket under the arms, you can release a lot of air without sacrificing the jacket's waterproof design. The ultimate expression of how effective a pit zip can be is the Outdoor Research Foray. The underarm zippers extend all the way down to the hems on either side. Full unzipped, the jacket becomes a poncho.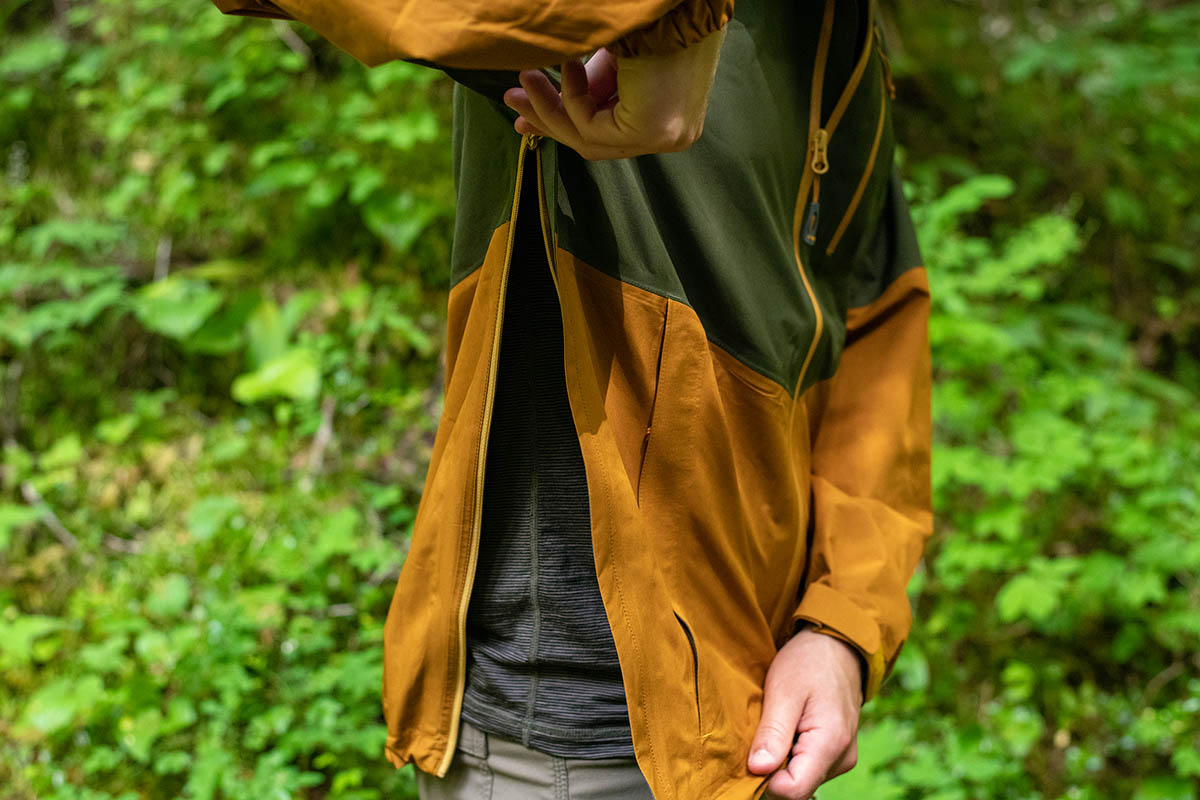 Because adding pit zips to a jacket inevitably results in a slight weight increase, some manufacturers like REI and Outdoor Research have come up with a creative solution: core vents. By lining their handwarmer pockets with airy mesh, they double as vents when unzipped (these are featured in both the REI Drypoint and OR Interstellar). It's not perfect—opening your pockets to vent means that anything stored inside could fall out and it doesn't dump heat as quickly as the traditional pit zip—but it does save weight while offering a boost in ventilation.

Waist Adjustments
To give the best seal possible, every rain jacket that we recommend here has some sort of cinch system at the hem. Typically done with a cord and toggle, they're very user-friendly. You'll see one side cinch on ultralights when the manufacturer is trying to cut some weight. The single cinch does mean if you really have to tighten the jacket, it will pull a bit to one side, but it's often negligible and worth the weight savings. Heavier rain jackets have cinches on each side for a more even fit.
 
Rain Jackets with Built-In Stretch
Over the past few years, there have been a growing number of waterproof rain jackets featuring built-in stretch. Designs like Outdoor Research's Interstellar and Black Diamond's StormLine and FineLine incorporate fabrics and a waterproof internal membrane that flex surprisingly easily. For performance use, the benefits are obvious: while climbing, hiking, or other activities where you're moving your arms a lot, a stretchy jacket is less restrictive. But we've also enjoyed the greater level of comfort and less crinkly feel for daily wear. In general, a stretchy rain jacket will cost more than a standard shell (for example, the BD StormLine is $149 compared with the $100 Marmot PreCip Eco), but it's a nice upgrade that comes with plenty of tangible benefits.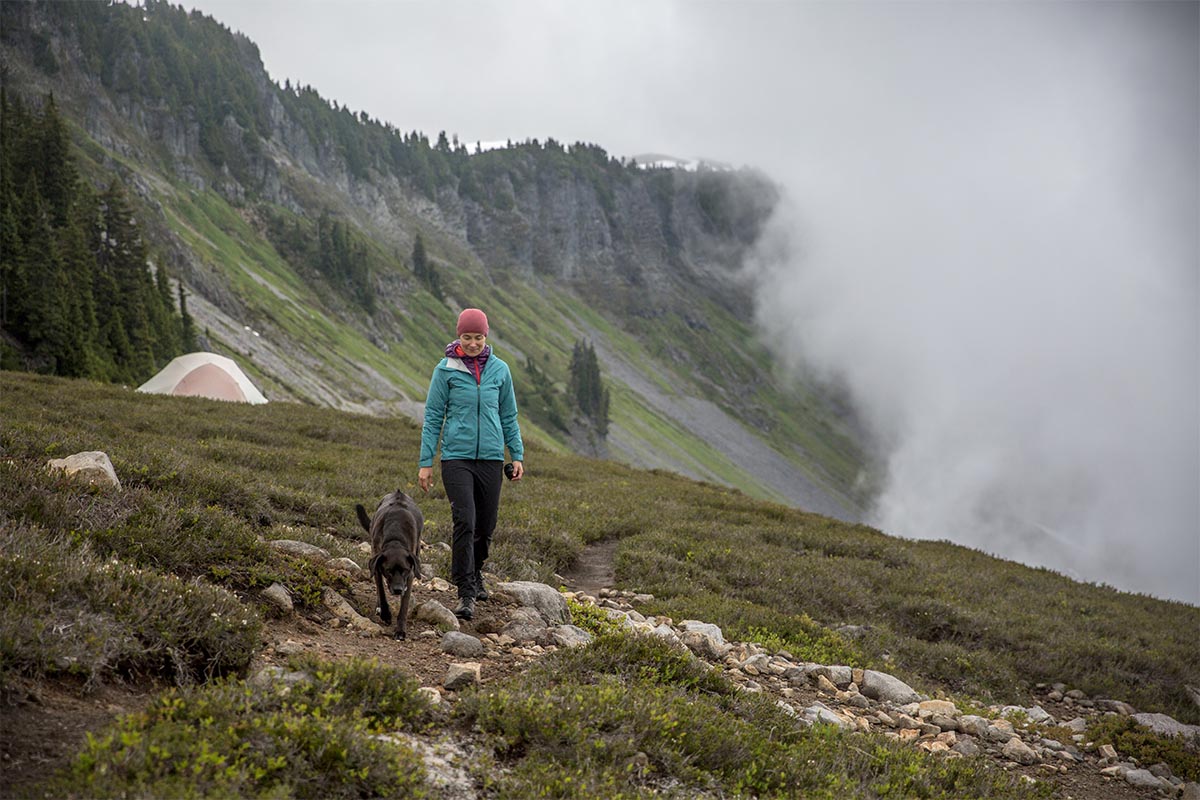 What About Softshells and Hardshells?
Traditional softshell jackets are not fully waterproof. While the outer fabric typically has a DWR coating, letting light showers bead up and roll off, the seams aren't taped and the fabric will eventually let water seep through. Also, a softshell is a bit thicker than a rain jacket, and offers a negligible amount of warmth as a result. Even as technologies have advanced and full waterproof softshells have become available, they still can't compete with the waterproofing performance of a traditional rain jacket. Instead, softshells remain a better choice for those looking for a breathable and water resistant outer layer. Popular applications include backcountry skiing and trekking in mild weather. For a list of our top picks, you can check out our in-depth softshell review.
Hardshell jackets, in contrast to the hiking rain jackets we've listed above, are made for truly extreme conditions. Built to withstand heavy driving rain and wind, the jackets are heavier and bulkier. Their fabrics are also much less prone to being soaked through under sustained rainfall. As a result of the tough builds, you'll see these hardshells being used for anything from mountaineering to backcountry skiing. And you'll also see prices skyrocket for these performance pieces thanks to their high-end detailing. A couple rain jackets on this list cross into the lighter end of the hardshell category, including the Outdoor Research Interstellar and REI Co-op Drypoint.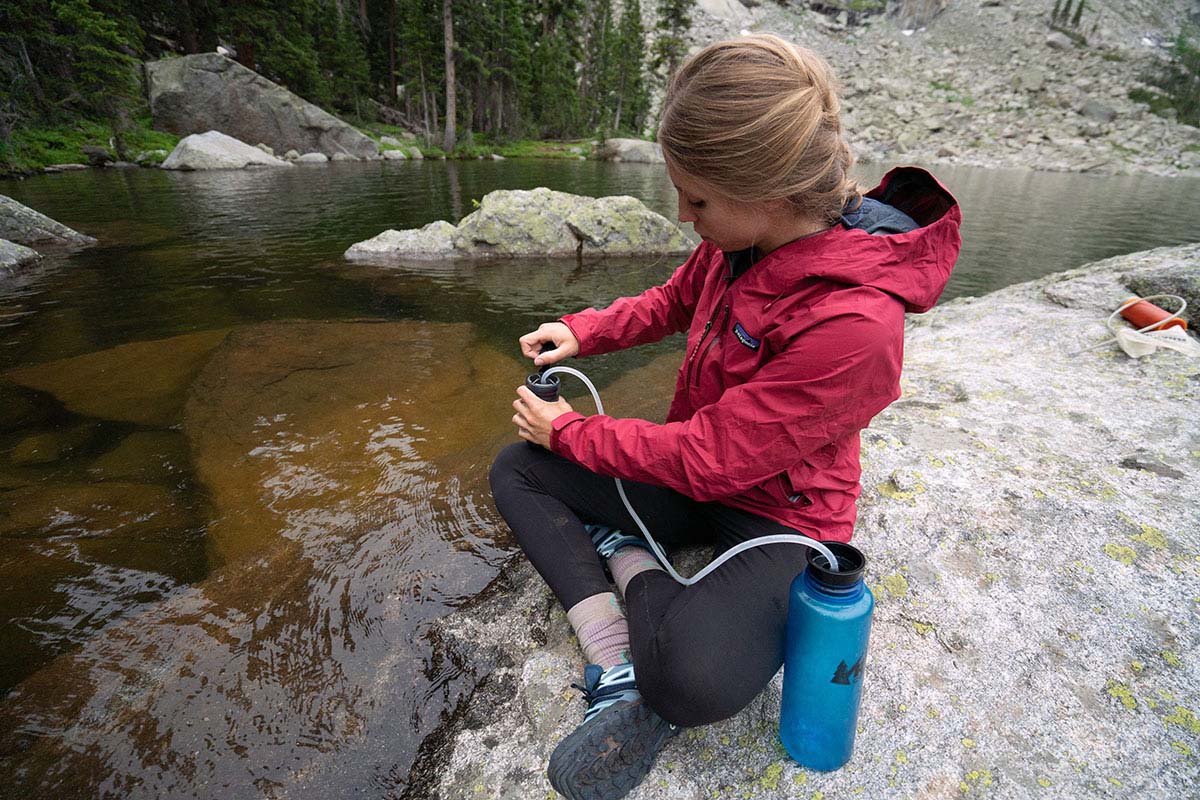 Rain Jacket Care
A rain jacket's waterproofing relies on a combination of factors: Durable Water Repellent (DWR) coating that beads up water, and clean fabric layers on either side of the waterproof and breathable membrane to allow air vapor to pass through. Some membrane designs are more vulnerable to getting clogged up and require consistent cleaning (this will vary based on use, but we aim for every few weeks with our eVent direct venting gear).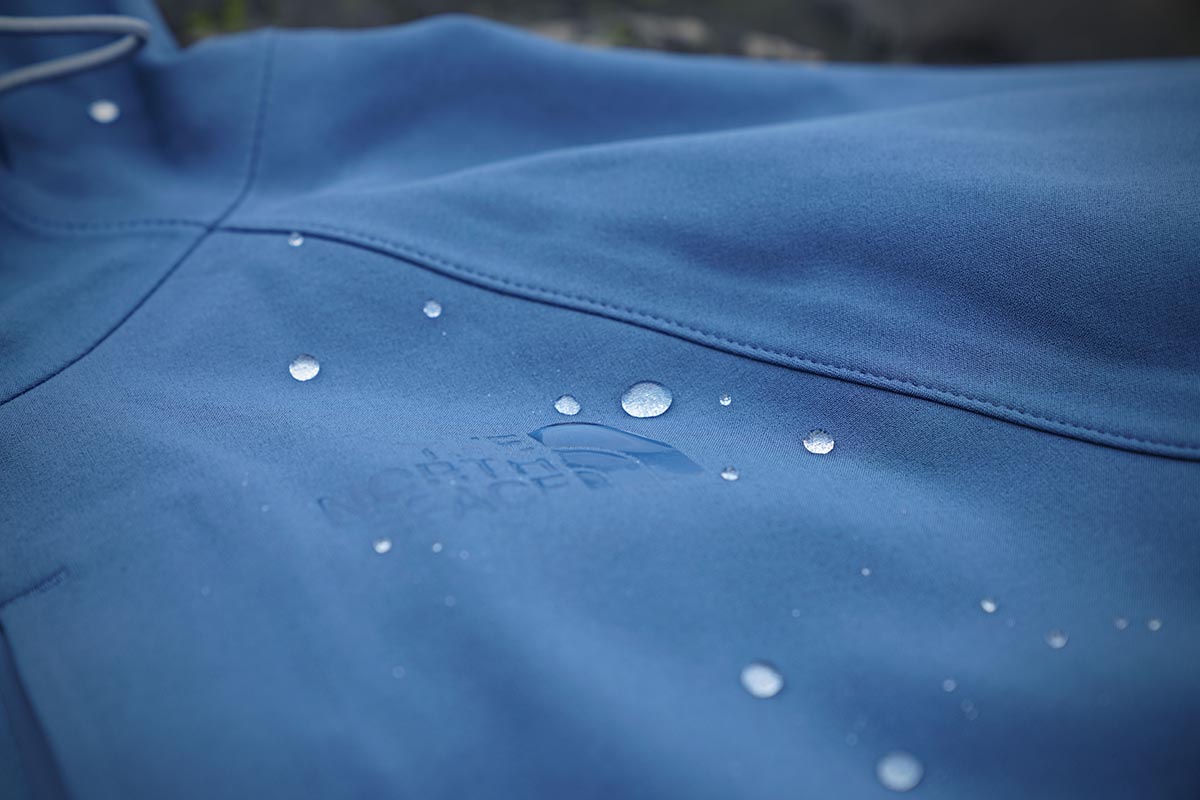 For washing, it's always best to start by checking the label on your jacket as the specific instructions will vary. As a general recommendation, the following works well for us: wash the jacket in warm water with liquid detergent, and run it through a second rinse cycle to clear out any detergent residue. Line drying typically is best, although we've had some eVent and Gore-Tex jackets that instruct you to put it in the dryer on warm heat to replenish the DWR finish.
If you're noticing that the jacket isn't beading up water anymore and putting it in the dryer for a short stretch doesn't fix the problem, you may need to reapply some DWR (this is common as the coating diminishes over time). A waterproof jacket without DWR won't breathe as well in heavy rain because the water will pool up and soak into the exterior fabric layer. Reapplying the DWR is done through a fairly simple process, and we've found that the Nikwax TX.Direct Spray-On works well.
Back to Our Top Rain Jacket Picks  Back to Our Rain Jacket Comparison Table
Learn More About Outdoor Gear