Patagonia's Torrentshell is one of the most popular rain jackets on the market, and for good reason. For a very approachable $179, you get trustworthy 3-layer protection, great durability, and a class-leading sustainability focus—all wrapped up in a good-looking package. We took the latest women's Torrentshell, which was lightly updated last season, to southern Patagonia for testing and found it to be just as well rounded as ever. It's still a little heavy for backcountry use and fairly stiff and crinkly, but you'd be hard-pressed to find better performance for less. Below we outline our experience with the women's Torrentshell 3L Jacket. To see how it stacks up to the competition, see our article on the best women's rain jackets.
 
---
Table of Contents
---

Performance
Weather Protection
Protection is a clear strong suit of the Torrentshell 3L Jacket, and I was very thankful to have it with me during a particularly rainy week of testing in southern Patagonia. The 3-layer H2No Performance Standard waterproof membrane, fresh DWR coating, and quality seam taping did an admirable job of sealing out moisture, providing a solid defense against everything from all-day drizzle to sideways rain. However, the Torrentshell's biggest test came during a backpacking trip to the climbers' camp at the base of the Torre Glacier. Since I had another hardshell with me for testing, I opted to don that one and use the Torrentshell as a rain cover for my pack. When we finally got to camp, I removed the jacket to find the lid of my pack—and all of its contents, including multiple electronics—completely dry.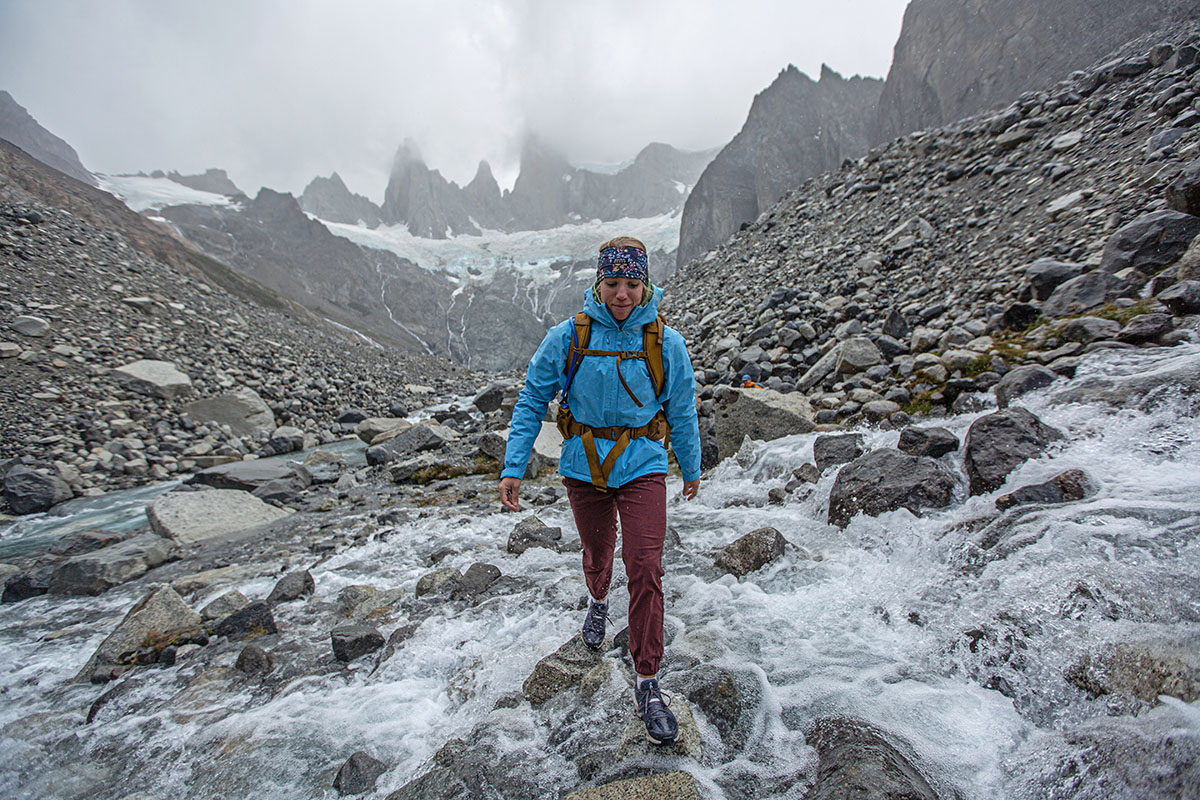 In addition to its reliable waterproofing, the Torrentshell 3L comes well equipped for battening down the hatches. First, you get a high-quality hood design that's easy to adjust with toggles at the front and back, offers a snug and secure fit without impacting peripheral vision, and boasts a laminated visor to deflect dripping moisture. The hem is also adjustable via drawcords at each side that create an even cinch around the waist, and the cuffs have Velcro closures for sealing out moisture at the wrists. Finally, all of the zippers are protected by external fabric flaps, and the main zipper is backed by an internal storm flap for added assurance in inclement weather (there's also a zipper garage at the top). Added up, the Torrentshell provides reliable, hardshell-like protection that belies its $179 price tag.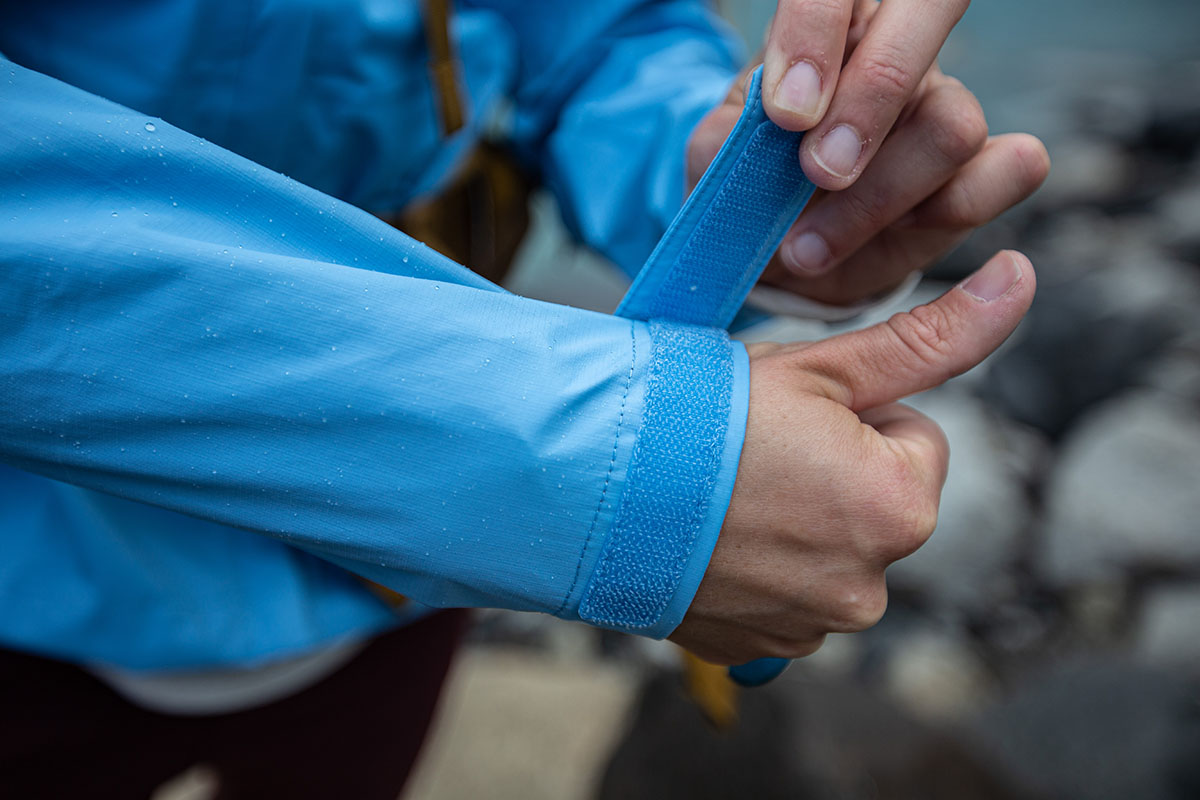 Breathability
Unfortunately, the Patagonia Torrentshell falls short of most 3-layer designs in overall breathability. The good news is that the jacket comes with pit zips, which were incredibly helpful for dumping excess heat on steep climbs. Overall, the design is well executed with dual zippers for controlling the amount of airflow, although I wish the pull tabs were a little larger for more easily manipulating with gloves or even cold hands. That said, it's clear that Patagonia prioritized protection and durability over air permeability—the thick fabrics are an instant giveaway. To be fair, the Torrentshell is perfectly workable for hiking and backpacking, but we'd upgrade to a more performance-focused shell like the Arc'teryx Beta LT or Outdoor Research Aspire II for heart-pumping activities like biking or ski touring.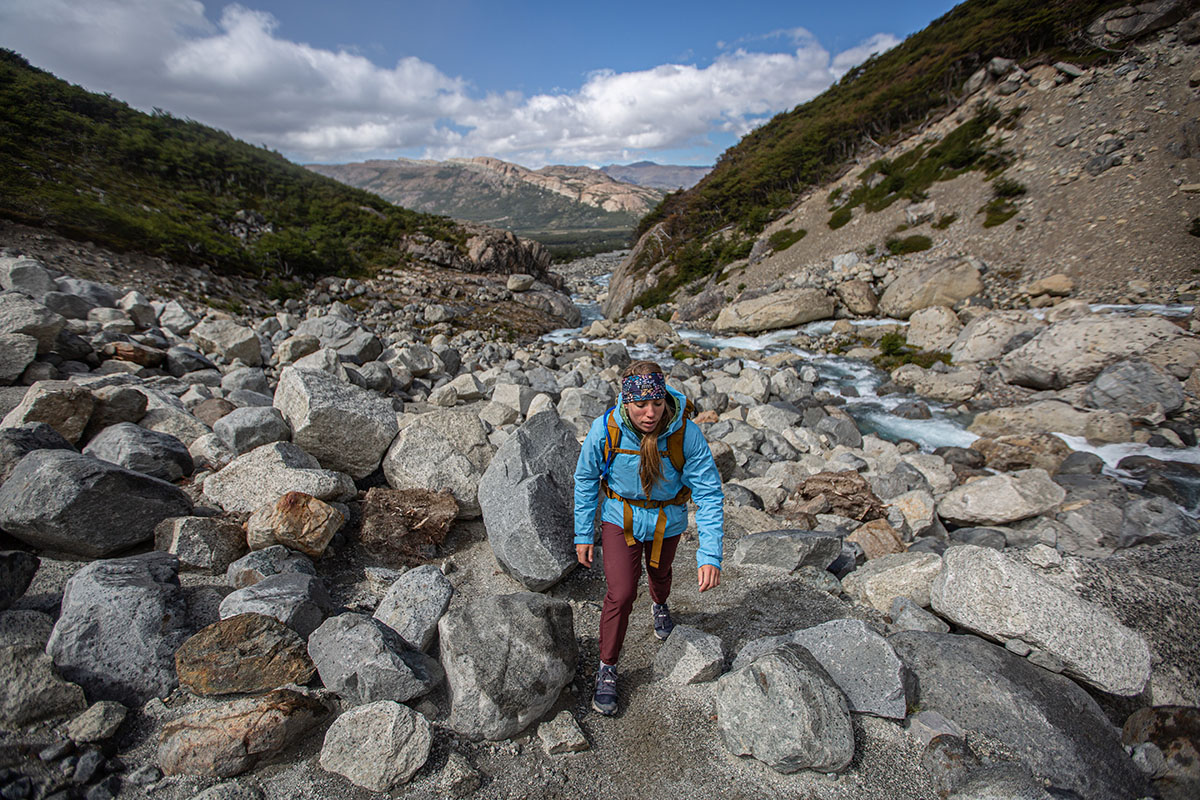 Comfort
I would categorize the Patagonia Torrentshell's overall comfort as good but not great. On the bright side, the interior is fully lined and lacks the sticky, plasticky feel of many 2- and 2.5-layer competitors when working up a sweat. Patagonia also included soft microfleece at the back of the neck, which is a small but thoughtful touch. That said, the Torrentshell has a decidedly stiff and bulky feel, which was particularly evident when worn back-to-back with Rab's Kangri GTX hardshell that I was also testing. In short, the Kangri's upgraded Gore-Tex construction felt noticeably softer and suppler against the skin and was much quieter to boot. But those are expected benefits of spending up for a premium, backcountry-ready design (the Kangri GTX costs $400), and the Torrentshell's comfort is about what we'd expect at this price point.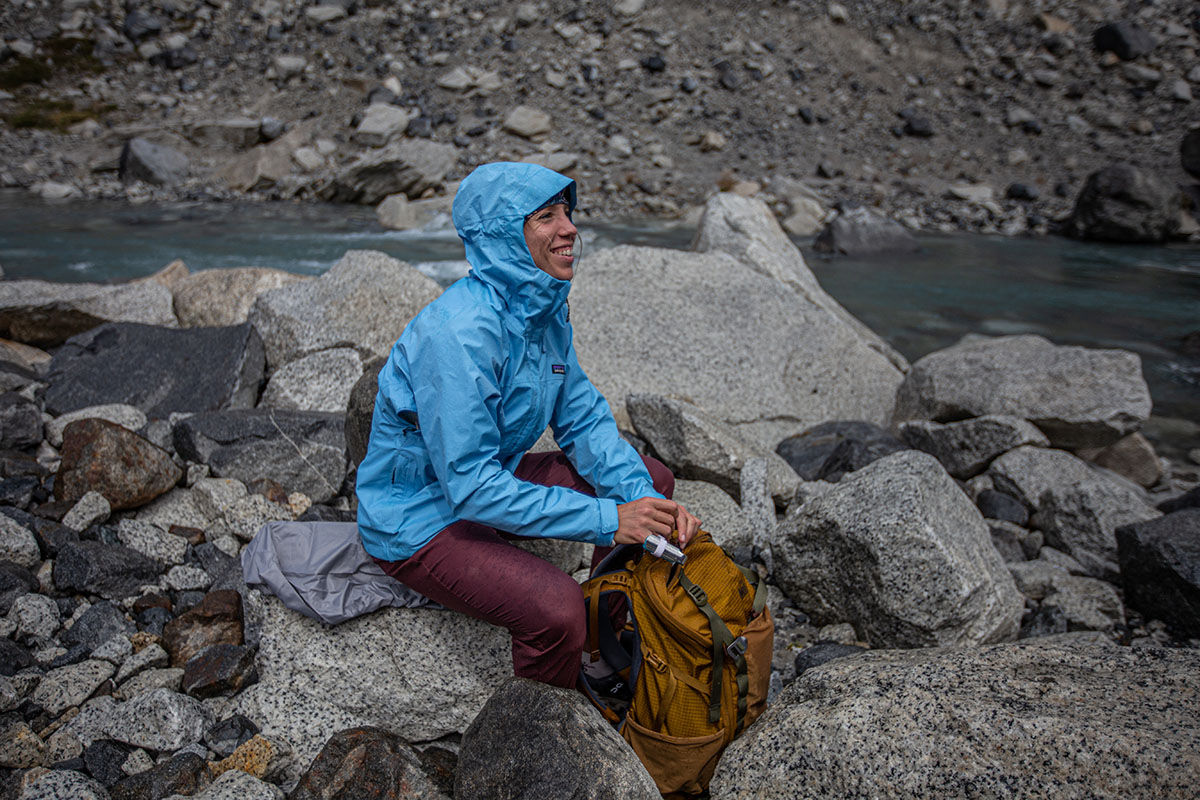 Weight and Packability
At 12.4 ounces, the Patagonia Torrentshell 3L is about average—if not a little heavy—among leading women's rain jackets. To be fair, it's plenty light for most outdoor uses and daily wear, checking in around the same weight as other everyday-friendly designs including the REI Co-op Rainier (11.4 oz.) and Marmot Minimalist (13 oz.). That said, you can certainly go lighter with a dedicated backcountry shell, with minimalist options like Patagonia's own Storm10 (7.4 oz.) and Norrøna's Falketind GTX Paclite (7.8 oz.) leading the pack.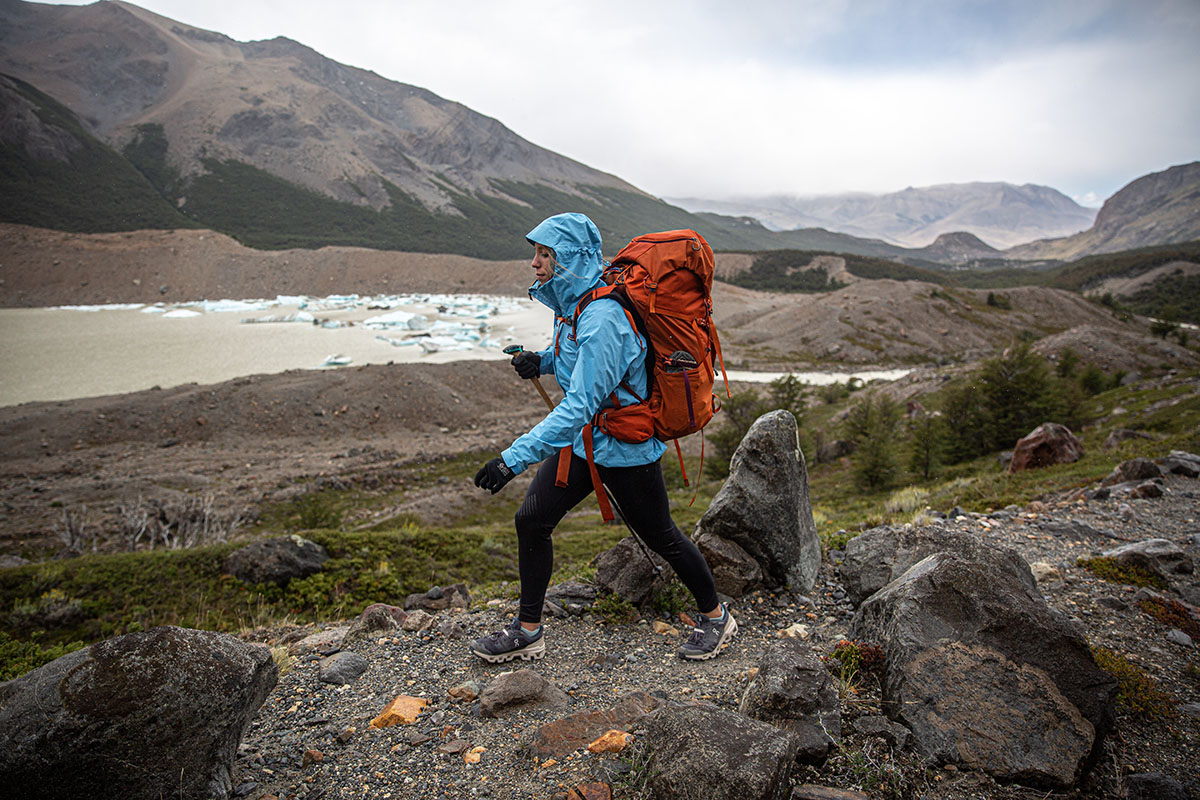 It's a similar story with packability: The Patagonia Torrentshell 3L Jacket isn't a standout by any means but packs down reasonably small into its left hand pocket. It's not a pain to get the jacket into its pocket, and there's a carabiner loop attached to one side for carrying on a harness, although most climbers will prefer something more compact for toting up the wall. But again, it will get the job done for most hikers and backpackers.

Build Quality and Durability
Patagonia is known for their focus on quality and attention to detail, and the latest Torrentshell 3L Jacket is exactly what we've come to expect from the brand. The 50-denier (D) shell is noticeably thick and confidence-inspiring—I have no qualms about wearing the jacket around sharp equipment—and all of the smaller details are equally well sorted, from the smooth-operating zippers to the hood and hem drawcords. For reference, my Torrentshell still looks like new despite being abused on multiple day hikes and an overnight backpacking trip in Patagonia, including playing the role of a rain cover since my backpacking pack didn't come with one. And a final note: The Torrentshell's classy looks give it great casual appeal, making it a nice choice for those looking for a dual outdoor/everyday rain shell.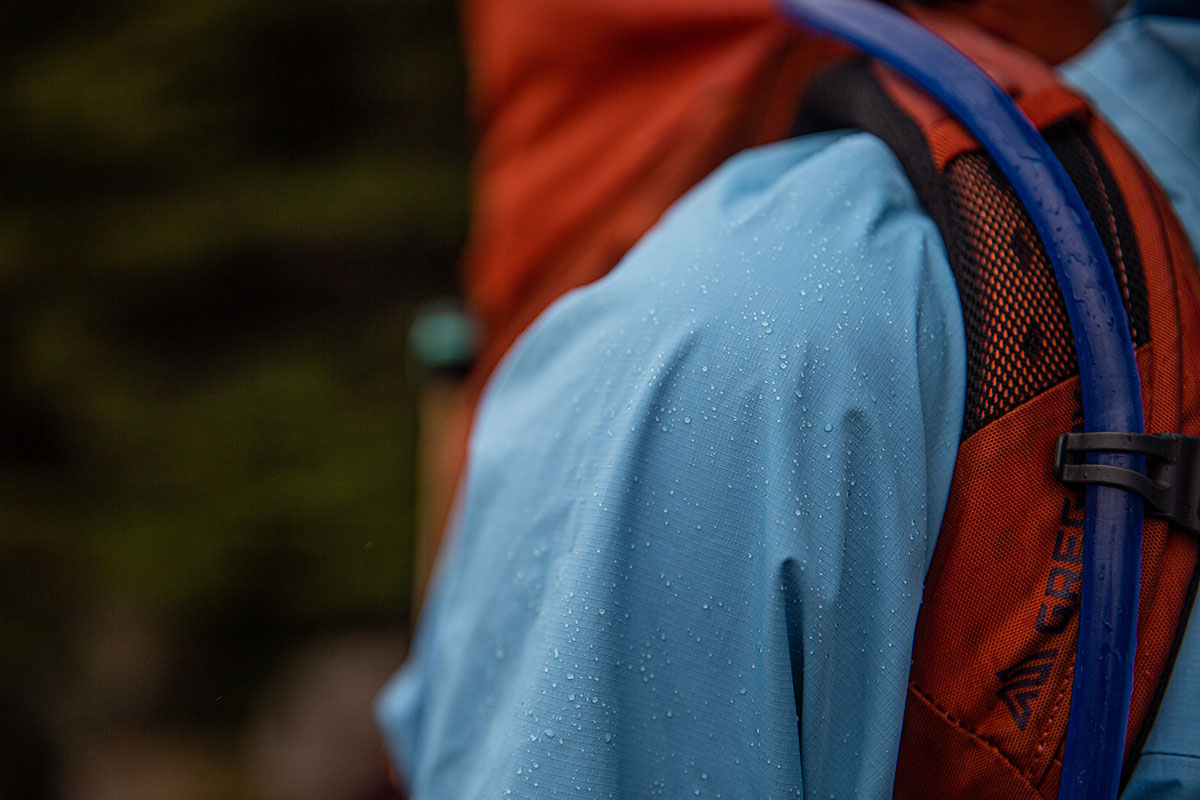 Features: Hood and Pockets
The Torrentshell 3L Jacket has a pretty basic feature set but checks the boxes for most outdoor use and daily wear. The hood is particularly well executed: The design is easy to adjust via two drawcords at the front and one at the back, stays securely in place even in high winds, and doesn't impede peripheral vision when cinched snugly. The laminated visor is another nice touch and effectively kept moisture from dripping down onto my face while hiking in the rain. Finally, there's a cord-and-hook system at the back of the collar for securing the hood out of the way when it's not in use, which was particularly helpful on dry, blustery days in Patagonia.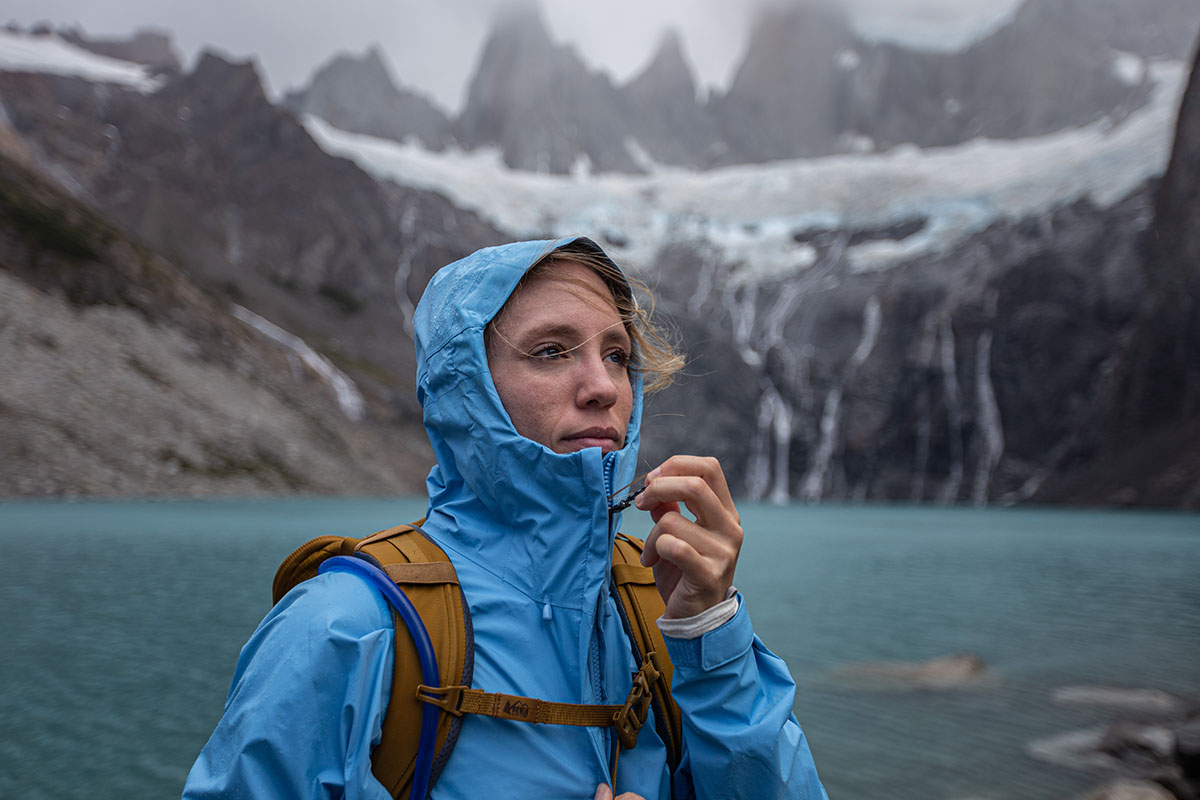 As far as storage goes, you get two hand pockets that are deep enough to accommodate a smartphone or gloved hands. I do wish they were positioned a little higher to clear a hipbelt or climbing harness, and I also found myself missing a chest pocket to store valuables (putting them in the hand pockets means they can fall out with your hands inside). I'm also not a huge fan of the fabric flaps covering all of the zippers. This is an expected compromise at this price point, but I strongly prefer the sleeker and lower-profile look and feel of coated zippers.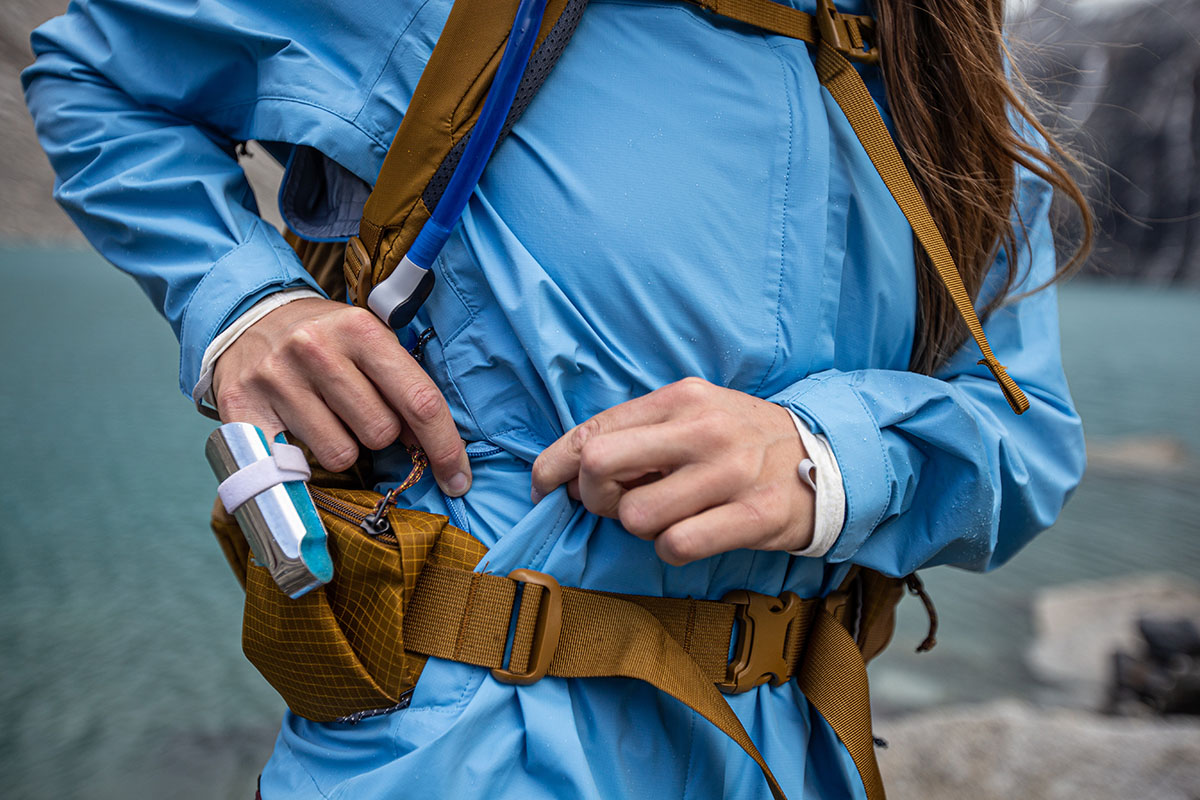 Fit and Sizing
The Torrentshell is billed as a "regular fit," which translates to plenty of room for layering but less of an athletic fit than I prefer. For reference, I'm 5'6" and around 135 pounds and opted for my usual size small, which felt fairly big and baggy with just a baselayer underneath. Adding a midweight down jacket looked and felt much more natural without impacting mobility, but a final decision on sizing will come down to personal preference and your intended use(s). If you prefer a snugger and more form-fitting cut, you may want to consider sizing down.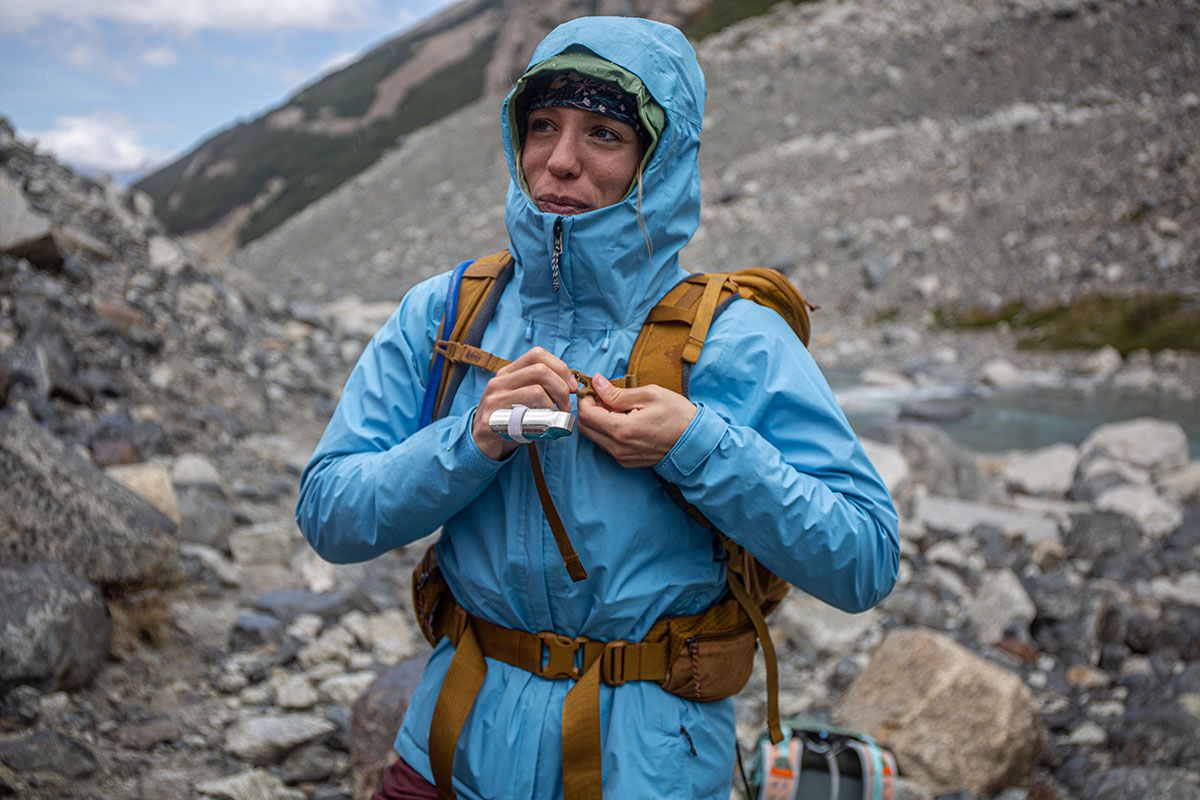 Sustainability
Patagonia consistently sets the standard in sustainability practices among outdoor brands, and the Torrentshell 3L Jacket is a great example. Notable measures include a 100% recycled nylon ripstop face fabric, a PU membrane that's made with 13% bio-based content, and a PFC-free DWR finish that forgoes the use of harmful perfluorocarbons. The jacket is also Fair Trade Certified, which indicates that Patagonia put extra money into production to ensure that workers are compensated fairly and can fund community projects, healthcare programs, and more. Added up, it's an impressive sustainability effort that only adds to the jacket's widespread appeal.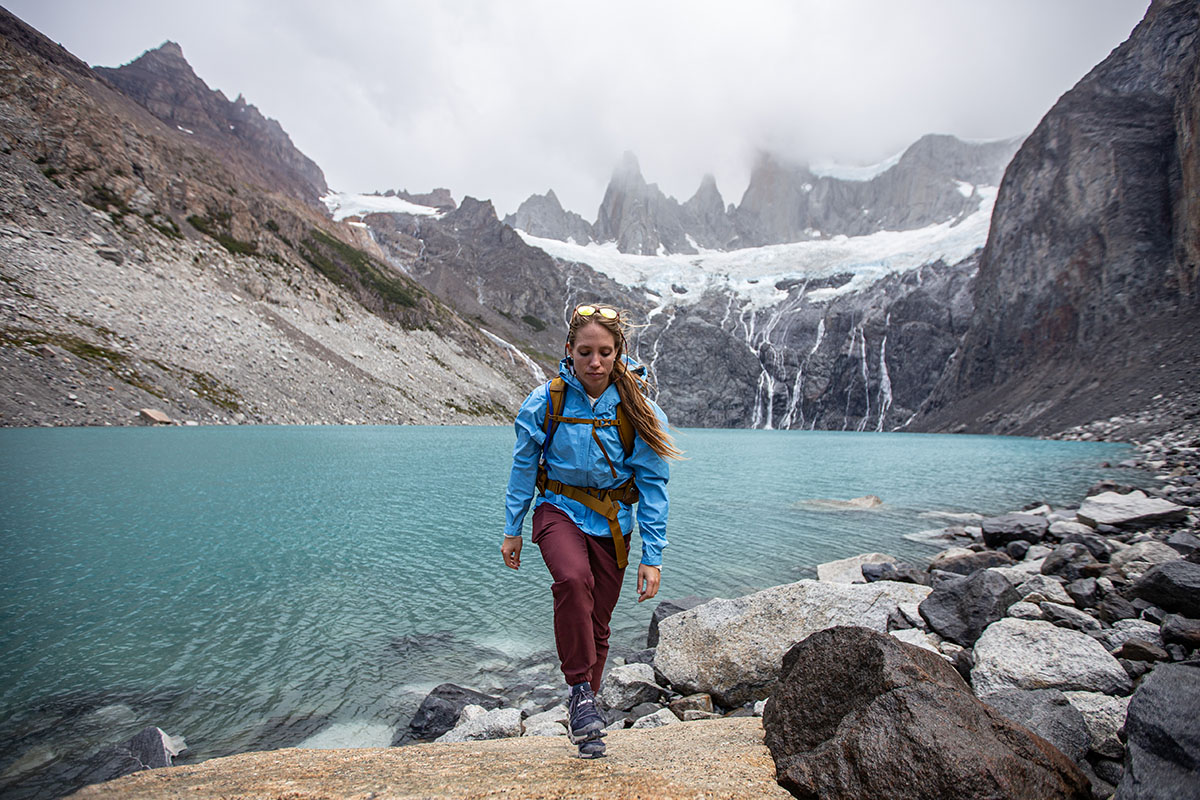 Other Versions of the Patagonia Torrentshell
I covered the women's Torrentshell for this review, and Patagonia sells a men's version for the same price (see our in-depth review of the men's model here). The men's Torrentshell 3L Jacket is a little heavier at 14.1 ounces and offered in different colorways but otherwise boasts an identical feature set and overall construction. In addition, Patagonia sells the Torrentshell in men's and women's pants ($129), a women's-specific, parka-length City Coat ($249), and kids' options including jackets, pants, and bibs. All versions share the 3-layer H2No Performance Standard waterproofing and similar sustainability measures.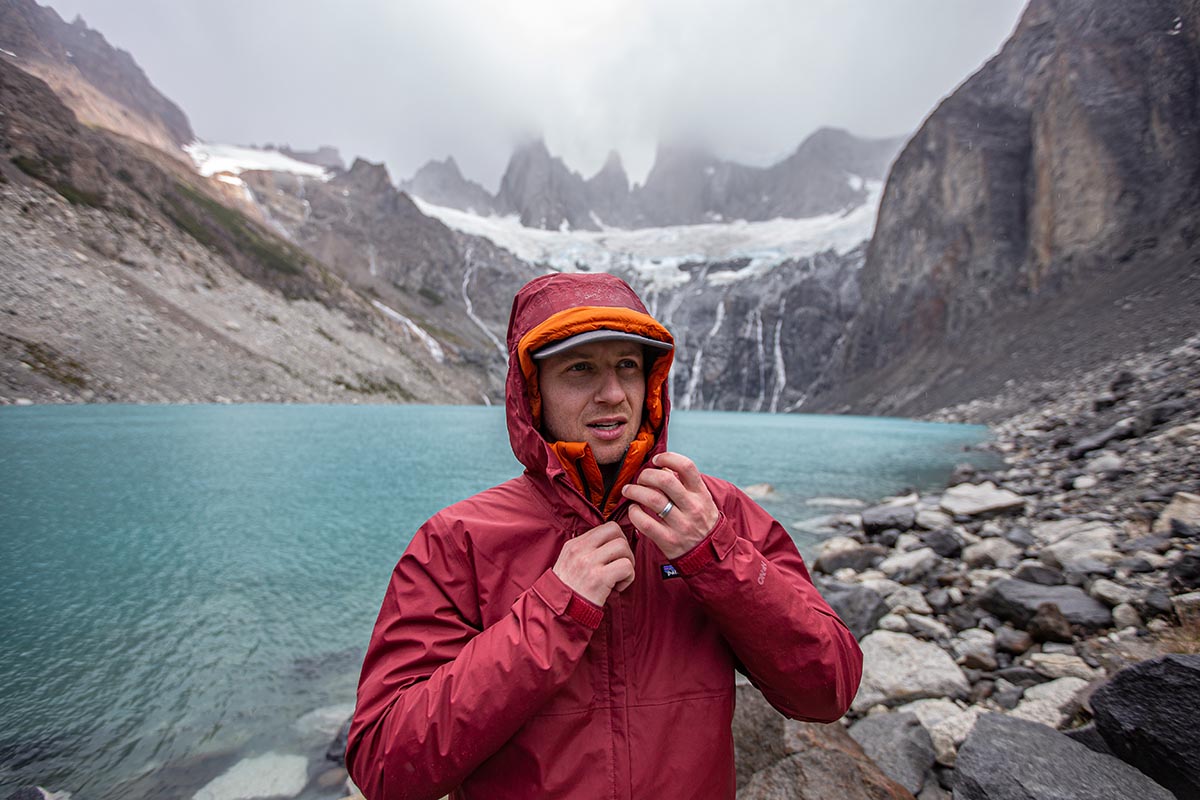 What We Like
Excellent weather protection, great looks, and typical Patagonia build quality at a hard-to-beat price.
Thick shell (50D) is durable and confidence-inspiring, even around sharp gear.
Feature set makes it easy to batten down the hatches, from the well-executed hood to the adjustable hem and cuffs.
We appreciate Patagonia's class-leading sustainability measures, including recycled and bio-based materials, a PFC-free DWR coating, and a Fair Trade certification. 
Everyday-friendly styling and a wide variety of classy color options (nine for both women and men at the time of publishing). 

What We Don't
Shell is noticeably stiff and noisy, and the interior doesn't have a particularly soft or supple feel.
A little heavy and bulky for dedicated backcountry use at 12.4 ounces for the women's version.
Falls short of most 3-layer designs in breathability, although the pit zips are a big help.
Lack of a chest pocket means there's no ideal spot to store valuables.
Fit is on the bigger and boxier end—ideal for layering but a little too roomy for true performance use.


Comparison Table

The Competition
Patagonia's Torrentshell has been our top-rated women's rain jacket for multiple seasons running, but there's no shortage of competition in 2023. Starting at the budget end of the spectrum, REI Co-op's $100 Rainier is an excellent value for penny pinchers who don't want to compromise too heavily on performance. Water and wind protection are up to par thanks to the jacket's 2.5-layer Peak membrane and reasonably thick (40D) shell, weight is competitive at 11.4 ounces, and REI retained helpful features like pit zips, a stuff pocket, and even a fleece-like liner at the collar. All that said, the Rainier's cheaper build is less breathable than the Torrentshell's and quicker to wet out in sustained rainfall, and it has an even roomier cut that's less flattering and impacts mobility. For $79 more, we think most avid outdoor-goers will find the Patagonia's upgrades worth the price jump.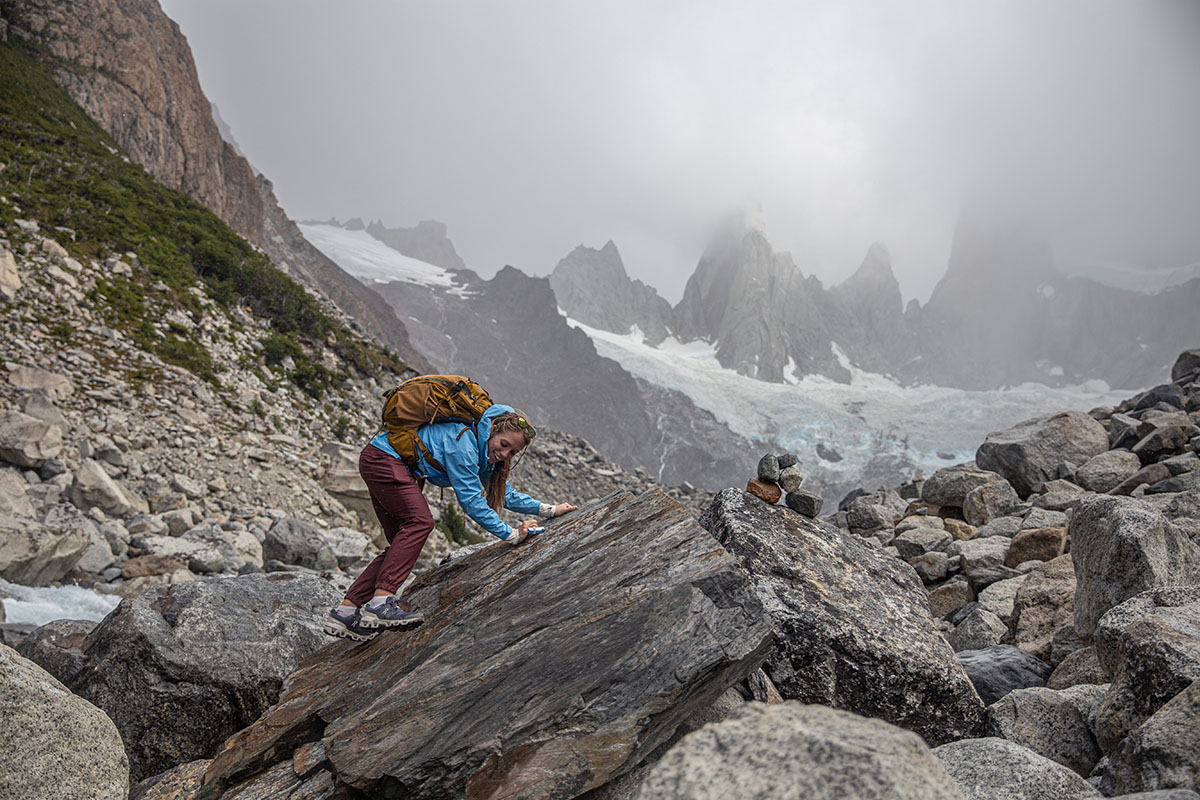 Next up is Black Diamond's StormLine Stretch Rain Shell, which costs around the same as the Torrentshell at $170 but gets the clear edge for performance use. Highlights include a flexible 2.5-layer construction that's noticeably softer and has more "give" than the Torrentshell, a climbing helmet-compatible hood, and a water-resistant front zipper that's sleeker than the Patagonia's bulky fabric flap. The BD is also lighter by around 3 ounces, packs down smaller for throwing in a pack, and doesn't skimp on durability with an equally thick 50D shell. However, while neither jacket stands out in breathability for high-output use, we found the StormLine's interior to be more prone to growing clammy and sticky, which is largely a result of the thinner 2.5-layer build. We still consider it the more capable backcountry piece, but the Torrentshell wins out in versatility for mixed outdoor and everyday use.
Another well-rounded rain jacket to have on your radar is Marmot's Minimalist. For around $40 more than the Torrentshell, the Minimalist boasts a 2.5-layer Gore-Tex Paclite construction that's a small step down in all-out protection but is noticeably softer and suppler. The Torrentshell's 3-layer build also gives it the slight edge in breathability and durability, although the Marmot isn't far off and tacks on a chest pocket for conveniently stowing valuables. In the end, both are well-made shells that cross over nicely for daily wear, but the Patagonia offers similar performance for less, which is enough to earn our vote over the Minimalist.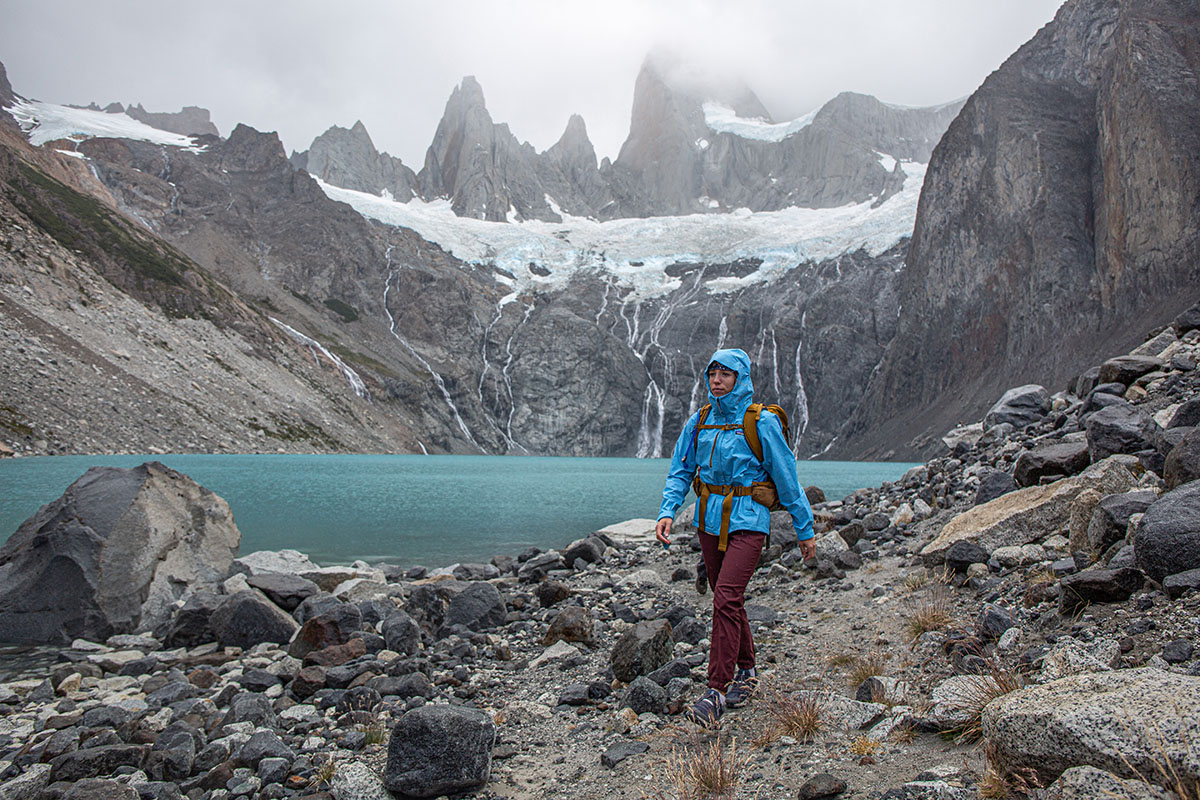 Finally, for those willing to spend up, Patagonia's own Granite Crest Jacket is a step up from the Torrentshell in most metrics. Notable upgrades include a soft jersey backer that boosts breathability and comfort, a climbing helmet-compatible hood, lower-profile coated zippers, harness-friendly pockets, and the addition of a chest pocket. The Granite Crest is also one of the most sustainably built designs on the market, including a shell made entirely from recycled fishing nets. Apart from the $100 jump in price, the biggest downside is the Granite Crest's relatively thin, 30D shell (for more, see our in-depth Granite Crest review here). While this is fairly standard for backcountry use, casual outdoor-goers and folks looking for an everyday piece will be better off with the cheaper and more durable Torrentshell. 
If you're thinking about buying gear that we've reviewed on Switchback Travel, you can help support us in the process. Just click on any of the seller links above, and if you make a purchase, we receive a small percentage of the transaction. The cost of the product is the same to you but this helps us continue to test and write about outdoor gear. Thanks and we appreciate your support!
Depending on the seller, most products ship free in the United States on orders of $50 or more. International shipping availability and rates vary by seller. The pricing information on this page is updated hourly but we are not responsible for inaccuracies.
Read More From Switchback Travel