There's no shortage of rain jackets to choose from, but Patagonia's mid-range Granite Crest stands out with its sustainably built design. Made from recycled fishing nets and featuring a perfluorocarbon (PFC)-free durable water repellent (DWR) finish, this jacket reflects the industry's push towards higher levels of environmental consciousness. And as we've come to expect from Patagonia, the jacket is a top-notch performer too, with waterproof/breathable protection alongside a great fit and finish. Below we break down how the Patagonia Granite Crest performs; to see how it stacks up, check out our articles on the best rain jackets and the best women's rain jackets.
 
---
Table of Contents
---

Sustainability
Patagonia has a stacked lineup of rain jackets, from the all-rounder Torrentshell 3L to the ultralight Storm10. So, when we heard about the release of the Granite Crest last year, our first question was, "Why another rain jacket?" The answer: The Granite Crest represents a few of Patagonia's most cutting-edge advancements in sustainable design. It features a 100% recycled nylon NetPlus shell—made from recycled fishing nets—and a PFC-free DWR finish, which is produced without the use of harmful chemicals (the company has been working on this for years). And like most of Patagonia's products, the Granite Crest is also Fair Trade Certified sewn, which ensures that factory workers are treated ethically and fairly. Added up, it's a pretty impressive feat in terms of sustainable outerwear and hopefully a sign of where the market is headed.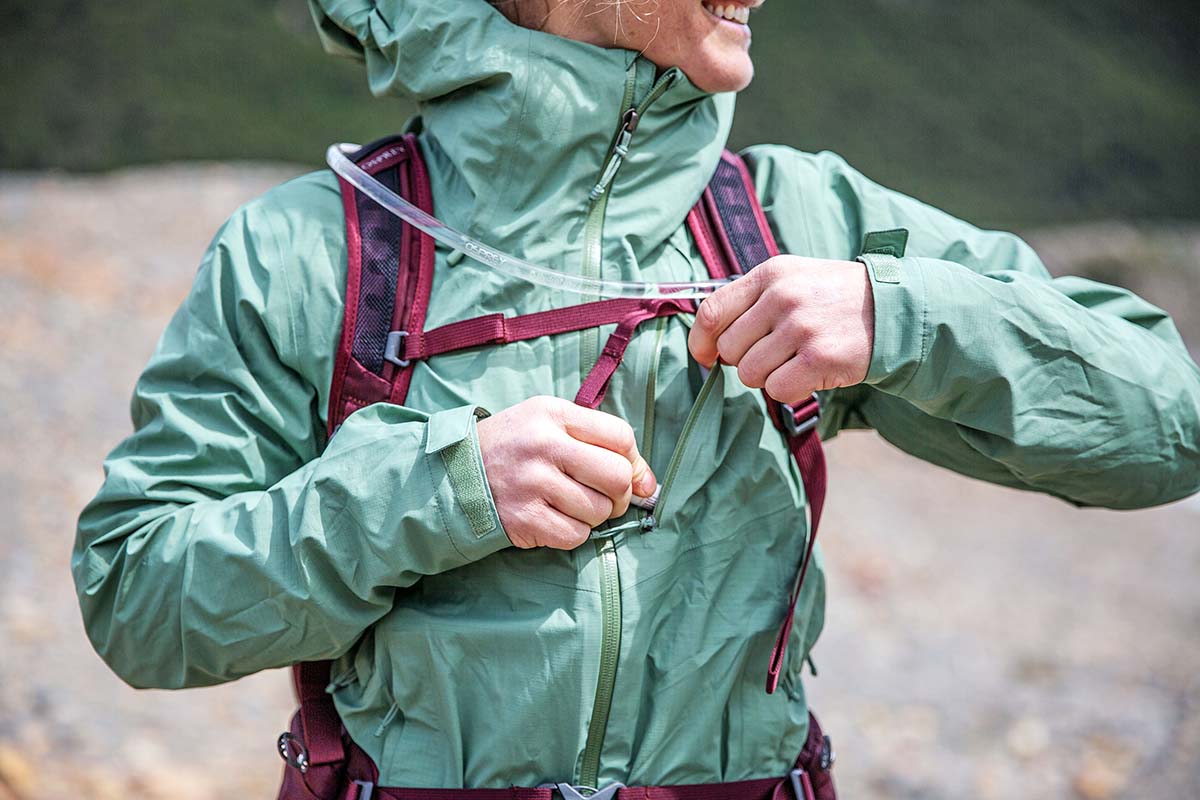 Performance
Weather Protection
Known for having some of the world's worst weather, southern Patagonia was a great testing ground for the Granite Crest rain jacket. I wore it on multiple day hikes and during rainy days around town, where it provided top-notch protection against both wind and moisture. To keep water out, Patagonia uses their time-tested H2No Performance Standard membrane—we've tested this technology several times throughout the years and have found it to be on par with premium Gore-Tex designs. The Granite Crest also features Patagonia's PFC-free DWR finish, which effectively pooled water on the surface of the jacket, allowing it to roll off rather than soak through. One of the primary concerns with sustainable materials is that they might underperform compared to more standard fare, but the Granite Crest proved to offer uncompromised protection in trying conditions.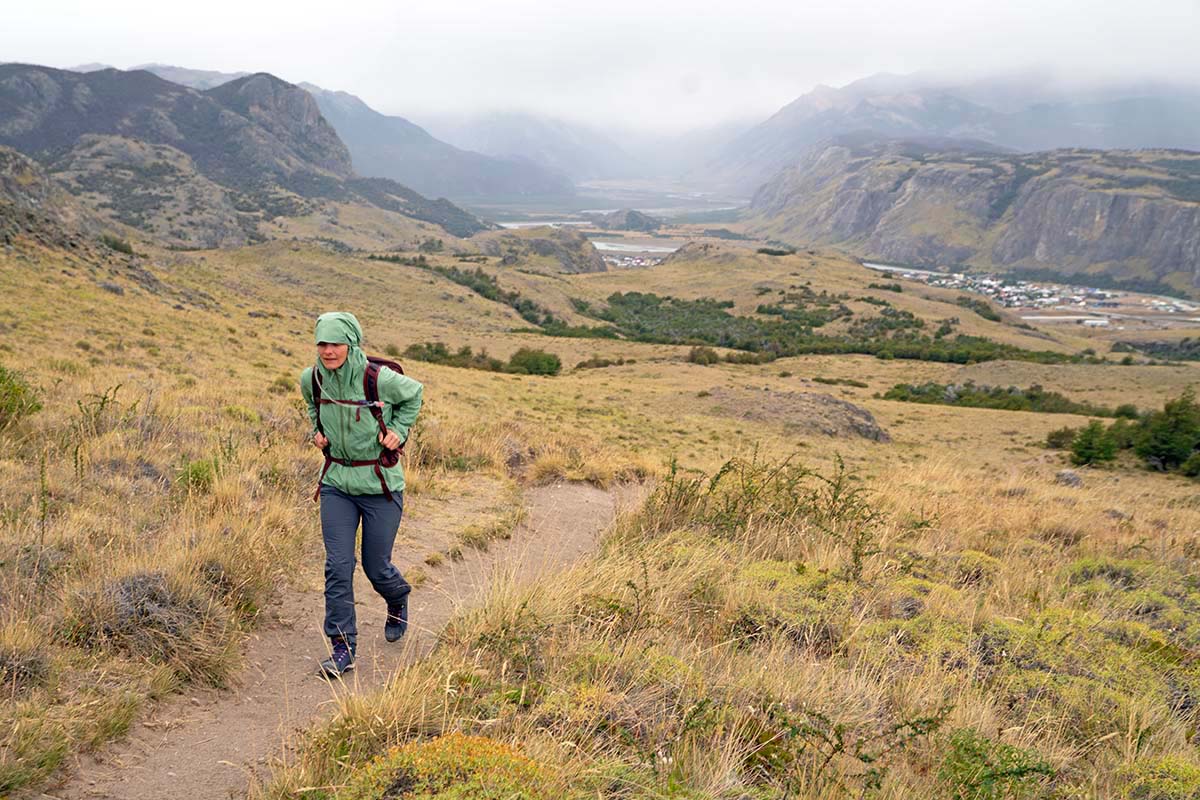 In addition to high-quality waterproofing, the Granite Crest has a few other features that provide a solid defense against the elements. I particularly liked the hood, which has one-handed adjustments at each side and at the rear, along with a generous laminated visor. It's large enough to fit over a climbing helmet or bike helmet, but effectively tightens securely over my bare head. You also get an adjustable hem drawcord that cinches at the right hip and routes the extra cord cleanly through the handwarmer pocket. I prefer waist cinches at each side for a more balanced look, but with a little persuasion I'm able to spread out the gather that forms at the right hip to the rest of the hem.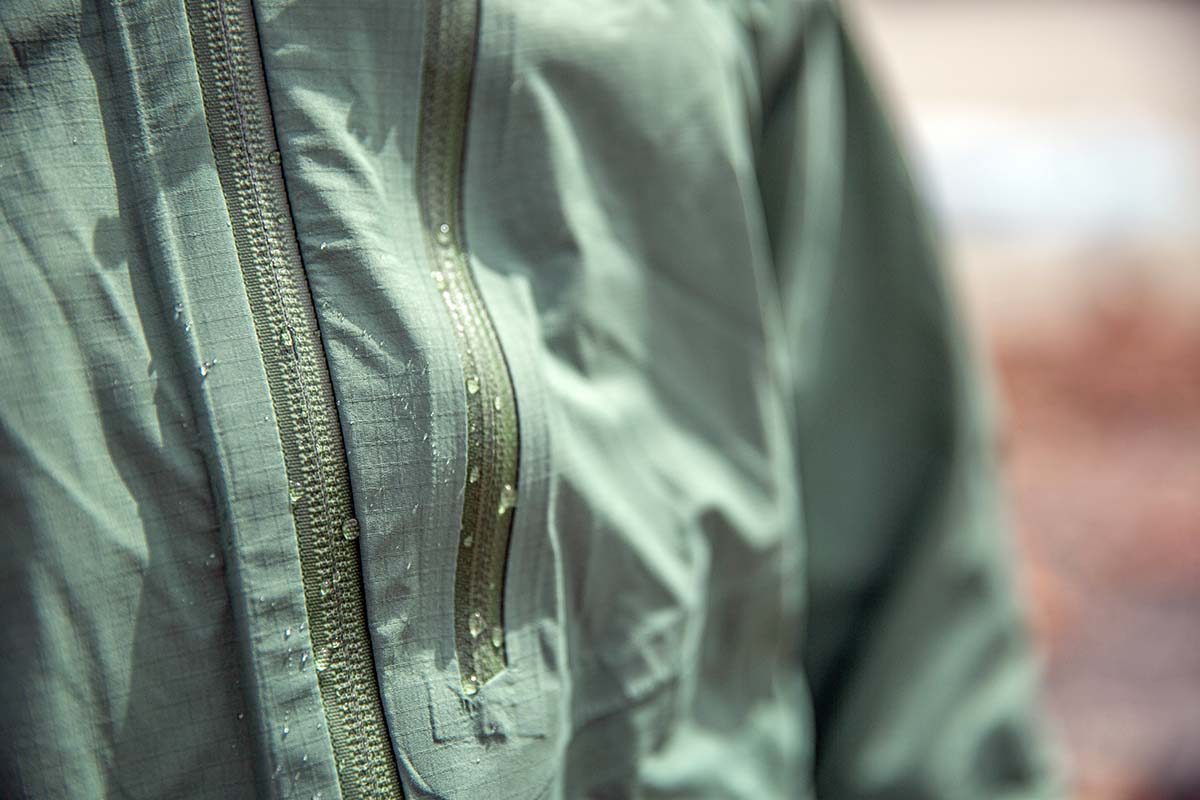 Breathability
No rain jacket will be completely breathable due to the impenetrable nature of the waterproof membrane, but the Granite Crest has a few features that help keep air flowing. First, it uses 3-layer construction, which means that the waterproof membrane is covered on the inside with a thin "jersey" fabric. This backer is nicely soft and supple, wicking the body's moisture rather than trapping it next to the skin. Many rain jackets use 2 or 2.5-layer constructions instead, which can result in a really clammy feel. And second, Patagonia designed the Granite Crest with pit zips so you can dump heat in a hurry—with two-way zippers and rain flaps, they're easy to open and close and don't compromise the jacket's weather protection.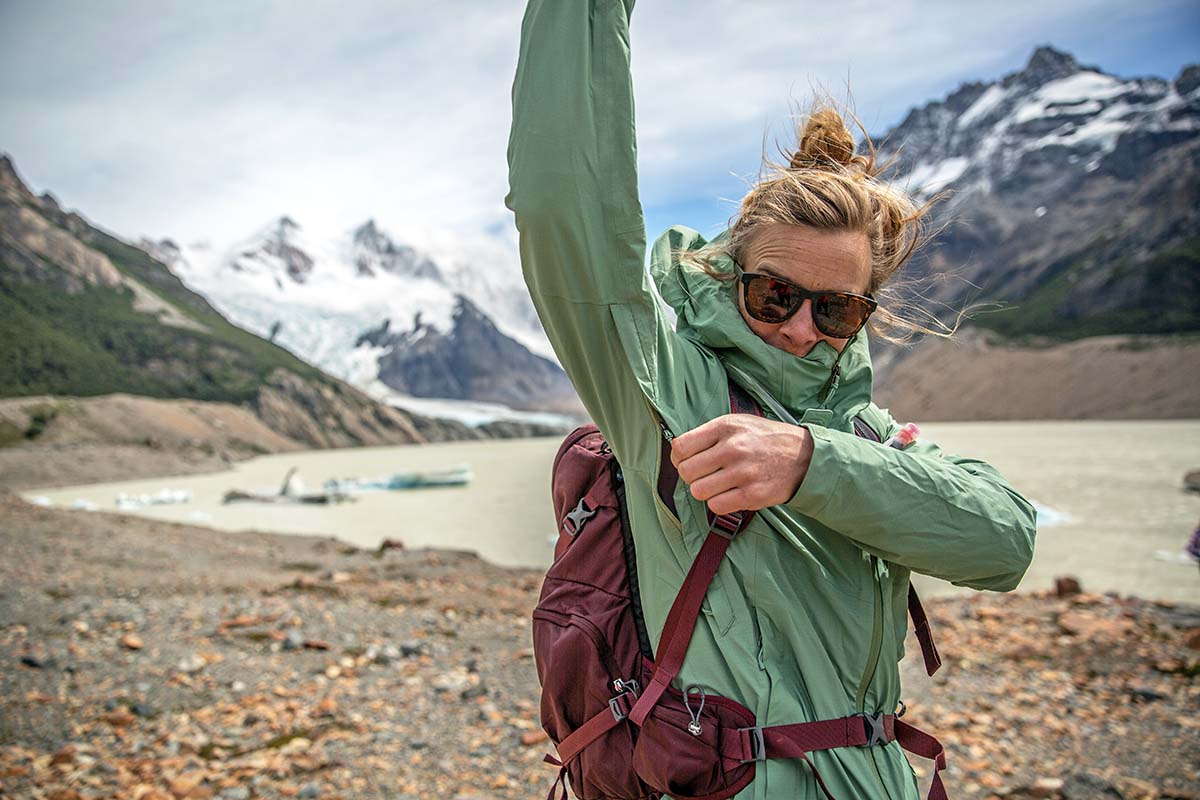 Comfort
As far as rain jackets go, the Granite Crest is a very comfortable design. The jersey backer is soft next to skin, and the supple and relatively thin (30D) fabric lends both comfort and freedom of movement. Compared to a thicker and more rigid shell like the Patagonia Torrentshell 3L, the Granite Crest is lightweight and easy-wearing, and it helps that the relaxed fit leaves a good bit of room for moving around. Finally, Patagonia added a soft patch of fleece at the back of the neck, which is a nice touch when you're wearing the jacket with a hoodless baselayer or midlayer.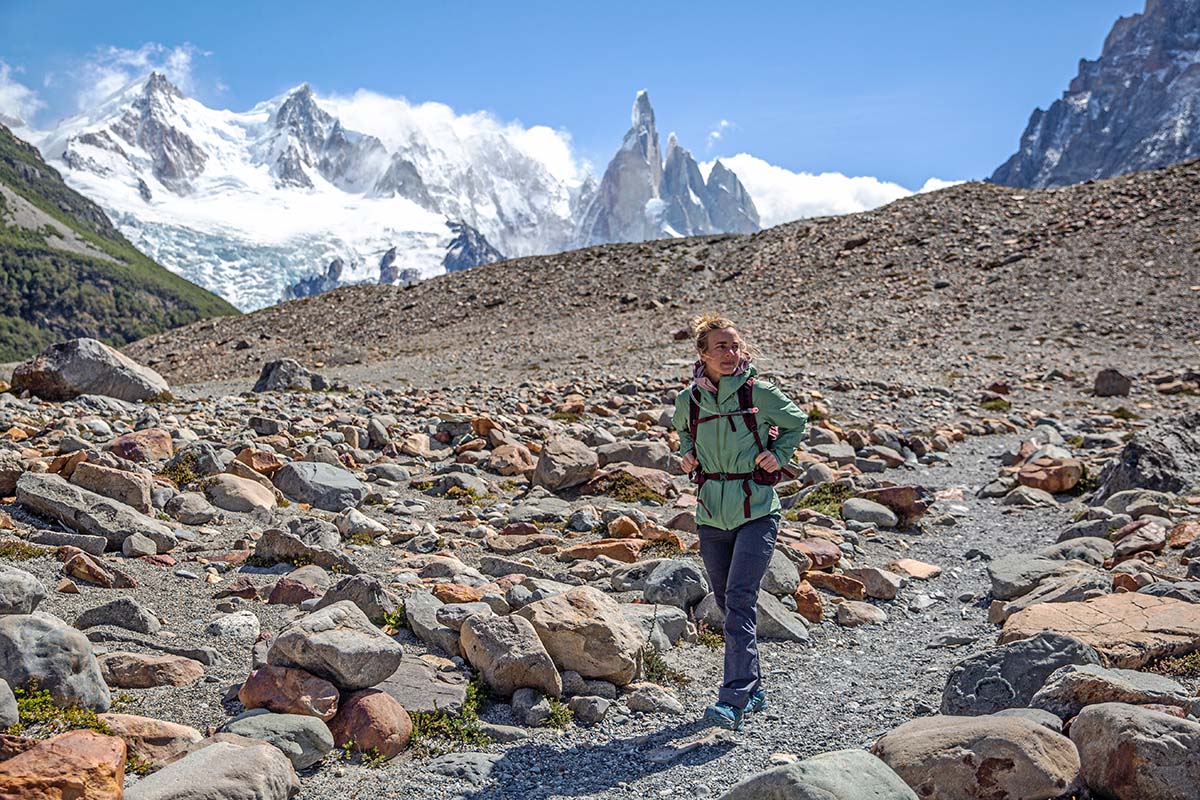 Weight and Packability
At 12.6 ounces for the women's model, the Granite Crest falls about midpack among rain jackets in terms of weight. Looking at Patagonia's other designs, it's around the same weight as Patagonia's venerable Torrentshell 3L (12.4 oz.) while checking in noticeably heavier than their Slate Sky Jacket (9.7 oz.) and minimalist Storm10 (7.4 oz.). Most hikers and backpackers will have no need for a lighter jacket, but if you do choose to streamline your load, expect tradeoffs in terms of durability and performance (the Storm10, for example, forgoes pit zips and features a more delicate 20D shell). Finally, the Granite Crest stuffs into its chest pocket, which includes a small tab for attaching to a carabiner. 

Build Quality and Durability
Patagonia's offerings consistently impress us with their quality of materials and craftsmanship, and the Granite Crest is no exception. From top to bottom, the jacket is well constructed: The cords are cleanly routed, the zippers run smoothly, and each seam is sealed on the inside. The 30-denier (D) nylon is relatively thin for a rain jacket (for reference, the Torrentshell 3L has a 50D shell), but the added stretch lends a good bit of abrasion resistance, and I have yet to see any signs of wear. Finally, initial impressions of Patagonia's NetPlus technology are great, although I am curious to see how the recycled fishing net material fares over time (we'll update this review with any relevant information that might arise).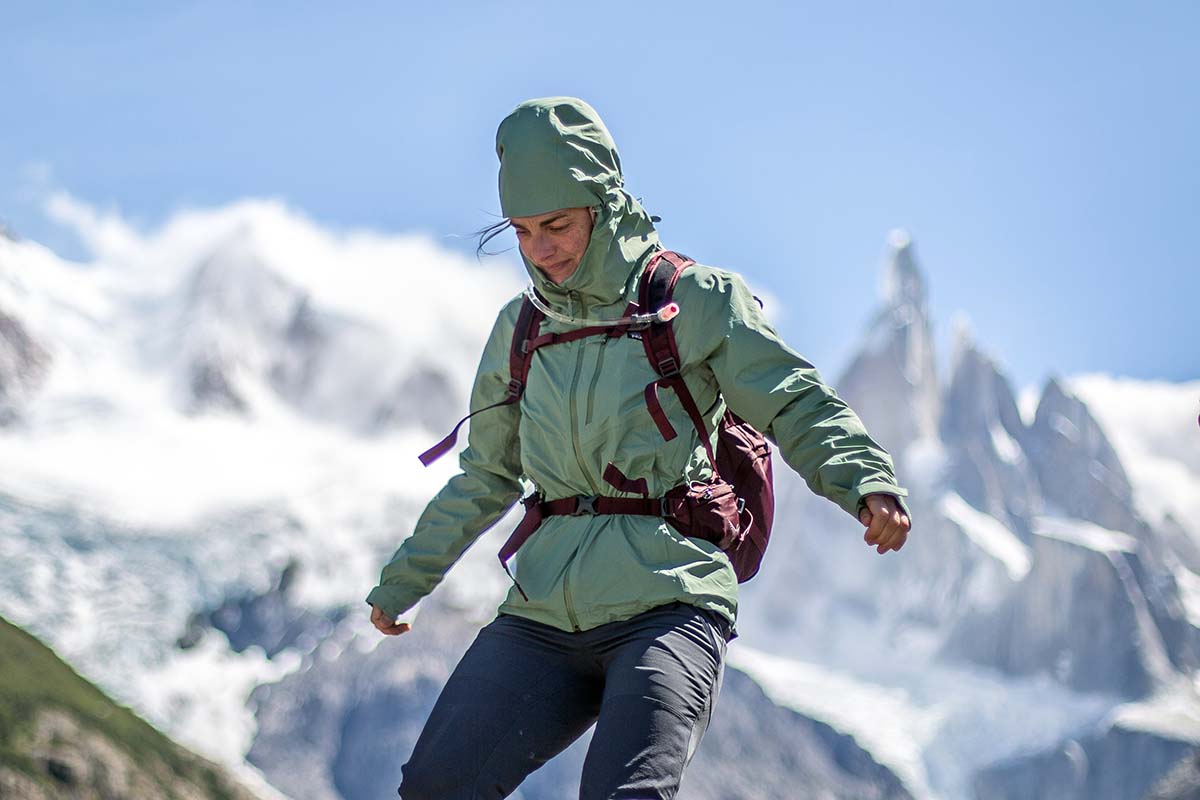 Features: Hood and Pockets
The Granite Crest has a fairly standard feature set, making it a versatile jacket for everything from around-town use to hiking, climbing, and bike commuting. The hood is generously sized to fit a helmet, yet effectively cinches down with adjustments at both the rear and the sides. (A small gripe: while the side adjustments are easy to tighten with one hand, it's taken me a lot of practice—and two hands—to learn how to loosen them.) It also features a laminated visor to protect your face from drips. I've donned this hood many times in rainy and windy conditions, and have been impressed with its sung fit (even Patagonian winds couldn't blow it off my head) that still offers great visibility and protection.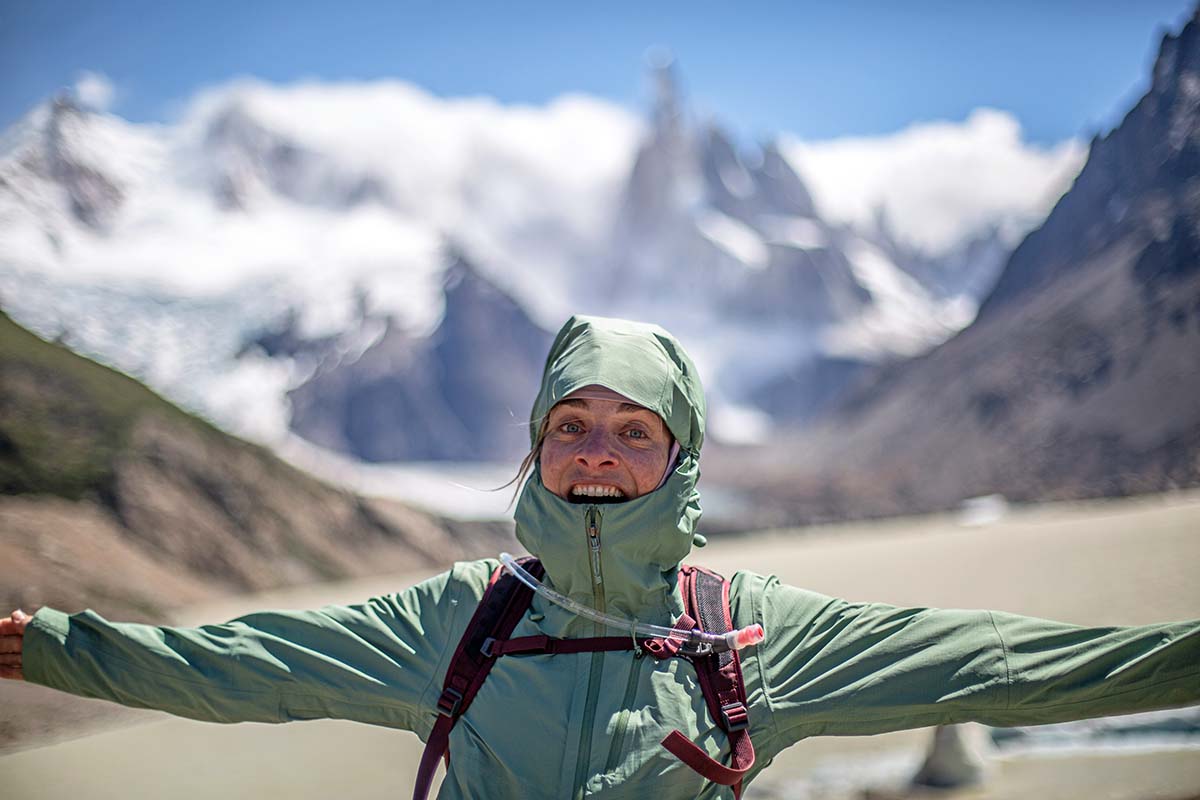 In terms of pockets, the Granite Crest features two handwarmer pockets and an external chest pocket, which also doubles as a stuff sack. The chest pocket uses a water-tight zipper, while the two hand pockets are nicely seated inside a covered flap for ample protection against moisture. The hand pockets aren't as high as I often see on more performance-oriented hardshells, but I'm nevertheless able to access them while wearing a climbing harness or backpack. Finally, the Granite Crest's cuffs use fabric cuff-and-loop closures (I used these a lot as I found the arms to be quite long), and you get a one-handed cinch at the right hip to adjust the hem.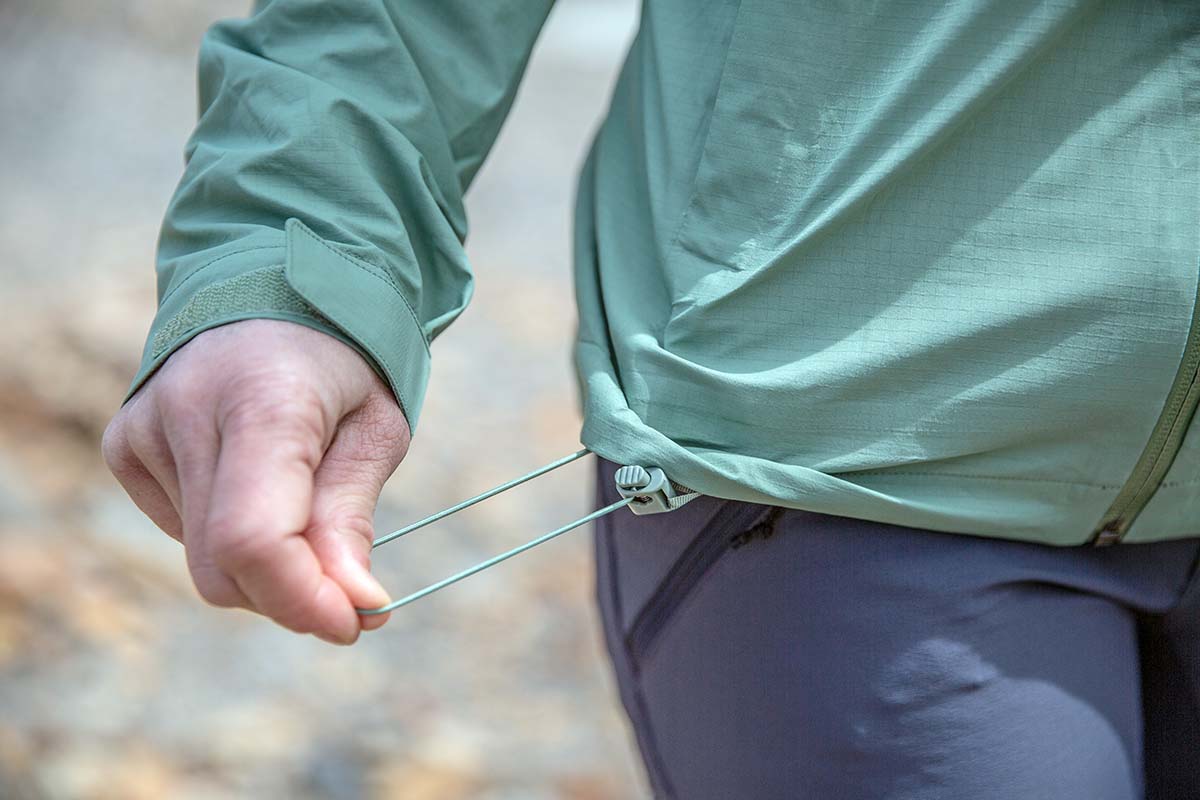 Fit and Sizing
I consistently wear a women's size small in jackets, and the small Granite Crest fits true to size, with a relaxed fit that allows ample room for layering underneath. Compared to a trim hardshell or a slim-fitting design like the Storm10, the Granite Crest has a very roomy, casual feel. As I mentioned above, the arms are a bit long, but the cuff cinches are easy to use and the extra length is helpful for activities like climbing. Further, with thoughtful patterning and great mobility, the jacket stays relatively in place when I raise my arms over my head and when bending over. For comparison's sake, the Granite Crest's center back length (for the women's medium) is 29 inches, which is just slightly shorter than the Storm10 (29.25 in.), Torrentshell 3L (29.5 in.), and Slate Sky Jacket (29.5 in.).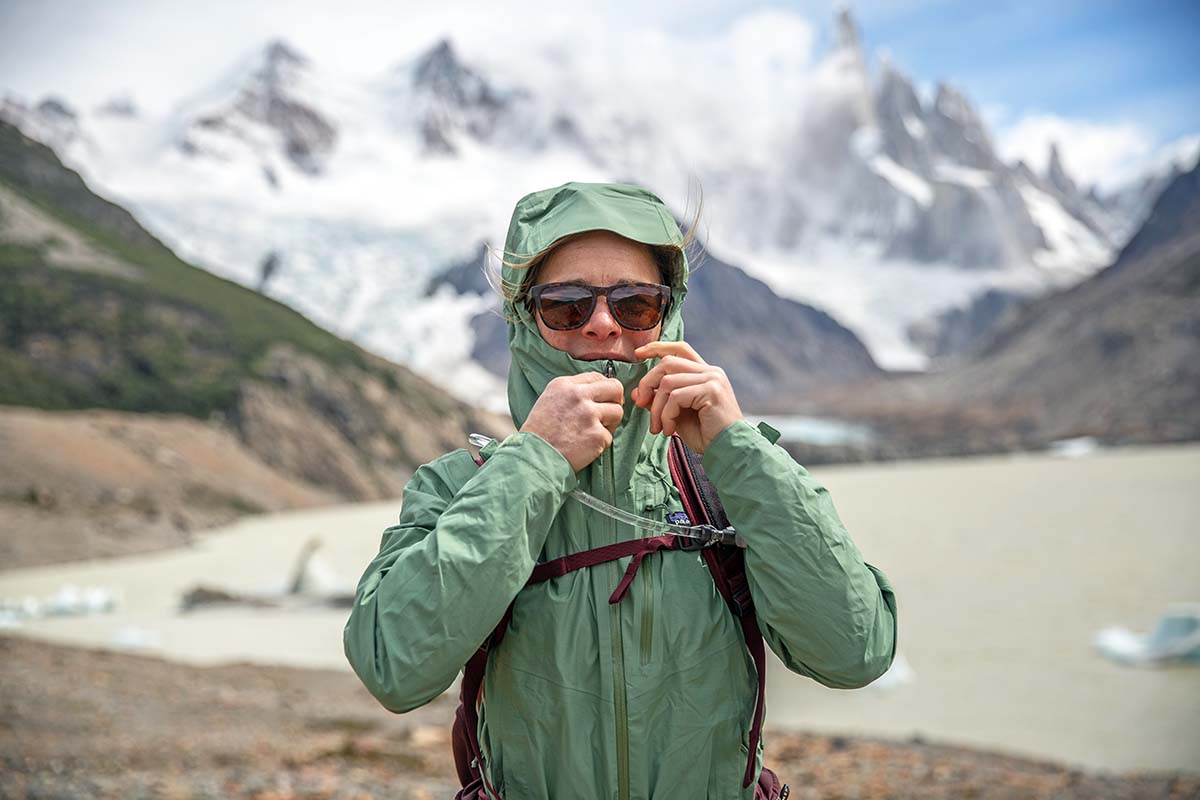 Other Versions of the Patagonia Granite Crest
I tested the women's Granite Crest for this review, and the rain jacket also comes in a men's version. In parsing out the differences, the men's Granite Crest uses the same design and materials but comes in different colorways and features a men's-specific fit. Both jackets retail for $279. To complete your kit, Patagonia also offers Granite Crest Pants for men and women ($219) that boast the same H2No Performance Standard waterproofing and eco-friendly NetPlus shell.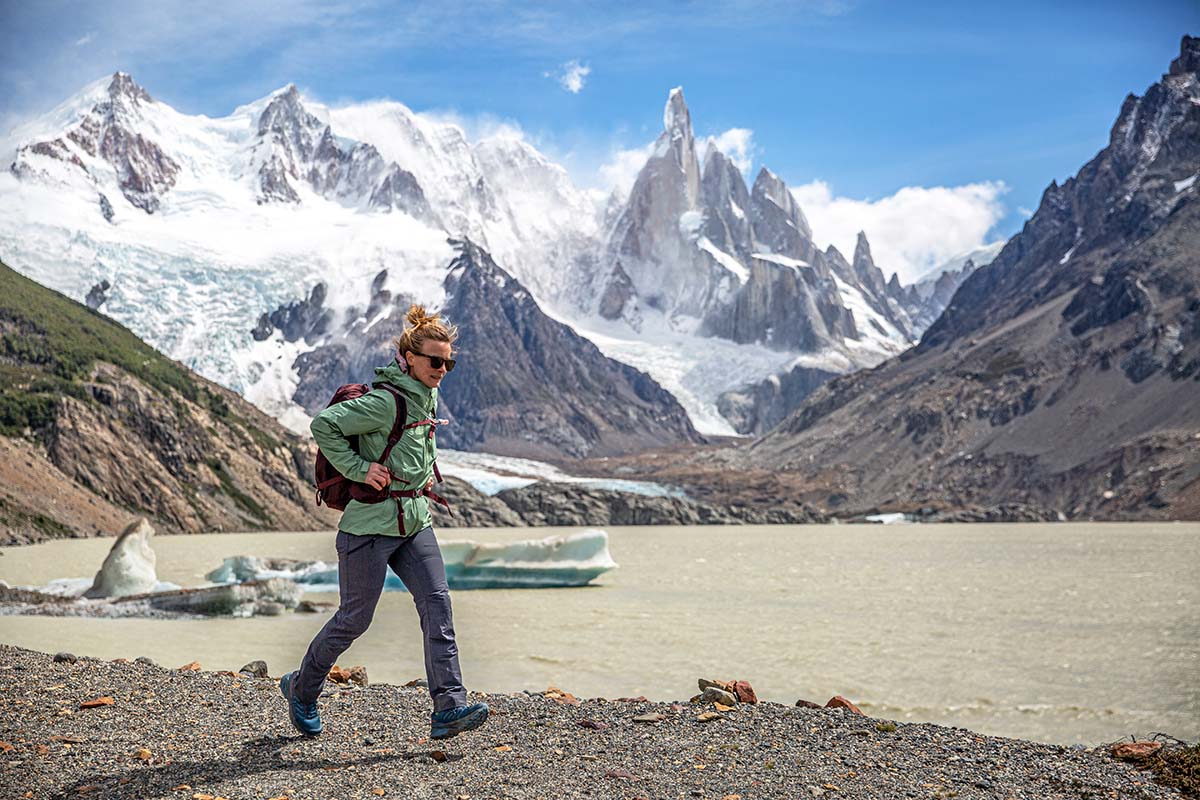 What We Like
A cutting-edge sustainable design, featuring 100% recycled ripstop nylon made out of recycled fishing nets and a PFC-free DWR finish.
Patagonia's H2No Performance Standard waterproof membrane is well executed and competitive with premium technologies like Gore-Tex.
Soft and supple jersey backer lends breathability, comfort, and a bit of extra mobility.
Versatile feature set and fit, great for everything from around-town use to hiking, climbing, bike commuting, and more.

What We Don't
At $279, the Granite Crest is very pricey due to the extra cost associated with creating fabric out of recycled fishing nets.
Hood adjustments are difficult to loosen once tight.
Compared to rain jackets of similar weight, the Granite Crest's shell is relatively thin at just 30D.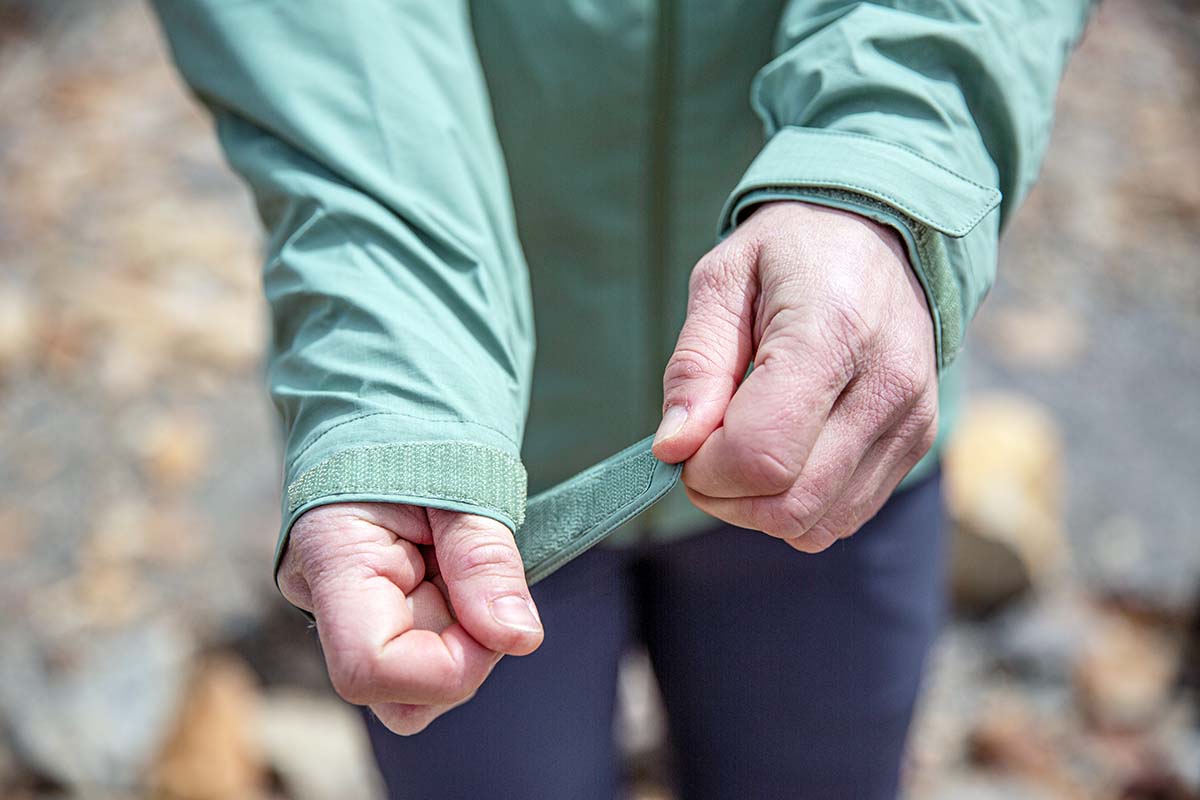 Comparison Table

The Competition
In terms of sustainable design, the Granite Crest is without rival. True, many other rain jackets are built with recycled materials—and PFC-free DWR is becoming more and more common—but we've yet to see another company turn ocean plastic into a high-performance garment. It's an exciting moment in outdoor apparel, but it's also worth celebrating other designs that are making efforts toward the same ends. One of the top rain jackets in this field is the Black Diamond Highline Stretch, a 3-layer design that was one of the first to feature Green Theme Technologies' PFC-free DWR finish. Not only is this finish manufactured without the use of harmful chemicals, but it's also incredibly durable and high performing. Compared to the Granite Crest, the Highline jacket has a more performance bent with a 10.7-ounce build and a coated front zip and pit zips, making it a more appealing choice for climbers and other mountain athletes. But at $300, it's a fairly pricey design, and you don't get the added benefit of Patagonia's NetPlus material.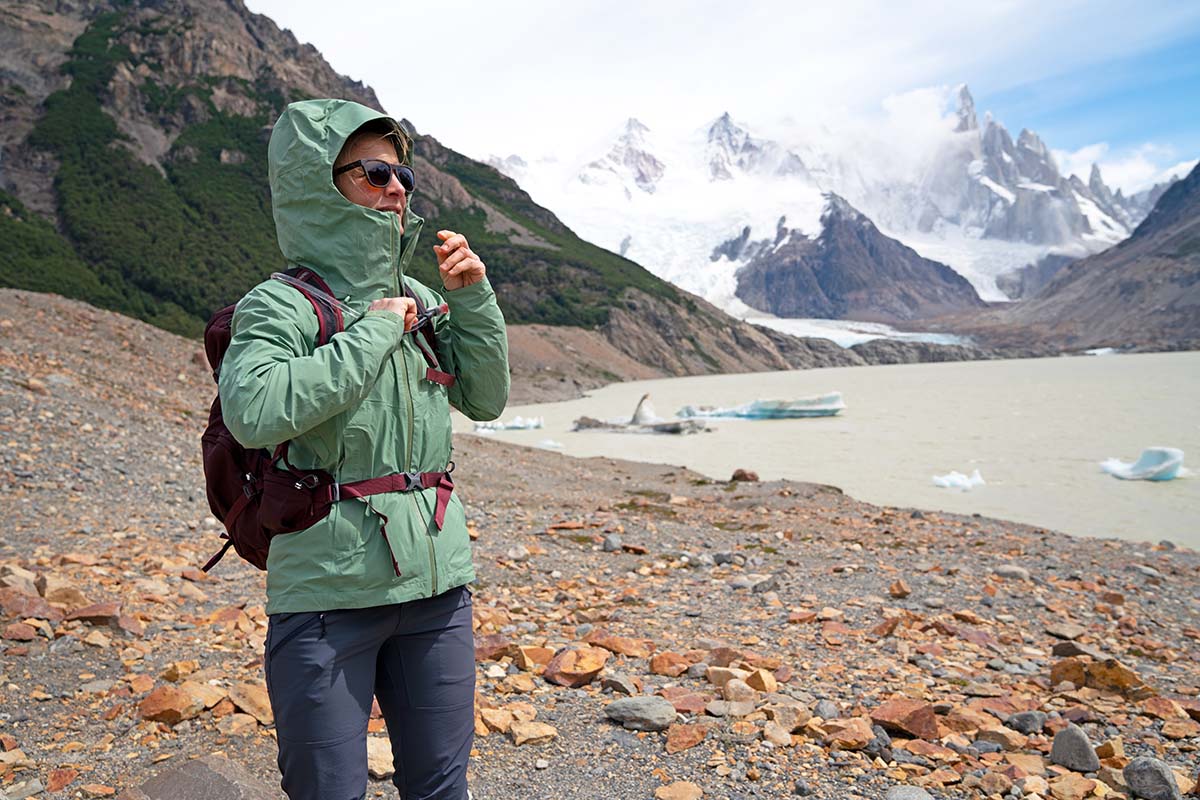 It's common to see price increases accompany sustainable design features, as these technologies take time and resources to develop. That said, there are a few rain jackets that can keep your conscience happy at a lower price point than the Granite Crest, including the Marmot Minimalist. For a reasonable $220, the Minimalist features a 2.5-layer Gore-Tex Paclite construction, 100% recycled polyester, and a PFC-free DWR finish. Unlike the all-around Granite Crest, it's decidedly casual—featuring a flap over the front zip, a relatively boxy fit, and handwarmer pockets that sit low on the hip—but is nevertheless a great choice for those looking for an everyday rain jacket with a sustainable design. 
Next we turn to Patagonia's lineup of rain shells, headlined by the Torrentshell 3L. At just $179, the Torrentshell is one of our favorite rain jackets of the year thanks to its versatile design, great performance, fun colorways (nine at the time of writing), and low price point. It has a very similar feature set compared to the Granite Crest (including an H2No Performance Standard waterproof membrane), but the main difference comes in terms of face fabrics: The Torrentshell's 50D nylon is markedly stiffer than the Granite Crest's supple 30D NetPlus despite the two jackets clocking in at virtually the same weight. With a recent update, the Torrrentshell also now stacks up well in terms of sustainability with a 100% recycled face fabric, PFC-free DWR finish, and certification to the Fair Trade standard. Added up, for $100 less than the Granite Crest, the Torrentshell 3L is an attractive all-rounder from a company that's taking great strides to care for our planet.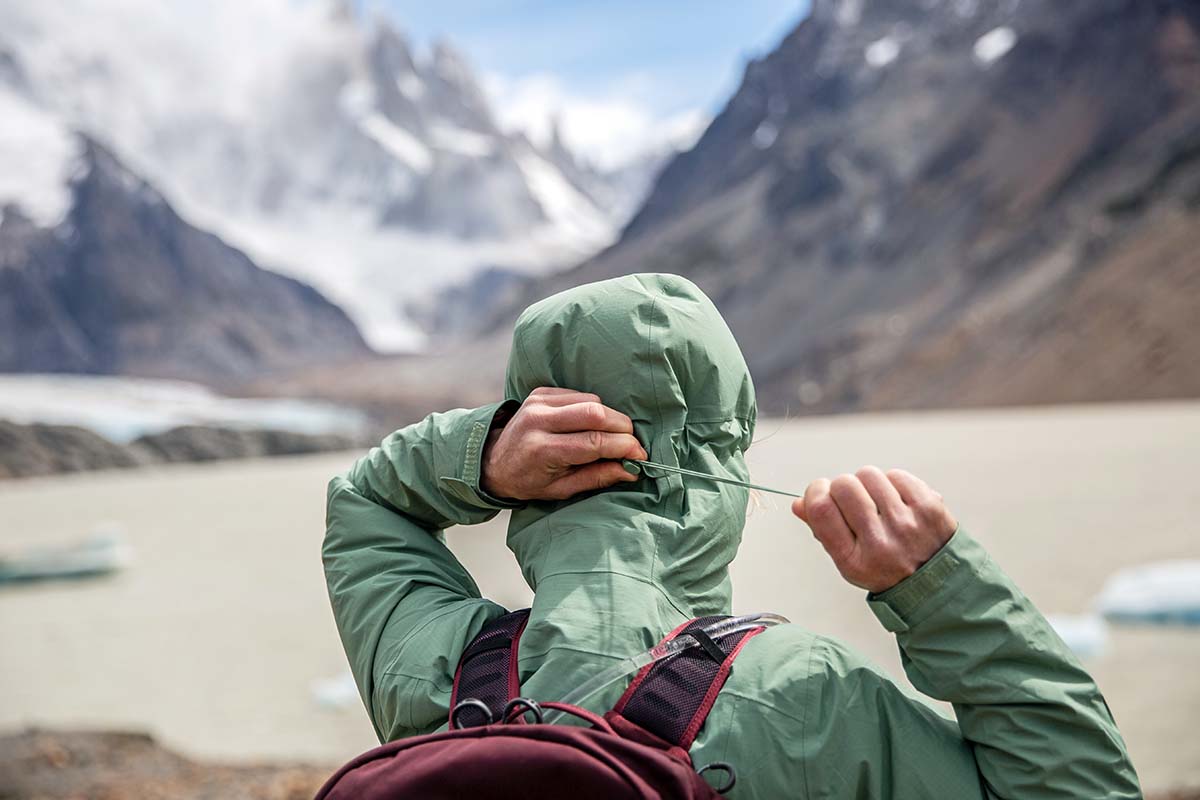 A more recent addition to Patagonia's collection, their Slate Sky Jacket is another sustainably built design that stacks up very well to the Granite Crest. Both jackets boast the brand's 3-layer H2No Performance Standard membrane, have a relatively thin 30D construction, and feature a NetPlus shell and PFC-free DWR coating. The Slate Sky is lighter by around 3 ounces, although there are some tradeoffs to be aware of: The hood only has one drawcord for dialing in fit, there are no pit zips for dumping heat, and you don't get a toggle at the hem for cinching the waist. The Slate Sky also doesn't stuff down into its pocket like the Granite Crest, forgoes a chest pocket, and includes a bulky storm flap over the front zipper (we prefer the Granite Crest's lower-profile design). In the end, the Slate Sky Jacket will save you a considerable $80 while offering similar sustainability measures and wet-weather performance (for more, see our Slate Sky review), but the Granite Crest strikes us as the more refined design. 
Rounding out Patagonia's rain jacket lineup is the Storm10, an ultralight shell built for fast-and-light mountain endeavors. At just 7.4 ounces for the women's jacket, the Patagonia Storm10 shaves weight with a thin 20D nylon shell (100% recycled) and a minimalist design that features just one rear hood adjustment and no pit zips. Similar to the Granite Crest, the Storm10 uses Patagonia's H2No Performance Standard membrane, along with a soft and supple backer that adds a bit of give to the jacket. At $329, the price is steep for such a streamlined design, but the Storm10 is the better option for weight-conscious pursuits like mountain running or climbing. For everyday wear and more casual hiking and backpacking, we'd stick with the Granite Crest.
If you're thinking about buying gear that we've reviewed on Switchback Travel, you can help support us in the process. Just click on any of the seller links above, and if you make a purchase, we receive a small percentage of the transaction. The cost of the product is the same to you but this helps us continue to test and write about outdoor gear. Thanks and we appreciate your support!
Depending on the seller, most products ship free in the United States on orders of $50 or more. International shipping availability and rates vary by seller. The pricing information on this page is updated hourly but we are not responsible for inaccuracies.
Read More From Switchback Travel