We get this question a lot: What's the difference between a hardshell and a rain jacket, and which one is best for me? Although both rain jackets and hardshells are waterproof, there are notable distinctions between the two. Hardshells offer maximum durability and protection against extreme weather, while rain jackets strike more of a balance among performance, cost, and weight-savings. Below we look at the main differences between hardshells and rain jackets, comparing and contrasting the two in terms of weatherproofing, breathability, weight, durability, cost, and more. For options in each category, see our articles on the best hardshell jackets and best rain jackets.
 
Hardshells: Maximum Weather Protection
We consider hardshells to be the most durable, weatherproof jackets money can buy. They achieve this status through three layers of fabric fused together, which is referred to as 3-layer construction. The waterproofing comes from the middle layer in this sandwich—a tightly woven waterproof/breathable membrane that keeps moisture out while still allowing sweat to escape (Gore-Tex is the most common, but other technologies include eVent, H2No Performance Standard, and AscentShell). On the inside, a liner protects the membrane from moisture, oils, and wear and provides a soft next-to-skin feel. On the outside is a face fabric (usually thicker than that found on most rain jackets) with a durable water repellent (DWR) finish that causes water to bead up and roll off the surface.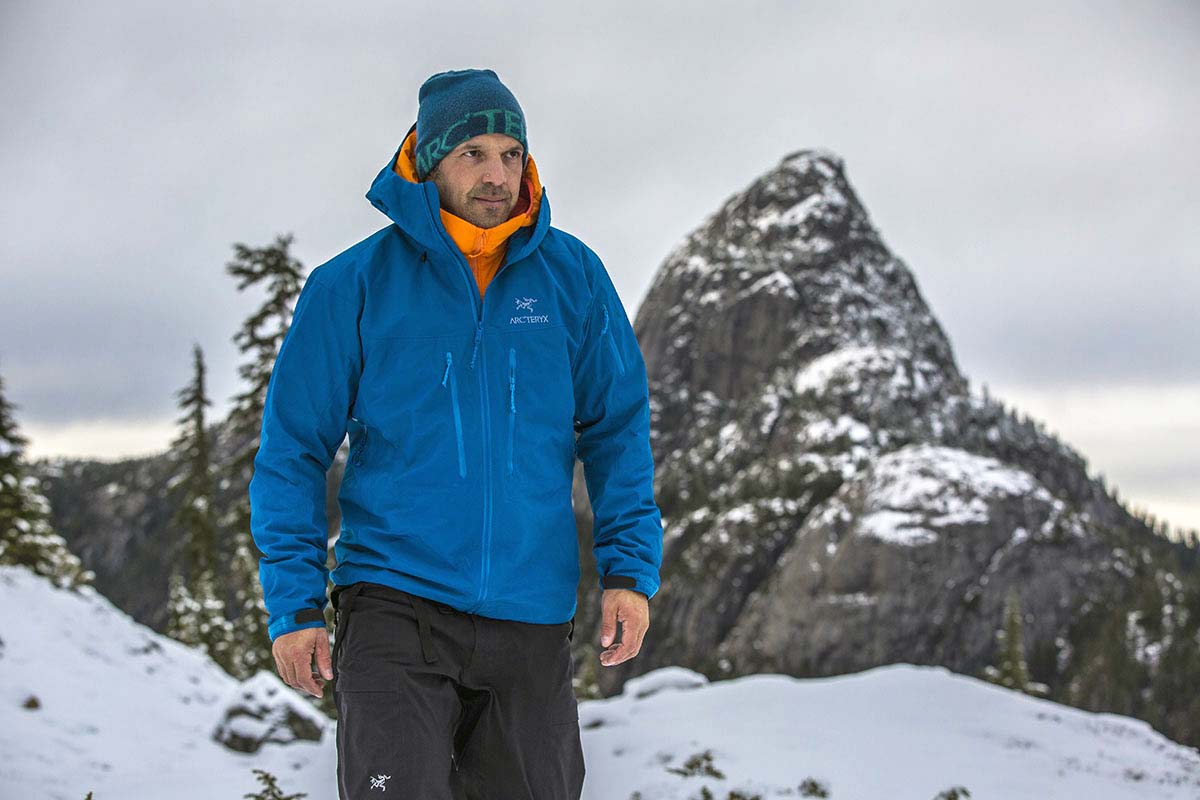 To accompany their robust construction, most hardshells boast performance-focused fits and specialized feature sets. Most will have a larger (often helmet-compatible) hood, taller collar, and slightly longer fit in the back for added coverage from rain or snow. Further, hardshells often include features like pit zips or vents for dumping heat during high-output activities and zippered pockets (both inside and out), which are typically placed higher up on the jacket to accommodate a backpack hipbelt or climbing harness.
Hardshells come in a range of styles, which we've broken down into three sub-categories: alpine, minimalist, and all-around. Alpine shells like Arc'teryx's Alpha SV are burly, fully featured, and built to withstand extreme conditions and weather typical of high mountain environments (they're also the most expensive of the bunch). At the other end of the spectrum, minimalist hardshells like the REI Co-op Stormbolt GTX and Arc'teryx Beta FL use thinner materials and cut features like pit zips or hand pockets to shave weight and bulk. One step up from a rain jacket, these are ideal for activities like backpacking or climbing where weight and space are big considerations (but expect less durability and reduced weather protection). Finally, all-around hardshells strike a nice middle ground and are designed to excel in a range of conditions. For example, the versatile Arc'teryx Beta AR is one of our favorite pieces for backcountry skiing and other human-powered pursuits when we need full winter protection in a lightweight (1 lb.) package. 
Rain Jackets: The Lightweight Option
Unlike the 3-layer construction of a hardshell, rain jackets typically use 2 or 2.5 layers of fabric in order to cut cost and weight. Here, you get the same waterproof/breathable membrane and shell we mentioned above—complete with DWR finish and sealed seams—but generally with a much thinner exterior fabric. Another big difference is found on the inside of the sandwich: 2-layer builds forego the liner completely (meaning that the membrane comes in direct contact with your skin), while 2.5-layer constructions add a thin, often-loose layer of fabric to the inside (the additional 0.5) for added durability and better next-to-skin feel.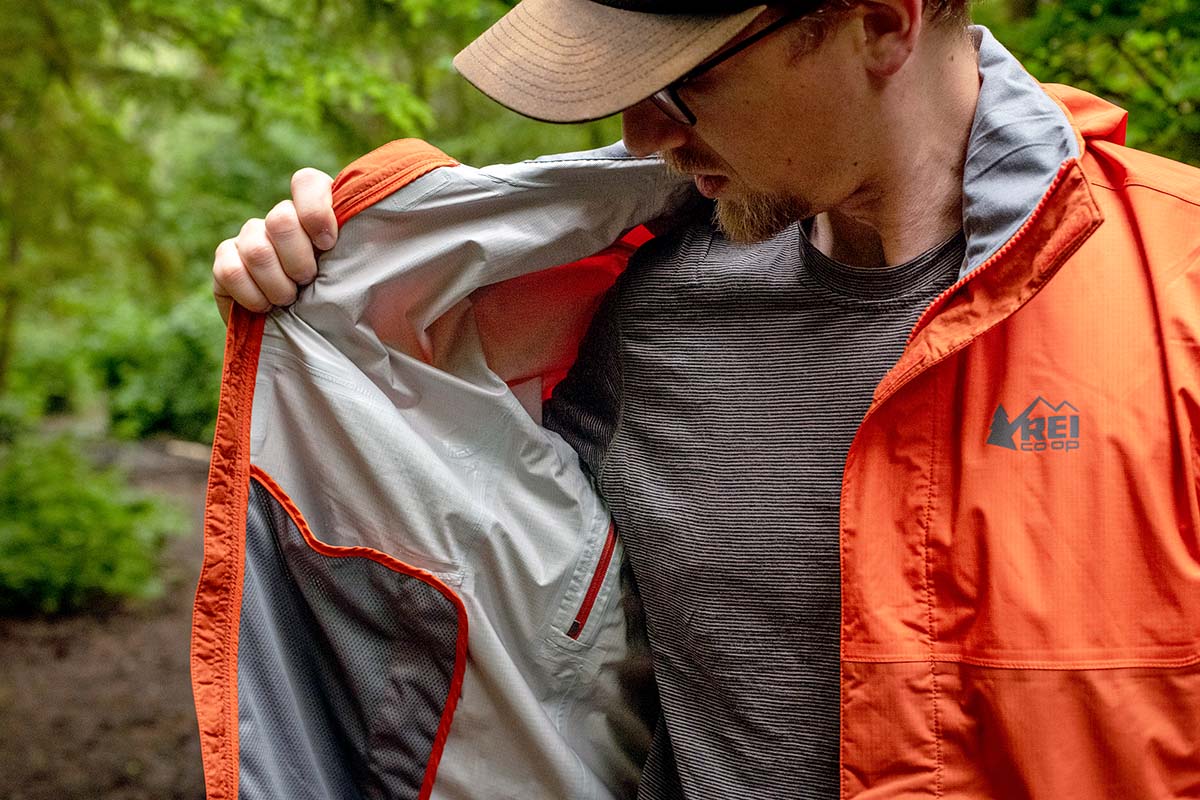 Feature-wise, rain jackets are commonly built with adjustable hoods, two or three pockets, and a waist cinch. Sometimes, we see additions like a helmet-compatible hood or pit zips, but most jackets offer fairly limited and basic feature sets that excel for casual and daily wear rather than highly technical pursuits. As a result, rain jackets are great for around-town use and weight-conscious activities when you don't need the bombproof weather protection or specialized features of a hardshell.
Like hardshells, we break rain jackets down into four categories: daily use, hiking, performance, and ultralight. Jackets in the hiking and daily use categories (including the uber-popular Marmot Minimalist) have well-rounded feature sets—often including pit zips and both hood and cuff adjustments—but are still light and packable enough to carry on a casual hiking trip. The line between these two categories can be blurry, but you can expect a bit more performance (and slightly higher price points) from true hiking-specific models. Performance shells like Black Diamond's Liquid Point are one step down from a hardshell and made to withstand extreme conditions: the shell fabrics are tougher, the waterproof membranes are more breathable, the hoods are more substantial, and the interior fabrics are softer and less prone to clamming up. Finally, ultralight jackets, such as Outdoor Research's Helium, are streamlined, thin, and intended mainly for weight-conscious endeavors. Their performance is often slightly inferior to other rain jackets, but for some, the reduction in weight and bulk is worth those tradeoffs.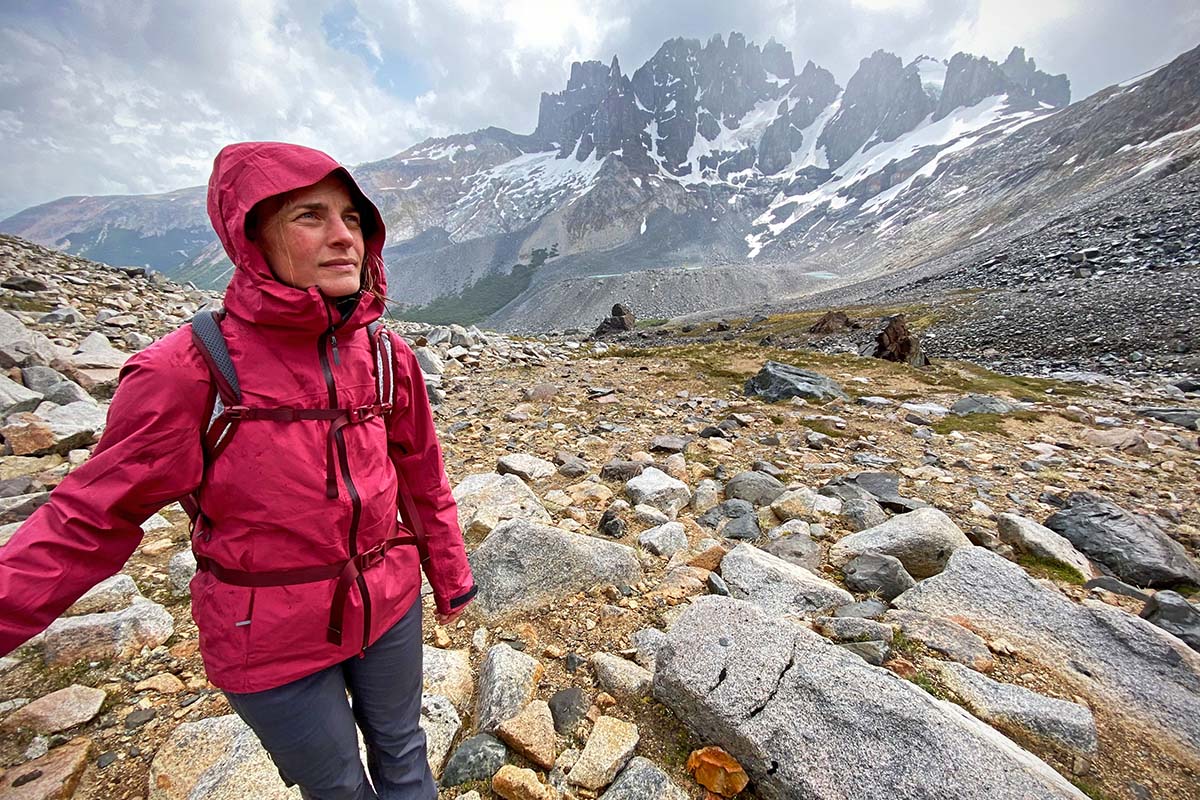 Toeing the Line: Hardshell/Rain Jacket Hybrids
In 2021, the distinction between hardshells and rain jackets has become increasingly blurry. Some rain jackets are now built with 3-layer constructions (Patagonia's Torrentshell 3L, for example), and some hardshells have thin face fabrics and pared-down feature sets (like the Arc'teryx Beta FL). Jackets like these can often pull double duty—for instance, the Torrentshell's 50-denier fabric, 3-layer construction, and pit zips make it a viable option for backcountry skiing, while the Beta FL's 12.7-ounce, packable build is a great choice for hiking. However, "hybrid" jackets do make sacrifices in the name of versatility: the Torrentshell is heavy for a rain jacket (13.9 oz.), and the Beta FL's 40-denier fabric and lack of pit zips translate to less durability, protection, and breathability than most hardshells.
Performance Considerations
1. Weather Protection Advantage: Hardshells
A jacket that excels at weather protection will a feature thick face fabric, 3-layer construction, and comprehensive coverage from head to hip. With that in mind, hardshells are the hands-down winner in terms of water- and wind-proofing. With thicker shell fabrics, you get an extra dose of assurance between you and the elements—particularly over moisture-prone areas like the hood and lower back—and their generous hoods, collars, and hems keep you covered. On the other hand, the majority of rain jackets are thinner, provide less coverage, and are less bombproof overall. These styles will wet out more quickly than hardshells, and their 2- or 2.5-layer designs offer less in the way of separation between you and the damp waterproof membrane.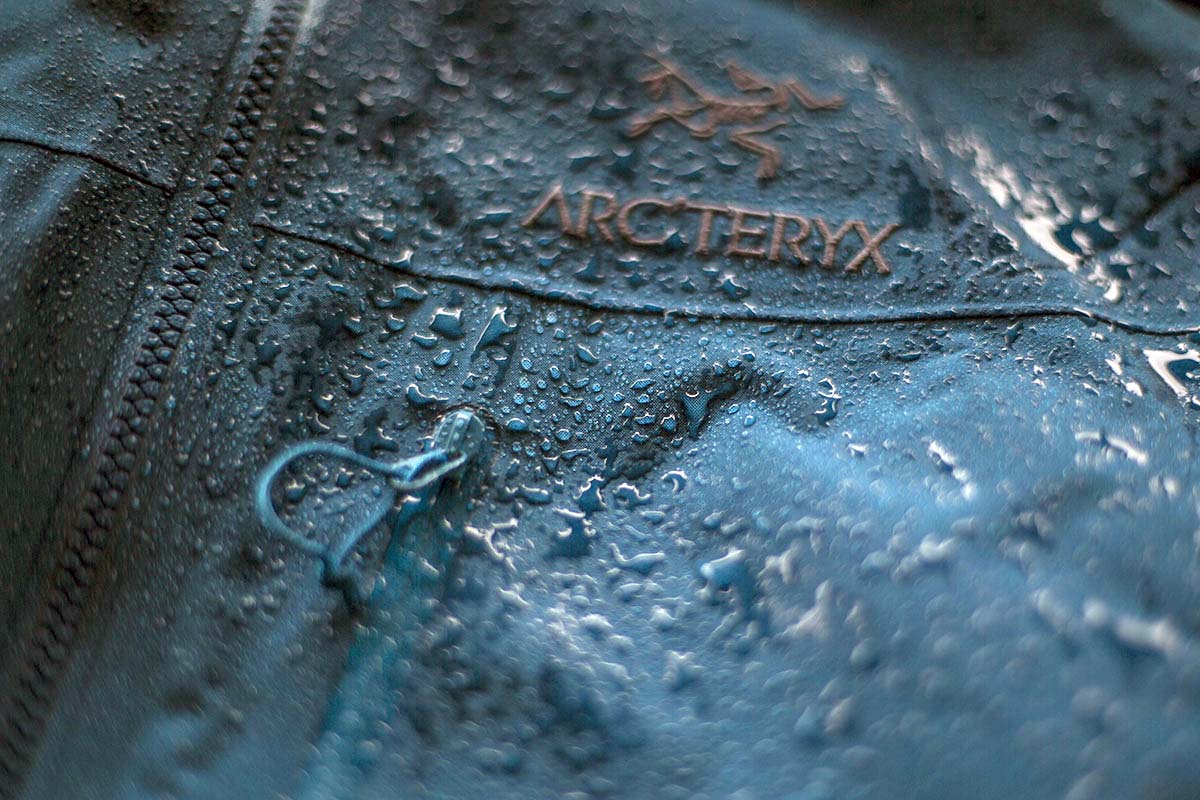 But with a number of hybrid jackets on the market, it's hard to make blanket statements. In the end, you'll want to know what features to look for if you want to prioritize weather protection. For example, some modern rain jackets are built with the protective chops of a hardshell (like the Patagonia Torrentshell 3L mentioned above), with thick face fabrics, 3-layer constructions, and roomy builds to accommodate layering. At the other end of the spectrum, minimalist hardshells give up some of that performance with their thinner shells and streamlined designs. 
 
2. Breathability Advantage: Hardshells
Hardshell jackets are the more breathable of the duo, again due to their 3-layer design. The interior layer of fabric in a 3-layer jacket helps to wick moisture and provides ample room for air to flow. On the other hand, with a 2-layer design, your body comes into contact with the waterproof membrane, which inhibits breathability and results in a sticky and clammy next-to-skin feel. But hardshells aren't perfect: those with thicker shell fabrics often prioritize protection and durability over all-out breathability. And another contributing factor is pit zips, which can be found (or omitted) on both rain jackets and hardshells. In the end, if you're aiming to prioritize breathability, we recommend looking at features over categories: the most breathable jacket will be one with 3-layer construction, a relatively thin face fabric, and pit zips.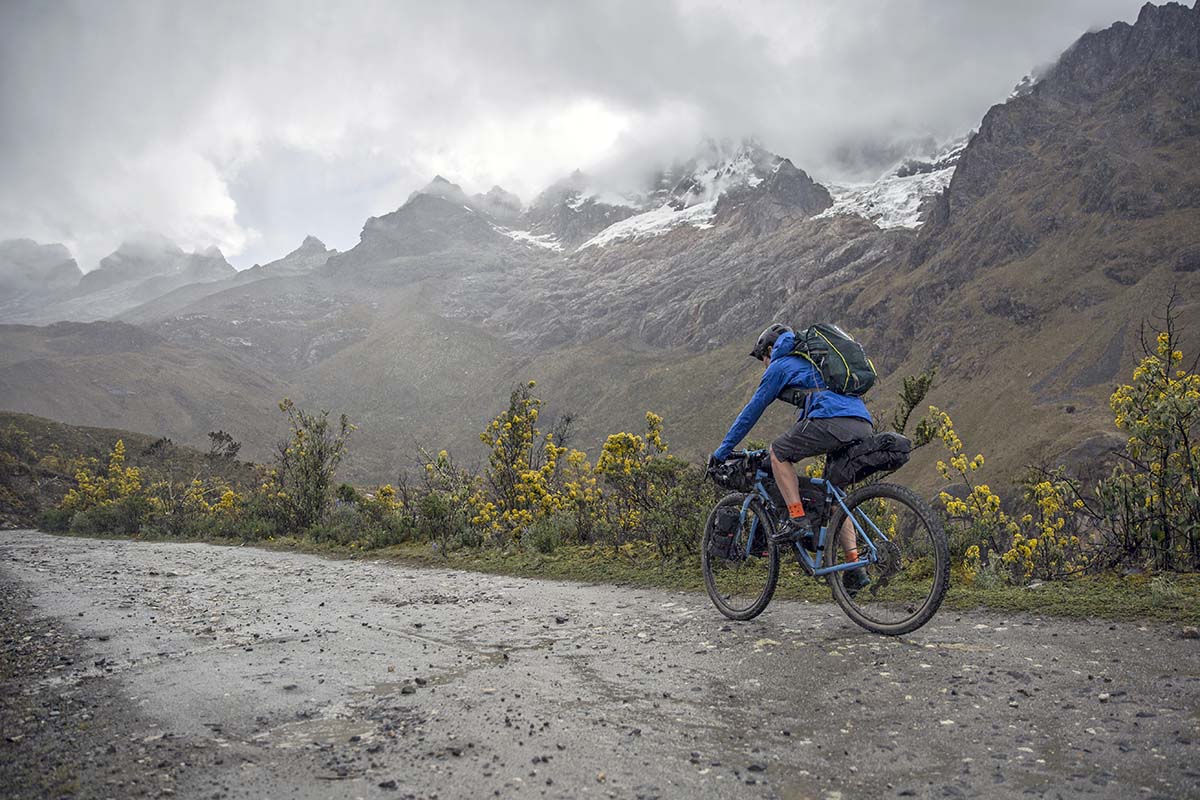 3. Weight and Packability Advantage: Rain Jackets
Given their streamlined designs with thinner fabrics and fewer features, rain jackets typically weigh less and pack down smaller than hardshells. Our favorite models range from 6.3 ounces for the ultralight Outdoor Research Helium to 1 pound 0.3 ounces for the OR Foray, with most options hovering between 9 and 12 ounces. On the other hand, most hardshells weigh a full pound or more, although minimalist options like the REI Co-op Stormbolt GTX (14.6 oz.) and aforementioned Arc'teryx Beta FL (12.7 oz.) are competitively light. However, keep in mind that the lighter the weight, the more features, durability, and protection you'll be sacrificing (this is true of both rain jackets and hardshells).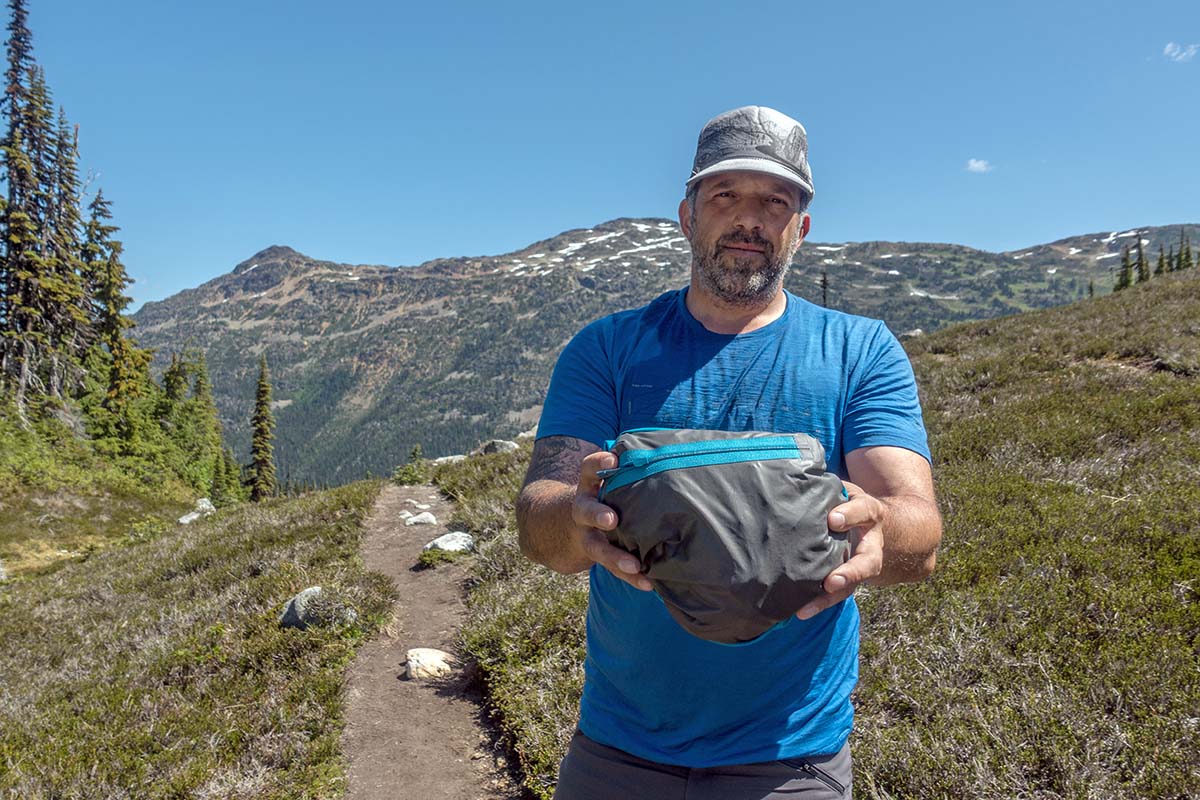 4. Durability Advantage: Hardshells
Hardshells are the clear winners when it comes to durability, with thicker shell fabrics and liners designed to protect their waterproof/breathable membranes. You can pretty much do anything to a well-made hardshell—wear it day in and day out under a heavy load, stuff it at the bottom of your pack with sharp gear, expose it to extreme wind and rain—and it will emerge unscathed. On the other hand, the thin shell of a rain jacket likely won't stand up to same type of heavy use, and the exposed membrane (vulnerable to dirt, oils, and wear) will degrade more quickly over time. Added up, a hardshell is built for a much longer life than a rain jacket.
On the topic of durability, it's also worth noting that DWR treatment will lose its effectiveness over time. This is not a rain-jacket-specific issue, as it also affects hardshells and any piece of clothing or gear with a DWR finish. But the good news is that a regular laundering is usually all it takes to revive the water-repellant finish. And if your DWR begins to wear off, it's fairly simple to reapply with a product like Nikwax's TX.Direct.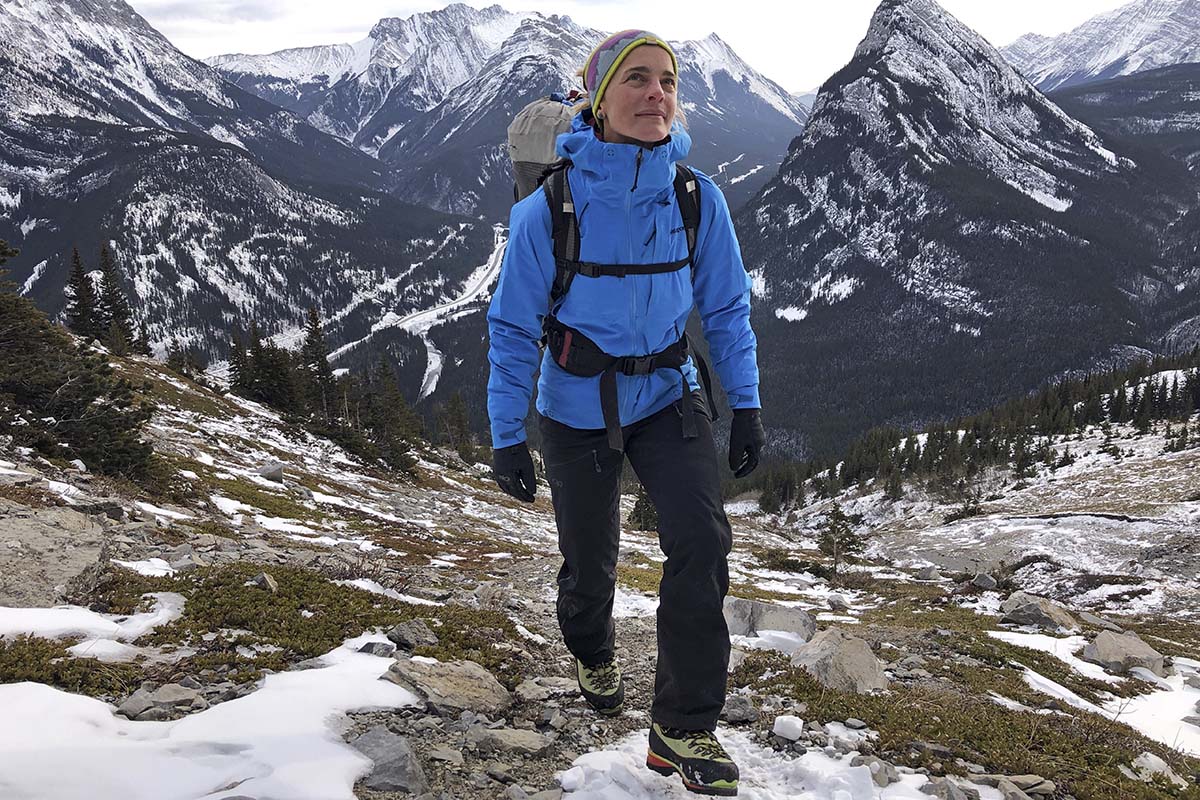 5. Comfort Advantage: Tie
The comfort trophy is a hard one to award given the number of factors at play. In our opinion, the most comfortable jackets use 3-layer constructions (read: no plasticky fabric against your skin), are lightweight, and have a soft rather than rigid or noisy shell. Perhaps most notably, we find that a bit of added stretch increases comfort considerably. With this criteria in mind, there are a good number of premium options in both camps, including the Patagonia Rainshadow (rain jacket), BD StormLine Stretch (rain jacket), Patagonia Galvanized (hardshell), and Outdoor Research Microgravity (hardshell).
 
6. Cost Advantage: Rain Jackets
At this point in the article, you might be wondering: If hardshells have such a clear advantage in most categories, why would I purchase a rain jacket? One of the main benefits comes in the form of saving money. For reference, hardshells typically cost anywhere from around $250 at the very low end to $750+ for a feature-rich and essentially bombproof piece. The top pick on our list this season—the Arc'teryx Beta AR—falls on the higher end of this spectrum at a steep $599. On the flipside, you can pick up a solid rain jacket like the Patagonia Torrentshell 3L for only $149, and even a premium Arc'teryx offering (the Zeta SL) comes in at $299. If you're looking for the most affordable protection, rain jackets easily take the cake.
Making a Decision
It's important to ask yourself a number of questions before deciding whether to purchase a hardshell or rain jacket. What type of weather will you be battling, and what features do you need to stay comfortable? Is weight a concern, or do you need a more durable option for harsh weather and terrain? How long do you expect to be spending in less-than-ideal conditions? Answering these questions will help you decide what to stuff in your pack before heading out.
Ultimately, we consider rain jackets the better option for drier climates or activities where shaving ounces is important. Think fast-and-light backpacking expeditions, longer technical climbs, or even several-day trips into a desert environment. Rain jackets will tackle short afternoon showers with ease and will even add a bit of windproofing for cooler, breezy days. However, if long, continuous storms are in the forecast, we'll reach for our hardshell. The combination of durability, weather protection, and breathability makes hardshell jackets popular for downhill and backcountry skiing, mountaineering, alpine and ice climbing, and 4-season hiking. They're truly built to last and can handle anything Mother Nature throws at them, from gale-force winds to unrelenting rain. And because of their construction, hardshells not only keep you dry but provide more insulation and material between you and the elements, adding noticeably more warmth than thinner rain jackets.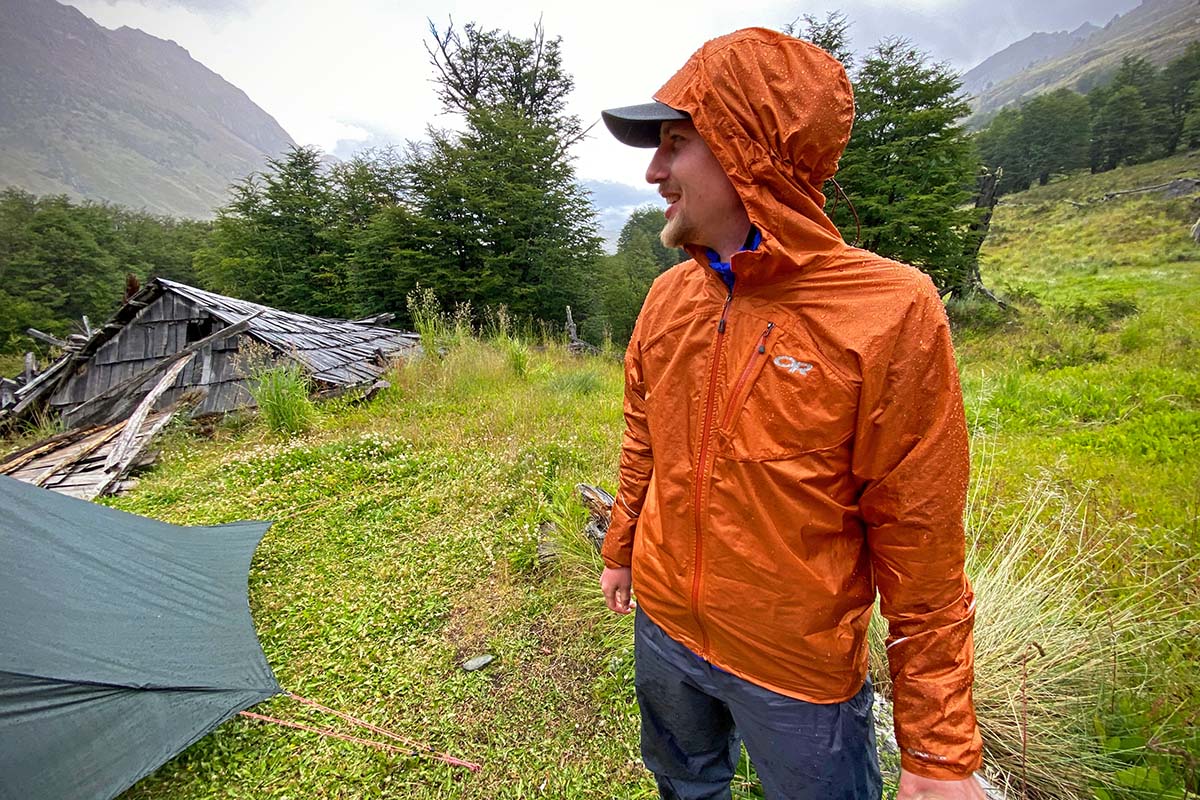 Our Favorite Waterproof Jackets
Over the years, we've tested a lot of outdoor gear and clothing, including dozens of hardshells and rain jackets. Our detailed guides to the best hardshells and best rain jackets include our top picks (from ultra-premium to budget and everything in between), comparison tables, and buying advice with even more in-depth information to help you choose the right model for you. For a quick breakdown, here are our top picks in the two waterproof jacket categories:
Hardshell Jackets
Best Overall: Arc'teryx Beta AR
For Extreme Conditions: Arc'teryx Alpha SV
Best Budget: REI Co-op Stormbolt GTX
Ultralight and Packable: Arc'teryx Beta FL
Rain Jackets
Best Overall: Patagonia Torrentshell 3L
Top Performance Design: Arc'teryx Zeta SL
Best Budget: REI Co-op Rainier
Ultralight/Emergency Shell: Outdoor Research Helium
Stretchy for Movement: Black Diamond StormLine Stretch
See Our Top Hardshell Jacket Picks  See Our Top Rain Jacket Picks
Learn More About Outdoor Gear