Arc'teryx Zeta SL
Price: $299 
Weight: 10.9 oz. (men's medium)
Waterproofing: 2L Gore-Tex with Paclite Plus
What we like: Light, impressively weather resistant, and well-built. 
What we don't: Expensive; the 2-layer design with no pit zips isn't super breathable.
See the Men's Arc'teryx Zeta SL  See the Women's Arc'teryx Zeta SL
Arc'teryx's Zeta line of rain jackets is designed for lightweight trekking and runs the gamut from the 3-layer Zeta LT ("lightweight") to the feathery Zeta FL ("fast and light"). The Zeta SL is the "superlight" version and puts a big emphasis on weight and packability. We put the SL through the wringer in both the rainy Pacific Northwest and during a wet multi-day trek through the Grand Canyon, where it proved to be a weather-worthy, comfortable, and tough shell. Below we break down our experiences with the Zeta SL. To see how it stacks up to the competition, see our article on the best rain jackets.
---
Table of Contents
---

Performance
Water and Wind Protection
With a 2-layer Gore-Tex with Paclite Plus construction, the Arc'teryx Zeta SL delivers solid protection from the elements in a lightweight and packable design. In addition to the shell material, the jacket is coated in a durable water repellent (DWR) finish, which does a nice job of shedding drops off the surface and hasn't needed retreatment even after six months of intensive use. Other nice details include drawcords at the hem, a single drawcord at the hood, and adjustable Velcro cuffs, all of which allowed me to truly batten down the hatches in inclement weather.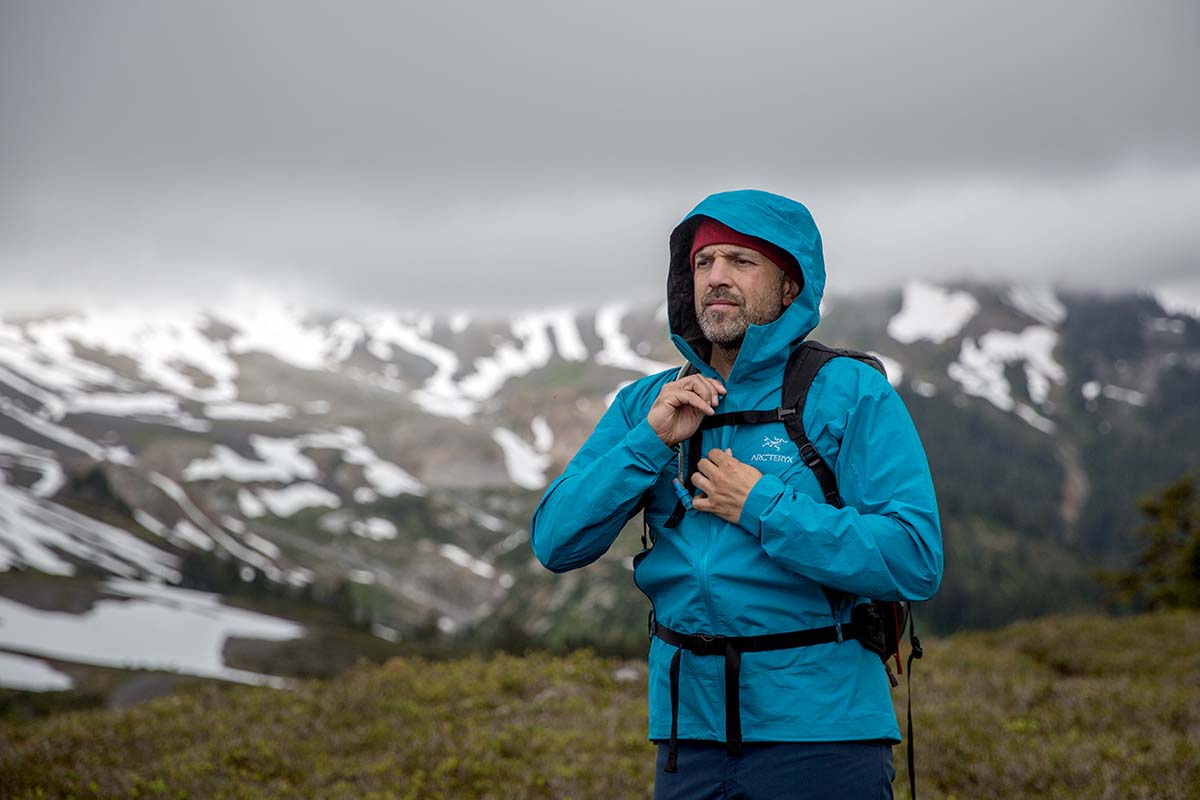 During a shoulder-season trip earlier this year, the Zeta SL weathered strong winds, torrential downpours, and a very wet night of moving tents around to avoid puddles better than any other shell we had with us. By comparison, The North Face's Venture 2 and REI Co-op XeroDry GTX both wetted out and soaked through—even collecting water in their pockets—but the Zeta SL remained dry. After hours of hiking in the rain, I didn't experience any leakage. Only after a full day and night of wet-weather use did the Zeta SL finally succumb to the heavy precipitation, but this was after extended and sustained rain. 
What surprised me most, however, was the Zeta SL's ability to dry out quickly between squalls. After a full day of hiking and even nighttime use, I laid my wet jacket out over my pack, hoping it would dry overnight. To my surprise and my colleague's dismay (his Venture 2 was still dripping with water), the Zeta SL was ready for another round with Mother Nature by early morning. It's true that the jacket wasn't 100-percent dry, but after wearing it around camp for a few minutes and allowing my body heat and the wind to air it out, it was pretty darn close.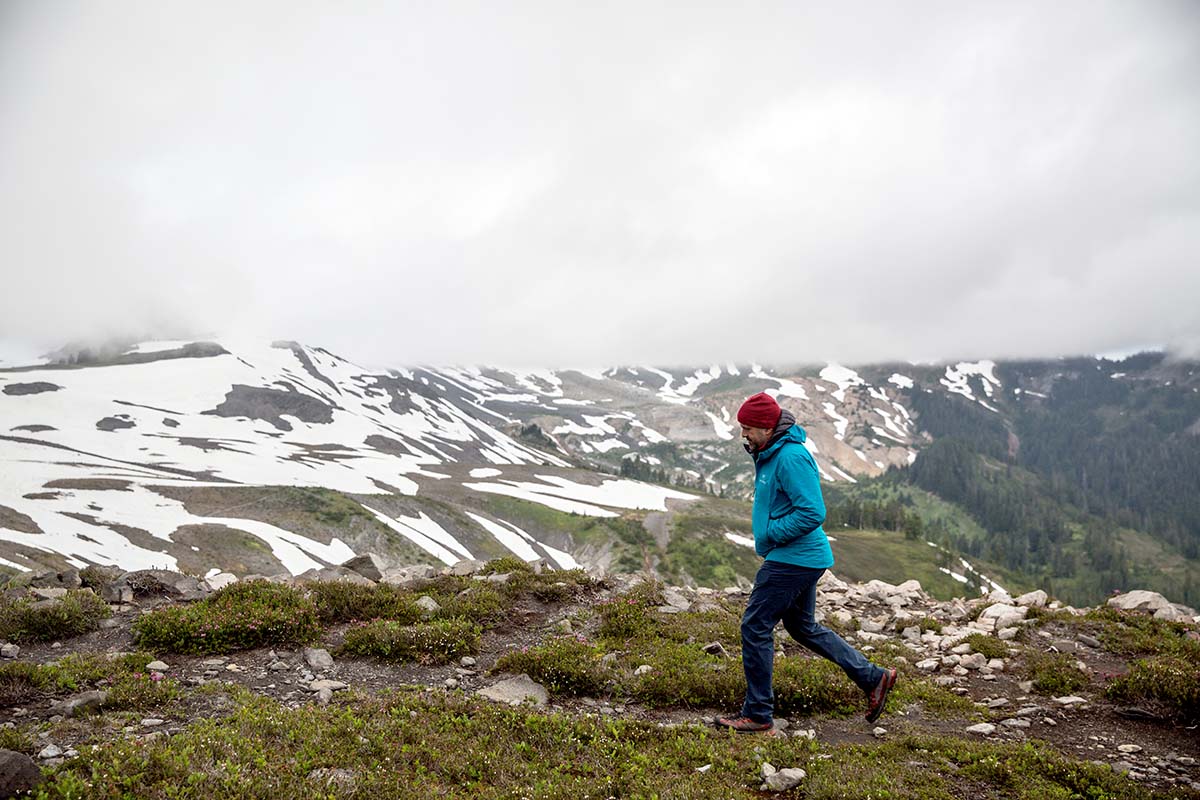 Comfort
The Arc'teryx Zeta SL uses Gore's Paclite Plus construction, which is an unlined 2-layer build with the outer face fabric laminated to the waterproof and breathable membrane. By ditching the film backer along the inside, it's an upgrade from standard Gore-Tex with Paclite in packability—and it's noticeably more comfortable to boot. Specifically, the lining doesn't feel as clammy or plasticky and still easily slips on and off over layers. I really appreciated this when wearing the Zeta SL over just a t-shirt or when moving quickly while hiking. Arc'teryx's pricier Zeta LT features 3-layer Gore-Tex with C-Knit backer, which is a little plusher and softer, but the Zeta SL nevertheless is a big upgrade in the comfort department compared to most lightweight rain shells.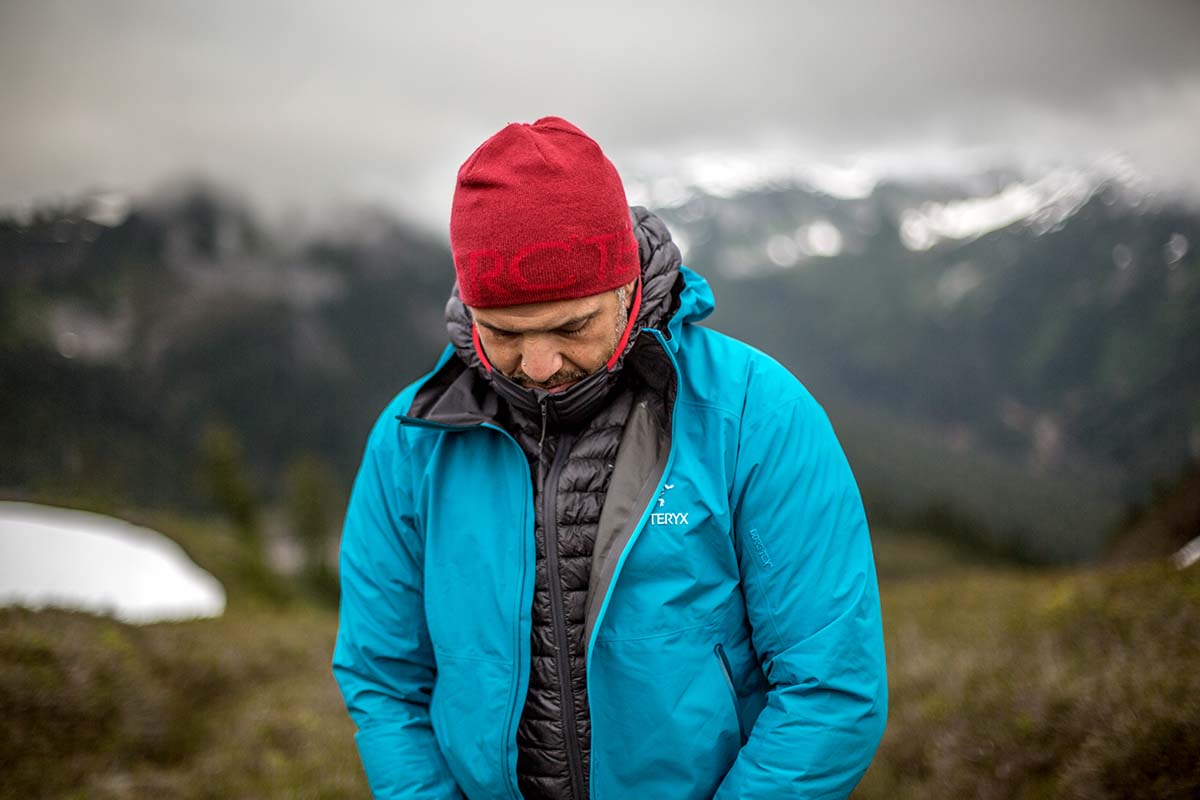 Breathability
Like most rain jackets, the Arc'teryx Zeta SL isn't a standout when it comes to breathability. During fairly mellow sections of trail in the Pacific Northwest and Grand Canyon, the Zeta worked well for its intended purpose: hiking. Overall, the Gore-Tex with Paclite Plus construction offered adequate ventilation for light to moderate exercise, and I never felt clammy despite the warm temperatures. That said, the Zeta SL lacks features like pit zips or core vents, which makes it less ideal for high-output activities where you're more likely to work up a sweat. For these uses, we prefer a more breathable hardshell jacket, ideally with venting features to dump heat quickly.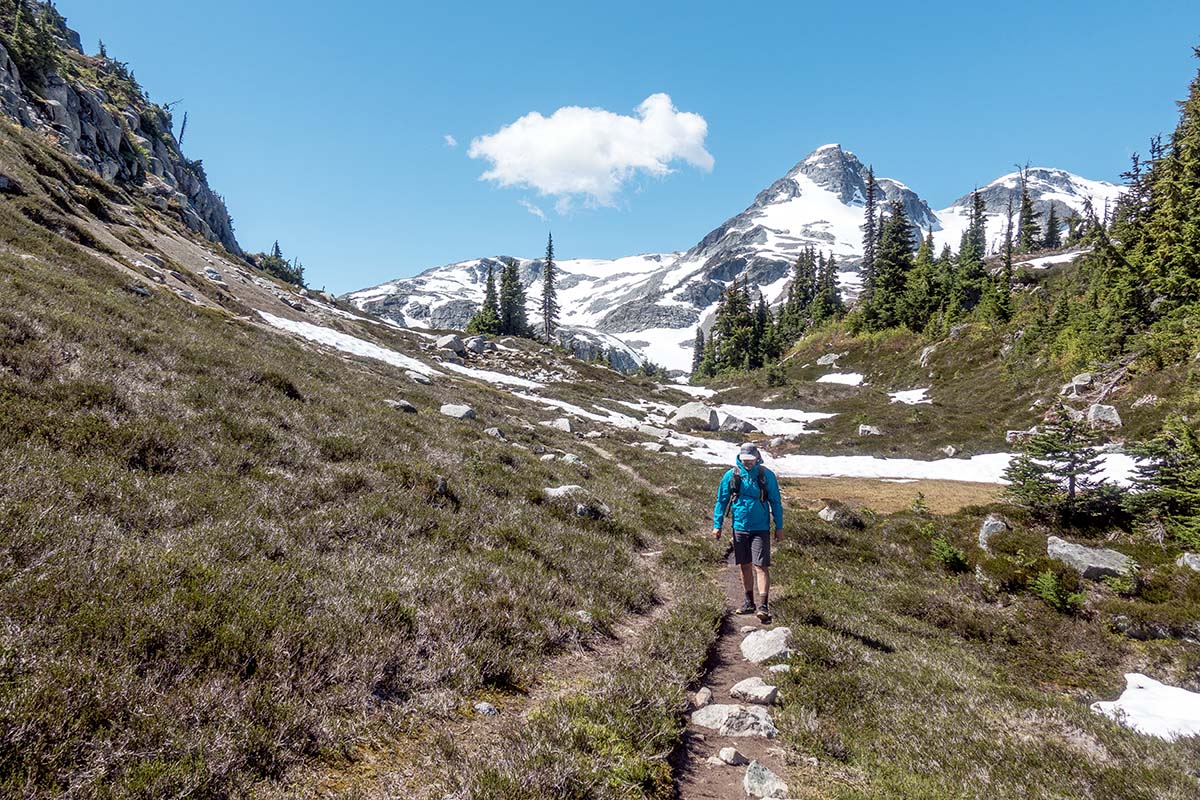 Weight and Packability
Tipping the scale at 10.9 ounces for a men's medium, the Zeta SL strikes a great balance among weather protection, durability, and weight for a hiking jacket. Compared to popular Gore-Tex with Paclite designs like the Outdoor Research Foray (1 lb. 0.3 oz.) and REI Co-op XeroDry GTX (12.5 oz.), the Zeta SL comes in lighter, although you forego features like pit zips and additional pockets. The REI Drypoint GTX is very close in weight at 10.5 ounces and includes core zips for venting, although it's slightly less durable with a 20-denier shell (the Zeta SL is 40D). For an even lighter option that provides similar weather protection, the Zeta FL (fast and light) is 7.2 ounces, although this comes with sacrifices in both durability (20D) and cost ($349).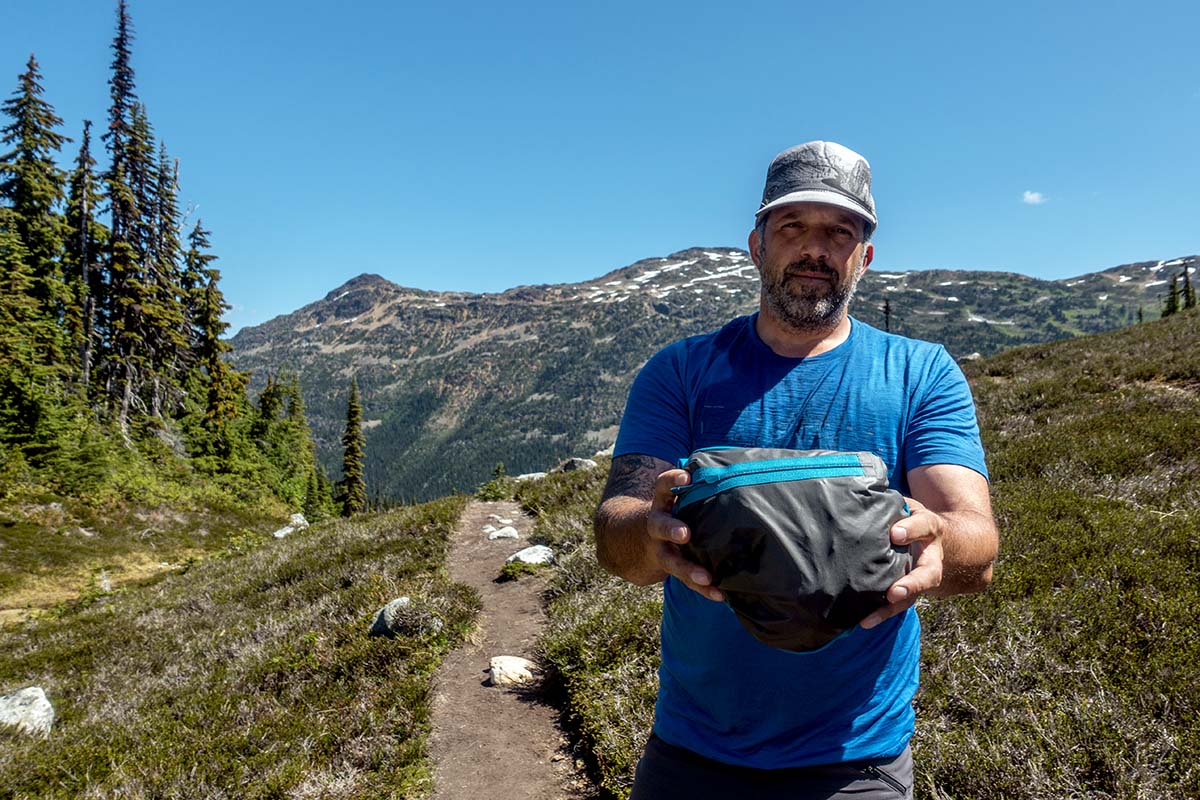 In terms of packability, the minimalist Zeta SL was unsurprisingly easy to stuff down. When the weather was cooperating, I was able to roll the jacket easily into its own hood, which then fit into the exterior pocket of my backpacking pack (of note: while the jacket can pack into one of its pockets, a two-way zipper is not included). The Zeta SL also is plenty light and packable to throw into a daypack for emergency use or toss in a suitcase when you're traveling.
 
Build Quality and Durability
Arc'teryx is known for their top-notch build quality and attention to detail, so it comes as little surprise that the Zeta SL is an exceptionally well-made piece. True to form, the jacket is robust and durable, especially considering its lightweight and packable design. In short, I had no qualms when downclimbing abrasive slot canyons, and the 40-denier fabric showed no signs of wear at the end of our trips (importantly, most jackets in the same weight class use thinner materials). After more months of around-town use, follow-up hiking trips, and being stuffed away in duffel bags for travel, the Zeta SL is no worse for wear and all zippers and drawcords continue to operate smoothly.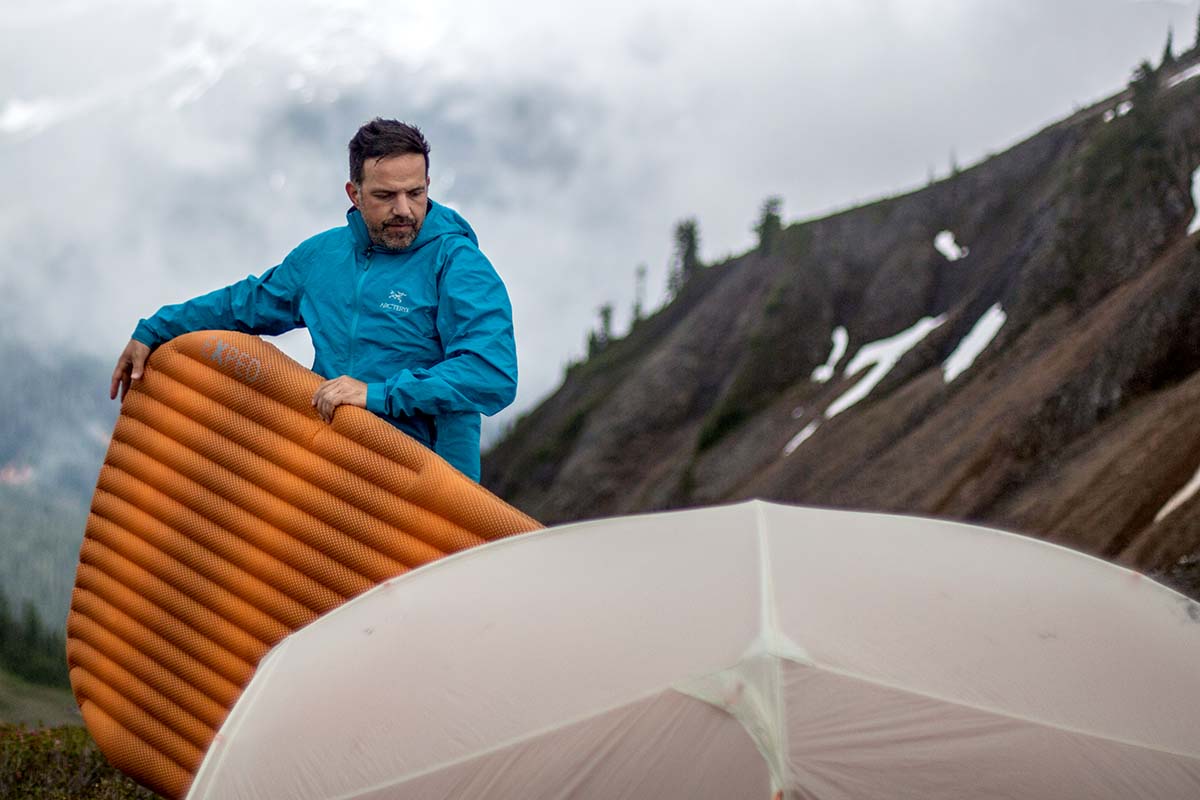 Features
Hood
The Zeta SL's StormHood effectively sealed out moisture and blocked fierce winds. The hood features a single drawcord for adjusting fit, a nice bill that keeps rain from dripping onto your face, and great protection along the sides too. That said, although I appreciated the full coverage, I did find the hood to be slightly big and unshapely compared to others, including that on Arc'teryx's own Zeta FL. Wearing a baseball hat did a good job of holding the hood up and out of my eyes and I didn't have any issues with it staying in place when cinched down, but I prefer the snugger and more streamlined hood on the FL. Neither is helmet-compatible, although most hikers shouldn't have an issue with this.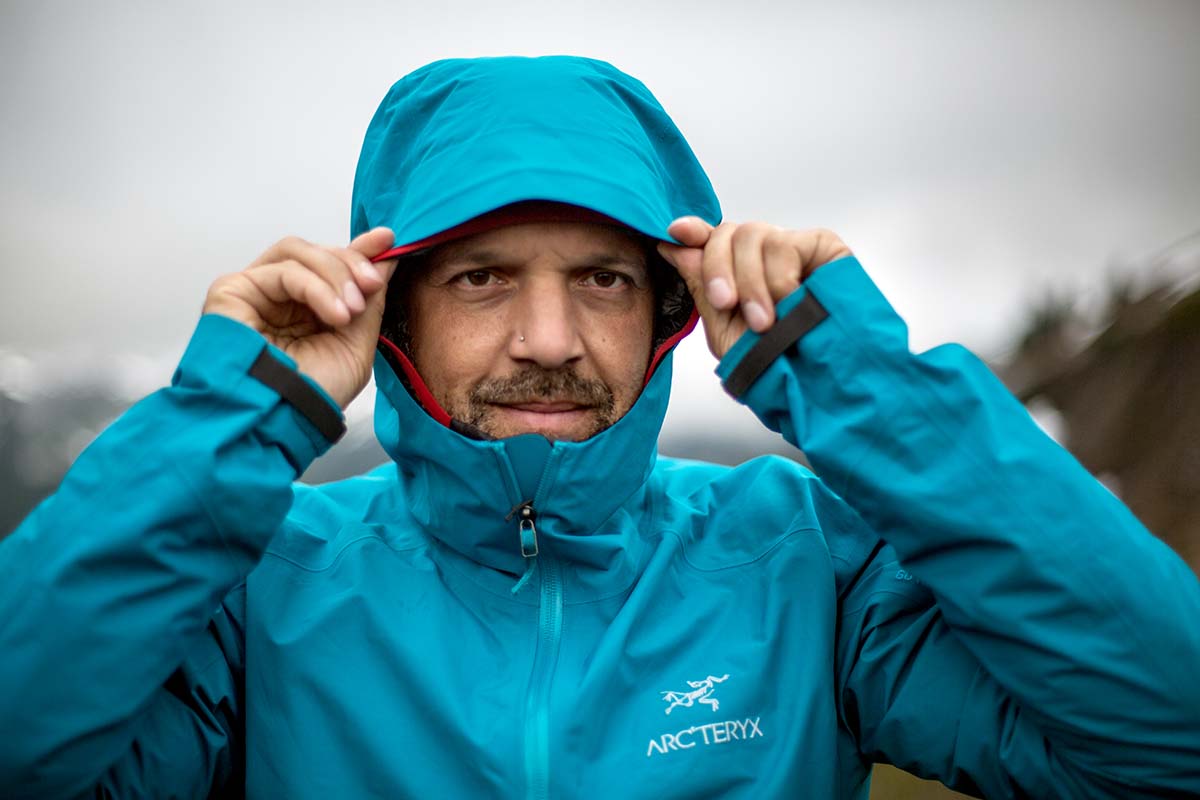 Storage: Pockets
The Zeta SL falls into Arc'teryx's "superlight" category and is designed as a minimalist rain jacket for hiking. As such, it is fairly streamlined and foregoes features like pit zips and extra pockets. However, I found that the two hand pockets were ample for a smartphone and snacks (all you really need readily available on a hike), and they also sit high enough to access with a backpack on, without being too awkward for daily wear. Some everyday users might wish for a chest pocket or additional storage, but I didn't have any issues. Finally, the WaterTight zippers were easy to use and very effective at sealing out water. Importantly, these are water-resistant and not fully waterproof according to Arc'teryx, so make sure to protect anything you don't want getting wet (although we've found they provide great overall protection).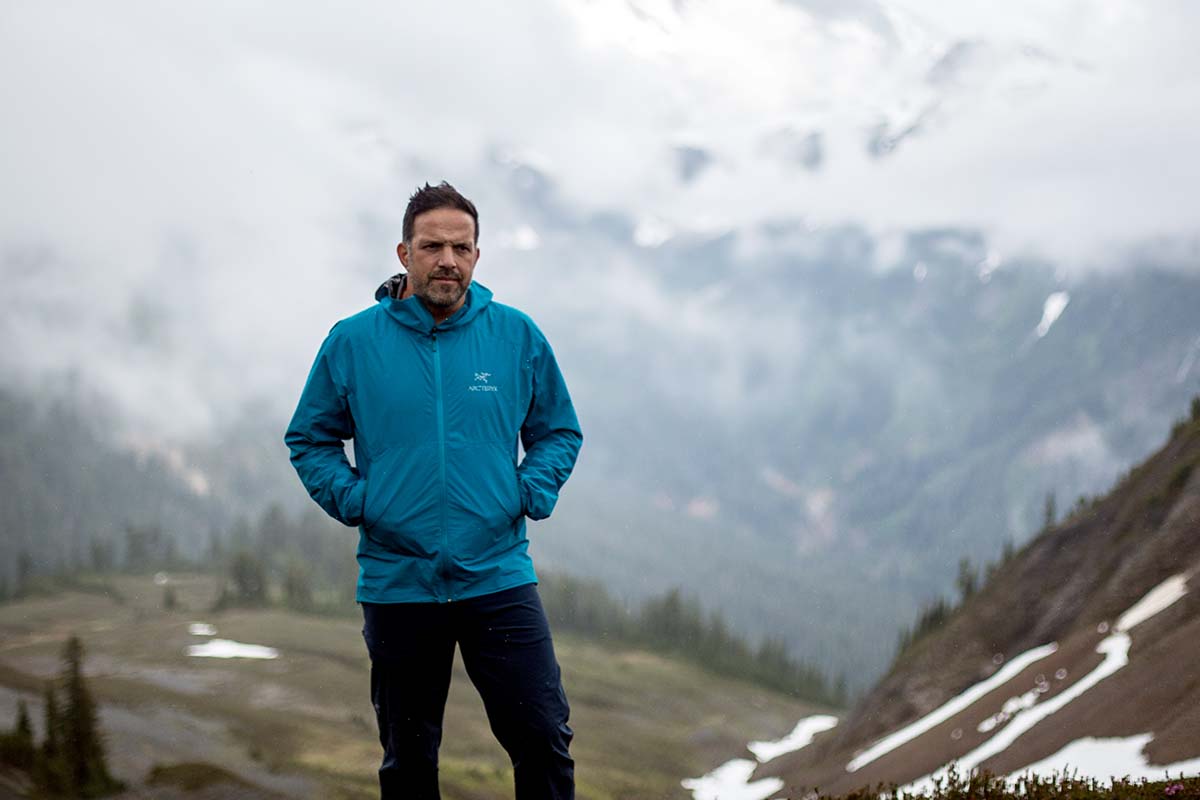 Fit and Sizing
My size medium in the Arc'teryx Zeta SL fit me perfectly. The jacket is fairly trim but still offers plenty of room for layering (my Atom LT easily fit underneath), and it didn't feel overly big with just a t-shirt underneath. For its intended use as a hiking shell, this was ideal. Two easy-to-use drawcords at the sides also help dial in fit evenly—especially helpful given that many lightweight jackets only have one, which can cause the jacket to bunch up on one side. Length-wise, the Zeta SL falls just below my waist in front, and a slight drop hem in the back provides additional coverage.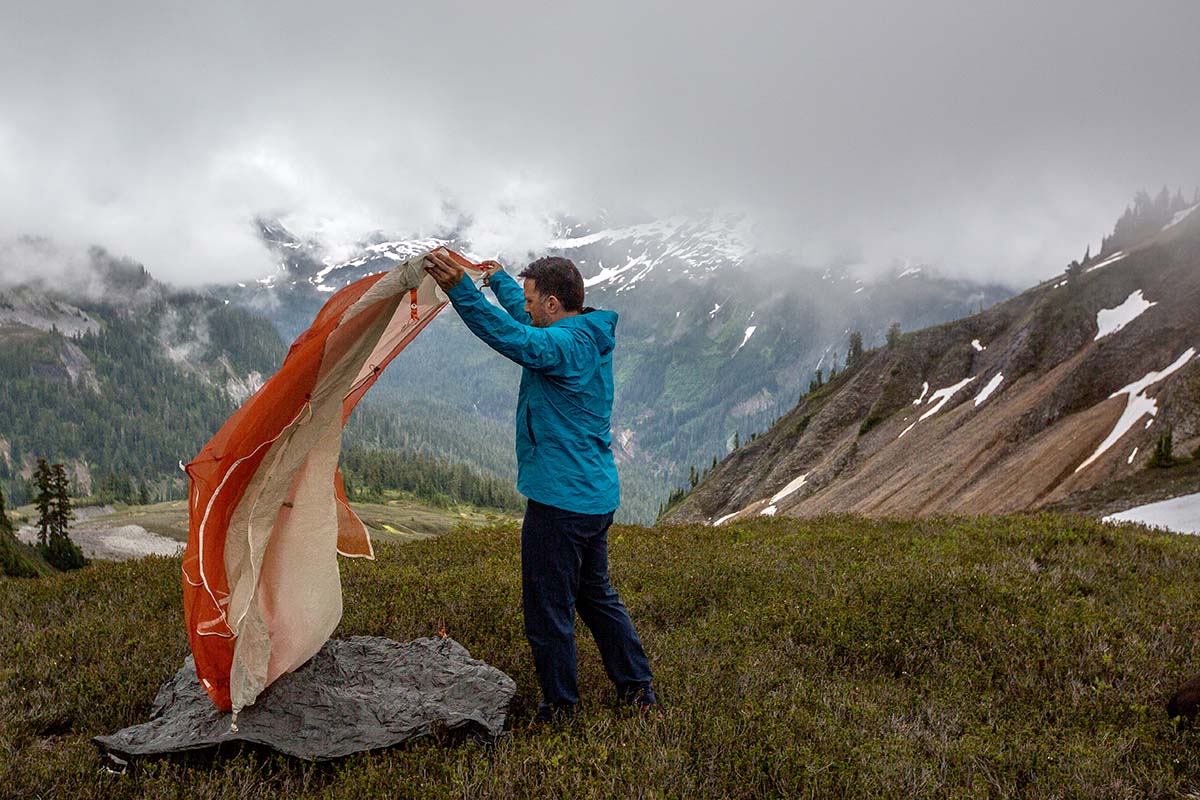 Other Versions of the Arc'teryx Zeta SL
We tested the men's Zeta SL for this review, and Arc'teryx makes the jacket in a women's-specific version too. Both jackets share the same 2-layer Gore-Tex with Paclite Plus construction, and the women's Zeta SL costs the same at $299, weighs less at 9.5 ounces, and includes an identical feature set including a non-helmet-compatible StormHood, WaterTight zippers, adjustable Velcro cuffs, and taped seams. Aside from the fit, the only notable differences between the men's and women's models are weight and available colorways. Rounding out the collection, Arc'teryx also makes the Zeta SL in a rain pant variation for both men and women, which retails for $249 and uses the same 2-layer Paclite Plus build (also 40D). All together, the kit will run you around $550, but it strikes us as a good match for those who get out in particularly wet climates.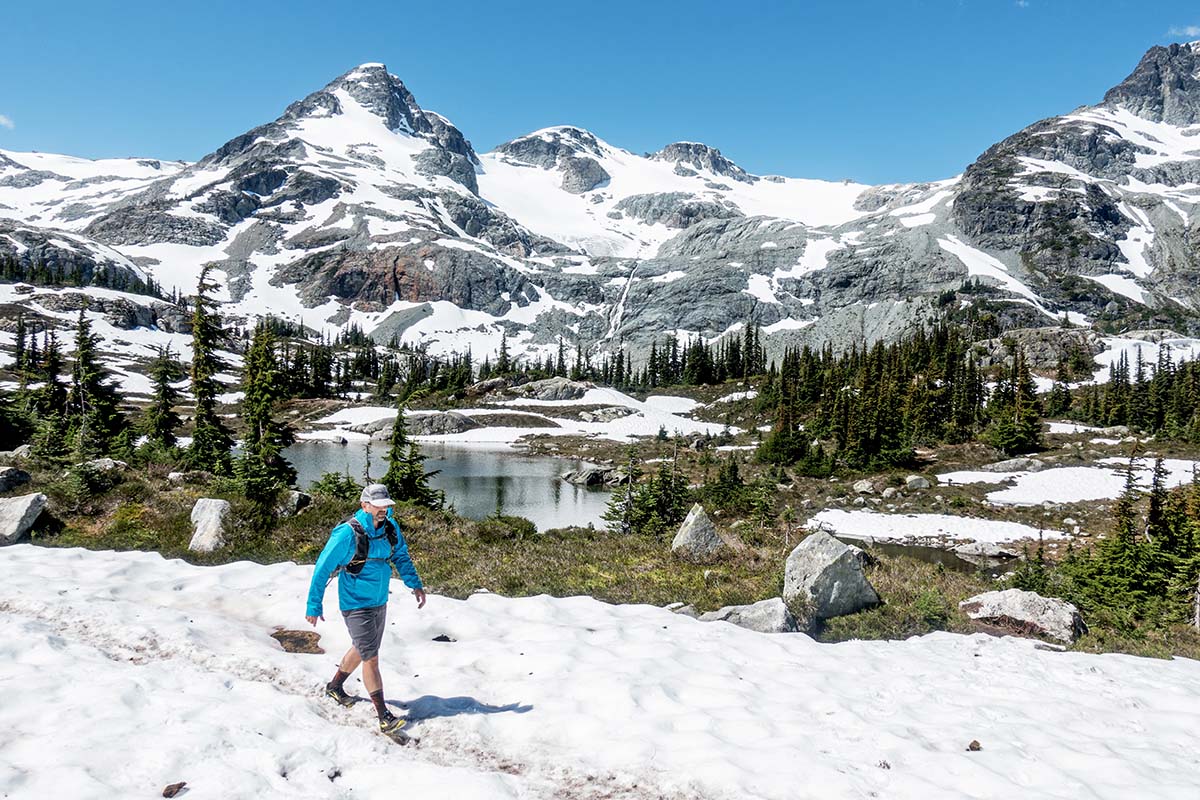 What We Like
Gore-Tex with Paclite Plus construction provides excellent weather protection and is quite comfortable.
Light and packable but still plenty durable with a 40-denier shell.
Premium build quality, fit, and styling we've come to expect from Arc'teryx.
A versatile rain jacket for hiking, travel, and everyday use.
 
What We Don't
Expensive at $299, especially considering the lower-grade Gore-Tex membrane.
No pit zips or core vents, and breathability falls notably short of Gore-Tex Active shells.
Hood is a little large and unshapely (we wore a hat underneath to hold its structure).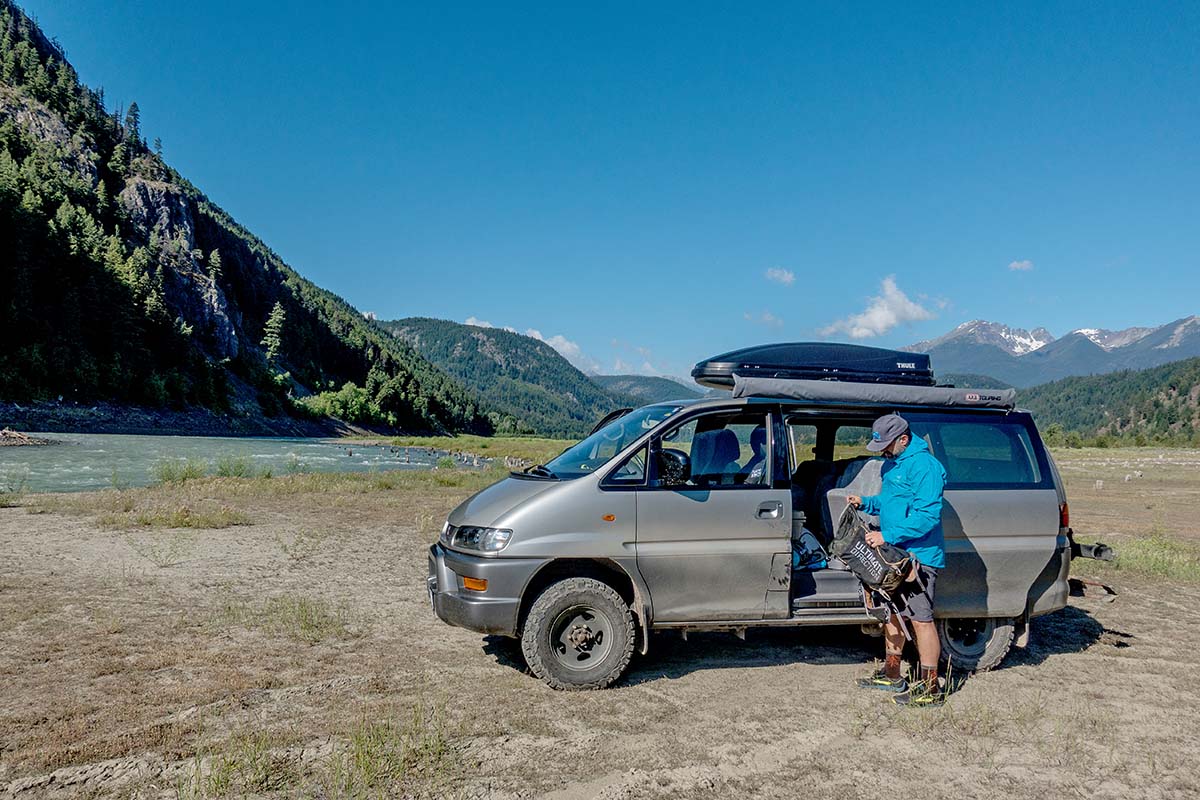 Comparison Table

The Competition
Arc'teryx's Zeta SL is a lightweight and impressively weather-ready rain jacket that excels for hiking and around-town wear. For a step up in protection and features, Arc'teryx also offers their Beta LT. Stacked up against the Zeta SL, the Beta LT uses a more hardwearing and protective 3-layer Gore-Tex construction and adds functional extras like pit zips and a helmet-compatible StormHood, which make it the more capable piece for demanding backcountry use. However, the Beta is pricey at $399 ($100 more than the Zeta), and weight goes up by 3 ounces. In our opinion, the Zeta is the better value for most recreational users, but if you need the added assurance or features, the Beta is another well-built and good-looking Arc'teryx shell.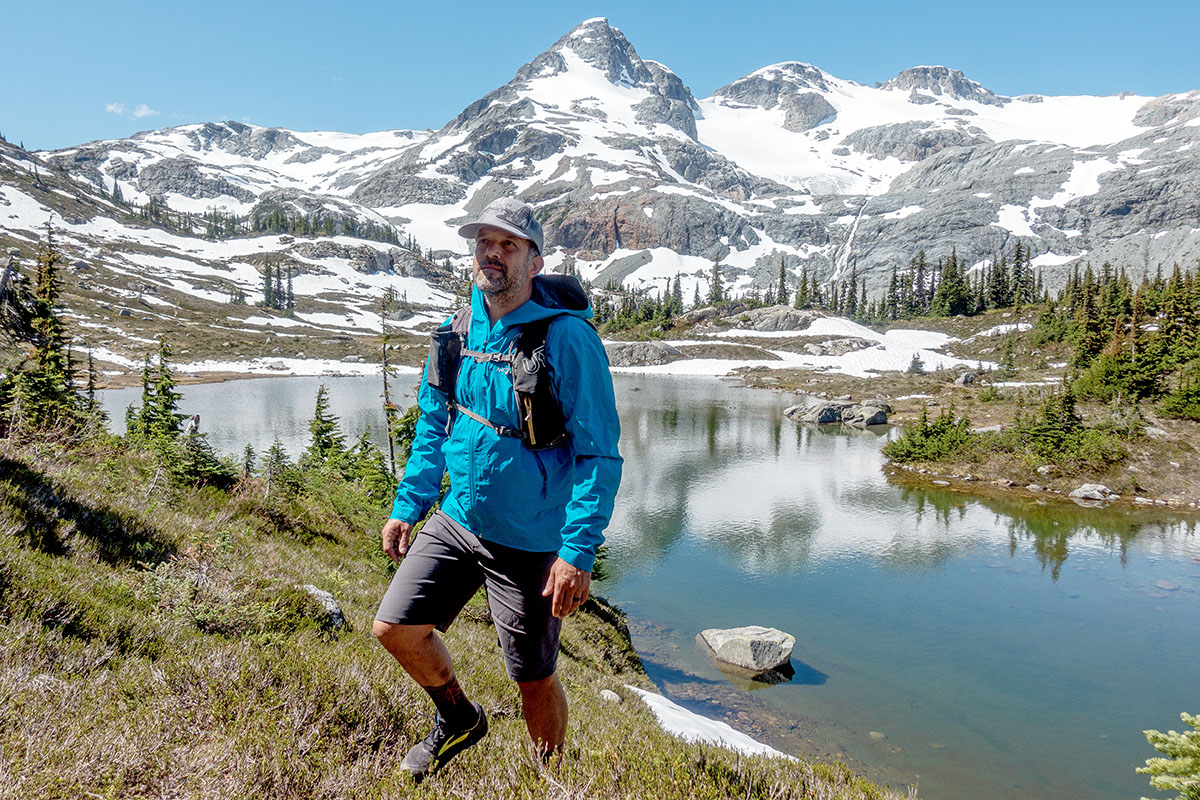 REI Co-op's Drypoint GTX is another lightweight, hiking-focused shell that works well for daily use. In terms of construction, the Drypoint uses Gore-Tex Active, which is more breathable than the Zeta's Gore-Tex with Paclite Plus, and features core vents for dumping heat. However, the Zeta SL is more durable with a 40-denier shell vs. the REI's 20-denier, fits trimmer for active use, and has a slightly more premium feel that's more appealing for around-town wear. Both shells clock in around the same weight (REI gets the slight edge at 10.5 ounces vs. 10.9 for the Zeta SL) and are similarly weather-worthy. All told, both are excellent jackets, but the Drypoint's $50 cost savings and upgraded membrane and breathability give it the edge for us (for more details, see our in-depth review of the Drypoint GTX).
On the heavier end of the spectrum, the 1-pound-0.3-ounce Outdoor Research Foray is a more fully featured rain jacket option to consider. Apart from the bump in weight, the Foray also has a larger fit than the Zeta SL but offers good overall weather protection at a major reduction in cost ($215 vs. $299 for the Arc'teryx). And unlike the Zeta, the Foray features side zips that run the length of the body for dumping heat quickly, has more hood adjustments, and includes a chest pocket. Both use Gore-Tex with Paclite, but the "Plus" version on the SL feels softer against the skin. All in all, we prefer the Zeta SL for its lighter weight and premium construction, but those looking to save should consider the Foray.
The lightest version in the Zeta family is the FL ("fast and light"). Stacked up against the SL version tested here, the FL features the same 2-layer Gore-Tex with Paclite Plus construction but clocks in at an impressive 3.7 ounces less. This is achieved through the use of thinner materials (20D vs. the 40D of the SL) and by cutting down on features (you forego the hem drawcord and Velcro cuffs). In use, the Arc'teryx Zeta FL felt more fragile, but we haven't had any issues with ripping or tearing yet. And while both jackets are labeled as "trim" fit, the FL felt even snugger with a midlayer underneath. We give the nod to the slightly more versatile SL, but ounce counters likely will prefer the FL.
A final option in the Zeta lineup to consider is the LT, which is short for "lightweight." The LT is the priciest of the aforementioned Zeta shells at a whopping $475, but the bump in price comes with notable upgrades including a more protective and hardwearing 3-layer Gore-Tex with C-Knit backer and an internal chest pocket. On the flipside, the Zeta LT clocks in a bit heavier at 11.8 ounces, doesn't pack down as small as the SL, and doesn't boast helmet compatibility or pit zips, both of which we would have liked to see at this price point. In the end, we consider the SL to be the more competitive design in the hiking-inspired Zeta family, and we'd step up to the aforementioned Beta LT if we needed the added protection and assurance of a 3-layer build.
If you're thinking about buying gear that we've reviewed on Switchback Travel, you can help support us in the process. Just click on any of the seller links above, and if you make a purchase, we receive a small percentage of the transaction. The cost of the product is the same to you but this helps us continue to test and write about outdoor gear. Thanks and we appreciate your support!
Depending on the seller, most products ship free in the United States on orders of $50 or more. International shipping availability and rates vary by seller. The pricing information on this page is updated hourly but we are not responsible for inaccuracies.
Read More From Switchback Travel