POC Kortal Race MIPS
Price: $250
Weight: 13.7 oz (size XS/S)
Vents: 17
What we like: Well-integrated safety features and extended coverage at the sides and back.
What we don't: Added protection has an impact on glasses compatibility; somewhat narrow fit.
See the POC Kortal Race MIPS
POC has been at the forefront of helmet safety for years, and their Kortal Race MIPS carries the torch. This premium mountain bike lid packs in a host of well-integrated safety features, including streamlined MIPS Integra technology, added coverage at the temples and back of the head, a breakaway visor, and an NFC ID chip that stores your medical and emergency contact info for rescuers to access in the event of a crash. The extra protection does have an impact on compatibility with non-POC sunglasses and the fit is somewhat narrow, but it's yet another high-quality and thoughtful design from the brand. Below we break down our experiences with the Kortal Race. To see how it stacks up to the competition, see our article on the best mountain bike helmets.
 
---
Table of Contents
---

Performance
Fit and Comfort
There are a couple of nuances with the fit of the POC Kortal Race MIPS, but I've been pretty happy overall. On the bright side, I've had good luck with POC helmets in the past, including the Tectal, and found the Kortal Race fits my head equally well. In my standard size small and when worn without glasses, there are no pressure points or areas of rubbing, and I'm able to stay comfortable even during all-day rides. Further, the 360-degree tensioning system is easy to toggle with one hand with a dial at the back of the head, and it adjusts evenly for a snug all-around fit. The chin strap is also easy to manipulate and slides smoothly when pulled tight, and the helmet is even able to accommodate a light beanie underneath on colder days.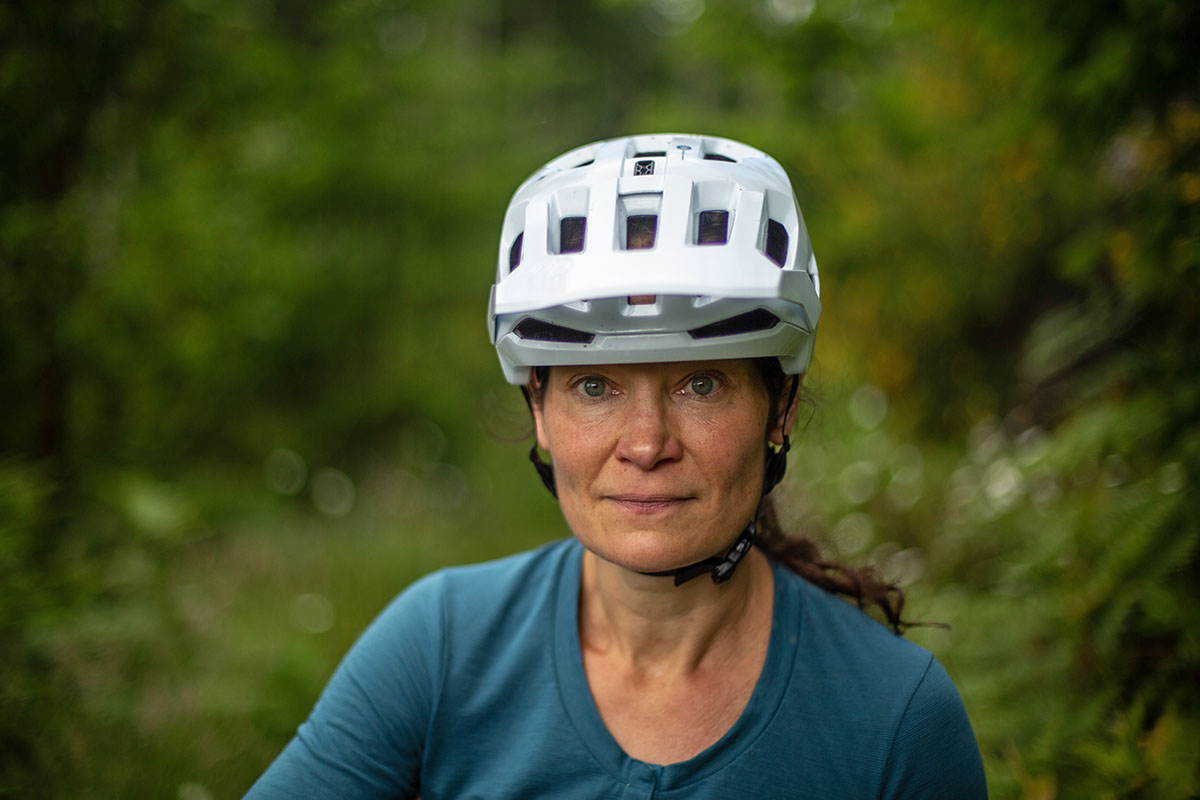 That said, the Kortal Race has a noticeably narrower shape along the sides than alternatives like the Specialized Ambush or Giro Manifest Spherical, so those with rounder heads may struggle with pressure points or discomfort (it's best to try the lid on before you buy). Additionally, I've experienced compatibility issues with non-POC sunglasses—on my first day out, I removed my Smith glasses within minutes as they were causing a pressure headache. I've tried numerous other models since and have experienced the same problem, so I imagine I'll eventually buy a pair of POC Devours, as POC states they will work with the Kortal Race. These compatibility issues seem to be a result of the additional coverage, particularly around the temples (more in "Safety Features" below). In the end, it's a notable tradeoff for a small bump in protection, and we suspect it may be a deal-breaker for some.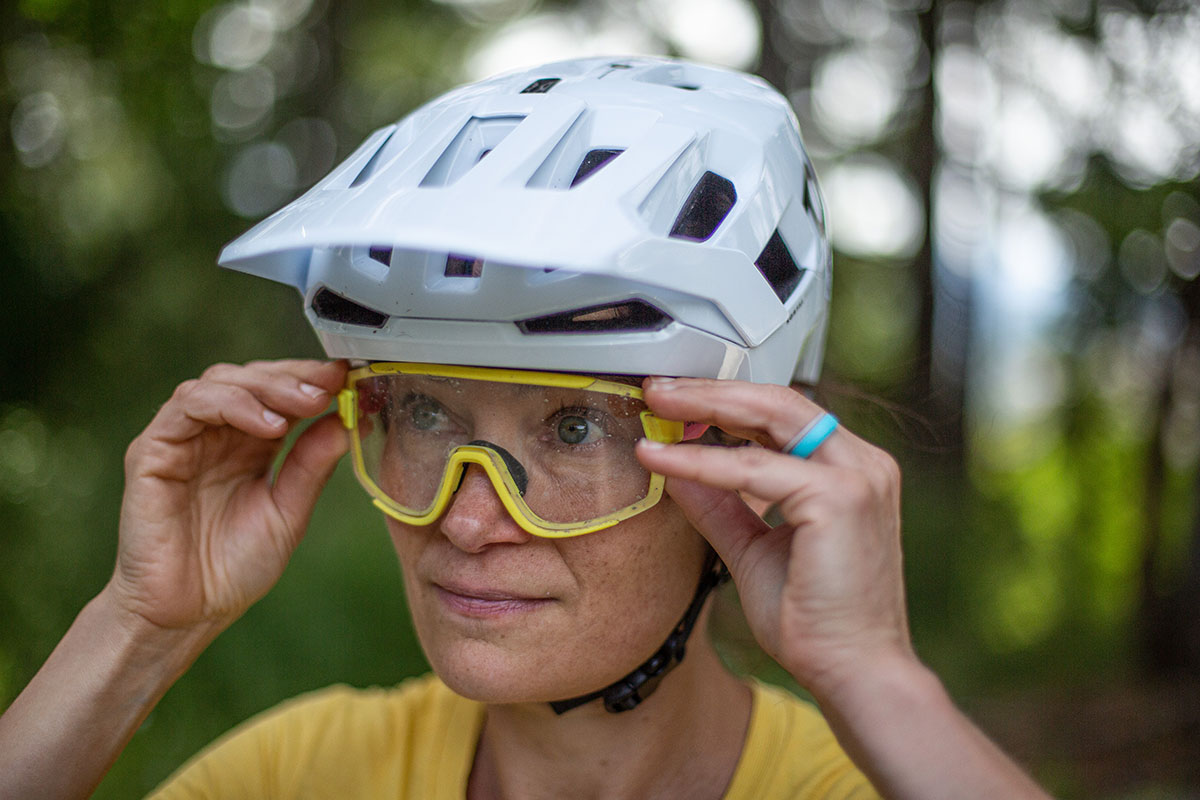 Ventilation
Equipped with 17 total vents and a well-integrated MIPS system, the Kortal Race is a great breather. Two horizontal openings at the forehead and five exhaust vents at the back promote excellent airflow—I can often feel the wind rushing in and moving through the air channels at the top of the lid. And importantly, the goggle strap doesn't get in the way of any of the vent holes. Finally, in place of the fairly bulky plastic liner that inhibits airflow on many models, MIPS Integra is more seamlessly integrated and doesn't interfere with venting (more on this below). For reference, I've worn the Kortal in pretty sweltering heat, including rides in temperatures above 80 degrees Fahrenheit, and haven't had issues with overheating. To be sure, there are more well-ventilated trail designs that encourage even more airflow (particularly when stopped due to their larger openings), including Giro's Manifest Spherical and Specialized's Ambush. But considering how protective the POC is, ventilation is quite impressive.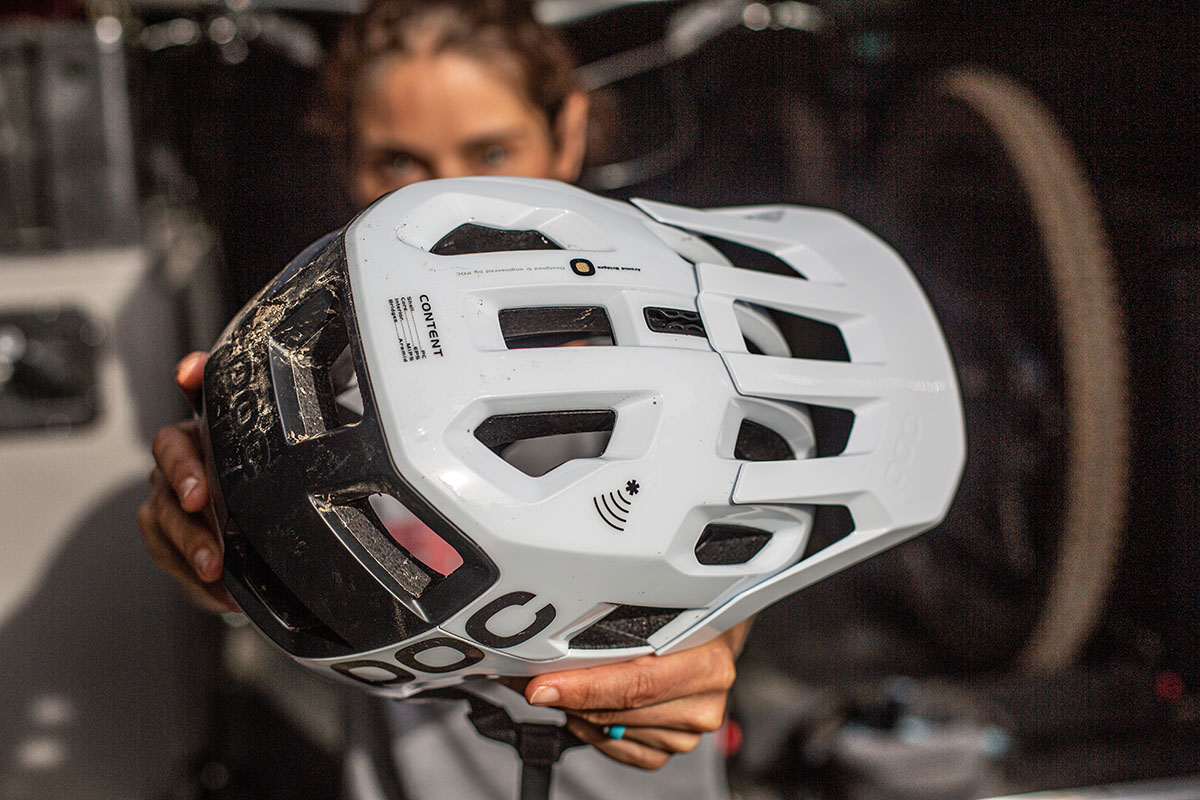 Safety Features
The POC Kortal Race is one of the most well-equipped trail models on the market when it comes to safety features. These include extended coverage around the temples and back of the head, e-bike crash certification (it meets the Dutch NTA 8776 e-bike standard), a breakaway visor that snaps away in the event of a crash, MIPS Integra technology, a RECCO reflector, and the ability to store medical info and emergency contacts within the helmet. As we touched on above, the added protection in particular does have an impact on glasses compatibility, but the bump in coverage may be worth it for some. For me personally, the features add a nice boost in peace of mind, even though I thankfully have not yet had to rely on them in a crash.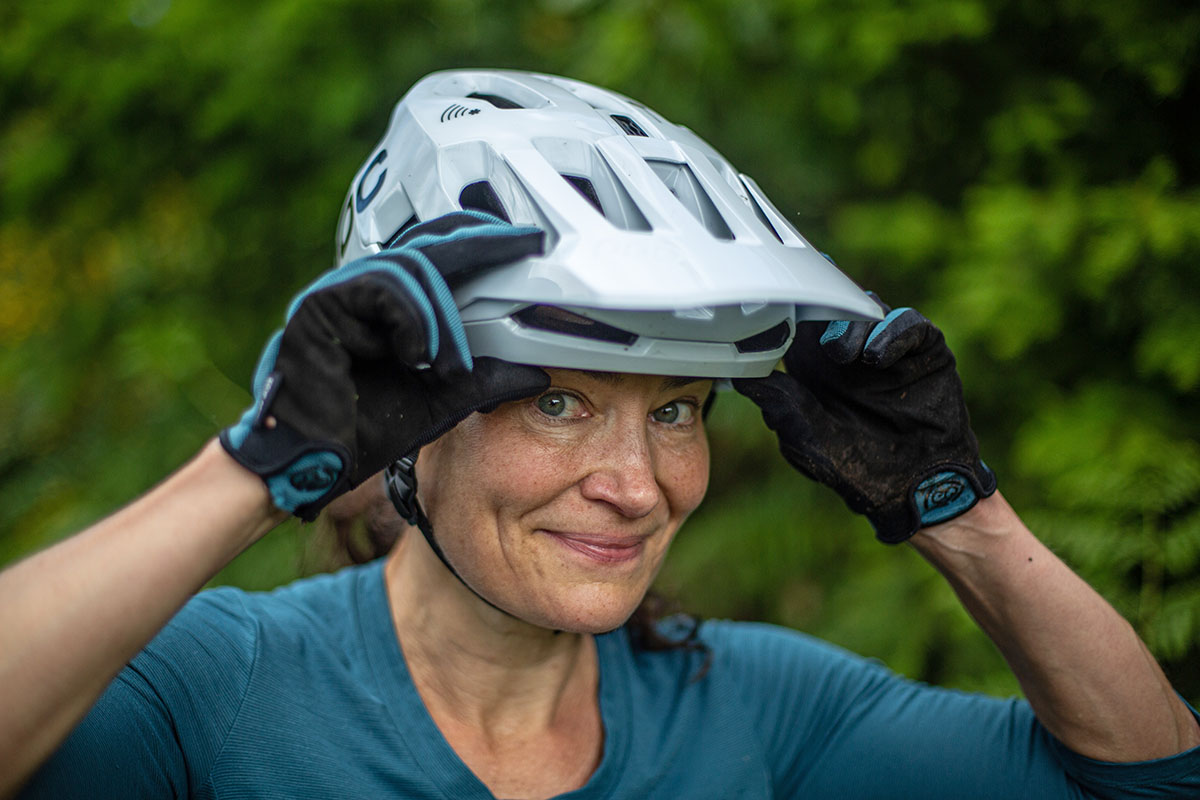 MIPS Integra
MIPS (Multi-Directional Impact Protection System) liners typically come in the form of large, plastic inserts that move independently inside a helmet, but the Kortal Race's MIPS Integra design is integrated into the foam of the lid. It's similar in concept to POC's proprietary SPIN slip-plane technology, with the low-friction MIPS layer secured underneath strips of EPS foam. As we mentioned above, this streamlined protection system doesn't impede airflow (a common issue with standard MIPS liners), and it gives the helmet a very clean look and feel. You can go even lower-profile with an option like Specialized's Ambush, which uses MIPS' "superlight" SL technology, but both designs keep overall weight and bulk to a minimum while retaining MIPS' impressive safety and protection claims.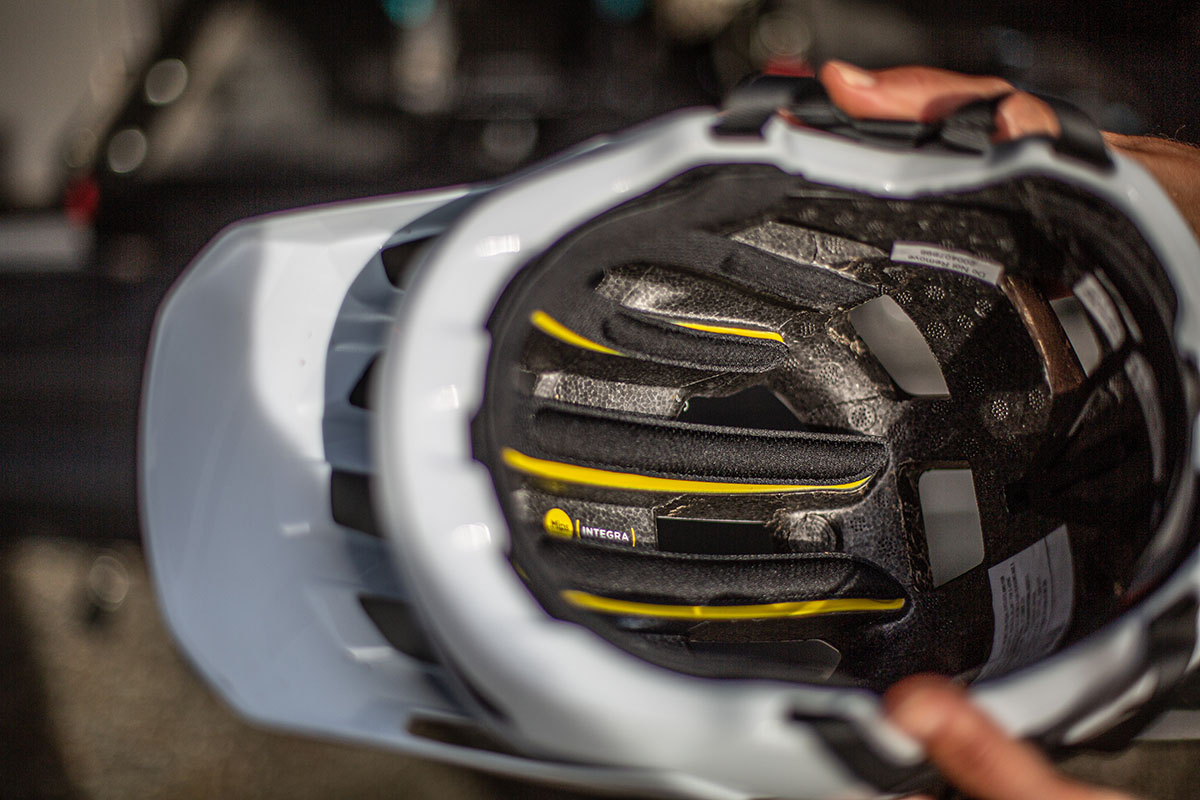 NFC Medical ID
The second safety feature worth covering more in-depth is the Kortal Race's NFC medical ID chip, which allows you to upload your medical and emergency contact information so that first responders can access it if you're unable to communicate with them. It's fairly easy to configure: download the twICEme app on your phone, add your info, and medical personnel will be able to see it on their device when they scan the chip in your helmet. My only qualm is that I'm not sure how familiar first responders are with this feature, particularly as it requires them to have the app on their phone, so I still opt to bring my ID along just in case.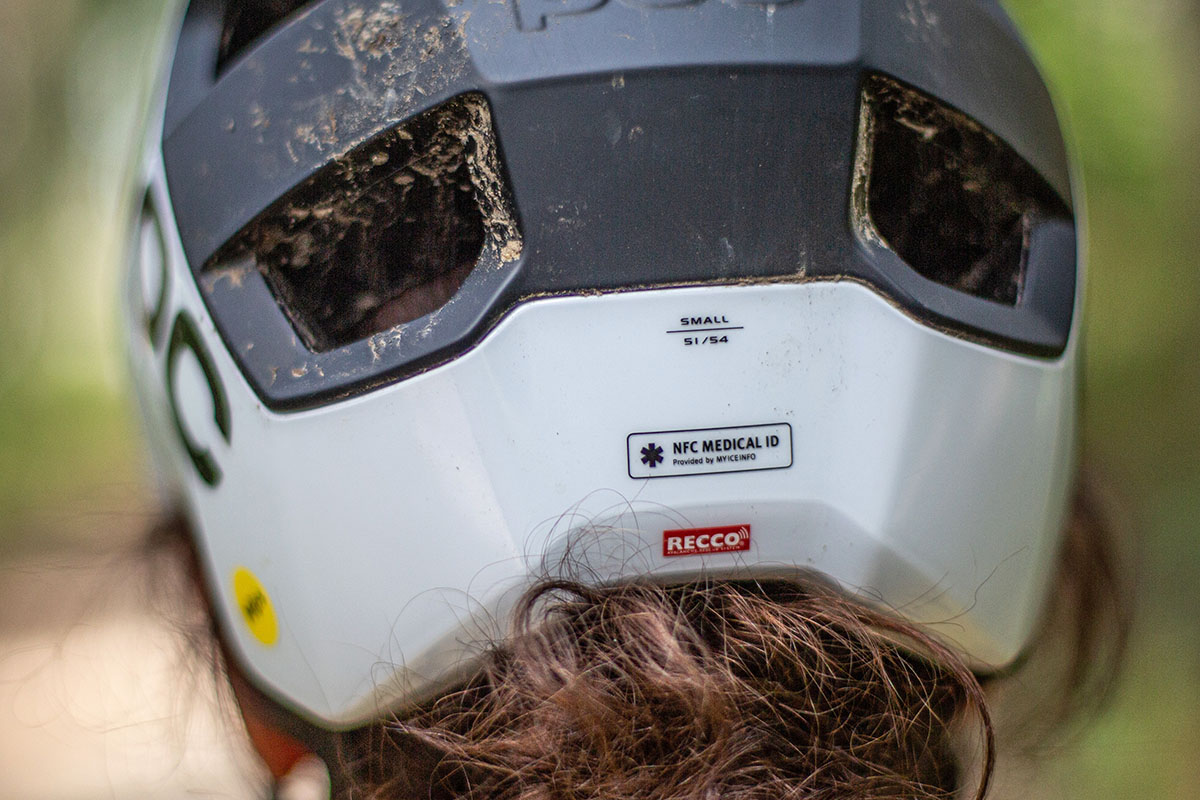 Weight
My extra-small/small size Kortal Race clocks in at 13.7 ounces on my scale (listed weight is 14.4 oz.), which isn't particularly feathery but strikes me as perfectly reasonable considering the coverage and features. Importantly, the helmet has never felt restrictive or heavy on my head, and it stacks up pretty well to most of its direct competitors. These include Giro's Manifest Spherical at 12.2 ounces, Specialized's Ambush with ANGi at 12.4 ounces, Smith's Forefront 2 at 13.4 ounces, and Bontrager's Rally WaveCel at 12.7 ounces (also for a size small). In the end, going lighter would likely mean sacrificing some protection or durability, and I'm comfortable trading a few extra ounces for the Kortal Race's quality and fairly comprehensive design.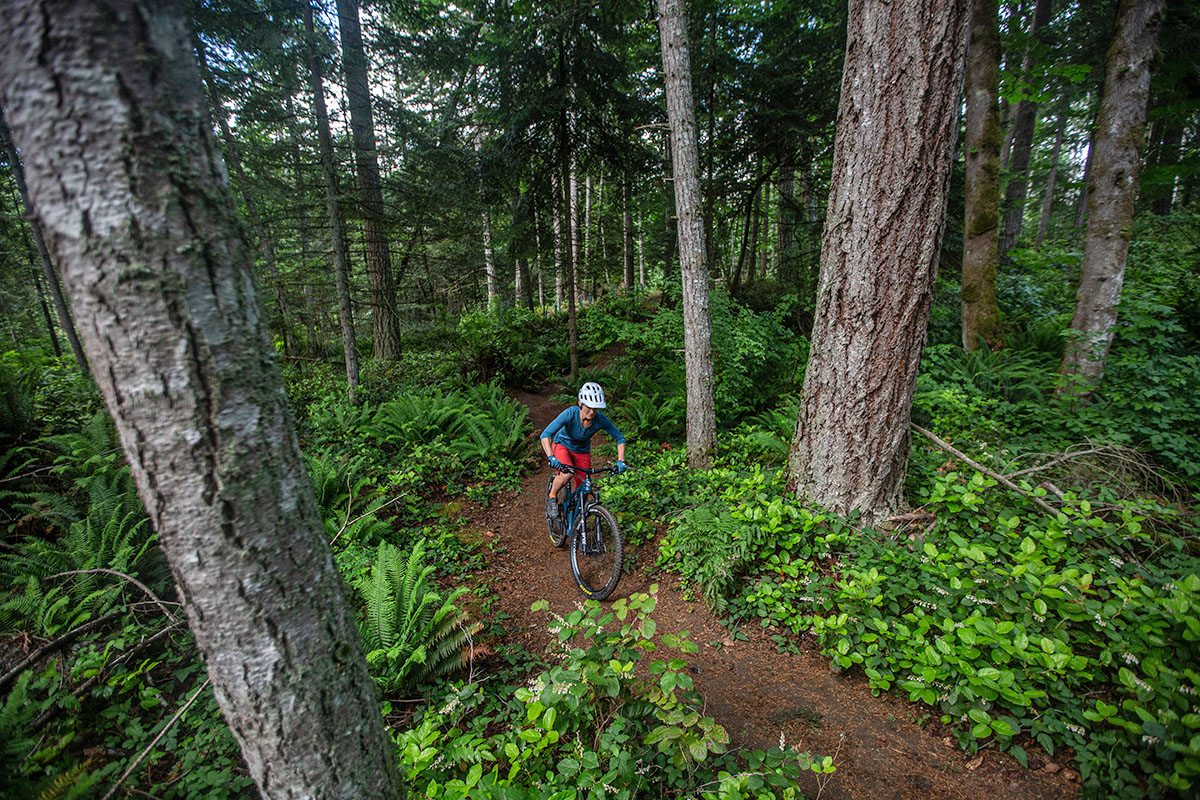 Build Quality and Durability
We've had a lot of positive experiences with POC equipment in both the mountain biking and ski realms over the years, and the Kortal Race MIPS is yet another well-made design. The helmet boasts the brand's signature sleek looks with the glossy painted finish and bold branding and uses quality materials throughout. In line with the very protective build, the lid is very sturdy and tough: unlike some lighter-weight helmets, there are no signs of exposed foam that can be easily damaged, and the Kortal is showing no signs of wear to date after extensive testing. The glossy finish has no scratches, there are no bumps or dents, and the padding still is in great shape.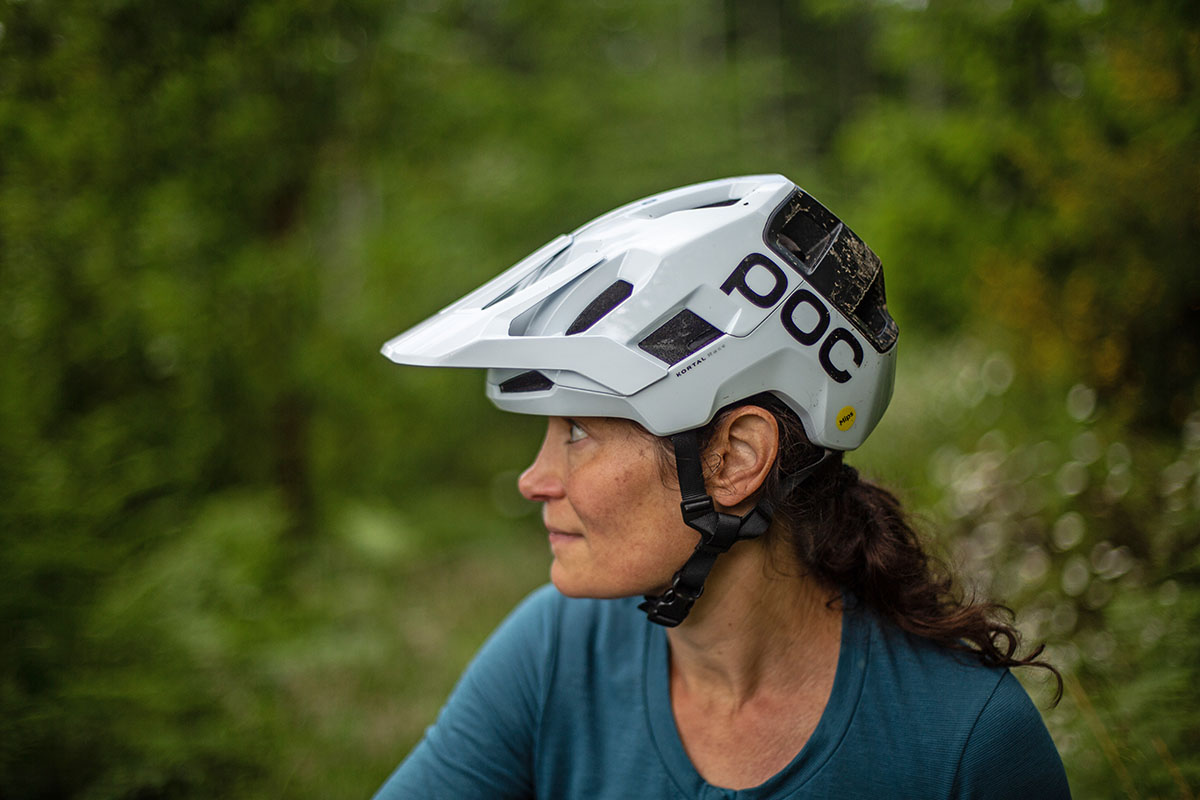 Other Version: POC Kortal
In addition to the Kortal Race MIPS we tested for this review, POC offers their standard Kortal helmet. The Kortal is cheaper than the Race at $200 but retains many of the same features, including e-bike certification, extended protection at the sides and back of the head, adjustable 360-degree tensioning system, and breakaway visor. However, it lacks a few key safety extras, including the NFC medical ID chip, RECCO reflector, and MIPS technology. Whether or not those are worth the $50 price penalty are up to you, but many will appreciate the added peace of mind, especially those that ride aggressively.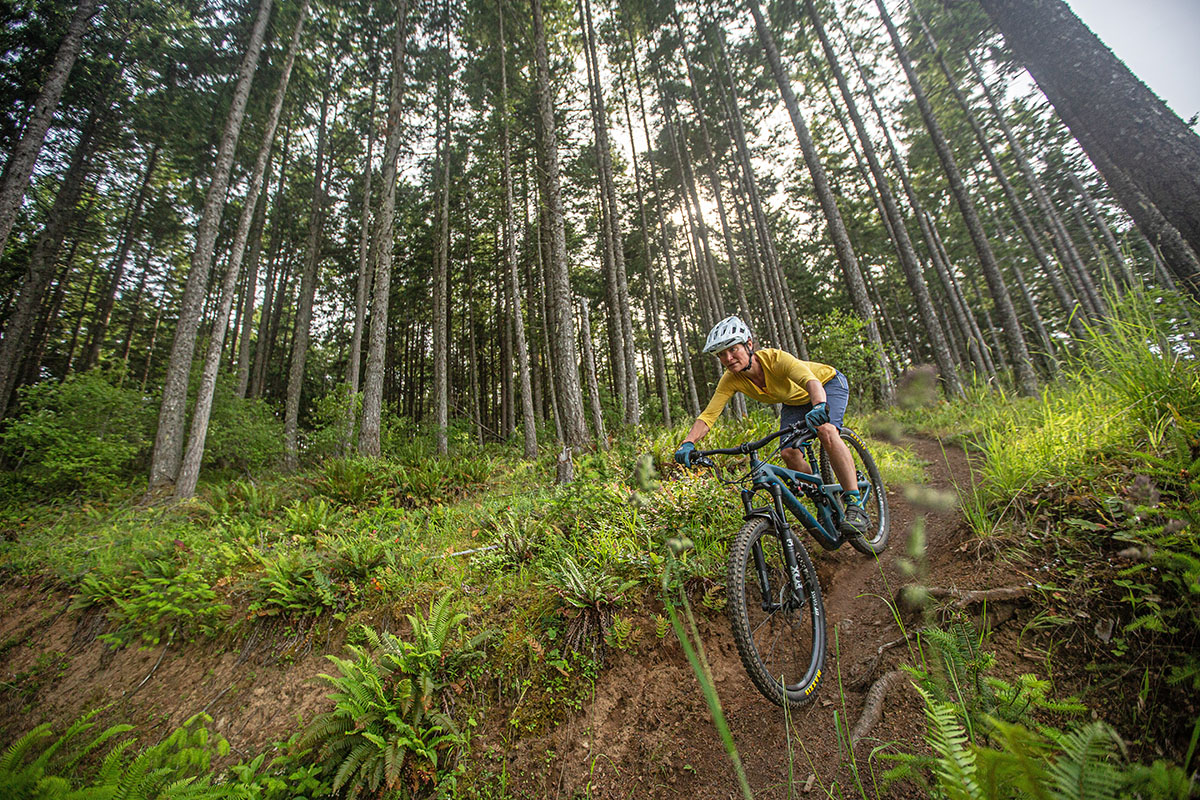 What We Like
With additional coverage at the temples and back of the head, the Kortal Race offers impressive protection in a sleek-looking package.
Comes with a host of safety features that are well-integrated into the design, including MIPS Integra technology, a breakaway visor, an NFC medical ID chip, and e-bike crash certification.
360-degree fit system tightens the lid evenly and makes it easy to get a snug all-around fit. 
Great breathability thanks to the MIPS Integra system and 17 vents, including seven at the front, deep front-to-back air channels, and five exhaust vents.

What We Don't
Extended coverage, especially at the temples, has a negative impact on glasses compatibility.
Helmet has a somewhat narrow shape, which can cause potential fit issues/pressure points.
The medical ID chip is nice in theory, but I'm not sure how familiar first responders are with the tech and still opt to bring along my ID in case I need a rescue.
No quick and easy way to store your glasses.
Fairly pricey for a trail model at $250.


Comparison Table

The Competition
How does the POC stack up in the competitive trail mountain bike helmet category? One of the current market leaders is Giro's Manifest Spherical, which also puts a premium on safety tech. With the Giro, you get MIPS Spherical, which separates the shell into two pieces that can move independently with the intention of minimizing rotational forces on the brain in a crash. This also gives the Manifest standout ventilation (even better than the POC's), and importantly, the Giro has a deeper and wider interior that's more accommodating to a range of head sizes. You give up a little of the POC's extra coverage—particularly around the temples—but gain a lot in glasses compatibility (the Giro worked with all styles we tried). Added up, the Manifest strikes us the better option for most riders.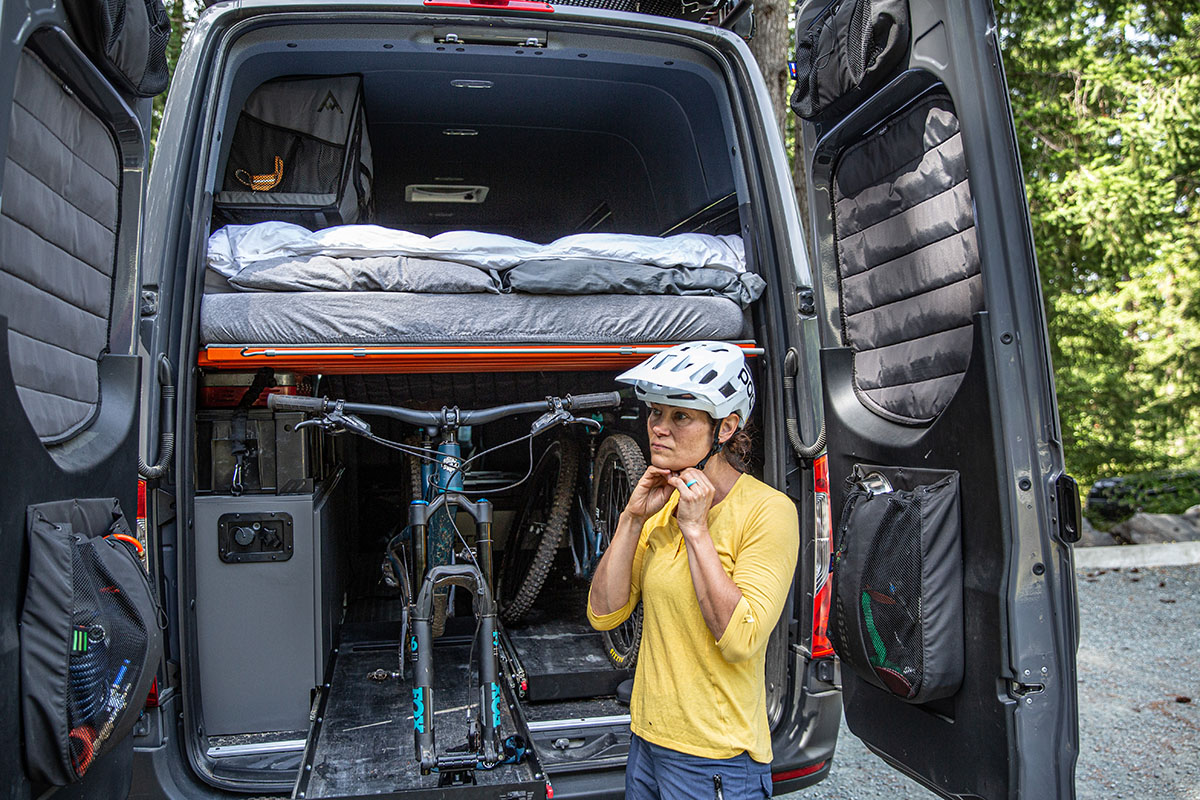 Next up is Troy Lee Designs' latest A3 MIPS. Like the Giro Manifest, the A3 has a wider fit than the POC, and it's a well-made lid overall with quality and extremely comfortable cushioning, a reliable adjustment system, dual-density foam for both low- and high-speed impacts, and a useful, absorbent pad at the front that keeps sweat from dripping into your eyes. The A3 doesn't ventilate as well as the POC and lacks its NFC ID chip, but it's more comfortable all around and fits better with glasses. Similar to the comparison with the Giro, these advantages make it the superior option for the majority of trail and enduro bikers. 
Specialized's Ambush with ANGi is another premium trail helmet that we tested alongside the POC. In hashing out the differences, the Ambush gets the slight edge in ventilation and weighs a couple ounces less, so it's the better choice for XC riding and longer, hotter days. In addition, you get Specialized's ANGi system, which tracks your ride and will notify your pre-set emergency contacts in the event of a spill (provided you have cell service). But the POC is a bit more protective overall with superior coverage at the front and back (a plus for enduro racers), and it's slightly more durable too (a section of the Specialized's EPS foam is left unprotected right along the forehead). For $50 less, we lean towards the Ambush, but the POC's boost in protection will be worth it for some (for more info, see our Specialized Ambush review).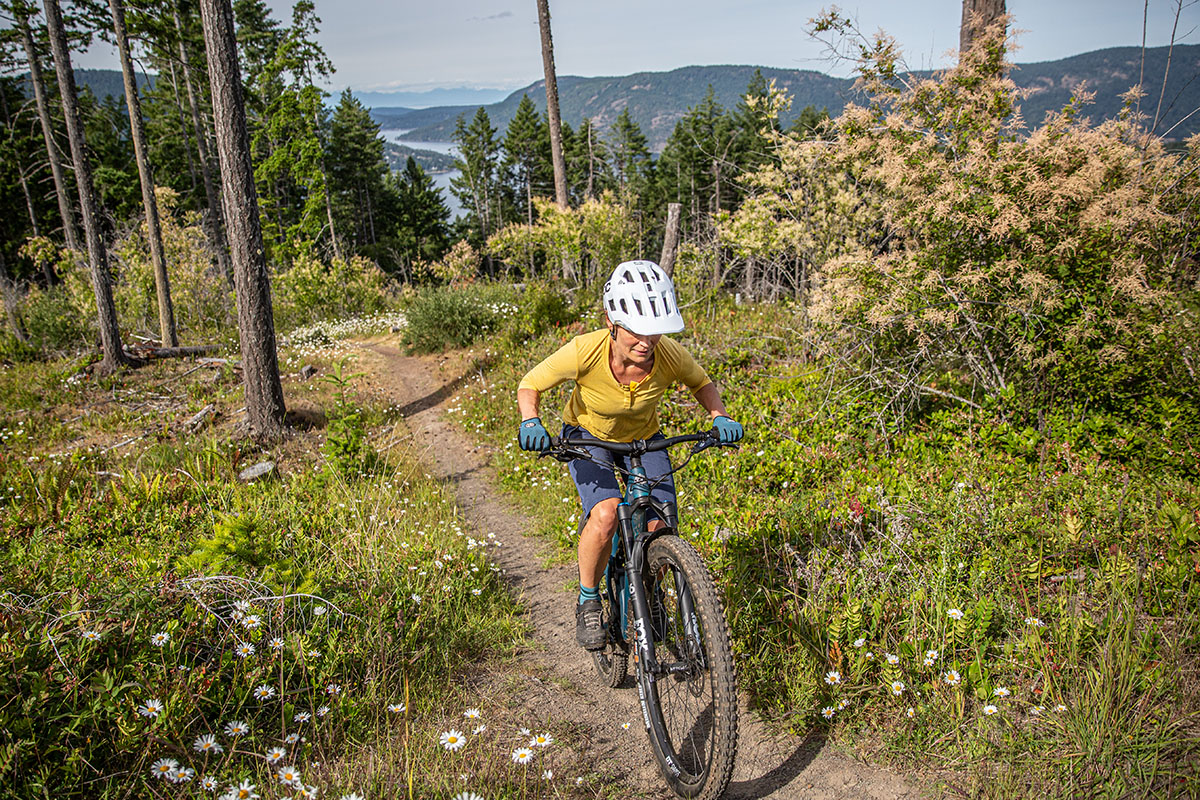 A final alternative is Bontrager's top-end Blaze WaveCel. This $300 lid features WaveCel safety tech, which is an impact-absorbing structure that lines the interior with the goal of reducing rotational forces on the brain. And it packs in premium features like a well-padded interior, magnetic buckle, and an accessory mount for a light or action camera. But the WaveCel layer adds both weight and bulk, which is noticeable on the trail, and we're just not convinced the whole design merits the very steep price tag. As such, we think the POC is the more well-rounded build in this case.
If you're thinking about buying gear that we've reviewed on Switchback Travel, you can help support us in the process. Just click on any of the seller links above, and if you make a purchase, we receive a small percentage of the transaction. The cost of the product is the same to you but this helps us continue to test and write about outdoor gear. Thanks and we appreciate your support!
Depending on the seller, most products ship free in the United States on orders of $50 or more. International shipping availability and rates vary by seller. The pricing information on this page is updated hourly but we are not responsible for inaccuracies.
Read More From Switchback Travel