Specialized Ambush with ANGi
Price: $200
Weight: 12.4 oz. (size large)
Vents: 20
What we like: Feathery feel, great ventilation, and a host of well-integrated safety features.
What we don't: It's close, but there are alternatives that offer plusher cushioning, greater durability, and even better ventilation.
See the Specialized Ambush with ANGi
Specialized is best known for their quality lineup of bikes, but their helmet selection is nothing to scoff at. The Ambush with ANGi sits at the premium end of their collection, boasting a lightweight and well-ventilated build, good all-around coverage for trail riding, and a host of safety features. The most notable is the Bluetooth crash sensor called ANGi, which tracks your ride and notifies emergency contacts in the event of an accident. I haven't yet had to rely on the sensor in an emergency situation and have had some issues with it almost detaching from the helmet while changing, but it does offer a nice boost in peace of mind. Below we break down the Ambush's overall performance. To see how it stacks up to the competition, see our article on the best mountain bike helmets.
 
---
Table of Contents
---

Performance
Fit and Comfort
Fit and comfort arguably are the two most important considerations when it comes to buying a helmet, and the Specialized Ambush with ANGi scores high marks. For reference, I have a fairly big head, and a size large (57-61cm or 22.5-24 in.) worked perfectly for me, combining a deep but accommodating shape with good all-around security. I didn't experience any protrusions or rubbing, and the padding that covers the front and sides of the interior is reasonably plush (replacement pads can be purchased if the originals get lost or wear out). I typically swap between two pairs of Oakley glasses when riding, and both fit comfortably without pressing into the top of the helmet or putting unwanted pressure on the bridge of my nose (an issue my wife has with her POC Kortal Race). I don't tend to wear goggles, but for those who do, the visor also offers enough adjustment to effectively store them. Finally, the chin strap is easy to toggle and includes a small plastic Y-shaped connector to keep it from bunching up or rubbing against my ears.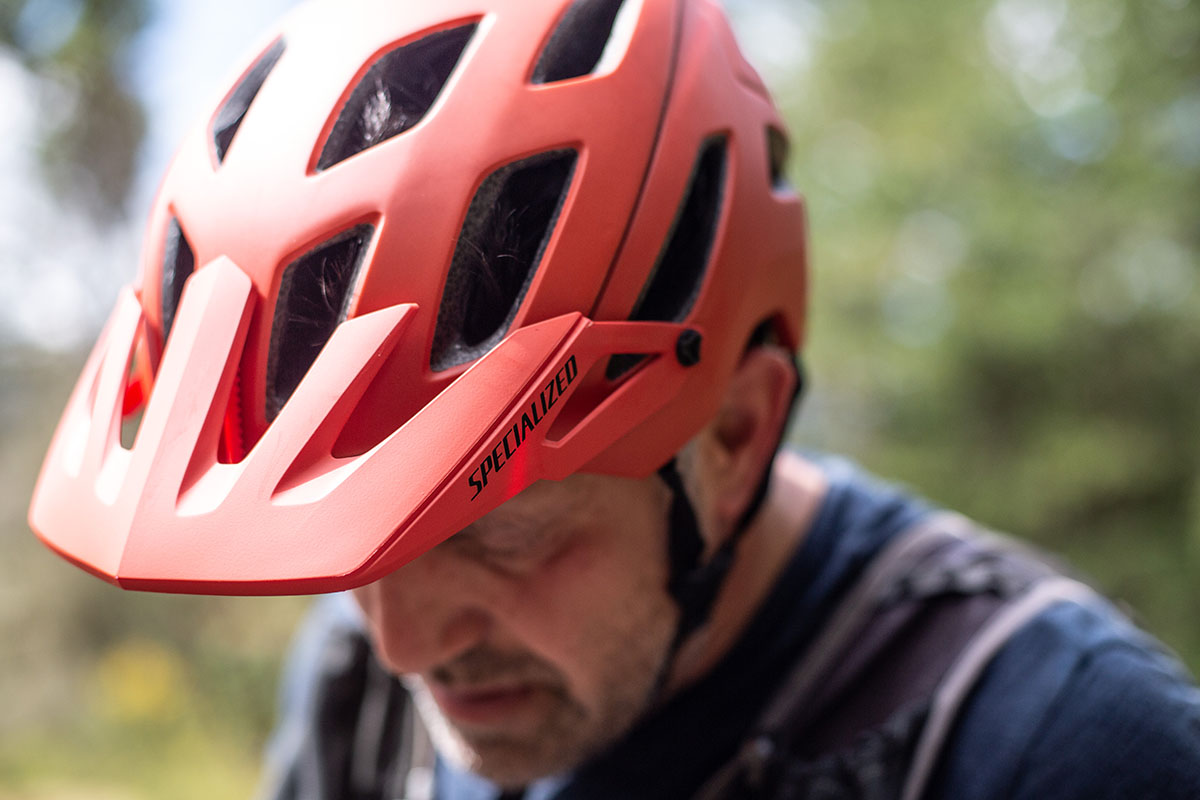 But the biggest contributor to comfort, in my opinion, is the Ambush's feathery and unobtrusive build. The helmet feels noticeably light whether I'm grabbing it out of my van before a ride or wearing it for long periods in the saddle (we outline this more in the "Weight" section below). And it's important to note that Specialized didn't sacrifice any protection or coverage to achieve this, which truly is an impressive accomplishment.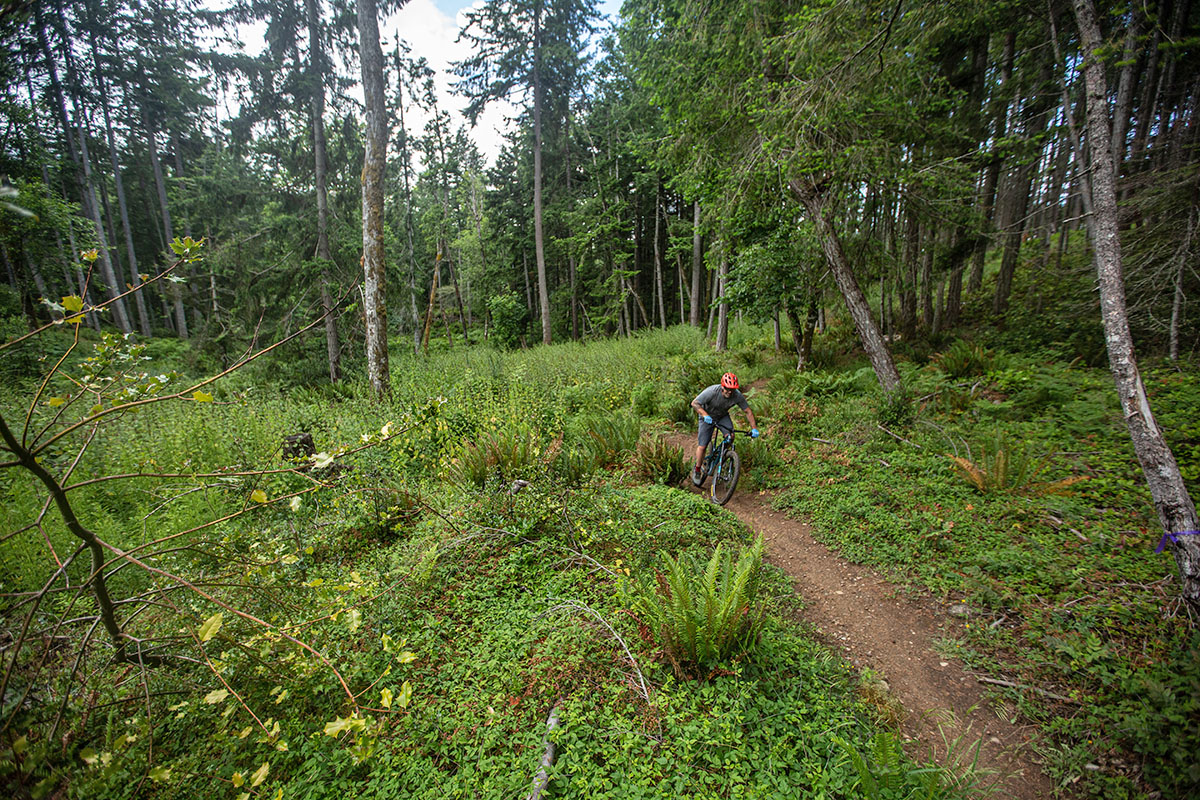 Ventilation
Simply put, the Specialized Ambush is a standout breather. The helmet comes equipped with a generous 20 vents, which promote great all-around airflow both on long climbs and while descending. Further, the quick-drying liner has a Gutter Action Brow that effectively absorbs sweat—I run hot and tend to sweat a lot, so this has really been put to the test. It's worth noting that under pressure, sweat can drip down through this strip of padding, and some users have had issues with it dropping straight into their eyes. But this thankfully hasn't been a problem for me, and the ventilation overall has truly been impressive, even on lengthy rides with temperatures above 80 degrees Fahrenheit. In fact, the only all-mountain-ready lid that we've tested that promotes great airflow is the $60-pricier Giro Manifest.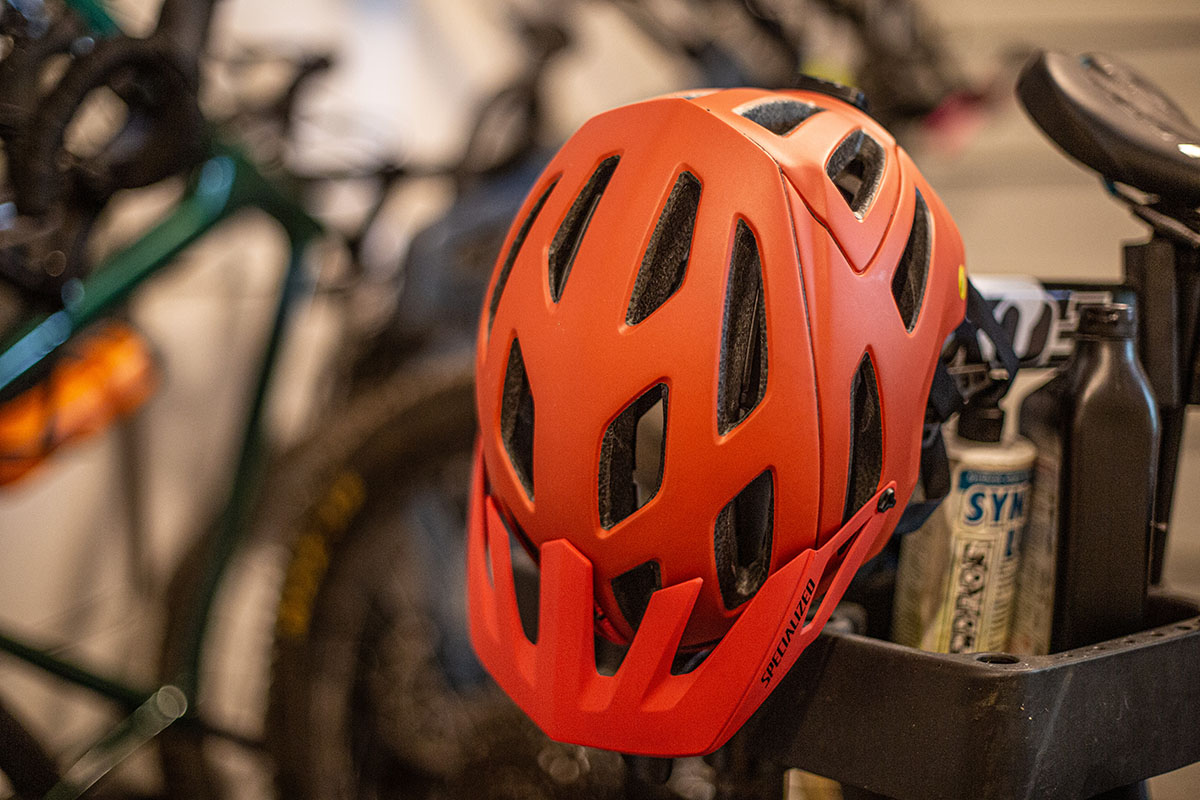 Features
ANGi Crash Sensor
The Specialized Ambush is loaded with safety features, but the most intriguing addition is the ANGi crash sensor (short for "angular and G-force indicator"). This small sensor is located at the back of the helmet just above the fit adjustment dial and does two things: track your ride and notify your pre-set emergency contacts in the event of a spill (they can also choose to follow along on your ride in real time). Here's how it works: ANGi monitors for sudden deceleration or rotation, both of which could be indicators of a crash. If that happens, it wirelessly connects via Bluetooth to your phone, sounds an alarm, and triggers a countdown, which you can set for between 15 and 90 seconds. If you don't stop the countdown, the app will automatically notify your emergency contacts and send them your coordinates.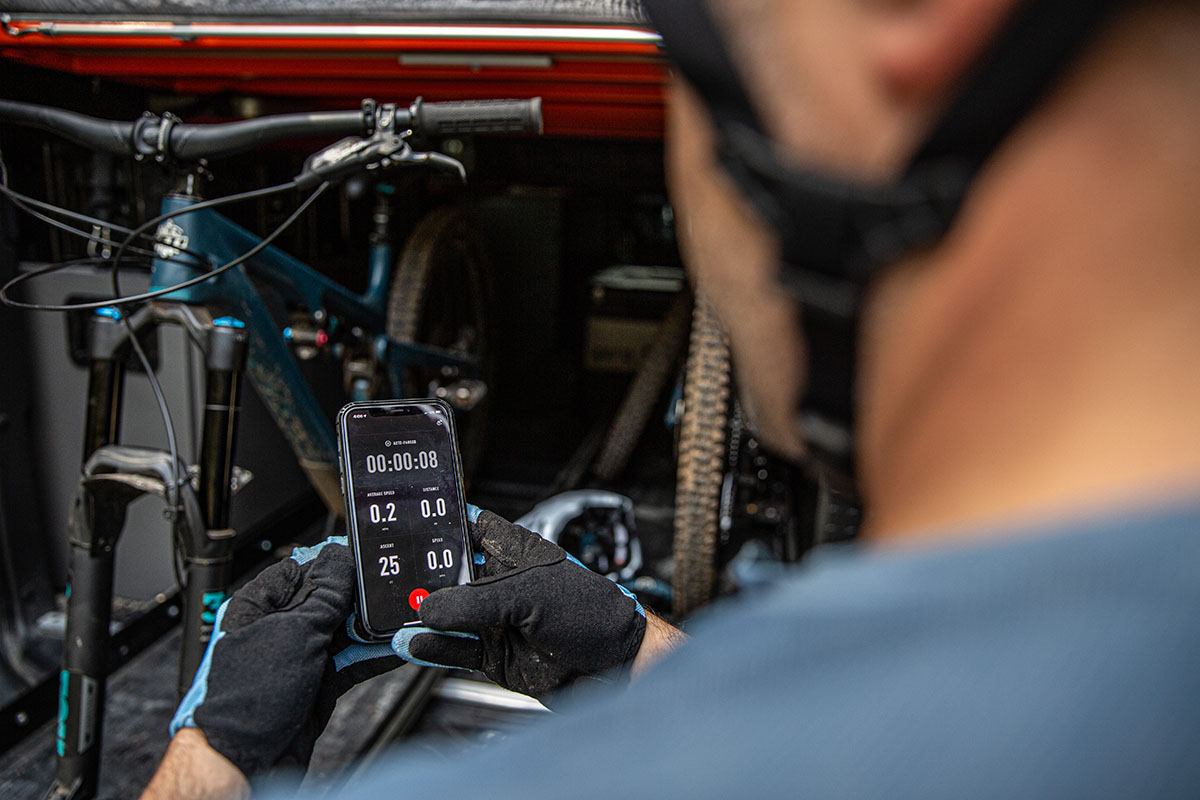 I haven't had to use the ANGi sensor yet to alert my contacts of a crash, but I ride a lot on my own and really value the added peace of mind. It requires nothing more than registering on Specialized's Ride app (you get a lifetime subscription), connecting to the device, adding contacts, and starting your ride. I set everything up in minutes upon receiving the helmet, and my wife was able to follow along easily. And it's so light and unobtrusive that I'm even considering buying a separate ANGi sensor ($50) to add to my road/gravel helmet. The only notable downside is that it requires phone signal to send any tracking info or notifications. If you anticipate being out of service, however, you can set your estimated ride time before you head out, and if you don't compete your ride by then, ANGi will send your last uploaded location to your contacts.

MIPS SL
As with a seemingly ever-growing number of mountain bike helmets, the Specialized Ambush includes MIPS (Multi-Directional Impact Protection System), which is designed to reduce rotational forces on the brain in certain impacts. In this case, you get MIPS' SL technology, which was created exclusively for Specialized and is integrated into the helmet's padding to trim weight (standard MIPS inserts are separate pieces that sit between the shell and padding). This comes with a couple key benefits: For one, ventilation isn't inhibited by a separate plastic piece, which helps maximize breathability and airflow. Second, the simplistic design keeps weight and bulk to a minimum (hence the "SL," or superlight, in the name). Specialized states that the SL technology offers the same level of protection as standard MIPS liners, which is a hard claim to verify, but we nevertheless appreciate the streamlined look and airy feel.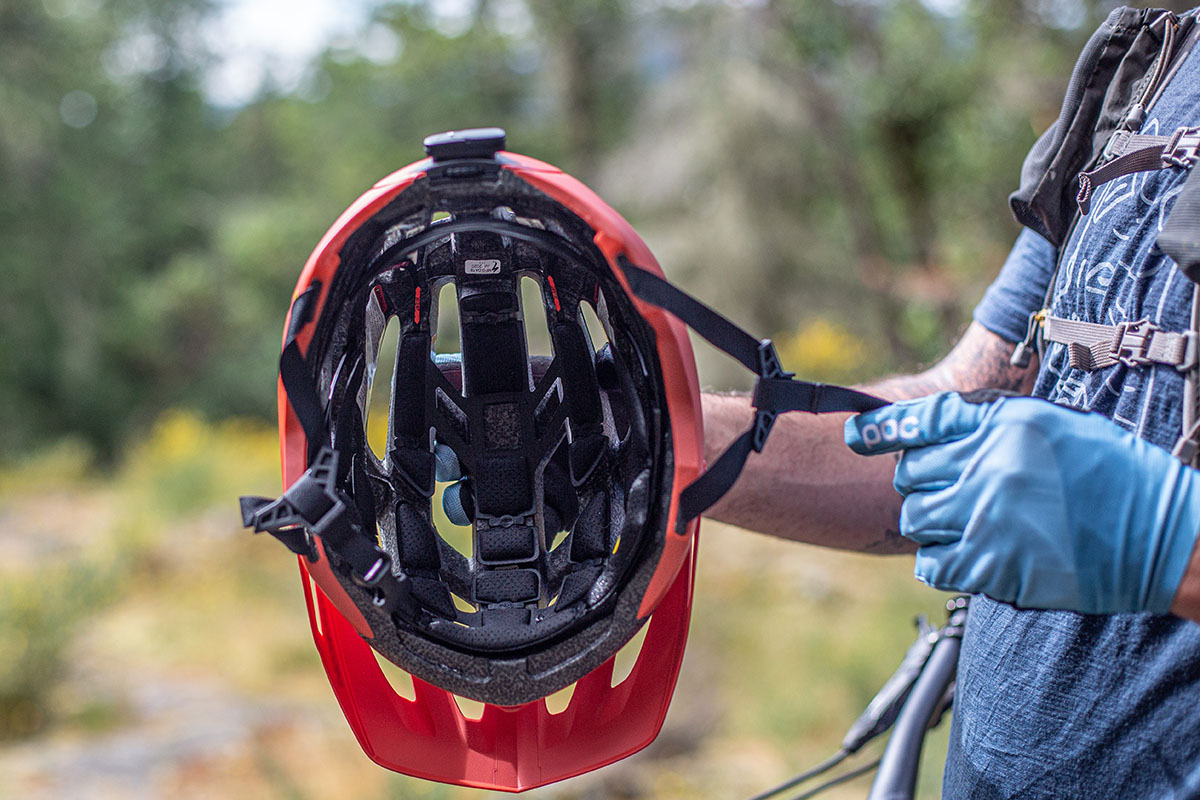 Mindset 360 Fit System
For dialing in fit, the Ambush's Mindset 360 system provides excellent micro-adjustability for tensioning the helmet to your desired tightness. Like most designs, the dial is located at the back of the head and can easily be toggled with one hand, and when tightened, it evenly adjusts snugness throughout the whole lid (hence the name). This is a notable upgrade over some of the competition—many mountain bike helmets only adjust around the back and parts of the sides of the head—and helps provide even pressure when cinched. All in all, the options for customization (including five height positions) should allow most users to get a good all-around fit, and the generous padding and helmet's deep, open shape only help with the system's effectiveness.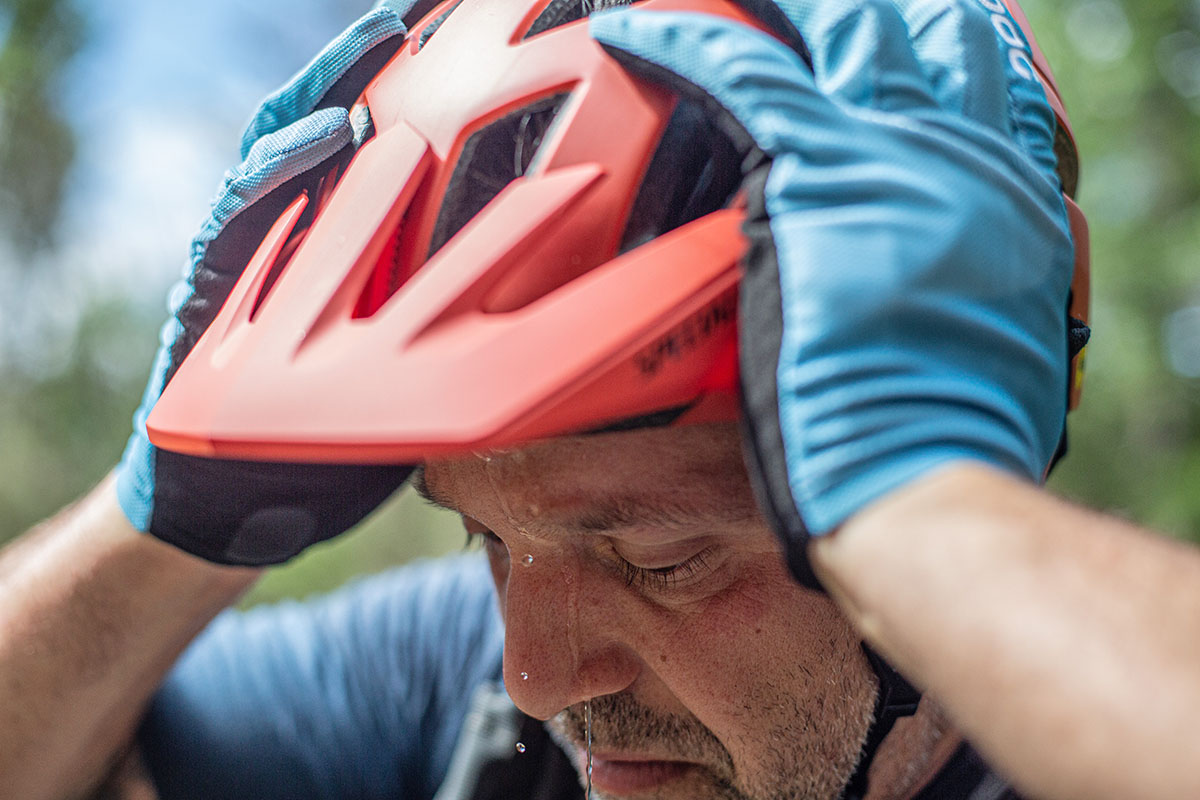 Weight
My large Ambush clocks in at 12.4 ounces on my scale (identical to Specialized's listed weight), which gives the helmet nearly XC levels of lightness but with ample coverage for trail riding. Importantly, it stacks up nicely with direct competitors including Giro's Manifest Spherical (12.2 oz.), Smith's Forefront 2 (13.4 oz.), and Bontrager's Rally WaveCel (15.2 oz. for a size large). And as I touched on above, combined with the great fit and minimal bulk, the Ambush's lightweight personality is a true standout trait and gives the helmet a barely-there feel on the trail.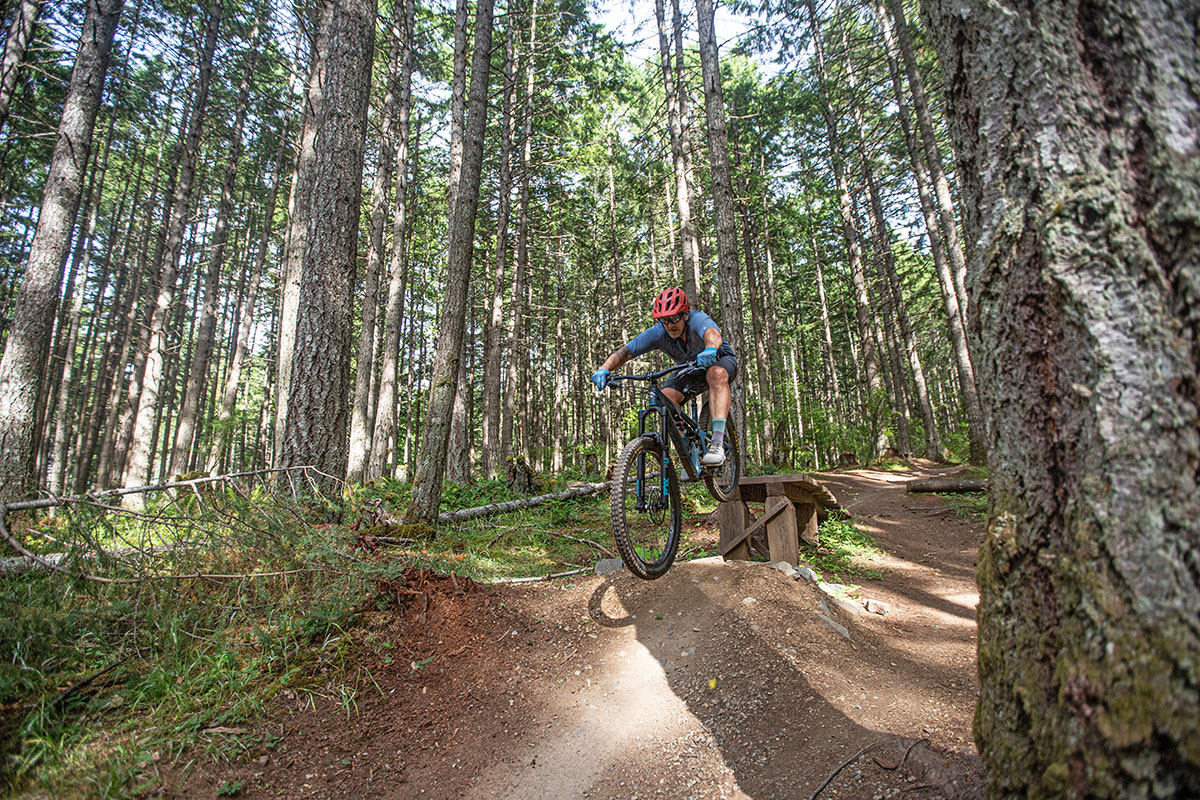 Build Quality and Durability
Specialized has been making high-quality mountain bikes for decades, and that expertise has transferred over nicely with the Ambush helmet. The lid is showing no signs of wear after months of consistent use: the fit system works perfectly, the cushioning is intact and hasn't begun to pack out, and the visor adjustment screws are still in place (these have fallen out on other helmets I've worn). Additionally, I like that the fit dial is tucked into the helmet so that only the edge is exposed—in the past, I've had issues with dials and the surrounding frame breaking after getting caught on branches or other obstacles. The only complaint I have is that the ANGi sensor at the back tends to snag on my jersey or jacket when changing. This isn't a deal-breaker by any means, but it would be a bummer to lose the device, and I wish that Specialized had more permanently secured it to the lid (it appears to be attached with glue or double-sided tape).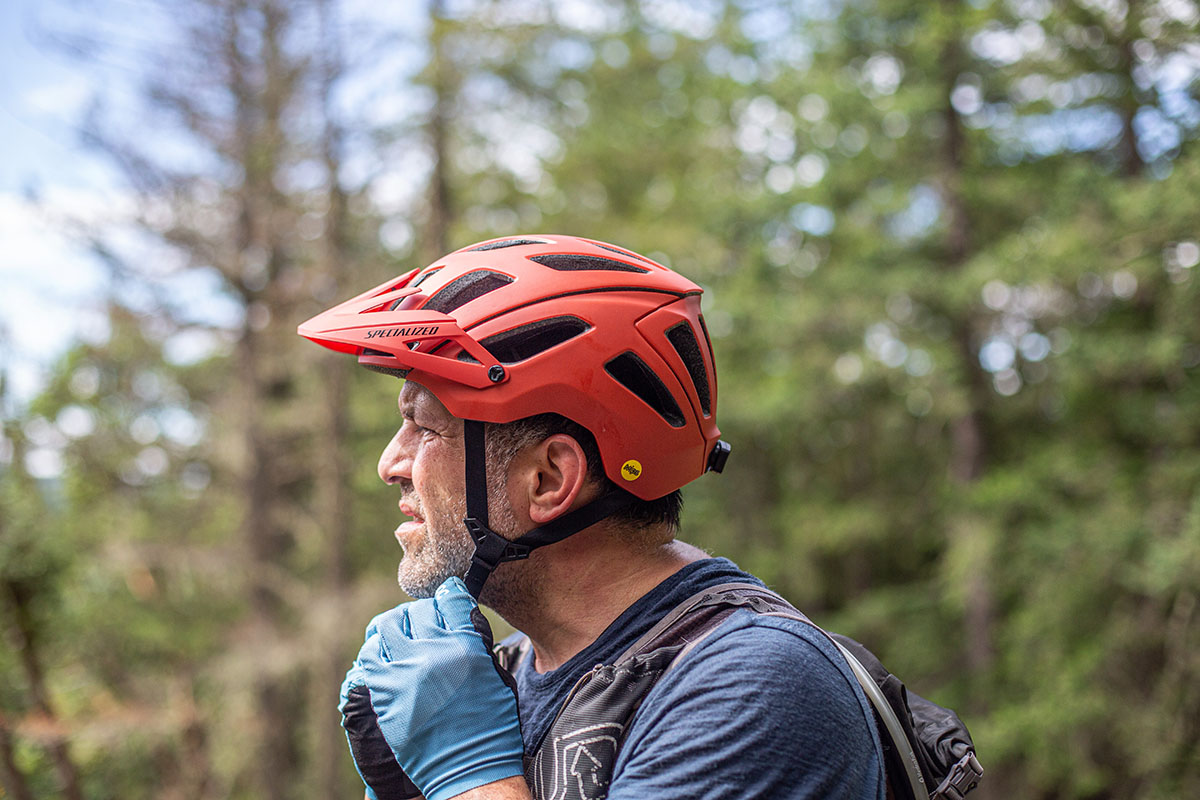 Other Versions of the Specialized Ambush
In addition to the standard Ambush with ANGi helmet tested here, Specialized makes two other variations: the Ambush Comp with ANGi and Ambush Comp e-Bike with ANGi. The former Comp helmet retails for $50 less than the model we reviewed at $150 but includes a standard MIPS liner (in place of the integrated and lighter-weight MIPS SL) and lacks some of the features of the pricier variation, including no Gutter Action Brow and a single-density foam construction. And the Comp e-Bike is nearly identical to that model, including a $150 price tag and similar feature set, albeit with a more rounded shape.

What We Like
The Ambush feels noticeably light and airy on the trail without sacrificing protection or coverage, which is no easy feat.
The helmet is a great breather thanks to its 20 vents, streamlined MIPS SL system, and quick-drying liner.
Full suite of premium safety features including a proprietary MIPS SL liner, ANGi Bluetooth crash sensor, and good all-around coverage.
Overall fit is excellent, with a deep but accommodating shape, plush cushioning, an easy-to-tighten chin strap, and a comprehensive adjustment system that makes fine-tuning simple and quick.

What We Don't
ANGi sensor at the back of the helmet tends to snag on my jacket or jersey while changing, which could result in losing the device (it's not permanently attached).
ANGi requires cell signal to notify your emergency contacts, although you can set your estimated ride time ahead of time if you anticipate being out of range.
Comes up a little short of our favorite premium trail helmet, Giro's Manifest Spherical, in ventilation and durability (a section of the Ambush's EPS foam is left unprotected right along the forehead).


Comparison Table

The Competition
Specialized's Ambush with ANGi hits a desirable mix of safety and comfort, which lands it on our list of favorite mountain bike helmets. Our current top-rated premium design is Giro's Manifest Spherical, which just edges out the Specialized in a few areas. For one, its very wide and open vents manage to generate even more airflow than the Ambush, and you get some nice extras like two layers of foam (with different densities for low- and high-speed impacts) and a magnetic buckle. Otherwise, the two lids are quite similar in weight, comfort, and all-around performance, and the Specialized gets the upper hand with its ANGi tech. For a $60 difference, it's a tough call, but we give the slight edge to the higher-performing Giro.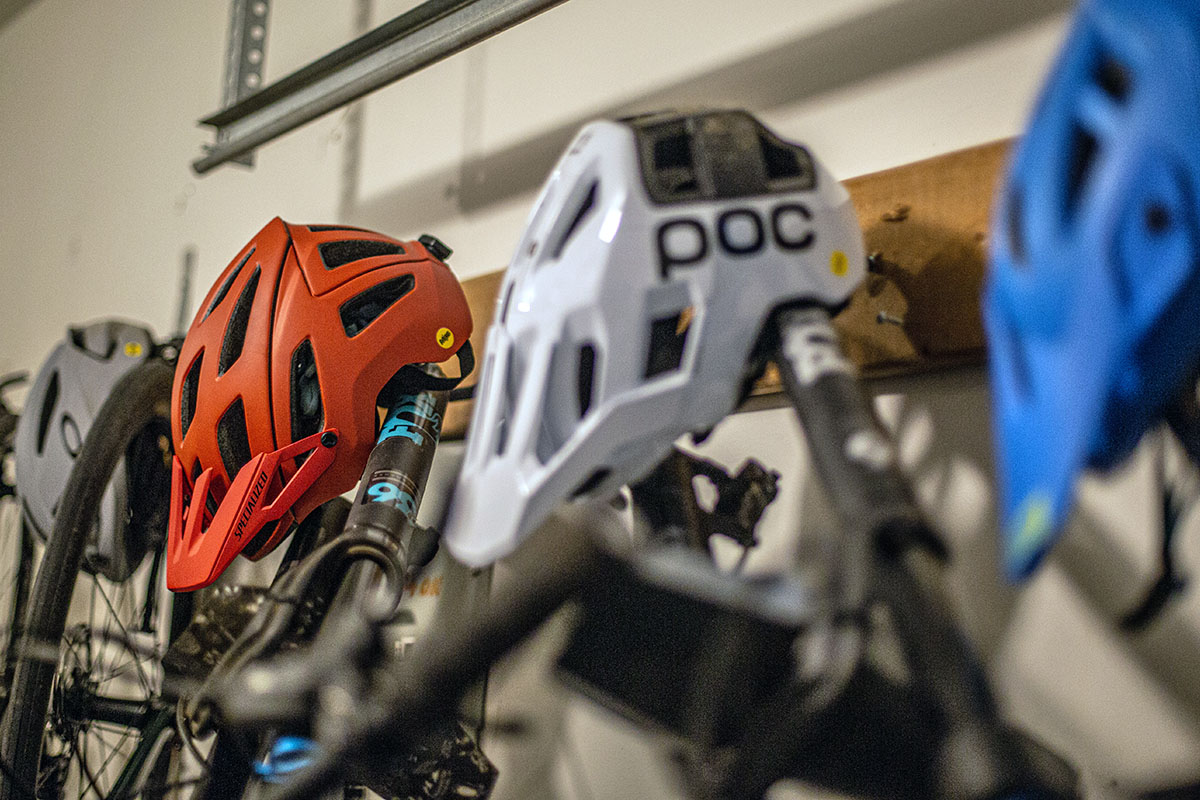 Another trail favorite is Troy Lee Designs' A series, which is headlined by the A3 MIPS. This new helmet is extremely comfortable with a wide and open interior, premium padding, and very complete coverage (slightly beating the Specialized for us here). The TLD's smart sweat management system has impressed us with its effectiveness—it's far less prone to dripping moisture into your eyes—and it checks some important safety boxes with a MIPS liner and dual-density foam (EPP and EPS). Finally, the high price gets you some useful spare parts, including a second set of padding and some visor screws. Where it can't match the Specialized is in ventilation, plus it's a few ounces heavier at 15.5 ounces. In the end, a decision will likely come down to plush comfort (go for the A3) versus ventilation (the Ambush wins here).
Undercutting the Ambush in price by $50 is the Bontrager Rally WaveCel. As its name indicates, you get WaveCel safey tech, which covers the interior of the lid and is designed to help with impact absorption. But while we like it in theory, it's not as well-integrated into the shell as the MIPS SL in the Ambush: weight and bulk go up with the Rally, plus it's less comfortable overall (there isn't enough padding to create sufficient separation from the firm, cell-like material). Tack on the Specialized's clear advantage in ventilation, and we think it's well worth the added money.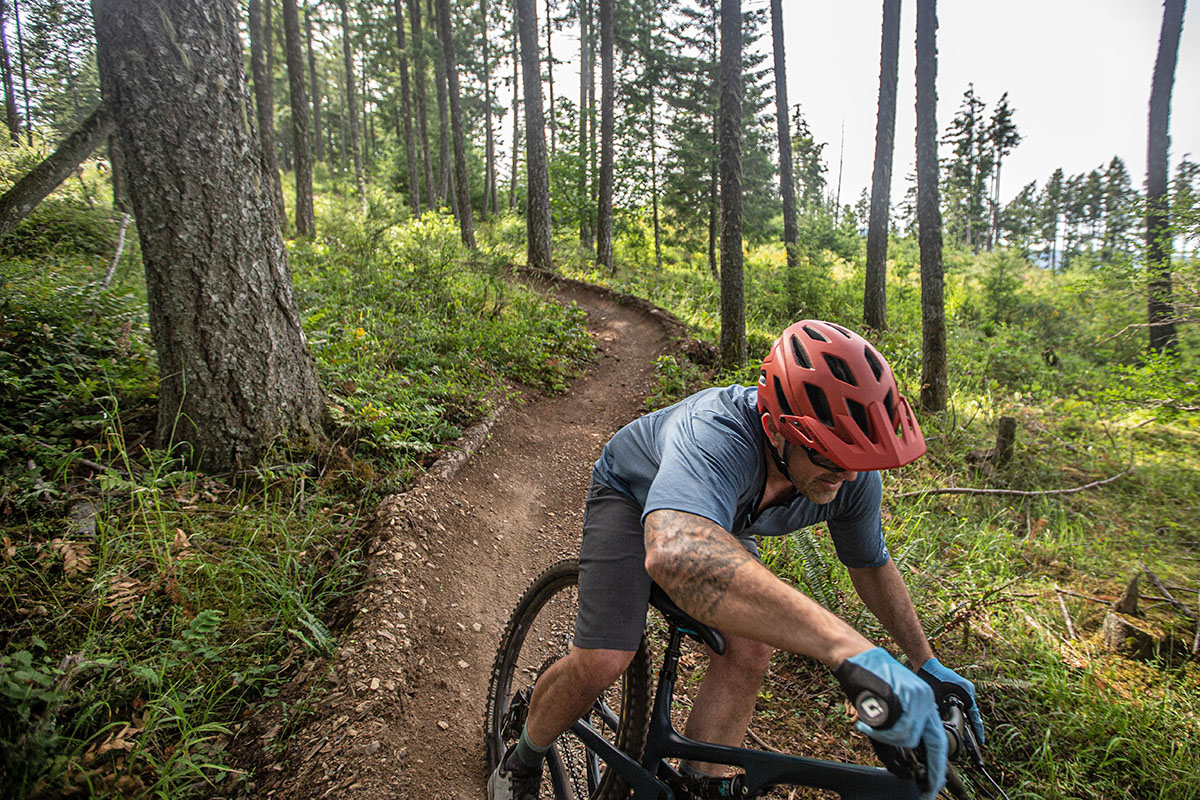 POC's new Kortal Race is our final competitor, and one that we tested alongside the Specialized here. The POC uses another smart MIPS solution—resembling their old SPIN technology—that integrates the slip plane into the connection between the padding and shell to minimize impacts on ventilation and weight. And as expected from the brand, safety is excellent with strong coverage for a half shell, a super durable construction (there's no foam left vulnerable), integrated RECCO reflector, and it even has an e-bike crash certification (something that most helmets on the market do not have). That said, we found its shape at the front doesn't integrate as well with glasses, and you pay a modest weight penalty of a couple ounces (for more, see our Kortal Race review). For $50 less, we'll save in most cases with the Specialized, but the tough POC is a very capable all-mountain option.
If you're thinking about buying gear that we've reviewed on Switchback Travel, you can help support us in the process. Just click on any of the seller links above, and if you make a purchase, we receive a small percentage of the transaction. The cost of the product is the same to you but this helps us continue to test and write about outdoor gear. Thanks and we appreciate your support!
Depending on the seller, most products ship free in the United States on orders of $50 or more. International shipping availability and rates vary by seller. The pricing information on this page is updated hourly but we are not responsible for inaccuracies.
Read More From Switchback Travel