Whether you're a park rat, resort ripper, or like to earn your turns in the backcountry, a quality helmet is a key addition to any snowboarder's arsenal. The lids here range from sub-$100 entry-level models to high-end designs that offer advanced protection and ventilation at a low weight. You also get your pick of styles: While many designs are popular among both snowboarders and skiers, devoted riders will find a number of more specialized, freestyle-inspired helmets and models from cult brands like Anon. Below are the top snowboard helmets for the 2023-2024 season. For more information, see our comparison table and buying advice below the picks.
 
---
Our Team's Snowboard Helmet Picks
---

Best Overall Snowboard Helmet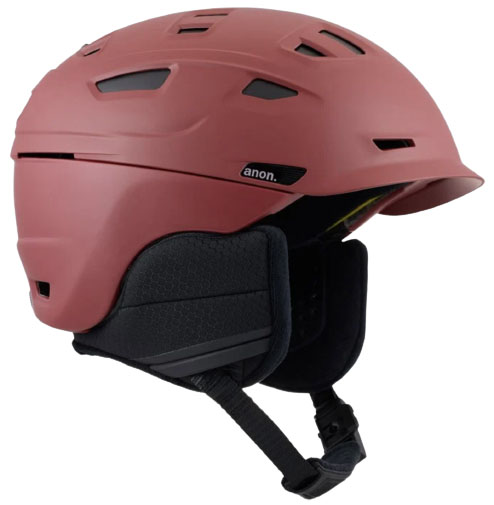 Construction: Hybrid in-mold
Weight: 1 lb. 2.8 oz.
Ventilation: Adjustable (23 vents)
What we like: Snowboard-specific style and high-end features at a reasonable price.
What we don't: The Smith Vantage below feels a bit more premium.
A sub-brand of Burton, Anon offers a variety of high-quality lids with a healthy dose of style, or—as snowboarders like to call it—"steeze" (style with ease). Their top-of-the-line Prime (and women's Nova) MIPS is our favorite all-rounder, with all the safety and performance features we look for in a premium snow helmet at a competitive price point. The hybrid in-mold design offers a great balance of weight-savings and durability, and ventilation is excellent with 23 adjustable vents that slide open or shut depending on conditions or your activity level. And while all helmets are designed to protect your head in the event of a fall, the Prime kicks it up a notch with MIPS technology, giving you additional assurance against angled impacts.
There's no shortage of options when shopping for a snowboard helmet, but we think the Prime puts it all together better than most. Spending up will get you even more premium construction and durable materials—in general, we think Smith makes slightly higher-quality lids. On the flip side, you can save some cash with a heavier and more generic option or by forgoing MIPS technology. But the Prime hits a real sweet spot for many snowboarders, and the good news is that comfort and usability are up to snuff with an in-shell, 360-degree Boa fit system, Fidlock magnetic chin buckle, and removable fleece ear pads. Finally, like most designs here, it's also compatible with audio accessories. All in all, for a top-end lid from one of the best in the business, look no further than the Anon Prime MIPS.
See the Anon Prime MIPS  See the Women's Anon Nova MIPS
Best Budget Snowboard Helmet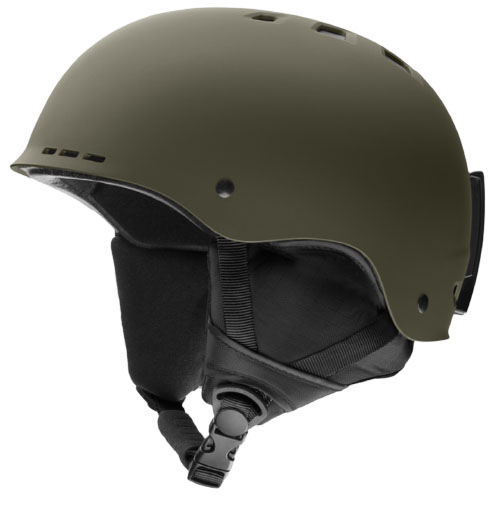 Construction: ABS
Weight: 1 lb. 3 oz.
Ventilation: Fixed (10 vents)
What we like: Great price for a well-rounded and surprisingly comfortable lid.
What we don't: No MIPS liner available; liner and foam are cheaper than pricier helmets.
Top to bottom in their snow helmet lineup, Smith just gets it. At $80, the Holt is their true budget offering and one of our favorite helmets in its price range. It's an exercise in smart design, and one of the Holt's biggest accomplishments is avoiding the bulky and off-putting mushroom look typically associated with cheap designs. While not as low-profile or techy as the Anon above or Smith's premium Vantage below, it's a notable improvement over most of the budget field. It also features a nice amount of customization, with removable ear pads (with an all-season certification, the Holt doubles as a skate helmet) and compatibility with Outdoor Tech audio chips.
Another thoughtful touch on the entry-level Smith Holt is its adjustment system. You don't get a dial to tweak the fit, but an elasticized band at the back of the helmet stretches to accommodate your head surprisingly well. This system also allows your goggle strap to sit under the helmet rather than overtop, which many snowboarders prefer. Warmth and comfort are similarly competitive, although the foam is decidedly cheap-feeling and muffles sound, too. On the whole, we've found that those who spend a lot of days on the mountain are better off upgrading to a mid-range helmet like the Smith Mission below. But if you're willing to compromise a bit on performance, don't consider a MIPS liner a must-have, and aren't prone to overheating (the fixed ventilation is only mildly effective), the Holt is a real steal at just $80.
See the Smith Holt
Standout Combination of Price and Performance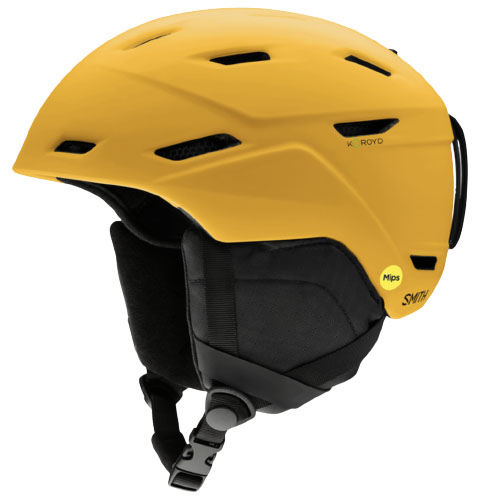 Construction: In-mold
Weight: 15.9 oz.
Ventilation: Adjustable (14 vents)
What we like: Great feature set and protection for less than most.
What we don't: Not as durable as hybrid in-mold designs.
Smith's Holt is a great place to start if you're just dipping your toes into snowboarding, but value-focused riders can get a nice performance boost with Smith's own Mission MIPS here. Compared to the Holt, the Mission weighs 3 ounces less, is more protective with MIPS technology, and offers better and more customizable ventilation by way of its adjustable vents. It also swaps some EPS foam for Koroyd, a honeycomb-like material that's designed to absorb more energy in a crash, minimize weight and bulk, and boost airflow. Added up, the Mission offers great bang for your buck at just $60 more than our budget pick and still $90 less than the top-ranked Prime. 
What do you give up at the mid-range price point? First is durability: With a polycarbonate shell, the Mission is lighter than hybrid in-mold designs like the Prime above and Smith's own Vantage below but more prone to forming dings and dents over time. Second, the Mission's rear dial is good but not great (it can be difficult to adjust with gloves on), you don't get a magnetic chin buckle or split venting, and the styling is a bit more generic than some might prefer. However, you'd be hard-pressed to find better performance for the price, earning the Mission MIPS a spot high on our list. For a more freestyle-inspired alternative with a lighter build but fewer (non-adjustable) vents, check out the Maze MIPS below ($155).
See the Smith Mission MIPS  See the Women's Smith Mirage MIPS
Best Helmet for the Park and Pipe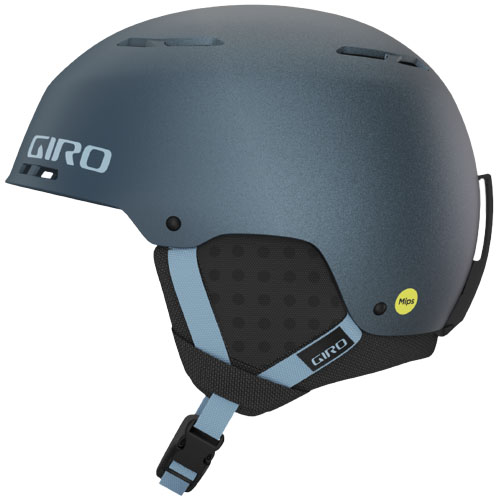 Construction: ABS
Weight: 1 lb. 1.6 oz.
Ventilation: Fixed (10 vents)
What we like: Freestyle aesthetic, hardshell durability, and premium MIPS Spherical protection for just $160.
What we don't: Overly simplified fit system.
There's no rule book that states you need a certain kind of helmet for the park, but freestyle aficionados will be best off prioritizing certain features over others. First is a hardwearing construction: Durability matters far more than weight when it comes to hitting jibs and sliding rails, so most park rats will want to look for a robust hardshell design. Second is protection: We recommend looking for a helmet with MIPS—if rotational impact protection is essential anywhere, it's when you're catching big air off kickers. Last but not least, style matters: Most freestyle riders will want a skate-inspired lid, along with the versatility to wear it with or without ear pads (for those who like the beanie-under-helmet look) and with your goggle strap overtop or underneath.
There are plenty of freestyle options to consider, but Giro's Emerge MIPS stands out among the competition for its premium feature set at a competitive price point. Instead of MIPS' standard plastic frame, the Emerge boasts MIPS' high-end Spherical technology, which uses a ball-and- socket-type configuration of premium EPP foam to absorb impacts. Additionally, the Emerge's 1-pound-1.6-ounce build won't weigh you down, and you get good versatility thanks to the removable ear pads, removable goggle retainer, and strap channel that allows you to run your goggle strap through the liner. We do wish the Emerge had a rear dial for fine-tuning fit, but it's hard to be overly critical at this price point. All told, there's a reason this lid is so popular among park riders: It's durable, protective, and looks good to boot. For a similar design from Anon, check out their Windham WaveCel ($190).
See the Giro Emerge Spherical
Best Backcountry Snowboard Helmet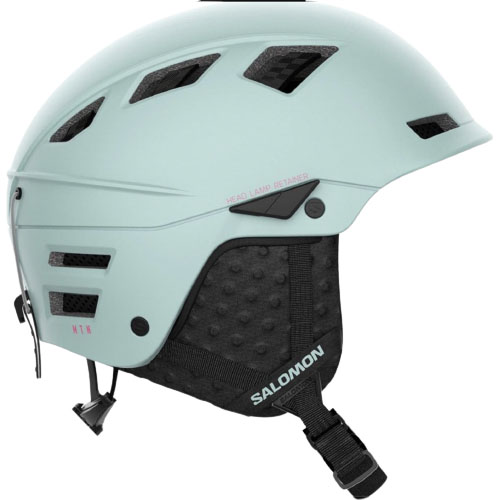 Construction: In-mold
Weight: 12.9 oz.
Ventilation: Fixed (12 vents)
What we like: Super lightweight; rated for both snow sports and climbing.
What we don't: Not as plush or warm as resort designs; fixed vents can allow moisture inside.
Rated for both snow sports and climbing, the Salomon MTN Lab is a standout for dedicated splitboarders. The helmet's feathery 12.9-ounce build (our size medium with the heavier winter liner checked in at 13.3 oz.) is among the lightest on our list and makes it easy to wear all day or attach to a pack. Ventilation is another strong suit with 12 large cutouts distributed along the top and sides of the lid. And Salomon didn't skimp on features, either: The MTN Lab integrates well with our Smith I/O Mag goggles, the adjustment dial at the back is easy to use, and the two included merino wool liners (one lightweight and one winter-weight) are soft and cozy.
Where the Salomon MTN Lab falls short is as an everyday helmet. Compared to the plush, resort-ready options here, the Salomon's minimalist padding is less comfortable and doesn't protect you as well from the cold. In addition, the vents are non-adjustable, and we found that moisture can work its way through the openings in heavy snowfall (we resorted to donning our hardshell's hood in inclement conditions). Finally, the polycarbonate shell won't hold up to heavy use as well as the ABS or hybrid in-mold designs here. These compromises make the MTN Lab a less-than-optimal choice for lift-assisted days, but it's as good as it gets when you split your board and head into the alpine. For a more versatile but still lightweight pick, check out the Giro Grid Spherical ($270), which features warmer insulation, adjustable vents, and MIPS' angled impact protection in a 14.1-ounce package.
See the Salomon MTN Lab
Best of the Rest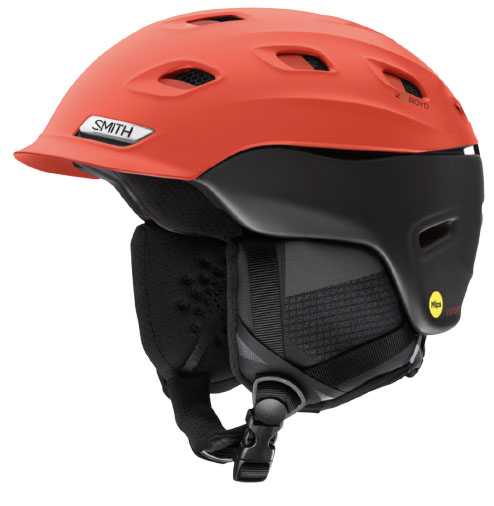 Construction: Hybrid in-mold
Weight: 1 lb. 2 oz.
Ventilation: Adjustable (21 vents)
What we like: Premium in every way.
What we don't: $40 pricier than the Anon Prime above.
A runaway favorite for skiers and snowboarders alike, the Smith Vantage gives the Anon Prime above a run for its money in all-around performance. Just about everything about this helmet exudes quality, including a soft but supportive liner, easy-to-adjust Boa dial for honing fit, and superior ventilation with a total of 21 vents controlled by two separate sliders. The Vantage also comes with all the safety bells and whistles in the Smith arsenal: The Aerocore construction with the distinctive honeycomb-like Koroyd material (also featured in the Mission above) maximizes energy absorption in a crash, and the MIPS liner protects against angled impacts. All in all, it's hard to beat the Vantage's premium comfort and versatility for both frontside and backcountry use.
Why does the Anon Prime earn our top billing for this season? In short, it came down to price and overall value: The Prime checks all the boxes for most resort riders for $40 less than the Vantage. Perhaps even more importantly, it's accompanied by the brand cachet of Burton's Anon, to which many snowboarders are quite loyal. But for a bump in protection and ventilation, it's hard to deny the all-around appeal of the Vantage (there's a reason it's ranked #1 in our ski helmet round-up). Of note: We've found the MIPS model to run a bit small, so those on the high end of the fit range may want to size up.
See the Smith Vantage MIPS  See the Women's Smith Vantage MIPS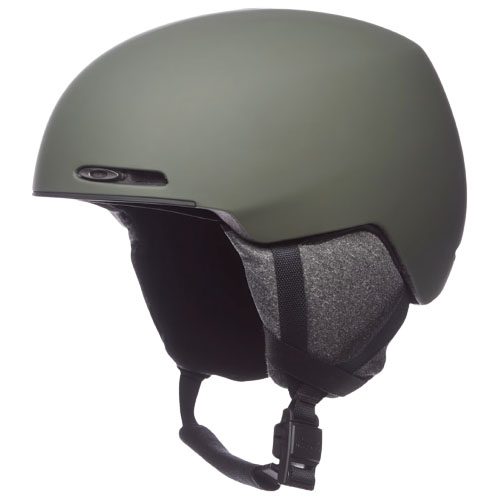 Construction: In-mold
Weight: 14.6 oz.
Ventilation: Fixed (6 vents)
What we like: Lightweight, good looks, and uncharacteristically premium feature set for the price.
What we don't: Limited durability and minimal ventilation.
The brand behind some of the most popular eyewear in the outdoors, California-based Oakley has a growing lineup of quality snow helmets. The Mod1 is their entry-level model with a simplified look, trimmed-down feature set, and budget-friendly $100 price tag. But Oakley managed to pack in a number of nice touches that aren't typically found at this price point, including a magnetic buckle and Boa's proven 360-degree fit adjustment system. Comfort is also good for the mid-range category thanks to a beanie-like lining that has a soft feel and molds nicely to your head, and the in-mold construction keeps weight low at just 14.6 ounces. For casual resort riders and those looking to keep weight and costs low, the Mod1 is a surprisingly well-rounded budget option.
We're happy to see Oakley expanding their helmet collection, but the Mod1 sits in a bit of an in-between zone. To start, the in-mold construction compromises on durability compared to ABS competitors like the Smith Holt above and Scout MIPS below. Those who spend time in the park or exploring the outer reaches of the resort will likely want a tougher design (Oakley also makes the more durable Mod1 Pro MIPS). Further, the 6 fixed vents provide very little in the way of ventilation, which makes the Mod1 untenable for sidecountry or backcountry use and puts resort riders at risk of overheating on warm spring days. But if the sacrifices in toughness and breathability aren't deal-breakers for you, the Mod1 is about as good as it gets at this price point and one of our favorite designs for recreational and new riders. It's also sold in a MIPS-equipped version for an additional $30.
See the Oakley Mod1 Helmet  See the Oakley Mod1 MIPS Helmet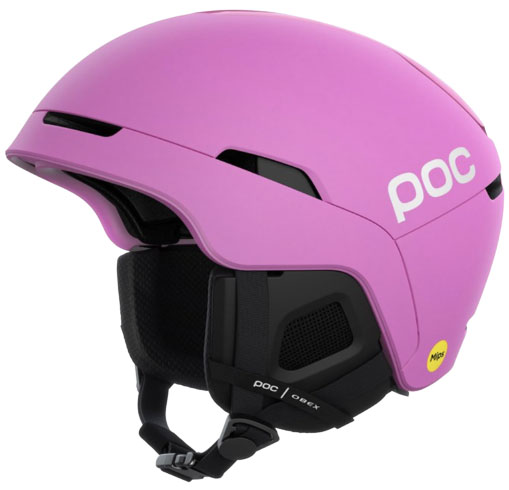 Construction: In-mold w/ ABS shell
Weight: 1 lb.
Ventilation: Adjustable (11 vents)
What we like: Solid build and well-integrated safety features.
What we don't: A bit bulkier and less plush than the Prime and Vantage above.
Sweden-based POC has built a reputation around toughness and safety, and the Obex is their most well-rounded helmet to date. Mixing an in-mold construction with a tough ABS shell over top, the helmet is competitively light but can still take a knock (and limit cosmetic damage) thanks to the exterior layer of tough plastic. We also think the POC is a classy-looking design, and the wide array of color options help it stand out in the market. Rounding out the setup, the Obex has an easy-to-use fit system that secures evenly around the head, adjustable vents, and a protective MIPS liner.
What's not to like about the Obex? Despite POC's best efforts, the helmet still is bulkier and not as streamlined as the Anon Prime and Smith Vantage above. As a result, we found that it feels a little heavier than its 1-pound weight suggests. Further, the interior padding isn't as plush as the aforementioned designs, and we prefer more cushioning along the chin strap. Finally, the Obex is only compatible with POC's audio system, which can be hard to come by. But to be fair, these downsides are fairly minor for most, and the Obex's combination of a premium safety suite and reasonable $200 price tag earn it a spot on our list for the 2023-2024 season. 
See the POC Obex MIPS Helmet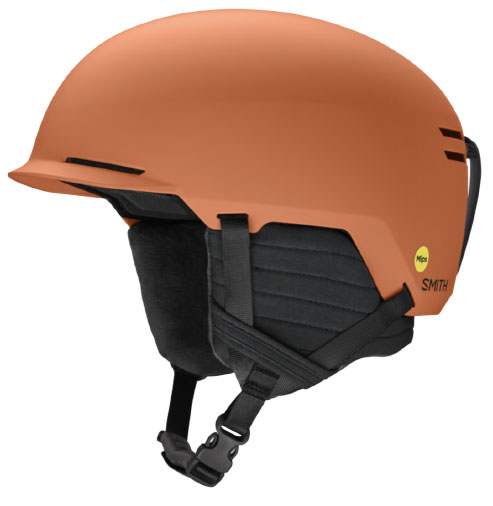 Construction: ABS
Weight: 1 lb. 2 oz.
Ventilation: Fixed (8 vents)
What we like: A tough, MIPS-equipped helmet for $105.
What we don't: Not particularly plush or as feathery-feeling as pricier alternatives.
Smith was one of the early adopters of MIPS technology, and their current snow helmet lineup is chock-full of MIPS designs. The Scout is a standout and, at $105, is the most affordable helmet on our list that's equipped with the angled impact safety tech. Other than that, you don't get a lot of bells and whistles, but there's enough here to make most riders happy: a removable goggle retainer hook around back, ear pads (also removable), and a finicky but still entirely serviceable fit adjustment system. Anyone from casual riders to season-long rippers on a budget should give the Scout MIPS serious consideration.
A number of Smith and Giro models go head-to-head, and the Scout is a direct competitor with Giro's Ledge MIPS. On paper, the lids are almost identical: Both feature tough hardshells that can take a good knock, eight fixed vents, and availability in a wide range of colors. That said, the Smith gets the edge in comfort for us with its slightly more intuitive fit system, and the styling is a little better-tuned for snowboarding. Last but not least, the Scout boasts an all-season certification, which means it can pull double duty as a skate or bike helmet (the Ledge is only certified for snow sports). All told, if you're looking to maximize protection and versatility on a budget, the Scout MIPS is hard to beat. For those with rounder heads, it's also sold in a Round Contour Fit version that's a little wider at the back for the same price.
See the Smith Scout MIPS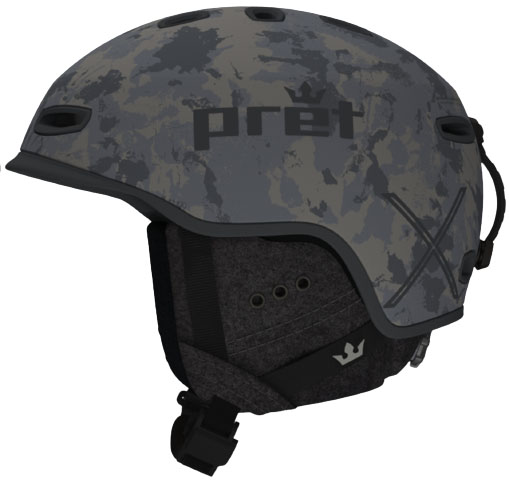 Construction: In-mold
Weight: 15.5 oz.
Ventilation: Fixed (12 vents)
What we like: Comfortable liner and fun styling.
What we don't: Non-adjustable vents.
Selecting the right mid-$100 helmet is an exercise in prioritization. If your must-haves are liner comfort, adjustable fit, and sticking out from a sea of Smith, Oakley, and Giro lids, then the Pret Cynic X2 is a fine choice. Its wool-blend liner gives it one of the more comfortable interiors for under $200, and the easy-to-use fit system is comparable with a Boa design. We'd like to see adjustable ventilation at this price point, but the Cynic's fixed system with 12 vents and some open/close flaps along the interior do a pretty good job at temperature regulation.
The Cynic's in-mold construction keeps weight in check at under a pound for the medium size, and we appreciate that you get a little extra durability thanks to strategically placed panels of polycarbonate that thicken sections of the shell. Finally, looks are always subjective, but we like the styling of the Cynic and Pret's lineup in general (although some may find the large "pret" along the sides a bit extreme). For a similar design with a bump in ventilation and protection, check out Pret's Fury X.
See the Pret Cynic X2 MIPS  See the Women's Pret Lyric X2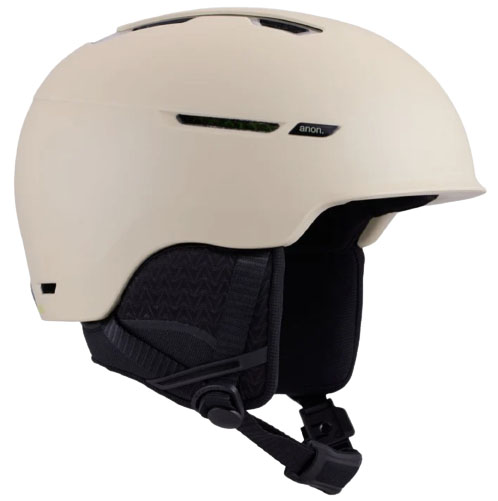 Construction: In-mold
Weight: 15 oz.
Ventilation: Fixed (10 vents)
What we like: Premium WaveCel safety tech and well-sorted feature set.
What we don't: Fixed vents limit warmth; minimal padding can lead to pressure points at the sides of the head.
First offered in Bontrager's line of biking helmets, WaveCel technology recently made the leap into snow sports and is now featured in three Anon lids. In short, the cell-like structure aims to provide two main safety benefits: shock absorption in direct impacts (similar to Smith's Aerocore) and reduction of rotational forces in an angled hit (like MIPS). Anon is the first to incorporate the tech and has included it in their mid-range Logan ($240). The freestyle-oriented Logan keeps costs reasonable with an in-mold construction but otherwise features all the trimmings we expect at this price point, including a magnetic chin strap, Boa dial for fine-tuning fit, and audio compatibility.
One of the primary downsides with the Logan is the fixed ventilation system, which doesn't allow you to batten down the hatches on particularly cold days. Combined with the airy, honeycomb nature of the WaveCel technology, the Logan is far from the warmest design here, although Anon did thankfully omit front vents. Further, we've found that the minimal padding doesn't isolate you as well from the Boa system as we'd like, and cinching the helmet creates minor pressure points at the sides of the head. But just about everything else is well sorted for resort use, and the dual-purpose WaveCel does offer a step up in safety tech from Anon's Prime above. Serious downhill riders and those with big-mountain objectives should also check out the high-end Merak, which features a tougher, hybrid in-mold build and adjustable vents.
See the Anon Logan WaveCel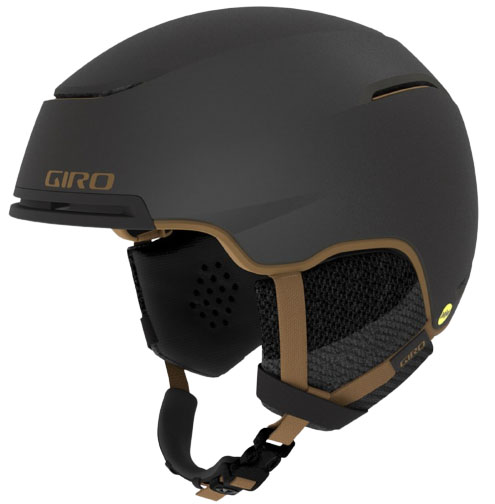 Construction: In-mold
Weight: 14.1 oz.
Ventilation: Fixed (8 vents)
What we like: Minimalist looks, lightweight, and competitive price.
What we don't: Non-adjustable venting means you can't fully seal out the cold.
The Smith Mission MIPS is our top value pick for its deft combination of price and performance, but Giro's Jackson (and women's Terra) MIPS isn't far behind. Giro kept things pretty simple with a clean and minimalist exterior, low-profile in-mold construction, and lightly cushioned ear pads. But the details are really nicely sorted, including a highly adjustable fit system that can be shifted up and down to avoid a gaper gap with your goggles and the option to remove the aforementioned ear pads on warm days. What's more, the Jackson arguably has more snowboarder-friendly styling, and at just over 14 ounces is a solid choice for riders who split their time between the resort and backcountry.
Most fixed-vent designs do a poor job at regulating temperature, but the passive system on the Jackson is quite effective at drawing air from the front and out the back—even when standing still or working hard on a sidecountry hike. One limitation of the design, however, is that you can't seal it closed. As such, in frigid temperatures or if strong, chilly gusts are hitting you hard, the helmet runs cooler than a model with an adjustable venting system (like the aforementioned Mission). In other words, the Jackson isn't a great match for those who run cold, but for active resort snowboarders or those looking for an affordable slackcountry/backcountry lid, it's certainly got a lot of appeal. 
See the Giro Jackson MIPS  See the Women's Giro Terra MIPS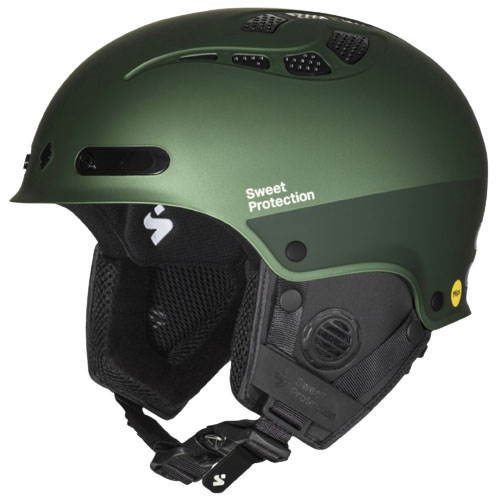 Construction: ABS
Weight: 1 lb. 2.7 oz.
Ventilation: Fixed (26 vents)
What we like: A premium and well-ventilated ABS helmet.
What we don't: Polarizing looks and not a comfort leader.
Most hardshell lids are of the budget variety—as evidenced by designs like the Smith Holt and Scout above and Bern Watts below. The Sweet Protection Igniter II MIPS bucks that trend, pairing a tough ABS construction with high-end features and decidedly premium fit and finish. The Igniter features a well-built interior with zero exposed foam (a rarity on hardshell designs), plush ear pads with zippered access points for audio chips, easy adjustment via a rear dial, and one of our favorite magnetic clasps that's glove-friendly. A final highlight not typical of hardshells is the effective ventilation system, which comprises a whopping 26 total vents (24 are fixed, while two at the front are adjustable).
One of the primary benefits of going with a hardshell helmet is durability: ABS is much tougher than polycarbonate and less prone to denting over time. As a result, the Igniter II will likely last longer than most in-mold lids here. That said, it's heavier at 1 pound 2.7 ounces, and at $220, you don't save much compared to premium hybrid in-mold designs like the Anon Prime and Smith Vantage above. Additionally, not all riders will love the more technical appearance of the Igniter II, which definitely has more freeride than freestyle vibes, and the minimally padded interior doesn't stand out in terms of comfort. But for riders who are hard on their gear or want something extra durable for stashing in their pack on the skin track, the Sweet Protection Igniter II MIPS is a solid and well-built choice.
See the Sweet Protections Igniter II MIPS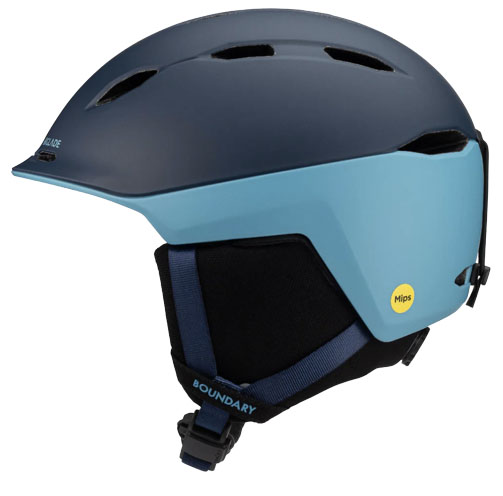 Construction: In-mold
Weight: 1 lb. 
Ventilation: Adjustable (16 vents)
What we like: Great feature set and style; reasonably lightweight. 
What we don't: Pricier than most of the in-mold competition.
Breckenridge, Colo.-based Glade Optics is a classic story of "by the people, for the people." With the goal of keeping things passionate yet professional, the small company started with eyewear (sunglasses and goggles), but has now dipped into the helmet world with their Boundary MIPS here. For being pretty new to the game, it's clear they did their homework. The Boundary is lightweight (15.8 oz. for our men's medium), has soft cushioning that completely isolates you from the fit/adjustment system, and features a Fidlock buckle, MIPS liner, adjustable front vents, and a small visor. What's more, we found it fits seamlessly with Glade's goggles (and decently well with offerings from Smith and Dragon, too). Check, check, and check.
Our main gripe with the Boundary is price: At $199, it's more expensive than similar in-mold designs like the Smith Mission ($140) and Pret Cynic X2 ($160). It's true the Glade is more feature-rich, uses longer-lasting EPP foam, and has a cushier interior than an alternative like the Mission, but we're not sure the distinctions are worth $60 (plus, the Smith is available in a much wider range of sizes). In other words, if you're going to spend $200, it's worth considering a more durable hybrid in-mold design like the Smith Level ($220), which will do a much better job resisting dings and dents when catching a branch in the trees or dropping the helmet on a hard surface (for instance). But for a lightweight one-helmet option for resort-goers who occasionally dip into the backcountry, the Boundary is a fun newcomer with great style.
See the Glade Optics Boundary MIPS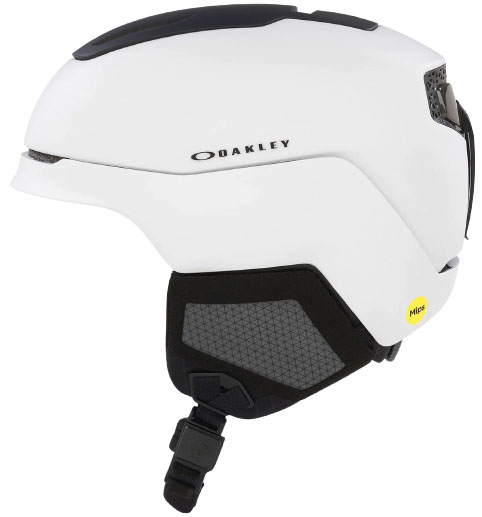 Construction: Hybrid in-mold
Ventilation: Adjustable
What we like: Low-profile, good-looking design; quality materials throughout.
What we don't: Low on ventilation; we miss the prior version's modular brim.
Oakley makes some of our favorite snowboard goggles, but the company only recently jumped into the helmet game with the Mod series. Now in its second generation, the Mod5 MIPS is their top-end offering that features a clean, low-profile shape and plenty of premium touches. In testing the updated lid this winter, we were particularly impressed with the excellent coverage, durable construction, just-right amount of padding (relatively minimalist but comfortable and warm), and trustworthy Boa tensioning system. As with the original Mod5—and the Mod line in general—ventilation is a weak point, and we wouldn't recommend it for slackcountry or backcountry riding. But as a quality resort helmet, it's a great-looking, well-built option.
The original Mod5 had a unique modular brim that allowed you to swap sizes to match your goggles. We found that feature to be very functional and were disappointed that Oakley dropped it with the current model. As such, we had a harder time pairing the helmet with our large Anon M4 Toric goggles—it worked, but a smaller brim would've limited the downward pressure on our nose. Additional nitpicks with the revamp include a high weight (1 lb. 8 oz. for our men's large) and too-small patch of fleece on the chin strap. The pros still outweigh the cons for us—the quality of the materials, including the Polartec Power Grid liner, is very evident—but there are enough downsides to drop the Mod5 MIPS down our rankings... Read in-depth review
See the Oakley Mod5 MIPS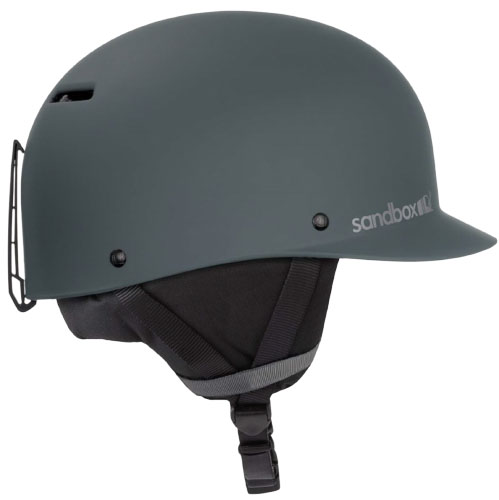 Construction: ABS
Ventilation: Fixed (3 vents)
What we like: All the style and durability that park riders need.
What we don't: Lacks the protective features, fit adjustment, and ventilation of our top picks.
Born and bred in Whistler, British Columbia, Sandbox is a one-stop shop for freestyle-inspired helmets, whether you frequent the skate park, the water, or the slopes. Now in its second iteration, the Classic Snow is their go-to dome protector for snowboarders looking for that extra dose of style. The Classic features a smooth half-shell lid with a soft-touch matte finish, Sandbox's signature brim, and removable ear covers. In addition, included pads allow you to customize the fit depending on whether or not you prefer to wear a beanie. And while the Classic 2.0 Snow isn't light by any means, its ABS shell can take a beating, which is great news for riders who spend a lot of their time sliding rails in the park.
However, while freestyle snowboarders will love the Classic 2.0 Snow for its laid-back vibes and reasonable price tag, the helmet shows its weaknesses once you leave the park. It features very little in the way of tech—no MIPS, adjustable ventilation (you just get three small, fixed vents), rear fit dial, or audio compatibility. And unlike some park-inspired models (including the Smith Holt and Scout above), it doesn't come with an all-season certification for activities like skating or biking. Finally, sizing can be tricky: You'll want to measure your head closely before purchasing and be prepared to spend some time fiddling with the included pads to nail a good fit. For improved performance in a similarly steezy design, check out the Giro Emerge MIPS above.
See the Sandbox Classic 2.0 Snow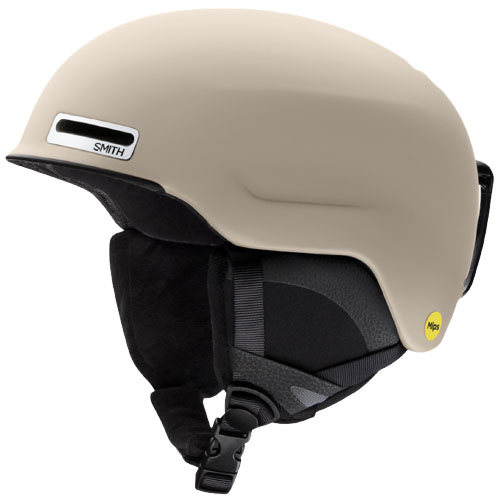 Construction: In-mold
Weight: 12.3 oz.
Ventilation: Fixed (9 vents)
What we like: Incredibly light and great styling.
What we don't: Doesn't stand out in any other area.
Gone are the days when "it's just too heavy" is a valid excuse for not wearing a snowboard helmet. Technology has improved by leaps and bounds, and today's market has no shortage of sub-1-pound lids that offer top-notch protection and all-day comfort—all while looking good in the process. The Smith Maze MIPS is one of the lightest snow helmets available (just over half an ounce lighter than the Salomon MTN Lab above) with a clean, sleek profile and subtle brim to match. It also includes the rotational impact protection of MIPS, or you can save $30 and opt for the non-MIPS version.
We're big fans of the Smith Maze MIPS' feathery feel and streamlined styling, but a few notable downsides push it toward the bottom of our list. For one, in-mold is the least durable of helmet constructions, and it's only a matter of time before the Maze's smooth half-shell is riddled with scratches (unless you're particularly careful with your gear). Second, with only nine fixed vents, you don't get a ton of temperature regulation—despite its exceptionally low weight, the Maze is not a great backcountry design. Finally, you're definitely paying a bit of a premium for the minimalist build: For $20 less, the MIPS version of the Oakley Mod1 above offers similar features for just a few ounces more, along with a rear fit dial and magnetic buckle. In other words, the Maze is less well-rounded than many other options here, but the weight savings may be worth it to some.
See the Smith Maze MIPS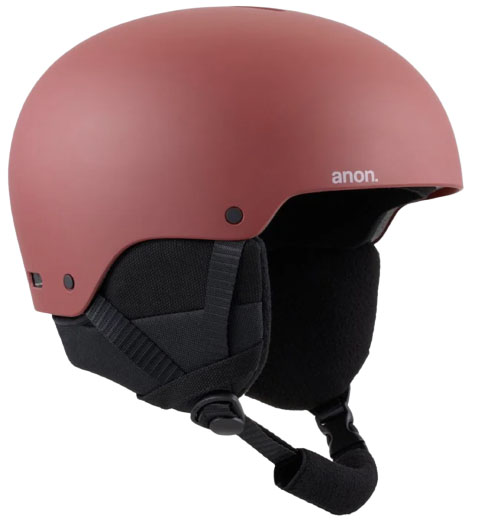 Construction: ABS
Weight: 1 lb. 5 oz.
Ventilation: Fixed (6 vents)
What we like: Good price for such a durable lid.
What we don't: Looks and feels bulky; no fit adjustment.
The Anon Raider (and women's Greta) is a long-time budget favorite with its durable construction and skate-park vibes. From a features standpoint, it's about as basic as it gets. There is no adjustable fit system, the basic ventilation system doesn't do a great job with temperature regulation or fog prevention, and it's among the heaviest models on our list at 1 pound 5 ounces. On the plus side, the interior padding has a fleece backer, which is much softer than we expected for the price, and the helmet has a nice, solid feel.
The Raider 3's $90 price tag puts it into direct competition with the Smith Holt above, and between the two, we give the clear edge to the Holt. Smith has done a better job making a more livable helmet for the same price: Its simple fit system works well, and despite weighing about the same, the Holt feels much lighter on your head and looks far less bulky. We've also found Smith's overall quality to be a step up from what you get with Anon. But many snowboarders are loyal to the Anon brand, and the Raider 3 will certainly get the job done for casual resort use or those who only get out a few times a year.
See the Anon Raider 3  See the Women's Anon Greta 3
Snowboard Helmet Comparison Table
Snowboard Helmet Buying Advice

Helmet Construction Types
Construction styles for snowboard helmets can be broken into three general categories: ABS for the best durability, in-mold for the lightest weight, and hybrid in-mold for a nice compromise between the two. Below we break down the pros and cons of each type and who they're best for.

ABS
Diving a little deeper, ABS helmets like the Smith Holt and Anon Raider 3 are made in the traditional style with a hard plastic shell and a foam liner glued to the inside. The combination is simple but tough—ABS will scratch, but it's far less likely than other materials to show cosmetic damage like dings and dents. It's also the most affordable helmet construction, and many ABS helmets feature all-season certifications for use while biking, skateboarding, or roller skating. The tank-like design does come at the expense of weight, bulk, and ventilation: Put on an ABS helmet back-to-back with an in-mold or hybrid design, and the ABS model will look and feel more cumbersome. But given their strengths, ABS helmets are a great choice for everyone from beginner snowboarders and penny pinchers to those who are especially hard on their gear.
In-Mold and Hybrid
In-mold and hybrid in-mold technology is found on many mid-range and high-end helmets. In-mold construction combines a thin shell (often polycarbonate) with an EPS foam liner right from the start, and they're molded together. What you get is an integrated piece, which cuts weight, adds a premium finish, and lets the helmet work as a single unit to absorb impacts. Ventilation also improves with these designs, although the degree to which it increases will vary by model and price.
Durability is the primary downside to an in-mold helmet, and particularly protection against cosmetic damage like dings and dents. For this reason, hybrid helmets have grown in popularity. Hybrid in-mold designs add a hardshell layer (often along the top) for improved aesthetic durability. Because of the added material, they're generally a few ounces heavier than standard in-mold designs but are a better choice for riders who really get after it in the park or on big-mountain terrain (or simply for those that want a quality build that should last a long time). However, their price, which is often $200 or more, puts hybrid designs out of reach for many occasional riders. A number of our top picks use this type of construction, including the Anon Prime and Smith Vantage.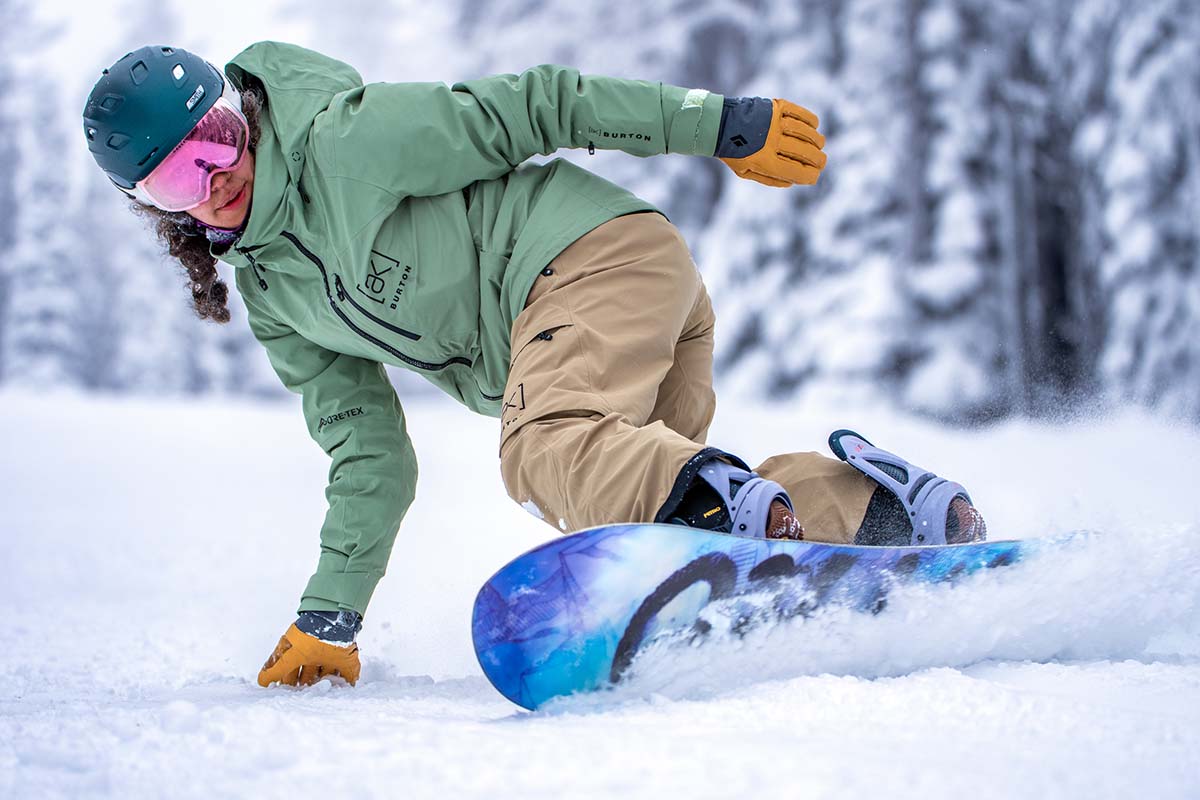 Helmet Safety: MIPS and More
MIPS
In an effort to increase safety, many snow helmets offer protective features on top of the standard shell and foam combos mentioned above. Among these technologies, none has been so universally adopted as the MIPS (short for "Multi-directional Impact Protection System") liner. MIPS was designed to reduce damage to the brain in angled impacts (as might occur during a high-speed snowboarding fall or botched landing) through a liner that moves independently from the outer shell. We've taken the time to remove our MIPS liners and it's impressively simple: A thin plastic layer connects to the helmet with a few small tabs and moves independently, keeping rotational impacts from passing onto the brain (note: MIPS strongly advises against removing the liner—we did so only for educational purposes). MIPS' more premium Spherical technology (as seen on the Giro Emerge) uses two pieces of EPP foam in a ball-and-socket configuration to accomplish the same impact reduction.
Beyond the formidable research that has gone into MIPS and comparable technologies, the beauty of the designs are that they have essentially no impact on comfort or the profile of the helmet. As such, you see MIPS being adopted on anything from Smith's premium $270 Vantage all the way down to the $105 Scout MIPS. Some helmets we've tested do appear to fit slightly smaller as a result, but otherwise the impact is negligible. How often MIPS technology is a safety benefit is difficult to quantify, and we haven't found any solid evidence-based research, but all indications point to it being a nice extra safety measure to protect your head (how much that's worth is up to you). For more information on MIPS, we've found the technology page of the MIPS website to be a helpful resource.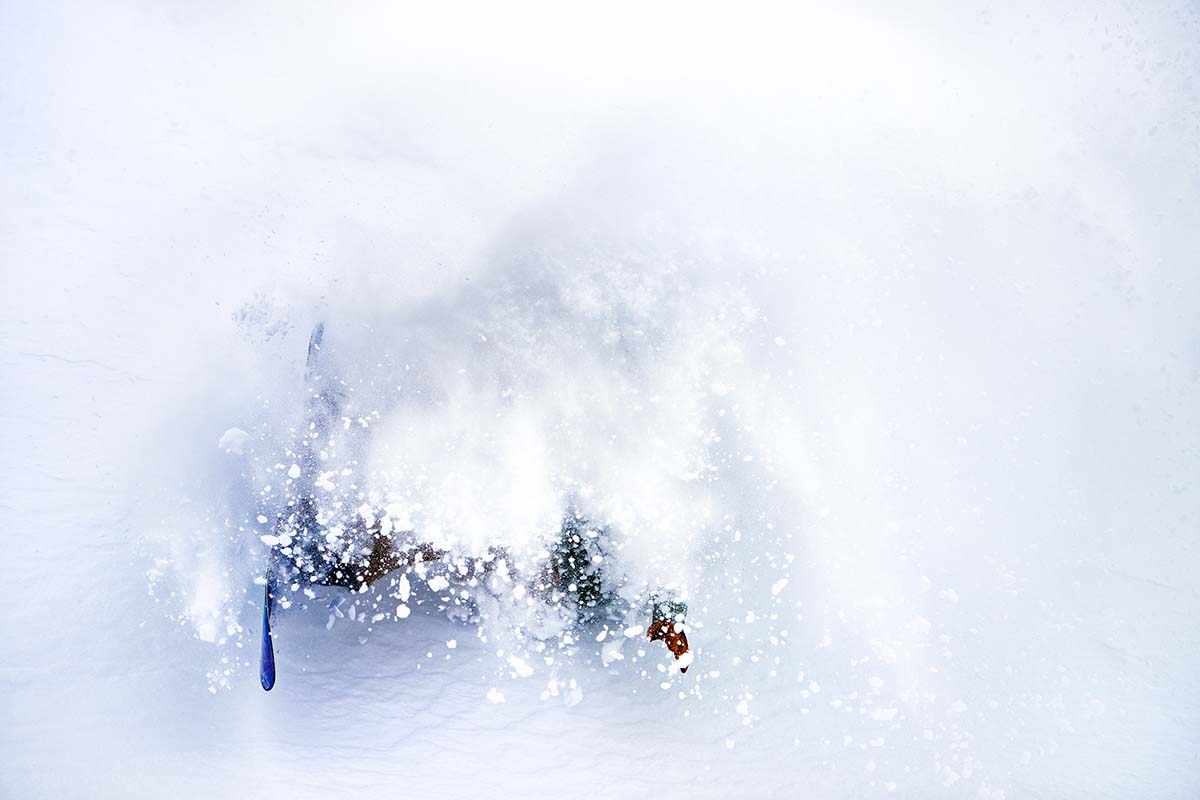 Koroyd and WaveCel
In addition to MIPS, some helmet manufacturers have begun to replace standard EPS foam with cellular or honeycomb-like materials like WaveCel (found in Anon helmets) and Koroyd (Smith's solution). These materials have the ability to absorb more energy than EPS, all while minimizing bulk and weight and maximizing ventilation. WaveCel in particular is so adept at absorbing angled impacts and reducing rotational forces that current WaveCel-equipped lids forgo a MIPS liner. Koroyd (via Smith's Aerocore technology) has become ubiquitous in Smith's designs, and Anon now has three helmets that use WaveCel. You'll spend up for the extra tech, but many riders will appreciate the added assurance and boost in breathability. 
EPS vs. EPP Foam
A final safety consideration is the choice between EPS and EPP foam. Most snow helmets feature EPS foam, which is more affordable than EPP foam but also more brittle. When subjected to enough impact, EPS will crack, meaning these helmets will need to be retired after a big fall. On the other hand, EPP foam springs back into shape after impact and can take multiple hits during its lifespan, making it a great choice for park rats and aggressive riders who subject their helmets to a lot of abuse. In addition, it doesn't require an ABS or polypropylene shell to help distribute the force. We see EPP used a great deal in climbing helmets due to its lightweight construction (i.e., no need for a shell), but it has yet to become widespread in snow helmets.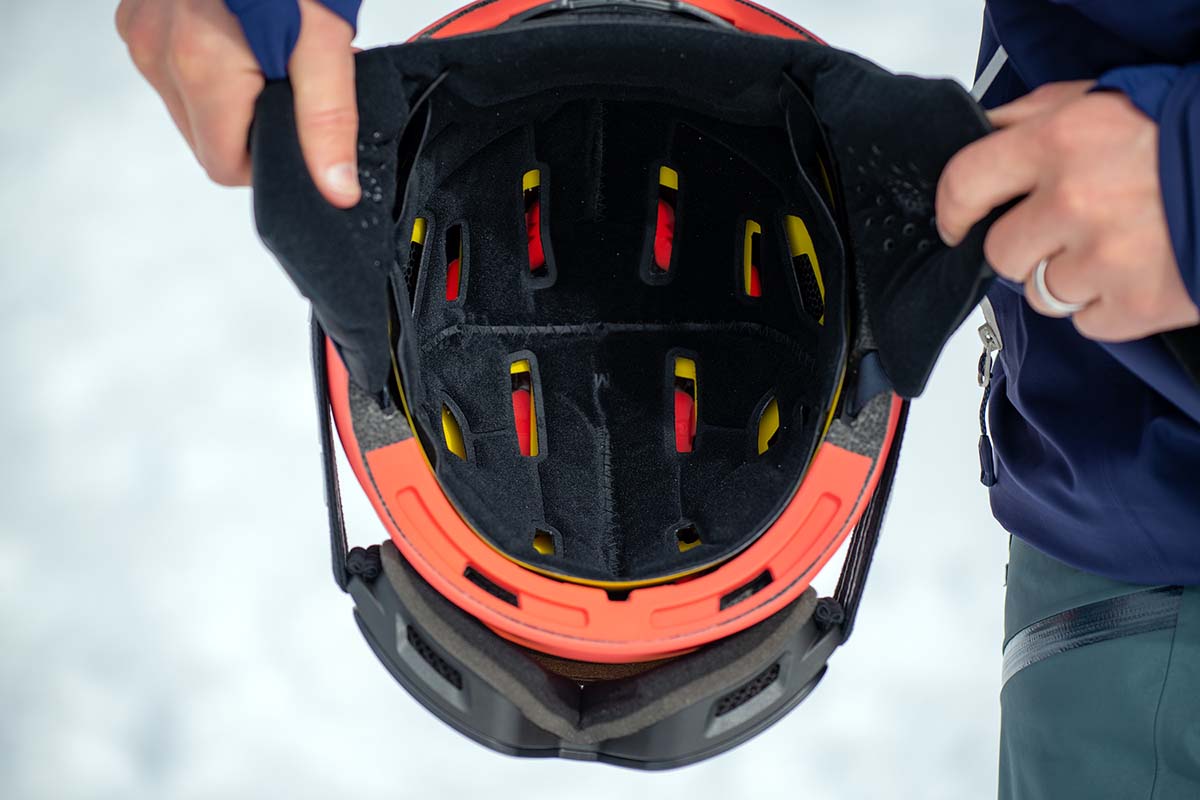 Helmet Certifications
Tasked with keeping you safe from hard impacts on the hill, the helmets on our list have an ASTM (U.S.) or EN (European) certification for non-motorized snow sports safety. Despite construction differences referenced above, these helmets all follow a basic design with a shell exterior and impact-absorbing interior. If you're headed to the slopes, it's important that you use a helmet designed for the job (i.e., don't use a mountain bike helmet for snowboarding), and refrain from using it for tasks outside of its intended use (such as snowmobiling). And of course, the onus is still, as it should be, on the user to ride within your limits.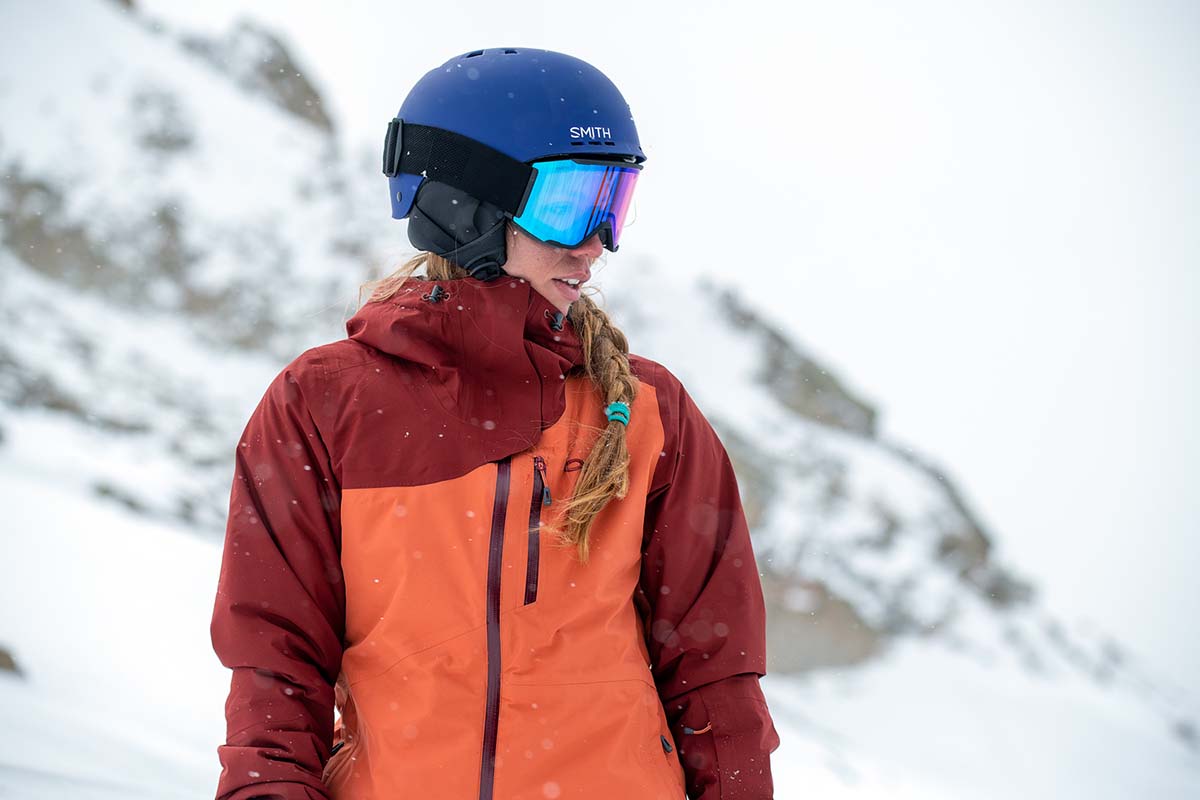 There are a few snow helmets that have multiple certifications for use outside of snowboarding or skiing. Helmets with an all-season certification (EN 1078) will be of particular interest to snowboarders who spend the warmer half of the year riding bikes, skateboarding, or roller skating. These designs, like the Smith Holt and Scout or Anon Raider, are often built with a solid ABS shell that can take a beating on the pavement. Like most snow helmets, they also feature removable ear pads, which is essential for summer use. All-season-certified lids certainly aren't among the lightest or most high-performance here, but their versatility and low price make them a popular choice for those looking for a quiver-of-one helmet. 
Finally, a few helmets, including the Salomon MTN Lab above, are also certified for climbing (EN 12492). These helmets offer an increase in protection from falling objects (from above) in addition to impact protection at the front, rear, and sides. If you're a splitboarder who ventures into the backcountry or deep into the mountains, you'll want to look for a helmet certified for both snow sports and climbing (the Petzl Meteor is another option). And good news for uphill athletes: These lids all feature lightweight and breathable designs for great performance on the skin track or boot pack.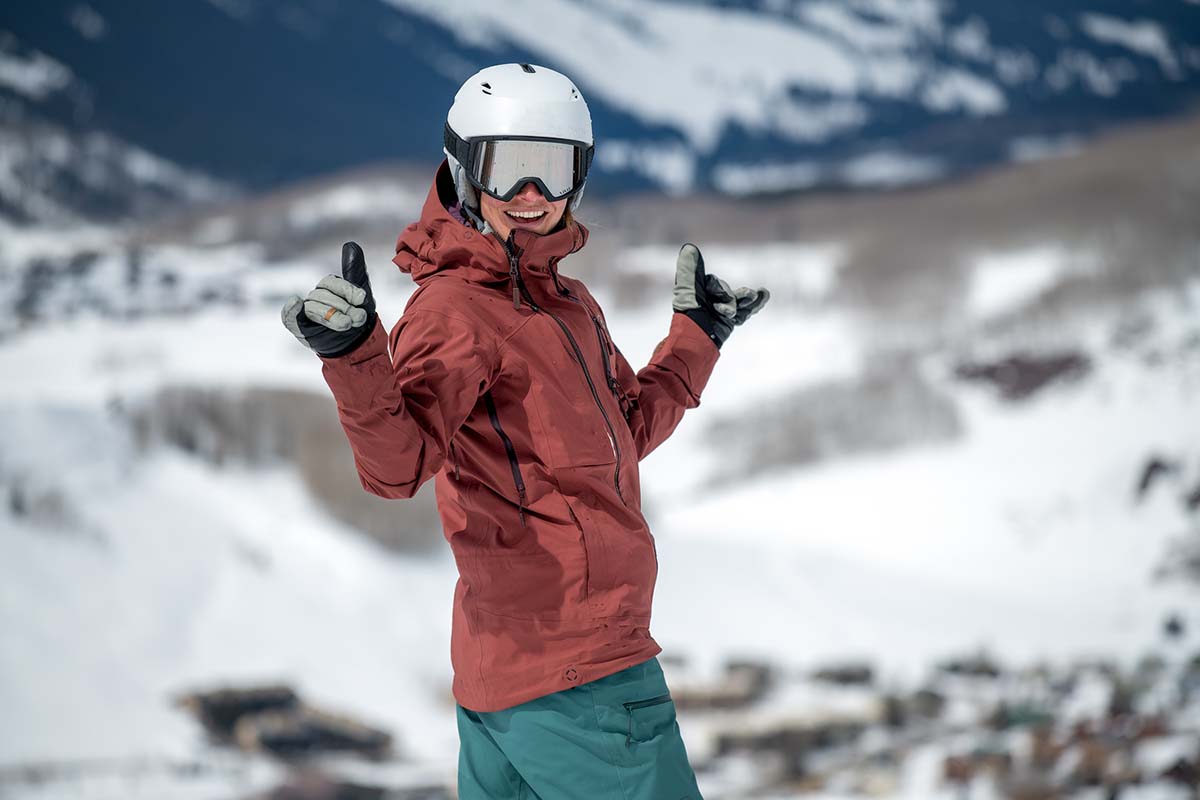 Ventilation: Adjustable or Fixed
Many riders will place a high priority on ventilation. Throughout the course of an average resort day, we open and close our vents on multiple occasions as we hunker down on a windy lift ride or heat up on a sidecountry hike. The technology behind keeping you at a comfortable temperature isn't as simple as putting a bunch of holes in the helmet—that winter air is rather cold and can lead to dreaded brain freeze when you are trying to let out some steam.
First, look at the number of total vents of the helmet (we've provided this information in the specs for each helmet and in the comparison table above). Not all vents are created equal, but this number gives you a good starting point as to how much ventilation the helmet offers. To be sure, there is a correlation between the number of vents and cost of the helmet. One of the best ventilators, the high-end Smith Vantage, has an impressive 21 vents, while a budget model like the Anon Raider 3 only has six small fixed openings.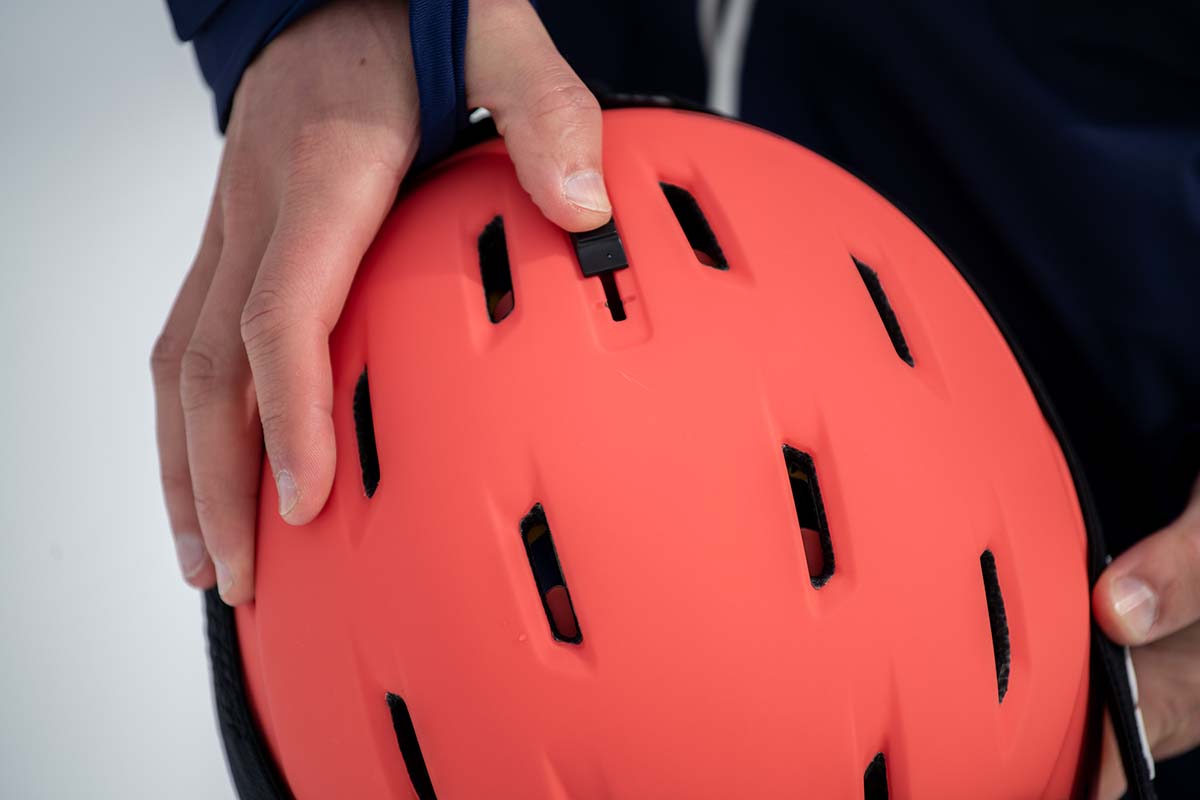 Then you have both adjustability and design considerations. Many premium and mid-range helmets have glove-friendly, adjustable vents that can be opened and closed depending on the preferred amount of air that you want to let through. Adjustability is highly preferred over static vents, particularly for active boarders that get out in a wide range of conditions. And effective designs direct air through intakes at the front and "exhaust" the heat out the top and back. Budget helmets often have fixed openings that cannot be shut, although a well-designed passive system can still do a decent job regulating your body heat. For long uphill slogs, you may need to ditch the helmet altogether, although we always recommend dealing with the heat if there is a chance for rock fall.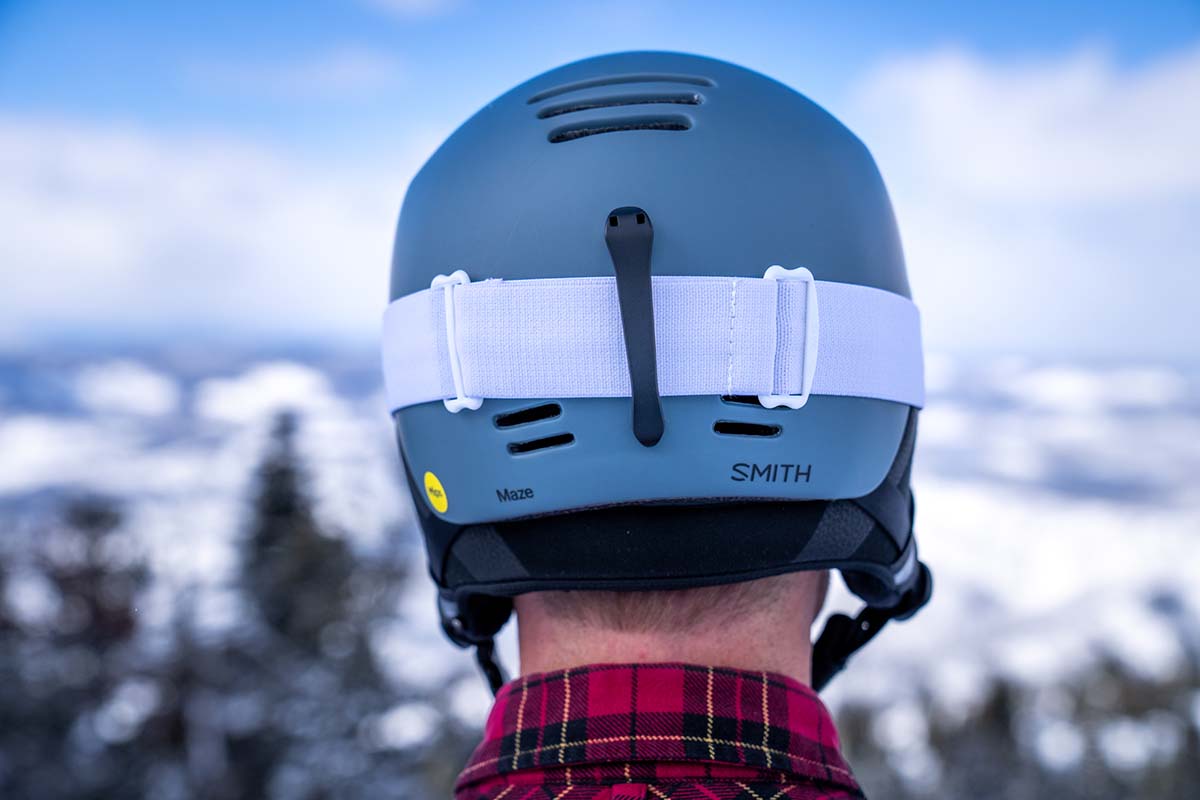 Liners: Comfort and Warmth
Liner comfort is one of the most noticeable differences when comparing budget models (typically under $100) with mid-range and high-end snowboard helmets. Pricey options like the Smith Vantage, Oakley Mod5, and POC Obex feature padding along the interior that balances softness with support, and if you nail the fit, you'll hardly notice the helmet throughout the day. Cheaper designs often have squishy foam that packs out over time, feels uncomfortable if you wear it all day, and muffles sounds (for the foam in the ear pads). For these reasons (and more), we recommend spending up if you plan to get out a lot in the winter. Like an uncomfortable pair of boots, you'll notice it if you don't.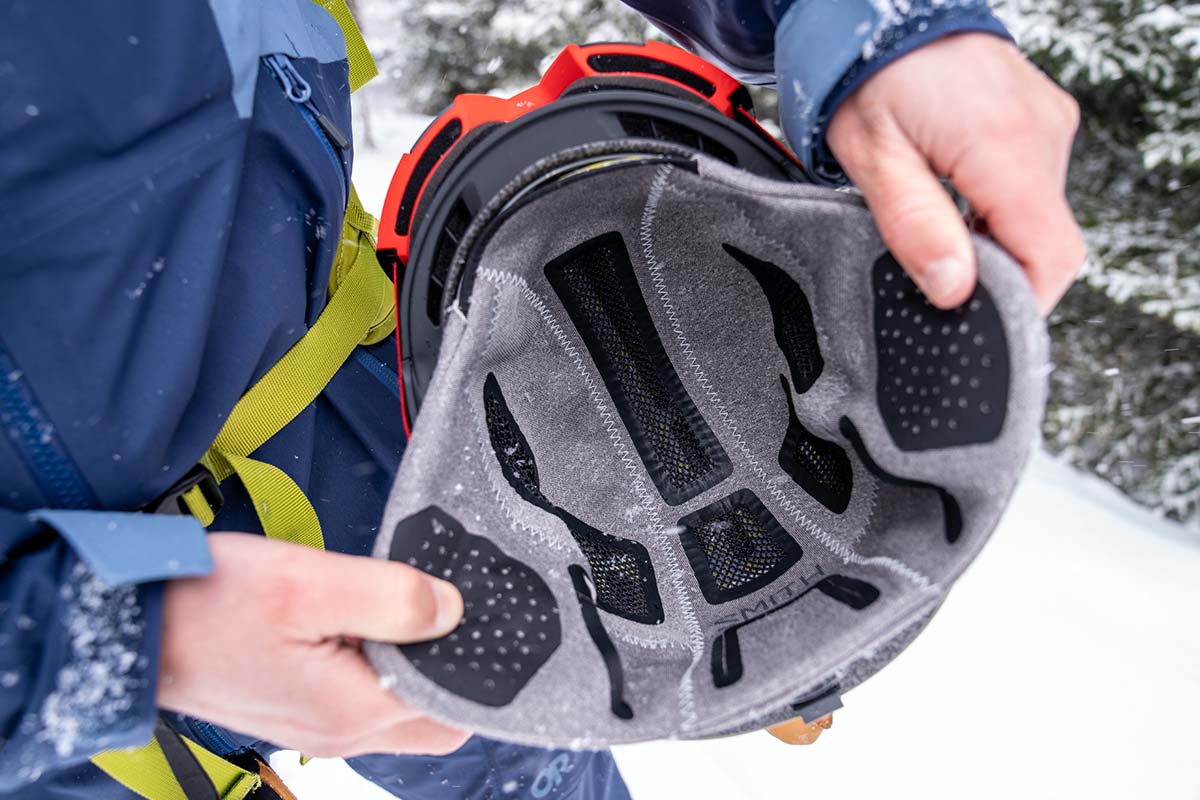 In addition to comfort, your liner can be a great source of insulation. In our experience, a quality design like what's included with Smith's Maze offers about as much warmth as a midweight winter hat (we've been comfortable wearing the Maze down into the single digits). Spending up often gets you better insulation, while sticking with a cheap lid can lead to issues with warmth (especially around the ears). Finally, keep in mind for particularly frigid days or if you're prone to running cold, you can slip on a beanie underneath (just make sure to choose a helmet with removable ear pads or adjustability to accommodate the extra thickness).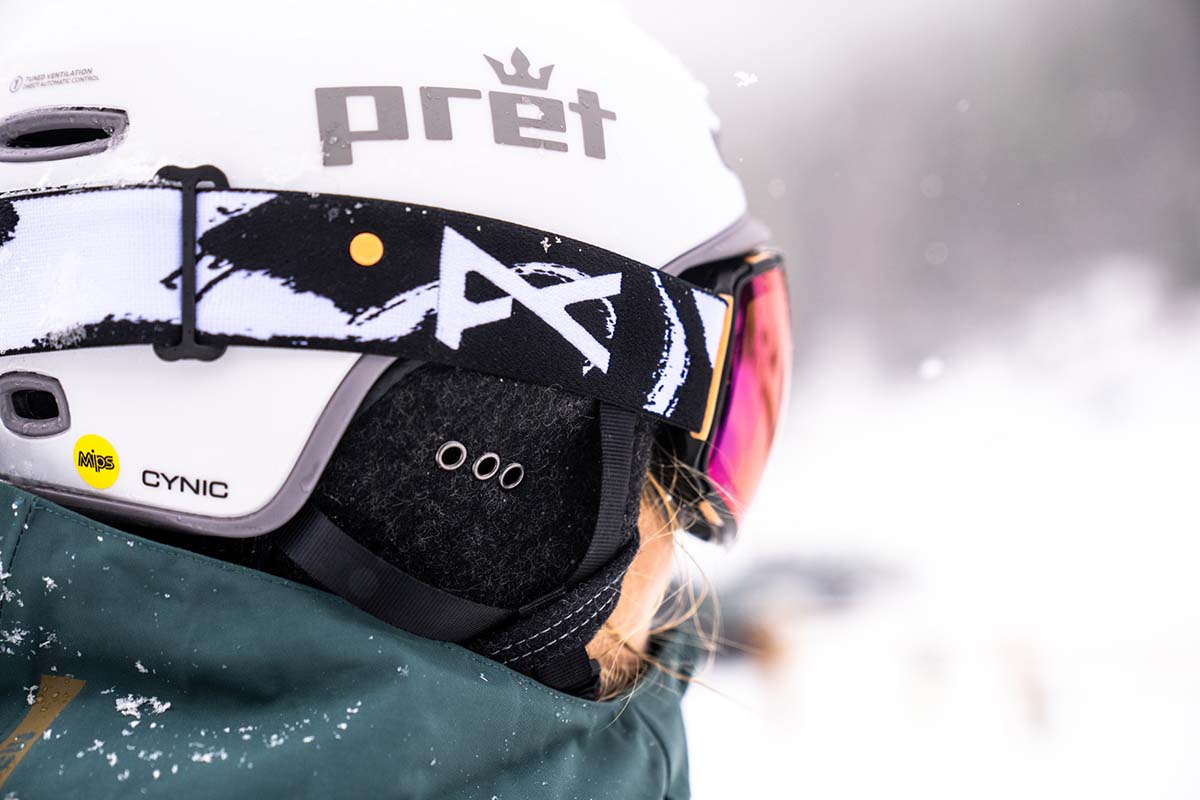 Weight and Bulk
Within their specific construction type—ABS, in-mold, or hybrid in-mold—most snowboard helmets weigh approximately the same. For our medium-sized helmets we tested, that's 12 to 16 ounces for in-mold, 17 to 19 ounces for hybrid, and 19+ for ABS. And between categories, there are noticeable differences in how they feel—in-mold and hybrid helmets are less prone to feeling heavy during a long day on the hill. However, simply putting a helmet on a scale won't tell you the whole story of how it feels on your head. Good padding and a snug but comfortable fit can easily make up the difference of a couple ounces. It's one of many reasons we love the Smith Vantage. It's not the lightest, but you'll quickly forget it's there.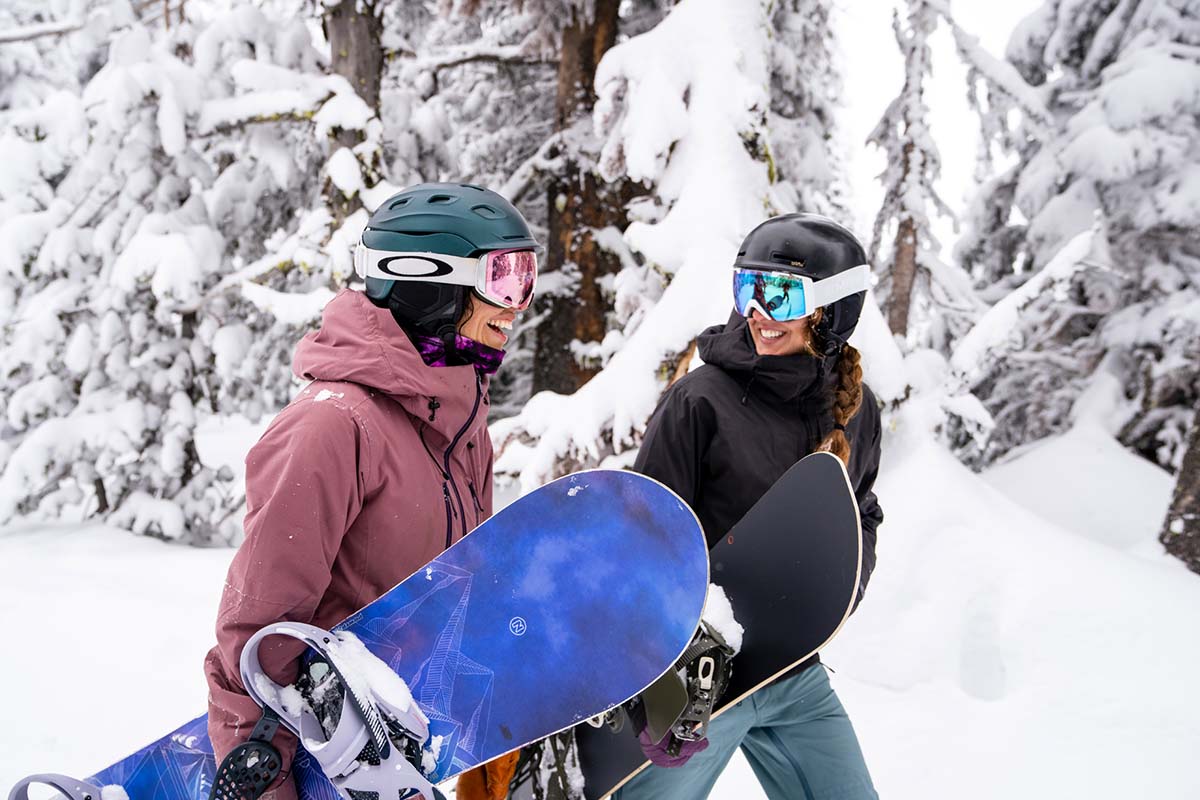 The bulkiness of a helmet plays into this perception of weight. Cheap helmets made with a basic ABS construction are thick and can feel cumbersome. The Anon Raider was the worst offender from our list, but it's still much better than even cheaper helmet options (and it's no coincidence that no helmets under $80 made the cut). In contrast, our top picks all have a low-profile fit and don't feel like you're hauling around a heavy appendage.

Snowboard Helmet Features
Goggle Retainer Clips
Goggle retainers are a simple but appreciated feature. The built-in clip holds goggle straps in place and helps reduce the risk of losing your goggles in a crash or otherwise (such as sliding the goggles up onto the brim of your helmet). Designs do vary some—many budget helmets use a simple plastic piece that flips open, while higher-end helmets will have a more secure strap or cord design. Most of the time, these retainer clips are removable—a nice feature to have if you're one of the many snowboarders who likes to run your goggle straps underneath your helmet rather than overtop.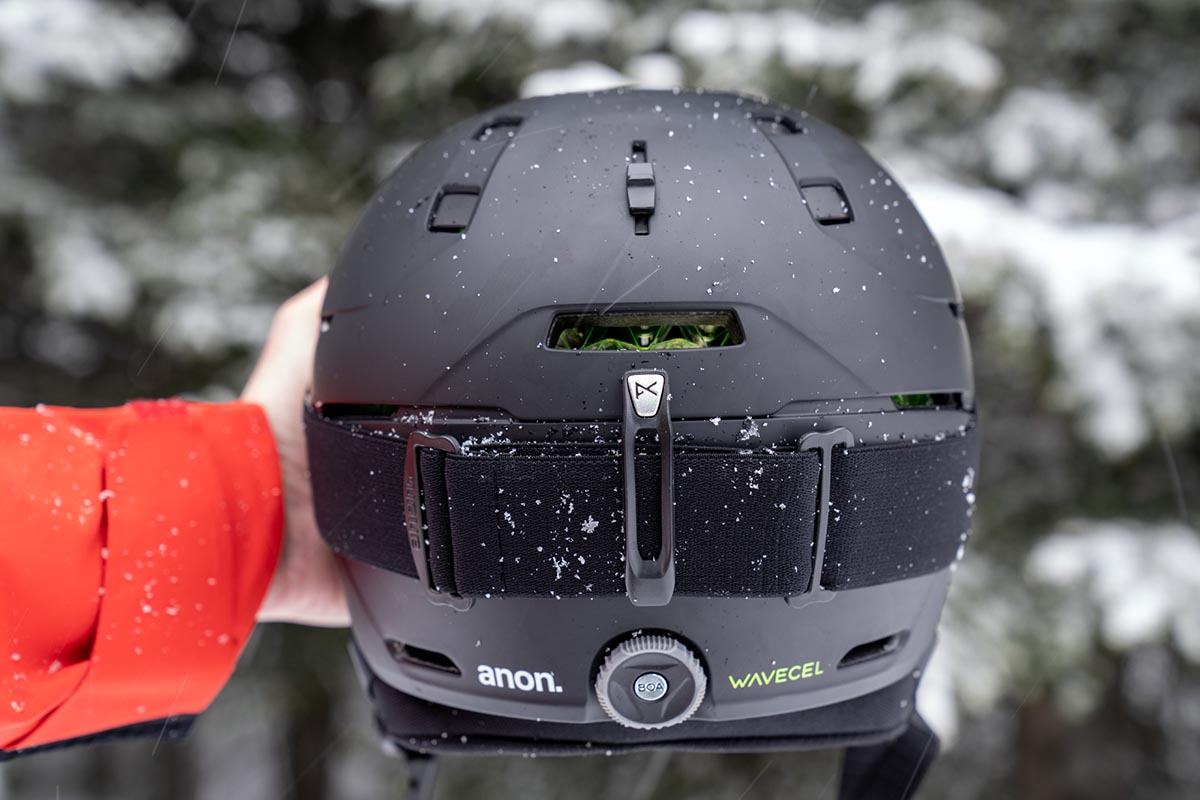 Action Camera Mounts 
Along with skiing, snowboarding is directly linked to the action camera's growth in popularity. Snowboarders quickly jumped at the opportunity to record runs, tricks, and just general fun on the mountain. The nice thing is that most action cameras come with adhesive helmet mounts that can be directly attached to pretty much any helmet on the market. Some models, such as Giro's Zone, go a step further and come with a GoPro-compatible mount to make it easier to take the camera on and off.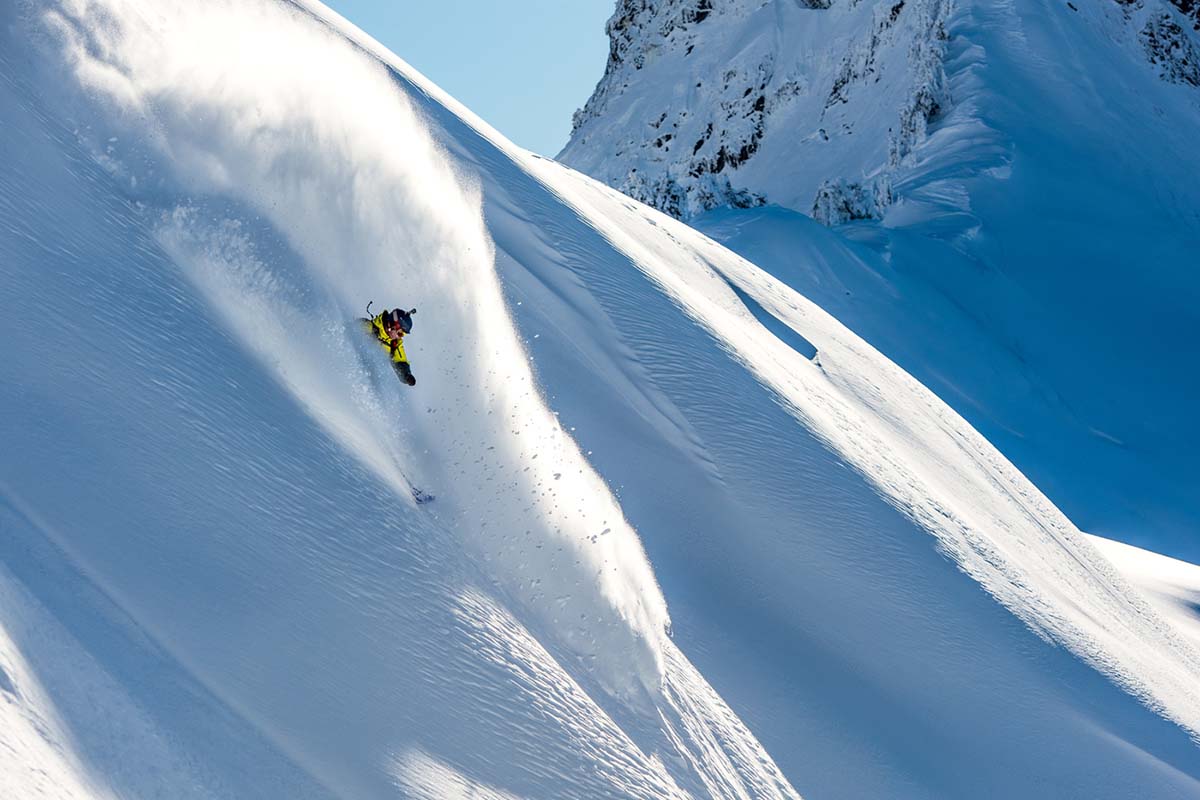 Audio Compatibility
Most helmets are compatible with some sort of audio system. For example, Giro lids work well with Outdoor Tech's Chip systems, and many Smith designs pair with Aleck's tech. In both cases, the ear cups have a built-in pocket that can accommodate speakers. "Audio" helmets like POC's Communication line will have integrated speakers and a cable to attach to a phone or music player. If you like to listen to music on the slopes, plan on spending a little extra to get quality speakers and reliable electronic hardware. Simply put, cheaper options don't sound as good and are prone to failing. While snowboarding, it's always a good idea to keep the volume down or have speakers that are non-noise-canceling for safety. While it may impact sound quality, the safety tradeoff of being able to hear other skiers or snowboarders or someone shouting at you is a net win.
 
Sizing and Fit
Getting sized for safety gear isn't a good time for guessing, so if you don't already know it, measure your head circumference prior to making an online purchase. All you'll need is a soft-sided measuring tape or string: Wrap it around your head about an inch above your ears and eyebrows to get your number (in centimeters). As long as the manufacturer is close in their listings—the only discrepancies we've seen recently are the smaller-fitting MIPS helmets referenced above—this should get you a decent fit.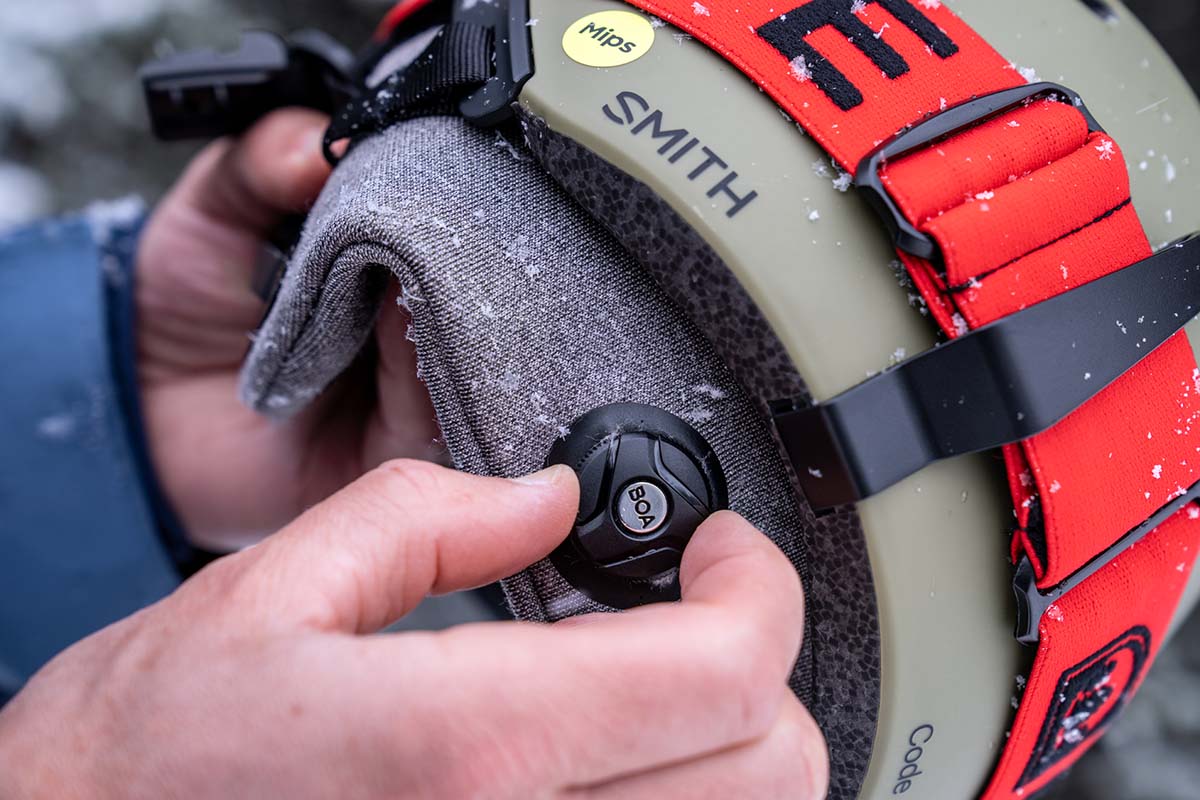 But to go from a decent fit to a great fit, we recommend popping into your local ski or snowboard shop to try on a variety of helmets. Helmet shape and fit can vary across the board—both between brands and between models—and it's possible that any given design simply won't fit your head shape. To maximize compatibility, many of Smith's helmets come in two different fits: a standard fit and their "Round Contour Fit" that accommodates rounder head shapes with more width at the rear and a shorter length. From our list above, these include the Vantage, Mission, and Scout.
There are a few final factors to keep in mind when dialing in a proper fit. For one, we strongly recommend opting for a helmet with a Boa dial (or similar technology). Some designs, like the Giro Emerge, use adjustable padding instead, but there's simply no substitute for the wraparound cinch of a rear dial. Second, if you see a helmet that claims to be one-size-fits-most, we advise steering clear even if your head circumference falls within the listed parameters. Something so accommodating just won't fit as well as a more fine-tuned size.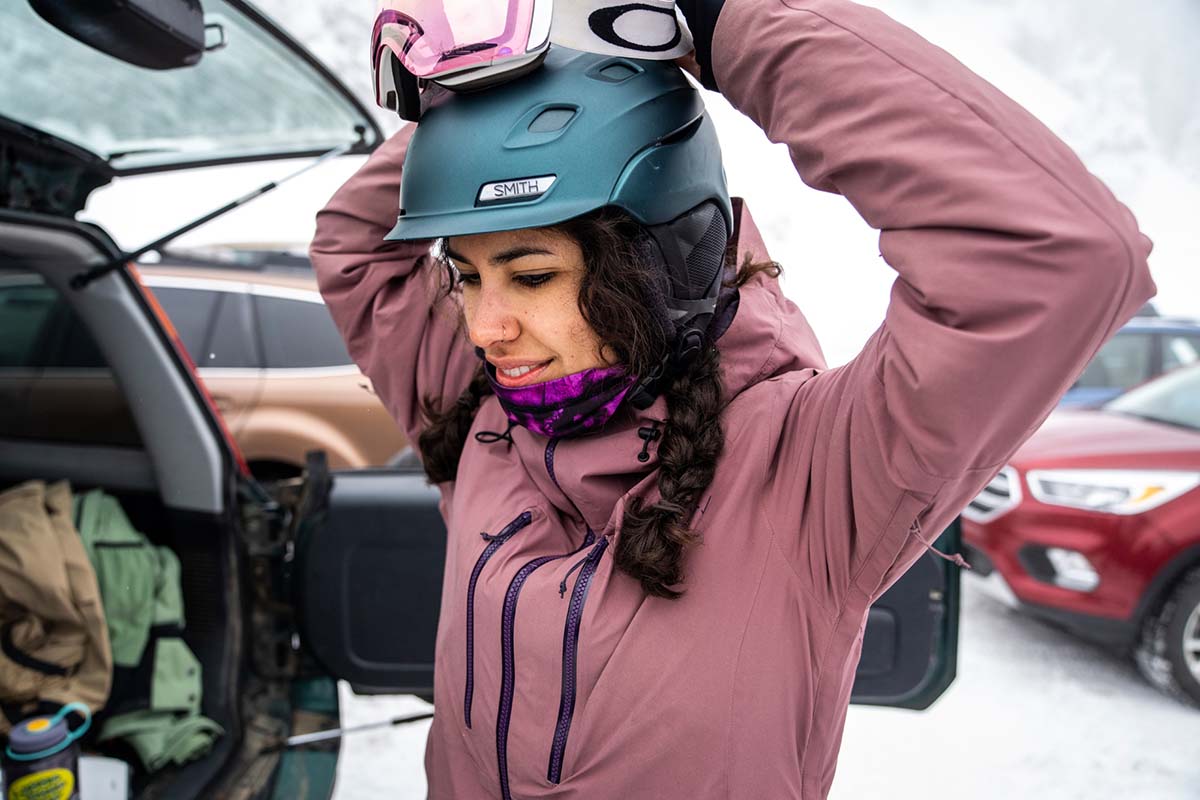 Goggle Compatibility
As with getting that perfect helmet fit, goggle compatibility is something that's easiest if you can try them on. An ill-fitting helmet and goggle system can either be too tight, which pushes the helmet up and the goggles down your nose, or too open, leaving some of your forehead vulnerable to the cold air. The easiest way to guarantee a good fit is to stick within the same brand—Smith helmets work great with Smith goggles, and the same goes for Anon, Giro, and POC—but we encourage you not to limit yourself if there's a goggle or helmet that's caught your eye.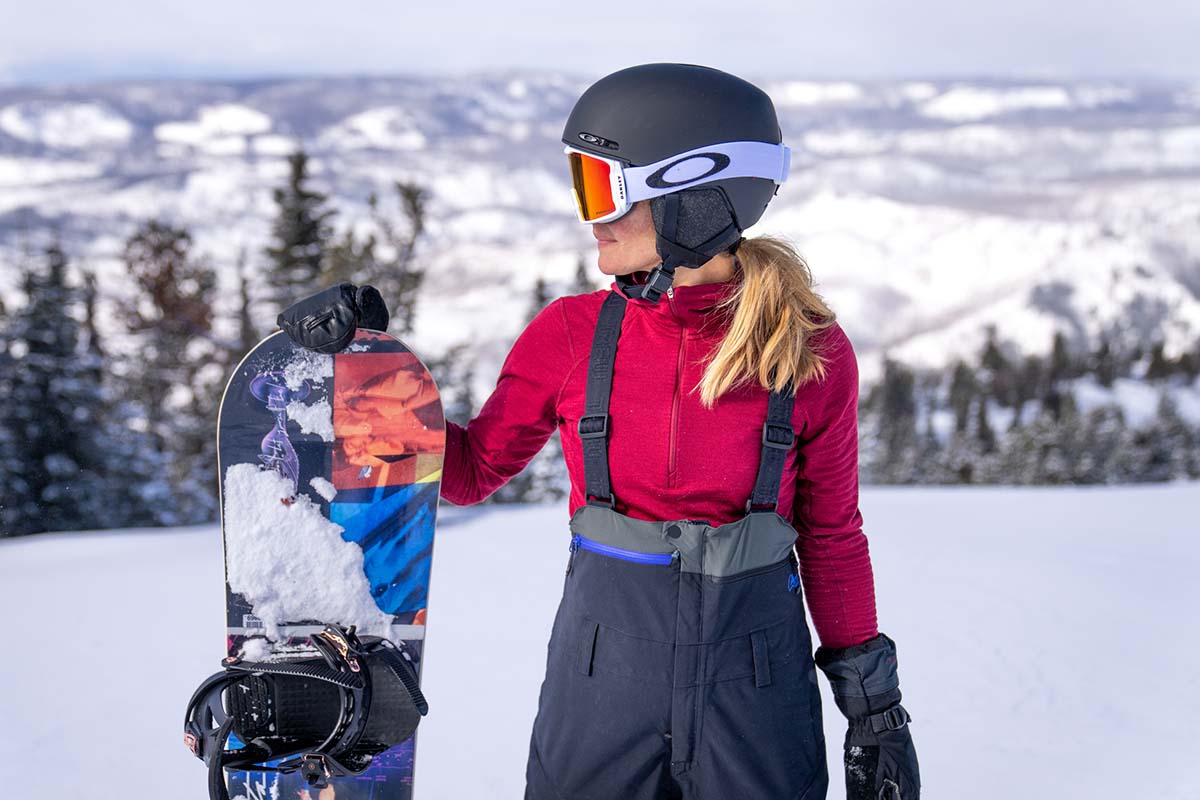 IIn testing, we've found some helmets are extremely accommodating of a variety of goggle types. The first-generation Oakley Mod5's swappable brim made it the most compatible with a range of brands and sizes (Oakley unfortunately discontinued the tech with the second-gen Mod5). And Giro's helmets not only work well with all Giro-branded goggles, but we've also found that many provide an excellent fit for anything from the large Anon M4 Toric or Dragon X2 to the classic Smith I/O. Smith's popular Vantage helmet is also reasonably accommodating, fitting big-sellers like the Oakley Airbrake and Flight Deck, but we had issues with tall frames like the Dragon X2.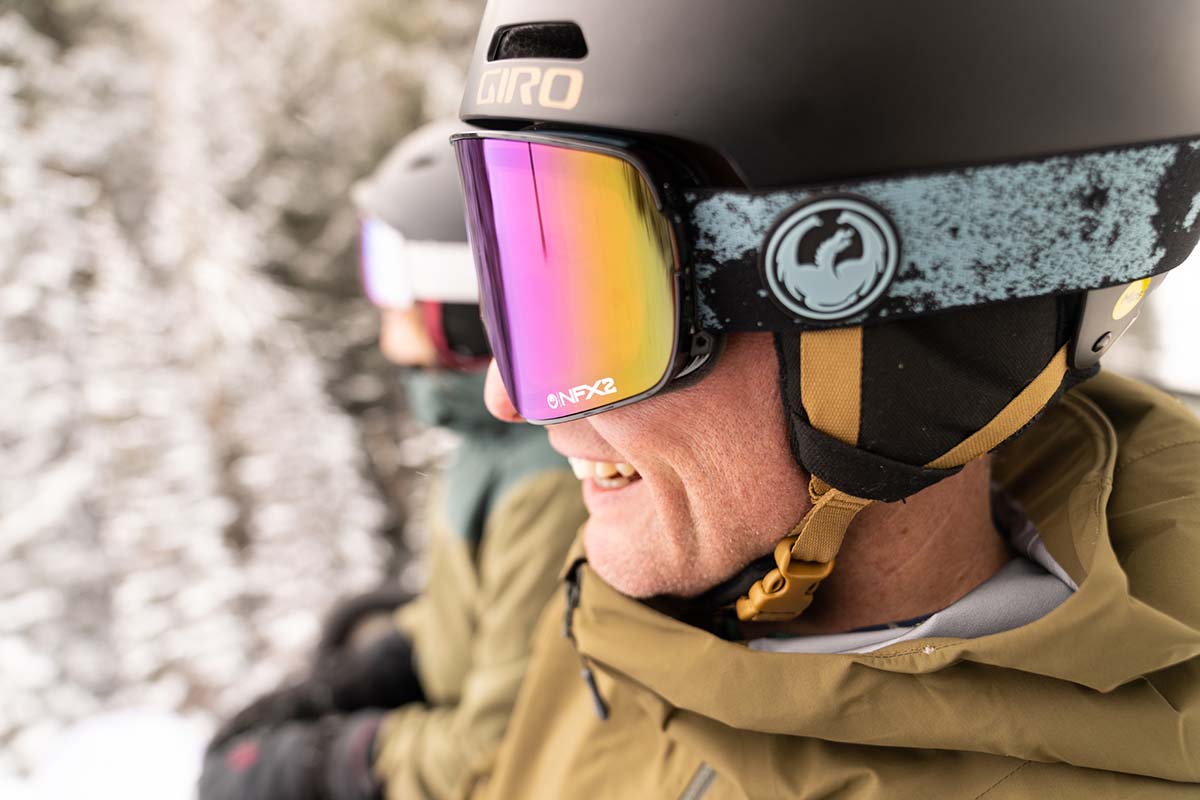 Women's-Specific Helmets
While many snowboard helmets are unisex and work perfectly fine for both men and women, some are also sold in women's-specific variations. These models are quite similar to their unisex or men's counterparts but often come in different colorways and have a slightly smaller shape and fit. They also sometimes have a different name (for instance, the Anon Nova is the women's version of the our top-ranked Prime), but the technology is all the same—and so is the pricing. Regardless of the labeling, our recommendation is to go with what feels and fits you best. When applicable, we've included a link to both the men's/unisex and women's versions of each helmet above.
Back to Our Top Snowboard Helmet Picks  Back to Our Snowboard Helmet Comparison Table
Learn More About Snowboard Gear