For all the minimalist backpackers and bikepackers, thru-hikers, and ounce-counters out there, the lightweight gear world is full of options to complete your sleep system. We've broken our top picks for 2023 below into two categories: ultralight sleeping bags, which include both traditional mummy bags and hoodless designs designed to be combined with a down puffy, and backpacking quilts that either attach to a sleeping pad or are used in a hammock. For more background information, see our comparison tables and buying advice below the picks.
 
---
Our Team's Ultralight Sleeping Bag Picks
---

Best Overall Ultralight Sleeping Bag

Temperature rating: 30°F
Weight: 1 lb. 5.4 oz.
Fill: 11.5 oz. of 950-fill down
What we like: Extremely well-built and warmer than the temperature rating suggests. 
What we don't: Heavier than most of the competition.
If you haven't yet heard of Feathered Friends, we recommend that you get acquainted. This Seattle-based down specialist uses premium materials, has a diverse selection of products, and makes almost everything in the U.S. And because they only sell online and through their one retail location across the street from the REI flagship, we think you get more bang for buck than the other ultralight elephant in the room: Western Mountaineering. Both make top-notch sleeping bags for serious outdoorspeople, but Feathered Friends is tough to beat. 
For 3-season use, the Hummingbird UL is our favorite ultralight sleeping bag on the market. It's stuffed with a generous 11.5 ounces of 950-fill goose down, has a thin but water-resistant 10-denier Pertex Endurance shell, and is much warmer than other 30-degree bags (in our experience, Feathered Friends bags run warmer than their listed ratings). But the Hummingbird is overkill for summer use, and at 1 pound 5.4 ounces, it's on the heavy side—true ultralight aficionados will want to save weight by sacrificing features like a hood, full-length zipper, and water-resistant shell. But the Feathered Friends nevertheless offers one of the best warmth-to-weight ratios here, and comes with a great track record for quality and longevity.
See the Feathered Friends Hummingbird  See the Women's Feathered Friends Egret
Best Budget Ultralight Sleeping Bag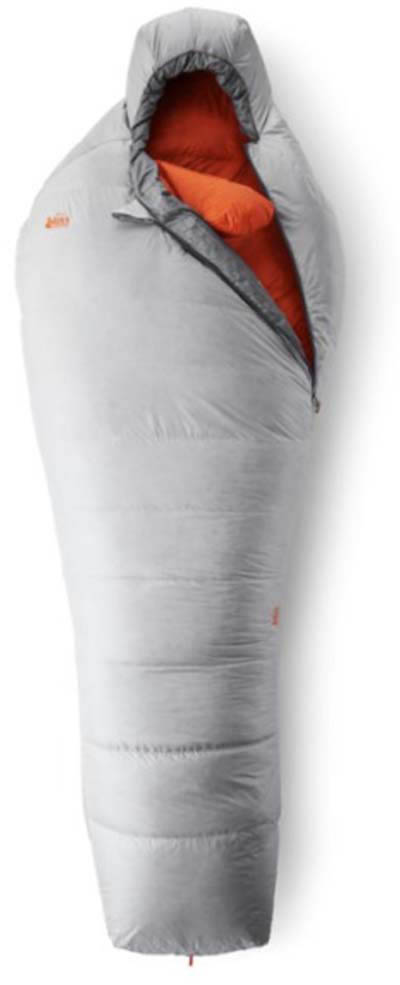 Temperature rating: 39˚F ISO Comfort, 30˚F Lower Limit
Weight: 1 lb. 3.8 oz.
Fill: 8.5 oz. of 850-fill down
What we like: Light and inexpensive for what you get. 
What we don't: Less down than competing options from Feathered Friends and Western Mountaineering.
For the value seekers out there, REI Co-op's hard goods have seen a dramatic increase in quality in recent years, and the Magma sleeping bag is case in point. For $349, you get a warm and well-built 30-degree bag that weighs just 1 pound 3.8 ounces—almost 2 ounces less than the Feathered Friends Hummingbird above. In addition, the shell is a 15-denier Pertex, which is more durable than the Hummingbird (10D), and the shoulder and waist dimensions are more generous for a roomier night's sleep (63/57 in. vs. 58/52 in.). Dollar for dollar, you'd be hard-pressed to find a better ultralight sleeping bag that still offers 3-season warmth. 
The REI Magma isn't perfect, however. Its 8.5 ounces of 850-fill down falls short of competing 30-degree models from Feathered Friends and Western Mountaineering—the "30" in the product name refers to the Lower Limit, not the Comfort rating, and we've found it's comfortable down into the mid-to-upper 30s. Alternatively, if you run warm or only camp in fair weather, you can save a lot of money with a summer-weight bag like the $179 Marmot Micron below. But the Magma's boost in insulation is considerable, and with a full-length zipper, it's versatile for a range of temperatures. Put simply, you won't find a bag that better balances warmth, weight, and price. And for cold sleepers or higher elevations, REI also offers the Magma 15, which clocks in at 1 pound 12.2 ounces and retails for $399. 
See the Men's REI Co-op Magma 30  See the Women's REI Co-op Magma 30
Best Hoodless Ultralight Sleeping Bag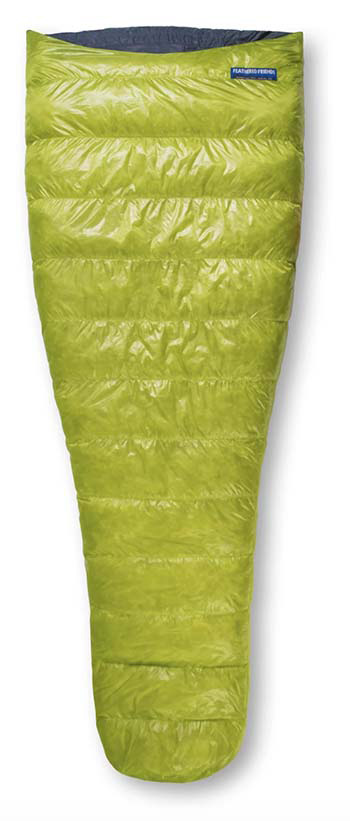 Temperature rating: 20°F 
Weight: 1 lb. 2.6 oz.
Fill: 12.6 oz. of 950-fill down
What we like: Super comfortable and warm for its weight.
What we don't: No zipper or hood; very thin materials.
A hoodless sleeping bag isn't for everyone, but for diehard ULers who want to save weight without compromising warmth, it's a really cool solution. Here's the theory: you can keep your noggin warm with the hood of a down jacket or beanie (which you're probably bringing anyway) and move that extra insulation to the rest of the bag, trapping your body's heat with a drawstring at the neck. The net result is more insulation for less weight, which is worth the minor comfort sacrifice for most. The Feathered Friends Tanager is a shining example: rated to 10 degrees colder than our top-ranked Hummingbird and checking in almost 3 ounces lighter, its warmth-to-weight ratio is truly impressive.
We must admit: we initially were skeptical, but the Tanager has kept us warm on many chilly mountain nights. That said, it's important to keep in mind what you give up with such a limited feature set. With a zipperless design, getting in and out is a bit of a chore, and there's no option for venting on warm nights. Additionally, the Tanager's 7- x 5-denier outer fabric is noticeably thinner than most bags here and will require some extra care to avoid snags and tears. And on occasion (especially particularly cold nights), we have found ourselves wishing for the added coziness of a traditional, hooded design. But no gear is ultralight without some amount of compromise, and we think the Tanager pulls it off better than most. If you've been known to saw off the end of your toothbrush or use trekking poles to pitch your tent, this bag has your name on it... Read in-depth review
See the Feathered Friends Tanager 20
Best UL Sleeping Bag for Warm Weather 

Temperature rating: 44˚F EN Comfort, 40°F Lower Limit
Weight: 12 oz.
Fill: 6.3 oz. of 850-fill down
What we like: Crazy light; the wet-weather assurance of hydrophobic down.
What we don't: Only recommended for mid-summer use. 
If you think the options above are ultralight, you ain't seen nothing yet. At just 12 ounces, the 40-degree Spark is the lightest fully featured sleeping bag on this list and comes complete with a hood and zipper. What's more, it features hydrophobic down and packs smaller than a 1-liter Nalgene in the included compression sack. Sure, the Spark can't compare with most of the picks here in terms of warmth—we only recommend it for balmy summer nights—but these specs undeniably are impressive, even for a 40-degree bag. 
All that said, versatility is limited with such a lightweight design. To put it in perspective, our top-ranked Hummingbird contains almost twice the amount of down as the Spark, which is a welcome addition on cold summer nights (40˚F is the Sea to Summit's Lower Limit). On top of that, the Spark has a short, 1/3-length zipper, which gives you a lot less wiggle room and limits ventilation. Finally, its 10-denier shell isn't the thinnest here (the Tanager's above is 7 x 5D), but it will require considerable care when packing or sleeping outside on rough ground. But these shortcomings aside, the ultralight and ultra-compressible Spark will disappear into your pack or bike pannier better than just about any other sleeping bag, making it a solid choice for mid-summer outings at low elevations.
See the Men's Sea to Summit Spark  See the Women's Sea to Summit Flame
Best of the Rest

Temperature rating: 35°F 
Weight: 1 lb.
Fill: 8 oz. of 850-fill down
What we like: A fully featured mummy bag that weighs just 1 pound.
What we don't: Limited warmth and half-length zipper isn't great for dropping heat on warm nights.
There's no denying that the Hummingbird UL above is a great ultralight pick, but at well over a pound, it's just too heavy for some. While you won't find a lighter fully featured bag within Feathered Friends' lineup (the Tanager forgoes a zipper and hood), Western Mountaineering has a number of options to choose from. One of their most popular ultralight designs is the HighLite, which checks in at a pound even and includes a half-length zipper and hood. And the materials and construction are top notch, with a strong shell fabric and a combination of sewn-through and baffled seams that balances weight-savings and warmth. Sure, 8 ounces of down fill isn't a lot, but it's hard to argue with the efficiency of this Western Mountaineering design.
The HighLite's 35-degree temperature rating is only 5 degrees shy of the Hummingbird's, but a quick look at the specs tells us there's more to the story. While you get a generous 11.5 ounces of 950-fill down with the Feathered Friends, the Western Mountaineering packs in significantly less insulation, and it's a lower fill-power down to boot. In other words, the HighLite lacks the versatility of the Hummingbird for shoulder-season use—although it should be fully sufficient for most summer nights (even in the mountains). Further, the half-length zipper isn't great for dumping heat, which is a big reason to opt for a quilt. These gripes aside, you'd be hard-pressed to find this much warmth packed into a 1-pound mummy bag, which is why we rank the HighLite toward the top of our list.
See the Western Mountaineering HighLite

Temperature rating: 32˚F EN Comfort, 20˚F Lower Limit
Weight: 1 lb. 4 oz.
Fill: 12.5 oz. of 900-fill down
What we like: Zoned insulation offers loft and warmth where it counts.
What we don't: Trim-fitting, even for an ultralight bag.
Therm-a-Rest is no stranger to the world of outdoor sleeping and is best known for their popular lineup of backpacking pads. And although the company is relatively new to sleeping bags, we're very impressed with what they've come up with: a collection that comprises both down and synthetic options for everything from ultralight backpacking to winter camping. Their Hyperion is the lightest fully featured 20-degree bag on this list, clocking in at just 1 pound 4 ounces (the Tanager 20 above is 1.4 oz. lighter, but it's both hoodless and zipperless). Compared to the Western Mountaineering UltraLite below, you get similar amounts of insulation (and the Therm-a-Rest contains higher-fill-power down) at a massive 9-ounce weight savings. 
The Hyperion achieves this warmth for weight with down that's concentrated where it counts: 70% on the top and sides and 30% on the back. But it does come with a few compromises. For one, at 57 inches in the shoulders, 49.5 at the hips, and 43 in the toe box, it's noticeably narrow, which isn't great news for those with large frames or who turn over during the night. Second, you'll give up some ventilation and versatility with the half-zip design. Last, with no draft collar or tube, you don't get the coziness or protection of some competing models. But at $550 for a 20-degree ultralight bag (that sounds expensive, but look at the competition), the Hyperion offers a great mix of warmth, comfort, and relative affordability. 
See the Therm-a-Rest Hyperion 20

Temperature rating: 20°F
Weight: 1 lb. 13 oz.
Fill: 16 oz. of 850-fill down
What we like: Warmer than the SummerLite and HighLite. 
What we don't: 5 ounces heavier than the 20-degree Feathered Friends Hummingbird. 
A good number of the sleeping bags on this list are designed for summer adventuring, but the Western Mountaineering UltraLite is a serious step up. With 16 ounces of 850-fill down and a 20-degree temperature rating, it's much more alpine-centric than the HighLite above and SummerLite below. You also get a plush draft collar and hood, continuous baffles, and a respectable weight of less than 2 pounds. This bag may be overkill for warm weather and low elevations, but it provides more security for mountain environments and shoulder seasons when temperatures can really drop. 
The biggest competitor to the Western Mountaineering UltraLite is the 20-degree version of the Feathered Friends Hummingbird UL listed above. Interestingly, the UltraLite has a higher fill weight (16 vs. 14 oz.), although the Hummingbird uses ultra-lofty 950-fill-power down that offsets some of that difference. On the flipside, the Western Mountaineering is a notable 5 ounces heavier, which is what made the difference for us. Both are excellent ultralight 20-degree bags and your final choice might come down to availability, but we give a slight nod to the Feathered Friends. And if you want a bit more room, check out Western Mountaineering's Alpinlite, which adds 5 inches at the shoulders and 4 inches at the hips. 
See the Western Mountaineering UltraLite

Temperature rating: 39˚F ISO Comfort, 30˚F Lower Limit
Weight: 1 lb. 2.7 oz.
Fill: 800-fill down
What we like: Baffle-free exterior and internal diagonal baffles nicely balance weight and comfort.
What we don't: Shell is thin and fragile.
Montbell's Seamless Down Hugger is truly a work of art. Instead of standard baffles, it uses a web of polyester threads (dubbed the "Spider Baffle System") to keep the down insulation in place. As a result, it achieves more warmth with less insulation (read: less weight) compared with Montbell's standard sleeping bag designs. And on the inside, the liner features a spiraled elastic thread that expands with your movements and constricts to hug your body, effectively trapping warmth. Added up, the Seamless Down Hugger is an incredibly efficient sleeping bag, great for a range of body sizes, and will make side sleepers happy, too.
In terms of features, the Down Hugger is premium through and through. The 10-denier shell—while undeniably thin—is made with Montbell's Ballistic Airtight nylon, which is tightly woven to increase tear resistance. Further, the zipper is two-way, which means you have the option of venting at the shoulders or the lower legs. And at 1 pound 2.7 ounces, it gives the Therm-a-Rest Hyperion above a run for its money in terms of warmth for the weight (for a significant price drop). Finally, it's worth noting that Montbell offers the Seamless Down Hugger in a variety of fill weights (900, 800, and 650-fill) and temperature ratings (15, 25, 30, 40˚F), including "WR" models with windproof Gore-Tex Infinium shell fabrics and water-resistant zippers for added assurance in inclement weather.
See the Montbell Seamless Down Hugger 800 #3  See the Women's Montbell Down Hugger 800 #3

Temperature rating: 40˚F
Weight: 1 lb.
Fill: 8 oz. of 850-fill down
What we like: Full-length zipper and plenty of insulation in a lightweight package.
What we don't: Small zipper is prone to breaking.
Big Agnes makes some of our favorite lightweight tents, so it comes as no surprise that their ultralight Pluton sleeping bag makes an appearance here. At 1 pound even, the Pluton is the lightest model in their lineup but doesn't skimp on the details. Half of the bag's weight is devoted to 850-fill hydrophobic down (that's 1.7 oz. more down than the Spark above), while the other half manages to accommodate a full-length, two-way zipper and hood with drawcord. We're used to seeing manufacturers make compromises in zipper length to achieve low weights, but we appreciate that the Pluton allows you to open up the bag for full ventilation or use as a blanket.
The Pluton's specs are remarkable, especially when you consider its price of $350. However, there are a couple of features that cause us concern, especially in terms of durability and comfort. First, the YKK #3 zipper is noticeably thin and will be much more prone to failure than the more standard #5 zippers found on most ultralight sleeping bags. Second, larger sleepers will find the Pluton's dimensions to be somewhat restrictive. Last, the Big Agnes does not include a compression sack (which you'll almost certainly need for streamlining your load), so you'll have to factor in that extra cost.
See the Big Agnes Pluton UL 40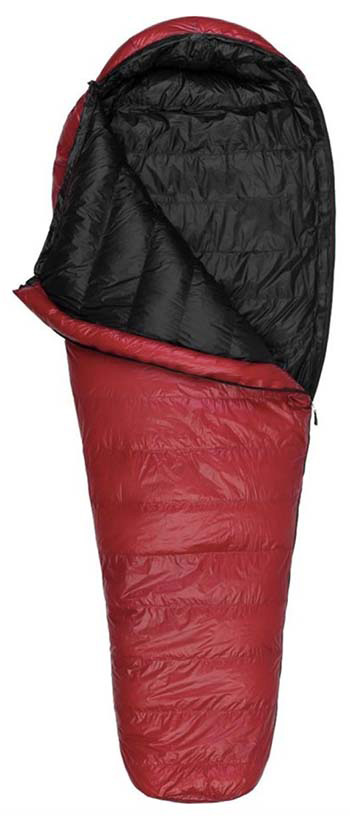 Temperature rating: 32°F
Weight: 1 lb. 3 oz.
Fill: 9 oz. of 850-fill down
What we like: More features than the HighLite above and lighter than the UltraLite.
What we don't: The Hummingbird UL offers better warmth for the weight.
Slotting right in between the HighLite and UltraLite, the Western Mountaineering SummerLite is a well-balanced bag for summer backpackers. You get an ounce more 850-fill down than the HighLite, dropping the temperature rating down to 32°F, in addition to a full-length #5 YKK zipper. These distinctions might not seem like a lot, but for us, they're the difference between a minimalist UL bag and a functional daily driver. On the other end of the spectrum, the SummerLite is 10 full ounces lighter than the UltraLite, which is substantial enough to matter. For an uncompromised summer bag that can eke out a night or two in the shoulder seasons, we really like the SummerLite.
If you're willing to drop the big bucks for a Western Mountaineering or Feathered Friends bag, it's not a question of which is the best model (they're all good) but more about discerning which is best for you. We understand the appeal of more insulation, but in reality, a 32-degree bag will get the job done for most thru-hikers and fastpackers, and you won't be sweating the night away like you might in a warmer model. Looking at it a different way, the Hummingbird UL above is just 2.3 ounces heavier but contains 2.5 ounces more down (of a higher fill power), making it the clear winner in terms of warmth for weight. It's hard to go wrong with any of the bags mentioned here, but if you're going to spend $470 (or more), you'll want to have a good idea of your end use.
See the Western Mountaineering SummerLite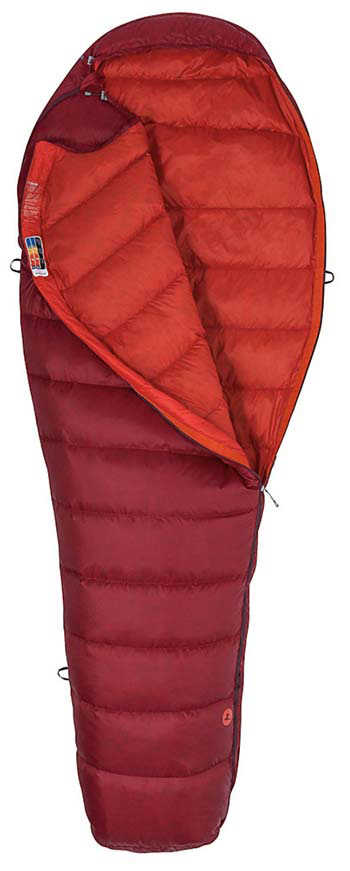 Temperature rating: 46˚F EN Comfort, 38˚F Lower Limit
Weight: 1 lb. 6 oz.
Fill: 9 oz. of 650-fill down
What we like: Over $100 less than any other bag on this list.
What we don't: Lower-quality down and heavy for the temperature rating. 
Premium materials that are both lightweight and durable come at a cost, creating an unfortunate barrier to entry for some. Luckily, Marmot offers an ultralight sleeping bag with a price tag that competes even with some more traditional budget sleeping bags. On the upside, the 40-degree Micron is packed with features, including hydrophobic down, an internal pocket, and a full-length zipper that extends through the footbox. We especially love this feature, which—unlike many of the options above—allows for full ventilation on warm nights, and it even opens into a lofty blanket. And in a market where many bags sell for north of $500, the Micron is a tremendous value at just $179.
However, for seasoned ultralight enthusiasts, you get what you pay for with the Marmot Micron. Its 1-pound-6-ounce build isn't competitive with other 40-degree bags (the Big Agnes Pluton and Sea to Summit Spark above weigh 1 lb. and 12 oz. respectively), and the Micron is even heavier than many 20-degree models here. And with the 650-fill down and 20-denier shell, you don't get premium materials, but keep in mind that you're not paying for them either. All in all, the Micron is a more durable choice than most ultralight bags and inexpensive to boot, which is why we've included it on our list. And for a more premium offering from Marmot, check out their Bantamweight 15 ($589), which offers a considerable boost in insulation for just 2.3 ounces more.
See the Marmot Micron 40

Temperature rating: 20˚F
Weight: 1 lb. 2.8 oz.
Fill: 13.7 oz. of 900-fill down
What we like: Great warmth-to-weight for a decent price; versatile design doubles as a quilt.
What we don't: Feels handmade.
Zpacks is one of the biggest names in ultralight gear, widely known for their Dyneema tents and backpacks. The cottage brand also makes a wide assortment of down sleeping bags and quilts, which—true to ultralight form—offer a high degree of customization in terms of temperature rating, length and width, and color. One of their three sleeping bag options, the hoodless Classic features a ¾-length zipper along the back, which is a versatile design that allows you to drape it over you like a quilt or zip it up like a standard sleeping bag. And because the zipper will likely be under you as you sleep, the need for a draft tube is eliminated, thus saving on weight.
The 20F Classic here features 13.7 ounces of RDS-certified 900-fill down, which puts it in the realm of bags like the Feathered Friends Tanager and Therm-a-Rest Hyperion above. We like the vertical baffles, which keep down from migrating to the side of the bag, and the 2.5 inches of loft offers an incredibly plush and cozy feel. And at $449, the Classic is competitive in terms of price, too. But you have to watch out with Zpacks: Their products do have a slight handmade feel, including occasional loose threads and uneven seams. But if you care about warmth-to-weight ratios above all else, the Classic is certainly worth a closer look—and while you're at it, it's worth checking out Zpacks' Zip Around and Mummy Sleeping Bag, too.
See the Zpacks 20F Classic

Temperature rating: 30°F
Weight: 1 lb. 5.1 oz.
Fill: 10 oz. of 850-fill down
What we like: A well-designed zipper and competitive price.
What we don't: Lacks the warmth-to-weight of premium bags from Feathered Friends and Therm-a-Rest.
Mountain Hardwear is yet another brand with a great selection of thoughtfully designed sleeping bags, and the Phantom 30F is their ultralight offering. The Phantom goes head to head with a bag like the Western Mountaineering SummerLite above, combining similar amounts of insulation with a functional feature set. Mountain Hardwear shaves weight with a streamlined shape and thin, 10-denier shell fabric (the same material used in their popular ultralight Ghost Whisperer jacket), but they don't skimp on the zipper, which is almost full-length, reasonably robust, and uses an anti-snag head. We've been disappointed by fragile and snag-prone zippers from Mountain Hardwear in the past, so the current Phantom's design is a welcome improvement.
The Phantom is a suitable bag for most summer conditions, but its warmth falls short of top performers from brands like Feathered Friends and Therm-a-Rest. The 30-degree model uses 10 ounces of 850-fill down, which simply can't match bags like the Tanager (12.6 oz. of 950-fill) and Hyperion (12.5 oz. of 900-fill), both of which check in at a lighter weight but forgo a full-length zipper. But compared to less compromised bags like the Hummingbird and SummerLite, the Phantom's warmth-to-weight is a bit more competitive, and it'll cost you $99 less than the Hummingbird, too. We're partial to down specialists like Feathered Friends and Western Mountaineering–the level of quality is hard to beat–but the Mountain Hardwear is nevertheless a great summer-weight sleeping bag for those looking to streamline weight and bulk.
See the Mountain Hardwear Phantom 30F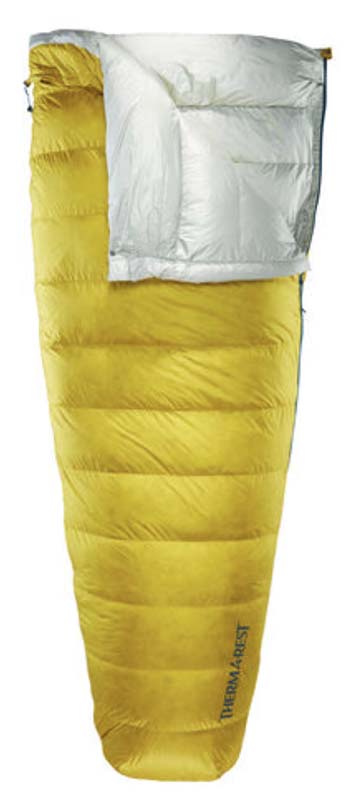 Temperature rating: 40˚F Comfort, 32˚F Lower Limit
Weight: 1 lb. 2 oz.
Fill: 8.5 oz. of 900-fill down
What we like: A lot of versatility for a very low weight.
What we don't: Not everyone will need the wraparound zipper.
Therm-a-Rest's Hyperion above is a great choice for ounce counters, but those in search of a roomier and more versatile bag should consider the Ohm. With premium 900-fill hydrophobic down, it's light and packable for its weight, but the comfort-first design is what's truly impressive. The hoodless Ohm features a semi-rectangular shape that makes it less restrictive than many ultralight mummy bags, and the full-length zip extends through the toe box, allowing you to zip the bag open into a blanket. For sleeping in warm conditions or those who run warm, the Ohm is a temperature-regulating champ.
With the added weight of a full-length zipper, the Ohm certainly isn't the lightest option in its class. Feathered Friends' Tanager, for example, clocks in at a comparable 1 pound 2.6 ounces but keeps you warm down to 20 degrees. Even Therm-a-Rest's 32-degree Hyperion is lighter at 1 pound even, and you get the added protection of a hood. But neither of these options can compete with the Ohm in terms of versatility, especially for larger frames or warm sleepers. And couples take note: you can zip two Ohms together for a comfortable but still lightweight two-person sleep system.
See the Therm-a-Rest Ohm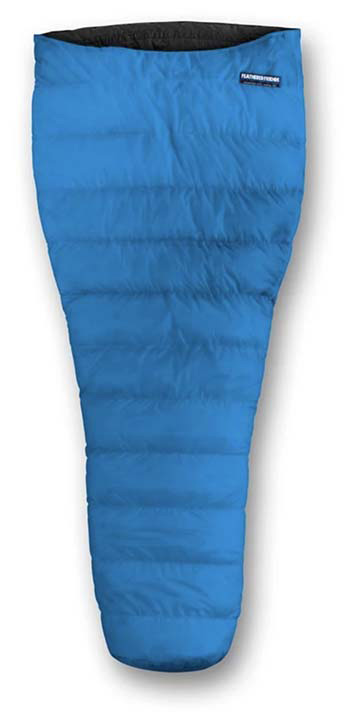 Temperature rating: 25˚/45˚F
Weight: 15.5 oz.
Fill: 8.7 oz. of 950-fill down
What we like: Unique insulation patterning eliminates a ton of weight.
What we don't: The warmer Tanager weighs only 3 ounces more.
We'll wrap up our sleeping bag picks with a unique offering from Feathered Friends: the alpine-specific Vireo UL. Like the Tanager above, the Vireo is a hoodless, zipperless bag designed to be worn with a warm down jacket. But Feathered Friends took it to the next level in the name of weight savings, concentrating most of the down on the lower half of the bag (this means that you must bring a down puffy, and potentially a warm one at that). In the end, the Vireo is 3.1 ounces lighter than the Tanager but potentially almost as warm—you get insulation down to 25 degrees for the lower body and 45 degrees on top. 
If you're going to spend the night out in sub-freezing temperatures but don't want the weight and bulk of a bag like the UltraLite, the Vireo is an intriguing choice. That said, for just 4.5 ounces more, you could have more full-body coverage (including a hood) with a bag like the Therm-a-Rest Hyperion. And for warmer temperatures, we'd certainly point you toward a more versatile and lighter option like the Sea to Summit Spark above. All in all, the Vireo is an extremely niche piece, but beloved by alpine climbers as a great sub-1-pound alternative to the shiver bivy.
See the Feathered Friends Vireo UL
---
Our Team's Backpacking Quilt Picks
---

Best Overall Backpacking Quilt

Temperature rating: 20˚F (also available in 10, 30, and 40˚ models)
Weight: 1 lb. 5.2 oz. 
Fill: 15.5 oz. of 850-fill down
What we like: Reasonably priced, super customizable, and a generous amount of down.
What we don't: Long wait time and some might not like the enclosed footbox.
Backpacking quilts are the bread and butter of Minnesota-based Enlightened Equipment (EE), so it's no surprise to see their Enigma at the top of our list for 2023. This quilt packs a serious punch with a whopping 15.5 ounces of down—that's more than all but one of the sleeping bags listed above—and it's all concentrated along the front and side the body. Further, EE quilts are handmade, can be customized into a variety of sizes (16 combinations of length and circumference), and you have the option of 850- or 950-fill down, along with a whole range of temperature ratings. Priced at a reasonable $340, the Enigma is our top choice for quilt fans and skeptics alike.
Speaking of skeptics: we were squarely in that camp before testing the Enigma but now are bona fide believers. In fact, we haven't had one cold night in the 20-degree quilt, despite taking it to Patagonia, deep into the North Cascades, and up to 12,000 feet in the Sierra. And we regularly opt for the Enigma over our ultralight Therm-a-Rest Hyperion 20 (above), as it's far less constricting and vents better on warm nights. It's good to know that EE also makes the popular Revelation (which features the option for an open footbox), the zippered Convert and Conundrum, and the aptly named two-person Accomplice (below). And most Enlightened Equipment products are made to order, which is great for customization but not ideal for wait time (if you're not particular about colors, a stock version of the Enigma ships within 2-3 days of placing your order).
See the Enlightened Equipment Enigma
Best Budget Backpacking Quilt

Temperature rating: 30˚F (also available in 0, 10, 20, and 40˚ models)
Weight: 1 lb. 4.7 oz.
Fill: 11.7 oz. of 800-fill down
What we like: A high-quality down quilt at a very low price.
What we don't: A bit heavier than most other 30-degree quilts here.
You can easily spend $400 on a backpacking quilt, but Hammock Gear's Economy Burrow is a high-quality design for a budget-friendly $235. The specs are truly impressive for the price, with a generous amount of down and a 1-pound-4.7-ounce build that stacks up fairly competitively to most other options here. What's more, the Economy Burrow is made with a 20-denier shell fabric, which translates to better durability and abrasion resistance compared to the more common 7- and 10-denier designs. And like many cottage brands, Hammock Gear offers an array of customizations, allowing you to choose temperature rating, length, width, footbox design (zippered or sewn), colors, and even extra down fill. 
Second, while base models incorporate a zipper to open up into a blanket, a more draft-resistant sewn-closed footbox will cost an additional $20. But even with these additions, the Economy Burrow still is a steal, and especially for those who don't need the lightest of the light. Finally, Hammock Gear also makes a Premium Burrow, which is significantly pricier (a starting price of $330 for the 30˚F model) but uses higher-quality 950-fill down and a thinner (10D) shell fabric.
See the Hammock Gear Economy Burrow
Best Hybrid Sleeping Bag/Quilt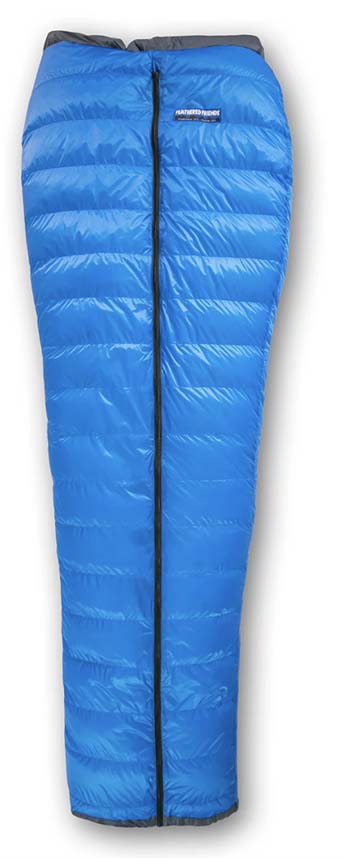 Temperature rating: 30°F (also available in 20 and 40˚ models)
Weight: 1 lb. 6 oz.
Fill: 11.6 oz. of 950-fill down
What we like: Versatility of a quilt with the wraparound security of a sleeping bag.
What we don't: Heavy compared to other quilts.
If we had one word to describe the Flicker UL from Feathered Friends, it would be "versatile." On one hand, the Flicker has nearly identical specs as the Hummingbird UL sleeping bag above, with 11.6 ounces of 950-fill down (the Hummingbird has 11.5 oz.), very similar weights, and a full-length zipper. On the other hand, with no hood and a cinchable footbox, it can be opened up like a quilt in warm weather (the "Wide" version is great for plus-sized backpackers or two sleepers). It's tough to categorize the Flicker UL, but at the end of the day, it's both quilt and sleeping bag, which is quite an impressive feat. 
The biggest point of differentiation between the Flicker UL and other quilts on this list is the full-length zipper. While some might complain that a zipper adds weight, others will appreciate the versatility. For example, the Enlightened Equipment Enigma above may offer a superior warmth-to-weight ratio, but that's if you get it just right—any movement in the night can expose your body to cold drafts. On the other hand, 1 pound 6 ounces is heavy for most quilt fans. In the end, we recommend the Flicker as a nice all-in-one option for those on the fence between sleeping bag and quilt.
See the Feathered Friends Flicker UL
Best Backpacking Quilt for Warm Weather 

Temperature rating: 38˚F
Weight: 13.3 oz.
Fill: 6.5 oz. of 850-fill down
What we like: Extremely lightweight for warm temperatures and low elevations.
What we don't: Pricey and low on down fill—this truly is a summer quilt. 
Western Mountaineering has made some of the best ultralight sleeping bags on the market for decades, so we were very excited when they introduced quilts to their lineup. The first thing you'll notice about the NanoLite is the weight: at 13.3 ounces, it's the lightest quilt on our list, and also one of the least insulated. But we love the concept of a quilt for warm weather—unlike lightweight sleeping bags with the 1/3-length zip, the NanoLite allows much more versatility. Drape it across your body on warm nights, or cinch the back all the way up when the mercury drops. Notably, the NanoLite also has a generous shoulder girth of 68 inches (allowing it to wrap all the way your body), along with an insulated collar. 
It's important to keep in mind, however, that the NanoLite's use is definitively limited to summer nights and lower elevations. It has approximately half the down fill as the 30-degree Enlightened Equipment Enigma above, which certainly gives us pause. In addition, $380 is fairly steep for such a limited temperature range, especially considering that the same amount of money could get you a fully featured mummy bag like the Sea to Summit Spark 40 above. But for thru-hiking the Appalachian Trail or bikepacking near sea level, the NanoLite's combination of weight and versatility is second to none. And keep in mind that Western Mountaineering also offers a warmer option in their AstraLite Quilt (26˚F), which checks in at 1 pound 1.1 ounces and features 10.5 ounce of 850-fill down.
See the Western Mountaineering NanoLite
Best of the Rest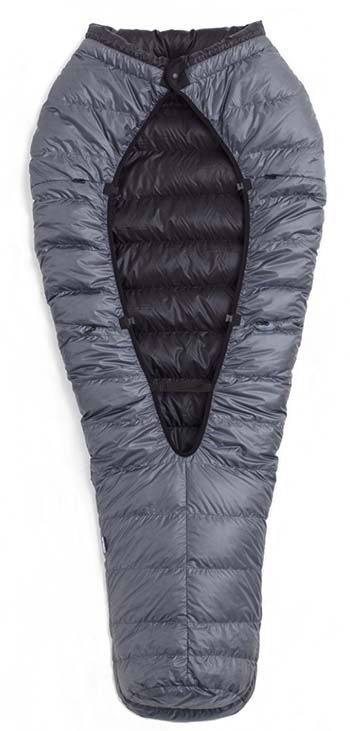 Temperature rating: 30˚F
Weight: 1 lb. 3.8 oz.
Fill: 12 oz. of 850-fill down
What we like: Premium design; pad attachment goes a long way in eliminating drafts.
What we don't: Less down yet more expensive than the Enigma.
Katabatic's 30-degree Palisade Quilt has garnered a lot of attention and for good reason. Most noteworthy is its unique back closure: two thin, 2-millimeter cords secure the quilt to the sleeping pad, and a sliding toggle system locks it in place close to the body. In practice, it does an excellent job keeping out drafts, whether you're on your back, your side, or moving between the two. And if you choose to go sans sleeping pad, a series of three straps cinch the bag shut in the back. With three lengths to choose from and the option between regular and wide versions (54 and 58-in. shoulder widths), the Palisade is a versatile and highly adaptable option.
Compared to the 30-degree version of the Enigma above, the Palisade has a bit less down (12 oz. vs. 12.4 oz. of 850-fill) and is almost two ounces heavier. The Enlightened Equipment also gets the edge with its vertical baffles (better for keeping down from drifting to the sides) and slightly lower price point (the 30˚F Enigma starts at $315). But there's no denying Katabatic's premium build quality, and—similar to the Enigma—you can further customize the Palisade in terms of sizing and down fill (including hydrophobic varieties). It's also worth looking at Katabatic's Alsek (22˚F) and Sawatch (15˚F) quilts, as well as the blanket-style Flex (available in 15, 22, and 30˚F options).
See the Katabatic Gear Palisade 30

Temperature rating: 20˚F
Weight: 1 lb. 4.1 oz. 
Fill: 14 oz. of 1,000-fill down
What we like: Premium in every way.
What we don't: Hundreds of dollars more than most quilts here.
Hyperlite doesn't do anything halfway, so their recent foray into sleeping quilts got our full attention. True to form, the 20-Degree Quilt holds nothing back, with top-of-the-line 1,000-fill-power grey goose down and a thin 7-denier micro-ripstop nylon shell with DWR finish. In true Hyperlite style, the quilt has a high-end feel and classy silver colorway, and each detail exudes quality, from the 3D baffles and sleek neck drawcord to the thick logo patches. And it's customizable for ground and hammock sleepers alike: You can snug the quilt around your body with three integrated clips, or use the streamlined pad attachment straps to secure it to your sleeping mat.
The Hyperlite's 1,000-fill-power down is the loftiest here, and it measures up in practice: This quilt offers the closest experience we've had to sinking into a pillowy cloud. And for the amount of warmth and coziness it offers, it's also impressively lightweight, checking in over an ounce lighter than the Enlightened Equipment above. The most obvious pitfall is price—$499 is a lot to spend on a quilt, especially considering you can save over $150 with a high-quality option like the Enigma. But if you're looking for the best quilt money can buy, the Hyperlite is it. It's also worth noting that Hyperlite also offers a 14.4-ounce 40-Degree Quilt ($399), which is a great option for summer use.
See the Hyperlite Mountain Gear 20-Degree Quilt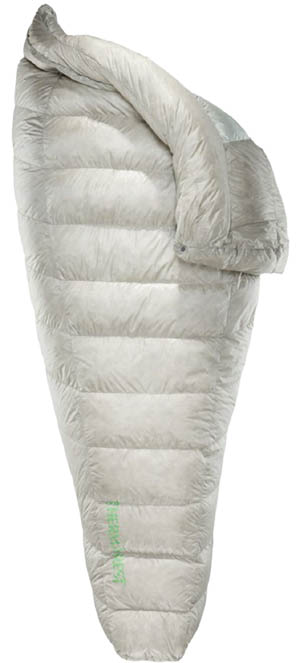 Temperature rating: 20˚F (also available in a 32˚ model)
Weight: 1 lb. 3 oz.
Fill: 12.5 oz. of 900-fill down
What we like: A bit less drafty than other quilts.
What we don't: Not customizable and doesn't come in a large range of sizes.
We've been impressed by Therm-a-Rest's sleeping bags, so when the Seattle-based company released a new ultralight quilt, it definitely piqued our interest. Available in both 20- and 32-degree options, the Vesper is stuffed with premium 900-fill hydrophobic down and comes in at an impressive 1 pound 3 ounces for the 20-degree version. And a few noteworthy features set it apart from other quilts here: rather than separating the baffles with a line of draft-prone stitches, Therm-a-Rest uses mesh walls to keep down in its place (also known as box baffled construction). Further, the Vesper is designed with an extra dose of loft along the perimeter of the back's opening, which does a nice job of sealing out drafts.
The Vesper 20 is a bit lighter than our top-ranked Enlightened Equipment, but the Enigma makes up for it with 3 ounces more down (albeit with a slightly lower fill power). Further, the Therm-a-Rest is $120 more, lacks rear cinches (you won't be able to snug it closed without adding a sleeping pad to the system), and is only available in three sizes compared to the Enlightened Equipment's 16. On the bright side, buying from a brand like Therm-a-Rest is as easy as picking your quilt off the shelf, while you might be waiting weeks or even months for your cottage-industry quilt.
See the Therm-a-Rest Vesper 20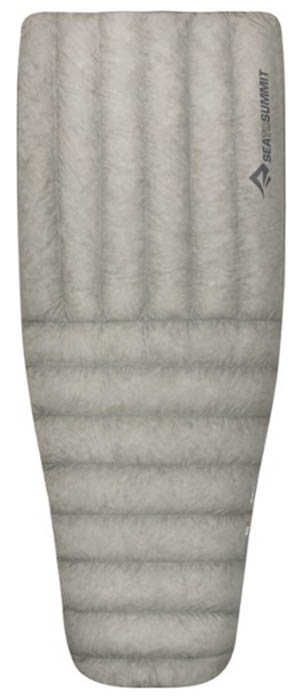 Temperature rating: 35°F (also available in 25 and 50˚ models)
Weight: 1 lb. 4 oz.
Fill: 12 oz. of 850-fill down
What we like: Competitive weight and warmth from a mainstream company.
What we don't: Narrow and drafty.
Taking design cues from their popular Spark sleeping bag above, Sea to Summit's Ember is a high-quality quilt made by a well-respected brand. It's fairly competitive with 12 ounces of 850-fill down in a 1-pound-4-ounce package, and the baffled design (featured in the 25 and 35˚F models) is great for eliminating cold spots and trapping warmth. Notably, the REI Magma Trail—one of the Ember's mainstream competitors—uses a sewn-through construction instead, which results in a significant drop in warmth. Wrapping up the build, a thin shell and liner (10D and 7D respectively) keep weight low, and the Ember packs up to about the size of a 1-liter Nalgene in the included Ultra-Sil compression sack. 
Despite its impressive specs, the Ember is fairly narrow and barebones for a quilt, and far from our favorite model here. We tested it side by side with the Enlightened Equipment Enigma above, and the combination of narrow dimensions and open footbox resulted in significantly more drafts throughout the night. Further, unlike the Enigma, the Ember does not feature a draft collar, which can go a long way toward trapping warmth and mimicking the security of a sleeping bag. On the other hand, the Sea to Summit can be more easily used as a blanket, and there are a few benefits from buying from a larger company (for example, you might be able to try out the quilt at your local REI store). But in the end, the Ember simply does not stand out in such a highly competitive market. 
See the Sea to Summit Ember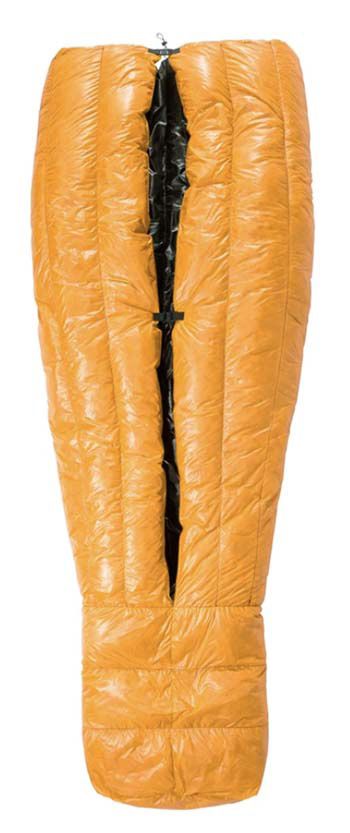 Temperature rating: 20˚F (also available in 10 and 30˚ models)
Weight: 1 lb. 2.7 oz.
Fill: 13.7 oz. of 950-fill down
What we like: Great warmth for the weight and roomy design. 
What we don't: The quality of construction on our Solo was very poor.
A favorite among thru-hikers, the Zpacks Solo is a standout quilt with a whopping 13.7 ounces of down in a 1-pound-2.7-ounce build. While most other manufacturers opt for 850- and 900-fill-power down, Zpacks uses ultra-premium 950-fill, which puts it in elite company along with down specialist Feathered Friends. Plus, you get a generous 60 inches across at the shoulders (or 65 in. if you opt for the "Broad" variation), which allows for greater versatility than a narrower model like the 57-inch Sea to Summit Ember above. And with a center back strap, the Zpacks can wrap around a sleeping pad or cinch closed around your body. 
However, while the Zpacks' specs undeniably are impressive, we were fairly disappointed when we first pulled ours out of the box. Perhaps it was the result of our rush order, but the stitching on our quilt was egregiously bad. More specifically, it zigzagged and revealed exposed ends, and overall looked extremely sloppy—not something we would expect given the steep price tag. To be fair, this was our first negative experience with Zpacks (we've found their Arc Blast 55 backpack and Duplex tent to be decidedly well-made), and many buyers have been happy with the Solo. But the specialty quilt market is highly competitive in 2023, and we've moved the Zpacks to the bottom of our list given the quality control issues.
See the Zpacks 20F Solo Quilt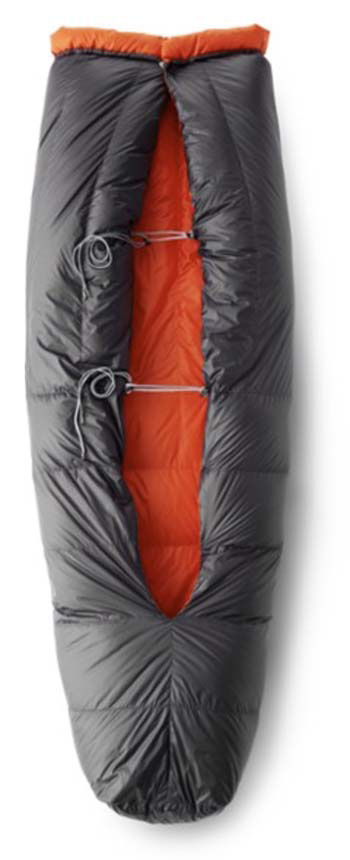 Temperature rating: 30°F
Weight: 1 lb. 3 oz.
Fill: 10.5 oz. of 850-fill down
What we like: High-quality materials and a great price. 
What we don't: Heavier than similarly rated quilts.
If there's a clear sign that quilts are hitting the mainstream backpacking scene, the Magma Trail is exactly that. REI Co-op did a very impressive job with their first quilt, which is a spinoff of their popular sleeping bag line. In terms of warmth, you get a generous 10.5 ounces of 850-fill down (2 oz. more than their 30˚ Magma bag above) and a lofty draft tube that seals air in at the neck. We also like the shape of the footbox, top snap, and overall build quality, which feel high-end from top to bottom. And at $329, the Magma Trail is a great value. 
It's worth noting that you only save 0.8 ounces and $20 with the Magma quilt over the mummy bag version above. In the end, your choice comes down to what sort of versatility you prefer: do you need a full zip to stay comfortable on colder nights or an open back to ventilate when it's warmer? If you're willing to pay the weight and price penalties, the full-zip sleeping bags offer the best of both worlds. In the end, if we're going with a quilt, we'd be tempted to reach for a warmer or lighter option than the Magma. But for a long-lasting pick (the Magma's 15D shell fabric is one of the most durable here) that's ready when you want it, this quilt is worth a look.
See the REI Co-op Magma Trail Quilt
Temperature rating: 20˚F (also available in 0, 10, 30, 40 and 50˚ models)
Weight: 2 lb. 4.8 oz.
Fill: 1 lb. 11.8 oz. of 850-fill down
What we like: A warmer, lighter, and more snuggly alternative for couples.
What we don't: Can be challenging to seal up drafts with a double quilt design.
If you commonly travel as a couple, it can be worth considering a two-person quilt. Aside from the obvious benefit of being able to snuggle with your sweetie, these double designs have a few advantages over single quilts. For one, they allow you to share body warmth, meaning you can often get away with a higher temperature rating. Second, they're typically lighter and more packable than two standard quilts combined (for example, two 20˚F Enigma quilts weigh 2 lb. 10.4 oz., compared to the Accomplice's 2-lb. 4.8-oz. build). And finally, they'll save you a good deal of cash—at $480 for the 20˚F model, the Accomplice is far less than double the cost of the 20˚F Enigma ($340).
But as with most things, there are some compromises in opting for a double sleeping quilt. They're not as easy to vent as standard designs, and sealing up drafts can be difficult with two people. And then there's the challenge of sharing the load of a double sleeping bag, which cannot be split between two packs. But the Accomplice pulls it all off better than most, with premium 850 or 950-fill down (your choice), separate collars that cinch around each neck with a draft blocker in between, and a pad attachment system that works with both single and double sleeping pads. Within this category, it's also worth looking at the Therm-a-Rest Vela (which uses less premium 650-fill down) and the double version of Sea-to-Summit's Ember.
See the Enlightened Equipment Accomplice 20
Ultralight Sleeping Bag Comparison Table

Backpacking Quilt Comparison Table
Editor's note: All of the bags and quilts on our list use down that was responsibly sourced, meaning that the birds were not force-fed or live-plucked in the process.

UL Sleeping Bag & Quilt Buying Advice

Ultralight Sleep Systems
Increased popularity in ultralight backpacking and bikepacking has led to a great deal of innovation in lightweight gear. Outdoor gear companies have found new ways to shave weight off traditional mummy bags, in addition to developing minimalist backpacking quilts. Although there is variation within each style and some crossover in designs, we've broken down our picks into two main categories: sleeping bags and backpacking quilts. Below we detail the main features of each, including how they compare in terms of warmth, weight, versatility, and more.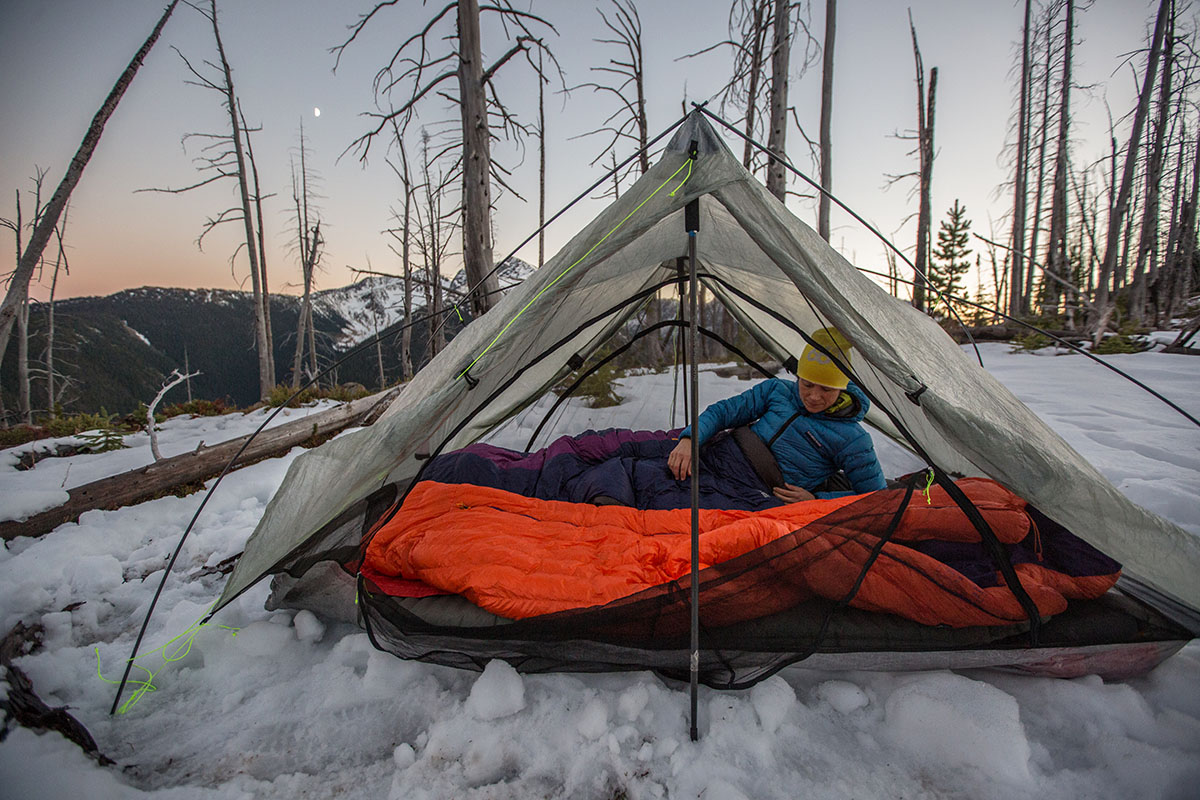 Sleeping Bags
If you've done much backpacking, you're probably familiar with mummy-style sleeping bags. Mummy bags are narrow at the feet, widen at the hips and shoulders, and usually have a hood that extends over the head and cinches tight around the face to seal out cold. And while the contoured design of mummy bags means they're already rather streamlined (compared to more traditional rectangular bags), ultralight styles shed even more weight with thinner shell materials, higher-fill-power down, shorter zippers, and smaller dimensions. Some mummy bags will even drop the hood and zipper entirely, but expect to sacrifice warmth, comfort, and versatility with these hoodless designs. The ultralight mummy bags on our list have temperature ratings from around 20 to 40 degrees Fahrenheit and weigh between 12 ounces and 1 pound 13 ounces, with most hovering just over 1 pound.
Sleeping bags differ from backpacking quilts in one significant way: they wrap fully around and enclose your body, whereas quilts generally cover only your top and sides (more on this below). Many ultralight sleeping bags use a zipper to cinch all the way closed, while others, like the Feathered Friends Tanager, drop the zipper for a simple slip-on "tube." Because they provide wraparound protection, sleeping bags generally are a bit heavier than quilts, but they're also slightly warmer. But while those with full-length zippers offer ventilation similar to a quilt, we find that zipperless bags or bags with shortened zippers are much less versatile. In the end, choosing your style of sleep system comes down to personal priorities, but mummy bags generally are our top choice for cold-weather endeavors when you need the ability to cinch your bag shut and keep out drafts.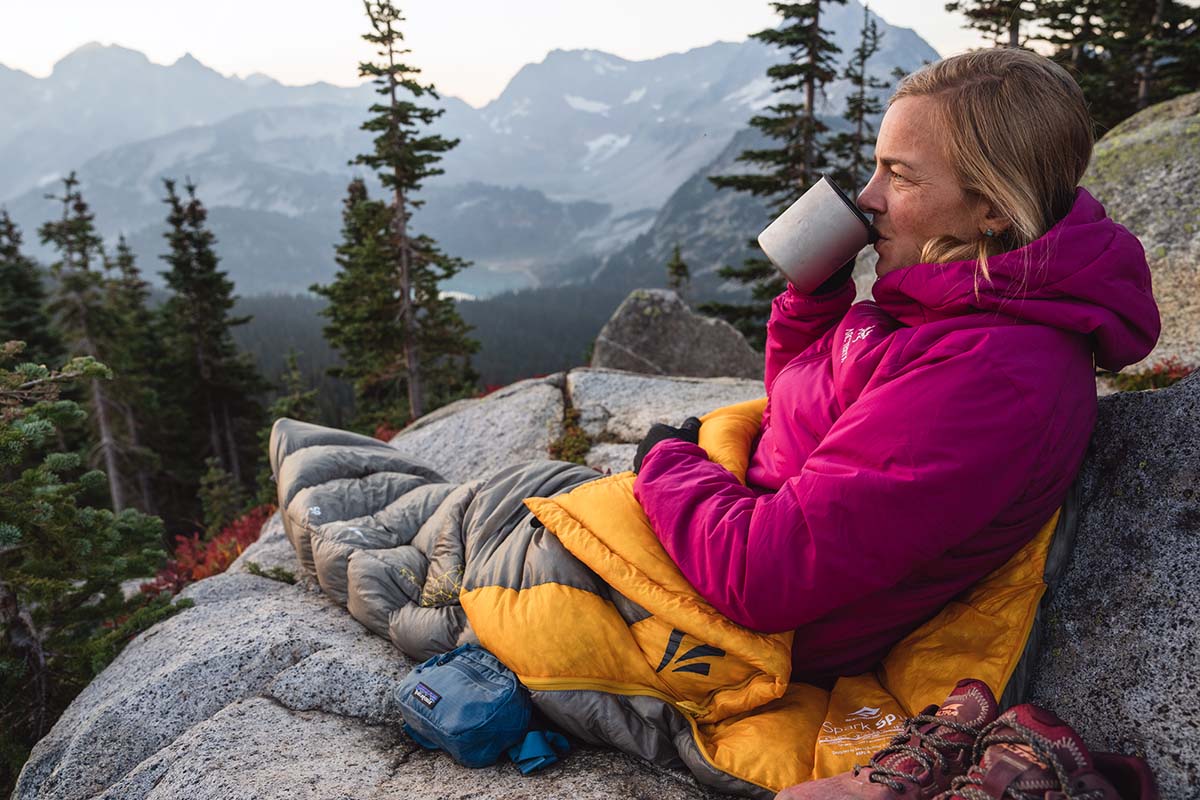 Backpacking Quilts
Thru-hikers and diehard ultralighters always are looking for ways to shave ounces, and the backside of a sleeping bag is an obvious target (your bag's feathers compress underneath you as you sleep, meaning that they don't actually provide much insulation). A quilt removes the hood and back from a traditional mummy bag and pairs with a sleeping pad (attached via ties or straps) for insulation on all sides. Some quilts are wide enough to wrap fully around the body (with ties to close the gap), while others ("top quilts") are designed to protect only the sleeper's top and sides. In terms of the footbox, quilts will either feature a sewn-shut box or a blanket-style design with a drawcord cinch or zipper at the feet. Like ultralight sleeping bags, quilts prioritize weight savings with high-fill-power down, thin shell fabrics, and lightweight attachment systems. Our top quilt picks range from 13 ounces to 1 pound 6 ounces, with most models clocking in around 1 pound.
While the quilts on our list have temperature ratings similar to our top sleeping bag picks (20 to 40˚F), there are a few factors to consider here. First off, unless you're a perfectly still back sleeper, quilts have a higher potential for drafts, which throws a wrench in the temperature rating. But to compensate, most designs contain a bit more down fill than traditional bags (and remember, it's concentrated on the front and sides, which means even more warmth). For example, the 20-degree Therm-a-Rest Hyperion sleeping bag has 13 ounces of 900-fill down, while the 20-degree Zpacks Solo Quilt has 13.7 ounces of higher-quality 950-fill down. And on warmer nights, quilts offer much better ventilation than sleeping bags. Finally, by doing away with the zipper and a whole side of materials, quilts often are a bit lighter too (consider the 13.3-oz. Western Mountaineering NanoLite).
Hybrids
It's worth mentioning that there is a tiny subgroup of sleeping bag/quilt hybrids that retains many characteristics of both. For example, the hybrid Feathered Friends Flicker UL features a full-length zipper that extends all the way through the footbox. On cold nights, the Flicker encloses your body completely, à la sleeping bag (a cinch tightens the footbox to minimize cold air spots), and on warm nights it opens all the way up into a blanket. Another hybrid option is the Therm-a-Rest Ohm, which features a more roomy, semi-rectangular shape that opens up into a quilt for two. These hybrid options are super versatile ultralight sleep systems that cross over from cold to warm better than most, but keep in mind that the full-length zipper does add some weight. For example, the 30-degree Flicker is 1 pound 6 ounces compared to the 1-pound-5.4-ounce Hummingbird sleeping bag and 1-pound-3.8-ounce Katabatic Gear Palisade quilt (both also 30˚F). For a more detailed breakdown of the categories mentioned above, see our article on sleeping bags. vs. quilts. 
 
Weight and Packability
Ultralight sleeping bags and quilts are specifically designed for weight- and space-conscious backpackers, thru-hikers, alpinists, and bikepackers. Every sleeping bag and quilt we've included on our list above is under 2 pounds (most hover just over 1 lb.), which is pretty impressive considering the amount of warmth they provide. And because all of these bags and quilts are insulated with down rather than synthetic fill, they pack down incredibly small. Some come with a compression sack, but if not, we highly recommend purchasing one separately. With that, many of these bags and quilts can compress roughly to the size of a Nalgene bottle, easily fitting into a corner of your backpacking pack or bike pannier.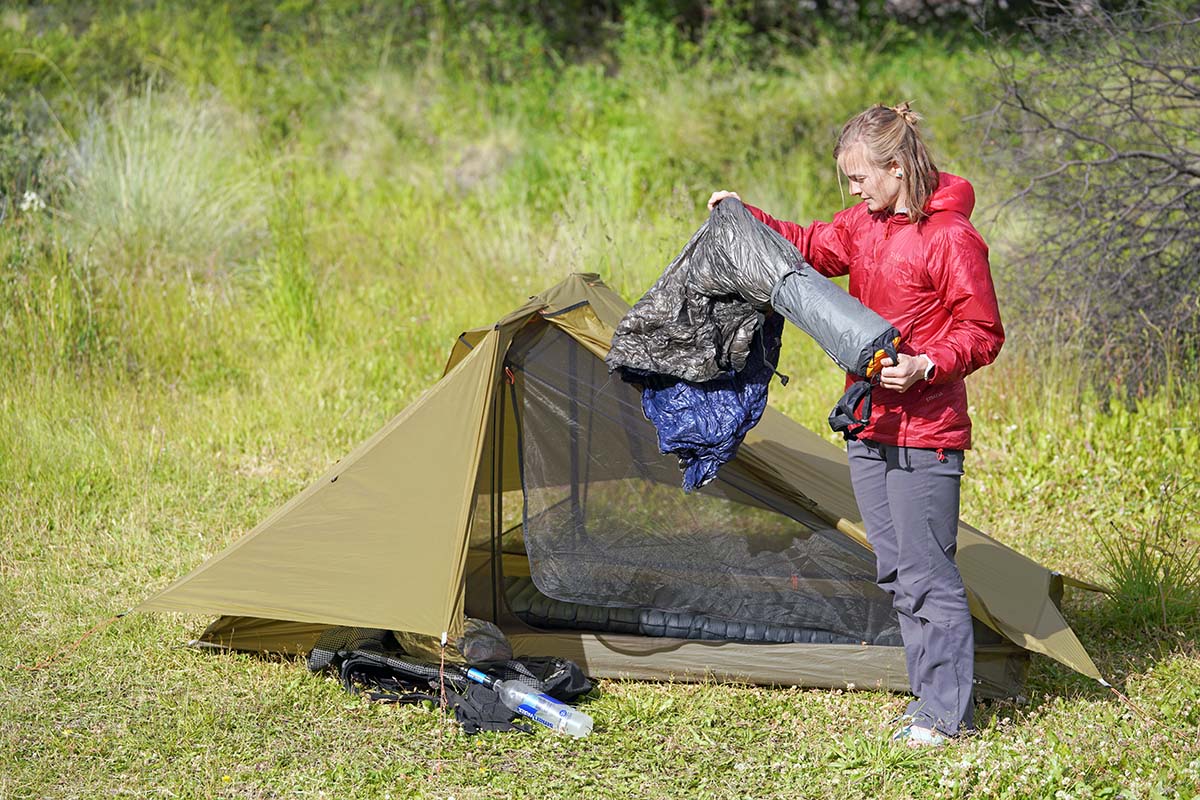 As we mentioned above, manufacturers shave weight from sleeping bags and quilts in a number of ways, including the use of ultra-thin shell fabrics (measured in denier), high-fill-power down (which offers impressive warmth for the weight), thin or shortened zippers (or none at all), and narrow profiles. Other designs eliminate the hood or footbox or include less down fill along the torso. In the case of quilts, some also leave off attachments or cinches (these are often known as "top quilts"). It's important to keep in mind that inevitably, a lighter sleeping bag or quilt will often result in sacrifices in durability, comfort, or warmth (or all of the above). 
For example, consider the 1-pound-5.4-ounce Feathered Friends Hummingbird and 1-pound-2.6-ounce Tanager. While you'd expect the heavier model to be warmer, in this case the Tanager is the warmer bag (by 10 degrees), with 12.6 ounces of 950-fill down vs. the Hummingbird's 11.5. How does the Tanager accomplish this? The short answer is that the bag sacrifices both convenience and durability, with a hoodless and zipperless design and very thin shell fabric. The lesson here is that a lower weight does not always mean a less insulated bag—but it does indicate that some sacrifices are being made. In the end, it's important to look at the specific features of each bag, which we've tried to detail above, and decide what and how much you're willing to give up for a few ounces of weight and space.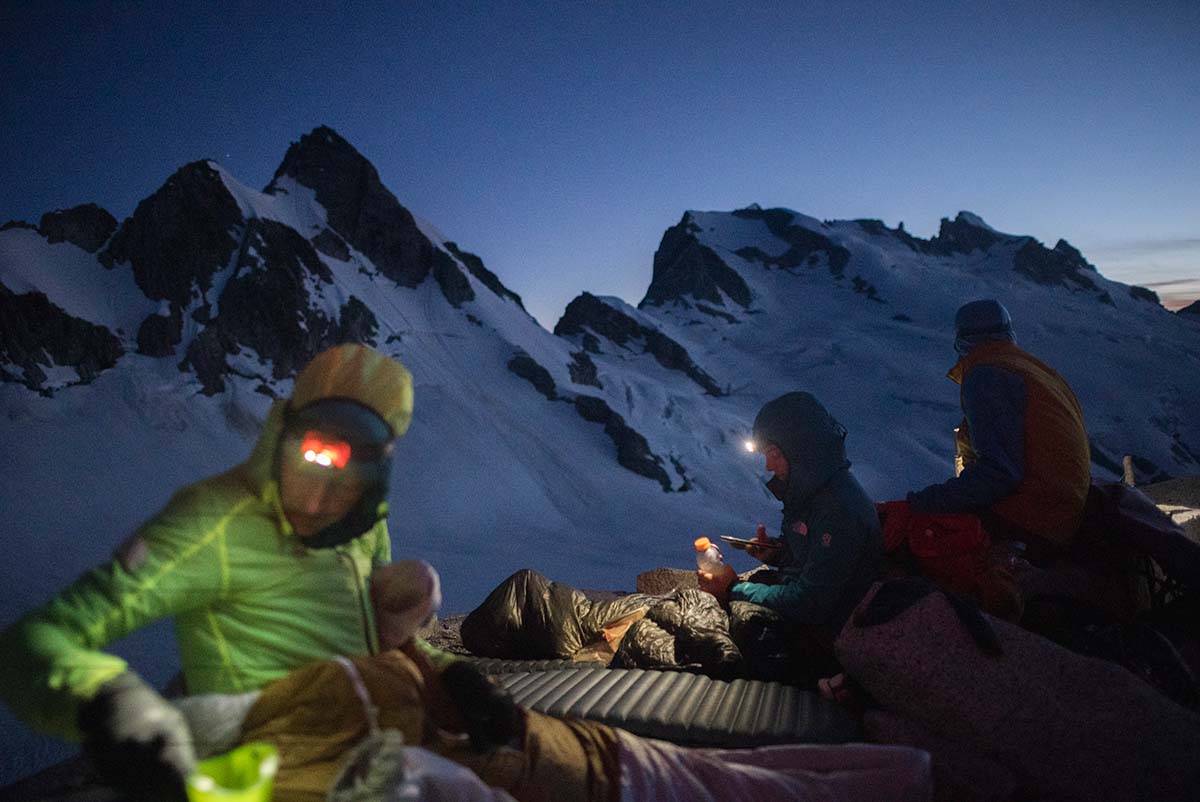 Warmth and Fill Power 
One of the first things you might notice about the ultralight sleeping bags and quilts featured in this article is their insulation: every item on our list uses down fill. This is a notable departure from our traditional sleeping bag round-up, where we have a solid mix of down and synthetic options. But in an ultralight category, down is by far the superior insulator, beating out synthetic fill both in warmth-to-weight ratio and compressibility.
That said, not all down insulation is created equal. Both duck and goose down are measured in terms of their fill power, which describes (in cubic inches) how much space is filled by one ounce of down. Fill power can vary from around 500 to over 900, with most ultralight sleeping bags and quilts featuring a fill power of 850 to 950. A second measurement you'll commonly see is fill weight, which is the total weight (in ounces) of the amount of down in a product. For example, the REI Co-op Magma 30 has 8.5 ounces of 850-fill goose down. Be sure to pay attention to both numbers—a higher fill power doesn't always indicate a warmer product, and fill weight is the lesser-advertised but perhaps more important spec of the two. In the end, you need both to get an accurate idea of how warm a given bag is.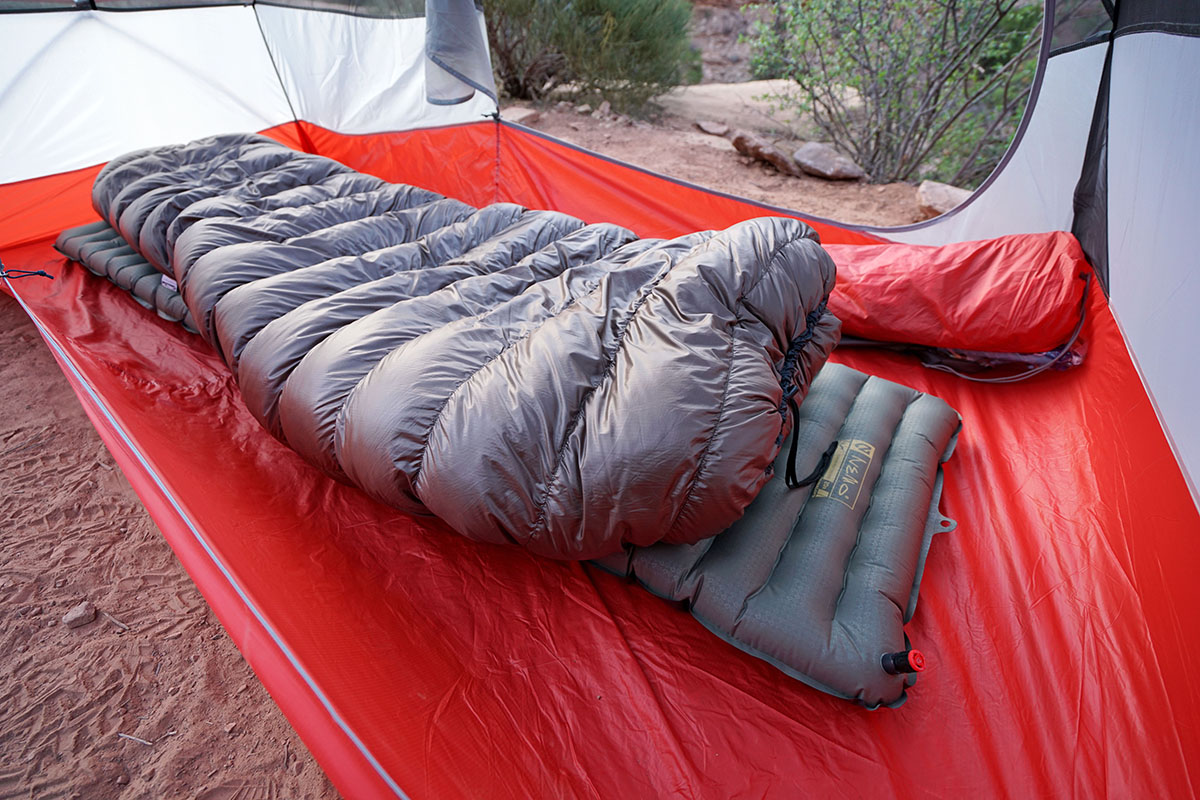 Temperature Ratings 
When it comes to ultralight bags, temperature ratings are a bit like the Wild West. Some companies here adhere to international testing standards (you'll see mention of EN or ISO ratings), while many of the smaller brands choose to provide their own temperature ratings. Quilts in particular do not qualify for standardized tests given the nature of their open design. For a deeper dive into this topic, see our article on sleeping bag temperature ratings.
For the consumer, the primary benefit of EN/ISO ratings is the ability to draw accurate comparisons between products. It's a bit trickier comparing an EN/ISO-rated bag with a non-rated bag, but there are a lot of helpful clues to keep in mind. For one, down fill power and weight are a great indicators of how warm the bag will be, in addition to the construction (sewn-through or baffled) and whether or not the bag comes with a hood and draft collar. And as for models that don't undergo standardized testing, we've found that most small companies take pride in providing fairly conservative temperature ratings. For example, the Feathered Friends Hummingbird UL 30 is warmer than most bags with a 30-degree EN/ISO Comfort designation (more on this below).
You'll also notice that EN/ISO-rated bags are given both Lower Limit and Comfort ratings. The Lower Limit indicates the temperature at which the bag or quilt will keep you safe—for men's bags, this usually is the given temperature rating (or close to it). The Comfort rating denotes at what temperature the bag will keep you comfortable, and this is the number often specified for women's bags. For example, the men's REI Co-op Magma 30 has a Lower Limit of 30 degrees and a Comfort rating of 39 degrees, while the women's Magma 30 has ratings of 18 and 29 degrees, respectively. In practice, we've found the Comfort rating to be the most accurate predictor of warmth, which is why we've listed it (where applicable) in the comparison table above. And it's never a bad idea to err on the conservative side, giving yourself a buffer (10 degrees or so) between your bag's Comfort rating and the low temperatures you expect to be sleeping in.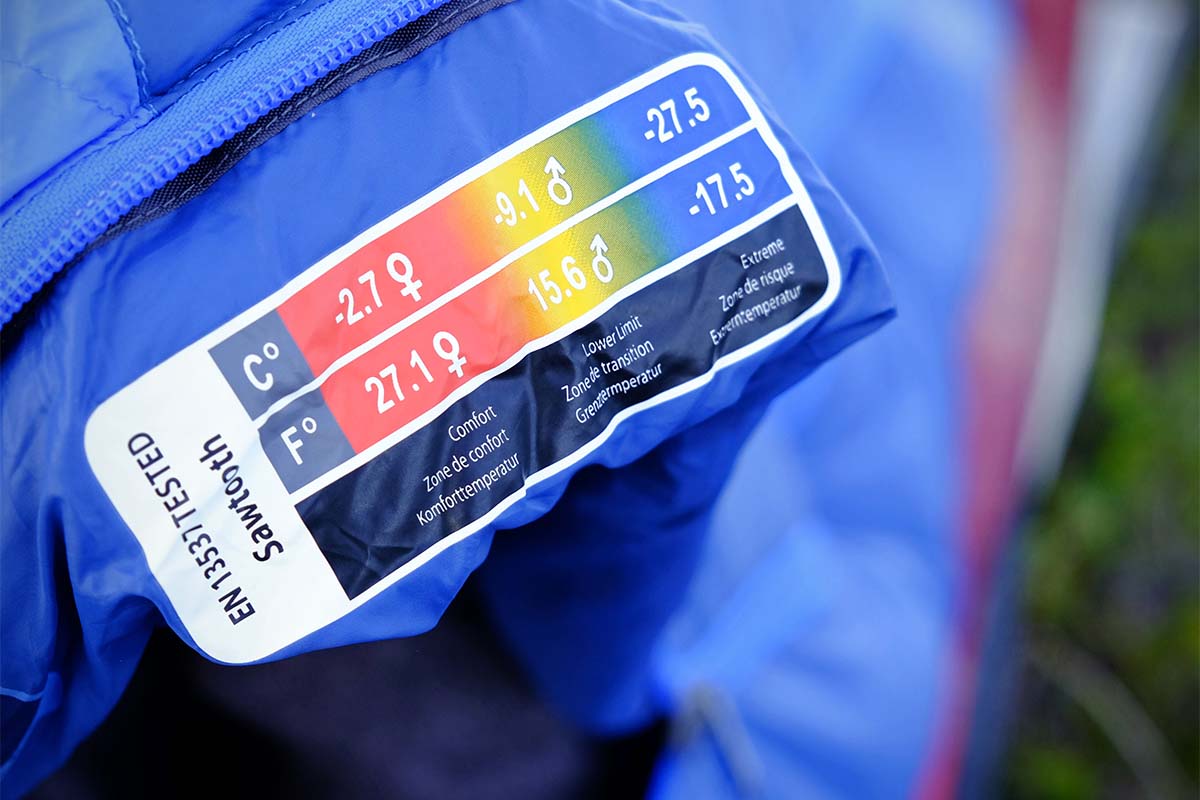 Shell Materials and Durability
We can talk about the insulation of a sleeping bag or quilt all day, but without a shell and lining, a sleeping bag would just be a pile of plumage. Typically, ripstop nylon is used for both the outer shell and inner lining, and the thickness of this nylon is specified in denier or "D" (the thickness of each thread used to create the material). Generally speaking, the higher the denier, the more durable the fabric. 
One way that manufacturers shave weight off ultralight sleeping bags and quilts is by using extremely thin shell fabrics, which can go as low as 7-denier (or in the case of the Feathered Friends Tanager, 5 x 7D). These products require an extreme amount of care—with thousands of feathers loose inside, a small rip can mean the loss of a lot of insulation. We've had our fabric rip due to a snagged zipper, but you'll also need to be careful around twigs, rocks, and sharp items in your pack. If you're sleeping without a tarp or tent, make sure to clear the ground of any abrasive objects. Further, we recommend always stowing or packing your bag in a stuff sack or cloth bag for transport or storage.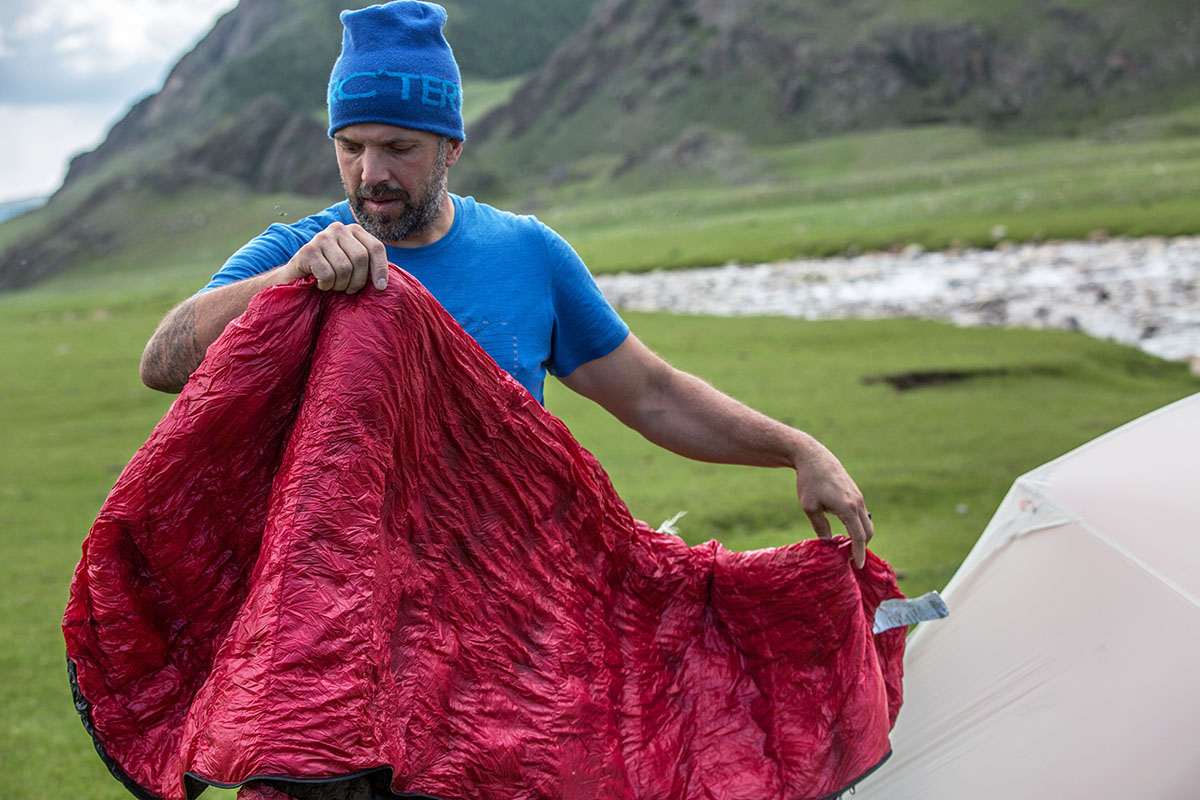 If you tend to be rough on your gear, it's a good idea to choose a sleeping bag or quilt with more durable fabric. Many of the items listed here come with the option of a thicker face fabric. Hammock Gear, for example, offers the 20-denier Economy Burrow in addition to the 10-denier Premium Burrow. Similarly, the Feathered Friends Hummingbird YF is made with a 20D shell fabric compared to the Hummingbird UL's 15D. This will cost you a small weight penalty but may end up being worth it in the long run. 

Shape and Dimensions
Sleeping bags and quilts come in a range of sizes, which generally are specified by length. The Feathered Friends Hummingbird bag, for example, is available in regular and long sizes, and the Therm-a-Rest Vesper quilt comes in three sizes: small, regular, and long. Manufacturers also specify the girth—or circumference—of each size, most commonly given as a series of three measurements taken at the shoulders, hips, and footbox. Cottage brands like Enlightened Equipment and Katabatic are known for offering more choices in terms of sizing, especially when it comes to width. For example, our top-ranked Enigma quilt is available in 16 different variations, ranging short to extra-long for length, and slim to extra-wide for width. This high degree of customization makes quilts a great choice for plus-sized backpackers, who might not find what they need in the traditional sleeping bag market.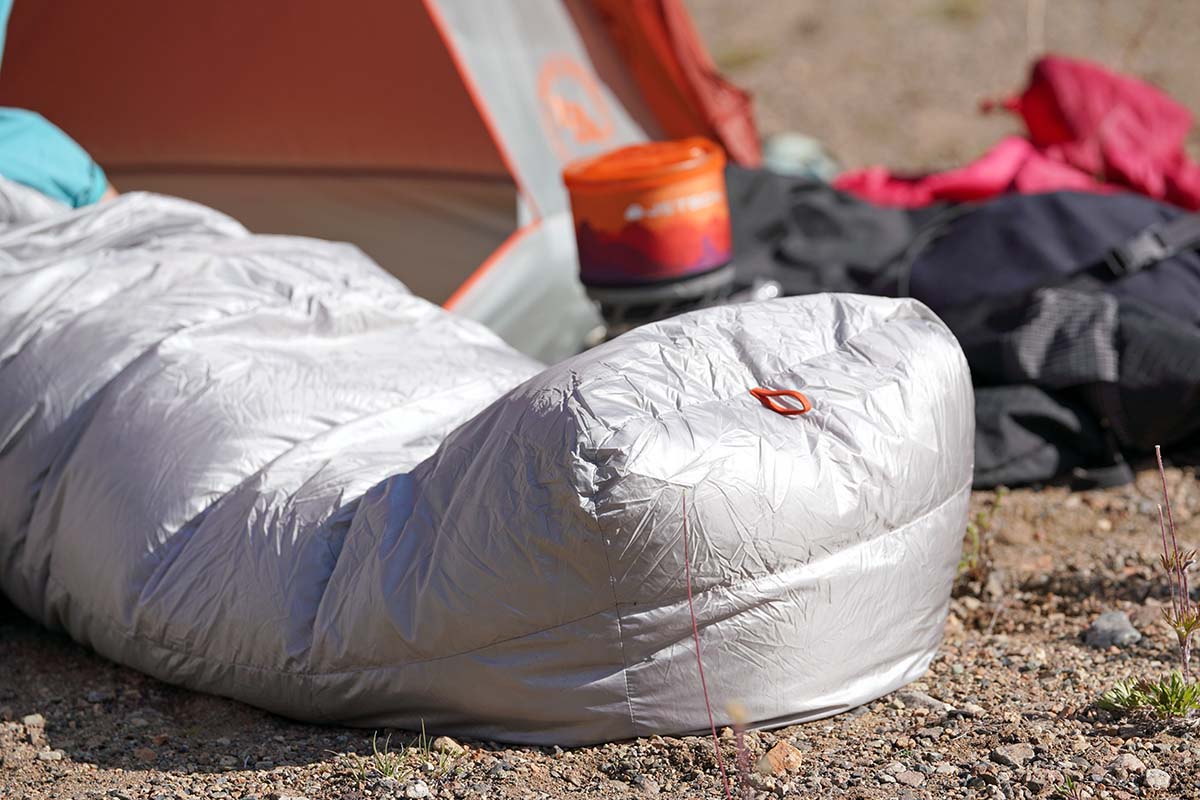 Ultralight bags and quilts are often much more streamlined (read: narrower) than their traditional counterparts. For example, compare the Feathered Friends ultralight Hummingbird UL 30 to their roomier (and heavier) Swallow UL 30. The Hummingbird (1 lb. 5.4 oz.) measures in at 58 inches around the shoulders, 52 at the hips, and 38 in the footbox, while the Swallow (1 lb. 9 oz.) is 60, 56, and 38 inches respectively. The UL versions of the Hummingbird and Swallow are virtually identical aside from their measurements and weights. And keep in mind that shoulder girths between sleeping bags and quilts don't quite compare—for example, Katabatic Gear states that their size-regular Palisade quilt (54 in. at the shoulders) is comparable to a sleeping bag with a shoulder measurement of 63 inches.
While cutting a bag's dimensions is effective for minimizing the total weight of the product, it can be a pain for those with broad shoulders and wide hips or for side sleepers. If you consider yourself in either category, we recommend looking at wider or roomier options. In the ultralight realm, the Down Hugger lineup from Montbell is a great choice, featuring spiral baffles that allow for stretch in the fabric. Quilts also can offer a nice solution for those who feel constrained by a sleeping bag, but their narrow dimensions pose a whole different issue—if you do want to batten down the hatches, there might not be enough fabric to wrap fully around your body. For the best of both worlds, look for quilts with generous shoulder dimensions (like the Zpacks Solo's 60-in. design) that are wide enough to cinch closed. Alternatively, you might also consider opting for a double quilt, which typically measure around 86 inches at the shoulders and are available from brands like Zpacks, Enlightened Equipment, and UGQ.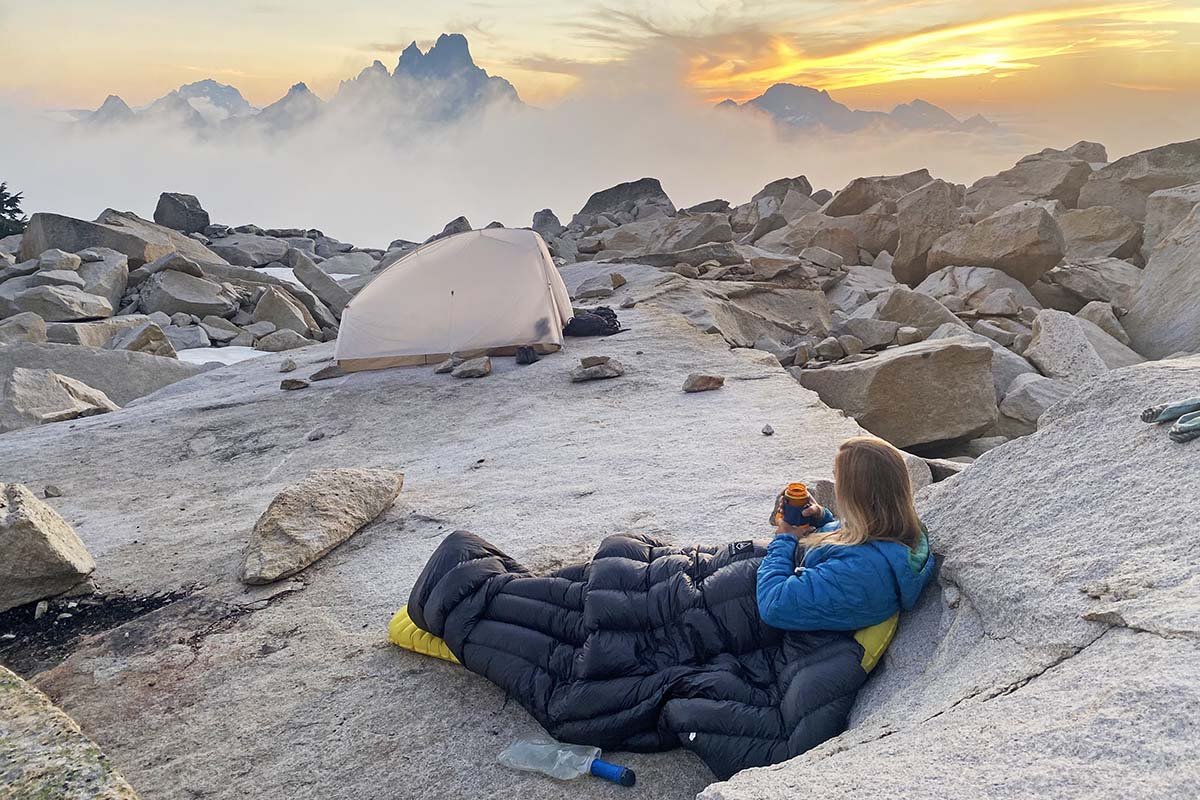 Backpacking Quilt Features
Rear Closure 
Backpacking quilts, by design, forgo the zipper closure of a traditional sleeping bag and leave the back open, draping over the sleeper like a blanket or attaching to the sleeping pad. Some are so narrow that they are unable to fully enclose a body (think hot dog bun), while others, like the Zpacks Solo Quilt are wide enough that the two sides can meet (more akin to a taco). On these wider quilts, it's common to see a closure along the backside, which means the quilt can secure closed, mimicking a sleeping bag. Feathered Friends' Flicker UL is also a notable exception here, as it has a full-length zipper to seal shut (although it's heavier than much of the competition).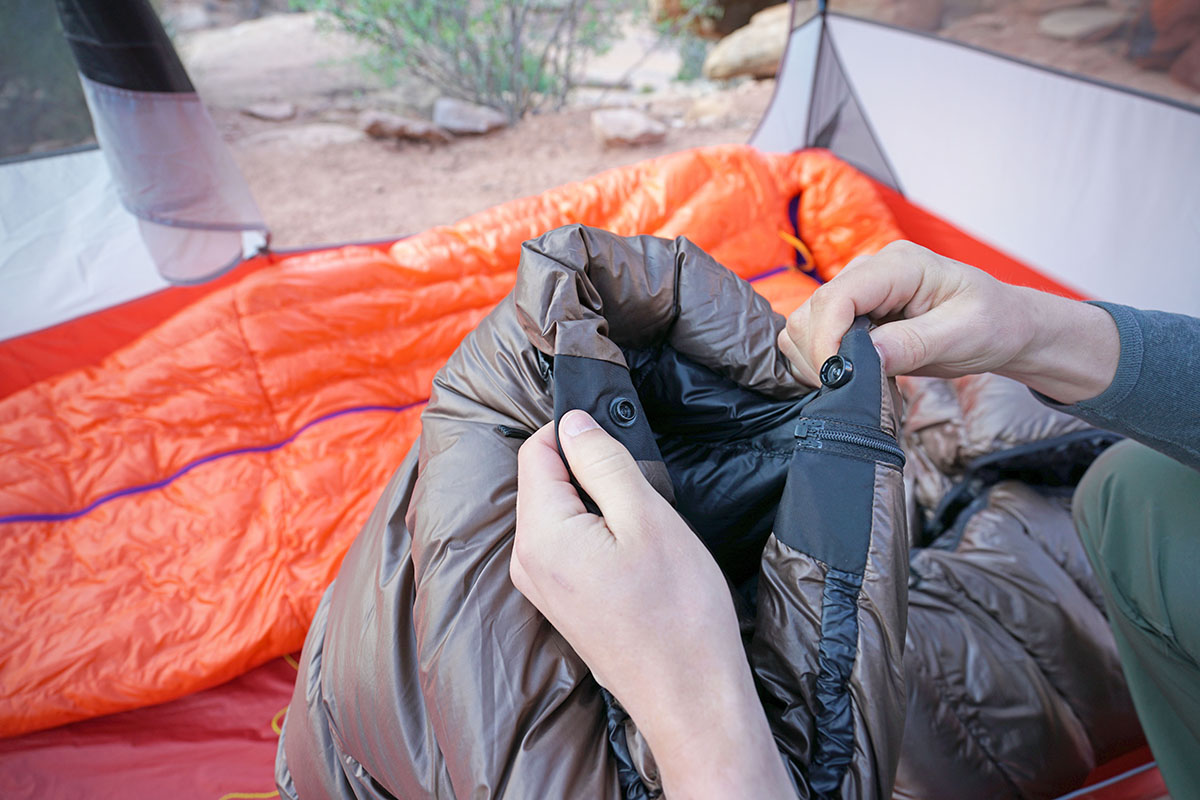 The most common closures we see on quilts are 1-3 clips or buckles along the sides. The Western Mountaineering NanoLite innovates with a thin, crisscrossed elastic band across the back. While these closure systems cannot be expected to fully seal out drafts, they do ensure that the quilt will stay wrapped around you while you sleep (unless you're using sleeping pad attachments, which we think is a better option for ground sleepers). It's important to think about your end-use when considering what kind of closure system you want—if you need one at all. For example, the elastic back of the NanoLite is super lightweight and comfortable under the body, but with no quick release, the quilt cannot be used like a blanket. On the other hand, buckles like those on the Enlightened Equipment Enigma might feel uncomfortable against your back, and we have concerns about their long-term durability. Finally, if you don't think you'll use it, you might want to opt for a model with no rear closure (also called a top quilt).

Sleeping Pad Attachments 
More than a rear closure, the design of a quilt relies on sleeping pad attachments to keep drafts out. Sleeping pad attachments extend from the back of the quilt and around the pad, and generally offer two adjustments. First, cinch the straps to the pad for a secure attachment. Second, choose where to lock your quilt in on the straps. You can lock each side towards the center for more draft protection or closer to the sides for a roomier sleep. And on a warm night, leave the attachments off for better ventilation. Sleeping pad attachments differ from brand to brand and offer varying levels of weight savings, convenience, and durability.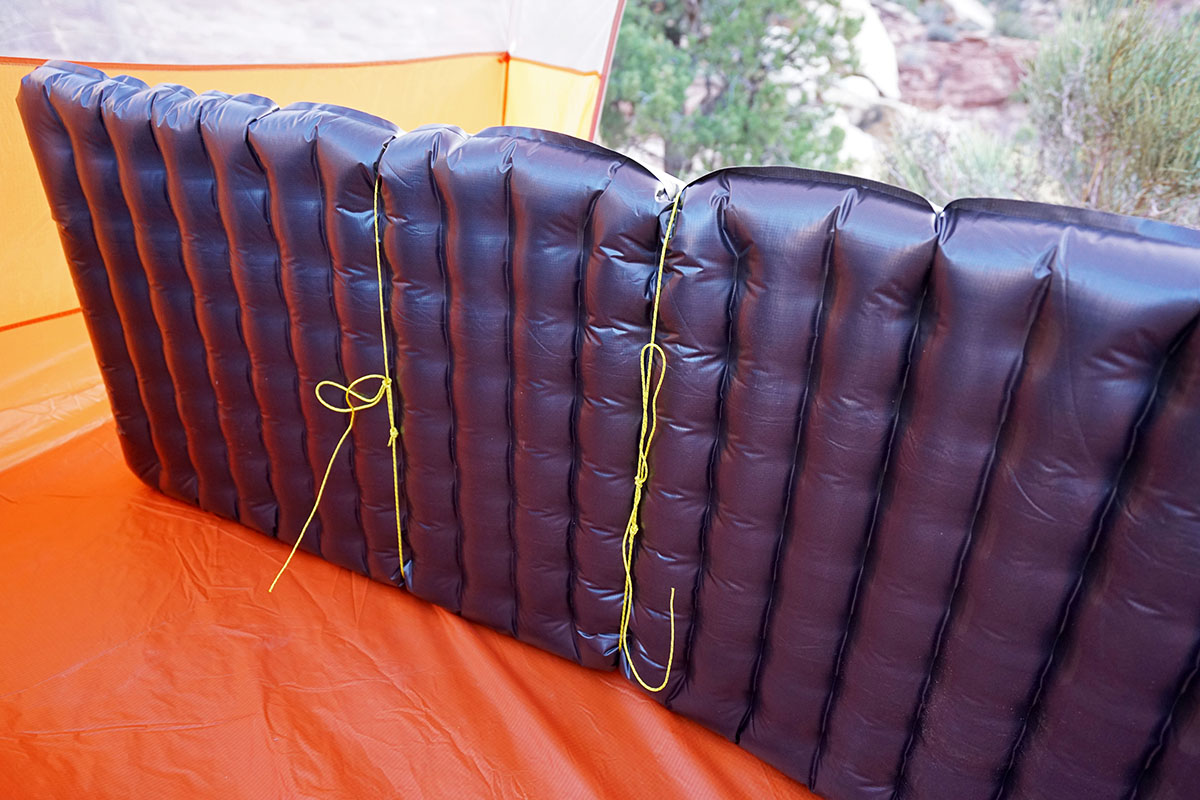 Footboxes: Sewn and Open
The footbox is one of the main places we see quilts differ in style and design. Take the Enlightened Equipment Enigma and Revelation, for example. The Enigma features a sewn-shut footbox, whereas the Revelation has a zipper and drawcord that allow you to open the quilt to a full blanket. Other quilts feature a snap and drawcord closure instead. And on hybrid sleeping bag/quilts like the Feathered Friends Flicker, we see a full-length zipper that extends all the way through the toe box to give you the ultimate versatility (at a weight penalty).
The advantages and disadvantages to each design are fairly obvious. With an enclosed footbox, you get a very simple design with no moving parts and a draft-free compartment for your feet. However, you don't get the option of opening your quilt up into a blanket. With the open footbox, on the other hand, you get a lot of customization, but at the sacrifice of weight and a bit of warmth (although you can always stuff your jacket into the footbox to minimize drafts). The trend seems to be moving toward sewn-shut footboxes (most users don't find a need for a blanket), but many cottage-industry models, including the Hammock Gear Economy Burrow, allow you to choose between a sewn or zippered/drawcord footbox.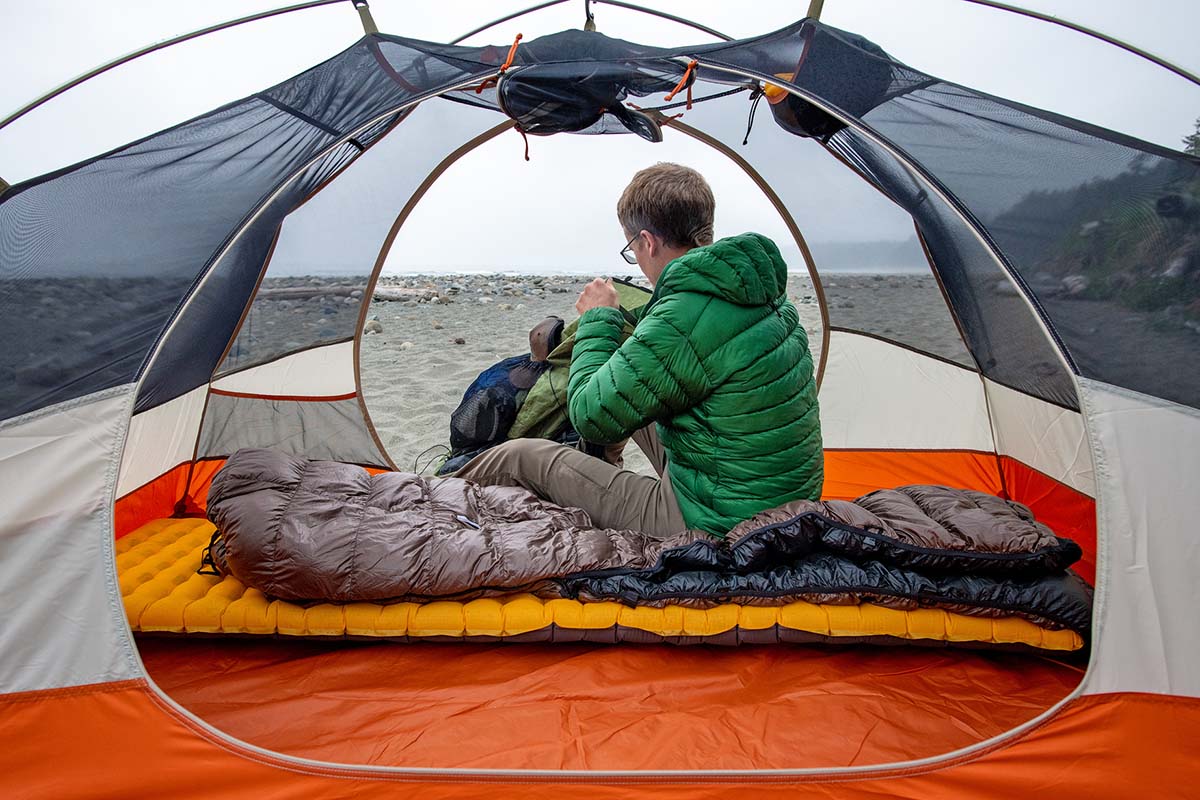 Other Features
Zippers 
Zippers are one of the heaviest features on a sleeping bag, so it's no surprise that this is a place we see a great deal of variation and innovation in the ultralight world. For one, manufacturers can cut weight by shortening the length of a zipper: while some ultralight sleeping bags feature zippers that extend the entire length of the bag (REI Co-op Magma), others have partial-length zippers (the Sea to Summit Spark) or forgo the zipper entirely (Feathered Friends' Tanager and Vireo).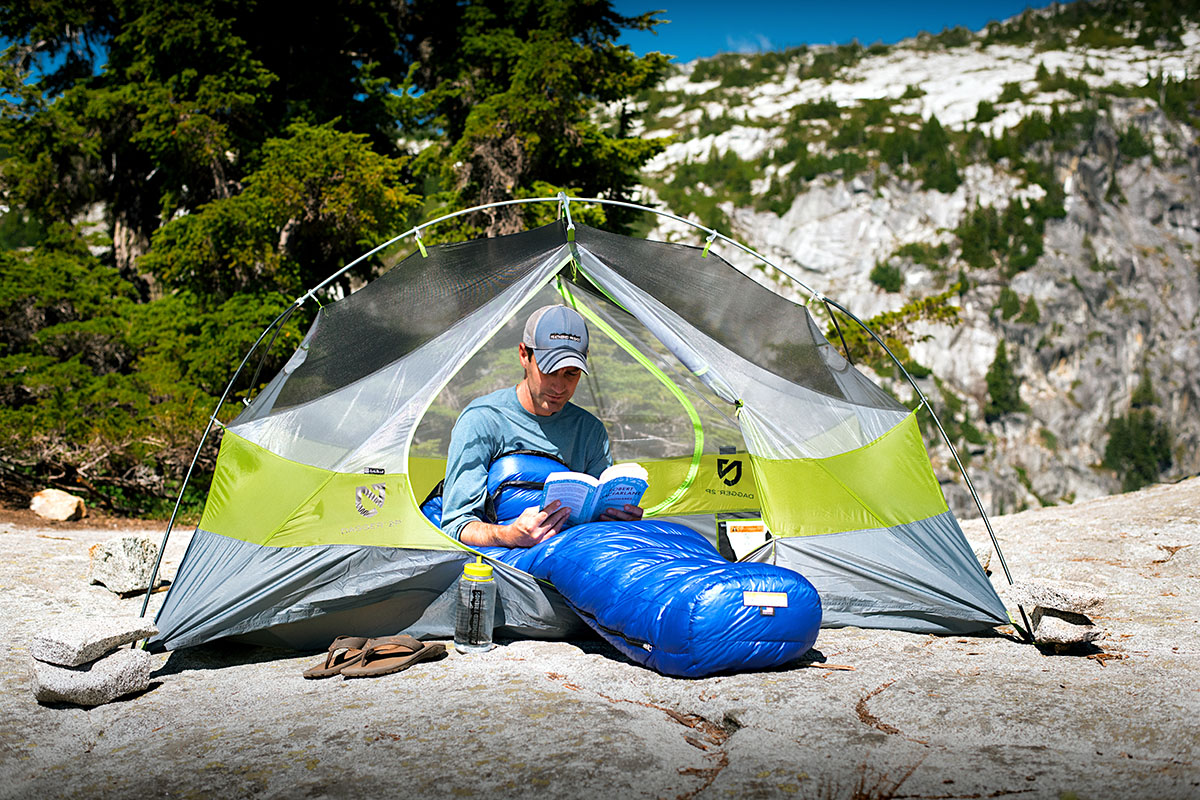 Full-length zippers not only offer ease of entering and exiting the bag, but they also allow versatility in venting. On a hot night, it's nice to be able to stick a leg out into the cool air or zip open the bag and drape it overtop like a blanket. Two-way zippers offer even more versatility, allowing you to cool off hot feet while keeping the torso completely insulated. On the other hand, partial-length zippers or zipper-less designs mean your ventilation options are severely limited. We've spent many nights in our Therm-a-Rest Hyperion 20 bouncing back and forth from too hot (fully inside the bag) to too cold (bag draped overtop) with no viable middle ground.
Another way that manufacturers shave weight is by using thin zippers (often as low as #3 YKK, as seen on the Big Agnes Pluton). But keep in mind that thinner zippers are less durable and trickier to use than their more robust counterparts. Our old Mountain Hardwear Mtn Speed 32, for example, had a #3 YKK zipper that rarely shut without issue, eventually resulting in a large rip in the shell fabric beside it, leaking down, and broken teeth (thankfully, Mountain Hardwear repaired the sleeping bag under warranty and replaced the zipper with a thicker #5 YKK). In our opinion, the hassle and durability concerns associated with a thin zipper are not worth the weight savings. If you end up choosing a bag with a notably thin zipper, make sure you're prepared to exercise a great deal of caution each time you use it.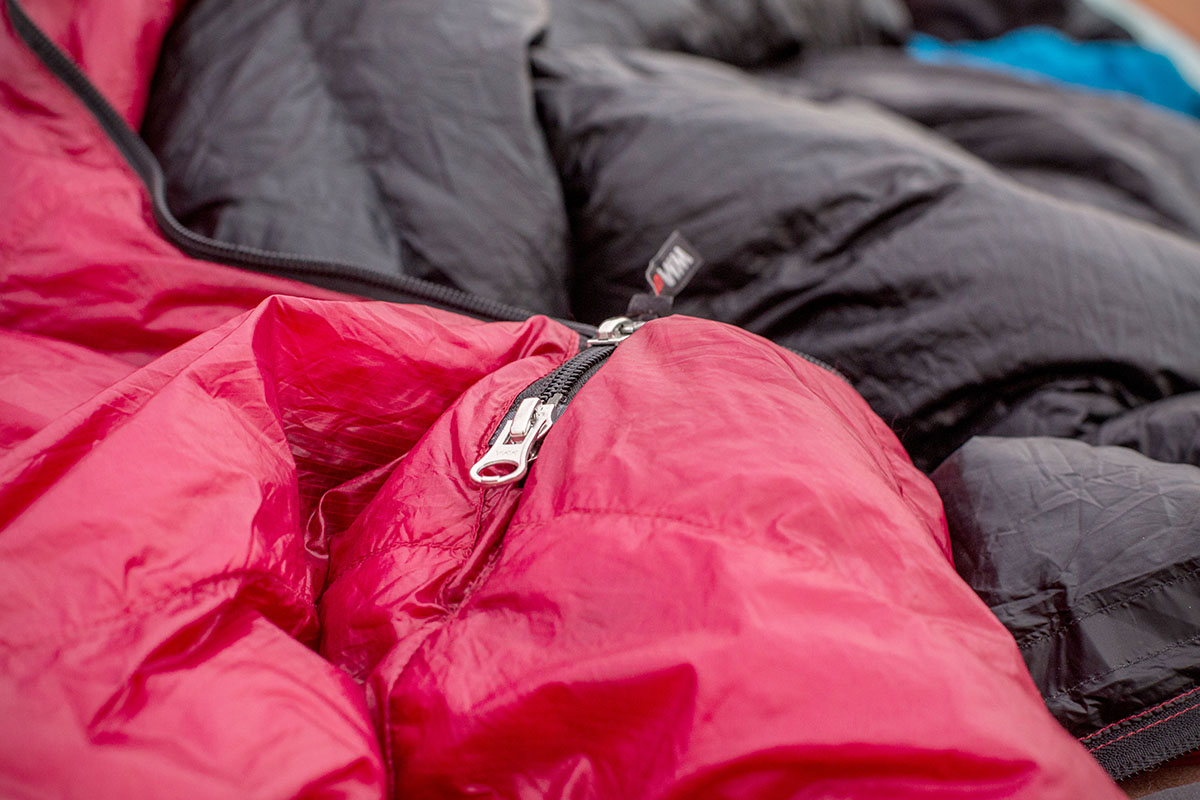 Draft Collar
A draft collar is an insulated tube that encircles the top opening of a sleeping bag or quilt, closing the gap between your body and the bag. Cinched close to your neck, it provides an incredibly lofty, pillow-like feel that traps warm air in the body of the bag while allowing your head to breathe (keep in mind that a draft collar is different from a hood). Draft collars (or yokes, which serve the same purpose but are only attached at one end and rarely cinch) are ubiquitous on standard sleeping bags—especially cold-weather models—but are less popular on ultralight bags and quilts. Along with zippers and thick shell fabrics, they are one of the first things to go in the name of shaving weight. As a result, many of the lightest bags on our list (the Sea to Summit Spark and Feathered Friends Tanager) do not feature a draft collar. 
Similar to the Spark and Tanager, many ultralight quilts forgo the draft collar as well. But because quilts do not feature hoods, some sort of closure at the neck is vital. Most often, a simple drawcord replaces the draft collar at the neck opening, cinching tight to trap warm air below. But a cinched drawcord can be uncomfortable without the buffer of the soft, cushioned collar and does not offer the same level of draft protection. Some quilts have chosen to retain the draft collar, even at the expense of weight—the Katabatic Gear Palisade and Western Mountaineering NanoLite, to name a couple. If you are a particularly cold sleeper, we recommend choosing a quilt with a collar.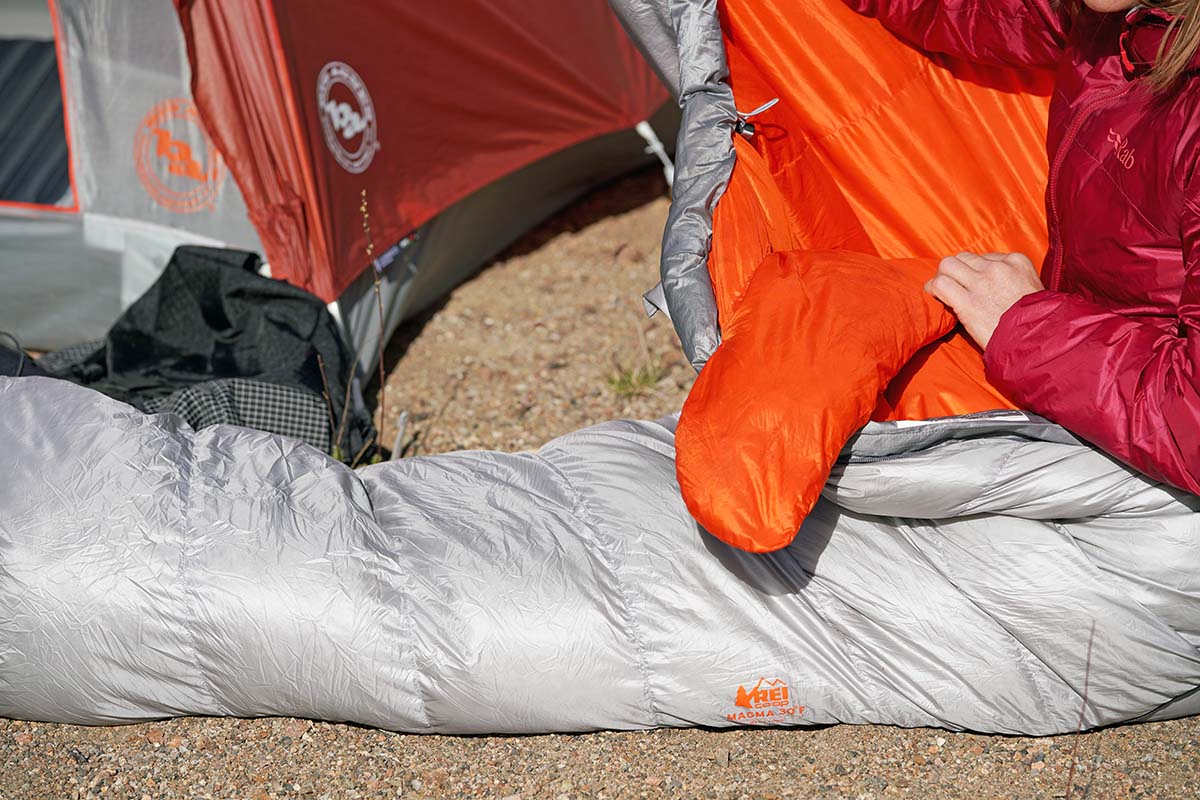 Baffle Design
The different stitching patterns on each individual sleeping bag and quilt may seem like they're just for show, but this "baffling" actually is a critical design feature. Baffles essentially are tubes of fabric that help down insulation stay evenly distributed throughout a bag or quilt. Take one glance at the picks above and you'll see a range of patterns, from the chevron baffles on the Loco Libre Operator Series Ghost Pepper Quilt (not listed above) to the horizontal tubes on the Feathered Friends Hummingbird and the vertical body baffles on the Zpacks Solo Quilt. Despite the range in appearances, these examples can be broken down into two main designs: continuous baffling and segmented baffling. 
Continuous baffles, like those found on the Feathered Friends Hummingbird and Katabatic Gear Palisade, are tubes of feathers that go the entire width or length of a sleeping bag without being blocked by stitching or fabric. Feathers can move up and down these tubes as the user sees fit, depending on temperature swings. During cold evenings, move your features on top for added warmth; during warm evenings, shift them underneath you for a less insulated bag. The downside of continuous baffles is that feathers can occasionally move without you guiding them, leaving the sleeper shivering through the night.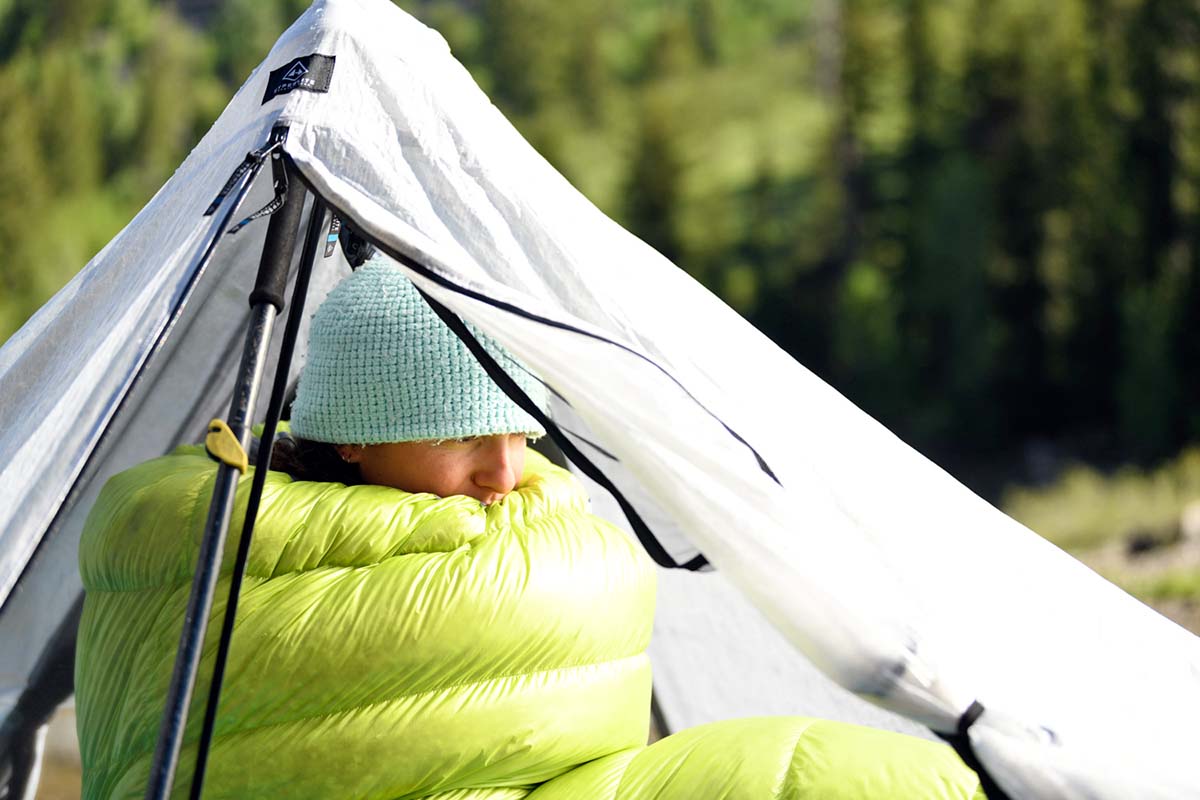 If you're the type of person that loves tweaking your gear, continuous baffles could be a good fit. However, in most cases, we prefer bags and quilts with segmented baffles that keep feathers evenly distributed throughout. In the most premium bags, these compartments, or "boxed baffles," are separated by lightweight material inside of the shell fabric, rather than draft-prone stitching (and in the case of the Seamless Down Hugger, Montbell uses a web of lightweight yarn to keep the insulation in place). Most segmented baffles add a bit of weight, but for most, their convenience and warmth distribution are worth the tradeoff. We especially like the segmented baffle design of the Therm-a-Rest Hyperion, which strikes us as the best of both worlds. The Hyperion has 70% of its down strategically located on top of the bag and 30% on the underside—you get your insulation where it matters most, along with added assurance that it will stay put.

Sustainability: Responsibly Sourced Down
The origin of down insulation has become a hot topic, and we're happy to see more companies jumping on board in support of responsibly sourced goose and duck plumage. Many brands now subscribe to the Responsible Down Standard (RDS), a global certification given to down products that indicates the birds were treated humanely and not subjected to unnecessary harm such as force-feeding or live-plucking. Further, some companies have developed their own standards, such as Patagonia's Traceable Down Standard. All of the bags and quilts on our list above use ethically sourced down and are either certified by the RDS or backed by the manufacturer (Western Mountaineering, for example, works with a specific farm to source their down to ensure that responsible practices are being upheld).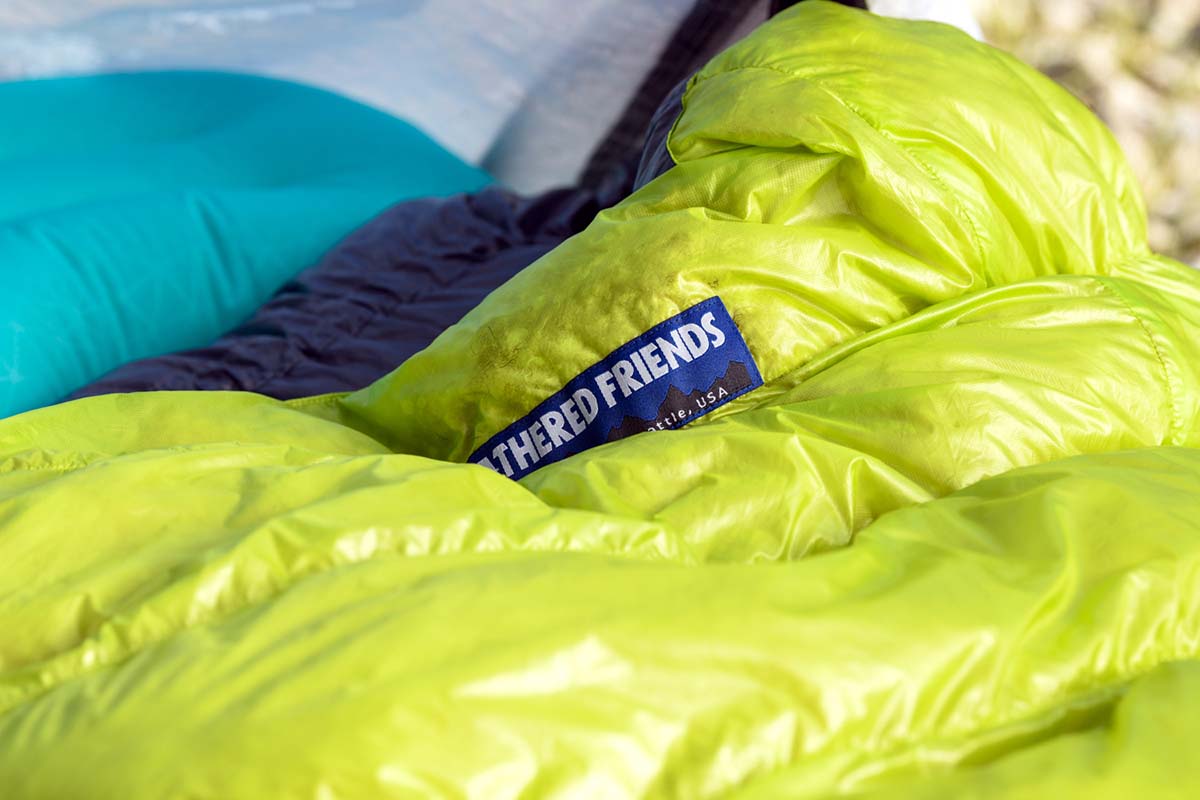 Hydrophobic Down
If you plan to travel in humid or wet climates, we recommend looking for down insulation that has been treated to withstand light moisture. Water-repellent down, also known as hydrophobic down, is able to resist moisture much better than untreated down, dry out faster, and stay lofty even when wet. Although it's certainly not as effective as synthetic insulation (see our article on down vs. synthetic insulation here), hydrophobic down adds a good dose of extra security (although there are very few instances when your bag or quilt should be exposed to moisture). In addition, look for shell fabrics that have been treated with a durable water repellant (DWR) finish, which adds an extra layer of caution for wet or snowy environments. Last but not least, a waterproof compression sack is a wise choice for the backcountry.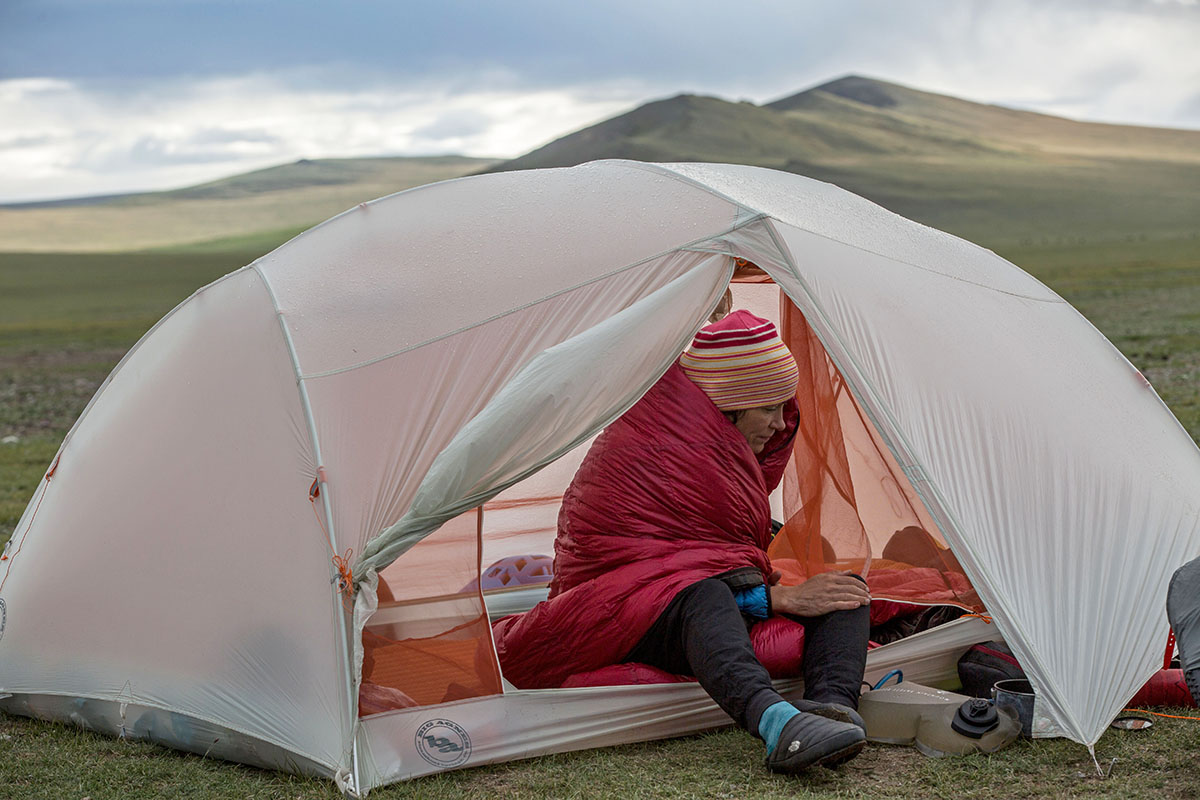 Ultralight Winter Sleeping Bags
With an attempt to keep all of our ultralight sleeping bag options under 2 pounds, we have chosen to limit this list to 3-season sleeping bags, or bags rated to 20 degrees or higher. That said, ultralight winter sleeping bags do exist, which are ideal for temperatures you might find while adventuring in unpredictable shoulder seasons or while winter camping. One noteworthy choice is the Western Mountaineering Kodiak MF, a 0-degree bag that weighs an impressively light 2 pounds 15 ounces. Although this is quite a bit heavier than all of our ultralight options above, for a hardwearing, cold-weather sleeping bag, staying under 3 pounds is impressive. A second popular pick is the Feathered Friends Snowbunting EX, another 0-degree option at only 2 pounds 13 ounces. In addition to Western Mountaineering and Feathered Friends, most of the other brands above have winter-ready models available in their lineups. The designs are similar but they just have a lot more down fill. 

The Importance of Your Sleeping Pad
Unless you're sleeping in a hammock, it's incredibly important to pair your ultralight quilt or sleeping bag with an appropriately insulative sleeping pad. Even a plush, cold-weather sleeping bag will not keep you warm if you're sleeping on the ground. Most sleeping pads are given an R-value, which is a measurement of how well the pad can insulate you from the ground. For 3-season use, we recommend a pad with an R-value of at least 3 to 4, like the popular Therm-a-Rest NeoAir XLite NXT (R-value: 4.5).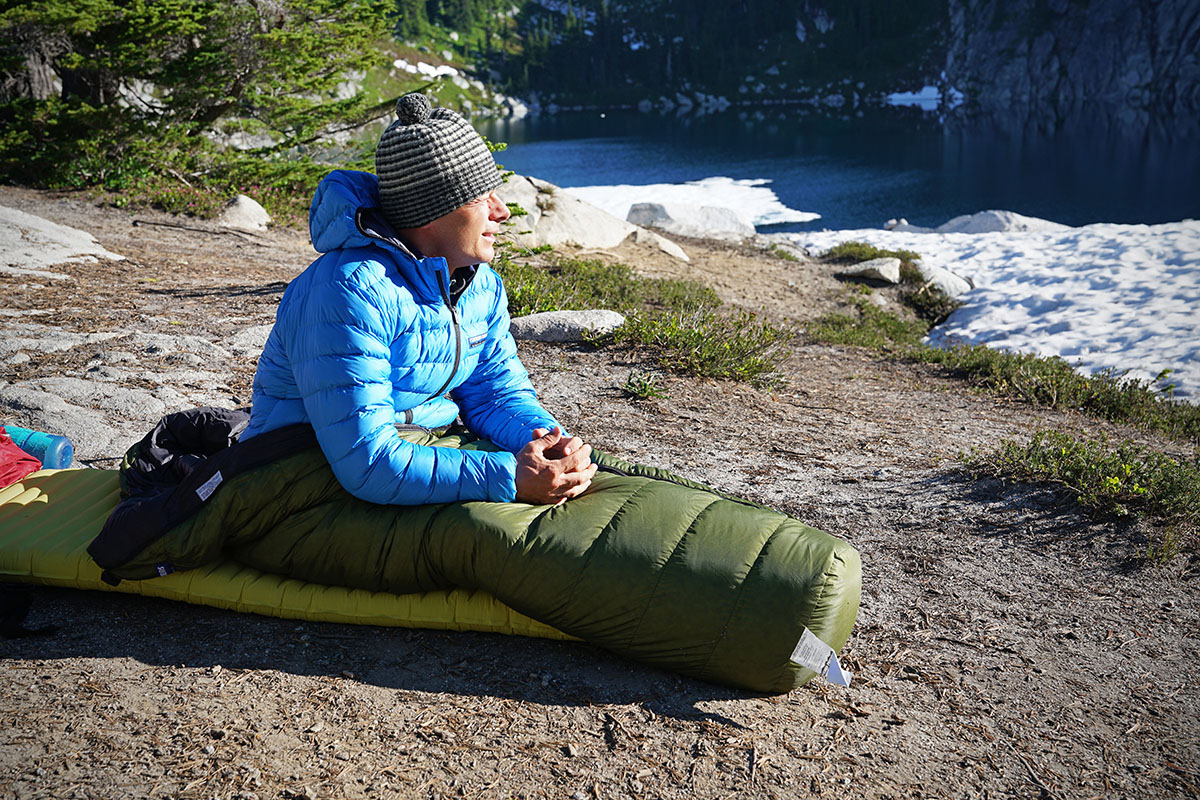 Cottage-Industry Brands and Ultralight Gear
If you've read through our list of quilts above, you might have noticed that many of the brands featured are not mainstream companies that sell through big retailers. The cottage industry is alive and well in ultralight gear manufacturing, and for good reason. Companies like Enlightened Equipment, Katabatic Gear, and Zpacks were all founded by outdoor—often thru-hiking—enthusiasts who noticed a gap in the market for ultralight equipment. These products are made by the people, for the people. In fact, it's only just recently that big brands like REI, Therm-a-Rest, and Marmot have thrown their hats into the ultralight ring. 
These products often have a number things in common. First, the designers and manufacturers generally are thru-hikers, bikepackers, and ultralight enthusiasts that use the gear they make. The result is well-thought-out products that nail the details and often allow the buyer to customize sizes, down fill, materials, and features. Further, since these are small companies, most of their gear is handmade in the United States. However, while we love this culture and encourage you to support it, keep in mind that you can expect longer wait times between ordering and receiving your items. And perhaps the biggest downside for most consumers: you won't find brands like Zpacks and Enlightened Equipment on the shelves at your local retailer, meaning you won't be able to see your bag/quilt or "try it on" before buying. Luckily, most of these companies include detailed videos and descriptions on their websites and have reasonable return policies.
Back to Our Top Ultralight Sleeping Bag Picks  Back to Our Top Backpacking Quilt Picks
Read More From Switchback Travel