Feathered Friends Tanager 20 CFL
Price: $369
Temperature Rating: 20°F
Weight: 1 lb. 2.6 oz.
Fill: 12.6 oz. of 950-fill down
What we like: One of the lightest 20-degree sleeping bags on the market.
What we don't: Lack of a zipper makes it challenging to cool off on warm nights.
See the Feathered Friends Tanager 20
Seattle-based Feathered Friends is well-known for their premium down products, and the Tanager 20 CFL sleeping bag showcases that expertise. By packing a generous amount of high-quality 950-fill down into a supremely lightweight and hoodless design, the Tanager manages to effectively bridge the gap between heavier mummy bags and draftier ultralight quilts. The lack of a hood means you'll need to pair it with a hooded down jacket or warm hat, but we came away impressed (and never cold) after outings in the high alpine of the Tetons and Idaho's surrounding backcountry. Below we break down the Tanager's weight, packability, warmth and insulation, features, durability, and more. To see how it stacks up to the competition, see our article on the best ultralight sleeping bags and quilts.

Performance
Weight
The "CFL" in the Feathered Friends Tanager's name is short for "crazy freaking light," and we think that's a very appropriate designation. At a feathery 1 pound 2.6 ounces for the 68-inch version (the 74-inch model is 1 pound 3.7 ounces), the Tanager is almost in a weight class of its own. Other ultralight options with similar temperature ratings including the Katabatic Gear Flex 22 (1 pound 6.4 ounces), Enlightened Equipment Revelation (1 pound 4.9 ounces), and Therm-a-Rest Hyperion 20 (1 pound 4 ounces) all come in slightly heavier. Therm-a-Rest's similar hoodless design, the Ohm, undercuts the Tanager at 1 pound 2 ounces but runs notably cooler with a 32-degree rating and less down fill. All in all, carrying the Tanager around the mountains was effortless and I barely noticed the weight on my back.

Packability
When packed into its included stuff sack, the Feathered Friends Tanager stuffs down into a compact 14 x 6-inch package. While this undoubtedly is small, the bag's 950-fill-power goose down is so lofty that it certainly could compress more if squeezed into a compression sack. However, like most sleeping bags currently on the market, Feathered Friends doesn't include one with the Tanager. Instead, you can pick up a model like the Sea-to-Summit's Ultra Sil Dry Sack for an additional $35, and we think the negligible 2.3-ounce weight is worth it for multi-day trips when your pack is stuffed to the gills. A final note: make sure to take care if you choose to use a compression sack—cinching it down too much can damage the bag's insulation over time. For the best performance, it's best to lightly compress the bag and avoid storing it in the sack for extended periods.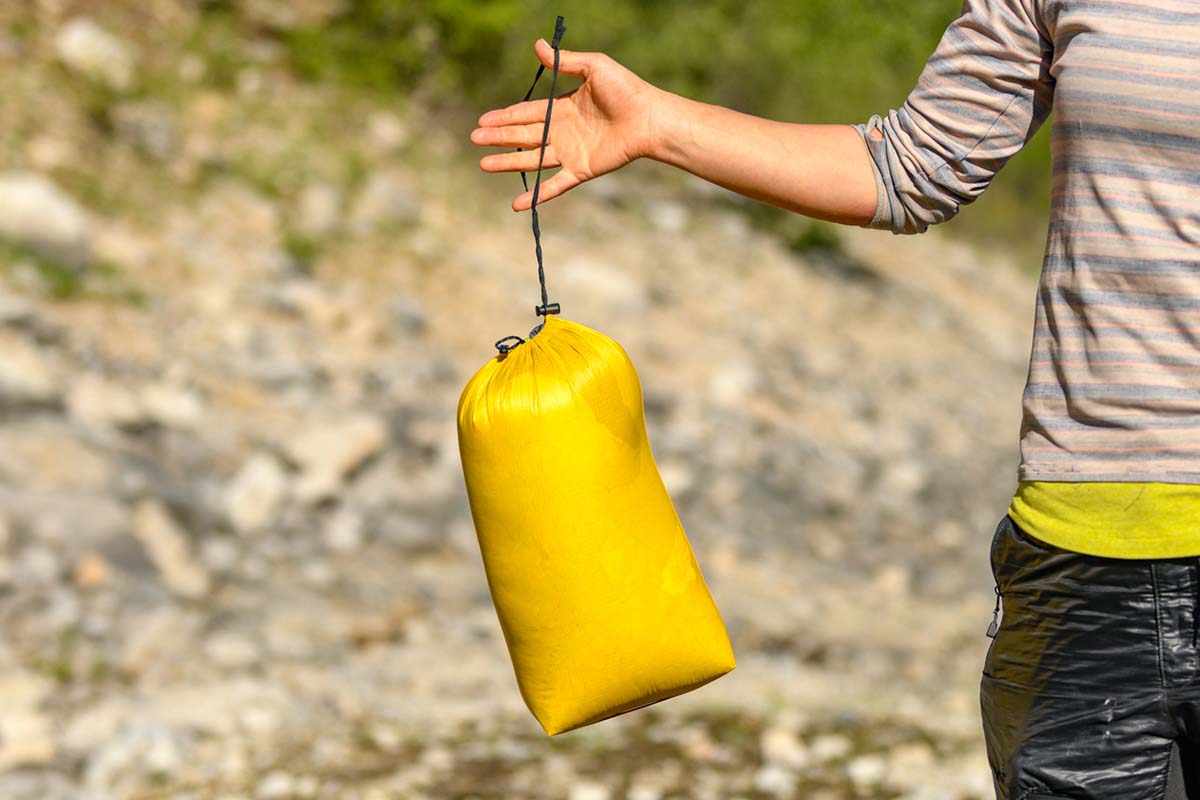 Warmth and Insulation
With 12.6 ounces of premium 950-fill-power down (for the 68-inch version) and a 20-degree temperature rating, the Feathered Friends Tanager CFL 20 is an exceptionally warm and comfortable place to be. It's worth noting that Feathered Friends is known to be quite conservative with their ratings, so you can expect the 20-degree bag to keep you comfortable at or just below 20 degrees Fahrenheit. I slept in the bag during multiple nights of sub-freezing temperatures at around 11,000 feet and never woke up cold or even chilly. In fact, I actually stripped layers on a couple occasions. All in all, I was extremely impressed—and even surprised—by the Tanager's warmth.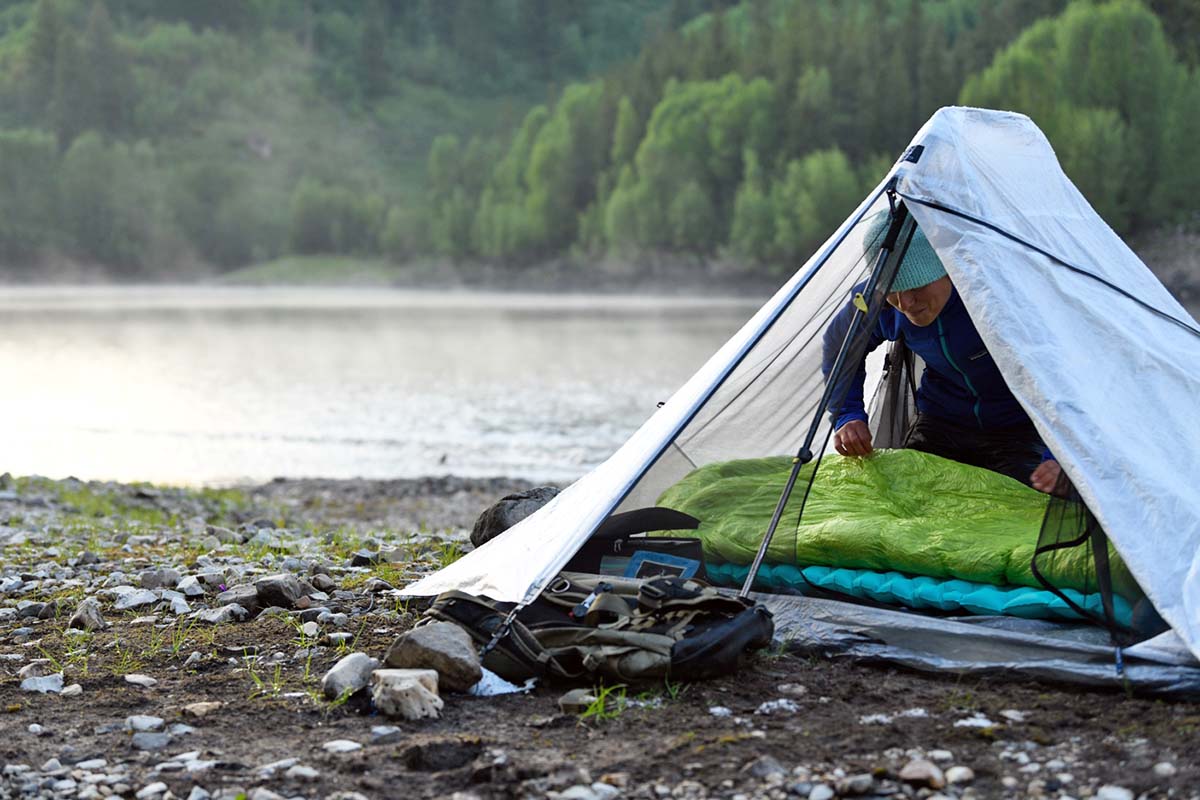 However, the lack of zipper does make it extremely hard to vent the bag on warm nights. Given the Tanager's low temperature rating, it would be nice to have the option to unzip and let body heat escape when the conditions get balmy (or if you're simply a warm sleeper). In the end, the Tanager is ideal for consistently cool temps—like high elevations in the summer and lower elevations during shoulder seasons—but we think it's too much bag for mild summer nights.
As far as comfort goes, the Tanager's nylon lining is supple and smooth—a major departure from the plasticky feel common with many other sleeping bags. Further, the smaller 68-inch size (62 inches at the shoulders, 52 at the hips, and 38 at the feet) provided plenty of room both length- and width-wise for my 5'5" frame. Compared to ultralight mummy bags like the Western Mountaineering UltraLite, the Tanager is roomier in the shoulders and chest, making it notably more comfortable, and there was enough space for me to roll onto my side or back without feeling constrained. In addition, the footbox is just wide enough for me to freely move my feet without allowing them to get cold (too much empty space can lead to heat loss). Simply put, when it comes to minimalist sleeping bags, the Tanager feels rather luxurious.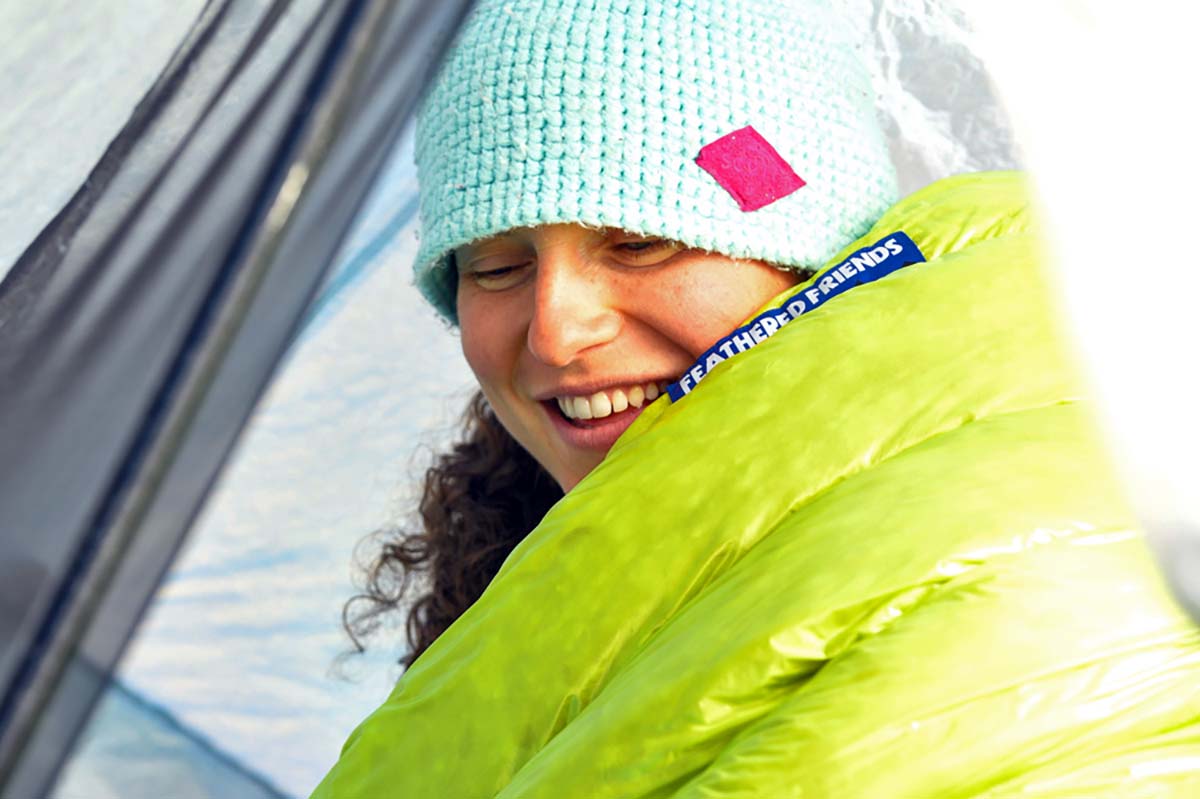 Hoodless Design 
I'll start off by admitting that I'm a cold sleeper and never envisioned ditching my beloved hood-equipped mummy bag just to shave a few ounces of weight. However, upon using the Tanager for the first time in the Grand Canyon during a bout of late-spring snowfall, I was surprised by how little I missed having a hood. By pairing the bag with a warm hat (alternatively, many opt to utilize the hood on their down jacket), I was able to stay toasty and comfortable throughout the night. To supplement areas that my hat didn't cover, the bag's generous collar nicely insulated the back of my neck and around my face. All things considered, the Tanager's hoodless design is a nice middle ground between a mummy bag and sleeping quilt—especially considering most backpackers already carry a lightweight down jacket to keep warm around camp.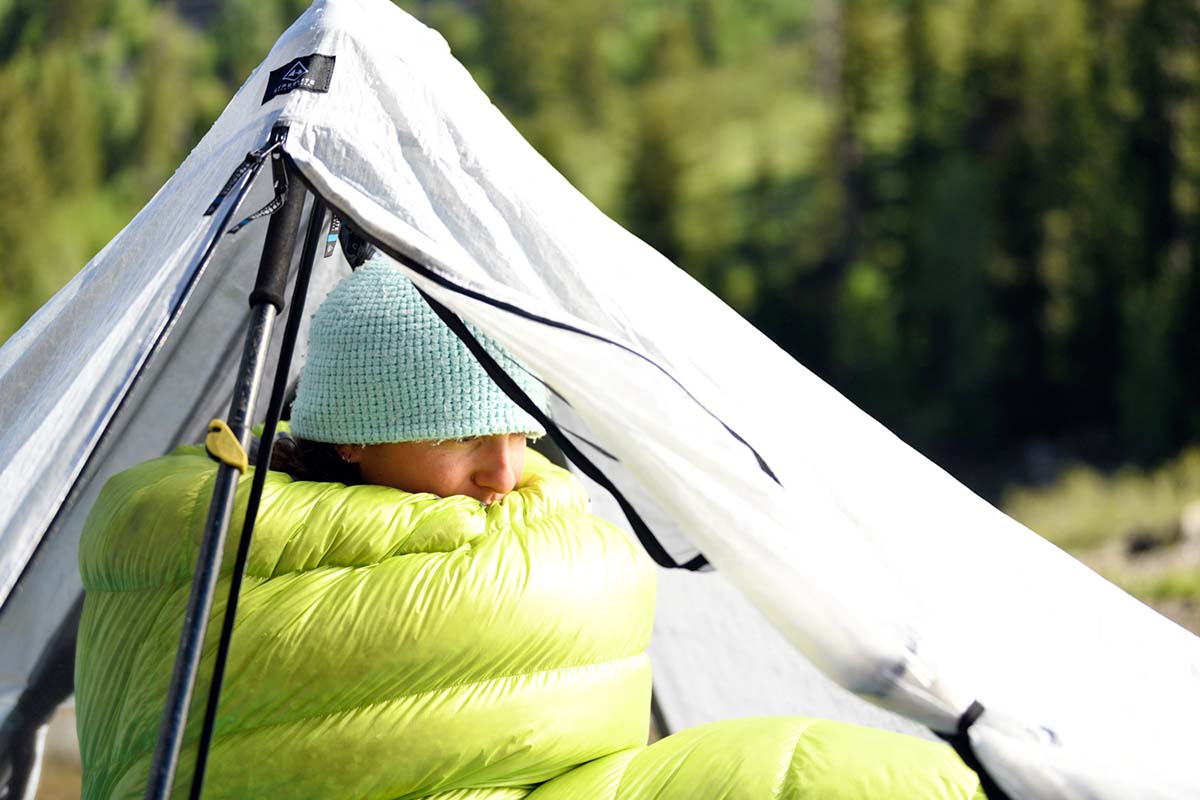 Despite my positive experiences in both the Grand Canyon and Idaho's backcountry, I wouldn't recommend a hoodless sleeping bag in truly frigid temperatures, such as when winter camping. In these situations, it's important to have as much insulation as possible, and a little extra warmth around the head can make a noticeable difference. That said, the Tanager is designed as a 3-season bag and performs very well in these more moderate conditions. Even on frosty spring nights, I didn't have any issues with the Tanager's lack of hood.
 
Features
Because of its ultralight slant, the Feathered Friends Tanager lacks common features like a hood, zipper, and internal pockets. The simple cinch system at the collar is an easy-to-use, lightweight solution for closing the bag's opening and trapping warmth. In fact, I actually found it to be more effective than a zipper (while a zipper has small holes between its teeth that can let cold air in, the drawcord closure allowed me to snug the bag as tightly as I wanted). And as I touched on above, the bag does come with a stuff sack and large cotton bag for storage, but I'd recommend purchasing a separate compression sack for more efficient packing.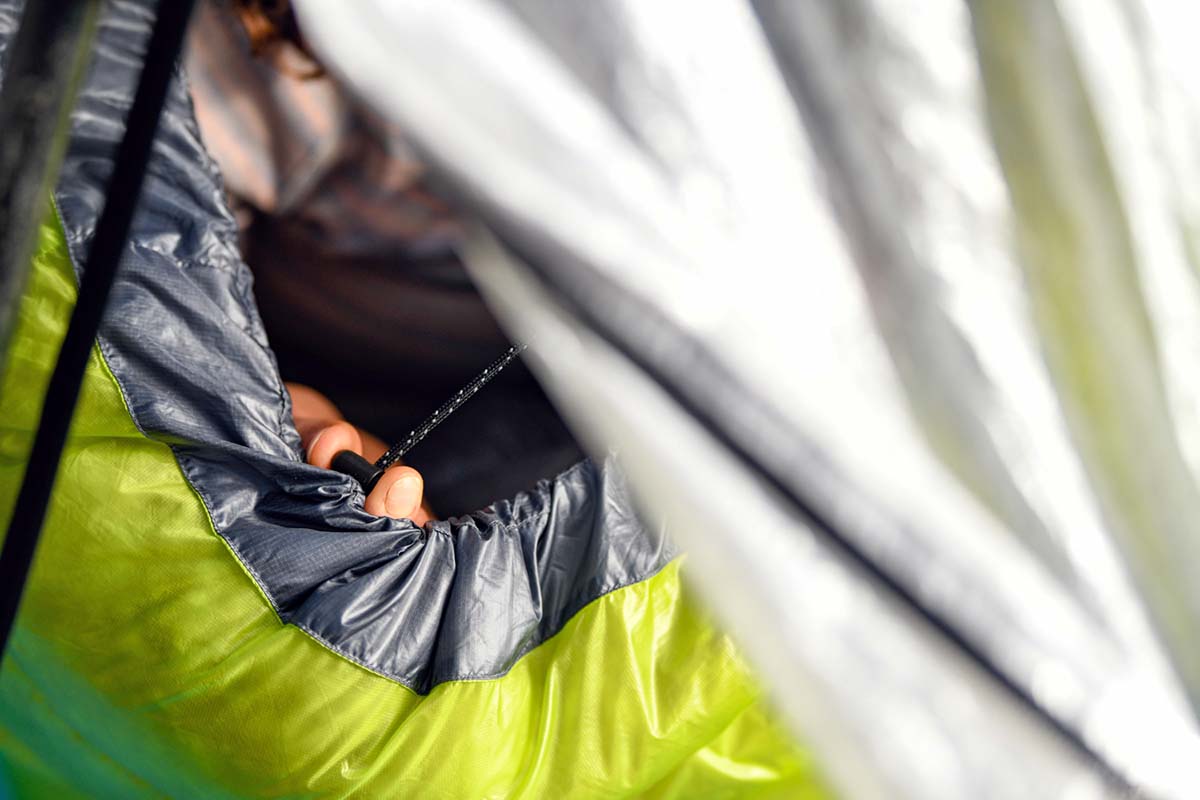 Durability 
Taking the Tanager out of its stuff sack for the first time, I was immediately struck by the bag's thin fabric. Practically transparent, you actually can see feathers through the 7 x 5-denier shell. For comparison, Feathered Friends' Swallow UL 20/30, Flicker UL, and Therm-a-Rest's Ohm all use slightly thicker 10-denier fabrics, while beefier backpacking models typically fall between 20 and 50 denier. However, if there's one piece of gear you shouldn't be concerned about, it's your sleeping bag. Since the Tanager will either be stuffed in its sack or laid inside your tent or sleeping structure, durability isn't a major concern. Further, with no zipper and a simple cinch closure, there is little else on the bag that might break or wear over time.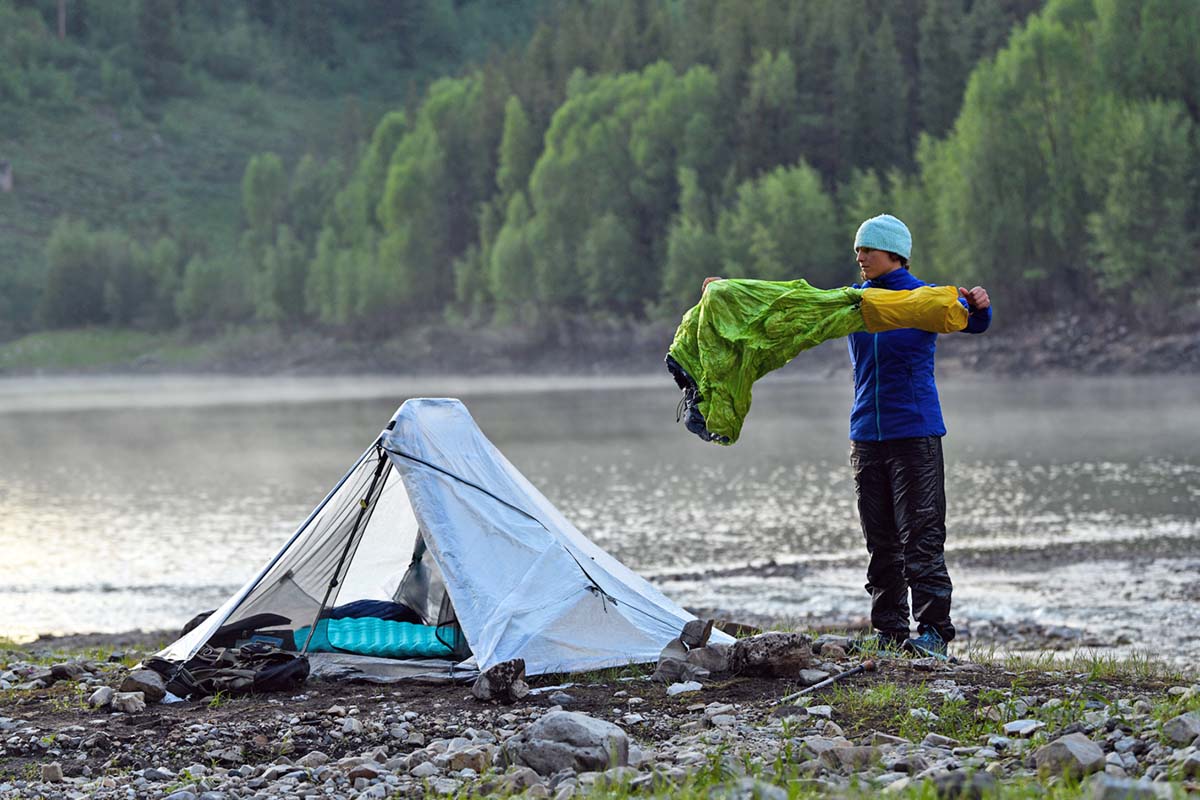 Throughout its testing so far, I have (inadvertently) put the Tanager through the wringer. While camping in the Palisades Backcountry of eastern Idaho in my Hyperlite Mountain Gear's Dirigo 2, water droplets accumulated in the barely breathable tent and dripped onto my sleeping bag throughout most of the night. When I woke up in the morning, I was surprised that the down was not totally saturated—a true testament to the bag's effective durable water repellent (DWR) finish. In the end, the Tanager still looks like new after multiple nights of heavy (and wet) use. As long as you exercise care when handling the bag, especially when packing and unpacking, you shouldn't have any major snags (no pun intended).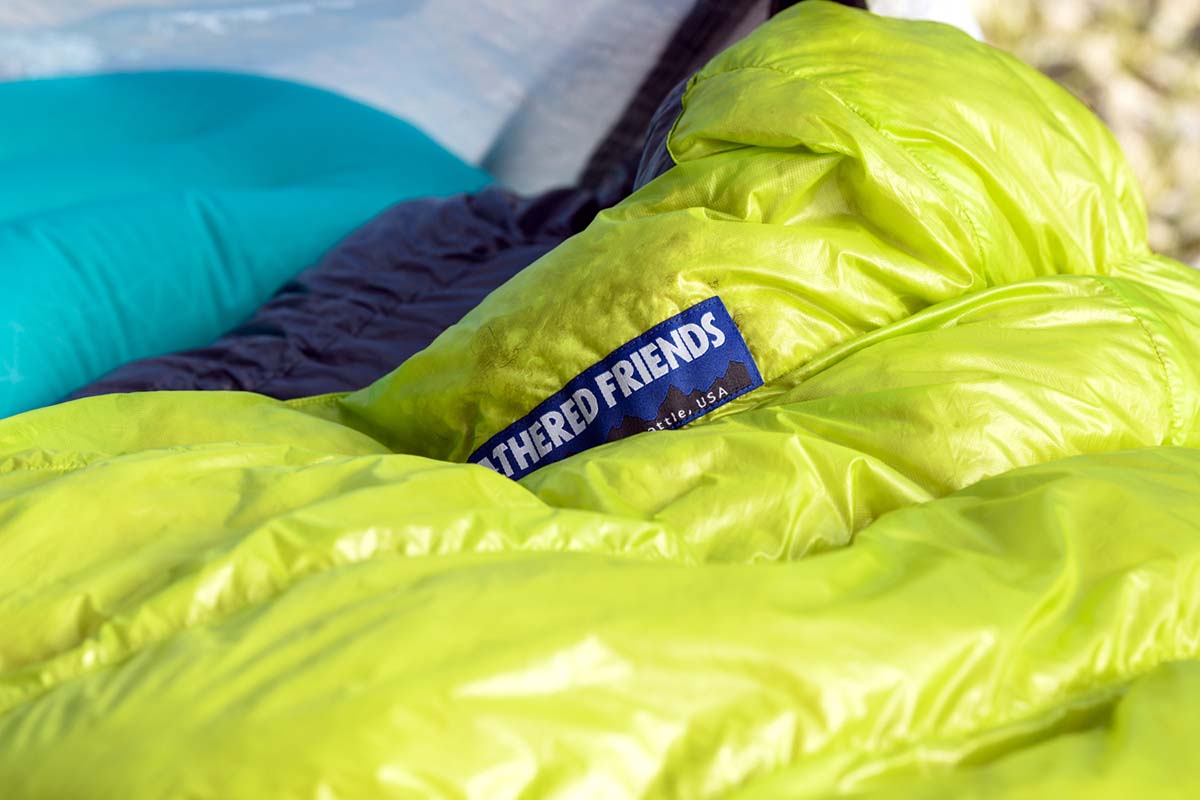 What We Like
At 1 pound 2.6 ounces, the Tanager is one of the lightest 20-degree sleeping bags on the market.
950-fill down is exceptionally warm for its weight.
Supple lining fabric and roomy interior are supremely comfortable. 
Despite a lack of zipper, the drawcord cinch at the collar is effective at trapping heat.
 
What We Don't
Extremely thin 7 x 5-denier fabric is concerning from a long-term-durability standpoint, and you actually can see down through the shell fabric.
Lack of zipper makes it challenging to cool off on warm nights. 
Compression sack sold separately, but you do get an included stuff sack and cotton storage bag.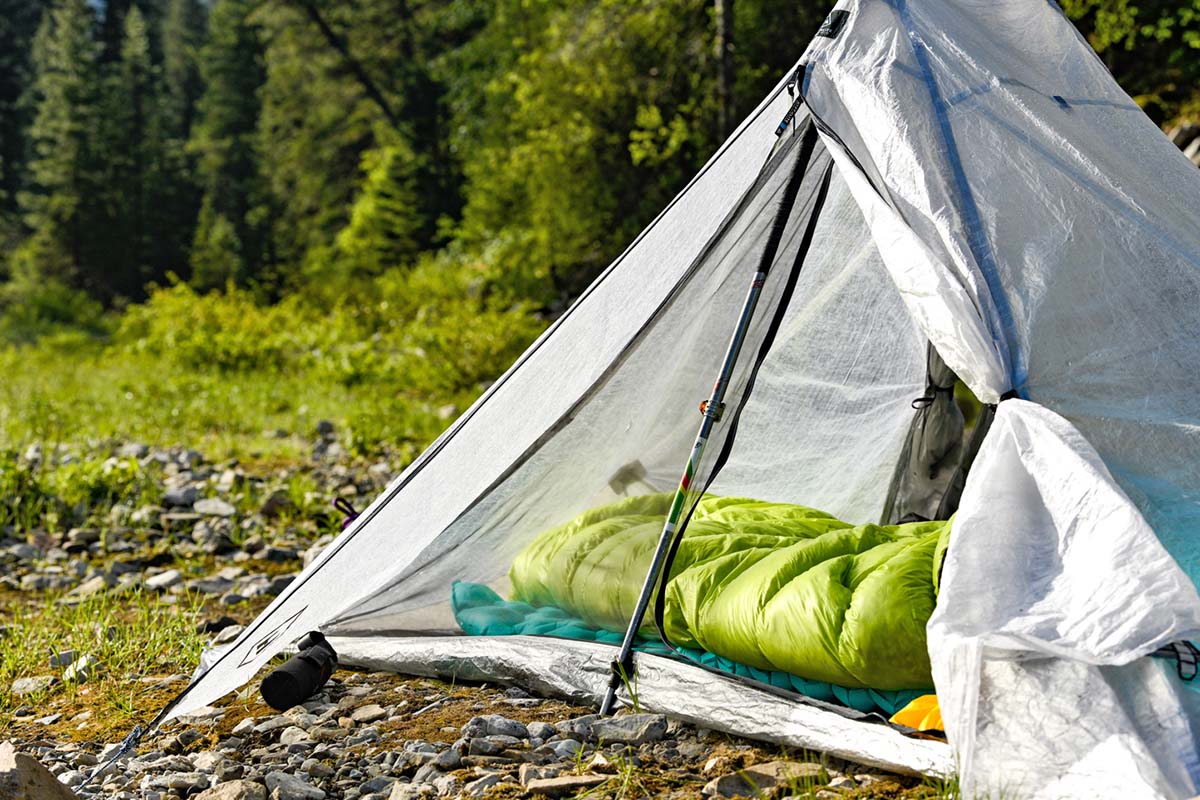 Comparison Table

The Competition
The Feathered Friends Tanager CFL 20 is a hoodless sleeping bag that nicely bridges the gap between two backpacking designs: mummy bags and ultralight quilts. The Therm-a-Rest Ohm 32 shares a similar hoodless design meant to be paired with a hooded down jacket or warm hat, but with a full-length zipper that extends into the footbox, it also doubles as a blanket. Compared to the Tanager, it's barely lighter at 1 pound 2 ounces and has a slightly roomier fit. However, the 32-degree Ohm runs colder with 9 ounces of 900-fill down compared to the Tanager's 12.6 ounces of 950-fill. All things considered, we give the overall edge to the Tanager for its notable bump in warmth at a near-identical price point and weight. However, warm sleepers or those looking for a summer-only bag will prefer the Ohm for its ability to vent and function as a quilt in mild conditions.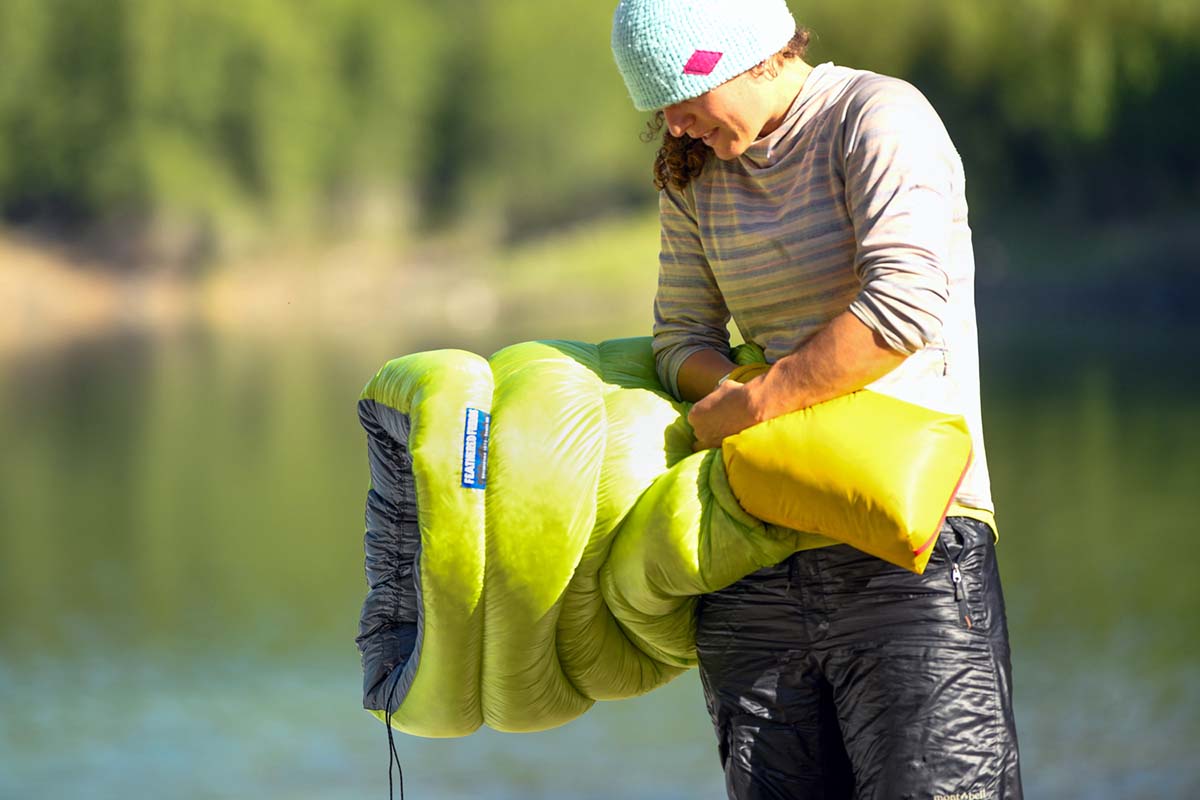 In addition to the Tanager, Feathered Friends' extensive sleeping bag lineup also includes the Flicker UL. Like the Therm-a-Rest Ohm, the Flicker is designed to double as both a sleeping bag and a quilt with a full-length zipper down the middle. This versatility makes the Flicker a true standout, but the addition of a zipper comes with a notable bump in weight (1 pound 10.2 ounces) and cost ($424), and the drawcord closure at the bottom can result in drafts entering the footbox if you're not careful. That said, the Flicker is the warmer option of the two with a generous 14.7 ounces of 950-fill down. A final decision should come down to your sleeping preferences. If you're on the fence between a bag and a quilt, go with the Flicker. If you're a cold sleeper and don't often feel the need to vent your bag, the Tanager could be your ticket.
An ultralight quilt worth considering is Enlightened Equipment's Revelation. At 1 pound 4.9 ounces for the regular 20-degree version, you get a generous 14.4 ounces of premium 950-fill down (1.8 ounces more than the Tanager) and a slightly thicker 10-denier outer fabric. Unlike the zippable Flicker, the Revelation's back opens up with a series of ties that allow you to connect it to your sleeping pad. However, because of this design, the Revelation takes longer to set up and can feel drafty if not properly secured to your pad. Many weight-conscious backpackers go the quilt route to shave additional weight, but unless you're consistently sleeping in warm conditions, the Tanager is the lighter option and our preferred pick in the end.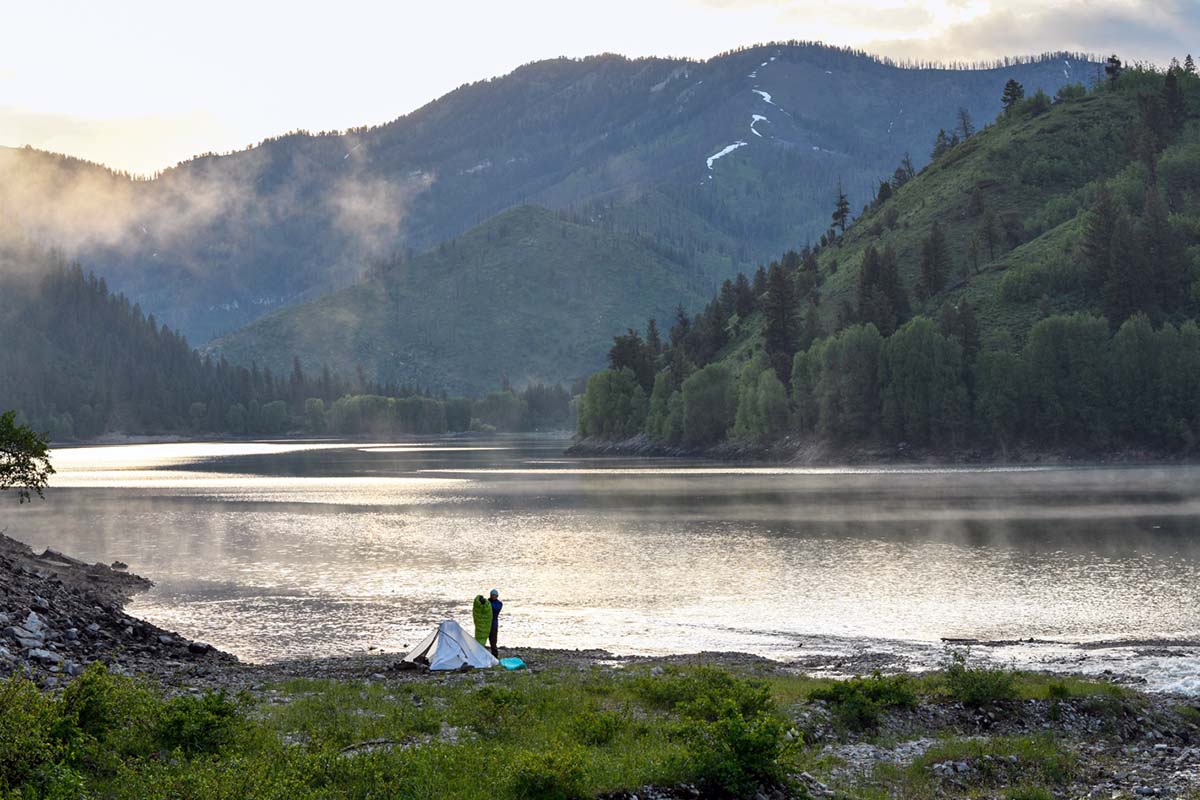 Last but not least, Western Mountaineering's SummerLite is a lightweight mummy bag for those who don't want to forego a hood. At 1 pound 3 ounces, the SummerLite is almost identical in weight to the Tanager but has a lower fill weight at 9 ounces of 850-fill down and a 32-degree rating (because of the hood, however, you do get some added warmth up top). It's also notably less roomy, particularly in the shoulders and hips. However, the benefit to a mummy shape is that you don't have to supplement the bag with a hooded down jacket, plus the full-length zipper allows for more ventilation on warm nights. But in the end, most backpackers already will be carrying a down jacket for use at camp, and the Tanager is warmer and cheaper.
Editor's note: We usually provide a live price comparison table below our outdoor gear reviews, but the Tanager is sold exclusively by Feathered Friends. You can see the Tanager 20 CFL page here and support us in the process. Thanks!
Read More From Switchback Travel