Bindings are often the last piece of ski gear you choose, but remain a very important one. As the connection between boot and ski, they play a fundamental role in power transfer, responsiveness, and safety. We've separated the best bindings of 2020 into two categories: traditional downhill/alpine bindings and backcountry ski bindings. All the models come in different DIN ranges. A heavier, expert skier will tend to go with a high DIN binding, while a less advanced or lighter-weight skier can save money and go with a lower DIN option. For more background, see our ski binding comparison table and buying advice below the picks. To complete your set-up, check out our articles on the best all-mountain skis, backcountry skis, downhill boots, and backcountry boots.
 
Downhill/Alpine Bindings
DIN: 4-13
Weight per pair: 4 lbs. 8 oz.
Brake sizes: 90, 100, 110, 120mm
What we like: Solid reputation and performance.
What we don't: Not much—for the right skier, they are pretty ideal.
Quality bindings are safe, reliable, and transfer energy supremely well. The Marker Griffon does all of that with aplomb and is a proven choice for skiers of nearly all ability levels. With a respectable DIN range from 4-13, premium materials, wide variety of available brake widths for all-mountain use, and a long track record of durability and top-end performance, they get our top spot for 2020.
The Griffon's signature wide footprint is built for excellent power transfer on today's wider skis. The brakes are easily swappable for varying ski widths and available in sizes that should accommodate the vast majority of all-mountain skis, and now the bindings can safely accommodate AT boots (hence the "ID" in the name). They have a confidence-inspiring "ka-chunk" when stepping in and are an easy, no-nonsense option for resort rippers. Larger, more aggressive skiers should take a look at the Marker Jester below, which is essentially the same binding in a 16-DIN version.
See the Marker Griffon 13 ID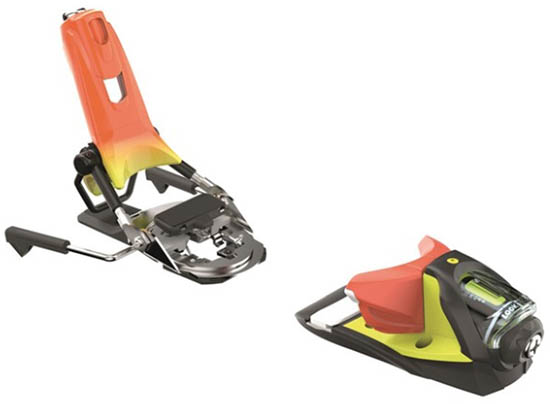 DIN: 5-14
Weight per pair: 5 lbs. 1 oz.
Brake sizes: 75, 95, 115, 130mm
What we like: Great pop between turns and top-of-the-line safety.
What we don't: Limited adjustment range: if you get new boots you may need to remount.
The Look Pivot series bindings are classics in the world of alpine skiing. Look nailed the mechanics on the Pivot heel when they designed it over a quarter-century ago: it gives the binding a short footprint on the ski, which allows for natural flex, and it has industry-leading elastic travel to help prevent knee injuries and avoid pre-releasing. This binding has served some of the world's best skiers for decades, and continues to be a solid choice for intermediate to expert-level riders.
It's worth noting that the brakes are not swappable on the Pivot's heel, which is something to think about if you plan on using the bindings with multiple skis. On the plus side, the new "GW" version, which stands for "GripWalk," is compatible with a wide range of downhill and alpine touring soles. And as in previous years, the Pivot comes in a number of DIN options. The 12- and 14-DIN bindings are suitable for most intermediate to advanced-level pilots, but a hardcore 18-DIN version also is available.
See the Look Pivot 14 GW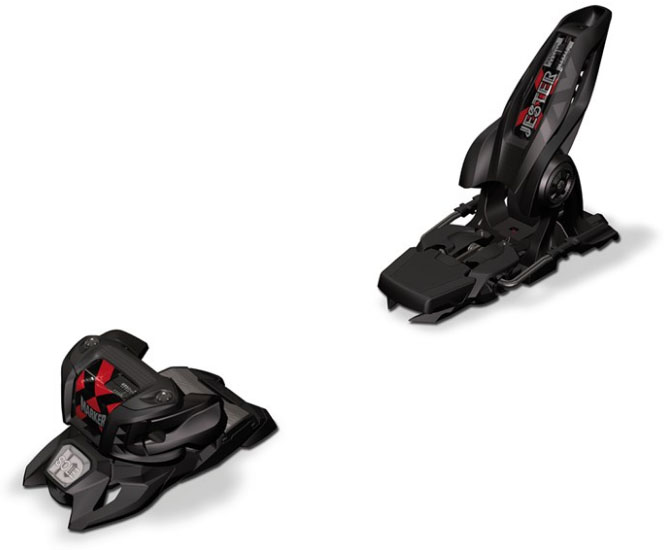 DIN: 6-16
Weight per pair: 4 lbs. 10 oz.
Brake sizes: 90, 100, 110, 136mm
What we like: Bomber construction without adding too much weight.
What we don't: Too much binding for most skiers; expensive.
Marker's Royal Family of bindings covers a wide range, from the intermediate-friendly Squire to the burly Duke for backcountry specialists. For the hardcore alpine skier that needs a high DIN, the Jester amounts to a beefed-up version of the Griffon above. In short, you get a bump up in max DIN from 13 to 16 and the addition of magnesium in a few strategic places. The extra metal keeps weight in check while increasing rigidity. And for those that are concerned about hitting big jumps in the park, it adds a degree of security (although the plastic Griffon is very tough).
Despite its reputation and popularity among professional skiers, the Jester is bumped down on our list because it's more binding than most skiers will ever need. Even expert-level riders will be plenty happy with the 80-gram lighter Griffon in most instances. And tacking on $130 to what is essentially the same design feels pretty steep. But for the skier that's out every day all season and skis hard, the Jester is a proven option. And if 16-DIN is (somehow) not enough for you, there is an 18-DIN Jester Pro, which is made for those taking big mountain lines and drops.
See the Marker Jester 16 ID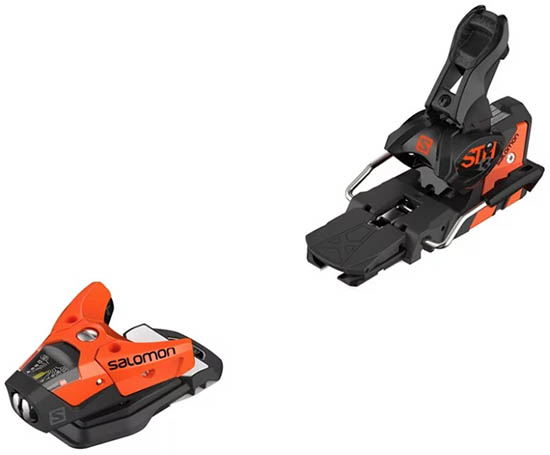 DIN: 5-13
Weight per pair: 5 lbs. 1 oz.
Brake sizes: 90, 100, 115, 130mm
What we like: Low profile and solid feel.
What we don't: Pricier than the Griffon above.
The Salomon STH2 and Marker Griffon above are two of the most popular binding options for aggressive downhill skiers, and for good reason. They both offer a sturdy feel, good power transmission on a wide ski, and proven durability. You really can't go wrong with either, and for some the decision is so close that it comes down to which color option matches their skis best.
What pushes the Salomon a little down our list for this season is a $20 increase in price without any tangible improvements. That makes the Griffon a better value, and its ID toe piece is also a little more versatile compared with the dated Walk to Ride compatibility on the STH2. In the end, that's enough for us to give the overall edge to the Griffon for the majority of riders.
See the Salomon STH2 WTR 13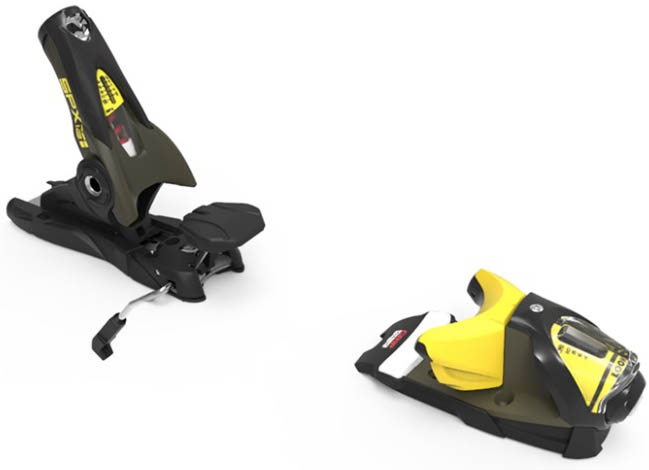 DIN: 3.5-12
Weight per pair: 4 lbs. 13 oz.
Brake sizes: 90, 100, 120mm
What we like: Great choice for intermediate to advanced resort skiers.
What we don't: A step down in power transfer.
The Look SPX 12 lands in between a true beginner/intermediate binding like the Tyrolia below and the expert-level options above. Now in its fourth iteration, the binding is a great fit for an all-mountain ski in the 80 to 100mm width range that's used primarily on piste. As with the Marker and Salomon options above, the SPX has a solid feel that is very confidence-inspiring.
It's close, but the Look has a slightly lower max DIN compared with the Griffon and STH2 above and little difference in price. But it's plenty for weekend warriors—the toe and heel offer good lateral elasticity and aren't prone to releasing early, and the Look offers GripWalk boot compatibility. For bargain hunters, there's also the Look NX 12 GW, which has a less burly heel but saves you $30.
See the Look SPX 12 GW
DIN: 3-11
Weight per pair: 3 lbs. 0 oz.
Brake sizes: 90, 100mm
What we like: Priced right for an intermediate skier.
What we don't: Lower performance threshold.
The Tyrolia Attack2 is very reasonably priced and a no-brainer for beginners to intermediates putting together a new ski package. The lightweight toe is strong enough for most and contributes to a very playful feel, and its platform is well-suited for modern skis. As with the options above, the Attack has a low stand height, which increases its connectedness with the skis.
Considering the lightweight plastics and lower DIN, these bindings are not for powerful skiers trying to extract every last ounce of performance from their set-up, but for casual resort goers (both men and women), the Tyrolia Attack2 11 is a solid pick. They also beat out the popular 11-DIN Marker Squire in price by $20 with no substantial difference in performance (other than boot compatibility), which makes them our top value choice.
See the Tyrolia Attack2 11 GW
Backcountry Ski Bindings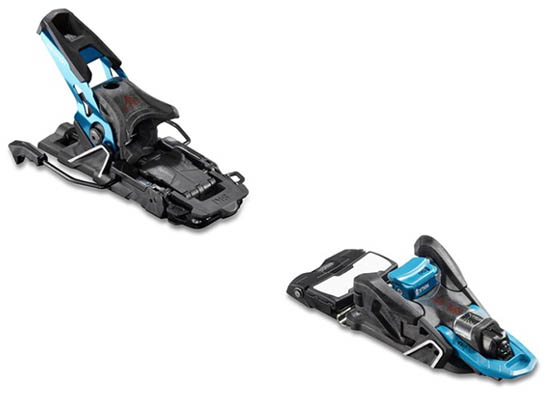 Type: Tech binding
DIN: 6-13
Weight per pair: 3 lbs. 13 oz.
What we like: It's a gamechanger: full downhill performance in a tech binding.
What we don't: A little heavy and unproven long-term durability.
Salomon's Shift was far and away the biggest news in ski bindings for last winter. Simply put, it's the first tech binding that provides legitimate performance and safety while hitting big lines or bombing laps at the resort. The key ingredient is the toe piece, which functions like the other pin-ready set-ups below for uphill travel, but converts into a traditional downhill toe design once you're in ski mode. This gives the Shift impressive versatility: you can wear your downhill boots and put down the power in hardpack and crud, or go lightweight with your touring set-up on a backcountry adventure.
 
What are the downsides of the S/Lab Shift? The binding's two-mode toe piece and beefy heel do add a little weight, so ultralighters likely will want to stick with the G3 Ion or Dynafit ST below. Also, it's not compatible with alpine touring boots that don't have full toe and heel lugs, including Salomon's S/Lab X-Alp and Arc'teryx's Procline. And in testing, we found that the heel's locking lever occasionally pops out while in tour mode, which releases the brakes. But this is fairly minor for a new backcountry binding, and we never had any issues quickly re-securing the brakes. All told, the Shift lives up to the hype and stands out as a significant technological advancement.
See the Salomon S/Lab Shift MNC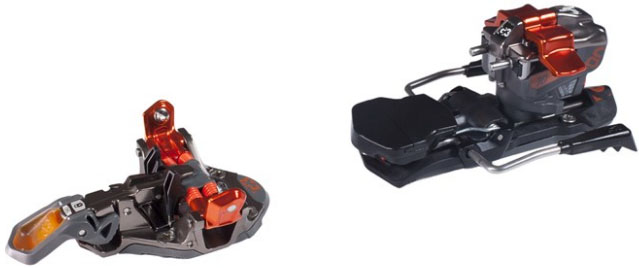 Type: Tech binding
DIN: 4-10
Weight per pair: 2 lbs. 9 oz.
What we like: Light, great toe piece, and user-friendly.
What we don't: Not as stiff for carving on hardpack.
G3 shook up the tech market with its Ion bindings, which have arguably the most user-friendly toe piece in the business. Tech bindings are known to be finicky when stepping into them, particularly in powder, but the Ion's tall stand height makes it easy to clear out snow with a ski pole. In addition, the pins hook up consistently with your boots thanks to a built-in bumper at the front. Finally, transitioning into tour mode is among the best in class in terms of ease: just rotate the heel in either direction (Dynafit's Radical below can only be turned clockwise), raise the toe piece into tour mode (the highest position), and flip over the large lifter bars.
In contrast to the Shift above and Kingpin below, the G3 Ion in both the 10-DIN and 12-DIN models is less capable on descents. Specifically, it's not as steady when moving quickly over skied-out, firmer snow. In powder, however, we've found that it's up to the task and confidence-inspiring even while steering a very wide ski (in this case, DPS's Lotus 124). Overall, the Salomon and Marker are the better choices for resort-like performance in the backcountry. But the G3 isn't too far behind, and its lightweight construction is a boon for deep backcountry exploration... Read in-depth review
See the G3 Ion 10 Binding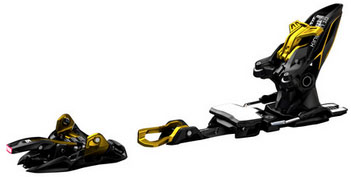 Type: Tech binding
DIN: 6-13
Weight per pair: 3 lbs. 6 oz.
What we like: Impressive combination of power, safety, and usability.
What we don't: More expensive and not as versatile as the Salomon Shift.
While growing in popularity in recent years, tech bindings have long been cast aside as insufficient for the hard charging types. And while the discontinued Dynafit Beast was a big step forward at the time of its release, the Marker Kingpin brought it all together. Fully DIN certified, the Kingpin has the paperwork to stamp its place in the market. You get the safety and secure feeling of a quality 13-DIN alpine binding that releases both vertically and laterally at the heel, but at a weight that easily undercuts a frame binding.
The Kingpin had been our top-rated tech binding for a few years, but it finally lost its spot with the release of Salomon's Shift above. Where does the Kingpin fall short? While both the Salomon and Marker have burly alpine heels and 13-DIN ratings, the Kingpin's toe piece is a simple tech design. The Shift, on the other hand, switches into a full alpine binding for the descent, which provides superior elasticity and feel. It's true that the Kingpin still is a strong performer and a little lighter, but it can't match the Shift's versatility. For 2019-2020, Marker expanded the line to include the Kingpin M-Werks, which combines the trimmed-down toe piece of their Alpinist binding, the heel of the standard Kingpin, and a host of other upgrades. The result: a significant drop in weight (the 12-DIN model is 2 lbs. 8.2 oz.) but a very steep $729 price tag.
See the Marker Kingpin 13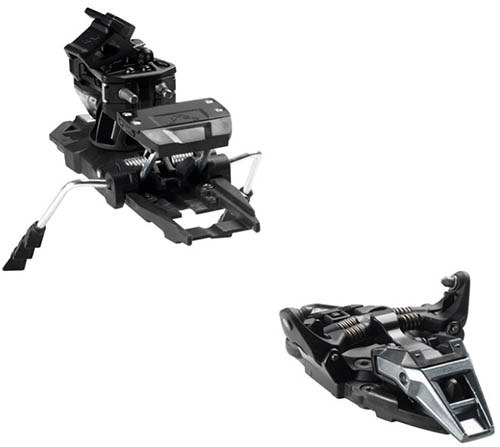 Type: Tech binding
DIN: 5-12
Weight per pair: 2 lbs. 12 oz.
What we like: The best lightweight models keep getting better.
What we don't: Less stiff than the Kingpins on the downhills.
Dynafit is credited with starting the tech-binding craze—some still refer to the category simply as "Dynafit bindings"—and their core offering is the ST Rotation. Lightly updated with the 12-DIN design last year, the Rotation remains a premier lightweight option for deep backcountry tours. It's also now more alpine-friendly with a pivoting toe piece, and like the Kingpin above, received an ISO/TUV certification for the safety of its release in a crash. The standard ST Rotation is offered in three release options: 7-DIN, 10-DIN, and 12-DIN.
You can find burlier options, but most will be really happy with the Radical, and weight-conscious skiers should likely go for the 10-DIN model. What you'll get is one of the most refined touring designs in the business, with easy transitions between ski and hike modes and smooth performance up and down hill. It may not have the solid, alpine heel piece of the Kingpin above, but the Radical easily undercuts the Marker in weight and is a solid option for those that exclusively ski in the backcountry.
See the Dynafit ST Rotation 12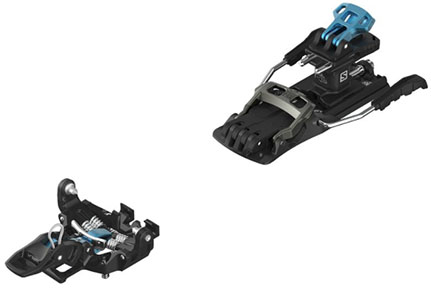 Type: Tech binding
Release value: 6-12
Weight per pair: 1 lb. 12 oz.
What we like: Very light, reliable, and user-friendly.
What we don't: Only 3 pre-determined release settings.
One of the most highly anticipated binding releases a couple years ago—in North America at least—was the Salomon MTN and identical Atomic Backland. The bindings had been available in Europe for a little while, and quickly developed a following for their simple yet thoughtful design. As Salomon has done with their successful lines like the STH2 and Shift above, the MTN nailed the details: excellent build quality, easy to use step-in and climb modes, and strong power transmission that belies its feathery weight. For anything from long tours to aggressive descents, the MTN is a great match.
Trimming weight from a binding has inevitable consequences, and while the MTN balances impressive uphill and downhill performance, the simplistic release settings aren't a one-size-fits-all answer. Salomon includes 3 different springs (listed as women's, men's, and expert), which can be swapped out based on release preferences. We also found that snow can easily build up on the heel piece, and it can be difficult to rotate the heel back into ski mode with a pole. But these nitpicks do little to dampen our enthusiasm for this otherwise fantastic binding... Read in-depth review
See the Salomon MTN + Brake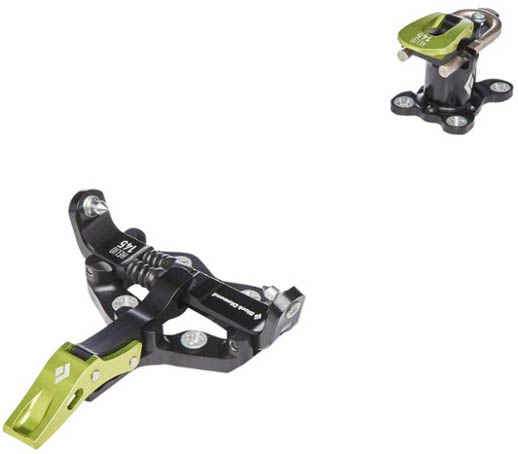 Type: Tech binding
Release value: 10
Weight per pair: 10.2 oz.
What we like: The lightest binding to make our list.
What we don't: Extremely stripped-down design. 
Released last year, Black Diamond's Helio binding collection has been well-received thanks to its combination of crazy-light weight and simple, no-nonsense performance. The lightest model, the Helio 110, weighs a truly amazing 7.8 ounces for the pair, but we like the slightly more feature-rich 145. Tipping the scales at 10.2 ounces, it undercuts the Salomon MTN above by over a pound while offering a surprisingly good maximum release value of 10 (note: the binding is not DIN-certified). Further, the BD Helio's metal construction is reasonably tough and it's pretty easy to master the step-in and transitioning process.
To be clear, the Helio 145 is a specialty piece and lacks the versatility of the tech bindings ranked above and below it here. The laundry list of missing features includes brakes or a leash, adjustable release settings, heel risers (technically there is one, but it's low and not ideal for steep pitches), and plenty more. It's a binding that excels for missions where weight savings are paramount and the terrain is not overly challenging or technical. The MTN above and Dynafit TLT Speed below easily beat the BD in both uphill and downhill performance, but if weight is your number-one consideration—we're looking at you, skimo racers—it's worth checking out the Helio 145.
See the Black Diamond Helio 145 R10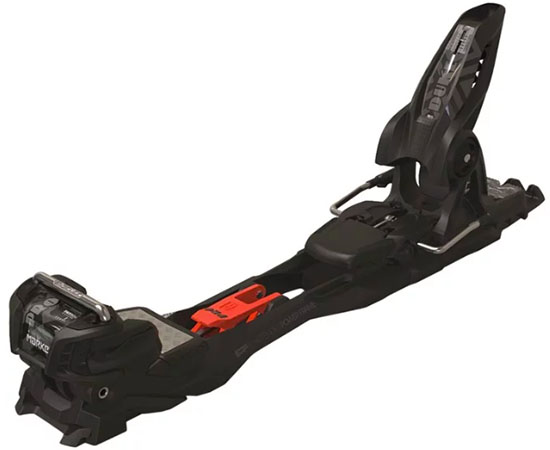 Type: Frame binding
DIN: 8-18
Weight per pair: 6 lbs. 1.4 oz.
What we like: Bomber performance for sketchy lines and big drops.
What we don't: Very heavy and most don't need the high DIN rating.
 
Unlike the tech options above, frame bindings put a premium on downhill performance while sacrificing weight for the climbs. In this category, Marker's Duke Pro EPF 18 is an absolute legend. The big brother of the popular Baron, the Duke offers a burly construction that's specifically built for those hitting serious lines and drops. When locked into ski mode, the frame design closely resembles a high-end alpine binding (like Marker's Jester), making a reliable connection between the skier and ski going downhill. Flip a switch in the middle, throw on skins, and you are ready to tour beyond the boundaries for fresh snow. A two-position climbing bar can be flipped up to aid when terrain gets steep.
With a minimum DIN rating of 8 and a max of 18, the Duke Pro has fairly limited appeal and is best-suited for accomplished backcountry riders looking to get top-end freeride performance. We consider the 13-DIN Baron a better entry- and mid-level binding for anyone aspiring to adventure more in the backcountry. In either case, you're going to sacrifice climbing efficiency due to the substantial jumps in weight. Most riders wanting a secure binding will be better off with the lighter Shift or Kingpin above, but neither alternative can match the Duke's big-mountain potential.
See the Marker Duke Pro EPF 18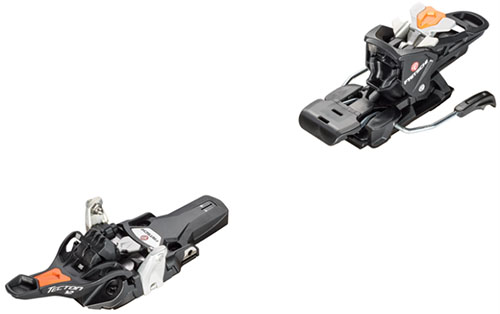 Type: Tech binding
DIN: 5-12
Weight per pair: 2 lbs. 14 oz.
What we like: Alpine heel provides security at a reasonable weight.
What we don't: Less user-friendly than the options above.
Black Diamond's Fritschi always have been on the outskirts of the pin binding market, but they're looking to make a splash with the Tecton 12. With a similar build concept as the Kingpin above—tech fit toe with an alpine-like heel piece—this binding has a confidence-inspiring solid feel on the downhill. In addition, weight is very competitive at 2 pounds 14 ounces including brakes, which undercuts the Marker above by a significant 8 ounces. Fritschi bindings can be a little finicky to step in and switch between climbing and descending modes, but the Tecton improves on the old Vipec design.
What pushes the Tecton down our list for this season is its price and how it stacks up to the Shift above. As with the Kingpin, it simply can't match the Salomon's versatility, although it does have the upper hand in weight by nearly a pound. To save even more weight, Fritschi has the Vipec Evo, which trades the alpine heel of the Tecton for a more traditional tech binding design.
See the Fritschi Tecton 12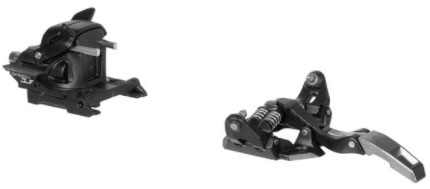 Type: Tech binding
Release value: 6-12
Weight per pair: 1 lb. 4.7 oz.
What we like: Ultralight for long uphills or extended tours.
What we don't: Minimalist feature set.
Dynafit's TLT Speed is a superlight alternative to the ST above for those that prioritize uphill performance. The binding isn't a drastic departure from a standard Dynafit design, but the basic construction and lightweight materials produce a pretty impressive weight of 1 pound 4.7 ounces all-in. Don't expect standout control on the descent, but the TLT Speed has enough strength to cruise through your typical array of mixed backcountry snow conditions.
As with the Salomon above, you do miss out on a couple features due to the lightweight design. First off, brakes are not included with the set-up, so factor that into the weight comparison. Most importantly, Dynafit has a preset, fixed upward release on the heel. While you can adjust the lateral release between 6 and 12, the vertical is limited to a rather stiff rating of approximately 8. It's apparent that manufacturers consider release values an area where most skiers are willing to give up a little in terms of customization, but given the wide range of sizes and ability levels of backcountry skiers, we'd prefer the option to match the settings more precisely.
See the Dynafit TLT Speed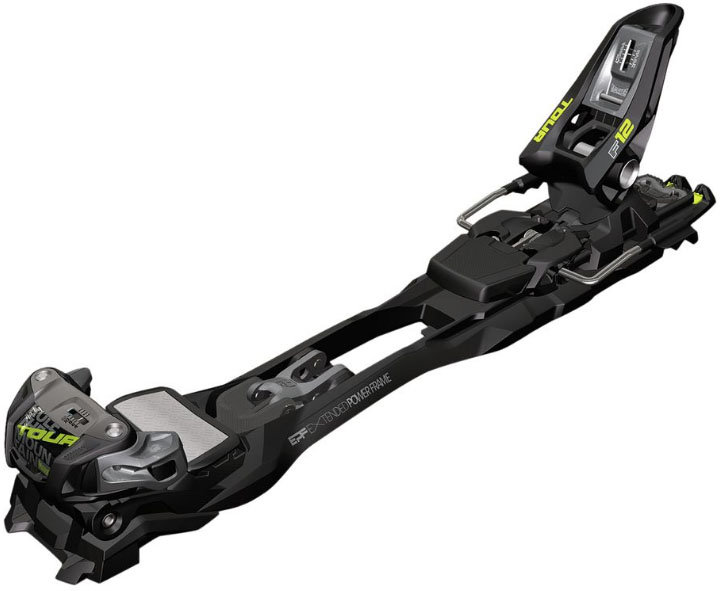 Type: Frame binding
DIN: 4-12
Weight per pair: 4 lbs. 12 oz.
What we like: Much lighter than the Baron.
What we don't: Noticeable drop in resort performance.
One of the major downsides of a frame-style touring binding is weight, but the Marker Tour F12 is a proven lightweight option. At 2,150 grams (76 ounces), it's 450 grams (16 ounces) lighter than Marker's Baron while retaining a similar max DIN of 12 (the Baron is 13). The Tour F12 also shares the Extended Power Frame with the Baron and Duke Pro for increased control on a wide ski. As a result, its weight makes it a great pairing for long backcountry tours but it remains comfortable on the descents.
In cutting weight, however, there is a noticeable drop in resort performance. While less advanced skiers may not notice, aggressive riders will be better served with the options above. And the increasing performance of tech bindings further pinches the niche that the Tour F12 fills. That being said, it's still a great option for intermediate or lightweight skiers that want the security of a frame binding without all the extra weight.
See the Marker Tour F12 EPF
Ski Binding Comparison Table
| Binding | Price | Type | Release | Weight | Brake Sizes |
| --- | --- | --- | --- | --- | --- |
| Marker Griffon 13 ID | $229 | Alpine | 4-13 | 4 lbs. 8 oz. | 90, 100, 110, 120mm |
| Look Pivot 14 GW | $330 | Alpine | 5-14 | 5 lbs. 1 oz. | 75, 95, 115, 130mm |
| Marker Jester 16 ID | $359 | Alpine | 6-16 | 4 lbs. 10 oz. | 90, 100, 110, 136mm |
| Salomon STH2 WTR 13 | $250 | Alpine | 5-13 | 5 lbs. 1 oz. | 90, 100, 115, 130mm |
| Look SPX 12 GW | $230 | Alpine | 3.5-12 | 4 lbs. 13 oz. | 90, 100, 120mm |
| Tyrolia Attack2 11 GW | $170 | Alpine | 3-11 | 3 lbs. 0 oz. | 90, 100mm |
| Salomon S/Lab Shift MNC | $600 | Tech | 6-13 | 3 lbs. 13 oz. | 90, 100, 110, 120mm |
| G3 Ion 10 | $539 | Tech | 4-10 | 2 lbs. 9 oz. | 85, 100, 115, 130mm |
| Marker Kingpin 13 | $649 | Tech | 6-13 | 3 lbs. 6 oz. | 75-100, 100-125mm |
| Dynafit ST Rotation | $650 | Tech | 5-12 | 2 lbs. 12 oz. | 105, 120mm |
| Salomon MTN + Brake | $550 | Tech | 6-12 | 1 lb. 12 oz. | 80, 90, 100, 110, 120mm |
| Black Diamond Helio 145 | $500 | Tech | 10 | 10.2 oz. | None |
| Marker Duke Pro EPF 18 | $479 | Frame | 8-18 | 6 lbs. 1.4 oz. | 110mm |
| Fritschi Tecton 12 | $650 | Tech | 5-12 | 2 lbs. 14 oz. | 90, 100, 110, 120mm |
| Dynafit TLT Speed | $450 | Tech | 6-12 | 1 lb. 4.7 oz. | 75, 90, 105mm |
| Marker Tour F12 EPF | $429 | Frame | 4-12 | 4 lbs. 12 oz. | 110mm |
Ski Binding Buying Advice
Ski Binding Types
Alpine (Downhill) Bindings
Alpine bindings are for your classic downhill skier. They have a simple entry—slide your toe in and press down your heel to lock in—and can accommodate the soles of all traditional downhill ski boots. Exiting is just as easy, usually accomplished by pressing the binding's heel piece downwards. A lower weight isn't a be-all and end-all requirement in alpine bindings, so they have the benefit of substantial construction that has excellent power transmission. Additionally, their low stand height helps better connect a skier to their skis. And should you crash, the release is consistent and typically very safe. High-end bindings like the Look Pivot 14 are well known for their elasticity in the release as the heel piece actually rotates prior to letting go. This gives you a chance to push your skills without an accidental early release, but when it does go, it's pretty smooth and the extra give reduces your risk of injury.
Best for: Anything and everything on a resort day.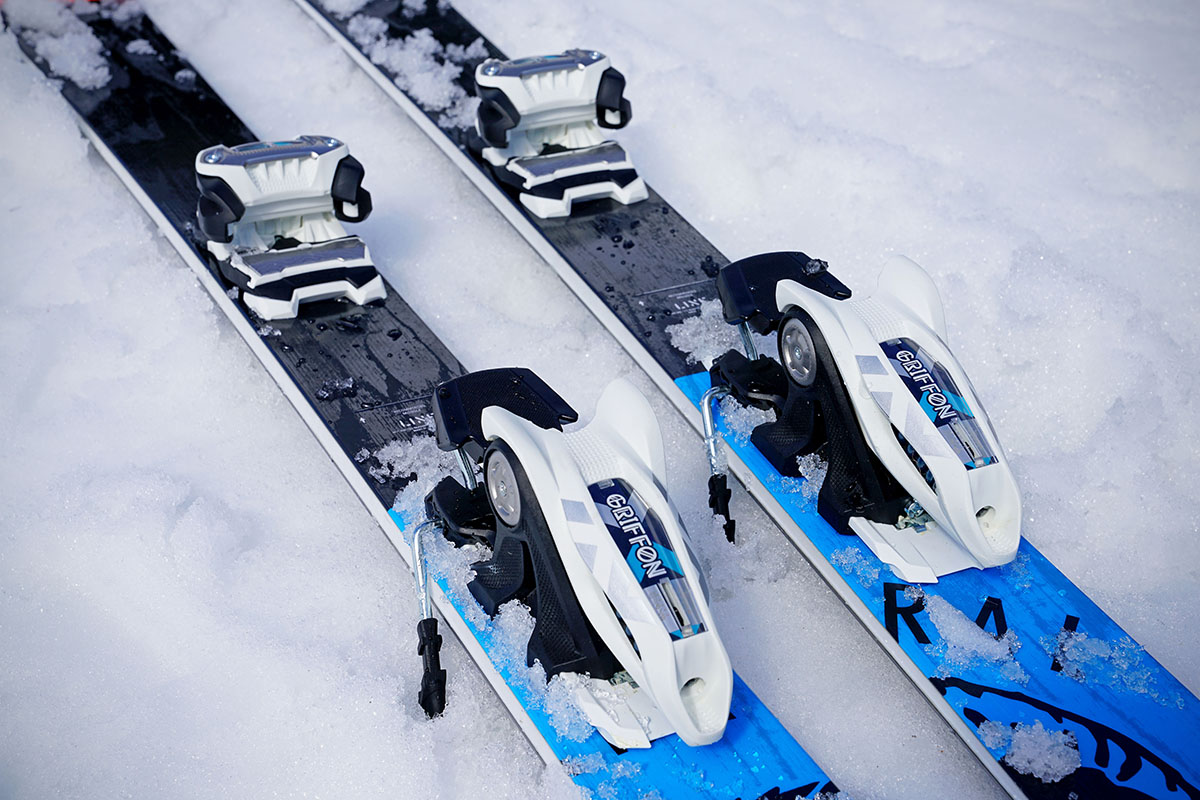 Tech Bindings
While weight of the binding is at least a consideration when choosing an alpine set-up, dropping ounces becomes a necessity when you're spending hours traveling uphill. Hence the popularity of what is referred to as a tech binding. These ultralight bindings replace the traditional alpine toe piece with two pins that lock into tech-compatible ski boots. This is an important distinction as standard alpine and touring boots are not compatible with tech bindings. These bindings share a similar intent as the alpine touring frame category below with the option to release the heel for climbing (for a deeper dive into the two backcountry binding types, see our article: Tech vs. Frame Bindings). You'll also see low-profile climbing bars that can be deployed on steep slogs to reduce calf fatigue. The drop in weight does come at the sacrifice of power transfer, and as a result, they're better suited for backcountry specialists that are out to cut weight, however, strong and slightly heavier newcomers like the Salomon S/Lab Shift and Marker Kingpin are blurring category lines.
Best for: Multiday or long-distance ski touring and occasional in-bounds use.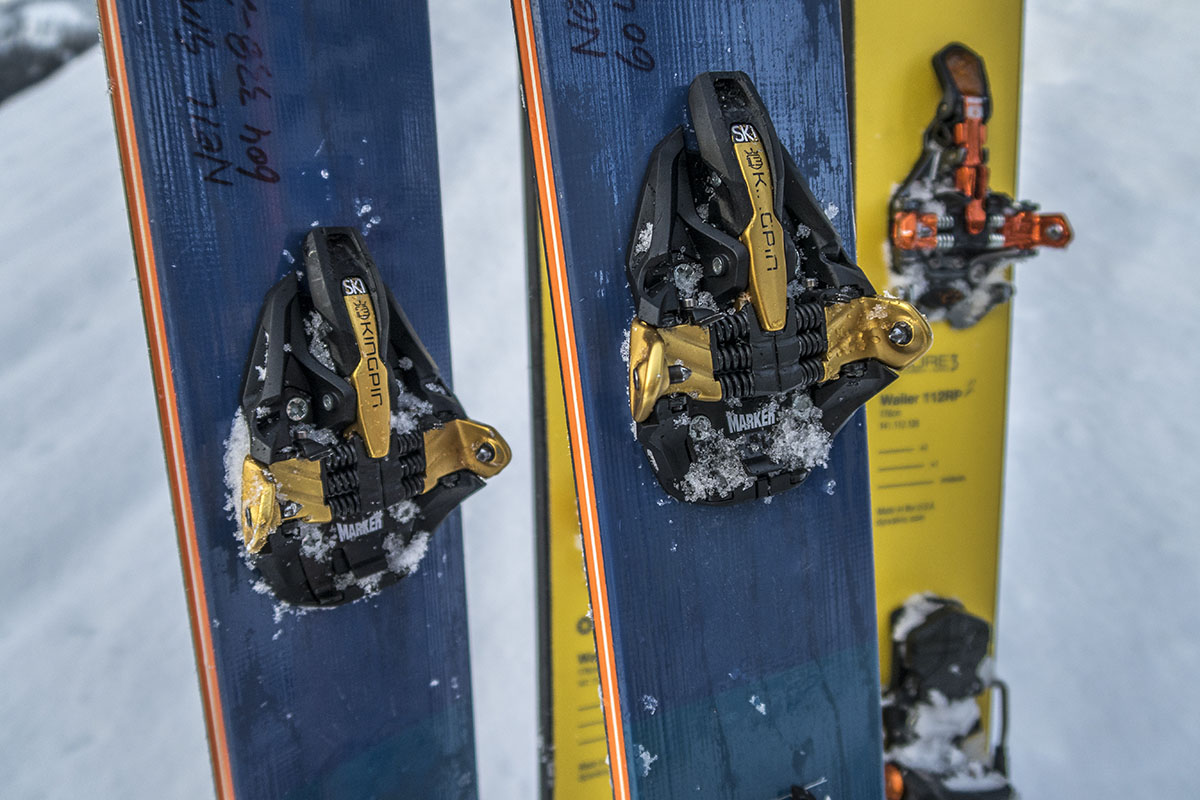 Alpine Touring (AT) Frame Bindings
Alpine touring frame bindings are a crossover category that aims to take the best attributes from both alpine and backcountry offerings. Their framed design offers excellent power transmission for bombing downhill, but when switched into touring mode, the free heel and climbing bars makes them an efficient climber. Another advantage of this binding design is that it can accommodate a wide range of boots. Most alpine touring bindings are able to handle either standard downhill boots or touring boots that have rockered soles. But don't start thinking you can take any old boot out and convert your set-up from alpine to AT with a simple binding swap. You still need the added mobility and range of motion of a boot that's been designed for backcountry use. Weight is the price you pay for this dual functionality, and as a result, we don't recommend them for longer tours.
Best for: Powerful backcountry skiers that cover short distances uphill or those that spend a lot of time at the resort.
 
What is DIN and How Much Do I Need?
In the binding world, DIN, which is short for Deutsches Institut für Normung, (you can see why it's shortened), refers to a standardized test that defines the amount of force at which a binding will release a locked-in boot. The numbers range from 1 to 18, and the higher you go, the longer the binding will hold you. Understandably, this is a very important number to get right as a binding that releases either prematurely or too late can have pretty serious safety ramifications—not to mention impacting performance. While you'll see a DIN range provided for every make and model of binding in the industry, not every binding has actually been DIN certified from the folks in Germany, including a good number of tech bindings. That's why the Marker Kingpin and Dynafit ST Rotation are seen as such a big sign of progress in the market.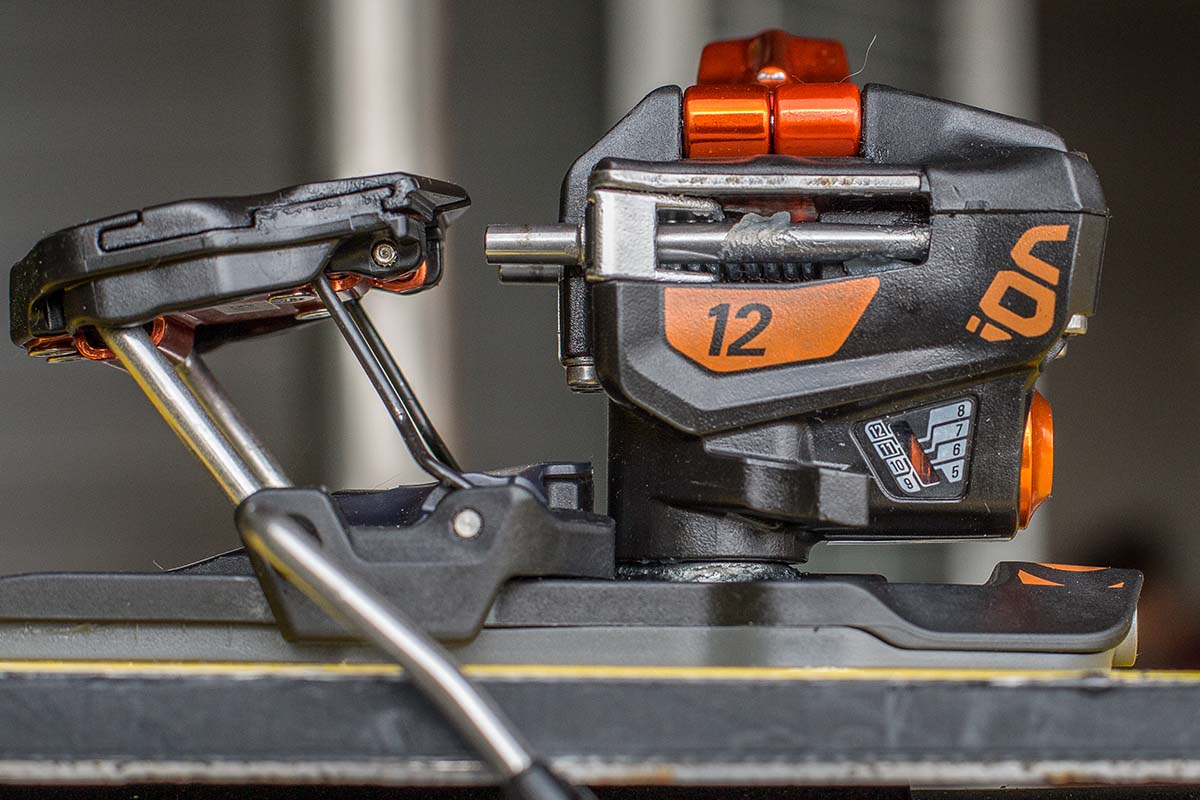 For DIN recommendations, let us start by clarifying that even the charts put together by respected retailers like Evo, Skis.com, or Backcountry are not a replacement for going into a ski shop. Our take is that if you're not qualified and it's a safety item, let the pros take care of it for you. Snowsports retailer Evo has put together a helpful chart that breaks down DIN settings by weight and ability, and when shopping for your right set-up, it's a great idea to use this to ballpark your necessary DIN range. And as mentioned in this article by Evo, it's best to choose a binding that doesn't put you at the maximum DIN setting right off the bat (e.g., don't get a 12-DIN binding if you're planning on setting it at 12). It's better to have a little wiggle room to make adjustments once you spend some time on your new sticks.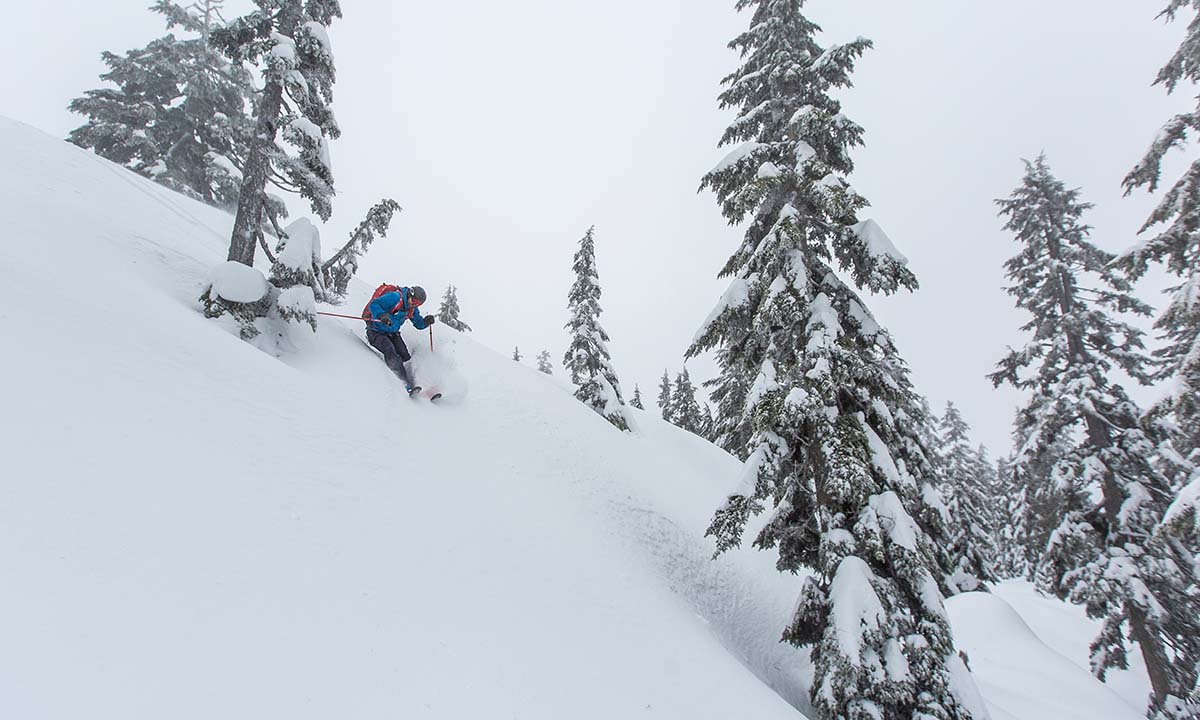 Weight
Depending on the type of skiing you'll be doing, the weight of a binding can be anything from a non-factor to extremely important. Starting with resort skiers, weight typically is not a serious consideration, and most bindings with a 12 or higher DIN rating come in around 5 pounds for the set. This can be fairly heavy to haul around from the car to the lodge and a pain when hiking into the sidecountry, but the tradeoff in performance and durability is worth it. The dedicated alpine bindings above include a sturdy spring in the heel, long-lasting plastic and metal, and advanced safety systems to reduce the risk of pre-release and injury. 
If you'll be picking up a backcountry set-up, the opposite is the case: weight is one of the first things to think about. Minimalist designs like the Black Diamond Helio 145 are feathery light at 10.2 ounces for the pair, but you do compromise in usability, toughness, and downhill performance. In most cases, we prefer balanced backcountry tech bindings like the G3 Ion 10 (2 pounds 9 ounces), Dynafit ST Rotation (2 pound 12 ounces), and Salmon Shift (3 pounds 13 ounces). It's worth noting that alpine touring frame bindings like the Marker Duke Pro weigh significantly more at 5 to 6 pounds and are difficult to lug up the skin track. In the past, the extra weight was worth it for the improved security on the downhill, but impressive new tech options like the Kingpin and Shift are making frame bindings nearly obsolete.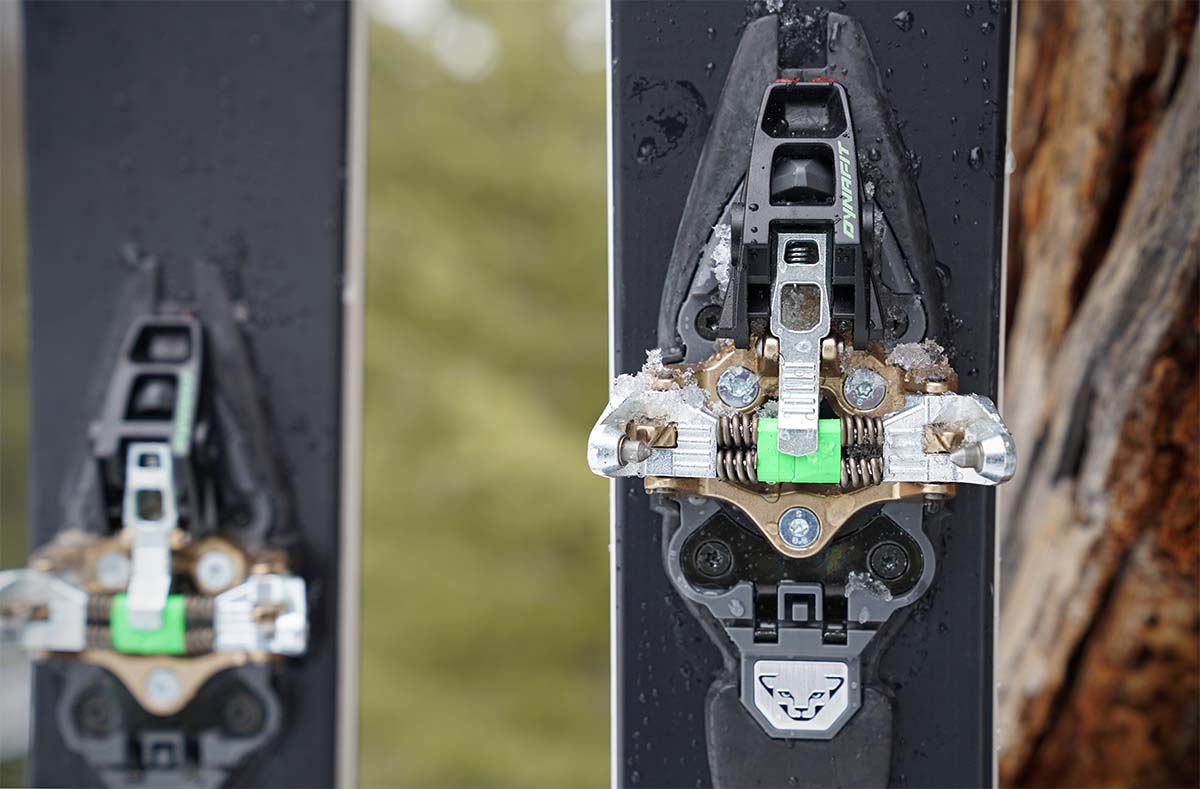 Brake Width
Sometimes the small details can bite you in choosing ski gear, so make sure not to overlook the brake width of your bindings. There will often be a number of sizes to choose from (listed in millimeters) for a particular model, and it's a good idea to get a width that closely matches the waist width of your skis—part of the reason it's always a good idea to select your skis prior to picking a binding. There are not hard and fast rules about what width to choose, but we recommend choosing one that is at a minimum the exact waist width of your skis (or not less than a few millimeters to allow a ski shop to bend the bars ever so slightly). On the flipside, you also want to avoid a brake that is too wide as it may drag if you're carving on hardpack. The typical recommendation is to choose a binding that is no more than 10-15mm wider than your ski's waist.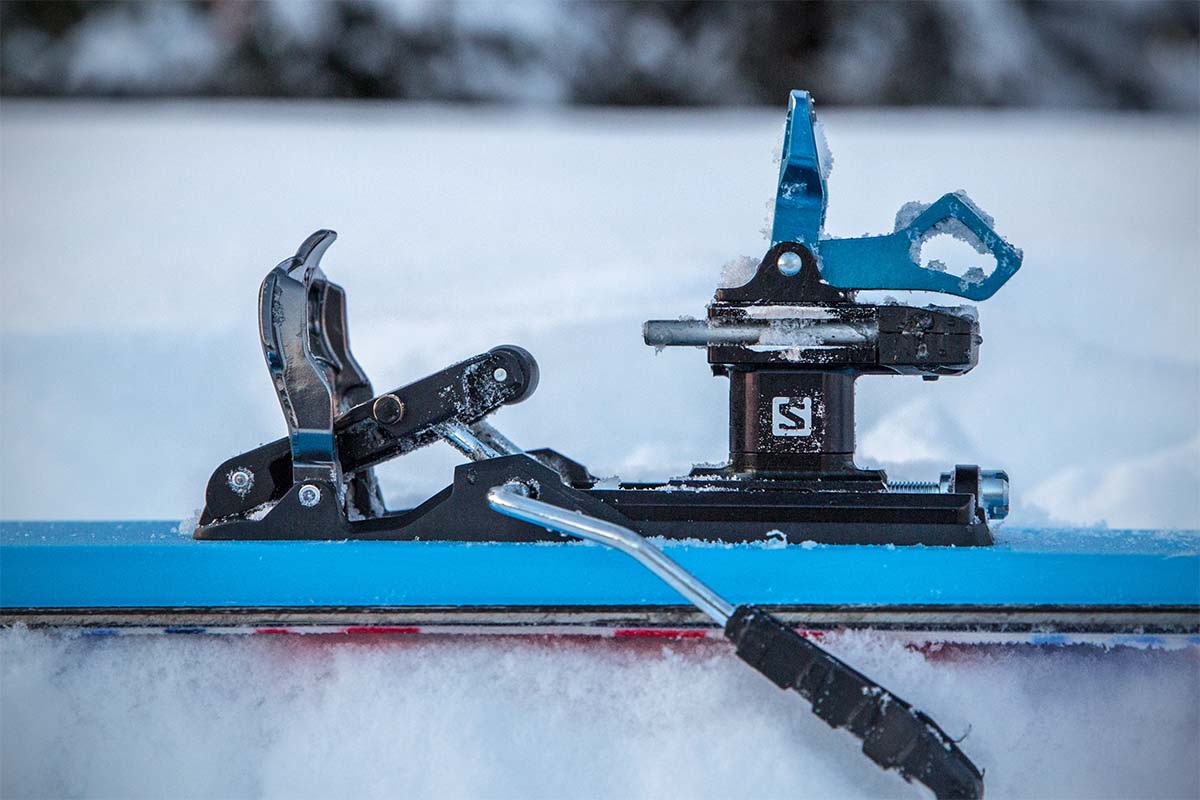 Dual Compatibility with Alpine and AT Boots
Dual compatibility between standard downhill and AT boots is a growing trend within the alpine binding industry. Boots used for alpine touring—you'll see references to an ISO 9523 standard, GripWalk (GW), or Walk to Ride (WTR)—have a taller, rockered sole, which in the past wasn't designed to fit or release smoothly from a downhill binding (there were a few multi-norm exceptions like the expensive Salomon Guardian and Marker Lord). Now there are a growing number of options, including Marker's Sole I.D. on the Griffon ID and Jester ID, which can be easily adjusted to fit both downhill and AT standards.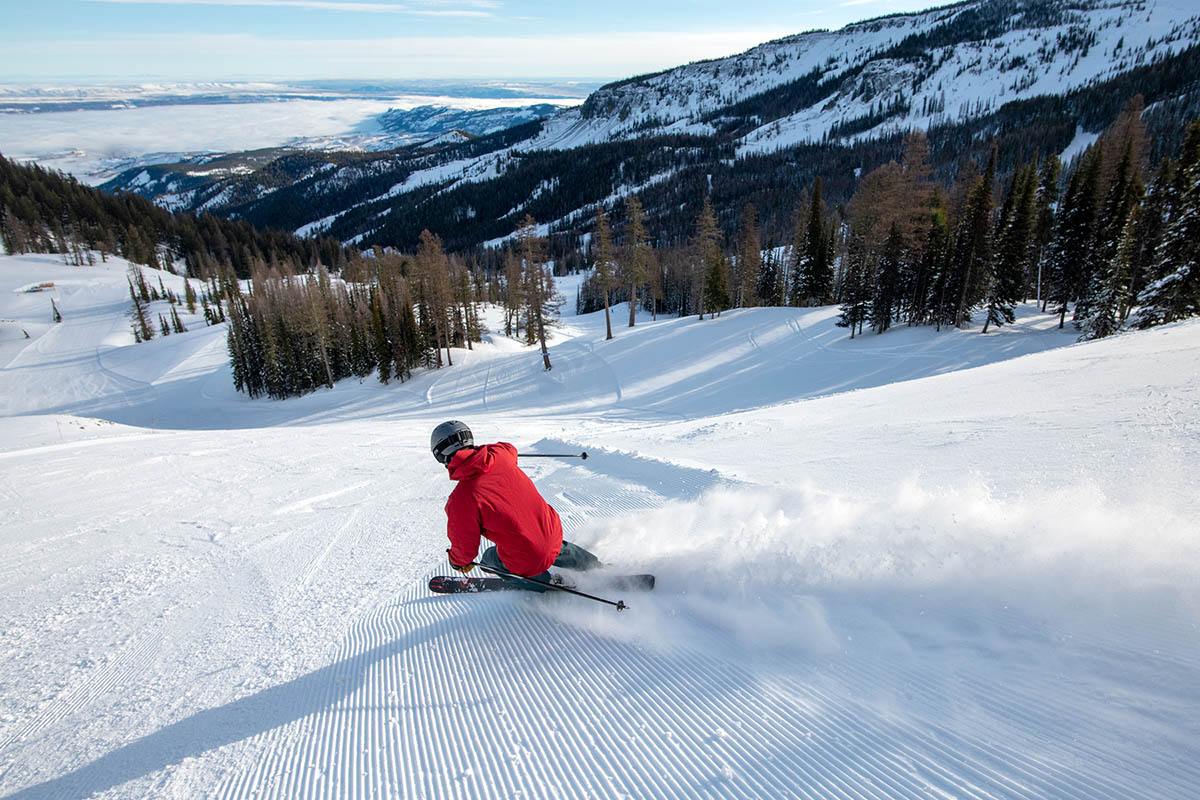 The simple benefit to the skier is that you don't have to worry about buying two very expensive boots to match a different ski set-up. Or if you're planning on switching over to backcountry gear in the future, you can still ski a downhill binding in the interim. And for those that aren't interested in crossing over to touring, the changes to the binding design do not negatively impact performance.
Taking this dual compatibility concept a step further is the Salomon S/Lab Shift, which is the first tech binding to accommodate traditional downhill boots. To pull this off, Salomon created an innovative toe design with two modes: it functions like a pin binding for uphill travel, but when you transition it into ski mode, the pins are replaced by an alpine toe piece. With excellent elasticity and power transfer, it's a legitimate one-quiver tech binding that truly performs while lapping the resort. Given the excitement around the Shift's release, we fully expect to see more dual compatibility tech options hit the market in the future.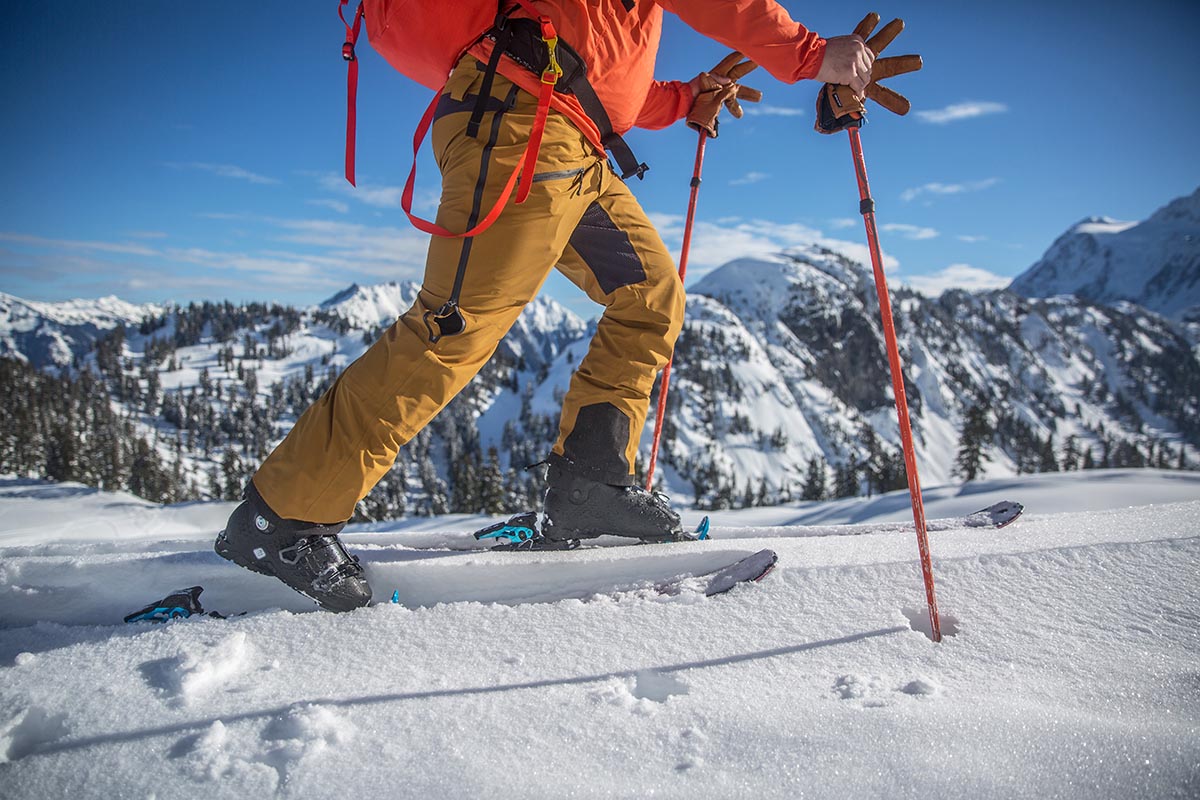 What About Pre-Packaged Deals on Skis and Bindings?
If you're new to the sport or haven't made a purchase in a while, you'll notice that ski listings fall into two general groups: expensive skis that do not include bindings and pre-packaged ski and binding combos. The benefit of choosing a pre-packed set-up is value: you can find an 10-DIN binding and ski for $500 or less. The downside should be obvious considering the cost: they're not as good in terms of quality, particularly as you improve your skiing abilities. If you fall into the advancing intermediate category or above, we recommend purchasing your bindings and skis separately in most cases. (Editor's note: what we consider to be a pre-packaged ski and binding set-up does not include a select number of high-end packages offered from retailers like Evo and Skis.com, which often include the alpine bindings we have listed above).
For beginners or those that are looking to save money, the pre-packaged models are plenty capable for having fun on a blue square run at the resort. To see our full list of recommended models, check out our article on the best beginner skis. And to complete the set-up, we've also detailed the best ski boots for beginners.
 
Matching Your Bindings to Skis and Boots
Realistically, bindings will be towards the end of your ski gear search. The flashy and fun stuff is the skis themselves, so get that part squared away before moving to boots and bindings. Outside of basic compatibility issues between boots and bindings that we touched on above, it's important to choose a set-up with all parts complimenting one another. Don't throw a tech binding on a heavy downhill-focused ski—it's just a waste of a lot of cool technology (and cash). And the same goes with an alpine set-up. Avoid an ultralight touring ski that isn't powerful or stable enough for carving. To help in the process, see our top picks for all-mountain skis, backcountry skis, downhill boots, and backcountry boots.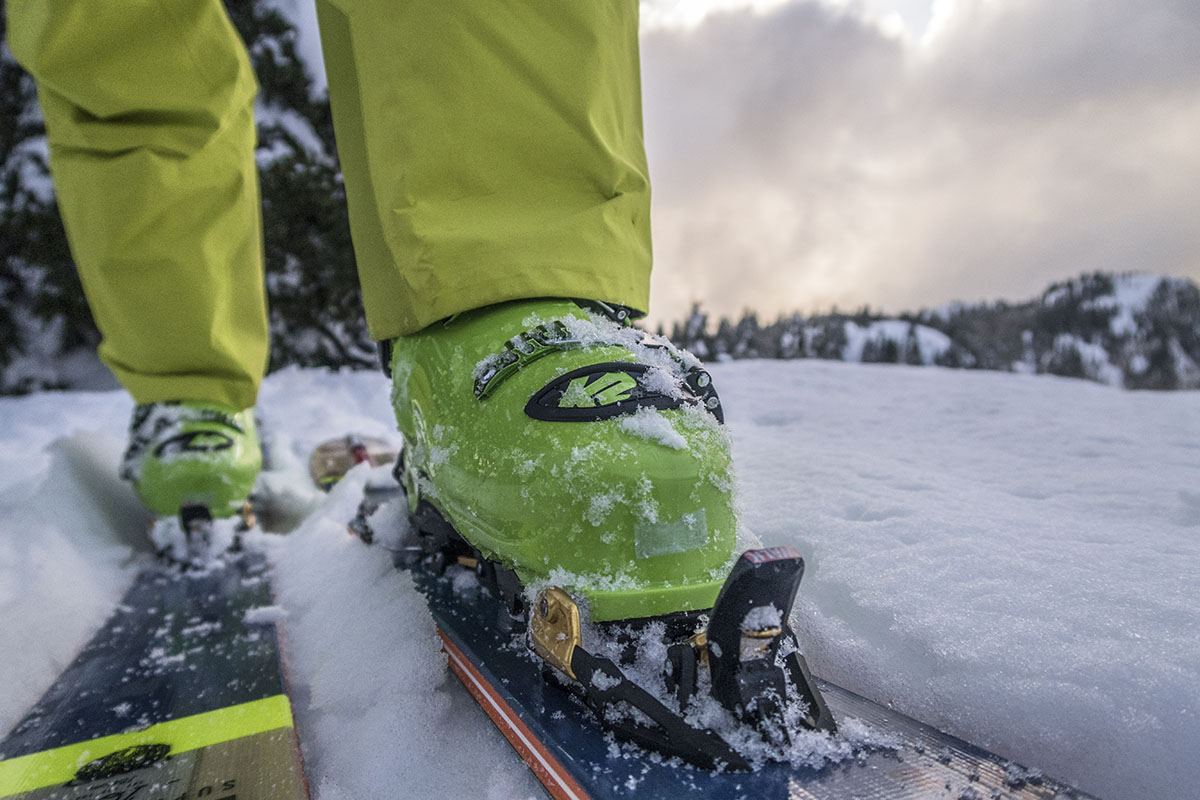 Ordering Bindings Online
When ordering skis and bindings online, it's important to understand that most of the time the bindings will not arrive mounted. If you have a local ski shop or order from a retailer like REI, it's as simple as paying to get the bindings mounted on the skis. The typical cost is around $40 to $70, but REI will do the work for $25 if you purchase from them (this is the current price at the REI Flagship in Seattle and it does vary by store). If you do not have a local shop, the only online retailer that we're aware of that does the work prior to shipping is Skis.com. This requires you to purchase the skis, boots, and bindings all at once, and choose the $50 mounting option. While it isn't ideal to then have the set-up shipped to you, it's a nice way of avoiding the exorbitant costs of having the work done at the resort.
Back to Our Top Ski Binding Picks  Back to Our Ski Binding Comparison Table
Learn More About Ski Gear