The winter boot: such a timeless and charming piece of gear. Maybe it's because they harken back to being a kid, when snow falling always meant the anticipation of stomping around in a crisp, wonderful world for hours at a time with the promise of hot cocoa at the end. Below we break down the best winter boots for 2018, from active to casual and just about everything in between. For background information, check out our comparison table and buying advice. Many of the boots are offered in both men's and women's styles, but we've also dedicated a section to our top women's-specific winter boots.

Category: Winter hiking/work
Weight: 2 lbs. 14 oz.
Insulation: 200g synthetic
What we like: Tough, versatile, and a good value.
What we don't: Not the warmest out there.
Many winter boots are specialized for warmth, mobility, or even style, but our top pick, the Columbia Bugaboot Plus III, is a true all-arounder. It's reasonably light and comfortable for hiking and snowshoeing, but has a tough build that will last you many seasons of snow shoveling or winter commutes. It's also a good value at around $130, and you can find the earlier Bugaboot models for even less. Packing 200 grams of synthetic insulation along with Columbia's proprietary Omni-Heat reflective technology, the boot has enough warmth to keep most folks comfortable into the teens, but isn't overly insulated to make you sweat when the temperatures are closer to 30°F.
What are the downsides of the Bugaboot Plus III? It wears like a traditional hiking boot and isn't as well prepared for a full arctic blast as some options below. Those looking for extra warmth should see our number two pick, the Sorel Caribou. But balance wins out here, and the Bugaboot puts it all together better than anything else on the market. Columbia also offers a Bugaboot Plus Michelin version for $15 more, which swaps the standard outsole for a tackier rubber that performs slightly better in snow and ice.
See the Men's Columbia Bugaboot Plus See the Women's Columbia Bugaboot Plus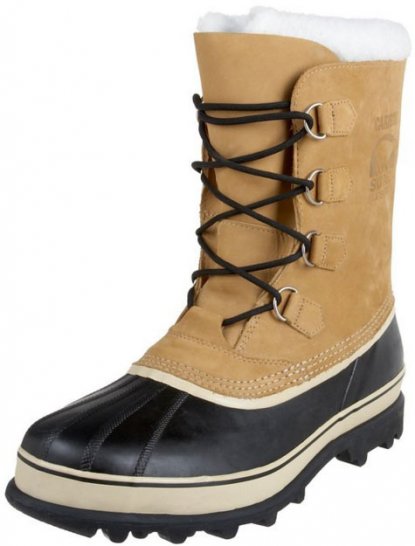 Category: Casual
Weight: 4 lbs. 10 oz.
Insulation: 9mm felt
What we like: Various, classic color options.
What we don't: They are still classically heavy.
It doesn't get much more classic than this. The Caribou from Sorel seemingly has been around forever, and we love the combination of comfort, style, and performance. First off, this is a very warm boot with a 9mm felt liner, stout leather upper, and wraparound rubber lower. Most manufacturers nowadays turn to synthetic fill to reduce bulk, but the throwback felt liner insulates well and adds soft cushioning along the interior. You also can remove the liner, which is a great feature to expedite the drying process should the boot get wet in deep snow.
It's true that Sorel boots used to be manufactured exclusively in Canada and now are made in China, but they are a quality option nevertheless and work well for a wide range of winter uses. Walking long distances, however, is not one of them. Keep to the shorter distances and these boots will be a cozy and warm haven in almost all conditions.
See the Men's Sorel Caribou See the Women's Sorel Caribou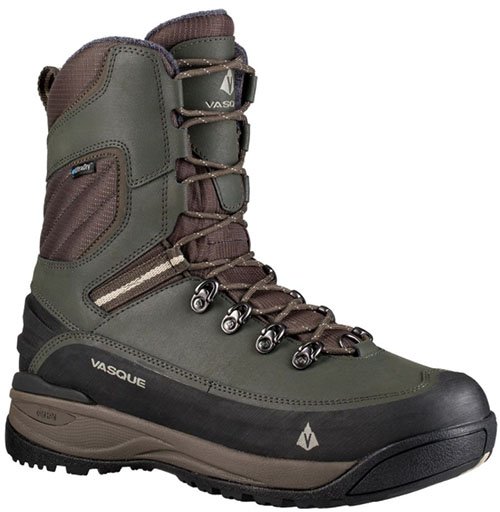 Category: Winter hiking/work
Weight: 3 lbs. 6 oz.
Insulation: 400g Thinsulate
What we like: Solid performance, plenty of insulation, and clean design.
What we don't: May require gaiters in deep snow.
Breaking from the traditional designs of our top two picks, Vasque's Snowburban is a nimble boot designed for active use. With the looks of a hiking boot—and the grip, support, and waterproof protection to match—along with hefty 400-gram Thinsulate insulation from 3M, this is a great option for strapping on a pair of snowshoes in frigid conditions or summiting a local peak. The Snowburban is decently stylish too (in a hiking boot kind of way), with the leather uppers adding a little class in a sea of black rubber.
One consideration with the Vasque Snowburban is that the ankle height may be a little low if you spend a lot of time in deep powder and don't want to put on gaiters. Further, the 400-gram insulation can be overkill and too hot for working hard in mild conditions (the Salomon X Ultra Winter below is the better option for those uses). But most will appreciate the extra warmth, and the Snowburban's $160 price undercuts most of the competition below by $20 or more.
See the Men's Vasque Snowburban II UltraDry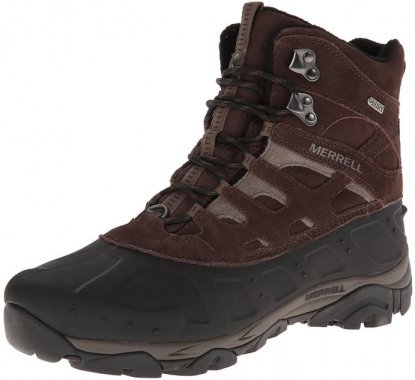 Category: Winter hiking/work
Weight: 2 lbs. 12 oz.
Insulation: 400g synthetic
What we like: A good winter hiker at a reasonable price.
What we don't: Low ankle height.
Merrell's Moab line is about as popular as it gets in the hiking boot world, and the Polar is their winter-ready version. All things considered, this is a quality cold-weather hiker that comes in considerably cheaper than options like the Vasque Snowburban above and the Salomon X Ultra Winter below. For casual winter use and light outdoor trips, the Moab Polar gets the job done at a reasonable price.
Those familiar with the Moab line of hiking shoes and boots will recognize the tread pattern, although Merrell uses a different compound for better grip in ice and snow. The conversion works fairly well, but snow does have a tendency to build up between the tightly spaced lugs. And with a low ankle height of just 6.5 inches, the Moab Polar is good for moderate conditions but can't stand up to pricier models in terms of weather protection and durability. From a value perspective, however, you'll be hard pressed to find a better winter boot.
See the Men's Merrell Moab Polar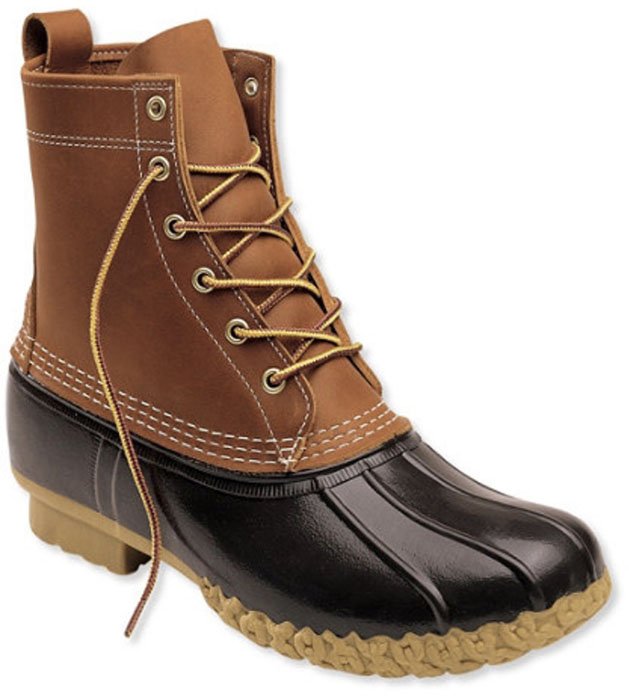 Category: Casual/winter hiking
Weight: 3 lbs. 12 oz.
Insulation: 200g Thinsulate (footbed only)
What we like: A nice mix of casual and performance features.
What we don't: Insulation only is along the footbed, although you can spend up for the fully insulated Gore-Tex version.
Many boots on this list trend toward the casual or performance sides of the spectrum, but L.L. Bean hits a nice combination of the two. On the bottom, you get a waterproof rubber construction for protection from snow and other moisture. On the top, the leather upper is both comfortable and gives the boot a polished look. Throw in a quality build that is put together and sewn in Maine, and there's good reason why L.L. Bean's winter boots have been so popular for years.
Within the same classic winter boot line, you have different insulation options to choose from. The 8" Thinsulate model we've listed here has insulation along the footbed but not around the upper part of the boot (this should be sufficient with wool socks or when it's not frigid). You also can choose the fully insulated Gore-Tex version, which offers extra warmth and protection from the elements for $50 more. Both come in narrow, regular, and wide fits, so L.L. Bean offers something for just about everyone.
See the Men's L.L. Bean 8" Thinsulate See the Women's L.L. Bean 8" Thinsulate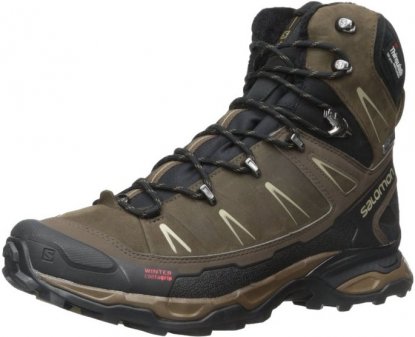 Category: Winter hiking
Weight: 2 lbs. 7 oz.
Insulation: 200g Thinsulate
What we like: The most nimble winter boot here.
What we don't: A light amount of insulation.
Salomon is a highly accomplished footwear brand, taking the top spot in both our hiking boot and hiking shoe rankings. Their best cold weather boot, the X Ultra Winter CS, is based on their excellent X Ultra lightweight hiking shoe but with a higher ankle and 200 grams of Thinsulate synthetic insulation. The level of warmth falls short of the leading winter hiker on this list, the Vasque Snowburban above, by a significant 200 grams, so it's not as good in frigid temperatures. But if you'll be moving fast on the trail, the X Ultra Winter CS is light, nimble, and has a very precise fit.
As with most Salomon shoes, the X Ultra Winter CS has a trail-running shoe chassis and feels like it. There isn't much isolation from the ground, but it's a great for moving fast on hardpack or snowshoeing. And the light insulation makes it a good option for those prone to cold feet on shoulder season hiking and backpacking trips.
See the Men's Salomon X Ultra Winter See the Women's Salomon X Ultra Winter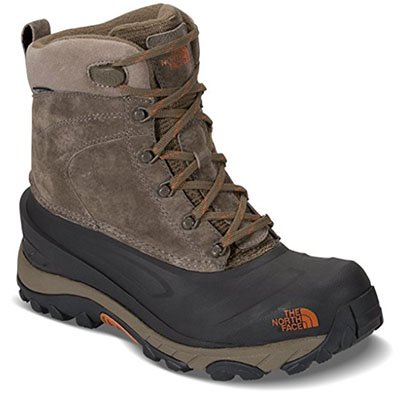 Category: Casual/winter hiking
Weight: 3 lbs. 2 oz.
Insulation: 200g Heatseeker
What we like: A great everyday winter boot.
What we don't: Not for the extreme cold.
The North Face's popular Chilkat boot combines lightweight materials with a traditional winter boot design. With 200 grams of insulation and a fully waterproof construction, it's a great choice for areas of the country that see some snowfall and cold temperatures but don't have the sustained misery of a Northern Minnesota or Montana. The beefy rubber lower and robust leather uppers are well suited for activities like winter walking and short snowshoe trips. And a lower ankle height and more flexible upper means the Chilkat III isn't as much of a liability for everyday wear and driving.
The Chilkat's budget-friendly $110 price is appealing for casual use, but there are a couple notable downsides. First, the boot's modest insulation isn't enough for those that are outside and inactive in frigid temperatures for extended stretches. Additionally, there are occasional cases of sole delamination with the boot to be aware of, which is unfortunate but not a huge surprise given the price. But the Chilkat's light feel and good looks have led to a strong following—just be sure to size up if you're on the fence as most have found that these boots run small.
See the Men's North Face Chilkat III See the Women's North Face Chilkat III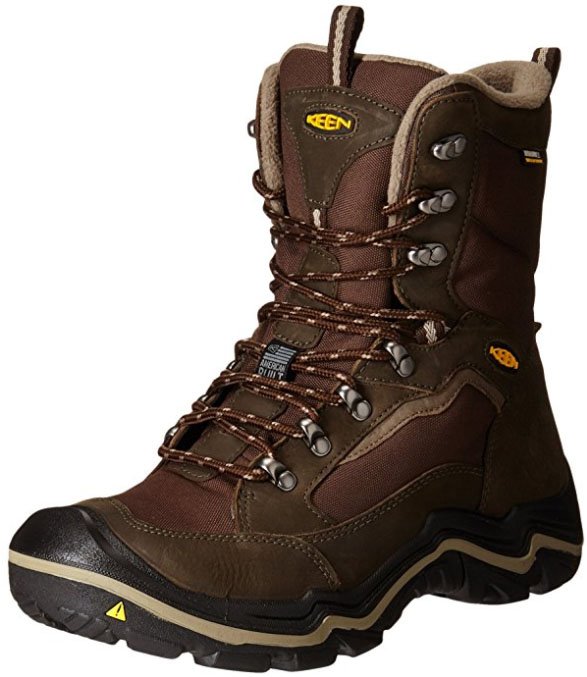 Category: Winter hiking/work
Weight: 3 lbs. 3 oz.
Insulation: 400g Keen.Warm
What we like: Warm, comfortable, and good protection.
What we don't: Strikes us as a little pricey.
In only a few years, the winter boot market has made a strong shift away from heavy pac boots like the Sorel Caribou above to more hiking-friendly models. We get the appeal—a boot like the Keen Durand Polar has a significantly more precise fit and offers nearly as much warmth and protection in most winter conditions. With solid traction in snow, a tall collar that sits partway up the shin, and decent flexibility, the Durand Polar is an excellent boot for long winter walks and snowshoe treks.
As with the standard Durand hiking boot, Keen's Durand Polar is one of the few mainstream footwear models still made in the U.S. (the materials are sourced elsewhere, but assembly is done in Portland, Oregon). This does appear to have a slight impact on price, which runs $40 more than the Vasque Snowburban above, but we appreciate the effort nonetheless. A final fit tip: Keen recommends sizing up by half a size.
See the Men's Keen Durand Polar See the Women's Keen Durand Polar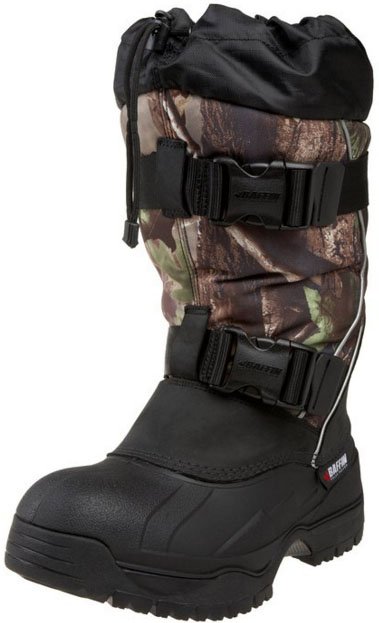 Category: Work
Weight: 5 lbs. 14 oz.
Insulation: 8-layer lining
What we like: Truly ready for -50 degree temperatures.
What we don't: Not night-out-on-the-ski-town compatible.
The Baffin Impact is an exercise in excess, but for truly rough and frigid conditions, it's in a class of its own. The boot is insulated with an 8-layer system of foam and polyester, which is encased in a burly nylon and rubber shell. Winter boots are notorious for having ambitious temperature ratings (usually -25°F to -40°F), but the Impact is rated to -148°F. We haven't tested that claim (and don't plan to), but users have reported being comfortable in the Impact in temperatures reaching as low as -50°F. As cold weather boots go, this is about as good as it gets.
The downside of so much warmth is that it doesn't handle mild winter conditions well and isn't very breathable. The boot also weighs nearly 6 pounds for the pair, so it's not intended for covering much ground. But if you live in an area where the temperatures consistently dip well below zero, we heartily recommend protecting yourself with the Baffin Impact.
See the Men's Baffin Impact See the Women's Baffin Impact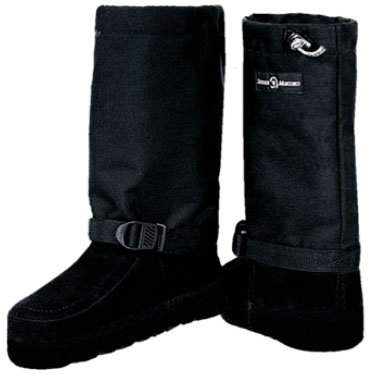 Category: Work
Weight: 3 lbs.
Insulation: 9mm wool liner
What we like: Extremely warm and comfortable.
What we don't: Lacks stability and traction for winter hiking.
Hiking and pac boots dominate the footwear options for winter, but there's a time and place for traditional mukluks. These soft-sided boots offer fantastic insulation and comfort at a surprisingly low weight. One of the most respected designs in this category is the Yukon from Steger Mukluks. Handmade in Ely, Minnesota, the boot features a thick 9 mm wool liner, moosehide and Cordura nylon upper, and an impressive range of available sizes and widths. The look may be polarizing, but the Yukon provides Antarctic levels of warmth at about 3 pounds for a pair.
What are the downsides of the Mukluk Yukon? First off, the boot isn't as stable or grippy on ice and snow as the more hiking-inspired designs above. The flexible construction and single strap that cinches around the ankle just can't provide as secure of a fit as a typical lacing system. In addition, the Yukon is not waterproof and requires a treatment to keep moisture from absorbing into the leather. But in frigid conditions, nothing out there can deliver this much warmth at such a low weight.
See the Steger Mukluks Yukon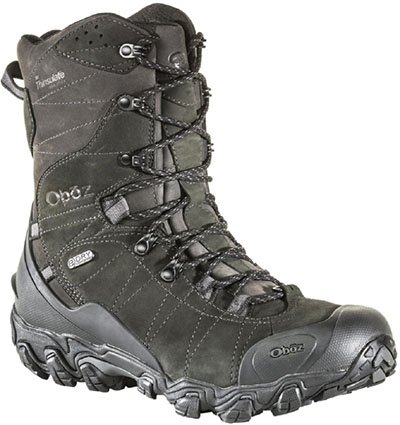 Category: Winter hiking/work
Weight: 3 lbs. 6 oz.
Insulation: 400g 3M Thinsulate
What we like: Strong build and comfortable footbed.
What we don't: Not everyone will love the tall height.
Bozeman, Montana-based Oboz knows a thing or two about rough, cold weather. Combine that expertise with the strong leather build of their Bridger boot, and you get a proper winter hiker. Oboz expanded their line last year with a 10-inch model to compliment the 8-inch boot from the previous season (the women's options are 7 and 9 inches). This extended protection, along with a plush collar, warm 400-gram insulation, and Oboz's signature comfy footbed, makes the Bridger equally as suited for hiking in deep snow as work outside or exploring a ski town.
What are the downsides of the Bridger 10-inch boot? One is weight: at nearly 3.5 pounds for a pair, it's not our preferred option for long hikes or snowshoe treks (opting for the 8-inch Bridger does save 4.6 ounces). Another issue is the $199 price, which like the Keen Durand Polar, is a significant $40 more than a boot like the Vasque Snowburban. But the Bridger does offer an additional 2 inches in shin coverage and it's hard to fault the build quality and comfort.
See the Men's Oboz Bridger See the Women's Oboz Bridger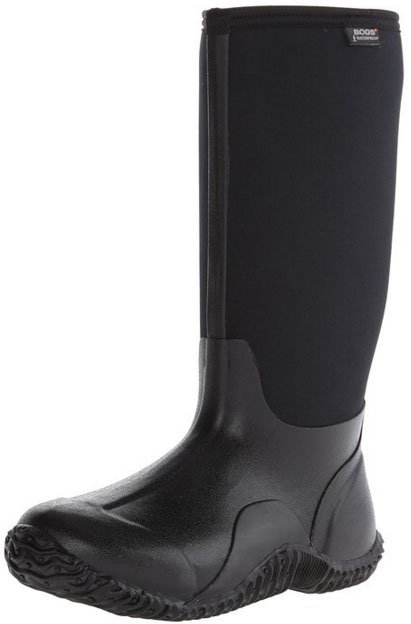 Category: Casual
Weight: 5 lbs. 4 oz.
Insulation: 7mm Neo-Tech
What we like: Simple, warm, and surprisingly good-looking.
What we don't: Less of a backcountry boot, very heavy.
Bogs Classic High Insulated takes the signature look of a rain boot and adds a healthy dollop of warmth and protection. A -40°F temperature rating puts this boot on par with the Sorel Caribou above, but a little less than the -60°F rating of the Muck Boot Arctic Ice below. The Bogs' low profile makes them well suited for daily wear—as does the flexible neoprene upper material—and it's a classic choice for running to and from classes in cold places like the Midwest. Predictably, it's also extremely waterproof and holds up very well in slushy conditions.
Keep in mind that the Bogs Classic High Insulated is best for use around town as the boot lacks the precise fit we look for in a hiking option. Moreover, its traction and warmth falls short of the Muck Boot Arctic Ice Tall. But the Bogs is a good value at $120, undercutting the Arctic Ice by a significant $70.
See the Men's Bogs Classic High Insulated See the Women's Bogs Classic High Insulated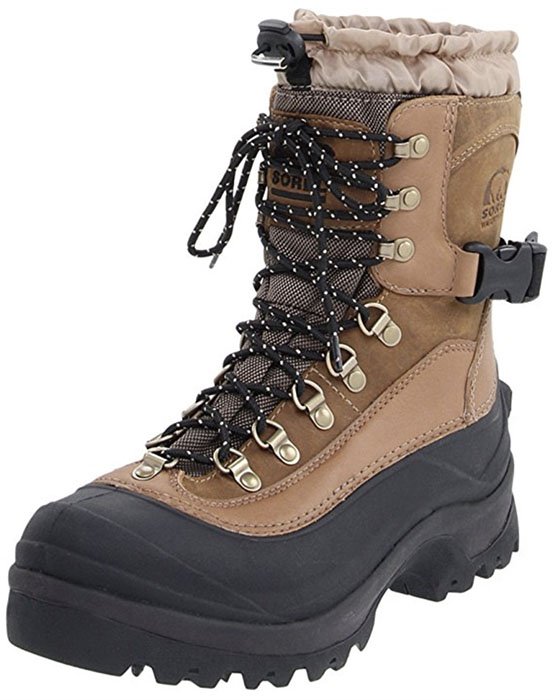 Category: Winter hiking/work
Weight: 4 lbs. 6 oz.
Insulation: 400g Thinsulate Ultra
What we like: A more winter-ready boot than the popular Sorel Caribou above.
What we don't: Questionable build quality.
Sorel's signature boot is the Caribou above, but they also make a more performance-oriented version in the Conquest. What are the differences? The Conquest has a tougher rubber lower, 400g Thinsulate Ultra insulation instead of just felt, and a built-in gaiter up top for preventing snow and cold air from entering the boot. Whereas the Caribou is built more for style, the Conquest is built for protection and warmth.
Our main issue with the Conquest is not design but build quality. Sorel boots used to be known to last forever, but those days seemingly have passed. Many users have reported that the Conquest has a tendency to fall apart more quickly than it should, and particularly the seams around the rubber. Sorel does offer a 1-year limited warranty, but that isn't sufficient for serious winter boots that may come apart in the second season or later (again, that's still too soon).
See the Men's Sorel Conquest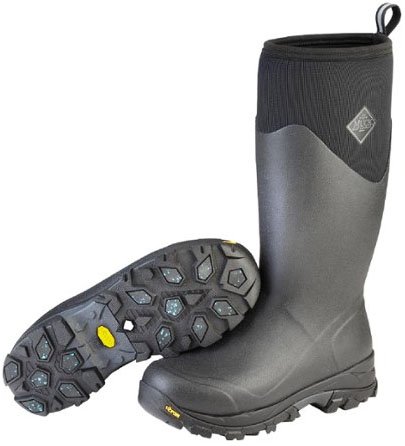 Category: Work/casual
Weight: 5 lbs.
Insulation: 8mm neoprene
What we like: Fantastic foot protection, traction, and warmth.
What we don't: Expensive and very tall.
Insulated rain boots are a popular choice for outdoor work and walking with their fantastic protection from water, ice, and mud. The Muck Boot brand is a standout in this category, and they released the new Arctic Ice Tall for 2017. This boot features a durable rubber exterior, thick and flexible neoprene booties, and a soft touch fleece lining. The "Arctic Ice" in the name references the Vibram outsole, which has a specially designed compound for gripping slippery ice.
Mucks Boot and Bogs are long-time rivals in the insulated rain boot market. The Bogs Classic Insulated above excels for casual wear, but in winter and rough weather, we give the edge to the modern Arctic Ice. It has better traction, a warmer 8mm neoprene bootie (rated at -°60F), and superior comfort. For a similar boot but in a shorter, mid-height style, Muck Boot also makes a $180 Arctic Ice Mid.
See the Men's Muck Boot Arctic Ice See the Women's Muck Boot Arctic Ice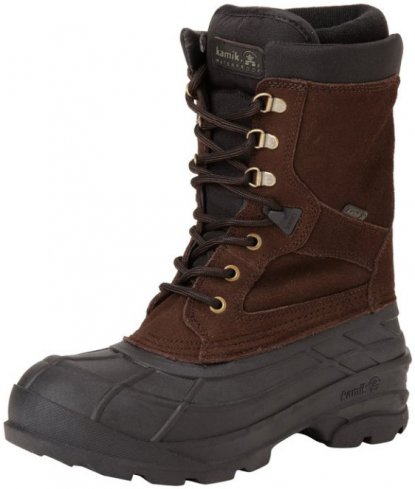 Category: Casual
Weight: 3 lbs. 10 oz.
Insulation: 200g synthetic
What we like: Good value, reasonably warm, and comfortable.
What we don't: A step down in overall quality.
Budget-friendly winter boots are typically heavy, don't last super long, and aren't very comfortable to wear for extended periods of time. But for quick trips out of the house, they're all you really need. Kamik's affordable NationPlus covers the basics with 200 grams of synthetic insulation, a tough rubber lower, and full waterproofing. And a nice bonus: the boot runs slightly warmer than the other 200-gram models on this list.
Comfort and overall build quality are a clear step down from a Sorel, but so is the price. For $85—and we've consistently seen them for less—they're easy on the wallet and all you need for playing with the kids or keeping your driveway and sidewalks snow free.
See the Men's Kamik NationPlus Boot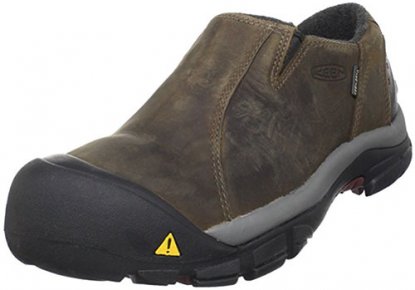 Category: Casual
Weight: 2 lbs. 7 oz.
Insulation: 200g Keen.Warm
What we like: Slip-on style and convenience.
What we don't: Limited protection and practicality in a snowstorm.
We prefer over-the-ankle boots in most winter conditions, but a simple low-top shoe is great for getting the mail, short walks around town, and mild temperatures. Keen's Brixen checks off all our needs in this category: a simple slip-on style, waterproof leather exterior, and enough insulation for below freezing temperatures. Weighing 2 pounds 7 ounces, they're light but don't sacrifice the comfortable, accommodating fit we've come to expect from Keen.
Not surprisingly, the Brixen's low-top design and minimal warmth makes it fairly limited as a go-to winter shoe. Stepping into deep snow will immediately invite in the wet and cold, so it's best for walking on paths that already have been plowed (you'll also want to take a little extra care while shoveling). But the design has plenty of appeal, and the Brixen can be a great compliment to your standard, heavy-duty winter footwear.
See the Men's Keen Brixen Low WP
Women's-Specific Winter Boots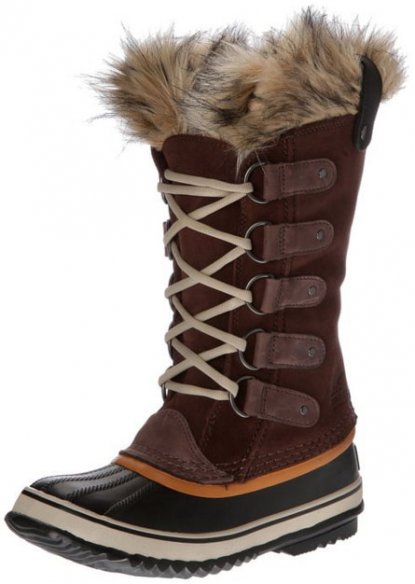 Category: Casual
Weight: 3 lbs. 13 oz.
Insulation: 6mm felt
What we like: Great blend of fashion and function.
What we don't: Takes a bit of breaking in.
A modern take on the classic Sorel boot, the Joan of Arctic offers a really nice blend of function and fashion. Fully waterproof and with excellent footing on snow and ice, the Joan of Arctic is rated to -25 degrees Fahrenheit to ward off cold spells. Further, with a removable liner, it's easy to dry them out should you trounce around and get the insides wet. And despite its stylish design, Sorel's trademark wraparound rubber lower is ready for all sorts of use and abuse.
It's the combination of durability and style that puts the Joan of Arctic at the top of the class. You do have to pay a decently high price for these boots, however, and they won't keep you any warmer than some models that cost significantly less. But for having the whole package, as well as the longevity to back up your investment, the Sorel's are our top women's pick.
See the Women's Sorel Joan of Arctic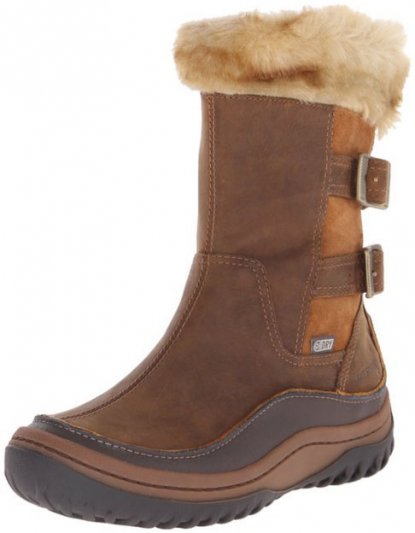 Category: Casual
Weight: 2 lbs. 4 oz.
Insulation: 200g synthetic
What we like: Low-profile good looks.
What we don't: Fashion comes at a price.
A go-to winter boot for finicky feet, the Merrell Decora Chant is all about casual comfort. This 10-inch tall boot is outfitted with a zipper on the inside to make it a cinch to get on and off, all while retaining a clean looking leather exterior. The Decora Chant really can shine during a snowy night in the city too: the full-grain leather upper is complimented by the addition of a faux fur collar.
You pay extra for Merrells to get a foot-friendly footbed and insole, and feedback has been largely positive with their work. The comfort technology includes nylon arch support and an air-cushioned sole. As with the Columbia Bugaboot and The North Face Chilkat above, this boot is not made to take on the frozen tundra but can handle a moderate amount of below-freezing winter adventure.
See the Women's Merrell Decora Chant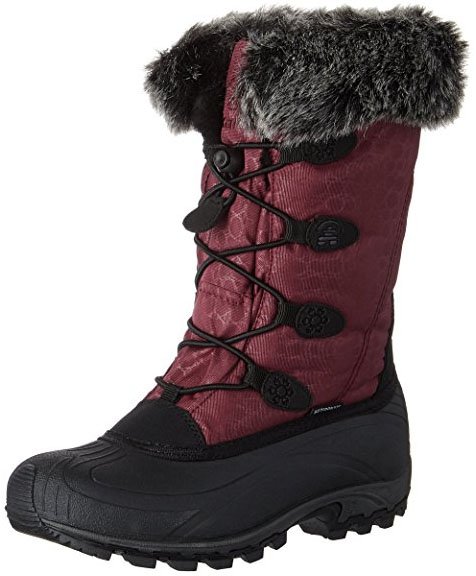 Category: Winter hiking/casual
Weight: 2 lbs. 4 oz.
Insulation: 200g Thinsulate
What we like: A very functional winter boot at a great price.
What we don't: Build quality can't quite match some of the pricier boots on this list.
There is a lot to like about the women's Momentum boot from Kamik. First, it's built for serious winter use with a tough rubber lower, waterproof nylon upper, and a healthy 10-inch height for good clearance from snow and water. Second, despite all of the aforementioned features, the boot looks the part for everyday use and comes in a wide variety of colorways. Finally, we love the price of the Kamik, which depending on your size and color choice, can be less than half of other women's winter boots on this list.
Keep in mind that the Momentum has only 200g of Thinsulate insulation, which is less than many men's boots but on par with other leading women's options. And given the attractive price point, the build quality of the Kamik is good but not quite up to the level of some pricier options. That being said, we love the versatility of this boot and it's one of the best values on this list.
See the Women's Kamik Momentum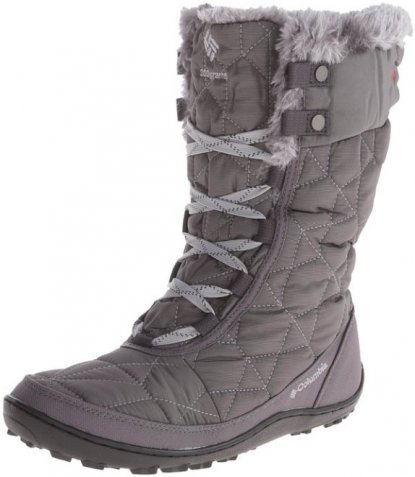 Category: Casual
Weight: 1 lb. 10.4 oz.
Insulation: 200g synthetic
What we like: Comfortable, low profile fit.
What we don't: Not for serious conditions.
With light insulation and a foot and leg-hugging fit, the Columbia Minx is a very comfortable option for mild winter conditions. The Minx isn't as capable in deep snow as the Joan of Arctic and our top-rated Bugaboot above, but its woven upper fabric has a nice feel that is far less bulky. As with the Bugaboot, Columbia inserts its Omni-Heat lining into the Minx to give it a boost in insulation, but it still falls on the low end of the spectrum in terms of warmth.
The Columbia Minx's flexible nature makes it easy to cover long distances, and it can be a fine partner on long winter walks provided you avoid heading too far off trail (it's not as waterproof nor as stable as the boots above). As is typical in Columbia's winter boot collection, the Minx line is extensive and includes a range of boot heights and styles.
See the Women's Columbia Minx Mid II Omni-Heat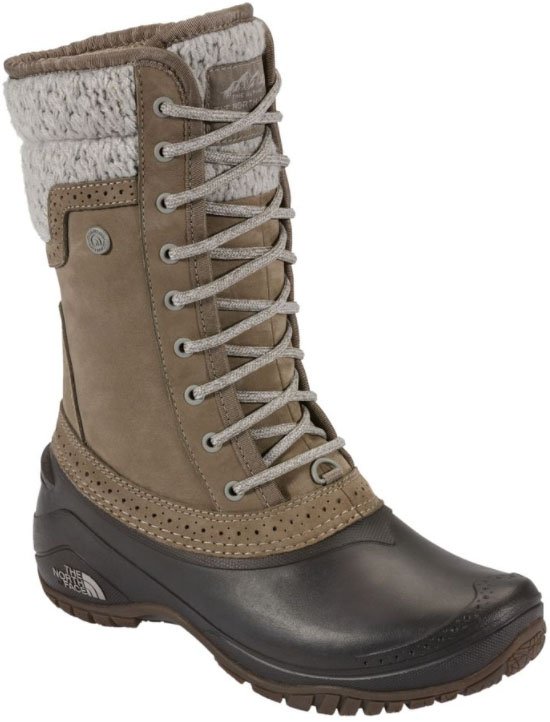 Category: Casual/winter hiking
Weight: 2 lbs. 4 oz.
Insulation: 200g Heatseeker
What we like: Good price for a light and comfortable boot.
What we don't: Not very warm.
The North Face doesn't always blow us away in terms of build quality, but their Shellista boot hits a nice mix of weight, comfort, and price. The use of thin leather keeps weight in check, so the boot doesn't have the heavy feeling of a traditional pac boot like the Joan of Arctic above. And you don't compromise much in foot protection with the Shellista's waterproof build and solid traction underfoot for walking in wet snow and rain.
As with the Merrell Decora Chant, the Shellista is not made for the extreme cold. The boot is 8.5 inches tall—shorter than the 11.5-inch Joan of Arctic and 10-inch Columbia Minx—and its 200-gram insulation and minimalist leather upper aren't built to withstand an arctic blast. But the Shellista excels as a lightweight around-town option when temperatures are around 20°F and up.
See the Women's North Face Shellista II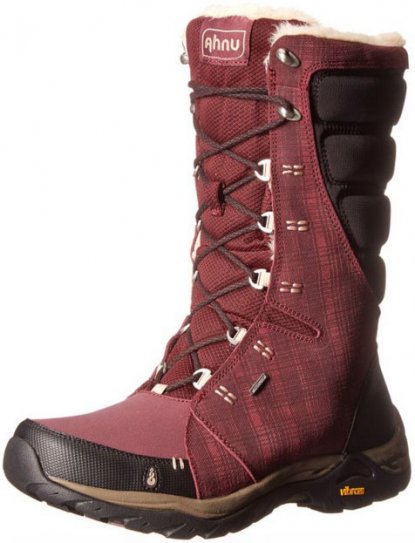 Category: Winter hiking/casual
Weight: 2 lbs. 4 oz.
Insulation: 200g Thinsulate
What we like: Colorful and fun.
What we don't: Dual zipper and lace design slows the on/off process.
Ahnu is a relatively new footwear brand, but quickly has built a reputation for their women's-specific designs and bold colorways. Rather than adapting a men's boot to fit a women's foot, Ahnu creates dedicated lines of shoes for women. The Ahnu Northridge is based on their popular Montara hiking boot and has great support for winter hikes and short-distance snowshoeing. 200 grams of insulation puts it in the milder category, but it still should provide good warmth even when the temperature dips below freezing.
The Northridge is one of the lightest boots on this list and gives the Salomon X Ultra Winter a run for its money in that regard. And despite its casual looks, the hiking boot structure means it's easy to throw on a pair of MicroSpikes or other footwear traction device to walk safely over ice. The on and process can be a little time consuming, but the Northridge is still a great option for active use.
See the Women's Ahnu Northridge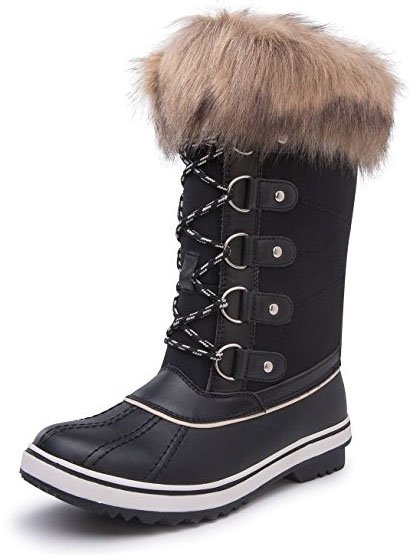 Category: Casual
Weight: 3 lbs. 4 oz.
Insulation: Microfiber
What we like: A nice budget winter boot available in a ton of colors.
What we don't: Not very warm or well built.
Sharing more than a passing resemblance to a Sorel design, the Kingshow Globalwin is popular for casual wear and winter commutes. Style-wise, this boot is very similar to the Joan of Arctic above, with a tall profile, metal eyelets, and faux fur along the cuff. They differ in traction, and the Joan of Arctic gets the clear edge in ice and snow as it has a better tread pattern and grippier outsoles. But it's hard to beat the price of the Globalwin, which at just over $50 is one the least expensive winter boots on this list.
What are the shortcomings of the Globalwin? The warmth provided by these boots is questionable at best—Kingshow rates them down to 27 degrees Fahrenheit, which is barely below freezing. The culprit is the lack of insulation, with warmth coming only from thin microfiber and a heat reflective lining (we recommend wearing thick wool socks with these boots). And it's important to have realistic expectations from winter boots in this price range: they should do the trick for running errands and light outdoor use, but don't expect them to last forever.
See the Women's Kingshow Globalwin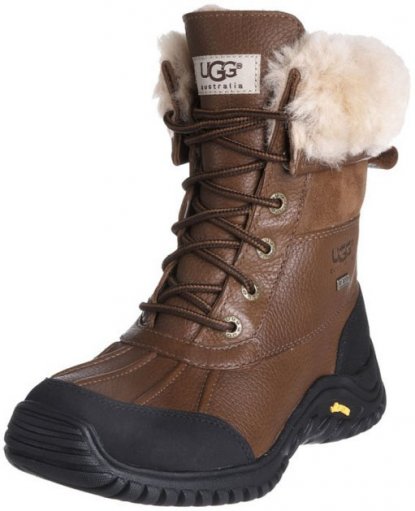 Category: Casual
Weight: 2 lbs. 14 oz.
Insulation: 17mm sheepskin
What we like: Quality materials and great looks.
What we don't: Too casual for deep wilderness adventure.
The UGG Australia Adirondack II is for those that consider sheepskin linings and full-grain leather as an ideal pairing for roughing it in the winter. UGG Australia has built a reputation for high-end footwear and the Adirondack is ready for the finest ski-après scenes all over the world. The design is absolutely beautiful—words rarely reserved for winter boots—and can be worn with the cuffs down or up for a little extra coverage.
While the Adirondack's exclusive Vibram rubber design holds its own in snow, the boot definitely trends towards casual and therefore we wouldn't make it our winter hiker. Take good care of the leather outers and you should have these boots for a long time. You can even replace the sheepskin liner should you wear it out.
See the Women's UGG Australia Adirondack II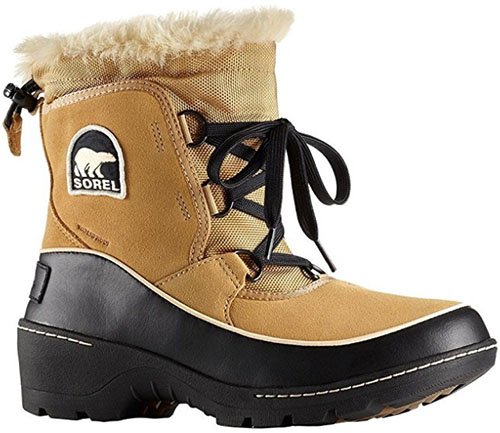 Category: Casual
Weight: 2 lbs.
Insulation: 100g synthetic
What we like: Stylish and light.
What we don't: Least insulated of the group.
On the pendulum of fashion and function, Sorel's Tivoli line of boots unapologetically swings to the former. It's no more apparent than with their short Tivoli III boot, which offer less warmth, protection, and traction in snow and ice compared with the options above, but plenty of style. It has one of the shortest heights of our women's-specific options at 6.6 inches, but the Tivoli is beautifully made with high quality leather, a faux fur cuff, and a swooping rubber midsole.
As mentioned above, the Tivoli is not nearly as well rounded as a boot like Sorel's Joan of Arctic. The 100-gram synthetic insulation isn't very warm—even combined with the soft fleece lining—and the chunky heel isn't as stable for hiking or longer walks. But for mild winters or even on wet fall and spring days, the Tivoli III will do the trick (and look good in the process).
See the Women's Sorel Tivoli III
Winter Boot Comparison Table

Women's-Specific Boot Comparison Table
Winter Boot Buying Advice
Boot Types and Best Uses
A winter boot can mean a lot of things, from a boot used for hiking and snowshoeing to something for shoveling your sidewalk. Although there are not defined categories in the winter boot market, there are clear differences between models that we break down below:
Casual
A growing casual boot type is what we refer to as around-towners. These are not the absolute warmest or best at resisting the elements, but they offer plenty of both for wintertime city walking and ski town après. The boot's construction tends to have less rubber and more leather and suede, although some models, including the women's Sorel Joan of Arctic, do a great job at incorporating both. And finally, a lower profile build makes them more amenable to walking.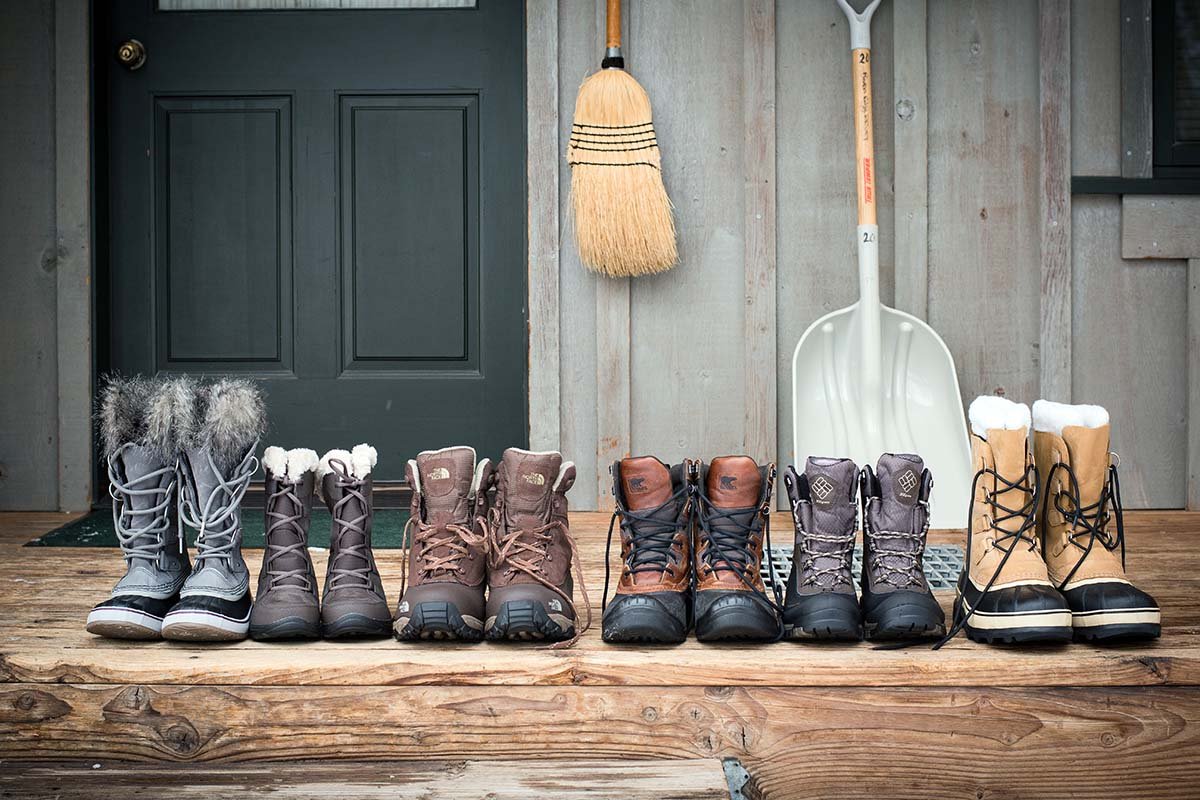 Winter Hiking Boots
​Looking a lot like beefed up hiking boot—because they are—get a pair of winter hikers for your snowshoeing and hiking adventures. They'll typically have a lower ankle height and less insulation than the other boot types, but you can cover much greater distances thanks to a lighter weight and improved range of motion. Since you can stay pretty warm even in sub freezing temperatures when active, the amount of insulation in these boots is completely sufficient for most folks.

Work/Extreme Temperatures Winter Boots
Made for the depths of winter, these are the traditional winter snow boots. They're big, bulky, warm, and tough. They also take the function over fashion approach with heavy applications of rubber, nylon, and/or leather that performs best in deep snow and frigid temperatures. Keep in mind the heavy construction does add weight and you won't want to cover major distances with a boot like the Baffin Impact on your feet. They're also often too stiff to comfortably use while driving. Instead, what you get is a super high level of warmth that is great for activities like shoveling, ice fishing, and short ventures outside the cabin.

Comfort and Temperature Ratings
Some, but not all, brands will include a comfort or temperature rating for their winter boots. And they're often very impressive numbers, claiming a rating of -25°F or lower. To start, let's be clear: there is not a standardized test to rely on for measuring a temperature rating. And as such, comfort ranges are not a guarantee that you'll be warm at the listed temperatures. We can almost guarantee you will not be—particularly if you're standing still. As we all know, how well a boot keeps you warm is dependent on a number of individual factors, including age, level of activity, and whether or not you run hot or cold. We recommend using the comfort temperatures as guidance but stay conservative with your real-world use.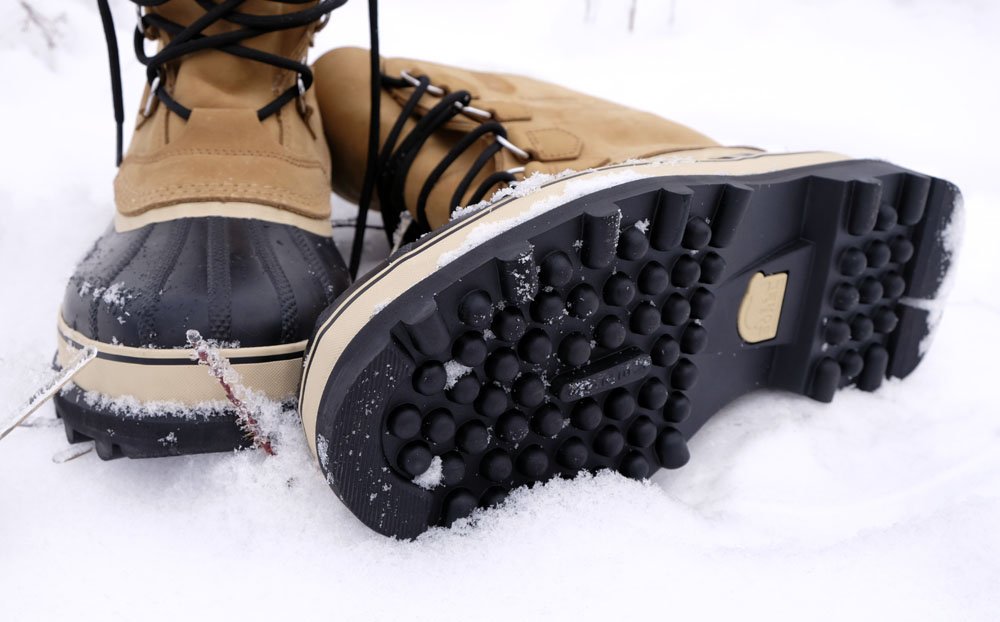 Insulation Types
Synthetic
The most common insulators nowadays are synthetics stuffed between the inner lining and outer shell of the boot. Primaloft and Thinsulate by 3M are popular synthetic insulations that have a strong presence in the jacket, glove and ski boot world, and have an equal standing with winter boots. They're non-bulky and lightweight and continue to insulate even when wet. Proprietary synthetic insulations for The North Face (Heatseeker) and Columbia (Omni-Heat), among others, offer comparable performance to the name brands (including the synthetic fill in our top-rated Columbia Bugaboot Omni-Heat). For an indicator of warmth, check for the number of grams being used in the boot. Light to midweight boots will have 200 grams, while heavy-duty cold weather boots have 400-plus grams.

Felt and Sheepskin Linings
Some boots eschew modern technology and opt for warmth through a thick lining of felt or sheepskin, including the classic Sorel Caribou. While bulky, these insulation types surely can be effective. Unlike synthetic insulation that is encased by the boot, felt and sheepskin linings can get wet if exposed to the elements, but they will continue to insulate. And the nice part is that many of these linings are removable (these types boots are often referred to as "pac boots"), so you can set them by the fire to dry in-between runs on the sled hill.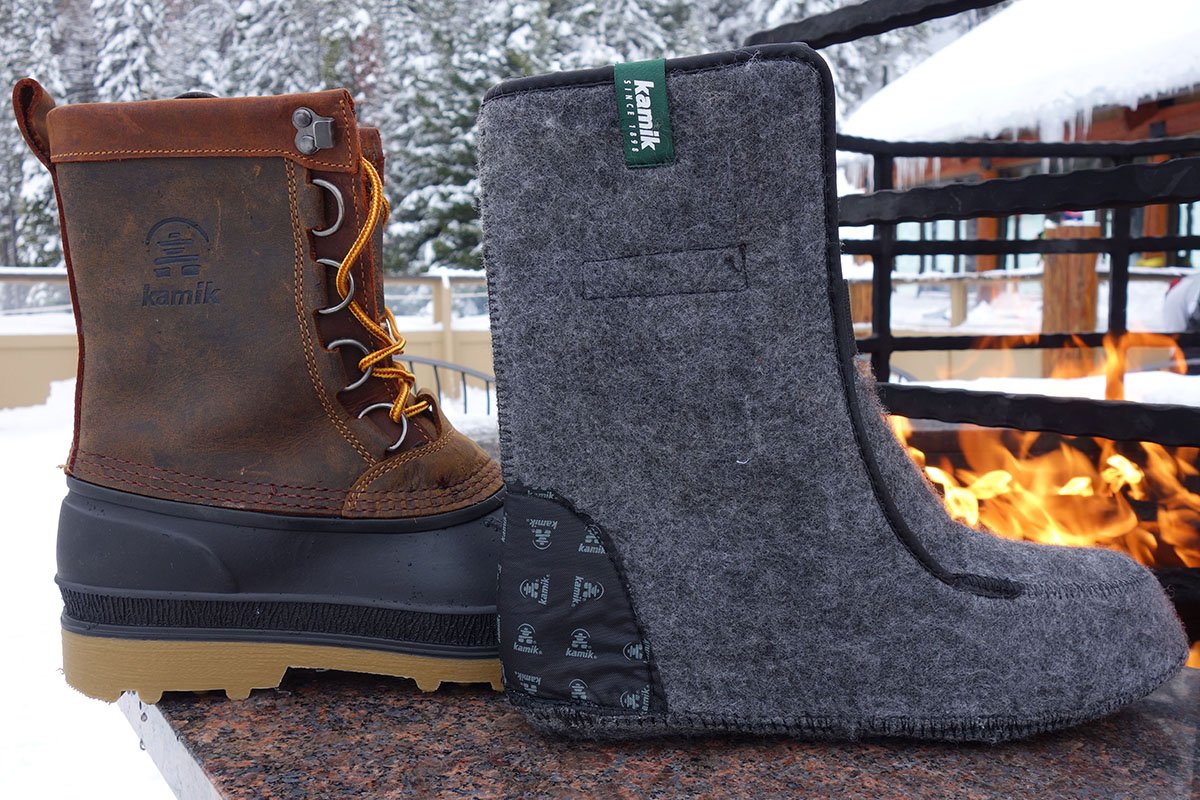 Down-Fill
Down insulated boots are not commonplace outside of insulated booties, and for times when you will be in direct contact with the snow (read: most uses outside of a cold cabin), they are not the most secure option. Moisture spells the end of down's effectiveness in insulating. As such, we recommend steering clear unless you're in the market for a basecamp shoe that is for use exclusively inside your tent.

Waterproofing
The majority of snow boots are waterproof, but if you run into a pair that states they're not, don't necessarily discount them. In fact, some of the warmest boots, such as the Baffin Impact, are not fully waterproof. A boot like the Baffin is really only meant for the most extreme cold, so the chance of finding a deep puddle that has not fully frozen isn't likely. For mild weather wet snow or changing conditions, it's still a good idea to choose a waterproof boot, but many folks in the Midwest and Canada will be just fine with a boot that isn't completely waterproof.

Boot Height
The amount of coverage needed in your winter boots will vary based on intended use. Over-the-ankle boots like the Merrell Moab Polar have a shorter height and will not have the same level of warmth as a mid-calf option, but they're easier to get on and off—especially if you get a slip-on model. They don't do as well in deep snow, but combined with some snowshoes and gaiters, they're a great option for trouncing around in the woods.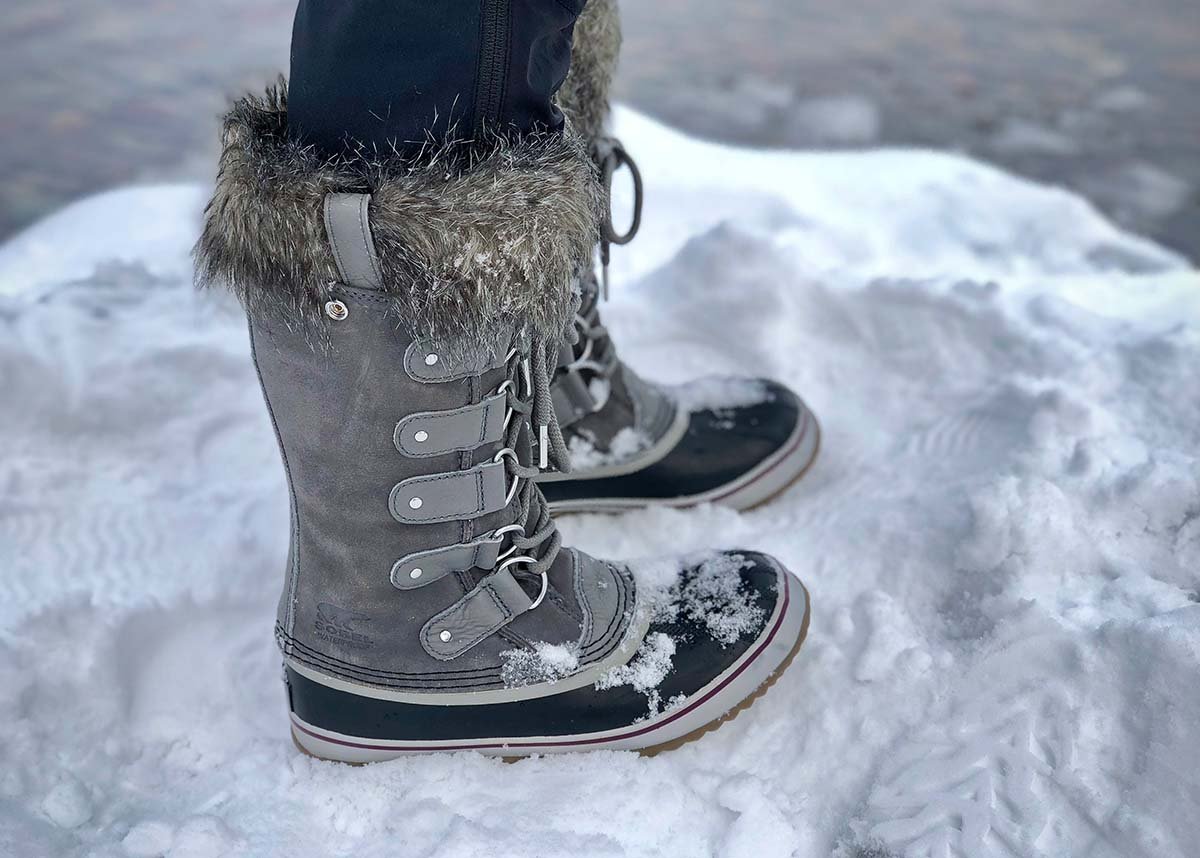 A mid-calf boot has an extra degree of protection from the cold and wet. And the boot's insulation will often continue the length of the boot's upper, providing a significant bump in warmth. Additionally, for some models, it's an opportunity to incorporate style and personality into the boot. The extra height does inhibit range of motion in mid-calf-height traditional winter boots (which can affect how easy they are to drive with), and negatively impacts how convenient the boot is to get on and off.

Upper and Lower Materials
Rubber is the most common winter boot material, and is used liberally around the lower portion of boots. It does a phenomenal job of protecting your feet and toes from wind and moisture, and is highly durable and long lasting. Downsides are that those rubber lowers can be stiff and the lack of bend around the ankle is a detriment while driving. In addition, rubber does not breathe well, so your feet can get sweaty in milder temperatures or when you're working hard.
The upper portion of winter boots has a construction that more closely resembles a hiking boot and makes greater use nylon or leather. These materials will absorb the moisture from snow more than a full rubber boot, but they are far more comfortable and stylish. And their more breathable nature improves temperature regulation.

Boot Outsoles and Grip
Snow boots have a different lug pattern and rubber compound than their on-dirt hiking boot cousins. The compounds are softer and don't harden even when temperatures drop, which helps them continue to grip on snow and ice. In addition, the lug patterns are aimed to prevent snow build up. The outer soles themselves are very thick and absorb energy well to isolate your feet from any jarring impacts. Vibram has made some headlines lately with their Arctic Grip compound that's specifically designed to stick to slippery and icy surfaces (it's featured on the Muck Boots Arctic Ice above). But from our experience, we still turn to a traction system (covered below) in very icy conditions.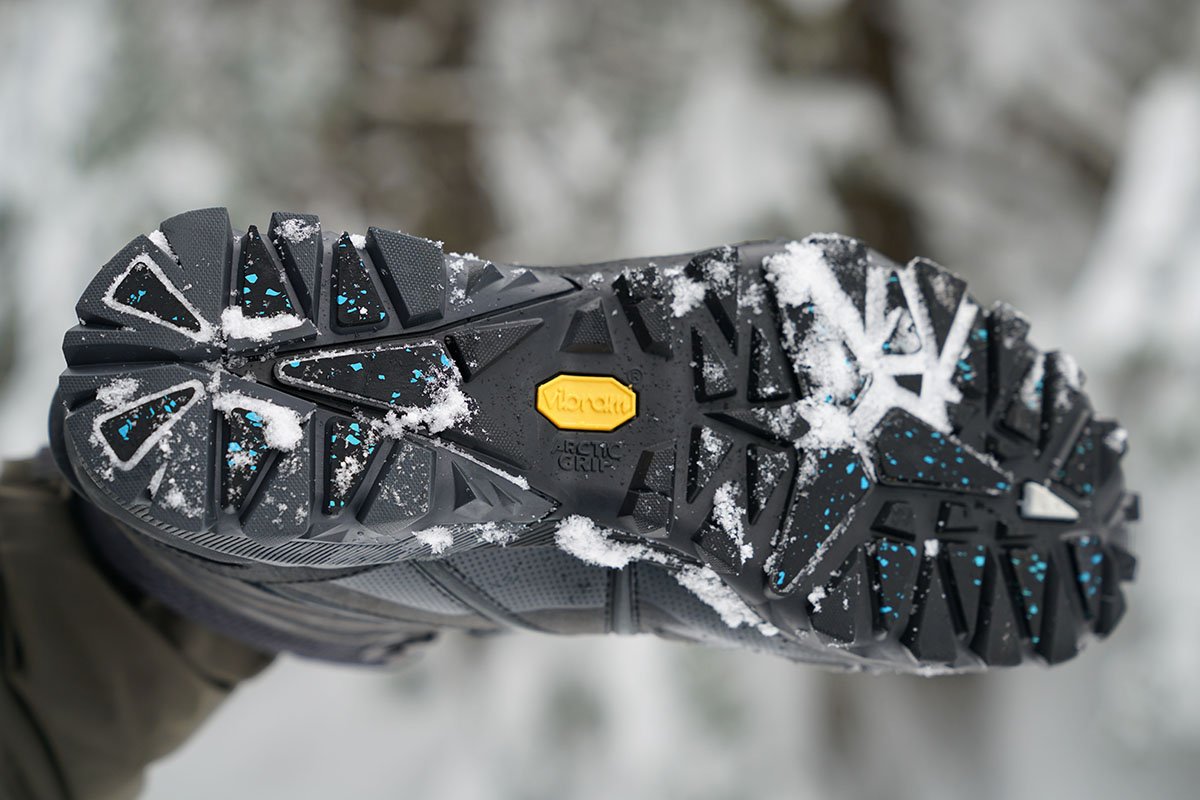 Traction Systems for Winter Boots
Winter boots have outsoles designed for walking on snow, but the reality is that even the best rubber compound and tread pattern won't grip all that well on a sheet of ice. To safely hike or even walk around town if the conditions are really bad, we use an additional traction system (also referred to as a traction device). There are a variety of designs on the market, from chain-style Yaktrax for casual walking to the Kahtoola MICROspikes for heavy-duty ice and backcountry use.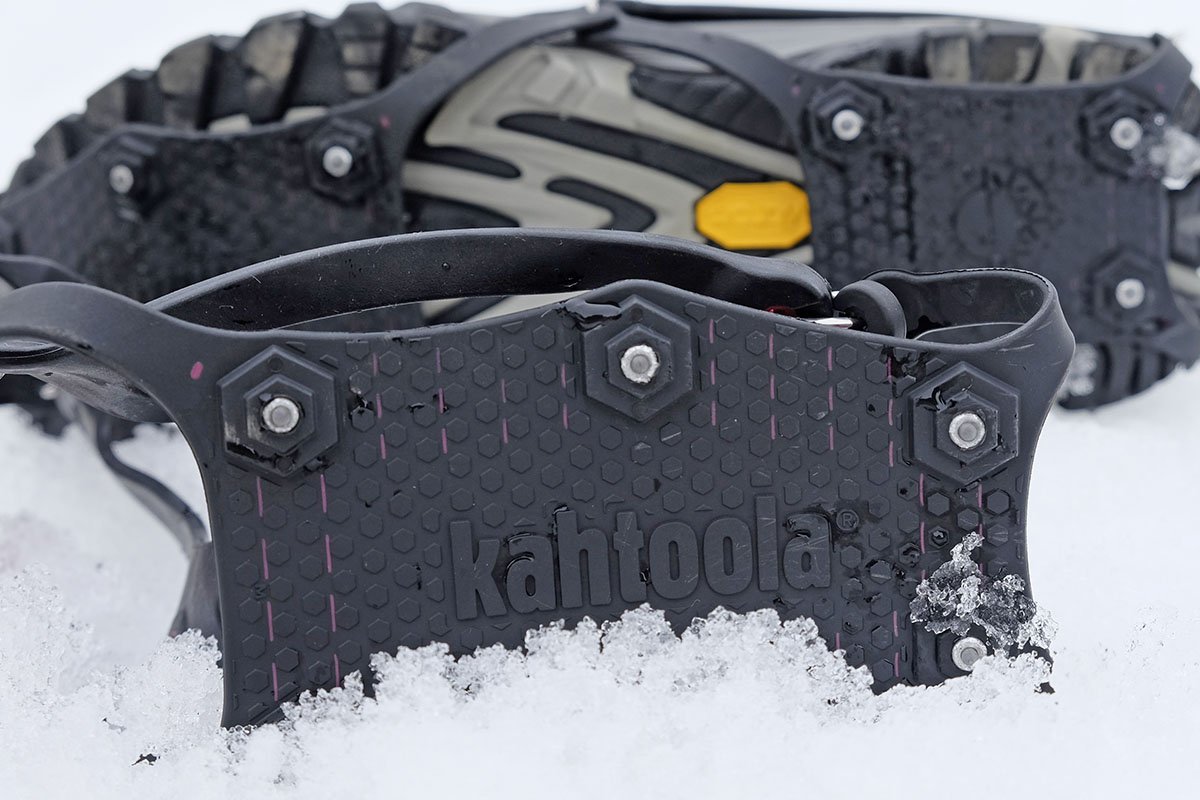 For wearing with winter boots, one of our favorite traction systems is the Kahtoola NANOspikes. Designed for running in winter, we've found their minimalist style to work wonderfully on icy sidewalks and trails. The 10 small carbide tips provide excellent grip (we were particularly impressed with their secure traction in freezing rain), and the NANOspikes are lightweight and take up very little space in a bag. The downside with all traction systems is they take a little time to put on and take off and can be overkill for mixed conditions, but they're the best way to cover ground safely on icy days.
Back to Our Top Winter Boot Picks Back to Our Winter Boot Comparison Table
Learn More About Winter Gear