Sorel Caribou
Price: $200
Insulation: 9mm felt
Shaft height: 9.25 in.
What we like: Classic looks, good overall warmth, and solid wet-weather performance.
What we don't: Fairly heavy and sloppy—these boots aren't made for covering long distances.
See the Men's Sorel Caribou  See the Women's Sorel Caribou
Sorel's Caribou is a timeless winter boot through and through. With a 9-millimeter felt liner, sturdy leather upper, and wraparound rubber lower, it's classic, stylish, and warm—a great combination for everyday uses like shoveling snow and running errands around town. However, this boot is decidedly casual and feels noticeably clunky and sloppy to walk in, which isn't a great match for covering long distances, snowshoeing, or winter hikes. Below we break down the Caribou's overall performance. To see how it stacks up to the competition, see our article on the best winter boots. 
 
---
Table of Contents
---

Performance
Warmth
The Sorel Caribou features a 9-millimeter felt liner, which provides ample warmth for most winter conditions. It's difficult to compare felt to synthetic insulation as they're very different materials, but the thick liner was cozy enough for my feet to remain comfortable in temperatures well below freezing. For truly frigid conditions, boots like the Baffin Impact (with an 8-layer foam and polyester lining) are made for working outside and spending time in sub-zero conditions, and Cabela's Inferno Boa Waterproof is another true cold-weather model with 2,000-gram Thinsulate insulation. But overall, the Caribou is perfectly capable for the majority of wintertime temperatures.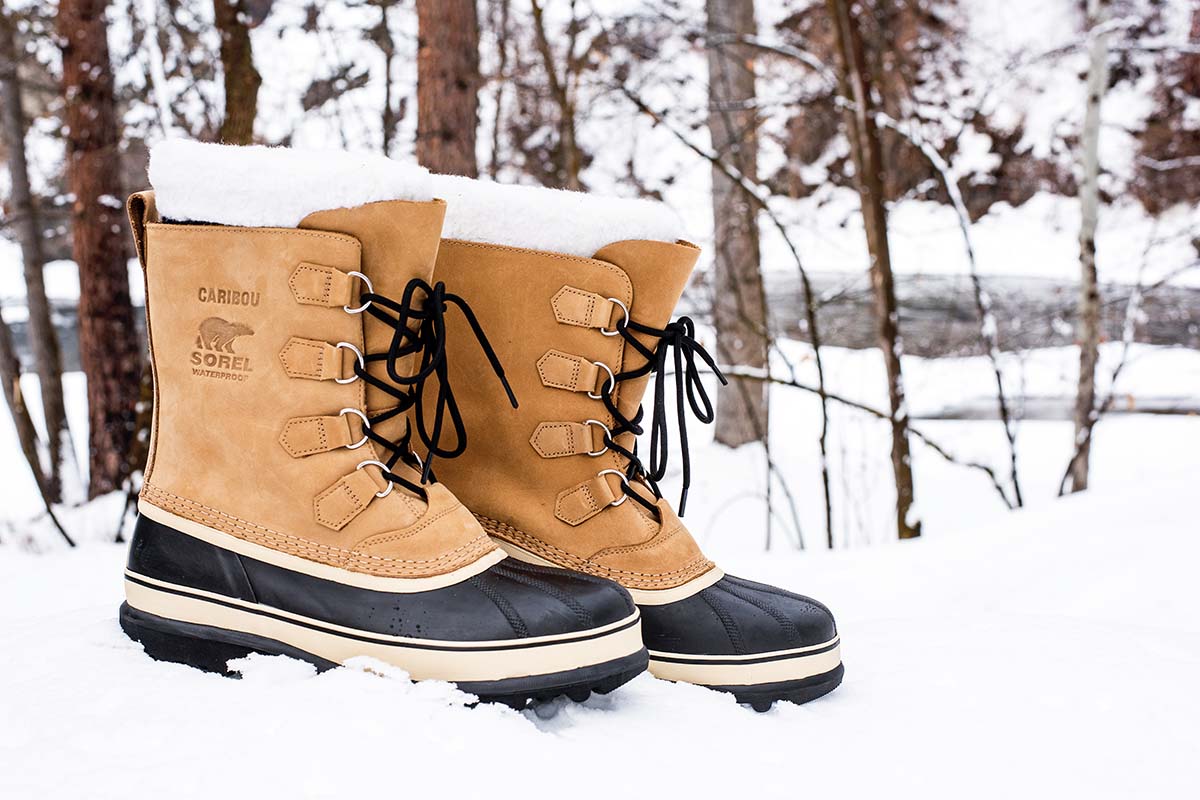 With any pair of winter boots, the socks you wear matter a lot, as does your level of activity. In other words, if you're standing still in the cold for extended periods of time, it's going to be tough to keep your feet warm no matter what. Sorel rates the Caribou to -40 degrees Fahrenheit, but this should be taken with a grain of salt. Boot brands tend to be very generous with their temperature ratings (there's no standardized testing method), and we can't imagine that the felt liner would keep your feet warm down to those extreme levels. At home in Colorado, I've worn the Caribou with a thick pair of socks into the single digits while walking my dog and shoveling the sidewalk and had no issues. Again, we'd opt for a dedicated cold-weather model for seriously frigid temperatures, but the Caribou is a good match for most winter weather.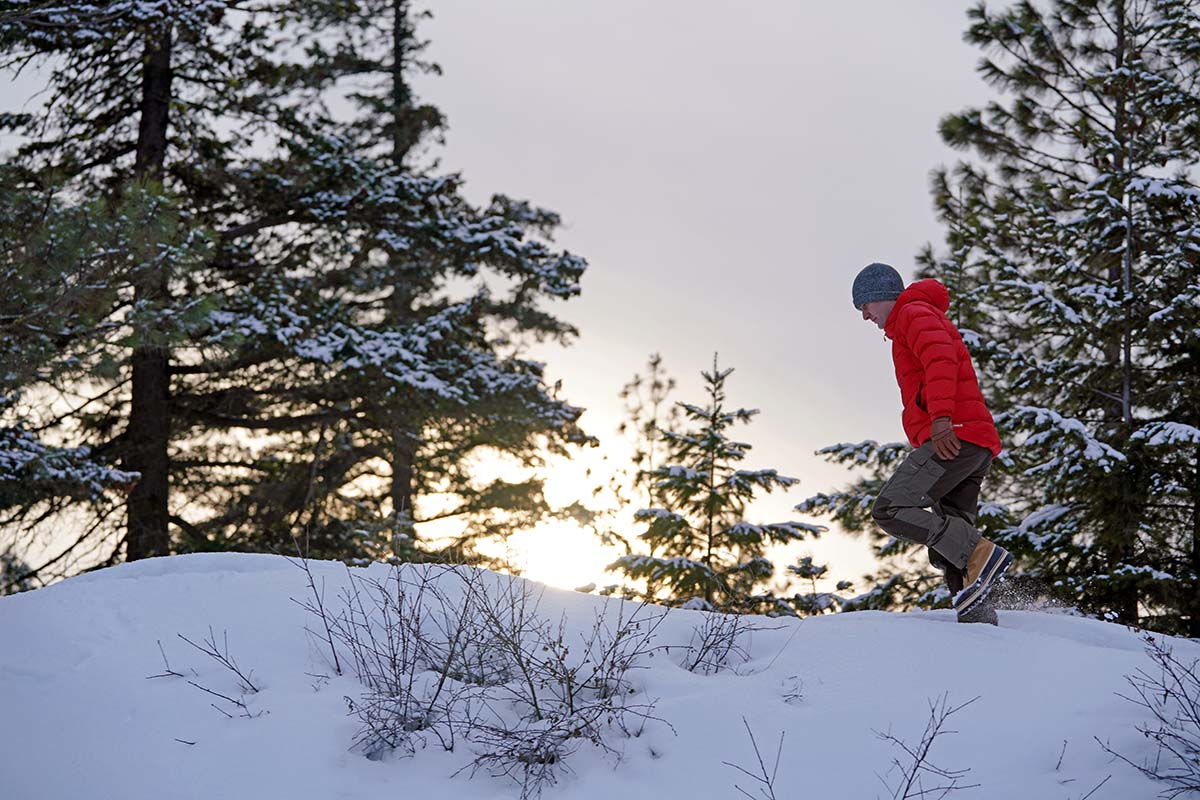 Waterproofing
Wet-weather protection is one area where the Caribou shines. First and foremost, you get a fully waterproof rubber lower and leather upper, along with seam-sealing as an added layer of defense to keep moisture out. Taken together with the relatively tall 9.25-inch height, the Caribou does a great job of protecting your feet from the elements. I walked through snow, splashed through puddles, and covered basically all types of wintery conditions without my feet getting wet. My only complaint is that it's a bit tough to tighten down the boot around the top: The laces are very thick, and the felt and leather are quite substantial. Even when laced as snugly as possible, there is some looseness at the top, and snow can enter over if you aren't wearing snow pants or gaiters. However, if you do get snow or water inside the boot, the liner is removable, which is a nice touch and makes it easy to dry out.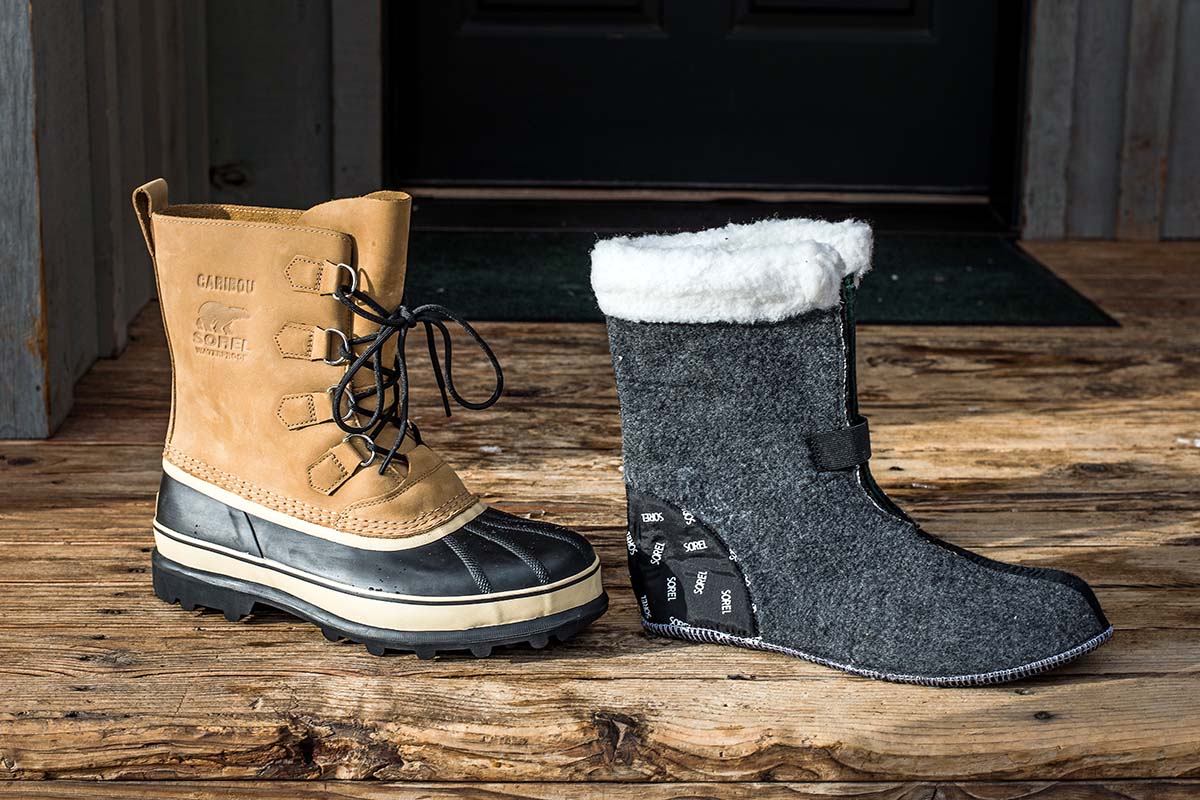 Traction
The Sorel Caribou offers decent overall traction on most surfaces. On the sole, Sorel opted for mostly circular lugs that are fairly deep but not performance-oriented. Over the course of multiple winters in the Caribou, I experienced a normal amount of slippage—they certainly aren't as grippy as dedicated winter hikers like the Merrell Thermo Chill—but they're serviceable for casual wear and fall about middle-of-the-pack in terms of grip.
When conditions get icy, it's always a good idea to bring additional winter traction along. We really like the Kahtoola NANOspikes, which look relatively unassuming but do a great job giving you some extra bite. And their MICROspikes are almost like mini crampons and provide a tremendous amount of grip, although they're overkill and a bit difficult to walk in once you're off the snow and ice. Regardless of the device you choose, keep in mind that the Caribou has a fairly large profile, so you'll need to make sure to buy traction that fits the boots.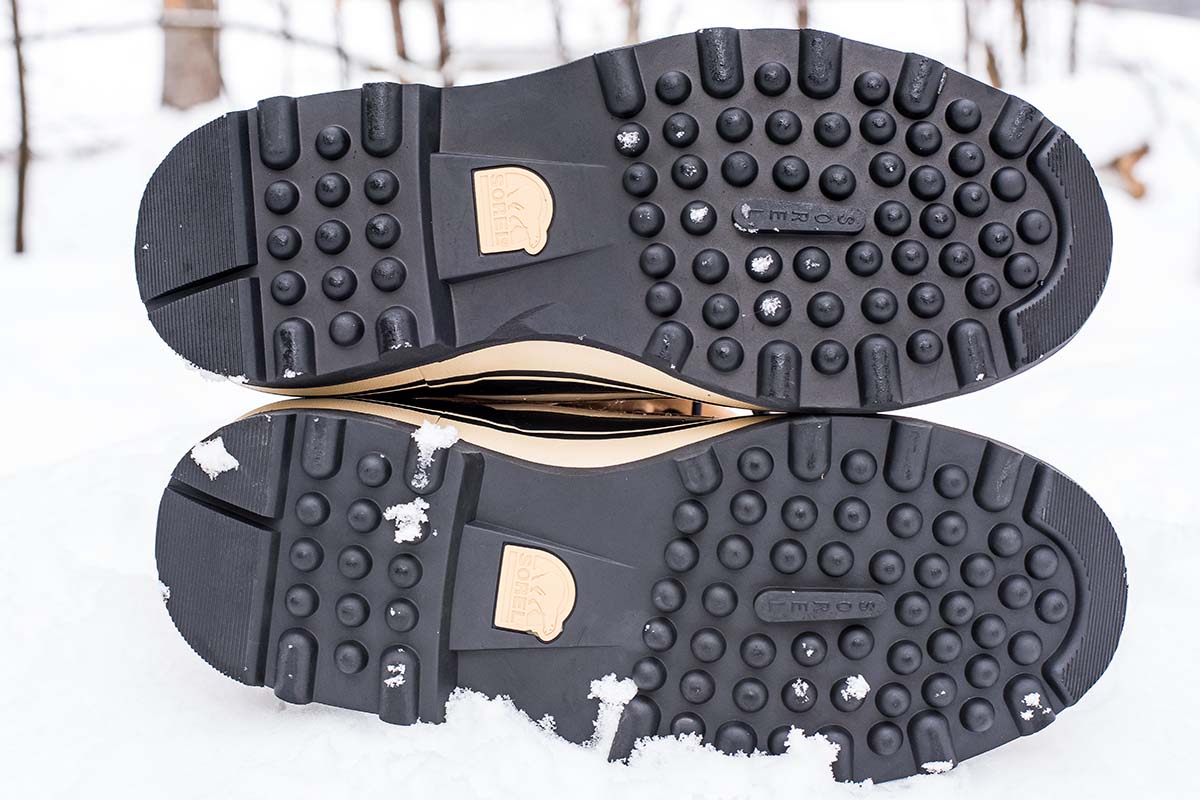 Comfort
The Sorel Caribou is reasonably comfortable for casual use like short walks, shoveling the sidewalk, and running errands around town. The felt liner feels supple, there's nice cushioning along the footbed, and the upper material and faux fur collar all are soft to the touch. As I touched on above, it's difficult to really cinch the boot down and tighten it up: In a strange way, this makes the Caribou more comfortable for casual wear as it doesn't feel restrictive on your feet. However, it's major a downside when covering any kind of distance as the boot can move a lot on your foot and around your ankle. Sizing will play a big role here: As we cover below, these boots run big, and I've had to wear ultra-thick winter socks to fill out my normal size 12s. To keep them comfortable on your feet, we recommend either trying the boots on before buying or sizing at least half a size (and possibly a full size) down.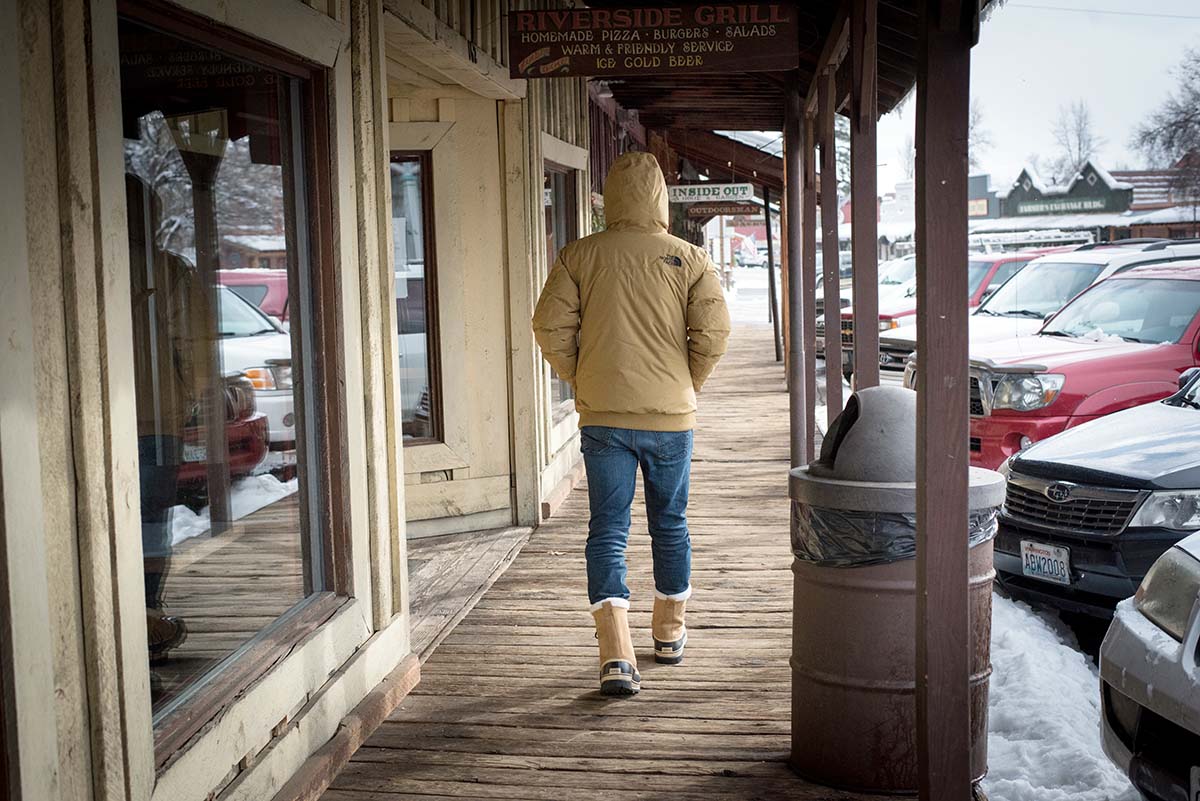 Boot Height: Protection and Support
The Caribou has a shaft height of 9.25 inches (measured from the footbed to the top of the collar), which is taller than most of its casual competition. For example, Merrell's Thermo Chill is only 6 inches tall, and the Columbia Bugaboot Celsius Plus measures 7 inches, although both of those designs have a bit more of a performance slant. On the other hand, the strikingly similar Kamik Nation Plus has a listed shaft height of 10 inches and feels on par with the Caribou. What all this means is that with the Sorel, you're getting a good level of protection and a barrier from the elements: 9+ inches of height gives you quite a bit of clearance to prevent snow from entering the boot, and you can always add snow pants overtop if conditions take a serious turn (if accumulation is anywhere close to a foot, I always add snow pants or gaiters to be safe, regardless of which boots I'm wearing).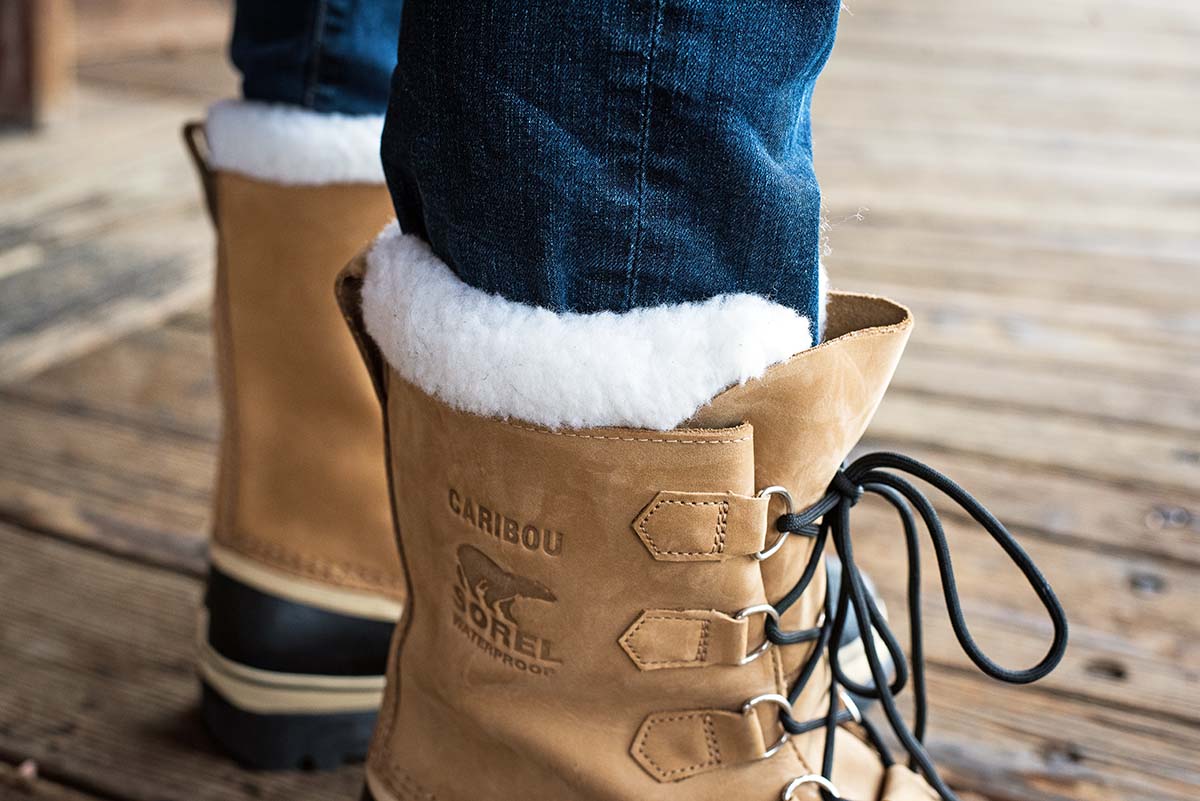 The downside of the taller shaft height is that the Sorel Caribou can be cumbersome to move in. Boots designed for winter hiking generally have lower shaft heights to allow for greater mobility, whereas casual models tend to be taller because movement doesn't matter as much. The Caribou comes all the way up above the bottom of the calf, which is noticeable when walking and not ideal if you're really moving or traveling far. Again, they're a nice casual option, but we don't recommend them for long winter walks, winter hiking, or snowshoeing. 
 
Weight
The Sorel Caribou is hefty at 4 pounds 10 ounces, even for a winter boot. There are a few models in our winter boot round-up that weigh more than 5 pounds (including the aforementioned Baffin Impact at 7 lbs. 6.8 oz.), but they generally are warmer and burlier for winter work and spending extended periods in sub-zero conditions. Similar models including The North Face's Chilkat V 400 (3 lbs. 2.3 oz.) and Columbia's Bugaboot Celsius Plus (2 lbs. 15.6 oz.) undercut the Caribou significantly in weight, and even the comparable Kamik Nation Plus is a pound lighter at 3 pounds 9.6 ounces. Again, if you're sticking close to home, playing in the yard, shoveling the sidewalk, or taking short walks with your dog, this isn't a big deal. But I took the Caribou winter hiking in Colorado and snowshoeing in Montana, and it felt like I had strapped bricks to my feet. An option like the 2-pound-8-ounce Merrell Thermo Chill is a much better bet for covering long distances.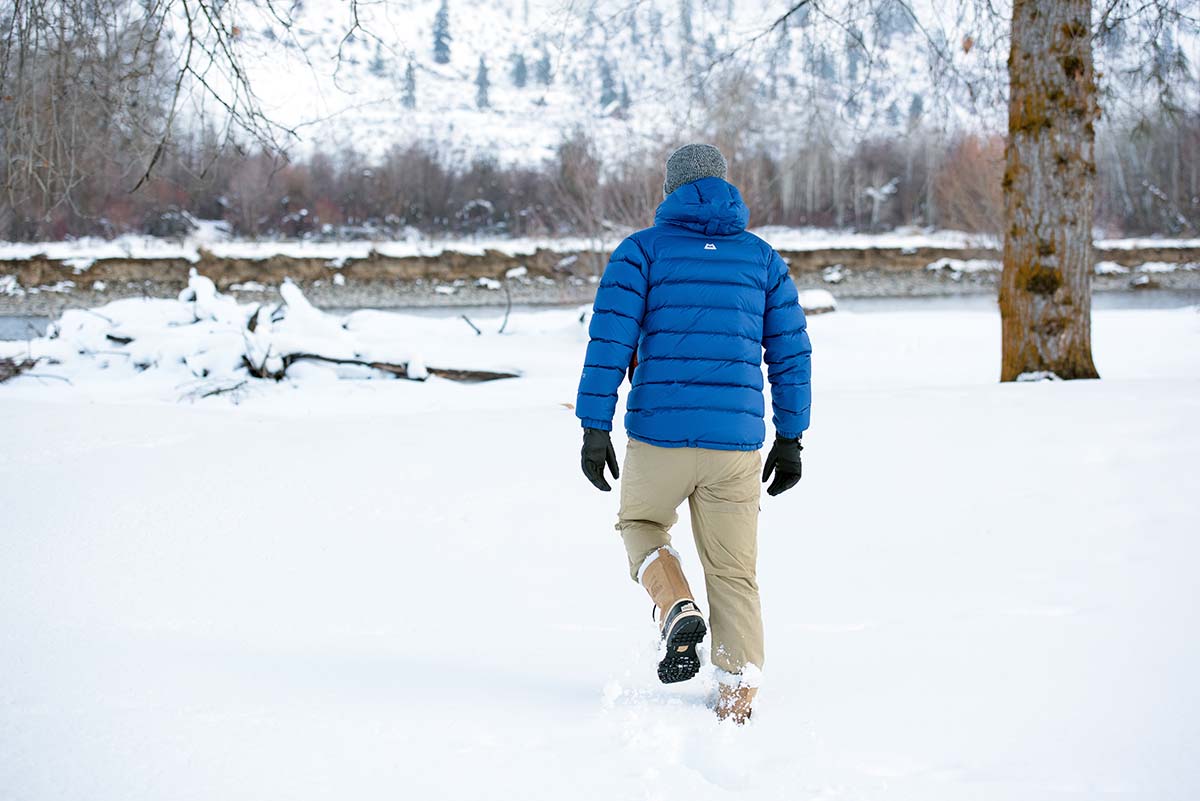 Construction and Durability
Overall, the Caribou looks and feels like a well-made boot. Many long-time Sorel users complain how the boots used to be made in North America but are now made in China, resulting in a drop in quality. However, we haven't had any durability issues with our pair (made in China) after multiple winters of use. The rubber is intact, the leather upper still looks like new, and even the traction is holding up fairly well. Some have reported issues with the rubber and waterproofing wearing down prematurely, but keep in mind that many of these reviews on popular retailer websites are for previous renditions of the boot. The most recent version of the Caribou looks and feels high-quality—which we expect at this $200 price point—and we haven't had any concerns from a long-term durability standpoint.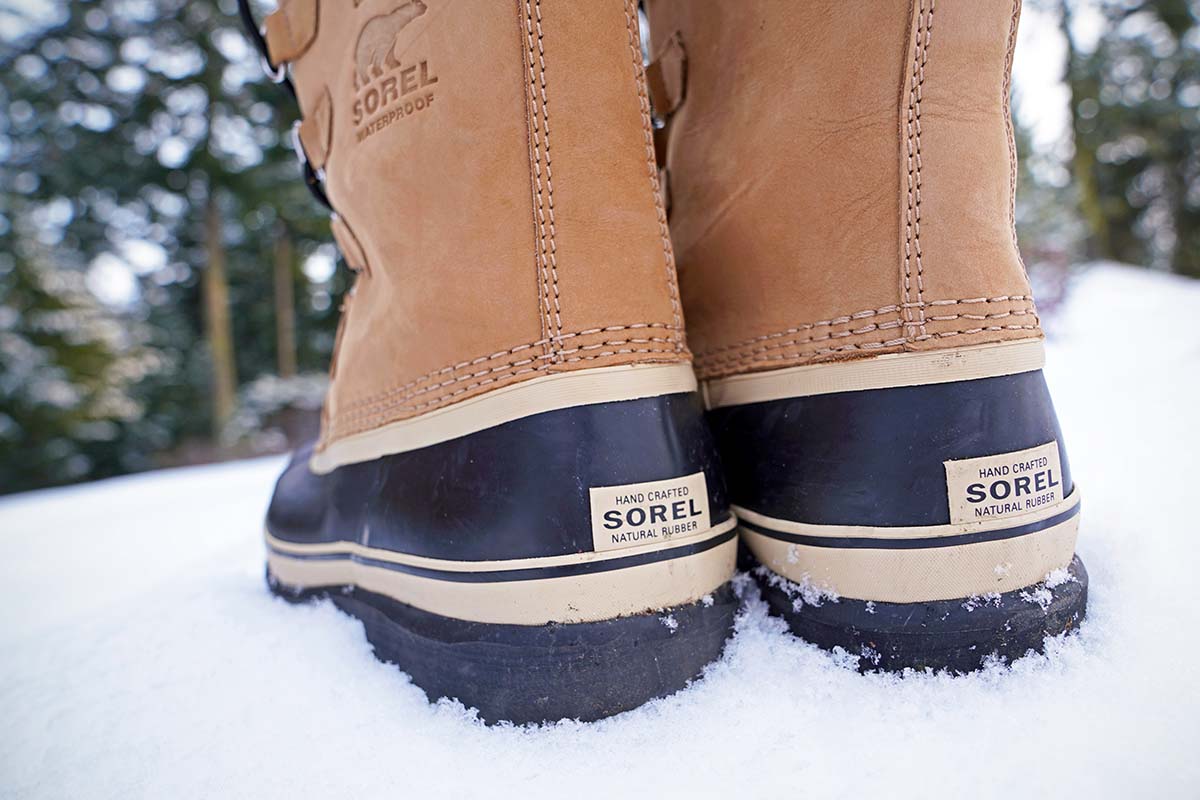 Fit and Sizing
Overall, fit runs quite large with the Sorel Caribou. I ordered my normal men's size 12, and it felt all right with thick winter socks but definitely was on the roomier side. If you're on the fence or plan on wearing normal wool socks not of the extra-thick variety, I recommend sizing down at least half a size. Of course, the safest bet is trying on the Caribou before buying. If the boot is too big on your foot, it can feel even clunkier and more difficult to walk in, which was already a major issue for me.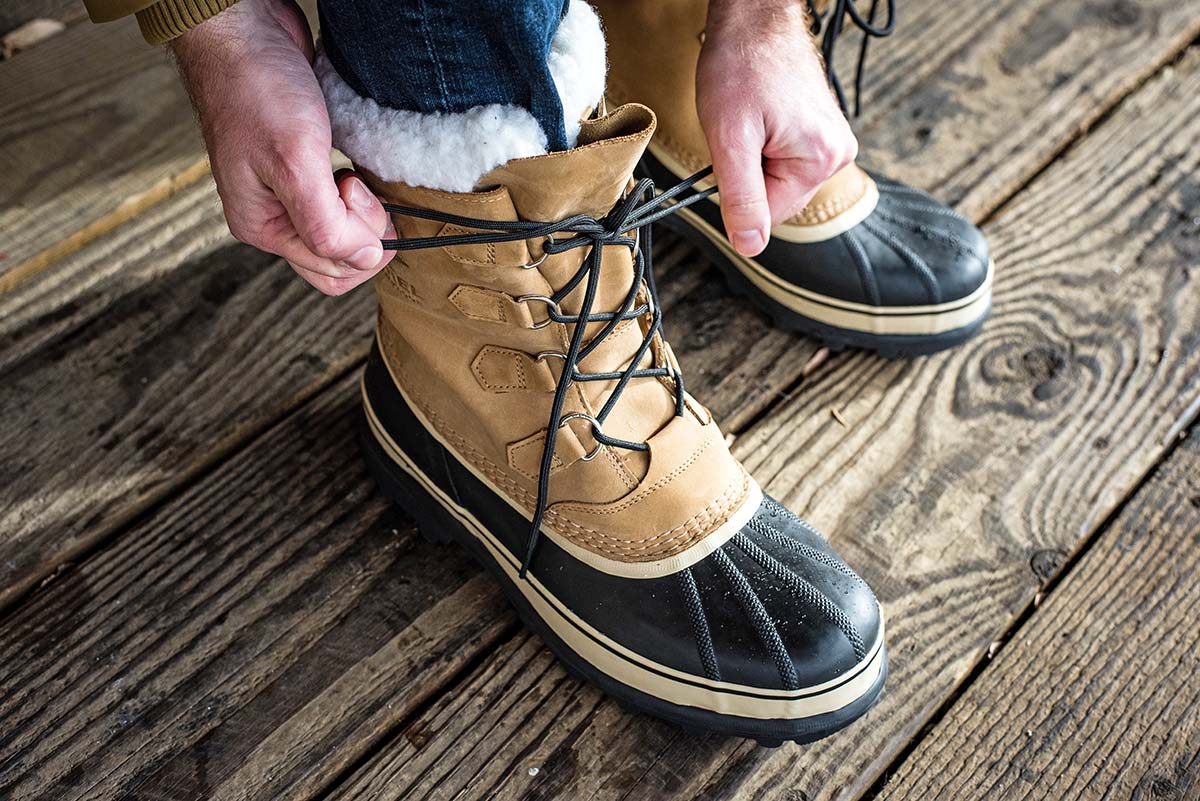 Other Versions of the Sorel Caribou
We tested the men's Caribou, and Sorel also makes the boot in a women's-specific version. The women's Sorel Caribou costs the same at $200 but is around an inch shorter than its men's counterpart, weighs less at 3 pounds 6 ounces, and comes in a few different colorways. Otherwise, the two models share the same 9-millimeter felt liner, outsole design, and waterproof construction. Rounding out the collection are the men's Caribou OTM Chukka Boot ($135) and women's Kinetic Breakthru Caribou Sneaker Boot ($165), although the low-cut designs lack the cold-weather appeal of the standard boot.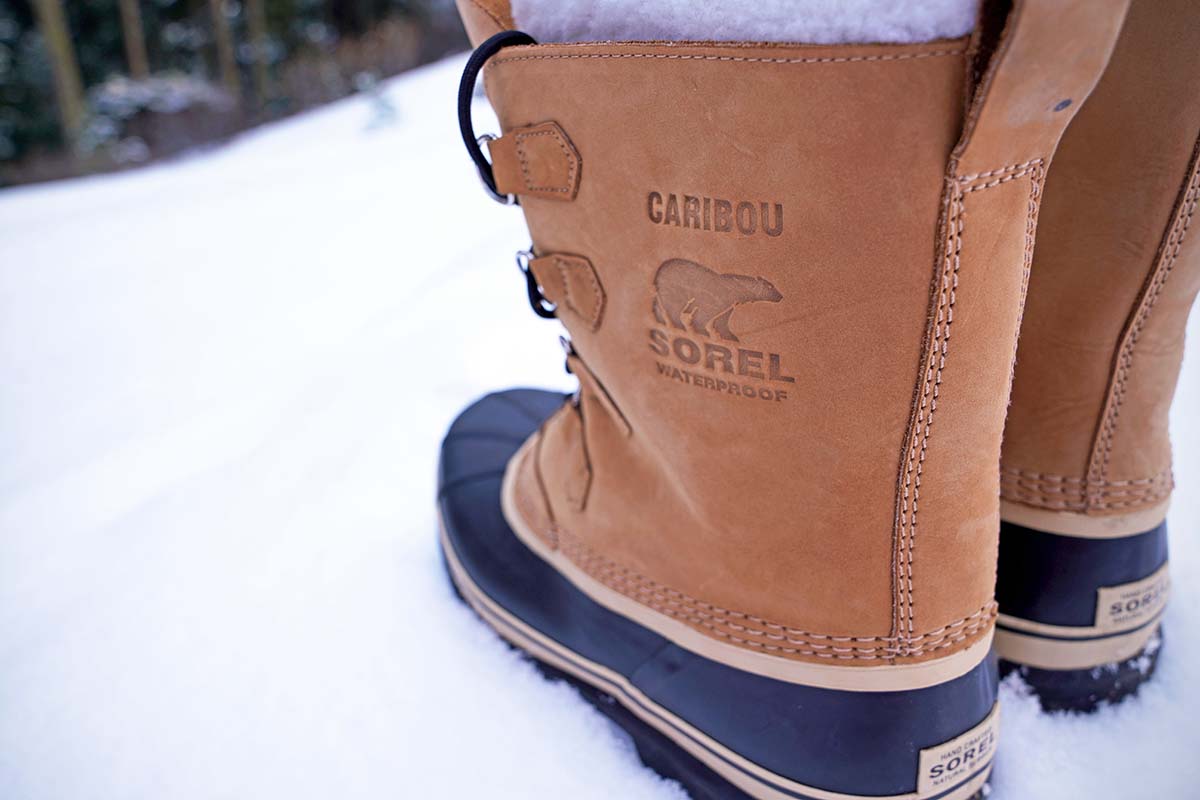 What We Like
Solid warmth and wet-weather protection from the waterproof rubber, leather upper, and tall height.
A classic, good-looking winter boot. 
Comfortable for casual use and short outings. 
 
What We Don't
The Caribou feels clunky and heavy to walk in—it's not ideal for long winter walks, snowshoeing, or covering any kind of distance. 
Pricey at $200.
Fit runs large. We had to wear burly winter socks to fit comfortably into our normal size.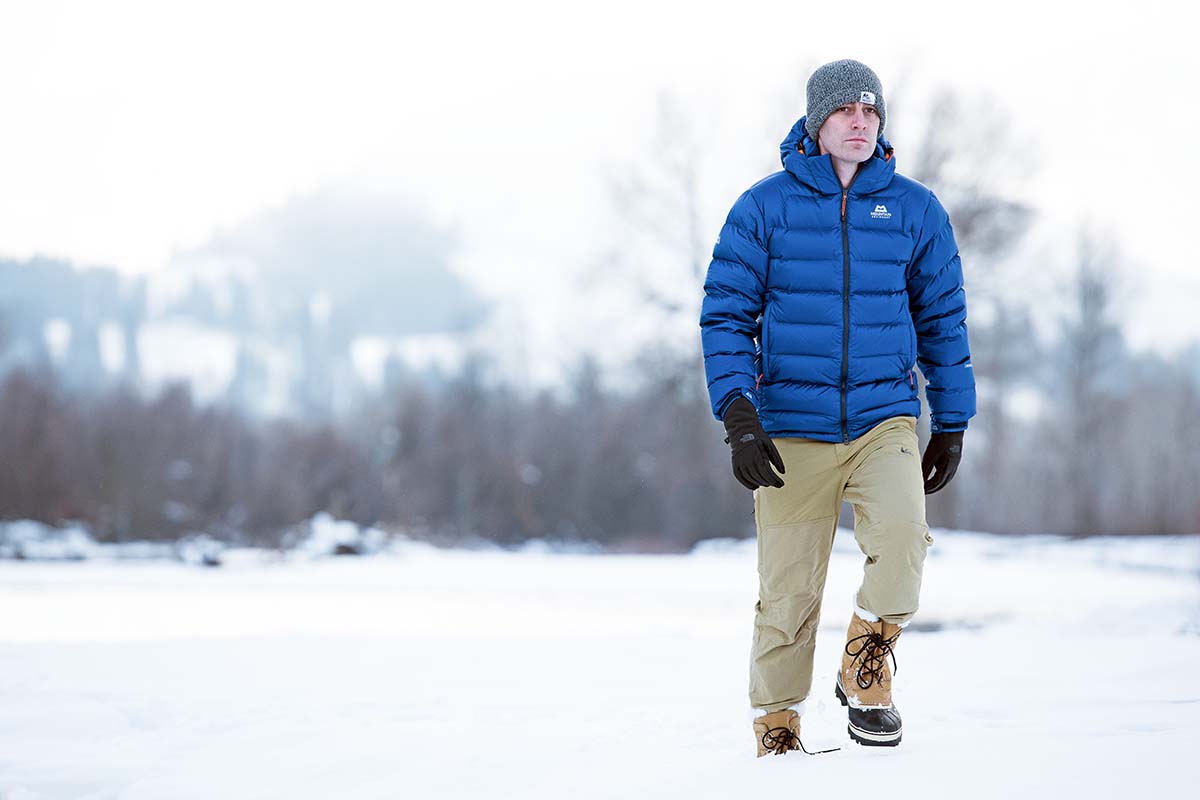 Comparison Table

The Competition
Sorel's Caribou is a classic design and a staple among winter boots, but there's no shortage of competition in this category. As we mentioned above, the Kamik Nation Plus is strikingly similar to the Caribou with a close overall design and a comparable shaft height (listed at 10 in.). The Nation Plus is much cheaper at $90, but this comes with a major downgrade in durability: Kamik uses inferior materials throughout, while we found the Sorel to be reasonably hardwearing and well made for the price. Further, the Nation Plus is much lighter than the Caribou at 3 pounds 9.6 ounces and uses 200-gram Thinsulate insulation, which translates to less overall warmth (although again, this isn't an apples-to-apples comparison given the Sorel's felt liner). All told, the Nation Plus is a serviceable budget alternative, but the Caribou is warmer and has a higher-quality look and feel.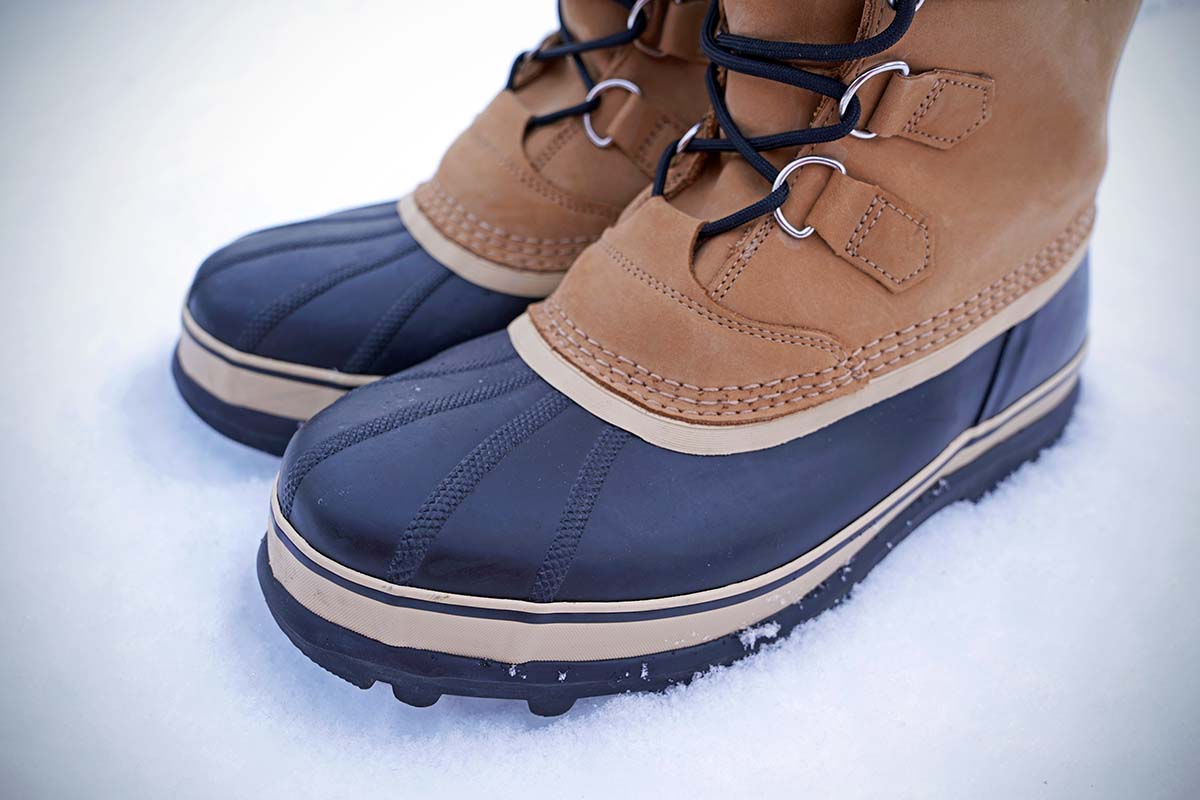 Another popular casual winter boot option is The North Face's Chilkat V 400. At $159 and 3 pounds 2.3 ounces per pair, it's both cheaper and lighter than the Caribou with a noticeably less clunky feel to match. You also get some nice performance upgrades, including D-ring gaiter attachments and a heel clip to keep your snowshoes or winter traction devices in place. On the flip side, the Chilkat's thick 400-gram insulation will be overkill for mild days or dry conditions (it's even warmer than the Sorel), and the lower shaft height means you'll want to wear snow pants or gaiters when there is any kind of accumulation. In the end, we prefer the Caribou for around-town wear due to its taller height, but the Chilkat is more well rounded for mixed casual and outdoor use.
If you plan to add winter hiking to the mix, the Merrell Thermo Chill is a great boot to have on your radar. The Merrell looks almost like a traditional hiker and doesn't have the casual appeal of the Sorel, but it's significantly lighter at 2 pounds 8 ounces, feels far less clunky, and is more versatile overall—you can wear the Thermo Chill shoveling the driveway and then take it out into the woods without issue. Further, the Merrell's hiking-ready outsole is much more capable over a wide variety of terrain, and the low-profile fit is the better match for active use. All in all, the Thermo Chill is the better performance pick (at a considerable $80 less than the Caribou), while the Sorel wins out in casual appeal.
All of the boots mentioned above offer a healthy dose of warmth for most winter conditions, but if you're outside for extended stretches or consistently working in the cold, the Baffin Impact is both taller (15 in.) and considerably warmer with eight layers of foam and polyester. That said, this much warmth means less everyday appeal, and the Baffin is notably less comfortable in mild winter conditions than the Caribou. Further, it's much heavier at a whopping 7 pounds 6.8 ounces and pricier at $250. Overall, the Baffin is a nice match for areas where temperatures consistently dip well below zero (think Alaska or the Upper Midwest), but the Caribou has wider appeal and is plenty warm for most moderate winter weather.
If you're thinking about buying gear that we've reviewed on Switchback Travel, you can help support us in the process. Just click on any of the seller links above, and if you make a purchase, we receive a small percentage of the transaction. The cost of the product is the same to you but this helps us continue to test and write about outdoor gear. Thanks and we appreciate your support!
Depending on the seller, most products ship free in the United States on orders of $50 or more. International shipping availability and rates vary by seller. The pricing information on this page is updated hourly but we are not responsible for inaccuracies.
Read More From Switchback Travel