Arc'teryx Atom Heavyweight Hoody
Price: $350
Weight: 1 lb. 0.8 oz. (men's)
Insulation: Coreloft (120g, 80g, 60g)
What we like: Warm, protective, cozy, and extremely well made.
What we don't: Too warm and not breathable enough for high-output use or cool-weather days.
See the Men's Atom Heavyweight  See the Women's Atom Heavyweight
Arc'teryx's Atom series is a longtime favorite in the synthetic jacket world, and the AR—which is now called the Atom Heavyweight—slots in as the warmest design in the collection. Updated a few seasons ago with a revised fit, improved durability, and smaller tweaks including a retooled cuff design, we put the Atom to the test in the Pacific Northwest in late fall and early winter on everything from a cold-weather ski tour to hiking and daily wear. Our take: Many users will prefer the lighter and more breathable Atom Hoody, but the AR's warmth and protection are a great pairing for frigid days around town and in the backcountry. Below are our experiences with the Atom AR. To see how it stacks up, see our article on the best synthetic insulated jackets.
Editor's note: We tested the past-generation Atom AR Hoody for this review, which has since been replaced by the Atom Heavyweight. The two designs are largely similar, although the newest model has a revised fit that's roomier in the midsection and costs an additional $51. We've outlined the changes where applicable in the text below.
 
---
Table of Contents
---

Performance
Warmth
Most synthetic jackets fall on the lightweight end of the spectrum, but Arc'teryx's Atom AR—along with its successor, the Atom Heavyweight Hoody—is a proper cold-weather piece. Whereas many alternatives utilize 60-gram (g) fill, the AR uses a combination of 120, 80, and 60g Coreloft insulation that's strategically "mapped" to maximize warmth—the thicker fill is used in key areas like the shoulders, outer sleeves, and sides, while lighter insulation in places like the underarms helps with venting and keeps weight and bulk in check. Combined with a tall collar that comes right up to my top lip, an adjustable, helmet-compatible hood, close-fitting cuffs that provide a nice seal around the wrists, and a very wind-resistant shell, the Atom AR delivers excellent warmth relative to its reasonable, 1-pound-0.8-ounce listed weight.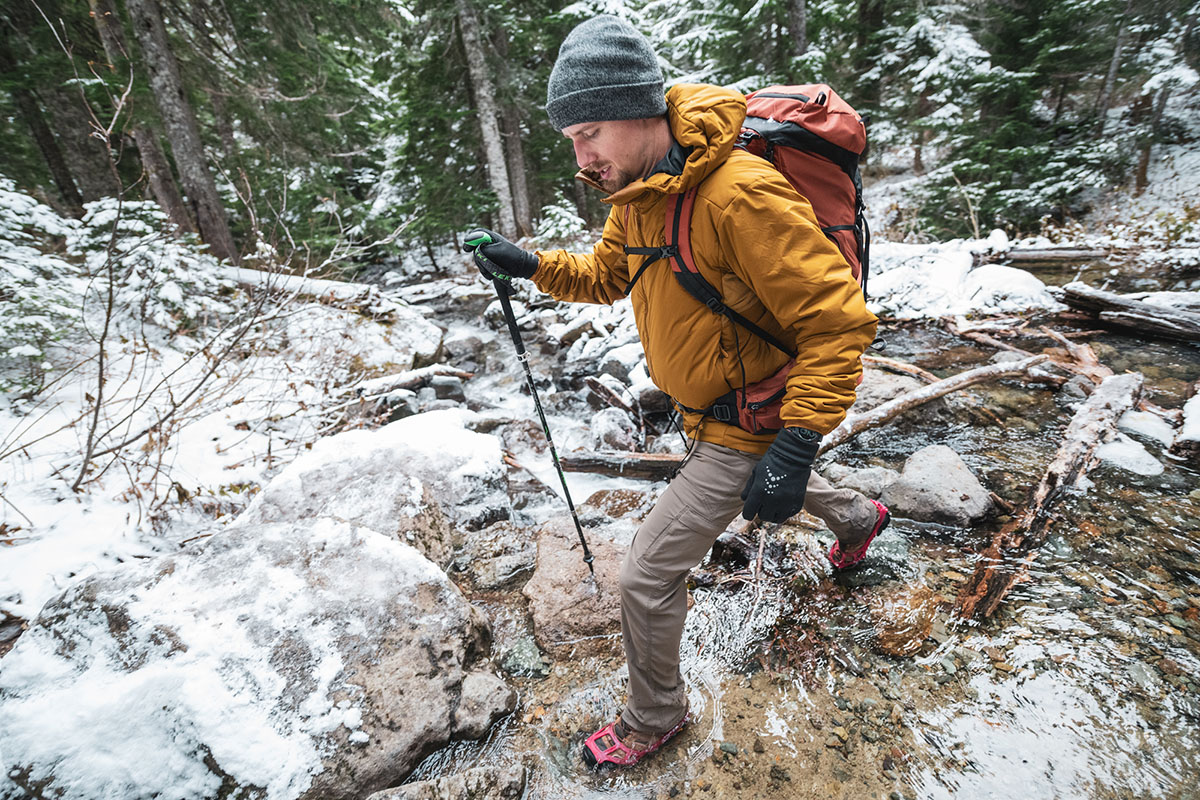 My first day out in the jacket was on a late-season hike in Washington's Cascade Mountains with temperatures in the mid 20s Fahrenheit, light snow falling, and winds gusting fiercely at our lakefront destination. While I wasn't able to keep the jacket on during the uphill (more on this in "Breathability" below), it provided nearly instantaneous insulation and comfort when I threw it on for lower-output tasks like collecting water, using my stove, and moving around camp. On a follow-up ski tour with temperatures dipping into the low 20s, the Atom AR proved to be an excellent outer- and midlayer during transitions. And when worn under my Arc'teryx Beta AR hardshell, it could easily be used in far colder temperatures.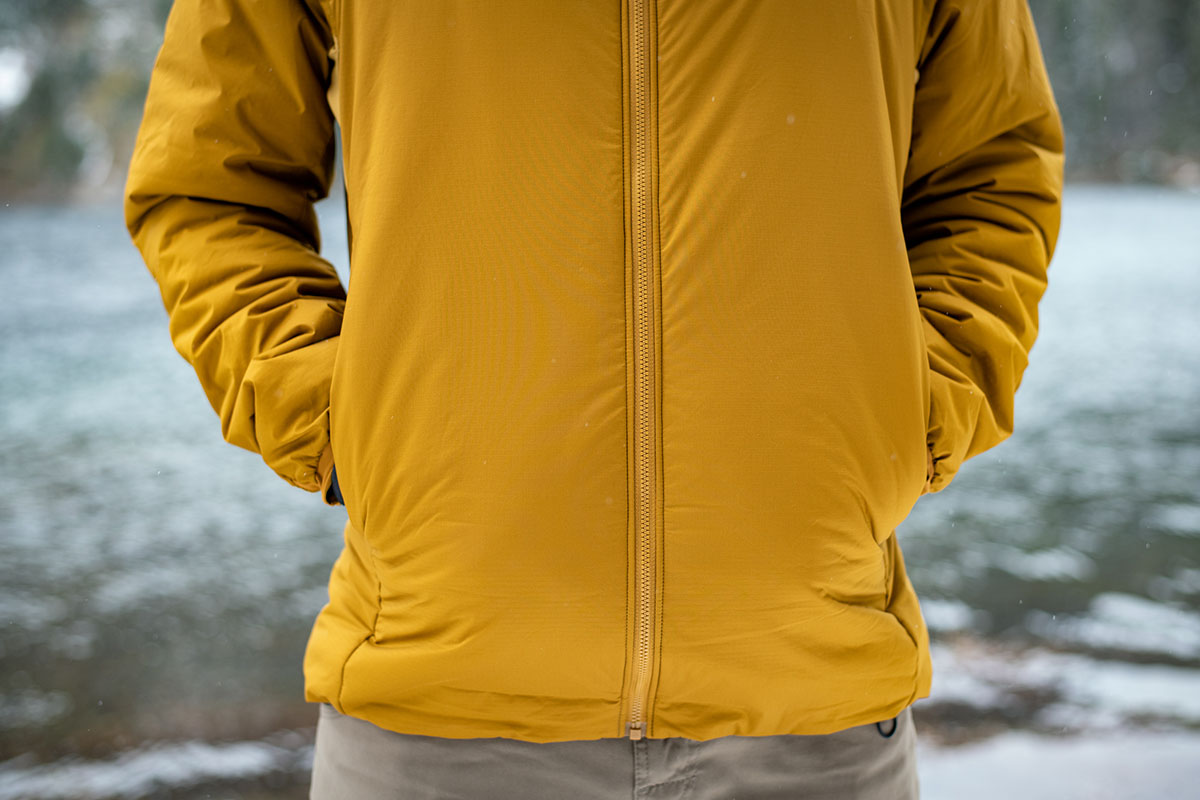 In fact, my main concern about the Atom AR's warmth is that it is too much jacket for many shoulder-season or mild-weather days. I've found the Atom LT Hoody—since updated to the very similar Atom Hoody—is more versatile as a midlayer for skiing. Even around town, I caught myself reaching for the LT unless temperatures were below around 40 degrees. On the flip side, the AR is a true cold-weather standout and viable down jacket alternative. For me, when worn under a t-shirt or long-sleeve baselayer for low-output activities or daily wear, the jacket's ideal temperature range is from the low 20s to low 40s. And its reasonably generous fit means it's easy to add a layer underneath for even colder days.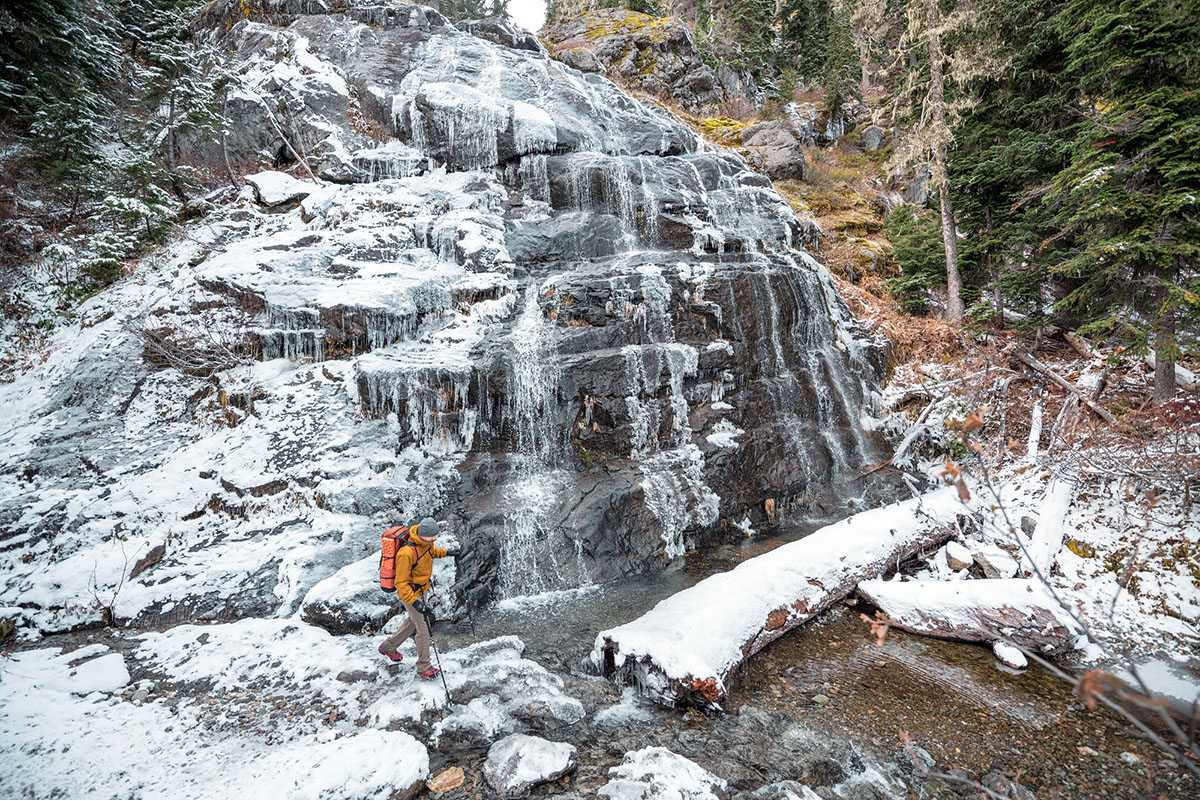 Weather Protection
Arc'teryx bills the Atom AR as either a standalone or midlayer jacket, and I think that's a fair designation. There are minimal stitches along the exterior, and unlike the lighter-weight Atom Hoody, the side panels are a standard nylon (the standard Atom's are fleece, which is an area of weakness in the wind). Combined with a moderately thick, 30-denier (D) outer fabric, the Atom AR has provided impressive wind protection. I did find myself grabbing my hardshell jacket when the snow really started to blow, but the Atom felt nearly windproof in light to moderate gusts (and the hood stayed nicely locked down).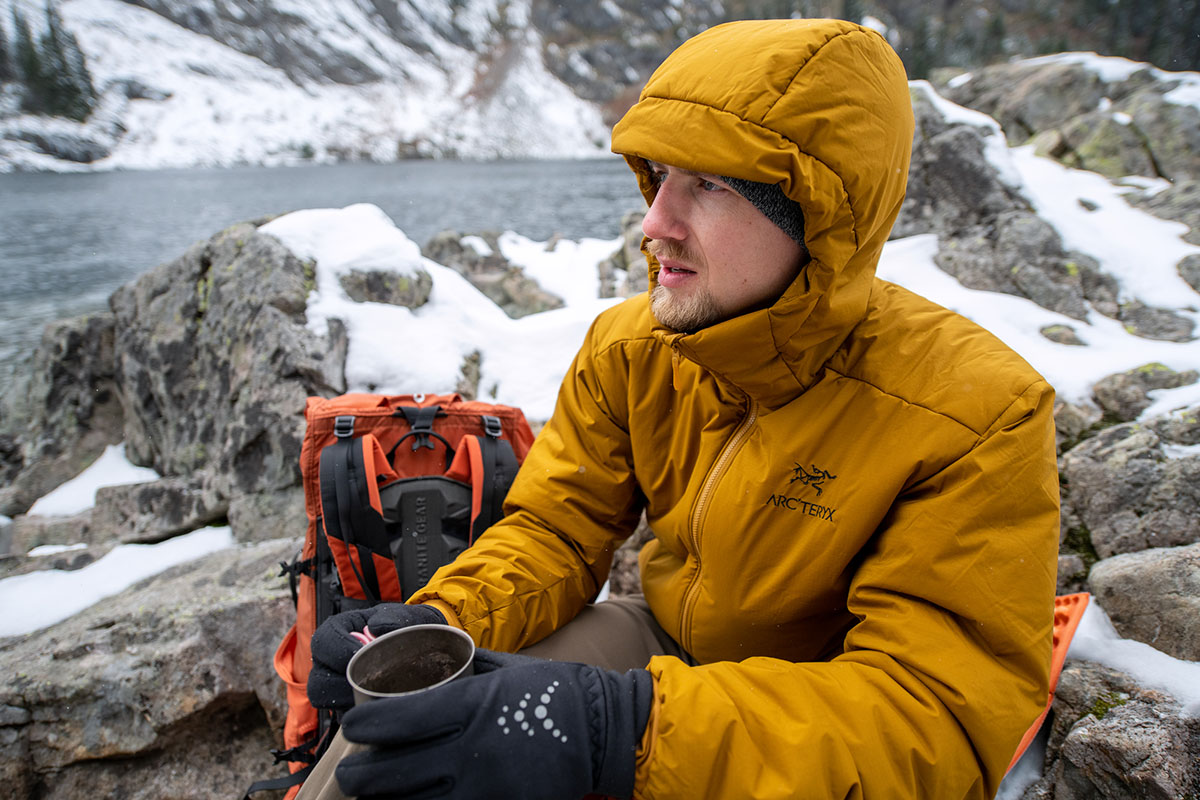 As expected from a synthetic jacket, the Atom AR is a good performer in the wet, too. The durable water repellent (DWR) coating on my jacket is still fresh, and it has easily shed powdery snow and a light wintery mix of sleet and wet snow. Additionally, thanks to its synthetic insulation, you get the assurance that the jacket will continue insulating if moisture happens to work its way through the exterior (unlike down, which will clump up and stop providing warmth). Of course, as with all non-waterproof jackets, I relied on a fully waterproof hardshell for addition protection for the descent while skiing and when the weather turned particularly nasty. And the Atom lacks the extra polyurethane coating that you get on a Pertex Quantum Pro shell (like Patagonia's Das Parka), but among the wider synthetic market, the Atom is a decidedly above-average performer.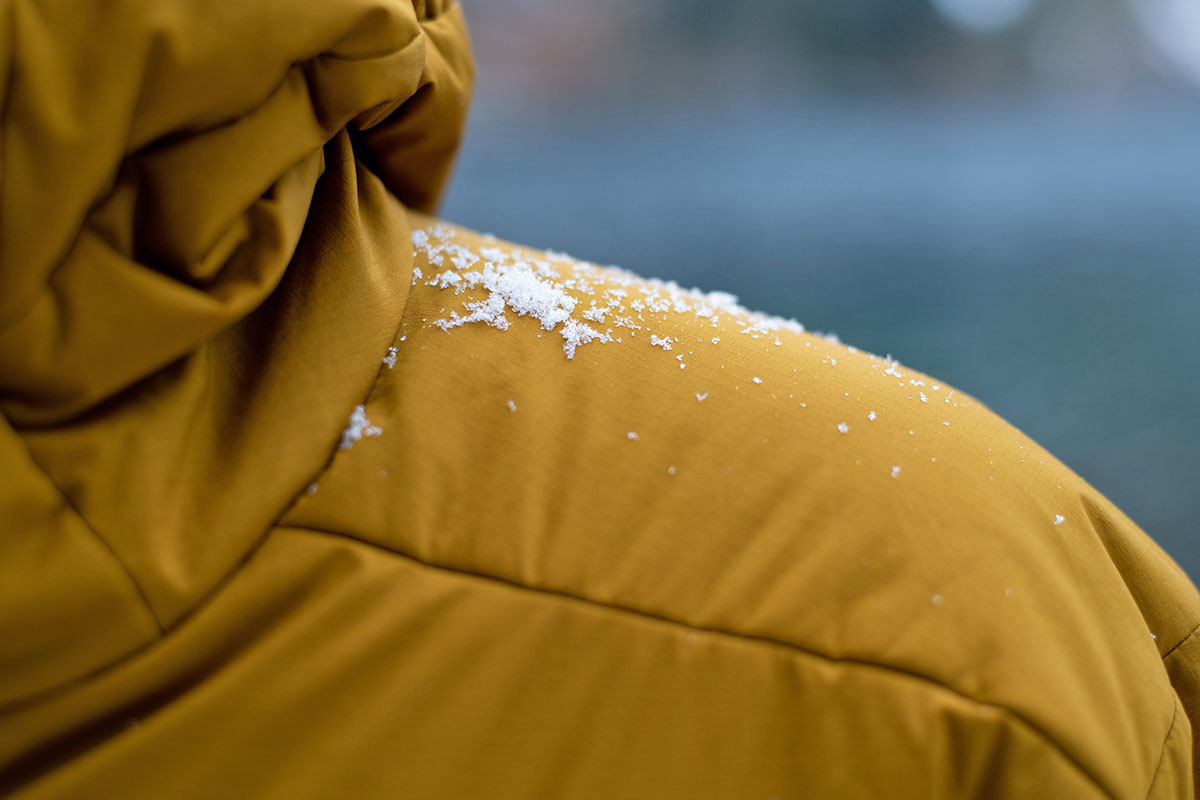 Breathability
Unfortunately, the emphasis on efficient warmth and moderate levels of protection translate to fairly disappointing breathability. As I touched on above, the Atom AR's warmth limits its versatility for higher-output uses (an issue it shares with many down jackets). Tested back-to-back with the Atom LT on a cold-weather hike, I had to put the AR in my pack until we stopped and I needed its superior insulation. And it's proven to be simply too hot for any substantial uphill climbs, even in sub-freezing temperatures.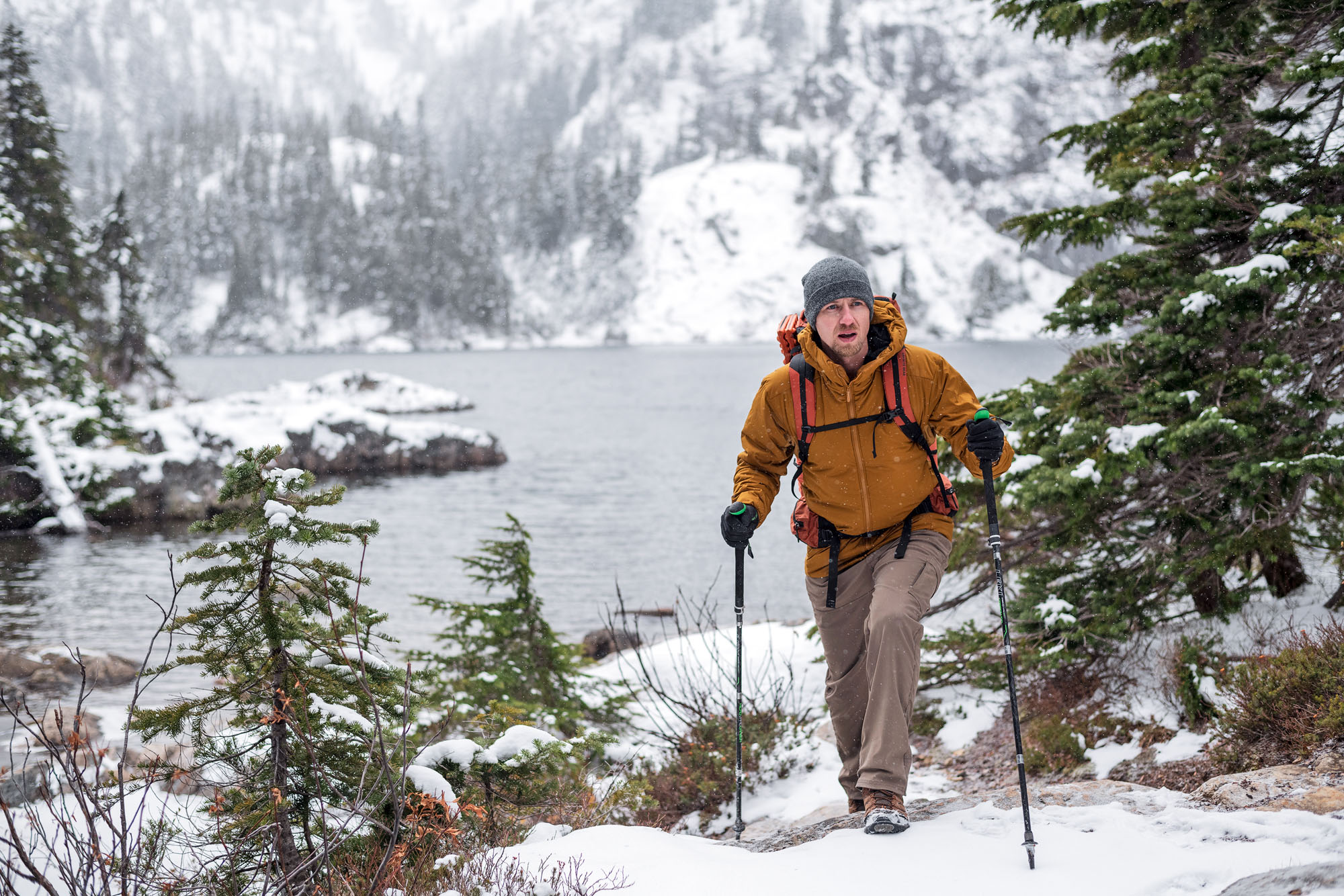 That said, Arc'teryx has incorporated a panel of their lighter-weight Dope Permeair fabric right under the arms to provide a small boost in breathability. And to be fair, I was able to wear the jacket for an extended stretch on the hike down and while downhill skiing. However, the fact remains that this is a very warm jacket that is reluctant to dump heat, and there are far better synthetic options on the market for those looking for a breathable build. Everything from Arc'teryx's own Proton series and standard Atom to Patagonia's Nano-Air are in a different class and better matches for high-output mountain uses.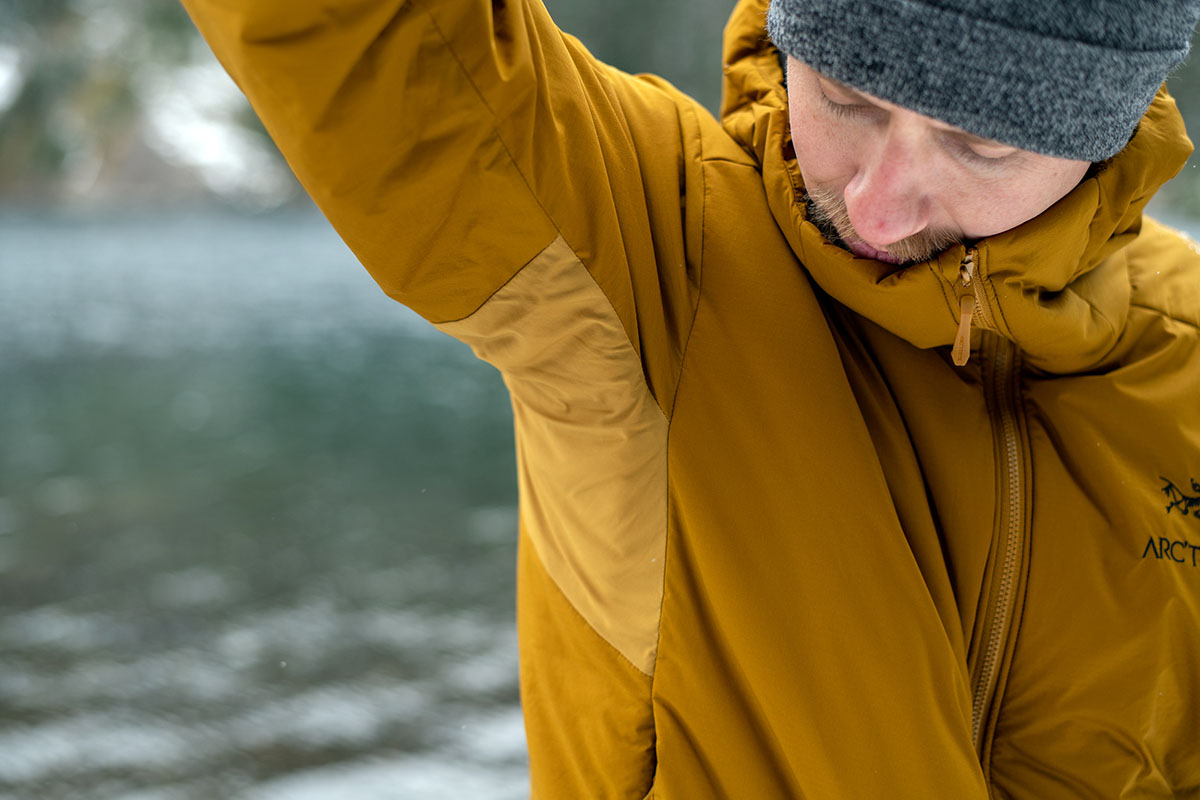 Weight and Packability
My men's medium Atom AR Hoody tipped the scales at 1 pound 0.6 ounces, which is just under its listed weight of 1 pound 0.8 ounces (note: The latest Atom Heavyweight shares the same weight spec). Relative to the warmth it provides, this is a pretty darn lightweight piece. Patagonia's Das Parka is one of its closest competitors with a winter-ready mix of 133g and 40g synthetic insulation in a reasonably light, 1-pound-3.6-ounce package. It's a similar story when compared with midweight down alternatives like the Rab Microlight Alpine (1 lb. 0.5 oz.) and Arc'teryx's Thorium Hoody (1 lb. 2.2 oz.). And as expected, the AR (and newer Heavyweight) is noticeably heavier than lightweight and less-warm synthetic models like the Arc'teryx Atom Hoody (13.1 oz.), Proton Hoody (14.1 oz.), and Patagonia's Nano-Air Hoody (14.1 oz.).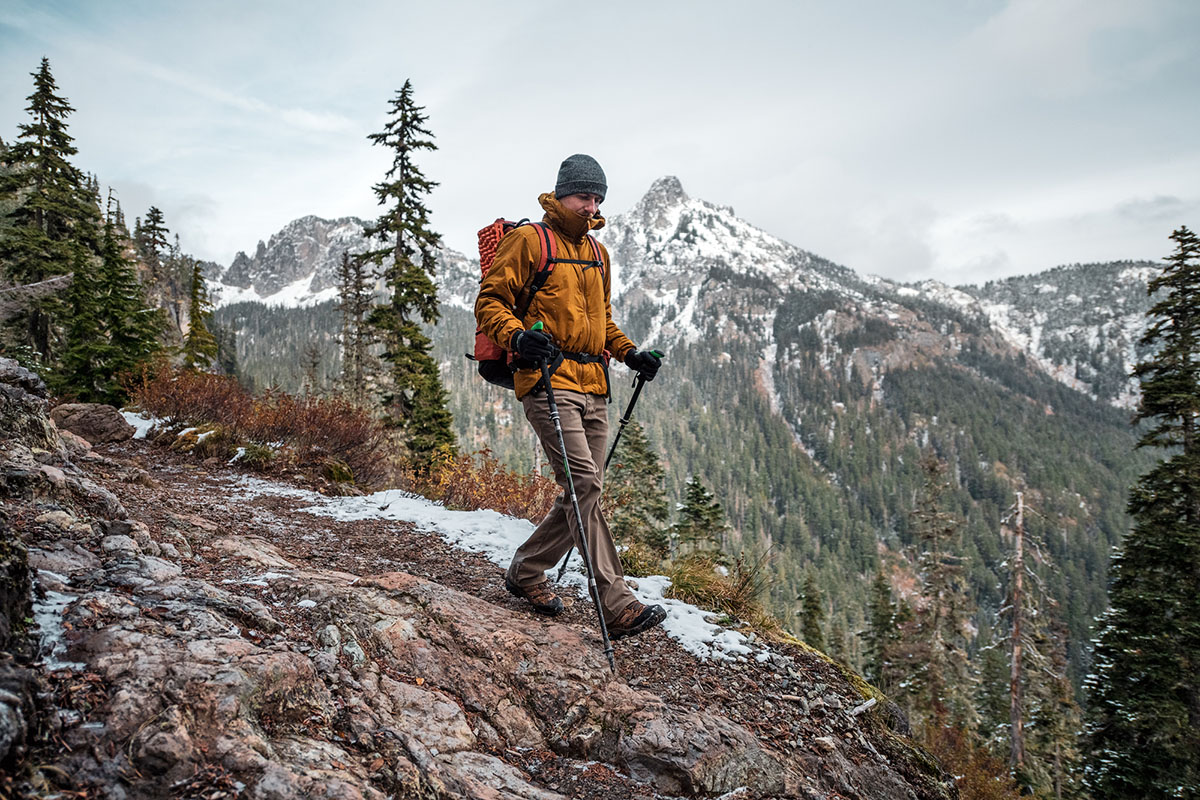 In terms of packability, the Atom doesn't include a stuff sack or dedicated pocket but can be rolled and compressed into its own hood. The size is pretty substantial—it's a bit bigger than an American football—but we've found it still packs down reasonably well into the corner of a ski backpack or hiking bag for shorter and less weight-focused day trips. If packability is a priority, however, we recommend either the down-mimicking Macro Puff or a true down alternative like Arc'teryx's Thorium or Cerium collections.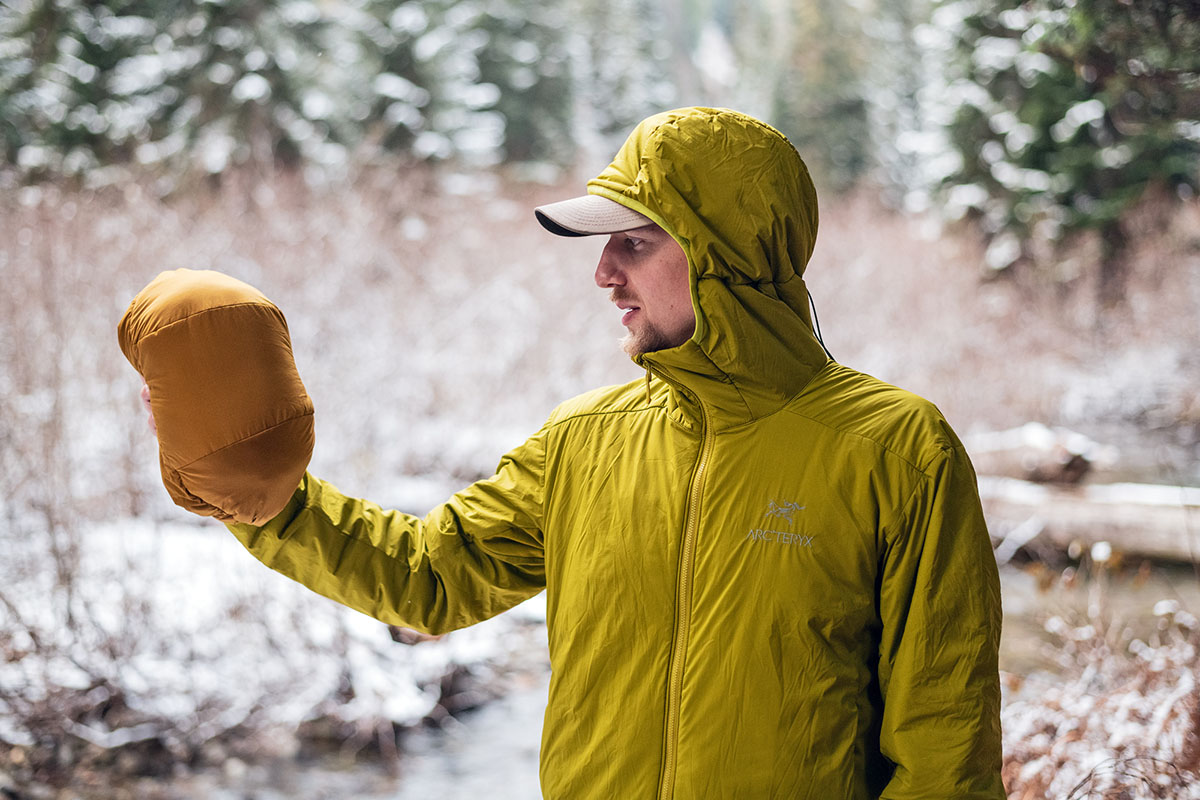 Comfort
I've spent a lot of time over the years wearing the extremely comfortable Atom LT, and I'm happy to report the AR provides similar levels of sleeping bag-like coziness. It's the kind of jacket that makes you happy to throw it on: The interior lining is smooth but noticeably supple—a far cry from the slippery feeling of many lightweight down or synthetic insulated jackets—and the lofty warmth and solid protection provide a nice barrier from the elements. And as expected from Arc'teryx, all the touch points are soft and thoughtfully designed. The cuffs have a nice amount of stretch but stay in place when you add or remove layers, there's fleece along the back of your hands when you dip them into the outer pockets, and even the shell fabric is reasonably soft and has a high-end feel (a plus because that shell material covers the inside of the collar).

Build Quality and Durability
For those unfamiliar with Arc'teryx gear, you pay a premium for the top-end build quality and materials—for reference, the past-generation Atom AR was $299, and the latest Heavyweight model is $350. I found the Atom AR delivered on those promises with shell and liner fabrics that balance durability and protection with comfort, and you also get premium touches like a stitched logo on the chest. Further, the main zipper is substantial and runs extremely smoothly, and Arc'teryx has incorporated their "speed bumps" into the top near the collar to keep it from unzipping while on the move. I'm also a fan of the zipper pulls, which have proven to be a great size for using both with gloved and bare hands.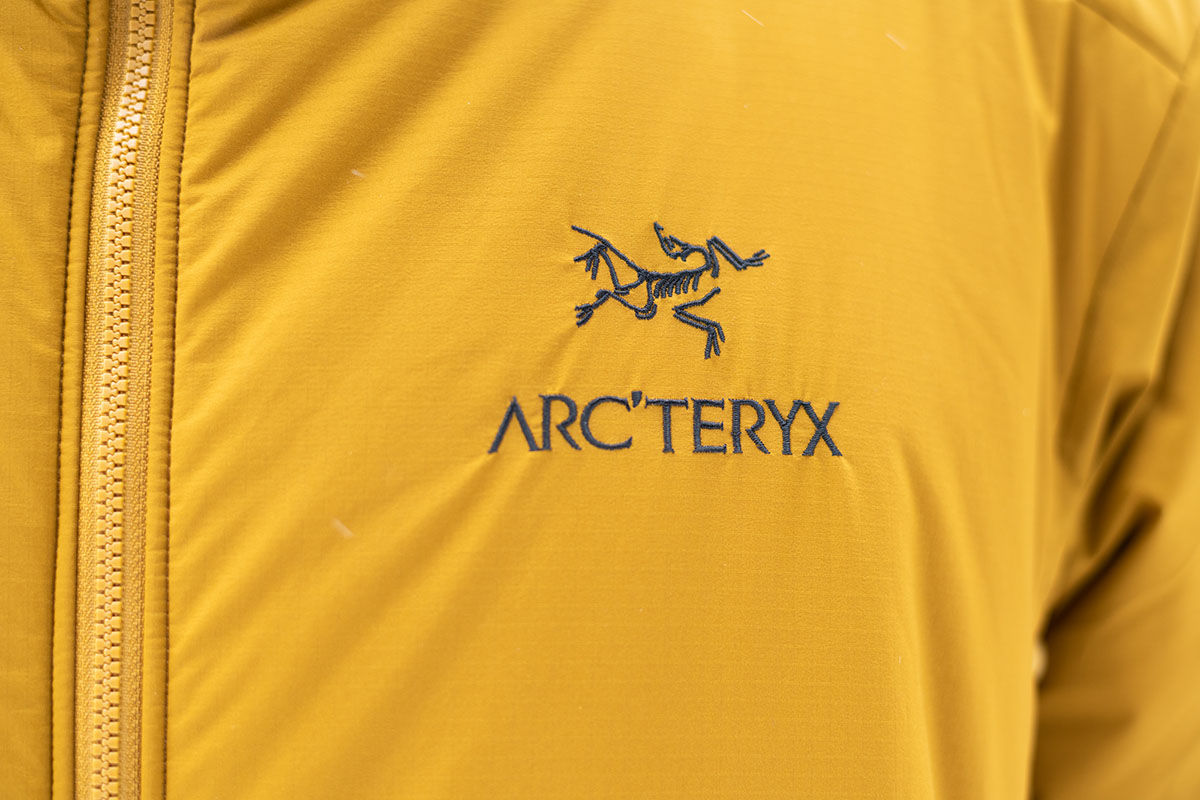 The shell fabric is 30D Tyono, which is a step up in thickness from the lighter Atom LT (and newer Atom Hoody) that uses the 20D variation of the material. In-hand, the jacket feels reasonably robust, although I still am somewhat careful with it around ski edges and sharper equipment. In other words, the well-built and decently tough design should hold up well over the long term provided you exercise reasonable caution.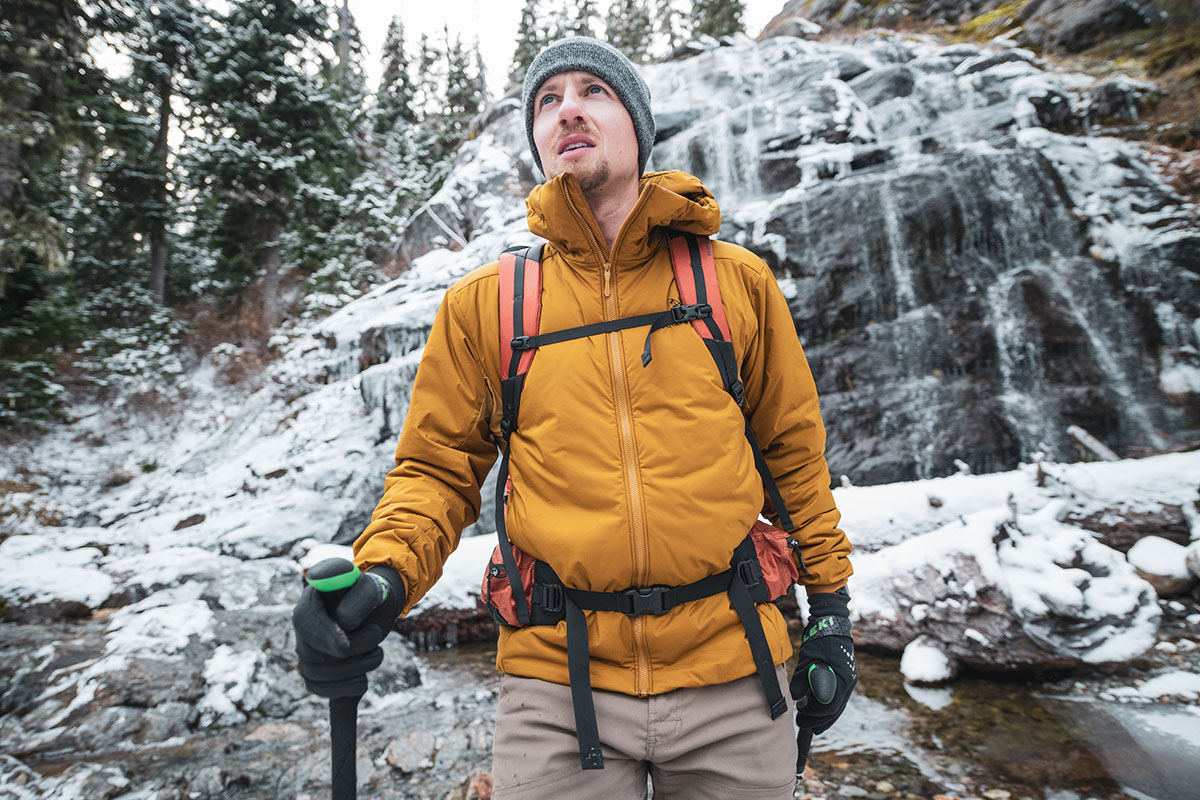 Features: Hood and Pockets
Arc'teryx made the past-generation Atom AR in both hooded and non-hooded variations (and the same goes for the latest Heavyweight collection), but considering its cold-weather prowess, the hoody will be the best option for most. The hood is large for an insulated piece—Arc'teryx lists it as helmet-compatible, although it's only big enough to fit over a low-profile climbing helmet and not a bulkier ski helmet. The good news is that it fit nicely even when I was only wearing a beanie or hat thanks to the highly adjustable design: While most alternatives stick to a single drawcord at the back, the Atom offers hardshell-like customization with a cinch at the back of the neck and an adjustment at the front on each side of the face. It's easy to tweak the fit all around (the hidden buttons at the front for releasing the drawcord are a nice touch), and I've found the hood stays locked in place even in wind. Plus, a small bill at the front adds structure and protection against moisture dipping onto your face.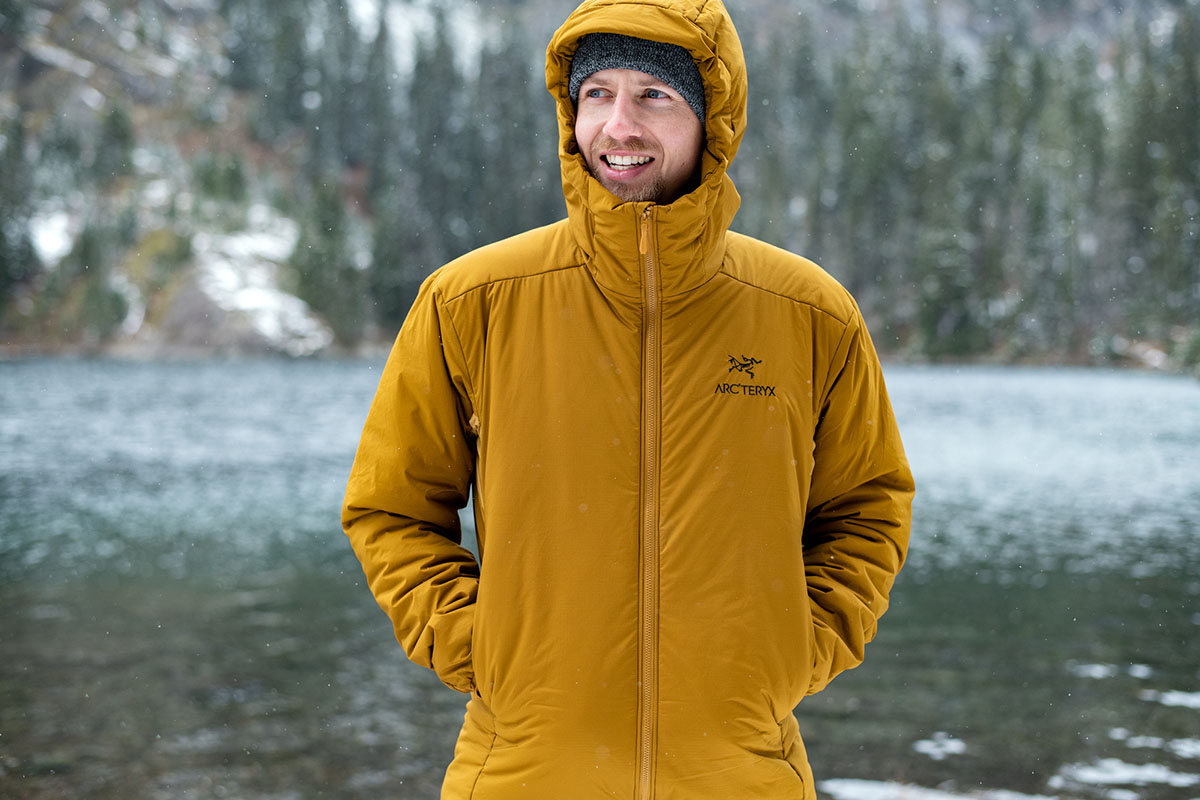 Organization is another strong suit of the Atom AR's design. For a jacket that will see mixed use as a mid or outer layer, you get two hand pockets and an interior zippered pocket at the left chest. All three are generously sized—I could easily fit my iPhone 11 and wallet into the chest pocket. It's worth noting the hand pockets sit low enough to be partially blocked by a climbing harness or pack hipbelt, but the trade-off is that they're a comfortable height for stuffing your hands into (a plus for everyday wear). And as I mentioned above, you get a fleece backing on one side of the pockets, so the backs of your hands get an extra dose of soft warmth.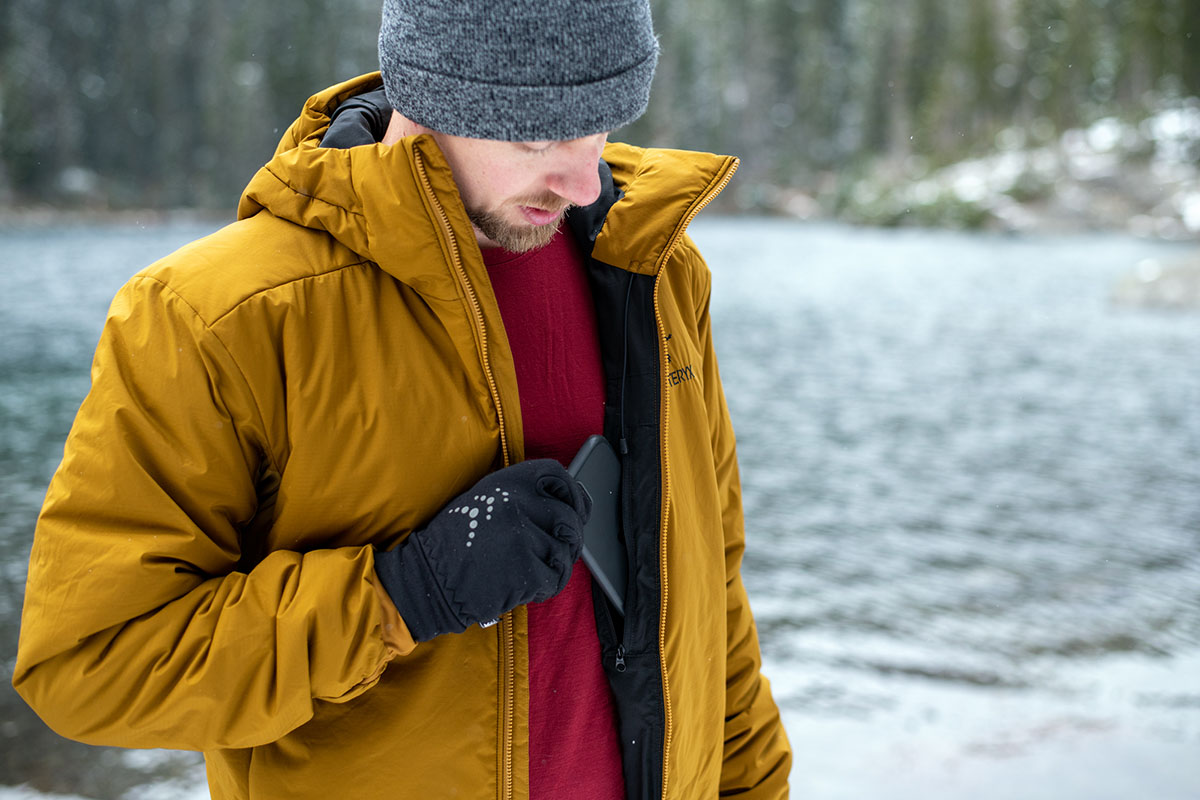 Fit and Sizing
Arc'teryx jackets consistently offer some of our favorite fits, and the Atom AR has a very versatile "regular" cut (note: Despite having the same fit designation, the newer Atom Heavyweight has an updated fit that's baggier in the midsection). For reference, I'm 5'9" and 155 pounds, and the men's medium was a great choice. Even though it's not as snug or athletic-fitting as the "fitted" Atom Hoody, mobility wasn't an issue, and I didn't experience any problems with it riding up or the sleeves being too long. The rest of the cut nicely matches the jacket's intended use: It's a little roomier than the trim-fitting Atom, which gives you the option to add a second baselayer or light midlayer underneath in particularly frigid conditions (you can even throw the AR on over a hardshell in a pinch if needed).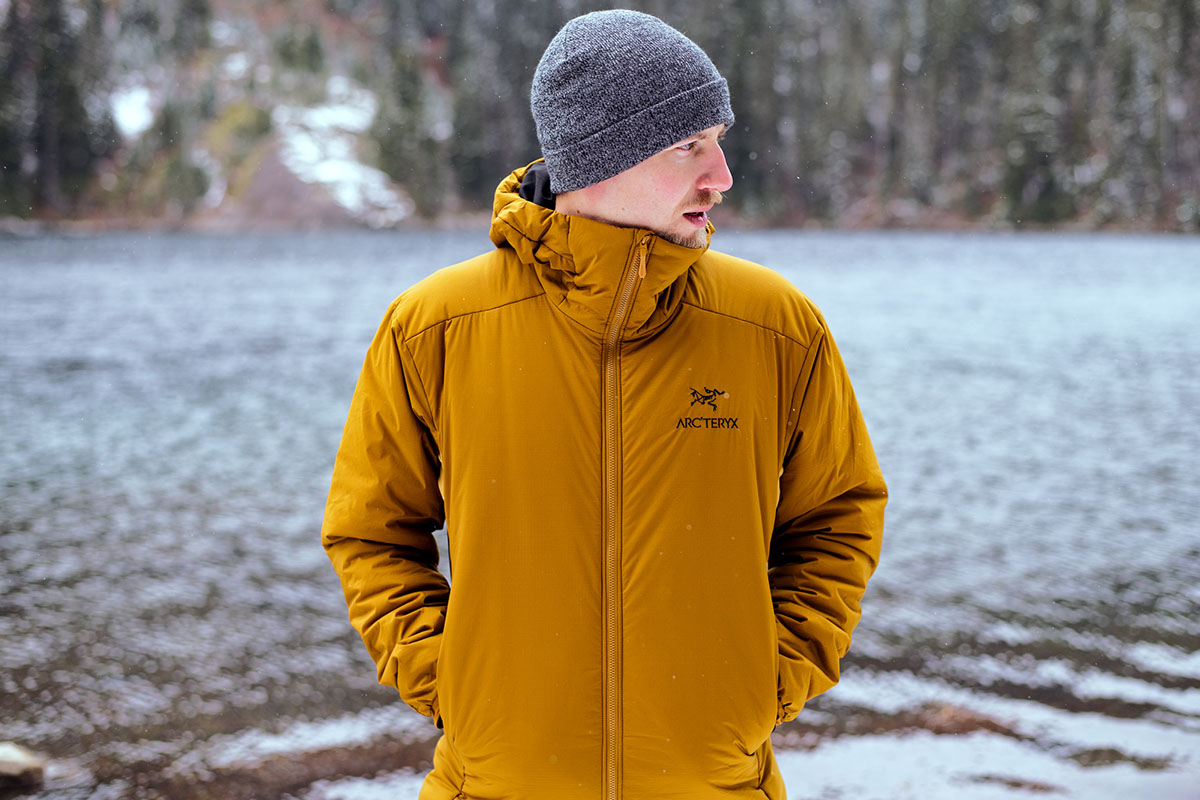 Sustainability
Arc'teryx has made notable strides on the sustainability front in recent years, and the Atom AR Hoody is a nice reflection of their progress (note: The newer Atom Heavyweight shares the same measures). Namely, the jacket uses bluesign-approved fabrics that have been deemed safe for the environment, workers, and consumers. The lining fabric is also dope-dyed—a process that requires less energy use and water consumption than standard dyeing practices. We hope to see the addition of recycled materials in a future update, but we nevertheless appreciate the steps Arc'teryx has taken thus far to improve their lineup.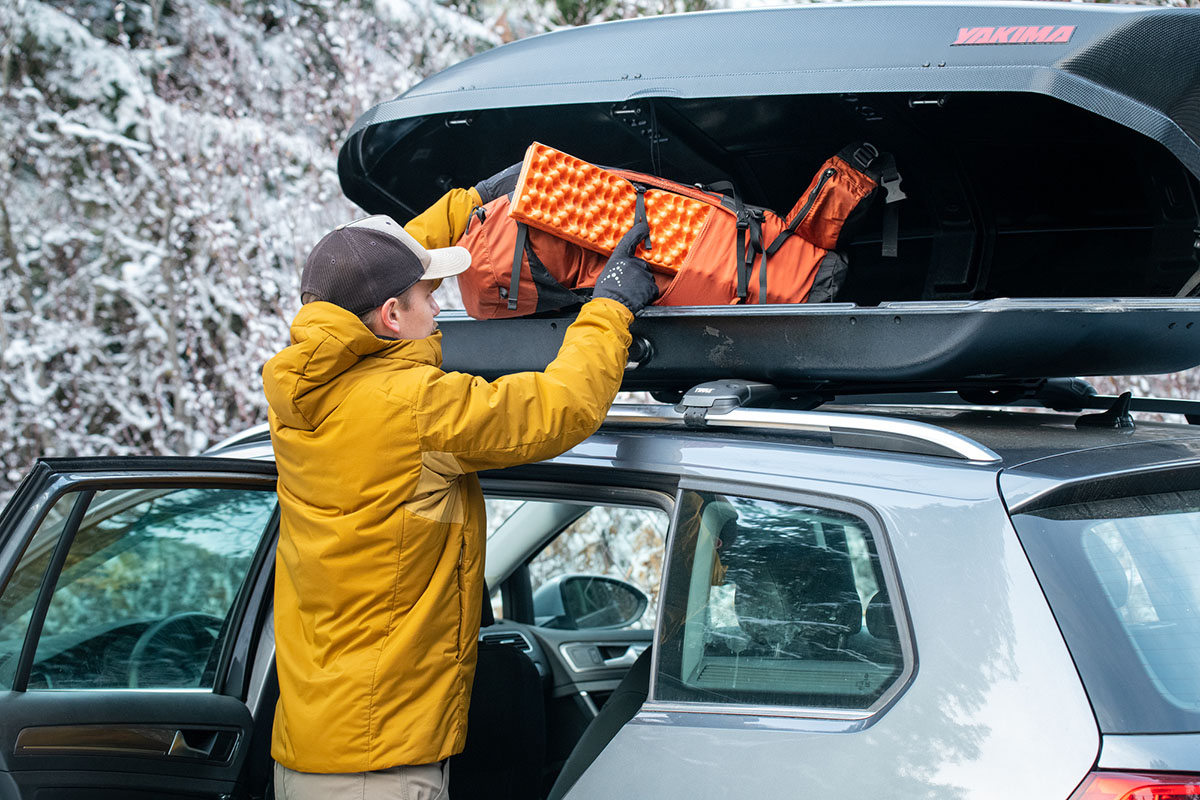 Other Versions of the Arc'teryx Atom
As we mentioned above, we reviewed the past-generation Atom AR for this review, which is now called the Atom Heavyweight. The latest design is available in both men's and women's models, which retail for $300. The women's hoody is largely identical to the men's version but comes in different colorways and weighs slightly less at 13.9 ounces. If you don't want or need a hood, the Atom Heavyweight is also sold in a non-hooded option for men that costs $50 less than the hoody and checks in at 14.8 ounces. Zooming out to the wider Atom lineup, Arc'teryx offers the standard Atom in several styles, including hooded and non-hooded options for men and women plus a vest, women's crew-neck pullover, and women's shirt/jacket hybrid called the Atom Shacket. Finally, the Atom Lightweight (women's) and SL (men's)—both sold in hoody and vest models—are the least insulated of the bunch with 40g Coreloft.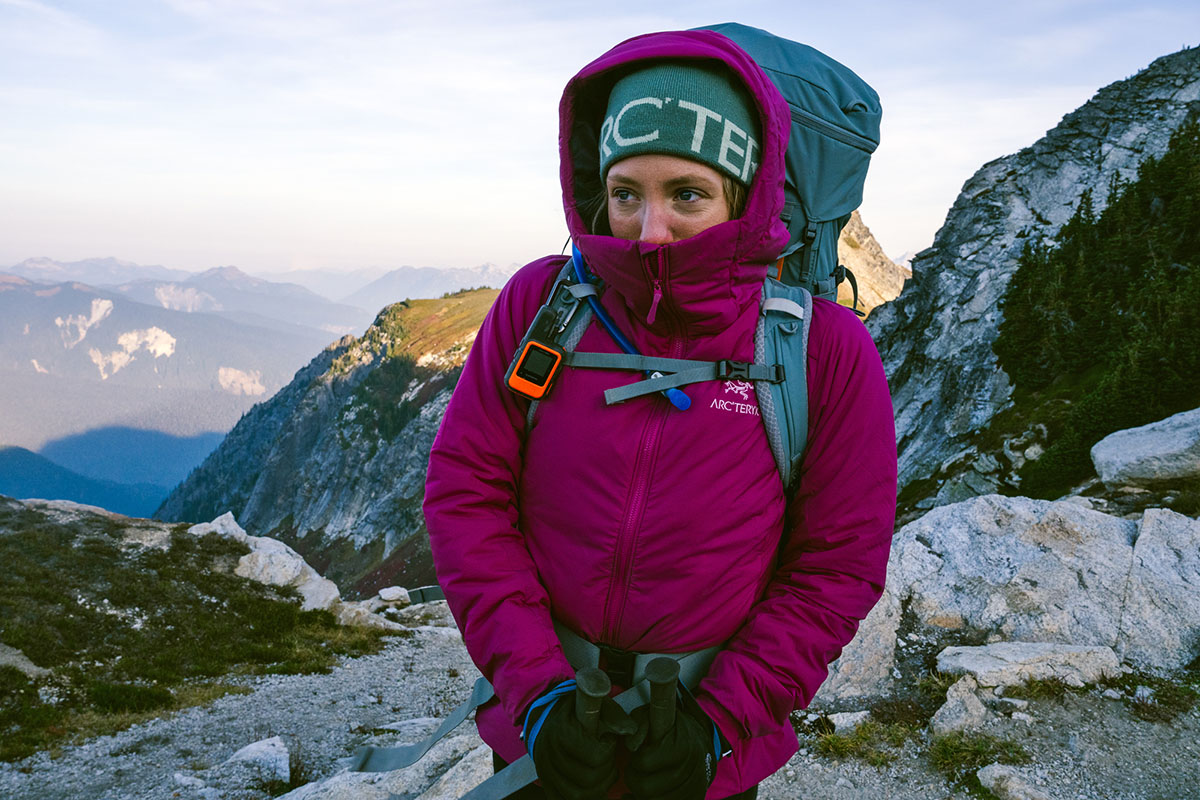 What We Like
One of the most comfortable synthetics we've worn to date: This jacket is supple against the skin, and all touch points are soft and thoughtfully designed.
The Atom AR is a true cold-weather standout and a viable down jacket alternative, especially when you consider its reasonable 1-pound weight.
Sturdy shell and synthetic insulation make it a safer bet than a down jacket around snow and in light to moderate precipitation.
As expected from Arc'teryx, build quality is top-notch.
Accommodating fit that is roomy enough to layer underneath but with ample mobility for active use.

What We Don't
Too warm for shoulder-season and mild-weather days.
Breathability falls short for high-output uses, even in sub-freezing temperatures.
Doesn't include a stuff sack or pocket, and it doesn't compress very small.


Comparison Table
The Competition
Most synthetic jackets on the market utilize 60g fill, but Arc'teryx's Atom Heavyweight stands out as an exceptional cold-weather piece. One of the Atom's closest competitors is Patagonia's Das Parka, which also offers winter-ready warmth in a slightly heavier package (1 lb. 3.6 oz.). In comparing the two, the Patagonia is a little warmer with a mix of 133g and 40g PrimaLoft Gold Eco insulation but less versatile than the Atom (and also far more expensive at $449). In particular, the Das' 10D shell is noticeably thinner, although the Pertex Quantum Pro fabric is stronger than expected and topped with a coating for abrasion resistance (it also gives the Das the clear edge in wet-weather protection). In addition, you get performance-ready features like a two-way front zipper, internal elastic cuffs that double as thumb loops, an alpine helmet-compatible hood, and a stuff sack for packing the jacket down. All told, the Das has its appeal for cold belays, breaks while skiing, and other low-output activities, but we prefer the softer, cozier, cheaper, and tougher Atom.
As we touched on above, the Atom Heavyweight's lighter-weight sibling is the Atom Hoody, which was formerly the Atom LT. The most discernible difference here is the step down in warmth: The Atom uses 60g Coreloft Compact, and it's also the less durable of the two with a thinner 20D shell. However, the standard Atom wins out in breathability with less insulation and more air-permeable fleece side panels. And as expected, weight goes down to 13.1 ounces. In the end, a final decision between the two Atoms will come down to expected temperatures and conditions: For shoulder-season and mild-weather outings, we'd save with the standard model; for use in truly frigid weather, we'd go with the Heavyweight.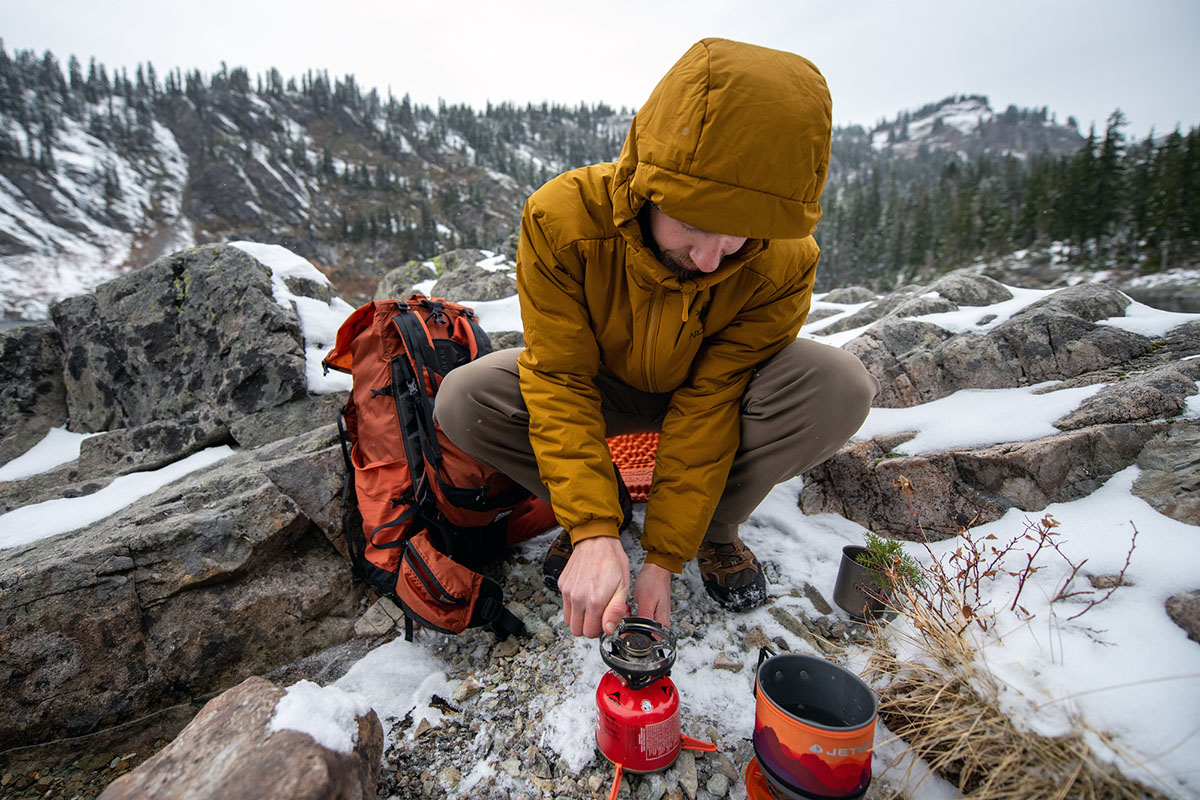 For skiing, backpacking, and other high-output uses, Arc'teryx's Proton series is a winner in the breathability department. Their Proton Hoody (previously called the Proton LT) costs the same as the Atom Heavyweight at $350 and delivers on its air-permeability promises: This jacket regulates temperature well and keeps you cool when working hard. It's also impressively stretchy and more mobile than the Atom with 16% elastane in the build. The biggest trade-offs are in warmth and fit: The Proton uses less insulation (80g Coreloft Compact throughout with 60g in the hood), and its trim cut isn't as layering-friendly (this is of course a positive for activities like skinning). We like both jackets for their intended uses, and it's up to you whether breathability or warmth matters most.
Down is the ultimate insulator in true winter conditions, and Arc'teryx's Thorium Hoody—the successor to the Thorium AR—is a nice alternative for those who don't plan to head out in inclement weather. The Thorium offers slightly more warmth with a mix of 750-fill down and Coreloft in moisture-prone areas, is reasonably durable with a 30D shell, and is impressively comfortable and soft against the skin. Weight jumps a bit to 1 pound 2.2 ounces, but the Thorium is the more packable piece given its construction and use of lofty down. If you need the wet-weather assurance of synthetic, the Atom Heavyweight wins out—at a much cheaper price point to boot. But it's hard to beat the Thorium's premium warmth for the weight, which synthetics just can't match.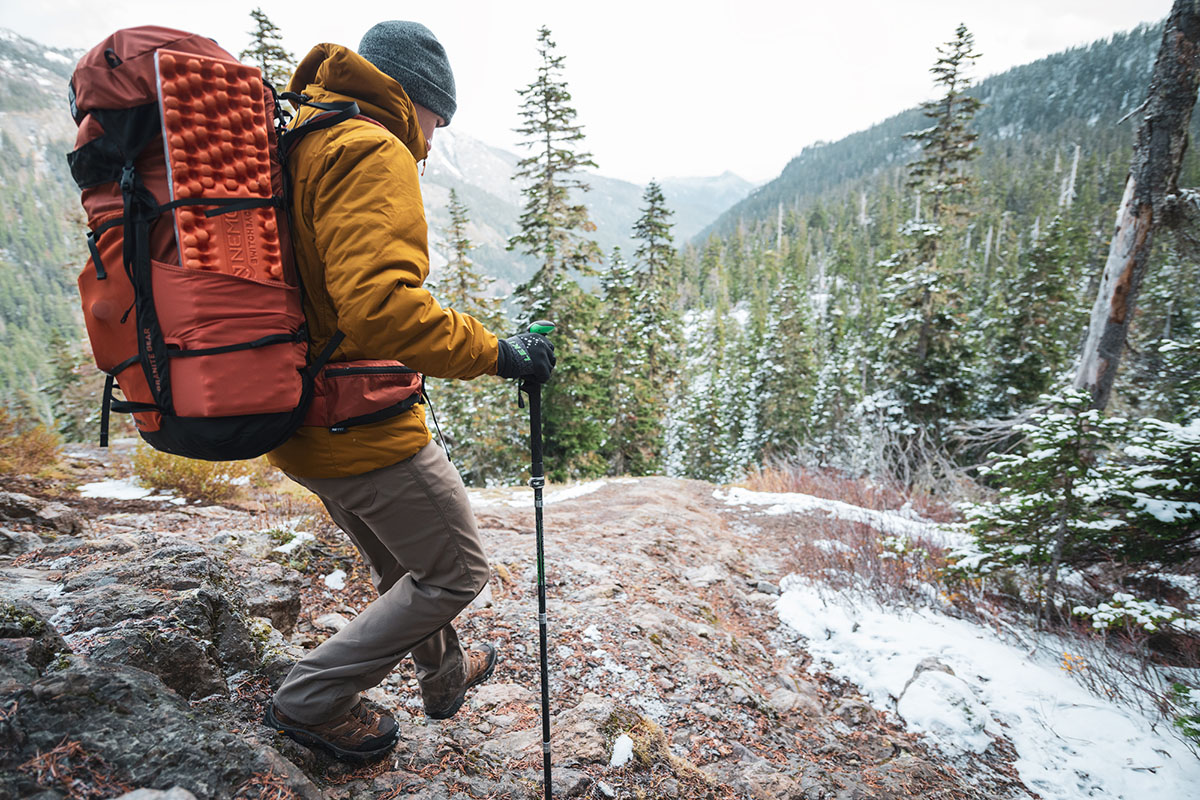 Finally, for a step up in protection for serious winter adventures, Rab's Nebula Pro is an intriguing alternative. The Rab is considerably heavier than the Atom Heavyweight at 1 pound 6.9 ounces but more protective with a Pertex Quantum Pro shell, and it's the more specialized piece with a two-way main zipper for belaying (like the Atom Heavyweight, its hood is also helmet-compatible). However, given its targeted feature set and baffled design, the Rab is the more focused and less everyday-friendly option. For mixed around-town and outdoor use, the Atom Heavyweight is the more versatile synthetic but will cost you a significant $110 more.
If you're thinking about buying gear that we've reviewed on Switchback Travel, you can help support us in the process. Just click on any of the seller links above, and if you make a purchase, we receive a small percentage of the transaction. The cost of the product is the same to you but this helps us continue to test and write about outdoor gear. Thanks and we appreciate your support!
Depending on the seller, most products ship free in the United States on orders of $50 or more. International shipping availability and rates vary by seller. The pricing information on this page is updated hourly but we are not responsible for inaccuracies.
Read More From Switchback Travel