Arc'teryx Thorium Hoody
Price: $450
Weight: 15.9 oz. (women's small)
Fill: 5 oz. of 750-fill down; 80g & 140g Coreloft
What we like: Durable and protective enough to function as either a midlayer or standalone piece; looks the part for both outdoor and everyday use.
What we don't: Expensive and relatively heavy for a down jacket.
See the Women's Thorium Hoody  See the Men's Thorium Hoody
Arc'teryx's Thorium AR Hoody stood out for its versatility and effective balance of warmth and protection, and the upgraded Thorium Hoody carries the torch. In addition to a sizable sustainability bump, the latest model packs in more down, has a helmet-compatible hood, adds two interior dump pockets, and includes a two-way main zipper—all for around the same weight. We recently put the retooled women's hoody to the test in British Columbia and came away with very few complaints. It's on the pricier and heavier end of the down jacket spectrum but looks the part for both everyday and performance use and features the superior build quality and clean styling we've come to expect from Arc'teryx. Below we break down our experiences with the Thorium Hoody. To see how it stacks up to the competition, see our articles on the best down jackets and best women's down jackets.
 
---
Table of Contents
---

Performance
Warmth
With a mixture of 750-fill-power goose down for warmth and Coreloft synthetic insulation for wet-weather performance, the Arc'teryx Thorium Hoody has done impressively well in the cold and wet Pacific Northwest. This hybrid construction—known as Down Composite Mapping—is Arc'teryx's way of mixing the best of both worlds: 80- and 140-gram (g) synthetic insulation can be found in the moisture-prone areas of the jacket like the shoulders and cuffs, while warmer and more insulative down is used in the sleeves and around the torso. In terms of fill weight, my women's small contains a healthy 5 ounces of down, which is a considerable 1.3 ounces more than the past-generation Thorium AR and translates to a noticeable boost in both warmth and loftiness. Combined with the synthetic insulation that retains its insulating power when wet, the Thorium has kept me impressively cozy and well protected from blasting winds and pelting snow in the Canadian backcountry.

Weather Protection
Down jackets aren't often lauded for their protectiveness in inclement weather, but this is where I think the Thorium shines most: It's not only a great midlayer, but also a pretty capable standalone piece. The face fabric is matte-finished nylon with a durable water repellent (DWR) coating, which has held its own in heavy rain and snow with very little wetting out. The hood did soak through a bit, but given its synthetic insulation, it remained lofty and warm. Wind protection is similarly impressive: No gusts have seeped through the jacket's baffles, and the dual hem adjusters make it quick and easy to seal out drafts at the waist. Finally, the Thorium has a higher collar than its predecessor, which is great for tucking my chin into on particularly bitter and blustery days. To be sure, the Thorium can't replace a fully waterproof rain jacket or hardshell in heavy and sustained rainfall, but it's perfectly capable of fending off light to moderate precipitation.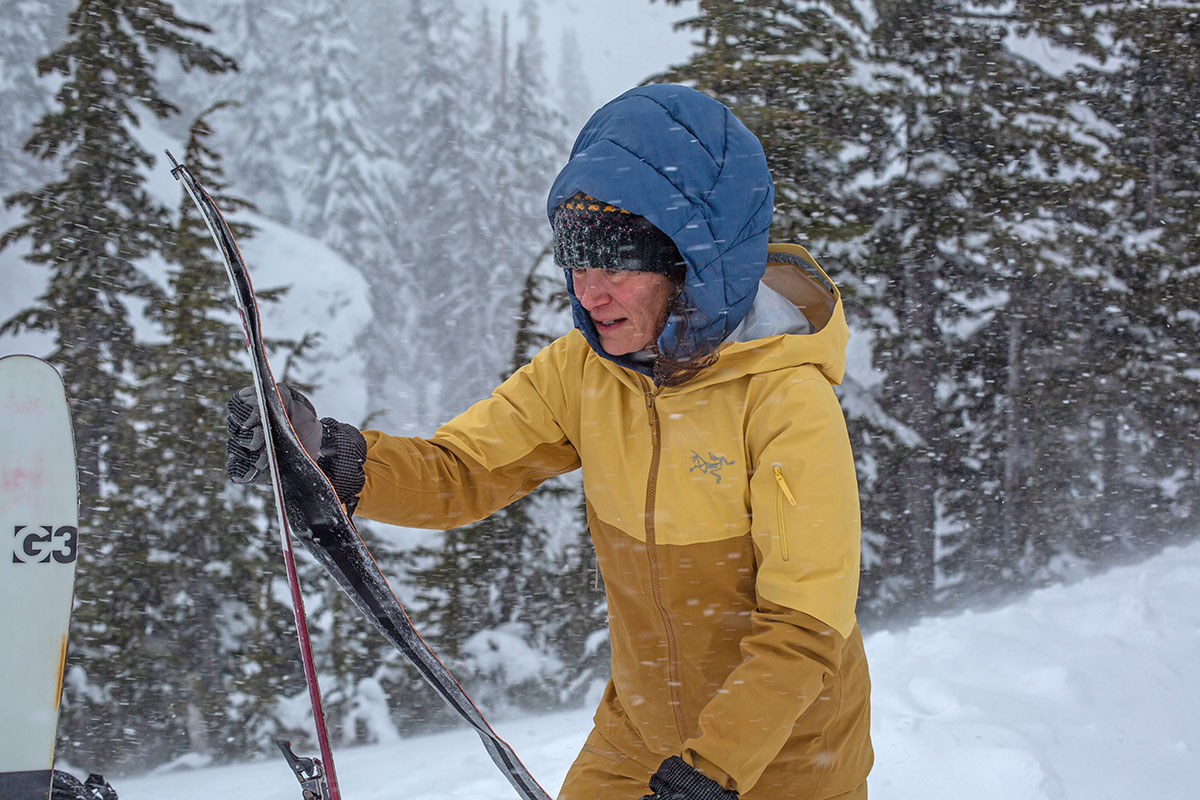 Weight and Packability
My women's size small Thorium clocked in at 15.9 ounces on my scale, which is just under Arc'teryx's advertised weight of 1 pound even. Though not ultralight by any means—my Feathered Friends Eos Down Jacket and Arc'teryx Cerium Hoody easily undercut it at 10 and 10.2 ounces, respectively—the Thorium is reasonably light given its level of warmth and the fact that it doubles as an outer layer, and I haven't once hesitated to throw it in my ski pack. Among midweight competitors, it's a little heavier than the performance-oriented Patagonia Fitz Roy Down Hoody (14.8 oz.) while clocking in lighter than more casual designs like the Outdoor Research Coldfront Down Hoodie (1 lb. 5.2 oz.).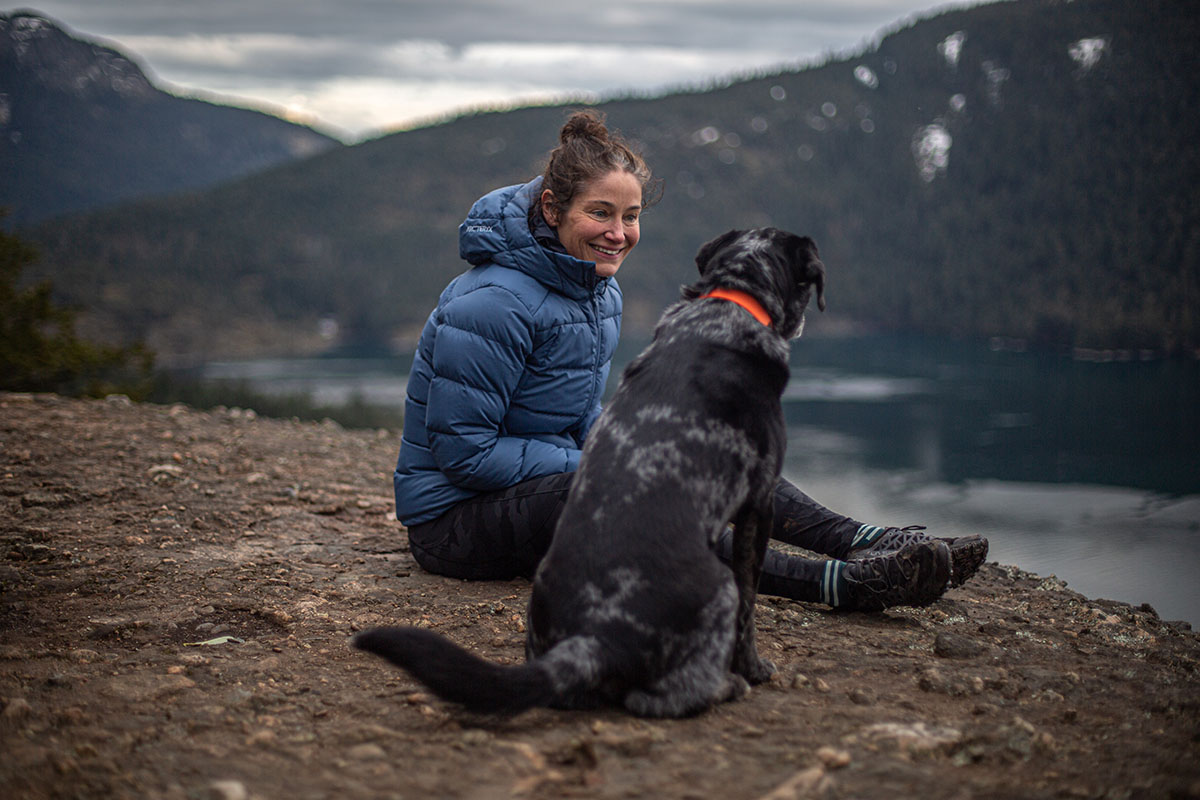 In terms of packability, the Thorium Hoody stuffs down to about the size of a cantaloupe in its stuff sack, which is respectable for a jacket that contains synthetic insulation. For those with space constraints, it's possible to get the package even smaller by using a dedicated compression sack (sold separately). To be sure, the Eos or Cerium are better options for the fast-and-light crowd, but personally, I feel the Thorium's noticeable increases in weather resistance and durability (more on this below)—not to mention the sizable bump in warmth—are worth the extra ounces.

Key Features
StormHood
The Thorium Hoody boasts Arc'teryx's StormHood, which is one of our favorite designs on the market when it comes to functionality and adjustability. With a single pull at the back of the hood, you adjust evenly around the sides and back of the head. And unlike the prior version, the latest design is helmet-compatible and comfortably fits over both ski and climbing lids. It also has noticeably more insulation and loft than the Thorium AR's hood, which was low-profile enough to fit underneath a helmet, and the brim extends farther to deflect precipitation away from the face. When cinched down, the hood stays put even in strong winds, and the slightly elasticized piping along the aperture sits comfortably and snugly against my face. Finally, as I touched on above, since the hood is insulated with synthetic Coreloft, it retains its loft and insulating abilities even when wet.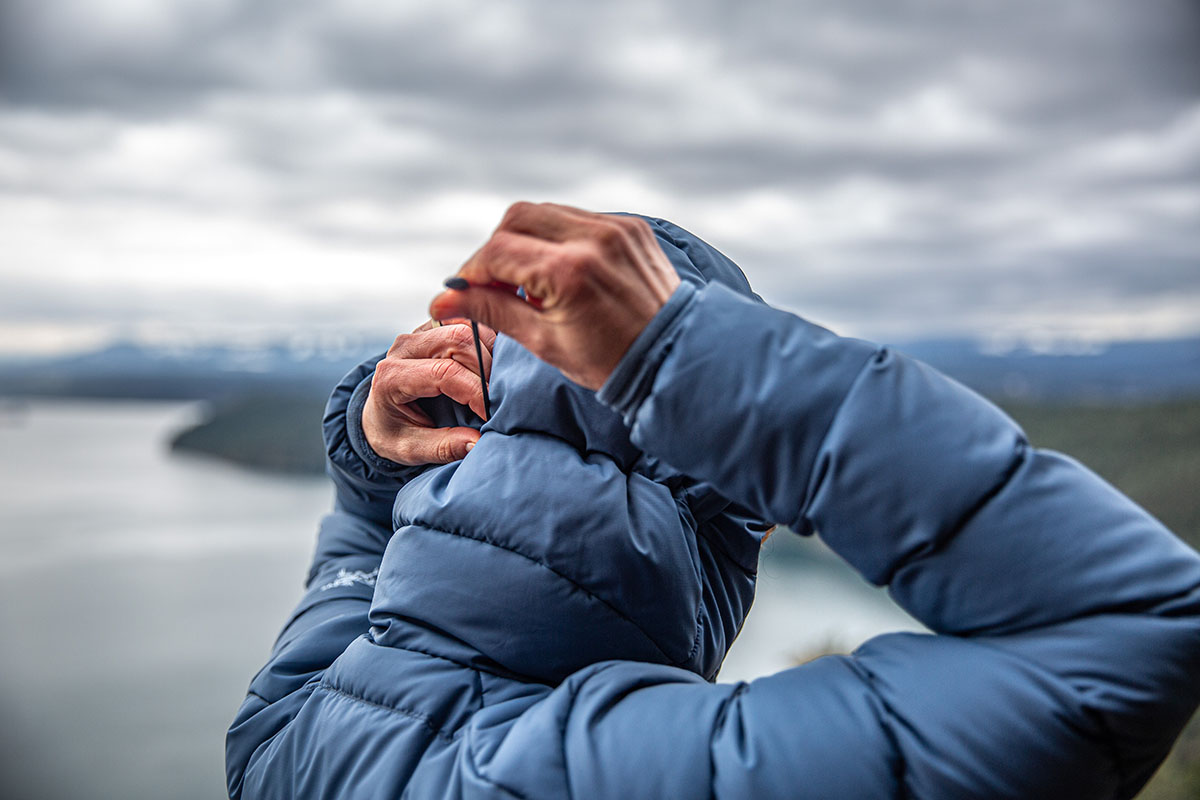 Pockets and Zippers
The Arc'teryx Thorium Hoody comes equipped with five pockets: two zippered hand pockets, an internal chest pocket (which also contains the stuff sack), and two interior dump pockets that are new to the latest model. Although they have corded zipper pulls, the hand pockets are "concealed"—apart from the pull tabs, the pockets are barely noticeable and blend in with the rest of the jacket. I assume this was an aesthetic choice, but I find that it makes the zippers difficult to close, as they must be pulled at a precise angle and work best if a second hand holds the bottom taut. Personally, I would prefer a more traditional design, but the hand pockets themselves are nicely sized and offer ample warmth. The internal chest pocket is large enough to hold important items like keys or a wallet, while the dump pockets are great for stashing gloves, a beanie, or even climbing skins.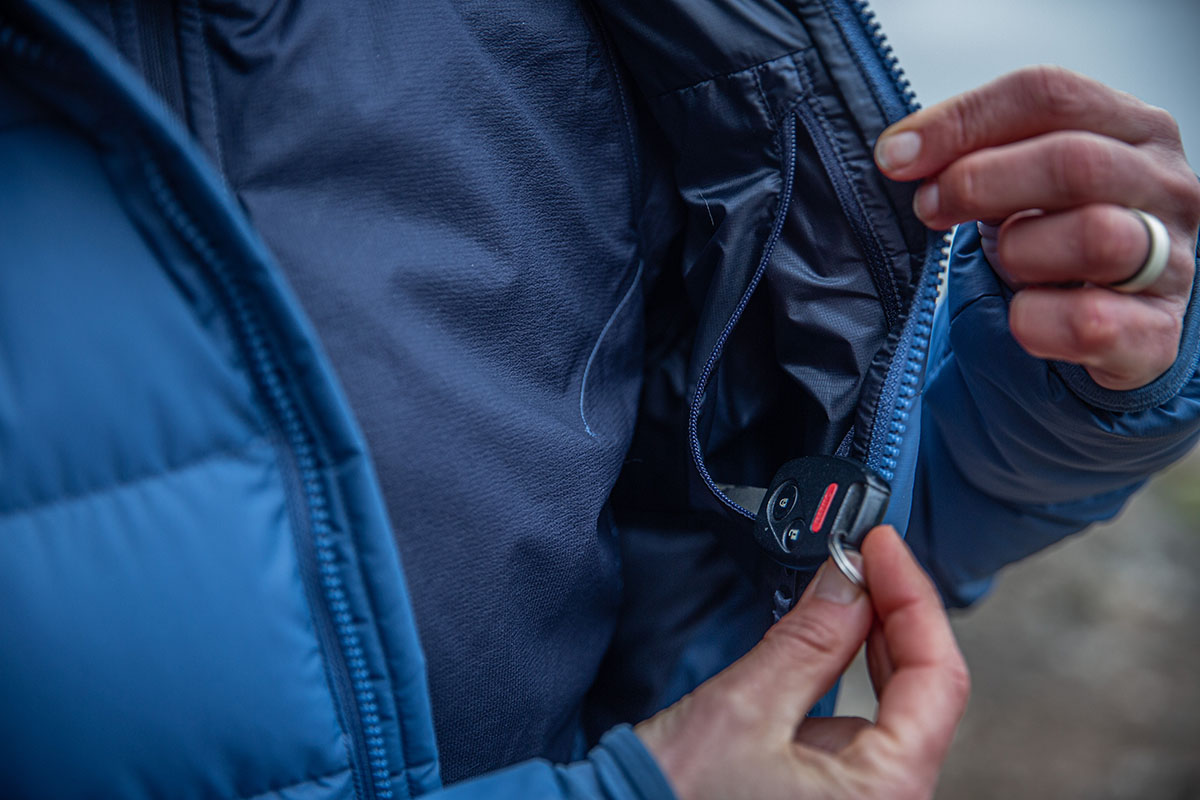 Along with the two dump pockets, Arc'teryx also added a two-way main zipper to the latest Thorium Hoody. I was a little surprised to see this given the Thorium's more casual slant—two-way zippers are common among alpine-ready performance pieces—but think it's a worthwhile upgrade. In addition to allowing for extra airflow if needed, the zipper adds versatility for belaying (you can access a climbing harness by unzipping from the bottom) and makes it easier to sit down or bend over without the jacket bunching up at the waist.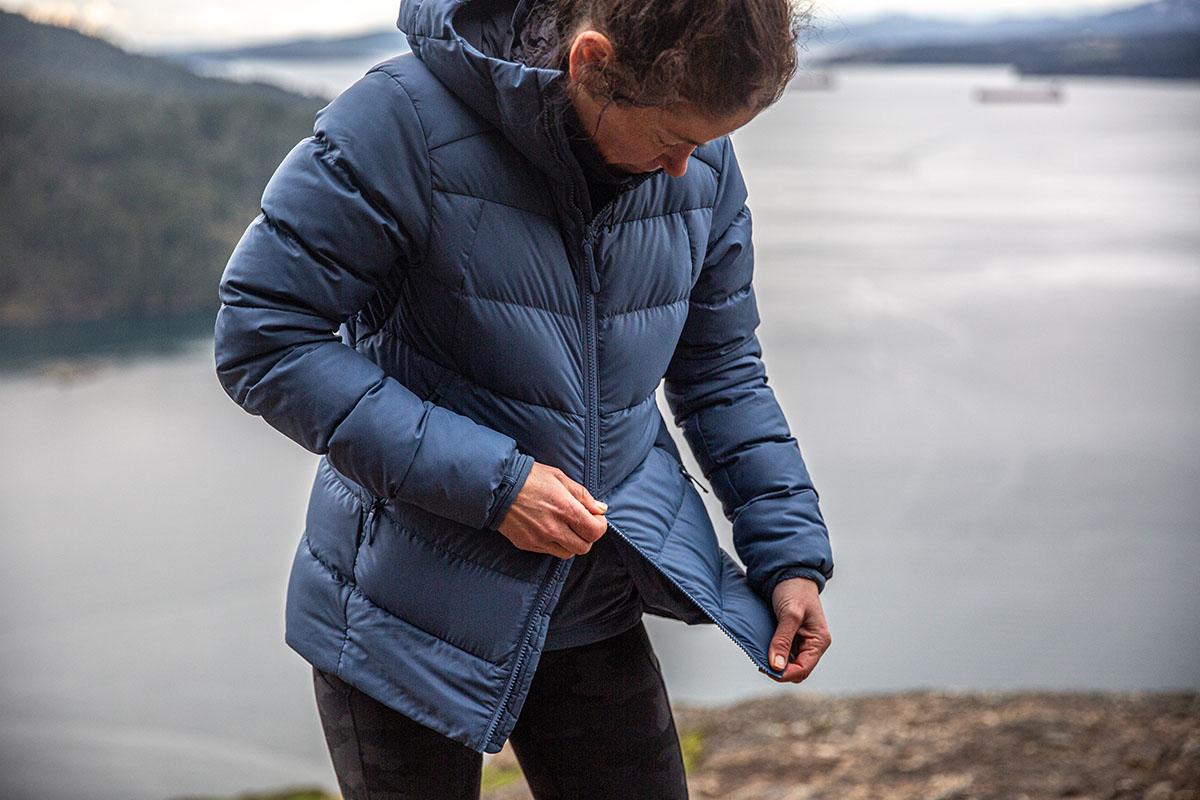 Build Quality and Durability
The Arc'teryx Thorium Hoody doesn't come cheap at $450, but the good news is that overall build quality lines up with the price. For starters, the 30-denier (D) shell fabric is noticeably more robust than what you get with many ultralight down pieces—including Arc'teryx's own Cerium Hoody (15D) and Mountain Hardwear's Ghost Whisperer/2 Hoody (10Dx10D)—which makes it much more suitable as an outer layer. I wore the jacket extensively last winter and had no issues with abrasion, fraying seams, or down-feather leaks (I've also been wearing the similarly built Thorium AR for years with no problems to date). The smaller components are faring equally well, from the robust zippers to the hem and hood drawcords. And although some might consider it overkill, the stuff sack is made of the same 30D nylon, which keeps the Thorium well protected when crammed into my ski pack with sharp equipment.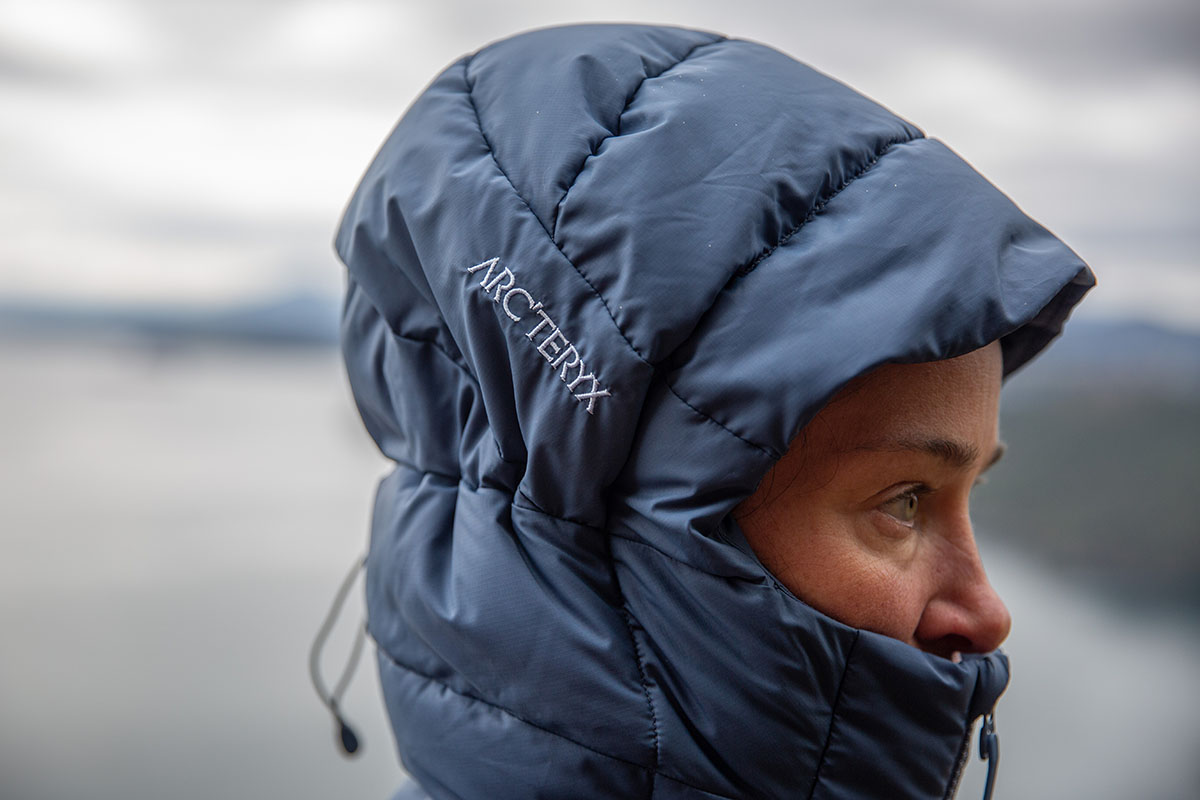 Fit and Sizing
I'm generally a size small in all things Arc'teryx, and the Thorium Hoody is no different. Since the jacket is considered a "regular" fit, I can easily layer underneath or opt for a hardshell overtop—I often pair it with my Sentinel ski jacket or Beta SV hardshell. It's worth noting that the latest Thorium is a little roomier than the past-generation Thorium AR, although the difference is subtle (I had to wear the two back-to-back to notice). The same holds true for the hem length: The new Thorium is slightly longer with a center back length of 26.8 inches, offering a bit more coverage around back when bending over or sitting down, and the dual hem drawcords allow me to cinch it in to seal drafts. Further, the sleeves are an ideal length for me, and the elastic cuffs fit well without being too snug or too loose. Finally, the articulated patterning promotes great all-around mobility—I've experienced no restriction and can move around comfortably.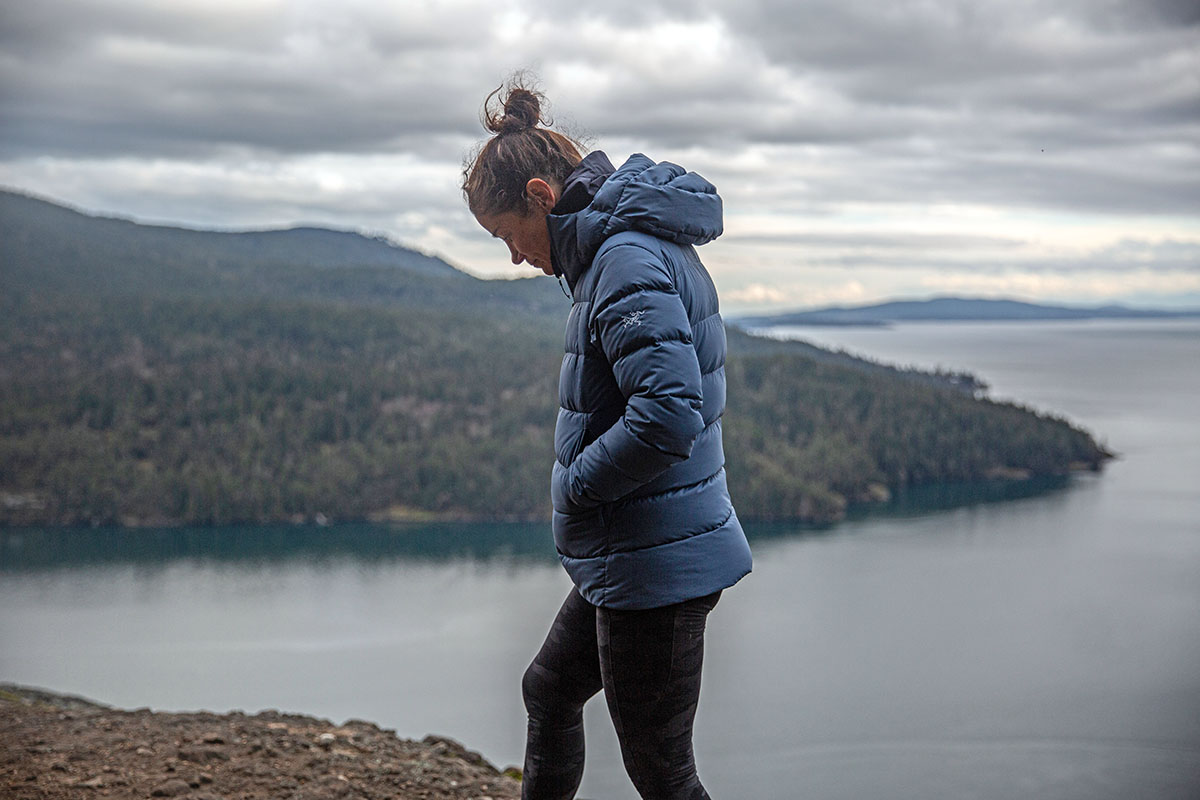 Sustainability
The latest Thorium Hoody is a sizable step up from its predecessor on the sustainability front. For starters, the Coreloft insulation is made from 80% recycled polyester, and the lining uses a bio-based material made from 60% castor bean oil to reduce reliance on petroleum. Arc'teryx also included a DWR finish that's free of harmful perfluorocarbons, as well as bluesign-approved materials that have been deemed safe for workers, consumers, and the environment. Finally, the jacket is certified to the Responsible Down Standard (RDS), which ensures that the goose down was sourced responsibly with no force-feeding or live-plucking. Taken together, it's a comprehensive and laudable effort from the brand.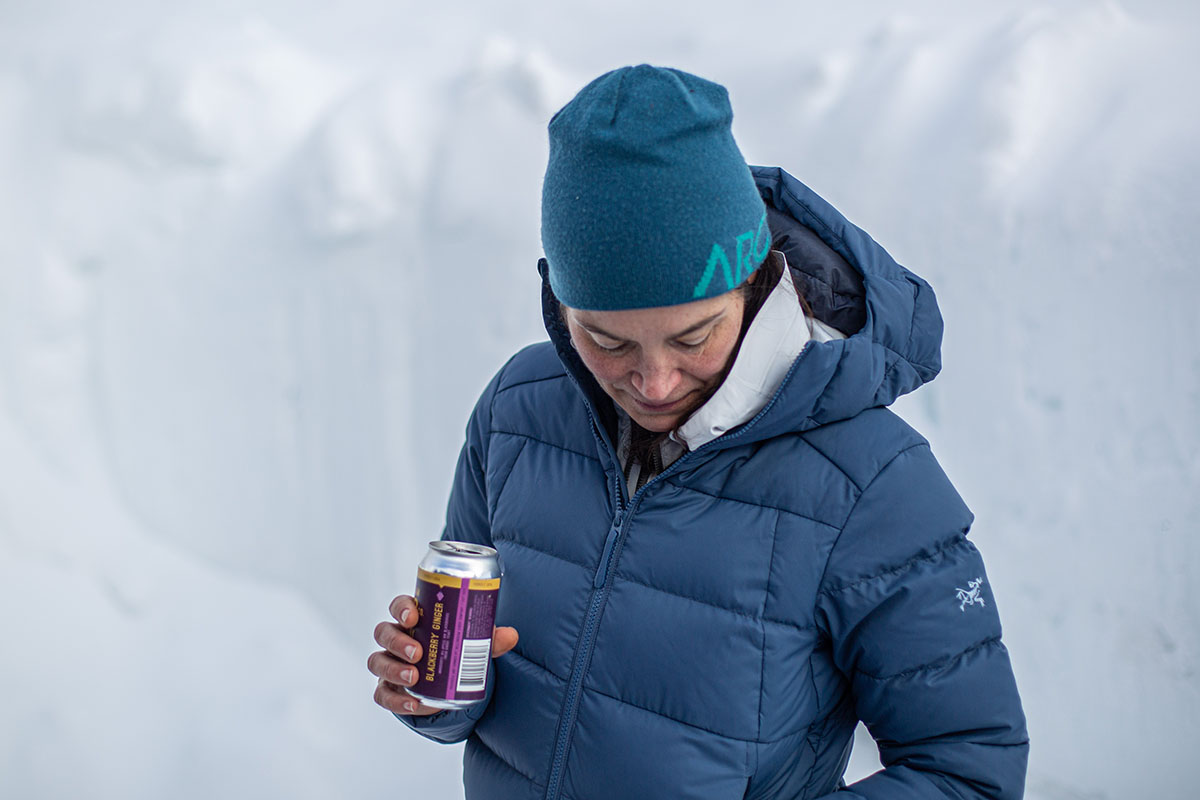 Other Versions of the Arc'teryx Thorium
We tested the women's Thorium Hoody for this review, and Arc'teryx also makes the jacket in a men's version. The men's Thorium Hoody costs the same as the women's model and also utilizes a hybrid down and synthetic construction, but it checks in slightly heavier at 1 pound 2.2 ounces. Other differences include a soft fleece lining inside the hand pockets, which the women's version lacks, and an exterior rather than interior chest pocket. There's also a non-hooded jacket for men that costs $50 less than the hoody, as well as a women's Thorium Jacket that has a shorter cut and more streamlined storage layout than the design covered here but retains a hood. Rounding out the collection are two more women's-specific pieces: the Thorium Parka ($650; 1 lb. 5.5 oz.) and Thorium Vest ($300; 10.2 oz.), both of which share the same Down Composite Mapping, regular fit, 30D shell fabric, and healthy sustainability slant as the rest of the lineup.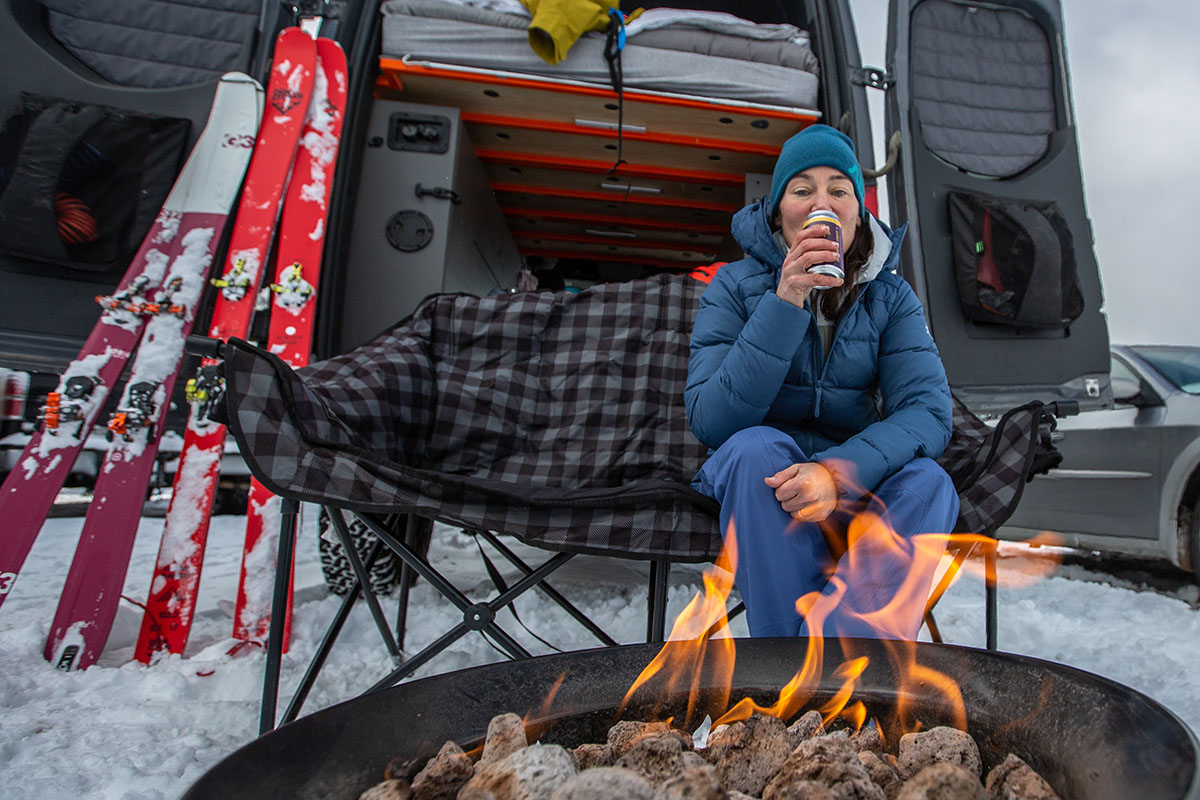 What We Like
Excellent versatility: The Thorium looks the part for both outdoor and around-town use and can function as either a midlayer or standalone piece.
By mixing synthetic and down insulation, the Thorium achieves a nice balance of warmth and weather protection.
The latest version retains everything we loved about the original model but with an improved hood, more storage, a two-way main zip, and a boost in warmth—all without a big impact on weight.
Robust shell and quality components result in great all-around durability and a confidence-inspiring feel.
Competitive sustainability slant, including recycled and responsibly sourced insulation, a bio-based lining, bluesign-approved materials, and a PFC-free DWR coating. 

What We Don't 
Expensive at $450—you can go much warmer for less in the down jacket market.
Fairly heavy for a down piece at 1 pound for the women's version (1 lb. 2.2 oz. for the men's model).
Outer fabric will wet out in heavy and sustained moisture, so a waterproof shell is still needed in very wet conditions.
The men's version has a soft fleece lining inside the hand pockets, and I wish Arc'teryx had included it in the women's model.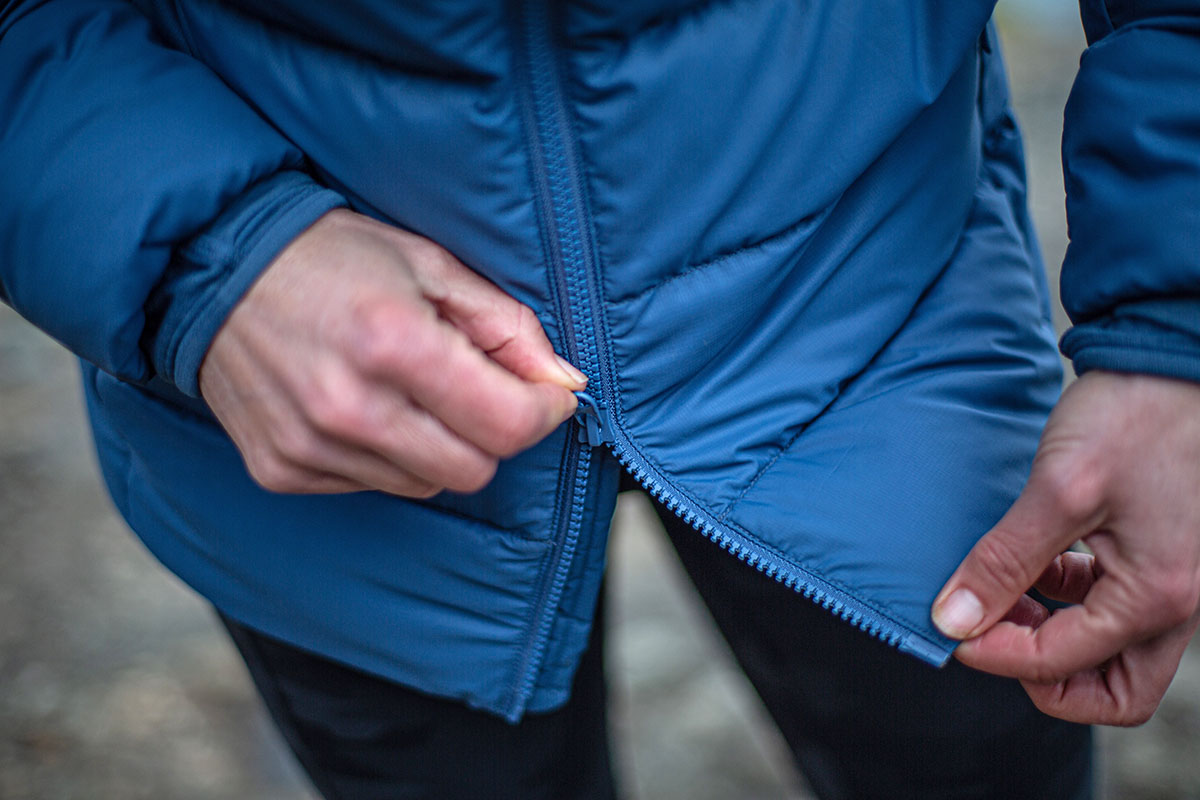 Comparison Table

The Competition
The Thorium Hoody sits just below the Cerium Hoody (formerly the Cerium LT) in Arc'teryx's down jacket lineup, and the two share many commonalities, including the use of synthetic and down insulation for solid warmth and reasonable weather protection. In parsing out the differences, the Cerium Hoody is lighter than the Thorium at 10.2 ounces and also more packable. But despite its higher-quality 850-fill down (the Thorium has 750-fill), the Cerium offers less warmth overall. Further, the 15D nylon face fabric is noticeably less durable and more prone to snags and tears than the 30D Thorium. And finally, the Cerium's more performance-oriented "fitted" fit is much trimmer compared to the Thorium's "regular" fit, which allowed me to layer however I wanted. In the end, we'd break it down as follows: The Cerium is the more purpose-built backcountry piece and will save you $50, while the Thorium wins out in warmth and versatility for mixed outdoor and around-town use.
Another favorite in my closet is the Feathered Friends Eos Down Jacket. Filled with 3.7 ounces of industry-leading 900-fill down and clocking in at just 10 ounces, the Eos is impressively warm for its weight. However, its lack of synthetic fill in moisture-prone areas and streamlined Pertex Quantum shell don't offer the same wet-weather performance as the loft-retaining fill of the Thorium Hoody. Further, its 12Dx20D face fabric is less robust than the burlier 30D Thorium (this does help it pack down much smaller, however), and the boxy fit detracts from overall backcountry appeal. In the end, for multi-day backpacking trips, I'd still opt for the $41-cheaper Eos for its impressive warmth-to-weight ratio and throw on a shell if any weather moves in. However, for daily wear and backcountry ski trips where added durability and weather protection are worth the weight, I'll grab the Thorium.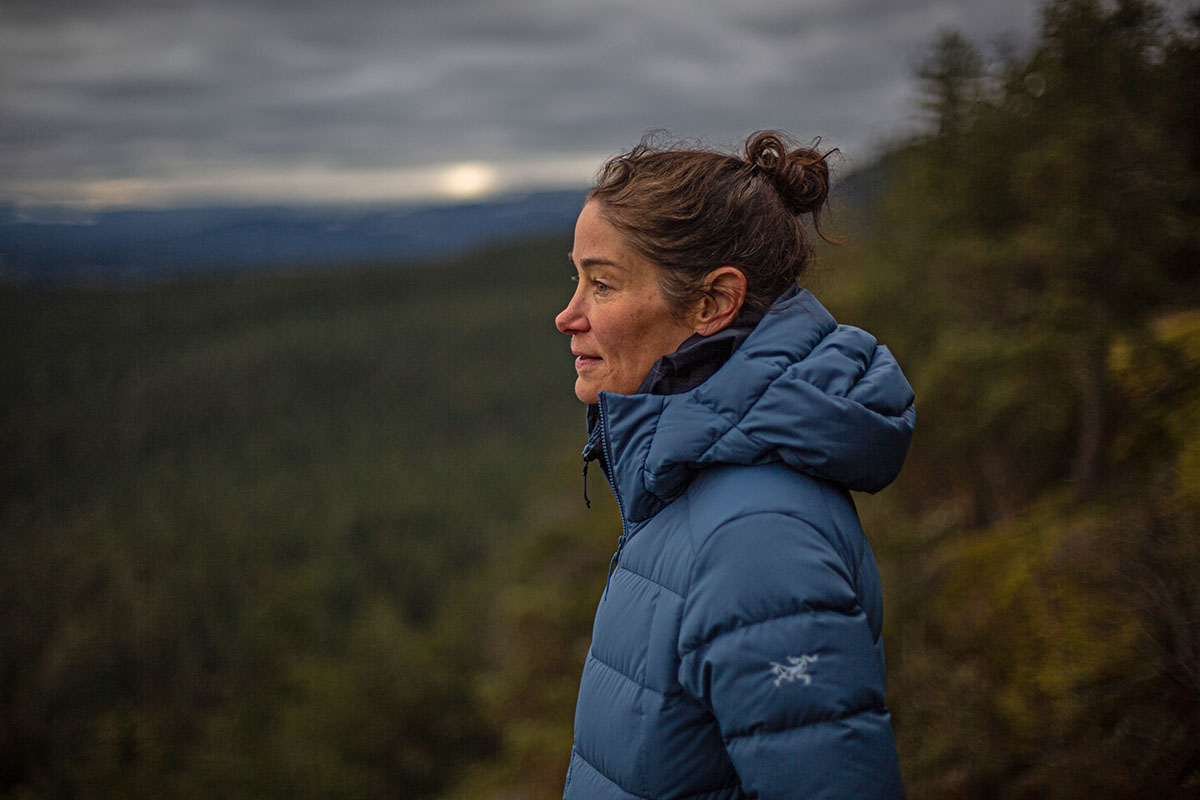 Patagonia's Down Sweater Hoody is another great all-around jacket to consider. Similar to the Thorium, the Down Sweater has proven itself as both a solid everyday and performance-oriented piece that's just as comfortable in the backcountry as it is on busy city streets. The Patagonia is slightly lighter at 12.1 ounces and has a similar "regular" fit that allows layering underneath or overtop. However, the Down Sweater lacks the durability and weather resistance that you get with the Thorium (it excels instead as a midlayer). It's a close call between the two, but for my uses, the Thorium's greater versatility justifies the added weight and $121 price jump.
For a step up in warmth, it's worth considering a heavyweight piece like Rab's Neutrino Pro Jacket. In this case, you get a healthy 7.5 ounces of 800-fill down for a noticeable boost in warmth and loft, and the Rab checks in only slightly heavier at 1 pound 1.7 ounces. It's also fully performance-ready with a helmet-compatible hood that features a stiff brim to deflect precipitation, highly water-resistant zippers, adjustability at the cuffs and hem, and a ripstop fabric over the shoulders and upper sleeves for added abrasion resistance when carrying a pack. The Thorium gets the edge in both durability and protection, but the Rab isn't too far behind with a 20D Pertex Quantum Pro shell and hydrophobic down. For $50 less than the Arc'teryx, we consider the Neutrino Pro to be the superior all-around value and the better match for cold-weather backcountry missions. For a step down in warmth and price, we also like their 14.6-ounce Microlight Alpine Jacket, which contains 5.1 ounces of 700-fill down for $295.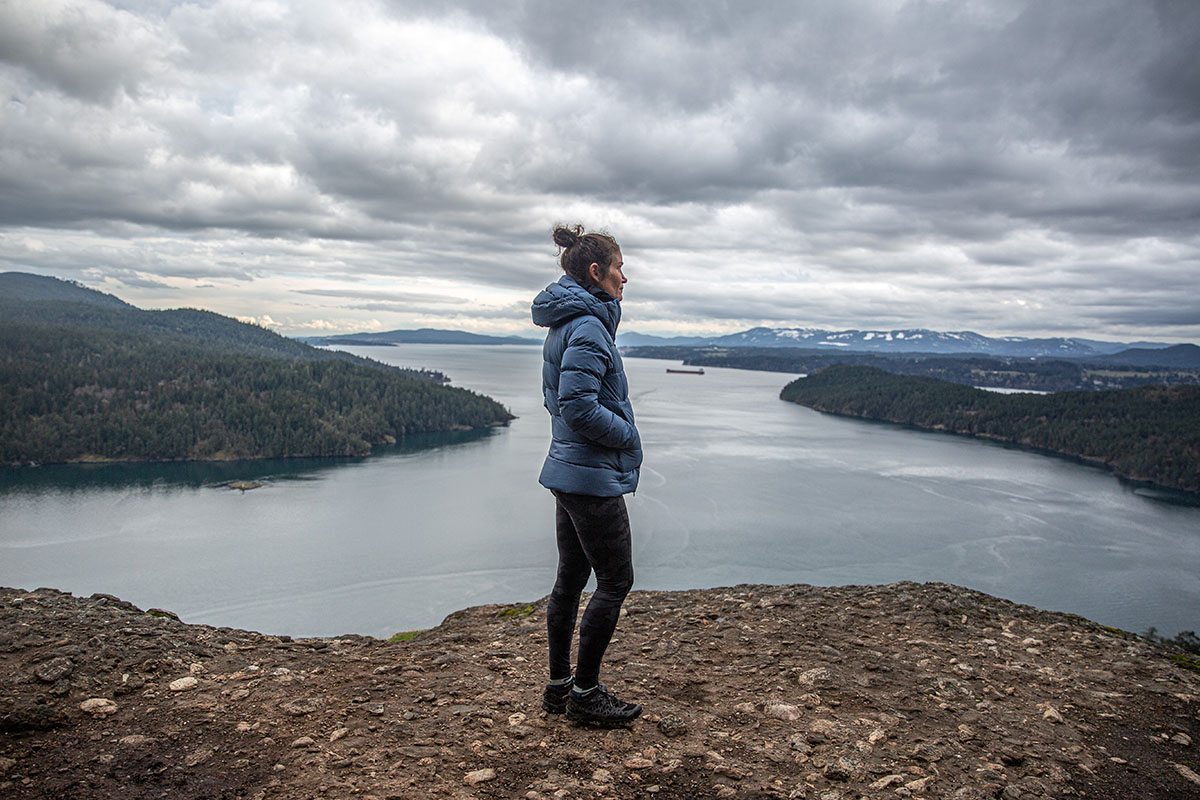 The Thorium has proven to perform well in the humid and wet Pacific Northwest, but its down insulation still can't compete with full synthetic in damp conditions or if moisture makes its way through the shell fabric. If you prefer the added assurance of polyester fill, Arc'teryx's Atom Heavyweight Hoody is an intriguing alternative to the Thorium, offering similar levels of warmth, durability, and all-around comfort in a lighter (13.9 oz.) package. The Atom isn't as compressible, doesn't include a stuff sack, and is no longer offered in a men's version, but it will save you a significant $100 over the Thorium while offering comparable all-around performance (minus the lofty warmth of down) at a lower weight.
If you're thinking about buying gear that we've reviewed on Switchback Travel, you can help support us in the process. Just click on any of the seller links above, and if you make a purchase, we receive a small percentage of the transaction. The cost of the product is the same to you but this helps us continue to test and write about outdoor gear. Thanks and we appreciate your support!
Depending on the seller, most products ship free in the United States on orders of $50 or more. International shipping availability and rates vary by seller. The pricing information on this page is updated hourly but we are not responsible for inaccuracies.
Read More From Switchback Travel