Feathered Friends is a boutique down specialist birthed out of Seattle's climbing scene in the 1970s, and they still lead the pack in down outerwear construction and design. The company is known for making high quality, unflashy products for people who use them the most, and the Eos is no exception. On a recent trekking and biking trip through the Peruvian Andes, this lightweight down jacket was the only insulation piece that I brought. I wore it both while moving through chilly conditions and at camp in the alpine, and it performed admirably while keeping me cozy. Below we break down the Eos' warmth, weight and packability, weather protection, durability, fit, and more. To see how the Eos stacks up, see our article on the best down jackets.
 
Performance
Warmth
In the world of lightweight down jackets, the Feathered Friends Eos is one of the warmest models per ounce. First, it uses 900-fill power goose down, which along with Montbell's premium offerings, is among the highest on the market. This 900-fill down has even more loft and warmth for the weight than high-end competitors like the Arc'teryx Cerium LT (850 fill). Perhaps more importantly, the Eos has more down at 3.7 ounces of fill weight vs. 3.4 ounces on the Cerium (comparison based off the men's versions). In fact, the Eos has a higher fill power and weight than nearly all of its lightweight competitors, including the popular Mountain Hardwear Ghost Whisperer. You'll have to step up to the midweight category to get more warmth.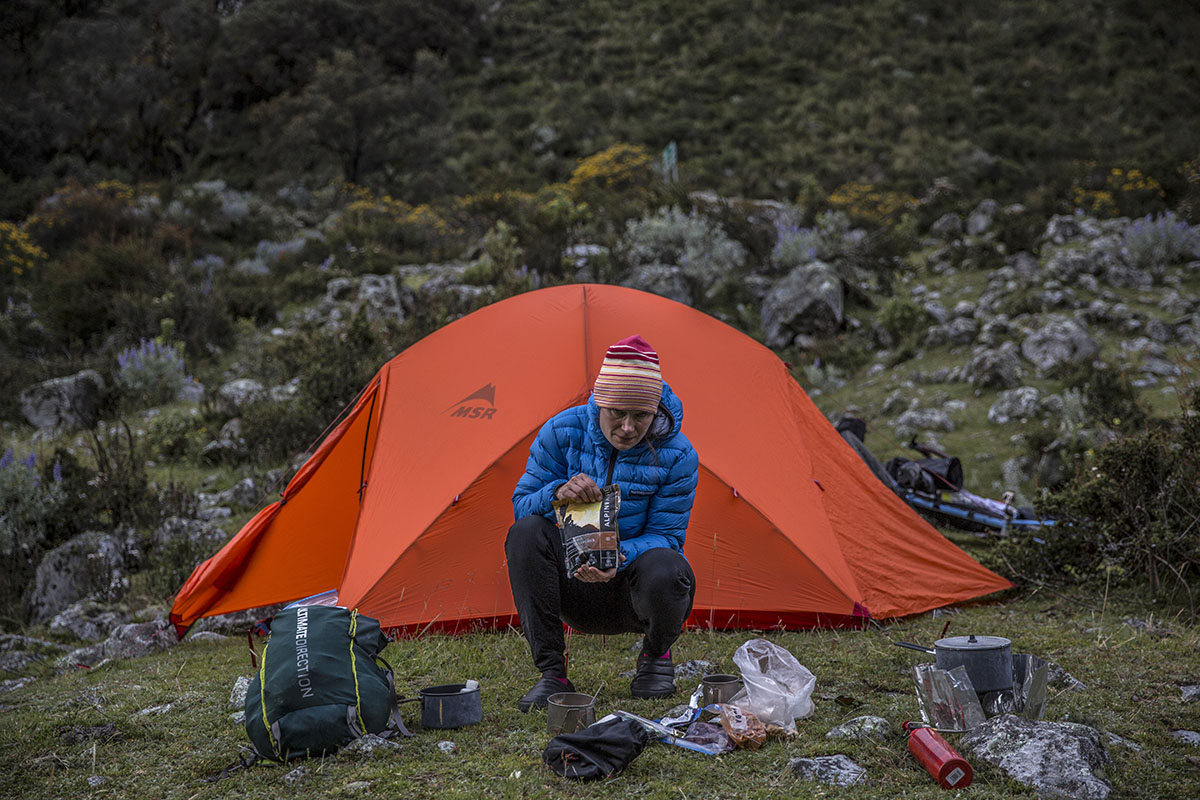 Although this class of lightweight pieces can't hold a candle to full-on winter down jackets like the Rab Neutrino Pro or Patagonia Fitz Roy Parka, they offer much greater packability and versatility. This is why I always opt for a lighter weight down jacket for summer nights and wintertime high-output activities. On our trip through the Andes as the temperatures dropped well below freezing each night, I learned to quickly don my Eos as the sun dipped behind the hills. Its impressive loft, along with features like the hood and cinchable waist, offered all the warmth that I needed, even in the high alpine as frost quickly formed on the ground around me.
It's always tough to put exact temperature ratings on insulated jackets as there are a number of variables, including layering, wind, and even the circulation of an individual. But we think of the Eos as being warm until down around freezing without much in the way of layering. You can probably buy yourself another 10 degrees or so with a warm merino baselayer underneath, but when you start getting down toward the teens and below, a midweight winter jacket or parka probably is merited.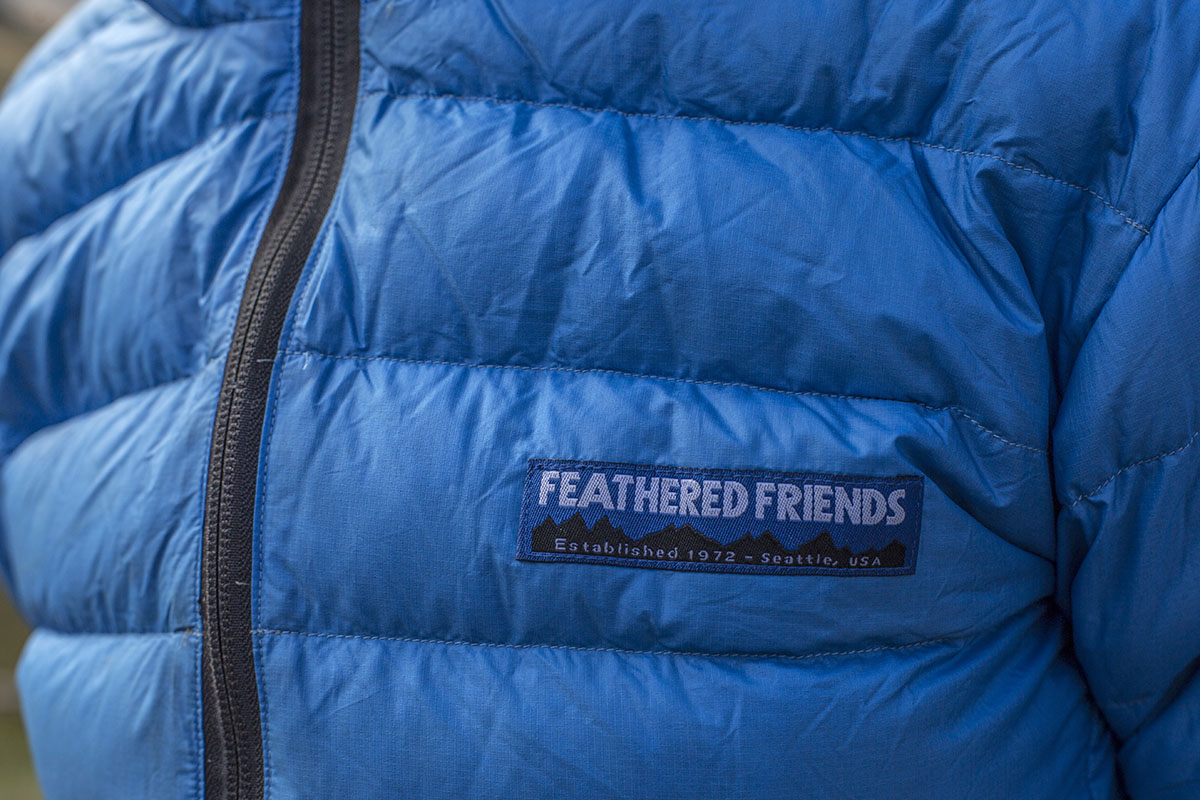 Weight & Packability
The Feathered Friends Eos is a fastpacker's dream. Our women's medium weighed in at just 9.3 ounces, and our men's medium was 10.6 ounces (we tested both versions). Given the level of warmth that the Eos provides, the weight is extremely impressive. For comparison, the men's Arc'teryx Cerium LT weighs more at 10.8 ounces, yet its mix of down and synthetic insulation does not offer any additional warmth. You can save weight by going with the Mountain Hardwear Ghost Whisperer at 7.7 ounces, but that jacket has considerably less down at 2.8 ounces fill weight, uses 800-fill down, and has an ultrathin 7Dx10D shell. For all of these reasons, we think the Eos strikes a really nice balance of weight and performance.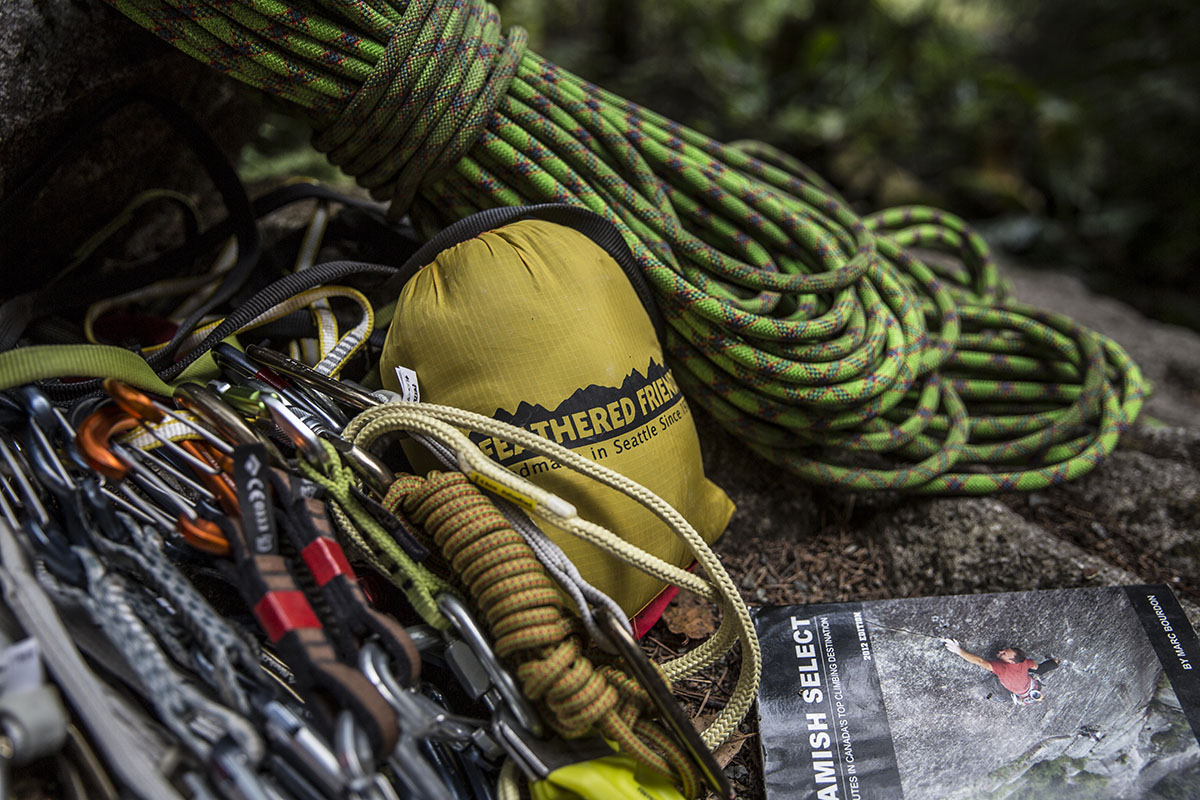 In terms of packability, the jacket comes with a bright yellow stuff sack that gets down to about a liter in size. We prefer to have a pocket on the jacket that it can be stuffed into (it's easy to lose a separate sack), but I have to admit that Feathered Friends' stuff sack does double as a pretty slick pillow and can be easily attached to a climbing harness. The Eos can be compressed much smaller than the stuff sack as well, and was easily crammed into remaining nooks and crannies of my pack.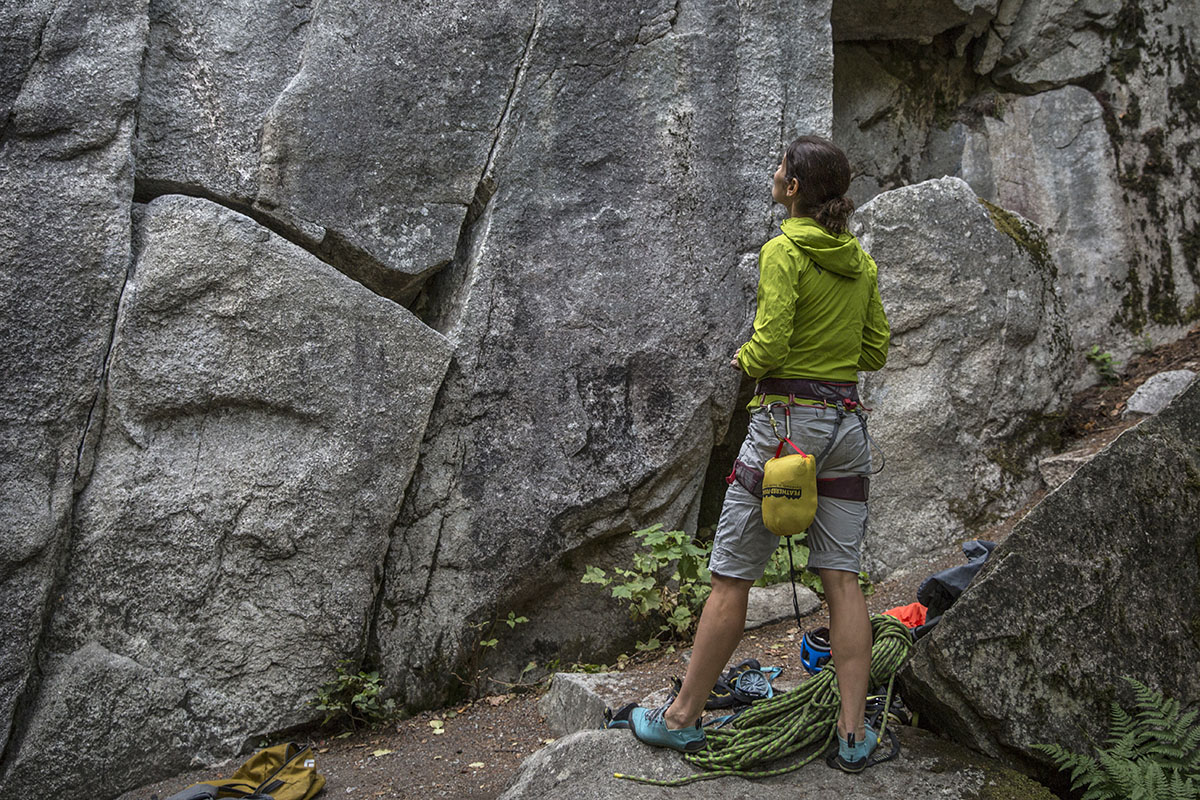 Weather Protection
When it comes to braving the elements, the Eos lacks some features that other modern down jackets employ to resist wind and rain. With a streamlined Pertex Quantum shell, it falls a bit behind the field in terms of weather protection. A number of performance jackets use Pertex Endurance, a more water resistant shell fabric and coating that also weighs more, and others use a hydrophobic coating on their down to prevent the feathers from absorbing moisture. And with the Cerium LT, Arc'teryx protects against rain by using some synthetic insulation in areas most prone to moisture, such as the hood and shoulders (they call this technology Down Composite Mapping).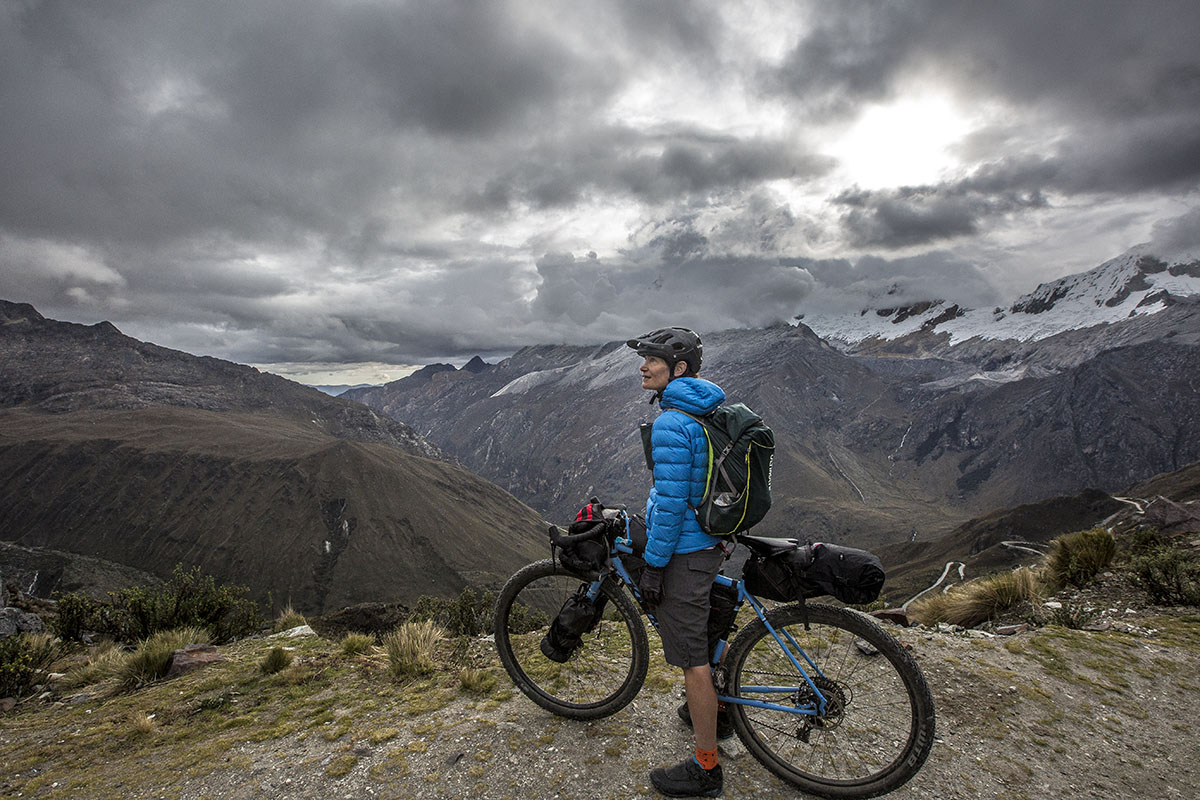 All of this being said, in a light rainstorm the Eos repels water just fine. Its outer Pertex layer has a DWR finish, and the Quantum fabric is reasonably windproof. While biking down high mountain passes in Peru, I did feel very minor amounts of cold air seep through the seams, but I thought the Eos performed decently well as a windbreaker. And when conditions grow too extreme for the Pertex Quantum, the Eos is trim enough to wear under a rain jacket or hardshell. Realistically, this is going to be the case with almost all down jackets, although the Eos is slightly less weather resistant than a lot of the premium pack.
Deciding how weatherproof you want your down jacket to be is a matter of choice. If its primary function is to be as lightweight and warm as possible, the Eos intelligently shaves weight by not including all the weather resistance bells and whistles. However, if you want a down jacket to be more of a stalwart in wind and rain, many companies are focusing on that. But again, even with all that Pertex Endurance, hydrophobic down, and Down Composite Mapping, in real rain none of these features will be as bombproof as a down jacket/shell combination.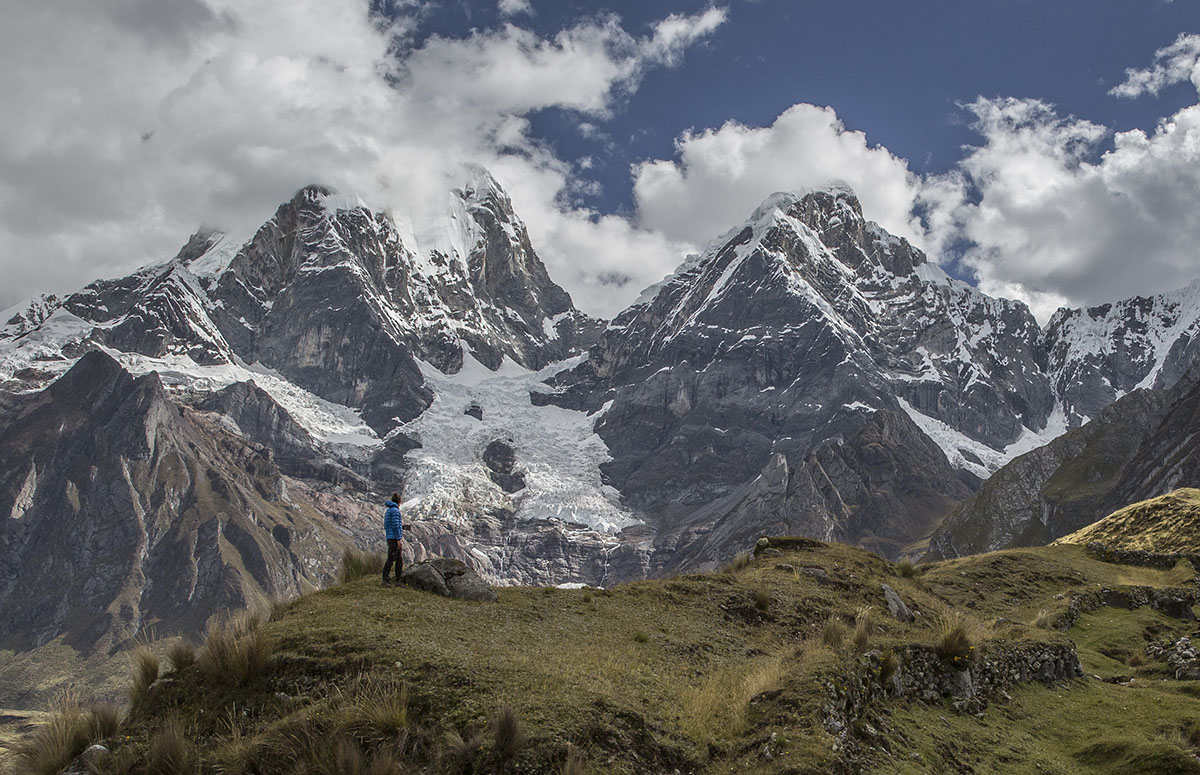 Hood and Other Key Features
Feathered Friends has streamlined the Eos Hoody to make it as light as possible, so don't expect to find any fancy hidden features on this jacket. The two zippered hand warmer pockets forgo fleece linings, but are roomy, surrounded by down, and warmed my always-cold hands nicely. The hem is equipped with an elastic drawcord and a high quality cinching system to tighten the waistband and fend off cold drafts. The one feature that I definitely missed on this jacket, however, was a hood adjustment. While the hood is non-helmet-compatible, meaning it fits trimly around your head, it could still use a cinching system to stay in place during high winds.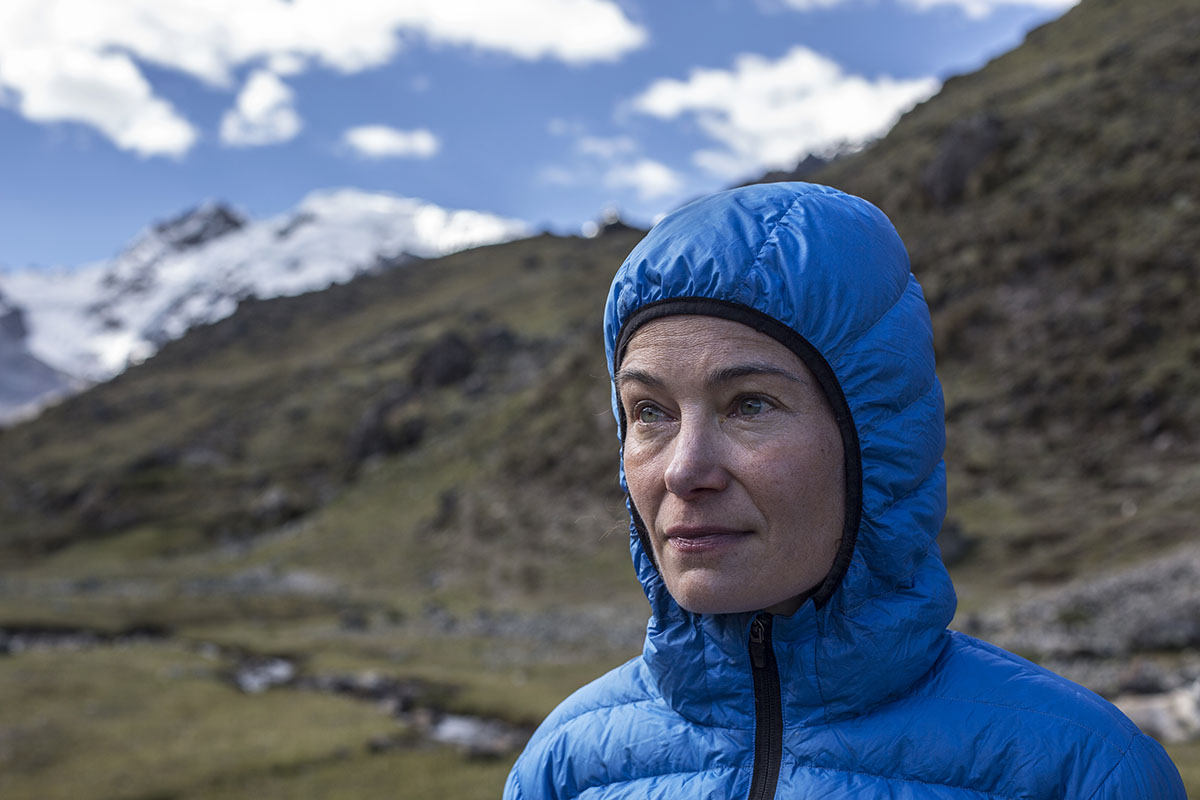 Durability and Build
Feathered Friends' products are handcrafted in small batches using high quality materials. I wore the Eos every day while in Peru, and as someone who is not gentle on gear, have been impressed with how the jacket has held up. My Eos sustained just one tiny hole where feathers are beginning to leak through, but the zippers continue to operate smoothly, the seams remain intact and do not leak, and the down is as lofty as when I first got the jacket.
Although the look and color options aren't quite as appealing for daily wear as say, the Arc'teryx Cerium LT, you'll certainly get kudos from those in the know. Feathered Friends gear is and has always been used by some of the world's best alpinists. The Eos has a bit more of a traditional mountaineering look than many jackets made by mainstream brands, and in a world where down jackets are just as at home in the city as in the mountains, this is worth considering. We like the understated look of the Eos but definitely wish it were made in more colorways.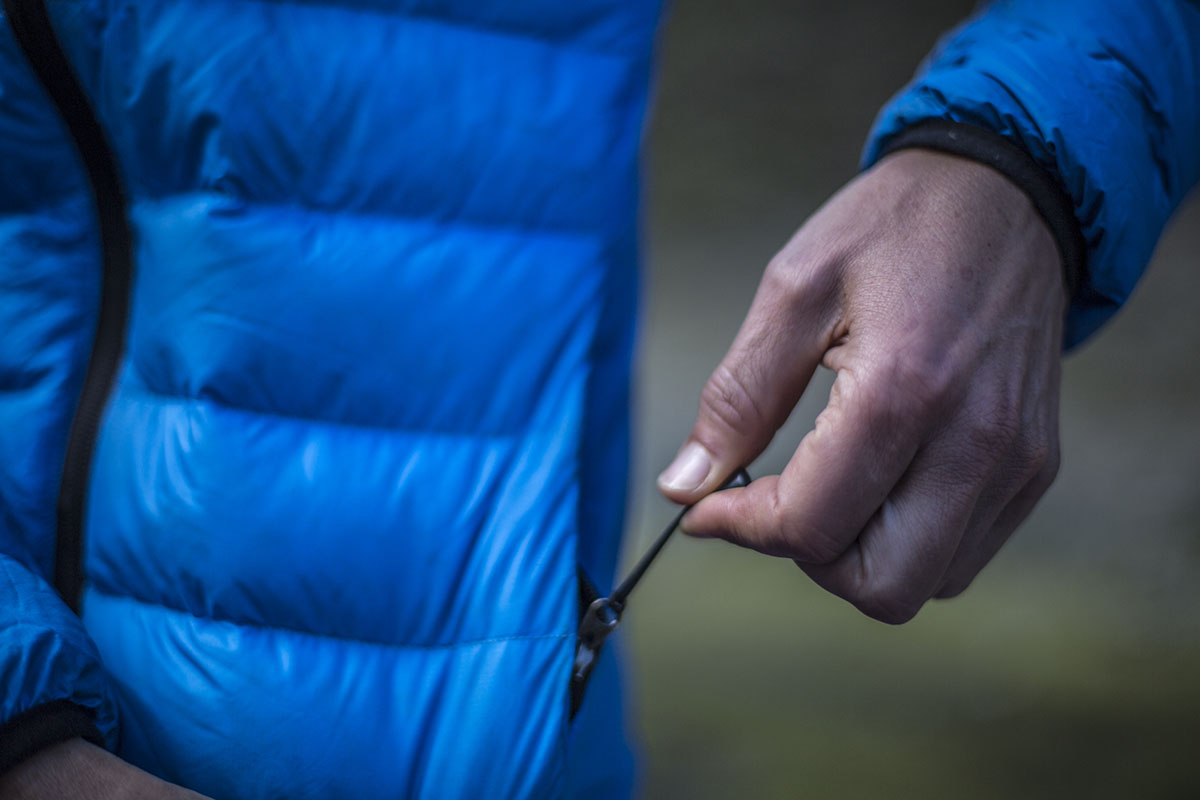 Fit and Comfort
The trim fit of the Eos is designed to function as an outer layer in mild conditions or as a midlayer jacket under a shell in wetter and windier conditions. I often waver between a small and extra small, but Feathered Friends' extra small fits me perfectly. It still provides enough space for base and midlayers, yet is sleek enough to fit easily under my hardshell. Length-wise, the jacket runs about average for a layering piece, similar to the Arc'teryx Cerium LT, though I wouldn't want it to run much shorter. And in comparison to the Cerium, the Eos has a bit more room in the midsection but certainly isn't baggy. The length of the arms is perfect, even when reaching forward to use handlebars on my bike.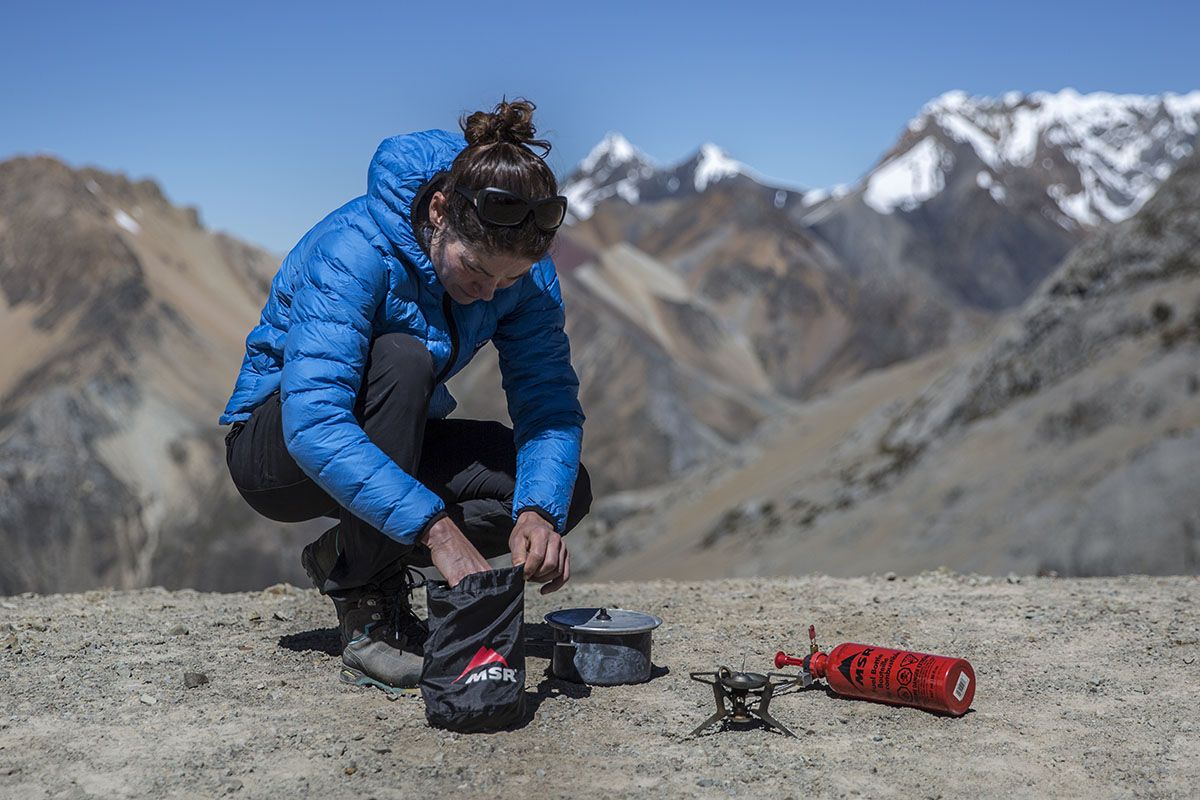 What We Like
Industry-leading warmth-to-weight ratio.
Premium build quality and materials.
Trim fit offers the perfect ability to layer underneath and overtop.
A good value compared to the high-end competition.
Feathered Friends' down is ethically sourced and all of their products are made in the USA.

What We Don't
No hydrophobic down or other advanced weather protection.
No hood adjustment, which can be problematic in high winds. 
Feathered Friends gear can sell out during busy seasons, so you may have to wait a few weeks for your jacket.


Comparison Table

The Competition
Feathered Friends' products aren't cheaply made or cheap to purchase. However, we were impressed with the shakedown of the Eos among its competitors. All things considered, it's one of the least expensive down jackets of its quality, warmth, and weight. As mentioned above, the Arc'teryx Cerium LT is quite similar: it weighs .2 ounces more, is slightly less warm, and a significant $70 pricier. But the Cerium does have an ultra-premium look and feel, not to mention it's offered in many more color options. For backcountry and everyday use, Arc'teryx is tough to beat.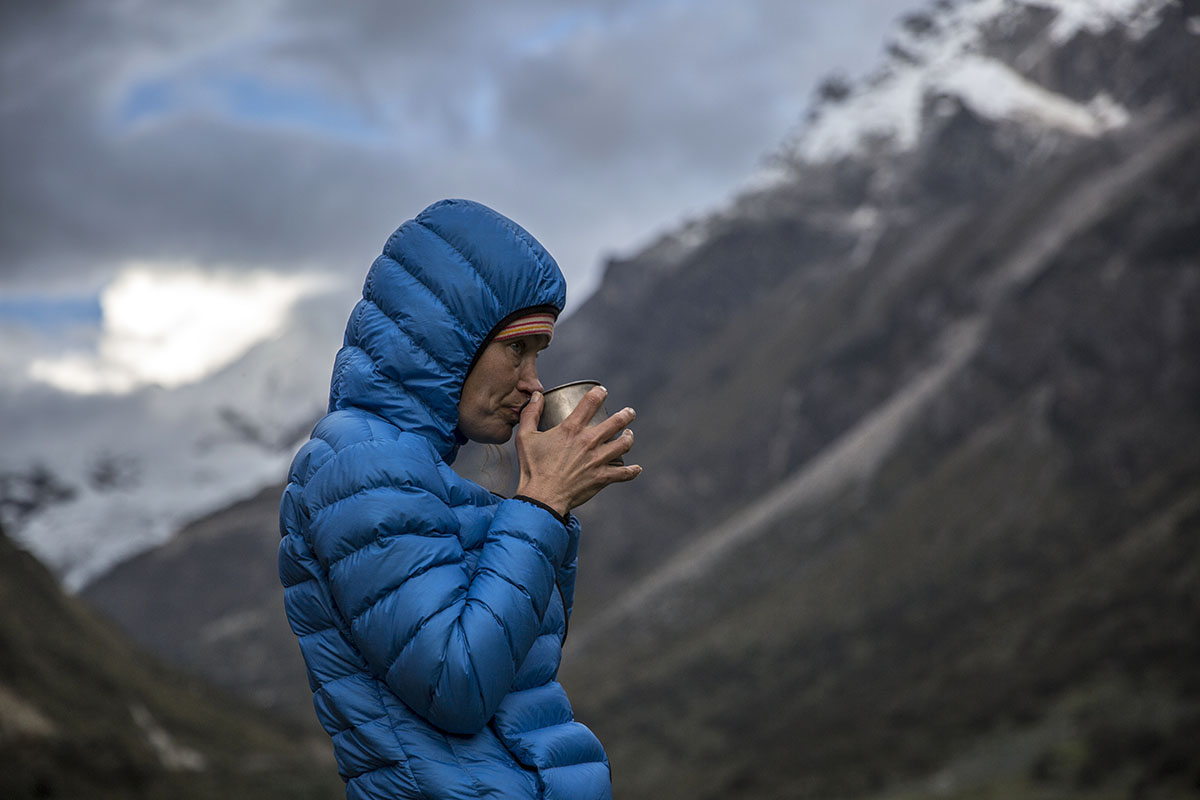 At the true ultralight end of the spectrum is the Mountain Hardwear Ghost Whisperer. Weighing in at just 7.7 ounces, it's lighter and decently warm but has significantly less down than any jacket mentioned here with 2.8 ounces of fill weight. We like the Ghost Whisperer for fast and light alpine missions in the summer, but it's much less of a three-season jacket than the Eos.
Finally, Montbell offers some interesting down jackets with cult-like followings in the climbing community. In particular, the Plasma 1000 Alpine Down Parka weighs an incredible 8.4 ounces yet still has 3.4 ounces of fill weight. How does Montbell achieve this feat? The "1000" in the product title refers to the fill power (that is not a misprint), and it has an ultra-thin 7D shell that requires great care to avoid holes and tears. And the Plasma 1000 is a hefty $439. But all in all, we prefer the Feathered Friends Eos and think it's one of the most balanced jackets of the bunch.
Editor's note: We usually provide a live price comparison table below our outdoor gear reviews, but the Eos is sold exclusively by Feathered Friends. You can see the Eos page here and support us in the process. Thanks!
Learn More About Outdoor Gear