Feathered Friends is a boutique down specialist birthed out of Seattle's climbing scene in the 1970s, and they still lead the pack in down outerwear construction and design. The company is known for making high-quality, unflashy products for people who use them the most, and the Eos is no exception. The much-loved jacket received an update for fall of 2021, adding an external chest pocket and hood adjustment, along with a small weight and price increase. We brought the Eos on a recent trekking and running trip in Southern Patagonia, taking it along for fast-and-light excursions, backpacking trips, and chilly days around town. Below we break down our experiences with the Eos; to see how it stacks up, see our articles on the best down jackets and best women's down jackets.
 
---
Table of Contents
---

Performance
Warmth
The Feathered Friends Eos is a lightweight down jacket that offers enough warmth to guard against most shoulder season or evening chills. To judge warmth, we generally look at two different factors: the down fill power and the down fill weight. The Eos uses 900-plus fill-power goose down, which—along with Montbell's offerings—is among the most premium on the market. A higher fill power translates to more loft (read: more warmth) for less weight, and the Eos is indeed lofty and light. Second, it's important to consider how much down the jacket uses; in the case of the Eos, it's 2.8 ounces. Comparing down jackets with different fill powers is a bit of an apples to oranges scenario, but in our experience the Eos is slightly less insulative than the Arc'ertyx Cerium LT Hoody (3.4 oz. of 850-fill down) and about on par for warmth with jackets like the Patagonia Down Sweater Hoody (3.5 oz. of 800 fill) and Outdoor Research Helium Down (3.2 oz. of 800 fill).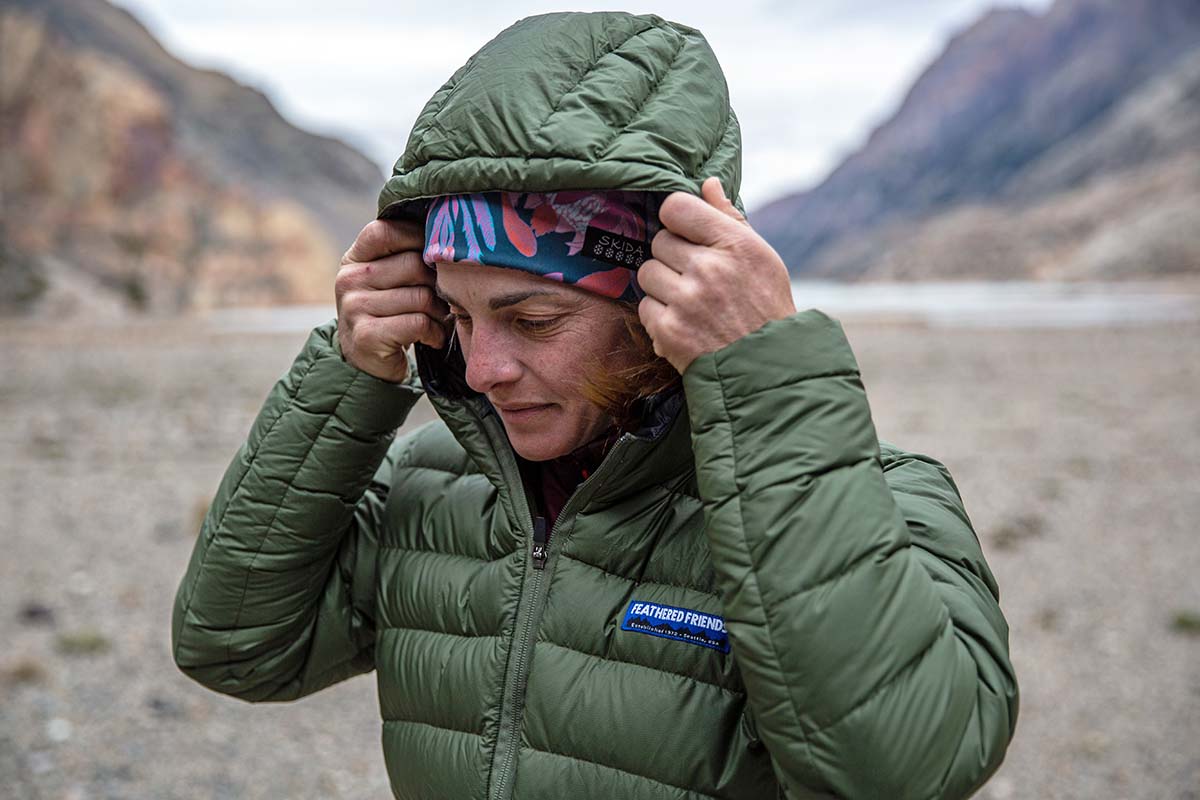 Lightweight down jackets like the Eos can't hold a candle to winter down jackets like the Rab Neutrino Pro or Patagonia Fitz Roy Down Hoody, but they offer much greater packability and versatility. For this reason, they're our first choice for weight-conscious activities like backpacking and day hiking, or as an emergency layer for cold-weather trail runs. It's always tough to put exact temperature ratings on insulated jackets, as there are a number of variables, including layering, wind, and even the circulation of an individual. All told, we've been impressed by the loft of the Eos and think of it as being warm until around freezing without much in the way of layering. You can probably buy yourself another 10 degrees or so with a warm merino baselayer or synthetic jacket underneath, but when you start getting down toward the teens and below, a midweight winter jacket or parka probably is merited.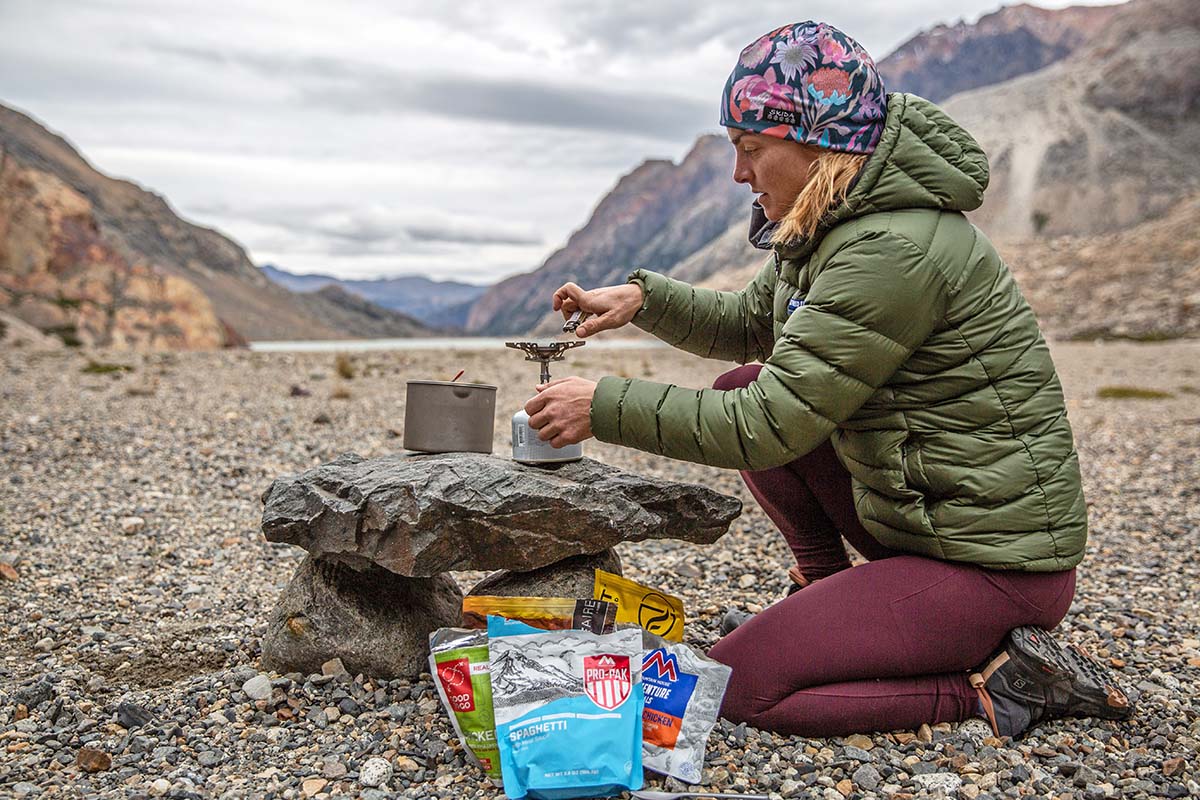 Weight and Packability
With a decent amount of insulation in a 10-ounce build, the Feathered Friends Eos is an ounce-counter's dream. Feathered Friends achieves this impressive warmth for weight by using high-quality 900-plus fill down, along with thin materials and a fairly simple feature set. For comparison's sake, the Eos checks in at a significantly lower weight than the aforementioned Down Sweater Hoody (13.1 oz.) and Helium Down (15.4 oz.). But in my opinion, the new design has noticeably less of an ultralight intention than the previous version, with the addition of a few extra features (the chest pocket and hood adjustments) and a roomier fit (for more, see our "Fit and Sizing" section below). You can go even lighter with a jacket like the Ghost Whisperer/2 (7.8 oz.), but be prepared to give up some warmth and durability (the Mountain Hardwear's shell is thinner at 10D vs. the Feathered Friends' 12Dx20D).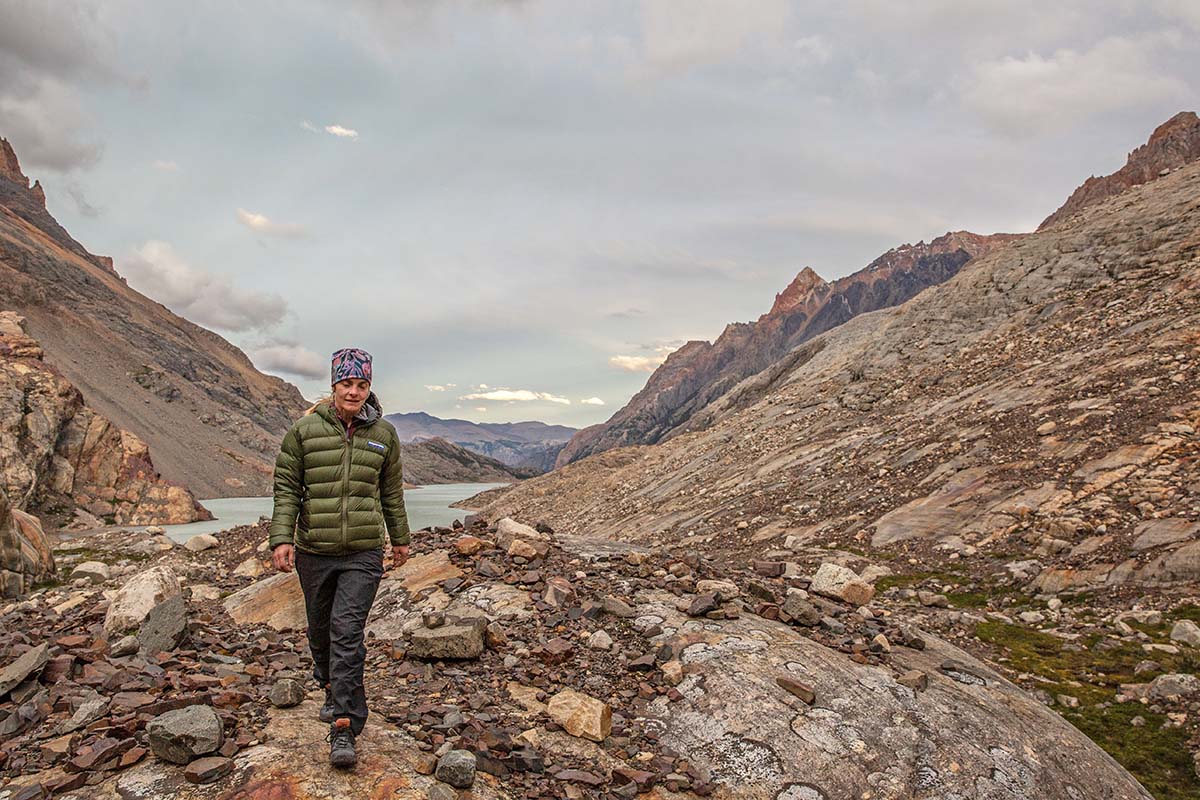 In terms of packability, the Feathered Friends Eos comes with a bright yellow stuff sack that gets it down to about a liter in size. We prefer to have a pocket on the jacket that it can be stuffed into (it's easy to lose a separate sack), but the Eos' stuff sack does double as a pretty slick pillow or ditty bag. The jacket can be compressed much smaller than the stuff sack as well, and was easily crammed into remaining nooks and crannies of my pack.

Weather Protection
When it comes to braving the elements, the Eos lacks some features that other modern down jackets employ to resist wind and rain. For example, a number of performance jackets use a hydrophobic coating on their down to prevent the feathers from absorbing moisture, while the Feathered Friends does not. Some designs take it a step further: With their "Down Composite Mapping" in the Cerium LT Hoody, Arc'teryx protects against rain by using synthetic insulation in areas most prone to moisture, such as the hood and shoulders.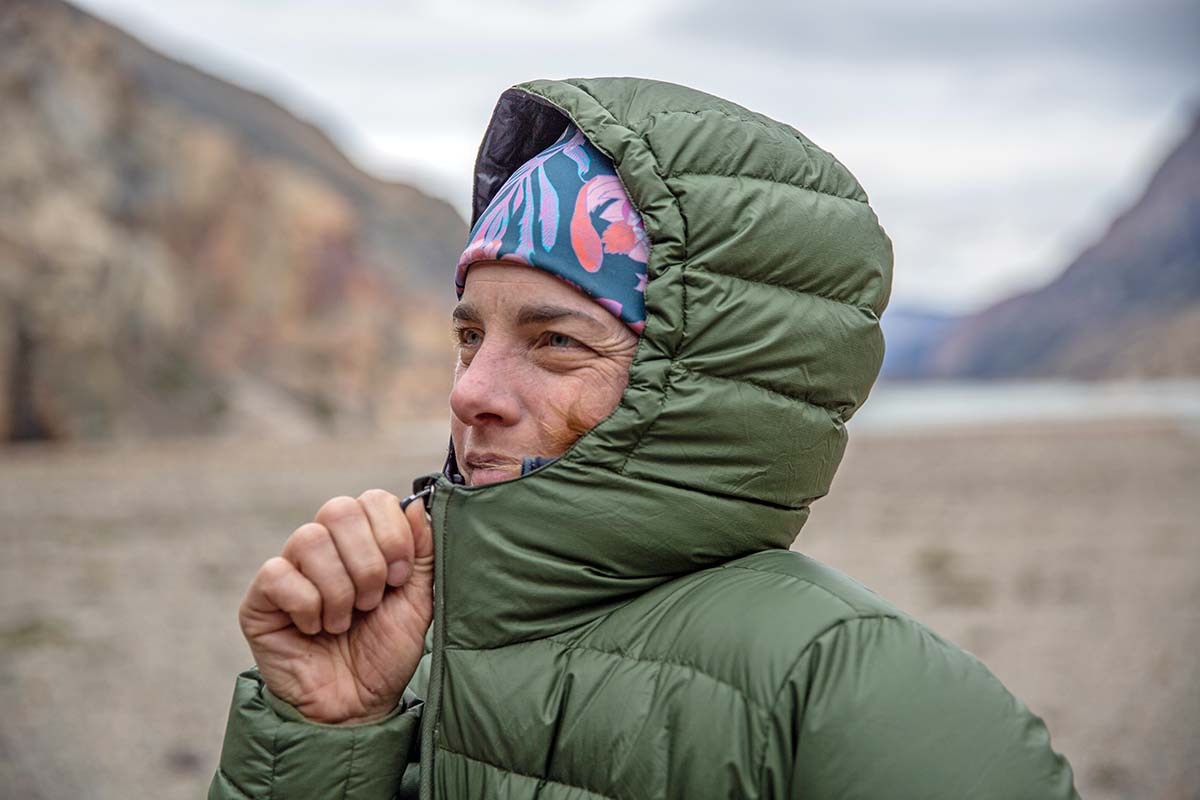 All of this being said, in a light rain shower the Eos repels water just fine. We've worn a lot of jackets with Pertex Quantum shells, and have found the material to be a trustworthy defense against moderate wind and rain. To help, the Pertex also features a DWR finish, which allows water to bead up and roll off rather than soaking through. And while the Eos uses sewn-through construction for its baffles, the front panels are lined on the inside so that air cannot enter through the small stitch holes. Finally, when conditions grow too extreme for the Eos, it helps that it's trim enough to wear under a rain jacket or hardshell.

Construction and Durability
Feathered Friends' products are handcrafted in small batches in the United States using high-quality materials. I wore the Feathered Friends Eos every day during a month in Patagonia, and it held up excellently. My Eos sustained just one tiny hole where feathers are beginning to leak through, but the zippers continue to operate smoothly, the seams remain intact and do not leak, and the down is as lofty as when I first got the jacket. What's more, the 12x20-denier Pertex shell has proven itself to be impressively durable over time.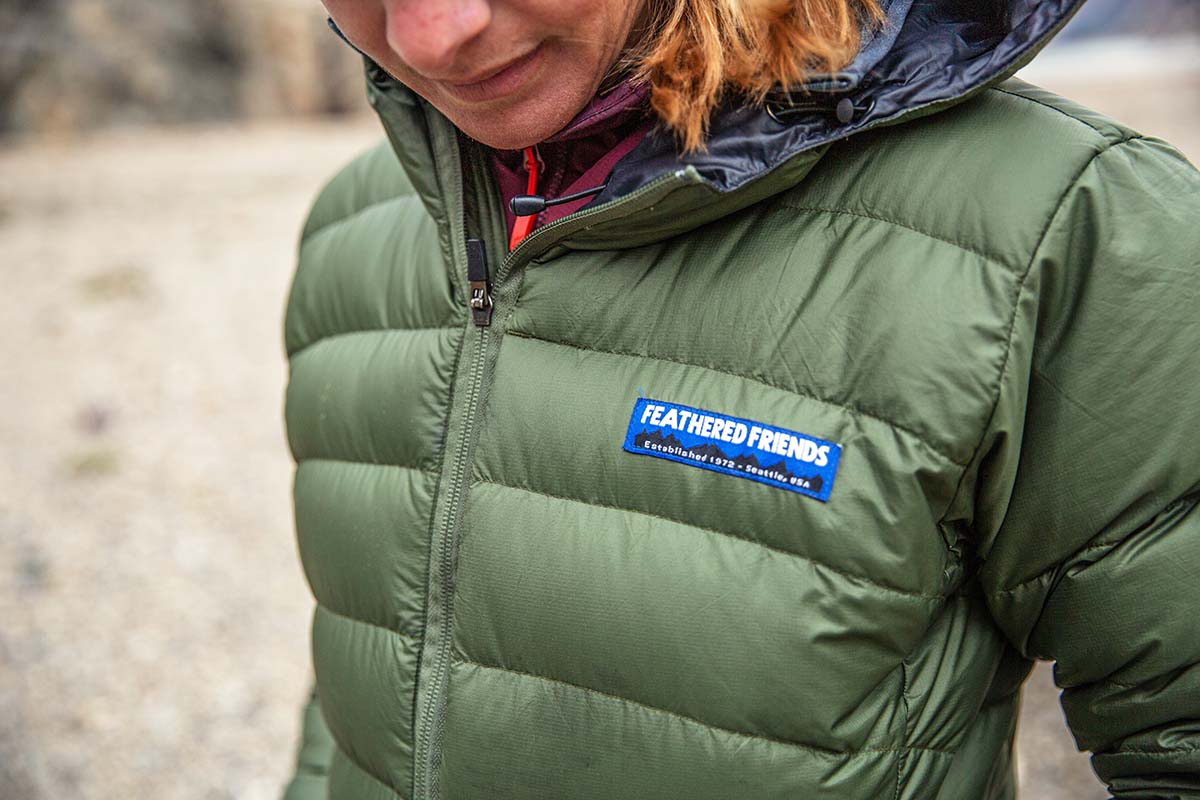 Although the look and color options aren't quite as appealing for daily wear as a jacket like the Arc'teryx Cerium LT or Patagonia Down Sweater Hoody, you'll certainly get kudos from those in the know. Feathered Friends gear is and has always been used by some of the world's best alpinists. That said, in a world where down jackets are just as at home in the city as in the mountains, it's worth considering that the Eos has a bit more of a traditional mountaineering look than many jackets made by mainstream brands.

Key Features
Although lightweight, the Eos down jacket has a fairly complete feature set that includes two handwarmer pockets, an external chest pocket, a hood with toggle adjustment on each side, and a hem cinch. I particularly appreciated the pockets, which are insulated on the outside and keep my hands warm in a chill. Further, the hood is much improved from the last iteration—it's large enough to slip over a climbing helmet, and adjustments cinch it around the face. But I do have a few minor gripes: You'll need two hands to adjust the hood at each side of the collar, and the elastic sticks out at the neck when cinched rather than the sleeker design used in jackets from Arc'teryx and Patagonia (among others). Finally, the handwarmer pockets are quite shallow (my phone has fallen out multiple times), and I'd love to see Feathered Friends add a couple of internal dump pockets to the Eos, although the extra feature would certainly add weight.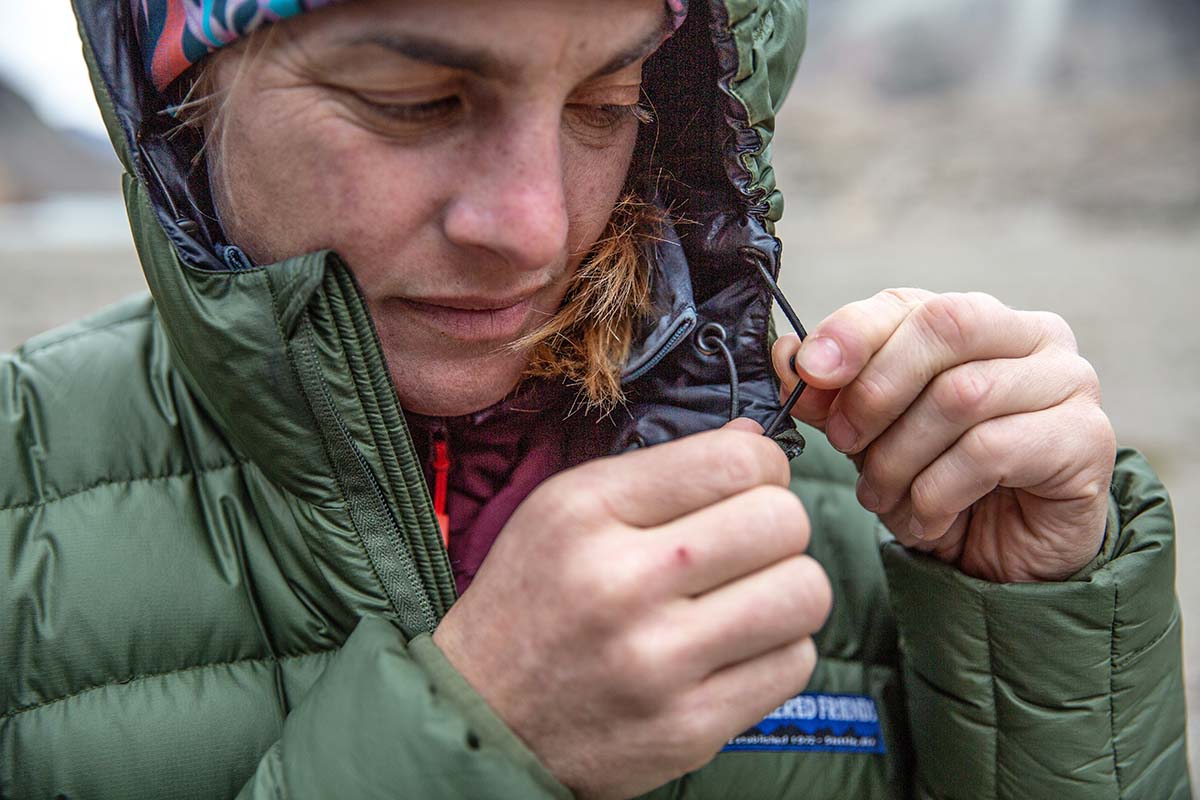 Fit and Sizing
We found the previous version of the Eos to be rather trim fitting, but our updated model is very roomy in the chest and shoulders, giving it a lofty feel more along the lines of a midweight jacket than an ultralight piece. I can wear it underneath a hardshell, but the fit is tight and I often found myself layering with a thinner synthetic midlayer instead. On the other hand, this makes the Eos an excellent standalone jacket, with full coverage and a fairly casual look. I opted for my standard size small, but given the choice I'd likely wear an extra small if I was trying to shave weight or planned to use the jacket as a midlayer.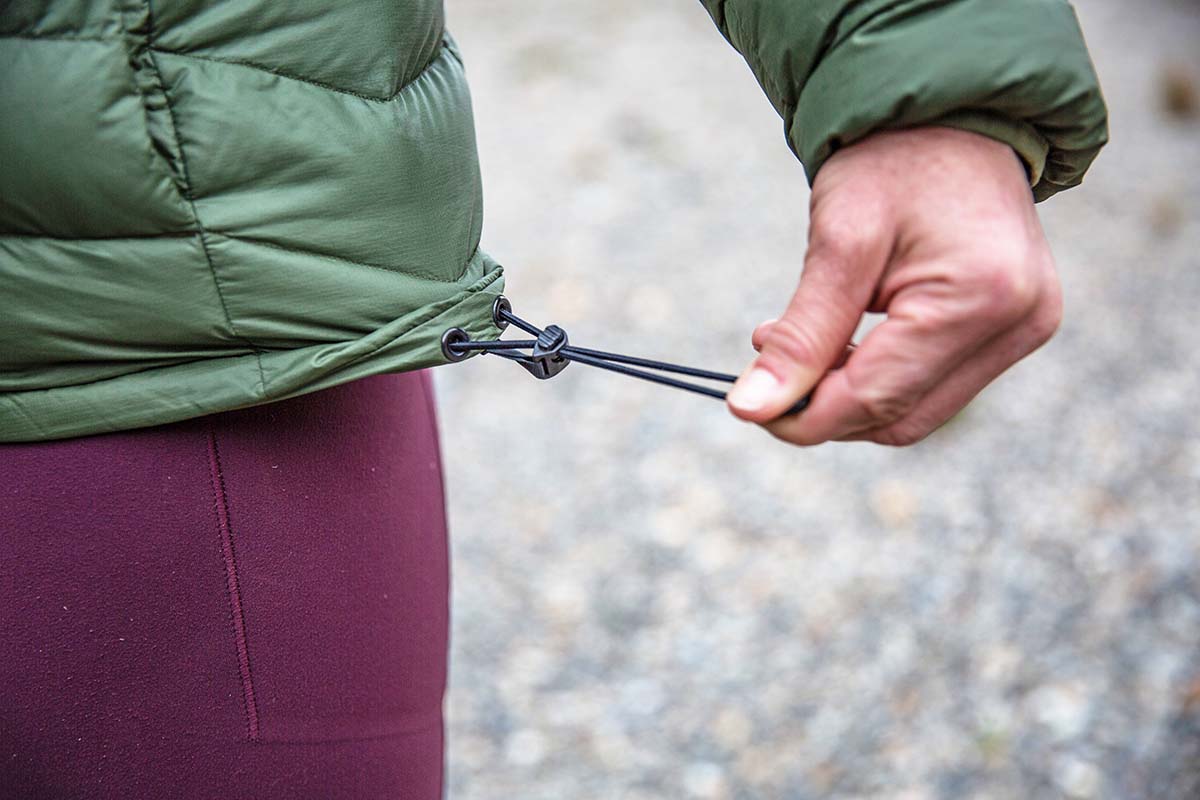 Sustainability
Feathered Friends is a relatively small business that makes an effort to keep their processes sustainable and ethical. All of their products are batch-made in their Seattle factory, minimizing waste from overproduction and allowing you to buy local (keep in mind that most of the materials are sourced abroad). Further, they keep quality at the forefront, so your jacket should last for many years (better for the environment than buying two cheap jackets, to be sure). And lastly, all of the down that Feathered Friends uses is a by-product of the meat industry and certified under the Responsible Down Standard, which ensures the humane treatment of animals.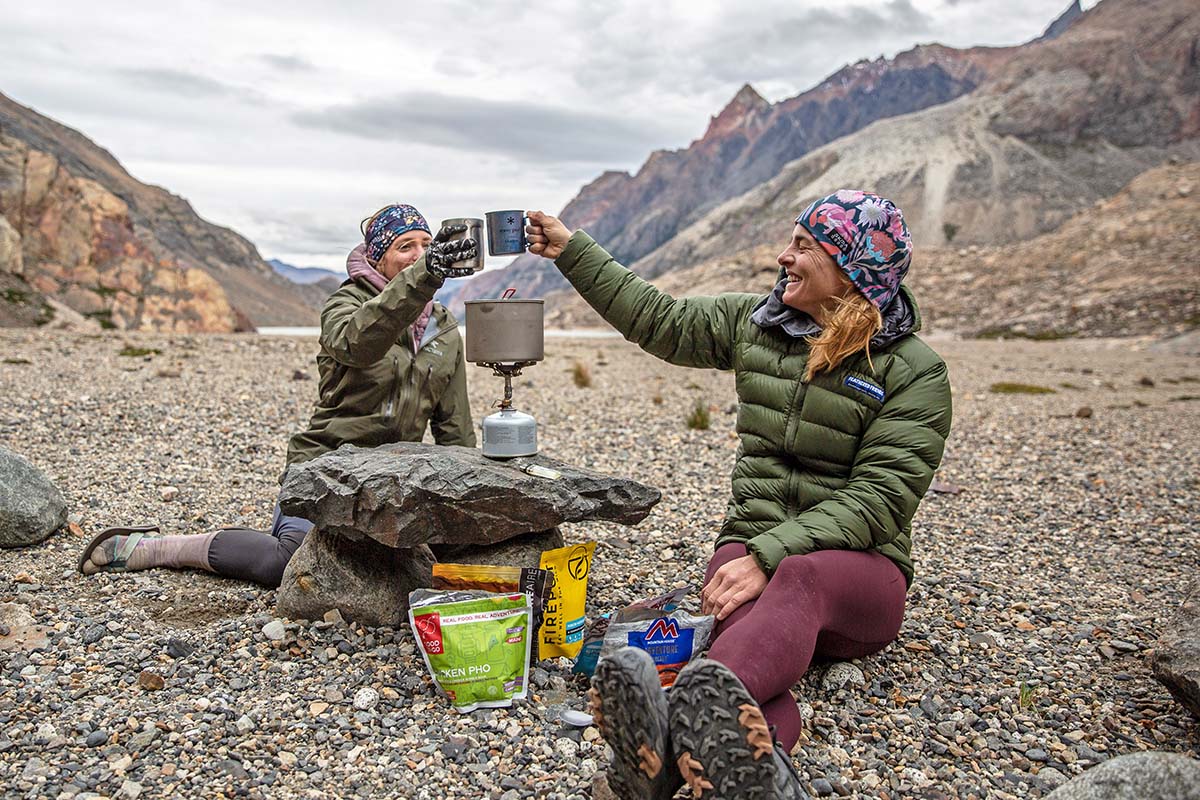 Men's Version of the Feathered Friends Eos
We focused on the women's Eos for this review, but Feathered Friends also offers a men's version. Compared to the women's jacket, the men's Eos costs the same at $389 but is heavier at 10.8 ounces and has a higher fill weight at 3.7 ounces. The rest of the build remains the same, including the Pertex Quantum shell, DWR coating, and separate stuff sack for packing it down. Finally, like the women's Eos, the men's jacket is available in five colorways: black, light blue (blue sky), grey (twilight), green (chive), and orange (sunburst).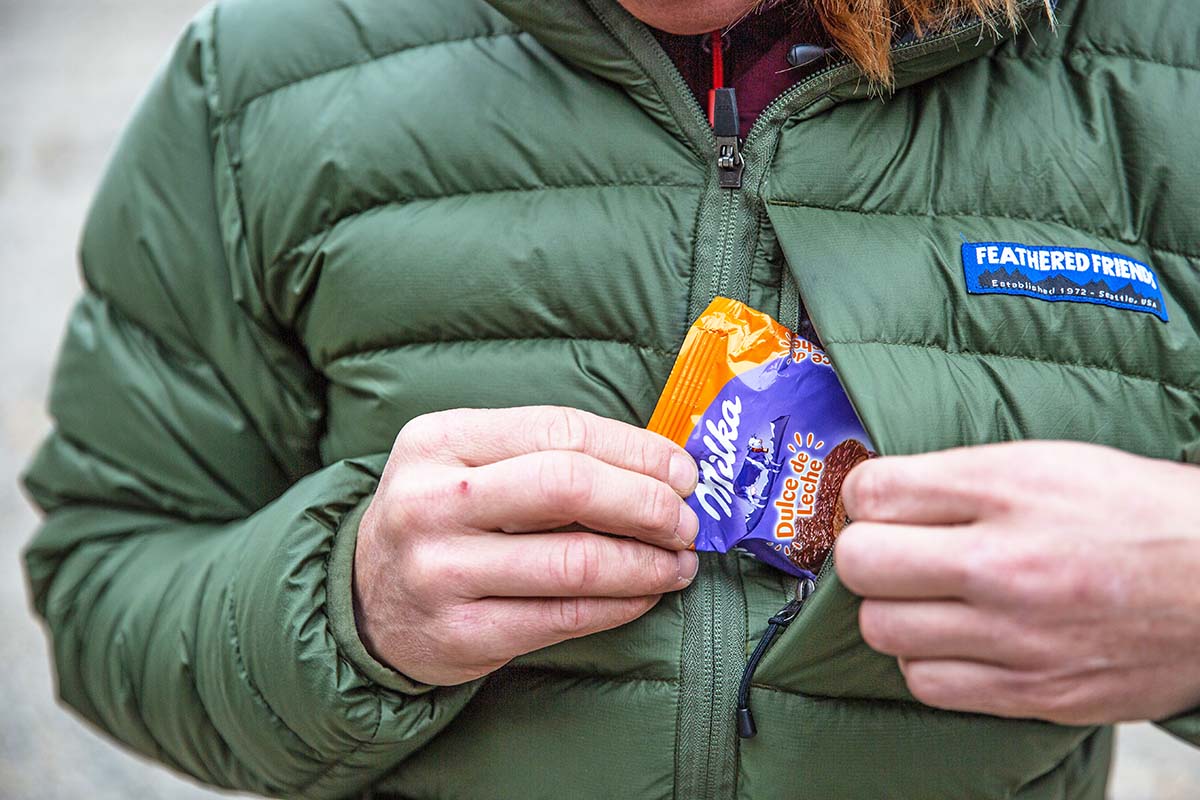 What We Like
A 10-ounce down jacket with impressive warmth for the weight.
Premium build quality and materials, along with the coveted Feathered Friends brand cachet.
The 12x20-denier shell offers more abrasion resistance than thinner fabrics used in many ultralight jackets.
Made in the United States with ethically sourced down.

What We Don't
Boxy fit and additional weight make the Eos less of an ultralight piece than the previous version.
No hydrophobic down or other advanced weather protection.
Hood adjustment lacks a modern fit and finish.
Feathered Friends gear can sell out during busy seasons, so you may have to wait a few weeks for your jacket.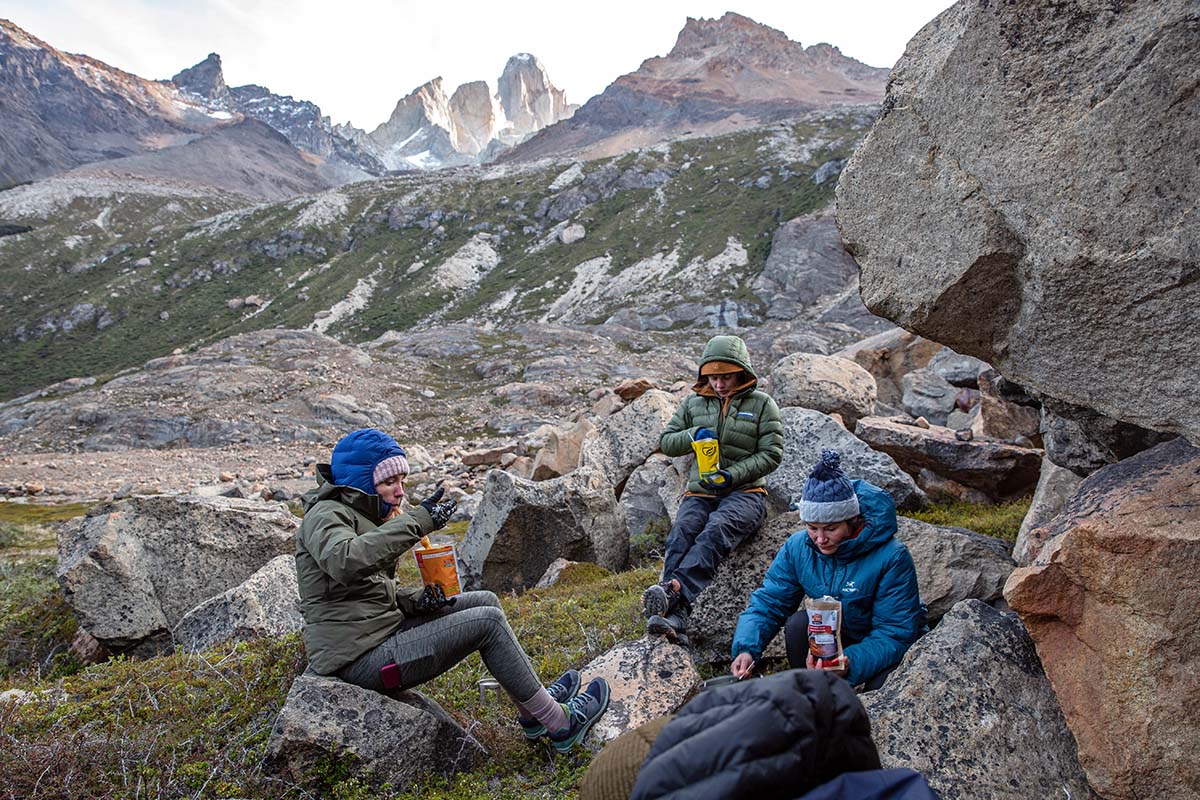 Comparison Table
The Competition
Feathered Friends products aren't cheap, but given their quality and performance, they stack up quite well against the competition. But there's no shortage of high-quality down jackets to choose from. The Arc'teryx Cerium LT Hoody is a strong contender: for $10 less and virtually the same weight as the Eos (9.9 vs. 10 oz.), you get a similar feature set, slightly more warmth (including synthetic insulation in areas prone to moisture), and a sleeker appearance and fit. The only real tradeoff with the Arc'teryx is the shell fabric, which is thinner than the Eos' at just 10 denier. At the end of the day, both are top-notch lightweight down jackets, but we think the Cerium LT Hoody gets the small edge in terms of value.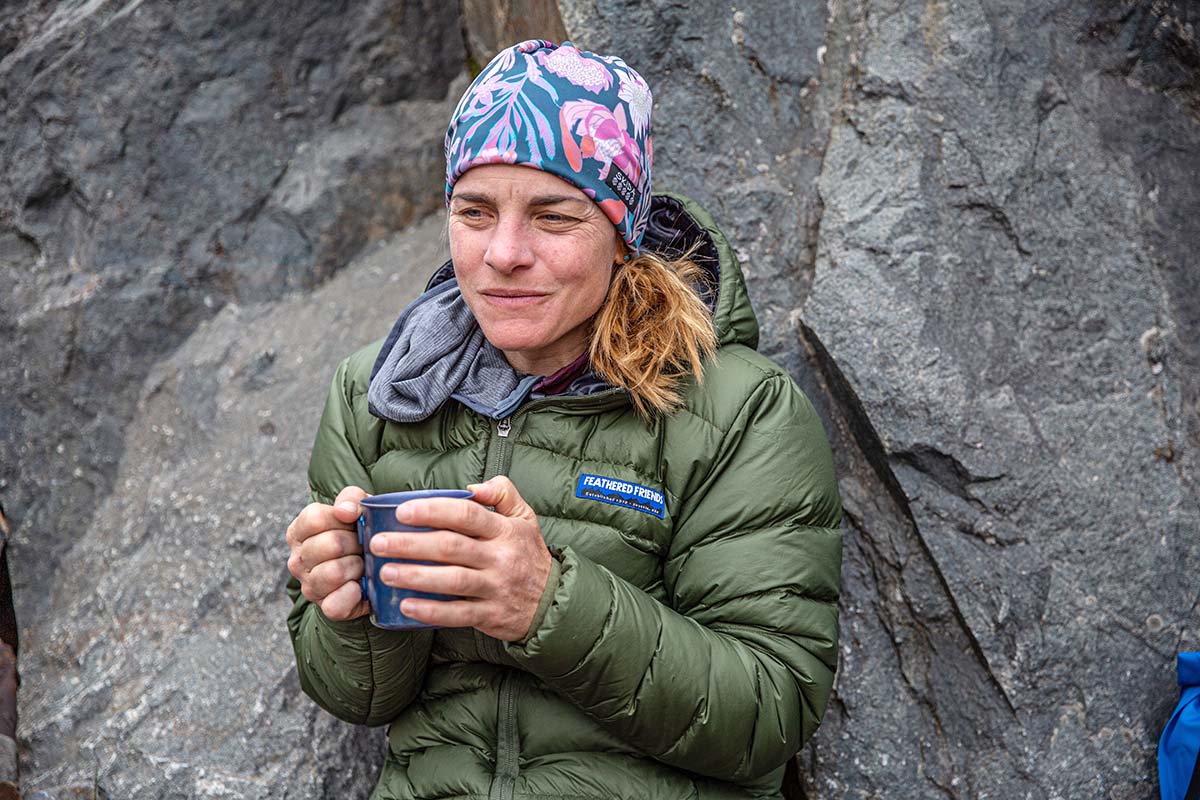 The down jacket that really pioneered the ultralight category is the Mountain Hardwear Ghost Whisperer. Updated to the "2" with recycled shell fabric and responsibly sourced down, it manages to pack a whole lot of warmth into a sub-8-ounce package. One big tradeoff is durability: the Ghost Whisperer sports a much thinner 10Dx10D shell, which requires a healthy level of care to avoid tears and holes, particularly for everyday use. It also has less insulation than the Eos and uses lower-quality 800-fill down. But for fast-and-light missions in the summer and shoulder seasons (we bring it along as an emergency layer for warm-weather days in the mountains), the Ghost Whisperer/2 is one of the lightest down jackets on the market. 
Among serious climbers and alpinists, Montbell has a dedicated following. The brand won't win any marketing awards and doesn't aim for the mainstream, but it's hard to argue with their products, and specifically the Plasma 1000 Alpine Down Parka. At just 7.9 ounces total, you get a healthy 3 ounces of 1,000-fill-power down (that is not a misprint). Patagonia offered a 1,000-fill-power piece a handful of years ago and Rab currently does as well with its Zero G, but this is rare air—it's the fluffiest and lightest down available. The shortcomings of the Plasma 1000 are the ultra-thin 7D shell and hefty $439 price tag, but you just won't find more warmth for the weight.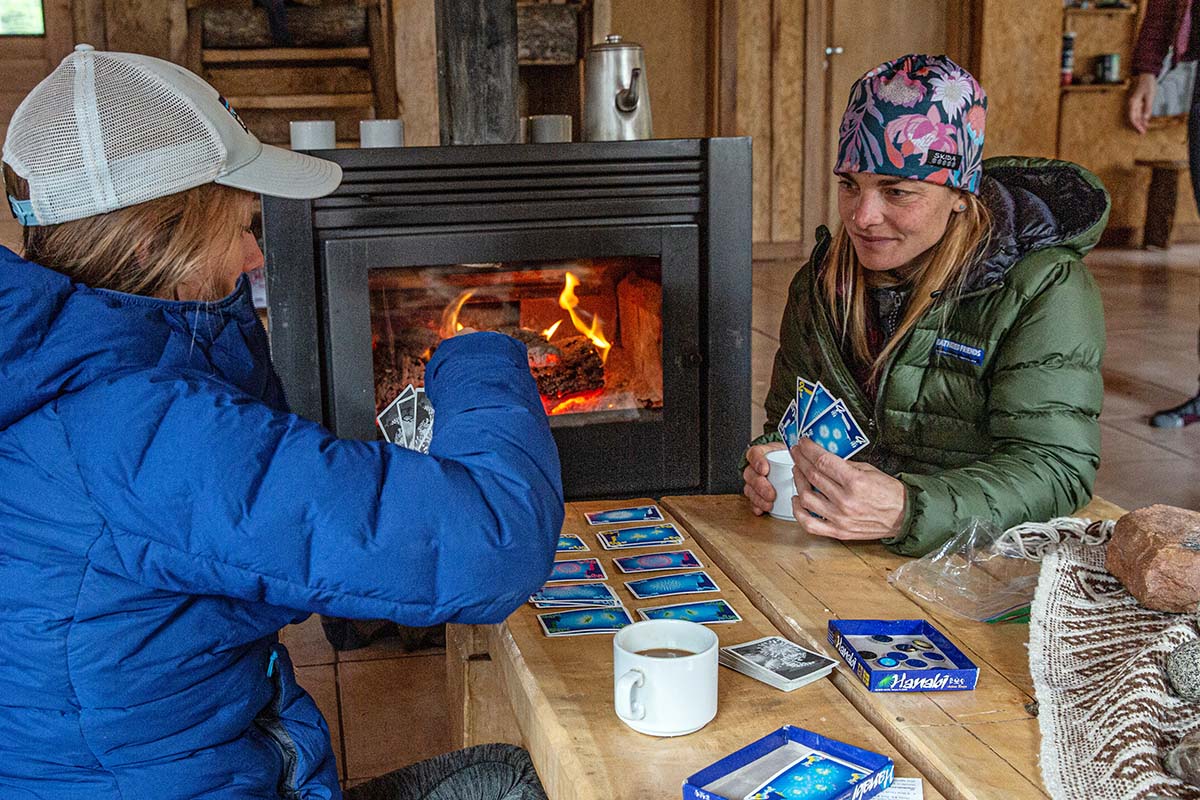 Moving toward the mainstream, the Patagonia Down Sweater Hoody is one of the most popular down jackets on the market year after year. For $279, you get 3.5 ounces of 800-fill traceable down, a 20x30D shell that is more durable than the Eos, and a total weight of 13.1 ounces (a significant 3.1 oz. heavier than the Feathered Friends). All things considered, the Eos certainly is the more performance-oriented jacket—it's lighter, warmer, and packs down smaller—but the Down Sweater Hoody is $110 cheaper and crosses over better for everyday wear. For casual use, the Patagonia is tough to beat. 
Last but not least, Feathered Friends offers a warmer women's down jacket in the Ellia. For this piece, the fill weight bumps up to 4.9 ounces, the total weight goes up to 13 ounces, and the baffles are larger. Interestingly, the Ellia is only $10 more than the Eos at $399 (note: it's sold out at the time of publishing). At the end of the day, the Eos is plenty warm to be your down layering jacket for most non-winter adventures, but the Ellia steps it up a notch but with more warmth along with the same premium materials and attention to the detail. The Ellia is surely the better value and serious backcountry enthusiasts might have a place in their quiver for both jackets, but the Eos should get the job done for most people.

Editor's note: We usually provide a live price comparison table below our outdoor gear reviews, but the Eos is sold exclusively by Feathered Friends. You can see the Eos page here and support us in the process. Thanks!
Learn More About Outdoor Gear