Patagonia is well-loved among outdoor enthusiasts for their good-looking products and eco-friendly ethos. Their AlpLight Down Jacket follows suit, combining a remarkably low weight and sleek styling inside a shell made from recycled fishing nets. It's not the most protective or durable option and has a decidedly barebones feature set, but the AlpLight is feathery light, thoughtfully built, and easier on the planet than many of its competitors. Below I break down my experiences with the AlpLight Down Jacket. To see how it stacks up to the competition, see our articles on the best down jackets and best women's down jackets.
 
---
Table of Contents
---

Performance
Warmth
As its name suggests, the Patagonia AlpLight Down Jacket is decidedly lightweight, but it still manages to pack in a good amount of warmth and wind protection. In terms of insulation, the AlpLight contains 3 ounces of 800-fill-power down, stacking up very competitively to other leading designs like Norrøna's Trollveggen Superlight Down850 Jacket (2.1 oz. of 850-fill down), Arc'teryx's Cerium LT Jacket (2.6 oz. of 850-fill-power down), and Patagonia's Down Sweater Jacket (3.4 oz. of 800-fill down). Given its ultralight intentions, the AlpLight doesn't come with a hood, but I found that the overstuffed collar effectively sealed out drafts, and the drawcord at the hem also helps trap warmth.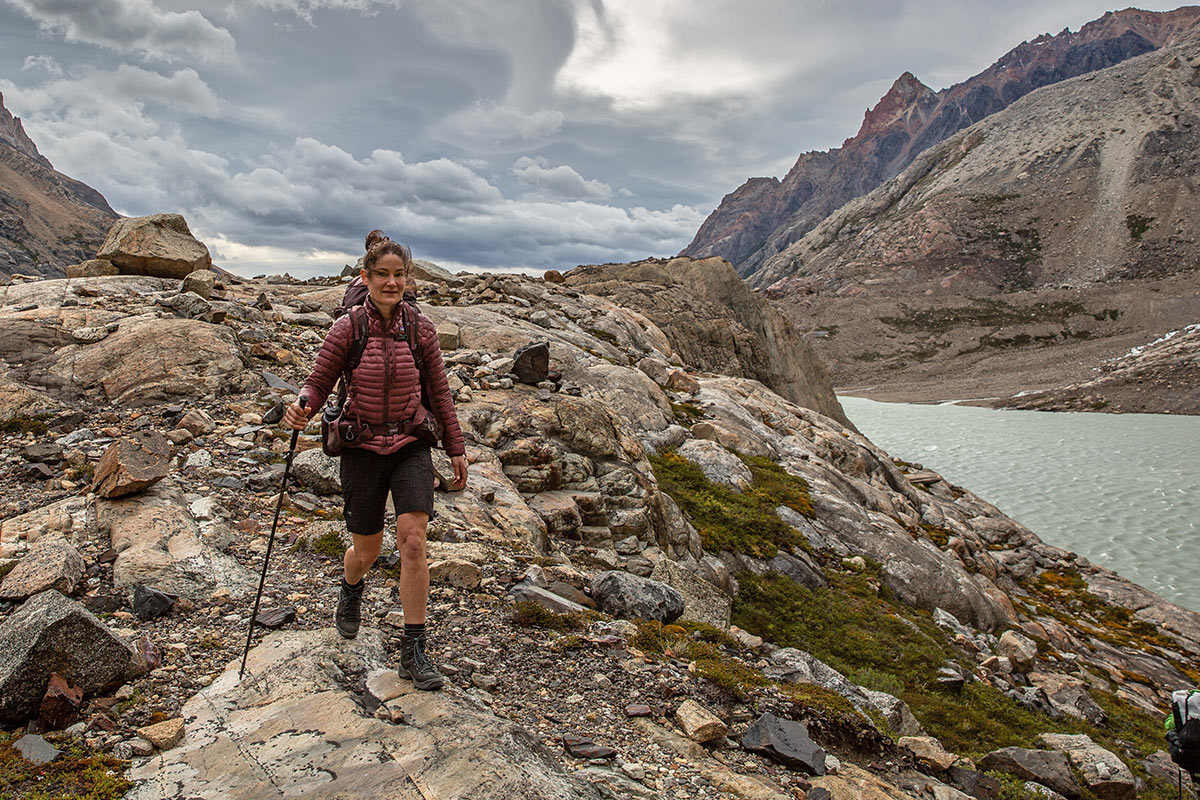 I tested the AlpLight Down Jacket during a recent trip to Patagonia and found it to be an excellent match for the cooler conditions we experienced. For reference, I was able to stay perfectly cozy with just a thin merino wool baselayer underneath during trail breaks in temperatures around 50 to 60 degrees Fahrenheit. It also worked well as a midlayer on chillier nights at camp, when I wore it under my hardshell jacket (the Arc'teryx Beta SV) or another insulating layer (either my Arc'teryx Cerium SV or Nuclei SV). And when the notorious Patagonia winds picked up during our day hikes and backpacking trips, I was quick to reach for the AlpLight to cut the chill.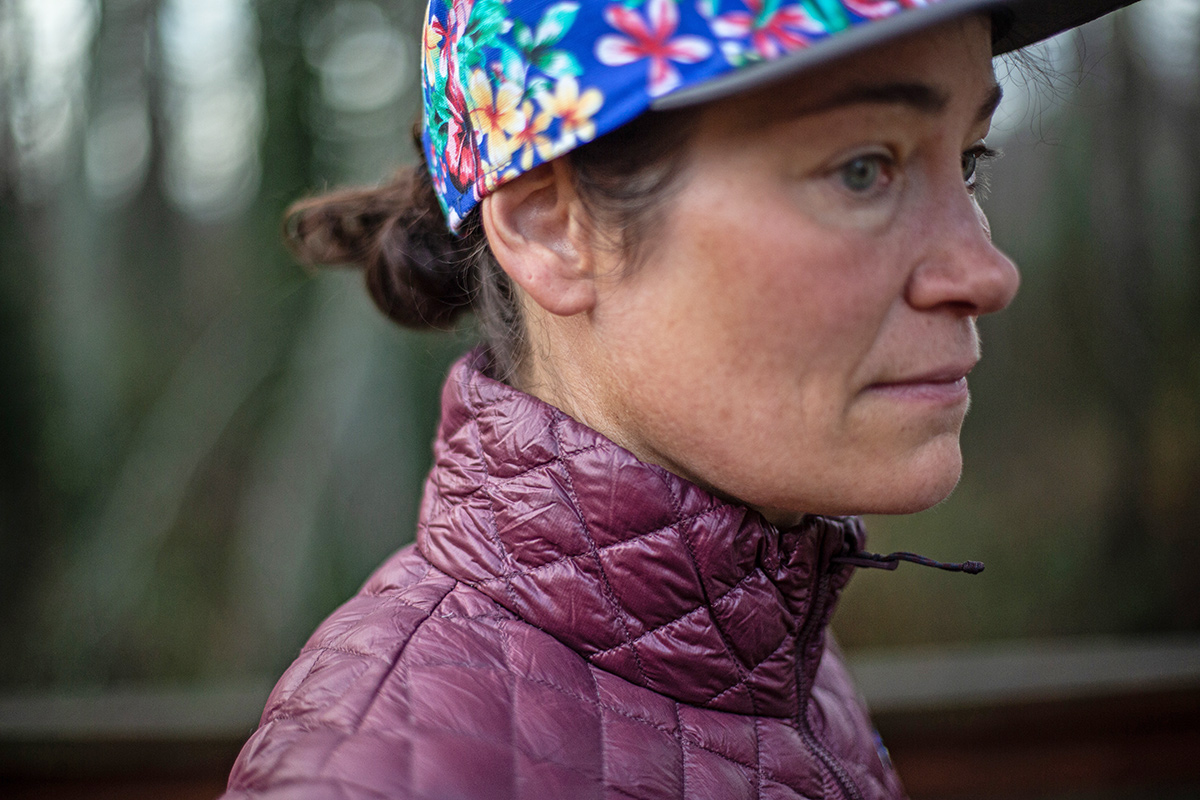 Weight and Packability
At 7.7 ounces (my women's size small tips the scale at a mere 7 oz.), the Patagonia AlpLight Down Jacket is an excellent match for ounce-counters and fast-and-light enthusiasts. However, it's not the lightest option on the market: Mountain Hardwear's Ghost Whisperer UL (6.2 oz.) and Norrøna's Trollveggen Superlight Down850 (5.7 oz.) both undercut the AlpLight while offering similar warmth. In the case of the Ghost Whisperer, you also get a hood, which adds a sizable boost in wind resistance and overall protection. That said, the AlpLight is the cheapest of the bunch and still decidedly ultralight, which will be a winning combination for many.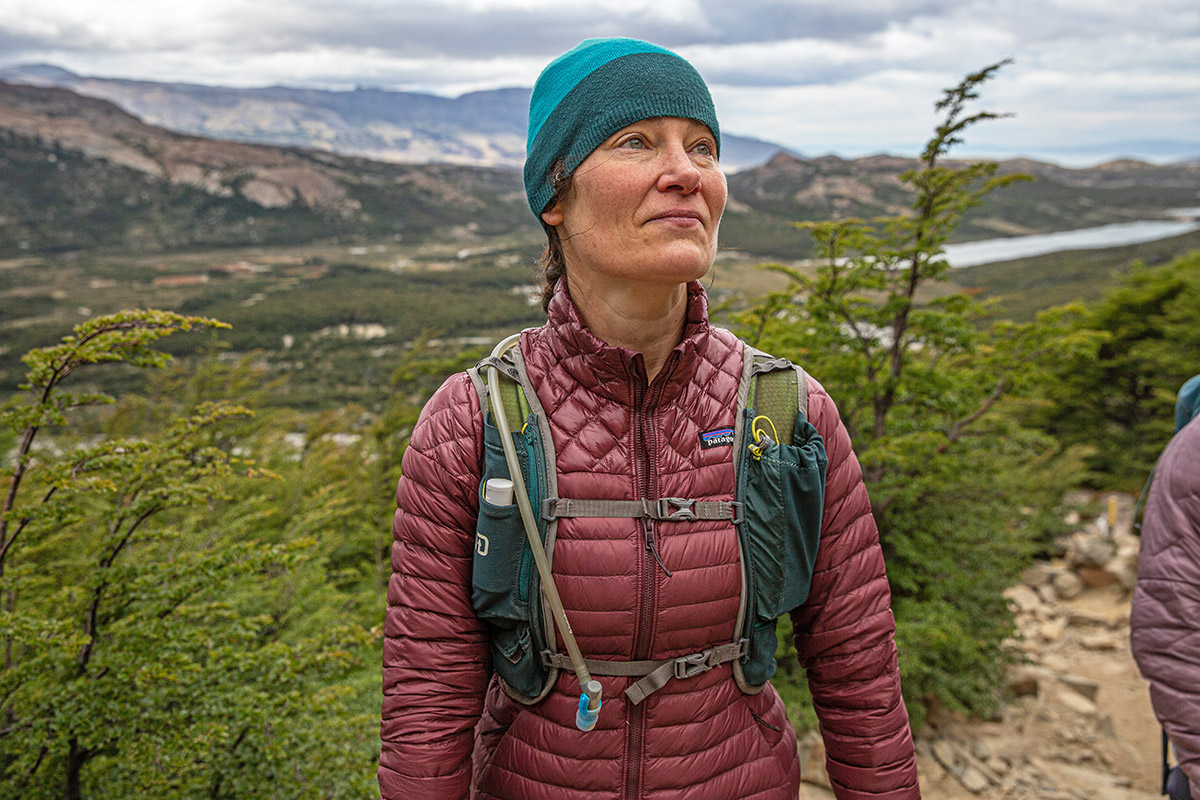 As with weight, packability is another highlight of the AlpLight's feathery build. When it comes time to stuff down, the jacket can be compressed into its right hand pocket—which also includes a carabiner loop for clipping to a climbing harness—to about the size of a grapefruit. However, similar to my experience with the Norrøna Trollveggen mentioned above, it's a very tight fit getting the jacket stuffed down. I also have concerns about the thin shell catching on the zipper while it's being forced shut, so I prefer to leave it unzipped.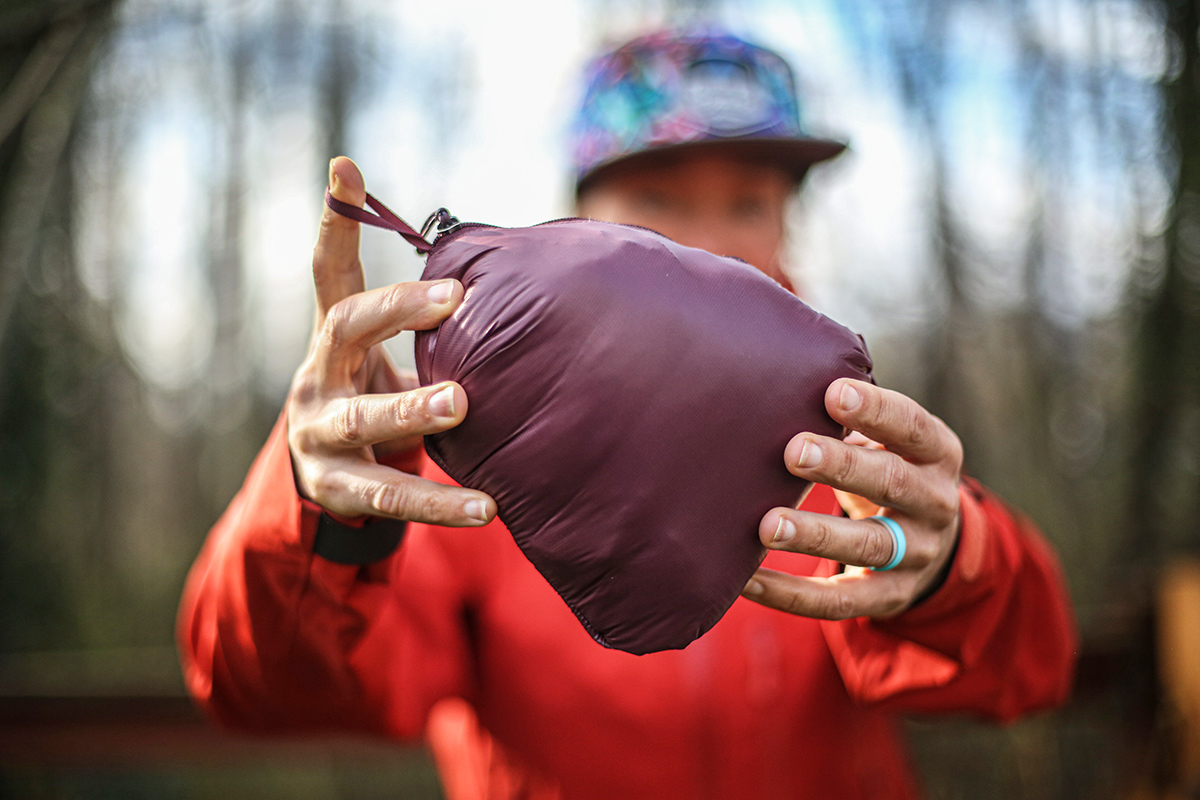 Weather Resistance
With just a standard durable water repellent (DWR) finish and no other notable weatherproofing measures, it was no surprise that the AlpLight wetted out quickly, even during short bouts of rain. Once soaked through, moisture quickly began to permeate the down, causing it to clump up and lose its insulating abilities (this is down's biggest pitfall and why people often turn to synthetic jackets in wet weather). Given my experiences, I'd only recommend wearing the AlpLight as an outer layer if you're sure that no rain or snow is in the forecast. Otherwise, it's best to bring along a hardshell or rain jacket.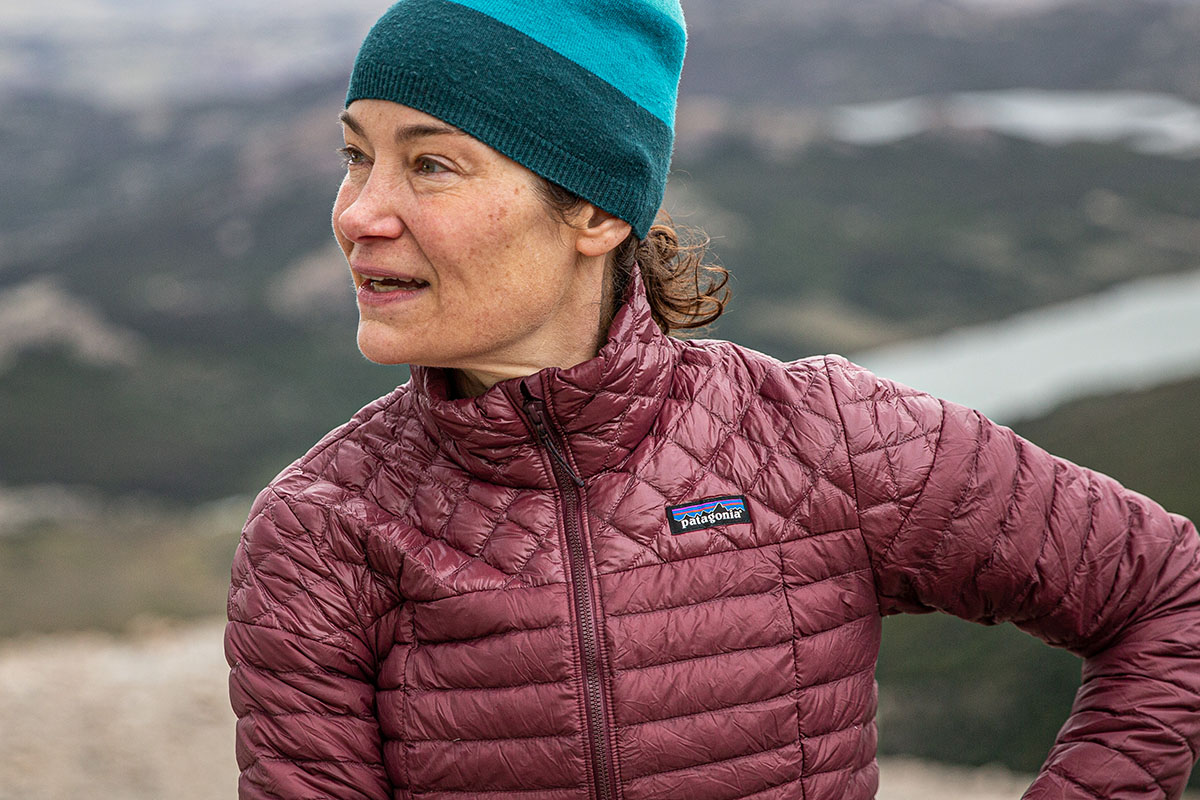 Despite its subpar protection in wet weather, the Patagonia AlpLight Down Jacket has fended off strong winds impressively well, which was especially surprising to me considering the jacket's thin 10-denier (D) shell. But as I mentioned above, features like the overstuffed collar and waist drawcord certainly help, as does the interior storm flap behind the main zipper. Even in Patagonia's violent winds that threatened to knock us off the trails, the AlpLight felt mostly draft-free and nicely combatted the chill.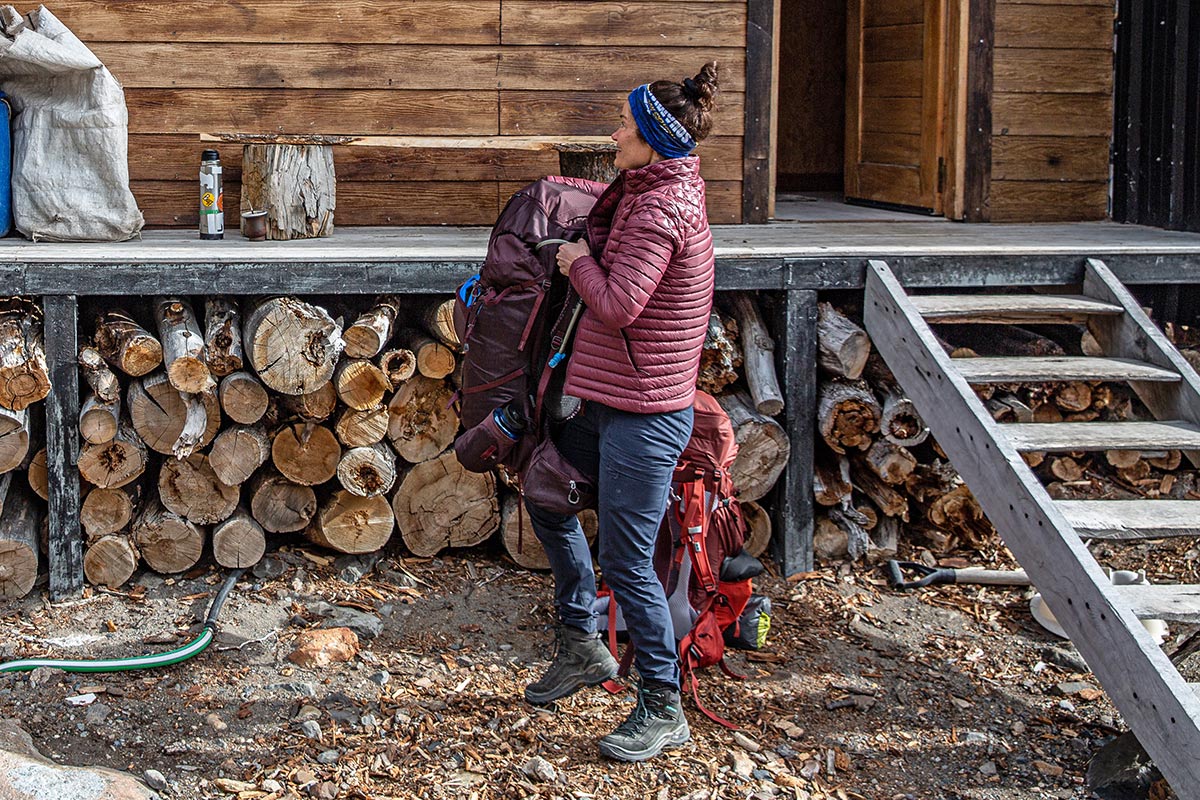 Key Features
The feature list for the AlpLight Down Jacket is decidedly short, but that's pretty common among minimalist designs. Similar to my Norrøna Trollveggen Superlight 850, the AlpLight comes with just two handwarmer pockets for storage, which is pretty limiting. If it were up to me, I would gladly trade a few ounces for an additional small internal pocket to stash keys and other valuables. Unlike the Trollveggen, the AlpLight does come with a drawcord at the waist for sealing out drafts and keeping the hem in place, but it wasn't all that useful or necessary for me.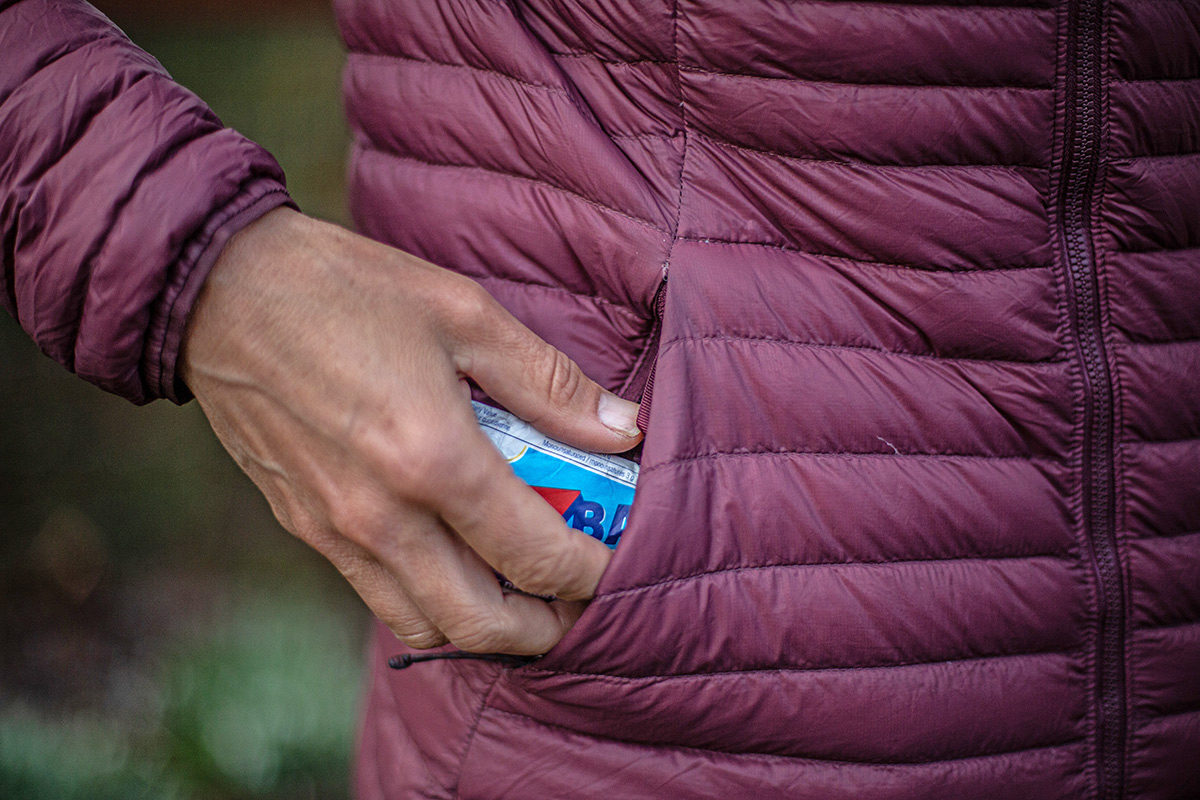 Build Quality and Durability
Like most ultralight pieces, the AlpLight Down Jacket utilizes a thin nylon ripstop shell (10D) to keep weight in check, but it has resisted tears much better than expected. To be fair, it's not the thinnest out there—the Norrøna Trollveggen Superlight Down850 has a 7D shell, while the Mountain Hardwear Ghost Whisperer UL's is a fragile (and practically transparent) 5D x 7D. But despite knowing it would be more delicate than some of my other down jackets, I have not been particularly easy on the AlpLight, wearing it frequently under a loaded pack and subsequently stuffing it haphazardly back in. Thus far, only one stray feather has tried to escape the shell, but it was easy to massage back in. Otherwise, the AlpLight is showing no real signs of wear, although I still recommend exercising caution around sharp gear and trail obstacles like branches (and if all else fails, repair tape effectively seals holes).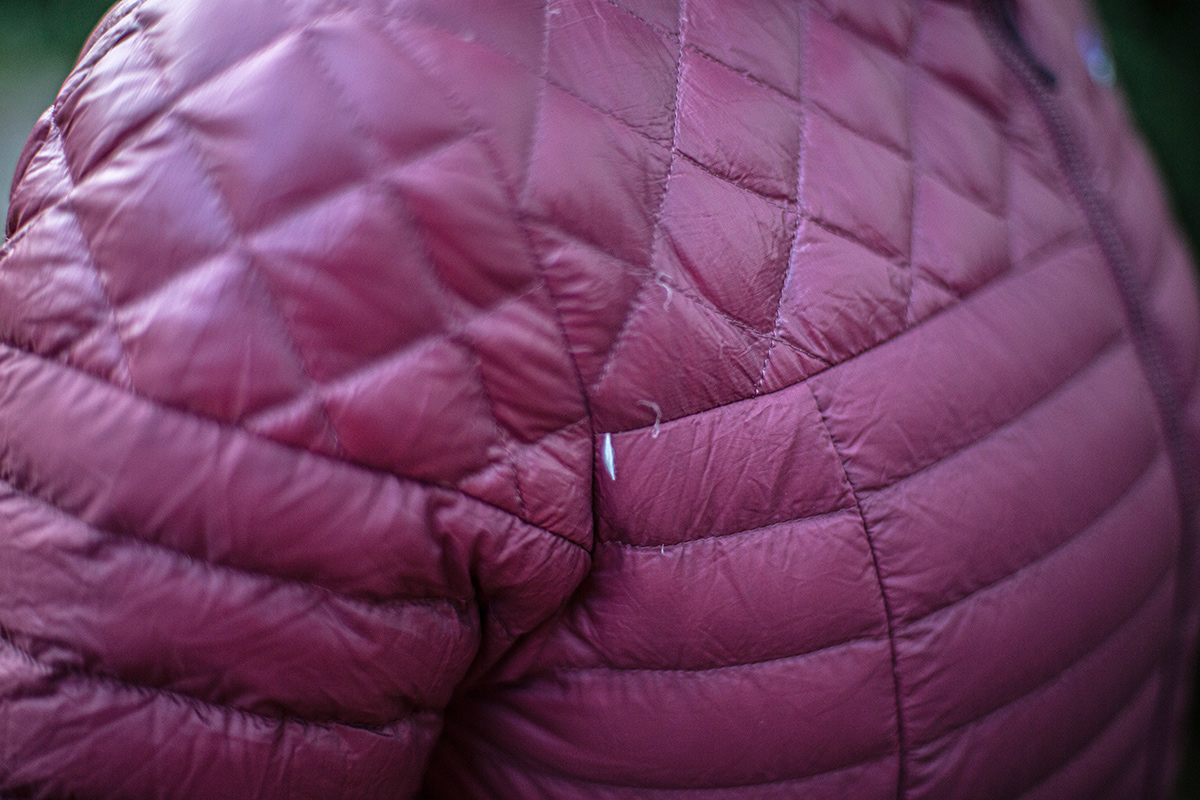 Fit and Sizing
The AlpLight Down Jacket comes in seven sizes ranging from XXS to XXL, which is a slightly expanded range compared to many of Patagonia's other styles. I went with my standard women's small and found the "slim" shape to be just about perfect for pairing over a thin baselayer or layering under a hardshell or bulkier insulating piece (like my Arc'teryx Nuclei SV Parka). Even when worn for entire days of hiking, the AlpLight was comfortable and never restricted movement, thanks to the narrow channels at the upper body that are designed to reduce bulk and boost mobility at the shoulders and elbows. Finally, as I touched on above, the drawcord at the waist can help with dialing in fit, although I never needed to adjust it during testing.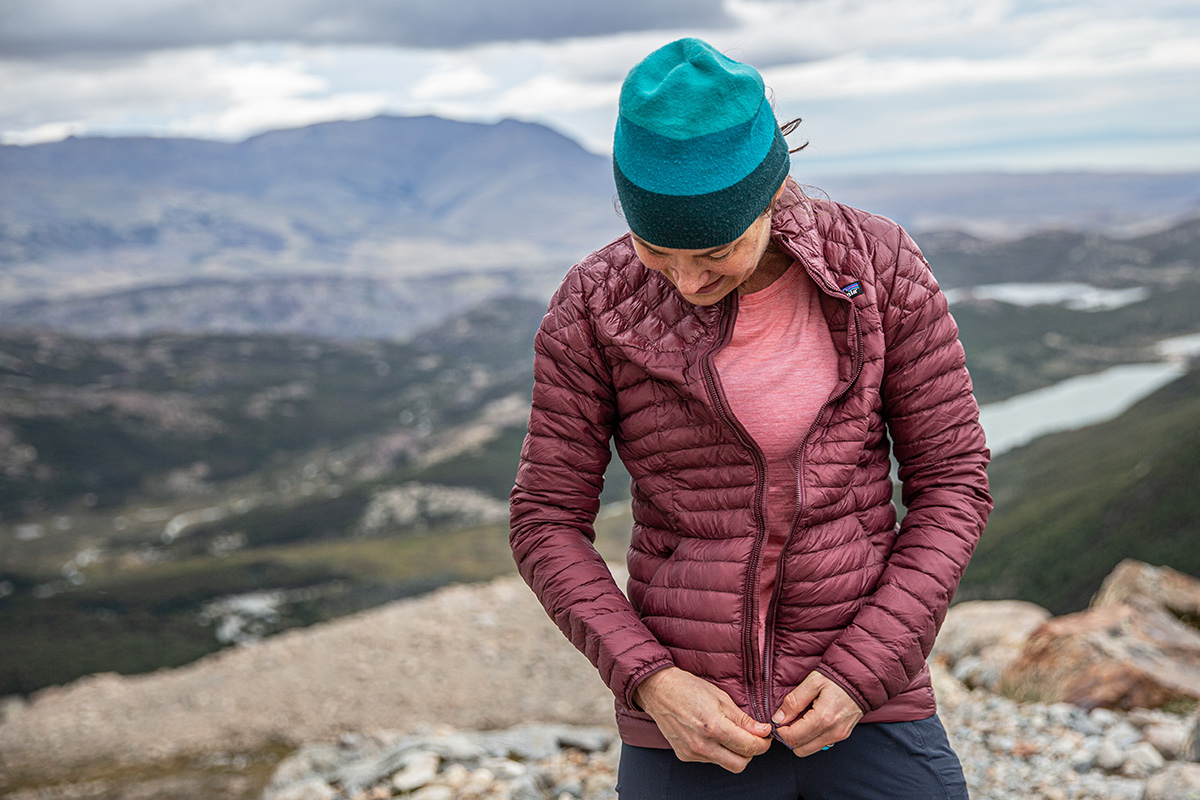 Sustainability
The Patagonia AlpLight Down Jacket holds its own as an ultralight performance piece, but what truly sets it apart is its sustainability slant. Like some of its competitors, the AlpLight uses traceable goose down that's certified by the health organization NSF International to ensure that the birds were not force-fed or live-plucked. You also get a PFC-free DWR finish that foregoes harmful perfluorocarbons, and Fair Trade Certification indicating that workers are compensated fairly and have access to programs like healthcare, child care, and more. And the biggest news here is the AlpLight's NetPlus shell, a 100-percent-recycled ripstop nylon that's made from recycled fishing nets. Taken together, it's an admirable effort from Patagonia and only adds to the jacket's all-around appeal.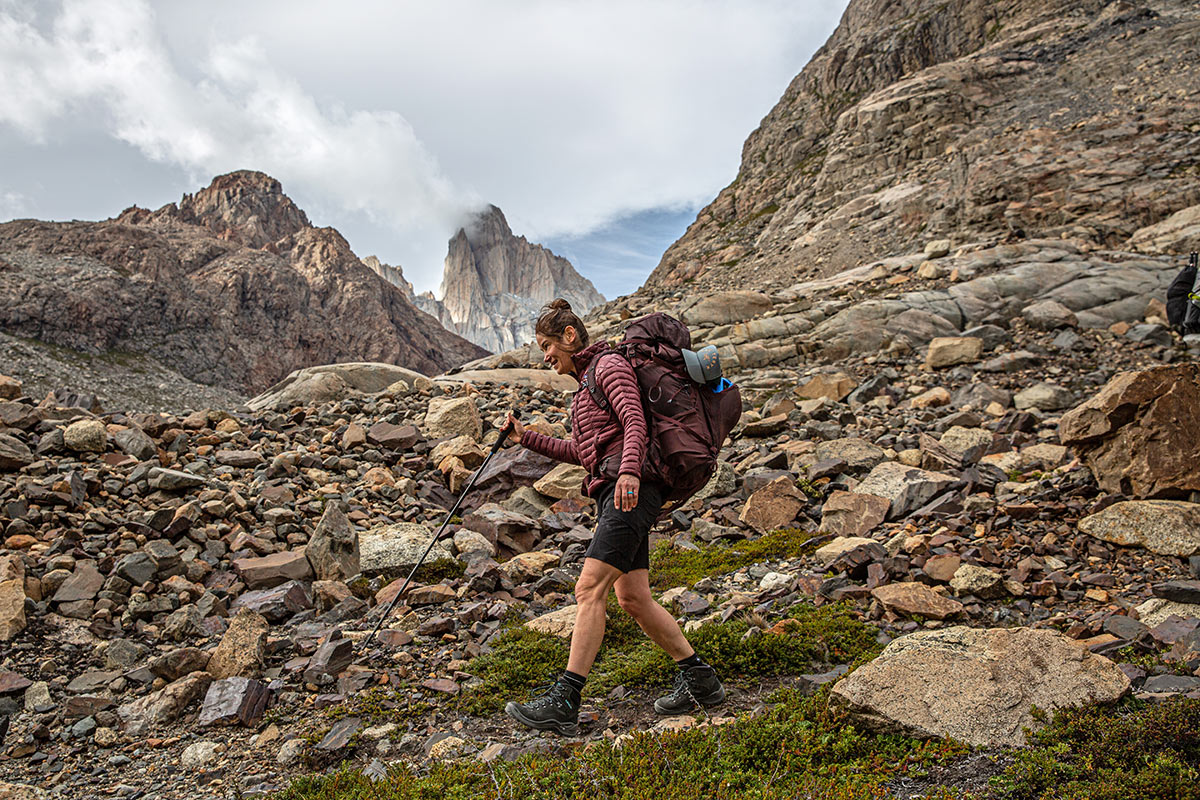 Other Versions of the Patagonia AlpLight
I tested the women's AlpLight Down Jacket for this review, and Patagonia also sells it in a men's model and partial-zip AlpLight Down Pullover for both men and women. The men's AlpLight Down Jacket lacks the distinctive, contrasting shoulder baffles of the women's version and has a slightly boxier and less form-fitting cut, although it's still a "slim" fit by Patagonia standards. The pullovers cost $50 less than the jacket variations at $249 and weigh a little less (the women's model is 6.4 oz.). Notably, the women's AlpLight Down Pullover trades the raised collar of the men's design for a lower crew-neck style and comes with the lower-bulk baffles at the shoulders, but most other features are the same.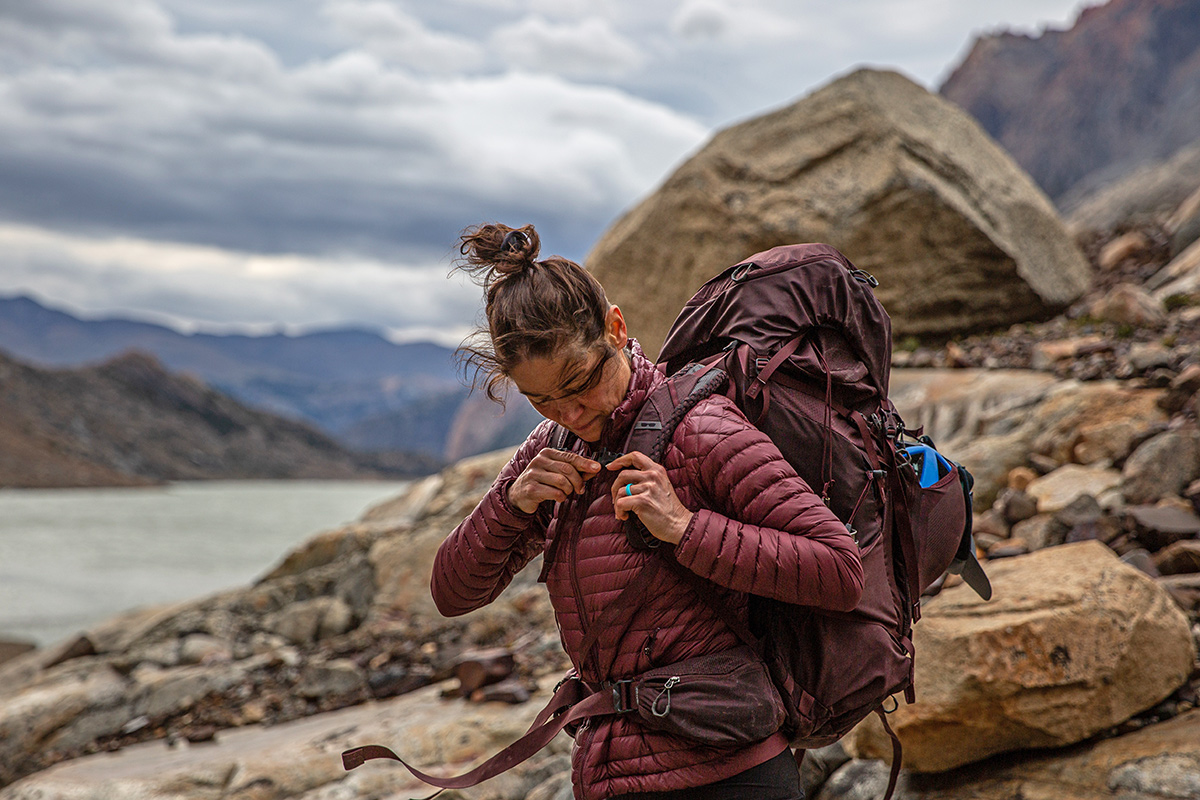 What We Like
Good warmth and wind-blocking abilities in an ultralight and highly packable design.
Overstuffed collar and hem cinch are great for sealing out drafts around the neck and waist (respectively).
Quilted baffles at the shoulders boost mobility and add to the sleek and stylish look.
Clearly built with sustainability in mind, including traceable down, a PFC-free DWR coating, and shell made from recycled fishing nets. 
Considerably cheaper than most of the UL competition at just $299.

What We Don't
Face fabric is very delicate and will require care to avoid snags and tears.
DWR finish wets out quickly in sustained moisture with no other weatherproofing measures to protect the down insulation.
Lack of hood is limiting for performance/standalone use.
Stuffing the jacket into its hand pocket requires some force and effort, and I worry about the thin shell tearing on the zipper.


Comparison Table

The Competition
The Patagonia AlpLight Down Jacket is an intriguing addition to the ultralight end of the down jacket market, but there's no shortage of competitors in 2022. In fact, after testing both the AlpLight and Norrona's Trollveggen Superlight 850, I see far more similarities than differences between the two, including the fact that both jackets' shells are made with nylon from recycled fishing nets. Fit and features are also similar, including no hood, two hand pockets, and face fabrics that wet out quickly in sustained moisture. The Norrøna does weigh a couple ounces less, but the AlpLight includes a hem toggle for dialing in fit at the waist and costs a considerable $80 less. Given the similar warmth at a lower price point, we consider the AlpLight the more competitive UL option (for more information, see our in-depth Trollveggen review).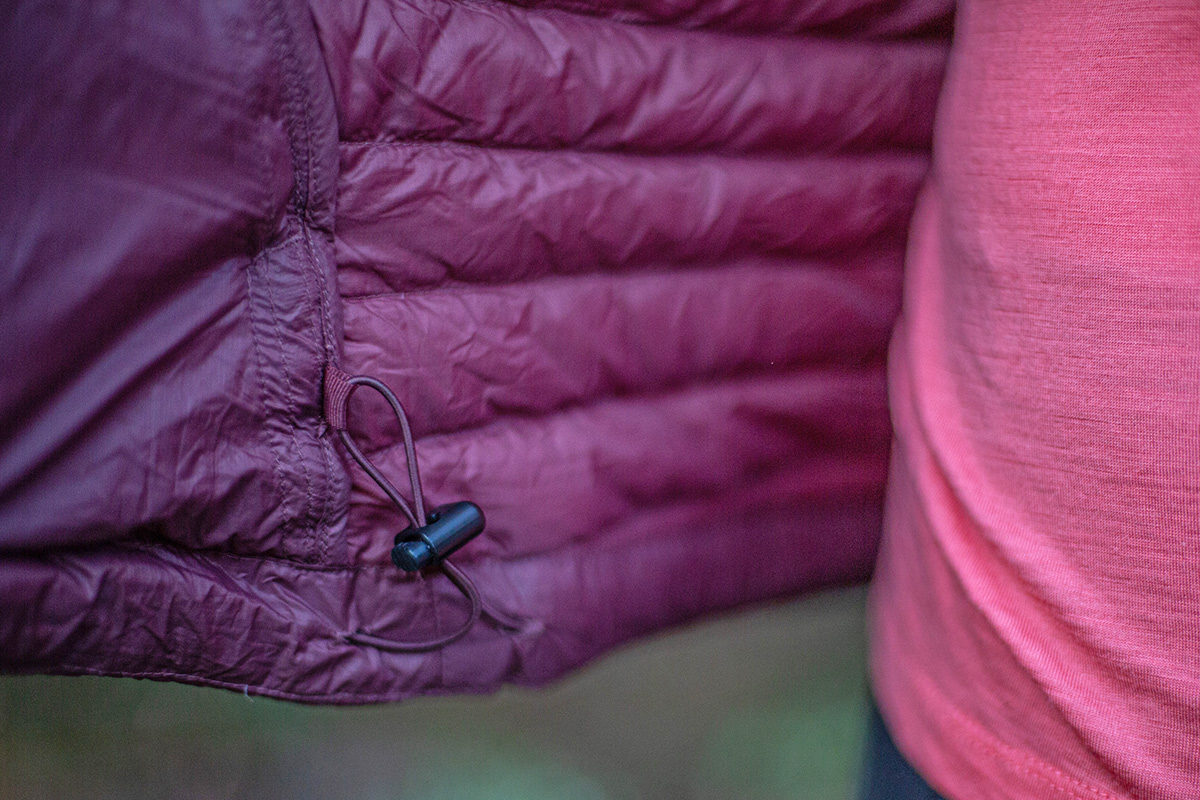 For a more performance-focused option, it's worth considering Mountain Hardwear's Ghost Whisperer UL, an even lighter take on their uber-popular (and already ultralight) Ghost Whisperer. With the Ghost Whisperer UL, you get 1.9 ounces of lofty and premium 1,000-fill down in a scant 6.2-ounce package. As expected for the weight, the Ghost Whisperer packs down incredibly small to about the size of a Nalgene, making it great for stuffing into a running vest or ultralight pack. Impressively, the Mountain Hardwear also managed to retain a hood (which the AlpLight lacks) and hem drawcord. But as with most UL designs, the Ghost Whisperer sacrifices a good amount of durability with a practically see-through 5D x 7D shell. Tack on a steep $375 price tag, and we think most will be happier saving with the AlpLight. 
Next up is Arc'teryx's Cerium LT Jacket, which is a step up in warmth and weather protection from the AlpLight. With 2.6 ounces of 850-fill-power down, the Cerium offers similar warmth but adds synthetic Coreloft insulation (80g and 100g) in moisture-prone areas. As we covered above, synthetic fill doesn't clump up like down and will continue insulating when wet, making it the better option in inclement weather. You also get functional additions like an internal security pocket for stashing valuables and a soft chin guard at the collar, although weight and price jump to 9 ounces and $349 respectively. That said, the Cerium is one of our favorite down jackets on the market with Arc'teryx's typical attention to detail and exceptional build quality. If you get out frequently and are willing to make the investment, the Cerium is hard to beat.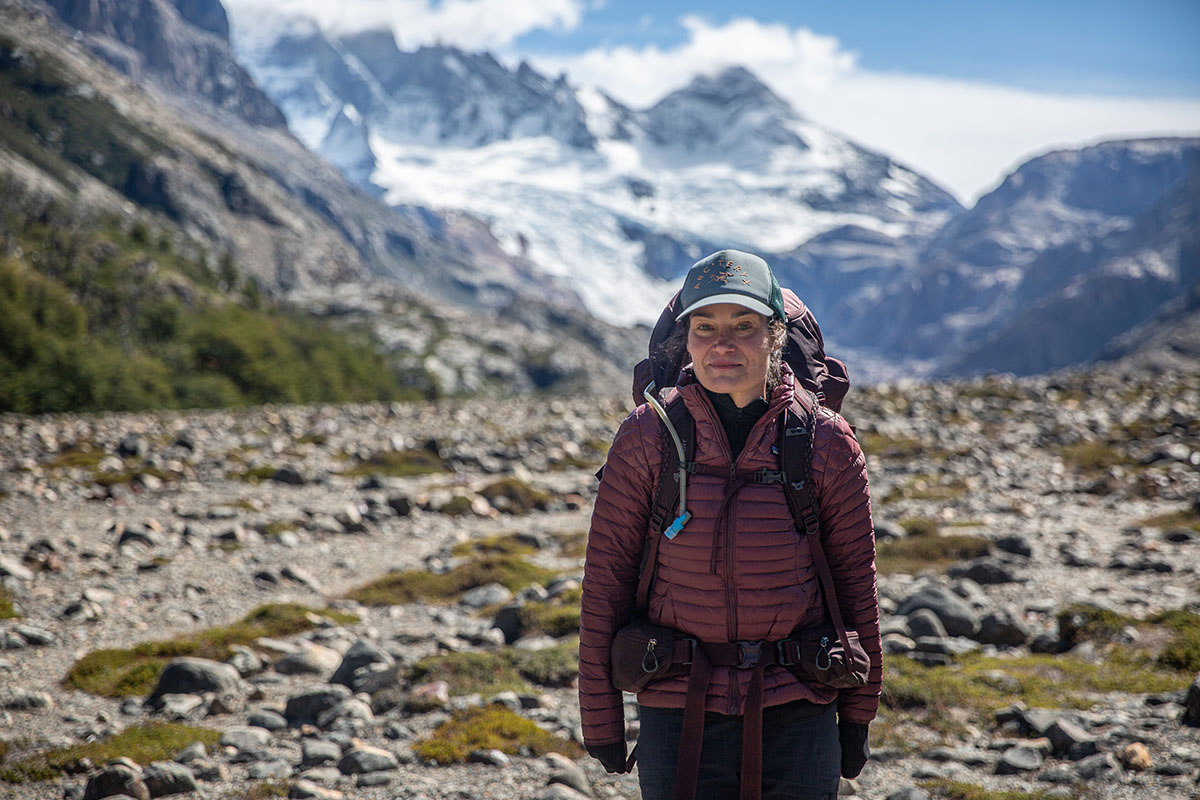 Most ultralight down jackets achieve their featherweight status by paring down features and using ultra-thin face fabrics, making them less well-rounded for daily wear. But for 4.5 extra ounces, Patagonia's legendary Down Sweater Jacket adds a sizable boost in durability and everyday appeal. In this case, the 3.4 ounces of 800-fill down is stuffed inside a thicker 20D x 30D shell, making it much more resistant to tears and snags. In addition to the weight penalty, the Down Sweater has a bulkier fit and doesn't pack down as small as the AlpLight, but it's cheaper at $229, much more hardwearing, and versatile for everything from backpacking and hiking to wearing casually around town. Unless your main priority is weight, we consider it the more competitive overall design and the better buy for most.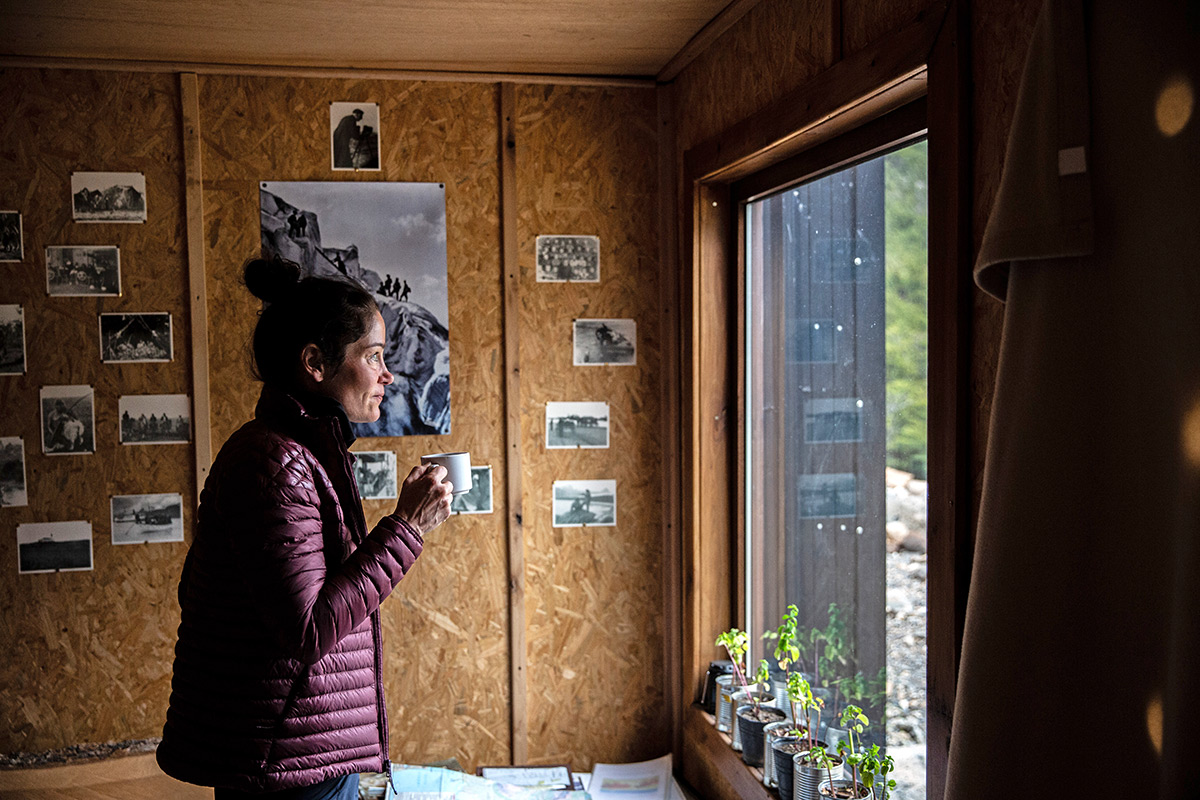 Last but not least is a more specialized UL design to have on your radar: Montbell's Plasma 1000 Down Jacket. The Plasma is the lightest option on our list at a remarkable 4.1 ounces and uses lofty and highly compressible 1,000-fill down, although it's not as well-insulated as the AlpLight with a fill weight of just 1.3 ounces. Like many targeted ultralight pieces, the Plasma also has a very thin 7D shell and foregoes features like a hood and adjustments at the hem and cuffs. In achieving such a low weight, Montbell also left out hand pockets. Ounce-counters and dedicated ULers like thru-hikers may not mind these tradeoffs, but the AlpLight is far and away the more approachable design for most.
If you're thinking about buying gear that we've reviewed on Switchback Travel, you can help support us in the process. Just click on any of the seller links above, and if you make a purchase, we receive a small percentage of the transaction. The cost of the product is the same to you but this helps us continue to test and write about outdoor gear. Thanks and we appreciate your support!
Depending on the seller, most products ship free in the United States on orders of $50 or more. International shipping availability and rates vary by seller. The pricing information on this page is updated hourly but we are not responsible for inaccuracies.
Read More From Switchback Travel