Mountain Hardwear Ghost Whisperer UL
Price: $375
Weight: 6.17 oz. (women's medium)
Fill: 1.92 oz. of 1,000-fill down
What we like: Impressive combination of warmth and weight for moderate temperatures.
What we don't: Less durable and more limited feature set than the competition.
See the Women's Ghost Whisperer UL  See the Men's Ghost Whisperer UL
For years, Mountain Hardwear's Ghost Whisperer down jacket has dominated the ultralight market, offering impressive warmth in a streamlined package. Now, their Ghost Whisperer UL carries the torch even further, combining higher quality down with an even thinner shell fabric for a truly featherlight jacket. The UL will be available for fall 2020, and we had the opportunity to test a sample of the jacket throughout the spring. We've appreciated the minimalist layer during long trail days and ski tours and find that it provides just the right amount of shelter against a shoulder season chill. Below we break down the UL's weight and packability, warmth, features, durability, fit and sizing, and more. To see how it stacks up, see our article on the best down jackets.
 
Performance
Weight and Packability
We won't mince words: at only 6.17 ounces for the women's medium, the Ghost Whisperer UL is stupid light. Cutting weight is this jacket's main prerogative, and it accomplishes the task with flying colors. The UL has just enough down (1.92 oz. of 1,000-fill) to insulate you against a shoulder season or summer evening chill, and a bare-bones feature set sheds weight throughout. In terms of the competition, the UL is impressively lightweight: the Arc'teryx Cerium SL ("superlight") Hoody is 7.2 ounces and Mountain Hardwear's standard Ghost Whisperer (previously their lightest jacket) is heavier at 7.8 ounces. Montbell's Plasma 1000, on the other hand, clocks in at only 4.1 ounces, but keep in mind it's significantly less insulated with a total of 1.3 ounces of 1,000-fill down and doesn't include a hood.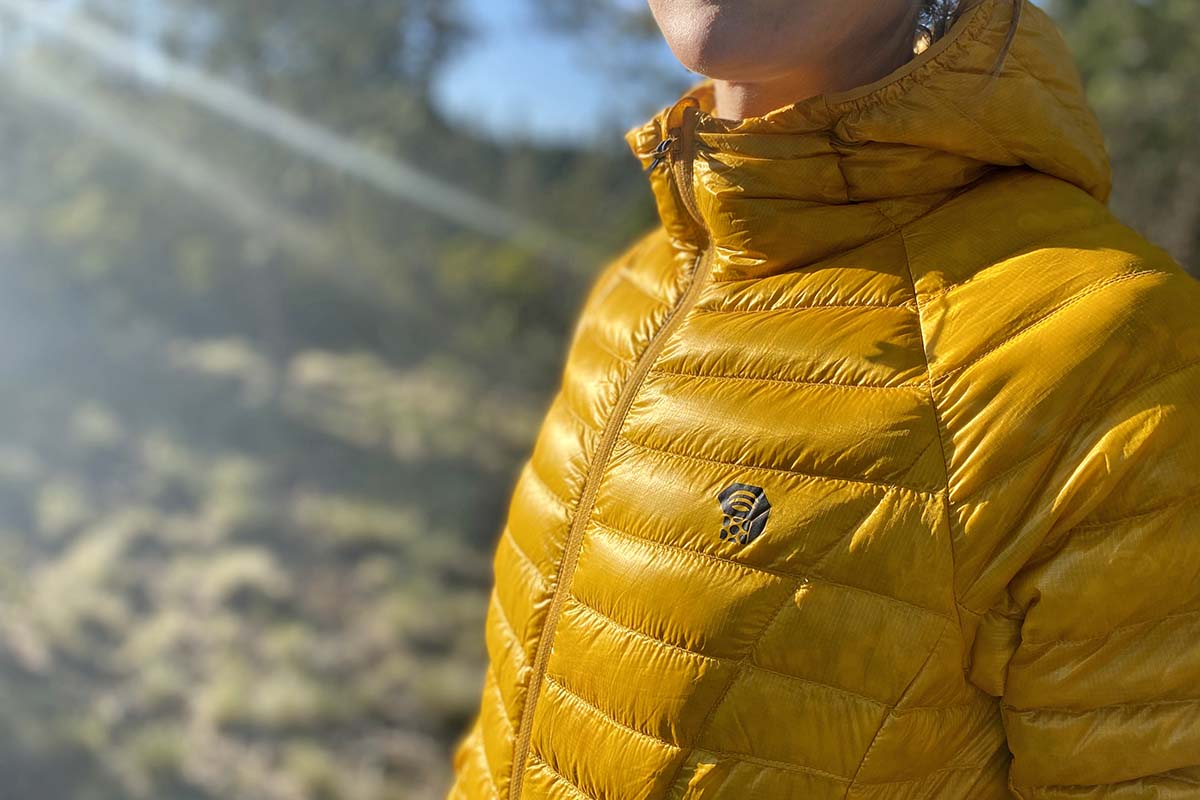 In terms of packability, given the Mountain Hardwear's minimalist intentions we were surprised to see that it didn't come with a stuff sack or feature a two-sided pocket zipper. It is possible to stuff it inside one of its handwarmer pockets and finagle the zipper closed—packed up, the jacket is roughly the size of a 1-liter Nalgene bottle. Most of the time, however, the Ghost Whisperer UL packs away better when unstuffed, and does a great job filling the nooks and crannies of my pack. It was a perfect companion during long trail jogs this spring and took up very little space in the rear compartment of my running vest.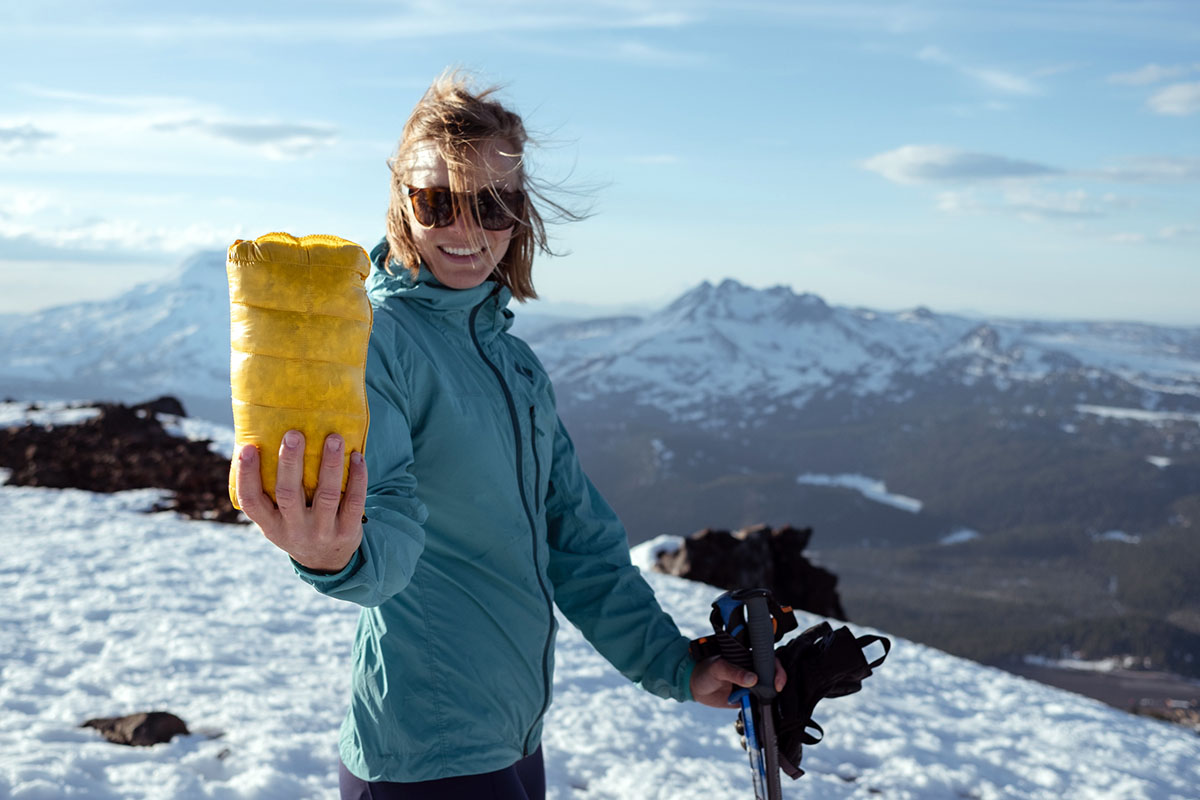 Warmth
Down jackets are highly efficient insulators, and the Ghost Whisperer UL has proven to be a good match for moderately cold temperatures. This spring, it was all I needed to stay warm during breaks on the trail or skin track, and I'll be happy to have it this summer for evening insulation during ultralight fastpacking or thru-hiking missions. But with only 1.92 ounces of 1,000-fill down, it's important to recognize the Ghost Whisperer UL's limitations. In short, it's great for brief breaks during high-output activity or to protect against a summertime chill, but you'll likely want more jacket when the temperatures drop into the 40s or below. Competing ultralight jackets offer similar warmth: the Arc'teryx Cerium SL combines 1.73 ounces of 850-fill down with synthetic Coreloft insulation, while the standard Mountain Hardwear Ghost Whisperer/2 has slightly more down (2.5 oz.), but at a lower quality (800 vs. 1,000-fill power).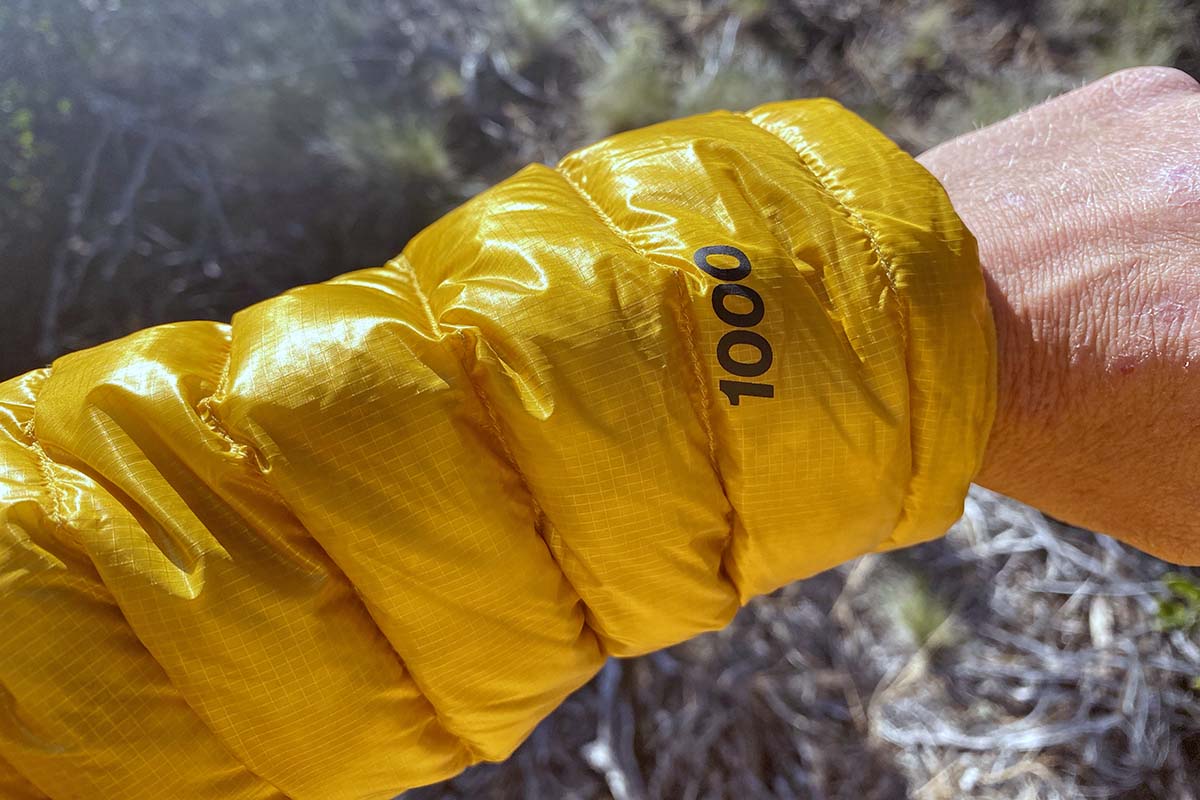 Weather Protection
The Mountain Hardwear Ghost Whisperer UL is not our first (or fifth) choice for use in inclement weather, but its durable water-repellant (DWR) finish puts up a good defense against moisture. However, with such a thin nylon face fabric (5Dx7D), there's very little barrier between precipitation and plumage, which doesn't give you much wet-weather assurance (and unlike the standard Ghost Whisperer/2, the UL does not use QShield hydrophobic down). For an ultralight insulated jacket that offers more protection in rain, the Patagonia Micro Puff Hoody (8 oz. for the women's small) is a synthetic jacket that stays warm even when wet.
In terms of wind protection, the Ghost Whisperer UL's thin nylon face fabric and minimal down fill makes it noticeably air permeable. In fact, on a clear but breezy early-summer evening on Mt. Bachelor's summit, we would have gladly traded the Ghost Whisperer UL for a windbreaker jacket like the Patagonia Houdini Air (3.6 oz.), which is much better at trapping body heat in windy conditions. In the end, the UL is at its best as a midlayer or as a standalone piece in calm conditions.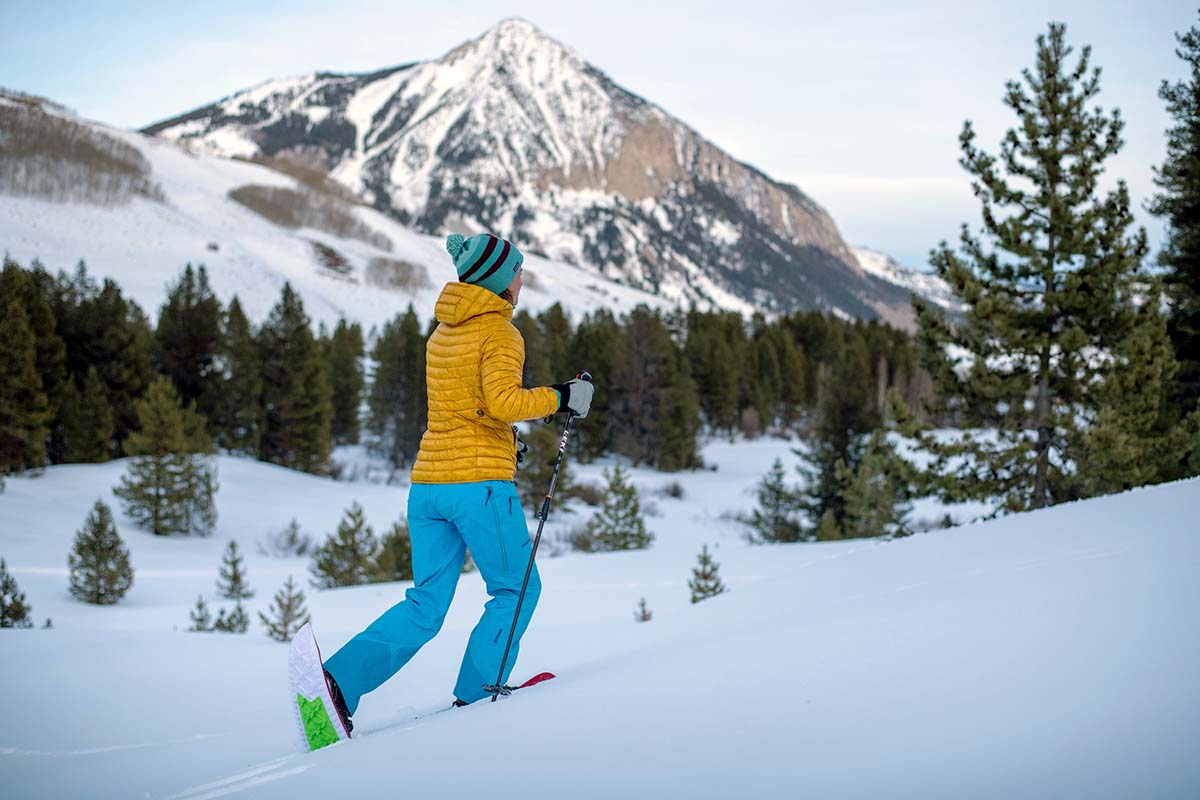 Features: Pockets & Hood
The Mountain Hardwear Ghost Whisperer UL is designed with a no-frills feature set that keeps weight to a minimum. Two handwarmer pockets sit right above the hip (read: difficult to access with a hipbelt on) and have insulation on the outside to keep your hands cozy. The cuffs are a simple elastic band, and the hood fits relatively close to the head and features a small brim and elastic along the face, but no rear adjustment. It's a minor gripe, but I do wish the hood was slightly smaller, as it threatens to come off in a light breeze and the elastic rim does little to secure it around my head. Finally, our jacket forgoes a hem adjustment but features a thin piece of elastic across the rear, although it provides very little shape and has proven to be essentially useless (of note, we received a sample for this test, and Mountain Hardwear does specify that the jacket will come with a drawcord hem adjustment).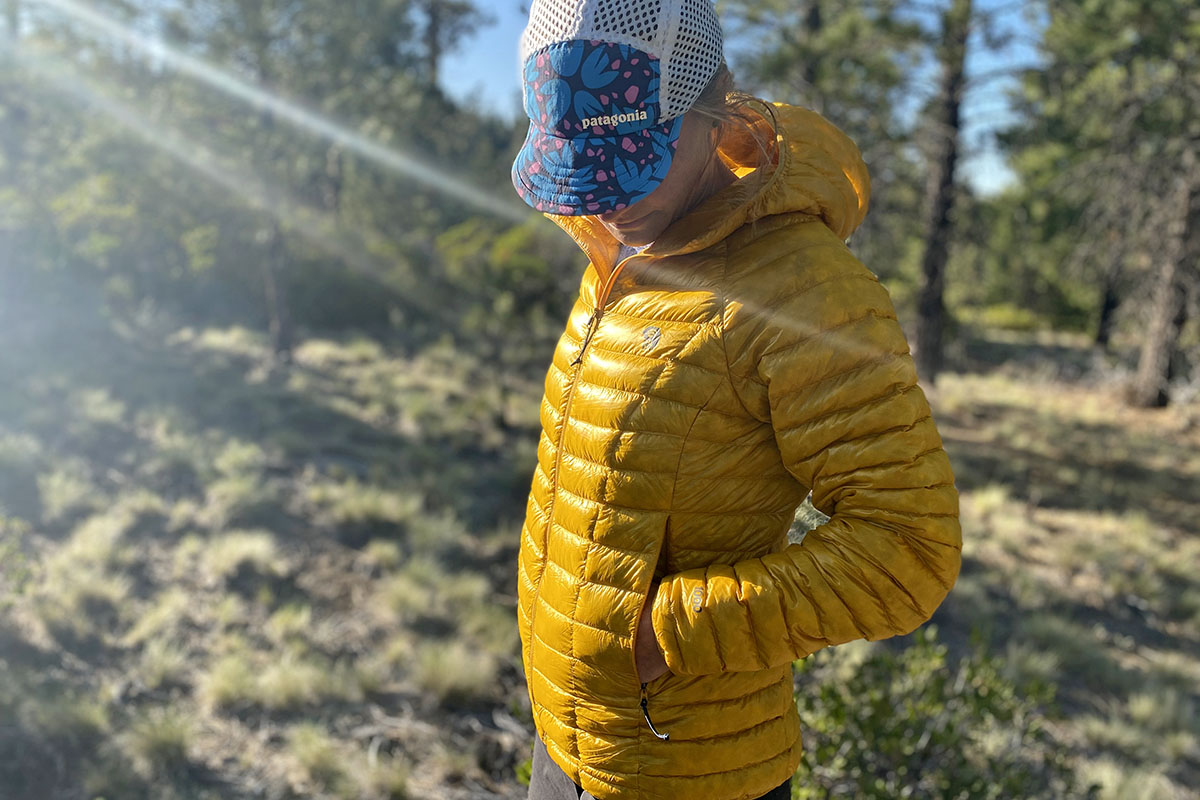 Build Quality and Durability
If we know anything about ultralight gear, it's that durability usually drops with weight. Simply put, thicker (read: heavier) fabric will stand up better to wear and tear. With 5 x 7-denier ripstop nylon face fabric, the Mountain Hardwear Ghost Whisperer UL is decidedly on the thin side and the #3 YKK zippers are incredibly delicate. A few other jackets use 7-denier nylon (including the Arc'teryx Cerium SL and Montbell Plasma 1000), but the UL is the first time we've seen a jacket drop as low as 5-denier. Given its thin makeup, it's important to be clear on the UL's intentions: this is a jacket designed for users pushing the limits of light and fast (we're talking trail runners, fastpackers, thru-hikers, and ski mountaineers), and should not be bought as an around-town piece. Finally, it's important to treat the Ghost Whisperer UL with a great deal of care, being especially cautious around abrasive rocks or when stuffing it away in a pack.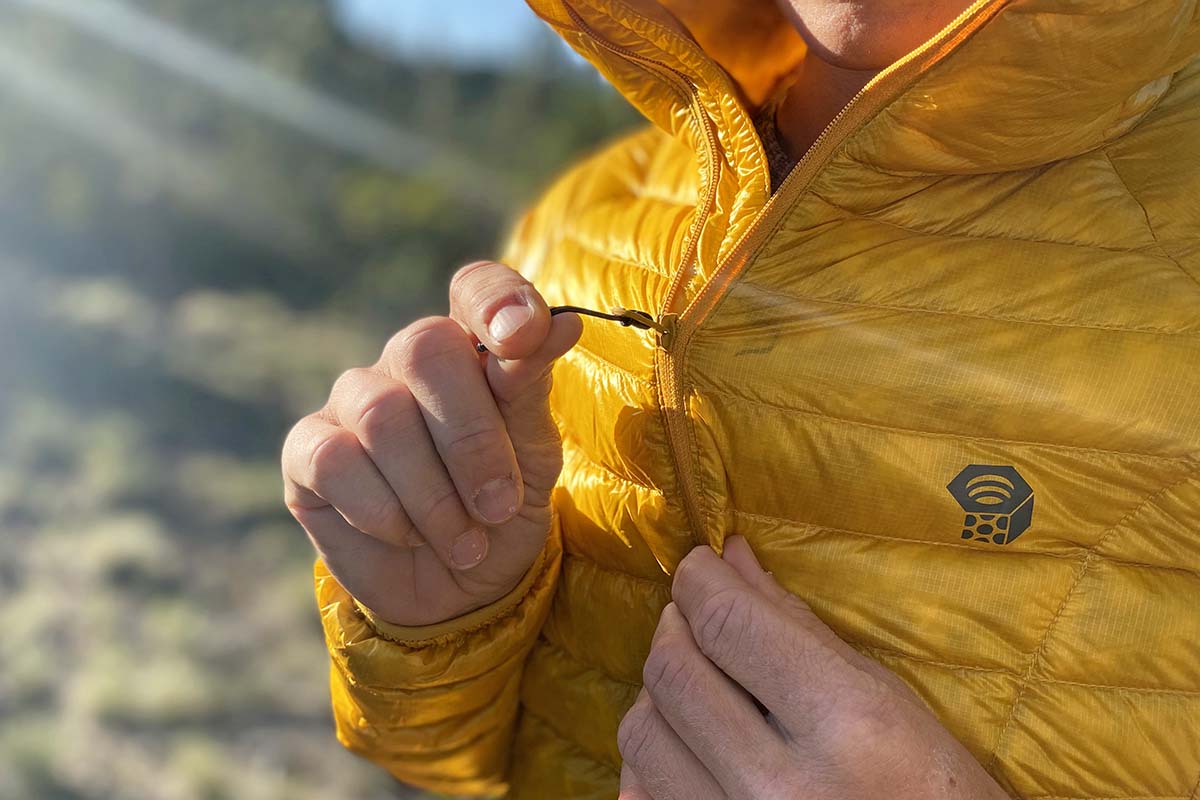 In terms of quality, we've been pleased with our Mountain Hardwear gear of late. While our Ghost Whisperer UL largely follows suit, there are a few details that are disappointing in terms of fit and finish. For one, the jacket's stitching is messy in places, and the serger seam is exposed on the inside of the pockets. Further, the hem features a band of elastic across the back, but mine has very minimal stretch and does little to keep the jacket cinched close to my body. It's important to mention that we received a sample of this jacket (not the final production run), so there's a good chance that some of these minor nitpicks might be improved upon once the UL hits the shelves.

Fit and Sizing
We opted for our usual size small in the Ghost Whisperer UL and found that it fits true to size. The jacket features the trim fit we've come to expect from such a minimalist piece, but you still get ample coverage throughout (the UL falls nicely below my hips). Keep in mind this jacket comes with no adjustment whatsoever (no hip cinch, cuff straps, or hood drawcord), so if you like to batten down the hatches, you'll want to look elsewhere (note: Mountain Hardwear does specify that their production-run version will come with a drawcord hem adjustment).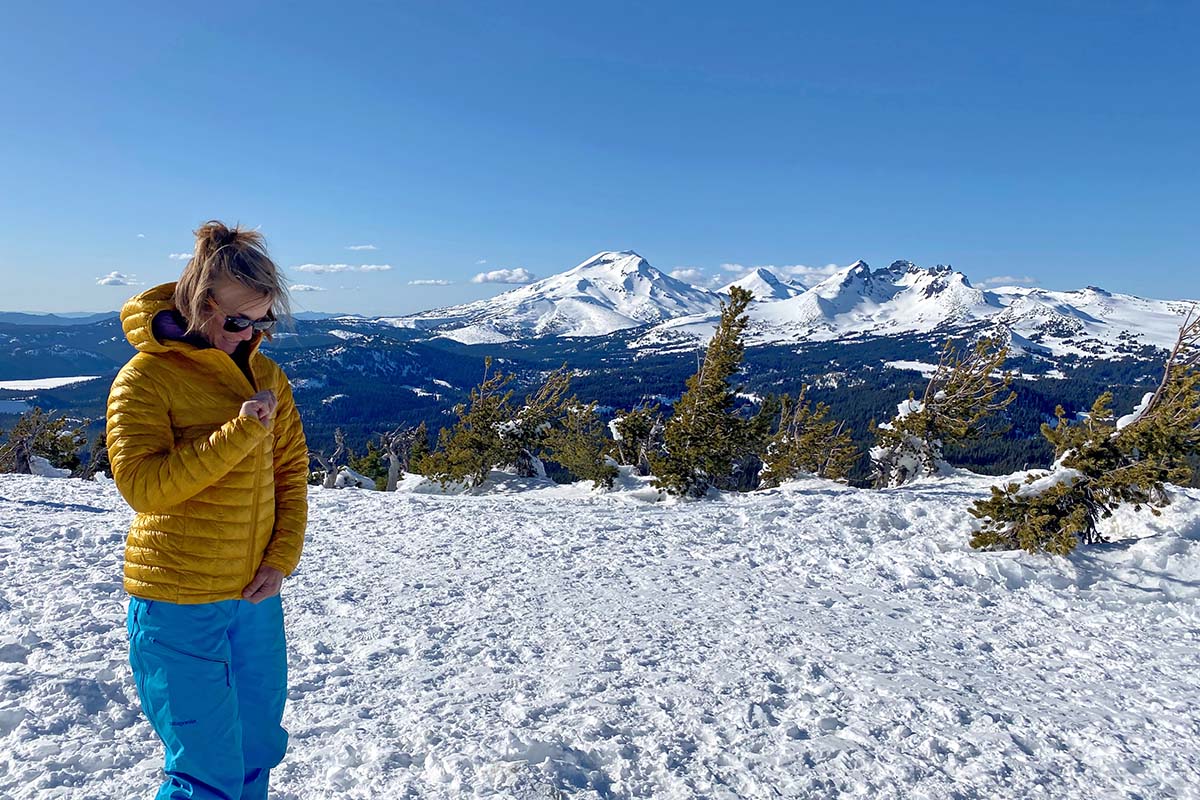 Other Versions of the Mountain Hardwear Ghost Whisperer
For this review we tested the women's version of the Ghost Whisperer UL, and the jacket will also be made in a men's model with the same overall design and price ($375). The men's Ghost Whisperer UL weighs slightly more than the women's and will be available in a range of different colorways for fall 2020. And as we've mentioned above, the Ghost Whisperer UL is an ultralight version of the popular Ghost Whisperer/2, which has long been Mountain Hardwear's lightest down jacket. The women's Ghost Whisperer/2 hooded jacket tips the scales at 7.8 ounces, is slightly cheaper at $325, features a drawcord hem adjustment, and packs into its own pocket (which has an internal carabiner clip). But while the Ghost Whisperer/2 uses thicker fabric (10D), has a few more features, and is slightly more affordable than the UL, the two jackets are comparable in terms of warmth (2.5 oz. of 800-fill vs 1.92 oz. of 1,000-fill). 

Sustainability: Recycled Fabrics & Responsibly Sourced Down
We've seen outdoor gear companies make an encouraging shift towards using ethically sourced down, and Mountain Hardwear is no exception. The Ghost Whisperer UL features RDS-certified plumage, which ensures that no birds were unnecessarily harmed (live plucking or force feeding, for example) in the production of the jacket. Further, we believe that the jacket follows in the footsteps of the standard Ghost Whisperer and features 100-percent recycled face fabric, although we haven't been able to confirm this with Mountain Hardwear.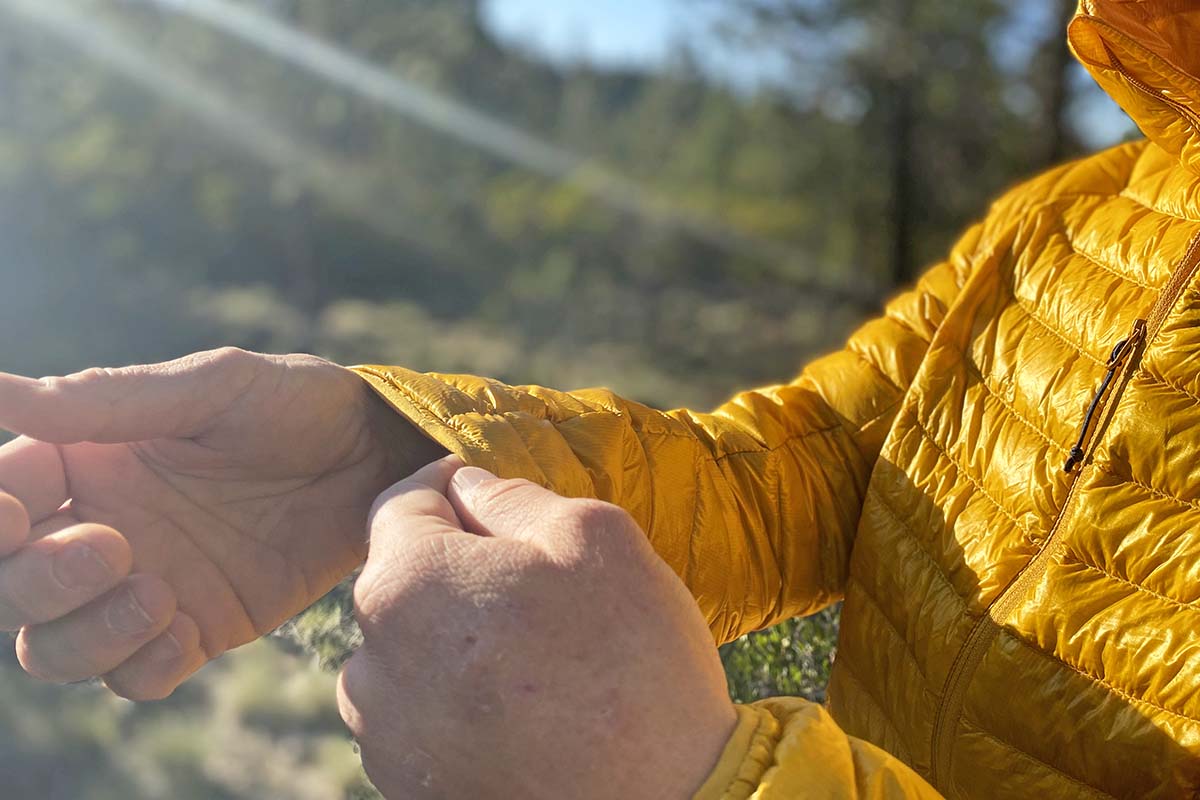 What We Like
One of the lightest down jackets ever made, with premium 1,000-fill down and ultra-thin 5Dx7D ripstop nylon face fabric.
Insulates against a light chill but packs down very small, perfect for trail running, thru-hiking, and fastpacking.
Ample warmth for moderate shoulder-season temperatures and summer nights.
 
What We Don't
Only slightly lighter than competing jackets, but with thinner materials and a more limited feature set.
Thin 5Dx7D face fabric and #3 YKK zippers mean this jacket isn't for daily use, and the user will need to exercise a great deal of caution.
The hood is a little large and does not have an adjustment.
For protection in windy weather, a windbreaker jacket would provide similar warmth for a lighter weight.


Comparison Table

The Competition
The Ghost Whisperer UL is new to the ultralight down jacket scene, but it joins a competitive group of models from some of the industry's most premium brands. The Arc'teryx Cerium SL Hoody is a strong contender in terms of warmth, with 1.73 ounces of 850-fill down paired with 40/80-gram Coreloft synthetic insulation in areas prone to moisture build-up (known as Down Composite Mapping). Both jackets are constructed with thin face fabric, although the Ghost Whisperer is slightly thinner at 5 x 7-denier (compared to the Arc'teryx's 7D) and weighs slightly less at 6.17 ounces for the women's medium (compared to the Cerium SL's 7.2 oz.). But the true tipping point for us is the feature set—the Arc'teryx comes with an adjustable hood and hem, which are a few of our biggest gripes with the Mountain Hardwear. And as a bonus, the Cerium SL is $16 cheaper at $359.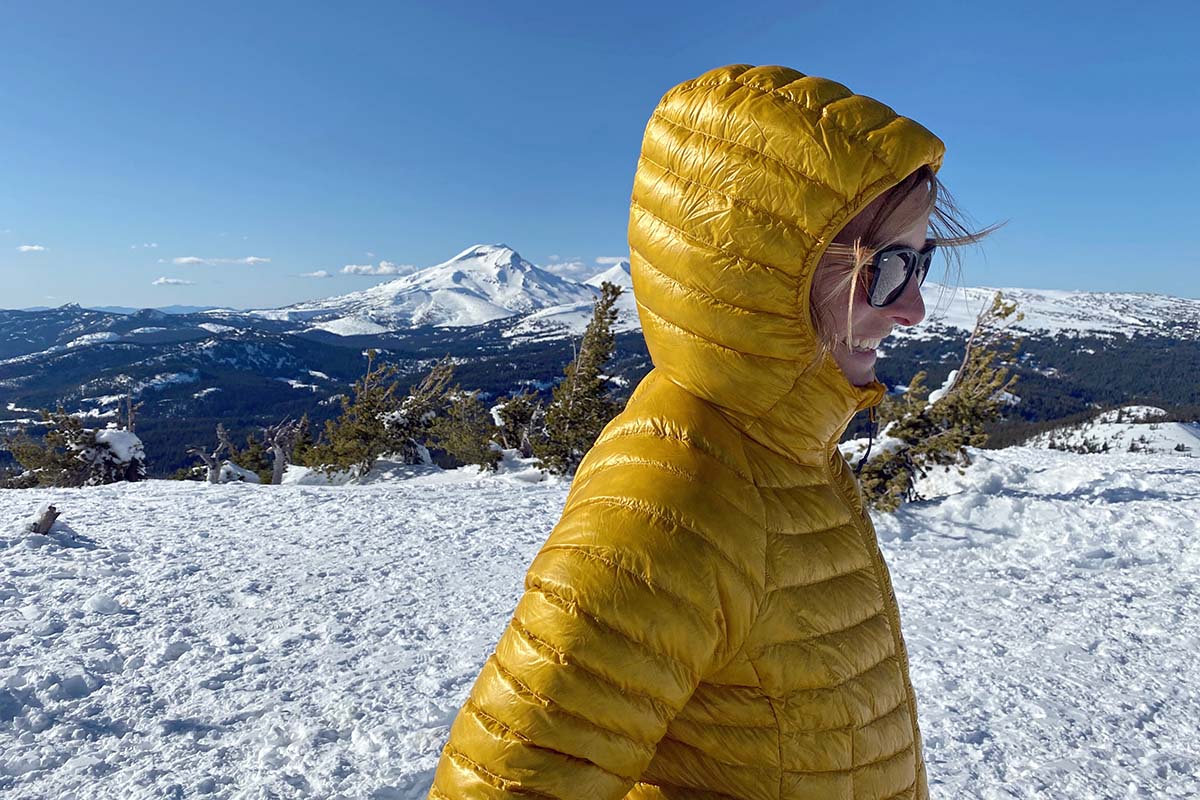 The Montbell Plasma 1000 gives ultralight jackets a run for their money, with a ridiculous 4.1-ounce weight and 1.3 ounces of 1,000-fill-power down. Like the Cerium SL, the Plasma is made with 7-denier face fabric, and Montbell uses a quilted baffle pattern to maximize heat retention. At $329, the Plasma will save you some cash over jackets like the Ghost Whisperer UL and Cerium SL, but keep in mind that it doesn't come with a hood, which can be a deal breaker for those using this as a standalone piece (rather than just a midlayer jacket). If weight matters more than anything, the Plasma is an attractive choice, but most of the time we'd opt for the increased insulation and hood of the Ghost Whisperer UL.
Before the Ghost Whisperer UL was the Ghost Whisperer/2, which weighs about an ounce and a half more at 7.8 ounces and retails for $50 less ($325). The standard Ghost Whisperer opts for 10-denier nylon (compared to the UL's 5Dx7D) and is packed with 2.5 ounces of 800-fill down, which is slightly more insulation at a lower quality (in other words, it's only a little warmer). But the true difference between the two jackets comes in terms of features—the Ghost Whisperer/2 has a drawcord hem adjustment and stuffs into its own pocket (which includes an internal carabiner clip), whereas the UL has a fairly ineffective elastic hem and no added features for packability. In the end, we have a hard time justifying the Ghost Whisperer UL over the original Ghost Whisperer/2, unless you absolutely have to have the lightest of the light.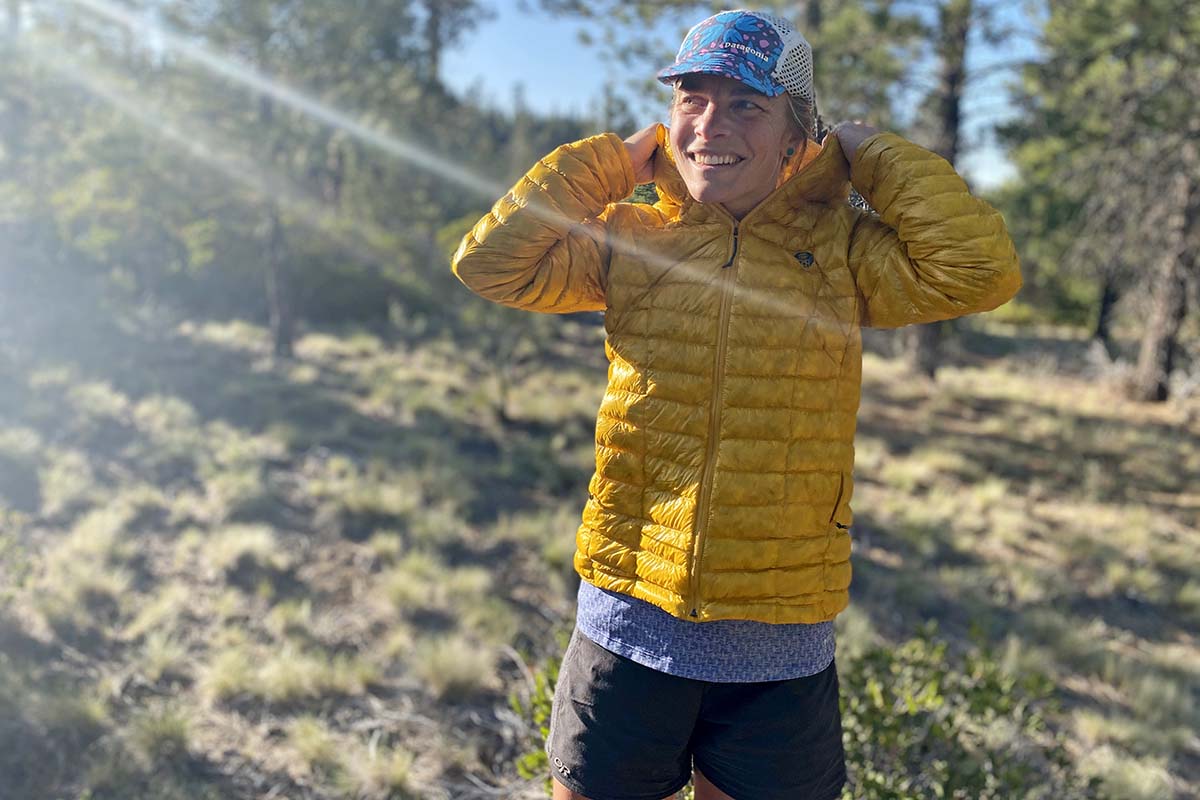 Finally, for those who venture out in inclement weather, the Patagonia Micro Puff Hoody is well worth considering. The Micro Puff is filled with Patagonia's proprietary 65-gram PlumaFill insulation, which mimics the heat-trapping abilities of down but with the bonus that it doesn't lose its loft when wet. With a 10-denier nylon face fabric the Patagonia is technically more durable than the Mountain Hardwear, although we've put countless holes in our jacket while climbing. Compared to the Ghost Whisperer UL, the women's Micro Puff weighs slightly more at 8 ounces and doesn't pack down quite as small, but for a big savings ($299) and wet-weather assurance it's a great ultralight option.
Note: The Ghost Whisperer UL down jacket will be released in July as part of Mountain Hardwear's Fall 2020 collection. For this review, we tested a sample of the UL and received technical information from Mountain Hardwear's PR team. We will be sure to update this article once the Ghost Whisperer UL is released with any additional information, including a price comparison tool with links to various online retailers.
Read More From Switchback Travel