Ultralight without feeling ultra-compromised, the Mountain Hardwear Ghost Whisperer/2 is one of the lightest fully featured down jackets on the market. Despite hitting a sub-9-ounce weight (for the men's hoody model), Mountain Hardwear managed to retain pockets and fit adjustments—not to mention impressive warmth. As with any lightweight gear, there are inherent sacrifices, but we're happy to report that it has confidently withstood a range of hiking, biking, and casual outings with minimal complaints. For the fast-and-light trekker on a mission to cut weight, the Ghost Whisperer/2 remains a top choice. Below we break down the Ghost Whisperer's performance. To see how it stacks up to the competition, see our articles on the best down jackets and best midlayers.
 
---
Table of Contents
---

Performance
Warmth
To get straight to the point, the Mountain Hardwear Ghost Whisperer/2 is among the warmest ultralight down jackets I've worn, specifically beating out other popular models like the Arc'teryx Cerium SL. On low-exertion days, pairing the jacket with a light baselayer and hardshell kept me warm and protected as the temperature dipped (with this setup, it offers enough insulation to be comfortable into the mid to low 30s Fahrenheit). And during high-output activities, throwing it on over my midlayer when I came to a stop worked well to block moderate wind and keep the chill off. To be sure, I wouldn't take it as my only midlayer in winter, but I'll happily pack it for summertime and shoulder-season backcountry outings. My only warmth-related complaint is that the cuffs are loose and allow cold air in. I wish Mountain Hardwear had added some more stretch here (or Velcro), but this would likely add weight, and wearing gloves effectively solved the problem.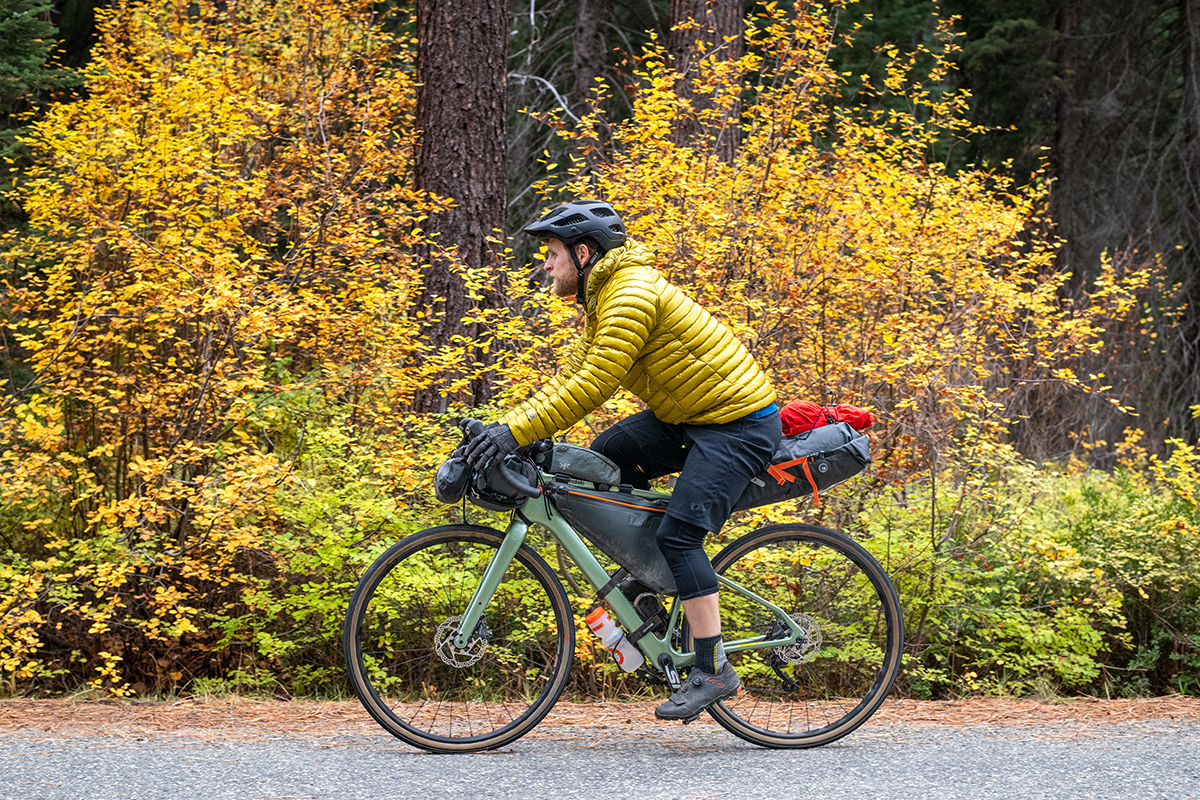 Mountain Hardwear accomplishes this impressive warmth by packing 3 ounces of lofty—and responsibly sourced—800-fill-power down into the Ghost Whisperer/2. When stacked up with the competition, it compares well. The aforementioned Arc'teryx Cerium SL has higher-quality down (850-fill) and mixes in synthetic in certain areas, but it's draftier in windy conditions and falls short in warmth. Stepping up to a jacket like the Feathered Friends Eos gets you premium 900-fill—and more of it at 3.7 ounces—but at the cost of a couple ounces of total weight. Overall, when taking into consideration its weight, packability, and intended use, we find nothing to complain about regarding its warmth. And an interesting side note on the Ghost Whisperer is that the weight of the down accounts for about 35 percent of the total weight of the jacket—impressive indeed.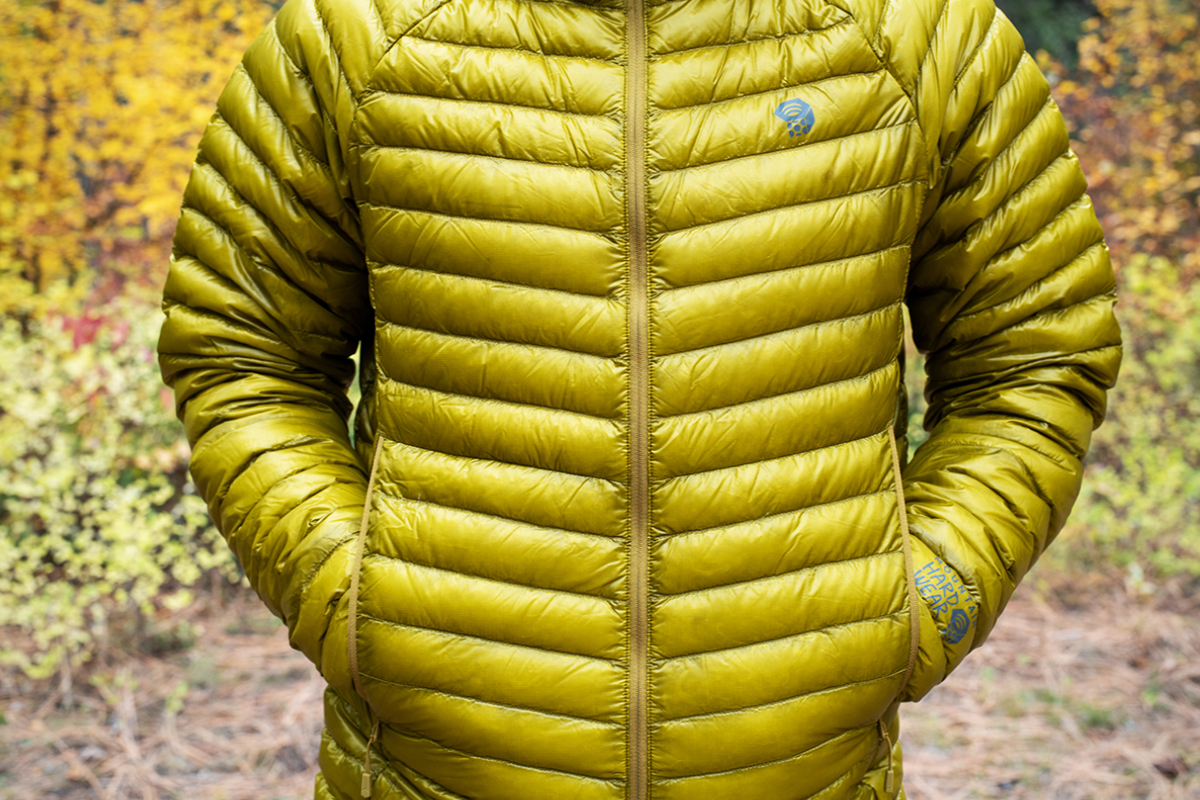 Weight and Packability
If your down jacket search has led you to the Ghost Whisperer/2, chances are weight is a big factor. On our scale, the men's hooded jacket in a size medium weighed 8.5 ounces (the listed weight is 8.8). Compared to others in this category, very few have it beat, including the Montbell Ex Light Down Anorak (7.6 oz.), Arc'teryx Cerium SL Hoody (7.6 oz.), and Mountain Hardwear's own Ghost Whisperer UL (6.7 oz.). However, all three jackets make notable sacrifices in features and warmth. More appropriate comparisons to the Ghost Whisperer/2, such as the moderately warmer Feathered Friends Eos (10.6 oz.) and Arc'teryx Cerium LT Hoody (10.8 oz.), fall well short in weight.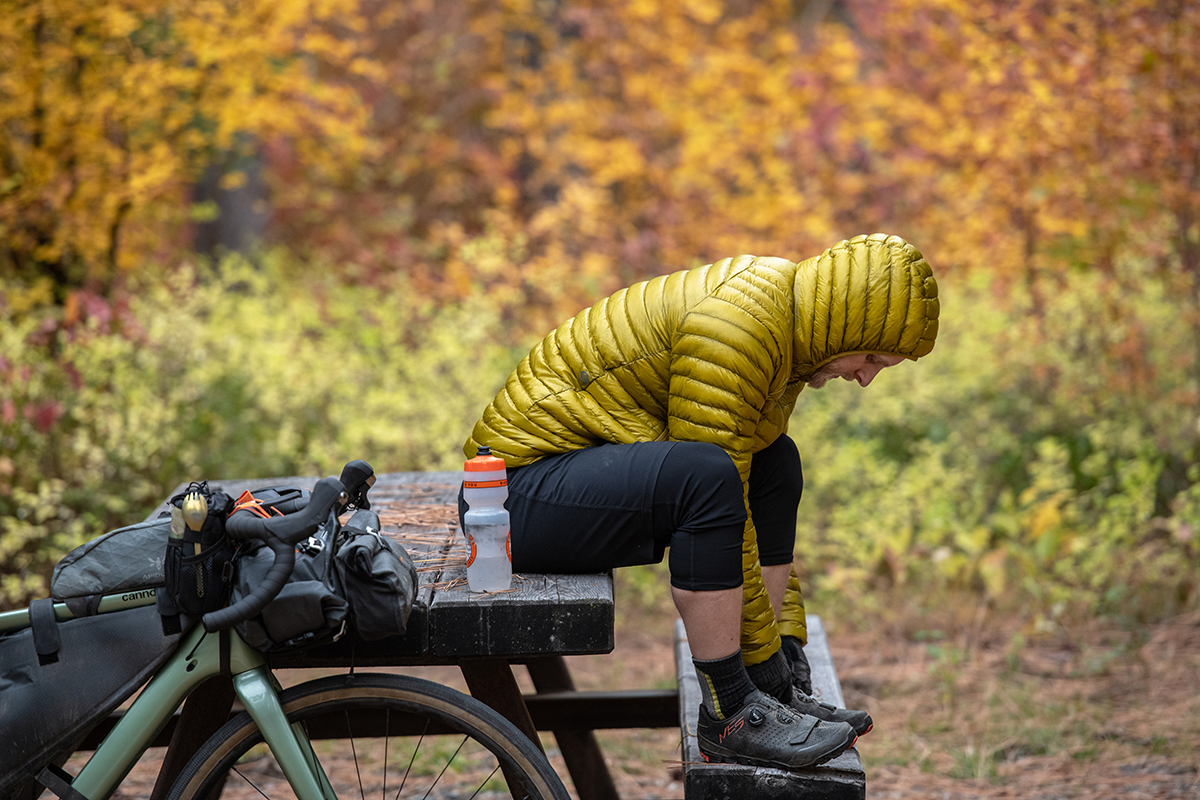 Packability is another strong suit of the Ghost Whisperer/2. Just turn the right hand pocket inside out, stuff the jacket, and zip it up with the two-sided zipper. It's not the absolute smallest in our down jacket round-up, but the thin rectangular shape makes for super easy stuffing into a pack—it even fits snugly into small hydration packs and bike jersey pockets. Just make sure to unstuff the jacket for long-term storage. As with all down jackets, keeping it compressed for too long can force out feathers, break down the clusters, and reduce the jacket's lifespan.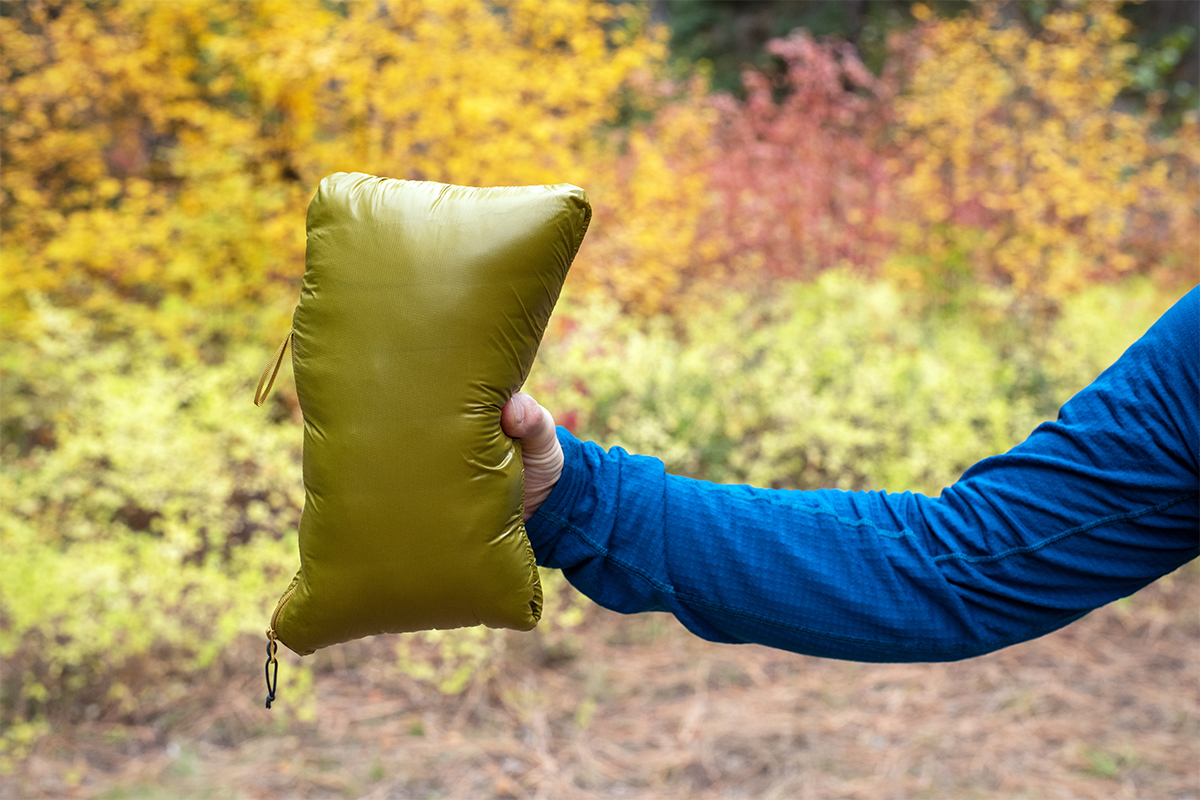 Weather Protection
Wet-weather warmth was a place the original Ghost Whisperer excelled—at least for a down piece—and given its similar construction, we expect the newer version to do the same. In short, hydrophobic down (in this case, Mountain Hardwear's Q.Shield) resists moisture, essentially shedding water like a jacket's DWR coating. Down's number one enemy is moisture, so it sure makes a lot of sense to try and fight it. It's in no way foolproof, will eventually give in, and doesn't stand up to the performance of synthetics when soaked, but it's nevertheless another line of defense in case you get caught without a rain jacket or hardshell.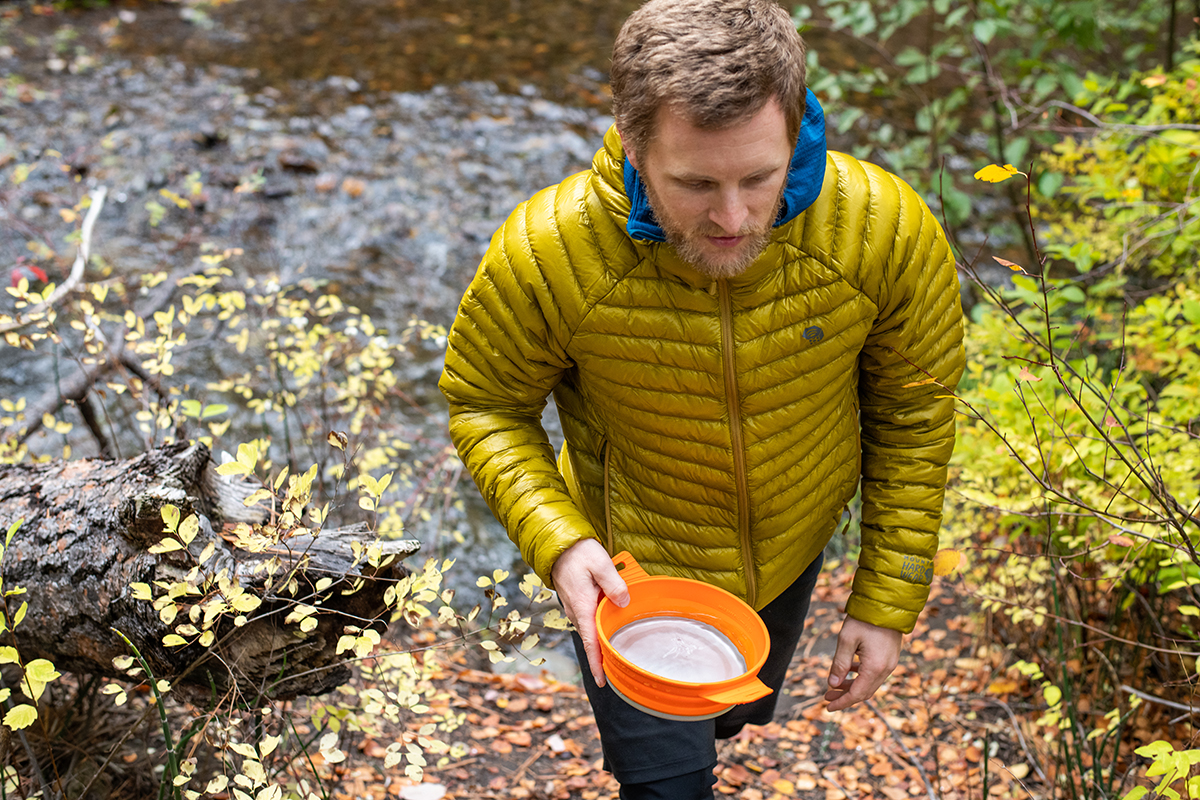 In our wet-weather experiences with the previous Ghost Whisperer, it outperformed the non-hydrophobic down competition, which tended to clump up and feel wet against the skin much quicker after extended rainfall. On a recent trip, we were riding bikes when a snowstorm rolled in and our Feathered Friends Eos (which doesn't have hydrophobic down) quickly wetted out along the wrists, hood, and collar. We haven't yet subjected the Ghost Whisperer/2 to the same exact conditions, but its shell and DWR coating performed admirably on a damp, drizzly hike in the North Cascades. As expected, in comparing it to full synthetic jackets we've tested, the Ghost Whisperer/2 does not insulate or dry as well, but for the fans of lightweight and cozy down insulation, it's a net win.

Features
Storage: Pockets
We really appreciated that Mountain Hardwear built the Ghost Whisperer/2 as a complete jacket. While it lacks a chest pocket, two handwarmer pockets are a great addition and well worth the extra grams in weight. They're nicely sized thanks to the right hand pocket pulling double duty as the jacket's stuff sack. When stuffed, you can then use the built-in loop to sling the jacket from a carabiner and attach it to a climbing harness. Finally, back-of-hand comfort is excellent (even with wet hands), matching the premium feel of the jacket's exterior. Importantly, there's no added insulation between the pocket and your body, allowing your hands to make full use your body heat and saving weight in the process.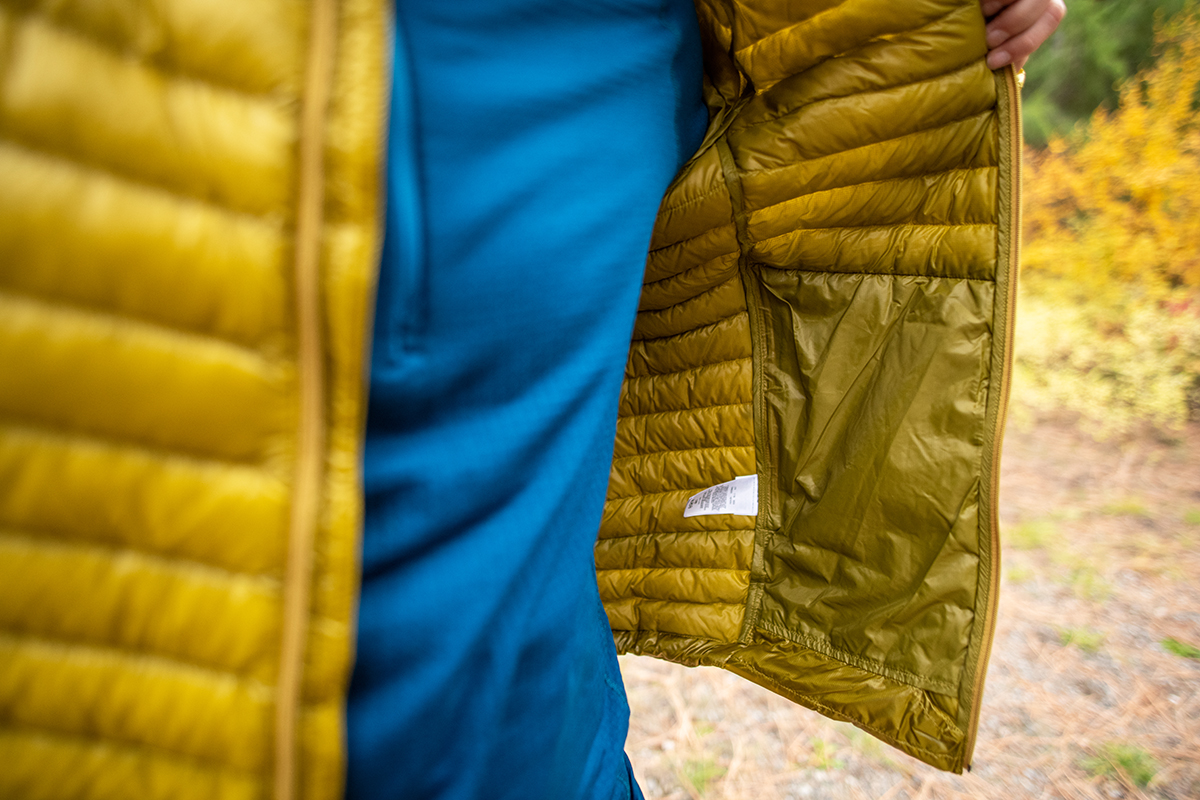 Hood
The hood on the Ghost Whisperer is on the small side and doesn't have a drawcord cinch. This is a place where Mountain Hardwear definitely opted to cut some weight, and a place we honestly wish they hadn't. That said, the hood has some stretch and a pretty slim and snug cut, and I didn't have any issues with wind creeping in (although we did have occasional issues with the prior-generation hood blowing off the back of our heads if the gust was just right). All told, the hood does its job of maximizing heat retention—just throw a hardshell jacket over it in breezy conditions.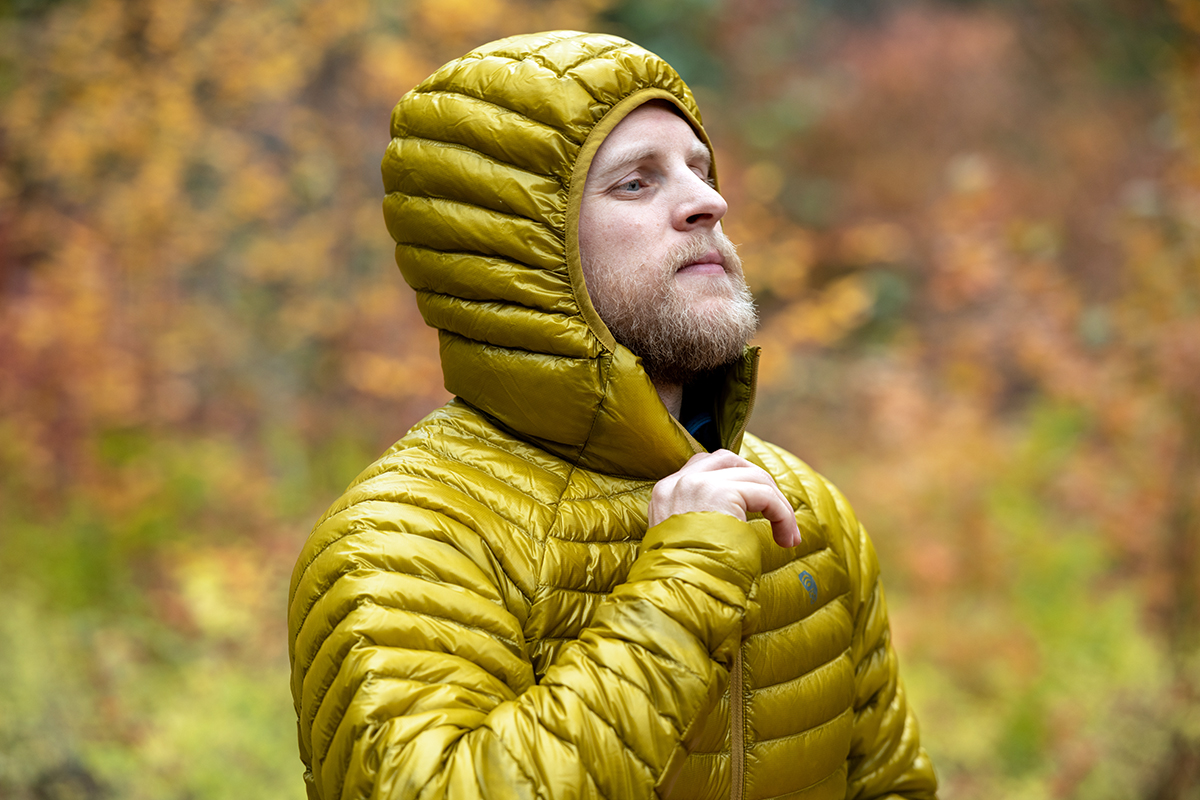 Durability
Using a propriety 10 x 10-denier shell and lining, the Mountain Hardwear Ghost Whisperer/2 is undoubtedly very thin, but the tight weave makes it decently durable for the weight. Throughout its testing, I've yet to notice a single feather poking through and I haven't experienced any fraying or loose threads. That said, it's important to keep in mind that the Ghost Whisperer/2 is more likely to tear when brushing up against rock or thorny branches than heavier jackets (such as the Eos mentioned above, which uses a 12x20D shell). We think it's best to take a bit of extra care, including stuffing the jacket into its pocket before shoving it into a pack and carrying repair tape when heading out on multi-day trips. Whether or not the extra couple ounces saved are worth it is a decision you'll have to make, but we were left with an appreciation of how durable such a thin fabric can be.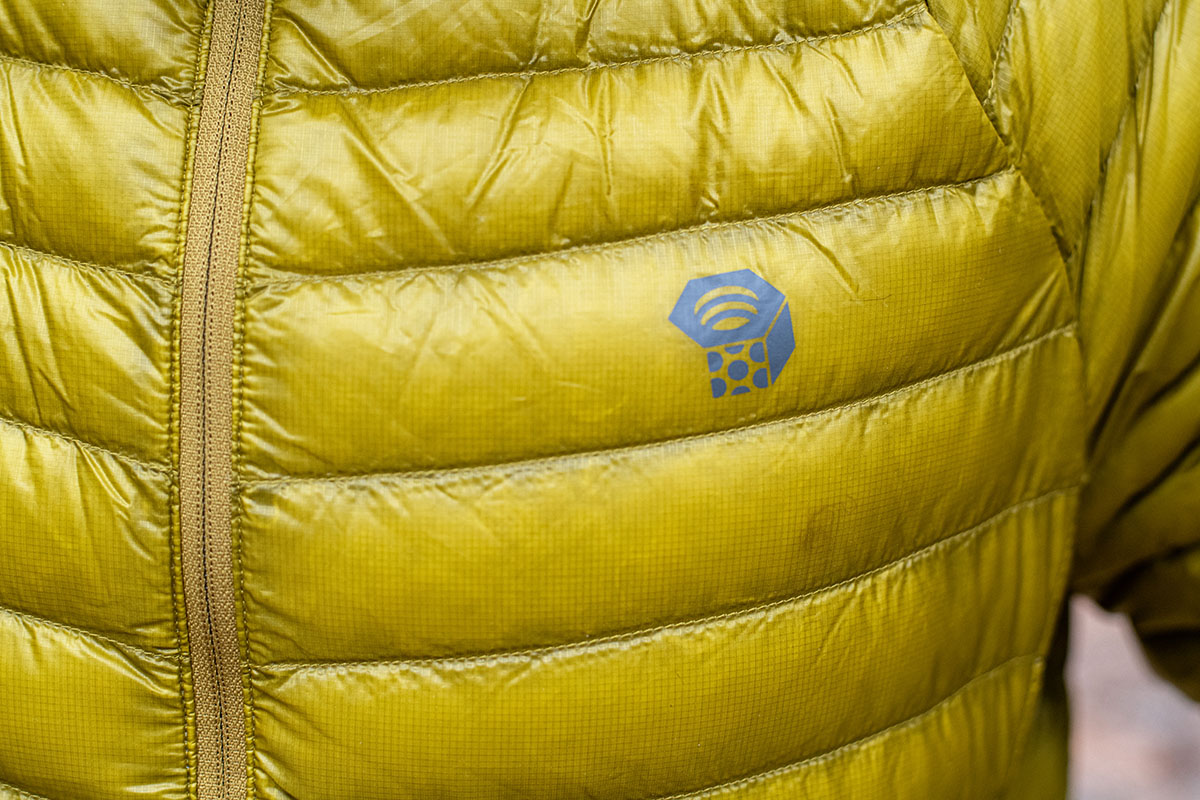 The zippers were our primary concern with the jacket, and we came away with mixed reviews. Personally, I had zero issues—the zippers slid easily and never got caught or snagged, however, they are flimsy to a somewhat concerning degree. Our prior-generation jacket had a similar design and had problems with the main zip occasionally skipping a few teeth on its way up. Even when functioning normally, they weren't particularly confidence-inspiring, but in achieving a sub 9-ounce jacket, durability was also going to be sacrificed to a degree. If you're used to ultralight gear, this is just another piece to handle with some extra care.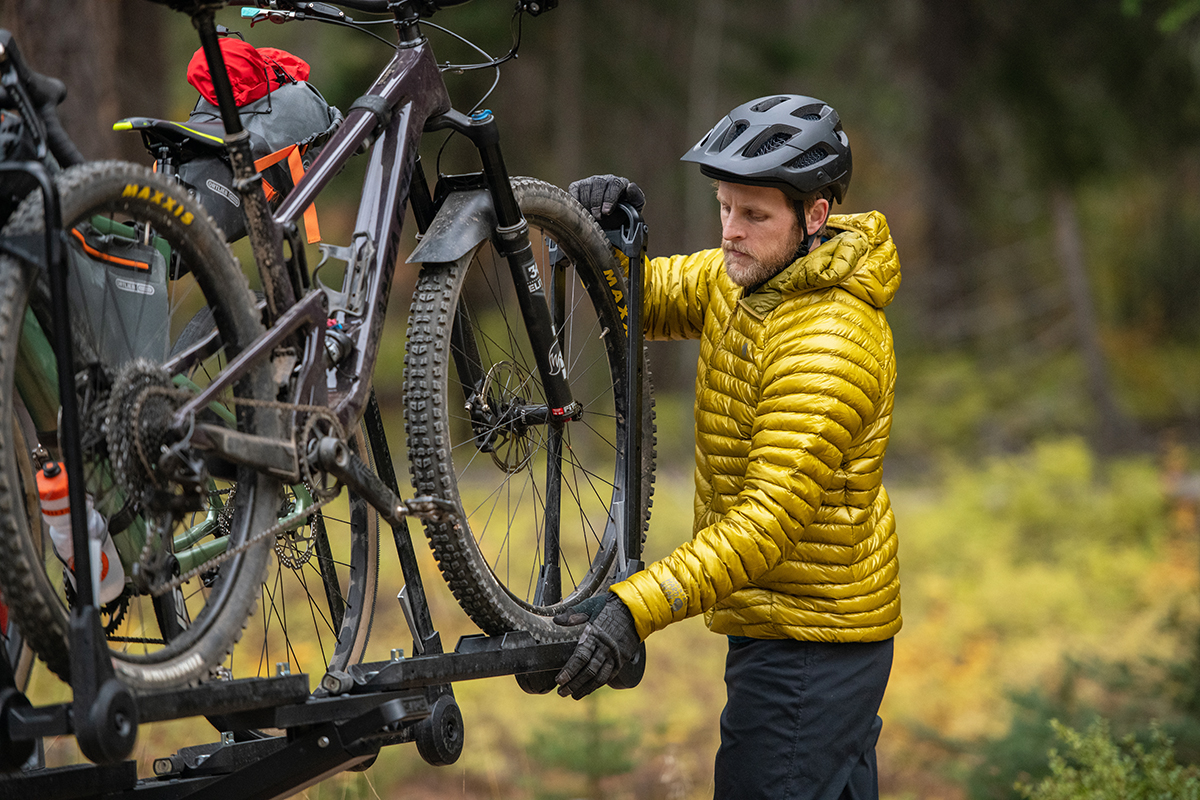 Fit and Sizing
Fit-wise, we think the Ghost Whisperer/2 is best described as a bit boxy. It's not tailored in an athletic way like the Arc'teryx Cerium SL or LT, but it's also not as roomy as the REI Co-op 650 Down Jacket 2.0. In the end, I struggled with sizing. The shoulders, chest, and length of my men's medium fit well, but the mid-section felt (and looked) particularly baggy. The small probably would have fit well in the torso, but the rest of the jacket would likely have been too tight. Ultimately, the medium was a fine choice and because the Ghost Whisperer is so low-profile, I was easily able to throw a shell overtop (although I do wish the jacket were slightly more fitted for this).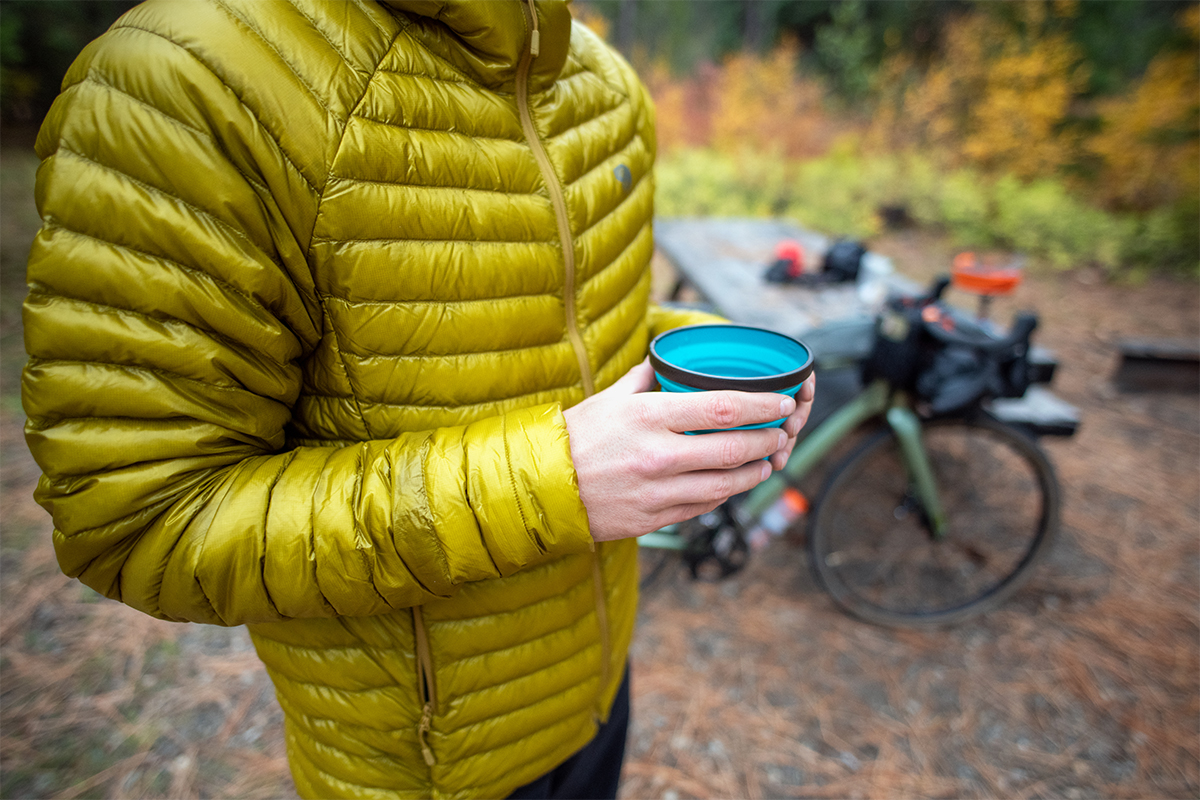 On a positive note, an excellent button-style hem adjustment makes it easy to get the fit dialed in. To tighten, just push the low-profile button built into the right side of the hem and pull the cinch cord. Pushing the button then loosens. It's a wonderful system that we really grew to appreciate when transitioning back to traditional clunky cinching styles. In practice, we found that we almost always left the hem pulled tight. Otherwise, the jacket tended to let in chilly drafts—even mosquitos were able to sneak inside.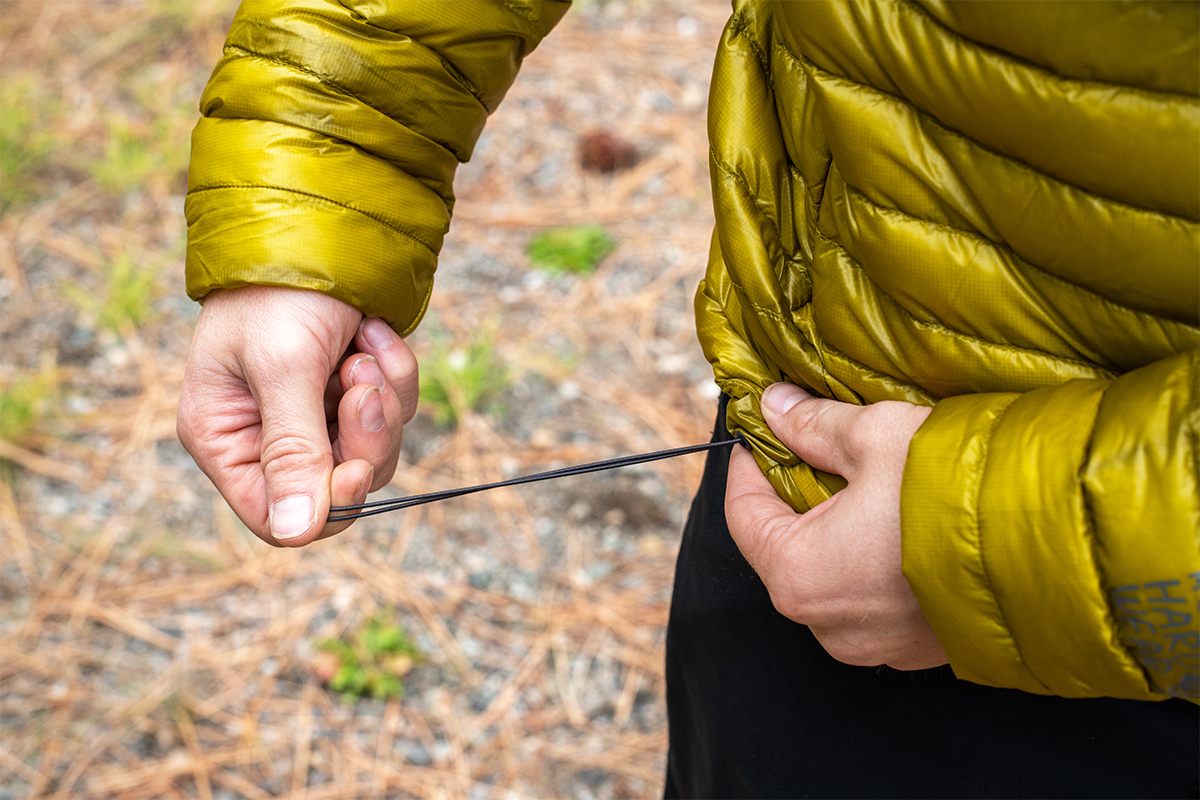 Sustainability
Mountain Hardwear's recent retooling of the classic Ghost Whisperer involved incorporating a 100-percent-recycled face fabric. As with the previous-generation jacket, the newer model also uses RDS (Responsible Down Standard) certified down, which indicates that the feathers used in the jacket were sourced responsibly and the geese treated humanely. This includes making sure they were not force-fed or live-plucked. The Ghost Whisperer has been one of our favorite ultralight down jackets for years, and these changes only boost its overall credibility.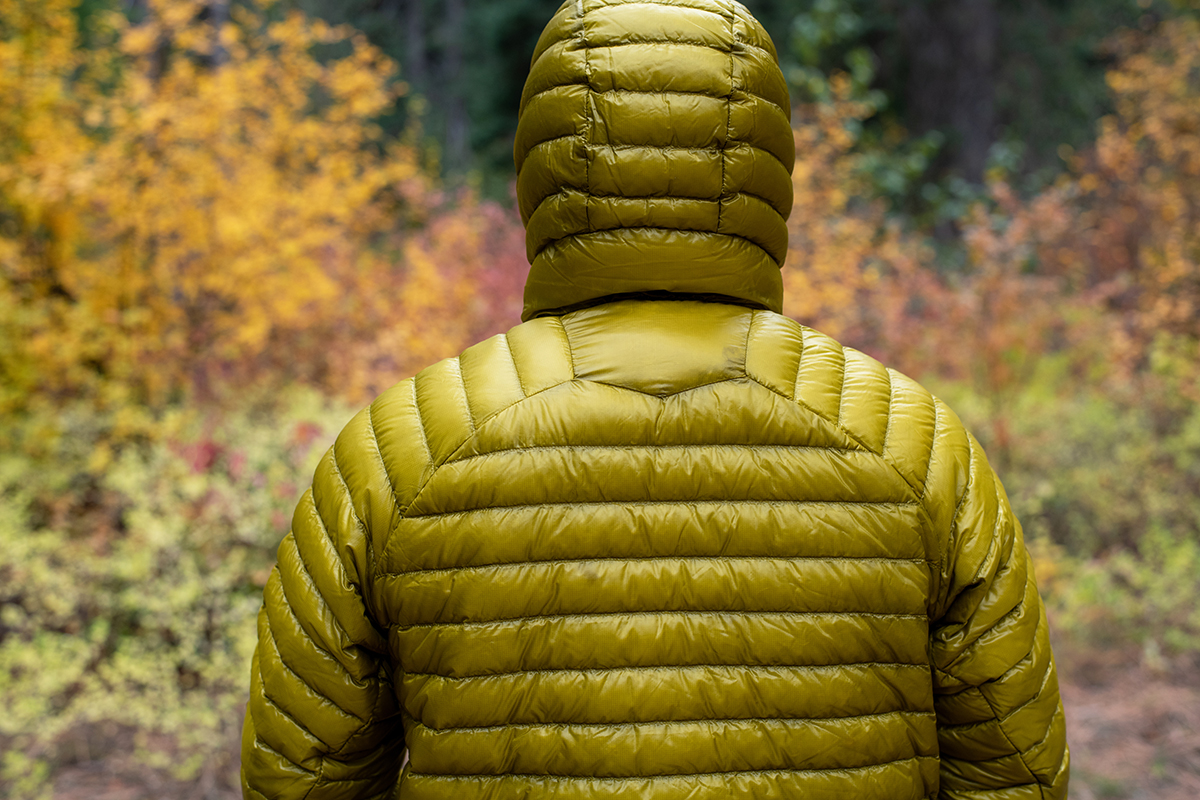 Other Versions of the Mountain Hardwear Ghost Whisperer
For this review, we tested the men's hooded Ghost Whisperer/2, which is our preferred style for general backcountry use. However, Mountain Hardwear also makes a non-hooded version for those who prefer to use the jacket exclusively as a layering piece under a shell (hoods tend to bunch up and get in the way). The Ghost Whisperer/2 is also available in a women's hoody and non-hooded jacket, as well as vests and pants for both men and women. Compared to the men's Ghost Whisperer/2, the women's hoody weighs slightly less (1 oz. to be exact) and is offered in different colors. Rounding out the collection, Mountain Hardwear more recently released a UL version, which costs $375, has an even thinner face fabric (5D x 7D), and weighs an impressively low 6.7 ounces for the men's model (for more, see our Ghost Whisperer UL review).

What We Like
Ridiculously lightweight but still includes features like hand pockets, a full-length front zipper, and a hood.
Packs down really small and is easy to carry on just about any type of trip.
For the weight, it's surprisingly warm and not as flimsy as you'd think (it still requires extra care, however).
Soft-touch fabric is very comfortable against the skin while blocking wind and light rain pretty well.

What We Don't
The fit is too boxy for our preferences. It's just-right around the shoulders but baggy and loose around the torso.
Loose, non-elasticized cuffs don't seal out cold or moisture (we often had to pair the jacket with gloves).
We really miss having a hood cinch. In the wind, the hood can be blown off your head if it doesn't fit you snugly.


Comparison Table

The Competition
The Mountain Hardwear Ghost Whisperer/2 hits a balance of features, warmth, and weight better than most other ultralight down jackets on the market. However, if you're looking for more of an all-rounder than a dedicated technical piece, we think the Arc'teryx Cerium LT Hoody is a great alternative. At 10.8 ounces, this versatility does come with a slight weight penalty, but the Cerium LT has a more tailored fit and adds synthetic Coreloft insulation in moisture-prone areas that offers a noticeable bump in overall warmth and weather protection (for more information, read our in-depth review here). A final decision between the two should come down to priorities. If you're counting ounces and are willing to sacrifice in features like an adjustable hood, the Ghost Whisperer/2 is a great match. But for the everyday adventurer, we give the edge to the Cerium LT.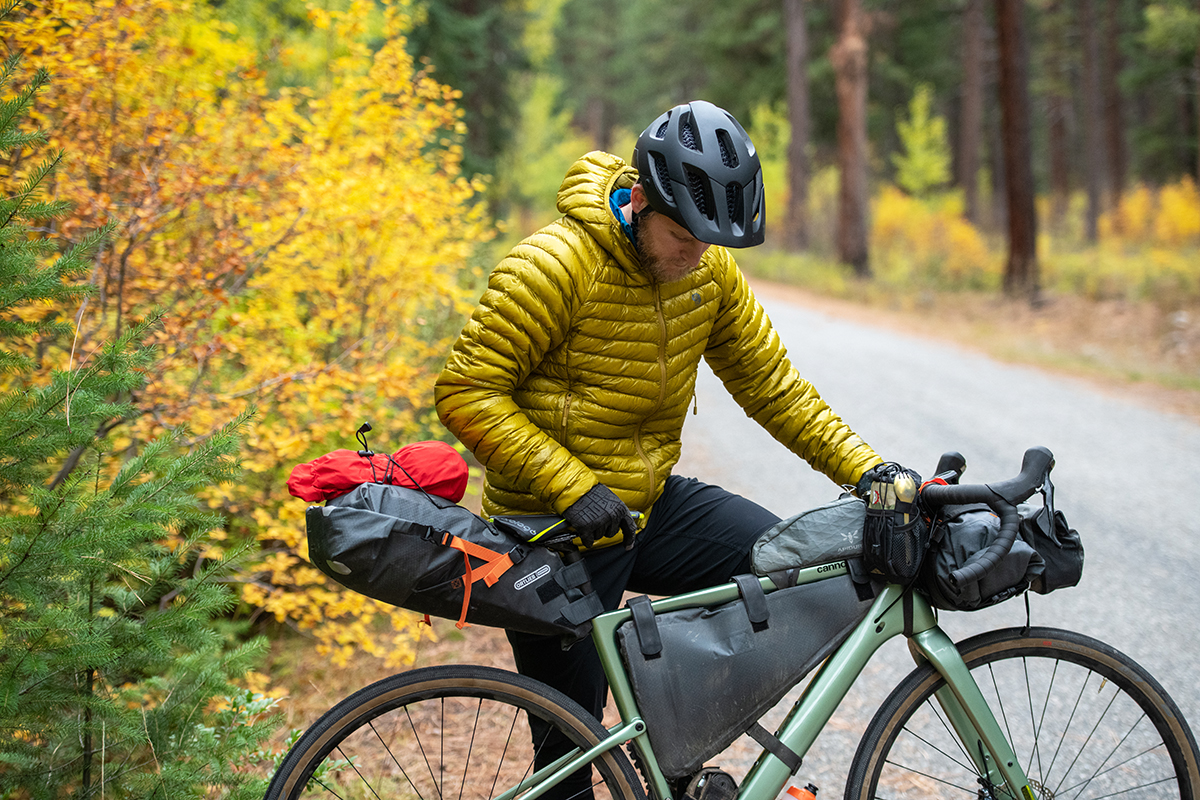 A second jacket to have on your radar from Arc'teryx's Cerium line is the SL Hoody. We brought this insulated layer on a backcountry trip to Mongolia and came away with mixed feelings. Its 1.9 ounces of 850-fill down and strategic use of synthetic in areas prone to moisture give it moderate warmth, but the thin shell is drafty and durability falls short. The 7-denier fabric is even thinner than the Ghost Whisperer's, and the Mountain Hardwear outperforms it in gusty conditions. That said, the Arc'teryx fit us better with a trim, athletic cut (compared with the boxy Mountain Hardwear) and wins out in weight at 7.6 ounces. But in the end, the Ghost Whisperer/2 is the better-balanced piece.
Another impressive design that we've thoroughly enjoyed wearing over the years is the Feathered Friends Eos. Compared to the Ghost Whisperer, the Eos is heavier at 10.6 ounces, warmer with 3.7 ounces of 900-fill-power down (the Ghost Whisperer uses 3 ounces of 800-fill), and slightly more expensive at $339 (the Ghost Whisperer costs $325). It does lack hydrophobic down, but the Pertex Quantum shell and DWR coating shed light moisture fairly well. We've also routinely had issues with availability (the Eos sells out during busy seasons) and the color options are somewhat limited, but we have very few performance-related complaints overall. All told, the Eos is a more well-rounded jacket for only a couple ounces more.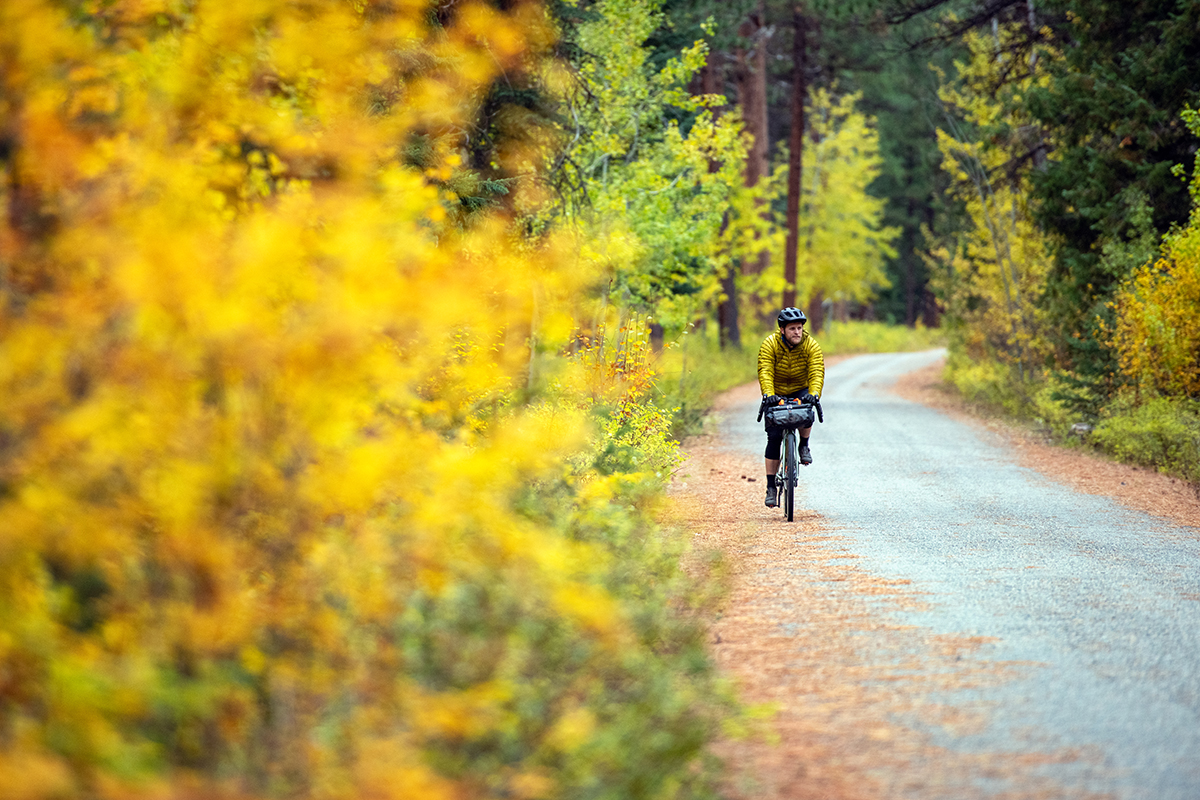 Montbell is a leader in the premium insulation market, and they offer an intriguing alternative to the Ghost Whisperer in their Ex Light Down Anorak. But let's make one thing clear: the Anorak is aimed squarely at the ultralight crowd and has limited appeal for the everyday wearer. At a feathery 7.6 ounces and with 3 ounces of 900-fill down stuffed inside, the Ex Light is essentially in a weight class of its own, even with the 8.8-ounce Ghost Whisperer included. However, the drop in weight comes with significant sacrifices: most notably, the Anorak design sacrifices a full-length center zipper, you lose out on zippered hand pockets, and it's even less durable with a 7-denier shell (the Ghost Whisperer uses slightly thicker 10D x 10D). All things considered, we think the Ghost Whisperer/2's added features are worth the extra 1.2 ounces of weight.
Last but not least is Mountain Hardwear's synthetic alternative to the Ghost Whisperer: the Ghost Shadow Hoody. Compared to down, synthetic insulation will continue insulating (rather than clump up) when wet, which makes it the more ideal option for wet weather. Synthetic jackets also tend to be much cheaper than their down counterparts, and the Ghost Shadow is no exception at a full $105 less than the Ghost Whisperer. You also get similar styling with down-like baffling and a comparable construction, including a 10 x 10-denier shell and trim-fitting, athletic cut. The biggest downside is weight: at 11.9 ounces, it's considerably heavier than even some of the synthetic competition, including Patagonia's down-mimicking Micro Puff (9.3 oz.). But if you value the wet-weather assurance and don't mind a little more heft and bulk, the Ghost Shadow will save you a good bit of cash.
If you're thinking about buying gear that we've reviewed on Switchback Travel, you can help support us in the process. Just click on any of the seller links above, and if you make a purchase, we receive a small percentage of the transaction. The cost of the product is the same to you but this helps us continue to test and write about outdoor gear. Thanks and we appreciate your support!
Depending on the seller, most products ship free in the United States on orders of $50 or more. International shipping availability and rates vary by seller. The pricing information on this page is updated hourly but we are not responsible for inaccuracies.
Learn More About Outdoor Gear