Always designed with a specific purpose in mind, we consider Arc'teryx as the outdoor industry's equivalent to Tesla Motors. Both create super high-end products where every detail has a purpose—if they're going to make something, they go all-in, and are willing to buck industry trends in the process. The Arc'teryx Cerium LT Hoody is no exception. It's a premium down jacket that is super warm for its weight, thoughtfully designed, and beautifully constructed. Below we break down the Cerium's warmth, weather resistance, weight and packability, construction and durability, sizing and fit, and more. To see how it compares, see our articles on the best down jackets and best midlayers.
 
Performance
Warmth
For insulation, the Arc'teryx Cerium LT Hoody uses a unique hybrid design, which Arc'teryx calls "Down Composite Mapping." High-quality down fill insulates around the core, while synthetic fill is placed in the areas more prone to getting wet: under the arms, around the sleeves, and along the shoulders (for more, see the section on "Weather Resistance" below). Thankfully, Arc'teryx's decision to use this mixture in no way sacrifices the plush warmth that down jackets are known for, largely due to the Cerium's super lofty 850-fill-power white goose down. Arc'teryx uses a generous 3.35 ounces of the fill, and we found it provides very similar levels of warmth to the Patagonia Down Sweater Hoody (3.66 ounces of 800-fill down), while surpassing the popular Mountain Hardwear Ghost Whisperer (2.79 ounces of 800-fill down).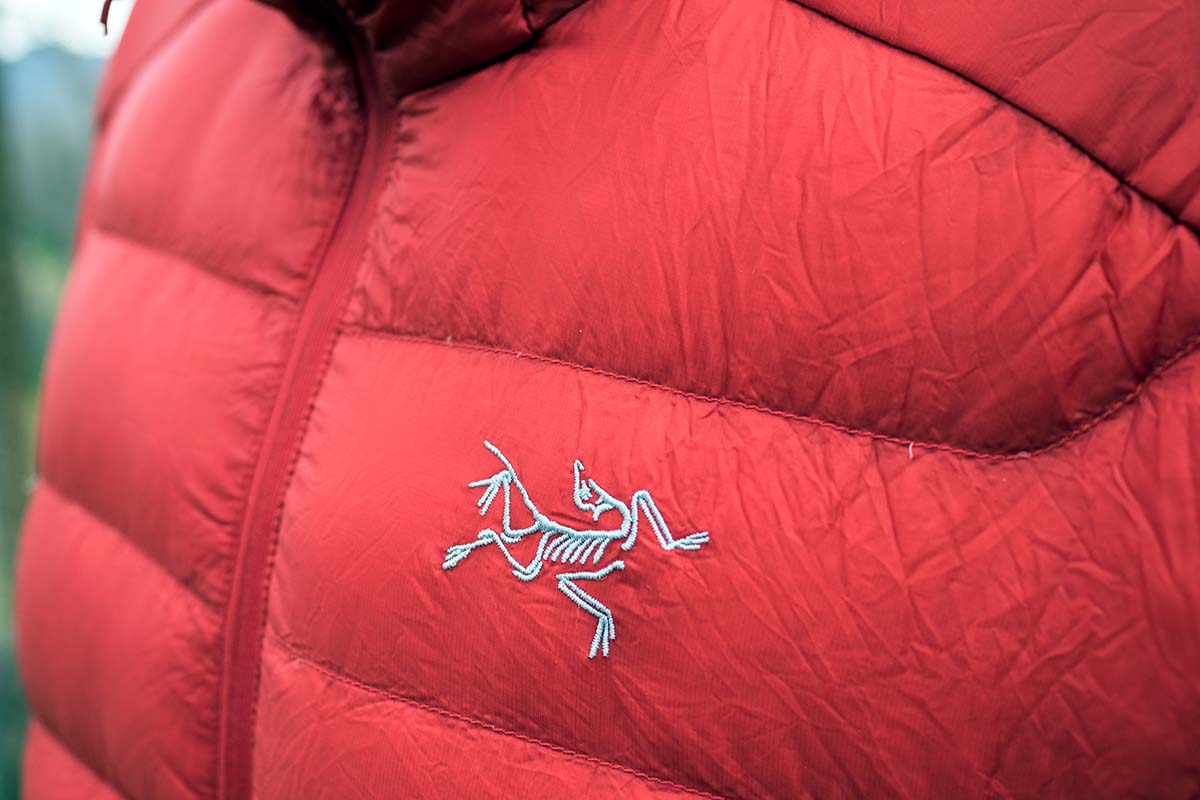 The 80 and 100-gram Coreloft synthetic used in the Cerium LT is moderately warm, balancing the added weight of synthetic with solid insulating properties that continue to perform when wet. We've been hard-pressed to identify any differences in areas that are insulated by down or synthetic, and have found the hybrid system has been nicely executed. Total fill weight (down plus synthetic) is elusive with the Cerium because of the two types of fill, but it's safe to say the jacket is quite warm for its weight.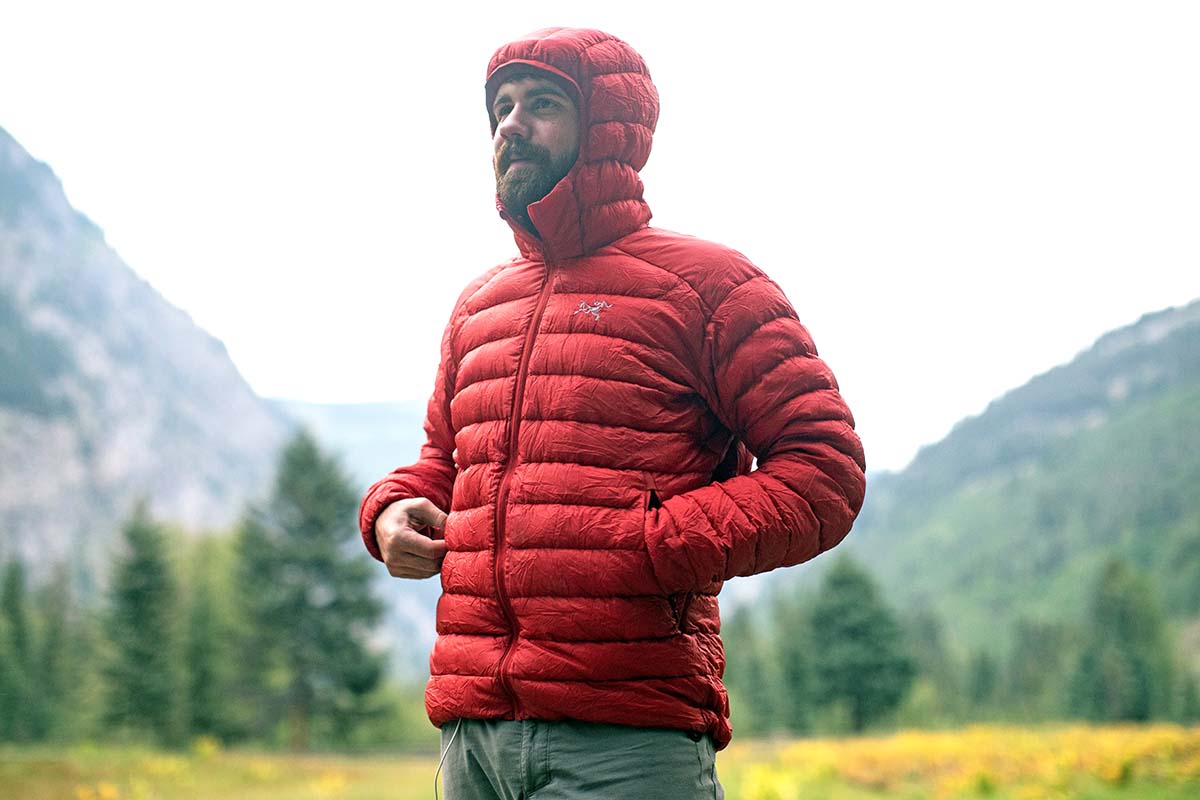 Weather Resistance
The number one enemy of down is moisture. Unlike synthetic insulation, when moisture reaches down clusters it turns them to mush, compressing their loft. The loss of loft means the down no longer insulates. To combat this, Arc'teryx placed Coreloft, their in-house high-quality synthetic, in the areas of the jacket most prone to getting wet: shoulders, underarms, cuffs, and the collar in front of the mouth. Down insulation was kept in the areas where maximum heating efficiency is enjoyed: the core, hood, and upper arms. (For more on this topic, check out our article: Down vs. Synthetic Insulation.) It's worth noting that although the synthetic insulation does bring additional confidence in backcountry use and around snow, the Cerium LT is by no means designed to be a jacket you'd wear in heavy rain. Make sure to still bring a shell to wear overtop if the weather turns.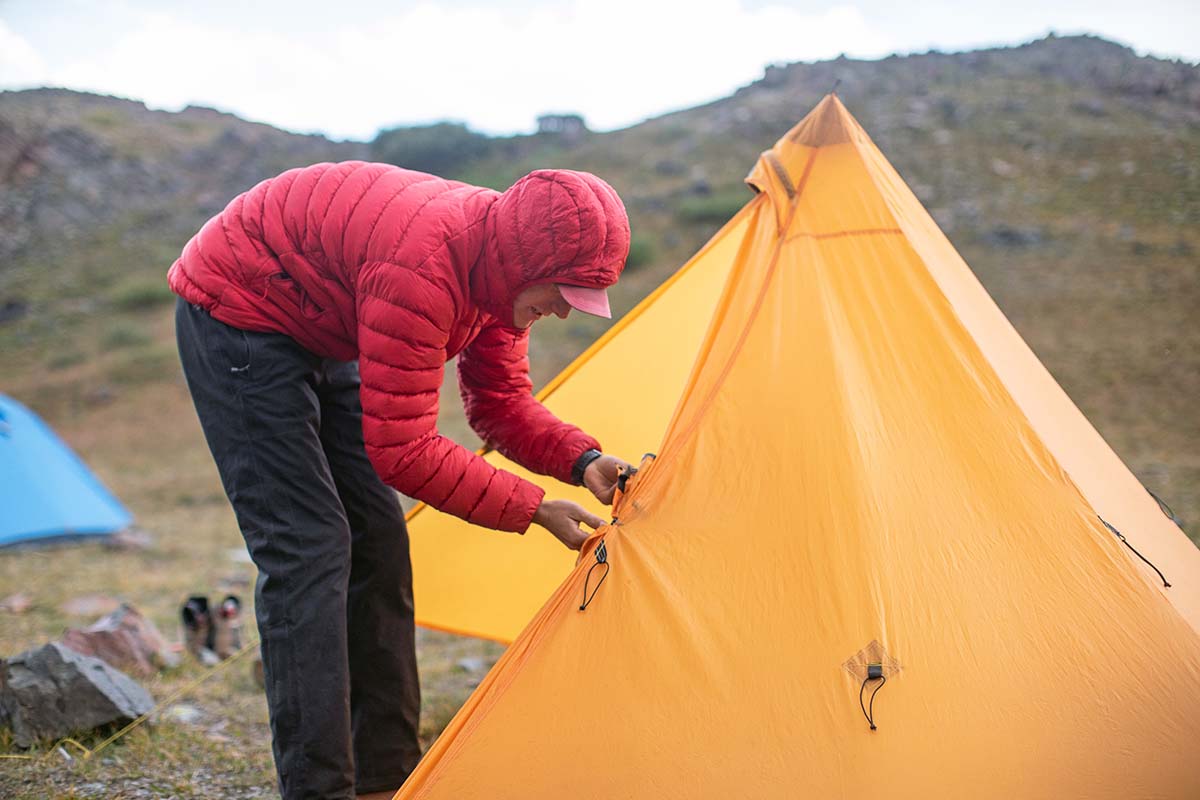 The Cerium LT's wind-resistant shell performed well on some cold day hikes and in use in a variety of snow sports, and the jacket's insulated hand warmer pockets were appreciated when we weren't on the move. But despite its weather resistance and impressive warmth for its weight, it cannot compare to a full-on winter down jacket. Even for climbing, the Cerium LT would fall short as a belay jacket in truly frigid and wet conditions. For this sort of environment, we would rather opt for a fully synthetic jacket with a more weather-resistant shell material, like the Arc'teryx Nuclei AR (see our in-depth review). And to really bundle up or if it's very windy, throw a hardshell on over top for subfreezing comfort. 

Weight and Packability
With a total weight of 10.8 ounces (including the stuff sack) in a medium size, the Cerium LT Hoody is unquestionably a lightweight down jacket. But within the ultralight category we tested it against, it does fall on the heavier end. For comparison, the Montbell Ex Light Down Anorak (6.2 ounces) and Mountain Hardwear Ghost Whisperer (7.8 ounces) are both significantly lighter. It's important to keep in mind that the Cerium LT uses a heavier weight shell fabric and has some synthetic insulation in select panels—these features offer tangible benefits (as mentioned above) but also add a little weight. But let's be honest, 10 ounces for a warm insulating piece is still extremely light.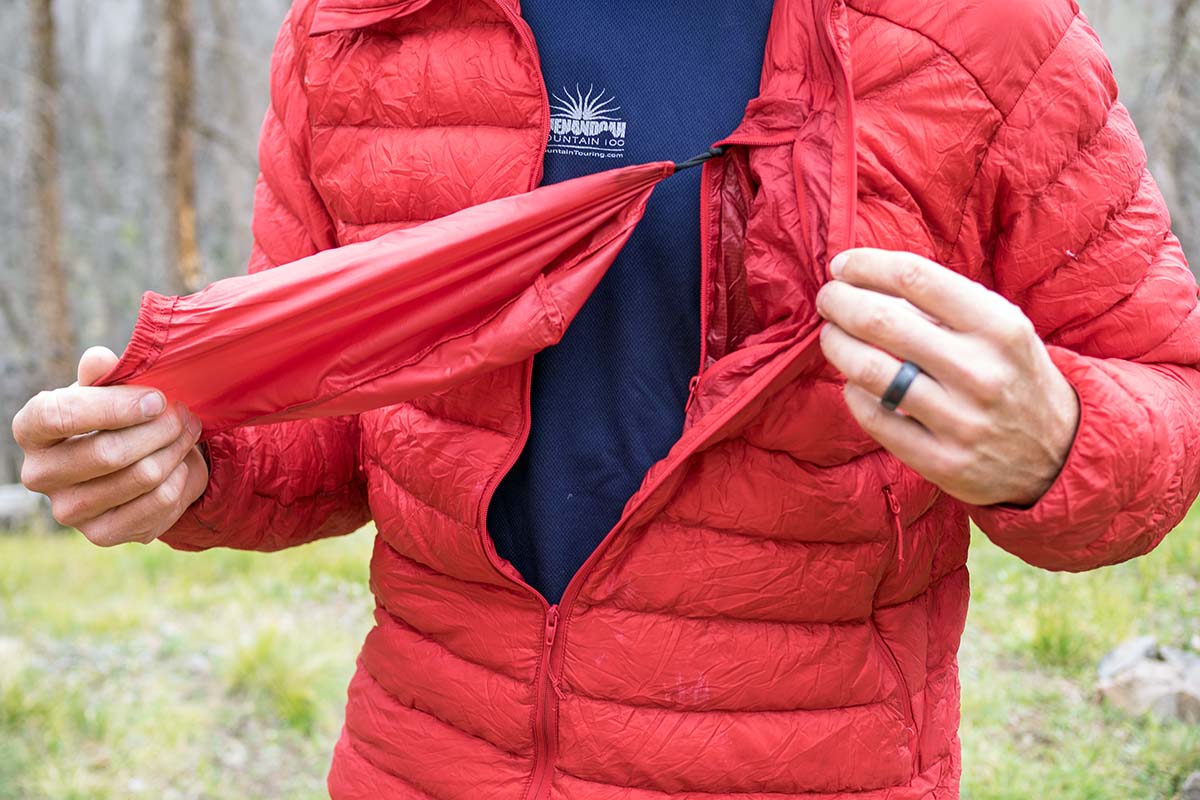 The mix of down and synthetic, while appreciated for its wet weather performance, had us a bit concerned about the Cerium LT's compressed size—a big reason to opt for a down jacket in the first place. But we're happy to report that the Cerium compresses like a true down jacket. It fits quite easily into the included stuff sack, measuring approximately 8.5 x 4.5 x 5 inches (LxWxH of the cylinder shape)—a size that stacks up well with the primary competitors. We much prefer down jackets that stuff into their own pockets, but Arc'teryx did make an effort to address the primary reason to avoid a stuff sack: losing the bag. With a loop on the inside of the right hand pocket, you can simply tie the stuff sack to that spot. It's simple and works well, and the only downer is you still have to carry around a stuff sack in your pocket (unless you have a good storage alternative).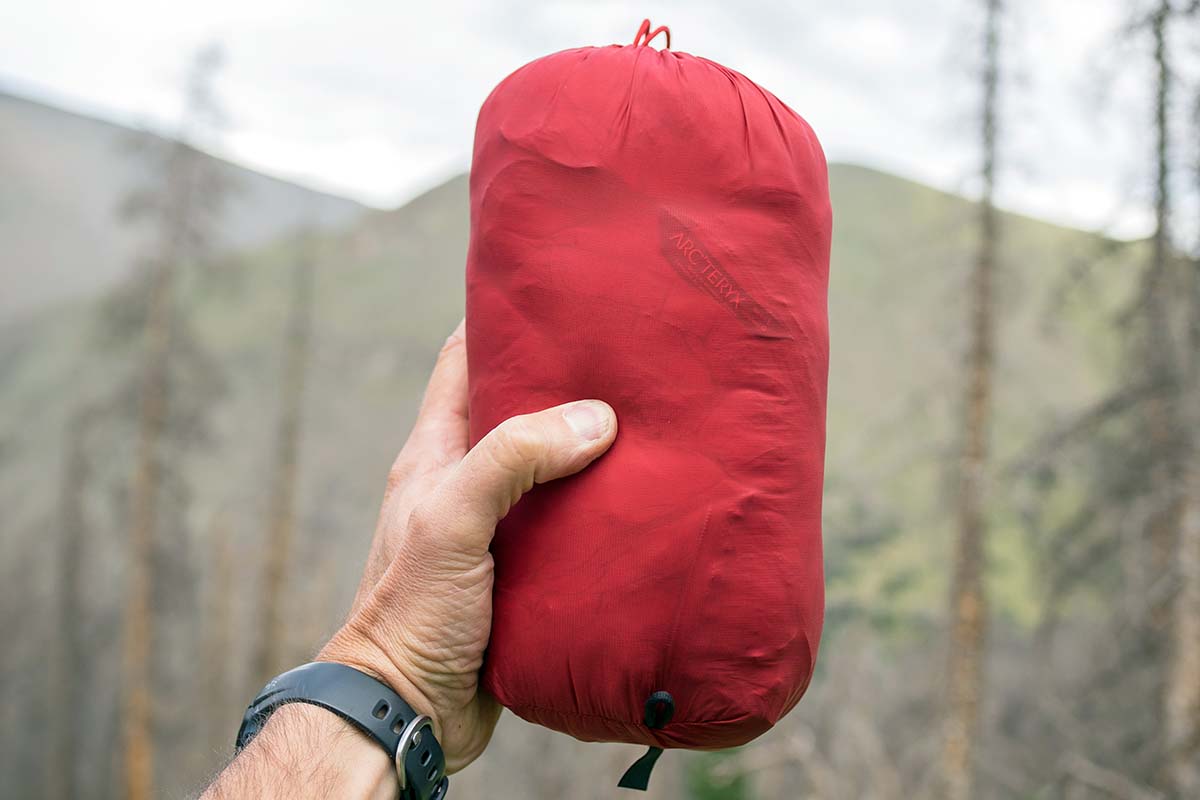 Construction and Durability
Premium materials and fit and finish are areas where the Cerium LT really excels. Excellent stitching and very clean lines are present in every Arc'teryx product we've had our hands on. It's extremely rare to find even a loose thread on these jackets, something that you can't say of most outdoor brands. We do feel it's worth mentioning that some users have reported their Cerium LT being prone to shedding down. We've had to massage a few feathers back through the fabric, but have not seen any undue loss of insulation. And we've experienced absolutely zero durability issues over extensive use of the jacket.
In their construction of the Cerium LT, Arc'teryx opted for a 10D ripstop nylon, which falls on the thin and ultralight end of the spectrum. The feel of the outer shell is plusher than most other ultralight options, and struck us as a more substantial version of the Mountain Hardwear Ghost Whisperer (7Dx10D). That's high praise, as both jackets are smooth and have a nice next-to-skin softness on both the outer and inner shell fabrics—including the collar in front of the face when fully zipped. A common place to cut some weight is through lighter-weight zippers, and Arc'teryx makes use of these for the main zipper as well as two hand pockets. While they are noticeably lightweight, all zippers are nonetheless confidence-inspiring and we have experienced no hiccups.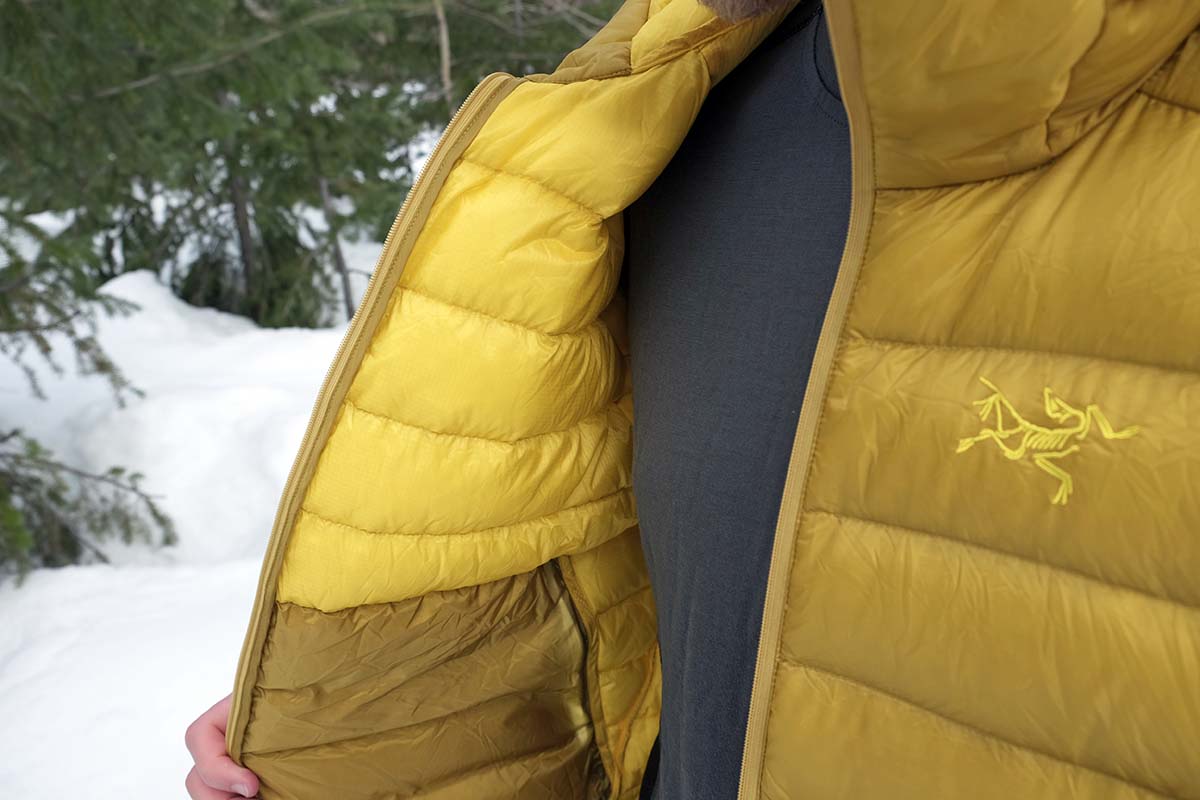 Sizing and Fit
Arc'teryx describes the Cerium LT's cut as "trim fit," and we can strongly confirm that designation. We had a medium for testing, and while the sizing was true, it had the most athletic cut of our entire lightweight down jacket testing line-up—something we really appreciate with a pack on or when wearing under a shell. The Cerium LT is the kind of jacket that moves with you, as opposed to feeling like you're swimming around inside of it. Plus, a waist cinch keeps the jacket close and eliminates heat loss at the hip, and the cuffs are integrated into the sleeves so that the arm's insulation still covers the entire wrist—making them our consensus favorite design amongst down jacket cuffs. There is still sufficient stretch to fit over gloves if needed, but they aren't so loose to let cold air seep through.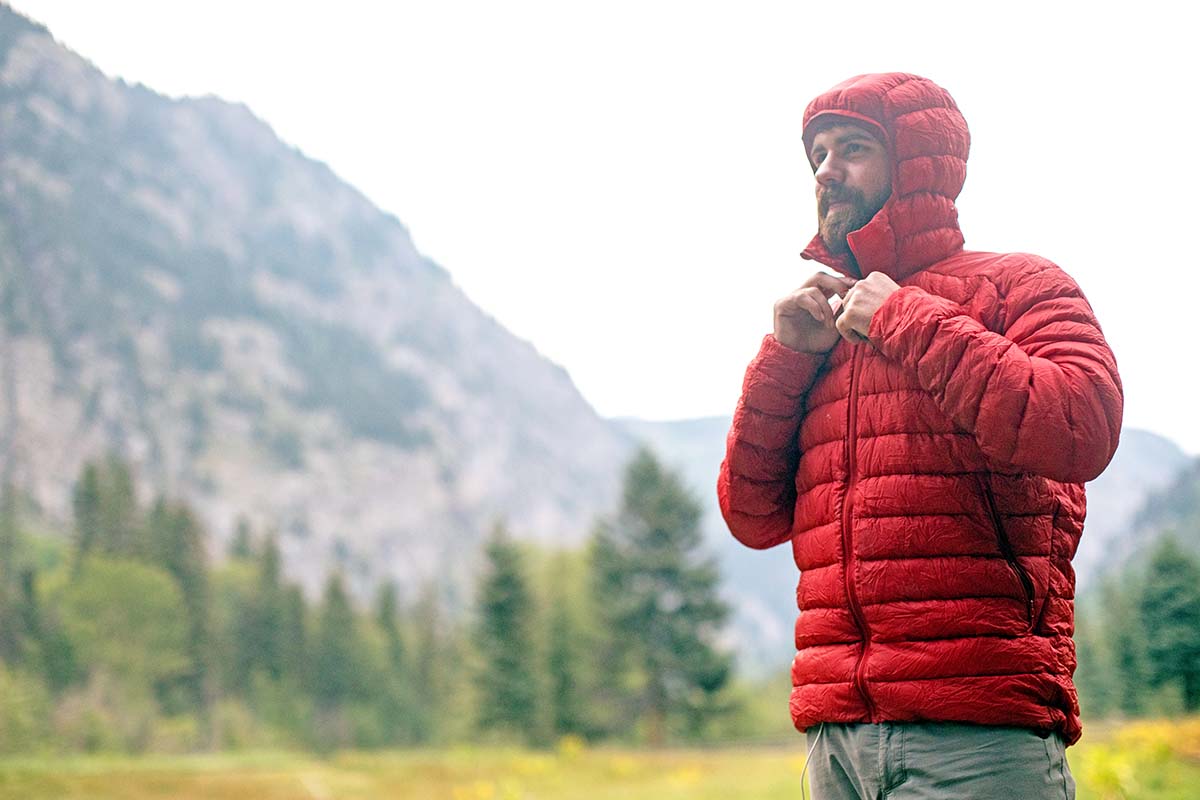 With a back length measured at 28.3 inches in a size medium, the Cerium is about average for a down jacket. Previous versions of the LT struck us as a little short, but the current model has a comfortable length that can be both layered under a shell or worn on its own. With testers ranging from 5'9" to 6'1", the medium provided a nice, well-tailored fit.

Other Versions of the Cerium
The Cerium is made in both hoody and standard jacket designs (if you need help deciding, read our article: Does Your Down Jacket Need a Hood?). If you opt for the head coverage, you're getting, in our opinion, the best system currently on the market—for $30 more than the hoodless jacket. The large (but not helmet-compatible) StormHood cinches just like most other down jackets, with a single drawcord on the back of the hood. But in contrast to the rest, it tightens evenly around your head, uniformly securing around your forehead and the back of your melon. It's a seemingly simple feature, but one that further shows the level of detail and care Arc'teryx takes in designing their products.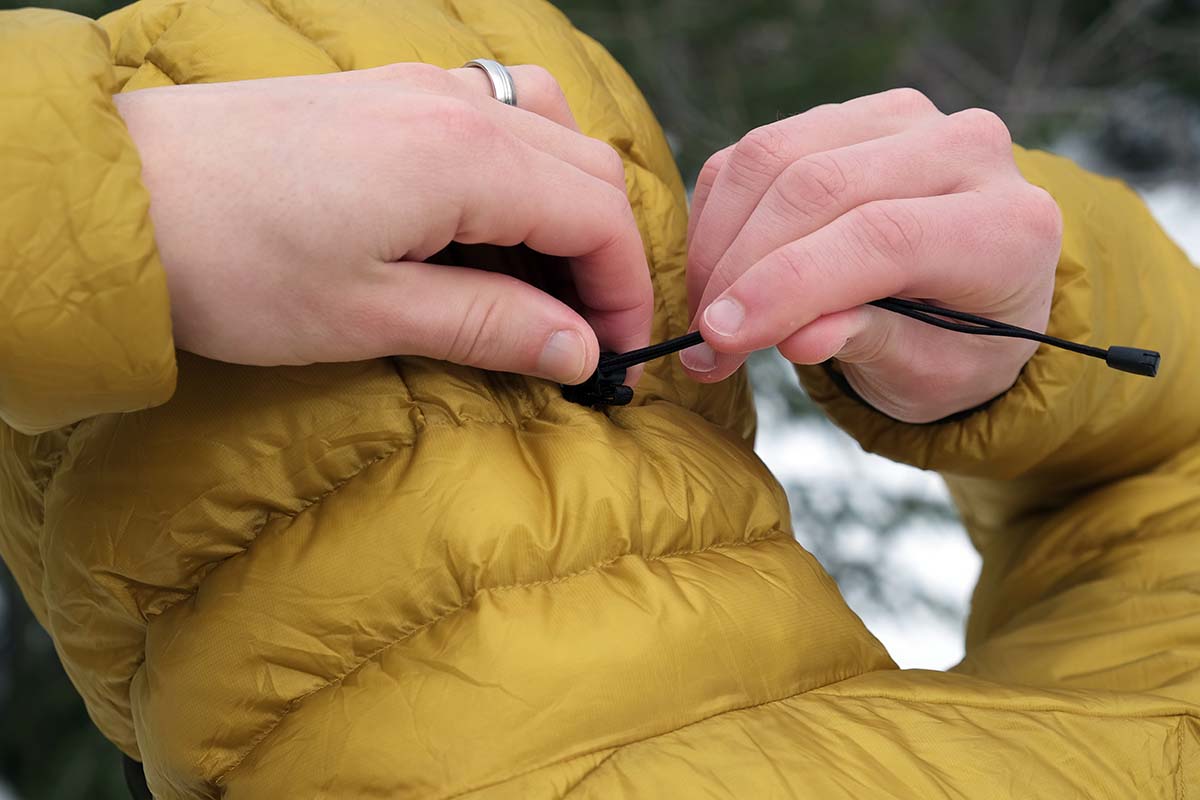 The Cerium LT is also available in a vest option, which comes in at $249 and weighs 6.5 ounces. It retains the same Down Composite Mapping construction, as well as the 850-fill down. Additionally, all varieties (hooded, non-hooded, and vest) are also made in women's versions. The women's Cerium LT Hoody clocks in at 9.9 ounces, costs the same, and features an identical build. And finally, as we've come to expect from Arc'teryx, they also offer Cerium SV (severe weather) and SL (superlight) versions, each offering varying levels of warmth, weather protection, and features.
 
What We Like
The Cerium LT is our favorite premium lightweight down jacket—it fits great, feels great, and weighs a mere 10 ounces.
The synthetic and down insulation design is very effective and functional in light moisture.
The StormHood fits evenly around the head and is super easy to adjust.
 
What We Don't
More expensive than the competition.
Within the ultralight down hoody category, the Cerium LT falls on the heavier end of the spectrum.
The shell is relatively thin, although we haven't had any durability issues to date. 


Comparison Table

The Competition 
We've made many references to the Mountain Hardwear Ghost Whisperer here—it's proven itself time and time again as one of our favorite down hoodies. At 7.8 ounces total including a healthy 2.8 ounces of 800-fill down, this jacket is extremely impressive with its warmth-to-weight ratio and paperweight feel. That said, its 7Dx10D shell is noticeably less durable than the Cerium LT, and the jacket also offers less warmth. And while less packable than down, we do like the added Coreloft insulation in the Cerium for a bit more protection against the elements—although both jackets will require a hardshell in serious weather. Unless you're ounce-counting, for $29 more we'd opt for the Cerium LT for its boost in performance and durability.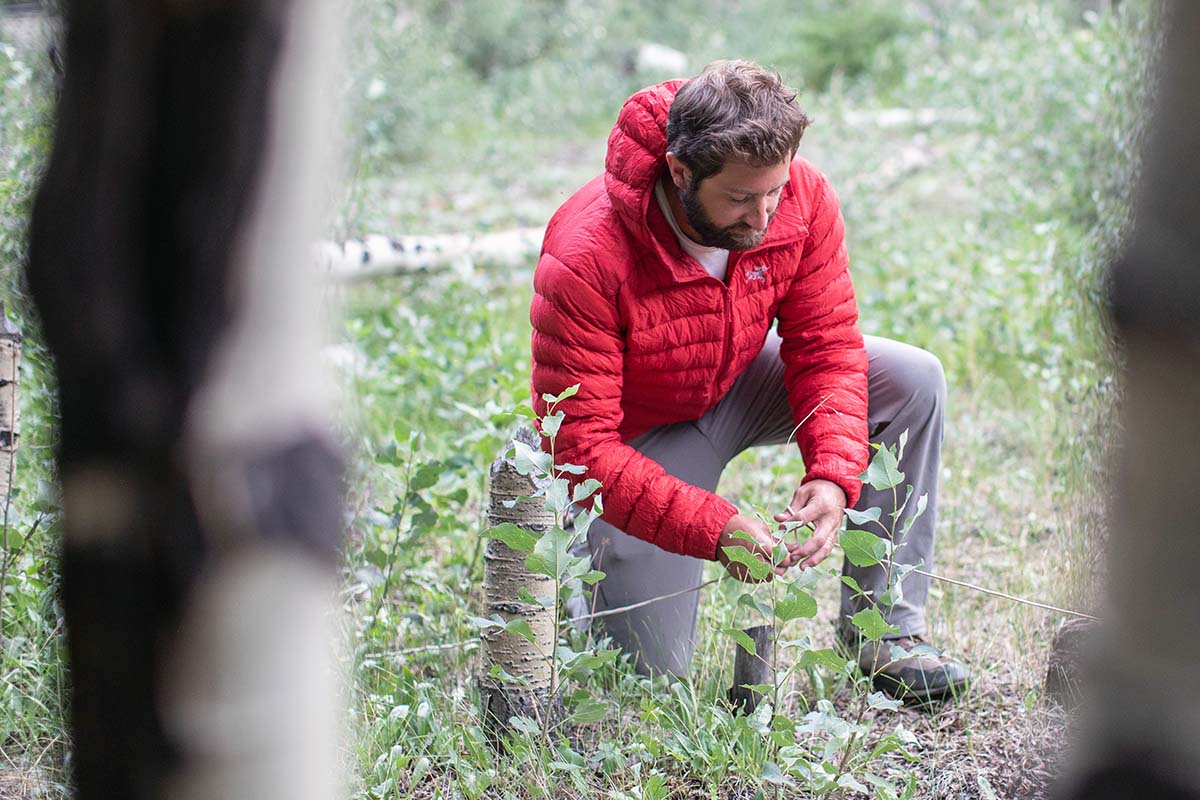 On the warmer end of the spectrum, the Feathered Friends Eos packs an impressive 3.7 ounces of 900-fill down—more fill weight and fill power than the Cerium LT—at a competitive $309 price. That said, the Eos is built for performance and its look and color options aren't quite as appealing for daily wear as the Cerium LT (it still looks good but isn't quite as sleek). Also, we don't love the non-adjustable hood, particularly in windy conditions. But at 10.6 ounces, it's a strong contender for anyone who doesn't mind the more technical look. 
Finally, we like the Patagonia Down Sweater Hoody for many reasons: it has a high-quality build, a clean design, substantial insulating power and warmth (3.7 ounces of 800-fill down), sturdy 20Dx30D shell, and admirably light weight (15.1 ounces)—all for $100 cheaper than the Cerium. That said, the Cerium LT's premium 850-fill down and use of synthetic insulation in moisture-prone areas are top-notch, and we can't argue with its lightweight warmth and functionality. If you need a down jacket for everyday wear and weekend skiing or hiking trips, the Down Sweater is an excellent choice. But for the highest levels of performance for the weight, we give the nod to the Cerium LT.
If you're thinking about buying gear that we've reviewed on Switchback Travel, you can help support us in the process. Just click on any of the seller links above, and if you make a purchase, we receive a small percentage of the transaction. The cost of the product is the same to you but this helps us continue to test and write about outdoor gear. Thanks and we appreciate your support!
Depending on the seller, most products ship free in the United States on orders of $50 or more. International shipping availability and rates vary by seller. The pricing information on this page is updated hourly but we are not responsible for inaccuracies.
Learn More About Outdoor Gear