A premium two-person backpacking tent can cost upwards of $500, but not everyone needs best-in-class performance. Casual weekenders and those just dipping their toes into backpacking can save a lot of money with a budget design. These tents are often heavier and less engineered than top-shelf models, but they're nevertheless well-built and will keep you protected in a storm. REI Co-op dominates the value scene, but our list also includes tents from brands like Nemo, MSR, Big Agnes, The North Face, and more. Below are the best budget backpacking tents of 2023. For additional information, see the comparison table and buying advice below the picks.
 
---
Our Team's Budget Backpacking Tent Picks
---

Best Overall Budget Backpacking Tent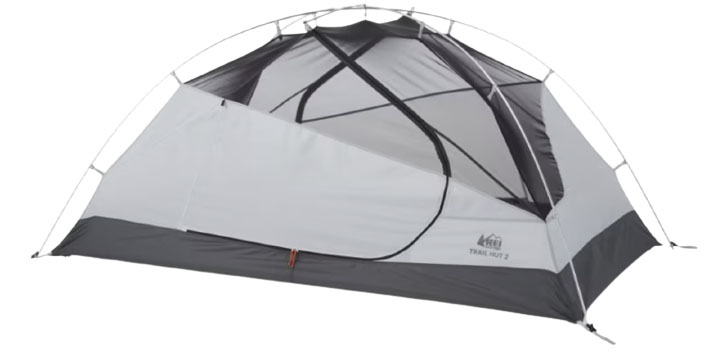 Packaged weight: 5 lbs. 15 oz.
Floor dimensions: 88 x 52 in.
Capacities: 2P, 4P
What we like: All the tent that most backpackers need for just $199.
What we don't: You can spend up for more interior space and a lighter, more packable design.
REI Co-op's in-house brand offers great bang for your buck, and their lineup of backpacking tents is especially impressive. In short, no other tent manufacturer provides a better combination of price and performance—the holy grail for budget seekers. The Trail Hut 2 is one step up from their entry-level offering (the Trailmade below) and far and away their most balanced budget design. The tent keeps costs low with a material set that emphasizes durability over weight-savings, but adds a nice boost in livability with a headroom-expanding ridge pole. What's more, its weather protection is on par with (or surpasses) tents three times the price: We brought the Trail Hut 2 backpacking in Patagonia, and its strong poles and thick fly deftly handled rain and strong wind throughout many nights in the mountains. 
We've spent a lot of time in a tent—and a lot of time in $500 tents—and keep coming back to the Trail Hut as one of the best values on the market. If you're a casual backpacker or only get out a few times a year, you really don't need anything more. Sure, it's relatively heavy and bulky, and thus not our first choice for serious hikers who like to cover a lot of miles (to keep your pack weight low, check out the Durston X-Mid or REI Half Dome SL below). And despite the addition of the ridge pole, the Trail Hut is still not as spacious as designs with pre-bent poles (like the Half Dome SL or Aurora). But for the price, you won't find a more comfortable, stormworthy, and well-built tent, making the Trail Hut 2 our runaway favorite for 2023... Read in-depth review
See the REI Co-op Trail Hut 2
A Premium Backpacking Tent for Under $350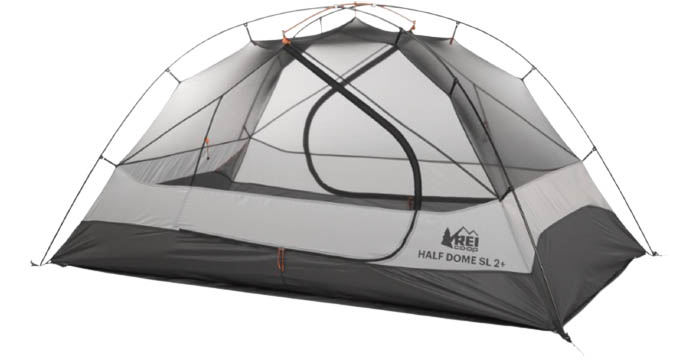 Packaged weight: 4 lbs. 11.5 oz.
Floor dimensions: 90 x 54 in.
Capacities: 2+P, 3+P
What we like: The best combination of weight and livability for under $350.
What we don't: Still heavier and bulkier than high-end backpacking tents.
REI's Trail Hut above is a function-first tent that will save you a lot of cash, but their mid-range Half Dome SL 2+ is the more well-rounded design. For $329, you get a sizable boost in livability thanks to roomier dimensions and modern features like pre-bent poles and a ridge-pole structure, both of which spread out the headroom and create steeper walls throughout. It all adds up to a nice amount of space for two adults, and with the "plus" designation, you've got room to squeeze in a smaller companion like a child or canine, too. Impressively, the Half Dome still manages to check in 1 pound 3.5 ounces lighter than the Trail Hut, and the whole package is noticeably more premium: finishes like a DAC-brand hubbed pole set and larger vents and vestibules give the tent a high-end feel that goes head to head with many of the top designs on the market.
The main reason the Half Dome SL dips into the budget category is weight: while it's reasonably light compared to base models like the Trail Hut above, it can't compete with top-tier tents like the Big Agnes Copper Spur ($550; 3 lbs. 2 oz.). Simply put, if you're headed out for weeks at a time or plan to cover a lot of ground each day, it might be worth spending up. But you can drop 8 ounces by leaving the included footprint behind, and the robust 40-denier floor should stand up well to rocks and branches. And if you're looking to keep both weight and cost low, a tent like the Big Agnes C Bar is worth a look, but you'll give up a good deal of livability with a tapered floor plan and single-door design. All told, for the best of all worlds at a sub-$350 price point, the Half Dome SL is without rival—in fact, it's the tent we recommend most to family and friends... Read in-depth review
See the REI Co-op Half Dome SL 2+
Best Budget Tent for Families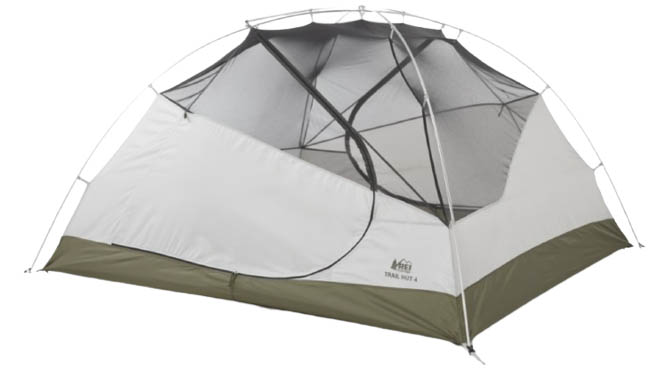 Packaged weight: 8 lbs. 1.6 oz.
Floor dimensions: 90 x 88 in.
Capacities: 2P, 4P
What we like: A spacious four-person tent with a ridge pole for extra headroom.
What we don't: It's worth considering purchasing two two-person tents instead.
Most of the tents here are designed to fit two sleepers—we do this both for comparison's sake and because two-person designs are the most common and versatile size among backpackers. But if you're traveling with children, want to mix in some car camping, or are willing to bear the extra burden for a roomier shelter, a four-person tent is a great solution. Within this category, the Trail Hut 4 is our favorite model: for just $299, you get sufficient room for four side-by-side sleeping pads, two doors and vestibules, and a generous 48-inch peak height. And unlike the 90's-era REI tent that we spent countless nights in as a kid, the Trail Hut here tacks on a center ridge pole to increase headroom throughout. 
If you're considering a four-person tent, keep in mind that this isn't your only solution for family backpacking trips. At 8 pounds 1.6 ounces, the Trail Hut 4 is undeniably heavy and bulky for human-powered travel—even when divided into two backpacks. Opting for two two-person tents offers more room overall (including vestibule space) and can result in a better night's sleep for everyone. What's more, finding two small flat spots is often easier than one large tent site, depending on your environs. But you won't find a better deal for accommodating four sleepers, and despite its heft, you'll still save a good deal of weight with the four-person model. All specs aside, we wouldn't trade anything for the memories of waiting out a high-country storm with the whole family, complete with a deck of cards and a good book.
See the REI Co-op Trail Hut 4
Best Budget Ultralight Backpacking Tent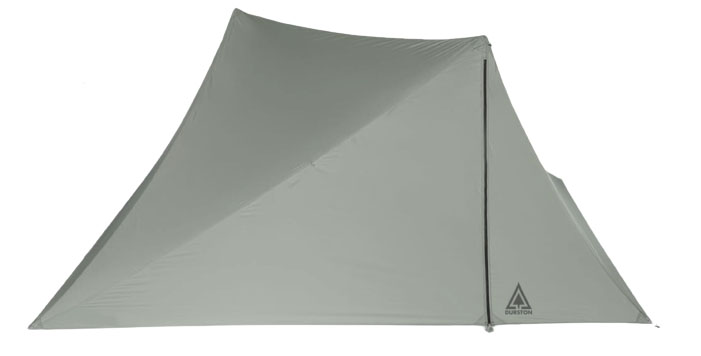 Packaged weight: 2 lbs. 7.4 oz.
Floor dimensions: 92 x 52 in.
Capacities: 1P, 2P
What we like: Ultralight, yet still relatively durable and spacious.
What we don't: Trekking-pole shelters aren't quite as user friendly as standard tents.
In 2023, the ultralight backpacking movement has gone fully mainstream, with hikers of all kinds embracing the freedom that comes with a lightweight load. An ultralight tent is a key part of every UL kit: They check in about 3 to 5 pounds lighter than traditional alternatives and have a much more streamlined packed size. Some UL tents save weight with ultra-thin materials and tapered floor plans, while others go light by using trekking poles rather than tent poles for structure. The Durston X-Mid 2 is one such trekking-pole shelter, combining a minimalist 2-pound 7.4-ounce weight with relatively durable materials and a spacious floor area. In a category where many shelters cost as much as $700, it's a true steal at just $300.
But trekking-pole shelters certainly aren't for everyone, and especially new backpackers: They require an extra dose of attention to get a taut pitch, and the A-frame shape (rather than an arched-pole design) can compromise interior space. But after taking the Durston X-Mid 2 backpacking in Washington's Cascade range, we were really impressed with its performance. The shelter was relatively easy to set up, withstood strong winds, and its unique offset pole design offered more livable space than many standard backpacking tents we've tested. What's more, like the other tents here, its double walls allow condensation to easily escape the inner tent (most trekking-pole shelters are single-wall). All told, if you're looking to lighten your load and willing to try something different, the Durston X-Mid (which also comes in a 1P design for $240) is well worth a closer look.
See the Durston X-Mid 2
Best of the Rest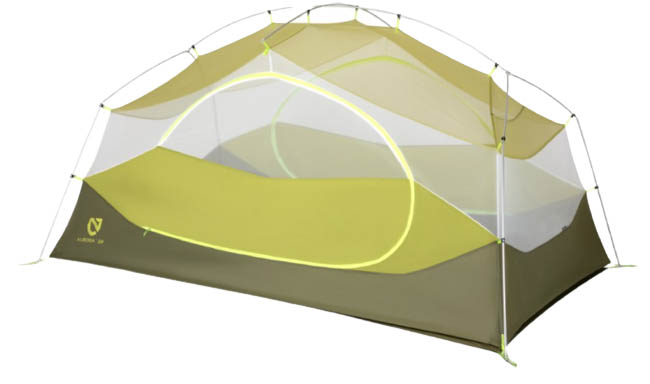 Packaged weight: 5 lbs. 7 oz.
Floor dimensions: 88 x 52 in.
Capacities: 2P, 3P
What we like: Massive interior space and a premium feature set.
What we don't: Not as roomy or weather-worthy as the Half Dome SL above.
Nemo makes some of the best backpacking tents in the business, so the recent release of their budget-oriented Aurora certainly caught our attention. A modern take on the simple entry-level tent, the Aurora offers a large amount of livable space by way of prebent poles (the interior feels quite open with four near-vertical walls), hubs at both the head and foot ends, and a ridge pole at the center. A symmetrical design and Nemo's intuitive hardware make set up a breeze, and you even get features like light-diffusing pockets and snaps for Nemo's Pawprint liner (great for protecting the tent floor from your pup). For casual or penny-pinching backpackers who want a step up in interior space and quality from most budget tents, the Aurora is certainly worth a look.
Priced at $300 (with an included footprint), the Aurora is on the spendy side of "budget." You do save $29 compared with the popular Half Dome above and get more durable materials (68D vs. 40D for the floor), but the REI is over a half-pound lighter and far more spacious with an additional 4 inches in length and width. We also found the REI gets the edge in wind protection—the very upright shape of the Nemo made it vulnerable to bowing in strong gusts on a trip in Colorado's San Juan Mountains. Weight-conscious hikers that get out a fair amount will likely opt for the Half Dome, but the Aurora is still a durable and affordable choice, and it's hard to beat the premium feel and finishes of a Nemo design. For more space, you can bump up to the Aurora 3P (88 x 72 in.) for $360. 
See the Nemo Aurora 2P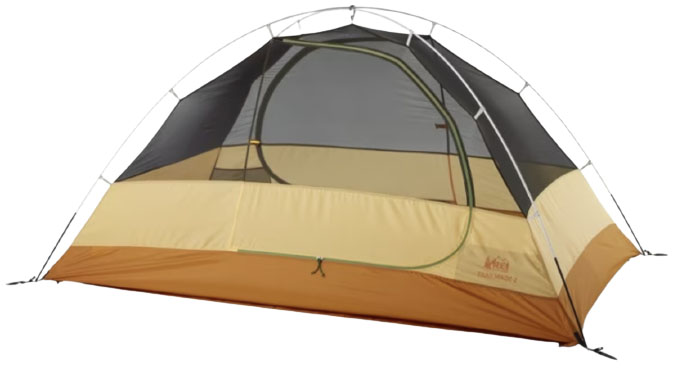 Packaged weight: 5 lbs. 7 oz.
Floor dimensions: 88 x 52 in.
Capacities: 1P, 2P
What we like: A reliable, durable, and affordable shelter from one of our favorite tent manufacturers.
What we don't: Very cheap materials and saggy fly; the Trail Hut 2 above is significantly better for just $20 more.
REI Co-op's Trail Hut 2 above is our favorite all-around budget tent, but you can save even more with the Trailmade 2 here. Part of REI's new Trailmade line—a functional and fun collection aimed to help more people get outside—the Trailmade 2 is easy to set up (there are simple instructions on the stuff sack), comes with all the necessary accessories (footprint, guidelines, stakes, etc.) and has a bargain basement price. What's more, with no ridge pole, it's also a half-pound lighter than the Trail Hut, and you can shave even more weight by leaving the 6.8-ounce footprint at home, too. Tack on durable materials and beefy poles that can handle high winds, and the Trailmade 2 is a reliable tent that will get the job done for just $179.
The Trailmade features an identical floor area and roughly the same material weight as the Trail Hut (68D polyester), but it's a far cry from our top pick in terms of build quality. On the model we tested, the rainfly didn't properly fit the dimensions of the tent body—some sides were too long, others too short, and the seams never lined up perfectly. Combined with less guy-out points overall, and we were unable to get a taut pitch despite much tweaking. In addition, the Trailmade's materials felt particularly cheap (most of all the coated polyester fly), the vestibule doors only offer a small opening to get in and out, and there's very little interior storage (just one pocket beside each door). In the end, for just $20 more, the more spacious and premium-feeling Trail Hut is an easy choice for us. If you're building your kit from scratch, it's worth checking out REI's Trailmade 2 Backpacking Bundle, which features the tent, Trailmade 20 sleeping bag, and Trailmade sleeping pad for just $349... Read in-depth review
See the REI Co-op Trailmade 2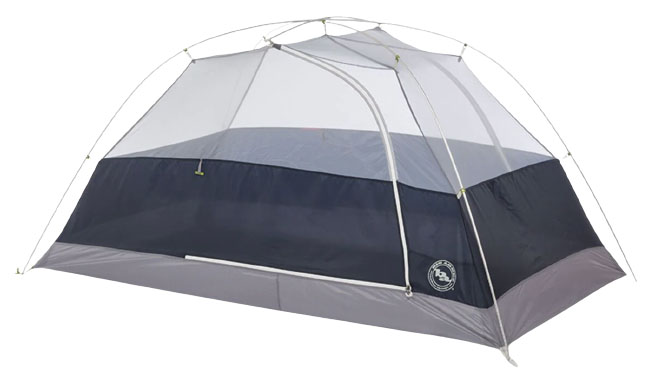 Packaged weight: 4 lbs. 15 oz.
Floor dimensions: 90 x 52 in.
Capacities: 2P, 3P, 4P
What we like: A versatile budget design from one of the best tent makers in the business.
What we don't: Pricier than the Trail Hut 2 and not as roomy as the Aurora.
Big Agnes makes some of our favorite lightweight backpacking tents, which feature high-quality construction and a great balance of performance and weight-savings. In the budget category, the Blacktail is their best all-arounder. Essentially Big Agnes' version of the REI Trail Hut 2, the Blacktail 2 offers a roomy floor plan and generous headroom by way of pre-bent poles and a ridge pole at the apex. Ventilation is high with a good amount of mesh in the body and two rainfly vents, and two doors and two vestibules make living easy for two. Finally, the Blacktail includes the same premium finishes we see in Big Agnes' pricier designs, including details like a Quick Stash doorkeeper, media pockets with cord routing, and precut guylines.
At $250, the Blacktail 2 will cost you $50 more than the Trail Hut 2, and unlike the REI design it's less likely to be found on sale. On the other hand, the Blacktail is a full pound lighter, yet still features durable 68-denier fabrics in the floor and fly. But the Big Agnes does fall a bit in between categories: If we really want to save money, we'll reach for a tent like the Trail Hut 2 above; if headroom is top priority, the Nemo Aurora is a better pick. But for a well-rounded tent that puts it all together, the Blacktail 2 is a great design with Big Agnes' tried and true quality.
See the Big Agnes Blacktail 2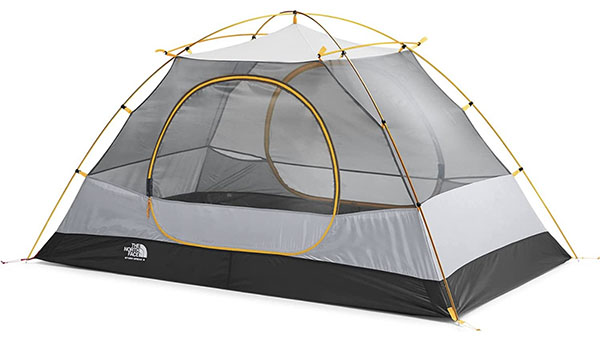 Packaged weight: 5 lbs. 14 oz.
Floor dimensions: 87 x 50 in.
Capacities: 2P, 3P
What we like: Durable fabrics and good livability for a bargain-basement price.
What we don't: Heavy and no rainfly vents.
The North Face makes a lot of high-performance tents for expedition use, but their casual lineup also has a lot to offer. For just $185 at full retail price, the Stormbreak 2 is a great value in a two-person backpacking tent. All the elements are there: The Stormbreak is roomy with a non-tapered shape, 50 inches of width, and extended 43-inch peak height (thanks to two ridge poles). It also provides decent weather protection with a full-length fly and has two large doors and vestibules for storing your gear at night. In terms of durability, the TNF uses a burly 75-denier canopy and 68-denier floor, which means it's fully dog- and kid-friendly. All in all, that's a lot of bang for your buck.
What are the downsides of the Stormbreak 2? With a packaged weight of 5 pounds 14 ounces, it's among the heaviest two-person tents on this list, on par with the REI Trail Hut 2 above. It's also important to note that the Stormbreak's fly does not feature any venting, which means the tent can overheat quickly in a storm (on a dry night, you can open up your vestibule doors for airflow). Finally, TNF's budget options don't knock it out of the park quite like those from REI, and the Stormbreak feels a bit cheaper and less premium overall. But the price is right, and it's a nice alternative to the Trailmade 2 above for budget shoppers who want a bit more interior space.
See The North Face Stormbreak 2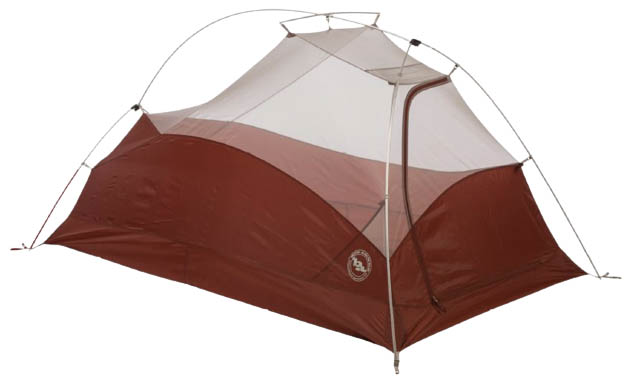 Packaged weight: 4 lbs.
Floor dimensions: 86 x 52/42 in.
Capacities: 2P, 3P
What we like: Lightweight for a budget tent.
What we don't: Cramped living quarters for two and not very wind-resistant.
When you opt for a budget tent, there's no escaping without a little compromise in terms of interior space or weight. But it's a spectrum: some tents tack on a few extra ounces for the sake of livability, while others streamline the build in order to keep weight low. Big Agnes' C Bar 2 falls into the latter category, with a minimalist design reminiscent of their ultralight Fly Creek. You get just one door and vestibule, a mesh-heavy canopy, and a tapered roof and floor area that keep materials to a minimum. It's a tight squeeze for two—you won't be able to sit up at the same time as your tent mate and will practically have to crawl over them to get in and out—but at just 4 pounds, the C Bar 2 is the lightest two-person tent to make this list.
For solo hikers or those trying to shave weight from their pack, the C Bar 2 is a really nice budget offering. But the interior space is a far cry from models like the Nemo Aurora and Half Dome SL above, and you'll have to ask yourself if it's worth the sacrifice for one less pound. Further, the simplified pole structure (just one pole down the spine) and mesh-heavy design will suffer in heavy winds. If you're truly serious about streamlining your load, it's worth considering a more premium tent like the Big Agnes Fly Creek HV UL 2 ($400) or Tiger Wall UL 2 ($450) or opting for a trekking pole-supported shelter like the 2-pound 7.4-ounce Durston X-Mid above. But Big Agnes is one of the top manufacturers in the game, and you'd be hard-pressed to find a lighter freestanding tent at the $200 price point. 
See the Big Agnes C Bar 2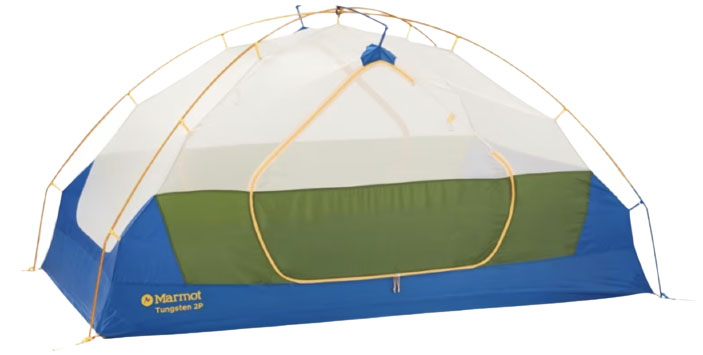 Packaged weight: 5 lbs. 4 oz.
Floor dimensions: 88 x 54/46 in.
Capacities: 1P, 2P, 3P, 4P
What we like: Mix of solid nylon and mesh provides good ventilation alongside privacy and weather protection.
What we don't: Headroom is compromised with the tapered shape.
We've mentioned REI as a great one-stop-shop for value, but Marmot isn't far behind. For a decently low price of $249, their recently updated Tungsten is a durable 3-season tent with all the features that most weekend backpackers need. Like the C Bar above, the Marmot features a tapered floor plan (8 in. narrower at the feet), which saves you weight while still offering ample room for two side-by-side sleepers. On the tent body, the mix of solid nylon and mesh provides good ventilation alongside privacy and weather protection, and the updated colorways add a nice amount of flair. 
While tents like the Half Dome SL above devote precious ounces to an oversized floor plan, the Tungsten here places a premium on durability above all else. For comparison's sake, the Marmot's floor and fly fabric are 70- and 68-denier respectively, while the REI checks in at 40- and 30-denier. But the tapered design isn't for everyone: You'll have to sleep shoulder-to-shoulder with your tent mate (some prefer a head-to-toe arrangement for more space), and there's not a lot of room to sit up side by side. In the end, the REI's durability is serviceable for most, although the Tungsten makes for a nice hybrid backpacking and car camping option and will save you close to $100. It's also worth noting that Marmot makes another well-priced tent in their Limelight 2P ($299), which offers more room at the cost of some added weight.
See the Marmot Tungsten 2P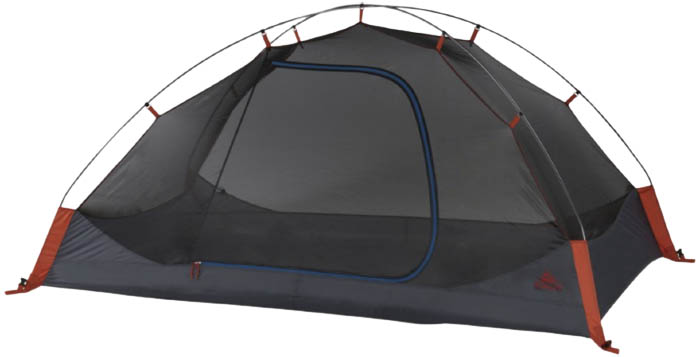 Packaged weight: 4 lbs. 8 oz.
Floor dimensions: 85 x 54/45 in.
Capacities: 1P, 2P, 4P
What we like: Inexpensive, durable, and lightweight.
What we don't: No rainfly vents and all-mesh body suffers in high winds.
For the true budget seekers among us, Kelty's Late Start is another decent backpacking tent at a very low price point. This tent is about as simple as they come, with an all-mesh body and bathtub floor, simple crisscrossing pole structure, and one door and vestibule. Set up is a breeze with pole sleeves at each corner (this is a bit archaic, but it still gets the job done), and despite the robust 68-denier fly and floor, the Late Start is competitively lightweight at just 4.5 pounds. For summer backpackers who want to keep their pack weight in check, it's a roomy alternative to the cramped C Bar 2 above.
That said, the Late Start slots in toward the bottom of our rankings for a few reasons. First off, unlike designs like the Trail Hut and Aurora above, the Kelty is not sold with a footprint. In most cases, we'd have no qualms pitching this tent directly on the ground (the 68D floor is thick enough to withstand contact with sharp rocks and branches), but it's still a noteworthy omission. Further, the Late Start features a tapered floor, limiting interior space and forcing you to sleep shoulder-to-shoulder with your partner. And finally, the all-mesh canopy is not ideal in high winds. But for a low-cost backpacking tent that's lighter than most, the Late Start earns a spot on our list. And if you're in search of even more savings, it's also worth checking out Kelty's 2-person Ashcroft ($125) and Tanglewood ($90) tents.
See the Kelty Late Start 2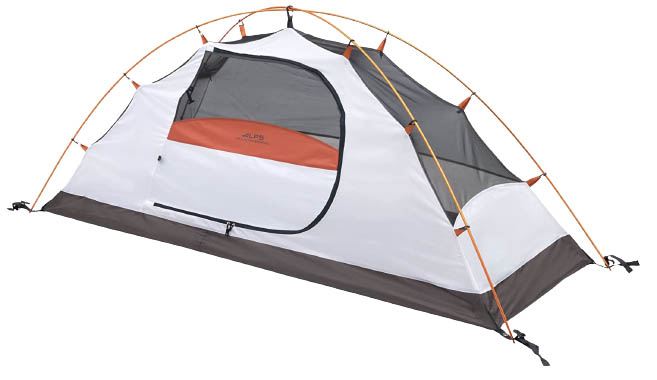 Packaged weight: 4 lbs. 1 oz.
Floor dimensions: 90 x 32 in.
Capacities: 1P, 2P, 4P
What we like: Bargain-basement price and good feature set for solo backpackers.
What we don't: Budget build quality.
Alps Mountaineering is not at the forefront of innovation, but they certainly win out in terms of price. For just $130—and commonly found on Amazon for less than $100—the Lynx 1 is a great value for solo backpackers. It's roomy for one, offers good weather protection and ventilation including two vents up top, and has a large door and vestibule for storing your gear at night. The Lynx is also pretty tough with a burly 75-denier floor and substantial zippers, which is great for those who are hard on their gear.
For folks that consistently travel alone in the backcountry, a one-person tent is a really good option to consider. You obviously lose the versatility of a 2P model, but otherwise there aren't a whole lot of downsides to the streamlined floor plan, and you even get enough room for a canine companion. Within the one-person tent market, it's also worth checking out the REI Co-op Trailmade 1 ($159) and Kelty Late Start 1 ($140), but the Lynx wins out in price and weather protection (thanks to more solid fabric in the tent body), and is a half-pound lighter than the Trailmade to boot. It's for good reason that Alps has carved out a following among beginner backpackers and those on a tight budget. Just be sure to set reasonable expectations in terms of material and build quality.
See the Alps Mountaineering Lynx 1
Budget Backpacking Tent Comparison Table
| Tent | Price | Weight | Floor Dimensions | Floor Denier | Capacities | Footprint |
| --- | --- | --- | --- | --- | --- | --- |
| REI Co-op Trail Hut 2 | $199 | 5 lbs. 15 oz. | 88 x 52 in. | 66D | 2P, 4P | Yes |
| REI Co-op Half Dome SL 2+ | $329 | 4 lbs. 11.5 oz. | 90 x 54 in. | 40D | 2+P, 3+P | Yes |
| REI Co-op Trail Hut 4 | $299 | 8 lbs. 1.6 oz. | 90 x 88 in. | 66D | 2P, 4P | Yes |
| Durston X-Mid 2 | $300 | 2 lbs. 7.4 oz. | 92 x 52 in. | 20D | 1P, 2P | No |
| Nemo Aurora 2P | $300 | 5 lbs. 7 oz. | 88 x 52 in. | 68D | 2P, 3P | Yes |
| REI Co-op Trailmade 2 | $179 | 5 lbs. 7 oz. | 88 x 52 in. | 68D | 1P, 2P | Yes |
| Big Agnes Blacktail 2 | $250 | 4 lbs. 15 oz. | 90 x 52 in. | 68D | 2P, 3P, 4P | No |
| TNF Stormbreak 2 | $185 | 5 lbs. 14 oz. | 87 x 50 in. | 68D | 2P, 3P | No |
| Big Agnes C Bar 2 | $200 | 4 lbs. | 86 x 52/42 in. | 68D | 2P, 3P | No |
| Marmot Tungsten 2P | $249 | 5 lbs. 4 oz. | 88 x 54/46 in. | 68D | 1P, 2P, 3P, 4P | No |
| Kelty Late Start | $160 | 4 lbs. 8 oz. | 85 x 54/45 in. | 68D | 1P, 2P, 4P | No |
| Alps Mountaineering Lynx 1 | $130 | 4 lbs. 1 oz. | 90 x 32 in. | 75D | 1P, 2P, 4P | No |

Budget Backpacking Tents Buying Advice

How We Define a "Budget" Backpacking Tent
By our own definition, a budget backpacking tent checks in for $300 or less, with some priced as low as around $100 (the one exception above is REI's $329 Half Dome SL 2+). Given that you can spend upwards of $500 on a backpacking tent, there's no denying that the models here will save you a lot of cash. Of course, it goes without saying that budget tents have their fair share of tradeoffs, especially in terms of weight, packed size, and interior space. But if you're willing to compromise a little in those areas, the tents here are great and functional low-cost additions to any backpacking kit.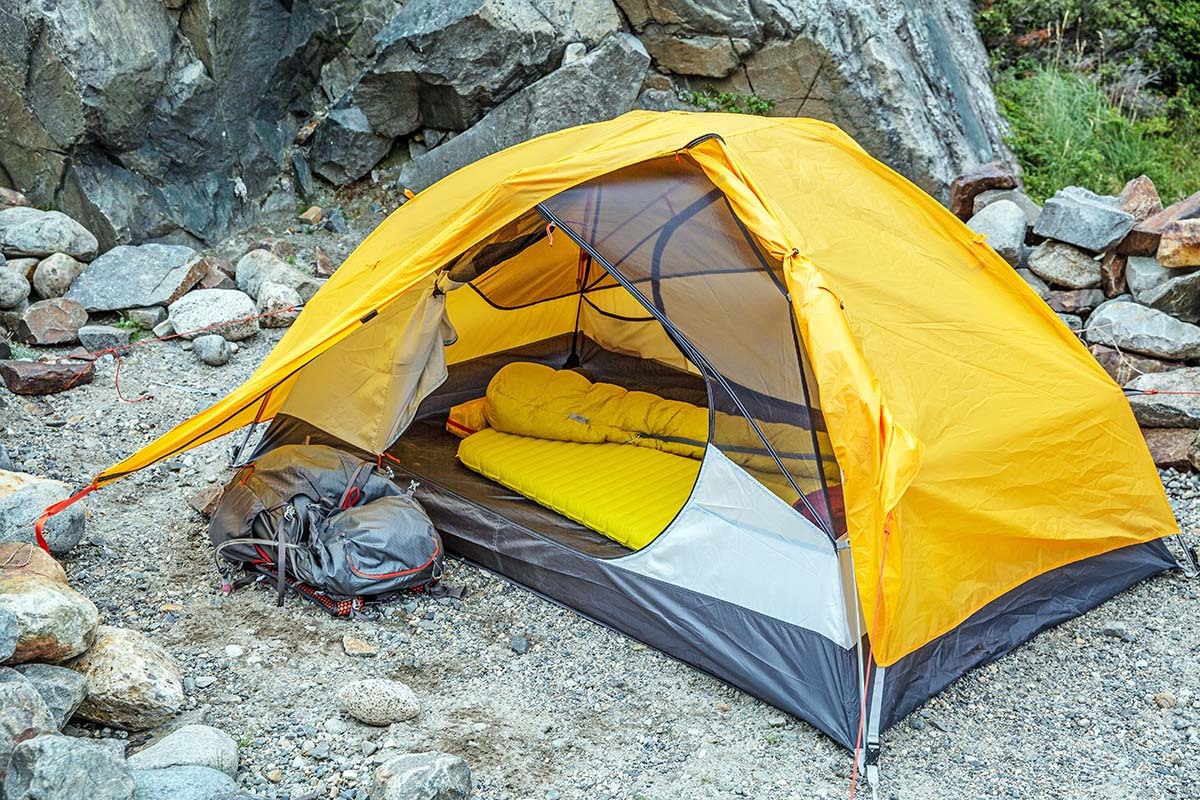 Budget Backpacking Tent Considerations
Weight and Packed Size
While premium backpacking tents typically clock in between 2 and 4 pounds for two-person designs, the majority of budget tents hover around 4 to 6 pounds all in (by "all in" we mean the packaged weight, which we explain in more detail below). The reason for this is that manufacturers are able to cut costs considerably by using thicker fabrics, heavier components, and less innovative engineering practices. For casual backpackers who aren't covering too much ground or only get out a few times a year, the added 1 to 4 pounds shouldn't be too big of a downside (plus, all of the tents above include a separate tent body and rainfly, meaning you can easily split up the various components with your tent mate). However, if you're looking to log some serious mileage or want to keep your backpack weight low, it may be worth investing in a lighter and more premium option.
In the majority of cases, packed size also increases with weight, meaning that most budget tents will take up more space in your backpack than premium models. This isn't great news for those who like to keep a streamlined load, but most entry-level backpackers aren't carrying sub-50-liter ultralight packs to begin with.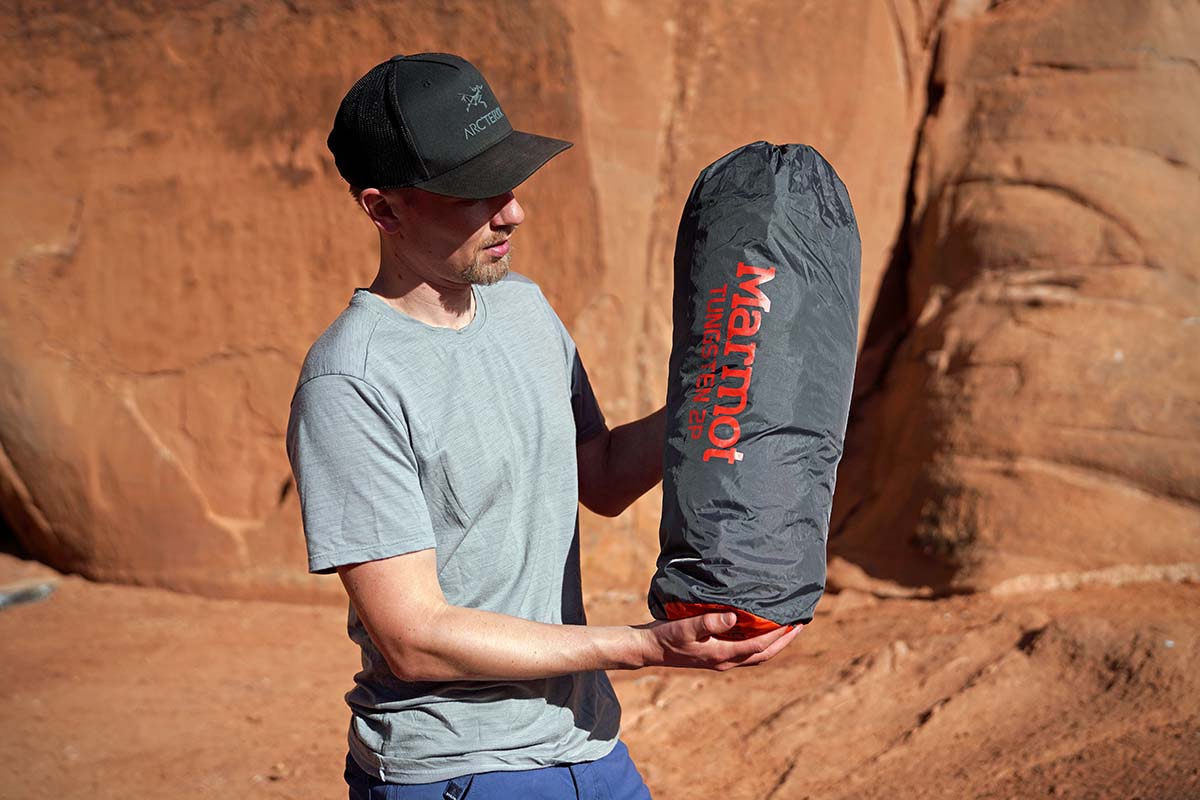 Finally, if you're not keen to compromise on weight and packed size, there are a few other options for staying within a budget. Solo hikers can opt for a one-person tent, which will generally save you about a pound. For example, the REI Trailmade 2 clocks in at 5 pounds 7 ounces, while the one-person version weighs 4 pounds 9 ounces. Alternatively, it may be worth considering a more affordable ultralight design like the Durston X-Mid 2 ($300) mentioned above, which weighs just 2 pounds 7.4 ounces. Trekking-pole shelters require a little extra care to set up—and they're generally pricier than true "budget" options—but the weight savings will be well worth it for some. If you're looking to shed weight from your pack, check out our article on the best ultralight tents.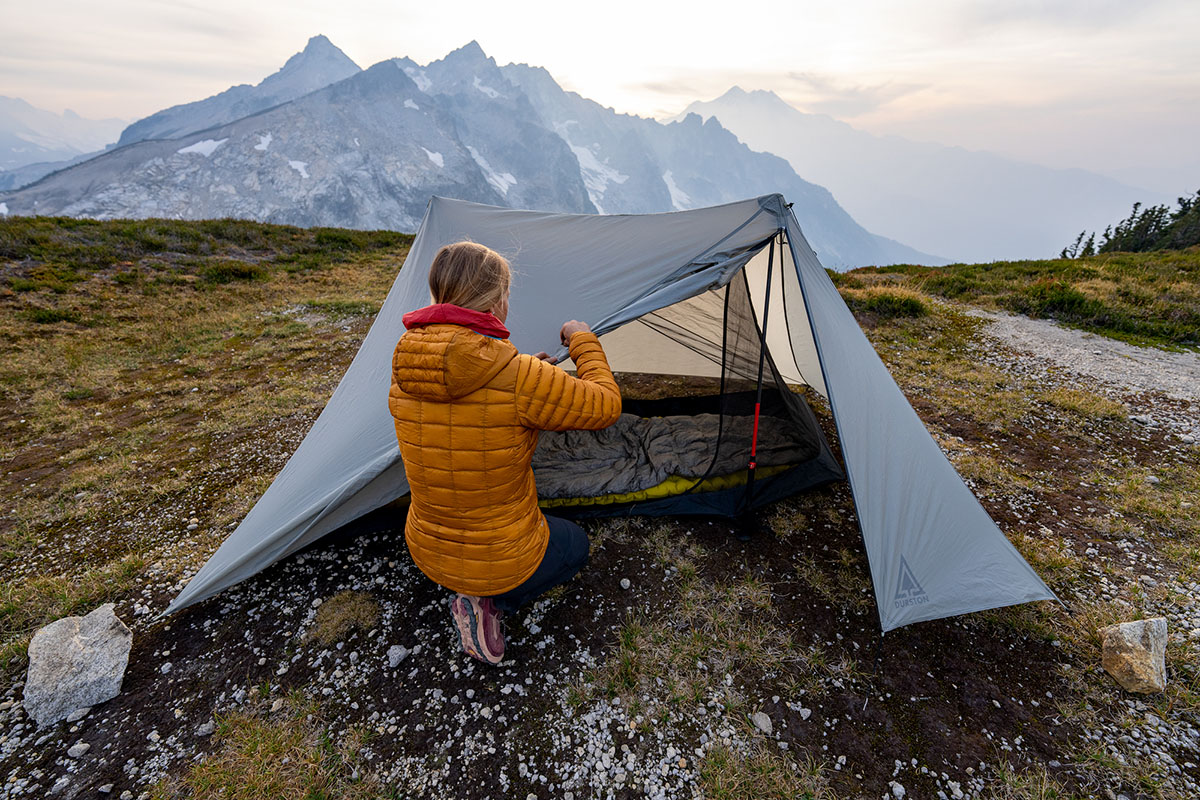 Interior Space
Livability is another place where budget backpacking tents take a real hit compared to the pricier and more premium models. Most two-person tents have similar floor dimensions regardless of their price (and tapered designs exist in both the premium and budget worlds), but the real difference comes in terms of headroom. Tent designers have found a lot of ways to increase a tent's peak height throughout—including pre-bent poles, ridge poles, and steep walls—creating a lot more space to move around and sit up side-by-side with your tent mate. However, all of these tweaks cost money, so we don't see them all too often in the budget market.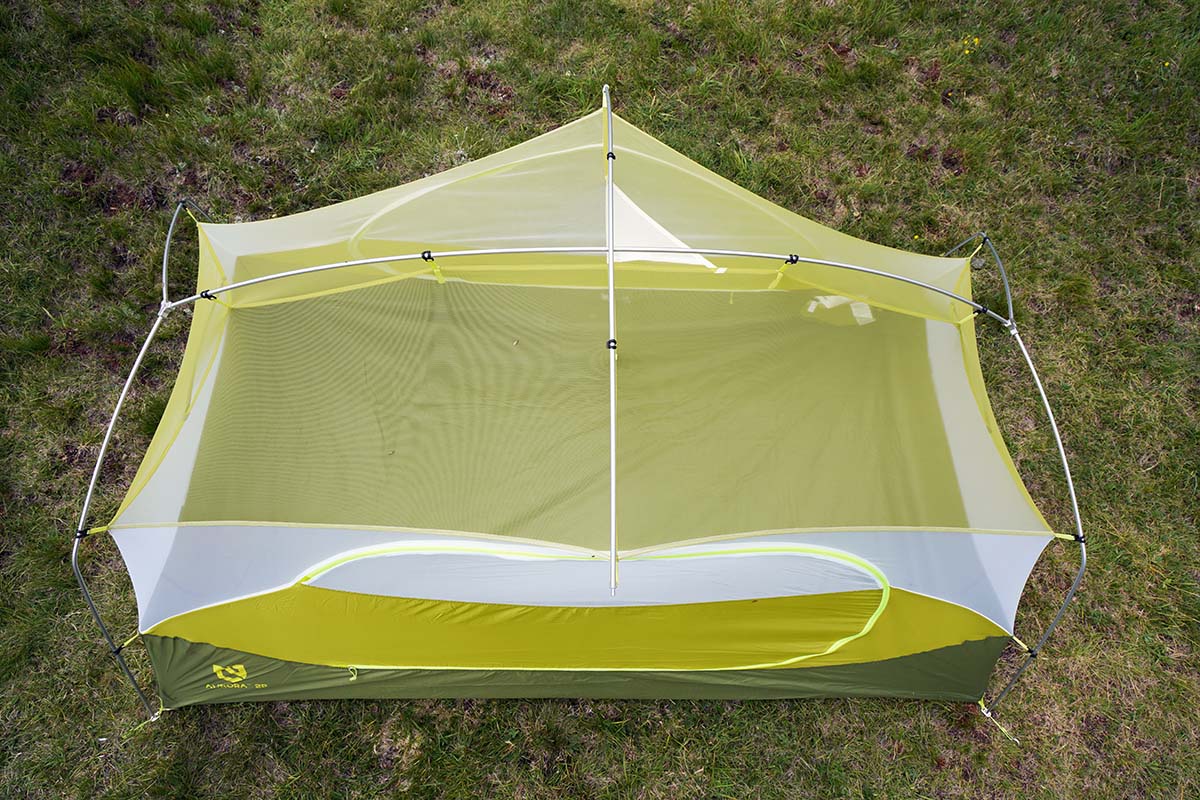 For those looking to maximize livability while staying within a budget, there are a few models to consider, including REI Co-op's Half Dome SL 2+ and the Nemo Aurora 2P. These tents use the components mentioned above to maximize interior volume and provide considerably more interior space than the more simplistic bargain-basement designs. It's true that both the Half Dome and Aurora are on the pricier end of the spectrum at $329 and $300 respectively, but the extra investment may be worth it for the boost in comfort—especially for those that anticipate hunkering down in inclement weather or contending with pesky mosquitos.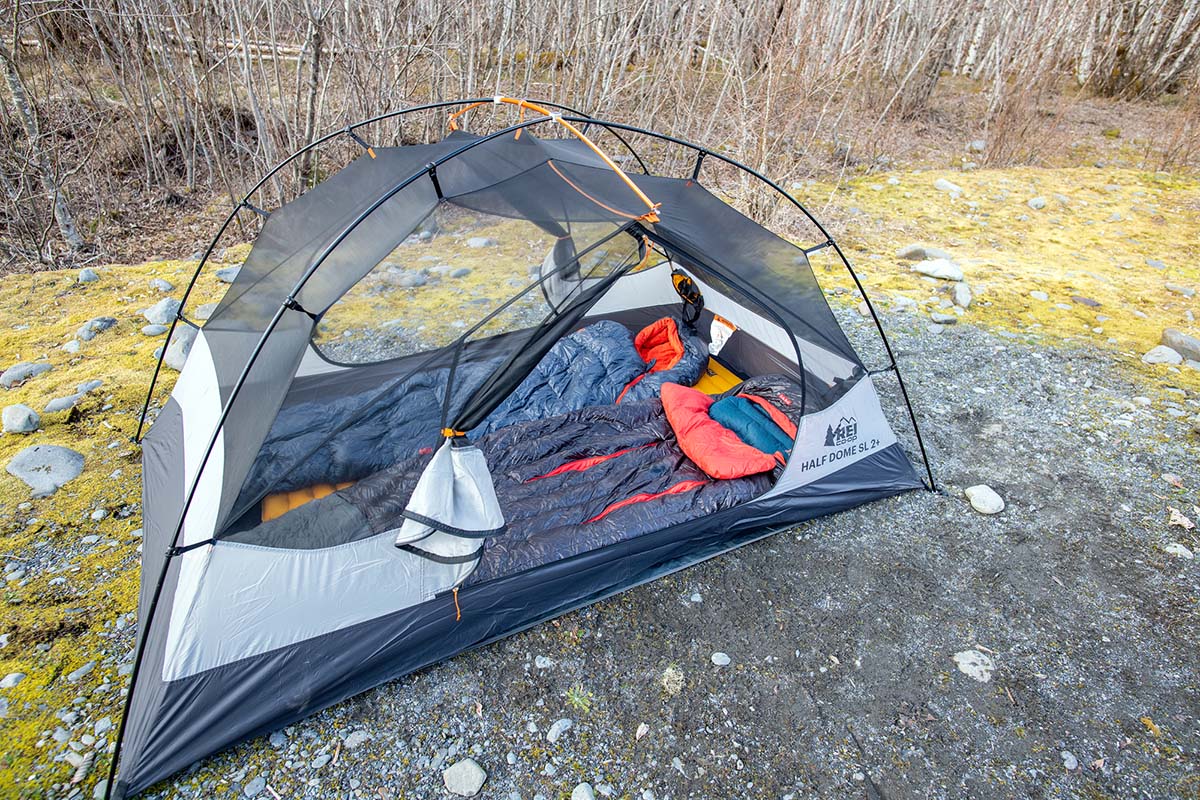 Packaged Weight vs. Trail Weight
When researching tent weight, you'll commonly see manufacturers and retailers list two specs: packaged weight and trail weight (also sometimes referred to as "minimum weight"). The former includes everything that comes with the purchase of the tent, including the tent body, rainfly, poles, stakes, guylines, stuff sacks, and footprint (when applicable). The trail weight, on the other hand, only covers the tent body, rainfly, and poles. We've chosen to list packaged weight in the specs above—it's closer to what most folks realistically bring—but keep in mind that you can trim ounces from there.
 
Fabric Durability (Denier)
One of the easiest ways to think about tent durability is to consider the thickness of the fabric, which is measured in terms of denier (technically speaking, the weight of the yarn). The higher the denier—of the floor, canopy, and rainfly—the more durable the tent. Logically, denier lines up with weight, which is great news for budget tents (as we mentioned above, a hallmark of budget tents is their heft). For example, the premium Big Agnes Tiger Wall ($450; 2 lbs. 8 oz.) has a thin 15-denier floor, while the 5-pound-14-ounce TNF Stormbreak 2 ($185) uses a robust 68-denier fabric. Because the area most vulnerable to punctures or tears is the floor, this is the number we list in the specs and comparison table above.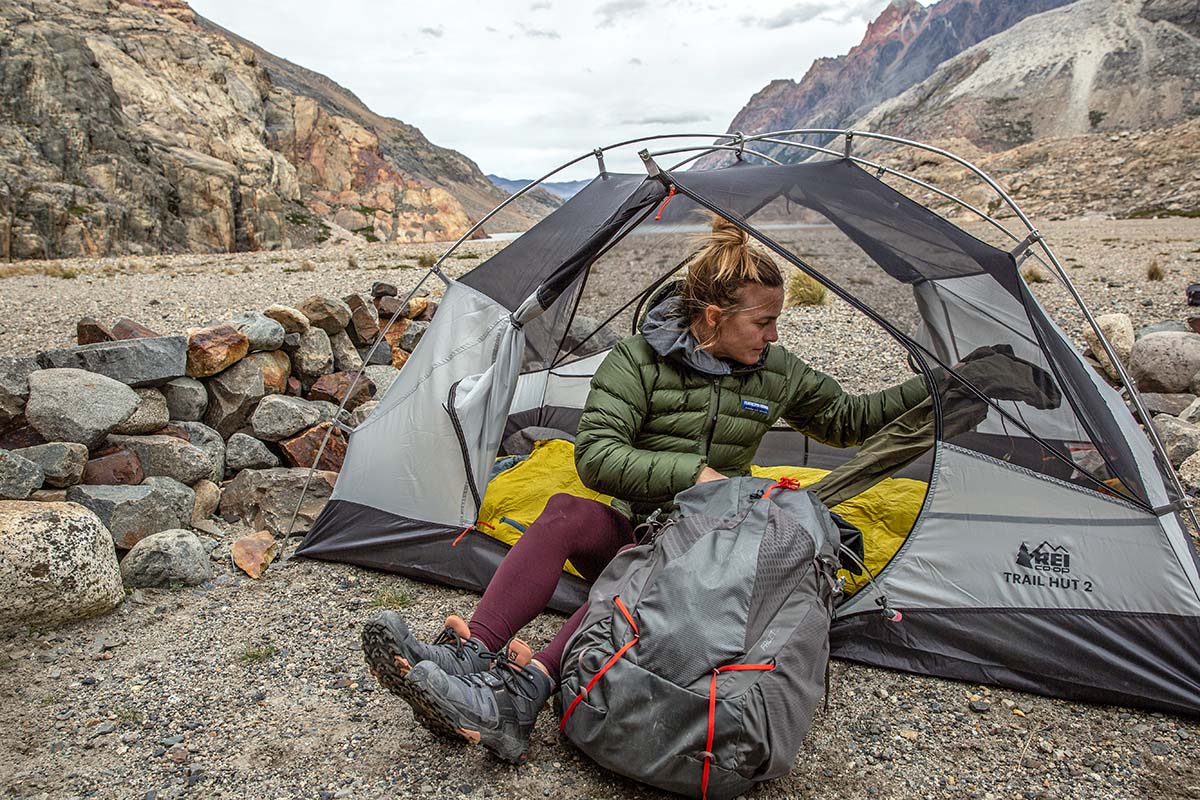 While fabric thickness is a large factor in determining a tent's durability, it's not the only one. The quality of the rest of the materials (poles, zippers, etc.) also plays a part, as does the attention to detail. And while premium tents will often add a silicone coating (also referred to as "silnylon") to their thin fabrics for additional tear strength and longevity, we don't see this technology on budget designs. We've learned to trust the build quality of budget tents from leading manufacturers like REI, Nemo, and Big Agnes, but you'll want to be a bit more careful with dedicated budget brands like Alps Mountaineering and Eureka, which specialize in the entry-level market. All that said, in most cases, increased durability is a significant and surprising benefit of opting for a budget model.
 
Weather Protection
Protection from the elements is one of the primary functions of a backpacking tent. In general, budget tents do a respectable job keeping out wind and rain and perform on par with much of the more premium competition. Your first line of defense is a rainfly, and you'll want to look for coverage extending below the bathtub floor of the tent body to maximize weather protection (manufacturers sometimes shorten the length of parts of the fly to save weight). A generous bathtub floor is also important for guarding against splashes and puddles. Finally, it's important to evaluate the tent's overall structure, including strong poles and lots of exterior ties to anchor it down in heavy winds.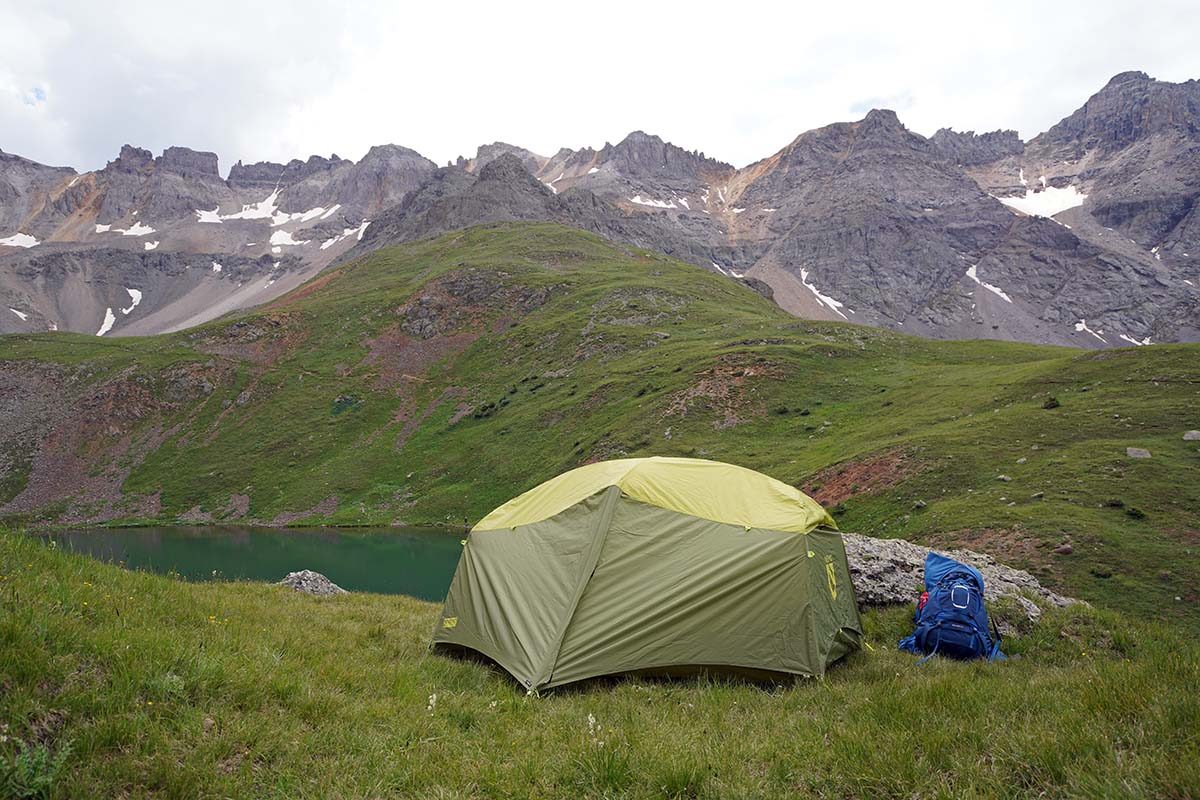 If you're like most backpackers and get up into the mountains just a few weekends a year during the summer months, you shouldn't have any issue with the tents above. A full-mesh tent like the Kelty Late Start will offer the least amount of protection, while a design with more solid materials in the canopy (like the Trail Hut or Lynx) will be a better match for bad weather. However, you'll want to be careful not to push any of these tents too hard in extreme conditions. If heavy winds or snow are in the forecast, a true four-season tent will be much more capable and confidence-inspiring. We don't see a lot of budget designs in the four-season category—these tents are highly engineered for tackling bad weather—but there are some more affordable options to consider, including the REI Co-op Arete ASL ($449) and Alps Mountaineering Tasmanian 2 ($250).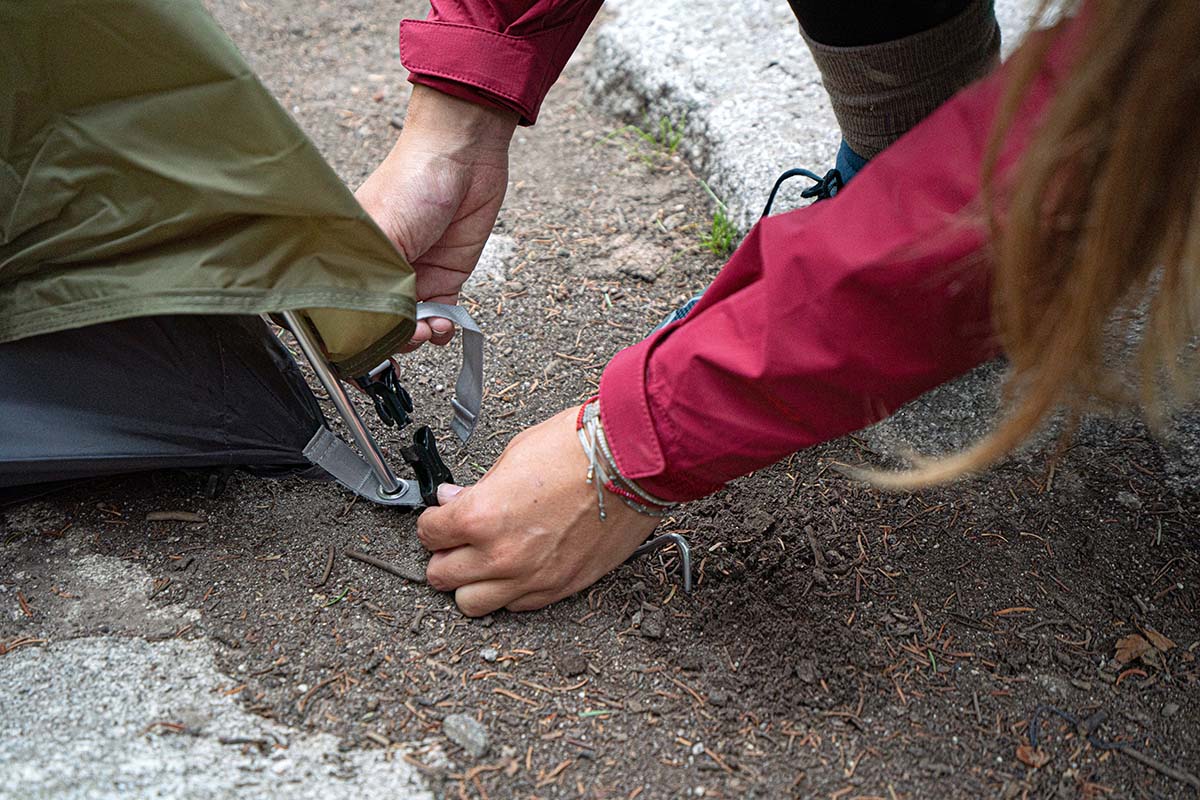 Ventilation
Like weather protection, ventilation doesn't take too big of a hit in the budget market. Ventilation depends on two main factors: the amount of mesh on the tent body and the quality and quantity of vents in the fly. Most budget tents have generous mesh panels, which are great for keeping air circulating—in good weather, you can even leave the rainfly off for unmitigated airflow. With the rainfly on, things get a bit trickier: given the waterproof fabrics and sealed seams, breathability is inherently compromised. For this reason, fly vents are vital, and in general are fairly well-executed in the designs above (although they're notable omissions on the TNF Stormbreak 2 and Kelty Late Start). For more on tent ventilation, see the buying advice section in our article on the best backpacking tents.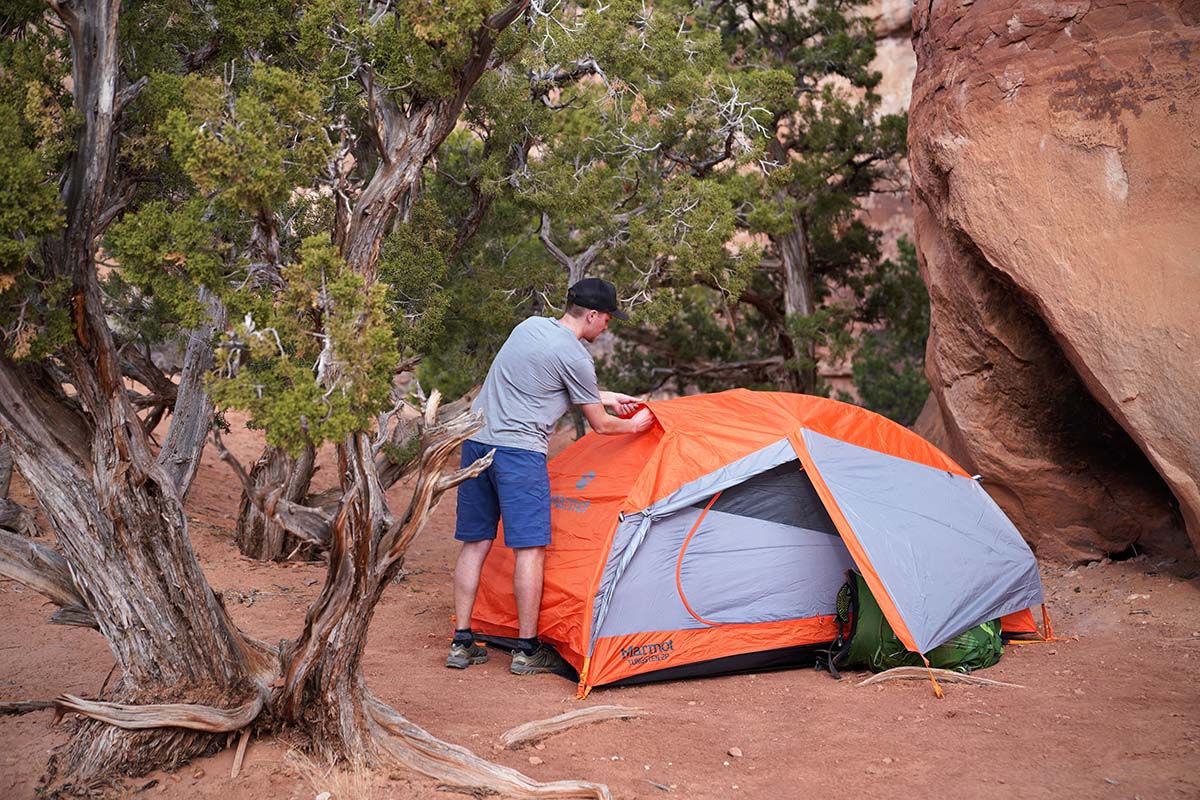 Storage: Vestibules and Interior Pockets
Like the higher-end competition, budget backpacking tents feature a range of storage options, including vestibules and both interior pockets and gear loops. Vestibules are indispensable for organizing your gear at camp: they cover the tent's door while leaving enough space for items you don't want in your sleeping area, including your backpacking pack and hiking shoes. In general, budget designs stack up very well to their pricier counterparts in vestibule space: for example, the REI Co-op Trailmade 2 ($179) boasts 19 square feet split between the two sides, while a premium option like the Big Agnes Copper Spur HV UL2 ($550) has a comparable 18 square feet of space. However, be on the lookout for tents that feature just one vestibule (and door), including the Kelty Late Start and Big Agnes C Bar, as these are far less convenient for two campers to stash gear and move around in comfortably (more on this below).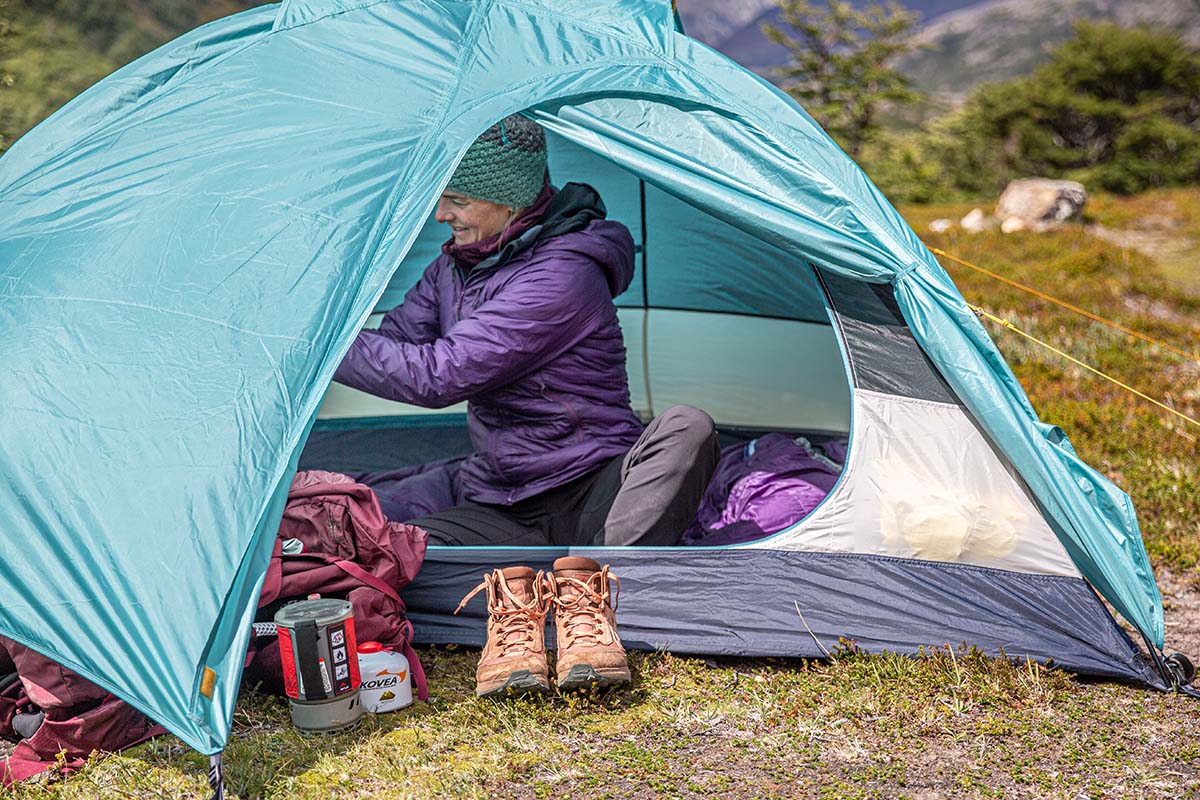 When it comes to interior storage, the budget market often has a bit less to offer. It's standard to see fairly streamlined feature sets, including just a few pockets and gear loops. On the other hand, pricier tents might have a larger variety of stash pockets, light-diffusing pockets or built-in light strips, thoughtfully placed gear loops, and more. In general, higher-end budget designs are a great middle ground between those two extremes, including the Nemo Aurora and REI Half Dome SL. If you spend a lot of time basecamping or delight in keeping the interior of your tent organized, you'll want to opt for one of these more featured options.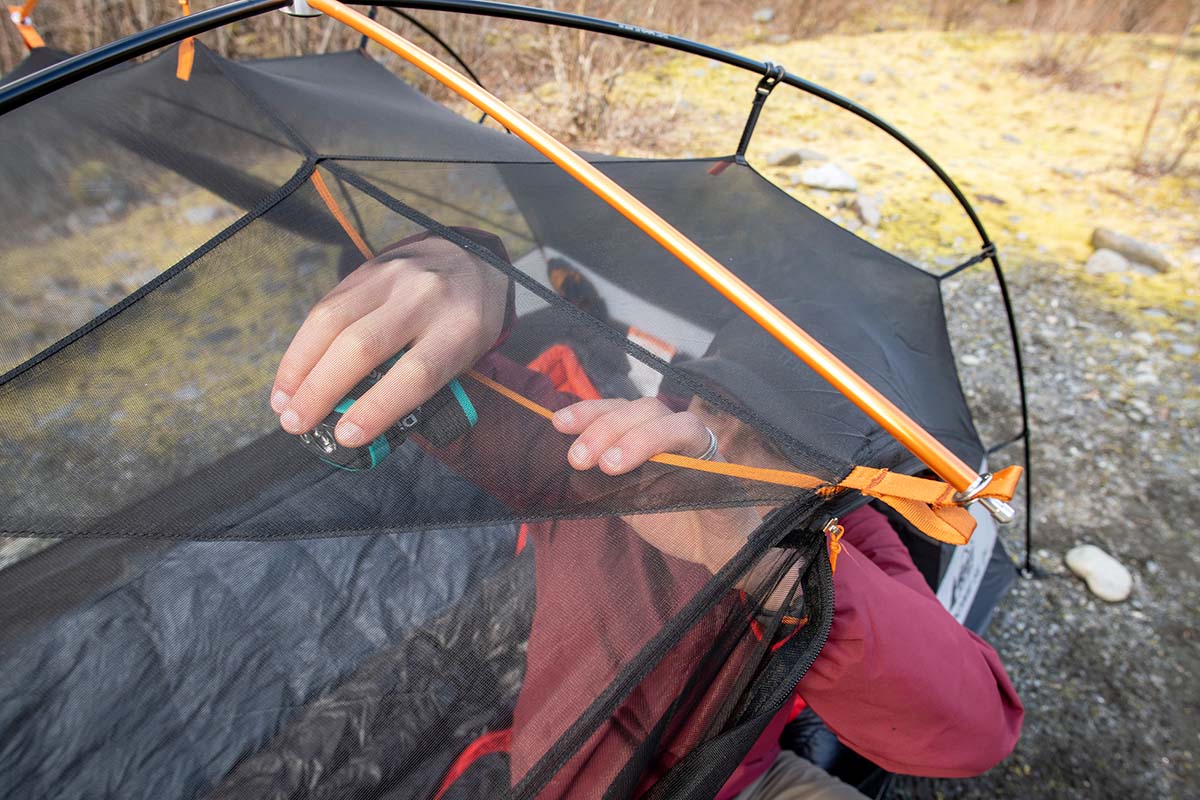 Doors
The majority of tents above feature two doors, which is by far our favorite configuration. If you plan to consistently camp with a partner, it'll likely be your preferred setup too. For reference, a few models above use just one door to save weight—the Big Agnes C Bar 2 has one on its end, while the Kelty Late Start puts its entry on the side. If you're sharing the tent with a partner, this can be a major downside—you'll be crawling over your tent mate to get in and out and will be limited to one vestibule for exterior storage. In the end, unless you're traveling alone or pulling out all the stops to save weight, we recommend a tent with two doors.
 
Backpacking Tent Capacities
Most of the backpacking tents above are of the two-person variety, with floor plans that can accommodate two 20-inch sleeping pads side-by-side. The two-person tent is the most popular capacity, but many backpacking models also come in one, three, and four-person designs. Solo travelers can save some weight by opting for a one-person option (like the Alps Mountaineering Lynx 1), while families or couples traveling with a dog can bump up to a three- or four-person model. It almost goes without saying that weight and packed size will increase alongside capacity, but it is worth noting that, in general, one four-person tent will be lighter than two two-person models. For example, REI's Trail Hut 4 checks in at 8 pounds 1.6 ounces, while the two-person version weighs 5 pounds 15 ounces.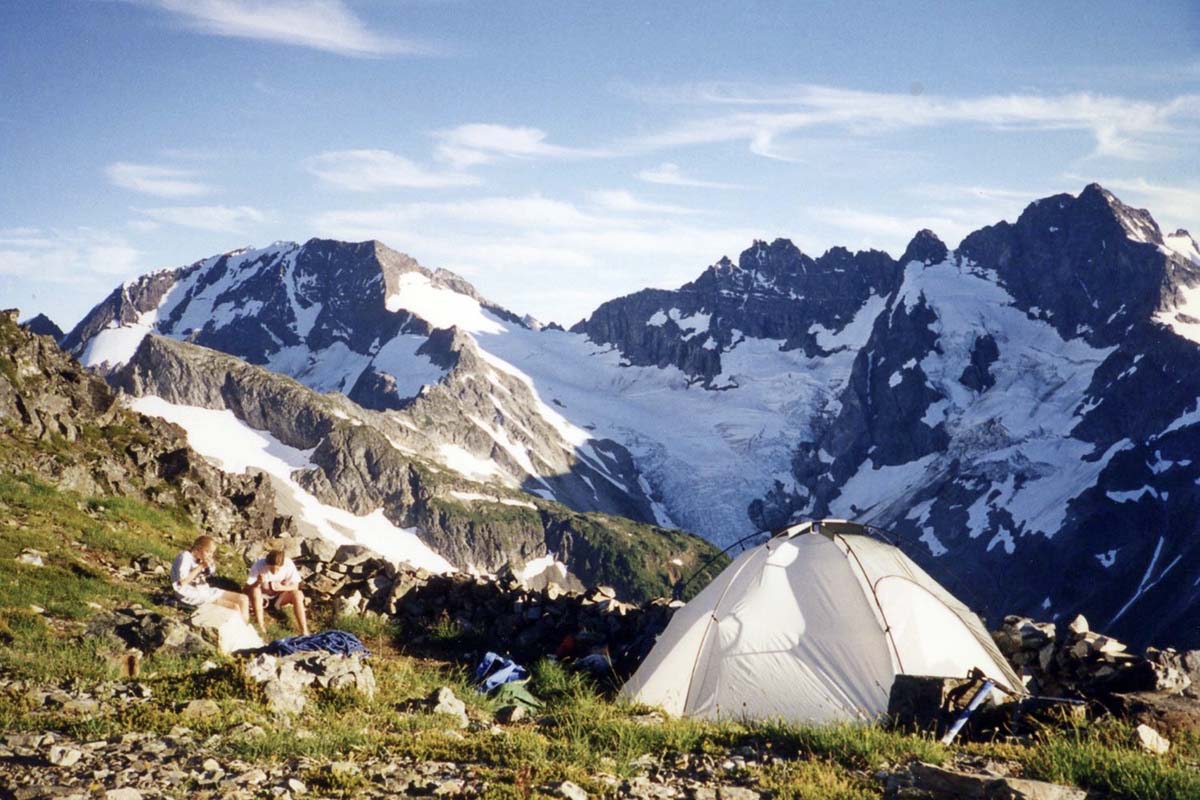 Set up and Take Down
Setting up a modern tent has become surprisingly easy, with simple clips and grommets that take a matter of seconds to attach and streamlined poles that come together with ease. Some budget tents even feature sleek additions more commonly seen in the premium market, including color-coded components, hubbed pole structures, and clip attachments to secure the rainfly. On the flip side, some of the more basic models forgo most of these features, and tents like the Kelty Late Start have kept things pretty old-school with sleeves to run the poles through. Gripes aside, all of the tents above are fairly quick and intuitive to pitch, even for the greenest of backpackers. The whole process usually takes just a few minutes from start to finish, which is fantastic.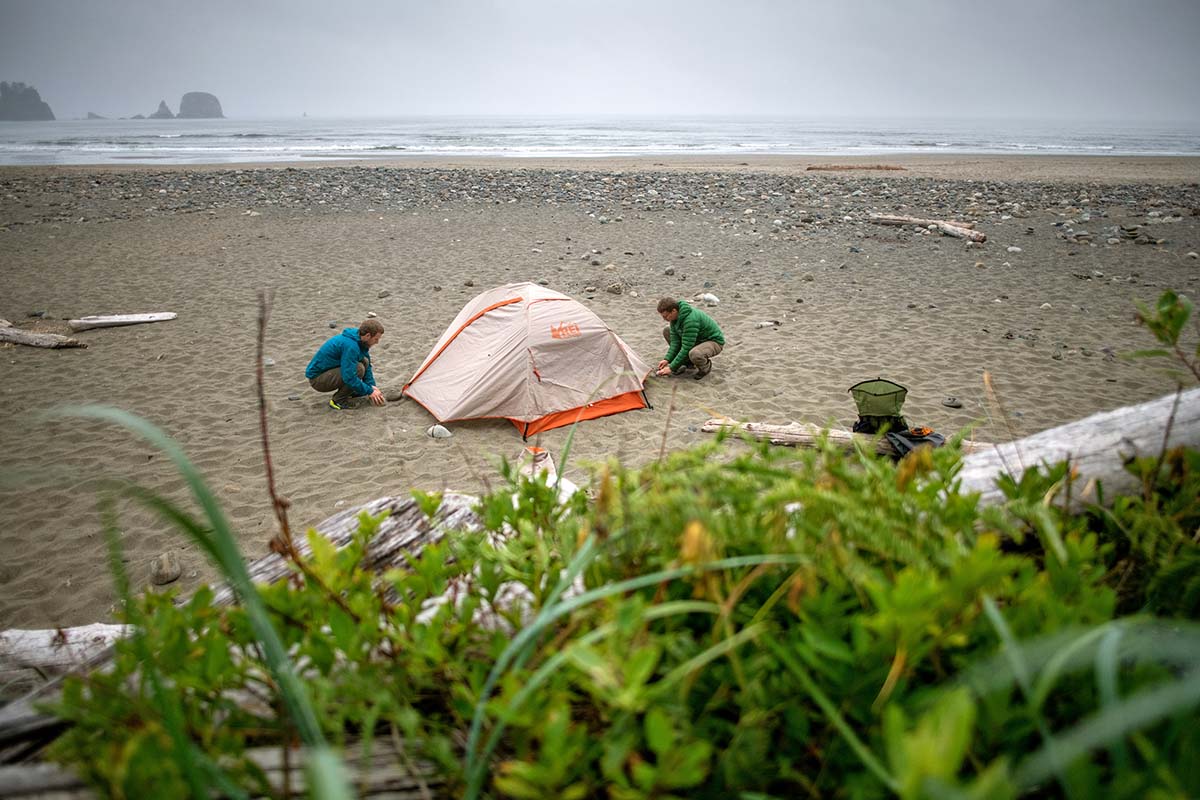 Tent Poles and Stakes
Without getting too into the nitty gritty on tent poles and stakes, there are a few things we want to mention with respect to budget tents. In terms of poles, most are made with simple aluminum, which is decently durable but heavier than the premium aluminum and carbon fiber found in pricier designs. We also see a lot of simple pole layouts in the budget world: for example, the REI Co-op Trailmade 2 features two poles of identical length that crisscross at the apex of the tent and are held secure by a large clip attached to the tent body. Getting into the more premium side of the budget market (including models like the Half Dome SL 2+ and Nemo Aurora 2P), we start to see more complex pole structures, including the addition of a ridge pole at the apex and hubbed poles, which offer more rigidity and easier setup.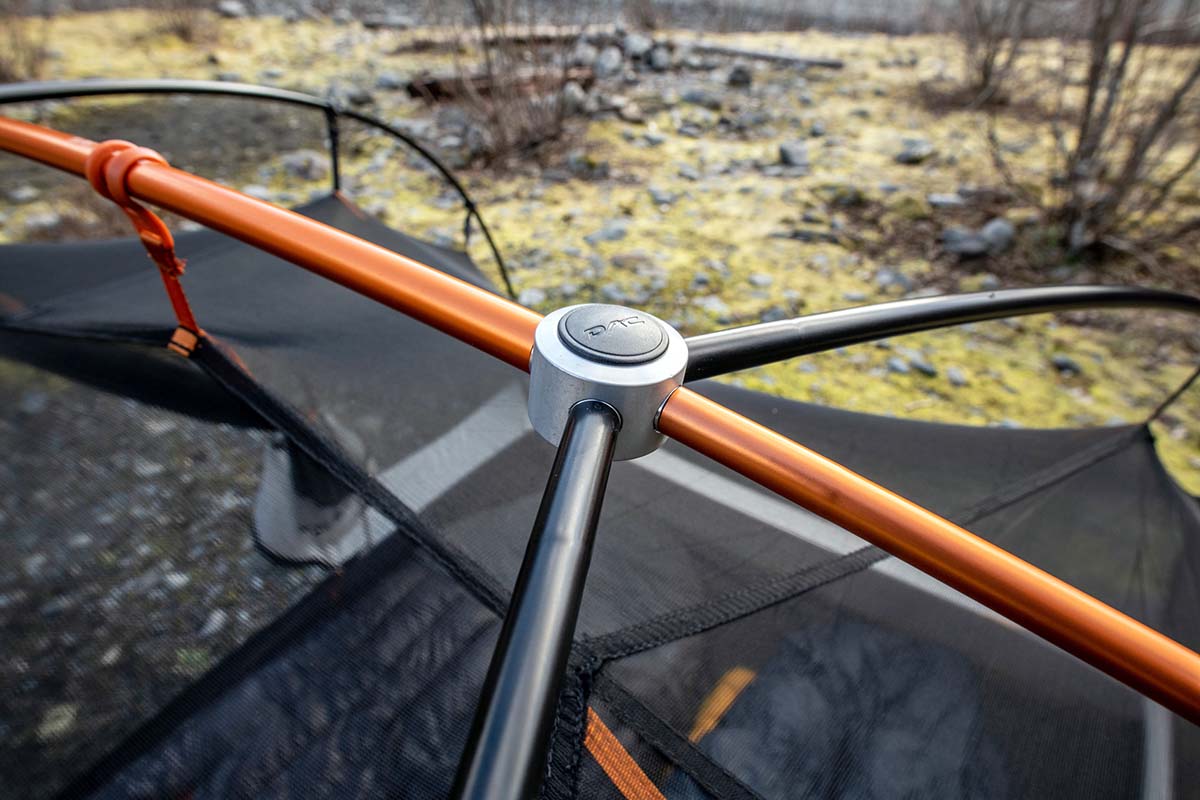 Most two-person budget tents will come with about six stakes: one for each corner and one for each side of the vestibule. In general, these stakes are of the hook-style aluminum variety, which are heavy and can be a pain to use: they're often too thick and round to sink easily into the ground and have a tendency to bend when being hammered in. To be sure, they'll do the trick for most, but upgrading isn't very expensive. We especially like the MSR Groundhog Stakes: they are light, tough, and easy to pound reliably into the ground.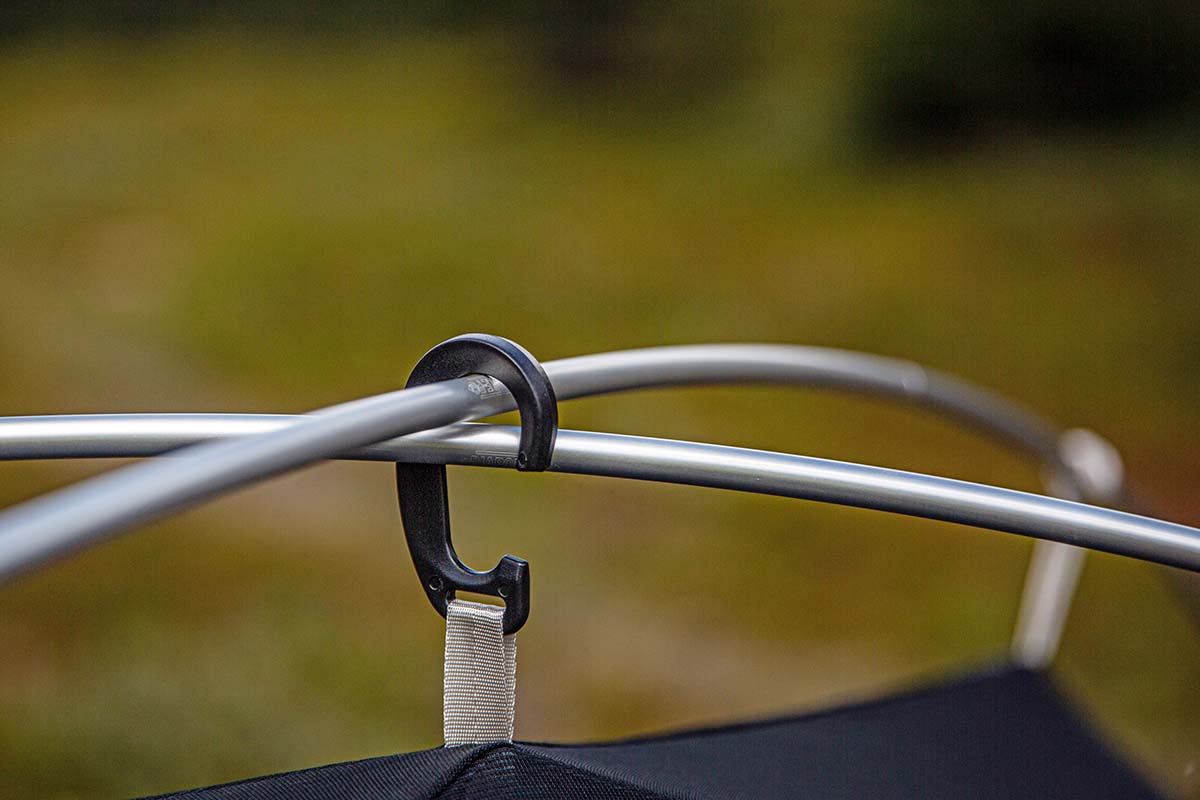 Do You Need a Footprint?
We'll start by noting that a footprint is optional—some of the tents above come with an included footprint, while others do not. These simple tarps go beneath your tent (usually attaching to the pole in each corner) to provide an extra layer of protection underneath. They're a nice added bit of assurance to have when it's wet (make sure to tuck them under the tent to avoid pooling, as that can have the opposite effect) or when you're camped on rough surfaces like granite or sharp plants. That said, they do add an additional cost (a $40 footprint would increase the price of a $200 tent by a whopping 20%) and 5 to 10 ounces of weight to your pack.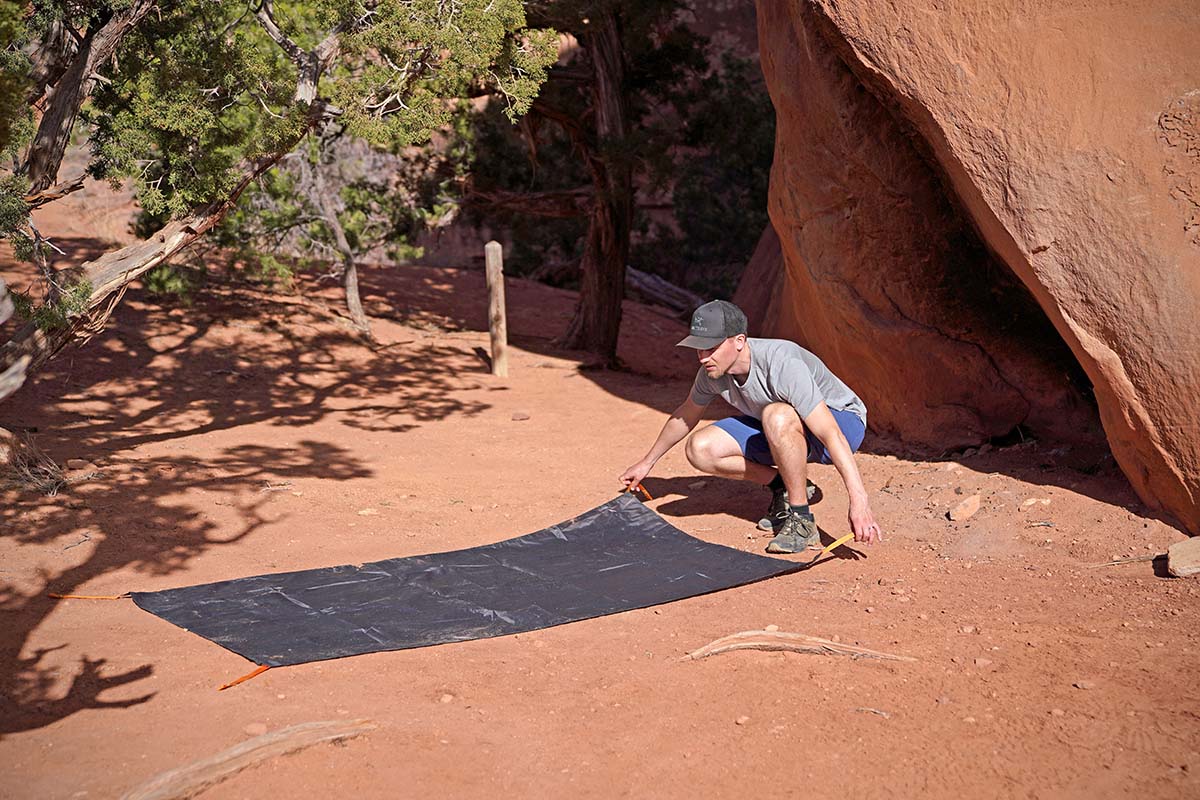 Here's our take: for the majority of budget tents, a footprint is not really necessary. As we covered above, the tents listed here have fairly robust floors, ranging from 40 to 75 denier. Compared to more premium tents (which usually clock in between 15 and 30D), they're pretty darn durable on their own. If you plan on camping on rough surfaces, tend to be careless with your gear, or you don't have the risk tolerance for a torn floor (and the subsequent repair), it might be worth taking a footprint along. But in most cases, it's highly unlikely that your tent's floor will rip. For more information on this topic, see our article: Does Your Backpacking Tent Need a Footprint?
Back to Our Top Budget Tent Picks  Back to Our Budget Tent Comparison Table
Learn More About Outdoor Gear