This age-old question challenges newbie backpackers and veterans alike. You've already spent a substantial amount on a tent, but should you tack on the extra purchase of a footprint? Is it really necessary? Below we break down the key components of the decision, including what a footprint really does, how the toughness of your particular tent and the surface you are camping on matter, footprint cost and weight, the best DIY footprint options, and more. For more information in this area, see our article on the best backpacking tents. 

What Exactly Does a Footprint Do?
A footprint is a lightweight ground sheet that forms a barrier between your tent floor and the ground. If we, as good backpackers and stewards of the land, adhere to Leave No Trace principles, we will camp as often as possible on durable surfaces (read: rock, gravel, or already established campsites). Well, over time, these surfaces can act like sandpaper and eventually erode the tent fabric and waterproofing. In the worst-case scenario, a puncture from a rock or root puts a hole in your tent floor, which can be a difficult thing to repair. To protect this from occurring, a footprint acts like a second skin by creating an extra barrier between you and the ground. A tent alone should keep you dry (that's its job), so the real questions are whether a footprint is necessary given the extra cost and weight, and what your options really are, all of which is covered below. 

The Toughness (Floor Denier) of Your Tent
Denier (D) measures the weight of a fabric's thread, and the higher the denier rating, the thicker and tougher the fabric will be. For this particular topic, it's the denier of the tent floor that matters as it will be in contact with the ground, and this number can vary substantially. For instance, the ultralight Big Agnes Tiger Wall has a super-thin 15D floor, while the heavier Marmot Tungsten has a 68D floor. We can tell you that side by side, that's a huge difference in terms of thickness and durability. A tent with a lower-denier floor means that it's more likely to incur damage and, accordingly, the more likely we are to recommend using a footprint.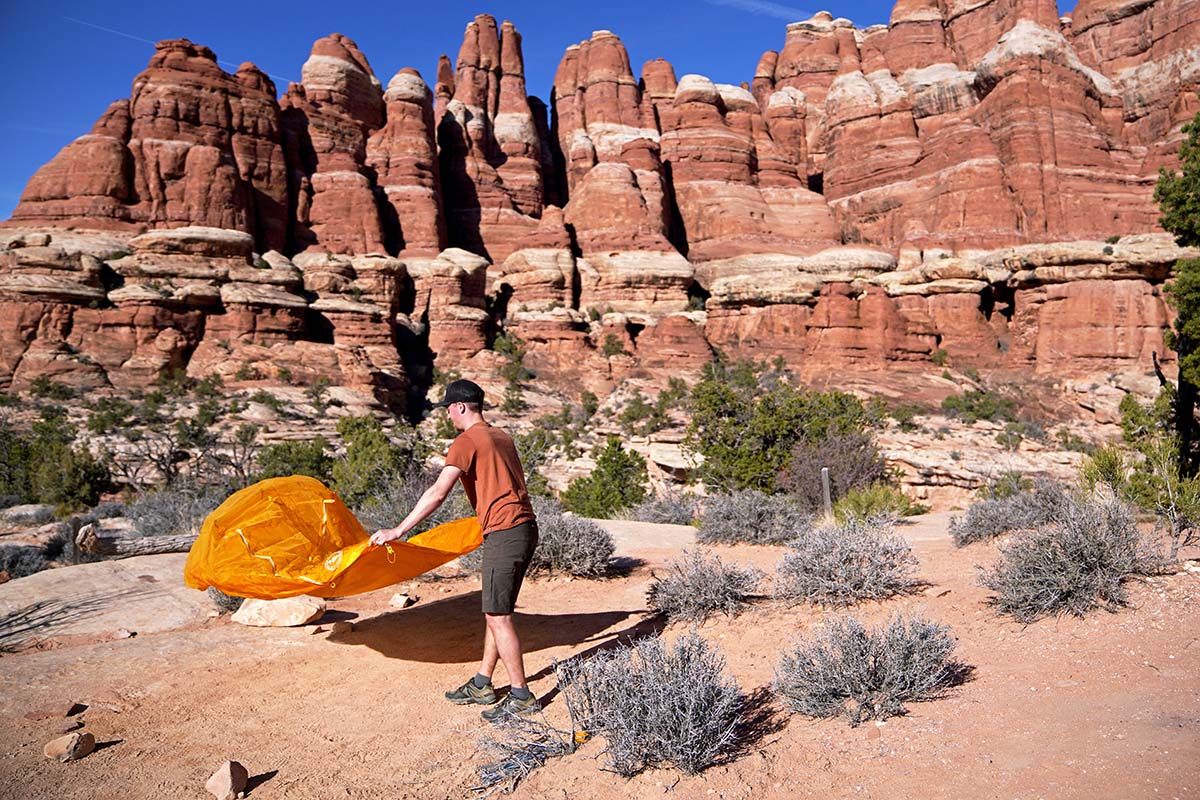 Then we must ask ourselves an important question as backpackers: Why purchase a lighter tent with a lower denier if we are just going to add more weight with a footprint? As an experienced backpacker who counts grams, I usually opt not to carry a footprint and instead choose wisely in terms of where and how I set up my tent. Many ultralight backpackers use lightweight DIY footprints as described below, and many new/weekender backpackers either use tougher (and heavier) tents or don't care about carrying the few extra ounces of a manufacturer-provided footprint.

Consider the Camping Surface: Rock or Forest Floor?
The beautiful, unique places in which we backpack offer different surfaces with varying levels of impact on the bottom of your tent. A granite slab in Tuolumne Meadows, for example, will create more wear and tear than, say, a forest floor blanketed with fall foliage in the Adirondacks. In general, camping on rock is the biggest threat to your tent, and granite in particular. It takes just one sharp piece and the wrong amount of pressure or movement to create a tear or hole. The rock in Utah's Canyon Country is a bit softer (it's a lot of sandstone and shale) but still can cause issues if you aren't careful. And forest floors, although seemingly harmless, still have hidden rocks and roots that are best avoided. 
Regardless of the surface you camp on, it's always important to scope out the area and choose the flattest spot to set up a tent. First, who wants to sleep with a rock protruding into their lumbar region? Not I. Second, those big pointy rocks can create unwanted tears and holes. In addition, keep in mind that setting up a tight, sturdy tent will help prevent abrasions. By staking out the guylines and making sure there is nominal movement, you are minimizing the amount of friction created between the ground and the tent fabric.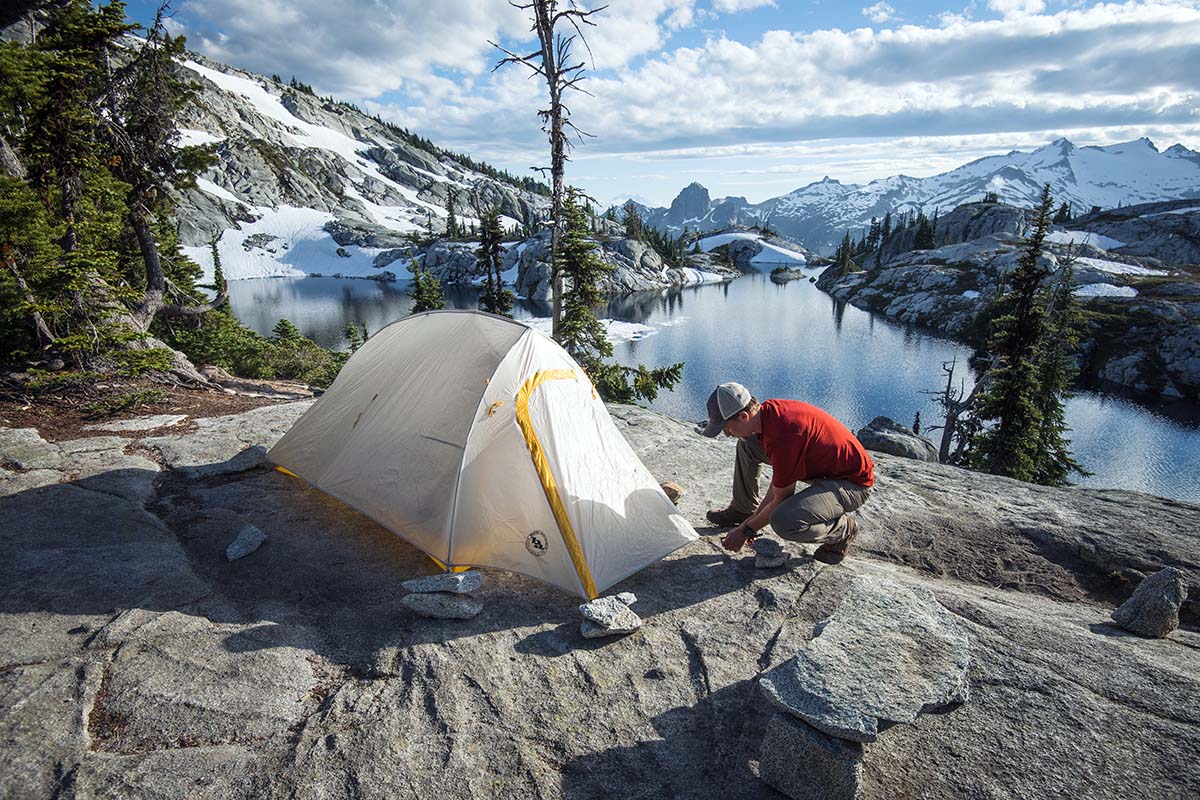 How Much Does a Footprint Cost and Weigh?
Most outdoor gear companies offer their own branded footprints that fit seamlessly with their designated tents. The convenience factor certainly is there: The footprint will fit perfectly and match the color scheme. But this does come at a cost: Matching footprints range from $30 to $80 and are relatively heavy, depending on the material and size of your tent. For example, the footprint for our top-rated backpacking tent, the Big Agnes Copper Spur HV UL2, weighs 5 ounces and costs a whopping $80. Given that the tent itself weighs 3 pounds 2 ounces and costs $500, a footprint is a significant addition. To put it into perspective, it adds about 10% more weight and 16% more cost to the equation.
Before we get into DIY footprints that are lighter and cheaper, we want to elaborate a bit on tent-specific footprints and give them their due. Because the two pieces (tent and footprint) fit together perfectly with no material sticking out from the bottom of the tent, the design prevents rainwater from diverting underneath and creating a wet, cold pool where you sleep at night. In addition, these custom footprints are made with metal grommets in the corners so that you can connect the tent and the footprint with the ends of the poles (or connect the footprint to the rainfly if your tent has a fast pitch option). Most of the time this isn't really necessary, but we have camped in high winds where the footprint had a mind of its own. Finally, manufacturer-provided footprints are thicker and tougher than the DIY options, meaning that they should have longer lifespans. 

How to Make Your Own DIY Footprint
After investing in a tent, adding a footprint can start to feel rather pricey, not to mention the extra weight it adds to your pack. Fear not: a more cost-effective and lighter system can be to make (or buy) your own. There are a number of options in the DIY footprint realm, so let's break down a few of the most popular. 
Ultralight enthusiasts swear by the 0.7-millimeter-thick Polycryo (also called "Polycro"), which you can find on Amazon or at your local hardware store. There are multiple thicknesses, and some people opt for the tougher and slightly heavier 1.5-millimeter Polycryo. In addition, Gossamer Gear sells a large, 72 by 96-inch sheet of Polycryo for $11, which is a pretty attractive option. Many ultralight backpackers use these sheets as their only ground cloth beneath a tarp, while others use them as footprints for tents. Gossamer Gear's Polycryo sheets weigh 3.65 ounces each—compared to 5 ounces of the Big Agnes footprint mentioned above—and you can lighten that up even more by trimming the sheet down to the dimensions of your tent. However, keep in mind that Polycryo can be a bit slippery on snow and won't last forever.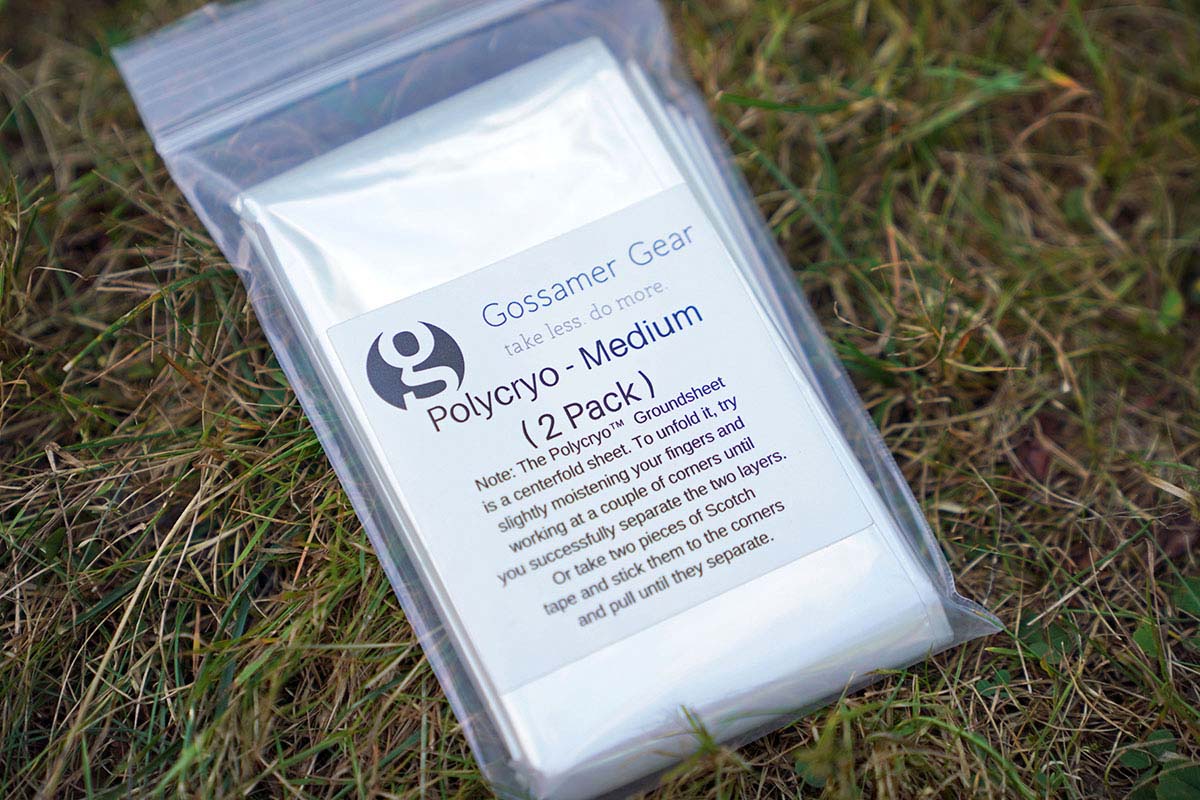 A more durable DIY option is Tyvek, which is available in various quantities on Amazon and will set you back about $15 for a 3 x 7-foot section. Tyvek weighs .14 ounces per square foot, which is heavier than Polycryo but should afford you a bit more durability. By our calculation, a Tyvek footprint cut to fit an average 2-person tent will weigh between 3 and 4 ounces, which is still less than half of what most custom footprints provided by the manufacturer will weigh. Finally, you can always buy a standard tarp, which generally are fairly useful around camp. But a tarp will be considerably heavier and bulkier than Polycryo or Tyvek, which makes them less attractive in our book for this purpose.
As mentioned above, when cutting a custom footprint, be sure to cut the shape slightly smaller than the floor of your backpacking tent. If excess fabric sticks out from underneath the tent, it can collect water and let it pool underneath. At best, you will wake cranky and wet. At worst, your gear will be inundated with water, which makes your entire backpacking trip a lot more challenging. 

Our Final Take on Footprints
There is no one-size-fits-all answer to the footprint dilemma, but here's our best shot. The footprints offered by the tentmakers themselves are expensive and heavy, albeit more durable than the DIY options like Polycryo and Tyvek. If you value the peace of mind, don't care about carrying the extra ounces, or just like the convenience of a matching footprint, go for it. It's worth noting that a number of tents like the Marmot Tungsten series and REI's popular Half Dome collection are now including footprints with the tent to sweeten the deal, although ironically, these happen to be the thickest tents that need footprints the least.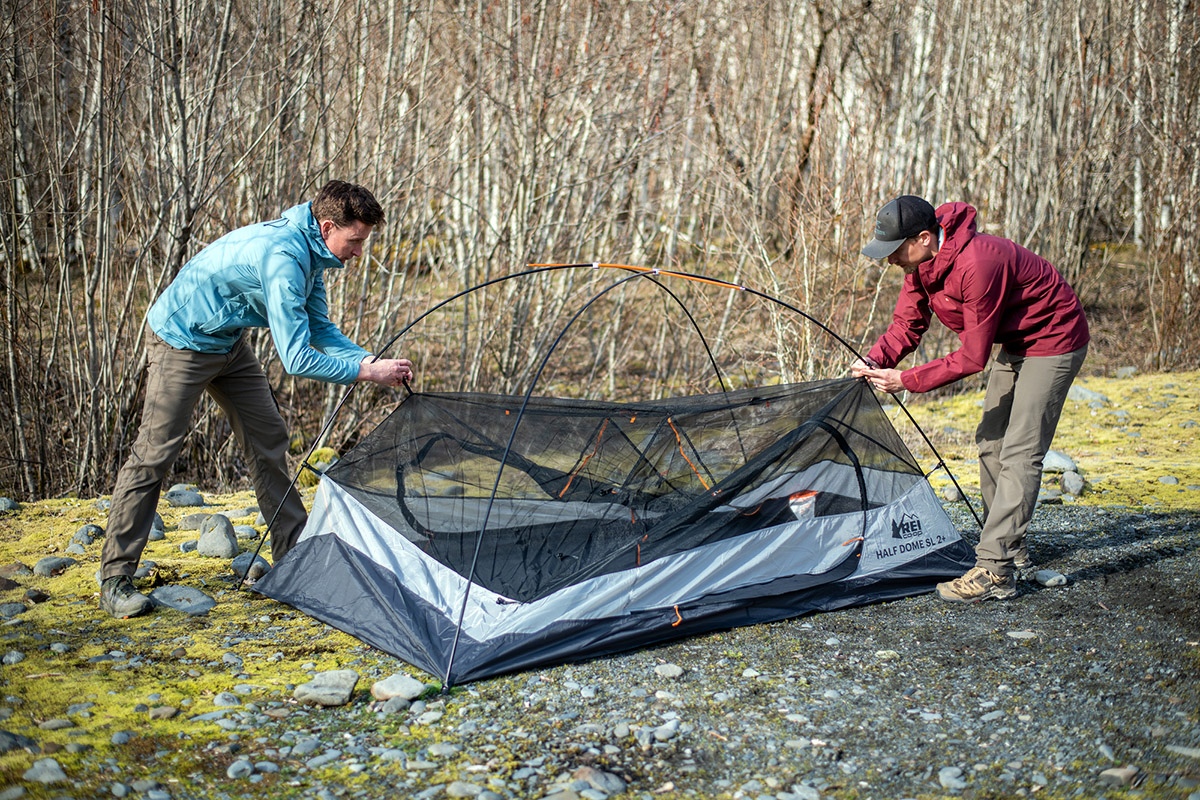 You also should take into account your specific tent model (the floor denier) and what type of backpacker you are. Some people are meticulous with their gear and do everything within their power to care for it, while others pay much less attention and are more likely to inadvertently cause a tear. A footprint is a type of insurance, so if you don't use one, consider what would happen if you were to tear your tent. This type of thing can be tough to fix, at least in a satisfactory way in the long term. Nylon repair kits like Tenacious Tape are a decent option but not nearly as good as a tent in mint condition. 
If saving weight is the name of the game, and you work with intention and care while setting up and using your gear, a footprint may not be necessary (we often backpack without a footprint, but we also have the luxury of having a lot of tents). Perhaps the middle ground is best of all: a lightweight and inexpensive Polycryo groundsheet that gives you peace of mind without hurting your back or wallet. And it's not the worst thing to have in your pack either—you may find other uses for it, like covering extra gear or just sitting on it around camp.
See the Best Backpacking Tents of 2022  See our Backpacking Gear Reviews
Read More About Backpacking