In the ultralight backpacking world, The Big Three refers to the most important (and heaviest) pieces in your kit: your backpack, sleep system (sleeping bag and pad), and shelter. Shaving a pound or two off of each of these items can go a long way toward keeping your base weight low. Compared to standard backpacking tents, ultralight tents are lighter and more packable (all but one of the picks below weigh less than 3 pounds), and run the gamut from premium freestanding designs from names like Nemo, Big Agnes, and MSR to stripped-down trekking-pole shelters and floorless pyramids from well-respected cottage brands. Below are our favorite ultralight backpacking tents of 2023. For more information, see the comparison table and buying advice below the picks.
 
---
Our Team's Ultralight Tent Picks
---

Best Overall Ultralight Backpacking Tent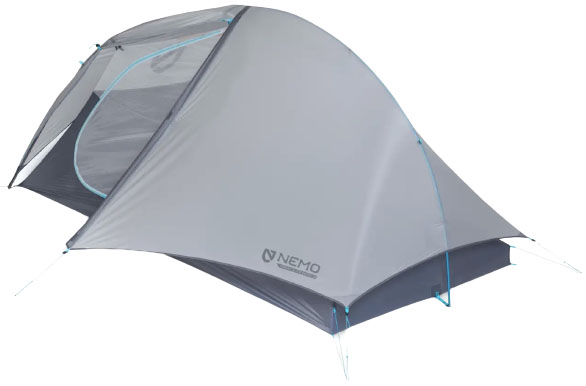 Category: Semi-freestanding tent
Packaged weight: 2 lb. 1 oz.
Floor dimensions: 85 x 50/42 in.
Capacities: 1P, 2P
What we like: All the performance and convenience of a traditional backpacking tent—for just 2 pounds.
What we don't: Expensive; less durable than most alternatives.
Gone are the days when you had to sleep under a tarp to be considered an ultralight enthusiast, and the Nemo Hornet Elite Osmo 2P is case in point. For just over 2 pounds all-in, the Hornet Elite combines the refined design and build quality of a standard backpacking tent with a competitive UL weight. The hubbed-pole structure is simple to set up and stable in winds, and two doors and vestibules keep convenience high and offer ample storage space for two. What's more, the finishes are what we've come to expect from Nemo's premium offerings, including multiple interior pockets, a handy headlamp diffuser, equalized guy-out points, smooth-operating clips and buckles, and a Flybar pole clip that increases headroom with very little weight penalty.
At a whopping $650, the Nemo's main downside is price, especially considering you can save $250 with a tent like the Fly Creek HV UL2 (2 lb. 5 oz.) below. On the other hand, a trekking-pole shelter like the Gossamer Gear The Two (1 lb. 8.9 oz.; $320) is both lighter and more affordable, and many A-frame designs (both Dyneema and nylon/polyester) are considerably more durable, too. But there's no denying the convenience of a traditional tent design, which features a better ventilated double-wall build, a user-friendly setup, and arguably more livable space overall. If you're willing to make the investment, we think that the Hornet Elite is the best of both worlds in terms of weight and performance. It's also worth noting Nemo's Hornet Osmo 2P, which checks in just 7 ounces heavier but will save you a considerable $220.
See the Nemo Hornet Elite Osmo 2P
Best DCF Trekking-Pole Shelter for Thru-Hiking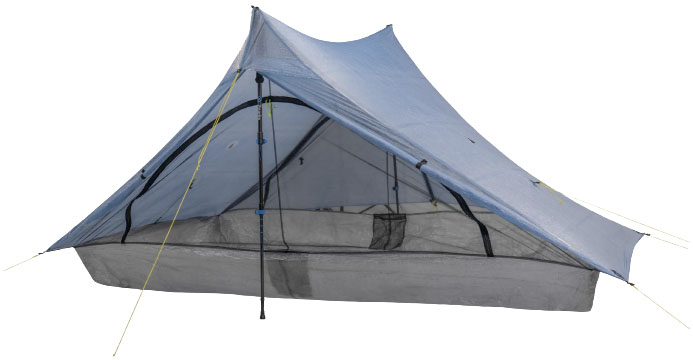 Category: Trekking-pole shelter
Packaged weight: 1 lb. 4.4 oz. 
Floor dimensions: 90 x 45 in.
Capacities: 2P, 2+P, 3P
What we like: The best in lightweight performance; great versatility with multiple sizes and the option to add poles.
What we don't: Pricey; not as ventilated or user-friendly as a traditional tent.
Take a good look at the tents along the PCT, AT, CDT, or any other long-distance trail in the US, and you're bound to see the Zpacks Duplex more than almost any other. For one, the Duplex is incredibly lightweight (the Zip version here is just 1 lb. 4.4 oz.) and features a streamlined setup with just two trekking poles and six stakes (not included). But it still provides a very roomy sleeping area for two, including two doors and vestibules, and full waterproof protection (the new Zip model features zippered doors and peak vents). The linchpin to the Duplex's design is Dyneema Composite Fabric (DCF), which touts an impressive strength-to-weight ratio, doesn't stretch like nylon, and is naturally waterproof. Dyneema is undeniably pricey, but for those who get a lot of use out of their gear (we're looking at you, thru-hikers), the lightweight performance is second to none.
The Duplex Zip is considerably lighter than the Hornet Elite above, but those used to a traditional tent might take some time to get familiar with the trekking-pole design. The tent requires a careful pitch (you'll need secure stakes or large rocks) and its single-wall construction can grow swampy if you're not careful with ventilation. The mesh-heavy design is also very vulnerable to winds, although this is par for the course with most ultralight tents. In terms of the competition, Durston, Hyperlite, and Tarptent all offer similar DCF trekking-pole shelters that give the Duplex Zip a run for its money. But the Zpacks is the most versatile pick: It comes in a wide range of sizes, and you also get the option of a lighter non-Zip version (1 lb. 2.5 oz.) and the Freestanding Flex Kit, which converts the Duplex into a freestanding tent with four carbon poles (for 10.2 oz. and $149 extra). Added up, the Duplex is the most versatile and time-tested shelter of its kind, making it a runaway favorite among serious thru-hikers... Read in-depth review
See the Zpacks Duplex Zip
Best Budget Ultralight Backpacking Tent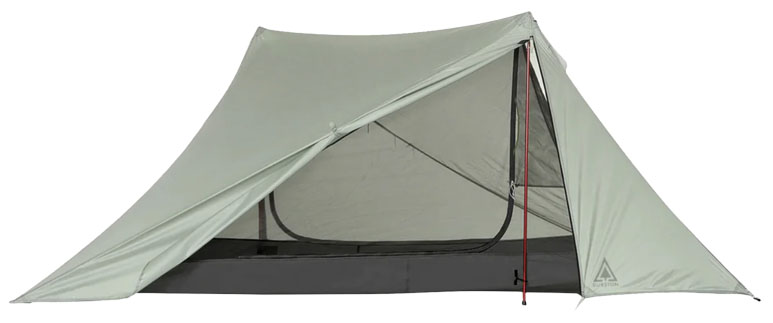 Category: Trekking-pole shelter
Packaged weight: 2 lb. 7.4 oz.
Floor dimensions: 92 x 52 in.
Capacities: 1P, 2P
What we like: A highly engineered, double-wall trekking-pole shelter for just $280.
What we don't: Heavier and not as long-term waterproof as the Dyneema competition.
A lot goes into making a solid shelter at a low weight, so UL price tags can be fairly steep compared to standard backpacking tents. It's for this reason that the Durston X-Mid is such a surprising entry. Like many trekking-pole shelters here, the X-Mid 2 is well-built, stormworthy, roomy, and checks in a at less than 2.5 pounds. But the Durston is just $280, which is a massive price savings compared to the rest of our top picks. On a backpacking trip through Washington's Glacier Peak Wilderness, we found it easy to get a taut pitch (the setup only requires 4 stakes and the polyester fly doesn't sag like nylon), appreciated the ventilated design (thanks to the double-wall construction), and loved special touches like the magnetic door keepers, durable #5 YKK AquaGuard zippers on the fly, and a unique parallelogram shape that ensures that the doorways aren't blocked by poles. You can even separate the inner body from the fly and leave one (or the other) at home to save weight.
So how does Durston manage to make the X-Mid at such a low price point? In short: with compromises that will be fairly minor for most, but might add up for serious users. The X-Mid is over a pound heavier than the Duplex above, which could be a deal breaker for thru-hikers set on a low base weight. What's more, the sil/PEU polyester fly will gradually lose its waterproofing over time, while Dyneema is naturally hydrophobic. But for less discerning hikers looking for a very high quality budget tent, it's truly hard to beat—Durston is onto something with their highly engineered design, which includes more thoughtful details than most trekking pole shelters here (just beware, its footprint is larger than that of most 2P alternatives). If you venture out solo, you can save even more with the X-Mid 1 ($240).
See the Durston X-Mid 2
Best Ultralight 4-Season Tent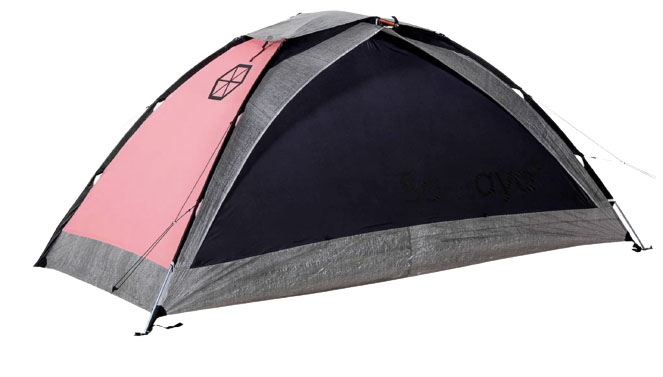 Category: Freestanding tent
Packaged weight: 3 lb. 5 oz.
Floor dimensions: 87 x 43 in.
Capacities: 2P, 2.5P
What we like: More weatherproof and breathable than most lightweight 4-season tents.
What we don't: Expensive; Samaya's Assaut2 Ultra is almost a pound lighter.
Most backpackers are fair-weather creatures (including us), but if you don't let the elements hold you back, it's worth considering a 4-season tent. With key design features that include a freestanding and aerodynamic structure, burly poles, strong fabrics (including very little mesh), and additional guy-out points, these shelters are built to handle anything Mother Nature might dish out. And while many 4-season tents are as heavy as 10 pounds, there are a number of ultralight options for weight-conscious climbers and mountaineers, and intrepid UL backpackers. Standing head and shoulders above the competition is the Samaya 2.0, which provides impressive protection against wind and precip for just 3 pounds 5 ounces.
The Samaya 2.0 is undeniably expensive, but you won't be thinking about your bank account when you're braving heavy winds up high on a Cascades volcano or deep in a Patagonian valley. Compared to most lightweight 4-season tents, the 2.0 is actually waterproof (models like the Black Diamond HiLight are merely water-resistant) with a Dyneema floor, roof, and door awning that won't wet out or sag over time. Samaya also opted for their 3-layer Nanovent fabric in the tent body, which increases breathability over Dyneema—great for when you're tent-bound in a storm. All told, the 2.0 is an exquisitely designed tent that's well worth the investment for serious users. For those looking for an even lighter option, Samaya also offers the all-Dyneema Assaut2 Ultra, which weighs just 2 pounds 5 ounces but will cost you a whopping $2,100.
See the Samaya 2.0
Best Floorless Pyramid Shelter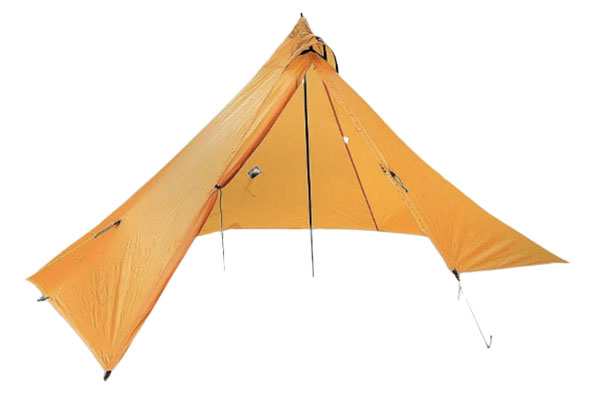 Category: Floorless shelter
Packaged weight: 1 lb. 2 oz.
Floor dimensions: 110 x 68 in.
Capacities: 1+P, 2P, 2+P, 4P
What we like: Versatile, with multiple setup variations and all-season weather protection.
What we don't: Bare bones design isn't geared toward new or tentative ULers.
Backpackers accustomed to the security of a freestanding tent might balk at the concept of a floorless pyramid shelter, but the Mountain Laurel DuoMid shouldn't be overlooked. The first thing to like about the DuoMid is its versatility: It can be pitched alone, strung between trees, or paired with one of MLD's InnerNets for a double-wall bug-free haven. Second is weather protection—the pyramid is surprisingly stable in snow and high winds, and the floorless design is uber-functional, allowing you to dig out a seating area in snow or cook inside in inclement weather. And a final benefit is its weight: At 1 pound 2 ounces (or up to 2 lb. including an insert), the DuoMid is incredibly lightweight considering its all-season credentials.
We really like the Mountain Laurel Designs (MLD) DuoMid for those who get out in a variety of seasons and want the ability to tweak their kit accordingly, especially if you tack on the SoloMid XL ($180) or DuoMid ($195) InnerNets. That said, the MLD is a very simplistic shelter that takes some attention to set up correctly; and used on its own, the floorless concept doesn't offer the same isolation from the elements that you get with a full-fledged tent. In terms of durability, the version here uses 20-denier silicone-treated nylon, a premium combination that offers a high degree of waterproofing and stretch resistance. The DuoMid and InnerNets are also available in 0.75 oz/sqyd DCF versions, but things start to get pricey when you head in that direction (the DuoMid and DuoMid InnerNet will cost you $860 all-in). 
See the Mountain Laurel Designs DuoMid
Best of the Rest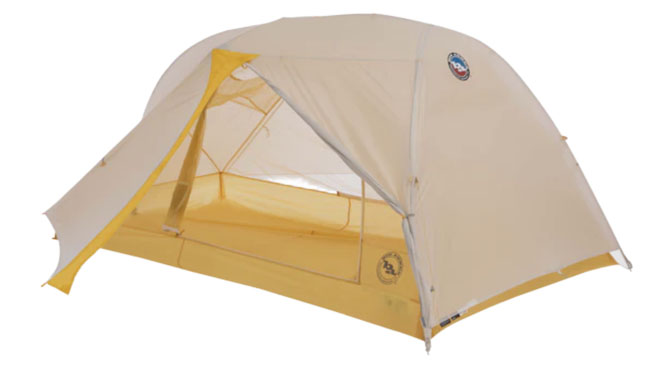 Category: Semi-freestanding tent
Packaged weight: 2 lb. 8 oz.
Floor dimensions: 86 x 52/42 in.
Capacities: 1P, 2P, 3P
What we like: Roomier and more affordable than the top-ranked Nemo Hornet Elite.
What we don't: Less durable than most trekking-pole shelters here.
If the Nemo Hornet Elite above caught your eye, it's worth also taking a look at Big Agnes' Tiger Wall UL2. The Tiger Wall UL2 is another one of our favorite ultralight tents, with a similar two-door-and-vestibule layout and semi-freestanding build (you have to guy out the corners at the foot). It can't quite measure up to the Hornet Elite in terms of weight, but the Tiger Wall adds a few more inches to the floorplan and a large ridge pole across the top for noticeably more headroom. If you'd rather keep $200 in your pocket than shave a half-pound from your pack, it's a great runner up from a well-respected tent manufacturer.
The Tiger Wall is not particularly durable, with a 15-denier floor and fly that require caution around sharp rocks and twigs. That said, it's a bit more hardwearing than the ultra-thin Hornet Elite, and we appreciate the added assurance of the full-length rain fly (the Nemo's is truncated at the head for weight savings). All told, the Tiger Wall is a great value for those who like the traditional tent design—just expect it to be a tight squeeze for two. For more room, Big Agnes also makes the Copper Spur HV UL2 ($550), which is significantly heavier at 3 pounds 2 ounces. And while they're difficult to come by at the time of publishing, it's also worth looking into Big Agnes' Platinum and Carbon varieties—in particular, tents in the Carbon line feature a Dyneema fly and floor along with carbon fiber poles... Read in-depth review
See the Big Agnes Tiger Wall UL2 Solution Dye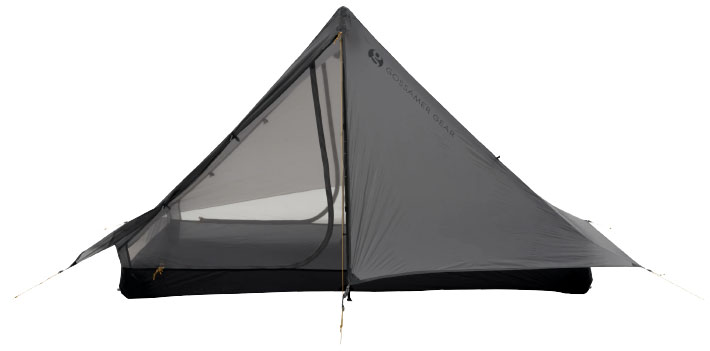 Category: Trekking-pole shelter
Packaged weight: 1 lb. 11.9 oz.
Floor dimensions: 84 x 48/42 in.
Capacities: 1P, 2P
What we like: Similar specs as the Zpacks above but $379 cheaper.
What we don't: Not as durable, breathable, roomy, or versatile as the Durston X-Mid.
Zpacks' Duplex Zip is a favorite among thru-hikers for its hardwearing Dyneema build and low weight, but Gossamer Gear's The Two isn't far behind. For $379 less, The Two features a very similar single-wall design (swapping out the Dyneema for a nylon floor and fly) that sets up with two trekking poles. What's more, the two shelters are fairly close in weight if you consider the full package (stakes are not included in the Zpacks' listed weight). Nylon can't match Dyneema in terms of lightweight performance—it has a tendency to sag, is not naturally waterproof (the waterproof coating will degrade over time), and has less tear resistance—but it's been used by tentmakers for decades and certainly gets the job done. All told, if you're looking to go as light as possible but need to keep prices low, too, the Gossamer Gear is well worth a close look.
Many budget-minded backpackers will find themselves choosing between The Two and Durston's X-Mid 2 above, which differ in key ways. While the Gossamer Gear's primary aim is to be as light as possible, the Durston offers a better balance of weight and performance. Compared to the X-Mid, The Two features less durable zippers (#3 vs. #5) and fabrics (10D sil/PU nylon compared to 20D sil/PEU polyester), a smaller floor area, more complicated setup (6 stakes rather than 4), and isn't factory seam sealed. Most importantly, the X-Mid's full-fledged double-wall design boosts breathability (The Two has a reputation for collecting condensation) and allows you to use the inner separate from the fly (or vice versa). But for gram counters who don't mind a few compromises, the Gossamer Gear is far and away the lighter option.
See the Gossamer Gear The Two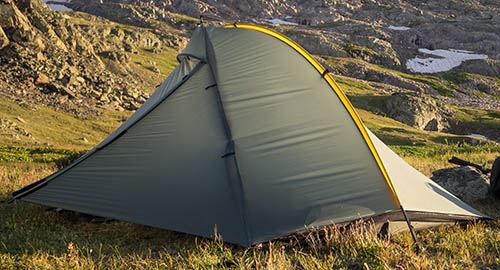 Category: Semi-freestanding tent
Packaged weight: 2 lb. 9.5 oz.
Floor dimensions: 88 x 50 in.
Capacities: 1P, 2P, 3P
What we like: A very affordable semi-freestanding tent; options to boost ventilation.
What we don't: One of the heaviest tents/shelters here.
Just when you thought you had ultralight tents figured out, along comes the Tarptent Double Rainbow. Like the Zpacks and Gossamer Gear above, the Tarptent features a weight-saving single-wall construction; specifically, you get a 30-denier silicone-coated nylon fly and floor with mesh doors sandwiched in between. On the other hand, it uses an arch pole to create a semi-freestanding structure similar to tents from Big Agnes and Nemo (plus, you can place trekking poles at the head and foot to achieve a fully freestanding tent). All told, the Tarptent Double Rainbow is a unique ultralight tent that's roomy, durable, and easy to pitch—and more affordable than most of the competition.
Like the Zpacks Duplex and Gossamer Gear The Two, the Double Rainbow's breathability suffers with the single-wall construction, although Tarptent does include vents at both the top and bottom to encourage airflow. You can also add a hanging liner for $45 more, which absorbs condensation and insulates against both hot and cold temperatures—or opt for the double-wall Double Rainbow DW, which is just $90 and about 2.9 ounces more. No matter what variation you choose, the Double Rainbow offers major cost savings compared to the semi-freestanding competition (including the Big Agnes Tiger Wall and Nemo Hornet Elite above), making it a nice option for budget seekers who aren't quite sold on trekking-pole shelters... Read in-depth review
See the Tarptent Double Rainbow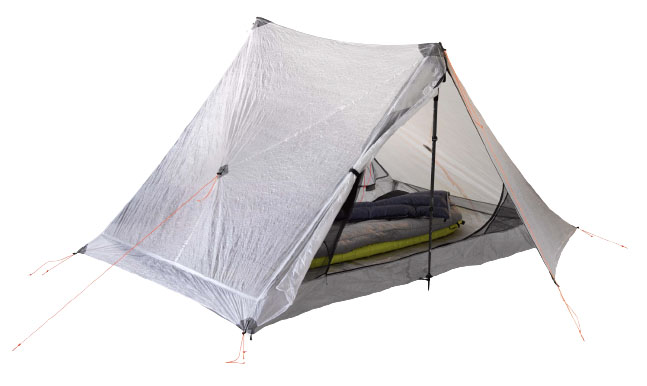 Category: Trekking-pole shelter
Packaged weight: 1 lb. 8 oz.
Floor dimensions: 90 x 48 in.
Capacity: 2P
What we like: More refined and stormworthy than the Zpacks Duplex.
What we don't: Thin floor is likely to gather punctures over time.
Hyperlite Mountain Gear knows a thing or two about Dyneema products, and their new Unbound 2P takes direct aim at the Zpacks Duplex Zip above. The shelters feature a very similar A-frame layout, but in testing the two side-by-side, the Unbound really stood out with a refined build quality (especially compared to Zpacks' more homegrown aesthetic). The components are a bit more user-friendly (including the buckle at the base of the door), and we can't help but love the fun orange accents and contrasting colorways. Finally, Hyperlite designed the Unbound to ride a little lower to the ground than many of its competitors, which can help a great deal with wind and water protection. There's no shortage of competition within the DCF trekking-pole shelter world, but the Unbound is poised to be a favorite among thru-hikers in 2023.
But for the discerning buyer, there are a few ways the Unbound comes up short of the Duplex. The floor is thinner at 0.8 oz/sqyd (compared to the Zpacks' 1.0 oz/sqyd floor), and you don't get the option between two canopy materials (the Unbound's canopy is 0.55 oz/sqyd vs. the Duplex's 0.55 or 0.75 oz/sqyd offerings). And while the Hyperlite's fly sits closer to the ground, the tent lacks the Duplex's end cinch, which closes the mesh gap between the tent canopy and bathtub floor (a helpful feature in wind and rain). Finally, despite the thinner fabrics, the Hyperlite is still 3.6 ounces heavier than the Zpacks, which will factor in for serious thru-hikers (it's also heavier than the X-Mid Pro 2 below, which has a more spacious and stormworthy design). But there's nevertheless a whole lot to like about the new Unbound, which feels just as premium as its price tag suggests... Read in-depth review
See the Hyperlite Mountain Gear Unbound 2P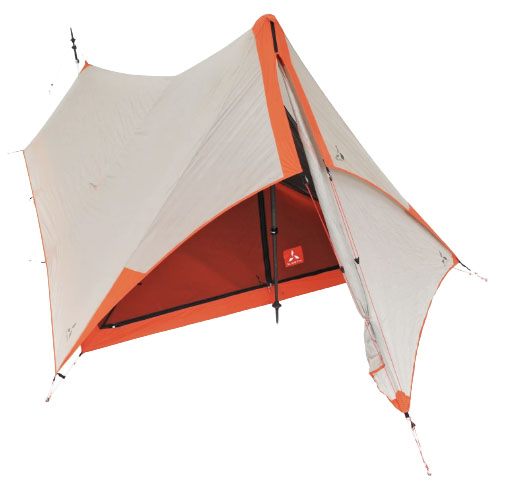 Category: Trekking-pole shelter
Packaged weight: 1 lb. 8 oz.
Floor dimensions: 82 x 56/31 in.
Capacity: 1-2P
What we like: A highly customizable shelter; very affordable for such a low weight.
What we don't: Requires a high degree of user input; tight squeeze for two.
SlingFin might not be a household name, but don't be fooled: This company knows how to make a serious tent. Established by a former designer at Mountain Hardwear and The North Face, SlingFin is employee-owned and self-describes as "small, lean, and scrappy," specializing in high-quality tents with no constraints. The SplitWing Shelter is their lightest design for thru-hikers and fastpackers—for just $345, you get a 1.5-pound double-wall shelter, which is a better price-to-weight ratio than even the Gossamer Gear above. The one-door layout shaves precious ounces off the design, and the tarp (fly), body, and vestibule can be used interchangeably (i.e. you can leave 1 or 2 components at home to save weight). Tack on a footprint that tapers drastically from head to toe, and the SplitWing is a roomy shelter for one or a snug home for two.
We've tested a few SlingFin tents, and what stands out to us is their high degree of innovation and user input. You can pitch the SplitWing low (good for aerodynamics and maximizing floor space) or high (increasing headroom for a solo sleeper), or opt for bringing only the 11.7-ounce mesh body (or 11.1-oz. tarp), depending on the weather. This might not be music to the ears of the "set it and forget it" crowd, but hikers who like to count ounces and tweak their gear will love the SplitWing's customization and versatility. It is worth noting that its thin nylon build (20D floor, 10D tarp) isn't as tough or sag-resistant as Dyneema, but the silicone treatment on both sides of the tarp goes a long way to remedy this. Summed up, the SplitWing Shelter Bundle is a great value for the solo hiker who ventures out in a range of conditions.
See the SlingFin SplitWing Shelter Bundle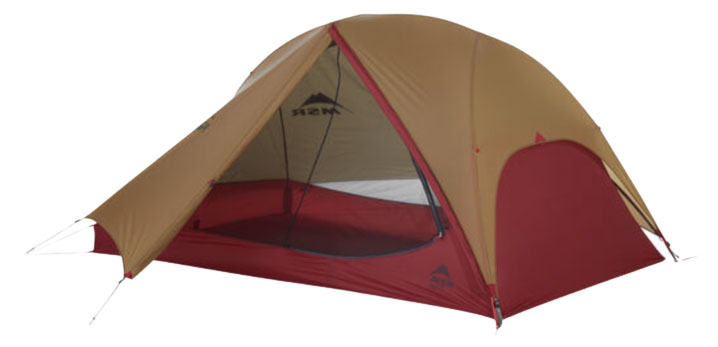 Category: Semi-freestanding tent
Packaged weight: 2 lb. 5 oz.
Floor dimensions: 84 x 50 in.
Capacities: 1P, 2P, 3P
What we like: Non-tapered footprint offers more versatility with sleeping arrangements.
What we don't: Truncated fly; not as much headroom as the Tiger Wall.
The MSR FreeLite 2 takes aim at our top-ranked Nemo Hornet Elite and the Tiger Wall above, with a similar two-door-and-vestibule layout that makes it much easier for two campers to enter/exit and stash gear than one-door alternatives like the Fly Creek below. One of the key strengths of the FreeLite's design is its non-tapered floor area, which will feel a lot less cramped for two (and allow you to sleep head to toe with your tentmate). To save weight, MSR opted for a truncated fly at the head end, but traded out the mesh underneath for a water-resistant fabric body fabric.
The FreeLite is the same price as the Tiger Wall above, lighter by a few ounces, and offers a more spacious footprint—so why the mid-pack ranking? As usual, the devil is in the details: The Big Agnes actually features a more livable interior, with a couple more inches at the head end (52 in.) and a larger ridge pole that stretches the walls up and away. And while we like that the MSR uses less mesh in the body—resulting in a more wind-worthy tent overall—most of the gains are offset by the shortened fly. It's splitting hairs, but if we had to choose between the two, our vote would go with the Tiger Wall. But the overall quality of the two tents is very similar, including impressively strong silicone-coated nylon and high-end workmanship from two of the best tent manufacturers in the business... Read in-depth review
See the MSR FreeLite 2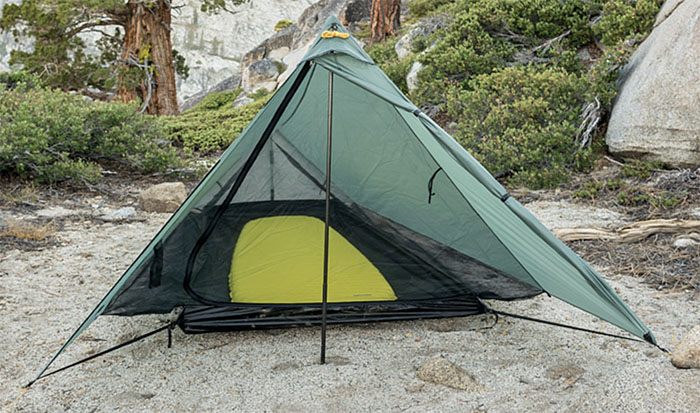 Category: Trekking-pole shelter
Packaged weight: 1 lb. 8 oz.
Floor dimensions: 84 x 42/32 in.
Capacities: 1P, 2P
What we like: A purpose-built 1-person shelter with great venting; affordable and durable.
What we don't: Not as versatile as the SplitWing above.
If you're anything like a good number of thru-hikers, it's probable you venture out solo from time to time (or all the time). In this case, there's simply no reason to carry the extra weight of a 2-person tent. Most of the tents and shelters here come in 1-person variations, but we particularly like Tarptent's dedicated ProTrail. The single-walled ProTrail features a nylon floor and polyester fly with a mesh perimeter and door—not unlike most of the trekking-pole shelters here—but is purpose-built for one with a single entry (and vestibule) and a shape that tapers from head to toe. Tack on a weight of just 1.5 pounds and a $239 price tag, and it's for good reason that the ProTrail is Tarptent's most popular 1-person design.
It's true that the Gossamer Gear The Two above features a much roomier floor plan for even less weight, but the Tarptent is the higher quality offering: The floor and fly are more durable at 20 and 30-denier, respectively, and they're silicone coated on both sides for sag resistance (when wet, polyester is also stronger than nylon). We also love that Tarptent placed a large mesh panel at the ProTrail's toe, which creates a nice cross breeze (most 1P designs feature just one mesh panel at the door). Compared with the SplitWing above, the SlingFin is undeniably more versatile with double-wall construction and customizable parts, but it's $100 more and not as durable. And finally, Tarptent also makes the Dyneema ProTrail Li ($529), which is relatively cheap for a DCF shelter and ridiculously light at 1 pound 1.8 ounces. 
See the Tarptent ProTrail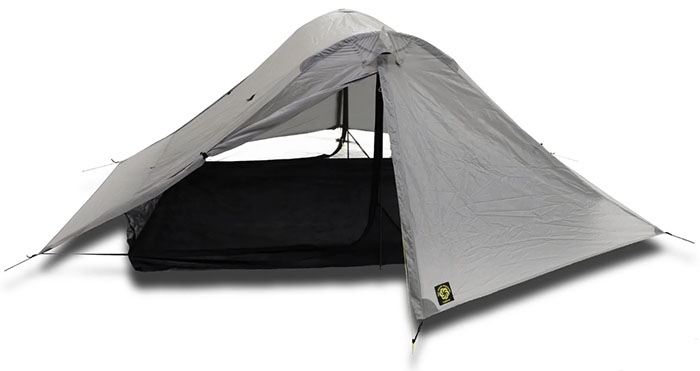 Category: Trekking-pole shelter
Packaged weight: 2 lb. 9 oz.
Floor dimensions: 90 x 50 in.
Capacities: 1P, 2P
What we like: Durable materials; roomy floor area and spacious arched roof.
What we don't: Heavier than the competition; can grow swampy when fully zipped up.
Like Durston, Gossamer Gear, and Zpacks, Six Moon Designs is a popular UL cottage brand built by the people, for the people. Their popular Lunar Duo Explorer is a non-Dyneema trekking-pole shelter similar to the likes of The Two above. The Lunar Duo features a massive floor area that easily accommodates two sleepers, and its 90-inch (7'6") length is a particularly great pairing for taller hikers. The 50-inch peak height is very generous, and curved poles above each door create an arched (rather than pointy) roof that leads to a bit more headroom overall. And while the Lunar Duo's single-wall design can grow swampy, built-in vents at the top of each door do help to create a cross breeze.
The Gossamer Gear and Six Moon Designs differ most in terms of fabrics and weight. While The Two keeps weight under 1.5 pounds with thin, 10-denier nylon that's silicone treated on one side and PU coated on the other, the Lunar Duo features 30-denier, fully silicone treated nylon (quick primer: compared to PU, silicone strengthens the base material and makes it much more waterproof). As a result, the Lunar Duo is over a pound heavier than The Two, but has less of a tendency to sag when wet, absorbs less moisture, and is more hardwearing over the long haul. For hikers more concerned with durability than ounces, it's an excellent and highly livable pick. Finally, because silicone can't be seam taped, keep in mind that you'll have to seam seal the Lunar Duo yourself (Six Moon Designs also offers a seam sealing service for an extra $35).
See the Six Moon Designs Lunar Duo Explorer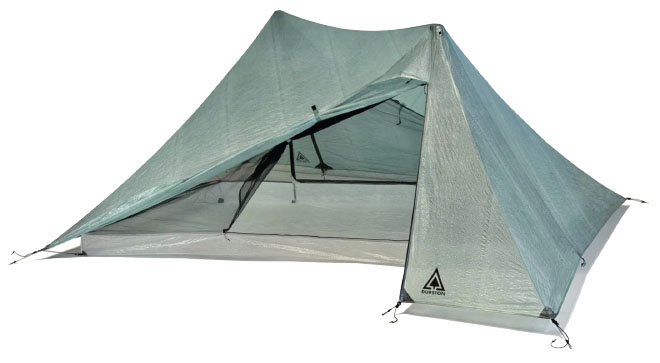 Category: Trekking-pole shelter
Packaged weight: 1 lb. 7.1 oz.
Floor dimensions: 90 x 46 in.
Capacities: 1P, 2P
What we like: A unique Dyneema trekking-pole shelter that's arguably more livable and stormworthy than the Zpacks above.
What we don't: The nylon floor adds a bit of weight.
The Durston X-Mid 2 gets our top pick for the best budget tent, but the Pro version is a whole different beast and well worth a separate mention here. This Dyneema tent competes with the likes of the Duplex Zip and Unbound above, but with a shape and feature set that arguably has a lot more to offer. The off-set pole structure centers the headroom close to each end, ensures the doorways aren't blocked by poles, and is better in both wind and rain than a standard A-frame design. What's more, you get a full-coverage fly that extends lower to the ground than that of competing tents, and a simple four-stake pitch. Finally, Durston gives the option of a sil/PEU-treated nylon floor, which makes a lot of sense and is something we're seeing from more and more companies: Nylon is less slippery than Dyneema and more puncture resistant, packable, and affordable.
The budget X-Mid above is a double-wall design, but the Pro here features single-wall construction, similar to that of the aforementioned Dyneema trekking-pole tents. But because of the Durston's unique geometry, ventilation is less of a concern: The vestibule doors cover the entryway even when open, meaning you can keep them unzipped in a rainstorm without moisture entering the tent. We haven't yet had a chance to test the X-Mid Pro 2 (we'll update the write-up and ranking once we do), but all signs point to it being a really thoughtful alternative to tents from Zpacks and Hyperlite. Plus, it doesn't hurt that the nylon-floor version will save you $60 and checks in at a competitive weight (the 1-lb.-7-oz. spec includes stakes). For those interested, Durston also makes a full-Dyneema model, which is lighter at 1 pound 5.2 ounces (including stakes) and retails for $739.
See the Durston X-Mid Pro 2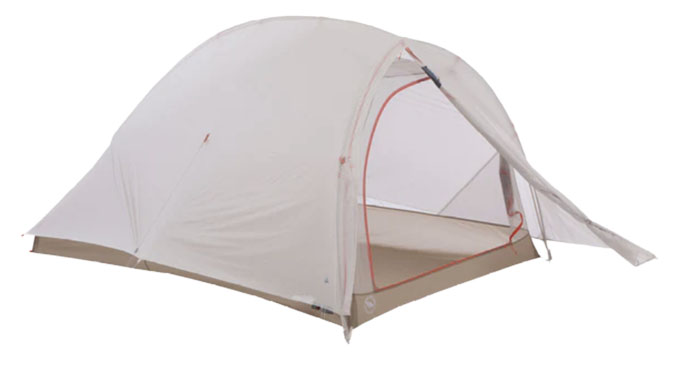 Category: Semi-freestanding tent
Packaged weight: 2 lb. 4 oz.
Floor dimensions: 86 x 52/42 in.
Capacities: 1P, 2P
What we like: A very lightweight semi-freestanding tent for just $400.
What we don't: Not very stormworthy; just one door and vestibule.
Throwing it back to semi-freestanding tents, our next pick is Big Agnes' trimmed-down Fly Creek HV UL2. The Fly Creek is the most minimalist tent in Big Agnes' lineup, featuring a simple one-door-one-vestibule design, all-mesh body, and single hubbed pole. In terms of semi-freestanding tents, it doesn't get much simpler, and as a result the Fly Creek checks in 4 ounces lighter than the Tiger Wall above. At just $400, it's also one of the most affordable semi-freestanding UL tents available. And like the Tiger Wall, the Fly Creek is available in Platinum and Carbon versions, which shave weight with lighter materials and—in the case of the Carbon—carbon fiber poles.
However, the Fly Creek gives up a lot of windy-weather performance with its simplified structure, all-mesh body, and very low bathtub floor. On a blustery night in Washington's Enchantment Range, dirt flew in through the walls of our Fly Creek, covering our sleeping bags; the next morning, a pole broke and punctured the fly near the vestibule. You also sacrifice a lot of gear storage with the one-door-and-vestibule layout, and will have to crawl over your tentmate to get in and out. In the end, if you have reason to opt for such a minimalist structure, we think a more durable and stormworthy trekking-pole design is the better option, such as the Durston X-Mid 2 above... Read in-depth review
See the Big Agnes Fly Creek HV UL2 Solution Dye
Category: Trekking-pole shelter
Packaged weight: 1 lb. 10 oz.
Floor dimensions: 95 x 58 in.
Capacity: 2P
What we like: The weather resistance and small footprint of a 4-season mountaineering tent.
What we don't: No vestibules and lacks breathability.
Black Diamond is a core climbing and skiing brand, so it comes as no surprise that their ultralight trekking-pole shelter diverges from the standard formula. Weather resistance is one of the Distance's primary strong suits: The single-wall build uses sag-resistant polyester (30D) for a taut pitch, features very little mesh, and boosts stability with a DAC pole across the ridgeline. Tack on a relatively small footprint—great for squeezing onto small bivy ledges—and you get a shelter that can hold court with some 4-season mountaineering tents (we've even read reports of climbers using the Distance up high on Cerro Torre in Patagonia). 
But the Black Diamond's fatal flaw is its lack of breathability. The shelter does feature vents at the peak and foot, but with no mesh doors, you simply don't get as much airflow as the other trekking-pole shelters here. The Distance also forgoes vestibules, which is great for maximizing interior space while keeping the footprint relatively small, yet impractical for most backpackers. But for alpinists who need lightweight weather protection above all else, it's still a suitable option. Finally, one small added perk: If you purchase any of Black Diamond's WR ("Whippet Ready") trekking poles, you get one piece of gear that serves as a trekking pole, whippet (modified ice axe), and tent pole in one. 
See the Black Diamond Distance Tent
Ultralight Tent Comparison Table
| Tent/Shelter | Price | Category | Weight | Floor Dimensions | Fly Fabric | Capacities |
| --- | --- | --- | --- | --- | --- | --- |
| Nemo Hornet Elite 2P | $650 | Semi freestanding | 2 lb. 1 oz. | 85 x 50/42 in. | Poly/nylon blend | 1P, 2P |
| Zpacks Duplex Zip | $699 | Trekking pole | 1 lb. 4.4 oz. | 90 x 45 in. | DCF (.55/.75 oz.) | 2P, 2+P, 3P |
| Durston X-Mid 2 | $280 | Trekking pole | 2 lb. 7.4 oz. | 92 x 52 in. | Polyester (20D) | 1P, 2P |
| Samaya 2.0 | $1100 | Freestanding | 3 lb. 5 oz. | 87 x 43 in. | 3L Nylon & DCF | 2P, 2.5P |
| MLD DuoMid | $280 | Floorless | 1 lb. 2 oz. | 110 x 68 in. | Silnylon (20D) | 1+, 2, 2+, 4P |
| Big Agnes Tiger Wall UL2 | $450 | Semi freestanding | 2 lb. 8 oz. | 86 x 52/42 in. | Nylon (15D) | 1P, 2P, 3P |
| Gossamer Gear The Two | $320 | Trekking pole | 1 lb. 11.9 oz. | 84 x 48/42 in. | Nylon (10D) | 1P, 2P |
| Tarptent Double Rainbow | $299 | Semi freestanding | 2 lb. 9.5 oz. | 88 x 50 in. | Silnylon (20D) | 1P, 2P, 3P |
| Hyperlite Unbound 2P | $699 | Trekking pole | 1 lb. 8 oz. | 90 x 48 in. | DCF (.55 oz.) | 2P |
| SlingFin SplitWing | $345 | Trekking pole | 1 lb. 8 oz. | 82 x 56/31 in. | Silnylon (10D) | 1-2P |
| MSR FreeLite 2 | $450 | Semi freestanding | 2 lb. 5 oz. | 84 x 50 in. | Silnylon (15D) | 1P, 2P, 3P |
| Tarptent ProTrail | $239 | Trekking pole | 1 lb. 8 oz. | 84 x 42/32 in. | Silpoly (20D) | 1P, 2P |
| Six Moon Lunar Duo | $395 | Trekking pole | 2 lb. 9 oz. | 90 x 50 in. | Silnylon (30D) | 1P, 2P |
| Durston X-Mid Pro 2 | $639 | Trekking pole | 1 lb. 7.1 oz. | 90 x 46 in. | DCF (.55 oz.) | 1P, 2P |
| Big Agnes Fly Creek UL2 | $400 | Semi freestanding | 2 lb. 4 oz. | 86 x 52/42 in. | Silnylon (15D) | 1P, 2P |
| Black Diamond Distance | $300 | Trekking pole | 1 lb. 10 oz. | 95 x 58 in. | Polyester (30D) | 2P |

Ultralight Tent and Shelter Buying Advice

Defined: Ultralight Backpacking Tents
By our definition, tents and shelters must have a packaged weight of less than 3 pounds to be considered ultralight, which includes the body and fly along with stuff sacks, stakes, tent poles (if applicable), and guylines. In 2023, the ultralight category is surprisingly large, ranging from semi-freestanding tents to trekking-pole shelters and floorless pyramids and tarps. If you want to dip into freestanding tents (the traditional, tent pole-supported type that dominates the backpacking market), you're looking at packaged weights over 3 pounds; for this reason, we only include one highly specialized freestanding model on our list (the 4-season Samaya 2.0).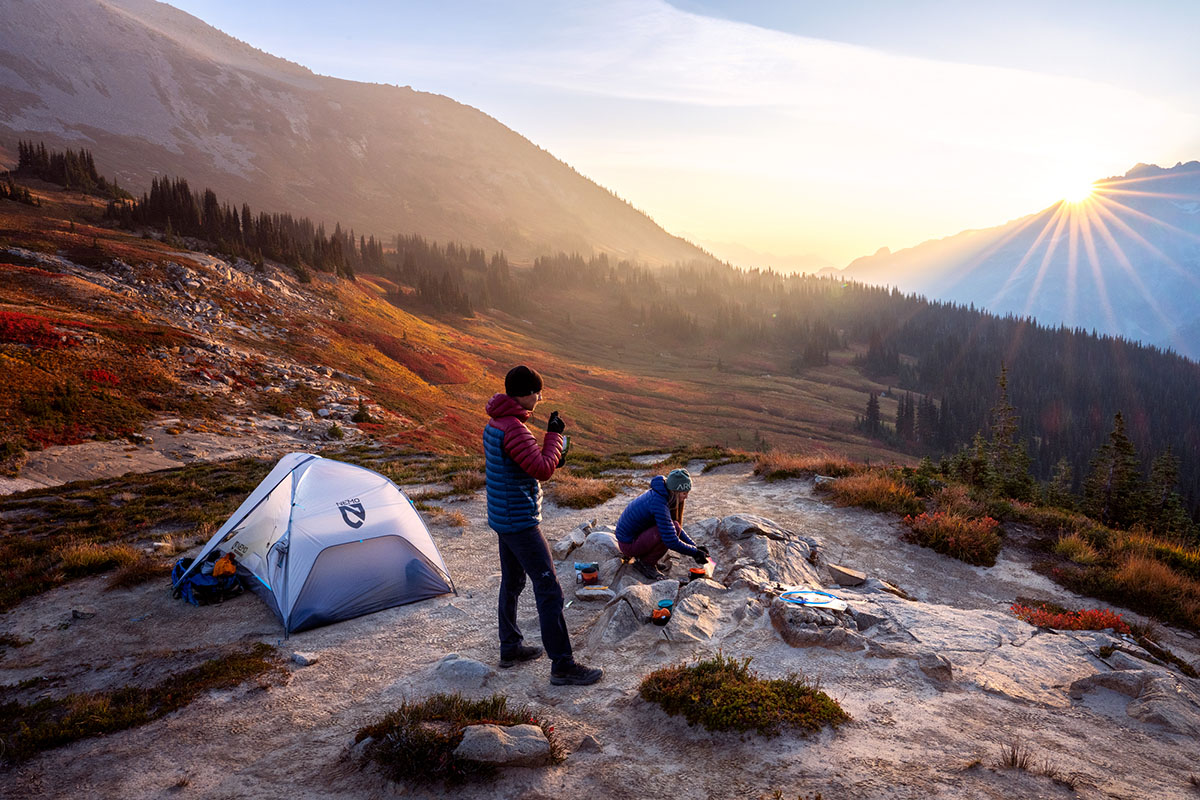 Opting for an ultralight tent is an excellent way to decrease your base weight (an ultralight term for all of your gear, minus consumables like food, water, and fuel). Many serious ultralighters will aim to have a base weight of 8 pounds or less, in which case a sub-2-pound tent becomes fairly important. More casual ULers can get away with a tent or shelter that's roughly 2.5 pounds. And as we'll touch on more below, ultralight tents offer surprisingly decent livability, weather protection, and durability—although do expect some compromise compared to traditional backpacking models that check in anywhere from 3 to 6 pounds.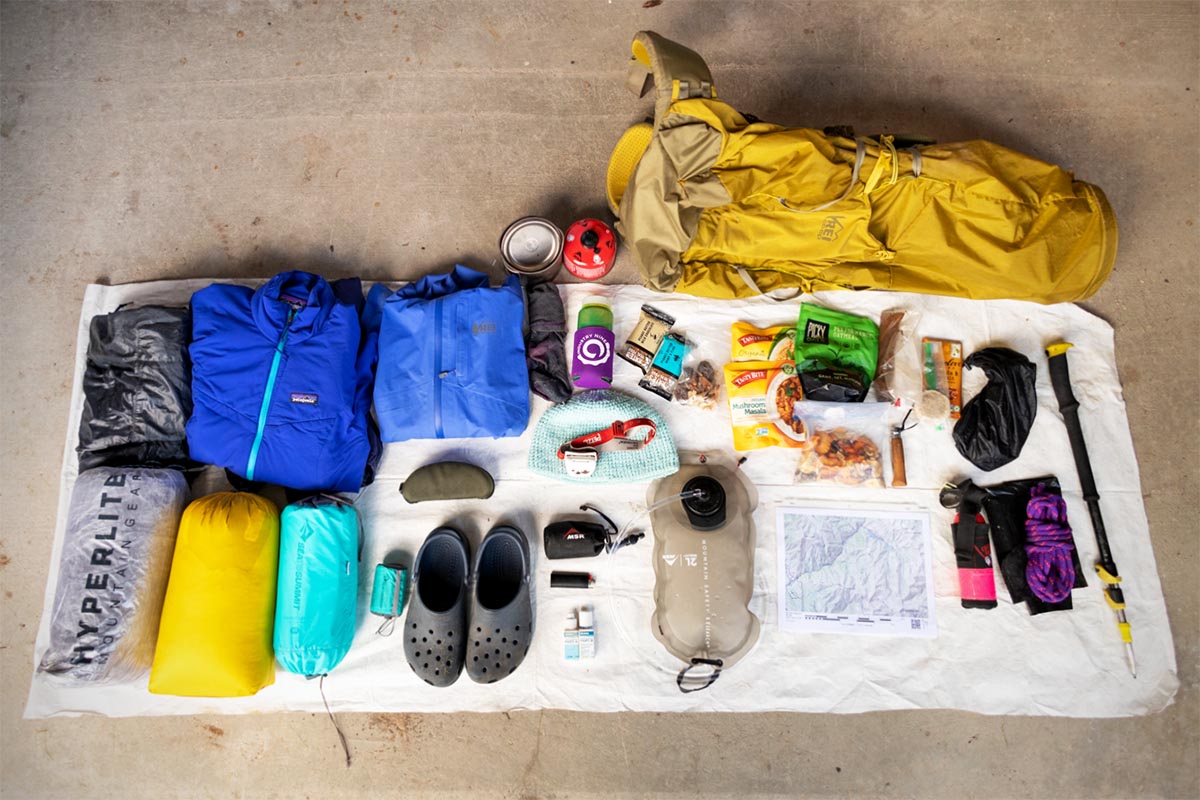 Ultralight Tent Categories
Freestanding and Semi-Freestanding Tents
On the heavier end of the ultralight spectrum are streamlined tents from traditional tent brands like Big Agnes, Nemo, and MSR. Like standard backpacking tents, they feature double-wall construction (including a separate tent body and rainfly) and pitch with included tent poles. But they often trim weight with semi-freestanding designs, which means they need to be guyed out at a few points to maintain their structure (usually at the foot). They also use thinner fabrics and zippers (including a lot of mesh in the tent body) and feature tapered floor areas, heavily sloped ceilings, and more simplified pole structures. Our favorite tents in this category include the chart-topping Nemo Hornet Elite Osmo 2P, Big Agnes Tiger Wall, and Tarptent Double Rainbow.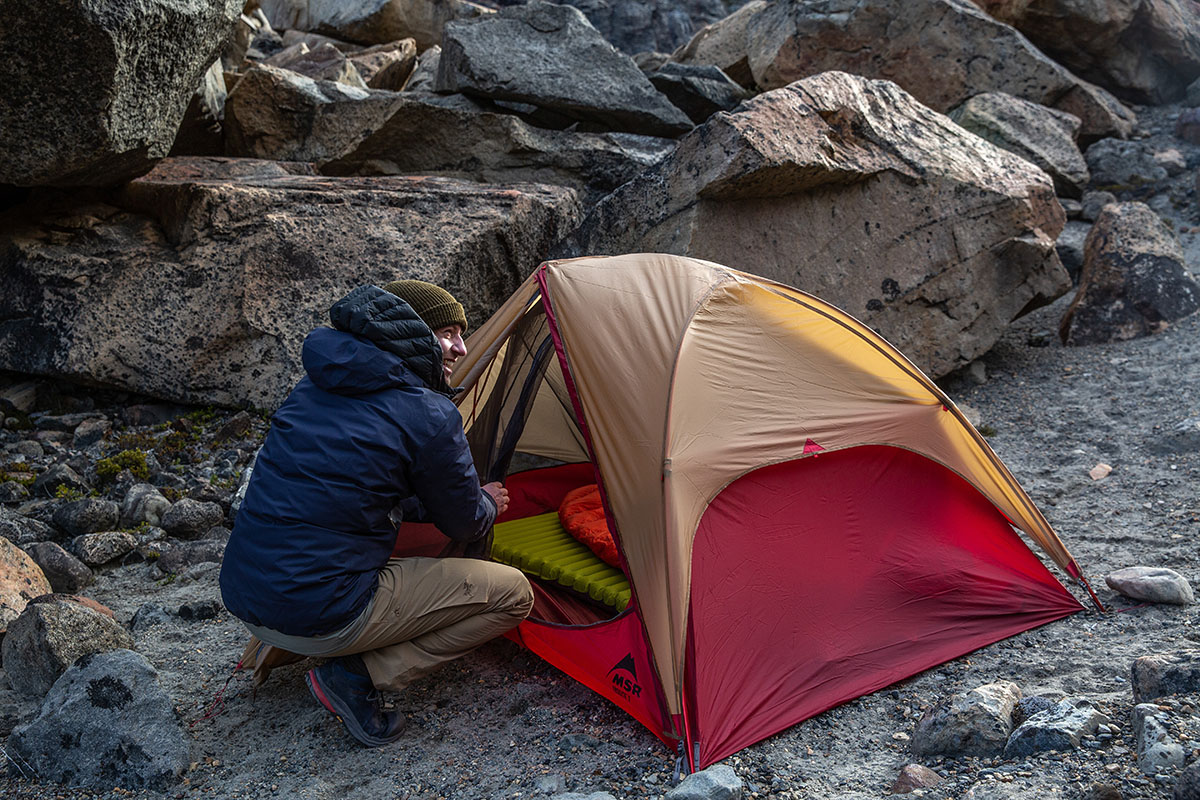 Compared to the ultralight competition (trekking-pole shelters and floorless shelters), tents offer the easiest setup and are thus our recommendation for new backpackers or those who prefer a hassle-free camp experience. They also have a smaller footprint that fits well in cramped campsites; on the other hand, livable space is competitive due to their more generous headroom. Because of their well-ventilated double-wall design, tents are also a great match if you travel in particularly wet or humid climates or sleep with a tentmate (two people generate more condensation than one). However, ultralight tents don't offer as much bang for your buck as trekking-pole shelters: Most of the time, they're heavier, more expensive, and not as durable. As a result, they're not on the radar for many serious ULers or thru-hikers who prioritize low base weights and gear that can withstand month after month of hard use.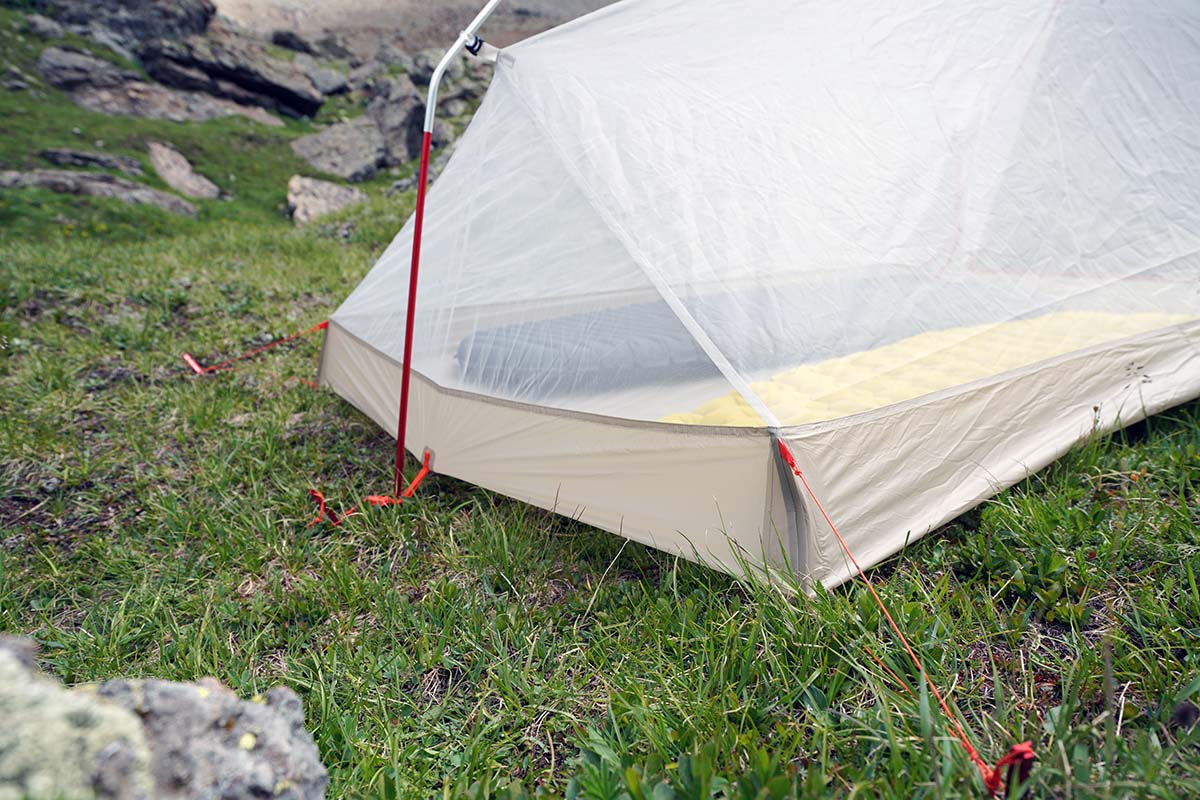 Trekking-Pole Shelters
Trekking-pole shelters comprise the bulk of the dedicated ultralight market and are traditionally made by cottage brands like Zpacks, Gossamer Gear, Durston, and Mountain Laurel Designs. The standard trekking-pole design uses single-wall construction with solid fabric at the floor and fly and mesh at the doors and perimeter. Generally, two-person models feature two doors and vestibules and are set up with two trekking poles at the midline, although manufacturers can shave weight by employing a one-door-one-vestibule design. Depending on materials, trekking-pole shelters can range from just over a pound to over 2 pounds for the two-person model (e.g. the top-ranked Zpacks Duplex Zip is 1 lb. 4.4 oz. and the budget Durston X-Mid 2 is 2 lb. 7.4 oz.).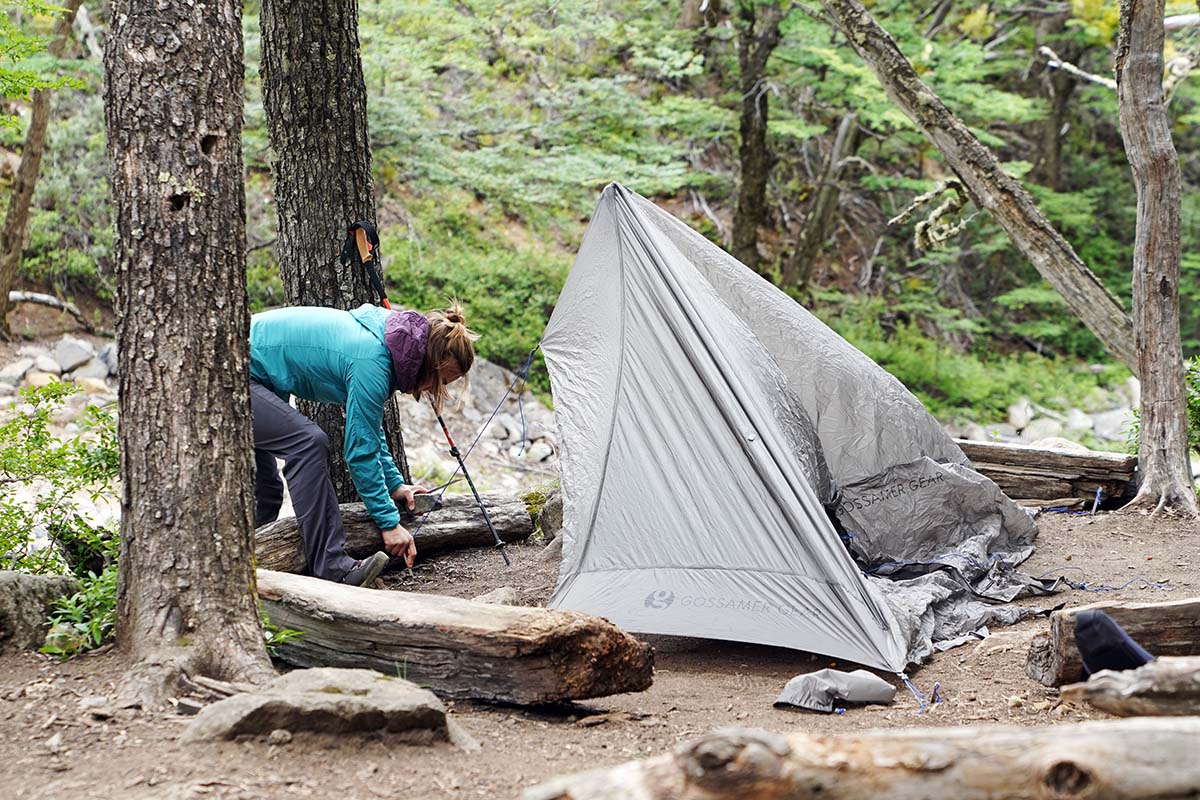 Compared to ultralight tents, trekking-pole shelters offer ultralighters a lot more value, with lower overall weights and price points. They're also known for their larger footprints, which provide more floor area for two sleepers to spread out. If you do opt for an expensive Dyneema version, the payoff is better weather protection, sag resistance, and tear resistance in a lighter-weight package; for example, the Hyperlite Unbound 2P ($699) will withstand significantly more wet weather and abuse than the Nemo Hornet Elite Osmo 2P ($650), and it's also over a half-pound lighter. The downside is less ventilation (a casualty of the single-wall build), although shelters like the Durston X-Mid and SlingFin SplitWing remedy this with double-wall designs. Finally, trekking-pole shelters do require a bit more tweaking to get a taut pitch. But if set up well, they offer just as much (or more) weather protection as a semi-freestanding tent.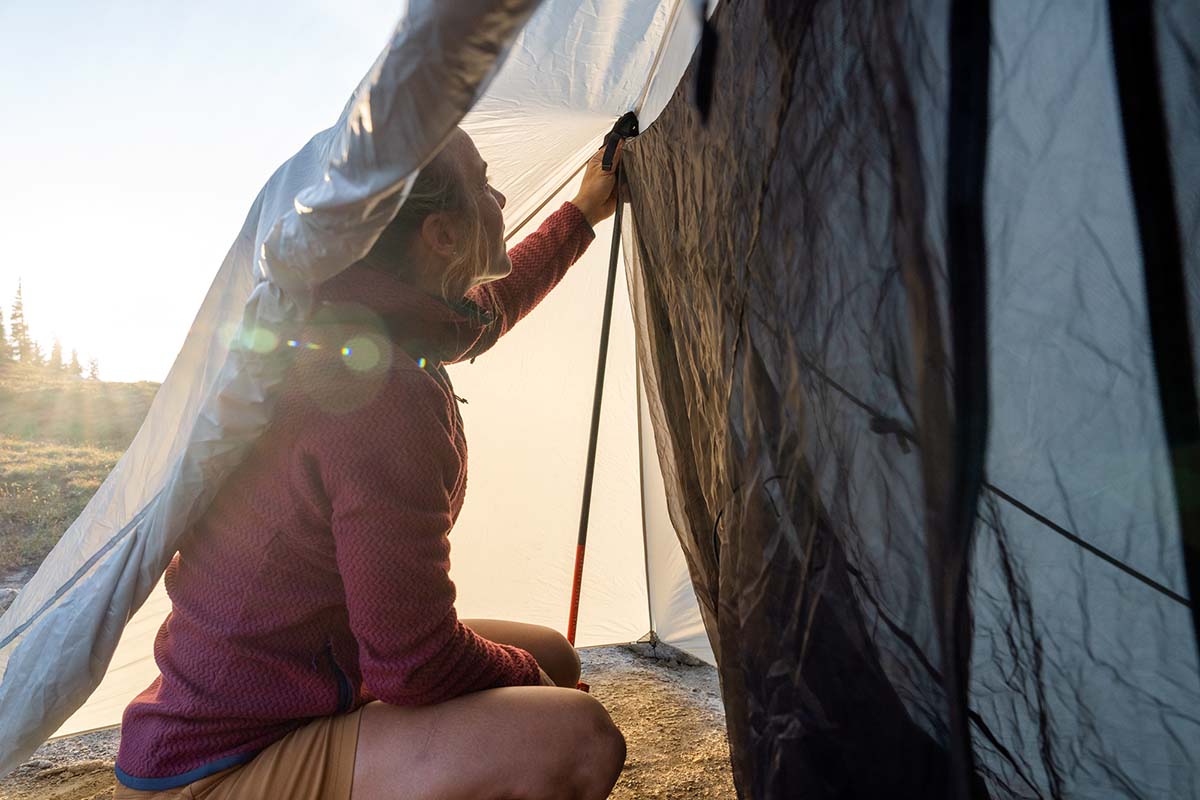 Floorless Shelters
Last but not least are floorless shelters, the most minimalist form of ultralight shelter. These can range from simple tarps strung between trees to pyramid shelters like the Mountain Laurel Designs DuoMid featured above. They're most ideal for those who prioritize a low base weight (floorless shelters can range from just a few ounces to a little over a pound) and camp in non-exposed, low-elevation (and low-bug) areas. That said, the pyramid design can be surprisingly stable when pitched correctly, and is also a great choice for snow camping (you can dig out the floor for a sheltered hang-out zone) or inclement weather when it's nice to have the option of cooking inside.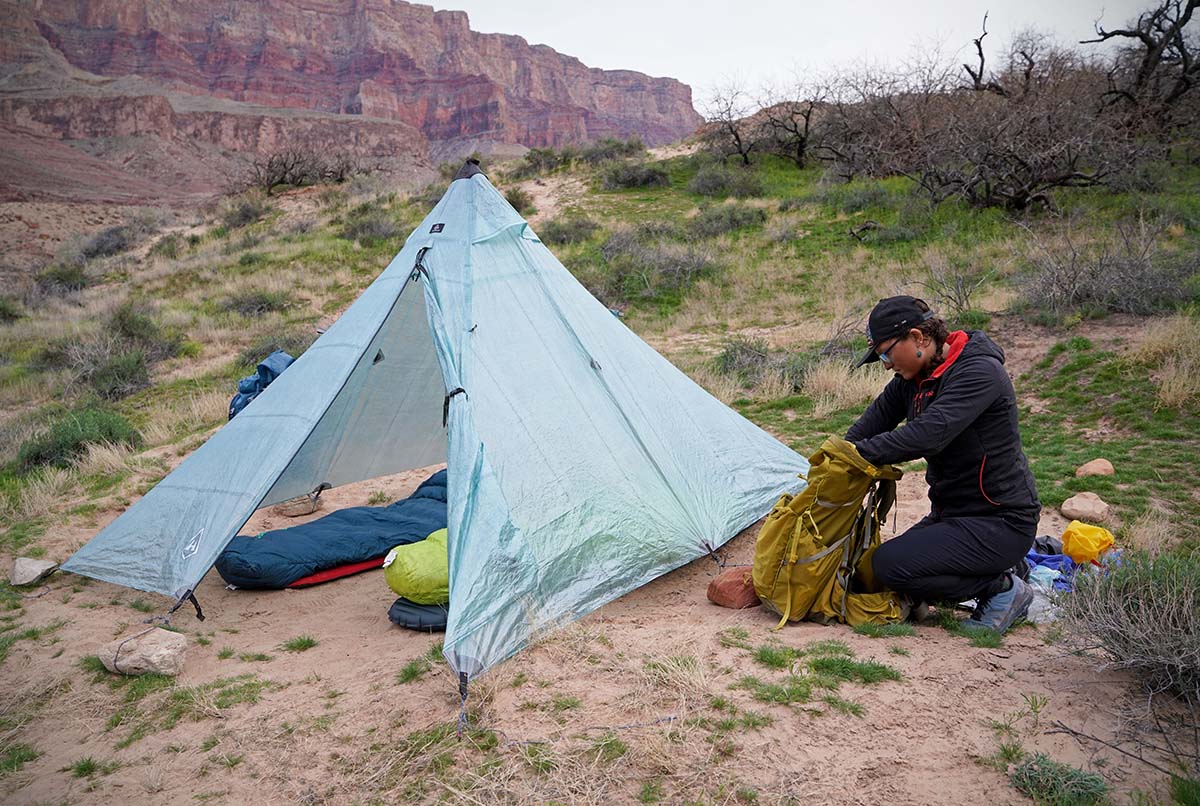 Ultralight Tent and Shelter Weight
By our definition, ultralight tents check in at less than 3 pounds for the packaged weight, which includes poles (if applicable), stakes, guylines, and stuff sacks. Generally speaking, semi-freestanding and freestanding tents are the heaviest in the category (on our list, they range from 2 lb. 1 oz. to 2 lb. 9.5 oz.), while floorless shelters are the lightest (the Mountain Laurel Designs DuoMid is 1 lb. 2 oz.). Trekking-pole shelters fill in the middle, with Dyneema models at the low end (the Zpacks Duplex Zip is 1 lb. 4.4 oz.) and durable nylon or polyester designs at the high end (the Six Moon Designs Lunar Duo Explorer is 2 lb. 9 oz.).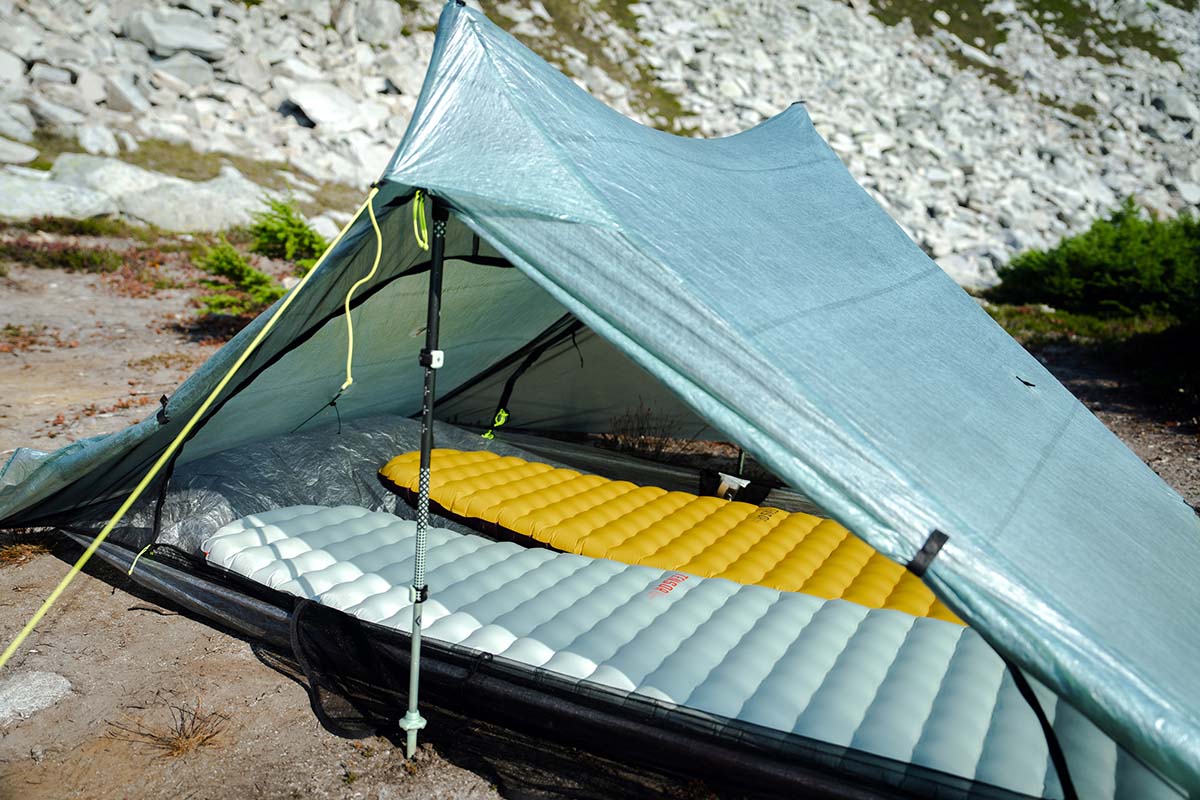 It's worth noting that all ultralight tents and shelters are inherently compromised (some more than others), so you'd better have a fairly good reason to need to dip under 3 pounds. For reference, we consider a tent like the popular Big Agnes Copper Spur HV UL2 (3 lb. 2 oz.) to be an excellent fit for the majority of backpackers, with a near-ideal balance of weight, livability, and performance. But if you're thru-hiking the PCT, fastpacking in the high country, or just love covering a lot of miles with a lightweight pack, an ultralight tent/shelter can go a long way in helping you keep your base weight low.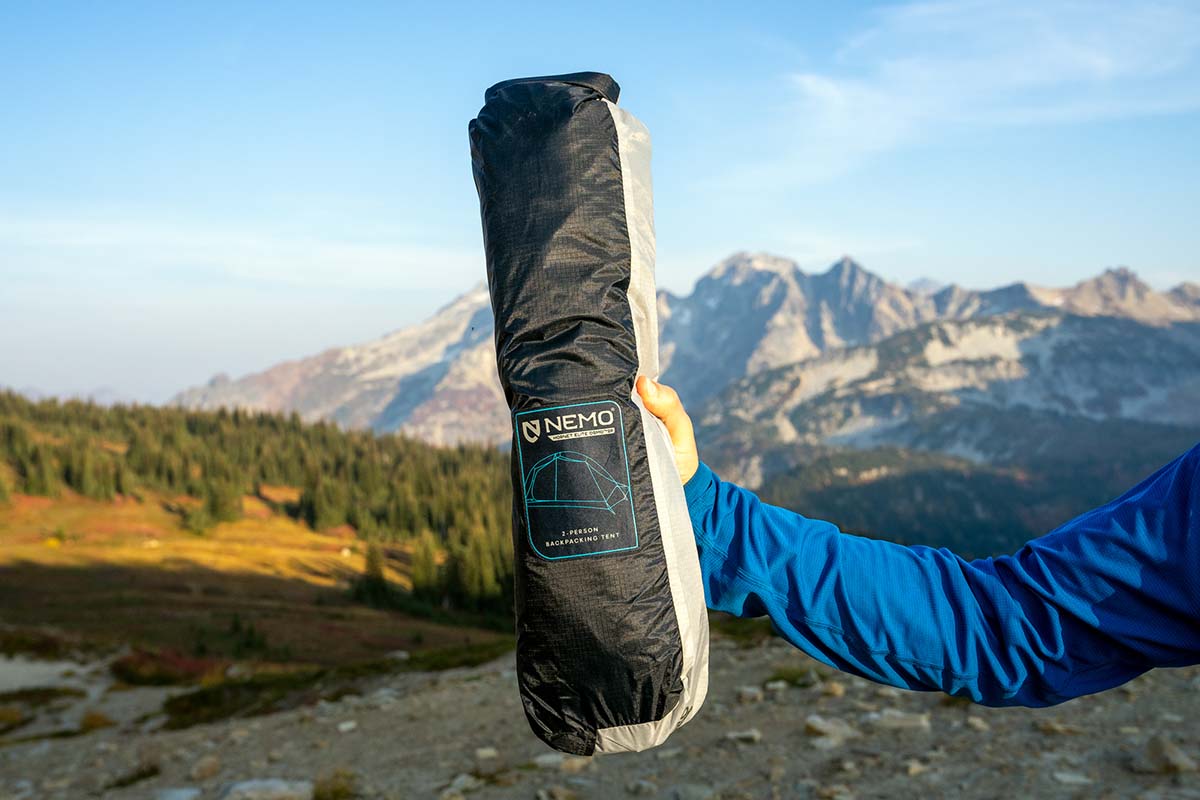 Materials and Durability
A lot hinges on a tent or shelter's materials, including the final price and weight, along with its lifespan (and/or how much you'll need to exercise caution during use). Cottage brands place an especially high emphasis on materials, mixing and matching Dyneema, nylon, and polyester, and often offering the consumer a number of options for each design. Importantly, Big Agnes also provides this level of customization with their Carbon and Platinum lineups. Along with the actual materials, it's also important to consider the thickness of the fabric (i.e. denier or ounce-weight), in addition to the waterproof treatment (i.e. silicone, PU, or PE)

Materials: Polyester, Nylon, and Dyneema
The majority of tents are built with nylon and polyester, and we also see a number of Dyneema models in the ultralight category. At the time of writing, nylon is still the most popular material, prized for affordability alongside performance: It's relatively strong (even the thin varieties), tear and puncture resistant, and has a fairly minimal weight and packed size. However, nylon's big flaw is that it's hydrophilic, meaning it absorbs water. As a result, it both gets weaker and expands when wet (which explains why your tent fly sags after the rain) and is slow to dry.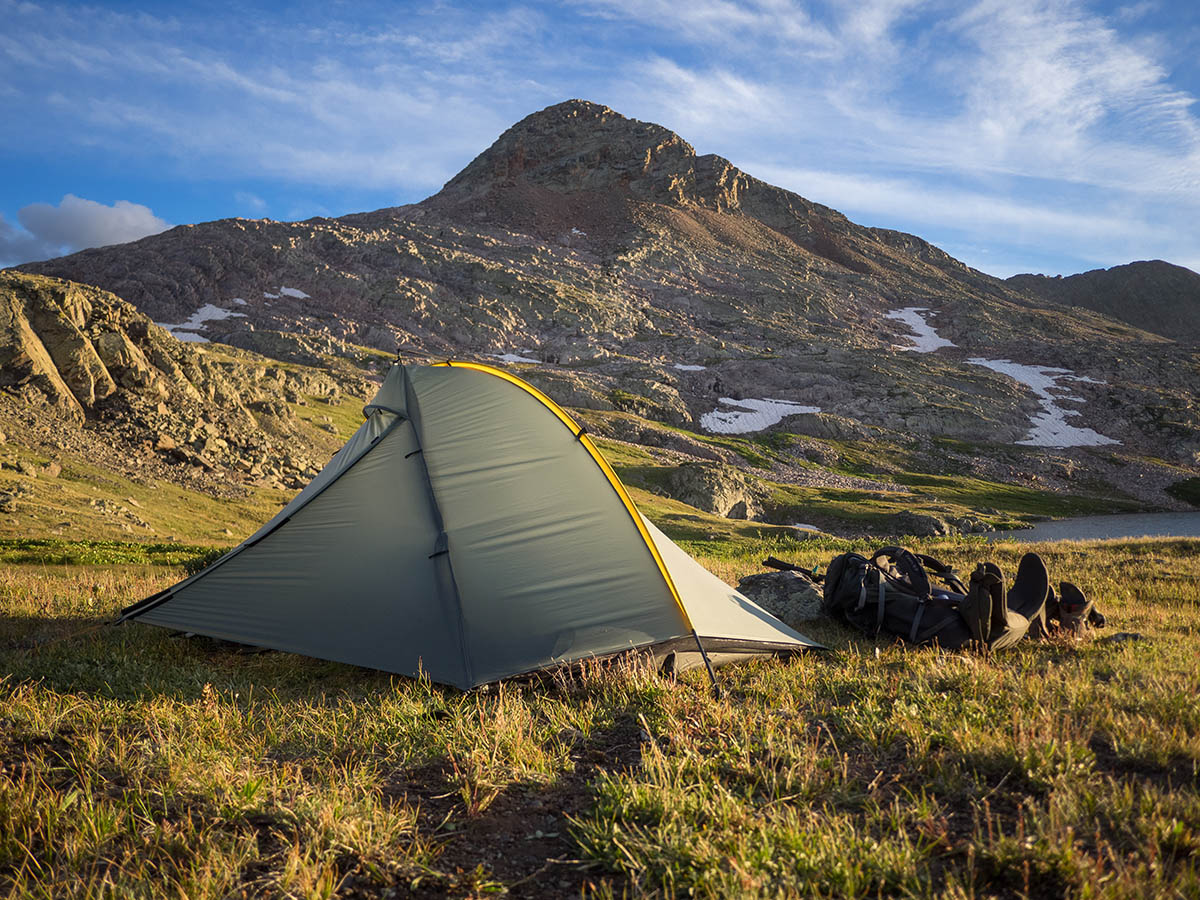 Polyester has traditionally received a bad rap for being cheap, heavy, and not as strong as nylon. However, the last few years have seen a lot of advancements in lightweight polyester, and it's now a solid contender in the ultralight realm. Unlike nylon, polyester is not hydrophilic, meaning it does not absorb water, dries quickly, and remains taut when wet. What's more, it won't degrade as quickly when exposed to sunlight for long periods of time. It's true that its tear and puncture resistance isn't quite as high as nylon in dry conditions, but this equation reverses in wet conditions, which is arguably when you need the most performance out of your tent. As a result, polyester has become much more prevalent in ultralight tents, particularly in models like the Durston X-Mid 2 Solid, Black Diamond Distance, Six Moon Designs Lunar Duo, and Tarptent ProTrail.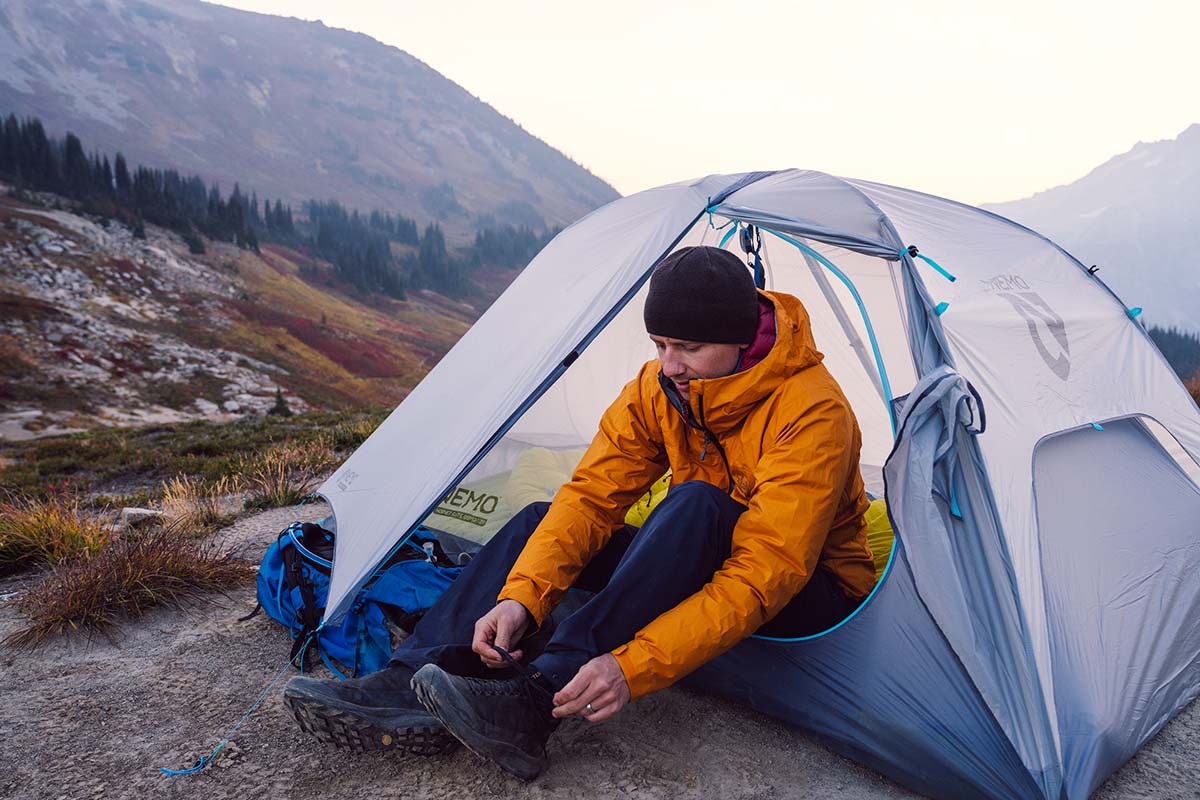 Finally, there's Dyneema Composite Fabric—often referred to as simply Dyneema, or DCF—the darling of ultralight gear and a fabric that's known for its low weight, high tensile strength, and inherent water resistance. What's more, Dyneema doesn't require waterproof coatings (which we'll touch on below), which goes a long way toward saving weight and bulk. But it isn't all good—Dyneema is incredibly expensive, and despite its strength, has particularly low abrasion resistance. As a result, it tends to form punctures quite easily, especially when you're camping around sharp objects like sticks and rocks. It's hard to beat Dyneema as a fly fabric, but manufacturers often look for ways to get around it as a floor material; for example, the Durston X-Mid Pro features a Dyneema fly and nylon floor.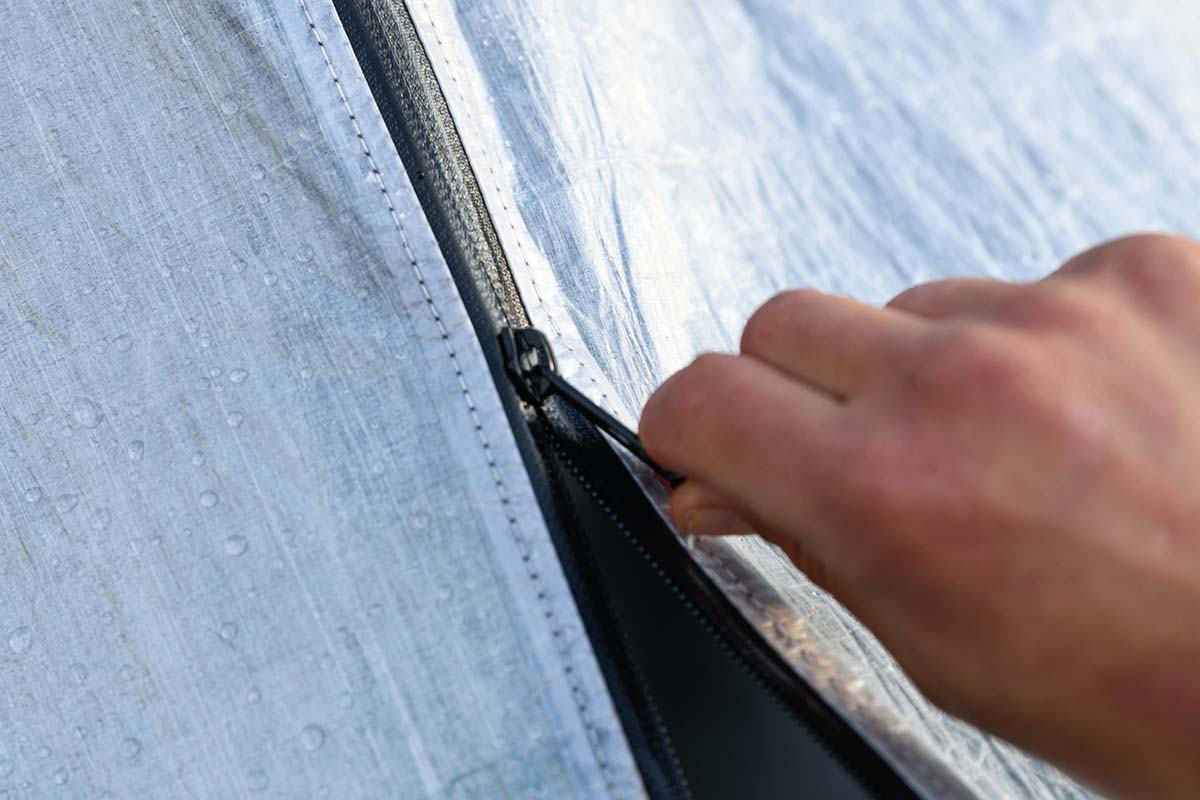 Denier (Thickness)
You can't talk about fabrics without also discussing their thickness. Nylon and polyester are measured in terms of denier (technically speaking, the weight of the yarn), while Dyneema is measured in terms of ounce per square yard (oz/sqyd). Traditional backpacking tents often feature 30- to 70-denier nylon or polyester (particularly on the floor), while most ultralight designs use 10- to 20-denier fabrics. Of course, the higher the denier, the more durable the tent, which is why it's important to exercise caution with ultralight models.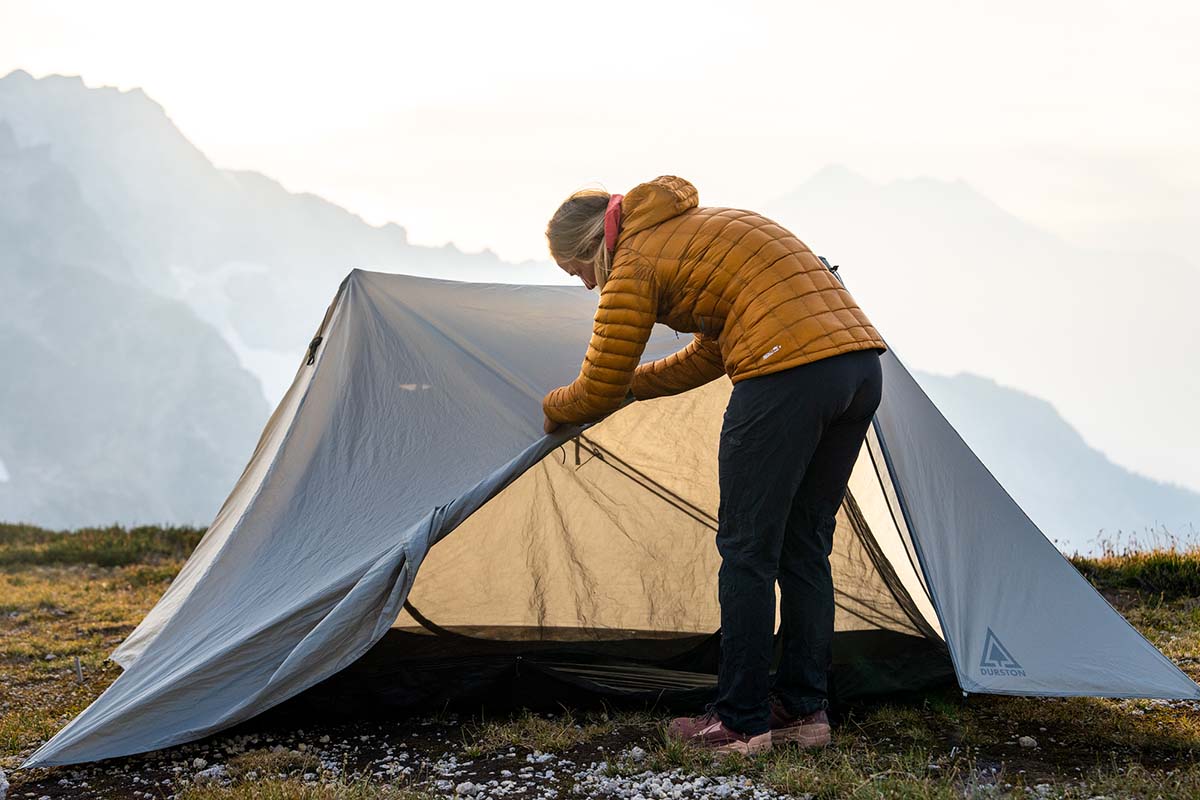 When it comes to Dyneema, a thicker material also translates to more performance (and particularly, abrasion resistance). The Hyperlite Unbound 2P, for example, uses a 0.55-ounce fly and 0.8-ounce floor, while the similarly priced Zpacks Duplex Zip's fly and floor are 0.55- and 1.0-ounce, respectively (the Duplex Zip also comes in a version with a 0.75 oz/sqyd canopy). Just by checking the numbers, you can ascertain that the Duplex Zip will hold up better over time than the Unbound. Interestingly, Mountain Laurel Designs only uses 0.8 oz/sqyd Dyneema in their shelters—it's as thin as they're willing to go without compromising too much on durability. In short, not all Dyneema shelters are created equal, and the weight of the DCF is a very key consideration.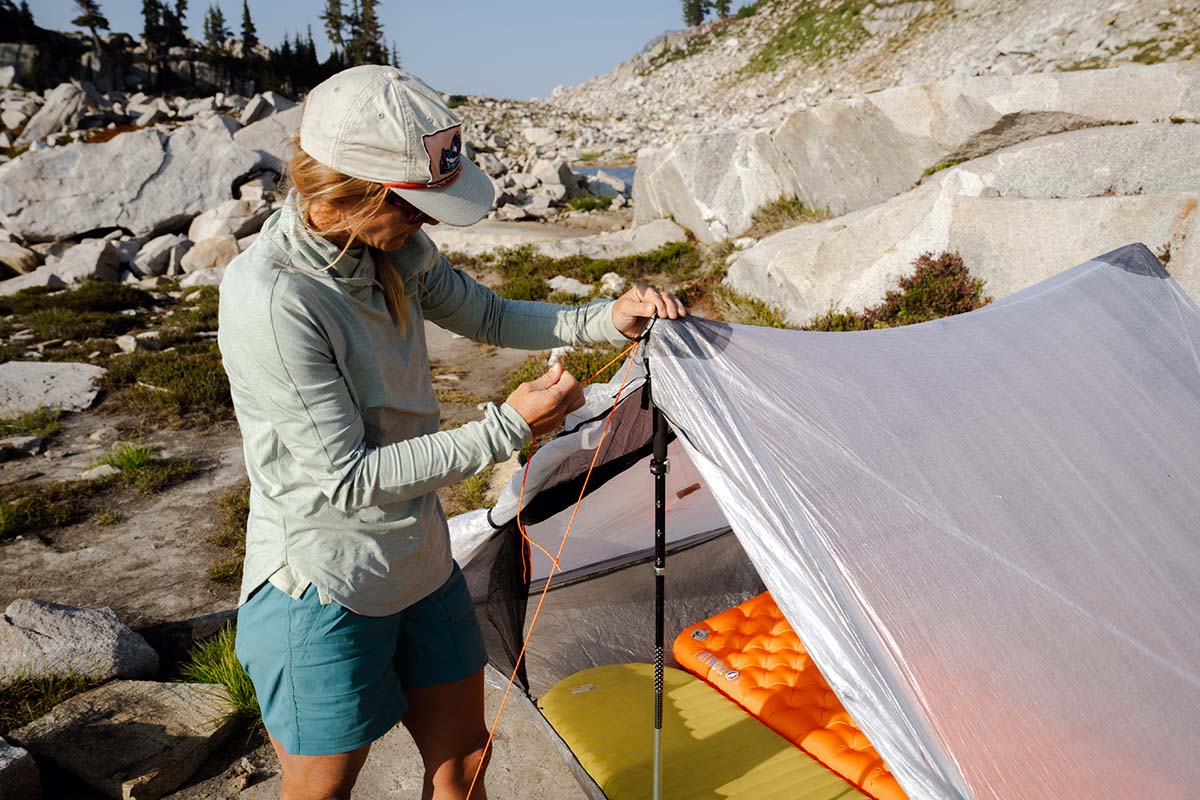 Waterproof Coatings: Silicone, PE, and PU
Nylon and polyester aren't inherently waterproof—for this reason, we need waterproof coatings. Traditionally, the most common treatment has been PU (polyester urethane, or polyurethane), which is gradually being replaced by PE (polyether urethane). PU/PE are relatively inexpensive, highly waterproof, and aren't slippery like silicone, meaning they can bond with fire retardant or seam tape (and offer a better next-to-skin feel when used in a tent floor). But both come with some major downsides. Because PE doesn't stretch, it reduces the tear strength of the fabric to which it's applied (for this reason, it's rare to see PE used on fabrics thinner than 20D). On the other hand, PU actually absorbs water (leading to mold and mildew growth) and eventually degrades over time. Neither are even close to perfect, but PE is the better option of the two.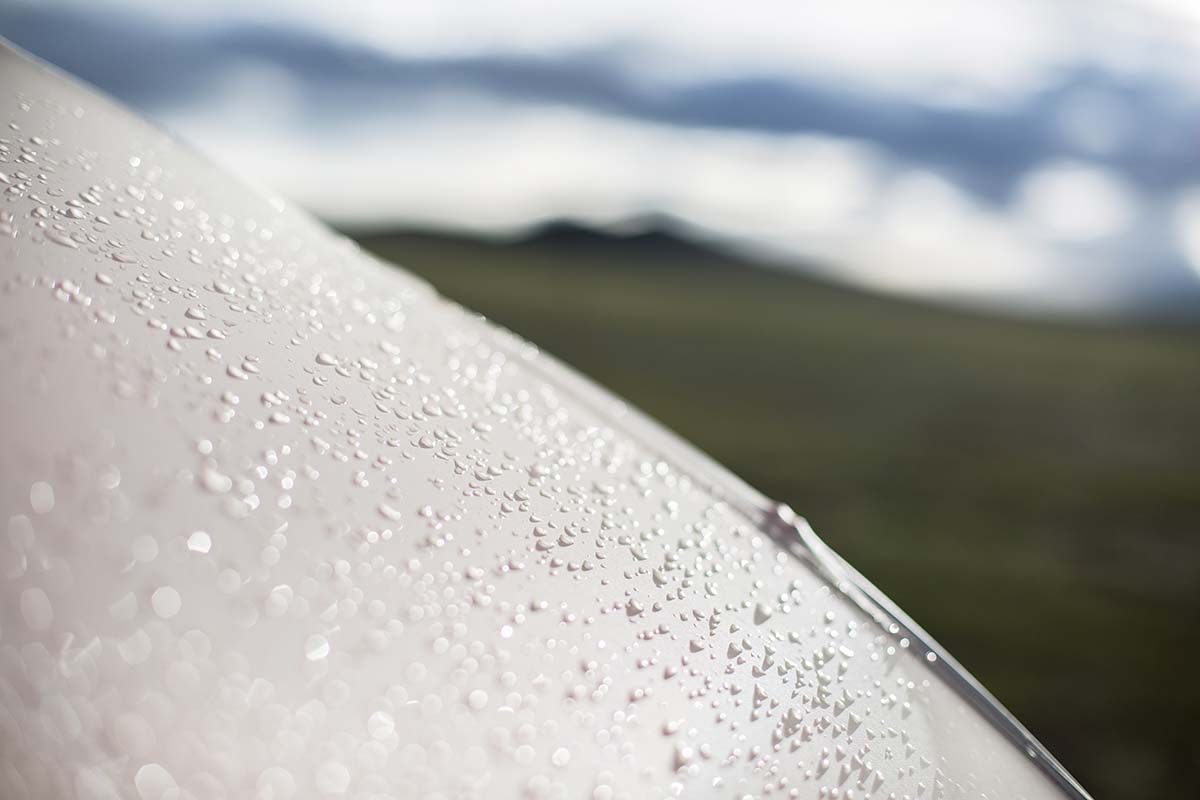 Without question, the best waterproof coating is silicone. Silicone is fully waterproof (when's the last time you saw your silicone kitchen tool absorb water?), strengthens rather than weakens fabric, and doesn't degrade over time. Silicone treatment also makes fabric less prone to stretching, meaning your fly will stay more taut in the rain. Because of its strengths, we see silicone used a lot in high-end ultralight tents (often referred to as silpoly or silnylon). Silicone treatment is more expensive than the alternatives, but we'd much rather see a premium treatment on a premium fabric (rather than have a premium fabric go to waste with PU).
But because of silicone's slippery nature, it can't adhere to seam tape or fire retardant, and it's not the most comfortable application for a tent floor. For this reason, it's common to see sil/PU or sil/PE combinations, which denote that the fabric has been treated on one side (usually the inside) with PU/PE, and the other side with silicone—the MSR FreeLite's fly, for example, is 15-denier nylon sil/PEU. Of course these materials aren't as strong, stretch-resistant, long-lasting, or mold resistant as pure silicone (often referred to as sil/sil), but they're nevertheless a good compromise.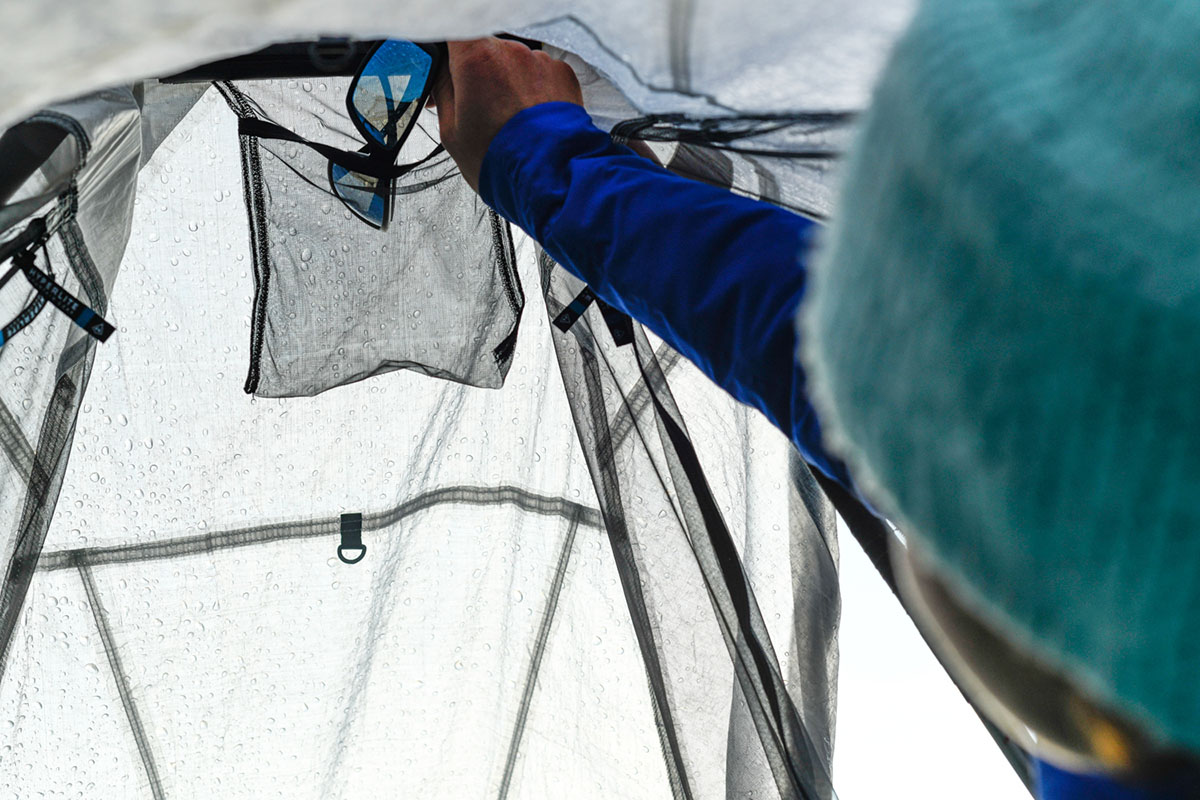 Interior Space
Floor Dimensions
In parsing out how roomy an ultralight tent or shelter is, the first thing you'll want to evaluate is the floor dimensions (L x W), which matter quite a bit when you're trying to fit two backpackers with their sleeping pads side-by-side. In general, two-person ultralight tents have fairly streamlined floor areas (which often taper about 10 in. from head to foot), while trekking-pole and floorless shelters use more generous dimensions that provide a more practical sleeping area for two. However, while floor dimensions are a good place to start, you'll also want to take the tent's peak height and shape into consideration as well.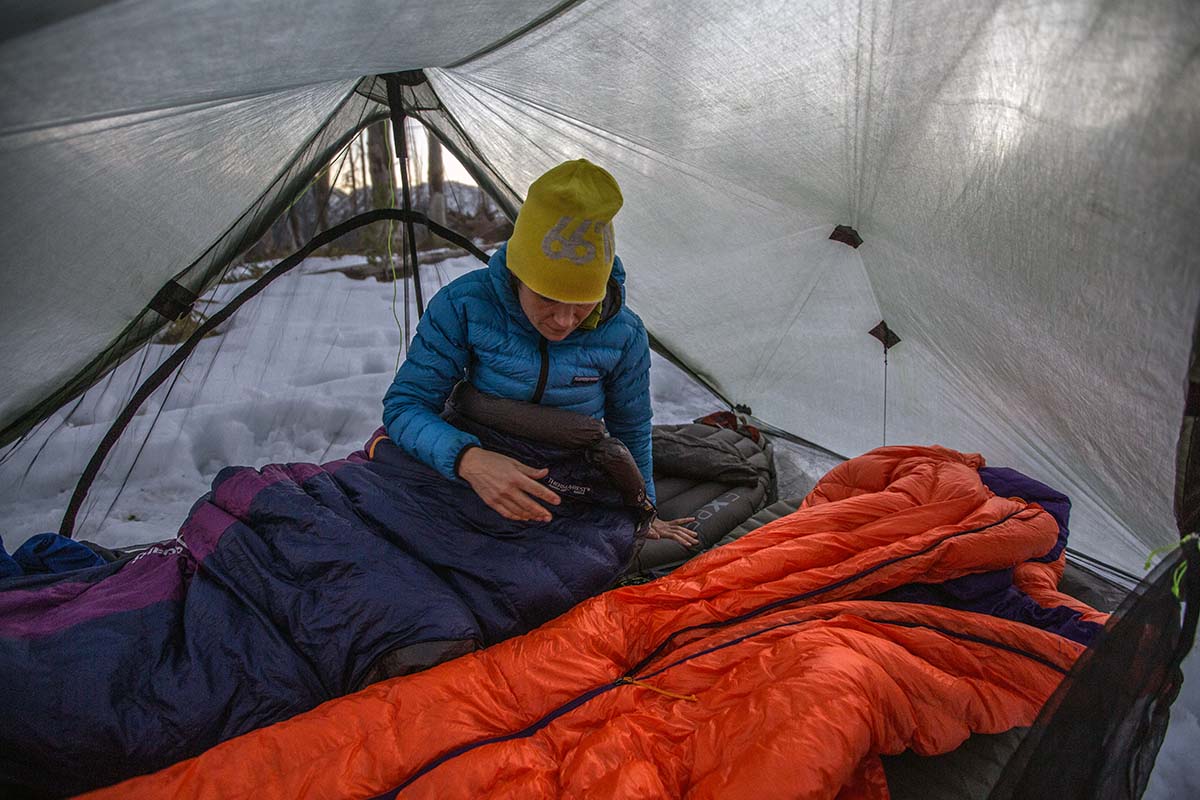 Peak Height and Slope
A tent's "peak height" refers to its tallest point, and the models above vary from 37 inches for the Nemo Hornet Elite Osmo 2P up to 50 inches for Six Moon Designs' Lunar Duo or 55 inches for the MLD DuoMid. Trekking-pole and floorless shelters have significantly taller peak heights than ultralight tents, but this number doesn't tell the whole story: A-frames slope sharply from the apex (the top of the trekking poles) to the ground, while freestanding and semi-freestanding tents have a longer ridgeline across the top (this can be further extended with a ridge pole). Thus, whereas trekking-pole shelters and floorless shelters offer a better sleeping area for two, ultralight tents are roomier when you're sitting up.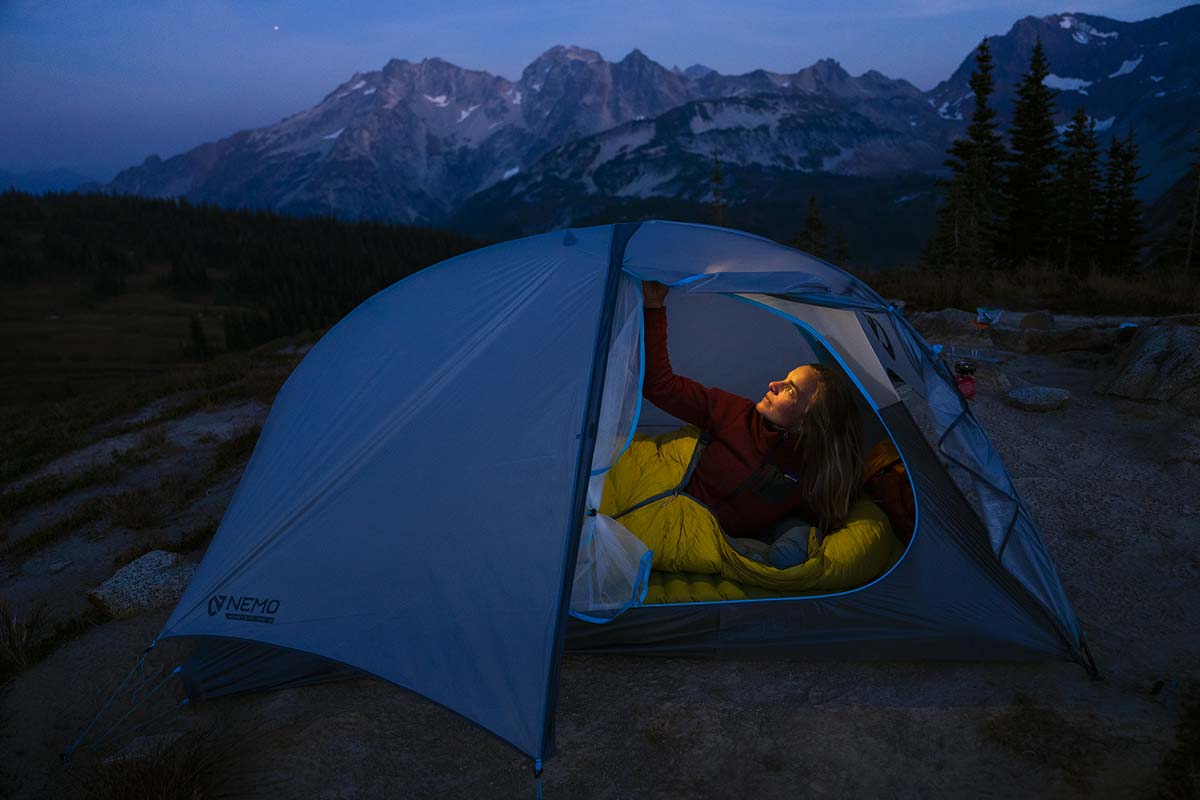 Weather Protection
Tents are built to provide shelter in bad weather, including both rain and wind. All of the designs above use waterproof materials for their fly and floor (Dyneema is naturally waterproof, while nylon and polyester become watertight with waterproof coatings and seam tape/seal), which can withstand hours of downpour without leaking. The primary point of vulnerability on ultralight tents and shelters is their mesh-heavy interior—if wind or rain sneak under the fly, it's easy to penetrate the mesh doors, walls, or perimeter. If you're consistently headed out in inclement conditions, it's a good idea to look for a design that offers a low pitch or minimal mesh, such as the Hyperlite Unbound 2P and Black Diamond Distance, respectively.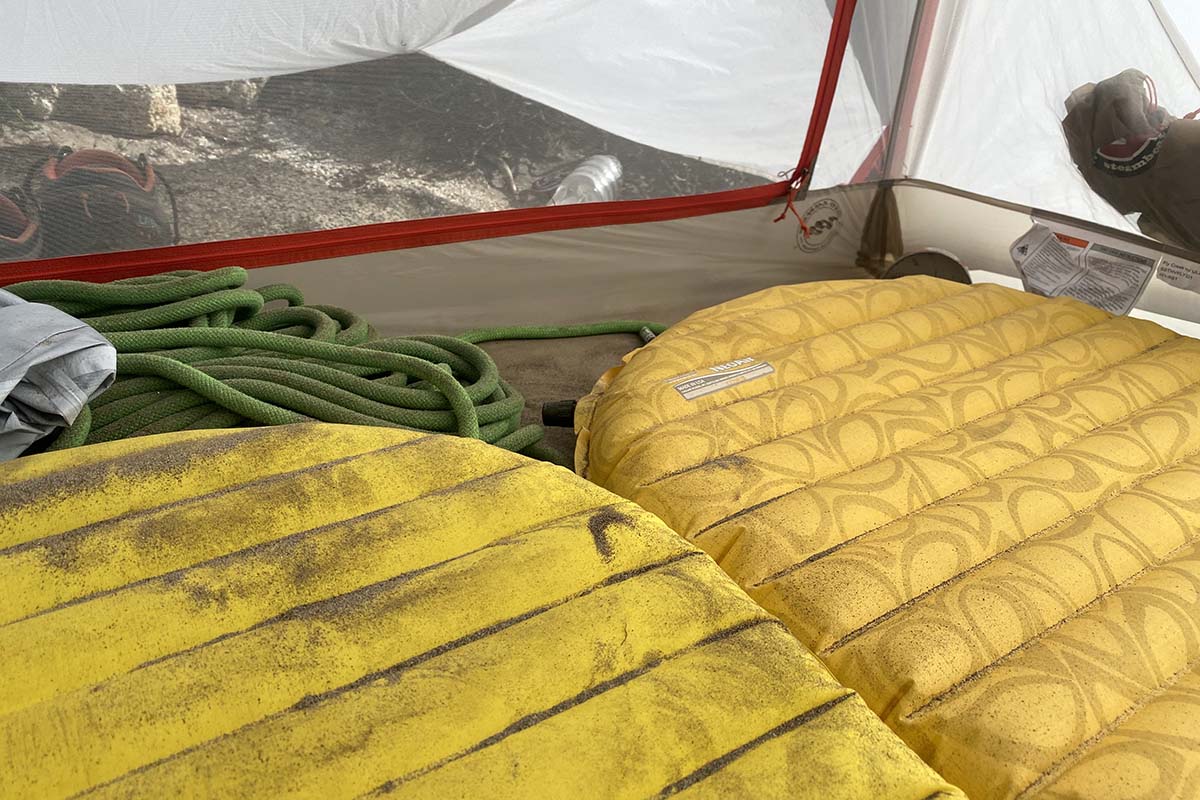 Structure is another factor in weather resistance, especially when it comes to heavy winds. When pitched correctly (read: taut, guyed out well, and with the head or toe facing the wind), both semi-freestanding ultralight tents and trekking-pole shelters (and even floorless pyramid shelters) can fare decently in moderate winds. That said, we wouldn't recommend pushing ultralight tents and shelters into high-altitude or exposed areas—the tent poles of ultralight designs can be a particular weak point, and no matter the design, it can be challenging to find decent anchors above treeline. On our list, the 4-season-ready Samaya 2.0 is the main exception, and Black Diamond's Distance also has a sturdy build that can handle challenging mountain conditions.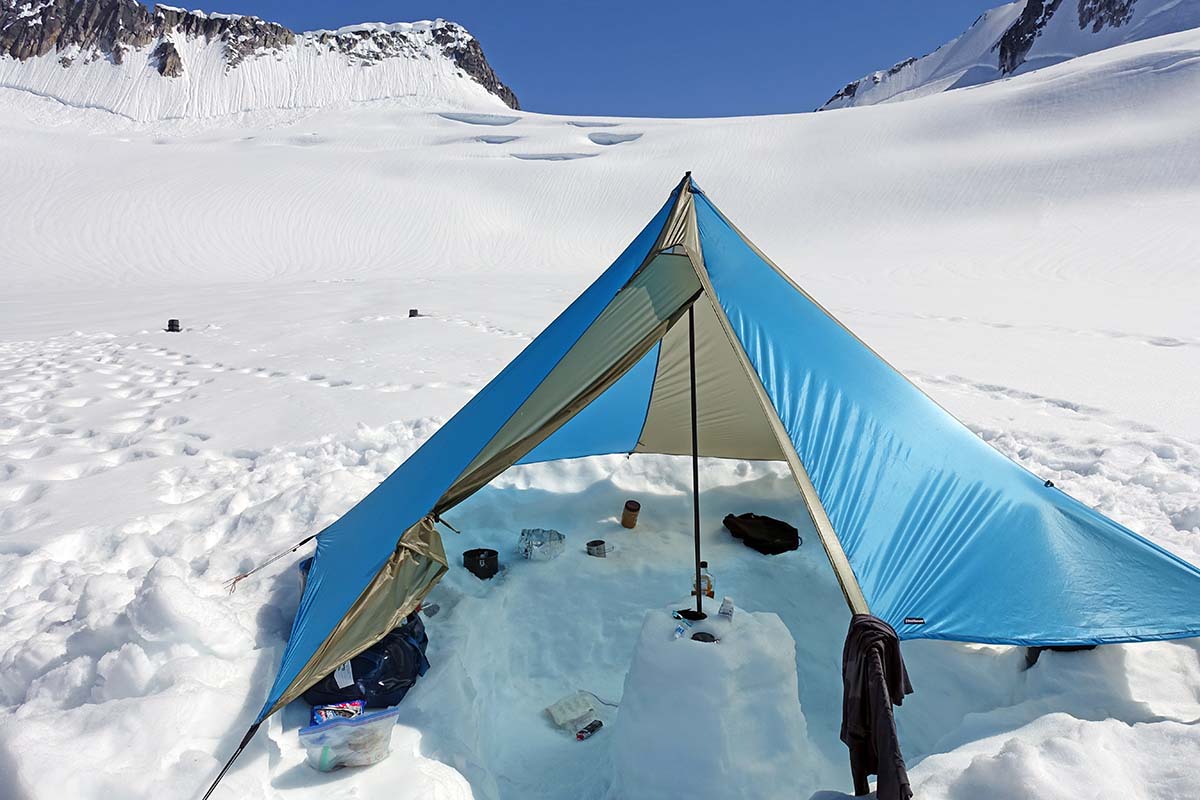 We'd be remiss not to also touch on hydrostatic head (HH) specifications here. Often provided by manufacturers, the HH is a measure of how much water pressure must be applied to a fabric (nylon or polyester) before passing through. For example, the SlingFin SplitWing tarp has an HH rating of 1200 millimeters, while the floor is 1800 millimeters. On the other hand, the Durston X-Mid's sil/PEU-coated polyester is rated to 2500 millimeters. In general, fabrics will start out very waterproof, but their coatings will decline over time (yes, your nylon/polyester tent won't stay waterproof forever). Thus, opting for a higher HH at the beginning can be a nice setup for long-term success.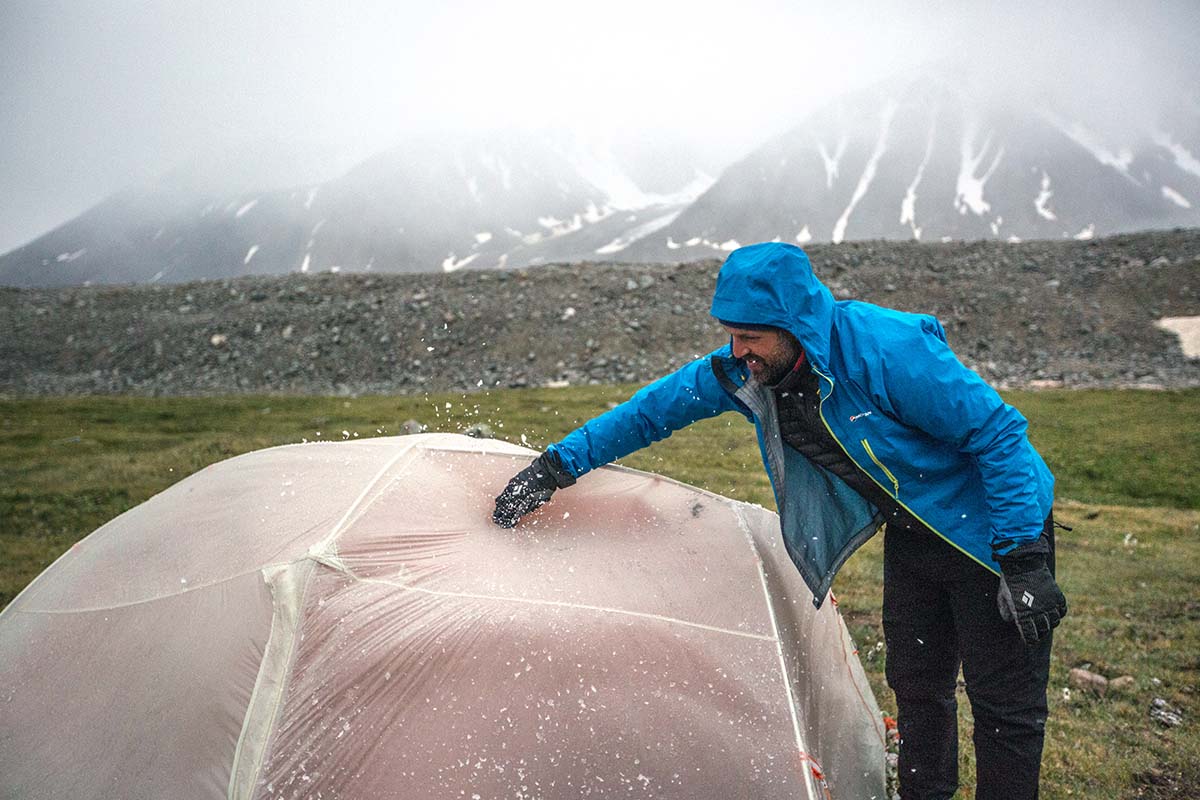 Ventilation
Ventilation is one area where we see a lot of variation among ultralight tents and shelters. The main thing to look for here is whether a design features single- or double-wall construction. A double-wall tent features a permeable layer of fabric (often mesh) that allows air to escape the interior before hitting the moisture-trapping fly, while single-wall construction offers no barrier between you and the fly. As a result, single-wall shelters' big downside is ventilation, and they can grow very swampy throughout the night. Most semi-freestanding tents and a few shelters (including the Durston X-Mid and SlingFin SplitWing) feature double-wall construction, while the vast majority of trekking-pole shelters have single walls.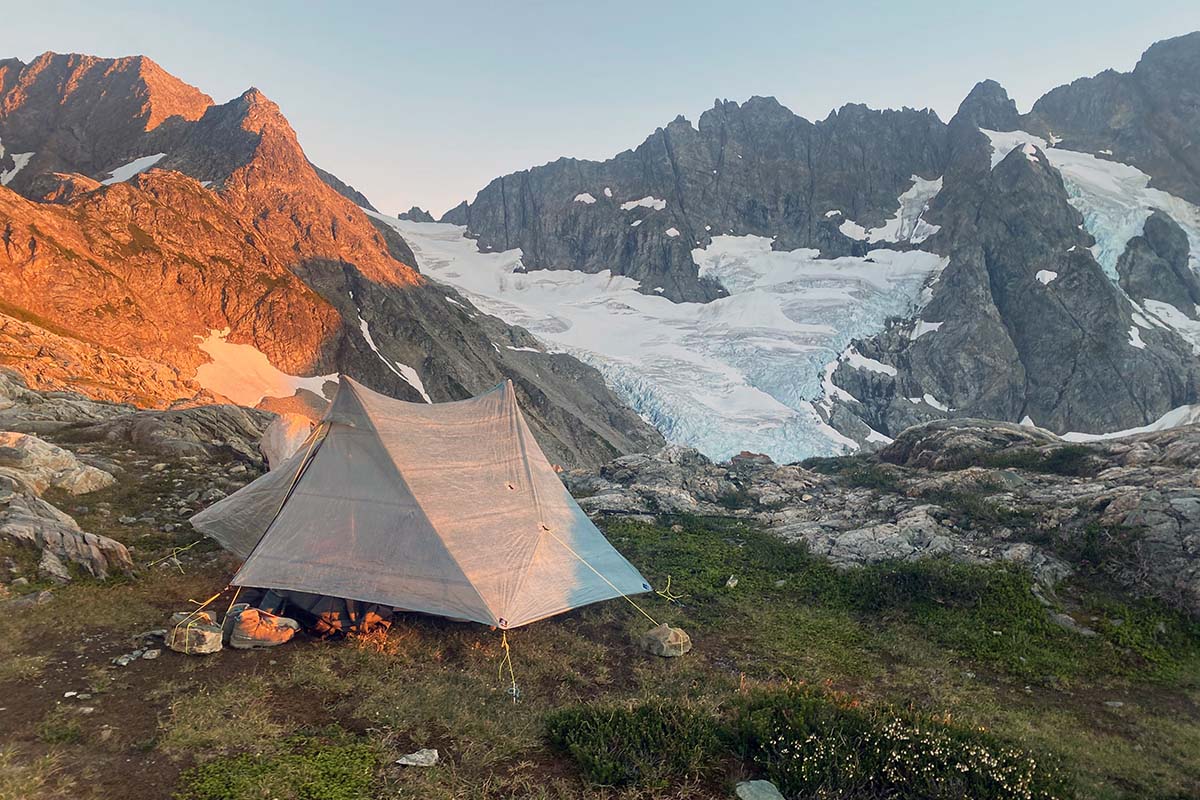 A tent or shelter's fabrics are also an important consideration. Dyneema in particular suffers in terms of breathability, while thin nylon or polyester are more air-permeable—for this reason, Samaya uses Dyneema only in key areas on the 2.0, swapping in their 3-layer Nanovent laminate throughout the rest of the tent body. Venting options also matter a great deal: Some shelters (like Gossamer Gear's The Two) feature very little in the way of vents, while others maximize airflow with perimeter mesh at the base and roof vents. Placing mesh on opposing sides (as we see with most two-door trekking-pole shelters or one-door designs like the Tarptent ProTrail) can also help to encourage a cross breeze. And on clear nights, unzipping the vestibule doors and letting air flow freely can go a long way toward mitigating condensation build-up.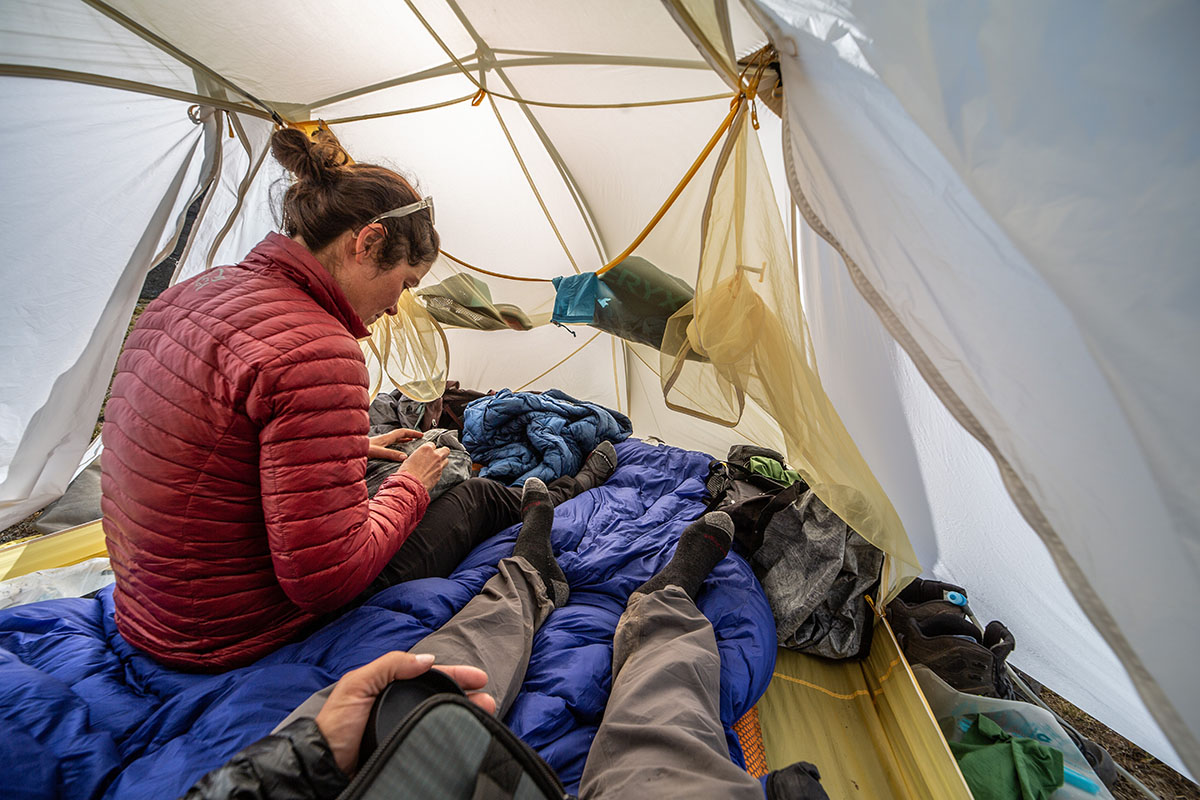 Storage: Vestibules and Interior Pockets
Tent storage can be broken into two categories: vestibules for exterior gear storage and pockets inside the tent body for small items you need close at hand. A traditional vestibule—seen in most tent and trekking-pole shelters—covers the entry door to the tent with enough space for a backpacking pack and footwear. Without it, your options are bringing the wet and grimy gear inside the tent or letting it soak outside. Needless to say, we put a priority on some sort of outside gear storage. The amount of vestibule space is measured in square feet and can vary a fair amount. From our top picks above, the smallest vestibules are on designs with just one door, such as Big Agnes' Fly Creek HV UL2 (8 sq. ft.). On the other end of the spectrum is the Durston X-Mid 2's 23 square feet divided between two vestibules. For those camping with a partner, the Durston's added space makes staying organized (and sane) much easier.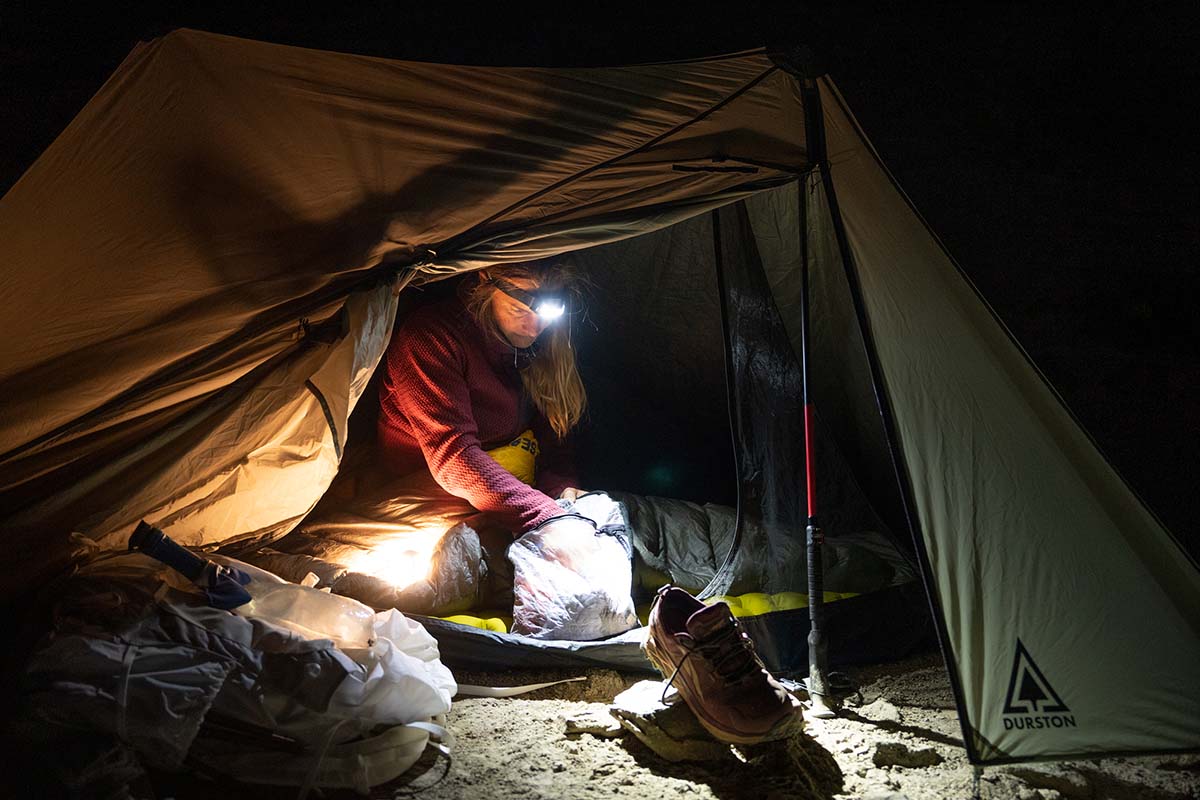 A tent with excellent interior organization isn't a top priority, that is, until you get into the tent for the first time and look for a spot to store your headlamp, handheld GPS, or other small items. We've found the most helpful area for a pocket is near the head, and a simple mesh drop-in pocket or two is sufficient. Some tents have pockets along the interior of the roof, which make for an easy place to squeeze in a headlamp to light up a game of cards (the top-ranked Nemo Hornet Elite even features a light-diffusing pocket specifically for this reason). Should the tent or shelter not include pockets along the roof, look to see if it has hang loops instead for securing a light. These extra little details can make your backcountry camping experience all the more enjoyable.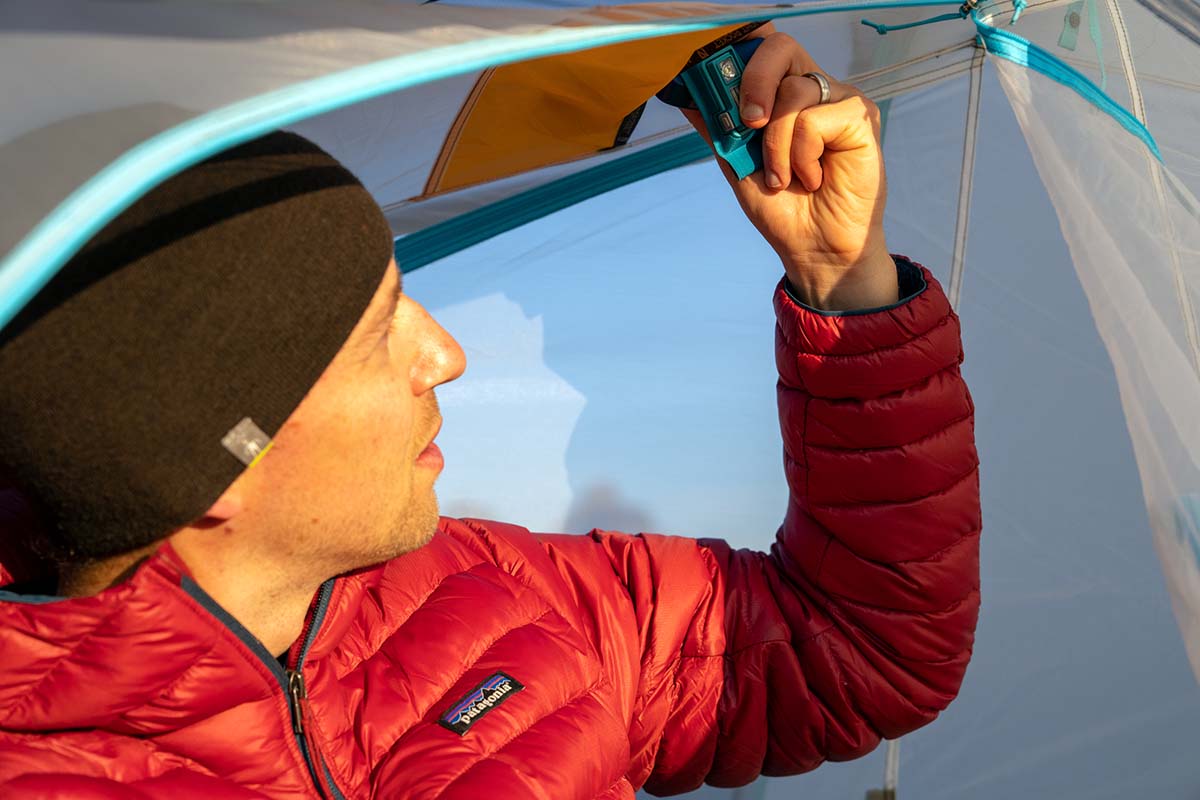 Doors
This article covers primarily two-person ultralight tents and shelters (the most common capacity), and a quick look at our picks above shows our clear preference for models with two doors. These designs are by far the most convenient if you consistently camp with a partner: Each person has their own door for getting in and out, including vestibule storage space. A few models above use just one door to save weight—the Big Agnes Fly Creek and SlingFin SplitWing, for example. If you're sharing the tent with a partner, this can be a major downside—you'll be crawling over your tent mate to get in and out and will be limited to one vestibule for exterior storage. In the end, unless you're traveling alone or pulling out all the stops to save weight, we recommend a tent with two doors.
Ultralight Tent and Shelter Set Up
The setup process can differ widely between semi-freestanding tents and trekking-pole and floorless shelters. Semi-freestanding and freestanding tents are very intuitive, often featuring color-coded poles and corners, and can set up very quickly with little practice. Because the ultralight tents here are not completely freestanding, you'll want to make sure to choose a campsite with some form of anchor (especially at the foot of the tent), whether it's hardpacked soil, rocks, tree trunks, or snow. But in general, it's difficult to mess up when setting up a semi-freestanding tent, which is one of the key benefits to their design.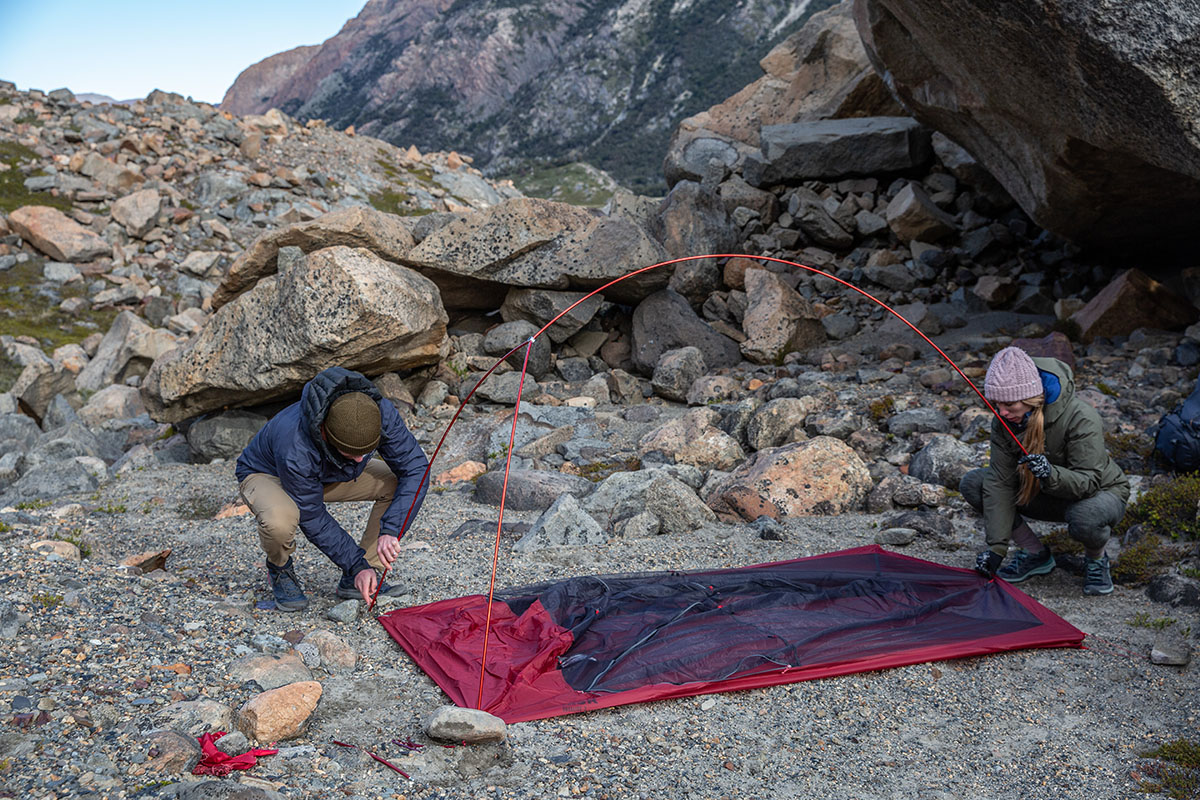 On the other hand, trekking-pole and floorless shelters can require a little more practice to pitch correctly. You'll need to stake out the corners, adjust your trekking poles to the correct height (for many shelters, this is 48 in.), and insert them into the correct grommets or attachment points. Once standing, it's very important to tweak your shelter so that all angles are taut—in heavy wind and rain, a taut tent is synonymous with a weather-resistant tent. This can be difficult to nail the first time around, and many manufacturers offer troubleshooting guides or videos to help you learn the ropes. Finally—even more so than with ultralight tents—it's important that you find a campsite with strong anchors to set up your shelter, as the tension between the guy-out points and the trekking poles is vital to the structure. 
Ultralight Tent and Shelter Capacities
Most of the ultralight tents and shelters above are of the two-person variety, with floor plans that can accommodate two 20-inch sleeping pads side-by-side. However, because ULers place a high priority on weight-savings, it's just as common to see streamlined one-person designs for solo hikers. If you most commonly travel alone, opting for a one-person tent or shelter like the Tarptent ProTrail or Gossamer Gear The One will shave perceptible weight (and bulk) from your pack (The One is almost 6 oz. lighter than The Two). Compared to the traditional backpacking tent market, there are far fewer three-person UL options, but those traveling with a furry friend or small child might want the extra room. In this case, it's worth checking out models like the Zpacks Triplex, Big Agnes Tiger Wall UL3, and Tarptent Rainshadow.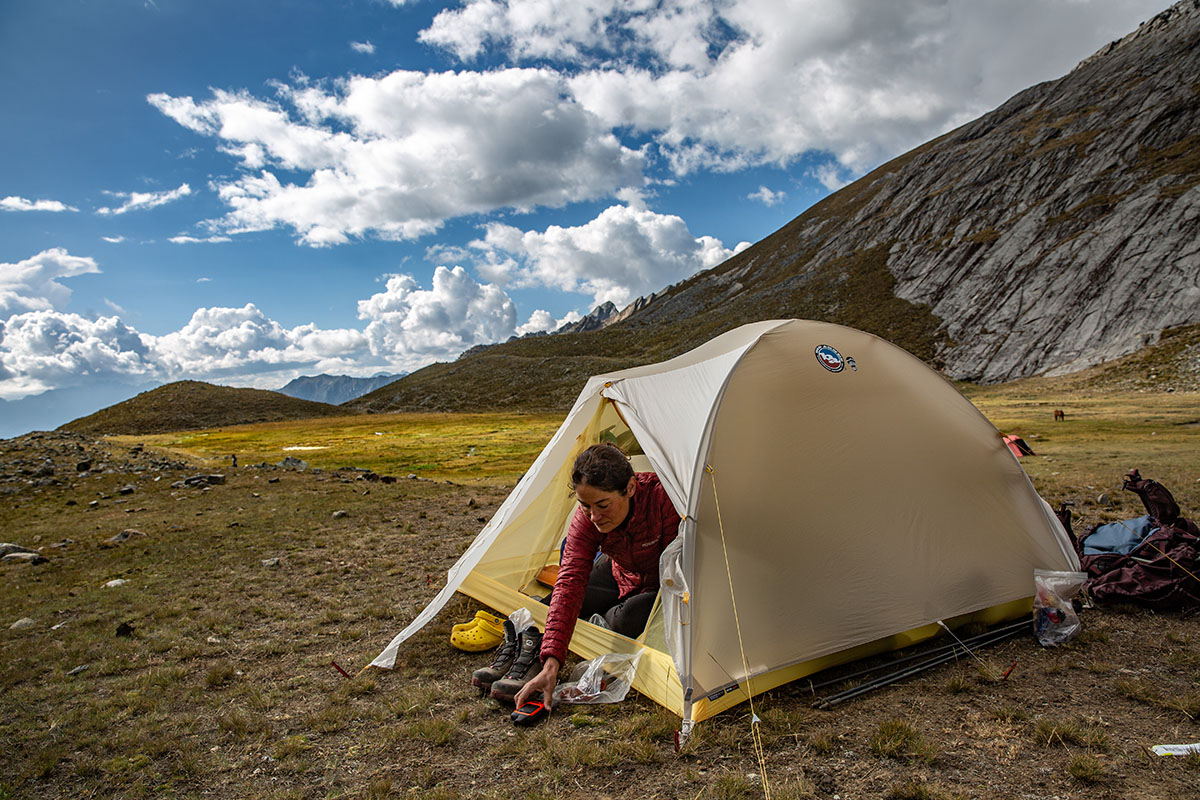 Do You Need a Footprint?
None of the ultralight tents and shelters above include a footprint with purchase, but it's not a bad idea to consider adding one to your kit. Dyneema floors are particularly prone to forming punctures, but you'll want to baby thin polyester and nylon, too. For ultralight enthusiasts trying to keep their pack weight low, our top recommendation is a Tyvek groundsheet, which is affordable, waterproof, very abrasion resistant, and easy to set up. Tyvek can be found at your local hardware store, or you can purchase it online from retailers like Zpacks. Polycro is another popular option (also found at hardware stores or sold online by Gossamer Gear)—it's even lighter and more packable than Tyvek, but isn't quite as durable and doesn't have the same ease of setup.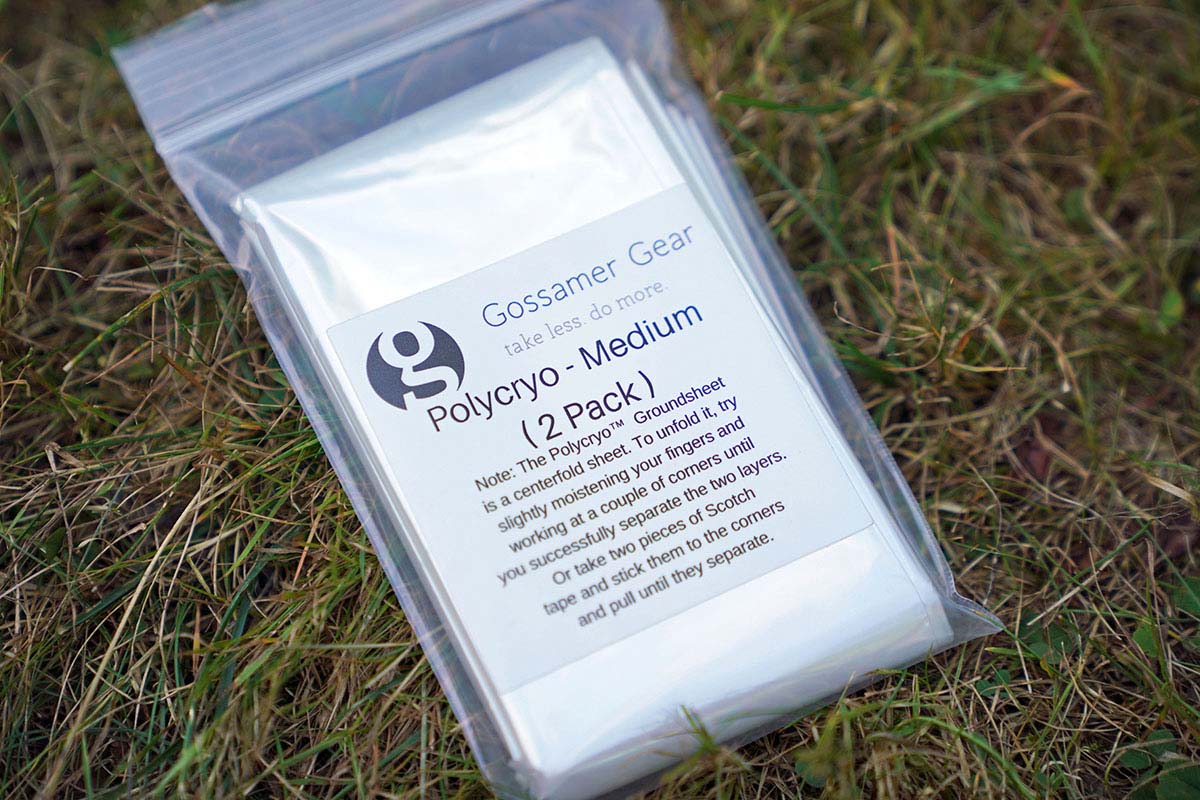 Choosing Your Trekking Poles
There are no shortage of trekking poles to choose from, but you'll want to take care to purchase a model that's compatible with your trekking-pole shelter. The most important consideration here is length and adjustability—each shelter is different, but most require trekking poles in the 120- to 130-centimeter range (47 to 51 in.), and adjustable models are essential to tweaking your pitch depending on campsite features and anchors (lever locks offer a much more secure clamp than twist locks). If you opt for the Black Diamond Distance Tent, Black Diamond even offers trekking poles with a compatible grip (e.g. the Alpine Carbon Cork WR). Of course, trekking pole weight will be important to most ULers: Gossamer Gear makes some of our favorite lightweight and adjustable designs in their LT5 ($195; 10.4 oz. for the pair).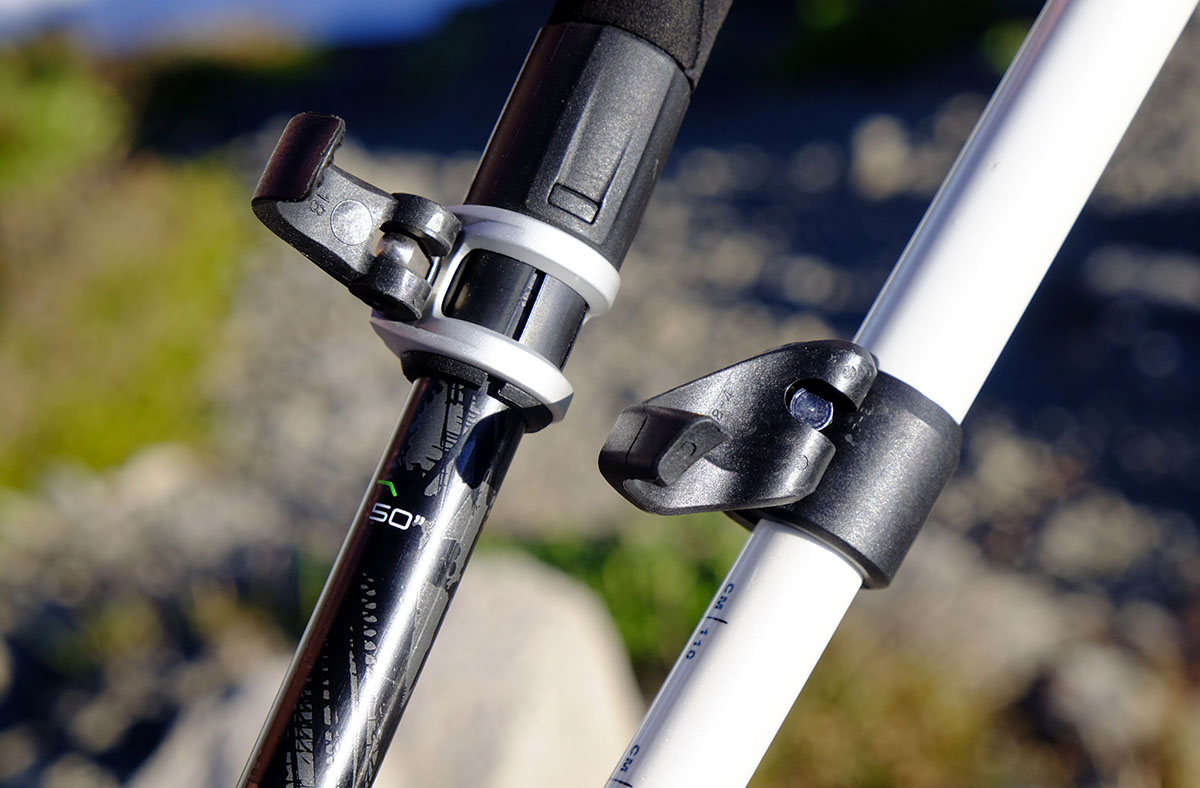 Other Ultralight Shelter Options
Our article above provides a survey of the ultralight tent and shelter market for the majority of ULers, but some thru-hikers and gram-counters are known to opt for even more minimalist designs. The Mountain Laurel Designs DuoMid hints at this market, which generally includes floorless tarps and shelters that set up with trekking poles or included poles or are suspended between trees. Within this category, there's a vast array of options, most of which come from cottage brands like Gossamer Gear, Six Moon Designs, Mountain Laurel Designs, Zpacks, Seek Outside, and Hyperlite Mountain Gear. If you're looking to shave even more ounces from your pack, check out floorless shelters like the Hyperlite UltaMid, Gossamer Gear Solo Tarp, Six Moon Designs Deschutes Tarp, and Zpacks 7' x 9' Flat Tarp.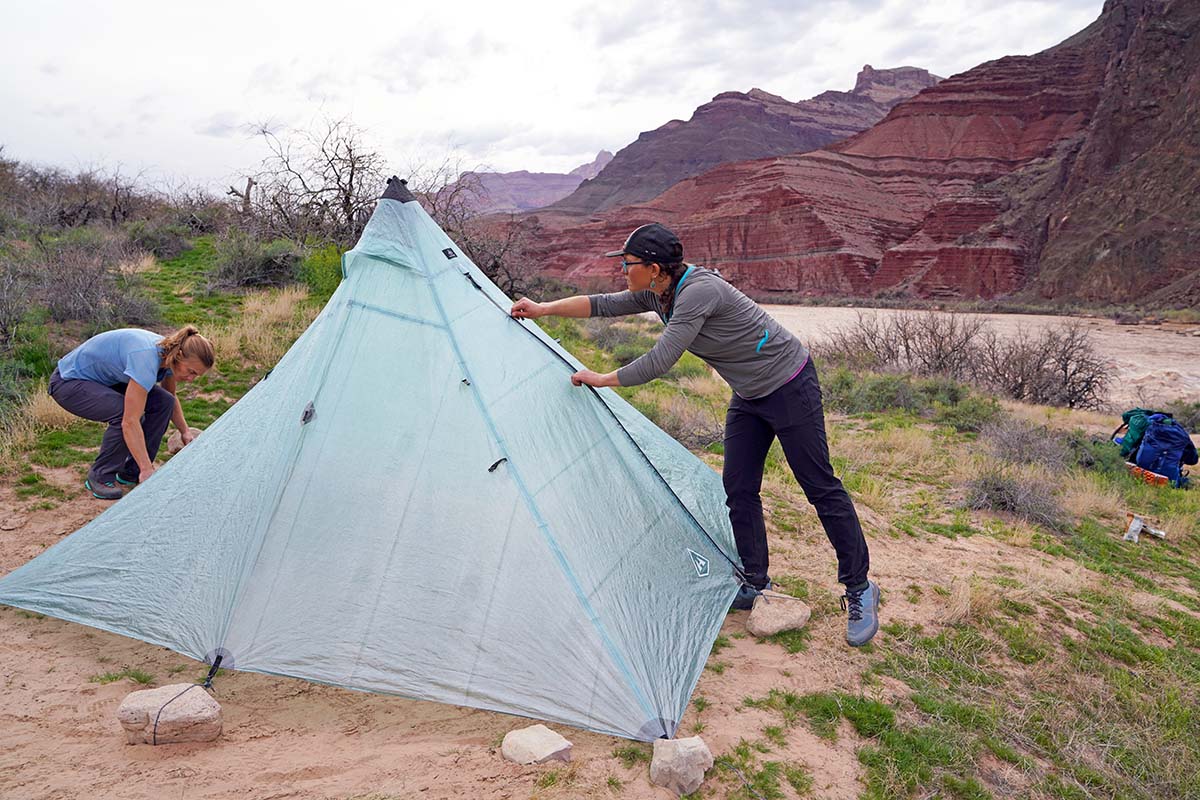 Completing your UL Kit
If you're looking to pare down your backpacking kit, opting for an ultralight tent or shelter can shave pounds off the weight of your pack. But the other components of "The Big Three" are arguably just as vital to an ultralight load, including a sleeping bag or quilt, sleeping pad, and backpack. Within each of these categories, there are fairly mainstream models that are particularly popular among the ultralight crowd, well-loved cottage-brand designs, and seriously streamlined gear used only by the most devoted ULers (similar to what we see in the picks above). To help guide your purchase, see our articles on the best ultralight backpacks and the best ultralight sleeping bags and quilts.
Back to Our Ultralight Tent Picks  Back to Our Ultralight Tent Comparison Table
Learn More About Backpacking Gear