Choosing the right ski jacket is all about managing the conditions that you might encounter on the mountain. This depends on the specific kinds of skiing you enjoy most—skinning up a sunny ridgeline in the North Cascades is far different than bracing against a Nor'easter on a lift in Maine. Some people prefer a shell for the versatility, and some prefer a bit of insulation to keep the cold at bay. Budget seekers like the all-in-one functionality of a 3-in-1 jacket, which comes with a separate insulating layer that can be zipped into the shell. We've included all three in our picks for the best ski jackets of 2016-2017 below. For further guidance, see our ski jacket comparison table and buying advice below the picks. And for more on outerwear, see our article on the best ski pants.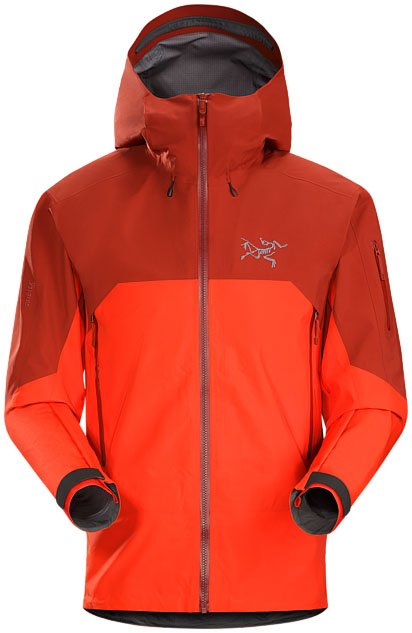 Type: Hardshell
Insulated: No
Best for: Resort and backcountry
What we like: Excellent fit, build quality, and performance.
What we don't: Pricey.
Arc'teryx dominates the high-end hardshell market, and their Rush jacket is an all-time favorite for those who ski both the resort and the backcountry. Using two thicknesses of premium Gore-Tex Pro fabric, the jacket is light at 1 pound 3 ounces, but strategic use of strong 80-denier fabric along the shoulders, upper arms, and hood make the Rush surprisingly durable. The Pro fabric is one of Gore-Tex's most breathable, although it still falls short of a true softshell in terms of ventilation, even with the large pit zips. Seam taping and watertight zippers round out an impressive feature set and do an excellent job blocking out wind and blowing snow.
In terms of fit, ski shells are prone to feeling bulky and cumbersome, but the Rush has an athletic cut with enough room to layer underneath (Arc'teryx calls this an "expedition fit" with best-in-class range of motion). All in all, those who tour exclusively may want a more backcountry-specific piece like the Patagonia PowSlayer or Helly Hansen Ridge Shell below, but you won't find a better all-rounder than the Rush. It offers an unbeatable combination of weight, build quality, weather resistance, and fit.
See the Arc'teryx Rush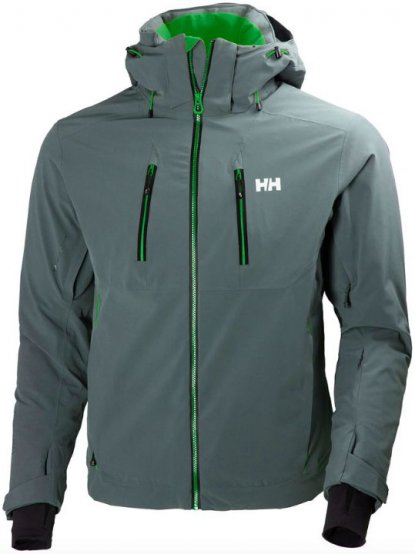 Type: Hardshell
Insulated: Yes (65g and 80g PrimaLoft Black)
Best for: Resort
What we like: Stretchy shell fabric and great design.
What we don't: 2-layer build hurts breathability.
For resort skiers, the Alpha 2.0 from Helly Hansen is an excellent jacket option and a good value. First, you get a moderate level of PrimaLoft Black insulation in the body and sleeves for more warmth than a non-insulated hardshell. It's enough to take the sting out of a chilly ride up the chairlift but won't overwhelm you on the way down. Second, the jacket offers really nice movement with 4-way stretch fabric and no-nonsense athletic fit. Rather than incorporating a few stretch panels into the jacket, Helly Hansen uses the 4-way stretch throughout. Finally, we love the design of the Alpha 2.0, which is super clean, works well for people of all ages, and is offered in a variety of colorways.
What are the shortcomings of the Alpha 2.0? Breathability lags behind the backcountry-focused shells on this list as a result of the 2-layer build and emphasis on warmth (the pit zips do help, however). The jacket does have a snap-out powder skirt and Recco reflector, not to mention the stretch mentioned above, but it's definitely most at home inside the ropes. Lastly, we like the price of the jacket for what you get. It's less than half the cost of the Arc'teryx Macai, for example, but still covers all the bases for resort skiers.
See the Helly Hansen Alpha 2.0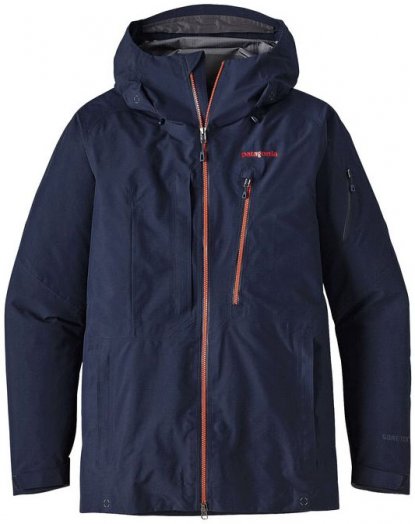 Type: Hardshell
Insulated: No
Best for: Backcountry and occasional resort
What we like: High-end performance.
What we don't: A little too thin for resort wear and tear.
Sitting atop Patagonia's impressive line of ski shells is the PowSlayer. The Arc'teryx Rush may be the top hybrid jacket, and the Alpha 2.0 above may win out for the resort, but the PowSlayer is a favorite among active backcountry and sidecountry explorers. It's outfitted with Gore-Tex's top-of-the-line Pro Shell construction, which breathes as well as upstarts like Polartec's Neoshell or eVent, and the 40-denier fabric does a fine job of keeping weight down. We would prefer a few panels of more substantial material in high wear areas like you'll find in the Arc'teryx Rush, but the fabric isolates you from the outside extremely well.
The smaller features of the PowSlayer also are thoughtfully designed and made to last: quality zippers are smooth and confidence inspiring and an innovative cord locking system is user-friendly and keeps clutter to a minimum. And with a total of 8 pockets (5 outer, 3 internal), Patagonia didn't skimp on organization despite a focus on trimming weight. Simply put, the PowSlayer may be overkill for the resort but it's the whole package for backcountry skiers.
See the Men's Patagonia PowSlayer See the Women's Patagonia PowSlayer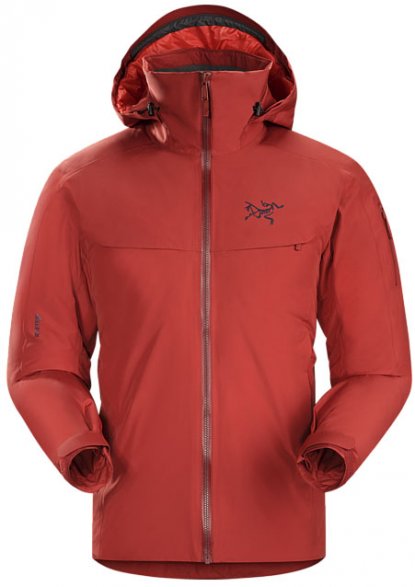 Type: Hardshell
Insulated: Yes (750-fill down; 60g and 100g synthetic)
Best for: Resort
What we like: The ultimate on-piste jacket for cold weather.
What we don't: Double-take-worthy price.
You can't start a discussion of the Macai without first acknowledging its price: Yes, this jacket really costs $925. It's the most expensive jacket on this list by far. What you get for that large sum of money is an absolutely glorious resort piece. The Macai is warm, super comfortable, fits great, and has the first-rate build quality that Arc'teryx and very few others companies offer. For resort skiing and particularly in cold places, the Macai is the cream of the crop and should last you for many seasons to come.
Warmth and insulation comes courtesy of Down Composite Mapping, a technique Arc'teryx also employs on their popular down jackets like the Cerium LT. Premium 750-fill goose down is distributed around the core and sleeves to keep weight and bulk to a minimum with synthetic insulation in areas most prone to getting wet like the underarms, cuffs, and collar. The result is lofty warmth that can keep you comfortable in truly frigid conditions. As with the Rush above, it's a wonderful fitting jacket with excellent range of motion, is easy to layer underneath, and stays in place. If you put in a lot of days on the slopes and want a jacket that is ready for anything and made to last, we recommend the Macai.
See the Men's Arc'teryx Macai See the Women's Arc'teryx Andessa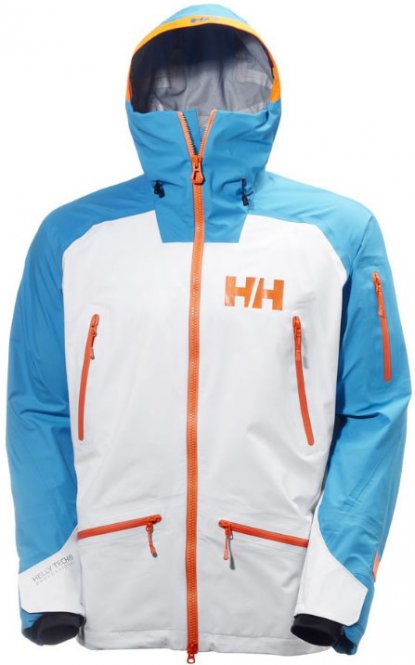 Type: Hardshell
Insulated: No
Best for: Backcountry
What we like: Freeride-ready design.
What we don't: Long and roomy fit is polarizing.
The Helly Hansen Ridge Shell isn't designed for casual skiers, and instead is a performance piece for those that really like to push the envelope. The term "Freeride" quickly is becoming ubiquitous in the industry, referring to off-piste skiing that often involves hiking, deep powder, big drops, chutes, and jumps. For these kinds of folks, Helly Hansen created the Ridge Shell. It's lightweight, breathable, and virtually the entire feature set is geared for the backcountry. This ain't your mama's ski jacket.
The Ridge Shell has a relaxed fit that freeskiers prefer. It's built to unobtrusively accommodate a backpack with pit zips and pockets that fall above and below a hipbelt strap. Helly Hansen even included detailing like contrasting bright colors on the brim of the hood and zippers to make you more visible through your wake of flying powder (or in heavy snowfall and bad light). One thing to consider is that the thin fabrics are designed to make uphill journeys easier but aren't ideal for cutting in-between trees or the wear and tear that can happen at the resort. More, not everyone will love the long and roomy fit. But if freeskiing is your specialty, it's hard to beat the Ridge Shell.
See the Helly Hansen Ridge Shell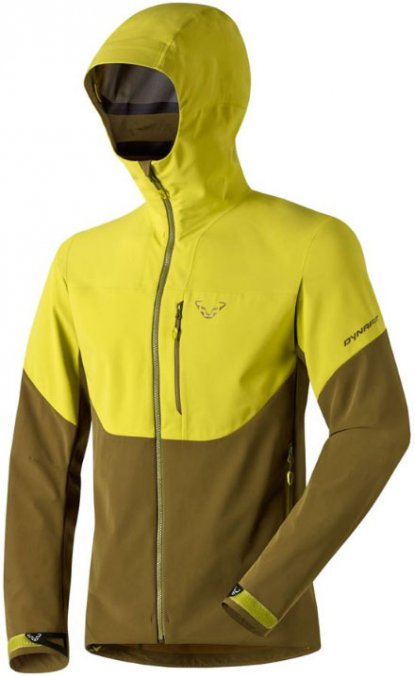 Type: Softshell
Insulated: No
Best for: Backcountry
What we like: Softshell breathability and stretch.
What we don't: Not completely waterproof.
For long tours in mild conditions, a softshell jacket is more breathable and has better stretchiness than a traditional hardshell. Dynafit's Chugach is our top-rated softshell for this kind of backcountry use with its lightweight, breathable construction and competitive price. Made with two types of softshell fabrics, the Windstopper material blocks out wind and moisture, while a thinner Dynastretch softshell lets out hot air and repels water with a DWR coating.
The hybrid build means it won't wet out as quickly as a pure softshell, but it's still not ideal in the kind of wet snow that you often find in places like the Pacific Northwest. And while the 18.5-ounce weight is great for mobility, the thin fabrics aren't as durable as we'd prefer for mixed use and on-trail skiing. If, however, you spend your time on the skin tracks and turning in fluffy powder, the Dynafit Chugach has a winning recipe of mobility and high-output performance.
See the Men's Dynafit Chugach See the Women's Dynafit Chugach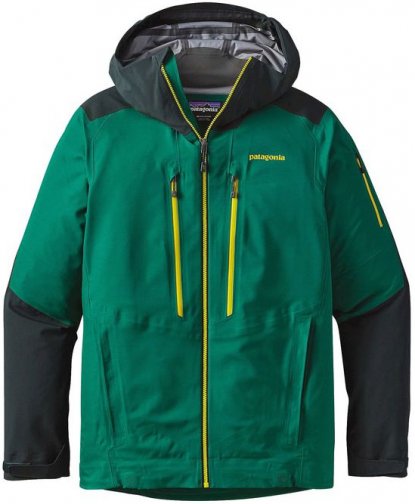 Type: Softshell
Insulated: No
Best for: Backcountry
What we like: Waterproofing panels and softshell performance.
What we don't: Heavier and less of an athletic fit than the Chugach.
Taking the hybrid design of the Dynafit Chugach above one step further, the Patagonia Reconnaissance is a softshell that bonds panels of waterproof 3-layer hardshell fabric along the shoulders, lower arms, and hood. What you get is a jacket that breathes like a softshell should on the way up, but can better ward off a surprise storm at the summit or on the way down. Compared with the Chugach, it's the preferred option if you plan to ski both on and off-piste, with a roomier fit that can easily accommodate a thick midlayer.
Why is the Reconnaissance ranked just below the Dynafit on this list? These jackets are made primarily for the backcountry, and the Dynafit has an edge in weight by a couple of ounces and its athletic yet snug fit is better for long uphill slogs. As with most softshell designs, we wouldn't recommend either jacket for the rough weather you may encounter in places like the Northern Rockies of British Columbia—that's hardshell territory—but the Reconnaissance will work for those in need of an all-rounder for touring in mild weather areas like Colorado, Utah, and California... Read in-depth review
See the Patagonia Reconnaissance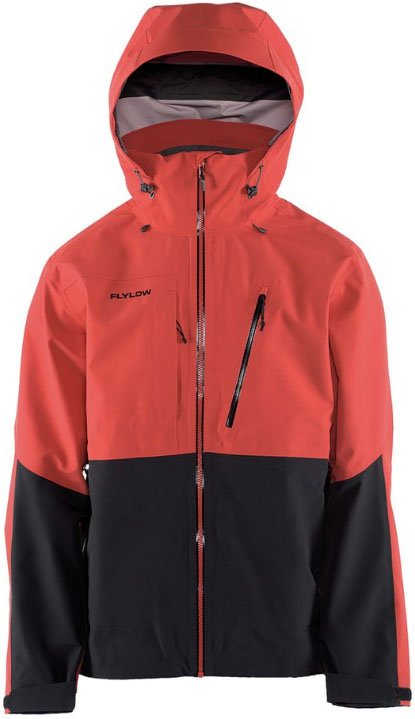 Type: Hardshell
Insulated: No
Best for: Resort and backcountry
What we like: Excellent breathability for ski touring.
What we don't: Not as stretchy or comfortable as the top picks.
Now in its second iteration, the FlyLow Gear Lab Coat remains a ski tourer's best friend. Polartec NeoShell is a relatively new Gore-Tex competitor, and is prized for its high level of breathability while still remaining completely waterproof. If long hikes or tours are on your to-do list this winter, the Lab Coat dishes out comparable performance to jackets costing hundreds of dollars more. It has a "freeride" fit, which is not too loose or too athletic and leaves enough room for mid-layer insulation or a micro-puff jacket underneath. We still prefer the slimmer cut of the Patagonia PowSlayer above for a step up in range of motion, but the nearly $200 in savings sure helps the Lab Coat's cause. Fully taped seams and waterproof zippers round out a host of standard features on this foul-weather warrior.
See the FlyLow Gear Lab Coat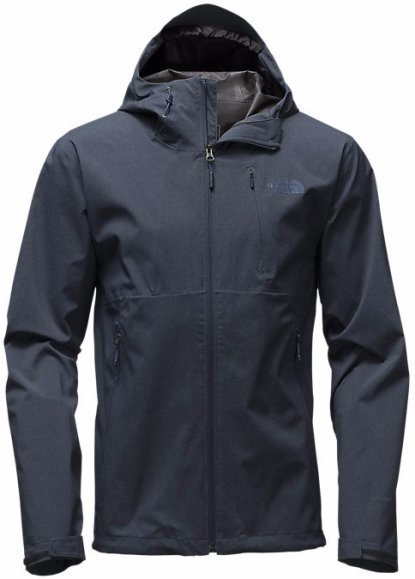 Type: 3-in-1
Insulated: Yes (60g synthetic jacket)
Best for: Resort
What we like: Best 3-in-1 jacket on the market.
What we don't: Getting pricey for a 3-in-1.
You typically turn to a 3-in-1 jacket as a means to save a little cash, so $299 price of The North Face ThermoBall Triclimate may come as a bit of a surprise. It's a classic case of getting what you pay for. Most 3-in-1 options are excessively bulky and lack any real shaping, but the North Face is nicely fitted even if you decide to leave the insulating jacket at home. The real savings, however, is in the Thermoball synthetic insulating piece, which we've found does a pretty good impression of a lofty down jacket—all while continuing to insulate when wet. If you can spring it, we do think the Thermoball is worth it. But for those on a strict budget or just getting into the sport, the Columbia Alpine Action below sure has a compelling calling card: a sub-$200 price.
See the Men's North Face ThermoBall See the Women's North Face ThermoBall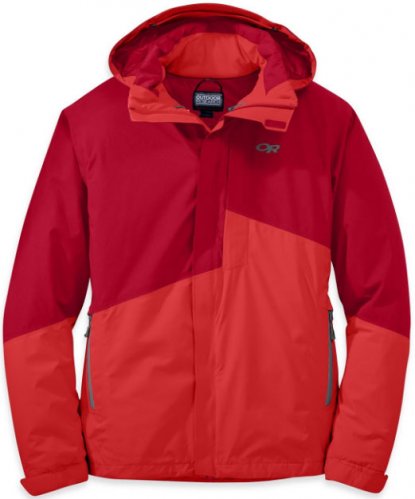 Type: Hardshell
Insulated: Yes (60g and 80g synthetic)
Best for: Resort
What we like: Stretchy design at a good price.
What we don't: Bulky and entry-level features.
The new Offchute from Outdoor Research may look like a typical insulated resort jacket, but it comes with a twist: softshell-like stretch built into the outer shell. Typically, this form of construction is found on high-end pieces—Helly Hansen uses it in the $450 Alpha 2.0 above—but OR pulls off full waterproofing with a comfortable and quiet construction for under $300.
For obvious reasons, the rest of the build is pretty standard fare and there are a few compromises. For one, the center zipper isn't water-resistant, so you have to seal it off with a flap. And despite the excellent mobility, the jacket is rather bulky. Part of the reason for the bulk is its synthetic insulation, and with a mix of 60 and 80-gram fill, you can leave behind the down sweater on all but the chilliest days.
See the Outdoor Research Offchute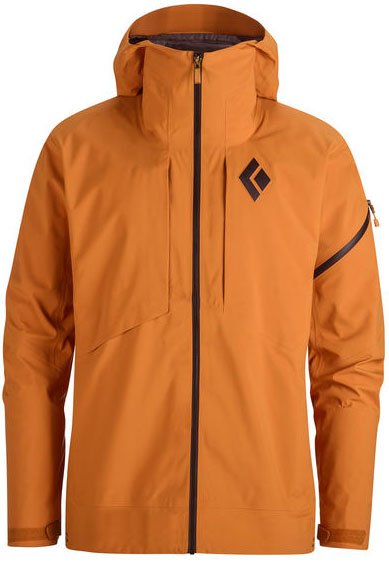 Type: Hardshell
Insulated: No
Best for: Resort and backcountry
What we like: Tough with excellent build quality.
What we don't: Heavier and less streamlined fit than an Arc'teryx.
In only a few years, Black Diamond has gone from the launch of its apparel line to being a big-time player. Their leading ski jacket is the Mission, a tough but comfortable non-insulated Gore-Tex shell that takes aim in price and intent with alpine favorites from Arc'teryx and Patagonia. Fit and finish certainly stack up well with smooth zippers and nice touches like a tricot-lined collar for next-to-skin comfort, and the 3-layer Gore-Tex performs as expected with fantastic weather resistance.
In comparing the Mission to a multi-use jacket like the Arc'teryx Rush, the BD has a looser fit and weighs quite a bit more, so it's less of a backcountry piece. The upside is the brushed lining along the interior of the jacket does make it less crinkly than the Rush, and it's a little more in-bounds friendly with its durable 70-denier construction. For an aggressive skier that mostly sticks to the resort and wants a bomber shell—and doesn't want to join the sea of Patagonia and Arc'teryx jackets—the Mission won't disappoint.
See the Men's Black Diamond Mission See the Women's BD Mission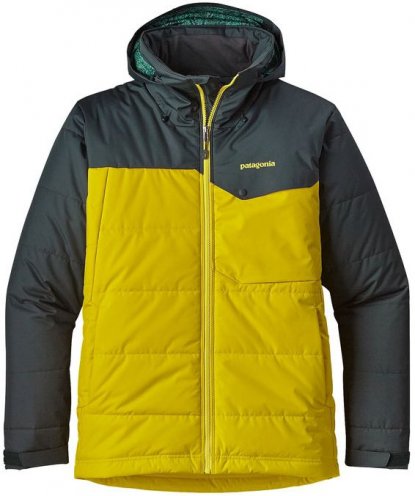 Type: Hardshell
Insulated: Yes (150g and 100g synthetic)
Best for: Resort
What we like: Impressive warmth for frigid days on the slopes.
What we don't: May be too insulated for some.
The warmest jacket by a good margin on this list is the Patagonia Rubicon. With a full 150 grams of synthetic insulation in the body and 100 grams in the sleeves, the jacket has enough insulation to supplant a standard midlayer. Skiers in places that can get frigid, like the Rocky Mountains, will appreciate the synthetic insulation in Patagonia's Rubicon, although it does limit its use when venturing out of bounds or on warmer days. And that's really the only downside to this piece. For the price, you get a water-resistant front zipper, and the synthetic insulation will continue insulating if moisture happens to get through the tough shell and lining. Its 2.5-pound weight isn't that excessive either, considering the amount of insulation. For those needing maximum warmth, the Rubicon is an excellent choice.
See the Men's Patagonia Rubicon See the Women's Patagonia Rubicon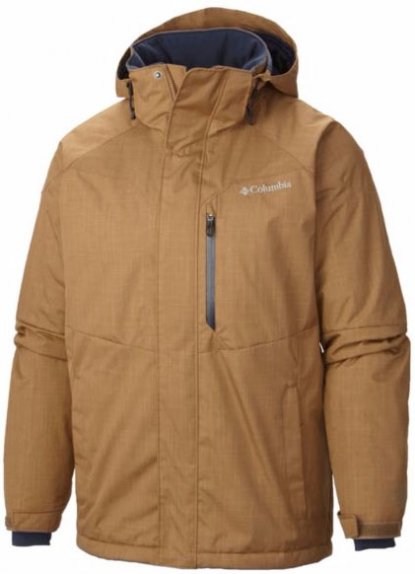 Type: Hardshell
Insulated: Yes (100g synthetic)
Best for: Resort
What we like: Affordable and warm.
What we don't: No pit zips and a generic fit.
The essential duties of a resort jacket are to keep you warm, protected from moisture and wind, and have enough pockets for the basics. Columbia's answer to these needs is the Alpine Action, an insulated hardshell ski jacket at a very attractive price. It's quite warm with a combination of 100-gram synthetic insulation and Columbia's signature (and somewhat polarizing) Omni-Heat reflective lining. The silvery interior is a little too disco for us when we slip it off, but it does feel like it's working by radiating your body heat.
We've found the lining does impact breathability, and a lack of pit zips means the Alpine Action can run hot. But for easy resort days coast to coast, this is all the jacket that most weekend warriors need. For those looking for a flexible 3-in-1 budget jacket, we recommend Columbia's $175 Bugaboo Interchange.
See the Men's Columbia Alpine Action See the Women's Alpine Action
Ski Jacket Comparison Table
Ski Jacket Buying Advice
Types of Ski Jackets
Ski jackets can be broken into three main categories: hardshell, softshell, and 3-in-1. Choosing the right model depends largely on your skiing style and budget. The most popular is the hardshell, which encompasses everyone from casual resort skiers to backcountry adventurers in harsh, wet environments. Softshells are a growing ski jacket option and are preferred for ski touring in mild conditions, while 3-in-1 jackets are a great choice for budget seekers. Below is a quick breakdown, and for a deeper dive, check out our article on ski jacket types.

Hardshells
Hardshell jackets have a solid outer layer that protects you from wind and moisture, and can be suitable for both backcountry and resort use. Made with multiple layers of fabric laminated together, they are typically waterproof, windproof, and at least modestly breathable. Insulation is optional: some are a true, non-insulated "shell" while others have synthetic or down fill (insulation is covered in more detail below).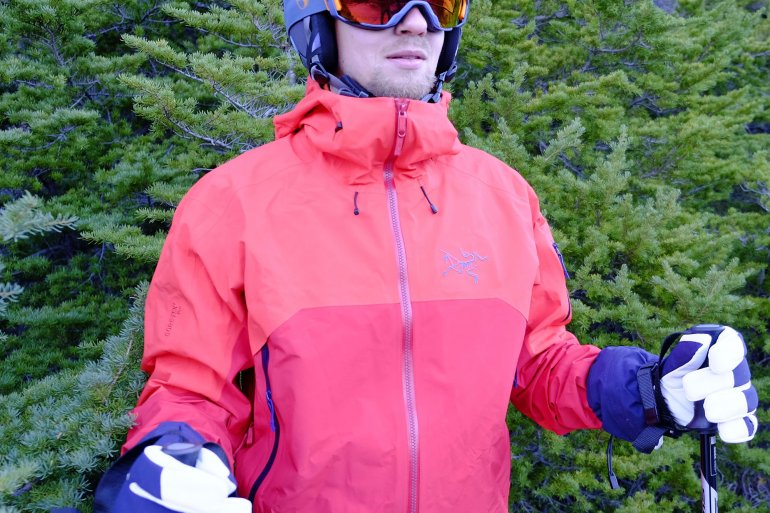 Price varies widely within this category. High-end hardshell jackets like the Arc'teryx Rush have a Gore-Tex, eVent, or NeoShell laminate and tailored fit for excellent range of motion. Basic shells use thicker fabrics and cheaper waterproofing that doesn't breathe as well. Beginning and intermediate skiers will be fine with an entry-level hardshell jacket, but experienced skiers will really appreciate the upgrade to a high-end jacket.

Softshells
For high exertion activities like ski touring or sidecountry hikes, a softshell offers unparalleled breathability. As backcountry skiing grows in popularity, so too does the prevalence of these stretchy jackets. Their main downside is weather resistance, or lack thereof. Even with hybrid designs like the Dynafit Chugach or Patagonia Reconnaissance, which incorporate windproof or waterproof panels and seam taping, they still aren't as comfortable in wet snow or at the resort. For the right use and the right conditions, however, a softshell can be a fantastic performance piece. Those with a multi-jacket quiver typically have at least one softshell at their disposal.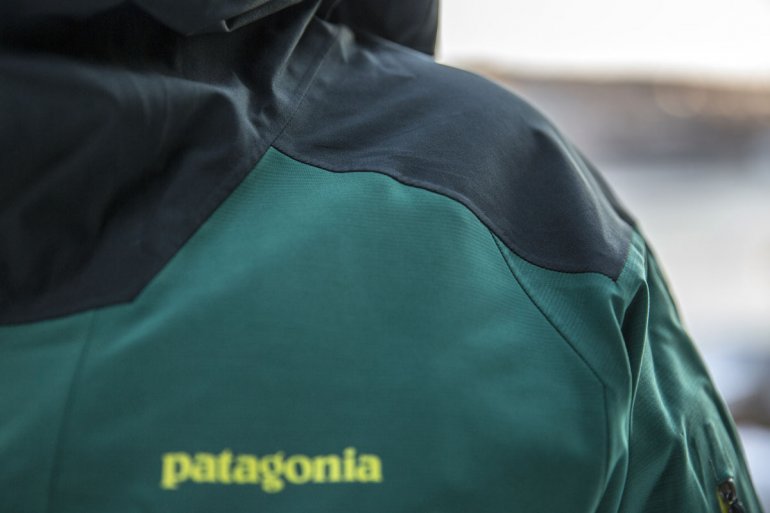 3-in-1 Jackets
With an outer shell and zip-in insulated layer, 3-in-1 jackets are extremely popular for casual skiers. The main advantage is cost savings: you can pick up a decent 3-in-1 jacket for around $200-$300, and it comes with a midlayer (most often a fleece or synthetic jacket that you can wear for everyday use). And unlike insulated models, you can leave behind the warming layer simply by unzipping it.
3-in-1 jackets do add bulk and weight with the extra zippers, and integrating the shell and insulating layer negatively affects range of motion. Also, you often end up with an inferior product (as the price would suggest). These jackets are far from the best performers in high exertion activities—opting for one with pit zips is suggested. Nonetheless, for the budget seeker or skier that only makes it to the mountain a couple times a year, a 3-in-1 is a good way to get kitted out for a reasonable price.

Ski Jacket Insulation
Comfort ranks highly for resort-goers, and to help make cold chairlift rides more tolerable, many skiers opt for a hardshell jacket with insulation. Choices in insulation come down to the classic debate: down vs. synthetic. Down will give you premium warmth with less bulk, while synthetic is cheaper and will outperform down should moisture make its way through the lining. Arc'teryx opts for the best of both worlds in their Macai jacket, which uses down in the core and synthetic in areas prone to moisture—that includes your own sweat—like the underarms and hood. Insulated jackets add a little bulk and they impact range of motion more than when layering with a separate midlayer beneath a shell. But for those that run a little cold or ski in frigid climates on-piste, an insulated jacket is a popular way to go.

Best Uses: Backcountry or Resort
Ski jackets often are designed for a specific purpose—resort, backcountry, or a mix—so we've included a "best for" listing in our specifications. The vast majority of skiers spend at least a little time on a chairlift, and as a result, most ski jackets accommodate those needs. Specifically, a resort shell should be durable, at least partially wind and water proof, and have a fit that can accommodate layers of varying sizes underneath. Insulation is optional for resort-goers but a bad idea for backcountry use.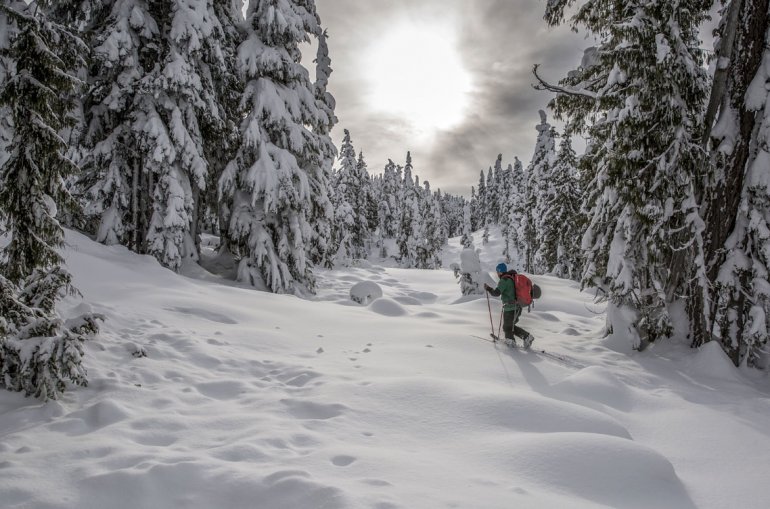 For ski touring, mountaineering, or sidecountry hikes, a non-insulated and lightweight design takes precedence. The fabrics need to be thin and packable, which impacts durability, and there is a high priority on technology. Softshells lead the pack in breathability, but for heavy wind and moisture, a premium hardshell still is best. Fit does vary by use—freeride shells are roomy while touring-specific designs fit more snugly—but all designs focus on mobility. The jackets that toe the line of backcountry and resort use have a great fit, good enough durability, and fabrics that are impervious to the wind and wet but still ventilate. It's a tall order and requires ponying up a large sum of money, but we've found that Arc'teryx puts it all together better than anyone else.

Waterproofing
Ski jackets are waterproof pretty much across the board, from cheap $100 options all the way up to high-end Gore-Tex (or equivalent) shells. One exception is a backcountry-specific softshell, which may have seam taping but will eventually let in moisture. Dirt is the enemy of waterproofing and breathability, so as long as you take good care by washing them on occasion, expect to get many seasons of use. Spending more will get you a longer lifespan, on average, as the more advanced fabrics aren't as prone to deteriorating. Also, look for a jacket with a DWR (durable water repellent) coating, which helps shed wet snow to keep moisture from sitting on your jacket and wetting through the outer fabric.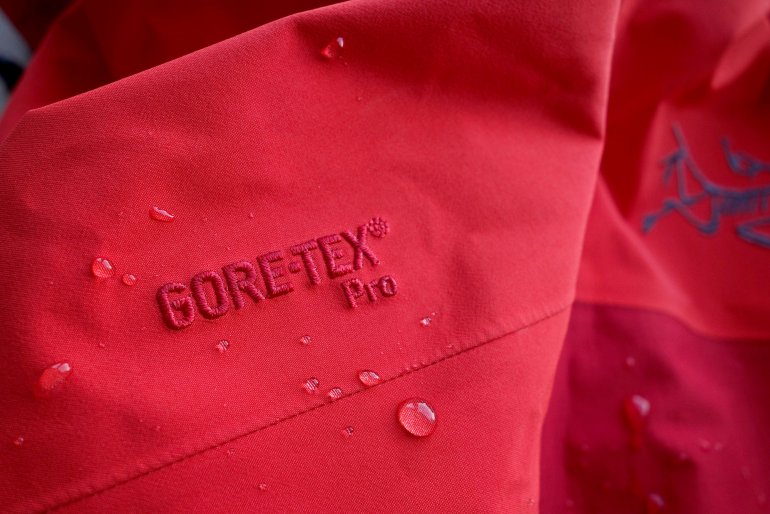 Breathability
Breathability ranks as a top priority for backcountry use, and a little less so with downhill skiing. While you can absolutely work up a sweat on your way down the mountain, it's easy to dump heat with pitzips or dropping a layer at the resort midday (so long as you can survive the chairlift ride minus some insulation). Shell jackets are the best breathers, and those with a high-end 3-layer fabric construction (Gore-Tex, eVent or Polartec NeoShell) are head and shoulders above the rest for waterproof jackets. Generally, the more you spend for on a hardshell, the better the breathability. Softshells are the all-around leaders because they don't have to deal with the waterproofing layer, but the clear downside is wind and water resistance.

Weight
For resort skiers, the weight of your ski jacket isn't usually a deciding factor. As long as you're comfortable, it's easy to handle a few extra ounces without really noticing. On average, cheaper jackets compensate for their less advanced fabrics by using more of it, making for thicker, durable shells. It's when you start hiking or venturing off-trail that a lighter jacket starts to make a lot of sense. This is when a dedicated, lightweight hardshell may be the ideal choice for your skiing needs.

Common Features
Hoods
Most hoods go unused for downhill skiing—a beanie and/or helmet is a better source of protection and insulation. It's most often on the chair lift when you really need to hunker down does the hood come out. For those particularly nasty days, make sure to get a hood that is large enough to fit over your helmet. Andot only does it have to be large enough, but it also needs to be plenty adjustable to cinch down and stay pinned to your head while skiing. A properly adjusted hood should not interfere with your field of vision as a good safety measure. Finally, should you want to use your ski jacket for more than just skiing, ensure that your hood fits well when you're not wearing your helmet.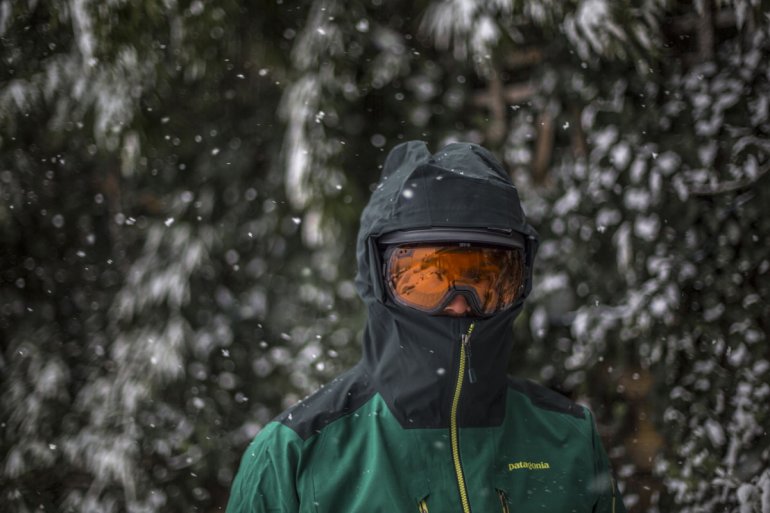 Pockets
Unless you ski with a backpack, a jacket with multiple pockets is essential. Most ski jackets include a couple of and pockets and at least one zippered napoleon pocket at the chest. That napoleon pocket is great for stashing smaller items like a phone, camera, or wallet. To protect your electronics, it's good to have the chest pocket along the interior of the jacket so your body heat can help keep everything functioning properly. If you listen to music while on the mountain, look for a napoleon pocket with an interior opening to feed your headphone cord for a clutter-free setup.
Mesh hanging pockets sometimes are built into the inner lining of ski jackets. These serve as a nice place to stash your gloves, goggles or glasses in-between runs or if you're starting to overheat while hiking. And you'll see the occasional sleeve pocket, which is a convenient spot for your ski pass.

Powder Skirts (Snow Skirts)
It's nearly impossible to keep the snow completely out should you ski through some really deep snow or take a serious tumble, but a powder skirt nonetheless is a great line of defense. Elasticized fabric is built into the lining of the jacket around the waist, and will typically secure to your ski pants near the front zipper. This helps snow from entering in the space between your pants and the bottom hem of the jacket. Some manufacturers make the snow skirts removable should you want to use the jacket around town.

Pit Zips
Skiing can be a high exertion activity, and waterproof jackets, no matter the quality, restrict airflow. Enter the pit zip. Open them all the way, extending from approximately the middle of your ribcage to just above your elbow, and you can release a whole lot of hot air. Although they're not a necessity for the easygoing skier and do add a bit of weight and bulk, we recommend putting pit zips on your "must have" list when ski jacket shopping.

RECCO
Some expensive shell jackets list a RECCO reflector as a feature. These are for skiers that make their way out of bounds or into areas prone to avalanches. The RECCO reflector built into your ski jacket or pant is a passive unit that doesn't require batteries and can be picked up by RECCO detectors often carried by resort search and rescue. They lack the technology and strong signal of a dedicated search and rescue beacon, but they do provide an additional safety measure should you venture off-trail.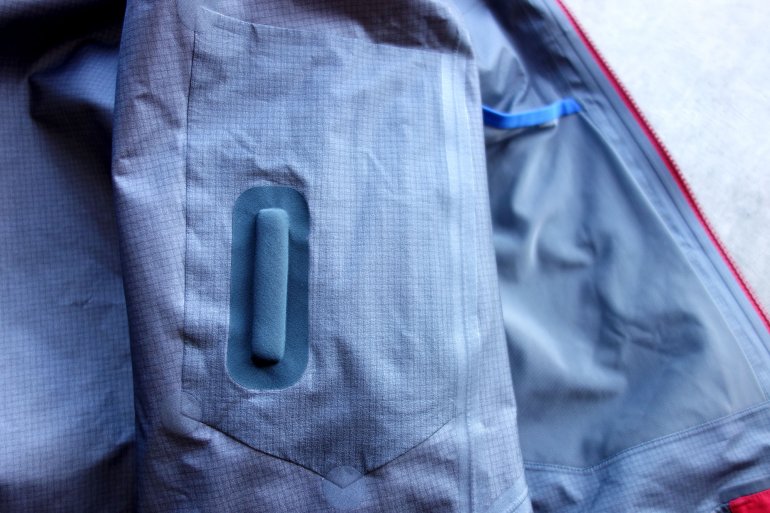 Layering Underneath Your Ski Jacket
Unless you opt for a 3-in-1 jacket, you'll likely want a dedicated midlayer for skiing. The amount of insulation can vary dramatically, from a thin fleece to a puffy down jacket. Fleece jackets are the classic choice for skiing, and can be quite warm and lightweight, but they are bulky. Down is the pricey option but is unmatched in lightweight compressible warmth (just make sure to keep it dry because it will stop insulating when wet), and synthetic fill splits the difference. For more on midlayers along with top picks, see our article on the best midlayers.
Baselayers and their next-to-skin warmth are important in keeping you toasty and dry. A breathable and well-ventilated jacket will only perform as well as the baselayer underneath, so don't skimp here. Synthetics, like those made by Patagonia or Under Armour, are comfortable and breathe well at a reasonable cost. The downside is they are less soft and more prone to retaining unpleasant odors. Merino wool is expensive, but excels in temperature regulation and odor prevention. On all but the coldest days, our go-to baselayers are the lightweight or midweight options for a good balance of warmth and breathability.
Back to Our Top Ski Jacket Picks Back to Our Ski Jacket Comparison Table
Learn More About Ski Gear