If you've ever shopped around for a ski jacket (or pants), you're bound to have seen the terms 2L and 3L (short for 2-layer and 3-layer) again and again. These refer to the style of construction used in a waterproof jacket's shell, including the face fabric, waterproof/breathable membrane, and interior liner. Whether a ski jacket uses a 2- or 3-layer build has a number of implications for its performance, and we break down key considerations like breathability, waterproofing, weight and bulk, durability, and intended uses below. For more, check out our detailed ski gear reviews.
 
Ski Jacket Construction
2-Layer Ski Jackets
Jackets with 2-layer construction feature two key layers: an exterior face fabric and a bonded waterproof/breathable membrane. To protect the membrane from abrasion, skin oils, etc., they also use a hanging liner along the interior, generally made out of mesh, taffeta, or soft nylon. The 2-layer jacket category includes both insulated and non-insulated designs—for an insulated jacket, manufacturers place the synthetic fill in between the 2-layer shell and the hanging liner. Two-layer ski jackets generally comprise the budget end of the market (including models like REI Co-op's $199 Powderbound), but there are a number of premium designs that use high-quality Gore-Tex membranes, such as the Patagonia Storm Shift ($479). We recommend 2-layer ski jackets for resort use only—as you'll read below, their weight/bulk and lack of breathability make them fairly impractical for backcountry use.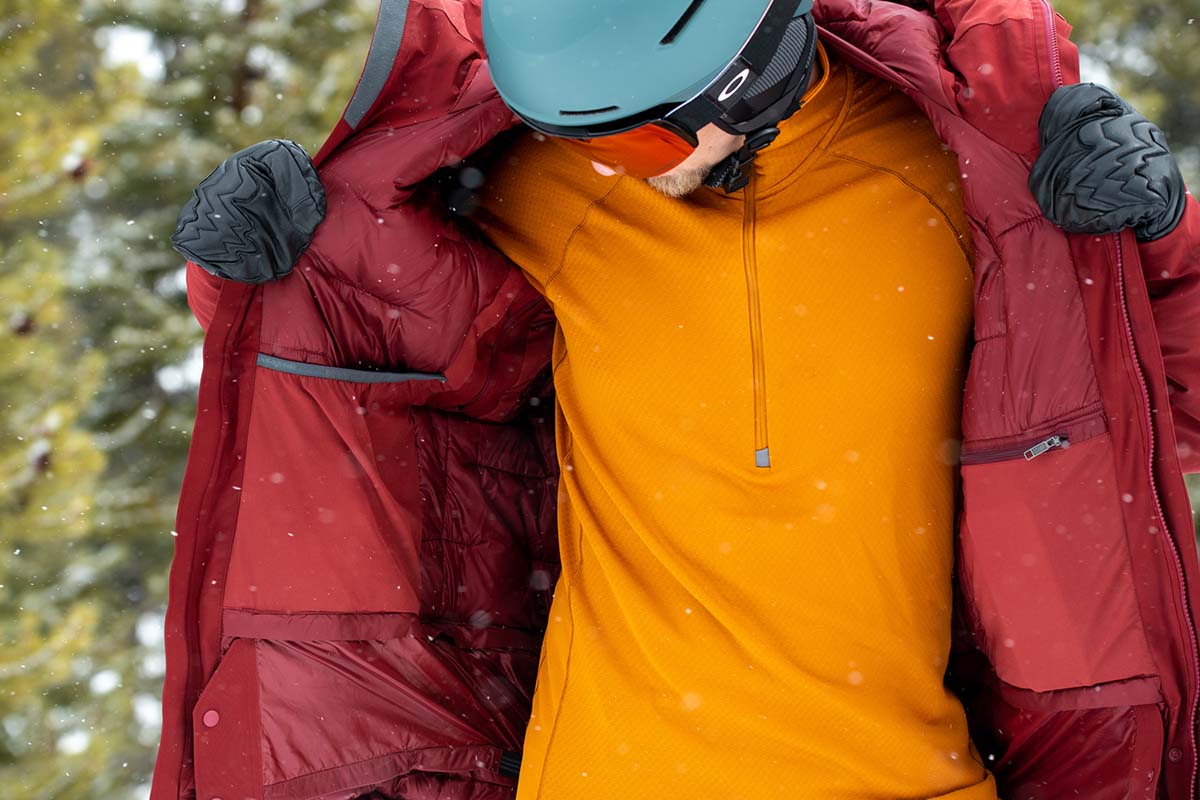 3-Layer Ski Jackets
Similar to 2-layer ski jackets, 3-layer designs feature a waterproof membrane bonded to the exterior face fabric. Where they differ is in the use of an integrated liner rather than a hanging liner. This liner is affixed directly to the inside of the membrane, resulting in a sleeker and lighter design that's much more breathable than a 2-layer jacket. In general, 3-layer jackets are purely shells—insulated designs are very rare—and their streamlined construction results in higher price tags overall (there are some exceptions to this rule). For example, our top-ranked Arc'teryx Sabre is a whopping $700, but there are a number of mid-range options (including the Black Diamond Recon Stretch) that will run you closer to $400. Their low weight and bulk and impressive breathability make 3-layer jackets a great choice for backcountry use, but they're also versatile for the resort.

2L vs. 3L: Key Considerations
Breathability Advantage: 3L
Breathability is one of the main ways in which 2- and 3-layer constructions diverge. Due to the added bulk of their hanging mesh or taffeta liner, 2-layer jackets can trap heat and become fairly swampy in mild conditions or during high-output activity. On the other hand, a 3-layer jacket's sleek liner does very little to inhibit the breathability of the membrane. Despite their subpar performance, 2-layer ski jackets are perfectly serviceable for most resort skiing, especially for casual skiers who stick mostly to groomers (unzipping the pit vents can help with airflow, too). If your version of skiing involves hiking into the sidecountry or the odd day of backcountry touring, we strongly recommend opting for a 3-layer jacket.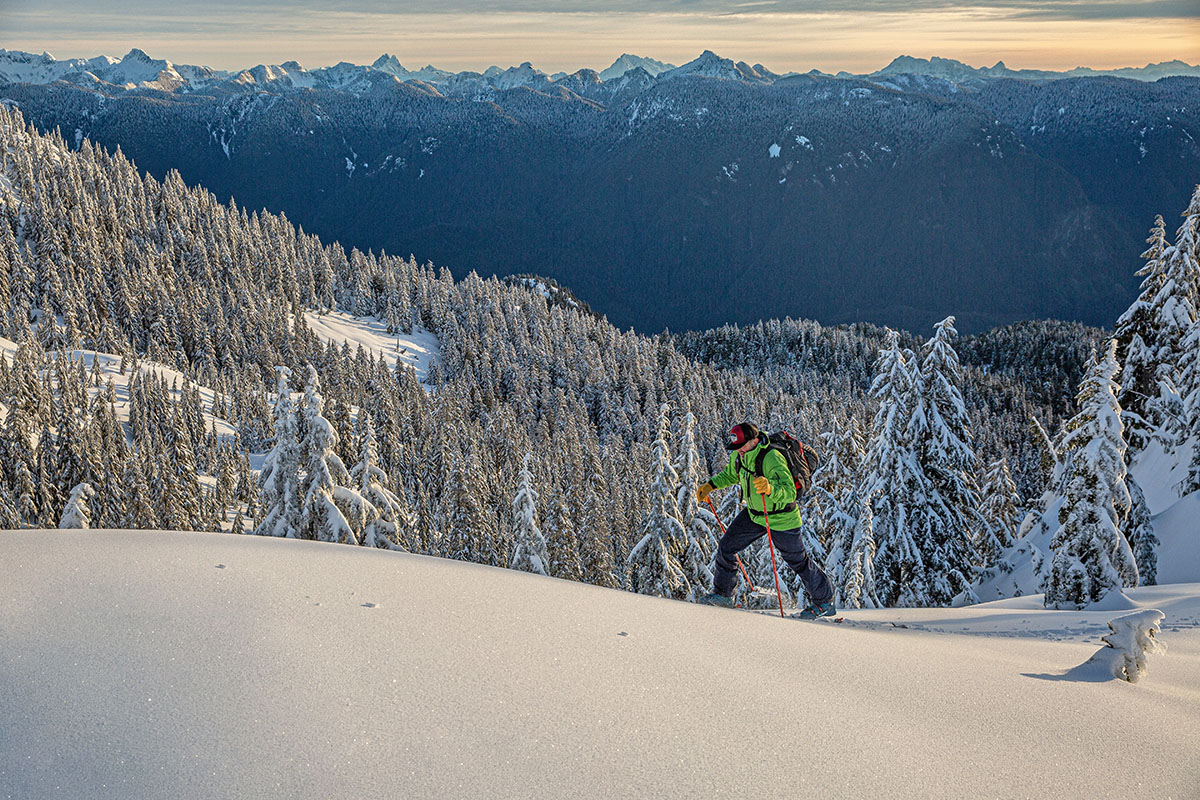 Waterproofing Advantage: It Depends
All else being equal, 2- and 3-layer jackets offer a similar level of waterproofing. Both constructions include a waterproof/breathable membrane, which is highly engineered to restrict moisture passing from the outside while allowing air to flow from the inside out. You'll of course want to consider the quality of the membrane: Two-layer jackets often employ more entry-level, in-house membranes, while 3-layer jackets are decidedly more premium and more likely to use top-shelf membranes like Gore-Tex. But this isn't always the case—for example, both the Arc'teryx Sabre (3L) and Patagonia Storm Shift (2L) both use the same high-end Gore-Tex membrane. 
There are a few more factors to consider when thinking about waterproofing. The first is shell thickness: The thicker the shell, the more resistant it will be to wetting out. In general, 2-layer jackets tend to have thicker shells (as weight is less of priority), but we've found that most shells around 70-denier and thicker are reliably stormworthy, including the 80-denier shell on the Arc'teryx Sabre (3L). Another factor is seam-sealing. Most quality ski jackets feature tape on every seam, but budget designs are only taped on the critical seams, including those at the shoulders, back, and hood. You'd be hard-pressed to find a 3-layer jacket that isn't fully seam taped, while some entry-level 2-layer designs are just critically seam taped. Be sure to pay attention to this detail, as it will impact your jacket's waterproofing during long and wet days on the slopes.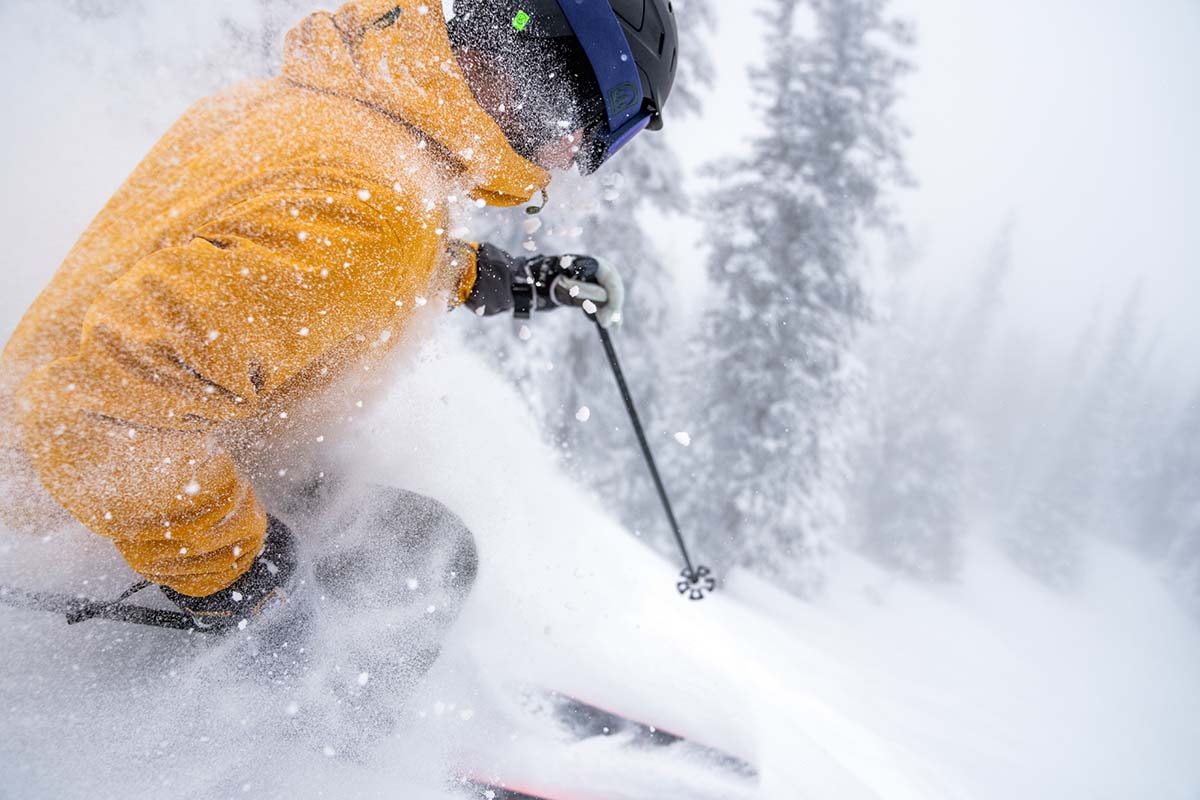 Warmth Advantage: 2L
Because of their extra hanging layer, 2-layer jackets can be warmer than 3-layer jackets. This construction can also accommodate insulation between the 2-layer shell and the hanging liner, while 3-layer jackets are almost always uninsulated (Arc'teryx's pricey 3L Macai is one exception). As a result, both uninsulated and insulated 2-layer jackets (like the Trew Gear Jefferson and Patagonia Storm Shift, respectively) are well suited for resort skiers, especially in particularly cold areas like the Rockies or the Northeast. For milder climates or skiers who build heat while exploring the slack- or backcountry, the extra warmth is less of a boon, especially given its impact on breathability.

Weight and Bulk Advantage: 3L
Along with breathability and warmth, a jacket's weight and bulk differs quite a bit between 2- and 3-layer designs. The hanging liner used in a 2-layer jacket adds a significant amount of fabric to the overall jacket. In contrast, the streamlined attached liner (third layer) of a 3-layer jacket is virtually imperceptible. To illustrate, consider the half-pound difference between the 3-layer Outdoor Research Skytour (1 lb. 6.1 oz.) and 2-layer Trew Gear Jefferson (1 lb. 14 oz.). While the majority of resort skiers won't be concerned with additional weight and bulk, it is a consideration for those headed into the sidecountry or backcountry—for human-powered activities, you'll want a streamlined 3-layer jacket that won't be a strain on your shoulders or inhibit movement, and can stuff down into a corner of your pack.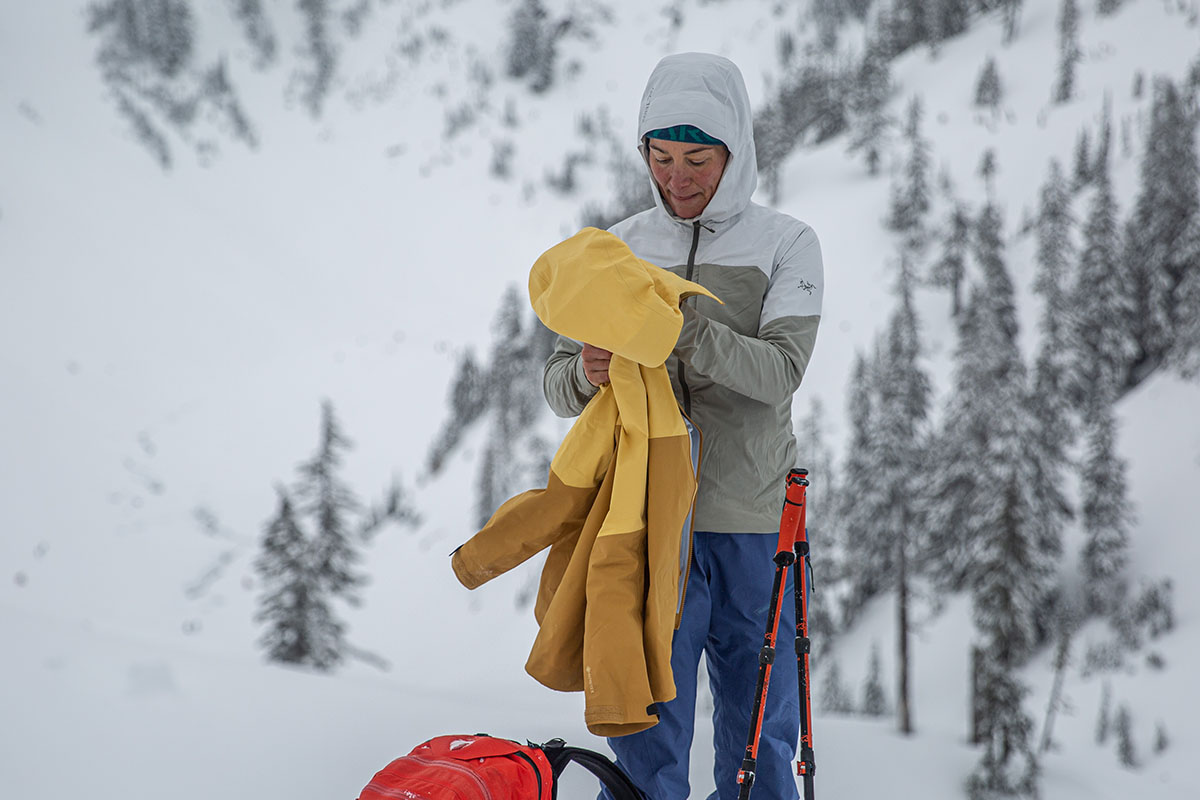 Durability Advantage: It Depends
Most ski jackets are decently durable, including both 2- and 3-layer designs. In general, durability is a function of the thickness of the shell fabric (expressed as denier) and the overall build quality of the jacket. Shell denier can vary wildly in both 2- and 3-layer jackets—as examples, the Patagonia Storm Shift (2L) features a burly 150-denier shell, the Outdoor Research Carbide (3L) has a thin 40-denier shell, and the Arc'teryx Sabre (3L) lands in the middle with 80-denier nylon. Generally speaking (and there are many exceptions to this rule), it is common to see thicker materials in 2-layer jackets. The reason for this is that most 2-layer jackets are intended for resort use, where a hardwearing shell takes precedence over breathability and weight-savings.
In terms of build quality, almost all 3-layer jackets are on the premium end of the spectrum and exude a high attention to detail, while some (but not all) 2-layer jackets earn their lower price points with lower build quality. But chairlift laps and 60-day seasons can put a lot of wear on a jacket—resort skiers who get out a lot will want to opt for a high-end 2-layer jacket (like the Patagonia Storm Shift or Helly Hansen Alpha 3.0), or a 3-layer shell with thick face fabric (look for 70D or higher). On the other hand, backcountry skiers will want to shave weight and bulk with a 3-layer jacket; just keep in mind that the thinner varieties do compromise a bit on durability.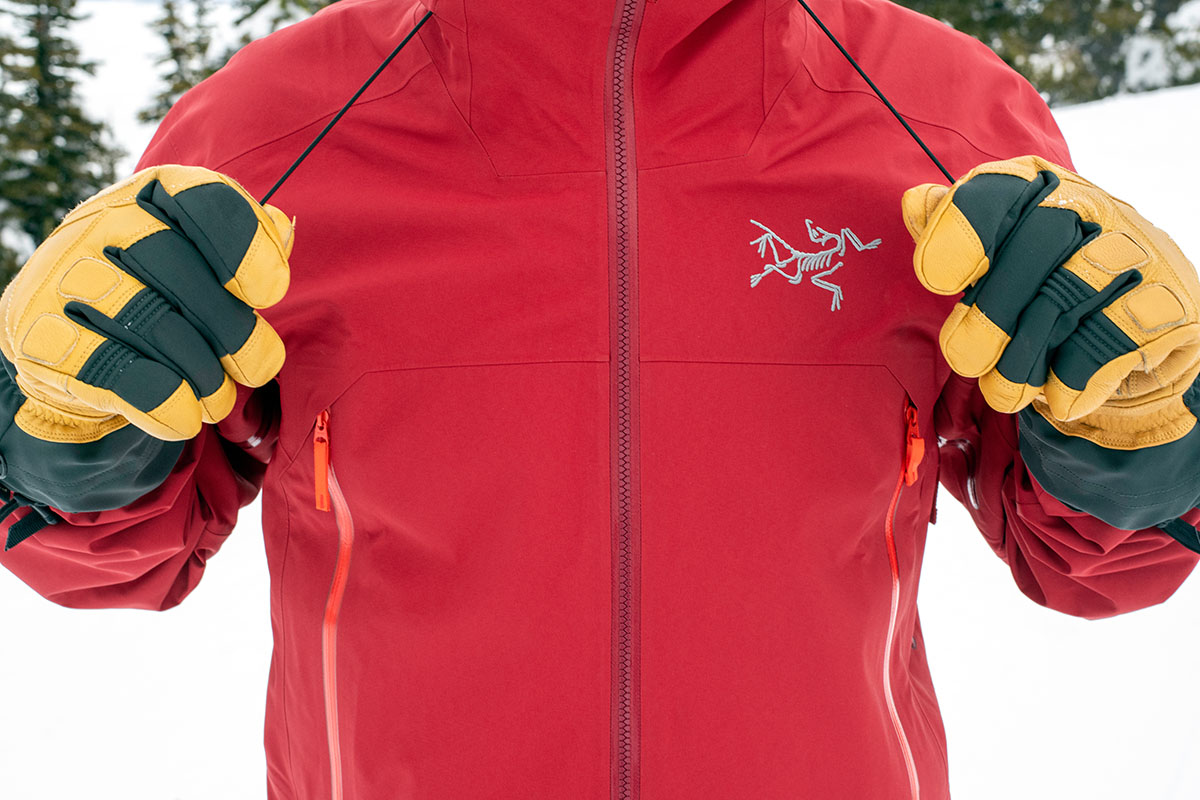 Price Advantage: 2L 
Price is the final consideration in the 2-layer vs. 3-layer debate. With a few exceptions, 2-layer jackets are more affordable than 3-layer designs and a great choice for resort skiers trying to save a buck or two. For example, our top-ranked Arc'teryx Sabre (3L Gore-Tex) will set you back $700, while the REI Co-op First Chair GTX (2L Gore-Tex) is just $299. These jackets offer similar levels of waterproofing with the same Gore-Tex membrane, but the Sabre is slightly lighter, less bulky, and more breathable. Budget 2-layer jackets can dip as low as $200, but keep in mind these jackets are fairly compromised and not a great choice for those who get out a lot.
As we mentioned, though, there are a few outliers. Outdoor Research's Carbide, for example, is a $299 3-layer jacket (a whopping $400 less than the aforementioned Sabre)—but it does compromise on weather protection and durability with the lower-quality Pertex membrane and thin, 40-denier shell. And then there's Patagonia's premium Storm Shift: A 2-layer jacket that's $180 more than the Carbide at $479. However, the Storm Shift features a top-shelf Gore-Tex membrane, durable 150-denier face fabric, a cozy fleece liner, and a really impressive build quality. All told, expect 2-layer jackets to run you between $200 and $500, while 3-layer designs are $300 to $700 (or more).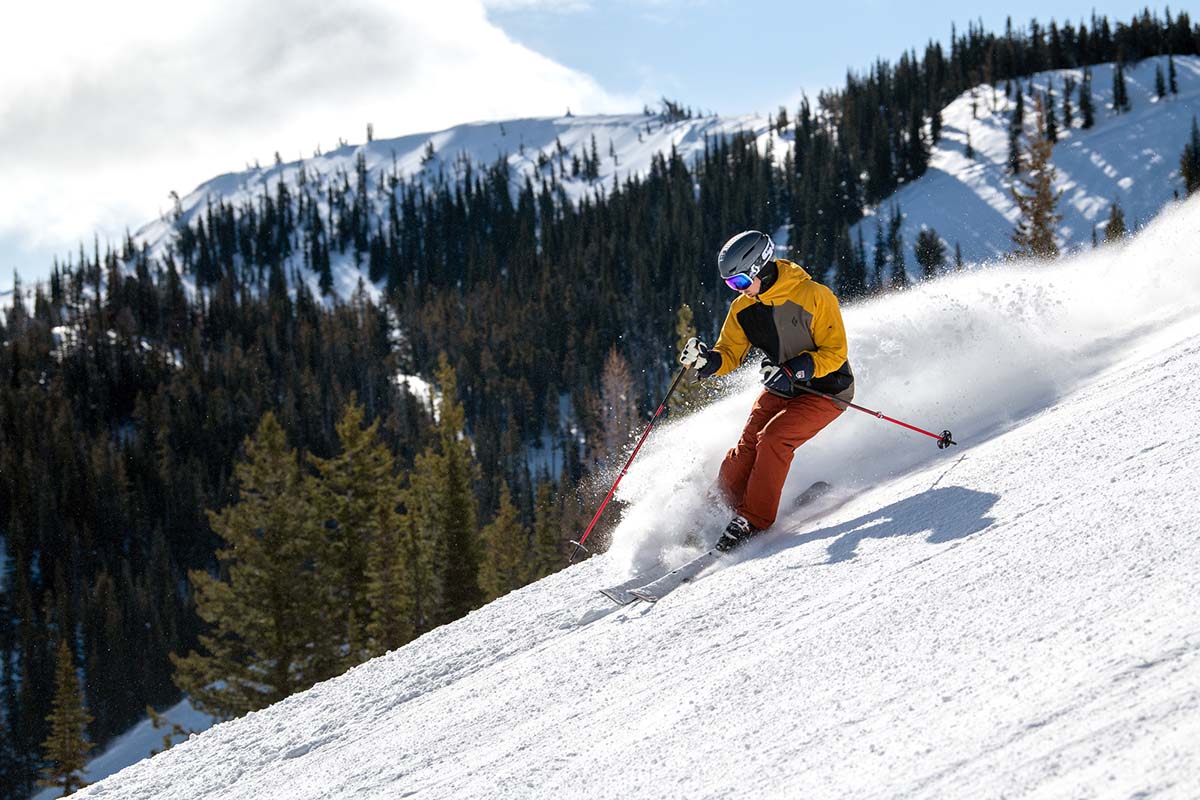 Intended Uses
By now, the differences between 2- and 3-layer construction should be fairly clear. Both can be high-quality and highly waterproof, but 3-layer jackets get the edge in terms of breathability and weight and bulk. On the other hand, 2-layer jackets are warmer (and often insulated) and generally the more affordable of the two. So, which style of ski jacket is best for you?
 
Resort Use
In our opinion, most resort skiers will be well matched with a 2-layer jacket. The dip in breathability won't be a big deal when you're riding the chairlift and cruising groomers, and the extra dose of warmth will be a boon in most conditions. What's more, many 2-layer jackets use particularly thick shell fabrics and are prepared to handle the rigors of resort use. And if you're concerned about quality, there are a number of premium 2-layer designs, including the Patagonia Storm Shift and Helly Hansen Alpha 3.0. On the other hand, many will opt for a 2-layer design to save cash, in which case jackets like the REI Co-op Powderbound ($199) and First Chair GTX ($299), Trew Gear Jefferson and Astoria ($299), and Columbia Bugaboo ($210) make excellent options.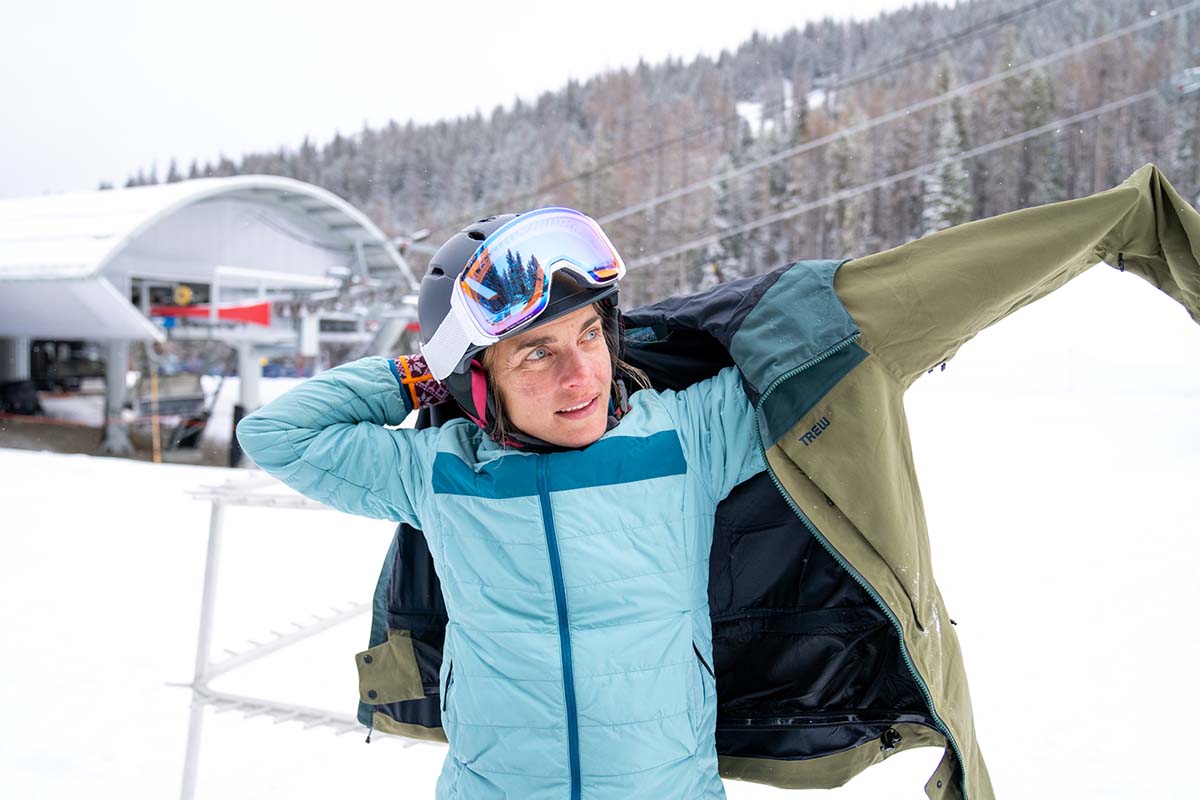 Backcountry Use
If you're a backcountry skier or like to venture out to the sidecountry from time to time, a 3-layer jacket is the more high-performance and versatile option. The boost in breathability is fairly necessary for high-output skinning, hiking, and boot packing, and the streamlined weight and bulk will make a difference during long slogs or if you want to stuff your jacket in your ski pack on the uphill. Finally, while 3-layer designs aren't usually insulated, the simple shell makes it easier to tailor your layers to the conditions of the day, whether you need to add a midlayer, choose a thinner baselayer, or swap in synthetic for down. As we mentioned above, 3-layer designs do cover the premium end of the market (see jackets like the Arc'teryx Sabre and Norrøna Lofoten GTX Pro), but there are some notable outliers for those on a budget, including the Outdoor Research Carbide ($299) and Skytour ($379), Flylow Malone ($400), and Trew Gear Cosmic ($399).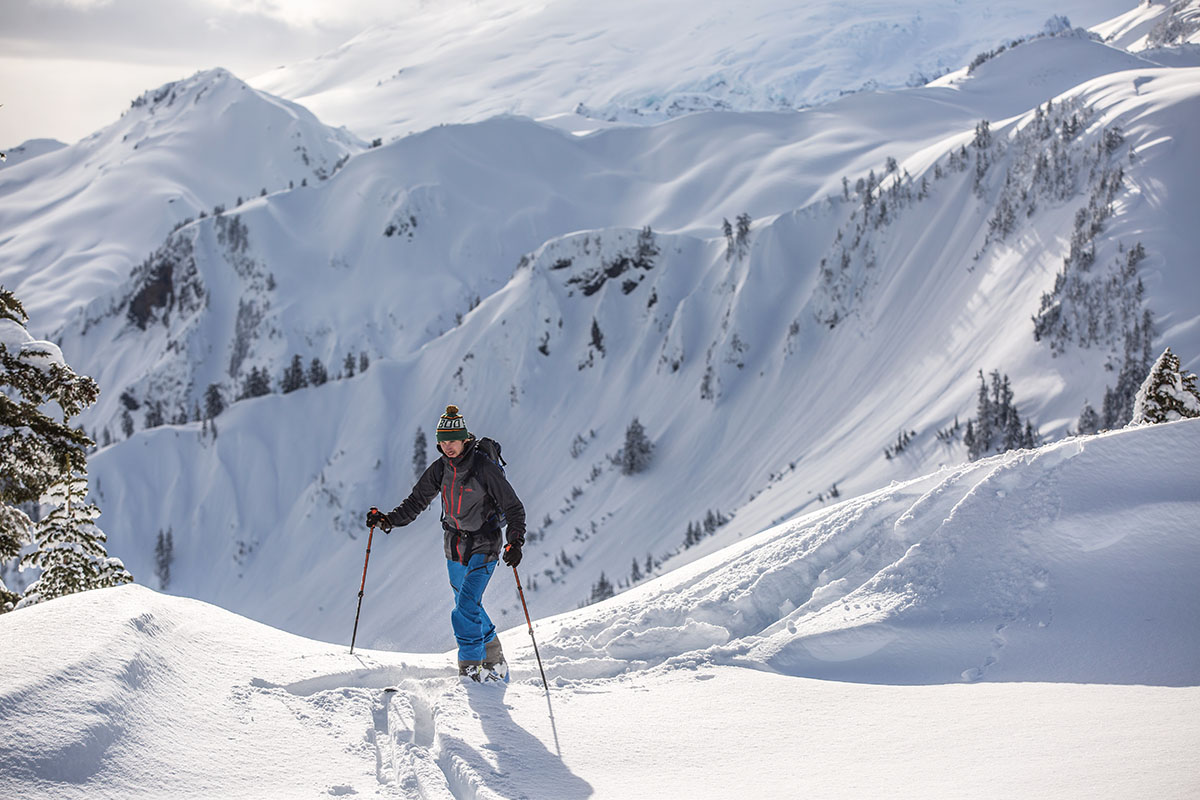 Our 2L and 3L Ski Jacket Picks
Nailing down the type of jacket that's best for you is an important early step in the buying process. Below are our team's top 2- and 3-layer selections, including premium, mid-range, and budget picks. For even more options, see our articles on the best ski jackets and best women's ski jackets.
Premium 3L: Arc'teryx Sabre and Sentinel ($700)
Mid-range 3L: Flylow Malone and Lucy ($400)
Budget 3L: Outdoor Research Carbide ($299)

Premium 2L: Patagonia Storm Shift ($479)
Insulated 2L: Helly Hansen Alpha 3.0 and Alphelia ($475)
Mid-range 2L: Trew Gear Jefferson and Astoria ($299)
Budget 2L: REI Co-op Powderbound ($199)
Back to Our Ski Jacket Construction Guide  See Our Ski Gear Reviews
Learn More About Ski Gear