Arc'teryx offers an extensive lineup of quality ski jackets, from technical hardshells to insulated resort options. The Sabre Jacket (formerly the Sabre AR) slots in right in the middle, with a premium Gore-Tex build, light flannel backer, and smartly designed feature set. We put the recently retooled shell through a full season of skiing in the Pacific Northwest and consider it the benchmark do-it-all ski and snowboard jacket. You do pay a sizable premium at $700, and we recommend trying it on before you buy to ensure the new fit will work, but the Sabre remains one of the most well-rounded options for serious inbounds and occasional backcountry use. Below we break down the Sabre's overall performance. To see how it stacks up to the competition, see our article on the best ski jackets. And to complete your kit, we've also tested and reviewed the Arc'teryx Sabre Pant.
 
---
Table of Contents
---

Performance
Weather Protection
Sporting 3-layer Gore-Tex protection, a thick and premium face fabric, and a standout hood design, the Arc'teryx Sabre Jacket is a fantastic performer in a wide range of harsh conditions. In short, it's provided flawless protection in typical Pacific Northwest weather, including challenging conditions like sleet and heavy rain mixed with snow. Wind protection is equally good: Despite being pounded by strong gusts and sideways precipitation in Washington's Mt. Baker Wilderness for hours on end during a mid-season tour, I remained surprisingly comfortable and perfectly dry inside.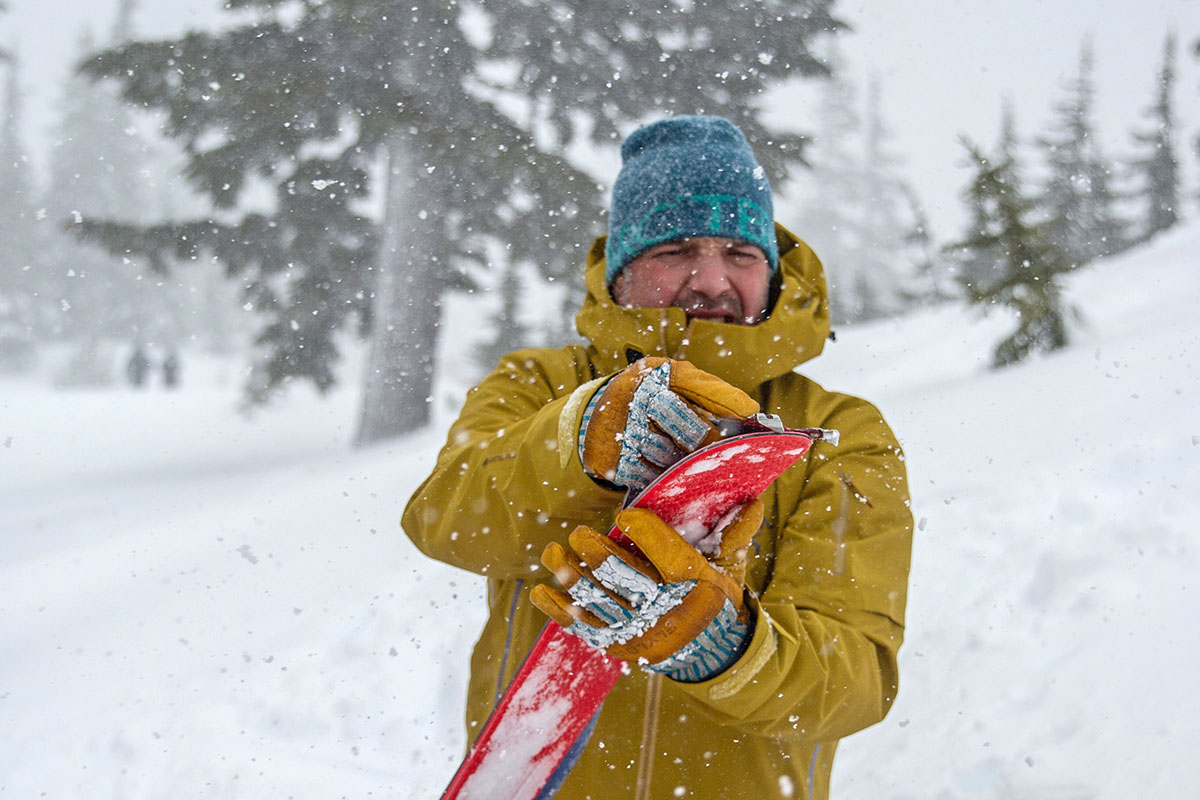 When it comes time to batten down the hatches, the Sabre comes well equipped. The large and highly adjustable StormHood is one of our favorites on the market: It's plenty big to fit over a wide range of ski helmets but cinches effectively and stays fully locked in place even in strong gusts or when bombing downhill. In addition, the collar is tall—fully zipped, it covers my lips completely—and the opening is wide enough to duck into when the weather turns particularly nasty (a plus for those who don't like riding with a mask). It's easy to seal out the cold and wet (and keep you dry should you fall) with a powder skirt and glove-friendly hem cinches at each side, and the wrists adjust easily and securely with Velcro. In addition, Arc'teryx uses a high-quality DWR coating (washing has helped keep it fresh) and water-resistant zippers that haven't failed or leaked despite plenty of days in wet snow.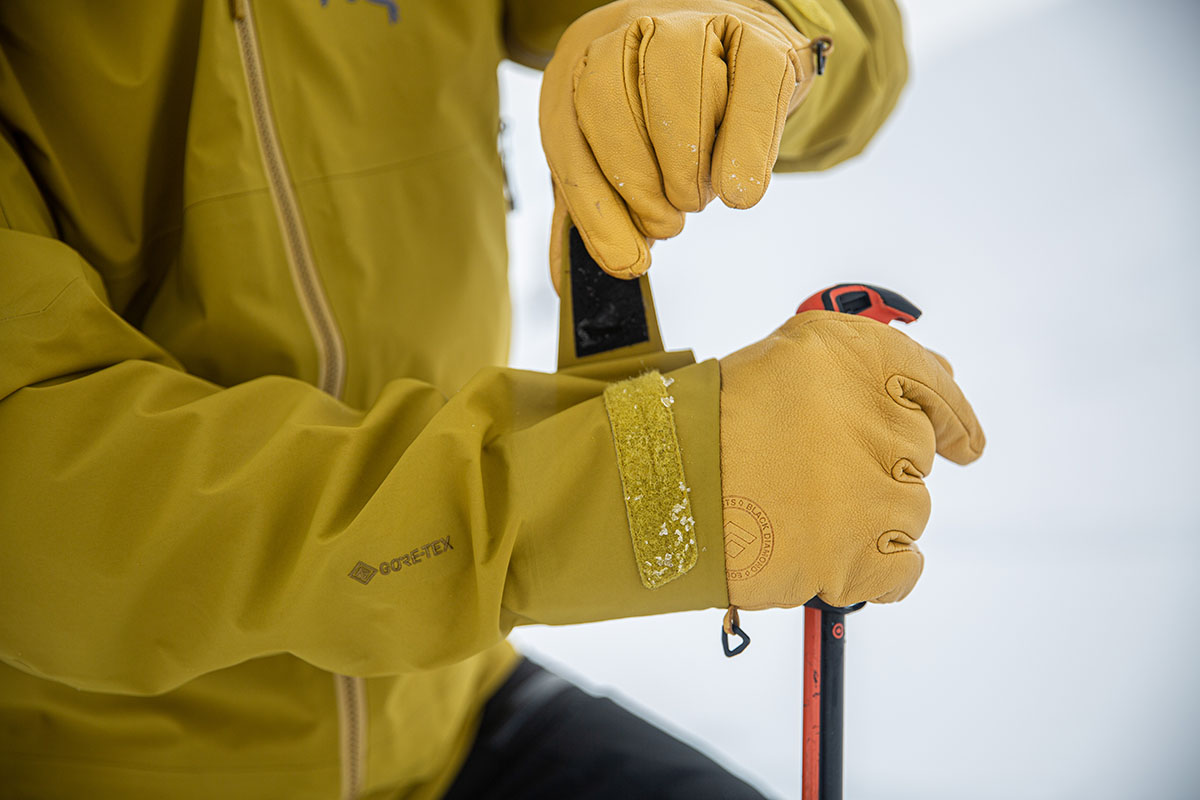 A final piece of the waterproofing equation is the Sabre's moderately long cut. Measuring 32 inches (81.5 cm) down the back for my men's size large (about an inch longer than its predecessor), it hits a great balance of coverage without being overly bulky or inhibiting movement. I will note that the waist is narrower on the latest model than with the prior version, which may cause issues for some, although I personally had no complaints regarding overall mobility (more in "Fit and Sizing" below).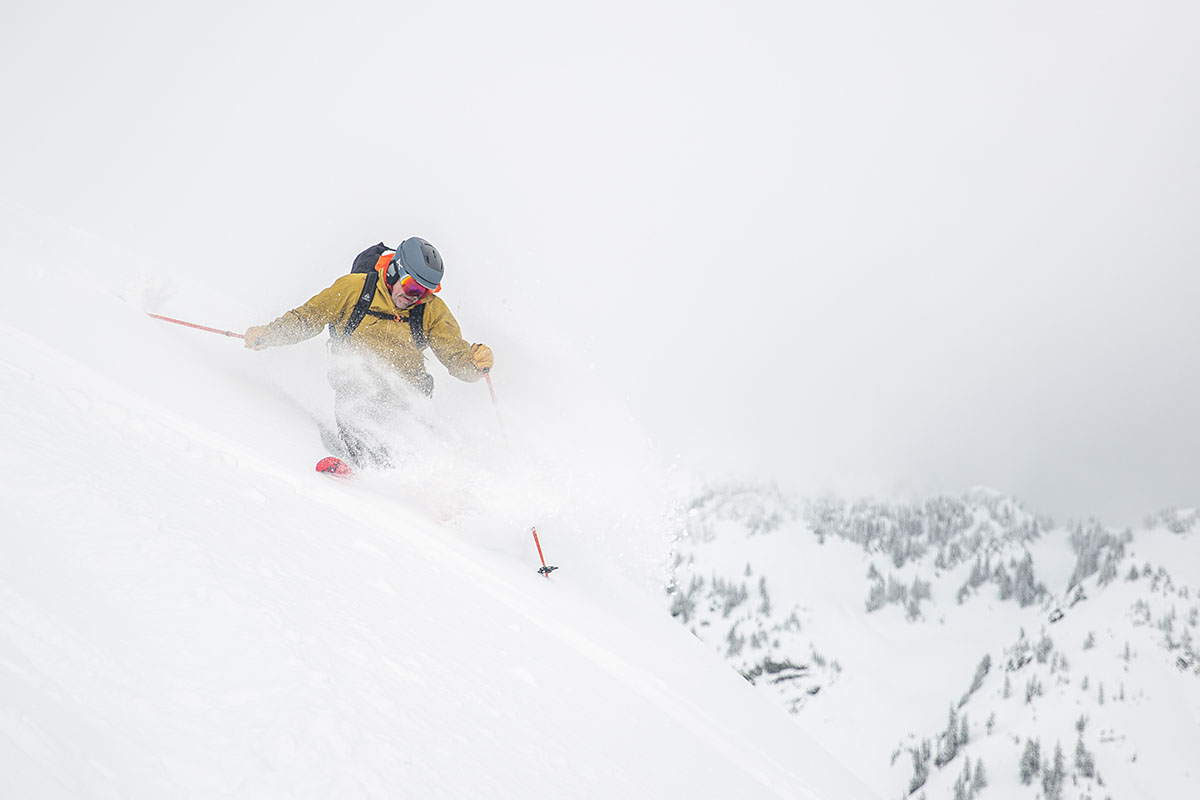 Comfort
There are plenty of sturdy and weather-worthy ski shells on the market, but what makes the Sabre particularly impressive is how unnoticeable it is while you're wearing it. Overall, the jacket offers excellent mobility with no restriction during transitions or when loading gear in and out of our van. In addition, Arc'teryx included a brushed flannel backer along the interior, which helps limit the crinkly and stiff feel common among traditional 3-layer hardshells. It's not up to softshell levels of flexibility and mobility, but it's not too far off and has a fairly plush hand feel that isn't prone to feeling cold and clammy (although not many will opt to wear short sleeves underneath). Arc'teryx claims the backer gives the jacket light insulation, although that's hard to quantify as it's not particularly thick (it likely plays a role in the jacket feeling so impervious to weather, however). Finally, nice touches like small patches of fleece along the top of the collar and along the back of the neck enhance next-to-skin feel in the cold.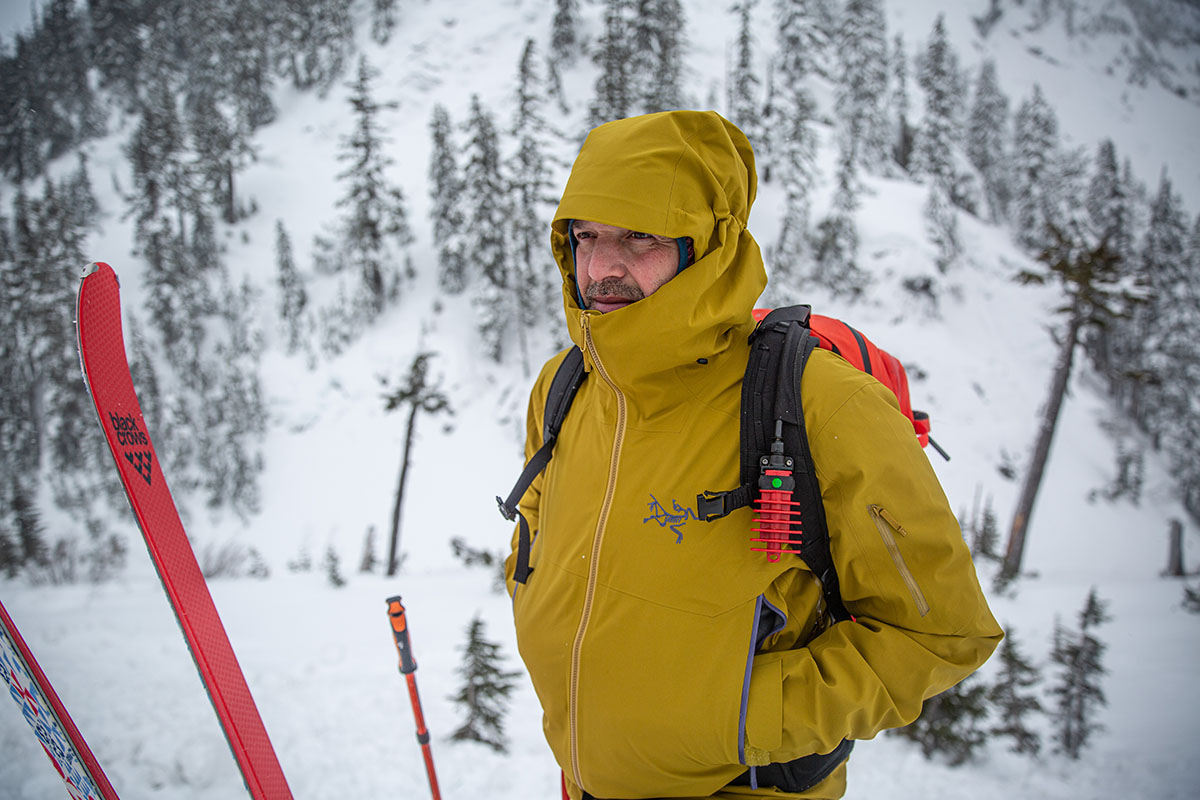 Breathability
Right away, we'll note that the Sabre is primarily intended as a resort/big mountain jacket, and its standard 3-layer Gore-Tex (as opposed to the more breathable Pro and Active membranes) and extra flannel backer prioritize protection and comfort over all-out ventilation. That said, I found it to be moderately breathable for short uphills while touring, and it was sufficient on steep sidecountry hikes of 30 minutes or less (and longer in colder temperatures). The large pit zips (around 14 in.) make it easy to dump heat, and as long as I wasn't overdressed, the jacket did a decent job at keeping me from overheating. Dedicated backcountry skiers will be better off with a Gore-Tex Pro jacket like Arc'teryx's own Rush or Alpha SV, but the Sabre is plenty capable for resort days and the occasional short tour (especially in frigid conditions).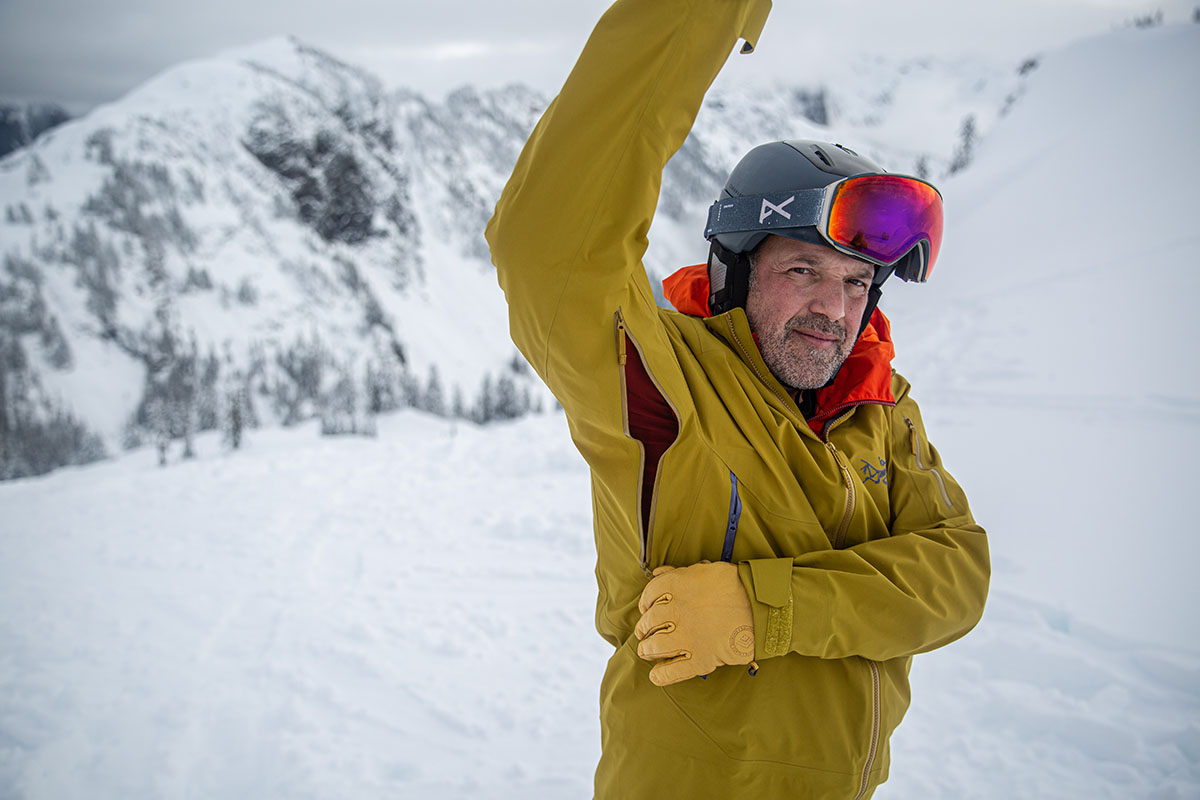 Build Quality and Durability
Just about all Arc'teryx products exude quality, and the Sabre Jacket is no exception. The face fabric has a clean look and has been flawlessly built, and the same goes for the seam taping along the interior (Arc'teryx even covered the taping with the brushed backer to enhance comfort). Additionally, every touch point is sturdy and has a quality feel: The zipper pulls are strong and reliable, the drawcord is robust and still functions like new, and the button-style adjustments along the side of the hood are easy to use.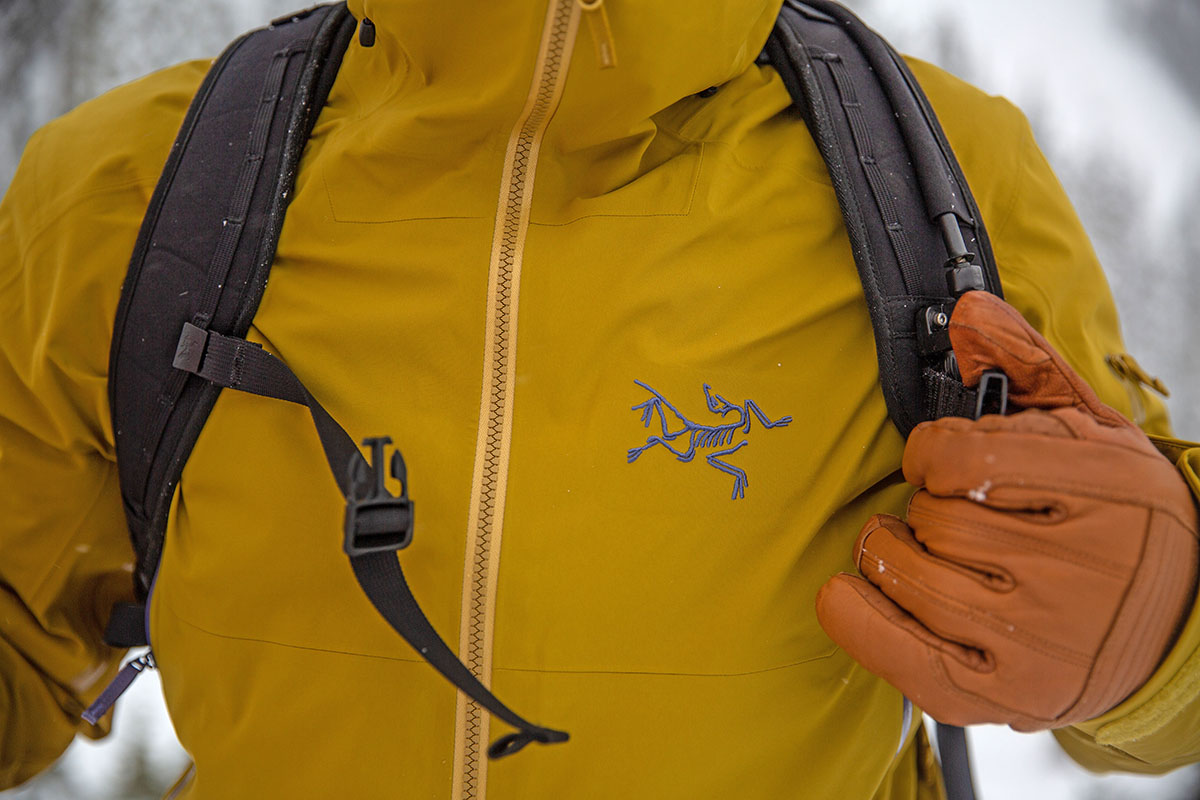 Importantly, the Arc'teryx Sabre Jacket has also proven to be quite durable. The face fabric is a premium 80-denier (D) material, which is fairly burly considering its lightweight feel (and a modest step up from the past-generation model's 70D). In addition, the thicker-than-average lining provides a boost in tear resistance. After getting over the concern of skiing through trees in a $700 jacket, the durability proved to be fantastic. In fact, despite season-long abuse—including frequently stuffing the shell into my pack around other gear, throwing it haphazardly into our van, and even draping it over rocks for use as a seat during picnic lunches—the jacket is holding up fantastically. Based on my experiences with the prior-generation Sabre AR and latest model here, I expect it to have a very long lifespan with proper care and regular washes.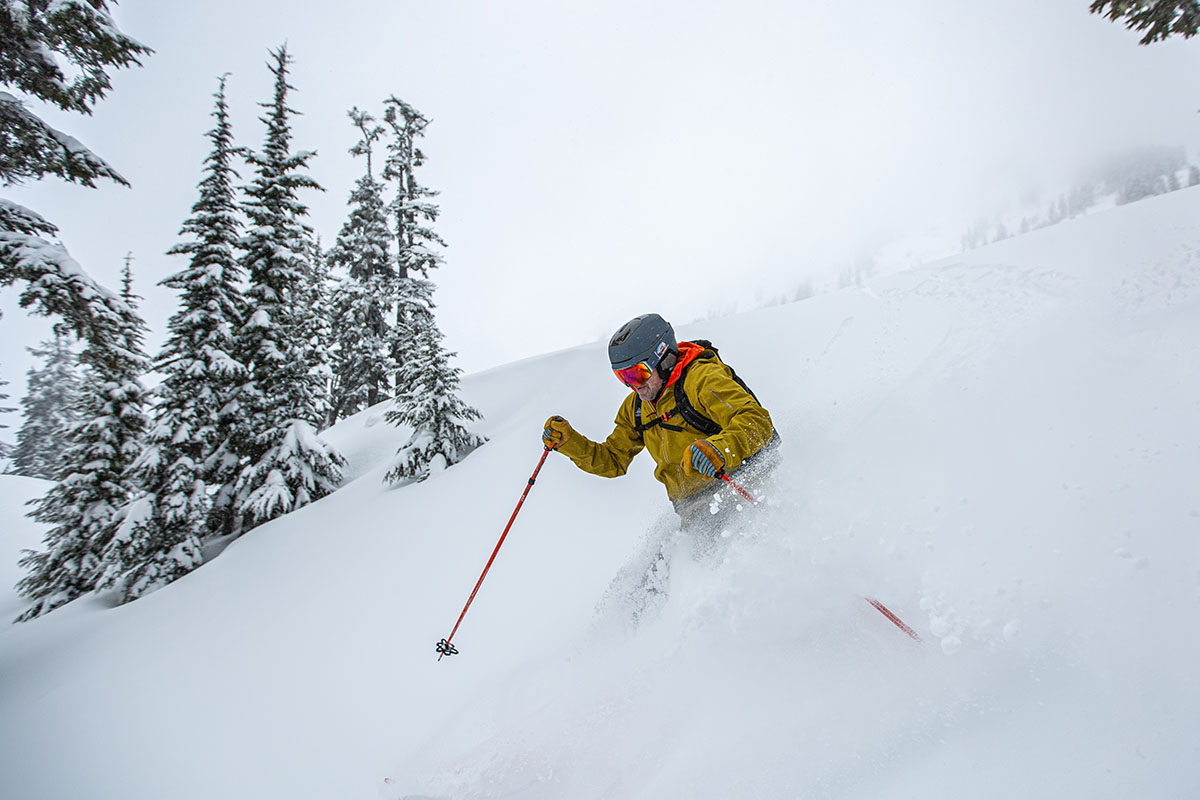 Weight and Packability
Listed at 1 pound 8.9 ounces, my large-size Arc'teryx Sabre Jacket weighed in a hair more at 1 pound 10 ounces. This puts it at about average among hardshells designed for mixed resort and backcountry use. For reference, it falls between fully uninsulated shells including the Outdoor Research Hemispheres II (1 lb. 3.7 oz.) and Norrøna Lofoten Gore-Tex Pro (1 lb. 8.6 oz.) and similar resort/big-mountain models with thin backers like the Black Diamond Mission (1 lb. 12 oz.). Those who spend more time in the backcountry will likely want to go lighter with options like Arc'teryx's own Rush (1 lb. 4.8 oz.) or Alpha SV (1 lb. 1.1 oz.). But as mentioned above, the extra weight is imperceptible on the slopes, and I certainly appreciate the added reliability and full feature set on resort days.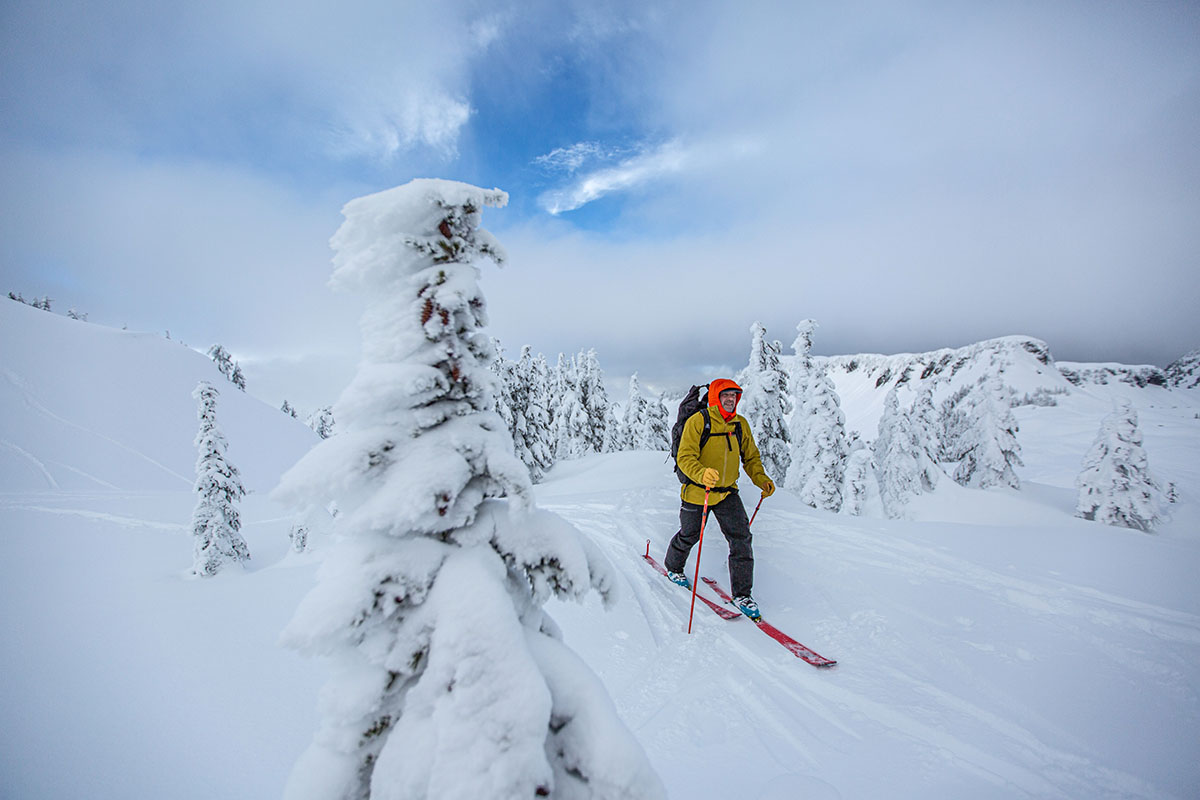 As far as packability goes, the Sabre Jacket's substantial fabrics don't stuff down all that small. Compressed into its own hood and with the drawcords cinched, it ends up being roughly the size of a large cantaloupe. When I'm in a hurry, however, I prefer to simply stuff the shell in my pack around other gear to fill the nooks and crannies. All in all, it certainly takes up a fair amount of space and won't appeal to the fast-and-light crowd (I typically grab my Arc'teryx Rush Jacket for short, weight-conscious missions), but it's perfectly suitable for shorter touring days when carrying a larger ski backpack.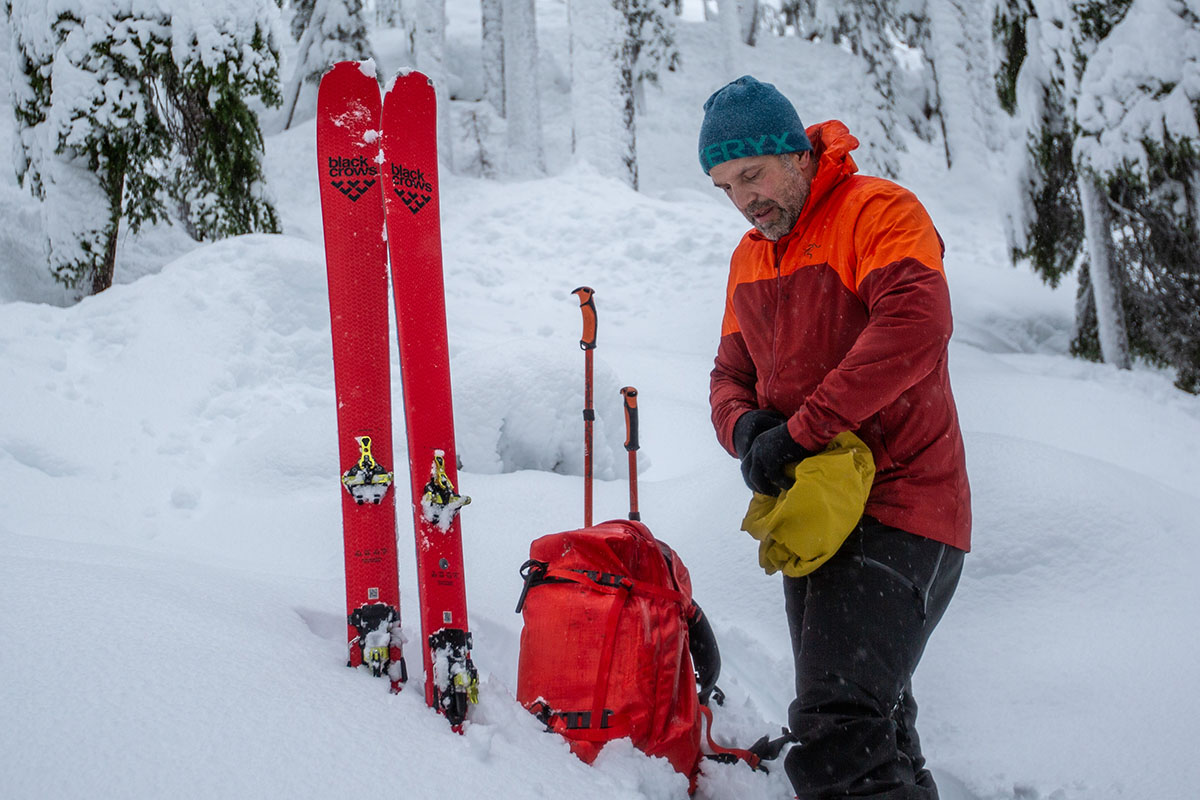 Key Features
StormHood
For the Sabre Jacket, Arc'teryx retained their well-loved StormHood design, which we've found to be among the most functional on the market. Overall, it hits a great balance of coverage and peripheral vision and stays locked in place even in very strong winds. For reference, when cinched fully, only my goggles and nose are exposed to the elements, which is great when the weather really takes a turn. Moreover, the stiff brim along the top effectively keeps moisture from falling onto the top of my helmet or ski goggles.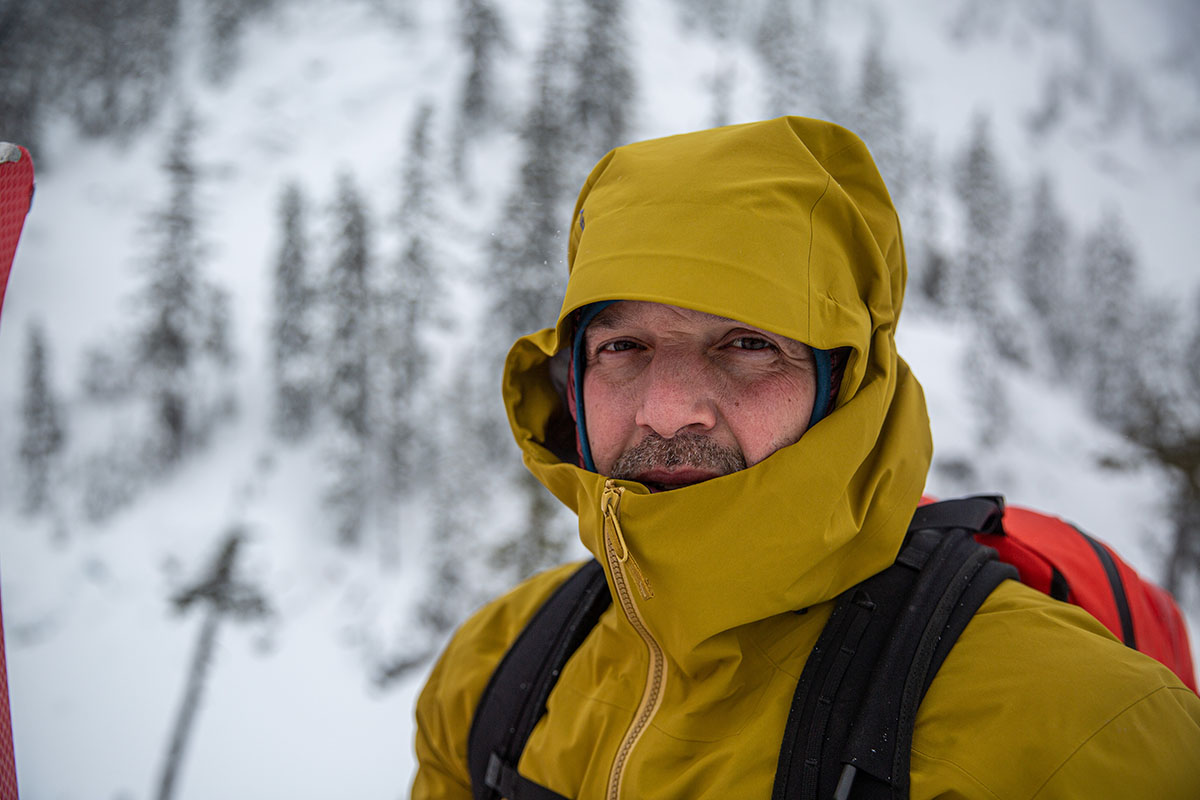 In terms of size and adjustability, the hood is very large and should fit just about any helmet underneath (my go-to lid during testing was Oakley's MOD5), and it's also adjustable enough to work with just a beanie or ball cap underneath. How it works: A large drawcord at the back adjusts around the sides and top of the forehead, while two cords secure the front. Regardless of your headwear choice, the hood cinches snugly and evenly without impacting side-to-side movement or peripheral vision. I've found it fairly easy to tweak the fit even with three-finger-style mitts on, although the buttons at the side of the hood can be a little finicky to pinch with bulky ski gloves (I often have to remove a glove when I'm in a hurry).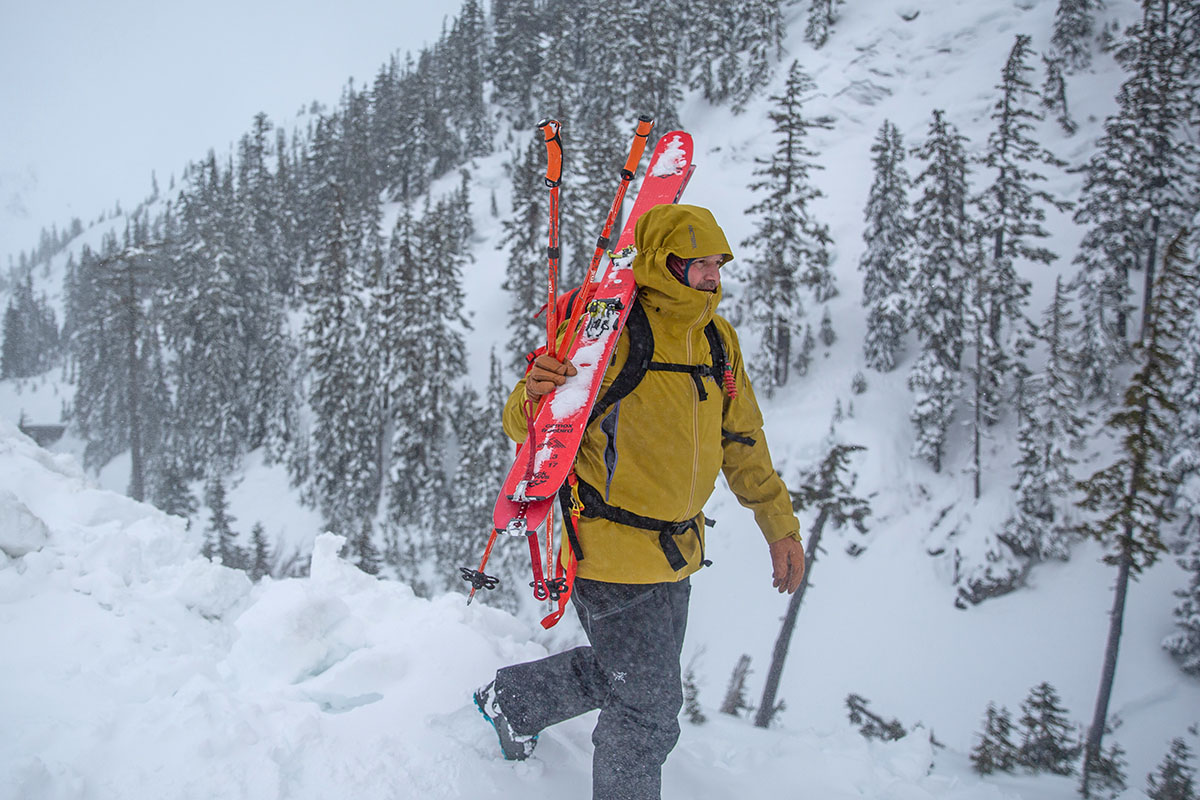 Storage: Pockets
As far as storage is concerned, the Arc'teryx Sabre Jacket boasts six total pockets split evenly between the interior and exterior. Along the outside, there's a sleeve pocket on the left arm that's plenty large to accommodate a ski pass or small items like a credit card. Arc'teryx also cleverly stored a RECCO reflector into the lining of this space, which makes it undetectable when wearing and doesn't detract from the jacket's clean look. Two large hand pockets flank the front of the jacket (bonus: They're harness/hipbelt-friendly) and are protected by small zipper garages at the top to keep moisture from seeping through. We were a little surprised Arc'teryx didn't use their RS Sliders here, which ditch the garages and self-seal, but it could've been an aesthetic choice or simply the fact that the jacket doesn't prioritize shaving weight (these are more commonly found on the brand's lightweight hardshells).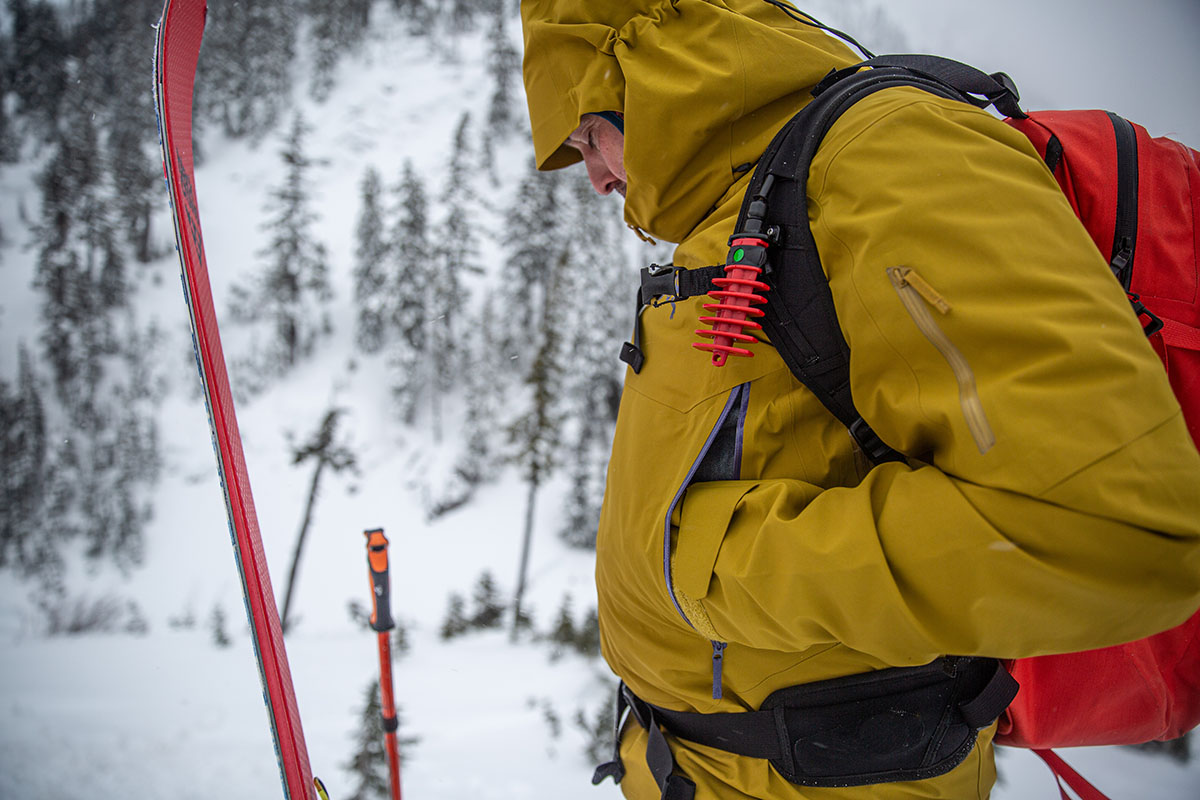 For the interior, you get two generously sized dump pockets (the prior-version AR model only had one) that were perfect for stashing goggles or climbing skins while doing yo-yo laps. They're also made of a stretchy mesh material, which means they breathe well and readily allow moisture to escape. The left dump pocket also features a smaller zippered pocket at the front, which is nicely sized for smaller items like lip balm or keys. Given the stretch in the fabric, I was also able to get my phone inside, but it was a tight fit, and the lack of insulation means it can get cold and drain your battery (I used my midlayer for phone storage on exceptionally cold days).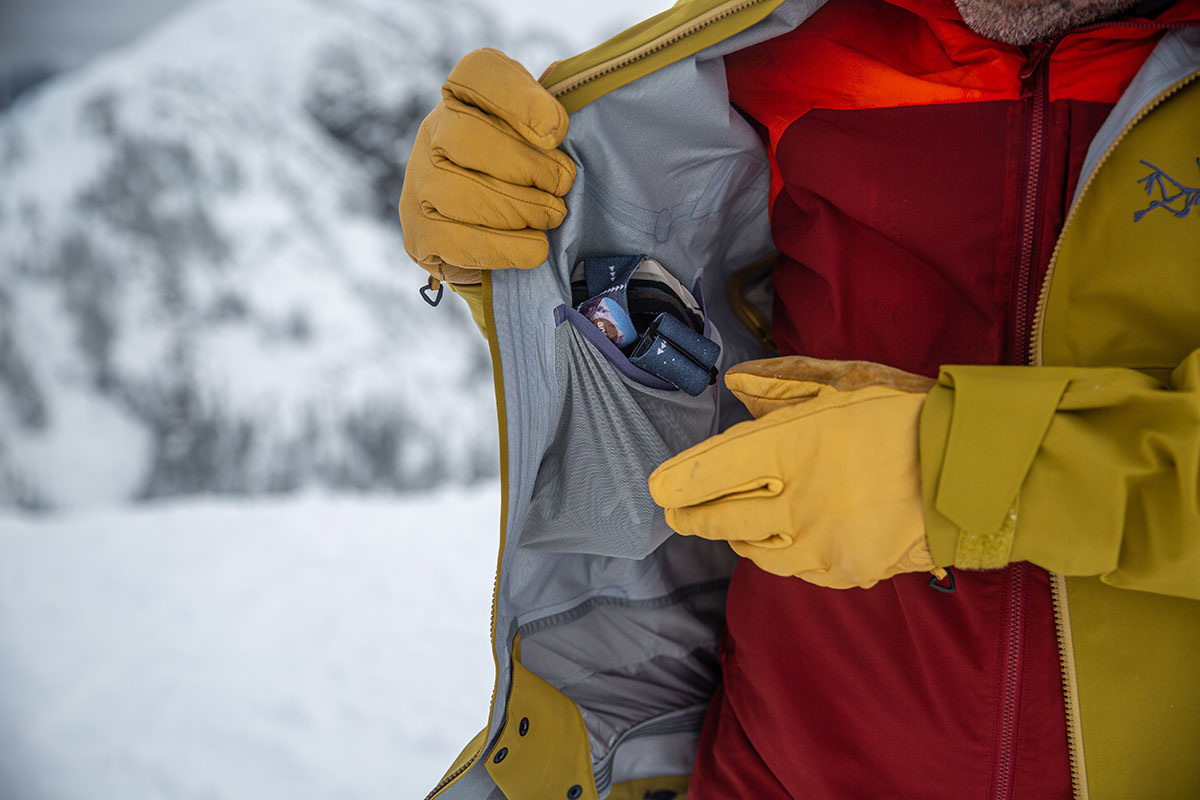 Powder Skirt
As with most dedicated ski shells, the Arc'teryx Sabre Jacket includes a powder skirt to seal out snow. The design secures along the front and includes two sets of buttons so you can tailor the snugness and overall fit. There's a fair amount of stretch in the skirt, but I found it stays locked in place on the slopes—and even during falls—thanks to its silicone-like band. And for those who don't like using a powder skirt or don't want to utilize it on hardpack days, the low-profile design is practically unnoticeable and never bunched up or felt uncomfortable when unsecured.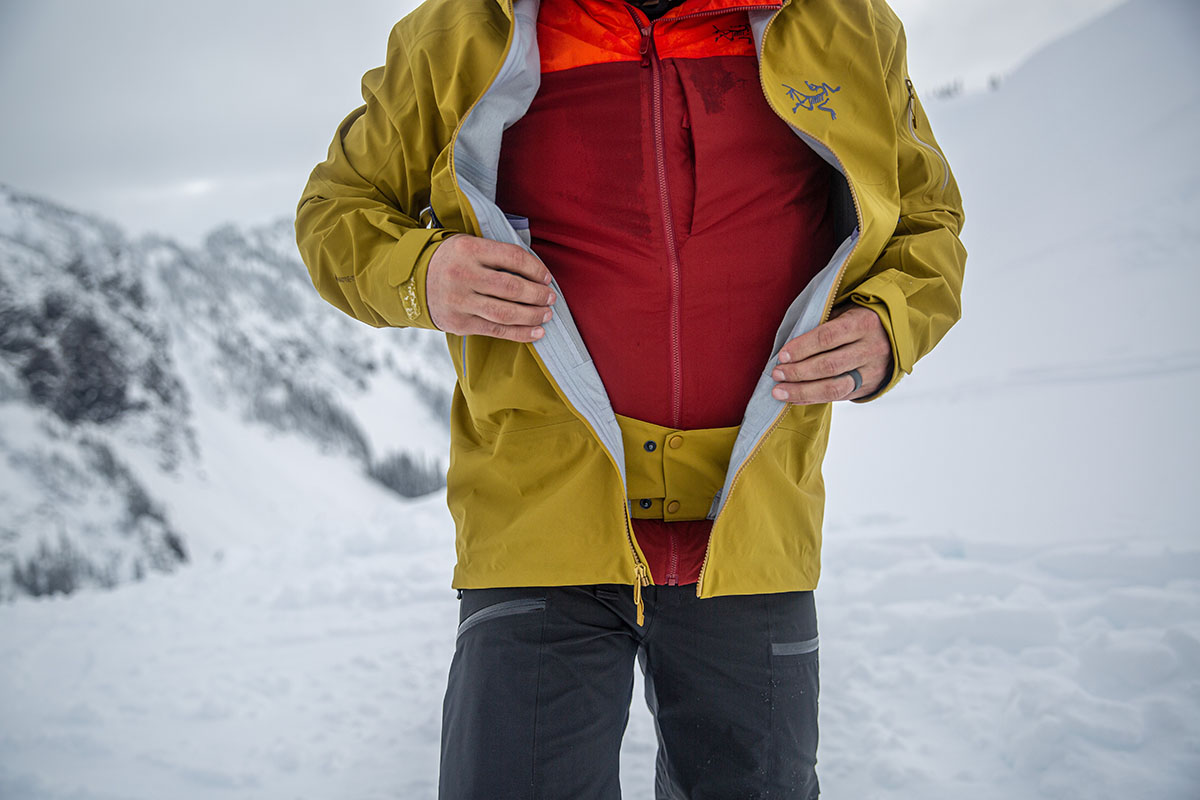 The powder skirt also features an attachment system that allows you to connect the jacket to compatible Arc'teryx bibs and pants (including the matching Sabre Pant, which I frequently pair with the shell).  There are two connection points along the sides, and I've found them to be fairly easy to manipulate—doing so at the start of the day without gloves on is simplest—and secure enough that they've never come undone, even in a crash. The feature is far from necessary, but it's a nice dose of added protection and gives the kit a one-piece, integrated feel.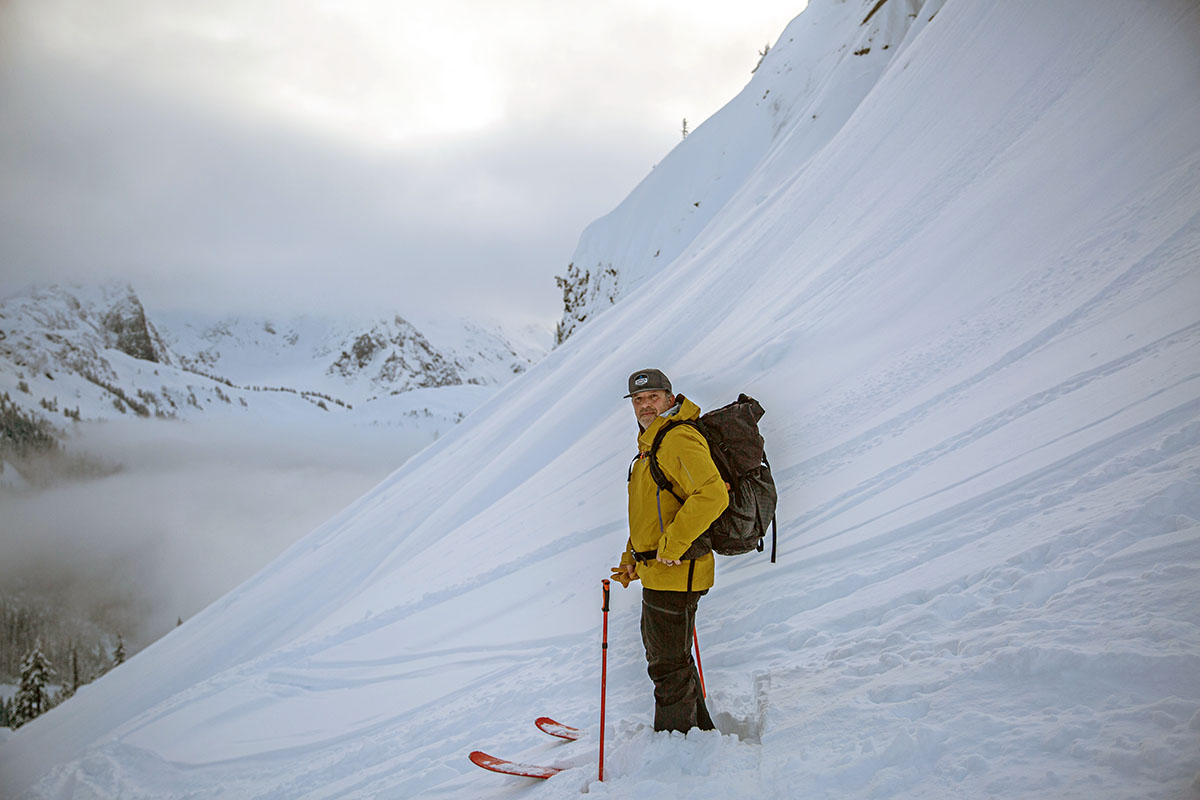 Fit and Sizing
Like the past-generation Sabre AR, Arc'teryx's latest Sabre Jacket boasts their "regular" fit, which is designed to be roomy enough for layering but not overly bulky. With that in mind, I opted for my usual size large and had no issues fitting my Arc'teryx Cerium Hoody underneath. That said, the latest Sabre fits slightly differently than its predecessor: It's roomier overall but narrower in the waist and longer in the arms. This didn't cause any comfort or mobility issues for me, but it's definitely worth noting if you're familiar with the fit of the past-generation jacket. It also means the shell can feel a little large and unshapely without a layer underneath, but that shouldn't be an issue for most skiers. I would prefer a more athletic cut for dedicated touring, but for lift-assisted days and sidecountry hikes, the Sabre is perfectly serviceable. A final gripe is that the Sabre lacks a two-way main zipper, which isn't a deal breaker but can be incredibly helpful for minimizing bunching when sitting or bending over.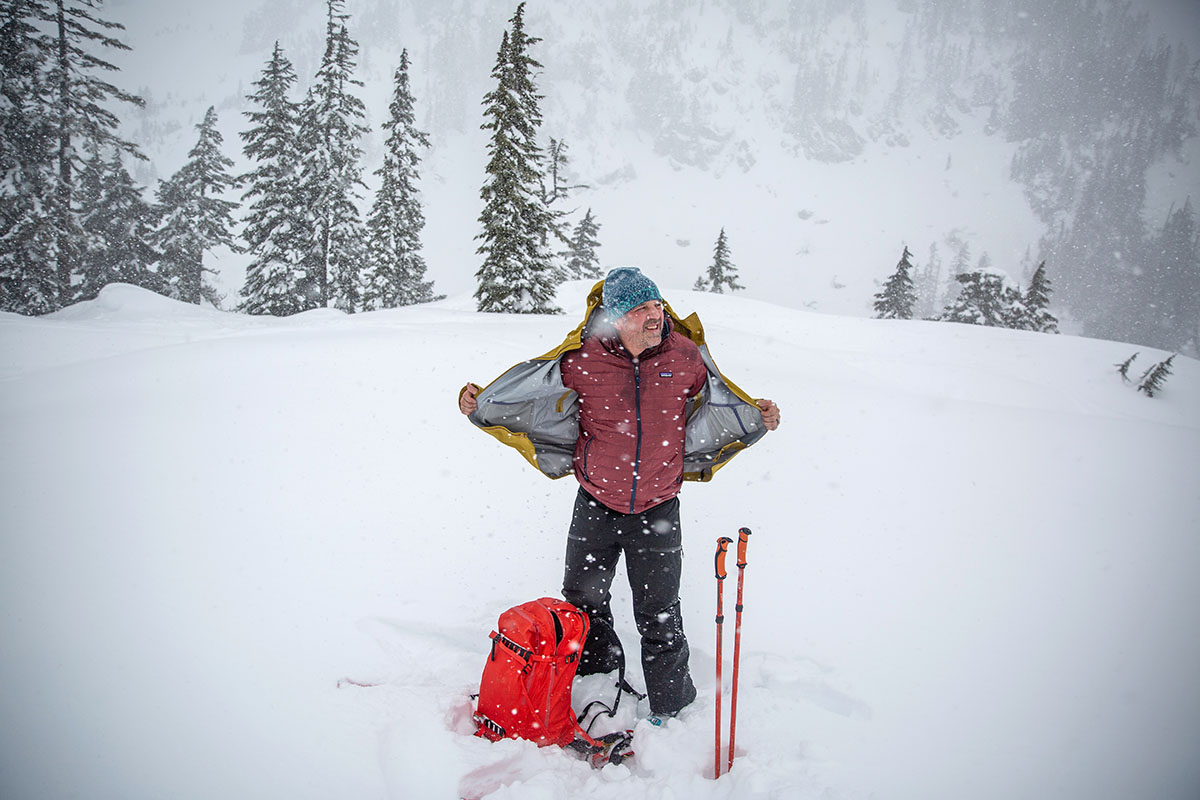 Sustainability
Sustainability is a bit of a buzz word in 2023, but we nevertheless appreciate when brands go the extra mile toward creating more eco-friendly products. With the recent update, the latest Sabre Jacket now uses materials that meet the bluesign criteria, which indicates they've been deemed safe for consumers, workers, and the environment. We'd love to see Arc'teryx adopt other measures that are growing increasingly common in the outerwear market—including the use of recycled materials, a PFC-free DWR coating, and Fair Trade Certified fabrics. But again, the latest Sabre is an improvement from its predecessor, and we're happy to see Arc'teryx making positive changes to their lineup.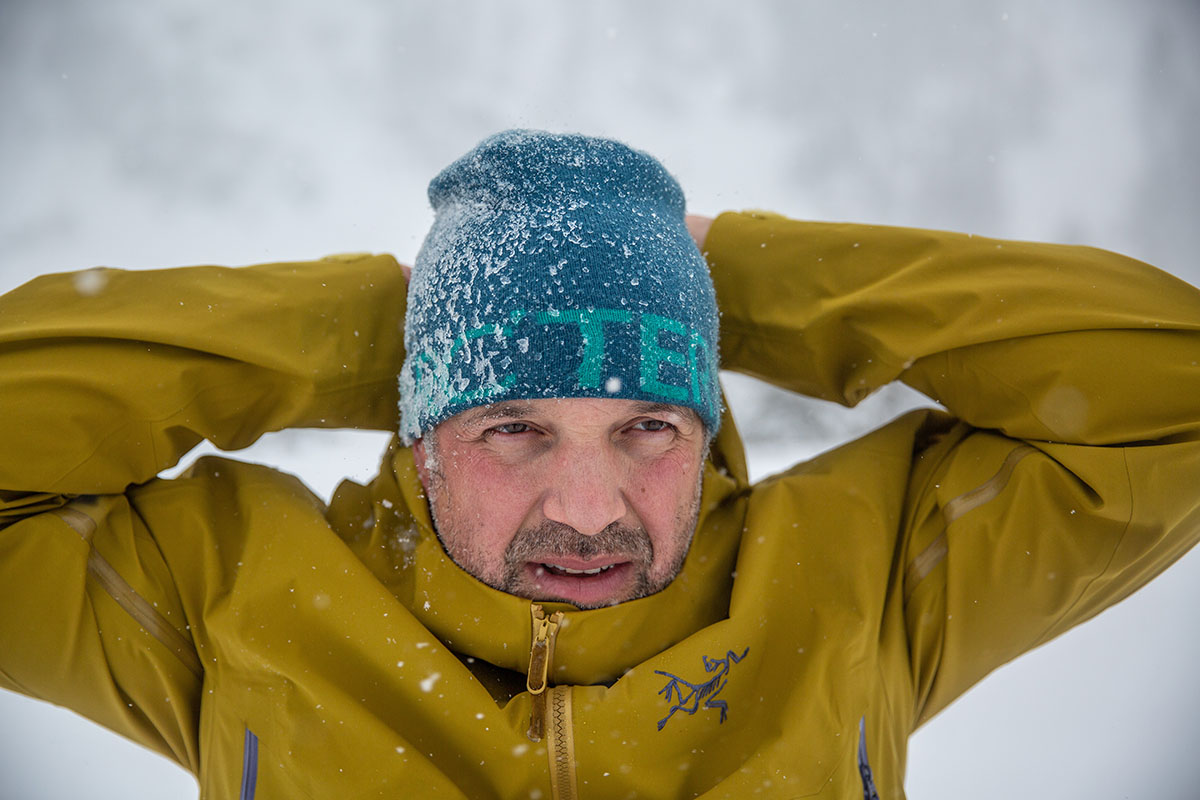 Other Versions and Women's Arc'teryx Sentinel
We put the men's Sabre Jacket to the test, and Arc'teryx sells the matching Sabre Pant for $550. As we mentioned above, the pants connect to the jacket via the handy attachment system on the powder skirt and boast a similar 3-layer Gore-Tex build (also 80D). Arc'teryx also offers Sabre Gloves for $179, which feature Gore-Tex Active waterproofing and use a mix of PrimaLoft insulations for warmth. Finally, two new additions for this season are the Sabre Anorak and Sabre Bib Pant. The Anorak ($700) is largely similar to the jacket tested here but with a different storage layout and pullover styling, while the Sabre Bib Pant ($650) is a nice match for those who want a step up in coverage and warmth from the Sabre Pant mentioned above.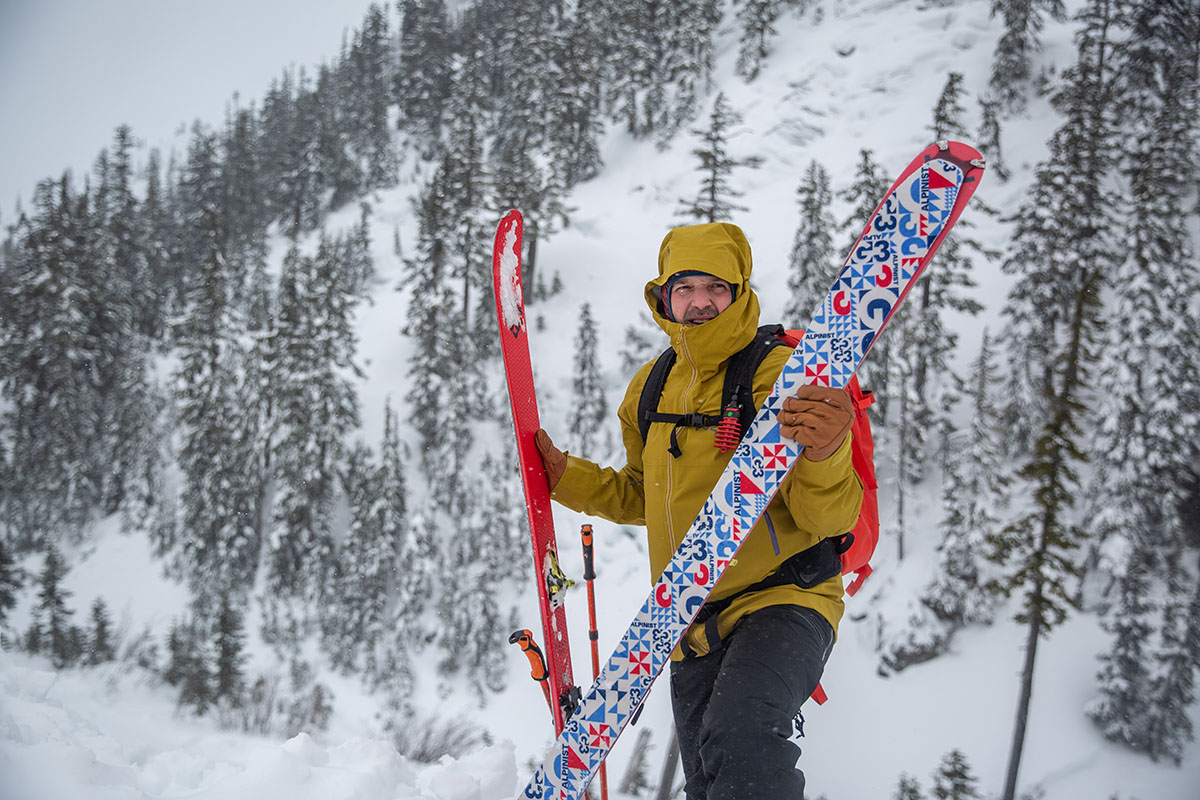 On the women's side, the Sentinel Jacket (formerly the Sentinel AR) costs the same as the Sabre tested here and has a nearly identical construction and feature set but comes in different colorways (four at the time of publishing) and weighs less at 13.1 ounces. There's also a pullover-style Anorak available for the same price, as well as pant and bib counterparts, an insulated version that uses 2-layer Gore-Tex and 80-gram Coreloft insulation for cold resort days, and a Sentinel One Piece that combines the jacket and pants into one for uncompromised protection and coverage (at a steep $1,200 price point).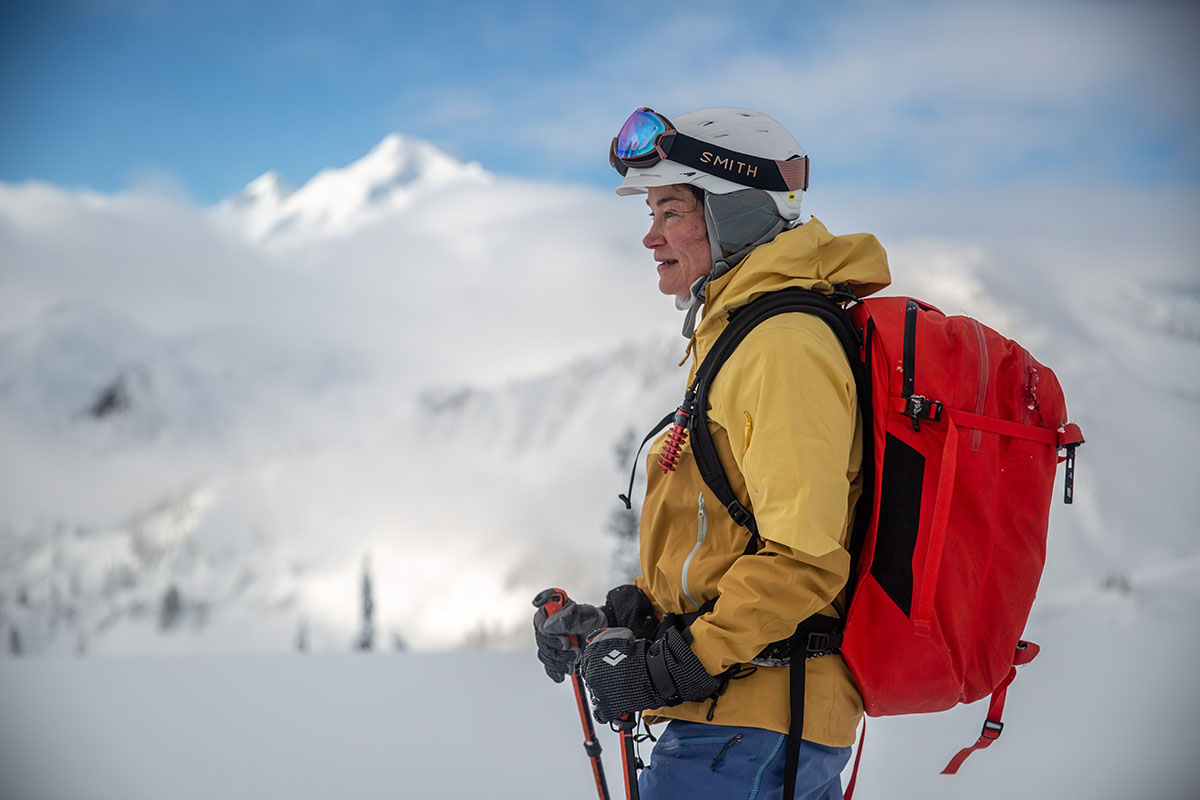 What We Like
Fantastic weather protection thanks to a 3-layer Gore-Tex build, thick face fabric, and highly protective StormHood.
Standout levels of comfort and mobility.
Full feature set including ample storage, a functional powder skirt, large pit zips, and the aforementioned StormHood.
Premium look and painstaking attention to detail that we've come to expect from Arc'teryx shells.
Addition of bluesign-approved materials only boosts the Sabre's all-around appeal.

What We Don't
At 1 pound 8.9 ounces, the Sabre is fairly heavy for extended backcountry use and doesn't pack down very small.
Fits narrower in the waist and longer in the arms than the past-generation AR model, which may cause issues for some. We would also prefer a more athletic cut for touring.
Standard Gore-Tex construction and flannel backer prioritize protection and comfort over breathability. Dedicated backcountry-goers should look elsewhere.
A two-way main zipper would help minimize bunching when sitting or bending over.


Comparison Table

The Competition
Arc'teryx's Sabre Jacket is our favorite all-around ski jacket this year for its premium build quality and all-around performance. Another technical mountain specialist to have on your radar is Norway-based Norrøna, and their competitor to the Sabre is the Lofoten Gore-Tex Pro Jacket. Unlike the Sabre, the Lofoten uses Gore's top-of-the-line Pro membrane, which makes it the better true backcountry companion. We also love the mesh-backed zipper along the front, which provides another way to dump heat in addition to the generous pit zips. The Sabre is the more well-rounded option with better everyday comfort and a more functional storage layout for resort use (the Lofoten foregoes hand pockets), but the Norrøna is the superior touring design with stalwart protection for truly serious alpine conditions.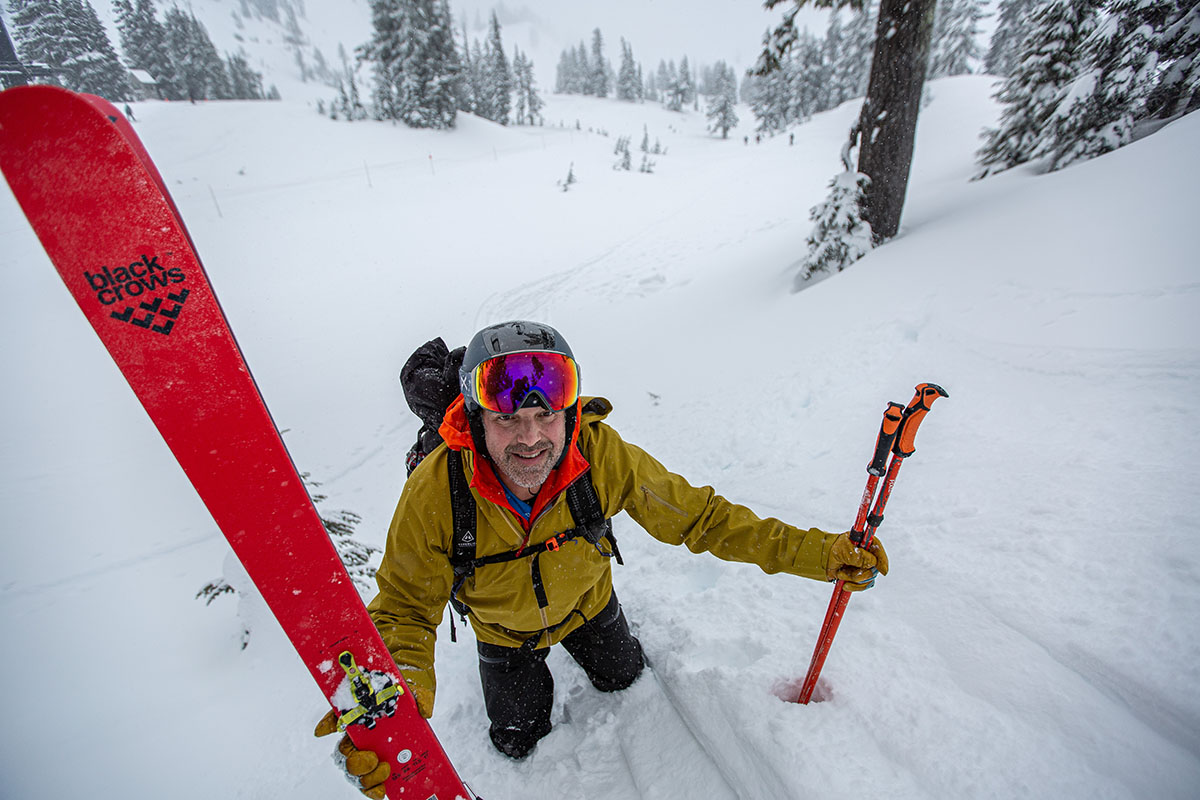 Like the Sabre, Outdoor Research's Hemispheres II Jacket is a nice option for both in- and out-of-bounds skiing. The most notable feature on the Hemispheres is the use of 2-layer Gore-Tex with Stretch panels at the back, hood, and cuffs. This gives the jacket a major bump in mobility without sacrificing overall weather protection (the rest of the jacket uses the same 3-layer Gore-Tex as the Sabre). The Hemispheres also uses Gore's soft C-Knit backer along the interior, which is a step down in warmth from the Sabre's flannel liner but provides a nice dose of comfort. Further, the OR has larger pit zips that extend from the hem to the armpit, is lighter at 1 pound 3.7 ounces, and has a couple more pockets. That said, the OR forgoes a powder skirt, fits a little narrow in the shoulders and waist, and has a smaller hood that doesn't slide as easily over a bulky ski helmet. Given these gripes, we give the slight nod to the Sabre.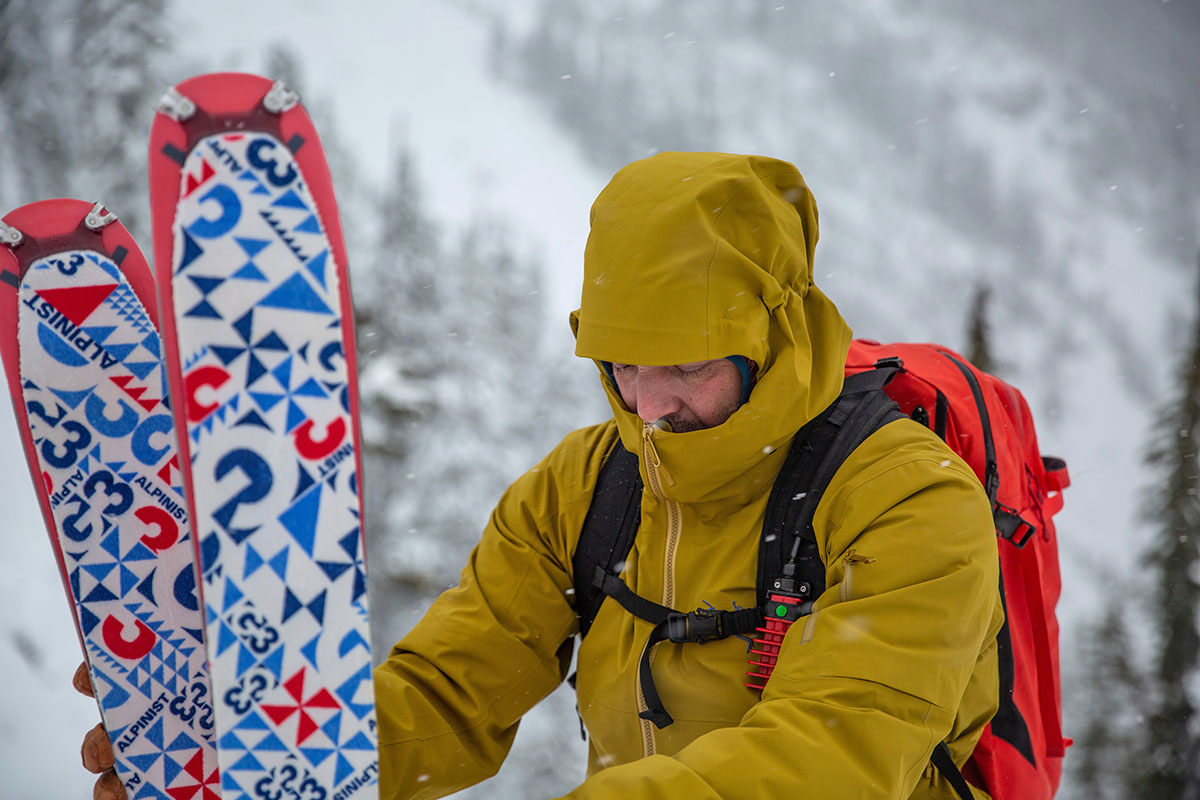 For dedicated backcountry skiers, there are several lighter and more breathable options available, including another standout from OR: their Skytour AscentShell Jacket. As its name suggests, the Skytour trades Gore-Tex for OR's in-house AscentShell membrane (also 3-layer), which we've found offers softshell-like mobility, comfort, and breathability while still providing solid wet-weather protection. The Skytour also features more storage with six total pockets and weighs a little less at 1 pound 6.1 ounces. However, the OR's 40D build is no match for the Sabre's thick 80D construction for rough and frequent inbounds use, and build quality is a step down from Arc'teryx's painstaking attention to detail—for example, the single hem toggle pulls the jacket to the side when cinched, and the AscentShell fabric is less trustworthy than Gore-Tex in heavy and sustained moisture. In the end, the Skytour is a steal for what you get at $379, but dedicated resort-goers who are hard on their gear won't regret stepping up to the Sabre.
Black Diamond's Mission Ski Shell is another direct competitor to the Sabre. The two share a lot in common, including 3-layer Gore-Tex constructions, robust face fabrics (the BD is a little thinner at 70D), soft backers for improved comfort and mobility, and ample features for mixed resort and occasional backcountry use. But the devil is in the details, and Arc'teryx wins out in a number of key areas: It's lighter by 3.1 ounces, doesn't feel as bulky, and has a more well-sorted feature set, including a hood that's easier to adjust and a more secure powder skirt design. For $50 more, we think the Sabre is the slightly better-executed design.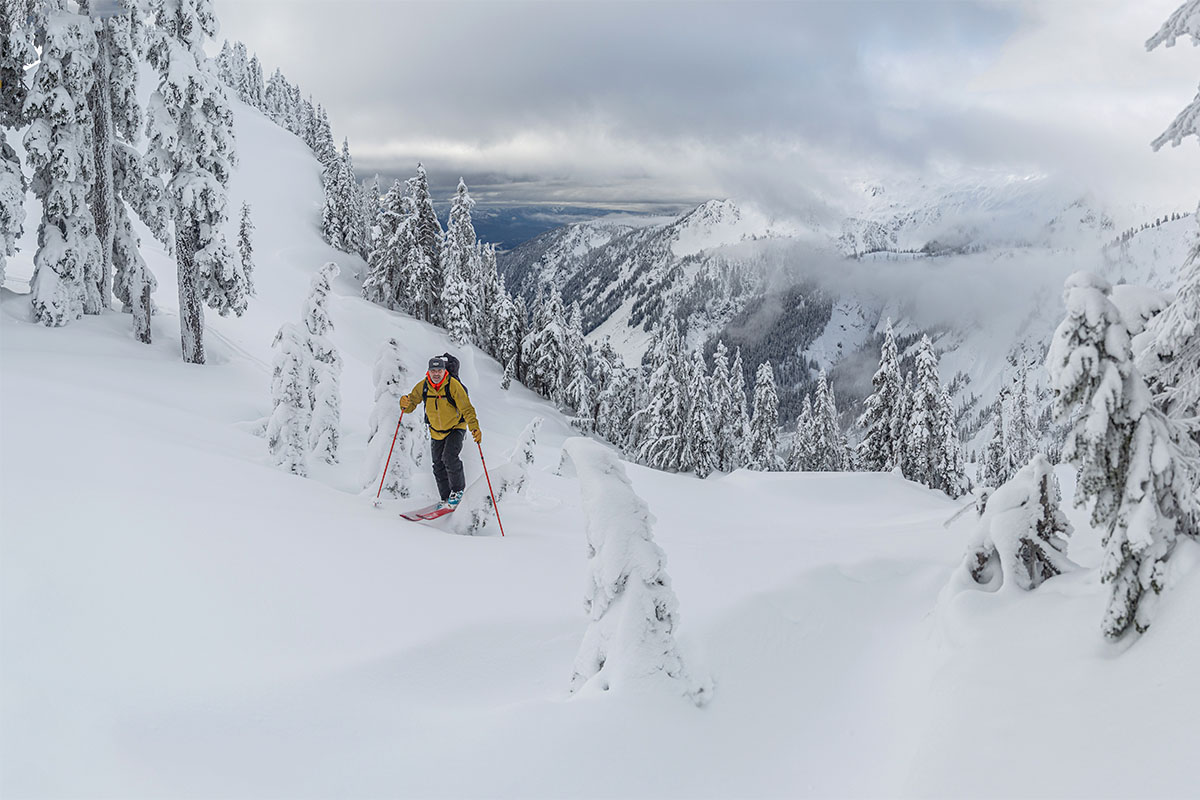 Last but not least is Arc'teryx's own Rush Jacket, which costs around $50 more than the Sabre but comes with a couple worthwhile upgrades for backcountry enthusiasts. First is protection: The Rush boasts Gore's top-end Pro membrane outlined above and tacks on their Most Rugged Technology for a boost in tear resistance (the shell uses a mix of 80 and 100D fabrics). Despite the advantages in waterproofing and durability, the Rush also checks in around 4 ounces lighter than the Sabre and has a slightly longer cut to boot (center back length in a men's large is 32.3 in./82 cm). However, it leaves out the Sabre's thin flannel backer, which we love for overall comfort and warmth on cold resort days. In the end, we'd break it down as follows: The Sabre is the better pick for skiers who spend most of their time inbounds (especially in colder climates), while the Rush is the more versatile choice for mixed front- and backcountry use.     
If you're thinking about buying gear that we've reviewed on Switchback Travel, you can help support us in the process. Just click on any of the seller links above, and if you make a purchase, we receive a small percentage of the transaction. The cost of the product is the same to you but this helps us continue to test and write about outdoor gear. Thanks and we appreciate your support!
Depending on the seller, most products ship free in the United States on orders of $50 or more. International shipping availability and rates vary by seller. The pricing information on this page is updated hourly but we are not responsible for inaccuracies.
Learn More About Ski Gear